God Made The World Famous Quotes & Sayings
List of top 100 famous quotes and sayings about god made the world to read and share with friends on your Facebook, Twitter, blogs.
Top 100 God Made The World Quotes
#1. God didn't produce a ready-made world. The Creator has done something cleverer than this, making a world able to make itself. - Author: John Polkinghorne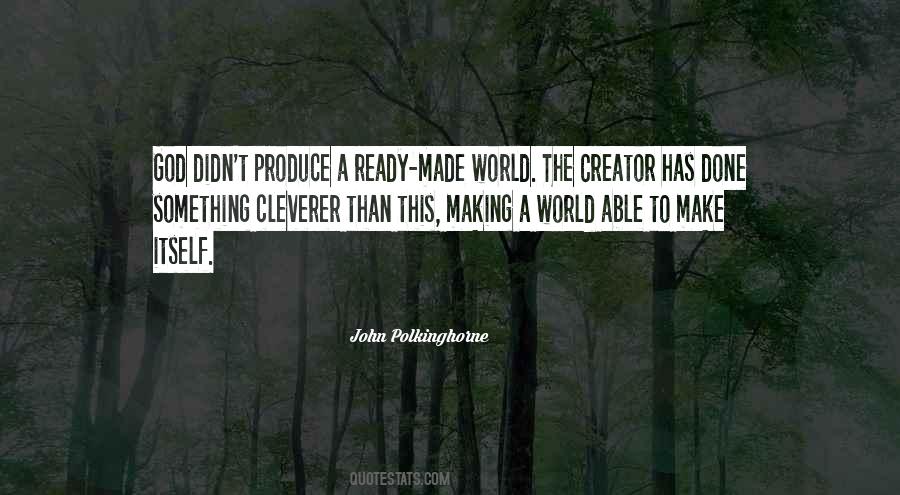 #2. There never was another like you in this world. God throws the mold away every time he makes a man [or woman] ... I think He made you what you are in order that you might do some particular thing better than anyone else in the world could do it. - Author: Hugh B. Brown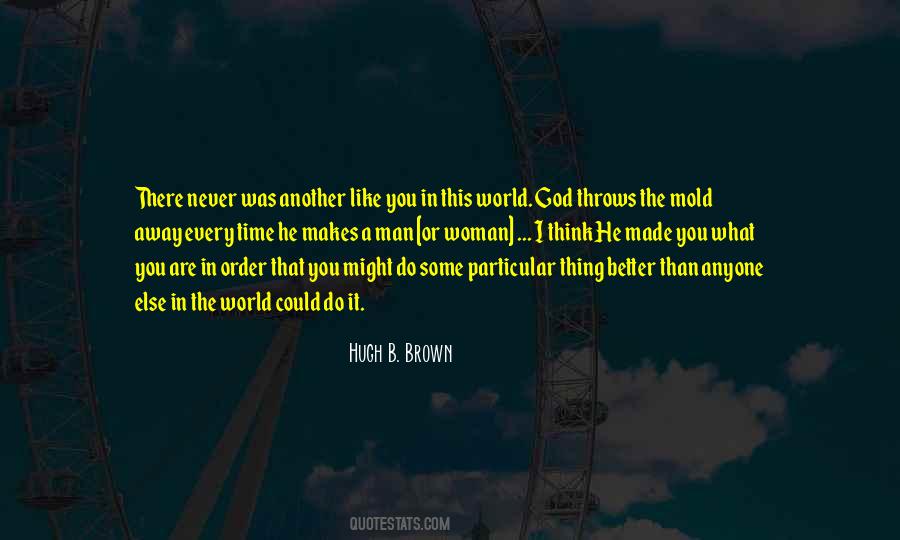 #3. God has made all things that are in the world to be our teachers. - Author: Charles Haddon Spurgeon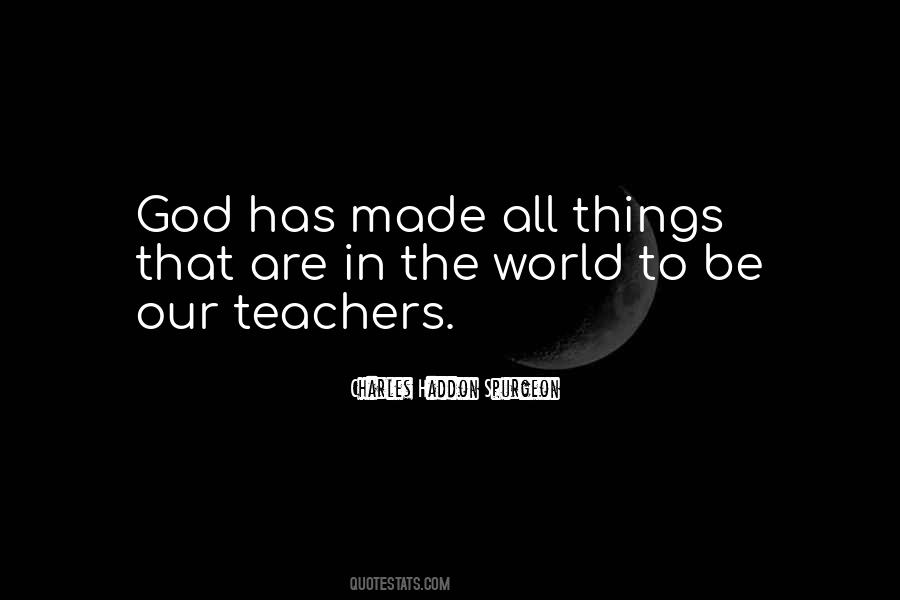 #4. The God of this world has chosen to provide light to all mankind through His Son, who was crucified and died so that we could be cleansed and made free - Author: Todd Coburn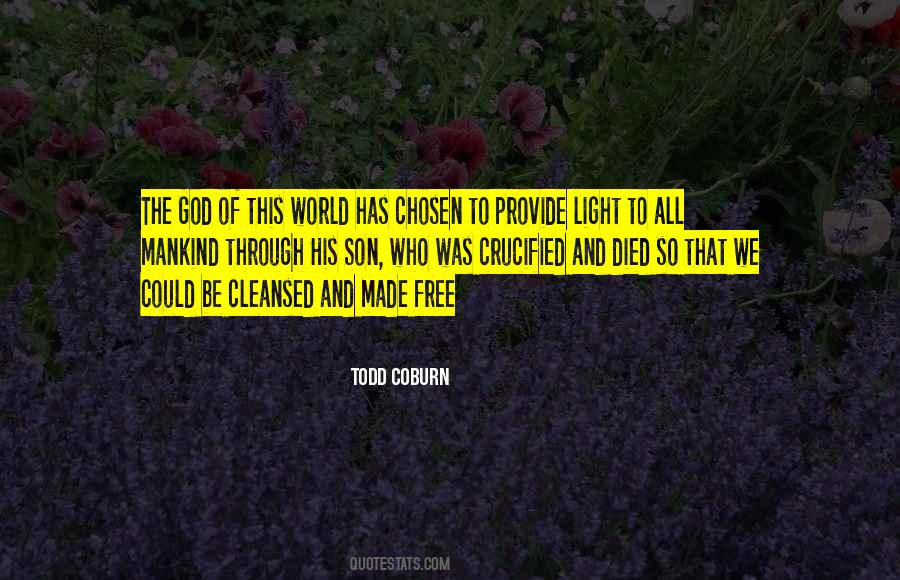 #5. God made the world as an artist and that is why the world must learn from its artists. - Author: George Bernard Shaw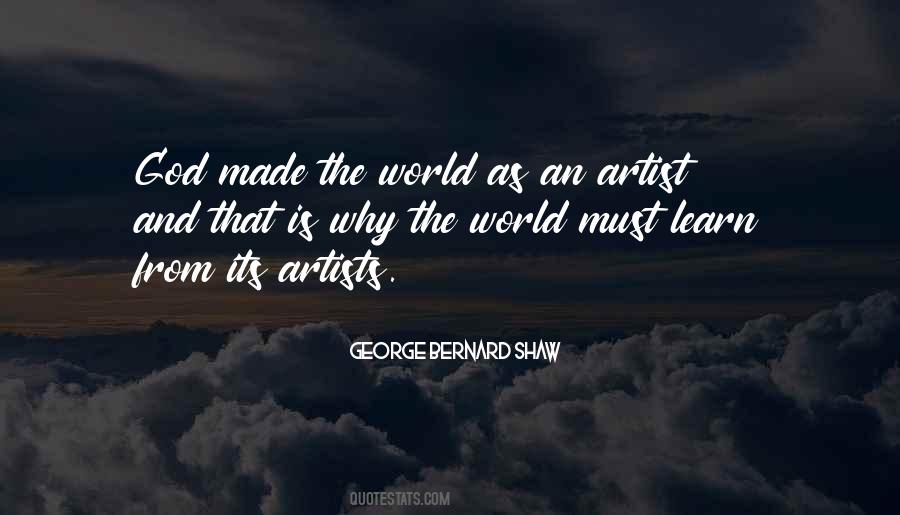 #6. As God has not made anything useless in this world, as all beings fulfill obligations or a role in the sublime drama of Creation, I cannot exempt from this duty, and small though it be, I too have a mission to fill, as for example: alleviating the sufferings of my fellowmen. - Author: Jose Rizal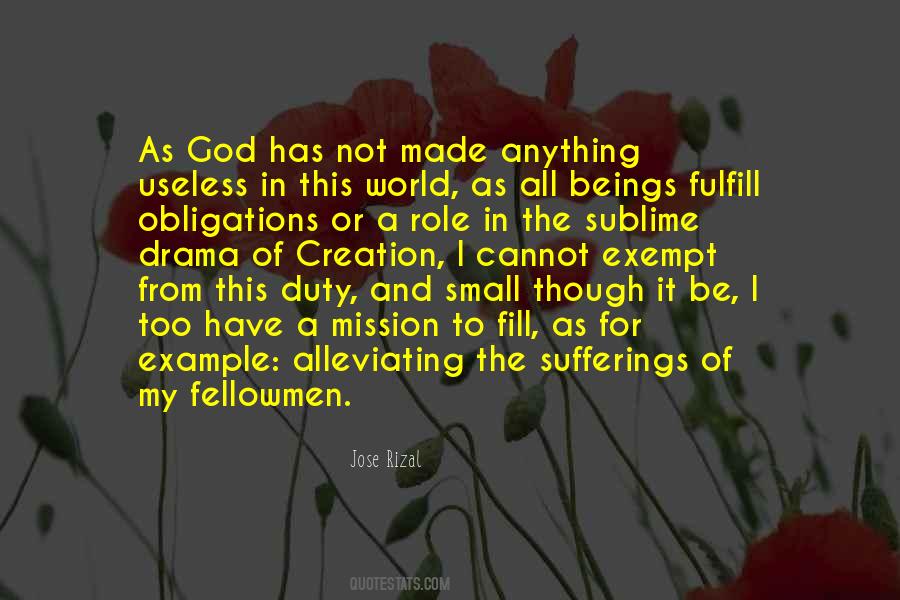 #7. Our world hinges on moral foundations. God has made it so. God has made the universe to be based on a moral law. So long as man disobeys it he is revolting against God. That's what we need in the world today: people who will stand for right and goodness. - Author: Martin Luther King Jr.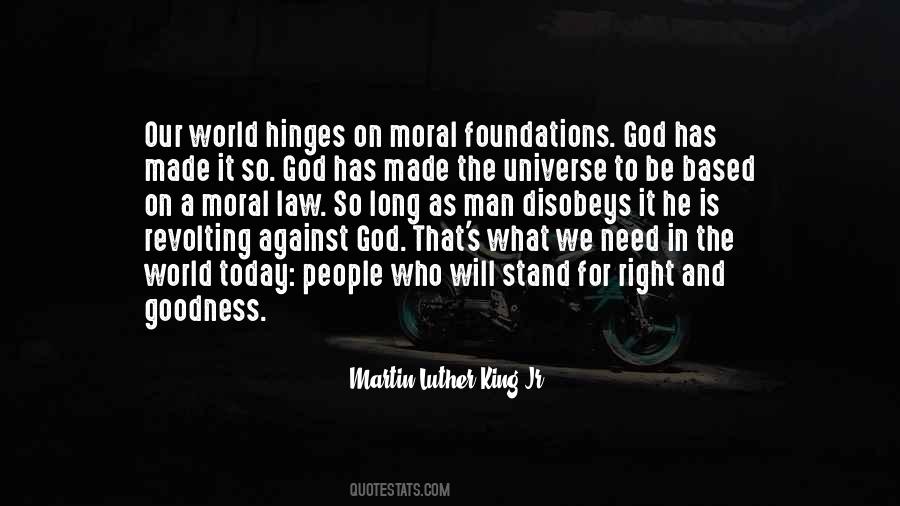 #8. God made the world, but the Dutch made Holland. - Author: David Winner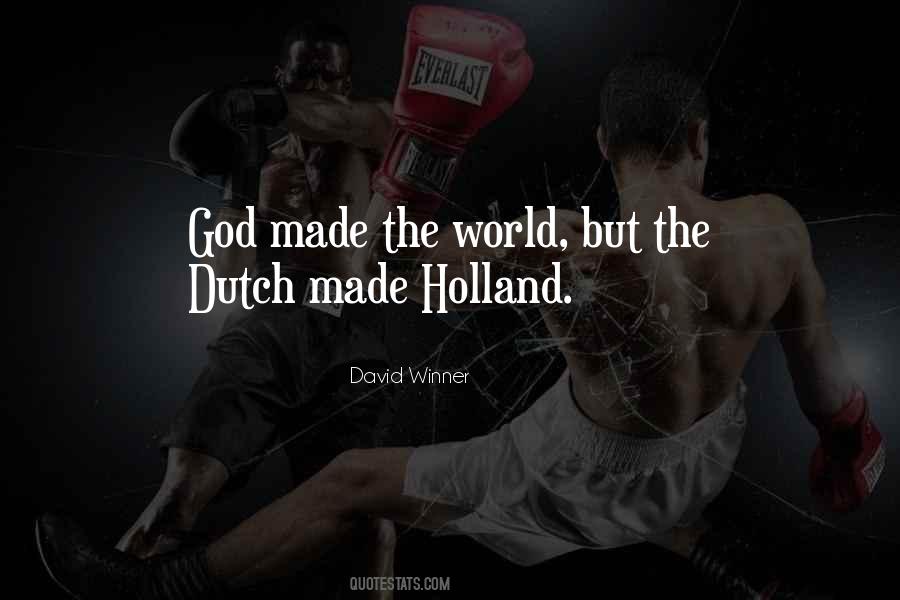 #9. My mom always used to say that average people are the most special people in the world. And that's why God made so many. - Author: Michael Scott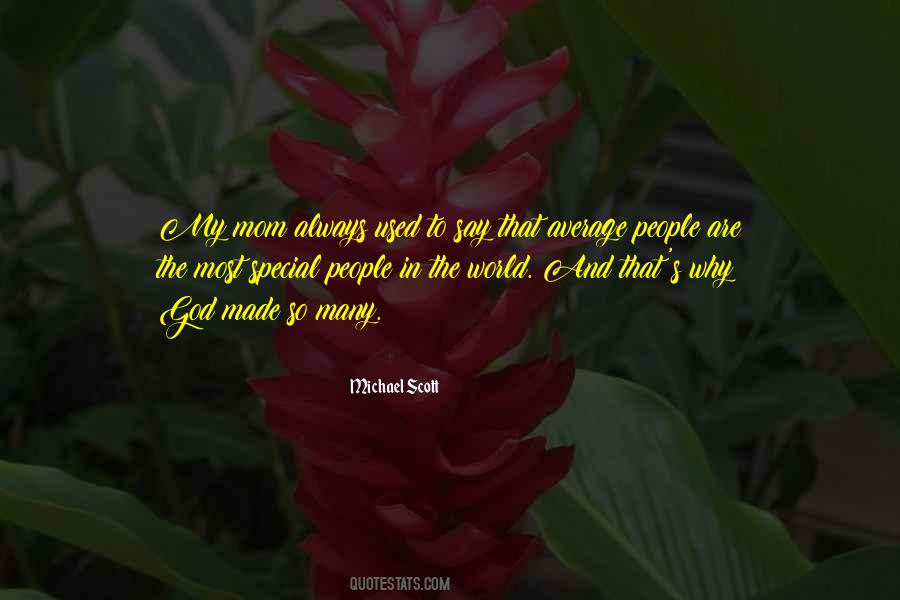 #10. The world was made by God's Word ... make your own world with your words. - Author: Jaachynma N.E. Agu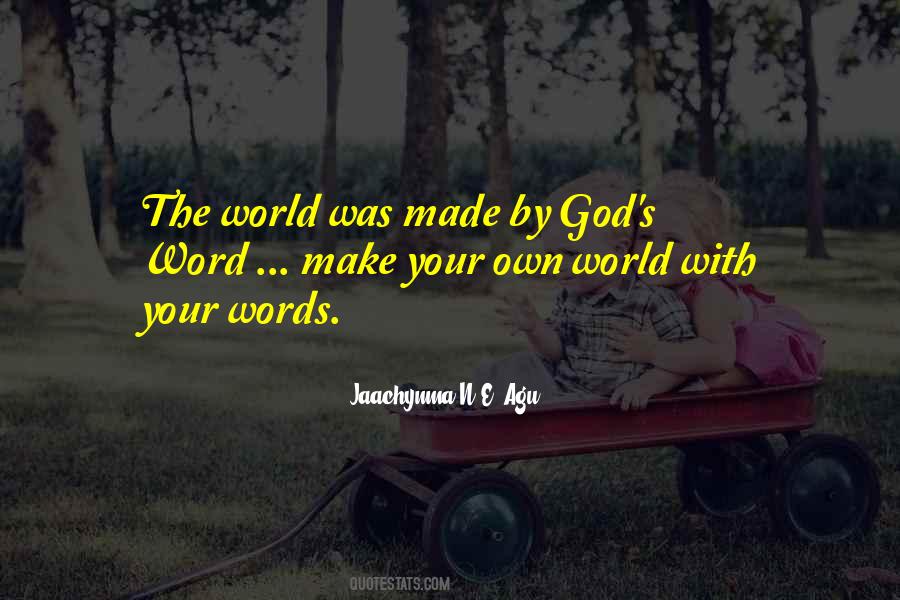 #11. We were given appetites, not to consume the world and forget it, but to taste its goodness and hunger to make it great.
That is the unconsolable heartburn, the lifelong disquietude of having been made in the image of God. - Author: Robert Farrar Capon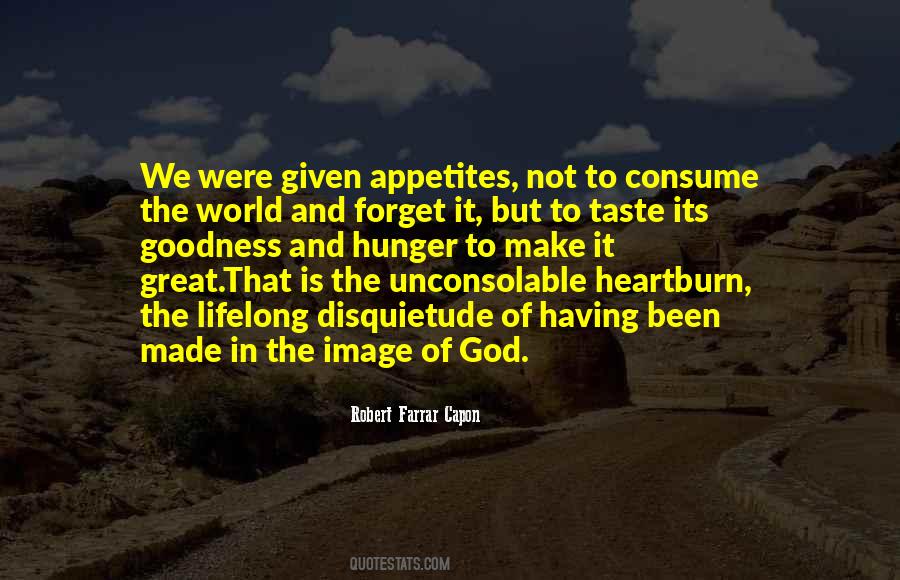 #12. When he went back to the fire he knelt and smoothed her hair as she slept and he said if he were God he would have made the world just so and no different. - Author: Cormac McCarthy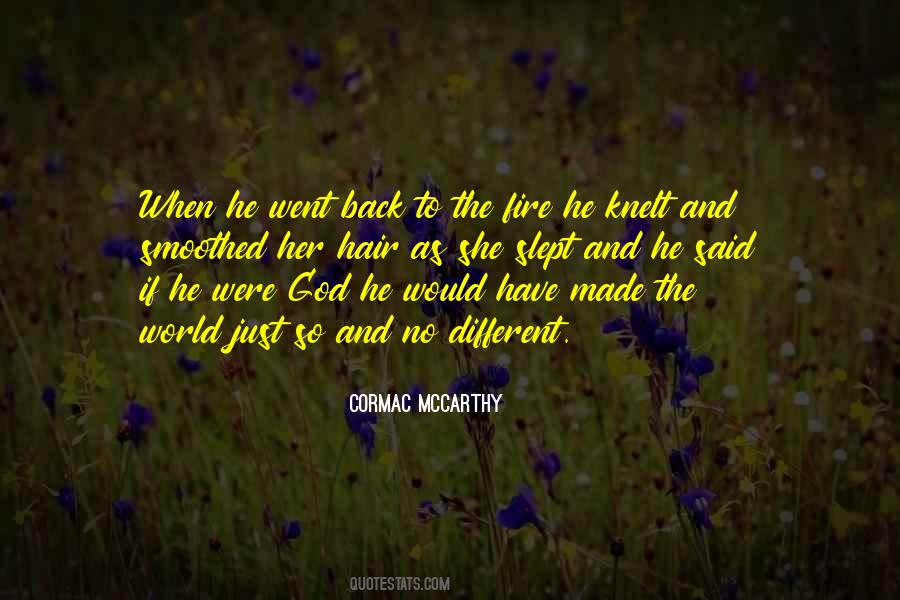 #13. Before the world was made, when it was only darkness and mist and waters, God was well aware of Lake Wobegon, my family, our house, and He had me all sketched out down to what size my feet would be (big), which bike I would ride (Schwinn), and the five ears of corn I'd eat for supper that night. - Author: Garrison Keillor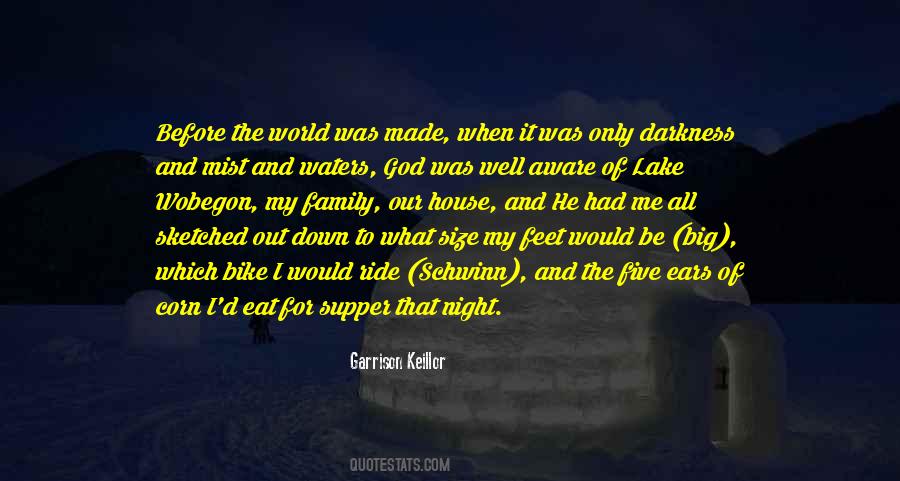 #14. So God made girls ... God made girls ... He stood back and told the boys, I'm 'bout to rock your world ... - Author: RaeLynn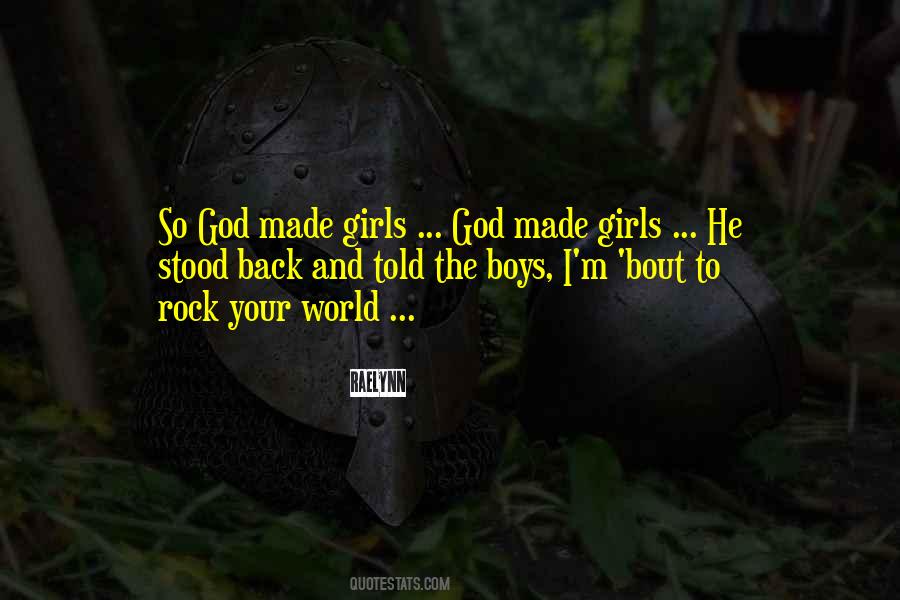 #15. We were made to build, to co-create, to bring glory to God with the work of our hands, to move into the world as unique reflections of Christ. But we were not made to fill rooms, stadiums, or bank accounts. We were not made to fill our souls with worth we construct with our hands. - Author: Emily P. Freeman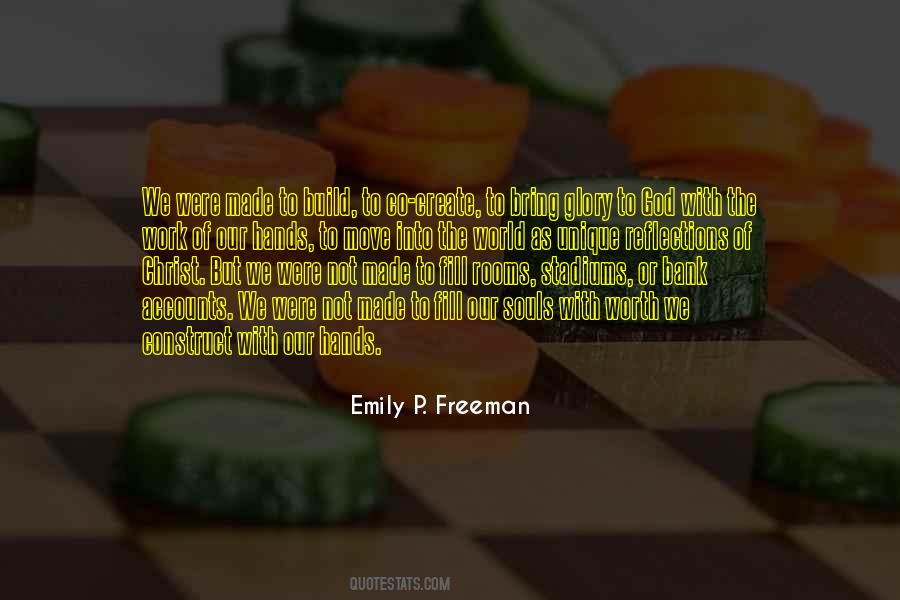 #16. In truth, if I admitted to the world that I believe God made me as I am, the church would excommunicate me, but I know this to be true. I am not an evil man - nor greedy, nor cruel to those in need. Yet the law would have me hang for love, the purest of human emotions. - Author: H.C. Brown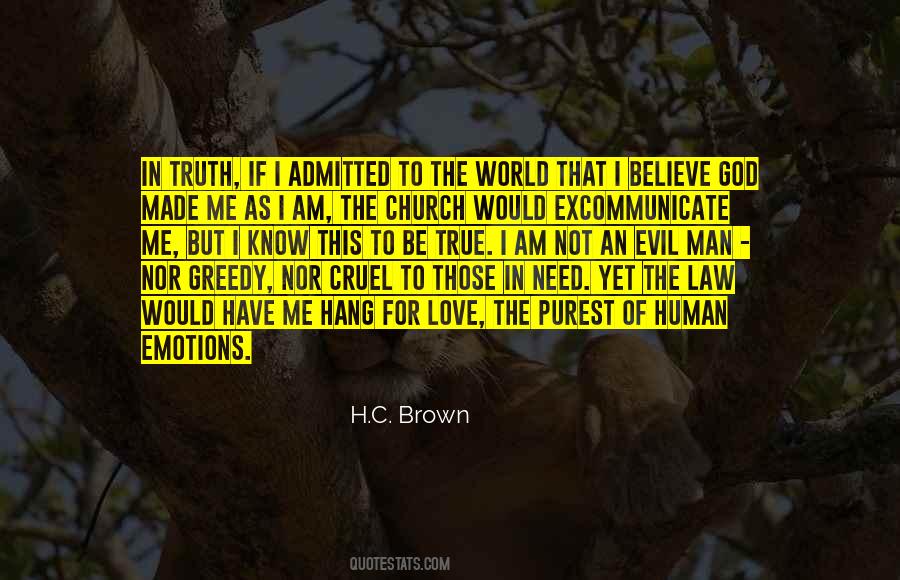 #17. The Christian cannot be indifferent to this world which God made and loves. Yet how can he be other than against it in its evil and sin and hopelessness? Both positions are necessary, and both at the same time, and without reserve. - Author: Ronald Gregor Smith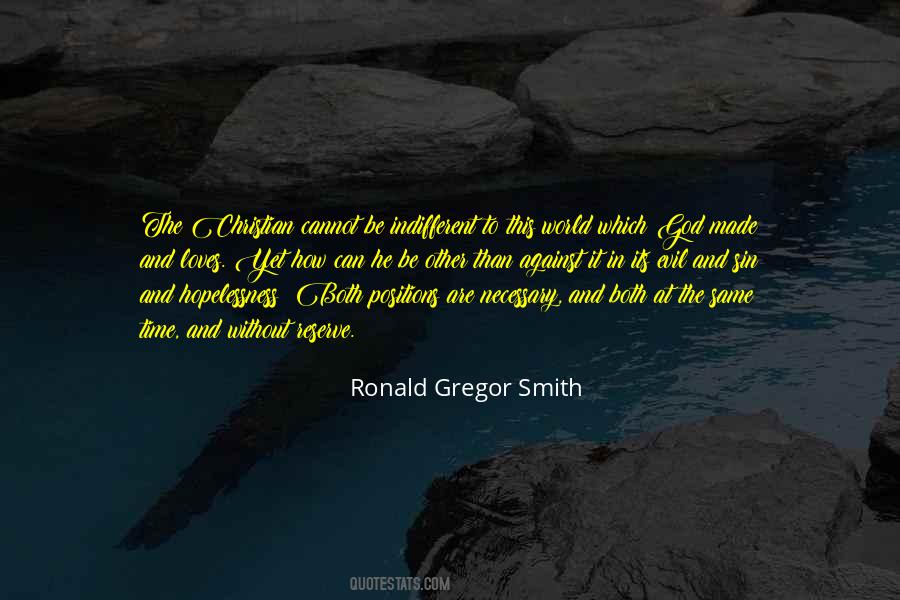 #18. I have been disillusioned, however, this long, long time in the means used by any but the saints to live in this world God has made for us. - Author: Dorothy Day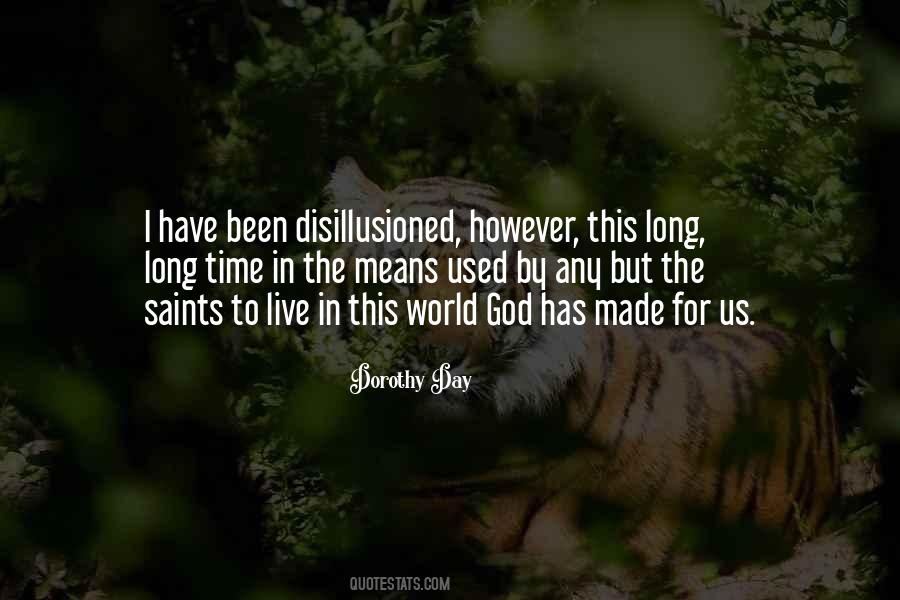 #19. I have made the world's faith in God my own and as my faith is effaceable, I regard that faith as amounting to experience. - Author: Mahatma Gandhi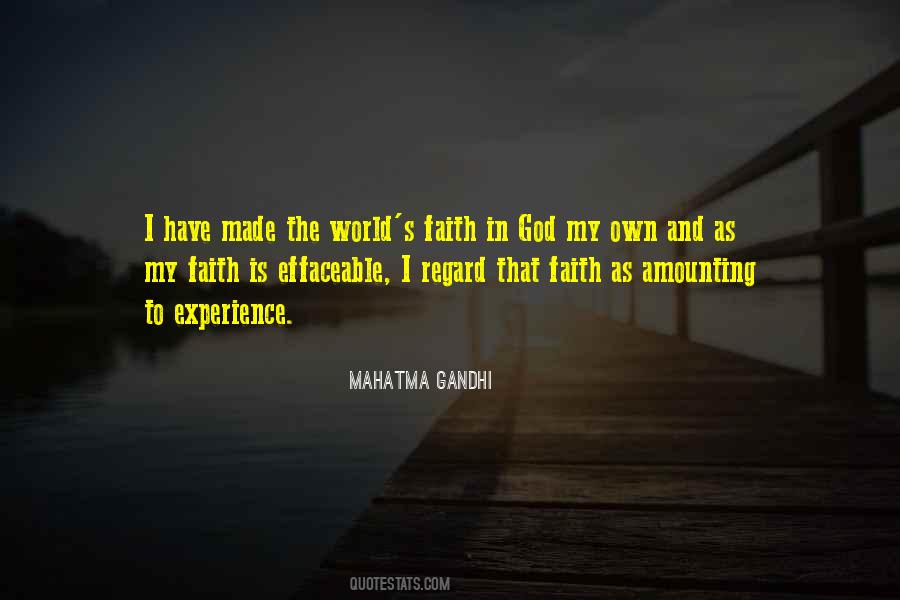 #20. It is because God loves the world he has made, and especially his human creatures, that he hates everything that spoils, wrecks, or defaces it. - Author: N. T. Wright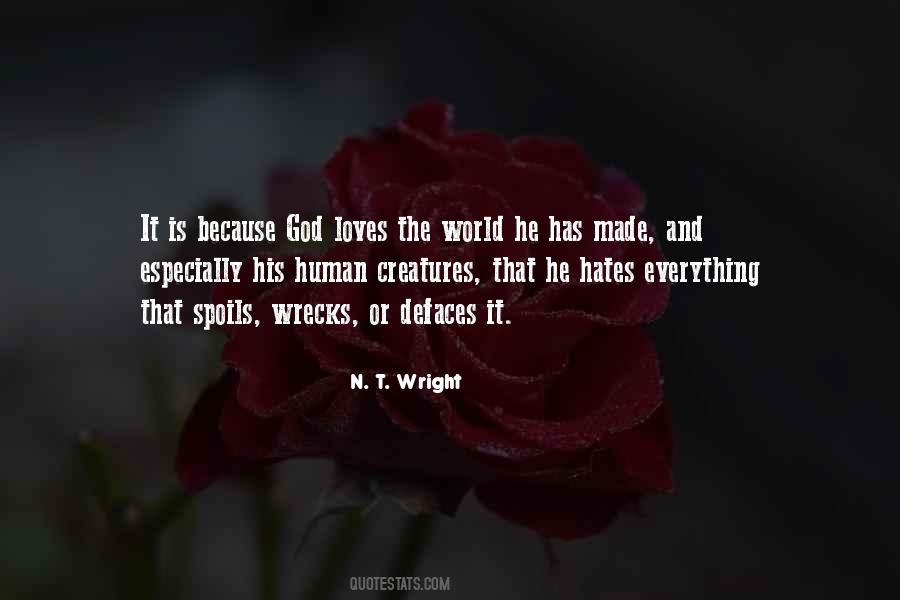 #21. They learned to have a very high opinion of God and a very low opinion of His works - although they could tell you that this world had been made by God Himself. What they didn't see was that it is beautiful, and that some of the greatest beauties are the briefest. - Author: Wendell Berry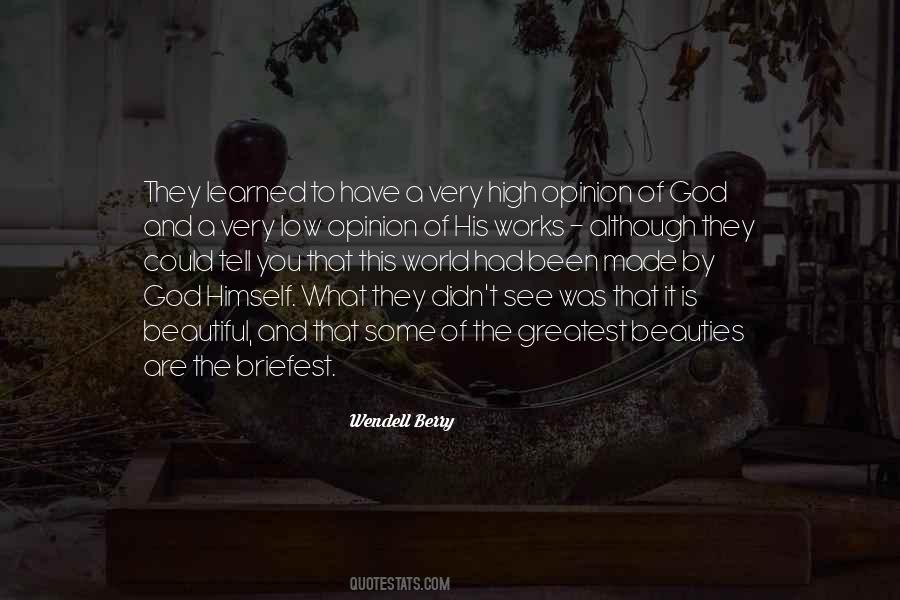 #22. God made the world round so we would never be able to see too far down the road. - Author: Karen Blixen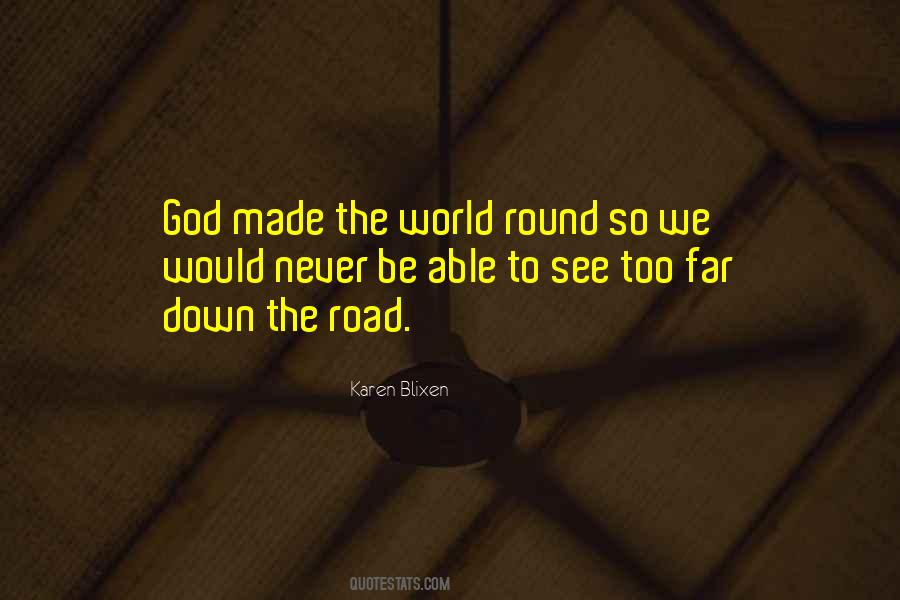 #23. CHILDREN OFTEN ASK, "WHAT WAS THERE BEFORE GOD MADE THE WORLD?" The answer most adults would give is that God was there. That's true, but incomplete. God had company. And I'm not talking about the other members of the Trinity. - Author: Michael S. Heiser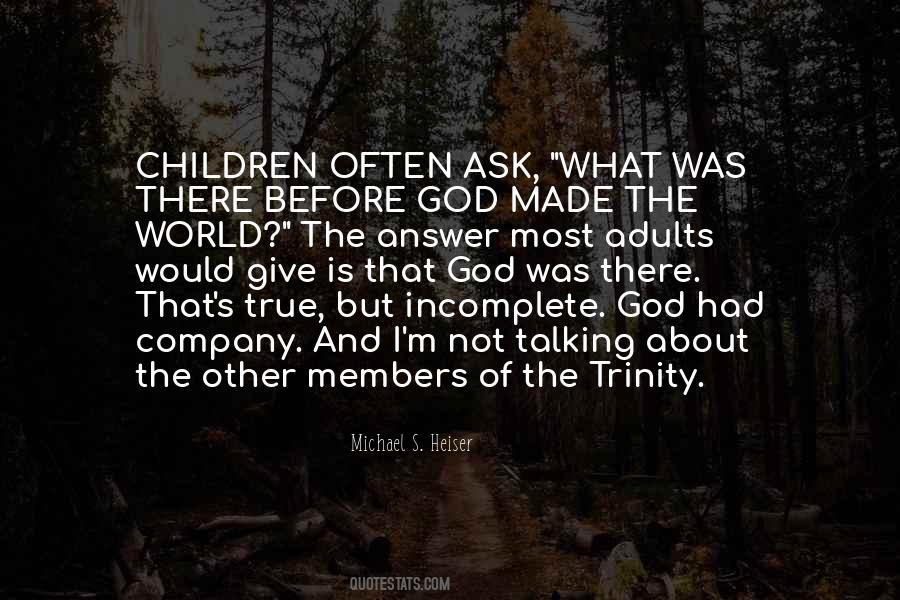 #24. The general world population will survive without one more stage production and one more gallery showing. This is the thing, though: you might not. We create because we were made to create, having been made in the image of God, whose first role was Creator. - Author: Shauna Niequist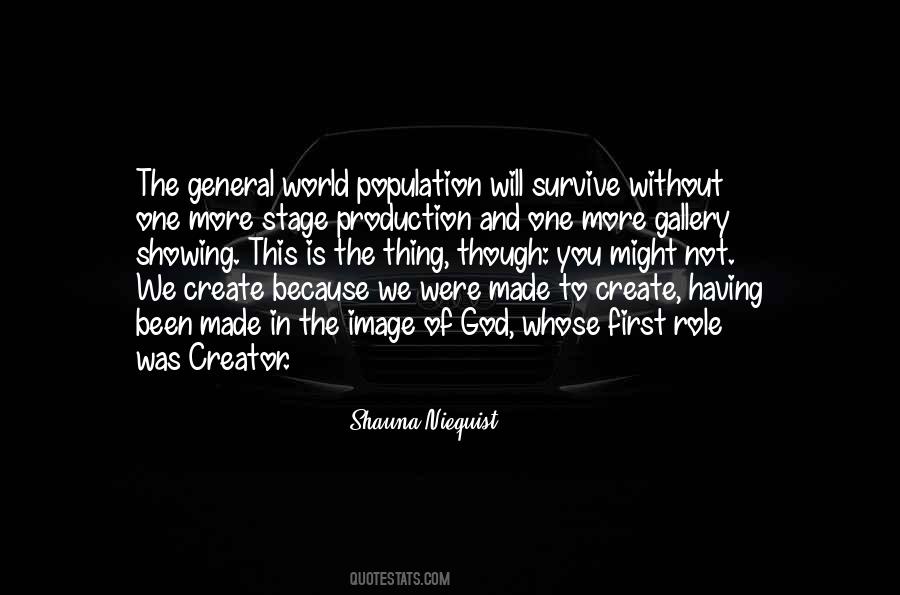 #25. ... being an atheist required discipline very like that of being Catholic. One could never yield to the idea of a supernatural authority, no matter how often one might be tempted. To think that a personal God had made the world was to yield to a demonic and superstitious and destructive belief. - Author: Anne Rice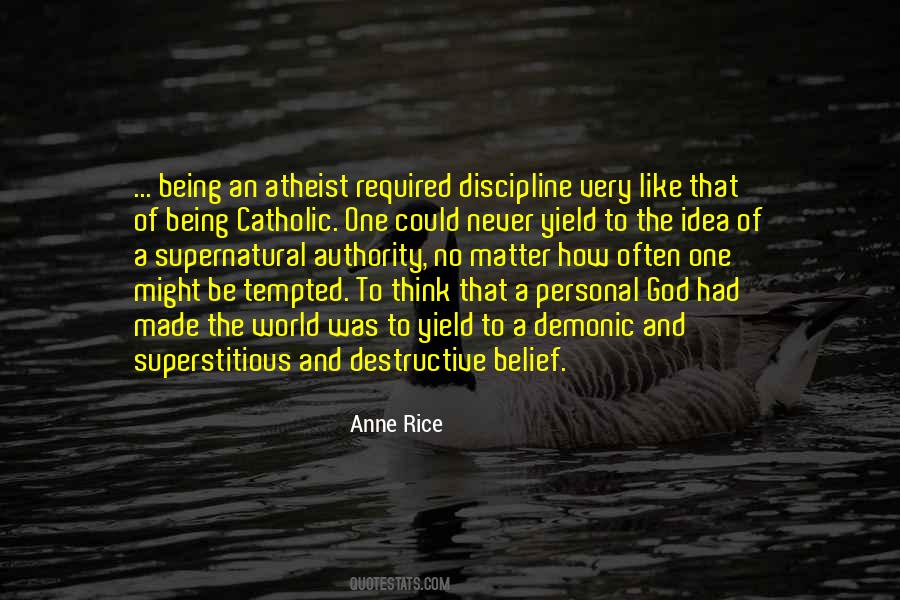 #26. For the world is not painted, or adorned, but is from the beginning beautiful; and God has not made some beautiful things, but Beauty is the creator of the universe. - Author: Ralph Waldo Emerson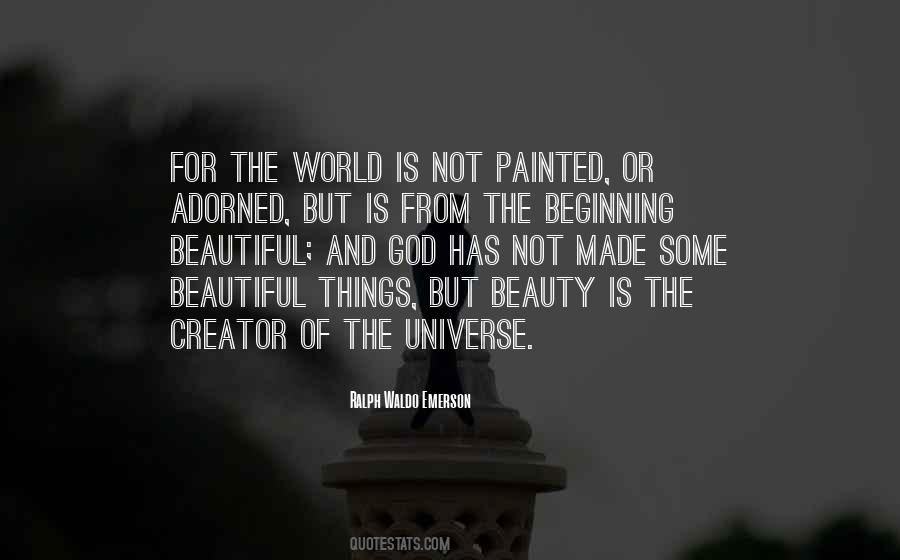 #27. The world was new each day for God so made it daily. Yet it contained within it all the evils as before, no more, no less. The - Author: Cormac McCarthy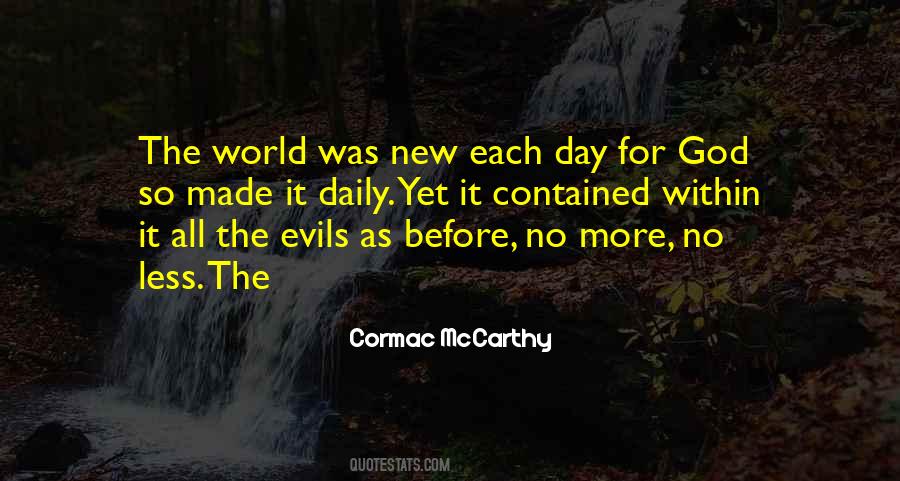 #28. God made and governs the world invisibly, and has commanded us to love and worship him and no other God; to honor our parents and masters, and love our neighbours as ourselves; and to be temperate, just, and peaceable, and to be merciful even to brute beasts. - Author: Isaac Newton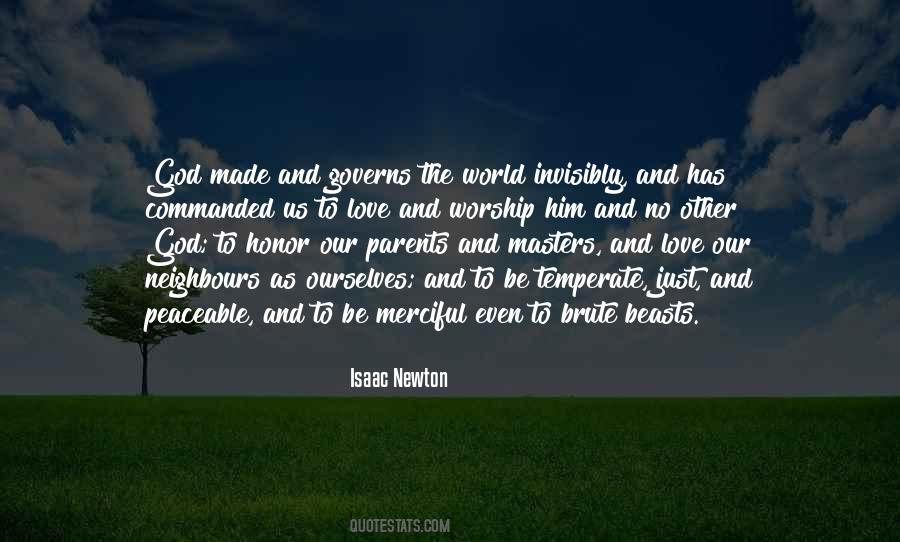 #29. If God made this world, then i would not want to be the God. It is full of misery and distress that it breaks my heart. - Author: Arthur Schopenhauer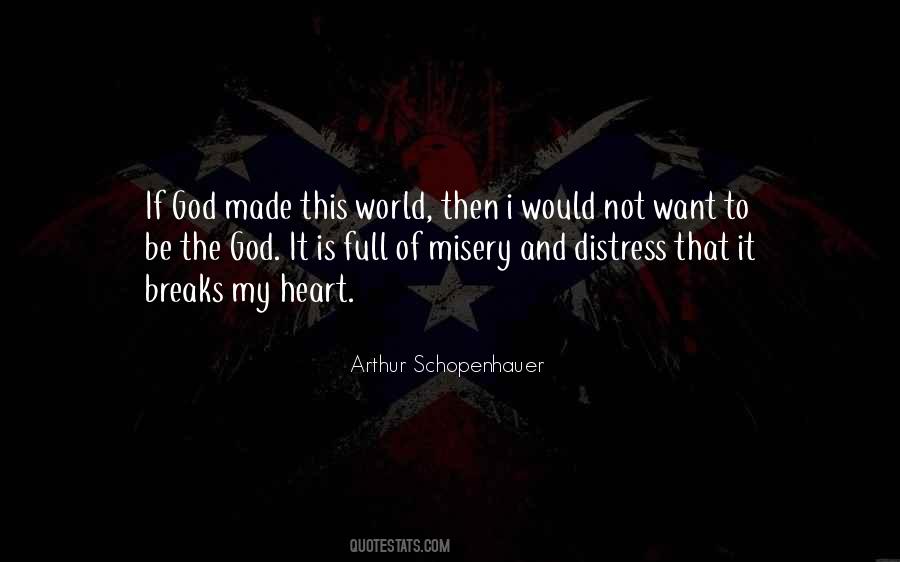 #30. According to Biblical history and all of the history of the world, the blues was built in man from the beginning. The first thing that came out of man is the blues because, according to the Scriptures, when God made man, man was lonesome and blue. - Author: Willie Dixon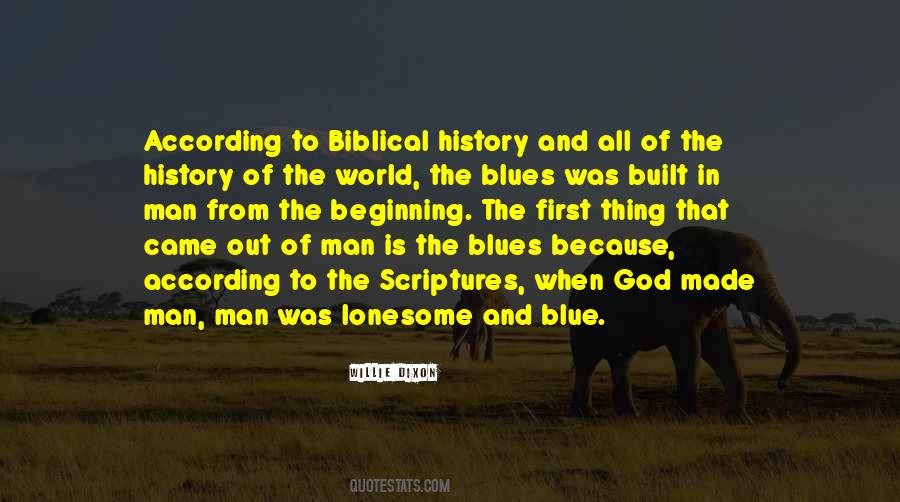 #31. So, we think about God far to easily and that's because of a lot of social, intellectual, and scientific changes that have taken place in the western world and that has made God very problematic for a lot of people. - Author: Karen Armstrong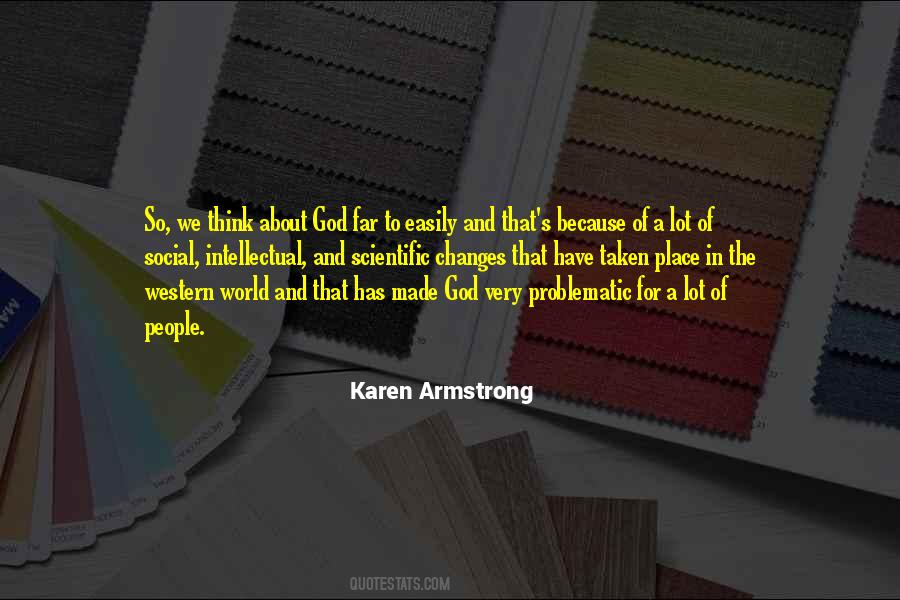 #32. Jesus felt pure and calmly thought
Only the One God;
Who made himself to be a god
Offends his holy will.
And thus the right(ness) has to shine
What Mahomet also achieved;
Only by the term of the One
He mastered the whole world - Author: Johann Wolfgang Von Goethe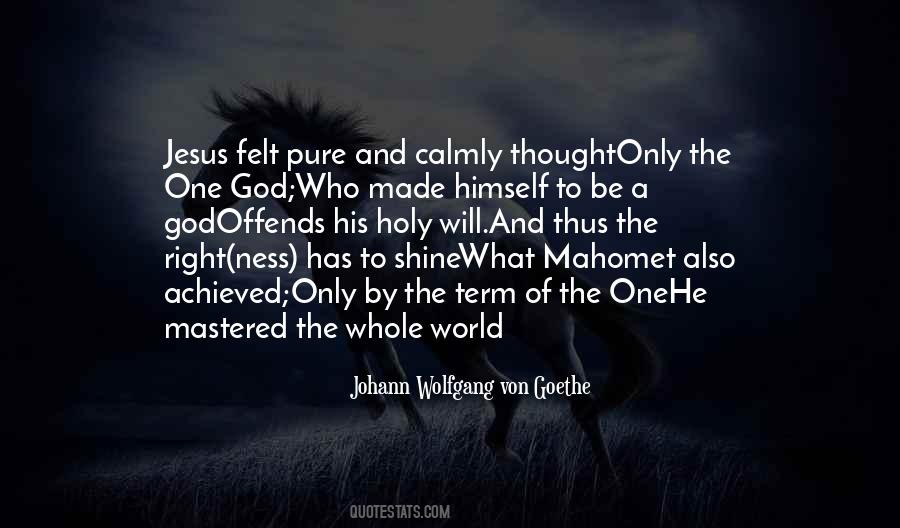 #33. Wherever you go, man-made things are man-made, but you've got to get out and see God's beauty of the world. - Author: Michael Jackson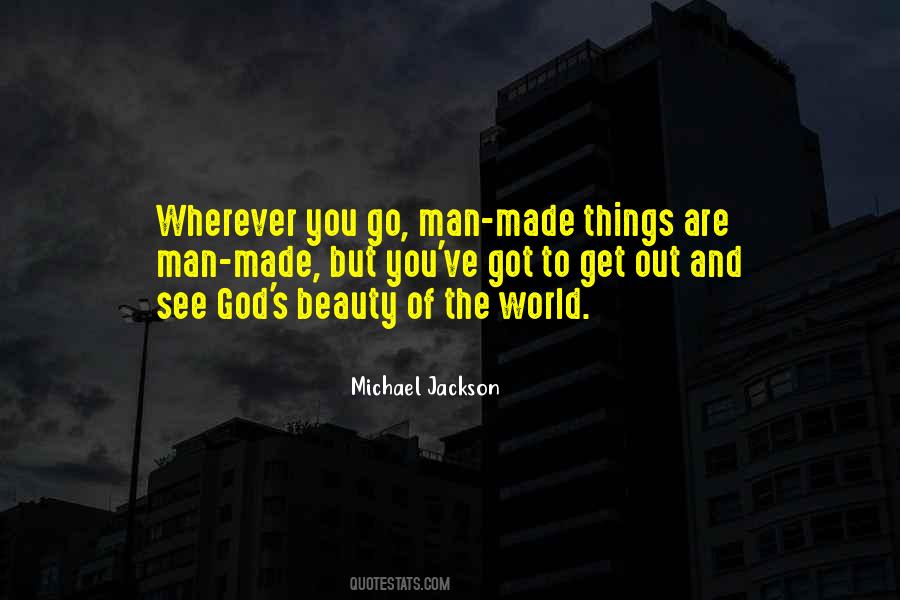 #34. Jesus kept it simple. The lesson wasn't complicated. 'I speak; you believe My word; your son will be fine.' We complicate what God has made simple by seeing the world through human eyes. We want to see in order to believe and presume that our limitations are His. - Author: Charles R. Swindoll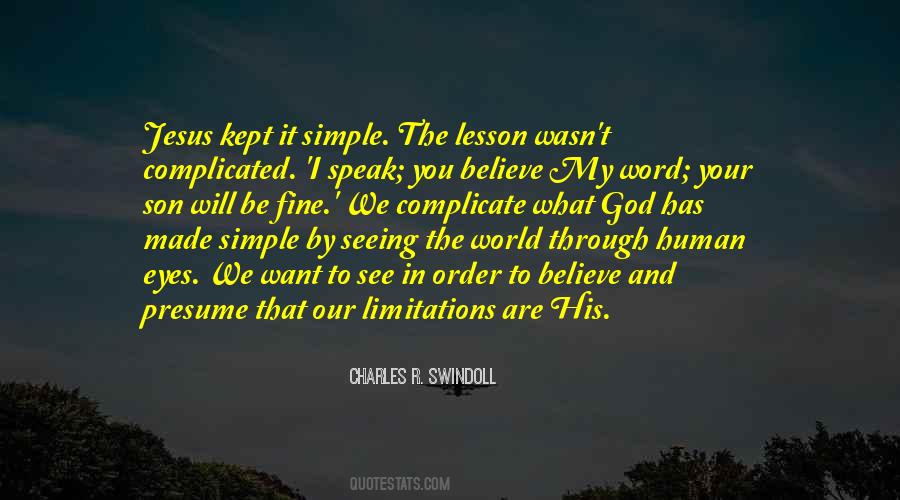 #35. For why is all around us here As if some lesser god had made the world, But had not force to shape it as he would? Alfred Lord Tennyson: Idylls of the King - Author: K.H. Rennie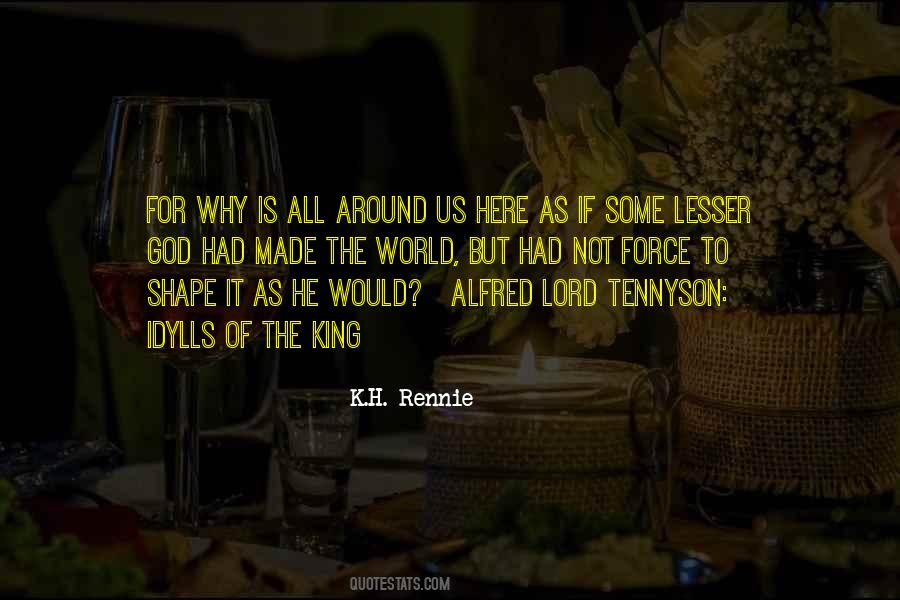 #36. If you can't live by the laws the LORD God made for the world, they'll go into effect regardless. - Author: Barbara Kingsolver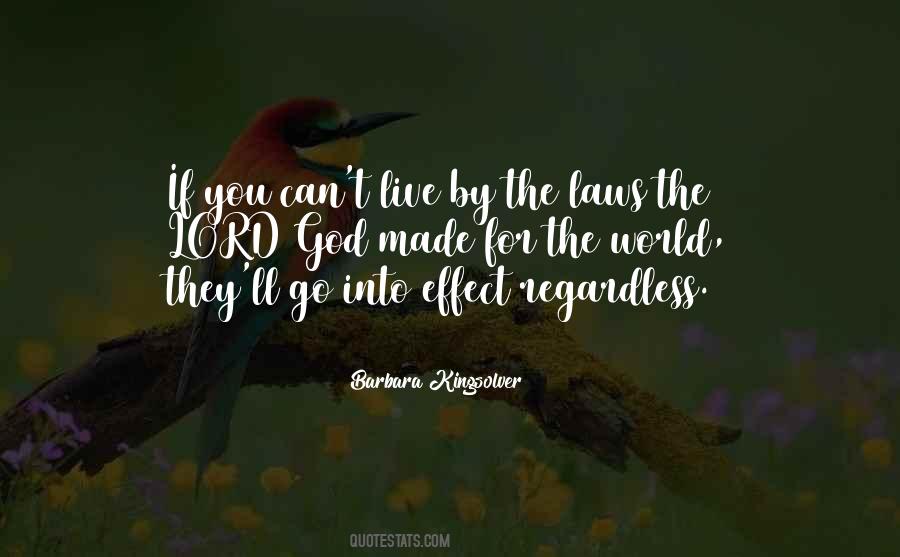 #37. Sabbath - a weekly festival having its origin in the fact that God made the world in six days and was arrested on the seventh. - Author: Ambrose Bierce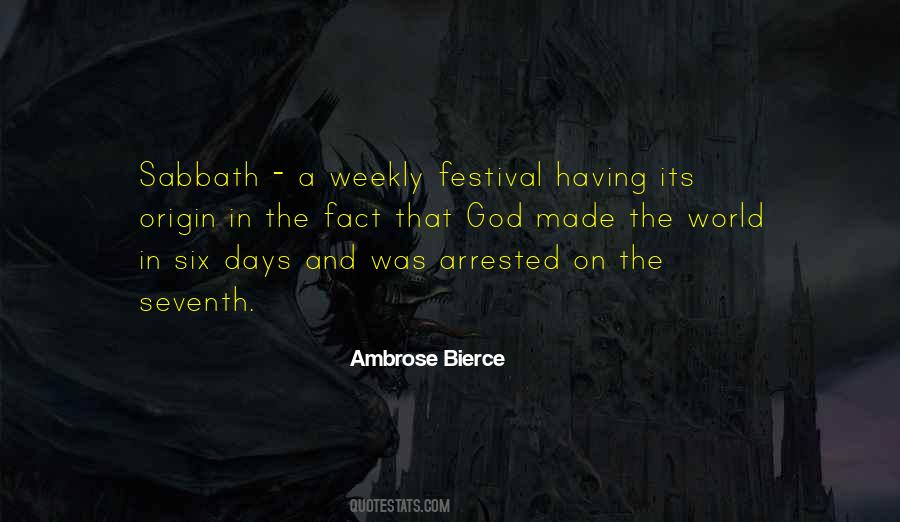 #38. Because God is reflected in the world in which me made, in some sense, my scientific investigation has always supported my belief in God in a very real sense. It helps me to pray better. - Author: George Coyne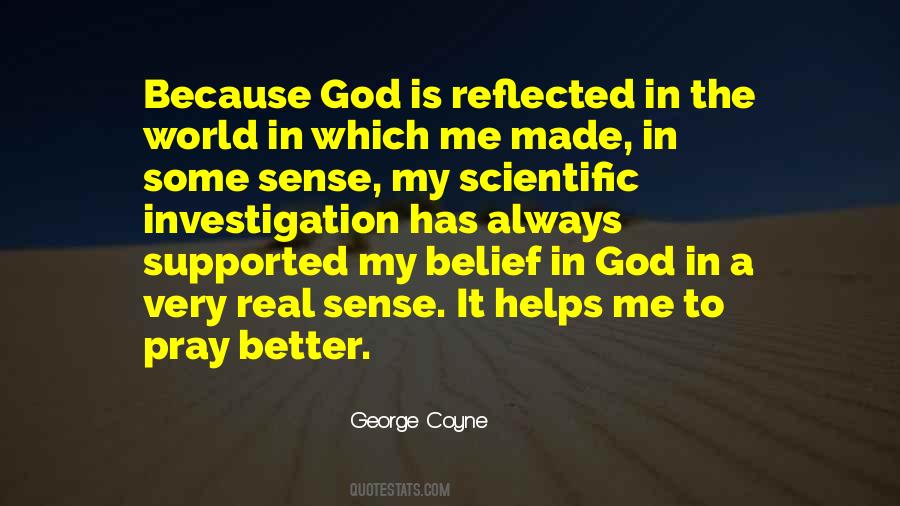 #39. As humans we have two great spiritual needs. The first is forgiveness, which God has made possible by sending His Son into the world to die for our sins. Our second need, however, is for goodness, which God also made possible by sending the Holy Spirit to dwell within us. - Author: Billy Graham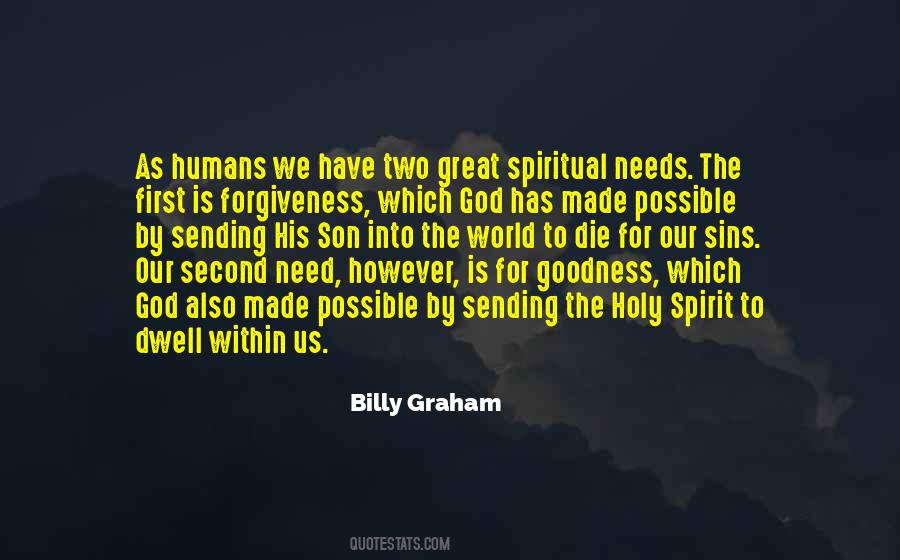 #40. God made humans for a purpose: not simply for themselves, not simply so that they could be in relationship with him, but so that through them, as his image-bearers, he could bring his wise, glad, fruitful order to the world. - Author: N. T. Wright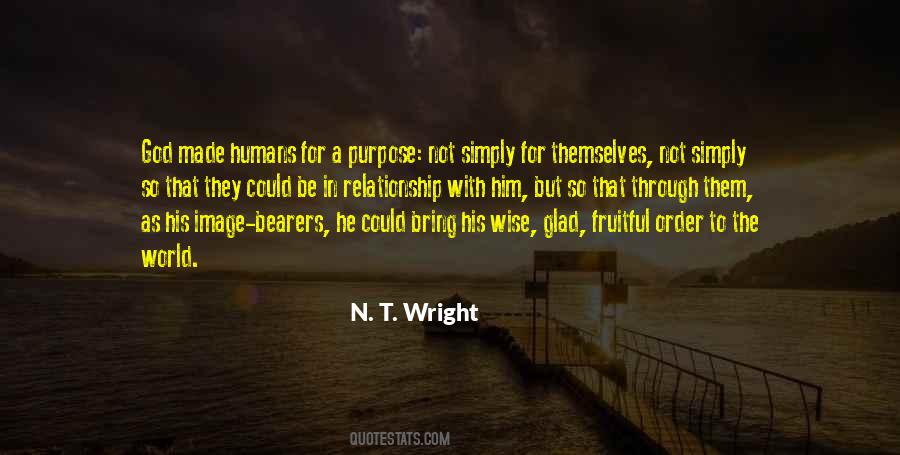 #41. God looks at the world through the eyes of love. If we, therefore, as human beings made in the image of God, also want to see reality rationally, that is, as it truly is, then we, too, must learn to look at what we see with love. - Author: Roberta Bondi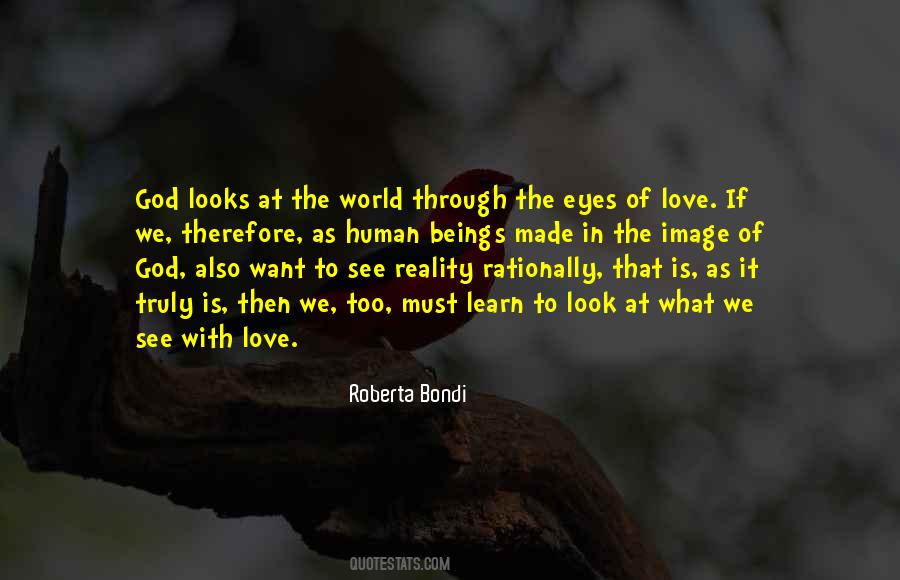 #42. Compassion doesn't arise from the belief that the evil in the world is somebody else's fault or that it is a result of poor choices a suffering person has made. - Author: Holly Sprink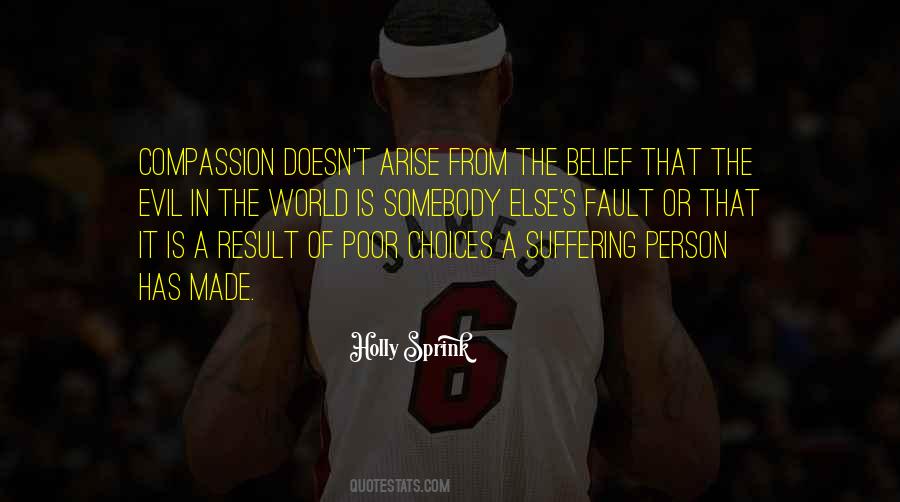 #43. God wants to date us! ...where do you take God for a date? (Having made the world, finding somewhere new is difficult.) - Author: Christine Caine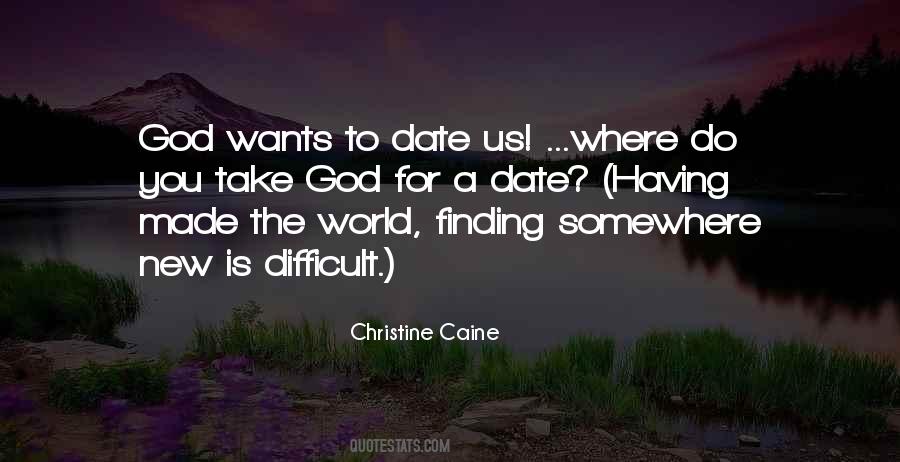 #44. The Christian should be the person who is alive, whose imagination absolutely boils, which moves, which produces something a bit different from God's world because God made us to be creative. - Author: Francis Schaeffer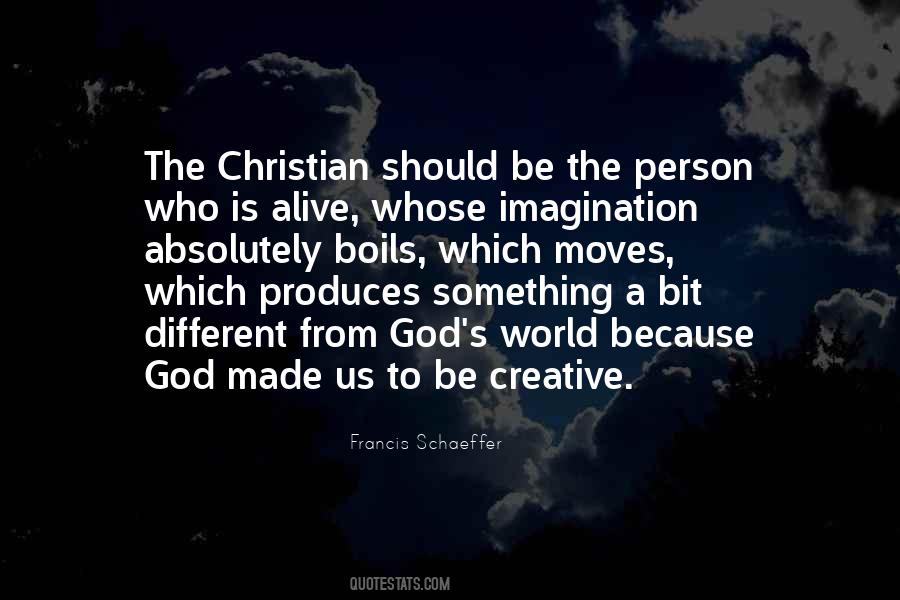 #45. I can see, and that is why I can be happy, in what you call the dark, but which to me is golden. I can see a God-made world, not a manmade world. - Author: Helen Keller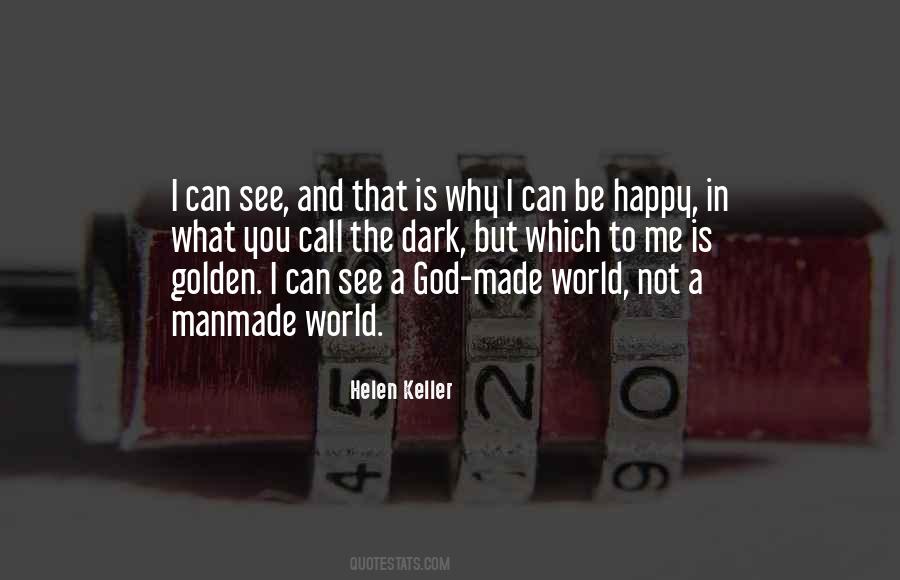 #46. If a god had made the world, might world always be right, that would be so wise, we'd be spared so much suffering. But we made the world - out of our smallness and weakness. Our lives are awkward and fragile ... - Author: Edward Bond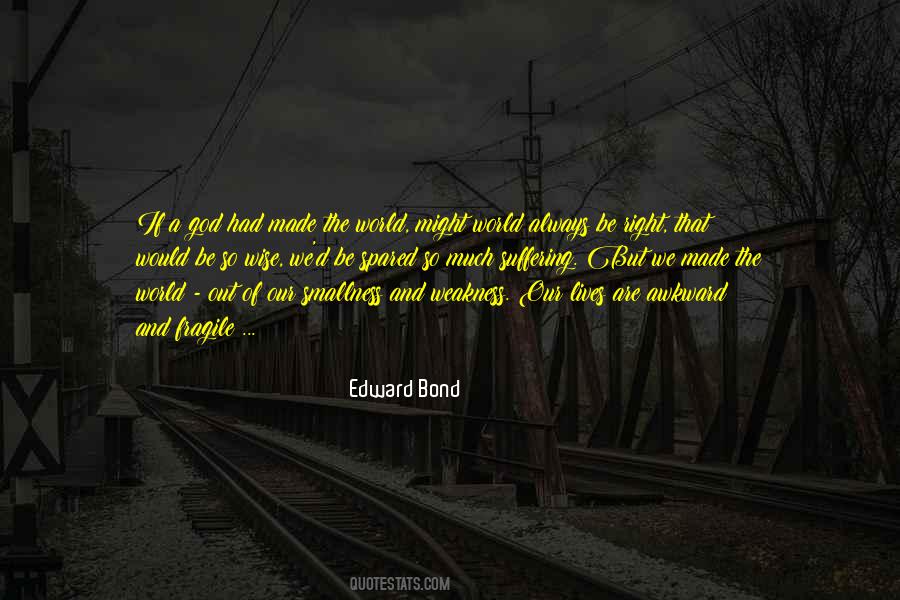 #47. God made humans to reflect his glory, his love, his wisdom into the world, and in the new creation God will not revoke this vocation. He will gloriously fulfill it. We will become more human, not less. - Author: N. T. Wright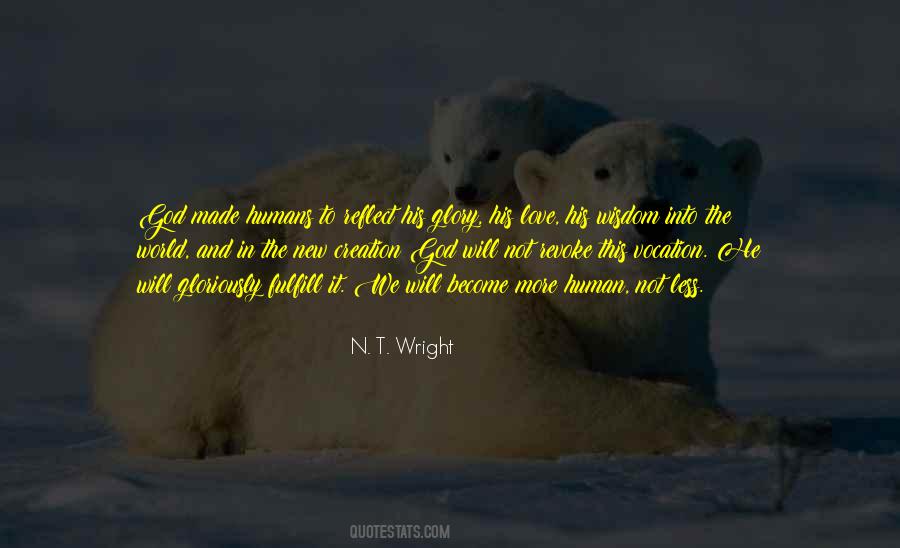 #48. God never made something out of nothing; it is not in the economy or law by which the worlds were, are, or will exist - Author: Brigham Young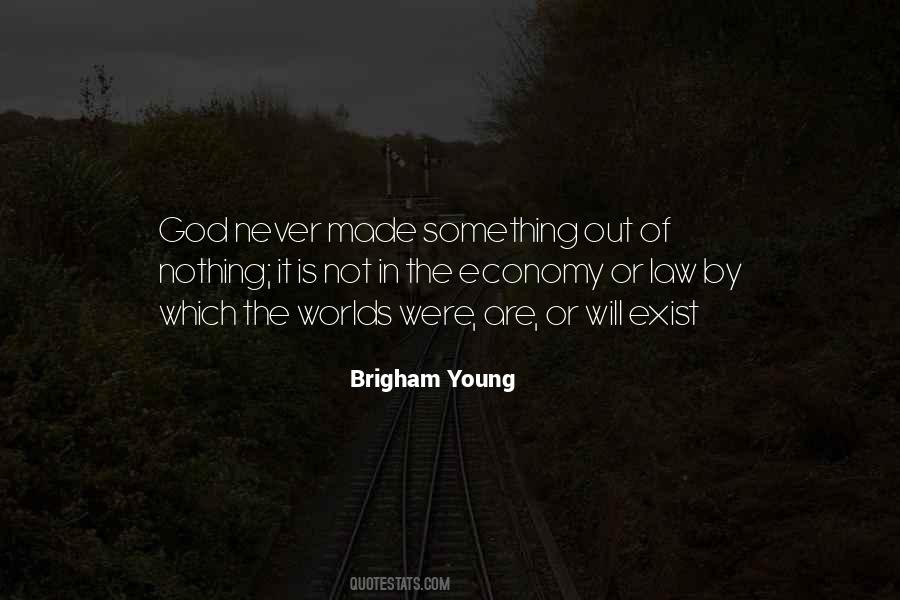 #49. Live in the world as if only God and your soul were in it; then your heart will never be made captive by any earthly thing. - Author: John Of The Cross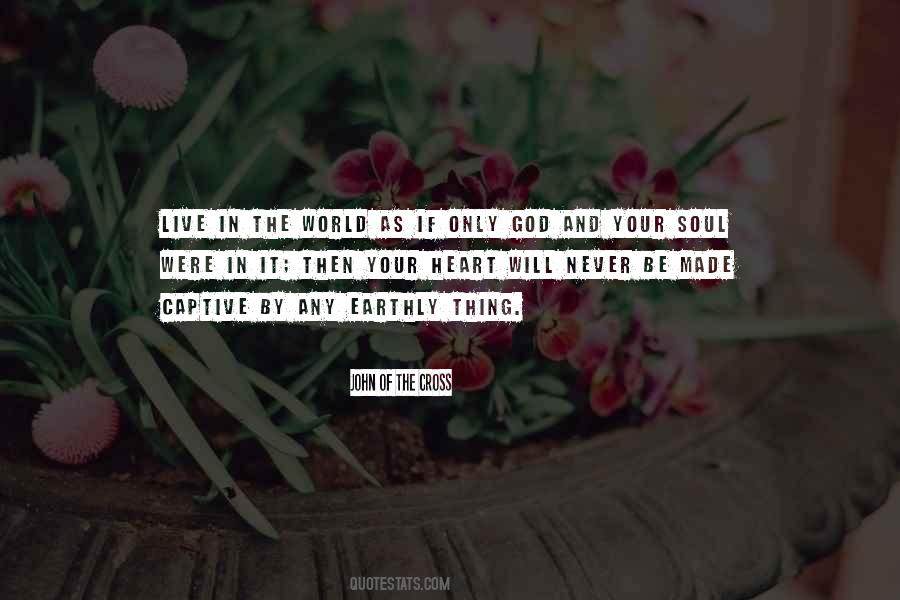 #50. God the Creator had made man in His own image, and that meant that every man and woman who dwelt under God's light was a creator of some kind, a person with an urge to stretch out his hand and shape the world into some rational pattern. The black man wanted - was able - only to unshape. - Author: Stephen King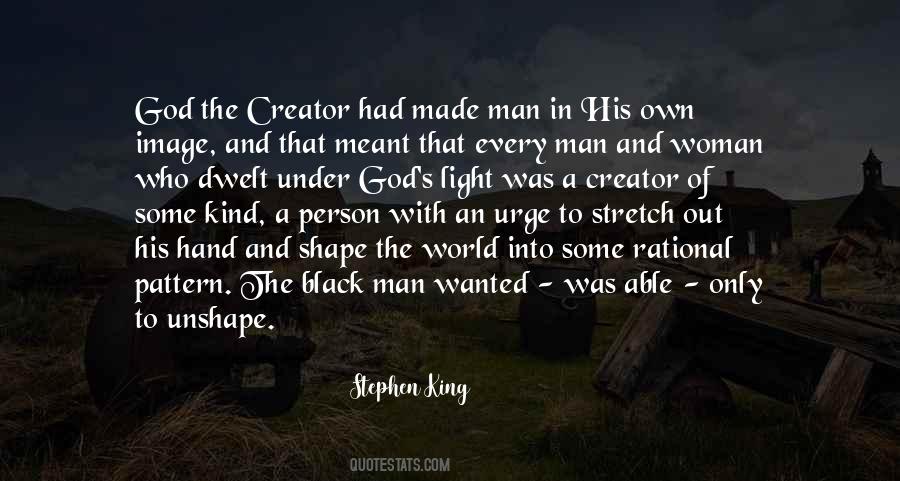 #51. Do not look around at what everyone else is doing. No one is asking you to be someone else. But the world does need you to be you, because you are the only one who can do the job. Be the person God created you to be. He made you exactly right. - Author: Ellyn Sanna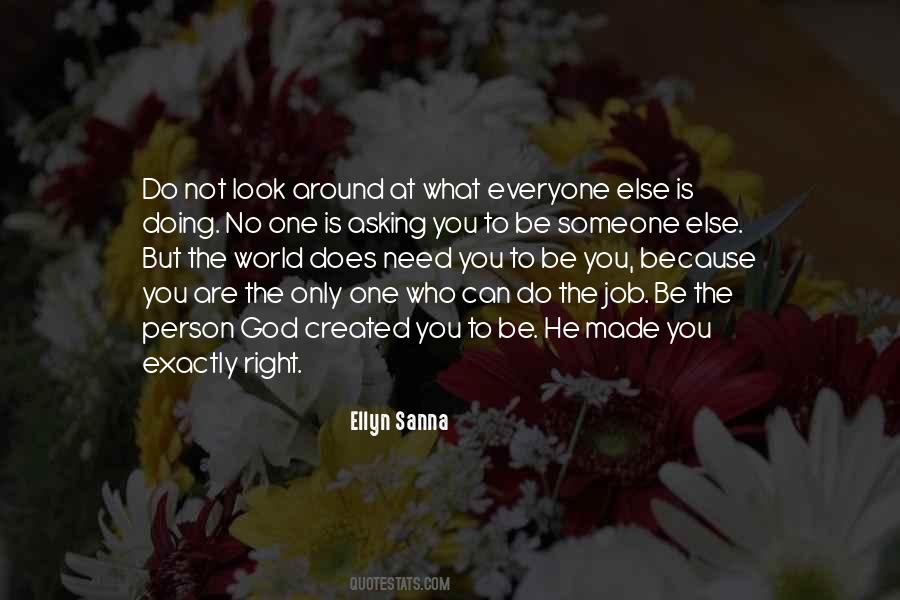 #52. There are moments when I dare not think of it, but there are others when I rise in spirit to where she ever dwells; then I can thank God that I love the noblest lady in the world, the most gracious and beautiful, and that there was nothing in my love that made her fall short in her high duty. - Author: Anthony Hope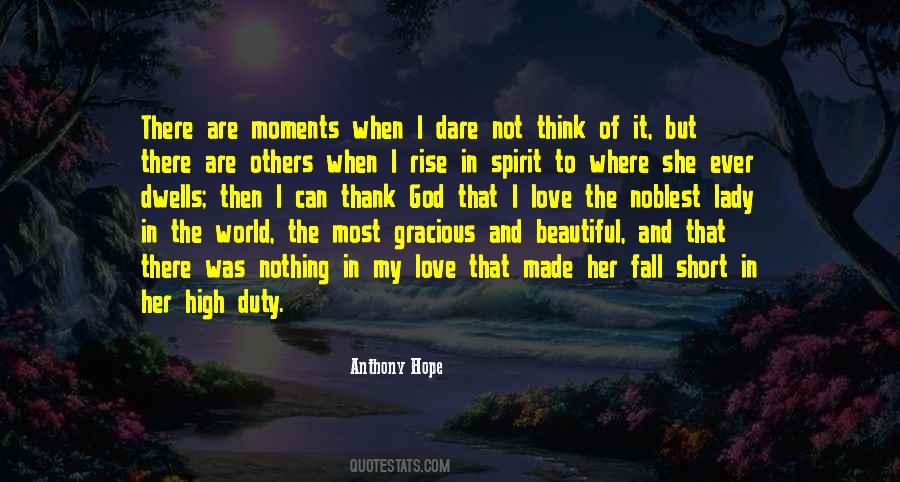 #53. And yet this god, this old god from the Old World, somehow made her feel small. It was only for a moment, but Aphrodite blinked under the weight of his stare - his scrutiny. - Author: Liz Meldon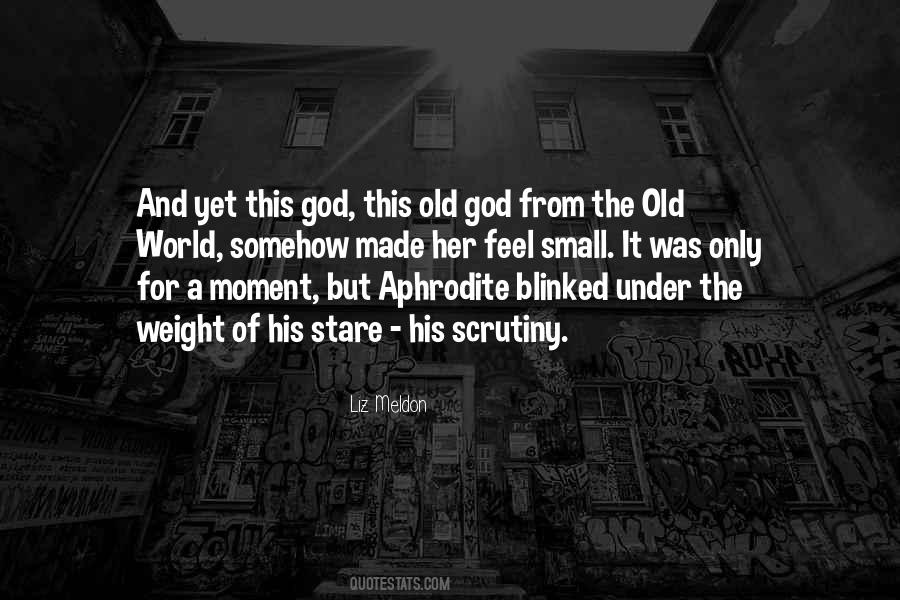 #54. It liberates the vandal to travel-you never saw a bigoted, opinionated, stubborn, narrow-minded, self-conceited, almighty mean man in your life but he had stuck in one place since he was born and thought God made the world and dyspepsia and bile for his especial comfort and satisfaction. - Author: Mark Twain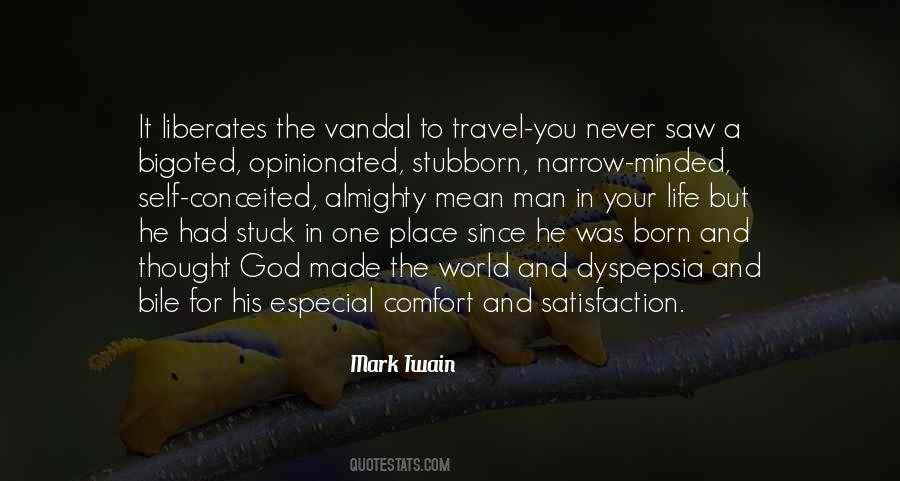 #55. The Existence of Deity, that he made the World, and govern'd it by his Providence; that the most acceptable Service of God was the doing Good to Man; that our Souls are immortal; and that all Crime will be punished and Virtue rewarded either here or hereafter ... - Author: Benjamin Franklin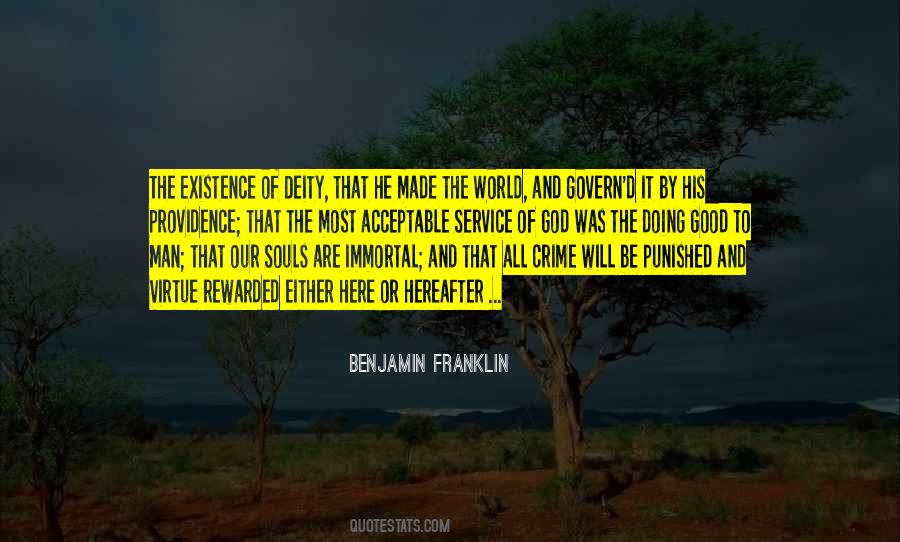 #56. The now wherein God made the world is as near this time as the now I am speaking in this moment, and the last day is as near this now as was yesterday. - Author: Meister Eckhart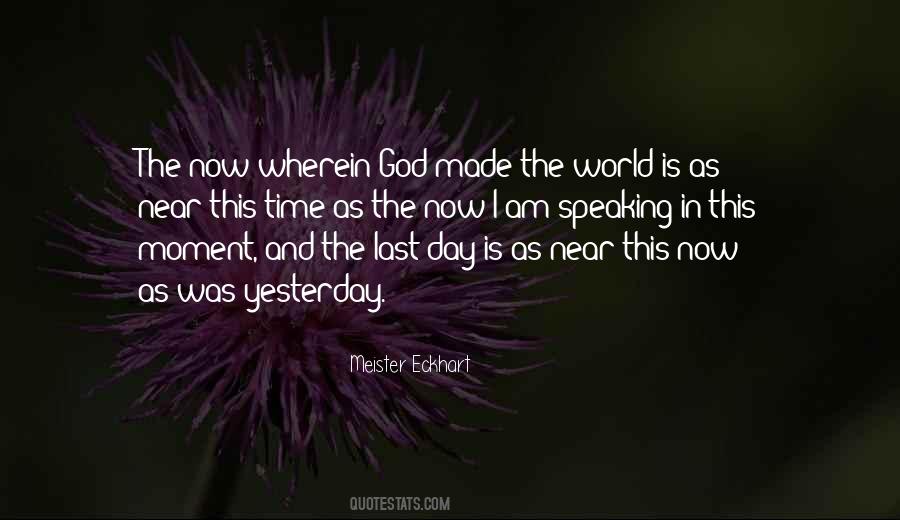 #57. They who are not induced to believe and live as they ought by those discoveries which God hath made in Scriptures would stand out against any evidence whatever, even that of a messenger sent express from the other world. - Author: Francis Atterbury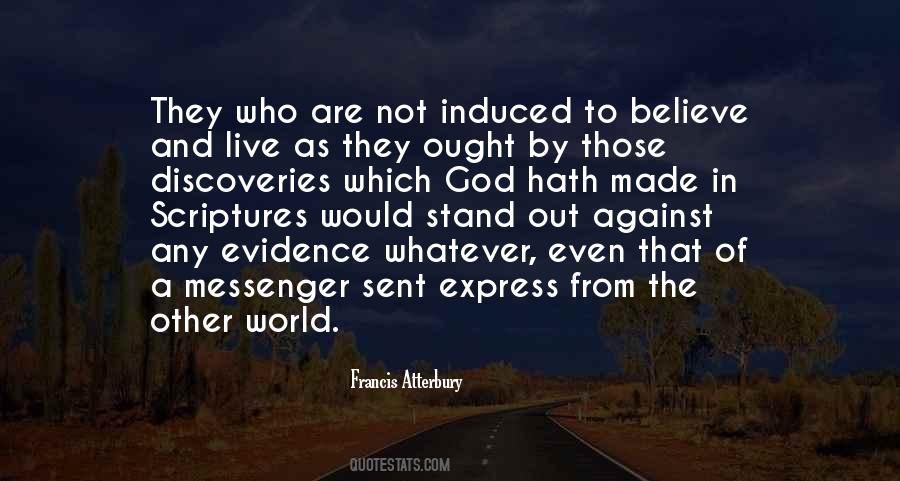 #58. "Why should I become angry just because another man has made a fool of himself. Do thou resist not evil!" That is what the lovers of God say. Whatever the world does, wherever it goes, has no influence [on them]. - Author: Swami Vivekananda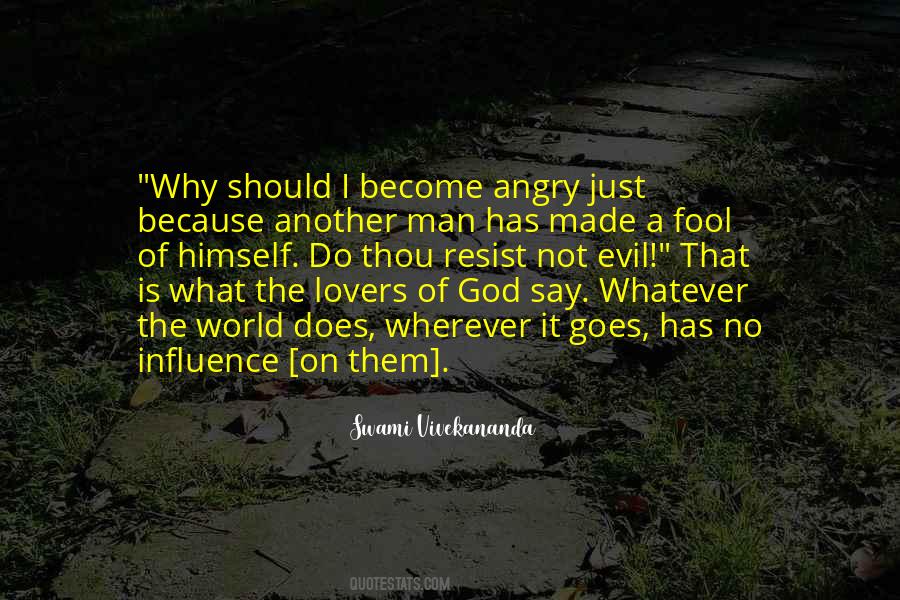 #59. There is no greater gift to future generations than that we do the work God has asked us to do: love one another, that the world might be made right. - Author: Marianne Williamson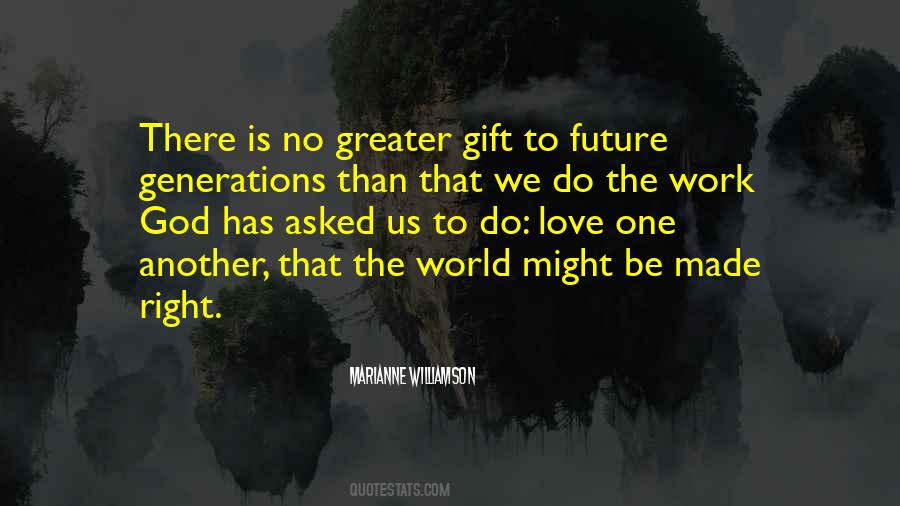 #60. God made sin possible just as he made all lying wonders possible, but he never made it a fact, never set anything in his plan to harmonize with it. Therefore it enters the world as a forbidden fact against everything that God has ordained. - Author: Horace Bushnell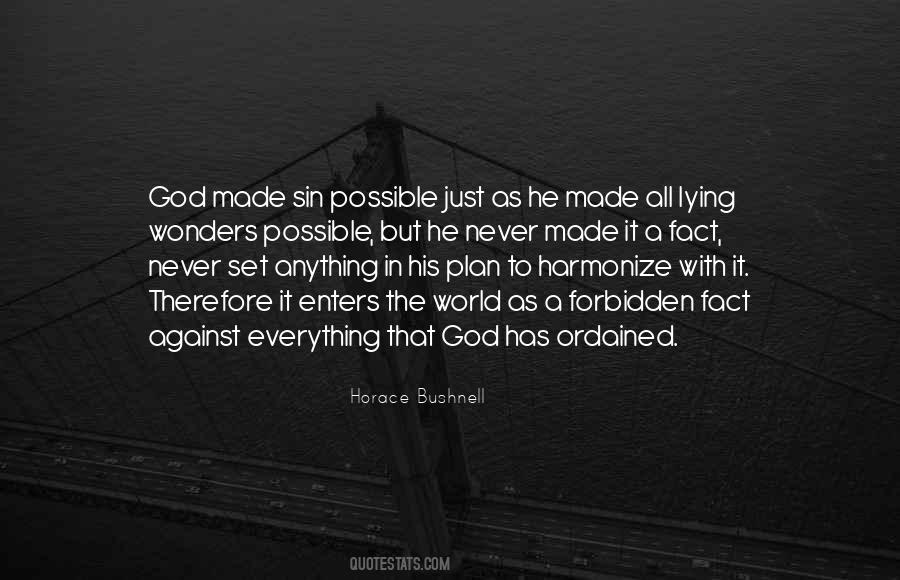 #61. God is the celebrity author of the world's best seller. We have made god into the biggest celebrity of all, to contain our own emptiness. - Author: Daniel J. Boorstin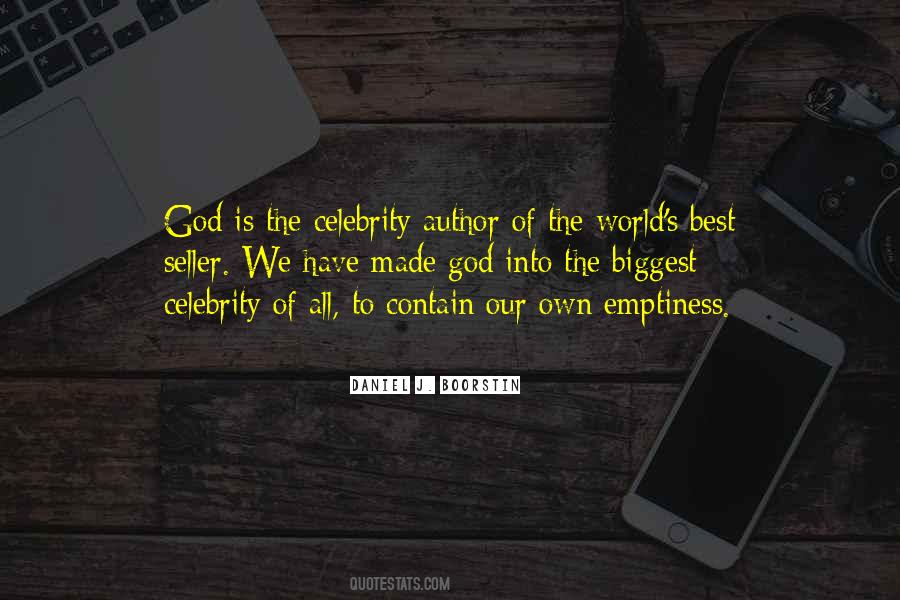 #62. How can finite man commune with an infinite God? To both Christians and Jews, God himself has made that possible by irrupting into the temporal world. To Christians, God became man in the Incarnation; to Jews, the God that spoke out of the fire on Mount Sinai gave his Torah. - Author: Meir Soloveichik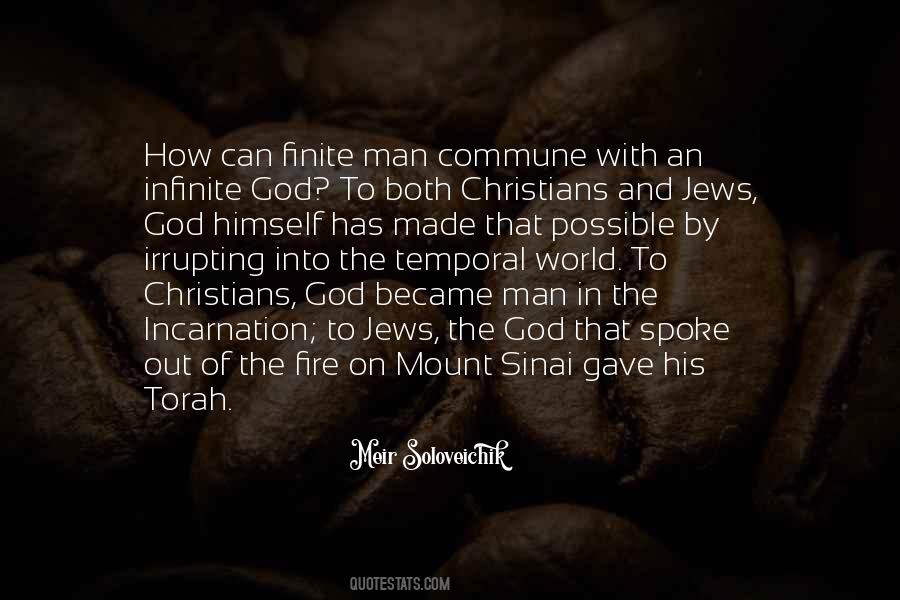 #63. God blessed us with so many beautiful things around us 'NATURE' and then gave us the precious gift 'LIFE' to enjoy. So, why worried about future, Start 'To Live' because God chose you to experience the adventure of his own made world. - Author: Manik Ghawri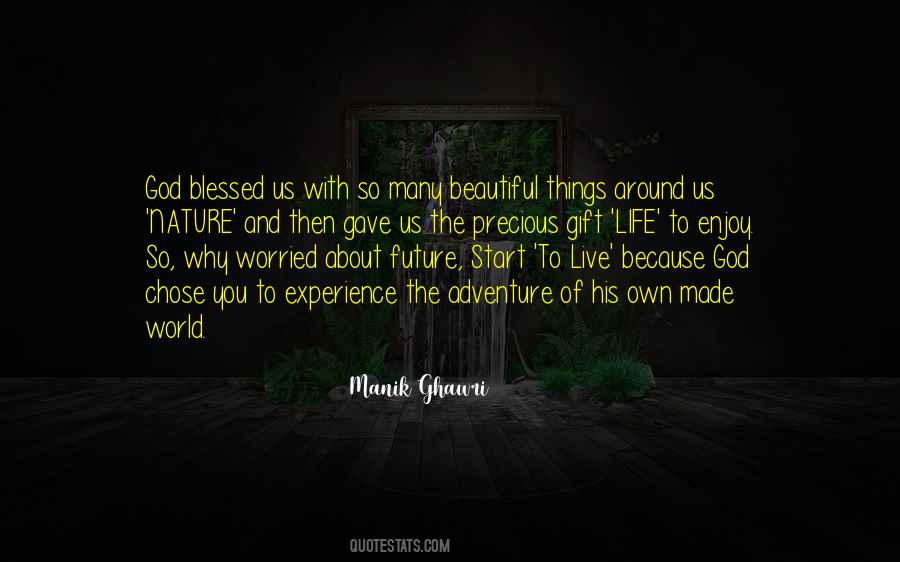 #64. The movement that Jesus begins is constituted by people who believe that they have all the time in the world, made possible by God's patience, to challenge the world's impatient violence by cross and resurrection. - Author: Stanley Hauerwas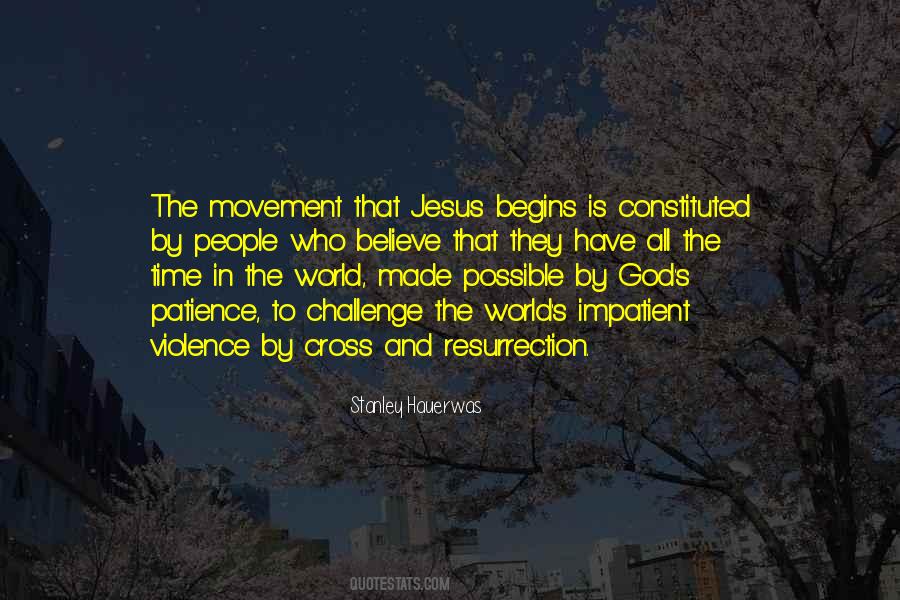 #65. What I'm really interested in is whether God could have made the world in a different way; that is, whether the necessity of logical simplicity leaves any freedom at all. - Author: Albert Einstein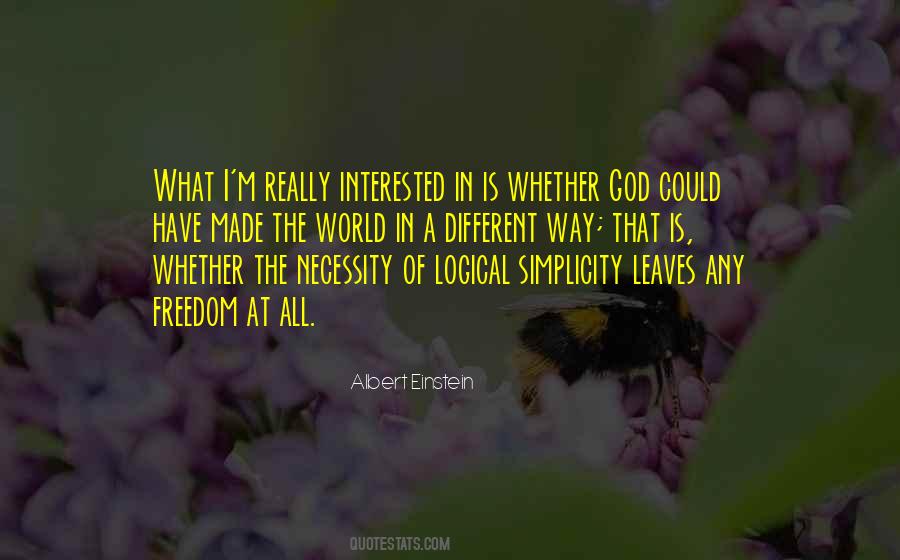 #66. A scientific discovery is also a religious discovery. There is no conflict between science and religion. Our knowledge of God is made larger with every discovery we make about the world. - Author: Joseph Hooton Taylor Jr.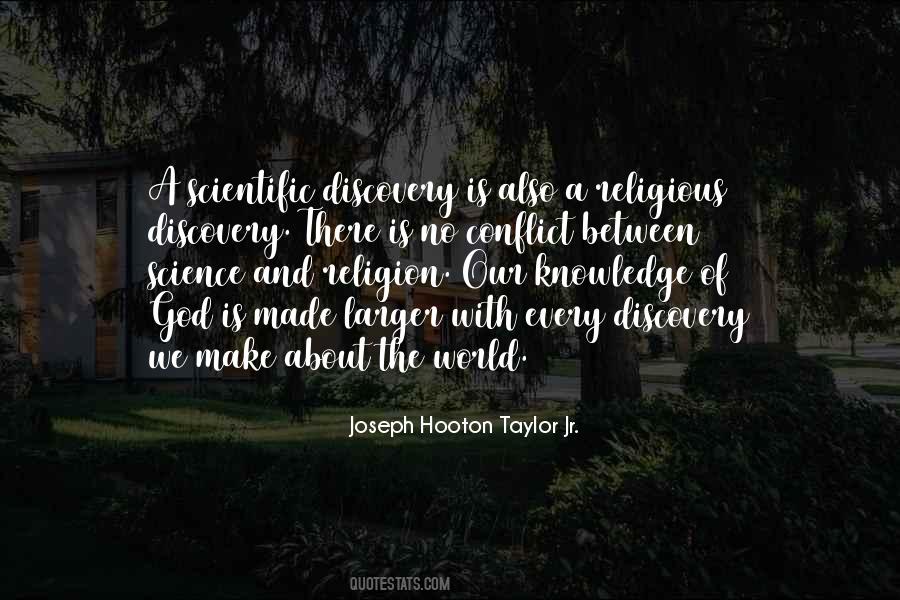 #67. The only theism worthy of our respect believes in God not because of the way the world is made but in spite of that. The only theism that is no less profound than the Buddha's atheism is that represented in the Bible by Job and Jeremiah. - Author: Walter Kaufmann
#68. How could any Lord have made this world? ... there is no reason, order, justice: but suffering, death, the poor. There was no treachery too base for this world to commit ... No happiness lasted. - Author: Virginia Woolf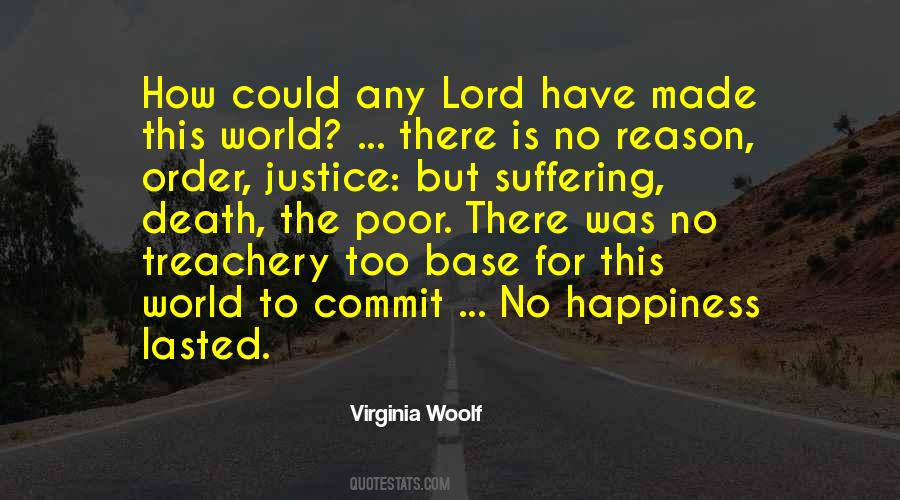 #69. When they have opened a gap in the ... wall of separation between the Garden of the Church and the wildernes of the world, God hath ever ... made his Garden a Wildernesse. - Author: Roger Williams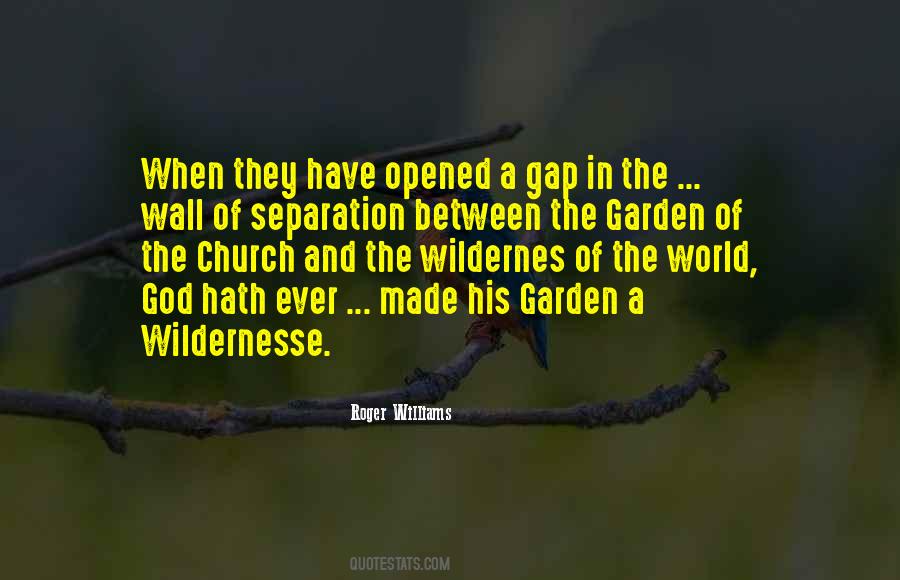 #70. If you don't know the kind of person I am
and I don't know the kind of person you are
a pattern that others made may prevail in the world
and following the wrong god home we may miss our star. - Author: William Stafford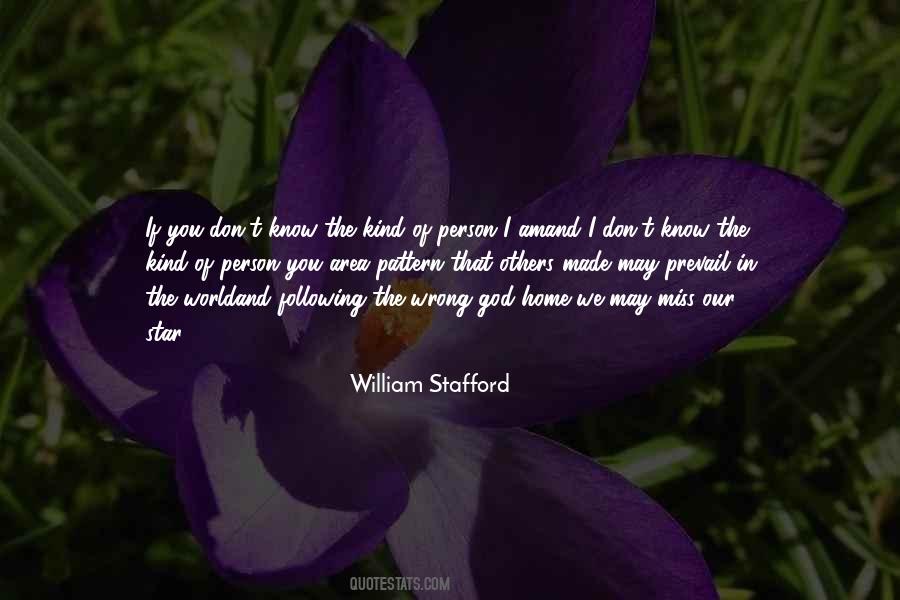 #71. We made our choice, he said. We hunted for them, we guarded their brats. God knows, we helped them make a civilization, didn't we? And why?
I said I didn't know; it was beyond me. Because, he said, we thought they knew how to take care of things. How to keep the world full of meat and flowers. - Author: Clive Barker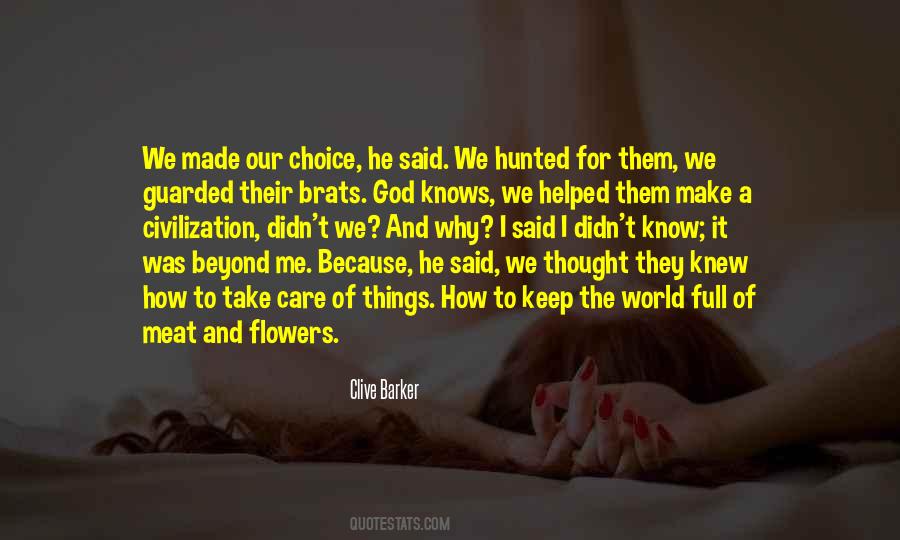 #72. This world is full of remedies. But you have no remedy until God opens a window for you. You may not be aware of that remedy just now. In the hour of need it will be made clear to you. The Prophet said God made a remedy for every pain. - Author: Rumi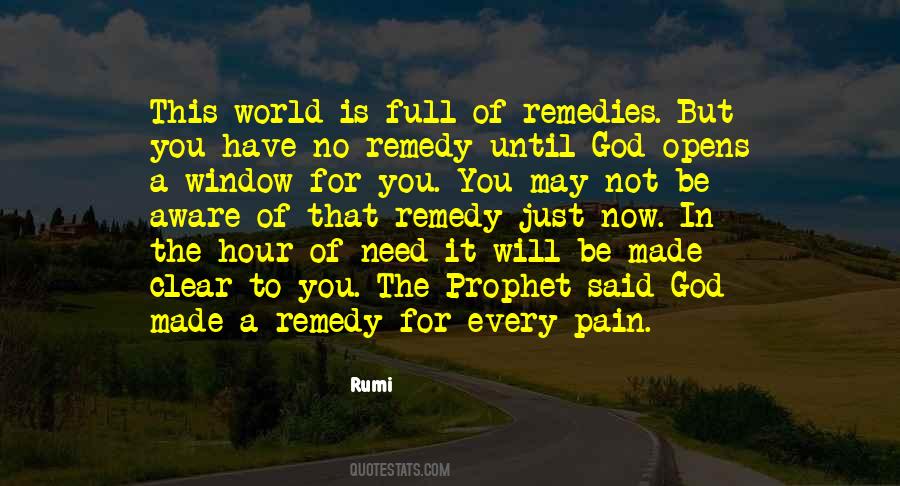 #73. When the devil is called the god of this world, it is not because he made it, but because we serve him with our worldliness. - Author: Thomas Aquinas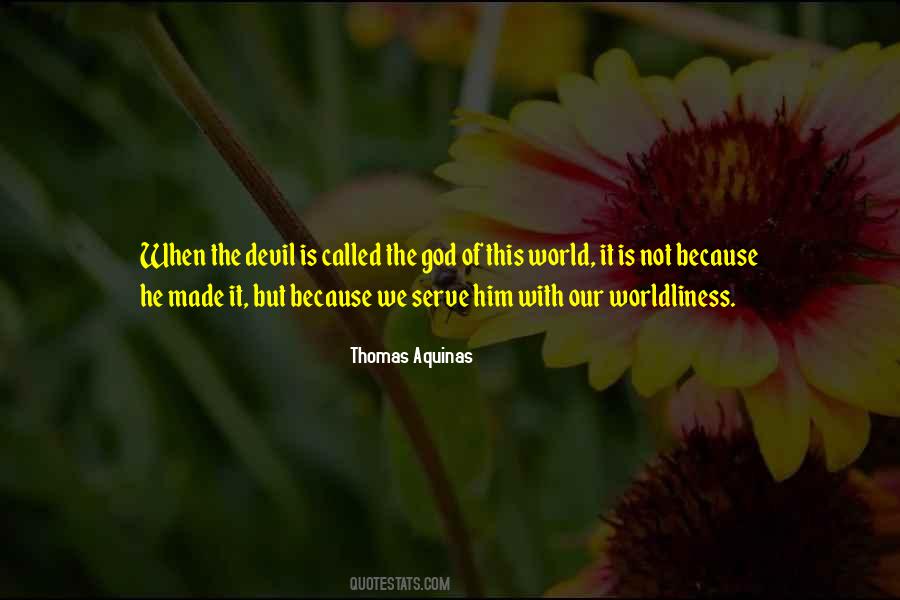 #74. The heart and life of a woman is much more vast than that. All women are made in the image of God in that we bring forth life. When we offer our tender and strong feminine hearts to the world and to those we love, we cannot help but mother them. - Author: Stasi Eldredge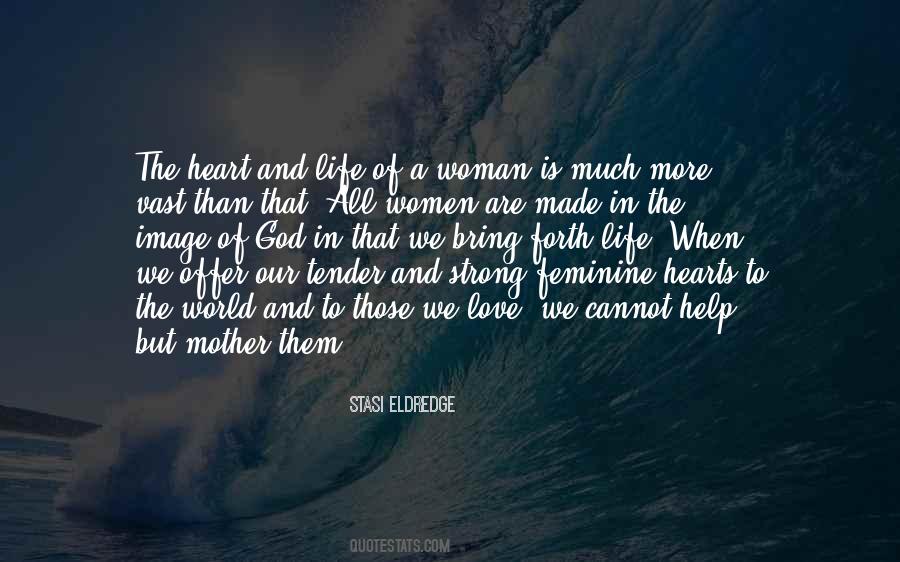 #75. We must believe that He permits it [this war] for some wise purpose of his own, mysterious and unknown to us; and though with ourlimited understandings we may not be able to comprehend it, yet we cannot but believe, that he who made the world still governs it. - Author: Abraham Lincoln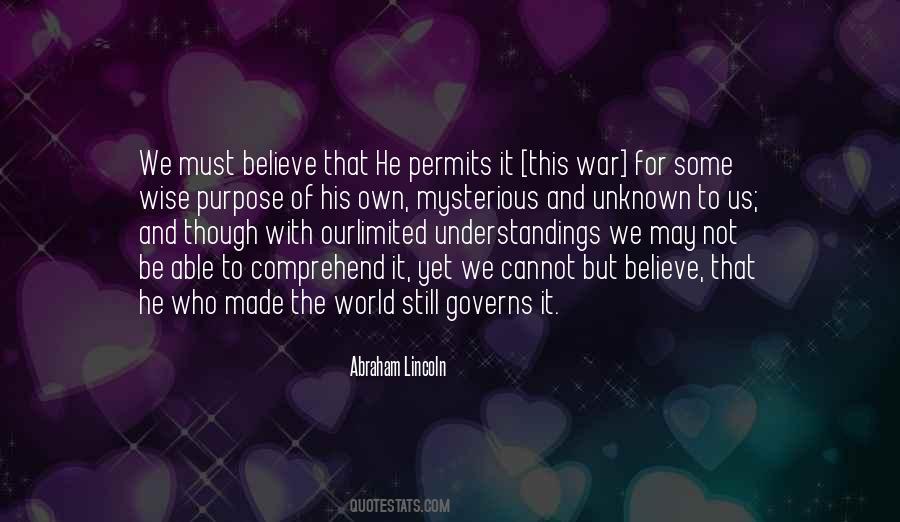 #76. God made the world from nothing, and if we can be nothing, then God can make something of us. - Author: Martin Luther King Jr.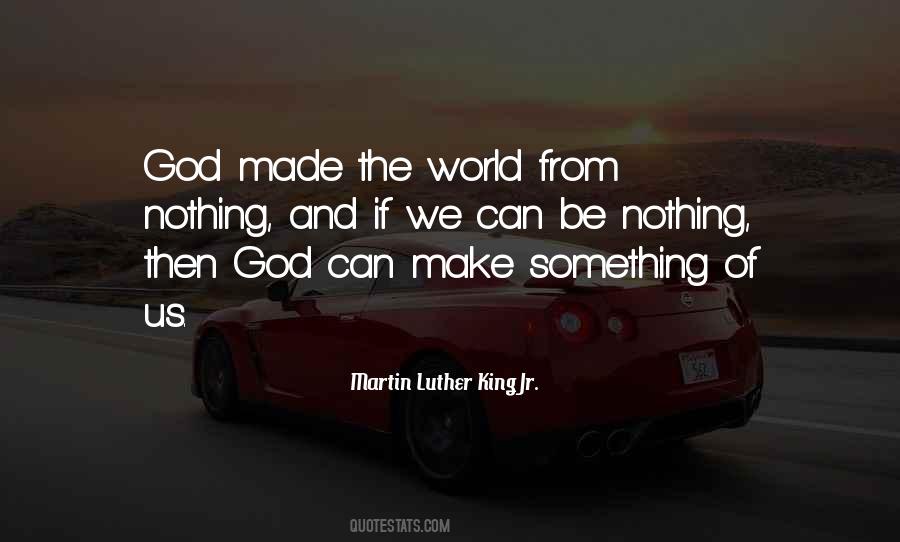 #77. If Christianity is a mere invention of man, and the Bible is not from God, how can infidels explain Jesus Christ? His existence in history they cannot deny. How is it that without force or bribery, without arms or money, He has made such an immensely deep mark on the world as He certainly has? - Author: J.C. Ryle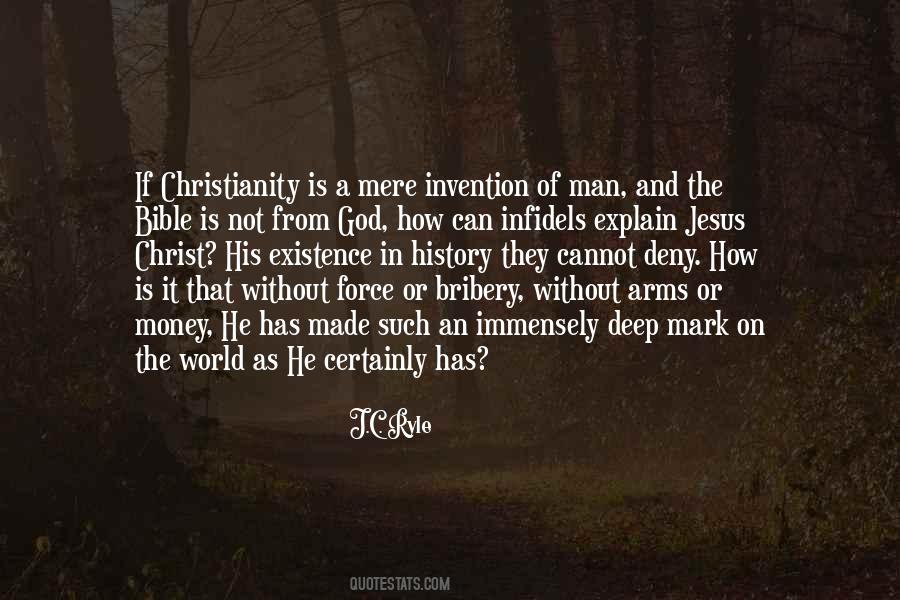 #78. How dare you talk of helping the world? God alone can do that. First you must be made free from all sense of self; then the Divine Mother will give you a task to do. - Author: Ramakrishna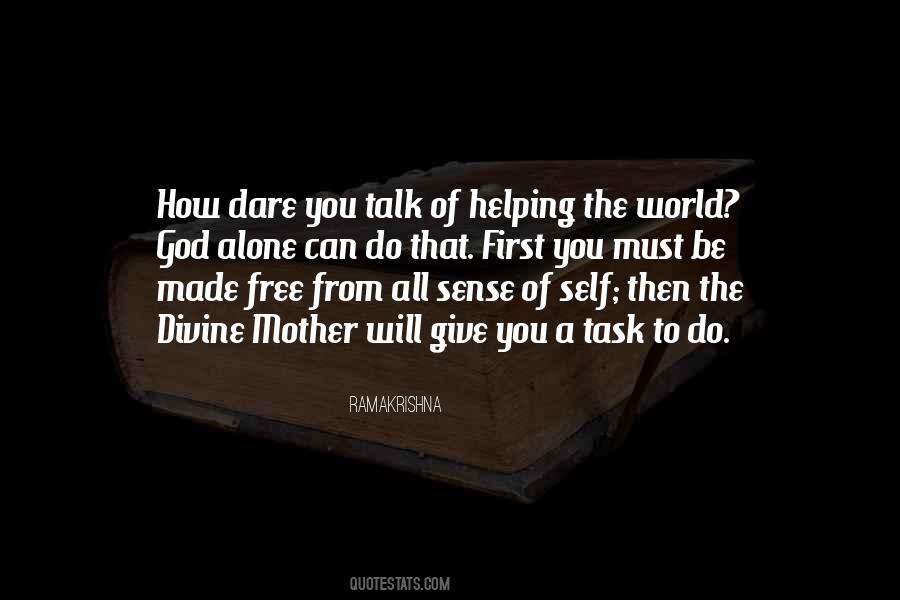 #79. The world was made for the body. The body was made for the soul. And the soul was made for God. - Author: Ravi Zacharias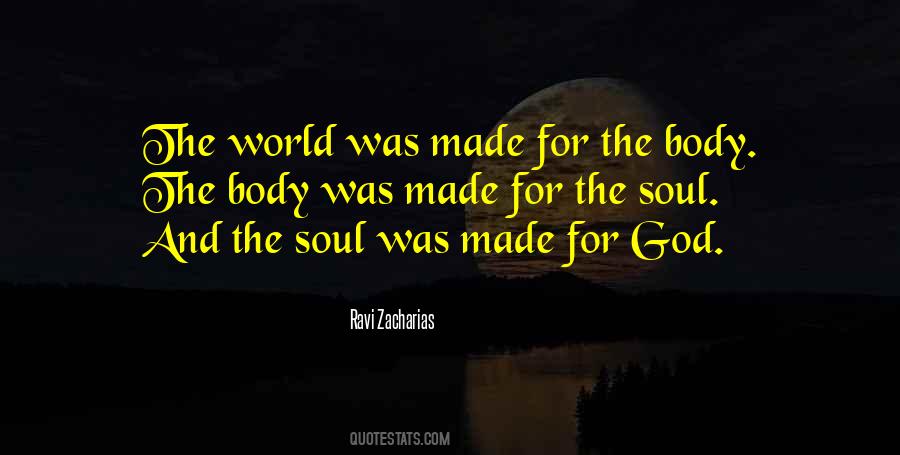 #80. We must desire to be separated unto the Lord from the world and its evil system. We must reckon ourselves dead to sin and alive to God. This is true positionally, but it can be made true in our spiritual life only as we yield to the Holy Spirit's control. - Author: Theodore Epp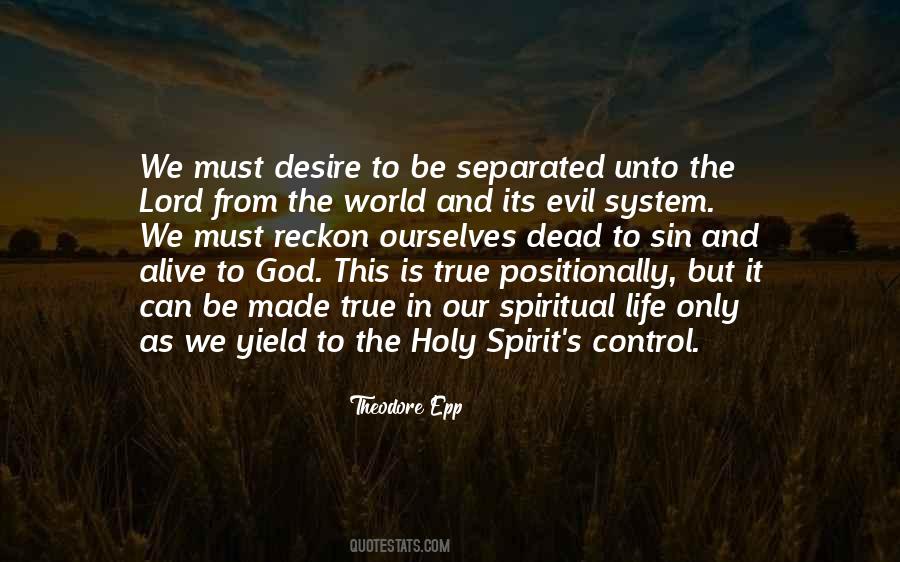 #81. He actually felt as if God had sent the retriever to intrigue him, to remind him that the world was full of surprises and that despair made no sense when one had no understanding of the purpose - and strange possibilities - of existence. - Author: Dean Koontz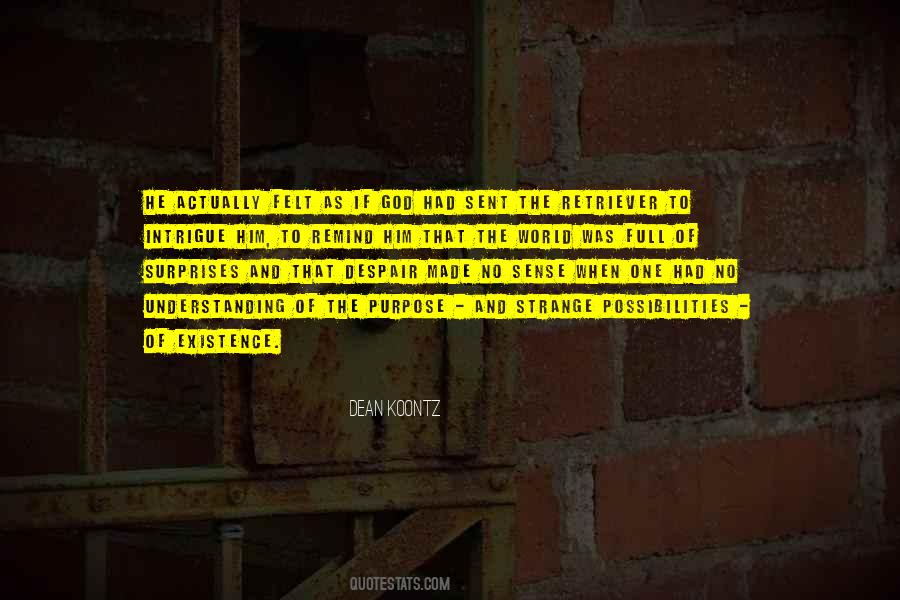 #82. We thank God for having created this world, and praise Him for having made another, quite different one, where the wrongs of this one are corrected. - Author: Anatole France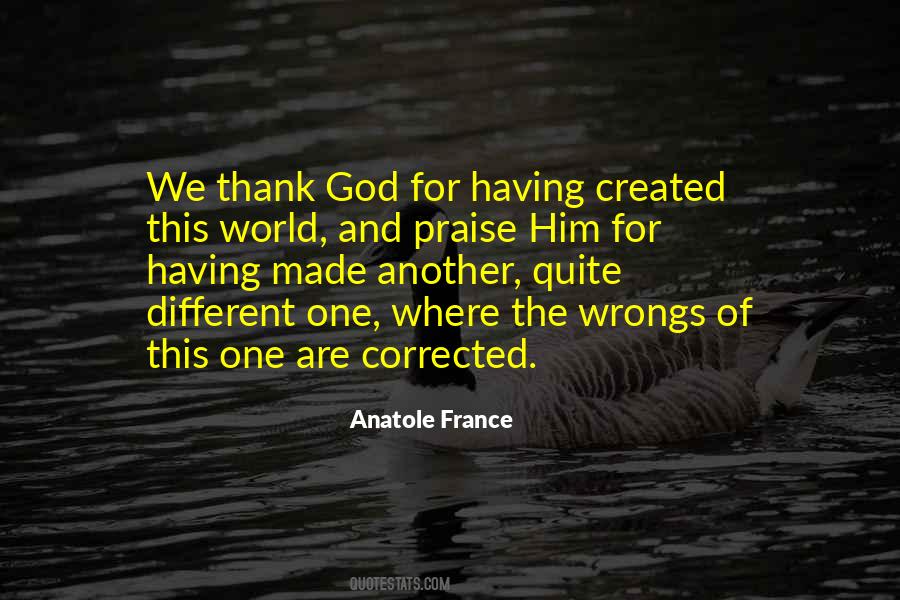 #83. What interests me most is whether God could have made the world differently. - Author: Albert Einstein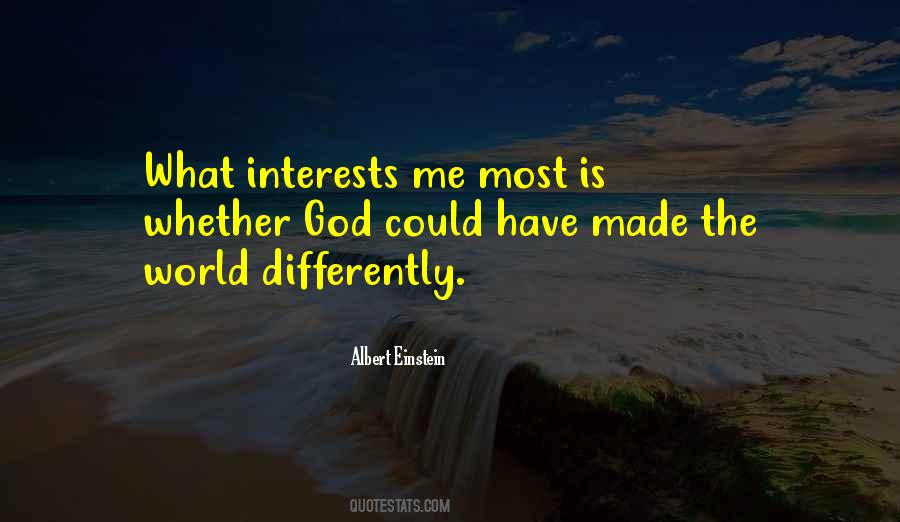 #84. I believe still today what I have always believed: that God is good, that the world he made is extraordinary, and that his comfort is like nothing else on earth. - Author: Shauna Niequist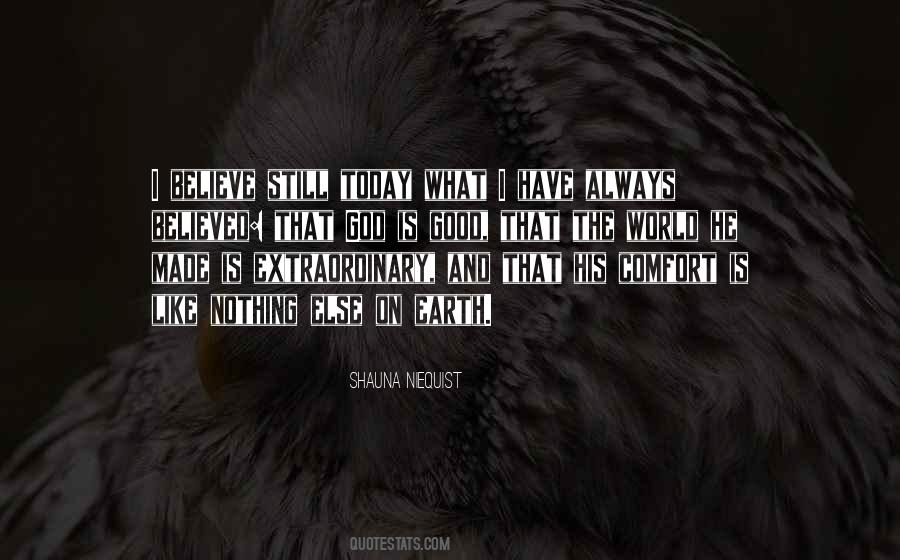 #85. Art owes its origin to Nature herself ... this beautiful creation, the world, supplied the first model, while the original teacher was that divine intelligence which has not only made us superior to the other animals, but like God Himself, if I may venture to say it. - Author: Giorgio Vasari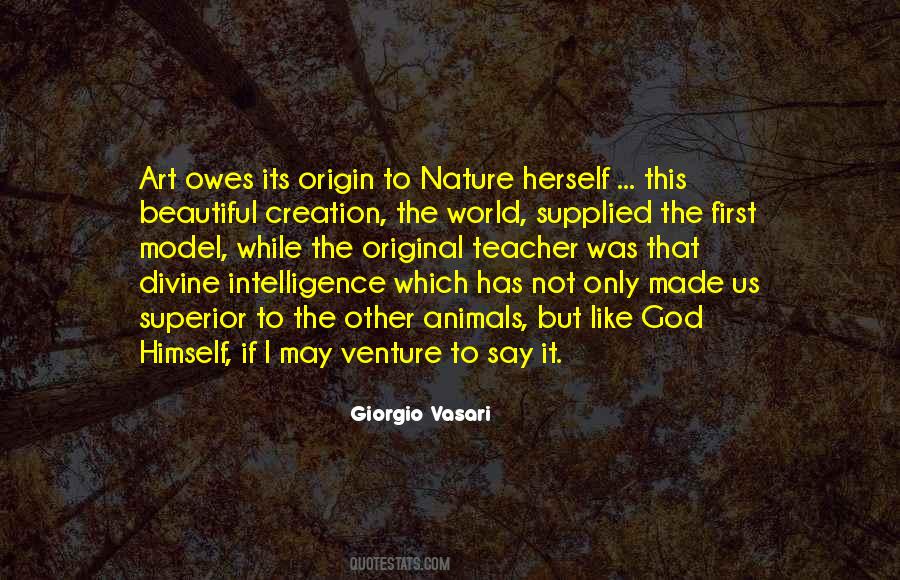 #86. No misery to be saved from . . . So evil is necessary, in order to the highest happiness of the creature, and the completeness of that communication of God, for which he made the world; because the creature's - Author: Austin Fischer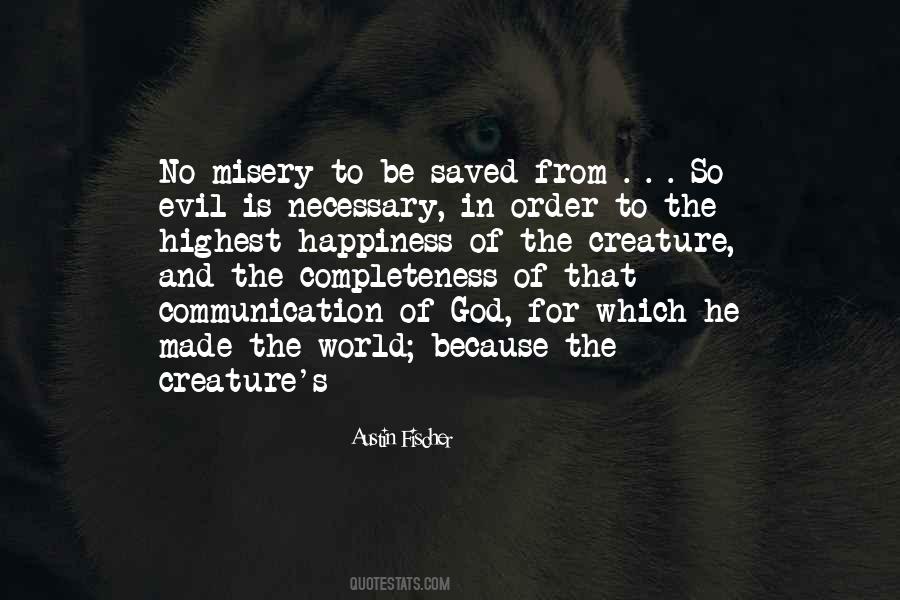 #87. But God fears woman even more than He fears the devil -and is right to. She, with her power to bring life into the world, was truly made in the image of the Creator, not man ... - Author: Joe Hill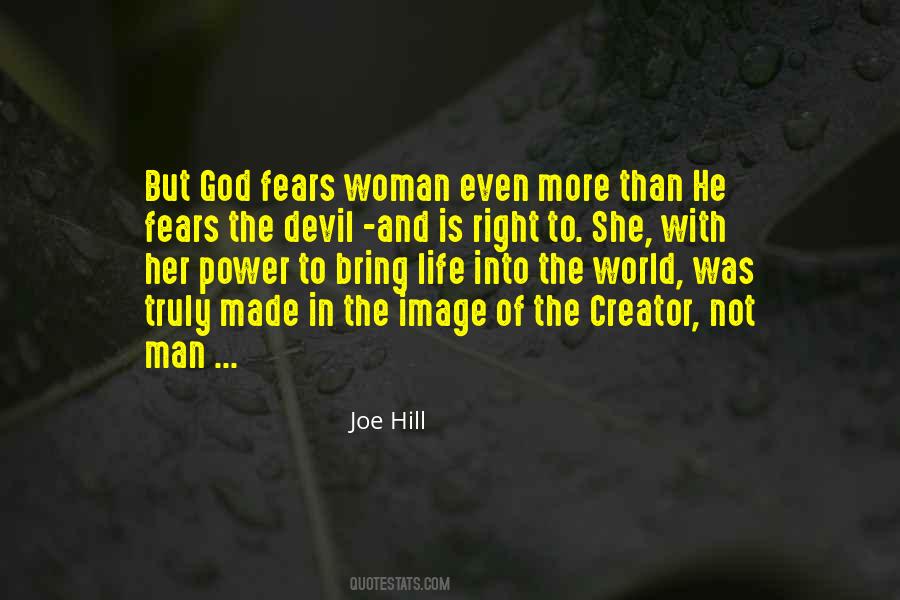 #88. Odd how a few sticks of furniture hung around like that. It made her feel better to see them. They would unpack, deploy the furniture, use it until it became invisible. Habit would once again cloak the naked reality of the world. And thank God for that. - Author: Kim Stanley Robinson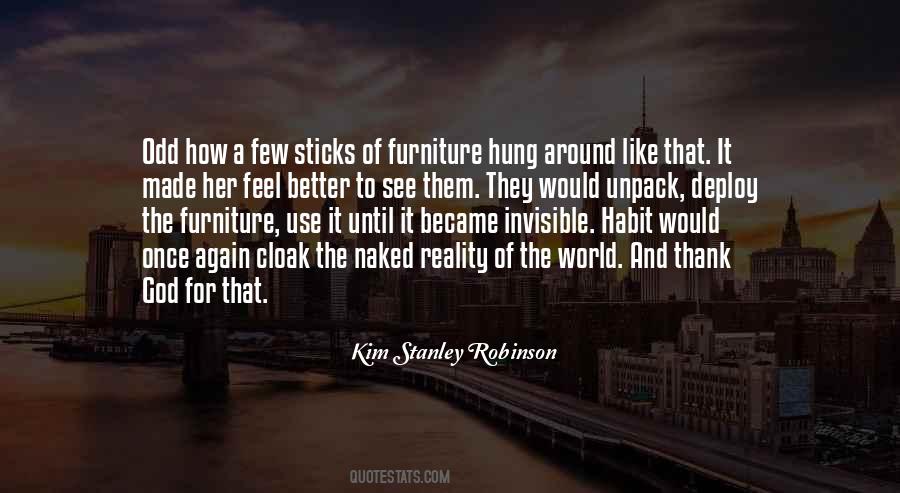 #89. Let us love silence till the world is made to die in our hearts. Let us always remember death, and in this thought draw near to God in our heart - and the pleasures of this world will have our scorn. - Author: Isaac Jogues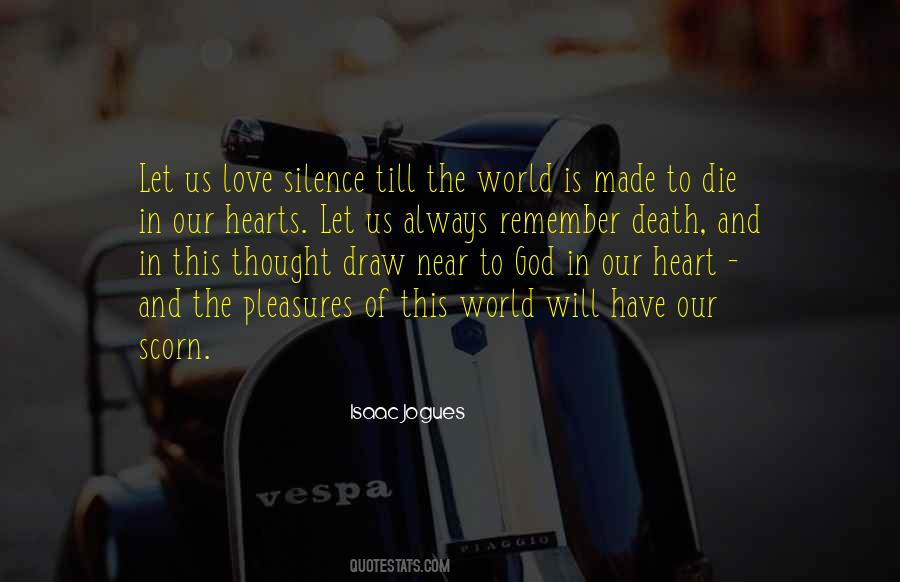 #90. He wouldn't be the one to prove to the world that there was an afterlife, but he hoped to be the one to prove it to himself, though he would have a few stern questions for a Creator who made people haunt libraries. - Author: Thomm Quackenbush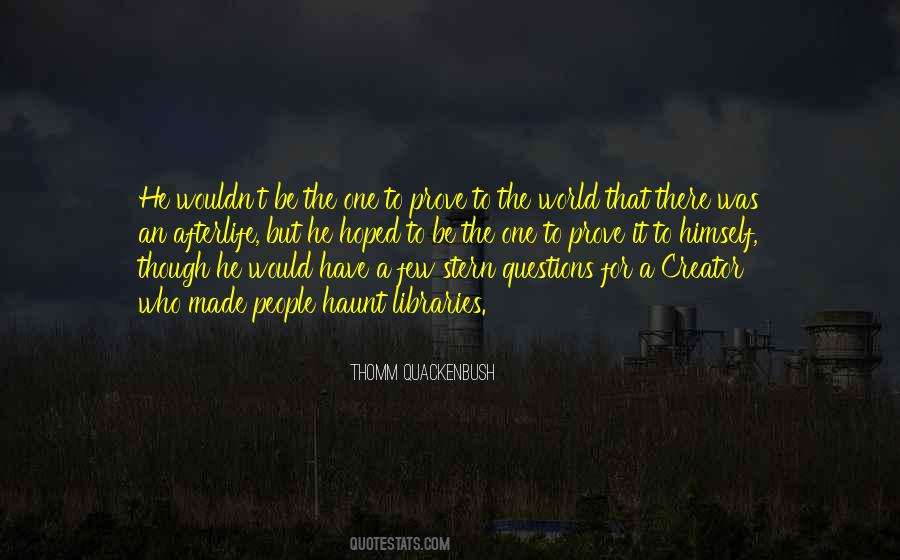 #91. Creation's probably overrated. After all, God made the world in only six days and rested on the seventh. - Author: Ernest Hemingway,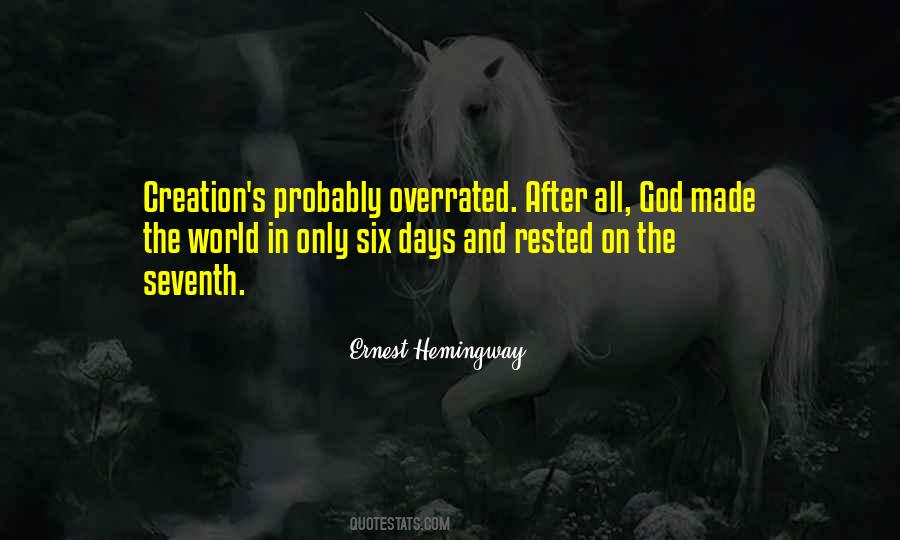 #92. If we find ourselves with a desire that nothing in this world can satisfy, the most probable explanation is that we were made for another world. - Author: C.S. Lewis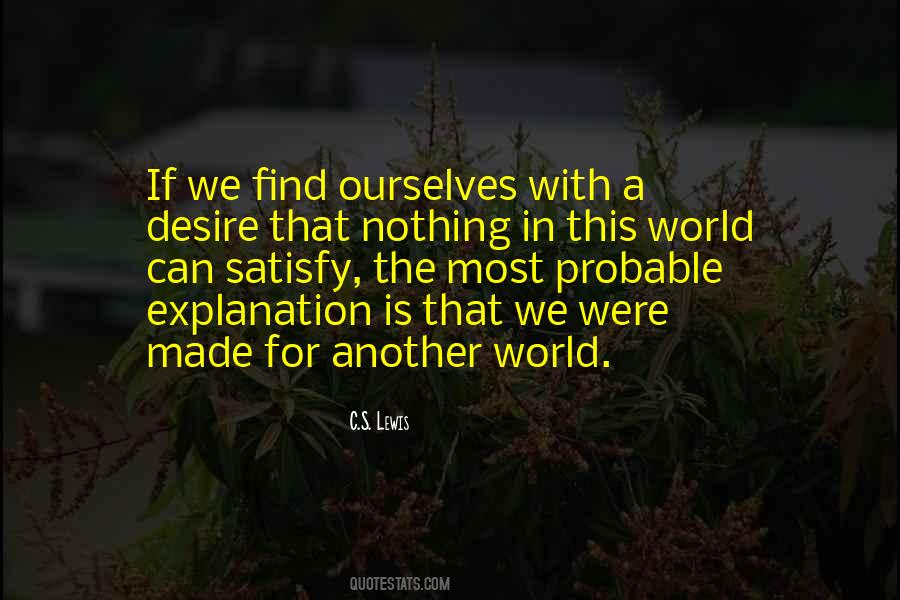 #93. Wolterstorff gives an amazing answer: the teaching of the Scriptures, clarified and made available to all the world through Jesus, that every human being is made in the image of God, and loved by God. There - Author: John Ortberg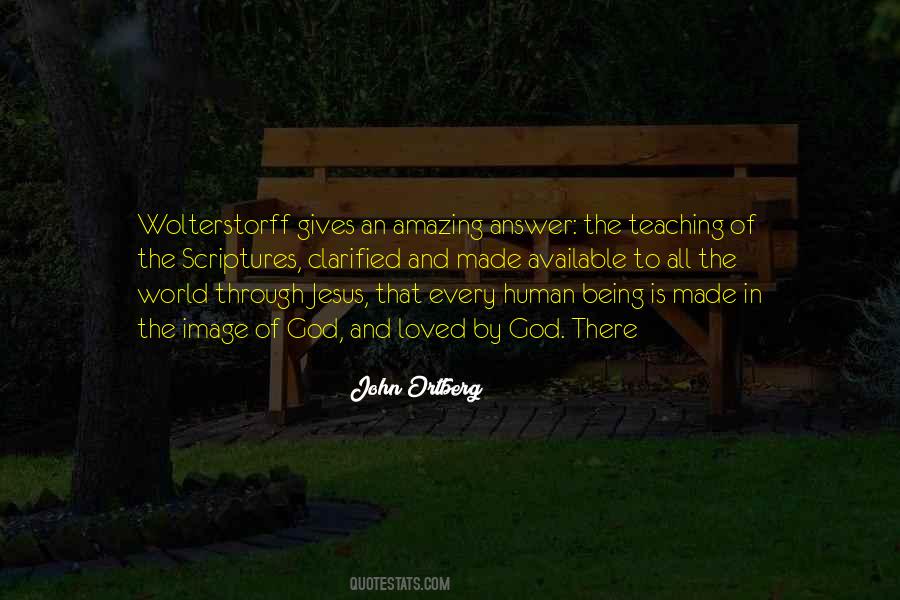 #94. We have a God-given commission, but it is not a commission to be self-righteous know-it-alls- quite the contrary. Our work in God's world begins with the acknowledgment that we are not God, and that our most bitter rivals are made in God's image. - Author: John C. Danforth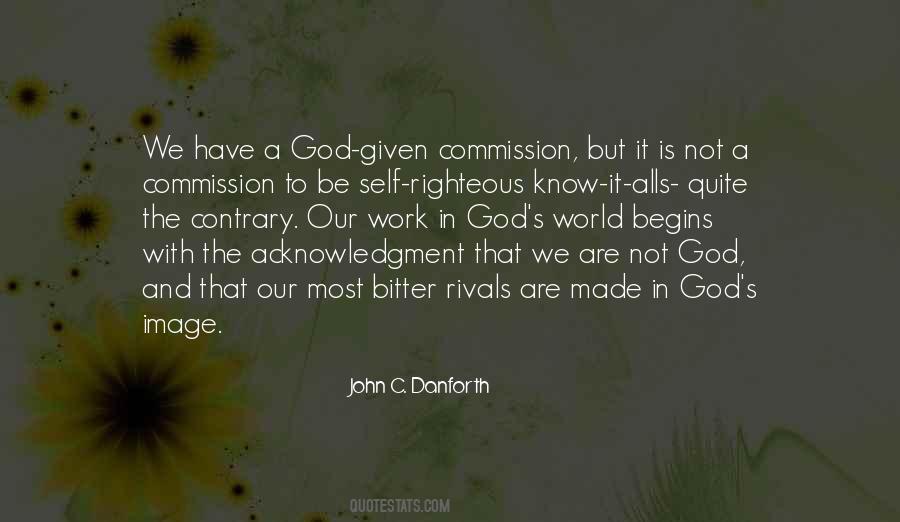 #95. Accept the fact that you're never gonna be someone else and embrace the fact that the world needs you as God made you to be. - Author: Louie Giglio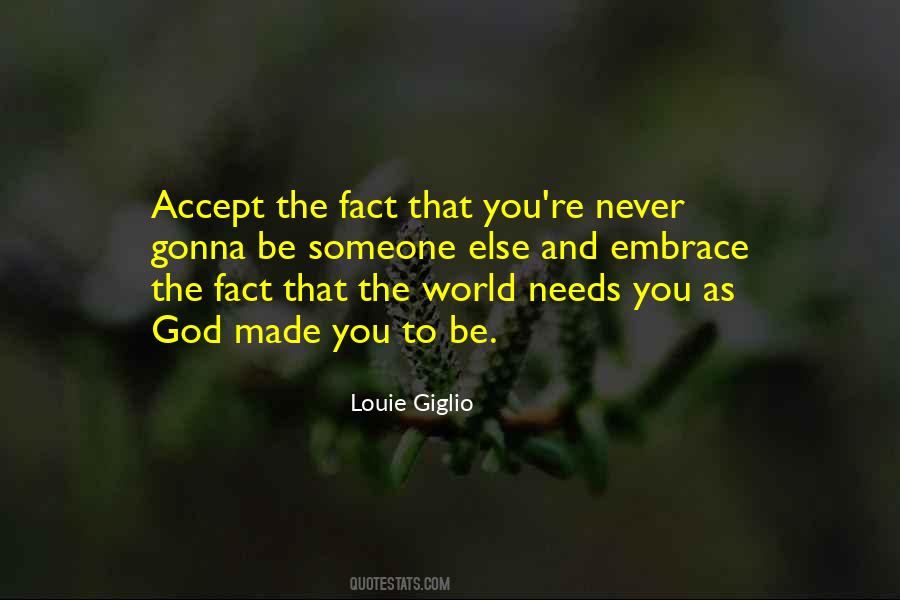 #96. If the first woman God ever made was strong enough to turn the world upside down all alone, these women together ought to be able to turn it back, and get it right side up again! And now they is asking to do it, the men better let them. - Author: Sojourner Truth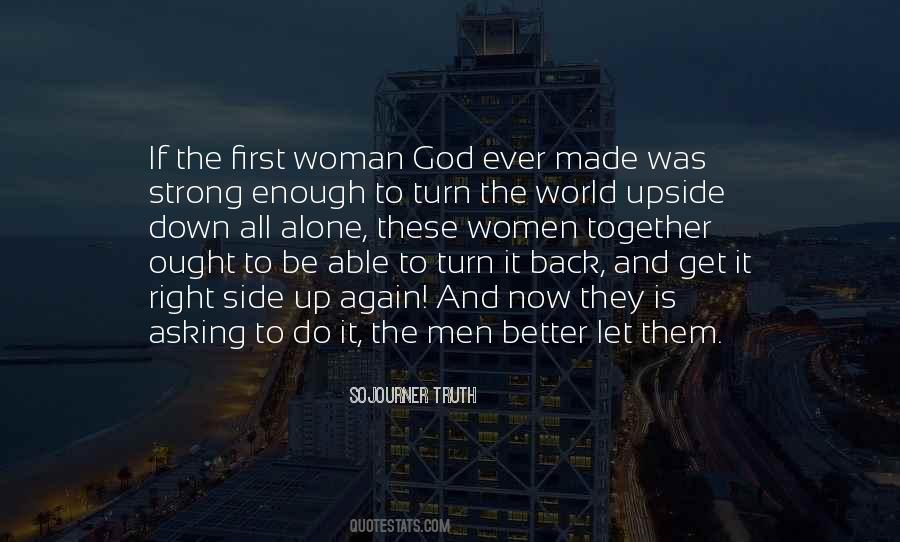 #97. Though the world is becoming more wicked, the youth of Christ's Church can become more righteous if they understand who they are, understand the blessings available, and understand the promises God has made to those who are righteous, who believe, who endure. - Author: David B. Haight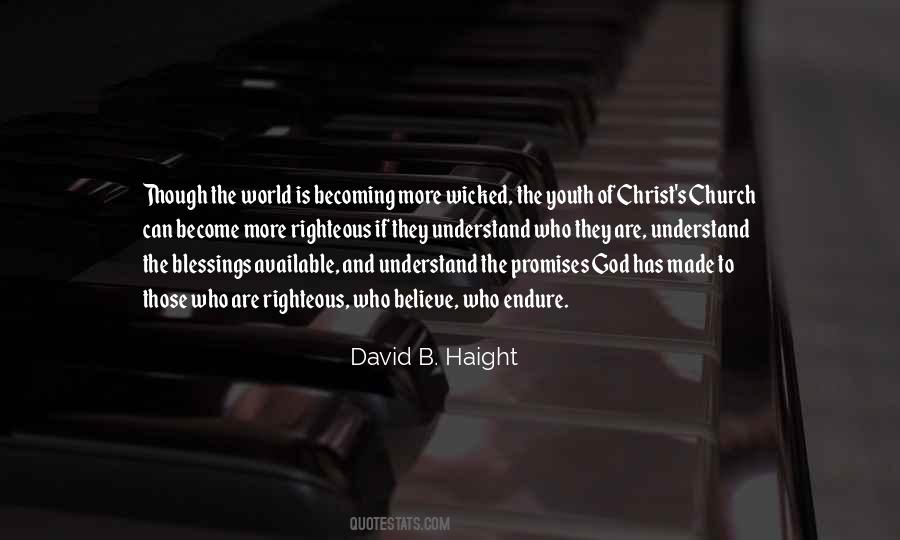 #98. Back in the days when the market was a kind of secular god and all the world thrilled to behold the amazing powers of private capital, the idea of privatizing highways and airports and other bits of our transportation infrastructure made a certain kind of sense. - Author: Thomas Frank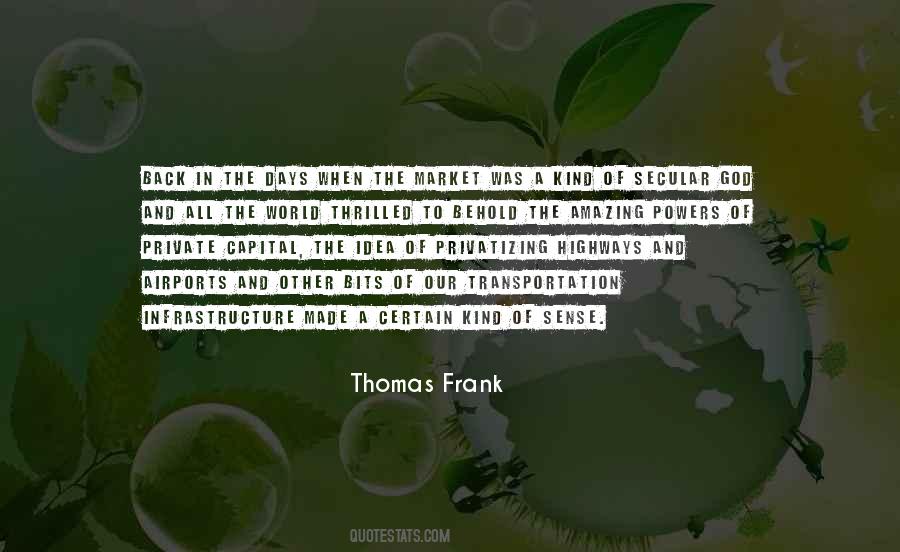 #99. The Resurrection is most clearly needed and most clearly revealed in those communities that are constantly seeking to correct and transform the world through the wisdom and power of the Word of God made flesh in their lives and actions in history. - Author: Megan McKenna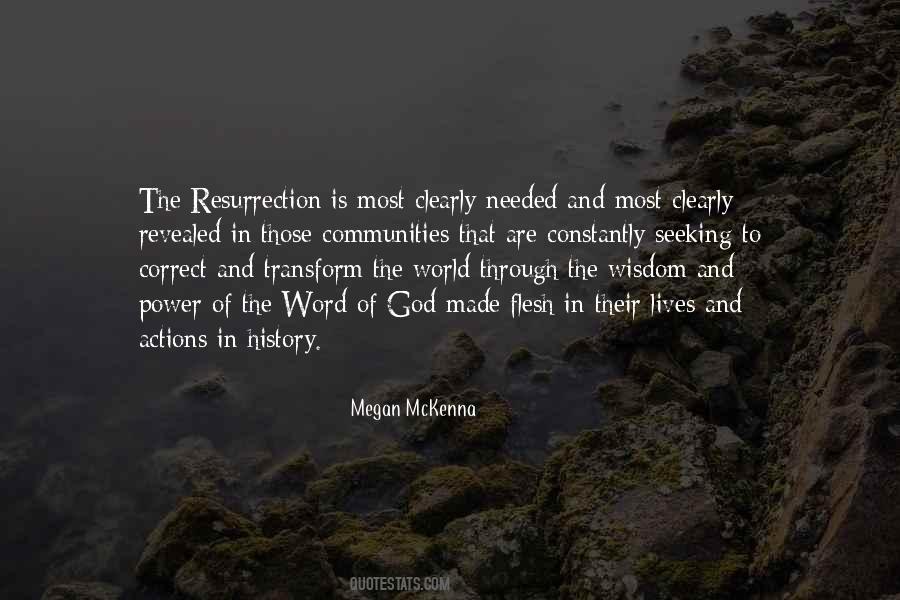 #100. Rain falls on everyone, lightning strikes some. What cannot be changed is best forgotten. God made the world, and He saw that it was good. Not fair. Not happy. Not perfect. Good. - Author: Mary Doria Russell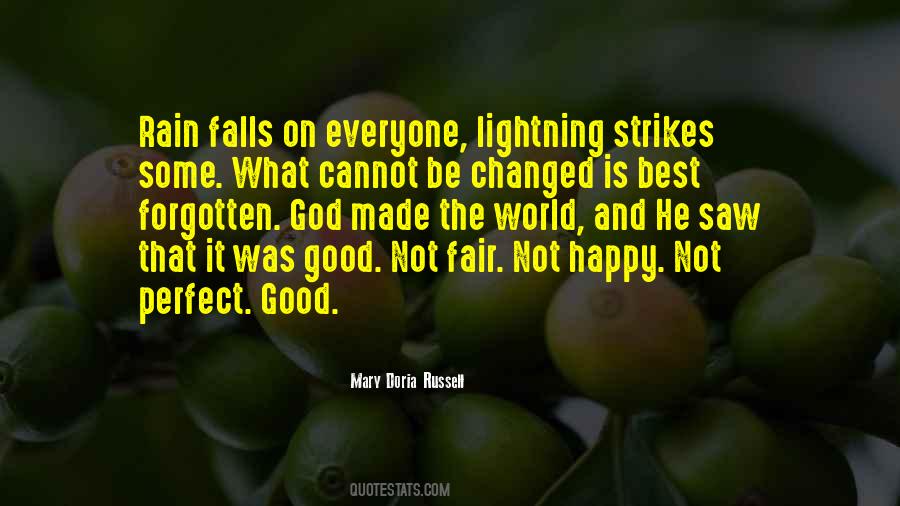 Famous Authors
Popular Topics