God Is Eternal Famous Quotes & Sayings
List of top 100 famous quotes and sayings about god is eternal to read and share with friends on your Facebook, Twitter, blogs.
Top 100 God Is Eternal Quotes
#1. In life eternal, there is perfect joy and light, without pain or torture, and there is communion with God Himself and His angels. - Author: Jan Hus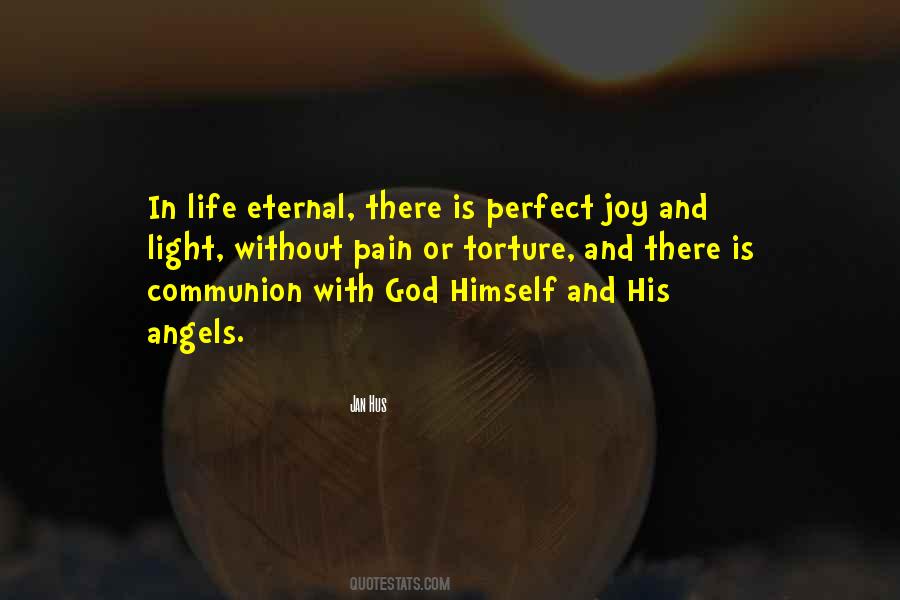 #2. As long as we are seeking our worth in anything and everything but the gospel of God's grace, we will keep seeking and keep wearing ourselves out in the process. But in Christ's finished work is ultimate and eternal validation. And ultimate and eternal rest. - Author: Tullian Tchividjian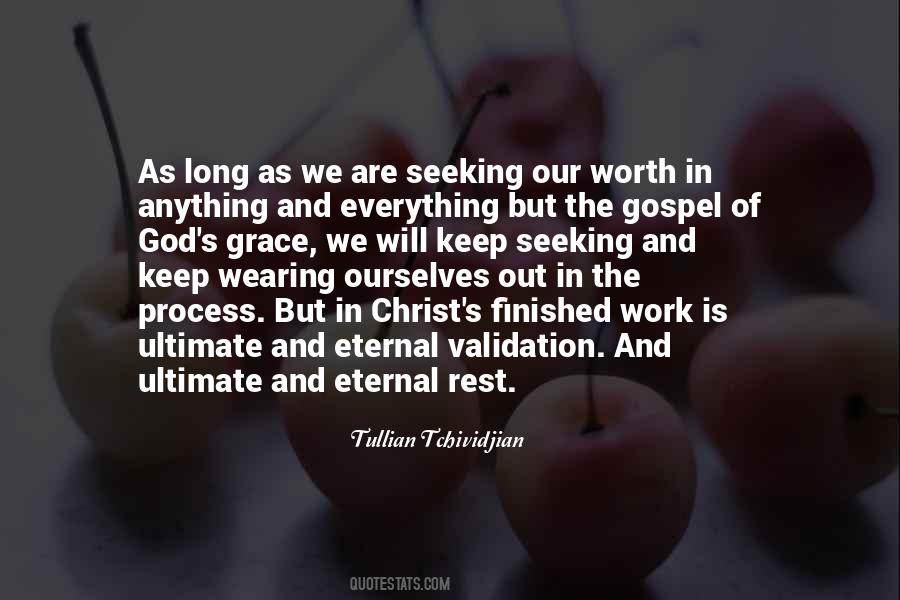 #3. Being born again from above is an enduring, perpetual, and eternal beginning. It provides a freshness all the time in thinking, talking, and living - a continual surprise of the life of God. Staleness is an indication that something in our lives is out of step with God. - Author: Oswald Chambers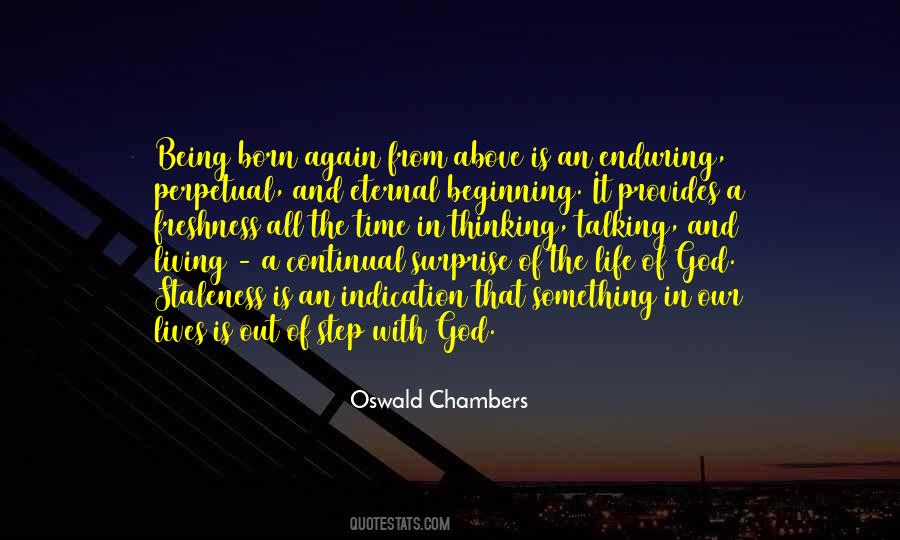 #4. Conscience is what? It is putting together a moral act and a moral ideal, and measuring the act by the ideal. It is putting this moral act which you do alongside the eternal laws of God, and seeing how it stands by those laws of God. - Author: Lyman Abbott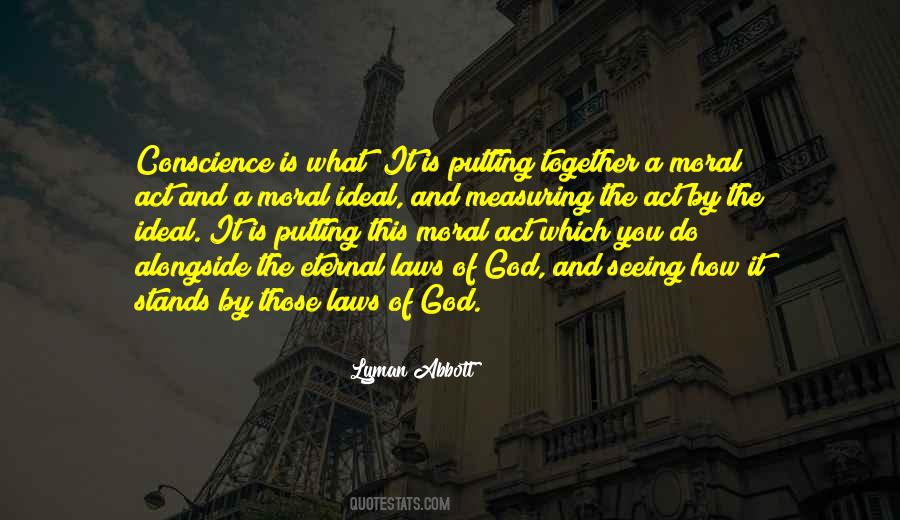 #5. If we are co-eternal with God, then it is not God's creation of the human out of nothing that defines our essential relationship to him. It is His freely made choice to inaugurate and sustain loving relationships, and our choice to reciprocate, that are at the core of our relationship to the Divine. - Author: Terryl L. Givens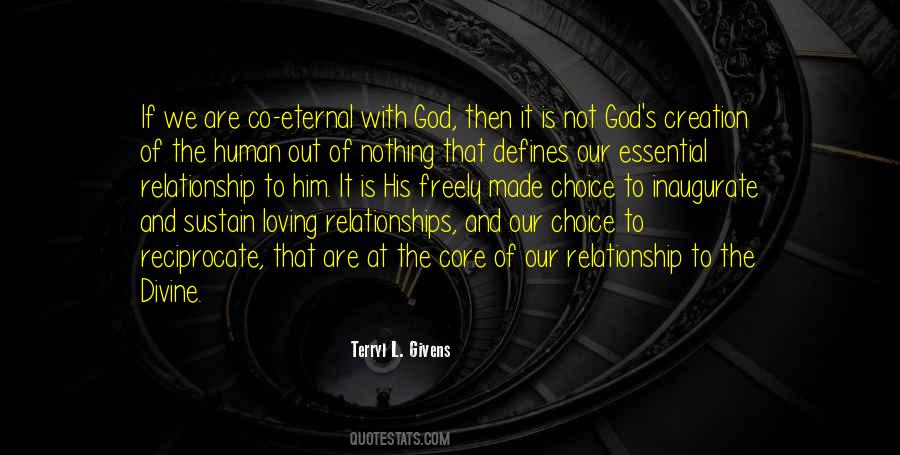 #6. God's eternal blessings are contingent upon our obedience and adherence to the word of the Lord that is revealed to us through His holy prophets - Author: L. Tom Perry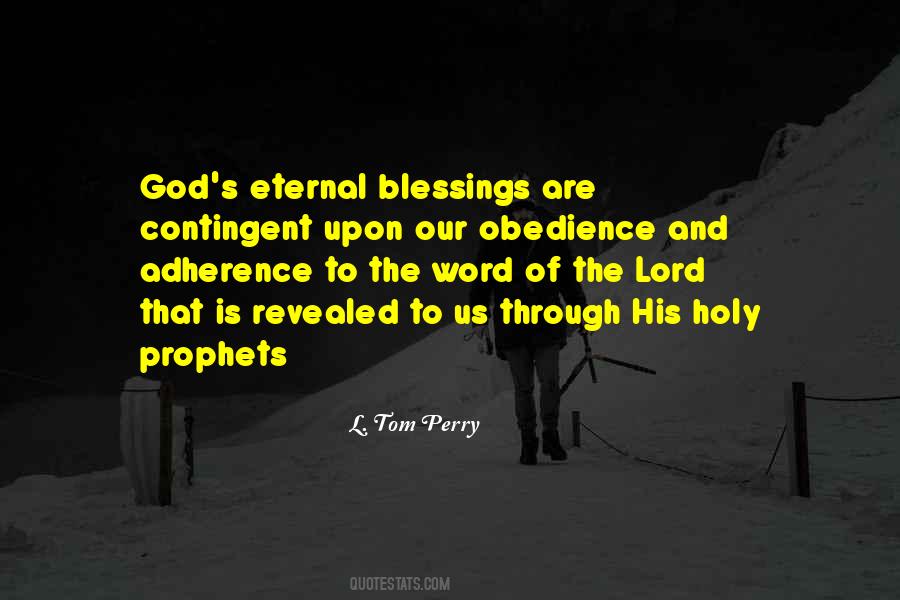 #7. If we wish to truly experience a life that makes an eternal difference, the power within us is not enough. It is the power God offers that matters. - Author: Dillon Burroughs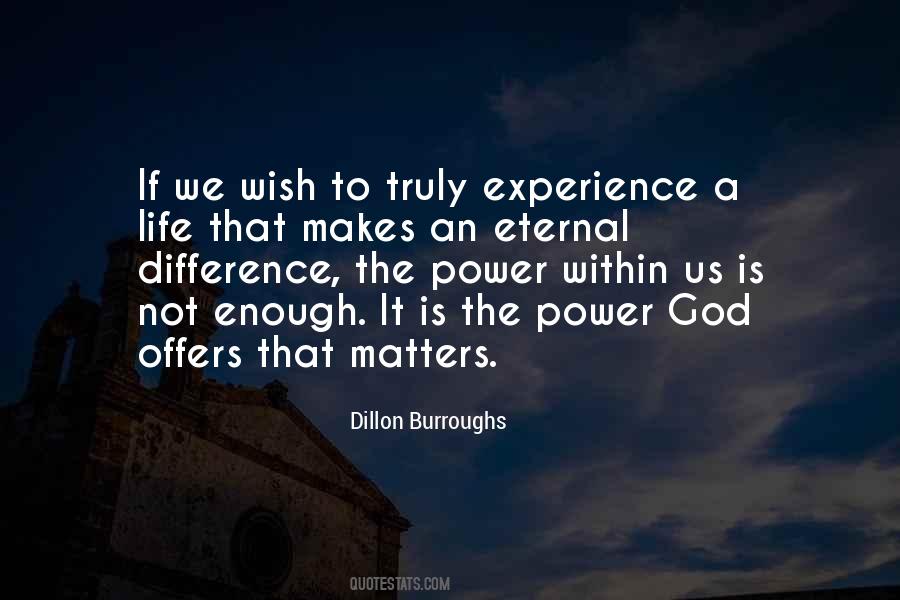 #8. Fear is to begin with the end in mind. There is no end. Life is eternal. Live life knowing that the end was your past, and the future is only full of beautiful beginnings through an eternity built around God's love. - Author: Shannon L. Alder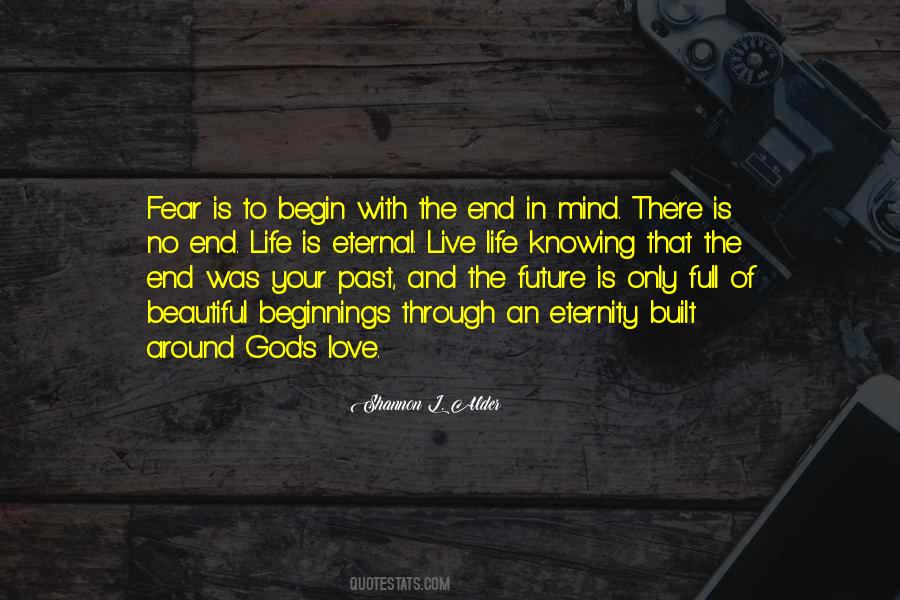 #9. God is represented as infinite, eternal, incomprehensible; he is contained under every predicate in non that the logic of ignorance could fabricate. - Author: Percy Bysshe Shelley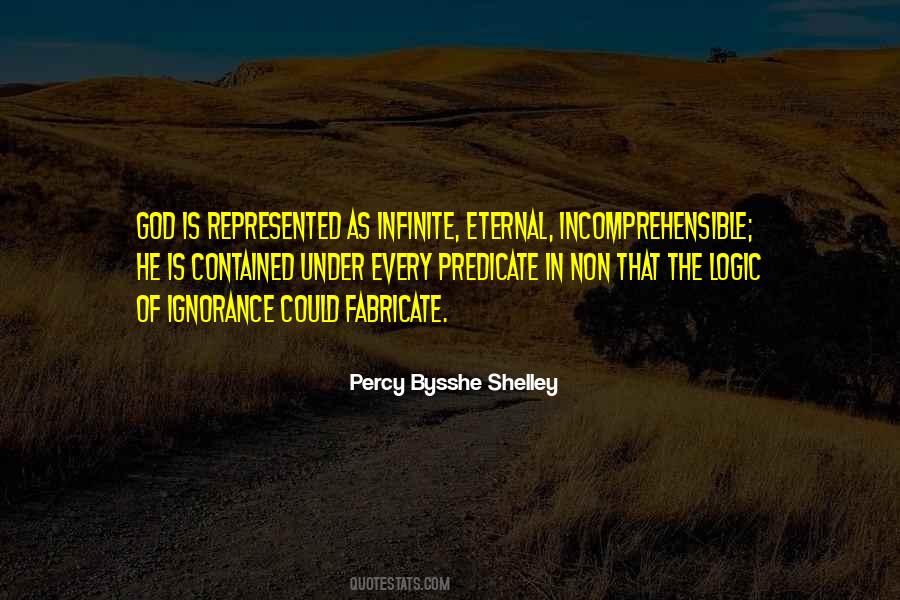 #10. What I find disturbing in America is the consuming desire for leisure, convenience, and fun. It seems we, as a nation, have traded God for gadgets. We have traded eternal truth for momentary self-gratification - worshipping false gods of materialism and humanism instead of the Creator of all things. - Author: Billy Graham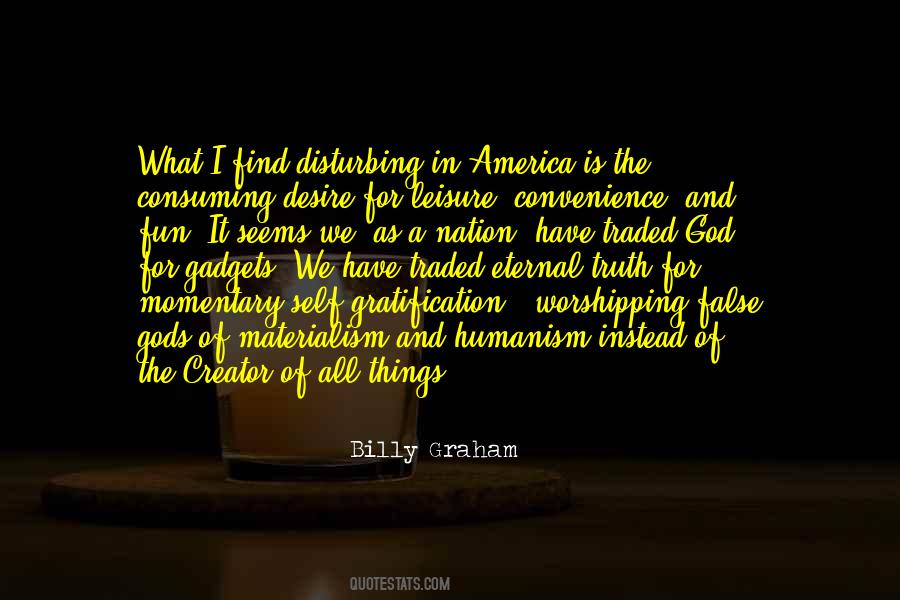 #11. Eternal life is knowing God the Father and His Son Jesus Christ! - Author: Andrew Wommack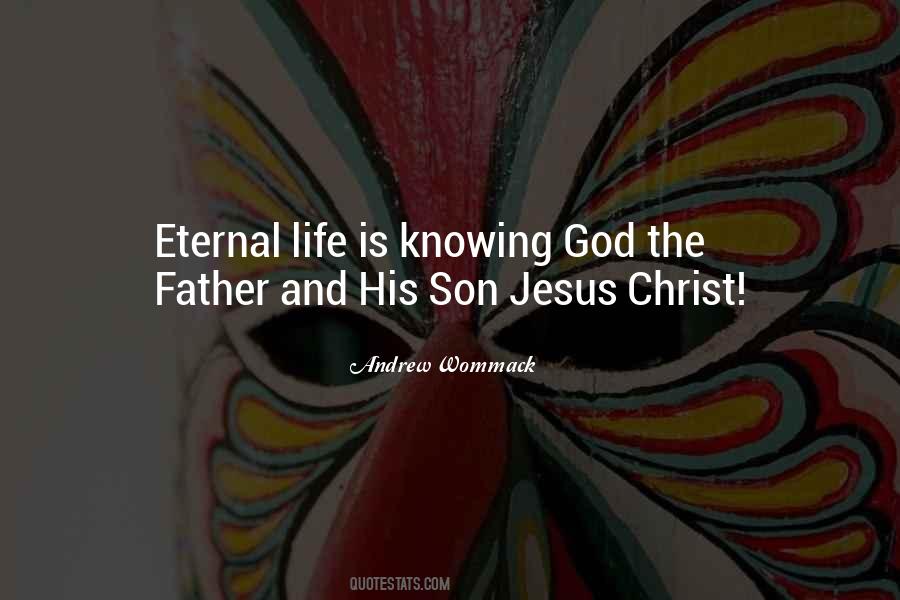 #12. God does not think; he creates. He does not exist; he is eternal. - Author: Soren Kierkegaard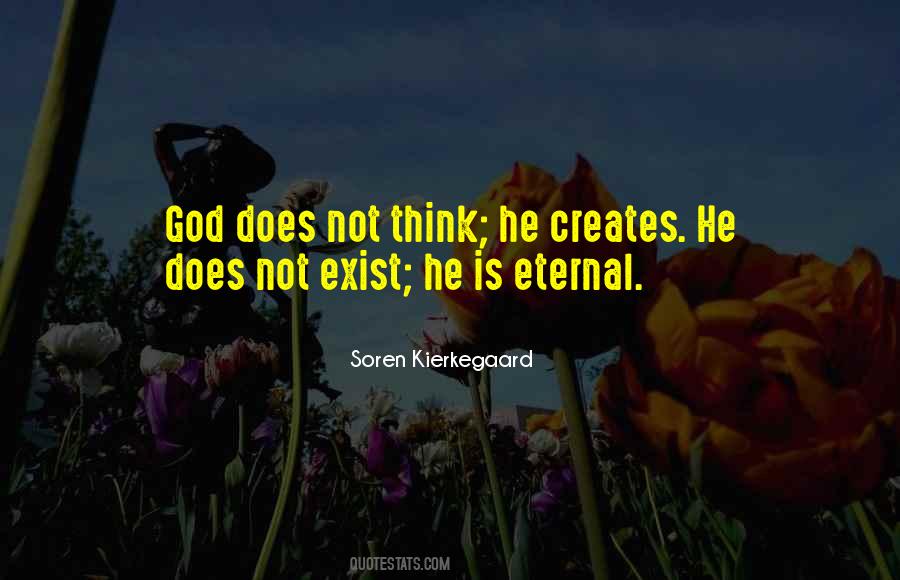 #13. To live with God is to live always in the present, with him who is the eternal Now. - Author: John Robinson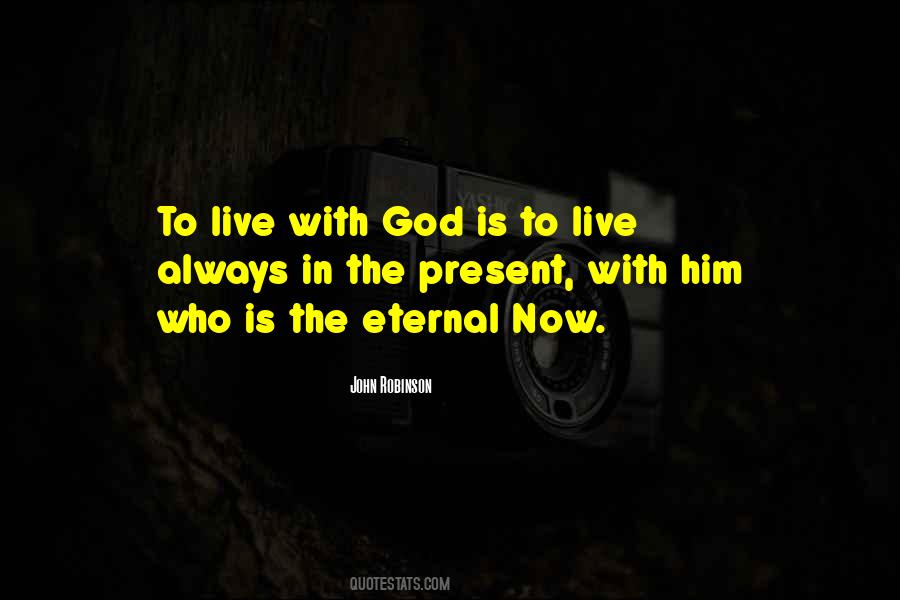 #14. To Enjoy Satisfaction Of Purpose Is To Submit To Eternal Principles Of The Kingdom Of God - Author: Sunday Adelaja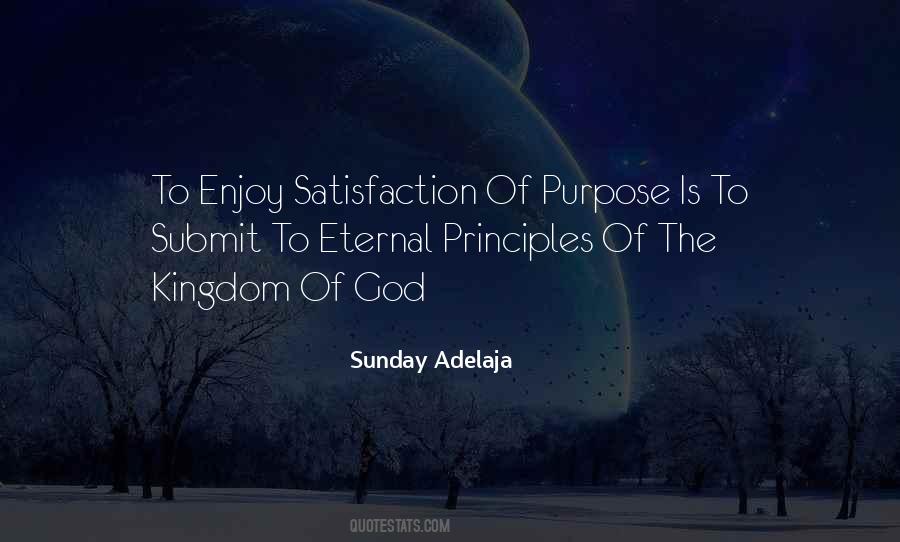 #15. Knowing that salvation is God's work alone should also free us from fear. We no longer have to fear that everything is riding on what we say - that we might miss that "one" opportunity to speak into our children's lives and have their eternal salvation forfeited. - Author: Elyse M. Fitzpatrick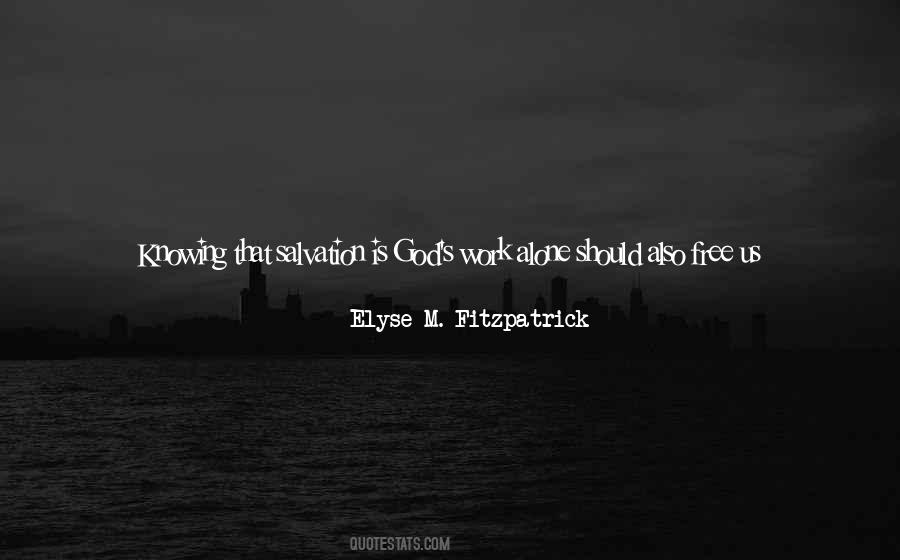 #16. Well, what is God, then? God is that which watches. God is neither masculine nor feminine, although God can assume any form. God is that eternal reality that is in everything. - Author: Frederick Lenz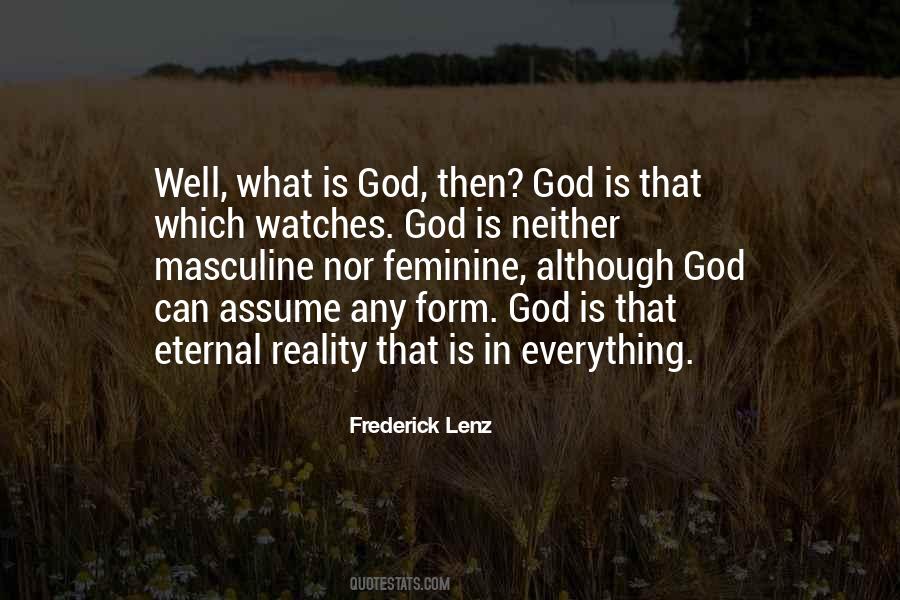 #17. Wealth is not a sign of dignity, dear Jonah. Only those who put faith above wealth are worthy of this honour. Abandon wealth and devote yourself to serving the cause of faith, and you will deserve eternal bliss. - Author: Viktor Shel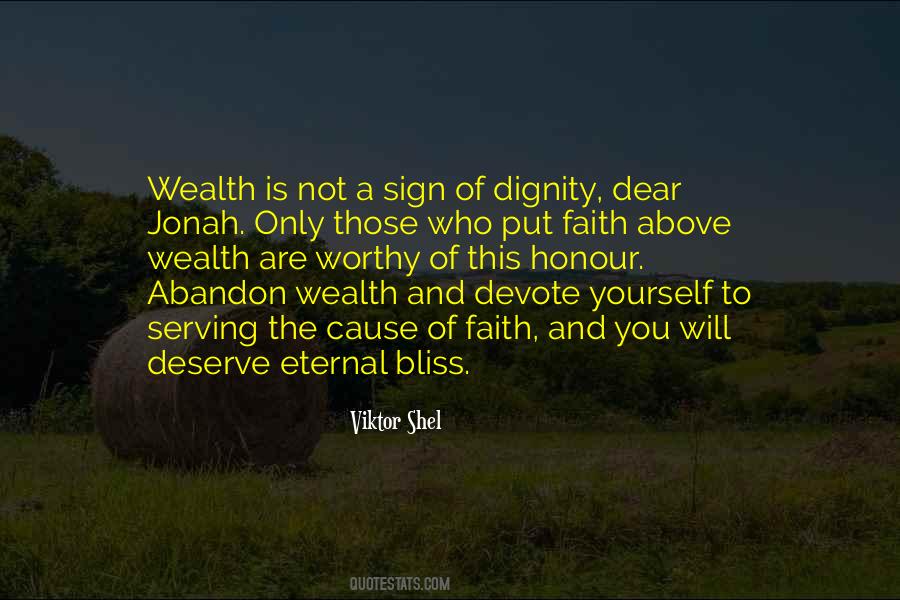 #18. This is the record, that God hath given to us eternal life, and this life is in his Son. 1 John 5:11. - Author: Ellen G. White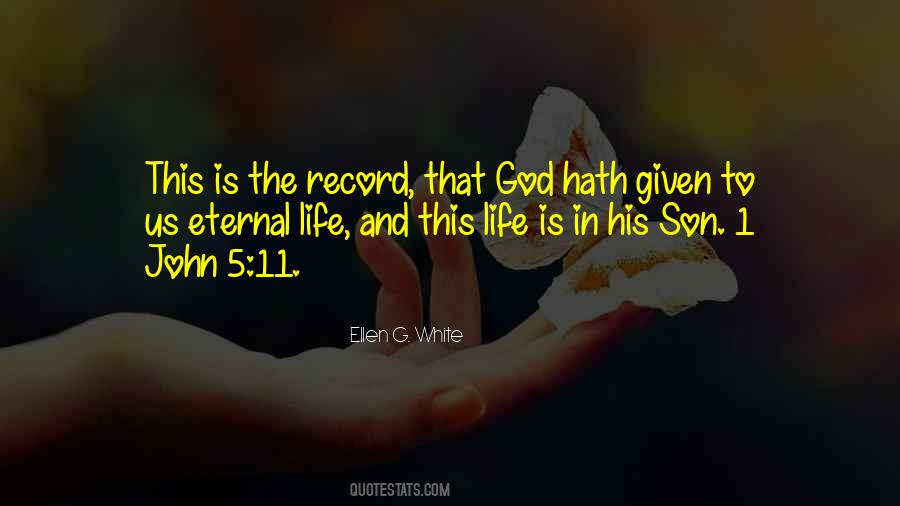 #19. We need not join the mad rush to purchase an earthly fallout shelter. God is our eternal fallout shelter. From Strength to Love, 1963 - Author: Martin Luther King Jr.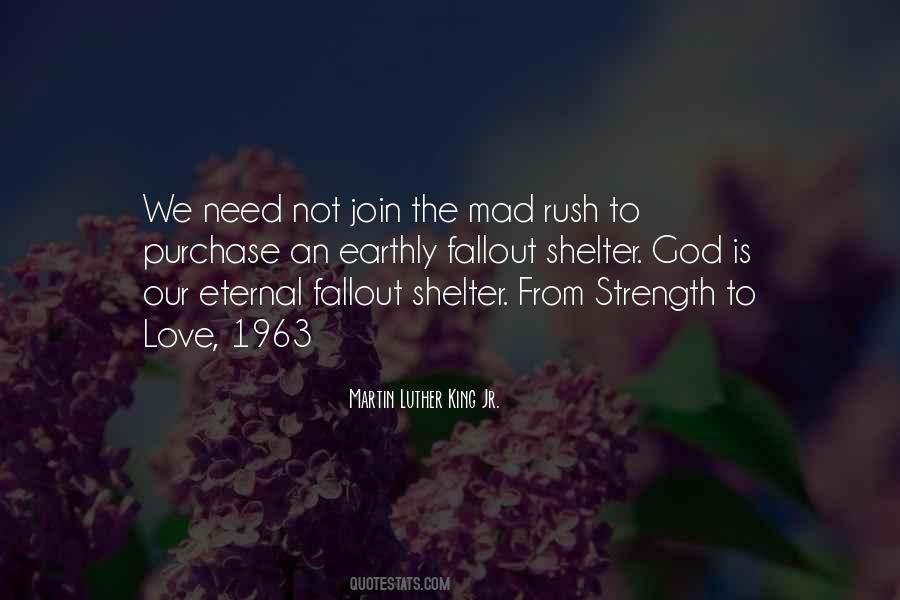 #20. In God alone is love without tears, and of eternal duration. - Author: Eugenie De Guerin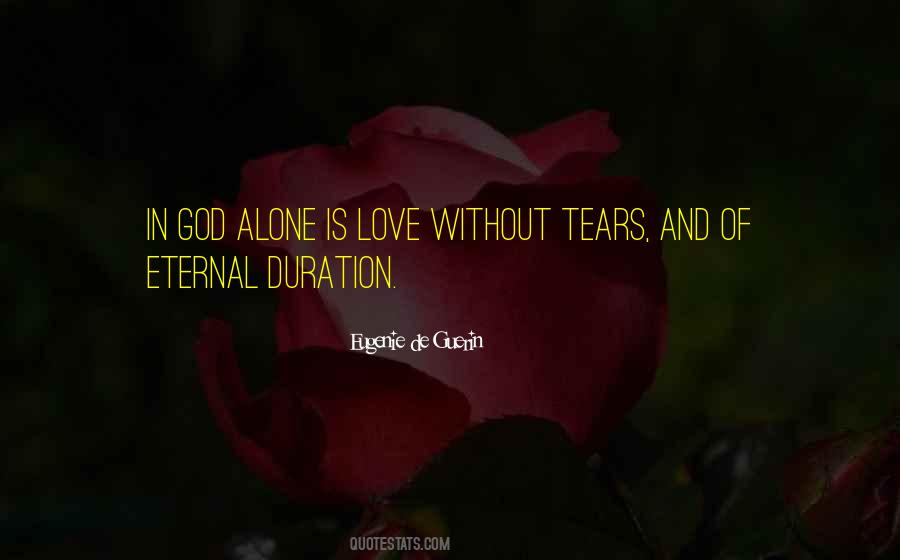 #21. Superhuman' is an extraordinary personality living in the godliness and wisdom taking over the human intelligence, a pure eternal life, driven by the divine force, living for the welfare of the mankind unconditionally. Superhumans are those who live to unite with the Supreme Power. - Author: Vishal Chipkar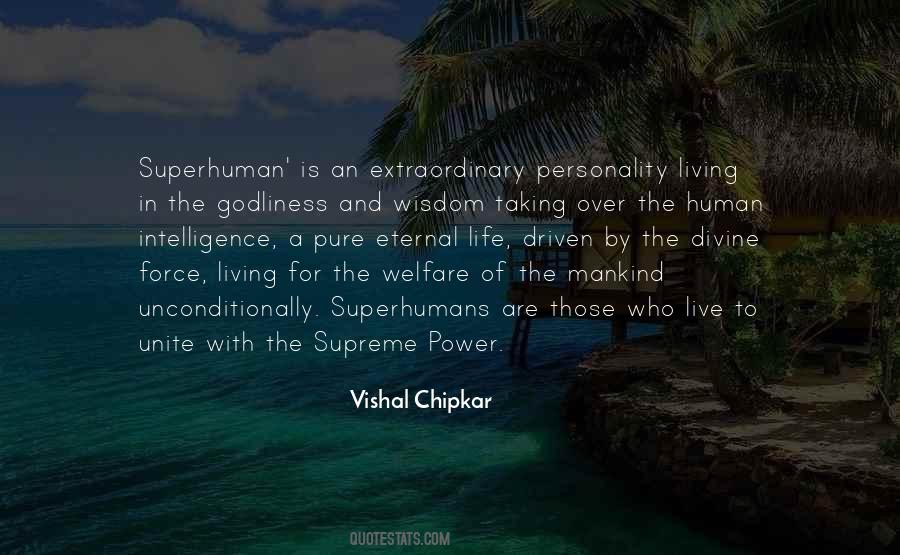 #22. To accept the lively, the messy, and the unexpected things in our days, knowing that God sees them and has an eternal perspective, is to say with confidence I receive your timing. - Author: Emily P. Freeman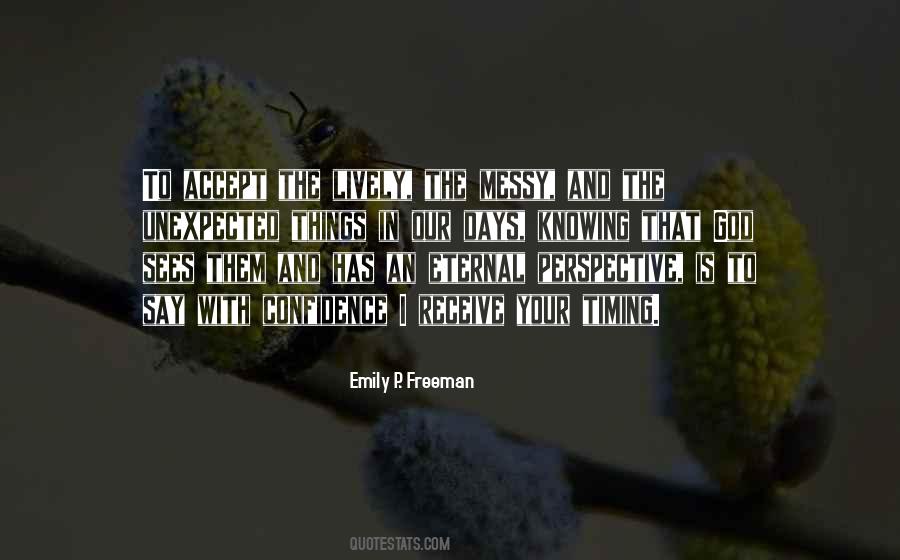 #23. Right! There are plots.
Your beauty! Oh, ten thousand curses on 't!
How long have I beheld the devil in crystal!
Thou hast led me, like an heathen sacrifice,
With music, and with fatal yokes of flowers,
To my eternal ruin. Woman to man
Is either a god, or a wolf. - Author: John Webster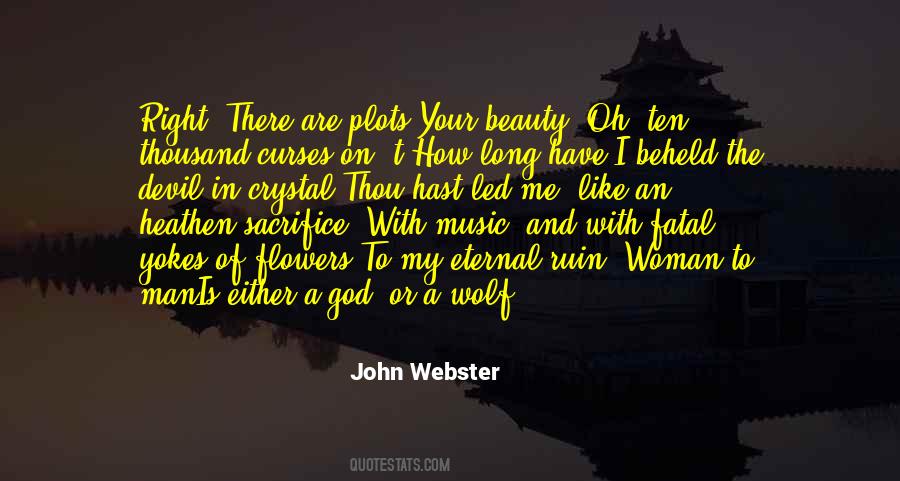 #24. Life everywhere is in vast and endless variety. So it is with life eternal, that gift of God, constituting, in its length and breadth and height and depth, the reward of the righteous. The penitent, dying thief is not going into heaven like the triumphant, dying Paul. - Author: Herrick Johnson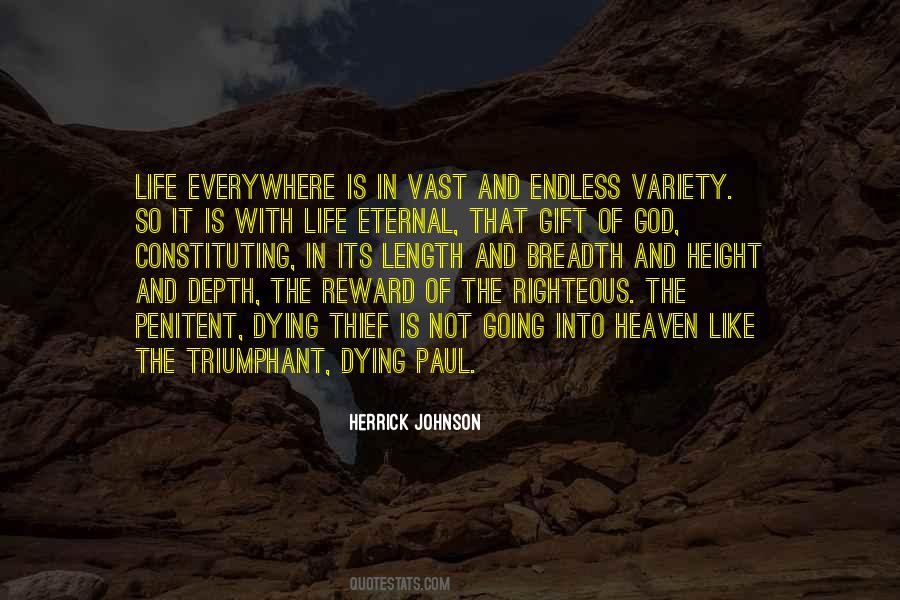 #25. I can expend my life caught in the allure of a million places devised by man. Or, I can realize that being caught in the majesty of an eternal God is infinitely greater than being caught in a million places that will die a million deaths. - Author: Craig D. Lounsbrough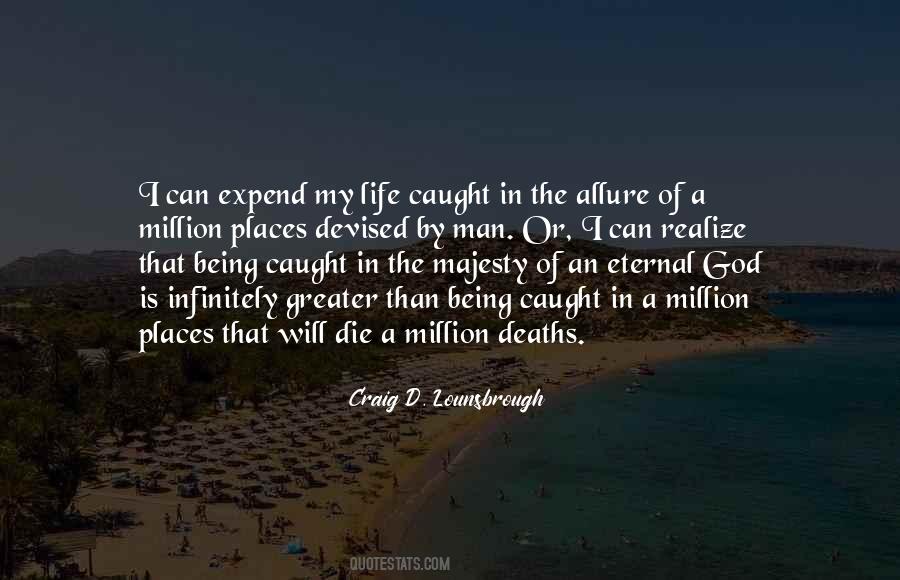 #26. Who fathoms the Eternal Thought? Who talks of scheme and plan? The Lord is God! He needeth not The poor device of man. - Author: John Greenleaf Whittier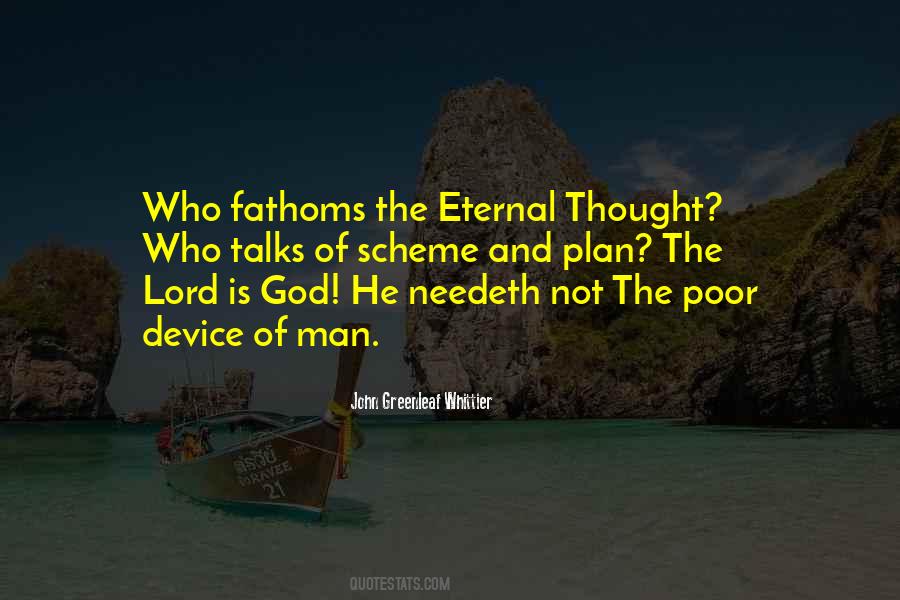 #27. The church lies at the very center of the eternal purpose of God. It is not a divine afterthought. - Author: John Stott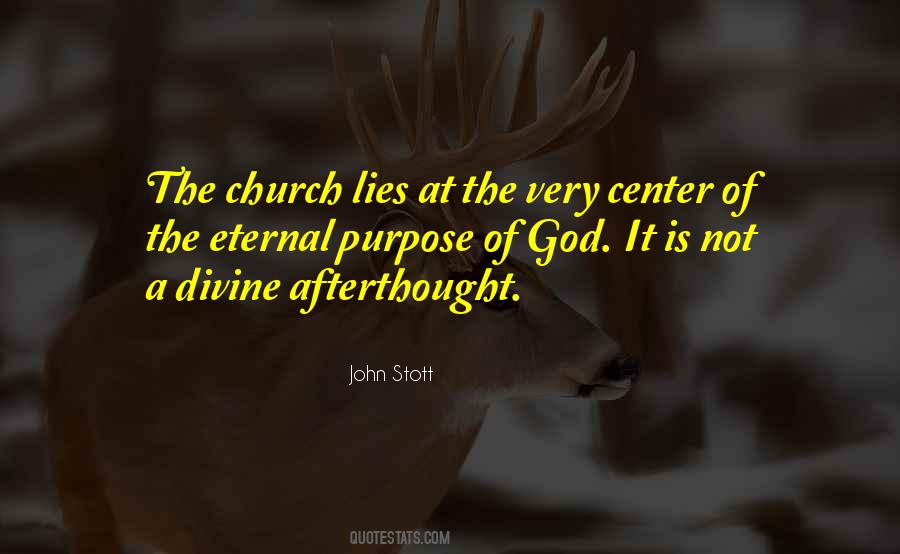 #28. An unchurched christian is a grotesque anomaly. The New Testament knows nothing of such a person. For the church lies at the very center of the eternal purpose of God. It is not a divine afterthought. It is not an accident of history. On the contrary, the church is God's new community. - Author: John Stott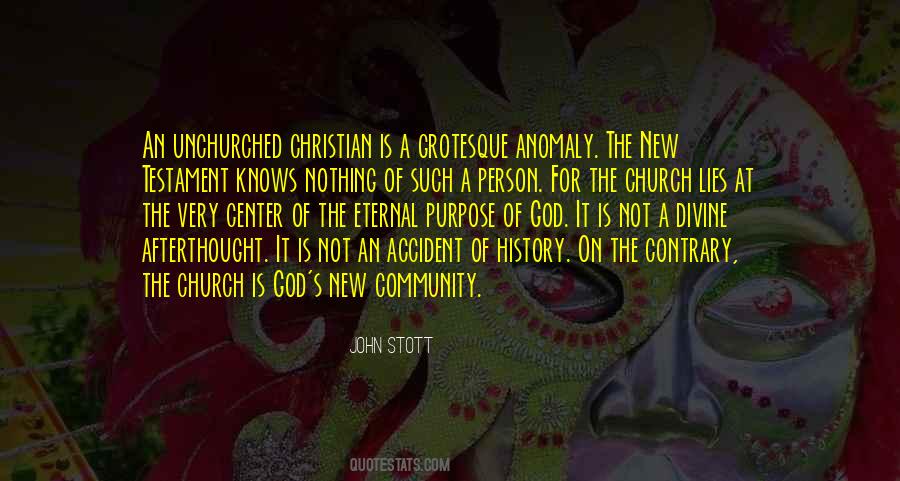 #29. Since nothing but God is eternal, nothing but God is worth the loving. - Author: Stephen Charnock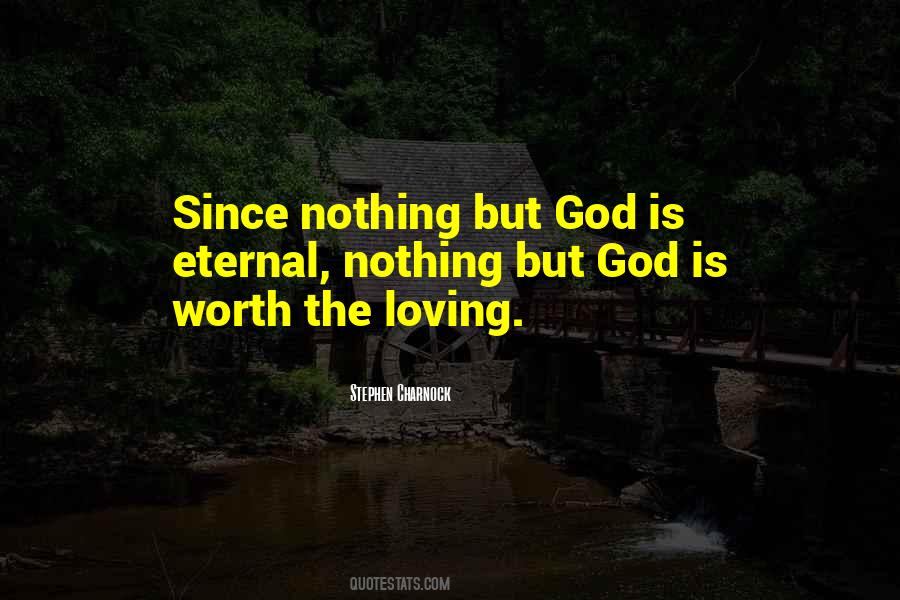 #30. Just as the Atman (Soul) is the reality underlying the conscious powers of an individual, so the Supreme Soul (God) is the eternal quiet underneath the drive and activity of the universe. - Author: Sarvepalli Radhakrishnan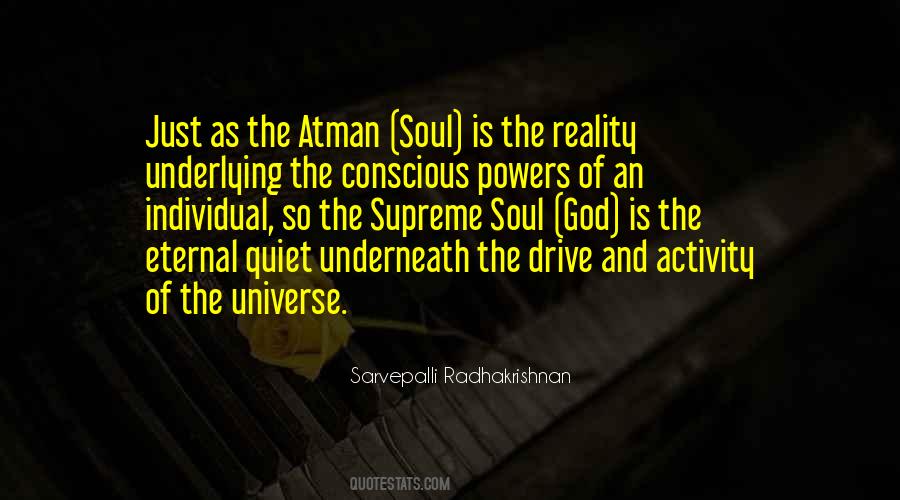 #31. Unfortunately for humanity, God is patient enough to actually enjoy watching the grass grow. - Author: A.E. Samaan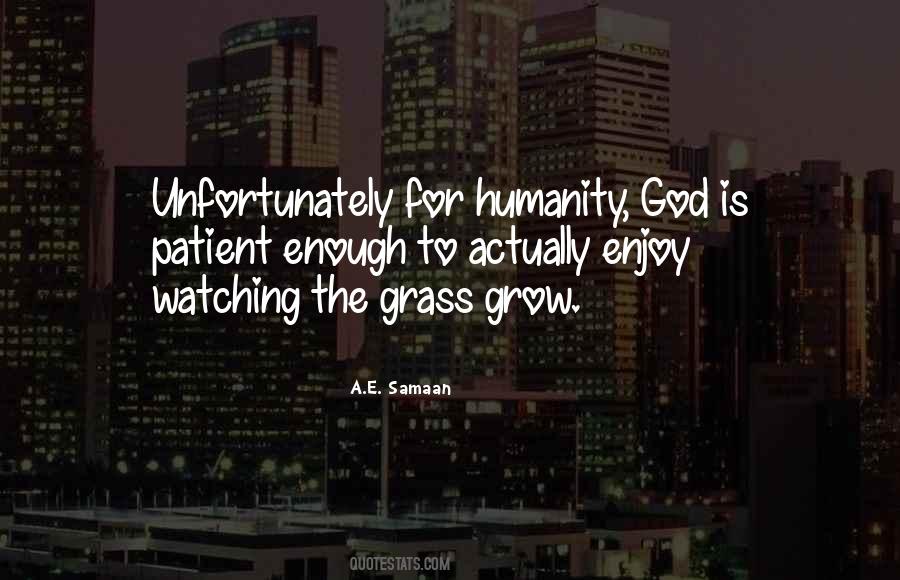 #32. To only see 'death' in death is to somehow assume that death itself is a barrier so abrupt that God Himself is halted by it. To see 'life' in death is to understand that death is a sprawling horizon to a new beginning that God created long before death ever thought to show up. - Author: Craig D. Lounsbrough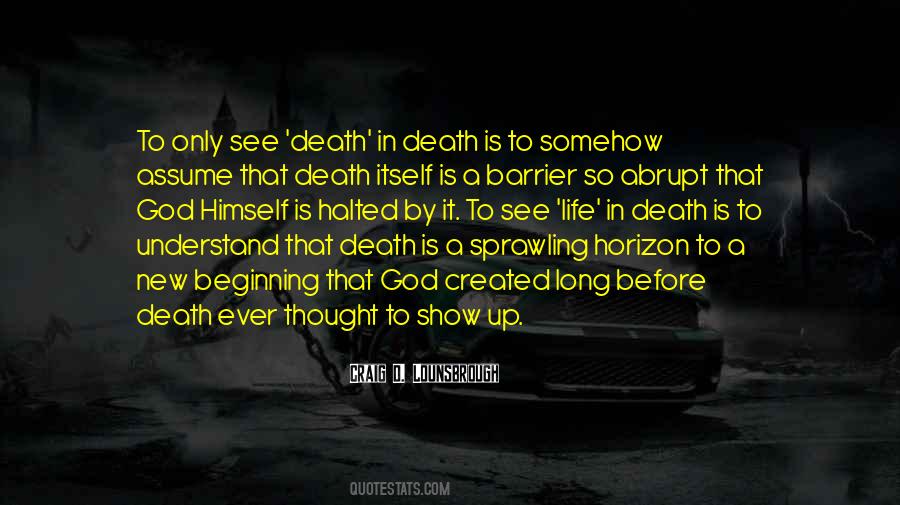 #33. God foreknows nothing by contingency, but that He foresees, purposes, and does all things according to His immutable, eternal, and infallible will. By this thunderbolt, "Free-will" is thrown prostrate, and utterly dashed to pieces. - Author: Martin Luther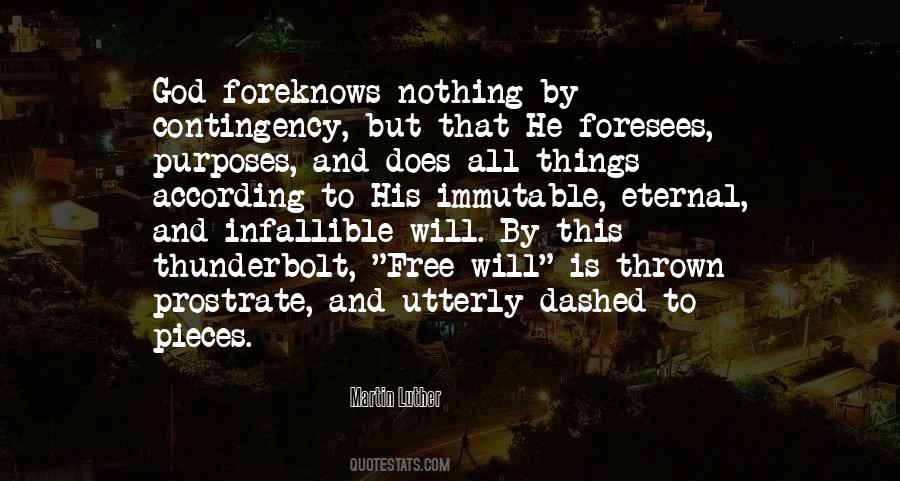 #34. If we all die and there is no God, then it's just eternal unconsciousness, you'll never know, but if you're wrong ... you'll know forever. - Author: Brad Stine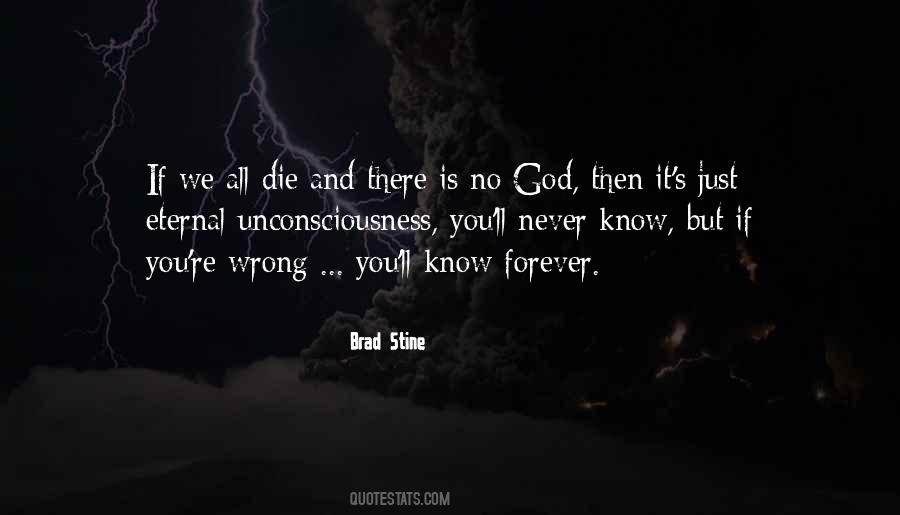 #35. If our faith in God is not the veriest sham, it demands, and will produce, the abandonment sometimes, the subordination always, of eternal helps and material good. - Author: Alexander MacLaren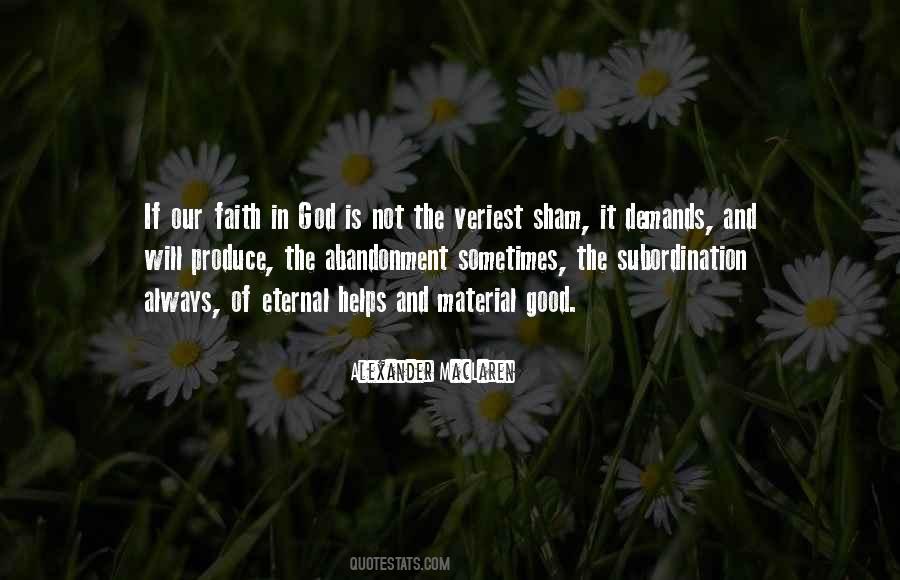 #36. Eternal-mindedness keeps us from silly arguments. There's no time to fight. We have better things to pursue than our interests. Too much is at stake! God created us for a purpose. We can't afford to waste our lives. We can't afford to waste our marriage by merely pursuing our own happiness. - Author: Francis Chan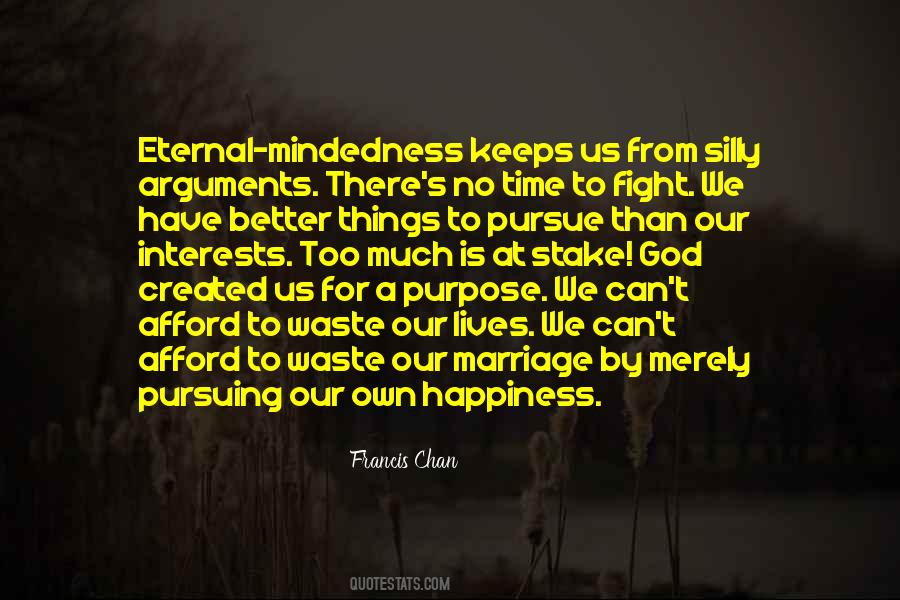 #37. While the Bible is to be applied to the times, it is not to be subservient to the times. Thus unity across economic, cultural, and ethnic lines should be proclaimed not because it is the latest fad but rather because it is the clear teaching of the eternal Word of God. - Author: James Cone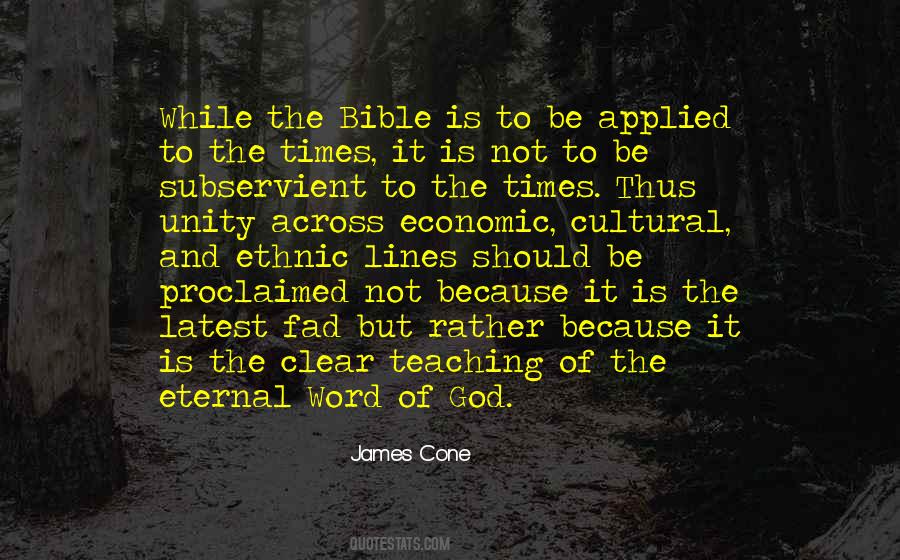 #38. Only the Christian religion, which in its essence is communicated by the eternal child of God, keeps alive in its believers the lifelong awareness of their being children, and therefore of having to ask and give thanks for things. - Author: Hans Urs Von Balthasar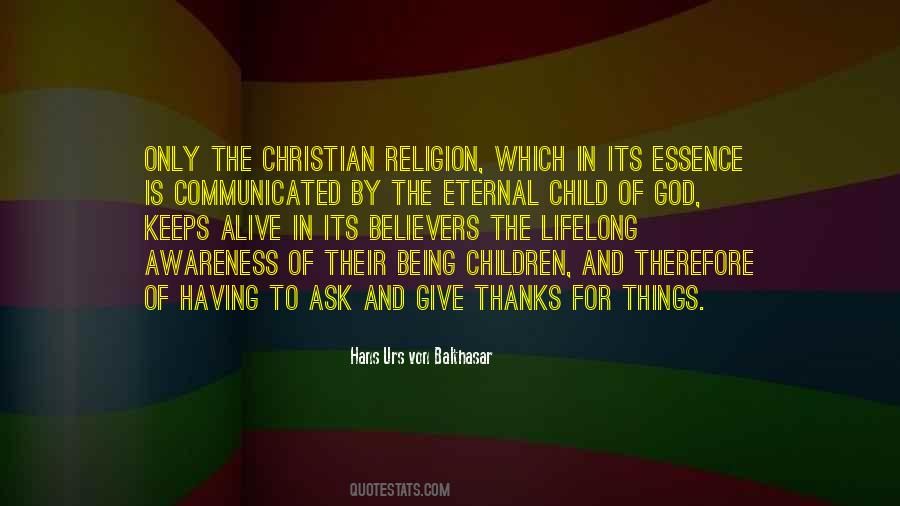 #39. It is a great truth, " God reigns," and therefore grace reigns through righteousness unto eternal life, by Jesus Christ our Lord; and, therefore, no sinner on earth need ever despair. - Author: Ichabod Spencer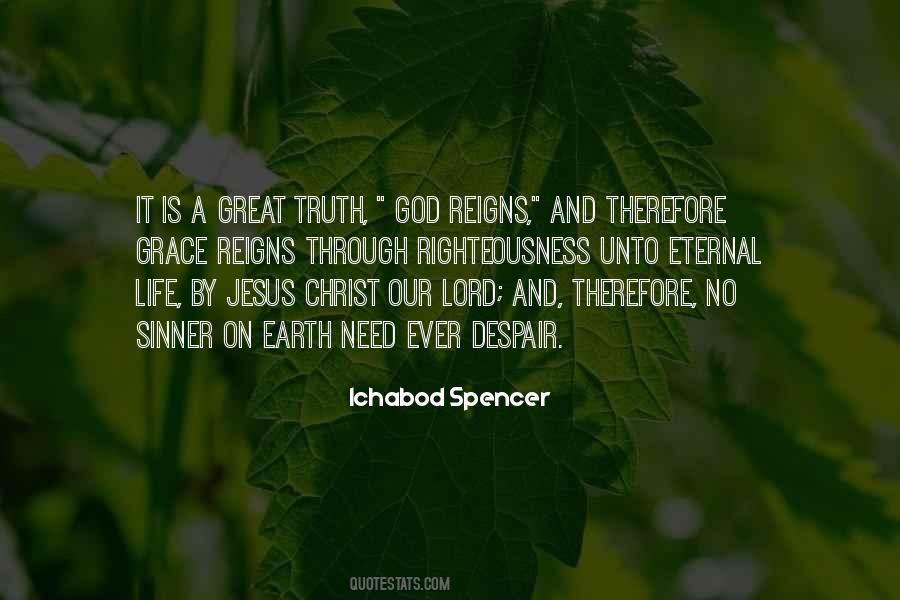 #40. For he that diligently seeketh shall find; and the mysteries of God shall be unfolded unto them, by the power of the Holy Ghost, as well in these times as in times of old as in times to come; wherefore, the course of the Lord is one eternal round - 1 Nephi 10:19 - Author: Joseph Smith Jr.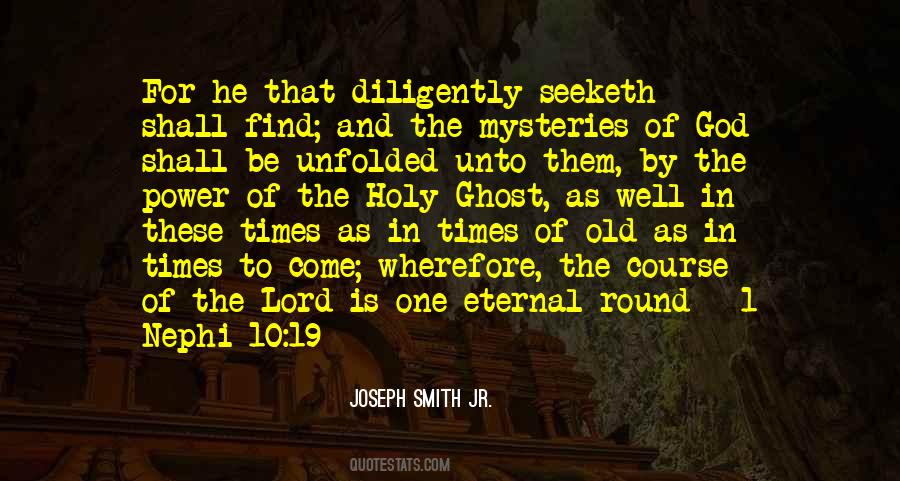 #41. There is no inconsistency in saying that God rewards good works, provided we understand that nevertheless men obtain eternal life gratuitously. - Author: John Calvin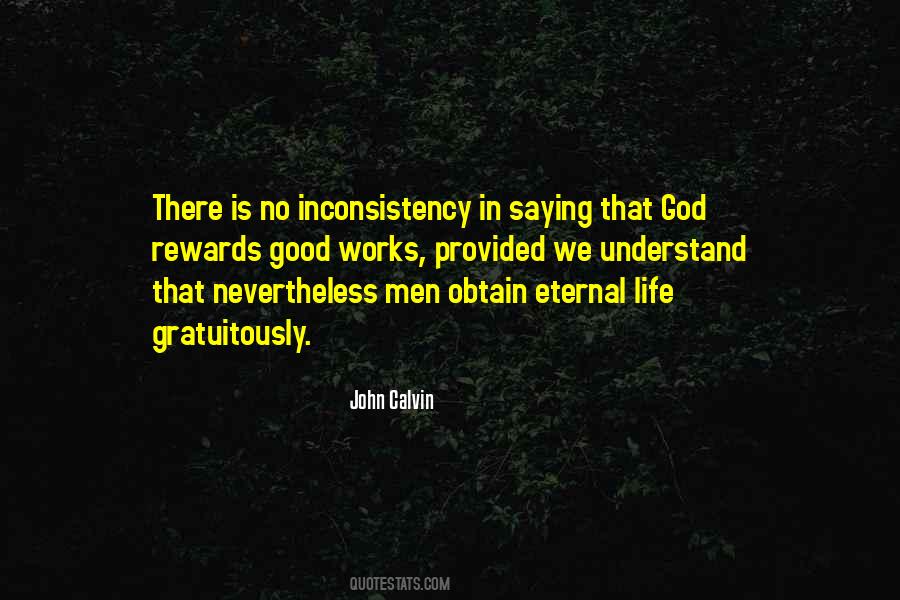 #42. The Glory Of God Is The Eternal Heartbeat Of God - Author: Sunday Adelaja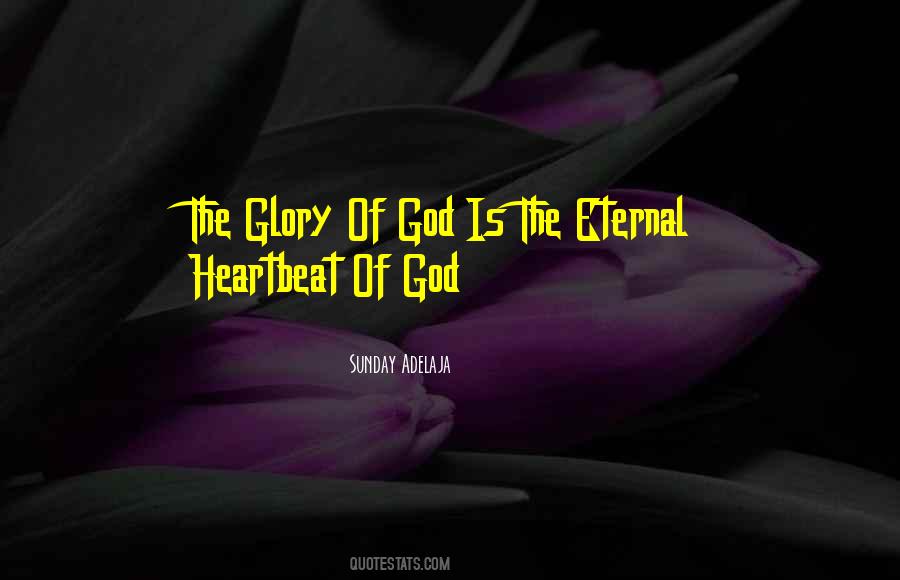 #43. You obey, and you serve Allah - that is the test. If you submit to God's will on earth, you will attain bliss in the Hereafter. The rule is strict and pure. My doubts severely diminished my chances for eternal bliss, but I found that I couldn't ignore them. I had to resolve this. * - Author: Ayaan Hirsi Ali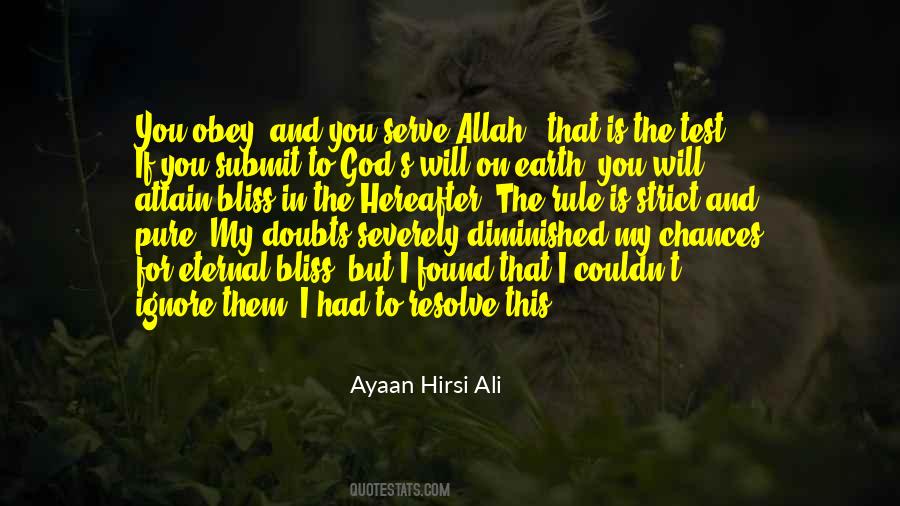 #44. Christ died for our sins. Jesus Christ, the eternal Son of God, took upon Himself a human nature and died a horrible death on our behalf. That is the reason for the cross. He suffered what we should have suffered. He died in our place to pay the penalty for our sins. - Author: Jerry Bridges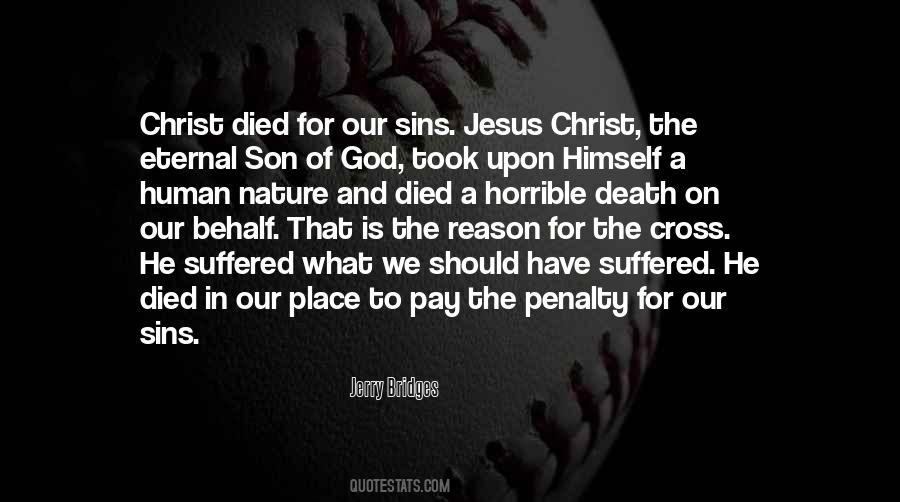 #45. If we have no zeal for the glory of God our mercy must be superficial, man-centred human improvement with no eternal significance. And if our zeal for the glory of God is not a revelling in his mercy, than our so-called zeal, in spite of all its protests, is our of touch with God and hypocritical. - Author: John Piper
#46. Our self (Soul), as a form of God's joy, is deathless. For his joy is amritham, eternal bliss. We know that the life of a Soul, which is finite in its expression and infinite in its principle, must go through the portals of death in its journey to realize the infinite. - Author: Rabindranath Tagore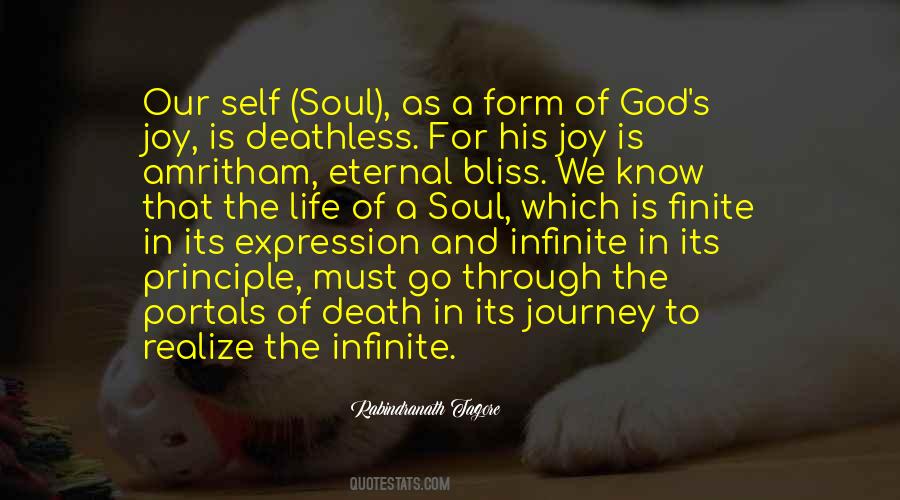 #47. 3And this is the way to have eternal life - to know you, the only true God, and Jesus Christ, the one you sent to earth. - Author: Anonymous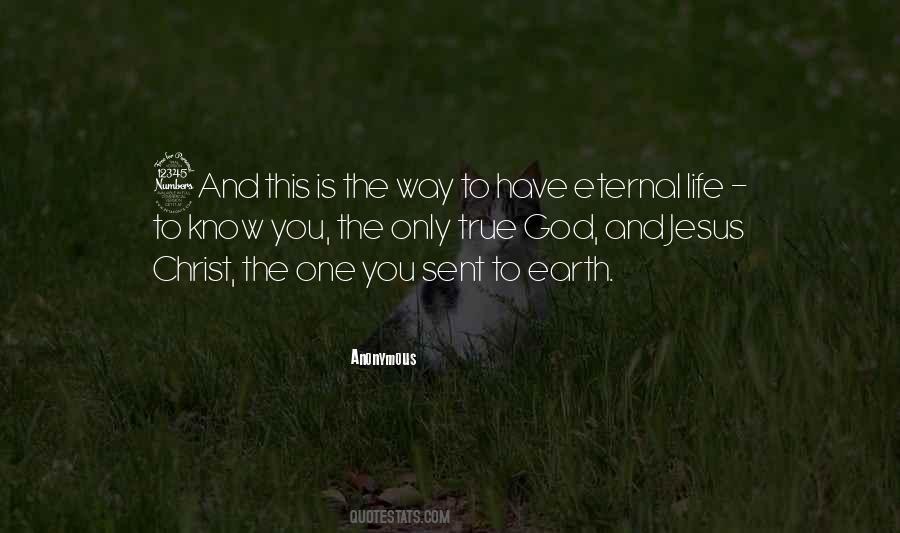 #48. Maeterlinck says that compared with ordinary truths mystic truths have strange privileges they can neither age nor die. Beauty is eternal and ugliness, thank God, is ephemeral. Can there be any question as to which should attract the poet? - Author: Florence Earle Coates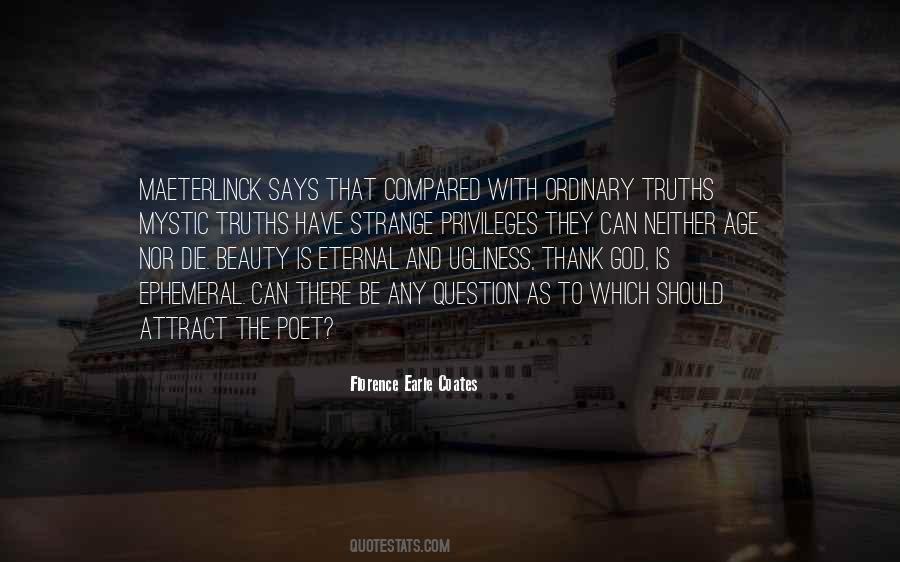 #49. Yahweh is the creator of all that there is. He is the most real thing, the only eternal thing. Our hearts will stop beating, our eyes will close, the mountains may someday crumble, the trees will wither away, but Yahweh will always be. - Author: Connilyn Cossette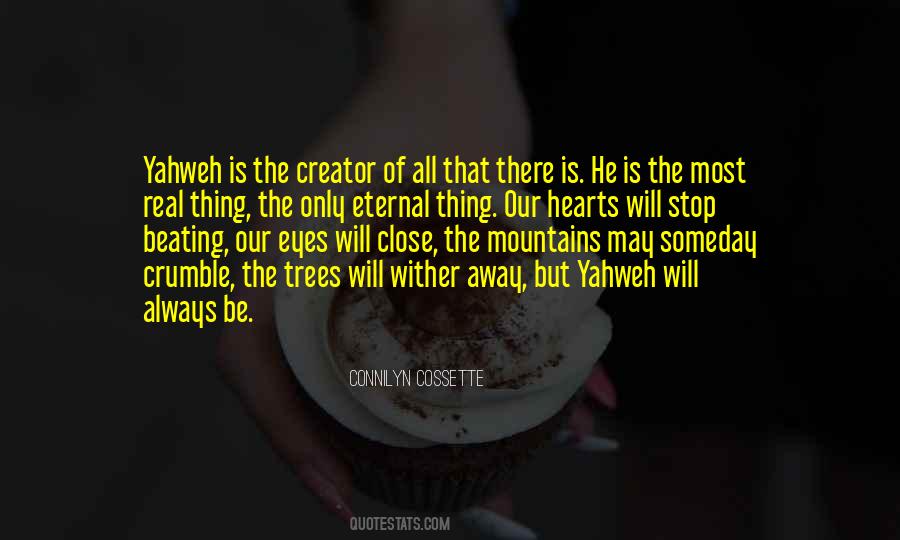 #50. The sweet companionship of eternal marriage is one of the greatest blessings God has granted to His children. - Author: Joseph B. Wirthlin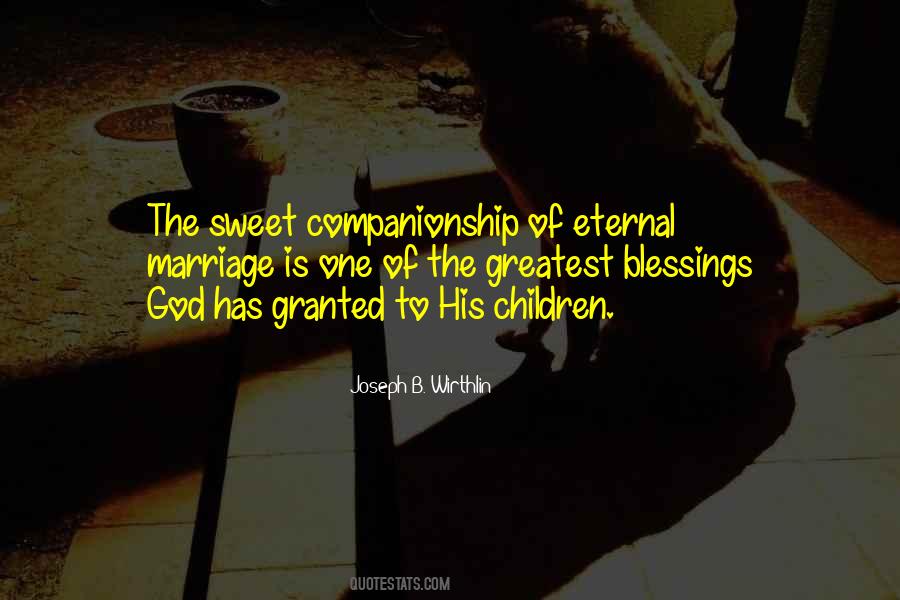 #51. And when the world is created, it is created in such a way that those eternal objects of God's loving wisdom become actualities - interacting with one another, relating to God in the finite realm. - Author: Rowan Williams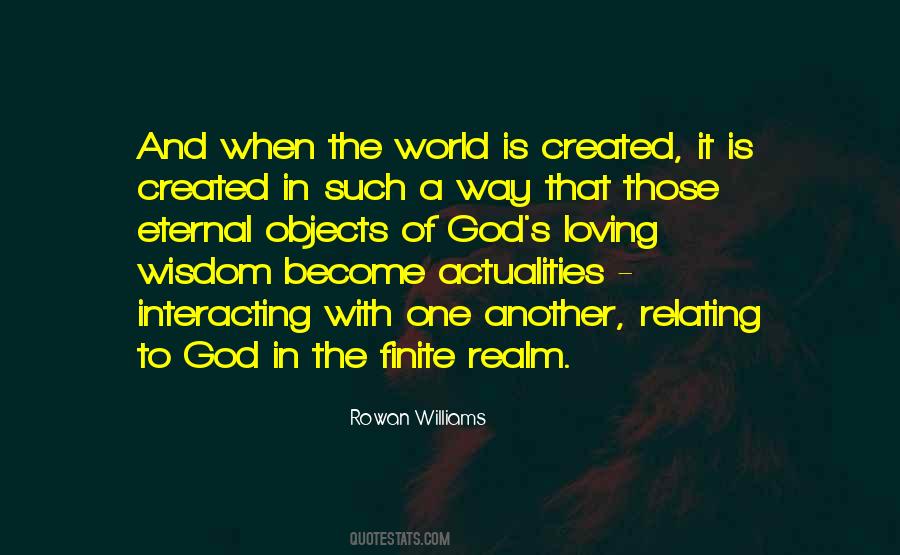 #52. In conclusion it may be said that the Figure like unto a Son of Man, represents a supernatural Person, for He comes with the clouds, is conducted to the throne of God, and a universal and eternal kingdom if given Him. - Author: Edward J. Young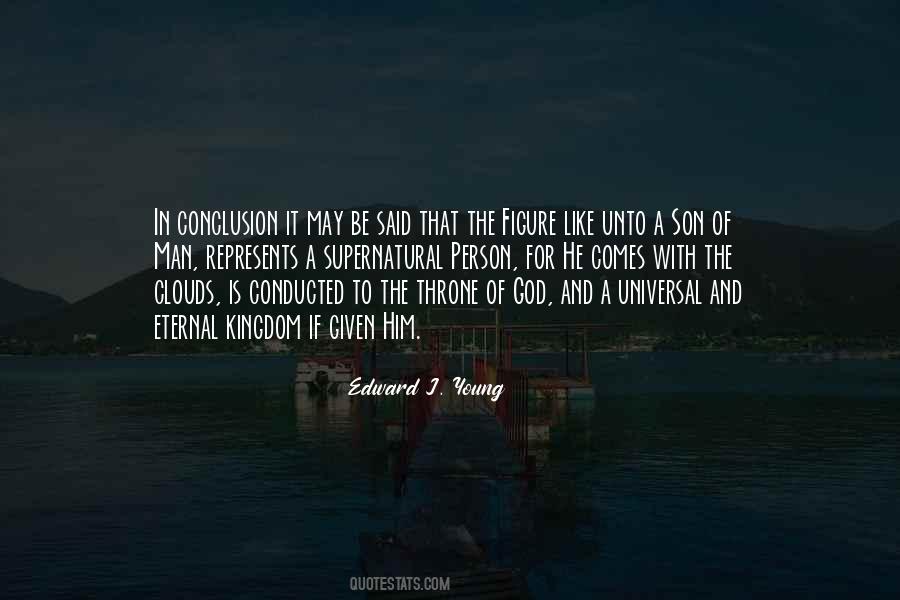 #53. Yet God does exist in the idea of good, which watches over the birth of every being and leaves in the soul embodied in that being one pure tear. Good is God, and the tear the source of eternal feeling. - Author: Jose Marti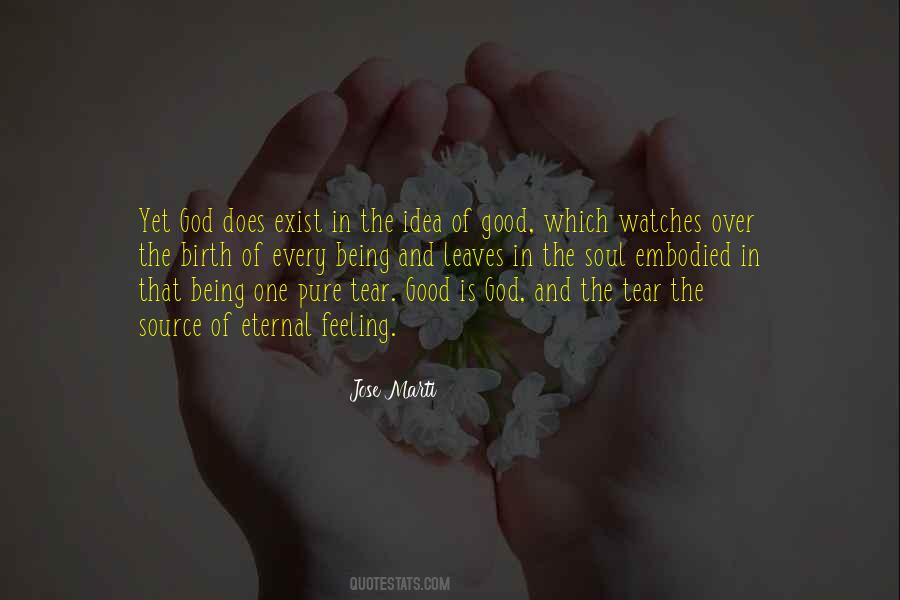 #54. Meditation is a way of slowing down so as to descend into the depths of yourself in the present moment, where God lies waiting to grant you a deep experience of your eternal oneness with God. - Author: James Finley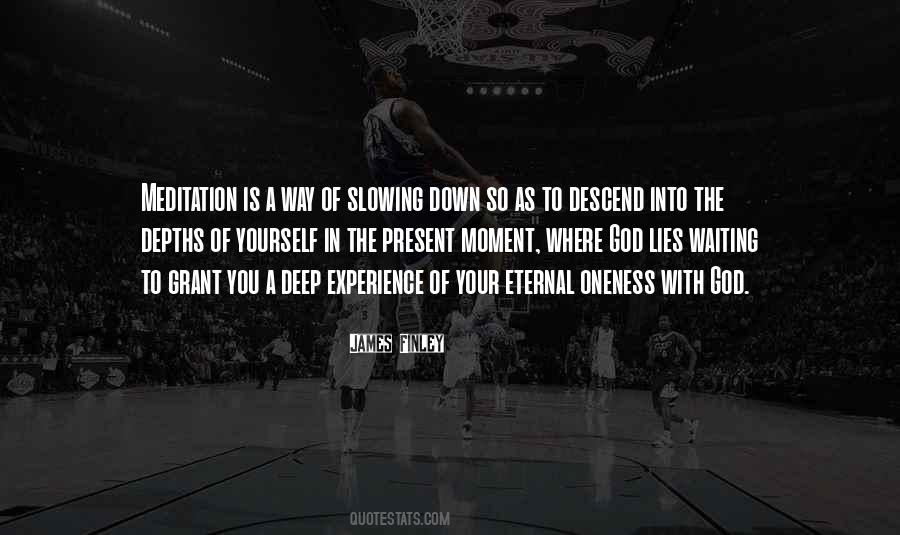 #55. The heart, or will, simply is spirit in human beings. It is the human spirit, and the only thing in us that God will accept as the basis of our relationship to him. It is the spiritual plane of our natural existence, the place of truth before God, from where alone our whole lives can become eternal. - Author: Dallas Willard
#56. I am a spiritual being. After this body is dead, my spirit will soar. I refuse to let what will rot, rule the eternal. I choose self-control. I will be drunk only by joy. I will be impassioned only by my faith. I will be influenced only by God. I will be taught only by Christ. I choose self-control. - Author: Max Lucado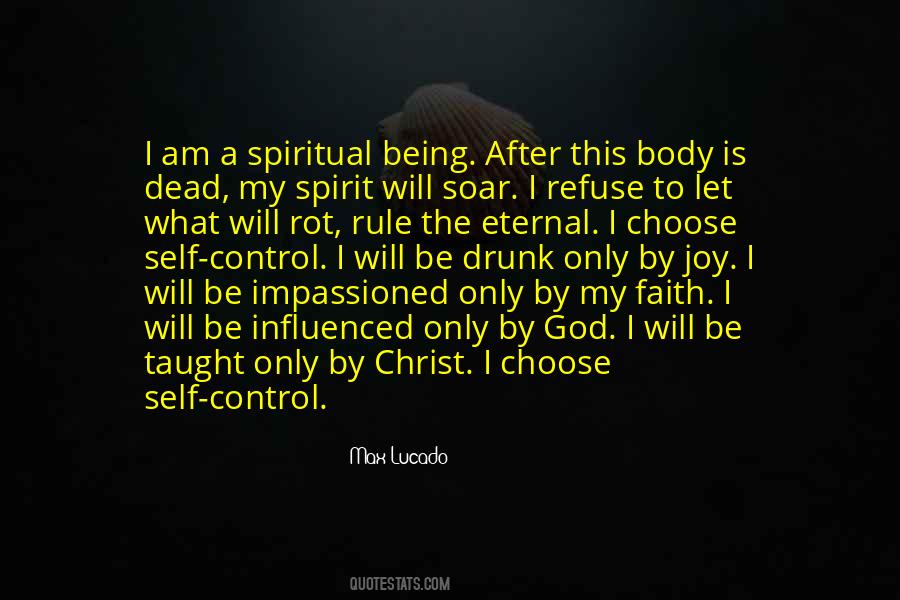 #57. You The Thought God holds of you is like a star, unchangeable in an eternal sky. - Author: Marianne Williamson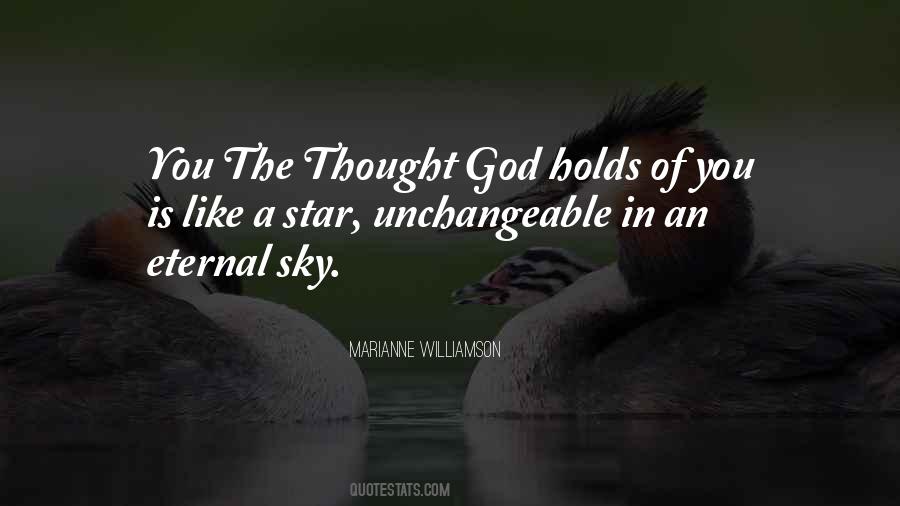 #58. When God lets loose a great thinker on this planet, then all things are at risk. There is not a piece of science but its flank may be turned to-morrow; nor any literary reputation or the so-called eternal names of fame that many not be refused and condemned. - Author: Ralph Waldo Emerson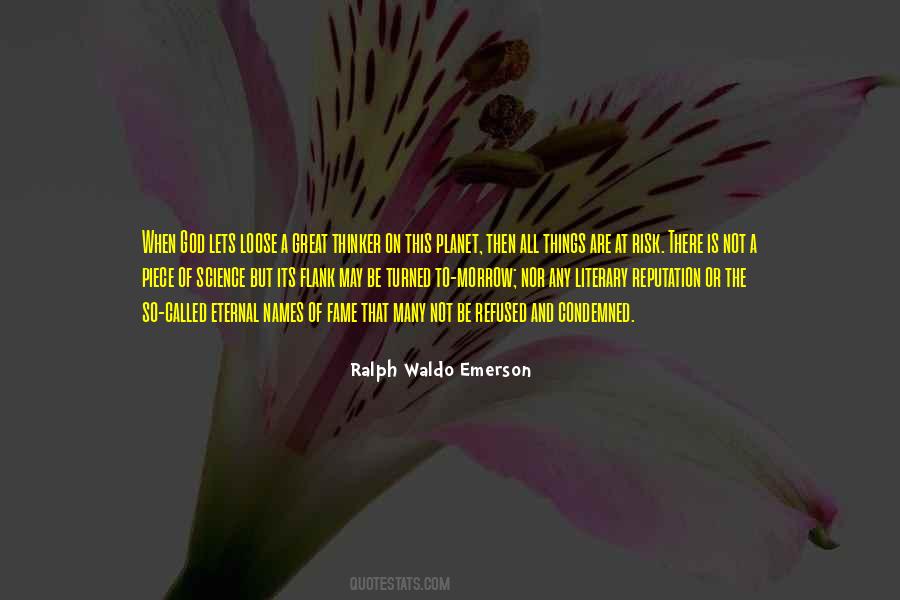 #59. As all Nature's thousands changes But one changeless God proclaim; So in Art's wide kingdom ranges One sole meaning still the same: This is Truth, eternal Reason, Which from Beauty takes its dress, And serene through time and season Stands aye in loveliness. - Author: Johann Wolfgang Von Goethe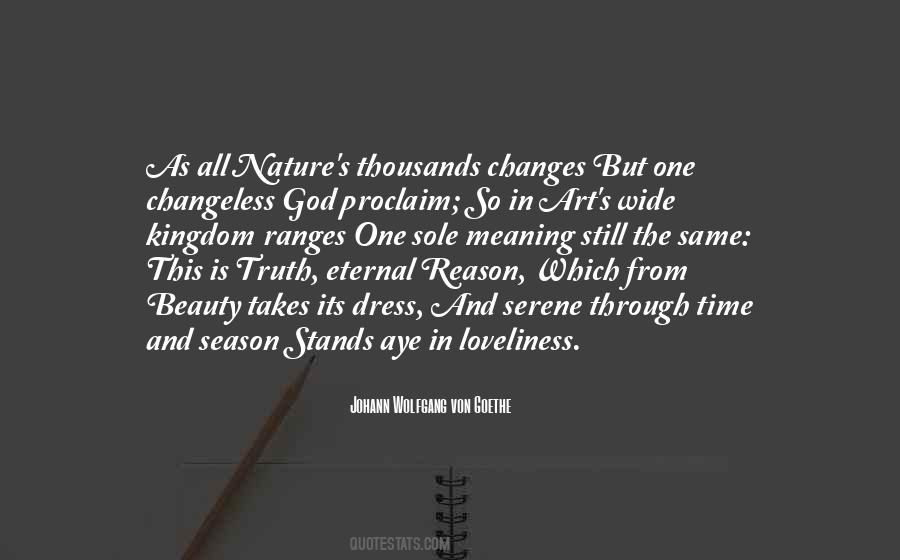 #60. The very fact that a holy, eternal, all-knowing, all-powerful, merciful, fair, and just God loves you and me is nothing short of astonishing. - Author: Francis Chan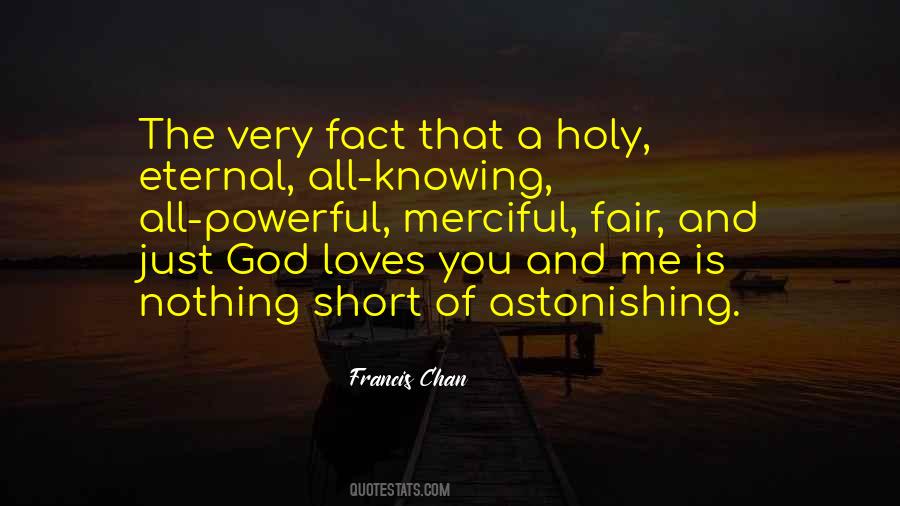 #61. What is God after all? An eternal child playing an eternal game in an eternal garden. - Author: Sri Aurobindo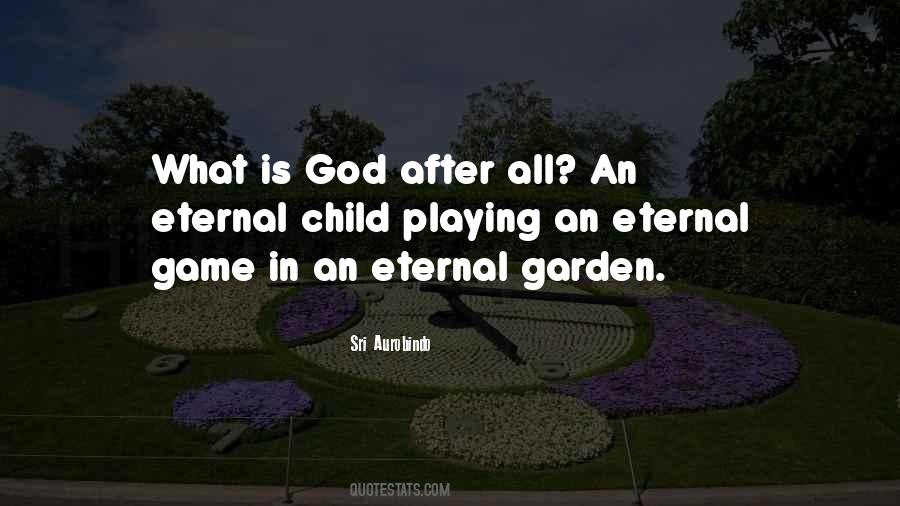 #62. Eternal life and the invisible world are only to be sought in God. Only within Him do all spirits dwell. He is an abyss of individuality, the only infinite plenitude. - Author: Karl Wilhelm Friedrich Schlegel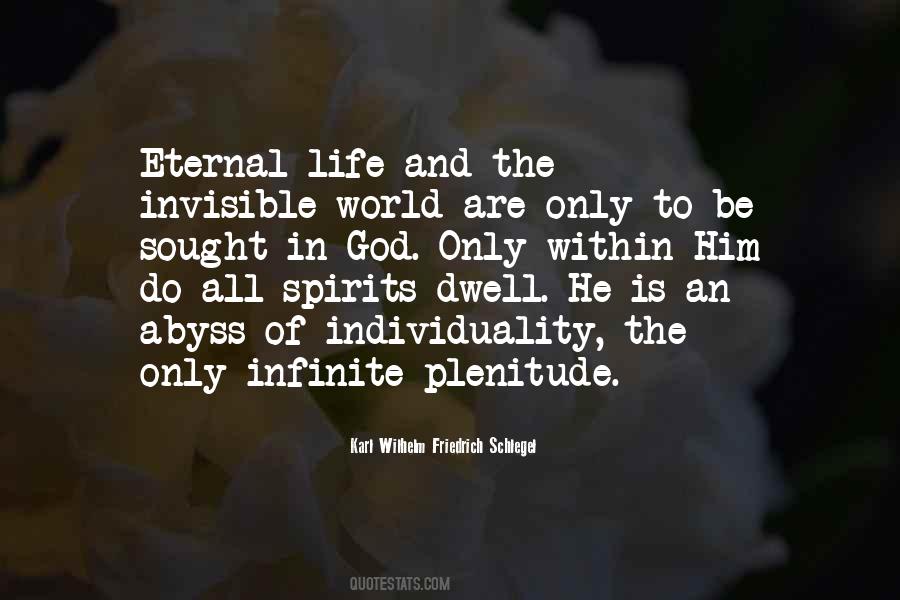 #63. God is like a mirror, consistent, stable, unchanging; reflecting His image of us, that is always changing. - Author: Anthony Liccione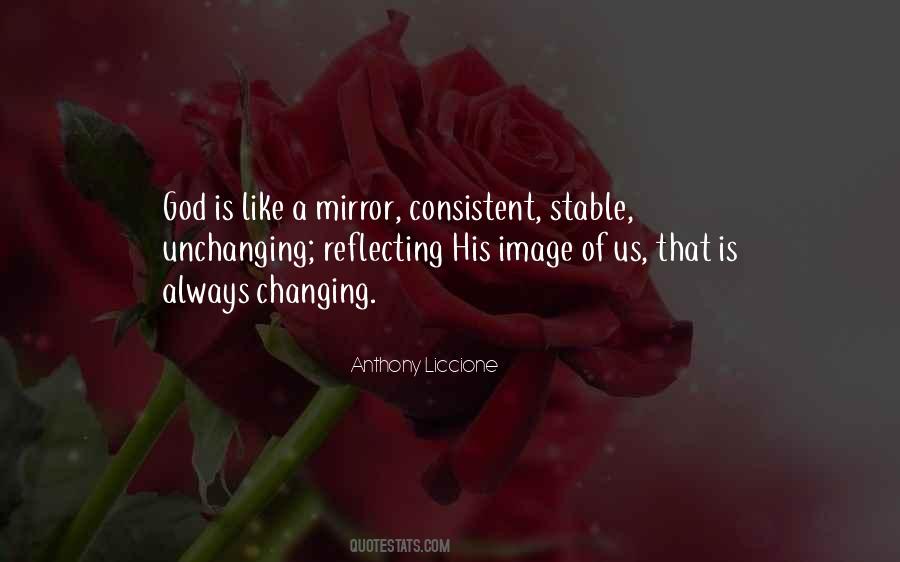 #64. Our assurance, our glory, and the sole anchor of our salvation are that Christ the Son of God is ours, and we in turn are in him sons of God and heirs of the Kingdom of Heaven, called to the hope of eternal blessedness by God's grace, not by our worth. - Author: John Calvin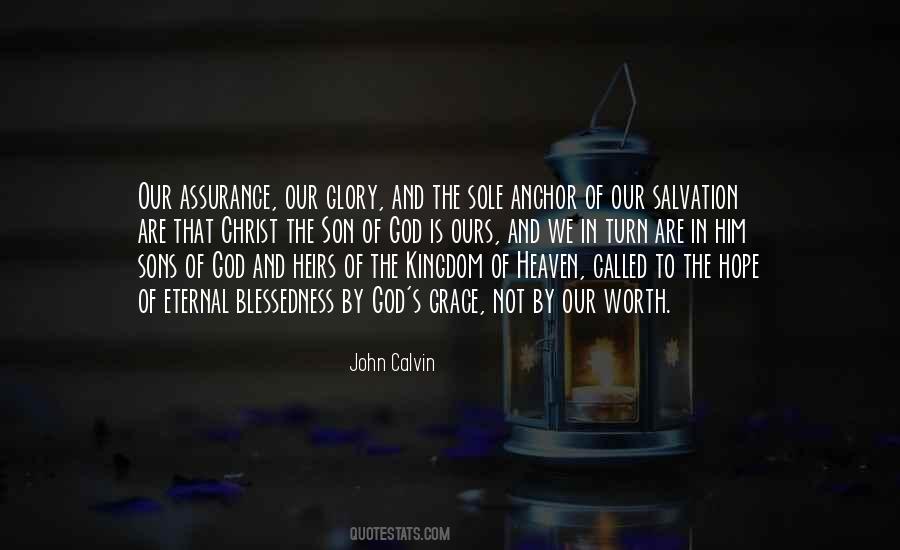 #65. In order to be an image of God, the spirit must turn to what is eternal, hold it in spirit, keep it in memory, and by loving it, embrace it in the will. - Author: Edith Stein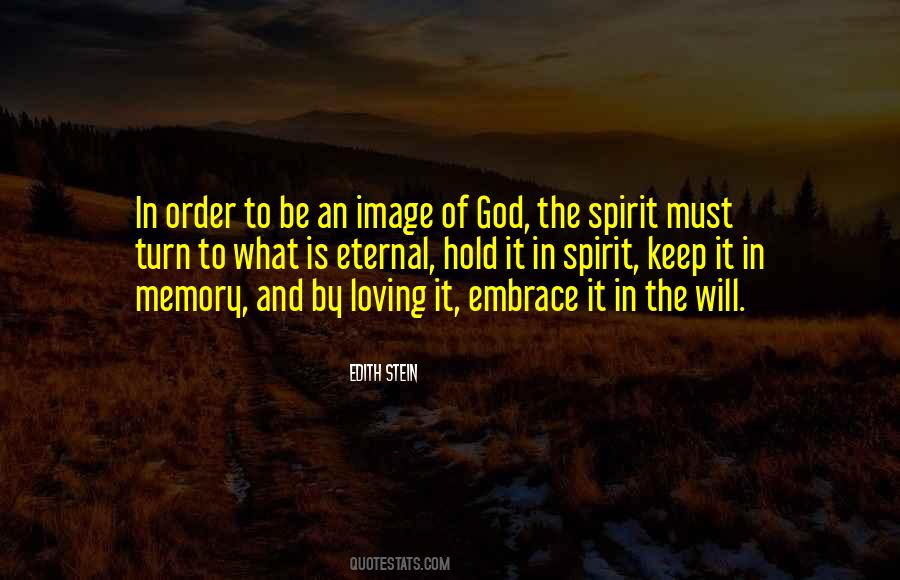 #66. Infantile people complain and say that God is cruel or that there is no God. Mature people, however, know that there is wisdom and sometimes an eternal kindness in God's refusals. - Author: Norman Vincent Peale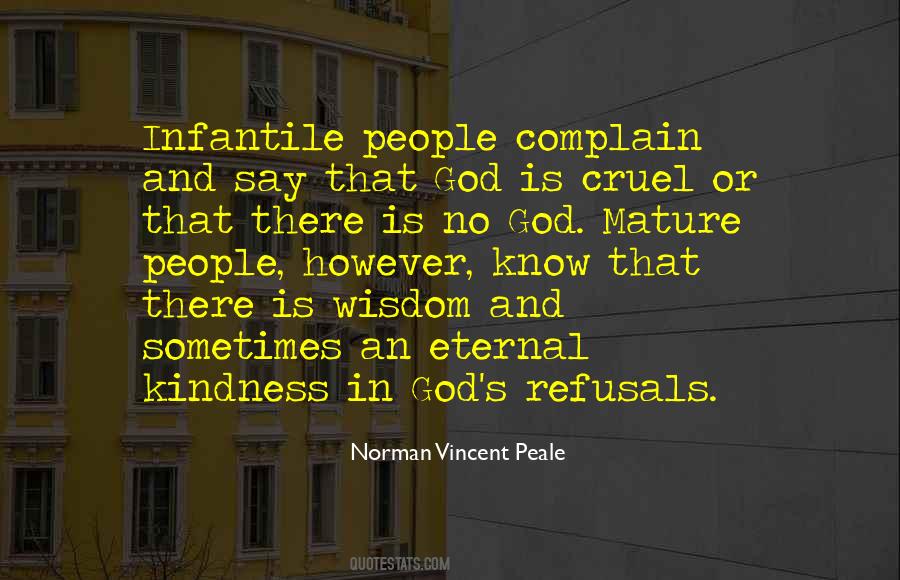 #67. Forever is longer than you know. Eternal is longer than Forever. God is more than you imagine. God is the energy you call imagination. God is creation. God is first thought. And God is last experience. And God is everything in between. - Author: Neale Donald Walsch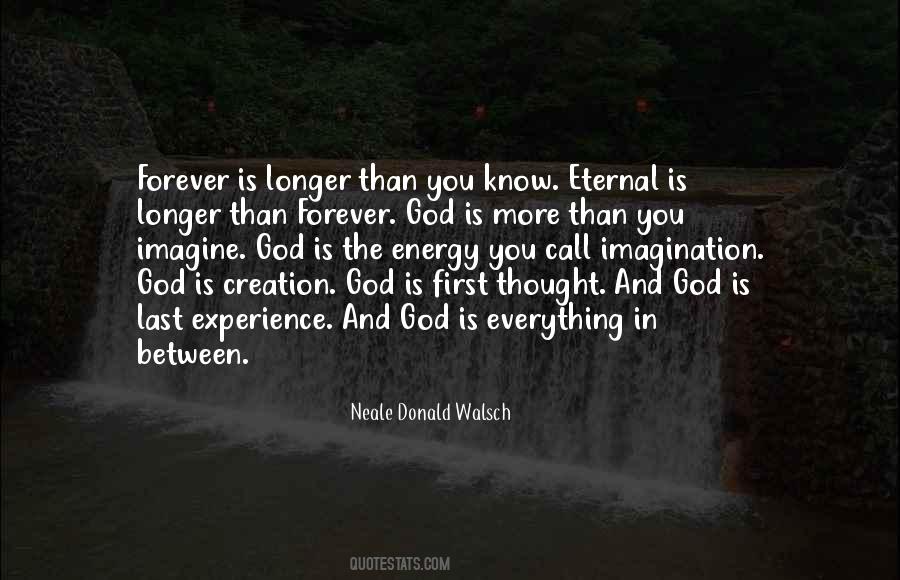 #68. Money is a cheap but powerful substitute for Jesus, and wielding money is intoxicating, but it won't usher in the kingdom of God, nor will it ensure eternal treasures. - Author: Mary E. DeMuth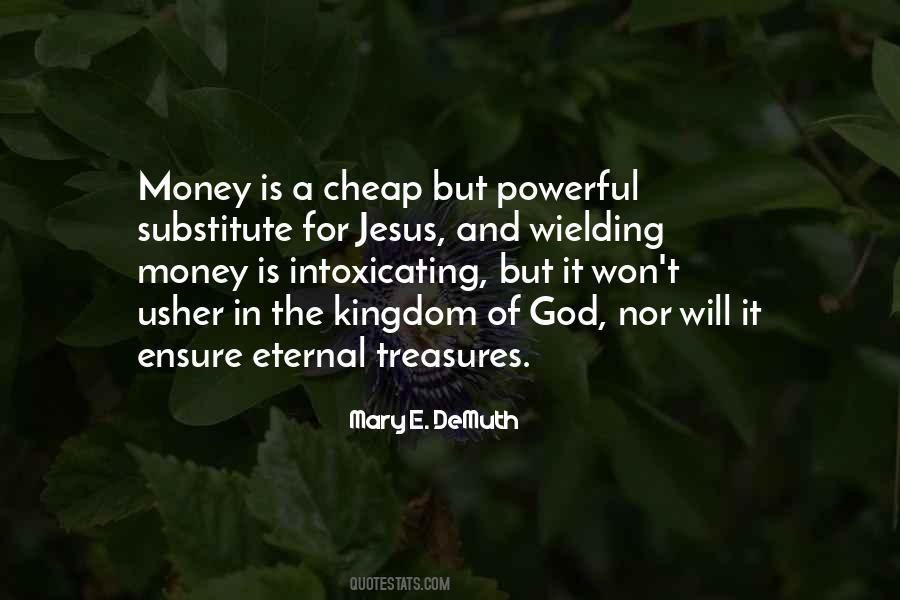 #69. God is the Master Author of your life. He has written every page of your life story in His eternal book. It's up to you to turn up the pages and move on with the next chapter or just get yourself stuck in the same content over and over again.- Elizabeth's Quotes - Author: Elizabeth E. Castillo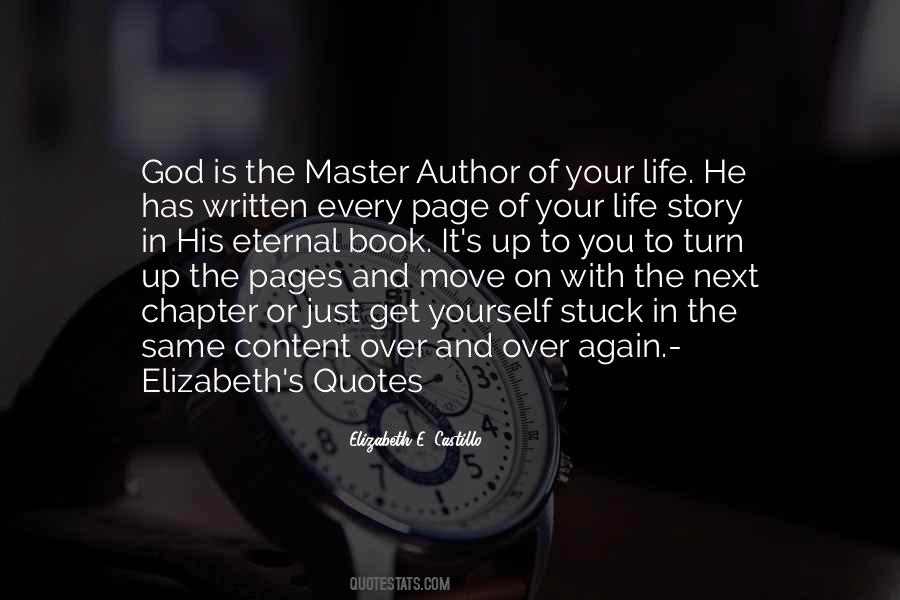 #70. God is more interested in securing my forever happiness than my temporary happiness. - Author: Paula Hendricks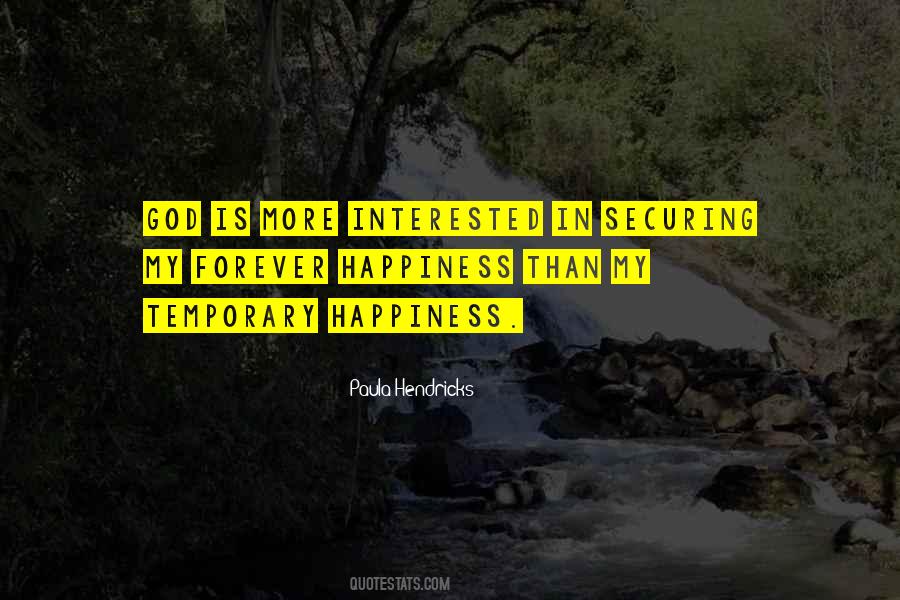 #71. Wisdom is a teacher,
God is its professor.
The wise are His students,
life is His rod,
and eternal life is our reward. - Author: Matshona Dhliwayo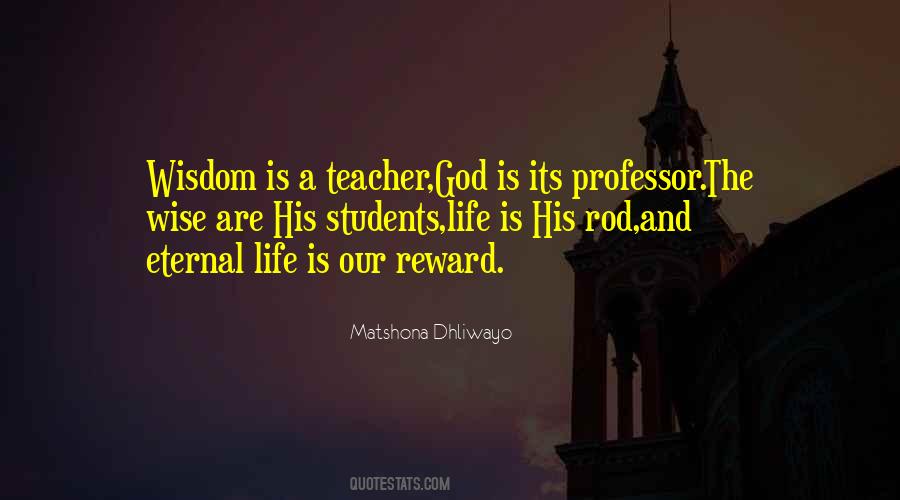 #72. Hell is only the Cringe Eternal and the Place of our Self's Undoing. When Nietzsche proclaimed "God is Dead!" he forgot to add that Satan is also dead and we are free from all that antique tat. - Author: Grant Morrison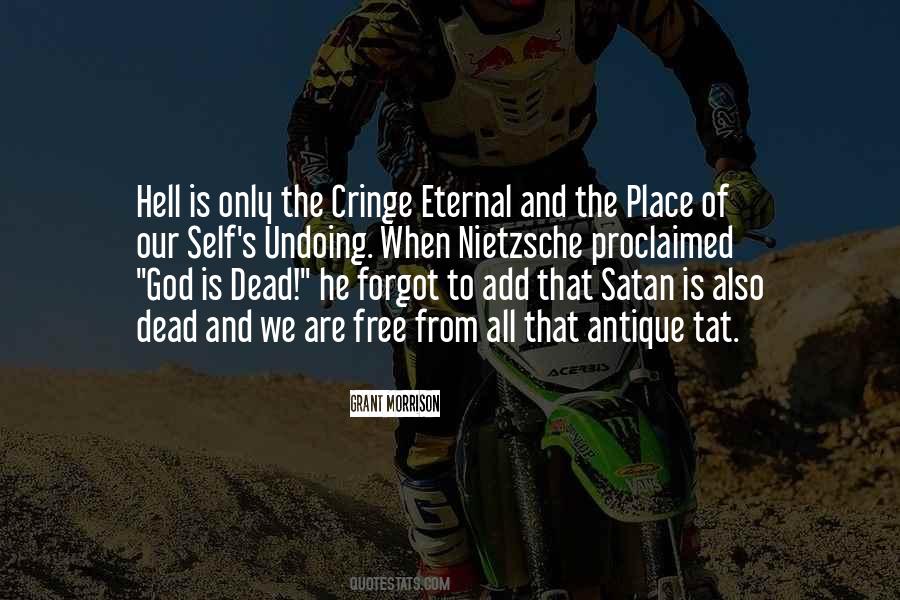 #73. The eternal duel between Ormuzd and Ahriman, God and Satan, is raging in my breast, which is one among their billion battlefields. - Author: Mahatma Gandhi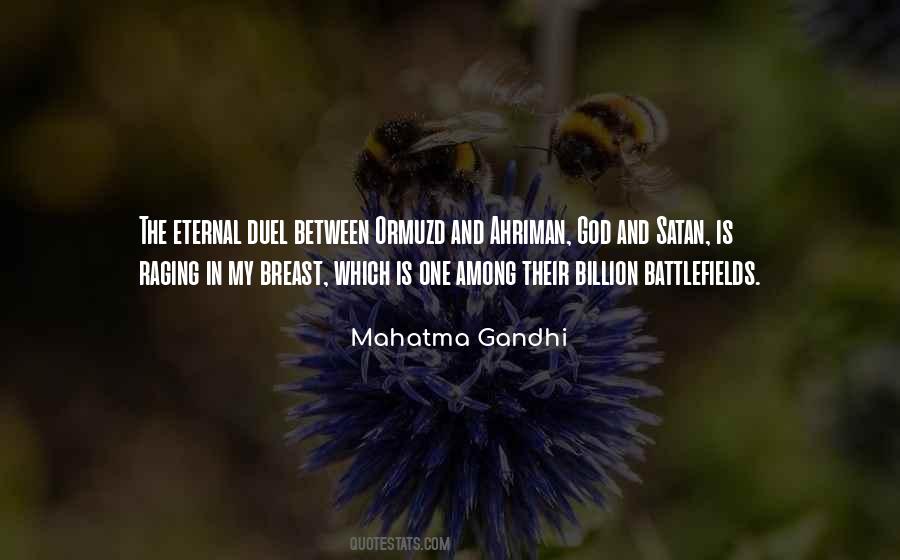 #74. When trying to remember my share in the glow of the eternal present, in the smile of God, I return to my childhood, too, for that is where the most significant discoveries turn up. - Author: Herman Hesse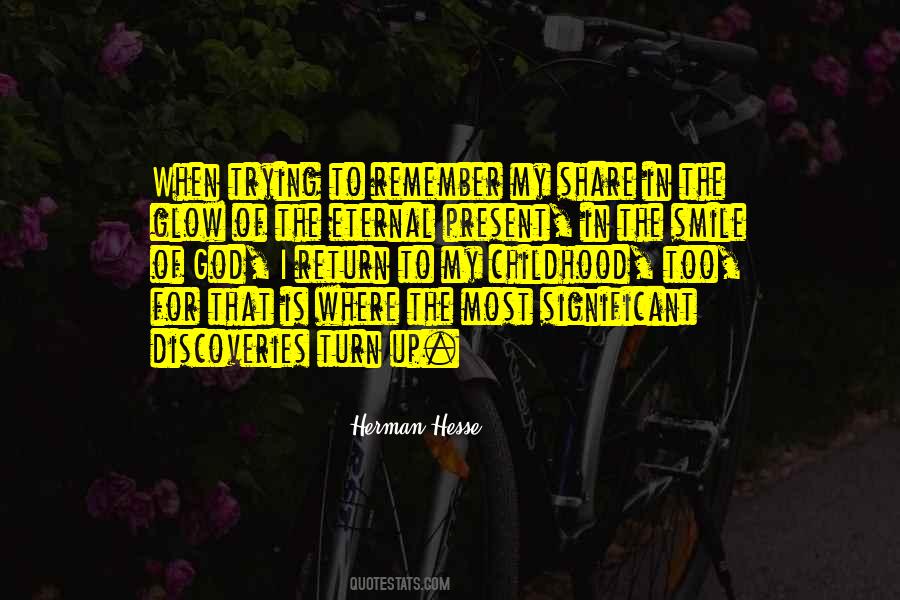 #75. God is unlimited and infinite with respect to time; He is eternal. God is unlimited and unaffected by space; He is present everywhere at the same time. - Author: David Jeremiah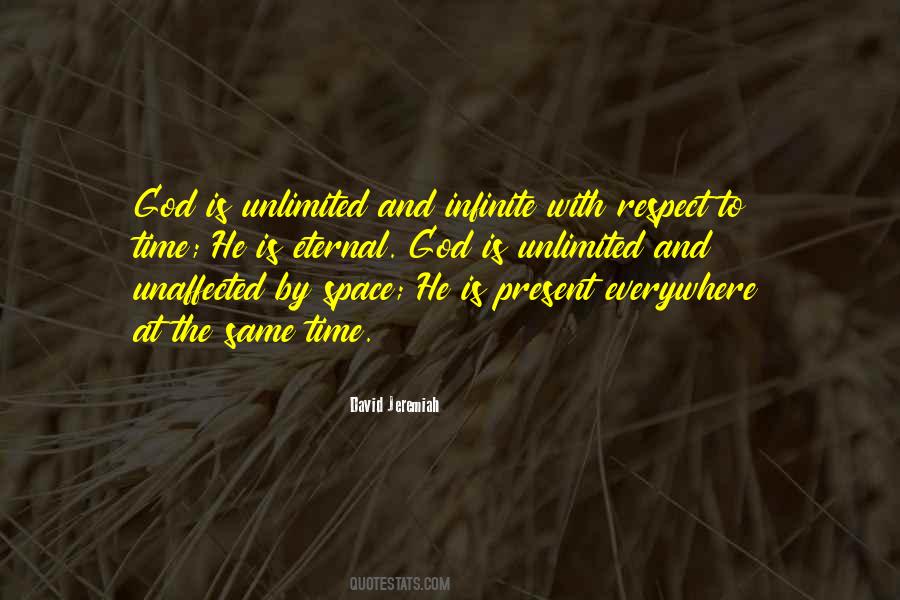 #76. The one whose egoism is gone, he becomes God. One is a mortal (jivatma) as long as there is egoism and if his egoism goes away, he becomes the eternal Absolute Supreme Soul (Paramatma). - Author: Dada Bhagwan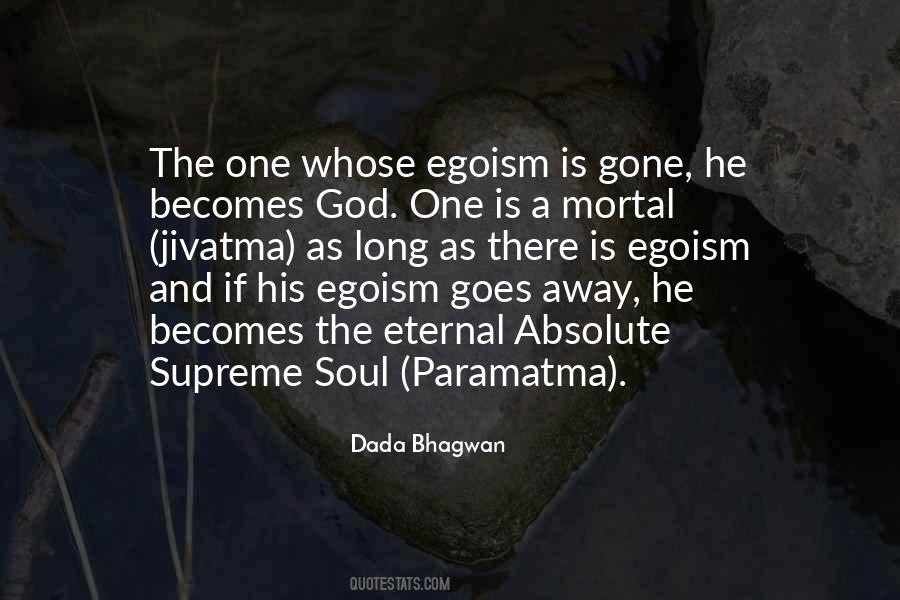 #77. The real meaning of eternal life is a life that can face anything is has to face without wavering. If we take this view, life becomes one great romance, a glorious opportunity for seeing marvelous things all the time.
God is disciplining us to get us into this central place of power. - Author: Oswald Chambers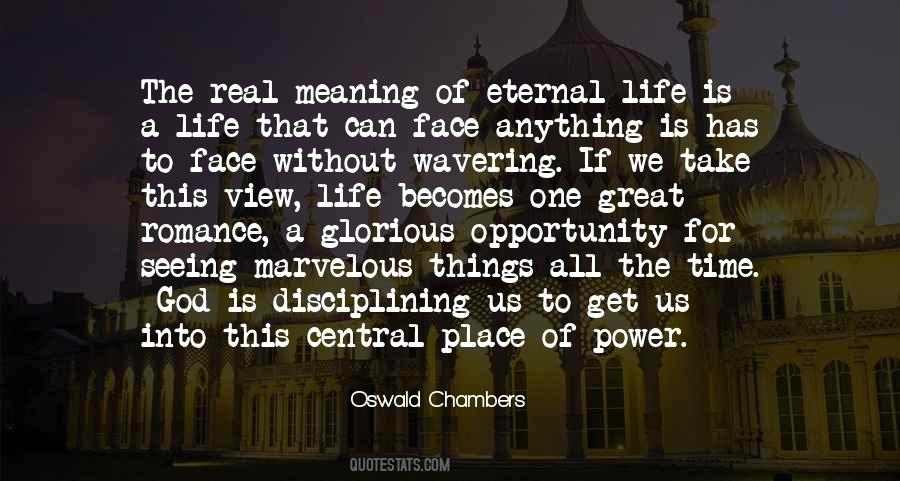 #78. The only way to avoid eternal punishment for sins we never committed from this all-loving God is to accept his son - who is actually himself - as our savior. So ... God sacrificed himself to himself to save us from himself. Barking mad! - Author: Peter Boghossian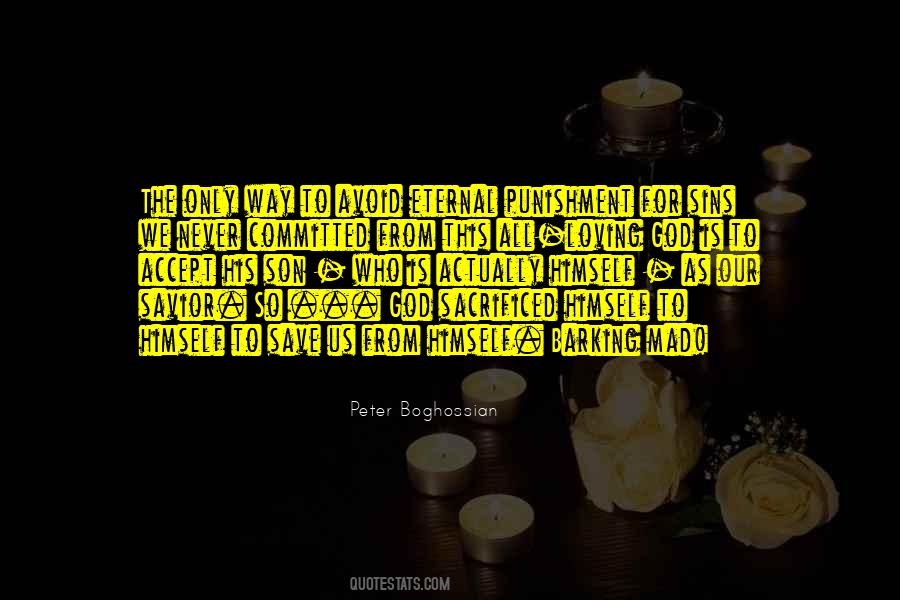 #79. God is action, complete with mistakes, fumblings, persistence, agony. God is not the power that has found eternal equilibrium, but the power that is forever breaking every equilibrium, forever searching for a higher one. - Author: Nikos Kazantzakis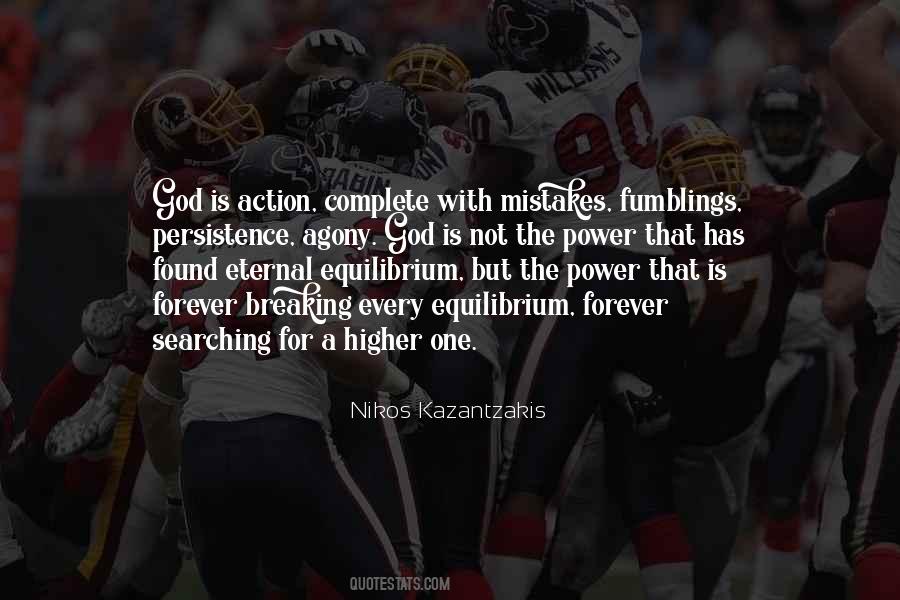 #80. While the soul is in mortal sin, nothing can profit it; none of its good works merit an eternal reward, since they do not proceed from God as their first principle, and by Him alone is our virtue real virtue. - Author: Saint Teresa Of Avila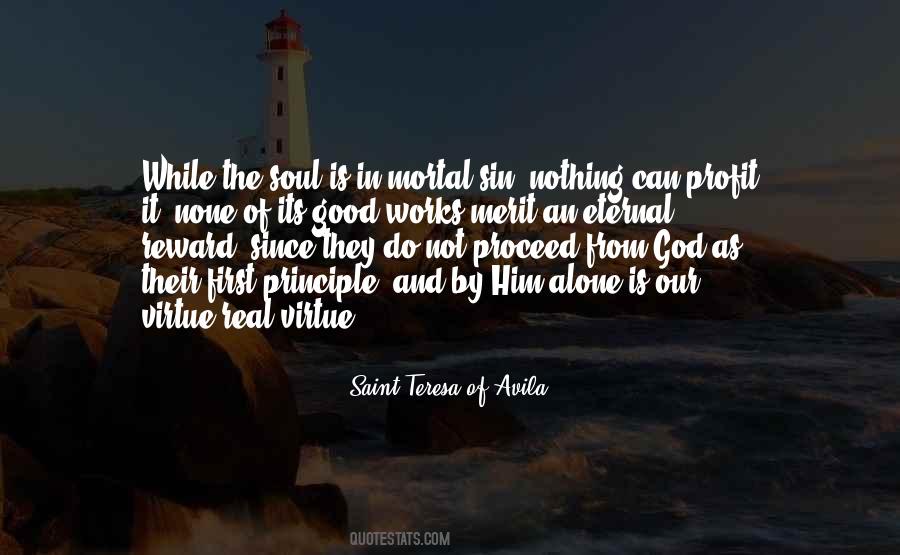 #81. This is only the beginning. Many die, many kill their bodies and souls, but they cannot kill the justice of God, even they cannot kill the eternal spirit. From their very degradation that spirit will rise up to demand of the world compassion and justice - Author: Radclyffe Hall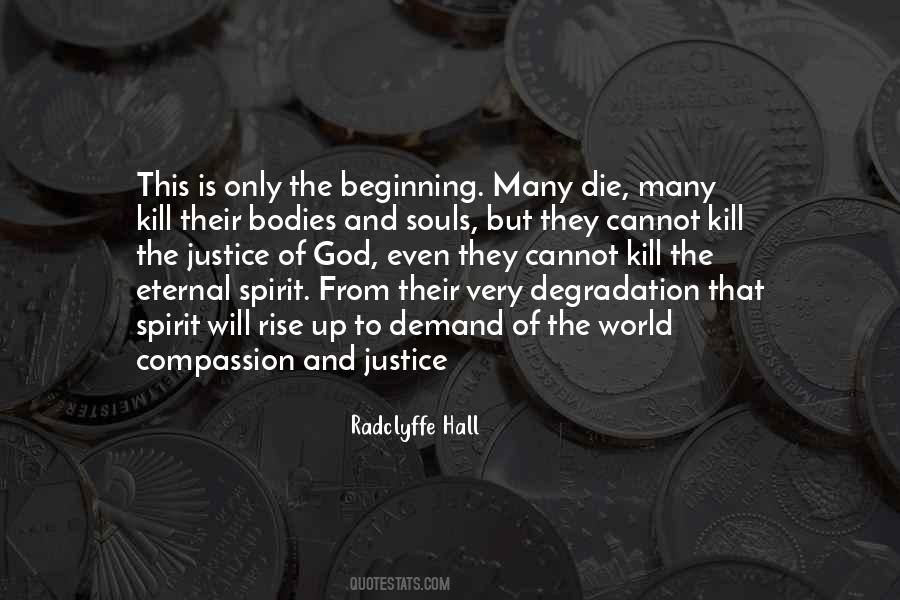 #82. The gospel is the announcement that God has reconciled us to Himself by sending His Son Jesus to die as a substitute for our sins, and that all who repent and believe have eternal life in Him. - Author: J.D. Greear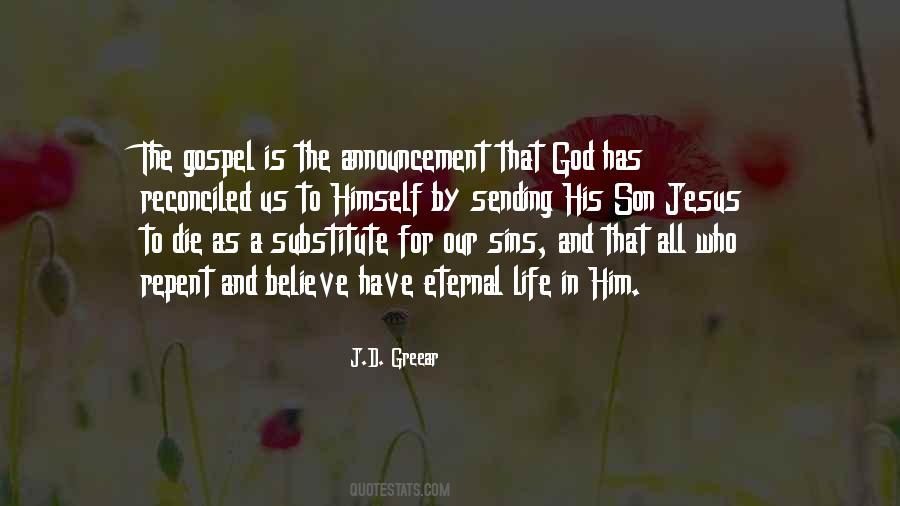 #83. Baptism is the sacrament of allegiance of them that are to be received into the Kingdom of God, that is to say, into Eternal life, that is to say, to Remission of Sin. For as Eternal life was lost by the committing, so it is recovered by the remitting of men's sins. - Author: Thomas Hobbes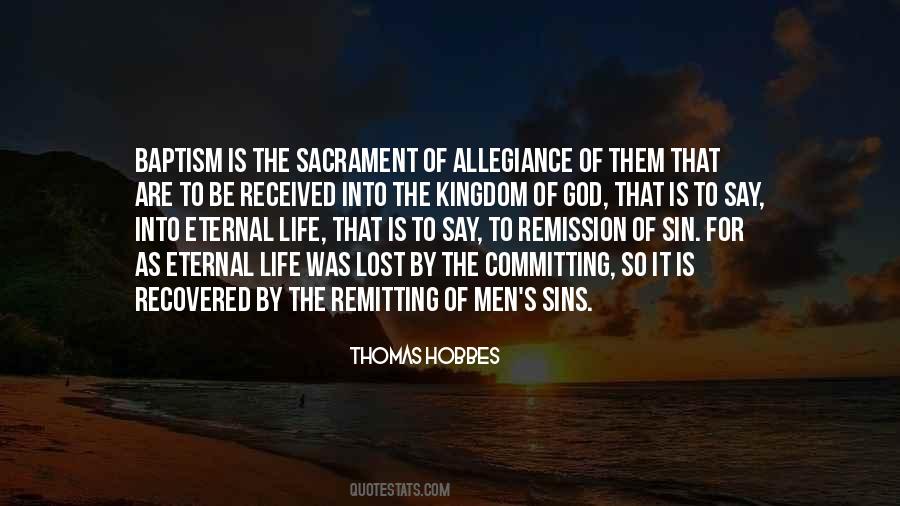 #84. It is impossible to fulfill the law concerning love for Me, God eternal, apart from the law concerning love for your neighbors. - Author: St. Catherine Of Siena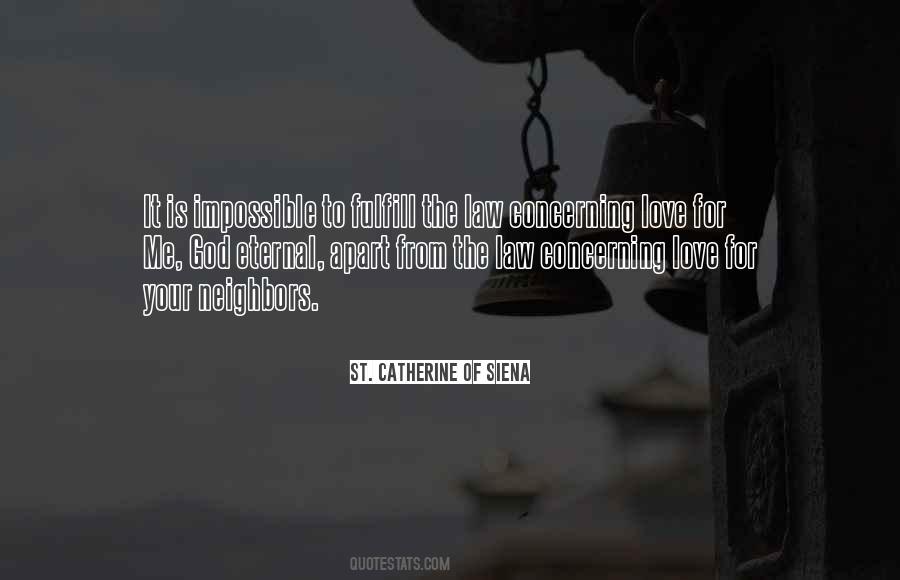 #85. Thor is a god who's lived in Asgard most all his life, but I think he still has a sense of awe and wonder about the place. I want us, as readers, to have that same sense of awe whenever we see, finally see, the golden spires of Realm Eternal. - Author: Jason Aaron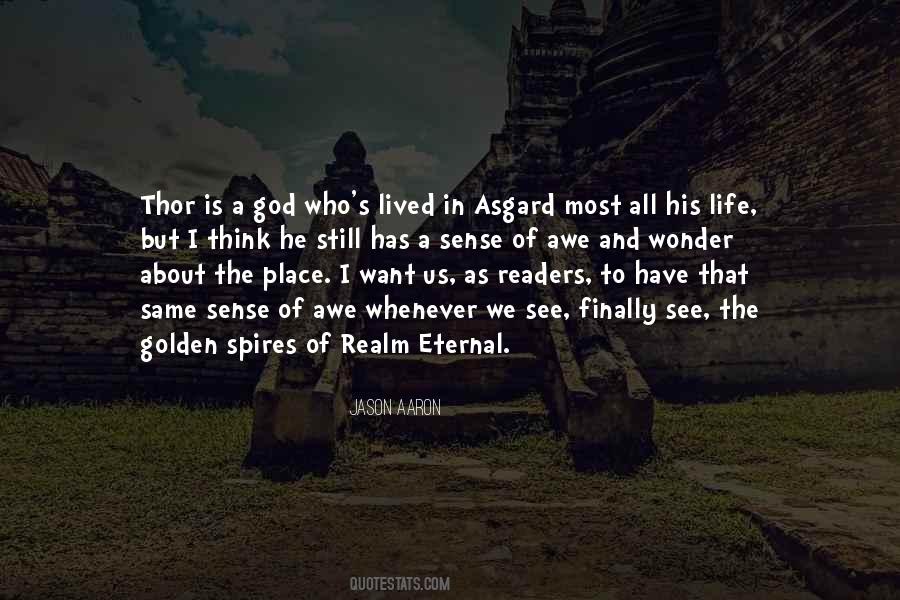 #86. With God, life is eternal-both in quality and length. There is no joy comparable to the joy of discovering something new from God, about God. If the continuing life is a life of joy, we will go on discovering, learning. - Author: Eugenia Price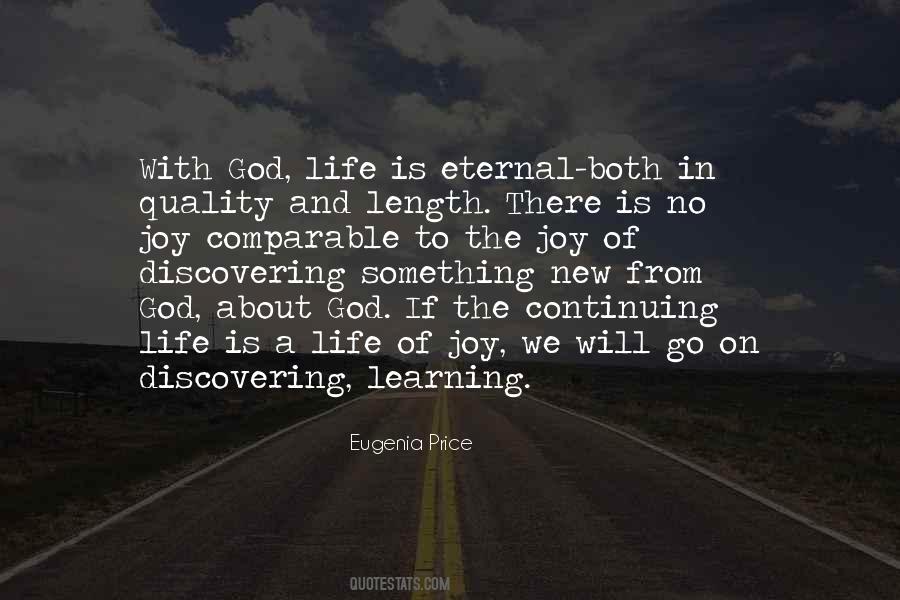 #87. Peter of Jerusalem told his followers that they should be prepared to give an account (logos) of the hope that is in them (I Pt 3: 15). The logos that Peter referred to is, in the final instance, a Person, the eternal Word of God, the ultimate explanation of our life, our movement, and our being. - Author: Francis George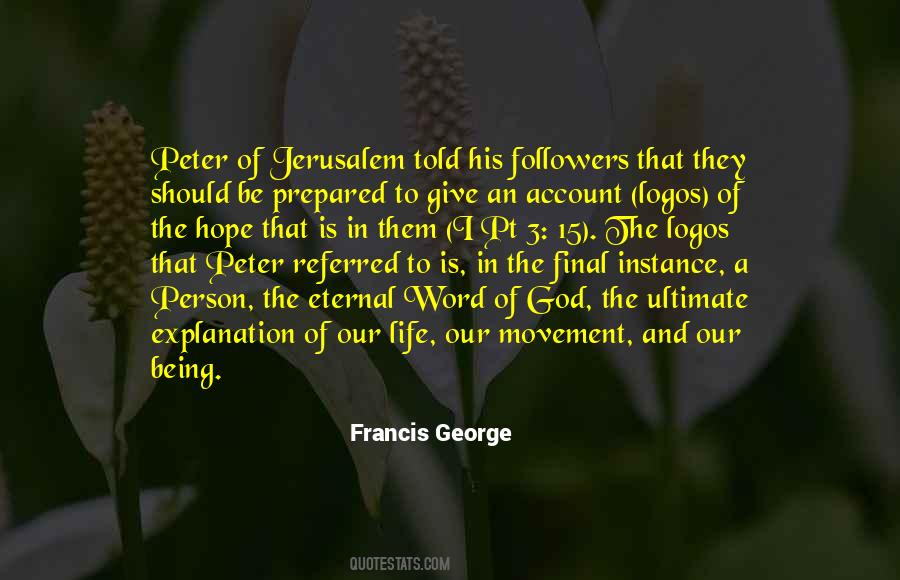 #88. It is clear that any sexual relationship other than that between a legally wedded heterosexual husband and wife is sinful. The divine mandate of marriage between man and woman puts in perspective why homosexual acts are offensive to God. They repudiate the gift and the Giver of eternal life. - Author: Victor L. Brown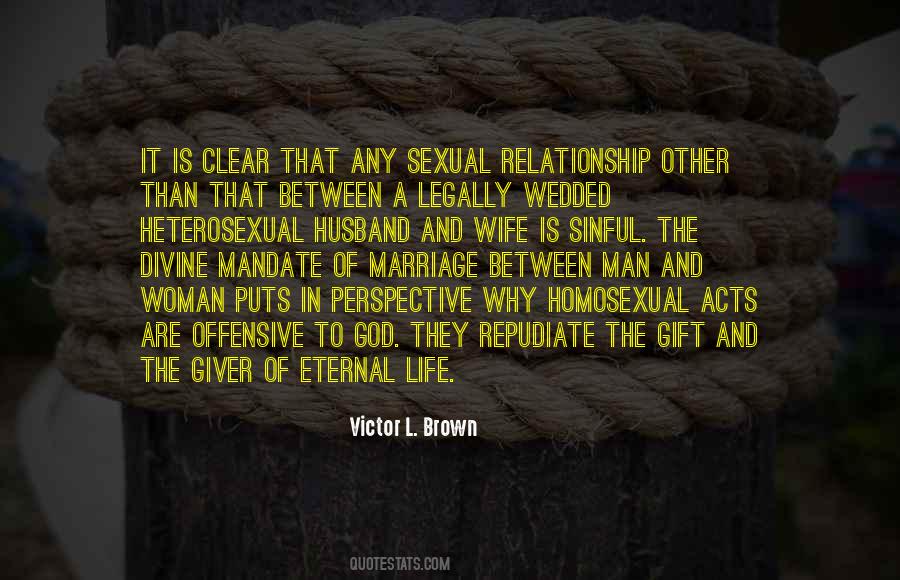 #89. We cannot keep to ourselves the words of eternal life given to us in our encounter with Jesus Christ: they are meant for everyone, for every man and woman ... It is our responsibility to pass on what, by God's grace, we ourselves have received. - Author: Pope Benedict XVI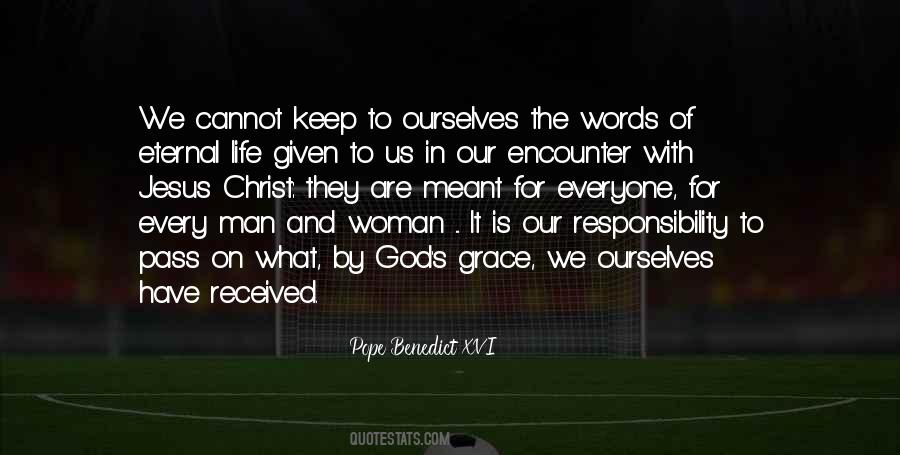 #90. In other words to live Eternal Life in the full and final sense is to be with God as Christ is with him, and with each other as Christ is with us. - Author: Frederick Buechner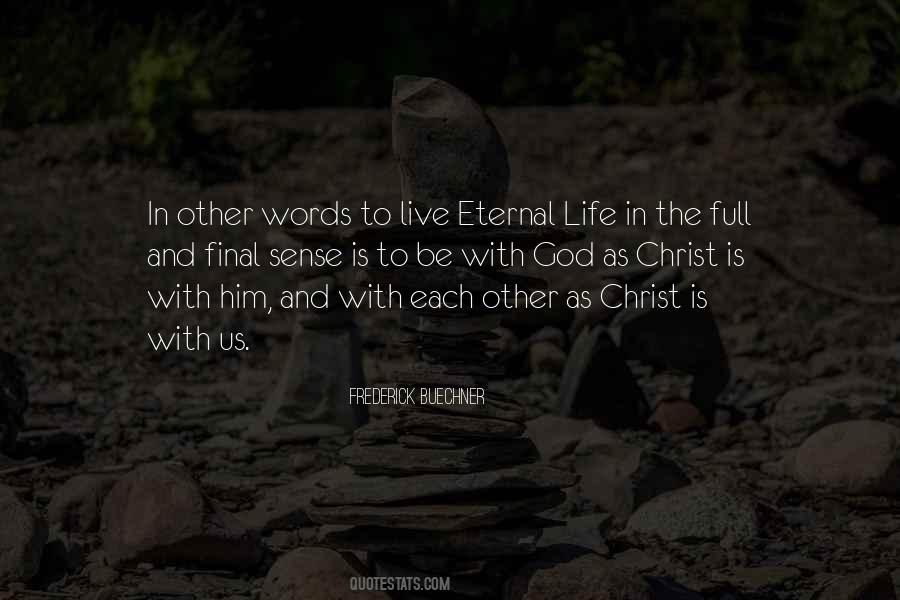 #91. I have always been astonished that women were allowed to enter churches. What conversation can they possibly have with God?
The eternal Venus (caprice, hysteria, fantasy) is one of the seductive forms of the Devil. - Author: Charles Baudelaire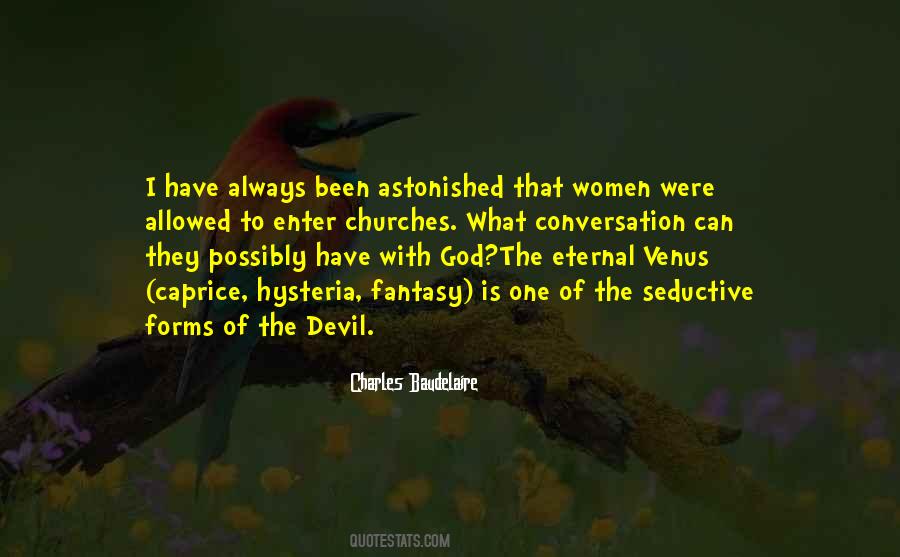 #92. We are here to awaken to the reality of our true identity - that we are sparks of the Eternal Imperishable Spirit, who is the source of all Creation and the very essence of our being. - Author: Shriram Sharma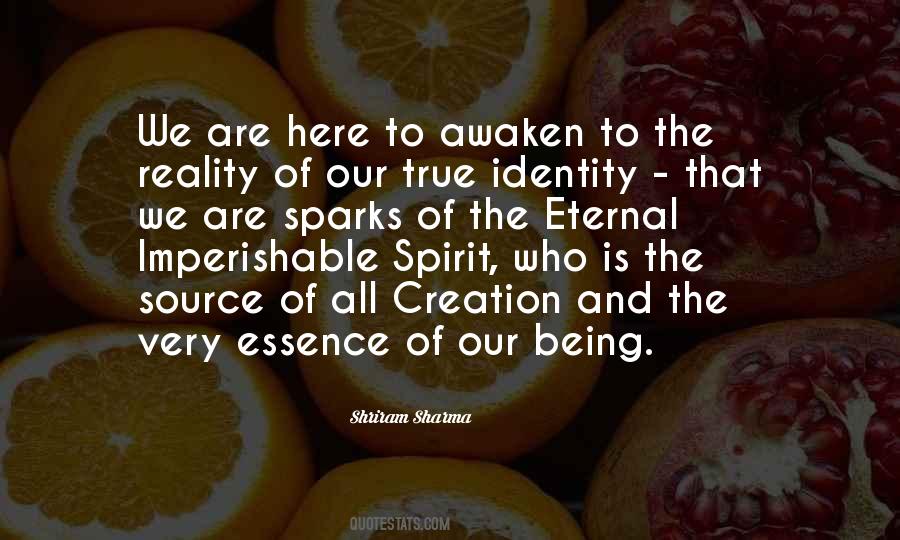 #93. 3The voice of the Eternal echoes over the great waters; God's magnificence roars like thunder. The Eternal's presence hovers over all the waters. 4His voice explodes in great power over the earth. His voice is both regal and grand. - Author: Anonymous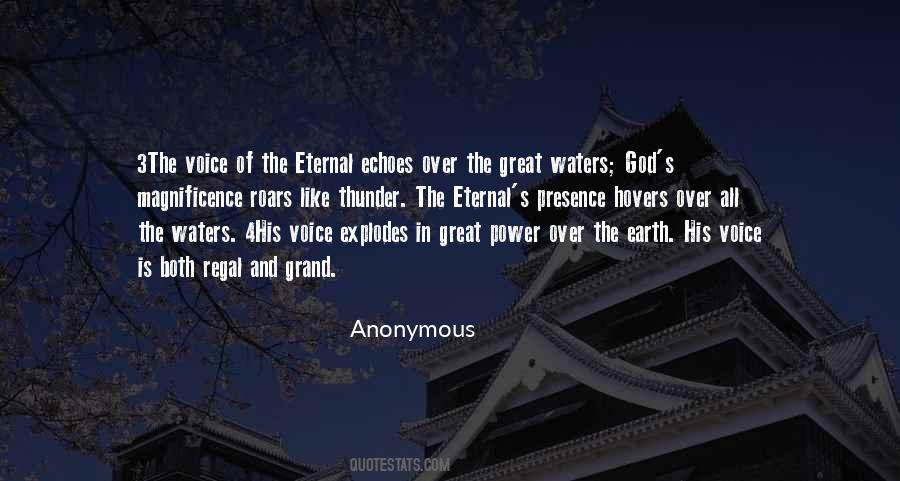 #94. Death was not eternal; Death was the only true mortal God ever created. It is no wonder we stare in horror at it ... - Author: Ginger Garrett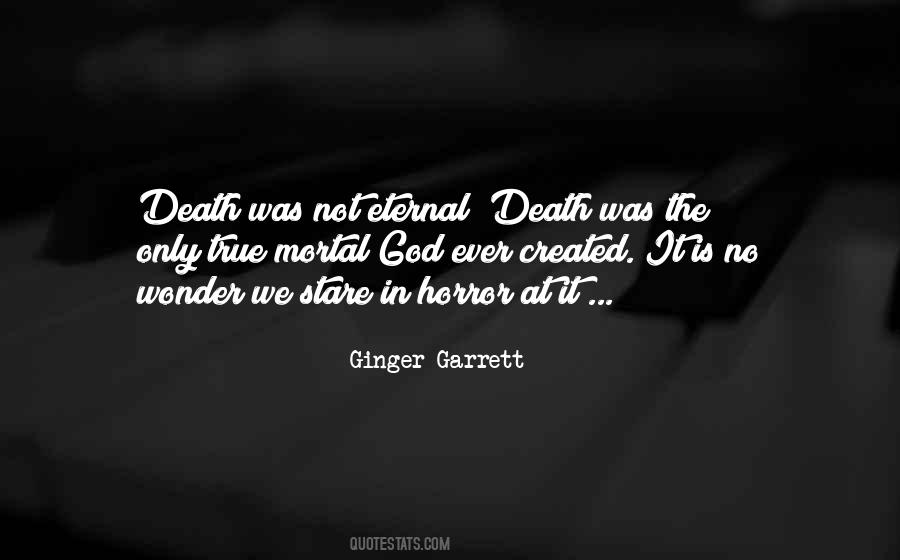 #95. In life we meet people and they come and go. But, only God will remain the same. Despite what others think, God's love is eternal. No matter who abandons you, God will never leave or forsake you. - Author: Amaka Imani Nkosazana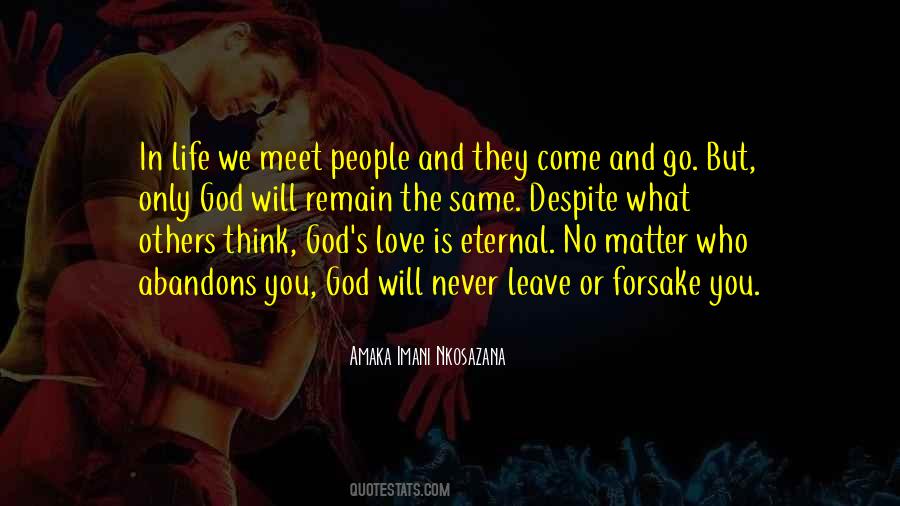 #96. A God who fits within the confines of our conception is useless. God cannot be comprehended by man's conception or logic. God is an eternal being who transcends the framework of man's limited logic. - Author: Sun Myung Moon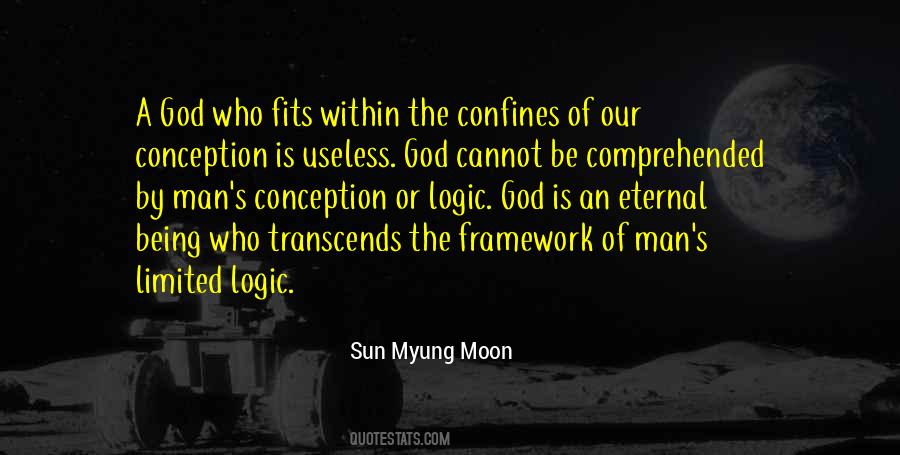 #97. He said, Heaven is not waiting for the good and pure and gentle There's no punishment eternal, there's no Hell for the ungodly Nor is God as you imagine - Saint - Author: Neil Gaiman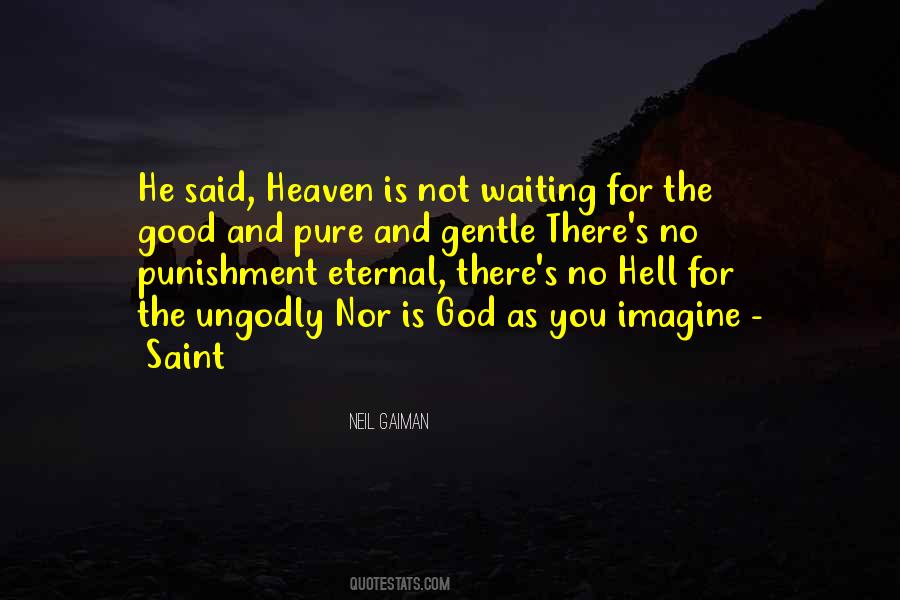 #98. But it is the knowledge of necessary and eternal truths which distinguishes us from mere animals, and gives us reason and the sciences, raising us to knowledge of ourselves and God. It is this in us which we call the rational soul or mind. - Author: Gottfried Leibniz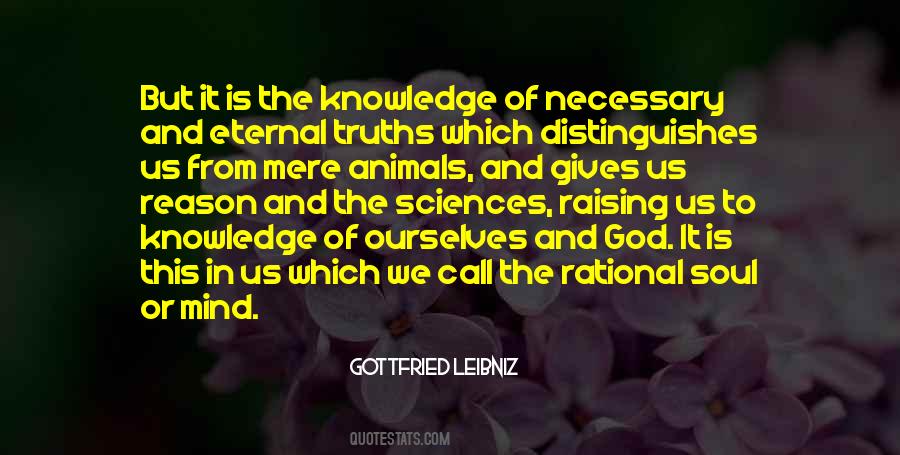 #99. Geometry is one and eternal shining in the mind of God - Author: Johannes Kepler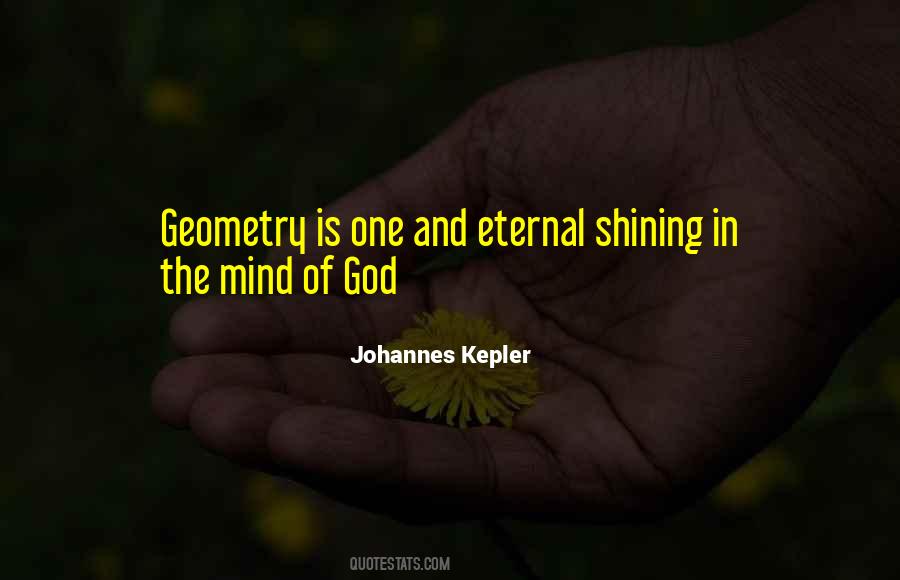 #100. The purpose of the Bible is to proclaim God's plan and passion to save his children. That is the reason this book has endured through the centuries. It is the treasure map that leads us to God's highest treasure: eternal life. - Author: Max Lucado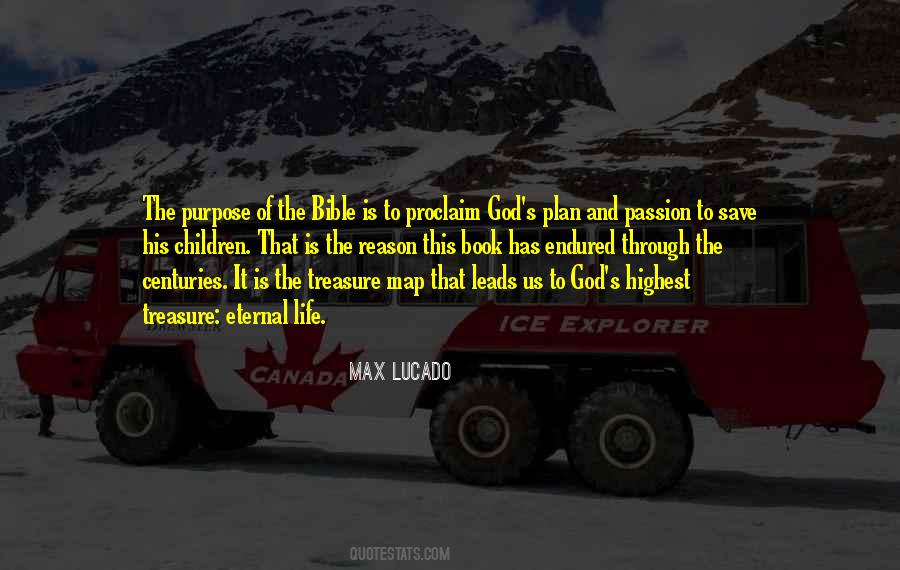 Famous Authors
Popular Topics