God Hates Us Famous Quotes & Sayings
List of top 66 famous quotes and sayings about god hates us to read and share with friends on your Facebook, Twitter, blogs.
Top 66 God Hates Us Quotes
#1. Well, God hates a coward, - Author: Sara King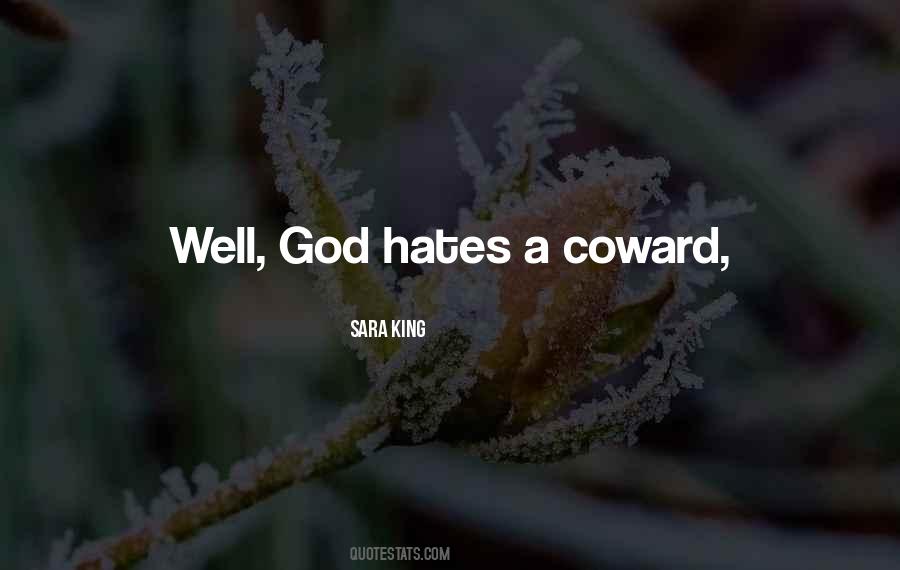 #2. Him and God are supposed to be at war with each other. But if God hates sin and Satan punishes the sinners, aren't they working the same side of the street? Aren't the judge and the executioner on the same team? - Author: Joe Hill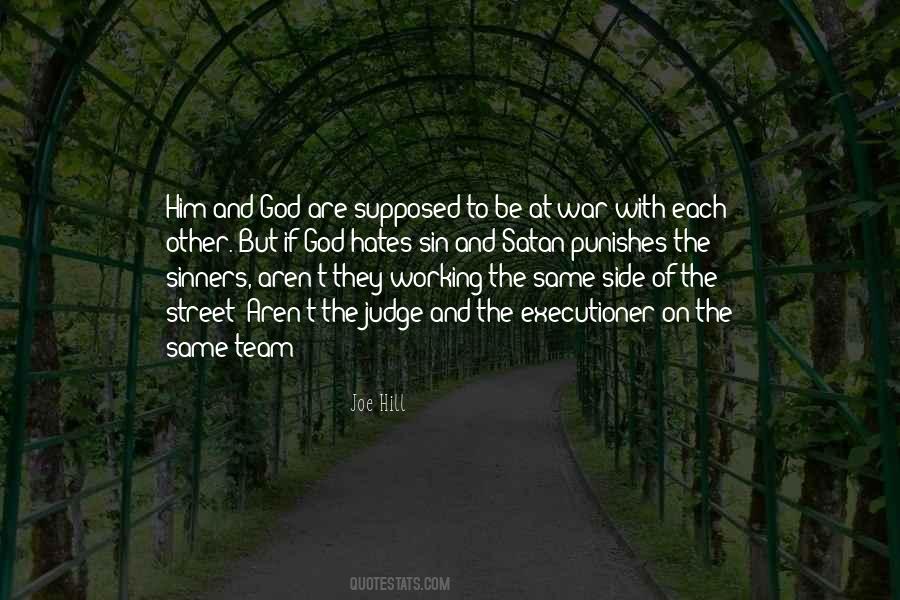 #3. God hates violence. He has ordained that all men fairly possess their property, not seize it. - Author: Euripides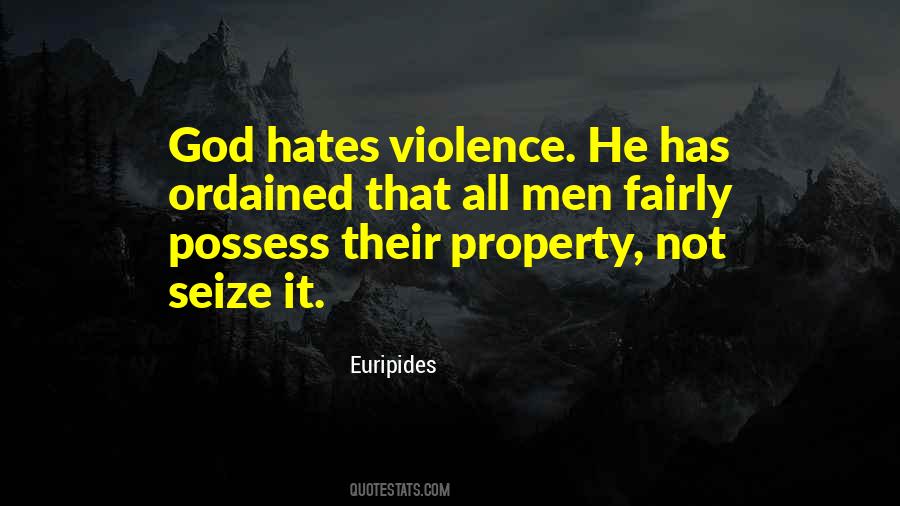 #4. So the moral of the story
is that God hates vegetarians. - Author: Cory O'Brien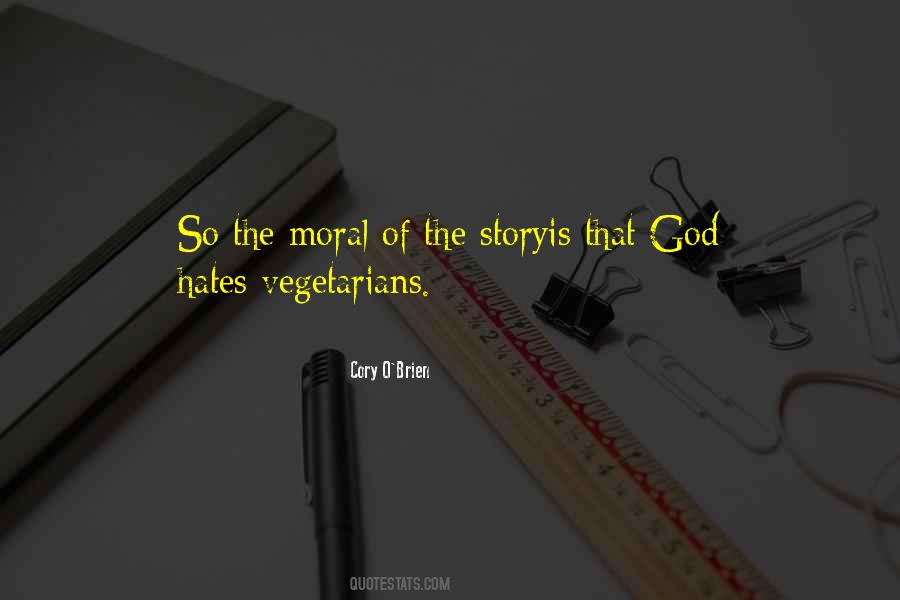 #5. [T]here is nothing that God hates so much as a liar. - Author: Georges Bernanos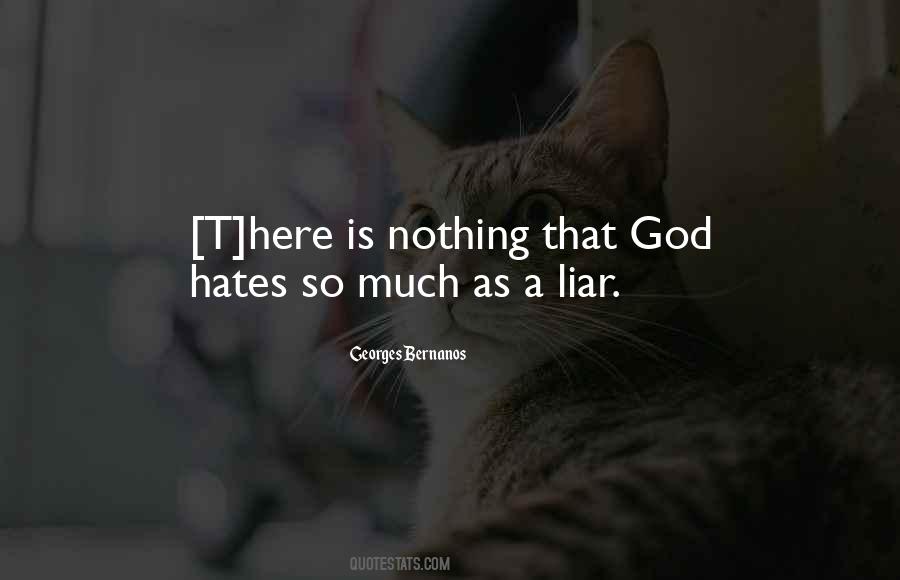 #6. You can safely assume you've remade God in your own image when it turns out God hates the same people you do. Anne Lamott, Bird by Bird - Author: Janis Bragan Balda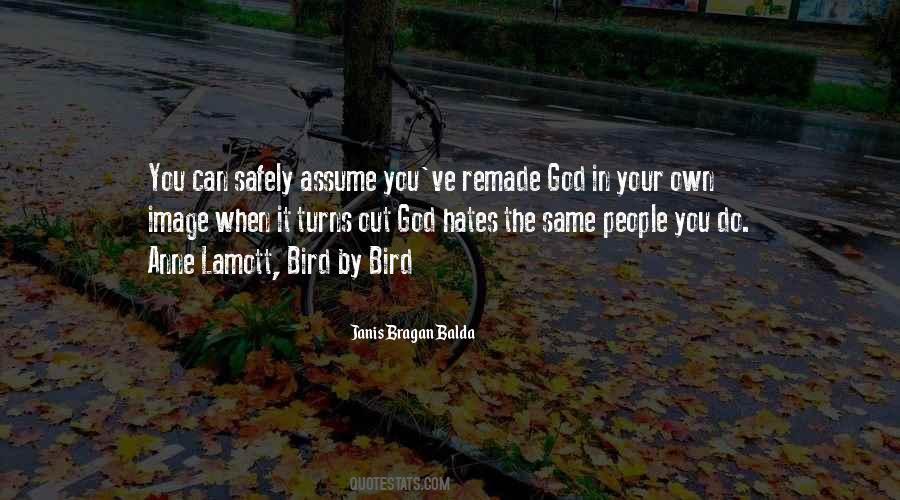 #7. They were doing a full back shot of me in a swimsuit and I thought, Oh my God, I have to be so brave. See, every woman hates herself from behind. - Author: Cindy Crawford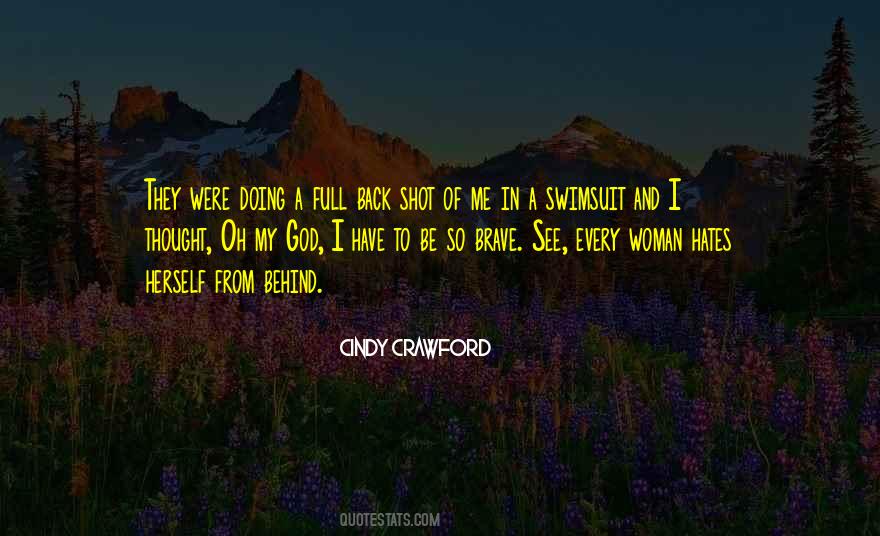 #8. If I know anything about the character of God after fifty years of ministry, I know that God hates abortion. - Author: R.C. Sproul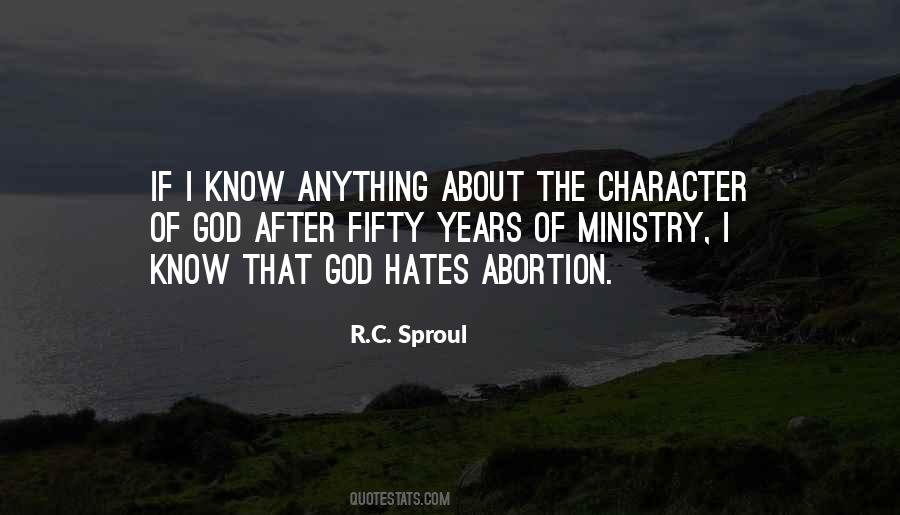 #9. If you're a print shop and you are a gay man, should you be forced to print 'God Hates Fags' for the Westboro Baptist Church because they hold those signs up? Should the government - and this is really the case here - should the government force you to do that? - Author: Rick Santorum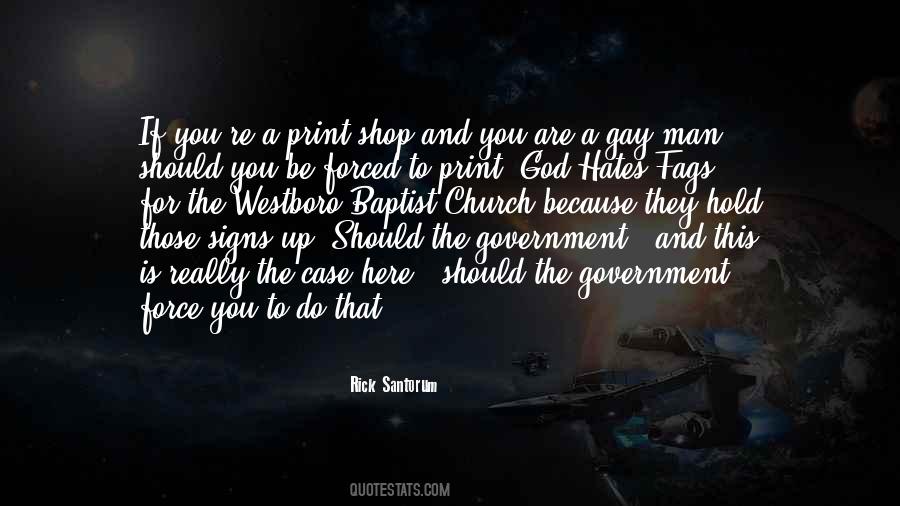 #10. God Hates divorce."
"He hates cruelty even more."
Caring For Eleanor - Author: Sonia Rumzi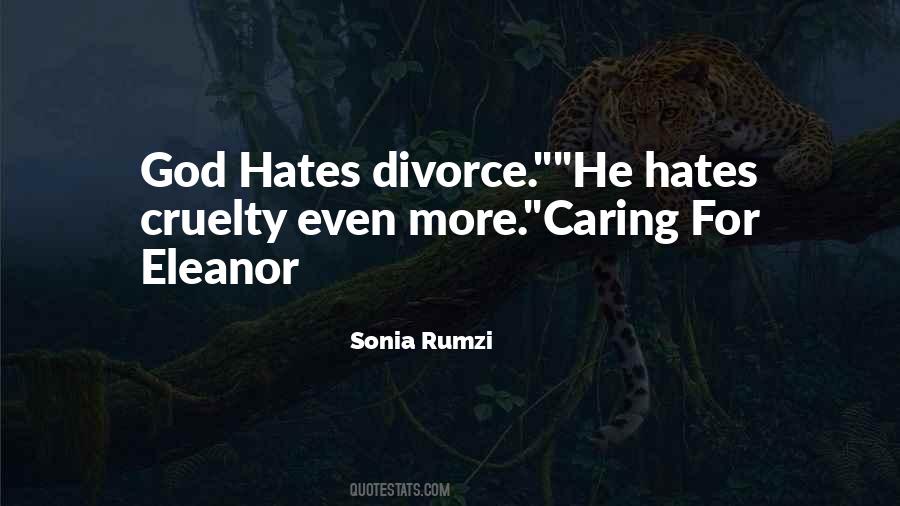 #11. My father hates organized religion, probably because he hates the God who killed his little girl back in 1968. I find religions variously bemusing. - Author: William T. Vollmann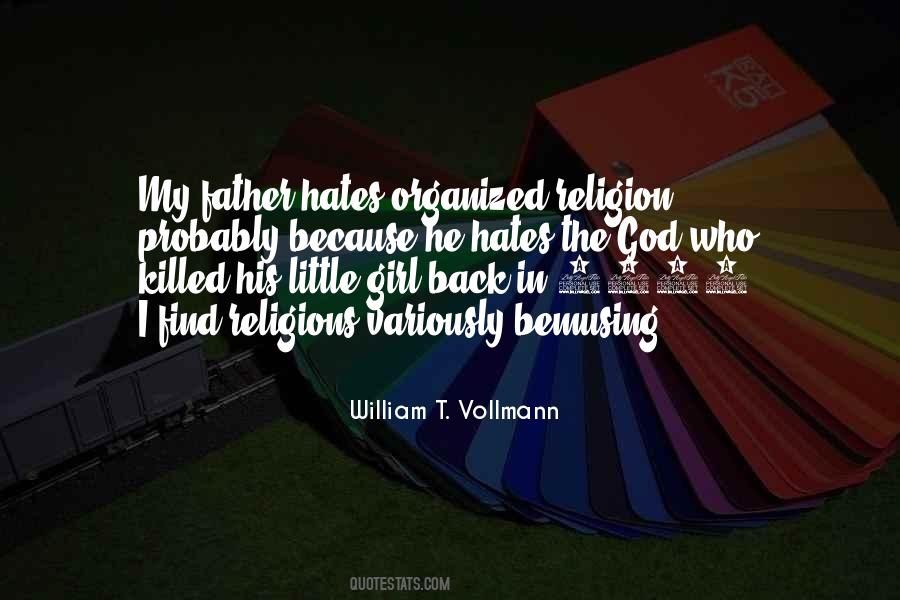 #12. I believe in God, Sunshine. I've always believed that God exists," he says. And what he says next isn't self-pity or angst or melodrama. It's truth. "I just know that he hates me." Maybe - Author: Katja Millay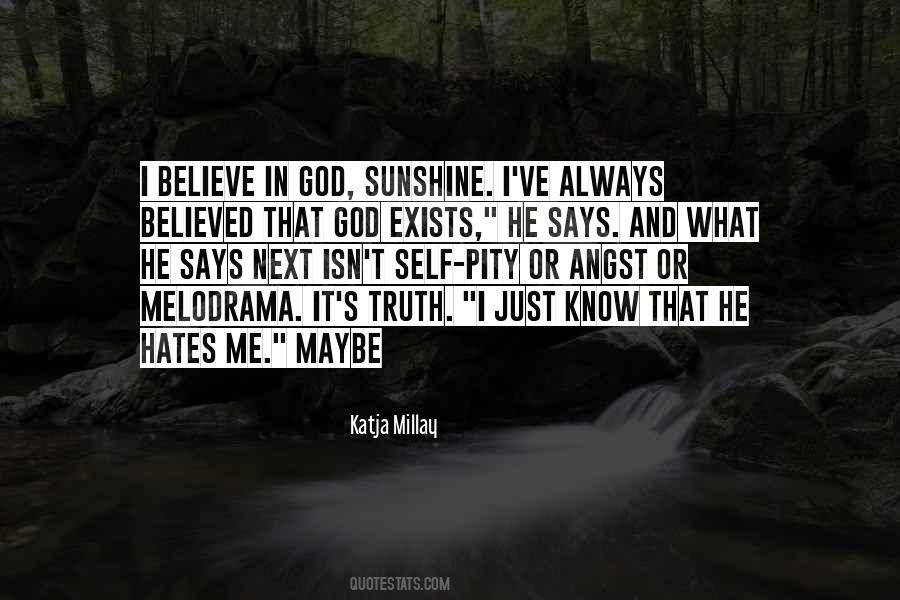 #13. Thank fucking God. Christ, sorry about praying with "fucking." Shit! Sorry about saying "Christ!" Shut up, Dove. God hates you. - Author: Debra Anastasia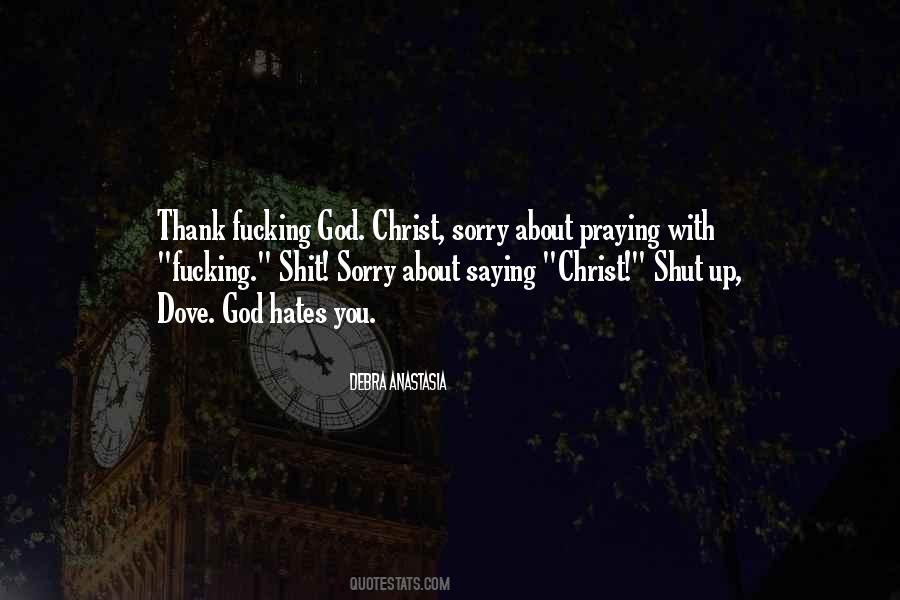 #14. And you can't do anything without God. God hates us, you know. That's why so many believe we have to love Him so much. What feeble goddamned pussies we are. - Author: Larry Kramer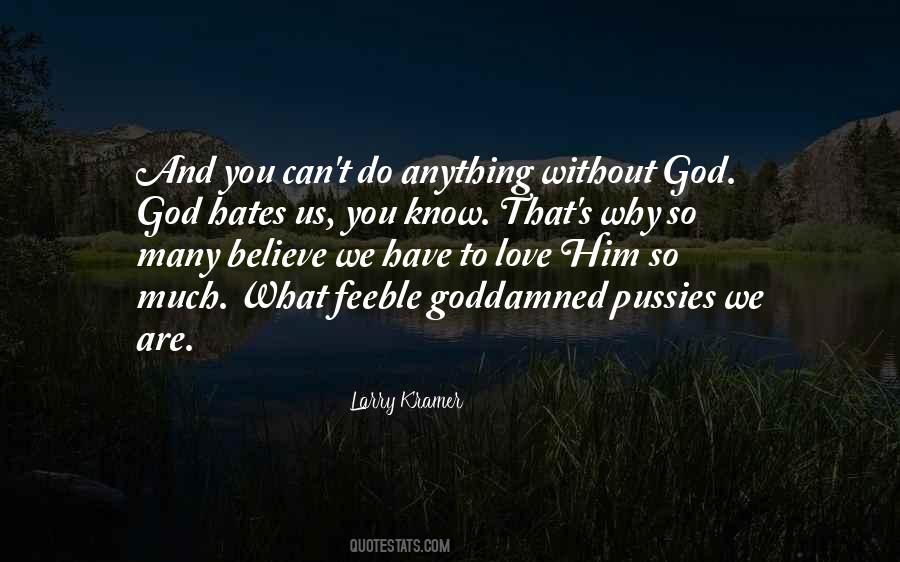 #15. A puritan is such a one as loves God with all his soul, but hates his neighbor with all his heart. - Author: Adam Nicolson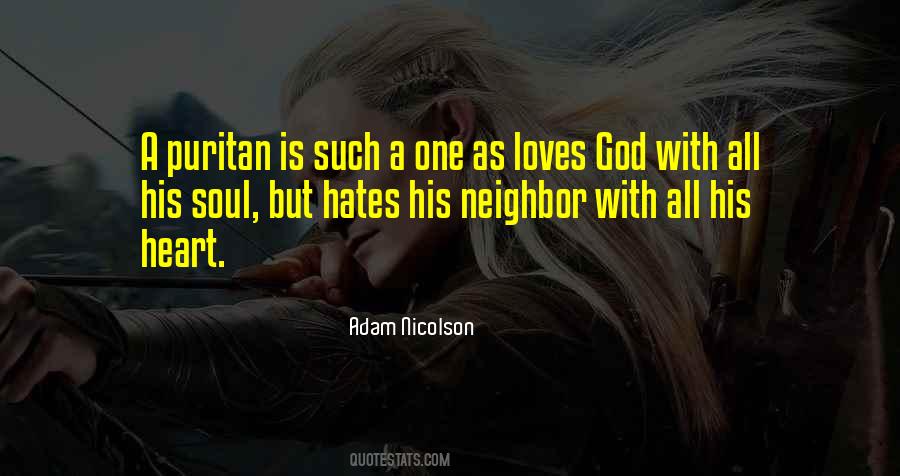 #16. I would give my heart to the religious so
that they may realize that god
hates us all. - Author: A.P. Sweet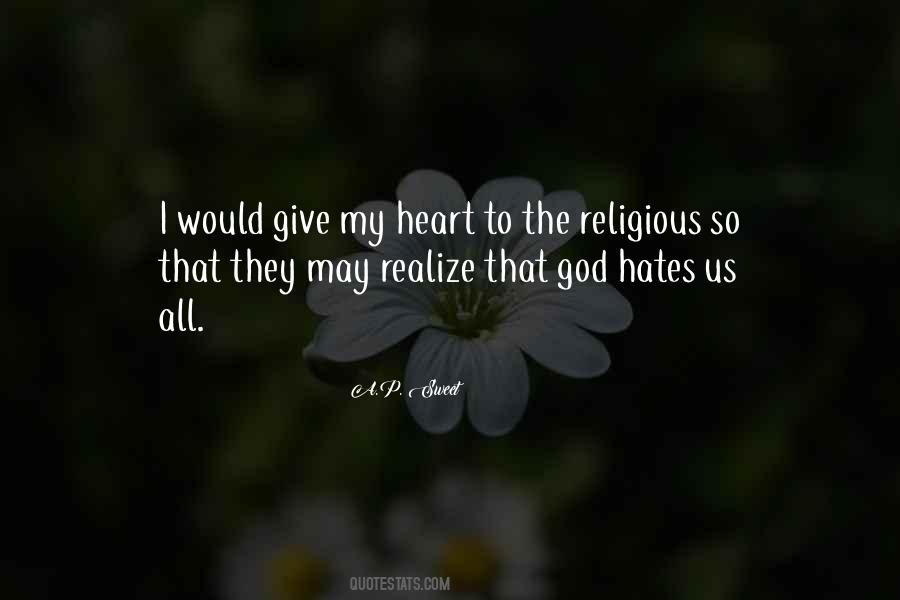 #17. The darkness knows neither the light nor itself; only the light knows itself and the darkness also. None but God hates evil and understands it. - Author: George MacDonald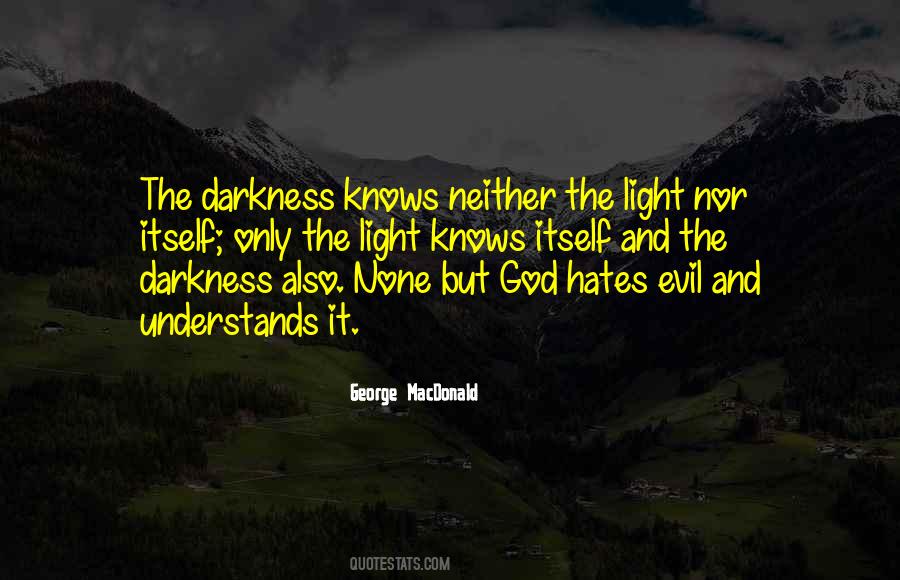 #18. Jason's father, Reg, always said "Love what God loves and hate what God hates," but more often than not I had the impression that he really meant "Love what Reg loves and hate what Reg hates. - Author: Douglas Coupland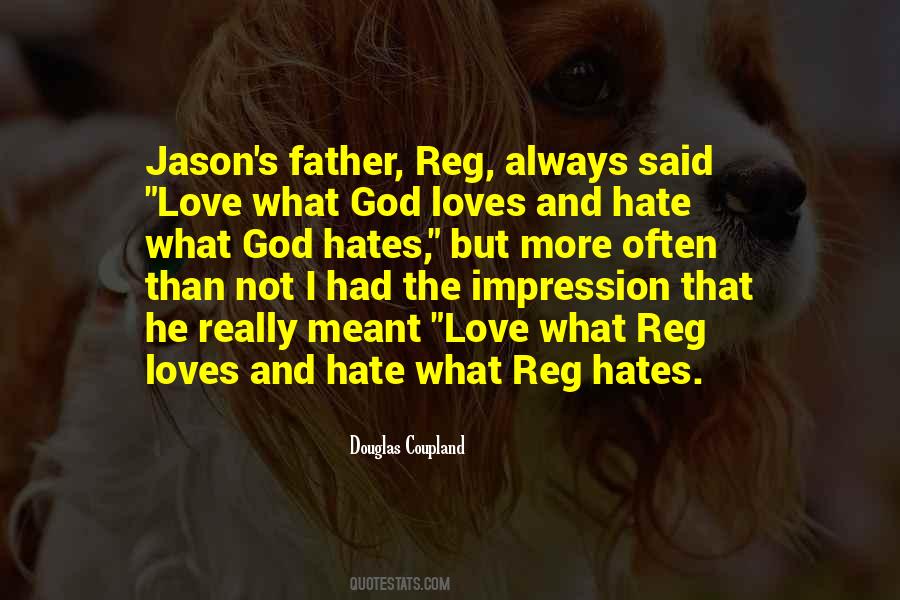 #19. Anyone who takes the Bible seriously agrees that God hates suffering. Jesus spent most of his time relieving it. But when being healed becomes the only goal - 'I'm not letting go until I get what I want' - it's a problem. - Author: Joni Eareckson Tada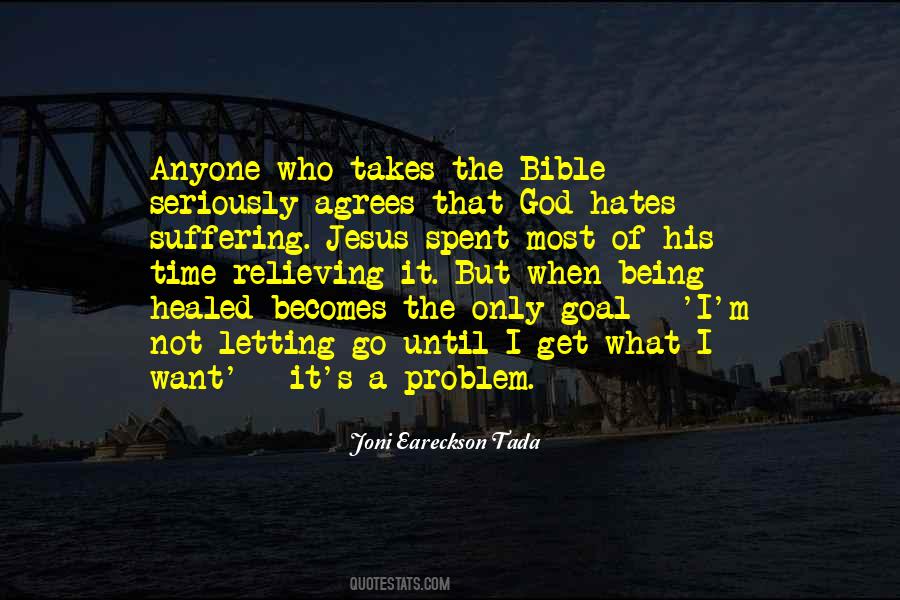 #20. And I advise ye to think well, he told her It's better to be a stray dog in this world than a man without money. I've tried it both ways, and I know. A poor man stinks, and God hates him. - Author: Willa Cather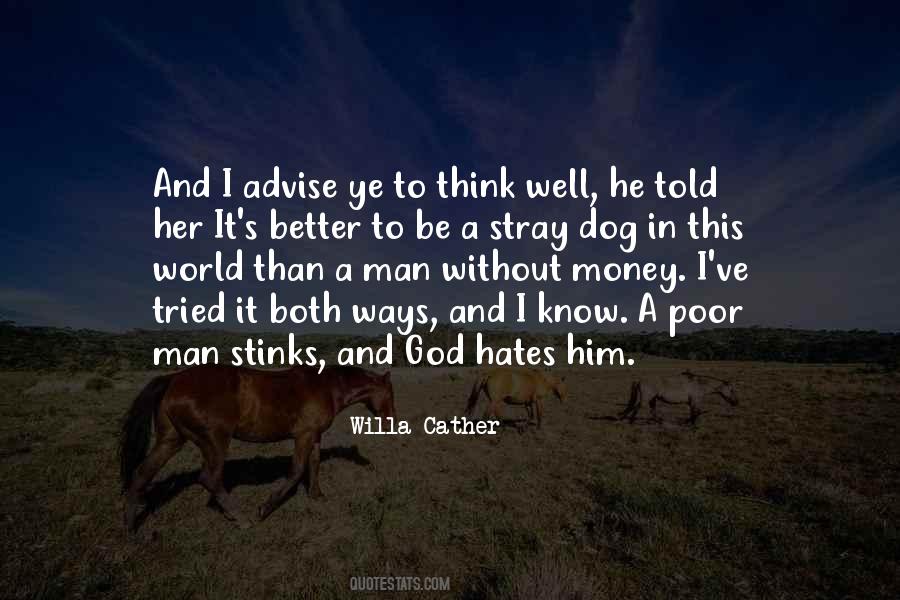 #21. No man's condition is so base as his;
None more accurs'd than he; for man esteems
Him hateful, 'cause he seems not what he is;
God hates him, 'cause he is not what he seems;
What grief is absent, or what mischief can
Be added to the hate of God and man? - Author: Francis Quarles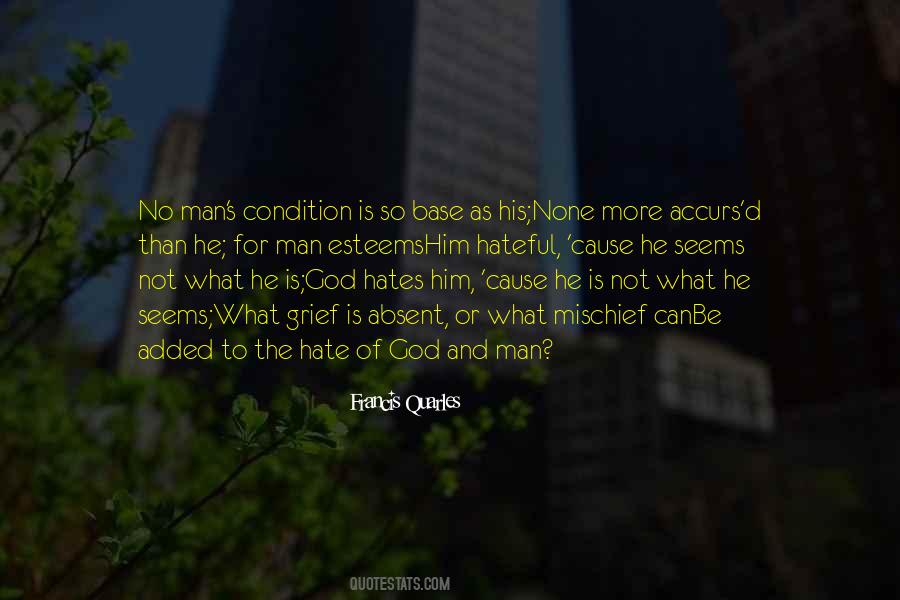 #22. We shall have gone deeper than the deeps of heaven and grown older than the oldest angels before we feel, even in its first faint vibrations, the everlasting violence of that double passion with which God hates and loves the world. - Author: G.K. Chesterton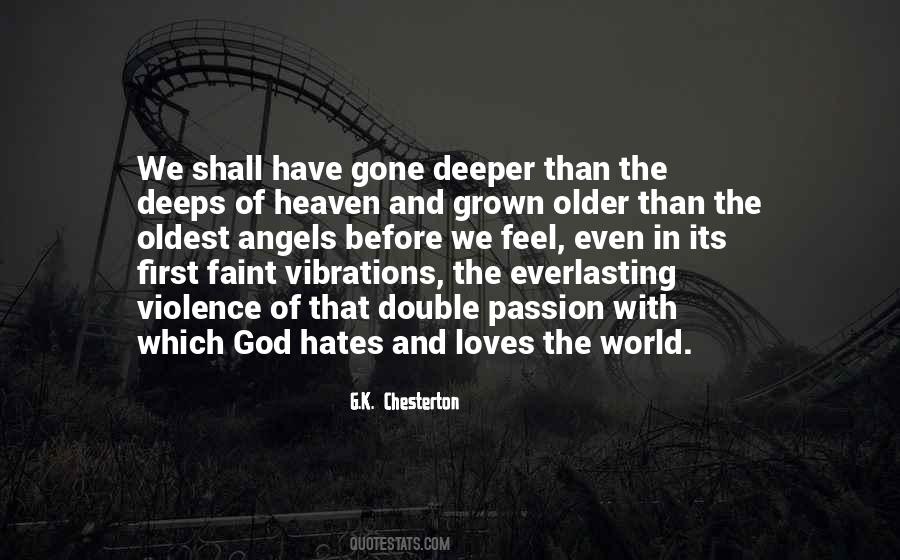 #23. There are folks who burn the Koran and hold signs saying, "God hates fags" and all sorts of sick things - and they often hijack the headlines with hatred. We know that is not what Christ was like. - Author: Shane Claiborne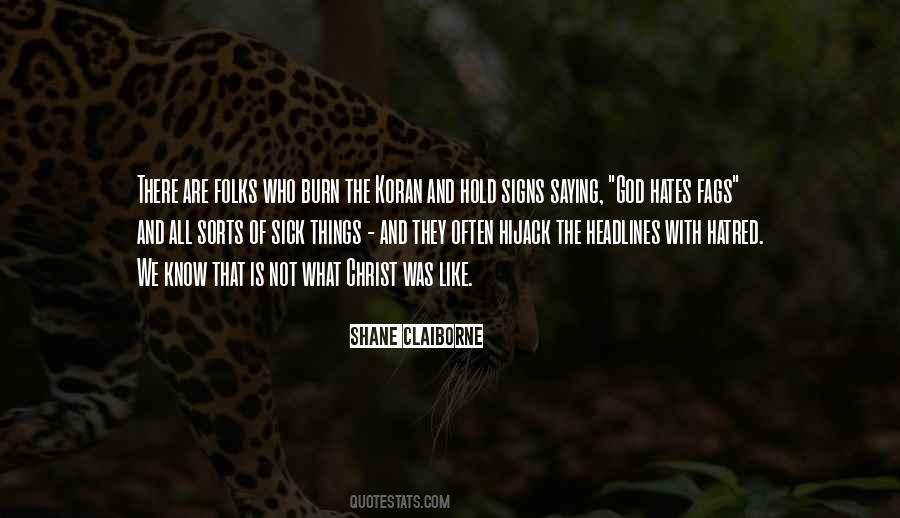 #24. For this world has neither worth nor weight with God; so slight it is, it weighs not with God so much as a pebble or a single clod of earth; as I am told, God has created nothing more hateful to Him than this world, and from the day He created it He has not looked upon it, so much He hates it. - Author: Al-Hasan Al-Basri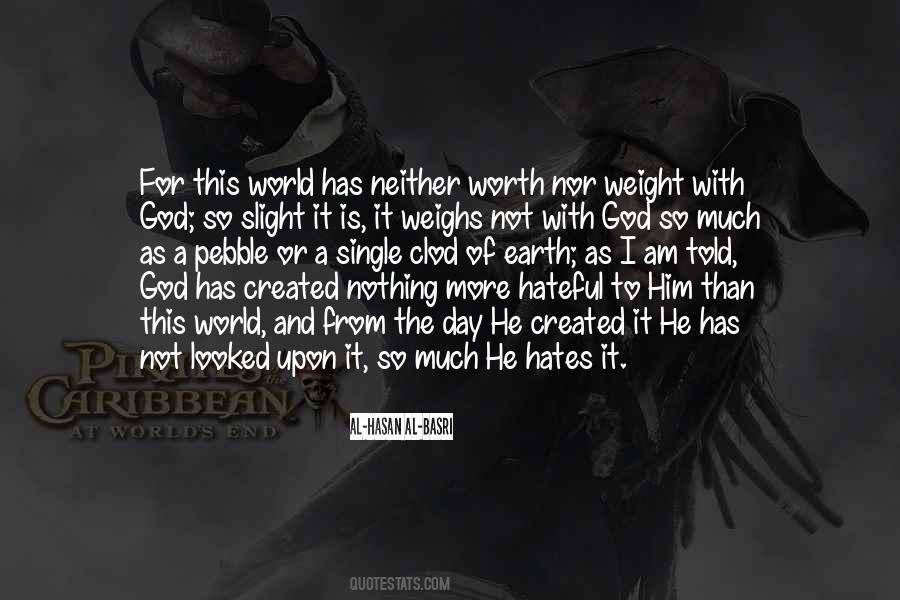 #25. I will love, if another hates. I will gain a balance on the side of
good, my true being. This alone gives me the forces of
God wherewith to overcome all error. - Author: Mary Baker Eddy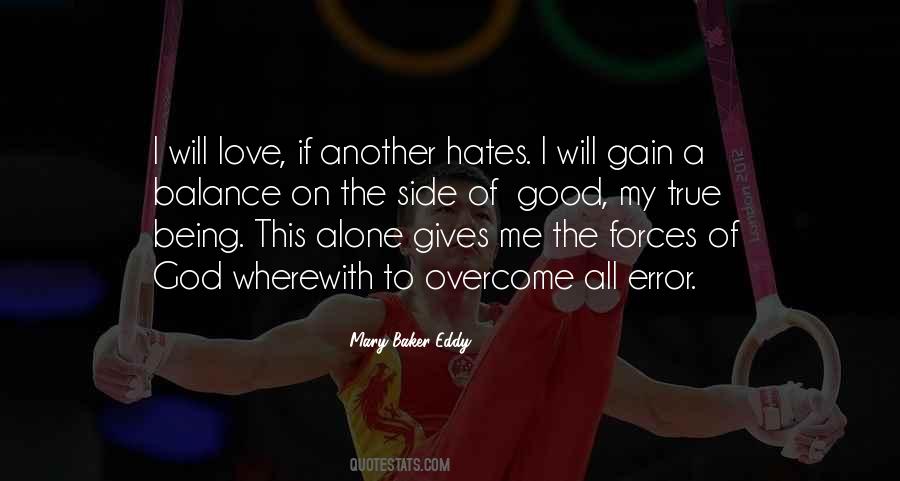 #26. We know not whom God loves nor whom He hates. - Author: John Mandeville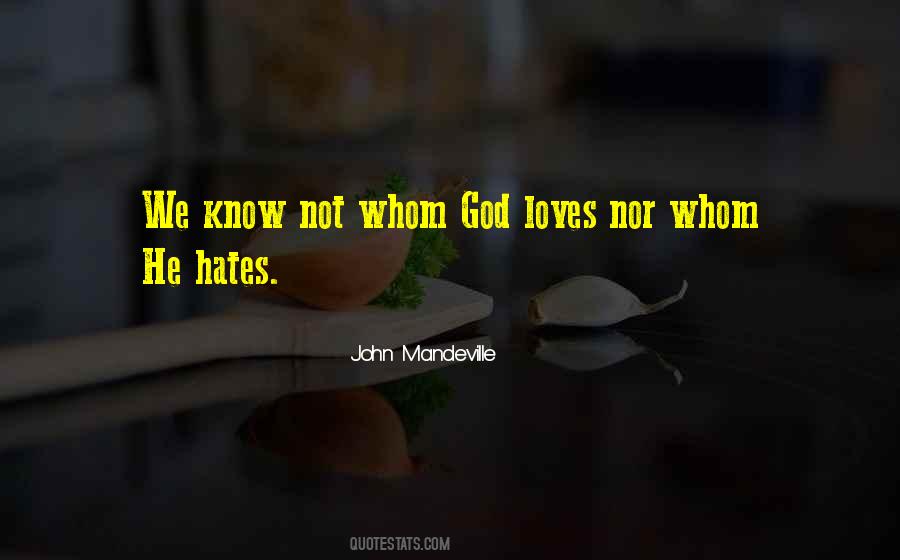 #27. God is the only being who is good, and the standards are set by Him. Because God hates sin, He has to punish those guilty of sin. Maybe that's not an appealing standard. But to put it bluntly, when you get your own universe, you can make your own standards. - Author: Francis Chan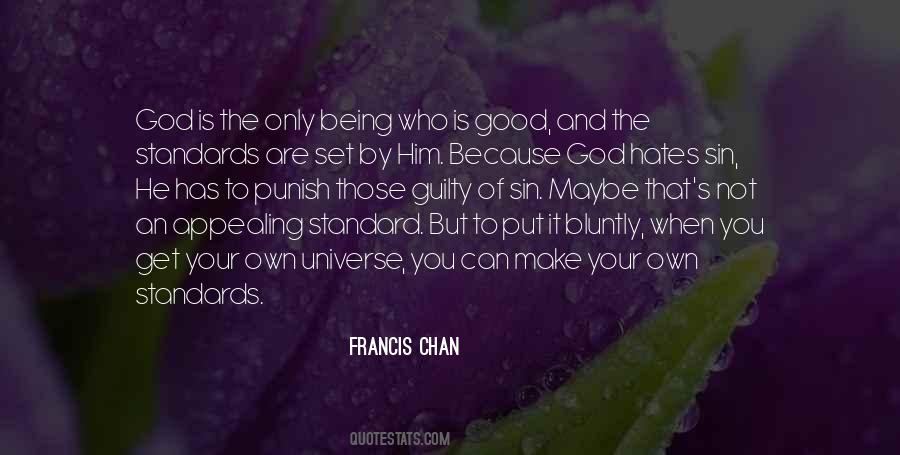 #28. Oh you're one of those people are you? The people who ask God for something and when they get it, they tell God to forget about answering that particular prayer because it's just happened. That's one of my pet hates, I'm sorry. - Author: Elizabeth Newton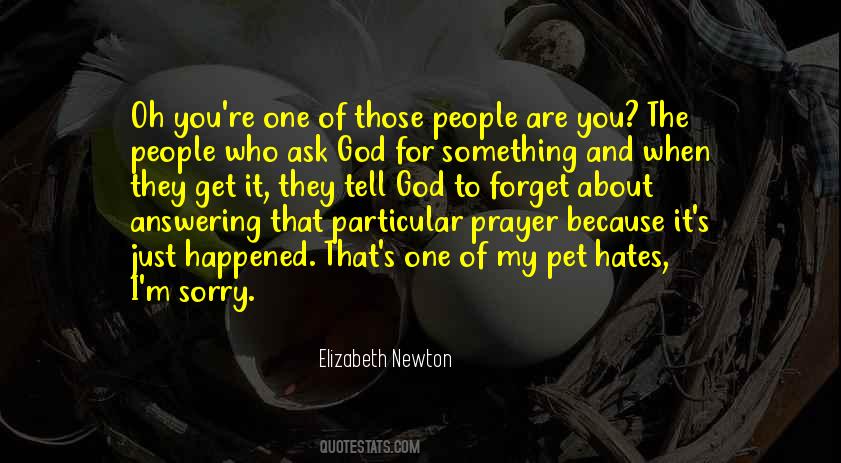 #29. God hates a half-devil ten times more than an arch-devil! - Author: Nikos Kazantzakis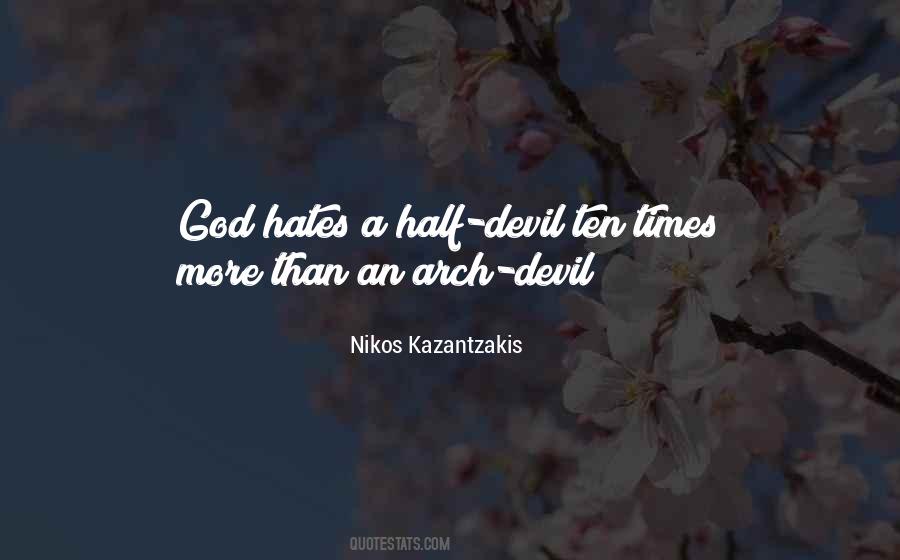 #30. So I would say God hates war, but God loves every soldier. - Author: Rick Warren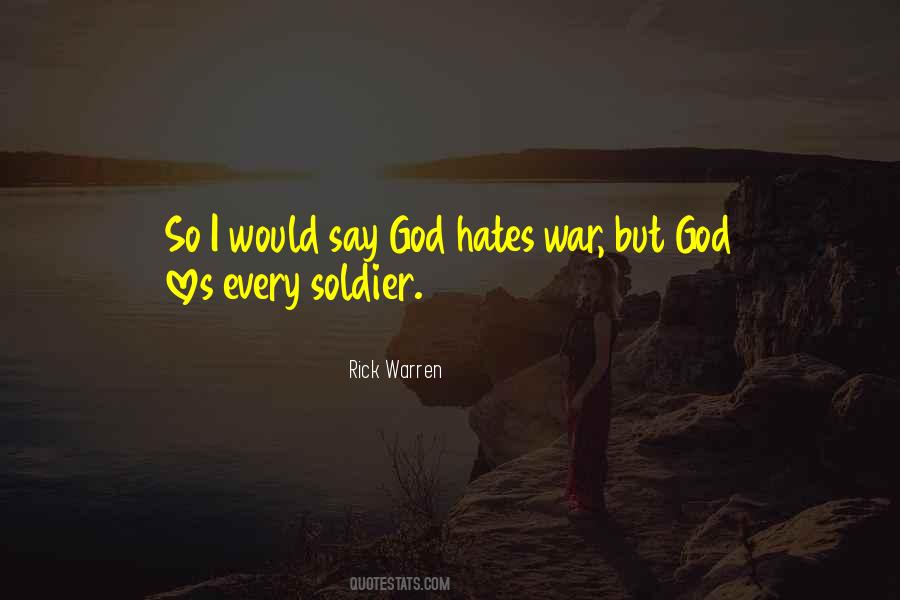 #31. God delights in our temptations and yet hates them. He delights in them when they drive us to prayer; he hates them when they drive us to despair. - Author: Martin Luther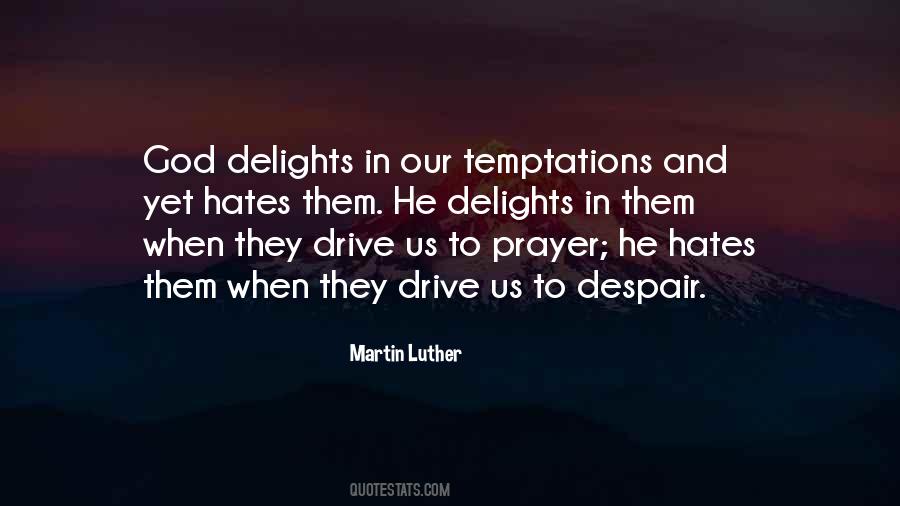 #32. It is because God loves the world he has made, and especially his human creatures, that he hates everything that spoils, wrecks, or defaces it. - Author: N. T. Wright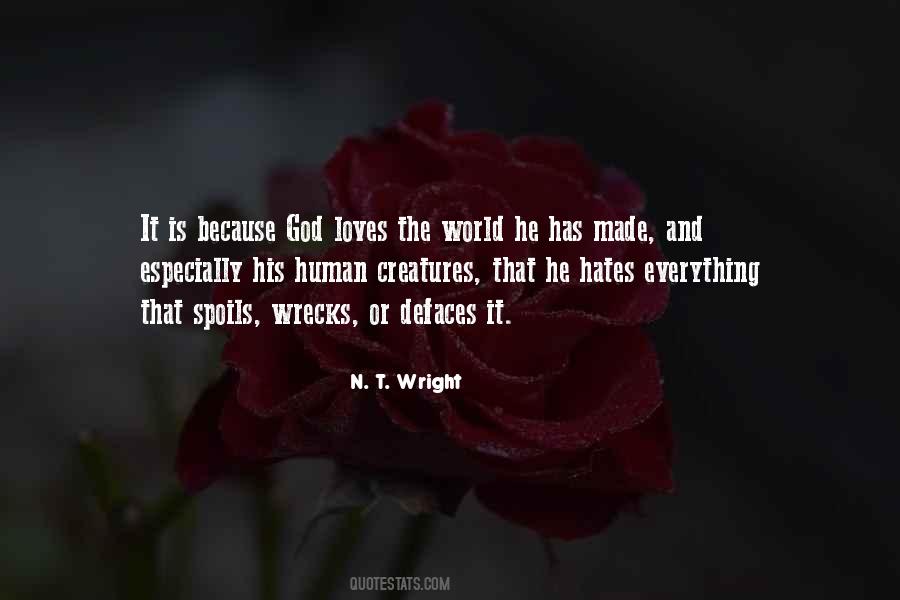 #33. If you're not hated by many, you're not good enough yet, because God hates and always hated the majority for good reasons. - Author: Daniel Marques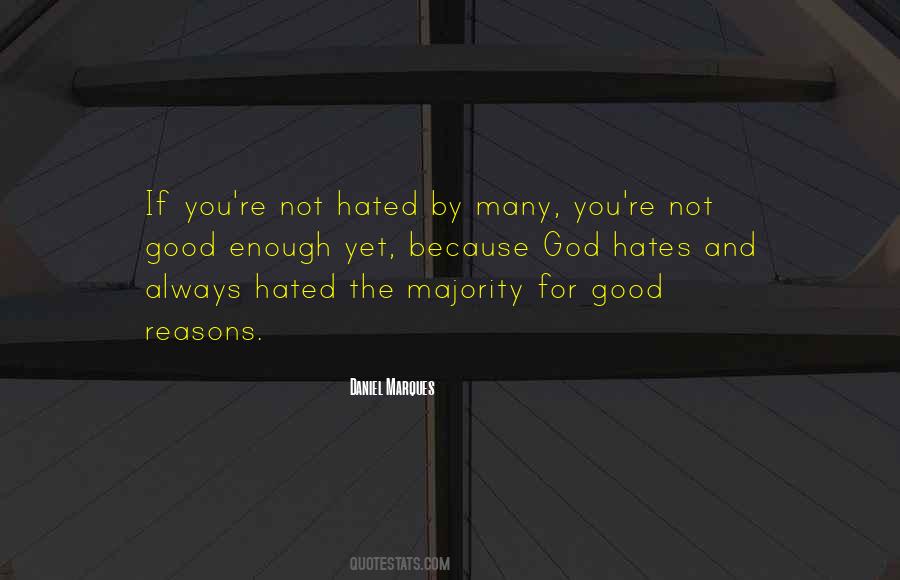 #34. The world has been wrong about you. They've hated your glory - just as the Evil One hates the glory of God. But we need your gift. Come forth. - Author: John Eldredge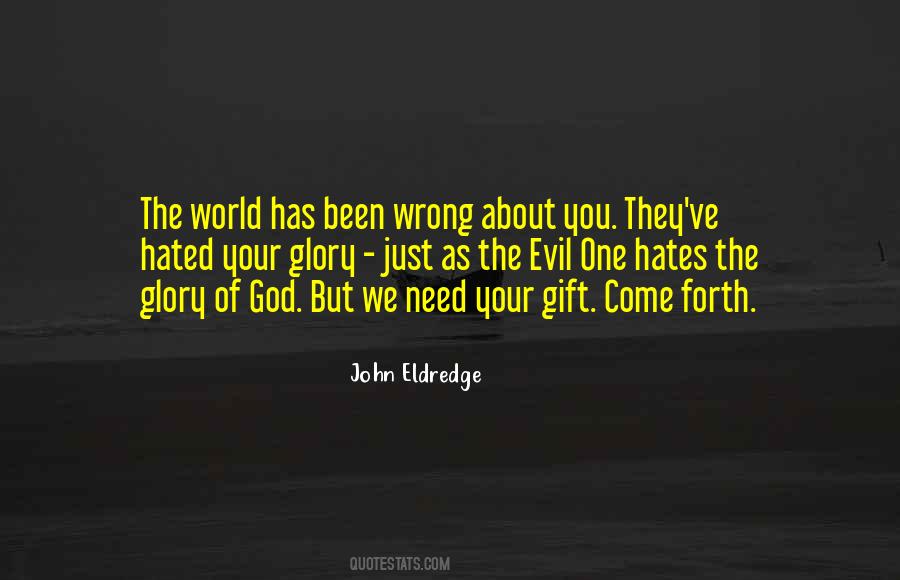 #35. God hates loneliness, and community is God's answer to loneliness. When we walk alongside other people, we find a community where we learn how to love. - Author: Rick Warren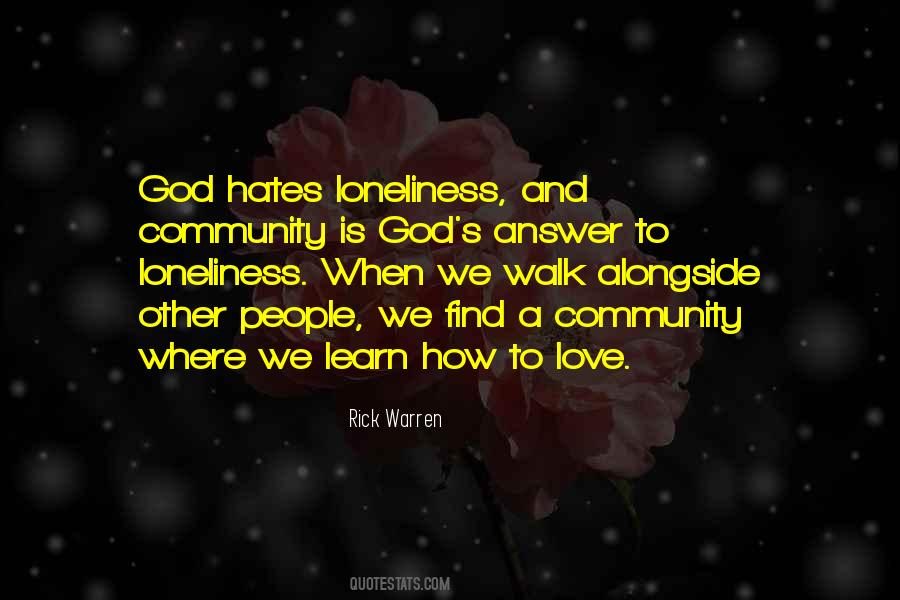 #36. Holiness is the habit of being of one mind with God, according as we find His mind described in Scripture. It is the habit of agreeing in God's judgment, hating what He hates, loving what He loves, and measuring everything in this world by the standard of His Word. - Author: J.C. Ryle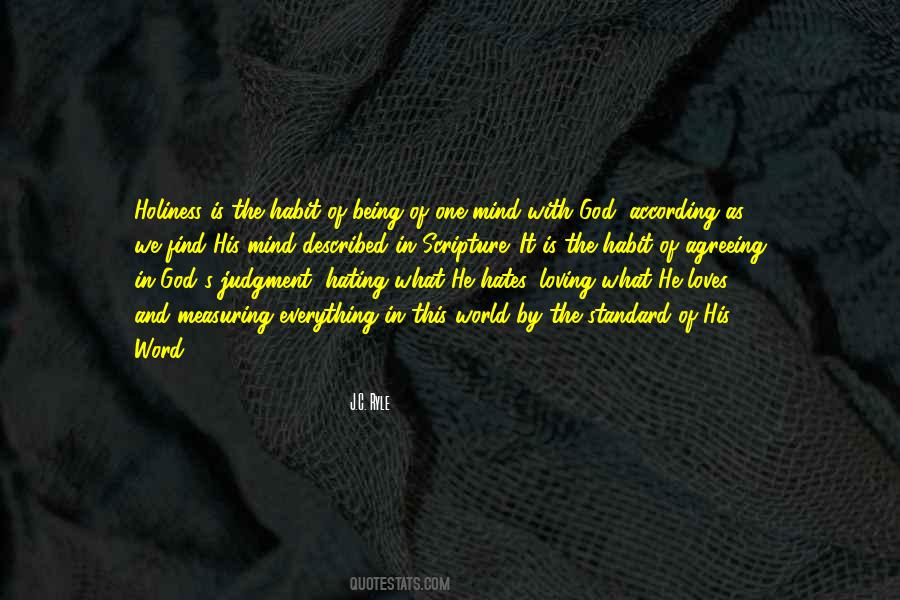 #37. WITNESSING: God loves it; Satan hates it. So do you think you should be doing it? - Author: Mark Cahill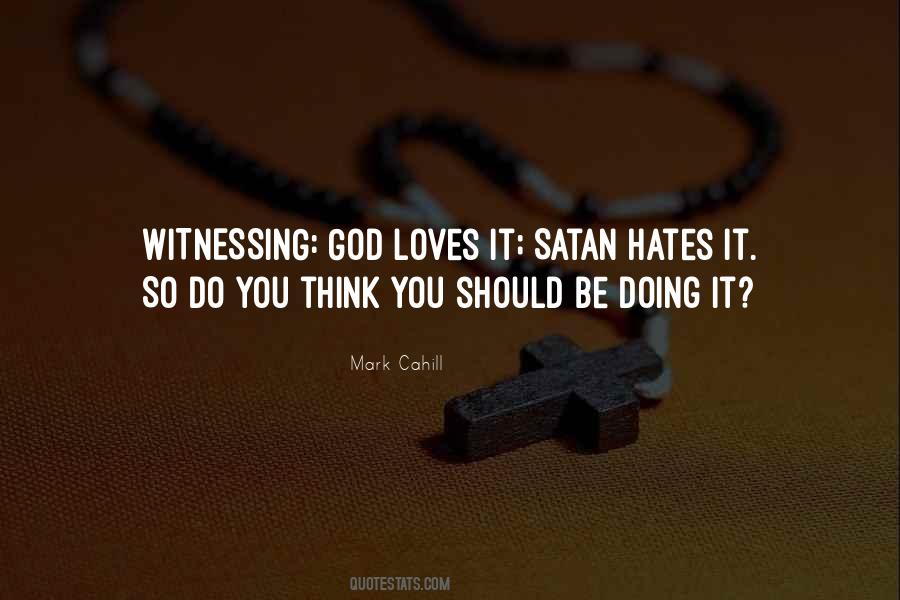 #38. Darwinian evolution is unscientific, unobservable, unbelievable, but understandable in a world that hates God. - Author: Ray Comfort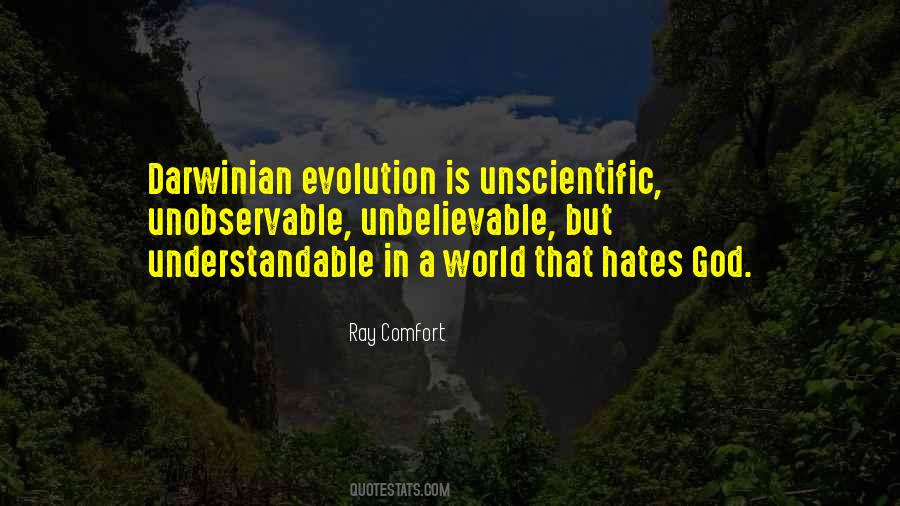 #39. ... if God hates sin and Satan punishes the sinners, aren't they working the same side of the street? - Author: Joe Hill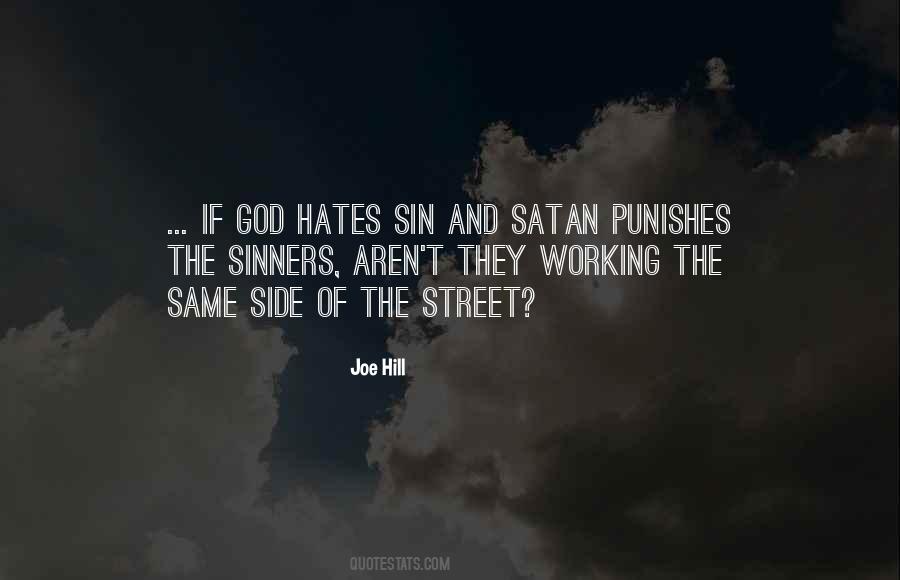 #40. God never excuses sin. And He is always consistent with that ethic. Whenever we start to question whether God really hates sin, we have only to think of the cross, where His Son was tortured, mocked, and beaten because of sin. Our sin - Author: Francis Chan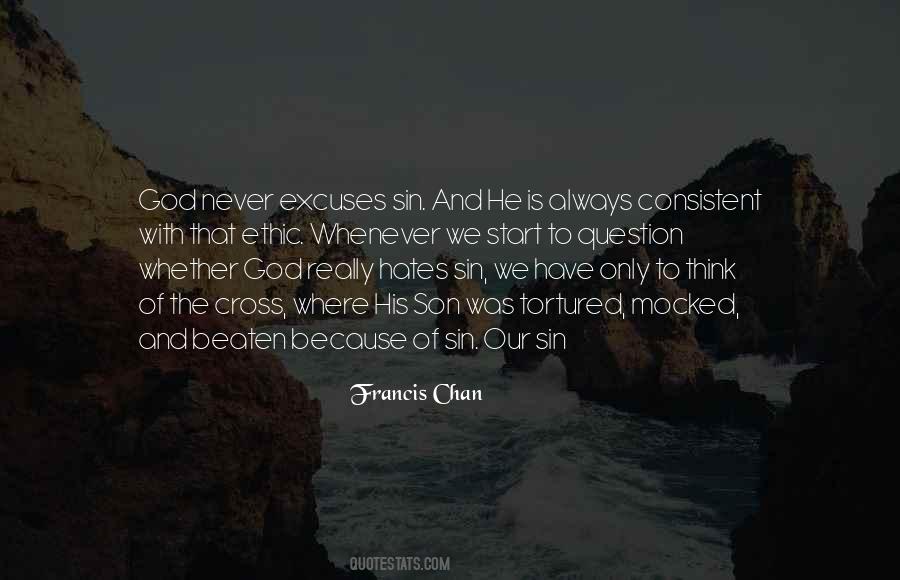 #41. Your God is not our God! Your God loves your people and hates mine! He folds his strong protecting arms lovingly about the paleface and leads him by the hand as a father leads an infant son. - Author: Chief Seattle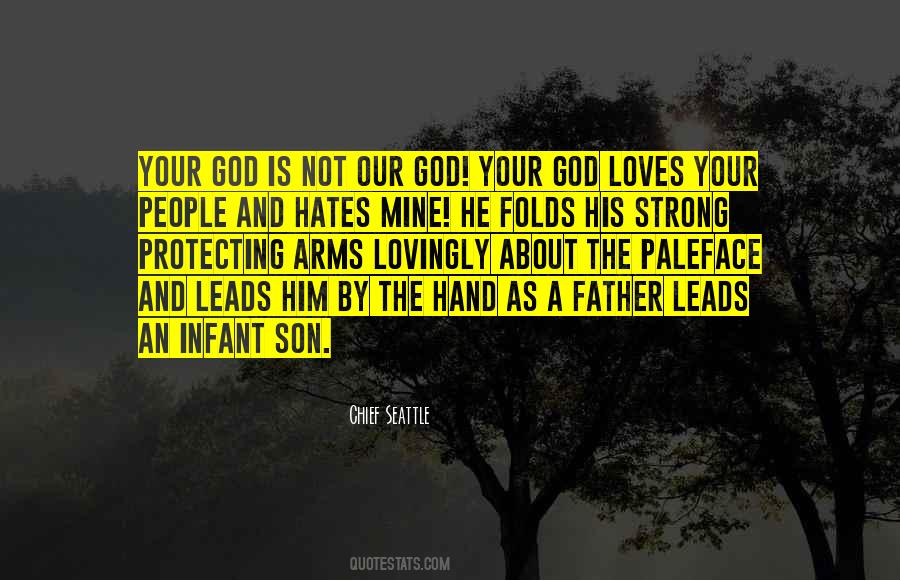 #42. Immorality is glorified today. The Scripture teaches that God hates immorality! The ideal of purity is scorned, immorality is laughed at in school - "God is old-fashioned!" What else can we expect but that thousands of our young people are growing up to be immoral?7 - Author: Billy Graham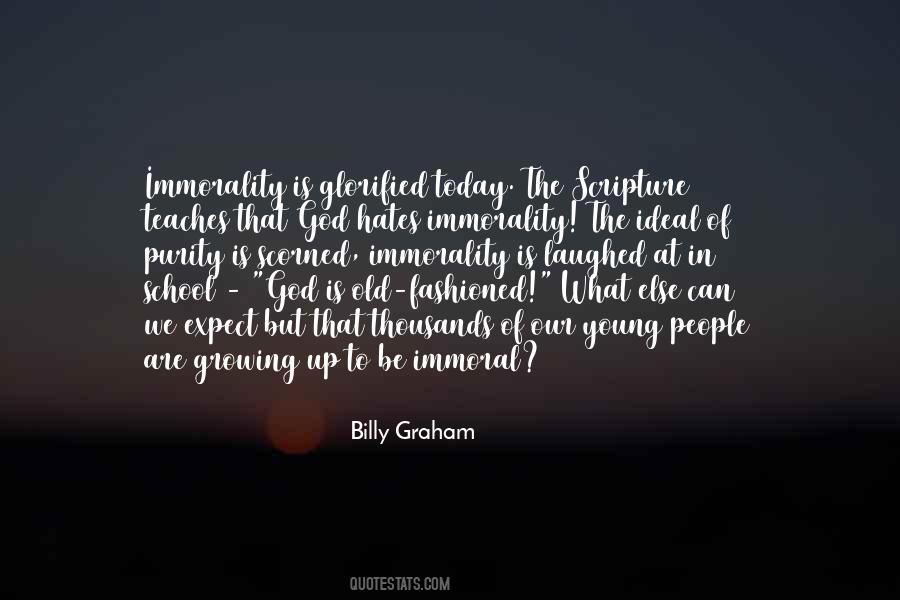 #43. Here is one with a gift for loving and a gift for hating, and when he hates, God help the man who earns his hatred. - Author: Rosemary Sutcliff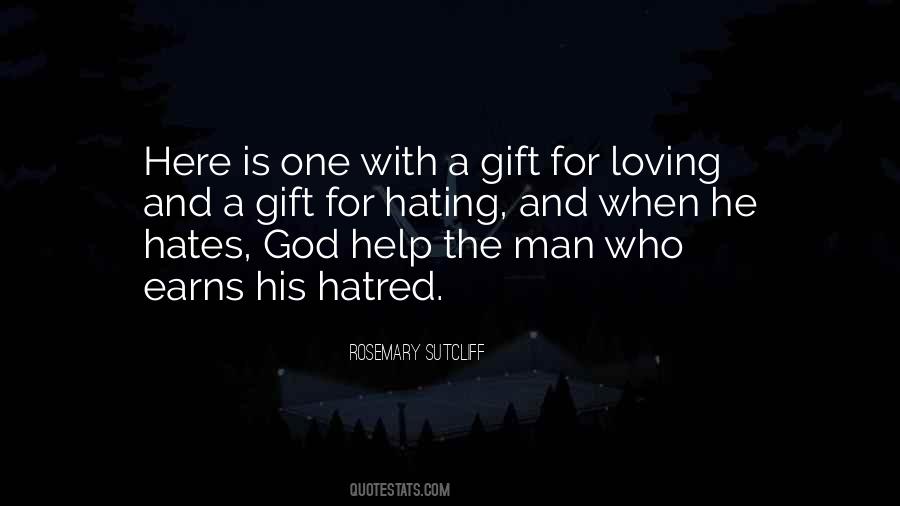 #44. How blessed to know that when the world hates us, God loves us! - Author: Arthur W. Pink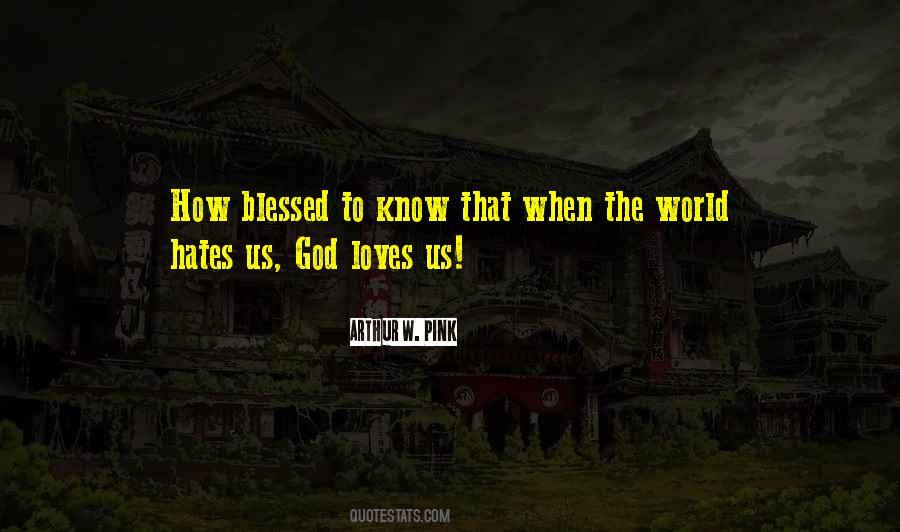 #45. The God who hates trees is the founding father of patriarchy. - Author: John Lamb Lash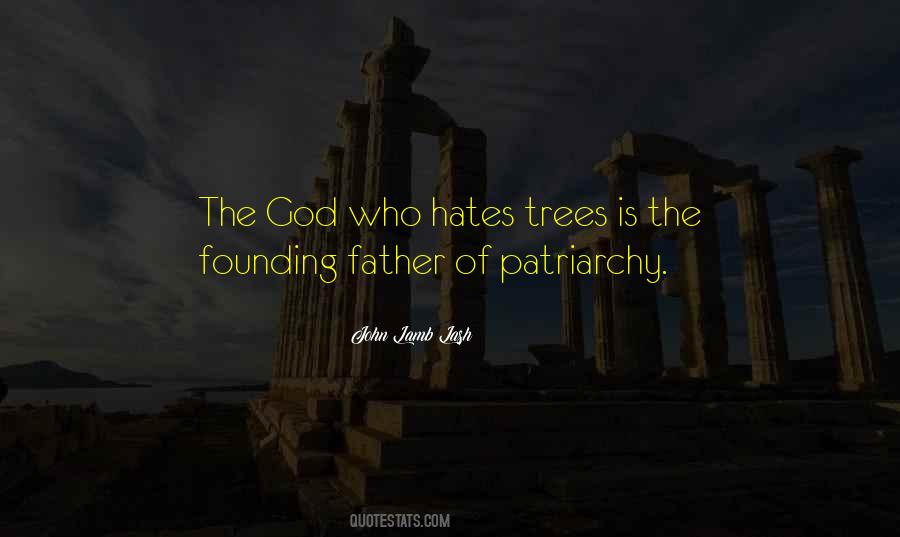 #46. God so loved us and hates suffering that he was willing to come down and get involved in it. - Author: Timothy Keller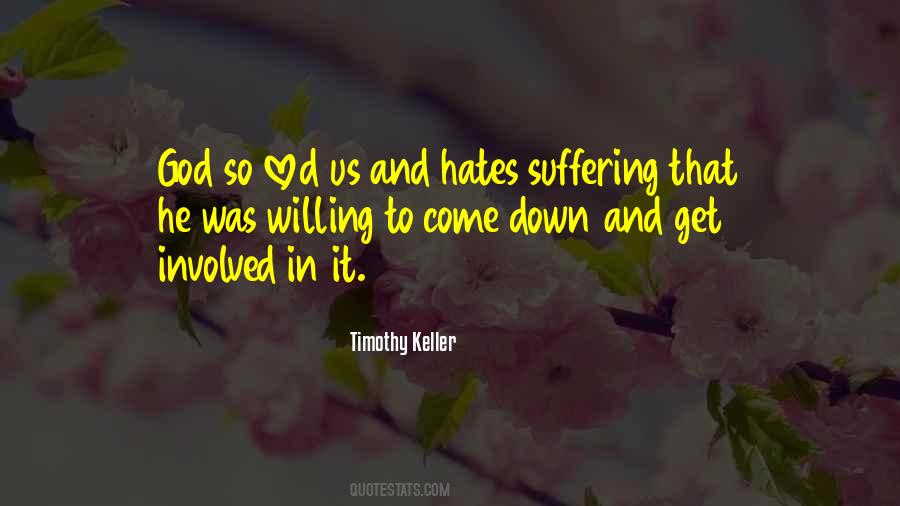 #47. God hates those who praise themselves. - Author: Pope Clement I
#48. Even though God loves us, we still have a problem: sin. It's important for us to learn how to confront sin and overcome it, because while God loves sinners, He hates sin. And He hates it because of what it does to us and how it keeps us from the abundant life Jesus died to give us. - Author: Joyce Meyer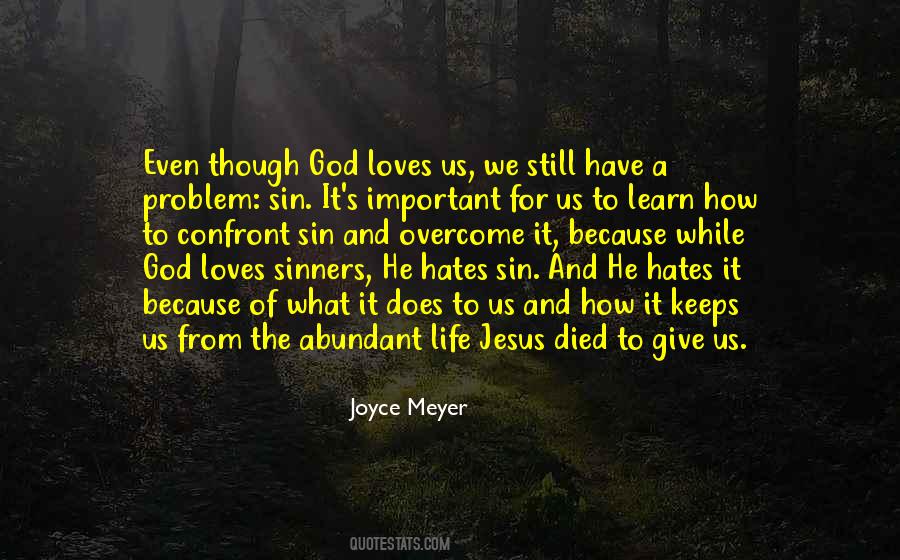 #49. The writer Anne Lamott says, "You can safely assume you've created God in your own image when it turns out that God hates all the same people you do."28 - Author: Parker J. Palmer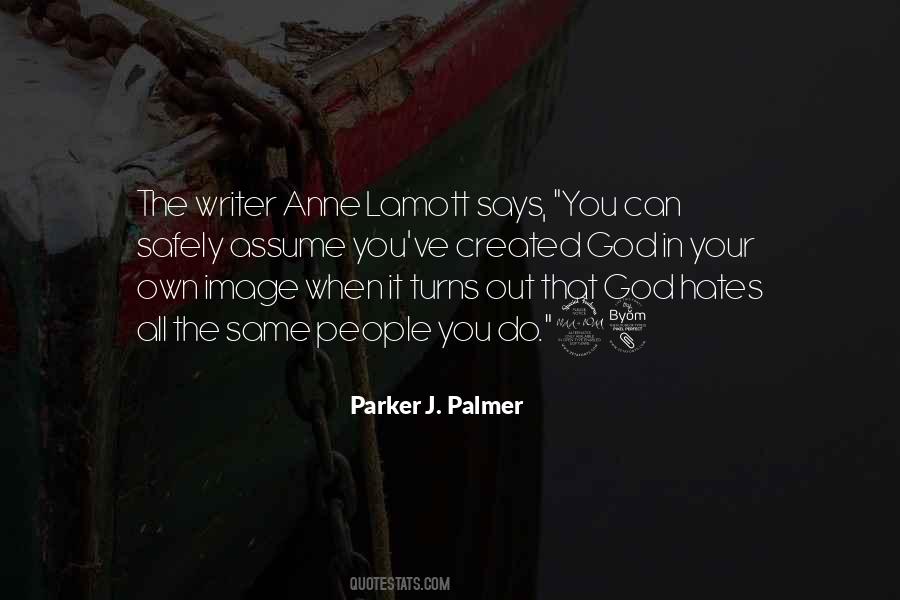 #50. Ares (The God of War) hates those who hesitate. - Author: Euripides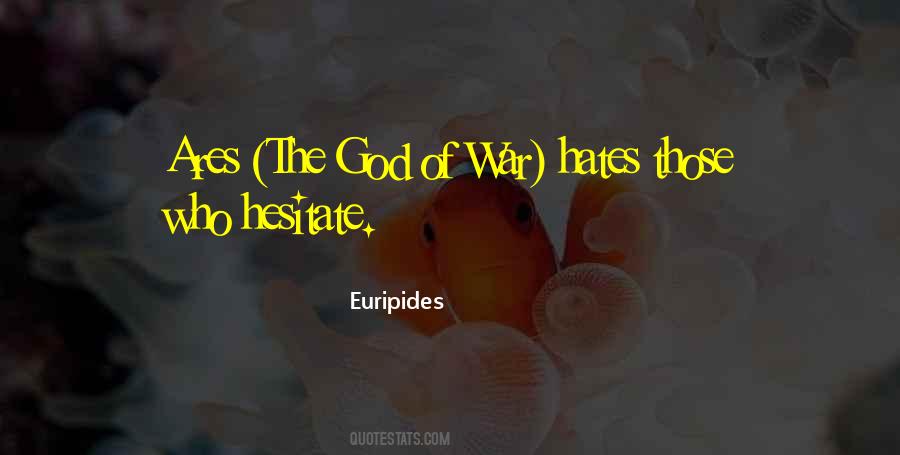 #51. True repentance has as its constituent elements not only grief and hatred of sin, but also an apprehension of the mercy of God in Christ. It hates the sin, and not simply the penalty; and it hates the sin most of all because it has discovered God's love. - Author: William Mackergo Taylor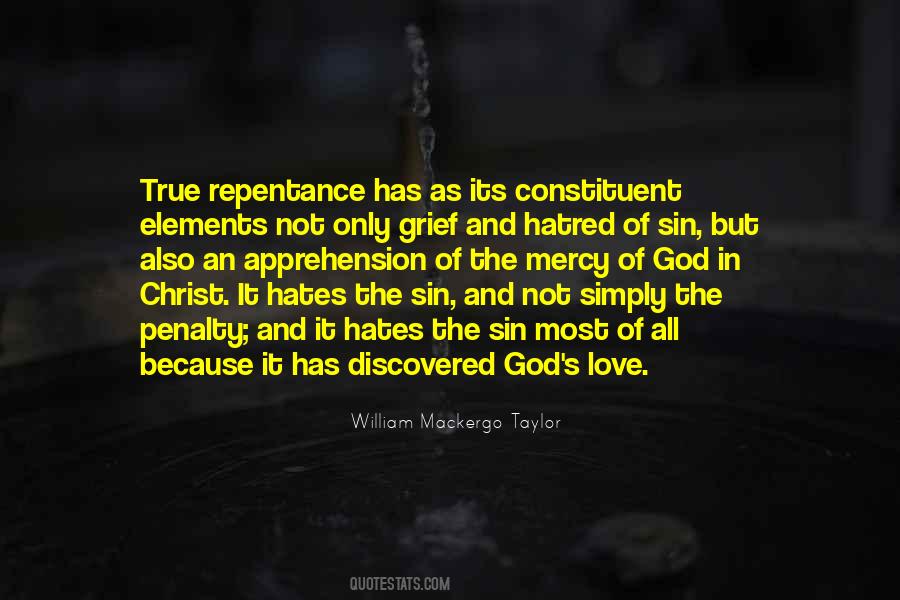 #52. If you don't think God's love for the unlovable is amazing, go try to love someone who hates you for a day. See if that helps. - Author: KB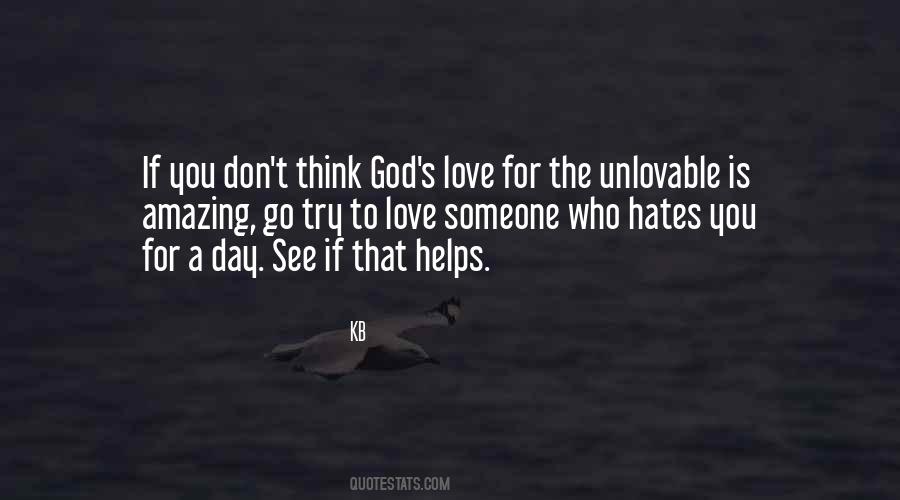 #53. Satan is behind the theory of evolution. Satan hates God and us. Satan is the father of all lies. So he wants nothing more than to make every human being alive believe lies about God, ourselves and how and why we exist. - Author: Lisa Bedrick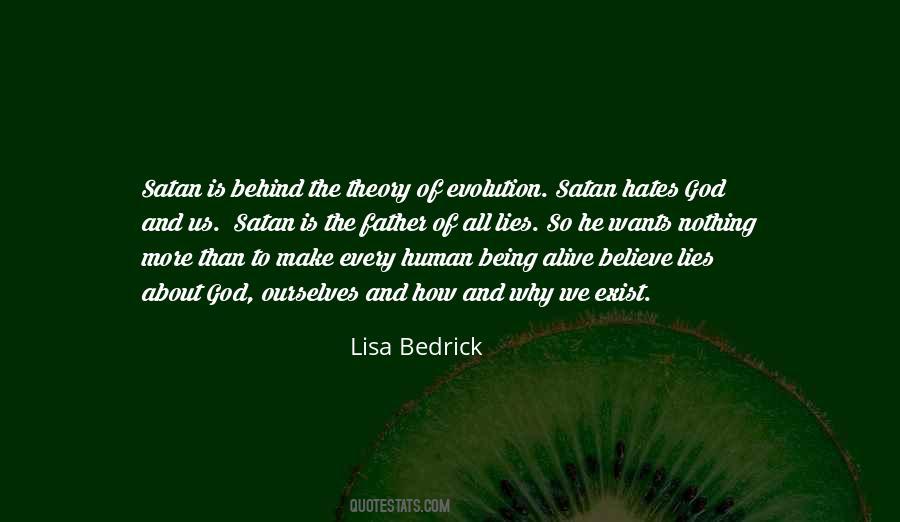 #54. if there is a god, he sure hates people - Author: Kurt Vonnegut Jr.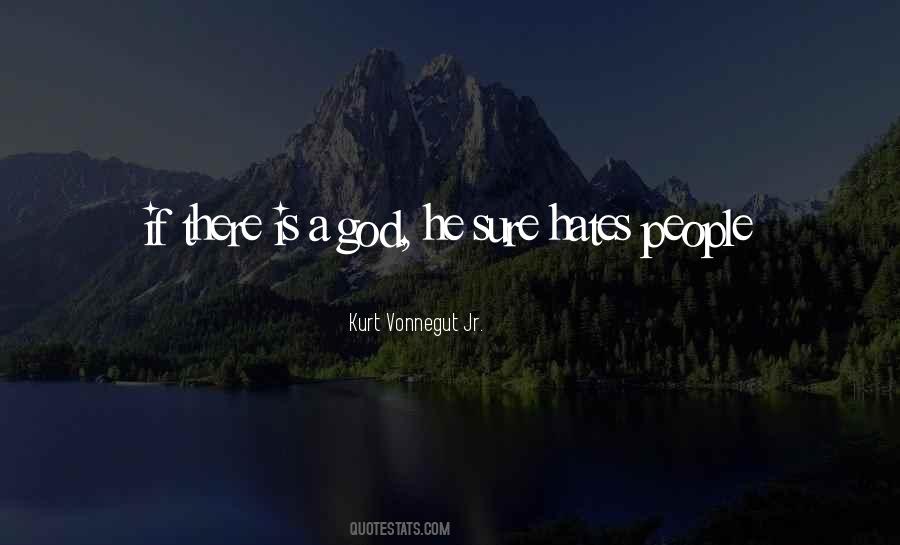 #55. What we want is to be real. Let us not appear to be more than we are. Don't let us put on any cant, any assumed humility, but let us be real; that is the delight of God. God wants us to be real men and women, and if we profess to be what we are not, God knows all about us. God hates sham. - Author: Dwight L. Moody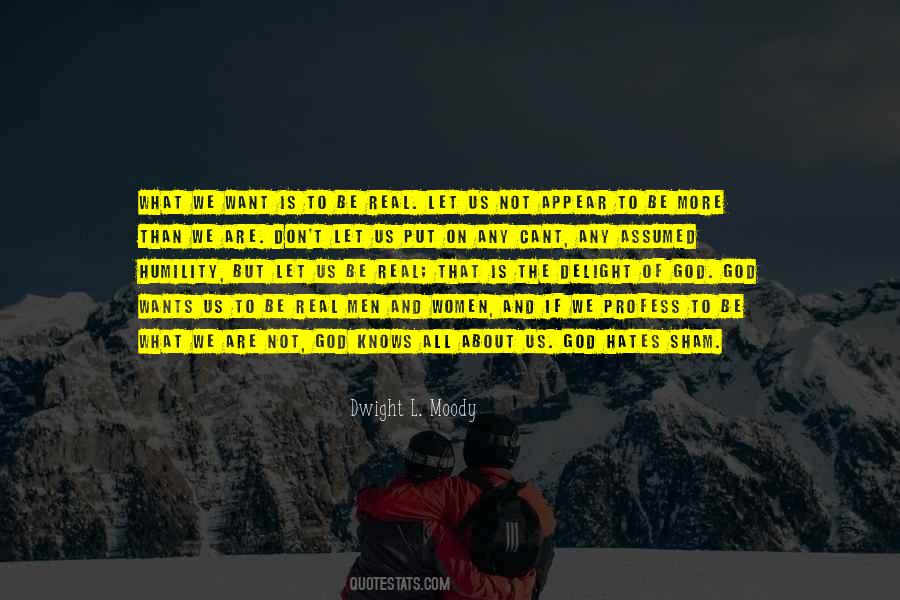 #56. For as the devil bitterly hates this leaf and the word of God, so does he also those who teach and hear it, and he persecutes such, aided by all the powers of the world. - Author: Charles Haddon Spurgeon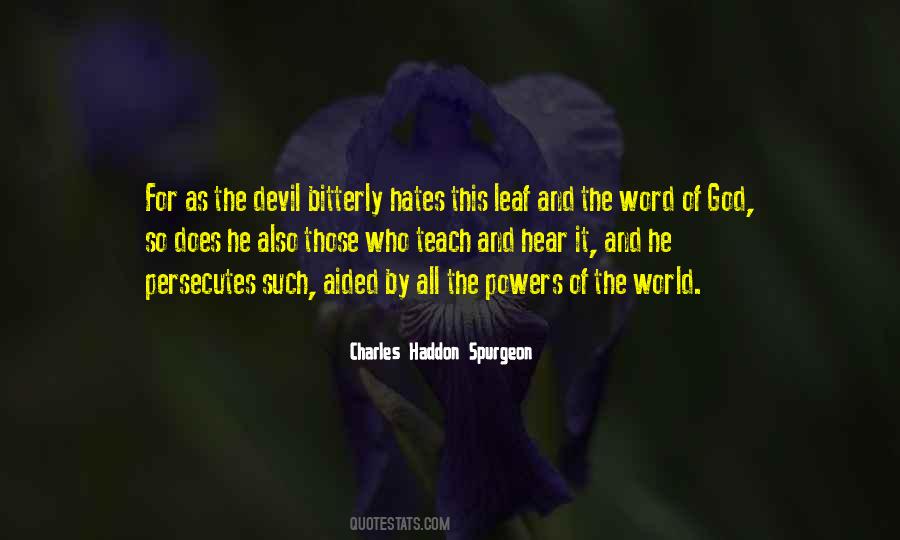 #57. Although God loves us unconditionally, He does get angry at sin, wickedness and evil. But He is not an angry God. God hates sin, but He loves sinners! He will never approve of sin in your life, but He always loves you and wants to work with you to make progress in living a holy life in Christ. - Author: Joyce Meyer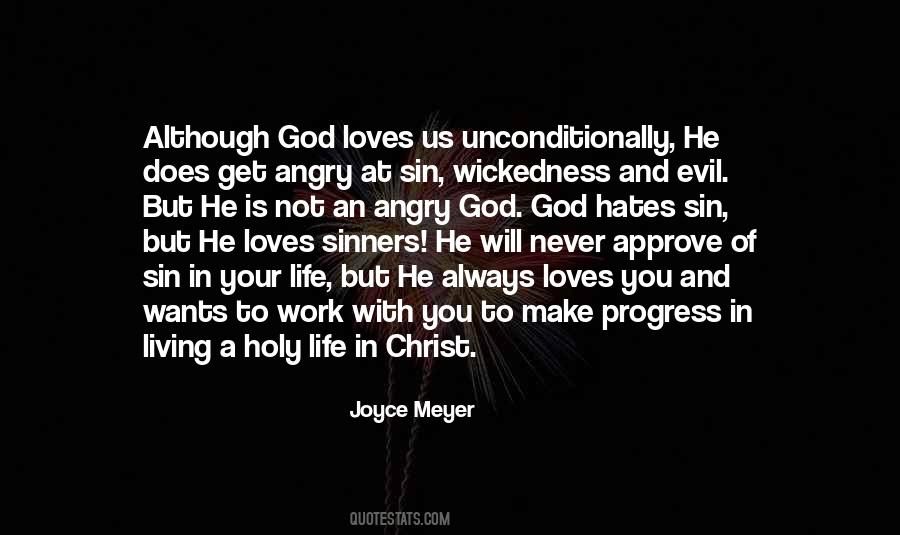 #58. Maybe we're all out there, floating by ourselves in some big black void. But we build connections, you know? We build our own worlds with the people we love. - Author: Hank Moody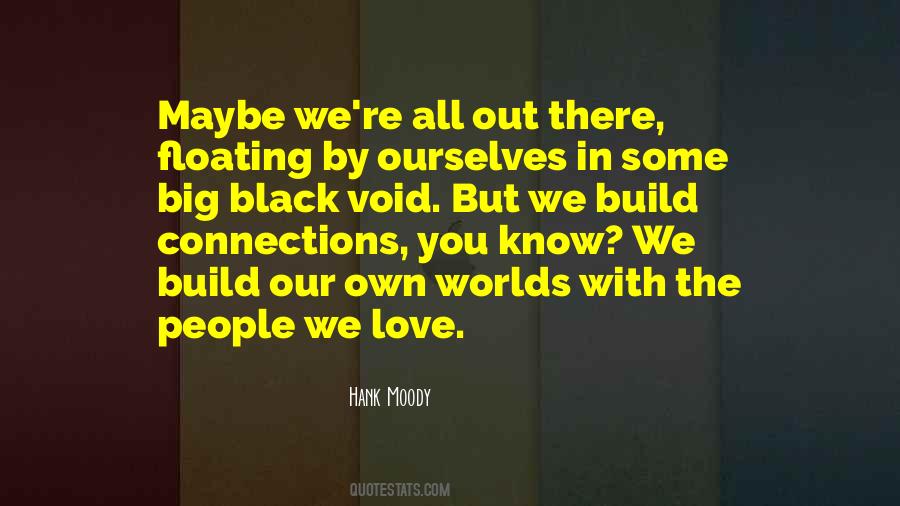 #59. I have no pleasure in any man who despises music. It is no invention of ours: it is a gift of God. I place it next to theology. Satan hates music: he knows how it drives the evil spirit out of us. - Author: Martin Luther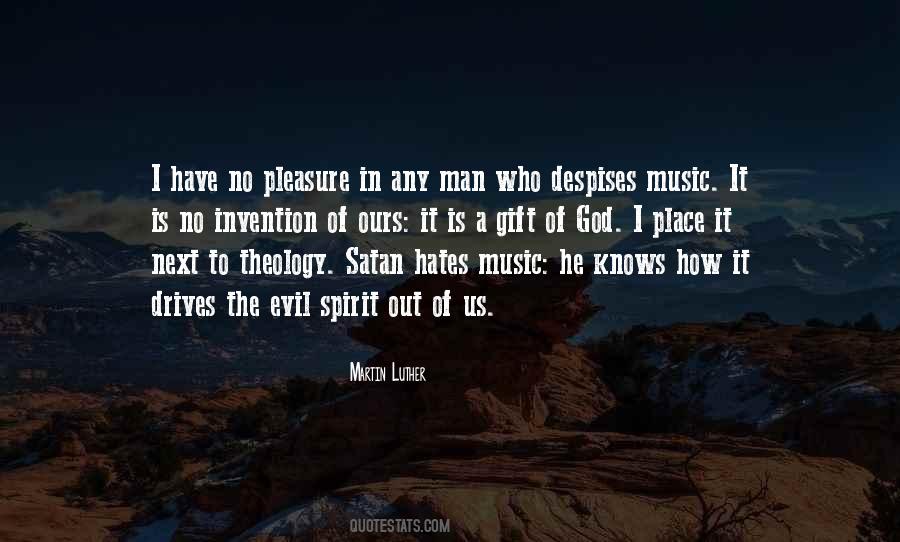 #60. Yet a personal God can become a grave liability. He can be a mere idol carved in our own image, a projection of our limited needs. fears and desires. We can assume that he loves what we love and hates what we hate, endorsing our prejudices instead of compelling us to transcend them. - Author: Karen Armstrong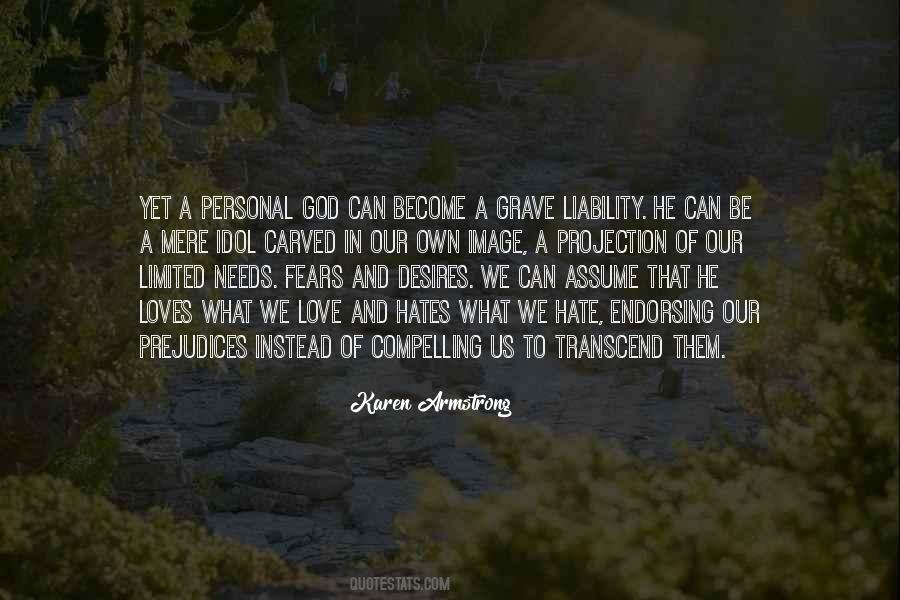 #61. Because satan hates us, he's determined to rob us of the joy we'd have if we believed what God tells us about the magnificent world to come. - Author: Randy Alcorn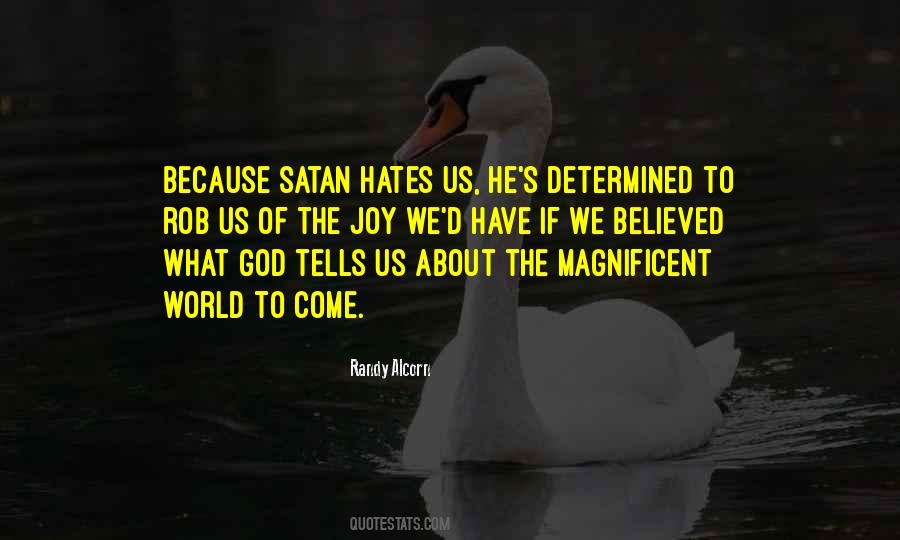 #62. Disobedience is essentially a prideful power struggle against someone in authority over us. It can be a parent, a priesthood leader, a teacher, or ultimately God. A proud person hates the fact that someone is above him. He thinks this lowers his position. - Author: Ezra Taft Benson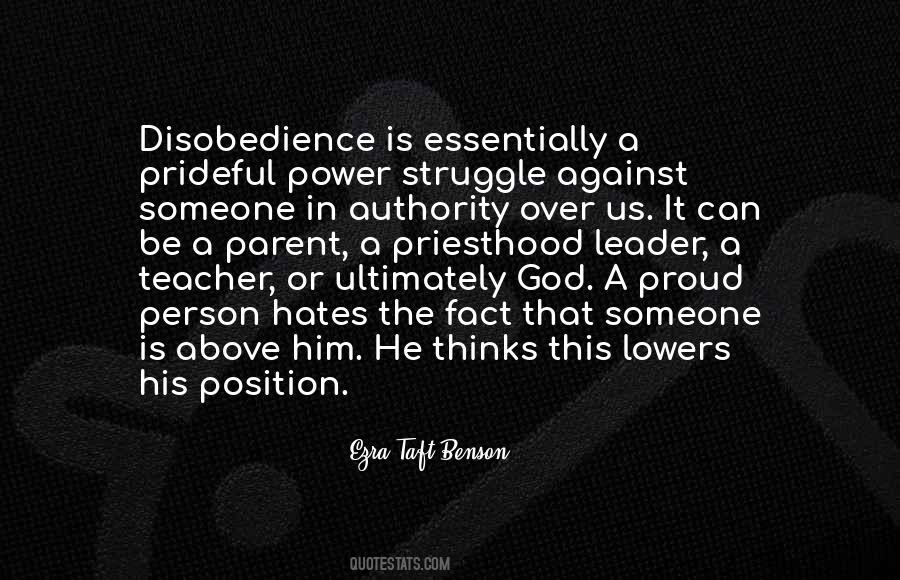 #63. God hates sin not because he wants us to be good little boys and girls, but because he knows sin destroys that which he loves most: sinners. - Author: Criss Jami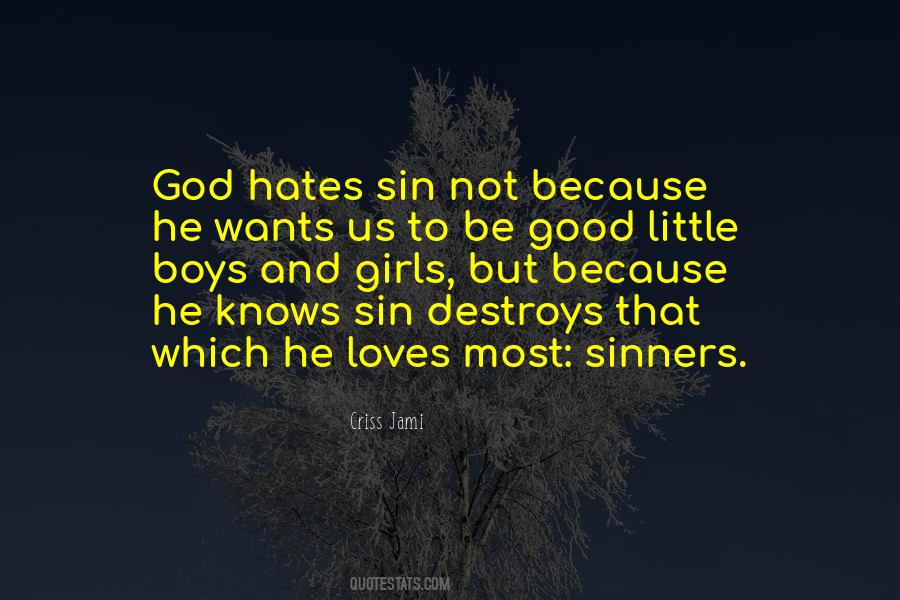 #64. Whoever God loves, satan hates; whoever God blesses, satan tries to curse. I believe, without a doubt, that the enemy tries to get to God through us - his children and the apples of His eye. - Author: Theresa Pecku-Laryea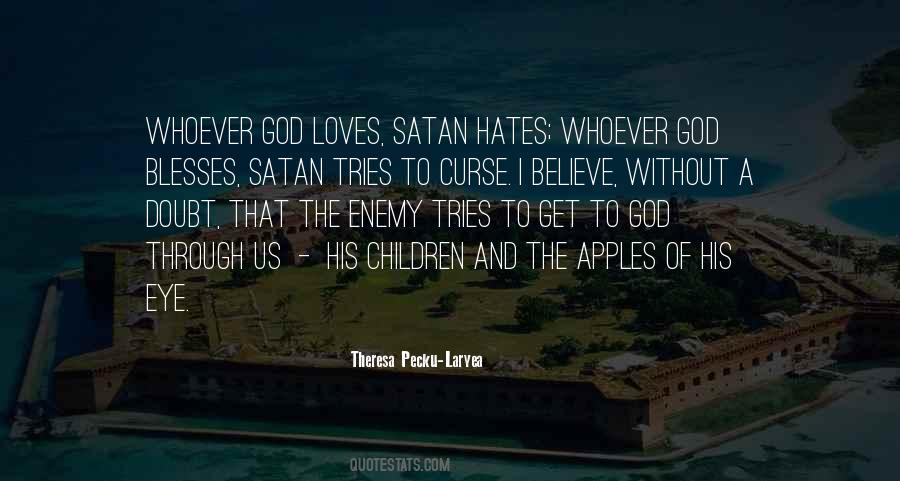 #65. 20 If someone says, "I love God," but hates a Christian brother or sister,* that person is a liar; for if we don't love people we can see, how can we love God, whom we cannot see? 21 And he has given us this command: Those who love God must also love their Christian brothers and sisters.* - Author: Anonymous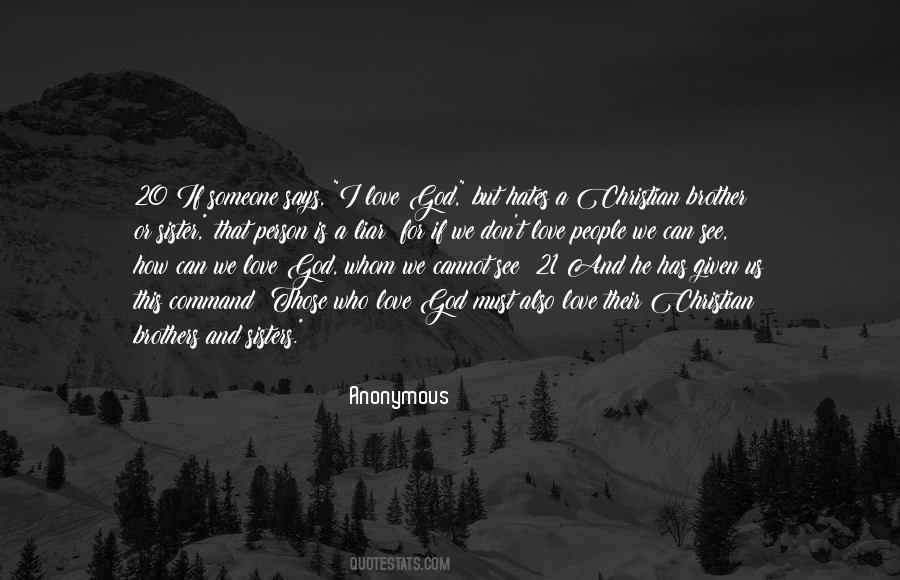 #66. God loves us; the devil hates us. God wants us to have a fulness of joy as He has. The devil wants us to be miserable as he is. God gives us commandments to bless us. The devil would have us break these commandments to curse us. - Author: Ezra Taft Benson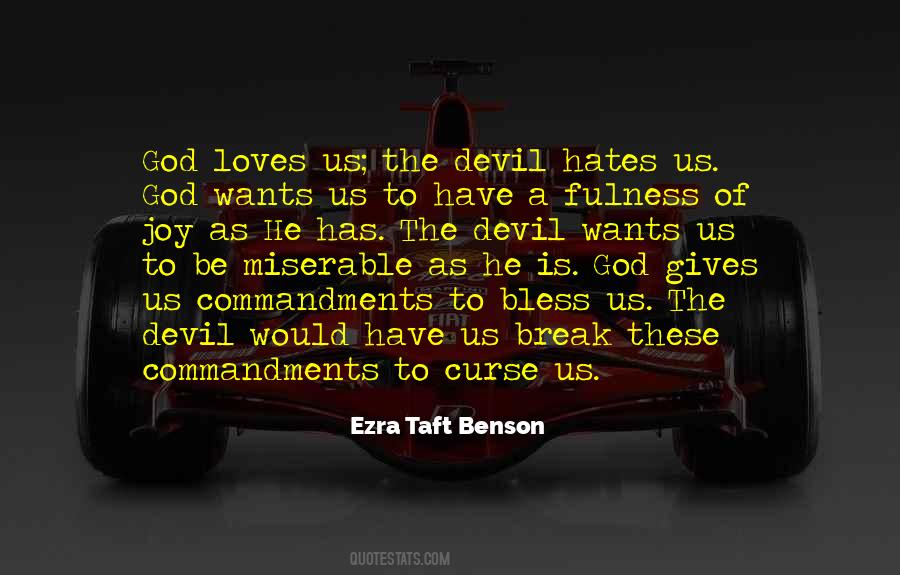 Famous Authors
Popular Topics