Ghost Girl Famous Quotes & Sayings
List of top 32 famous quotes and sayings about ghost girl to read and share with friends on your Facebook, Twitter, blogs.
Top 32 Ghost Girl Quotes
#1. The Ghost-Girl's lips was fixed in a bitter smile, but her creamy eyes was sad so sad but proud'n'strong too. - Author: David Mitchell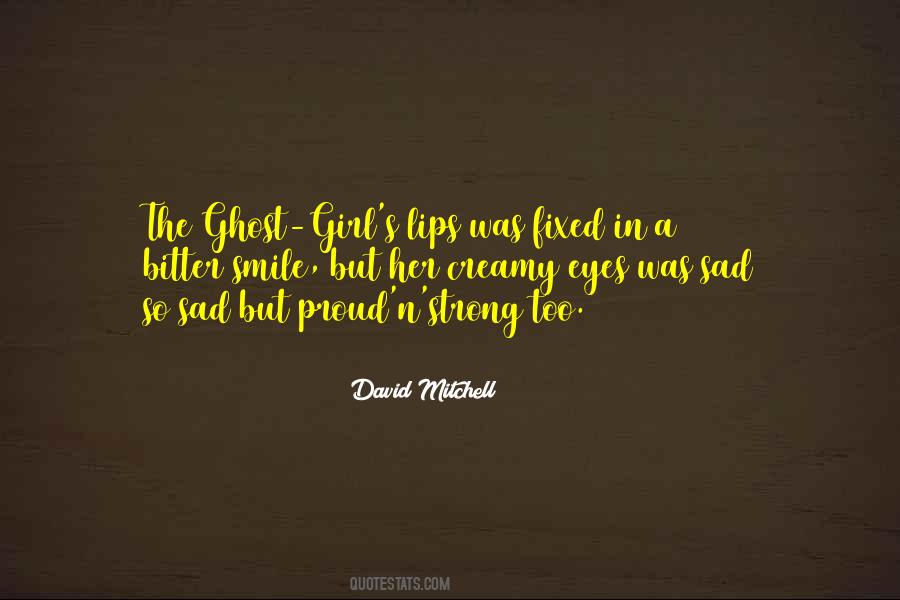 #2. You're the ghost of royalty imposing love
You are the queen and king combining everything
Intertwining like a ring around the finger of a girl
I'm just a singer, you're the world
All I can bring ya
Is the language of a lover
((Bella Luna)) - Author: Jason Mraz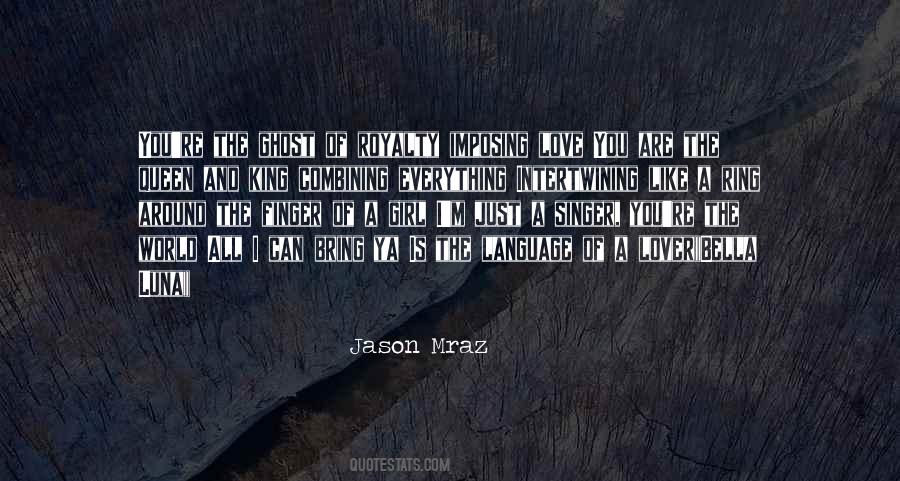 #3. I met a girl who sang the blues
and I asked her for some happy news,
but she just smiled and turned away.
And the three men I admire most,
The Father, Son, and the Holy Ghost,
They caught the last train to the coast
The day the music died. - Author: Don McLean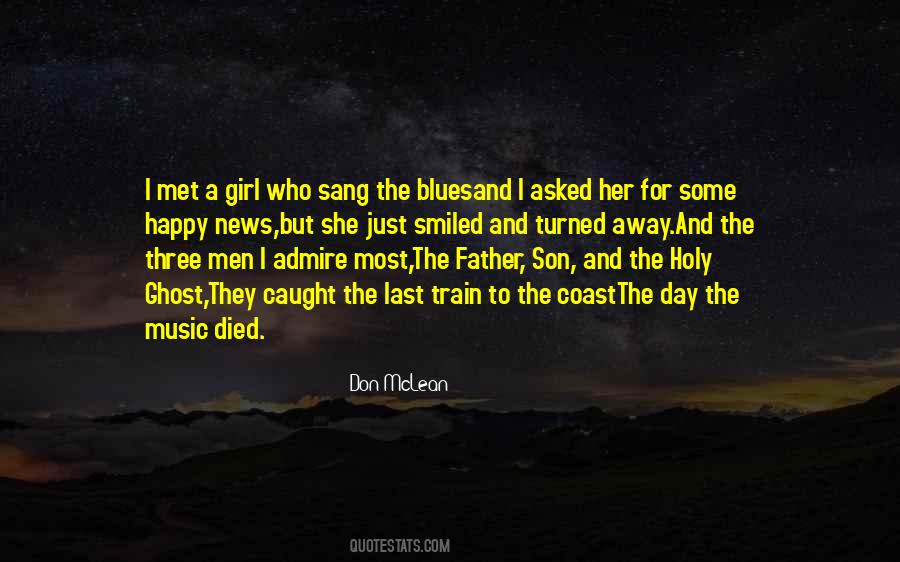 #4. I assure you; while I look like a ghost, I'm no spirit or demon. I'm nothing but a girl struggling to make her way in an intolerant world. I bleed, I love, and someday, I'll die. - Author: Leanna Renee Hieber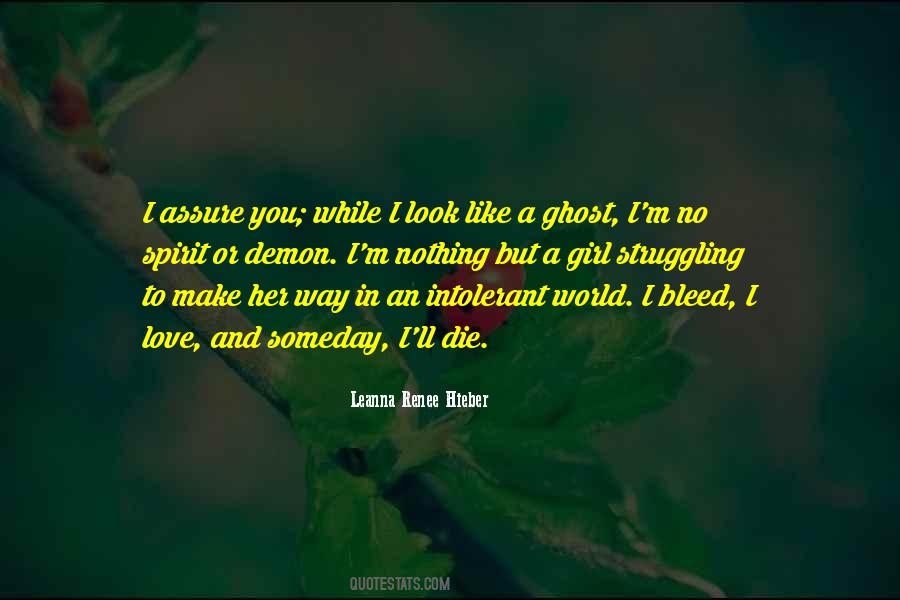 #5. Once upon a time there was a girl named Debbie Jacobs and a boy named Teddy Dennis. - Author: Rick Remender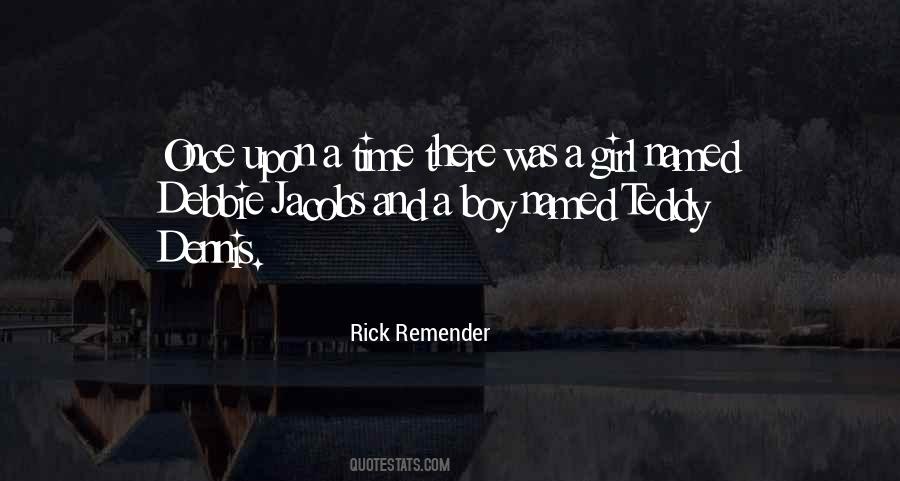 #6. Sometimes in the corner of my eye, I saw a girl running through the loft. A see-through girl, a silhouette. She looked the way the world looks without my glasses. Vaguely hued, indistinct. She looked the way a body looks underwater, lost in the blur of bubble and wave. - Author: Hannah Lillith Assadi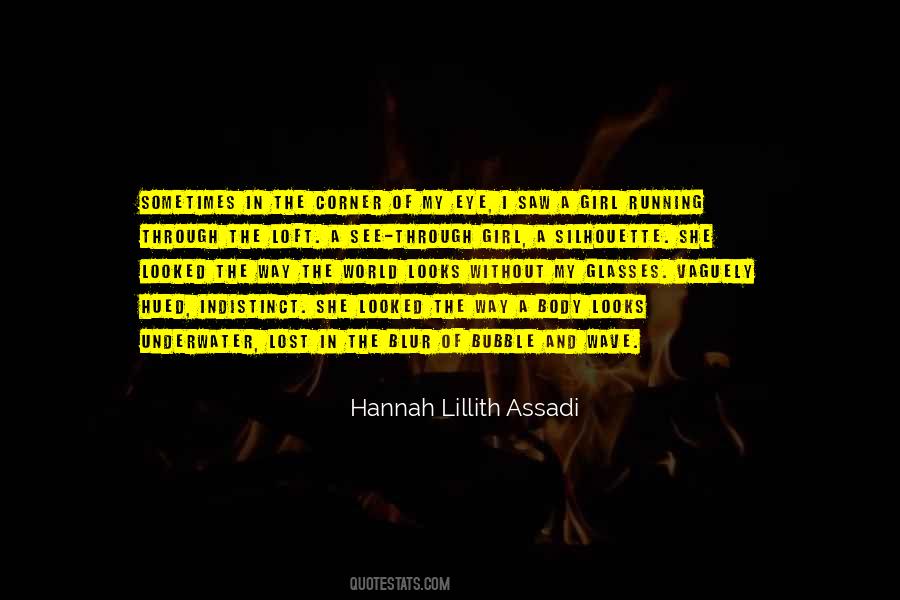 #7. As a girl, I sat awestruck at the feet of Harriet Ne, author of 'Tales of Molokai'. It was she who used to say, 'I myself have seen it,' after telling a particularly hair-raising ghost story - a phrase that I borrowed for one of my titles. - Author: Susanna Moore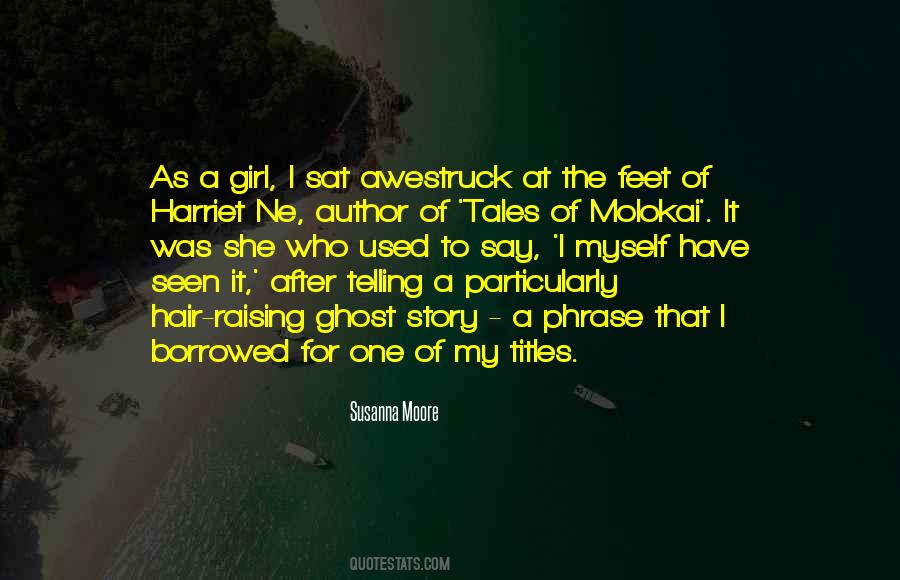 #8. Sometimes she is struck by how much she goes through life almost unconsciously. She is being swept along. She is a pale ghost. - Author: Kate Zambreno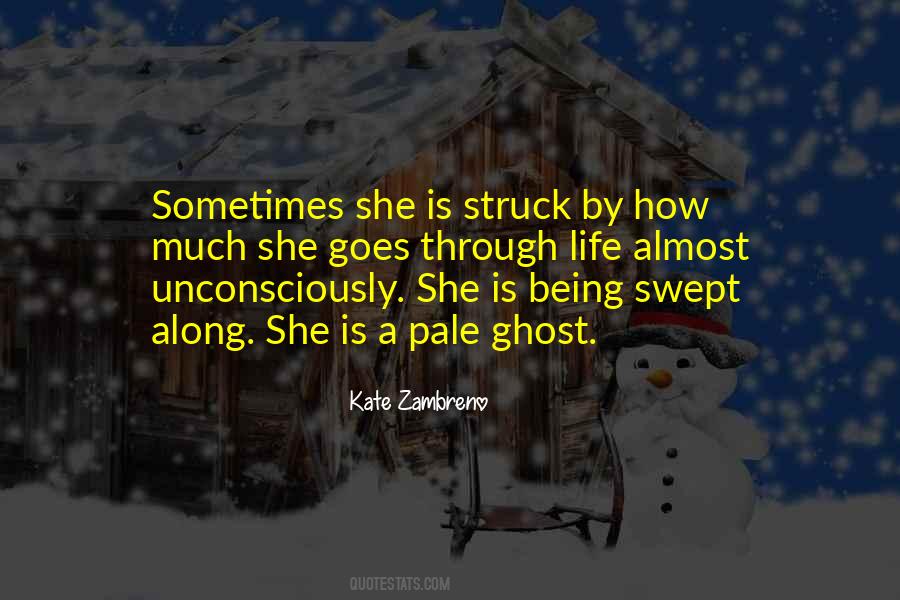 #9. Maybe these whole woods are haunted with crushed girl ghosts and that's what I'm hearing. They're coming to check me out, make sure I'm cool. Which I'm not, so they'll be disappointed. - Author: Ainslie Hogarth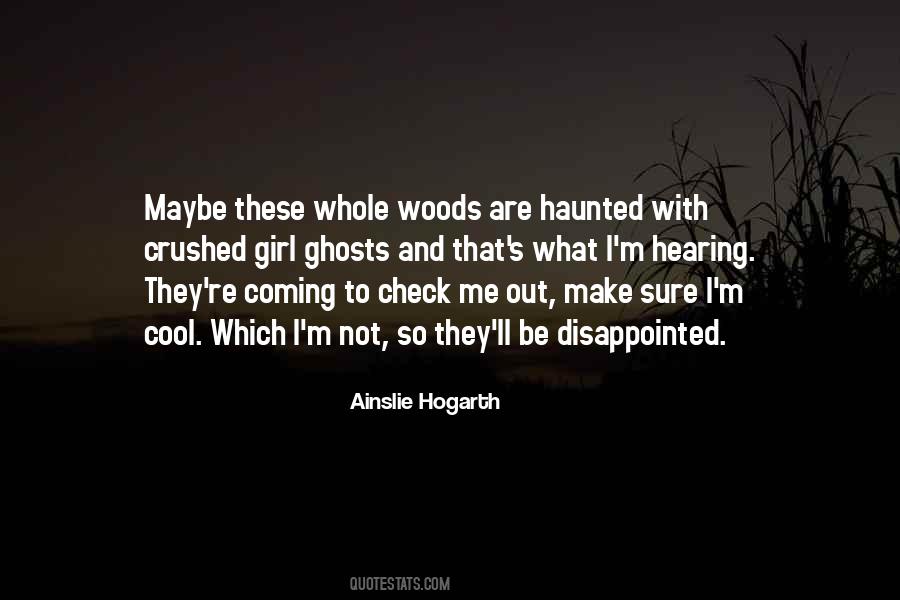 #10. Ghosts are not what I remember of my childhood; but somehow they
infuse memories of myself as a child, the little girl in a storybook, with
ghosts hovering around her. - Author: Yolanda A. Reid
#11. A ghost in marble of a girl you knew
Who would have loved you in a day or two. - Author: Edna St. Vincent Millay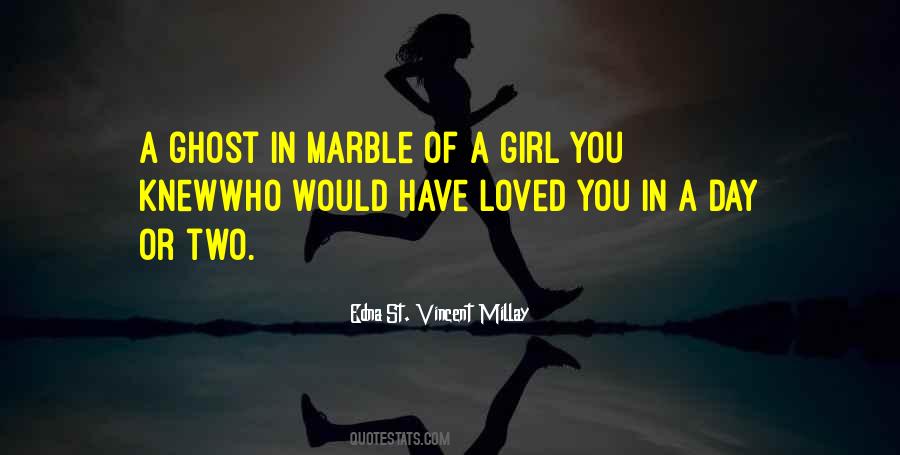 #12. Hey!" Claire called after him, as she leaned her backpack against the wall.
"No onions!"
"Your loss!"
"I meant for YOU! Not if you want to get kissed tonight!"
"Damn, girl. Harsh. - Author: Rachel Caine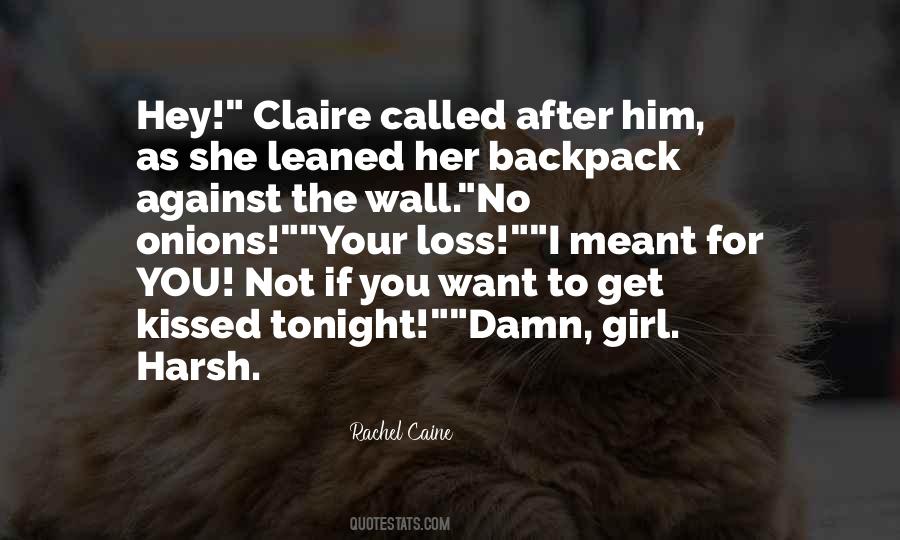 #13. If, after I depart this vale, you ever remember me and have thought to please my ghost, forgive some sinner and wink your eye at some homely girl. - Author: H.L. Mencken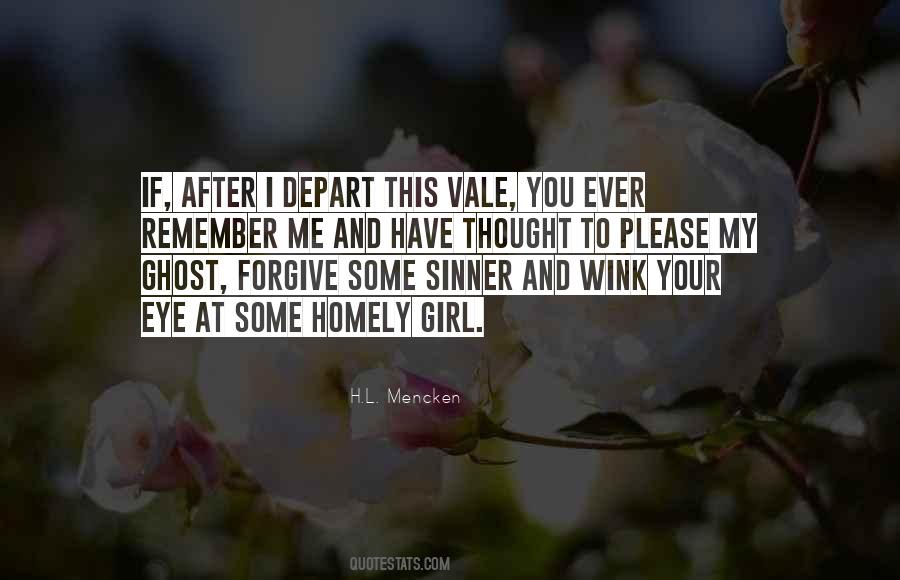 #14. Am I in the picture? Am I getting in or out of it? I could be a ghost, an animal or a dead body, not just this girl standing on the corner ... ? - Author: Francesca Woodman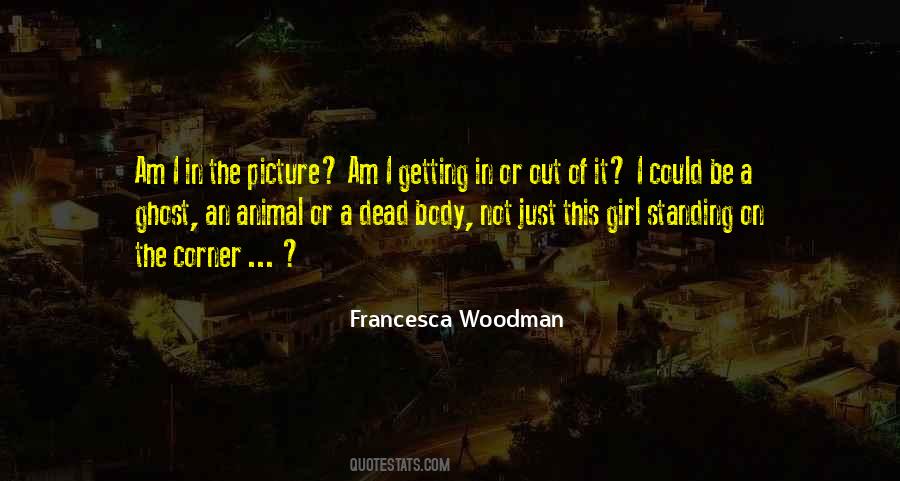 #15. No way! Everyone knows he's in love with that Raven girl. But get this. I saw that ghost guy at the movies last Friday. Alone. Who goes to a movie by himself?" "Only a loony loser crazy person," Josie said. - Author: Ellen Schreiber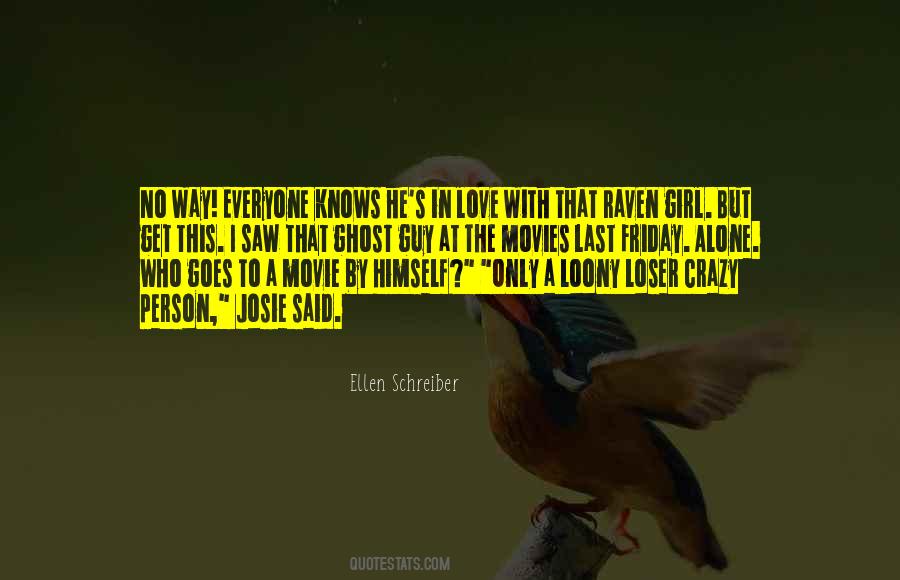 #16. Some irony. The girl who couldn't face her own bullshit . . . suddenly forcing everyone else to. - Author: Rick Remender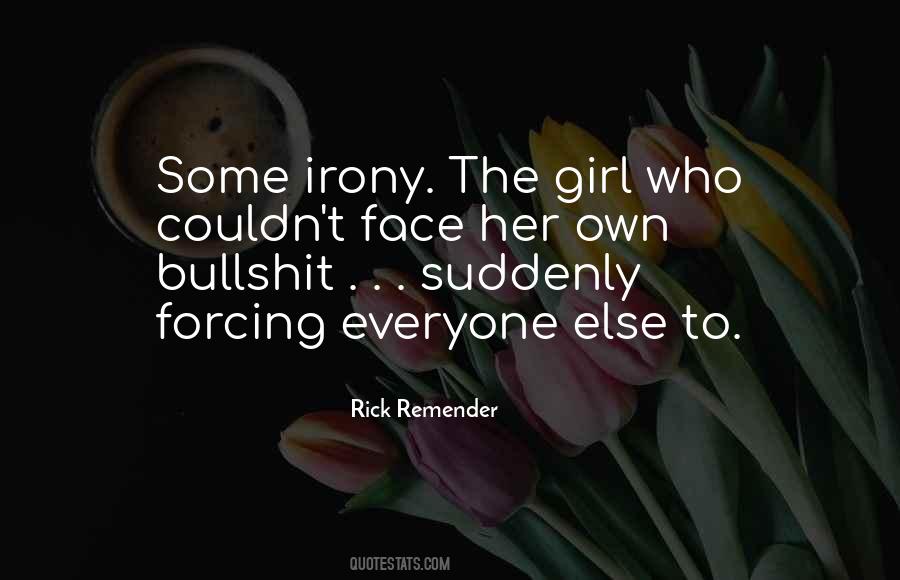 #17. I think I killed a girl who looked like this once. - Author: Kendare Blake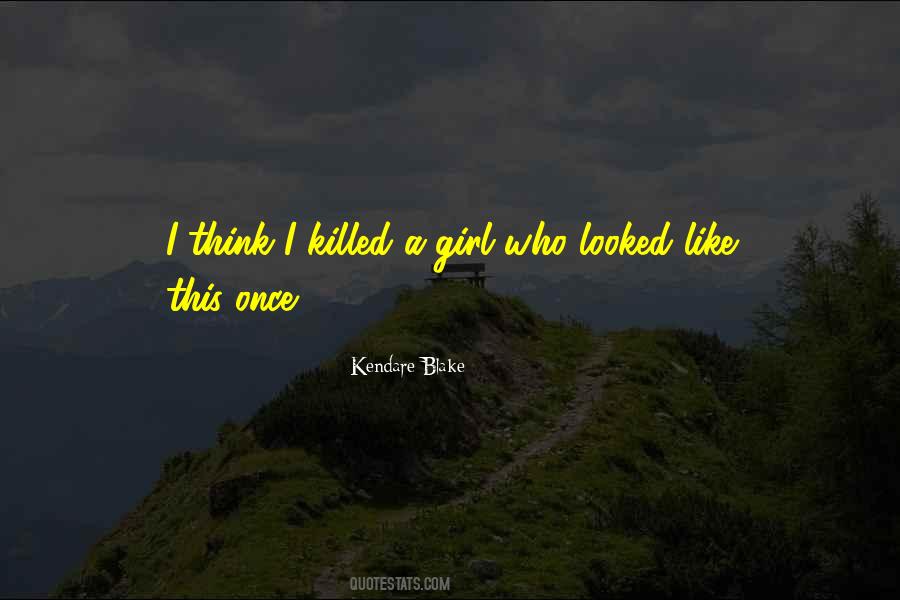 #18. The chandelier was wearing on its rubber support and the crack at the side of the ceiling hold was getting bigger. "One day that's going to fall on us and spear you through the heart," he said. I turned to kiss him on the shoulder and closed my eyes. - Author: Kate Chisman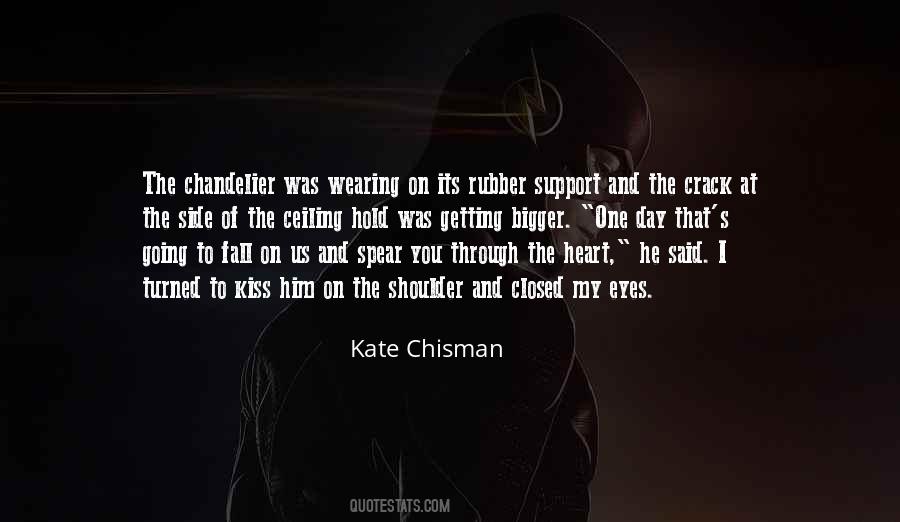 #19. Myrnin: I think your ghost girl's afraid I'll try to bite her. I believe she may have, you know, mental issues ... - Author: Rachel Caine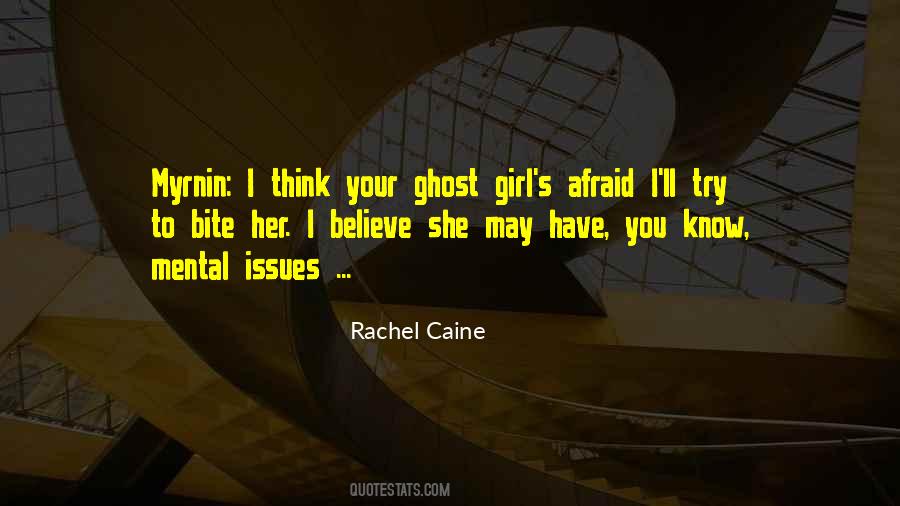 #20. I love to be scared. Not, 'Hey, I think I smell smoke ... ' scared, but creepy, paranoid, what's-that-out-there-in-the-dark, ghost story scared. It's no surprise that I was the girl who got invited to the slumber parties because I could be counted on to tell a tale to scare the bejesus out of you. - Author: Libba Bray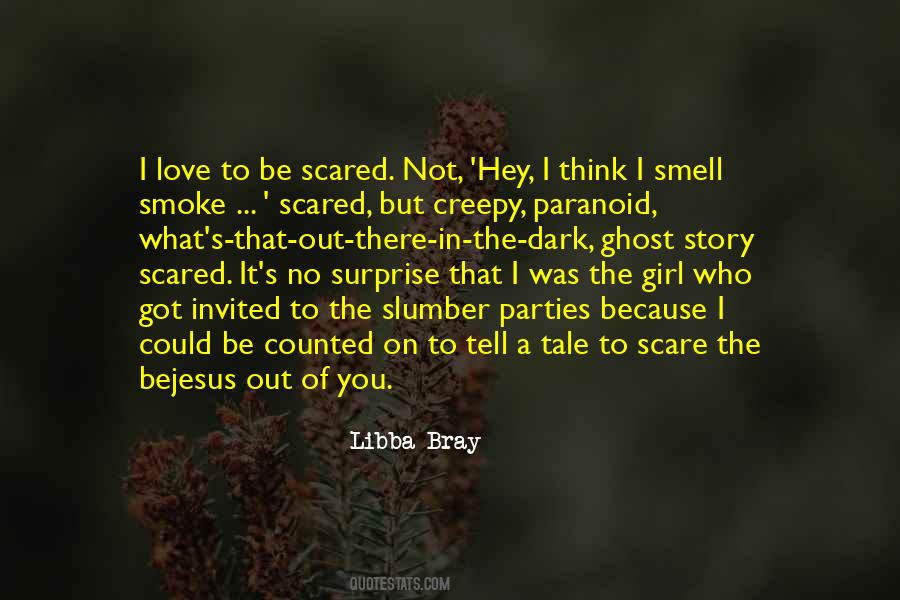 #21. My knowledge stretches as far as those ghost hunters on YouTube, like that crazy guy with the mustache and the girl who screams a lot, who never really seem to solve anything. - Author: Karina Halle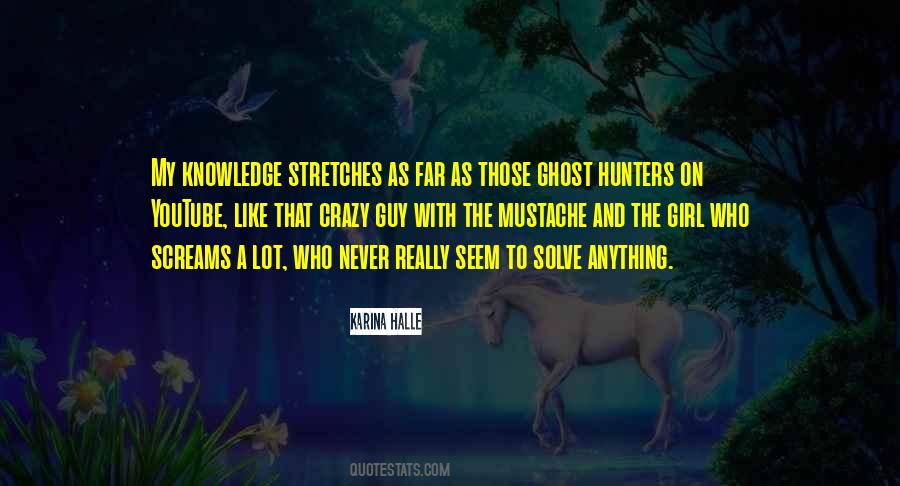 #22. If I died, I'd expect my guy to mourn me forever, and if he tried to hook up with someone else, I'd haunt him till he ended up in a crazy house. Then I'd haunt the girl. - Author: Gena Showalter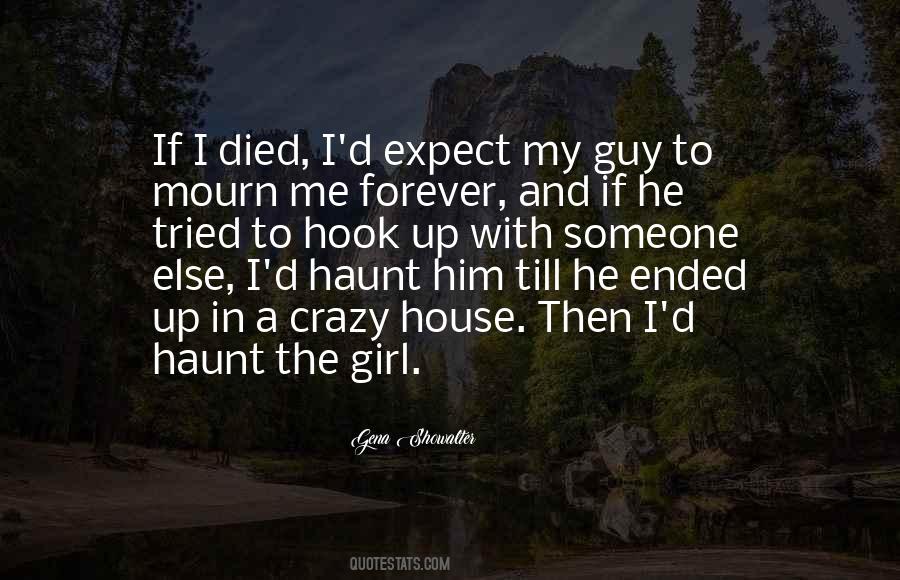 #23. Yes, fine," I say, feeling dead inside. They don't know what they're in for at Spence, getting me, a ghost of a girl who'll nod and smile and take her tea who isn't really here. - Author: Libba Bray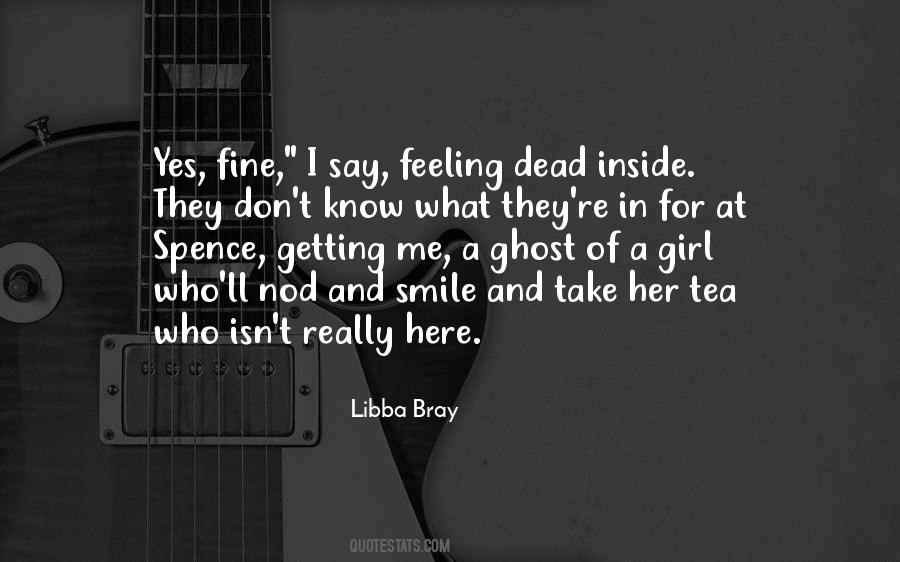 #24. The girl with the tip-tilted nose, the forget-me-not eyes, the rose red cheeks
and the lily-white neck and shoulders who gave the explanation in a
trembling voice: It's the ghost! - Author: Gaston Leroux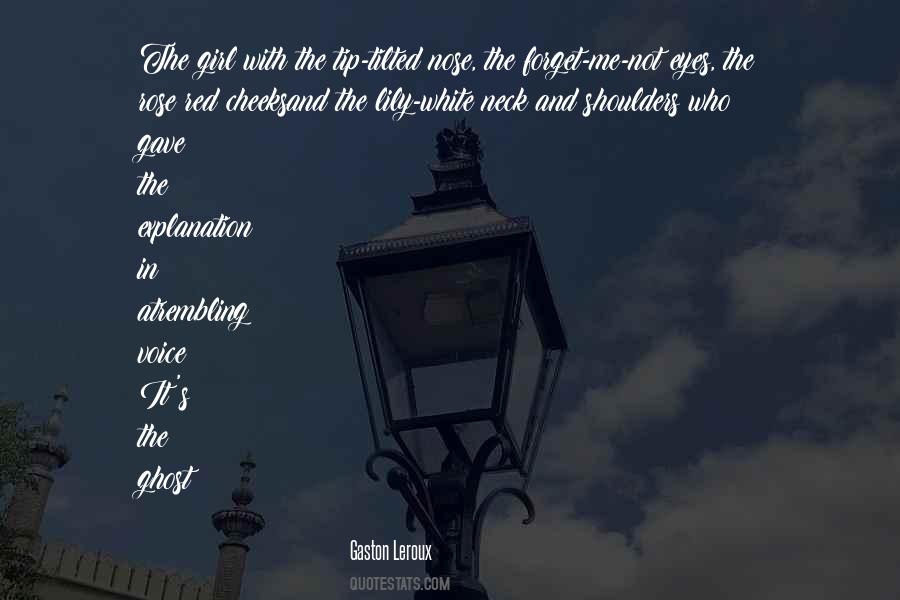 #25. We strove for a name,
while the light of the lamps burnt thin
and the outer dawn came in,
a ghost, the last at the feast
or the first,
to sit within
with the two that remained
to quibble in flowers and verse
over a girl's name. - Author: H.D.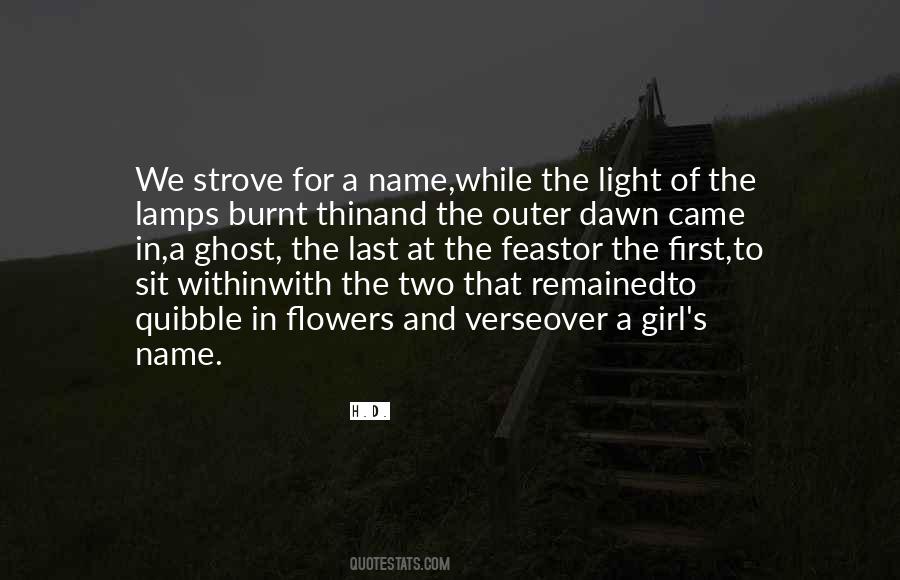 #26. Wait." Amber jumped up wide-eyed. "Is she a - "
"A ghost " I smirked. "Amber you're a necromancer in a show about raising the dead. What did you expect Eerie sounds produced by a computer and a few Hollywood actors in bad makeup Please don't tell me you've never seen a real ghost. - Author: Jayde Scott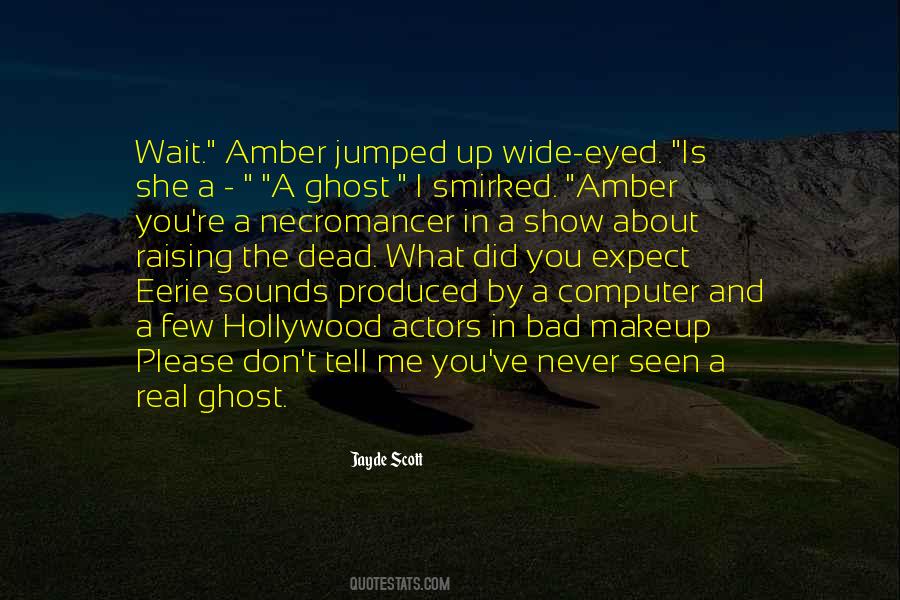 #27. Because I see
A rainstorm in June
Just before the sun
The black of night
Just before the stars
And, girl, I see your ghost
Just before our dawn - Author: Laura Miller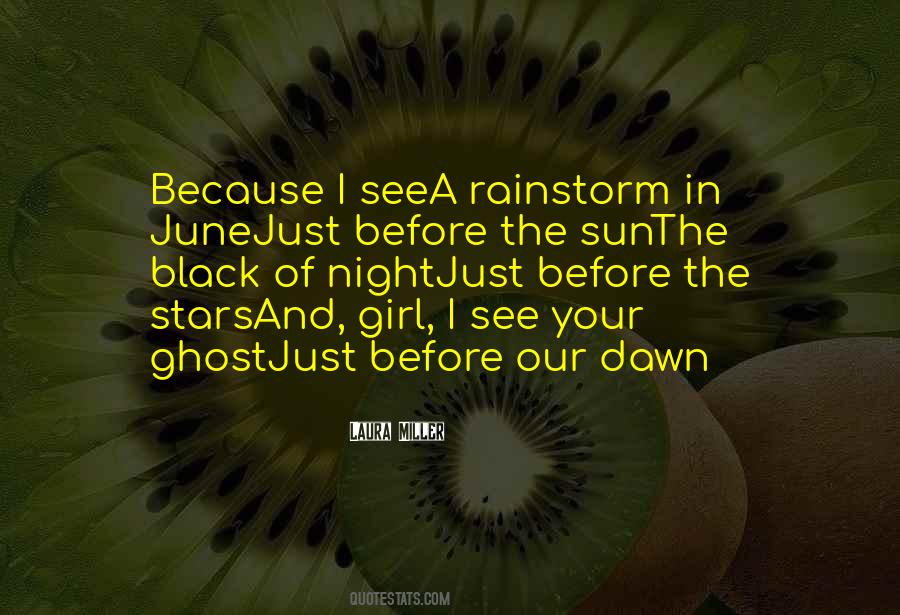 #28. Sometimes it's as if I can shrink away to nothing. Sometimes I feel as pure and perfect as a ghost. The hunger, the headaches, the dizziness - these are the only things that are real. - Author: J.P. Delaney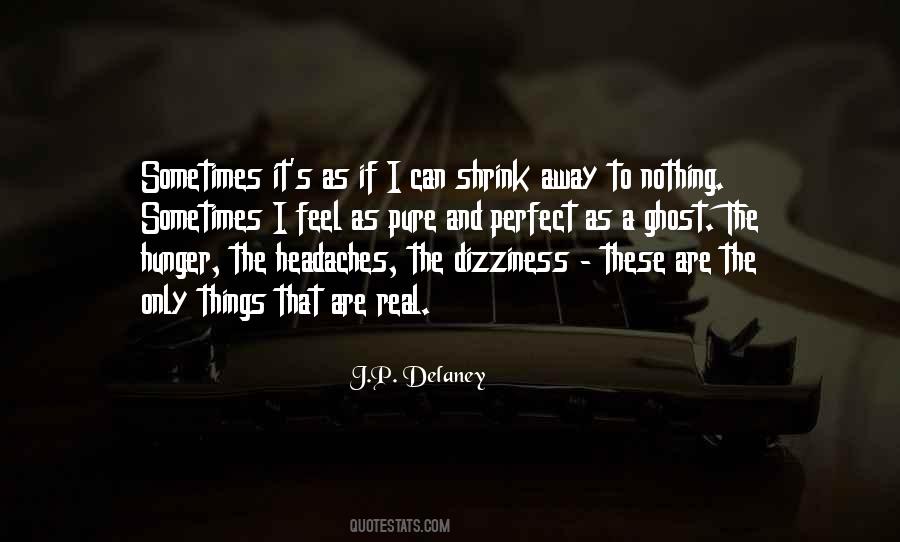 #29. But the girl had spent long years being invisible. She'd already had a ghost's life, hidden from the world and from herself. Better than anyone, she knew the power of things long buried. - Author: Leigh Bardugo
#30. They don't know what they're in for at Spence, getting me, a ghost of a girl who'll nod and smile and take her tea but who isn't really here. - Author: Libba Bray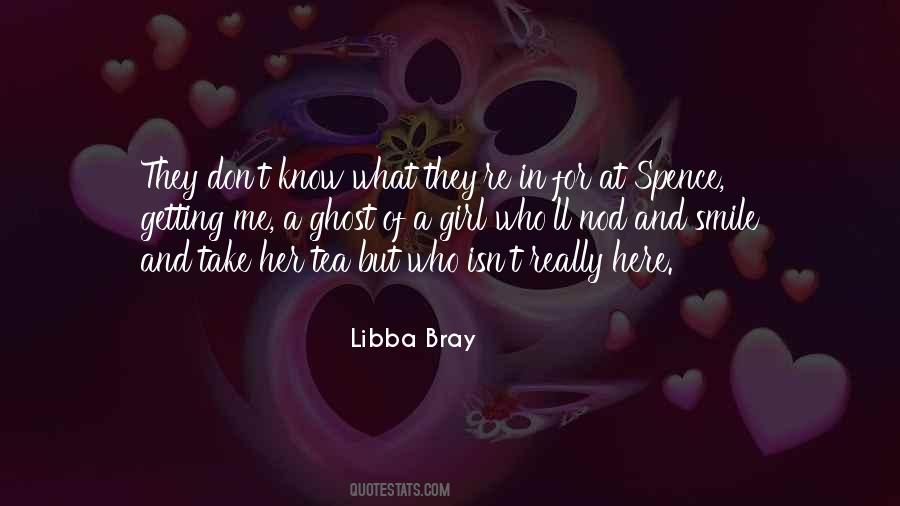 #31. He glanced over at me, a smile twisting his lips. "Hey, no advice, Ghost Girl. Guardians should be seen and not heard."
I flipped him off for the "Ghost Girl" comment but he didn't notice because Lissa was talking to him again. - Author: Richelle Mead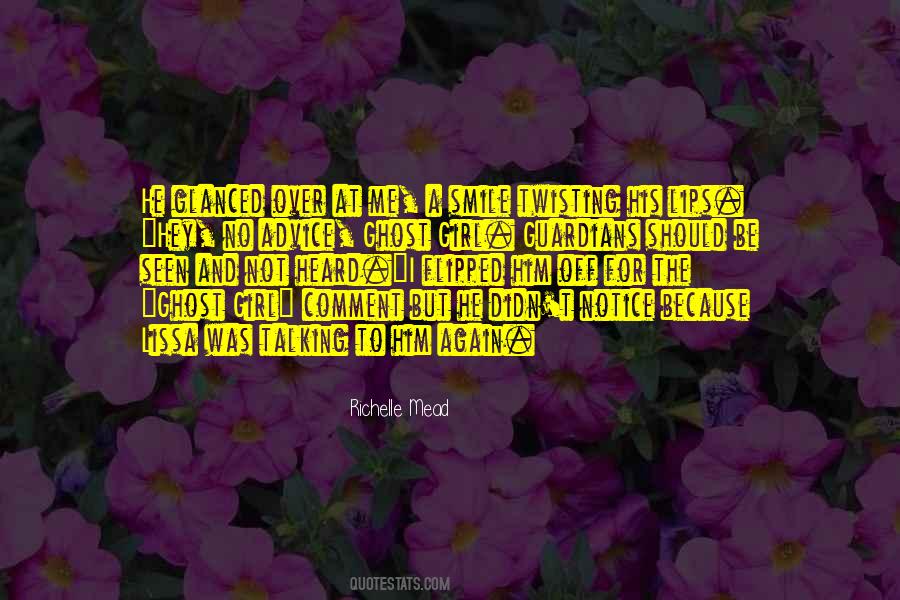 #32. She walked with a ghost of herself, one full of potential and possibility. One who was fearless. Where had that girl gone? - Author: Nora Roberts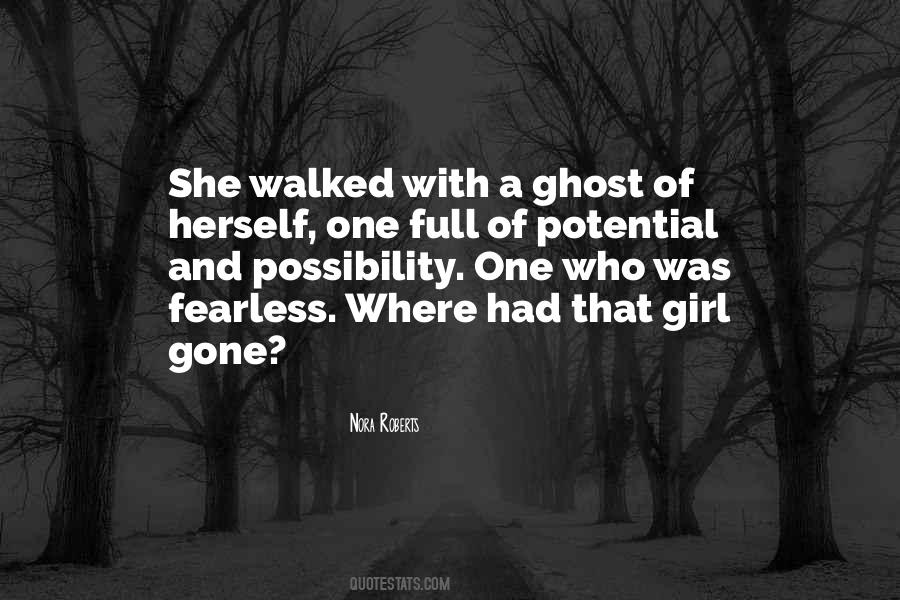 Famous Authors
Popular Topics