Friendship Is Everything Famous Quotes & Sayings
List of top 47 famous quotes and sayings about friendship is everything to read and share with friends on your Facebook, Twitter, blogs.
Top 47 Friendship Is Everything Quotes
#1. In this world of illusion, where at the end of the examination, we find everything to be of little importance, of little worth, if there is a sign of reality, of something one can depend upon, and in which one can recognize a sign of eternity, it is in the constancy of friendship. - Author: Hazrat Inayat Khan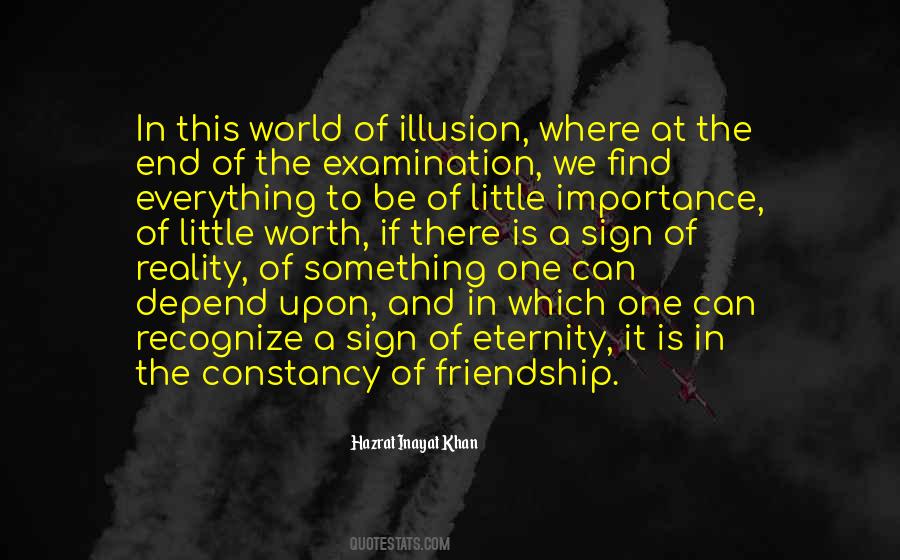 #2. You scream it in everything you do. You're holding on to what happened because you think that's all you have."
"It is all I have."
"Find more - Author: Jessica Park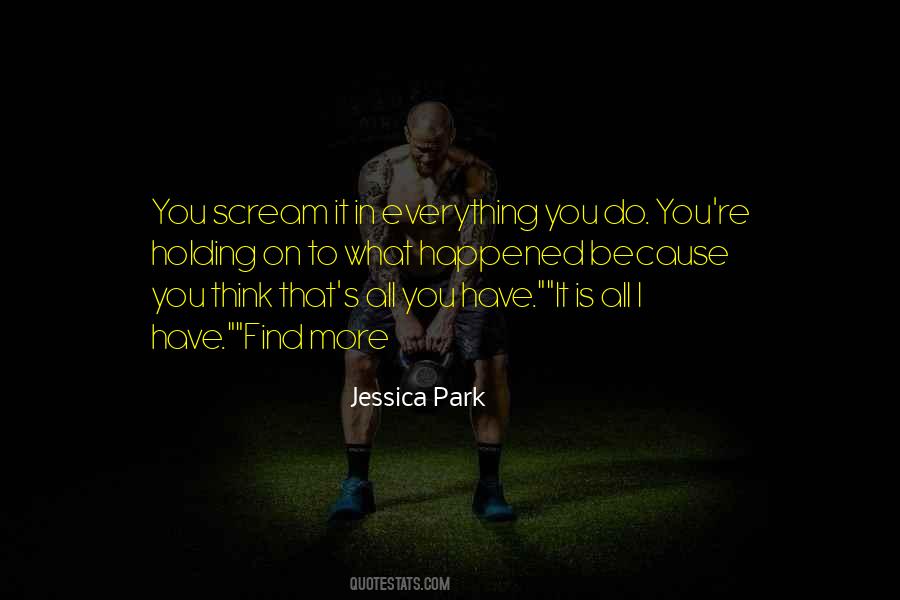 #3. I've got a new friend, all right. But what a gamble friendship is! Charlotte is fierce, brutal, scheming, bloodthirsty - everything I don't like. How can I learn to like her, even though she is pretty and, of course, clever? - Author: E.B. White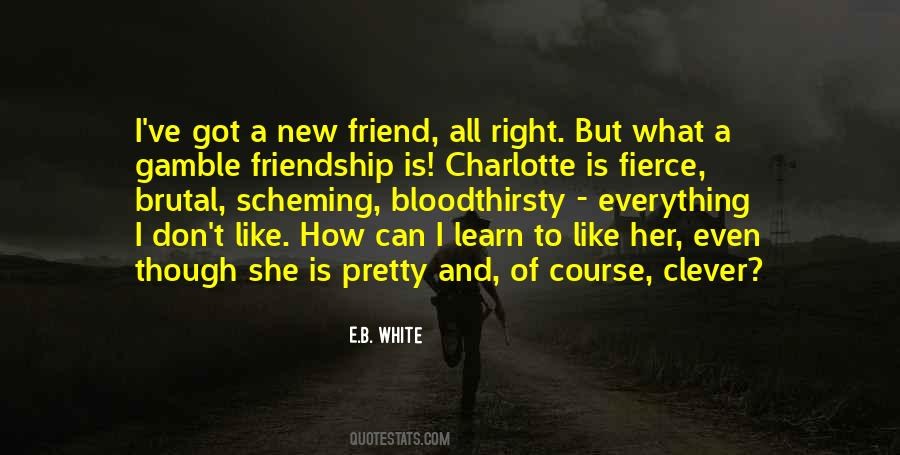 #4. In our weeks of talk, movies and friendship, I watched as Wilma turned a medical ordeal into one more event in her life, but not its definition. I believe she was teaching me an intimate form of The Way. In her words: Every day is a good day - because we are part of everything alive. - Author: Gloria Steinem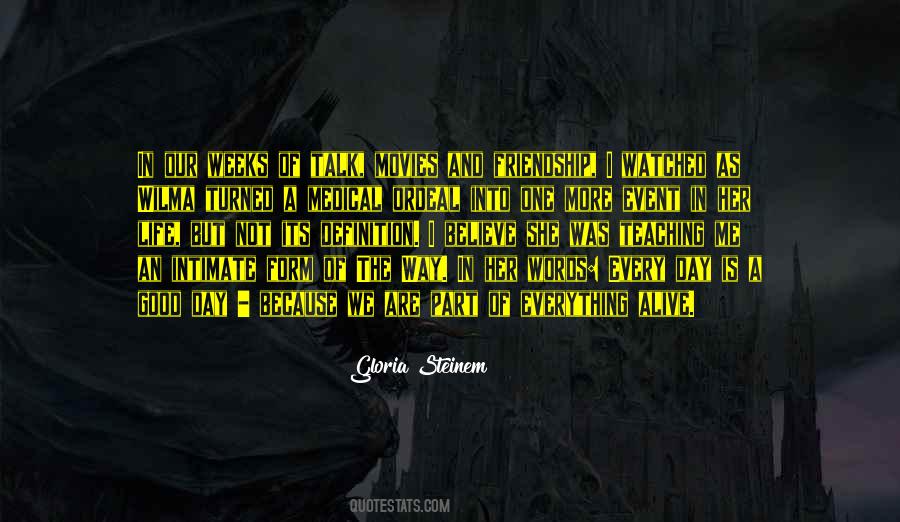 #5. Love cannot accept what it is. Everywhere on earth it cries out against kindness, compassion, intelligence, everything that leads to compromise. Love demands the impossible, the absolute, the sky on fire, inexhaustible springtime, life after death, and death itself transfigured into eternal life. - Author: Albert Camus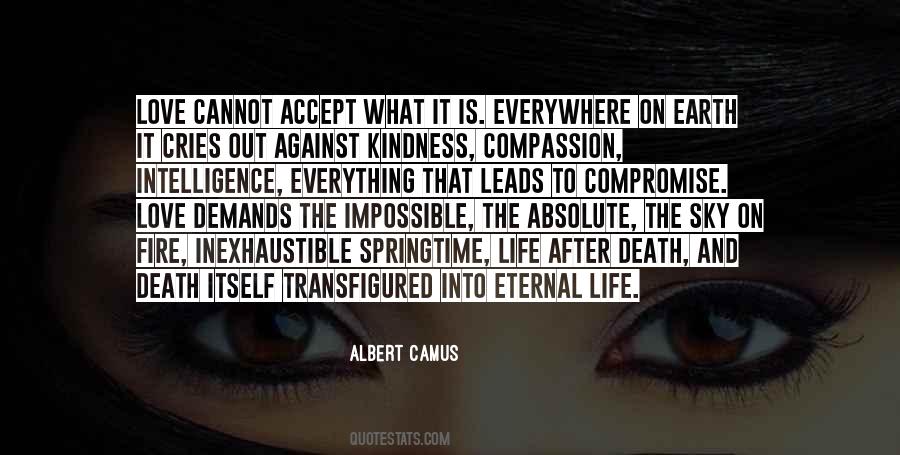 #6. I measure my friends not by being there with me when everything is going well, but embracing me when I'm criticized and when I endure tough times. - Author: Terraine Francois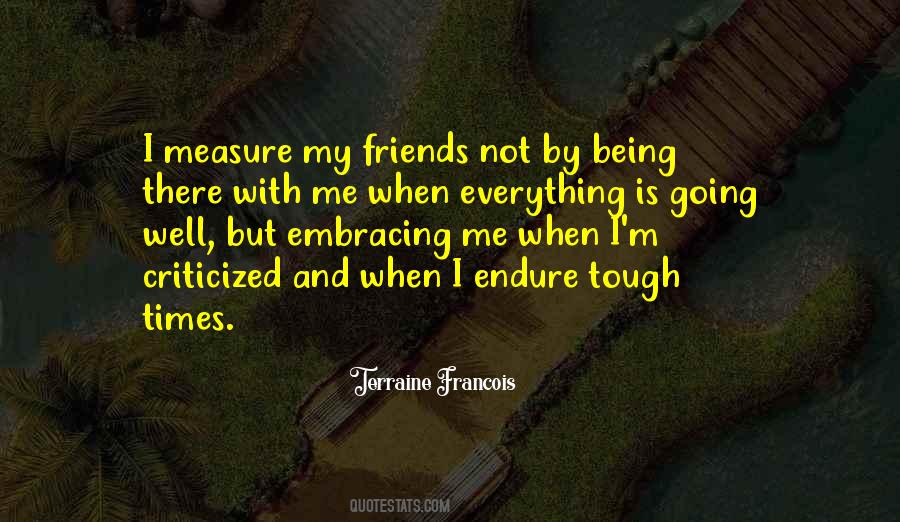 #7. Friendship is the greatest of worldly goods. Certainly to me it is the chief happiness of life. If I had to give a piece of advice to a young man about a place to live, I think I should say, 'sacrifice almost everything to live where you can be near your friends. - Author: C.S. Lewis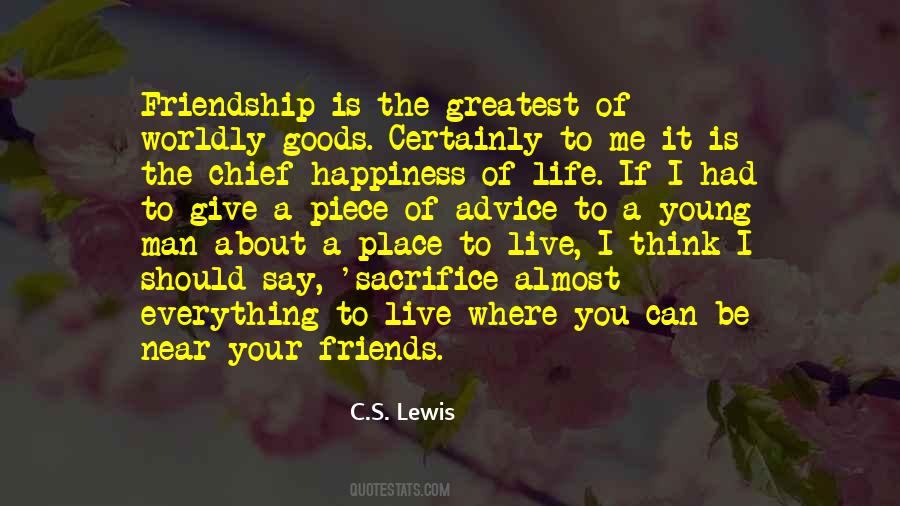 #8. In friendship we find nothing false or insincere; everything is straight forward, and springs from the heart. - Author: Marcus Tullius Cicero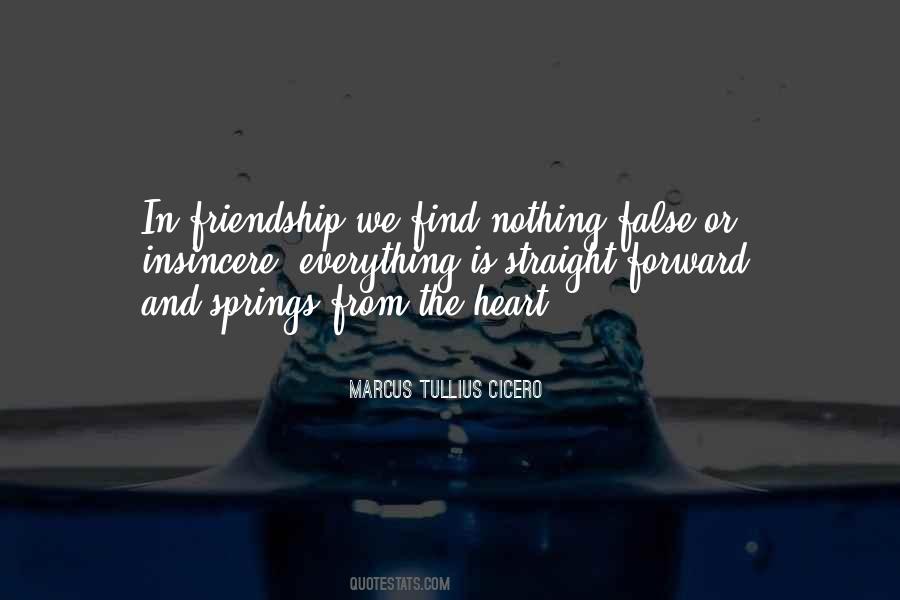 #9. An awesome friend is everything. - Author: Ellen J. Barrier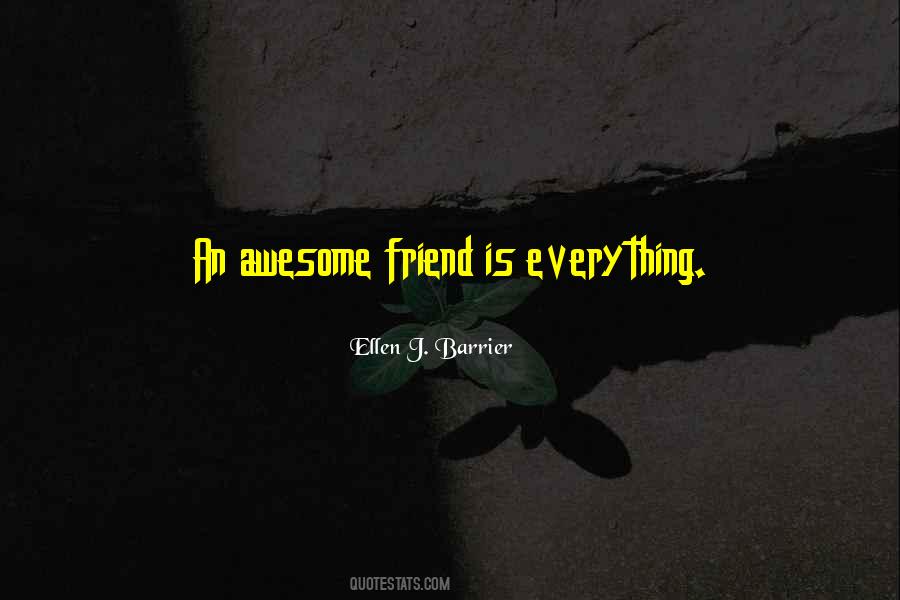 #10. It's as if God gave you something-all those stories- and said, "Here you are. Try not to lose it." But children lose everything unless somebody is there to help them, and if your parents are too stupid to do it, maybe i ought to. - Author: Stephen King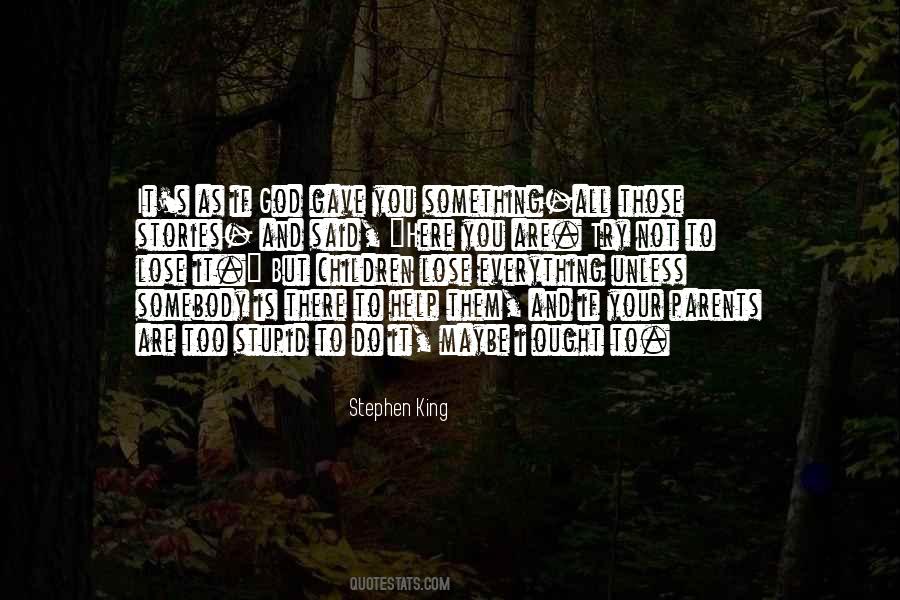 #11. I thought I knew everything about friendship and family: the happiness, simplicity and joy within them. But there is another side of devotion, a side which Samira understands. - Author: Michael Robotham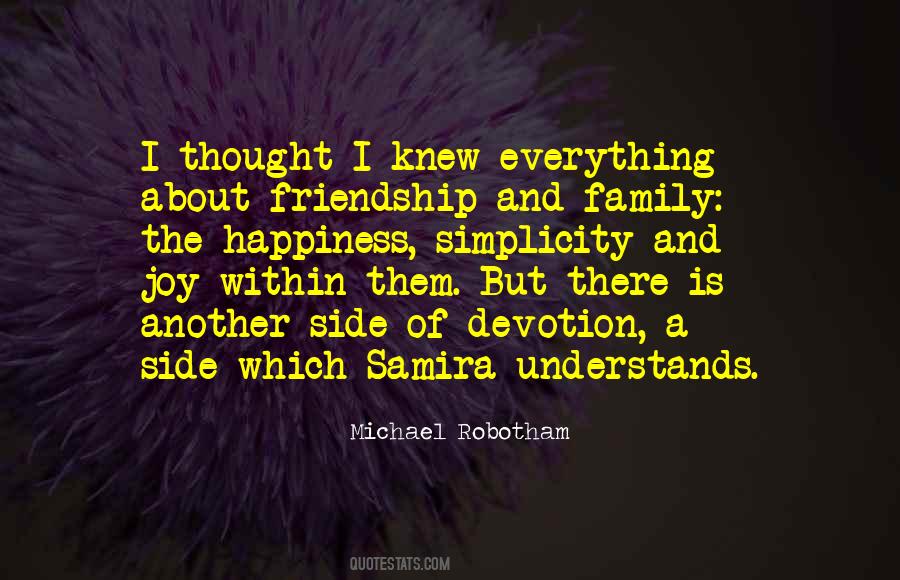 #12. I don't want to live in a world where everything that I say, everything I do, everyone I talk to, every expression of creativity or love or friendship is recorded, - Author: Edward Snowden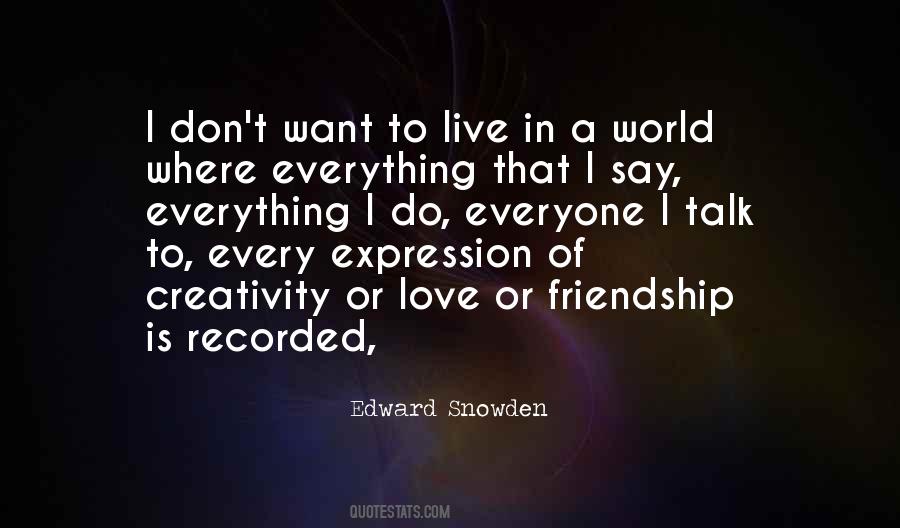 #13. We love everything on our own account; we even follow our own taste and inclination when we prefer our friends to ourselves; and yet it is this preference alone that constitutes true and perfect friendship. - Author: Francois De La Rochefoucauld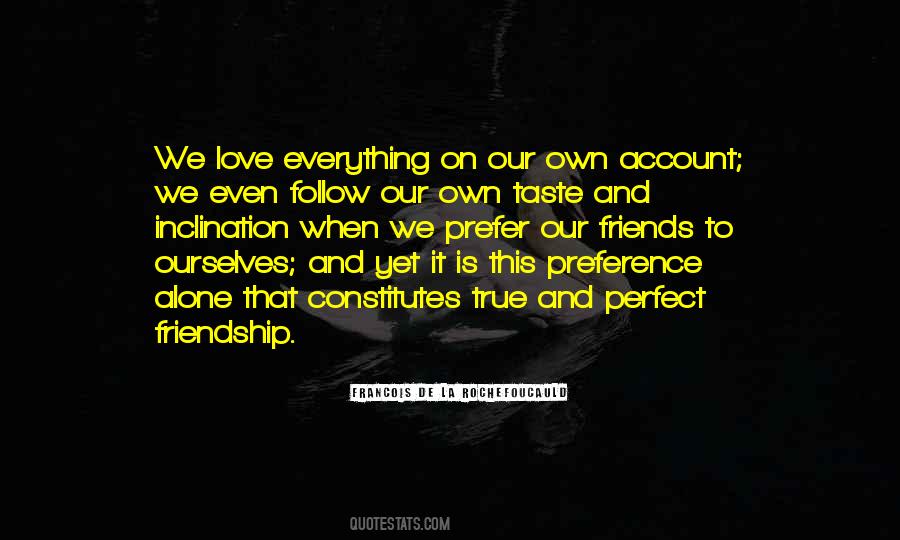 #14. A true friend is the one who knows
everything about you and still loves you. Eventually, people will forget the things you said or did, but the feelings
you woke up in them they will never forget! - Author: Danka V.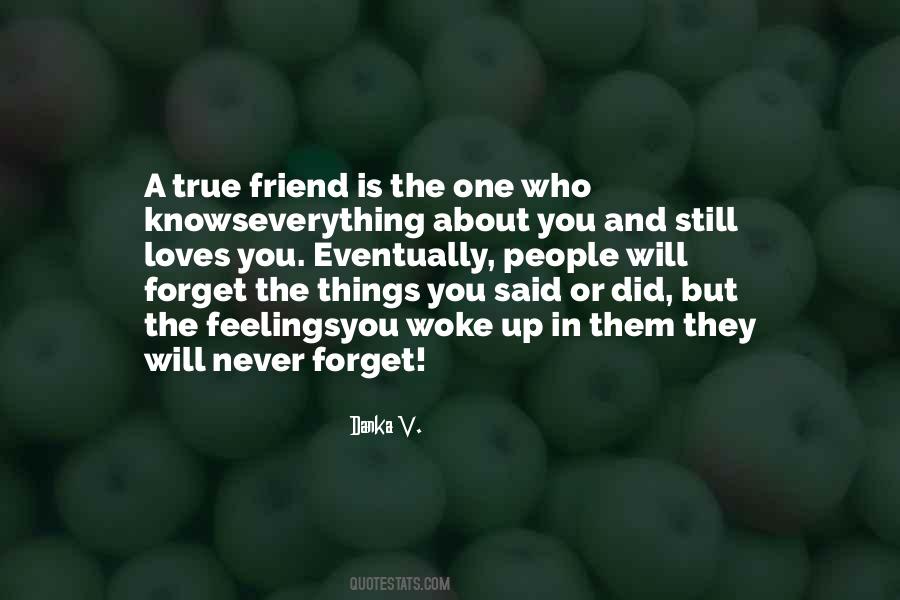 #15. I just hug her, tell everything is fine, and walk with her to her house. It will be all OK in the end. - Author: Dawn O'Porter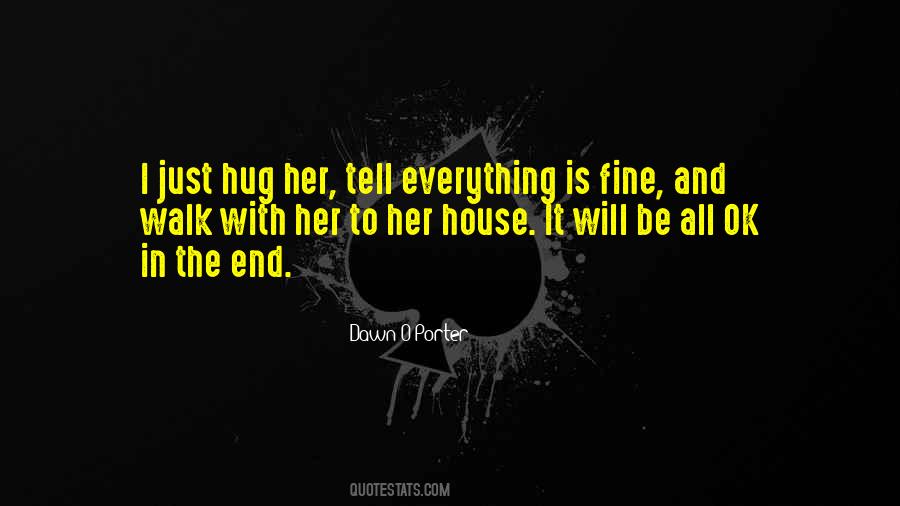 #16. There is an empty space next to you in the backseat of the station wagon. Make it the shape of everything you need. Now say hello. - Author: Richard Siken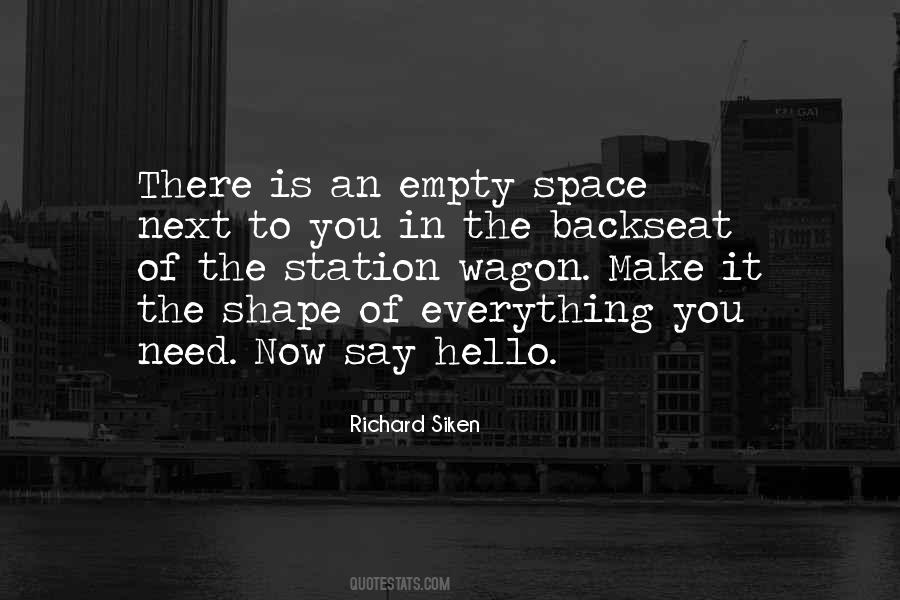 #17. Is this what it's like to get close to other people
you do something insane together and then you have to share everything even if you don't really want to? - Author: Courtney Summers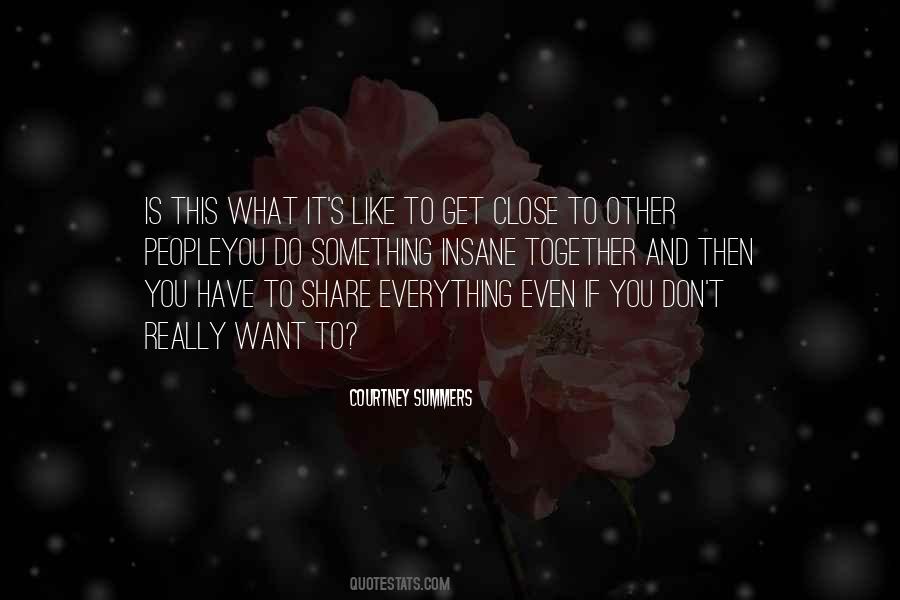 #18. How different everything is when you are with the right people! - Author: Kate Greenaway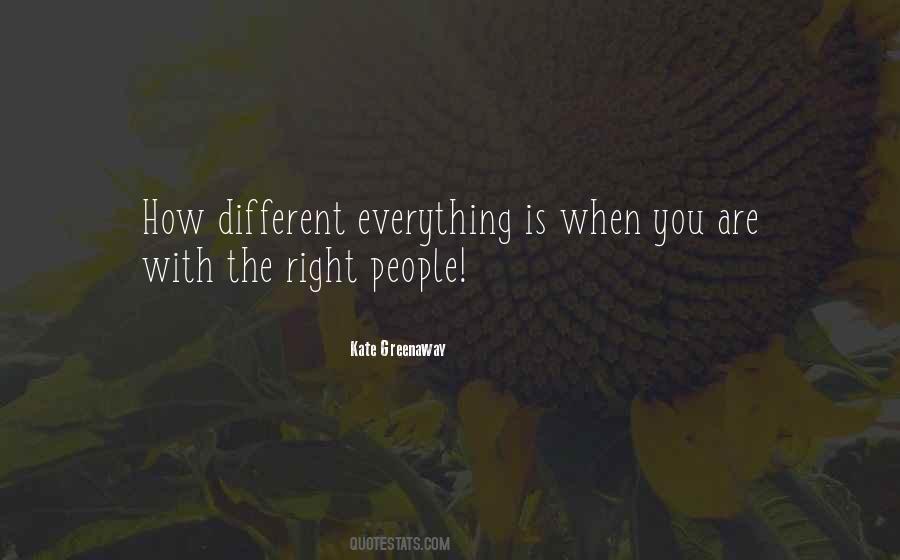 #19. Faith is salted and peppered through everything at Christmas. And I love at least one night by the Christmas tree to sing and feel the quiet holiness of that time that's set apart to celebrate love, friendship, and God's gift of the Christ child. - Author: Amy Grant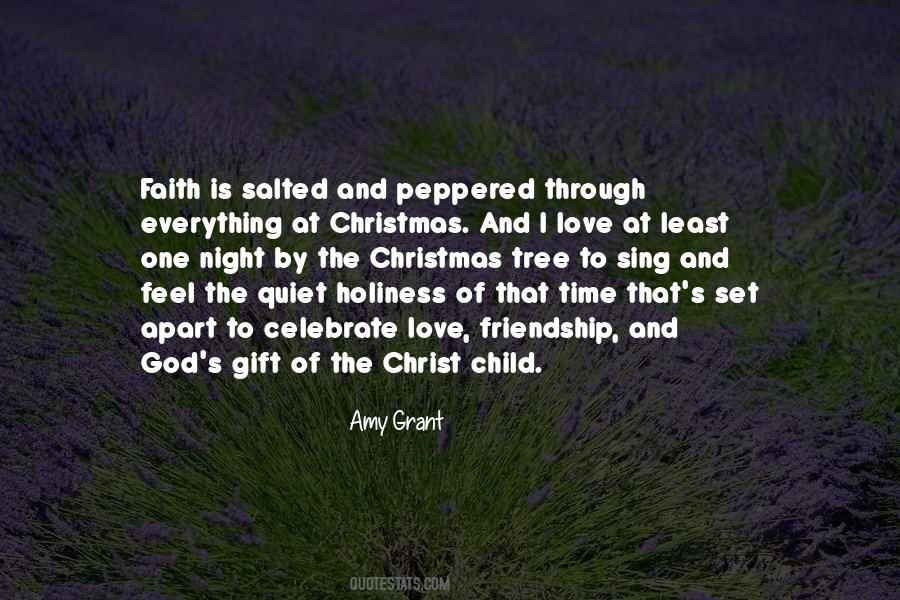 #20. Your soul is so close to mine
That what you dream, I know. ...
I know everything you think of: your heart is so close to mine! - Author: Rumi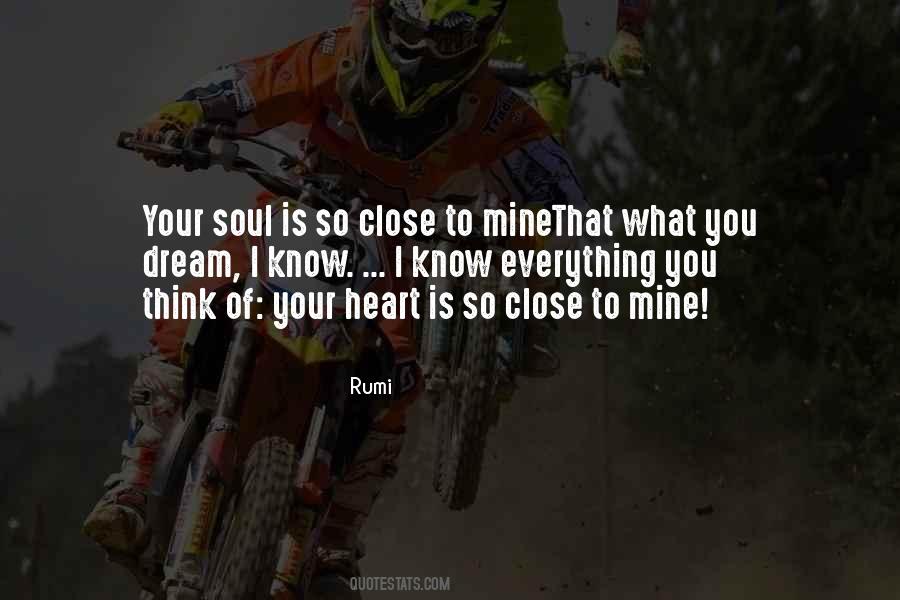 #21. Allowing a person or thing to leave your life, without further pain is the basis of humanity. Everything else is the reason (theology). - Author: Shannon L. Alder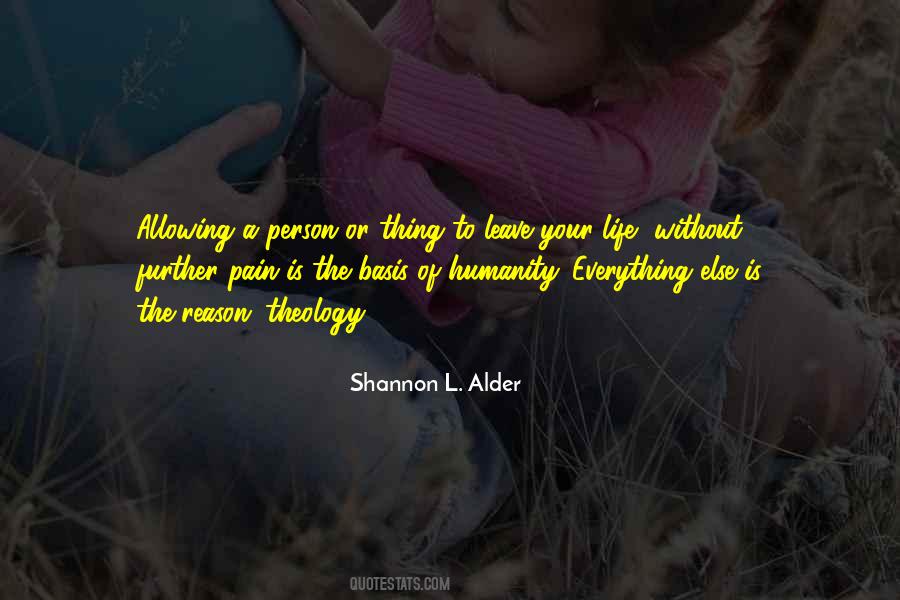 #22. As told in Friendship with God, if we simply decided to believe and act as if first, we're all one, and second, life is eternal, it would render virtually everything we've done all our lives pointless. - Author: Neale Donald Walsch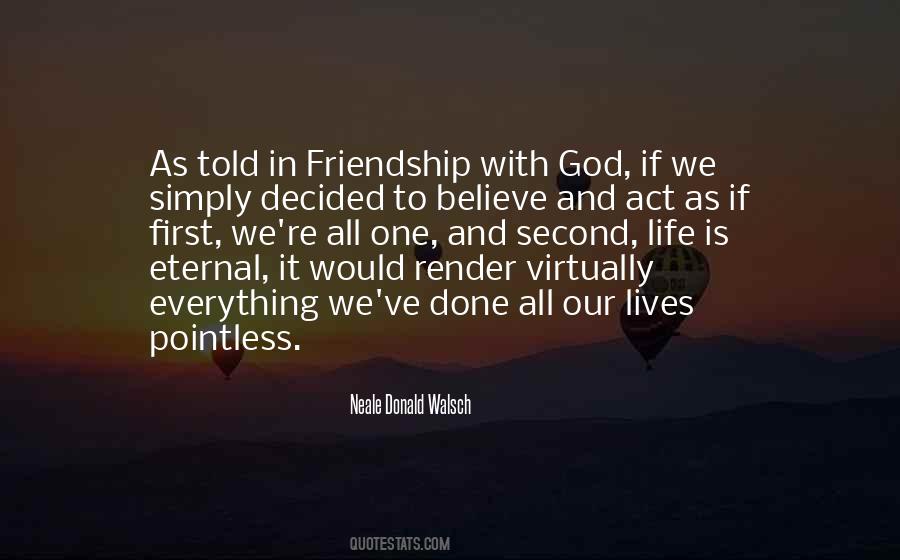 #23. Love Christ and put nothing before His Love. He is joy, He is life, He is light. Christ is Everything. He is the ultimate desire, He is everything. Everything beautiful is in Christ. - Author: Elder Porphyrios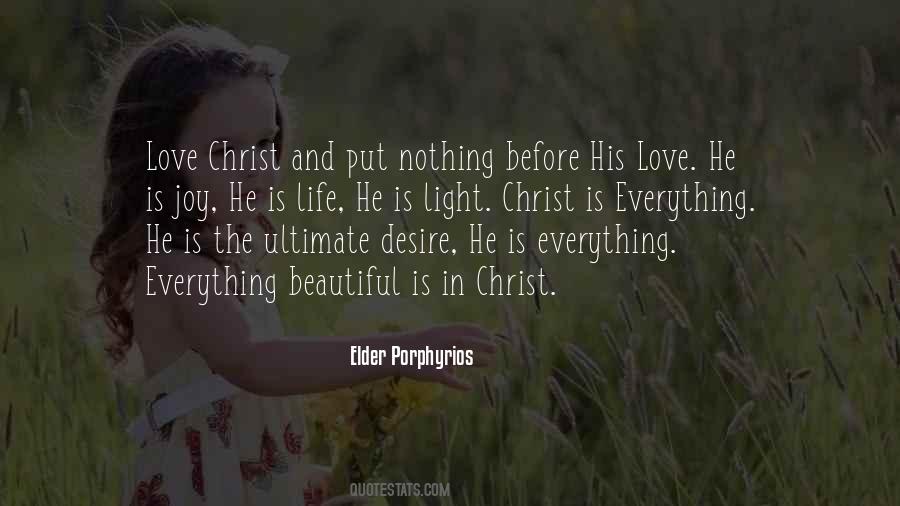 #24. The only relationships that exist are based on truth. Everything else is just a mutual and isolating delusion. - Author: Stefan Molyneux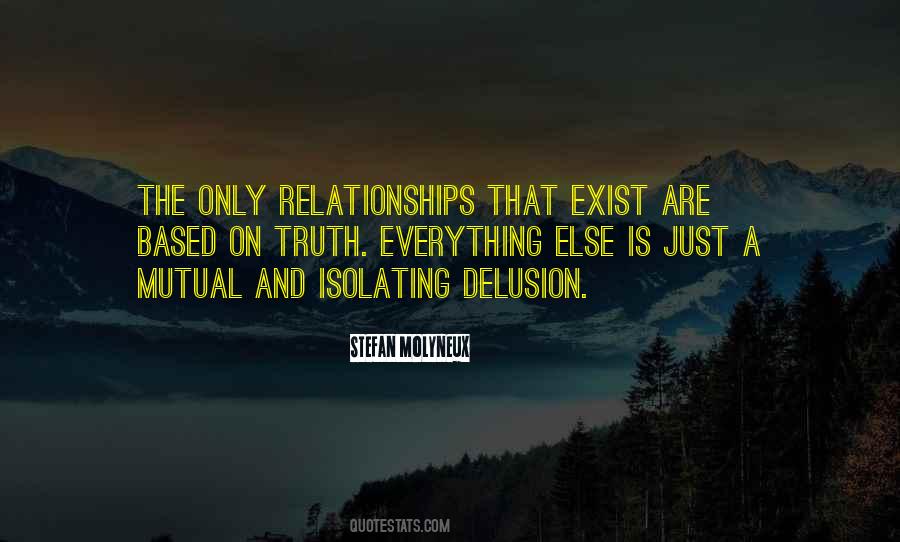 #25. Because everything of value that we will know in this life comes from our relationships with those around us. Because there is nothing material that measures against the intangibles of love and friendship. - Author: R.A. Salvatore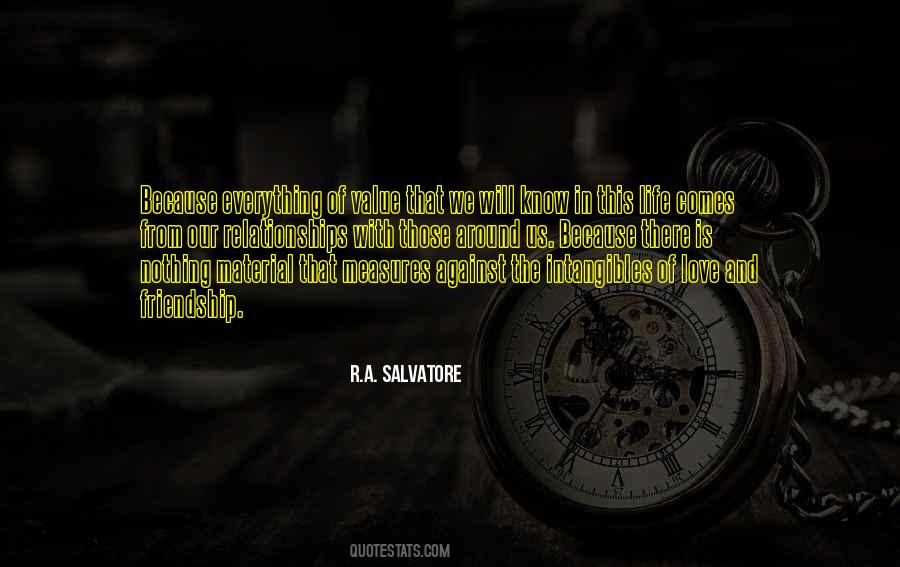 #26. Friendship is Divine; think anything, get everything. (10 Alone; Vikrmn) - Author: Vikrmn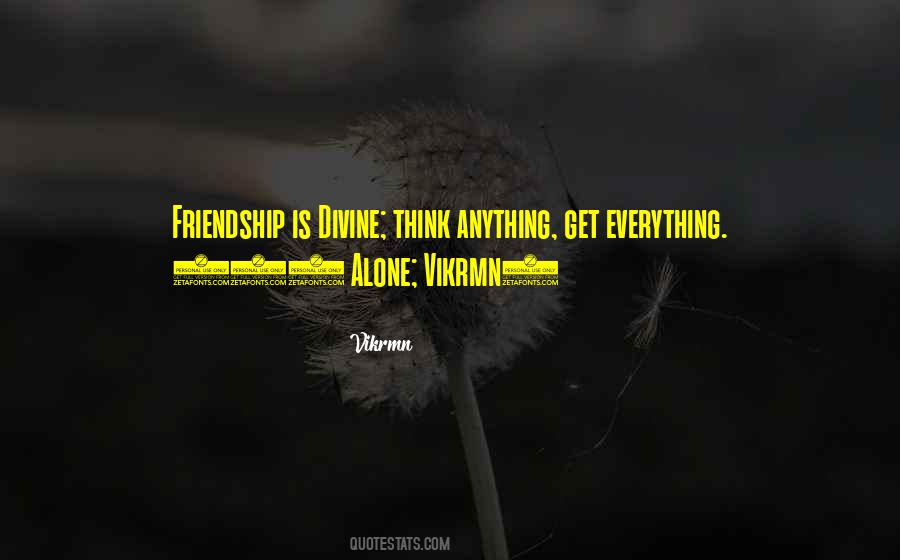 #27. Friendship means never having to be alone, it means there's a constant wall of solidarity even when everything else is crumbling around you. If he's the crumble in your life, then I'll be the damn wall! - Author: Emma Hart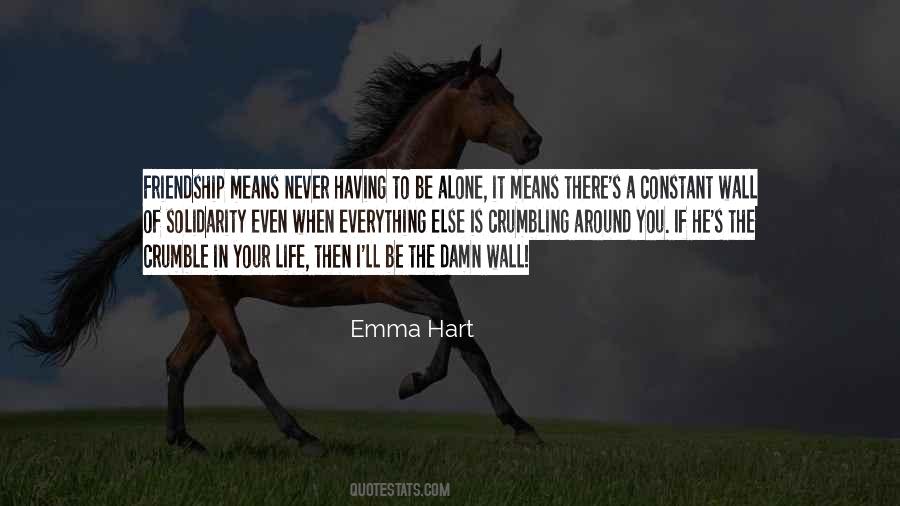 #28. Because we grow up, Filip,' Tedros exhaled. 'When you're young, you think your best friend is everything. But once you find real love... it changes. Your friendship can never be the same after that. Because no matter how much you try to keep both, your loyalty can only lie with one. - Author: Soman Chainani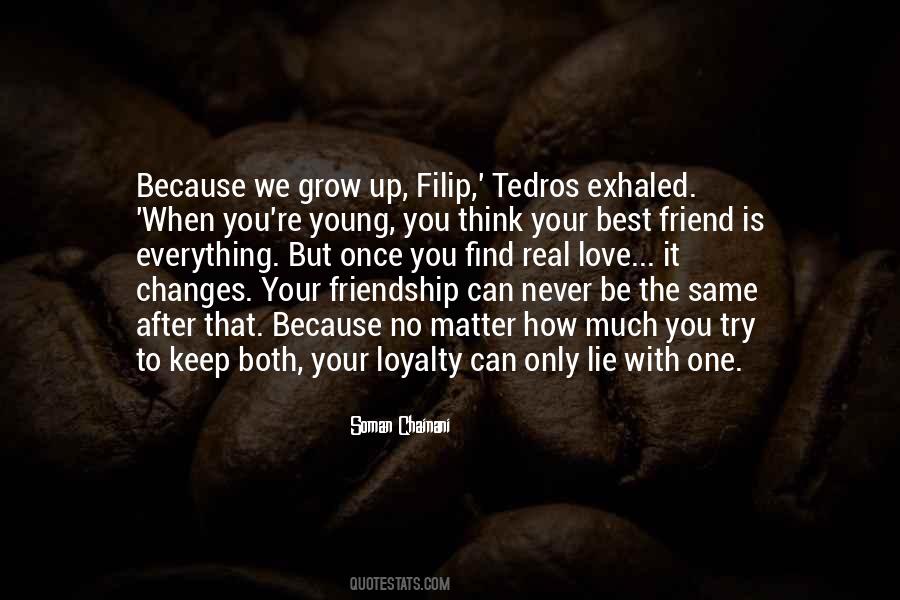 #29. Nino?" When Johnny didn't answer, the Don went on. "Friendship is everything. Friendship is more than talent. It is more than government. It is almost the equal of family. Never forget that. If you had built up a wall of friendships you wouldn't have to ask me to help. - Author: Mario Puzo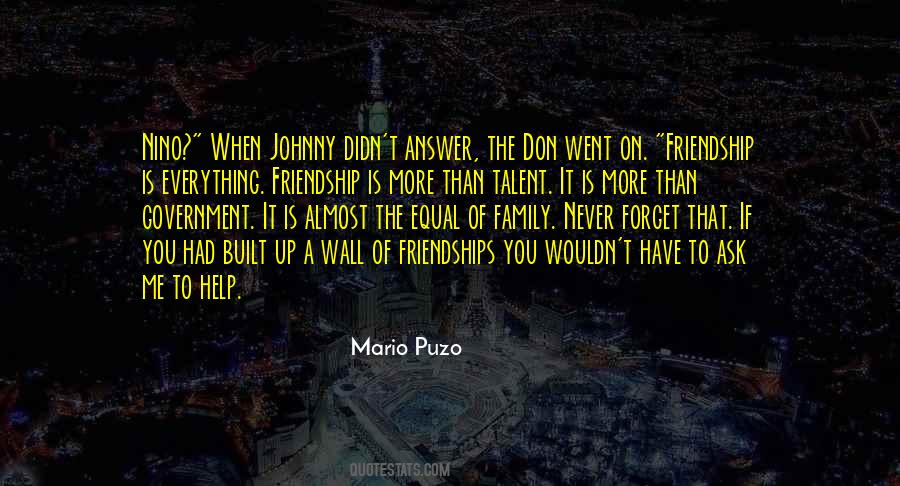 #30. When Johnny didn't answer, the Don went on. Friendship is everything. Friendship is more than talent. It is more than government. It is almost the equal of family. Never forget that. - Author: Mario Puzo
#31. The best kind of love is friendship that has caught fire. - Author: Melanie Hansen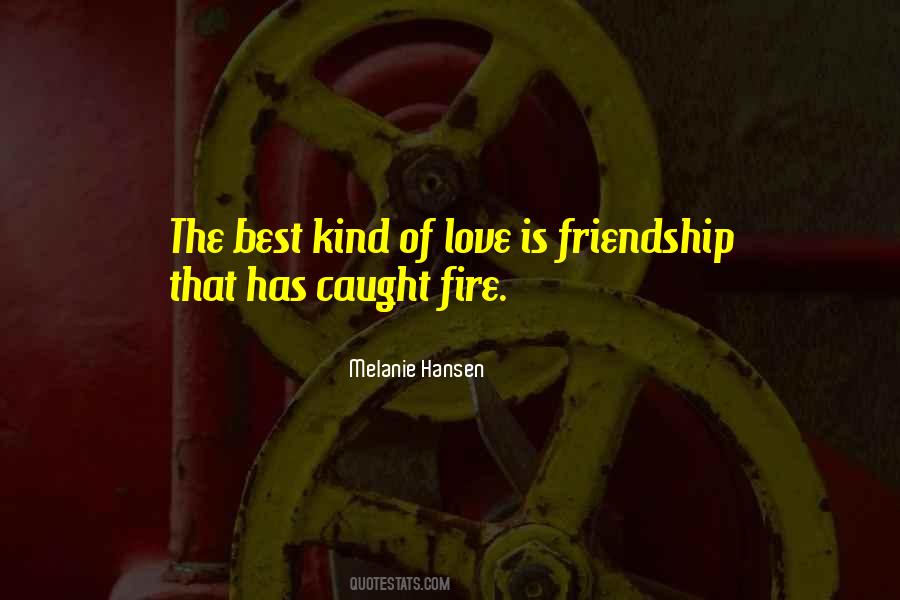 #32. I love to watch to him while he sleeps. Besides everything else he is really my best friend now. It's a different kind of friendship ... It makes me wish I could share every day with him. - Author: Judy Blume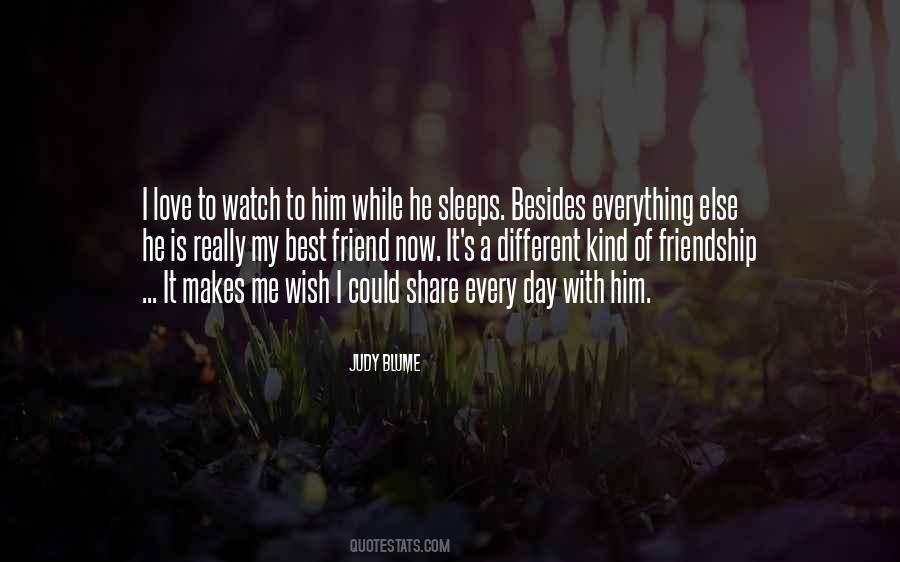 #33. We over-estimate the conscience of our friend. His goodness seems better than our goodness, his nature finer, his temptations less. Everything that is his,
his name, his form, his dress, books, and instruments,
fancy enhances. Our own thought sounds new and larger from his mouth. - Author: Ralph Waldo Emerson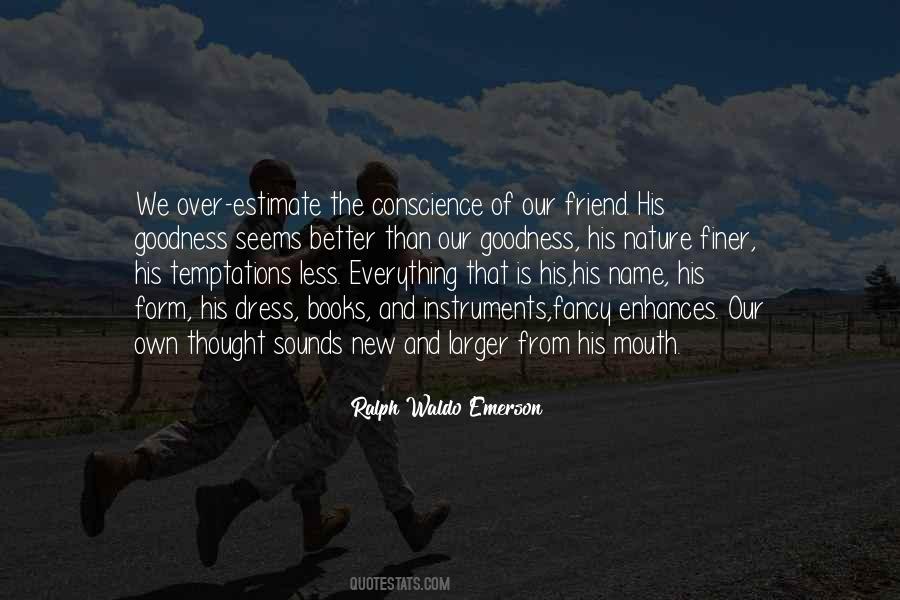 #34. The real frienship is like fluorescence, it shines better when everything has darken. - Author: Rabindranath Tagore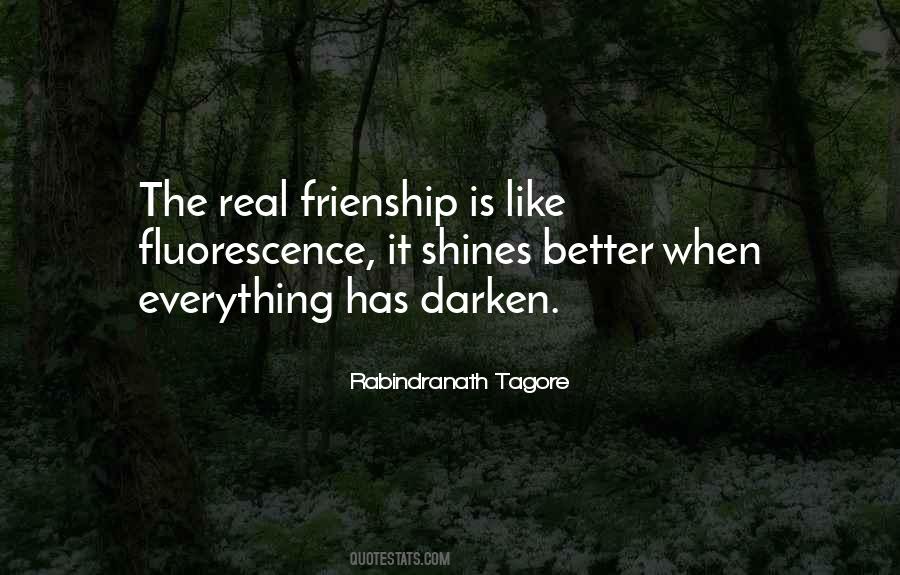 #35. When you train a horse on a daily basis, you're a part of the horse's movement, you're a part of his motion. Everything that the horse experiences is coming from you. There's a total connection
a true friendship
and the connection touches the soul completely. - Author: Karen O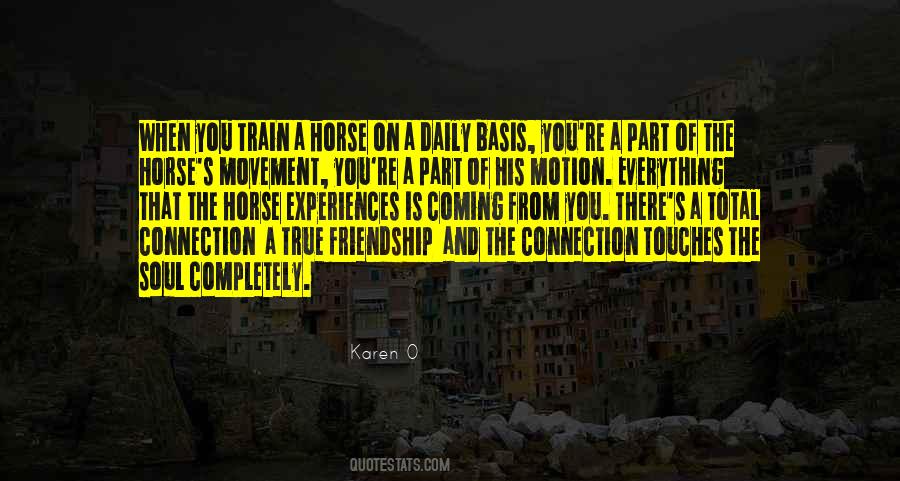 #36. There used to be days that I thought I was okay, or at least that I was going to be. We'd be hanging out somewhere and everything would just fit right and I would think 'it will be okay if it can just be like this forever' but of course nothing can ever stay just how it is forever. - Author: Nina LaCour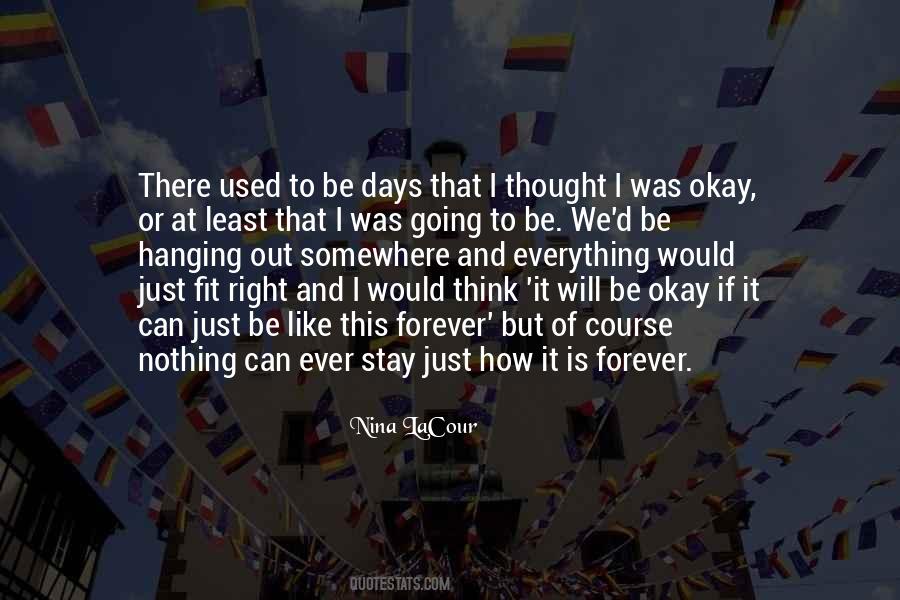 #37. Want of perseverance is the great fault of women in everything
morals, attention to health, friendship, and so on. It cannot be too often repeated that women never reach the end of anything through want of perseverance. - Author: Suzanne Curchod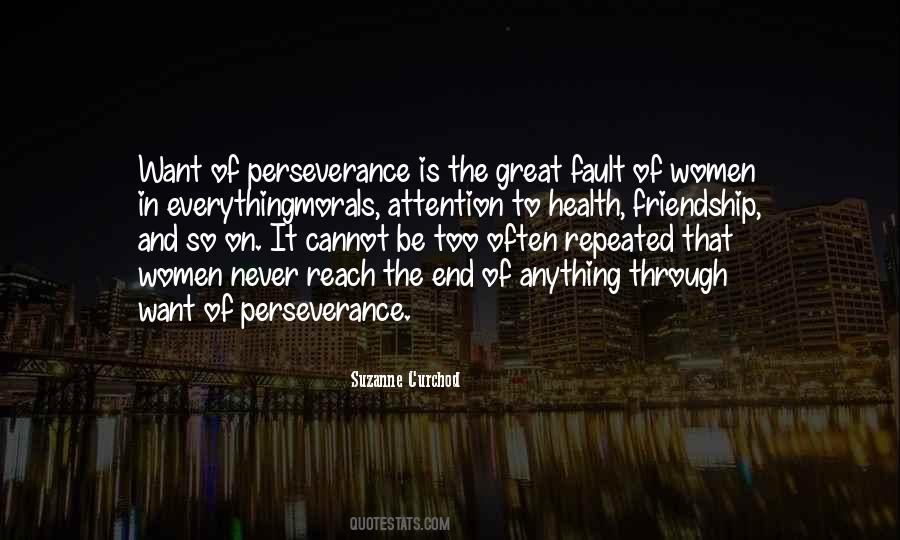 #38. Why do we go around acting as though everything was friendship and reliability when basically everything everywhere is full of sudden hate and ugliness? - Author: Anna Freud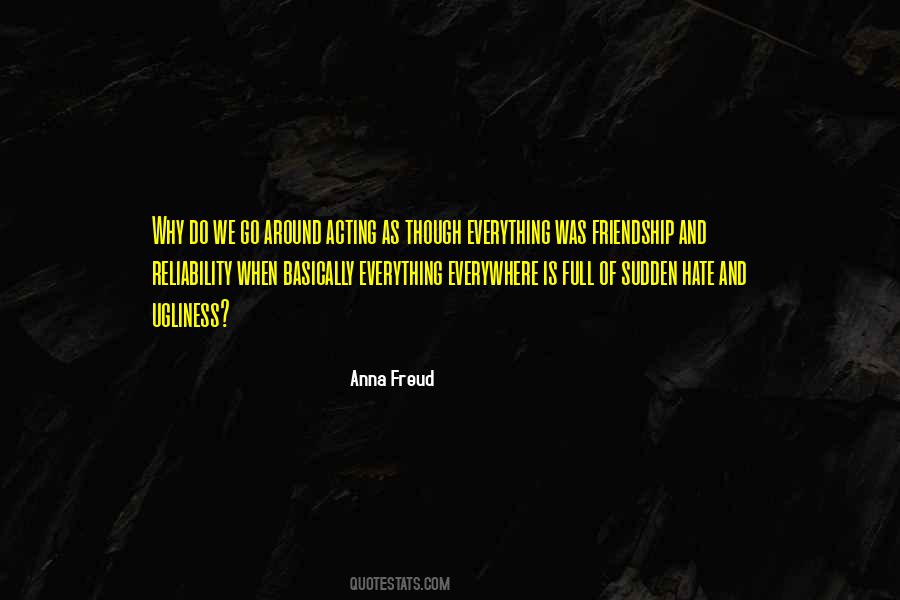 #39. Friendship is like the color black, it goes wit everything". - Author: Jeanne Betancourt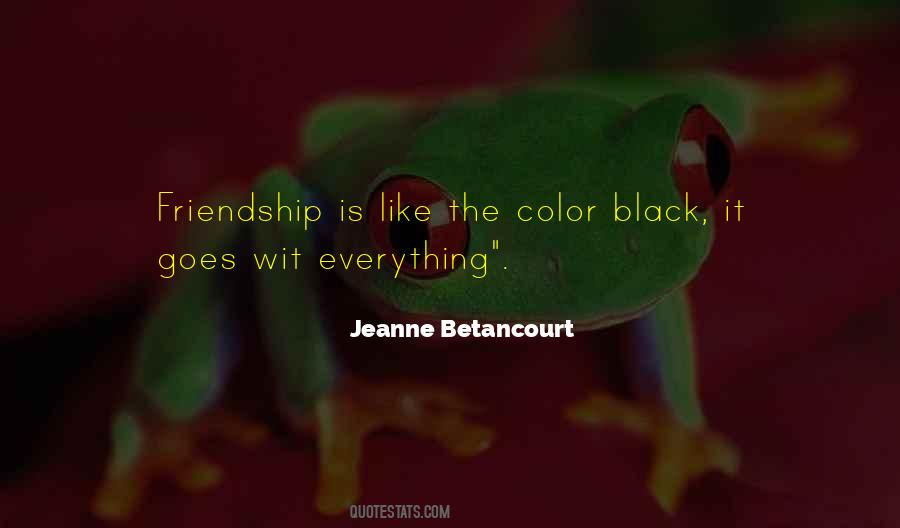 #40. You will make it Liz, and no matter what happens down there, remember that I love you with everything I am, your life is my life, your pain is my pain, but my love is also your strength, and my faith your courage. - Author: Leia Kiuski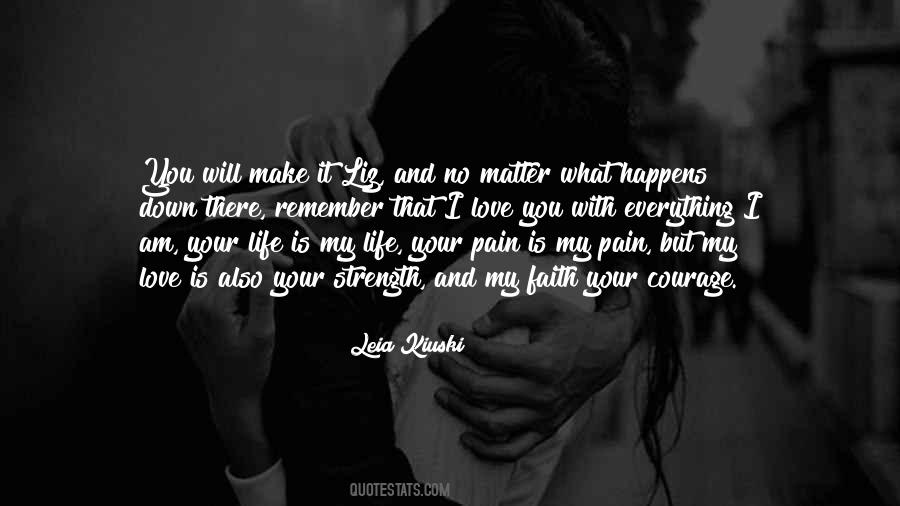 #41. Don't fall in love, it is dangerous, fall for friendship and you will find everything" Ashwin - Author: Shaikh Ashraf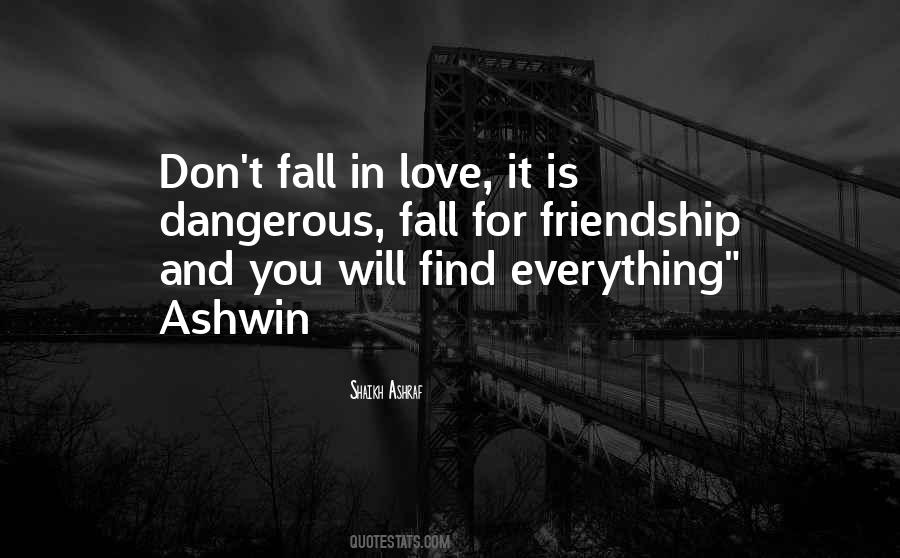 #42. Friendship is everything. Friendship is more than talent. It is more than the government. It is almost the equal of family.- Don Corleone - Author: Mario Puzo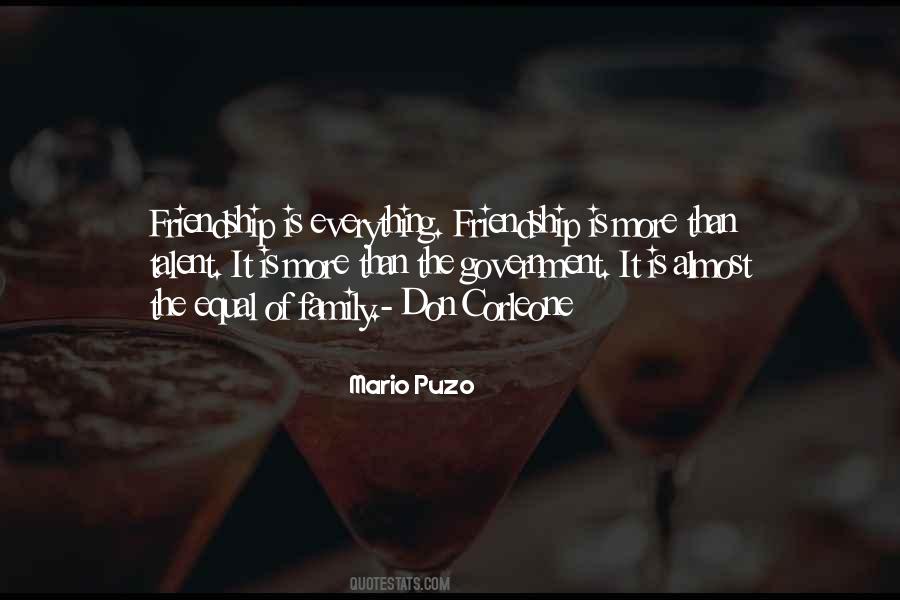 #43. I can make beleive I have everything, but I can't pretend that I don't see that without you in my life is complete. - Author: Sisqo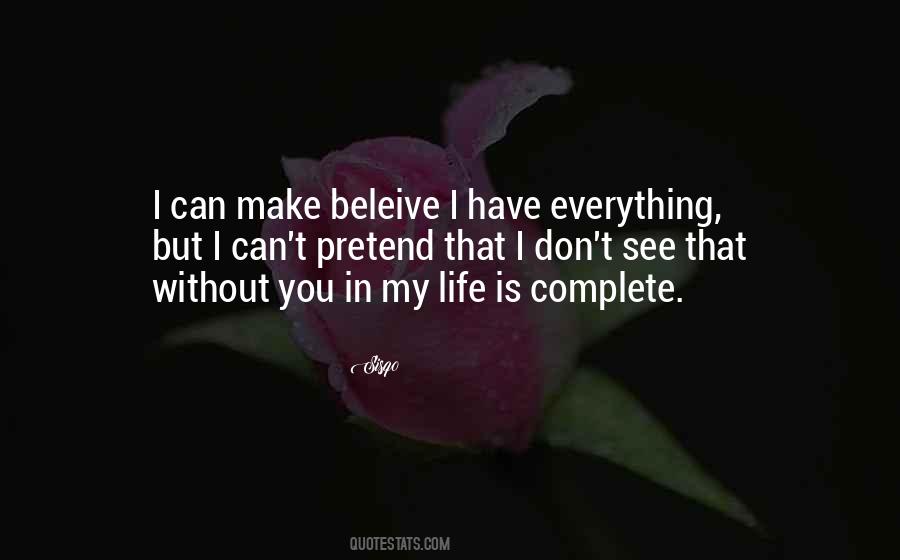 #44. Loving friendship is able to endure everything; it refuses no burden. - Author: Francesco Petrarca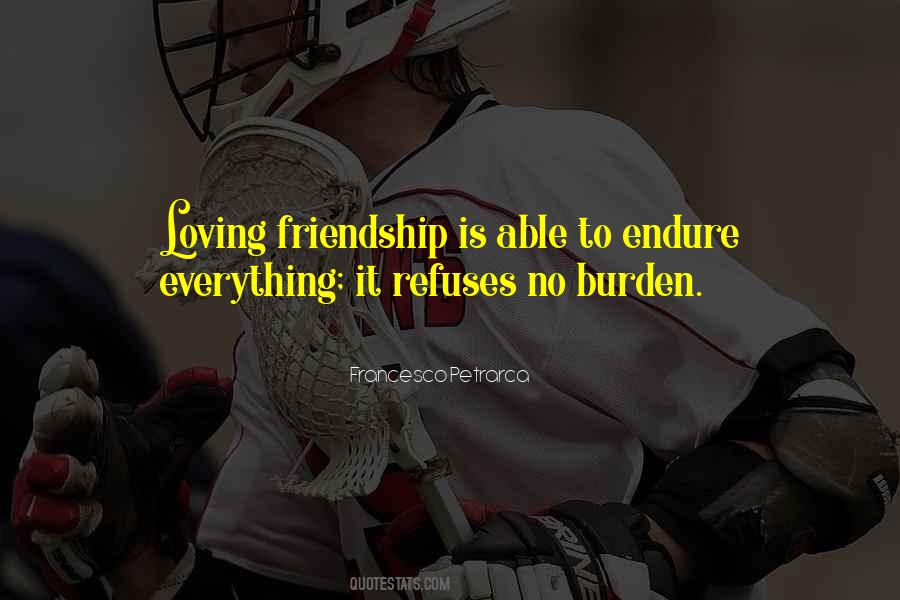 #45. You might think that a boy is just your friend, but then if you find out that maybe he likes you (in a boyfriend way), everything changes instantly. (47) - Author: Charise Mericle Harper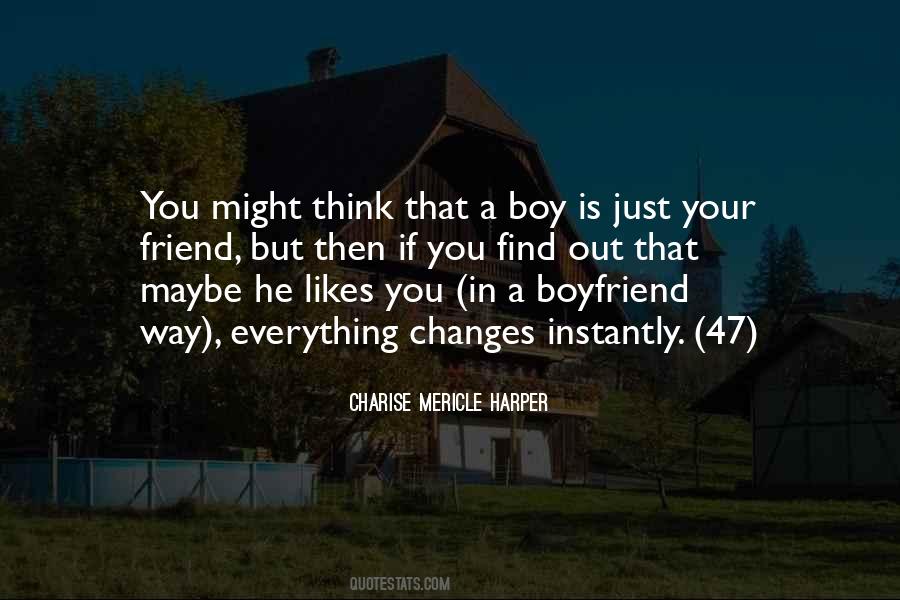 #46. That is how it feels. Like everything between us is twisted together, friendship and love and family, so I cant tell the difference between any of them. - Author: Veronica Roth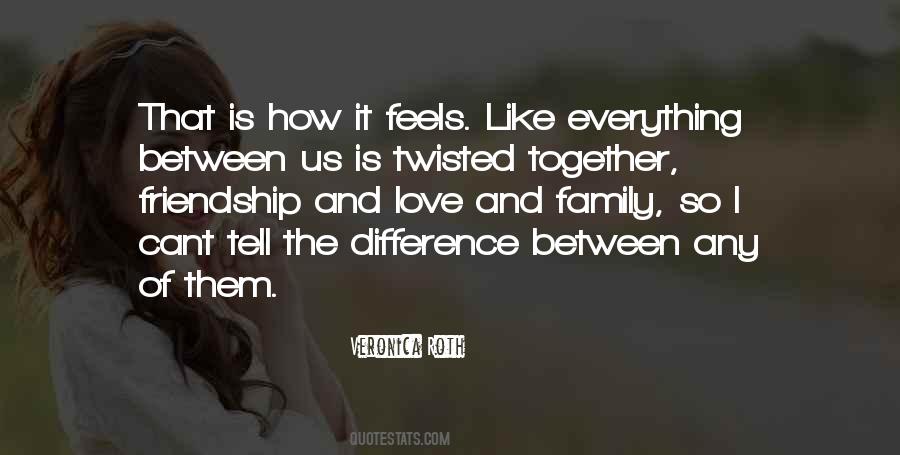 #47. Then thre is Brian. It's been a slow-grow love with its roots in our friendship. We disagree about everything that's not important, like politics and religion, but agree on everything that is important, like where the dustpan and brush should live, and his sons' girlfriends. - Author: Kate Kerrigan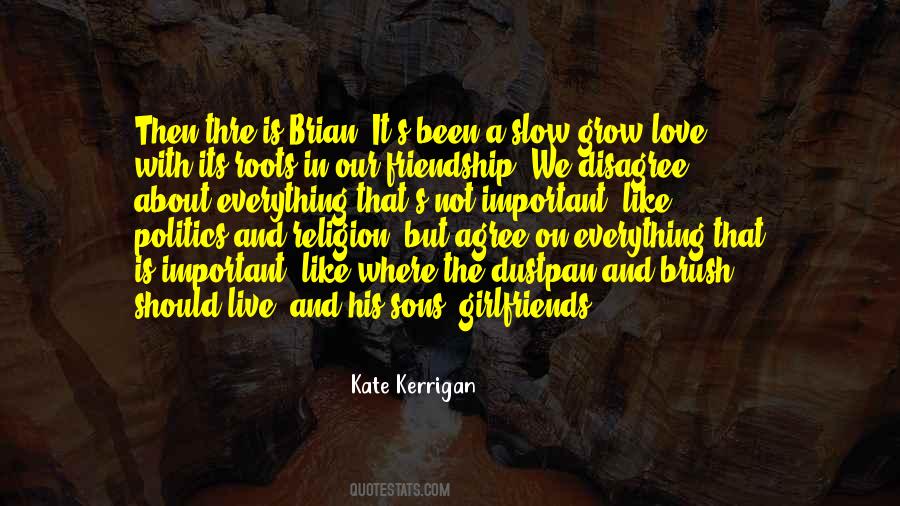 Famous Authors
Popular Topics