Forgive And Move On Famous Quotes & Sayings
List of top 57 famous quotes and sayings about forgive and move on to read and share with friends on your Facebook, Twitter, blogs.
Top 57 Forgive And Move On Sayings
#1. Everyone, even within a family, is different. We all have different needs, different issues we struggle with. Part of being a family is learning to face those differences, forgive, and accept so that you can move on to love. - Author: Susan May Warren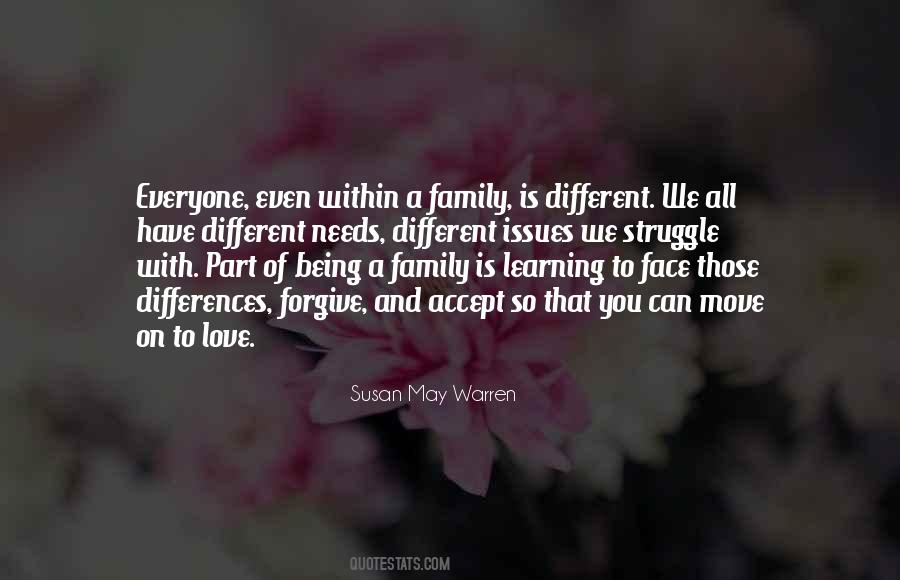 #2. You can sit there forever, lamenting about how bad you've been, feeling guilty until you die, and not one tiny slice of that guilt will do anything to change a single thing in the past. Forgive yourself, then MOVE ON! - Author: Wayne Dyer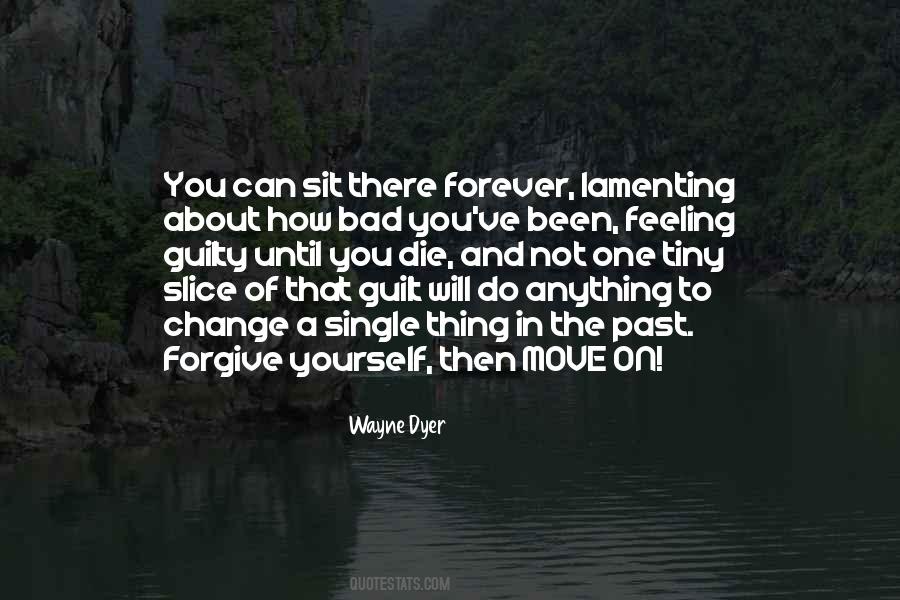 #3. FORGIVE FAILURE. The corollary to accountability is forgiveness. Things go wrong all the time in relationships, and the healthiest ones move on from them, leaving behind grudges and blame. This is not to say that failure is accepted; rather, that it is acknowledged and understood. - Author: Charlene Li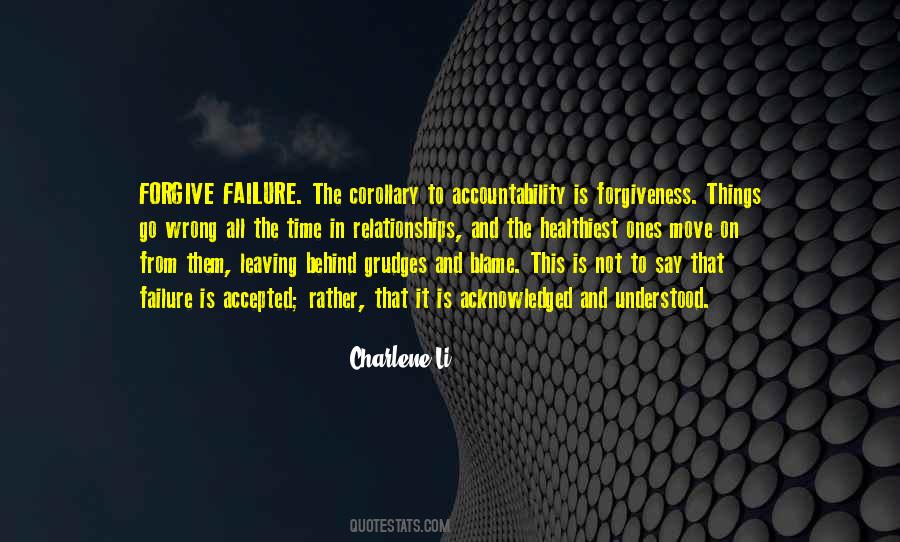 #4. Things happen. Things that you think you'll never get over. But you do. You move on. It gets better with time. You forget. Forgive. Whatever. Life goes on and you go on with it. - Author: Sophie Jordan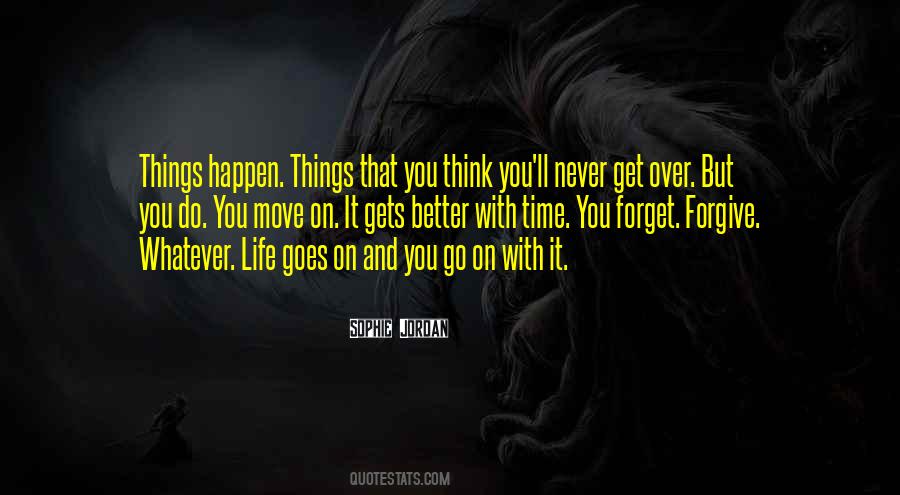 #5. When you have a chance to forgive, think of all you'll gain and forget all you've lost. - Author: Saim .A. Cheeda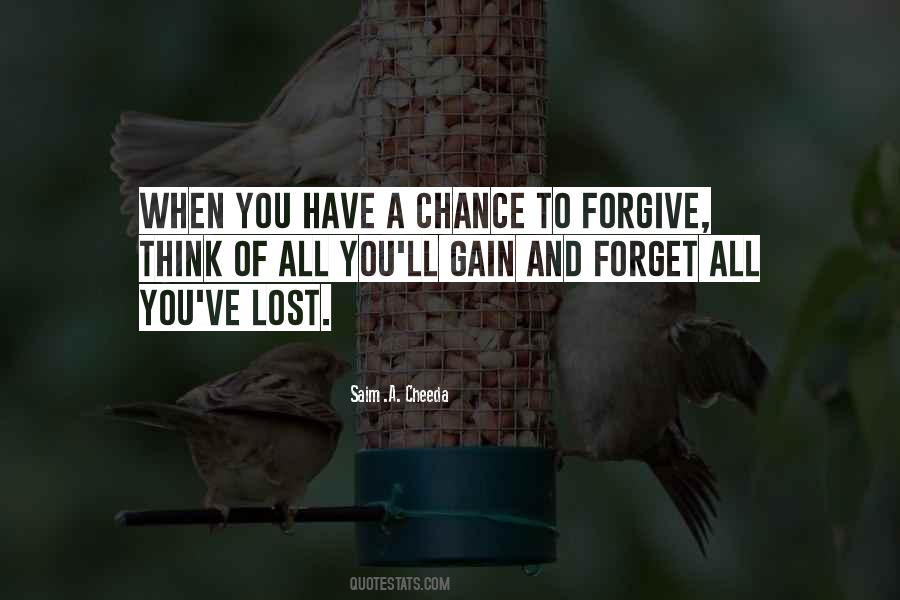 #6. It is important that we forgive ourselves for making mistakes. We need to learn from our errors and move on. - Author: Steve Maraboli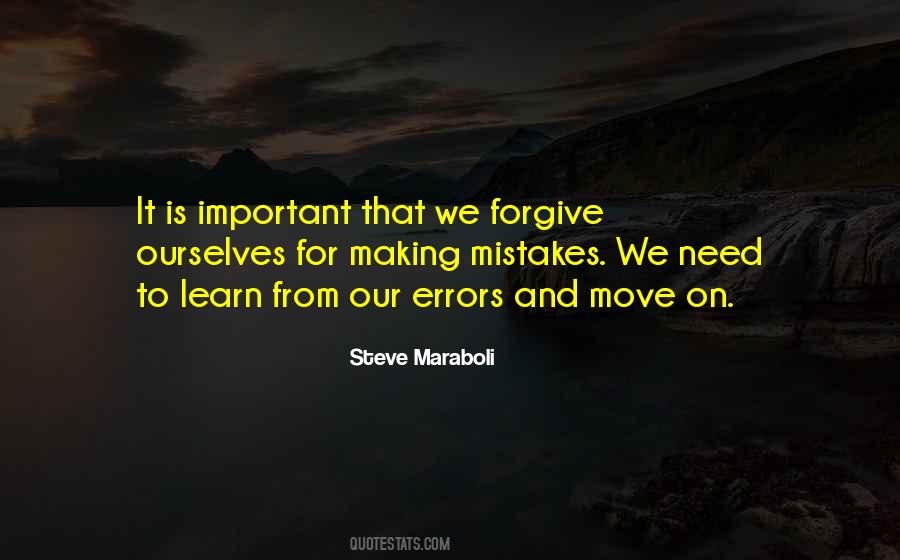 #7. Move on, don't let the little things of Life hold you back. Forget, Forgive, and Move on. - RVM. - Author: R.v.m.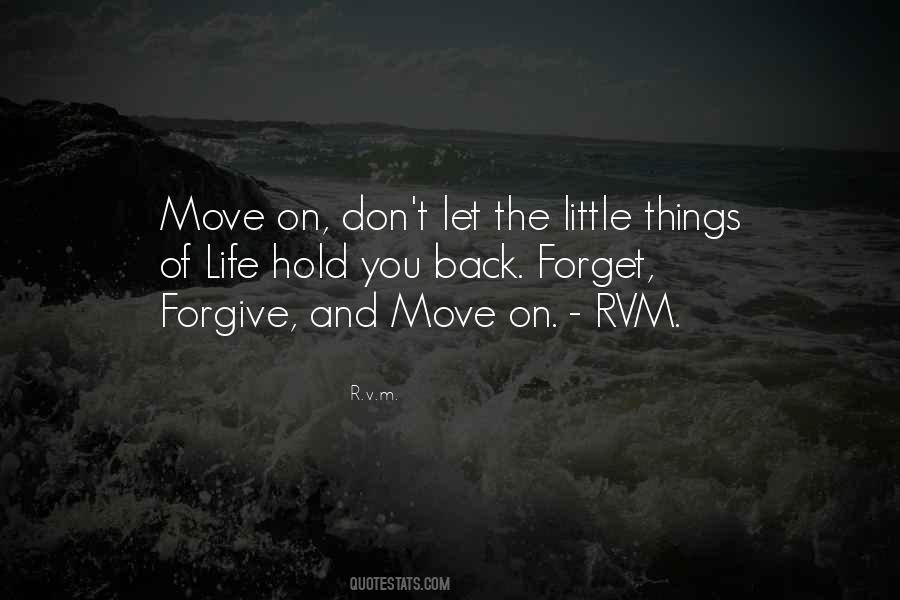 #8. In a way I think Bill Clinton is more likely to forgive and move on or at least try to woo people who don't love him. But he never really tried to woo the press as much as he might have. - Author: Dee Dee Myers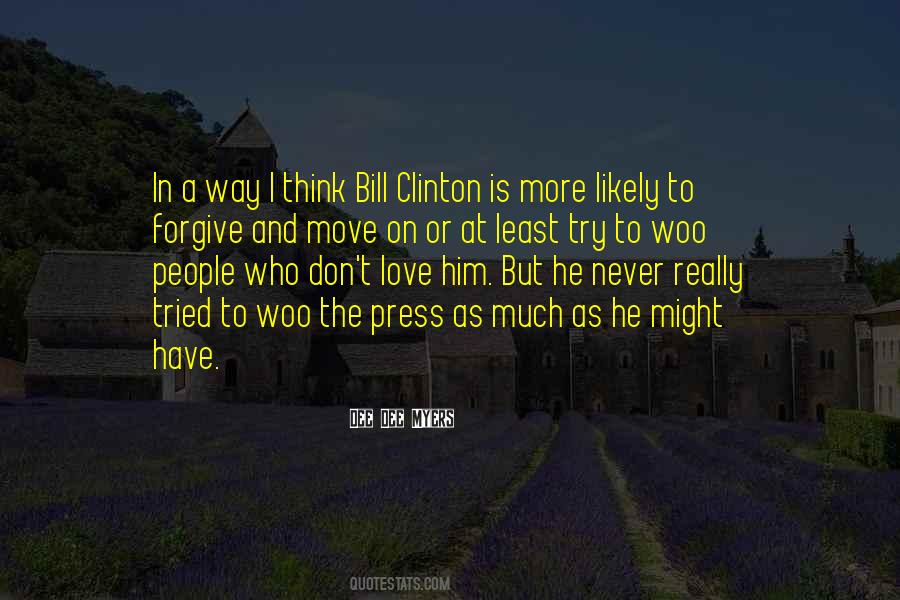 #9. People can be more forgiving than you can imagine. But you have to forgive yourself. Let go of what's bitter and move on. - Author: Bill Cosby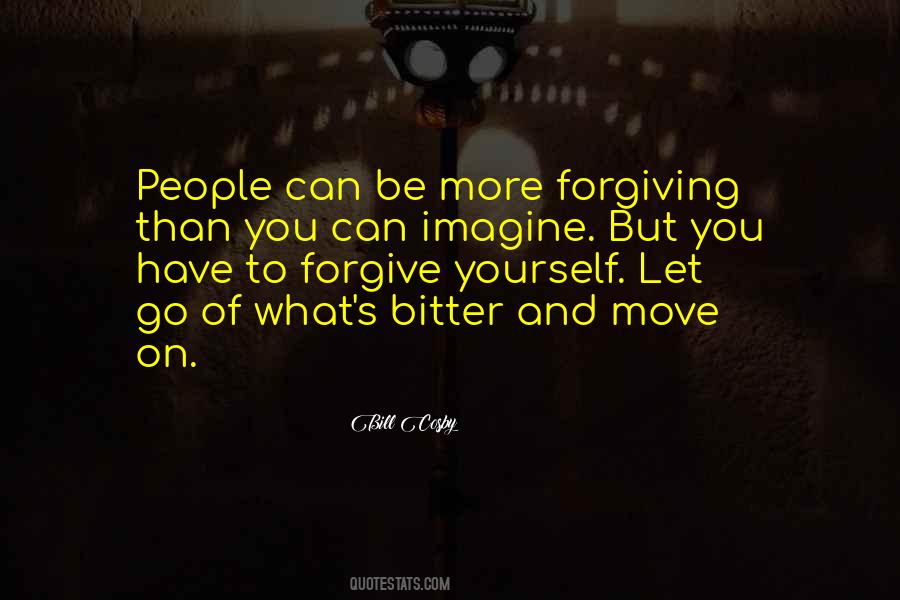 #10. There must not be any single person in the world whom you should allow to rent a portion of your heart. Don't hold grudge. Forgive and move on... - Author: Assegid Habtewold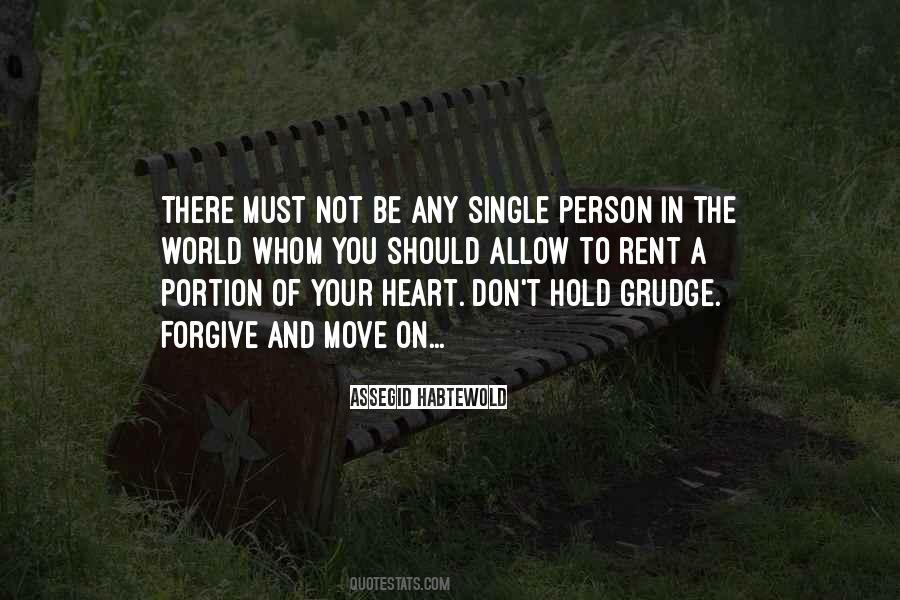 #11. When guilt rears its ugly head confront it, discuss it and let it go. The past is over. It is time to ask what can we do right, not what did we do wrong. Forgive yourself and move on. - Author: Bernie Siegel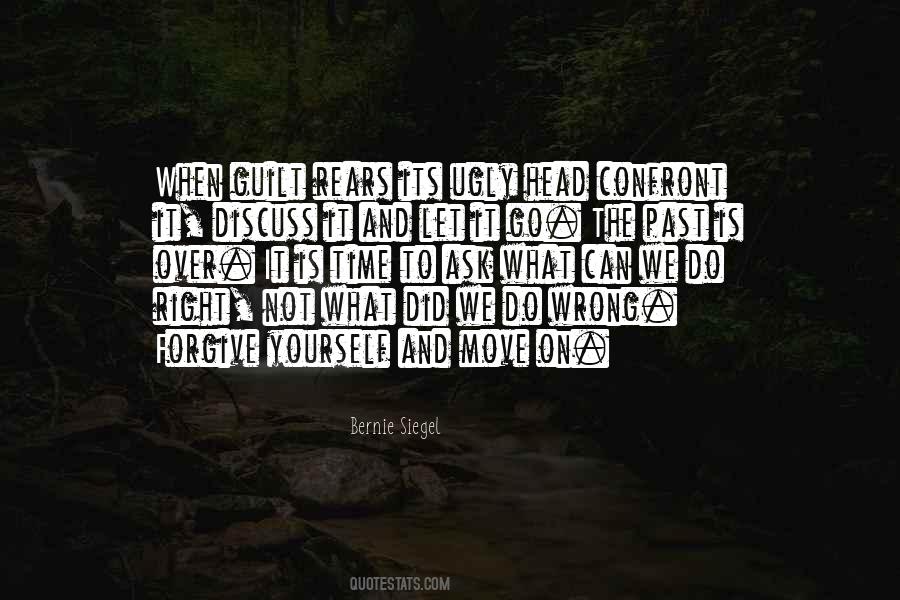 #12. Forgiveness isn't for the person making the error. It's for the person wronged. It's so you can move on without the pain, anguish, resentment. You need to forgive and mean it. Only then will you be able to move on. - Author: Leddy Harper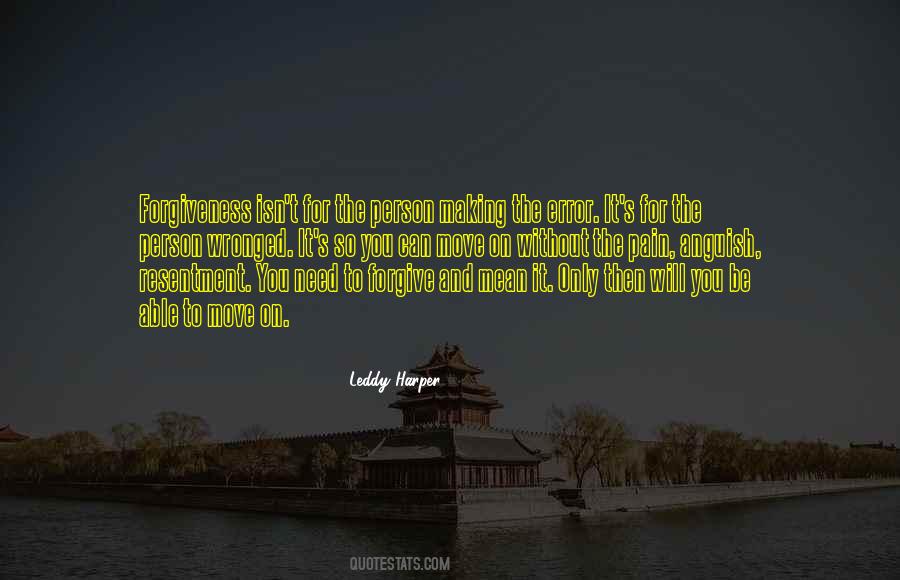 #13. If I could go back to do some things over, I would in a heartbeat. But that ain't reality. It ain't life. You got to forgive yourself before you can move on. When you forgive yourself the regret gets lighter and lighter and you manage to keep going. - Author: Joe Hart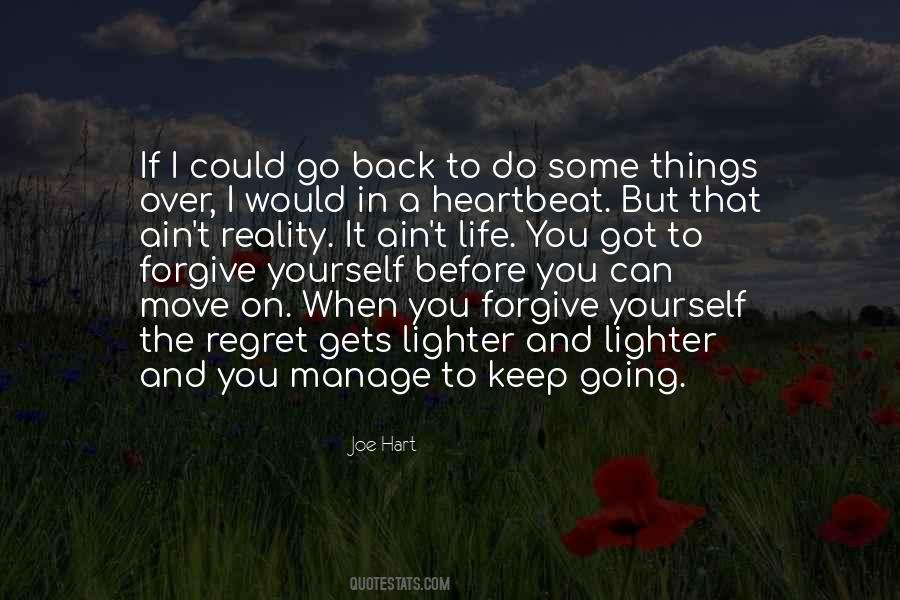 #14. Accept, forgive and forget. Forgive not only the people who hurt us, but also forgive ourselves, accepting whatever is the outcome, then forget the wrongs, learn from them and move on. Holding on to the guilt and pain would just make life miserable for us. - Author: Kcat Yarza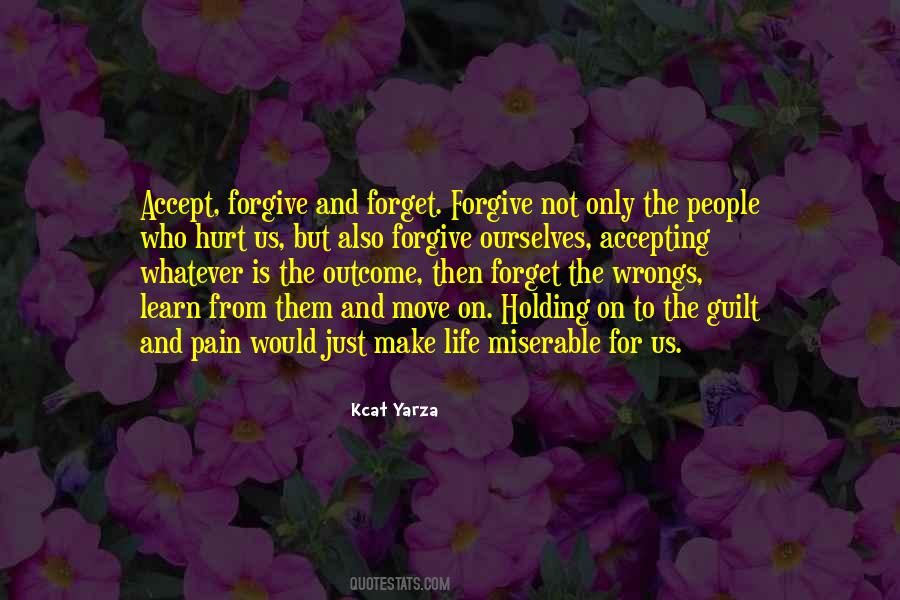 #15. Still hurting so much today from what my prior Pastor and
19
church board did to me last year, and I really want to get past that. I want and need to forgive them, to move on with my life and look forward, forget the past. - Author: Michael Richard Stosic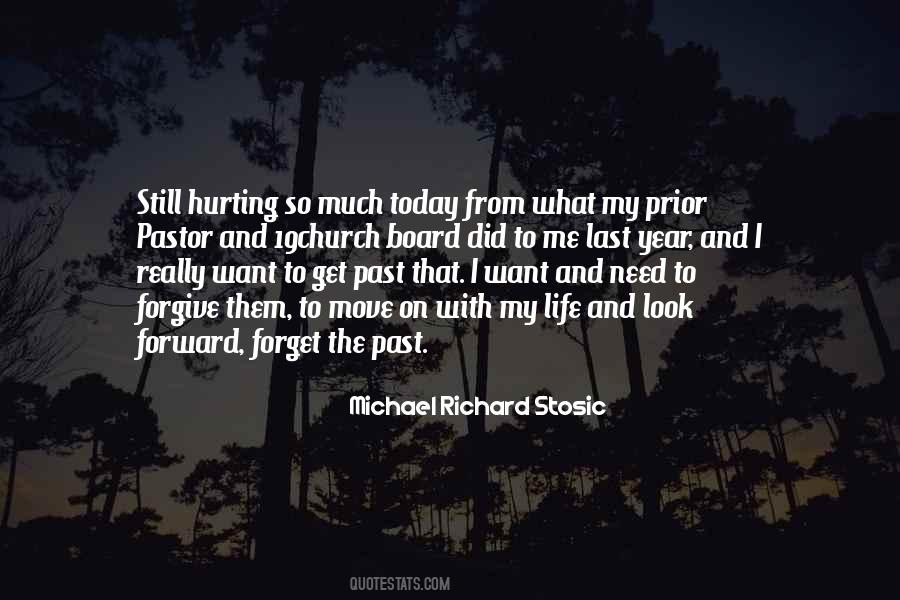 #16. If you can't forgive and move on, then your feelings will grow and fester and they will eat you alive. - Author: T.M. Gaouette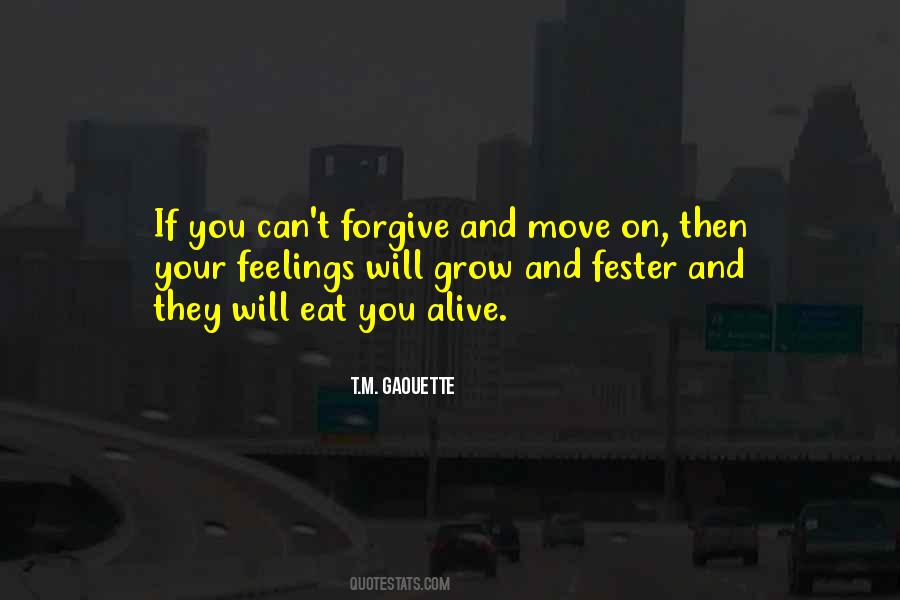 #17. We're only here to love God and each other. I'm not saying I've never gotten angry at anyone. I do. But you've got to forgive and move on. - Author: Barbara Mandrell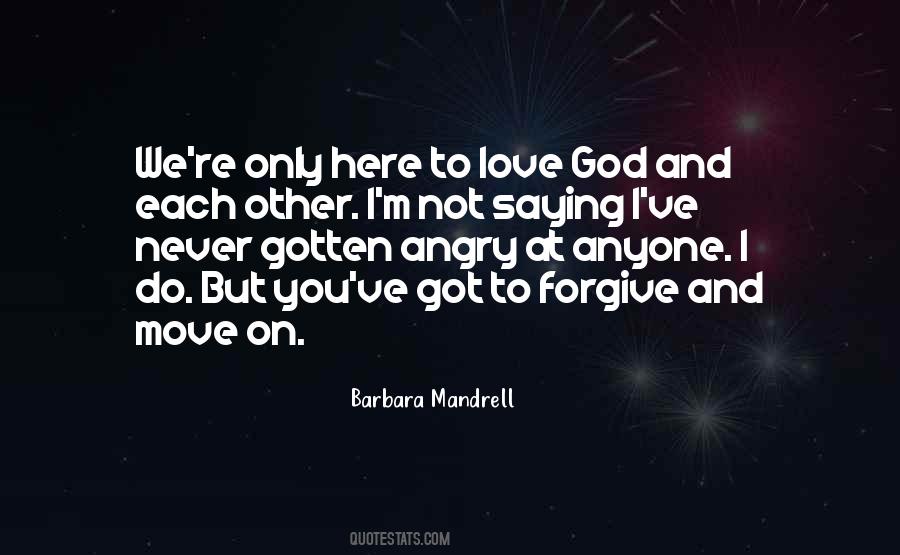 #18. You forgive them and move on. - Author: Auliq Ice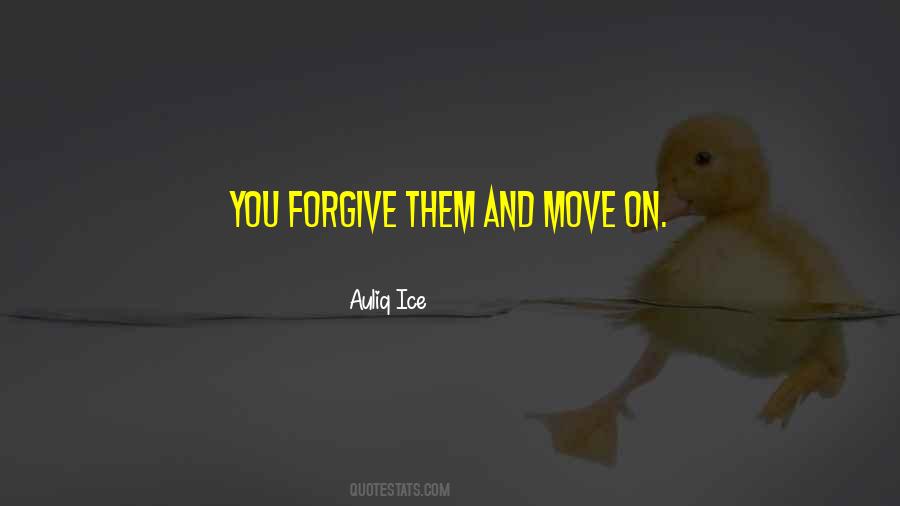 #19. I wanted something seismic to happen at the end. I wanted him to wake up so we could somehow forgive each other, say we loved each another, move on with some sense of closure, for I knew this would be the last time I saw him, but he didn't wake up, and nothing was said. - Author: Jane Green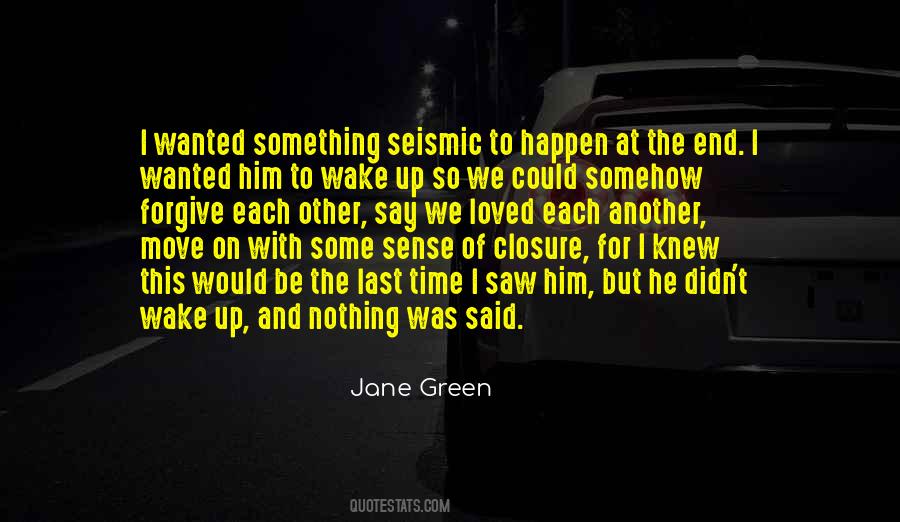 #20. I wish I could simply forgive myself and move on, but then again, if I really wanted to change, why didn't I? - Author: Nicholas Sparks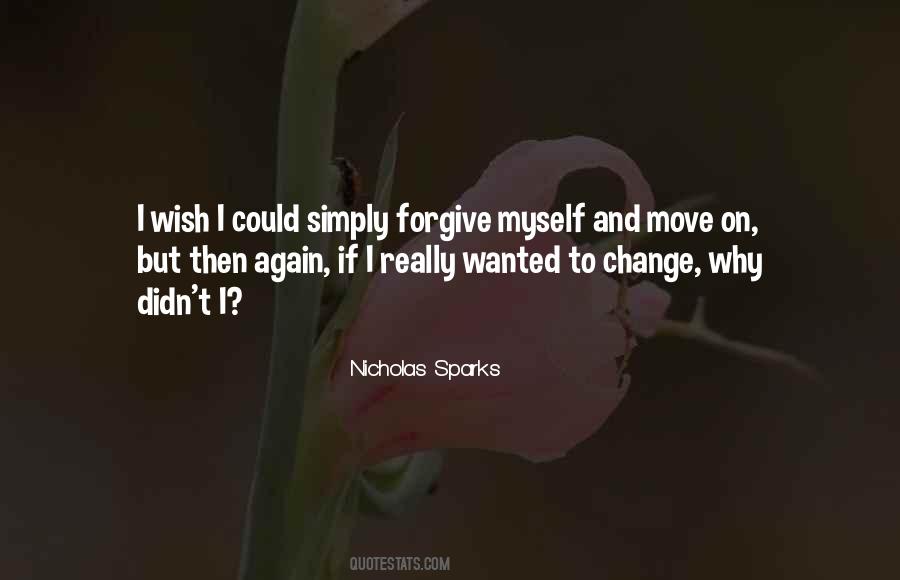 #21. Learn to forgive yourself and move on. - Author: Helene D. Gayle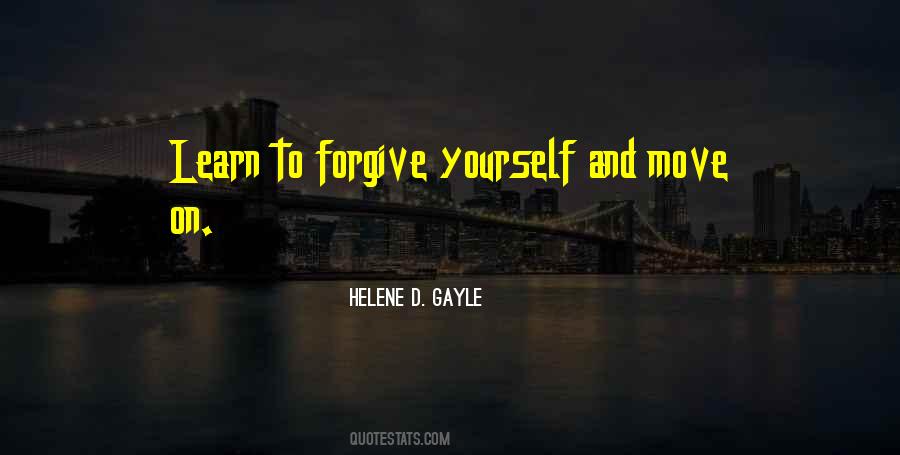 #22. You shouldn't allow people who hurt you to occupy a fraction of your heart. Forgive and move on, especially in this season of thanksgiving. - Author: Assegid Habtewold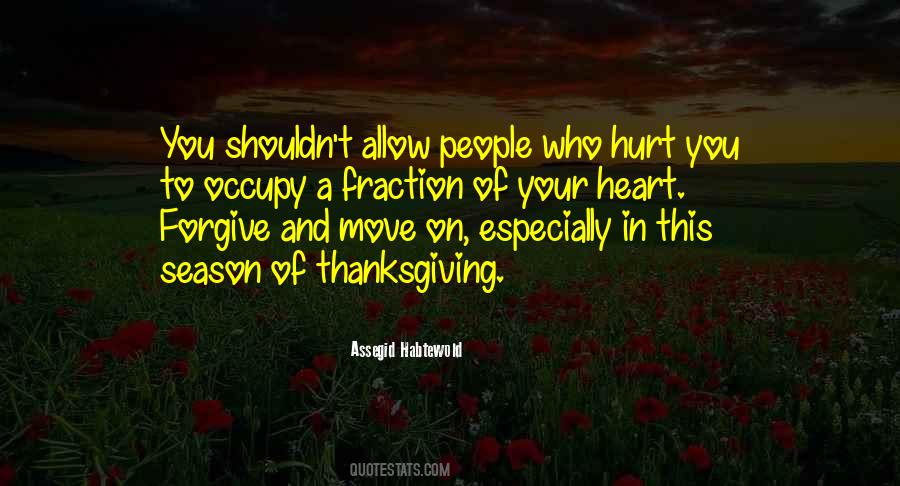 #23. The history of our country is cruel. We have to face those issues or, should I say, we had to. Not anymore I hope, because we are going in the right direction, and we are ready to forgive, ready to move on. - Author: Novak Djokovic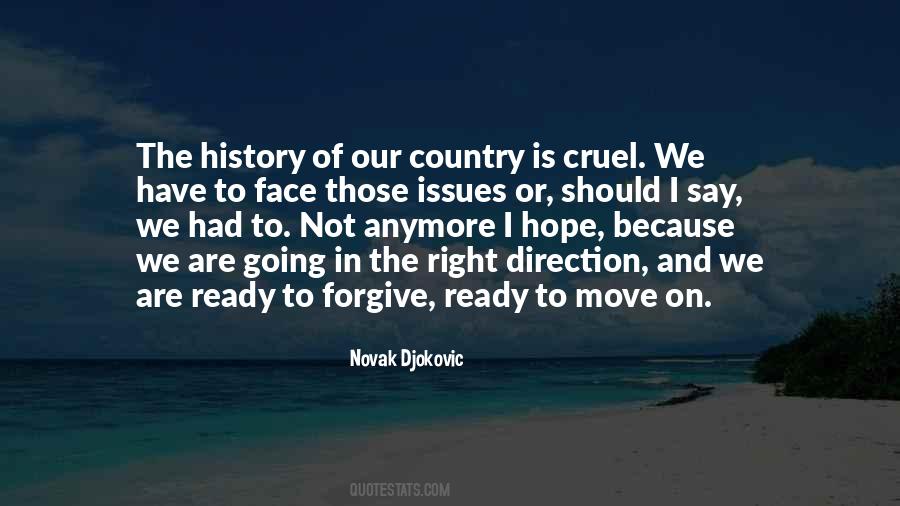 #24. YOU ARE STRONGER AND BIGGER AND BRAVER THAN WHAT THEY DID, AND YOU DON'T HAVE TO LET IT DEFINE YOU ANY LONGER. FORGIVE. LET GO. MOVE ON. DON'T LOOK BACK. YOUR NEW BEGINNING IS WAITING. - Author: Mandy Hale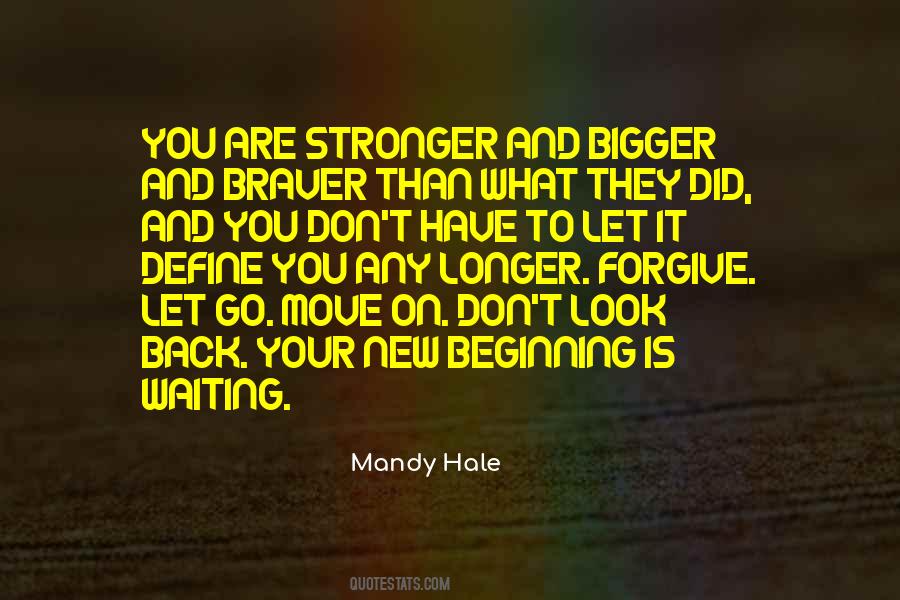 #25. Sometimes we need to forgive those who have hurt us and ourselves so that one can move on - Author: Robin Maddison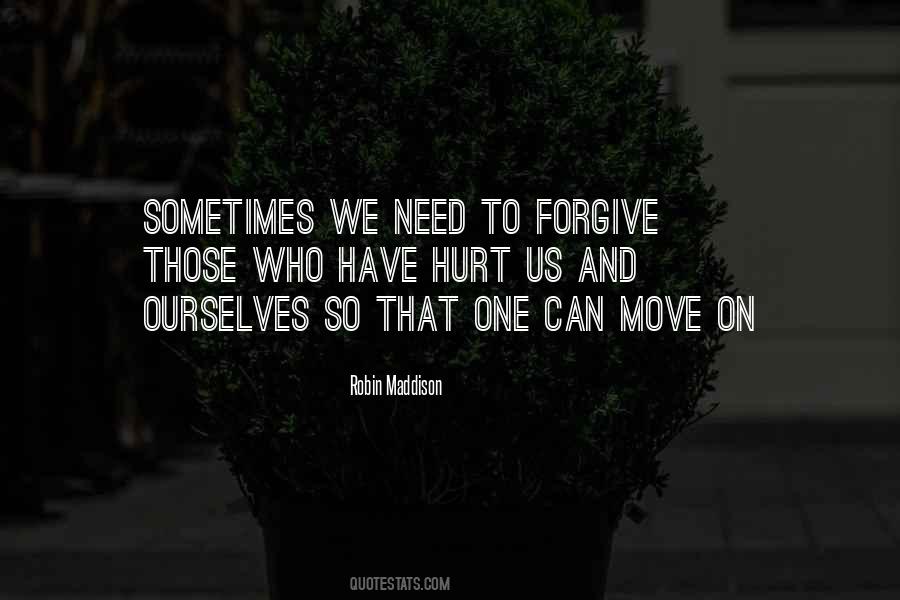 #26. No one is perfect in this world. Forgive people for not knowing better and learn to move on. - Author: Leon Brown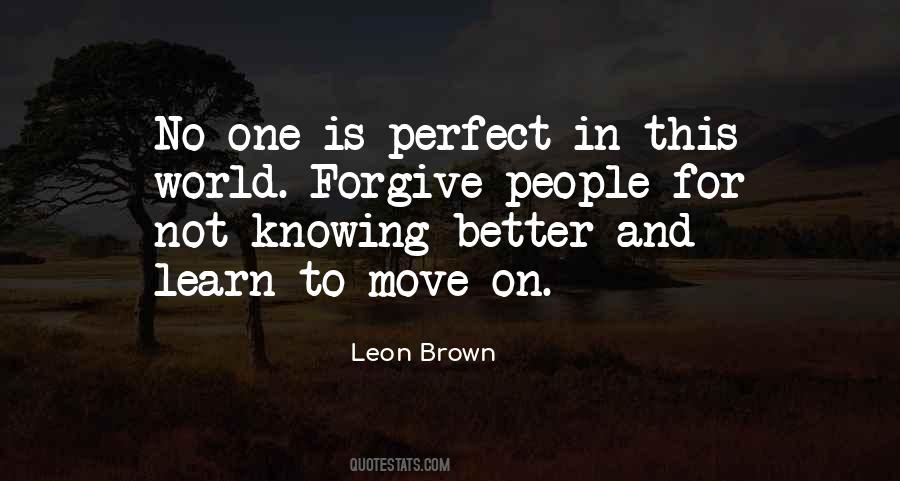 #27. I actually think it's easier to be positive than negative, to be honest - it takes way more energy to stay mad at someone, for instance, than it does to say "i forgive you" and move on. - Author: Dave Smalley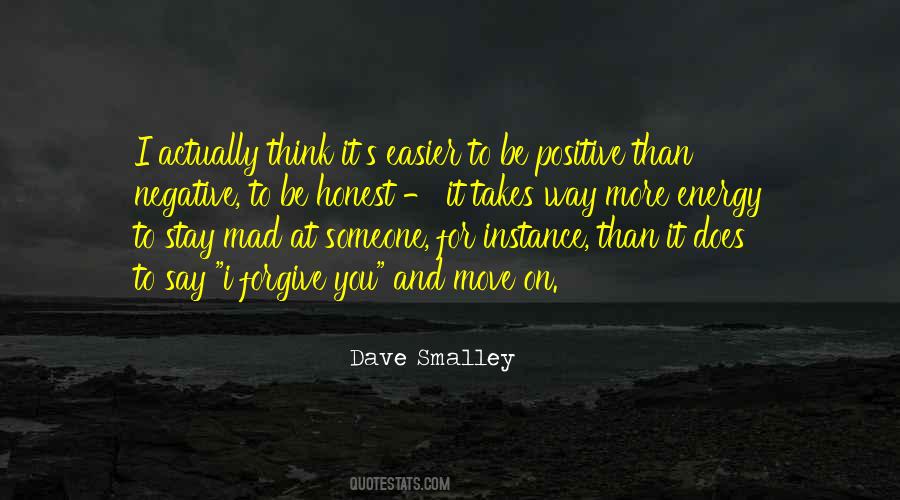 #28. I got screwed over in some bad business deals, but as long as I focused on those past problems, I couldn't move forward. I had to let all of that go and forgive everyone and everything first. - Author: Steve Pavlina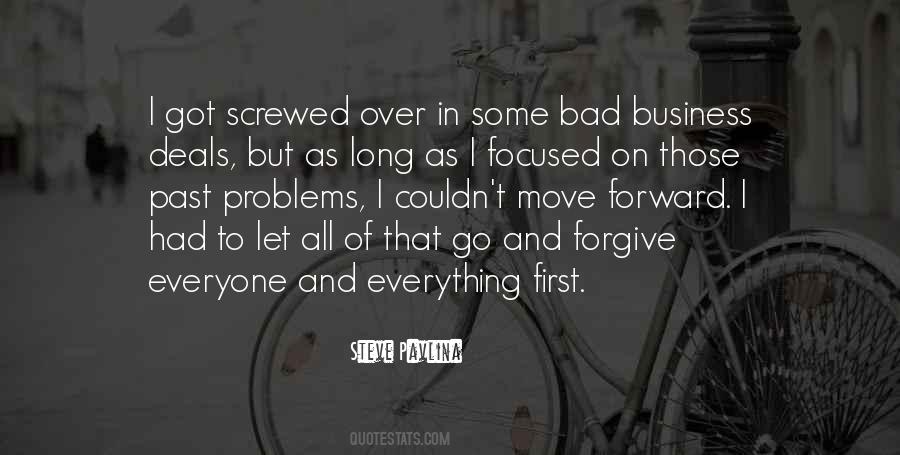 #29. I want to be the kind of person who can do that. Move on and forgive people and be healthy and happy. It seems like an easy thing to do in my head. But it's not so easy when you try it in real life. - Author: Susane Colasanti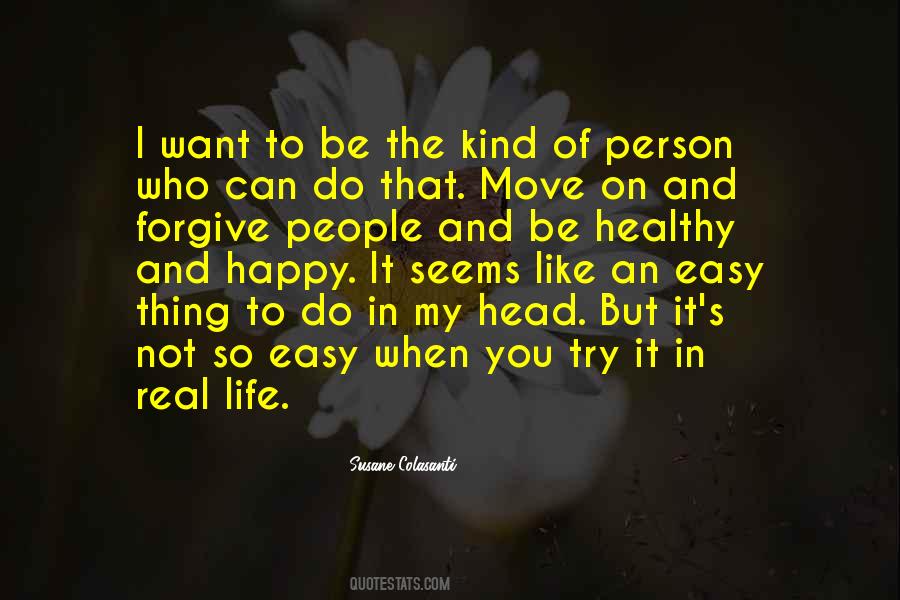 #30. Broken people give broken love. And we are all a little broken. You just have to forgive and sew up the wounds love delivers, and move on. - Author: Tarryn Fisher
#31. The minute we put aside our self-righteousness and move away from being the aggrieved, then we are on a healing process. - Author: Stephen Richards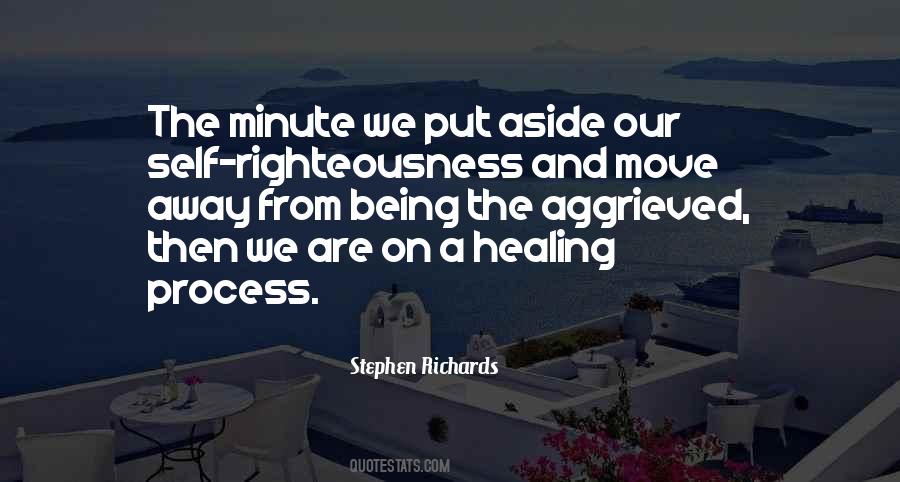 #32. How can you be so nice to me and how can you forgive me when I've been such a jerk?"
Maddy appears to think for a moment. "When you are reading a book and you finish a chapter, you don't keep re-reading the chapter you just finished. You move on to the next chapter to see what happens. - Author: Stephen Reid Andrews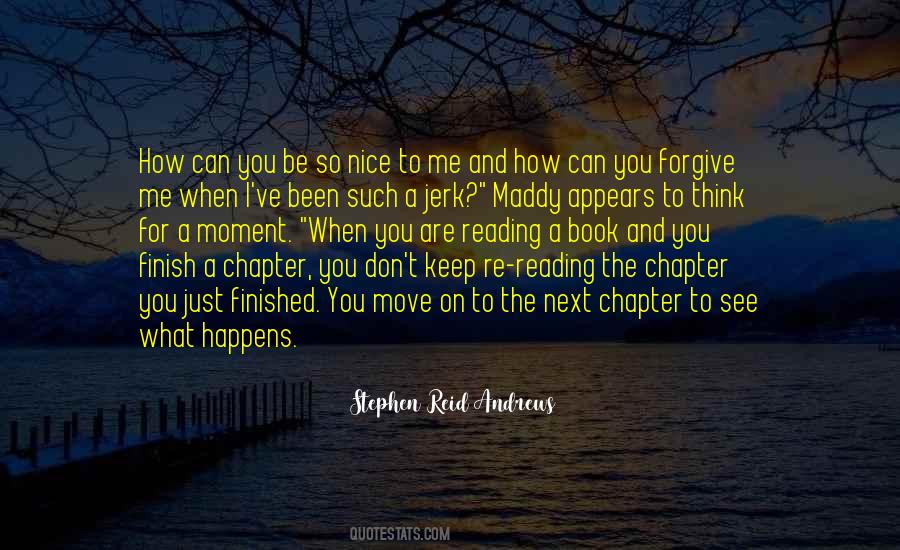 #33. My mother is the most incredible woman on this entire Earth, and she's so giving and loving and sweet and she always raised me how to forgive and forget and move on. She's the catalyst behind it all, my mom is. And I'm 100% a momma's boy! - Author: Brody Jenner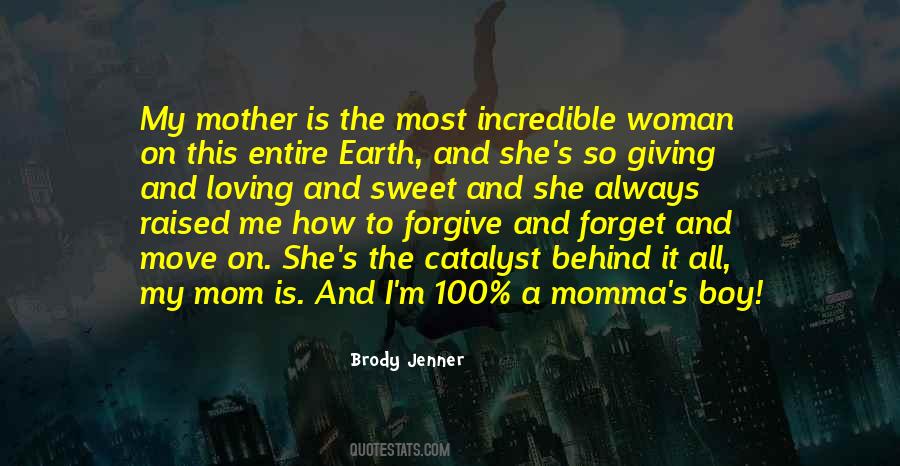 #34. Letting go isn't about forgetting; it's about learning and moving on. It's making a choice to be strengthened by your past ... not strangled by it. - Author: Steve Maraboli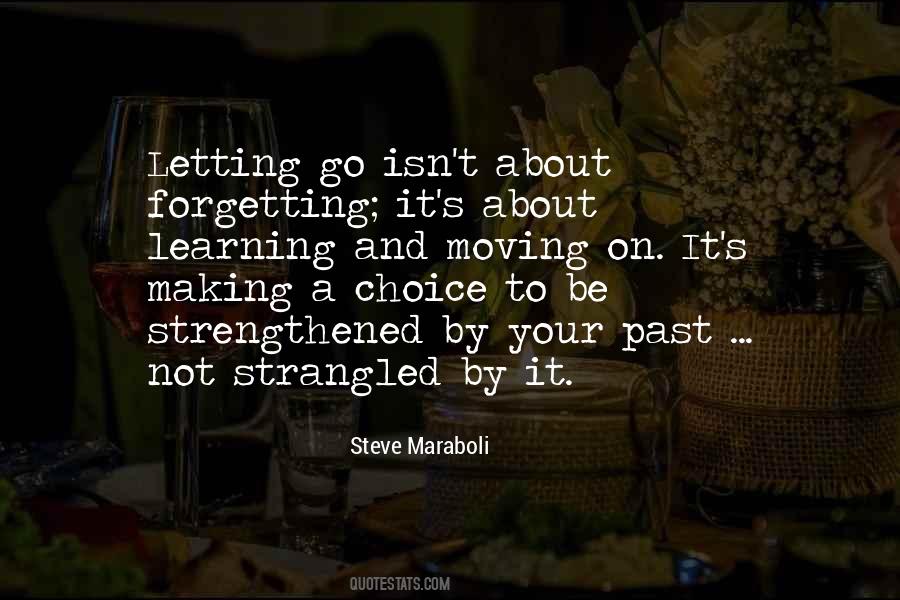 #35. It is important to know who your friends are and to stay, remain loyal to your friends, despite what you hear, despite the mistakes that are made in friendships and misunderstandings that commonly occur, to be able to forgive and to move on, you have to be able to remember the values of friendship. - Author: Steven Spielberg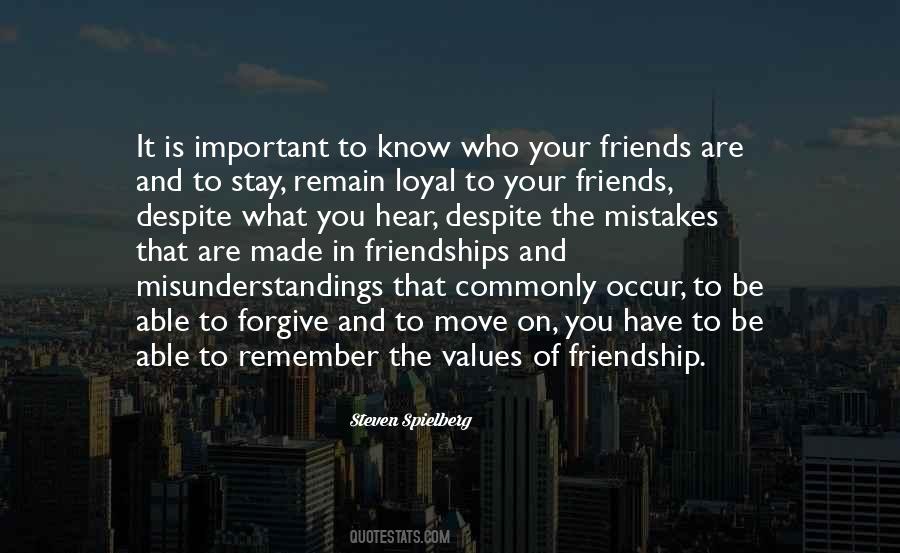 #36. Believe me, it's far more difficult to keep stoking one's anger than it is to forgive and move on."
"Ah, so that's how you manage to keep sane with Uncle Imcael. - Author: Eresse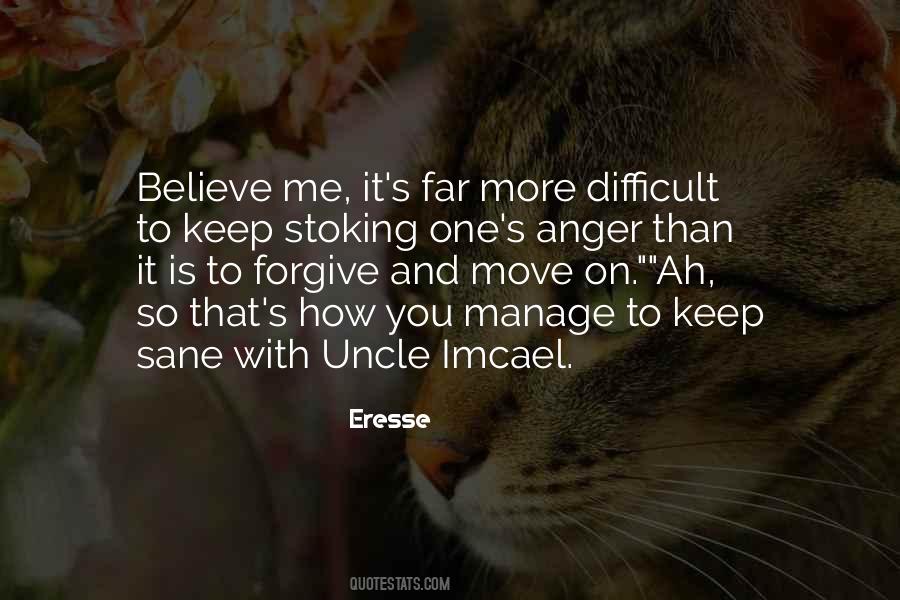 #37. Forgive yourself for your faults and your mistakes and move on. - Author: Les Brown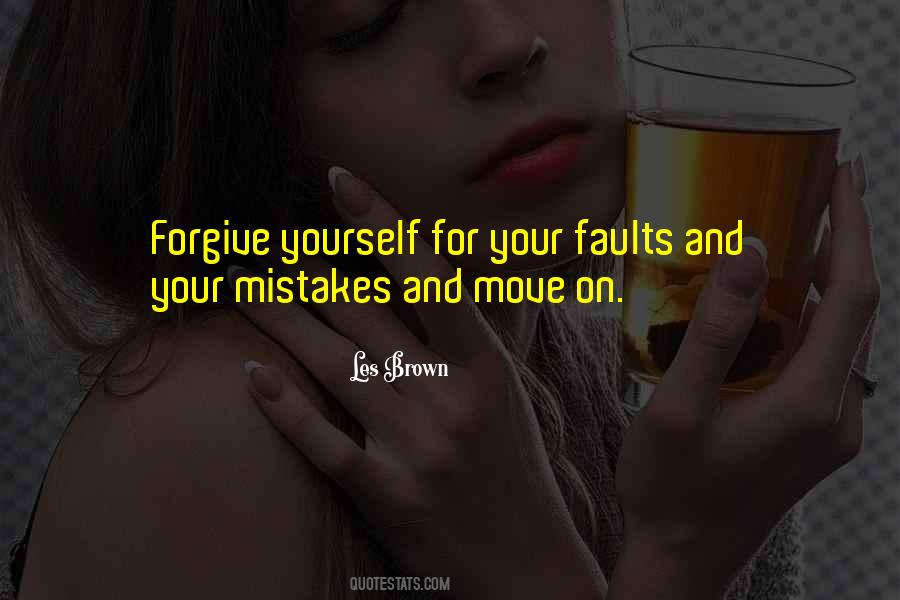 #38. I, for one, am quite willing to join the 'forgive, forget and move on' crowd, but it does make me wonder if Evangelicals are going to sound believable when they say that they tend to vote Republican because of their religious commitments to the family. - Author: Tony Campolo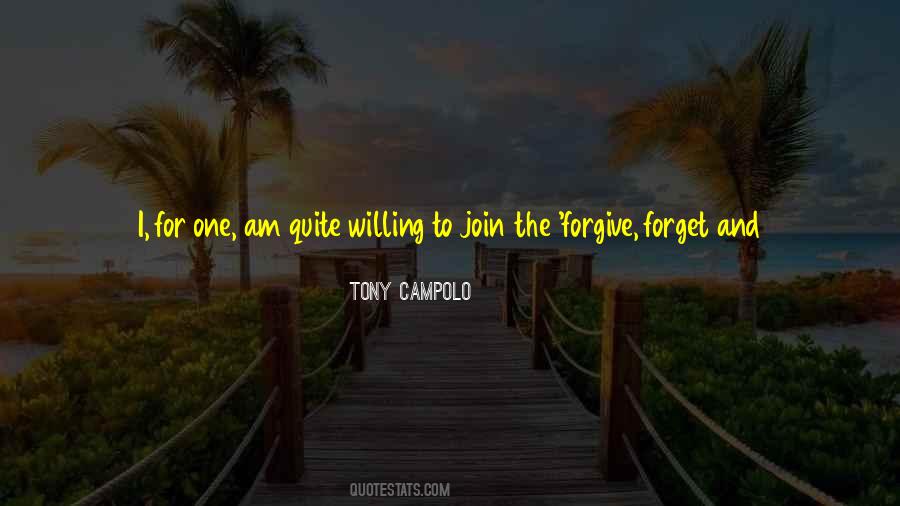 #39. -After all this pain and heartache, how are you now able to forgive? You seem so at peace with yourself and your life. How are you so able to move on? ...
-Because Mr. Mandela asked us to. - Author: Wes Moore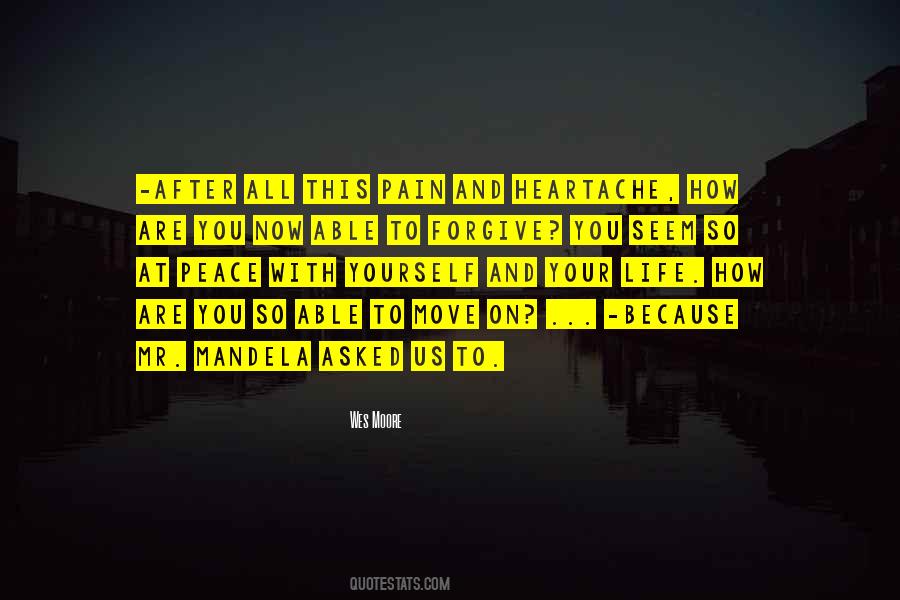 #40. We live in an age where revenge seems to be the most important thing for individuals and countries. Why not forgive each other? Decide to accept each other's differences and move on. - Author: Liam Neeson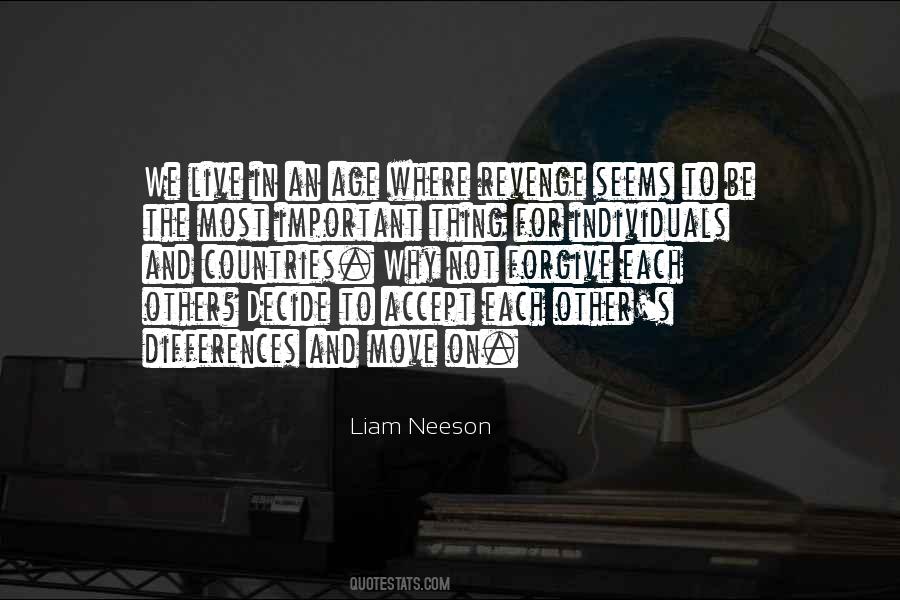 #41. I grew up in a strong faith-based family. I think I have selected to return to those roots for strength, for my family, for myself and to protect our children and to forgive others and move on and face forward. - Author: Paula Broadwell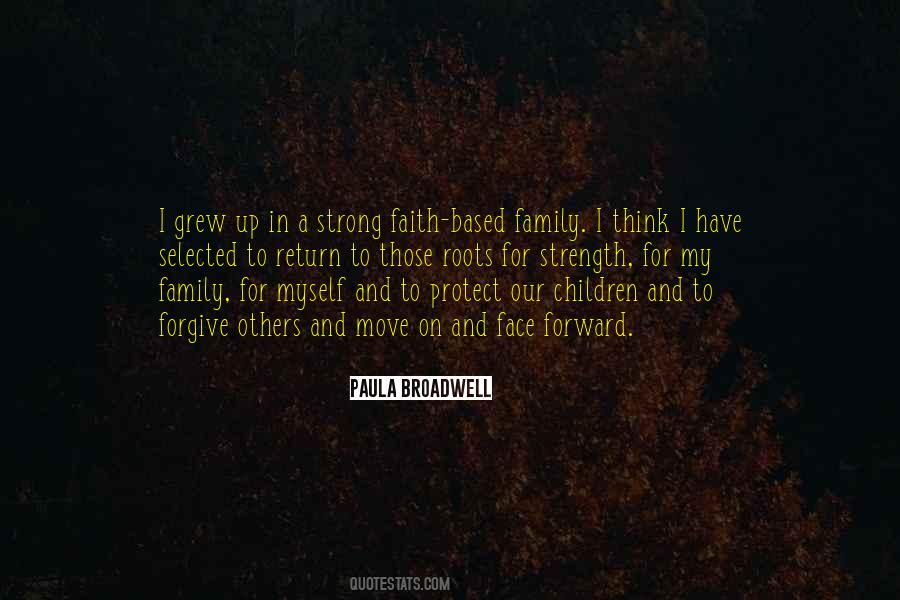 #42. Even when you do the right thing, sometimes there are dire consequences. Second-guessing every step prevents any forward momentum. Trust yourself, forgive yourself and move on. - Author: A.G. Howard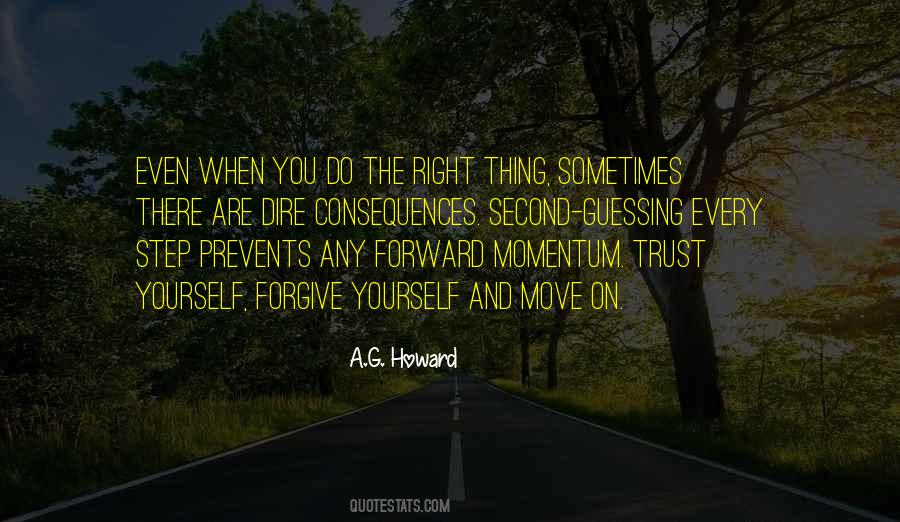 #43. You have to forgive yourself for your past mistakes, and you have to forgive those that hurt you for what they did to you, or you're never going to fully move on. - Author: Jennifer Gracen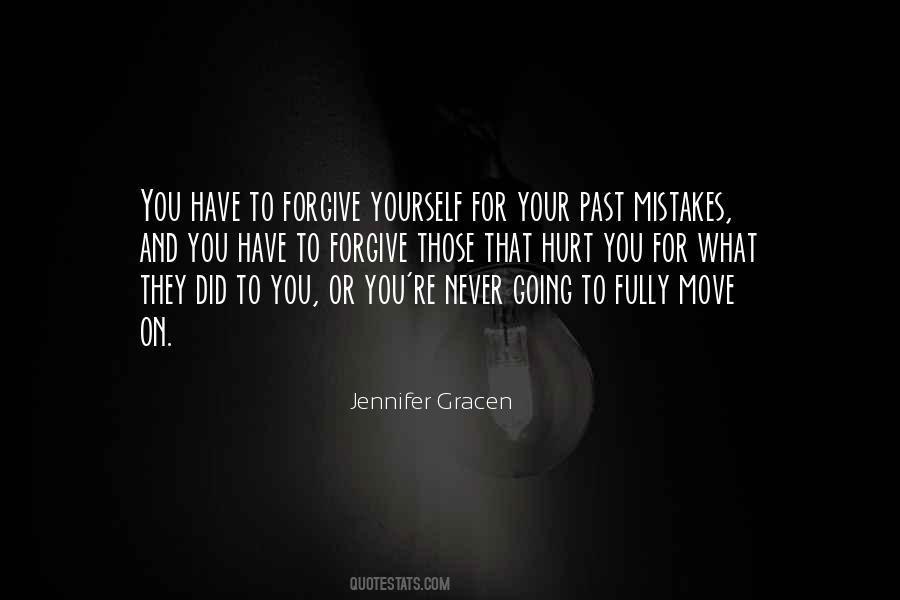 #44. If you do something bad to me, and I say "okay, let's move on," it does not mean I forgive you. - Author: Karen E. Quinones Miller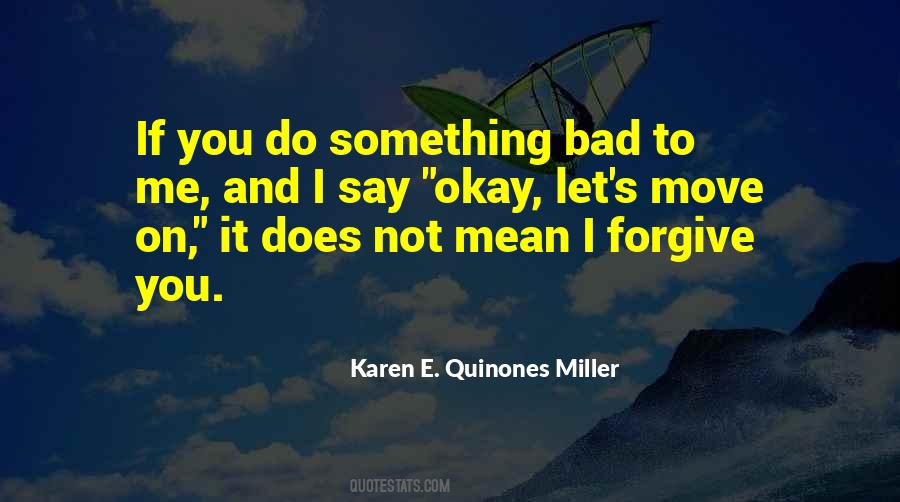 #45. Love yourself ... enough to take the actions required for your happiness ... enough to cut yourself loose from the drama-filled past ... enough to set a high standard for relationships ... enough to feed your mind and body in a healthy manner ... enough to forgive yourself ... enough to move on. - Author: Steve Maraboli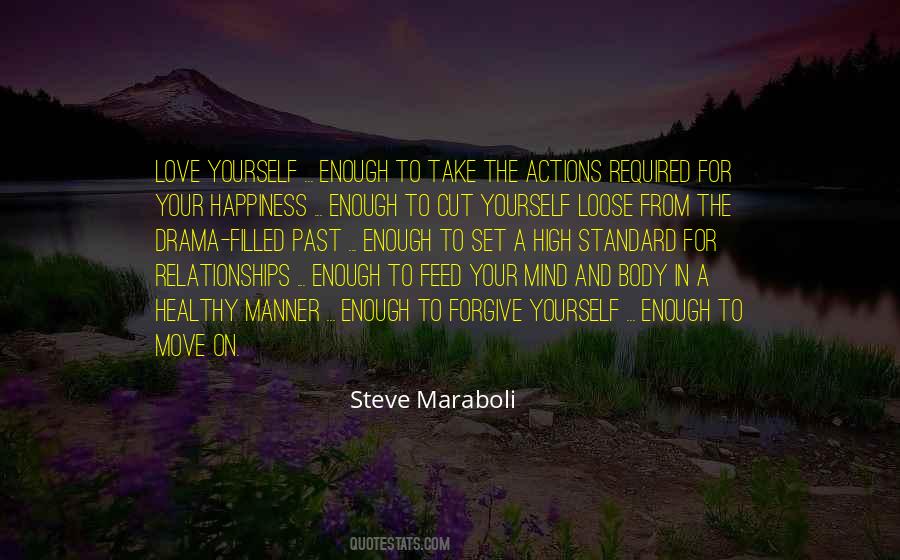 #46. You overcome it by hard work. By not giving up. By striving for something better. You learn to forgive and move on, and you learn from your pain. You don't let it control you, and you certainly don't hide from it. - Author: Sawyer Bennett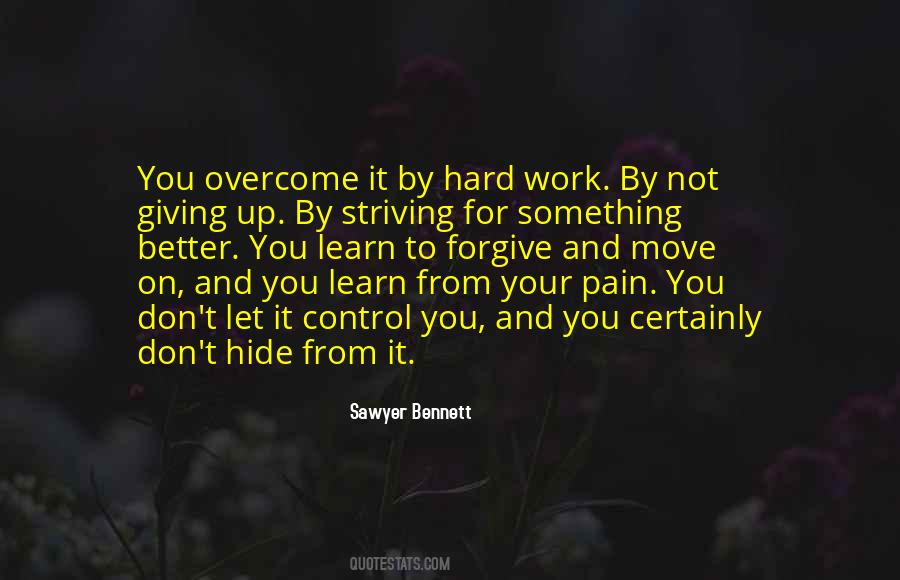 #47. You have to have the capacity and the ability to take what people did, and how they did it, and forgive them and move on. - Author: John Lewis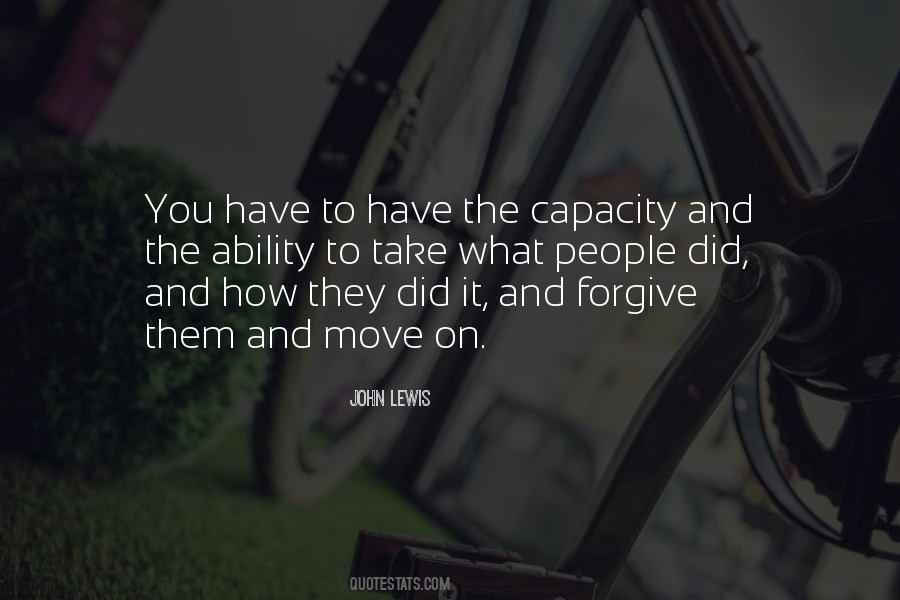 #48. Don't dwell too much on the past. The lessons are useful for the present and a preparation for the future. Move on! - Author: Lailah Gifty Akita
#49. Forgive yourself first. Release the need to replay a negative situation over and over again in your mind. Don't become a hostage to your past by always reviewing and reliving your mistakes. Don't remind yourself of what should have, could have or would have been. Release it and let it go. Move on. - Author: Les Brown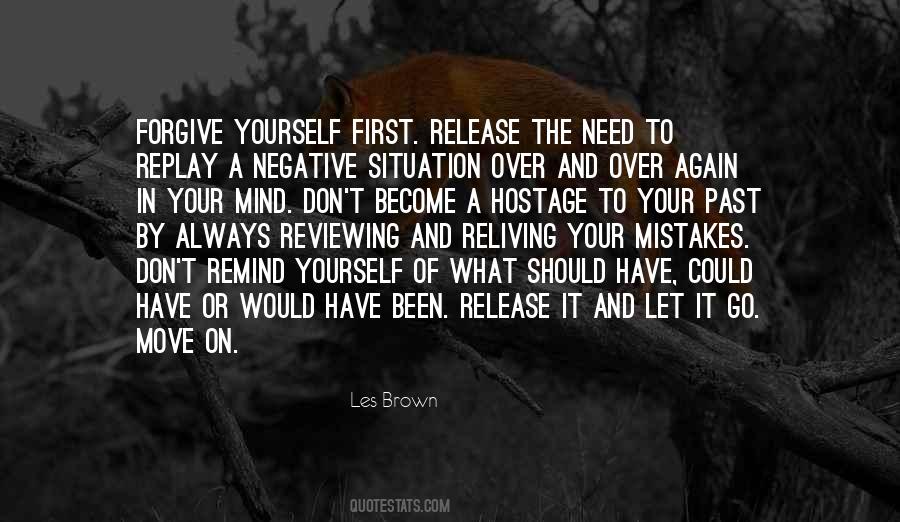 #50. I really believe in, 'Move on, live and let live, forgive and forget.' - Author: Kate Winslet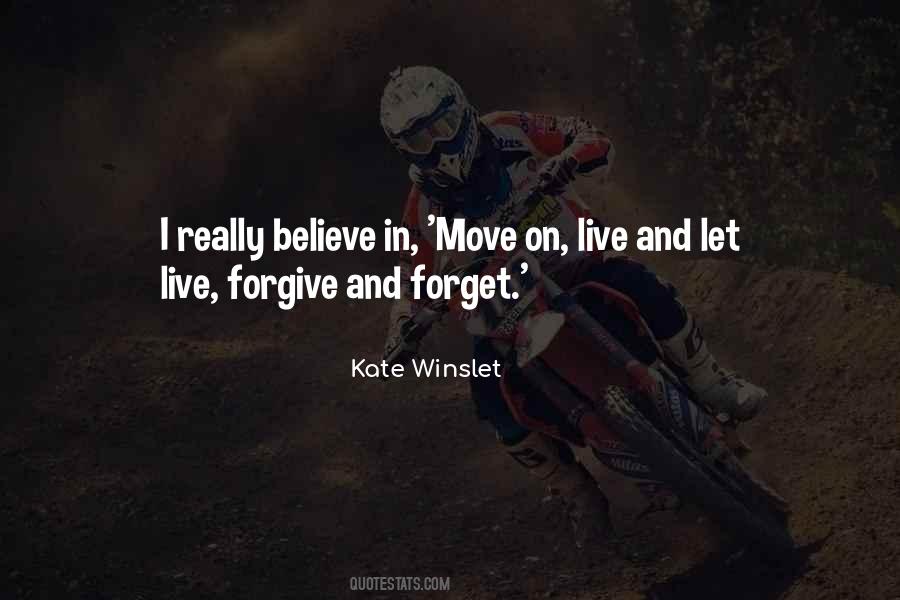 #51. No one was perfect. But we all did the best we could. I guessed you had to forgive when you could, move on when you couldn't, and love your family and friends for who they were instead of punishing them for who they weren't. - Author: Sarah Mlynowski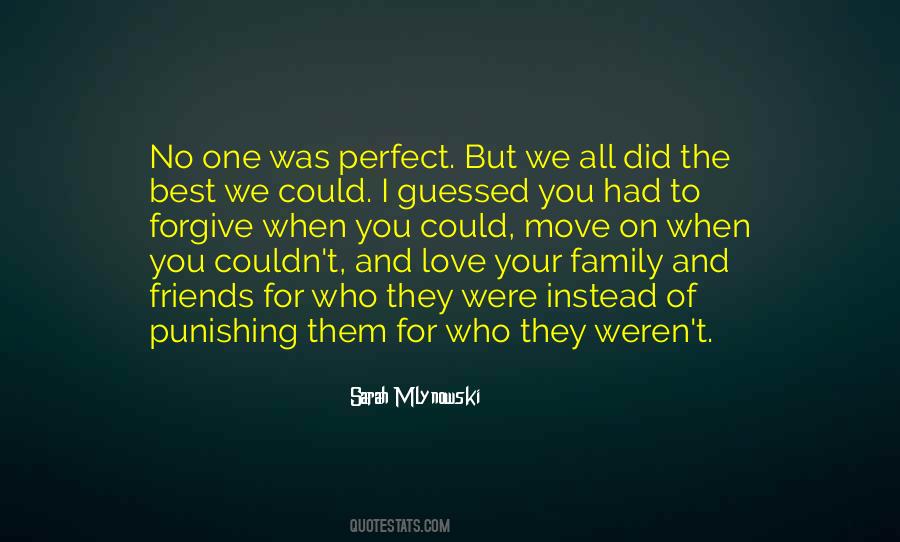 #52. What I've learned over the years is that people shouldn't be defined by a single mistake. Everyone messes up," she said. "You have to forgive yourself and move one. - Author: Gena Showalter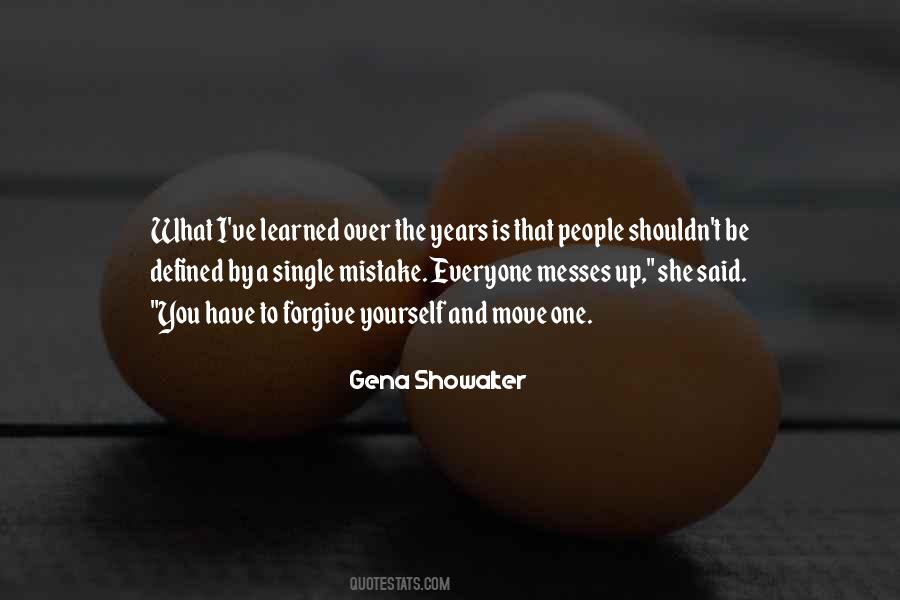 #53. You cannot do more than you can, so be gentle with yourself and quick to forgive your mistakes and to move on. - Author: Toni Sorenson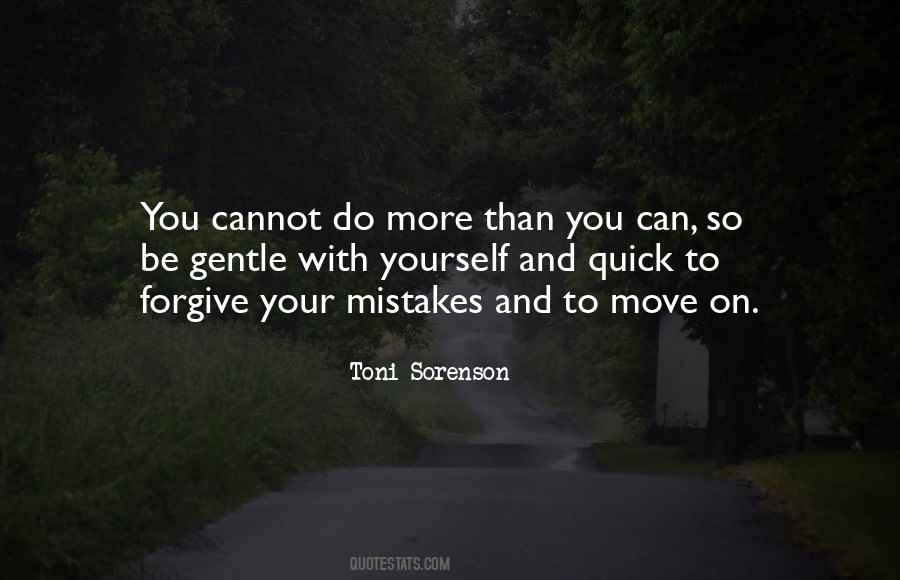 #54. I'm not a natural researcher, and I don't get bogged down in it, but I think if you get it right in the first half, people will forgive you, and then you can move on with the story. - Author: Sarah Pinborough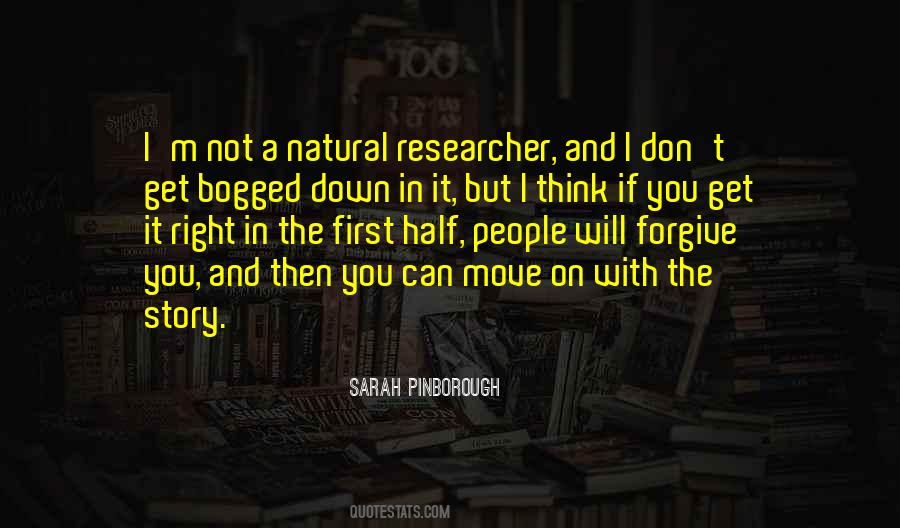 #55. How long will it be until the two countries I love forgive each other and move on ... I'm not even sure what there is to forgive. Something about Cuba seizing ownership of oil refineries. It's all so confusing. Why should something as ugly as oil affect friendships between nations? - Author: Margarita Engle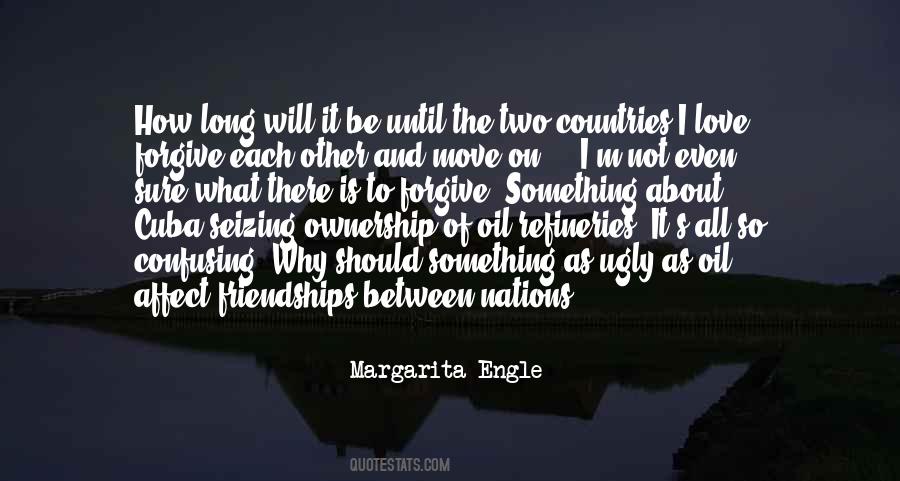 #56. It's really a blessing, to let go of grudges, to forgive, and to move on. To allow yourself to get rid of what they called emotional hoarding. - Author: Kaira Rouda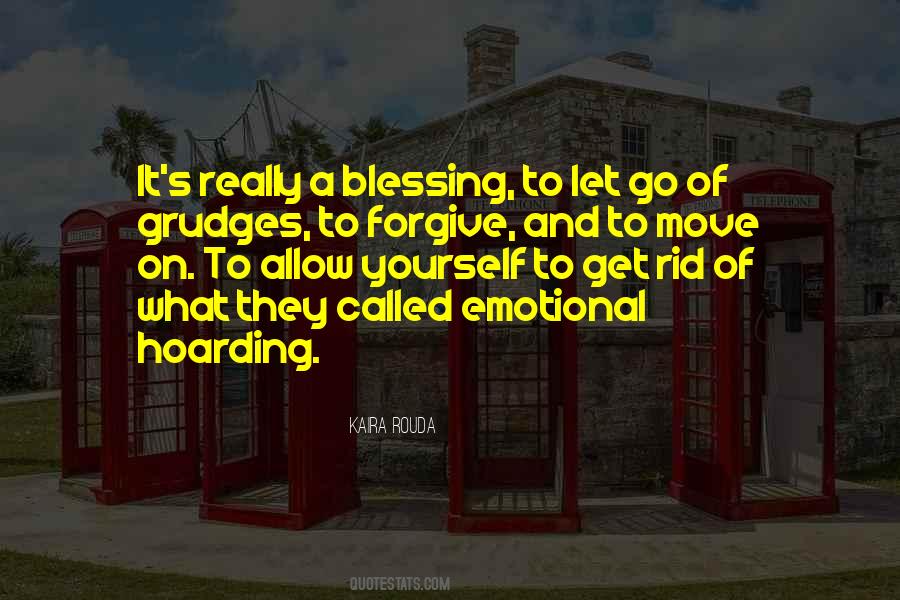 #57. Free yourself from the poisonous and laborious burden of holding a grudge. When you hold a grudge, you want someone else's sorrow to reflect your level of hurt, but the two rarely meet. Let go ... Sometimes, forgiveness is simply a reflection of loving yourself enough to move on. - Author: Steve Maraboli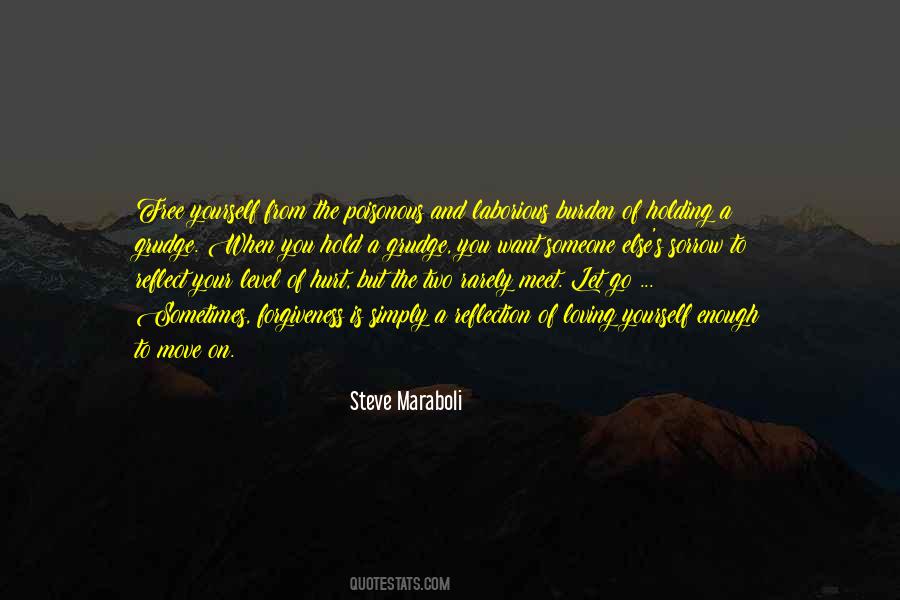 Famous Authors
Popular Topics