Forgetting's Famous Quotes & Sayings
List of top 100 famous quotes and sayings about forgetting's to read and share with friends on your Facebook, Twitter, blogs.
Top 100 Forgetting's Quotes
#1. Are you forgetting that losing a game is an error or a lesson, but losing one's time is a sin? - Author: Elie Wiesel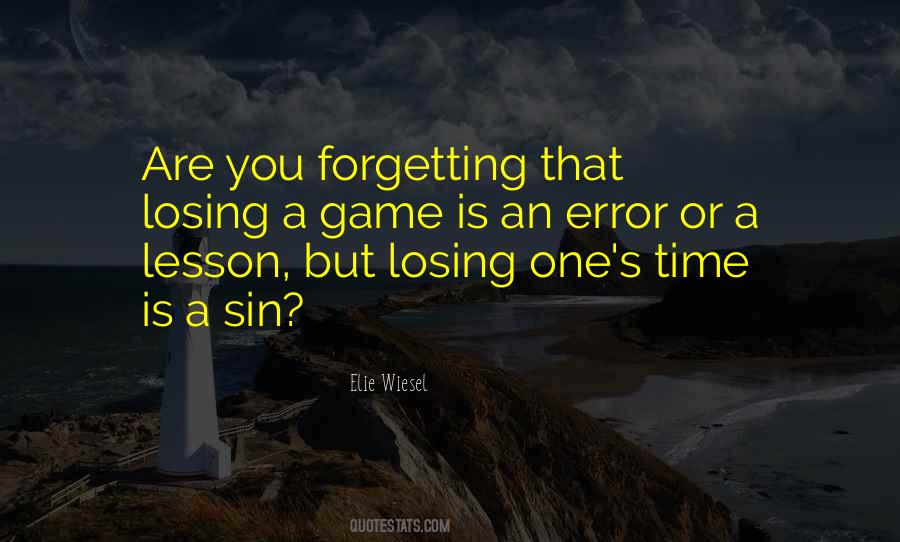 #2. Americans like to get rich fast. That this means we go broke fast, too, is something that we have become very good at forgetting. Our ignorance of history is matched only by our unfailing optimism; it's actually part of our optimism. - Author: Jill Lepore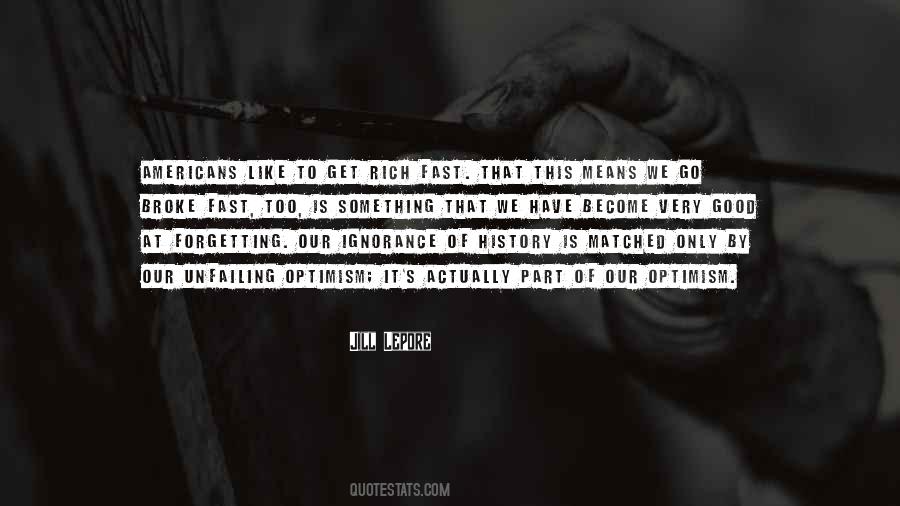 #3. Howlett speculated that the human cannabinoid system evolved to help us endure (and selectively forget) the routine slings and arrows of life "so that we can get up in the morning and do it all over again." It is the brain's own drug for coping with the human condition. - Author: Michael Pollan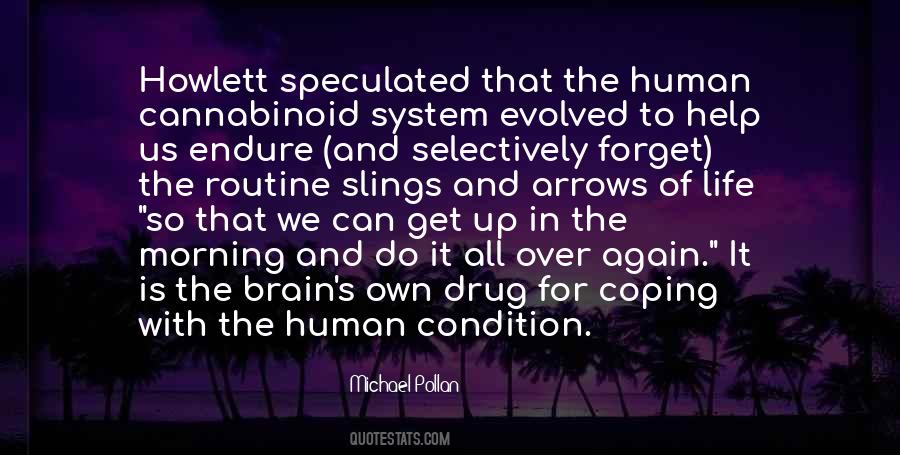 #4. Poetry is like a beef bouillon cube; it's hardly ever needed (or perhaps never needed at all); it sits in its precious wrapper, well out of view, until everyone has forgotten it's there. - Author: Joe Wenderoth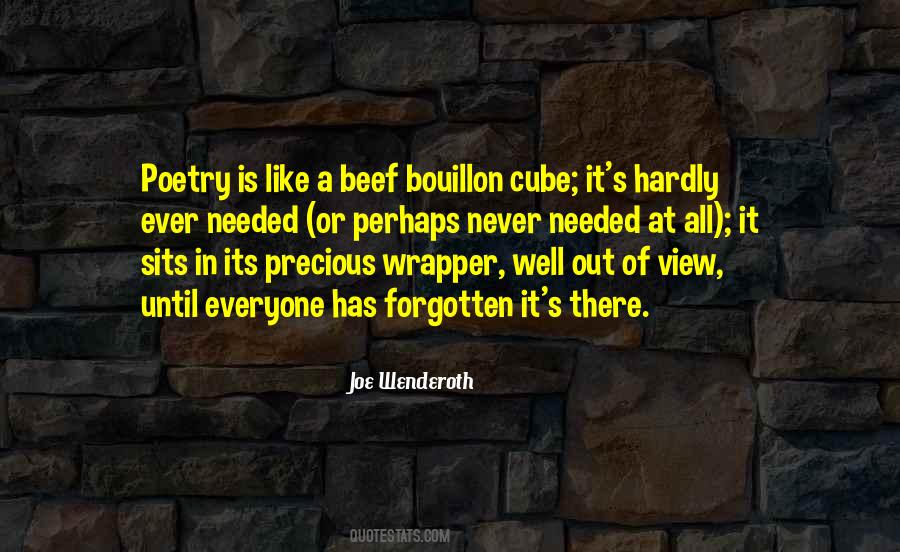 #5. They know they're supposed to do something, but they're not sure what. And you know what they do when they're not sure
of course you do: They either do the wrong thing or they do nothing, and it's a toss up as to which is worse. - Author: Jill Conner Browne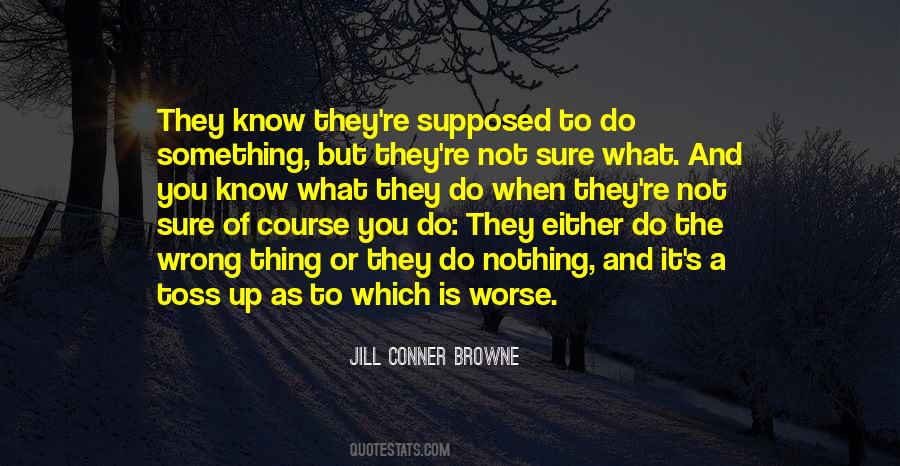 #6. The first time I heard 'Jolene,' I was 12 years old, and it was performed by Jack White. I remember watching that video and forgetting it was from a woman's point of view, and forgetting it was a country song, and forgetting it was originally by Dolly Parton. - Author: Samuel Larsen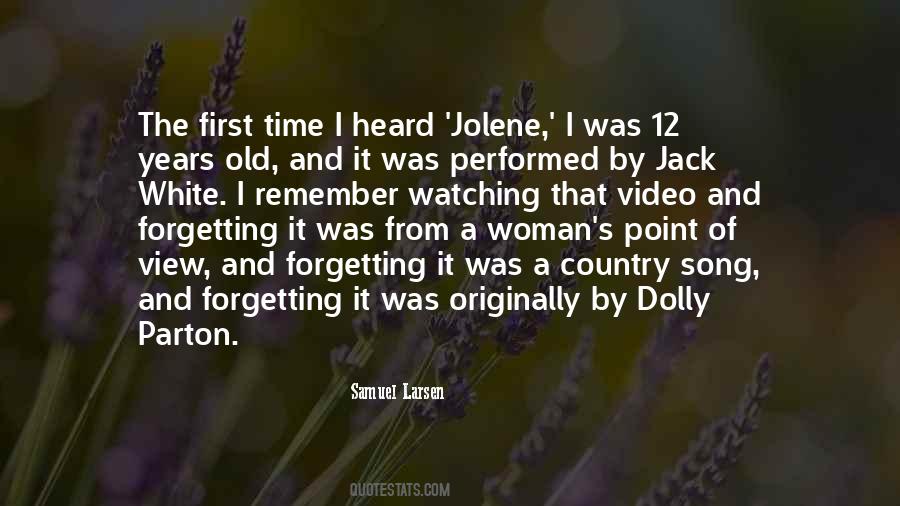 #7. But forgetting's not something you do, it happens to you. - Author: John Fowles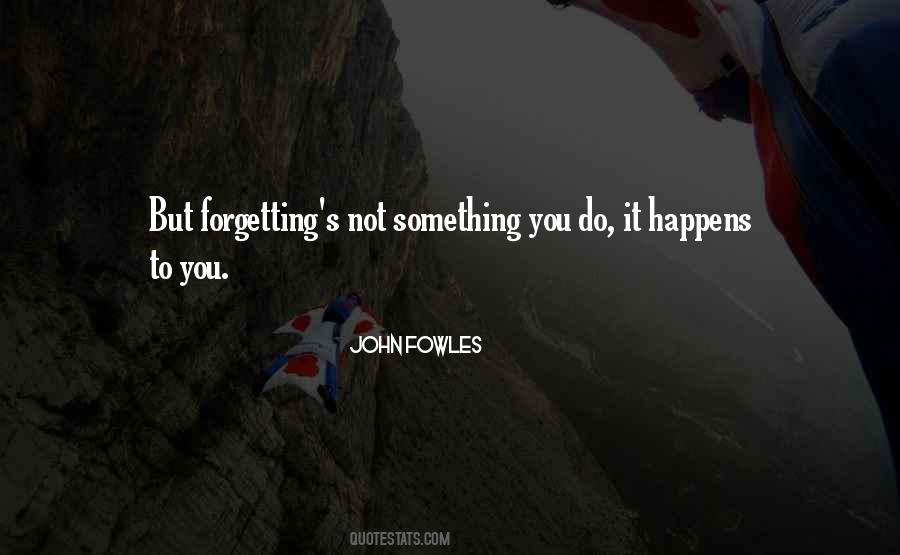 #8. Letting go is not forgetting. It's opening your eyes to the good that grew from the bad, the life that blooms from decay. - Author: Emily Henry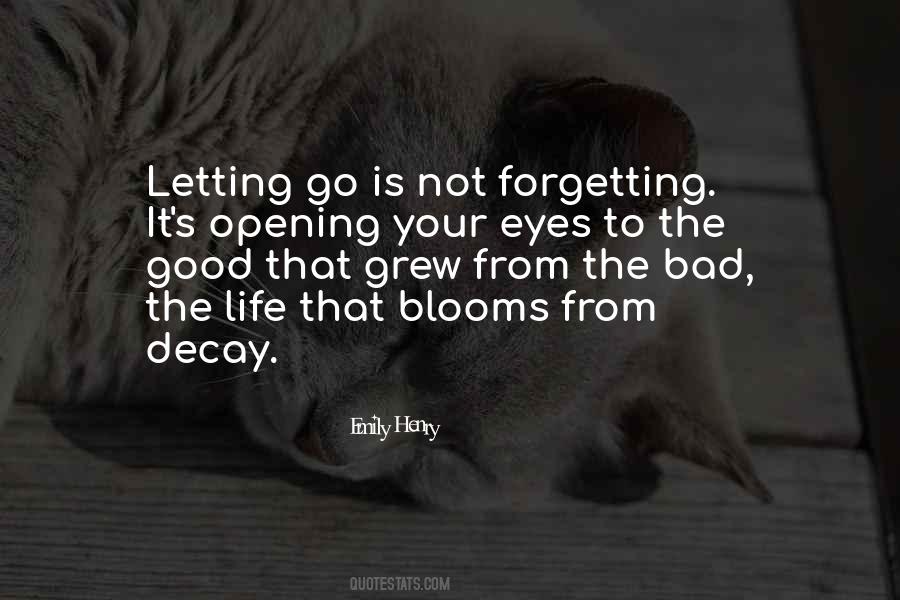 #9. You know, sometimes it's nice to just have someone to blame, even if it has to be yourself, even if it doesn't make sense. - Author: Lois Lowry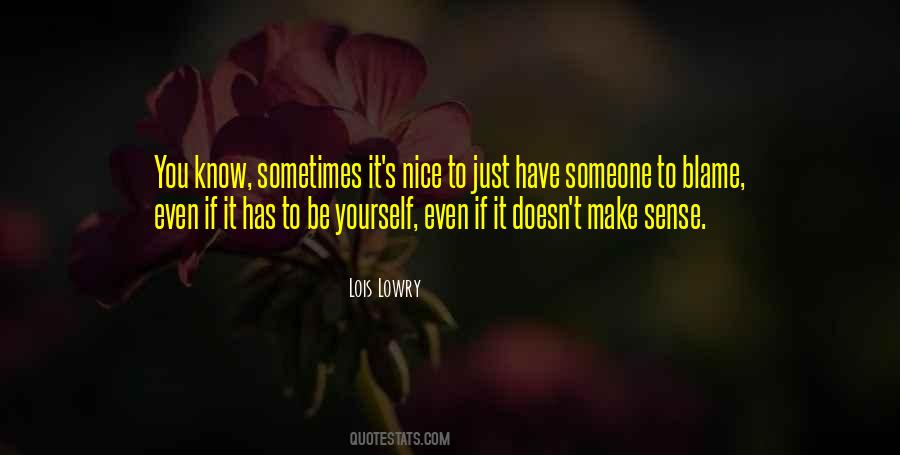 #10. Love is never hurtful; It's never about forgetting who you are, it's about exploring yourself more. - Author: Ankita Singhal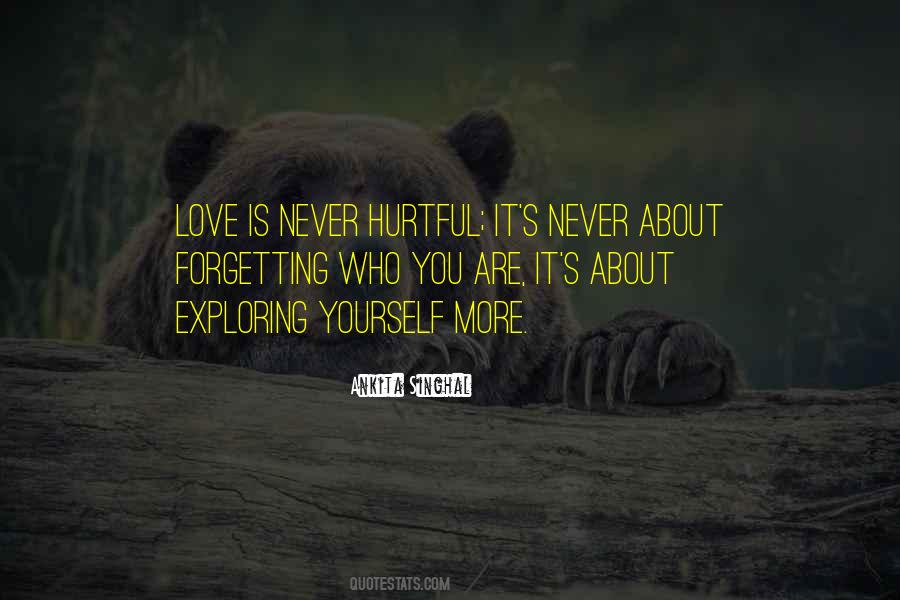 #11. And as for the people you loved, even their names will escape you. Did you not mean what you said when you said, I will love you forever? You did. Though now it's hard to remember ... - Author: P.K. Page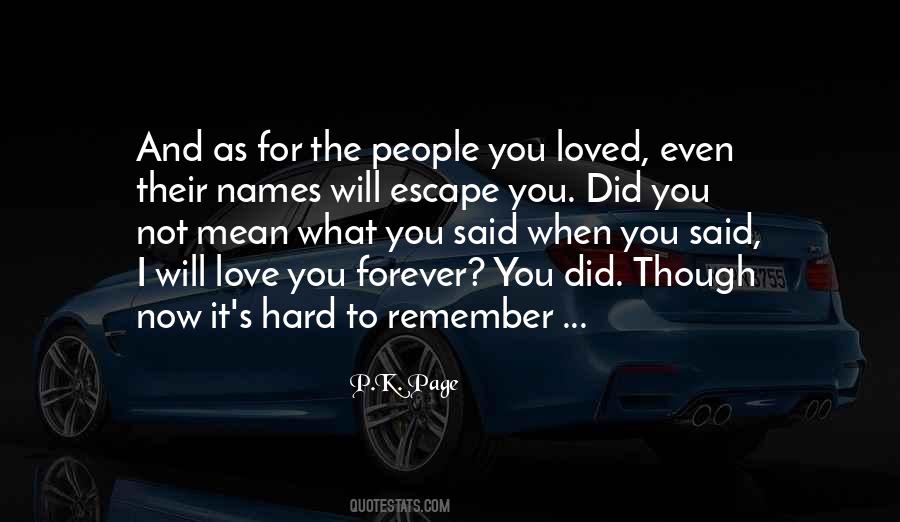 #12. Come get me! It's all fading.... I'm forgetting everything but you. - Author: James Dashner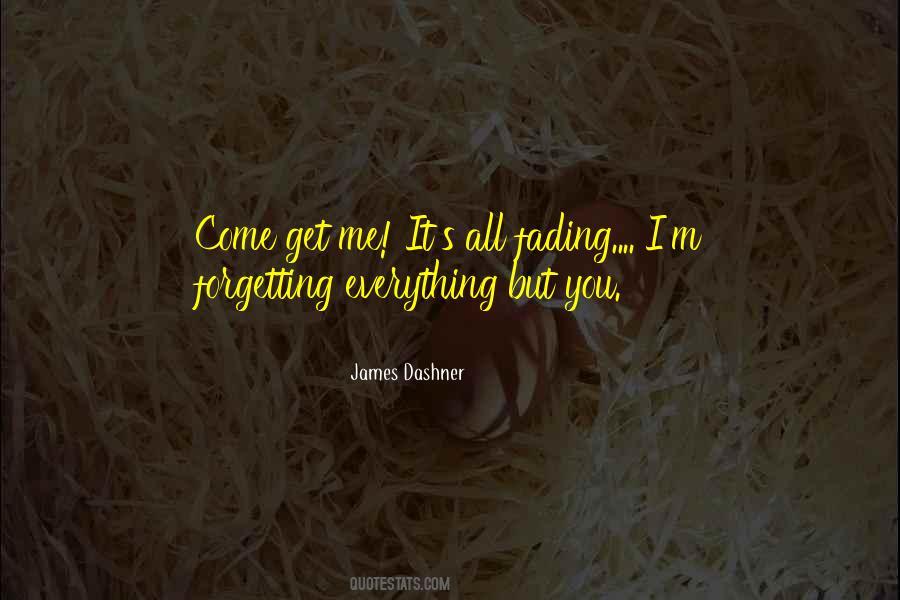 #13. Forgetting is the mind's way of helping you heal. Helping you move on. - Author: Jasinda Wilder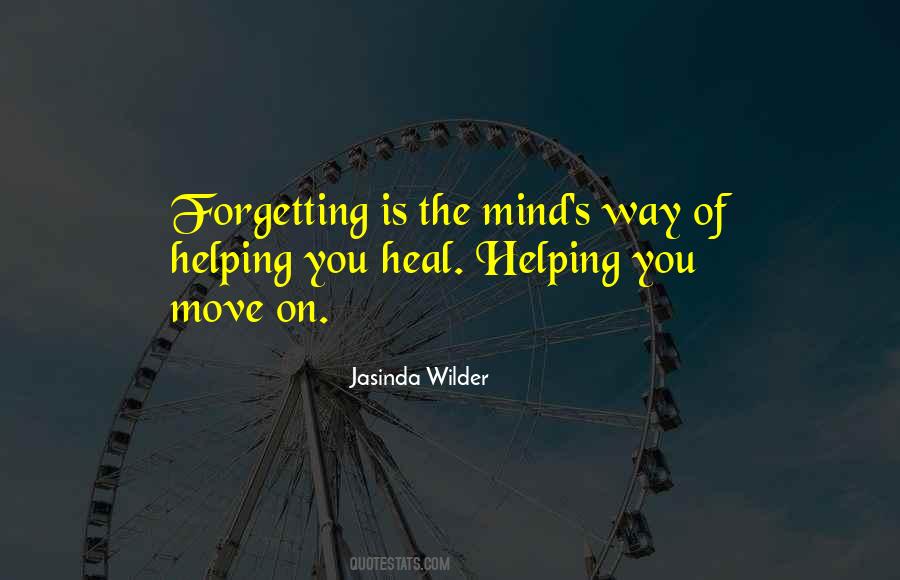 #14. That's just the way it is. I'll always remember. She's forgotten. - Author: Asa Larsson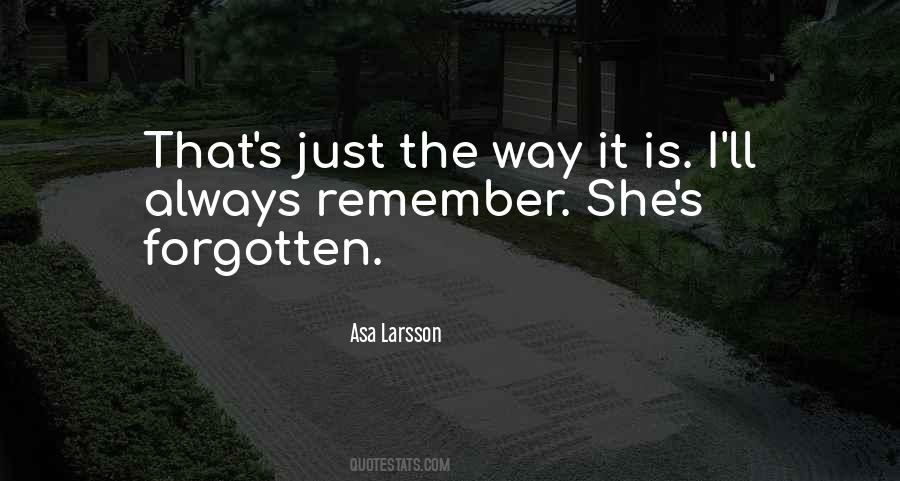 #15. ...since it's about drifting, forgetting, passing time without noticing. Instead, quietly pay attention... - Author: Tom Chiarella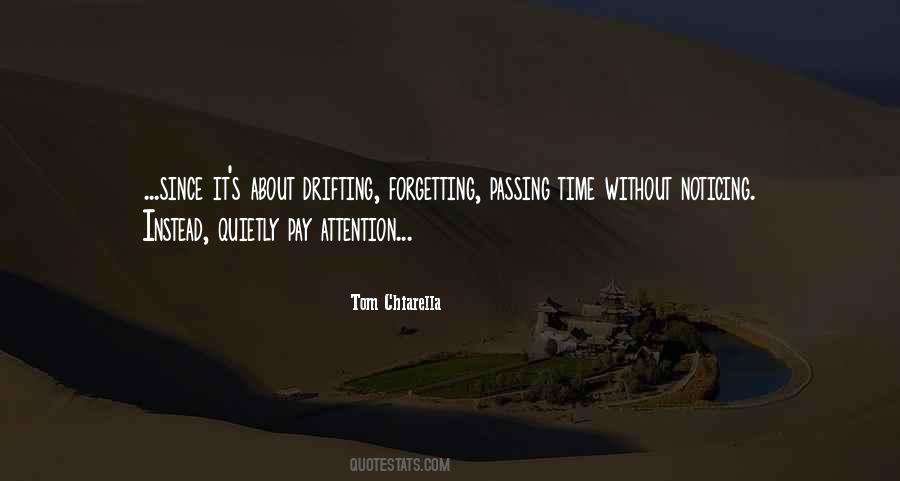 #16. It normally takes decades to build a brand ... It's the forgetting of the old truth that allows a person to accept a new truth. You need to allow enough time for this forgetting to take place - Author: Al Ries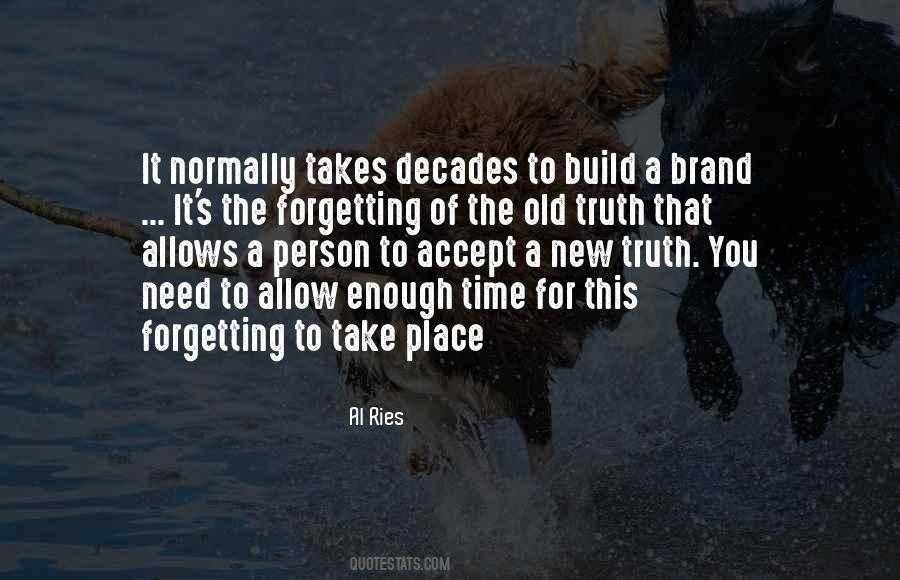 #17. Remembering is easy. It's forgetting that's hard. - Author: Brodi Ashton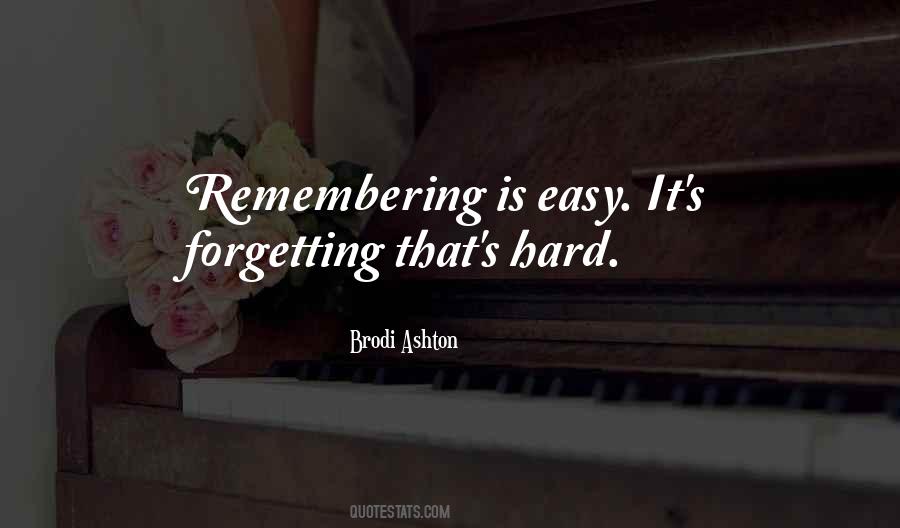 #18. The destroyer is...'" Ethan wondered at the next word, expecting 'horrific, 'mad', or even 'a bitch'... Not forgetting that she did try to kill him, of course.
"Glorious," he concluded to Ethan's surprise. - Author: Louise G. White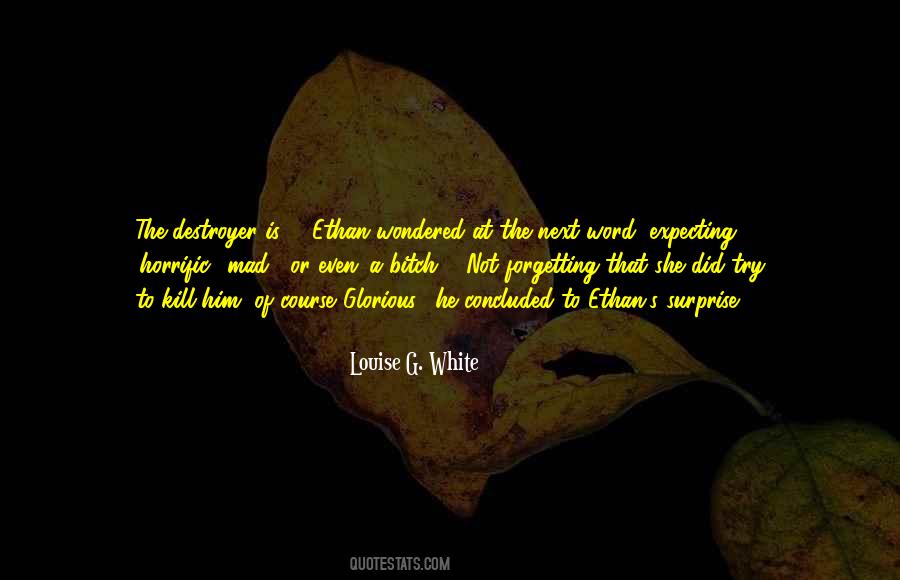 #19. We invest less in our friendships and expect more of friends than any other relationship. We spend days working out where to book for a romantic dinner, weeks wondering how to celebrate a partner or parent's birthday, and seconds forgetting a friend's important anniversary. - Author: Mariella Frostrup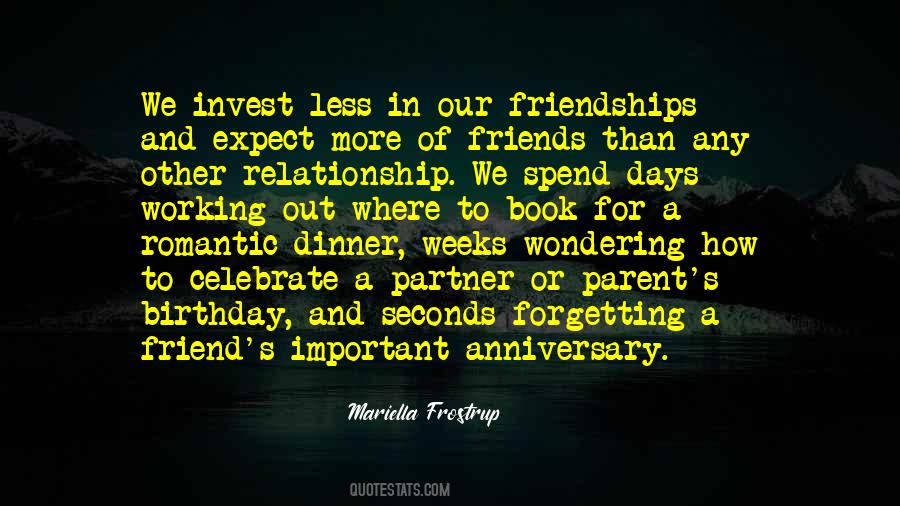 #20. What's the best part of acting? It's the indescribable feeling of being someone you are and someone your not, all at the same time. Acting is finding a character that's in you, forgetting yourself, and then bringing out this whole other person. Character is all that matters when you're on a stage. - Author: Chris Coppernoll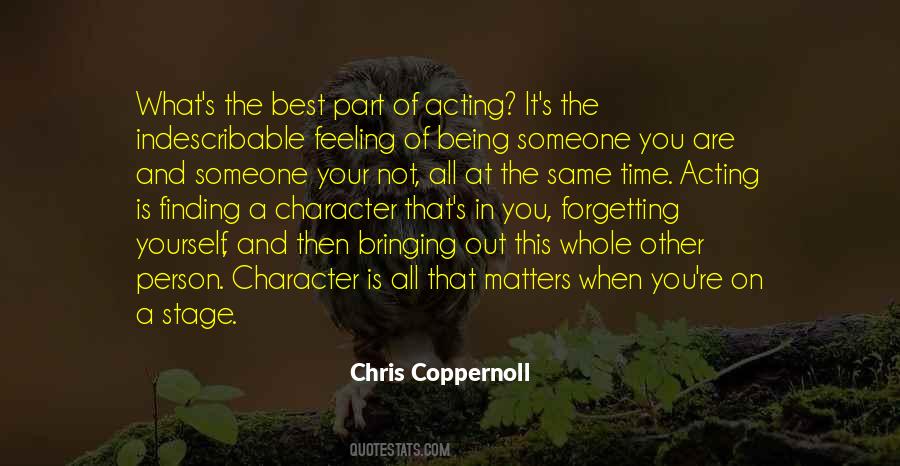 #21. Forgiving is not about forgetting, it's letting go of the hurt - Author: Mary McLeod Bethune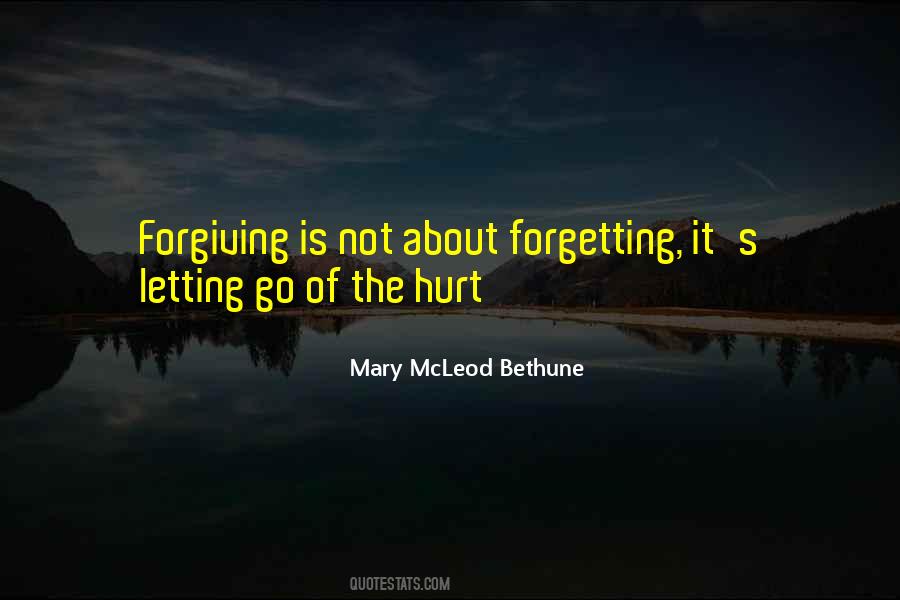 #22. When you don't grasp something or remember something, I think your mind at last says, "Okay," and part of it accepts this. In the end your mind gets to welcome that deadening. that's what I believe anyway. Half of our memoryloss is by choice. - Author: Anna Smaill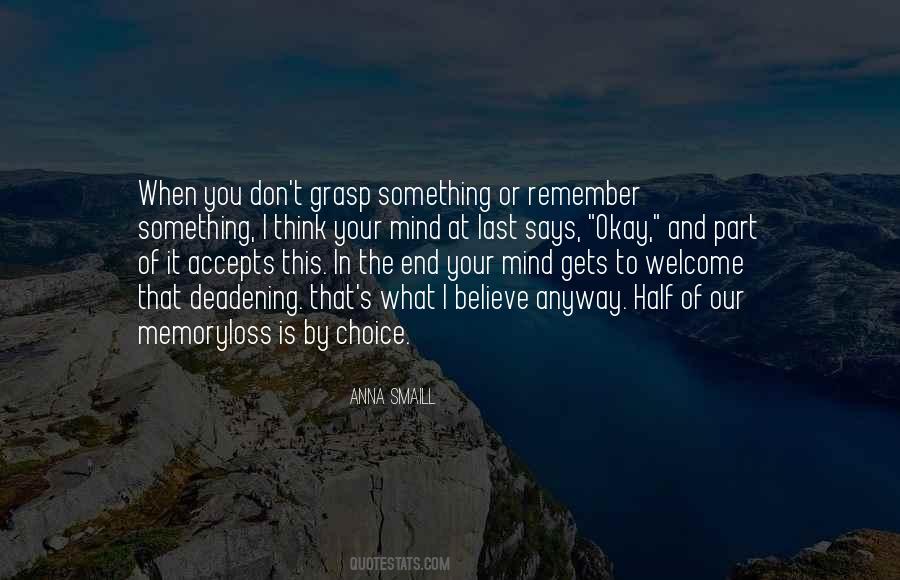 #23. I think that's what a fresh start is all about. Not ignoring the past, but seeing it through the eyes of God, through the eyes of grace. Knowing where we've been and where we're going. A fresh start isn't about forgetting; it's about perspective. - Author: Susan May Warren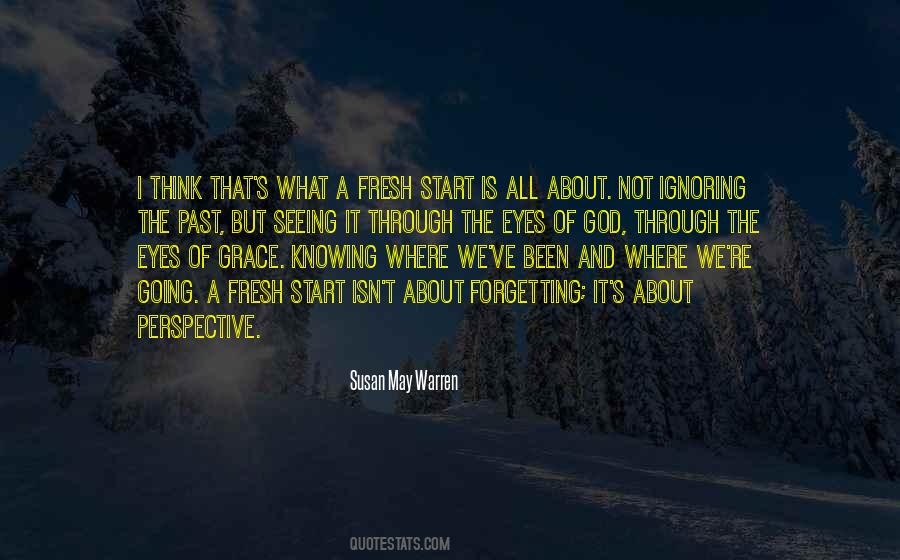 #24. I think everyone is forgetting what plastic surgery is for - if you have a face-eating tumour, lose a breast or are involved in a car accident, then it's a good idea. - Author: Sally Phillips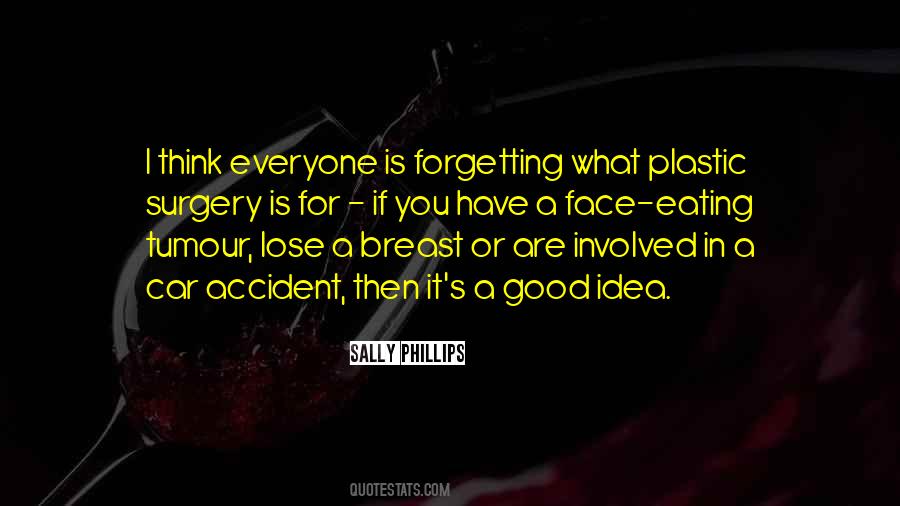 #25. Our Founding Fathers were the first to articulate the reasons for their First Amendment, the same reasons given by Learned Hand, and by Justice Brennan in New York Times v. Sullivan . It is a lesson we keep forgetting and must relearn in each succeeding generation. - Author: Gilbert S. Merritt Jr.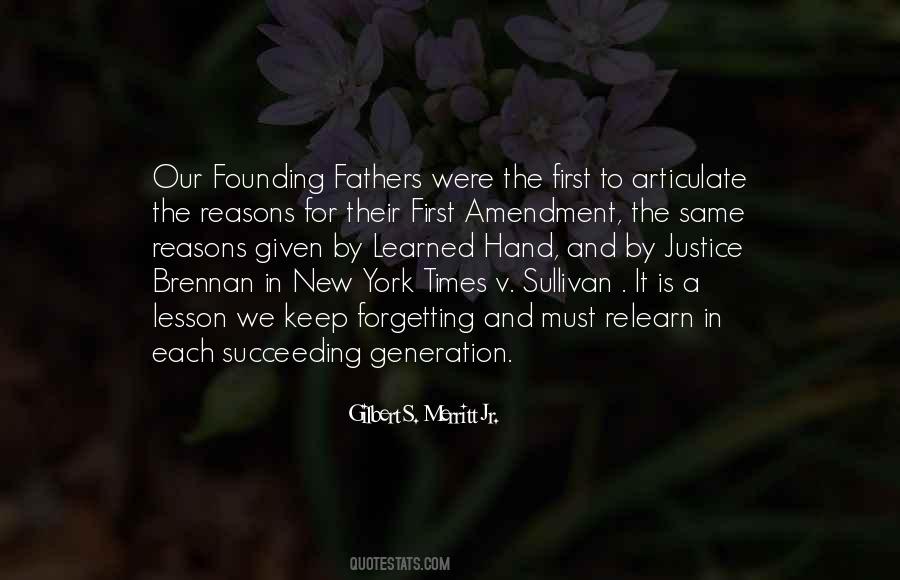 #26. Worship is forgetting about what's wrong with you and remembering what's right with God. - Author: Mark Batterson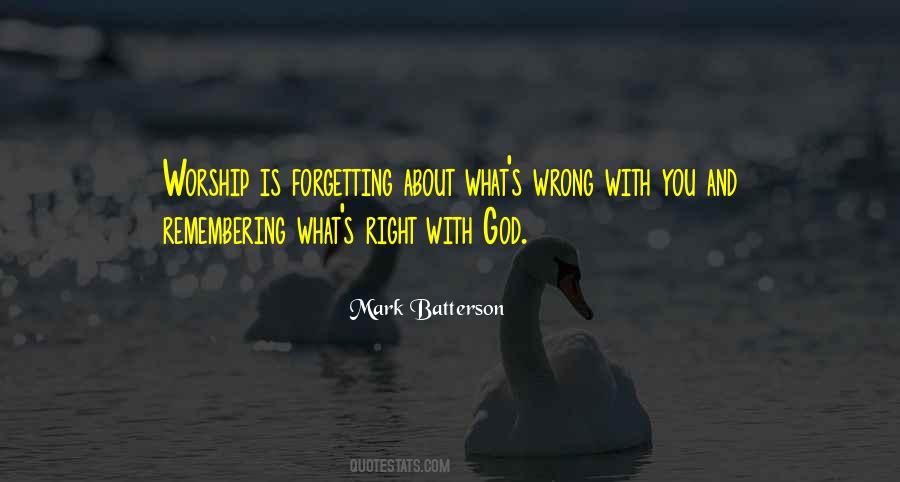 #27. How keen everyone is to make this world their home forgetting its impermanence It's like trying to see and name constellations in a fireworks display. - Author: Nadeem Aslam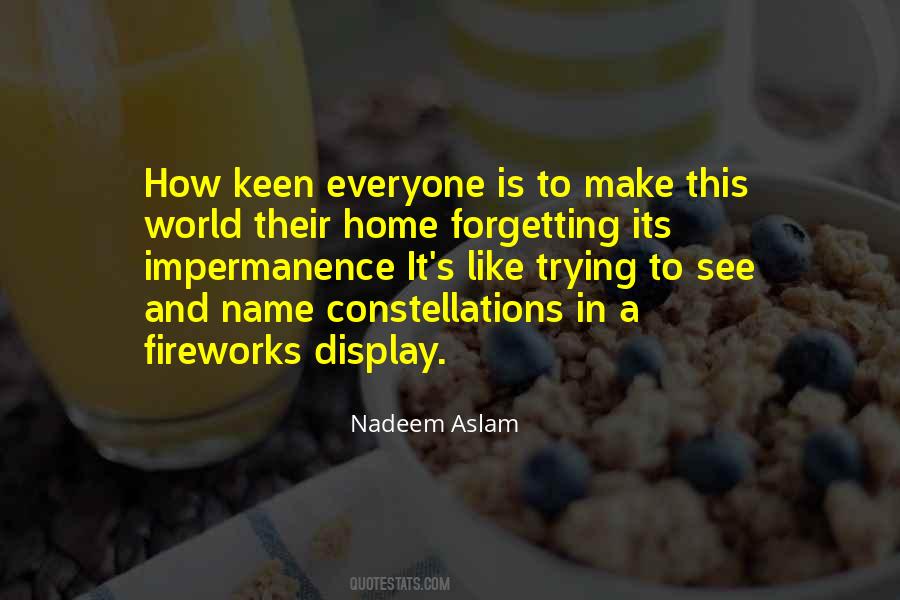 #28. I don't know if there's enough vision. Industry wide, the apathy regarding this recent problem is already setting in - shiny things are happening elsewhere, people are forgetting. - Author: Theo De Raadt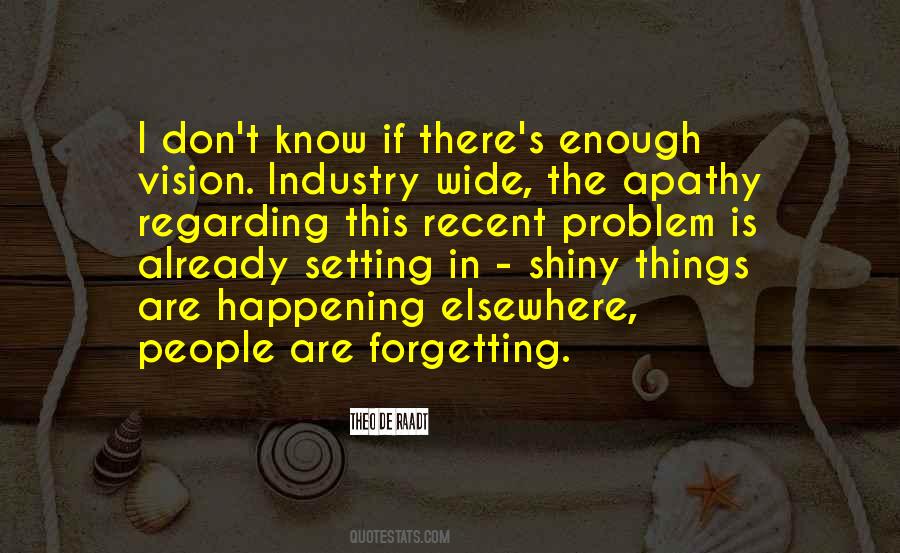 #29. You know what's best in letting somebody go? You only have to say goodbye once. - Author: K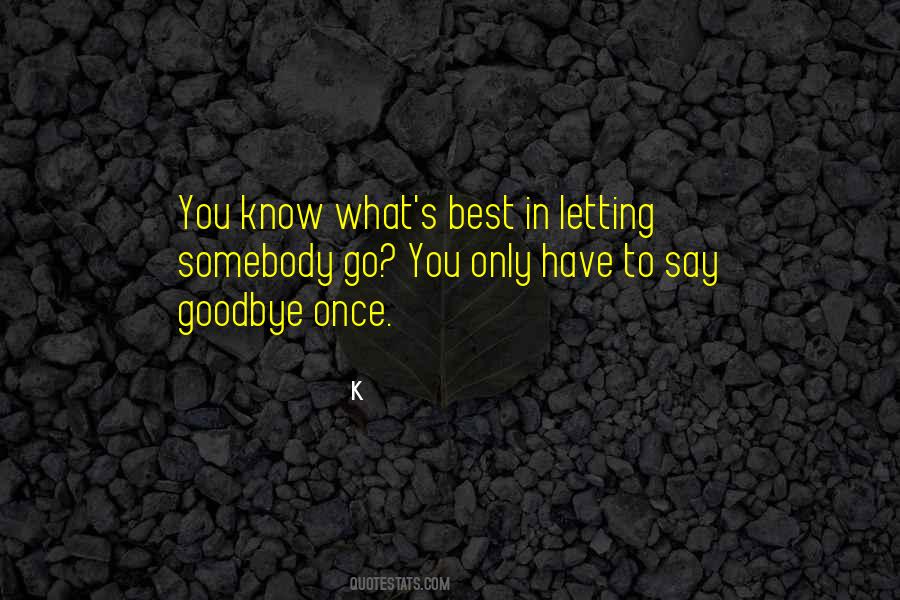 #30. Maybe that's how I learned to handle up my deep hurt ... by forgetting. - Author: Benjamin Carson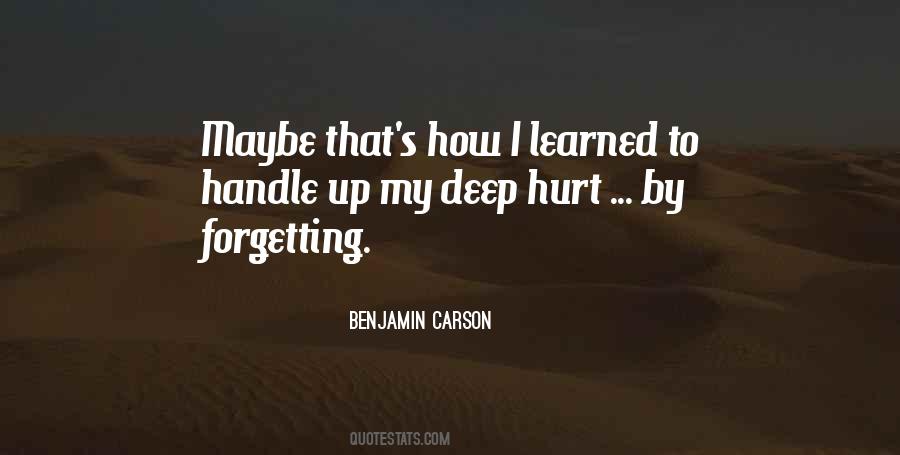 #31. Opiates are, by their very nature, about forgetting. When you're in that narcotic haze, memory functions like some mutant projector, a hell-tuned Bell & Howard. As the film goes in one end, at the other end it's immediately eaten by some kind of acid, dissolving the second the events transpire. - Author: Jerry Stahl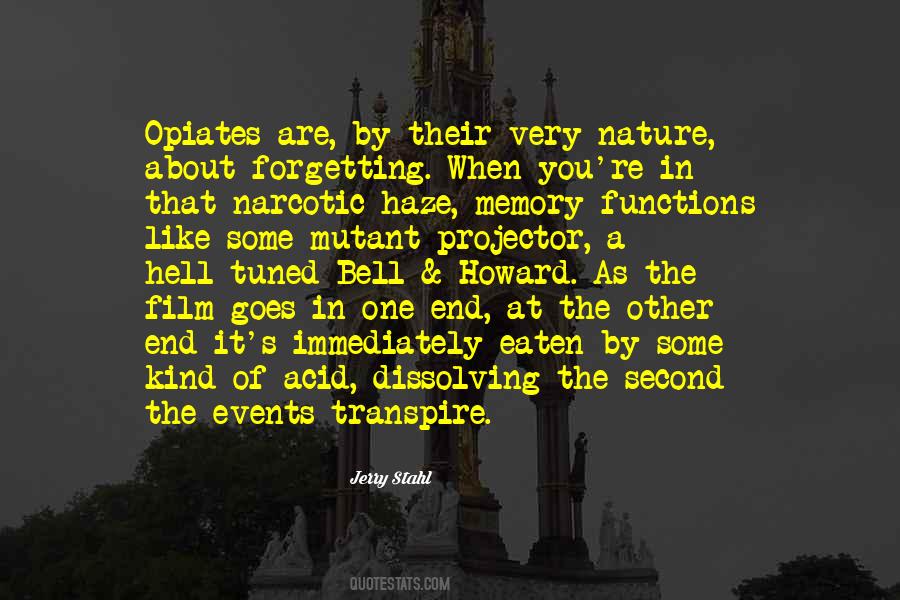 #32. Humanity i love you because you
are perpetually putting the secret of
life in your pants and forgetting
it's there and sitting down
on it
and because you are
forever making poems in the lap
of death Humanity
i hate you - Author: E. E. Cummings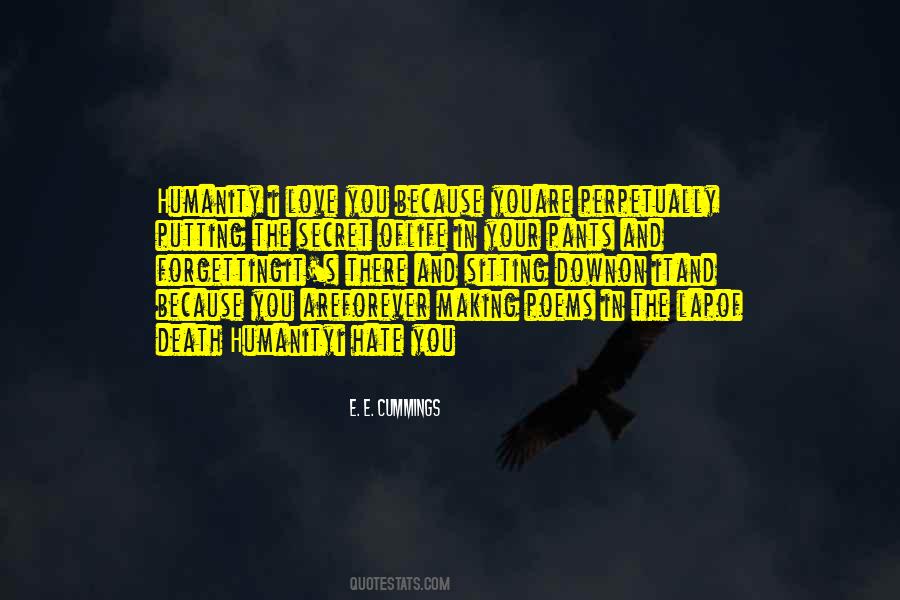 #33. People who boast about age are actually forgetting something special. Age is not barrier to or elevator to success; that's the job of vision. - Author: Israelmore Ayivor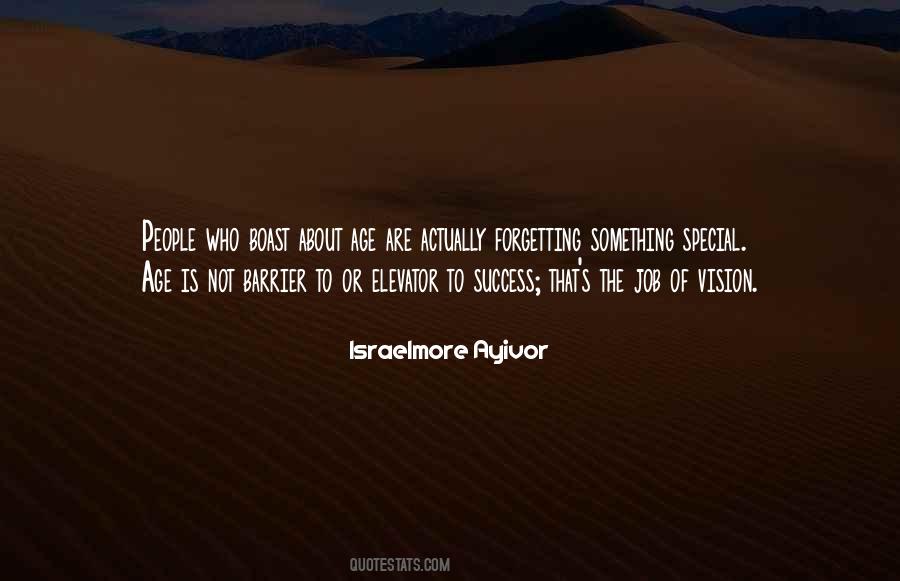 #34. How this life speeds right by, the odometer forgetting how fast it sped. Grinding the foot and pressing the metal, not counting road side markers ahead - Author: S.L. Northey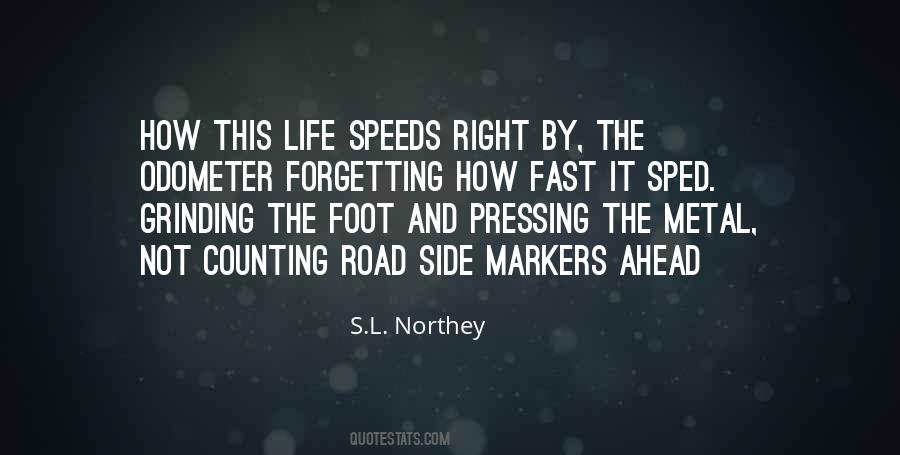 #35. Crossing the line isn't about forgetting the people we love. It's about not letting our past sorrow steal our future joy. - Author: Deanna Roy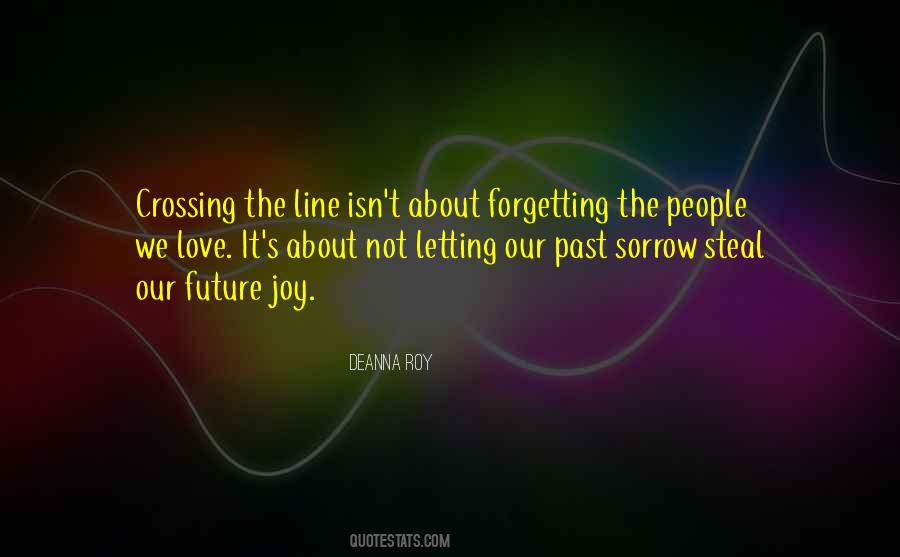 #36. Men live by forgetting and woman live on memories. - Author: T. S. Eliot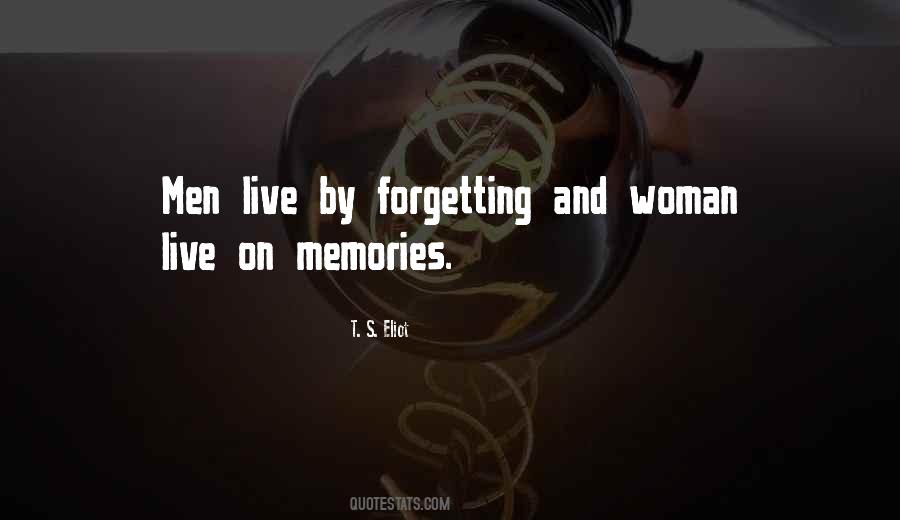 #37. One of life's minor satisfactions is forgetting. - Author: Joyce Carol Oates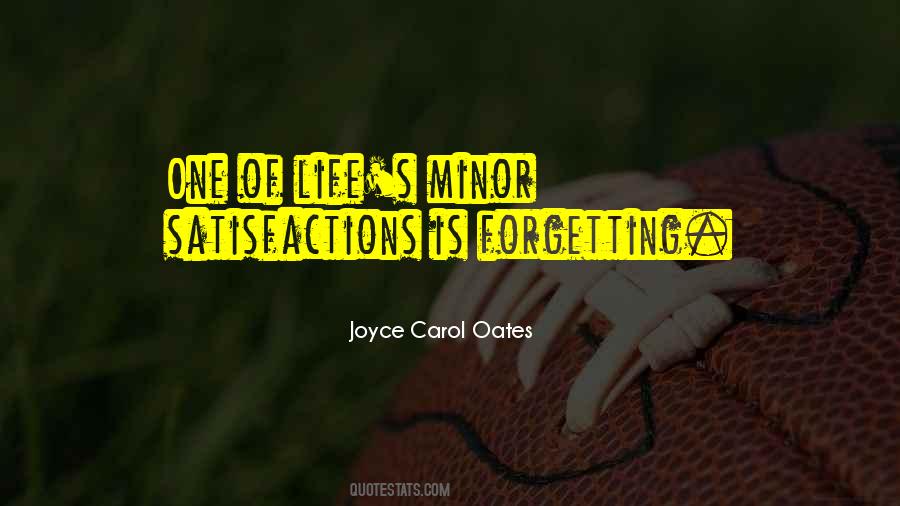 #38. I've been shooting the ball and running a little bit. It's just going out here now and forgetting that I've been out and try to get back in and make sure I know what's going on out there on the floor and that we're just not lost as a team. - Author: Antonio Davis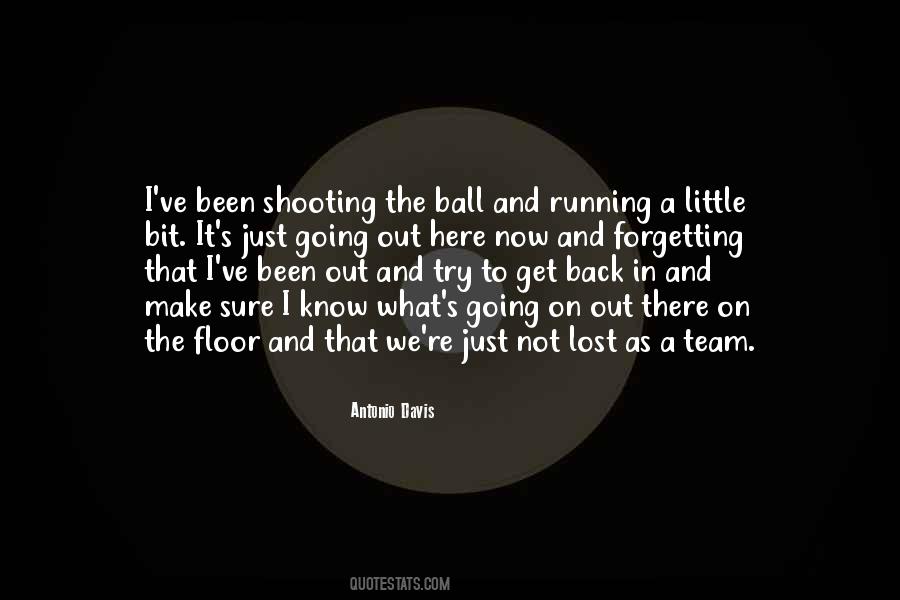 #39. To my mind, forgetting is a risky strategy for living. Memory is essential to us. It is DNA. We need to remember, and we need to imagine. That's why we have books, writing, fiction. - Author: Romesh Gunesekera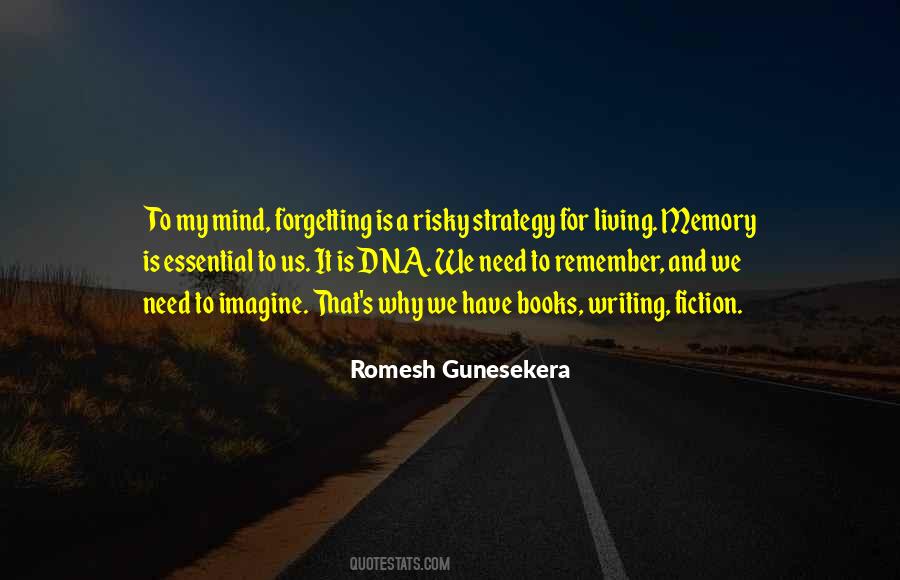 #40. Part of why I have started writing about love is feeling that our culture is forgetting what Martin Luther King taught. We name more and more streets and schools after him but that's almost irrelevant, because what is to be remembered is that strength to love. - Author: Bell Hooks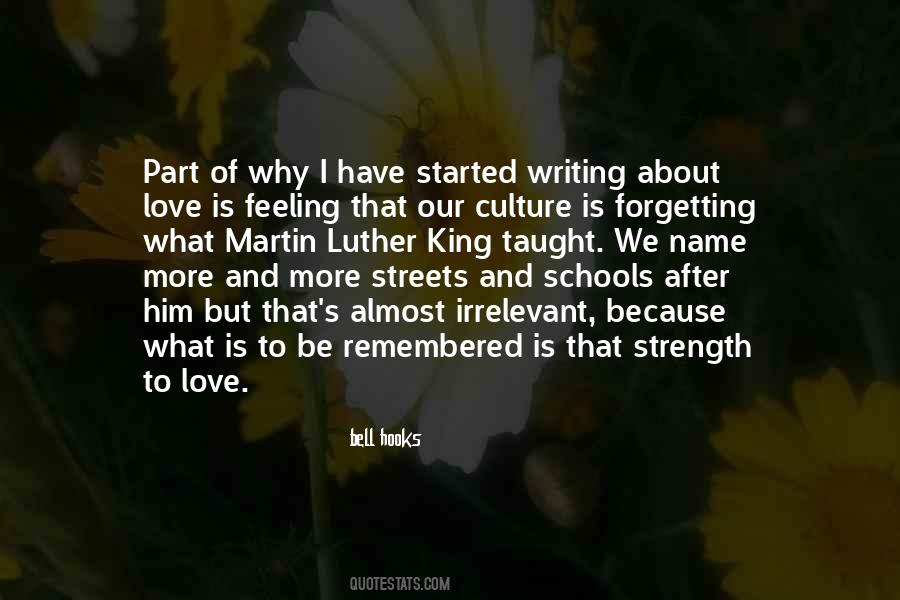 #41. Regrets and apologies are all very well, but there's things that happen in a person's life that are so scorched in the memory and burned into the heart that there's no forgetting them. They're like brands. - Author: John Boyne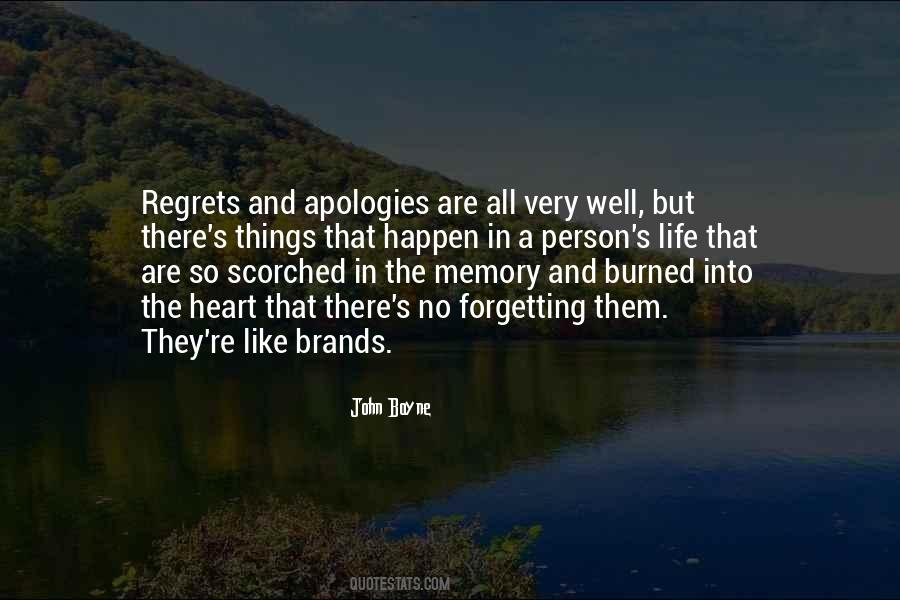 #42. I just . . . it's sometimes hard not to associate moving forward with forgetting the past," I said. - Author: Taylor Jenkins Reid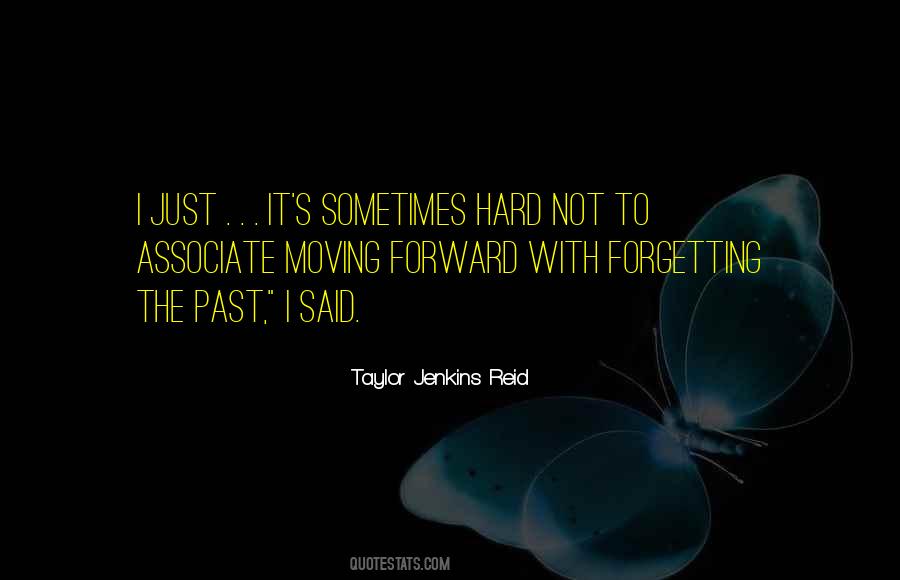 #43. God's forgiving and forgetting heart doesn't document every mistake we commit. - Author: Euginia Herlihy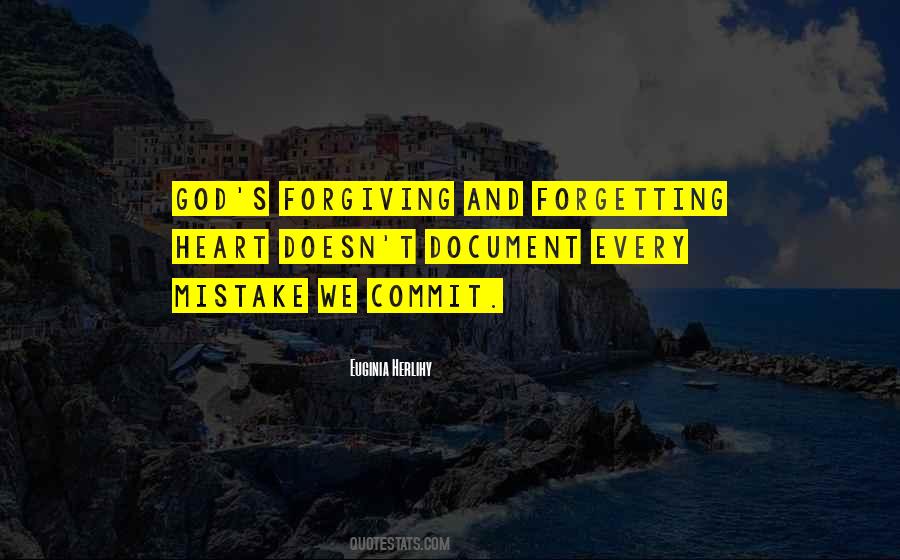 #44. When I think back to my childhood, it's with a mixture of amusement and embarrassment. I was always forgetting things. My mum called me scatty because I could never sit still. But there was no sense I was suffering from a medical condition as such. - Author: Rory Bremner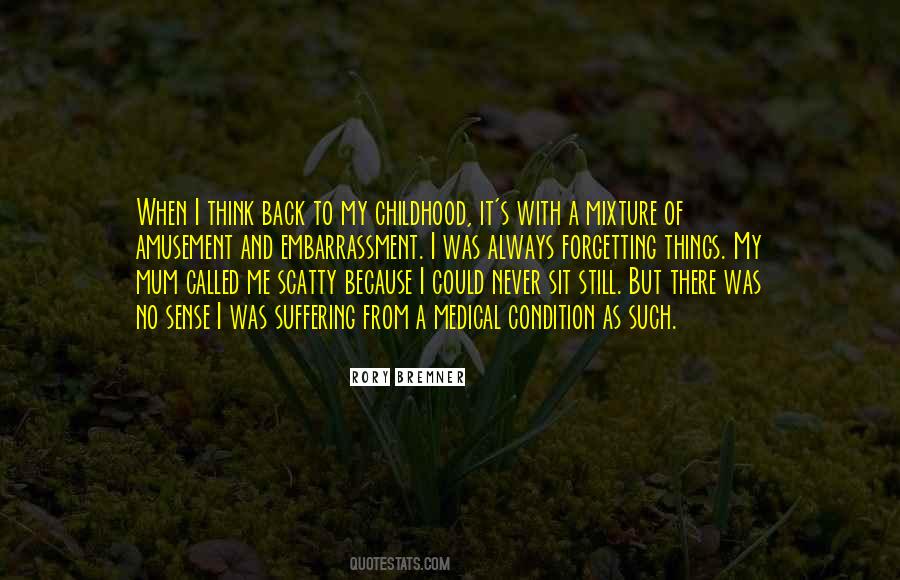 #45. Laughing isn't wrong if it's done out of happiness. Dreaming is essential because it gives us wings, and forgetting...well, there's a difference between living and forgetting. - Author: Laura Bradford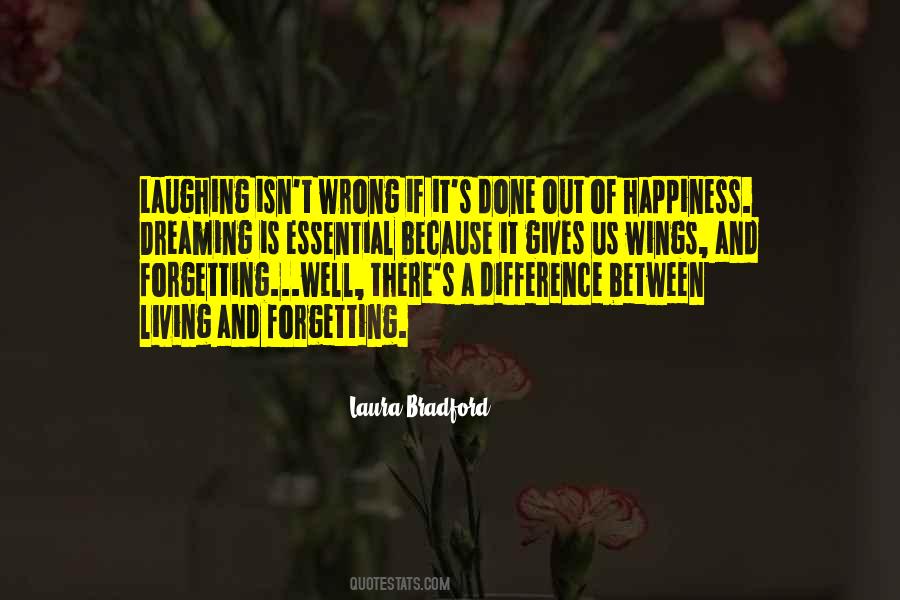 #46. To lose one's name is the beginning of forgetting. - Author: Keith Donohue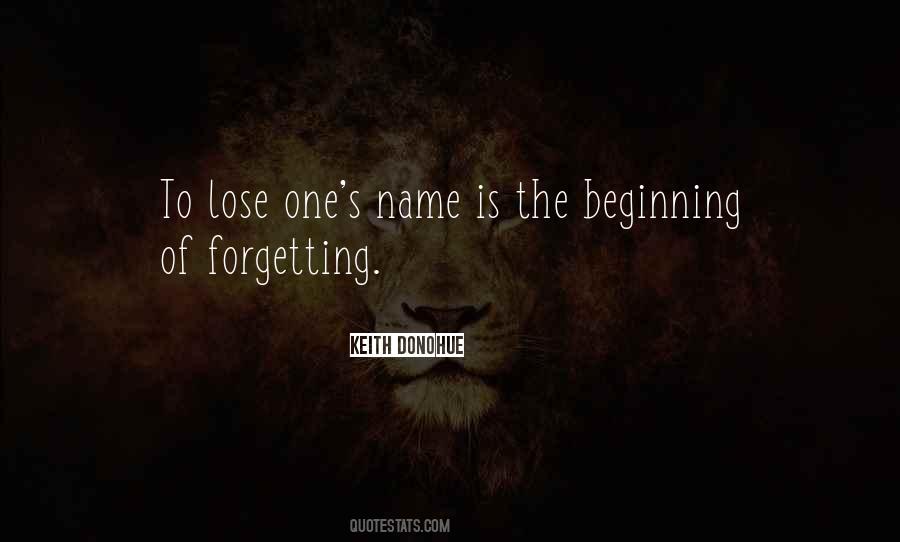 #47. We are like the little branch that quivers during a storm, doubting our strength and forgetting we are the tree - deeply rooted to withstand all life's upheavals. - Author: Dodinsky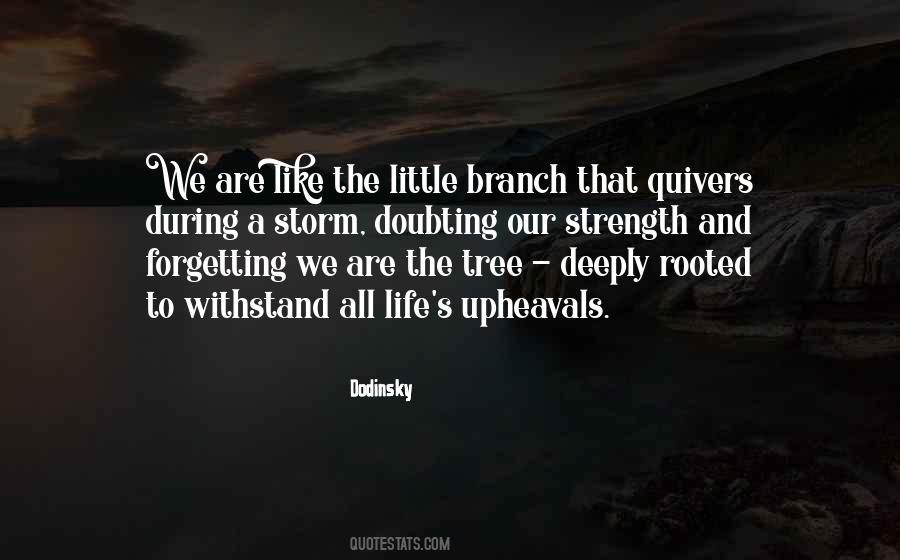 #48. There's no danger of me forgetting, but if you think the threat of a seven-foot-tall bear of a roommate is my only incentive for treating you well, maybe we should cancel dinner. - Author: Skye Callahan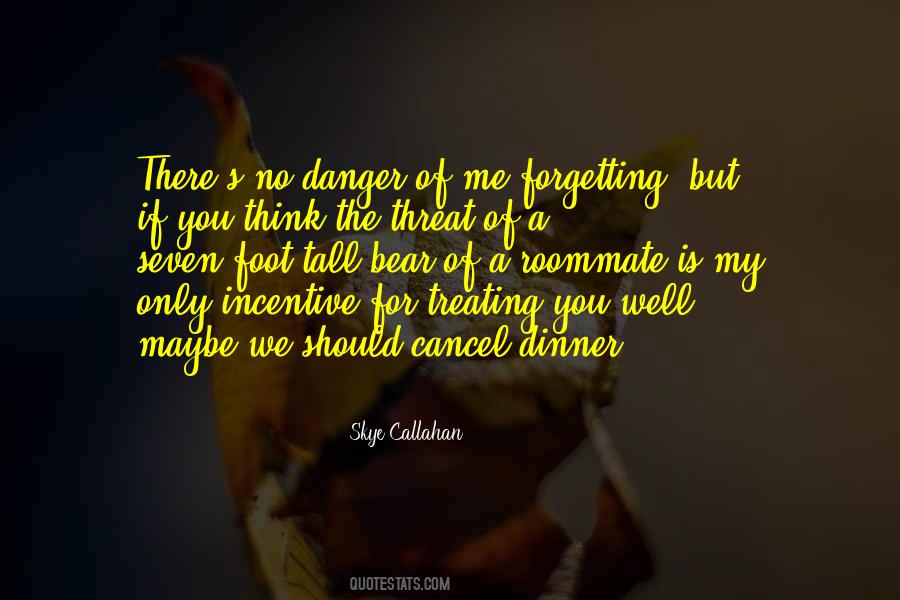 #49. Forgetting what it's like to suffer can be a good thing, since suffering can make people too cutthroat for society's good. But suffering also breeds certain capacities that are easily lost, such as the ability to focus and a willingness to engage with conflict. - Author: Ben Ryder Howe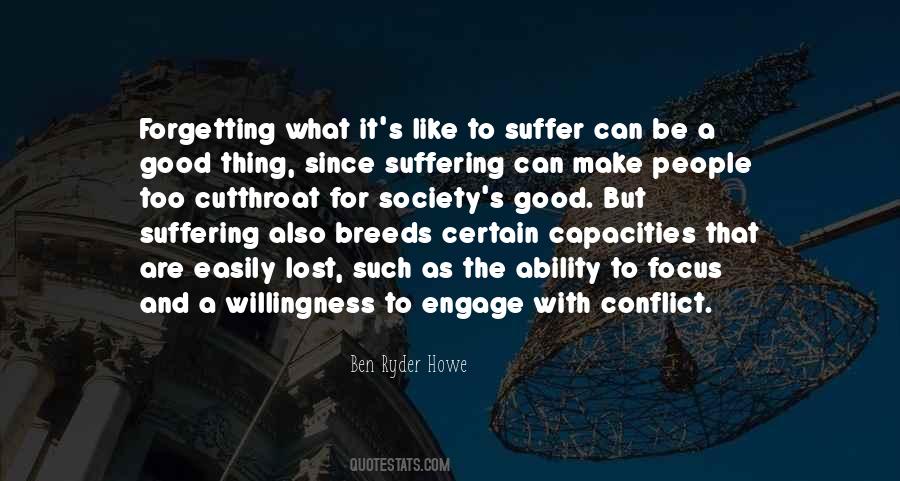 #50. The heart becomes wide by forgetting self, but narrow by thinking of the self and pitying one's self. To gain a wide and broad heart you must have something before you to look upon, and to rest your intelligence upon - and that something is the God-ideal. - Author: Hazrat Inayat Khan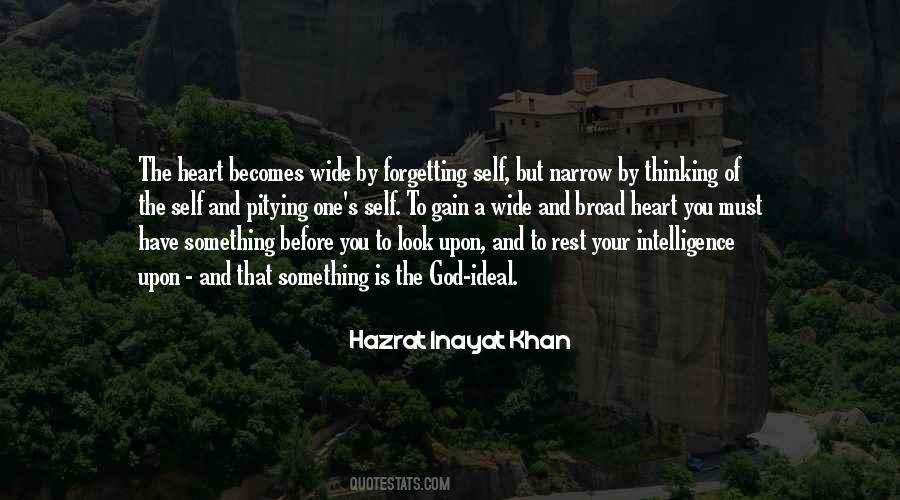 #51. Letting go isn't about forgetting; it's about learning and moving on. It's making a choice to be strengthened by your past ... not strangled by it. - Author: Steve Maraboli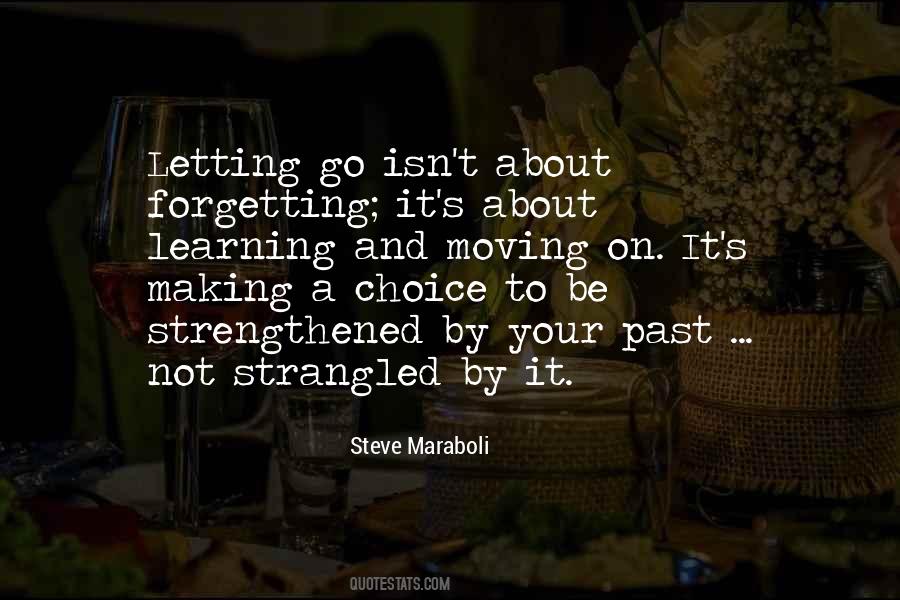 #52. There's a space between forgetting and moving on, and it's not easy to find. - Author: Jennifer E. Smith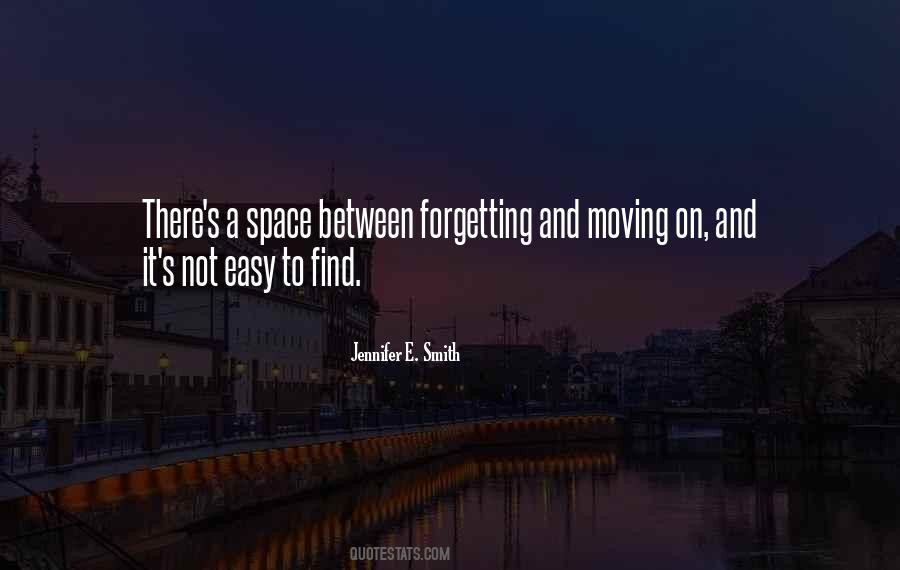 #53. It's not forgetting that heals. It's remembering. - Author: Amy Greene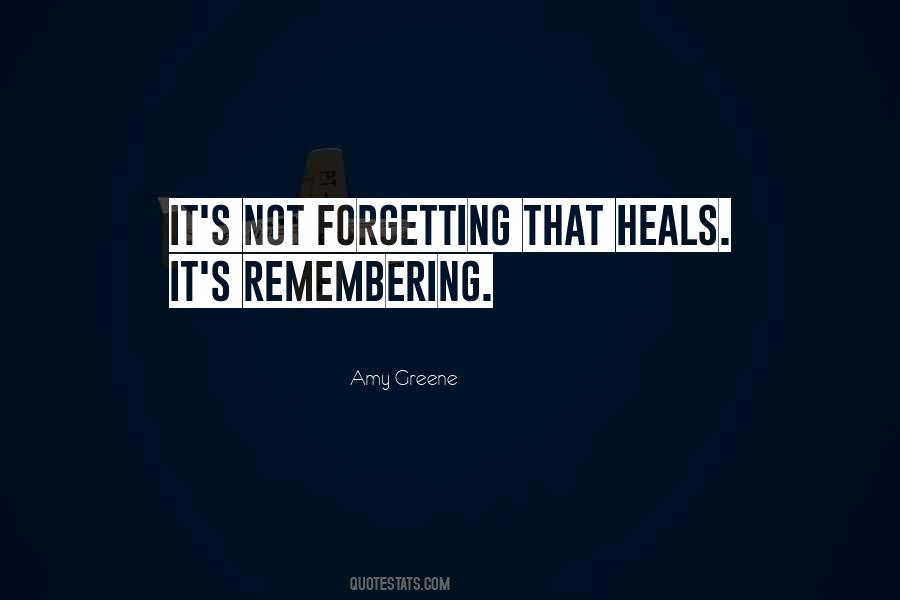 #54. Dying is not the real tragedy, Shelley."
"It's not?"
"Forgetting is. - Author: Samantha Sotto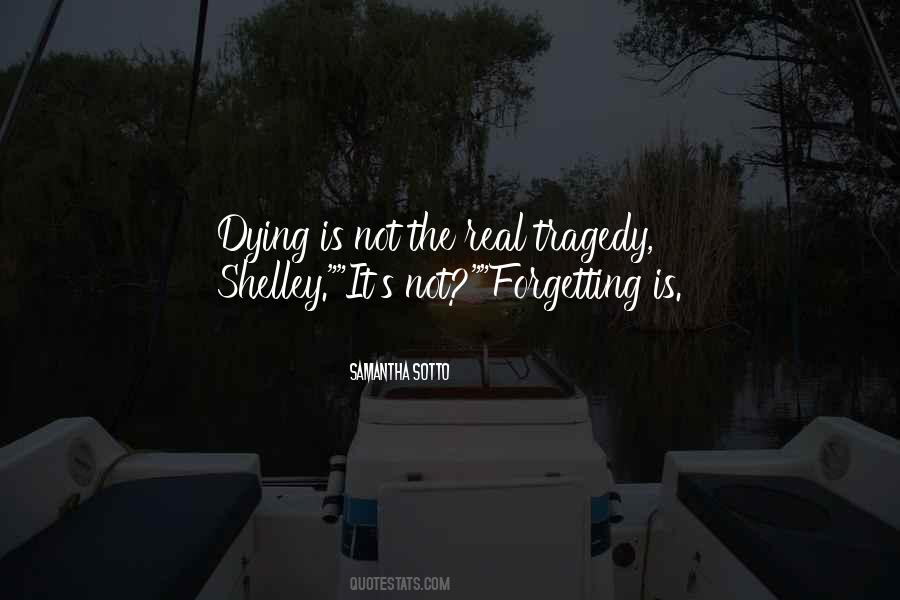 #55. When people talk about how fast children forget, how fast they forgive, how sensitive they are, I let it go in one ear and out the other. Children can remember and forget and totally freeze to death the people they don't like. - Author: Peter Hoeg Miss Smilla's Feeling For Snow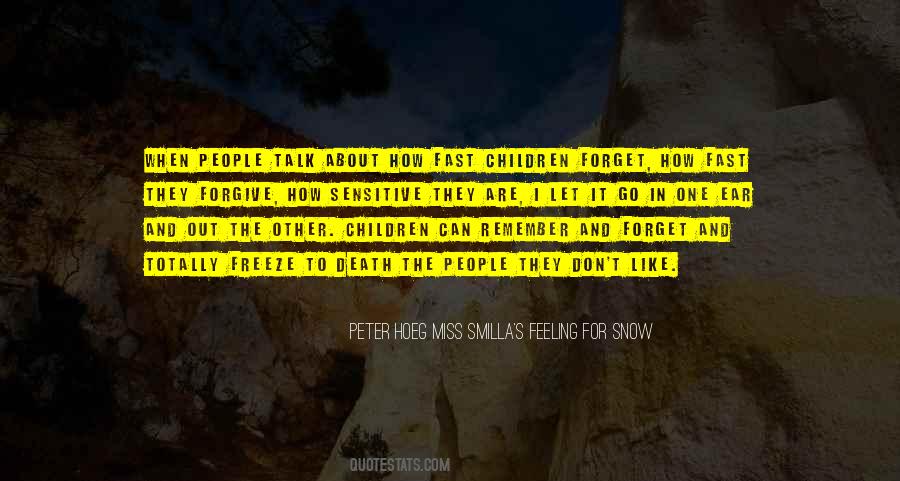 #56. Oh, am I glad to know that after all these years it still is hard trying to unlove someone; if there's such a thing... - Author: Ahmed Mostafa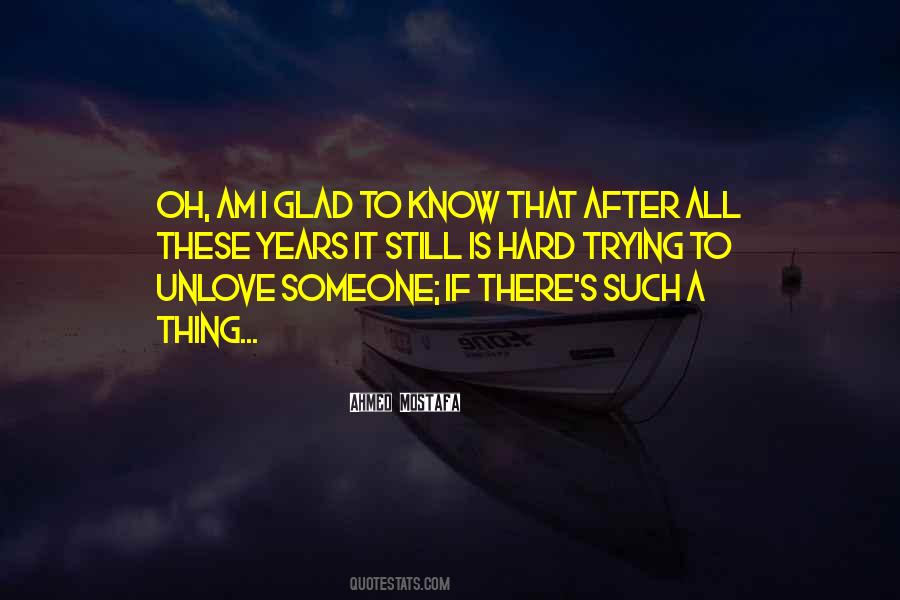 #57. One of the great enemies of hope is forgetting God's promises. - Author: John Piper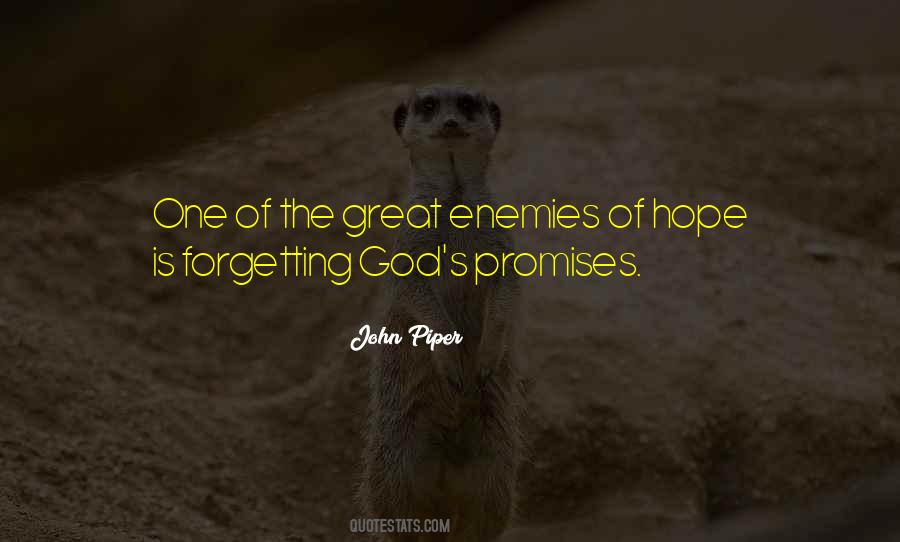 #58. The risk is that you furnish the project with new suggestions to try and freshen it up; it's not always beneficial. You risk betraying the original intention with the story, forgetting what it is you really want to portray. - Author: Lars Von Trier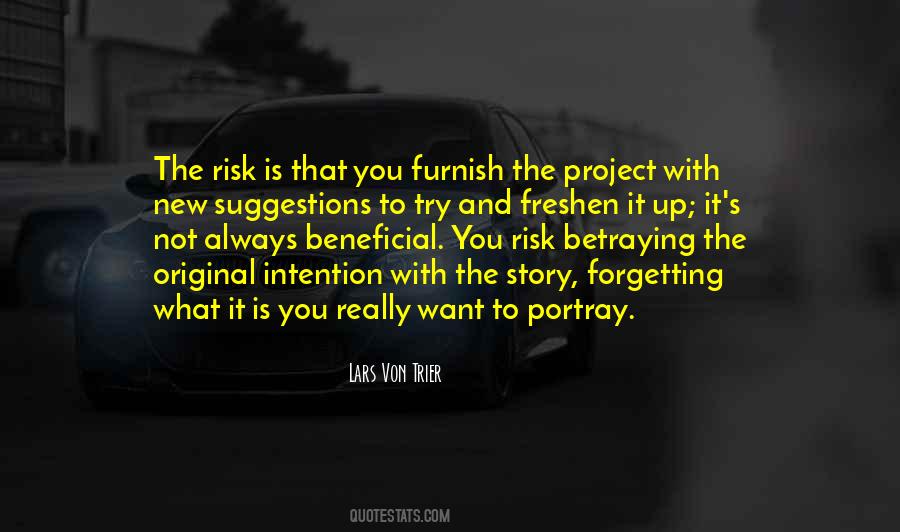 #59. War is a big word; it's cruel, it's hard, nobody wants that. Protecting yourself sounds much better. Putting up walls, shutting everyone out. And forgetting that those who you are so afraid of - they're not all that different from you. - Author: C.M. Rayne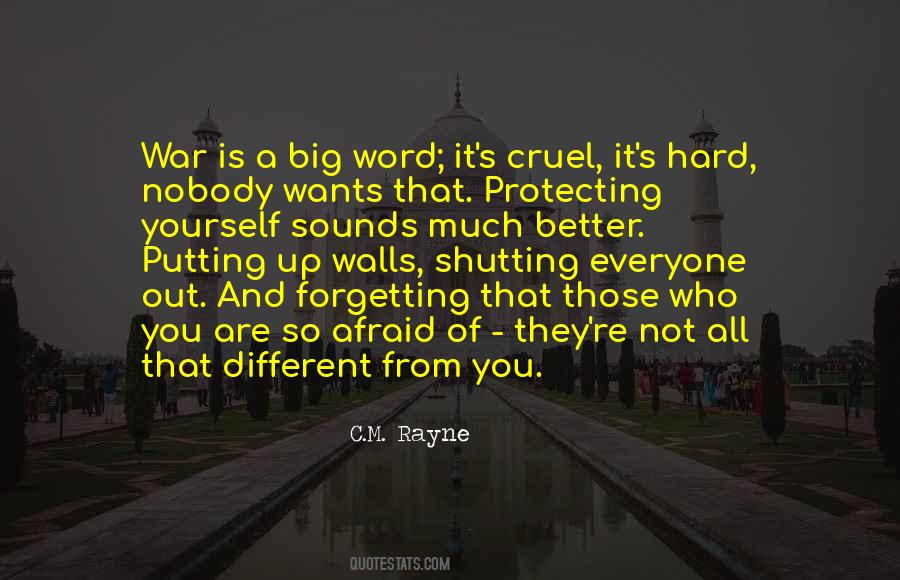 #60. It's easy to forgive someone for the hurt they've caused you. Forgetting is impossible. - Author: Tara Sivec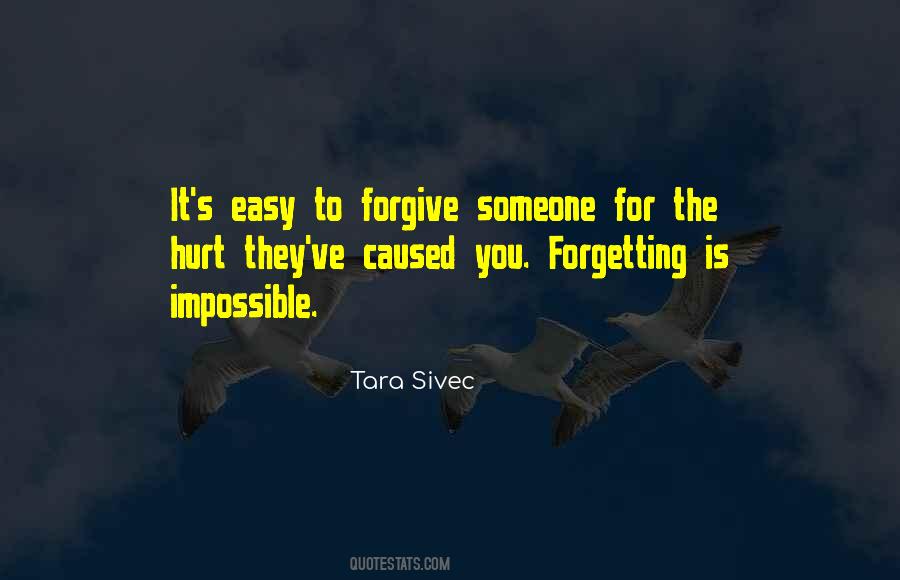 #61. Memory. Such a strange phenomenon. What does a person remember, and what does he choose to forget? Perhaps he's not choosing, but forgetting. And what does he remember, and for what reason? - Author: Rama Marinov Cohen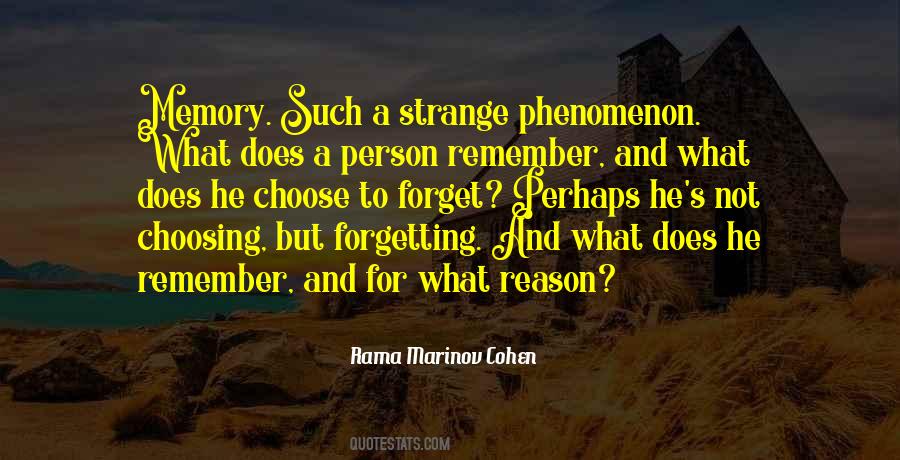 #62. I think acting is about forgetting yourself in order to give the best of yourself. It's passing through you more than you're creating it. You're not the flower, but the vase which holds the flower. - Author: Juliette Binoche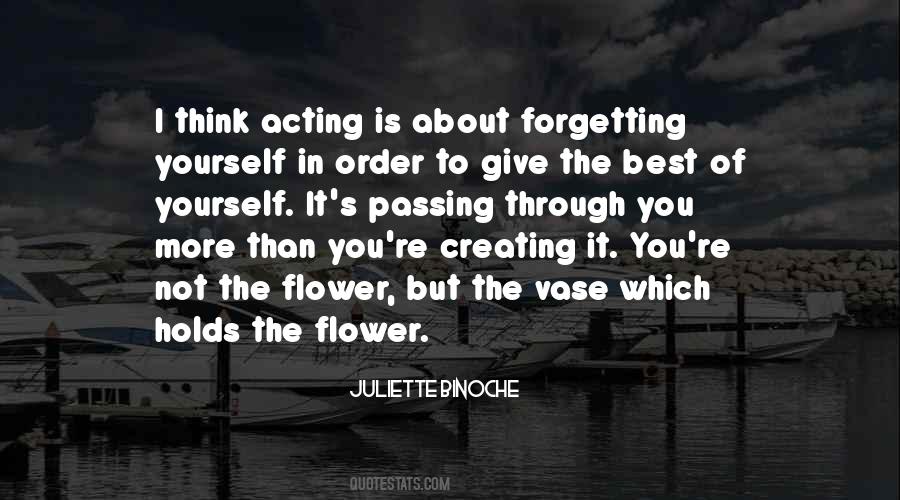 #63. Forgetting who you are is so much more complicated than simply forgetting your name. It's also forgetting your dreams. Your aspirations. What makes you happy. What you pray you'll never have to live without. It's meeting yourself for the first time, and not being sure of your first impression. - Author: Jessica Brody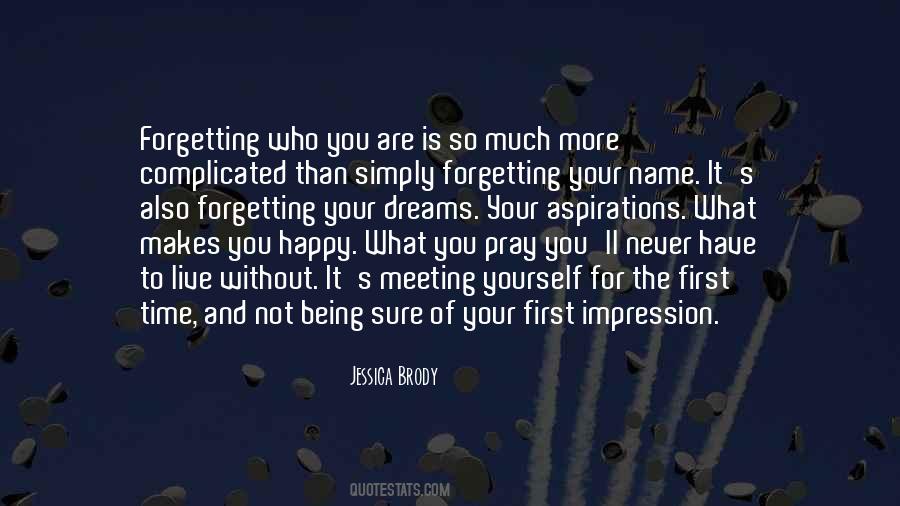 #64. To record is a process against forgetting. I do interviews because it's what I've been doing every day for a few hours since I was a kid. I've always talked to artists. - Author: Hans Ulrich Obrist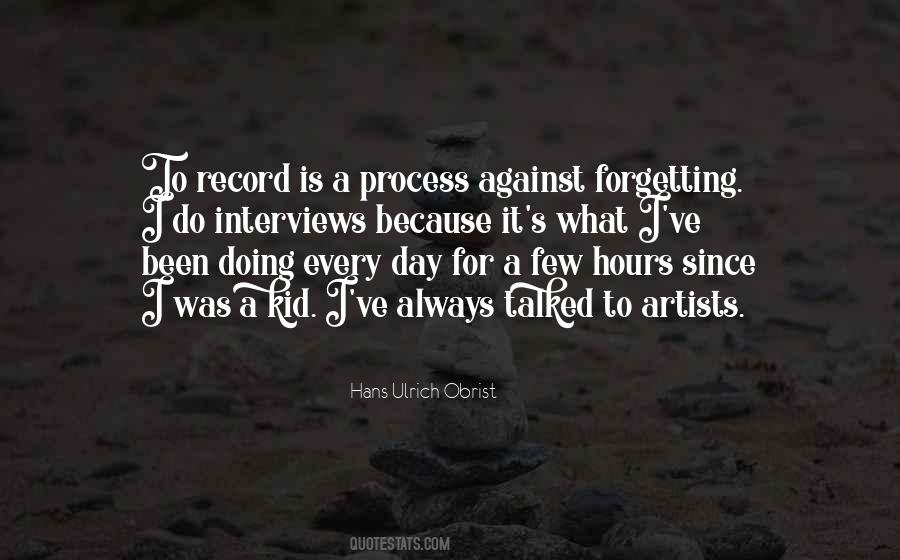 #65. Forgetting the things that lie behind, I will strive towards my higher spiritual possibilities. I dedicate myself anew to the service of the Coming One and will do all I can to prepare men's minds and hearts for that event. I have no other life intention. - Author: Alice Bailey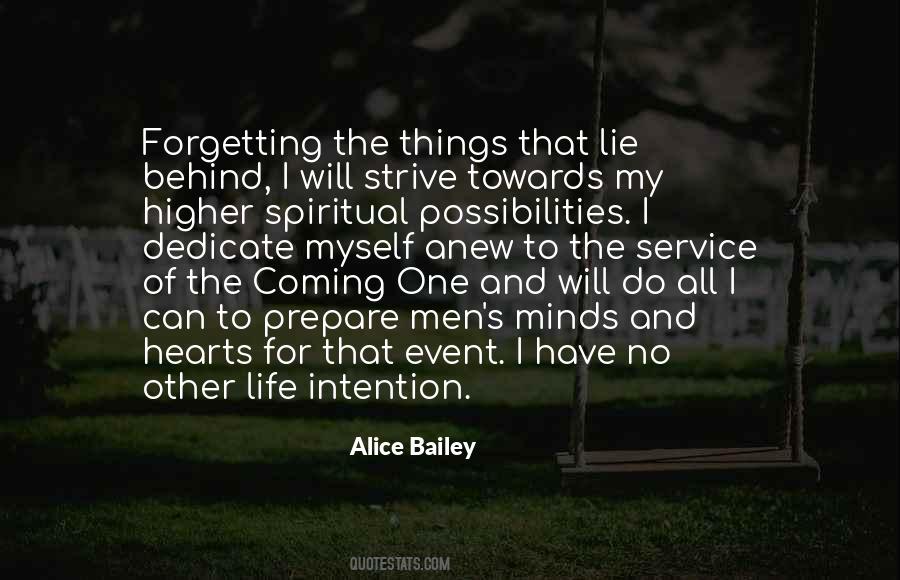 #66. It is such a heady rush to be the object of someone's attention in a good way, not as a freak, that I keep forgetting to hide. - Author: Jodi Picoult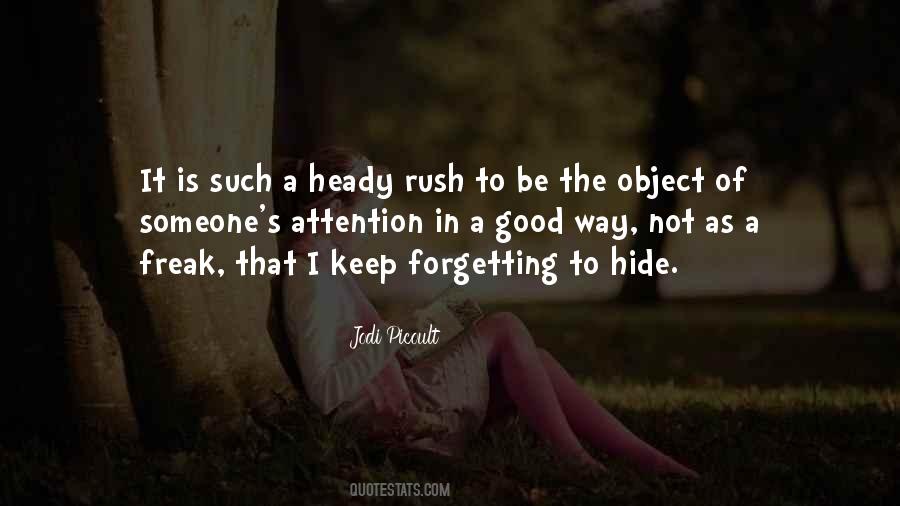 #67. I've been looking only at what's to be done next and forgetting why we're doing it. - Author: Ursula K. Le Guin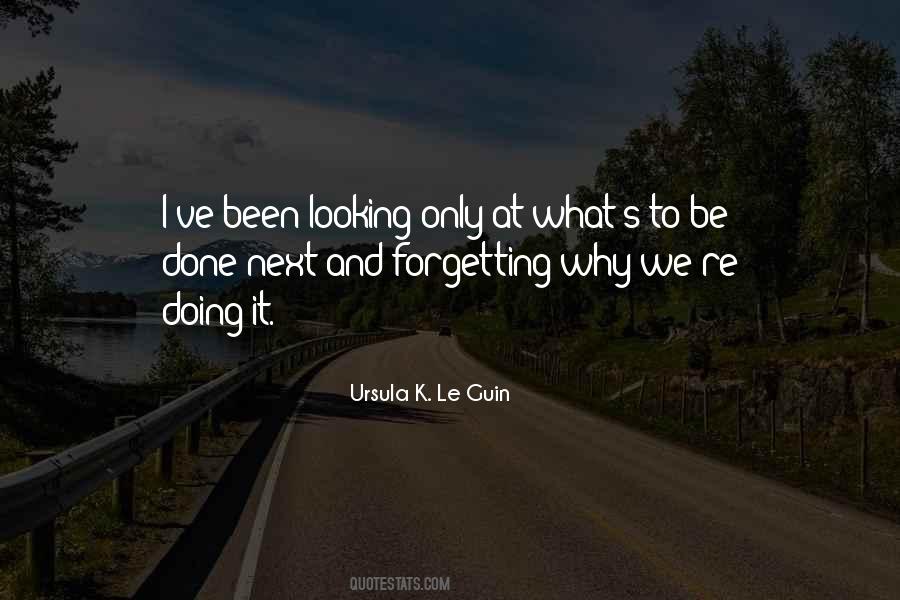 #68. There is only one thing more harmful to society than an elected official forgetting the promises he made in order to get elected; that's when he doesn't forget them. - Author: John McCarthy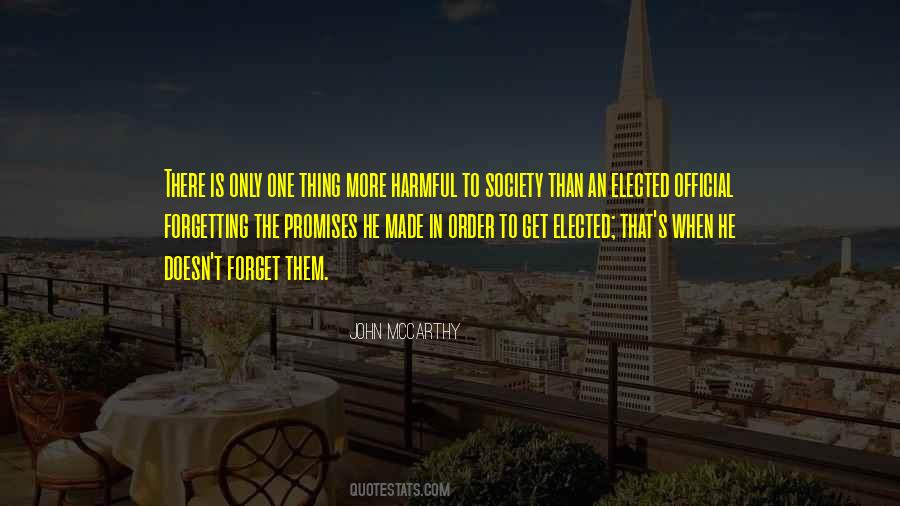 #69. You start thinking the world is a certain way and forgetting that there's another world outside of the campus boundaries that has nothing to do with what is your world at the time. - Author: James Van Der Beek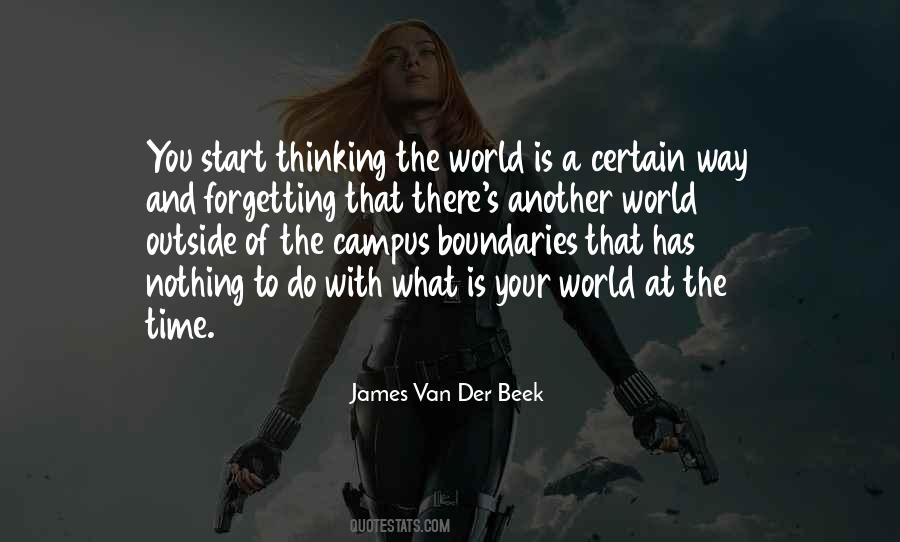 #70. You know, said Sergeant Benton, I'll never understand the Doctor. He's always so sorry in the end for the horrible creatures we come across. It isn't human. You're forgetting, said the Brigadier, he isn't. - Author: Malcolm Hulke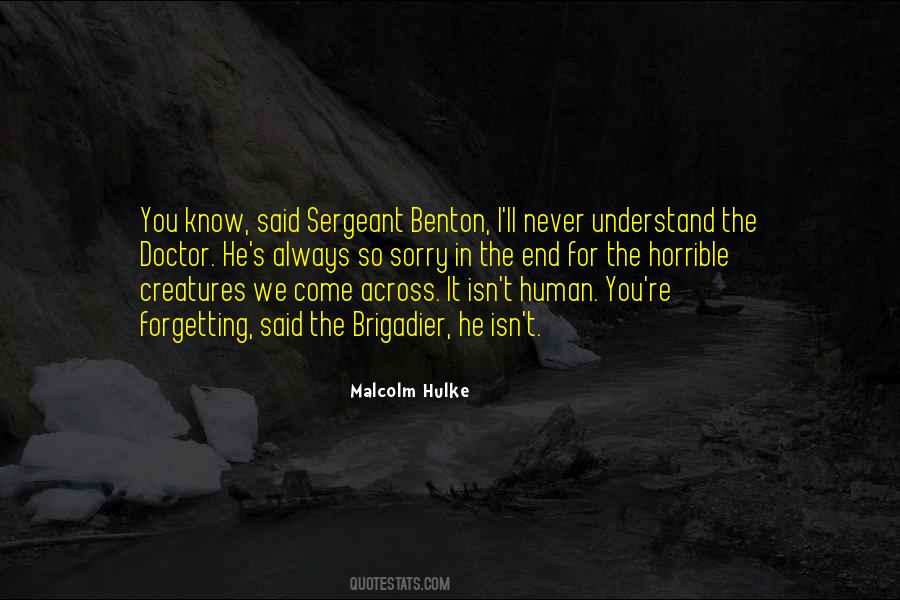 #71. Part of the function of memory is to forget; the omni-retentive mind will break down and produce at best an idiot savant who can recite a telephone book, and at worst a person to whom every grudge and slight is as yesterday's. - Author: Christopher Hitchens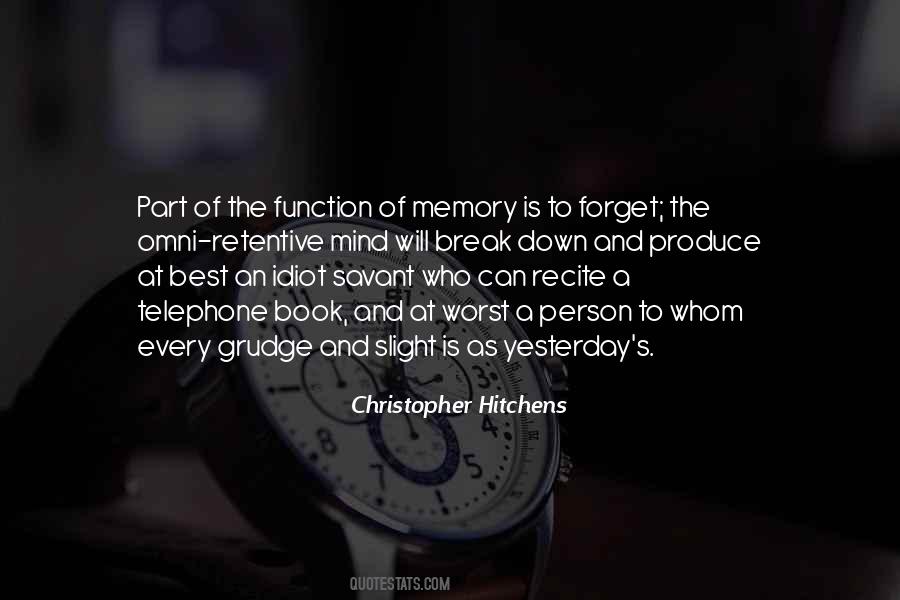 #72. Forgetting: that, too, was the heart's slow way of healing, but it could only be done alone. Love and loss turns us into the most solitary of creatures, their mysteries can never entirely be shared. - Author: Eric Gamalinda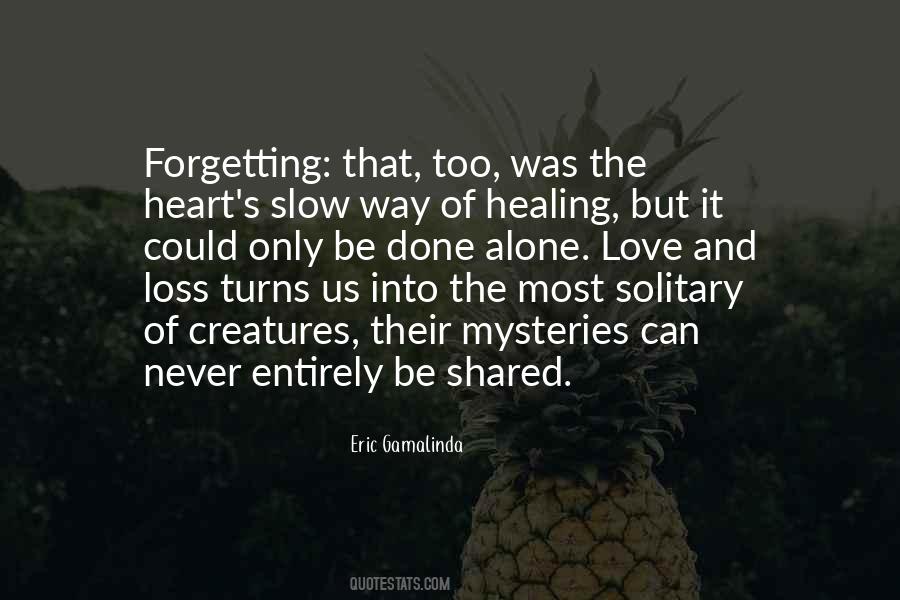 #73. She's my mate; that makes her mine. Forgetting that will see your neck no longer serving its purpose." "I love it when you talk dirty," she purred. "Give my regards to Lindsay. - Author: Sylvia Day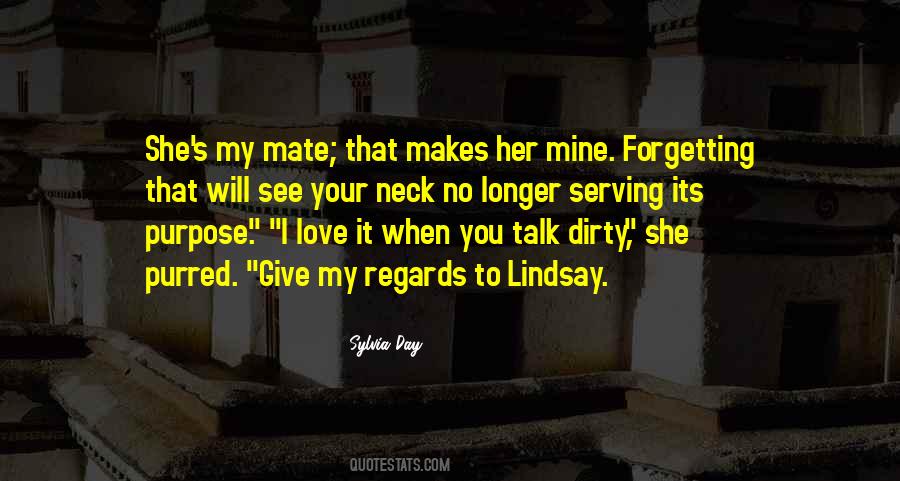 #74. Laws of silence don't work ... . When something is festering in your memory or your imagination, laws of silence don't work, it's just like shutting a door and locking it on a house on fire in hope of forgetting that the house is burning. But not facing a fire doesn't put it out. - Author: Tennessee Williams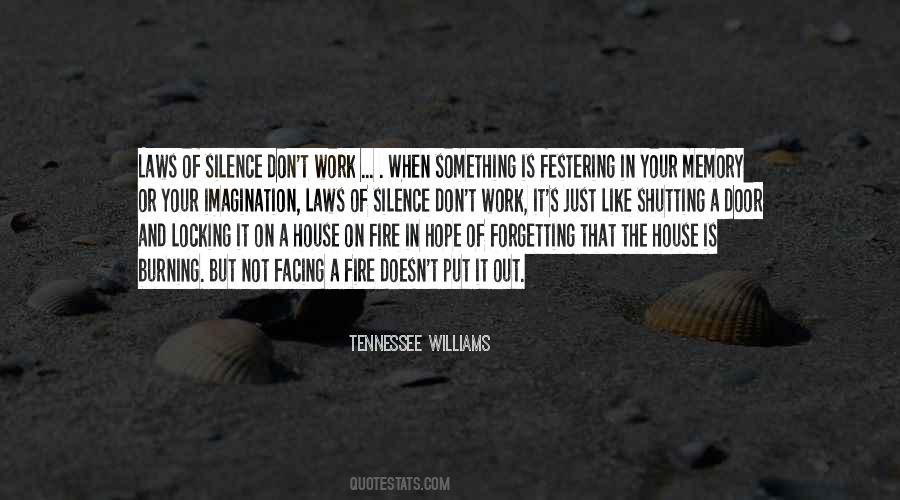 #75. Everyone is saying, "How is it with Ethan Hawke and Selena Gomez?" and I say, "You're forgetting the third star." And they're like, "The car?" It's totally a star. - Author: Courtney Solomon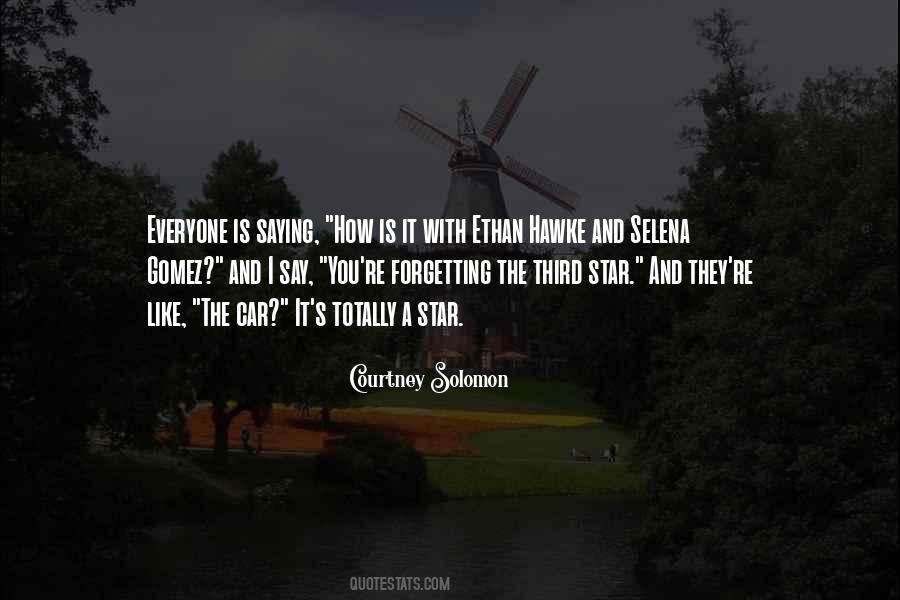 #76. There's things that happen in a person's life that are so scorched in the memory and burned into the heart that there's no forgetting them. - Author: John Boyne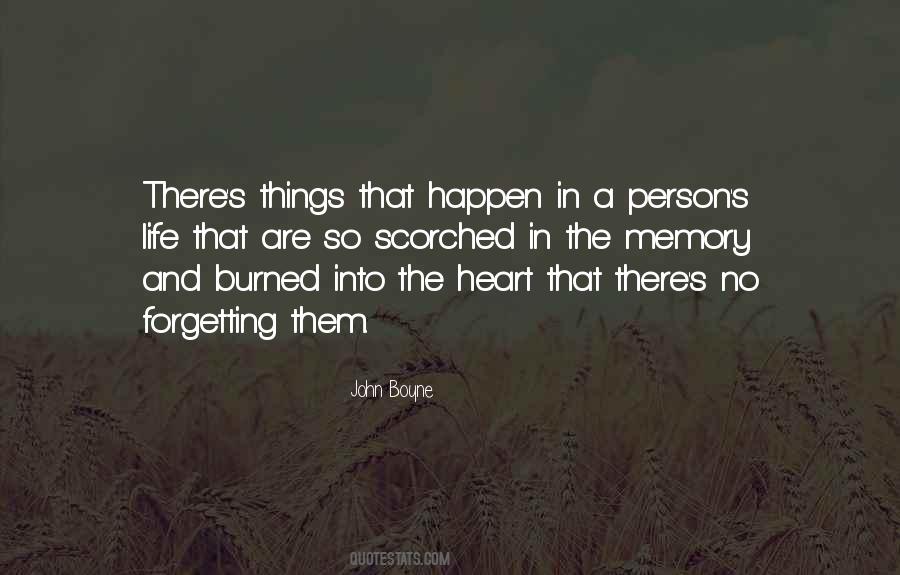 #77. Memory is so crazy! It's like we've got these drawers crammed with tons of useless stuff. Meanwhile, all the really important things we just keep forgetting, one after the other. - Author: Haruki Murakami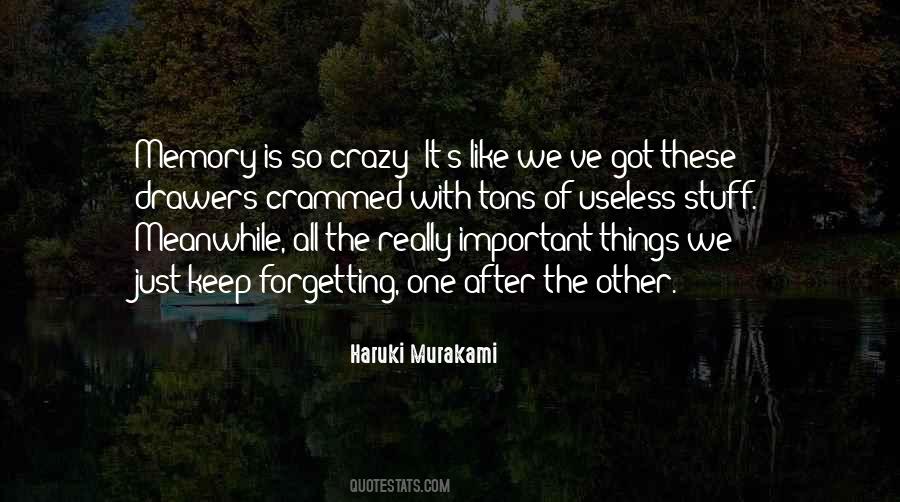 #78. I don't think forgetting is an important feature of human memory. I think it's important to be able to remember things accurately. - Author: Gordon Bell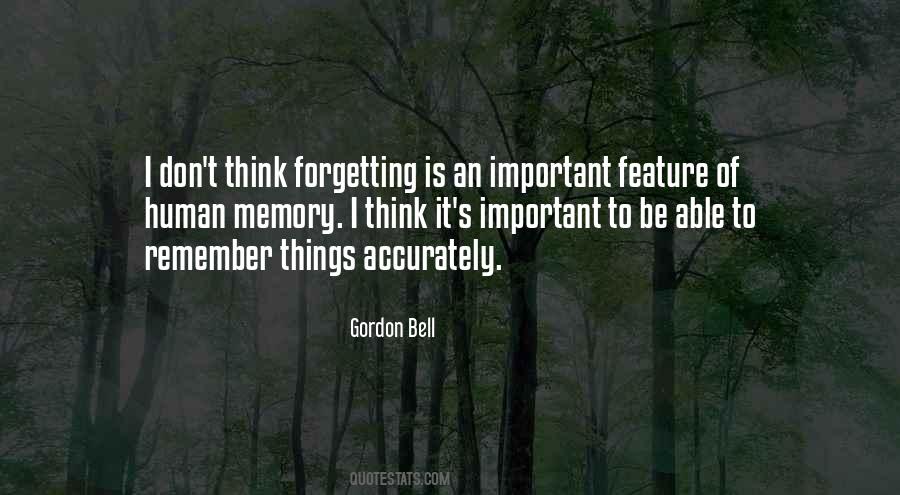 #79. We've never thought too deeply about the roles things like forgetting or partisanship or inefficiency or ambiguity or hypocrisy play in our political or social life. It's been impossible to get rid of them, so we took them for granted, and we kind of thought, naively, that they're always the enemy. - Author: Evgeny Morozov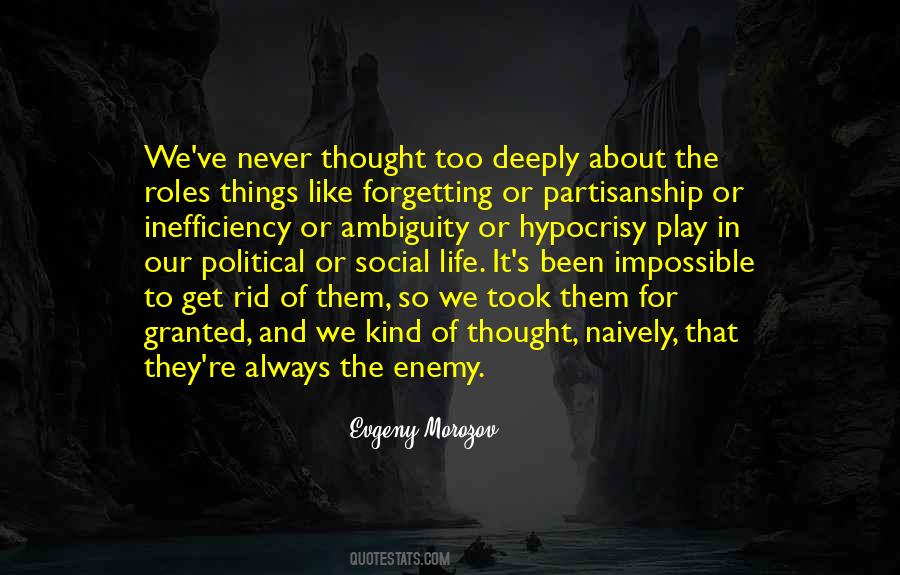 #80. I keep forgetting about your amnesia. Heh. Forgetting about amnesia. That's funny. - Author: Rick Riordan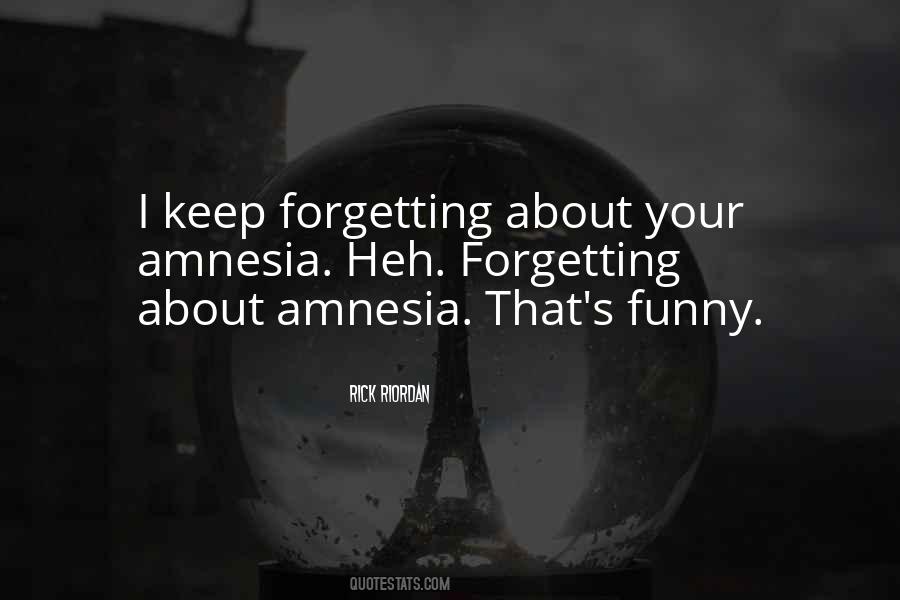 #81. She's forgetting,' Ellen said to Jack, plumping herself down on a chair. 'All of her life is leaking out of her. Soon there will be nothing left. - Author: Isobelle Carmody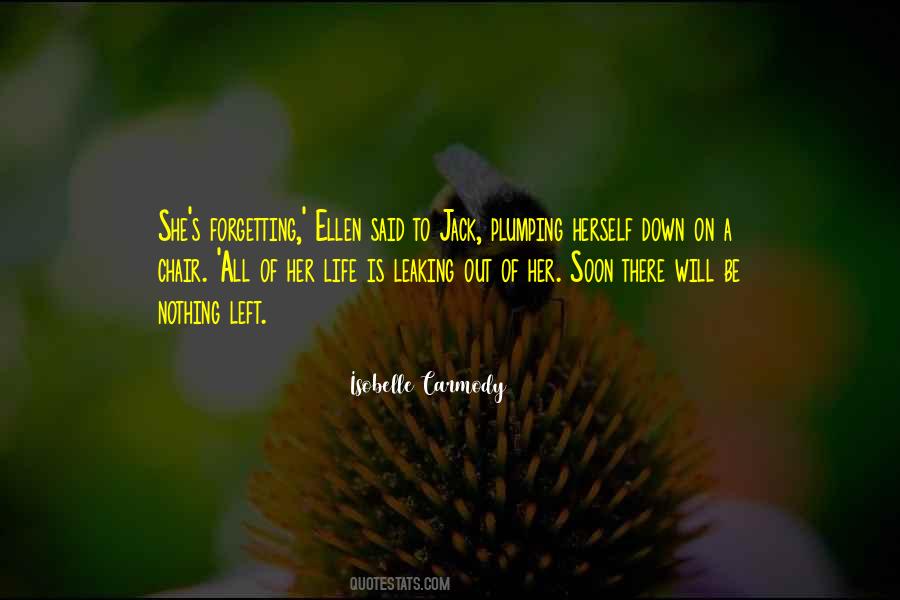 #82. There's a fine line between forgetting an event, and suppressing the memory of it. - Author: Jonathan Coe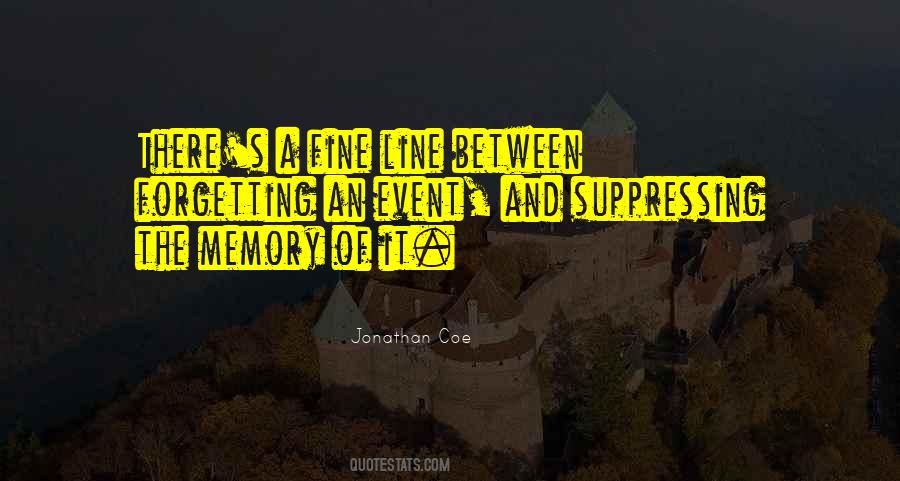 #83. Only one thing's sadder than remembering you were once free, and that's forgetting you were once free. - Author: Leonard Peltier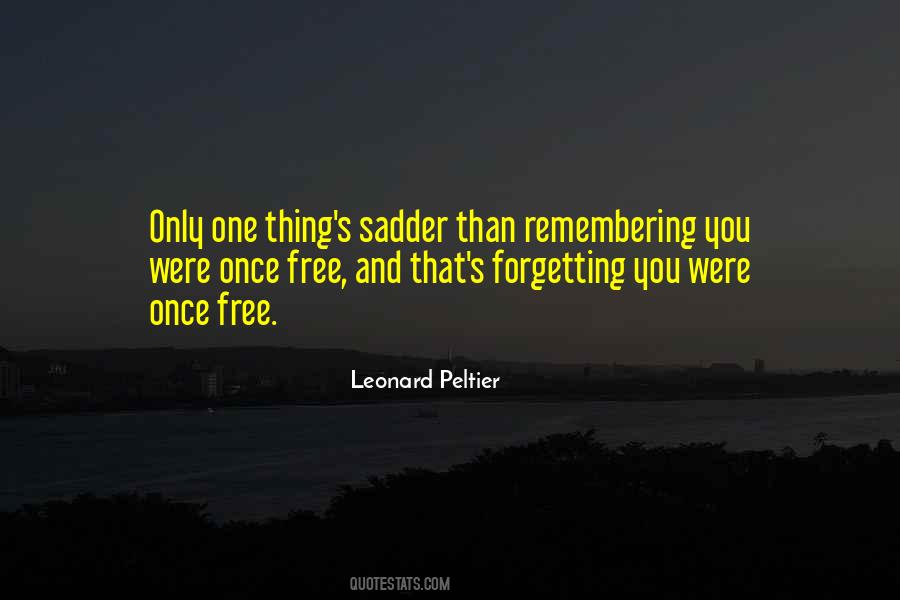 #84. Whether you're an entrepreneur, an employee, a student, a homemaker, a writer, it's time to start forgetting about all the ways the world has promised you safety and comfort. - Author: James Altucher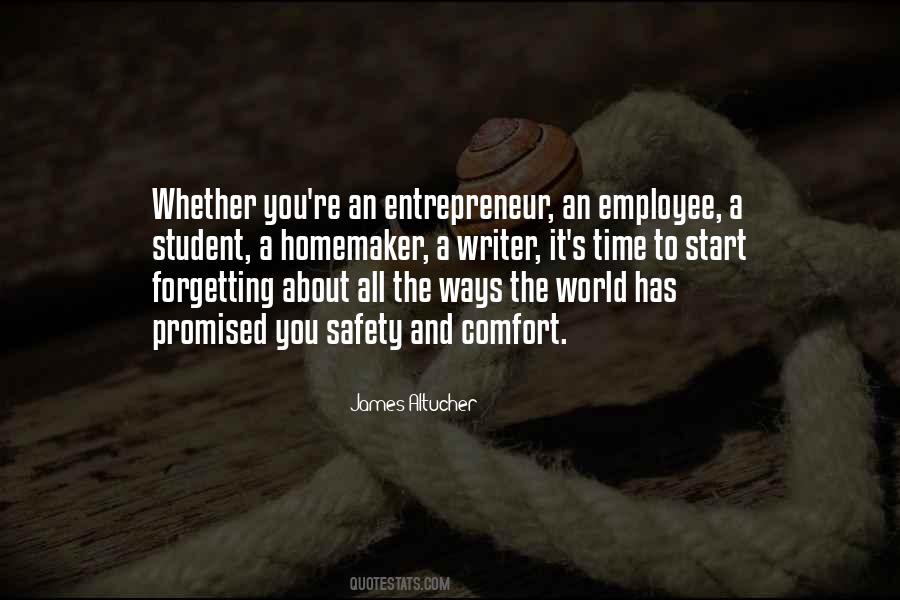 #85. And that's the best thing about this crazy journey: I am forgetting that I'm an old man instead of the Alzheimer's reminding me by forgetting - Author: Jonathan Dunne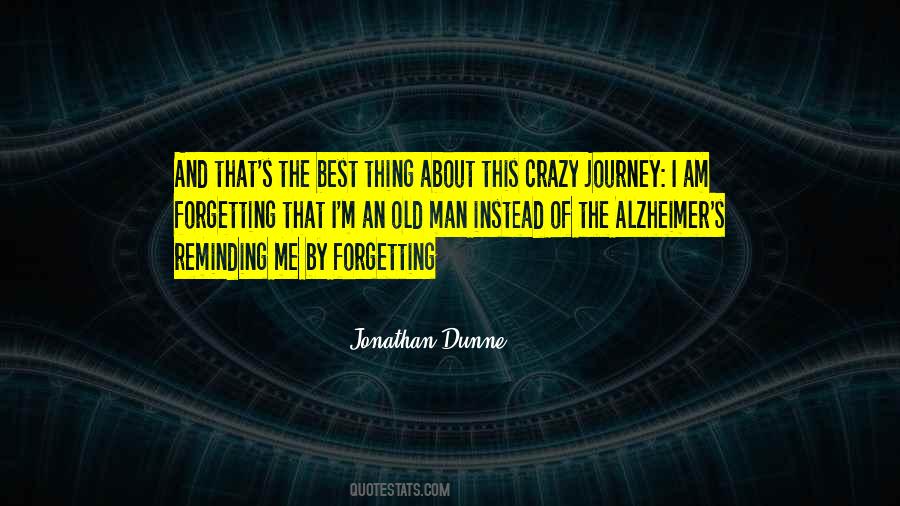 #86. Maybe that's why I was so afraid of Sasha's love. With him comes the remembering part that I was so good at forgetting.
~Piper - 'Breathe Me - Author: Alexia Purdy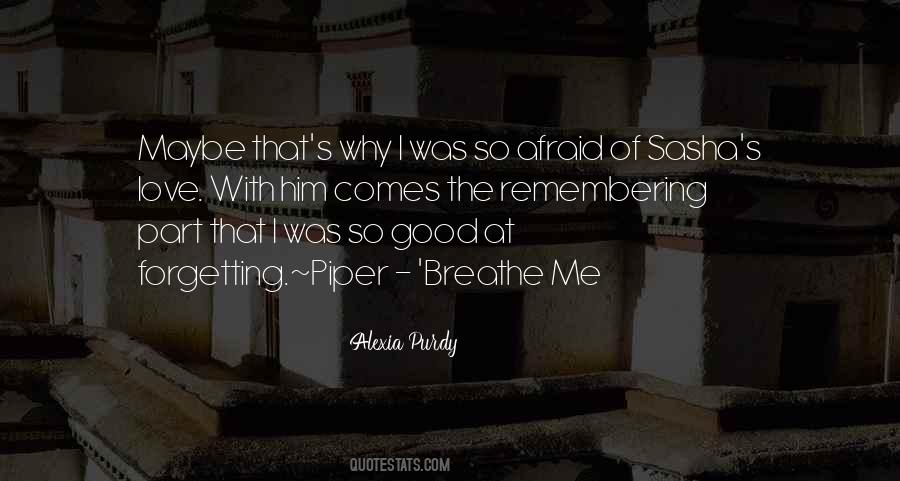 #87. There's no denying Bird-man's well-intentioned heart. He's a good guy, not the type of prick who would take your favorite Stryper t-shirt on tour and bequeath it to some random trollop he hooks up with while conveniently forgetting you ever existed. - Author: Shauna Cross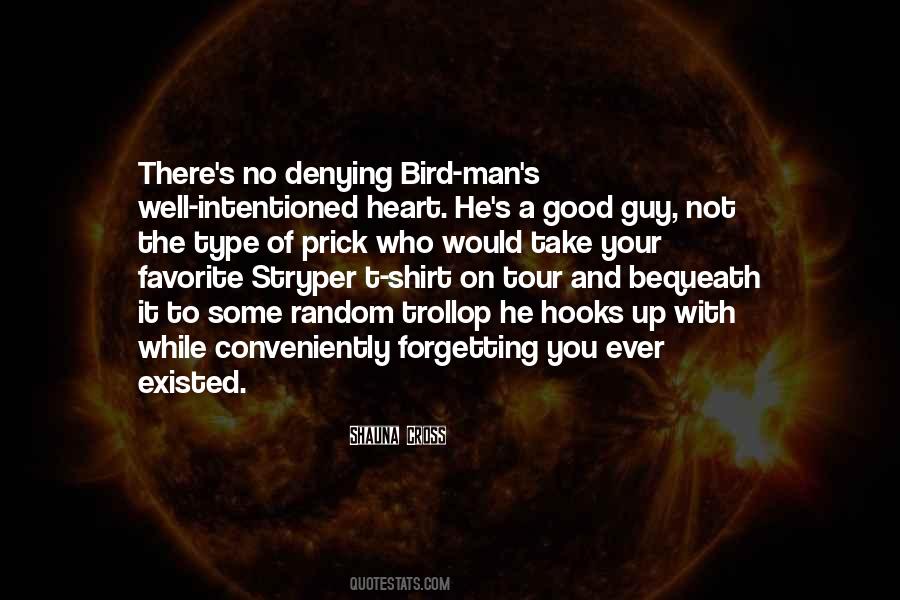 #88. Everyone has his vanity, and each one's vanity is his forgetting that there are others with an equal soul. - Author: Fernando Pessoa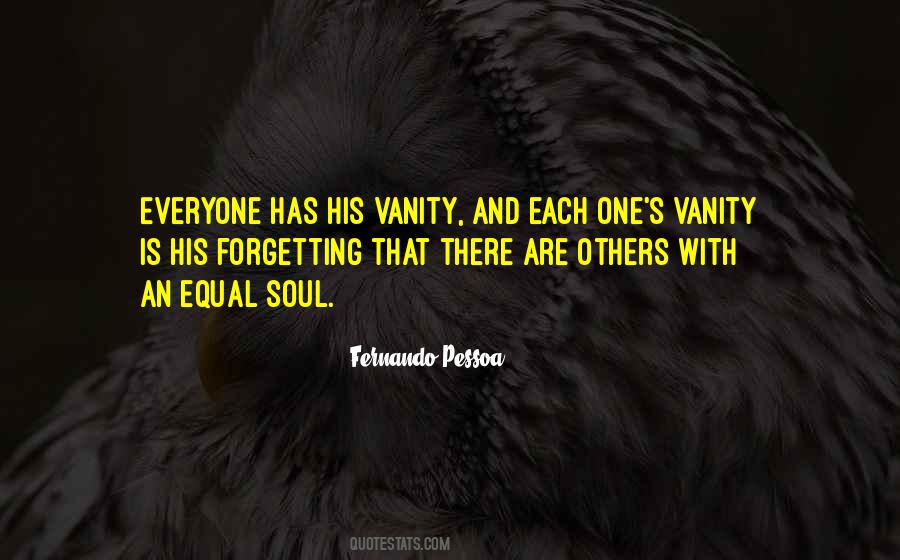 #89. What's truly important
and what I find myself forgetting and having to relearn
is that right here, right now, I am free. Free to be myself and to express myself. - Author: Kat Von D.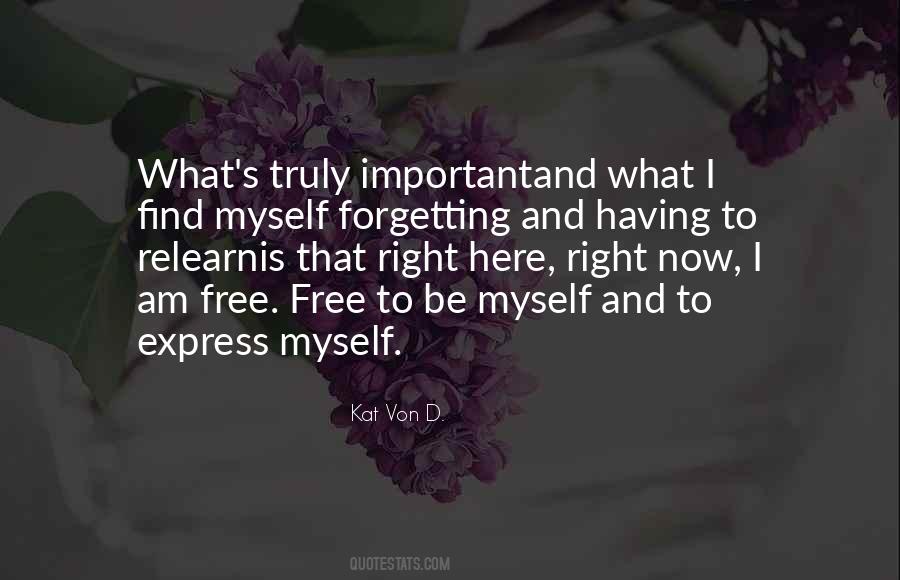 #90. I wot well you are more more godly in such-like things that I can ever be - yet, Kristin, 'tis hard for me to see how it should be a right reading of God's word to go on, as your way is, ever storing up wrath and never forgetting. - Author: Sigrid Undset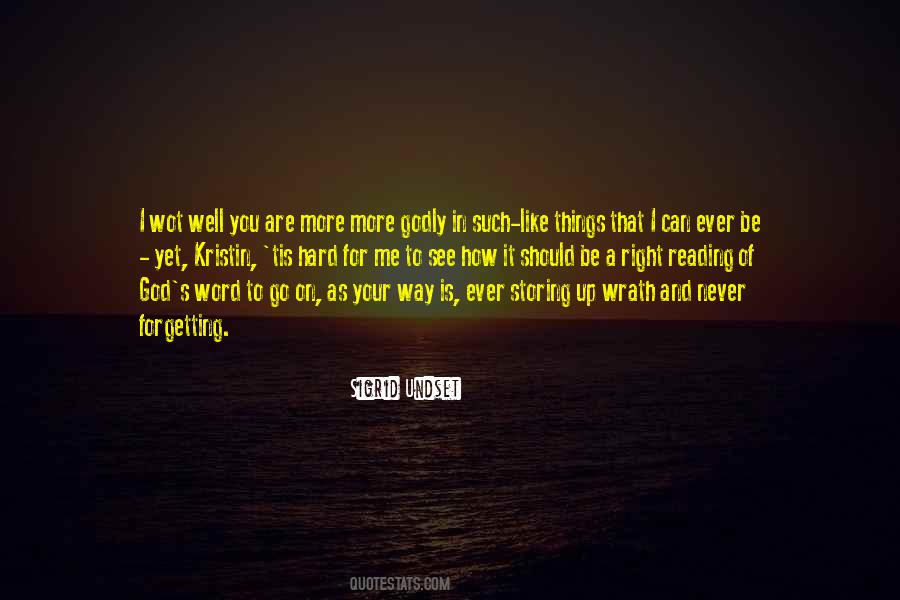 #91. You're forgetting ... we never get in trouble in that class. Remember I gave Mr. Hendry that lap dance last year. I'm thinking he's expecting one this year as well. - Carol - Author: Matthew Leeth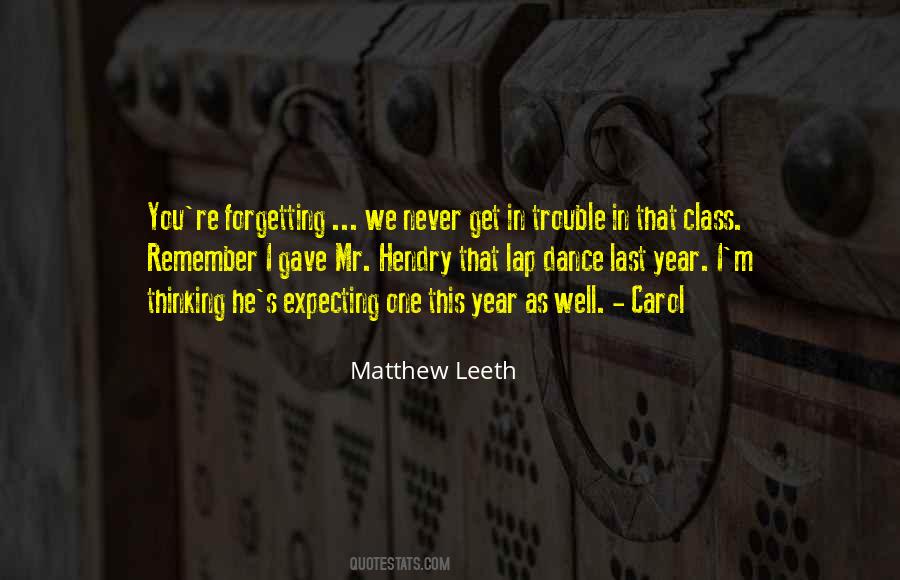 #92. It's painful to hold out hope for the things that once brought you joy. You have to find ways to make yourself forget. - Author: Christina Baker Kline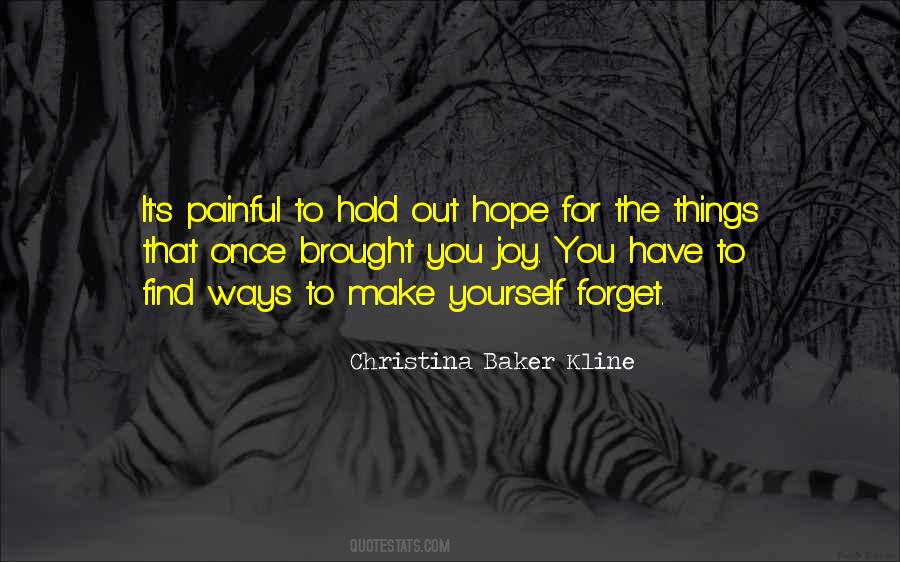 #93. For me, performance is about forgetting what I'm wearing. Just putting it on and knowing it's right. - Author: Debbie Harry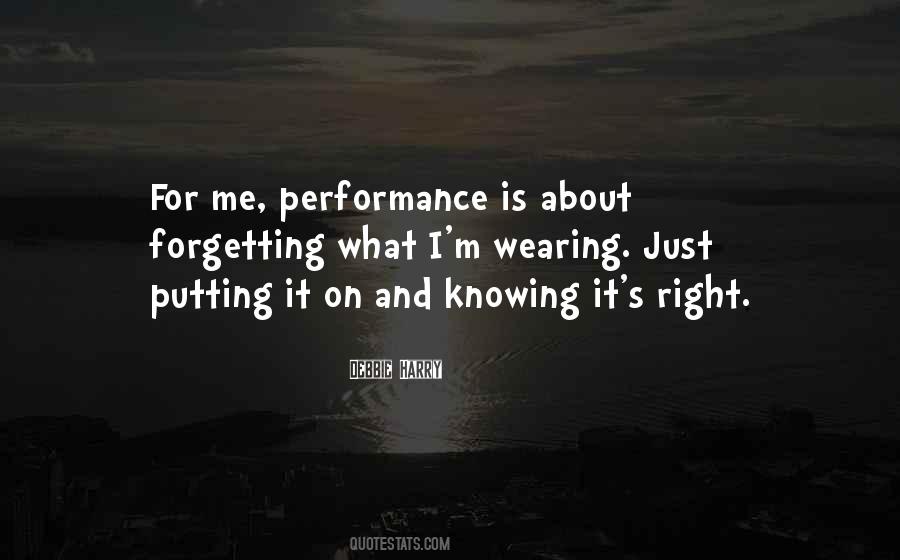 #94. Being unhappy alone isn't all that much fun, but what's even tougher is playing one's part without forgetting one's lines, coping with other people's compassion, their comments, being there with the right line when they give the cue. - Author: Francois Maspero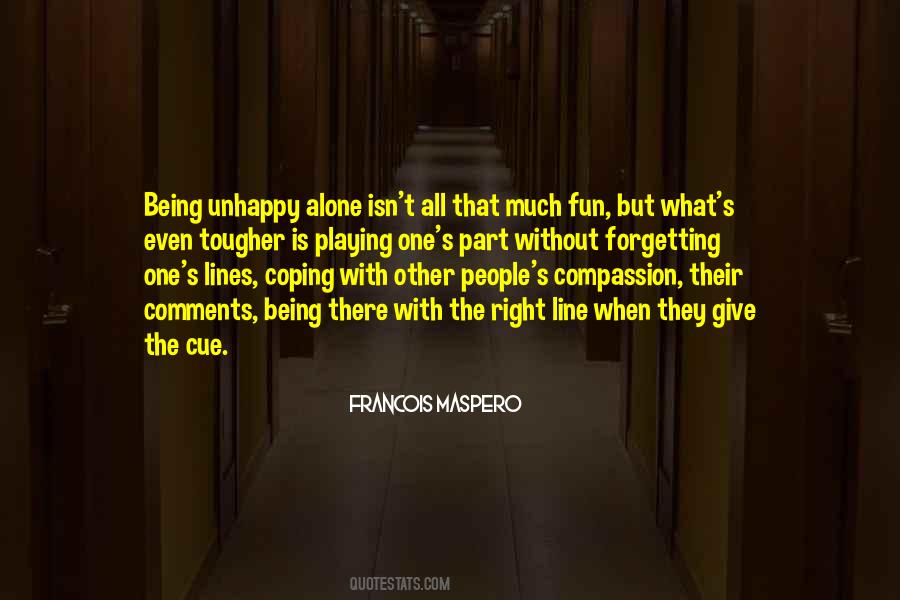 #95. Love It, is to increase by forgetting. It's escape through a single being to mediocrity of all other. It's one more for trying to be less. It's become like everyone else in the belief that we become as a person. It is giving appointment to happiness in the palace of chance. - Author: Abel Bonnard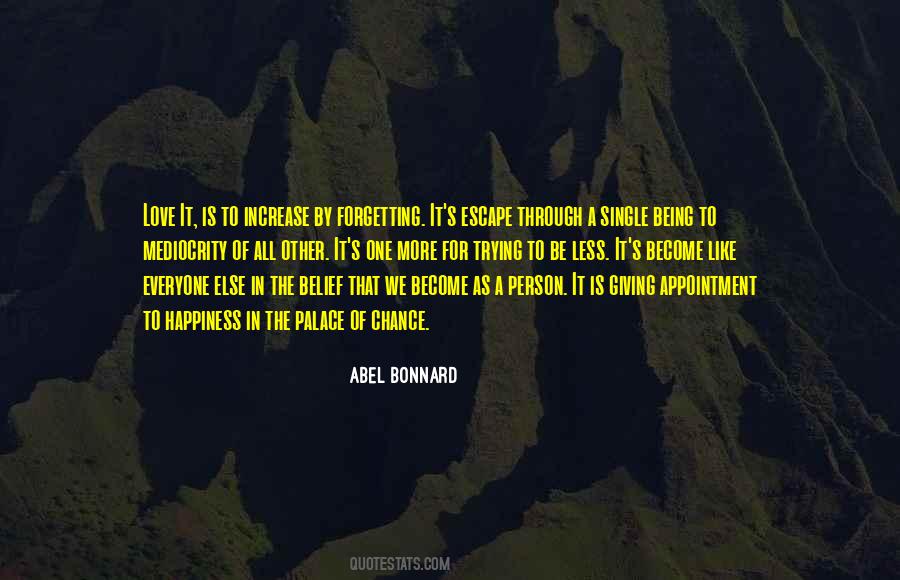 #96. Honesty was a thing that could never be a thing. In a blaze of hubris and misplaced enthusiasm, we kowtowed to it, thinking it would make us better people, but conveniently forgetting that an abstraction was incompatible with the specificity of a human's needs and wants. - Author: Erin Bomboy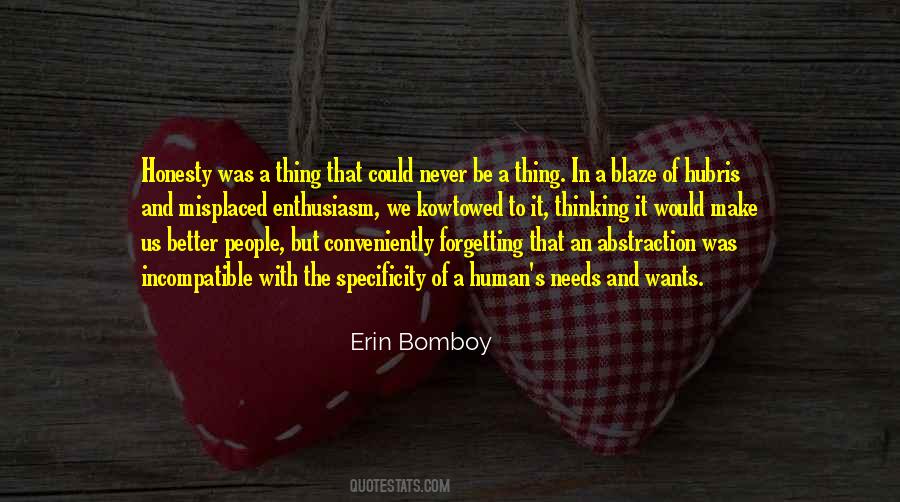 #97. I keep forgetting were Pono's girls. Maybe we're not suppose to be happy.'
'Then we'll pretend to be,' Rachel said. ' We'll make it a habit, no matter what.'
That's all we can do, Jess thought. Live in readiness for whatever comes. - Author: Kiana Davenport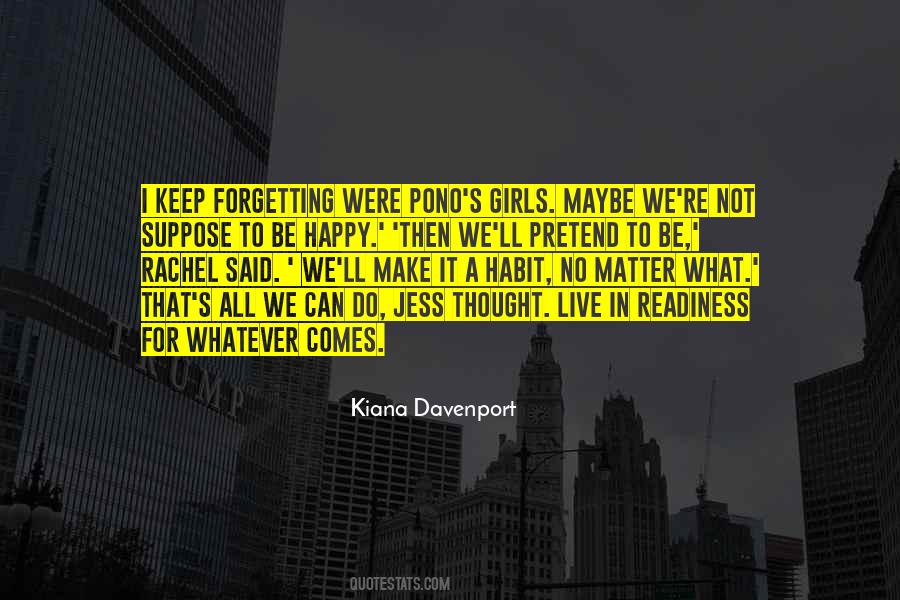 #98. It's only by forgetting yourself that you draw near to God. - Author: Henry David Thoreau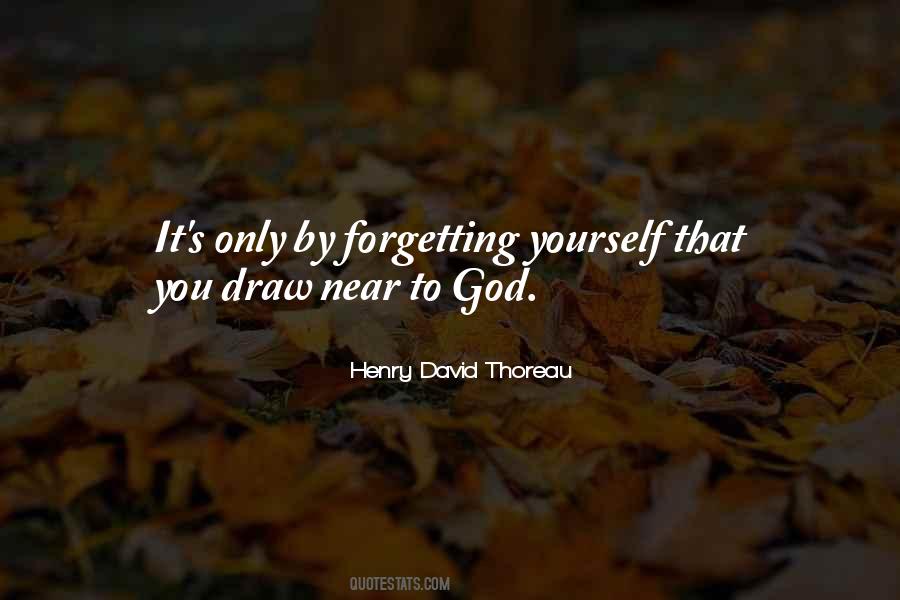 #99. Christmas is the spirit of giving without a thought of getting. It is happiness because we see joy in people. It is forgetting self and finding time for others. It is discarding the meaningless and stressing the true values. - Author: Thomas S. Monson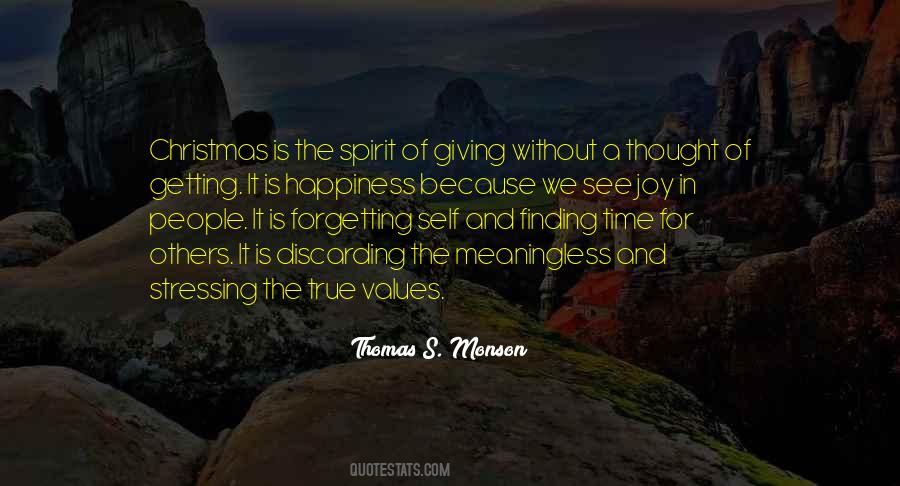 #100. How happy is the blameless vestal's lot!
The world forgetting, by the world forgot.
Eternal sunshine of the spotless mind!
Each pray'r accepted, and each wish resign'd - Author: Alexander Pope
Famous Authors
Popular Topics