Flute Famous Quotes & Sayings
List of top 100 famous quotes and sayings about flute to read and share with friends on your Facebook, Twitter, blogs.
Top 100 Flute Quotes
#1. The wall is silence, the grass is sleep, Tall trees of peace their vigil keep, And the Fairy of Dreams with moth-wings furled. Plays soft on her flute to the drowsy world. - Author: Ida Rentoul Outhwaite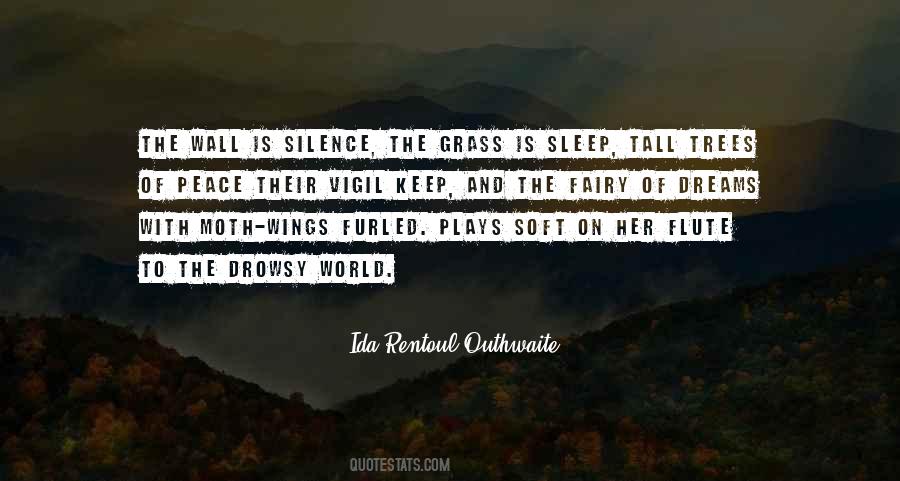 #2. This big part flies off on the floor. The other part goes like this and lands in my foot! Standing up! It's standing in my foot! Right in the side of my foot. The flute glass. I think I'm like in one of my own pictures. - Author: Danny DeVito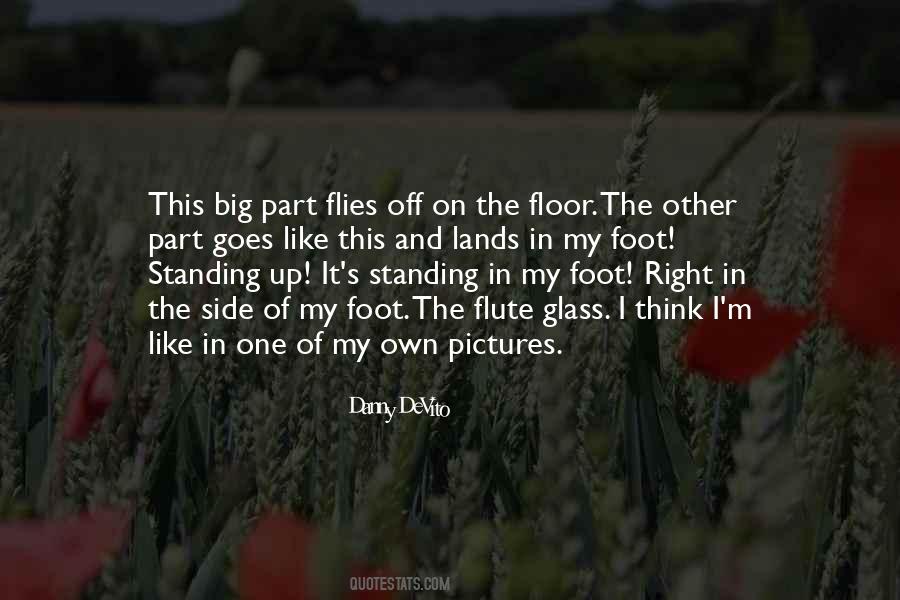 #3. I can never make up my mind if I'm happy being a flute player, or if I wish I were Eric Clapton. - Author: Ian Anderson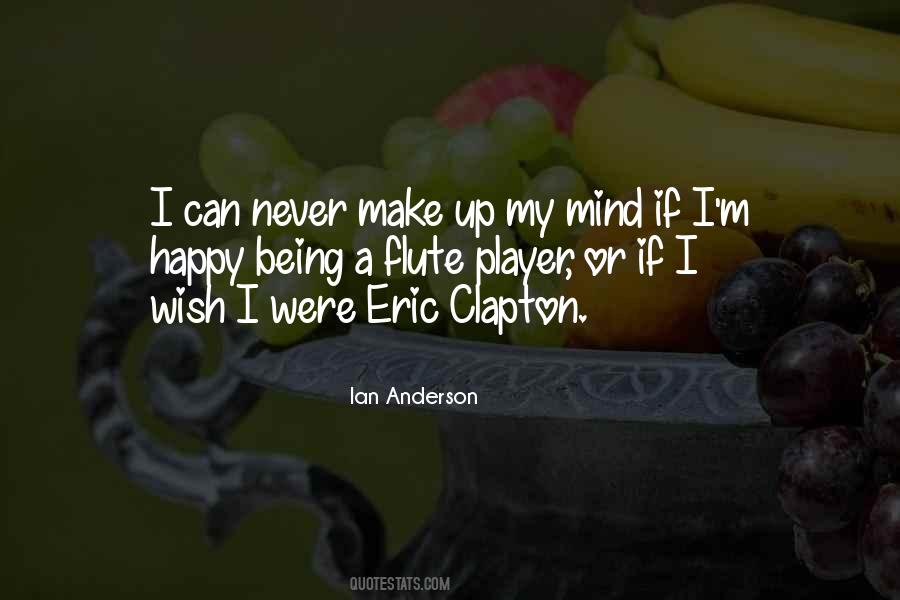 #4. It is not solid wood that can become a flute, but the empty reed. - Author: Hazrat Inayat Khan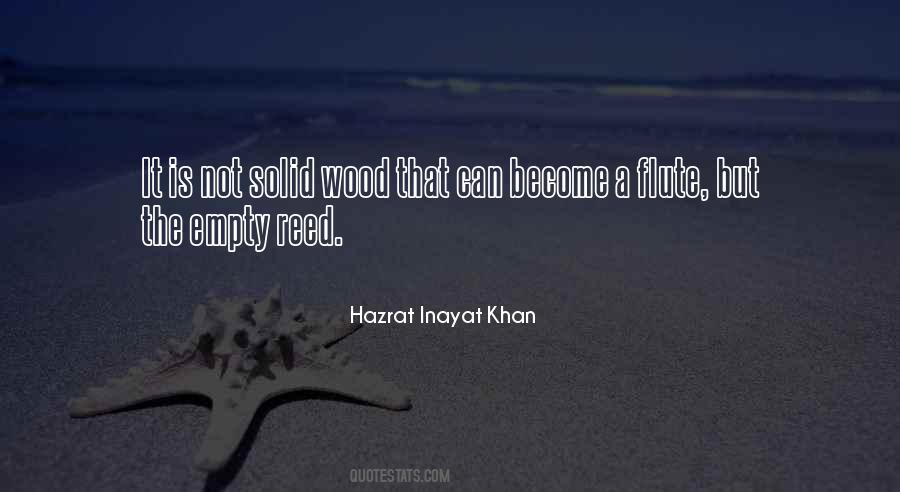 #5. He can blow the flute very well-that 'a can,' said a young married man, who having no individuality worth mentioning was known as 'Susan Tall's husband. - Author: Thomas Hardy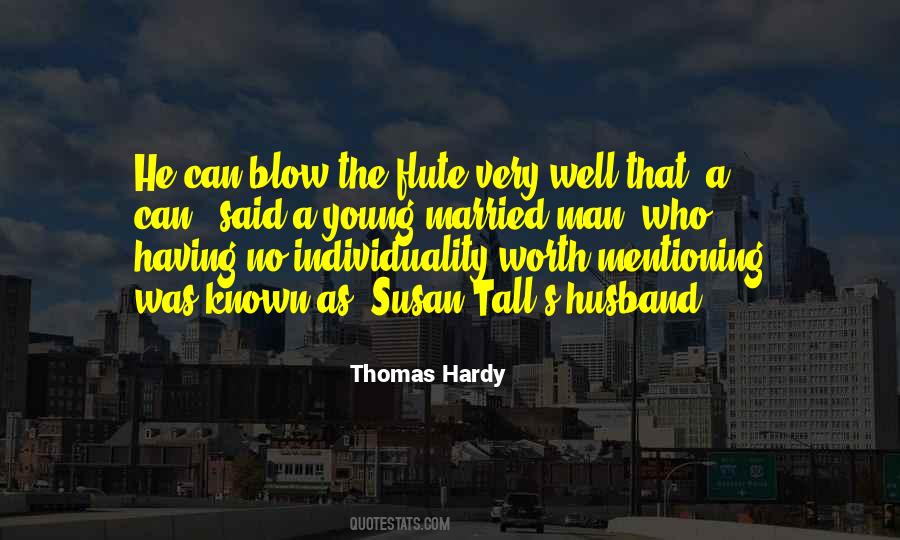 #6. For just as for a flute-player, a sculptor, or an artist, and, in general, for all things that have a function or activity, the good and the well is thought to reside in the function, so would it seem to be for man, if he has a function. - Author: Aristotle.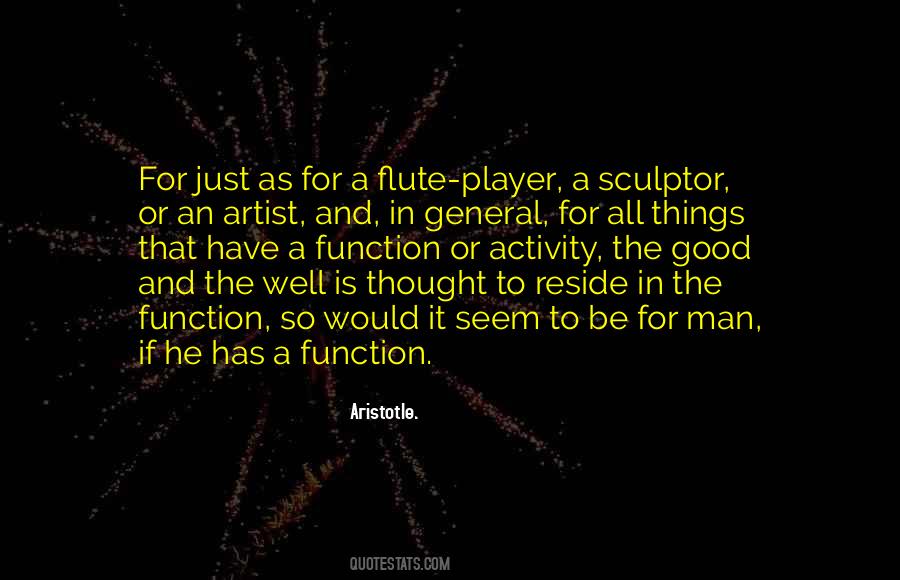 #7. On the hinder slope of the hill two little goatherds are tending a flock of goats; one of them is sitting on a rock whittling a crook out of ash, while the other is trying to coax a few tweets out of a reed flute. - Author: Camilo Jose Cela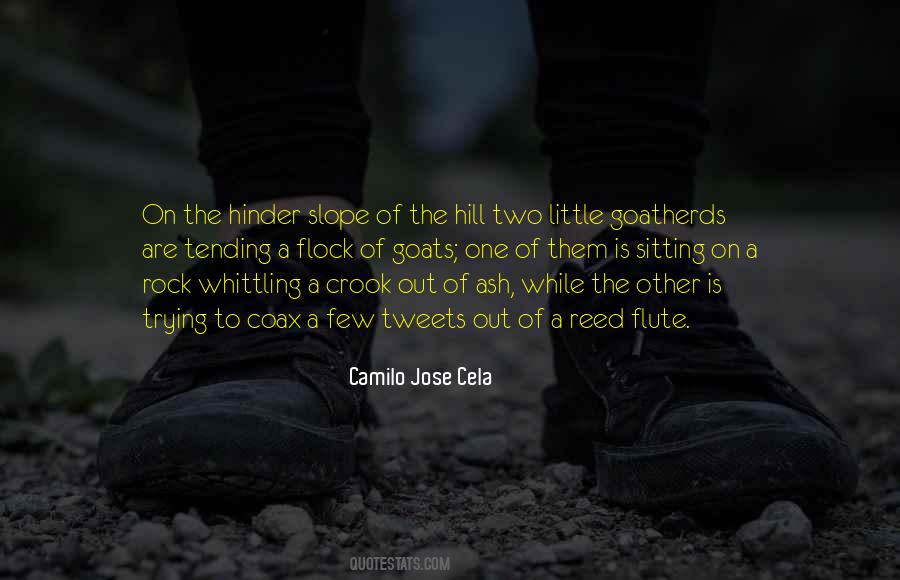 #8. Music has been a part of the cultural expression of virtually every culture ever studied. It may even extend into prehistoric times. A 35,000-year-old flute made from bird bone has been discovered, - Author: John Medina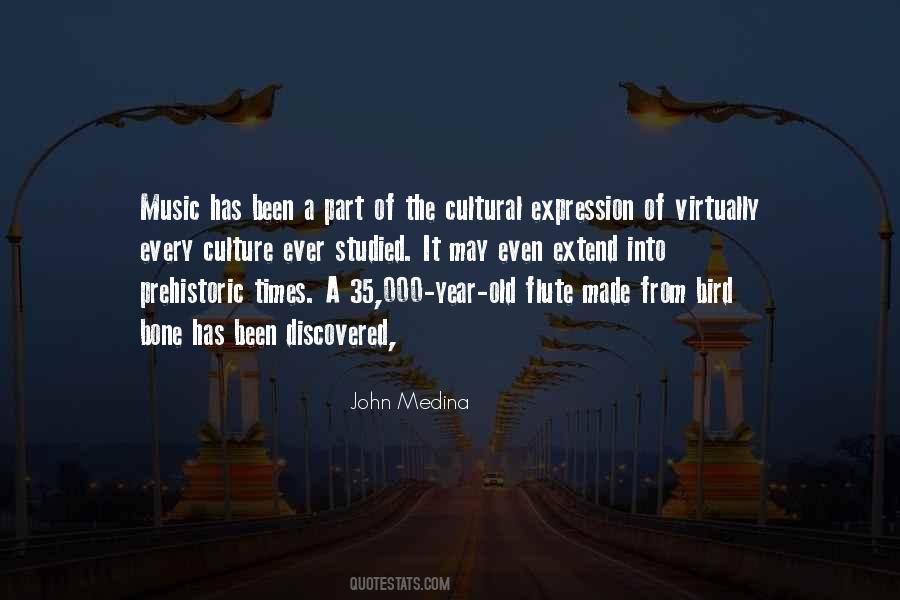 #9. The flute is not an instrument that has a good moral effect - it is too exciting. - Author: Plato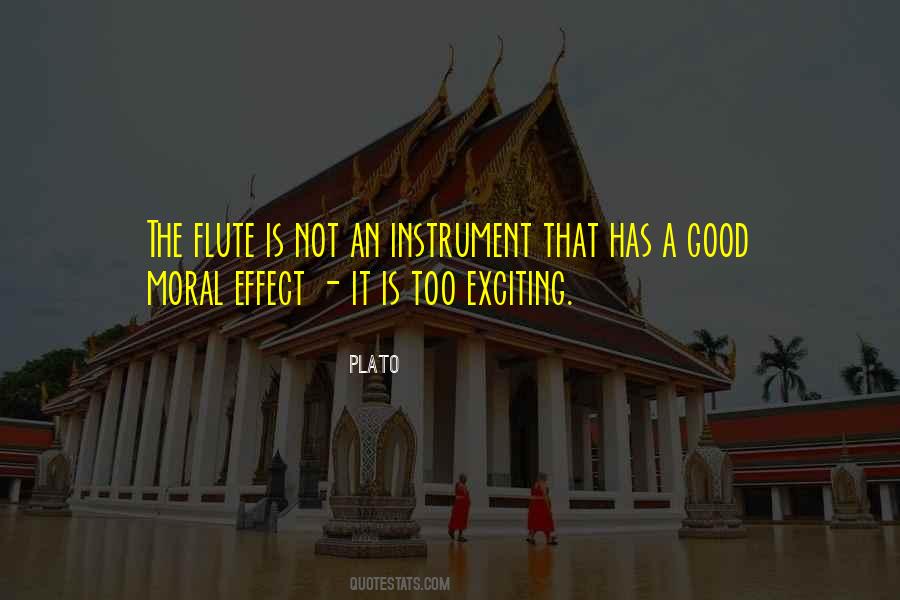 #10. When I was a freshman in high school, I got a letterman jacket, which you'd think would be great stock. The jacket had the big S on it, for Santa Monica. But rather than having a football or a baseball on the S, I had a little nine iron. Girls thought it was a flute. - Author: Carson Daly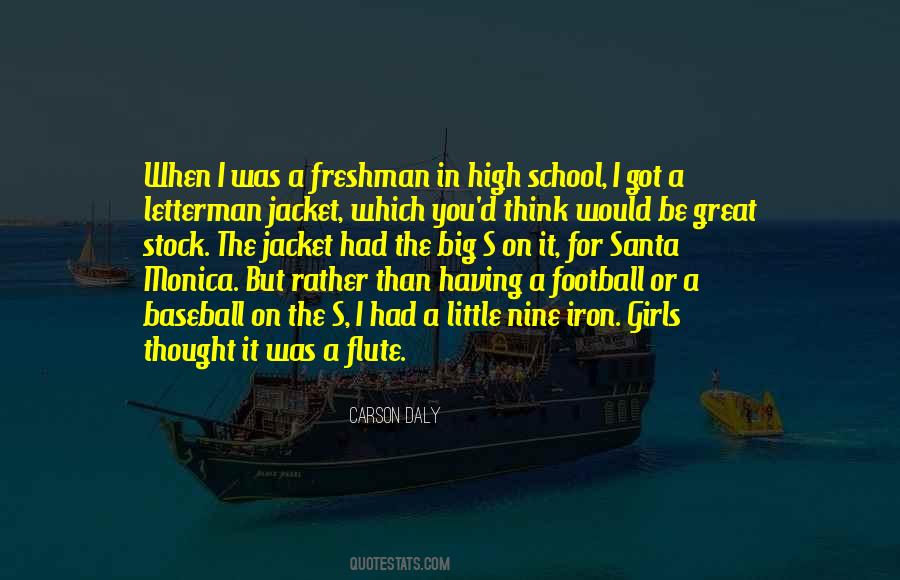 #11. I got to go! Bye!" "You're ammmmmmmmmmmaaaaaaaazing - " Click. This time when she put her cell phone back down, she felt as light and frothy as the bubbles in a champagne flute. And a little drunk, too. - Author: J.R. Ward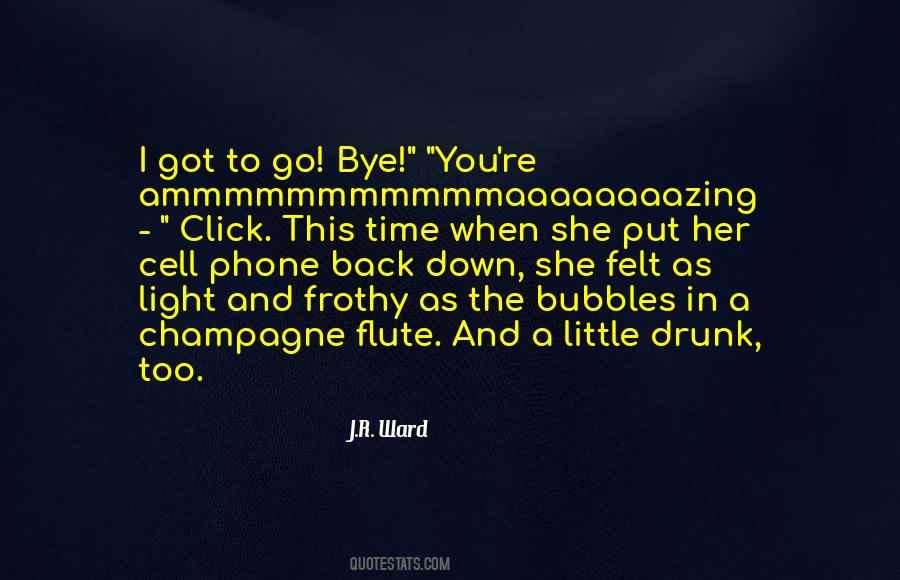 #12. Let us play the flute of love to spread the music of peace, joy and happiness. - Author: Debasish Mridha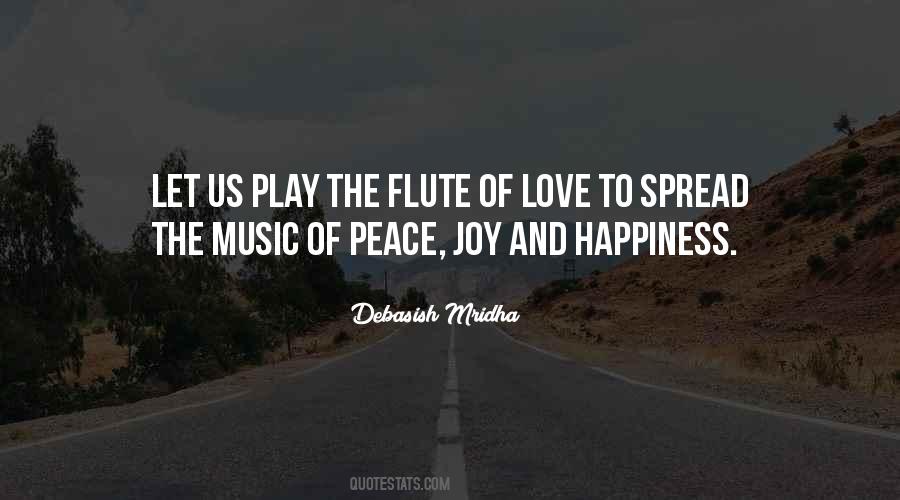 #13. I do not consider my self as having mastered the flute, but I get a real kick out of trying. - Author: James Galway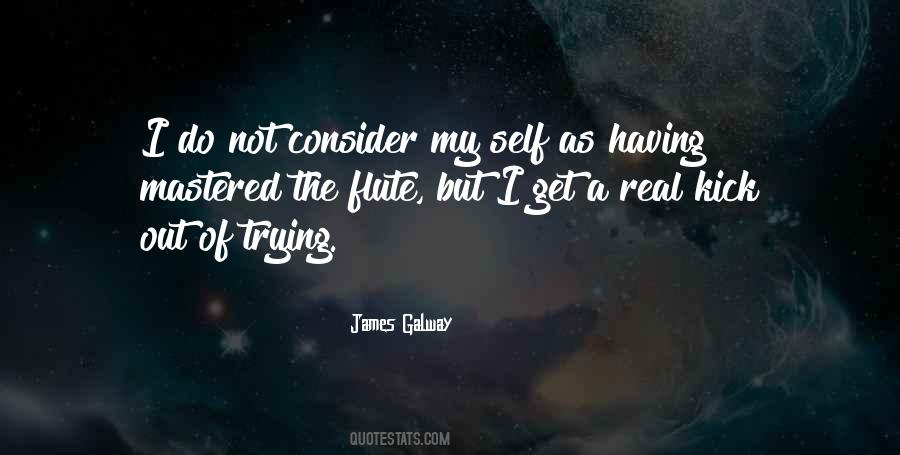 #14. They are all different and I find it hard to tell what flute suits me best. - Author: James Galway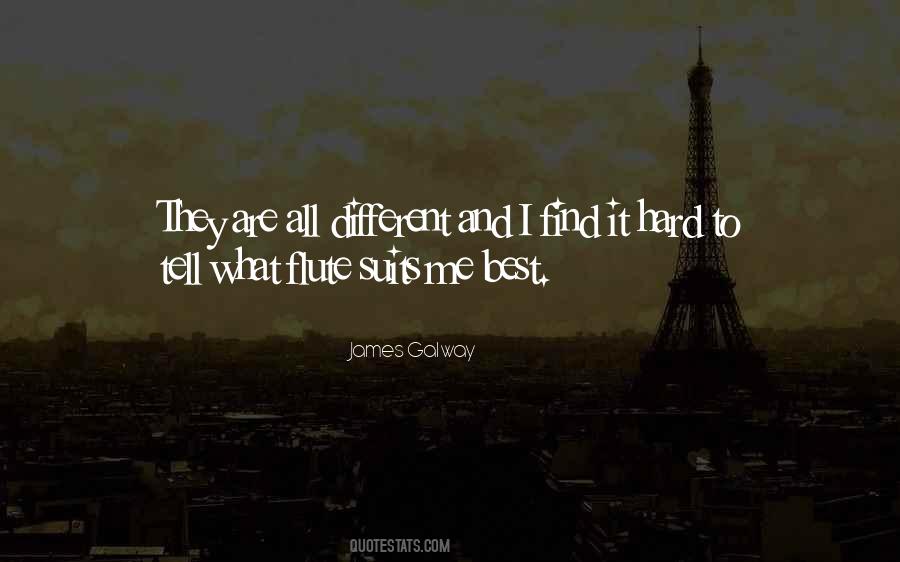 #15. Blake lifted a plastic champagne flute filled with bubbling apple cider. "To Beckett - we wouldn't be here without him."
"To Beckett," the others agreed. - Author: Debra Anastasia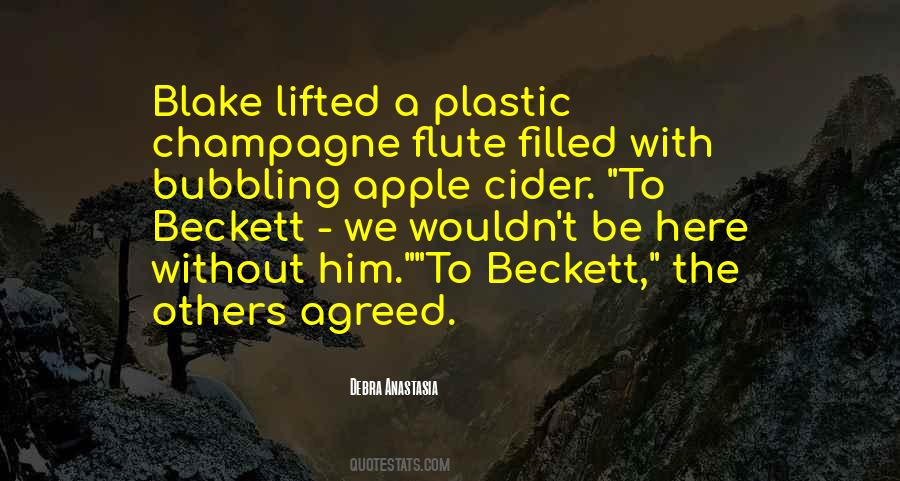 #16. The best friend a man can have is reading and writing, and the bad ones to avoid are Go and chess and flute and pipe. - Author: Hojo Soun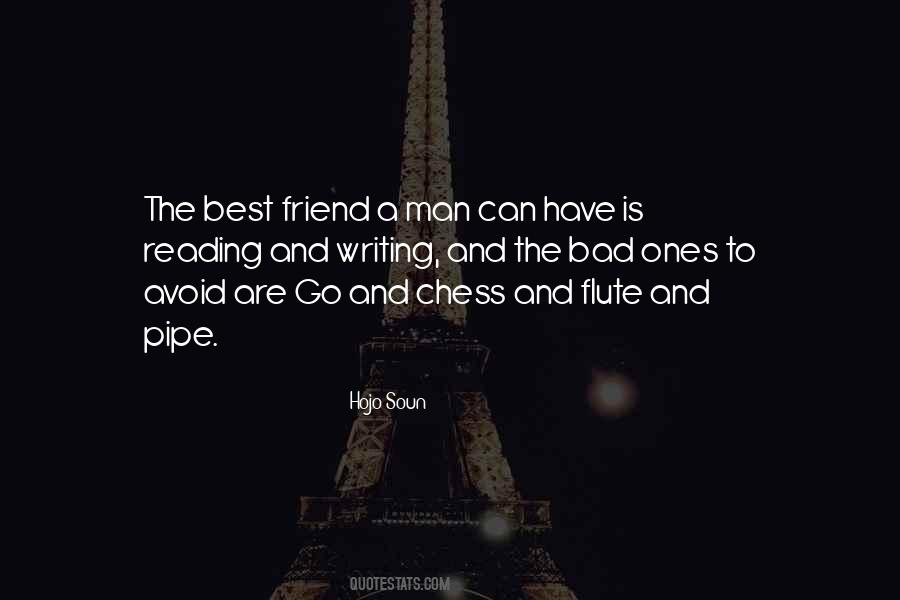 #17. In the open world, all is change, all is life, all is movement. And he whoever moves and journeys with this life movement, dancing and playing on his flute as he goes, he is the true Renouncer. He is the true disciple of the minstrel Poet. - Author: Rabindranath Tagore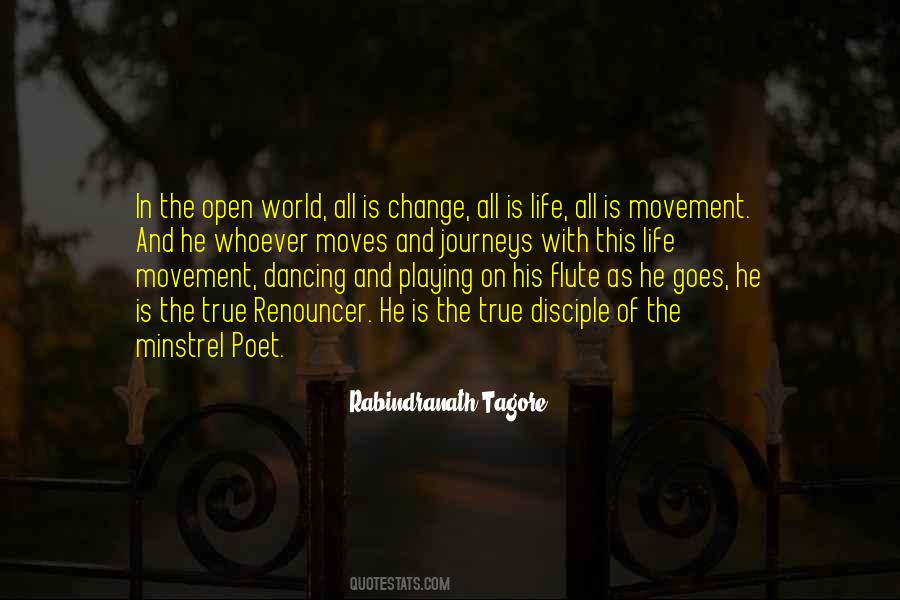 #18. In the daytime, when the sun is young,
My heart aches for thee.
I take a flute and blow it.
I go out wandering.
Taking a long sword,
I go away into the night;
I go away under the dark sky.
I fear nothing... - Author: Andrew Marshall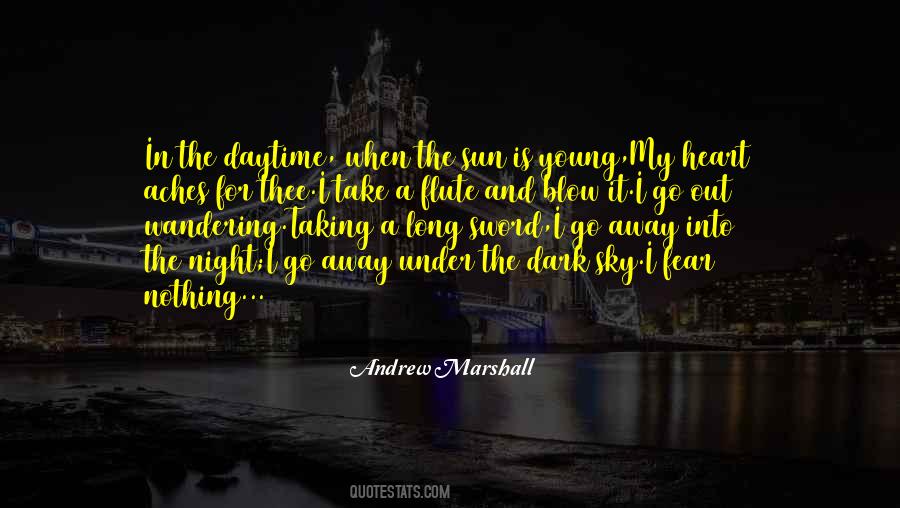 #19. We lost the war and it is not a surprise because we entered it with everything Eastern of the illusions of speeches. We invoke Antar and yet cannot slay a fly, because we entered it with the logic of the reed and the flute. - Author: Nizar Qabbani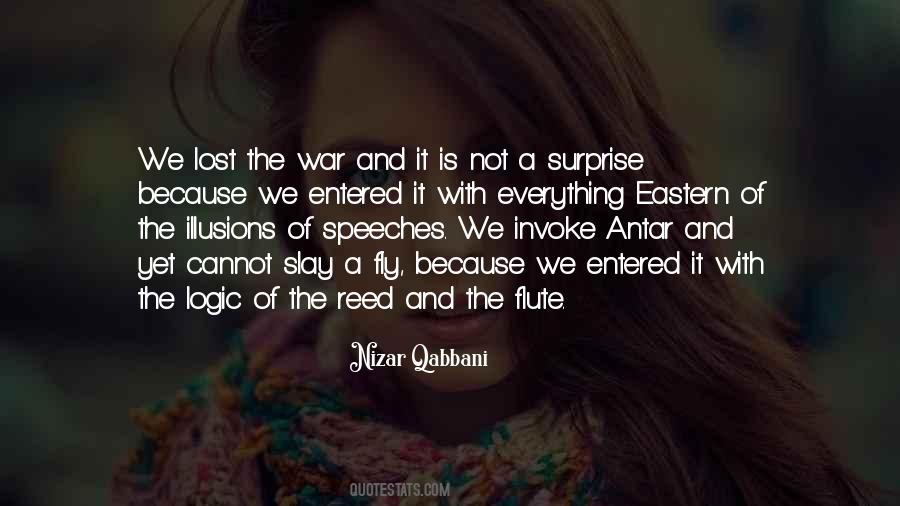 #20. Writing in the electronic world, you imagine a sound, and then you have to go and find it. It's not like imagining a flute and then making that sound materialize. That's easy! - Author: Christopher Young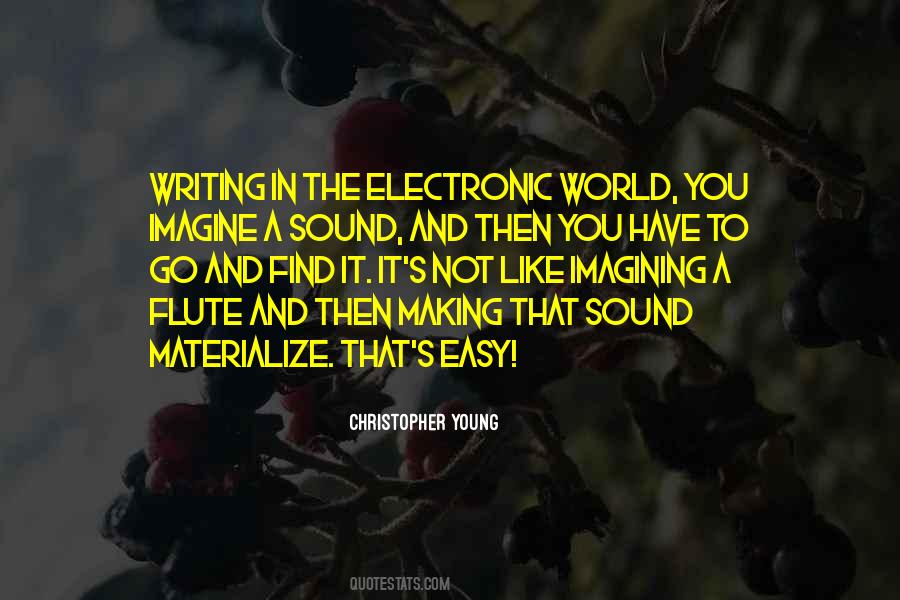 #21. I felt myself no longer a husk but a body with some of the body's sweet juices stirring again. I had my first dream in many months, confused but to this day imperishable, with a flute in it somewhere, and a wild goose, and a dancing girl. - Author: William Styron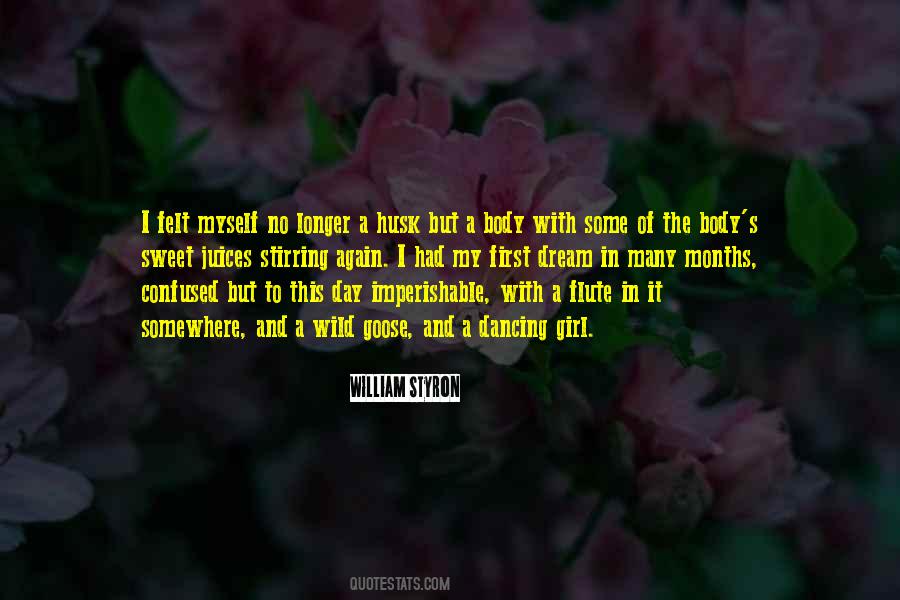 #22. God picks up the reed-flute world and blows.
Each note is a need coming through one of us,
a passion, a longing pain.
Remember the lips
where the wind-breath originated,
and let your note be clear.
Don't try to end it.
Be your note. - Author: Rumi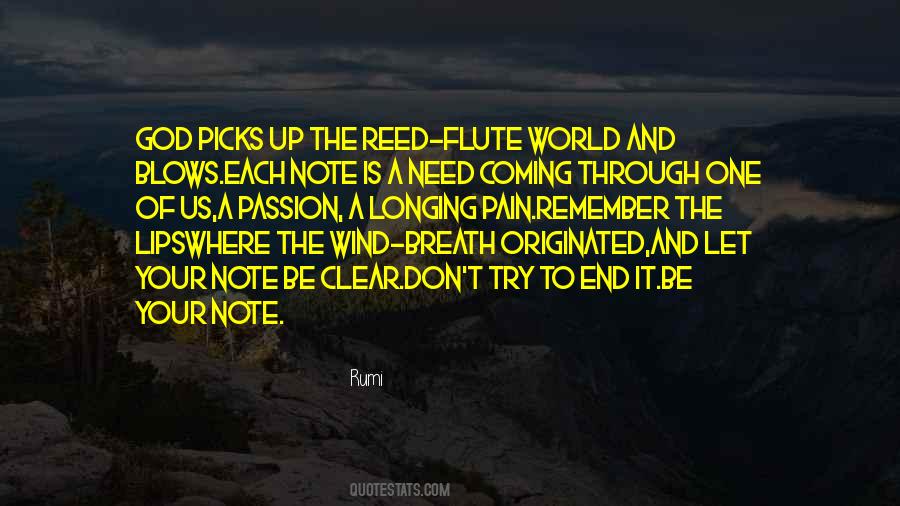 #23. The soft complaining flute, In dying notes, discovers The woes of hopeless lovers. - Author: John Dryden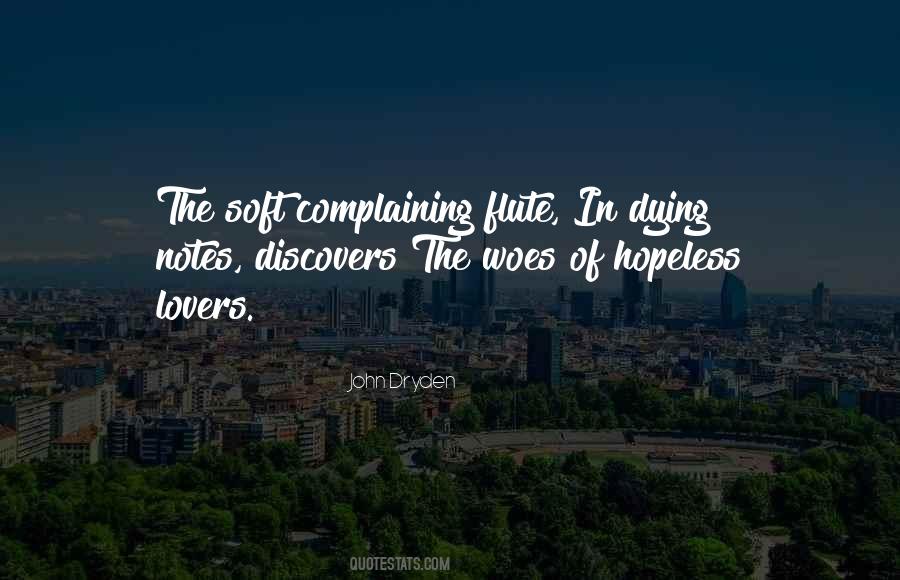 #24. The soprano has all those other instruments in it. It's got the soprano song voice, flute, violin, clarinet, and tenor elements and can even approach the baritone in intensity. - Author: Steve Lacy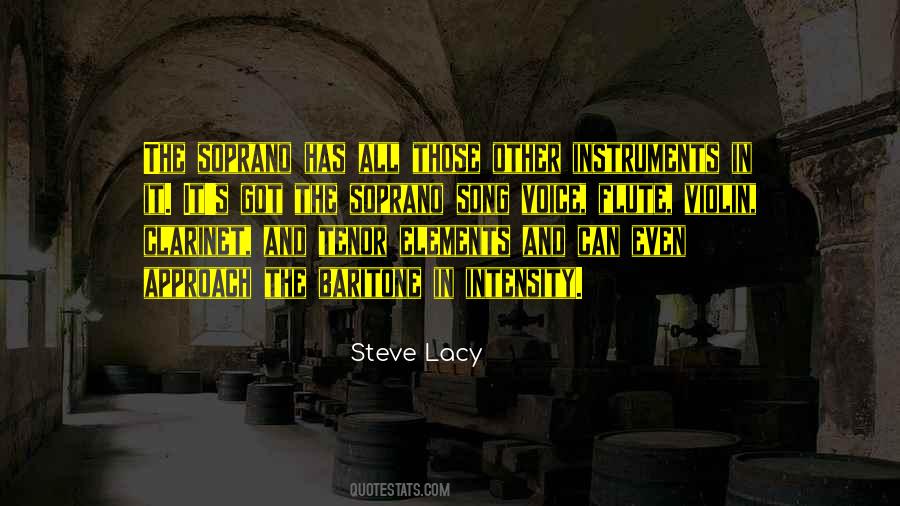 #25. Temple of Suma
hearing the unblown flute
in the deep shade of trees
sumadera ya / fukanu fue kiku / koshitayami - Author: Matsuo Basho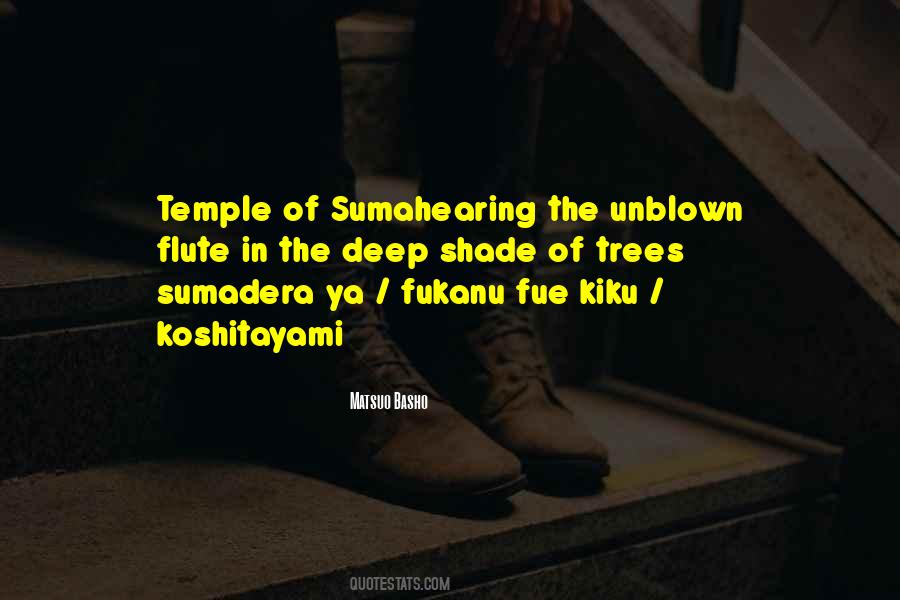 #26. The flute is traditionally the property of the male side of matrilineal hunter-gatherer societies and was used as a means of communication and personal expression. - Author: R. Carlos Nakai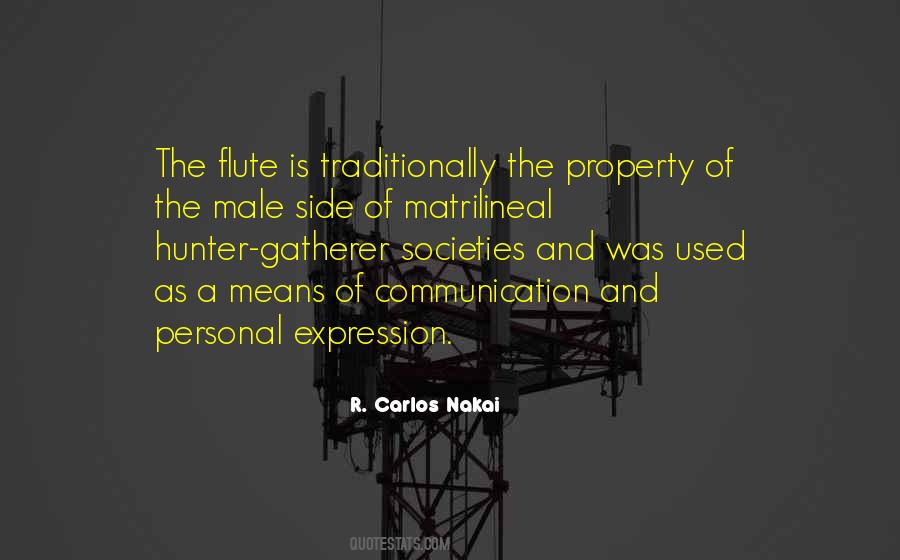 #27. What's even worse than a flute? - Two flutes! - Author: Wolfgang Amadeus Mozart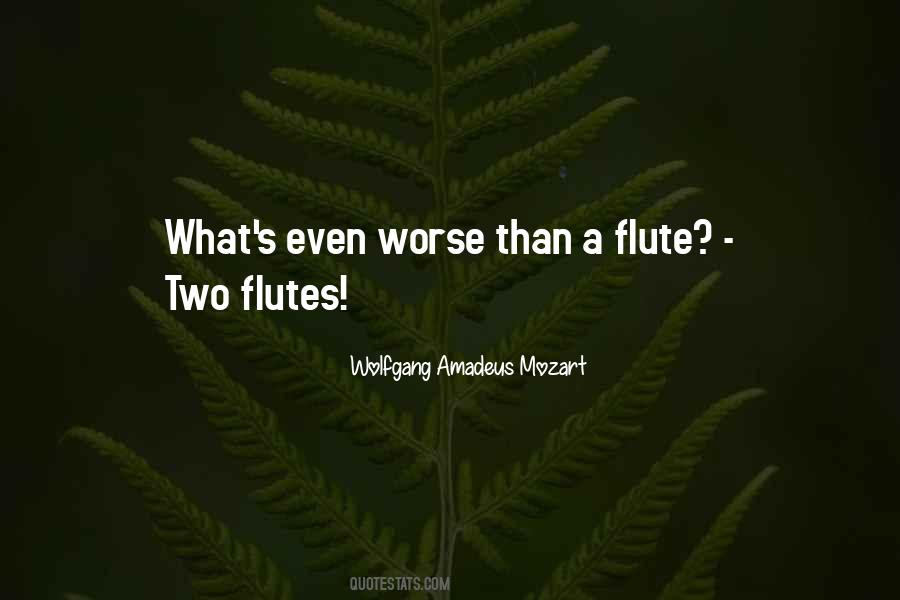 #28. I used to play flute and clarinet at school, and although I wasn't thinking about making a living or getting a pay cheque, I already knew I was going to play music all my life. - Author: Nile Rodgers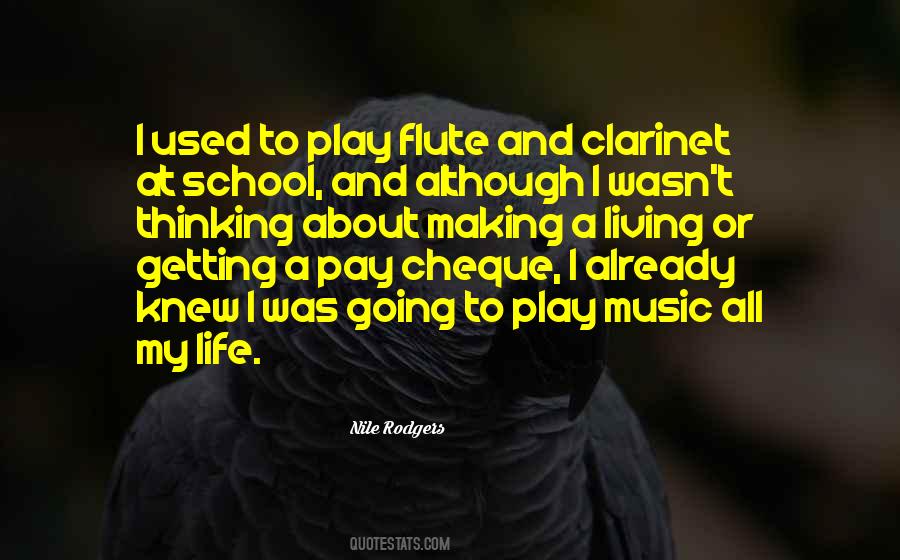 #29. flute. As I stood in the doorway, he lingered over it, then, carefully rewrapping it, placed it in his box of treasured things. I never saw the flute again. * - Author: Mildred D. Taylor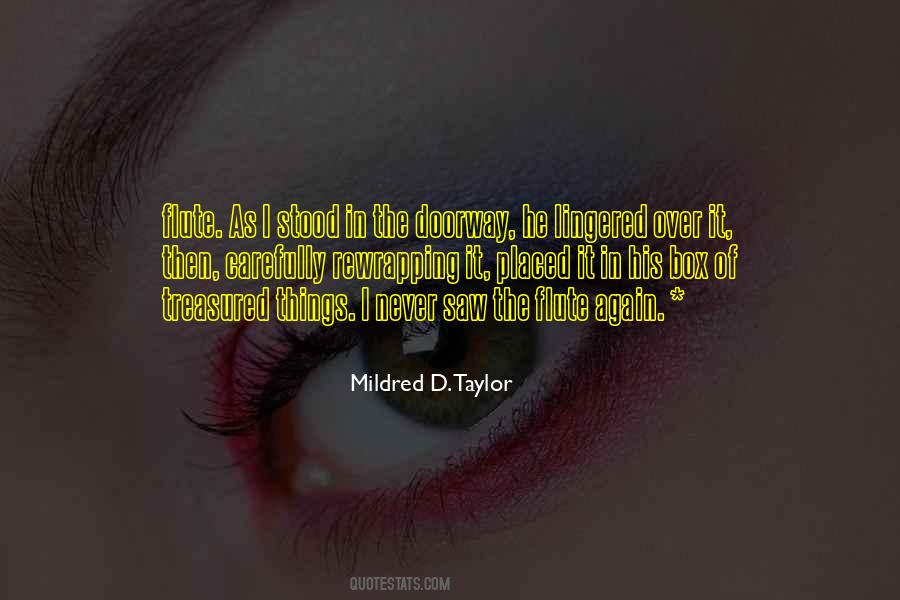 #30. I hear you're going to boarding school," she said. "Whose idea was that?"
"Mine," I said.
"I could never send Kyle to boarding school," Audrey said.
"I guess you love Kyle more than my mom loves me," I said, and played my flute as I skipped down the hall. - Author: Maria Semple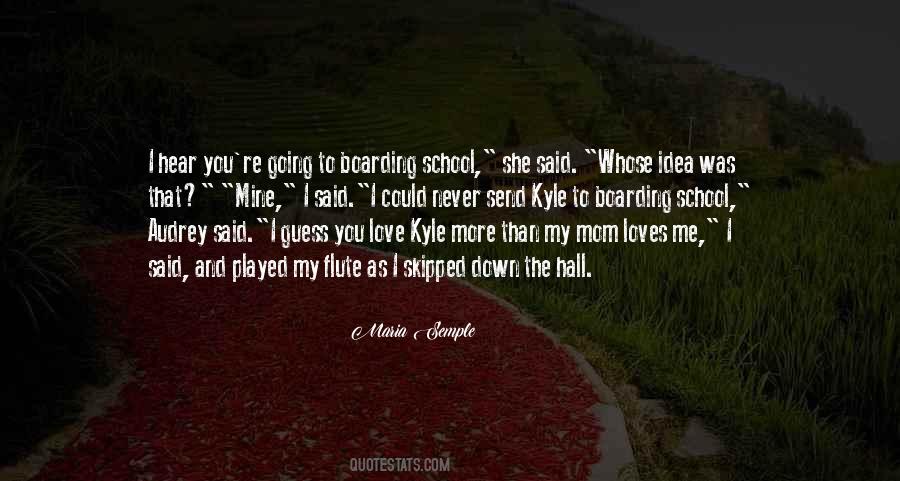 #31. I want to know a butcher paints, A baker rhymes for his pursuit, Candlestick-maker much acquaints His soul with song, or, haply mute, Blows out his brains upon the flute. - Author: Robert Browning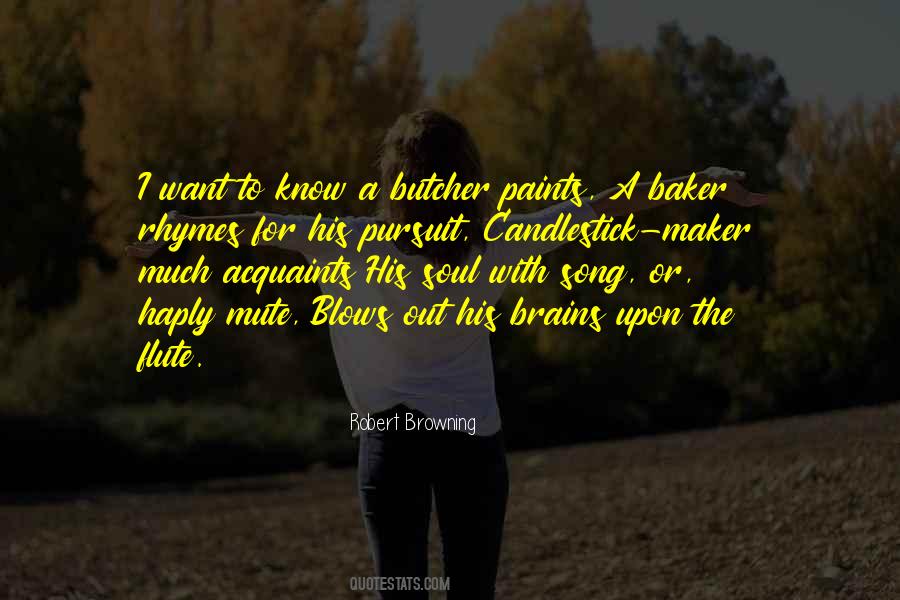 #32. I am the hole on the flute that Gods breath flows through. - Author: Eckhart Tolle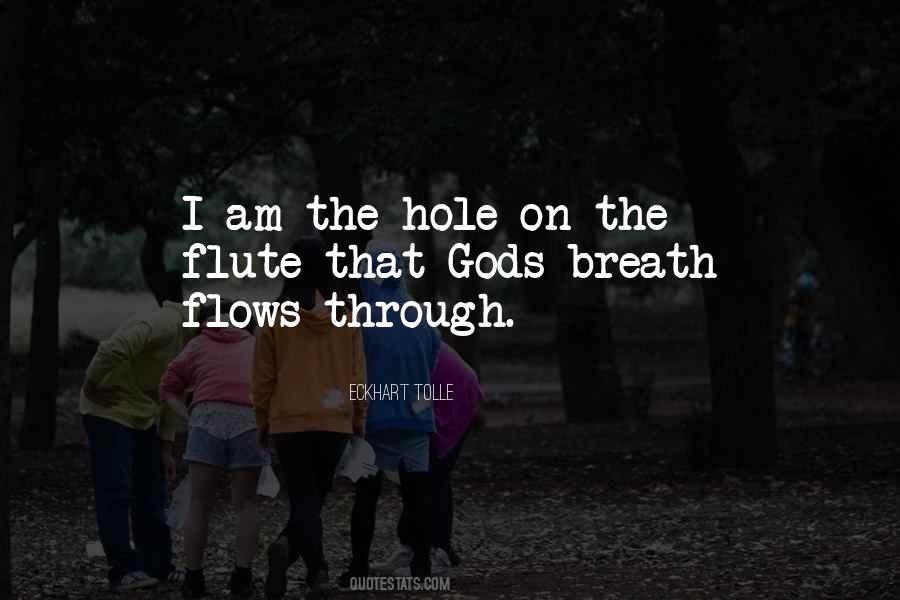 #33. We [Raymond and Meursault] stared at each other without blinking, and everything came to a stop there between the sea, the sand, and the sun, and the double silence of the flute and the water. It was then that I realized that you could either shoot or not shoot. - Author: Albert Camus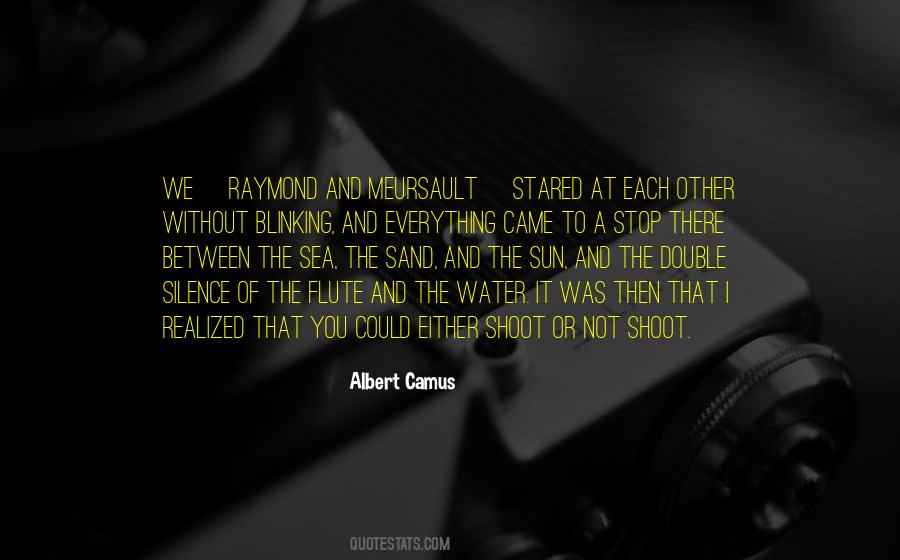 #34. If you wish to be thought a good estate manager, or a good horseman, or a good physician, or a good flute player without really being one, just imagine all the tricks you have to invent just to keep up appearances. You might succeed at first, but in the end you're going to be exposed as an impostor. - Author: Xenophon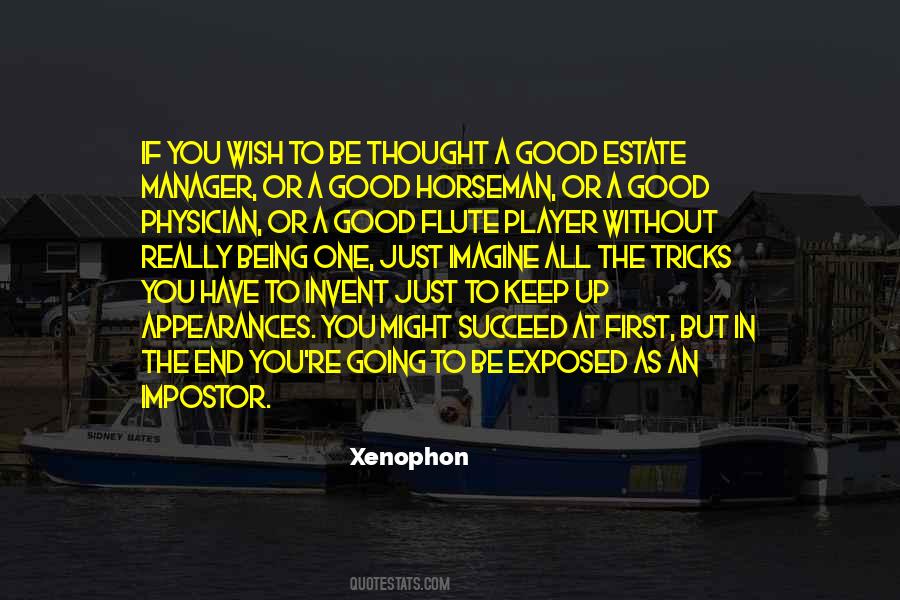 #35. I am restless. I am athirst for faraway things. My soul goes out in a longing to touch the skirt of the dim distance. O Great Beyond, O the keen call of thy flute! I forget, I ever forget, that I have no wings to fly, that I am bound in this spot evermore. - Author: Rabindranath Tagore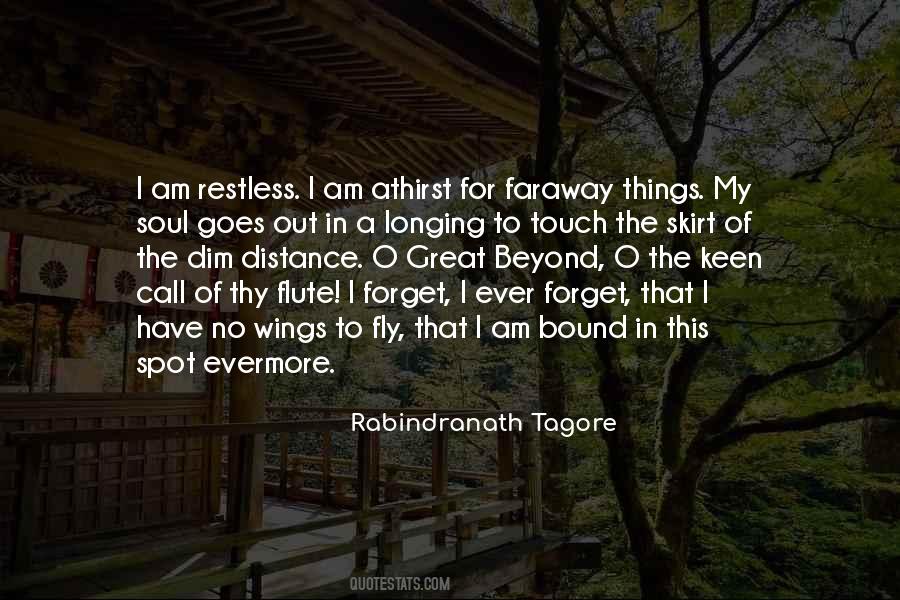 #36. Then when I was in grammar school I played the clarinet, and then, after clarinet I played the flute in college orchestra - besides singing in the college chorus and things like that. - Author: Bobby McFerrin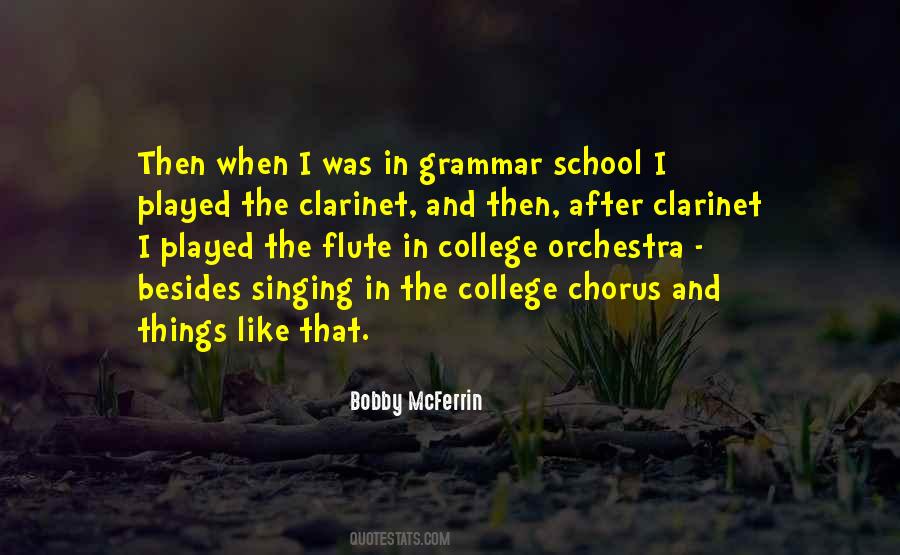 #37. Sometimes the break in your heart is like the hole in the flute. Sometimes it's the place where the music comes through. - Author: Andrea Gibson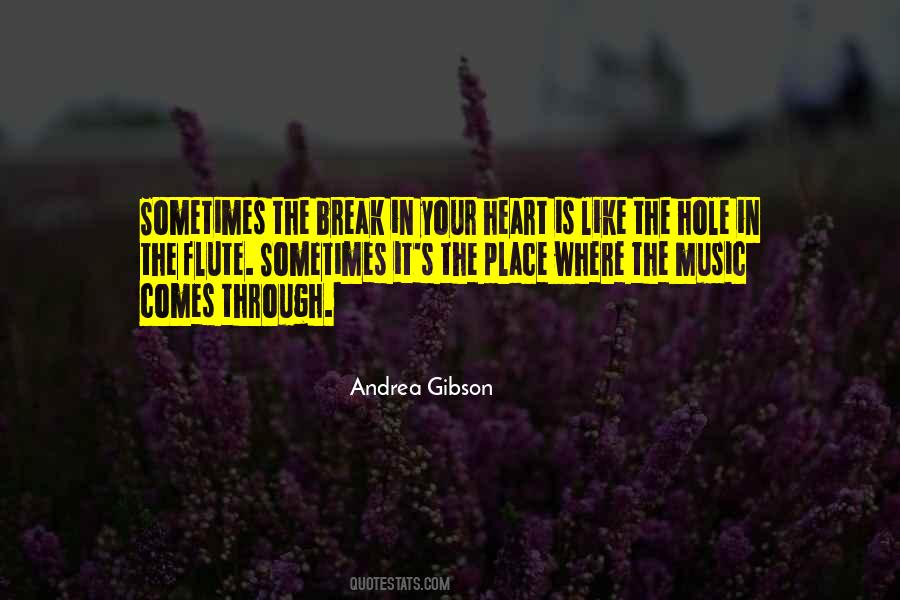 #38. All the time I was playing the flute, the lines, the solos, the riffs, the construction, were based on my guitar skills. I did not play the flute to exploit its natural faculties, but I used it as a surrogate guitar. - Author: Ian Anderson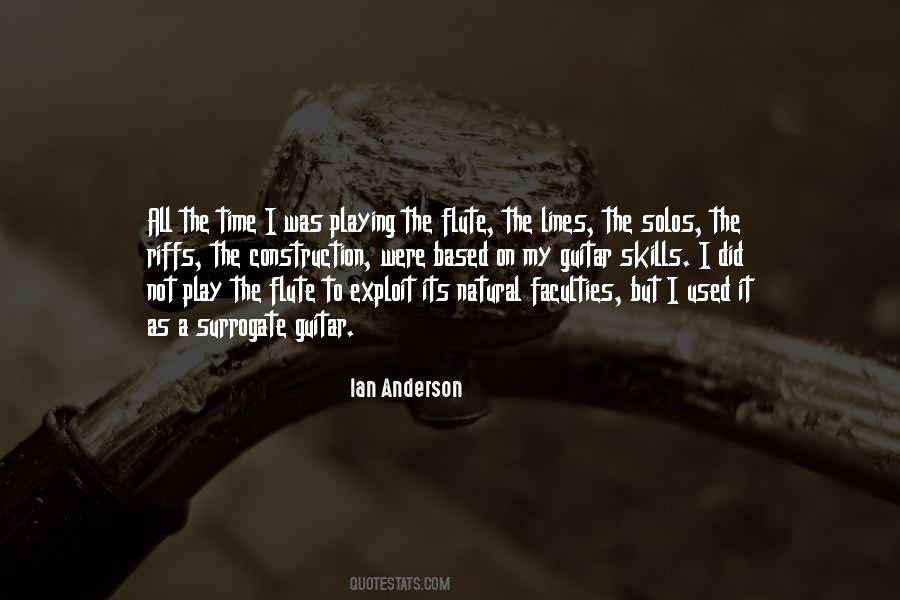 #39. To blow is not to play on the flute; you must move the fingers.
[Ger., Blasen ist nicht floten, ihr musst die Finger bewegen.] - Author: Johann Wolfgang Von Goethe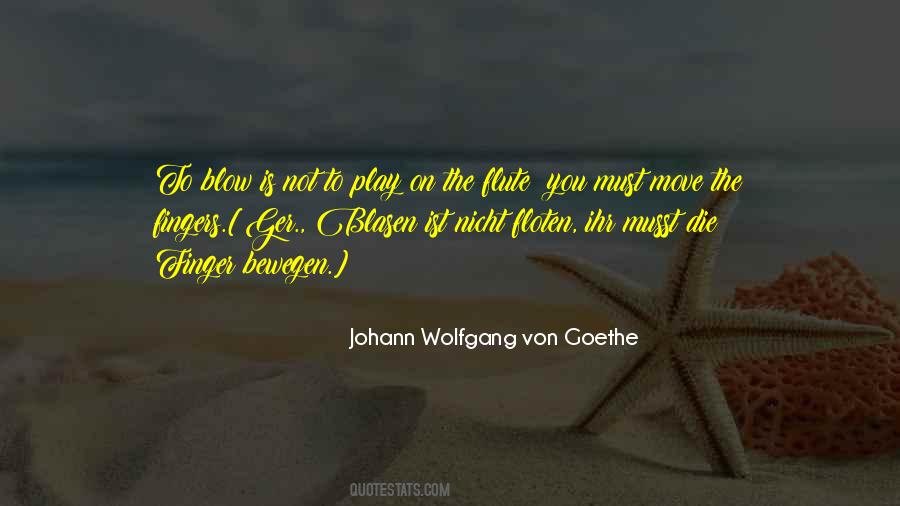 #40. Any professional knows that the flute and the piano is a boring combination. All you've got to arrive at is a kind of typical gestural crap, right? You might agree, though you wouldn't call it gestural crap. - Author: Morton Feldman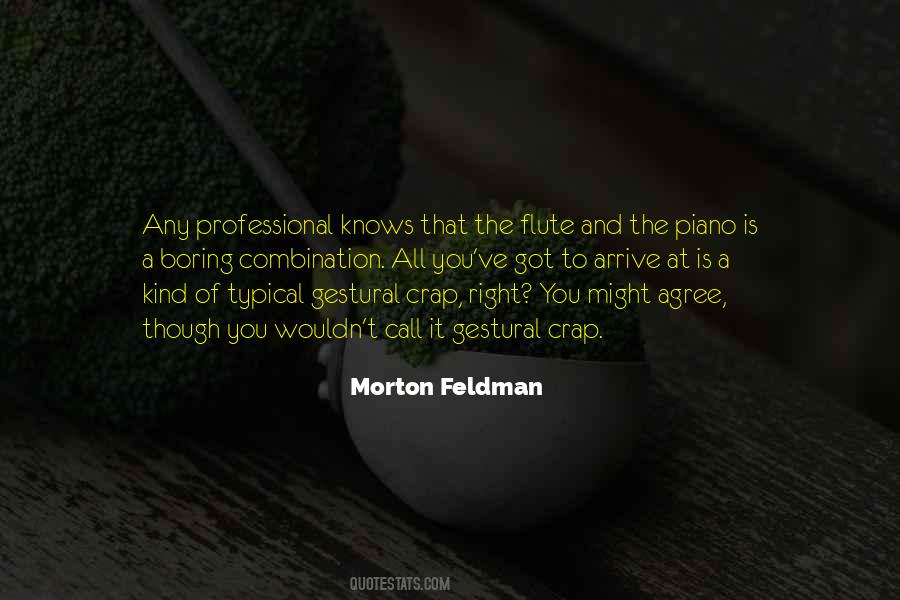 #41. 'A guitar would work.' But then again so would a flute. A horn. A banjo. A tambourine. A trombone. The drums. When you're mixing music and love, there really is no bad combination." -Elvis Ruby - Author: Nan Marino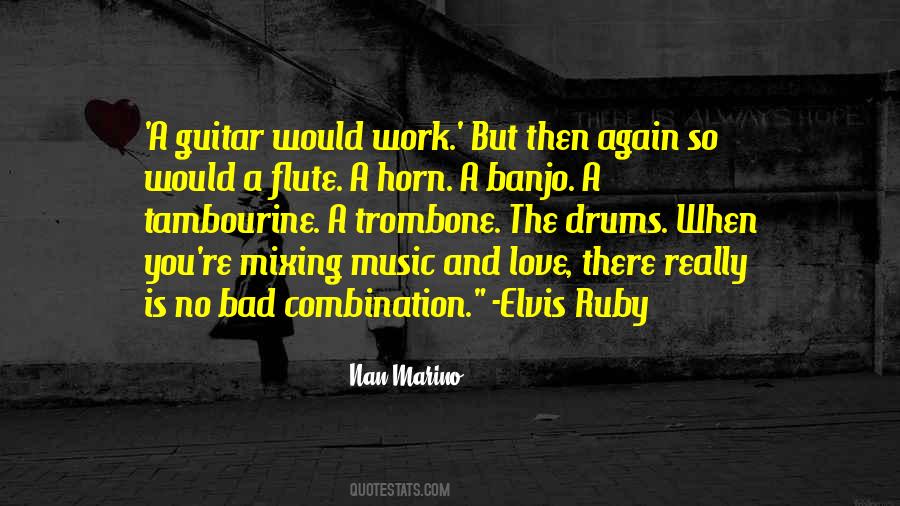 #42. Flute of Breath
Dusky condolence
Today i 'll sing you
My Sighs - Author: Satbir Singh Noor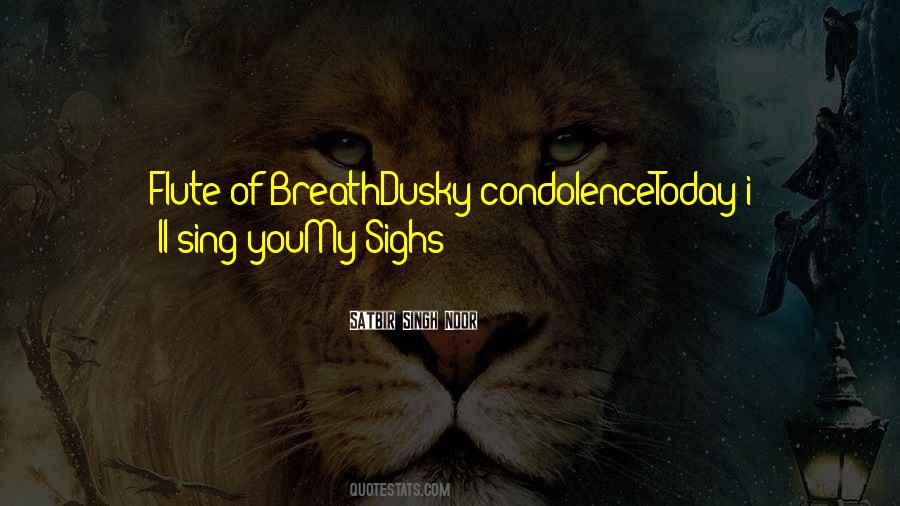 #43. I'll always be happy if they'd leave me alone in that delightful and unknown furthest corner, apart from struggles, putrefactions and nonsense; the ultimate corner of sugar and toast, where the mermaids catch the branches of the willows and the heart opens to a flute's sharpness. - Author: Federico Garcia Lorca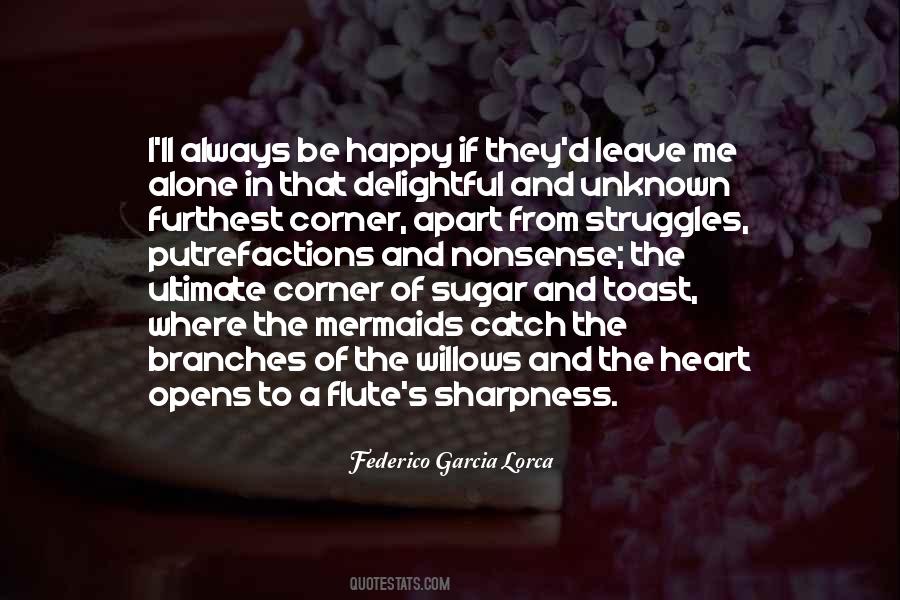 #44. I started to study the flute in 1951. The flute has been utilized by African-American musicians as far back as the early Twenties. If you take a look at some of the old pictures of Chick Webb, then you will see the flute right there on the bandstand among the woodwinds. - Author: Yusef Lateef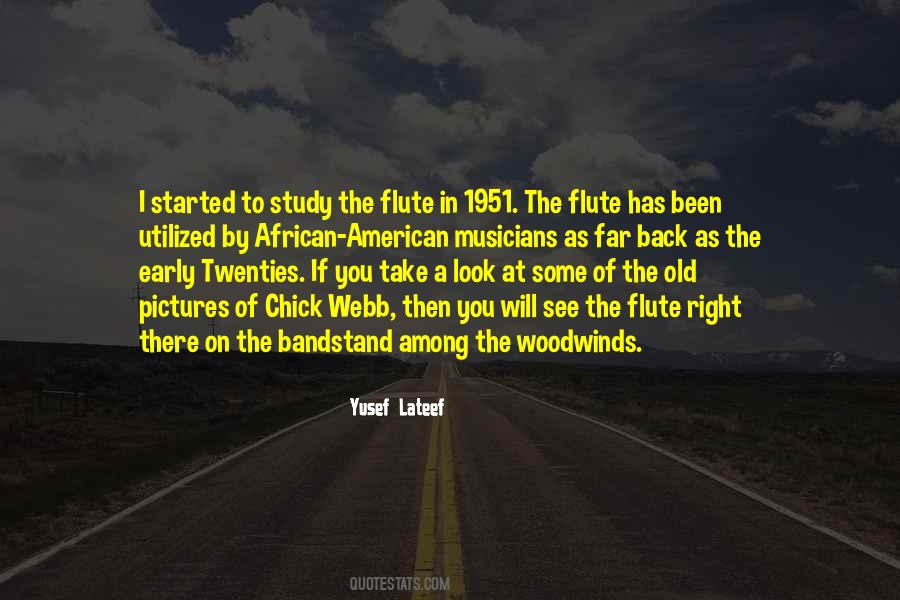 #45. The heart-flute Knows how to charm the world. - Author: Sri Chinmoy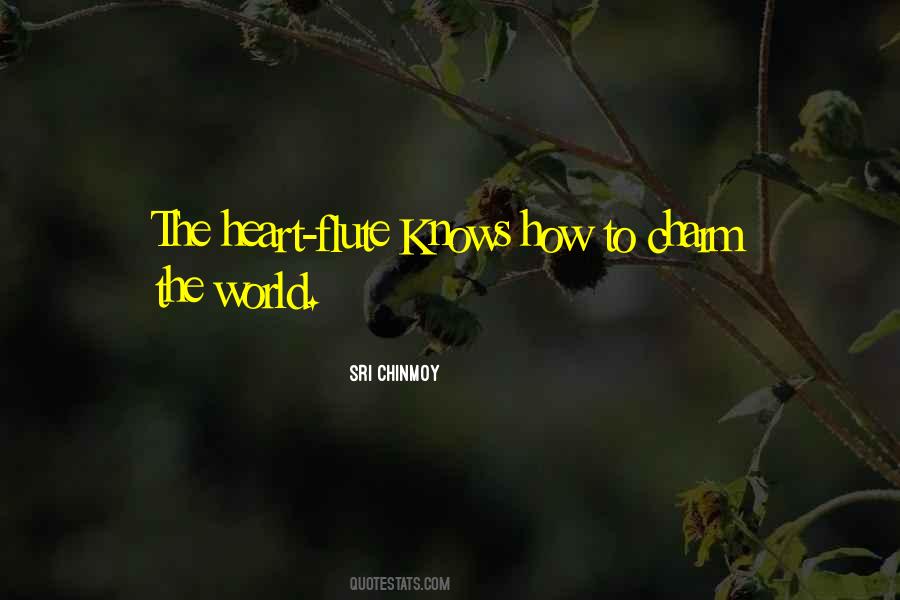 #46. My flute, M. Poirot, is my oldest companion. When everything else fails, music remains. - Author: Agatha Christie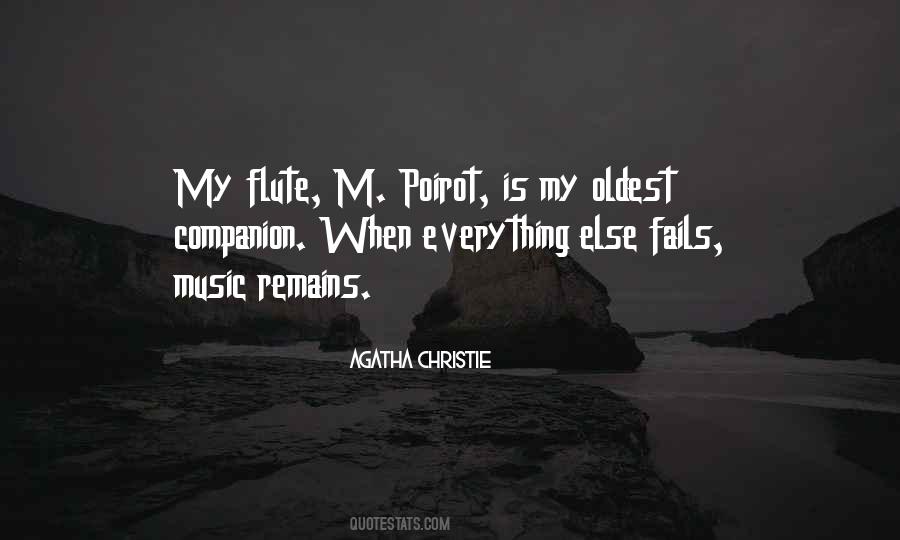 #47. The Peruvian flute music is ... cool. In this music, they have not yet invented the industrial revolution that leads to excessive punctuality or the failed experiment they call the nuclear family. This is the music of elements, untarnished, unrehearsed. - Author: Kate Braverman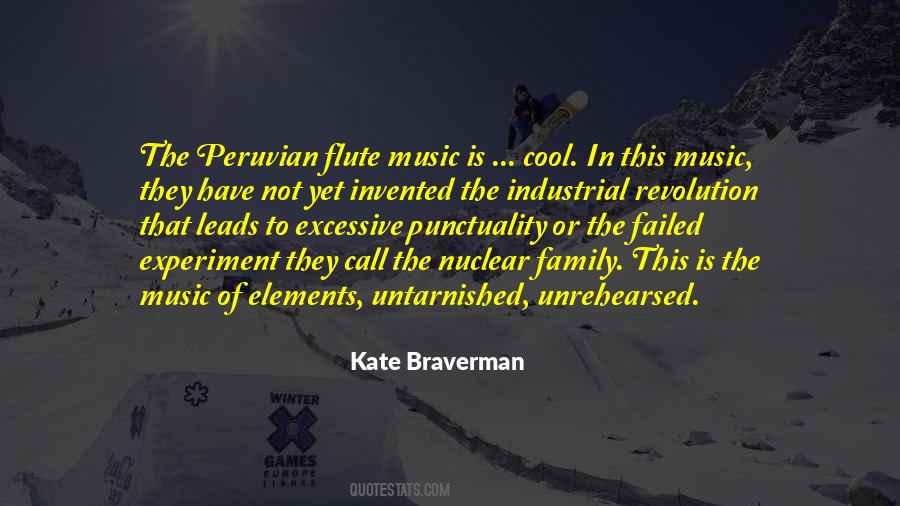 #48. I had a number of very strong personalities in my family. My father was a concert flutist, the solo flute for Toscanini. - Author: Francis Ford Coppola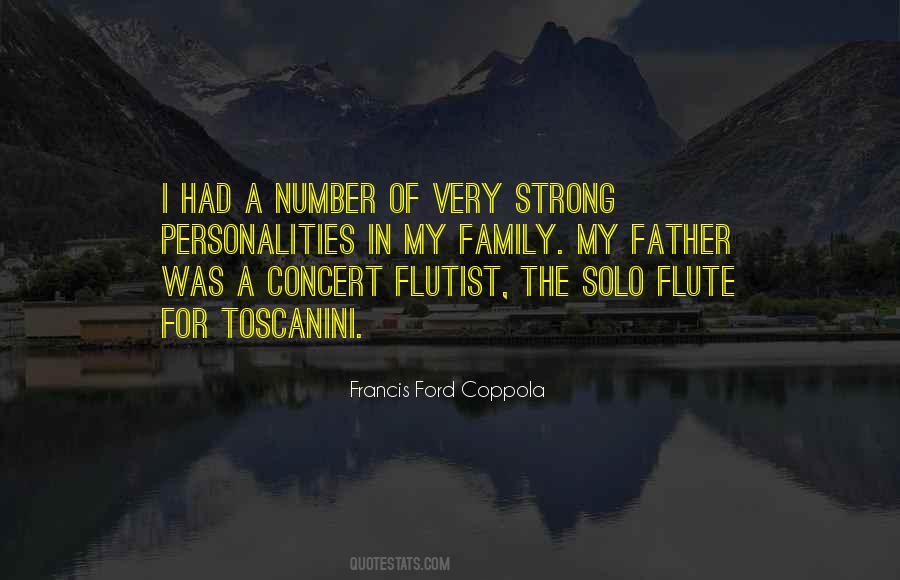 #49. Not the rich viol, trump, cymbal, nor horn,
Guitar, nor cittern, nor the pining flute,
Are half so sweet as tender human words. - Author: Bryan Procter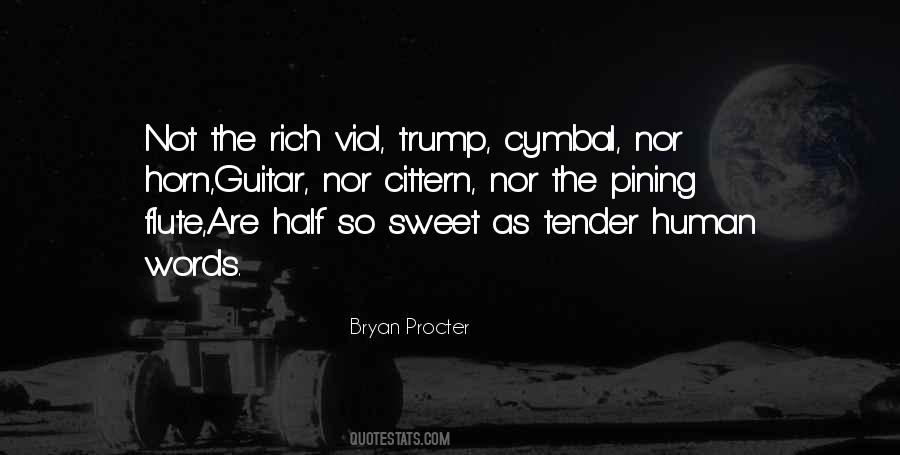 #50. All night have the roses heard
The flute, violin, bassoon;
All night has the casement jessamine stirr'd
To the dancers dancing in tune;
Till a silence fell with the waking bird,
And a hush with the setting moon. - Author: Alfred Lord Tennyson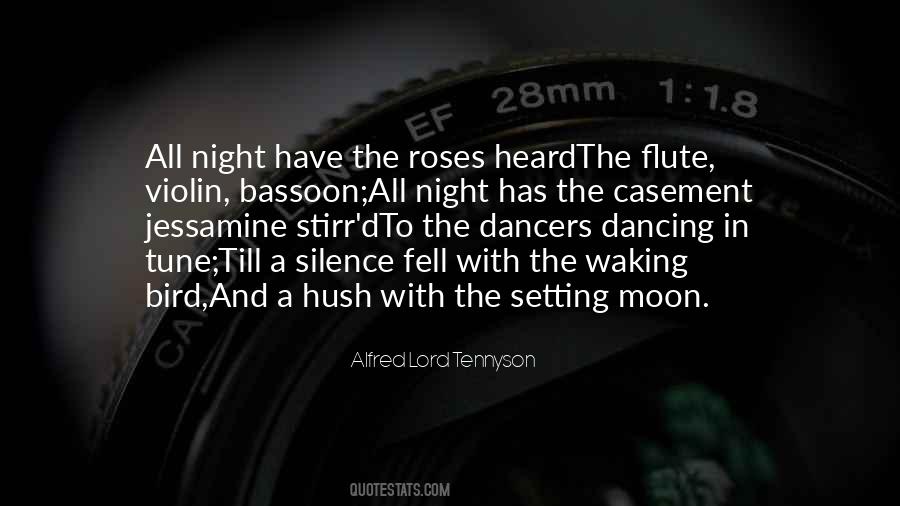 #51. And for the last three minutes on the wind of a windless day I have heard the sound of drums and flute ... - Author: Tom Stoppard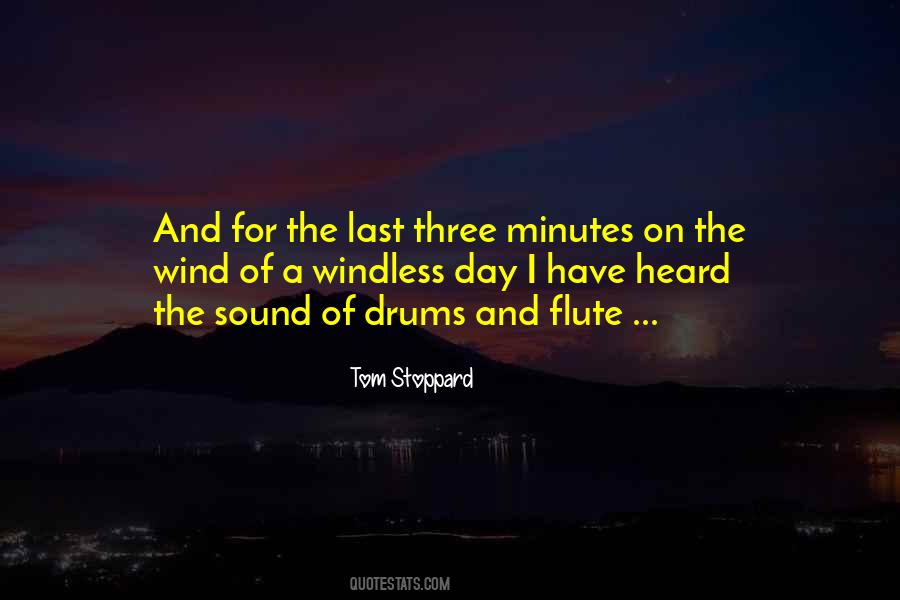 #52. My proposition is that music is at the heart of what 'The Magic Flute' means: that it's Mozart's music, not the words, we should be attending to. Music expresses what can't be expressed otherwise. - Author: Simon McBurney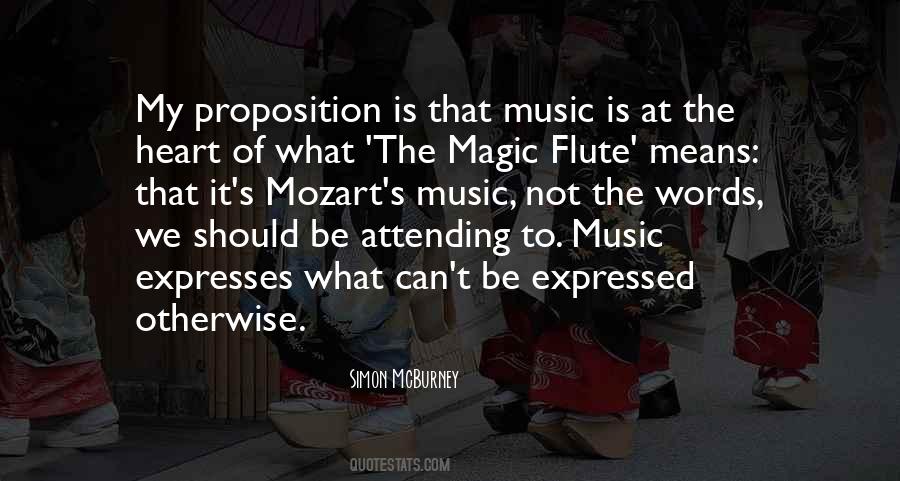 #53. You got to play the flute as a flute, like that. You can't play like a tenor concept on soprano; it sounds wrong. But some guys do it, and they think it's O.K., but not so! - Author: Jerome Richardson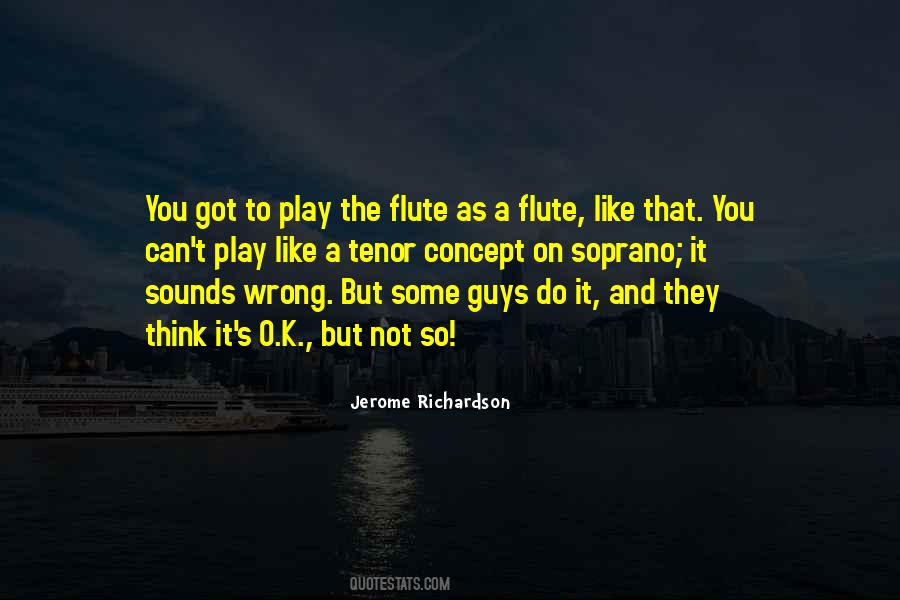 #54. Can I decline a nymph so divine? Her voice like a flute is dulcis; Her oculus bright, her manus white And soft, when I tacto, her pulse is. O how bella, my puella I'll kiss in secula seculorum; If I've luck, sir, she's my uxor, O dies benedictorum. - Author: Diana Gabaldon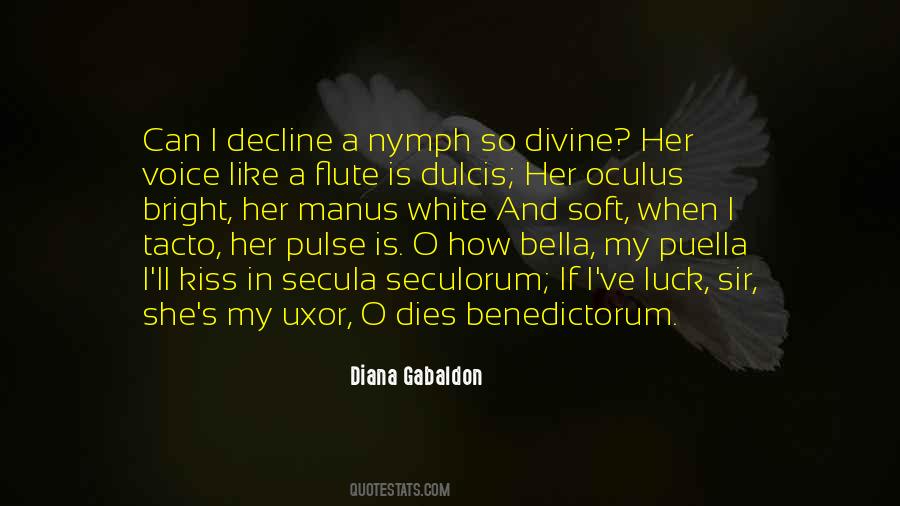 #55. Danzon is my favorite Cuban music, played by a traditional string orchestra with flute and piano. It's very formally structured but romantic music, which derives from the French-Haitian contradance. - Author: Rachel Kushner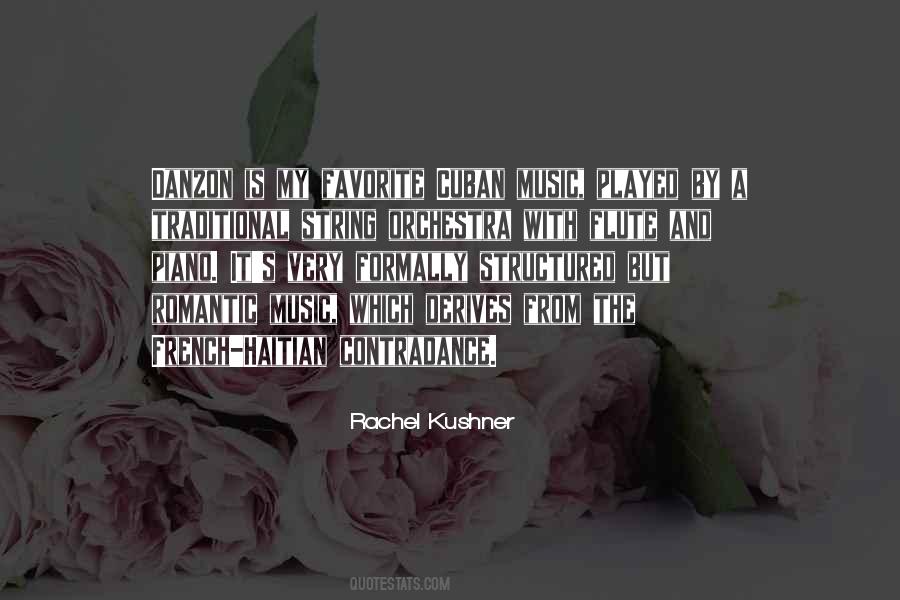 #56. The brevity of mini (psycho)therapies is another efficient forestaller of healing. The neocortex rapidly master didactic information, but the limbic brain takes mountains of repetition. No one expects to play the flute in six lessons or to become fluent in Italian in ten. (189) - Author: Thomas Lewis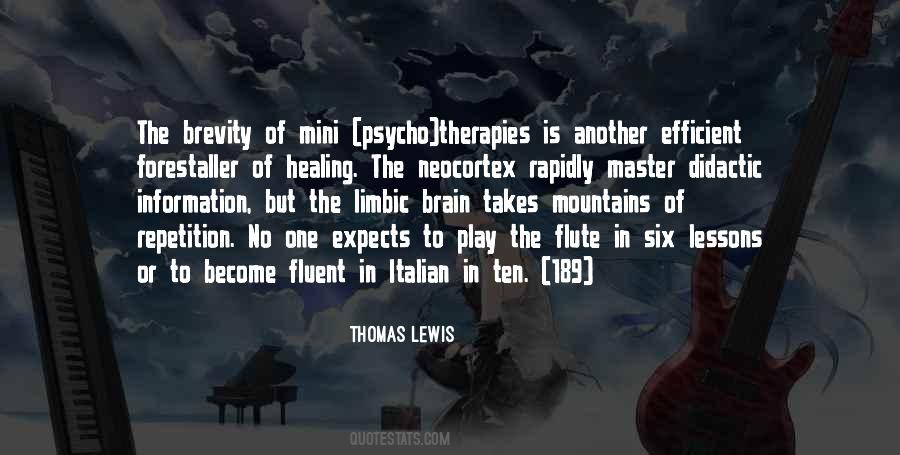 #57. Now as the Paradisiacal pleasures of the Mahometans consist in playing upon the flute and lying with Houris, be mine to read eternal new romances of Marivaux and Crebillon. - Author: Thomas Gray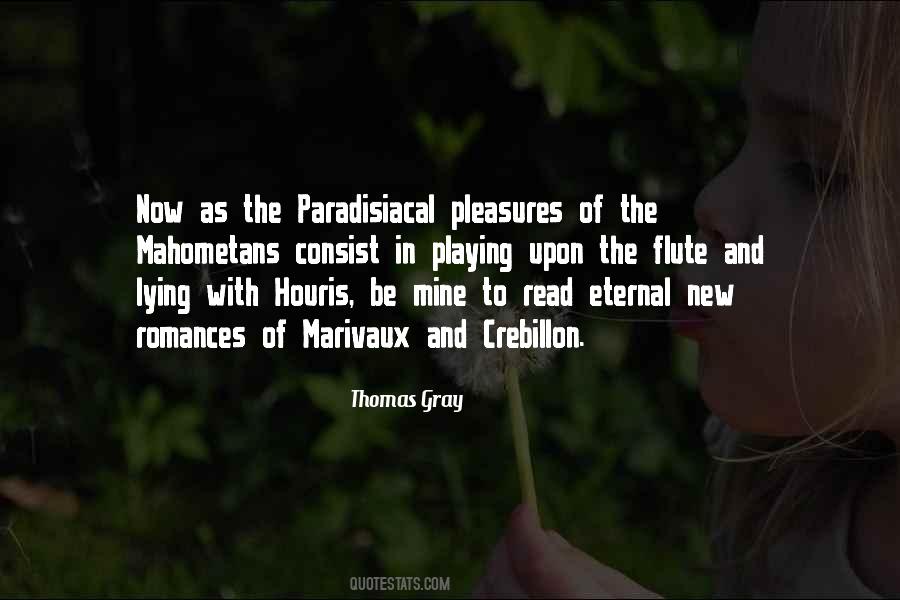 #58. The flute of the Pied Piper of Hamelin has never left us and it is essential that we train our ear to detect its false notes because in our case the flute is being played by the rats. - Author: Dimitris Mita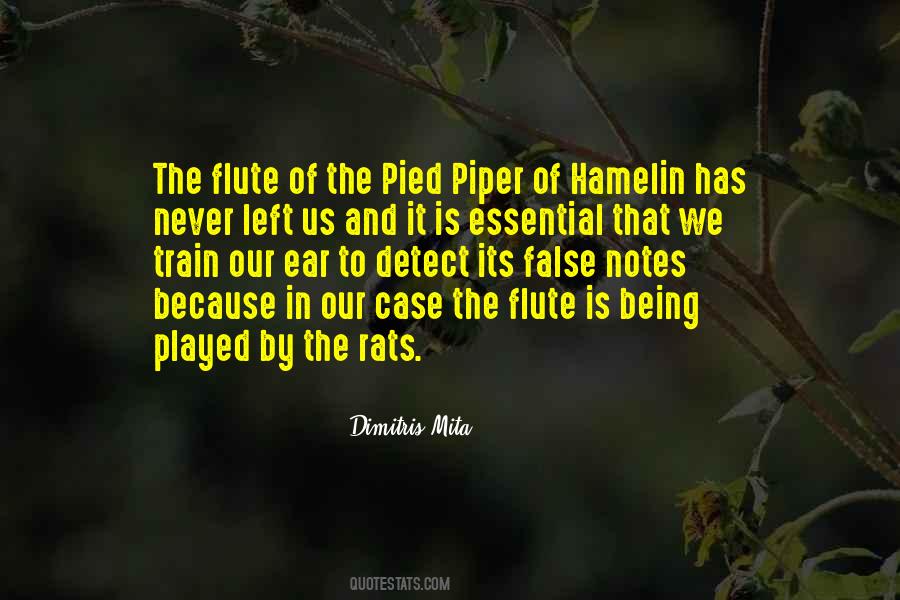 #59. When I was signing up for the University of Southern California's music program, I flipped a coin to decide my major. If it came up heads, it would be flute - tails would be voice. - Author: Sondra Radvanovsky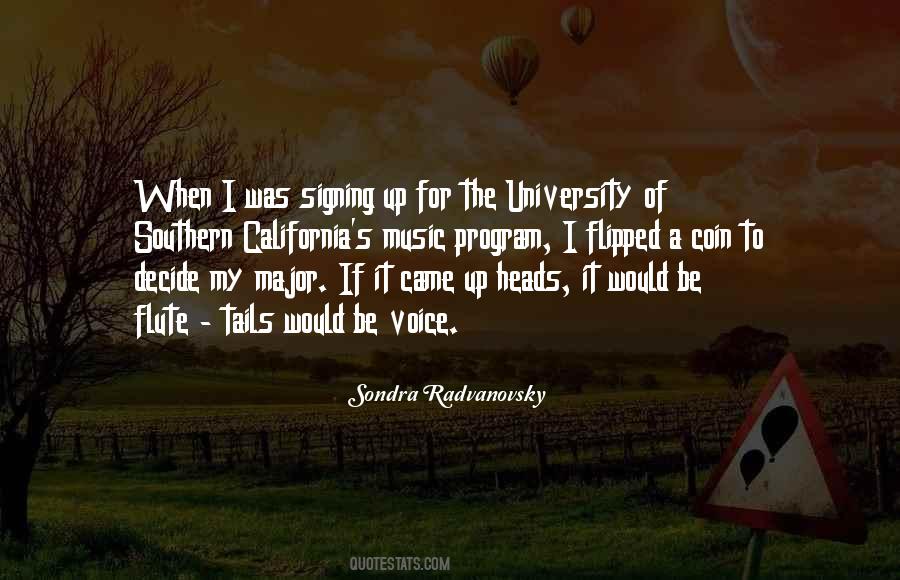 #60. A craftsman pulled a reed from the reedbed,
cut holes in it, and called it a human being.
Since then, it's been wailing a tender agony
of parting, never mentioning the skill
that gave it life as a flute - Author: Rumi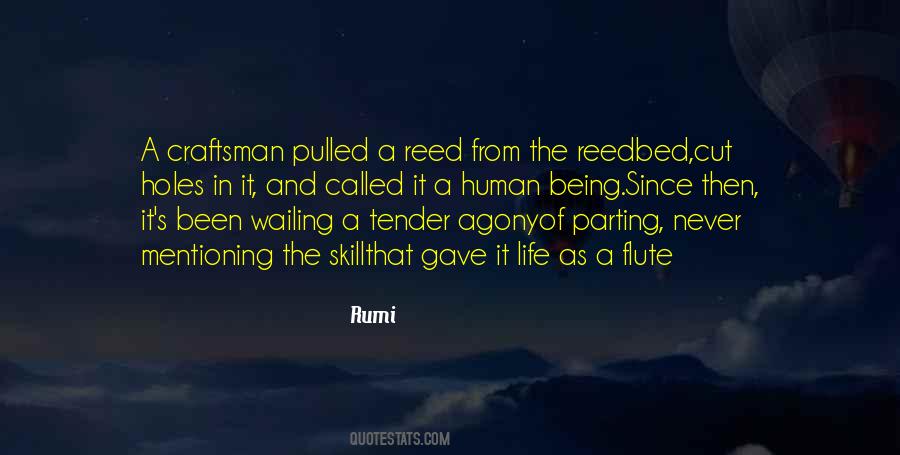 #61. When you work you are a flute through whose heart the whispering of the hours turns to music. - Author: Kahlil Gibran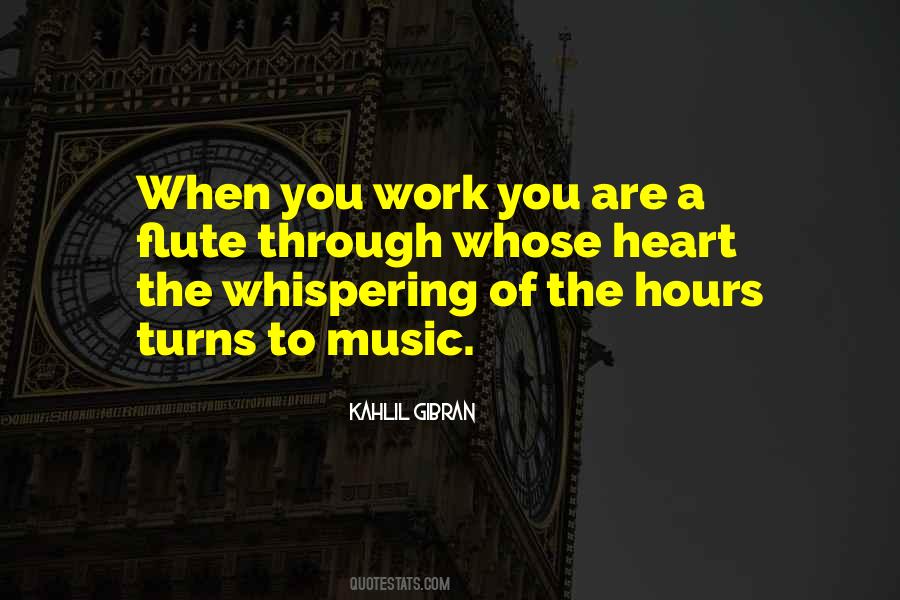 #62. There's all sorts of things I was always meaning to get around to - learning to play the flute, calculating the square root of nought, going mad - but I just didn't have the time. - Author: Tom Holt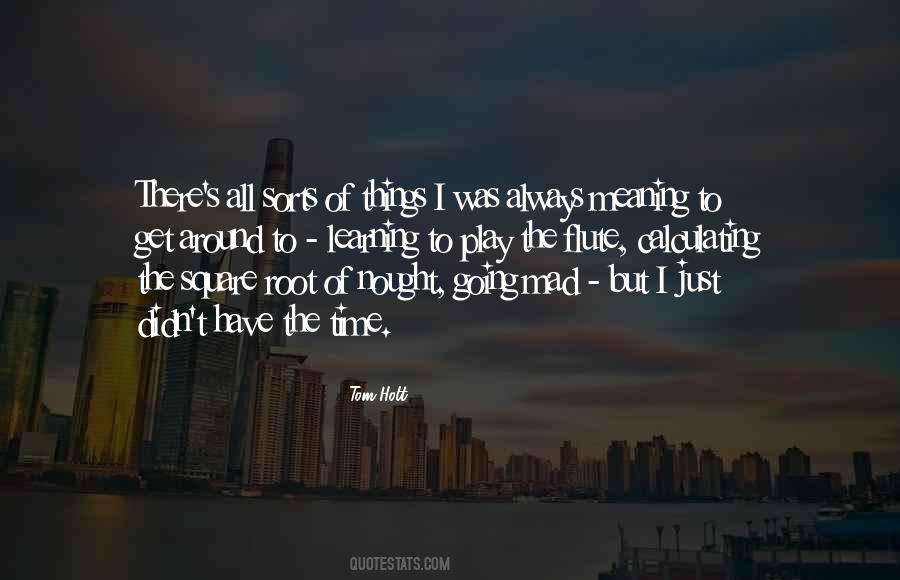 #63. She calls herself Fleet 'cause she used to be a flute player, back in the day. BC, you know?"
"British Colombia?"
He looked sad. "No, Before Crack. - Author: Nalo Hopkinson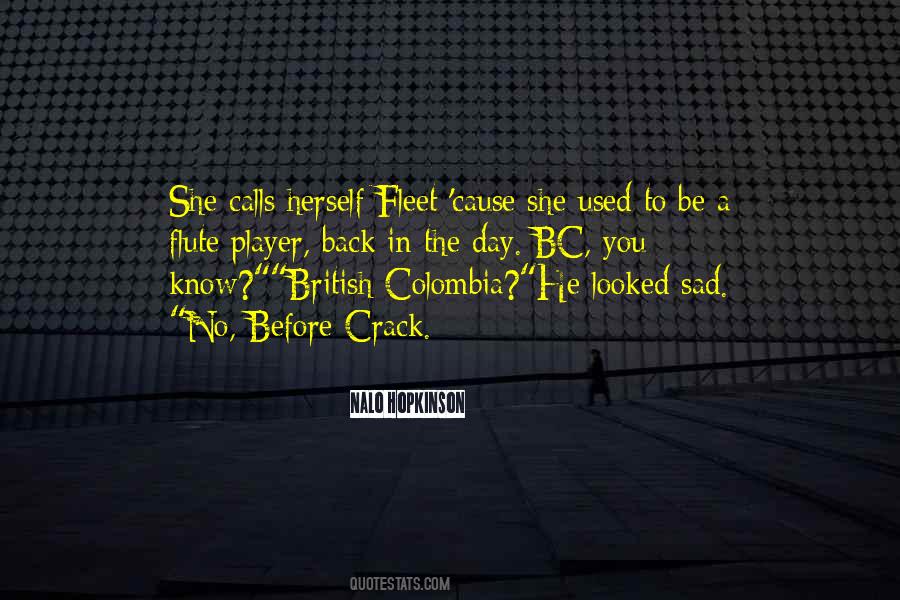 #64. I've played every instrument you could possibly think of for 10 minutes. So I'm mediocre at everything. I can play drums, guitar, piano, violin, saxophone, clarinet, flute ... Just not well. - Author: Kat Dennings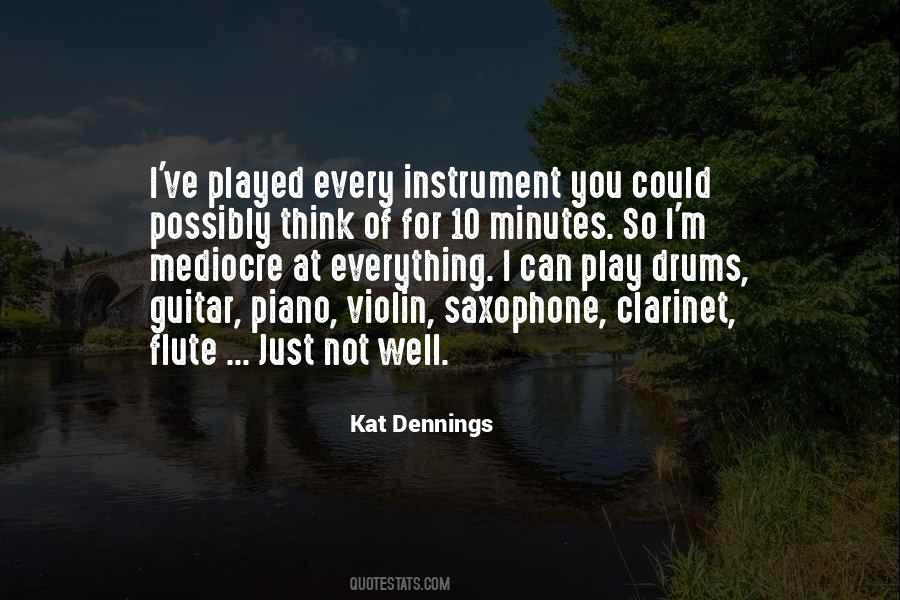 #65. I will quote Cioran (who is not yet a classic but will become one): "While they were preparing the hemlock, Socrates was learning a tune on the flute. 'What good will it do you,' they asked, 'to know this tune before you die? - Author: Italo Calvino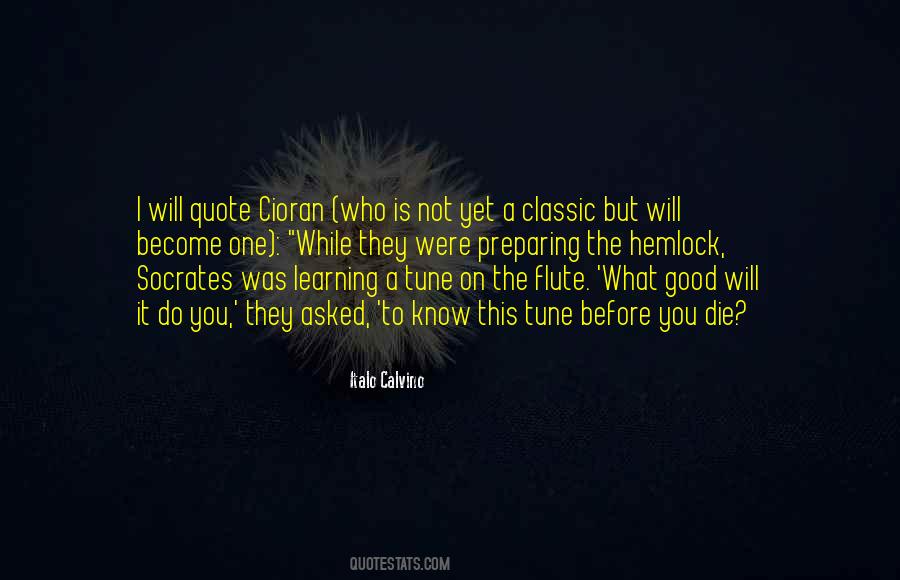 #66. His voice was cloves and nightingales, it took us to spice markets in the Celebs, we drifted with him on a houseboat beyond the Coral Sea. We were like cobras following a reed flute. - Author: Janet Fitch
#67. Yoga may have originated in India, where the cow has been revered as sacred for thousands of years, but times have changed since Lord Krishna played his flute for the cows of Vrindavan. There are factory farms in India now. - Author: Sharon Gannon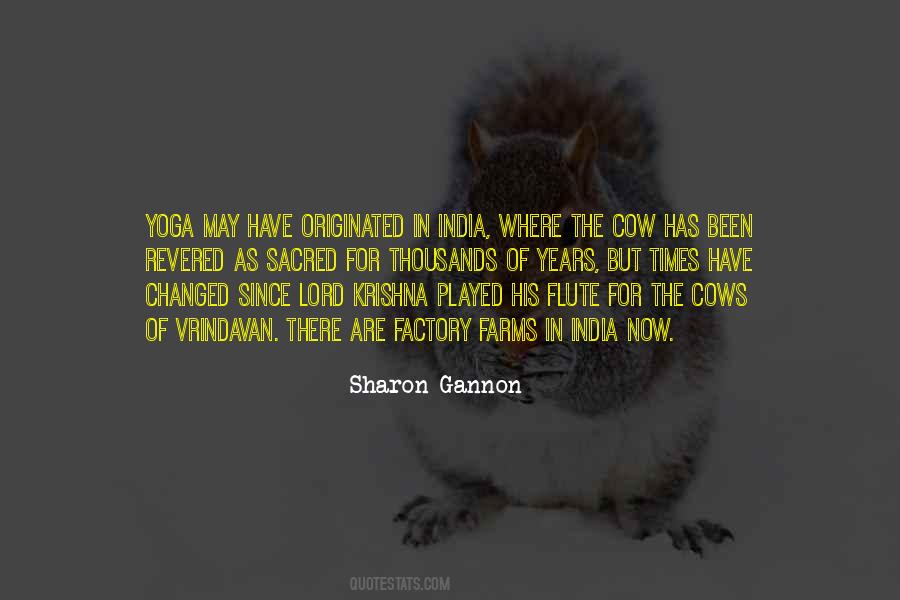 #68. Every day I practise my flute. I've been doing it for decades and every day I find something new that inspires me for all the rest that I do in my days. - Author: Philippe Kahn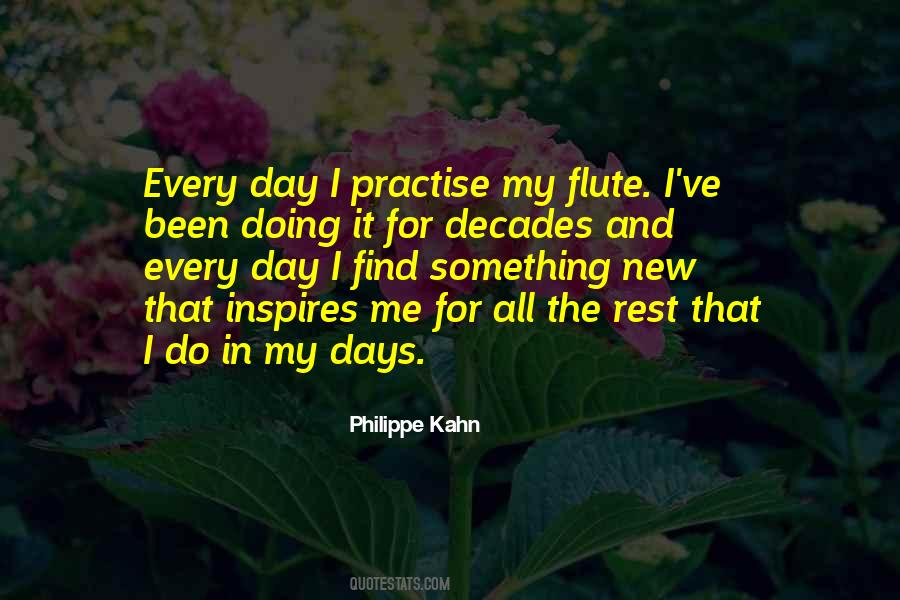 #69. The Woodstock dove on the iconic poster is really a catbird. And it was originally perched on a flute. - Author: Shawn Amos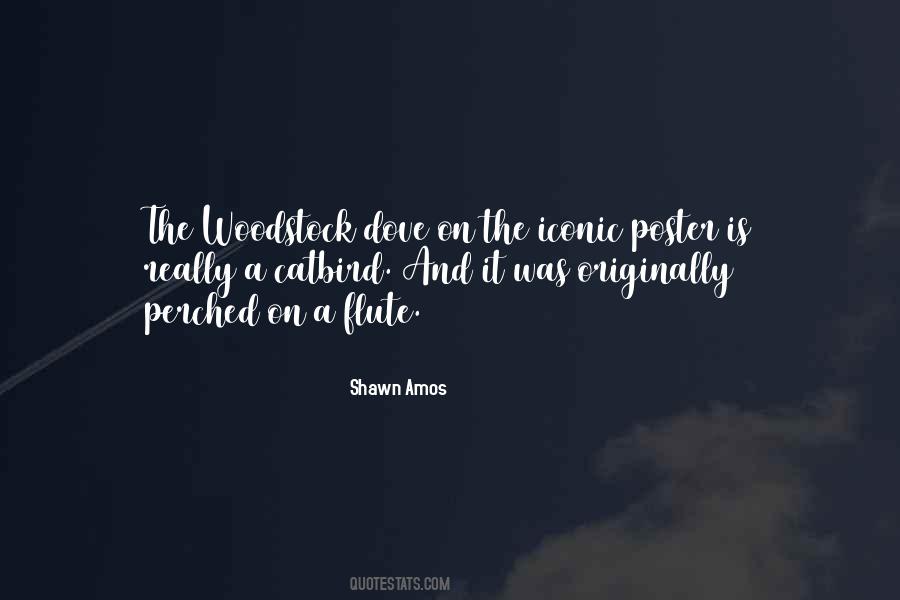 #70. The only good political movement I've seen lately was Occupy Wall Street. They had no leaders, which was genius. But unfortunately it always ends up with some hippy playing a flute. - Author: John Lydon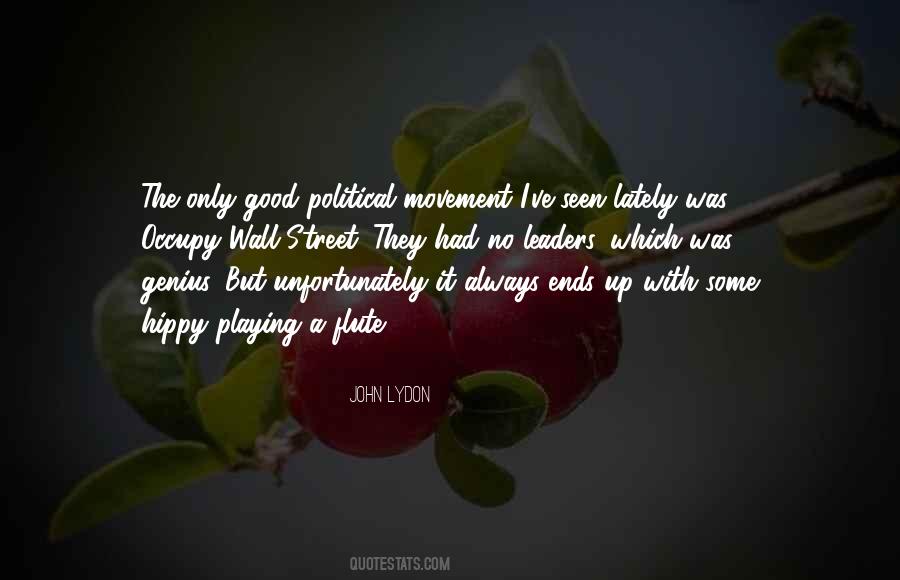 #71. May the honey-sweet flute music that flows from Lord Mukunda's lotus mouth fill me with bliss. - Author: Rupa Goswami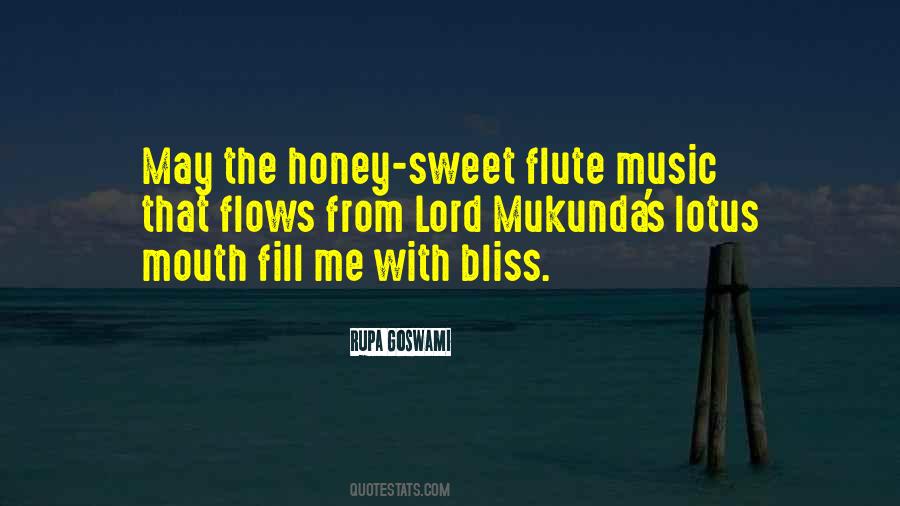 #72. Yet is it not the heart but the members of play that elevate us above the beasts: the fingers with which we touch the clavichord or the flute, the tongue with which we jest and lie and seduce. Lacking members of play, what is there left for beasts to do when they are bored but sleep? - Author: J.M. Coetzee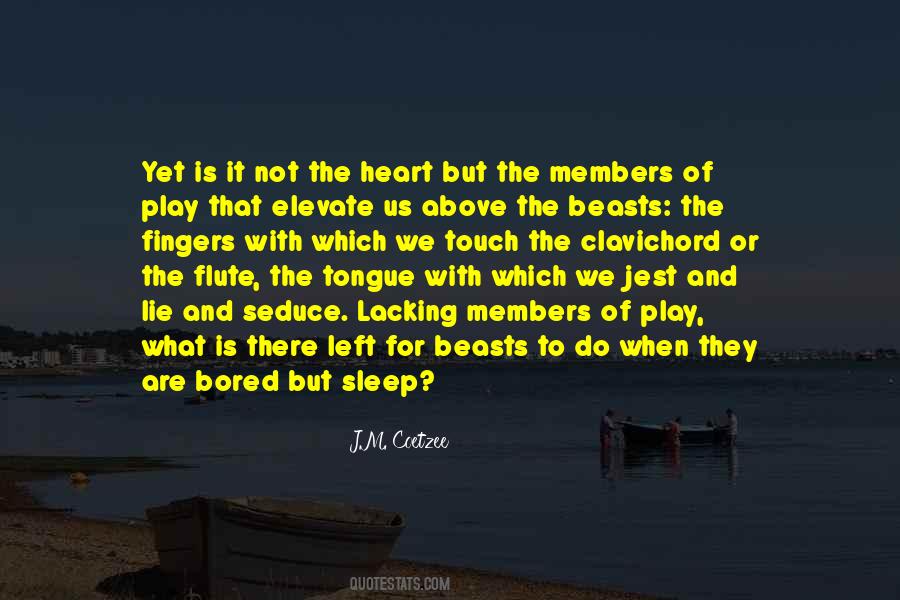 #73. Mirror becomes a razor when it's broken. A stick becomes a flute when it's loved. - Author: Yoko Ono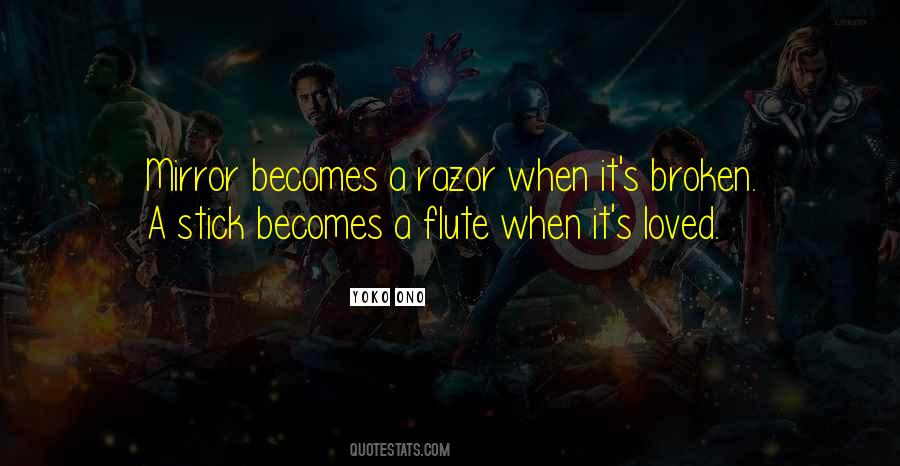 #74. I love thee as I love the tone
Of some soft-breathing flute
Whose soul is wak'd for me alone,
When all beside is mute. - Author: Eliza Acton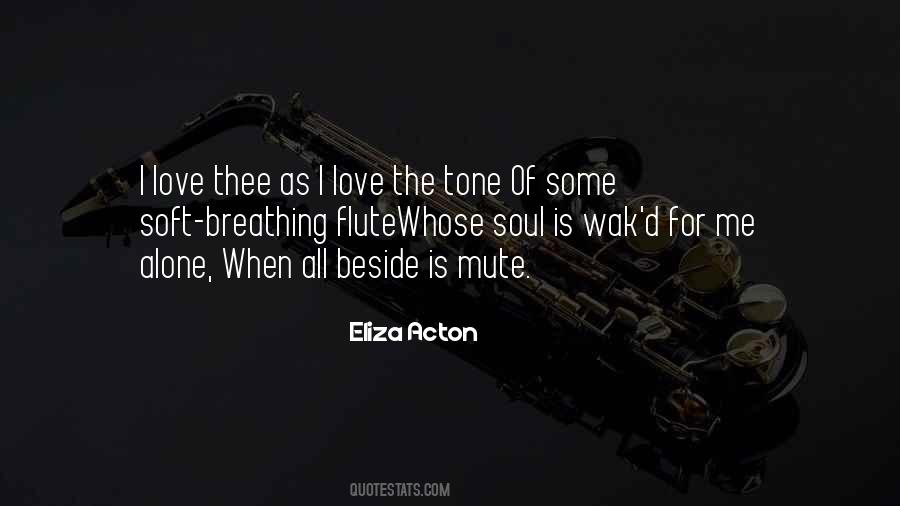 #75. Wylan blushed deeper, and Jesper shook his head. "Play piano, too?" "Flute," said Wylan defensively. "Perfect. - Author: Leigh Bardugo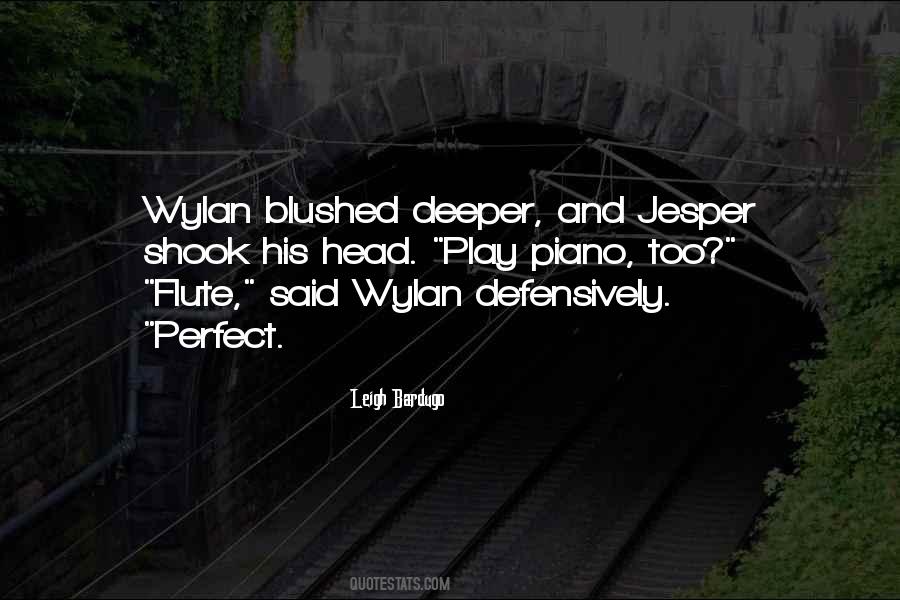 #76. Why should I be polished and improved like goods for sale? I might not even want to marry! And besides, I have many skills. I can read and write and play the flute and harp. Why should I change to please some man? If he doesn't like me the way I am, then he can get some other girl for his wife. - Author: Juliet Marillier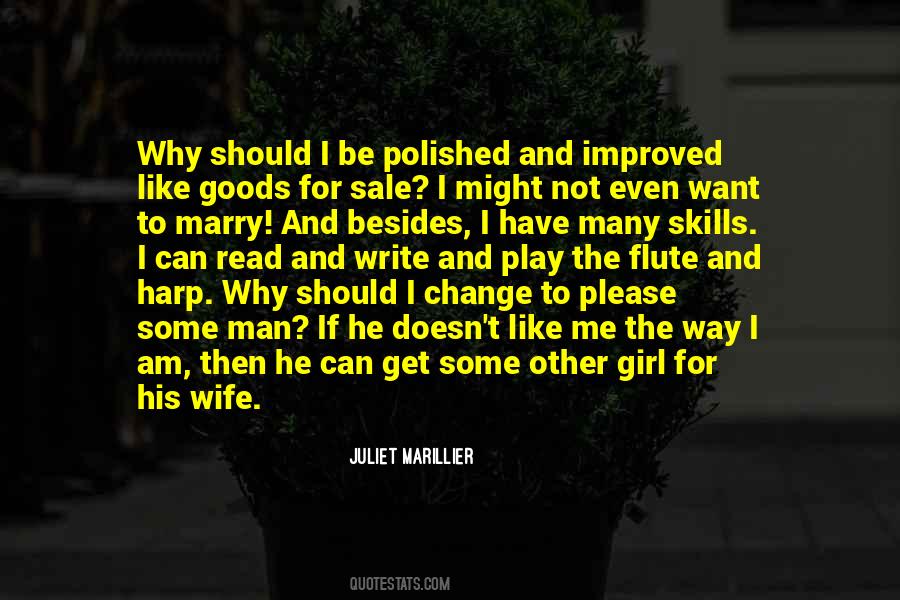 #77. And when my spirit wants no stimulus or nourishment save music, I know it is to be sought in cemeteries: the musicians hide in the tombs; from grave to grave flute trills, harp chords answer one another. - Author: Italo Calvino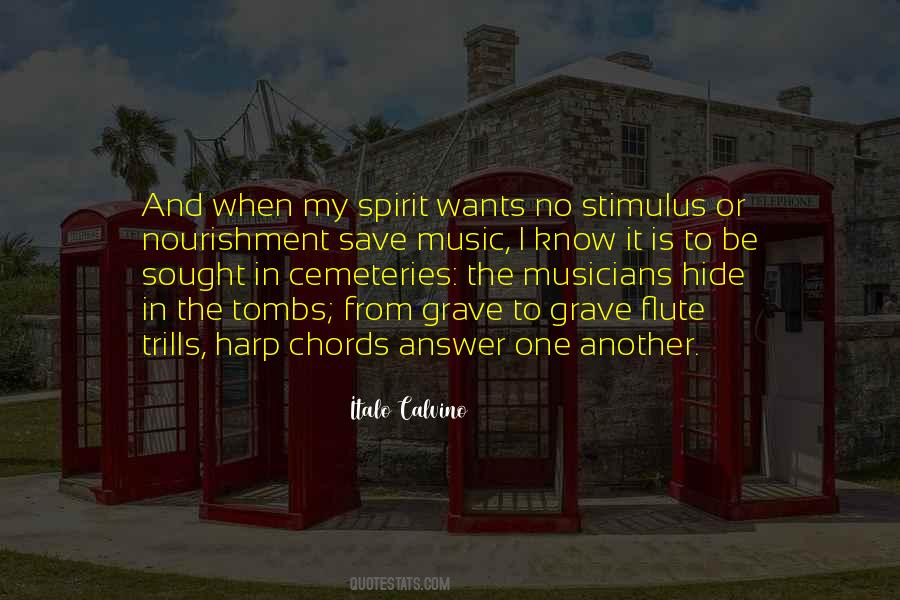 #78. The sound of the flute will cure epilepsyand sciatic gout. - Author: Theophrastus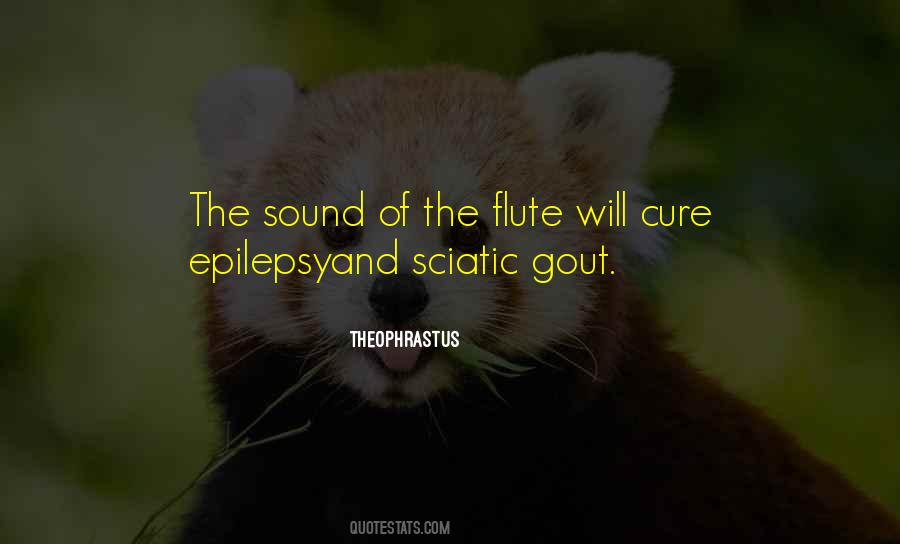 #79. Debatable how long the seduction took. The smarter the girl, the swifter these things go. Physical forwardness as intellectual high-wire act: the pleasure not of pleasure but of performance and revenge against the retainer, the flute, the stack of expectations. - Author: Lauren Groff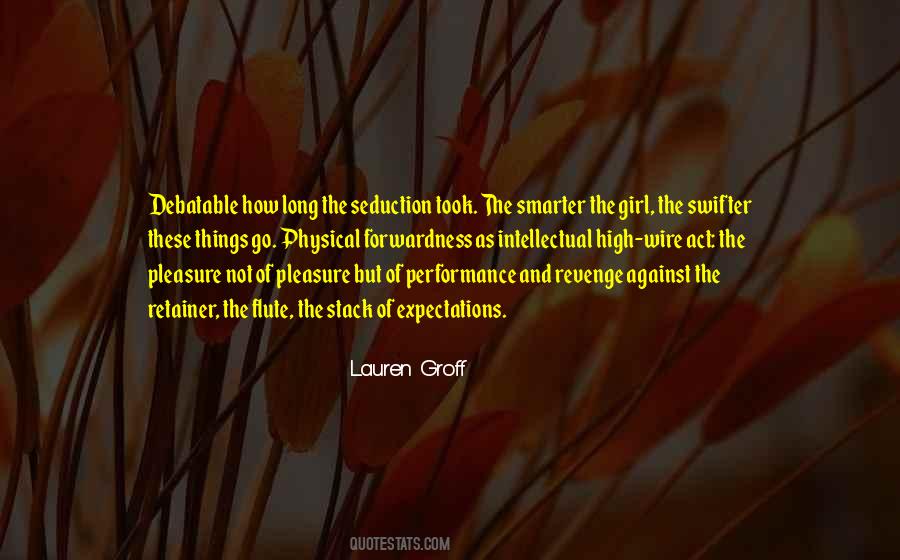 #80. I am sixteen when my mother steps out of her skin one frozen January afternoon- pure self, atoms twinkling like microscopic diamond chips around her, perhaps the chiming of a clock, or a few bright flute notes in the distance- and disappears. No one sees her leave, but she is gone. - Author: Laura Kasischke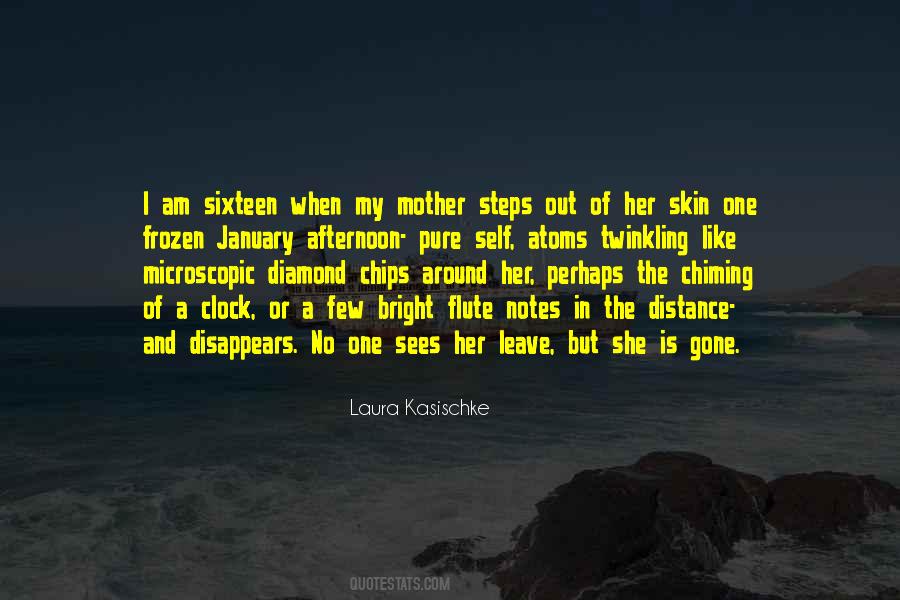 #81. Mozart's seeming frothiness is just a light touch with very profound material. That's what I've found working on 'The Magic Flute.' - Author: Simon McBurney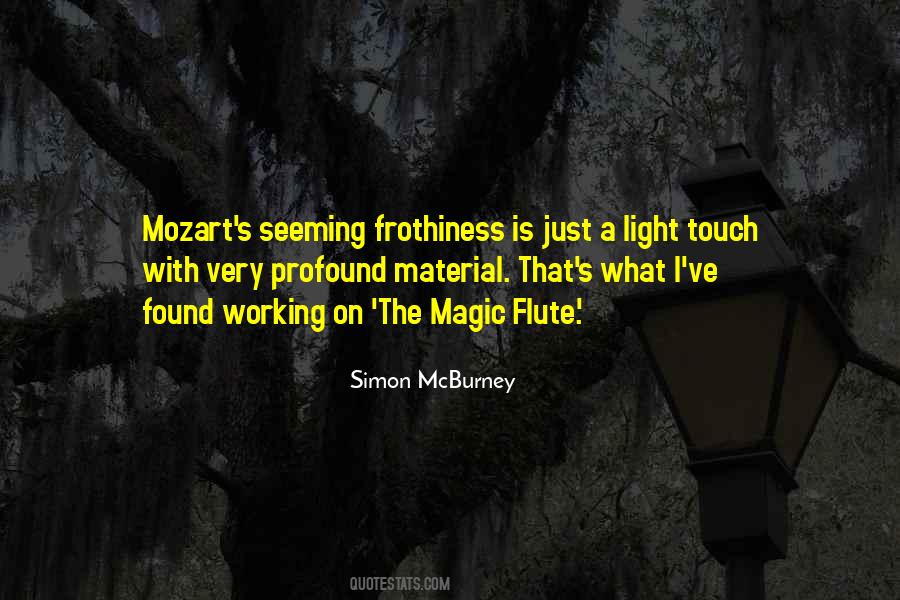 #82. On the drive home, I started playing my new flute. Mom never lets me play in the car because she's afraid someone might crash into us and my flute will impale me into the seat. I find that ridiculous, because how could that even happen? - Author: Maria Semple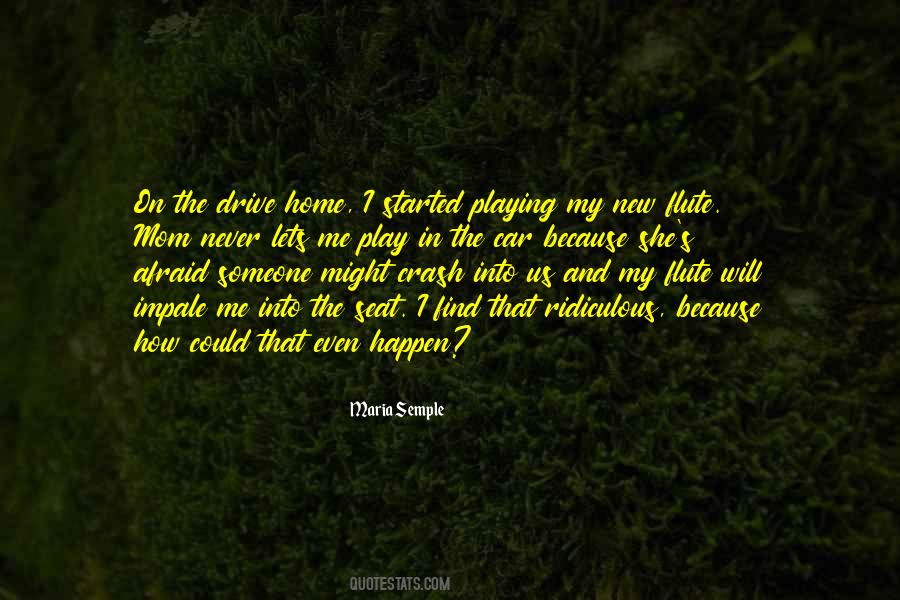 #83. A flute without holes, is not a flute. A donut without a hole, is a Danish. - Author: Chevy Chase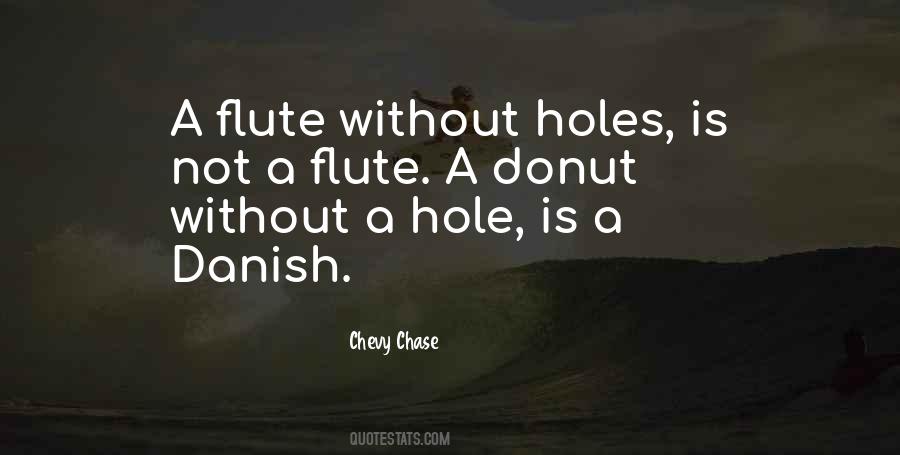 #84. Playing flute was the one thing I knew could make people see a human, not a monster. - Author: Rachel Hartman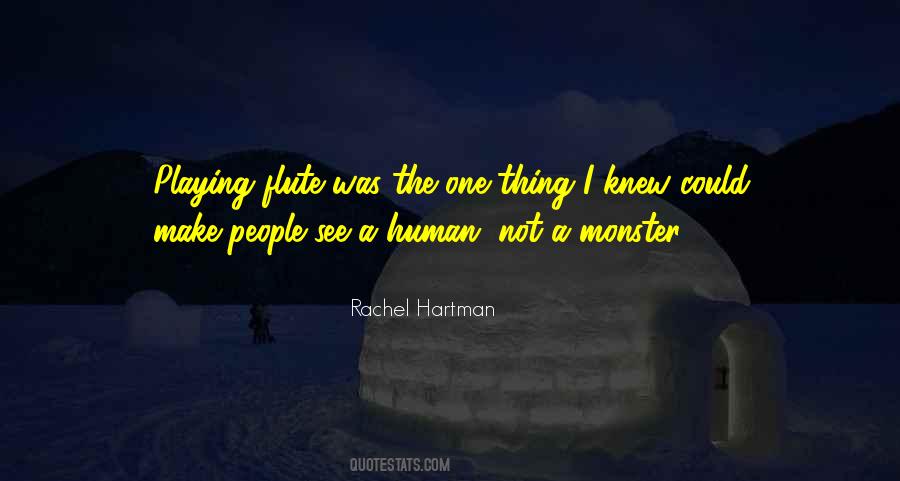 #85. A flute with no holes is not a flute. - Author: Matsuo Basho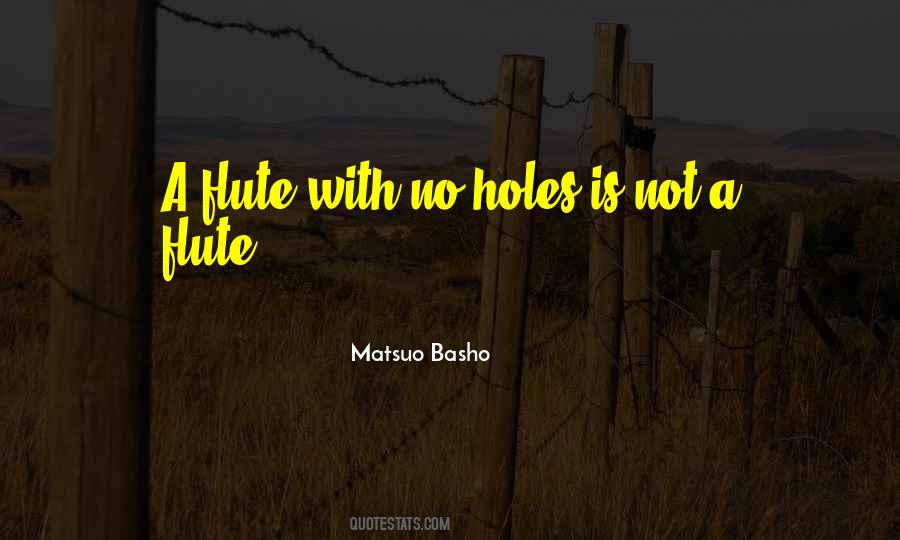 #86. After I came out of surgery - I was in the hospital for five weeks - I found that I gravitated toward very gentle sounds: chant music, solo bamboo flute sounds, a laid-back record of my own called 'Inside.' And the music became a very real part of my recovery process. - Author: Paul Horn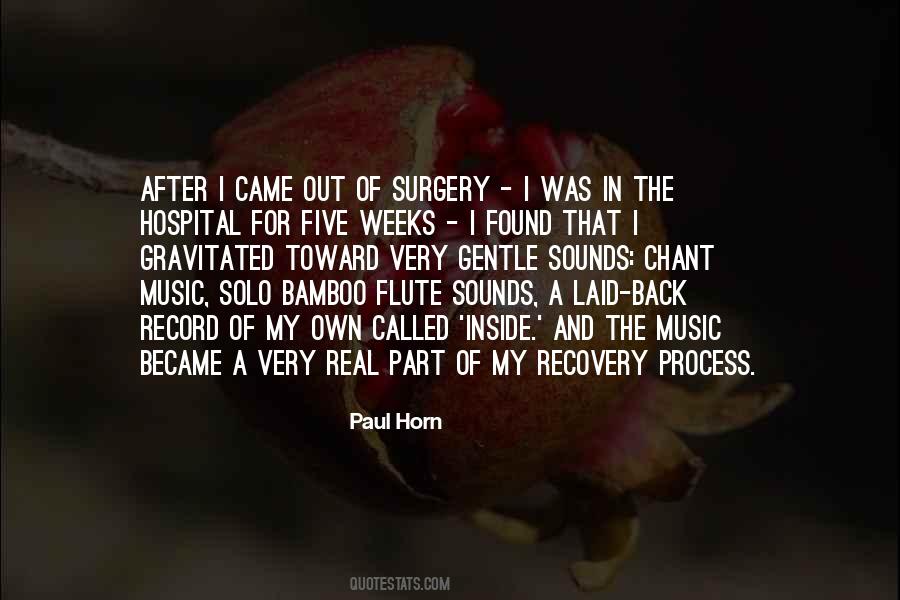 #87. I was not a great guitarist, so I sold my 1960 Fender Stratocaster in exchange for a Shure Microphone, made in Chicago, and a flute. - Author: Ian Anderson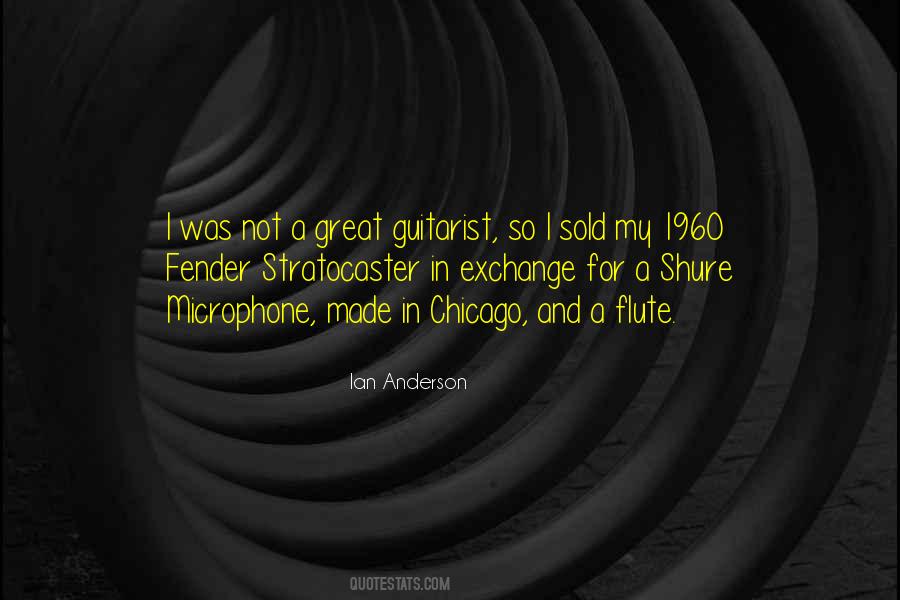 #88. I closed my eyes during a flute solo, wishing I could wrap the silvery sound around me like armor. - Author: Jodi Meadows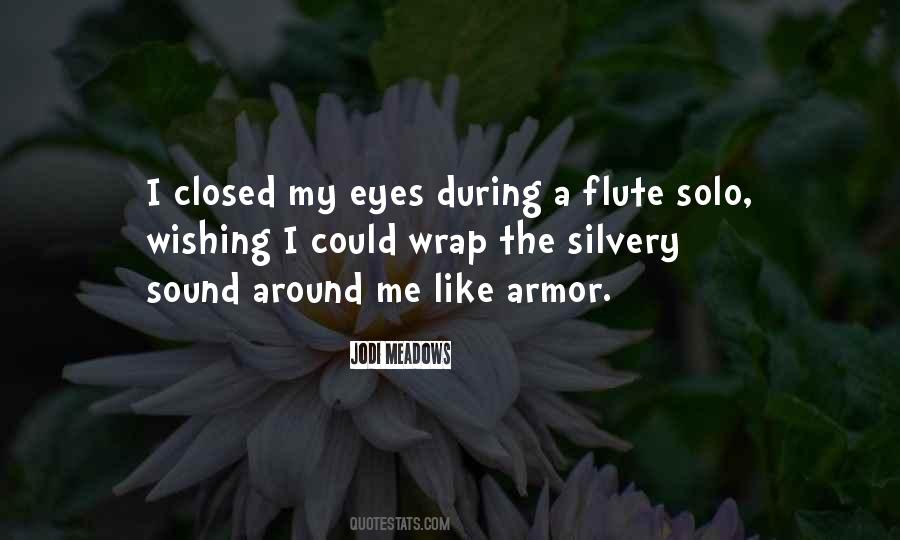 #89. I picked up my flute and smiled, eyebrows dancing. "Why don't you show her your straight dance?"
"Is there a gay dance, too?" Mickey asked. - Author: Rose Christo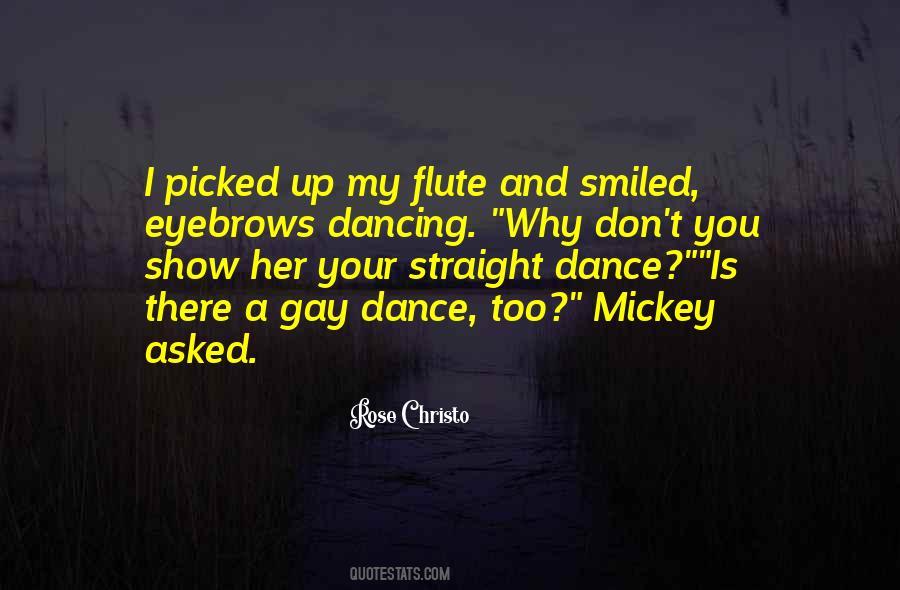 #90. You take the pen, and the lines dance. You take the flute and the notes shimmer. You take the brush, and the colors sing. So all things have meaning and beauty in that space beyond time where you are. How, then, can I hold back anything from you? - Author: Dag Hammarskjold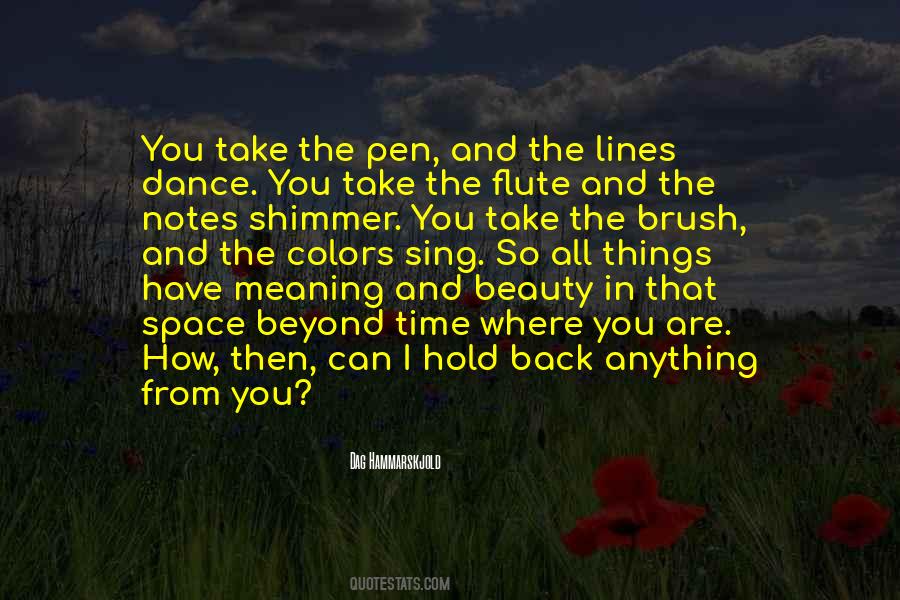 #91. Everyone who plays the flute should learn singing. - Author: James Galway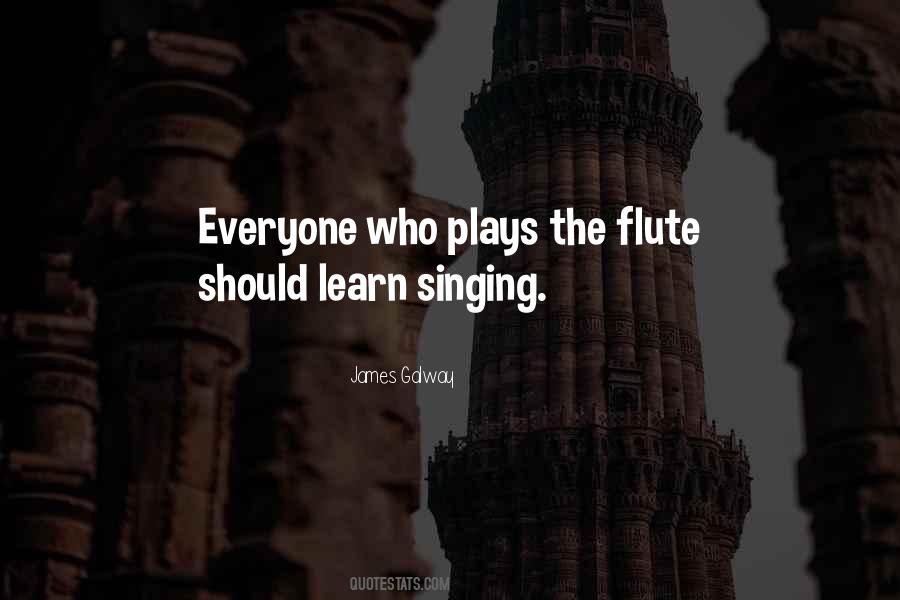 #92. Basically, I like to pick up my flute, which is a pretty instrument, and play pretty on it. - Author: Paul Horn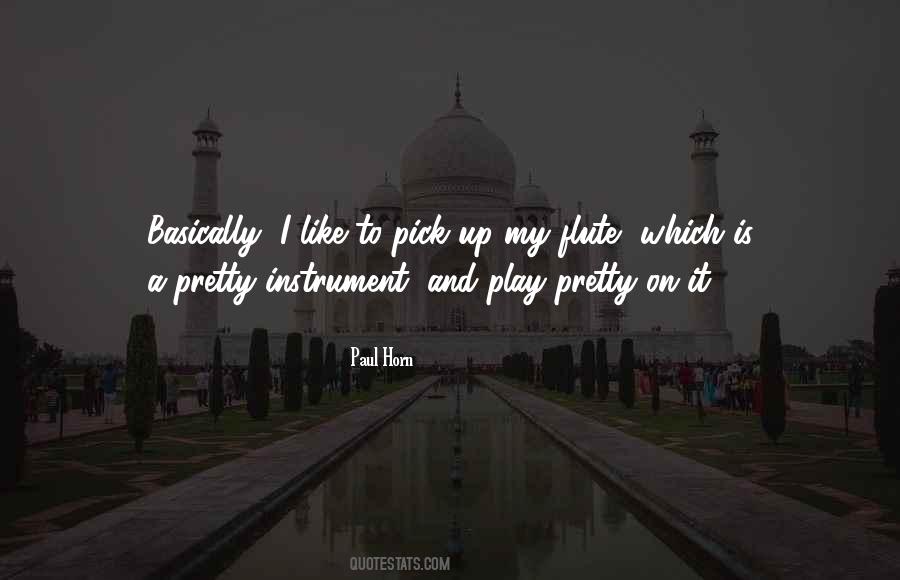 #93. Touch not the flute when drums are sounding around; when fools have the word, the wise will be silent. - Author: Johann Gottfried Herder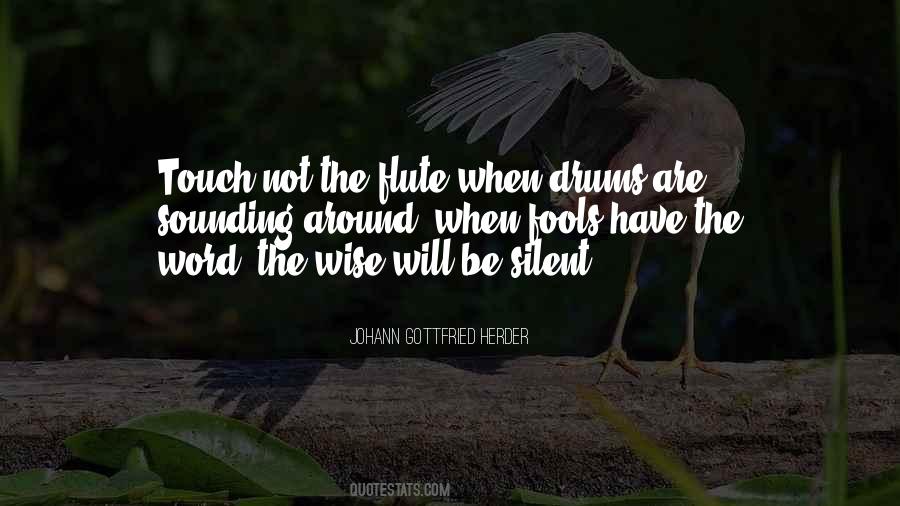 #94. I was a bit of a tomboy, so I played softball and basketball. Then I was also a cheerleader. And I played flute too. - Author: Natalie Grant
#95. Life is a living flute, yoga is the art of creating melody and rhythm in it. - Author: Amit Ray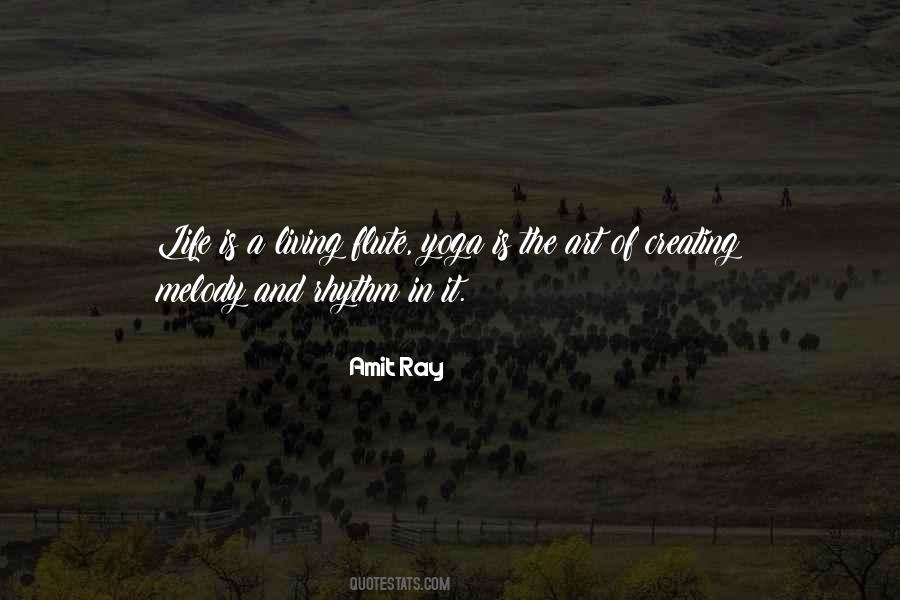 #96. I don't really know the story of the Pied Piper. I don't read stories, first of all. I just remember either a rabbit or a rat leading people out of the village with a flute. That's all I can tell you. - Author: R. Kelly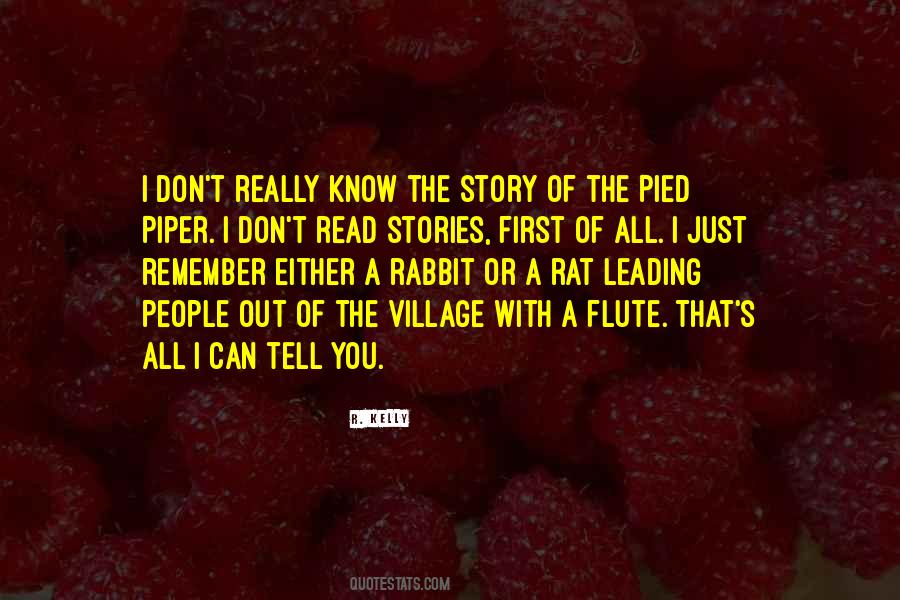 #97. We decided to do some of Merle's things with modern instrumentation. We used a flute, a bass clarinet, a trumpet, a clarinet, drums, a guitar, vibes and a piano. - Author: Tennessee Ernie Ford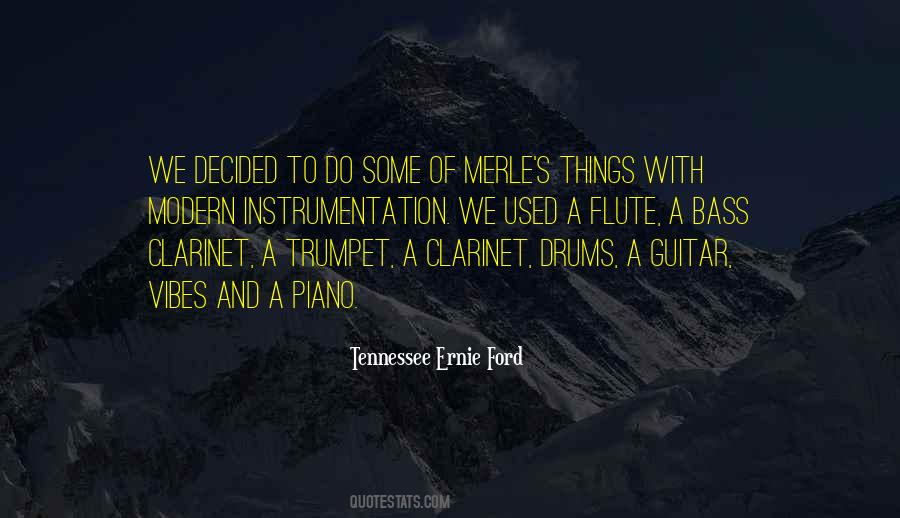 #98. From some home a jade flute sends dark notes drifting,
Scattering on the spring wind that fills Lo-yang.
Tonight, if we should hear the willow-breaking song,
Who could help but long for the gardens of home? - Author: Li Bai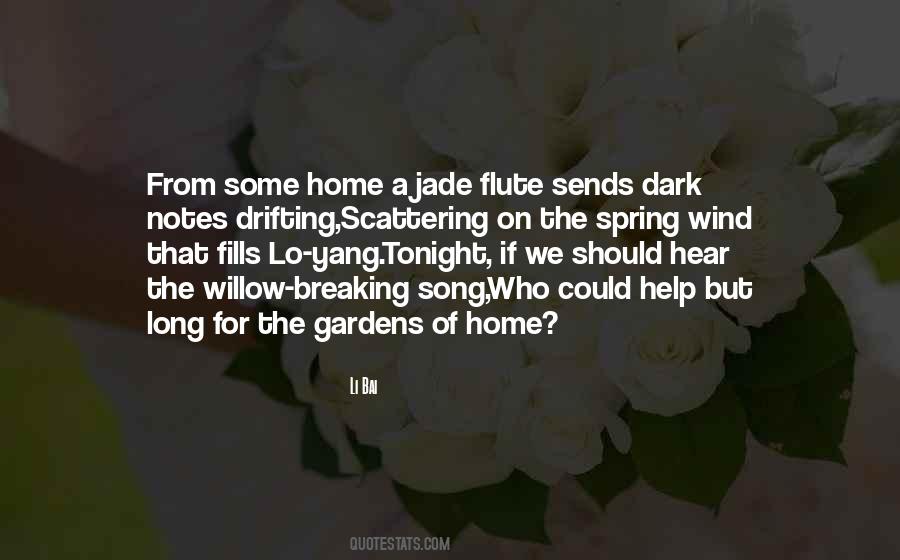 #99. Harry ran upstairs to their dark dormitory. He pulled out the cloak and then his eyes fell on the flute Hagrid had given him for Christmas. He pocketed it to use on Fluffy - he didn't feel much like singing. - Author: J.K. Rowling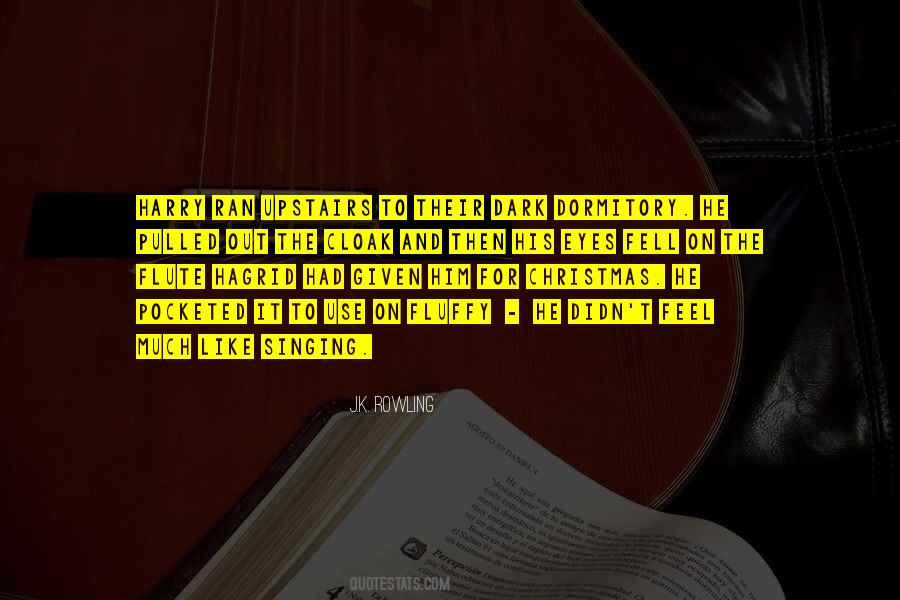 #100. Yellow is my favorite, but what is yellow? Handmaiden to white, it is a slight tarnish of pure light. Take away a bit of whites absolute luminosity, and what remains is yellow
sunlike, golden as a crown, buttercups in a field, marsh marigolds, a finch's wing, a plastic flute. - Author: Richard Grossinger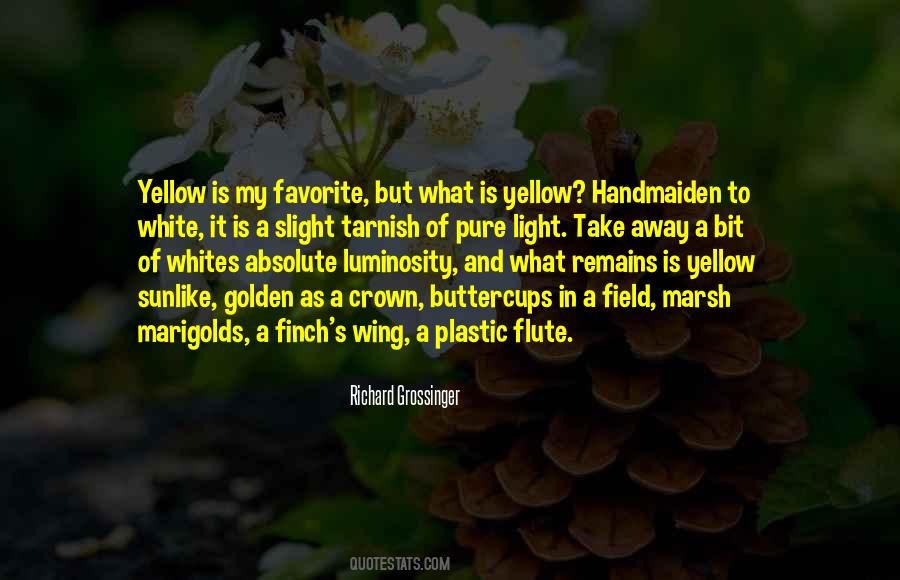 Famous Authors
Popular Topics