List of top 41 famous quotes and sayings about fit my shoes to read and share with friends on your Facebook, Twitter, blogs.
Top 41 Fit My Shoes Quotes
#1. I feel for all the parents whose babies just keep waking up for years. My heart and back go out to you guys! You are my heroes, and I am not fit to walk in your shoes!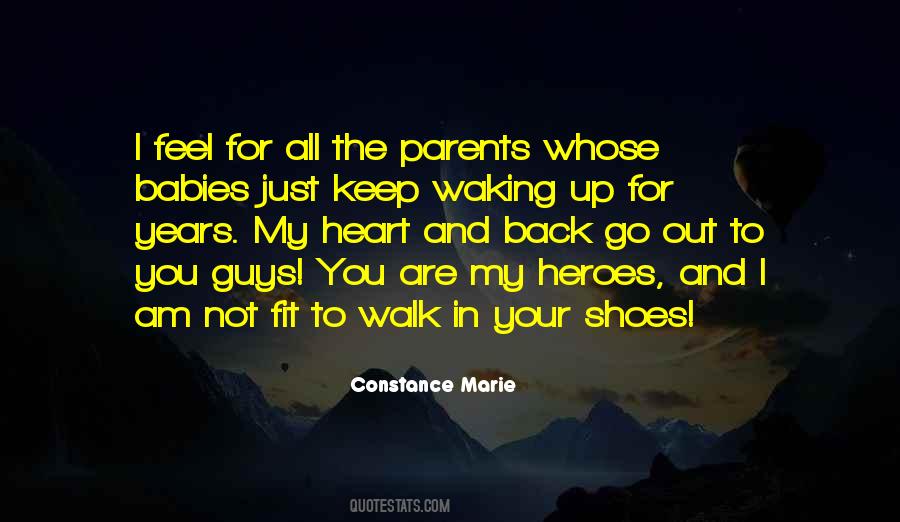 #2. They say the shoe can always fit, no matter whose foot it's on. These days feel like I'm squeezing in 'em. Who ever wore 'em before just wasn't thinking big enough, I'm about to leave 'em with 'em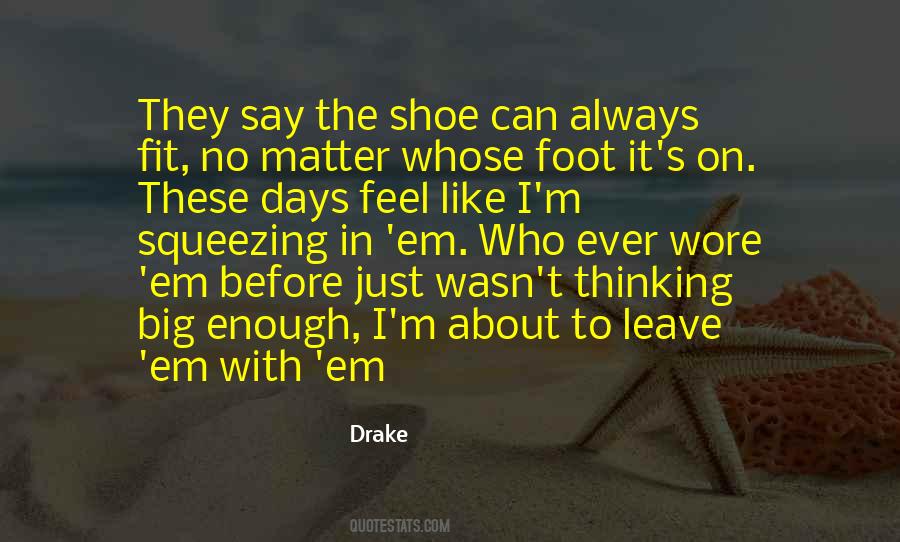 #3. God hasn't called you to walk in someone else's shoes (purpose). He wants you to walk in the shoes that fit you, for which He made you. You aren't going to succeed walking in another woman's shoes.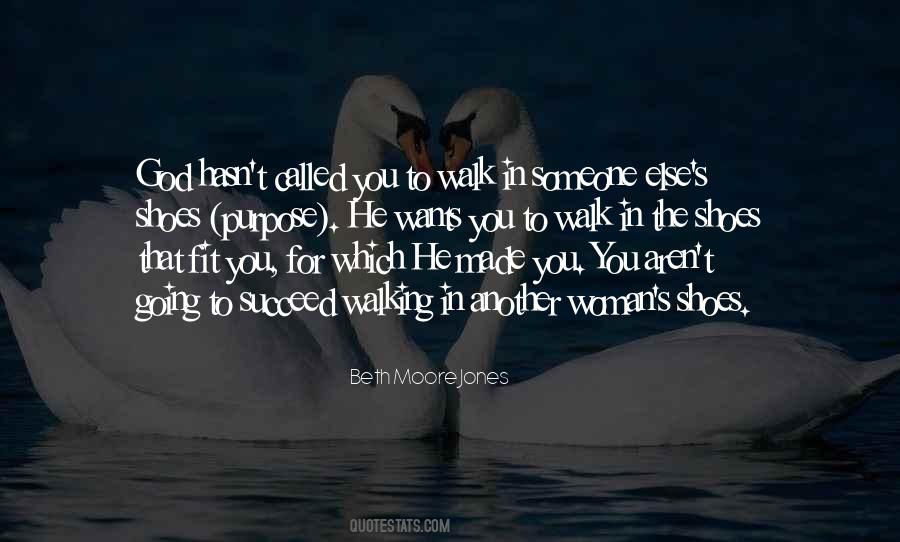 #4. I've got all these great broads in me, all these character women. I was playing a torn-down stripper at twenty-five on Broadway, and now I fit the shoes.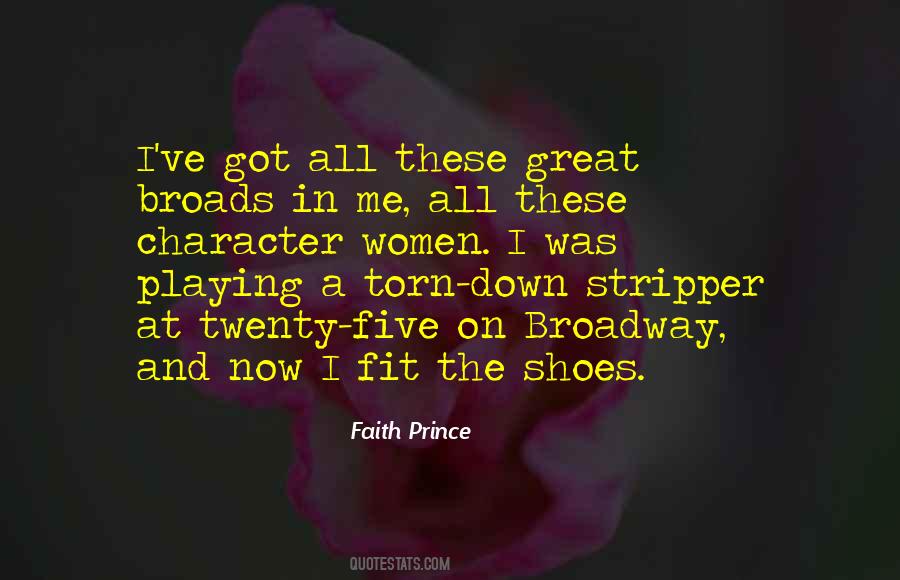 #5. If you haven't walked in someone else's shoes, it's difficult to know the fit, so be kind and compassionate.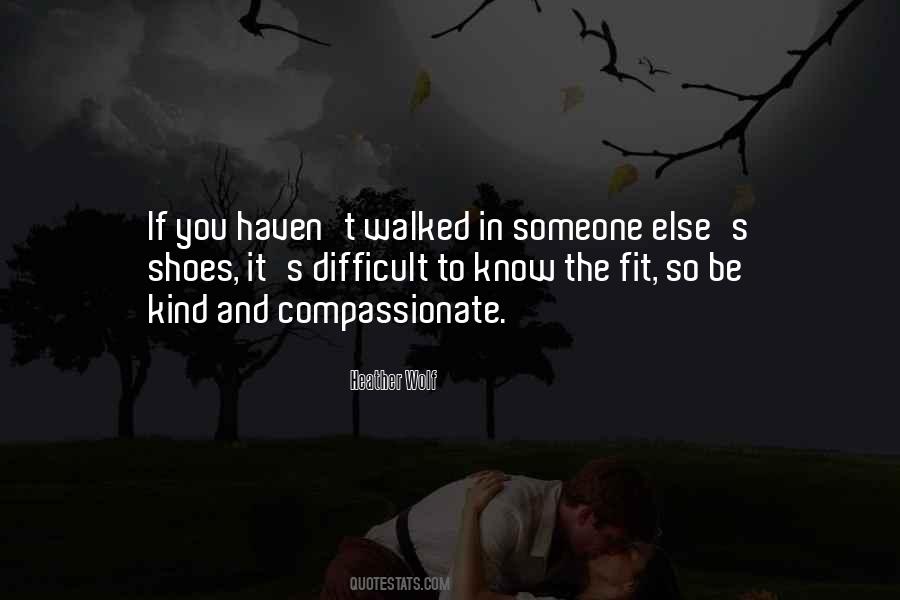 #6. People are eager to walk in other people's pair of shoes that does not fit them. The result is that, their dreams begin to imitate a "tortoise" walk and that I guess is already uncomfortable!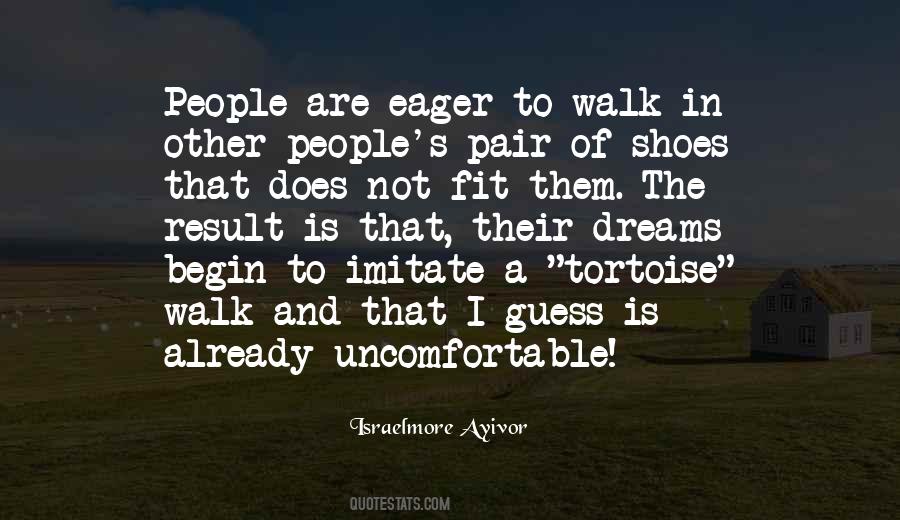 #7. Dreams are like over-sized clothes and shoes handed over to us by parents or older siblings; it takes time to grow to fit into it perfectly; so dream big dreams and stretch to reach it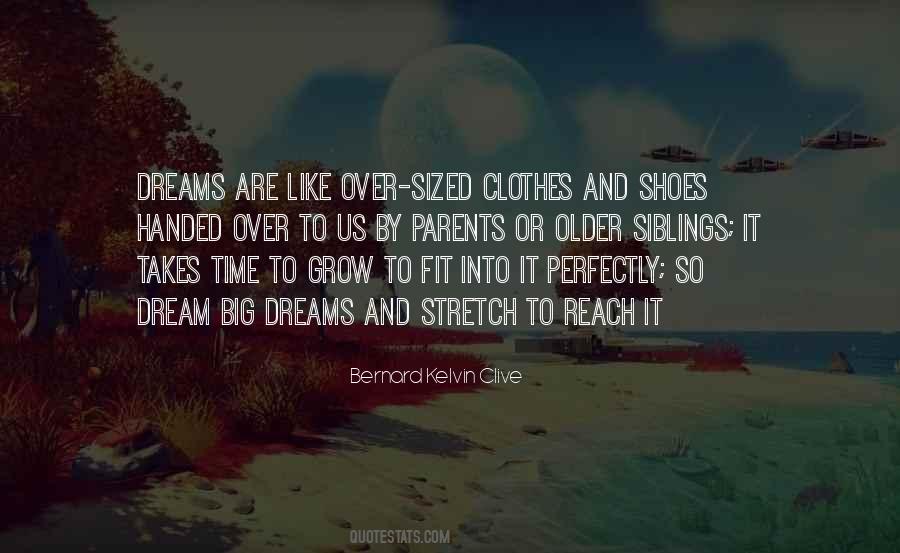 #8. When people wear shoes that don't fit them, it says something about their soul. Generally, I think it means they are good people.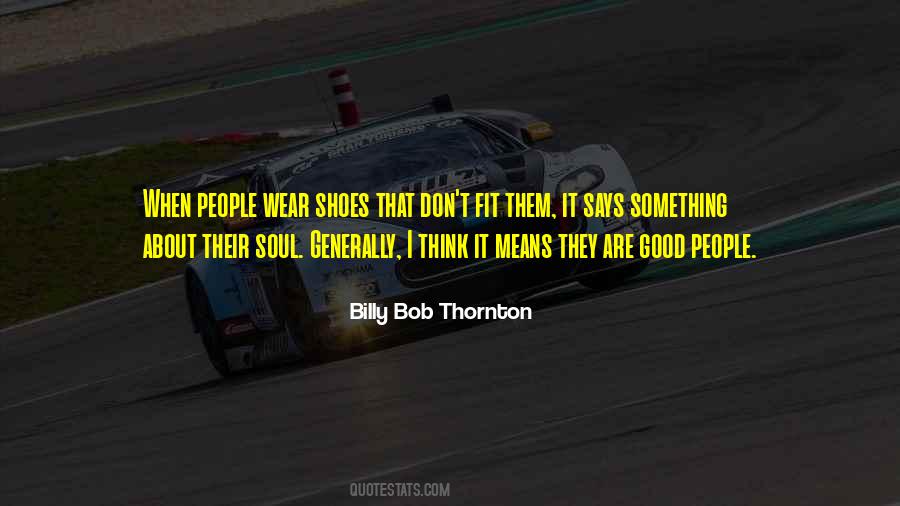 #9. I like books that fit in pockets, which can lead to love, give, turn a corner, give, buy back preferred to read the passages. For me it is an important event to exchange a book you want, and give your shoes.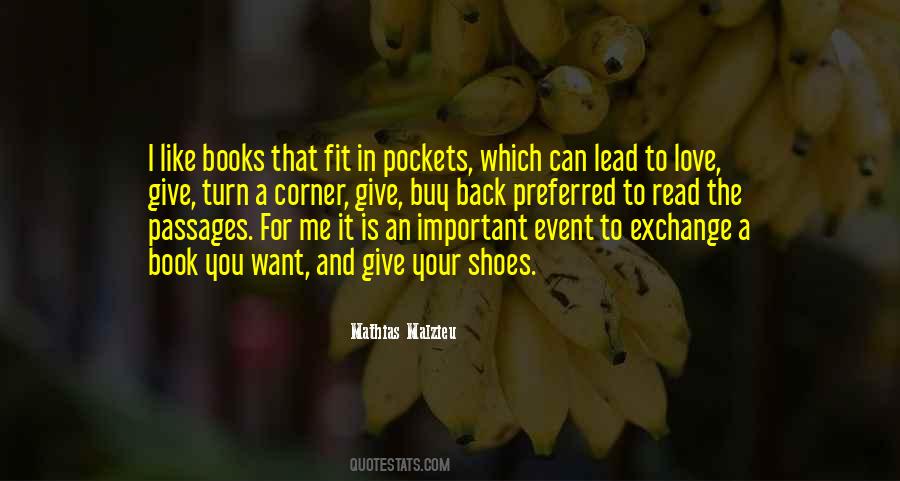 #10. If the yellow patent leather flats fit...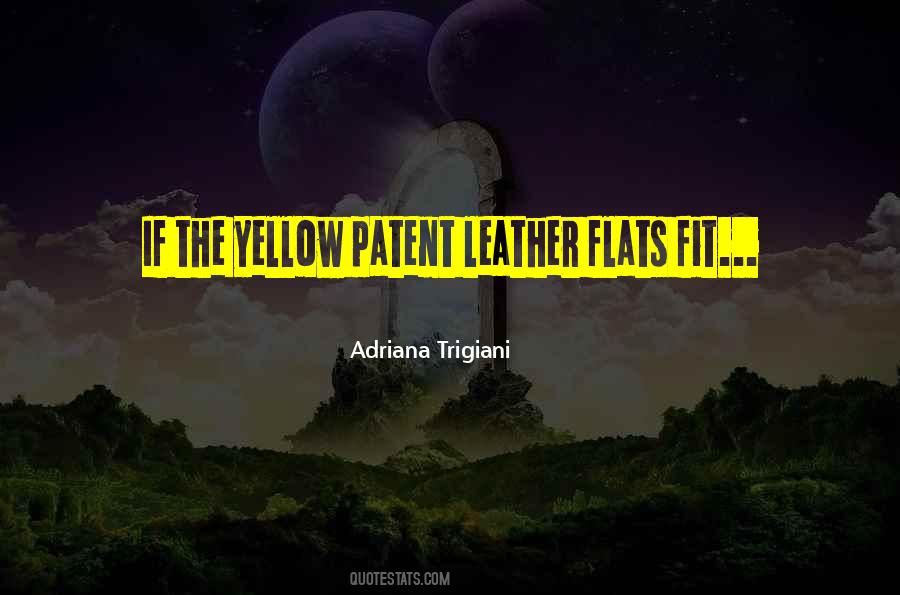 #11. So often at home in the West Village, I'm like, 'Why aren't I allowed a horse?' I would keep a horse in a stable in my apartment, and I would fit him with rubber shoes, and we'd just roll him out. If I needed to go to a meeting somewhere, I'd just get on my horse and go across town.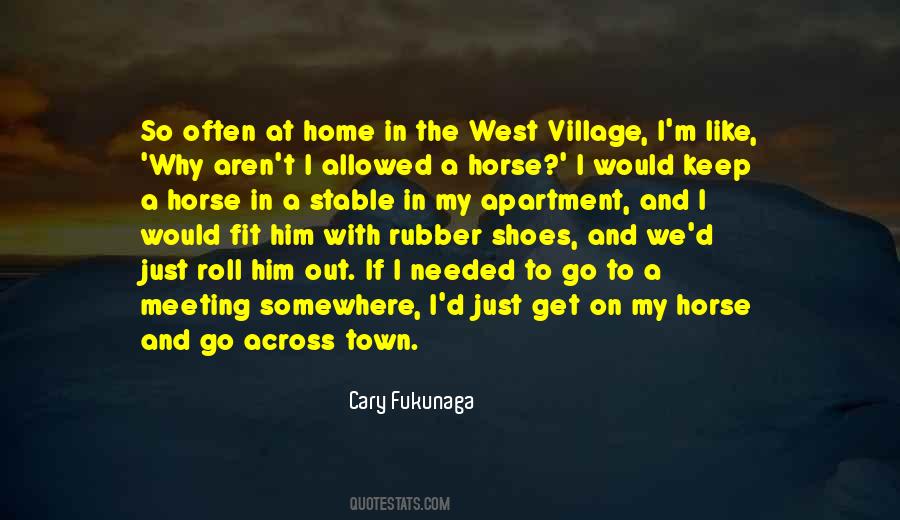 #12. In modeling, my height was a big challenge to overcome, because I was pretty much the shortest girl on the runway whenever I was doing the catwalk. The clothes didn't fit and the shoes didn't fit. It was an issue, but luckily, it didn't prevent me from working.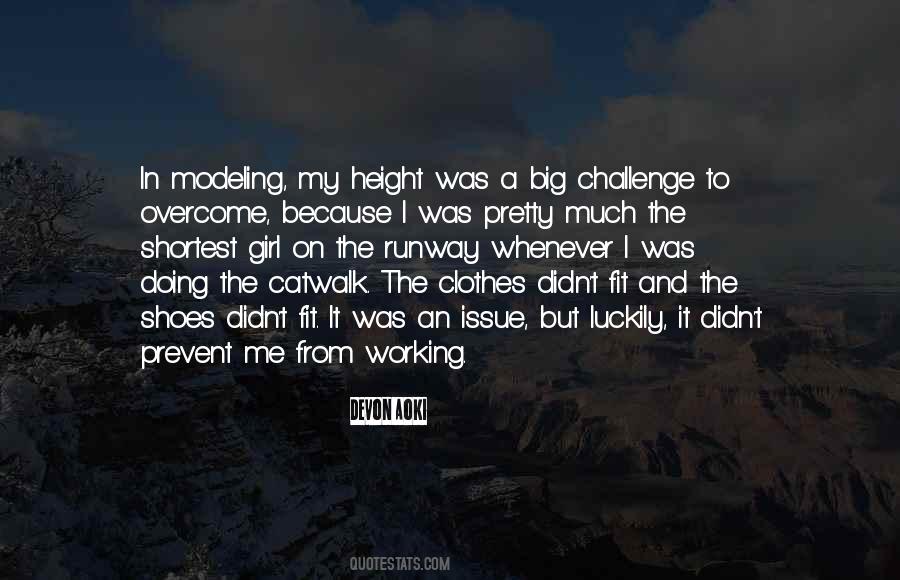 #13. Men are like shoes it is hard to find a good fit.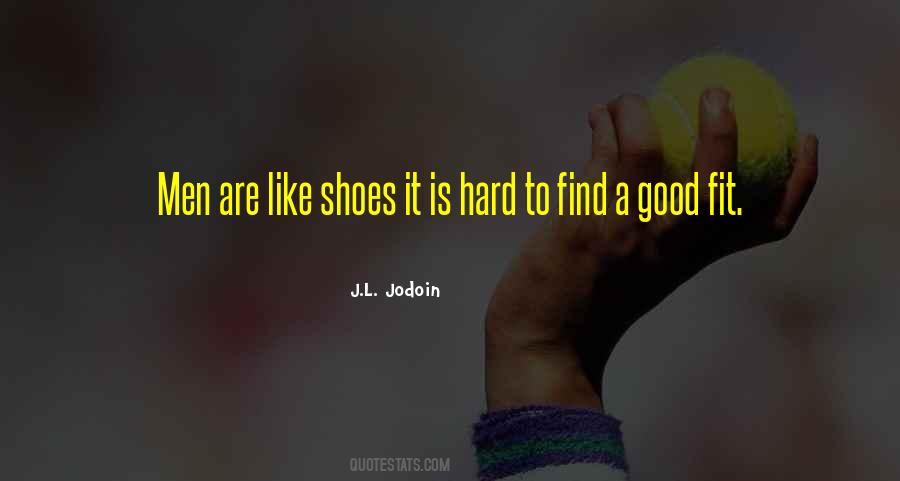 #14. Archie's marriage felt like buying a pair of shoes, taking them home, and finding they don't fit.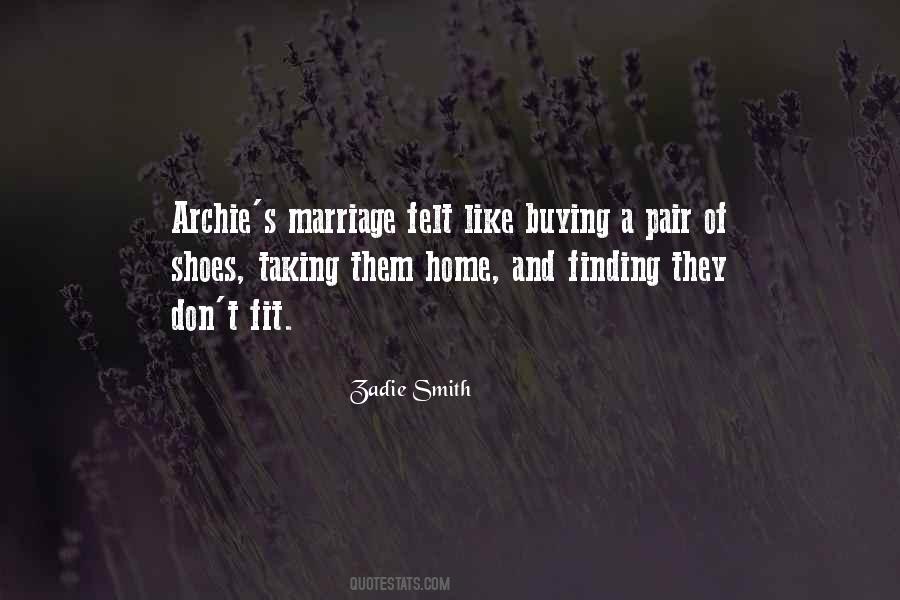 #15. I'm a girl who loves shoes. There is nothing like the feeling of trying on shoes at the store and they fit perfectly.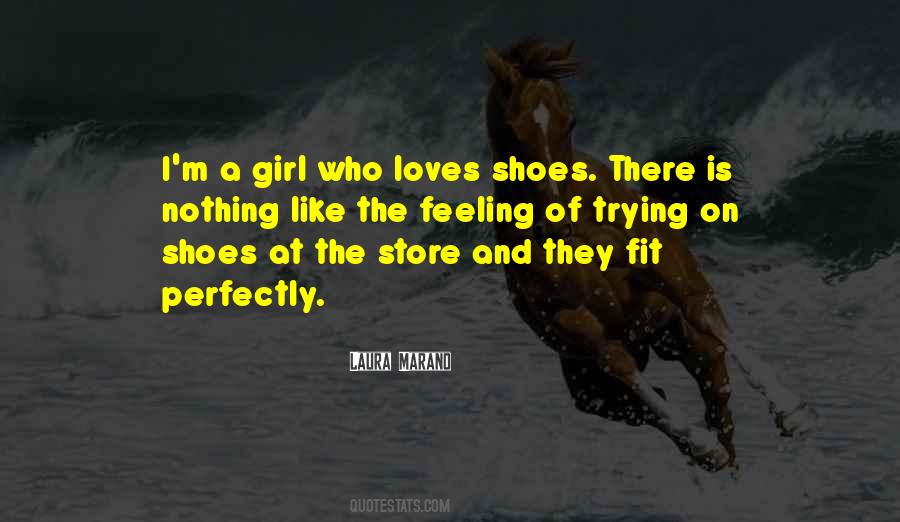 #16. How to Tell If Shoes Fit: Walking around the shoe store is not going to tell you any more than test-driving a car around a showroom. And those little mirrors? That's so you can tell how your cat is going to like your shoes. The real way to tell how shoes fit is how badly you want them.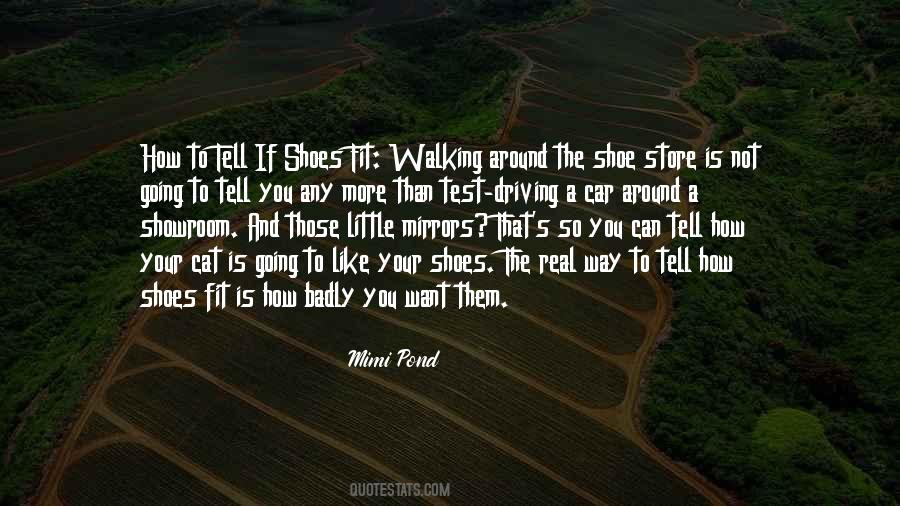 #17. You may be tall; you may be short. You may be a black; you may be a white. One more thing to keep behind your mind is that you "your purpose is unique". Anyone who is thinks he is clever enough will mess up when he/she wears your shoes; it won't fit!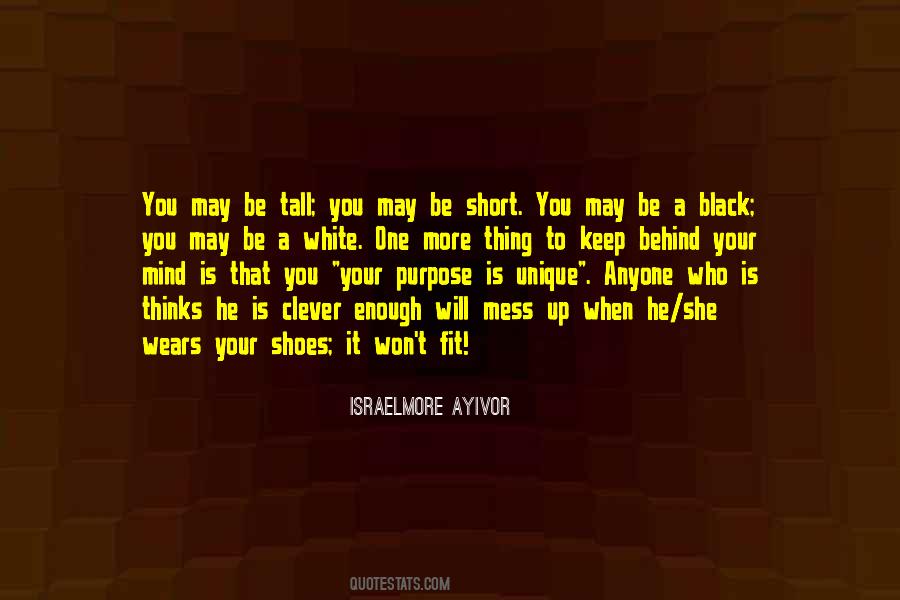 #18. If you want to be unhappy, uncomfortable, and insecure, just spend your life trying to do something that is not right for you. It is just like trying to wear shoes that don't fit.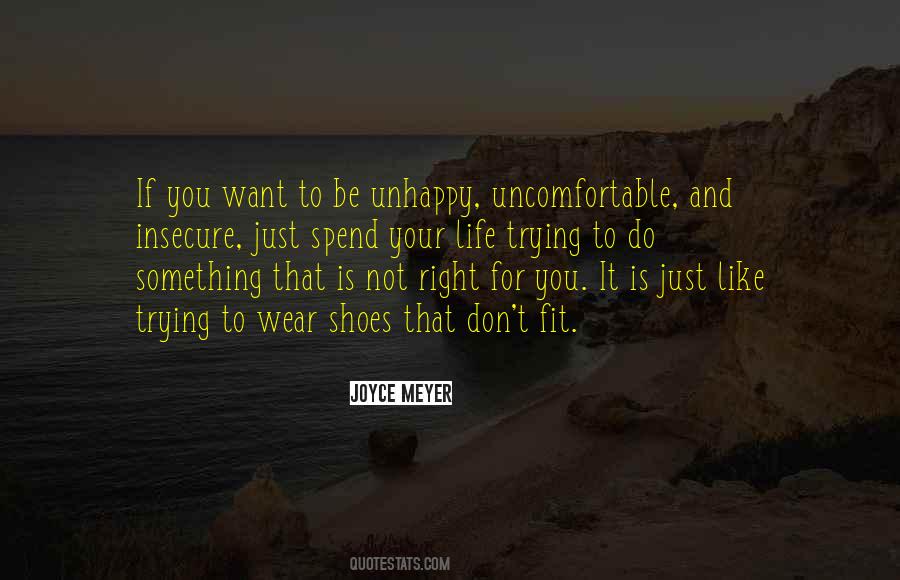 #19. If you have a pair of shoes that hurt, don't wear them. The ugliest thing that I think I've seen is a woman walk like her feet hurt. It's awful, so make sure your shoes fit.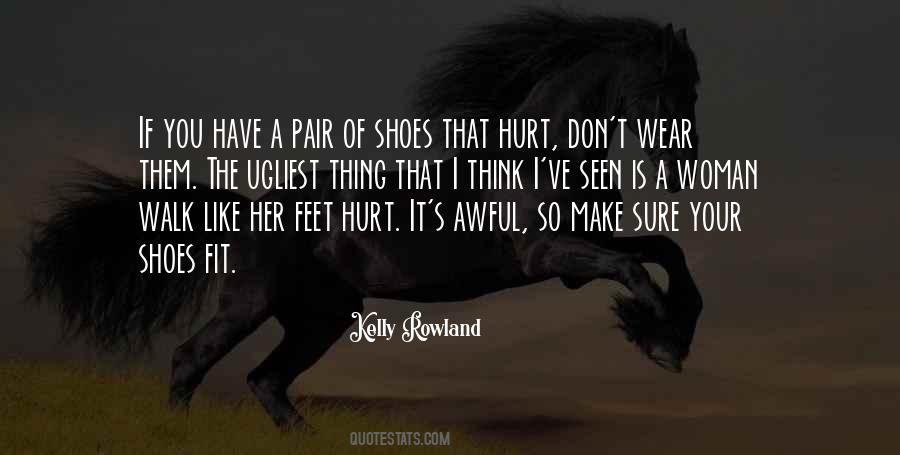 #20. There are some people, if you can only get to learn the length of their feet, you can always fit them with shoes afterwards.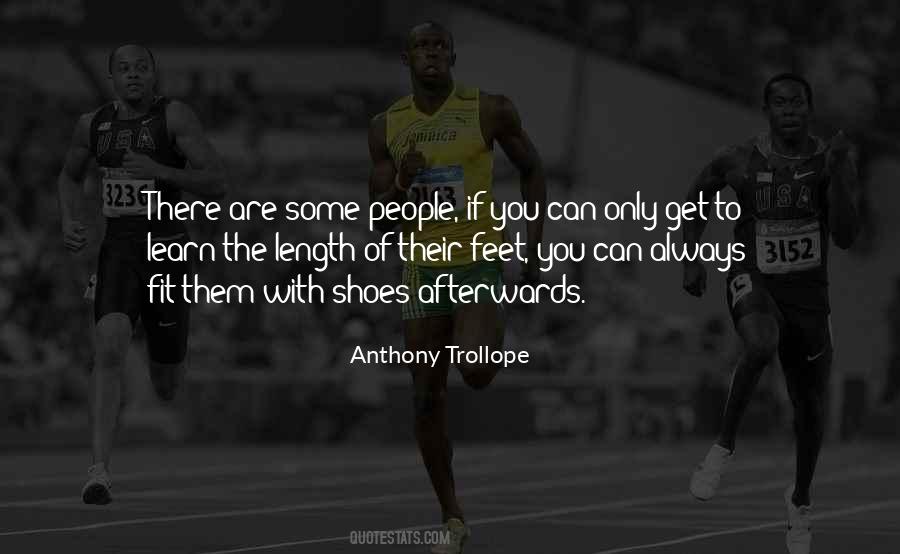 #21. I am a bit sickie happy. I am prone to black clouds too, but ... I am embarrassed about them. It's like: 'My diamond shoes are too tight. My money clip doesn't fit all my fifties.' I mean - really. Shut up.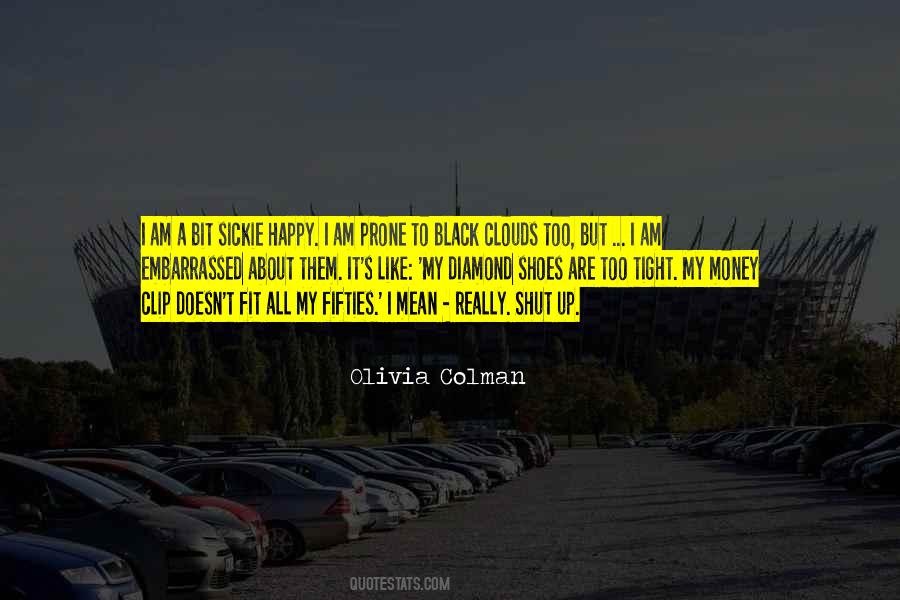 #22. My name is all but lost to antiquity while his legend is told and retold around the world. Yet I am a god and he is nothing but a bastard seed not even fit to inhabit Olympus. (Priapus)
Get your hands off her, you worthless footnote. You're not fit to wipe her shoes. (Julian)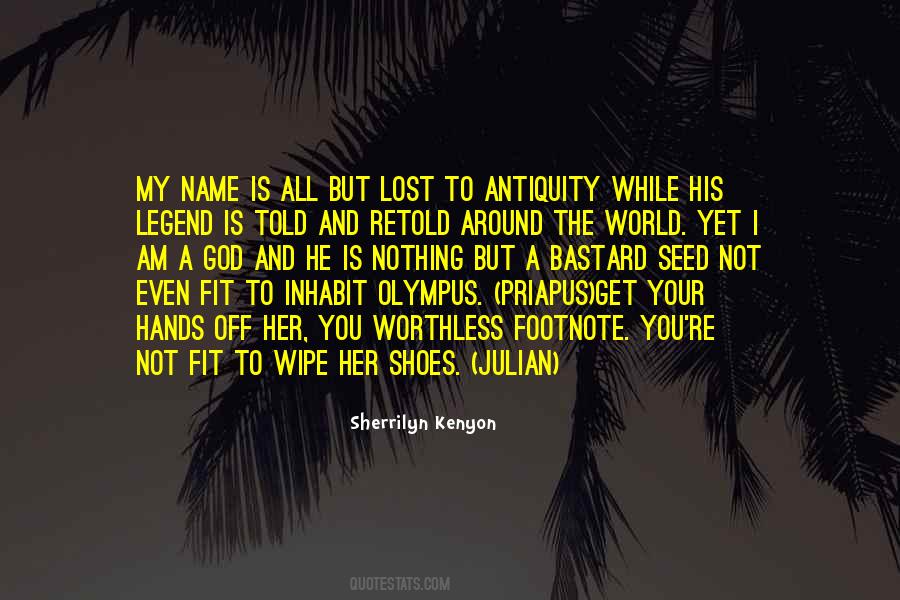 #23. And to the rest of the world
God gave you shoes to fit you
So put 'em on and wear 'em
Be yourself man, be proud of who you are
Even if it sounds corny
Don't ever let anyone tell you you ain't beautiful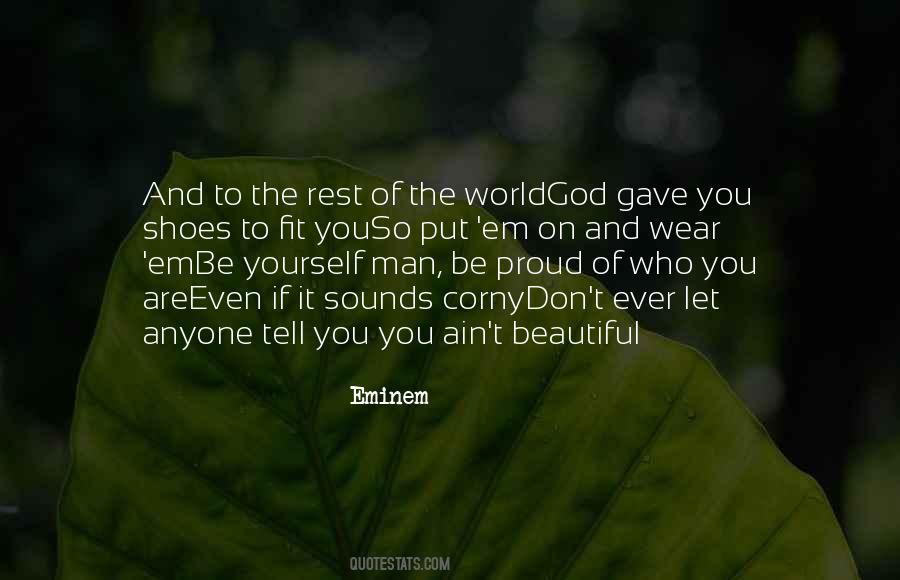 #24. Who is Tom? There is no Tom. If we sell a pair of shoes today, we give away a pair of shoes tomorrow. Originally we thought of "Tomorrow's Shoes," but I could only fit "TOMS" on the label. I had no idea everybody would want to meet him. There is no Tom; it's an idea for a better tomorrow.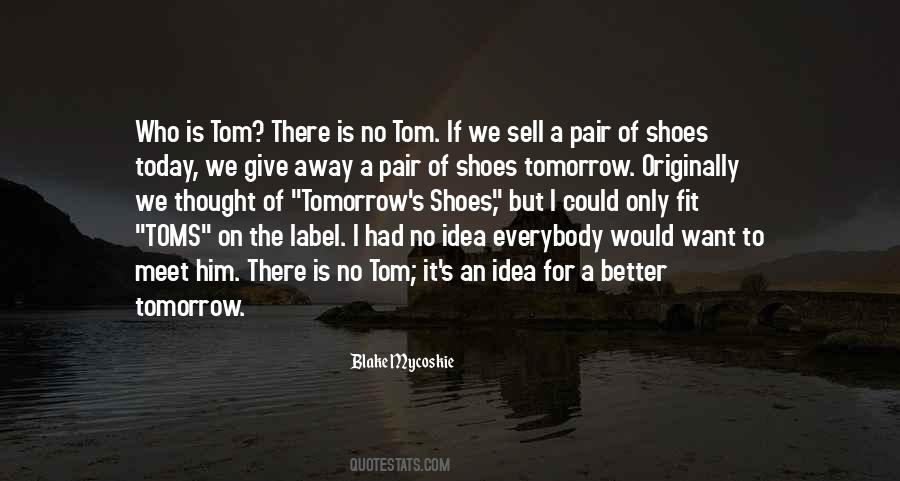 #25. If the shoe fits, buy it.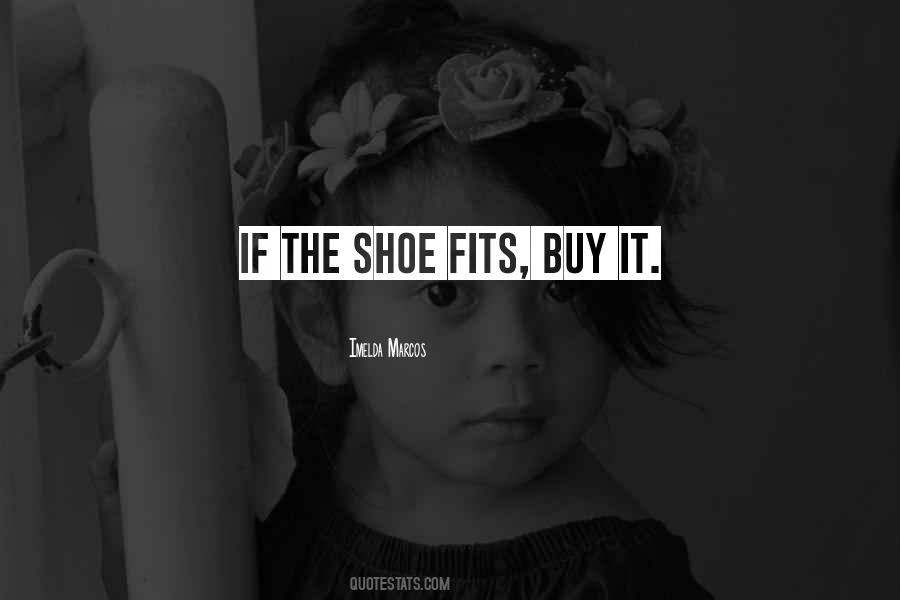 #26. If the shoe fits, you must wear it.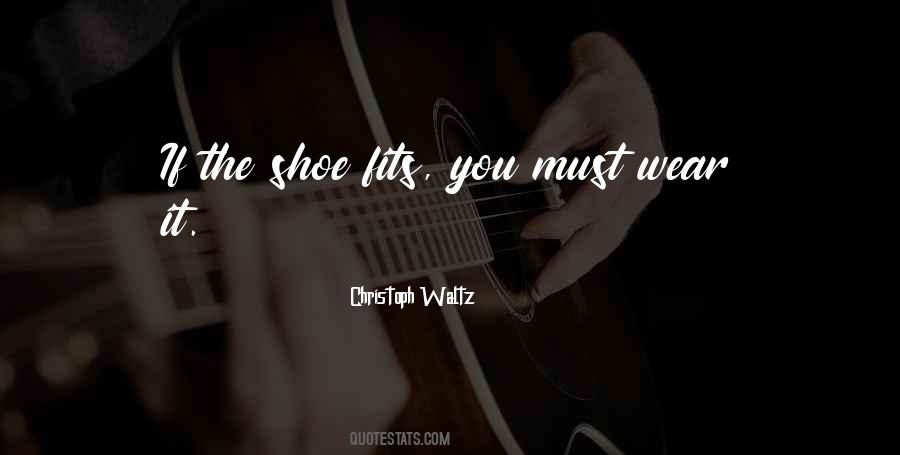 #27. Men are like shoes. Some fit better than others. And sometimes you go out shopping and there's nothing you like. And then, as luck would have it, the next week you find two that are perfect, but you don't have the money to buy both.-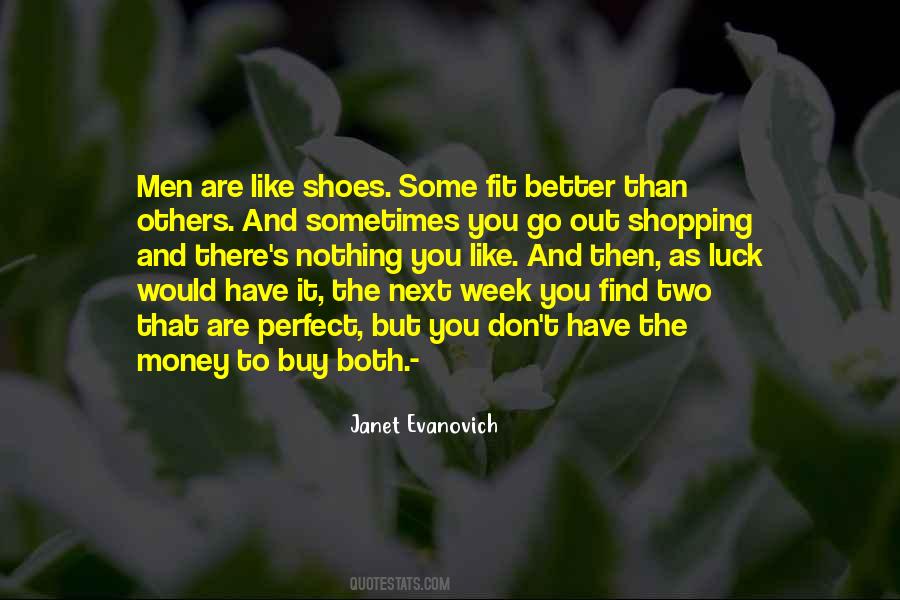 #28. If a customer walks out without shoes, you really want to find out why. 'It didn't fit' is not good enough.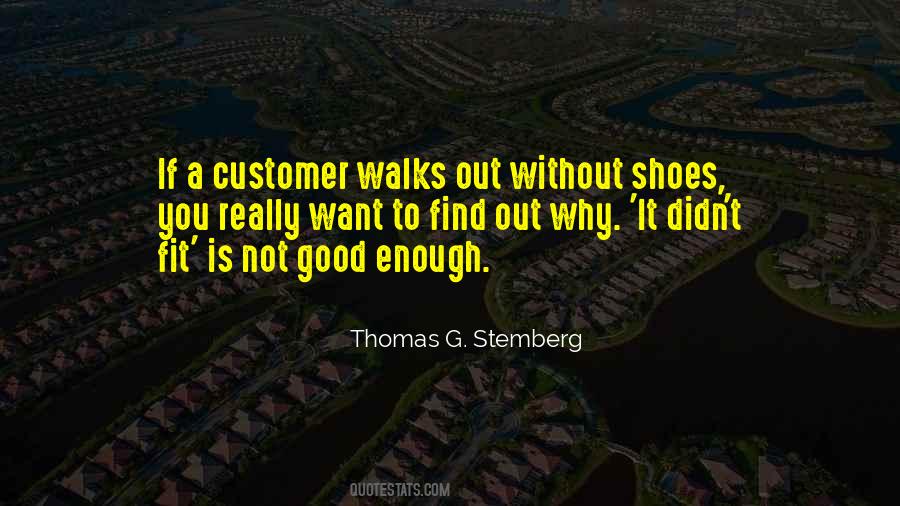 #29. From shoes that are a size too small to a dress that doesn't fit quite right, there are incredible pieces in most wardrobes that have never been worn.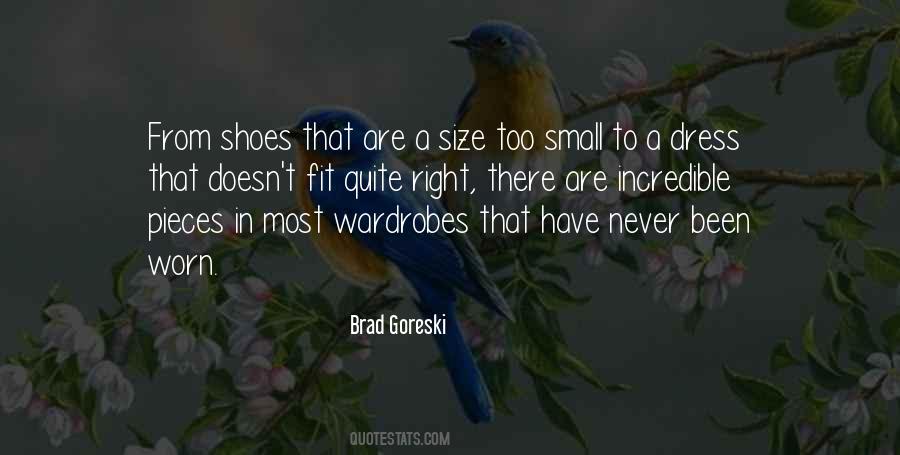 #30. As you go through life's rich tapestry, you realize that most people you meet aren't fit to shine your shoes. It's a sad fact, but it's true. A good friend is someone who'd hide you if you were on the run for murder. How many of them do you know?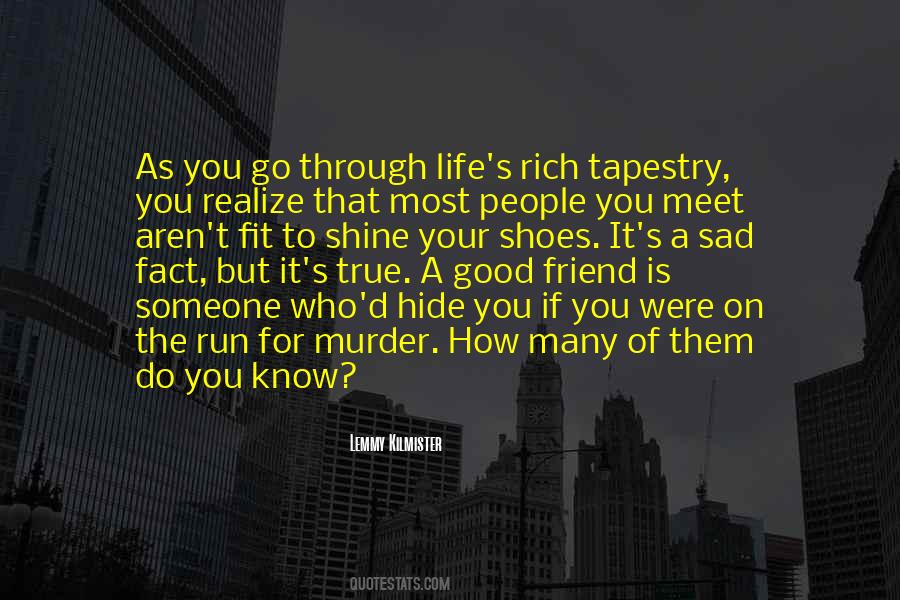 #31. So, Don't Mix Up Your Way To Write Your Life Story With Others, Then Definitely It Won't Sell. You Only Know What You're Encountering In Every Single Step. Everyone's Shoes Won't Fit In Your Feet ...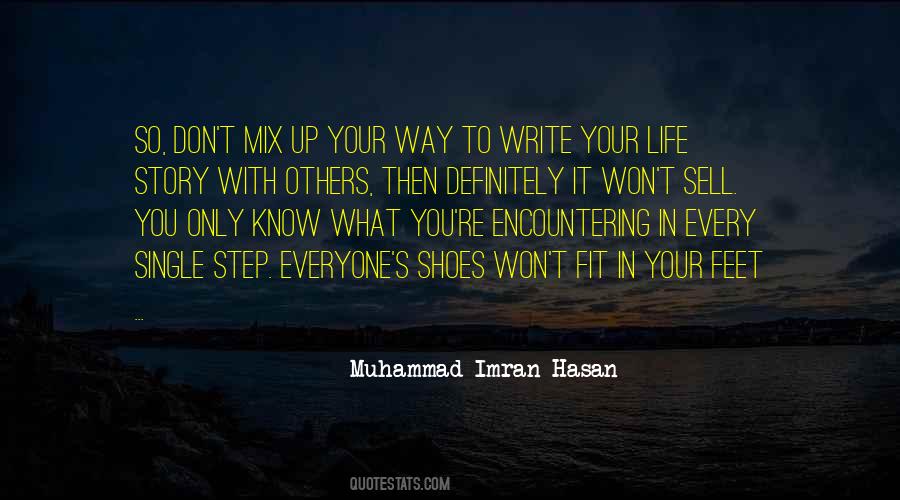 #32. If the shoe fits, steal it.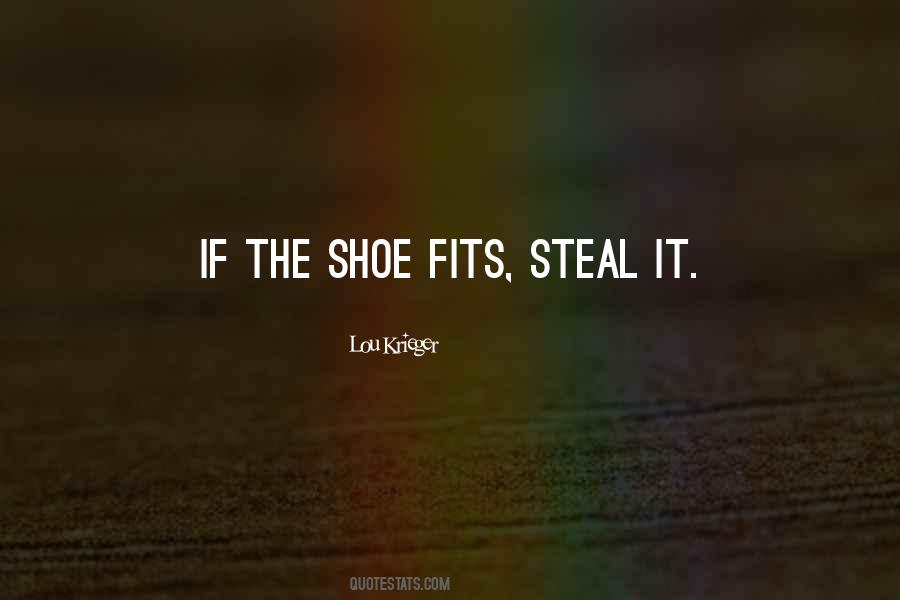 #33. I was barely five-feet and had a hard time finding shoes that fit, because my feet were so small.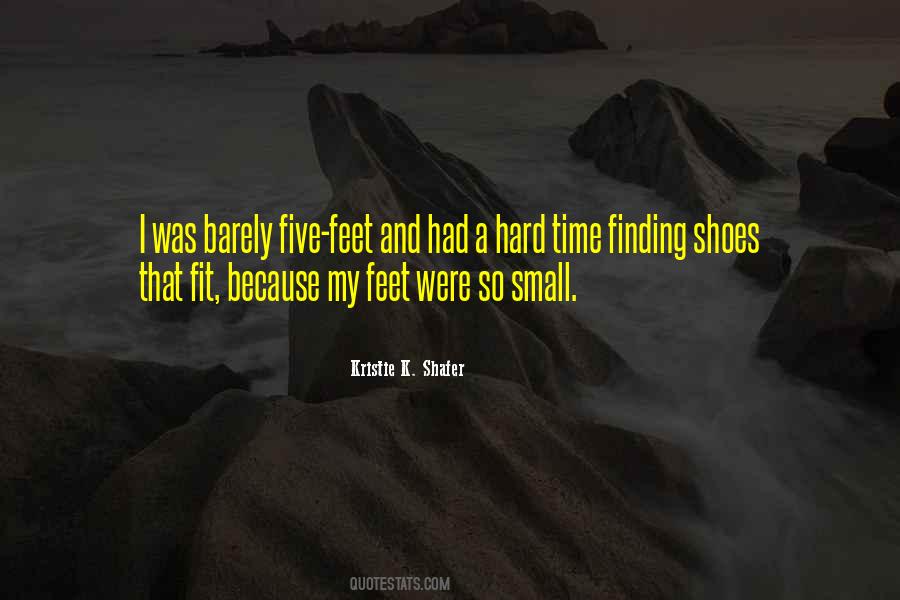 #34. You were tossed away like a pair of beautiful, brand new shoes that did not quite fit.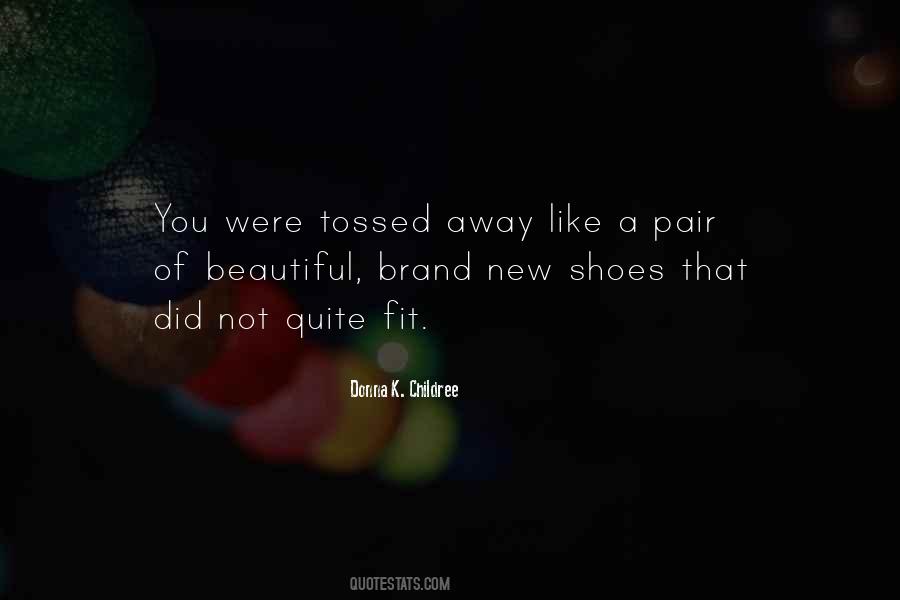 #35. I remembered her once saying that life was like your shoes. You couldn't simply expect or imagine that your shoes would fit perfectly. Shoes that pinched your feet were a fact of life.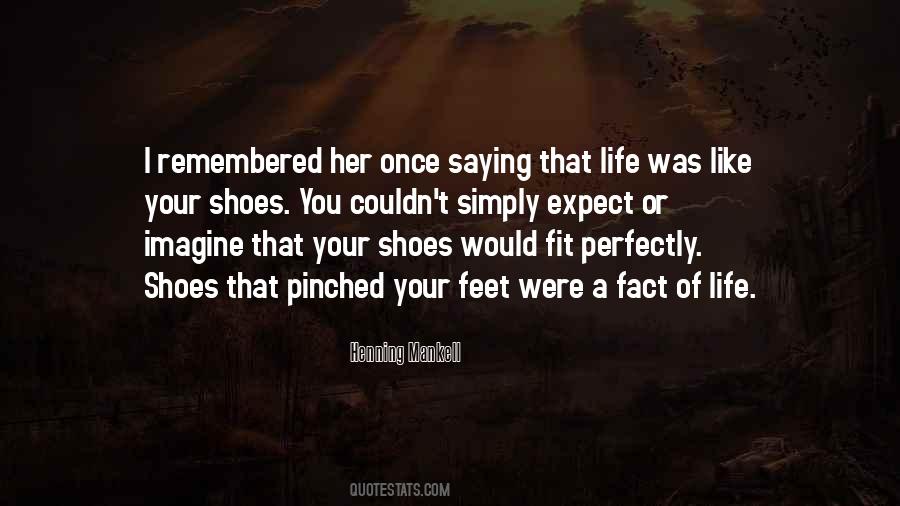 #36. Even if you're fat, one thing always fits: shoes.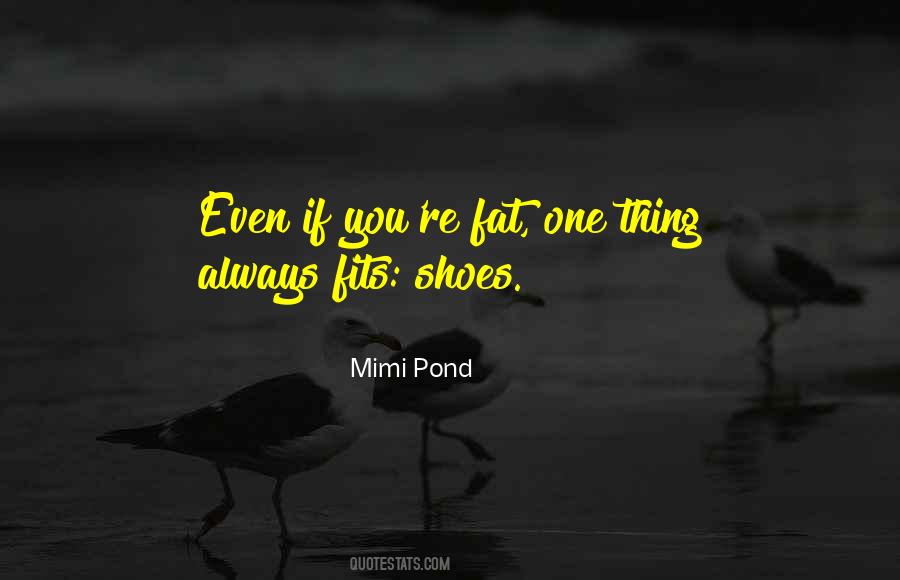 #37. A Sceptick therefore, who because he finds that Truths are not universally received, doubts of their existence, is just as foolish as a man who should try large shoes upon little feet, and little shoes upon large feet, and finding that they did not fit.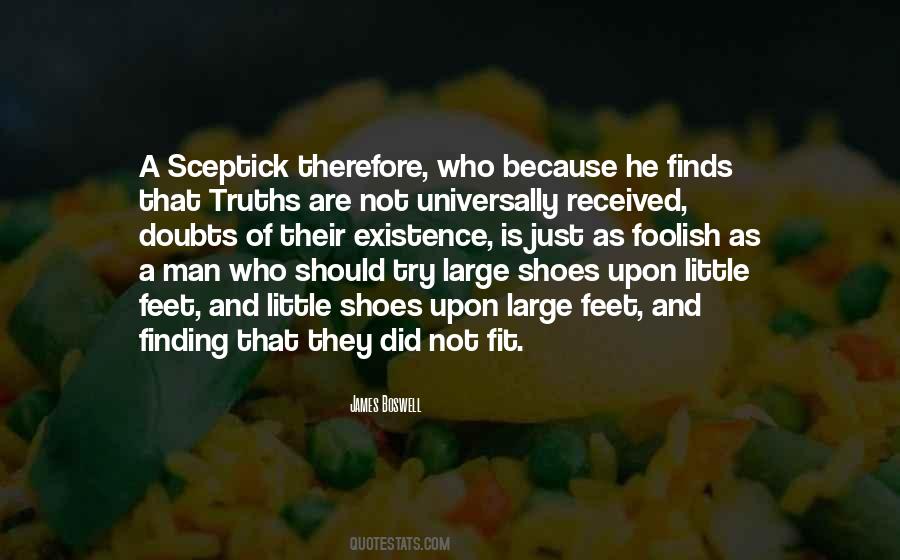 #38. Brands are like shoes, they come in sizes and styles; one size & style doesn't fit everyone.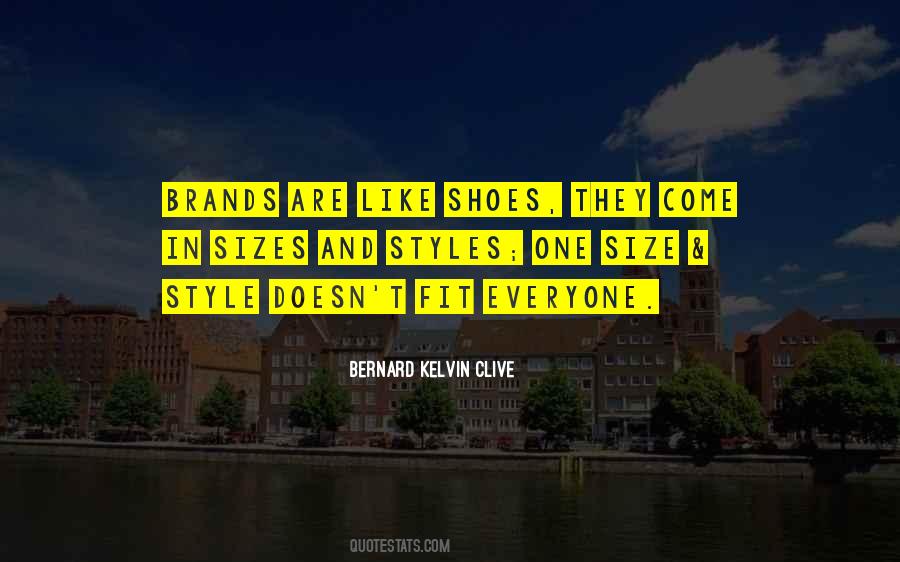 #39. I even have shoes that don't fit. They're just so cool, I wanted to have them.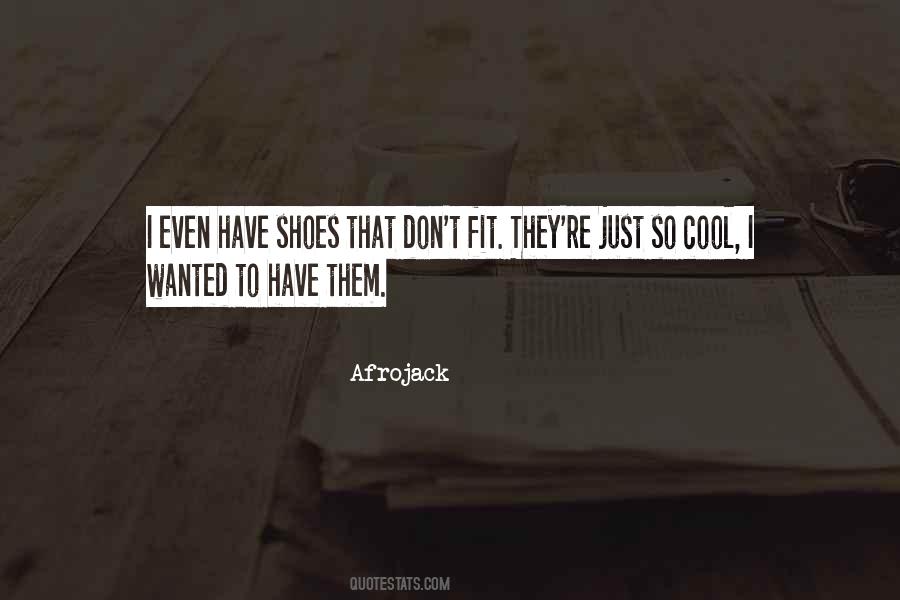 #40. We do not need to be shoemakers to know if our shoes fit, and just as little have we any need to be professionals to acquire knowledge of matters of universal interest.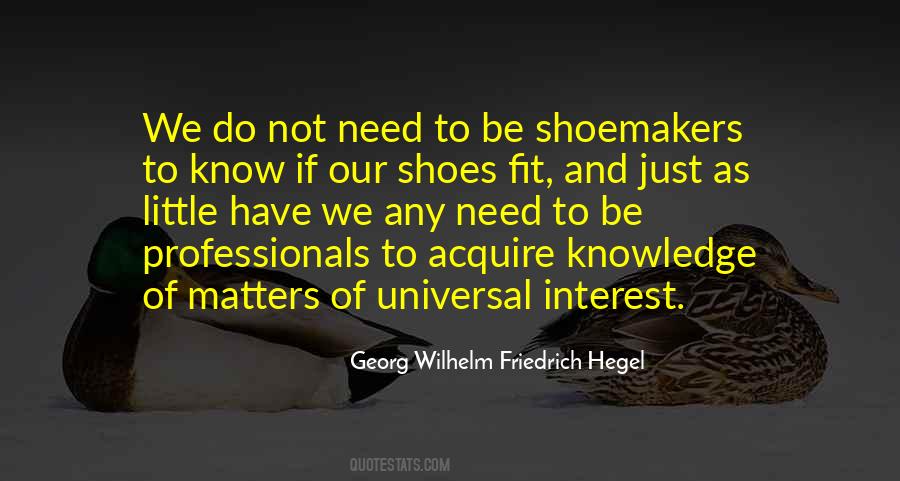 #41. Who said you had to fill his shoes?" said Karen. "Wear your own shoes. They're bound to fit better. Walk your own path your own way and you'll be more likely to get to where you need to be".
Famous Authors
Popular Topics