Find You Sooner Famous Quotes & Sayings
List of top 32 famous quotes and sayings about find you sooner to read and share with friends on your Facebook, Twitter, blogs.
Top 32 Find You Sooner Quotes
#1. There's no way around grief and loss: you can dodge all you want, but sooner or later you just have to go into it, through it, and, hopefully, come out the other side. The world you find there will never be the same as the world you left. - Author: Johnny Cash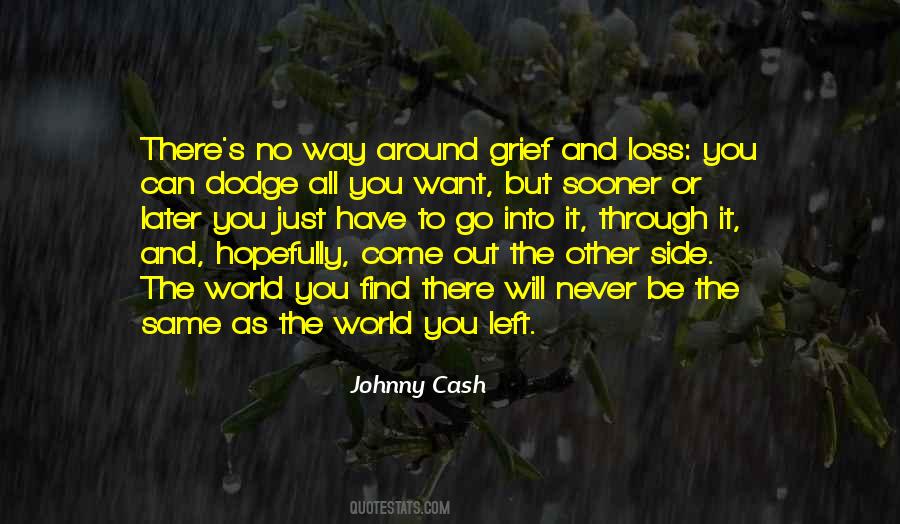 #2. Tell the truth, because sooner or later the public will find out anyway. And if the public doesn't like what you are doing, change your policies and bring them into line with what people want. - Author: Ivy Lee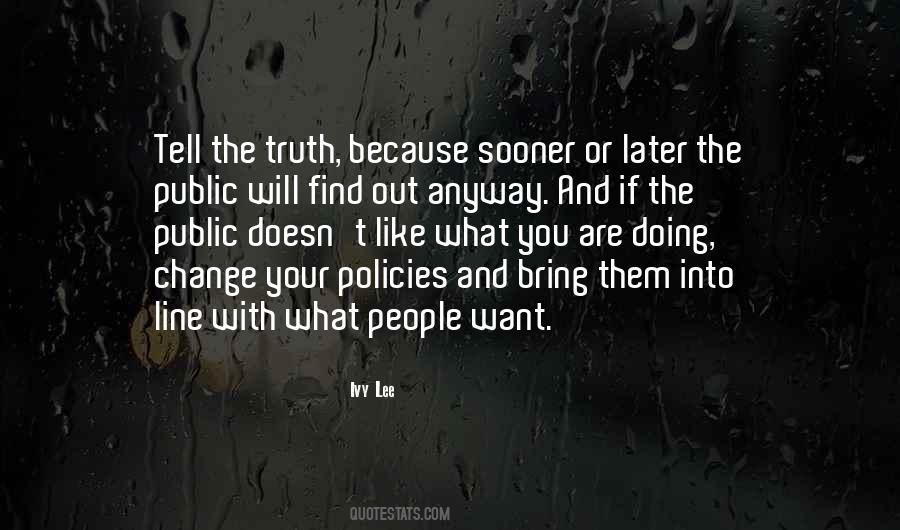 #3. Sooner or later she'll figure out the truth: you're a shell of a man, all she has to do is knock against you to find out you're empty. - Author: Nicole Krauss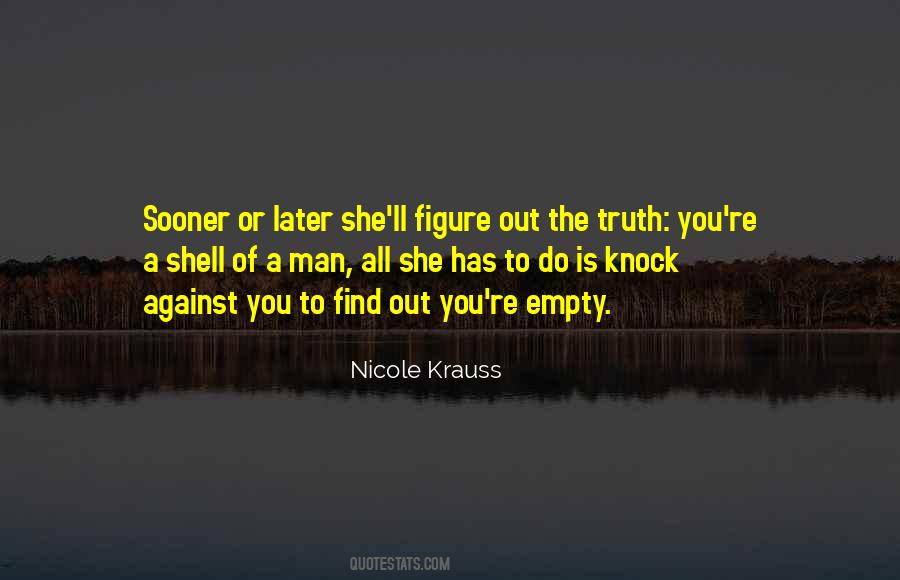 #4. I mean, I know it shouldn't matter. Everyone says it's what's inside that counts. Unfortunately, that just isn't the case for the vast majority of society. Even when they claim they see you for who you are, they usually don't. And you find that out sooner or later, no matter how much it hurts. - Author: Alanis Knight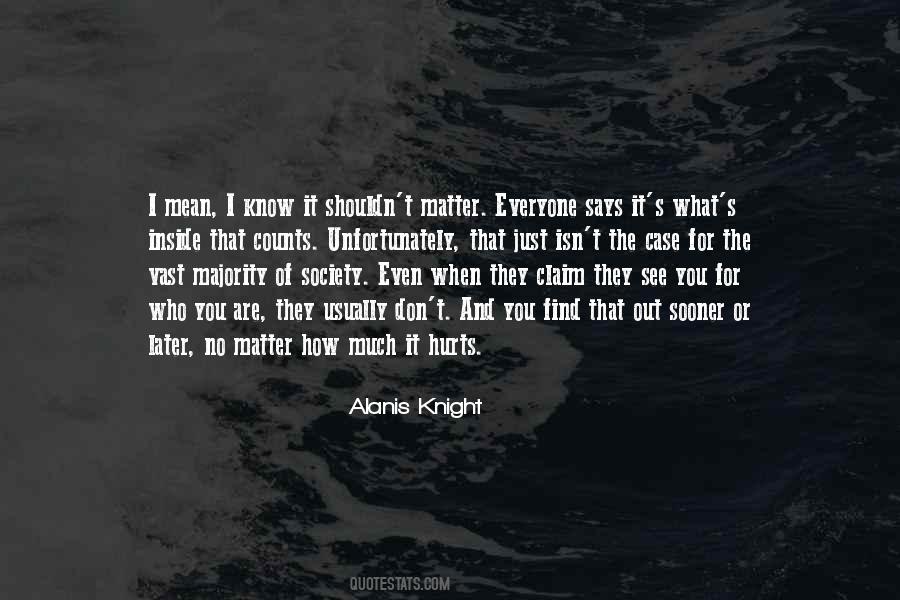 #5. They would regret that they had not killed him; he would get out of that hole and find Juliana sooner or later, even if he had to pursue her to hell itself. "Oh, you won't have to go that far, we are on our way to California," Diego said in farewell - Author: Isabel Allende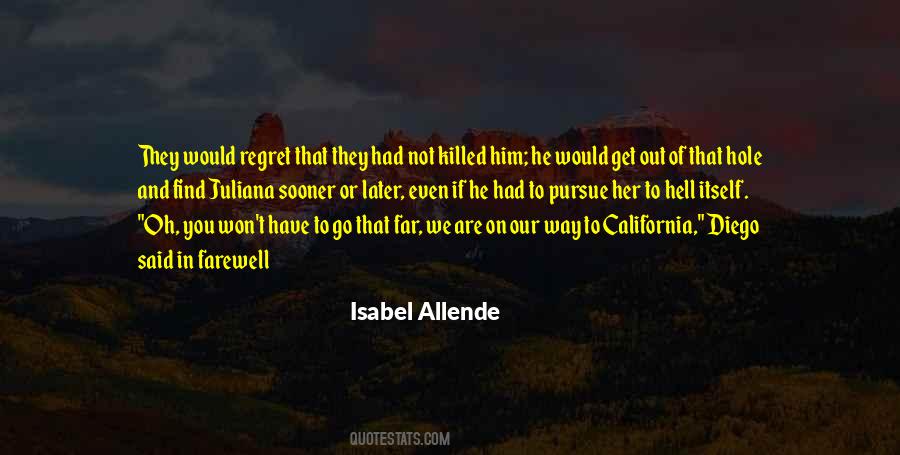 #6. They aren't actually lost. It's more like when you misplace something in the house. Sooner or later you find it, because it was never really missing. You just didn't remember where you had left it. - Author: Tammy Doherty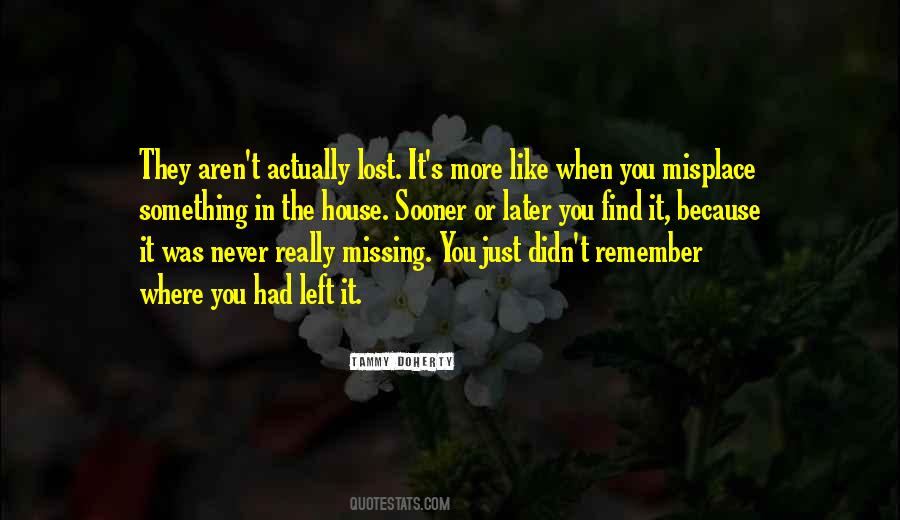 #7. You look closely enough, you'll find that everything has a weak spot where it can break, sooner or later. - Author: Anthony Hopkins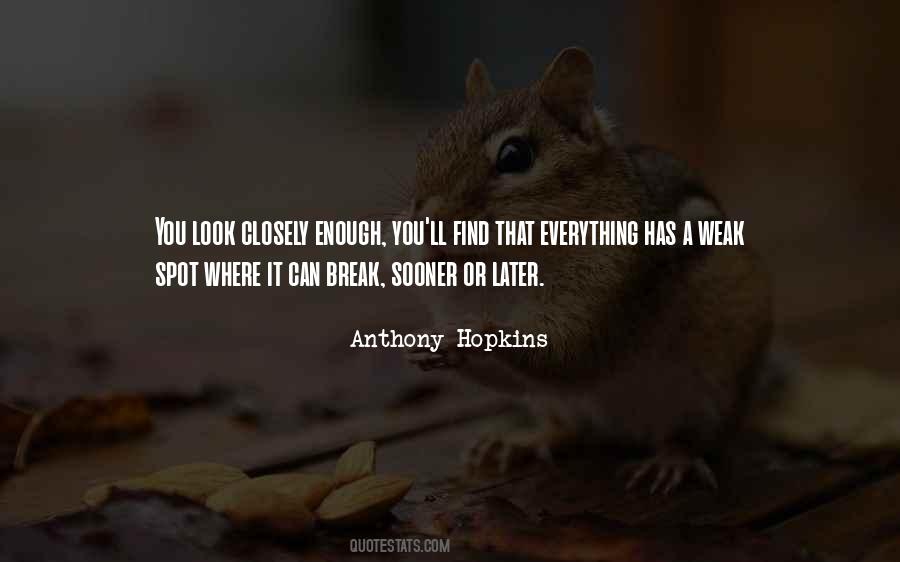 #8. Sooner or later our souls find their centre of gravity in a hot, salt-tasting kiss and a trembling touch. Trembling is a good sign: it means you're open to a world that knows you're coming. - Author: Louise Carey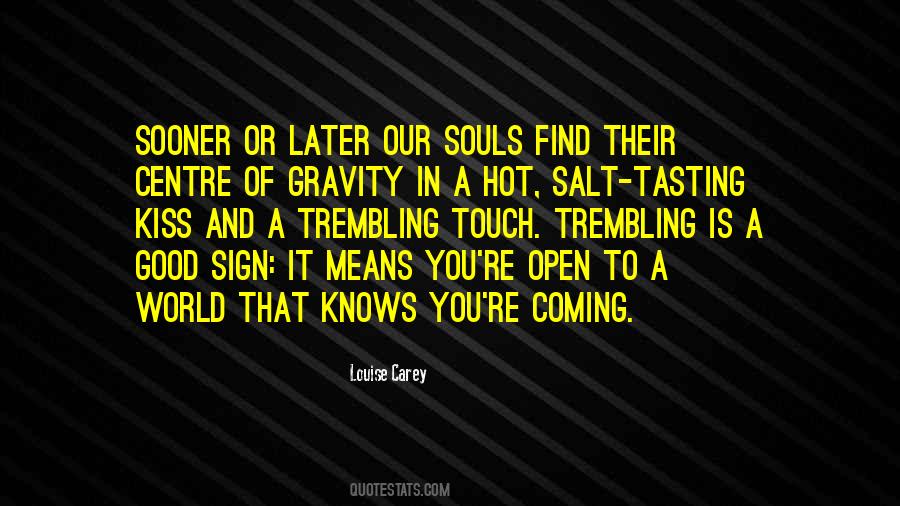 #9. The fact is, the more you look for something, the likelier you are to find it, even if it isn't actually there; Sooner or later, if you look hard enough, you'll find something.
The trick is then to interpret what you've found as what you were looking for. - Author: K.J. Parker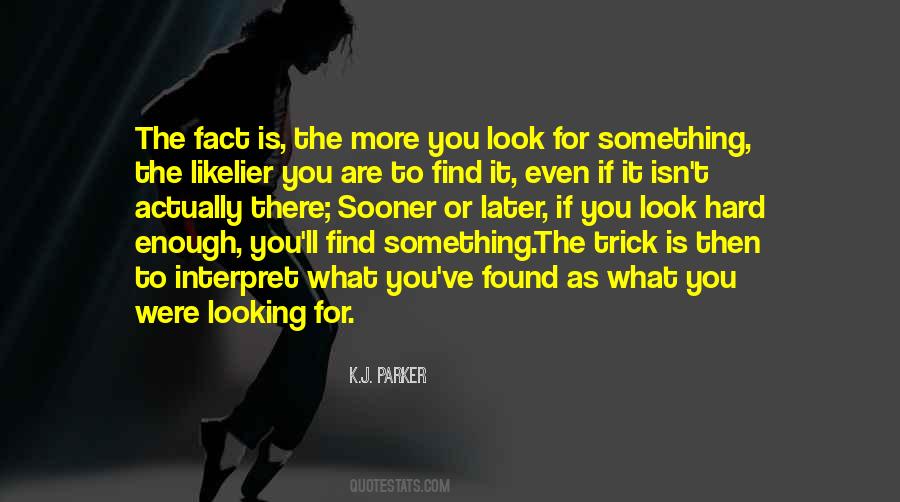 #10. Keep the commandments of God. If you have sinned, the sooner you begin to make your way back, the sooner you will find the sweet peace and joy that come with the miracle of forgiveness. Happiness comes from living the way the Lord wants you to live and from service to God and others. - Author: Thomas S. Monson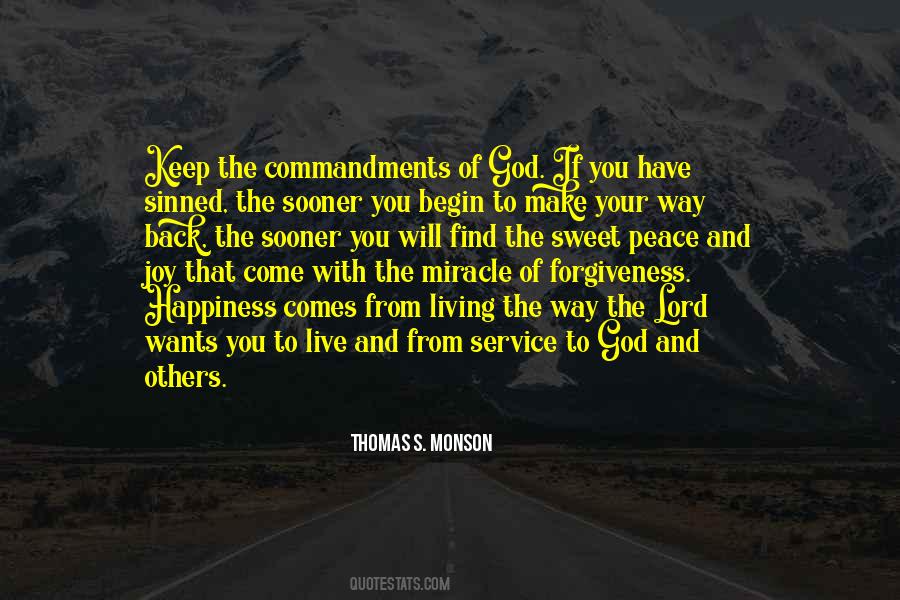 #11. Sooner or later the mind grasps at a thought and follows it into the labyrinth, one thought branching into another. Then the labyrinth caves in on itself and you find yourself outside. You were never inside
it was a dream. - Author: Denis Johnson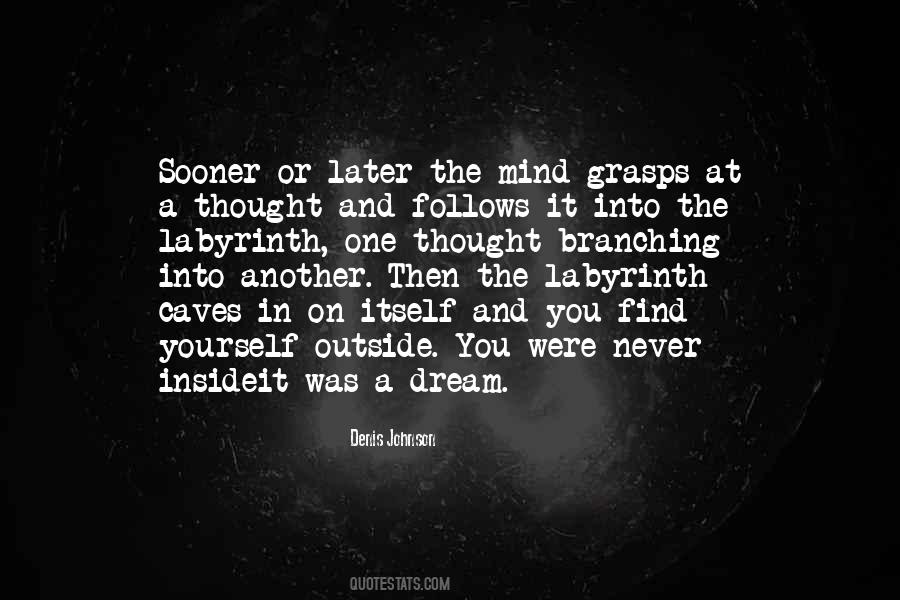 #12. And this is why I was often excluded in girly cliques; you would sooner find me dead than giggle shamelessly for attention at a good looking dude. - Author: R.J. Lewis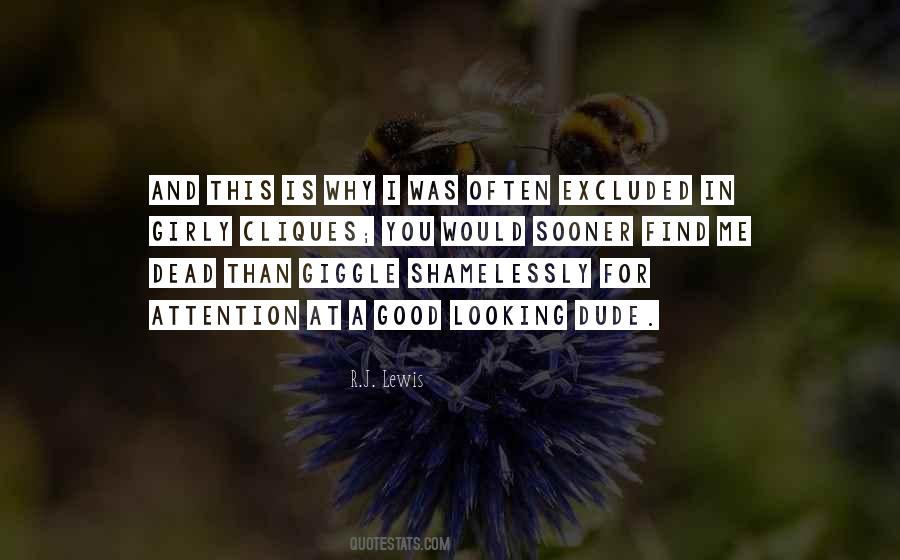 #13. It was nice to find out, then, that if one is characterologically incapable of not being a total fuckface, science has not shown you will die any sooner . People might just be gladder when you eventually do. - Author: David Rakoff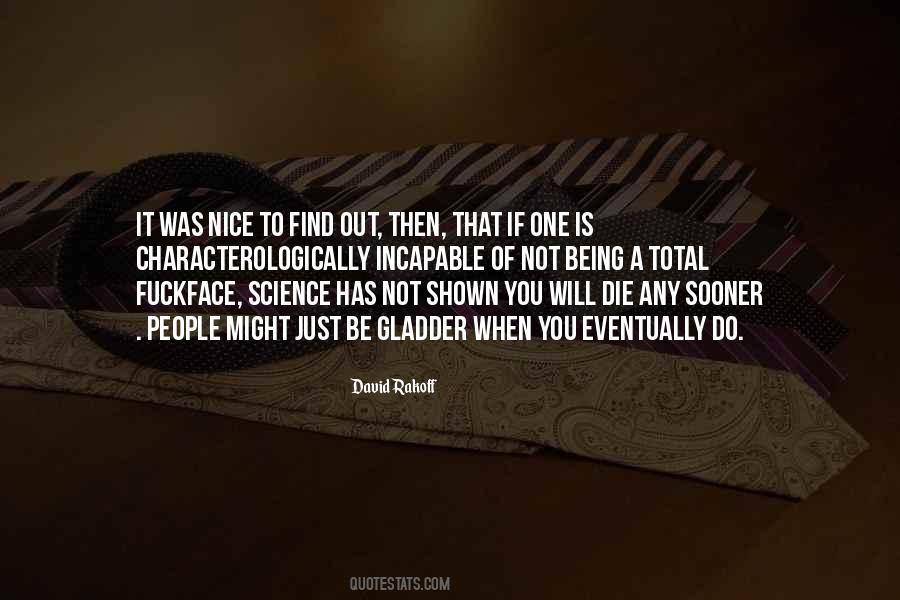 #14. Where is the motorcycle?"
"I ditched it. Someone will find it sooner or later and return it to the rental company."
"Not in the U.S."
"We're not in the U.S., in case you haven't noticed. People don't steal lost property, they return it."
"How did you get this car?"
"I stole it. - Author: Anne Stuart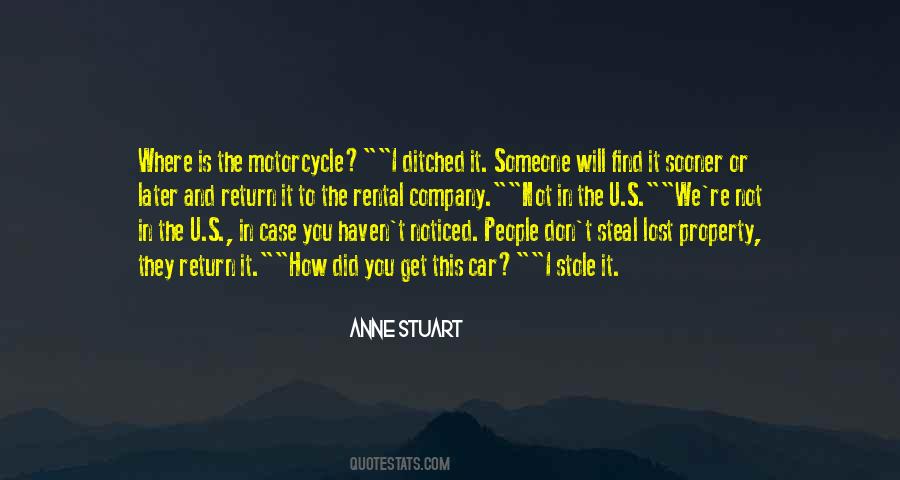 #15. There's a tendency in politics to attribute bad motivation much too quickly, and the sooner you attribute bad motivation to someone you disagree with, the harder it is to find some common ground to make some progress that would give people confidence that you got it more right than wrong. - Author: Peter Welch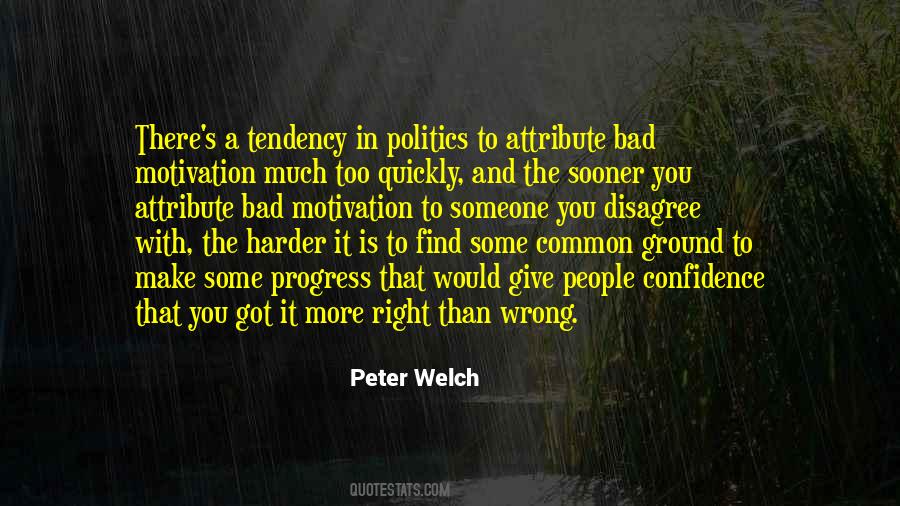 #16. The quicker you let go of old cheese, the sooner you find new cheese. - Author: Spencer Johnson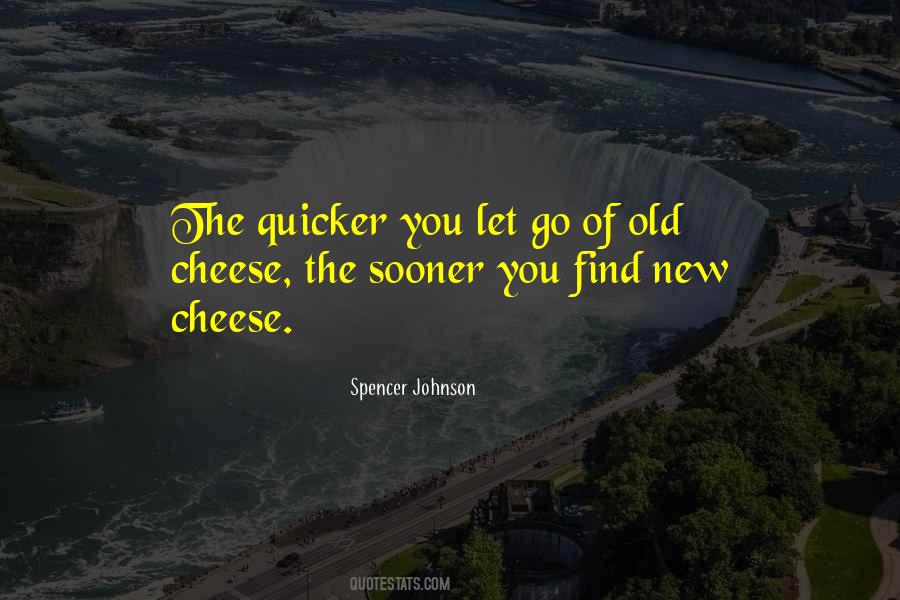 #17. Good advice is hard to find and even harder to accept. Accept it anyway. One day, you'll wake up and wish you had done it sooner. - Author: Kevin Breel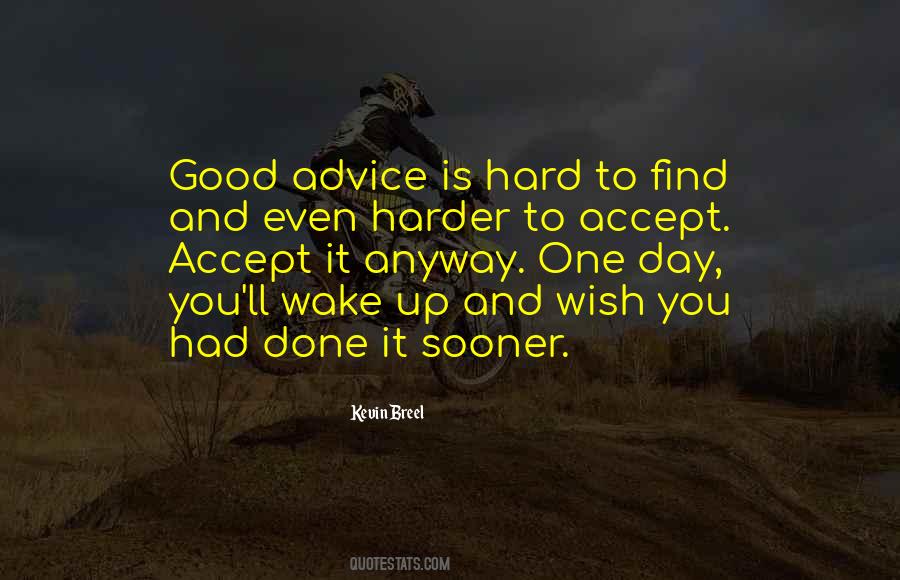 #18. If you are going to try and hide something, sooner or later people are going to find out. - Author: Lou Ferrigno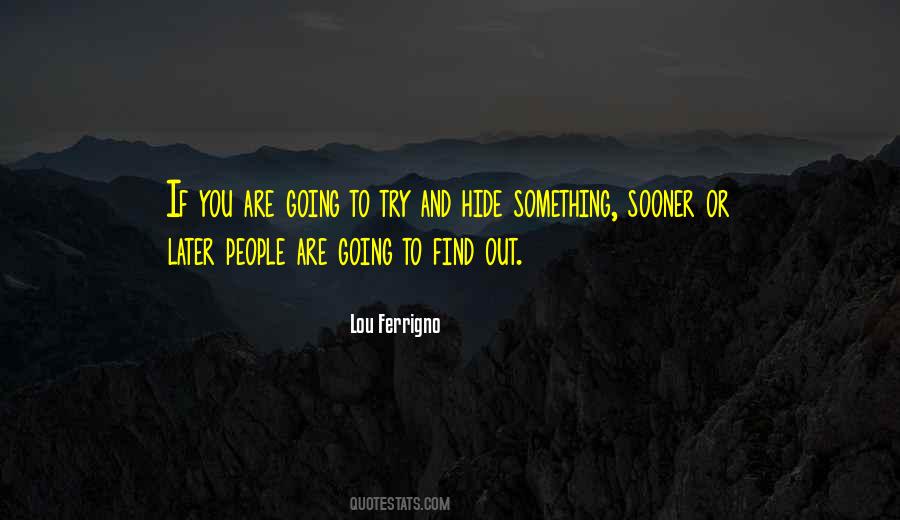 #19. The world's worst is when you find yourself going like Mother Hubbard and cupping your hand behind your ear. I was a major glutton for volume: 'Gotta feel it, gotta hear it.' Sooner or later you're going to pay the reaper. - Author: Mick Fleetwood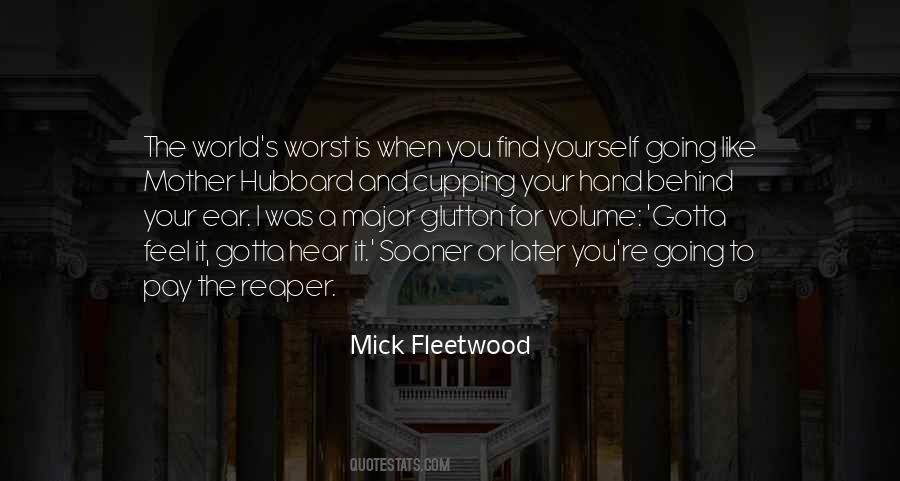 #20. Find happiness in tribulation, too. Find it in joy alone and you could lose it, sooner or later, and be left with nothing. - Author: Siddharth Katragadda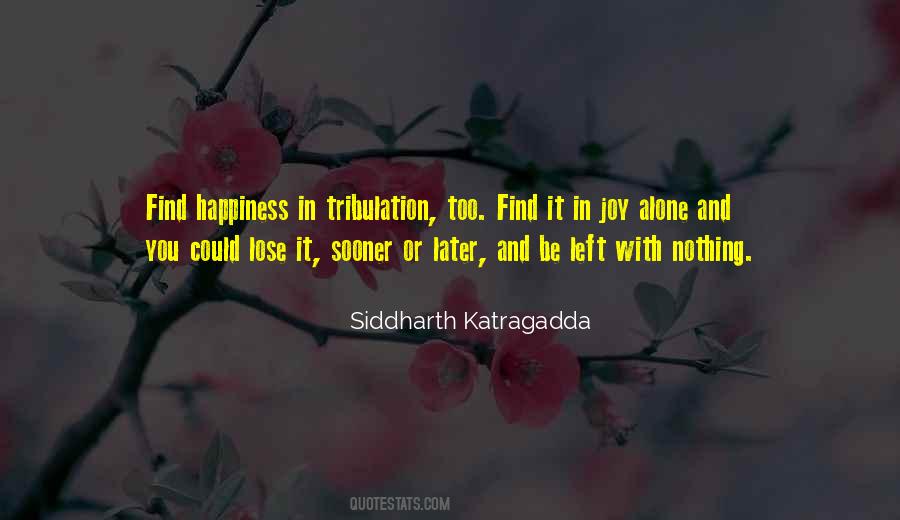 #21. Today, tomorrow, sooner or later, you will meet someone who is lost, just as you yourself have been lost, and as you will be lost again someday. And when that happens, it is your duty to say I've been lost, too. Let me help you find your way home. - Author: Katherine Applegate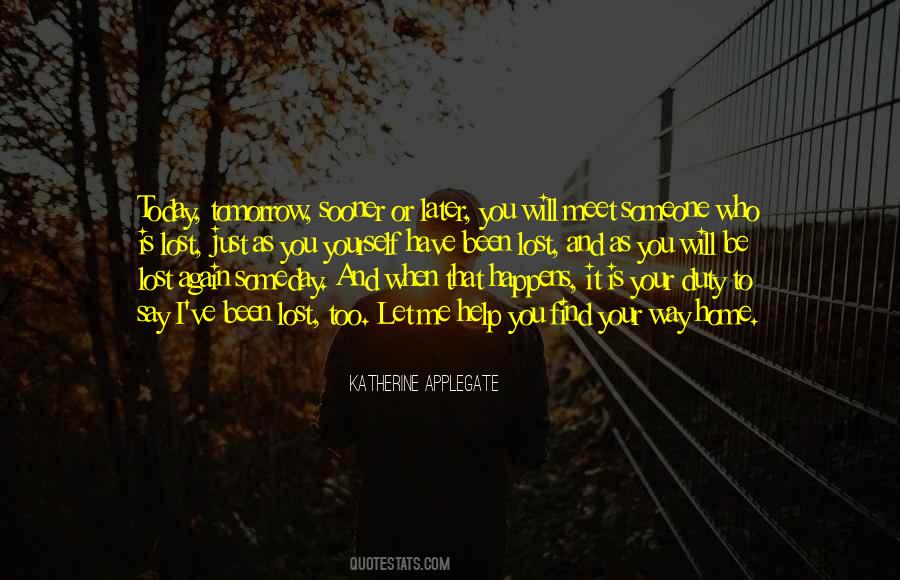 #22. Not to just say you need to be a good person - but, better, find the good that you already have in yourself and don't deny that, don't let the world talk you out of the good things because it's not hip or cool. Sooner or later, you have to live with yourself. - Author: Martha Williamson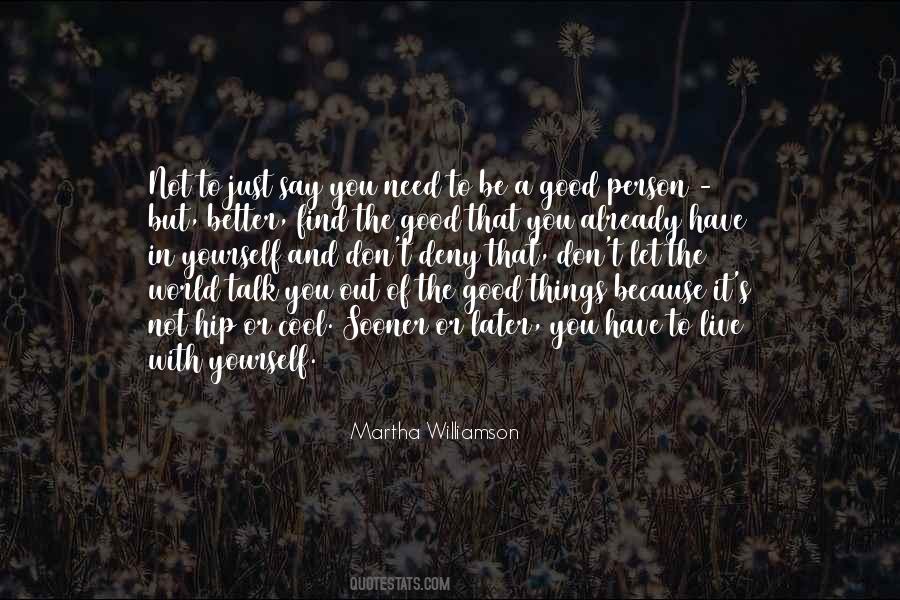 #23. Never, ever stop believing in magic, no matter how old you get. Because if you keep looking long enough and don't give up, sooner or later you're going to find Mary Poppins. - Author: Steve Kluger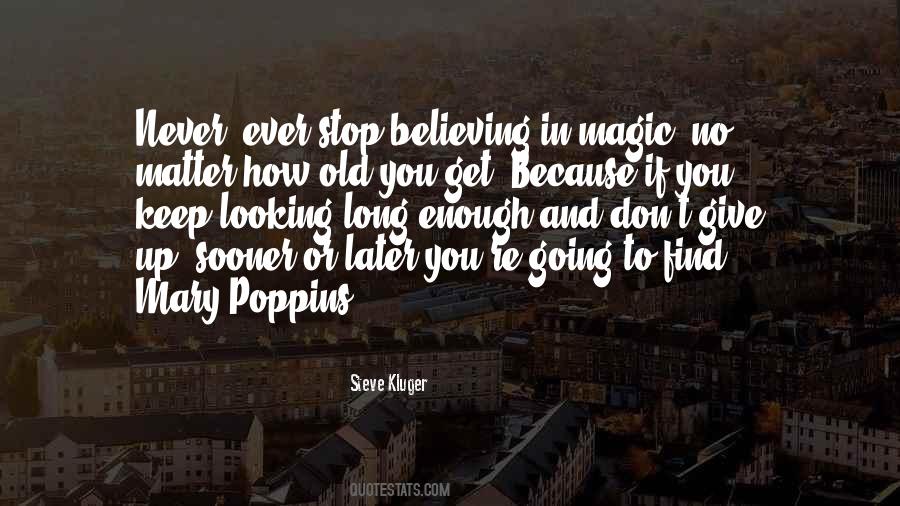 #24. Never speak ill against someone else. You can't know what life holds for you. The ill you speak against someone else may find you sooner than you think. Speak blessings not curses. It's what I told my son. It's what I'm telling you. - Author: Bobby F. Kimbrough Jr.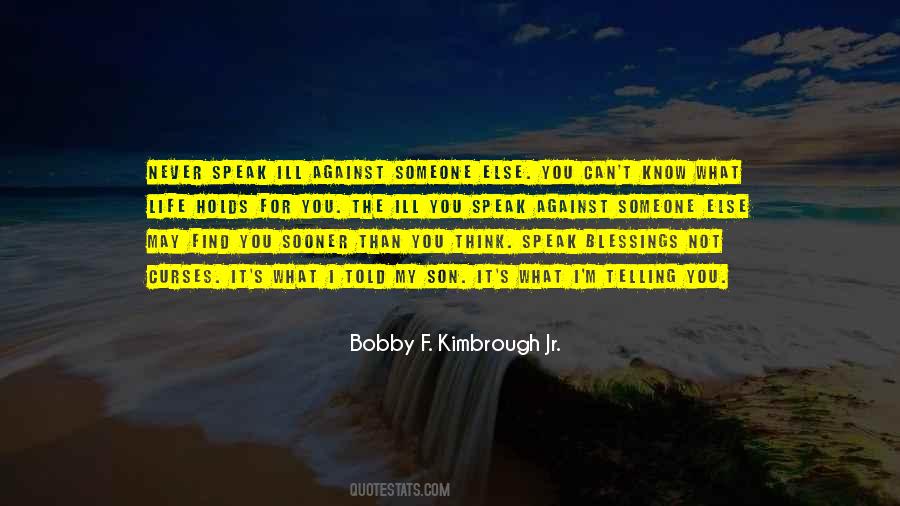 #25. Success is good at any age, but the sooner you find it, the longer you will enjoy it. - Author: Napoleon Hill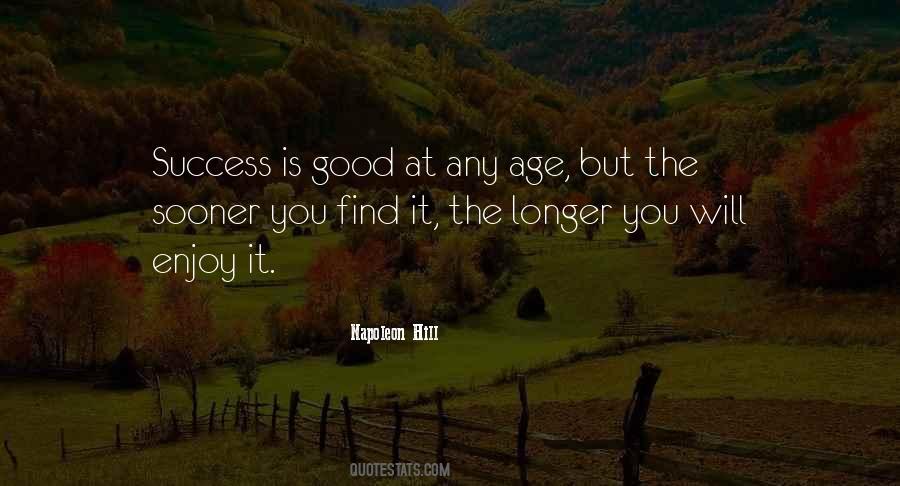 #26. One must only have a plan and learn to ease dreams into the cracks of life and sooner or later you'll find that the dreams are so woven into reality that they've become reality... and they're all the stronger for it. - Author: Rachel Heffington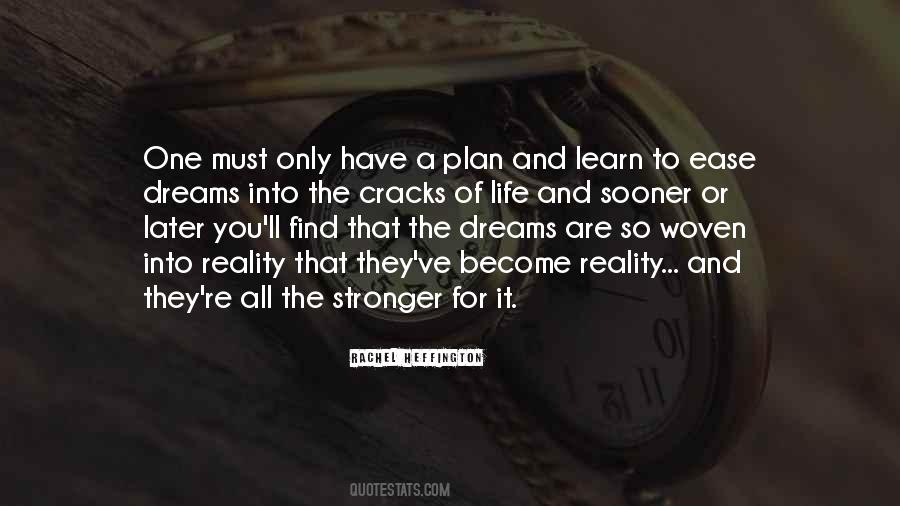 #27. The best thing in the world is the truth. You find it out anyway, in the end, or sooner. - Author: Mark Helprin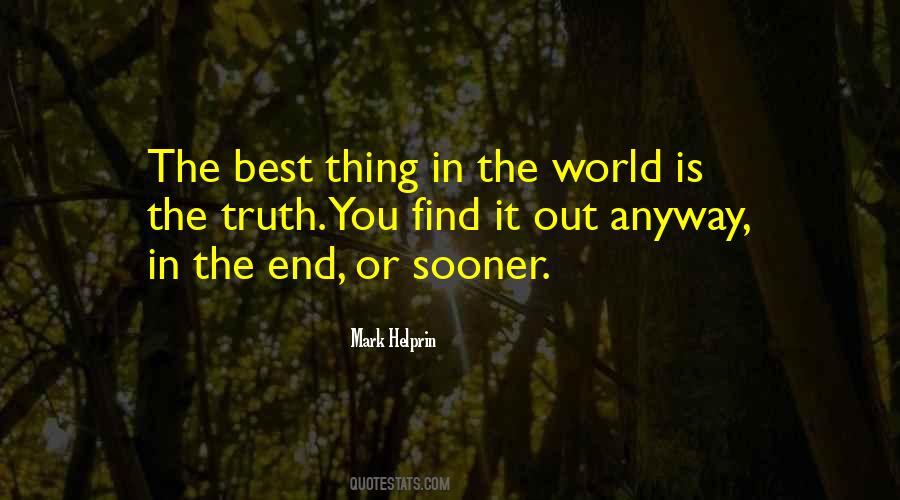 #28. I want you to look at me and see no other than the man you love. I want you to feel a start of pure joy when you awaken in the morning and find me beside you. I want you to wish you could rush the sunset so that we can be together sooner. - Author: Susan Wiggs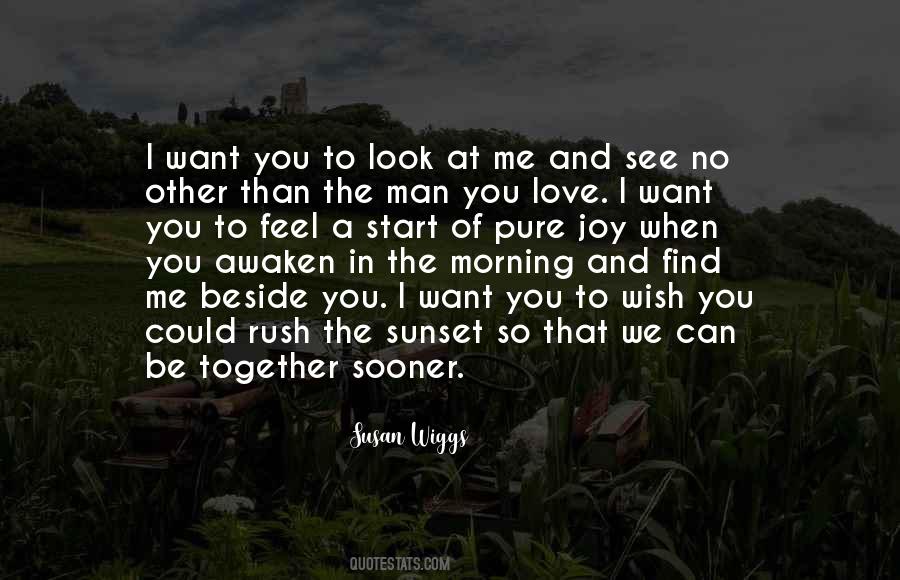 #29. Each one of us is left to choose our own quality of life and take pleasure where we find it with the understanding that, like Mom used to say, sooner or later something's gonna get you. - Author: David Sedaris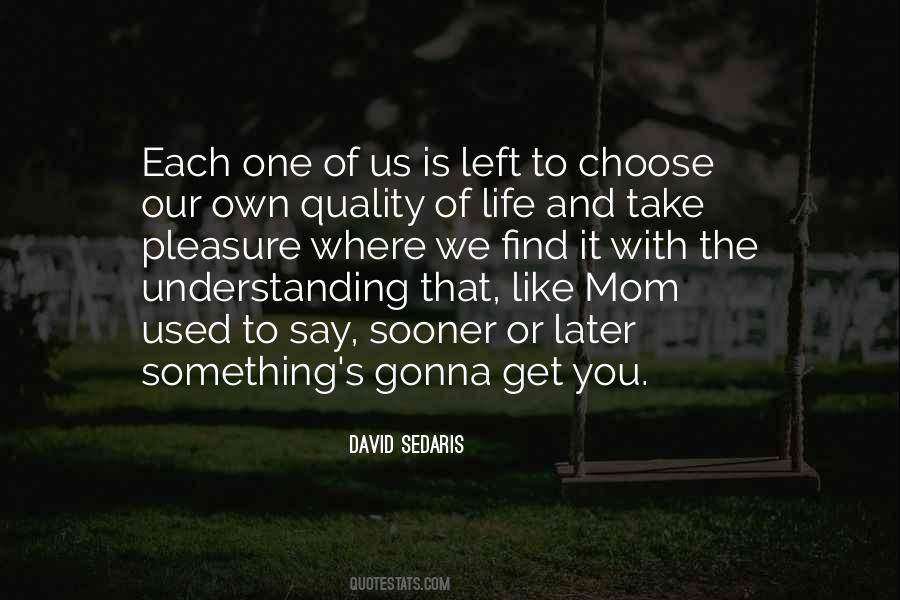 #30. Well, sooner or later, at some point in your life, the thing that you lived for is lost or abandoned, and then ... you die, or find something else. - Author: Tennessee Williams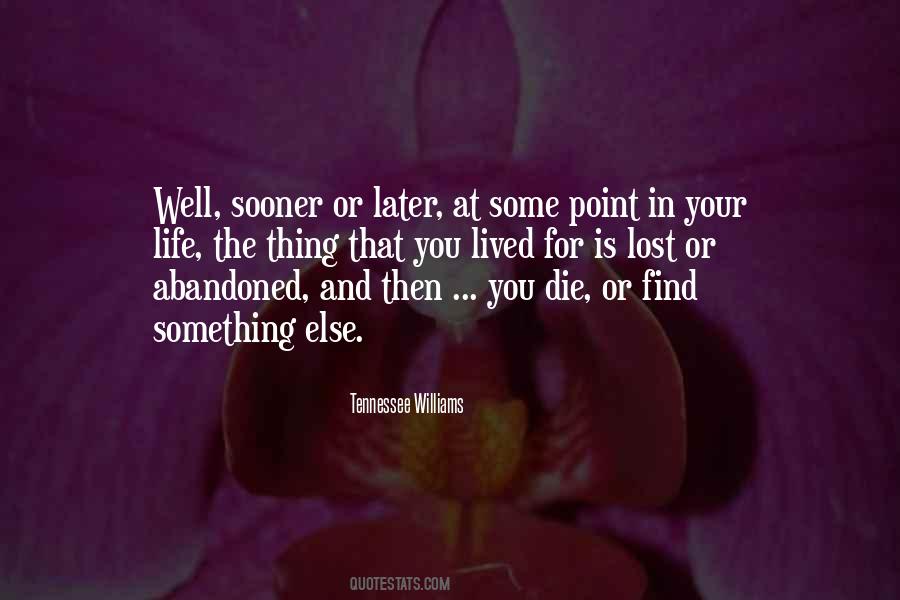 #31. There was clairvoyance to their words and a tenderness in their inflections that instilled even in the most cynical of male hearts that faith and fate weren't just words, they were our guides and as long as you kept your heart open, sooner or later love would find its way into it. - Author: Eric Monsky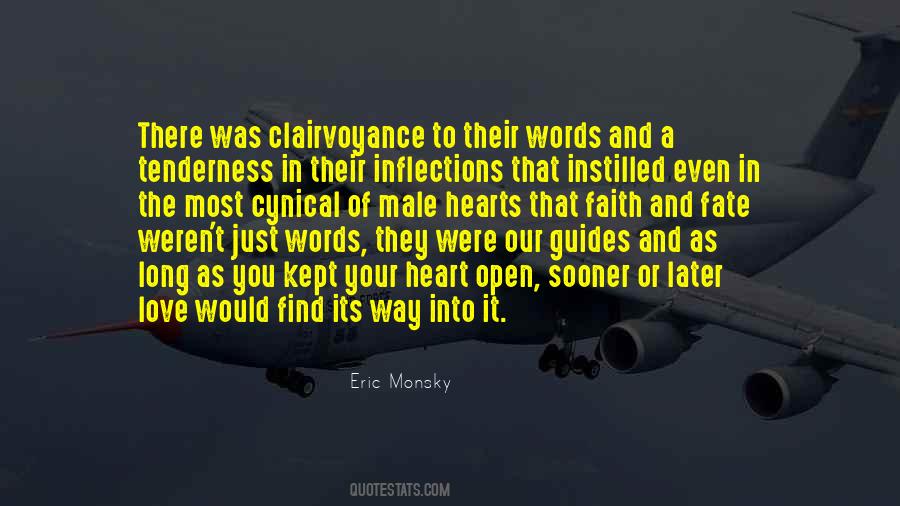 #32. Everything's going to be fine. Sooner or later you're going to find someone who knocks you right off your feet. Someone who makes you feel alive. Someone who kisses you and makes your knees weak. Relationships are complicated enough as it is. It's not worth settling for anything less. - Author: Lindsey Kelk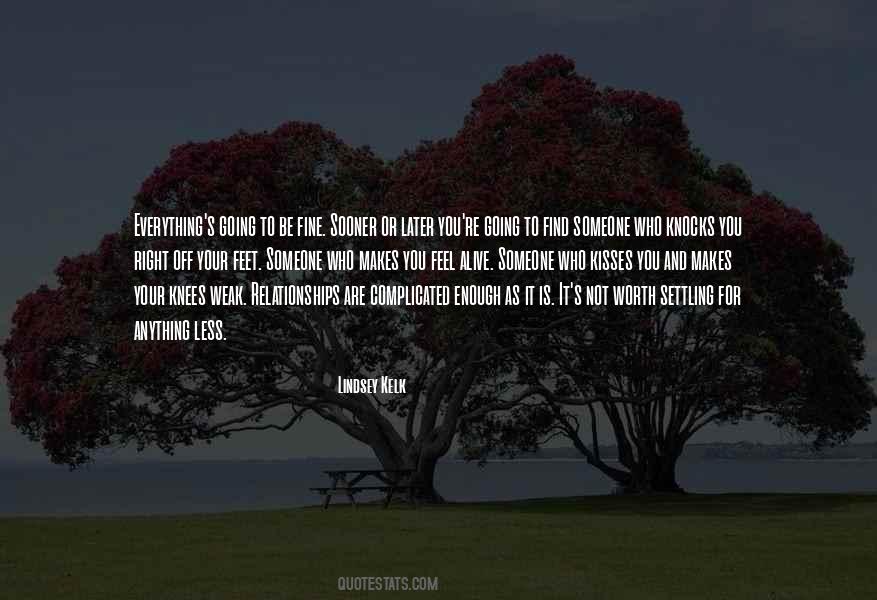 Famous Authors
Popular Topics