Find The Joy Famous Quotes & Sayings
List of top 100 famous quotes and sayings about find the joy to read and share with friends on your Facebook, Twitter, blogs.
Top 100 Find The Joy Quotes
#1. Love is the light through which we find joy and happiness. - Author: Debasish Mridha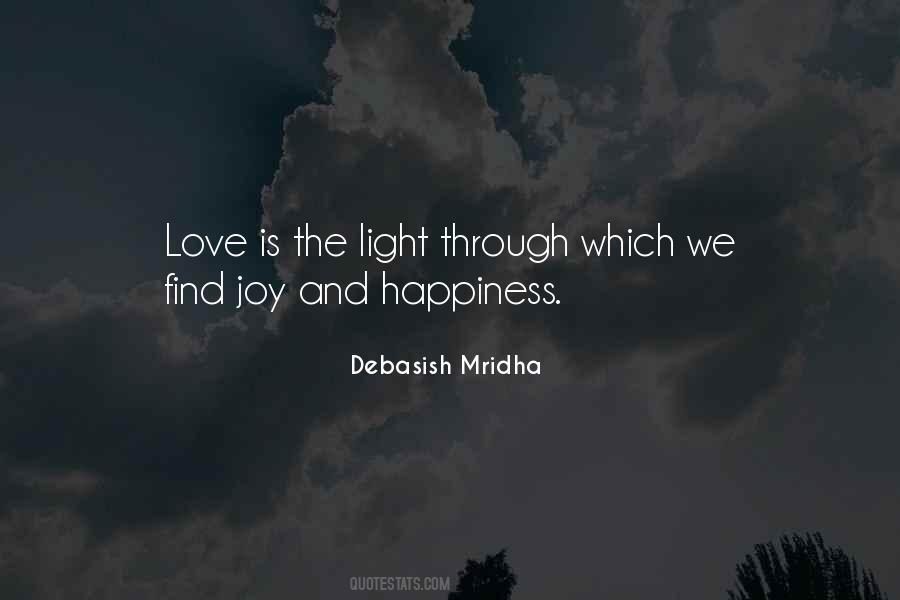 #2. When you hear the word 'disabled,' people immediately think about people who can't walk or talk or do everything that people take for granted. Now, I take nothing for granted. But I find the real disability is people who can't find joy in life and are bitter. - Author: Teri Garr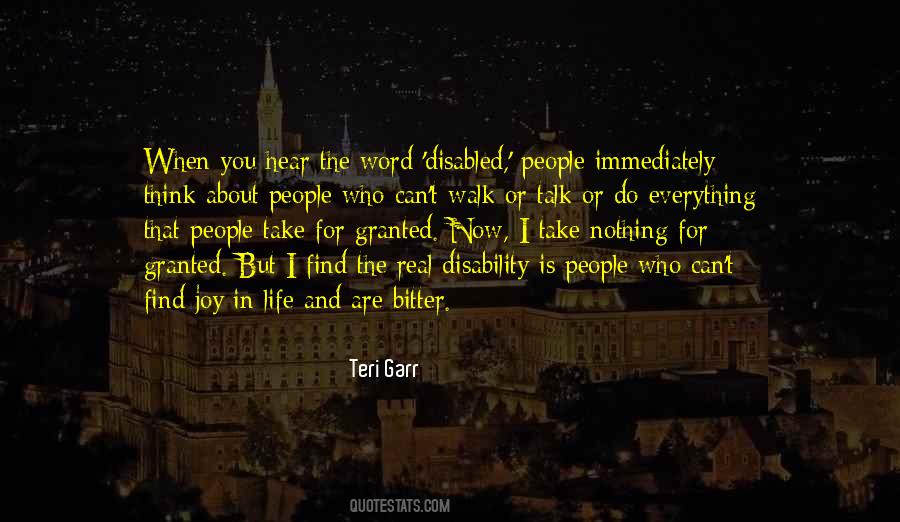 #3. If anyone insists on his own goodness and despises others . . . let him look into himself when this petition confronts him. He will find he is no better than others and that in the presence of God everyone must duck his head and come into the joy of forgiveness only through the low door of humility. - Author: Timothy Keller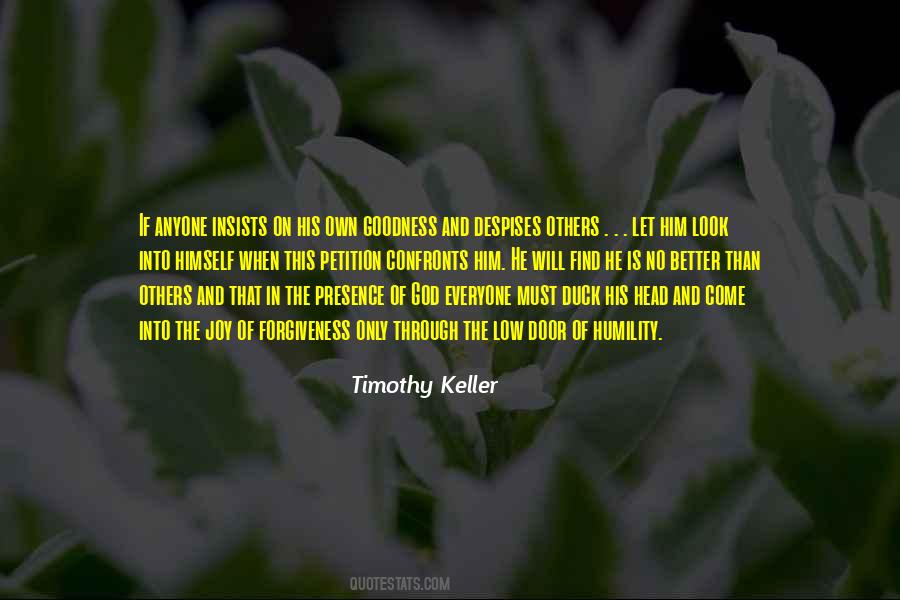 #4. As a species, we are most animated when our days and nights on Earth are touched by the natural world. We can find immeasurable joy in the birth of a child, a great work of art, or falling in love. - Author: Richard Louv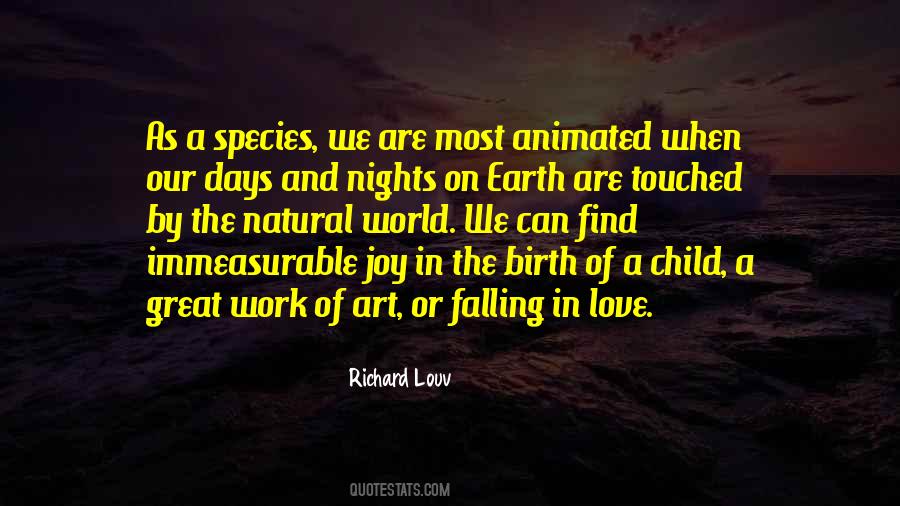 #5. The book is closed, the year is done, the pages full of tasks begun. A little joy, a little care, along with dreams, are written there. This new day brings another year, Renewing hope, dispelling fear. And we may find before the end, a deep content, another friend. - Author: Arch Ward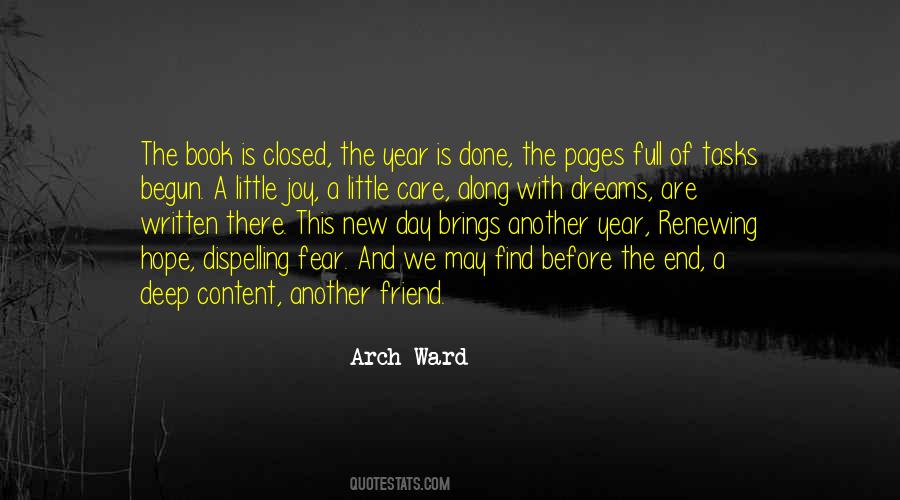 #6. Anarchism aims to strip labor of its deadening, dulling aspect, of its gloom and compulsion. It aims to make work an instrument of joy, of strength, of color, of real harmony, so that the poorest sort of a man should find in work both recreation and hope. - Author: Emma Goldman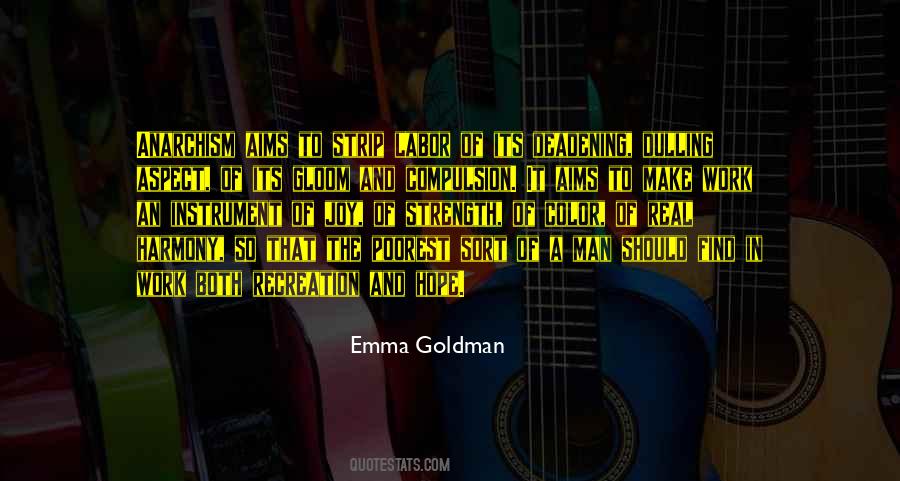 #7. Northern Sweden holds a special kind of magic. It's cold, lonely, and the people are tough and silent, or so the stereotype says. This is Asa Larsson's home turf and I find as much joy in reading her closely observed descriptions of the environment, as in following her intriguing plots. - Author: Camilla Lackberg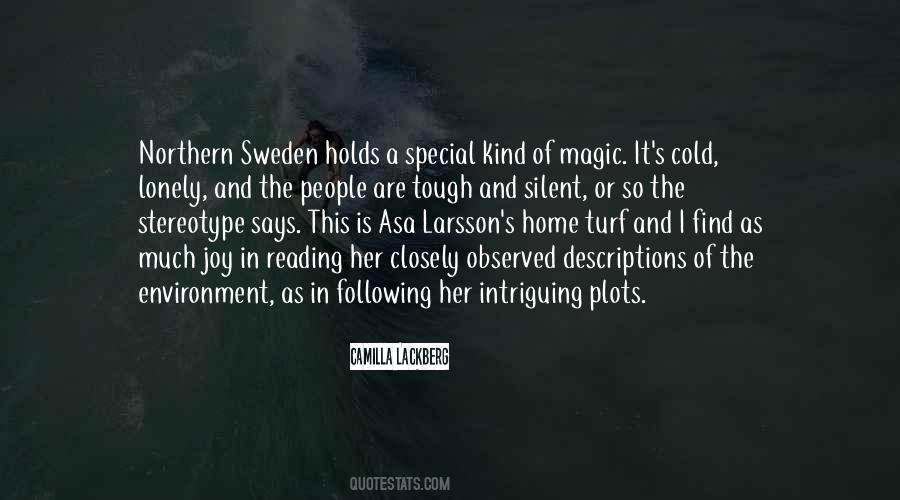 #8. We dangle by a flimsy thread,
Our little lives are grains of sand:
The Cosmos is a tiny sphere
Held in the hollow of God's hand.
Give up your anger and your spite,
And imitate the Deer, the Tree;
In sweet Forgiveness find your joy,
For it alone can set you free. - Author: Margaret Atwood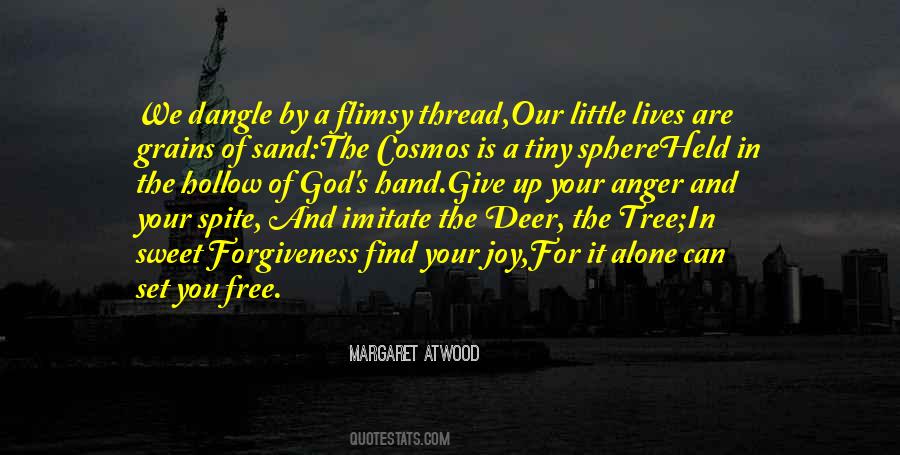 #9. It's painful to hold out hope for the things that once brought you joy. You have to find ways to make yourself forget. - Author: Christina Baker Kline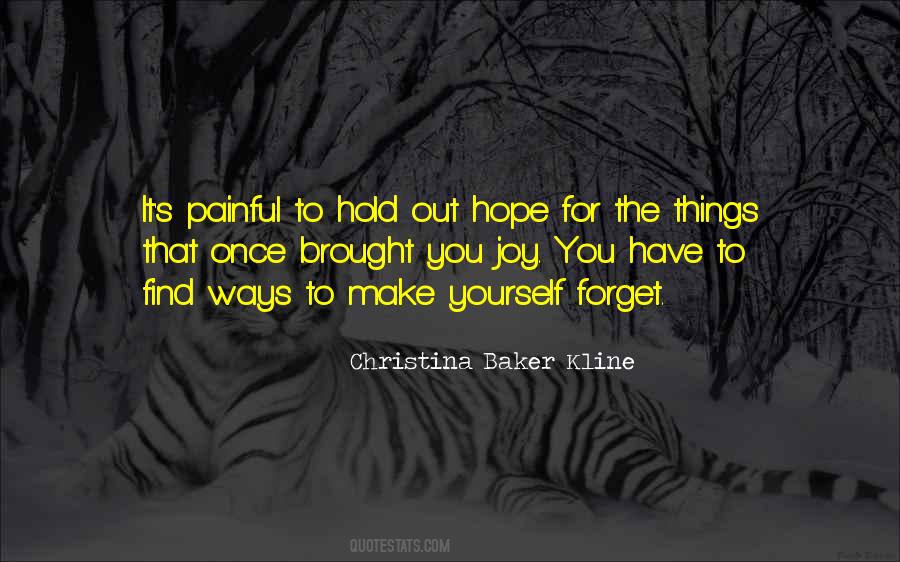 #10. perhaps, in giving of myself, I would find the joy Paul had promised. And maybe, given time, it would be possible for me to find my way back to life. - Author: Debbie Macomber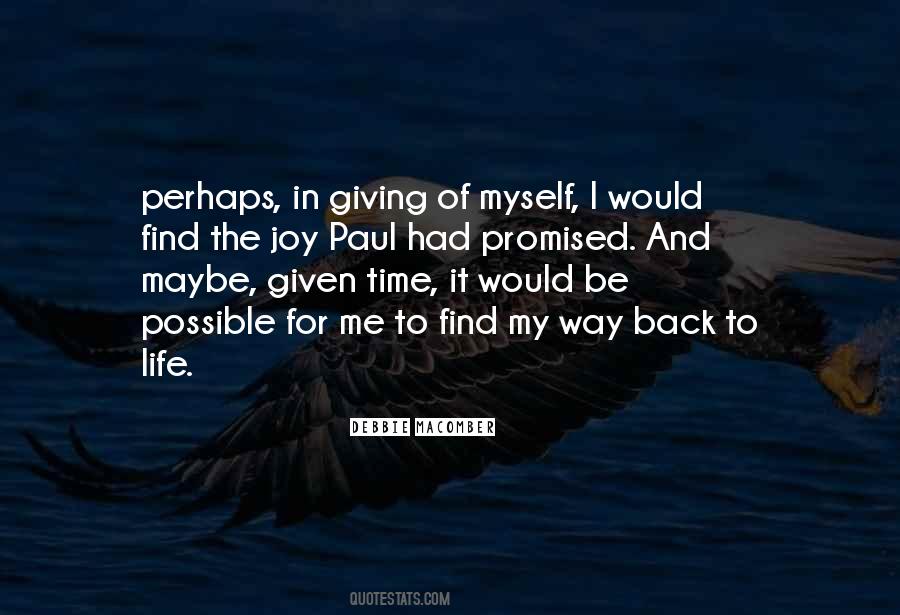 #11. there can be occasions when we suddenly and involuntarily find ourselves loving r=the natural world with a startling intensity, in a burst of emotion which we may not fully understand, and the only word that seems to me to be appropriate for this feeling is joy - Author: Michael McCarthy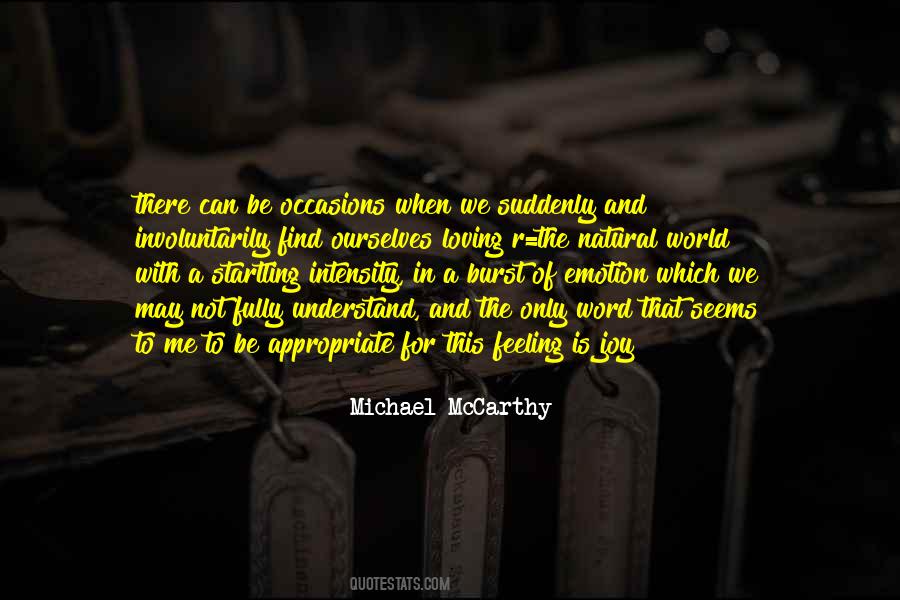 #12. Through the pursuit of beauty we shape the world as a home, and in doing so we both amplify our joys and find consolation for our sorrows. - Author: Roger Scruton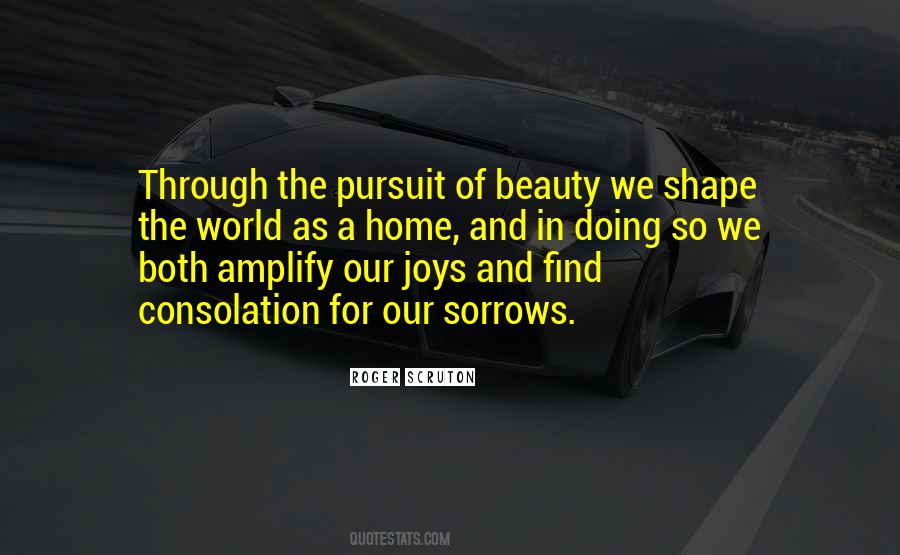 #13. People in day-to-day life tend to skim the surface of things and be polite and careful, and that's not the language I speak. I like talking about feelings, fears and memories, anguish and joy, and I find it in music. - Author: Shirley Manson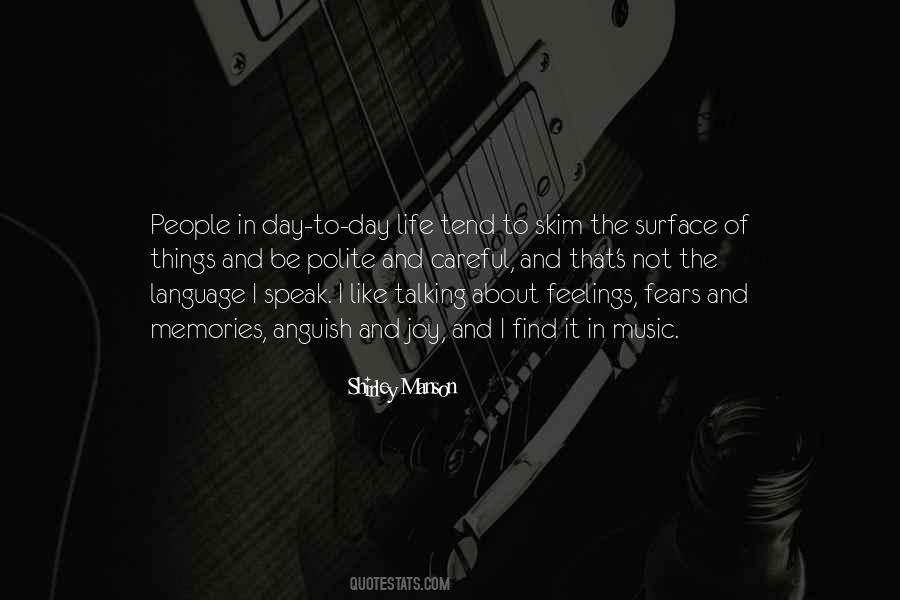 #14. The conventionality of the English is something I find unattractive - the whole lack of joy in the physical. - Author: Denholm Elliott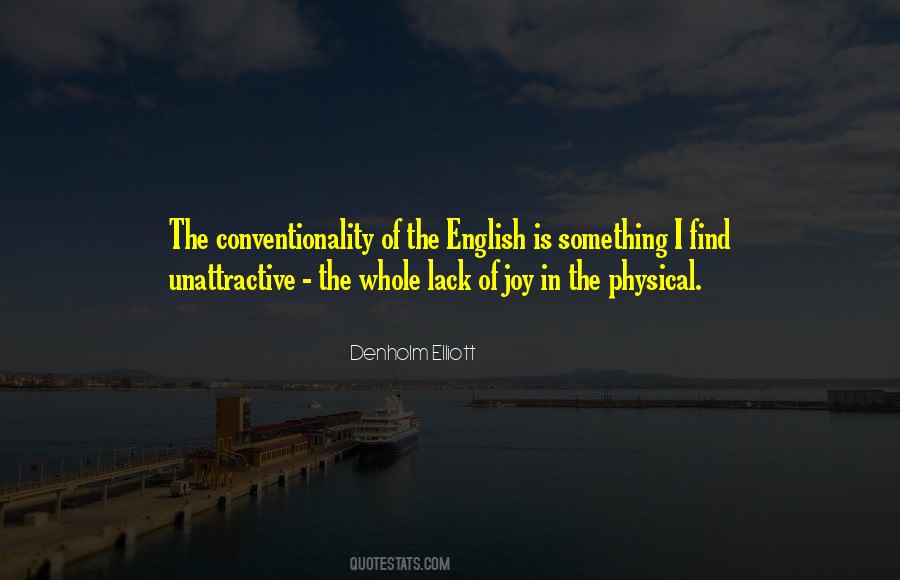 #15. Somehow, one never really runs away, or I never have, and I find that the faster I go the more catches up with me ... all the while time stands, to me, still - straight up and down like a great white sheet. - Author: Joy Hester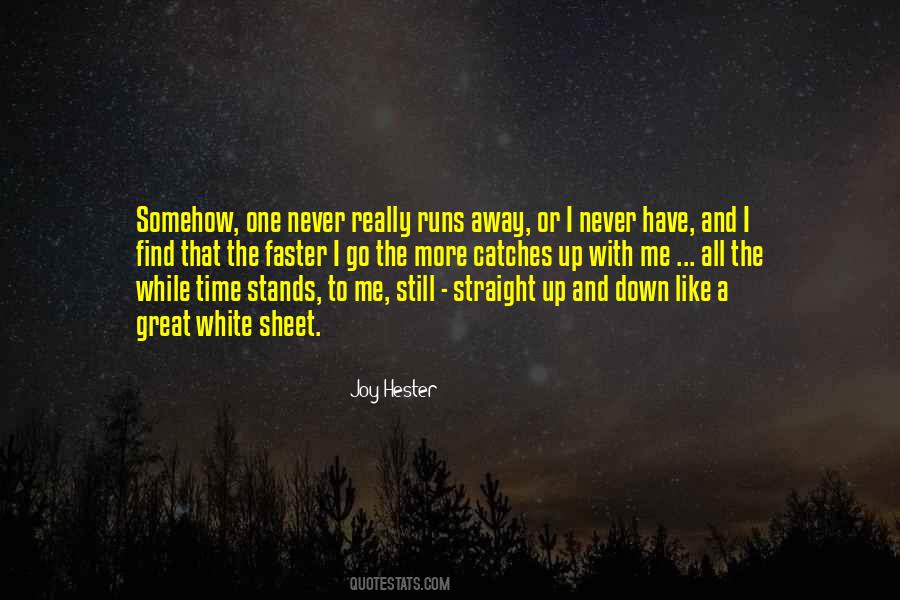 #16. Find the joy and peace in and around you. It is a choice not a condition or destination. - Author: Debasish Mridha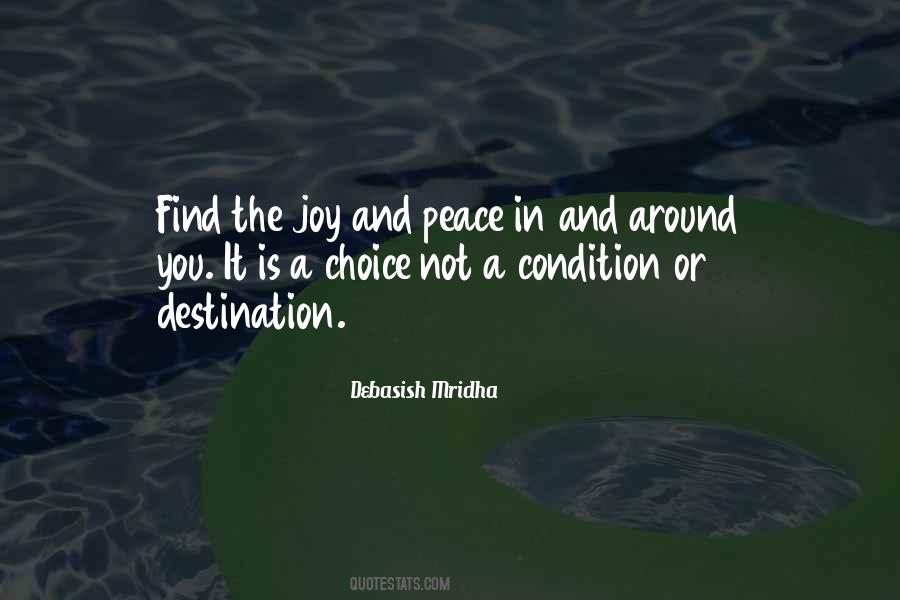 #17. We are not proponents of long life. We are proponents of joyful life, and when you find yourself in joy, the longevity usually follows. We do not count the success of a life by its length; we count it by its joy. - ABRAHAM - Author: Christiane Northrup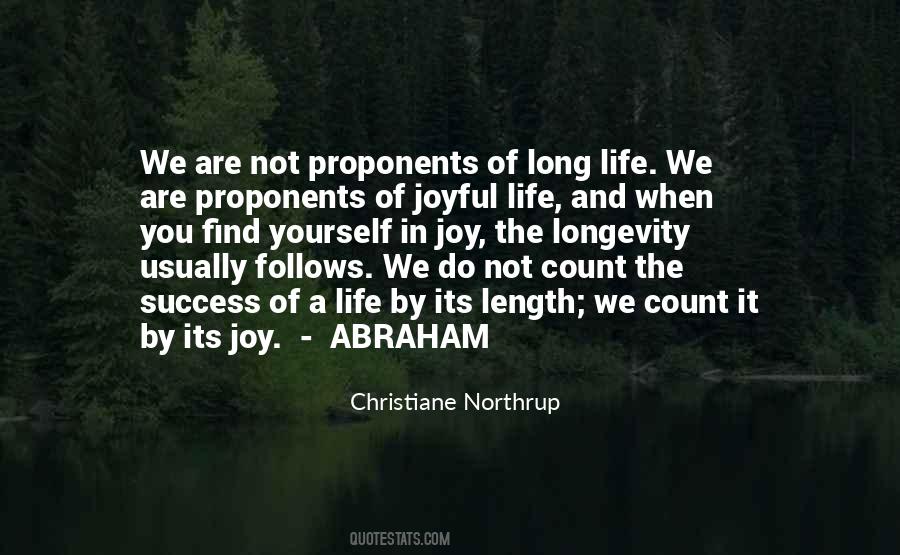 #18. One can find in the Yiddish tongue and in the Yiddish spirit expressions of pious joy, lust for life, longing for the Messiah, patience and deep appreciation of human individuality. - Author: Isaac Bashevis Singer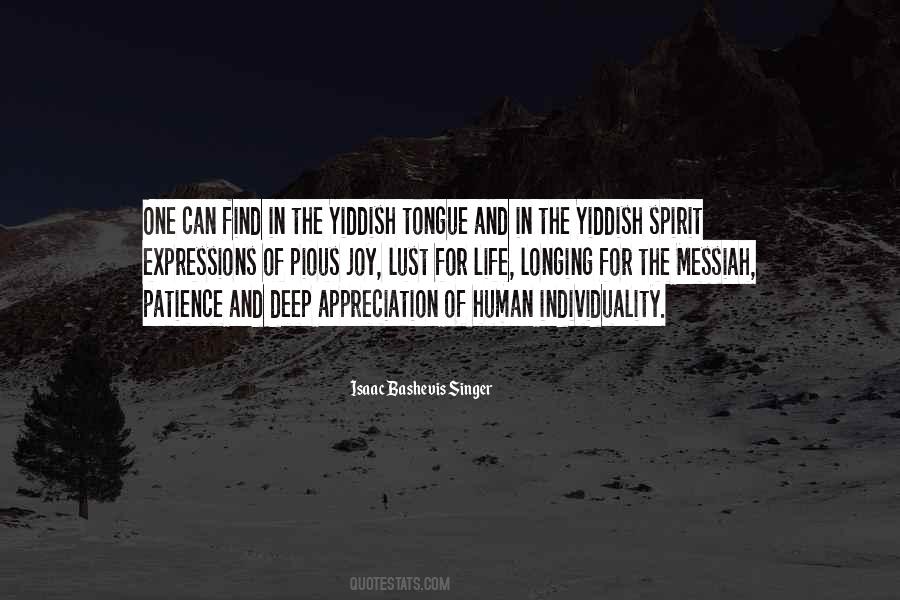 #19. Then there is a still higher type of courage - the courage to brave pain, to live with it, to never let others know of it and to still find joy in life; to wake up in the morning with an enthusiasm for the day ahead. - Author: Howard Cosell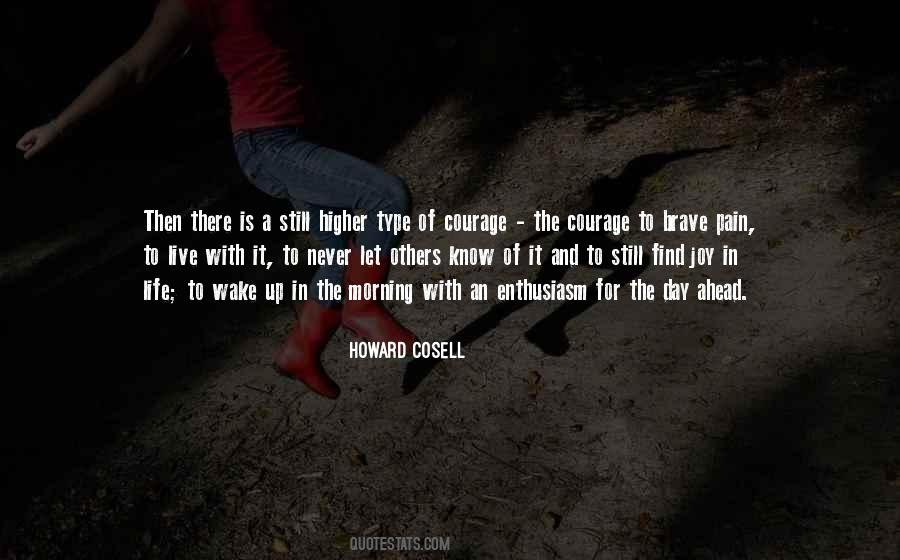 #20. If we want to find happiness, let's stop thinking about gratitude or ingratitude and give for the inner joy of giving. - Author: Dale Carnegie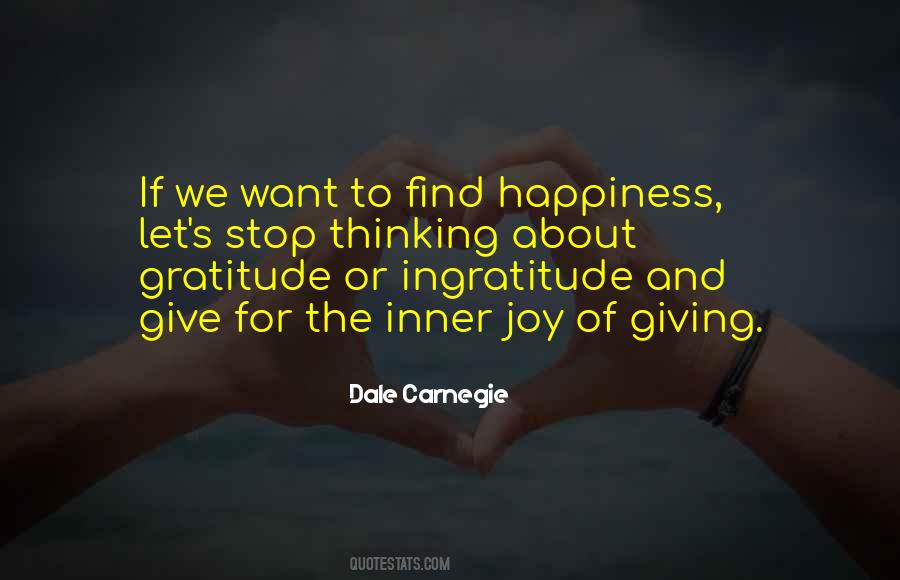 #21. I think today if we forbade our illiterate children to touch the wonderful things of our literature, perhaps they might steal them and find secret joy. - Author: John Steinbeck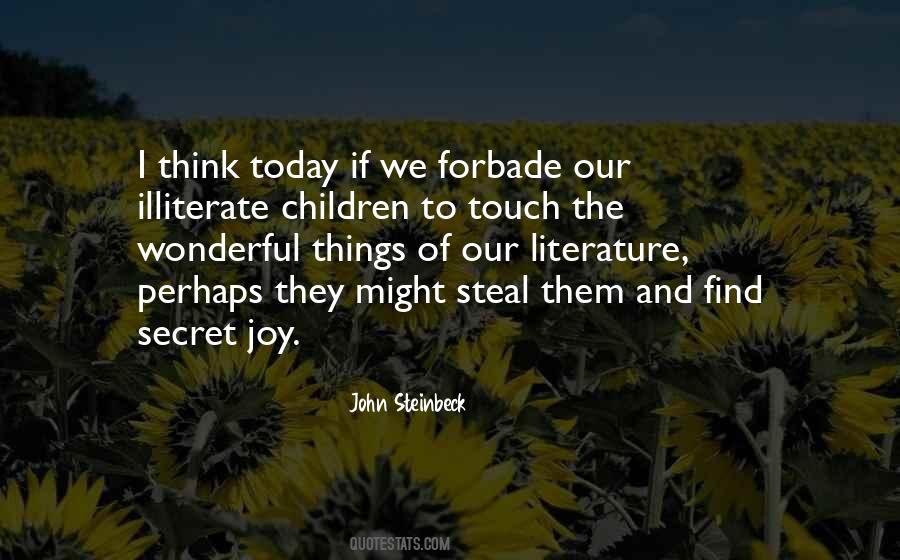 #22. Come, thou long expected Jesus, born to set thy people free; from our fears and sins release us; let us find our rest in thee. Israel's strength and consolation, hope of all the earth thou art, dear desire of every nation, joy of every longing heart. - Author: Charles Wesley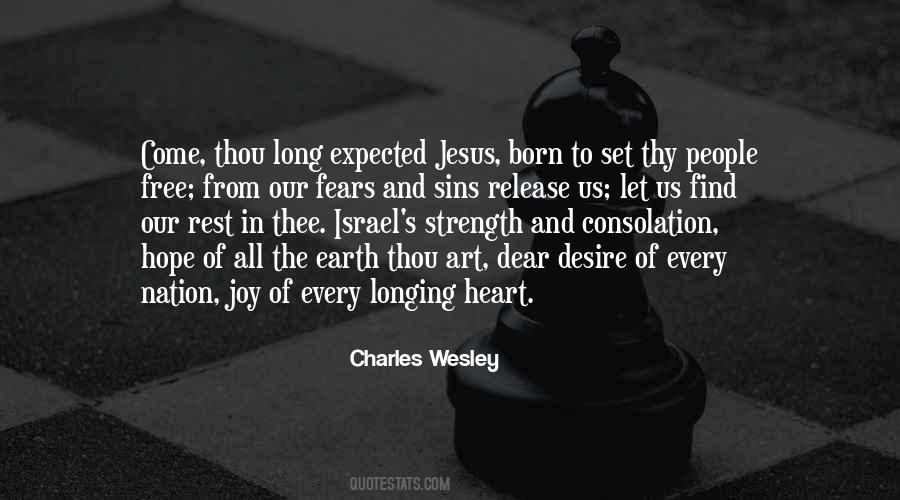 #23. When I sing, I think mostly about the music. But I know that, through singing, my body shows everything that I am. I am a very passionate man and I suffer a lot and have a lot of joy also. In my opinion, it is very important for me to find this stimulus and motivation for singing. - Author: Andrea Bocelli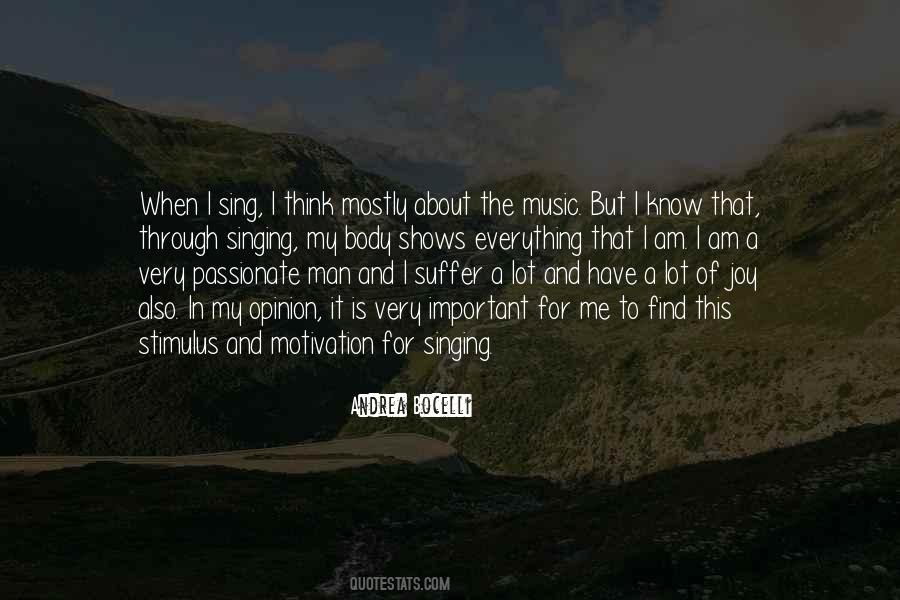 #24. Every day is a miracle. No matter how bad my
circumstances, I have the freedom to choose my
attitude to life, even to find joy. Evil is not new.
It is up to us how we deal with both good and bad.
No one can take this power away from us. - Author: Alice Herz-Sommer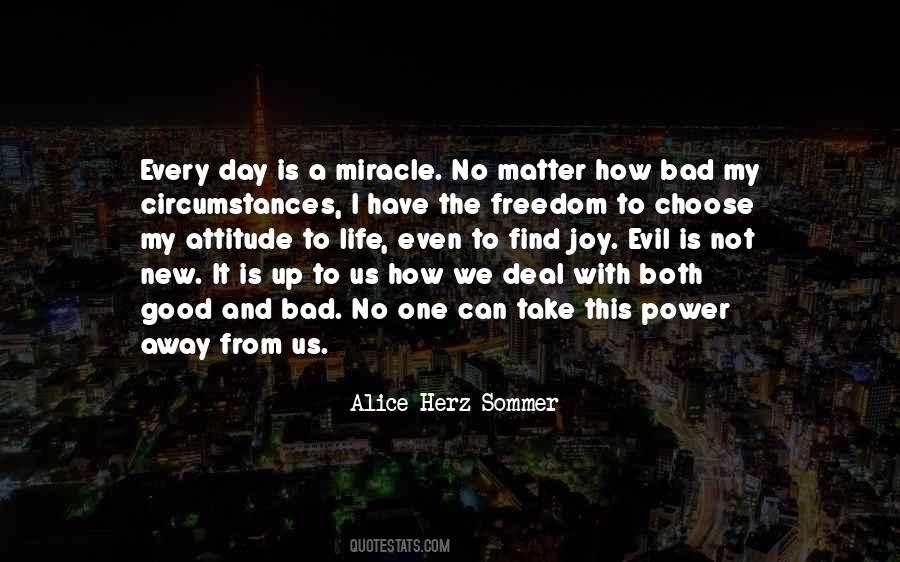 #25. Photographs are very interesting, and you can look into them a million times and still find a new meaning in them, something in the past that was caught in the film itself ... - Author: Rebecca McNutt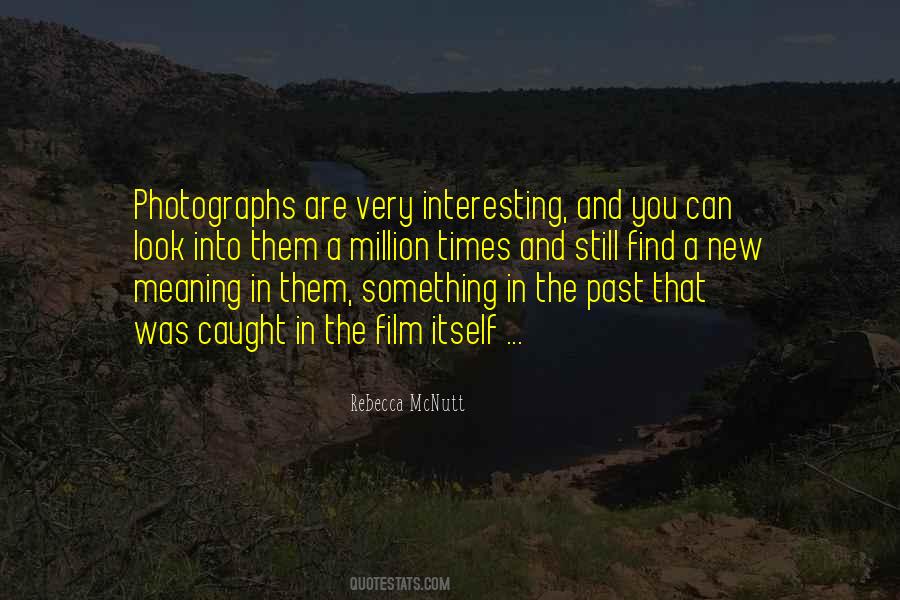 #26. To find peace, live in the moment with joy. - Author: Debasish Mridha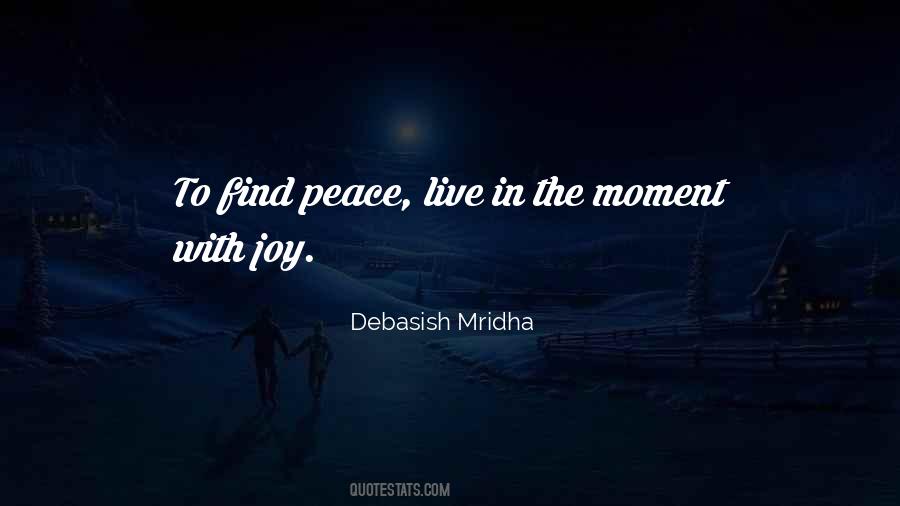 #27. Christ is sufficient. We do not need "support groups" for each and every separate tribulation. The most widely divergent sorrows may all be taken to the foot of the same old rugged cross and find there cleansing, peace, and joy. - Author: Elisabeth Elliot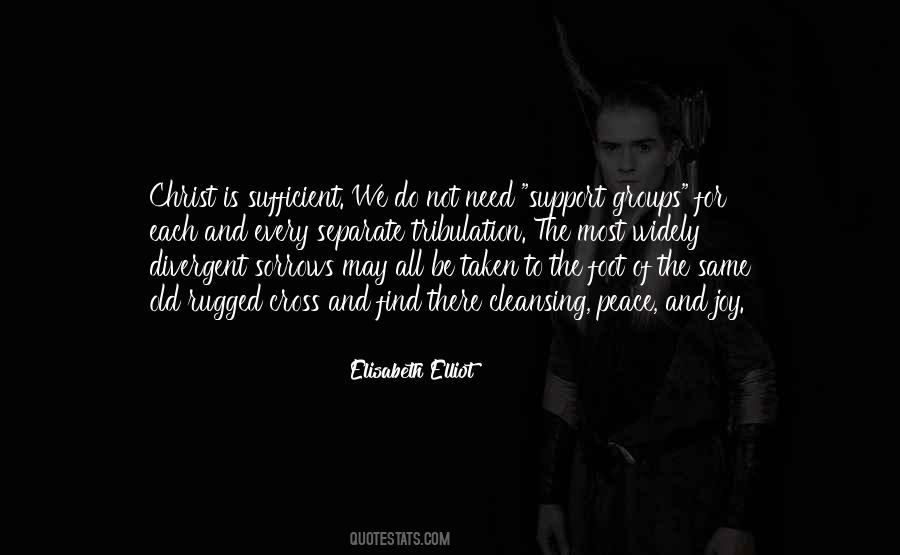 #28. Ambition is the weakness of all the great spirits who in acceptance will find the joy & the despair the seek. The physician can only cure when he is willing to assume your disease. To be shunned is to be God a little... - Author: Kenneth Patchen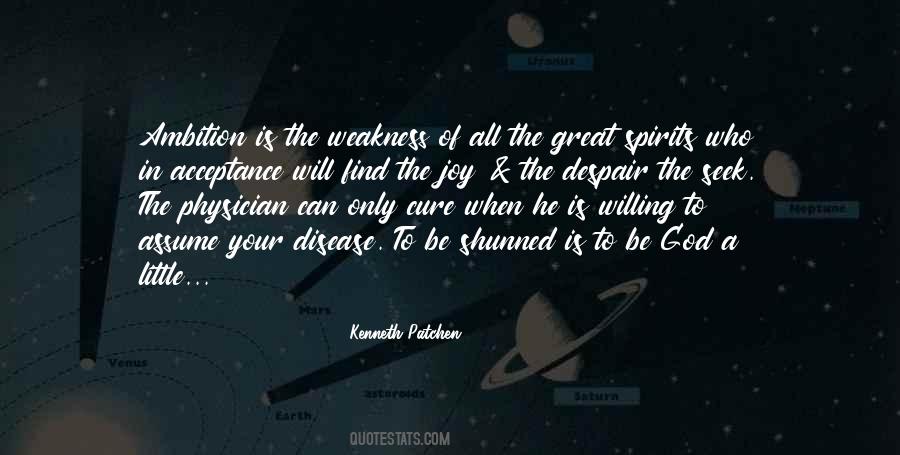 #29. We make no greater voluntary choice in this life than the selection of a marriage partner. This decision can bring eternal happiness and joy. To find sublime fulfillment in marriage, both partners need to be fully committed to the marriage. - Author: James E. Faust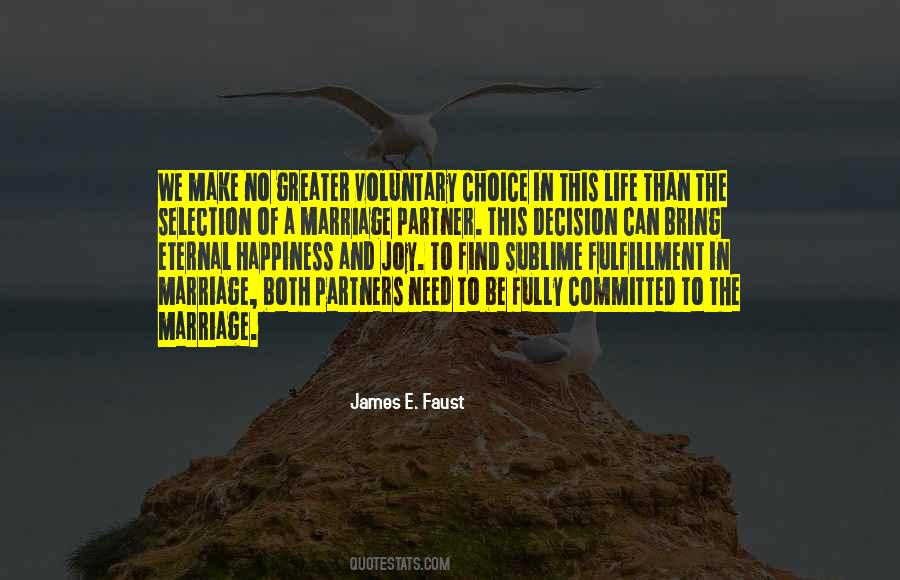 #30. Human happiness does not seem to have been included in the design of creation. It is only we with our capacity to love that fives meaning to the indifferent universe, and yet most human beings seem to have the ability to keep trying and even to find joy from simple things. - Author: Woody Allen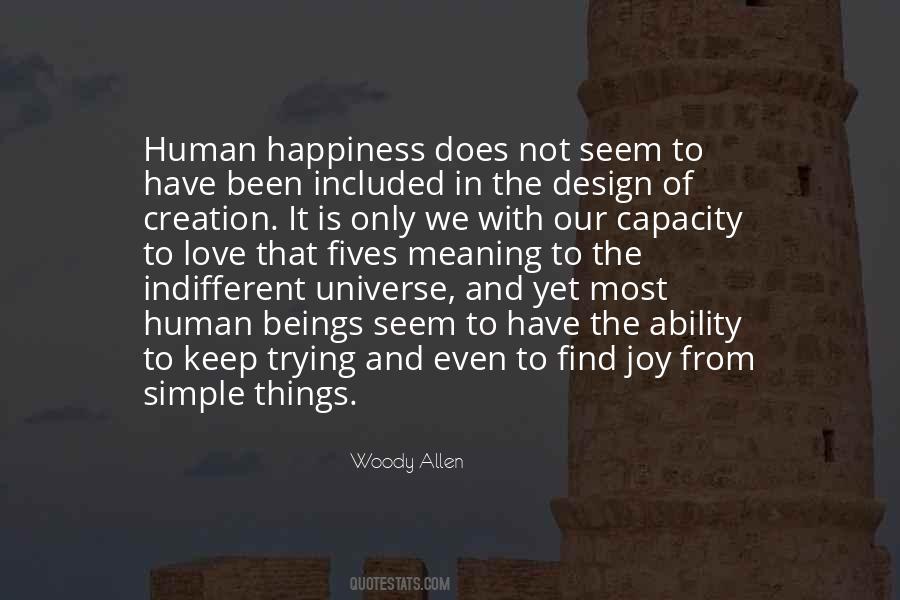 #31. Cultivate a spirit of joy and praise. Not only will you light up your own heart, but the hearts of those around you.
Always look for the good in people. In most cases you will find it. - Author: Loretta Livingstone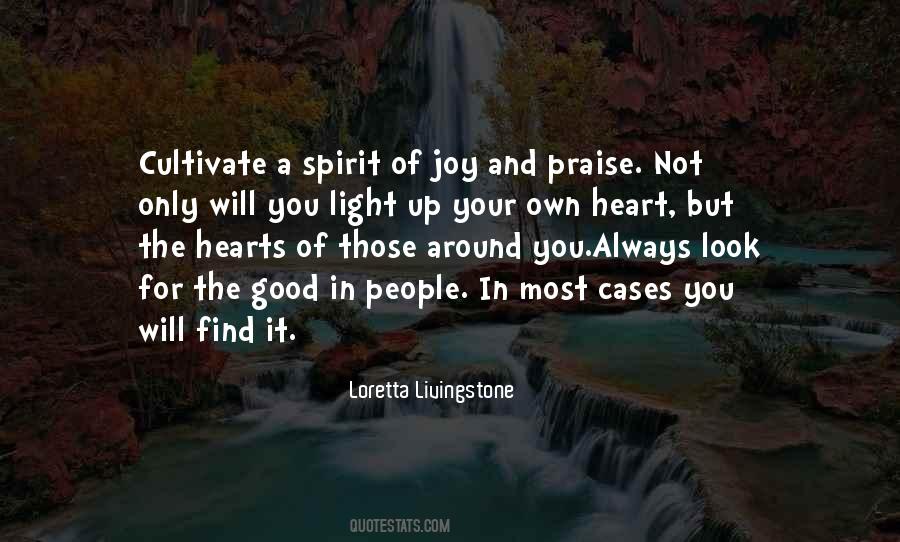 #32. I often find it easier to be teaching or giving to others, and often struggle with the place of my own pleasure and joy. - Author: Bell Hooks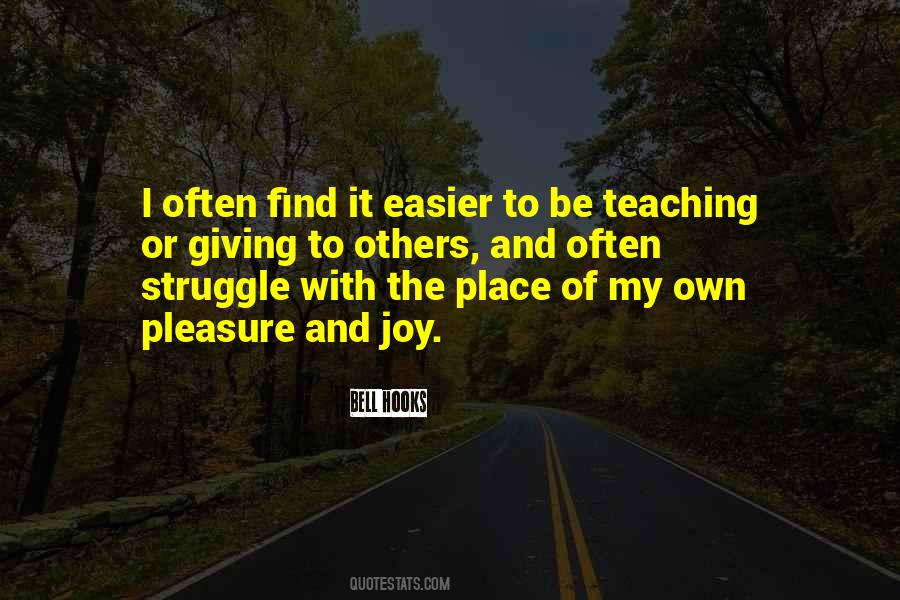 #33. I want us to enter into the laughter of the God that is before, during and after the experience of being human, to swim in grace, to revel in messiness, to find joy in the suffering and love in the chaos. - Author: Tobin Wilson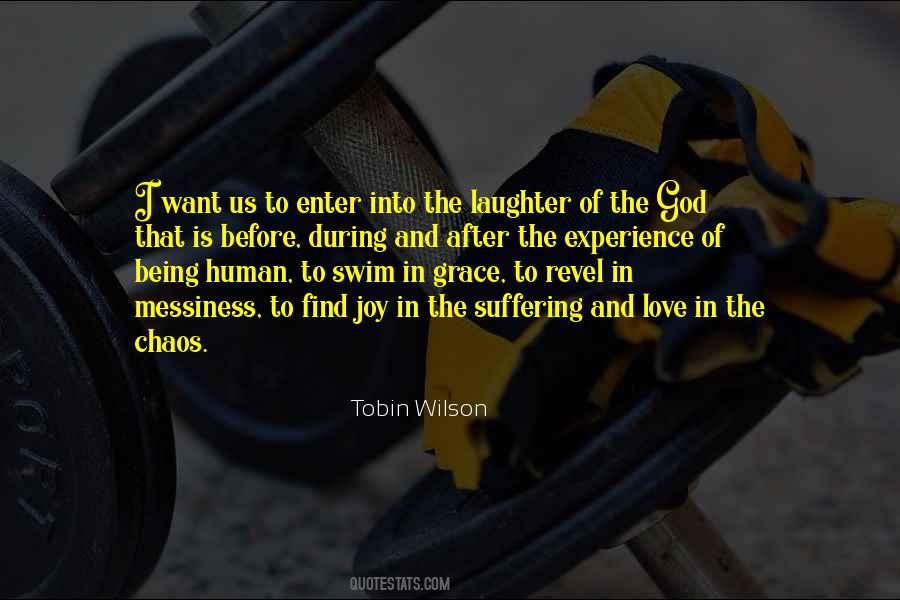 #34. There is a certain degree of pain to be experienced in the search for self-knowledge, as there is a certain amount of joy. You just do it because you find yourself doing it. There just doesn't seem to be much else worthwhile. - Author: Frederick Lenz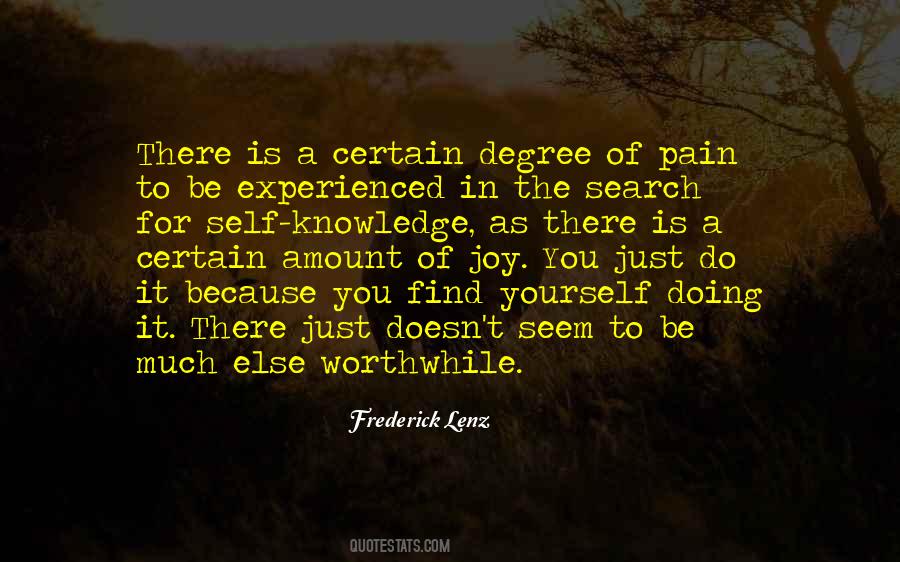 #35. May you find your purpose and passionately live it. - Author: Lailah Gifty Akita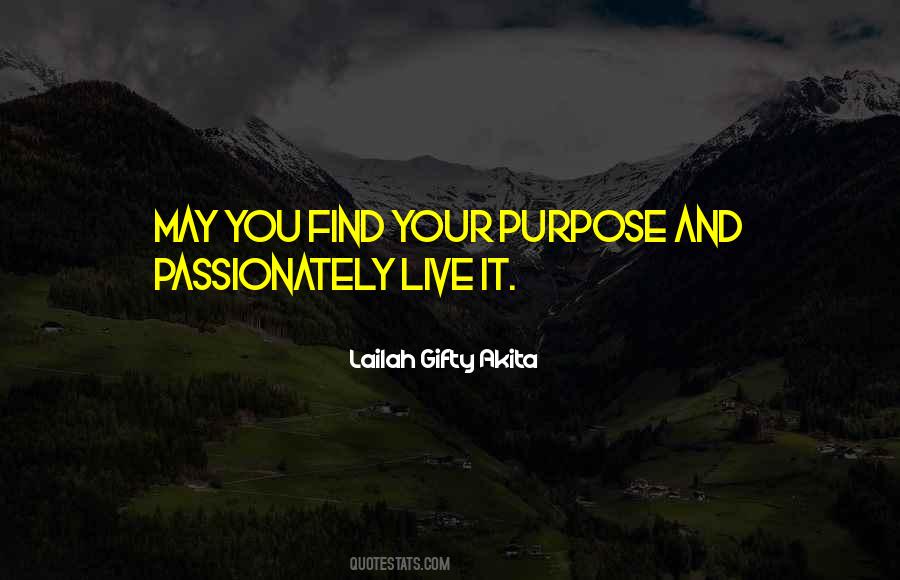 #36. To withdraw from creatures and repose with Jesus in the Tabernacle is my delight; there I can hide myself and seek rest. There I find a life which I cannot describe, a joy which I cannot make others comprehend, a peace such as is found only under the hospitable roof of our best Friend. - Author: Ignatius Of Loyola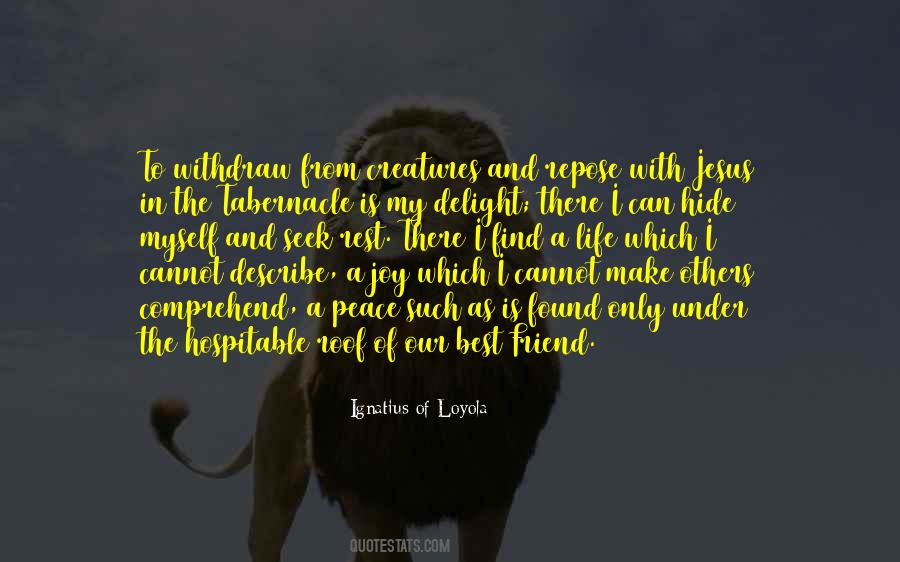 #37. You will find joy, frustration and sorrow in your quest. Never forget that friendship and loyalty are more precious than riches ... Happiness can be brief, but it knows no time in the land of dreams. - Author: Brian Jacques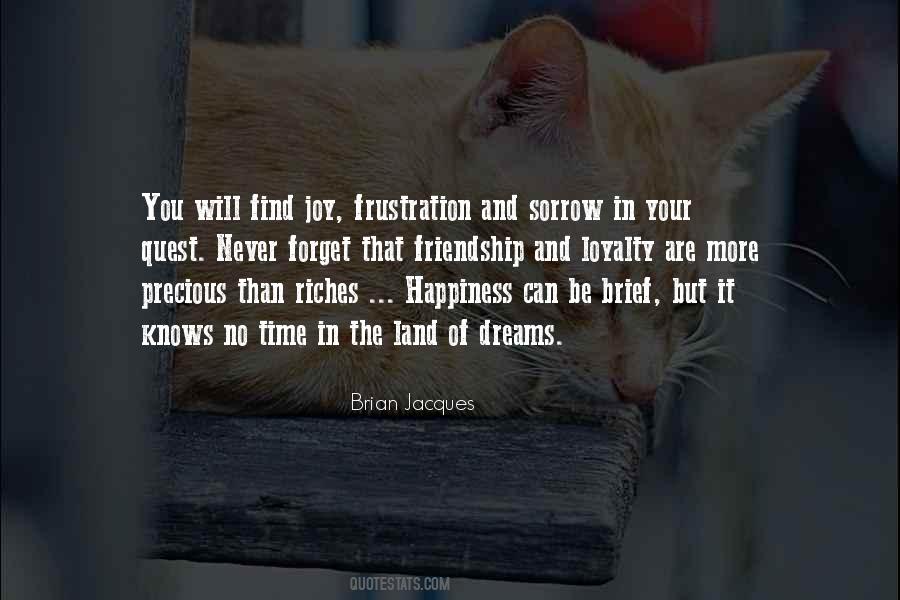 #38. How to find joy? Let your ambition disappear; ambition is the barrier. Ambition means an ego trip: "I want to be this, I want to be that - more money, more power, more prestige." - Author: Rajneesh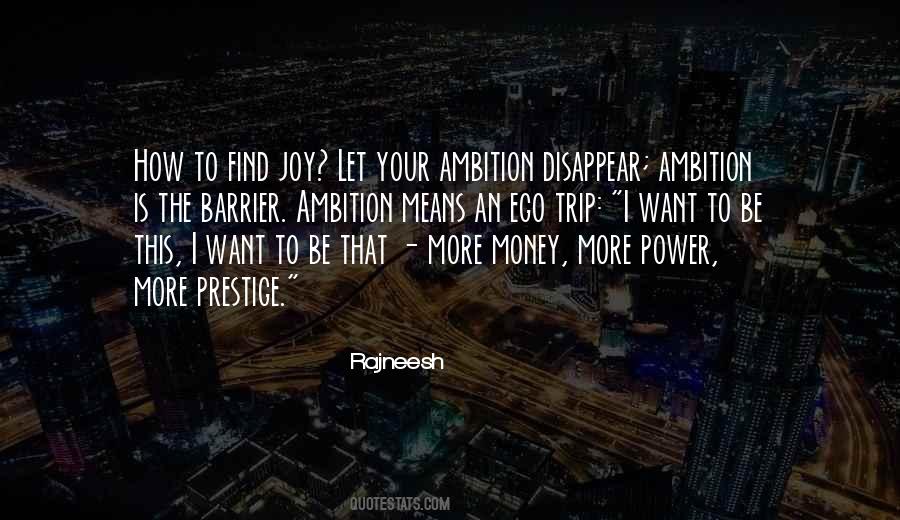 #39. Deliberately guiding your thoughts is the key to a joyful life, but a desire to feel joy is the best plan of all ... because in the reaching for joy, you find the thoughts that attract the wonderful life you desire. - Author: Esther Hicks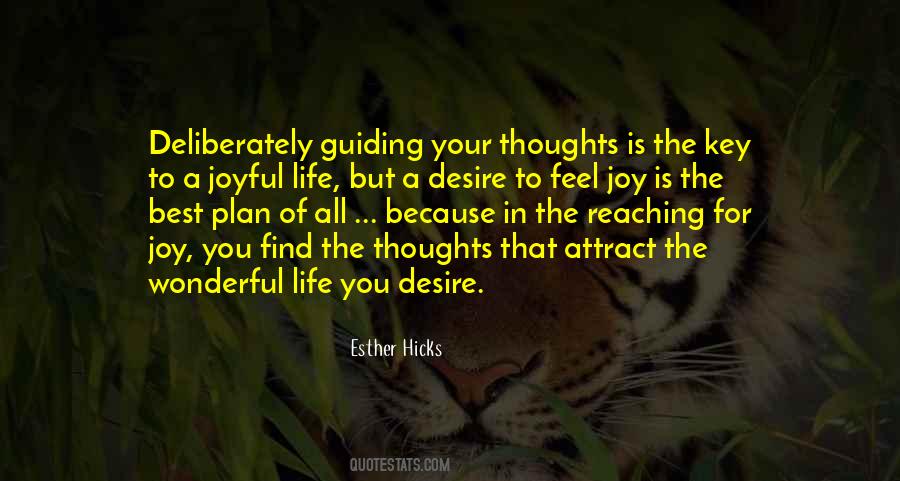 #40. Keep the commandments of God. If you have sinned, the sooner you begin to make your way back, the sooner you will find the sweet peace and joy that come with the miracle of forgiveness. Happiness comes from living the way the Lord wants you to live and from service to God and others. - Author: Thomas S. Monson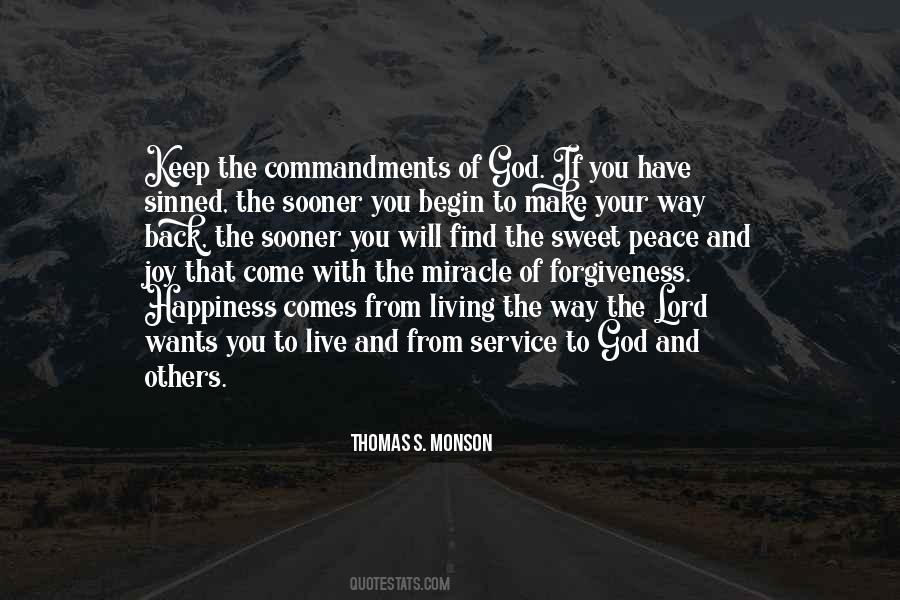 #41. I am very pleased you like my stories. They are studies in prose, put for Romance's sake into fanciful form: meant partly for children, and partly for those who have kept the childlike faculties of wonder and joy, and who find simplicity in a subtle strangeness. - Author: Oscar Wilde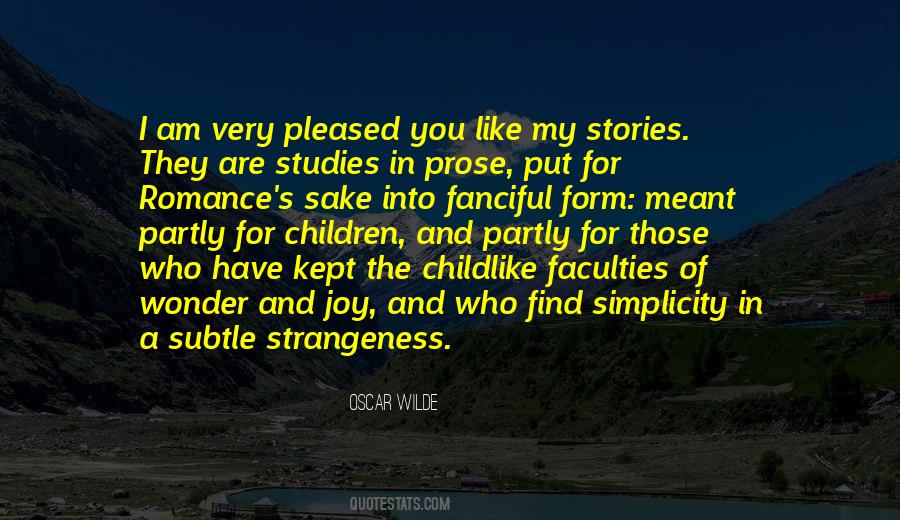 #42. God's creative design was that your ravenous appetite for pleasure find fulfillment in Him, for nothing more wonderfully reveals His glory than the joy the creature has in its Creator. - Author: Sam Storms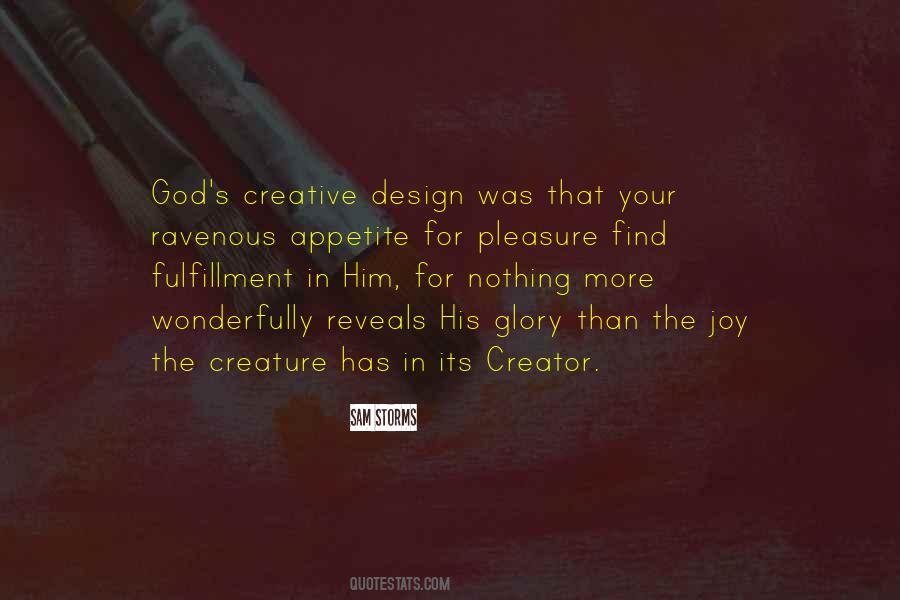 #43. When you're in the day-to-day grind, it just seems like it's another step along the way. But I find joy in the actual process, the journey, the work. It's not the end. It's not the end event. - Author: Cal Ripken Jr.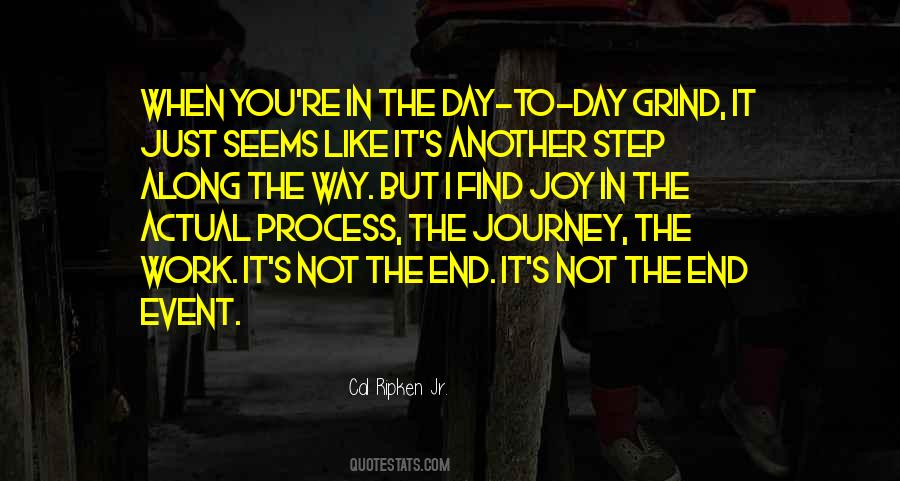 #44. Sometimes we are tempted to find excuses and complain, acting as if we could only be happy if a thousand conditions were met ... I can say that the most beautiful and natural expressions of joy which I have seen in my life were in poor people who had little to hold on to. - Author: Pope Francis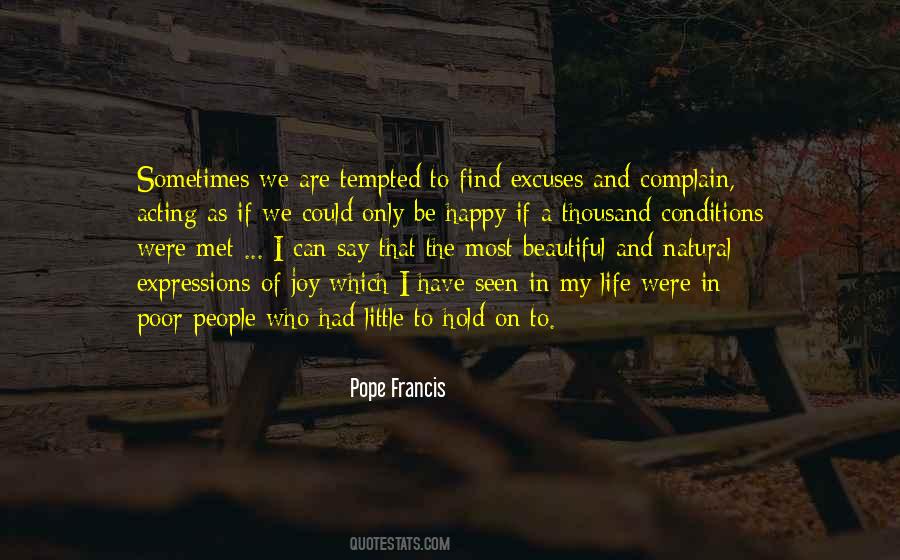 #45. ... suffice to say, joy is where you find it- usually on the shelf right next to sadness. - Author: Ingrid Schaffner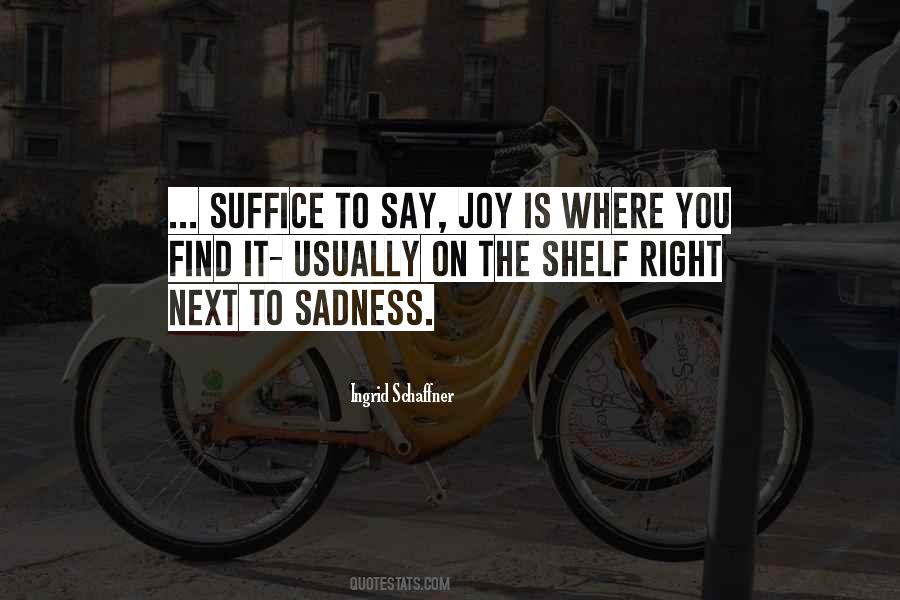 #46. It is only in the presence of God, we find the fullness of life and joy. - Author: Lailah Gifty Akita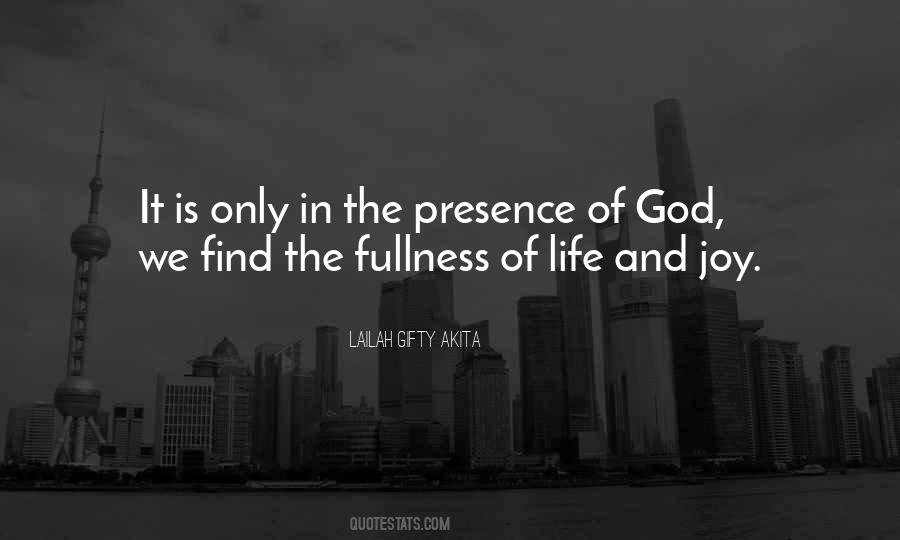 #47. When we start at the center of ourselves, we discover something worthwhile extending toward the periphery of the circle. We find again some of the joy in the now, some of the peace in the here, some of the love in me and thee which go to make up the kingdom of heaven on earth. - Author: Anne Morrow Lindbergh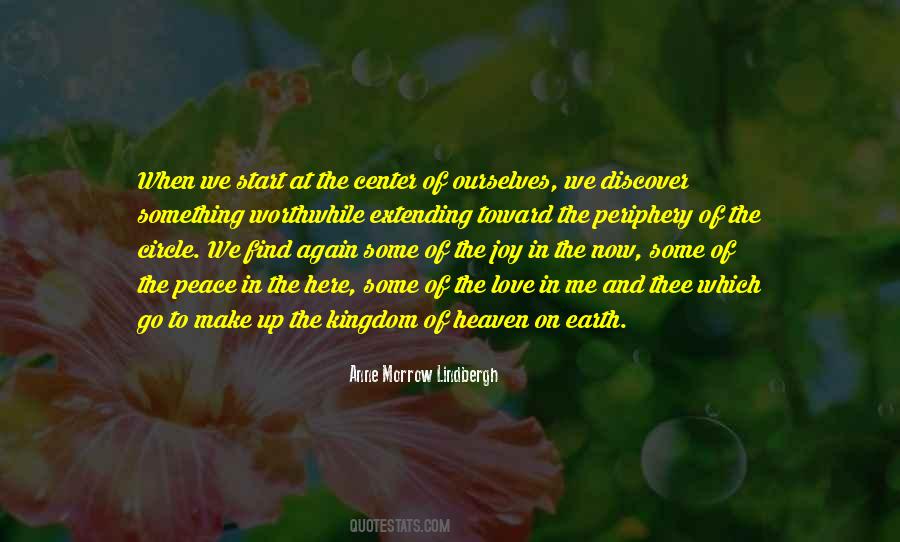 #48. I don't want to find the secret. I'm afraid all the joy will go out of it if I find the secret. - Author: Bob Newhart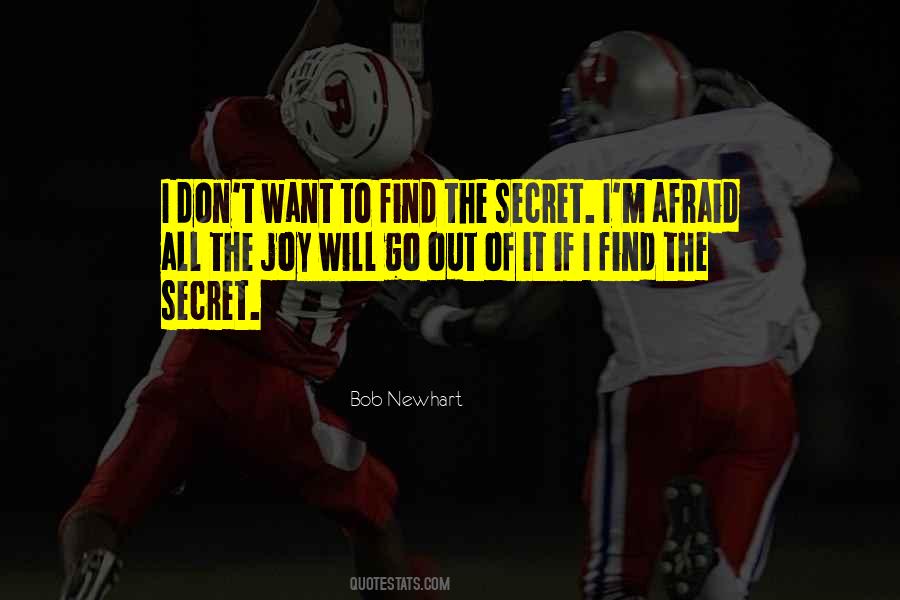 #49. Let us relish life as we live it, find joy in the journey, and share our love with family and friends. - Author: Thomas S. Monson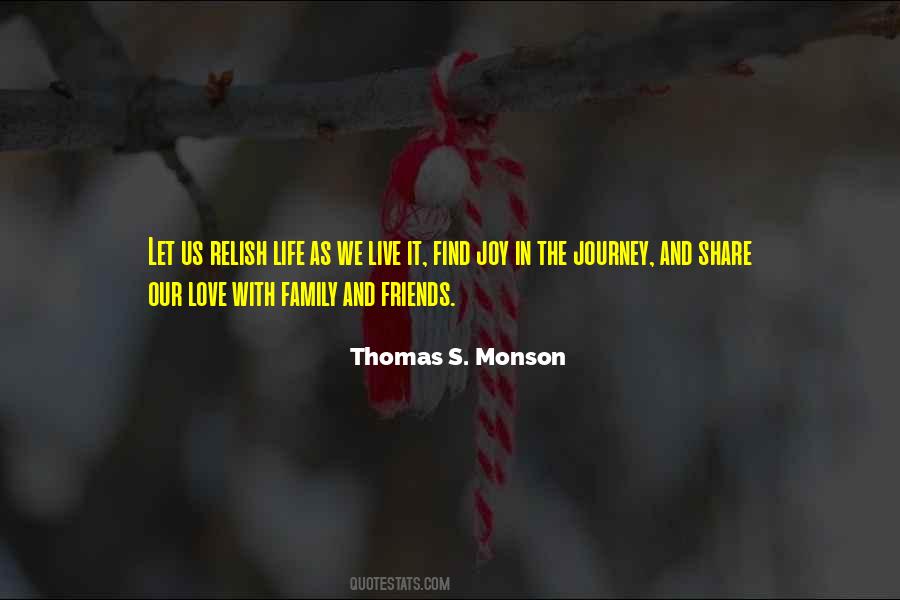 #50. John, we cannot allow the shadow-sickness to find a place inside our hearts. In this broken cosmos we grieve. We rightly feel fury, but we must not let go of joy's embrace, which is beyond our understanding. To feel all of this means that we are alive. - Author: Wm. Paul Young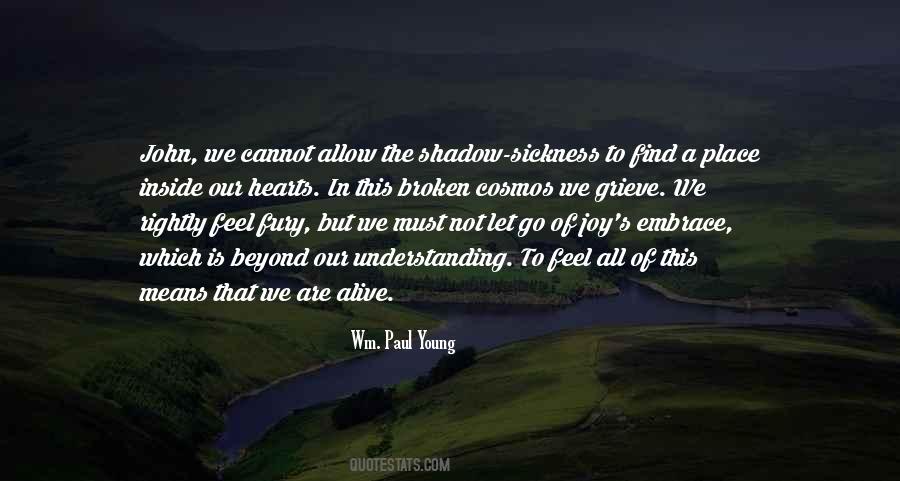 #51. To find the joy of life, let us love our life unconditionally. - Author: Debasish Mridha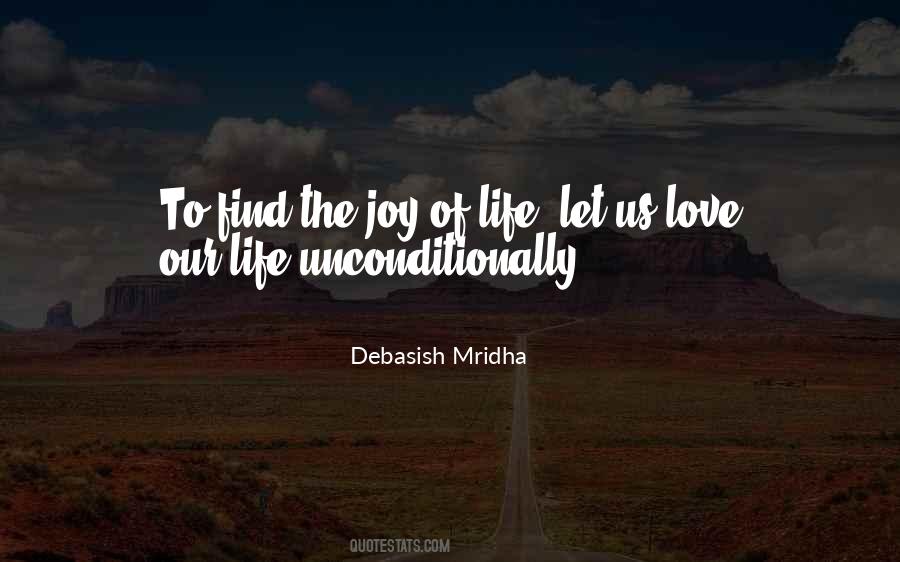 #52. O Perfect One, why do you do this thing? For though we find joy in it, we know not the celestial reason nor the correspondency of it'. And Sabbah answered: 'I will tell you first what I do; I will tell you the reasons afterward. - Author: W.W. Sawyer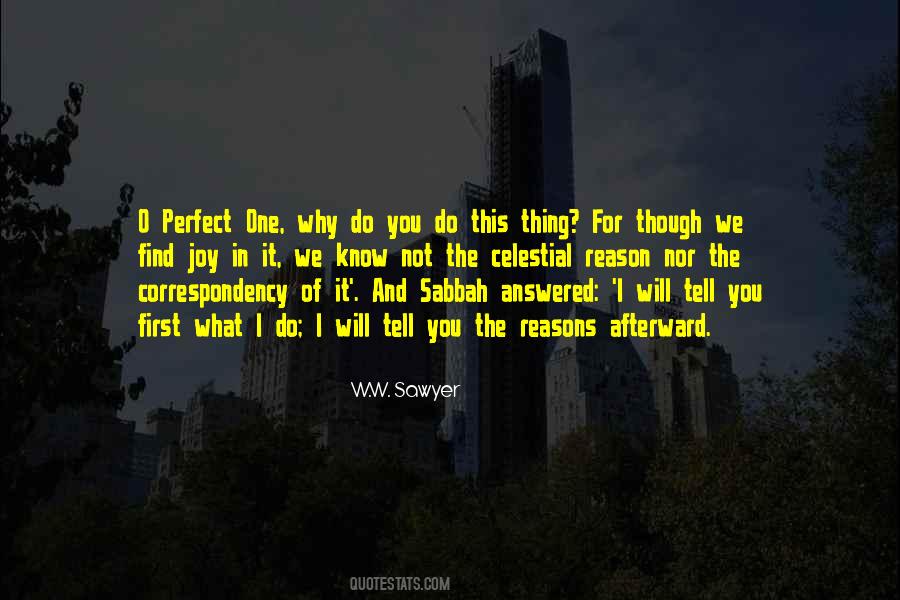 #53. In the midst of excitement, grief, joy, and solitude, I remind myself every moment that the sole mission of my life is to find 'the ultimate questioner' - that unimaginable who has put me in this madness to answer an unanswerable question. - Author: Kedar Joshi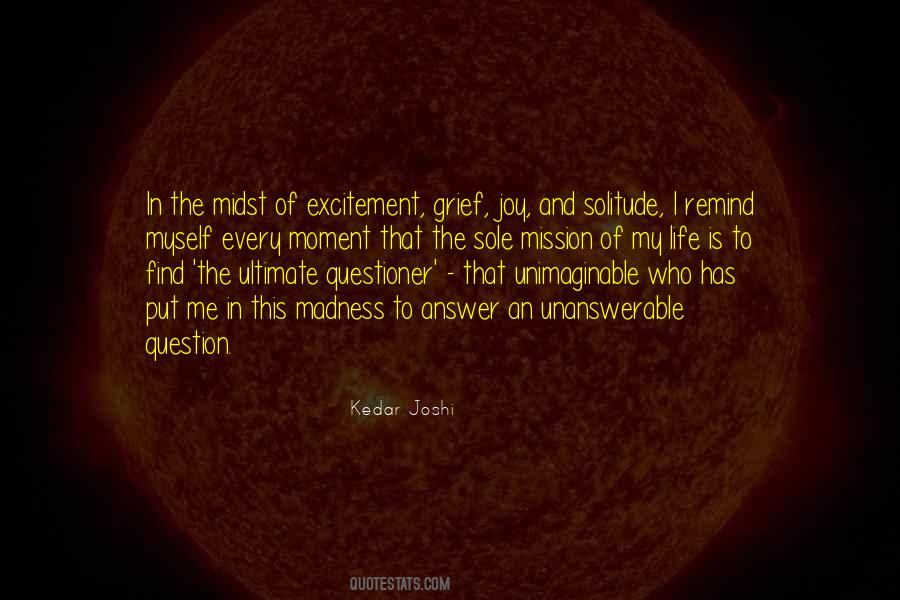 #54. You have to find a way to laugh a little bit each day despite everything, or your heart will simply run out of the joy that makes it go. - Author: Daoud Hari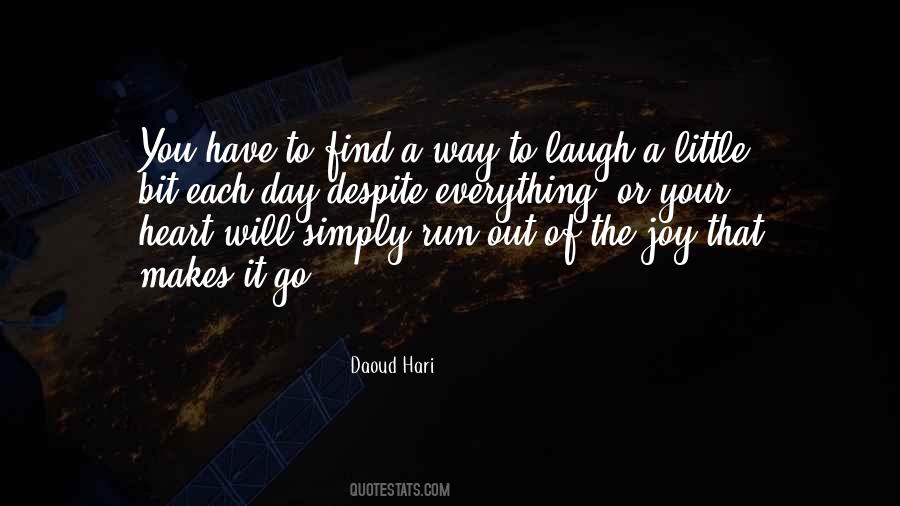 #55. Our life is our prayer. It is our gift to the universe, and the memories we leave behind when we someday exit this world will be our legacy to our loved ones. The best thing we can do for ourselves and everyone around us is to find our joy and share it! - Author: Anita Moorjani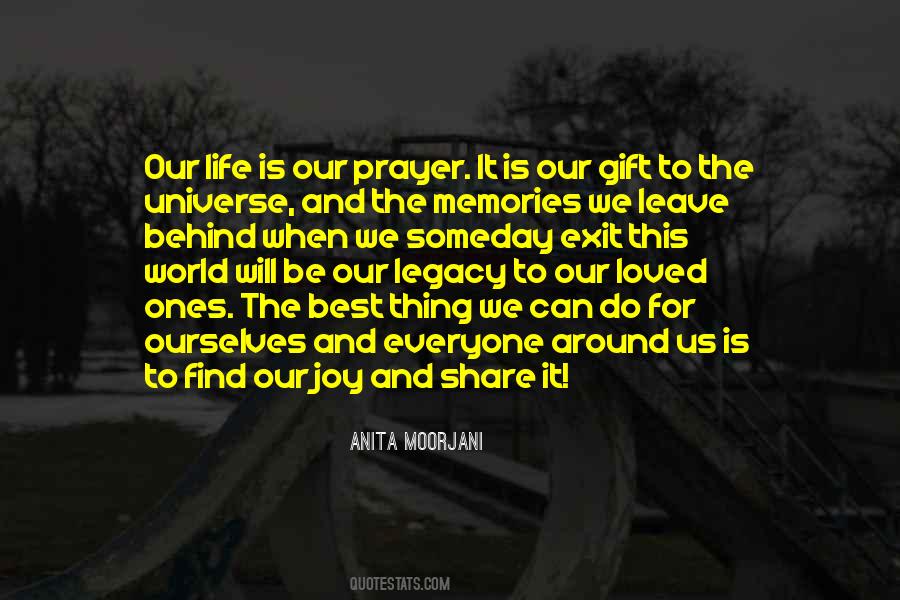 #56. A person needed to experience real danger or they would never find joy in excelling. There had to be a risk of failure, the chance to die. - Author: Brandon Sanderson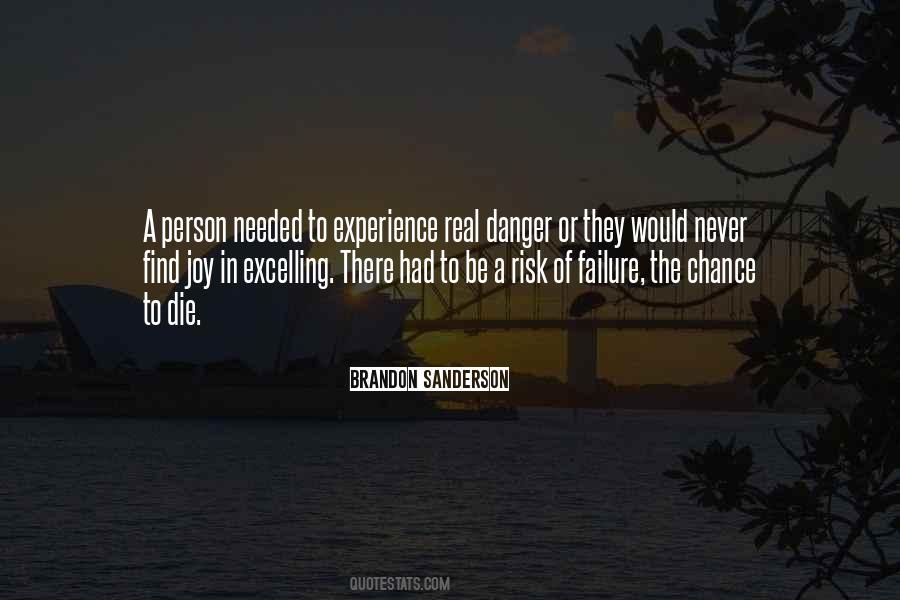 #57. Parents who expect change in themselves as well as in their children, who accept it and find in it the joy as well as the pains ofgrowth, are likely to be the happiest and most confident parents. - Author: Fred Rogers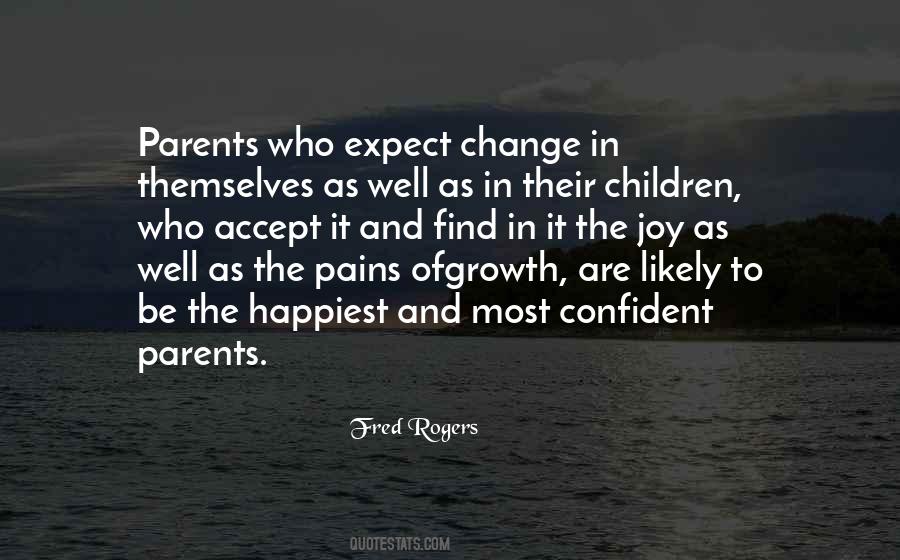 #58. My girls and I regularly go through their rooms to find clothes and toys to donate to charities. I firmly believe that children who have been given so much need to experience the joy that comes from giving. - Author: Kimora Lee Simmons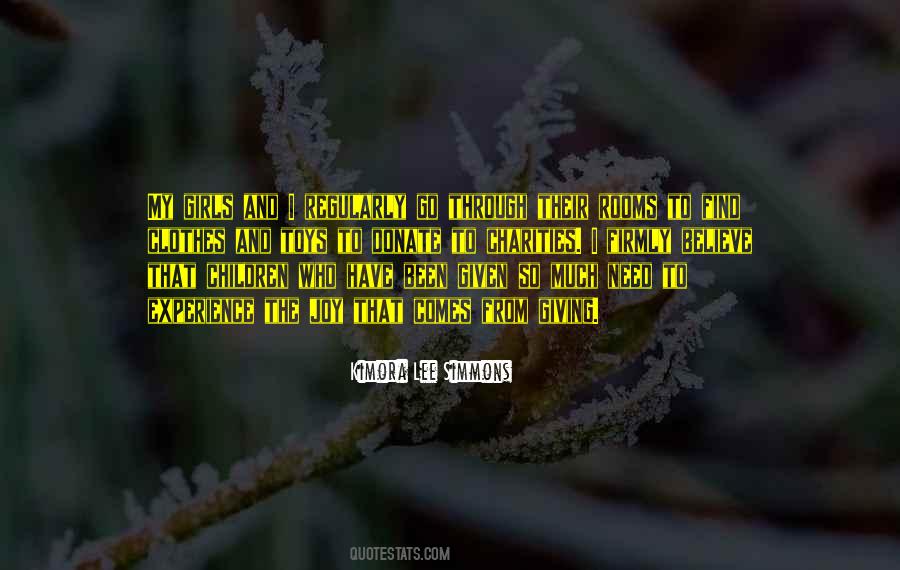 #59. The more one advances, the more one sees the goal is still far off. And now I am simply resigned to see myself always imperfect and in this I find my joy. - Author: Therese Of Lisieux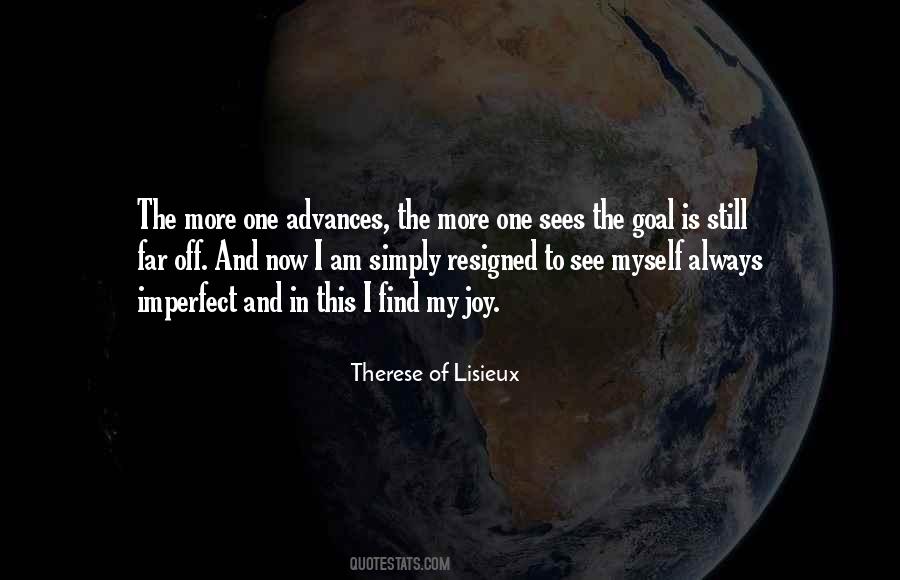 #60. We try to find something to fill our void. But it is only God who can fill the void. - Author: Lailah Gifty Akita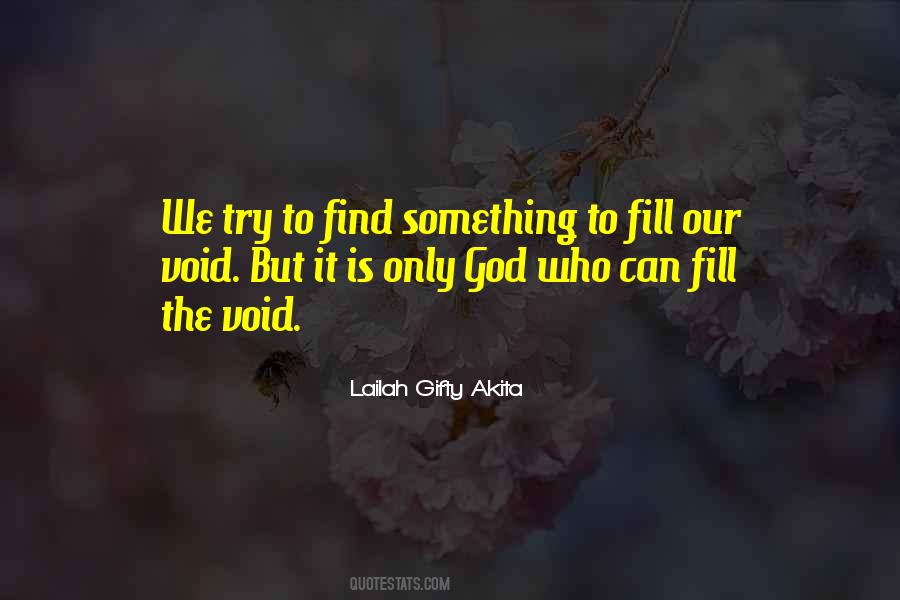 #61. It turns out that the Bible is right - "It is better to give than to receive" (Acts 20:35). People generally do find greater joy in giving freely to others than they do in rampant self-indulgence. - Author: Francis Chan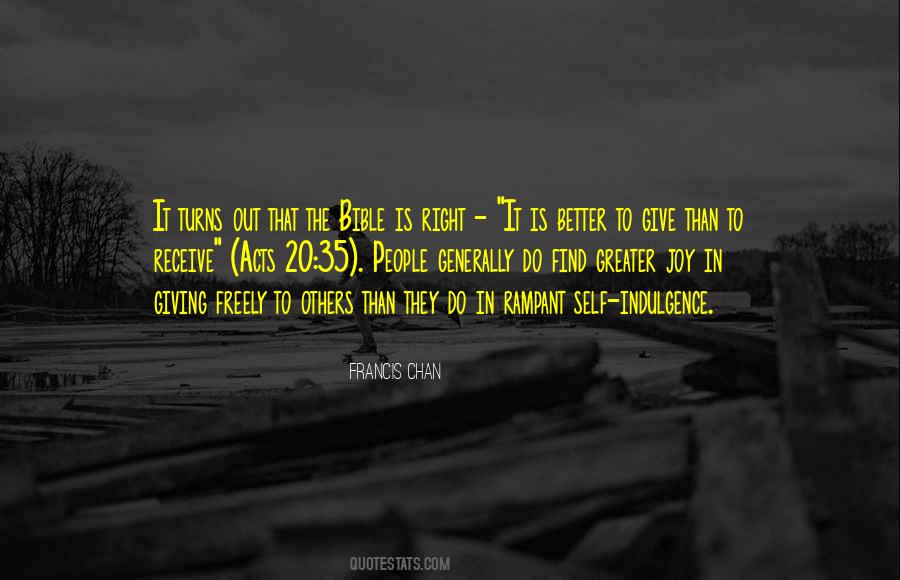 #62. Someone once said that the joy is not in writing but in having written. I can't say I find that to be true, though I understand the sentiment. - Author: Adam Gopnik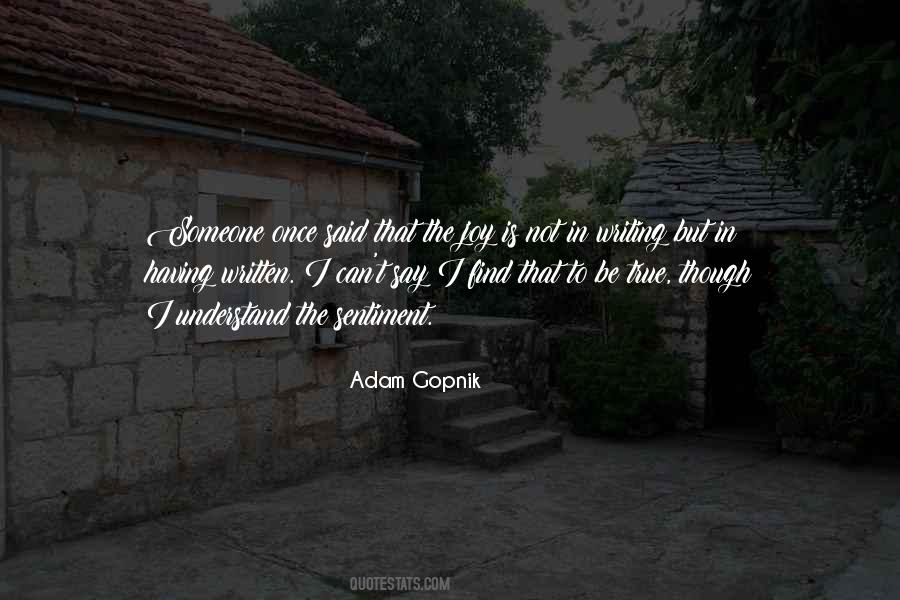 #63. You will I trust find heaviness may endure for a night, but joy comes in the morning. - Author: Rachel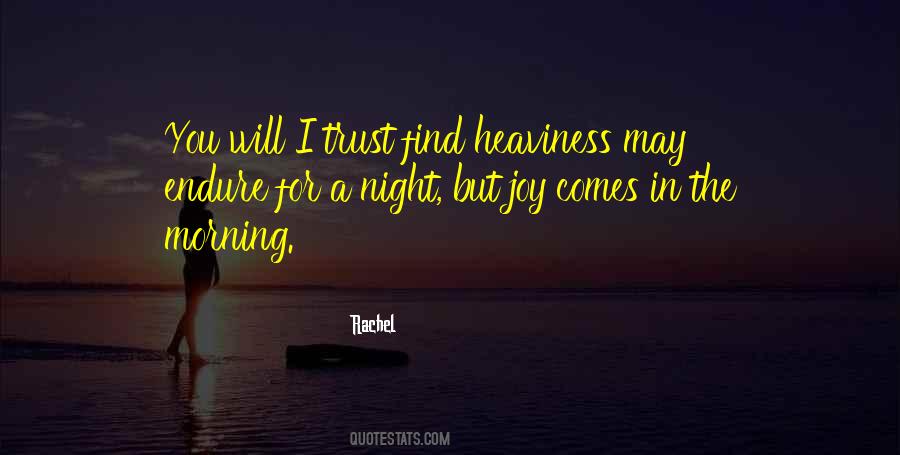 #64. As we continue to look for "developmental deficiencies" in our maturation in Christ, how are you doing in the area of contentment? How quick is your impulse to find satisfaction in Christ, to go to the joy of the gospel in times of stress, frustration, disappointment, and trouble? - Author: Matt Chandler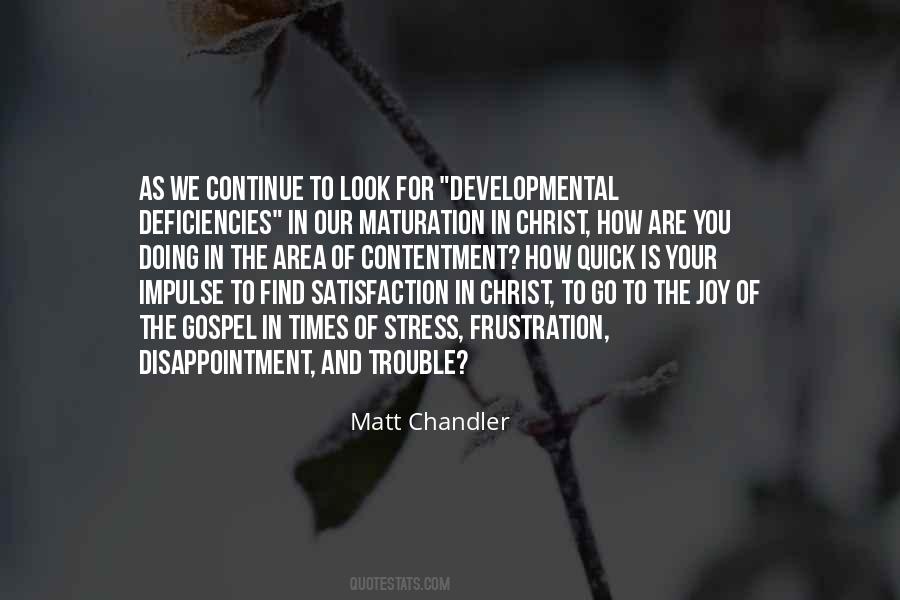 #65. I started to find that music was something that really brought a lot of joy into my life, and it was sort of cool because I discovered that I had a gift for it, too. So the stuff I would listen to I could play along, I could sing along. - Author: Corey Taylor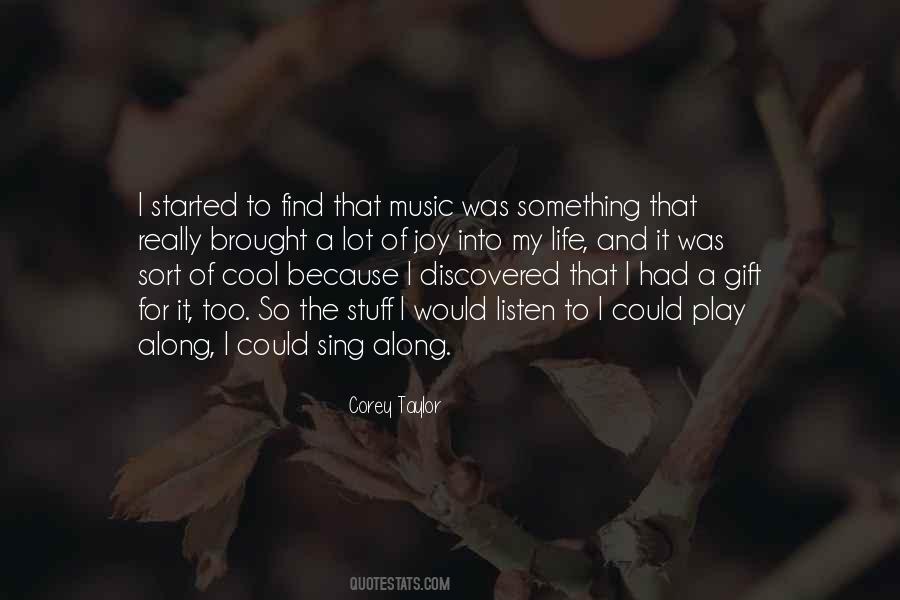 #66. We don't like death. We'd rather produce seeds another way. But death to ourselves, our agendas, our expectations, our hopes is necessary to find deep joy that comes when we fully relinquish ourselves to the gospel. - Author: Mary E. DeMuth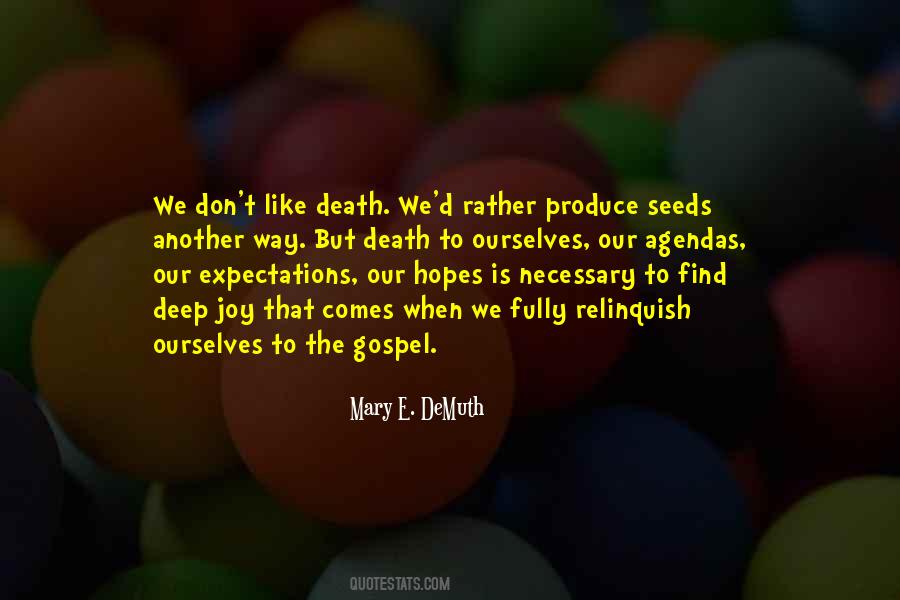 #67. Our soul can find in the Blessed Sacrament all the joys and consolations it desires. - Author: Teresa Of Avila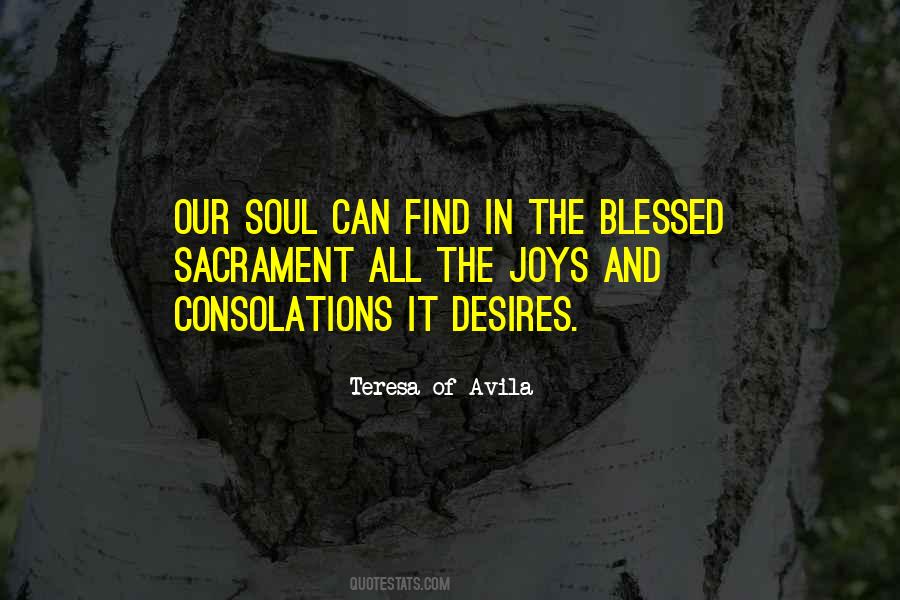 #68. Be generous to the poor orphans and those in need. The man to whom our Lord has been liberal ought not to be stingy. We shall one day find in Heaven as much rest and joy as we ourselves have dispensed in this life. - Author: Saint Ignatius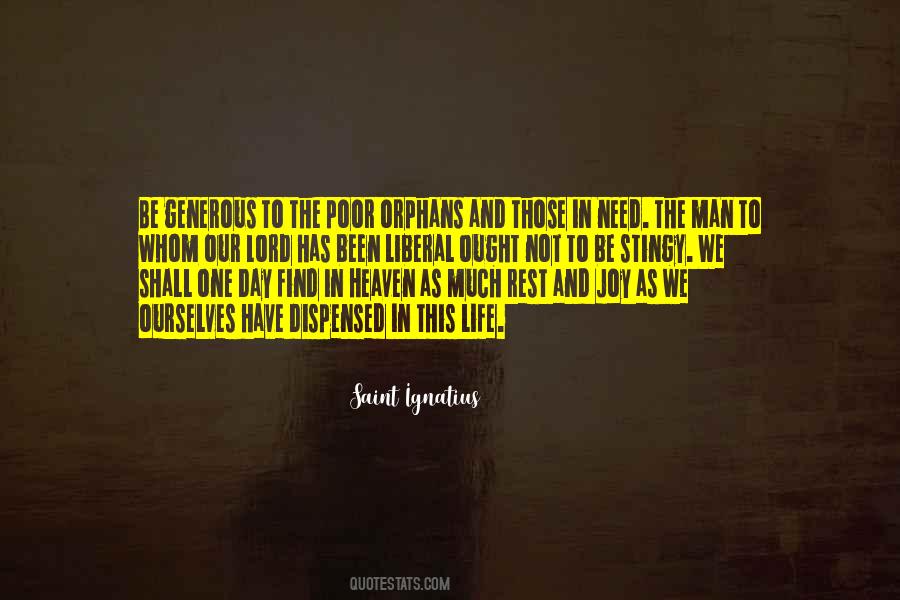 #69. When you enter heaven you shall find Him there bearing the dew of His youth; and through eternity the Lord Jesus shall still remain the perennial spring of joy, and life, and glory to His people. - Author: Charles Haddon Spurgeon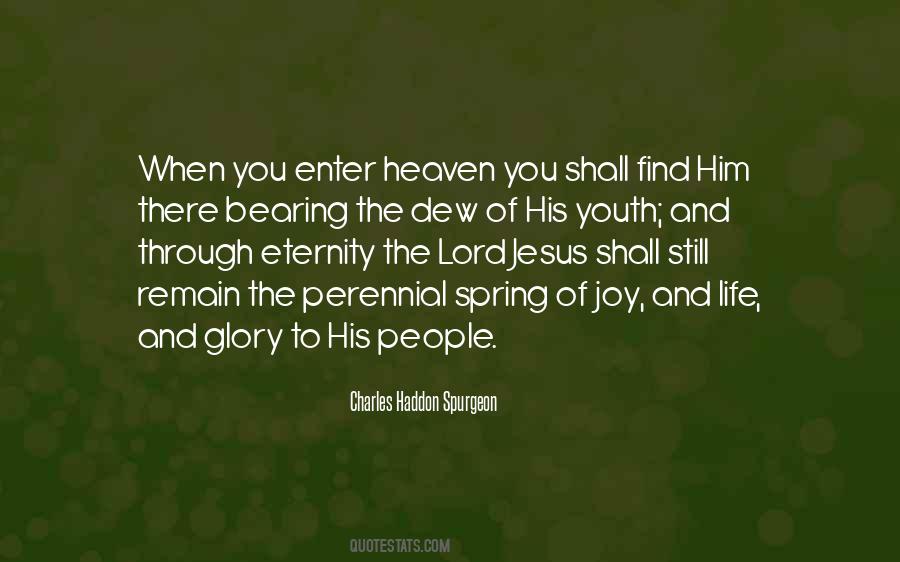 #70. I write because I like to write. I find joy in the texture and tone and rhythm of words. It is a satisfaction like that which follows good and shared love. - Author: John Steinbeck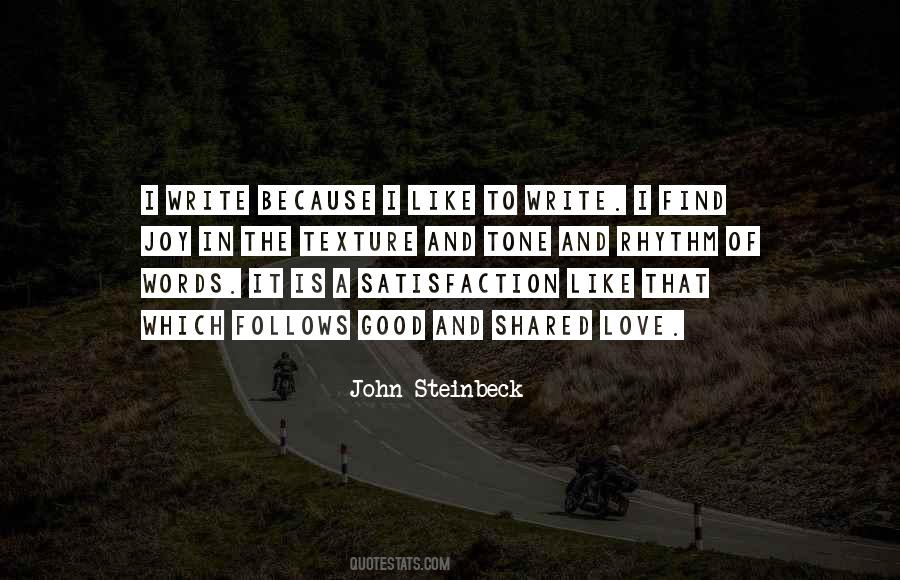 #71. When we understand the illusory nature of life and the profound power of eternal love, which enables us to create miracles and experience the presence of our deceased loved ones, we find ourselves living with joy, hope and peace. - Author: Susan Barbara Apollon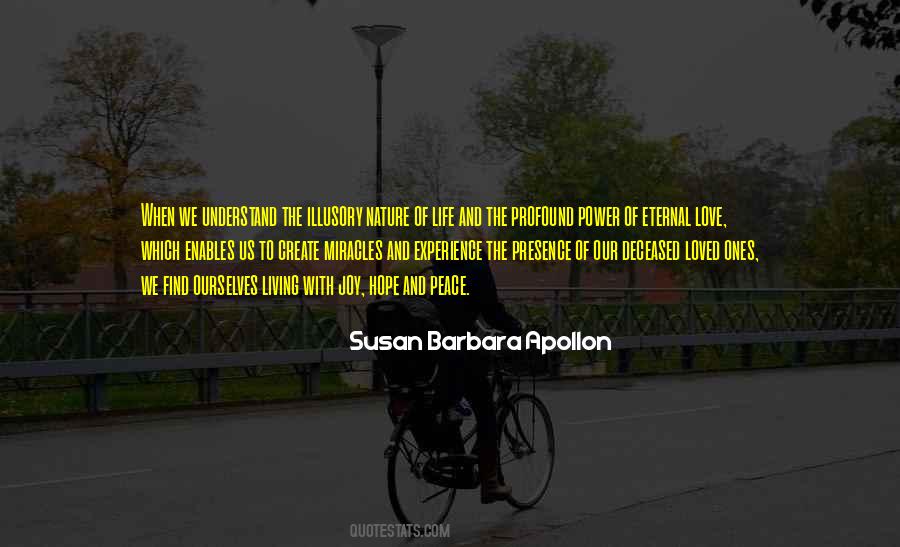 #72. When joy is LOST, hope can easily FIND it ... It's only your HOPE, that knows the where about of your JOY! If you lose hope you lose everything! - Author: Israelmore Ayivor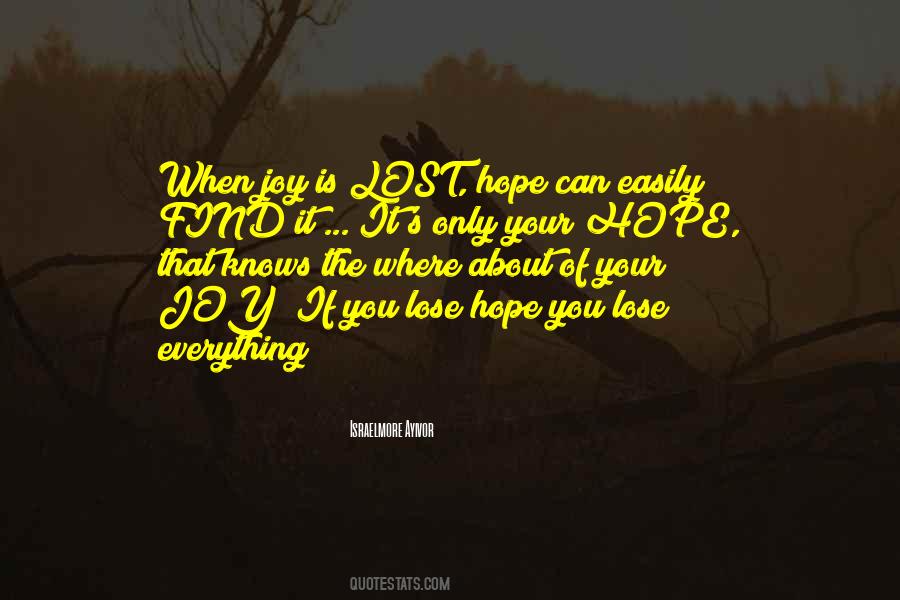 #73. Always look within, to seek out the love and joy residing inside of you and then look to find your dark shadows falling behind you disappear. - Author: Denis John George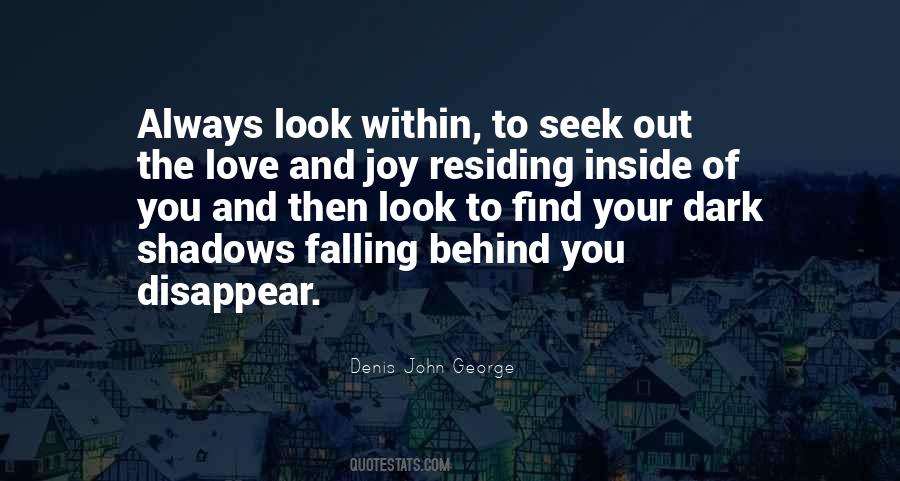 #74. Find the joy in your everyday situations. You have the choice, you always did and you will always do. Thrive. - Author: Ana Ortega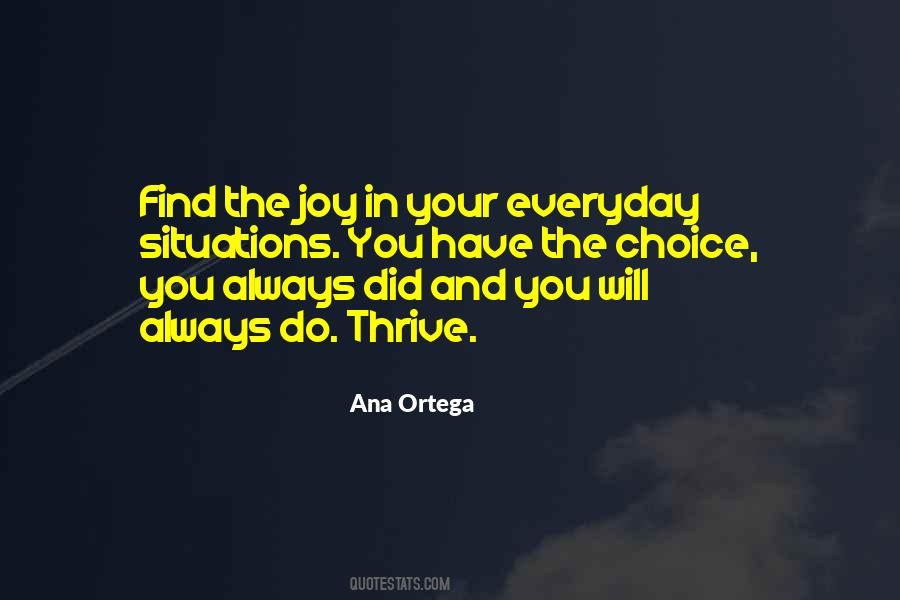 #75. To find love, joy and peace for the humanity, let us promise to build a peace loving and a kind family. - Author: Debasish Mridha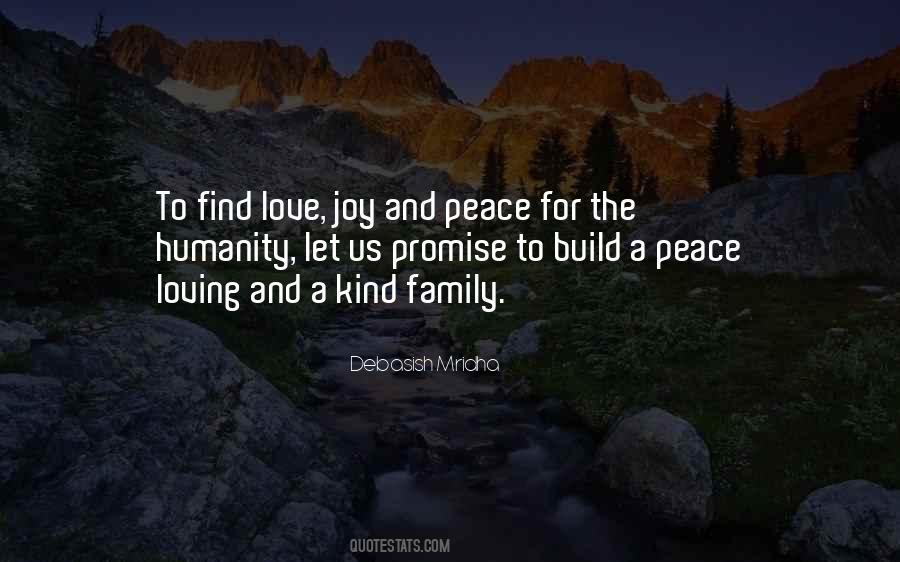 #76. When you surrender completely to God, as the only truth worth having, you find yourself in service of all that exists. It becomes your joy and recreation. You never tire of serving others. - Author: Mahatma Gandhi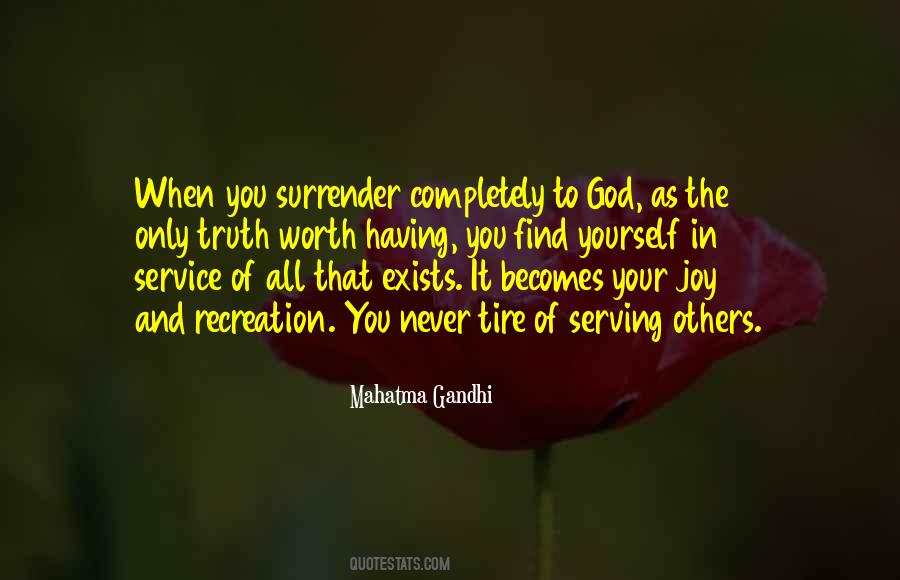 #77. The ultimate purpose of education is to learn how to find and see the beauty of creation so that you may feel the joy of life. - Author: Debasish Mridha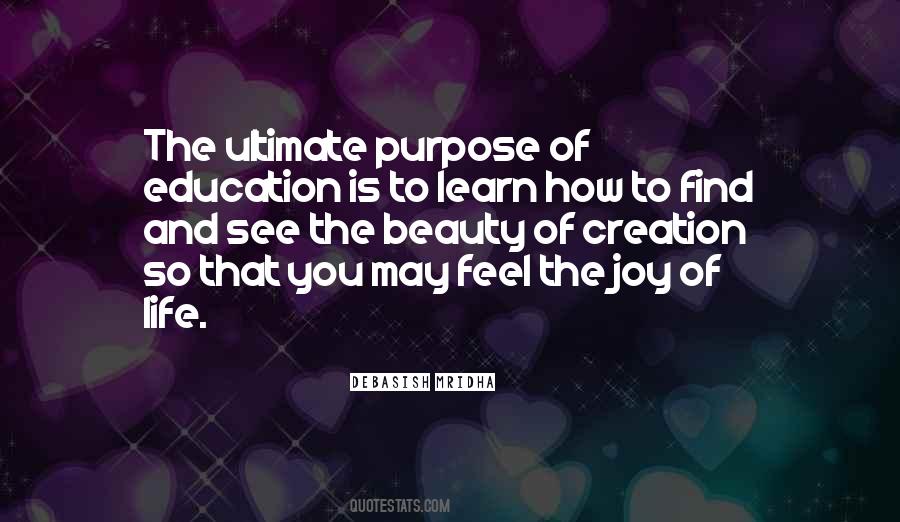 #78. Face a challenge and find joy in the capacity to meet it. - Author: Ayn Rand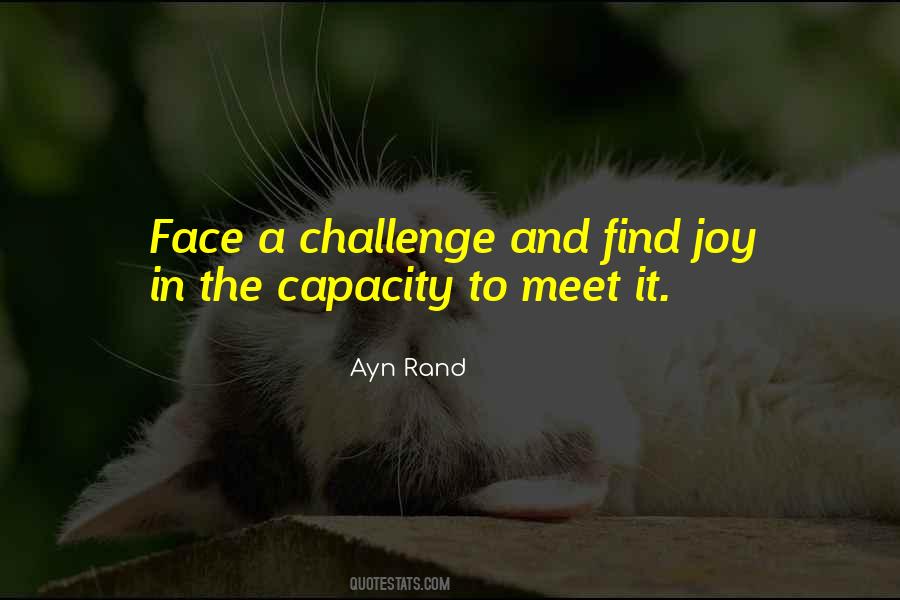 #79. Go find your joy. It's what you're going to remember in the end. - Author: Sandra Bullock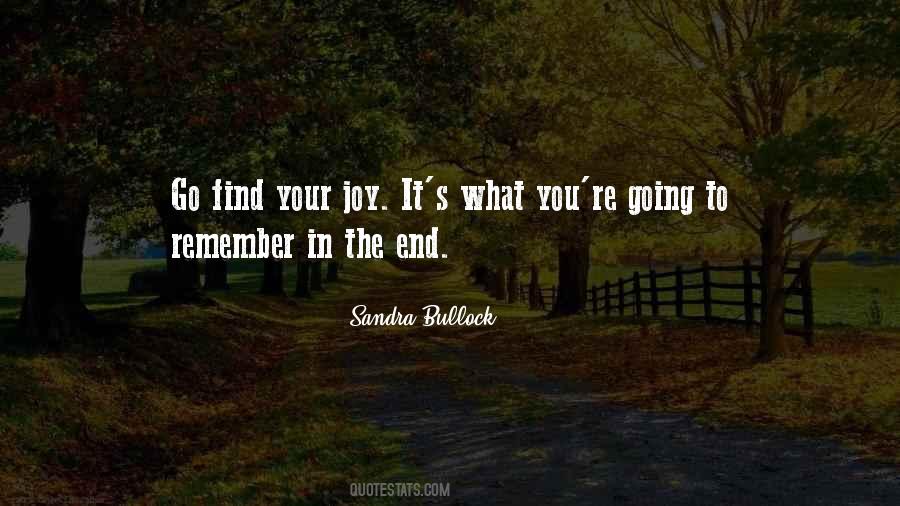 #80. The true path to success is to find your joy and share it with others. - Author: Vivian Amis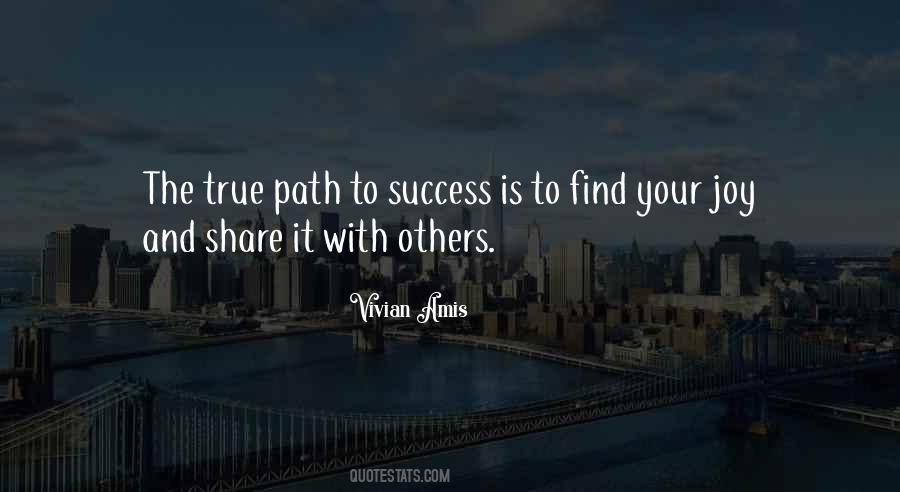 #81. I think those who choose to find joy in serving others, those who choose to find their voice, to pursue their vocation and to act on their vision oftentimes have to sacrifice much.It's almost like a crucifixion in terms of the cross you have to bear. - Author: Cornel West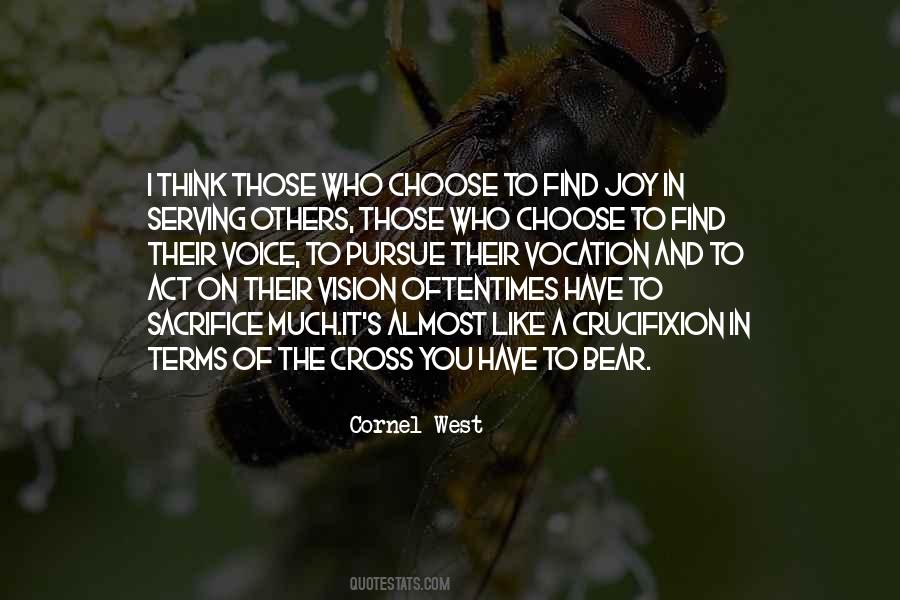 #82. Finding the real joy of Christmas comes not in the hurrying and the scurrying to get more done, nor is it found in the purchasing of gifts. We find real joy when we make the Savior the focus of the season. - Author: Thomas S. Monson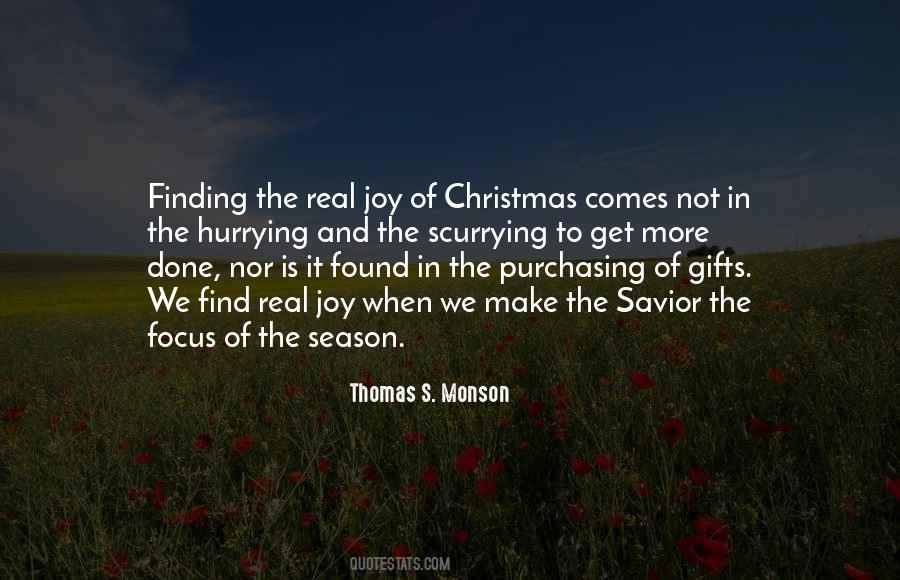 #83. Where art thou, beloved To-morrow?
When young and old, and strong and weak,
Rich and poor, through joy and sorrow,
Thy sweet smiles we ever seek,
In thy place
ah! well-a-day!
We find the thing we fled
To-day! - Author: Percy Bysshe Shelley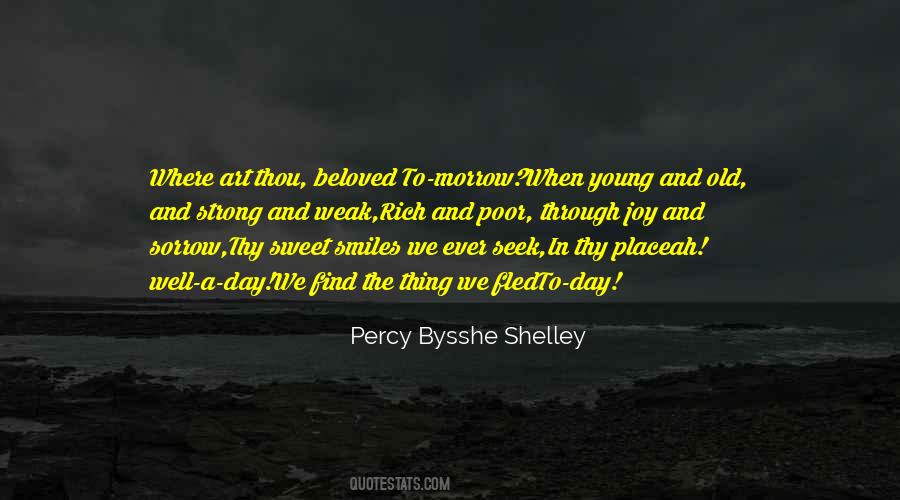 #84. A good teacher does not get lost in the details, but points to what is essential so that the child or student can find meaning and joy in life. - Author: Pope Francis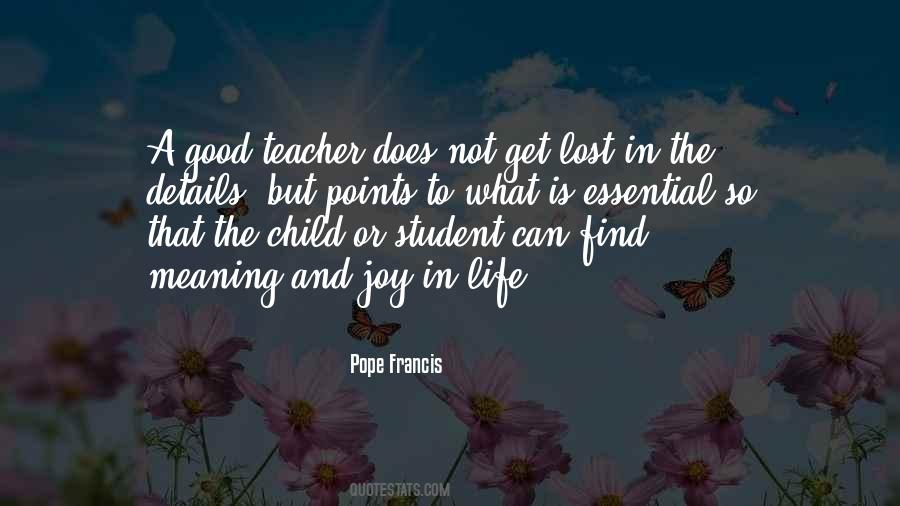 #85. Be in a state of gratitude for everything that shows up in your life. Be thankful for the storms as well as the smooth sailing. What is the lesson or gift in what you are experiencing right now? Find your joy not in what's missing in your life but in how you can serve. - Author: Wayne Dyer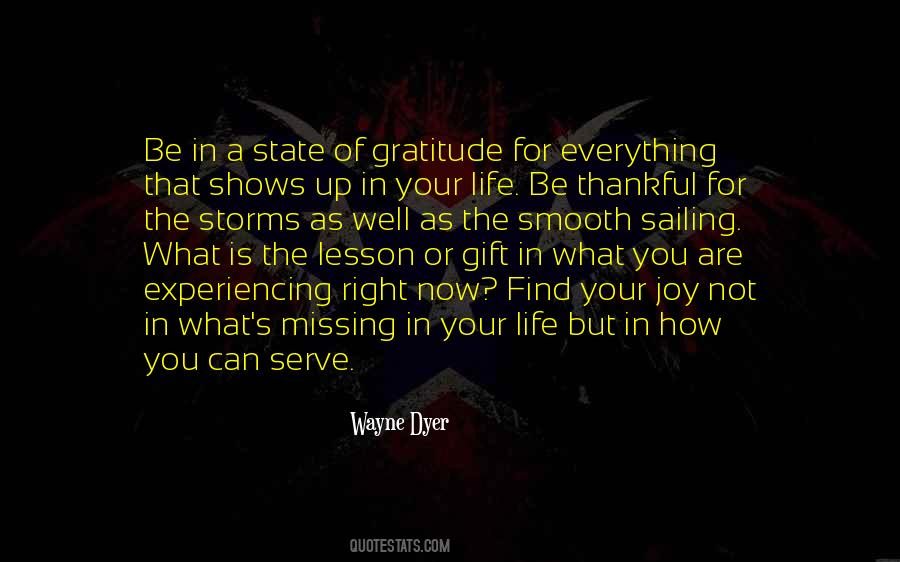 #86. one of the ways to decrease stress and increase joy is to find the "bless in the mess. - Author: Kay Warren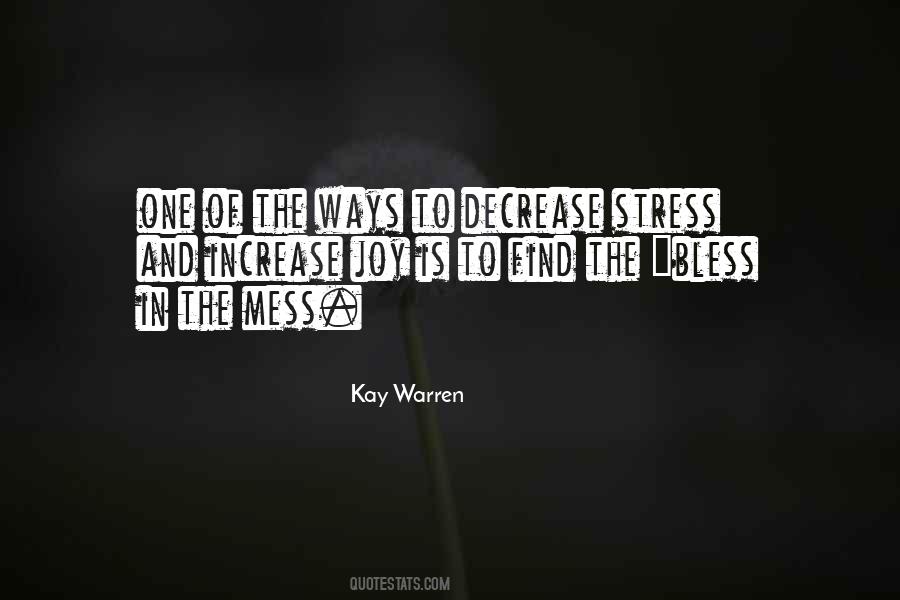 #87. Those who remember are usually the unhappy ones. Only those who are able to forget, find the most joy in life. - Author: L. Frank Baum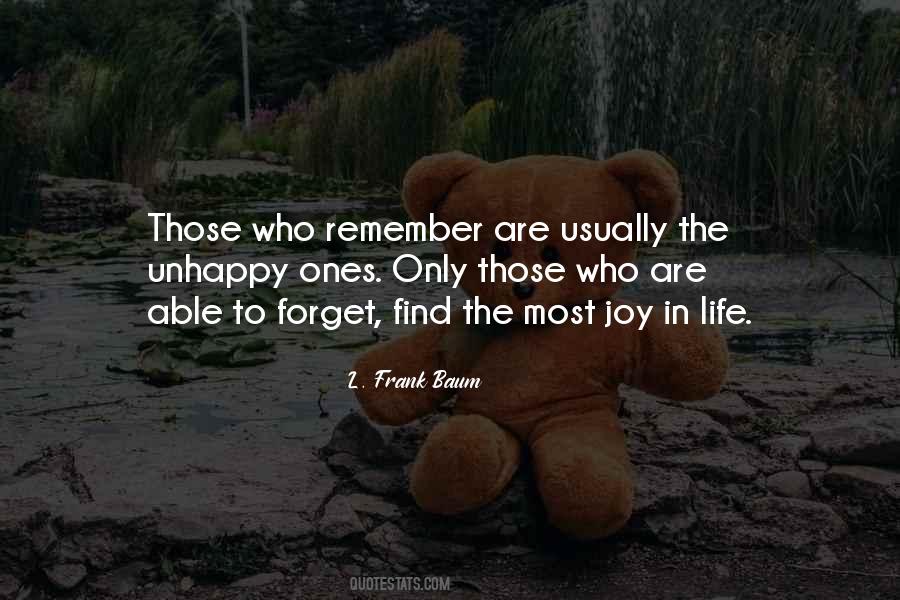 #88. I remembered that you can find joy in work and life, and if you do it right, they fuel each other-like dueling drummers, better and better, one after the other. - Author: Abbi Jacobson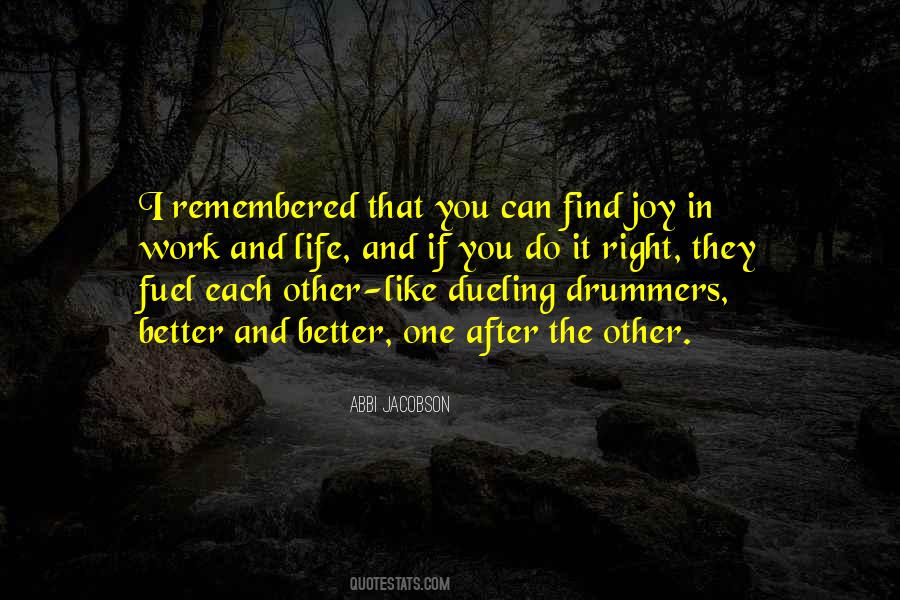 #89. Seek to share joy with others, or to make somebody else happy, and you will find your own soul radiant with the joy you wished for another. - Author: David O. McKay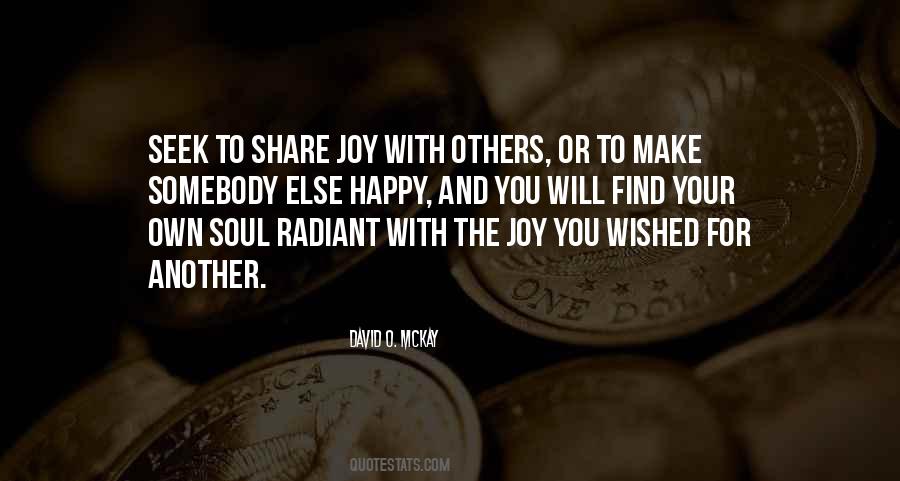 #90. Let us relish life as we live it and ... find joy in the journey. - Author: Thomas S. Monson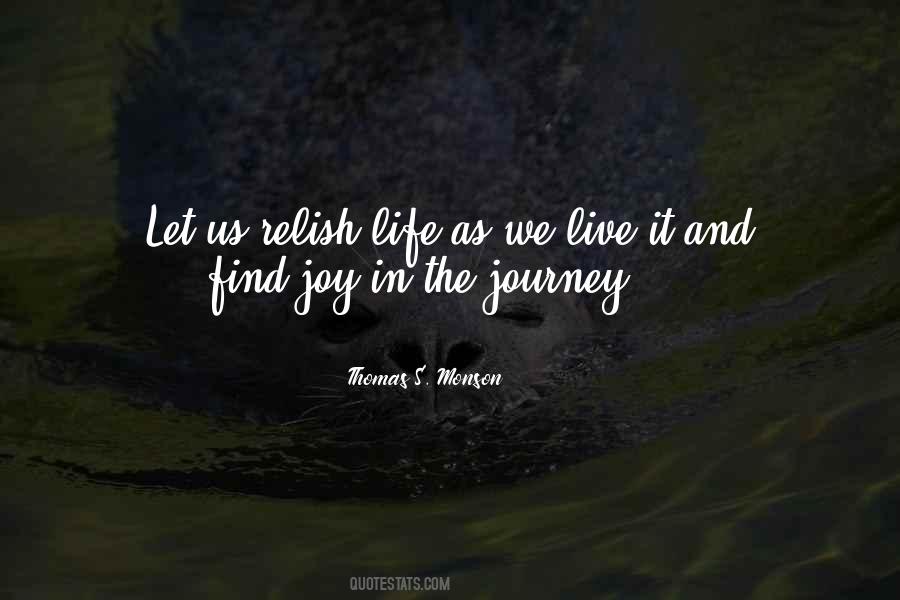 #91. I see people who die a few minutes after a doctor tells them there is no hope of a cure. They give up and go. Others get angry and find joy in proving the doctor wrong. Something within them is challenged and hopeful. Hope is the divine motivator. - Author: Bernie Siegel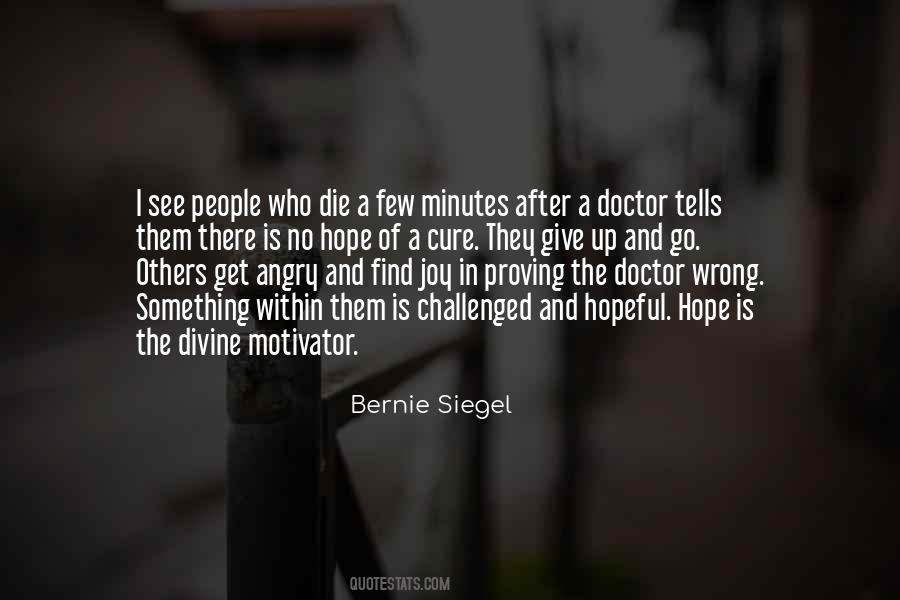 #92. Like it or not, i was already learning that in the worst and darkest time, I would find specks of light, moments of joy. What I didn't want to learn was the other, harsher lesson - that in life's brightest moments there would also be unbearable pain. p 87 - Author: Melody Beattie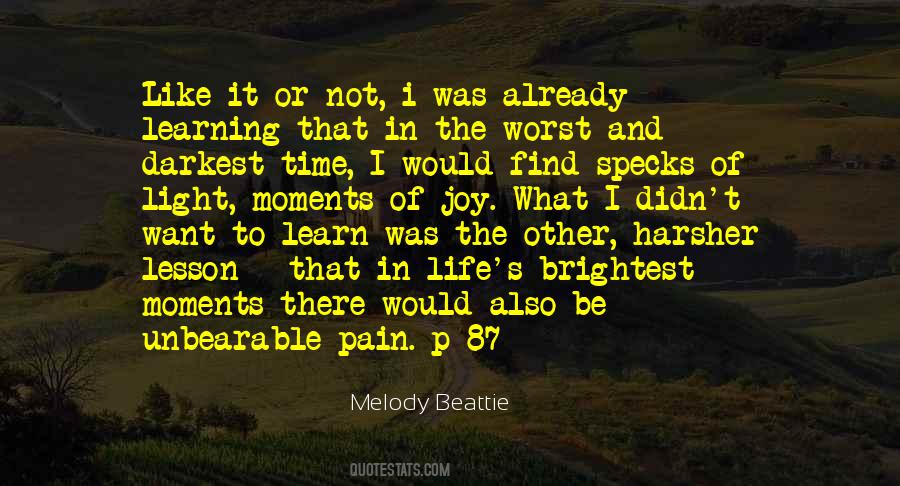 #93. In the center of God's will, we find the greatest peace, fulfillment, and joy. - Author: April Cassidy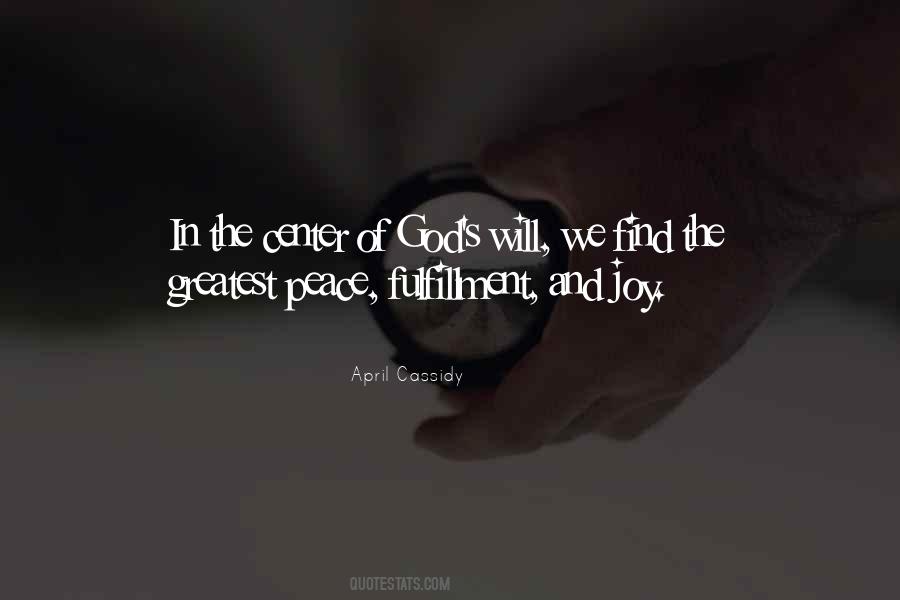 #94. Find my hand in the darkness, intertwined you will be the day to my night. We can share wings and take flight towards our own inner light. - Author: Truth Devour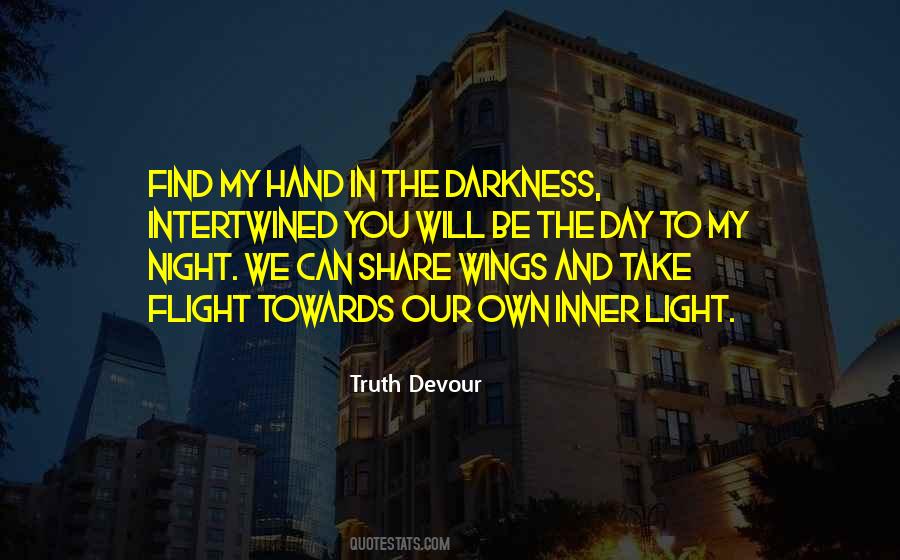 #95. Prayer is the spontaneous response of the believing heart to God. Those truly transformed by Jesus Christ find themselves lost in wonder and joy of communion with Him. Prayer is as natural for the Christian as breathing - Author: John F. MacArthur Jr.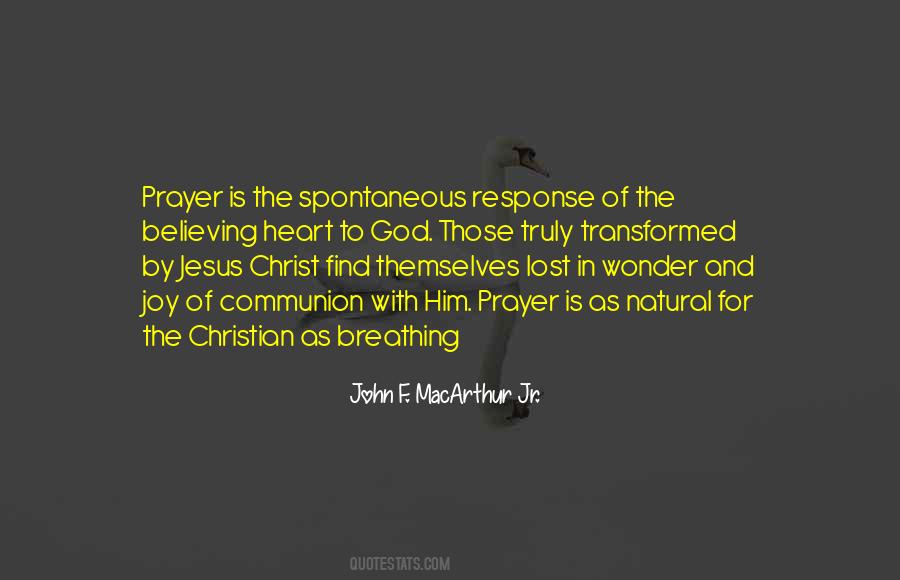 #96. Find joy in simplicity, self-respect, and indifference to what lies between virtue and vice. Love the human race. Follow the divine. - Author: Marcus Aurelius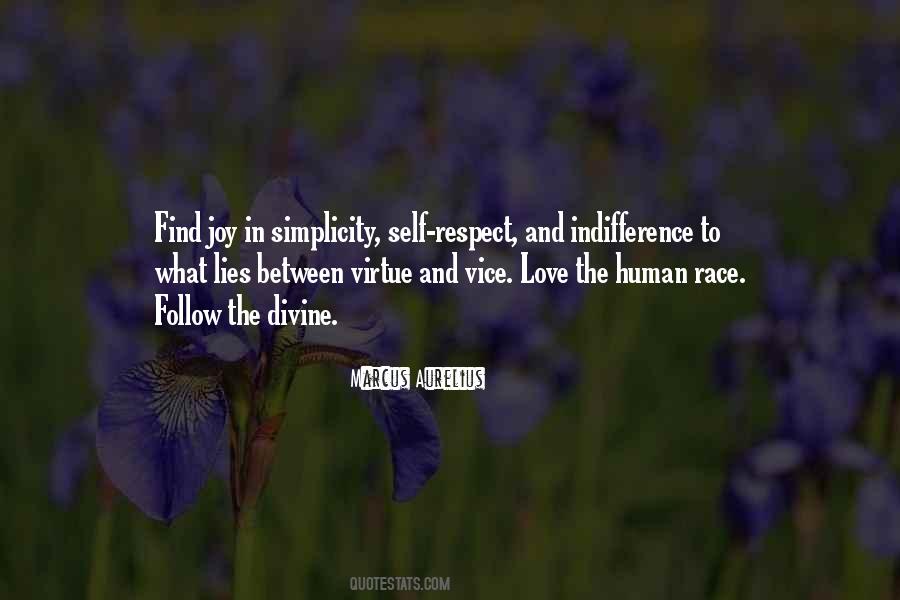 #97. You have to look for the joy. Look for the light of God that is hitting your life, and you will find sparkles you didn't know were there. - Author: Barbara Johnson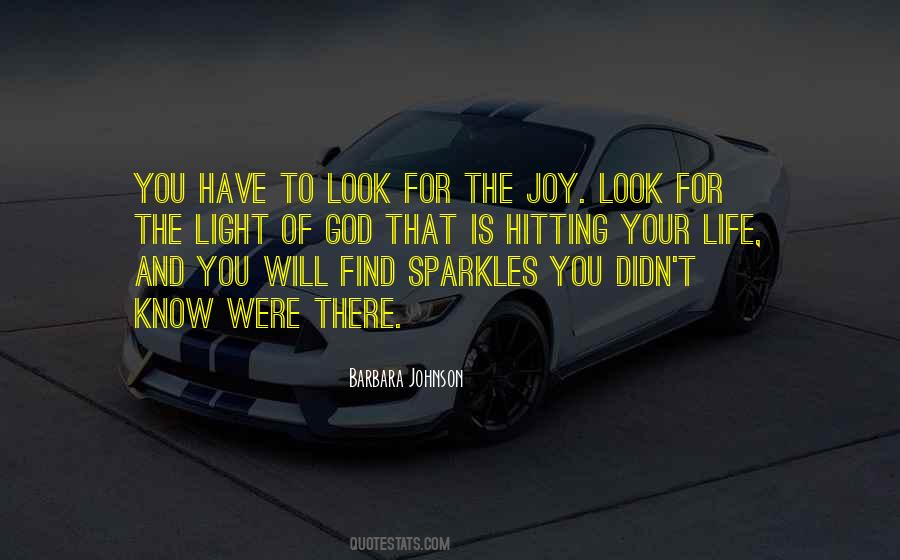 #98. I find my joy of living in the fierce and ruthless battles of life, and my pleasure comes from learning something. - Author: August Strindberg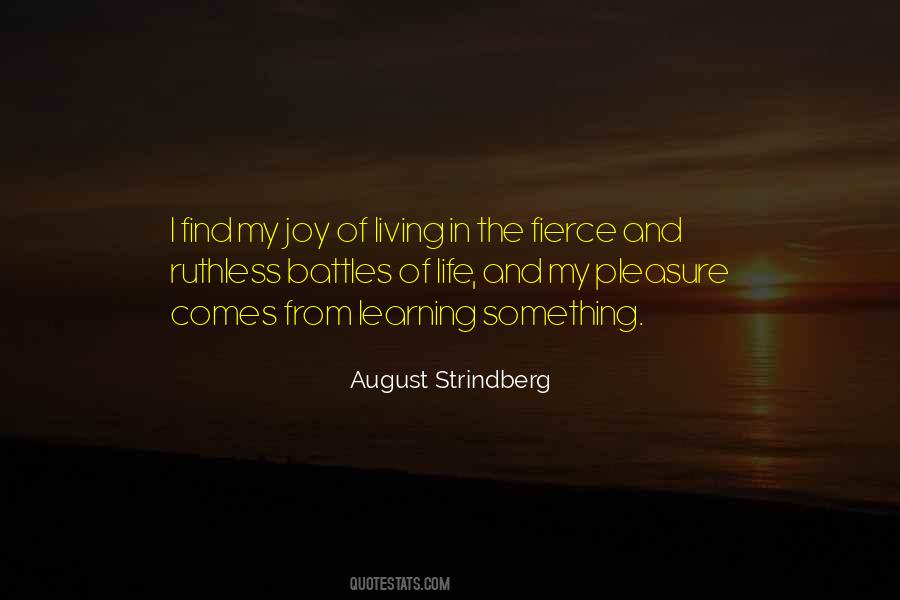 #99. When the dark days come, many wonderful moments, those will all seem dead and empty to you. It will take practice and even hard work to find the joy sometimes. - Author: Taya Kyle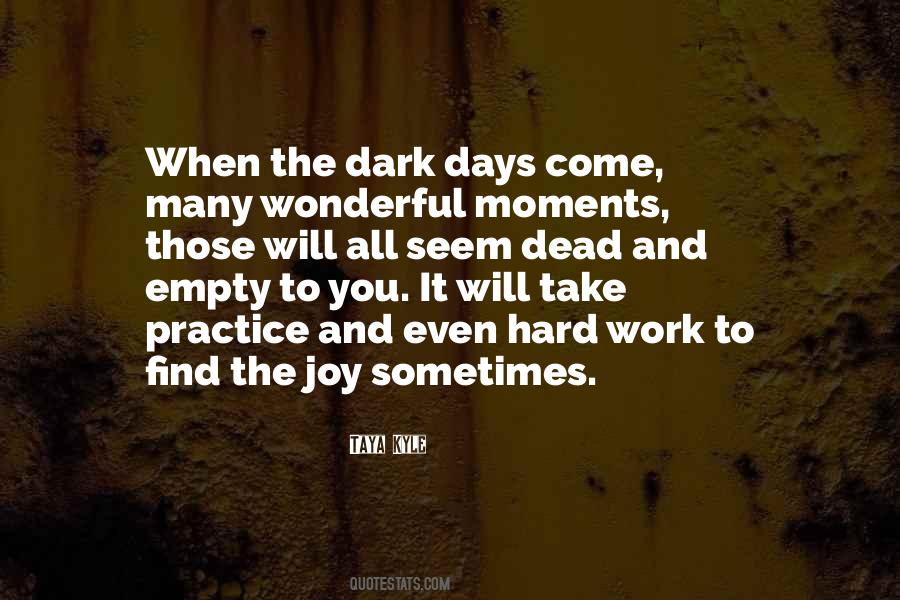 #100. There is only one sin - lack of love. Be brave, be capable of loving, even if love seems a terrible and treacherous thing. Find joy in love. Find joy in victory. Follow the dictates of your heart. - Author: Paulo Coelho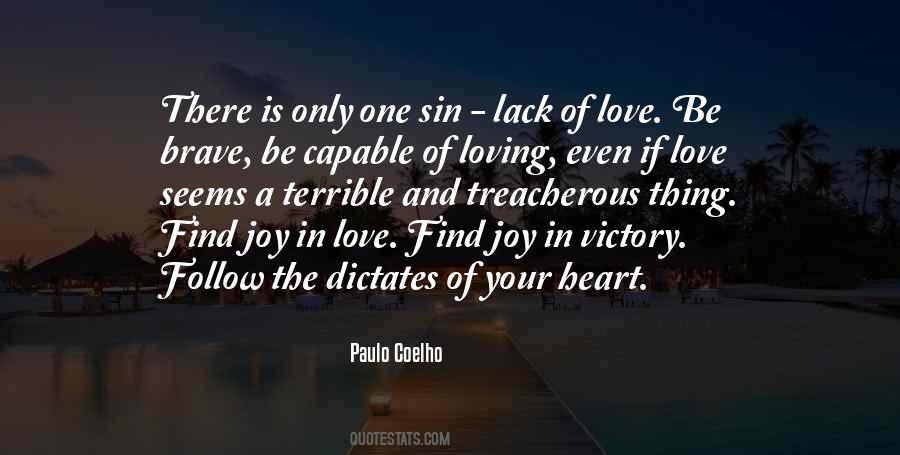 Famous Authors
Popular Topics