Film And Music Famous Quotes & Sayings
List of top 100 famous quotes and sayings about film and music to read and share with friends on your Facebook, Twitter, blogs.
Top 100 Film And Music Quotes
#1. I always loved music, and I always wanted to make a film about it, but I could never do it because of the censorship that was around. - Author: Bahman Ghobadi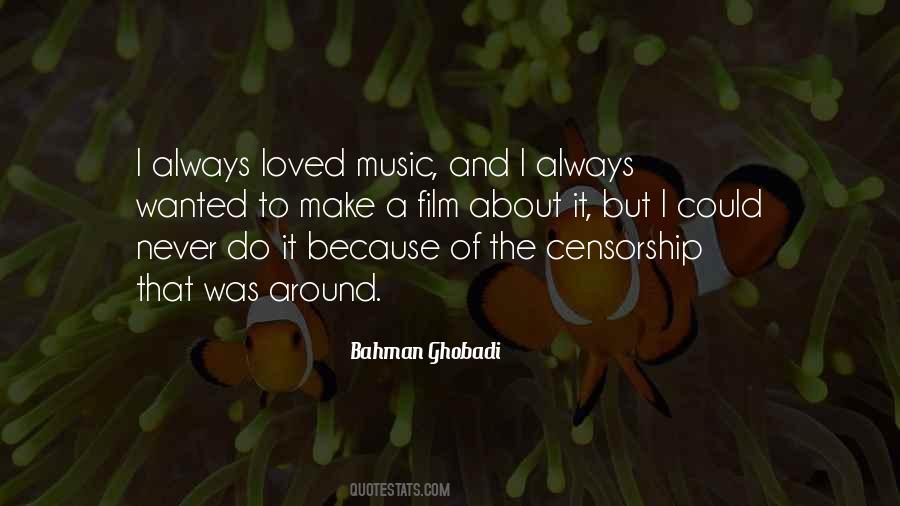 #2. Fear is a problem with film music and films; people want to be conventional, and there's more commercialism today. If you are not daring in your art, you're bankrupt. - Author: Alex North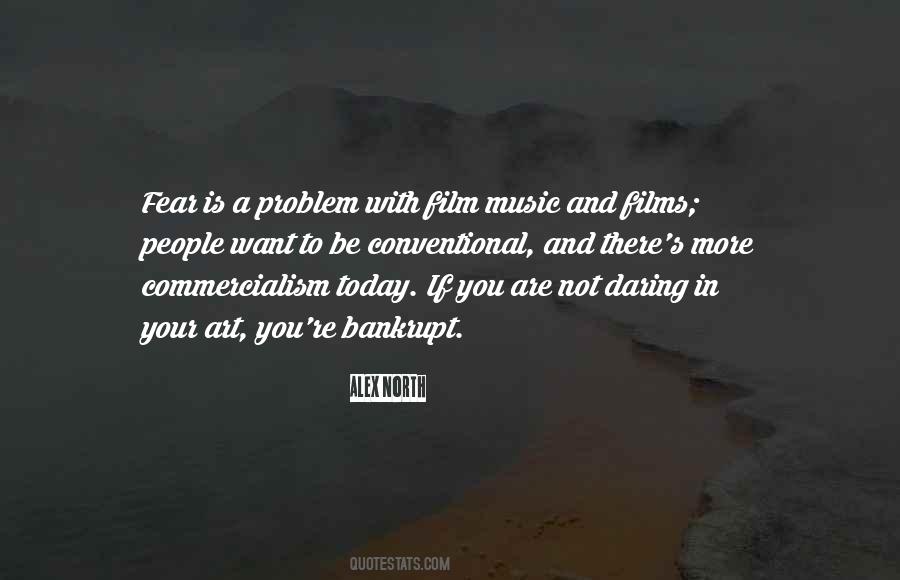 #3. Often times, music is used to evoke an emotion and it's become a cliche, so I don't want to do that, and actually what I do, is that emotional intensity that has developed throughout the film, I allow it to get released by having that music at the end with the credits. - Author: Asghar Farhadi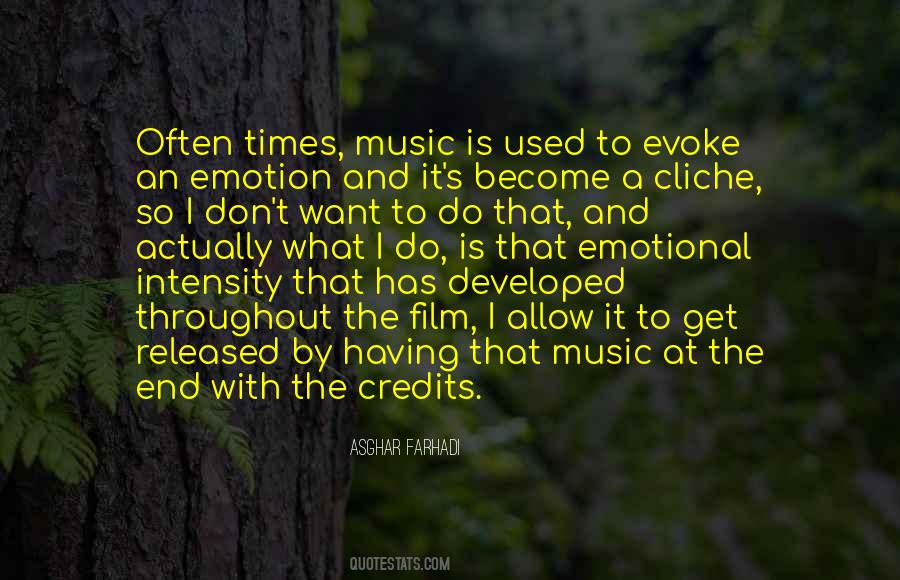 #4. Three films a day, three books a week and records of great music would be enough to make me happy to the day I die. - Author: Francois Truffaut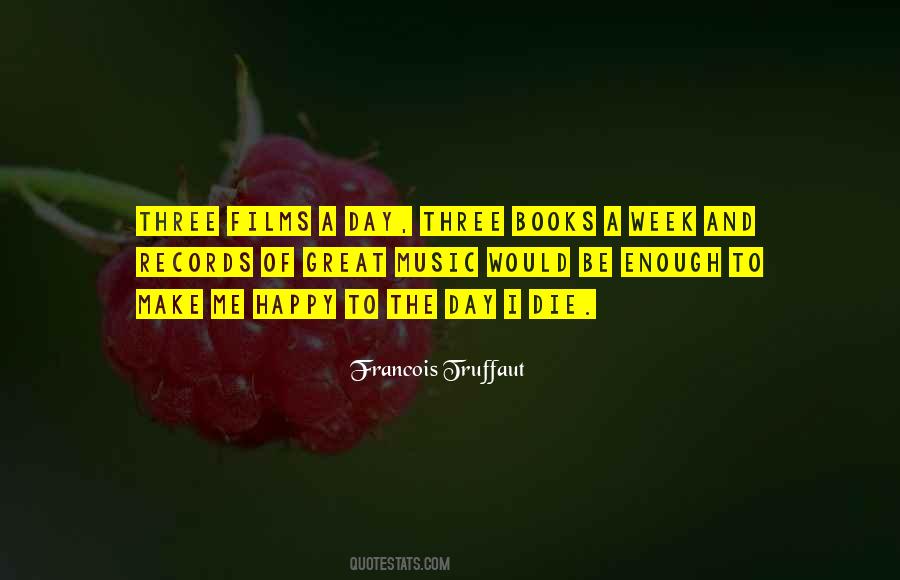 #5. I think that is what film and art and music do; they can work as a map of sorts for your feelings. - Author: Bruce Springsteen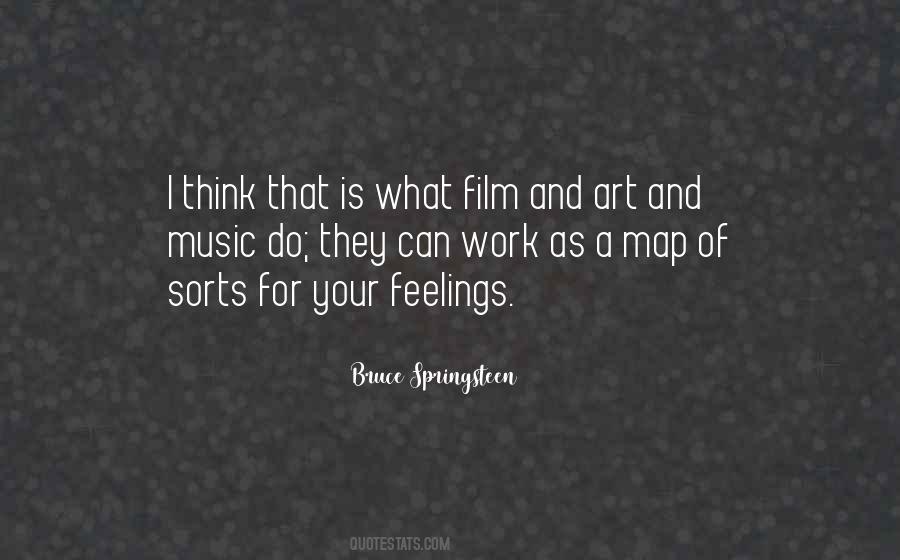 #6. 'Can't Stop the Music' has become a cult film. It's kind of shocking to me. People come up to me all the time and say, 'I just saw it!' - Author: Caitlyn Jenner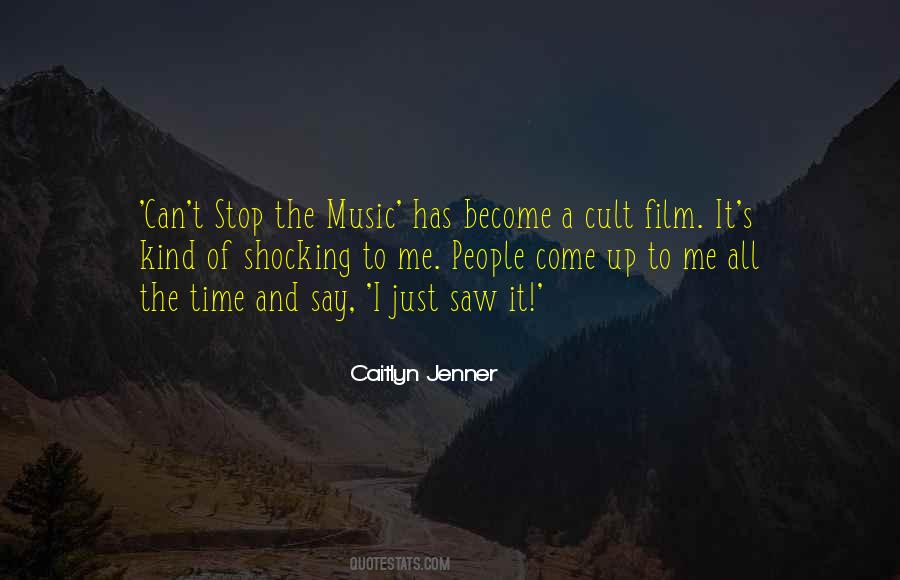 #7. What you do in your art - TV, music, film stuff - touches people. And they want to touch you. So that's a blessing. I'm okay with it. - Author: LL Cool J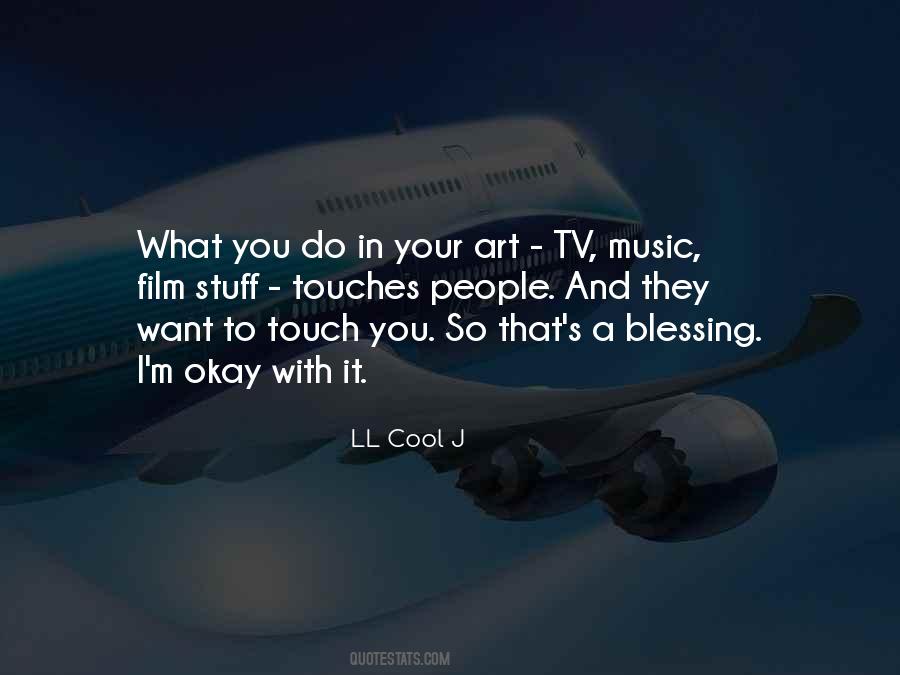 #8. If you're someone who's making film or TV or music, or any kind of art form now, there's a billion outlets and they all have an opinion. - Author: Andy Samberg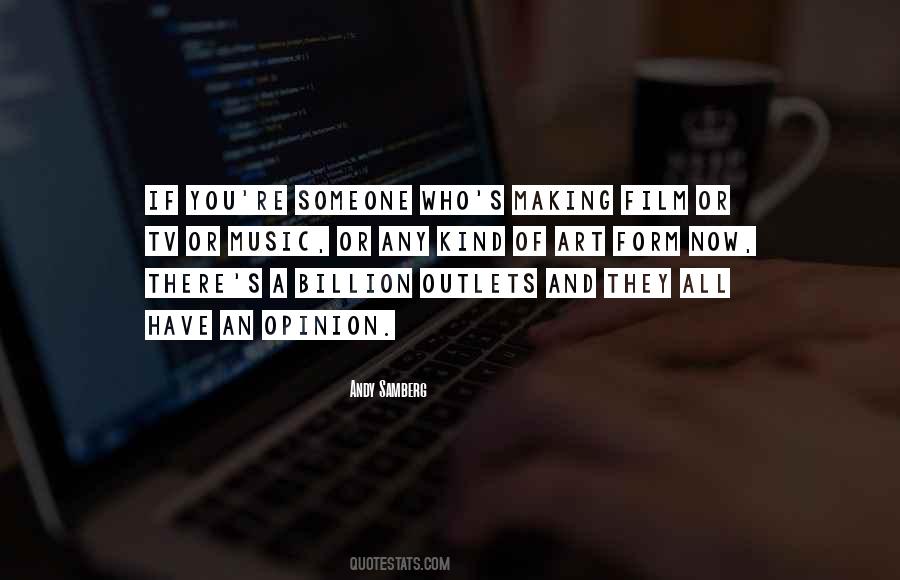 #9. An Emraan Hashmi film has come to guarantee certain ingredients: An intense, grey central character, a beautiful girl - if he gets lucky, then two - couple of kisses, a few bold scenes, fabulous music and a climatic twist. - Author: Emraan Hashmi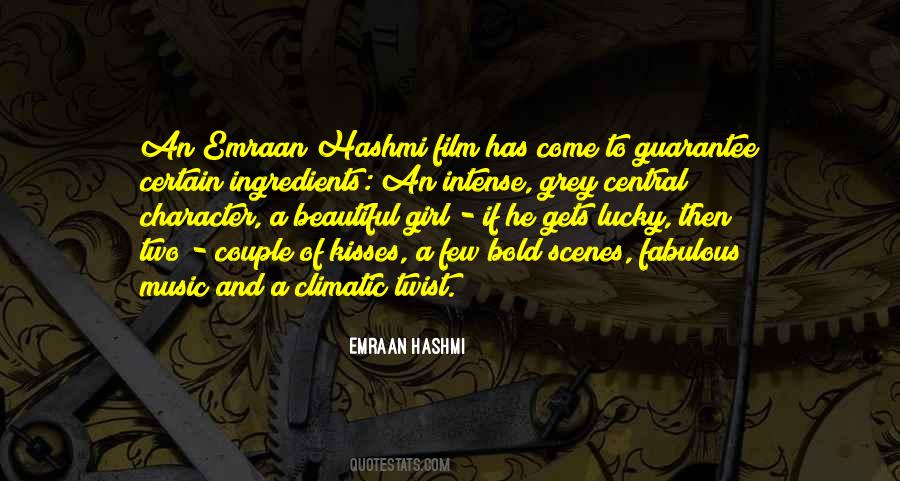 #10. Music and film are parallel experiences: they are linear, they are narrative. - Author: Todd Haynes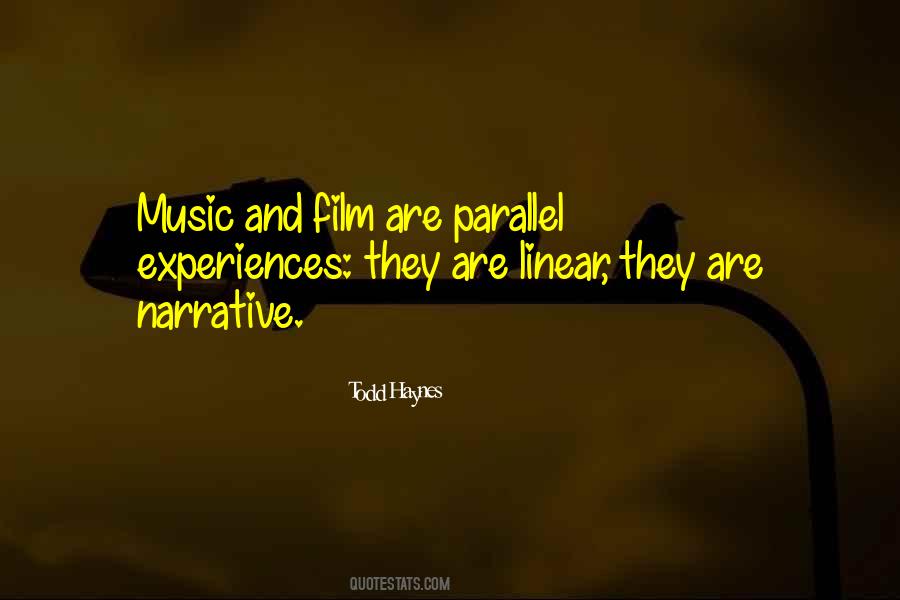 #11. You have to be able to use it [art] to effect change in the community. That's what gives the film and the music an impactful legacy. - Author: One9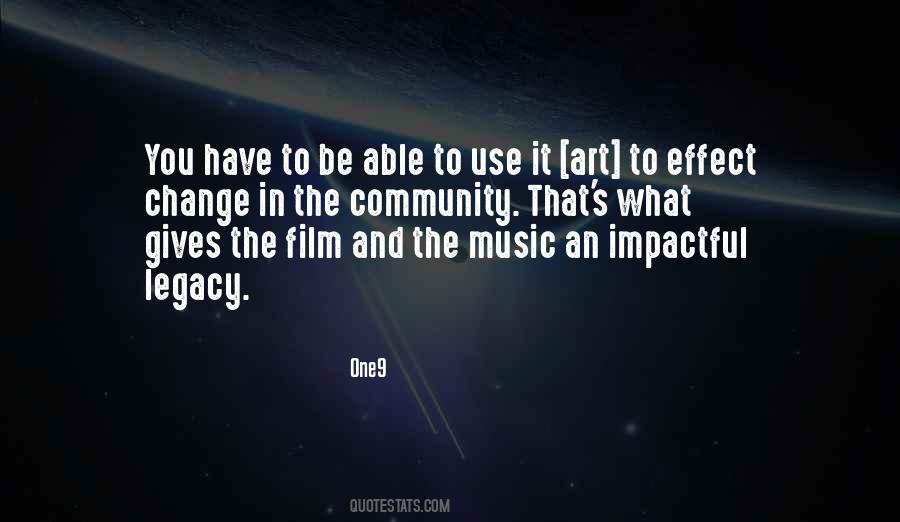 #12. I love art, I love music. I can listen to Stockhausen and a very experimental, avant-garde approach, and I can listen to Beethoven and have a more classical, traditional approach. Why not be able to do that with film performance? - Author: Nicolas Cage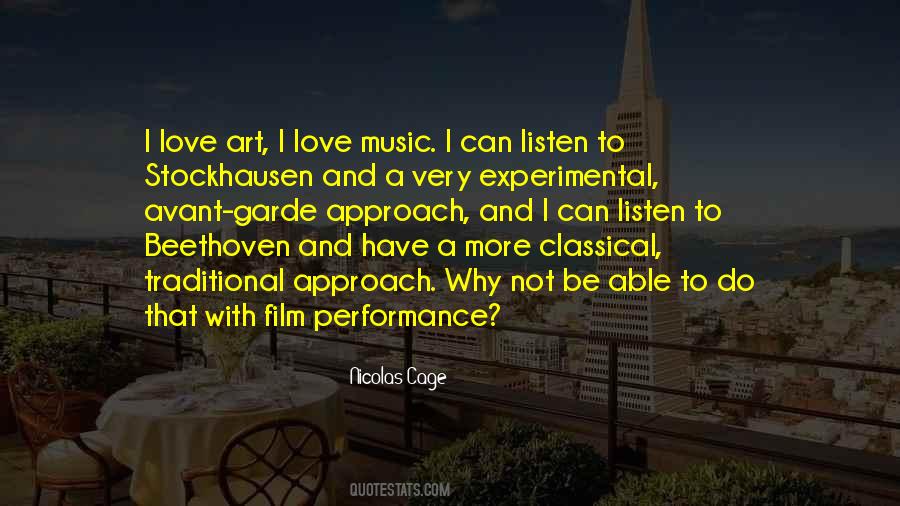 #13. Let's say music is needed for only 43 seconds of film. You have to score it so it is an entity, so it won't bother anyone when it ends so quickly. Or if a song runs 2 minutes and 45 seconds, but the titles run a minute longer, you have to arrange that song so it doesn't get repetitious. - Author: Marvin Hamlisch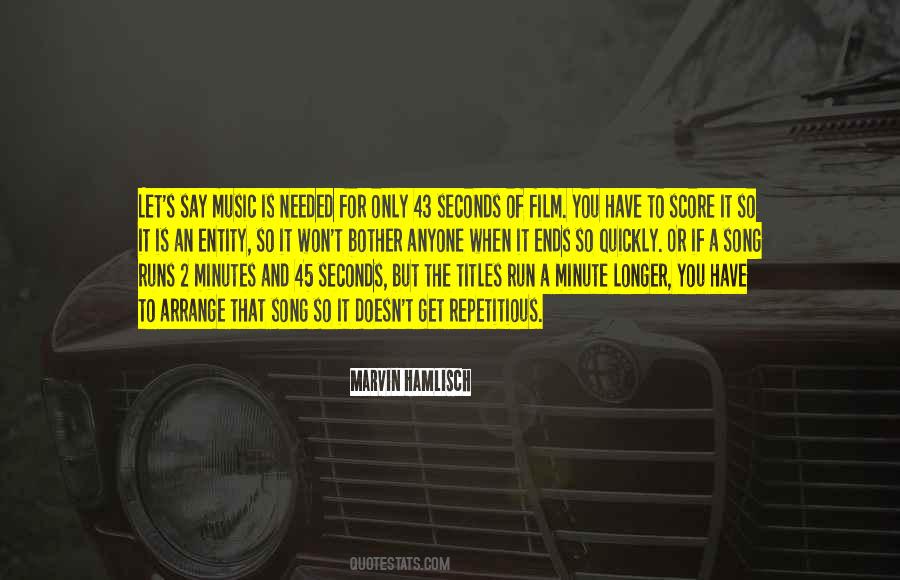 #14. Film is one if three universal languages, the other two: mathematics and music. - Author: Frank Capra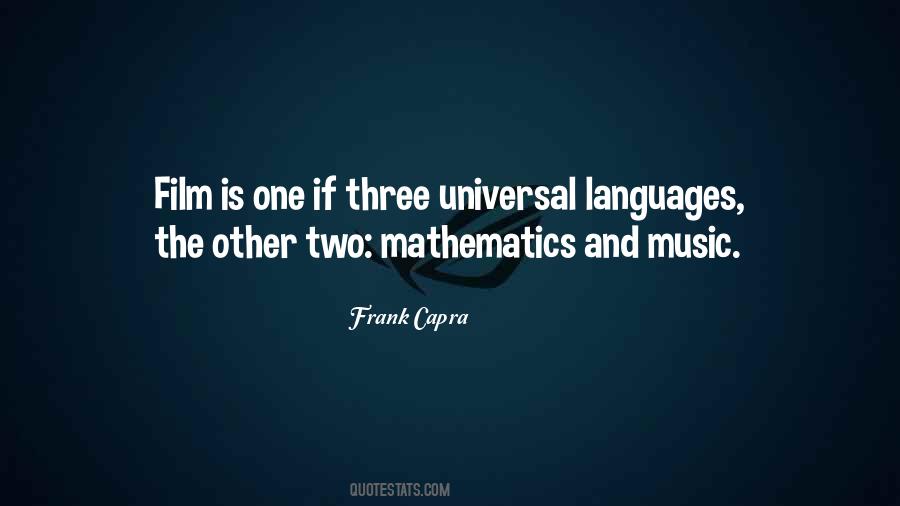 #15. As important as color is to a painting, or wings to a bird. Music injects vibrancy to film and makes it soar! - Author: Gerard De Marigny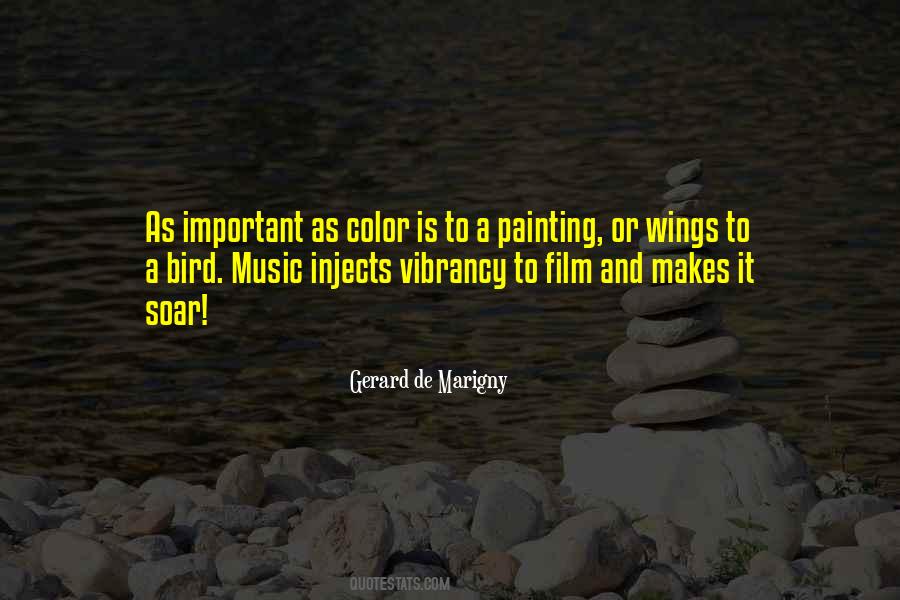 #16. I think each film I do has less and less dialogue. It really helps a lot for foreign sales, because when I go to Europe, there's very little problem with communication. All the gags are visual. The music they can understand, and it helps communicate a lot better. - Author: Bill Plympton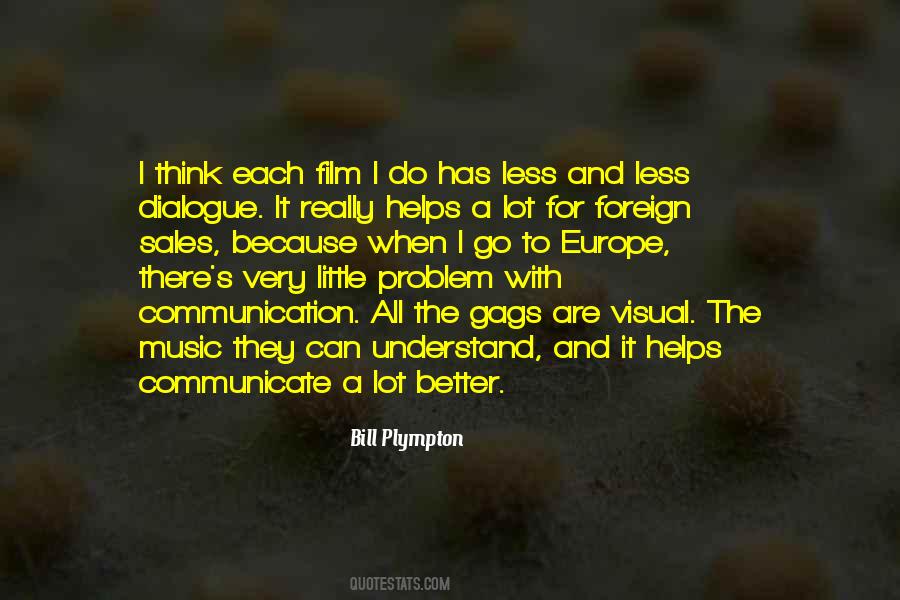 #17. Jerry Bruckheimer is the most hands-on producer that I've worked with. Jerry's very involved in the music, and he's such a fan of film. When you watch him playing back the cues to the picture, he's like a kid in a candy store. - Author: Trevor Rabin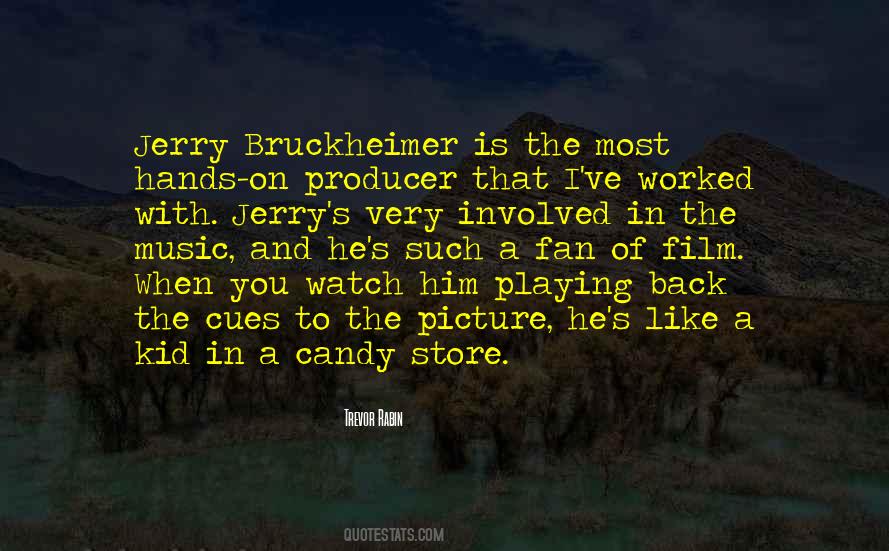 #18. It's very strange what happens when I start working for a film. In my life I've done a lot of stuff - I did a lot of dance music, a lot of TV shows and lots of different types of films - and every time it is a new experience. - Author: Claudio Simonetti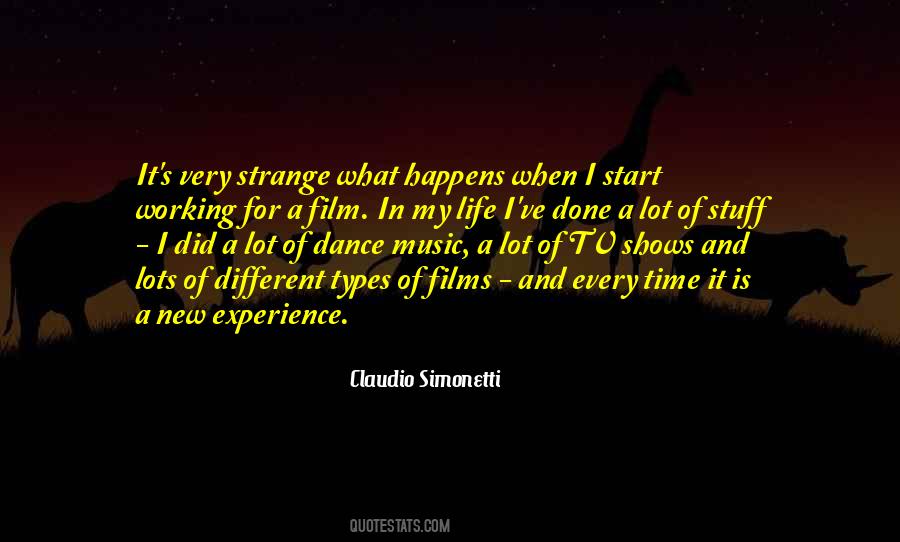 #19. There are parallels between the music and film worlds, but they're really very different. I feel like they're just two different ways to channel my creativity. - Author: Mandy Moore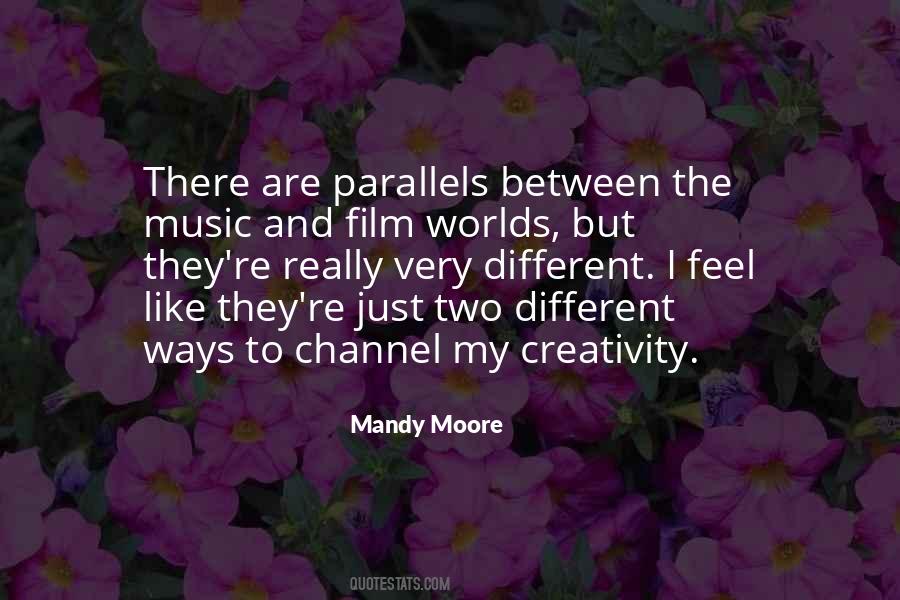 #20. Music is such an integral part of a film and really drives the emotional narrative, it has to be integrated from the beginning. - Author: Drake Doremus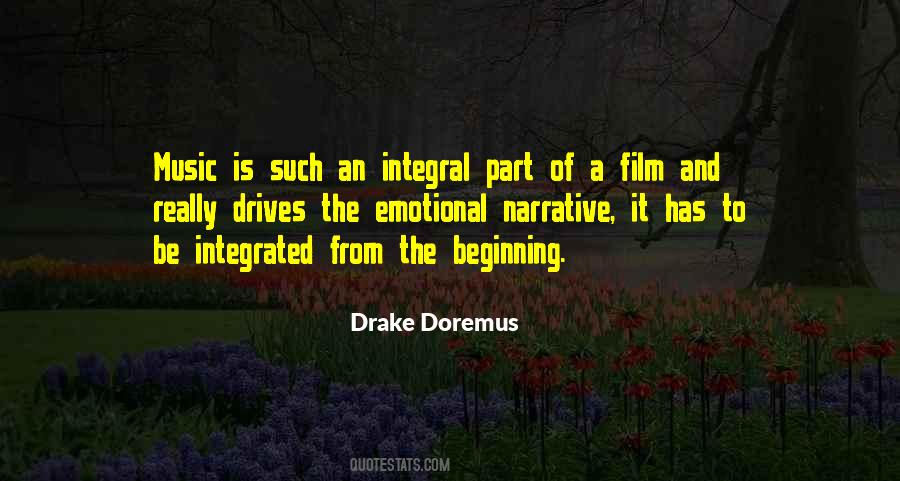 #21. One of the things I particularly enjoyed doing was taking raw sound from locations during the film, like the candy machine, and writing pieces of music to go with them, which is totally unnecessary within the context of the film, because they have their own logic. - Author: Fred Frith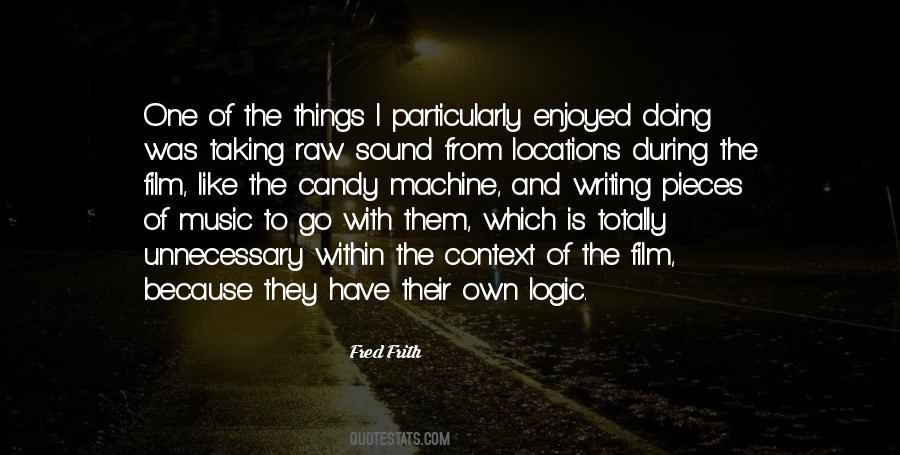 #22. The marketing department is really an important part of getting an animated film to work. If the people running it are used to selling live action films and the hard rock music and the sex and all those things ... Anything outside that, they just don't know what to do with it. - Author: Don Bluth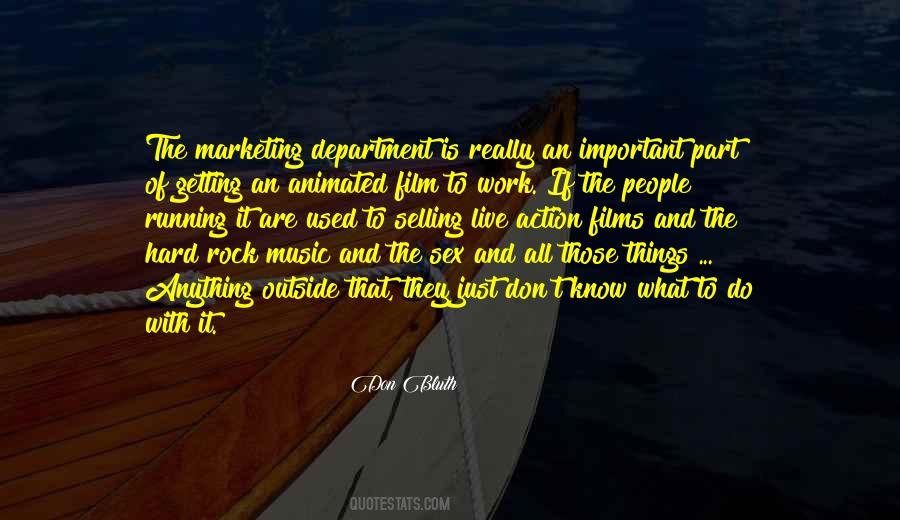 #23. I often begin movies with music in my head; it's a very important dimension to me. Not just the music itself, but how to use music in film: when and how and subtlety. I don't like to be too sweet in my stories, and I like the abrasive clang, the contrasting of sounds and cultures. - Author: Mira Nair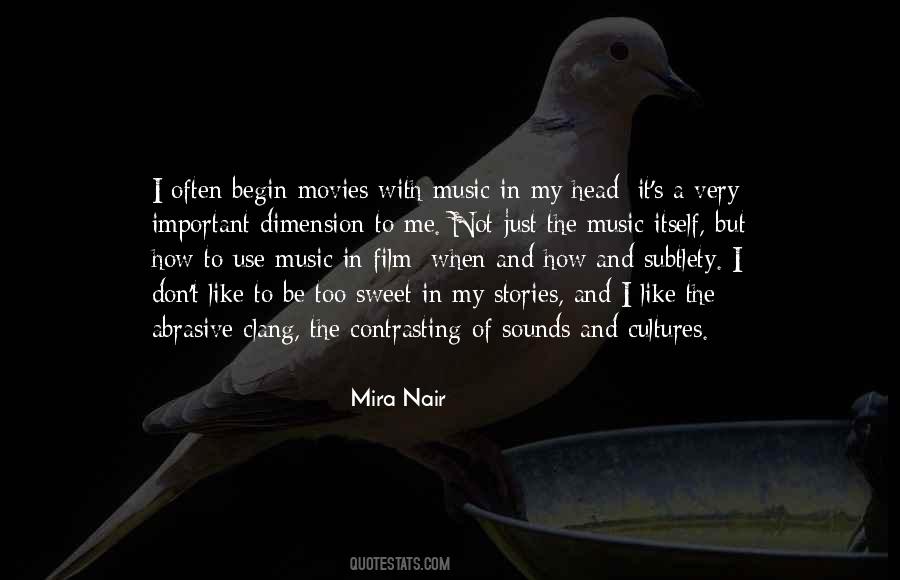 #24. I'm obsessed by film. I'm obsessed with music and producing and making things happen. - Author: Fred Durst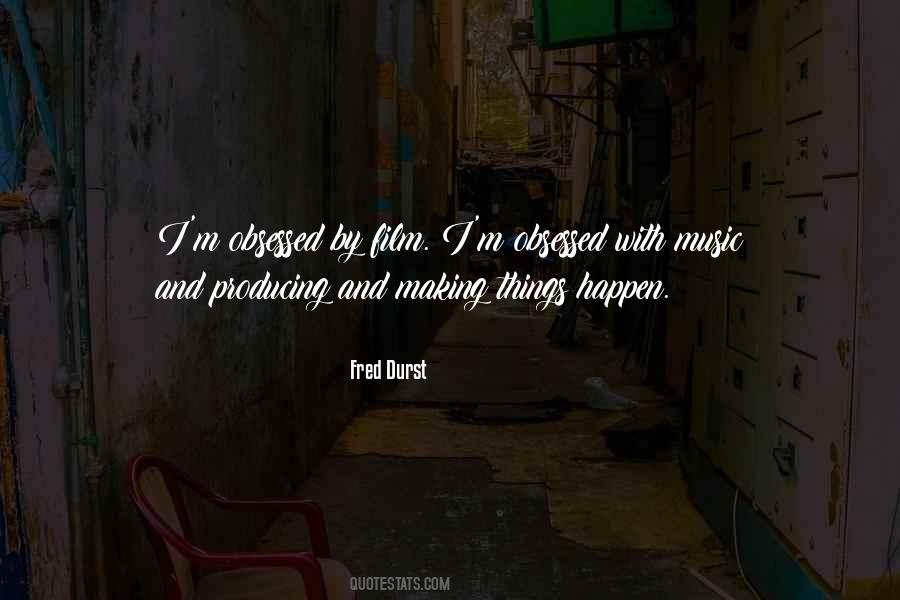 #25. I do feel that movies and music do have the power to slightly influence a person's decision. I believe that if violence is not in a person, then the film is not going to encourage them [people]. - Author: Morris Chestnut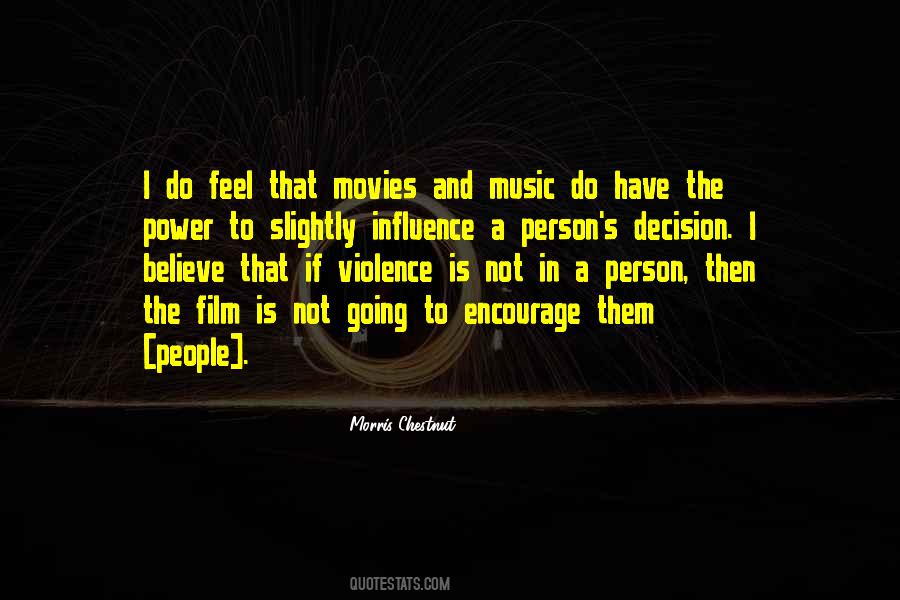 #26. I feel like I'm a trendsetter. I try to always stay on the edge of everything I do, whether it be music, fashion, film. I just like to stay abreast of what's going on. What's going on in the street and what's going on in the hood I put in my music and I feel like a lot of people follow that. - Author: Gucci Mane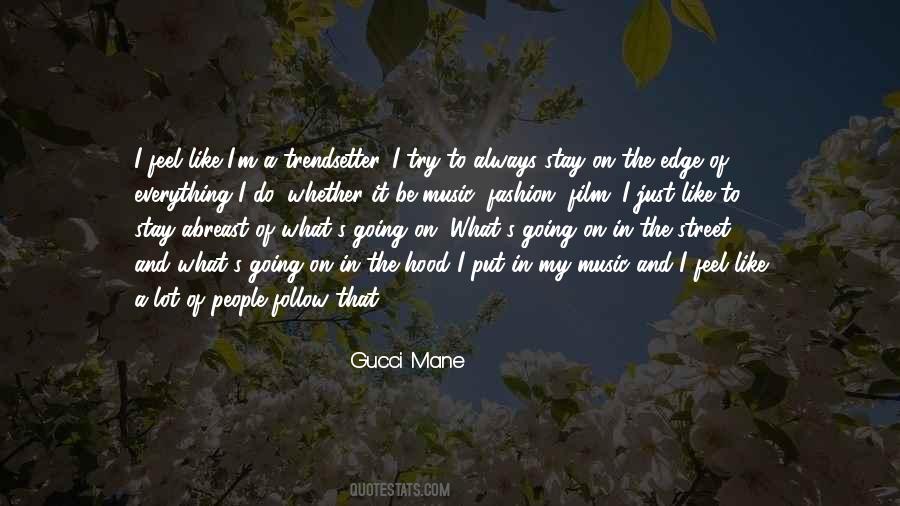 #27. I've played guitar and piano for a while, so it's really fun to play music on film. - Author: Austin Butler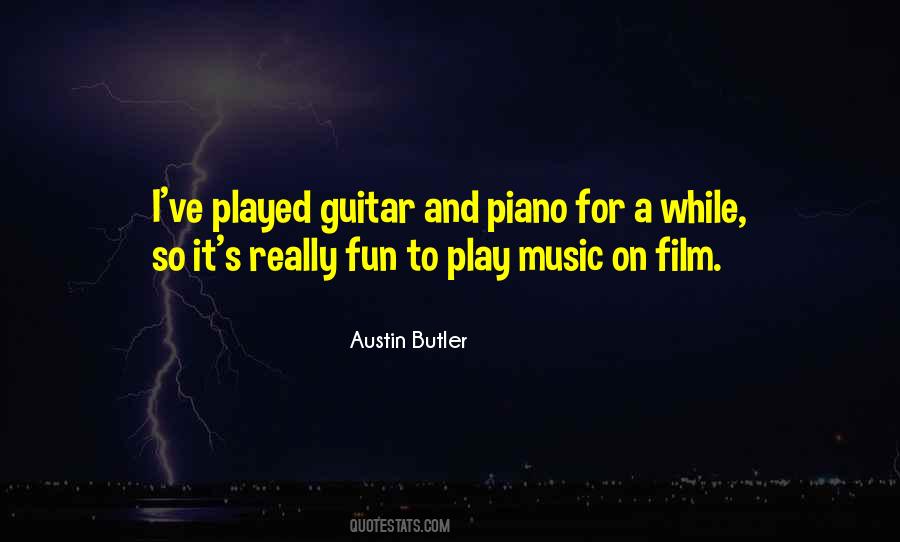 #28. Well, I've been on stage my whole life. Also, when you're doing music videos, a lot of people don't understand. They think you just go up there, do the song, and they film the video. You do it like a jillion times before that though. Same thing in the studio. - Author: Glenn Danzig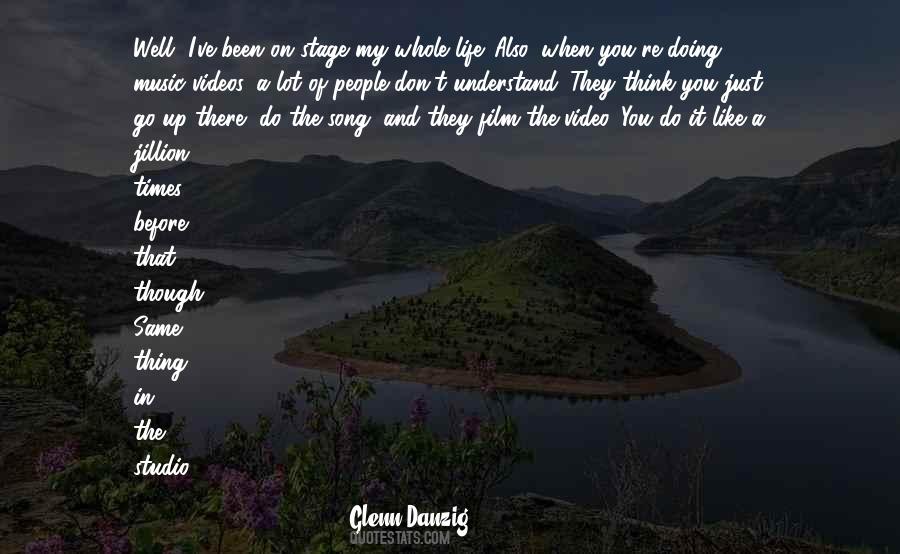 #29. I think that music and art and film, at their best, can connect with something that is eternal in human beings, that might not have so many labels on it, something that's ultimately universal and that may just be a feeling. - Author: Tunde Adebimpe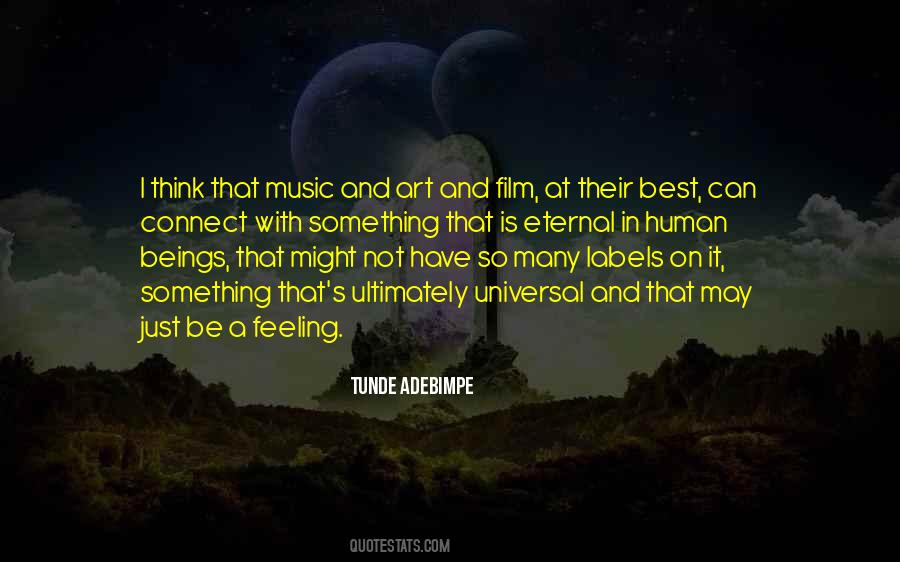 #30. A film is - or should be - more like music than like fiction. It should be a progression of moods and feelings. The theme, what's behind the emotion, the meaning, all that comes later. - Author: Stanley Kubrick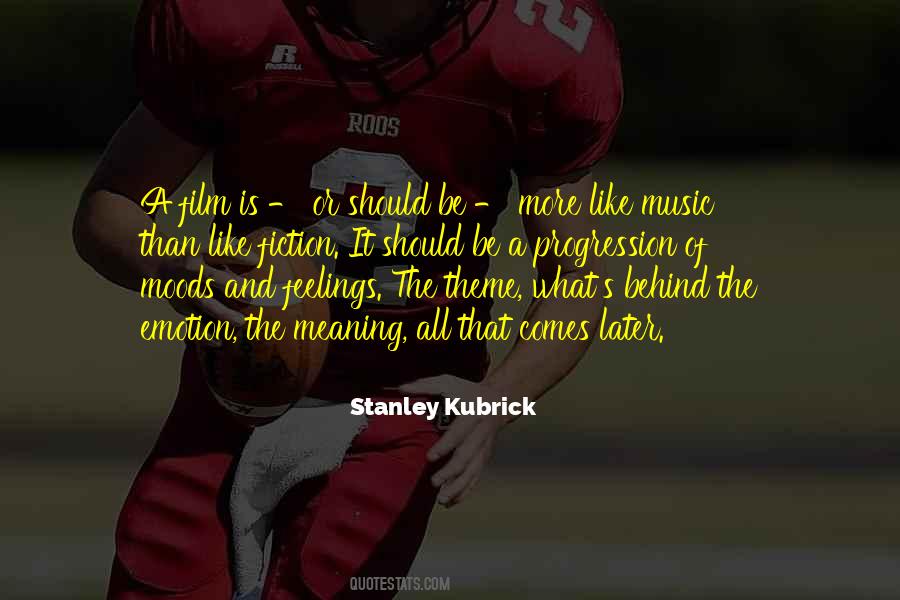 #31. When you listen to the music, you can also see the film or read the article, and it's all part of the same journey that you get to take with the artist you're interested in. It's a balancing act. - Author: Cameron Crowe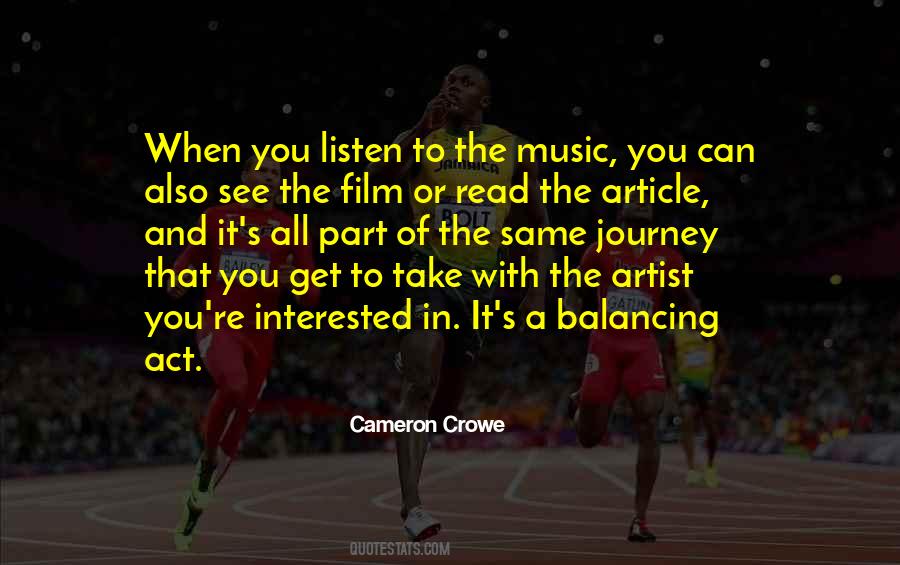 #32. You never really know as an actor; it's completely out of your control, in terms of editing, and music, and film stock, shot selection, and what takes they use. - Author: Aaron Eckhart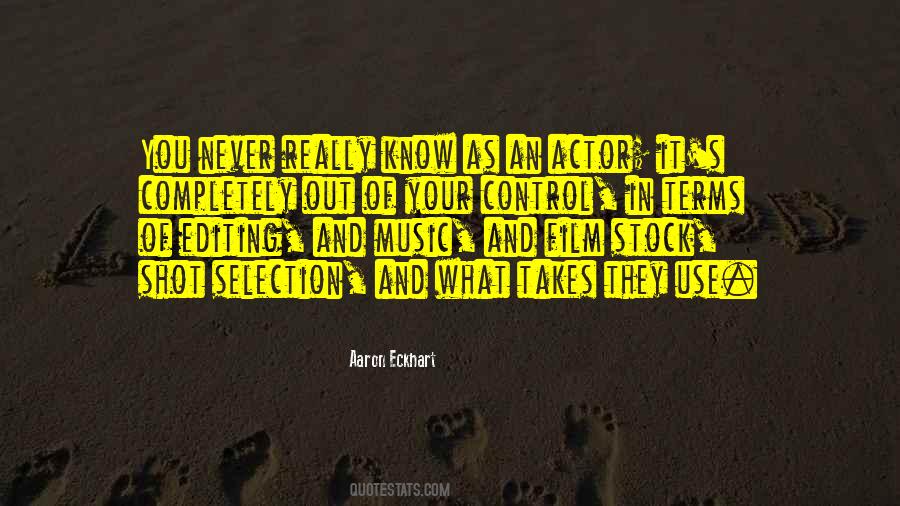 #33. I can't believe 50 years have gone by since that film was released. I blinked and suddenly here I am. We all really felt blessed and as for me; how lucky can a girl get. Great music does more than enhance a film, it cements our memories in the film going experience. - Author: Julie Andrews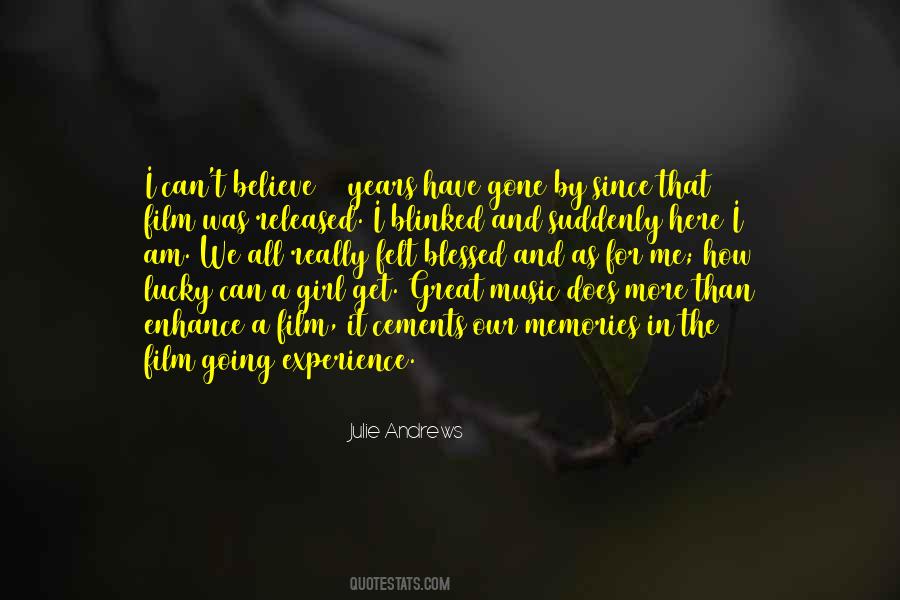 #34. In the film work, I love to work mainly from the script and from talking to the directors, so a lot of the music, big portions of the scores that I've made, have been composed before the movies were even shot. - Author: Gustavo Santaolalla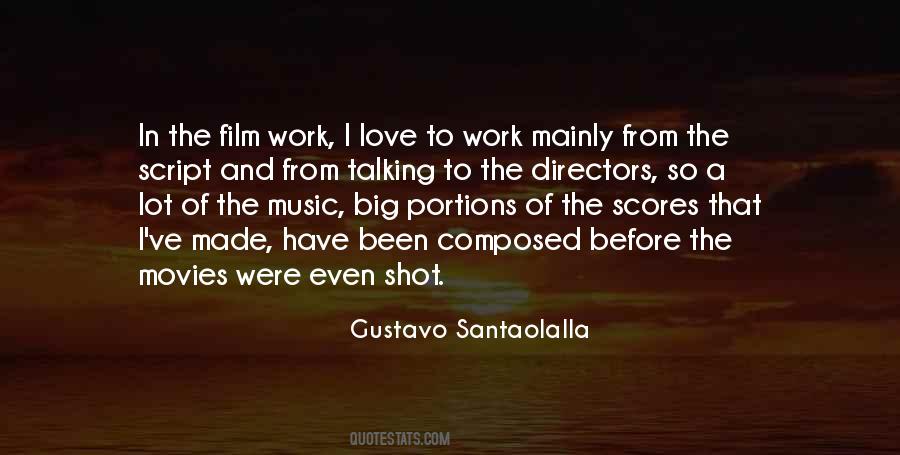 #35. I really don't see myself being apart from music. I like doing lots of different things. I've been involved in film for quite a long time and I just like doing film. - Author: Mick Jagger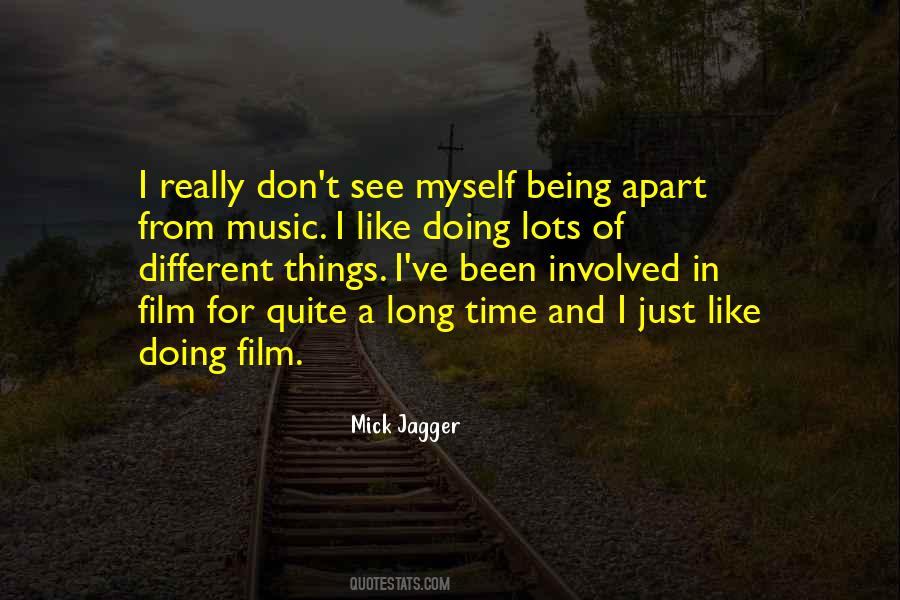 #36. One of the core reasons for creating 'Station to Station' was to provide a space for exploration and cultural friction between different mediums. It should be natural for mediums like music, film and art to cross over, and we wanted to empower that process. - Author: Doug Aitken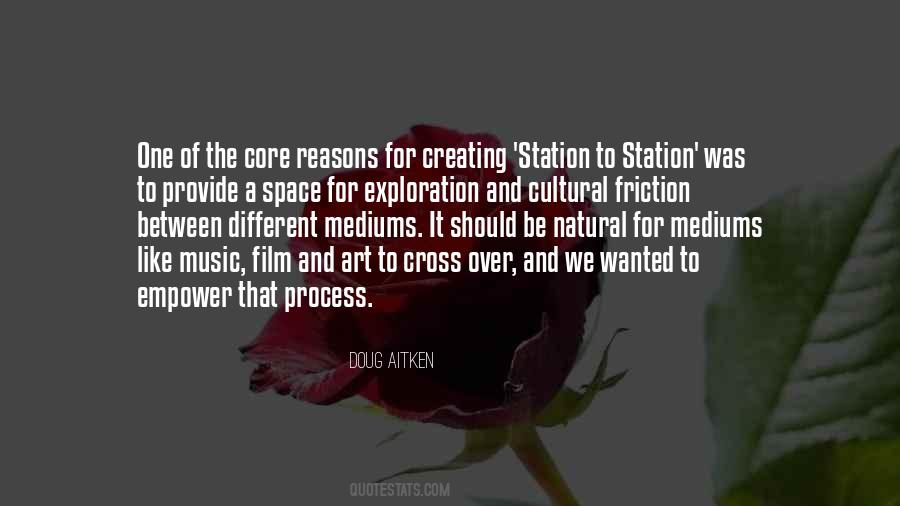 #37. For me chilling out is when I can stay at home, order food from outside and watch a film with my friends. Listening to music and watching films are my idea of perfect relaxation. - Author: Bipasha Basu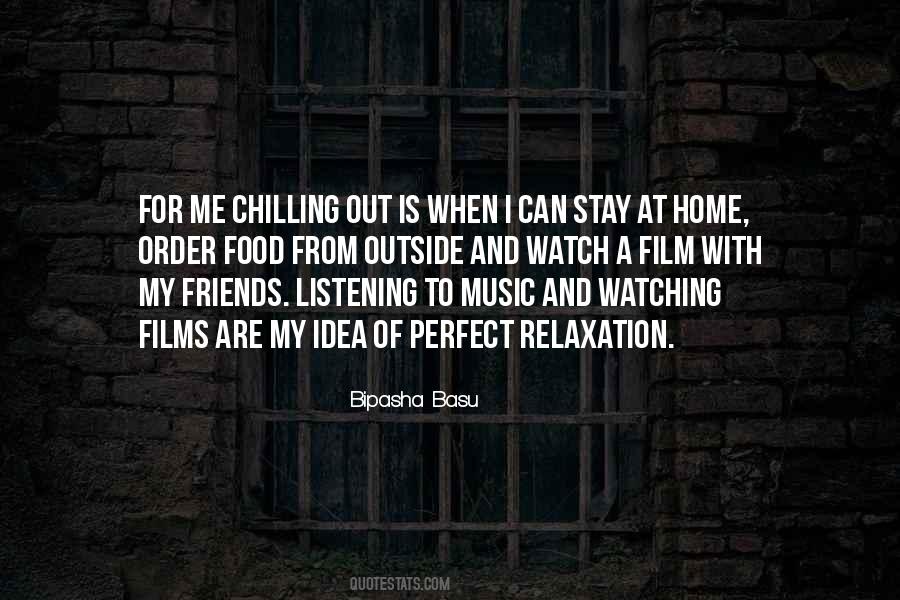 #38. No one's being precious about their music. They want the film to be great. And that was the huge lesson for me along the way to be a filmmaker. And yes, I'm leading the music department kind of thing and that responsibility with the music is with me, but really that job is one of many. - Author: Steven Price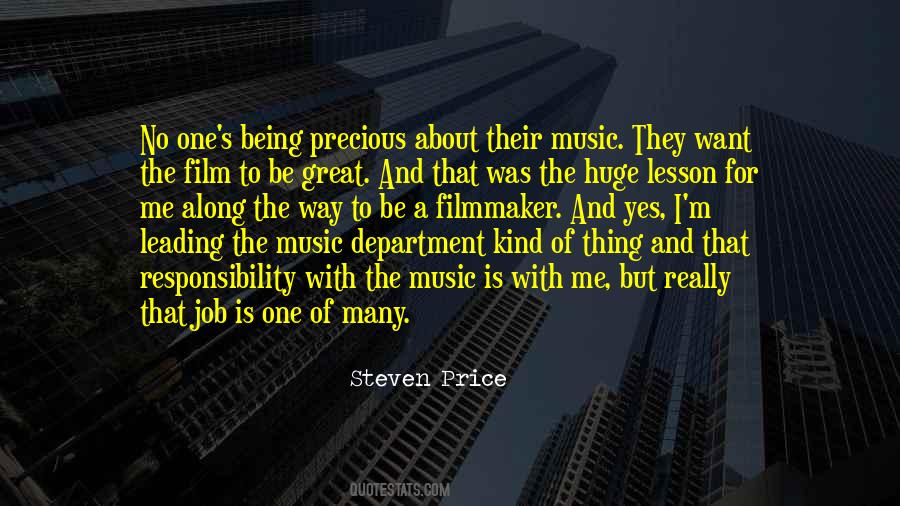 #39. There's always the influence of music, film, art and the other things that drive me. I'm usually inspired by my environment and whatever is making me happy or mad. - Author: Adam Jones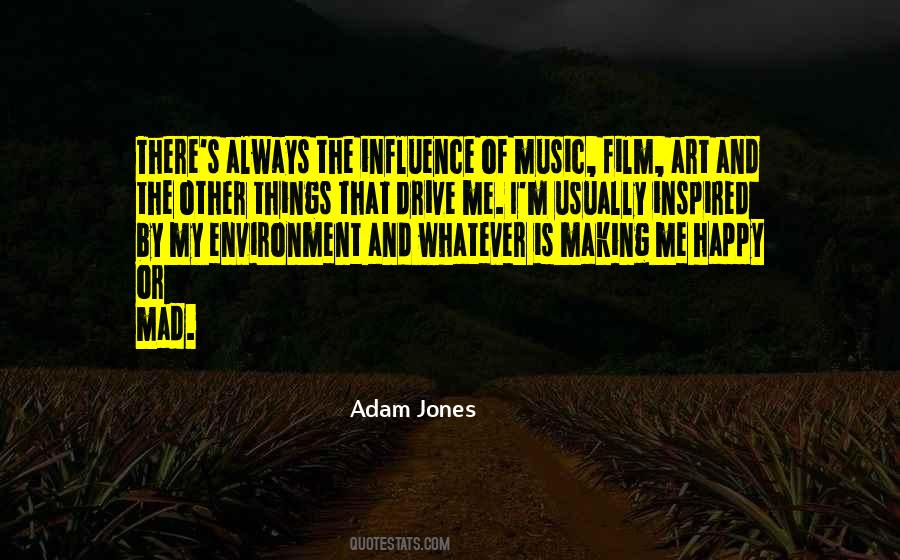 #40. I would love to compose more fantasy music, whether it's for a film or a game. That genre has so much opportunity for harmonic experimentation, not to mention all the interesting instruments that become available when composing music for alien species and other worlds. - Author: Jason Graves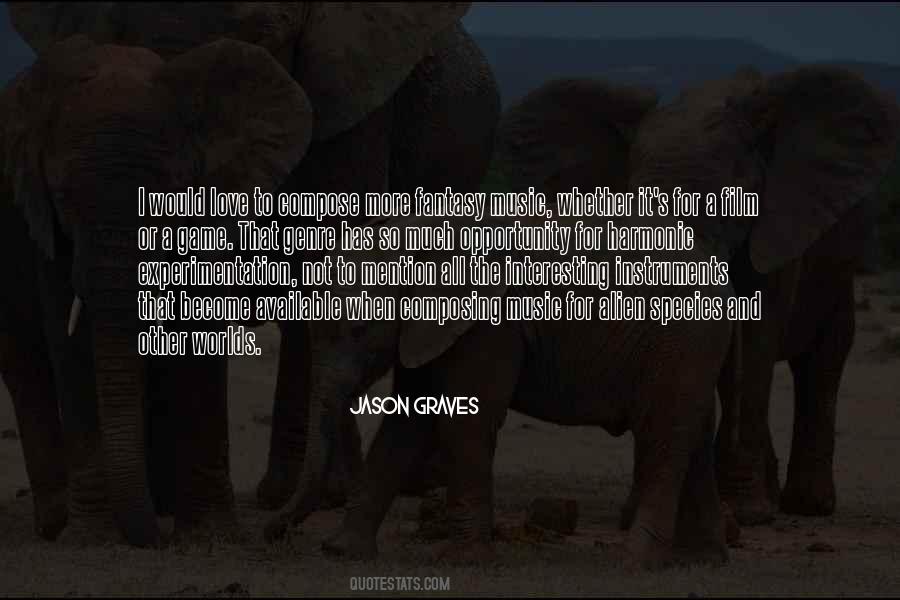 #41. I'm one of the guys who wants to watch the film completely done, with special effects, sound and music, because I tend to get disappointed if I watch it not fully done. - Author: Luke Ford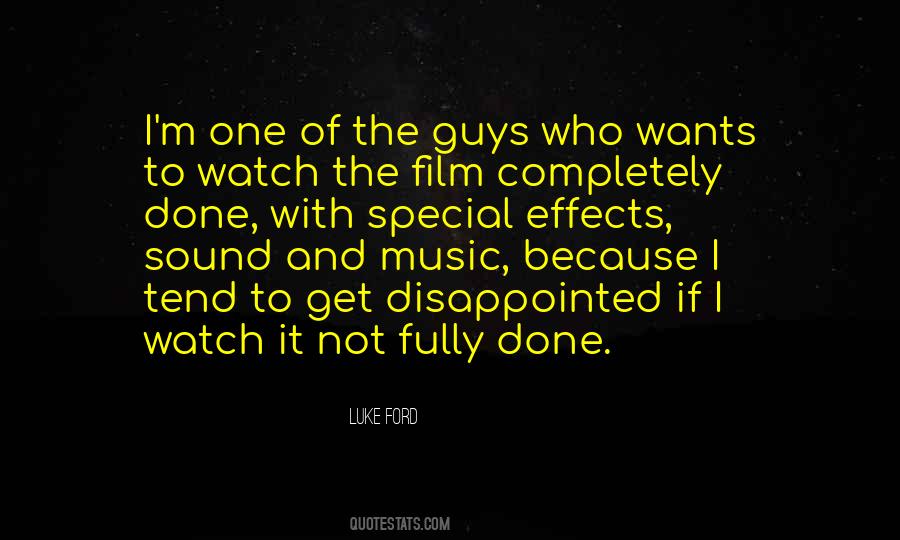 #42. I'd love to do an action film. I'd love to do a film based on a book series; I love to read the book and then go see the movie. I'd love to have a show on Disney; I love working for them. And I'm also working on getting some new music out of my own. - Author: Katherine McNamara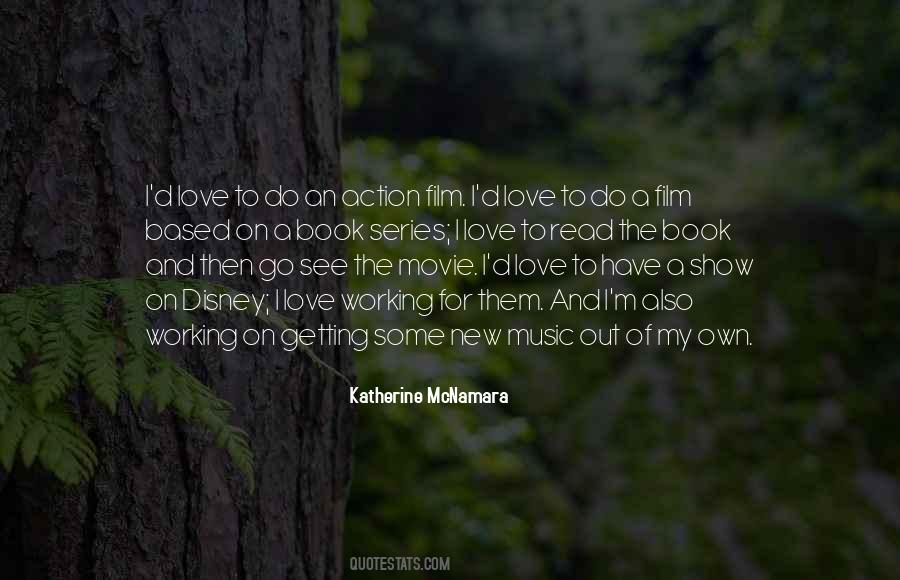 #43. Think about the number of people who do film music, make records and have a Native American heritage - and I may be the only one on the list. - Author: Robbie Robertson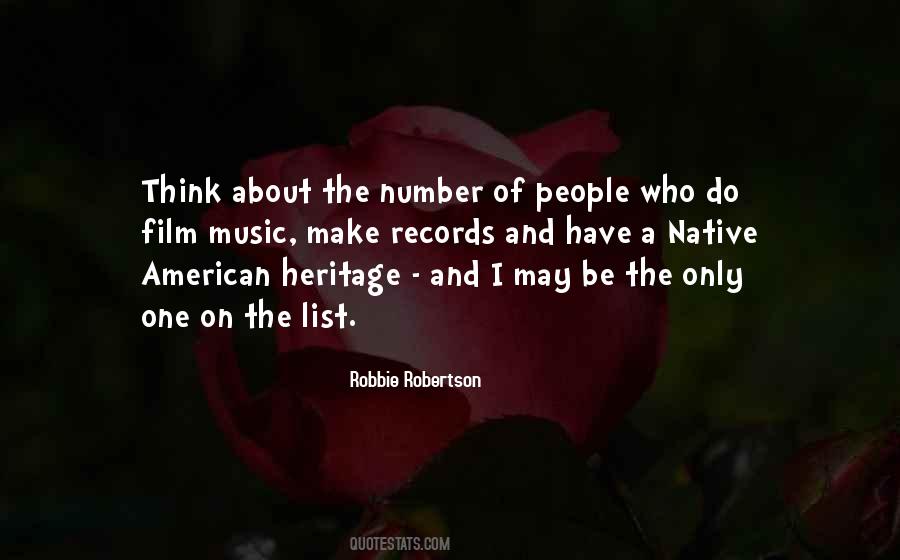 #44. I think that's one of the greatest gifts you get if you're successful at something like music or film or photography - any of the arts - you can sit there and think. It's so much fun to sit there and think and wonder about the world and the universe. - Author: Albert Hammond Jr.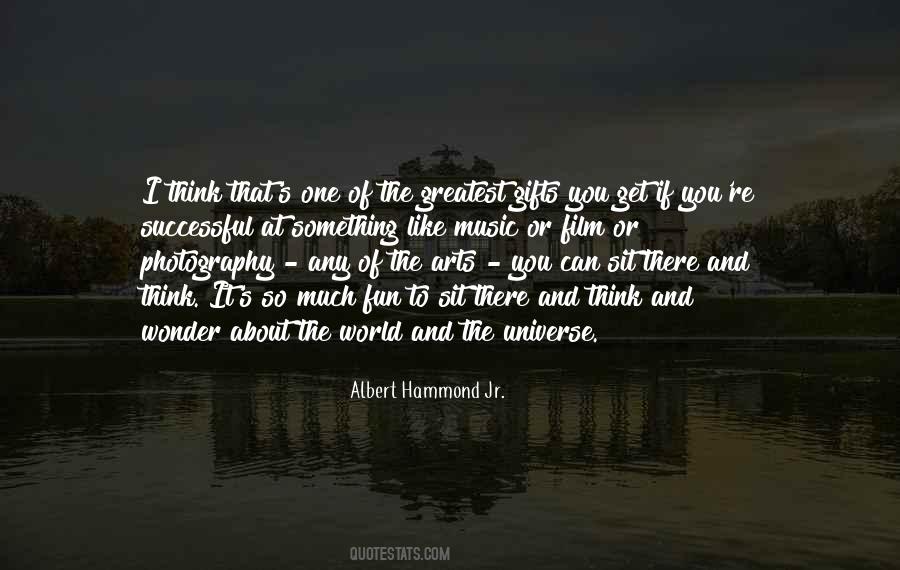 #45. Film music really is about point of view and you can shift it wherever you want really depending on how you look at it. - Author: Howard Shore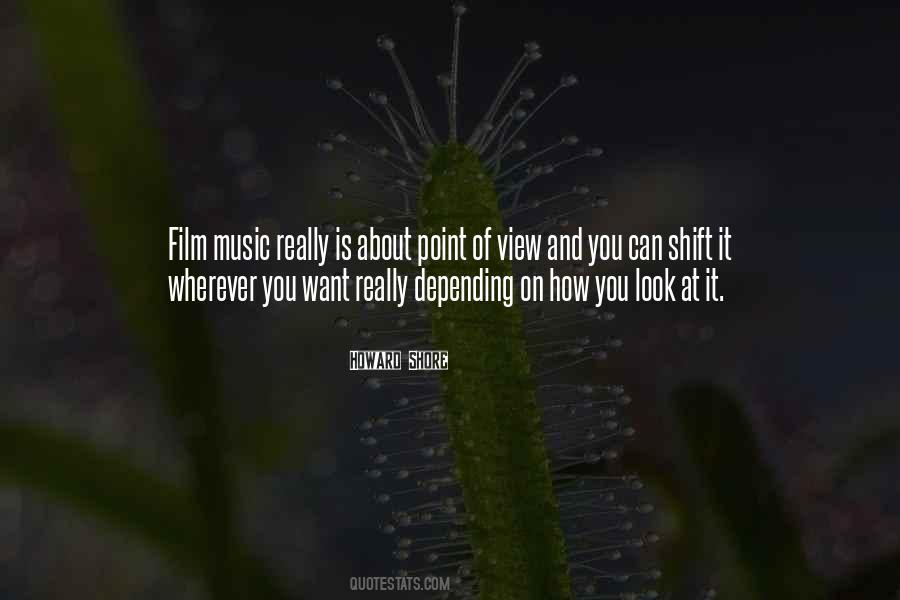 #46. The Indian music market is very film-oriented, and any other creative music venture doesn't receive enough support. I'd rather do singles and put them on my website. - Author: Shreya Ghoshal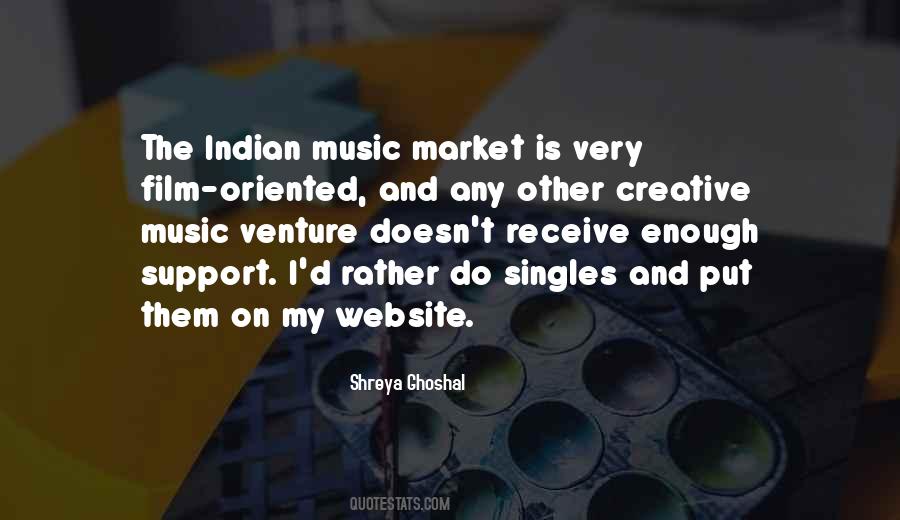 #47. My good friend Josh Bibby happens to be a pro skier and has used my music in 2 international ski films. - Author: SonReal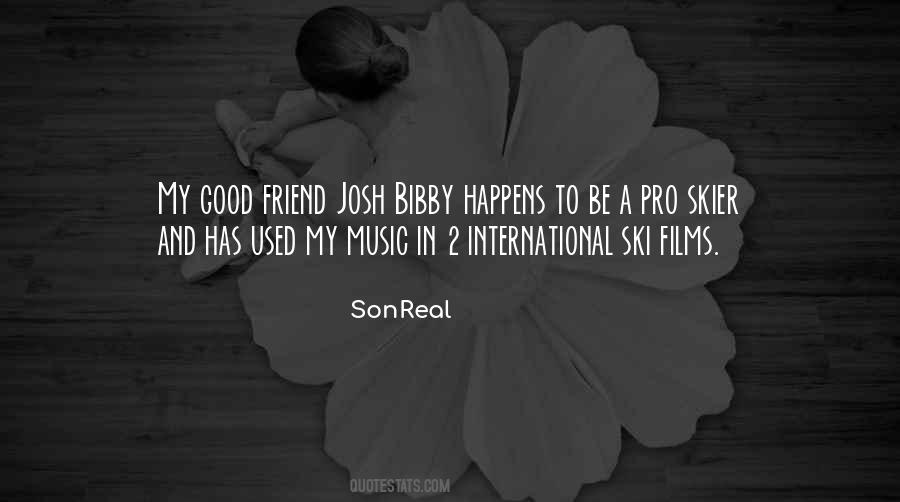 #48. When I was younger, I didn't read that much. I was more interested in film and music. Now I'm curious. I want to know what it's all about. - Author: Kazuo Ishiguro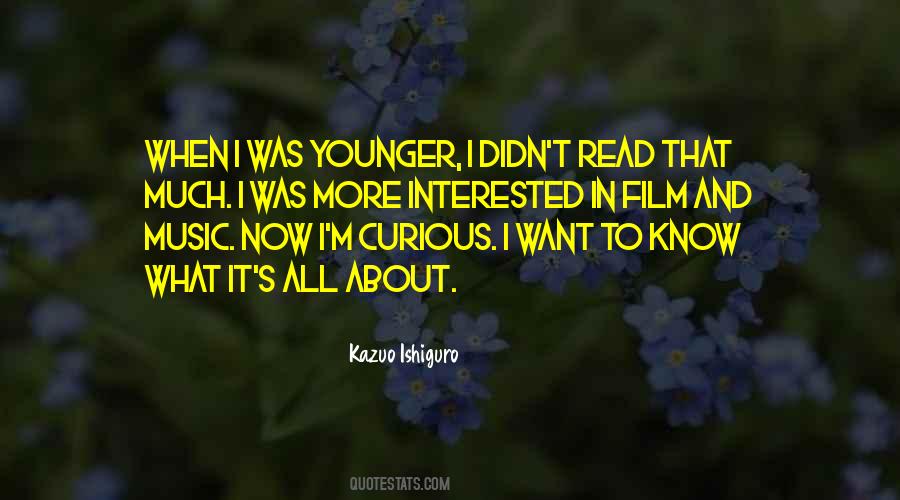 #49. The language of film is further and further away from the language of theater and is closer to music. It's abstract but still narrative. - Author: Emmanuel Lubezki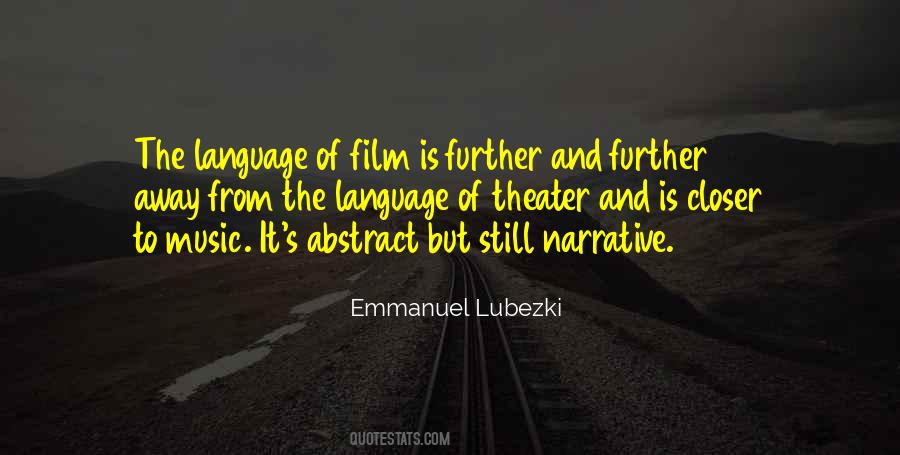 #50. Originally a record producer more or less hired a bunch of professionals to participate in a recording session, the performers and the technicians, and a music director was put in charge. That directly related to a film producer's job. - Author: Tony Visconti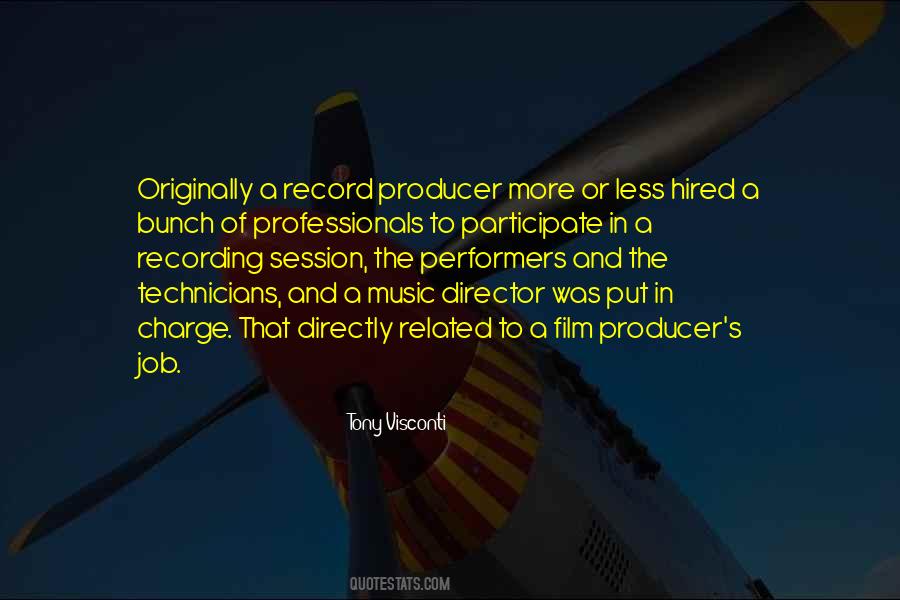 #51. There's always been an incredible amount of junk music, and junk everything. Marshall McLuhan said that a medium surrounds a previous medium, and turns the previous medium into an art form. So, what was once a junk culture, like film, television surrounded it and turned it into an art form. - Author: T Bone Burnett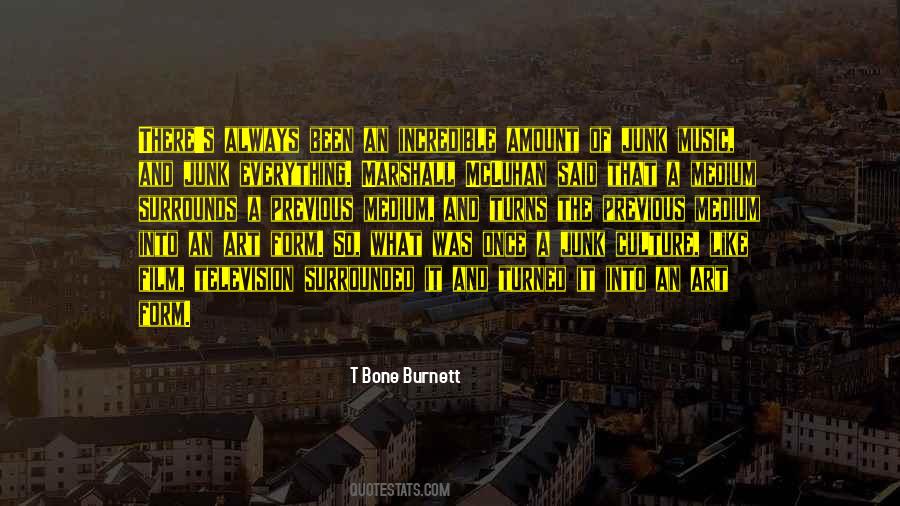 #52. I do like to be creative and I'm very lucky that I've been given different areas in which I'm able to do that - whether it be film or television or theatre or whatever. I'm also still into music and recording. - Author: Richard O'Brien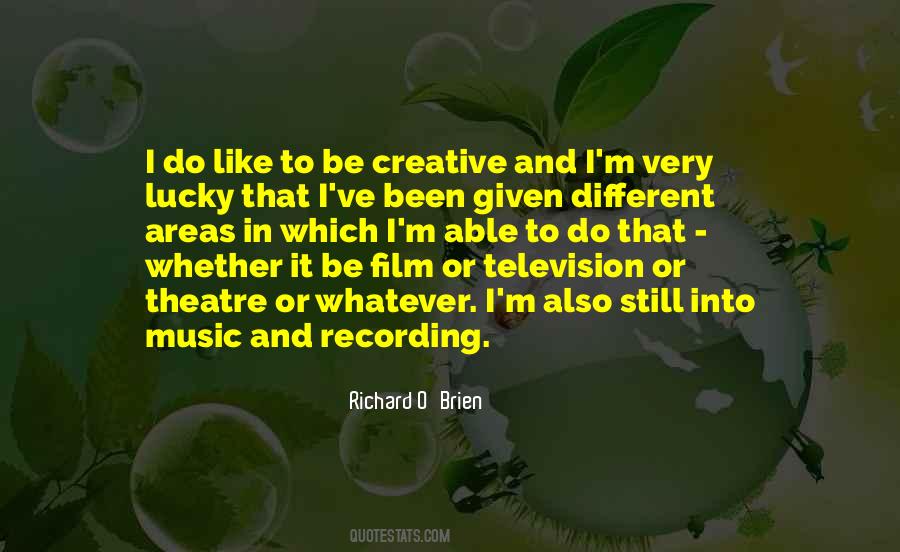 #53. Film was something that I didn't see as a step up from music videos, though obviously, music videos, the fact that you work with a crew and a film camera, are the closest to film I've ever been. That is the only schooling I've ever had. - Author: Anton Corbijn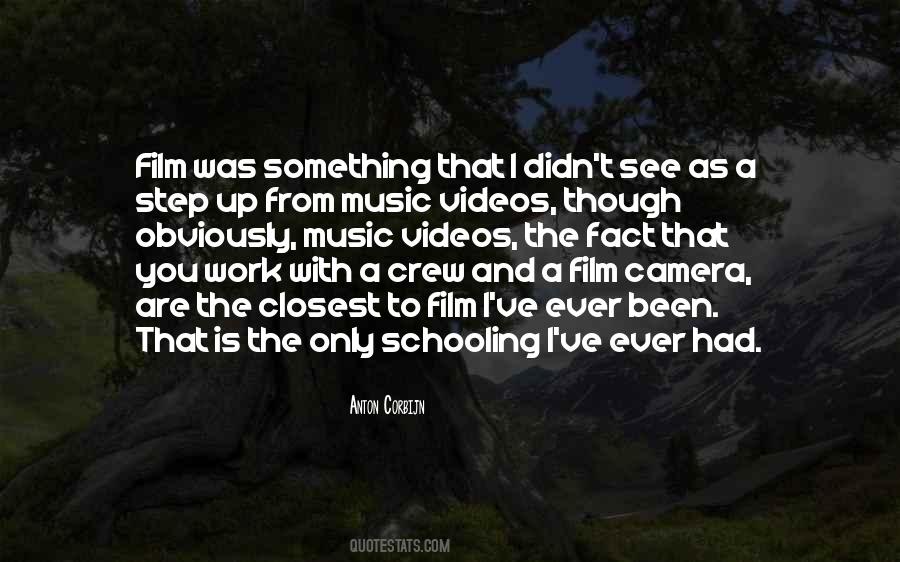 #54. I was lucky enough to be the lady that was asked to be Maria in the Sound Of Music, and that film was fortunate enough to be huge hit. The same with Mary Poppins. I got terribly lucky in that respect. - Author: Julie Andrews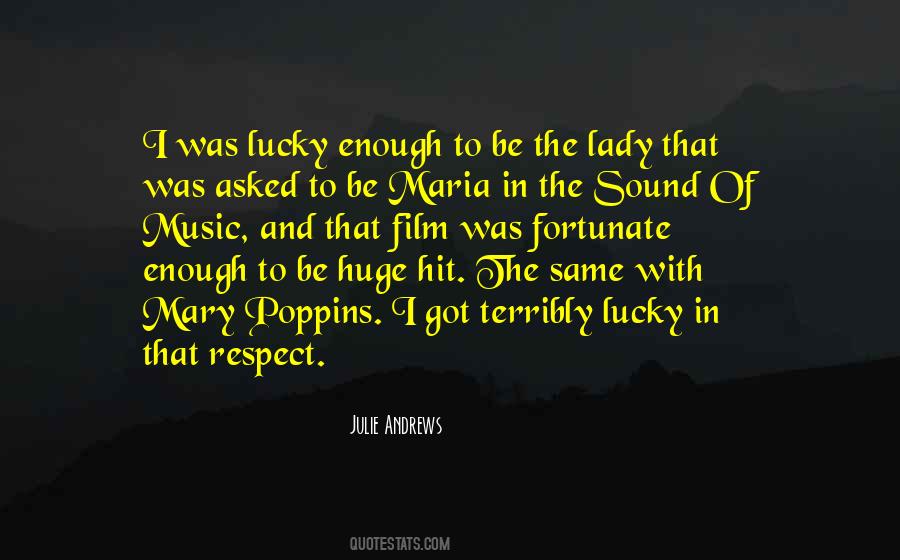 #55. But it wasn't just a technical approach towards the piano, studying the music for this film was also a way of approaching the soul of the film, because the film is really about the soul of Schubert and the soul of Bach. - Author: Isabelle Huppert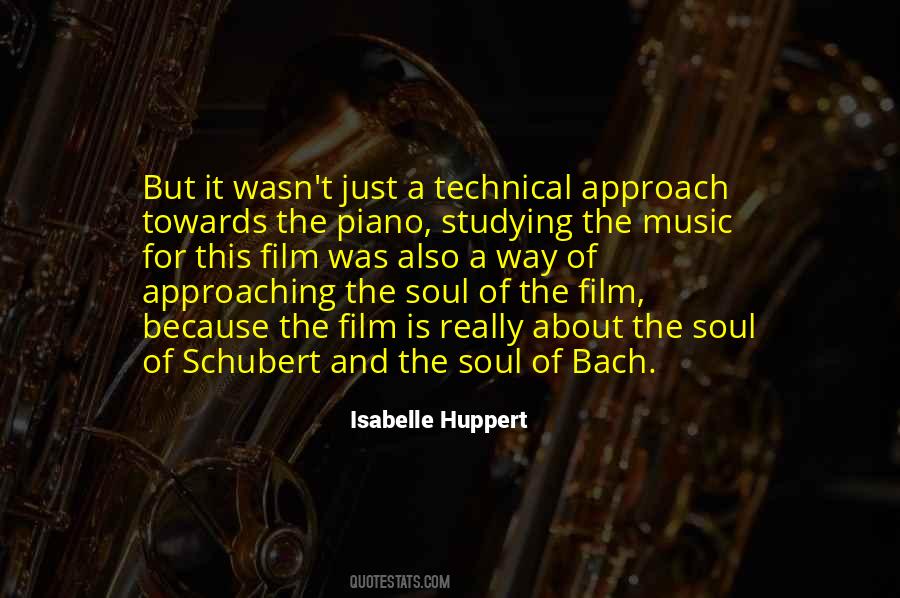 #56. I like fashion, but I love, love, love music and film; they are my two passions. I would love to pursue my acting and my love of music more than anything. - Author: Cara Delevingne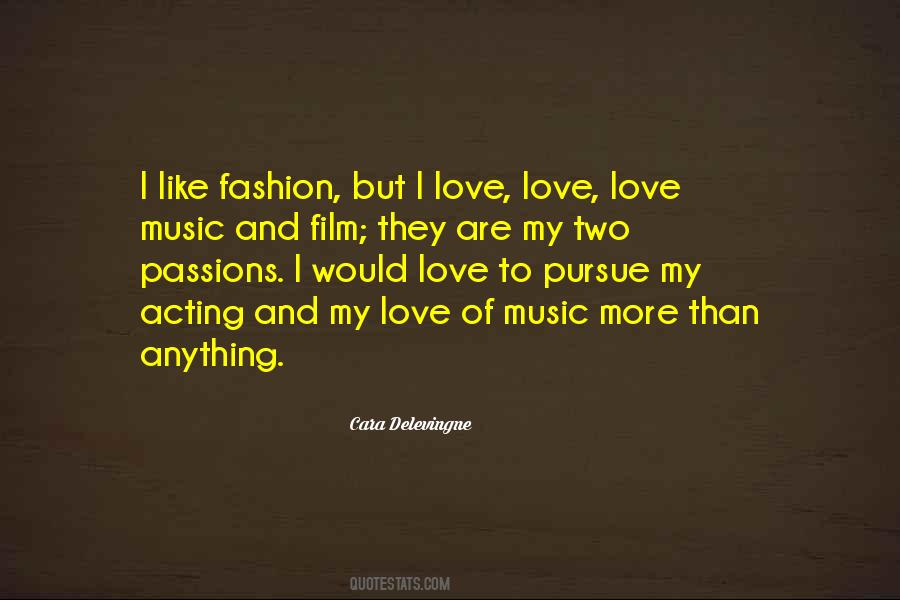 #57. Film is a two dimensional thing - it goes up and down and left to right but if you put that music into that two dimensional medium, it became like a third, fourth, and fifth dimension, I really believe in that. - Author: Fatih Akin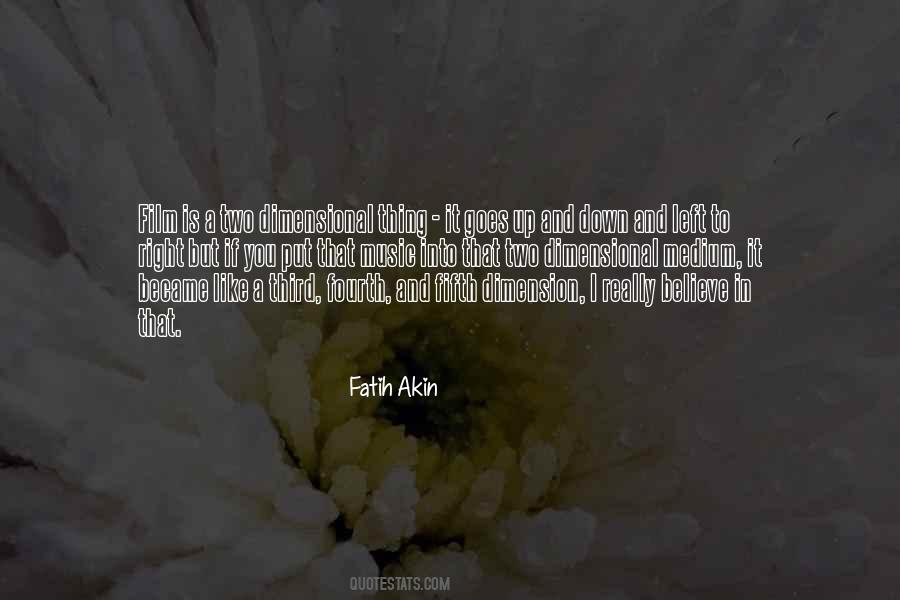 #58. Nowadays, if a studio assumes that his film is bad, there is always an executive that gets more nervous than usual and thinks that if they change the music, the film will become a masterpiece. - Author: Maurice Jarre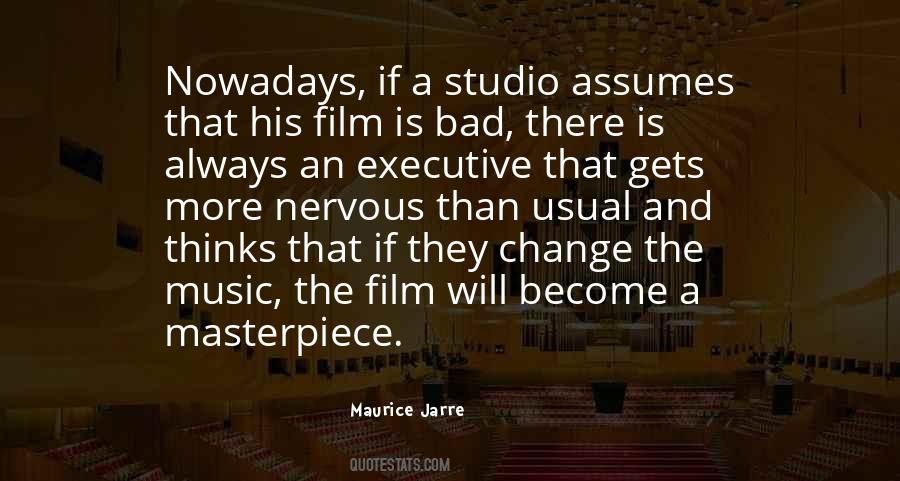 #59. Old film-noir movies. There's something comforting about watching black-and-white movies, and hearing this kind of music just puts me in a fantasy world. It's a really great escape for me. - Author: Petra Haden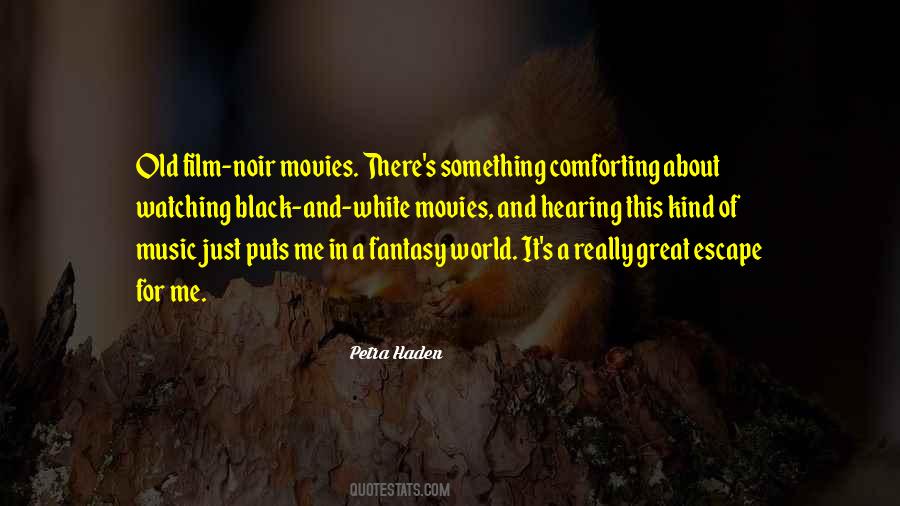 #60. Right now I just finished writing the music for a Rugrats feature film and the third week of September I go to London, and the Orchestra is going to perform the score. - Author: Mark Mothersbaugh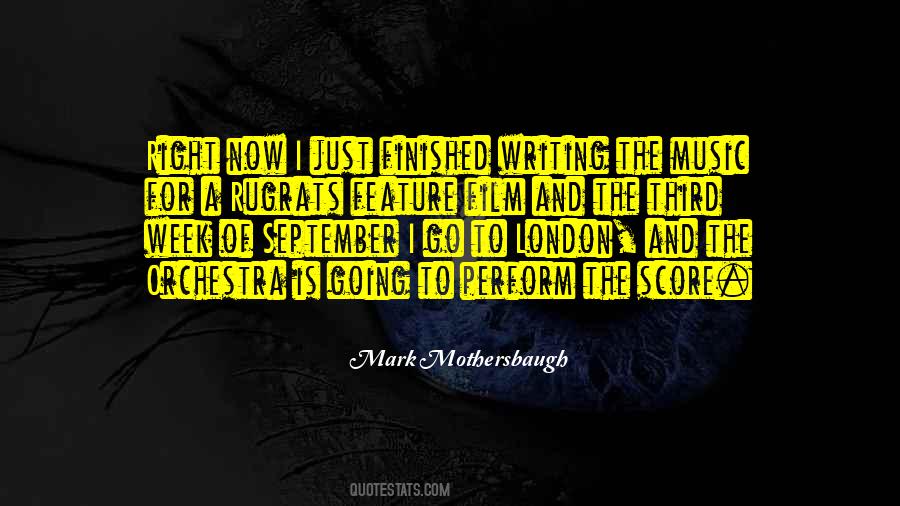 #61. I like films where the music and the sound design, at times, are almost indistinguishable. - Author: Christopher Nolan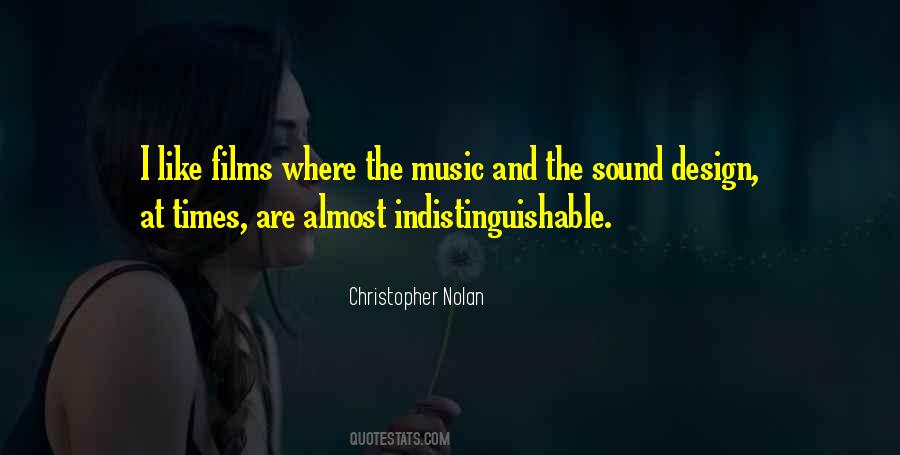 #62. I always wanted to be a film composer. So very early on I started collecting soundtracks and paying attention to how movie music works. Actually I'd like to have the opportunity to conduct for the rest of my life. - Author: Alexandre Desplat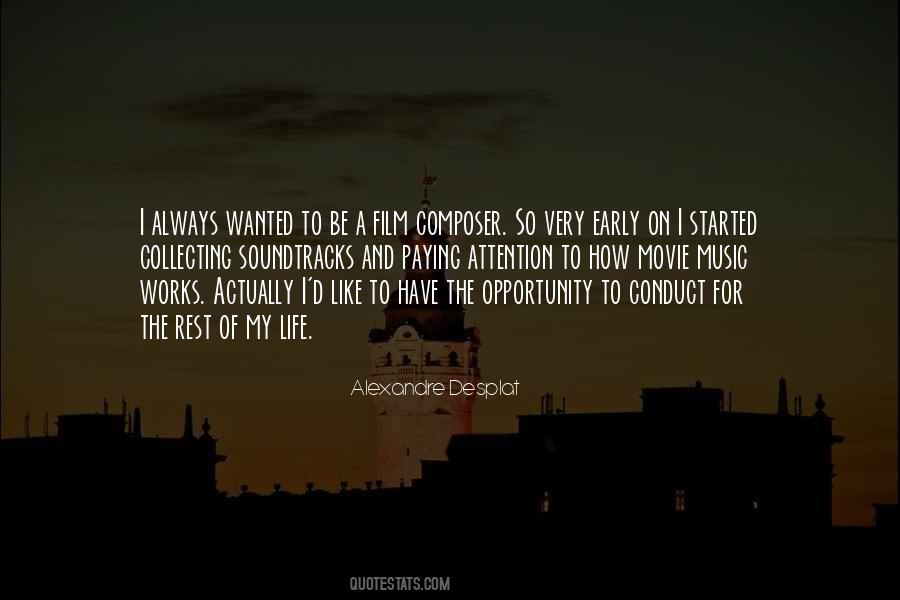 #63. I've always been drawn to stories and telling them; whether it was through being a part of theater when I was a little kid, or film, or with music, there's just been an innate desire to feel that connection. - Author: Ellen Page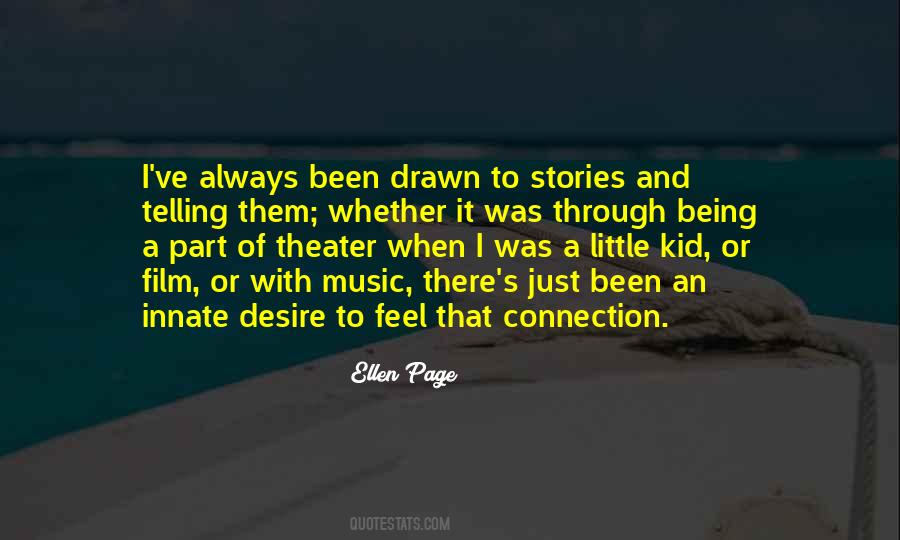 #64. Recording a song for a film doesn't take much time; it's hardly an hour's job, but concerts are constant, and so is travelling, so I've to take time out to work on my albums because I'm passionate about creating my own music. When you love something dearly, you set your priorities accordingly. - Author: Kailash Kher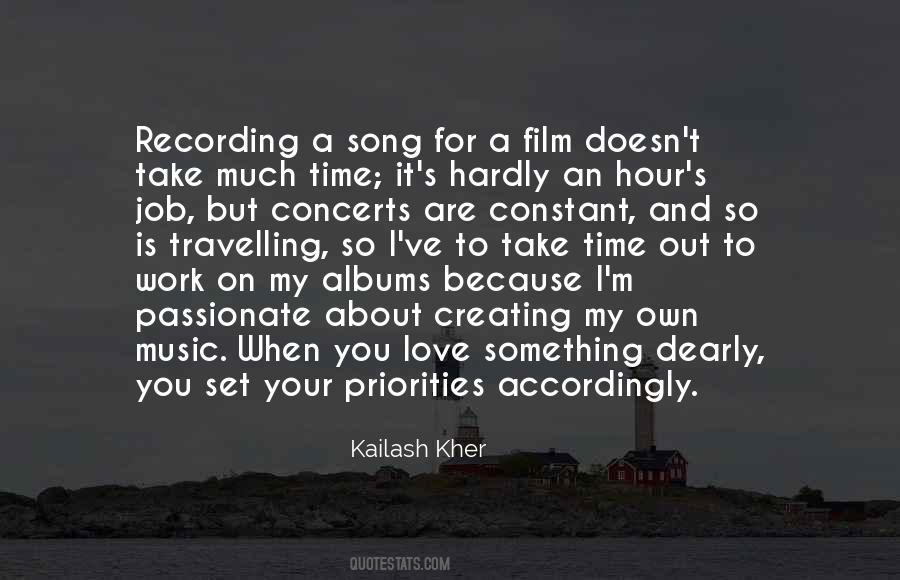 #65. Fashion intersects a lot with art and film and music, and that was appealing to me. I read a bunch of fashion blogs and wanted to be part of the community. - Author: Tavi Gevinson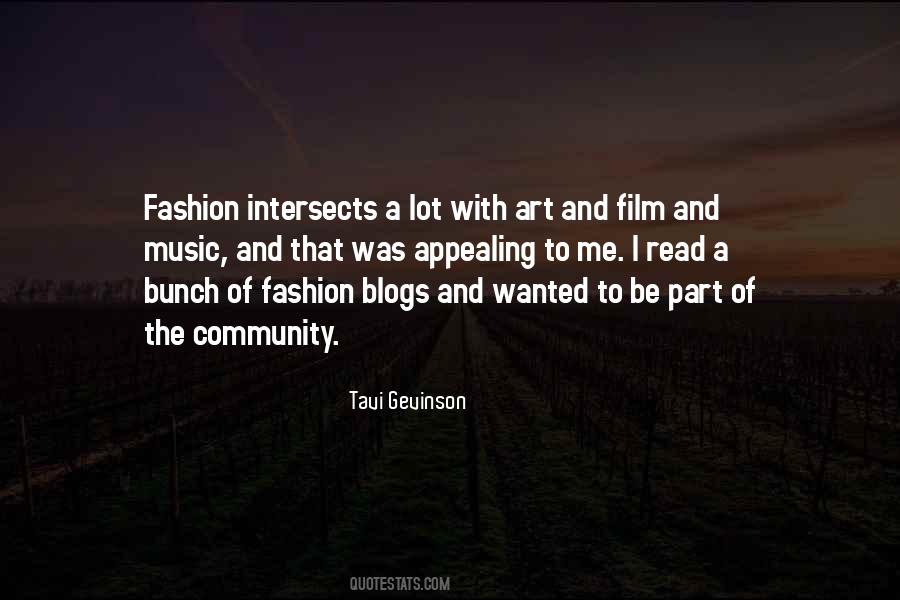 #66. I someday hope to find the time and coin to invest more of my creative energy towards the visual media side of releasing music. I'd love to make short film videos pushing the conventional standards of what a country music video can be. - Author: Sturgill Simpson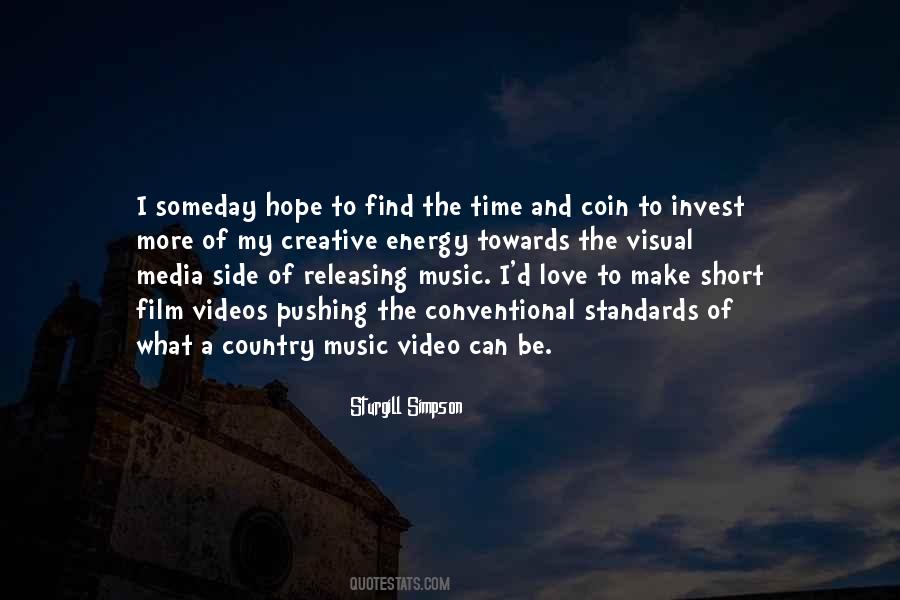 #67. My only real hobby is playing music. I write a lot of music on guitar and keyboards and hope one day to make a record or maybe even write the score for a film. - Author: Graeme Base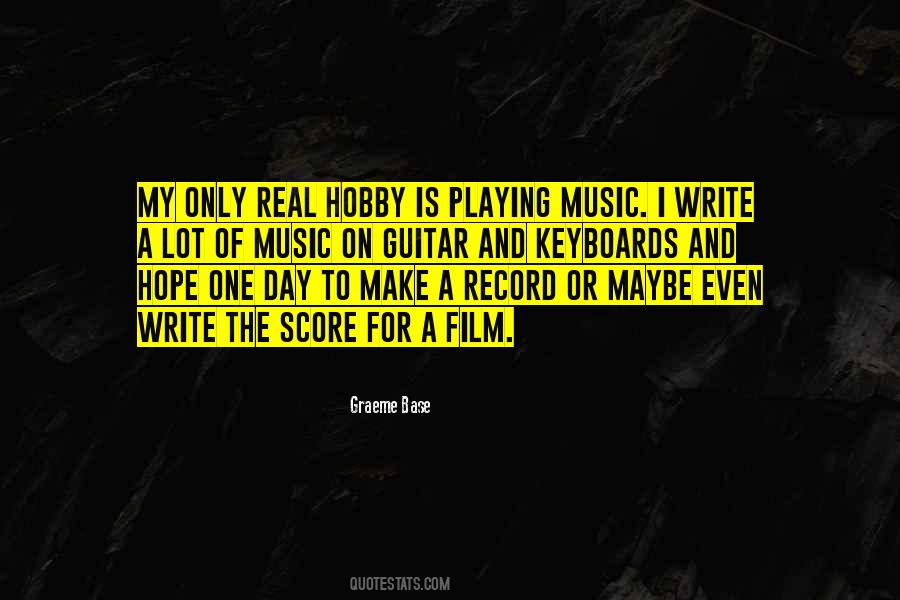 #68. I've always worked on all different types of music, some with specific project goals and deadlines and some not. Sometimes I would write a piece of music that is almost like a film score or weird electro pieces, wherever the muse took me, and I still do that. - Author: Serj Tankian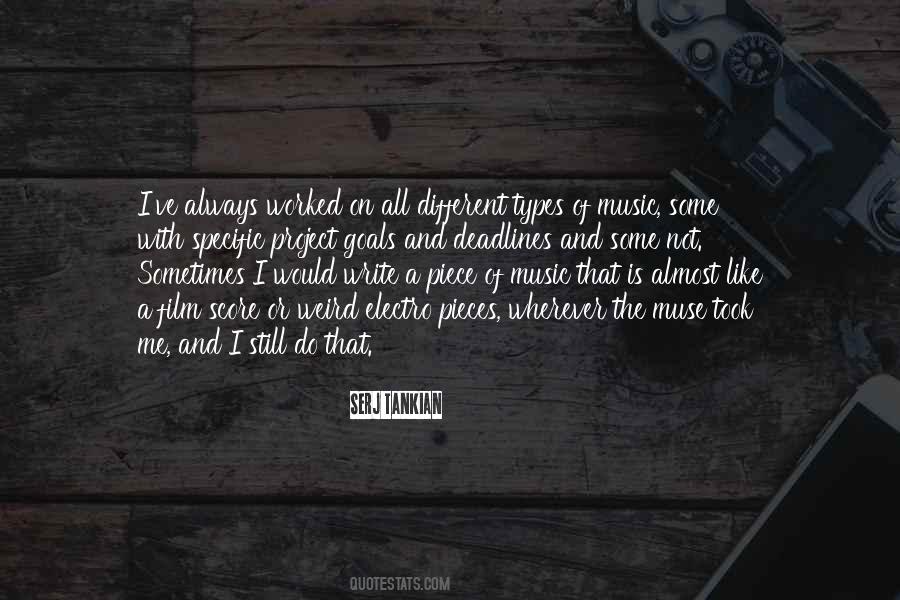 #69. Film as dream, film as music. No art passes our conscience in the way film does, and goes directly to our feelings, deep down into the dark rooms of our souls. - Author: Ingmar Bergman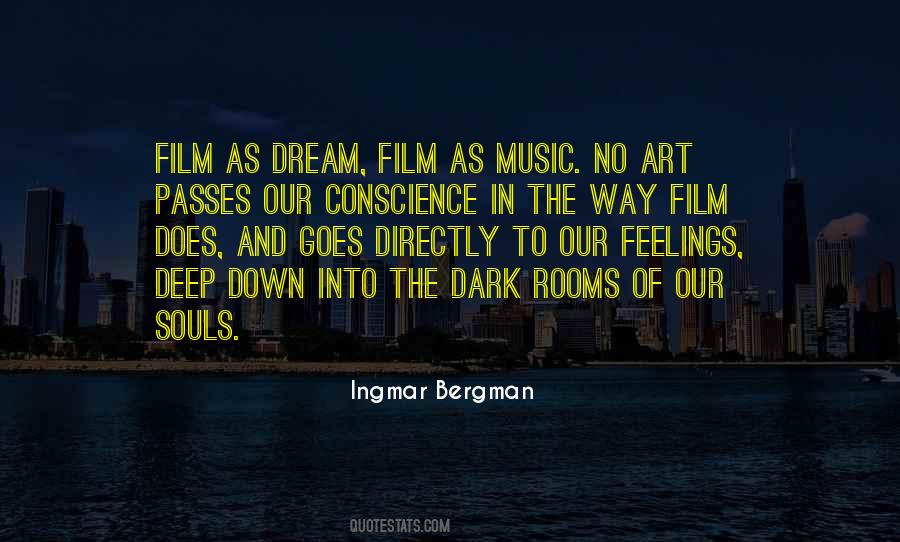 #70. The only music I've ever written was for a film called Frank, and the idea was that it was the worst music in the world. - Author: Domhnall Gleeson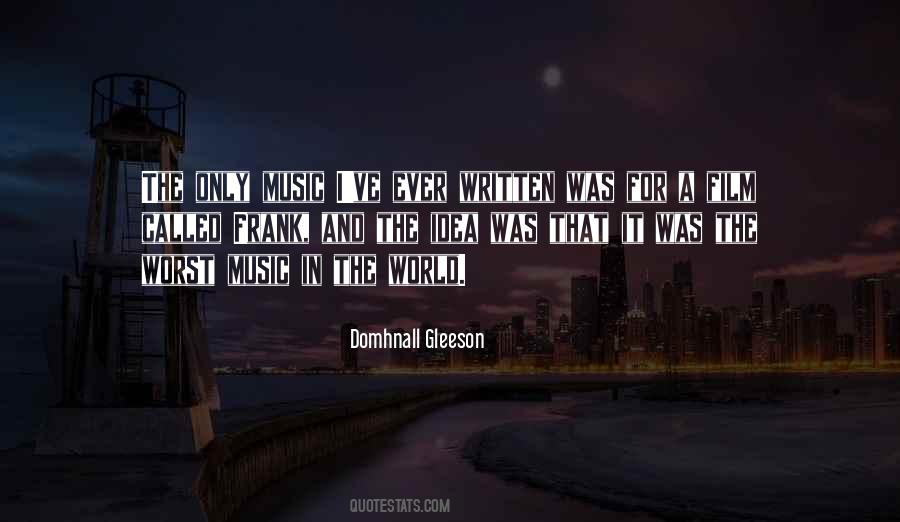 #71. I spent a lot of time making music and touring around the country and living the weird life. I was just trying to keep a job and get by. So in a lot of ways, I went through a strange version of film school. So you live through a lot of things, and put them into your work. - Author: Dito Montiel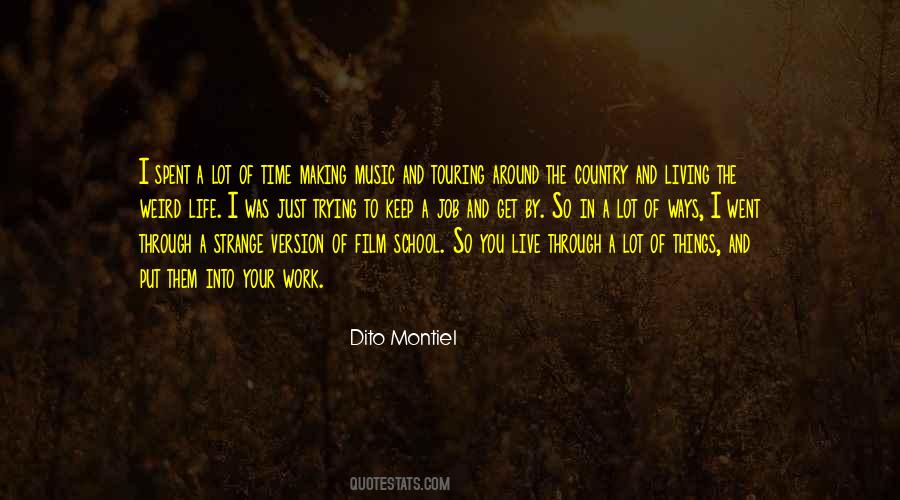 #72. I always want to be growing in my craft. Any artist should - whether you paint, whether you do music or film - always grow and study. - Author: LeCrae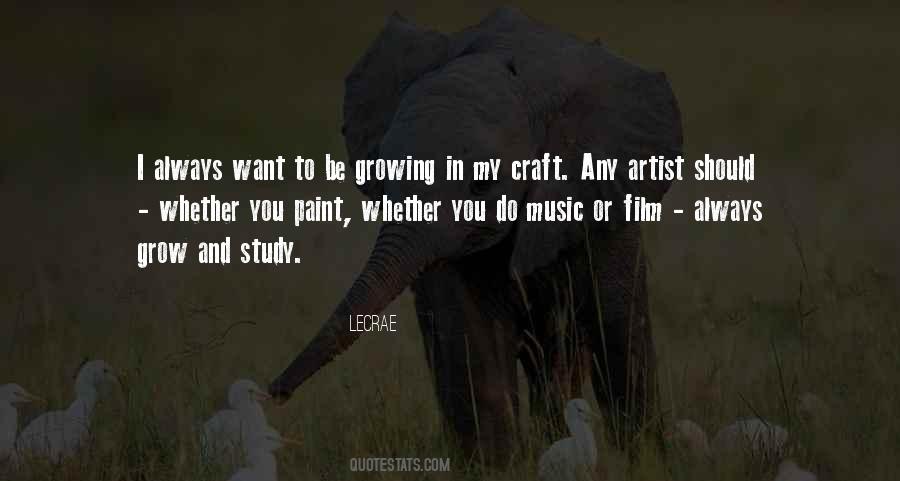 #73. I grew up reading the 'Village Voice' and wanting to be one of these multidisciplinary music writers, film writers, book writers. And I lucked out getting a job at the 'Voice' right after college. - Author: Colson Whitehead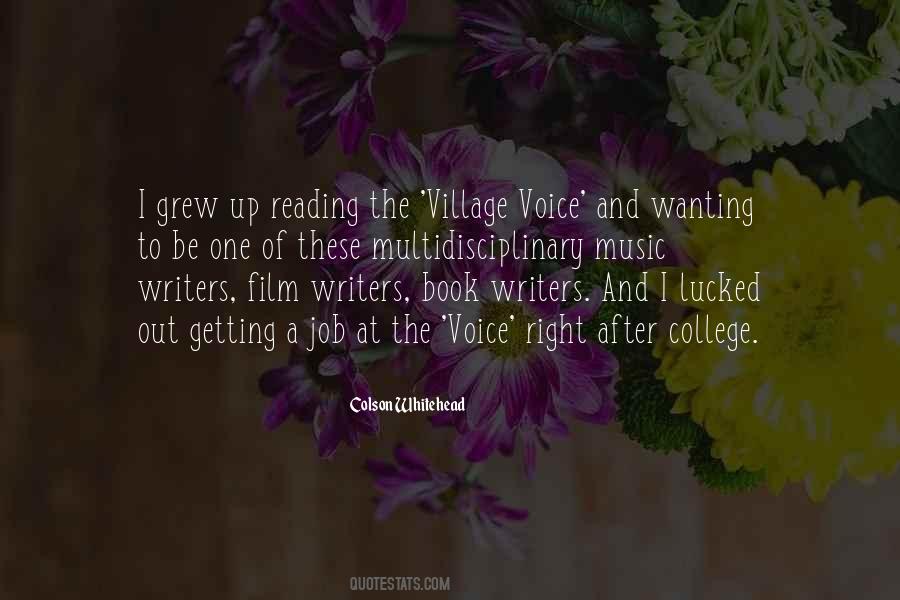 #74. With the rise of the Internet, fashion did become part of the global entertainment industry in the last ten years, and will follow the digital evolution of the music or film industry. - Author: Hedi Slimane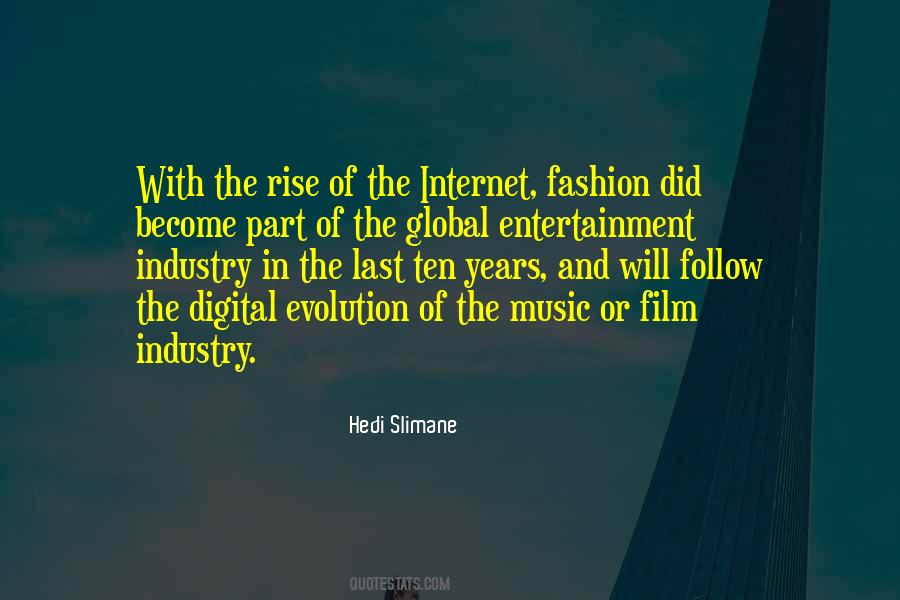 #75. In creating music you are the writer, the director, the producer, you create it from scratch. Obviously in playing a role in a film, you take guidance and put your trust into the director. You come into it and you really trust people. - Author: Justin Timberlake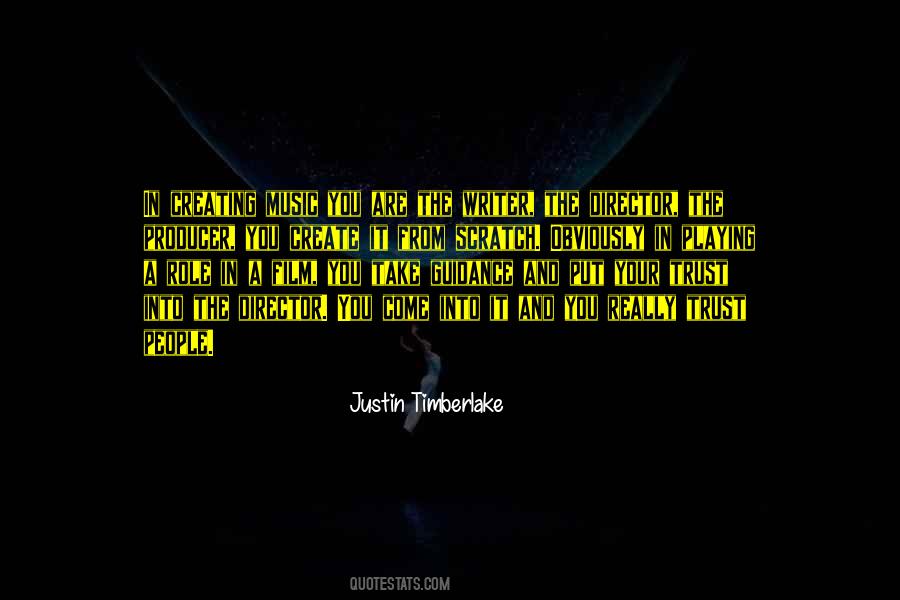 #76. For me, filmmaking combines everything. That's the reason I've made cinema my life's work. In films, painting and literature, theatre and music come together. But a film is still a film. - Author: Akira Kurosawa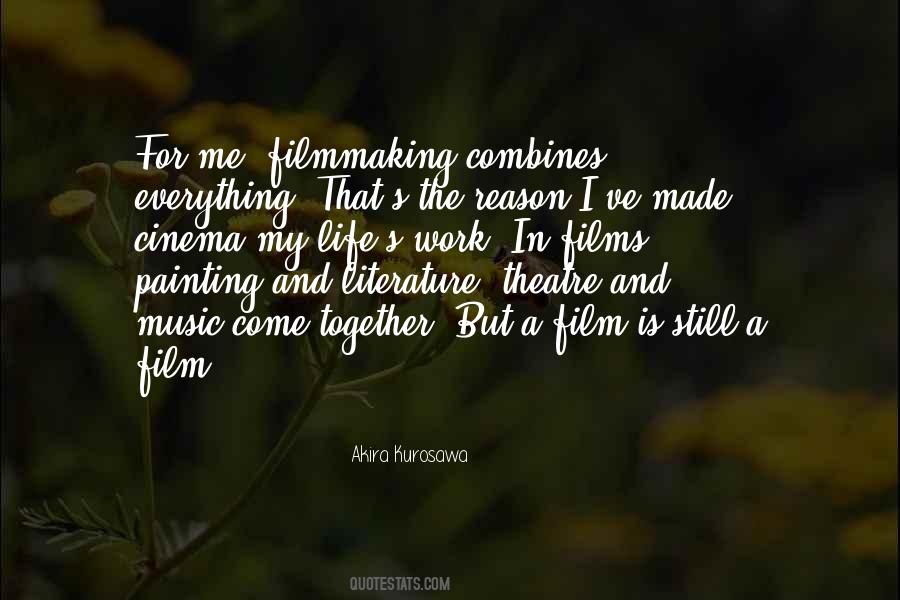 #77. I love the conversation between film and music. - Author: Agnes Obel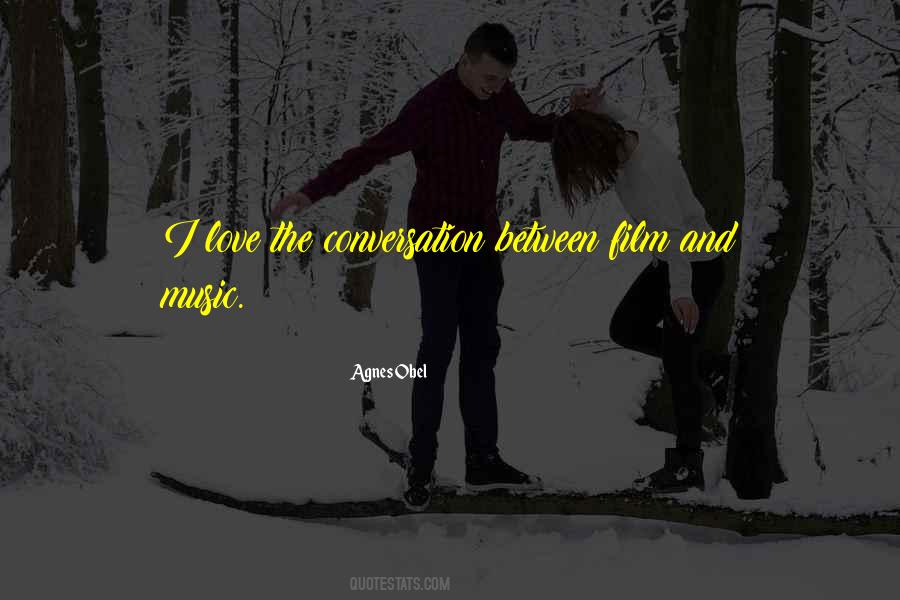 #78. It's a funny thing with the inspiration thing. There's always loads of music around that I absolutely love and films going back to when I started making film music in the mid-80's. - Author: Steven Price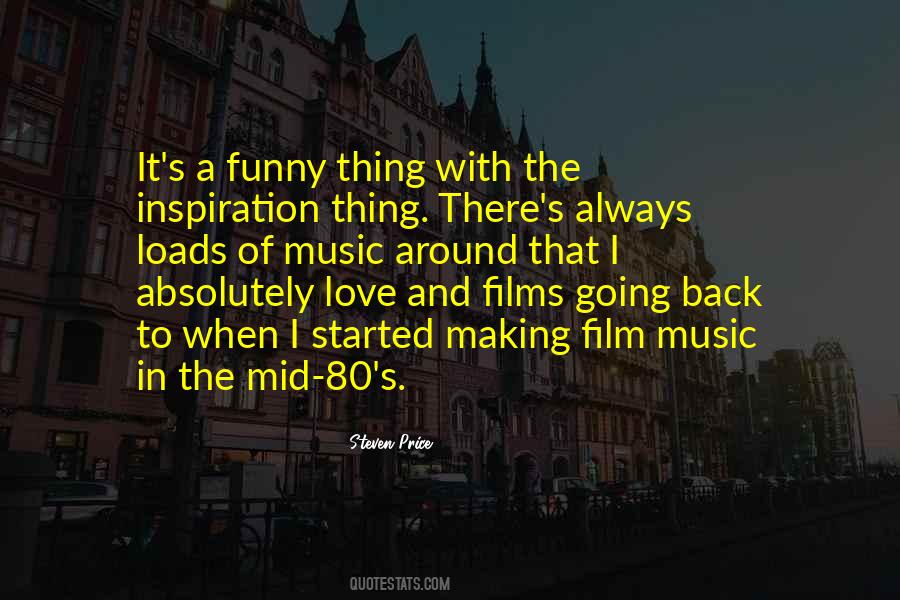 #79. I have very eclectic taste in music. I like everything from Nirvana, which is featured in the film, to world music, to orchestral and jazz. For me, the nineties were about Oasis, because I was travelling around Britain when that band exploded onto the music scene. - Author: Isla Fisher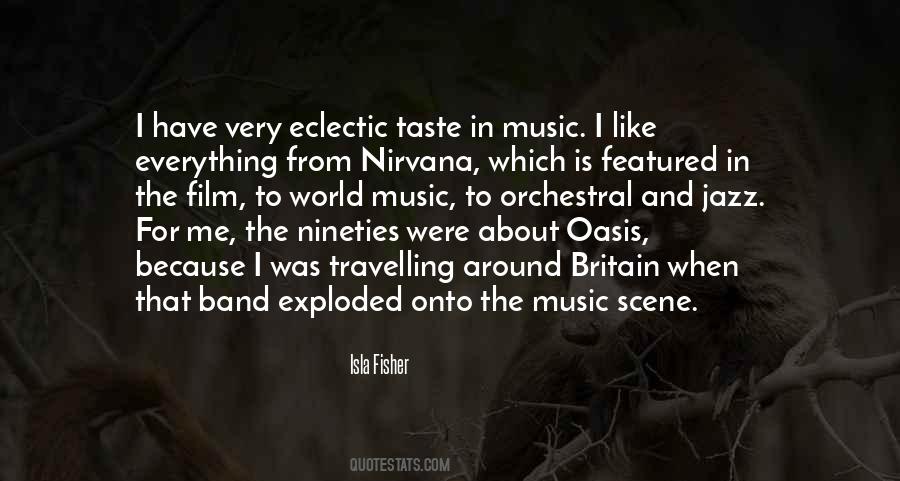 #80. The arts translate life into film and literature and music and repeat a deadly poison: the monotonous in life must be protected at all costs. - Author: Morrissey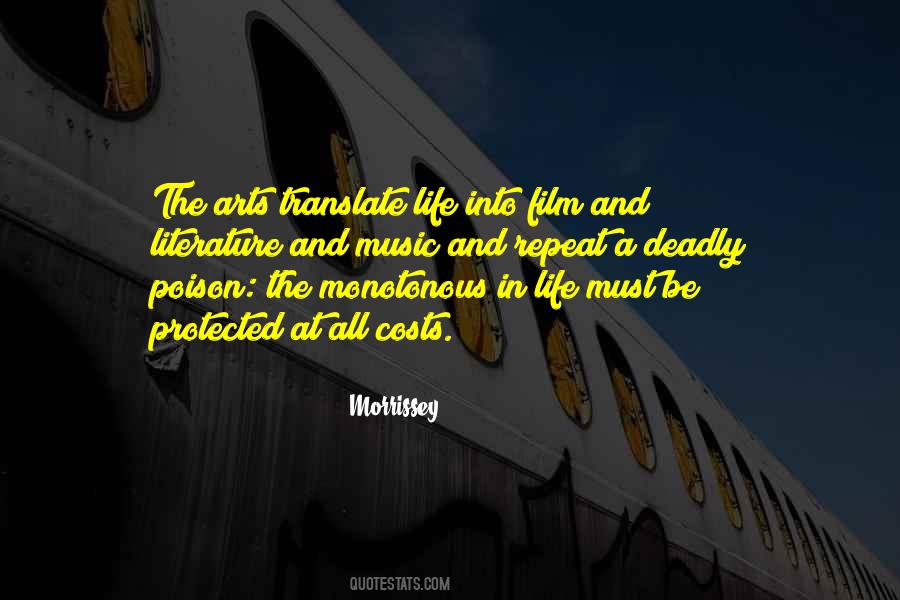 #81. It's hard to have a film and television career and do music work at the same time. - Author: Denis Leary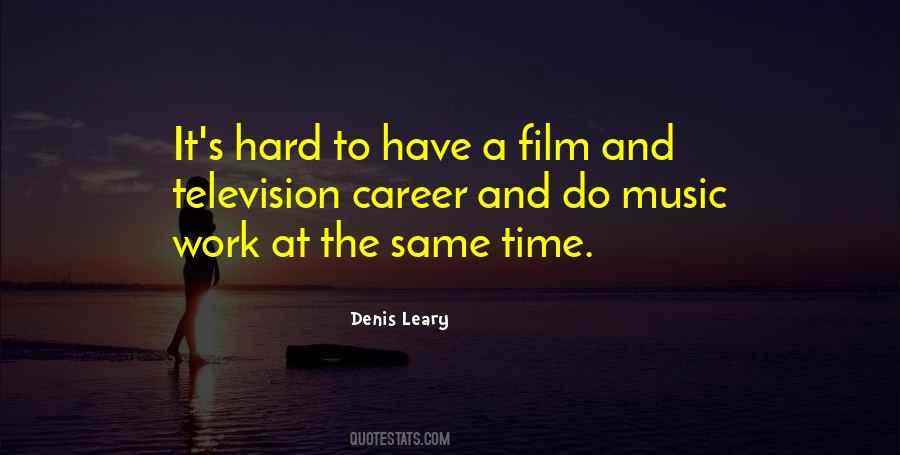 #82. Does film music really matter to the average moviegoer? A great score, after all, can't save a bad film, and a bad score - so it's said - can't sink a good one. - Author: Terry Teachout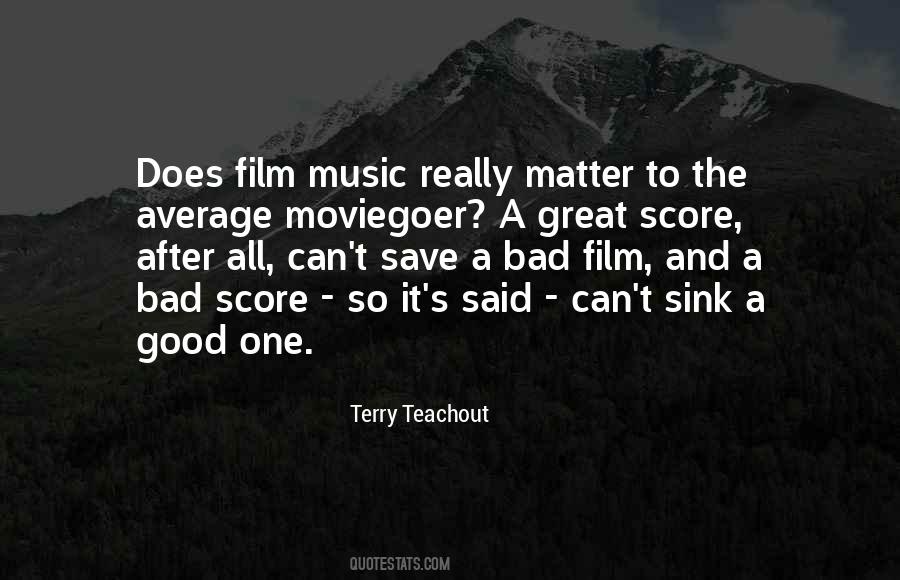 #83. Creating music, visual art, producing music and film are always at the forefront of my life. - Author: Matt Sorum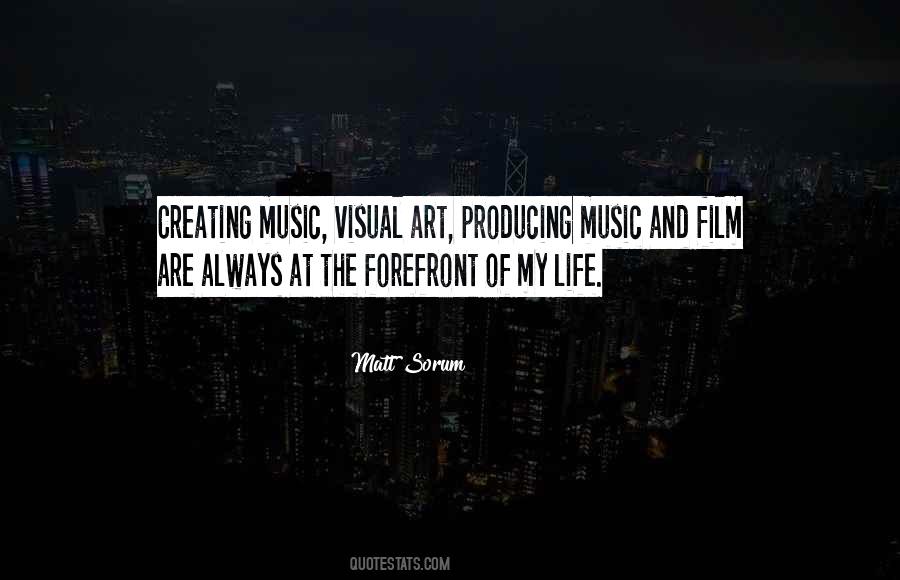 #84. The only people who have doubts about the sincerity of my music are people who come to it relatively late, off the back of having seen me in a film. Acting is about being other people, and music is about being myself. - Author: Riz Ahmed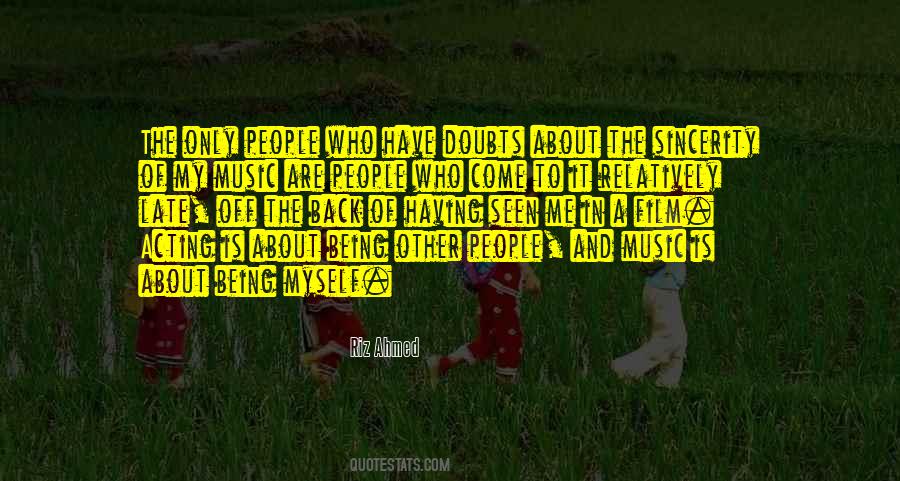 #85. I like every part [of the film process ] except the business and admin stuff. The initial idea. Writing. Re-writing. Casting. Directing, Editing. If I had to chose I'd say writing, followed by putting music on the picture. That is magical. - Author: Ricky Gervais
#86. I want to do television, film, music and designing. I want to do it all! - Author: Chanel Iman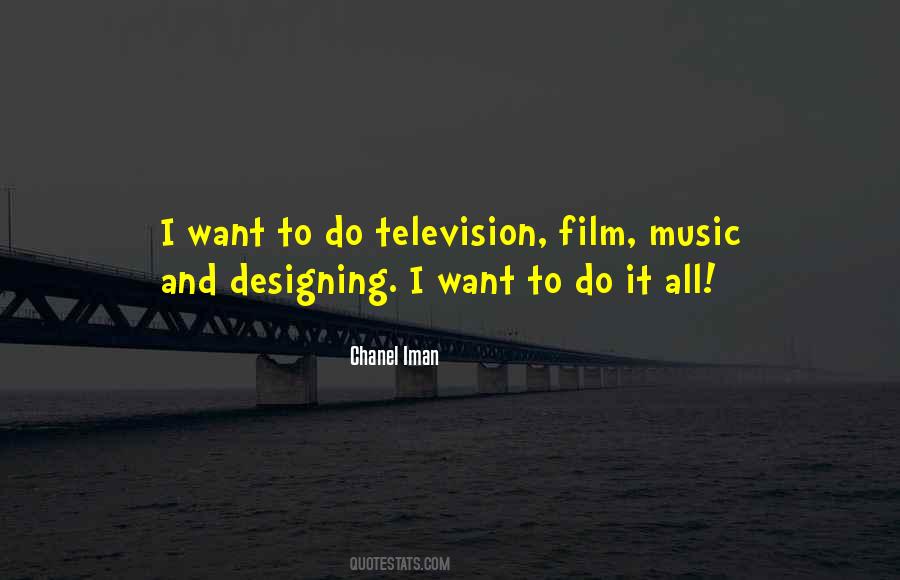 #87. When you're actually making a film, it's just people on your back all the time wanting stuff and you're constantly having to it deal with them. It's probably the most time consuming of all the arts, but I do love it because it is a great mix of visual art and music and writing. - Author: Taika Waititi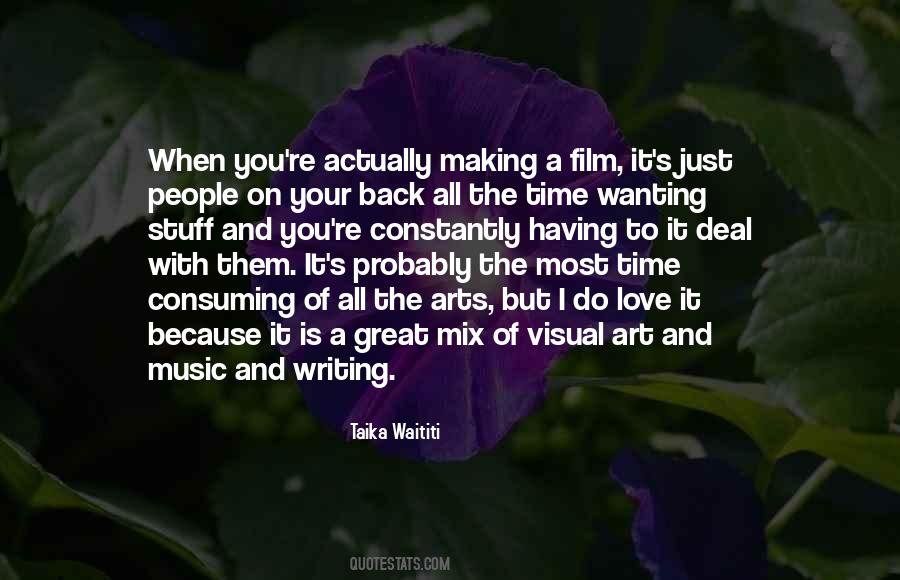 #88. Music is so much fun because each song is like a film in itself. You get to go from beginning to end and interact and exchange energy with a live audience. - Author: Shawnee Smith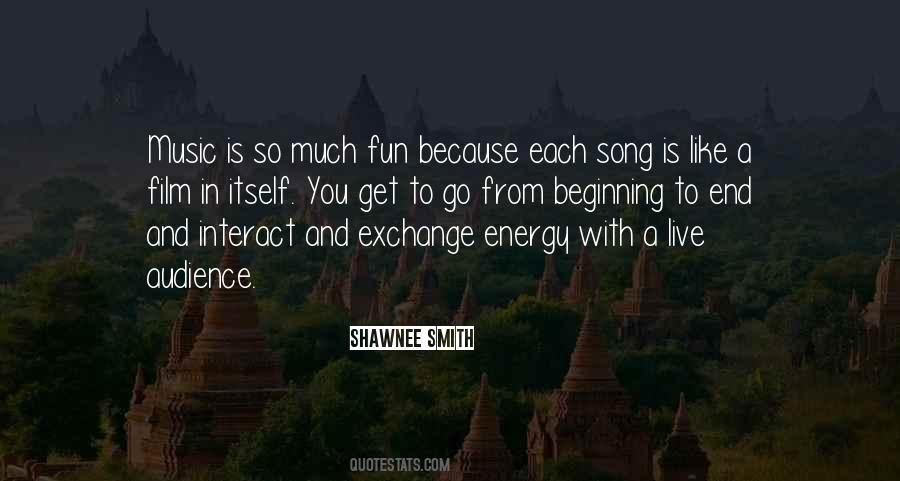 #89. My brain kind of rolls pretty fast when I'm conscious. It's constantly looking for stuff to do. Like if I'm in my house and I'm hanging out, I tend to be listening to music whilst watching a film whilst sending e-mails. - Author: Dominic Monaghan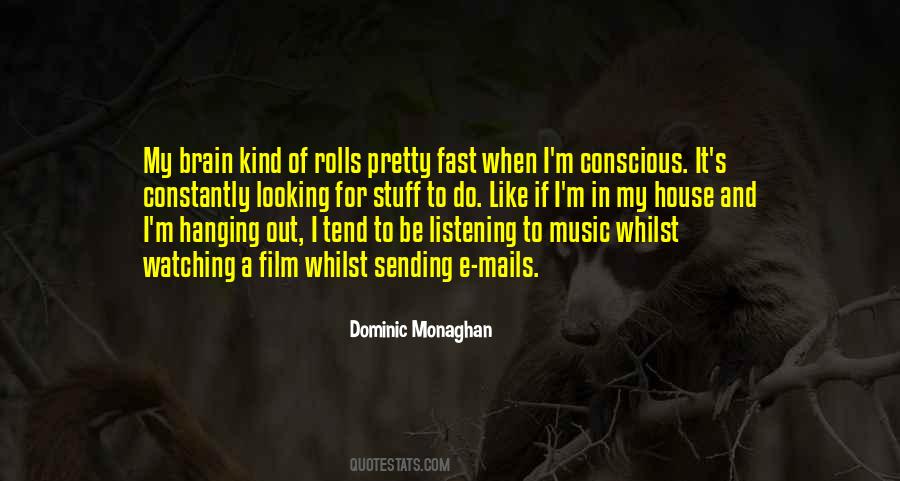 #90. What we see on the TV screen, or the film screen or what we listen to in music, we have an illusion of what Prince Charming looks like or Cinderella's gonna look like in our life and we forget about what true love really means. - Author: Shari Wiedmann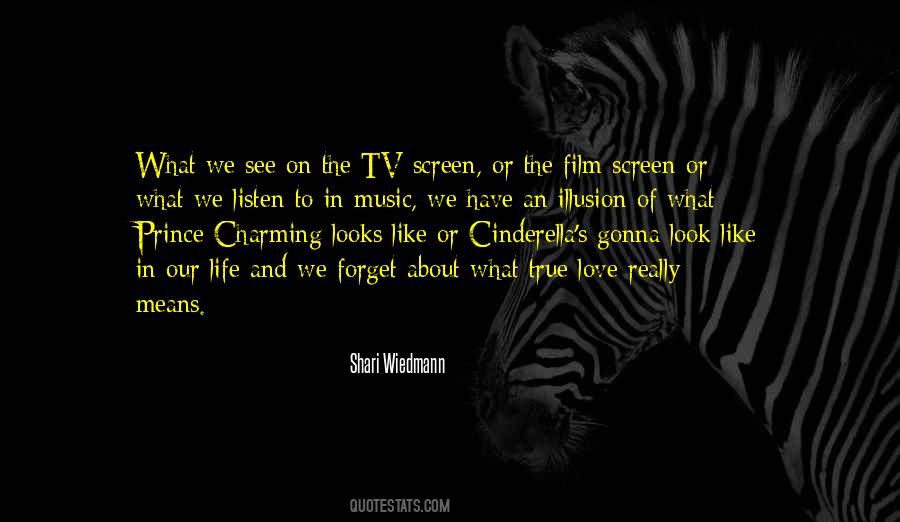 #91. When I start a film, I can sort of shut my eyes, sit somewhere quiet and imagine the movie finished. I can imagine the camera angles, I can even imagine the type of music. Without knowing the tune, I can imagine the type of music it needs to be. - Author: Peter Jackson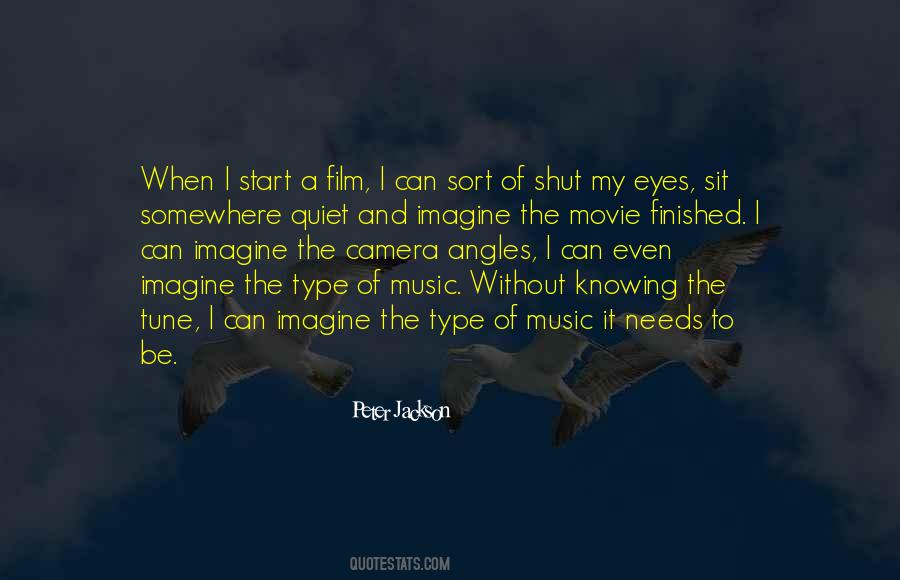 #92. In opera, everyone's watching from a fixed viewpoint, and that really challenges you. Lighting, the sets, stage groupings, the music-but doesn't relate too much to film. - Author: Bruce Beresford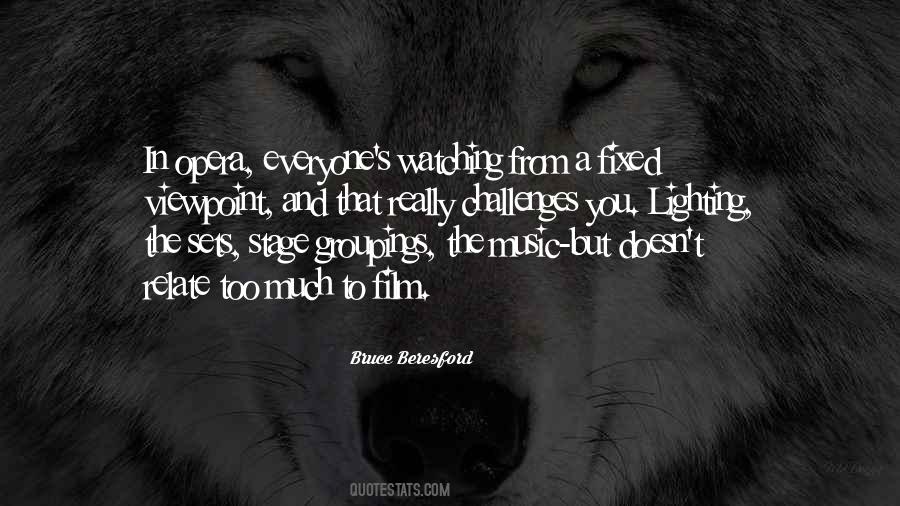 #93. The '60s is one of my favourite eras in general. I love '60s music, and I've always wanted to do a period film. - Author: Zoe Kravitz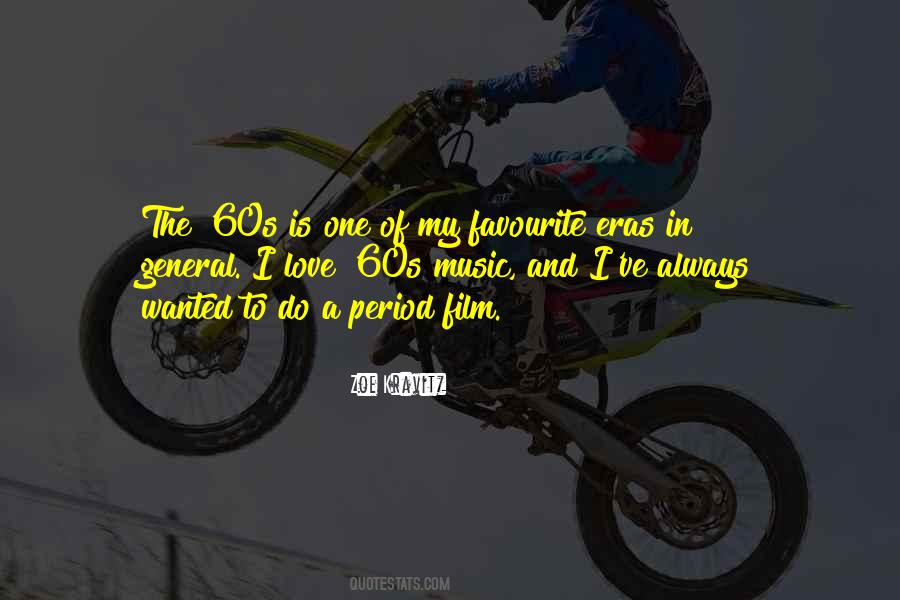 #94. The possibilities are endless for me - Broadway, TV, music and film. - Author: Michelle Williams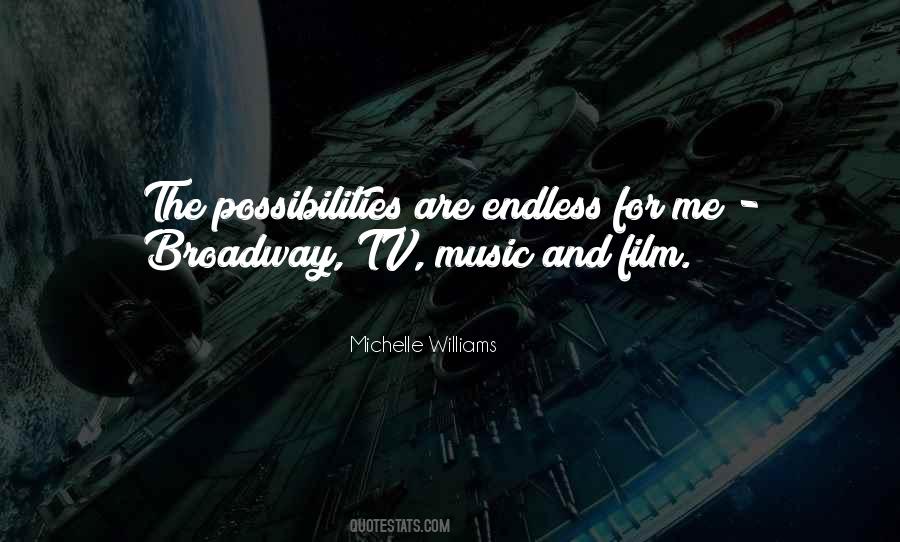 #95. To be a film director is not a democracy, it's really a tyranny. You're the head of the project, for better rather than worse. I write the film and I direct the film, I decide who's going to be in it, I decide on the editing, I put in the music from my own record collection. - Author: Woody Allen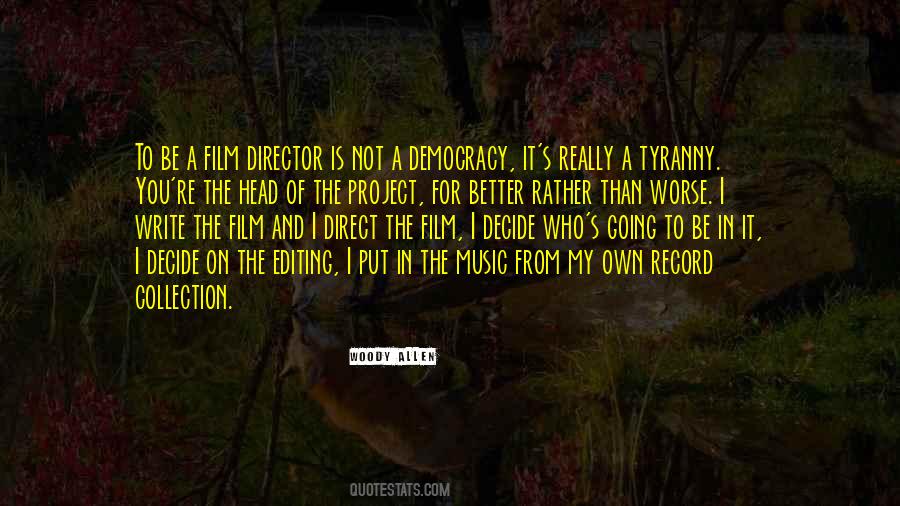 #96. I was always into music, but I wanted to do film when I was kid. I remember seeing big movies and wanting to do them. Then I was lucky enough to act in some of them, and I fell in love with it. - Author: Matthew James Thomas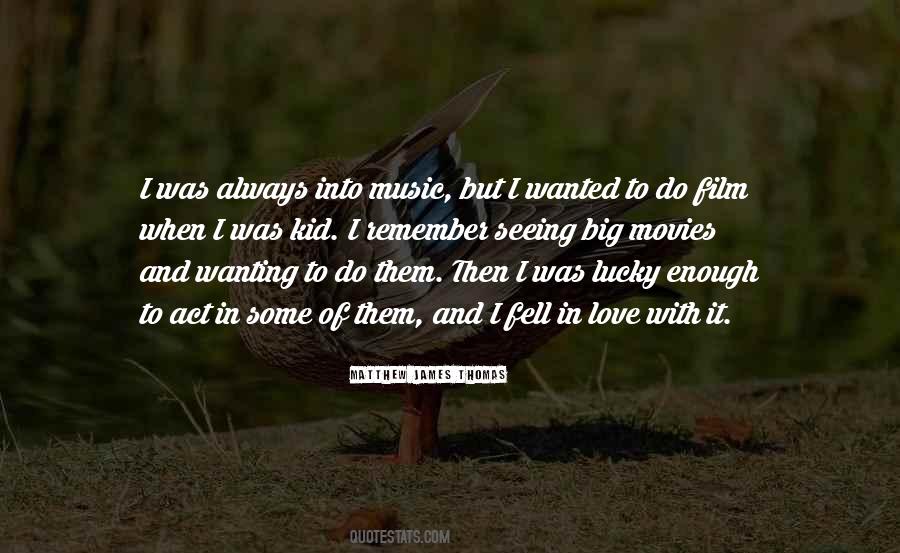 #97. Film composers are the most prolific music makers on this planet, and most of us are, like, losing our minds if we're doing five or more movies in a year. - Author: Christopher Young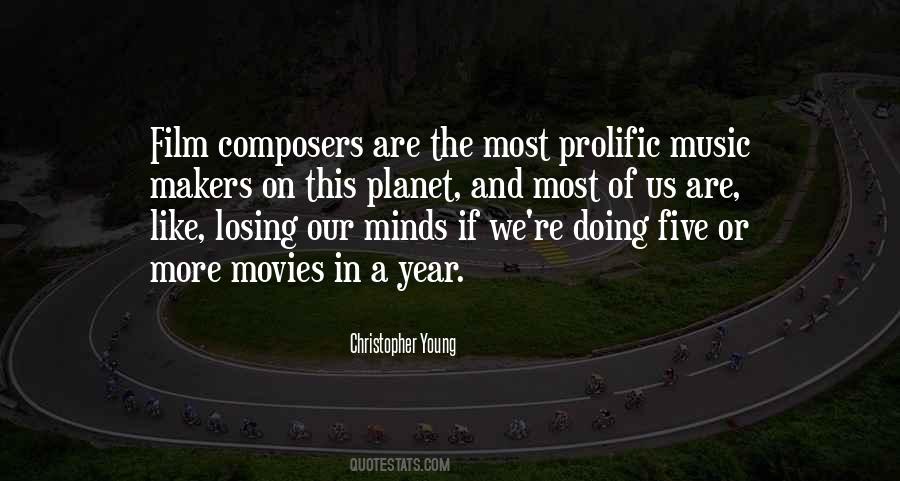 #98. I really think music and movement - dance, you know - and literature inform my visuals. I think film is also based in dance. The relationship between me, the camera and the actor is always a dance. - Author: Christopher Doyle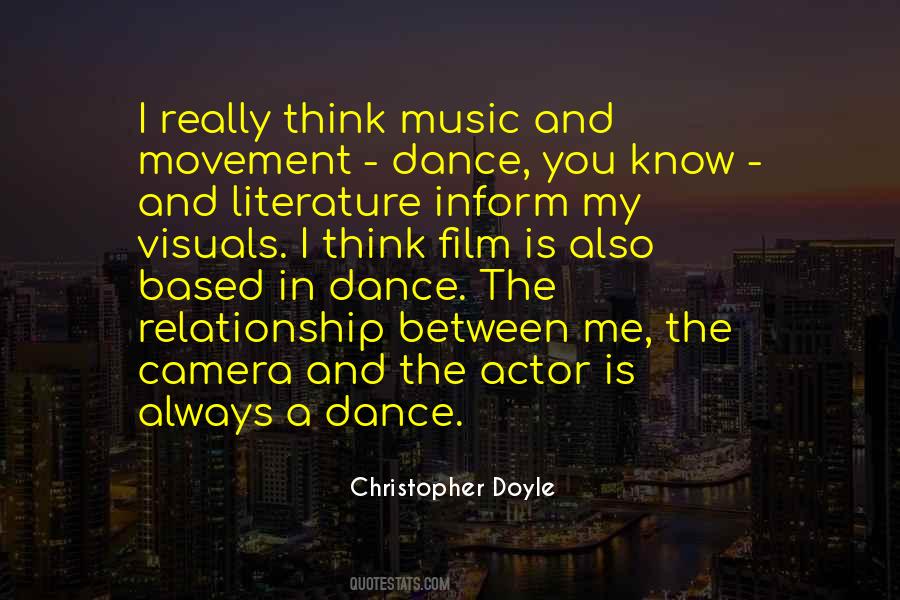 #99. Music has an immediate effect. If you want to go beyond that and look underneath, film is a good way of explaining. - Author: Stewart Copeland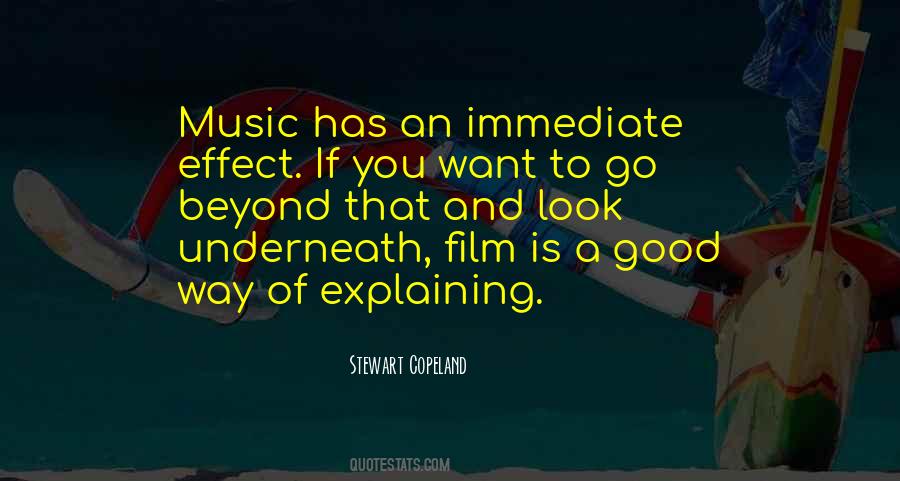 #100. I actually write film music because I'm classically trained on the piano so as well as songwriting I also write actual film music that could be used for movies like war movies and love movies. - Author: Vanessa Brown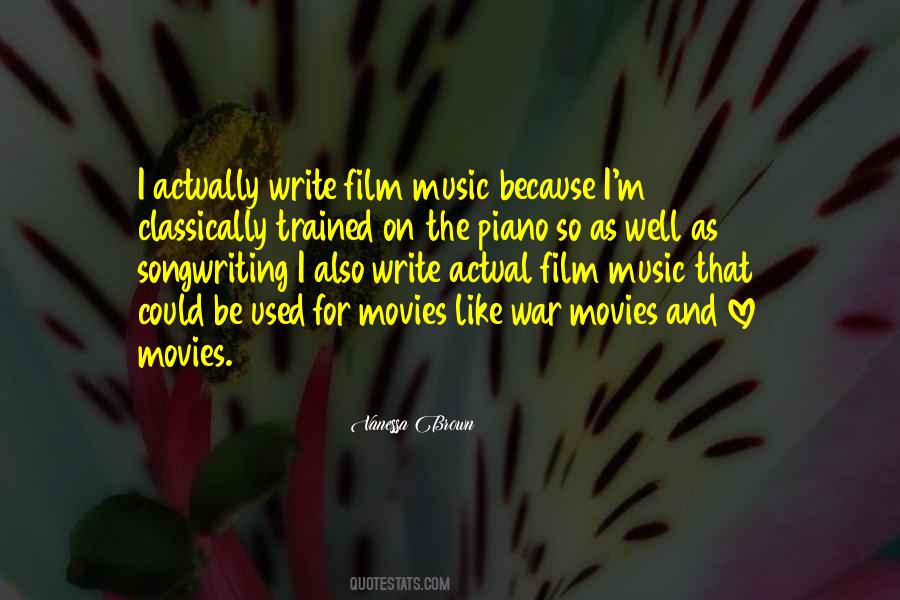 Famous Authors
Popular Topics