Fill Yourself With Love Famous Quotes & Sayings
List of top 76 famous quotes and sayings about fill yourself with love to read and share with friends on your Facebook, Twitter, blogs.
Top 76 Fill Yourself With Love Quotes
#1. This is your life so fill it with beauty and love. - Author: Debasish Mridha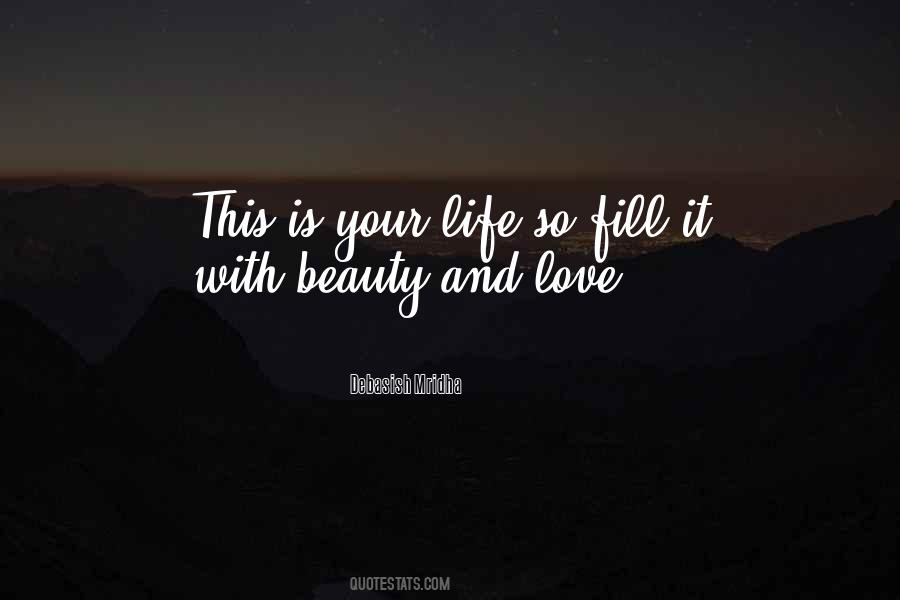 #2. What you fail to understand is the power of hate. It can fill the heart as surely as love can. - Author: Earl Felton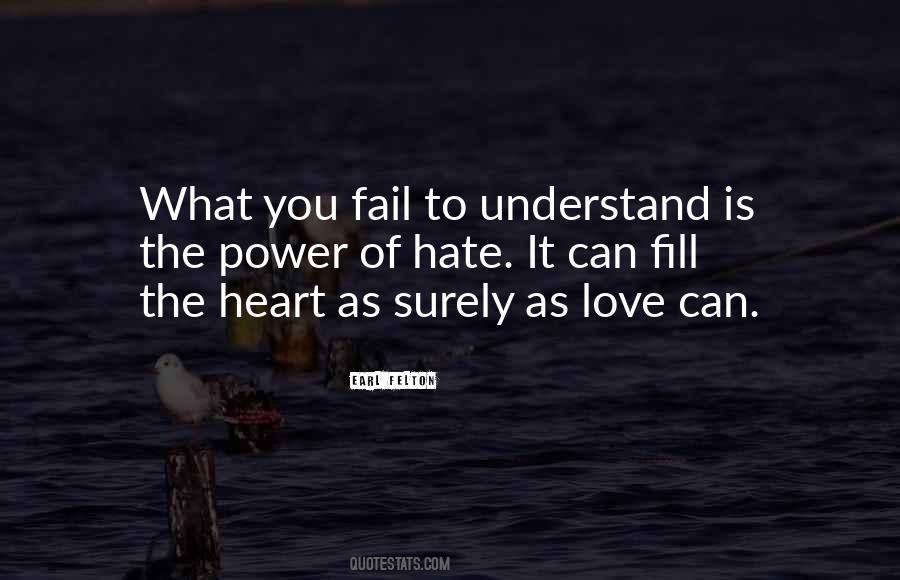 #3. Love is the way I feel for you, the way you fill something inside me whenever you so much as walk into the same room. Sometimes love is quite, lingering in the background until you least expect it. But love it always there for you - Author: Aimee Carter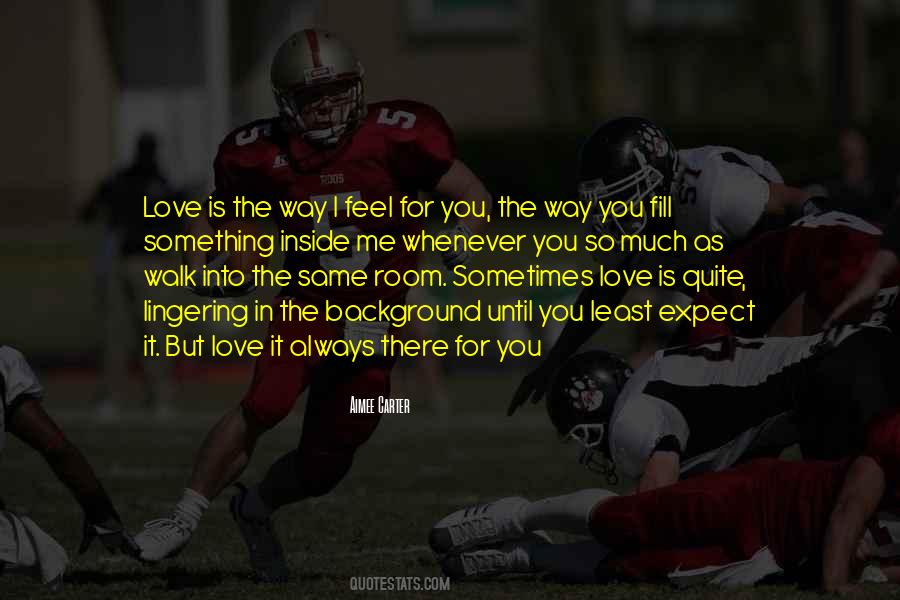 #4. All around us God is writing a grand story of His love and He invites us to let our lives fill the pages. - Author: Kristen McNulty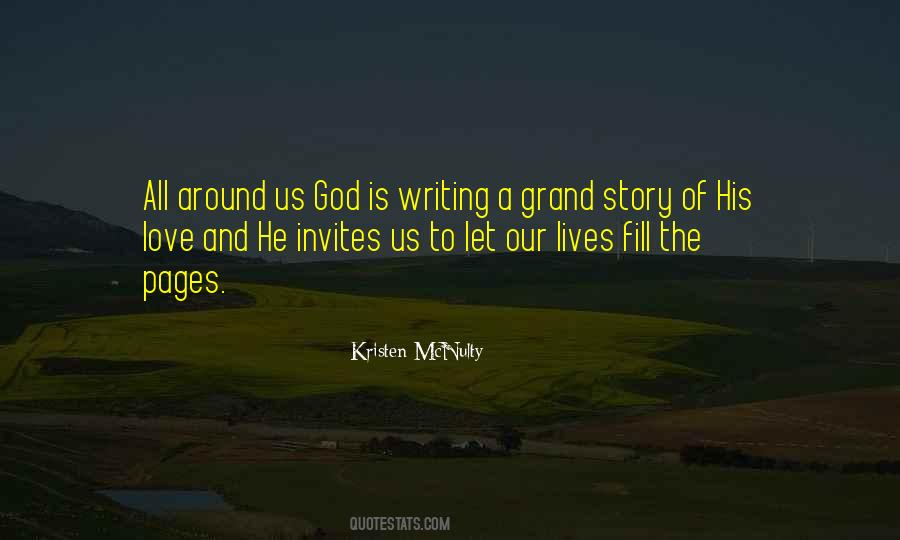 #5. Being hurt by someone you truly care about leaves a hole in you heart that only love can fill. - Author: George Bernard Shaw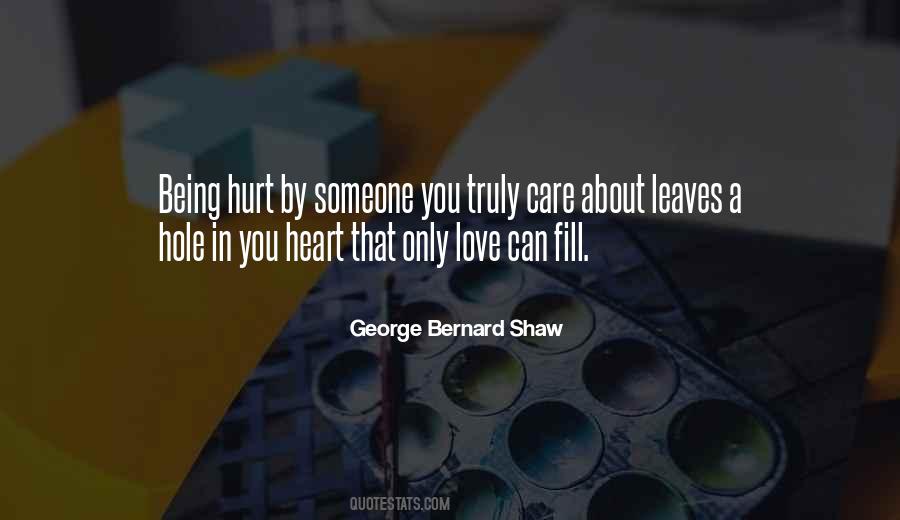 #6. The warrior knows that the most important words in all languages are the small words. Yes. Love. God. They are words that are easy enough to say and which fill vast empty spaces. - Author: Paulo Coelho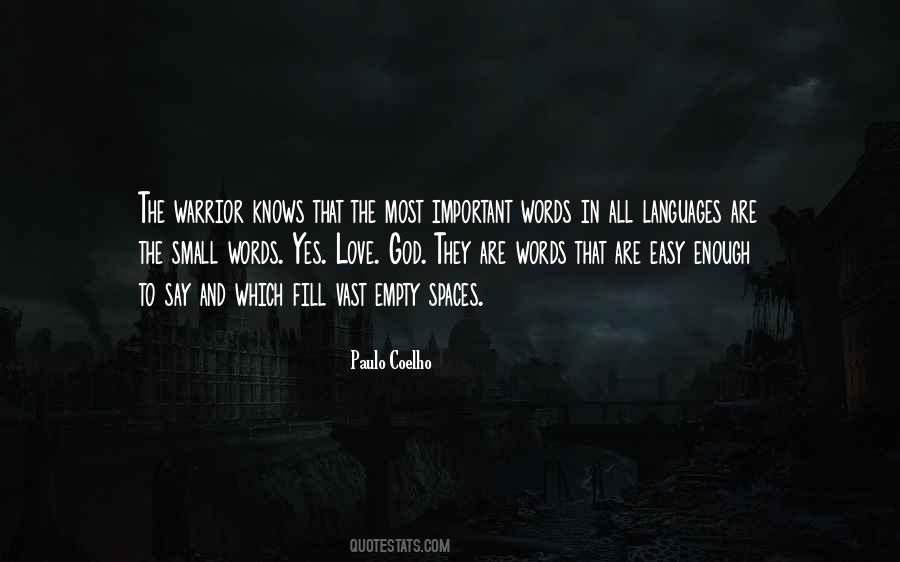 #7. Life will be peaceful if you can fill your heart with an abundance of love. - Author: Debasish Mridha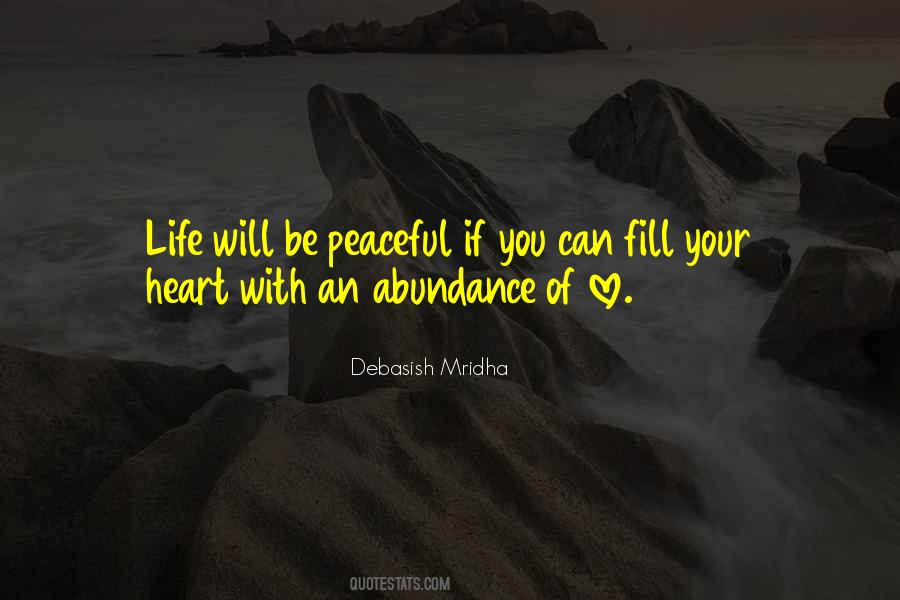 #8. I ache to hear her tell me she loves me, but forcing her to put words to how she feels pushes her further into the silence she seems comfortable calling home now. I tell myself to be patient and understanding, but inside there's a longing only those words will fill, and it hurts to ignore it. - Author: C.J. Redwine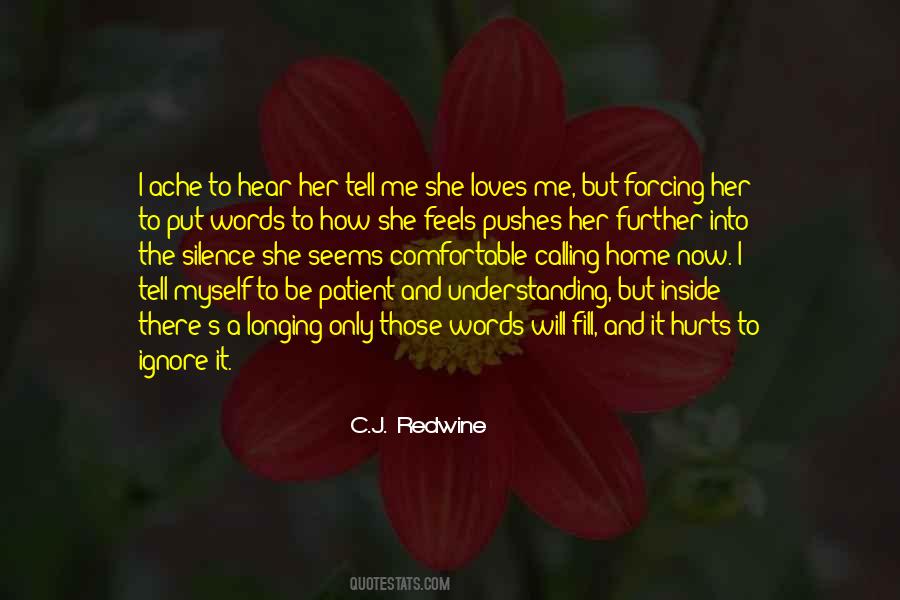 #9. He had not known until that moment that your heart can break with love, that it can fill with such inexpressible tenderness till you just about can't stand it anymore. - Author: Leonard Pitts Jr.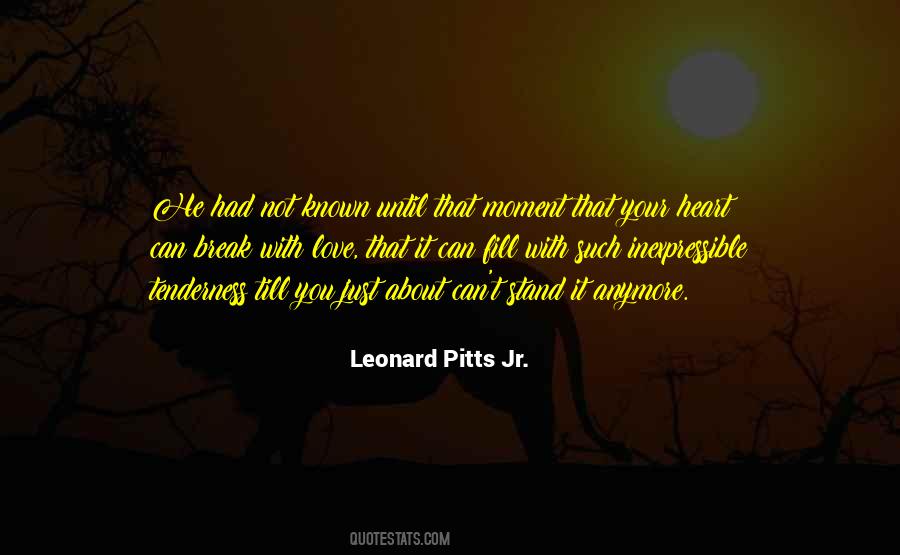 #10. I studied every page of this book, and I didn't find enough love to fill a salt shaker. God is not love in the Bible; God is vengeance, from Alpha to Omega. - Author: Ruth Hurmence Green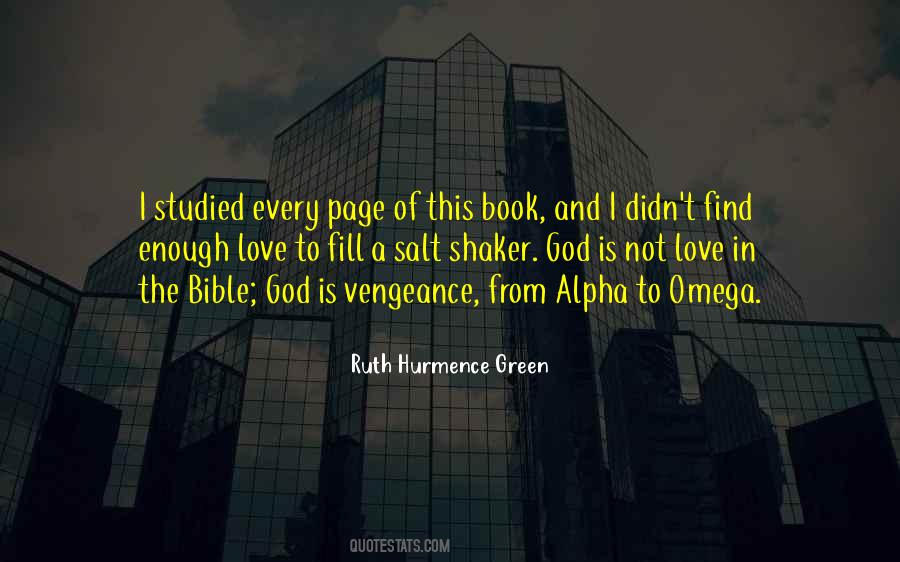 #11. By becoming forgiving, fill yourself with love, and then, with profound kindness, give it away. - Author: Debasish Mridha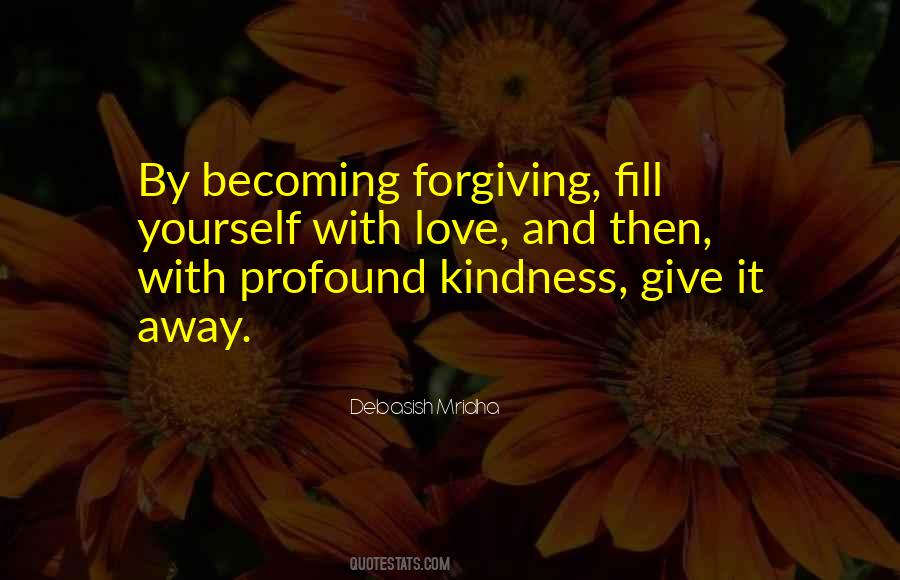 #12. We're here today, gone tomorrow and all we have in between are the little moments we can fill up with life, with love. It's not the big things we do, it's the energy we put into making special moments every day. That's what counts. - Author: Jan Hambright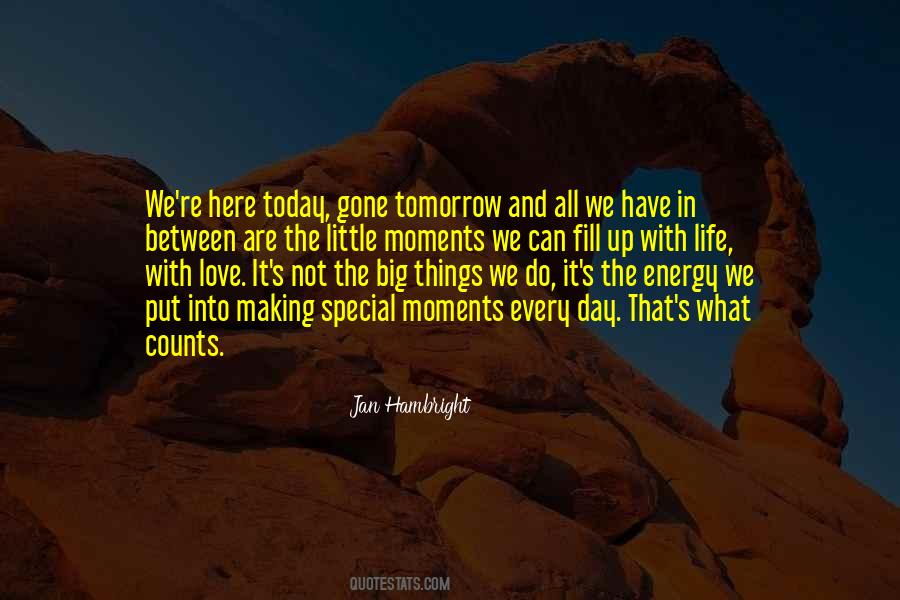 #13. Fill your life with love and you will be healthy, young, beautiful and full of energy and strength. - Author: Sunday Adelaja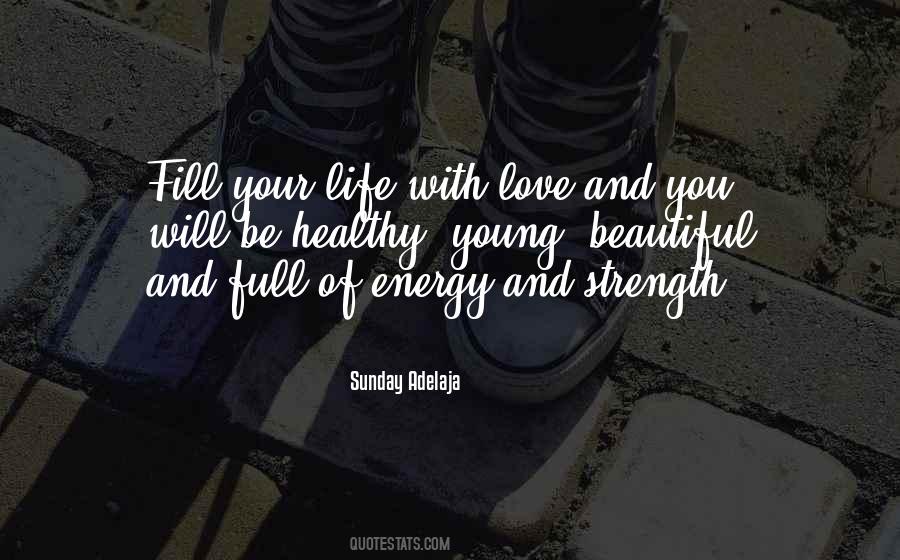 #14. I want to meet the love of my life, marry her, fill our house with kids and do what I need to do to give them everything they need." "You - Author: Kandi Steiner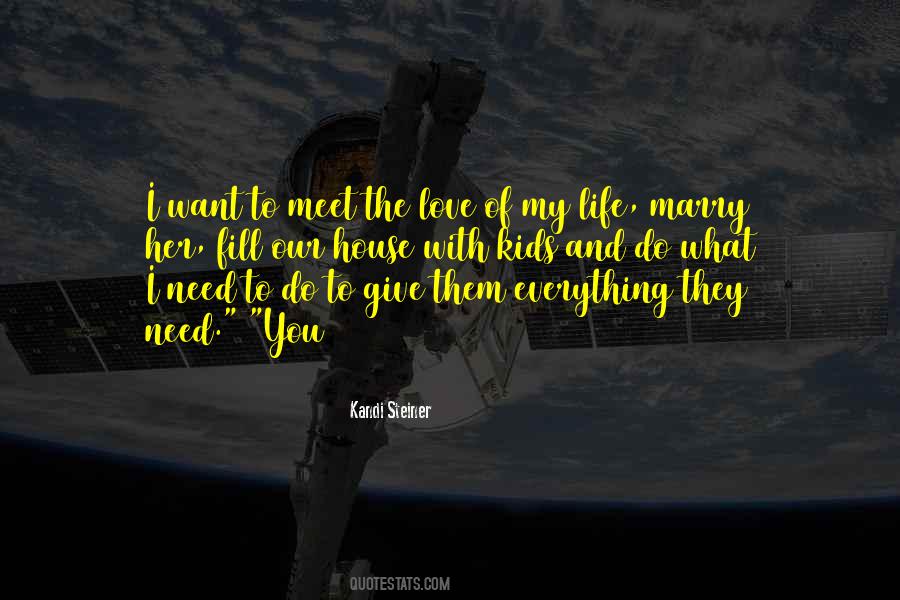 #15. The flood of love will fill all the containers to the fullest, but some containers will be larger than others. - Author: Peter Kreeft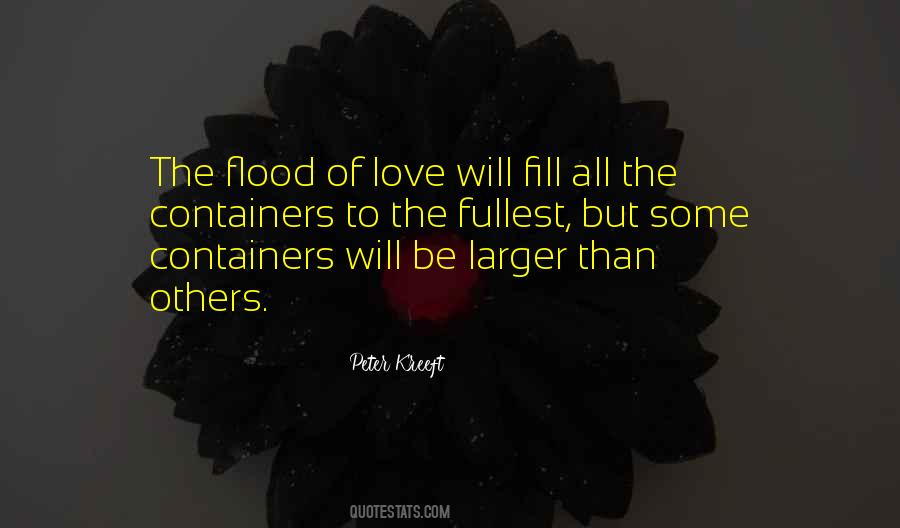 #16. I'm gay for Jesus, fill me with your grace. Pour your love all over me, but please aim away from my face. - Author: Bo Burnham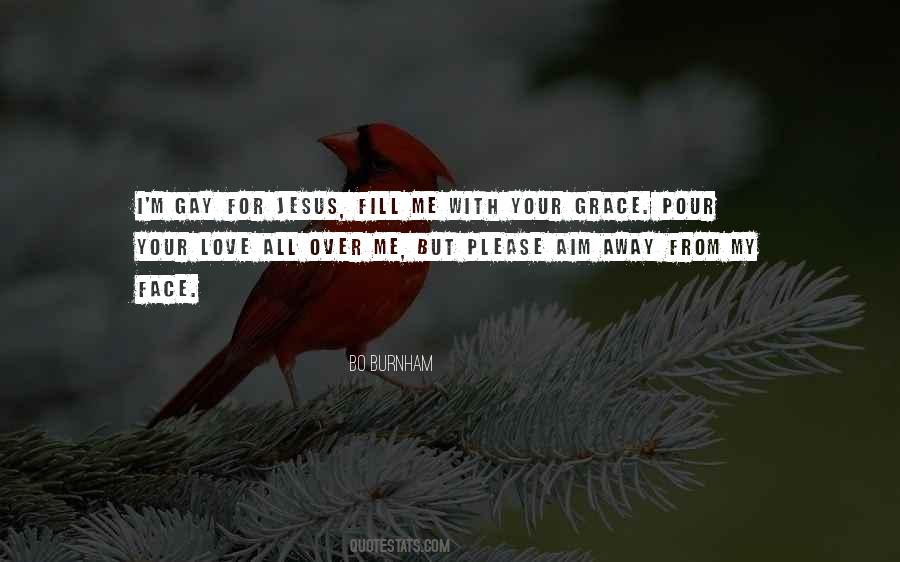 #17. To fill your life with joy and happiness, the greatest gift that you can give is love and kindness. Wishing you a memorable birthday! - Author: Debasish Mridha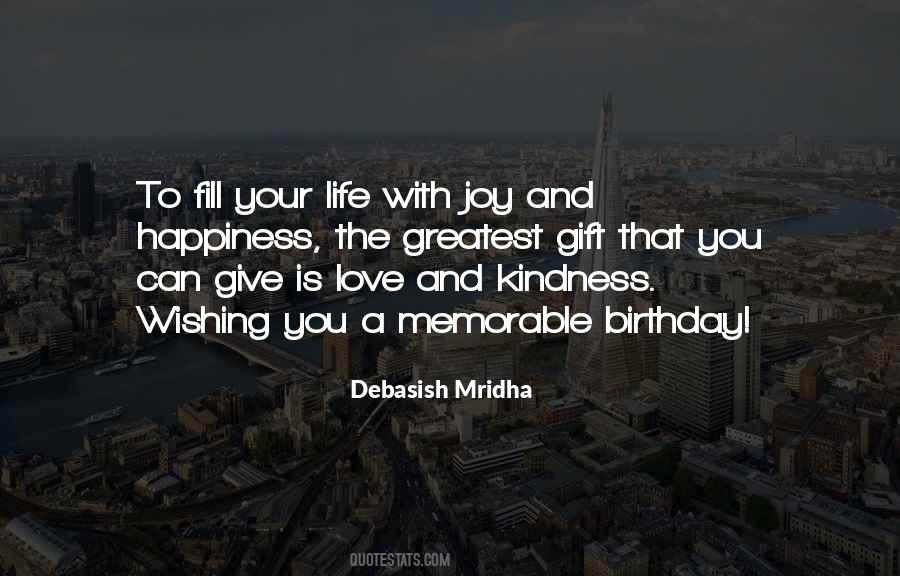 #18. Nothing can fill the gap when we are away from those we love, and it would be wrong to try to find anything ... It is nonsense to say that God fills the gap; he does not fill it, but keeps it empty so that our communion with another may be kept alive, even at the cost of pain. - Author: Dietrich Bonhoeffer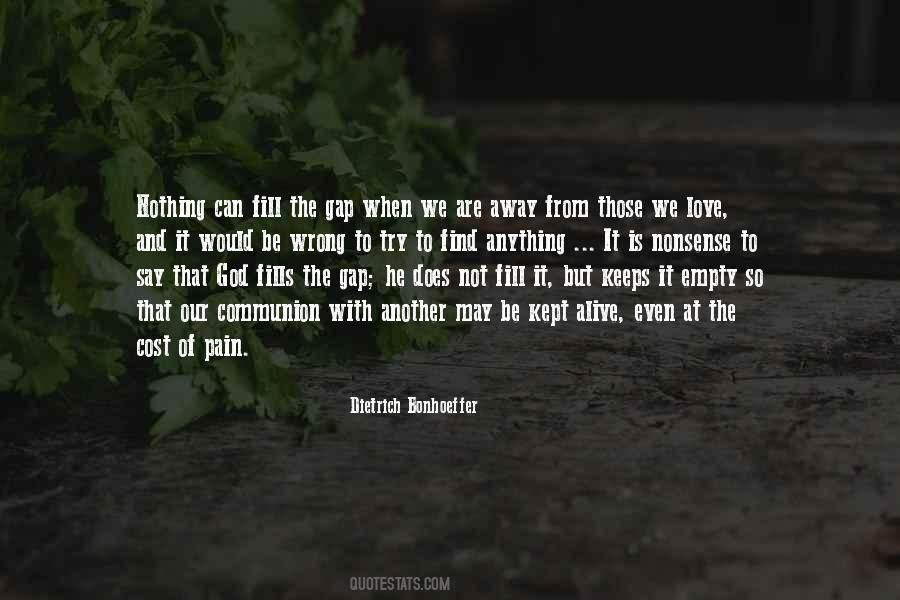 #19. To achieve a higher consciousness, fill your heart with love and forget to judge, compete, or compare. - Author: Debasish Mridha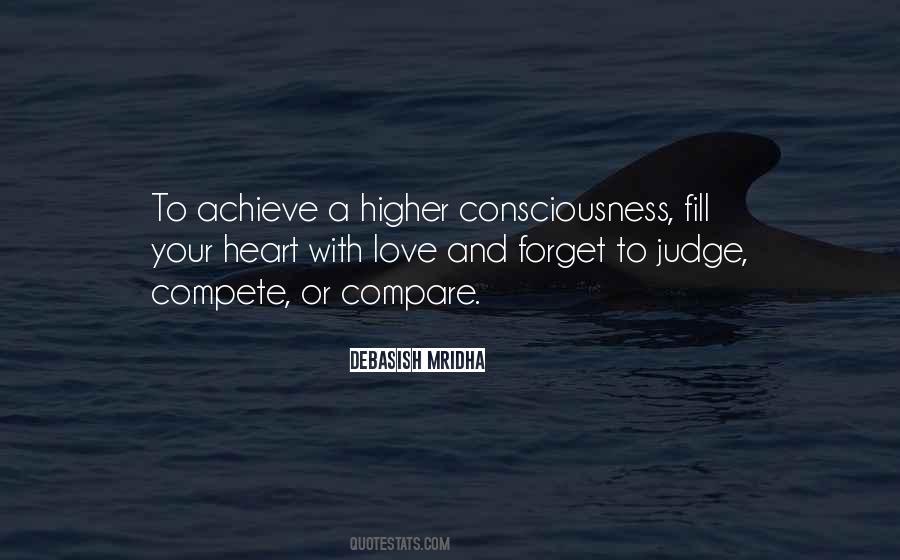 #20. Happiness is there when you express kindness, compassion, and unconditional love and fill yourself with bliss and joy. - Author: Debasish Mridha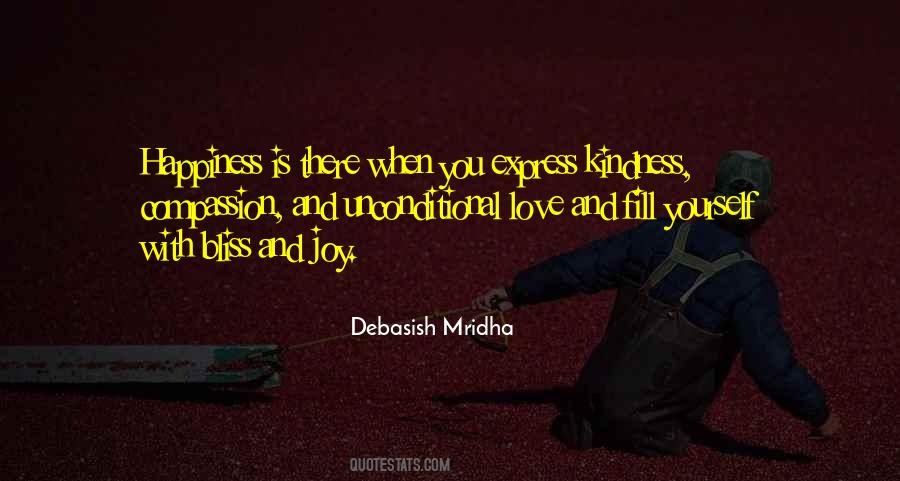 #21. If you require love, try to realize that the only way to get love is by giving it, that the more you give the more you will get, and the only way you can give it is to fill yourself up with it, until you become a magnet. - Author: Charles F. Haanel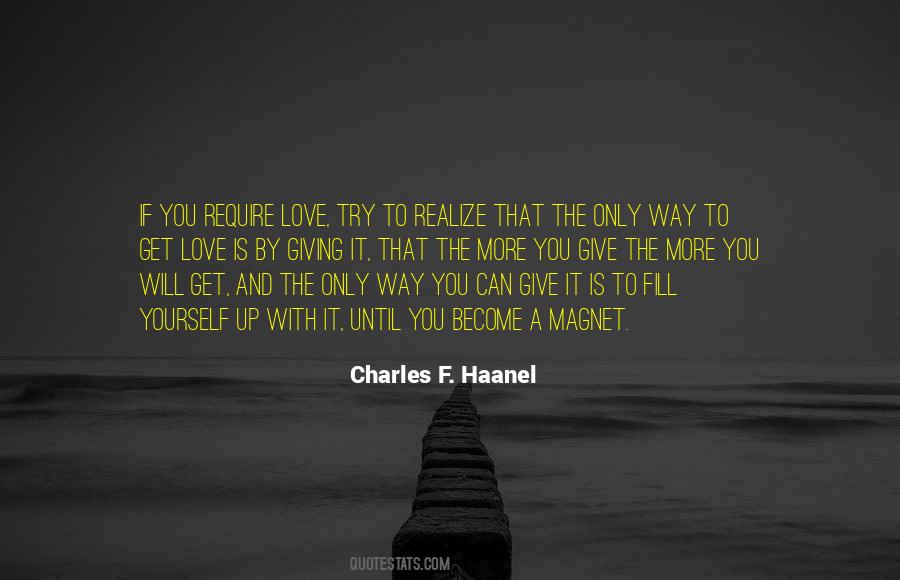 #22. Fill yourself with love to feel the abundance of life. - Author: Debasish Mridha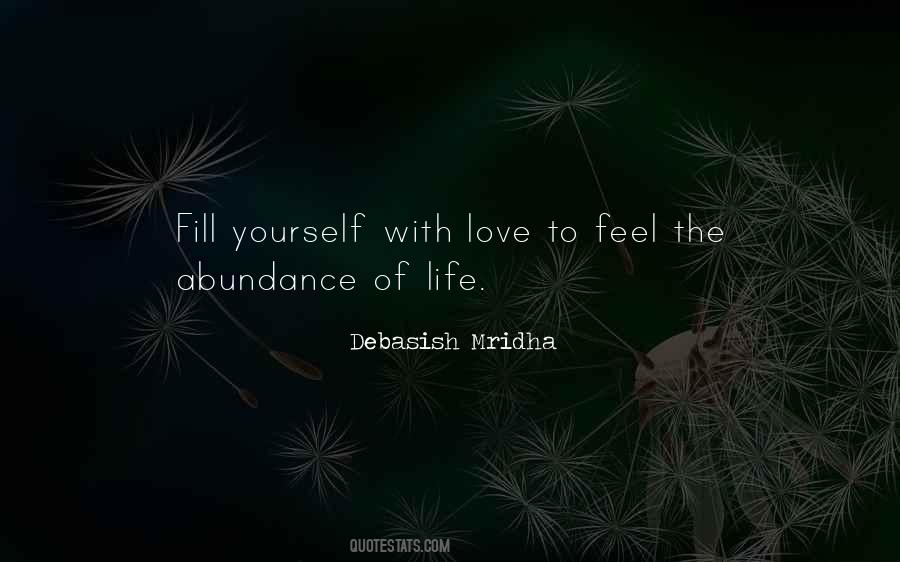 #23. The best friend you will ever find is you. You must love yourself with joy to fill your heart with bliss and happiness. - Author: Debasish Mridha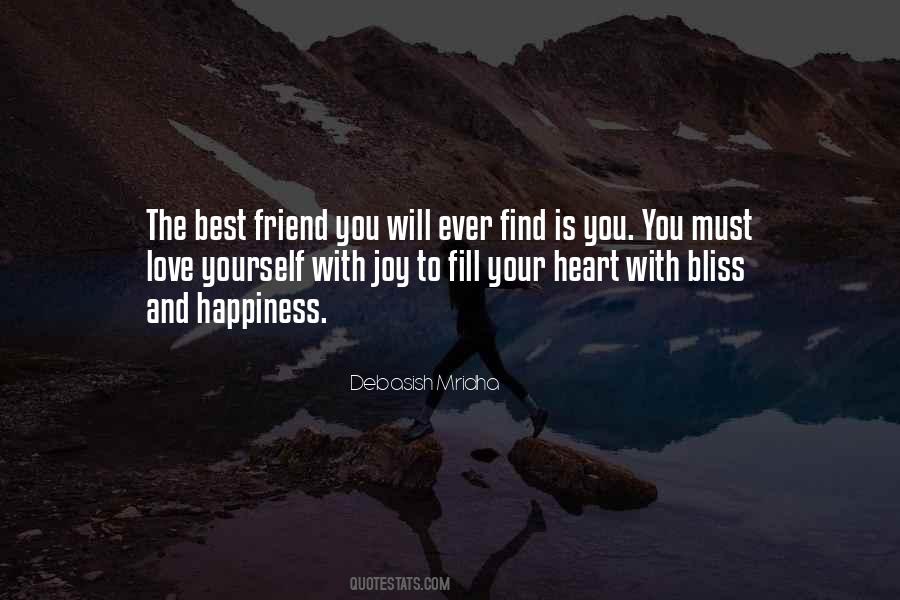 #24. Love yourself first to fill your heart with bliss. Now give it away with humility, love, and gratitude. - Author: Debasish Mridha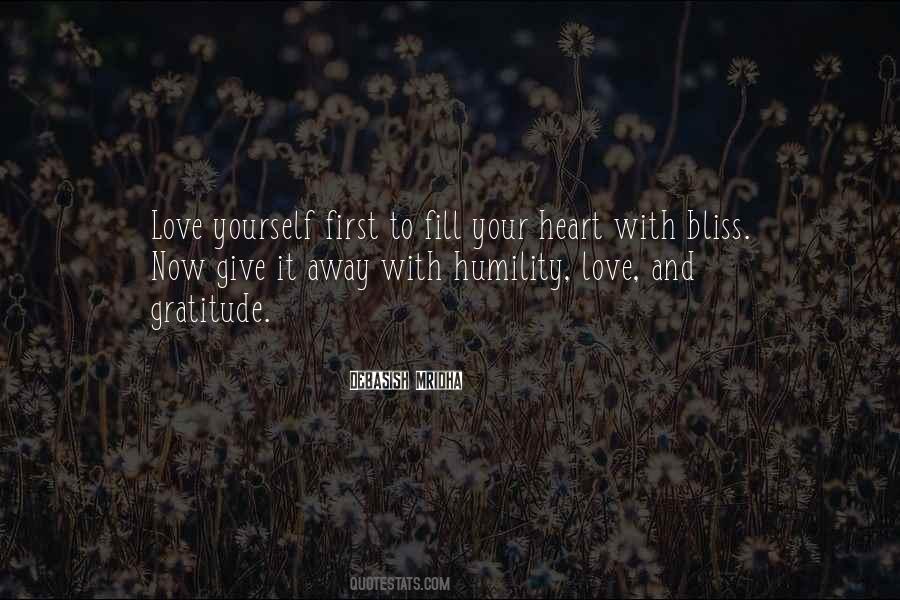 #25. Emptiness is not a great loss. It creates a great opportunity to fill yourself again and again with great love. - Author: Debasish Mridha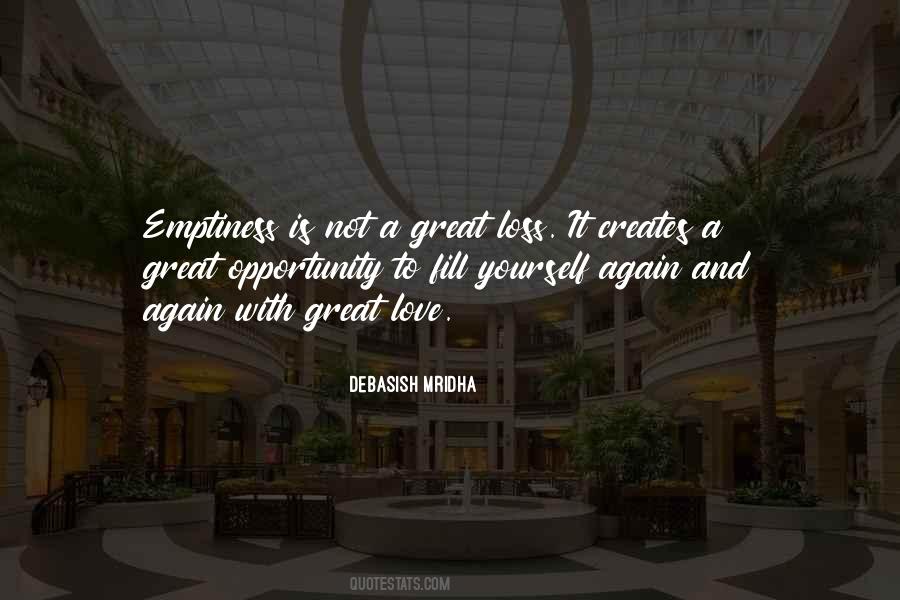 #26. You deserve your love more than anyone else. First fill your vessel with love and then give it away with joy. - Author: Debasish Mridha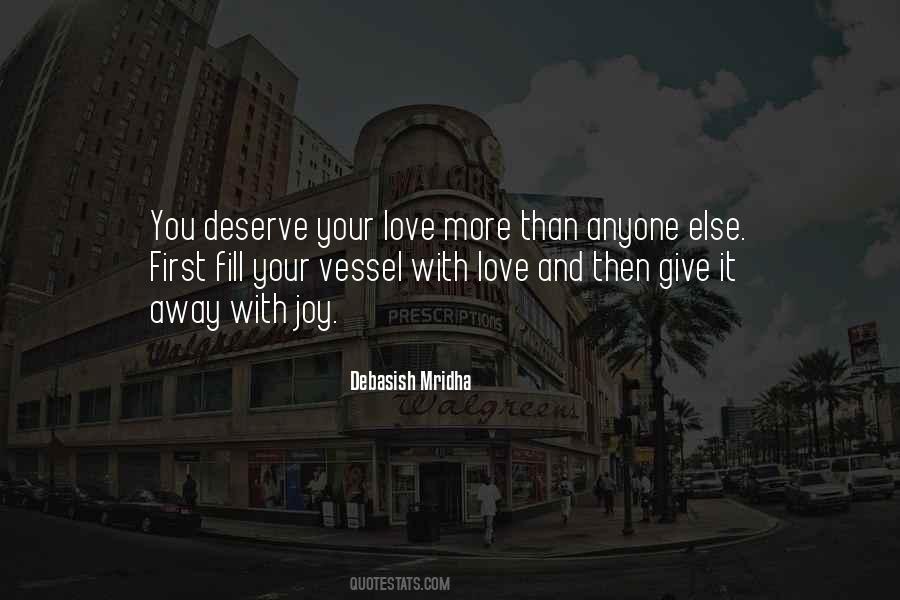 #27. Love yourself to fill your heart with kindness.
Then love others to fill the world with happiness. - Author: Debasish Mridha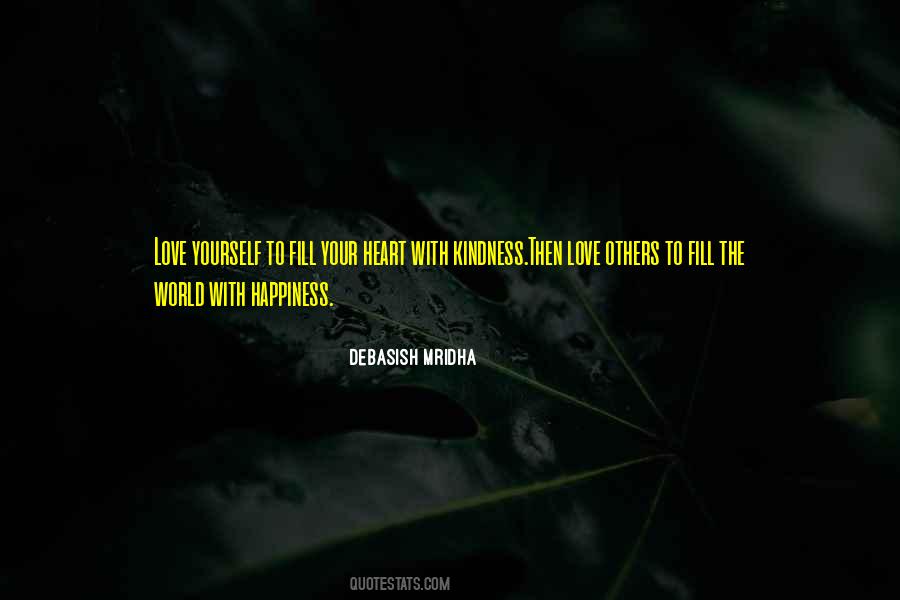 #28. Fill yourself with love and happiness, but never give up the desire to love more. - Author: Debasish Mridha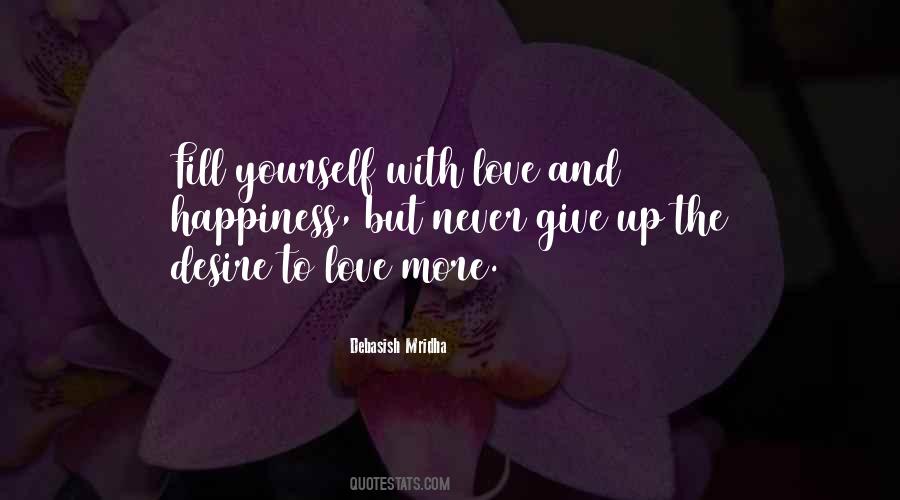 #29. You fill yourself with the sharp pain of love, rather than its fulfillment. - Author: Rumi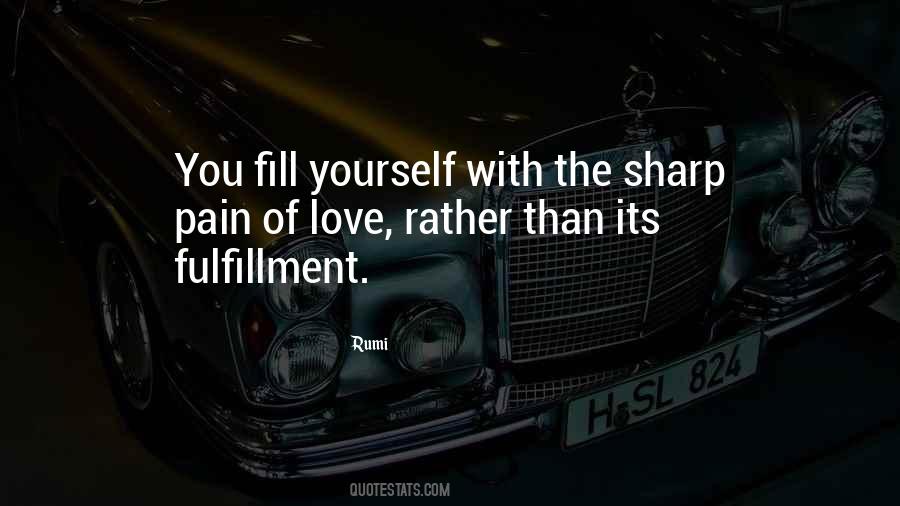 #30. Empty yourself to fill the void with love. - Author: Debasish Mridha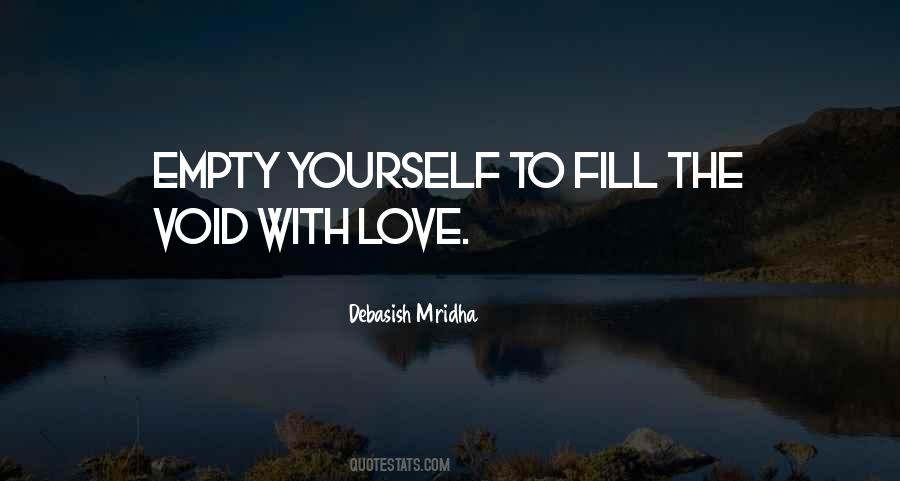 #31. There would be a lot less broken hearts when a relationship fails, if people would understand there's no reason to want someone that doesn't want you. Never allow yourself to feel half empty, when you deserve a relationship that will fill your heart with happiness. - Author: Ron Baratono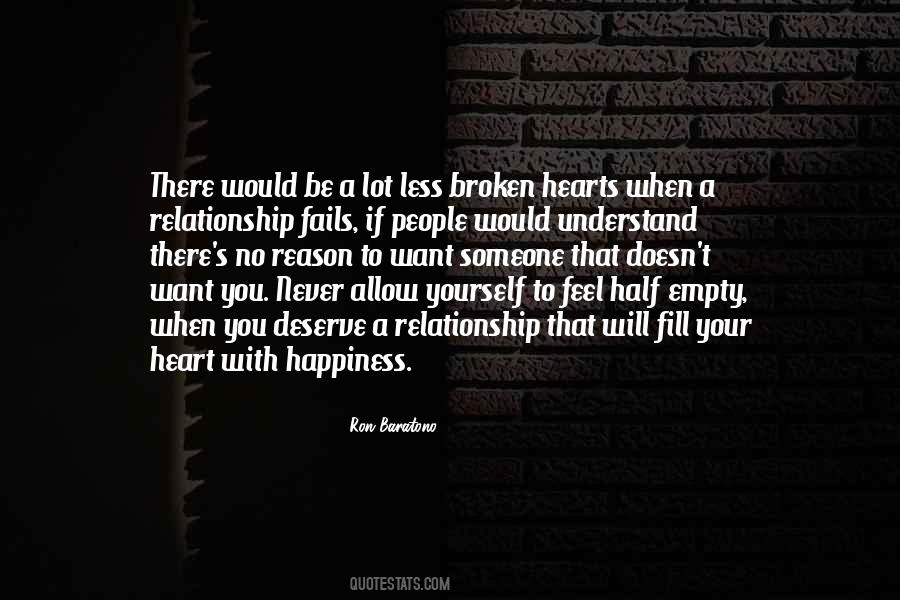 #32. Forgiveness means that you fill yourself with love and you radiate that love outward and refuse to hang onto the venom or hatred that was engendered by the behaviors that caused the wounds. - Author: Wayne Dyer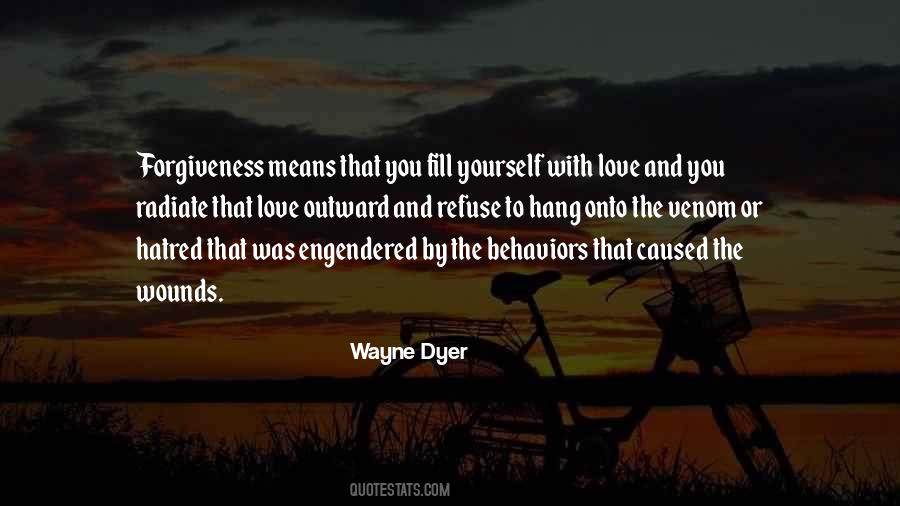 #33. Empty yourself of past resentment, anger, and sadness to fill it with love and pure happiness. - Author: Debasish Mridha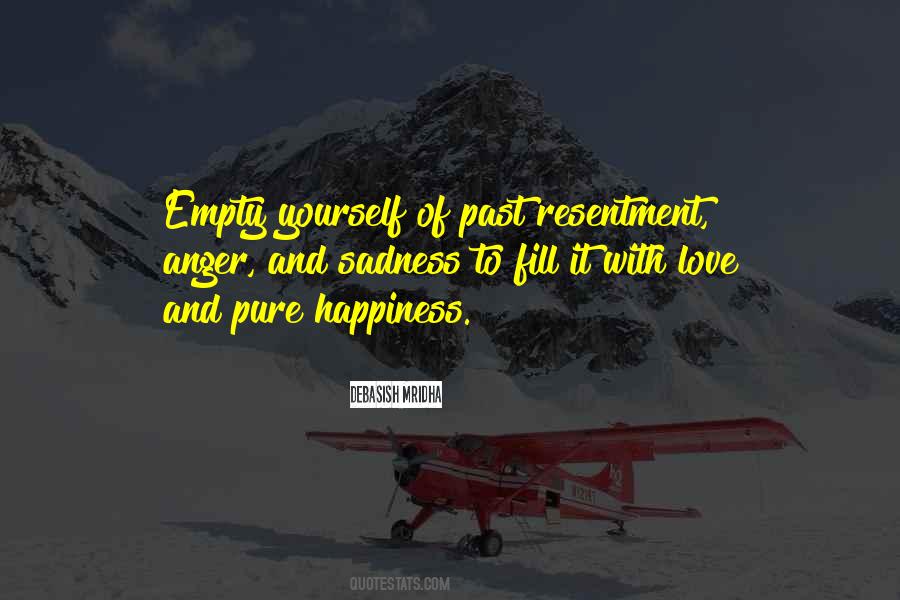 #34. To fill yourself with bliss, today is the best time to start loving yourself deeply. - Author: Debasish Mridha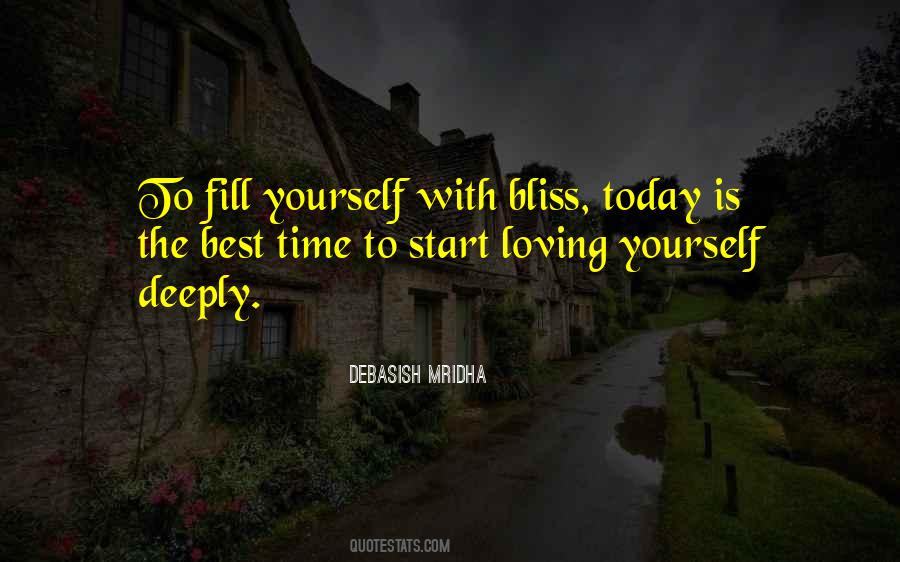 #35. You don't want to love - your eternal and abnormal craving is to be loved. You aren't positive, you're negative. You absorb, absorb, as if you must fill yourself up with love, because you've got a shortage somewhere - Author: D.H. Lawrence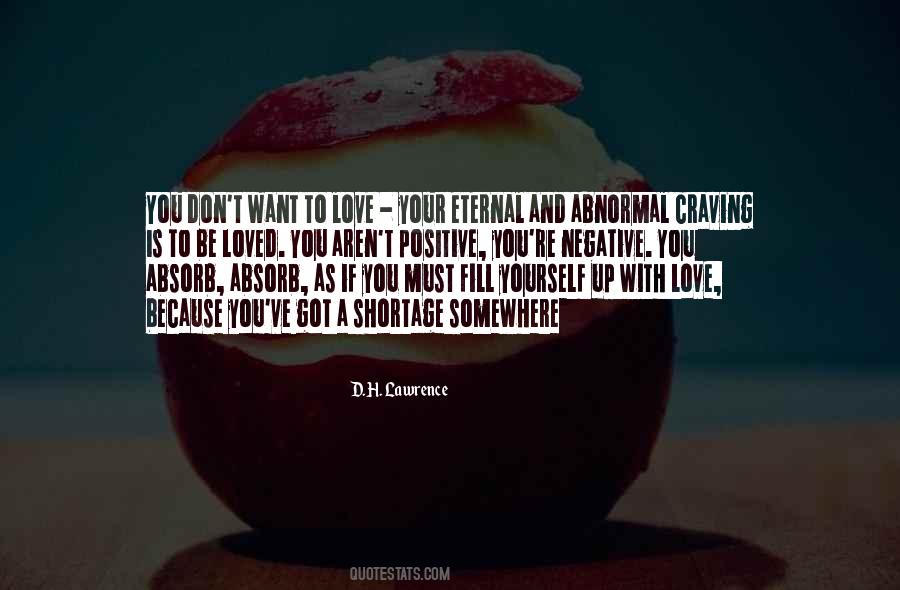 #36. To find beauty all around you, fill yourself with self-love. - Author: Debasish Mridha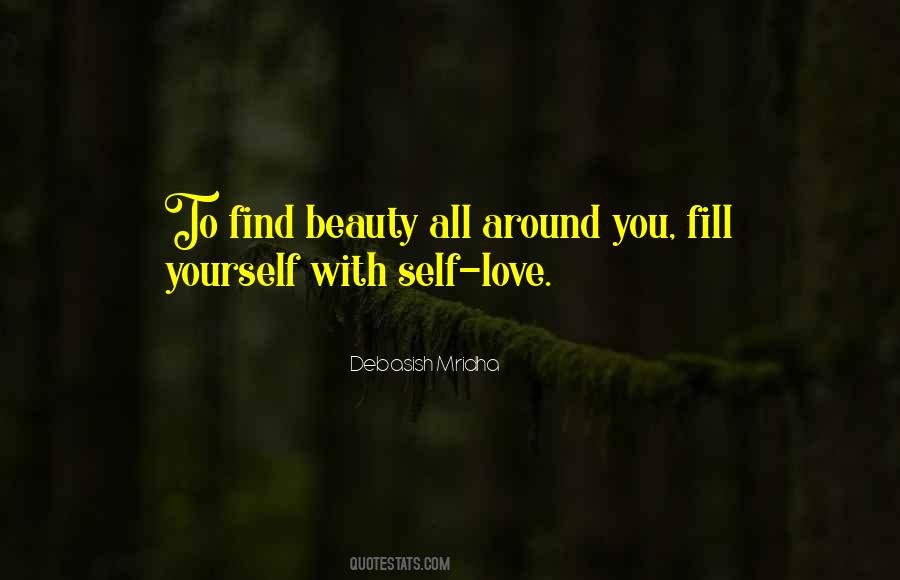 #37. If you feel incomplete, you alone must fill yourself with love in all your empty shattered spaces - Author: Oprah Winfrey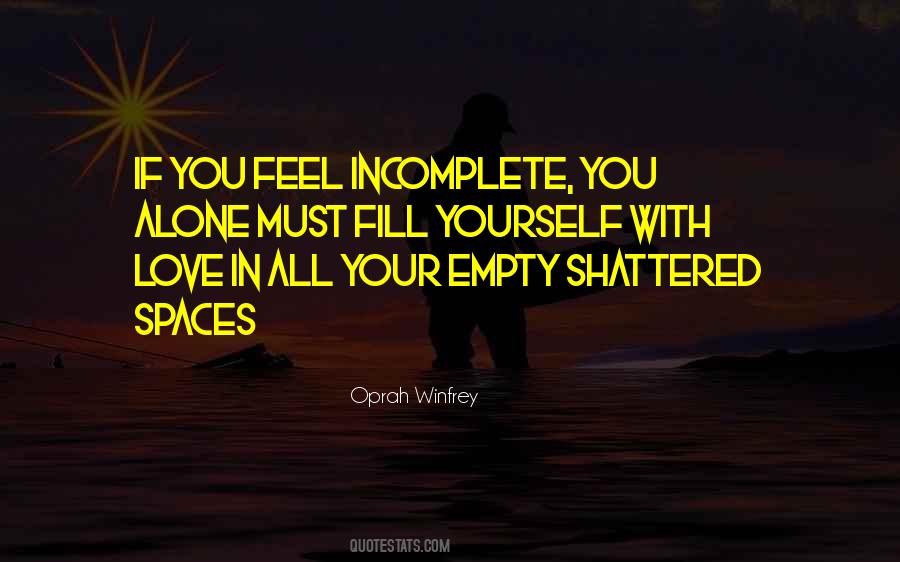 #38. Be yourself! Fill yourself up with light and fly! - Author: Jodi Livon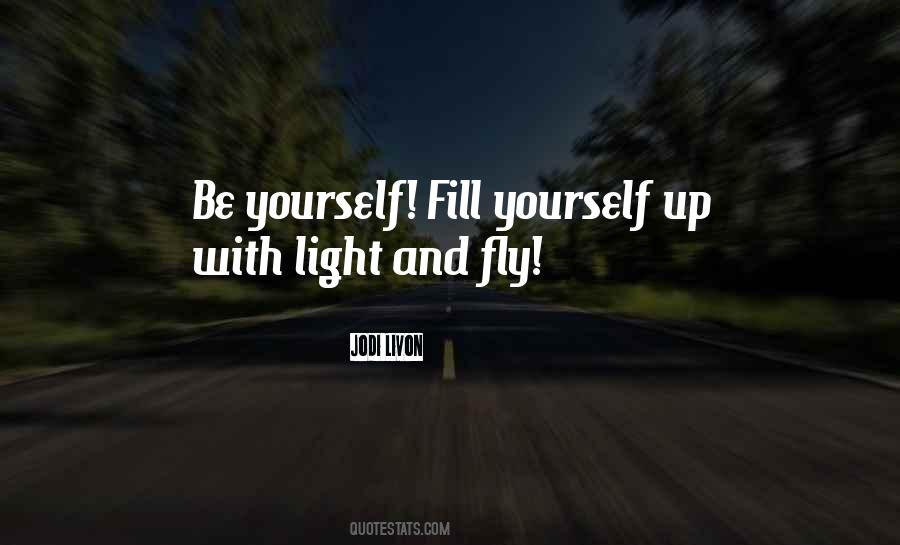 #39. What is one common thing every one craves for? It is love... Love others unconditionally, honestly and truthfully. When you fill your being with love, you make yourself healthier and happier. - Author: Sanchita Pandey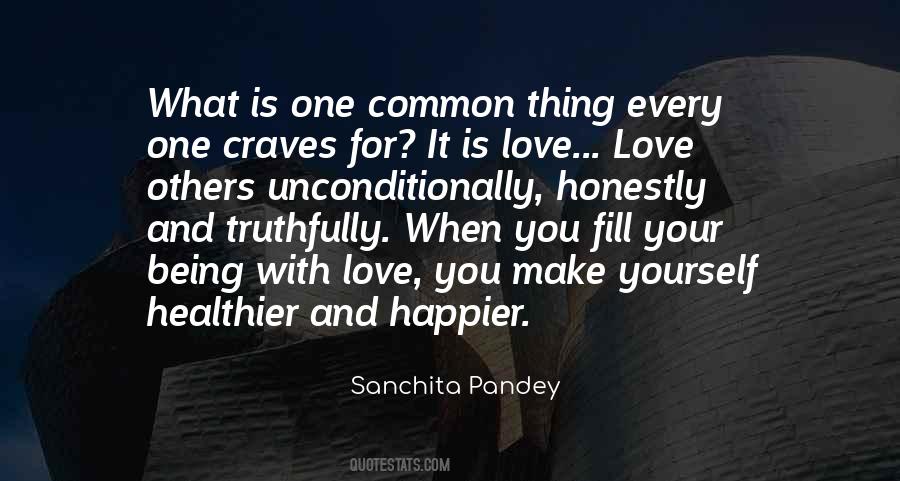 #40. She knew she could never love any man the way she loved a blank sheet of paper that only she could fill. - Author: Coco J. Ginger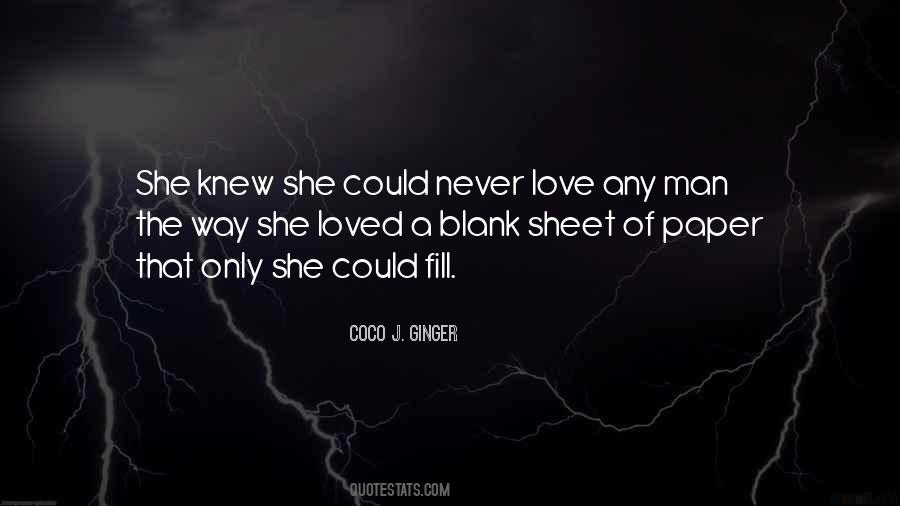 #41. It's your job as an actor to fill out the blanks. I love doing that. To fill in the bones. - Author: Jeremy Piven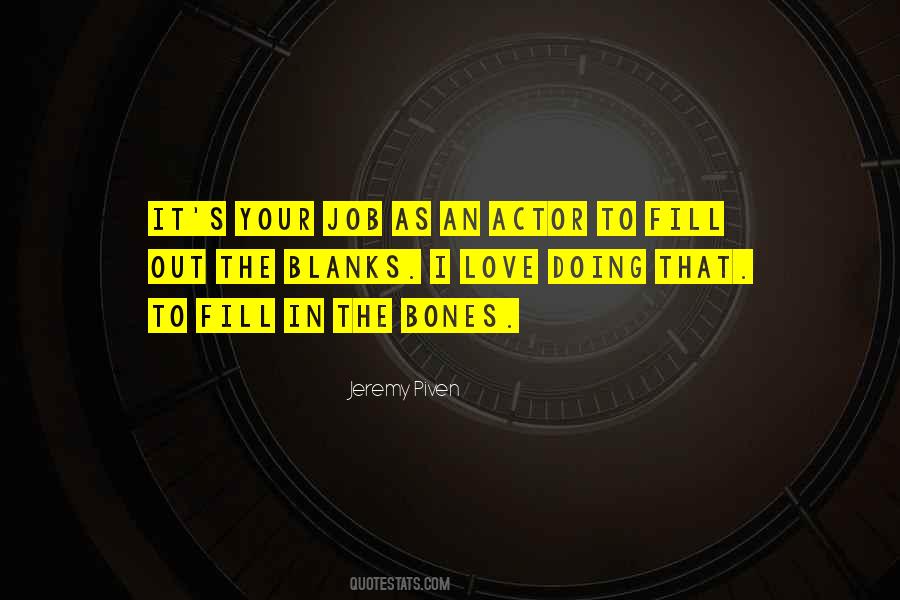 #42. You will find your true spirit when you lose your egocentric, self-centered desires and fill your mind with pure love and non-judgmental thoughts. - Author: Debasish Mridha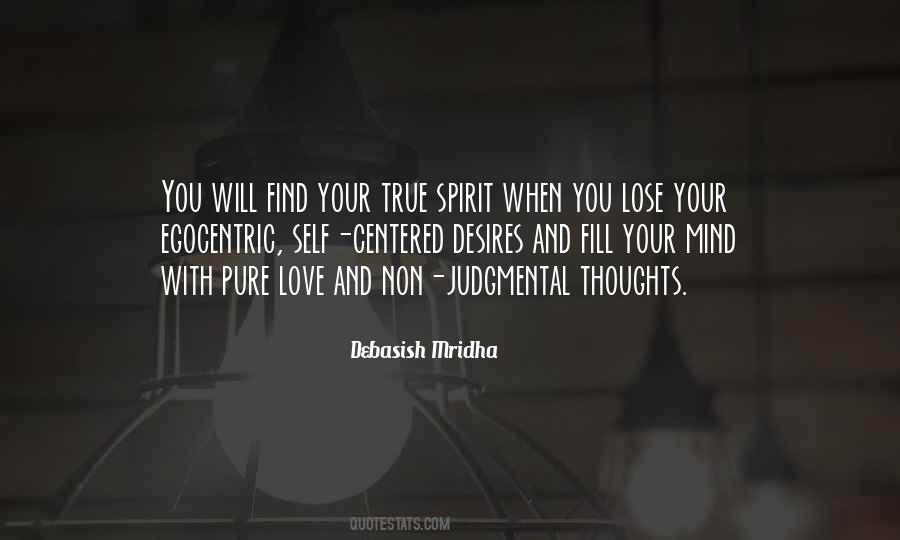 #43. Fill yourself with love. Then you will learn everything you ever need to know about God and life. - Author: Harold Klemp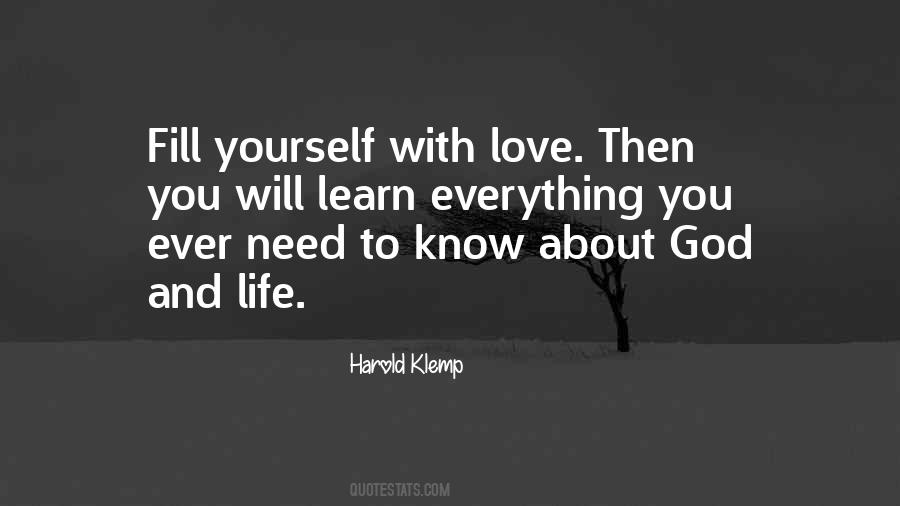 #44. Spring is the time to bloom like a flower with all our beauty. It is the time to spread the fragrance of our love and fill the air with joy. - Author: Debasish Mridha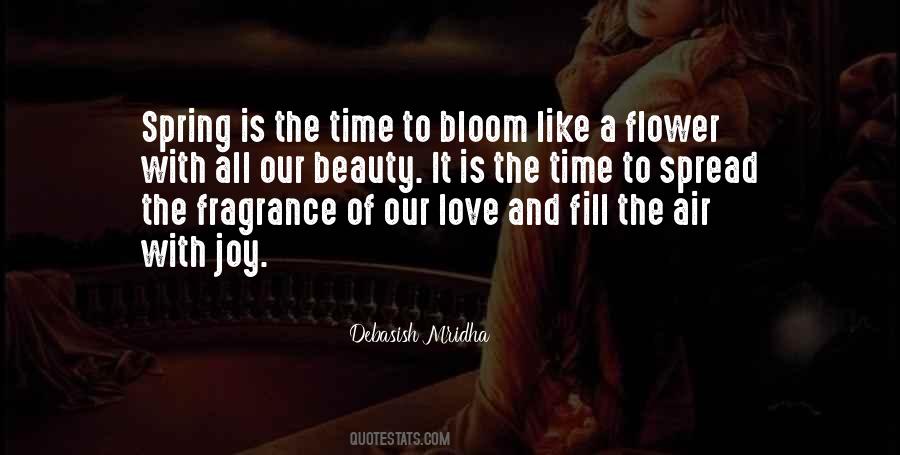 #45. Fill your heart with as much love as you can, and don't hold it in. - Author: Carl Perkins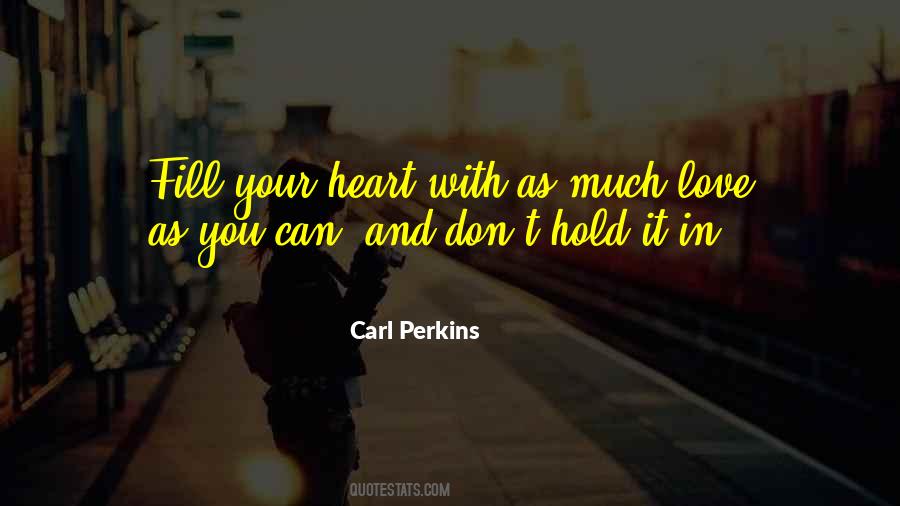 #46. 18 Let your o fountain be blessed, and s rejoice in t the wife of your youth, 19 a lovely u deer, a graceful doe. Let her breasts v fill you at all times with delight; be intoxicated [4] always in her love. - Author: Anonymous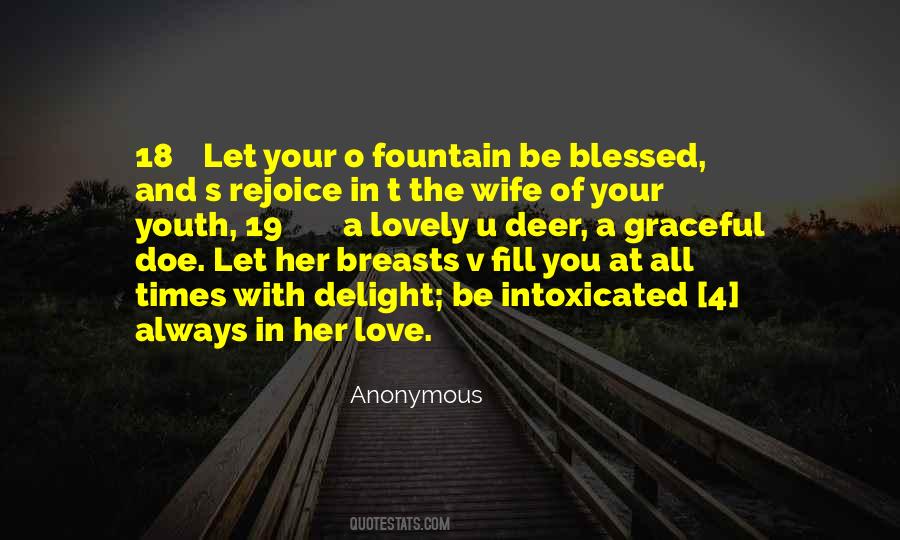 #47. Let us fill our mind with kindness, heart with love, and life with joy. - Author: Debasish Mridha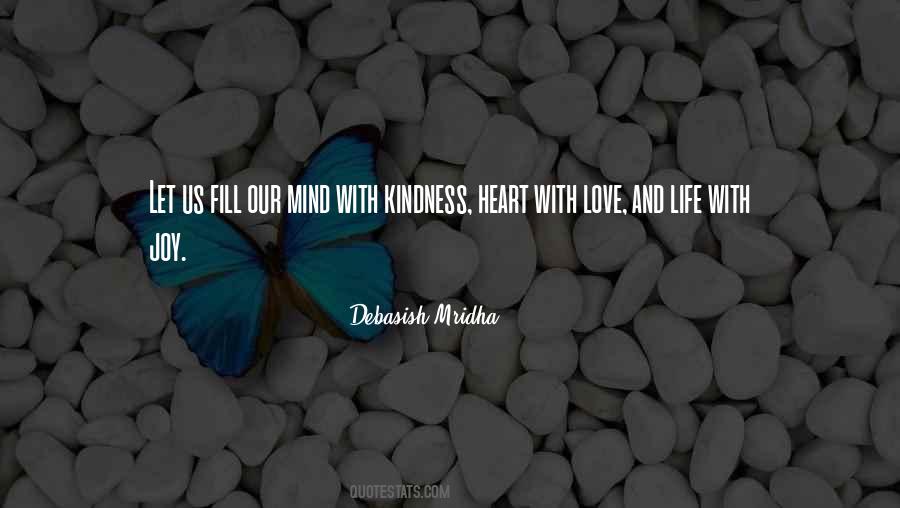 #48. We talked of love, and all we said would fill a book thicker than this. Yet all we said was only this: that I loved her and she loved me, and we had waited long and long, would be parted no longer. - Author: Gene Wolfe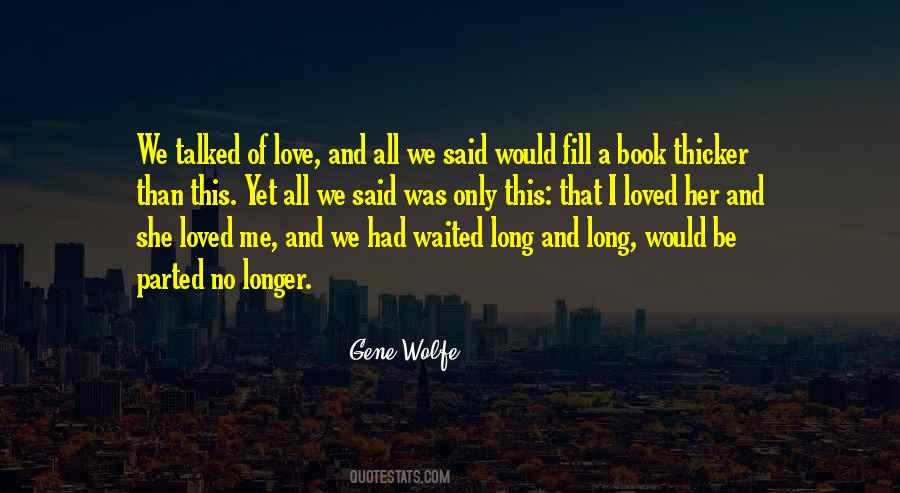 #49. A book had always been a door to another world ... a world much more interesting and fantastical than reality. But she had finally discovered that life could be even more wonderful than fantasy.
And that love could fill the real world with magic. - Author: Lisa Kleypas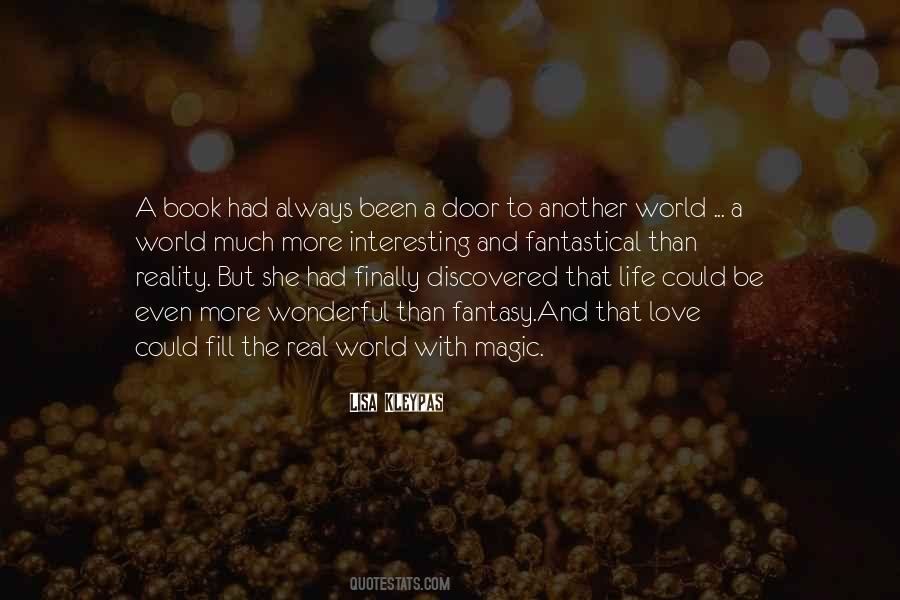 #50. There is only one page left to write on. I will fill it with words of only one syllable. I love. I have loved. I will love. - Author: Audrey Niffenegger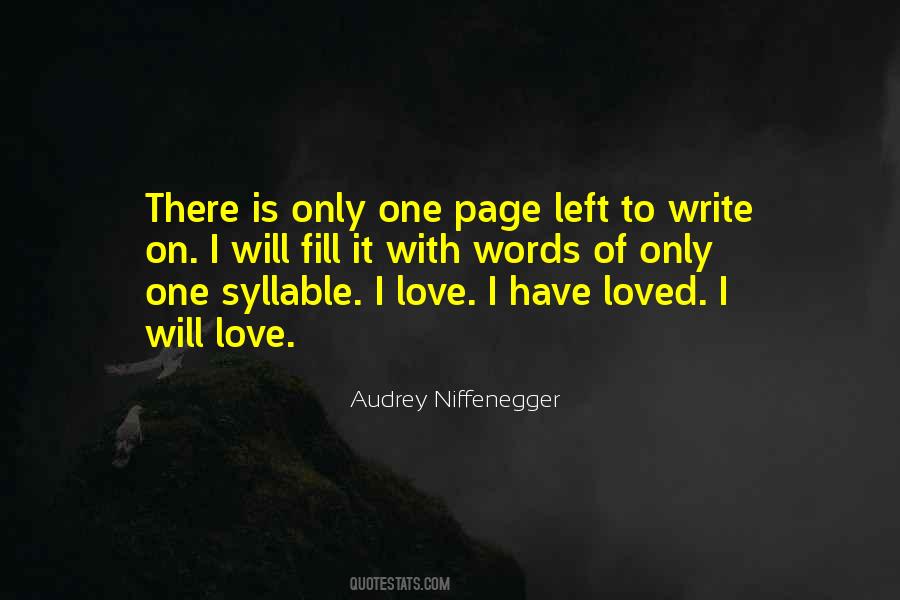 #51. Fill the canvas of life with the colors of peace bliss beauty and love. - Author: Amit Ray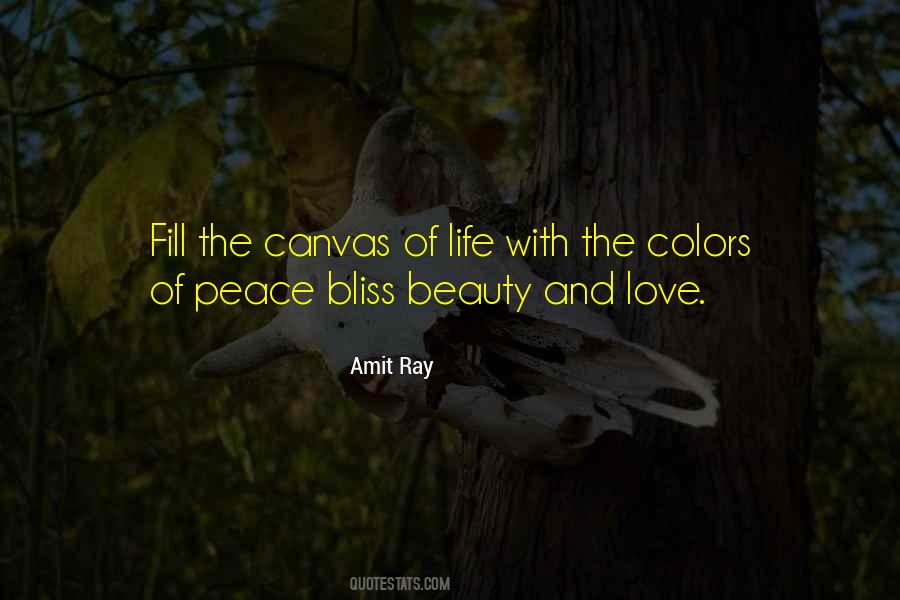 #52. I had come to see, too, that all my characters and I were motivated by the same inspiration. Whether it was power they sought, or revenge, or love - well, those were all just different forms of hunger. The bigger the hole inside you, the more desperate you became to fill it. As - Author: Jodi Picoult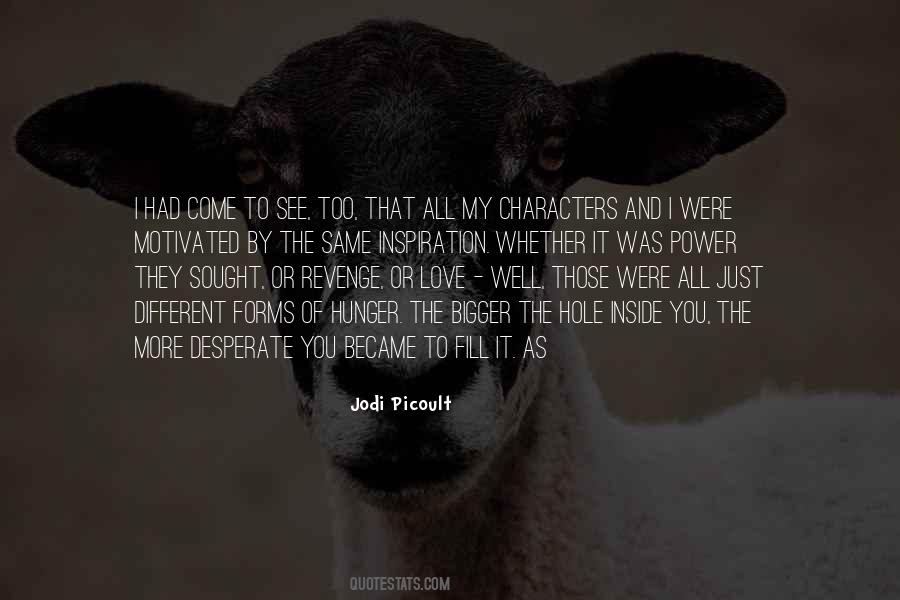 #53. When you fill your heart with love, life becomes abundant. - Author: Debasish Mridha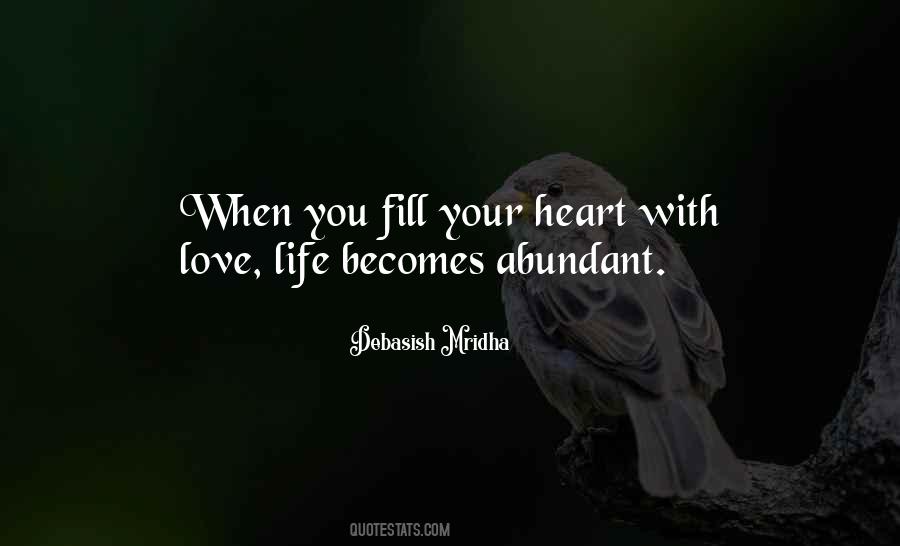 #54. When we will learn to use the power of kindness and love we will fill the world with peace and happiness. - Author: Debasish Mridha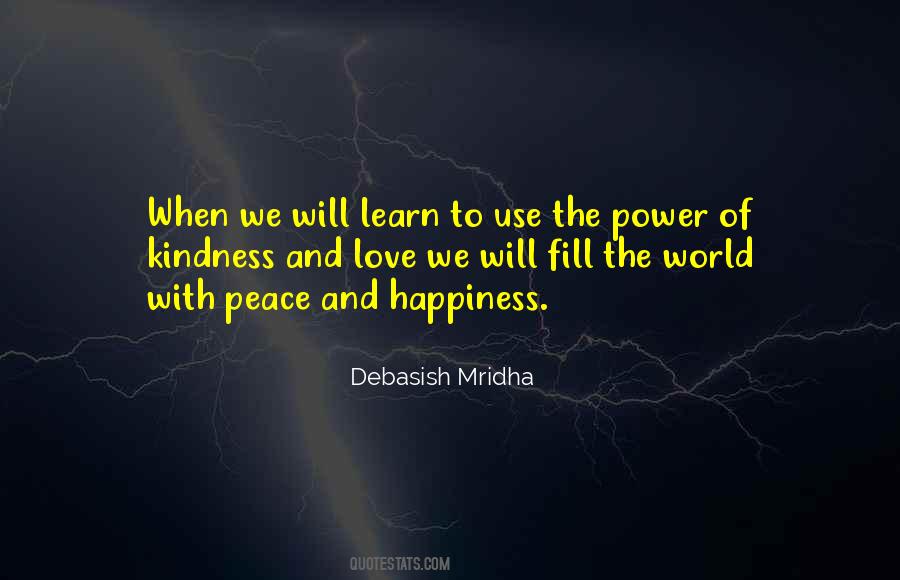 #55. To fill the world with joy and happiness give the gift of love and kindness. - Author: Debasish Mridha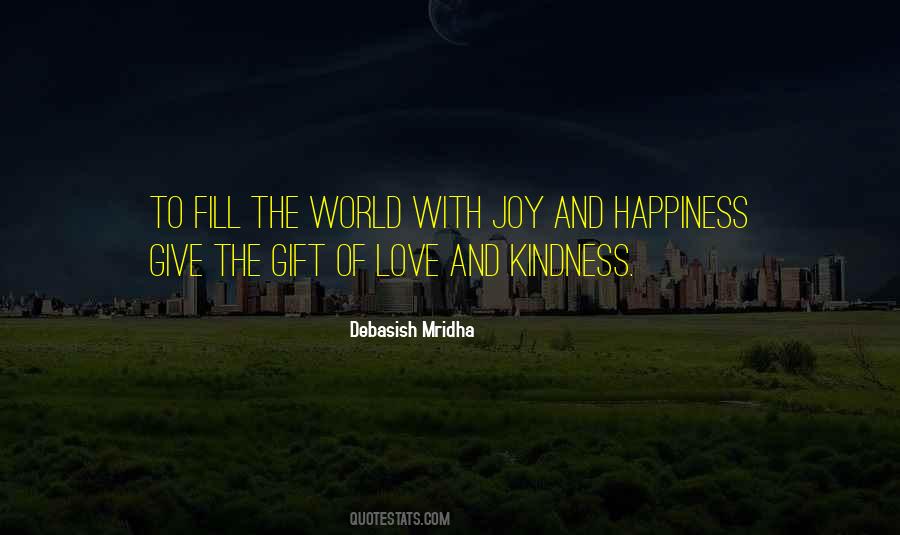 #56. You are the author of your lives book. While there may be fixed chapters ahead, you choose how to fill the pages within each one. - Author: Ricky Mathieson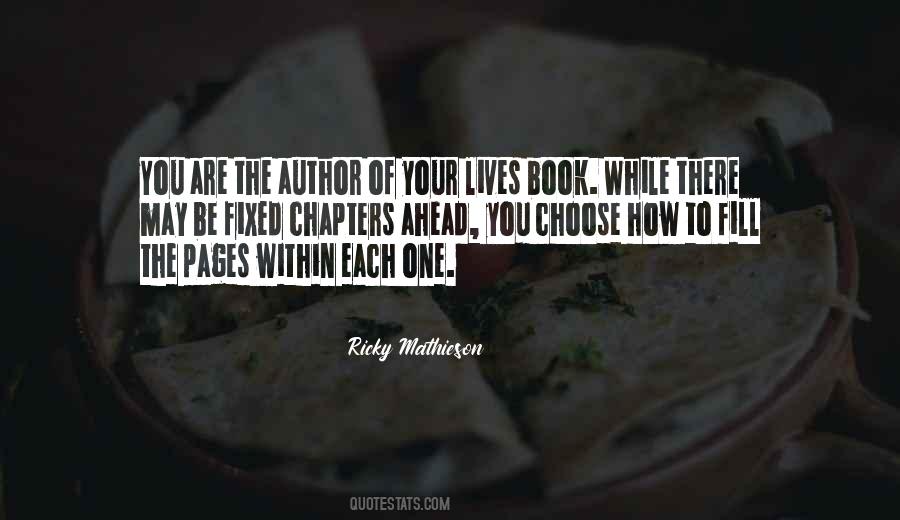 #57. The emptinesss was a hole that only he could fill. He was the relief. It pulled from every direction, this yearning for him. All he needed to do was speak the words, "Kiss me," and I would obey. - Author: Jessica Therrien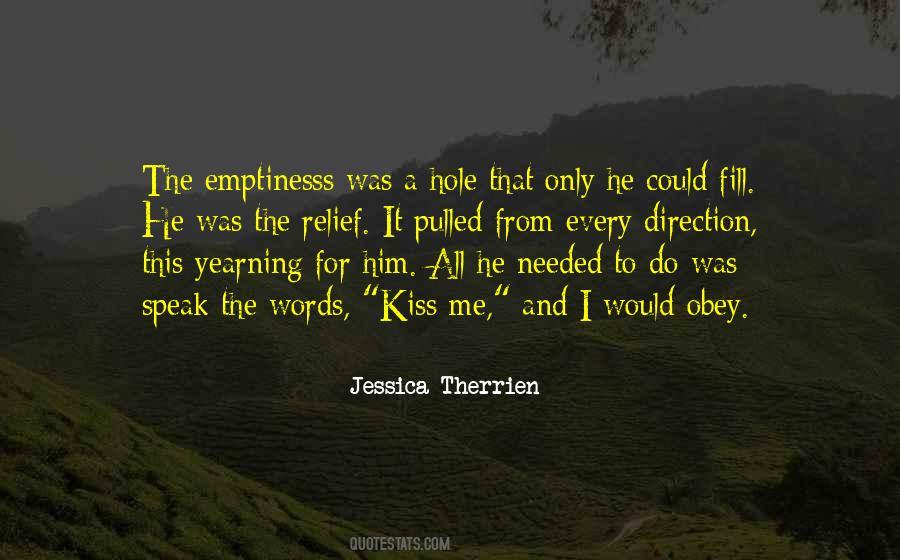 #58. When someone sets his affections upon the cross and the love of Christ, he crucifies the world as a dead and undesirable thing. The baits of sin lose their attraction and disappear. Fill your affections with the cross of Christ and you will find no room for sin. - Author: John Owen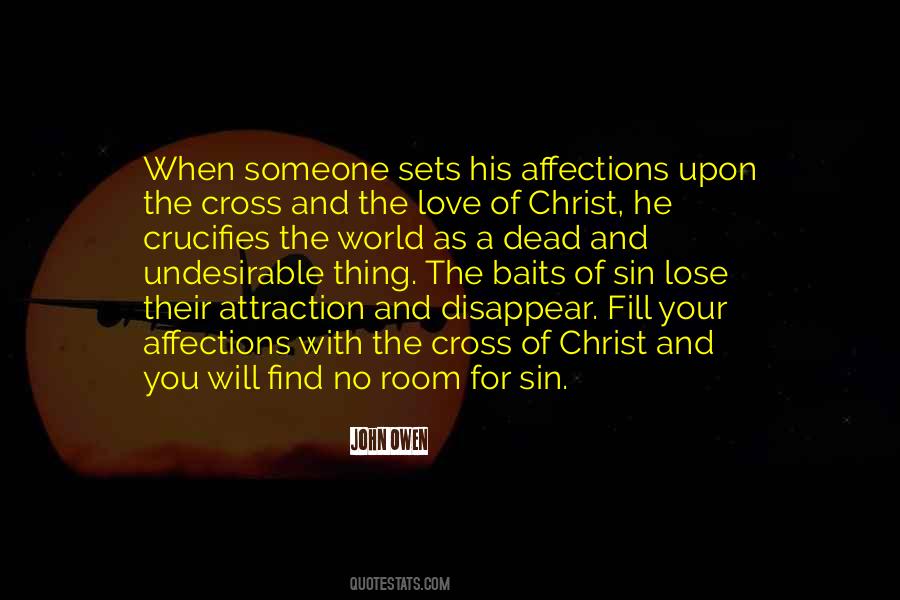 #59. All life is emptiness. Fill it with endless love, bliss, and kindness. - Author: Debasish Mridha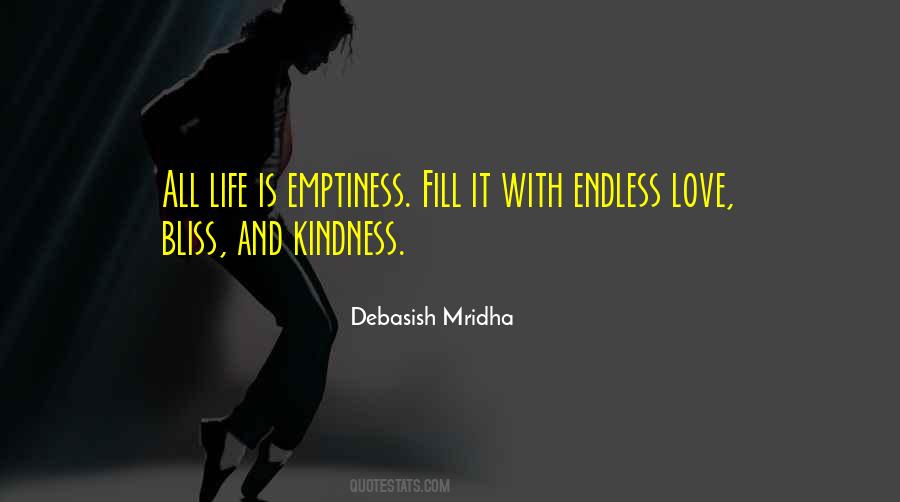 #60. I liked his voice, rich and unself-conscious even when he forgot words and hummed to fill in the gap. What I didn't understand, I imagined, and thus it became a love song. - Author: Chitra Banerjee Divakaruni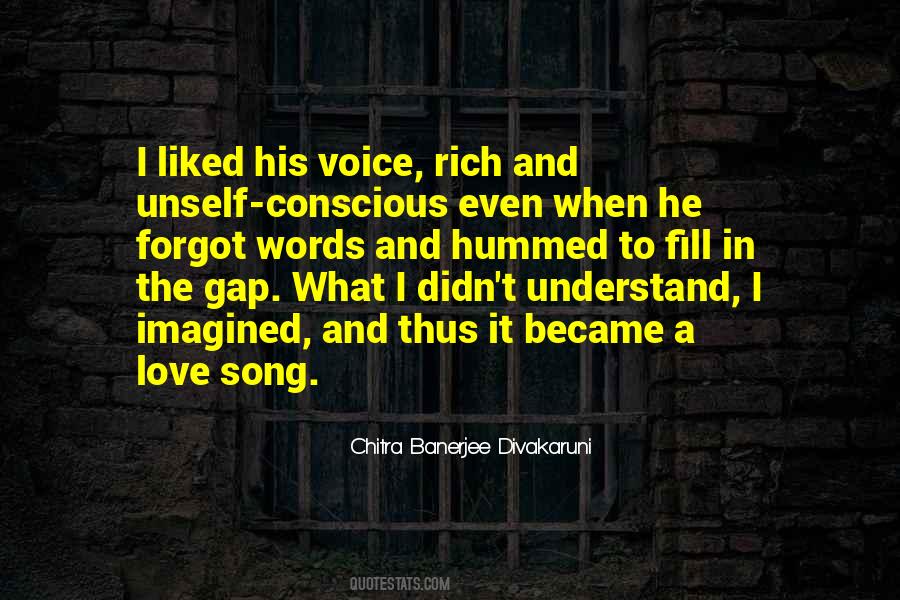 #61. Don't hide your emptiness. Fill it with love and give it away to fill your life with joy. - Author: Debasish Mridha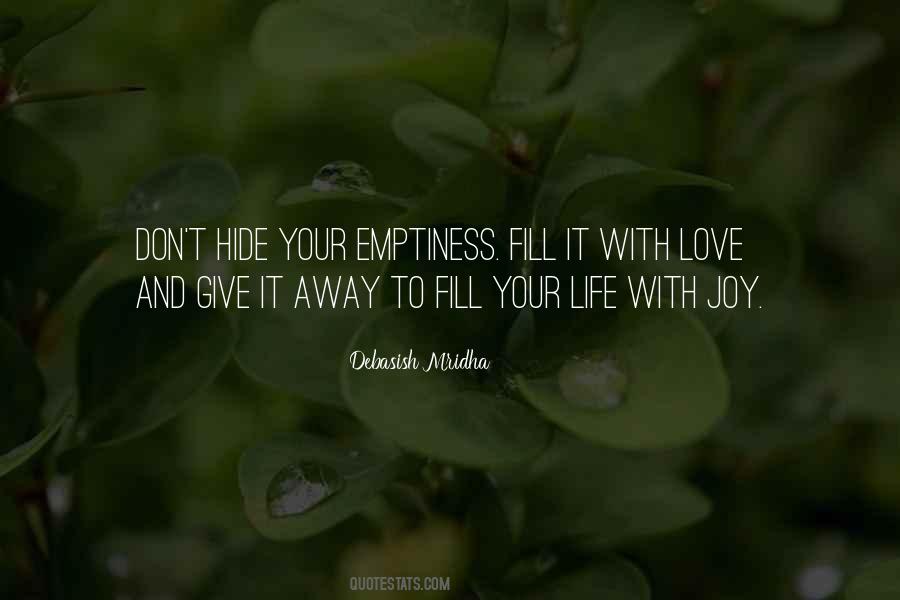 #62. Live what you love and what you love will fill your life. - Author: Jodi Livon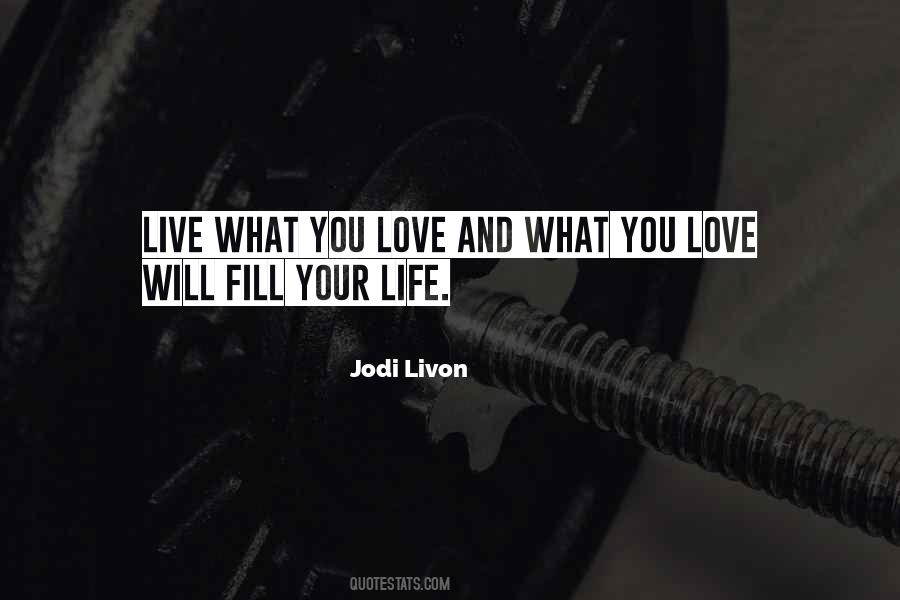 #63. You see, the main problem with our overspending and breaking budgets isn't money. It's trying to fill a need inside ourselves with things instead of God's presence and love. I - Author: Melissa K. Norris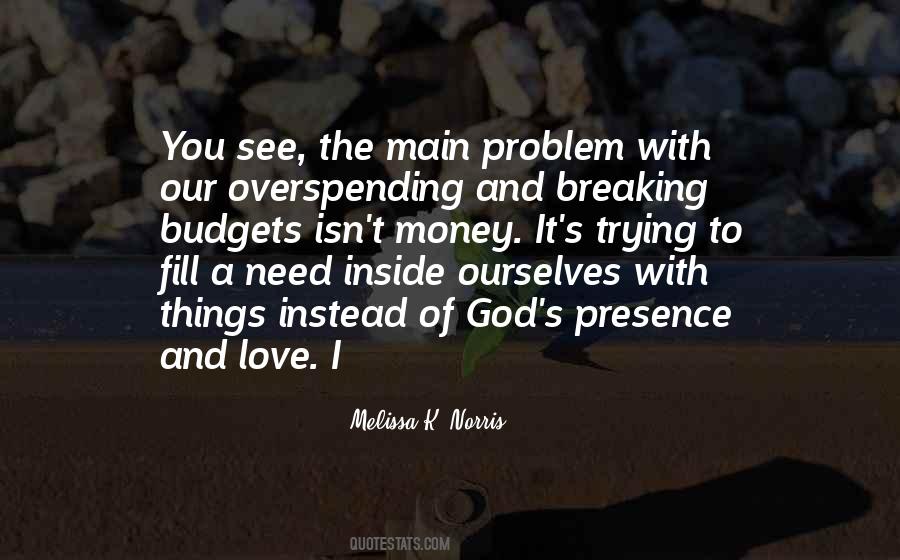 #64. I decided I would fill the emptiness in me with God and with paint. - Author: Kimberly Novosel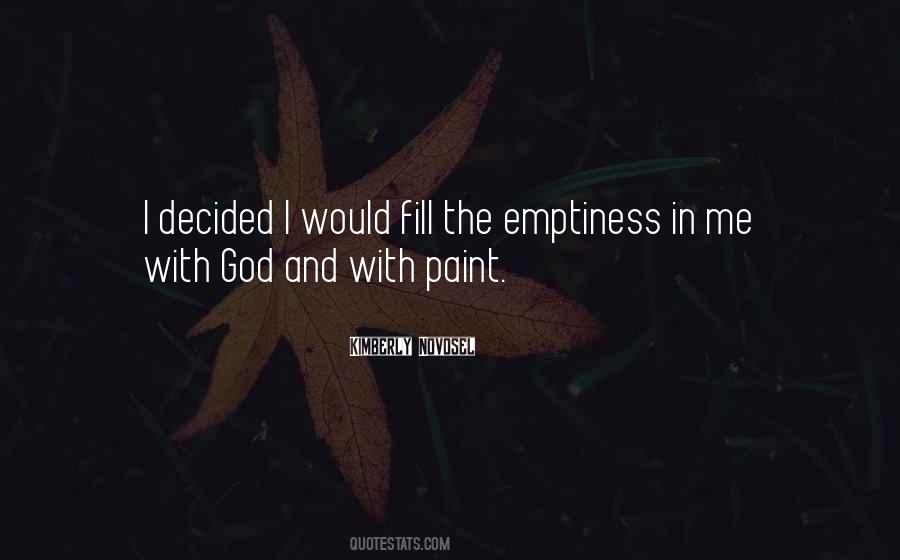 #65. The more you appreciate and celebrate life with joy, the more abundance will fill your life to enjoy. - Author: Debasish Mridha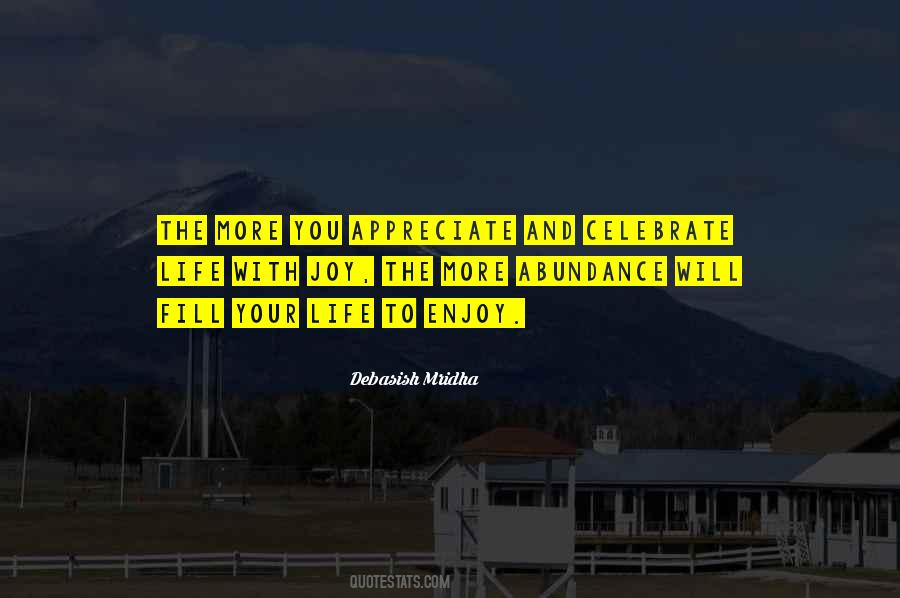 #66. Any human love a man gets he can make fill his life. It's like the grain of mustard-seed. - Author: William John Locke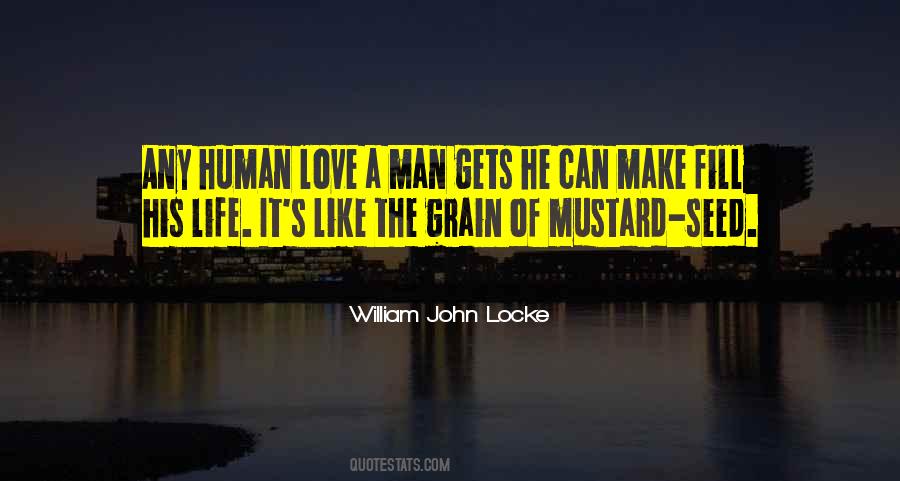 #67. There's only so much room in one heart. You can fill it up with love or you can fill it with resentment. But every bit of resentment you hold takes space away from the love. And the resentment don't do no good noway, but look what love can do. - Author: Sheri Reynolds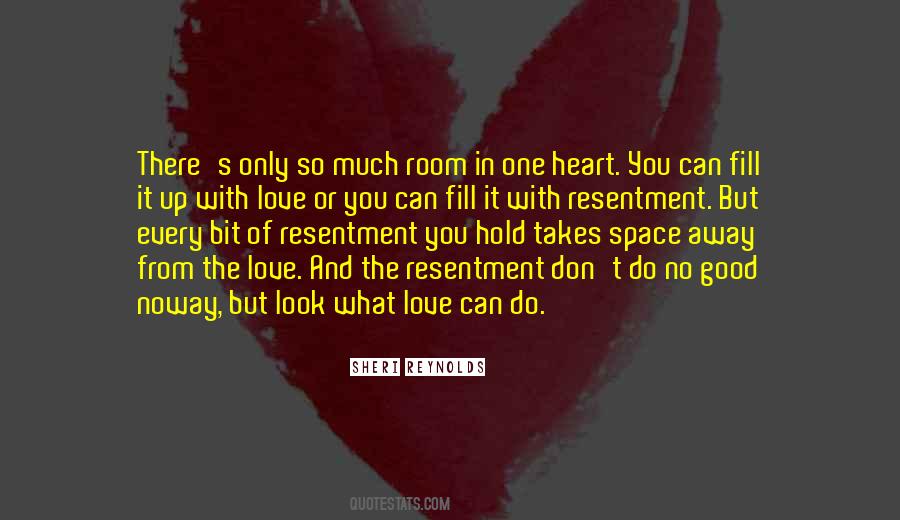 #68. Whenever you get an appetite, you feed yourself. Therefore, fill your belly on wisdom of things old and new. Only swallow the truth, less you choke on the lies. - Author: Amaka Imani Nkosazana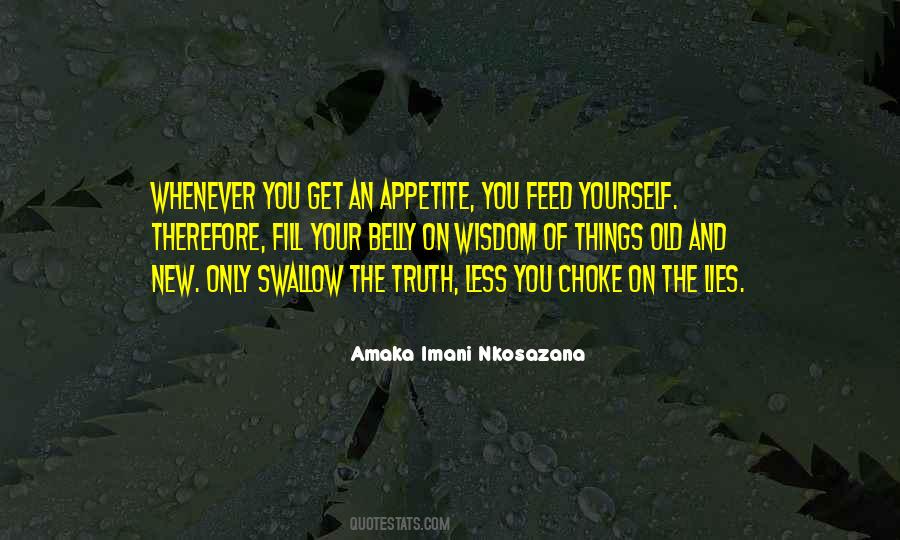 #69. People love destroying mankind, for some strange reason. You make a movie about mankind's destruction, you're going to fill seats. People just love the idea. For a couple thousand years, we've been dreaming up how we're all going to disappear and fade away from this planet. - Author: Michelle Rodriguez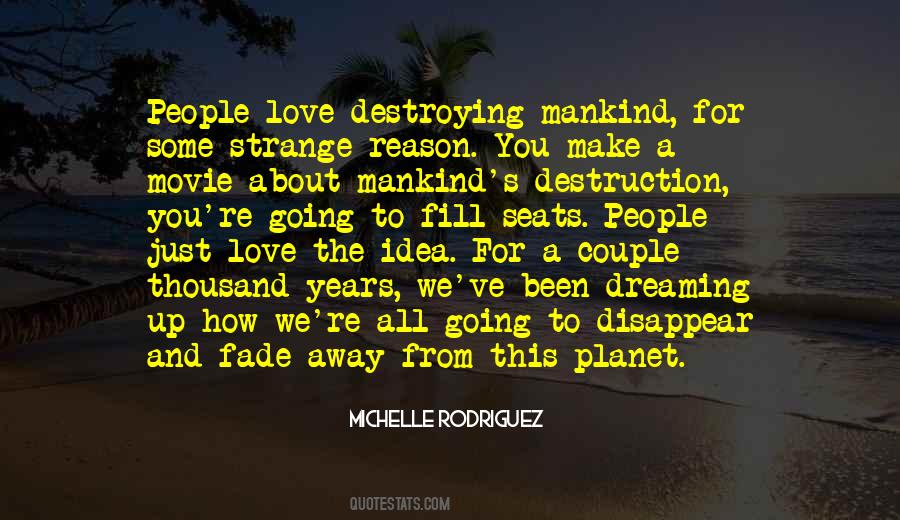 #70. To find true peace, forgive those who fill your mind with hatred and instead show them the path of love. - Author: Debasish Mridha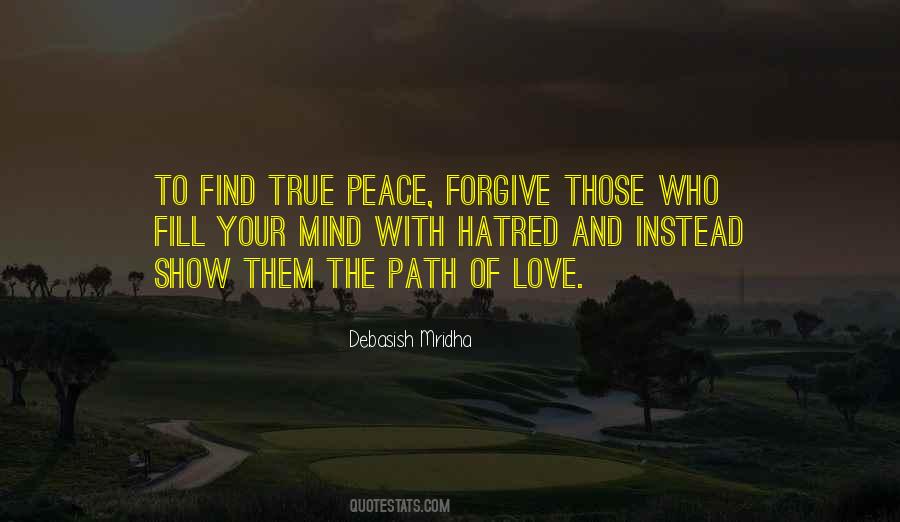 #71. He'd fill every moment with the seasons he'd found in his heart: hopes like birds on a spring branch; happiness like a warm summer sun; magic like the rising mists of autumn. And best of all, love; love enough for a thousand Christmases. - Author: Clive Barker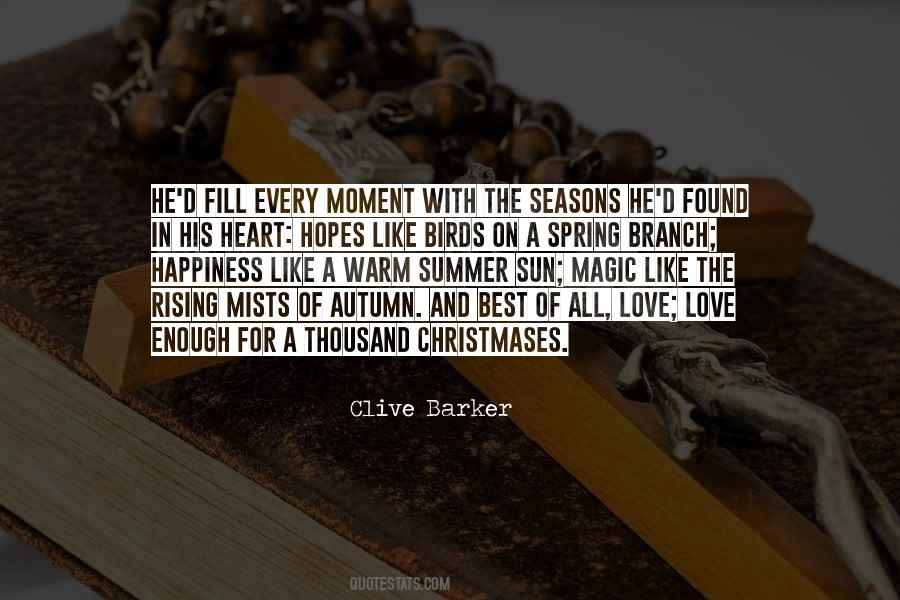 #72. Ethics, like natural selection, make existence possible. Aesthetics, like sensual selection, make life lovely and wonderful, fill it with new forms, and give it progress, and variety and change. - Author: Oscar Wilde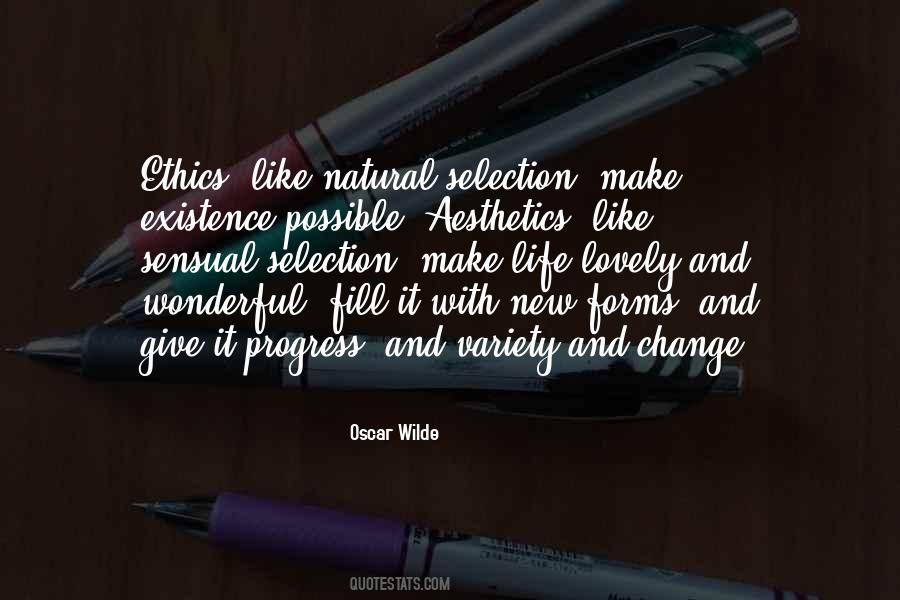 #73. A family portrait is only complete with love to fill it's frame. - Author: Wes Fesler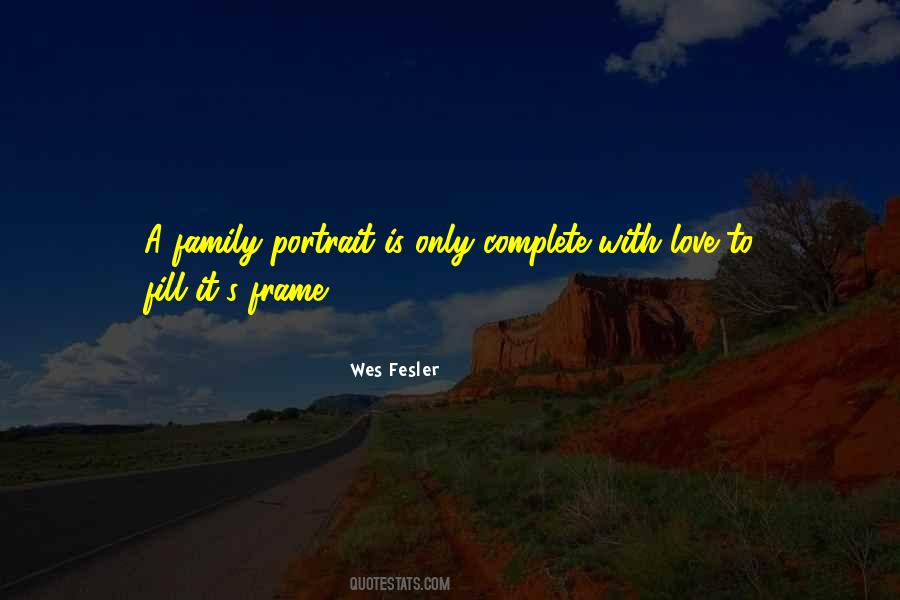 #74. Joy is a gift of life, so fill your life with joy and then give it away. - Author: Debasish Mridha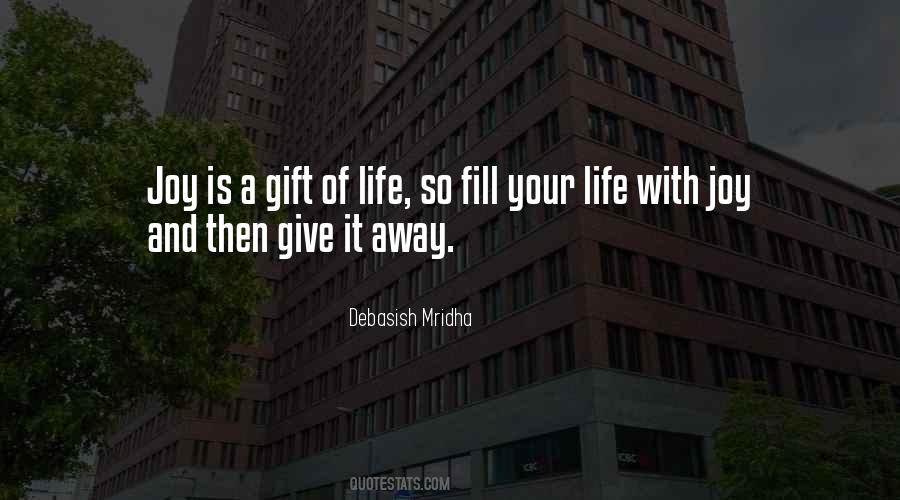 #75. Empty yourself by giving with kindness, to fill it with joy again and again. - Author: Debasish Mridha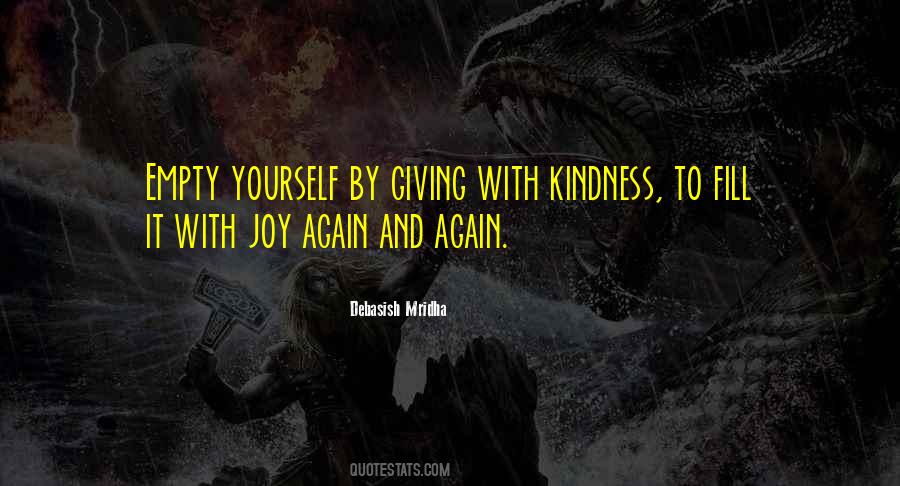 #76. As an actor, you're just brought on to fill one role, so it's nice to see what the entire journey is like. As much as I'd be allowed to do it, I would do it. I love it. - Author: Shiri Appleby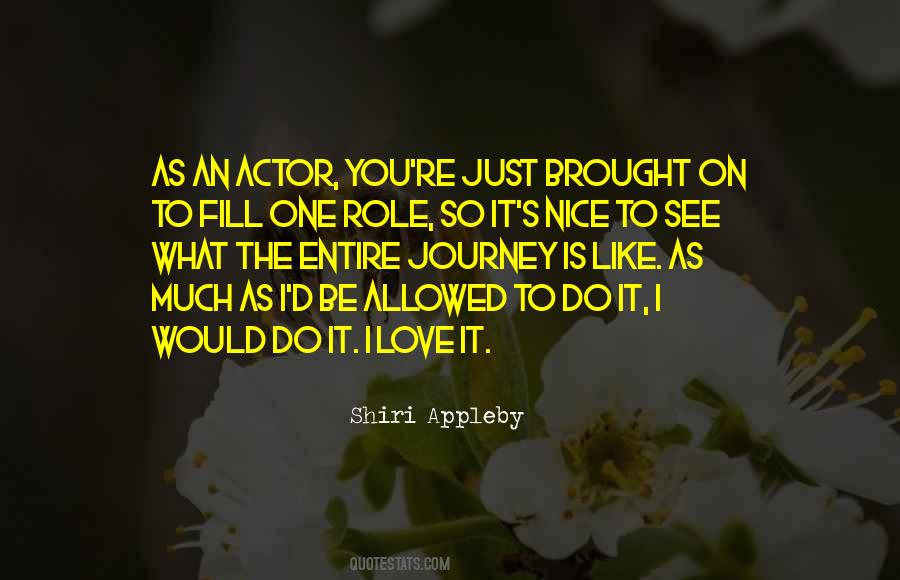 Famous Authors
Popular Topics