Feeling So Alive Famous Quotes & Sayings
List of top 62 famous quotes and sayings about feeling so alive to read and share with friends on your Facebook, Twitter, blogs.
Top 62 Feeling So Alive Quotes
#1. I like to prowl ordinary places.
I feel sorry for us all or glad for us
all
caught alive together
and awkward in that way.
there's nothing better than the joke
of us
the seriousness of us
the dullness of us - Author: Charles Bukowski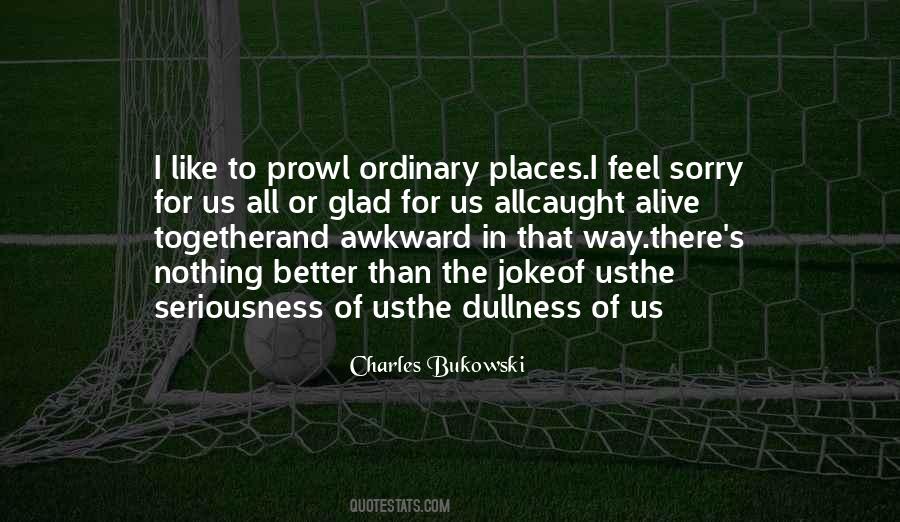 #2. i am awake and alive
and swollen and heavy
with love. - Author: AVA.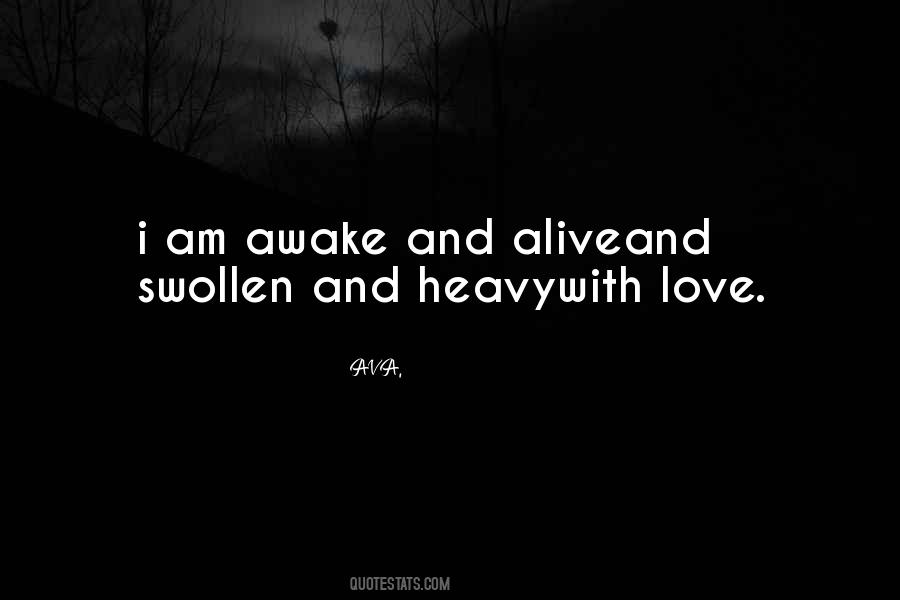 #3. Meeting important emotional needs creates the feeling of love, but thoughtfulness keeps it alive. - Author: Willard F. Harley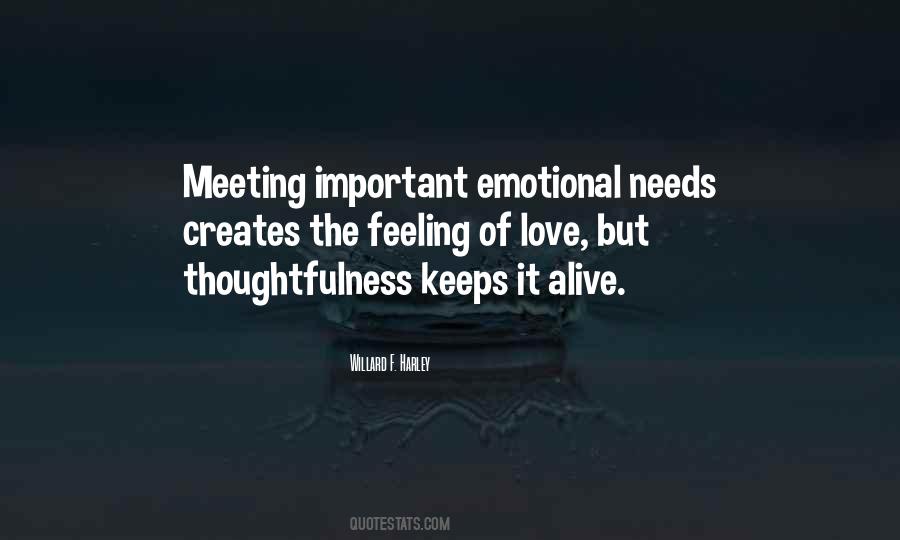 #4. Pain was the only sign to her that she was alive and could feel emotion. - Author: Jeane Westin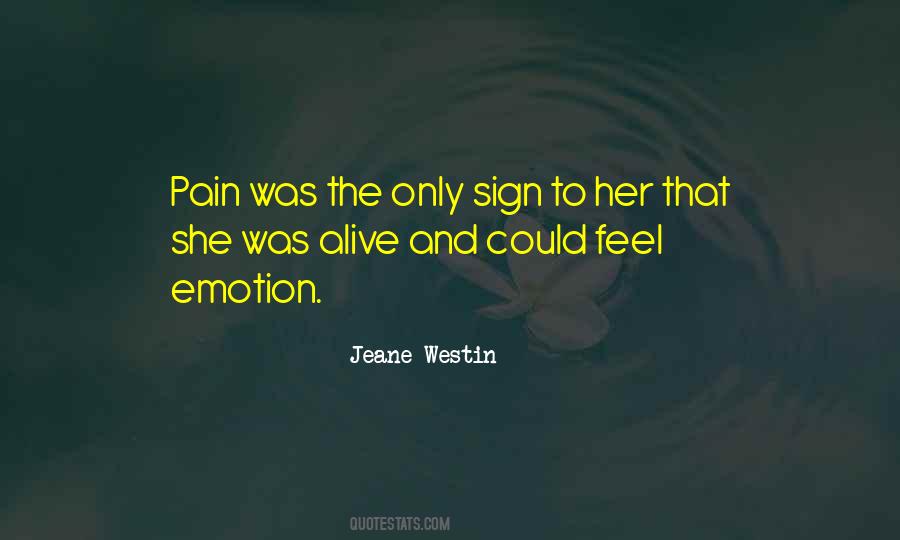 #5. The amazing feeling of being alive beautifully conquers the fear of death - Author: Munia Khan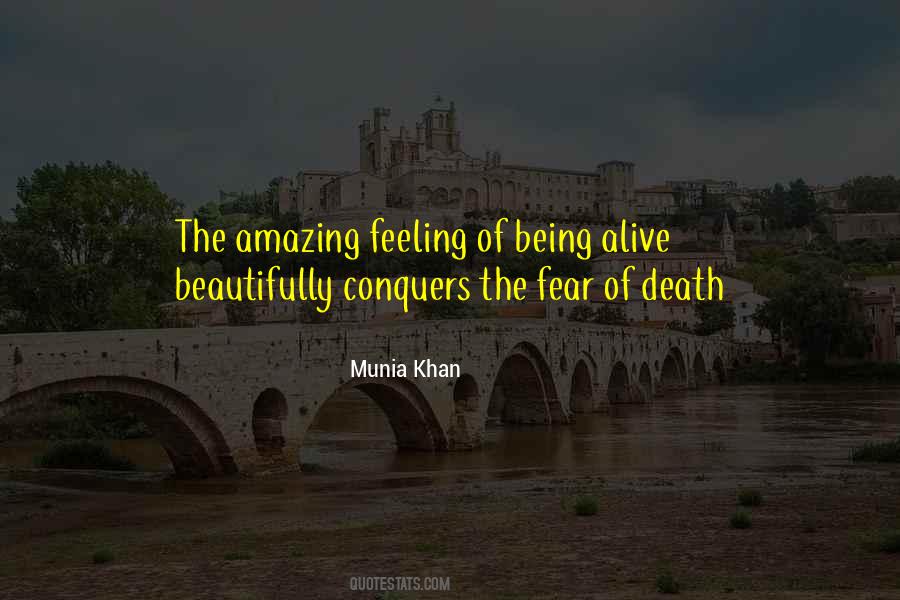 #6. Sometimes being fooled by love is worth the price. At least you know you're alive and capable of feeling, even if all you end up with is chest pain. - Author: Sue Grafton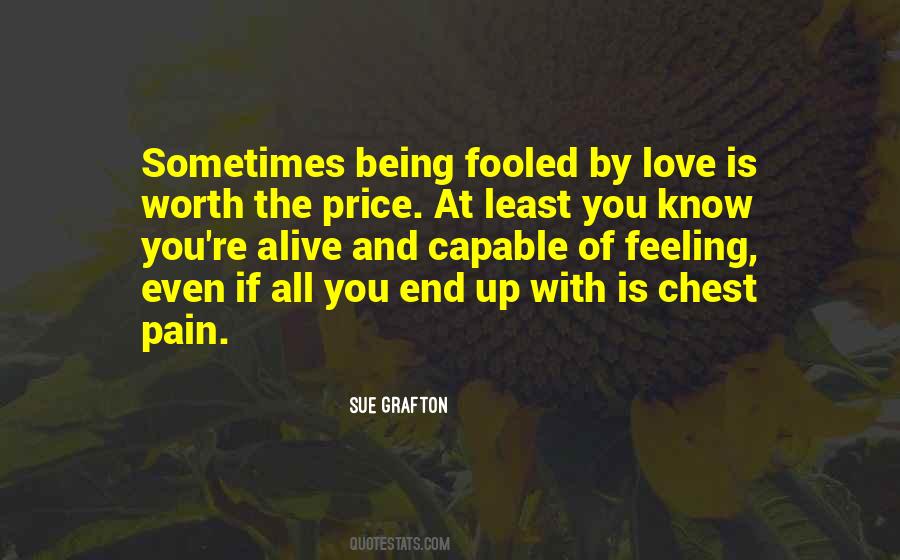 #7. Always I'm feeling, 'You're never going to work again.' That's going to happen one day, but I hope I'm not alive. - Author: Lauren Bacall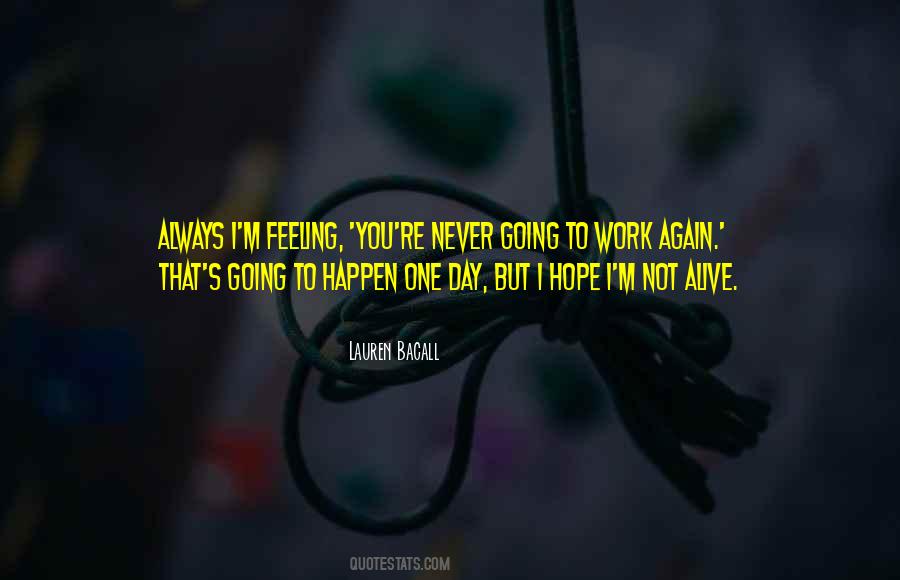 #8. Why drink to cover it up because hurting is feeling and feeling is living, and isn't it good to be alive?'" Colton - Author: K. Bromberg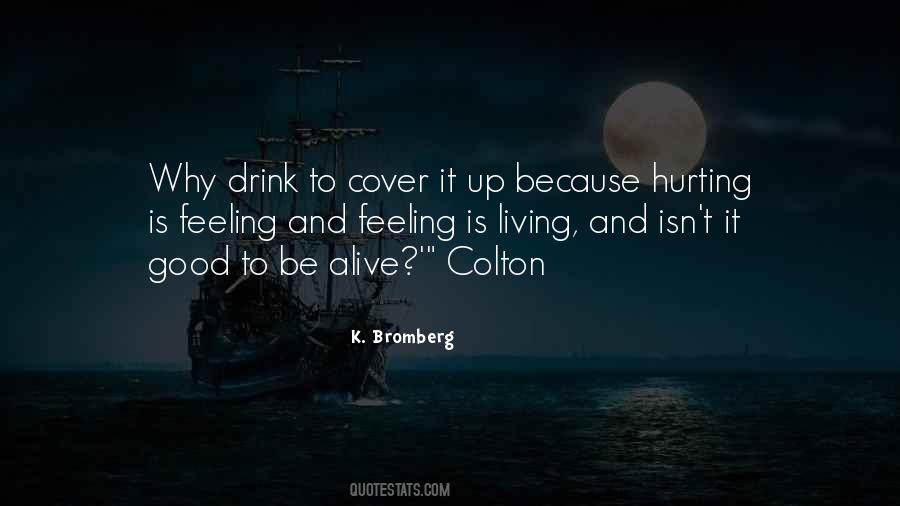 #9. We discover the vast difference between living and feeling alive when we discover inspiration." The quickest way to true happiness is not by ambling and obsessing about the limited pursuit of happiness, but by the immediate and actionable pursuit to be inspired. - Author: Elaina Marie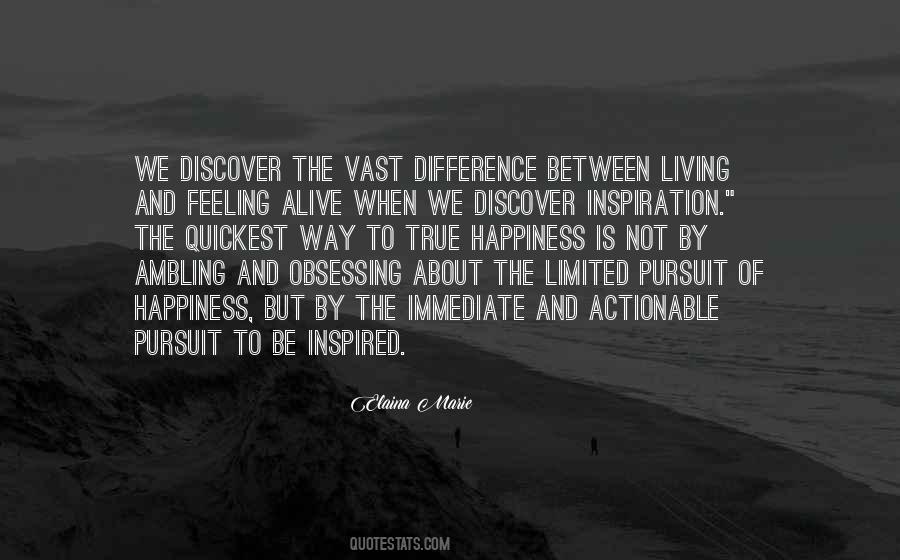 #10. This is beyond understanding." said the king. "You are the wisest man alive. You know what is preparing. Why do you not make a plan to save yourself?"
And Merlin said quietly, "Because I am wise. In the combat between wisdom and feeling, wisdom never wins. - Author: John Steinbeck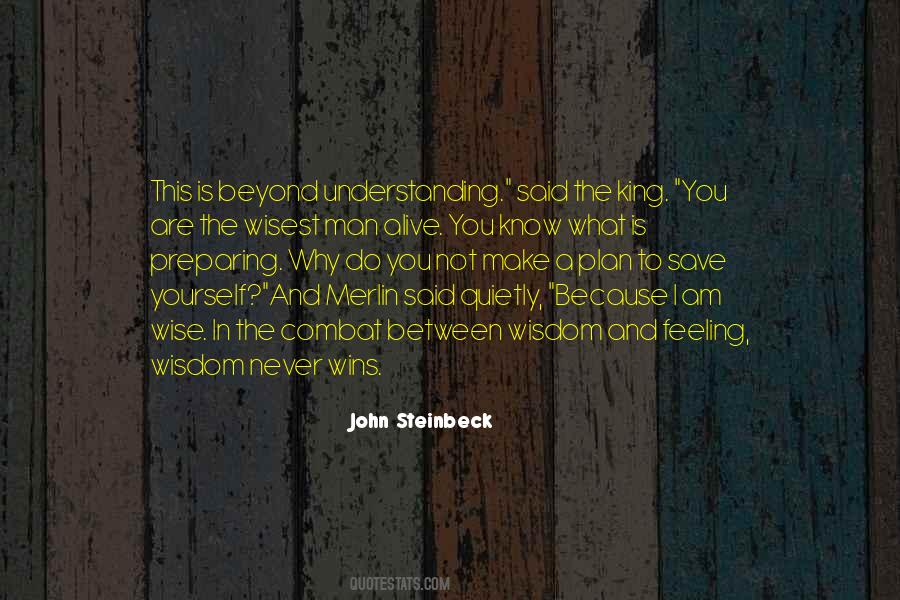 #11. Always do the thing that makes you feel most alive. - Author: Marty Rubin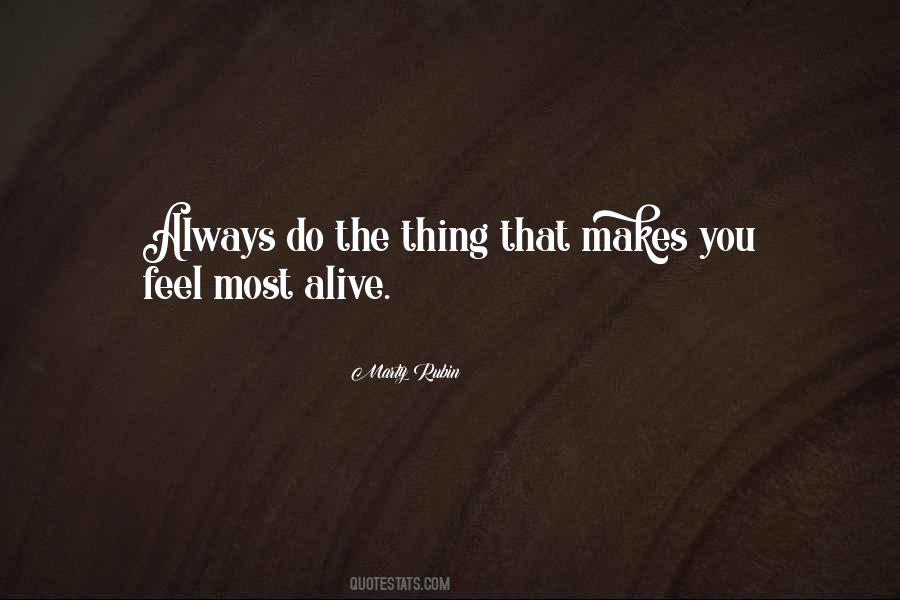 #12. If you can't stand your own company alone in a room for long hours, or, when it gets tough, the feeling of being in a locked cell, or, when it gets tougher still, the vague feeling of being buried alive
then don't be a writer. - Author: Graham Swift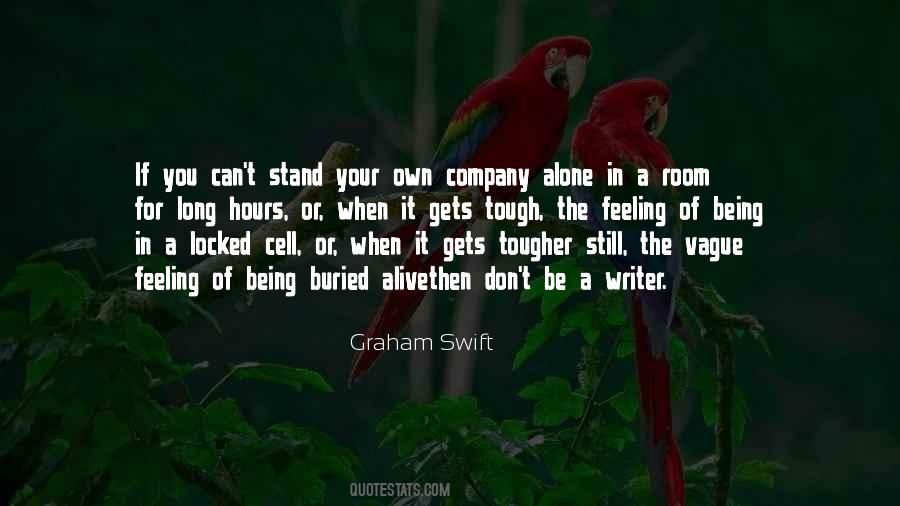 #13. There's no greater feeling in the world than doing something you truly love. Knowing how much you've sacrificed, how many times you might have failed, but sticking to it, and the moment when everything comes together is what makes me feel alive. - Author: T. Mills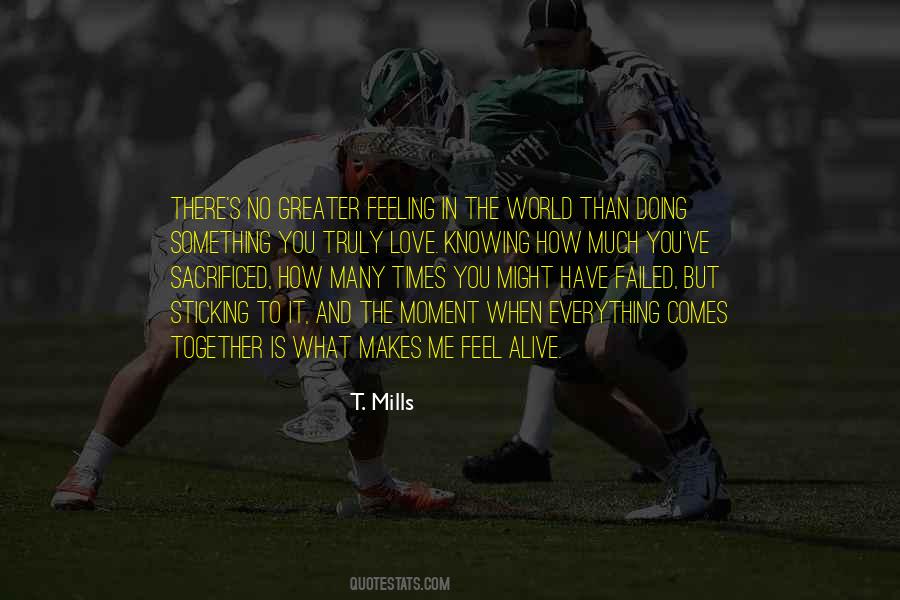 #14. Two Words from Sanskrit, that are Strikingly similar.
CHITA & CHINTA
One Burns the Dead & the other Burns the Living.
Have a STRESS free Life ... . - feelingalive. - Author: Sunita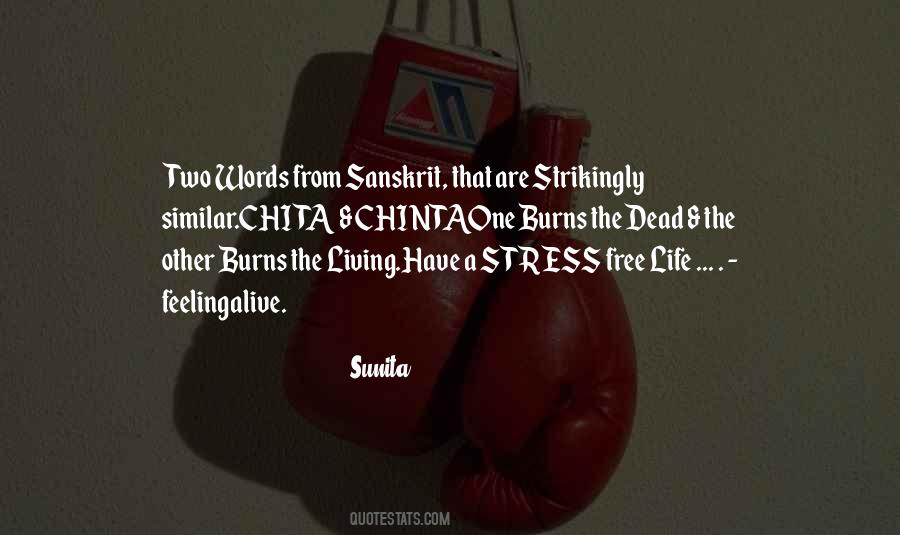 #15. I feel therefore I am. - Author: Amit Abraham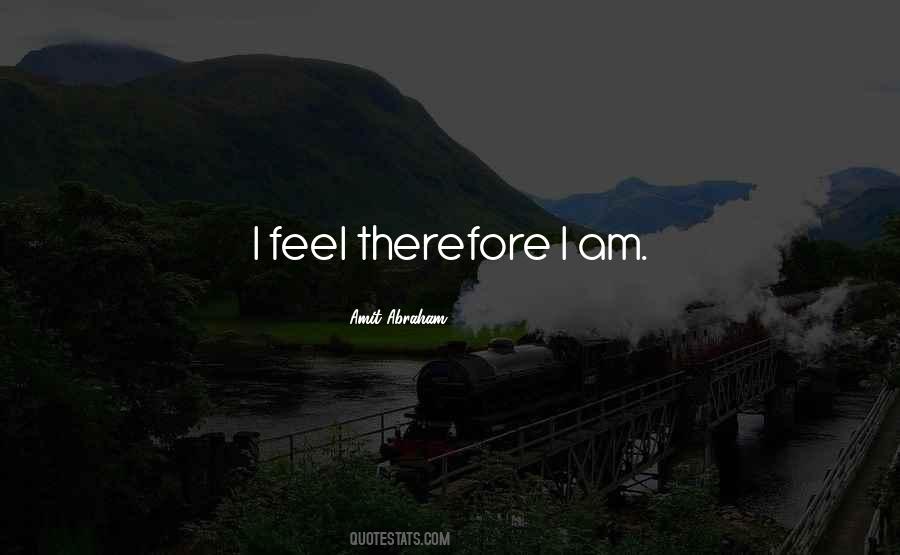 #16. Have you forgotten what it feels like to be alive? The grace of life shining on you; each breath vitalizing you with possibility? Remember! - Author: Bryant McGill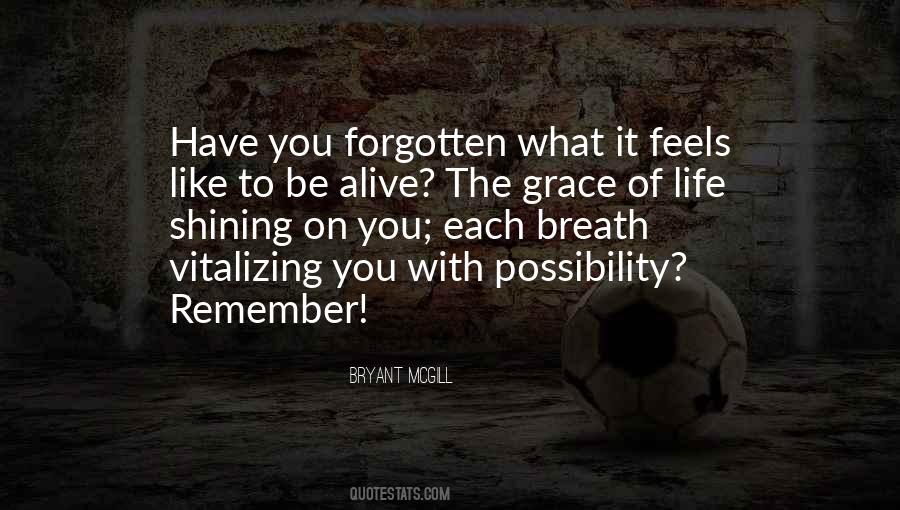 #17. There is a resemblance between men and women, not a contrast. When a man begins to recognize his feeling, the two unite. When men accept the sensitive side of themselves, they come alive. - Author: Anais Nin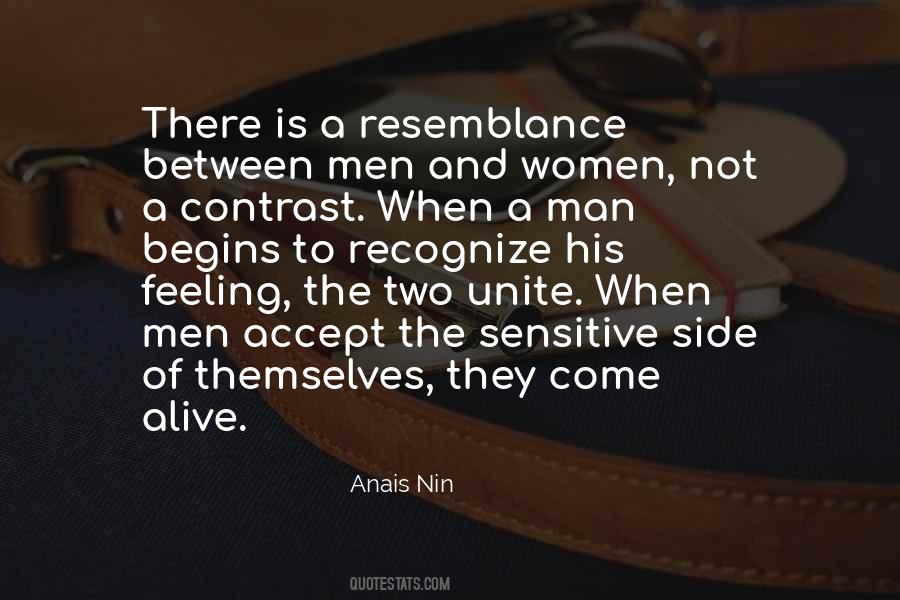 #18. How beautiful it is when one lives completely and not with just a part of oneself. When one is full to the rim and calm because there is nothing more to get in. - Author: Erich Maria Remarque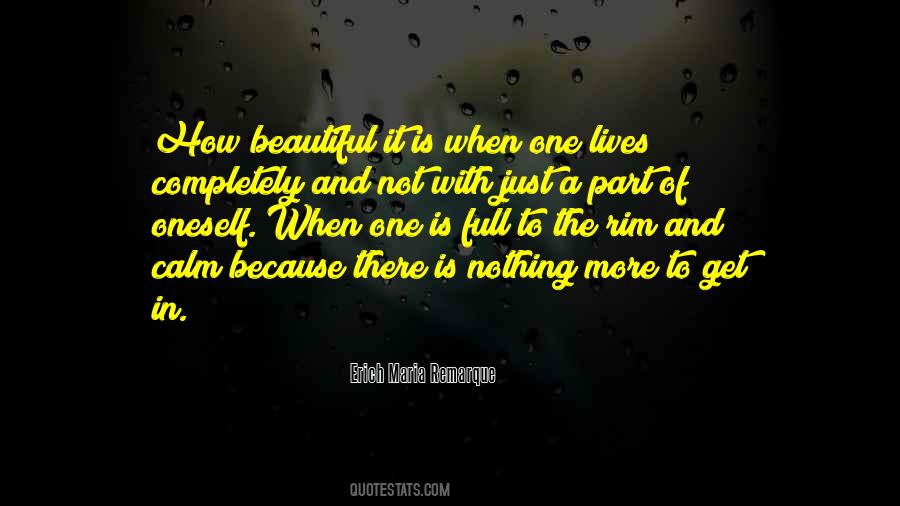 #19. I can feel everything. And I want to keep feeling everything. Even the painful, awful, terrible things. Because feeling things is what lets us know that we're alive. - Author: Jasmine Warga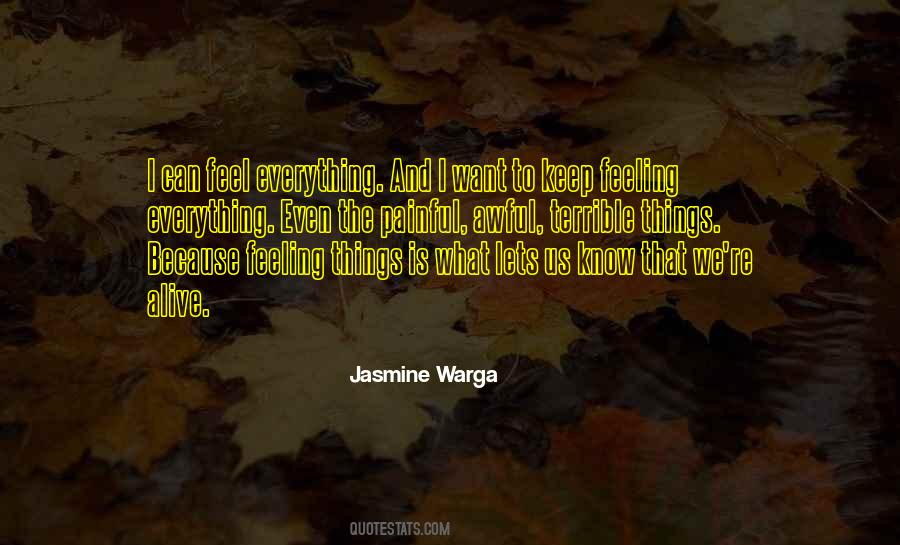 #20. She made him feel alive after a long time feeling like he'd been buried in the stone cold ground. She made his heart beat again. No one was going to touch her. - Author: Lisa Marie Rice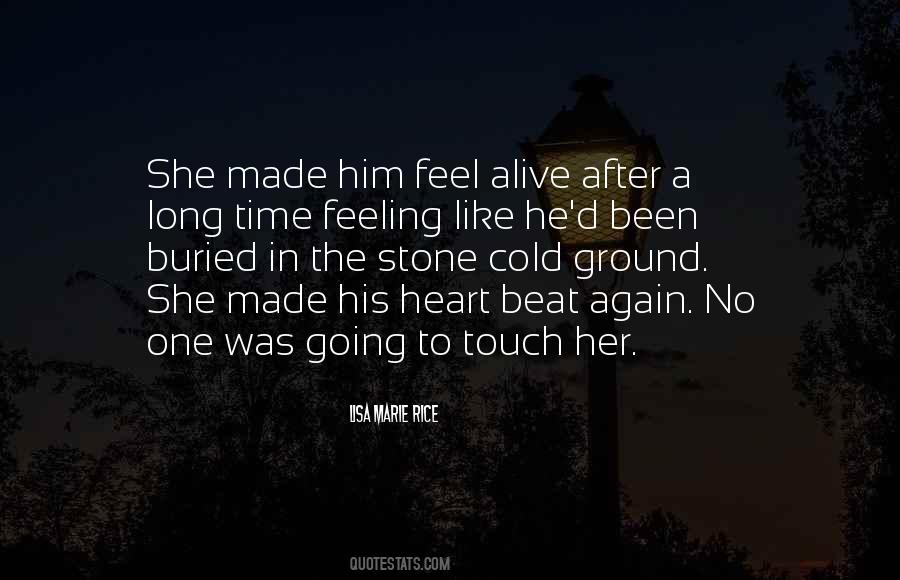 #21. Feeling his heart swell in his chest, Baltsaros looked fiercely at Jon, and the dark-haired man frowned at him. "What is it?" asked Jon, his voice alarmed. Baltsaros licked his lips and swallowed. "I'm just so very glad you're alive, Jon. So very glad," he said softly. "You are my everything. - Author: Bey Deckard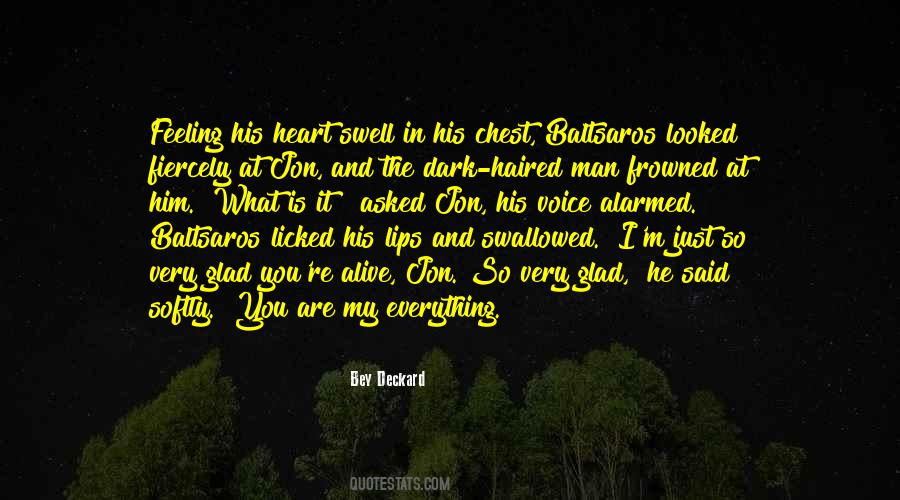 #22. You're alive, I whisper, pressing my palms against my cheeks, feeling the smile that's so wide it must look like a grimace. Peeta's alive. - Author: Suzanne Collins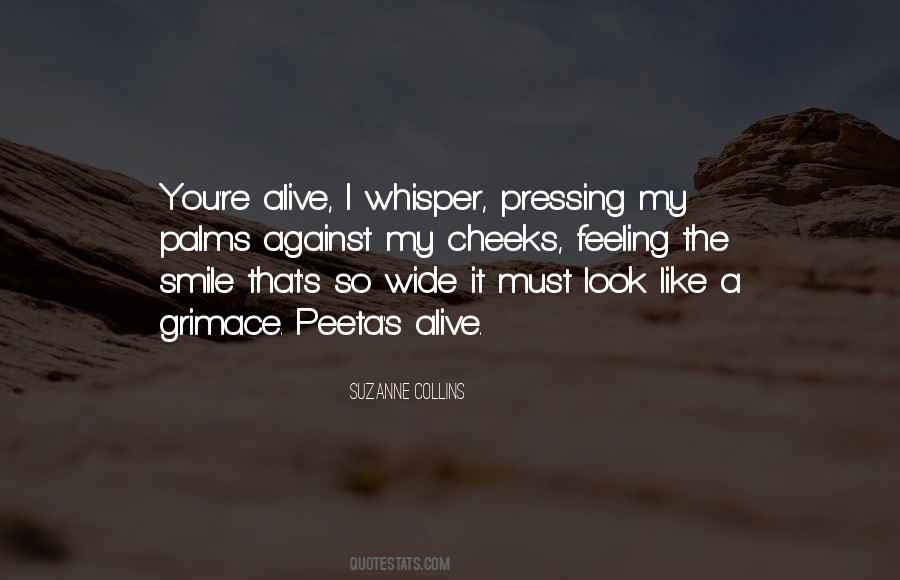 #23. The truth is I love being alive. And I love feeling free. So if I can't have those things then I feel like a caged animal and I'd rather not be in a cage. I'd rather be dead. And it's real simple. And I think it's not that uncommon. - Author: Angelina Jolie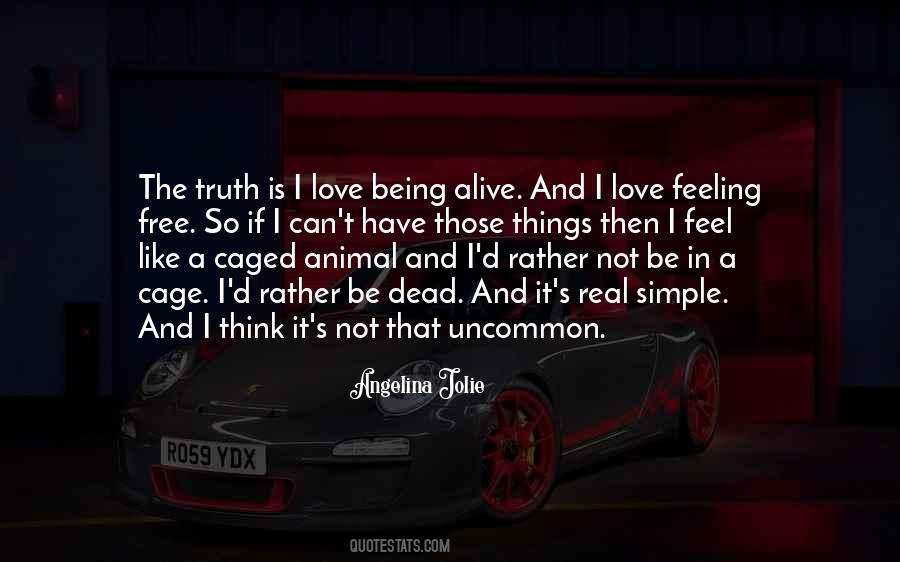 #24. It felt so amazing to be alive I could never think of anything else. - Author: Marty Rubin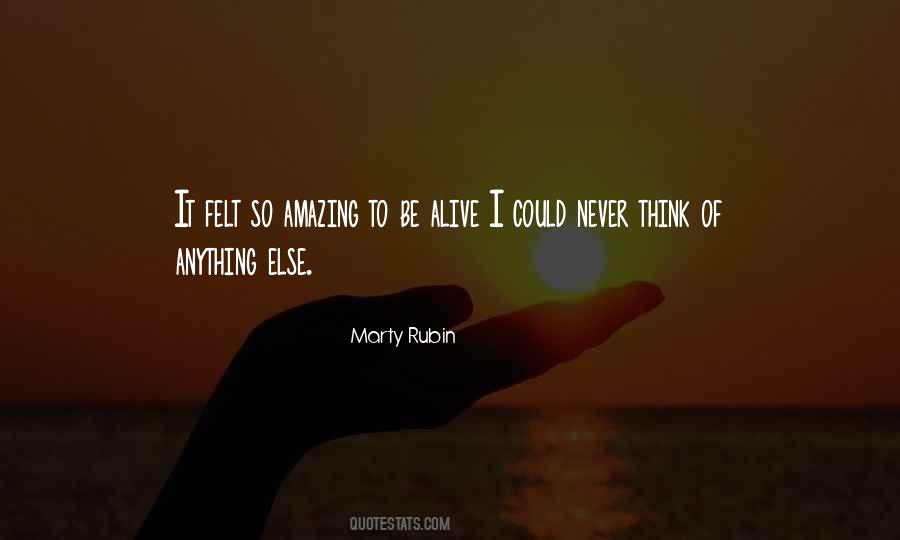 #25. You have trouble feeling alive, so you stab your own heart just to feel something. It was the emptiness that was killing you. You created the sadness and the fear to fill it. - Author: Yasmin Mogahed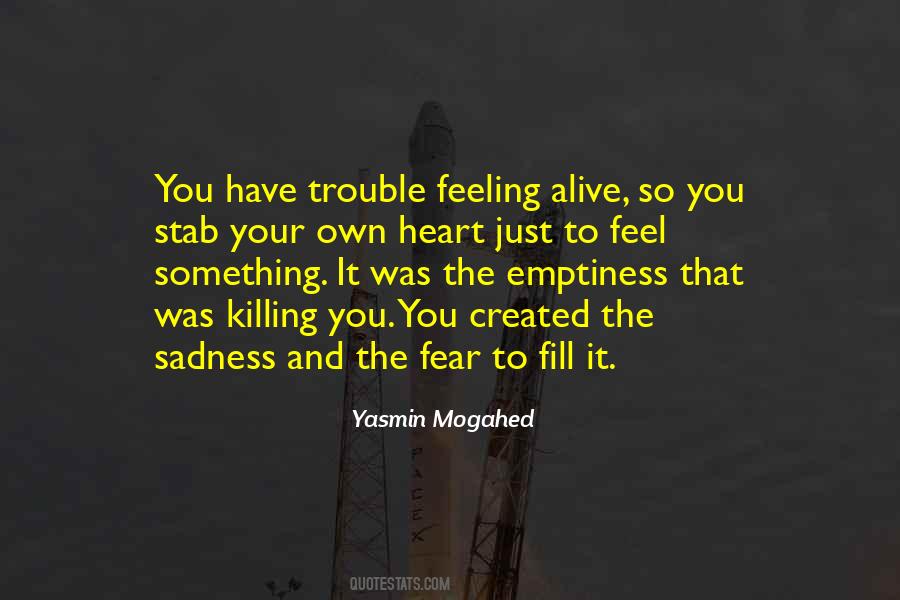 #26. I wake up so full of life and feeling so alive and so full of joy when I get to go to a set and tell a story. I just - I couldn't imagine not having that, and what a gift it's been in my life. - Author: Hilary Swank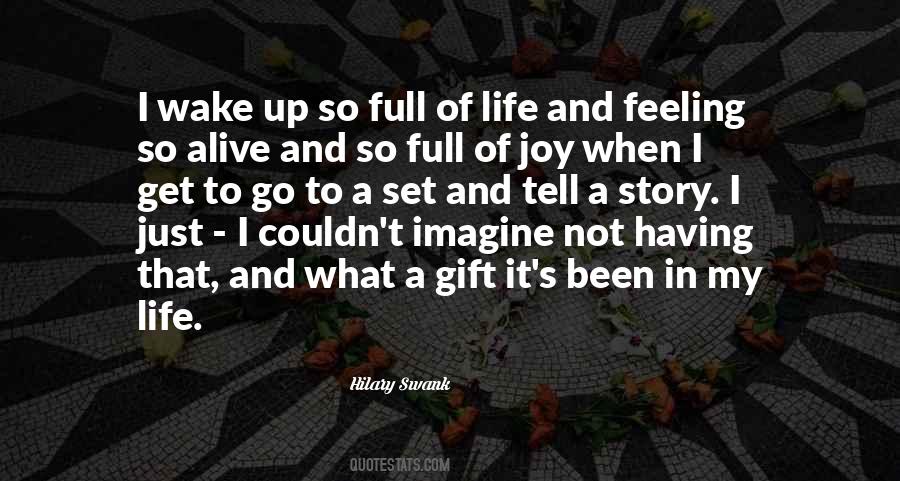 #27. It's like my karate teacher says - you are more alive when you are feeling pain than when you are so careful that you feel nothing. - Author: Annabel Monaghan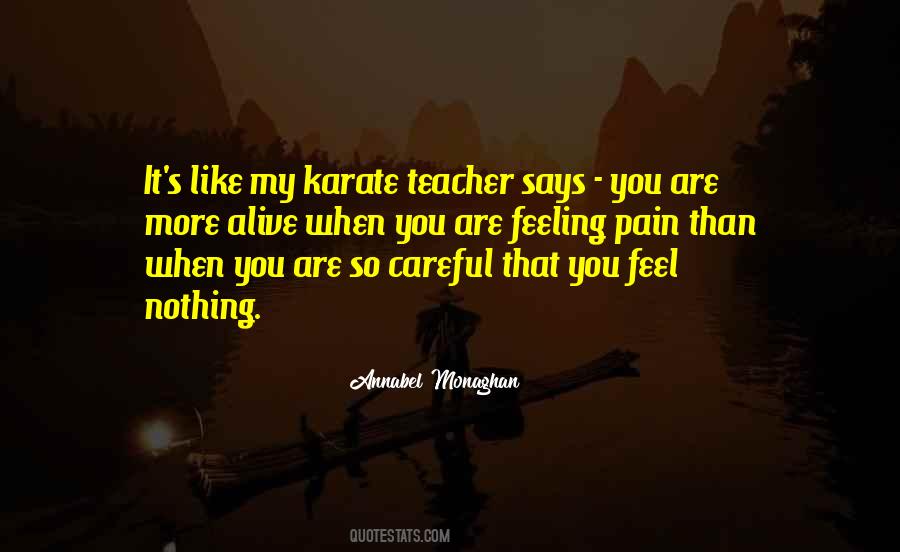 #28. We understand so little about life or its sister, death. Look at this animal. Why was it, a moment ago, alive and feeling and thinking and now it is changed and dead? Why?"
"'Cause you shot it," Jim said. - Author: R.S. Belcher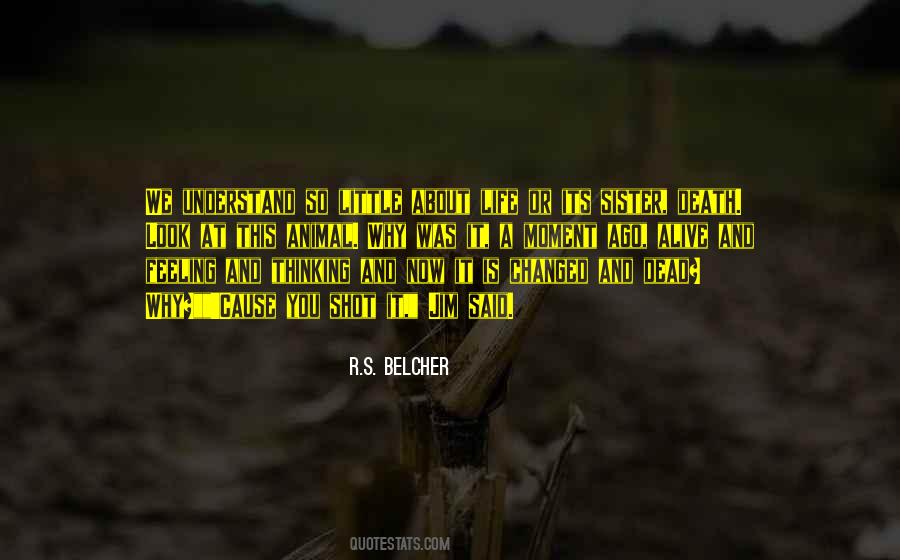 #29. Because, you see, this feeling of alive is not so easy to experience - Author: Ruth Ozeki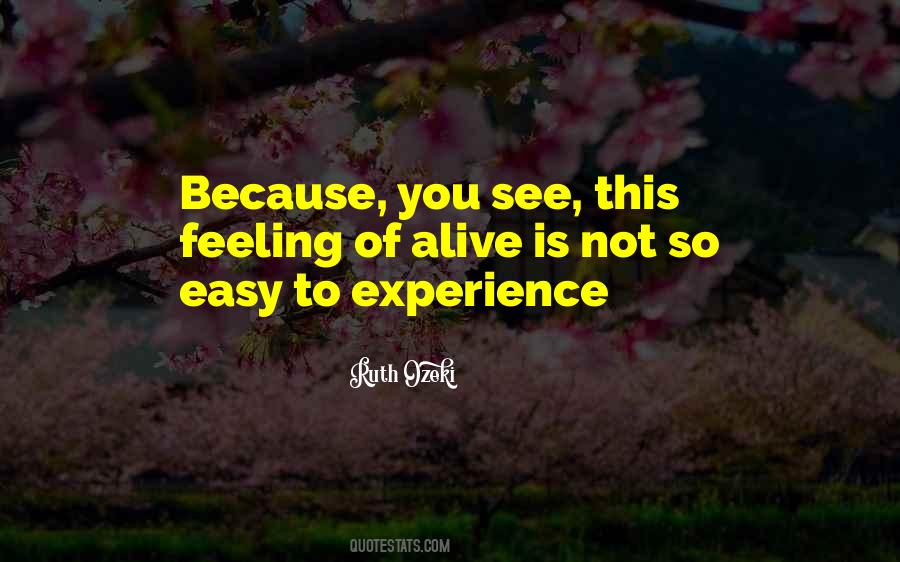 #30. While I have felt lonely many times in my life, the oddest feeling of all was after my mother, Lucille, died. My father had already died, but I always had some attachment to our big family while she was alive. It seems strange to say now that I felt so lonely, yet I did. - Author: Bill Murray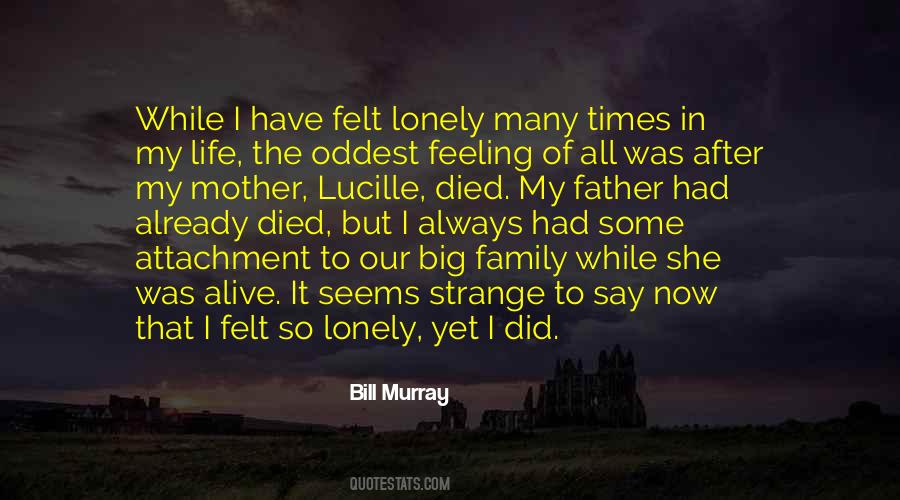 #31. I think one cannot be left alive among so many deaths without feeling unendurable shame. - Author: Ursula K. Le Guin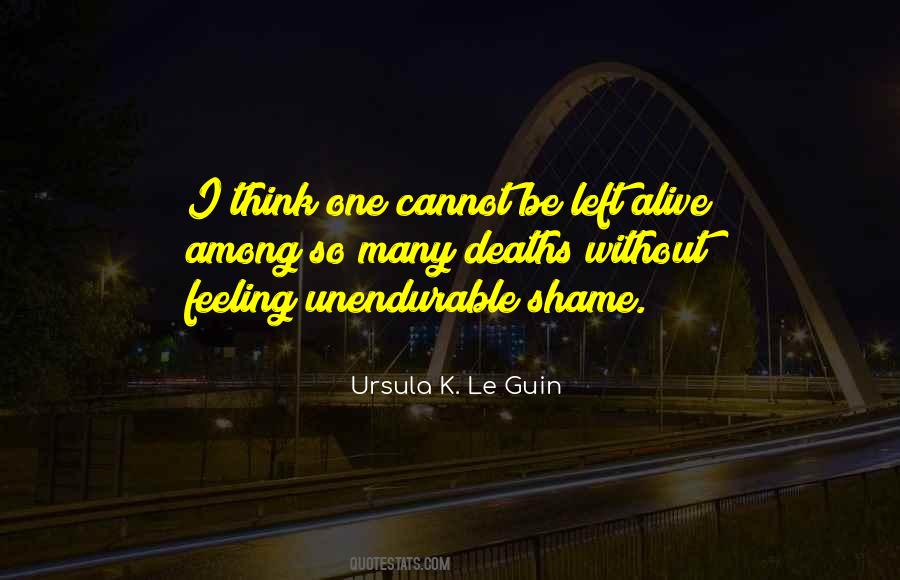 #32. And I would never, ever have that euphoric, all-consuming love that had wrapped around me every moment I was with Sydney, that feeling of love that constantly made me think, Yes, this is what it means to be alive. - Author: Richelle Mead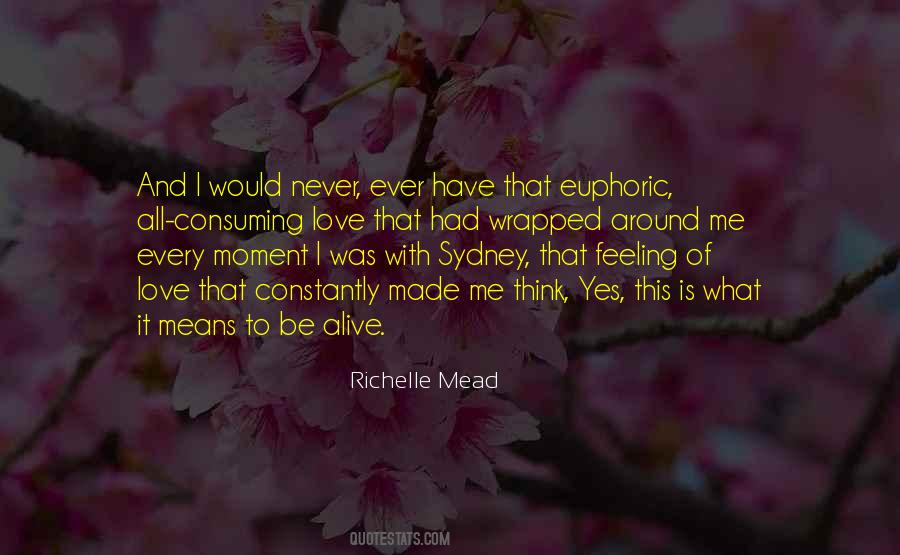 #33. For the first time since her return, she felt pain, a violent pain, but it made her feel alive, because it was worth feeling. - Author: Ayn Rand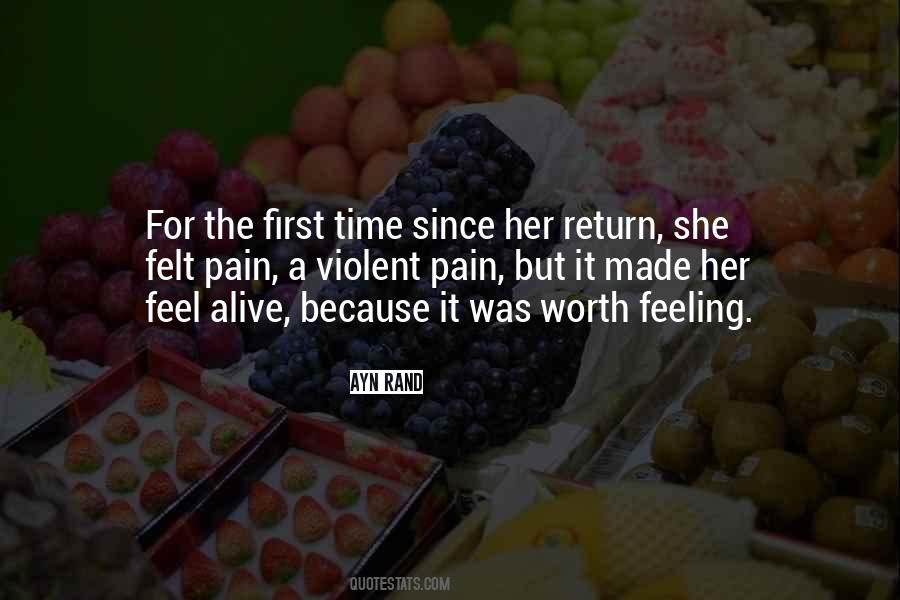 #34. I don't really go around feeling very Irish at all. I don't go to Irish pubs. I've lived so many places, and I'm still so curious about the bigger world. It's grand to be alive in a time when mobility is so accessible. - Author: Stuart Townsend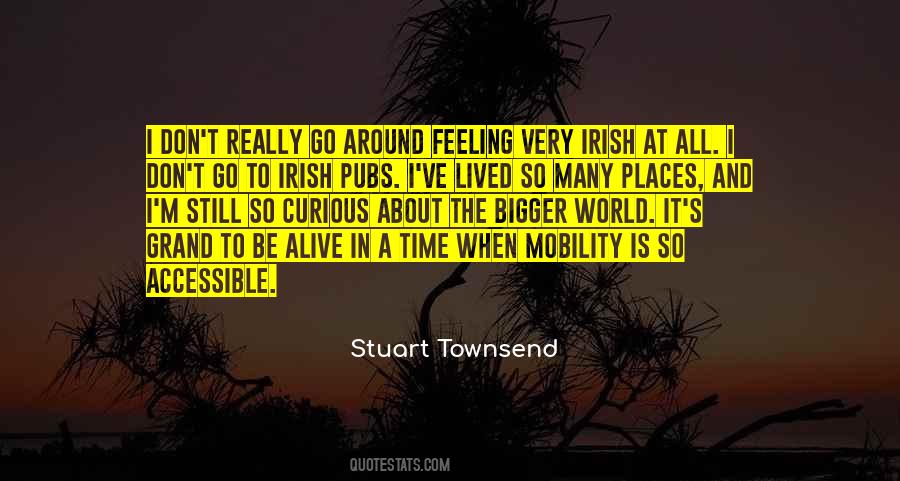 #35. Happiness is what matters, feeling alive-not art or knowledge or money. - Author: Marty Rubin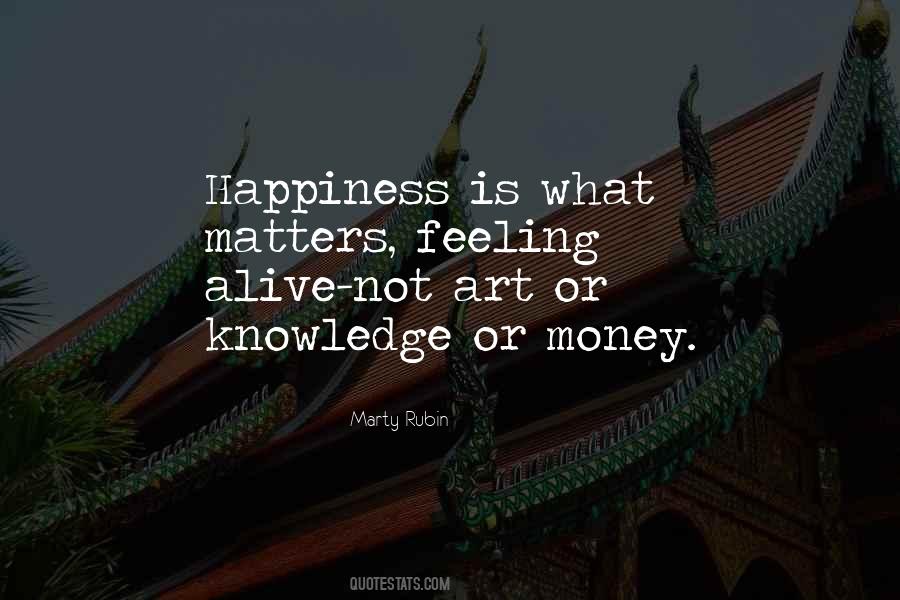 #36. High heels off; I'm feeling alive. - Author: Lana Del Rey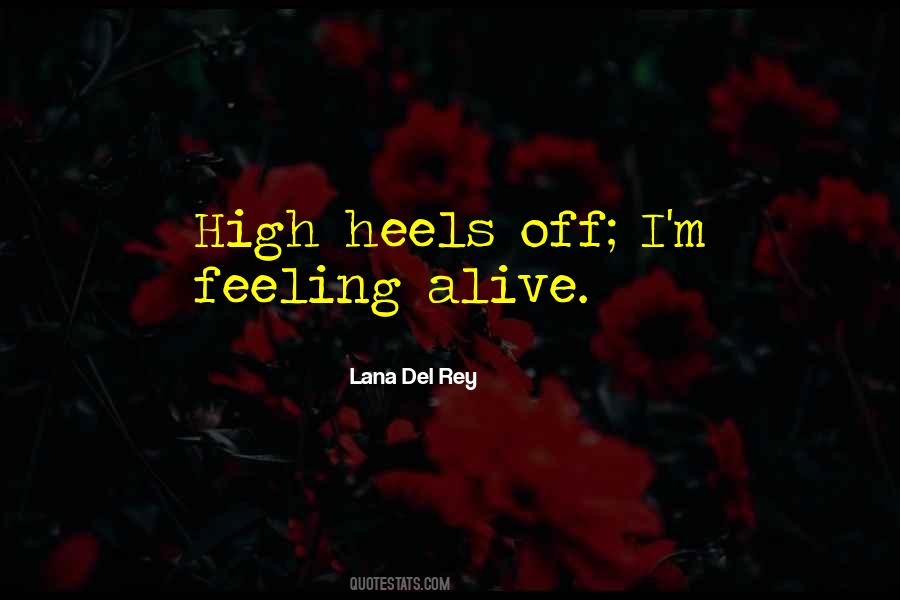 #37. What I try to capture as a writer is the feeling of being alive, of being awake. - Author: Jenny Offill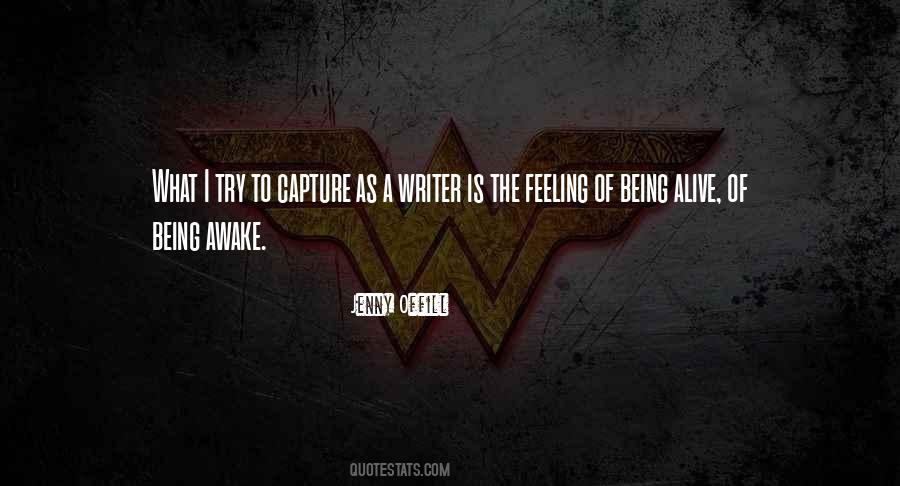 #38. Well, everybody needs help feeling alive again every once in a while." "No," she says seriously, and my gaze falls back on hers, "I didn't say again, Andrew; for making me feel alive for the first time. - Author: J.A. Redmerski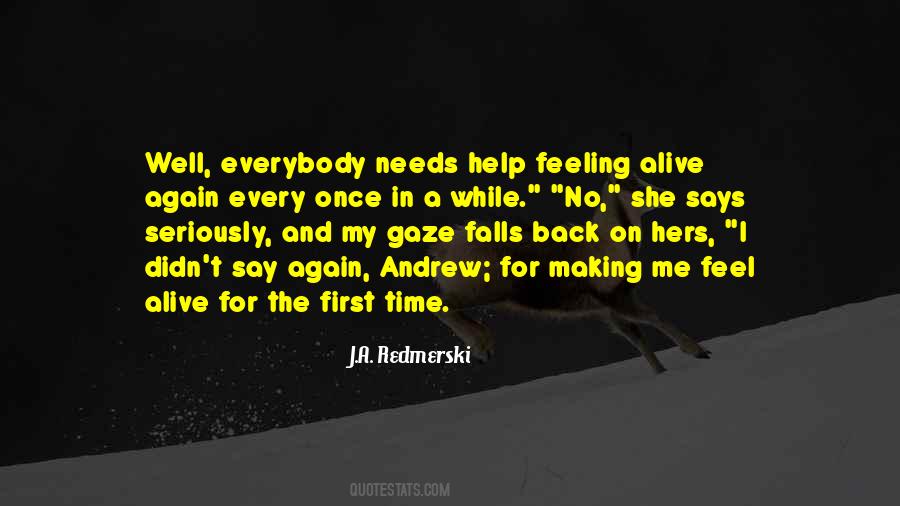 #39. A huge part of youth is how you behave: I'm always looking for fun and anything that makes me feel alive - that in itself keeps me feeling young. - Author: Martine McCutcheon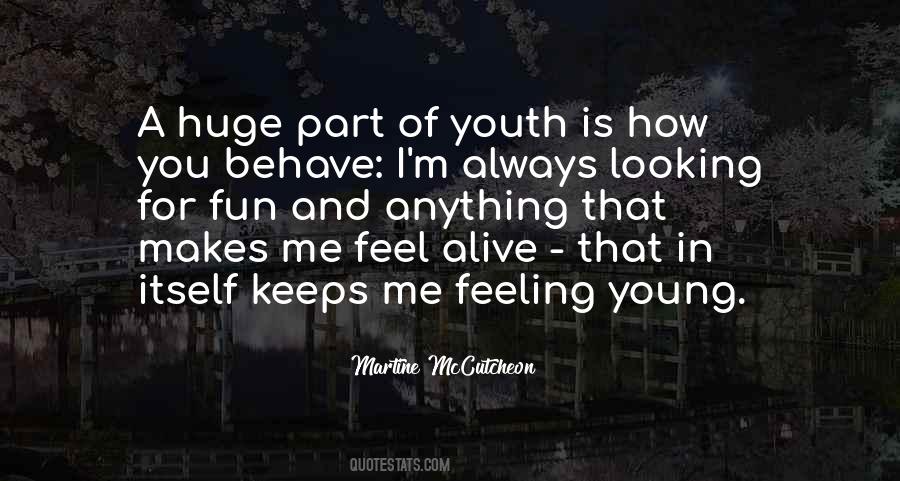 #40. In one swift motion she's out of his arms twirling about. Startled and then ecstatic, she feels lighter than air, laughing in spite of herself. Light hearted, she keeps spinning feeling the stress and pain strip away from her. She was surprised by how confident she felt. How alive. - Author: Solange Nicole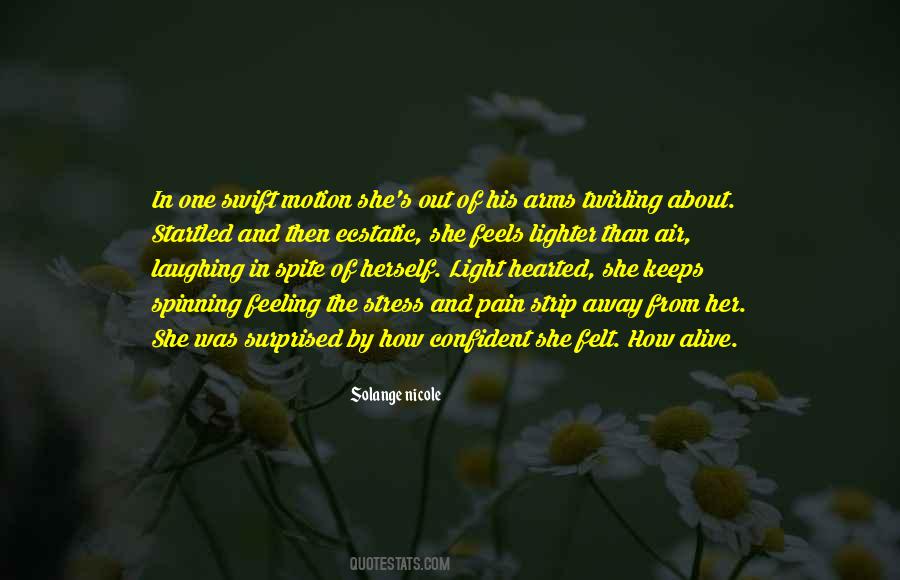 #41. I had taken this time to fall in love instead - inn love with the sort of helplessness I had not felt inn death - the helplessness of being alive, the dark bright pity of being human - feeling as you went, groping in corners and opening your arms to light - all of it part of nagivating the unknown. - Author: Alice Sebold
#42. I had no idea how free we were. That's how free I was. - Author: Brendan Cowell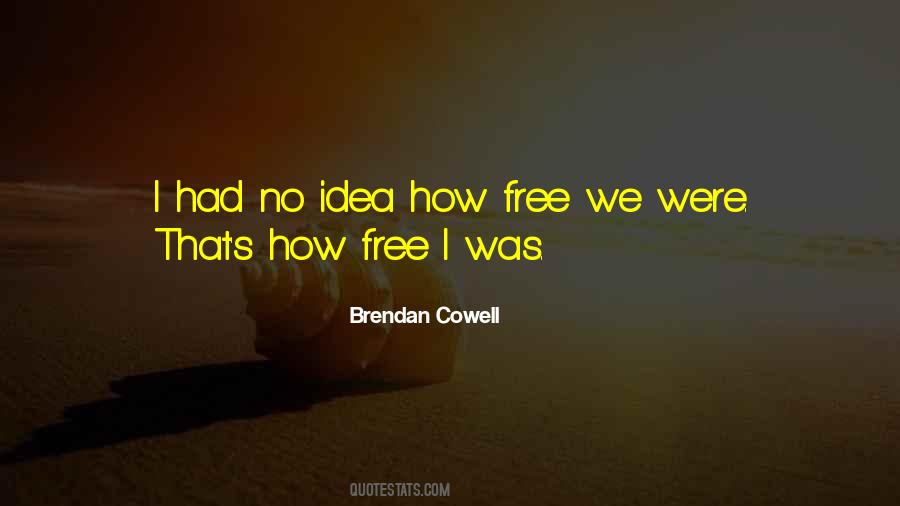 #43. Meeting people in a genuine way and feeling like there is a vital and meaningful connection going on makes me come alive. - Author: Sharon Salzberg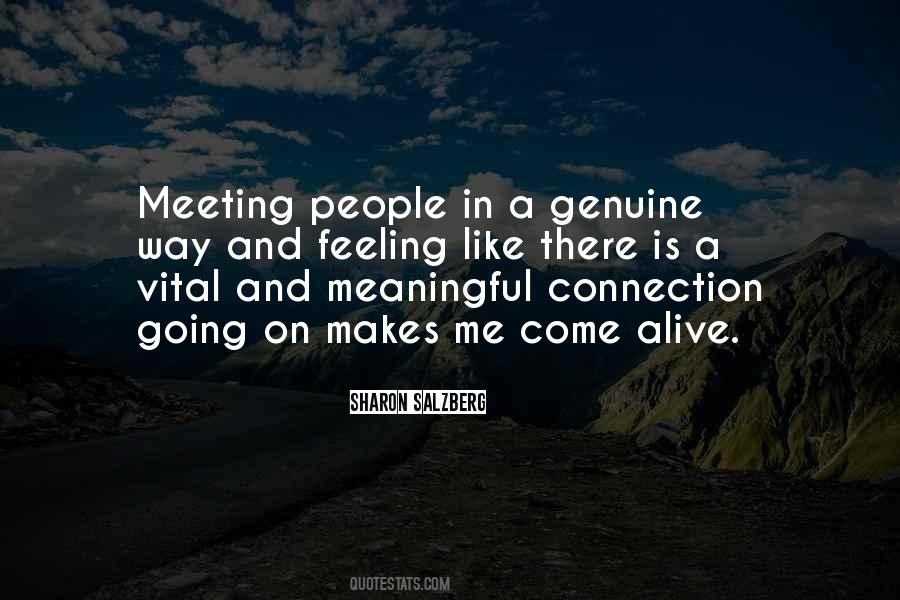 #44. You have infiltrated me completely, you make me feel alive Harlow, and I love that feeling. I have had my heart walled off for so long, and you have melted it so I can feel again. ~Beckett - Author: S.M. Stryker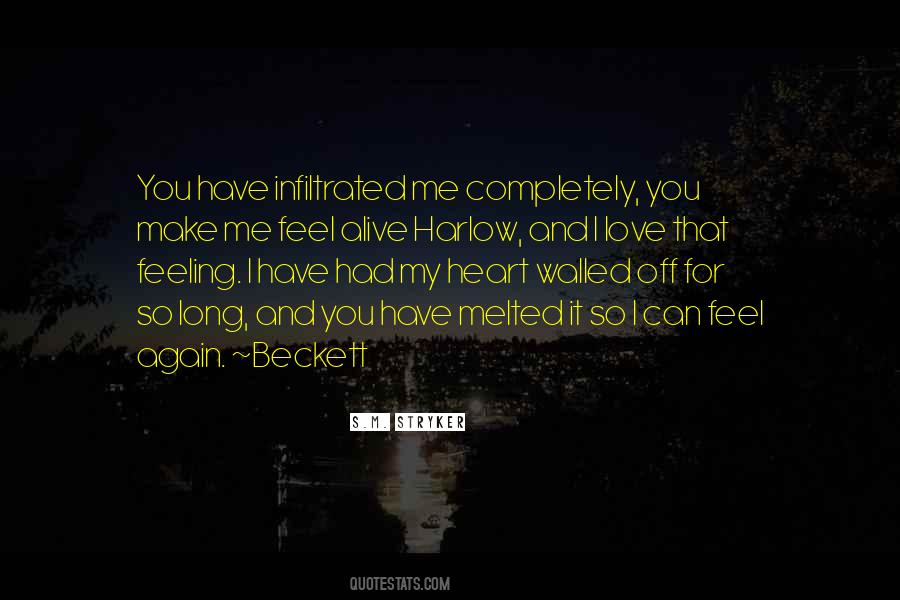 #45. Faith is

Feeling Alive In The Heart. - Author: Martina E. Faulkner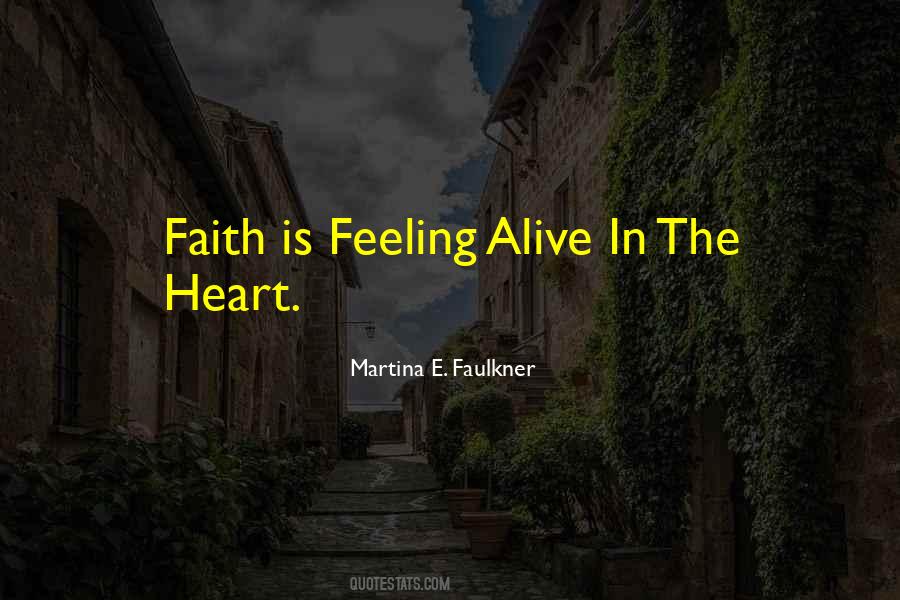 #46. Feeling a little bit alive is a lot better than just waiting to die. - Author: Robert De Niro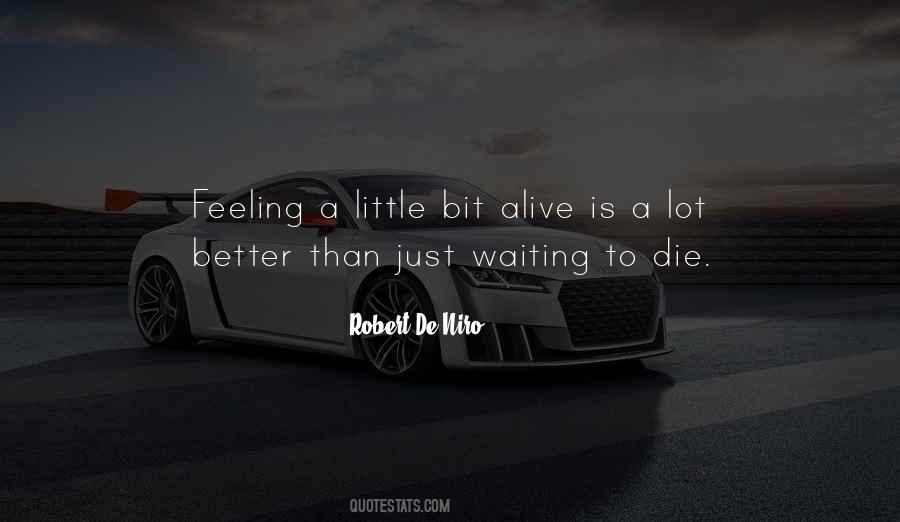 #47. For any writer who wants to keep a journal, be alive to everything, not just to what you're feeling, but also to your pets, to flowers, to what you're reading. - Author: May Sarton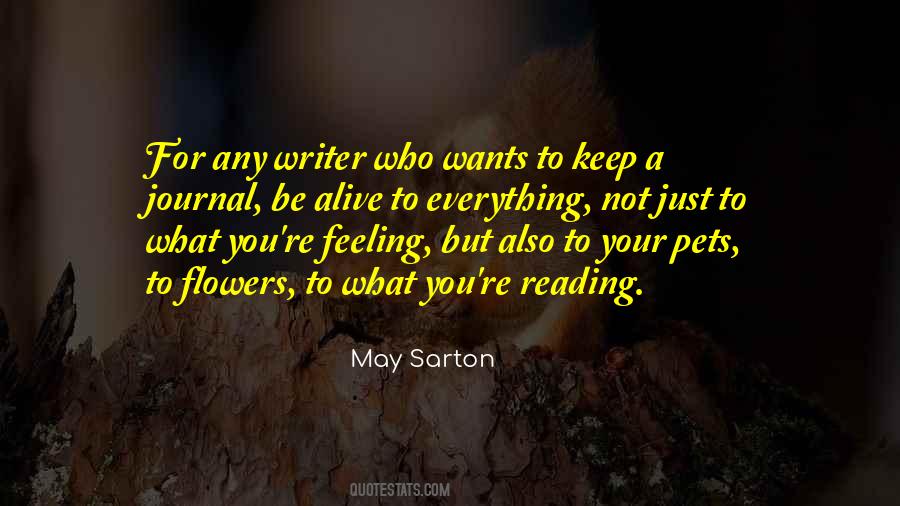 #48. I have survived my first day of chemo and I like this feeling of survival. It's alive and it's right and it's what I will make sure I feel every day for the rest of the life I have left. I make a promise to myself: While I'm dying, I will be completely fucking alive. - Author: Glenn Rockowitz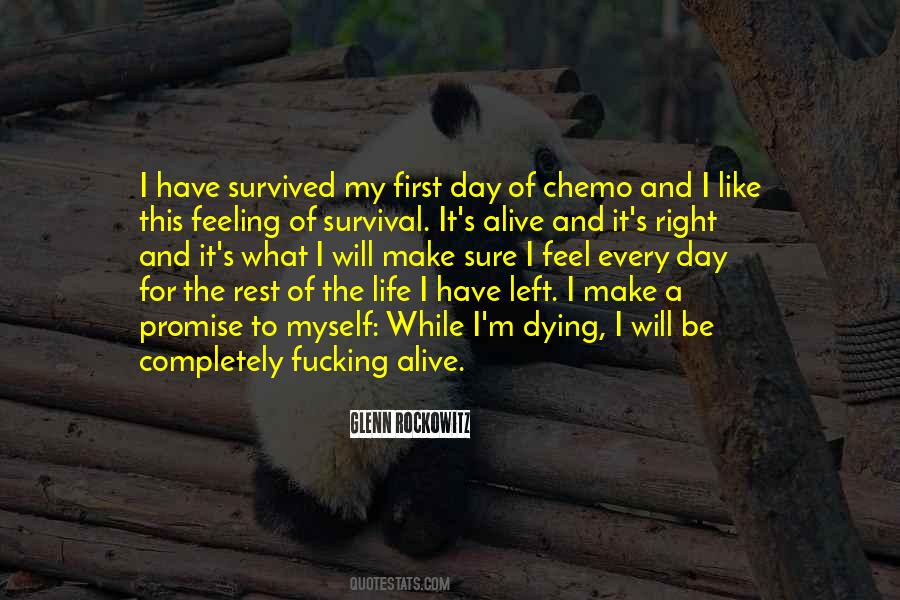 #49. Do you know that feeling - The feeling of being alive and dead, both at the same time? When it seems like you are just going through with different notions of life, without actually living it. I do, I know that feeling very well. I live with it, eat with it and often sleep with it. - Author: Bhavya Kaushik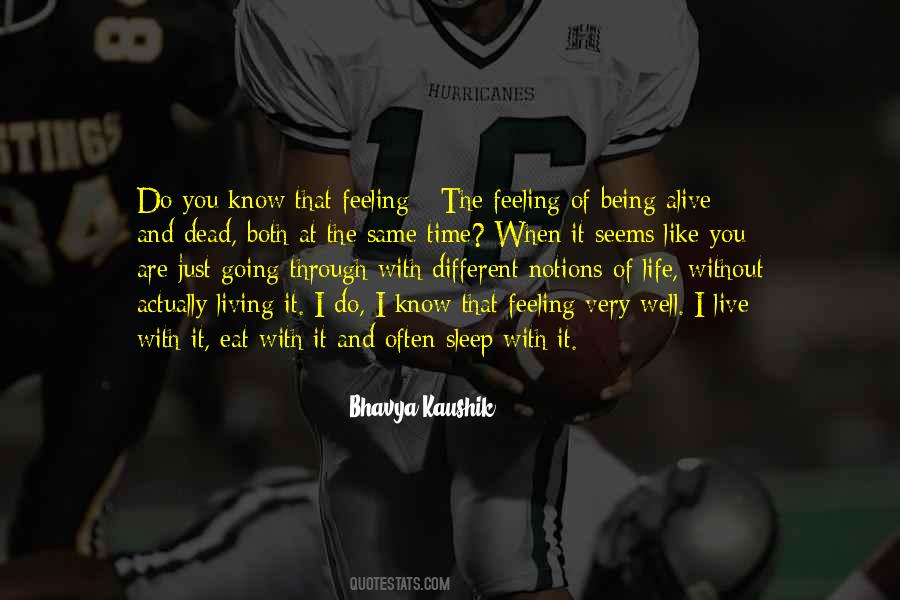 #50. In the social jungle of human existence, there is no feeling of being alive without a sense of identity. - Author: Erik Erikson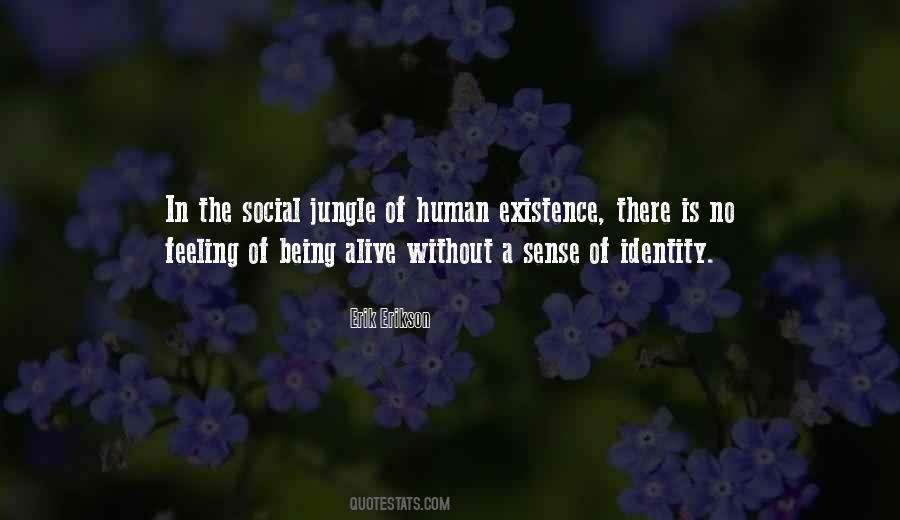 #51. He's looking at me, torn and passionate, and I don't know how I thought I was truly alive before I met him. This is what love feels like. To no longer belong to yourself. To be pulled from what you know into what you feel. No wonder people live and die for this feeling. - Author: Leisa Rayven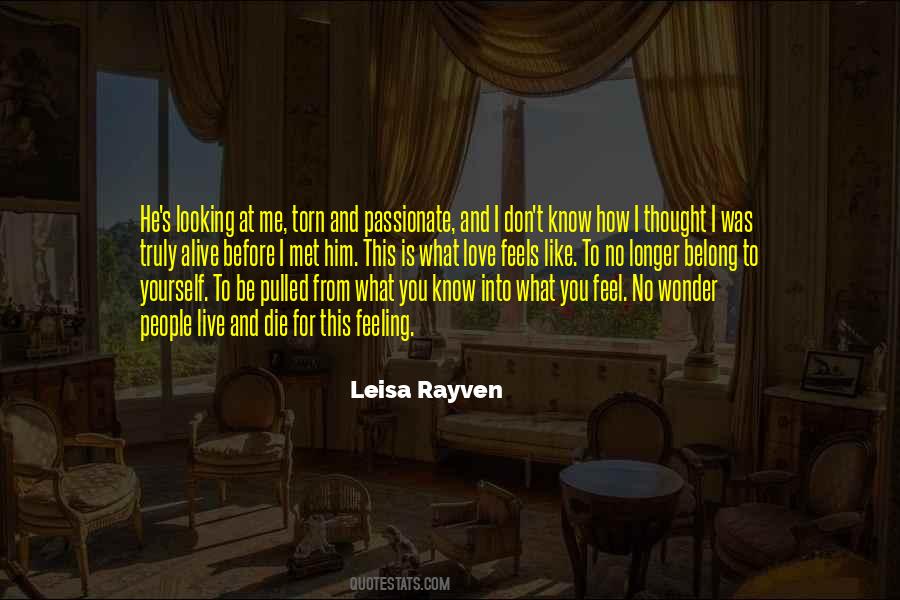 #52. The opposite of depression isn't feeling happy but being fully alive, however painful - Author: Gwyneth Lewis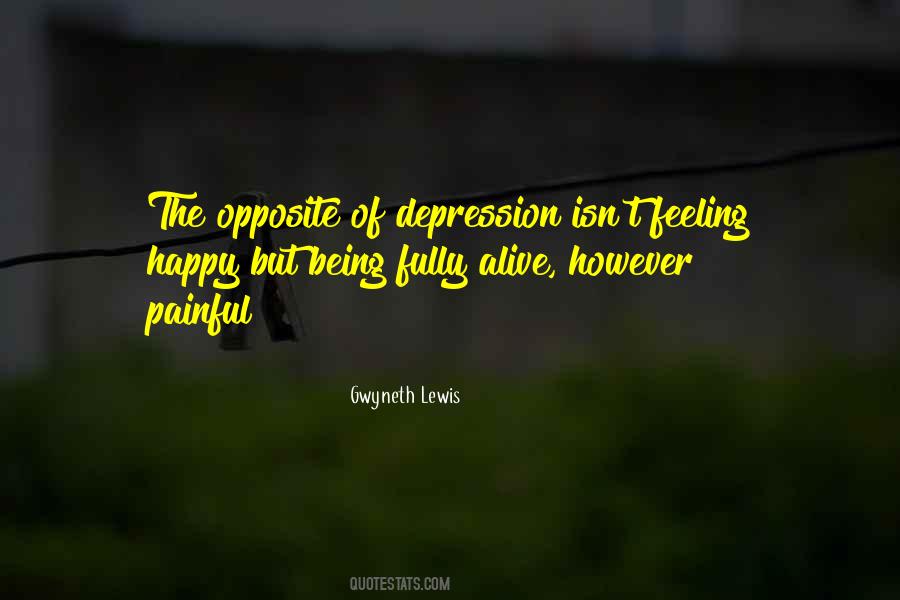 #53. So there I was, feeling like the luckiest girl on earth. To be buried alive in such a majestic coffin! MAJOR life goal achieved!!!! - Author: Rob Reger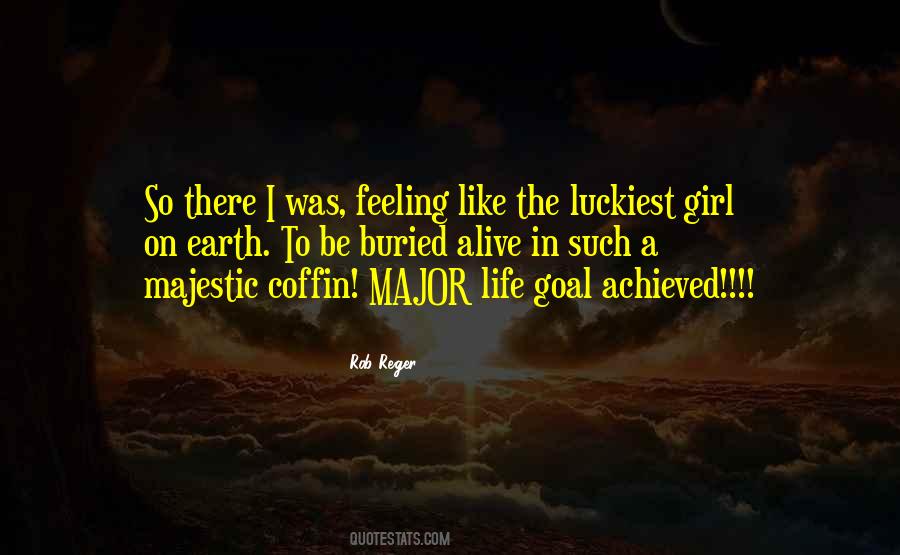 #54. I have the feeling that everybody was waiting for me to die so they could rediscover me. Then they found out I'm not dead yet, so they are rediscovering me while I'm still alive. - Author: Gian Carlo Menotti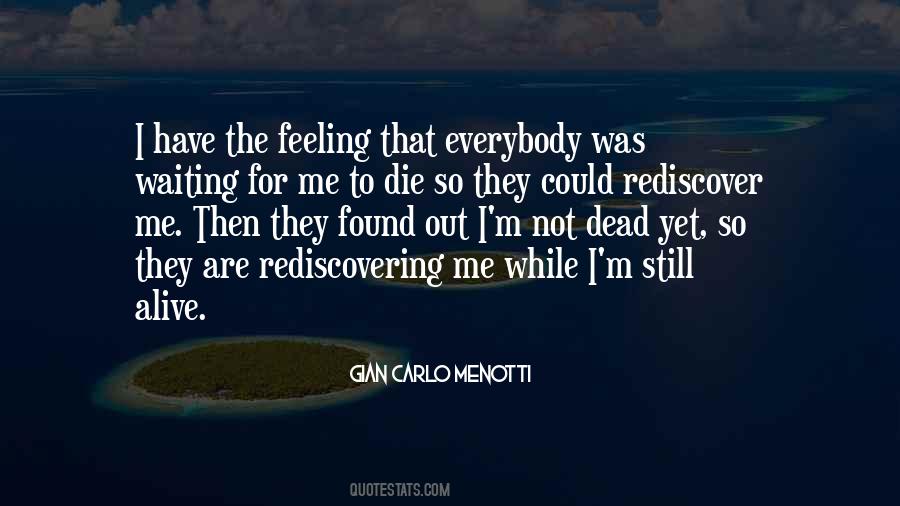 #55. I was alive when the Dead Sea was just a lake that was feeling a little poorly. - Author: Cassandra Clare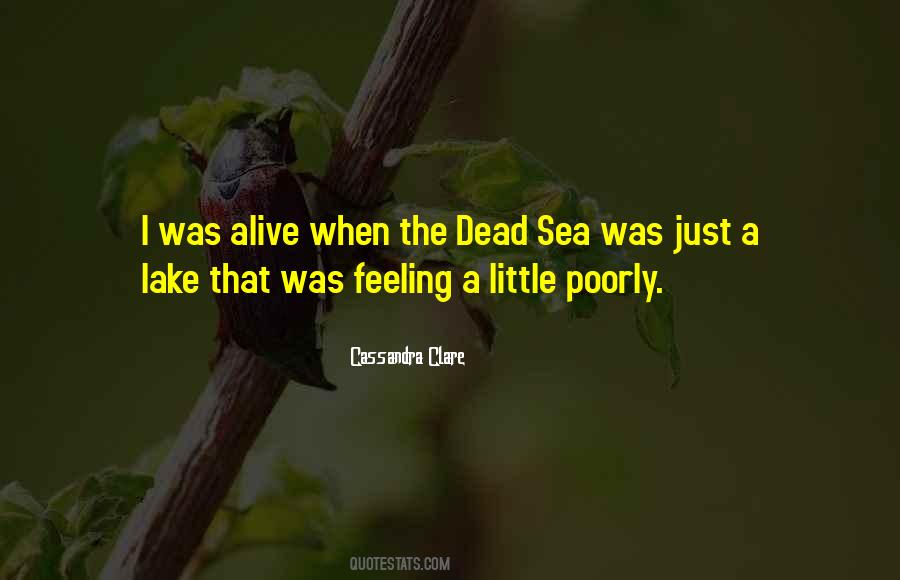 #56. I love being on stage. There's nothing better than that feeling; ever since the first time I was on stage, I was like, 'Oh, this is what it means to be fully alive and satisfied.' I don't think anything's as satisfying as a play. - Author: Mickey Sumner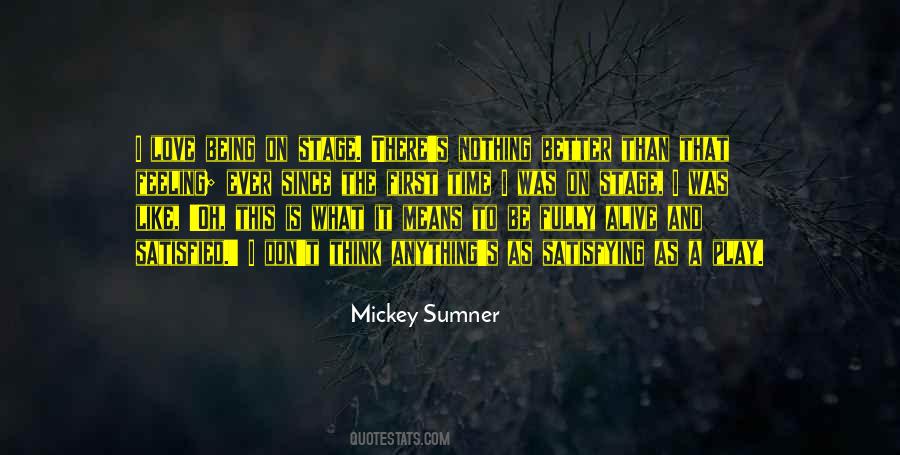 #57. Tragedy stays alive by feeling what's been done to us, while peace comes alive by living with the results. - Author: Mark Nepo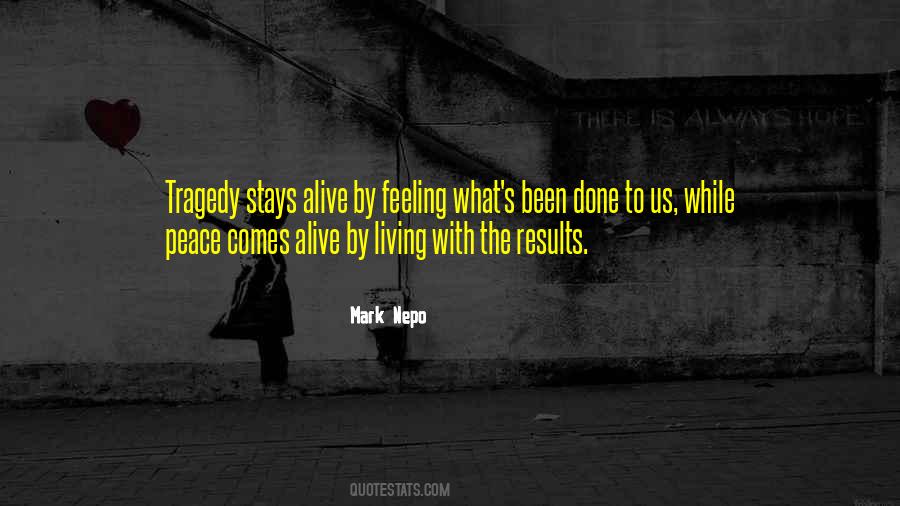 #58. How long will this last, this delicious feeling of being alive, of having penetrated the veil which hides beauty and the wonders of celestial vistas? It doesn't matter, as there can be nothing but gratitude for even a glimpse of what exists for those who can become open to it. - Author: Alexander Shulgin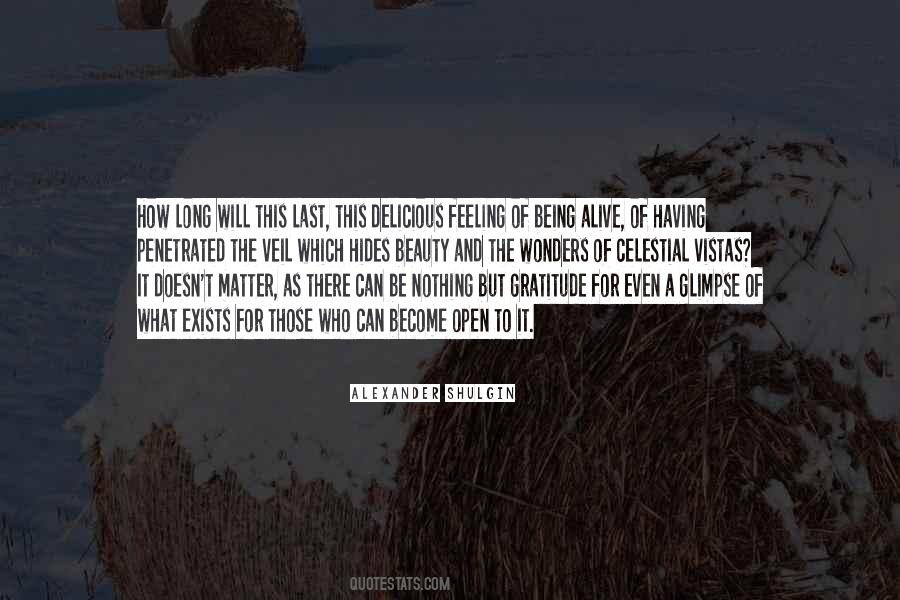 #59. Giving to other people makes me feel alive. Not my car or my house. Not what I look like in the mirror. When I give my time, when I can make someone smile after they were feeling sad ... - Author: Mitch Albom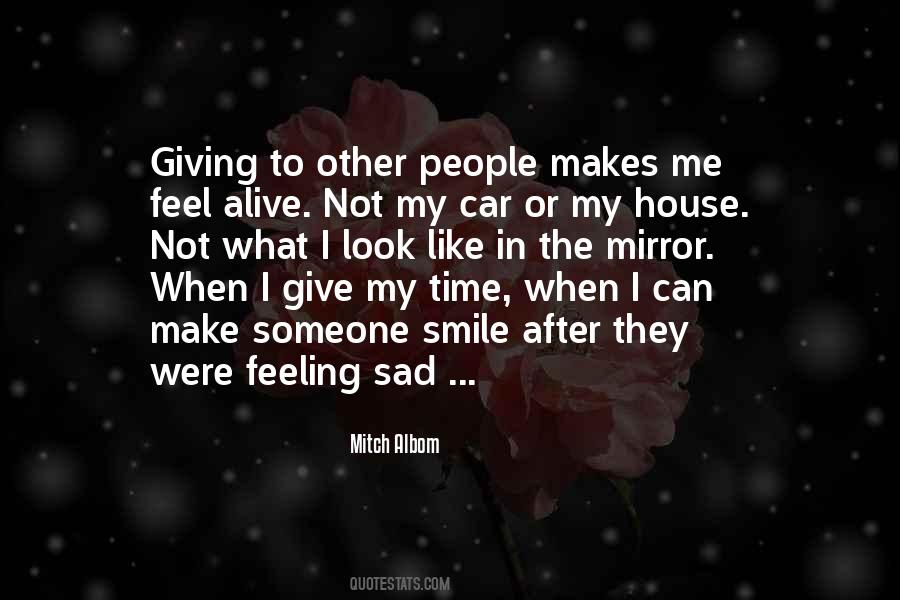 #60. When I'm on stage, I feel alive. It's the most rewarding feeling an actor can live. - Author: Jaime Camil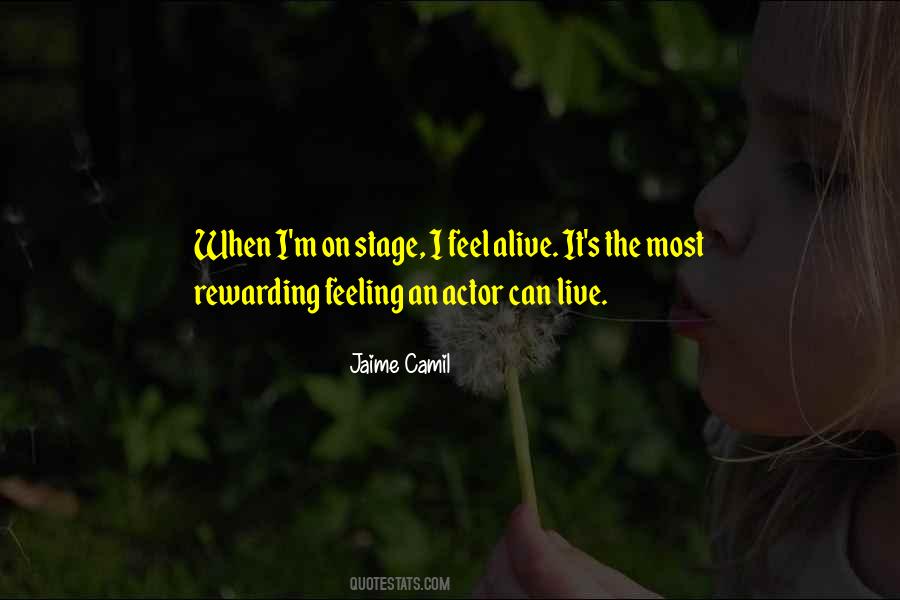 #61. Then she would wander through fields, over simple, poor land, looking carefully and keenly all round her, still getting used to being alive in the world, and feeling glad that everything in it was right for her - for her body, her heart, and her freedom. - Author: Andrei Platonov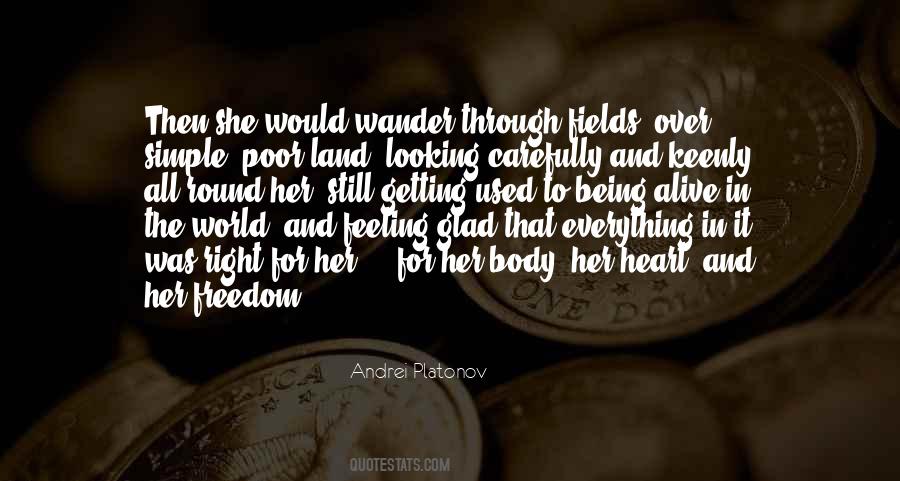 #62. For once, I can feel everything. Every emotion, every feeling, every sense. I've never felt so alive. How ironic. - Author: Karina Halle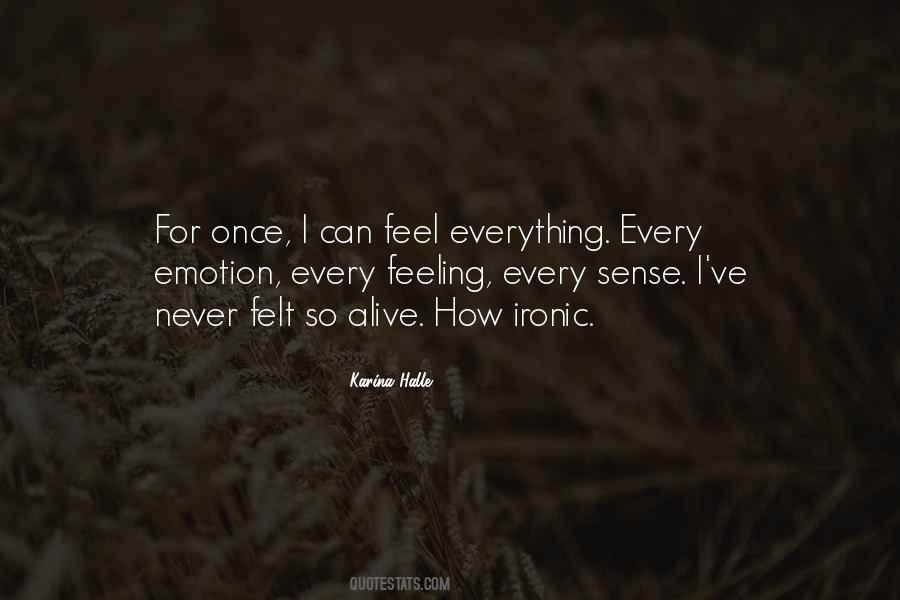 Famous Authors
Popular Topics