Enjoy Whatever You Do Famous Quotes & Sayings
List of top 60 famous quotes and sayings about enjoy whatever you do to read and share with friends on your Facebook, Twitter, blogs.
Top 60 Enjoy Whatever You Do Quotes
#1. If you do things to the limit, and don't purposely go over that limit, then I think it's fine to do whatever you want. So long as you enjoy it. That's what's important. - Author: Michael Schumacher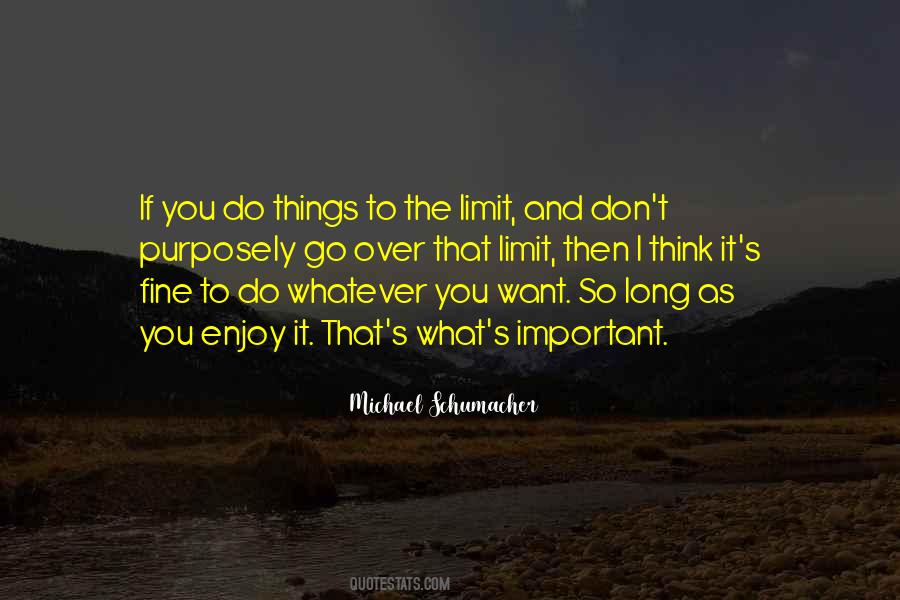 #2. Did you enjoy yourself?' I asked.
'Mmm,' he said. 'It was fun, wasn't it?' He wasn't using a knife, but held a fork in his right hand like a child or an American. He smiled. - Author: Gail Honeyman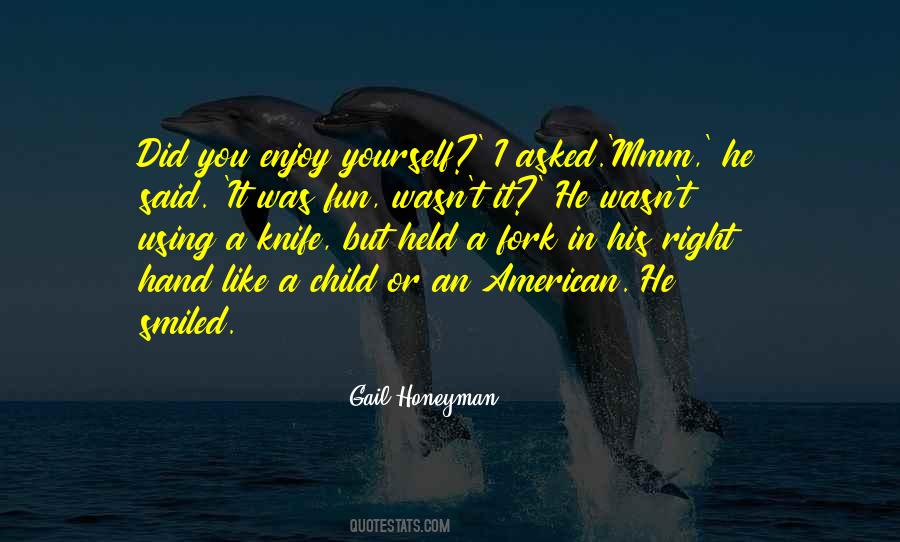 #3. I think boredom is the beginning of every authentic act. ( ... ) Boredom opens up the space, for new engagements. Without boredom, no creativity. If you are not bored, you just stupidly enjoy the situation in which you are. - Author: Slavoj Zizek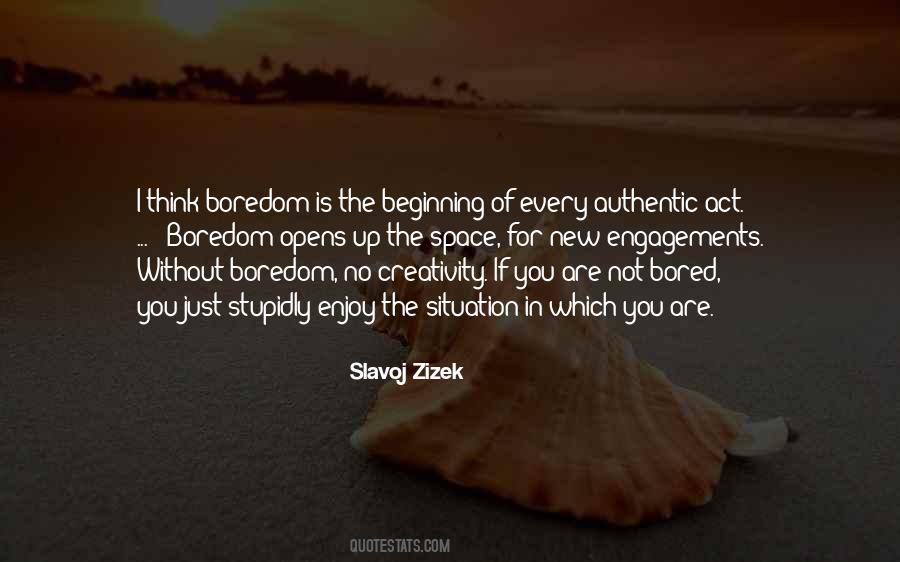 #4. You never get time at Working Title, sadly, to enjoy any film's success, because you're worrying about the next lot. - Author: Eric Fellner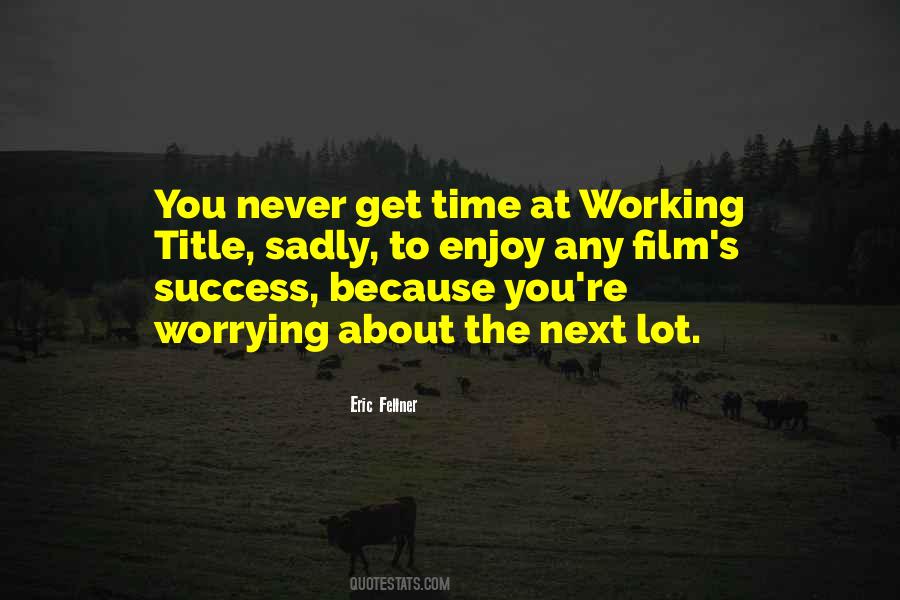 #5. I tend to listen to music more than I read. I need to get into reading a bit more. The stuff I tend to read is usually non-fiction books more than fiction, but I've been trying to power my way through Dostoevsky's 'Crime and Punishment,' and I do enjoy it. - Author: Isaac Hempstead-Wright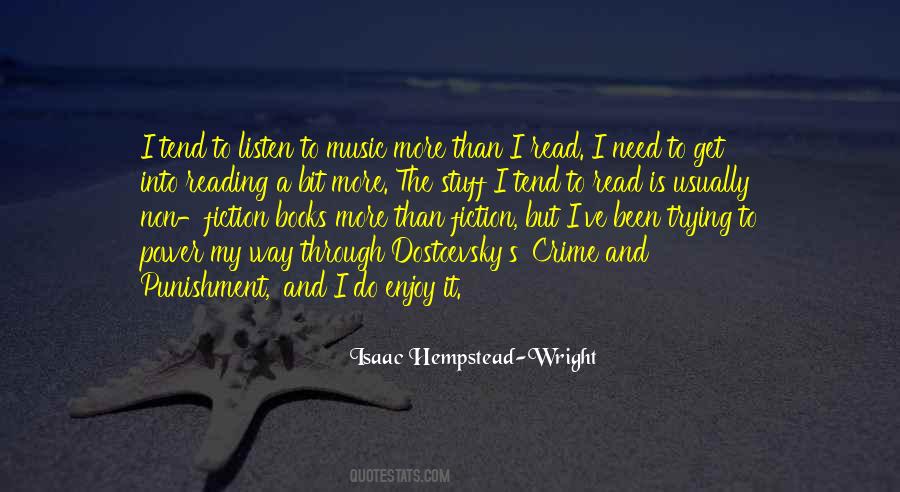 #6. What a happy woman I am, living in a garden, with books, babies, birds and flowers, and plenty of leisure to enjoy them. Sometimes I feel as if I were blest above all my fellows in being able to find happiness so easily. - Author: Rosamunde Pilcher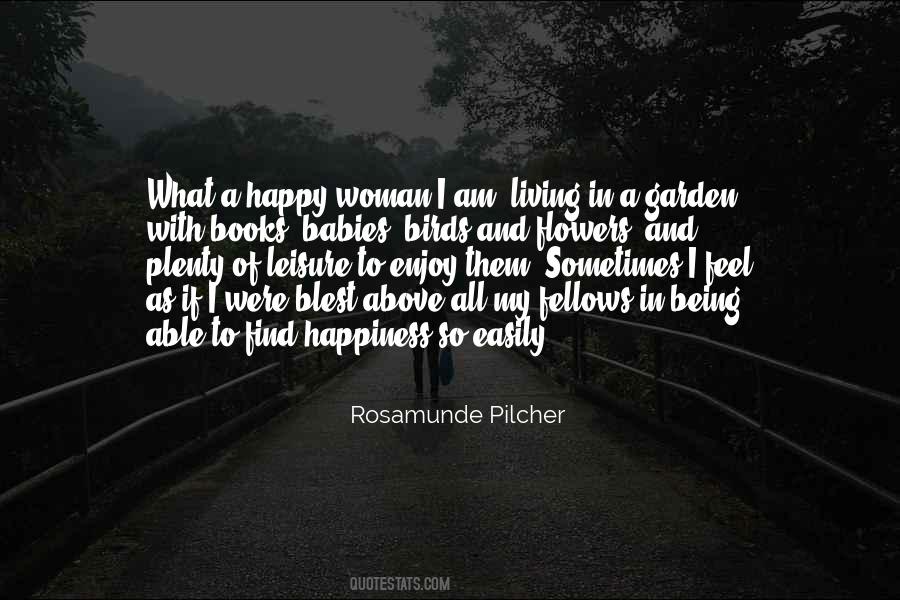 #7. Enjoy it. Because it's happening. - Author: Stephen Chbosky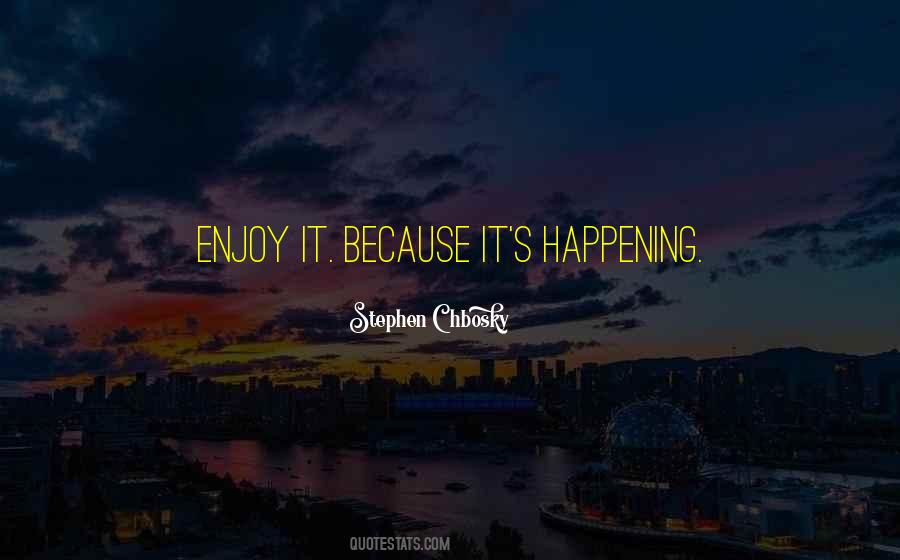 #8. Focus on quality of life, and enjoy a life worth living. Researchers have said that only 4% of people enjoy both their work and their personal life. - Author: Gary Lockwood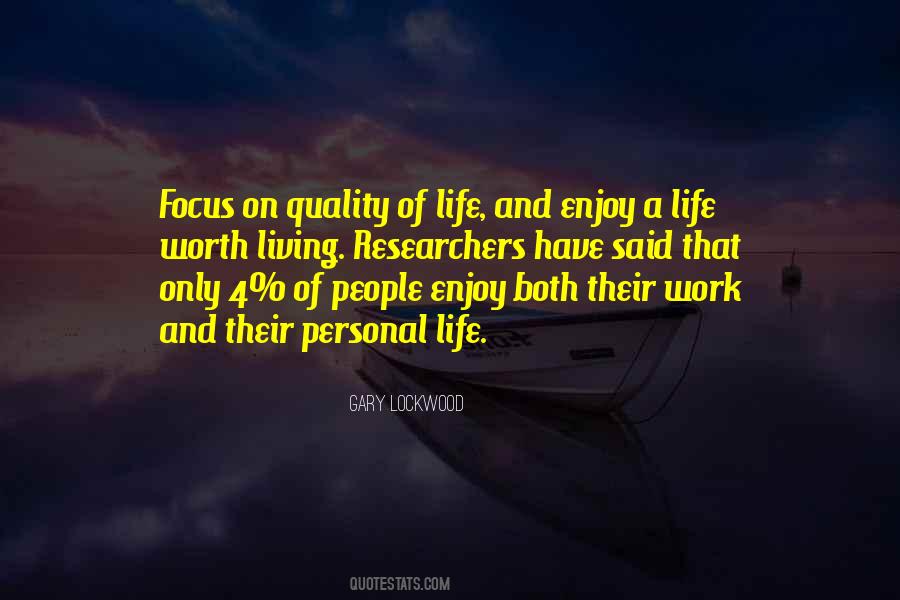 #9. A golfer has to learn to enjoy the process of striving to improve. That process, not the end result, enriches life. - Author: Bob Rotella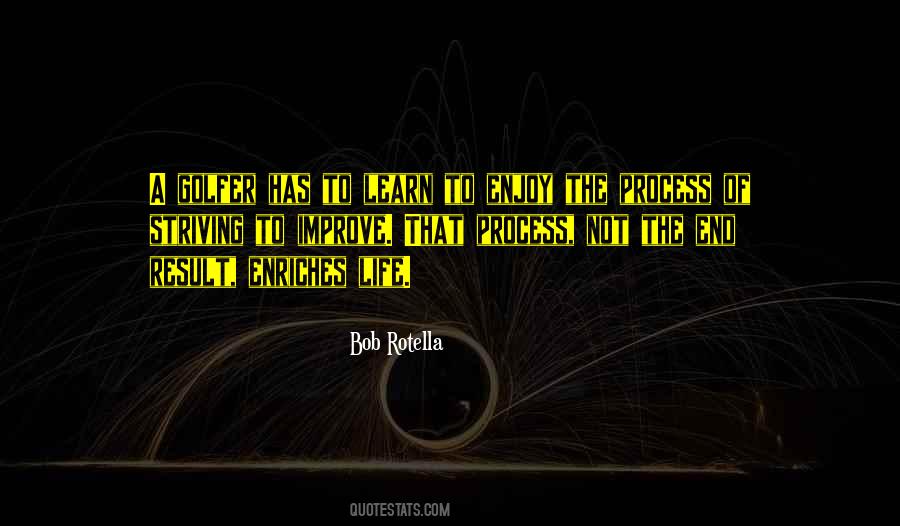 #10. Are deepest desires are: someone to understand us, someone to appreciate us, someone to inspire us, and someone to enjoy what we are. - Author: Debasish Mridha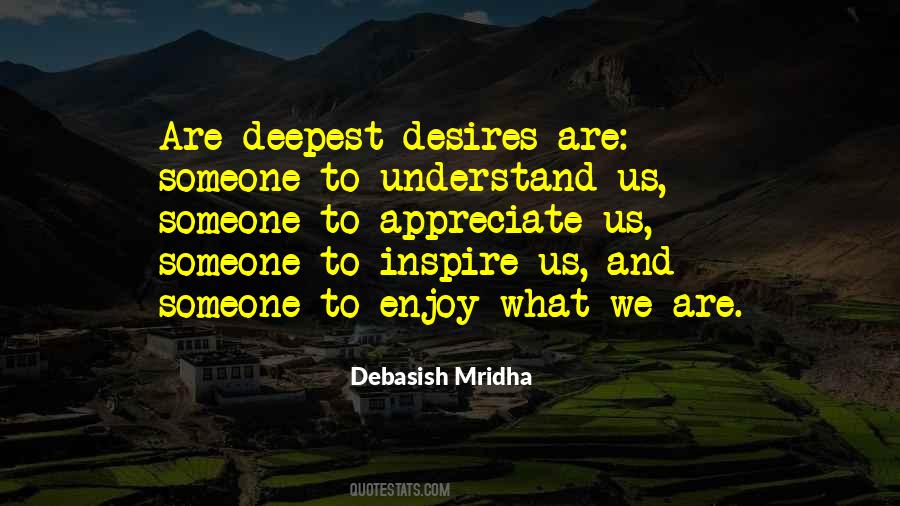 #11. I had a great life even before 'The Memory Keeper's Daughter' took off. I really enjoy teaching. - Author: Kim Edwards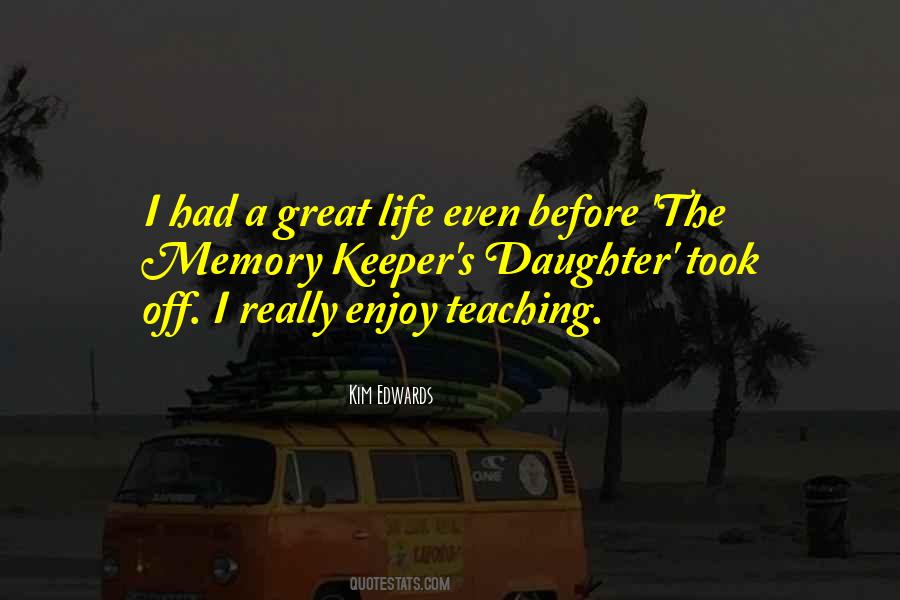 #12. I'm sometimes critical about other artists who come out with something different until maybe I hear the music. If the music is there, then they did their job, and I'll enjoy the CD. - Author: Brian Austin Green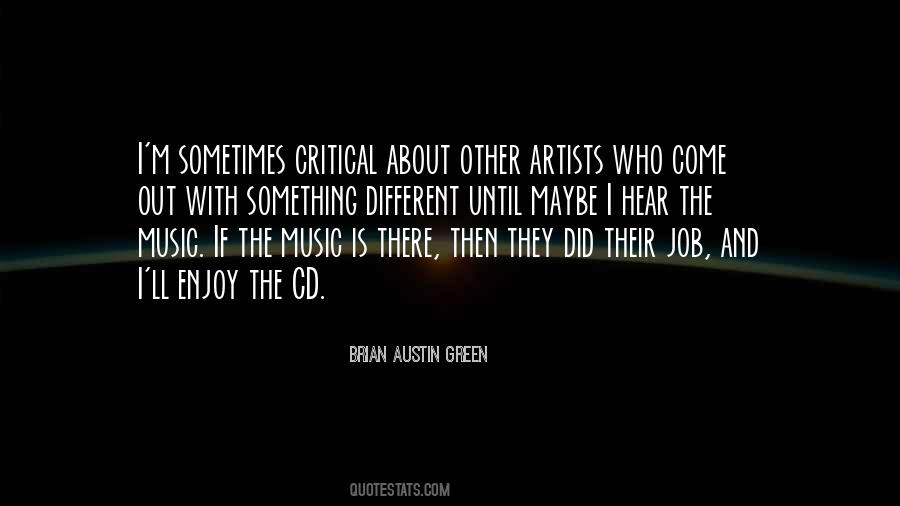 #13. For a rich and reasonably successful guy, it is impossible not to enjoy your job; otherwise, why would you spend so much time and effort doing it? I am a great fan of Norilsk, and I like this kind of challenge. - Author: Vladimir Potanin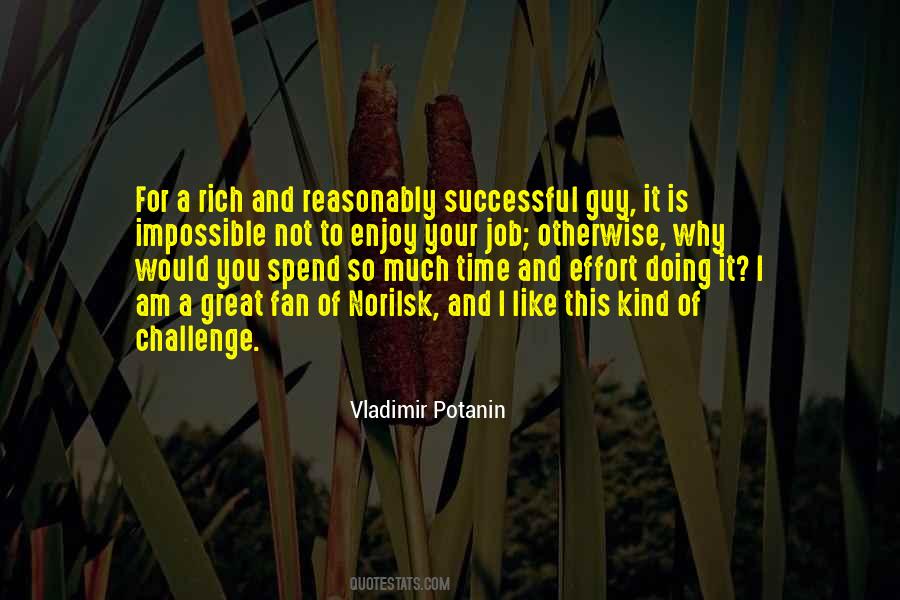 #14. My step-dad is probably the greatest man I've ever known. The best advice I've ever been given was when he told me to enjoy my life because one day I'm not going to be as agile as I am now. - Author: Justin Timberlake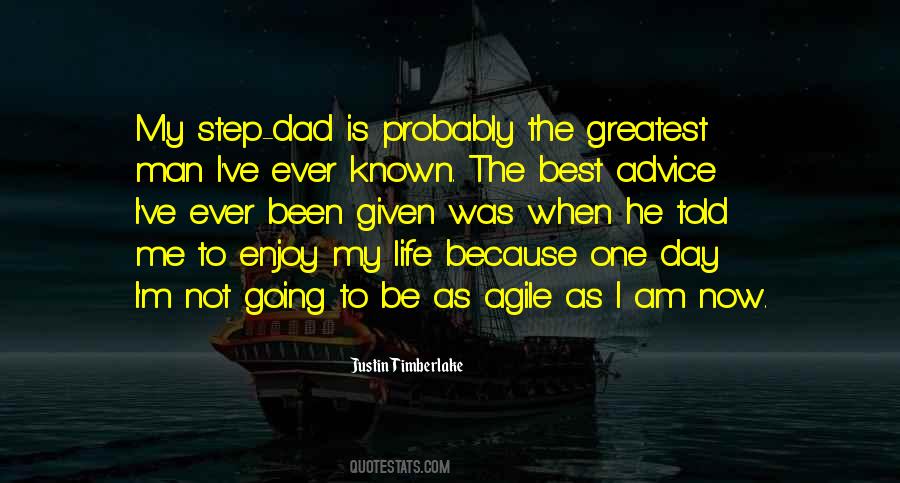 #15. Cat, hmmm? From where I sit you look more like a Kitten."
My head jerked around and I shot him an annoyed look.
Oh, I was going to enjoy this, all right.
"It's Cat," I repeated firmly. "Cat Raven."
"Whatever you say, Kitten Tweedy. - Author: Jeaniene Frost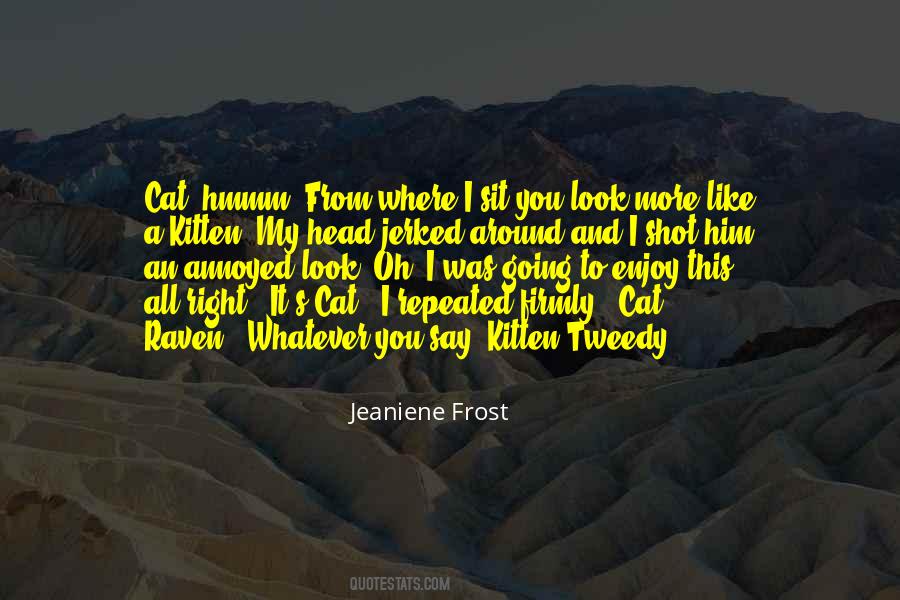 #16. Enjoy the movie. I hear the guy gets the girl" I said, my tone bold and flirtatious.
"Which guy?" She laughed, playing along. I could hear her smile through the phone. It felt good to make her smile. Really good.
I paused before answering, "The one who deserves her. - Author: Melissa Brown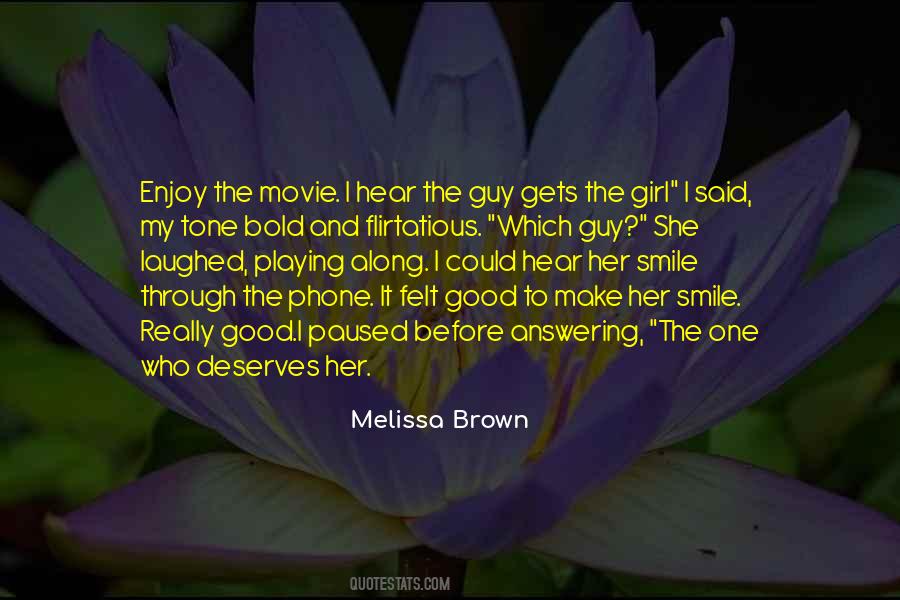 #17. A lot of foreign people say, when asking about eating habits, 'What is your guilty pleasure?' I have no guilt. Whatever I do, I enjoy and it's the point. I think if you start to feel guilty about it, that's a problem. So, no guilty pleasures. I have pleasure and no guilt at all. - Author: Eric Ripert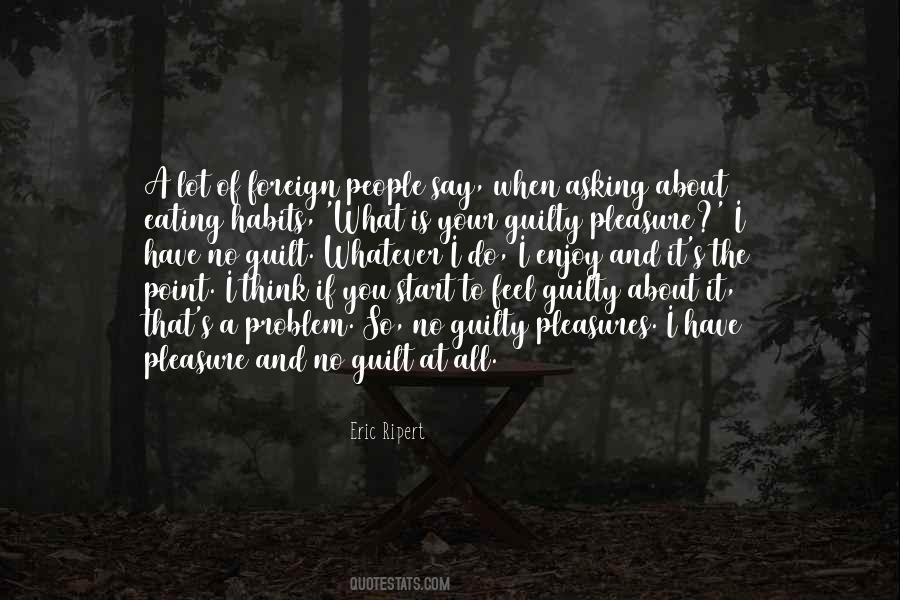 #18. To me, it doesn't matter how good you are. Sport is all about playing and competing. Whatever you do in cricket and in sport, enjoy it, be positive and try to win. - Author: Ian Botham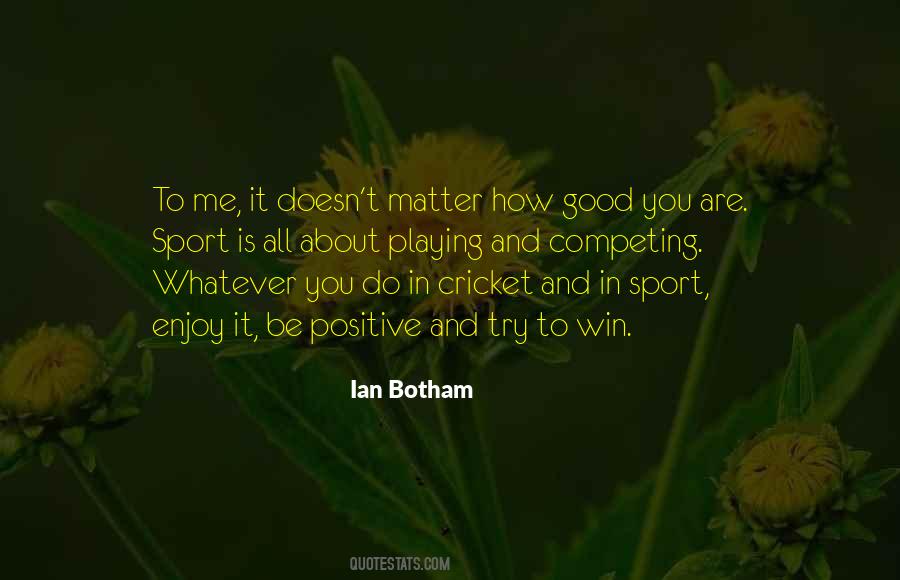 #19. What's the point of prolonging your life if you don't enjoy it? It's your body. Do whatever you want with it. Better to wear out than rust over. - Author: Rita Mae Brown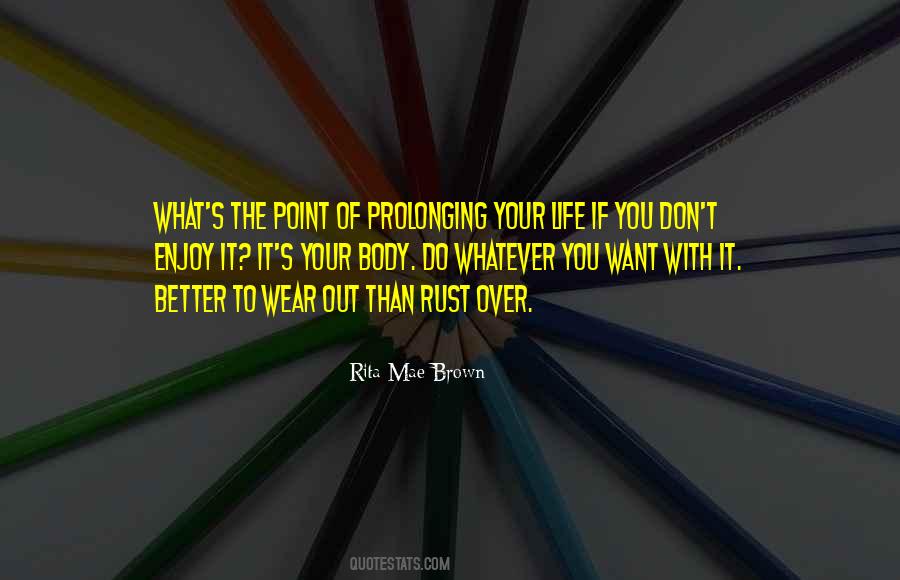 #20. Whatever you do, if you do it hard enough you'll enjoy it. The important thing is to work and work hard. - Author: David Rockefeller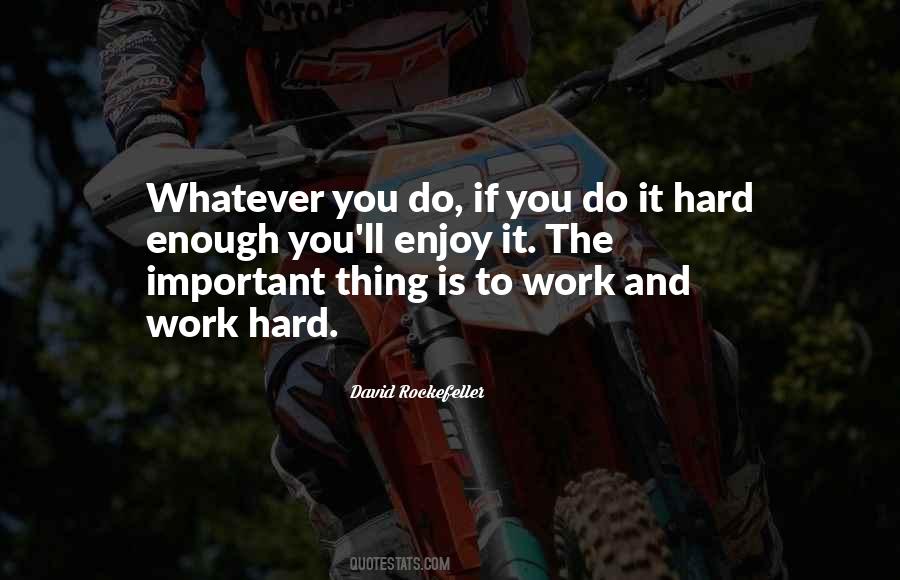 #21. Whatever you do, find ways to read poerty. Eat it, drink it, enjoy it, and share it. - Author: Eve Merriam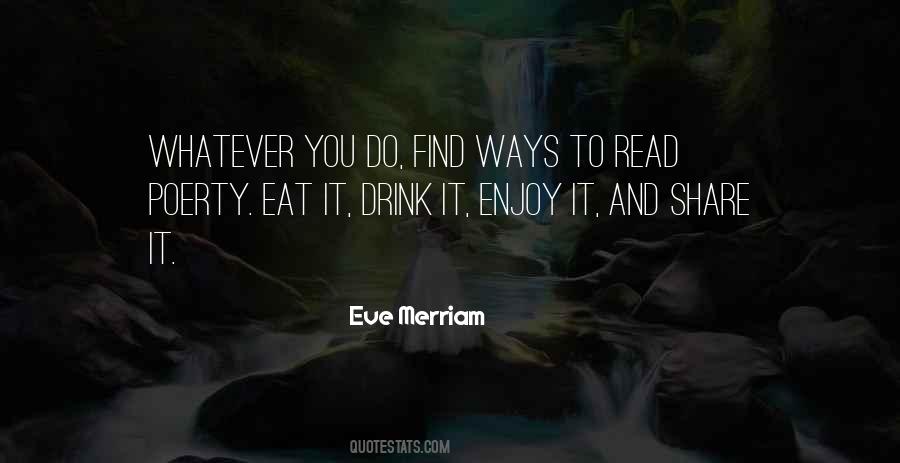 #22. Stay healthy, do sports and above all have fun while doing sport. Competing or just for fun, whatever, simply enjoy and try your best. Working hard, working well with achievable goals normally pays off. Believe in the people that are with you and listen to those who have more experience. - Author: Rafael Nadal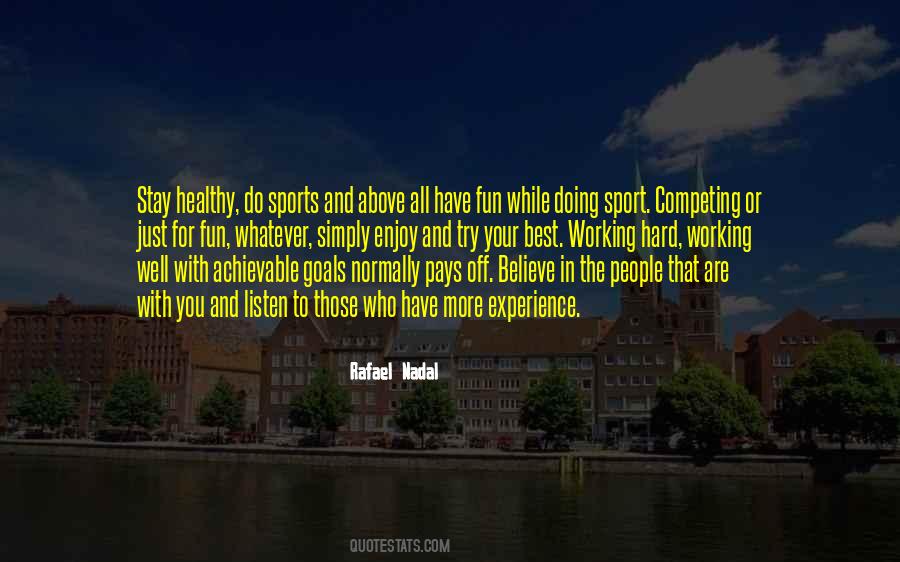 #23. I don't why whatever works and whatever doesn't. You just make the film that you enjoy making at the time, and you think there's a good chance that people might enjoy the story. You're surprised pleasantly when they do. It's just luck. - Author: Woody Allen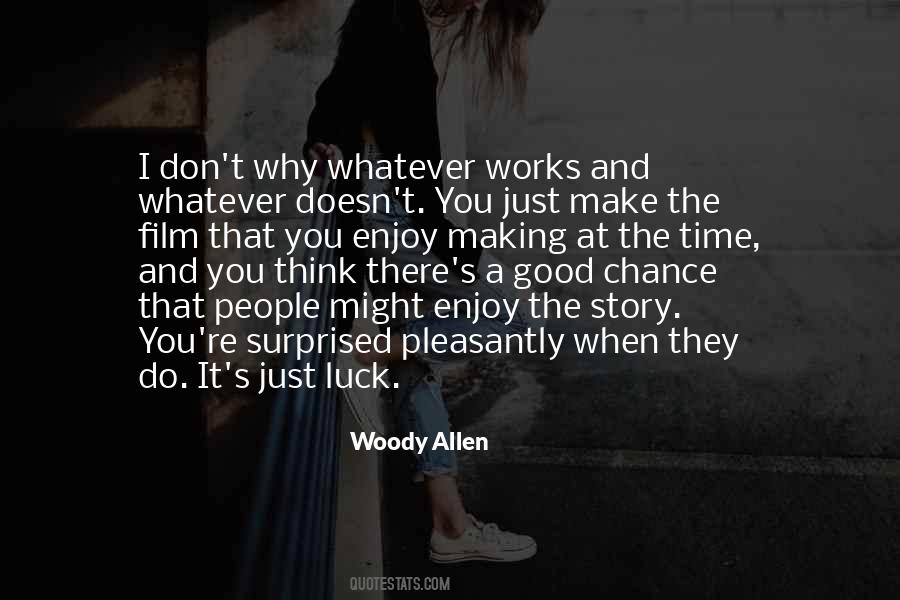 #24. I enjoy been on holidays because you can do whatever you want and people can't say anything to you. - Author: Cristiano Ronaldo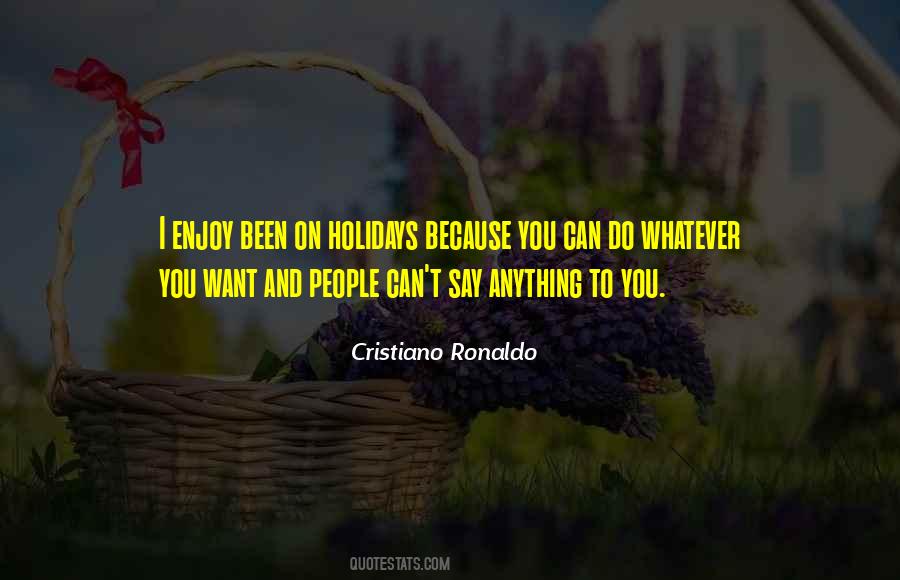 #25. Do whatever it takes to increase your sensitivity to the little things in life you wouldn't otherwise notice, much less savor, if your autopilot setting is hurry. You've got to power down frequently enough to enjoy the effects of intentional living. - Author: Tsh Oxenreider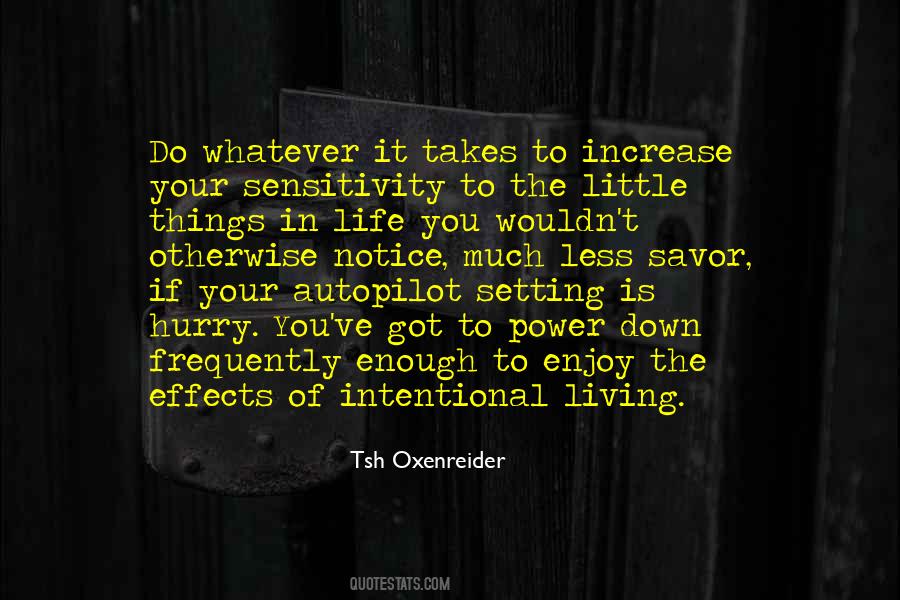 #26. When you get a walk-off homer, you get to do whatever you want. You need to be excited about it. You don't get too many of those, so you need to enjoy them when they come. - Author: Albert Pujols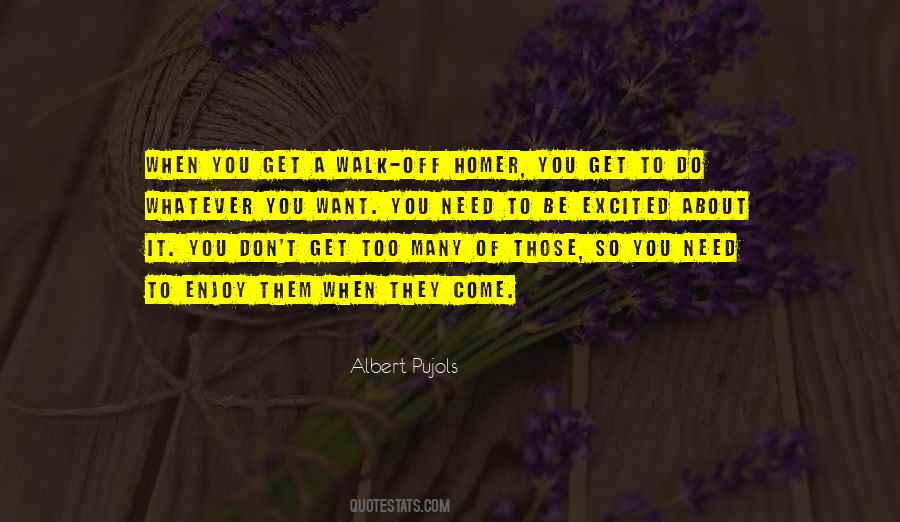 #27. I enjoy people who have passion, whether it is as a musician or whatever they do. All people who have success keep it very basic. Try your best. But without passion, you will not have success. - Author: Nobu Matsuhisa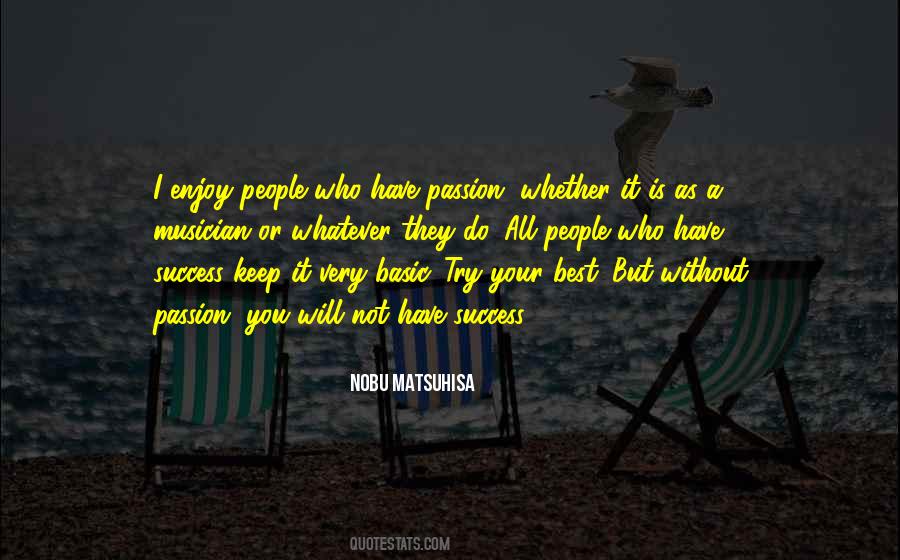 #28. I do the work just because I enjoy it on the day, working with the guys. For me, it's like going to play a game of baseball: you've got your teammates, you get to do something that's fun, hopefully, and whatever happens with that stuff is in the cosmos someplace. - Author: William Petersen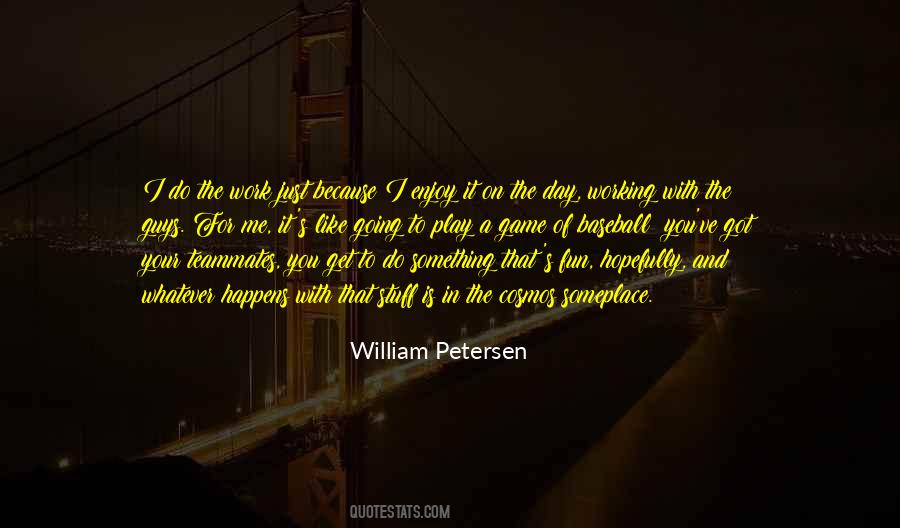 #29. I think that's what we're all trying to do as actors, is create some sort of passion from people and allow them to have something to really care about and something they enjoy and look forward to on Saturday, Sunday, Monday, whatever it is, where you get to sit down and escape. - Author: Serinda Swan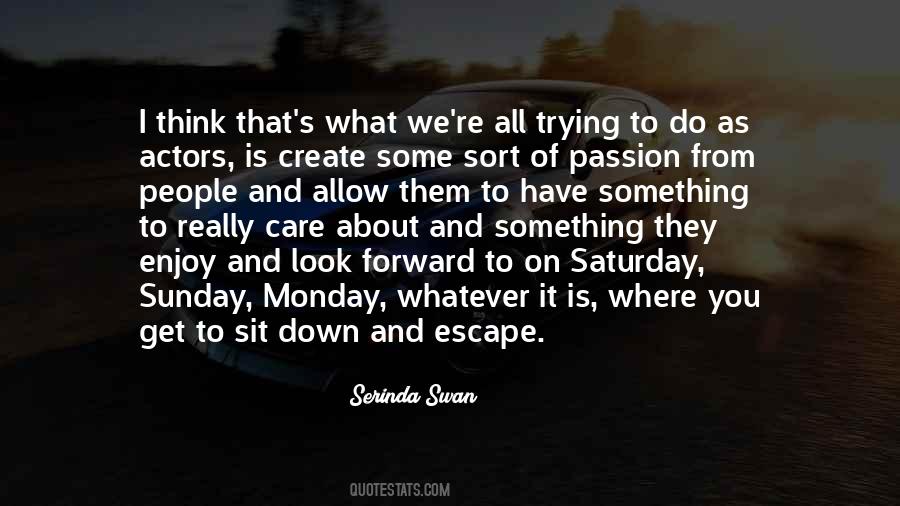 #30. Success is not money. Success is not a position. Success is not a degree. Success is your ability to enjoy life. Do whatever you enjoy. - Author: His Holiness Divas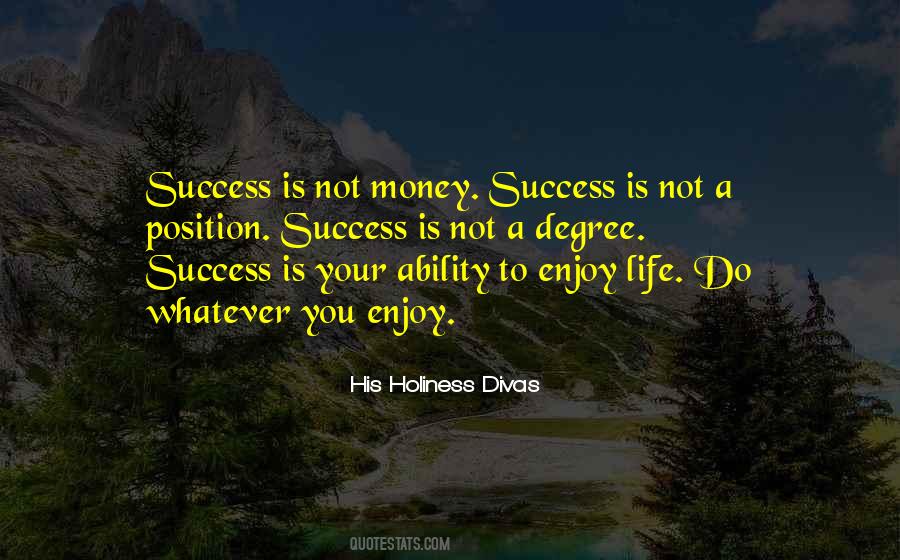 #31. I hope that they enjoy the movie. Don't be critical. Don't expect to get the same feelings you got when you watched the series when you were 10 years old. Let your kids see it and experience it on their own. - Author: Mark Goddard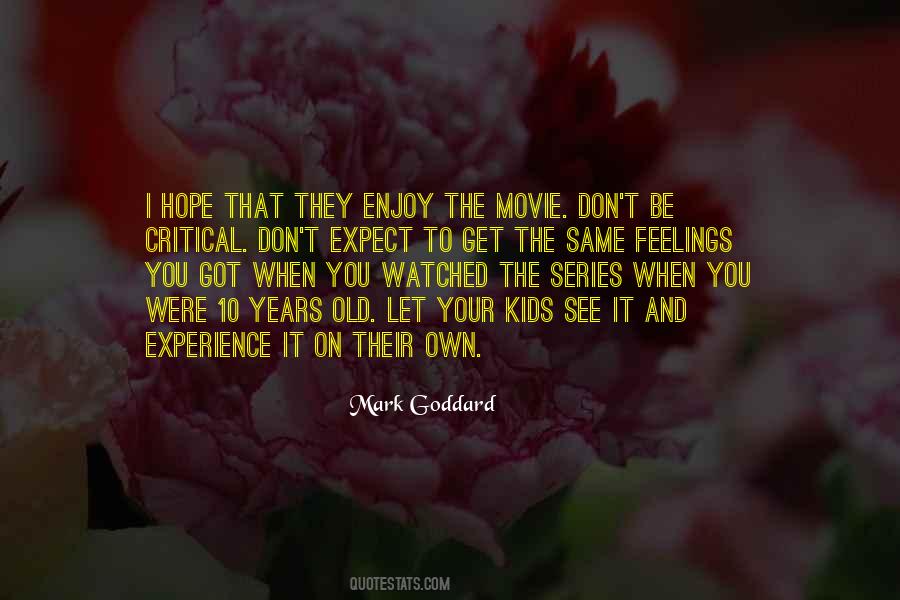 #32. To find and enjoy profound happiness, learn from nature and emulate her stoic calmness. - Author: Debasish Mridha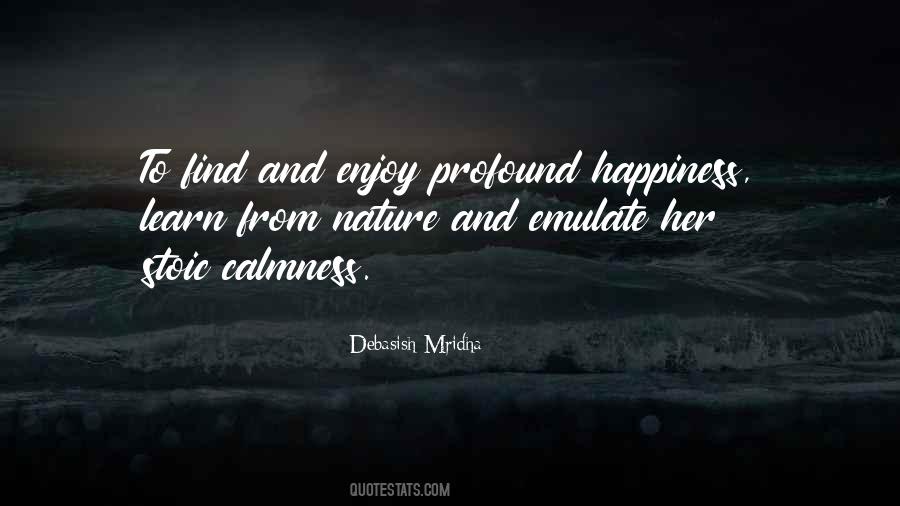 #33. I wondered where Cohn got that incapacity to enjoy Paris. Possibly from Mencken. Mencken hates Paris, I believe. So many young men get their likes and dislikes from Mencken. - Author: Ernest Hemingway,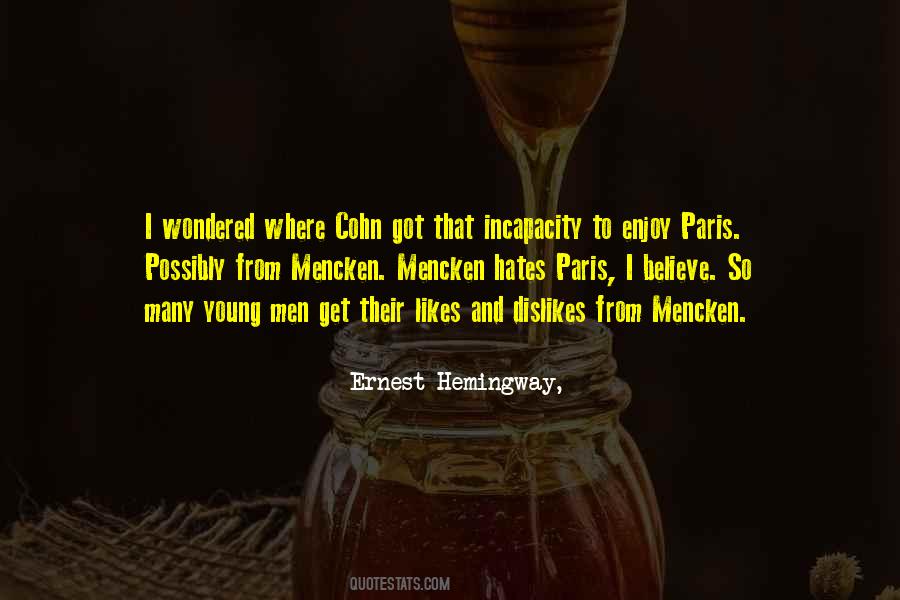 #34. Living Life without a Purpose is like having an Ice cream cone in your hand, letting it melt and drip without eating it. It was yours to Enjoy, but you lost it!-RVM - Author: R.v.m.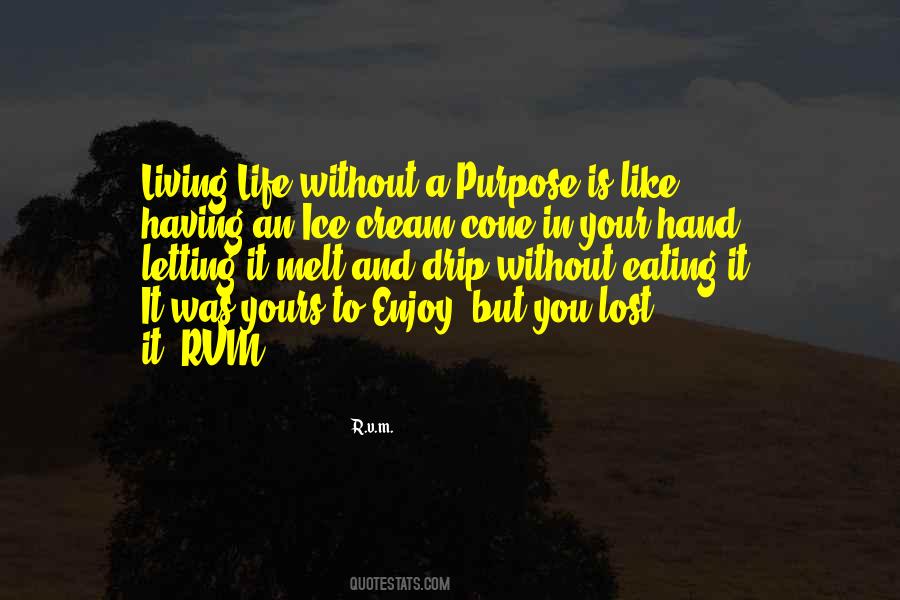 #35. If we live in the Nineteenth Century, why should we not enjoy the advantages which the Nineteenth Century offers? Why should our life be in any respect provincial? - Author: Henry David Thoreau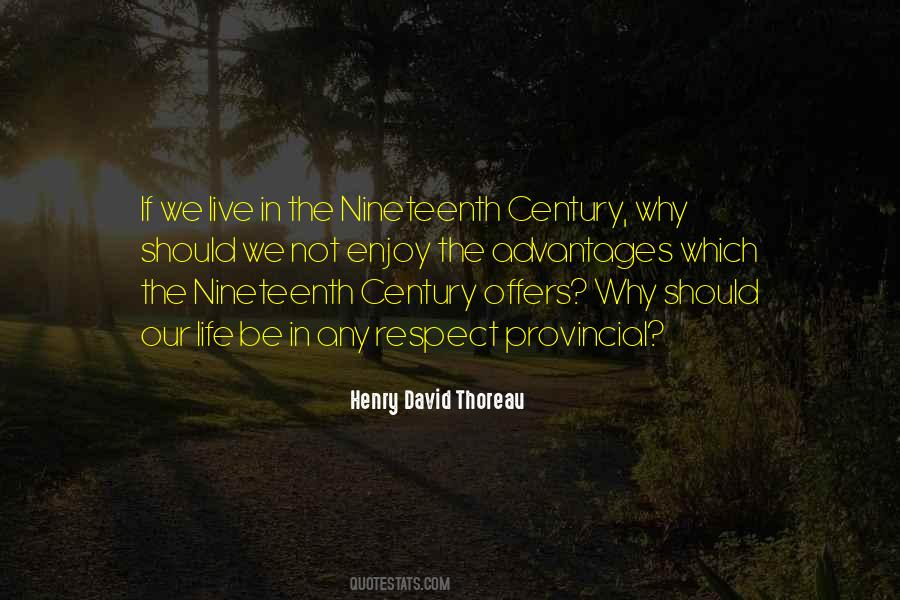 #36. I enjoy helping people who are vulnerable. - Author: Julian Assange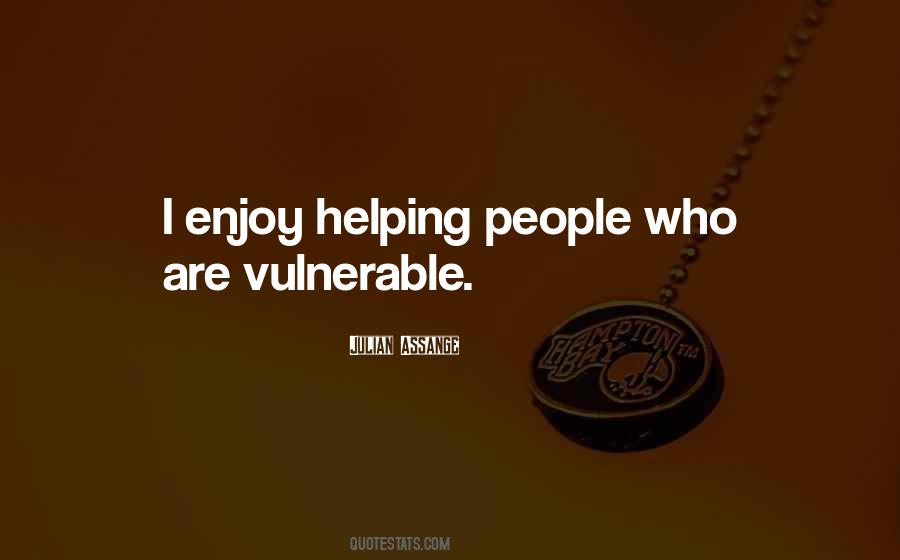 #37. The only way to get what you want is to admit you don't really know what you want. But in the end, or course, you never truly get what you want. So just enjoy the ride. - Author: Gregor Collins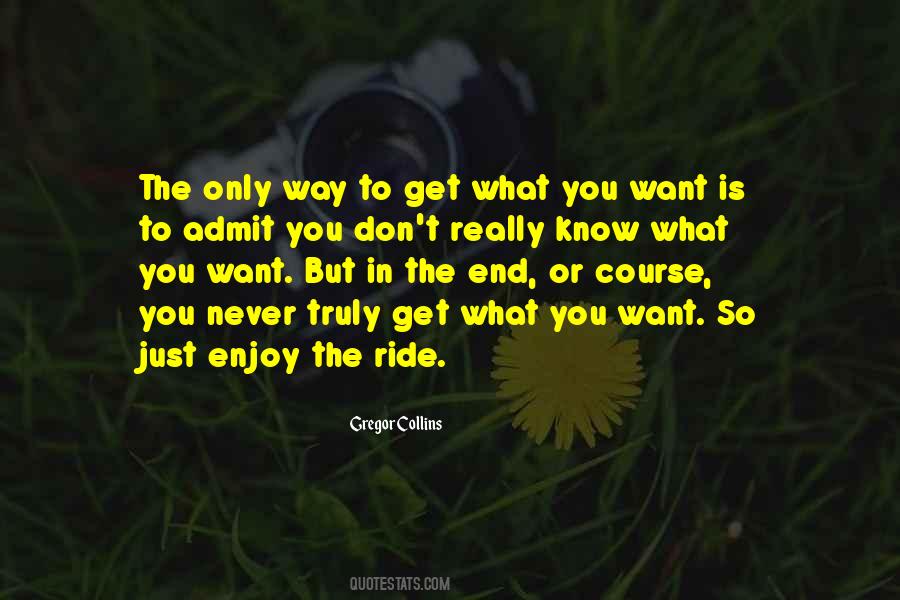 #38. Fame obviously has become a premium in everybody's life. Everybody thinks they deserve it, everybody thinks they want it and most people really don't enjoy it once they get it. - Author: Kelsey Grammer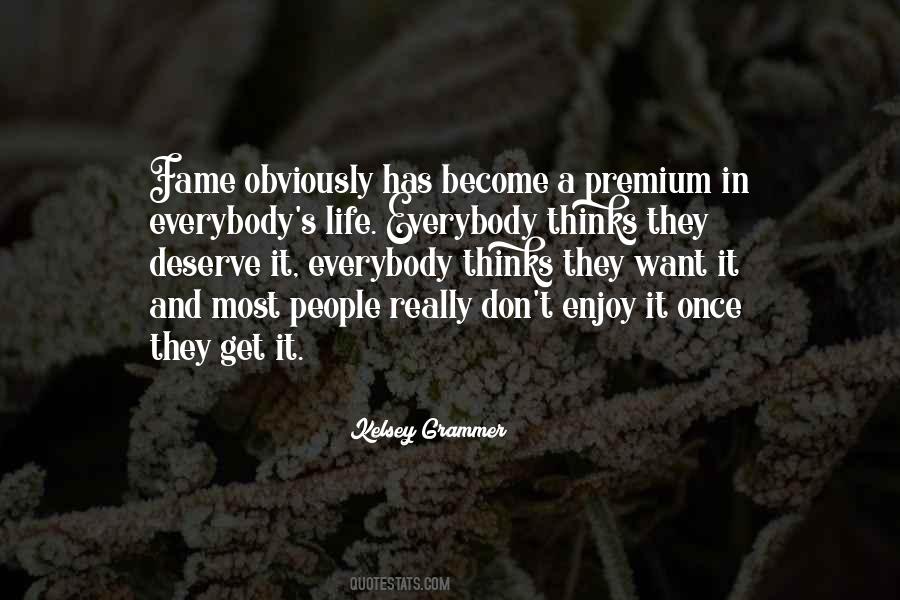 #39. college-educated workers are more likely to enjoy what they do for a living, and identify closely with their careers, so work long hours willingly. - Author: Anonymous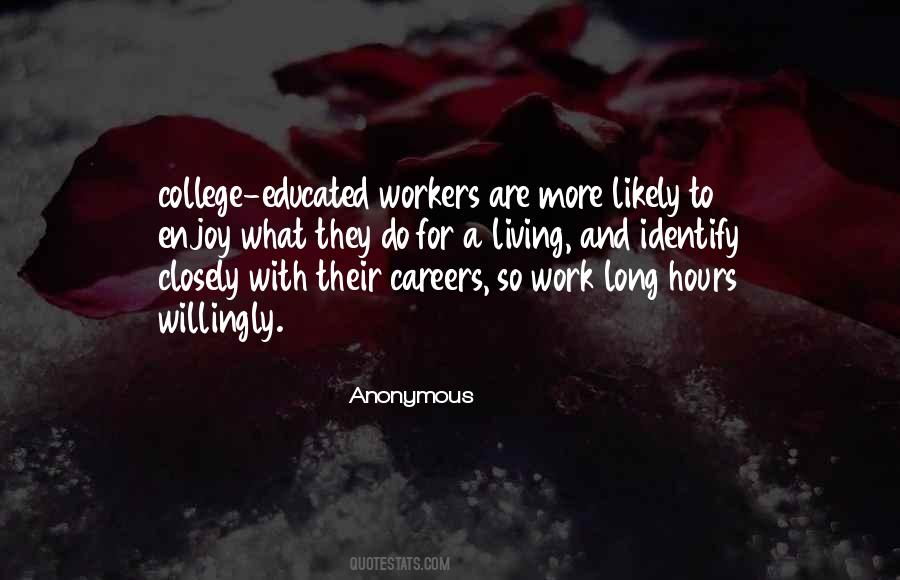 #40. I don't think Bollywood is only mindless cinema, but a lot of films they churn out are not films that I completely enjoy watching. - Author: Freida Pinto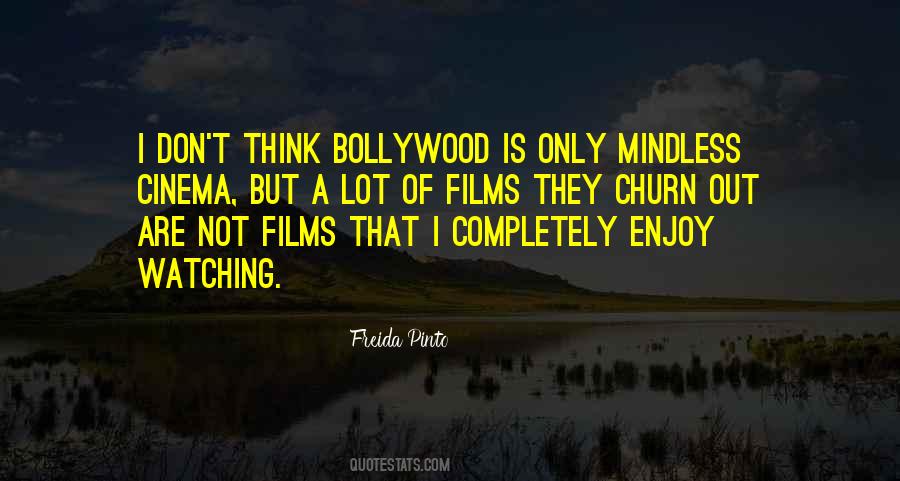 #41. I think when I was younger, I wanted to be a star, until I became a star, and then it's a lot of work. It's work to be a star. I don't enjoy the stardom part. I only enjoy the creative process. - Author: Barbra Streisand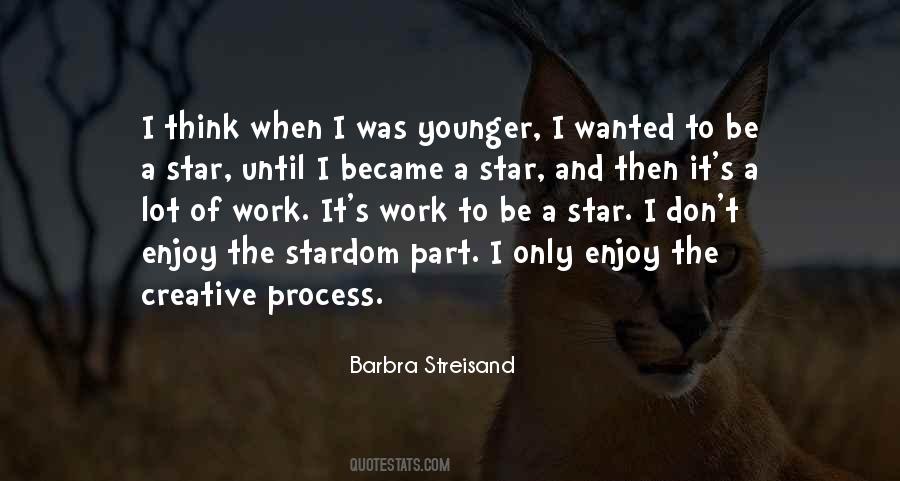 #42. Nothing is yours permanently so you better enjoy it while it's happening. - Author: Joan Rivers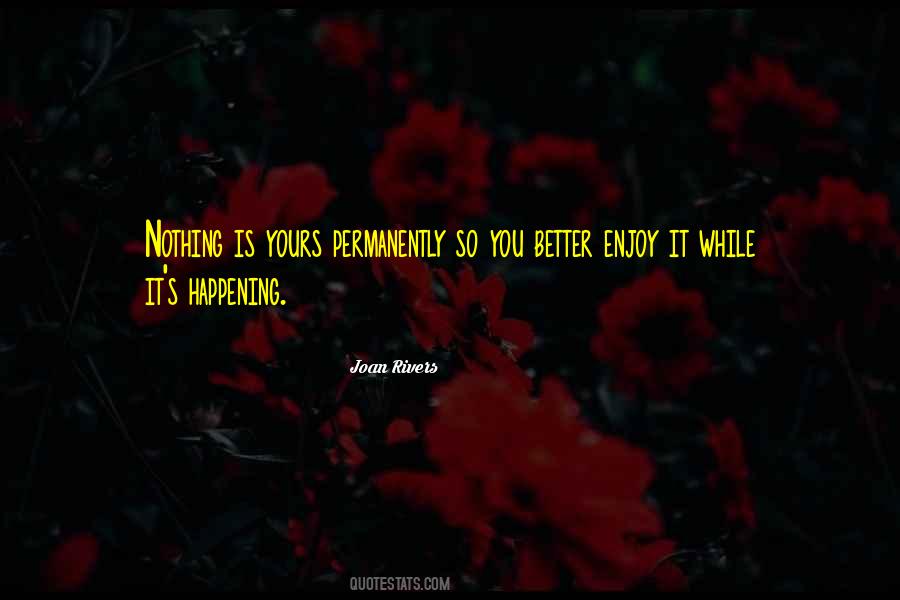 #43. Acquaintances we meet, enjoy, and can easily leave behind; but friendship grows deep roots. - Author: H. Jackson Brown Jr.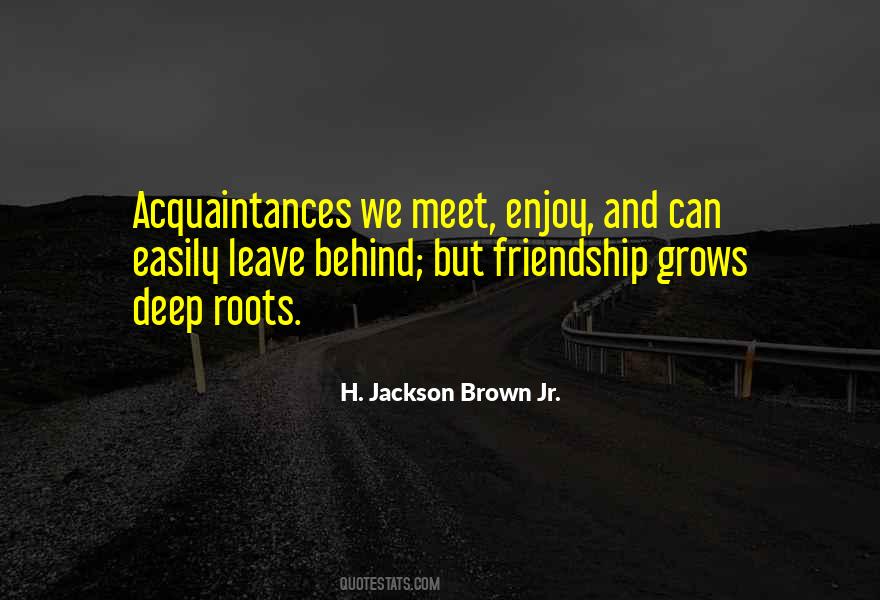 #44. Keep in mind that you don't need to be addicted to money in order to acquire it. You can prefer to have money; you will then be able to enjoy whatever money you receive, but your happiness will not be contingent on the size of your bank account. - Author: Ken Keyes Jr.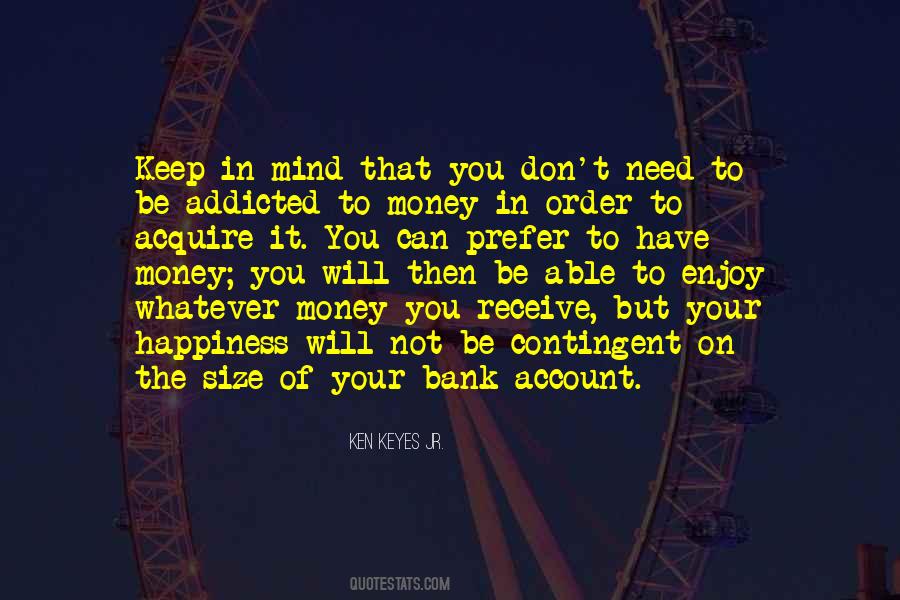 #45. Life is a gift. Enjoy the 'present' with gratitude! - Author: Wendy Sue Noah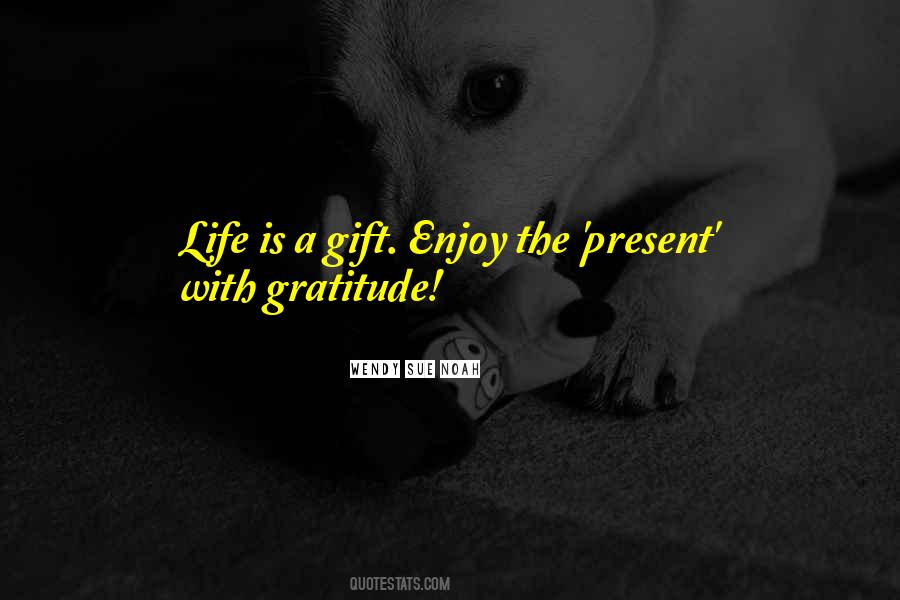 #46. No real fairytale scared me, but Freddy Krueger did. 'Nightmare on Elm Street' scared the living hell out of me, but no fairytale. Maybe 'Hansel and Gretel' a little bit when they were walking through the forest and they met the witch. But I liked being scared, I really enjoy being scared. - Author: Lana Parrilla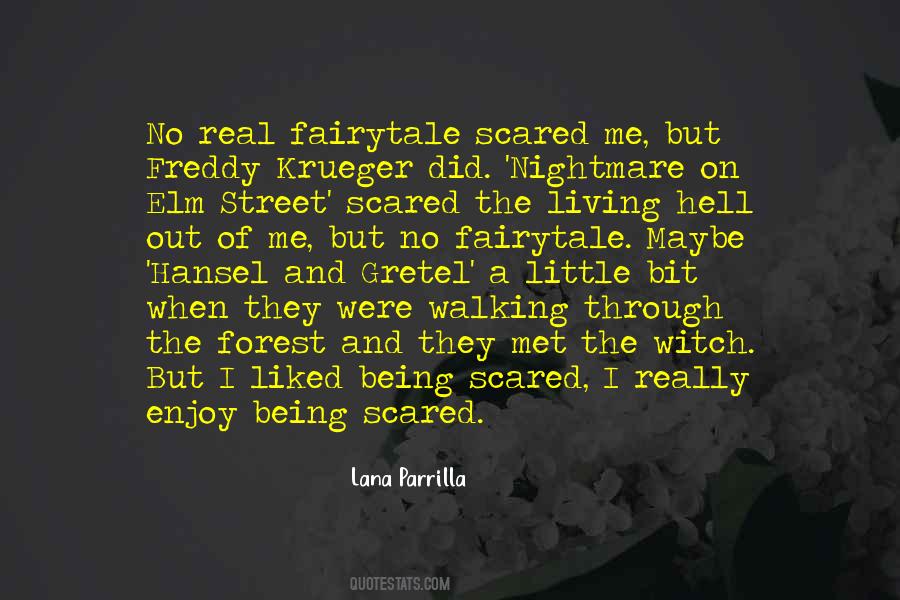 #47. Don't be shaped by regret, disappointment, fear of the future, resentment and the like. The Lord's joy is your strength. Enjoy it. - Author: Terry Virgo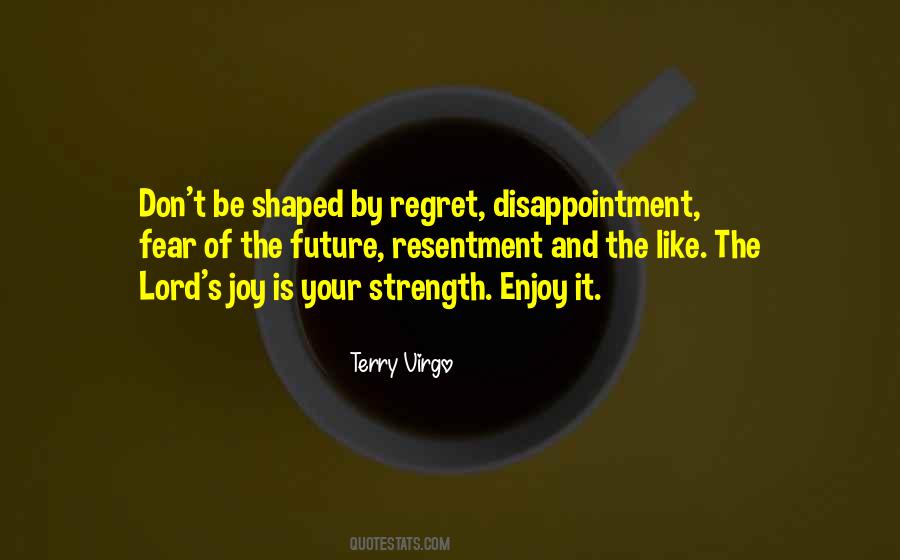 #48. Even in the case of a god, audiences - paradoxically - enjoy recognizing the human traits. - Author: Kenneth Branagh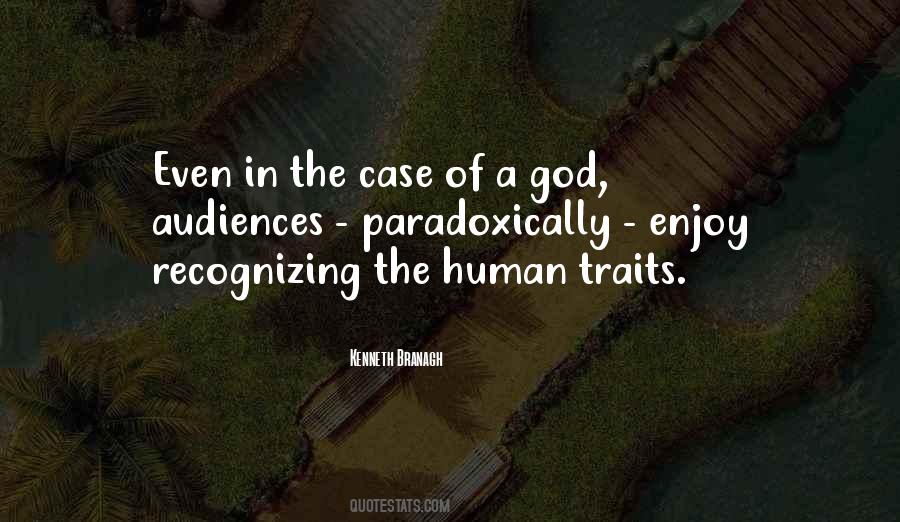 #49. Love is a heavenly quality that is given to prepare men to enjoy the heavenly city more. - Author: Jack Hyles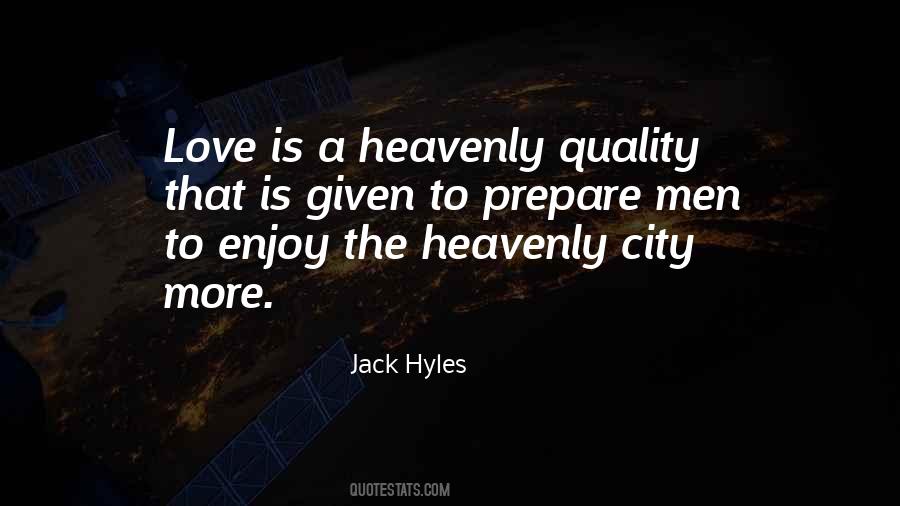 #50. As a street artist, I'm used to sharing my stuff with the public. It's a communal experience. I've learned not to be so precious, but rather to enjoy the process. - Author: Shepard Fairey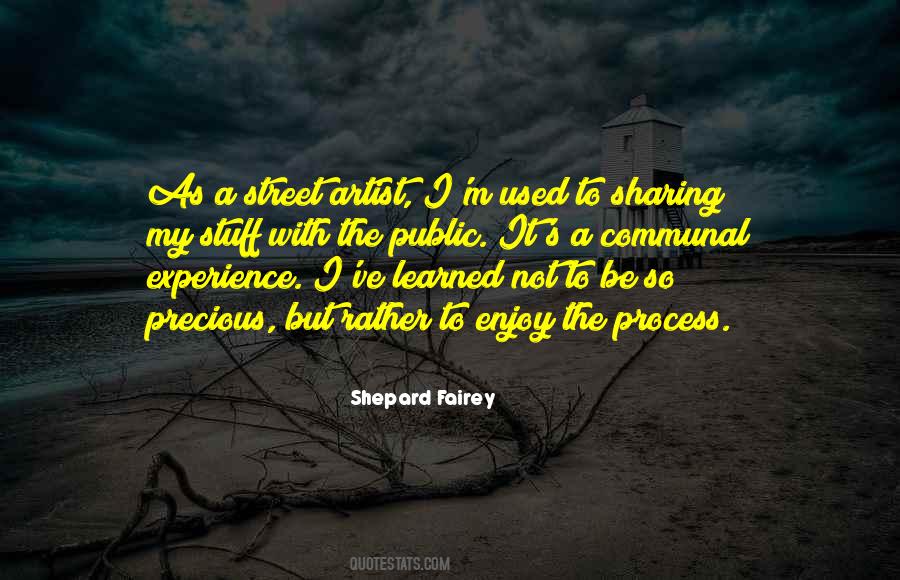 #51. Perfect love casts out fear. Where there is love there are no demands, no expectations, no dependency. I do not demand that you make me happy; my happiness does not lie in you. If you were to leave me, I will not feel sorry for myself; I enjoy your company immensely, but I do not cling. - Author: Anthony De Mello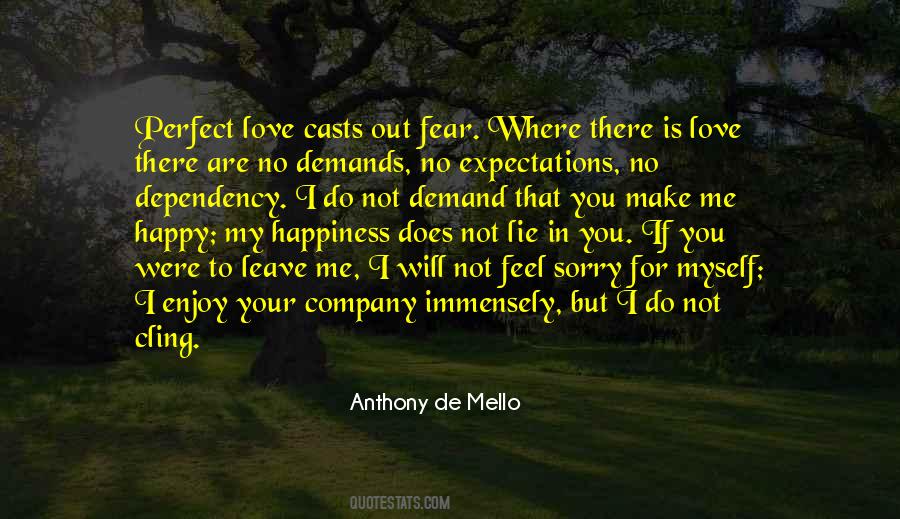 #52. I enjoy living life and I enjoy going to different restaurants and eating my way through a country and going to different museums and learning about different cultures. - Author: Mila Kunis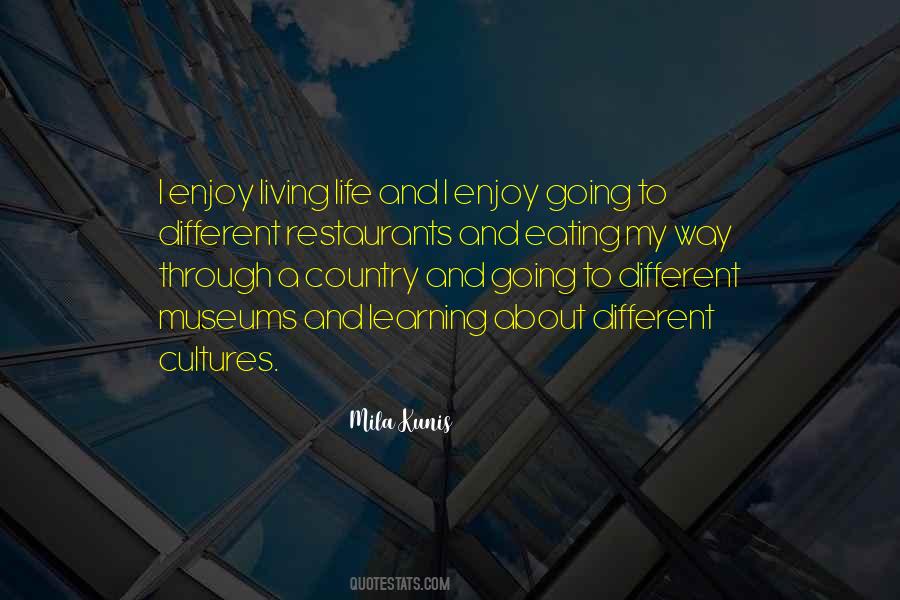 #53. We try to stick pretty close to what our goals are and what we believe and what we enjoy doing in life - just simple things. - Author: Priscilla Chan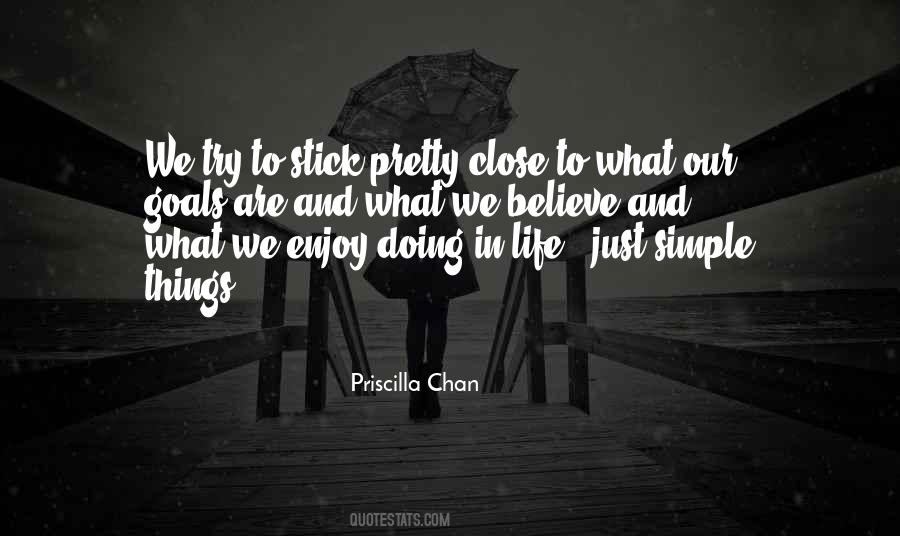 #54. Academics and scientists too easily enjoy the role of secular priesthood given them in the nineteenth century by T. H. Huxley in particular. - Author: Simon James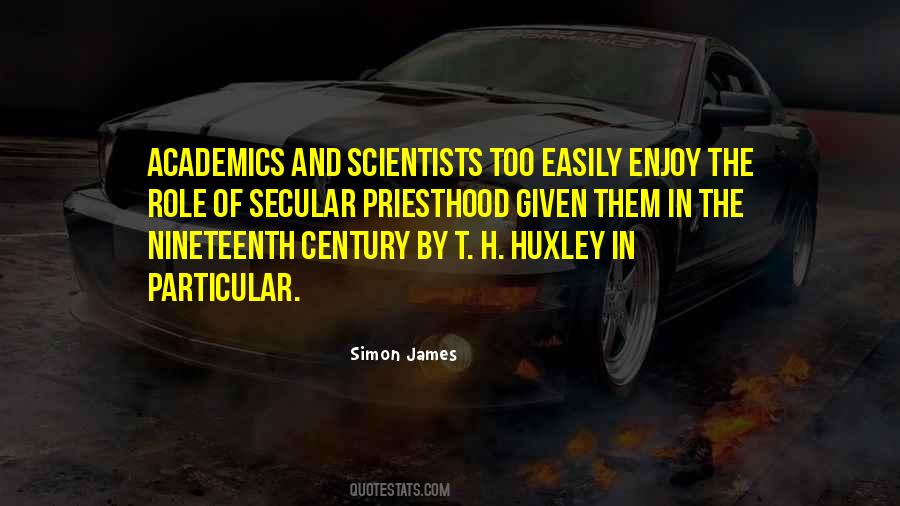 #55. Remember to enjoy everything. The things that feel good, the things that hurt. It's all gonna make you better. Stronger. - Author: Hayley Williams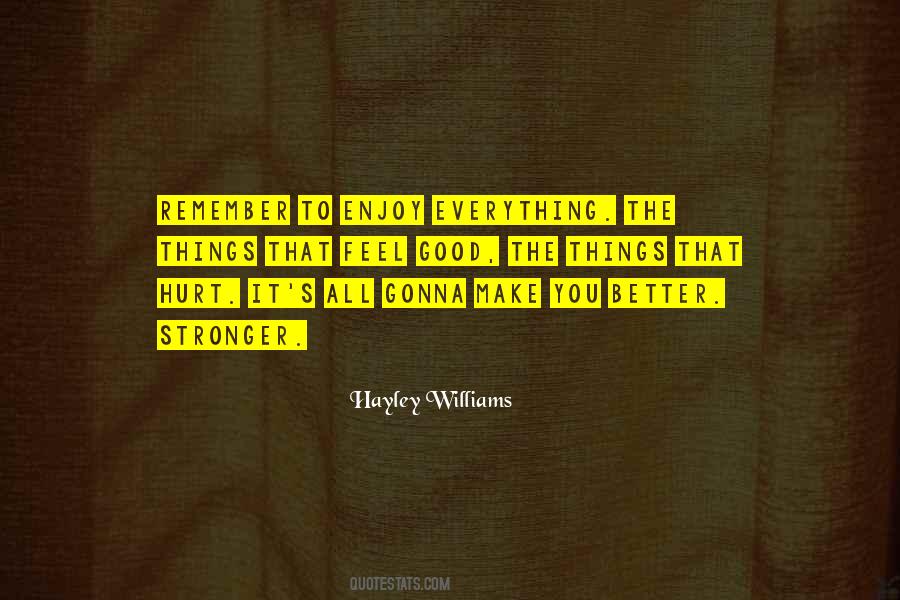 #56. I sort of enjoy being able to hear what other composers are doing and how they might score something differently than me. I enjoy that part. - Author: Marco Beltrami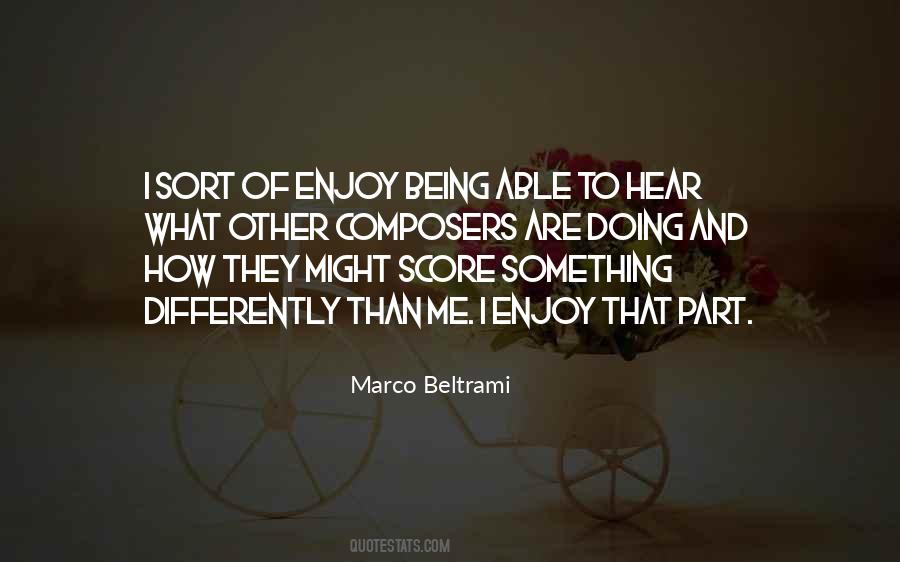 #57. Honestly, I really don't like acting. I don't enjoy it. What I do like is going to a movie theatre and seeing my face on a poster. I like seeing my name on a poster. That is cool. - Author: Gabriel Iglesias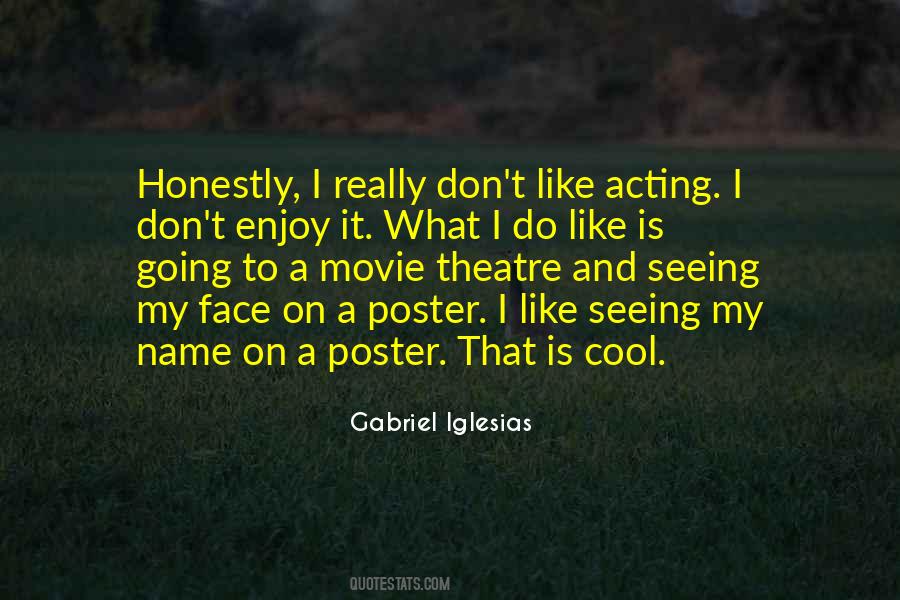 #58. We currently enjoy the hospitality of the local smith, a gentleman named Heughan. - Author: Diana Gabaldon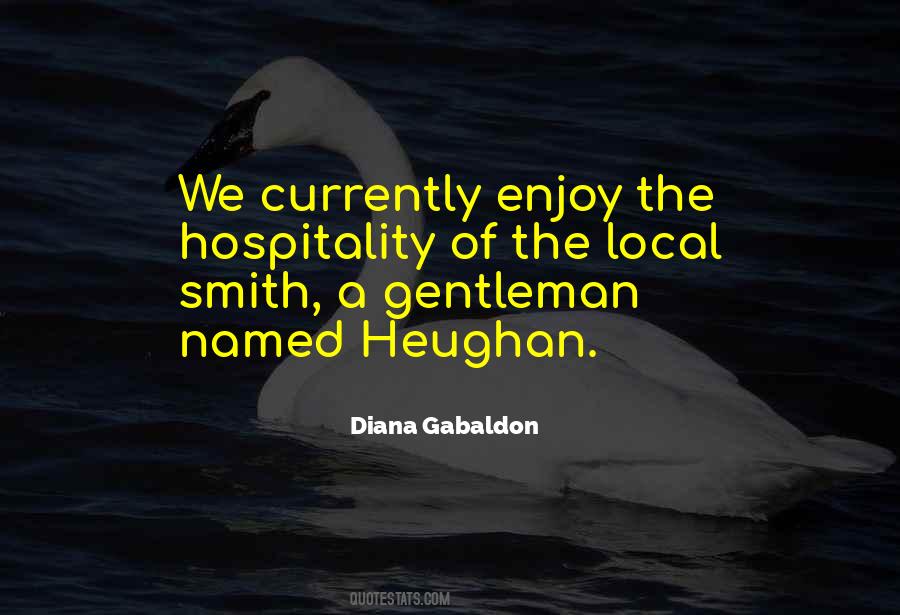 #59. The truth is my development I hope is the same way as everything, which is, I succeed some, I fail some, and I keep slugging away at it. I really enjoy it. It's fun. - Author: George Clooney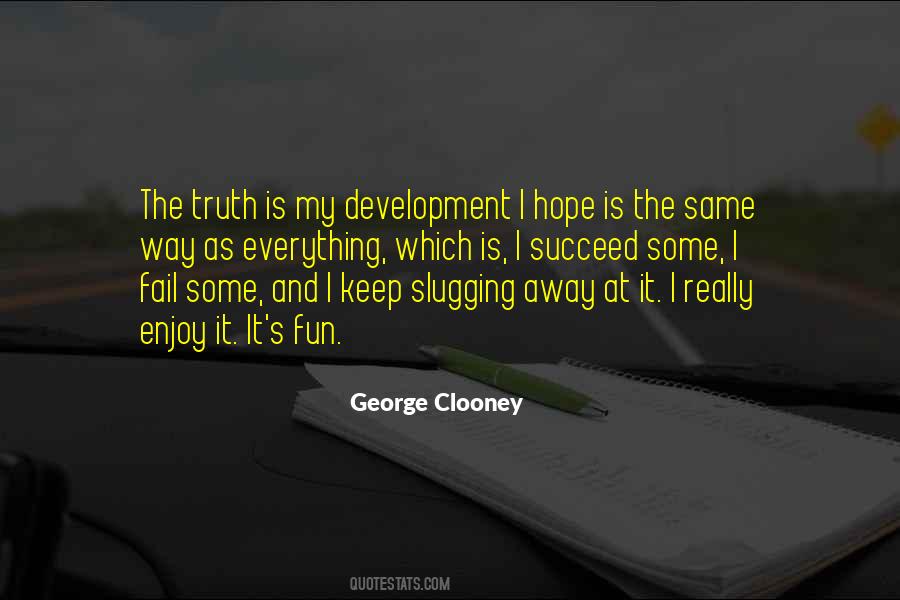 #60. You cannot truly enjoy a flower until you can see her inner beauty and feel her purpose of life. - Author: Debasish Mridha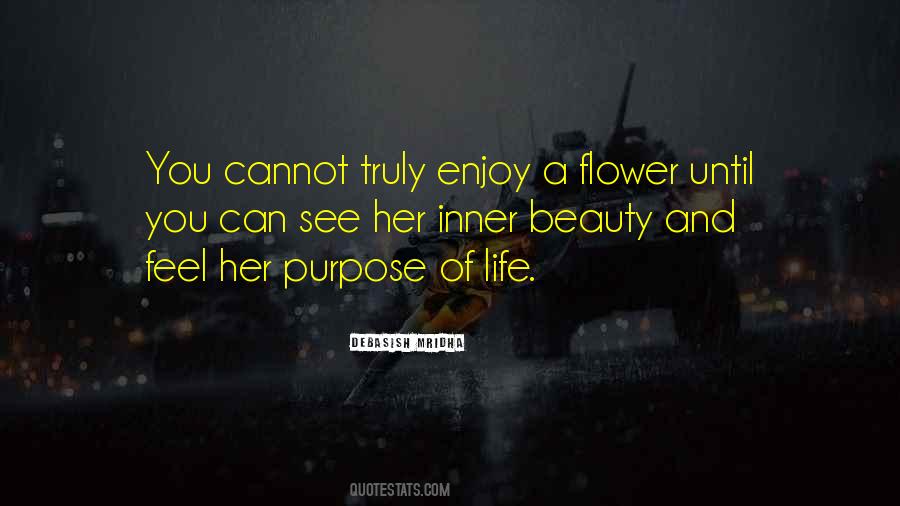 Famous Authors
Popular Topics