Dovlatov Famous Quotes & Sayings
List of top 34 famous quotes and sayings about dovlatov to read and share with friends on your Facebook, Twitter, blogs.
Top 34 Dovlatov Quotes
#1. Most people consider problems whose solutions don't suit them to be insoluble.
And they constantly ask questions to which they don't need truthful answers. - Author: Sergei Dovlatov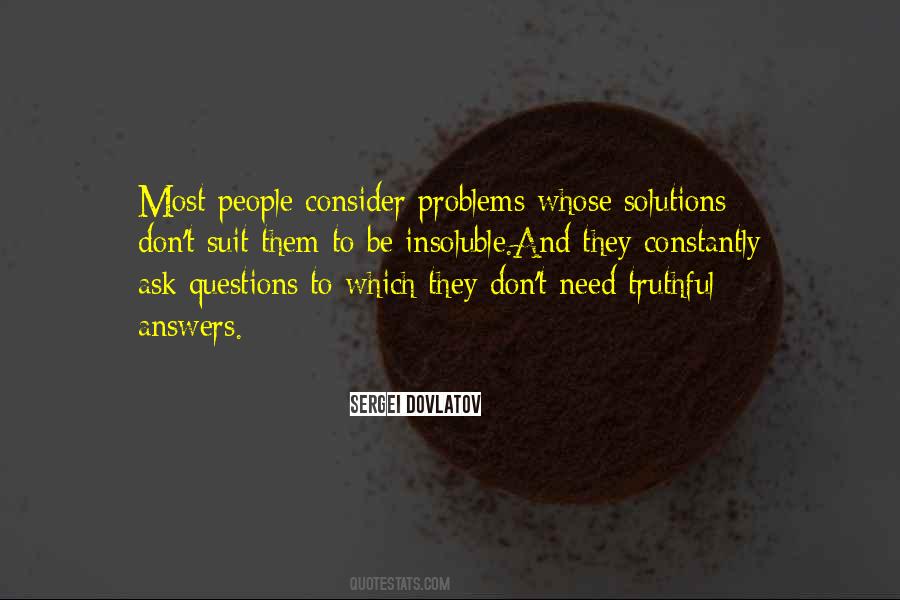 #2. I looked at the empty suitcase. On the bottom was Karl Marx. On the lid was Brodsky. And between them, my lost, precious, only life. - Author: Sergei Dovlatov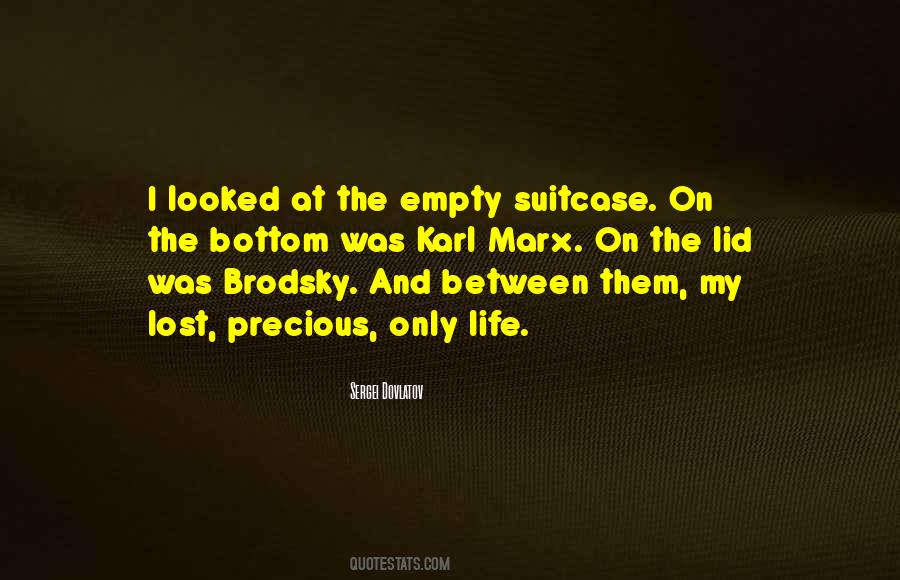 #3. You can divide the world into the two kinds of people: those who ask, and those who answer. Those who pose questions, and those who frown in irritation in response. - Author: Sergei Dovlatov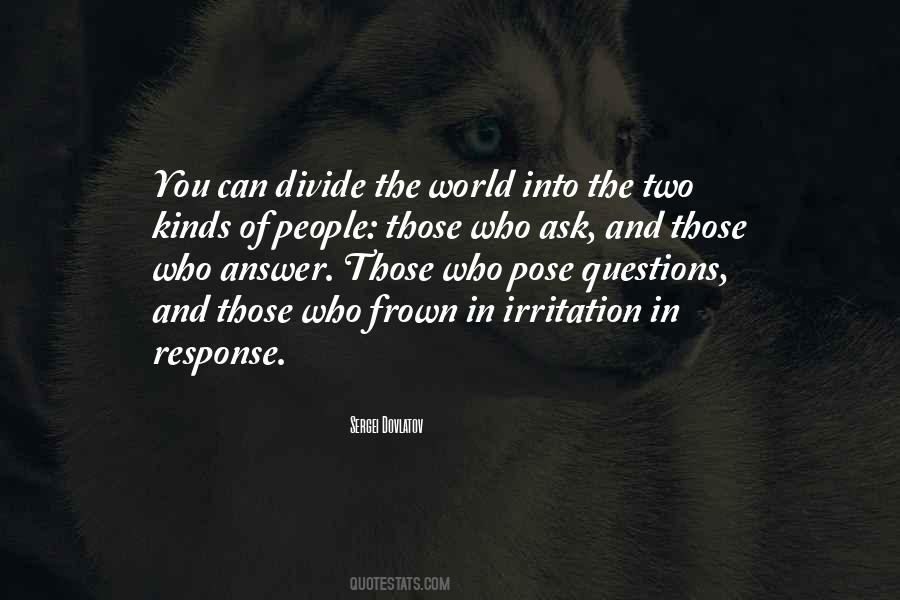 #4. Sales were lukewarm. Back home there was no freedom, but there were readers. Here there was freedom enough, but readers were missing. - Author: Sergei Dovlatov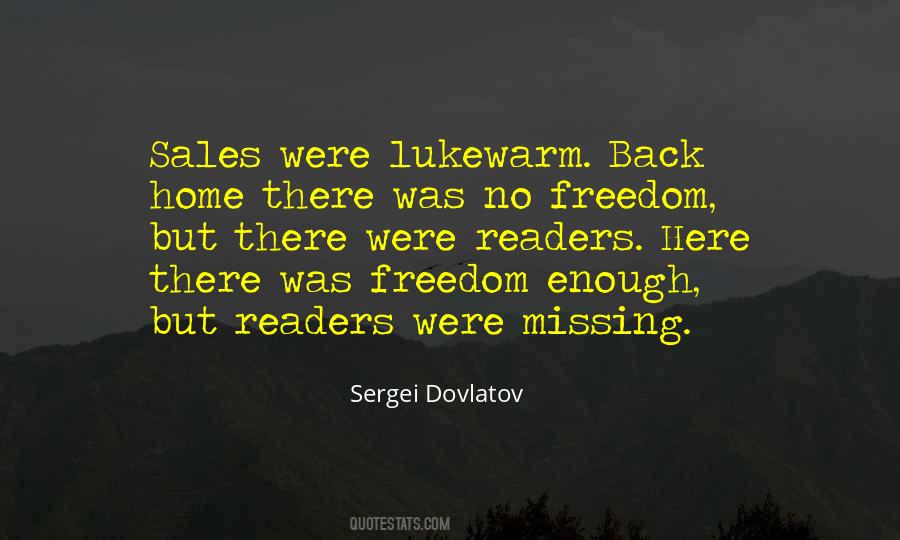 #5. Let's assume there really is no such thing as happiness, no such thing as peace, and no freedom either. But there are kind of attacks of senseless ecstasy. Can this be me? - Author: Sergei Dovlatov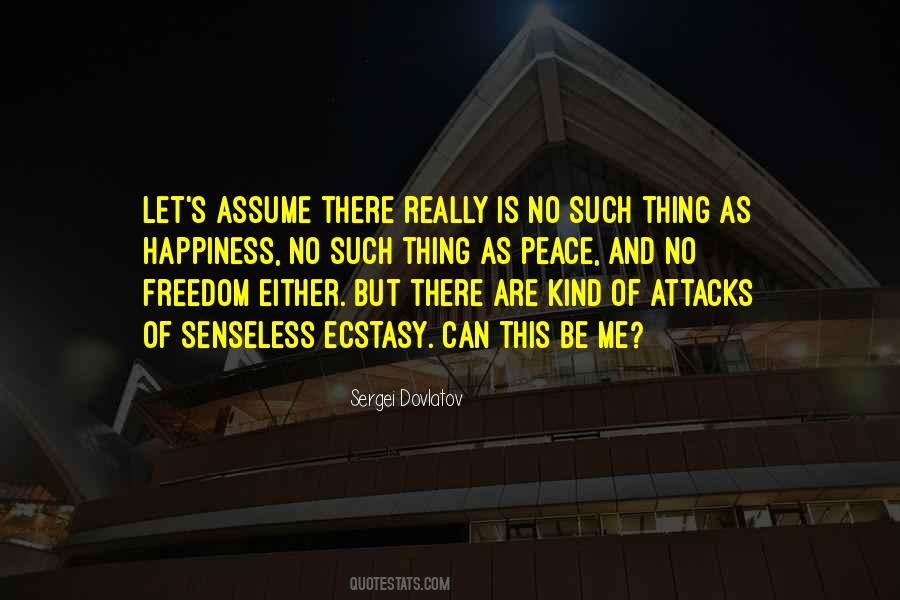 #6. We are not better than native born Americans, and of course not smarter. We've just been to the last stop of this bus. - Author: Sergei Dovlatov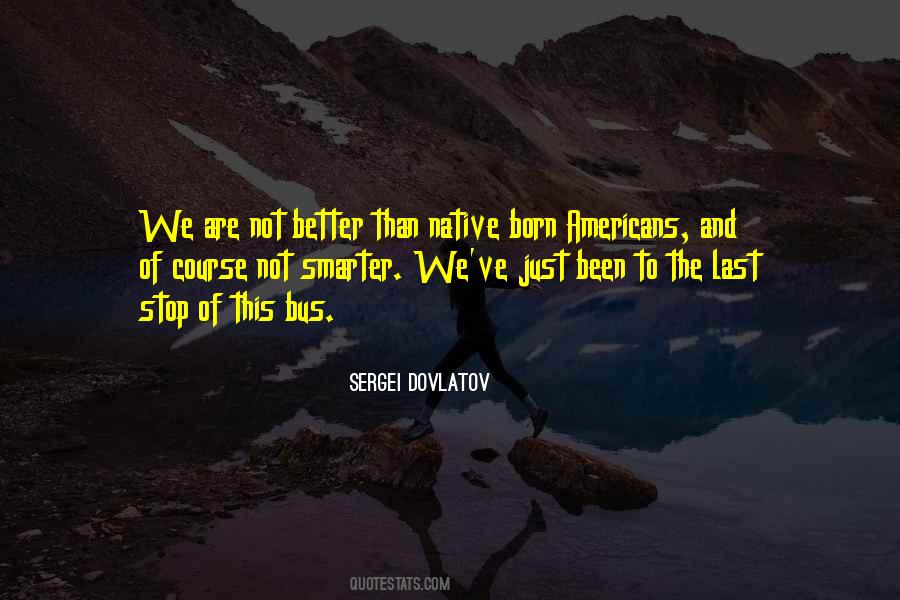 #7. I decided to "find myself" in monumental sculpture. Alas, monumental sculpture is a very conservative genre. The cause is the monumentality itself. You can secretly write novels and symphonies. You can secretly experiment on canvas. But just try to hide a twelve-foot-high sculpture! - Author: Sergei Dovlatov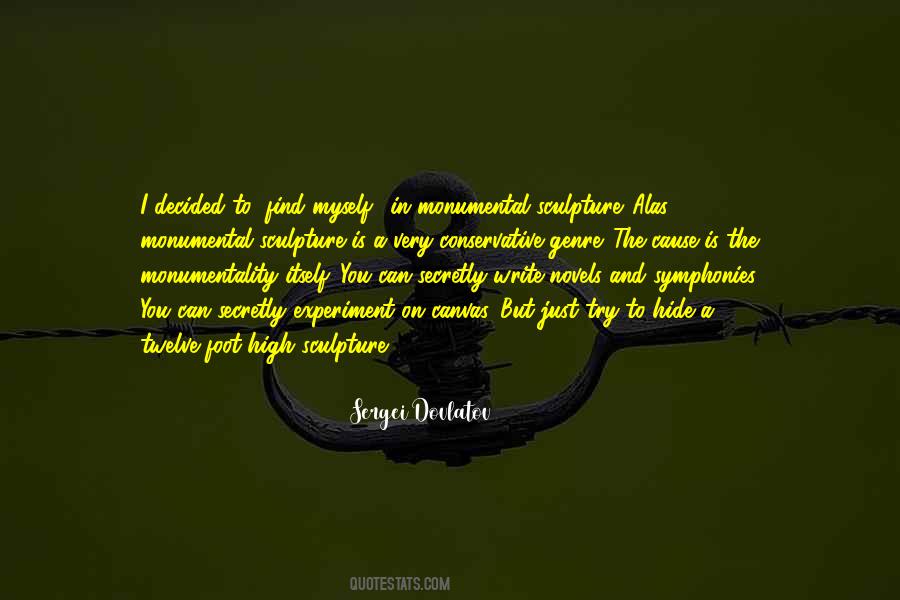 #8. A lack of direction and meaning can leave you empty. - Author: Benjamin Stone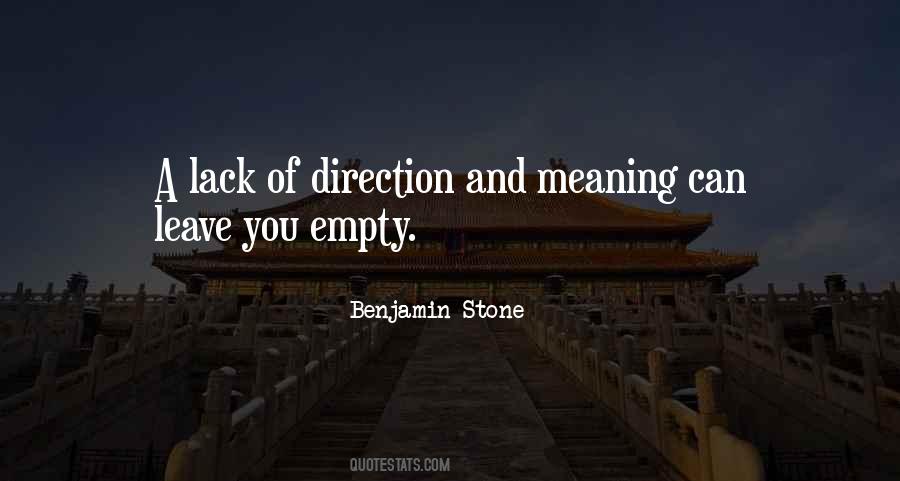 #9. As a schoolboy I liked to draw the leaders of the world proletariat - especially Marx. Just start smearing an ordinary splotch of ink around and you've already got a resemblance ... - Author: Sergei Dovlatov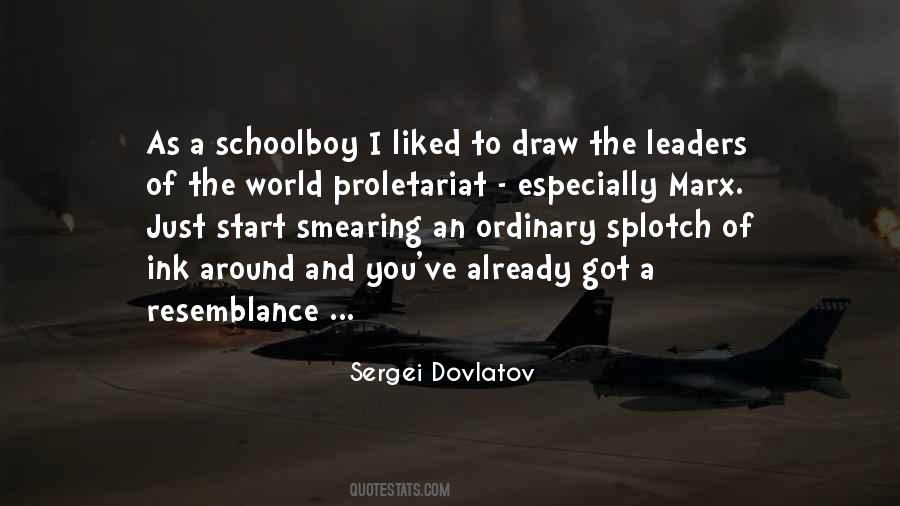 #10. a society that hopes to foster both justice and prosperity needs to discourage wealth acquisition via the political means and encourage it through the economic means. - Author: Thomas E. Woods Jr.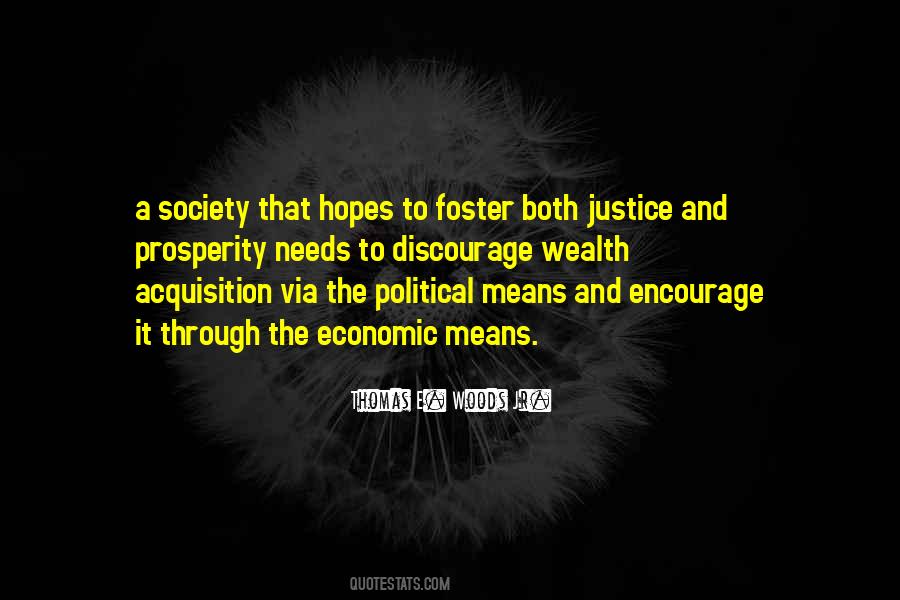 #11. I had three long conversations with Marusya over a cup of coffee. She told me her whole rather silly story. To some degree we became friends. I like people like that
doomed, dying, helpless, and brazen. I always say, if you're in trouble, you're not sinning. - Author: Sergei Dovlatov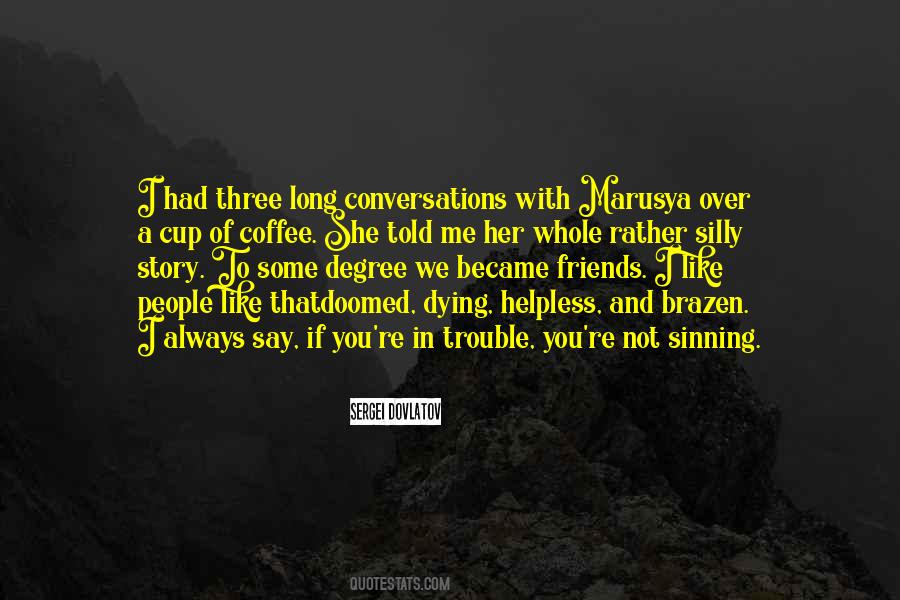 #12. I try to say what I feel
Without thinking about what I feel.
I try to place words right next to my idea
So that I won't need a corridor
Of thought leading to words. - Author: Fernando Pessoa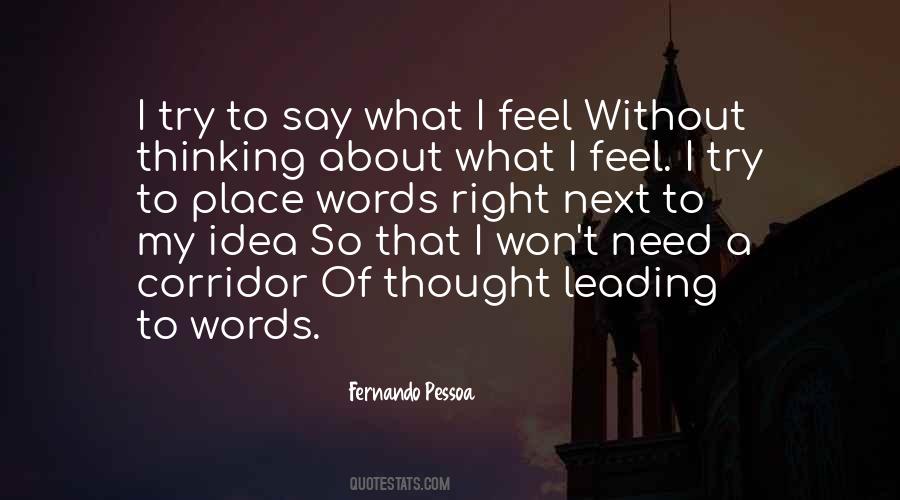 #13. Looking around, do you see ruins? That was to be expected. He who lives in the world of words does not get along with things. - Author: Sergei Dovlatov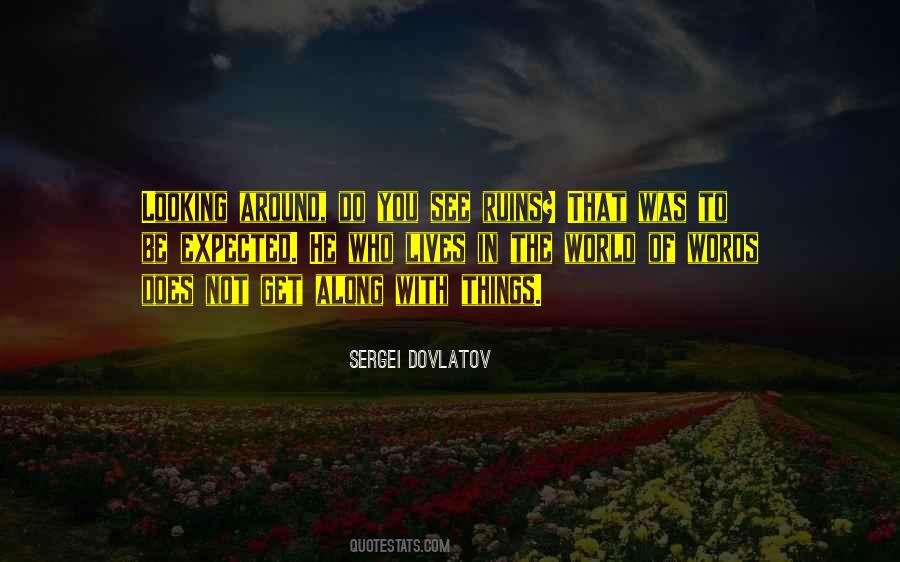 #14. The world in which I found myself was horrifying. In that world, people fought with sharpened rasp files, ate dogs, covered their faces with tattoos and sodomized goats. In that world, people killed for a package of tea. - Author: Sergei Dovlatov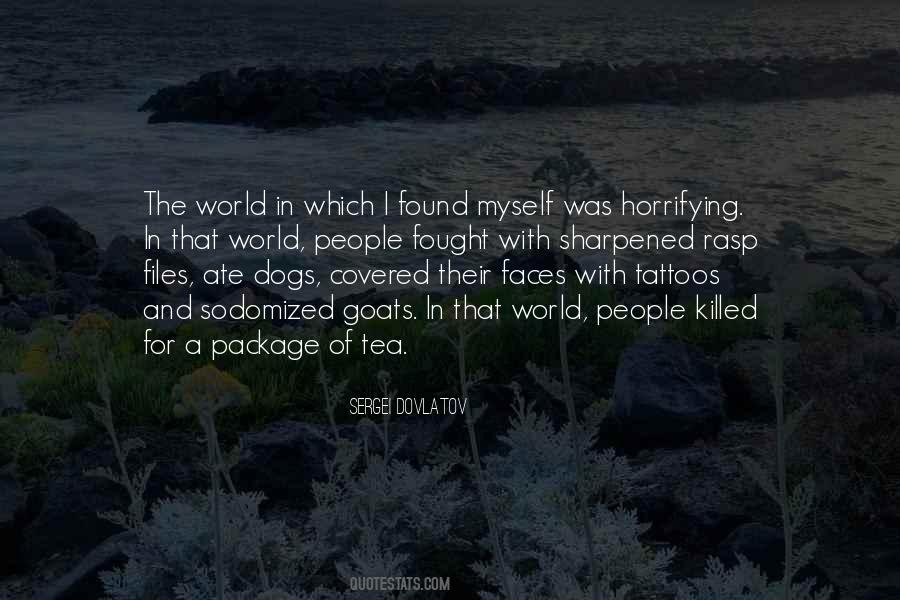 #15. Do not put forward anything that you cannot prove by experimentation. - Author: Louis Pasteur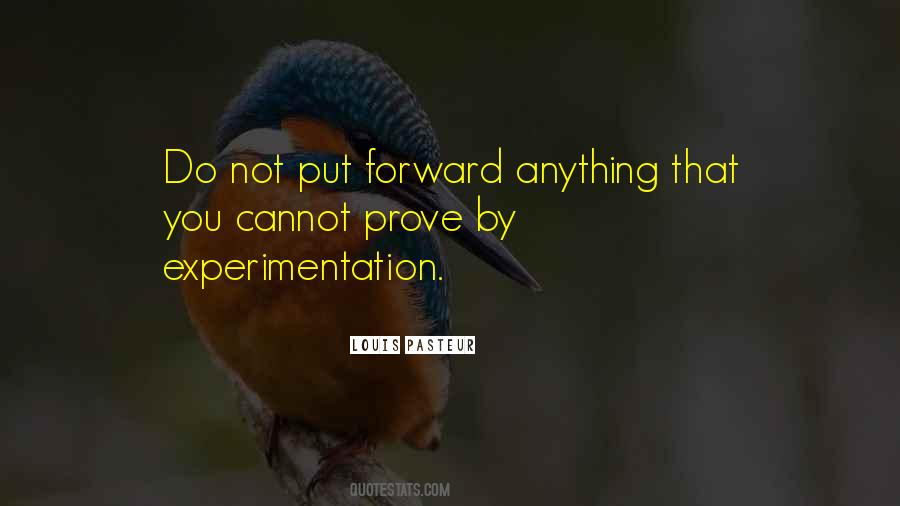 #16. A Russian drunk is a fascinating creature. Even when he has money, he still prefers poison at a rouble forty. And he won't take the change. - Author: Sergei Dovlatov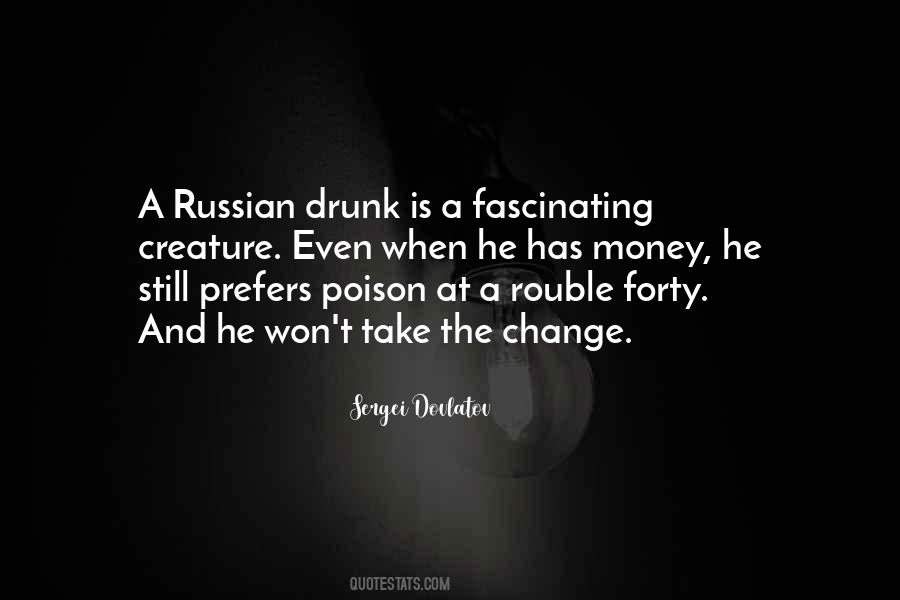 #17. Stop thinking. I've stopped some 15 years ago. Otherwise, if you will be thinking you won't want to live. Everyone who thinks is unhappy. - Author: Sergei Dovlatov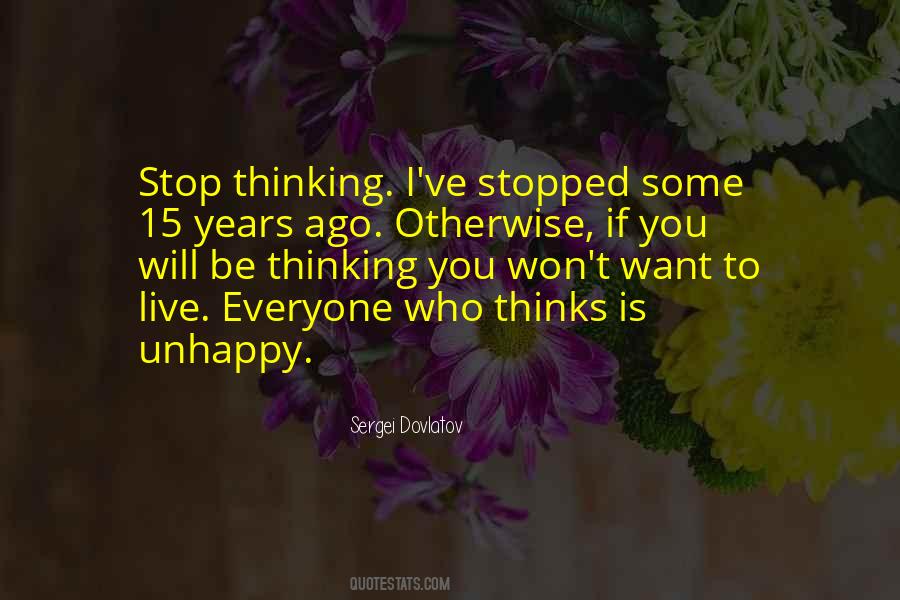 #18. The day was cold but sunny. The city was decorated with holiday flags. - Author: Sergei Dovlatov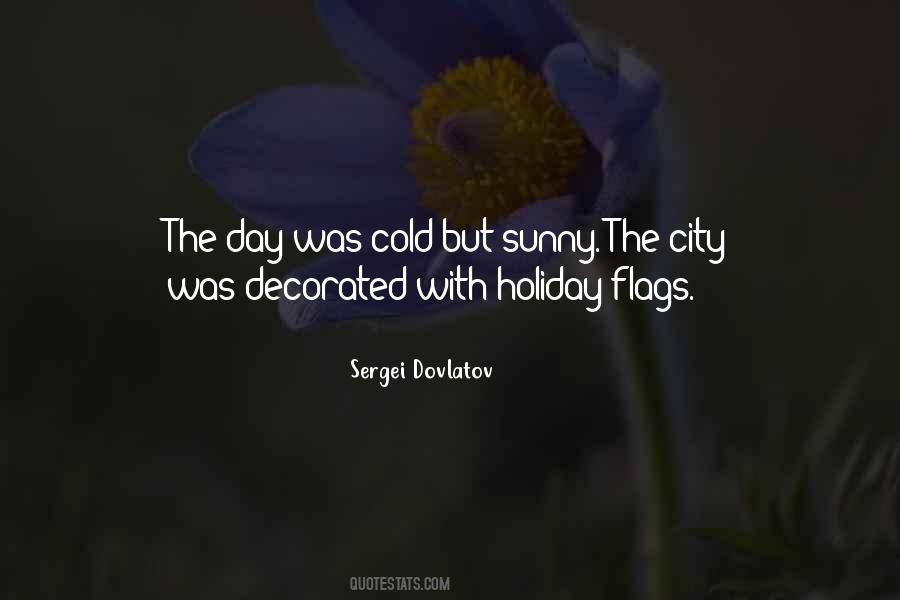 #19. Trust no future, however pleasant! Let the dead past bury its dead! Act
act in the living Present! Heart within and God overhead. - Author: Henry Wadsworth Longfellow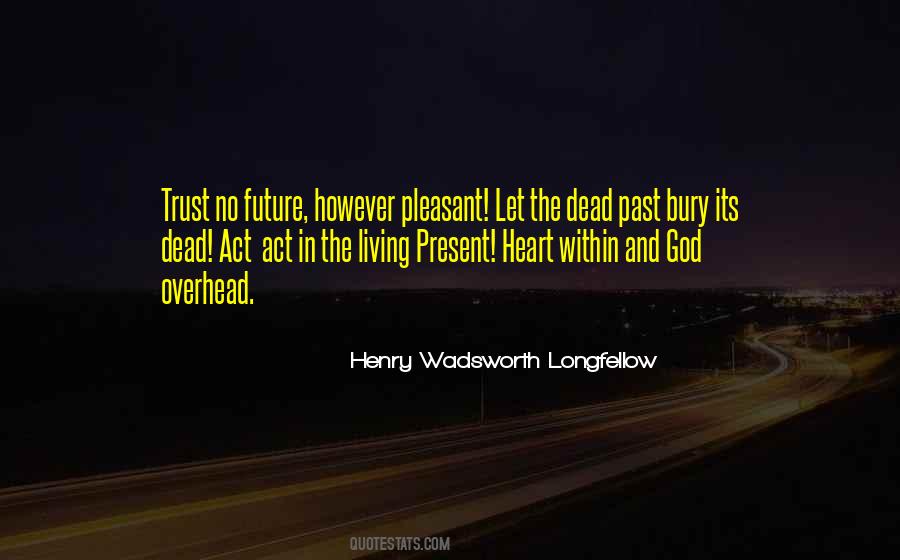 #20. Don't think love has sizes. It either is or isn't - Author: Sergei Dovlatov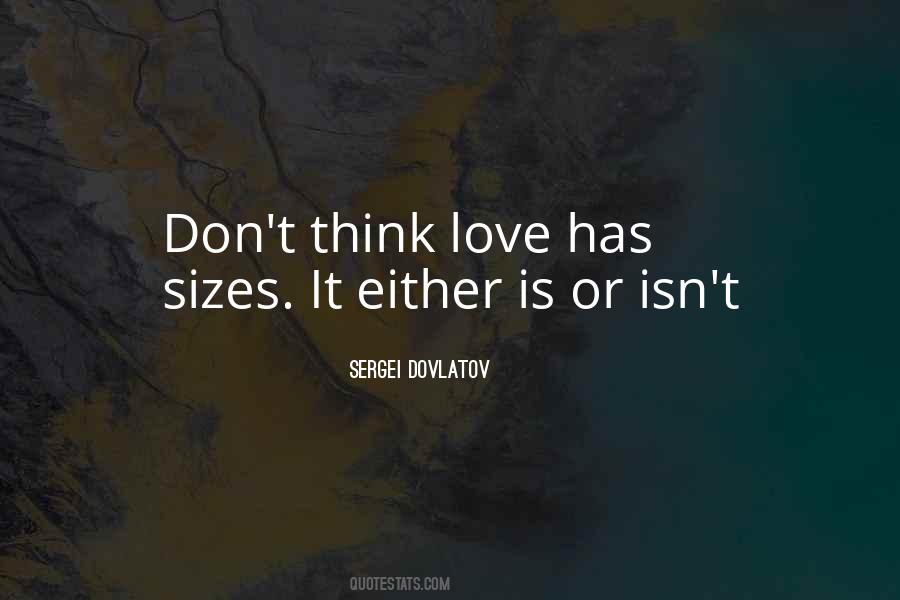 #21. In great humility, we find our strength. - Author: Lailah Gifty Akita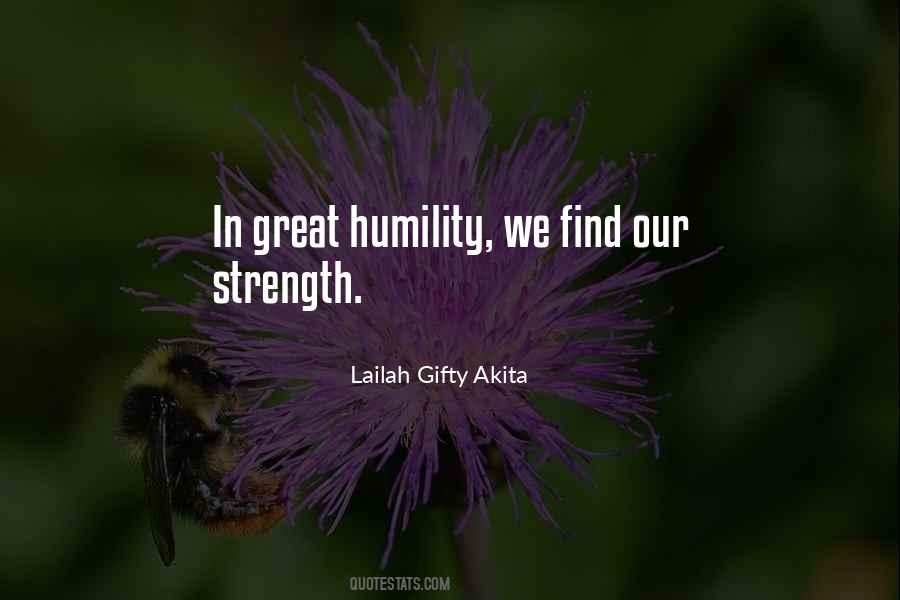 #22. With all the things that you could be, you never could learn how to be me. - Author: Lisa Loeb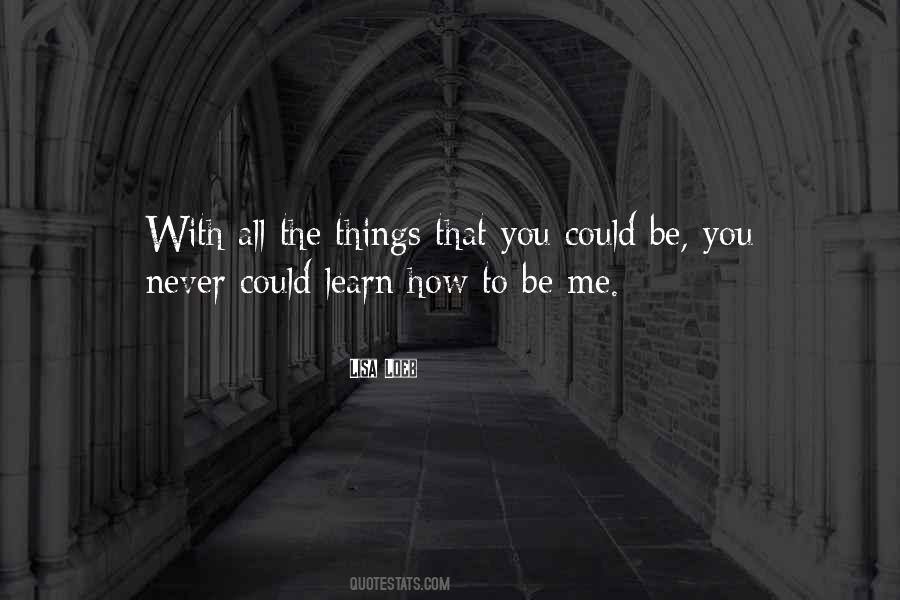 #23. It was a rare thing to be granted one's heart's desire. - Author: Salman Rushdie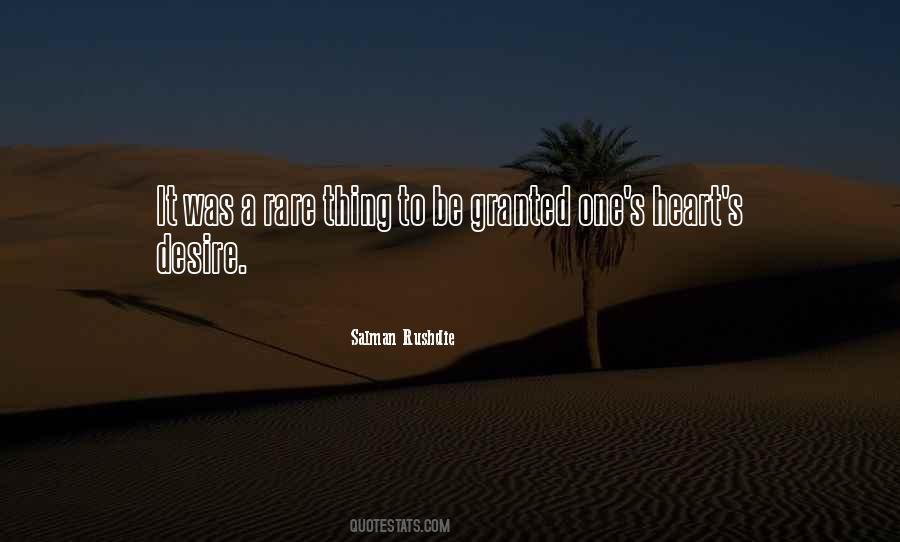 #24. If people are rude in Moscow, at least it's in Russian. - Author: Sergei Dovlatov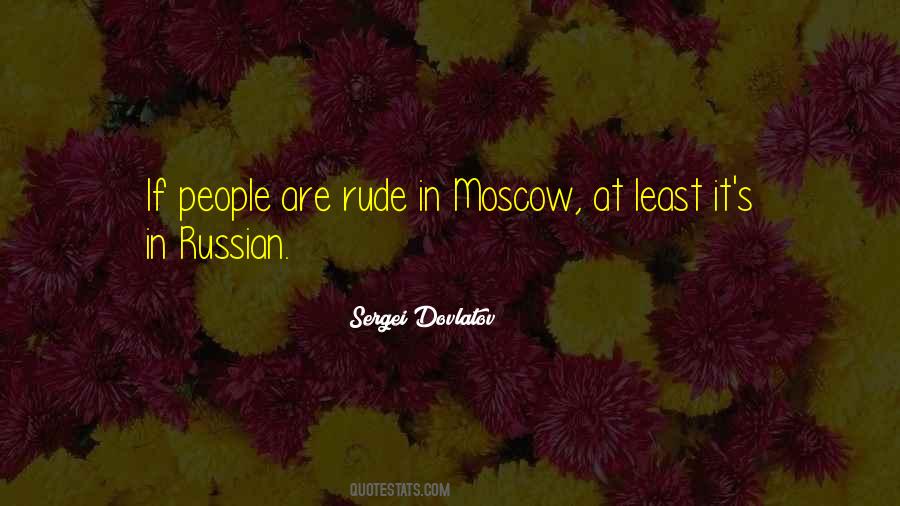 #25. No point in arguing. But of course I argued. - Author: Sergei Dovlatov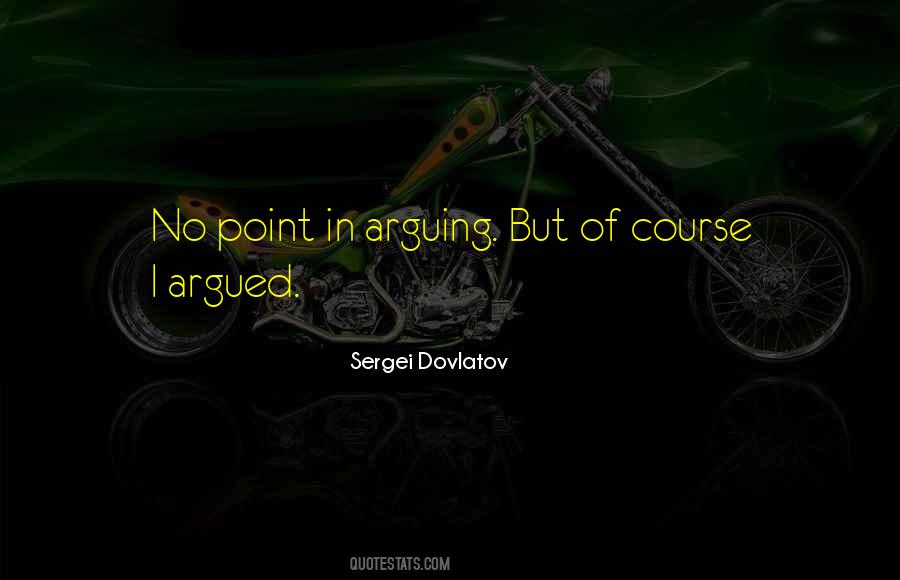 #26. The university campus was in the old part of town. The combination of water and stone creates a special, majestic atmosphere there. It's hard to be a sluggard under those circumstances, but I managed. - Author: Sergei Dovlatov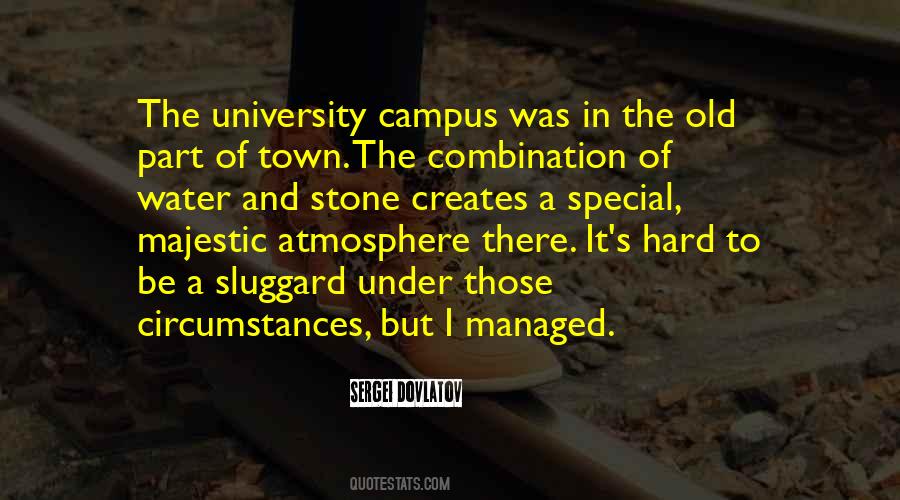 #27. No triumph of peace can equal the armed triumph of war. - Author: Theodore Roosevelt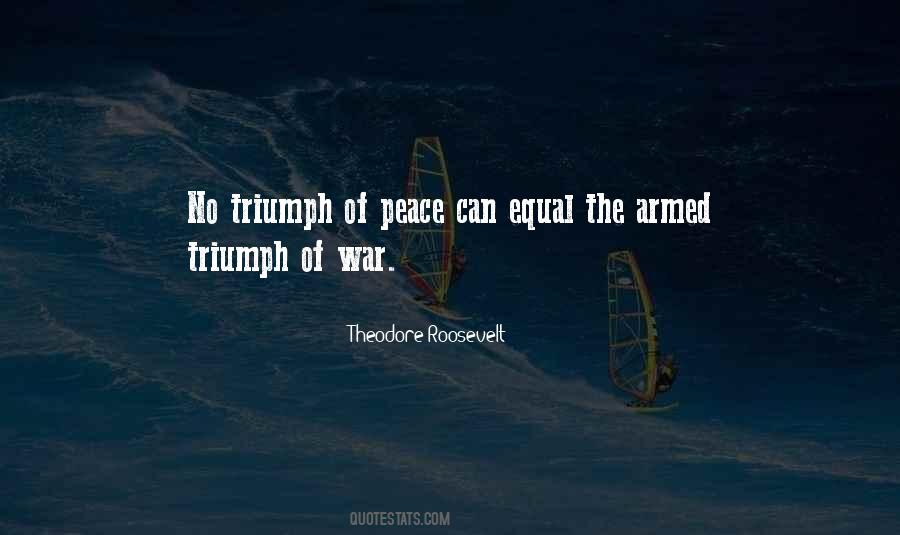 #28. The world was horrible. But life continued. What is more, life's usual proportions stayed the same. The ratio of good and evil, grief and happiness, remained unchanged. - Author: Sergei Dovlatov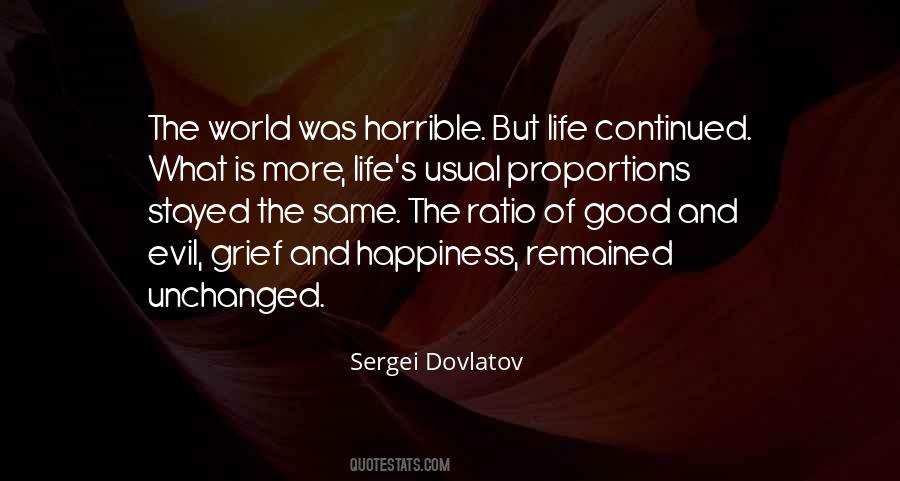 #29. There's a reason every book, even one that isn't very serious, is shaped like a suitcase - Author: Sergei Dovlatov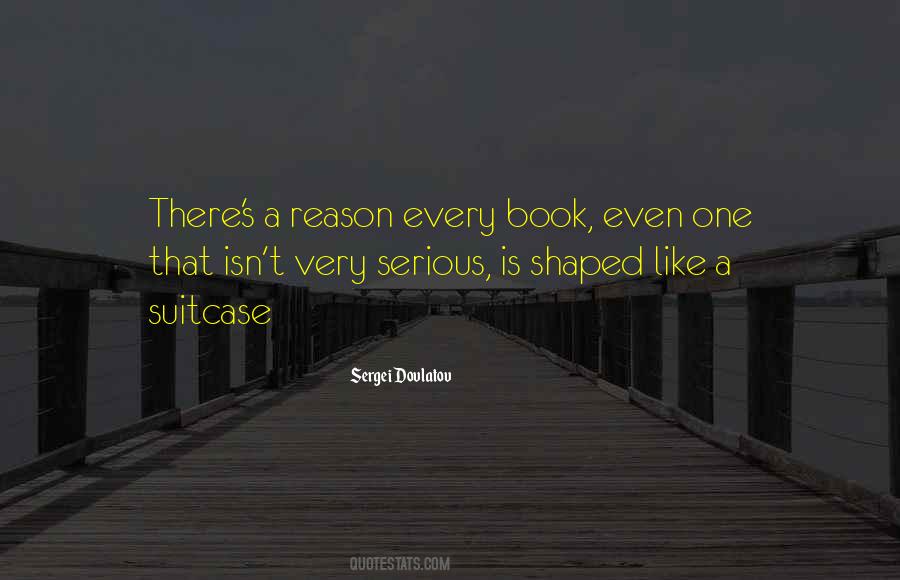 #30. The creative works of the entertainment industry belong to the millions of people who make them and are not for others to steal or unlawfully distribute. - Author: Dan Glickman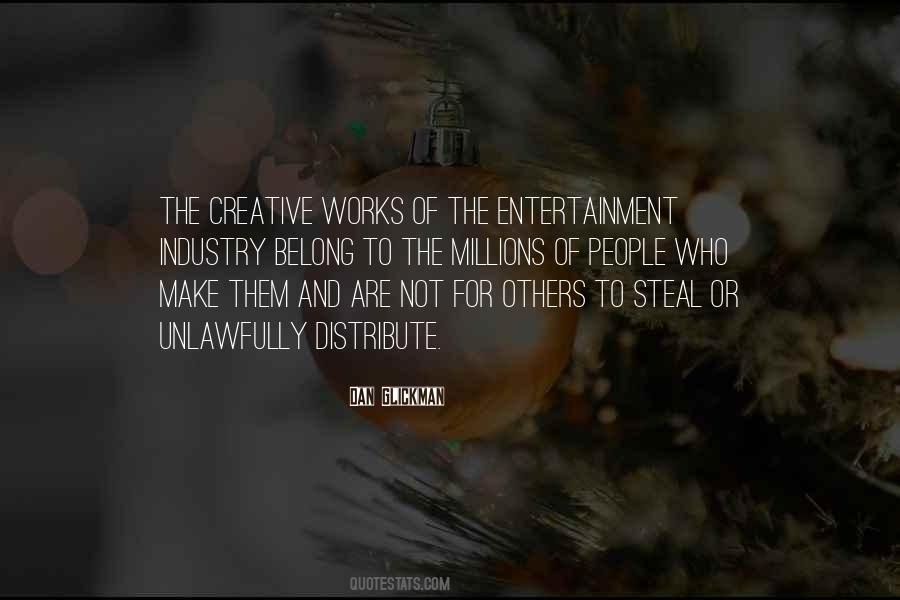 #31. We didn't raise our daughter, we merely loved her. - Author: Sergei Dovlatov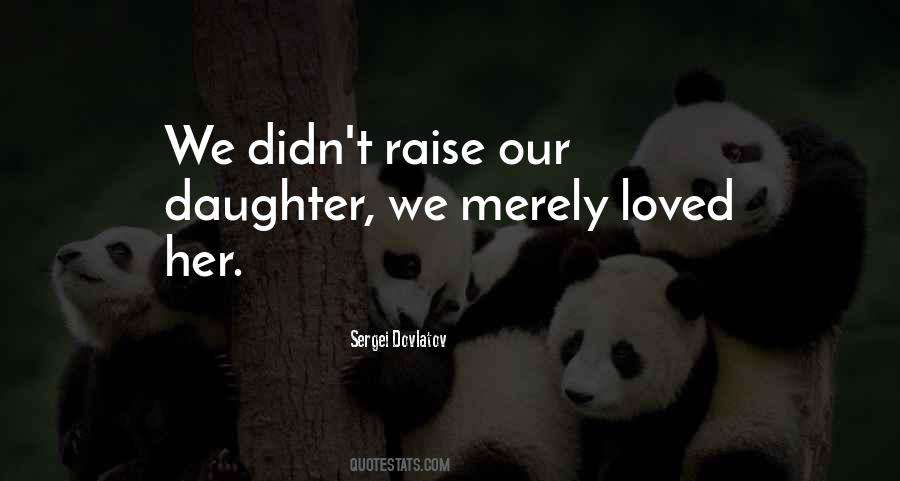 #32. Our life is but a grain of sand in the indifferent ocean of infinity. - Author: Sergei Dovlatov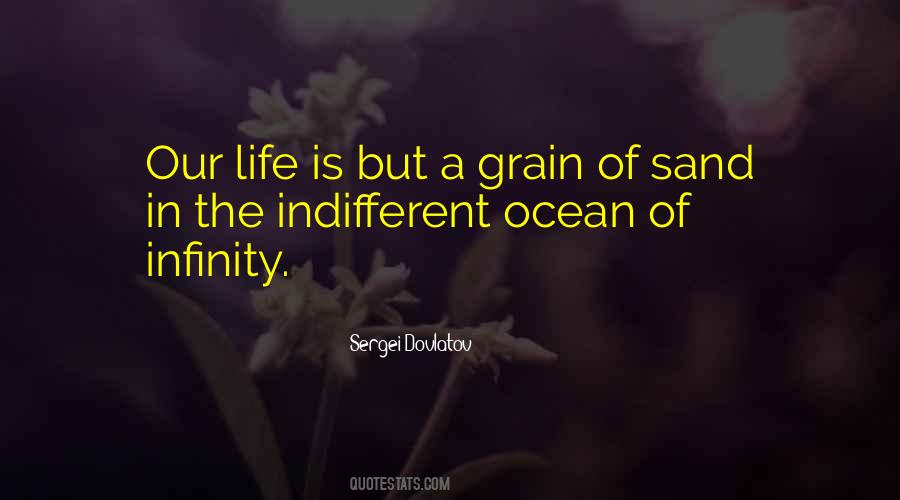 #33. If Hemingway is to believed, poverty is an invaluable school for a writer. Poverty makes a man clear-sighted. And so on. It's interesting that Hemingway realized this only when he became rich. - Author: Sergei Dovlatov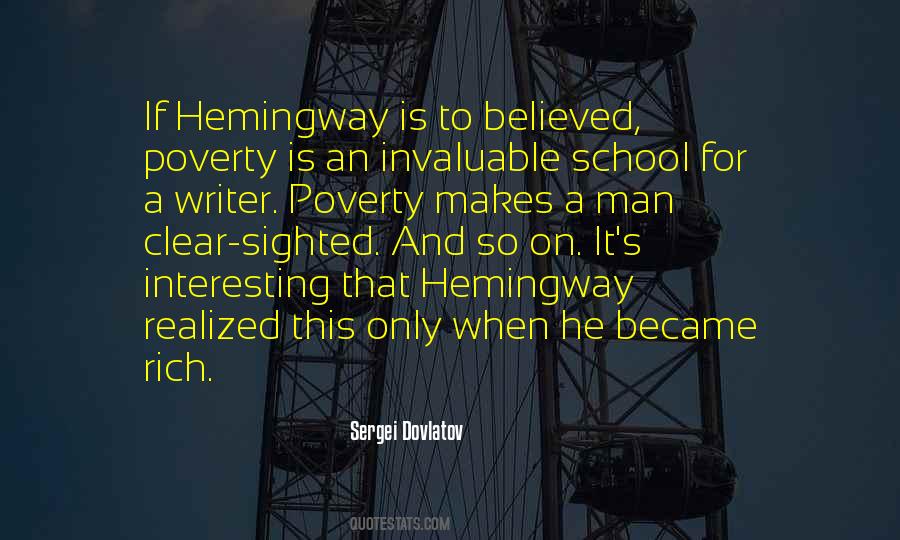 #34. Te amo, Querida," he whispered suddenly, stroking her hair. "Tu eres mi luz en la oscuridad."
"This is the second time you've said that," Cassandra murmured. "What does it mean?"
"I love you." His voice was as rough as his hand on her cheek was gentle. "You are my light in the darkness. - Author: Brooklyn Ann
Famous Authors
Popular Topics