Doubt In Trust Famous Quotes & Sayings
List of top 45 famous quotes and sayings about doubt in trust to read and share with friends on your Facebook, Twitter, blogs.
Top 45 Doubt In Trust Quotes
#1. I am a professional liar. I am two people. I take pleasure in experimenting with people's emotions, people who trust me, putting their understanding of me in doubt. Basically, I am the best thing that could have happened to you. - Author: A.M. Bakalar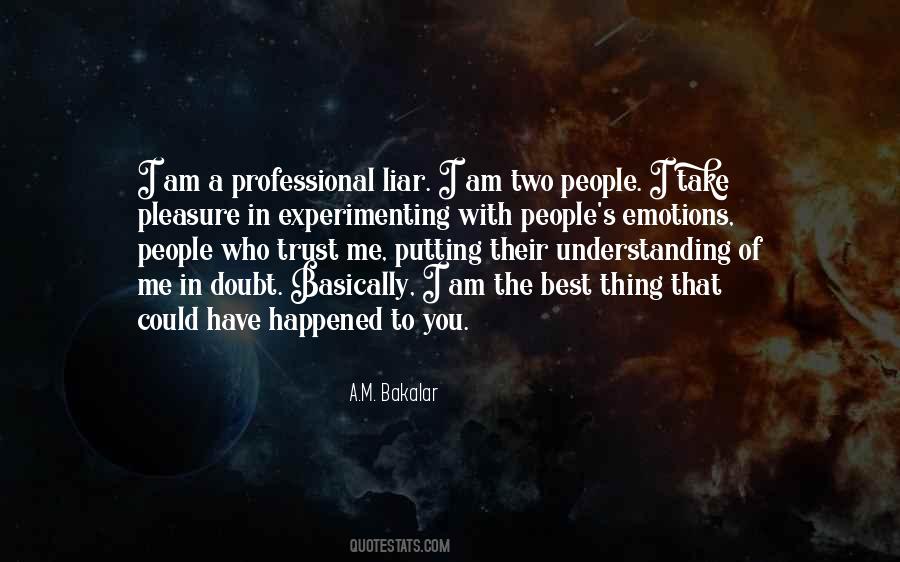 #2. In your hands or that of any other person, so much power would, no doubt, be dangerous. I am the only man in the world whom it would be safe to trust with it. Remember, I am a prophet! - Author: Joseph Smith Jr.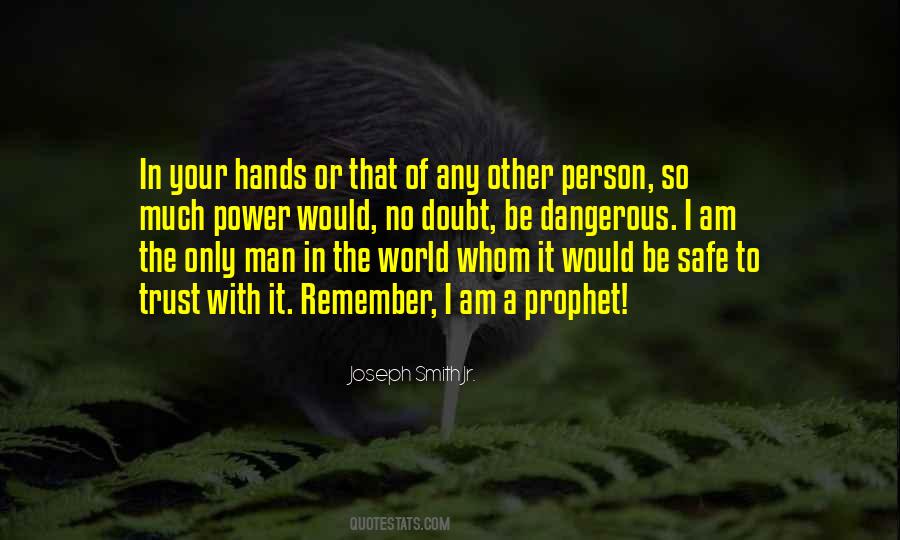 #3. Better to trust the man who is frequently in error than the one who is never in doubt. - Author: Eric Sevareid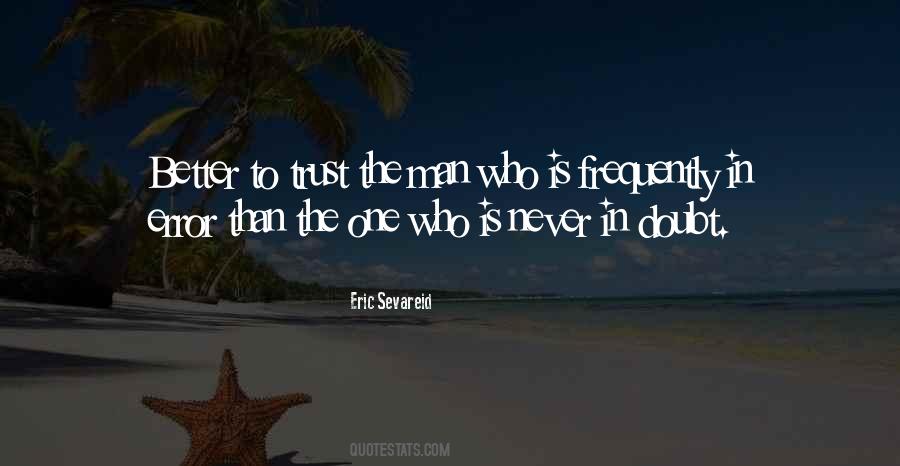 #4. Contra: Why don't you trust me honey? Wait, rather I doubt that you are in a going around. - Author: Vikrmn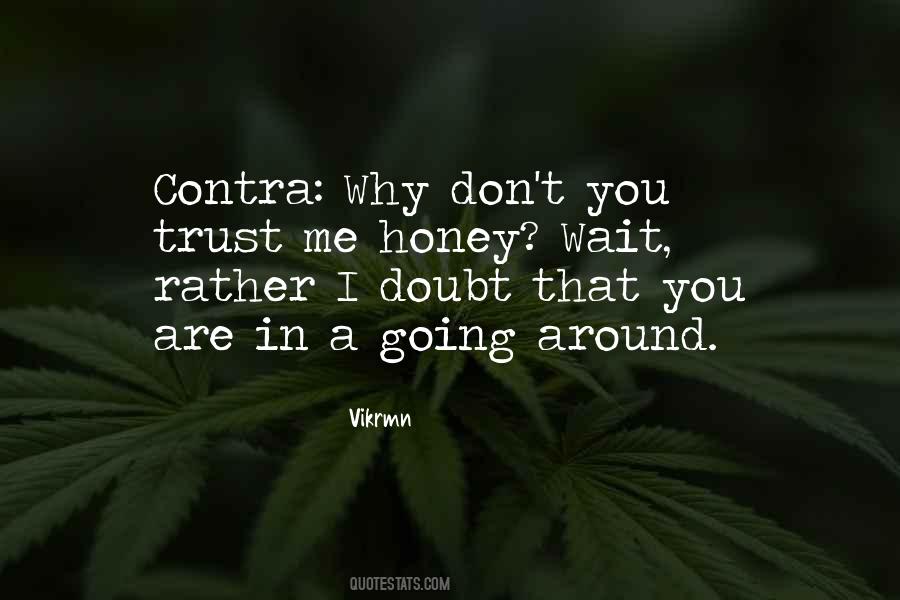 #5. Trust your instincts, Dad always says. If something feels dodgy to you, if someone feels dodgy, you go with dodgy. Don't give the benefit of the doubt because you want to be a nice person, don't wait and see in case you look stupid. Safe comes first. Second could be too late. - Author: Tana French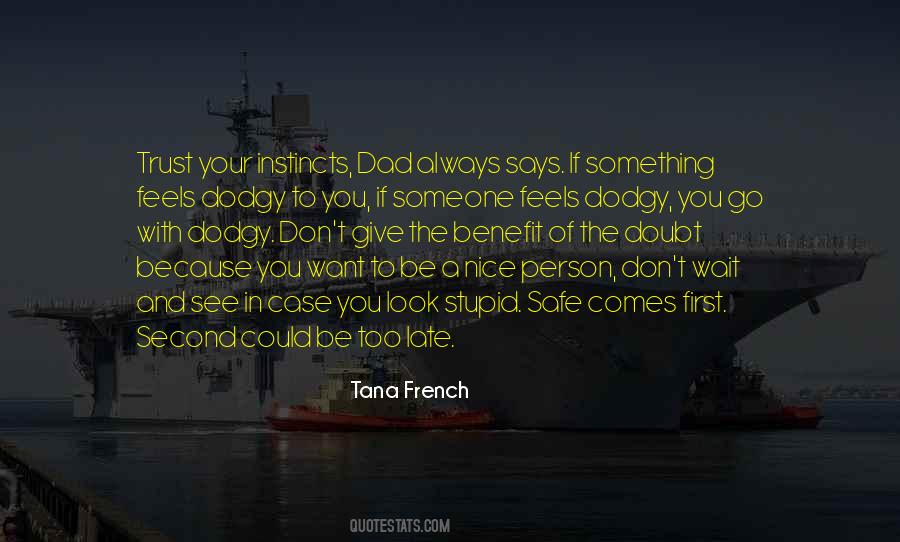 #6. But then with me the horrid doubt always arises whether the convictions of man's mind, which has been developed from the mind of the lower animals, are of any value or at all trustworthy. Would any one trust in the convictions of a monkey's mind, if there are any convictions in such a mind? - Author: Charles Darwin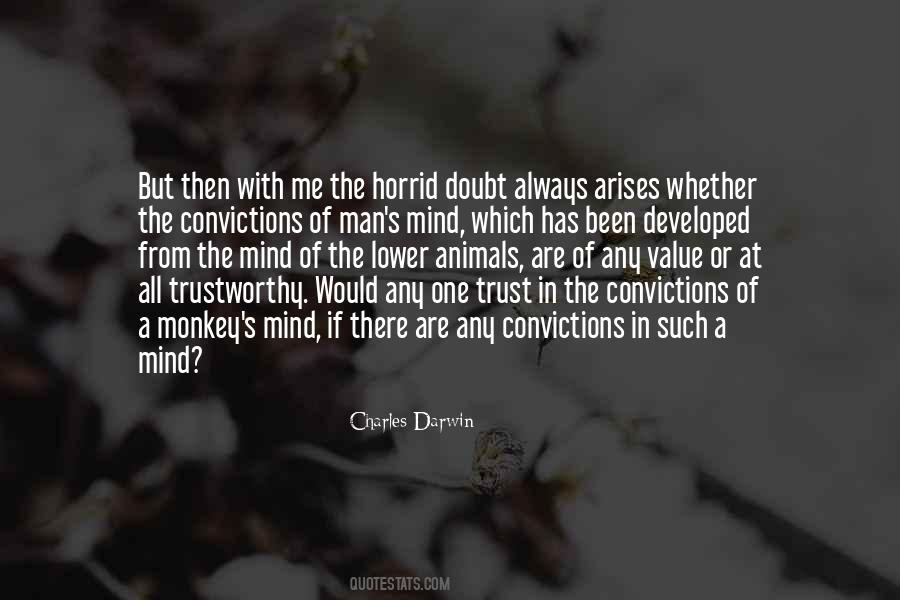 #7. There can be no doubt that distrust of words is less harmful than unwarranted trust in them. - Author: Vaclav Havel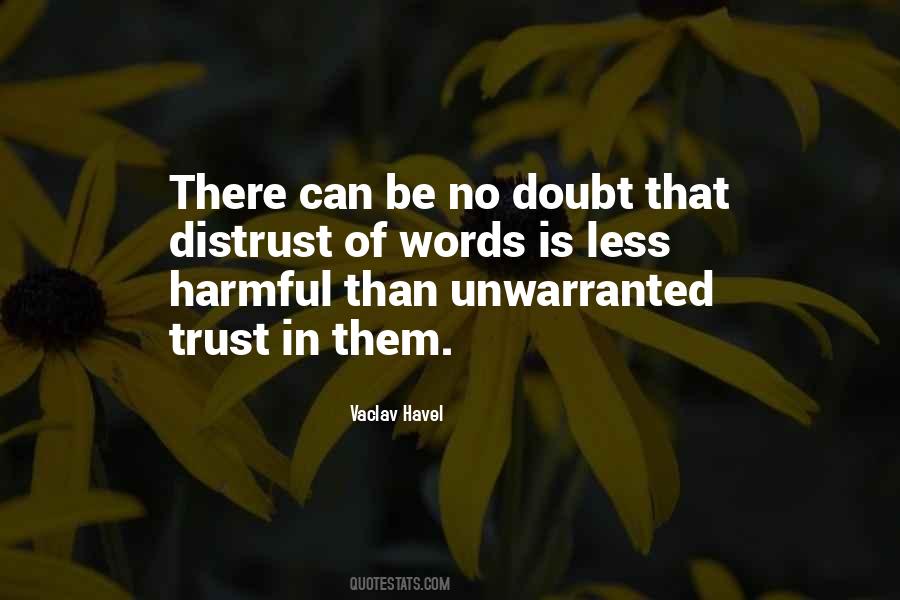 #8. With this life I give you trust. Believe in your Clan and in yourself. Never doubt that you know the right path to take. - Author: Erin Hunter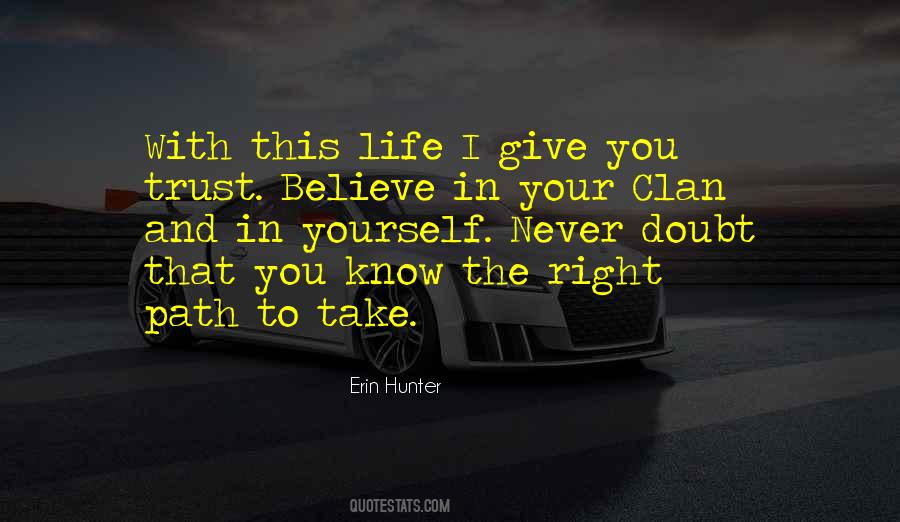 #9. Trials should not surprise us, or cause us to doubt God's faithfulness. Rather, we should actually be glad for them. God sends trials to strengthen our trust in him so that our faith will not fail. Our trials keep us trusting; they burn away our self confidence and drive us to our Savior. - Author: Edmund Clowney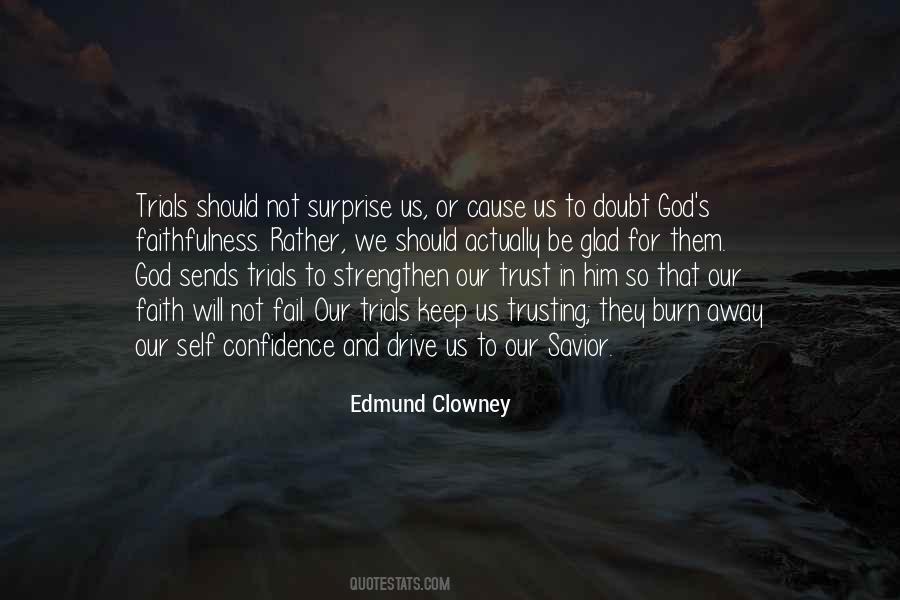 #10. You can put your trust in something that's obvious, that's measurable or predictable - but that's not faith. Nor is believing in something that gives you no pause for doubt, no reason or desire to question. Faith is something more than that. By definition, it cannot have proof as its foundation. - Author: James Islington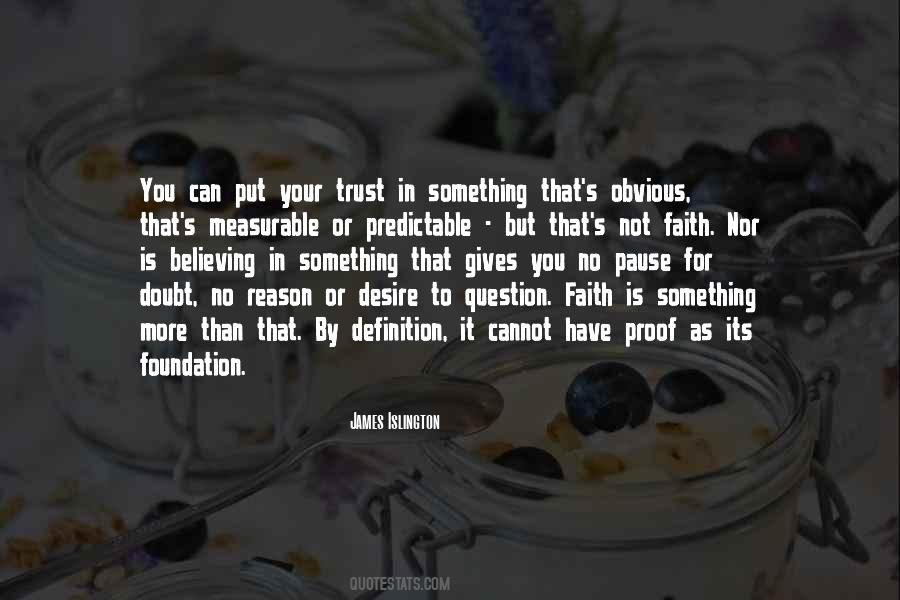 #11. I DECLARE I will experience God's faithfulness. I will not worry. I will not doubt. I will keep my trust in Him, knowing that He will not fail me. I will give birth to every promise God put in my heart and I will become everything God created me to be. This is my declaration. - Author: Joel Osteen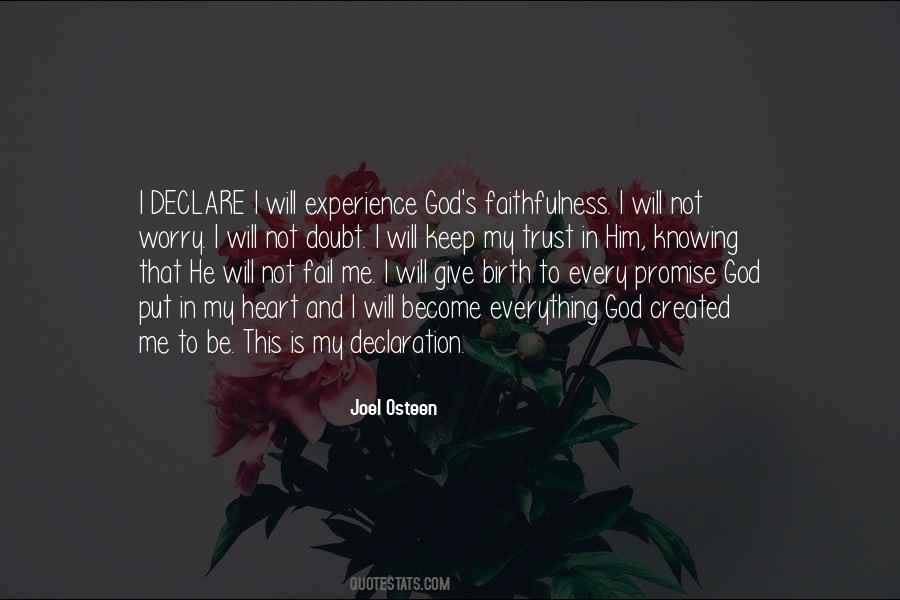 #12. Whoever deliberately attempts to insure confidentiality with another person is usually in doubt as to whether he inspires that person's confidence in him. One who is sure that he inspires confidence attaches little importance to confidentiality. - Author: Friedrich Nietzsche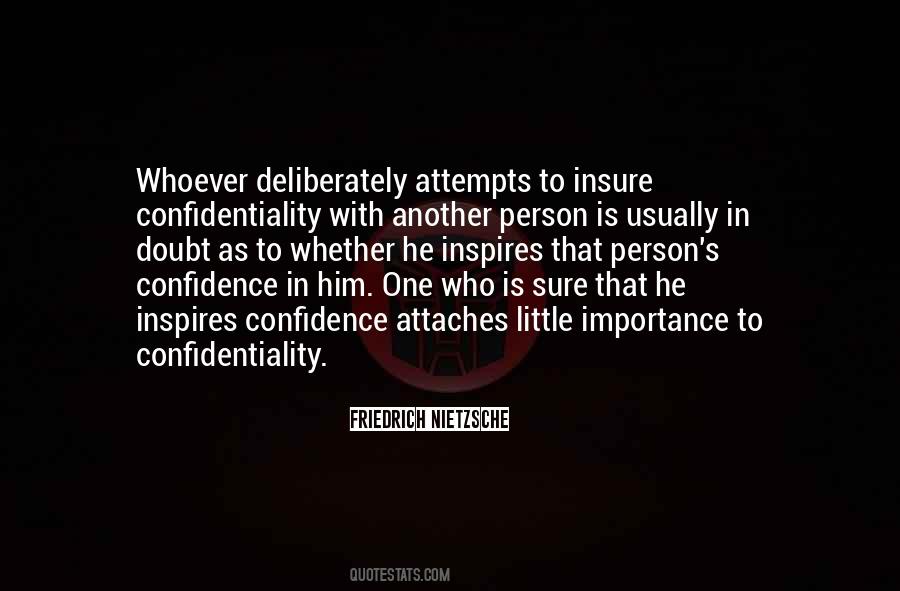 #13. How strongly do you believe in what you want to do? How prepared are you live and die for it? You are not likely to succeed when you always doubt your capacity to reach higher heights in your pursuits. - Author: Israelmore Ayivor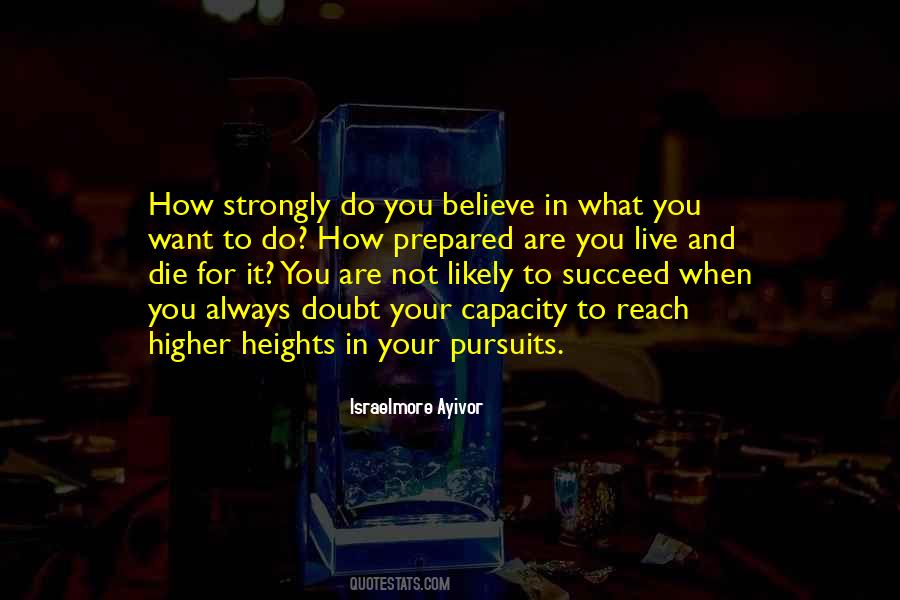 #14. I'd set out to write a book about how we learn to trust our own experience in the face of confusion, doubt, and anxiety. What I ended up with is the story of how we love each other in spite of immense limitations - Author: Heather Sellers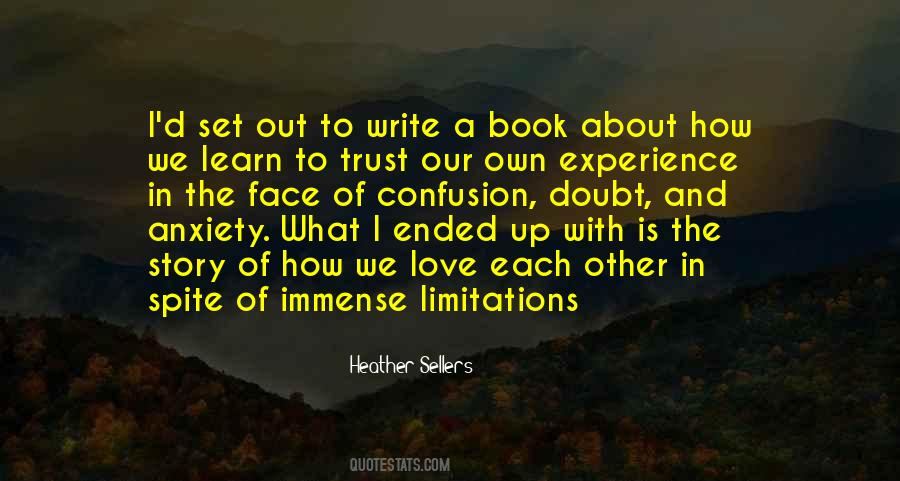 #15. Until, accustomed to disappointments, you can let yourself rule and be ruled by these strings or emanations that connect everything together, you haven't fully exorcised the demon of doubt that sets you in motion like a rocking horse that cannot stop rocking. - Author: John Ashbery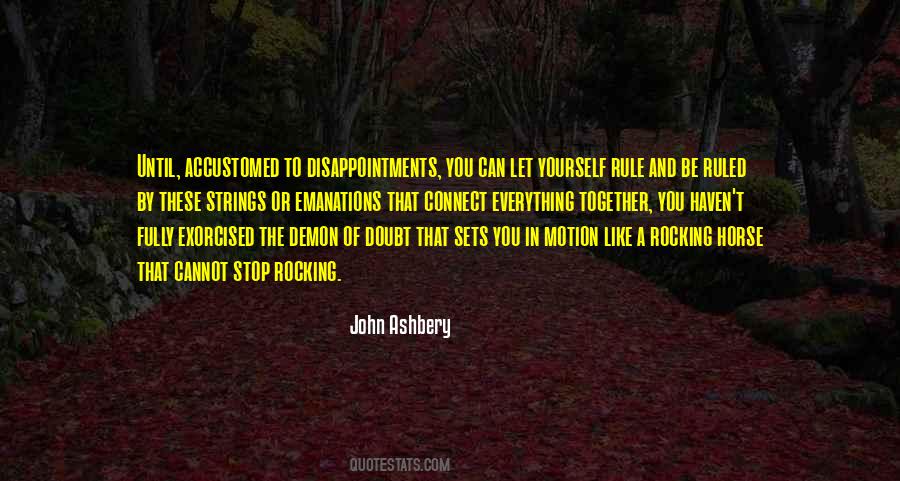 #16. There is rest in this world nowhere except in Christ, the manifested love of God. Trust in excellence, and the better you become, the keener is the feeling of deficiency. Wrap up all in doubt, and there is a stern voice that will thunder at last out of the wilderness upon your dream. - Author: Frederick William Robertson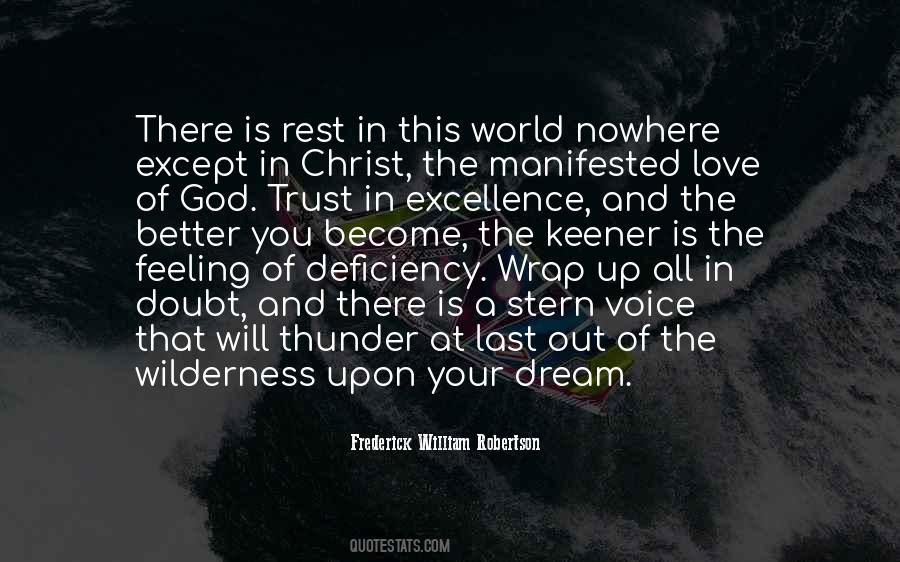 #17. It is not what we believe, but why we believe it. Moral responsibility lies in diligently weighing the evidence. We must actively doubt; we have to scrutinize our views, not take them on trust. No virtue attached to blindly accepting orthodoxy, however 'venerable' ... - Author: Thomas Henry Huxley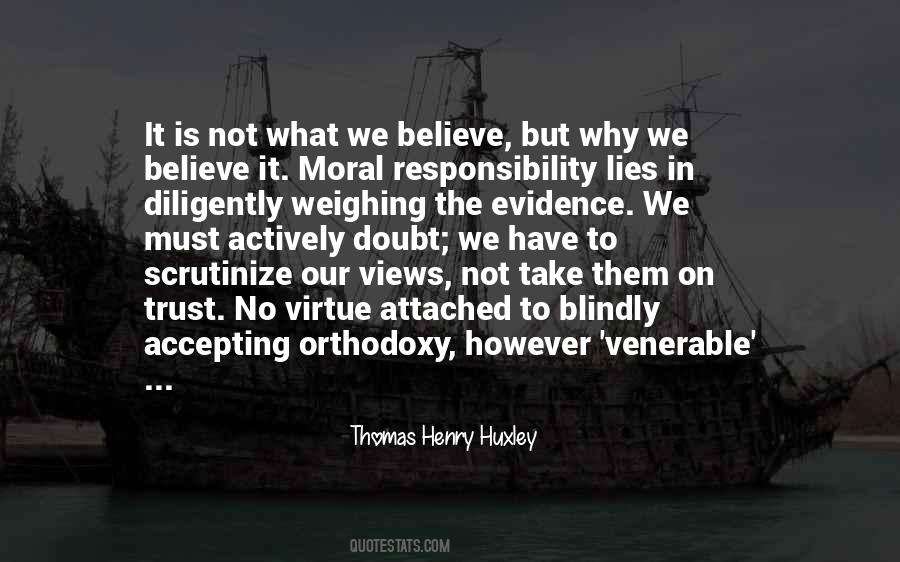 #18. Some encounter me in person, know I am a writer, and don't trust the value of my words. Some encounter my books, know me later, and don't trust the value of my friendship. Both doubt themselves. - Author: Robin Sacredfire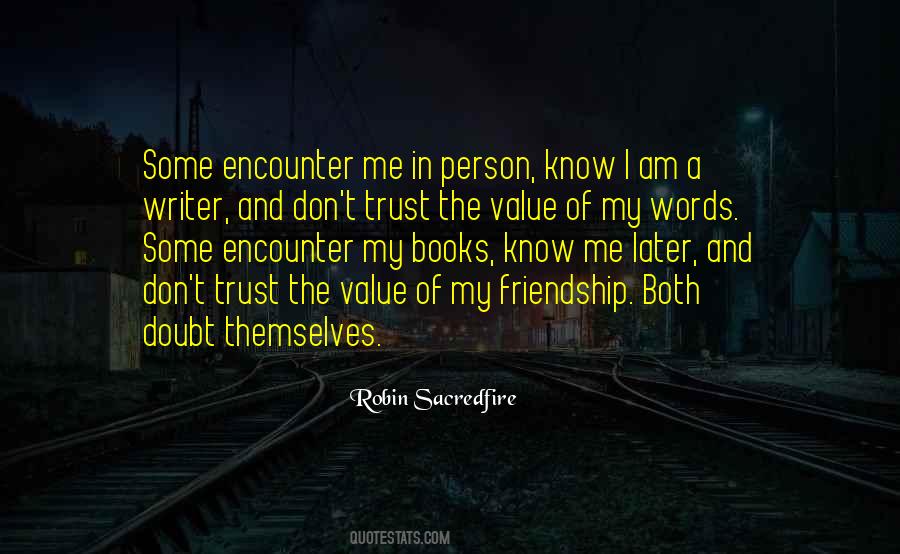 #19. Doubt manifests itself in indecision. - Author: Richie Norton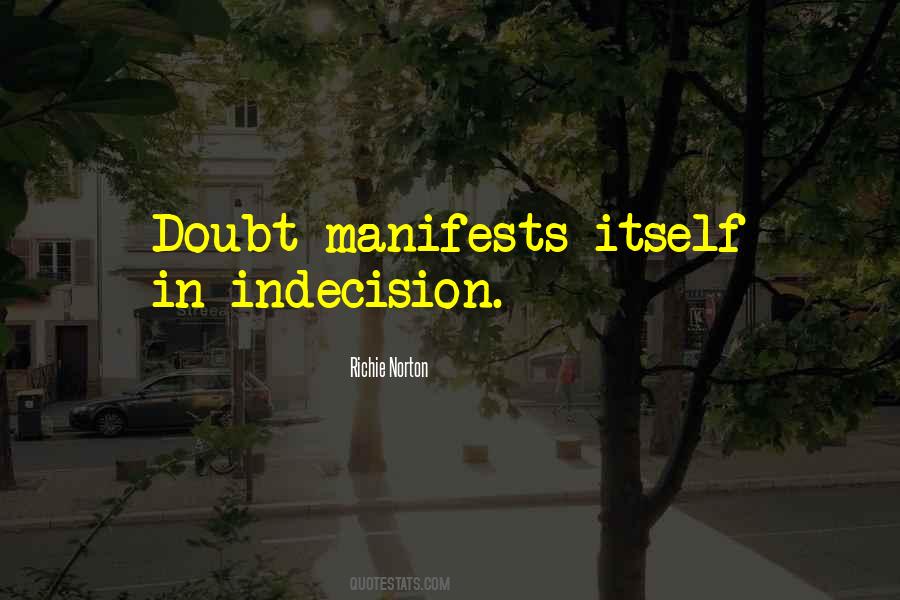 #20. It takes years and maturity to make the discovery that the power of faith is nobler than the power of doubt; and that there is a celestial wisdom in the ingenuous propensity to trust, which belongs to honest and noble natures. - Author: Harriet Beecher Stowe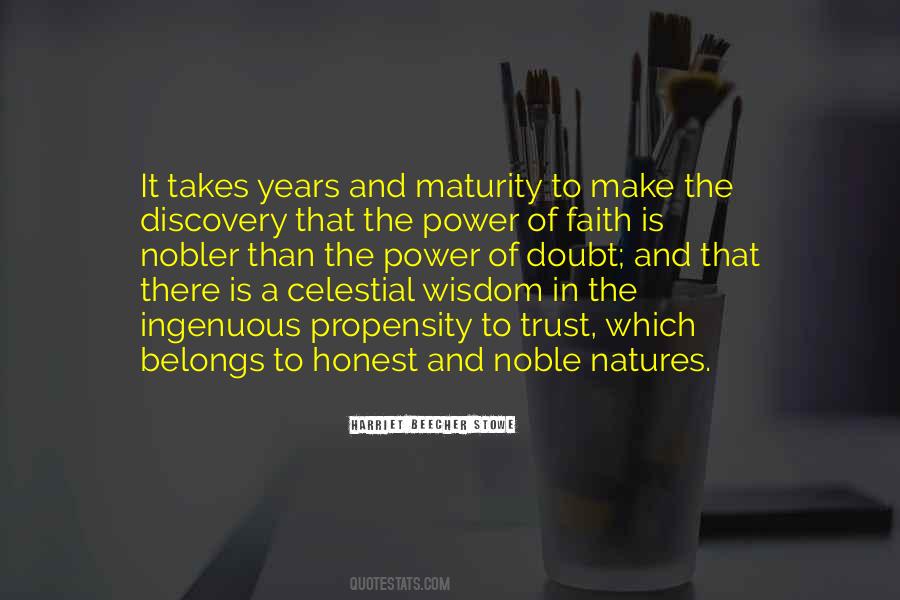 #21. You can't force yourself to trust. So you put all your doubts in a little box and bury it deep and then try to forget where you buried it - Author: Rick Yancey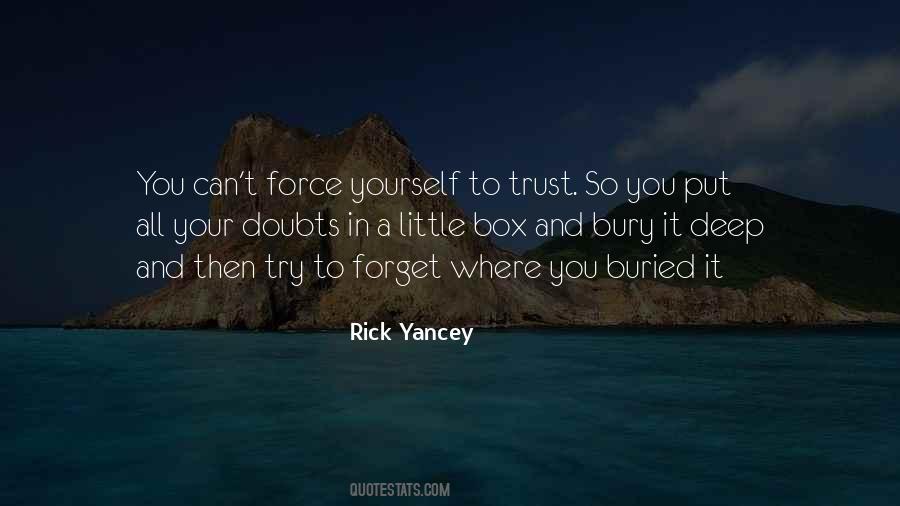 #22. Fear is killing us, but true love can survive. If we cooperate, we can beat doubt. But first, rebuild trust. Take responsibility. Happiness is still free, though not always apparent when it's right in front of us. So keep calm, it's gonna get better. - Author: Patrick Stump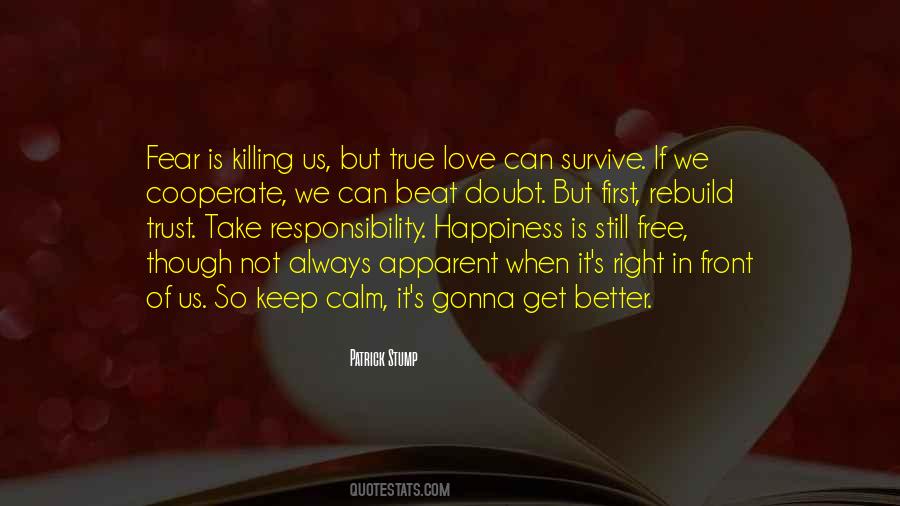 #23. I shall return, doubt it not. Such love as ours was not created to remain unfulfilled. Whatever may happen, believe and trust in me, as I shall in you, and keep the remembrance of me in your heart without sadness and without regret. - Author: Emmuska Orczy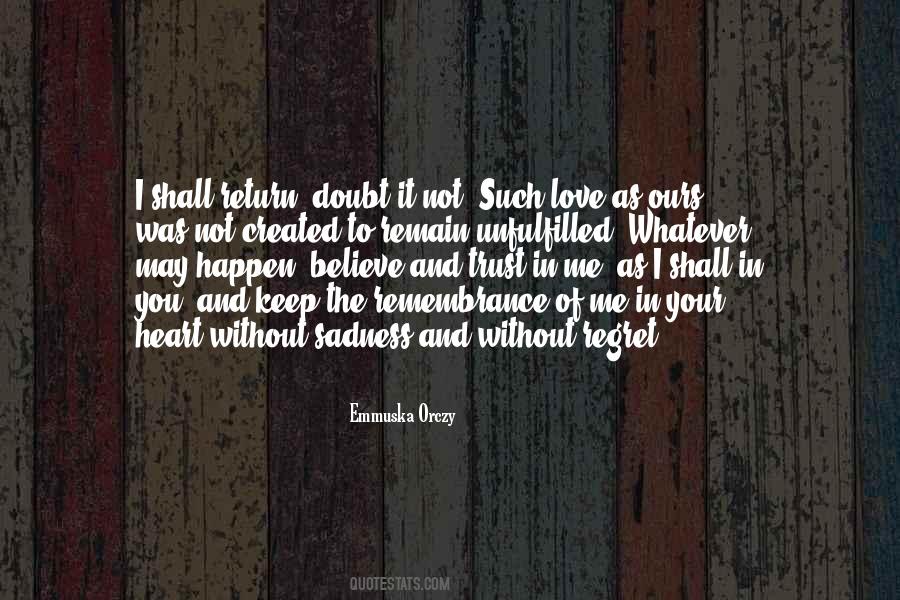 #24. Doubt we were very foolish, but danger seemed to be all round, and there was nobody we knew to trust in, and all was strange and uncertain. The fresh air that had come in through the open door made it easier to breathe, but the rushing sound overhead grew louder, and as I looked - Author: Anna Sewell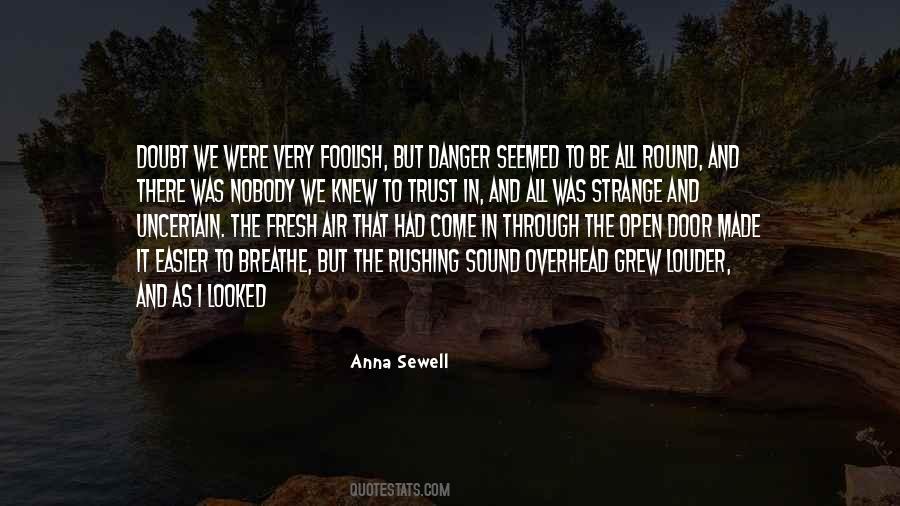 #25. Somehow proper prayer must put more trust in God's will than in human wants; otherwise failure to get the things we want will force us to doubt either the power of prayer or the ability of God. - Author: Bryan Chapell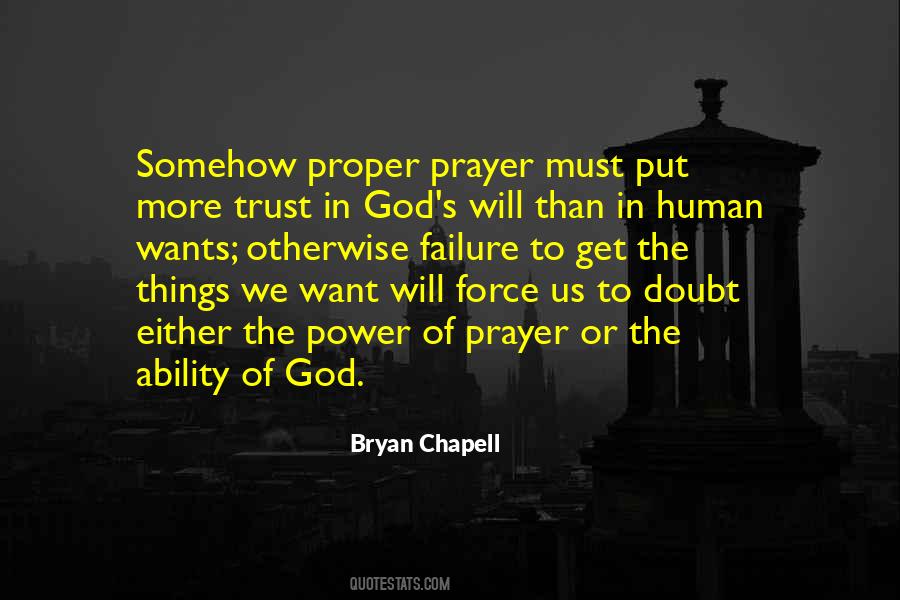 #26. Yet even in such moments she didn't doubt that God existed. She just sometimes wondered if He remembered that she did. - Author: Tamera Alexander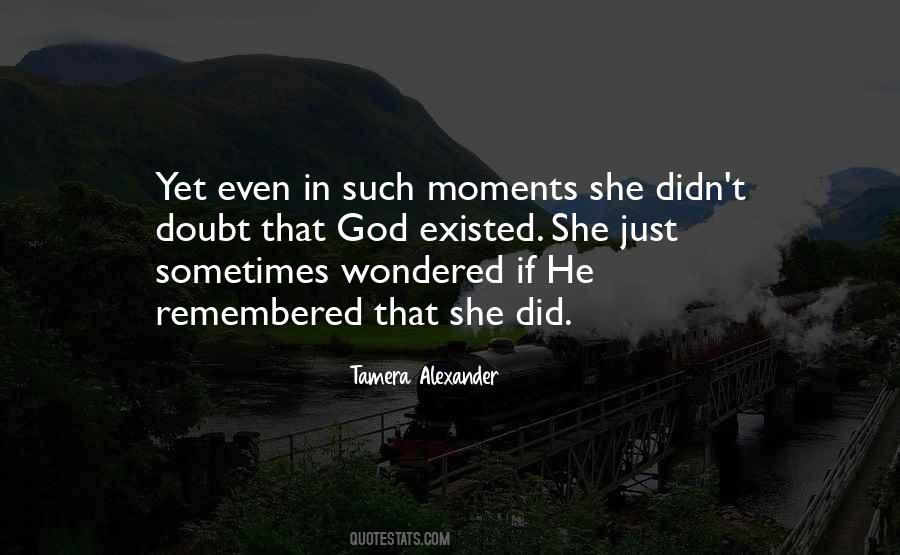 #27. Living by faith isn't living with certainty. It's trusting God in spite of unanswered questions and unresolved doubts. - Author: Rick Warren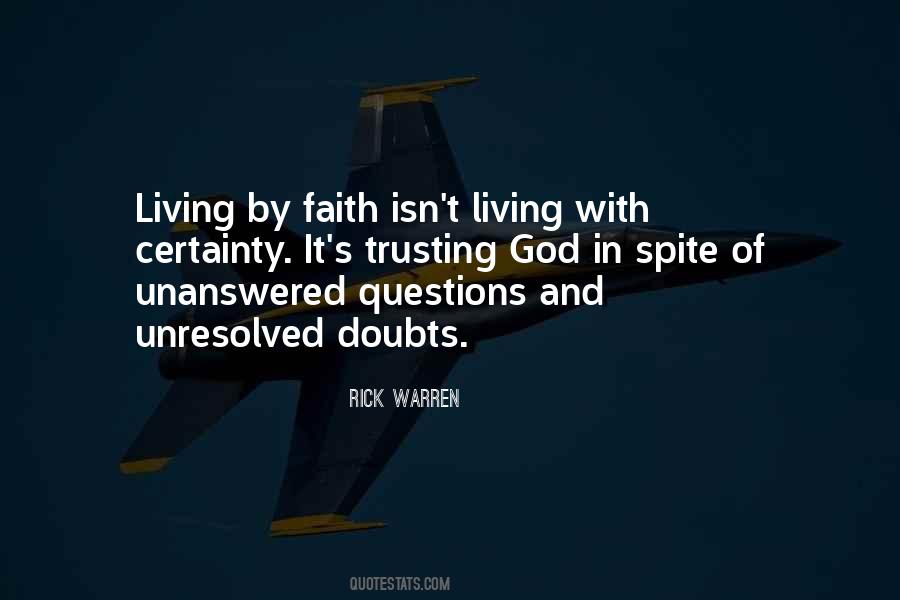 #28. Only trust in God can transform doubts into certainty, evil into good, night into radiant dawn. - Author: Pope Francis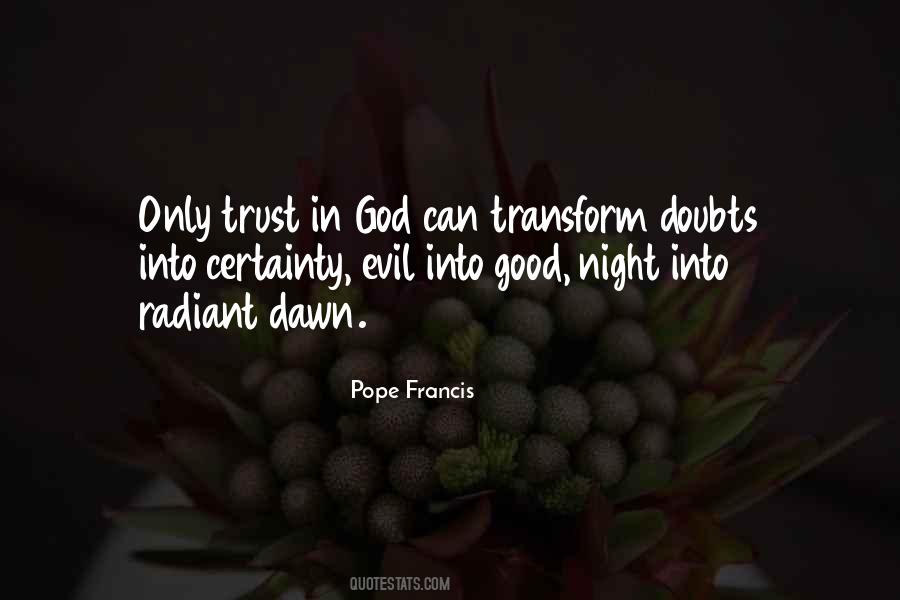 #29. When the trust is high, you get the trust dividend. Investors invest in brands people trust. Consumers buy more from companies they trust, they spend more with companies they trust, they recommend companies they trust, and they give companies they trust the benefit of the doubt when things go wrong. - Author: Stephen Covey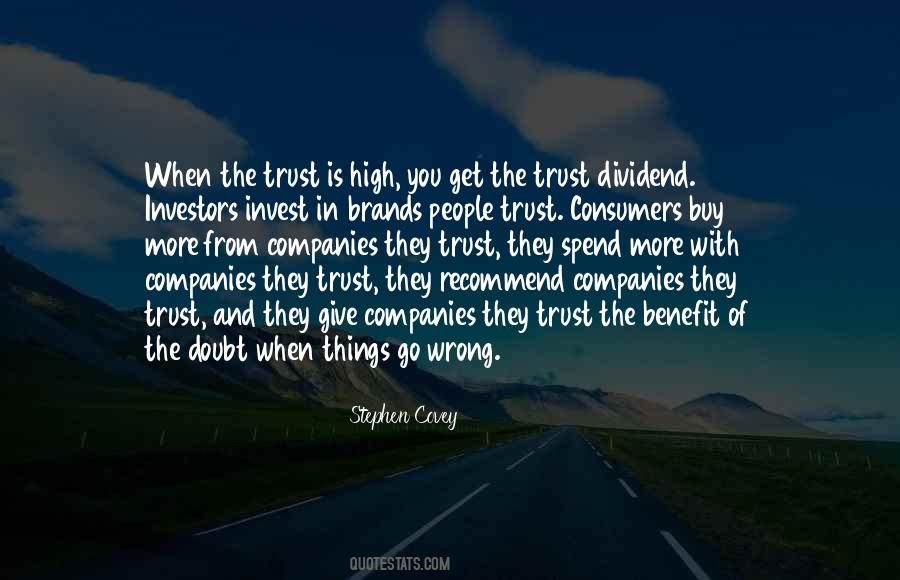 #30. If you're ever in doubt, throw a pepper in the air. If it fails to come down, you have gone mad, so don't trust in anything. - Author: Gregory Maguire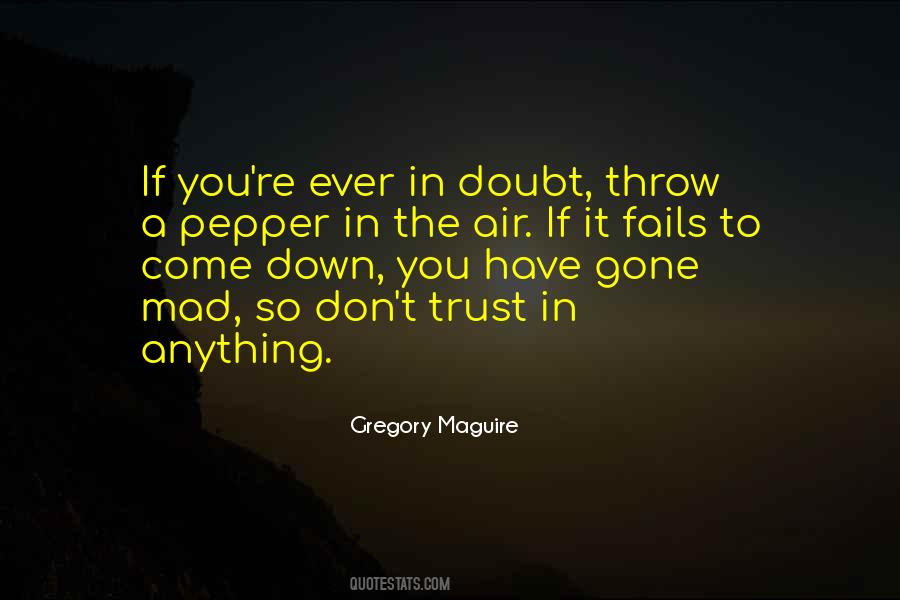 #31. Put your trust in God, and pray for guidance. And when in doubt, eat. A Franciscan monk had once given me that advice, and on the whole, I had found it useful. - Author: Diana Gabaldon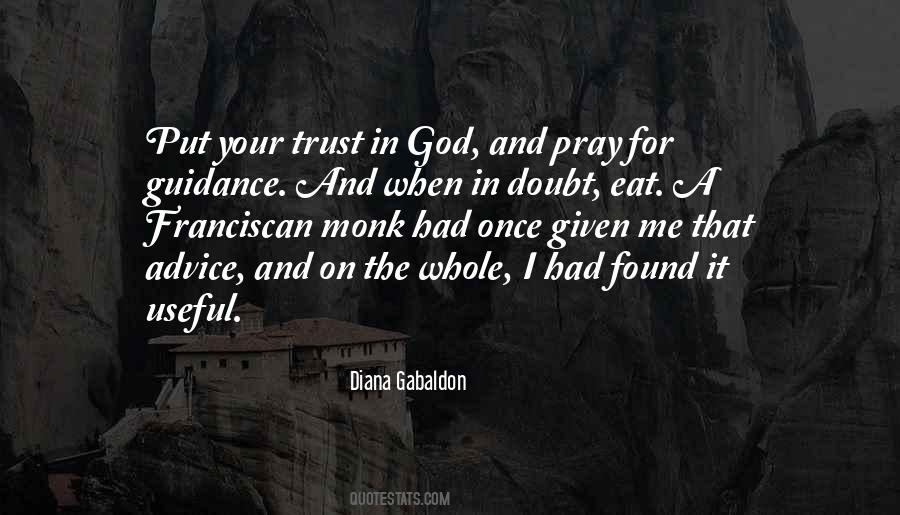 #32. There is nothing nominal or lukewarm or indifferent about standing in this hurricane of questions every day and staring each one down until you've mustered all the bravery and fortitude and trust it takes to whisper just one of them out loud - Author: Rachel Held Evans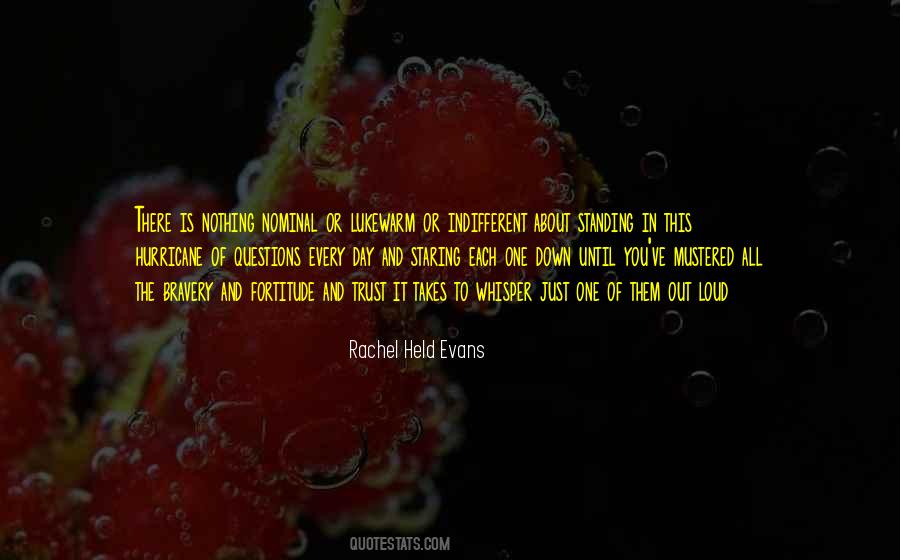 #33. I know it when I don't know it. Sometimes I know it when I don't think I know it. I need to trust myself in these moments, these rare moments of self-doubt. - Author: Rush Limbaugh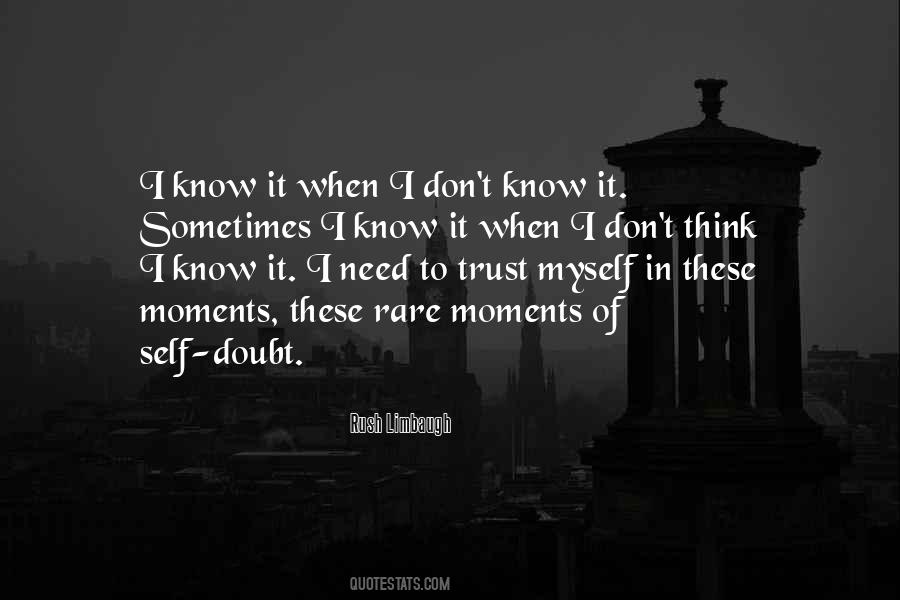 #34. Remember the emphasis on the heart. the mind lives in doubt and the heart lives in trust. When you trust, suddenly you become centered. - Author: Rajneesh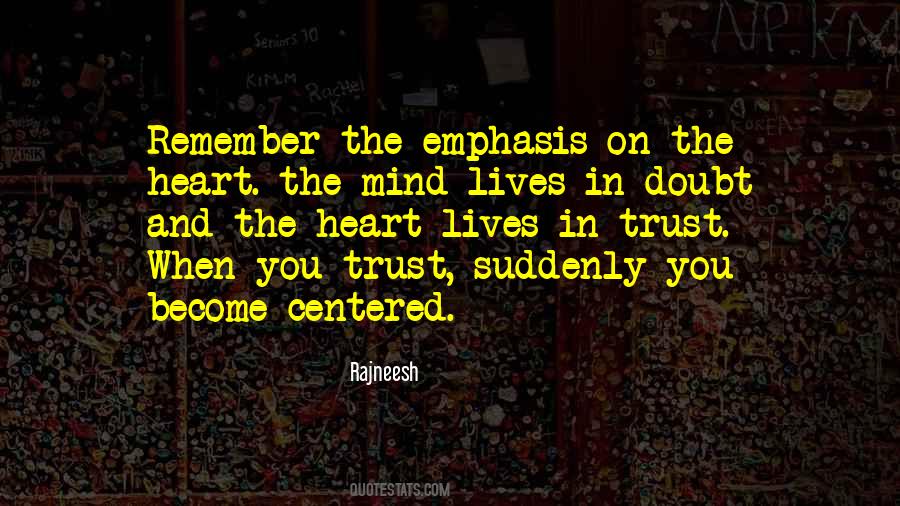 #35. You may have your suspicions, your fears, you may even believe there is something, somewhere, terribly, drastically wrong, but because someone else is in charge, because there is a part of the system above you which you don't know, you don't question it, you even distrust your own doubts. - Author: Graham Swift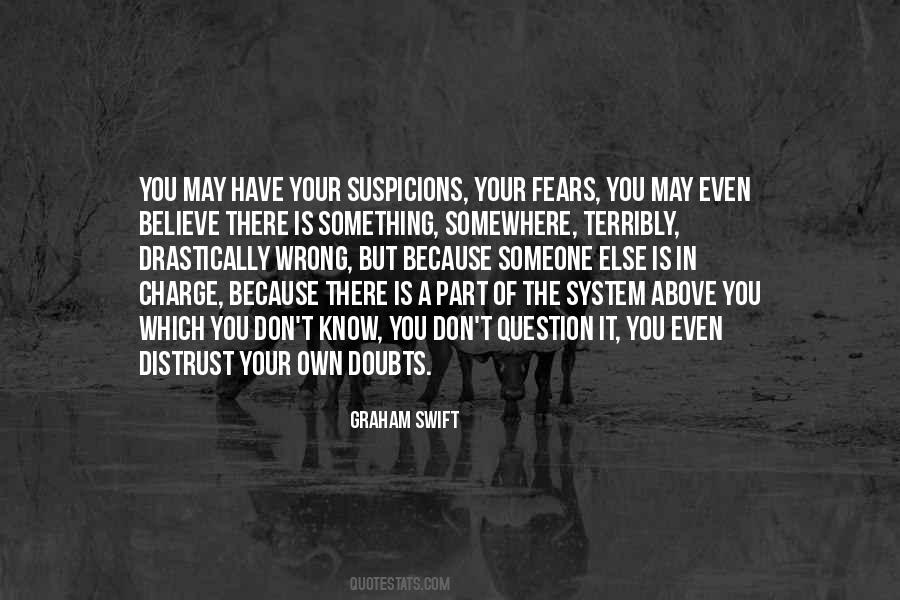 #36. Faith and doubt cannot reside together. An iota of doubt is enough to taint the entire process, it is like a drop of red ink in water. - Author: Malti Bhojwani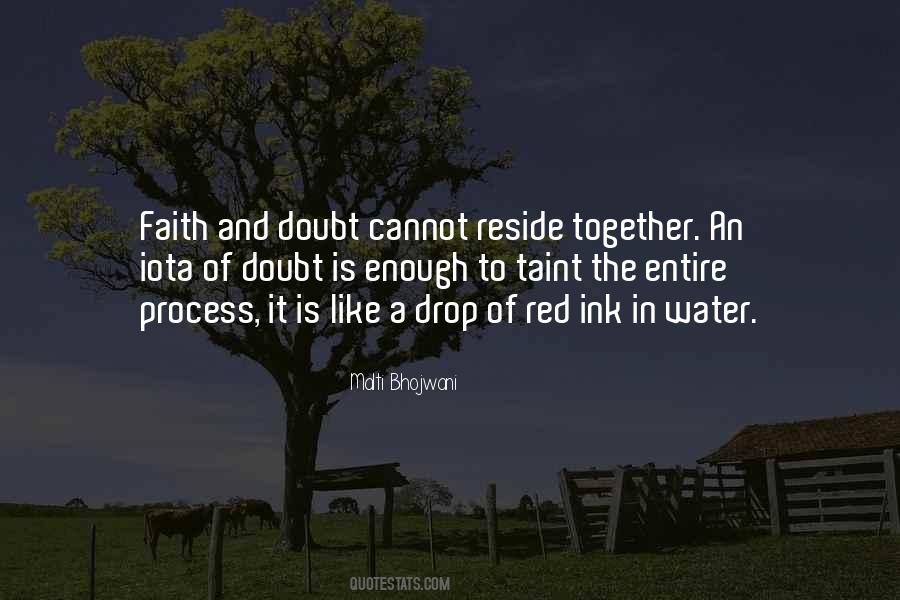 #37. People who believed in God today will doubt him tomorrow and those who doubted him today will believe in him tomorrow because believing in someone else doesn't work. Believe in yourself. - Author: Vann Chow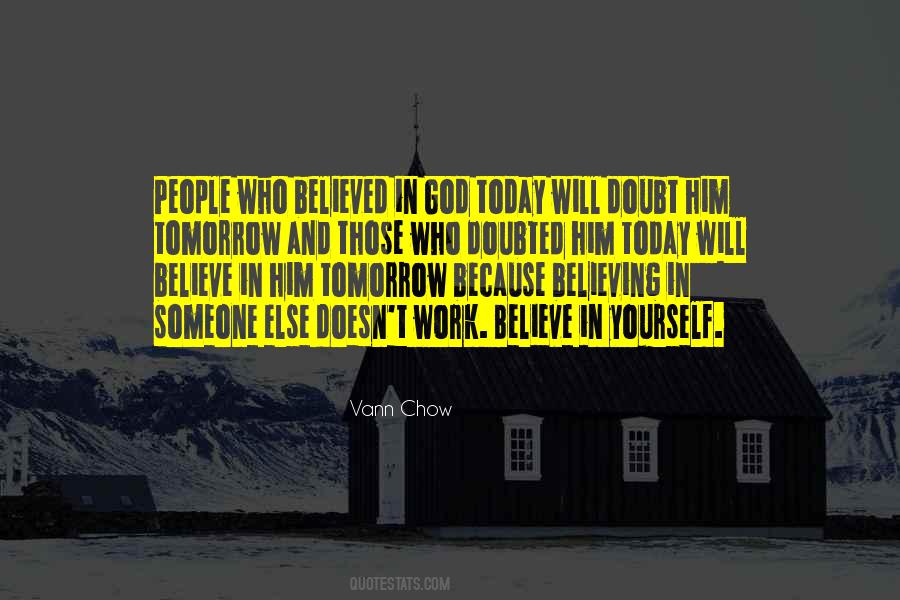 #38. when things seem difficult and we're tempted to doubt, we need to trust in what we can't see. - Author: Carey Corp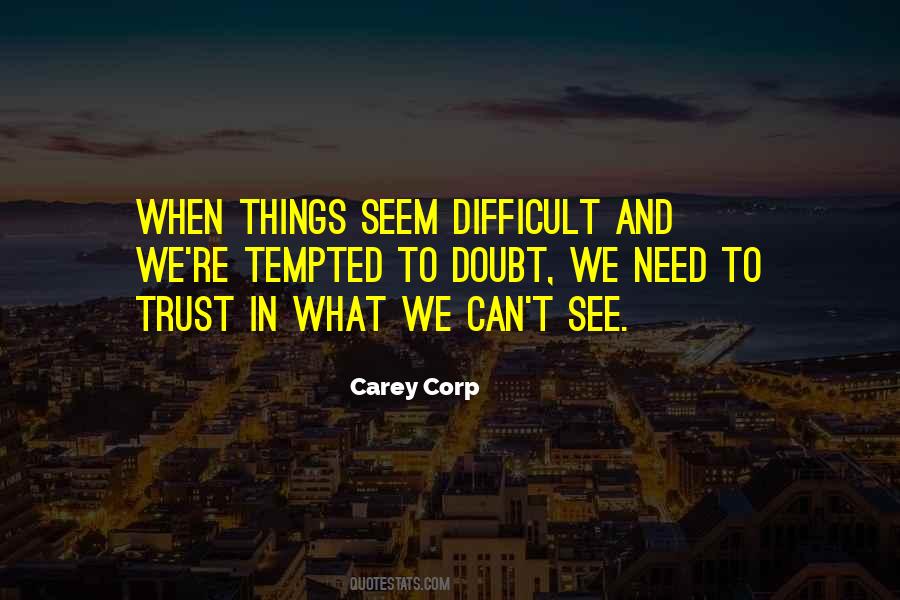 #39. In the attic, a warhead no doubt burns. Everything is combustible. Faith burns. Trust burns. Everything burns to nothing and even nothing burns ... And when there is nothing, there is nothing worth dying for and when there is nothing worth dying for, there is only nothing. - Author: Tim O'Brien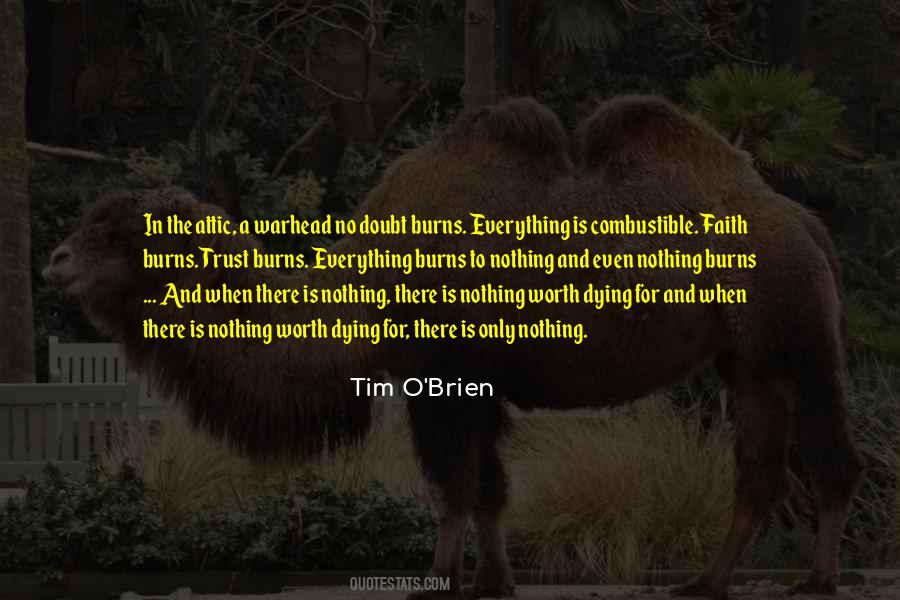 #40. In doubt a man of worth will trust to his own wisdom. - Author: J.R.R. Tolkien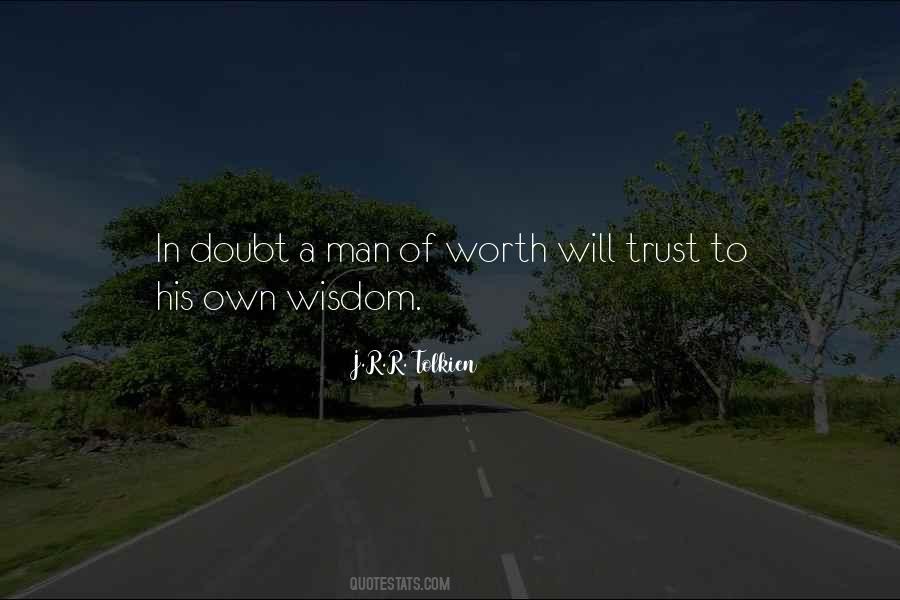 #41. Emotionally, our faith is often muddled by fear, hesitancy, and doubt. But our feelings become irrelevant when Jesus is the object of our faith - when He alone is the One in whom we trust ... not ourselves, not our emotions, not our abilities ... but Him alone. - Author: Wendy Blight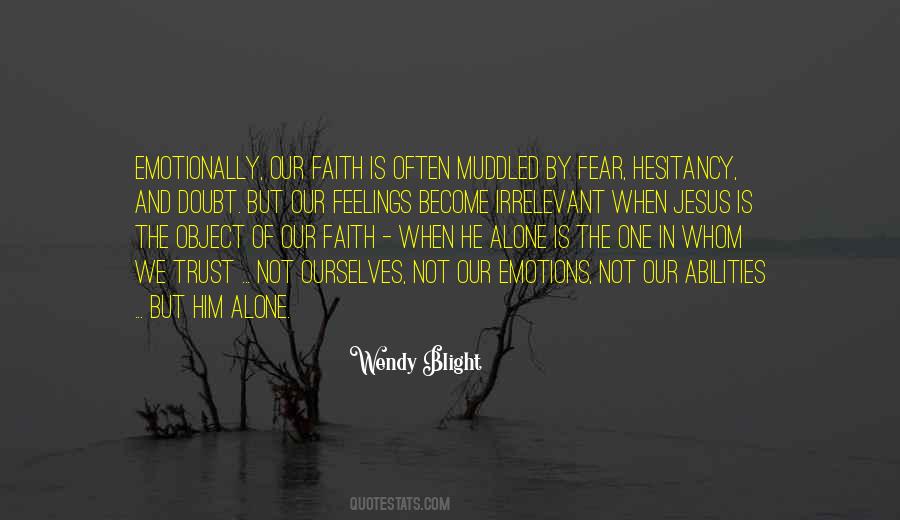 #42. Dogs have given us their absolute all. We are the center of their universe. We are the focus of their love and faith and trust. They serve us in return for scraps. It is without a doubt the best deal man has ever made. - Author: Roger A. Caras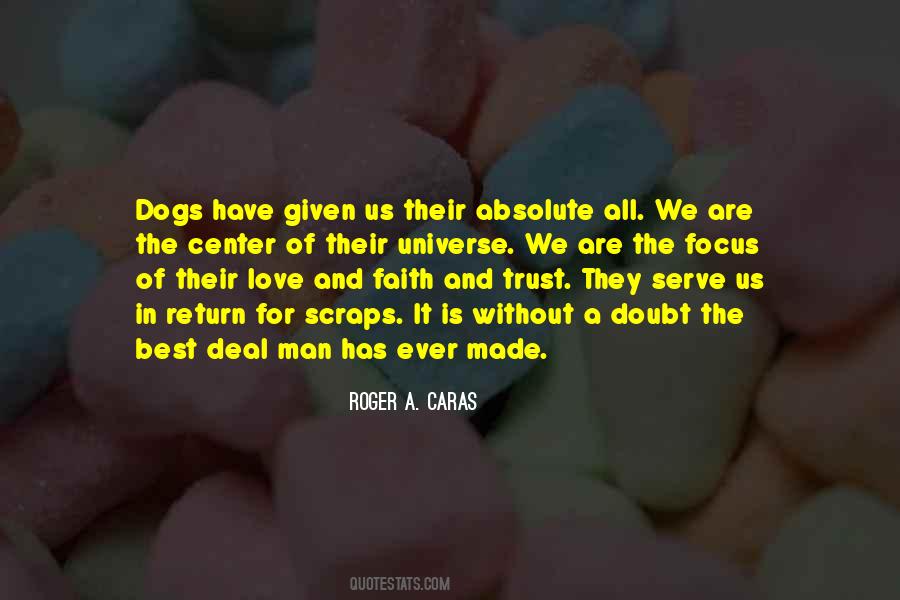 #43. To believe something and not live is like making fun of your abilities. You cannot be really trusted if you can dream and doubt its possibility. - Author: Israelmore Ayivor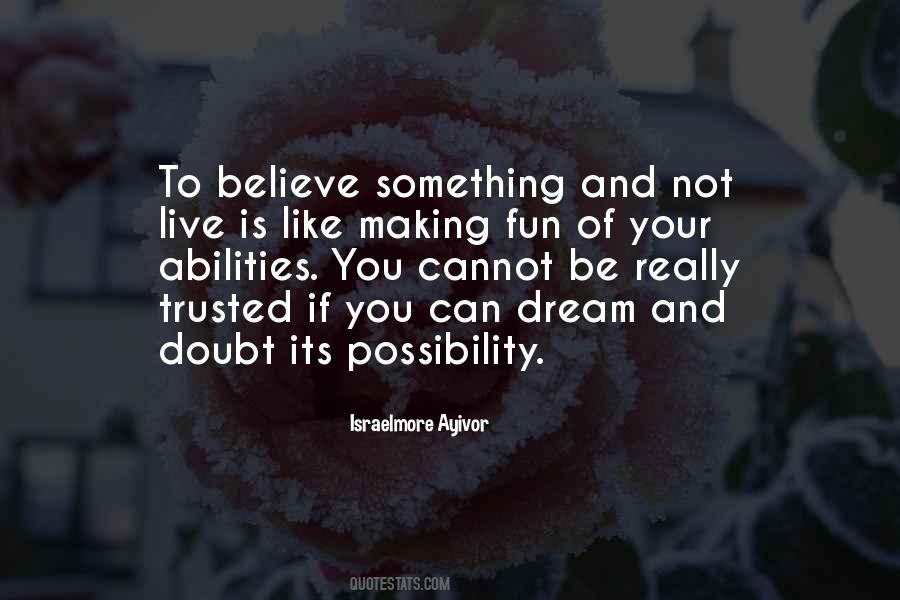 #44. I trust in you, Lord, but keep helping me in my moments of distrust and doubt. - Author: Henri Nouwen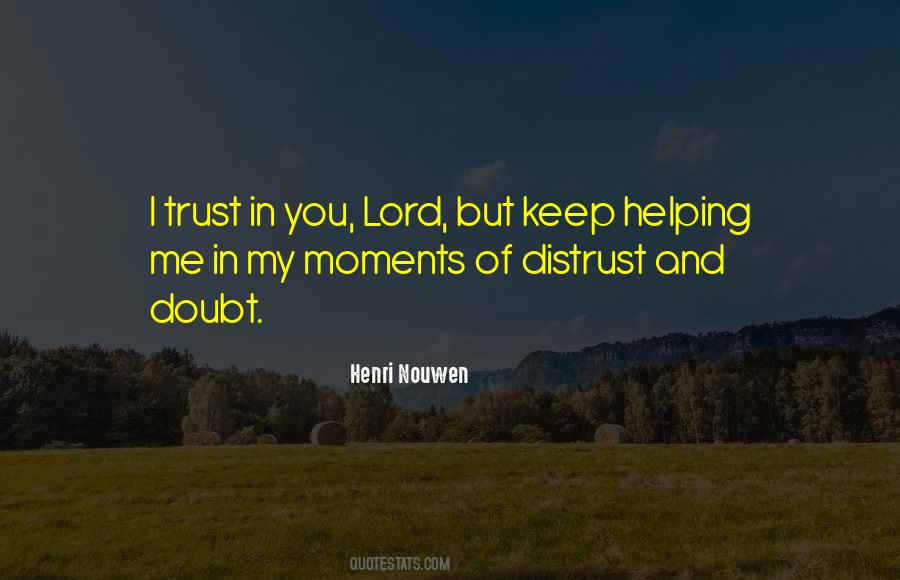 #45. Society? Can we trust us? Doubt it. We're probably not even real, as was revealed in the popular documentary The Matrix. That bloke next door? Made of pixels. Your co-workers? Pixels. You? One pixel. One measly pixel. You haven't even got shoes, for Christ's sake. - Author: Charlie Brooker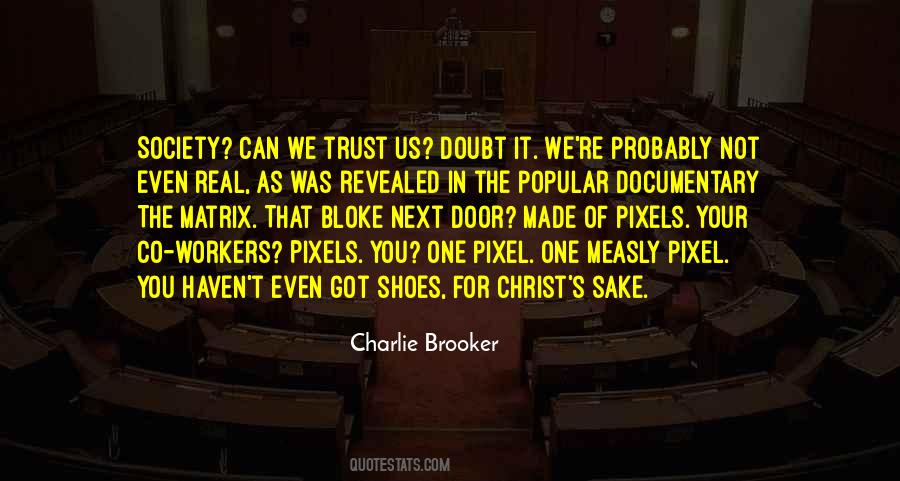 Famous Authors
Popular Topics