Don't Throw Me Away Famous Quotes & Sayings
List of top 50 famous quotes and sayings about don't throw me away to read and share with friends on your Facebook, Twitter, blogs.
Top 50 Don't Throw Me Away Quotes
#1. Getting my father to throw anything away was pretty difficult. He was not trying to hide who he was, and he said, you don't have to hide the fact that I'm manic-depressive. You can tell people that's who I am. It's - explains a lot about your situation. - Author: Maya Forbes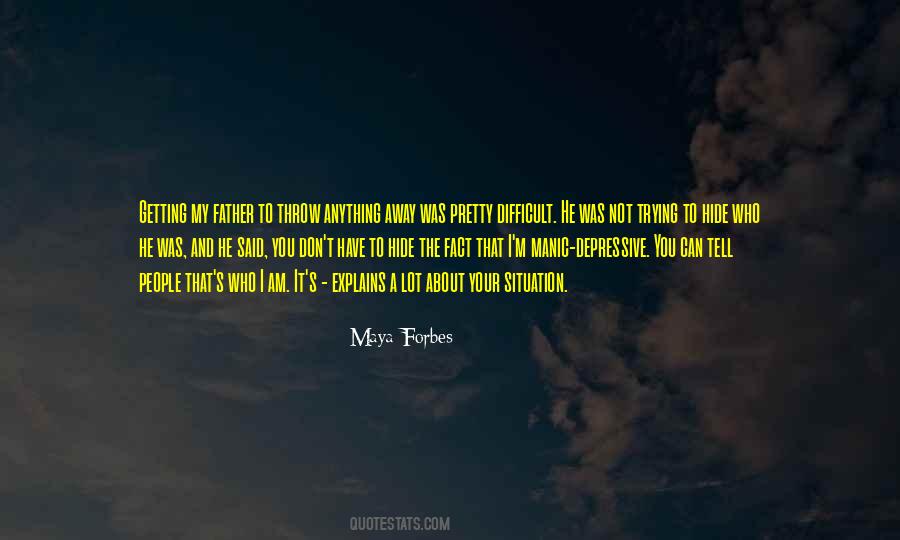 #2. Don't be so quick to throw away your life. No matter how disgraceful or embarrassing it may be, you need to keep struggling to find your way out until the very end. - Author: Norihiro Yagi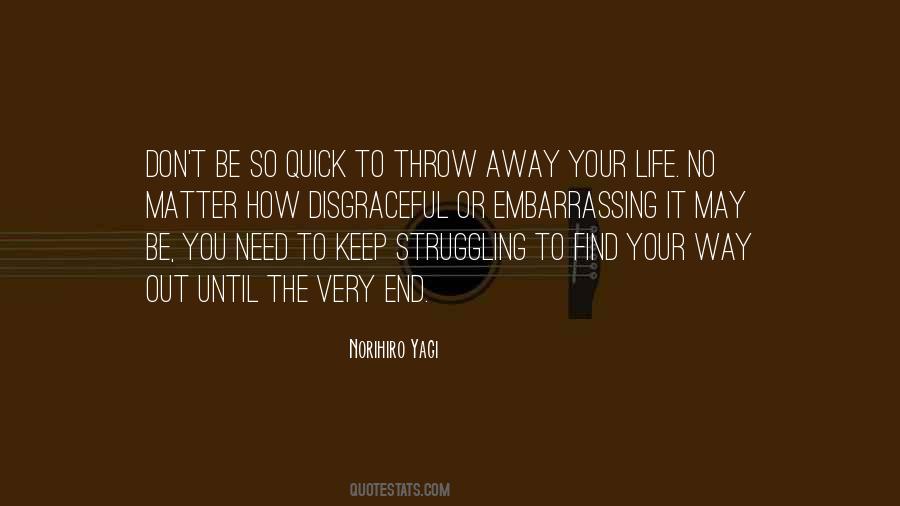 #3. When you give up a bit of work don't (unless it is hopelessly bad) throw it away. Put it in a drawer. It may come in useful later. Much of my best work, or what I think my best, is the re-writing of things begun and abandoned years earlier. - Author: C.S. Lewis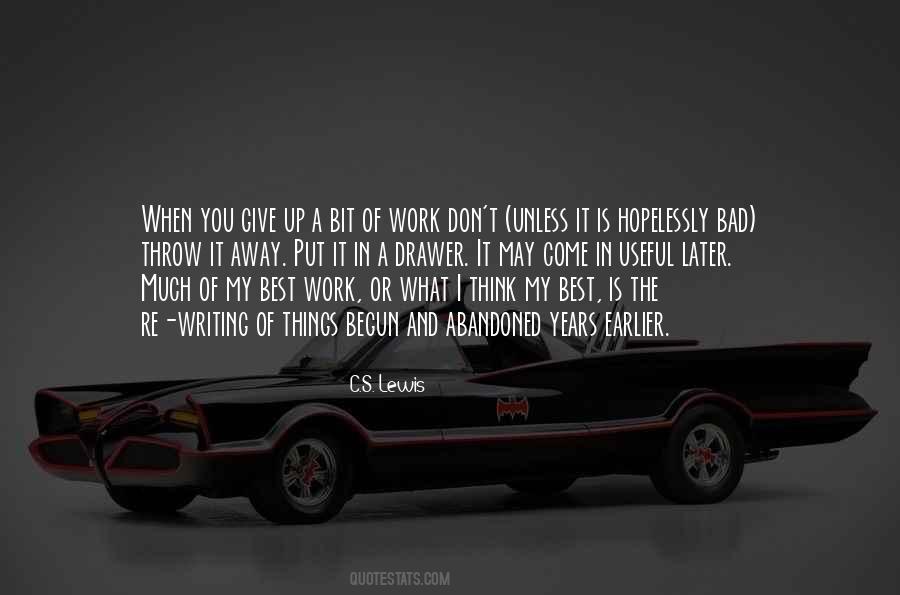 #4. Don't throw away your conscience. - Author: George McGovern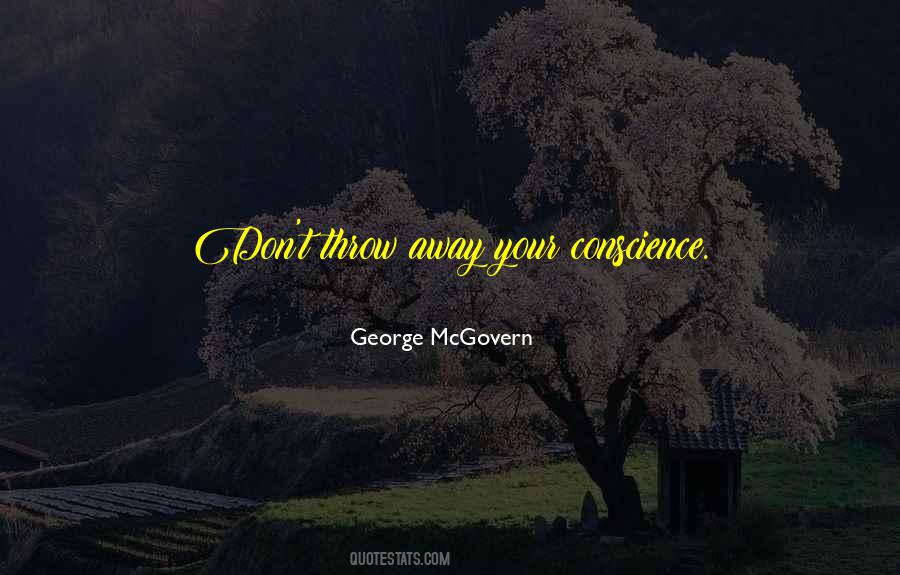 #5. I don't make demands. I don't tell you how it should be. I'll give you options, and it's up to you to select or throw 'em away. That should be the headline: If you're insecure, don't call. - Author: Russell Crowe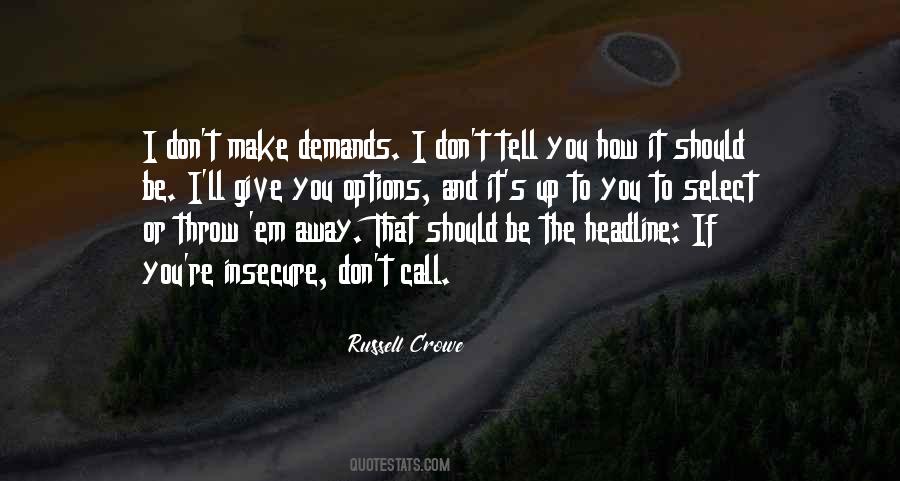 #6. There are cultures that believe having your photograph taken steals your soul. I don't think there is a stolen soul in a picture, but still - why is it so hard to throw them away? - Author: Susan Orlean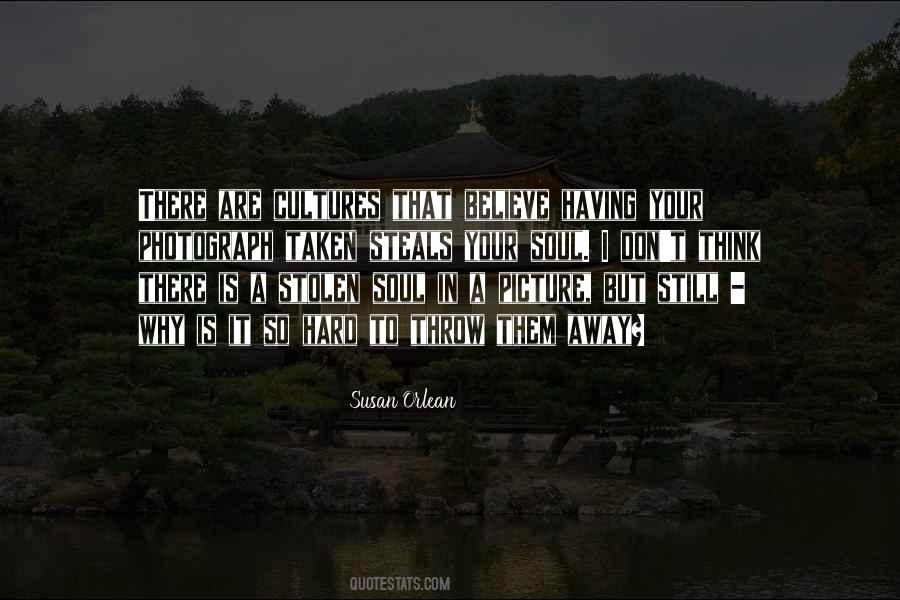 #7. Everyone thinks I'm a coward. This is my chance to prove them wrong." "Don't throw your life away because of a few jokes made at your expense," said Hugh. "Who gives a whit what anyone else thinks? - Author: Ransom Riggs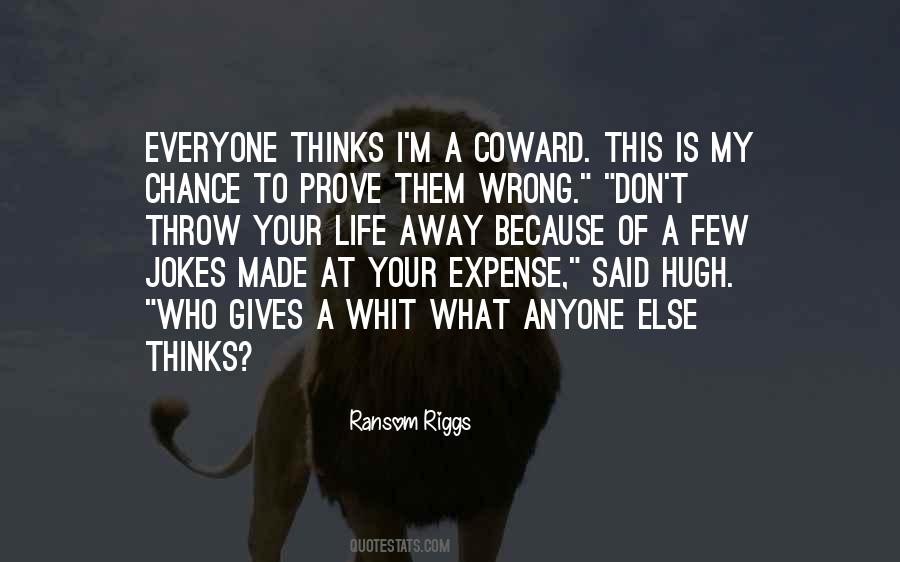 #8. You don't need to throw something away just because you're afraid of how it might turn out. - Author: Jeanette Battista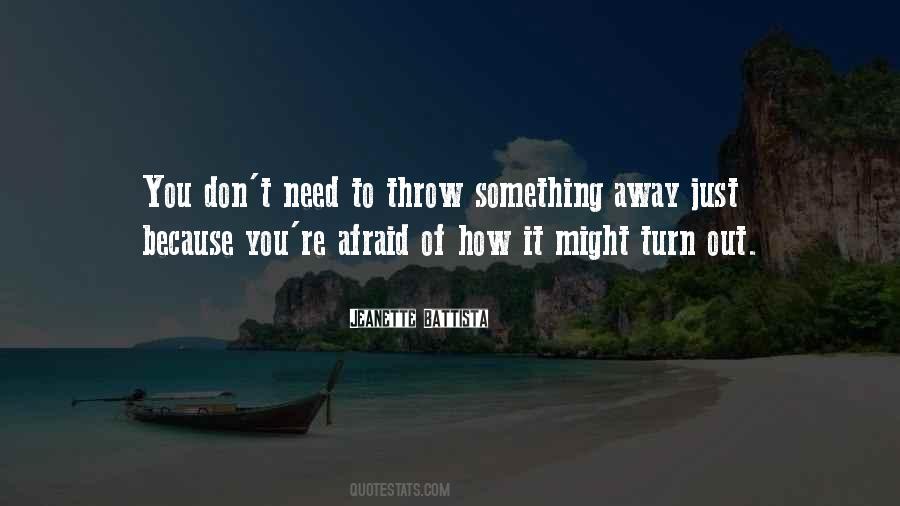 #9. Don't ask me about prayer rocks
Anyplace I put my head is a prayer rock.
Don't talk of direction
All six directions face Him.
Gardens, flames, nightingale,
whirling dance, and brotherhood
Throw all these away
and throw yourself into His love. - Author: Rumi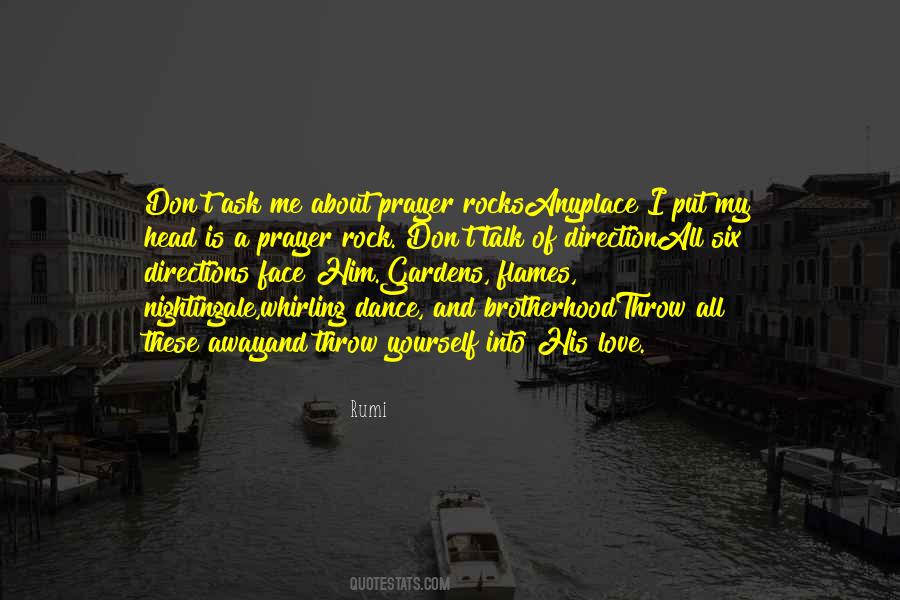 #10. One, remember to look up at the stars and not down at your feet. Two, never give up work. Work gives you meaning and purpose and life is empty without it. Three, if you are lucky enough to find love, remember it is there and don't throw it away. - Author: Stephen Hawking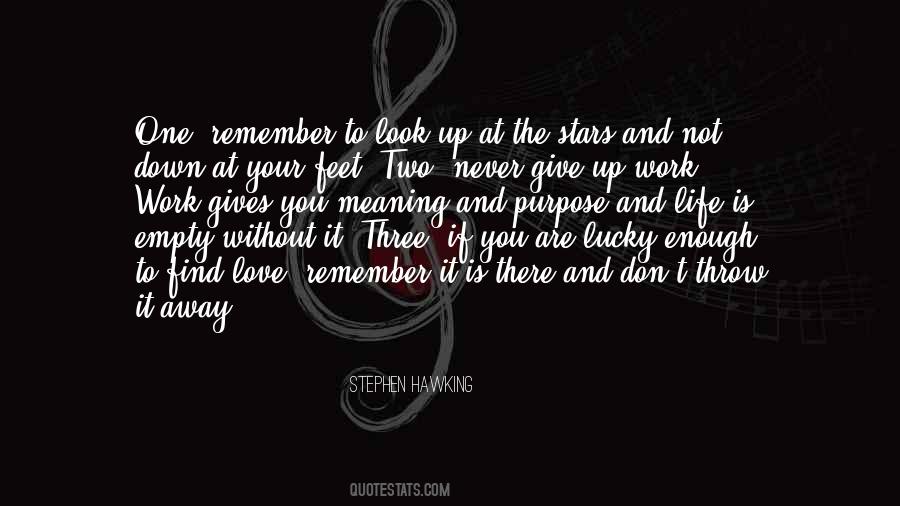 #11. Noah crouched over Gansey's body. He said, for the last time, 'You will live because of Glendower. Someone else on the ley line is dying when they should not, and so you will live when you should not.'
Gansey died.
'Goodbye,' Noah said. 'Don't throw it away.'
He quietly slid from time. - Author: Maggie Stiefvater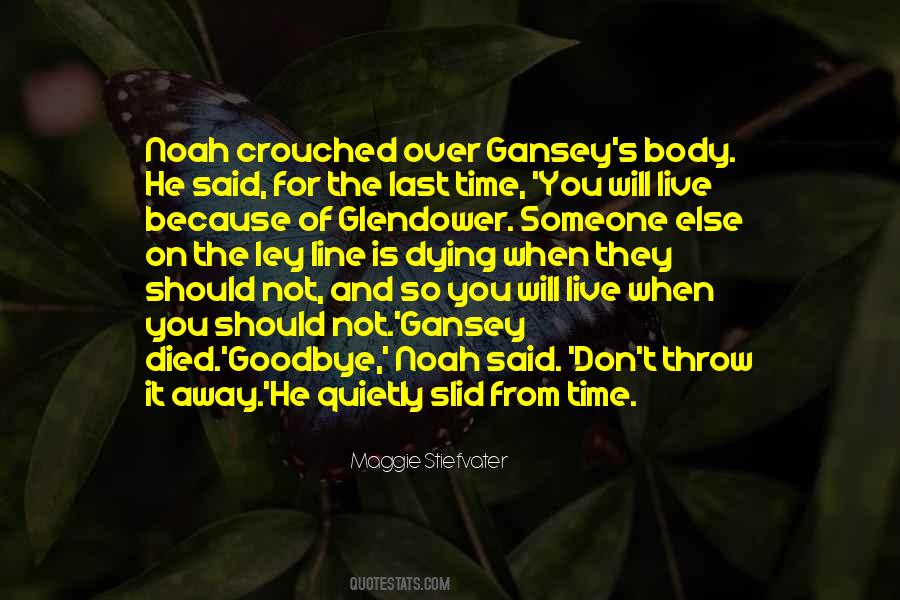 #12. Don't throw any of yourself away. Don't worry about a grand scheme or unified vision for your work. Don't worry about unity
what unifies your work is the fact that you made it. One day you'll look back and it will all make sense. - Author: Austin Kleon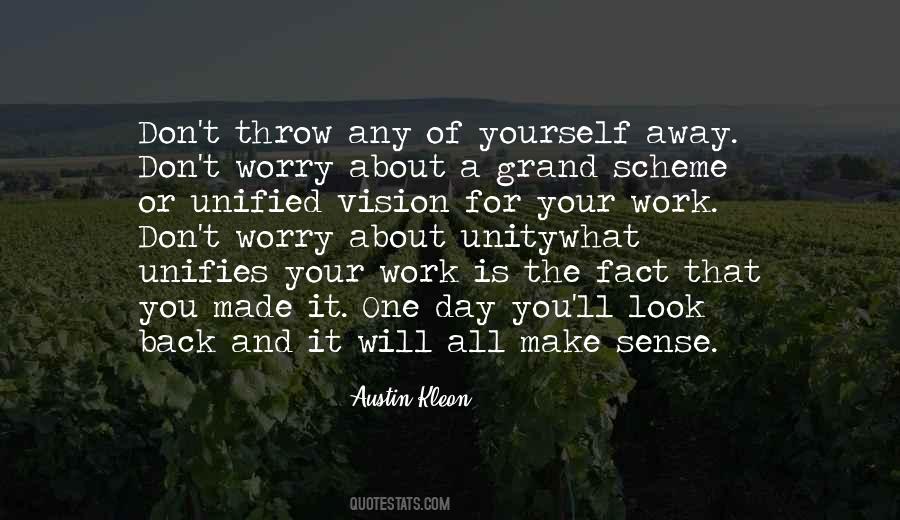 #13. I don't keep a diary and I throw away nearly all the paper I might have kept. I don't keep an archive. There's something worrying about my make-up that I try to leave no trace of myself apart from my plays. - Author: Tom Stoppard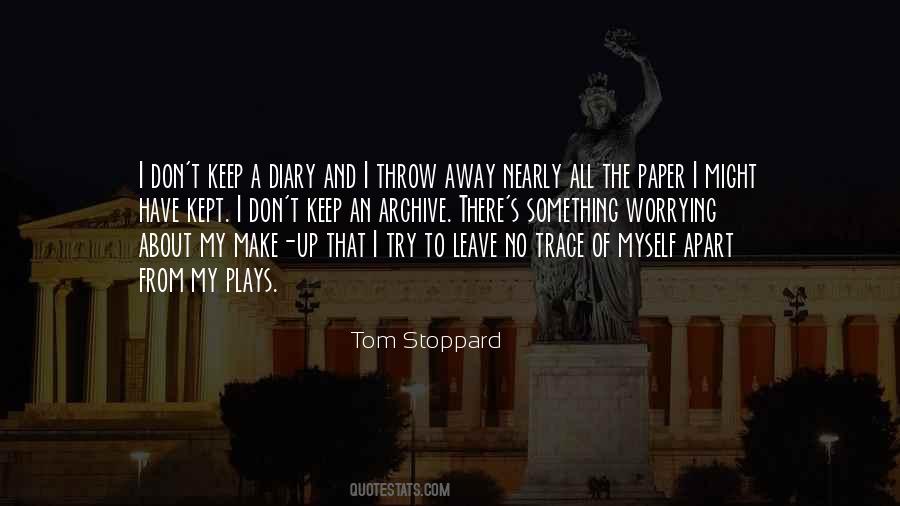 #14. I cannot maintain a semblance of Normal anymore.
I'd rather feel pain than try to fit in with you anymore.
I'll throw it all away, like everybody else.
I can finally be myself.
Cuz I don't want to be myself. - Author: Slipknot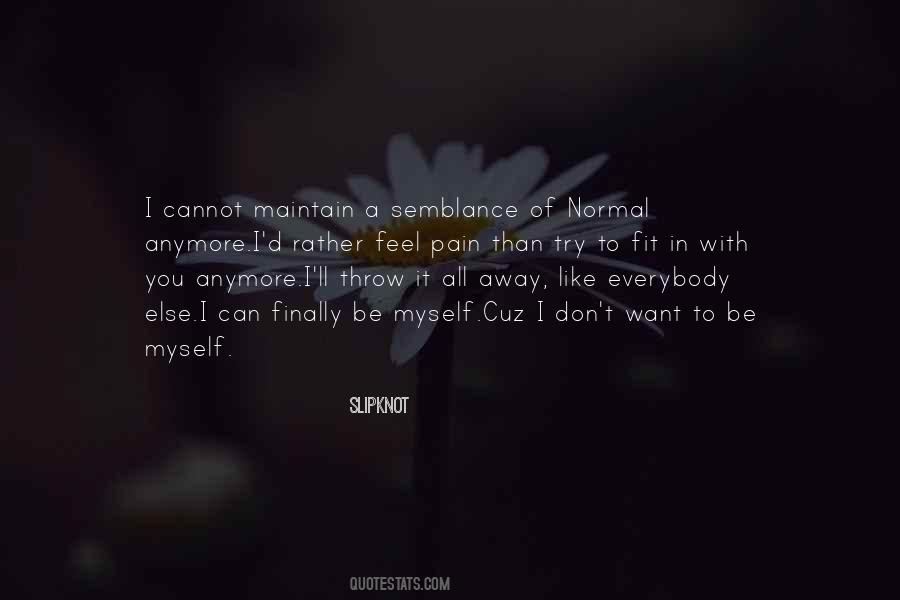 #15. Don't throw away love. - Author: Cameron Dokey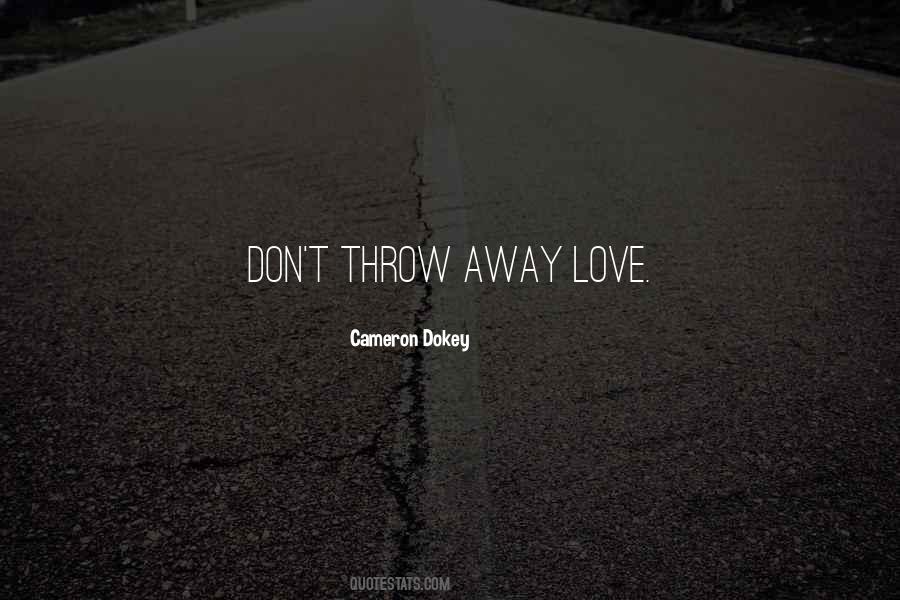 #16. You don't have to pray to attract great things, because great things are attracted to you already. Pray that you won't throw them away once they get here. - Author: Marianne Williamson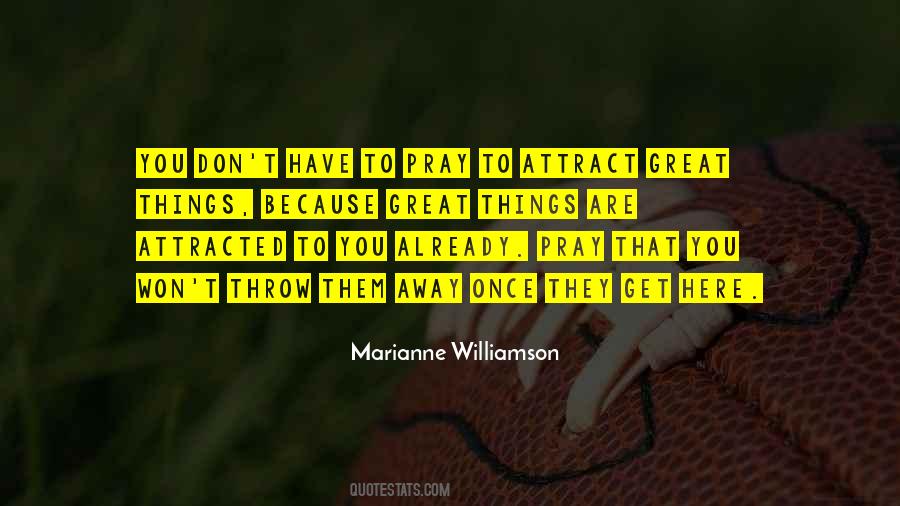 #17. We have to start with the little babies who are born now, socialize them in freedom and critical thinking. We don't have to throw away their faith. People confuse the two, thinking if you are enlightened that means apostasy. It doesn't. - Author: Ayaan Hirsi Ali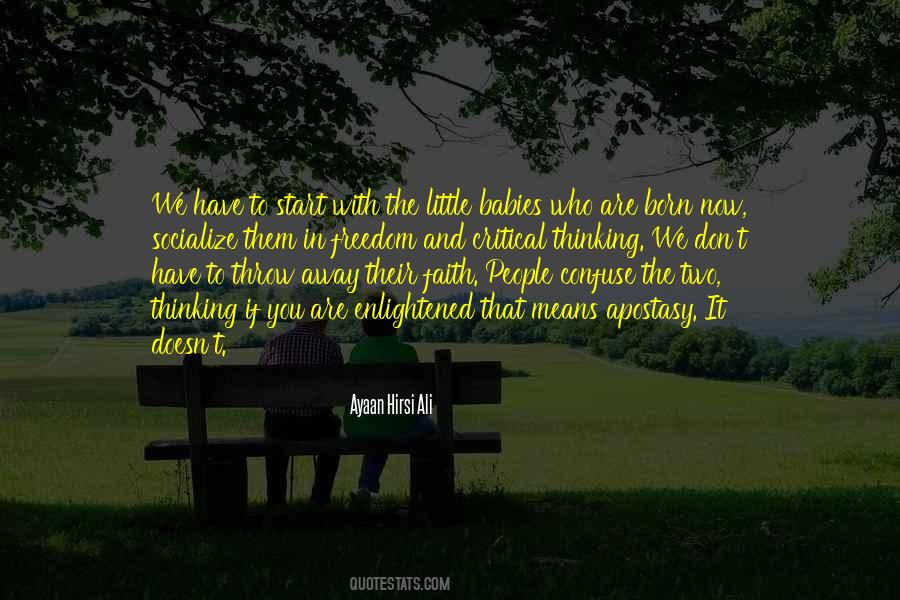 #18. Well, the nice thing about animation, you don't even really have to account for yourself. All of the physical stuff that you work on as an actor, you just throw away. - Author: Paul Newman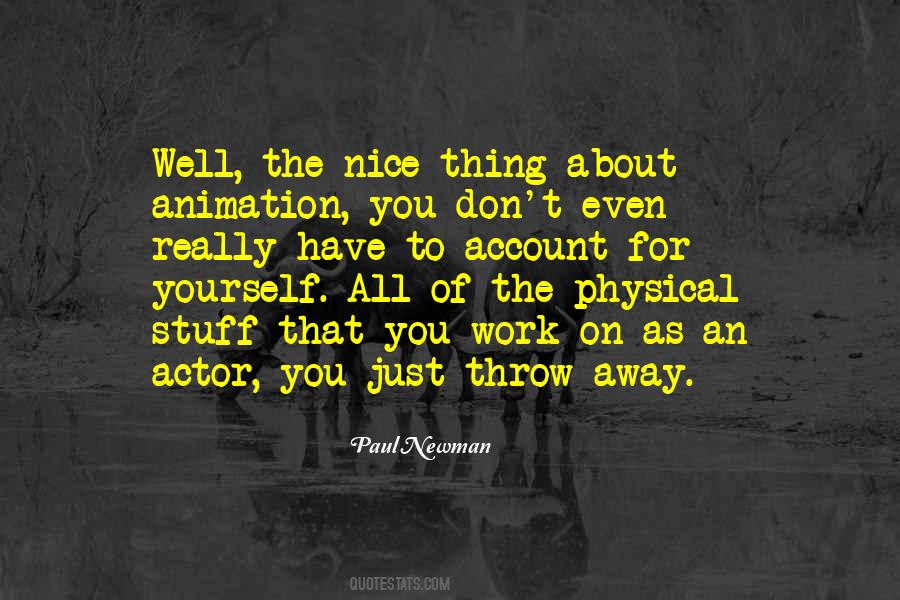 #19. You may think you don't want to throw your life away for mere fleeting euphoria. But, once you get a taste, it doesn't feel so mere.
From then on the planet becomes a waiting room. The rest of your life devolves to no more than the time between highs. - Author: Jerry Stahl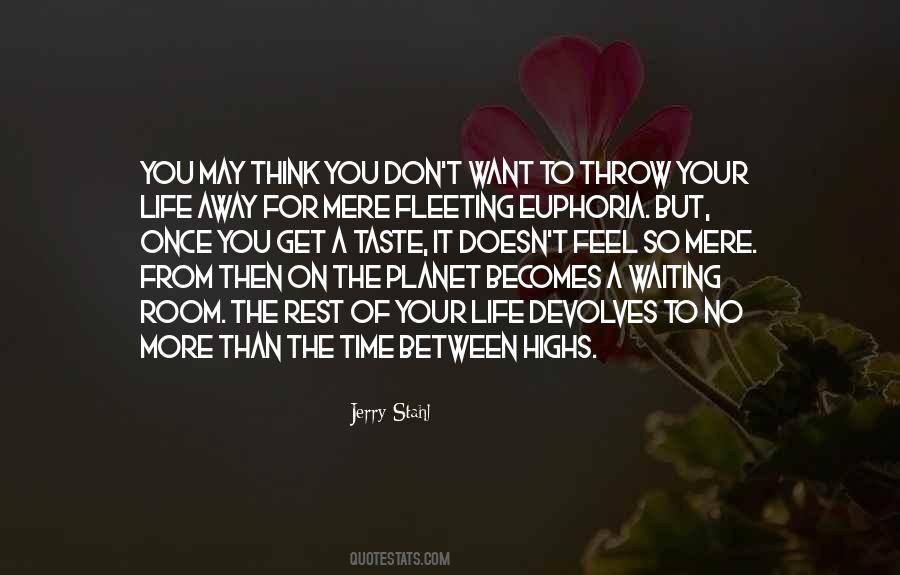 #20. All I want to shout is 'Moaty, it's Gazza!', and I guarantee me and him could sit and chat. I would say, 'Why don't you just put the gun away, throw it in the river? The police are not going to kill you. - Author: Paul Gascoigne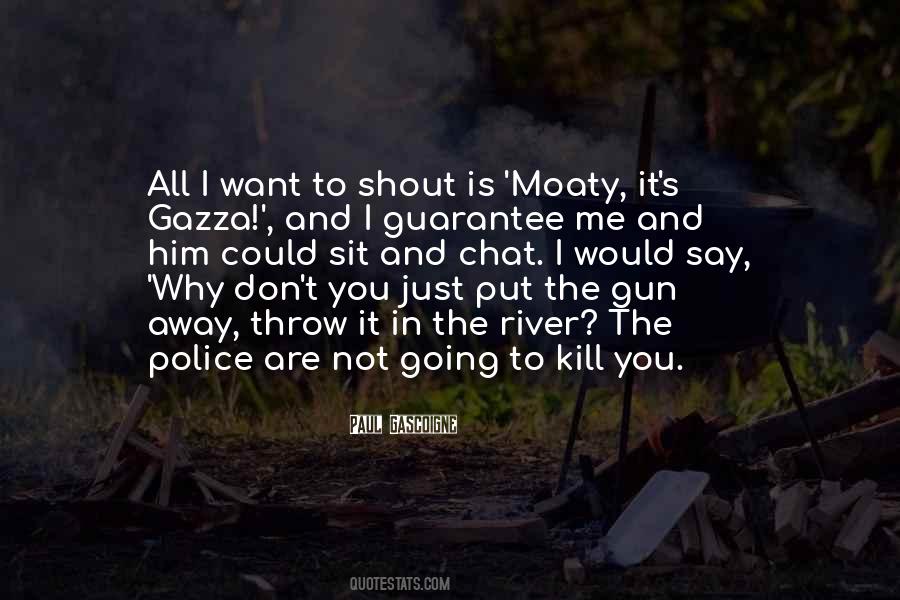 #21. Every audition, I walk out the door and throw the sides away immediately. You did it, now go home. And to me, that's kind of a baptism. If they call you, they call you. And if they don't, it's fine. - Author: Michael Mosley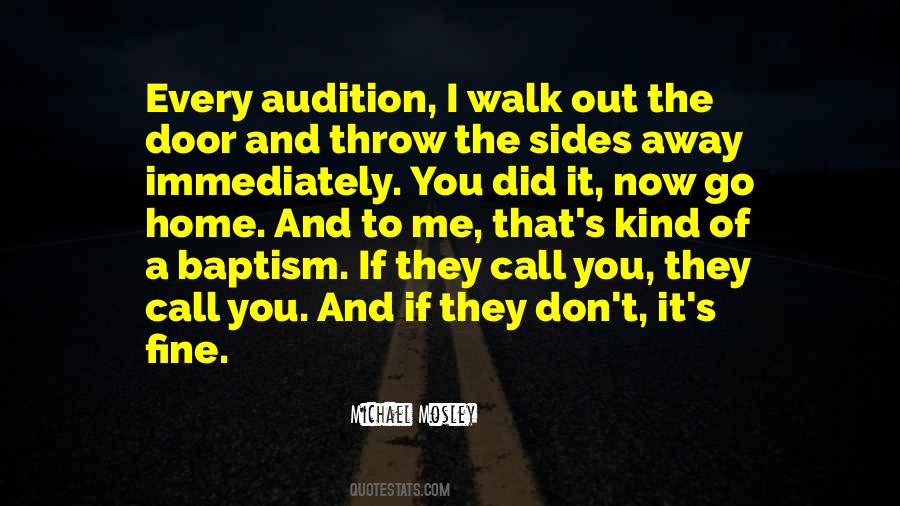 #22. My daily sins require daily distribution of God's grace. In that sense, it never ceases to surprise me because I don't deserve any of it. I mean, I deserve to be locked in a cage and for God to throw away the key. - Author: Tullian Tchividjian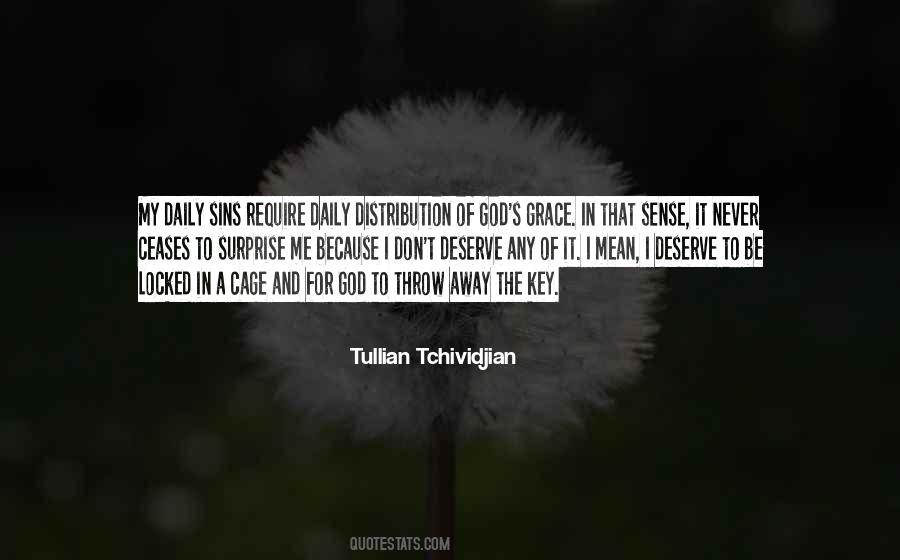 #23. You should go then. Don't go. Don't bloody leave me. Throw your arms around me. I don't care if you smear my face with paint, Anna. Tell me you love me. Show me you still want me. Torture me at bit more.Oh, God ... she was walking away from me. - Author: Wendy Higgins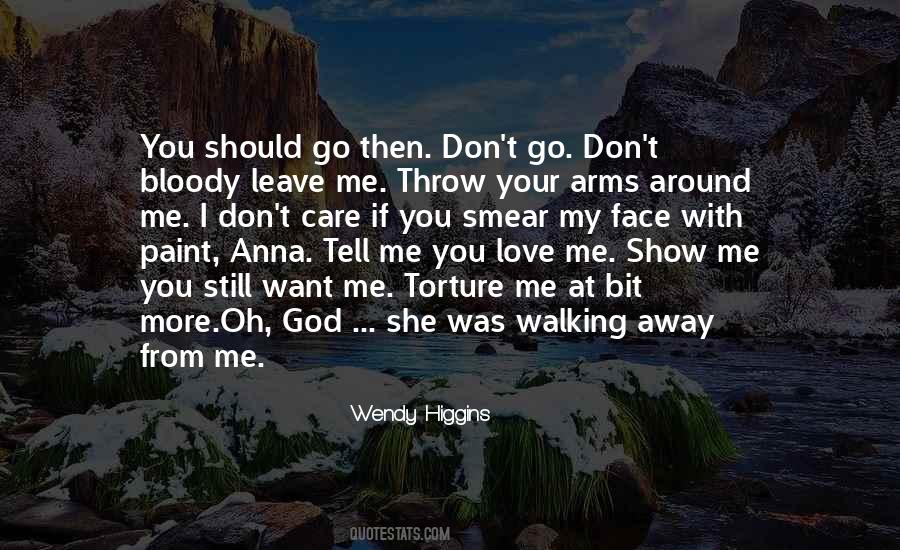 #24. O love, please give me a passionate red recycling bin. I will put my desire in it. I don't ever want to throw love away. - Author: Derrick Williams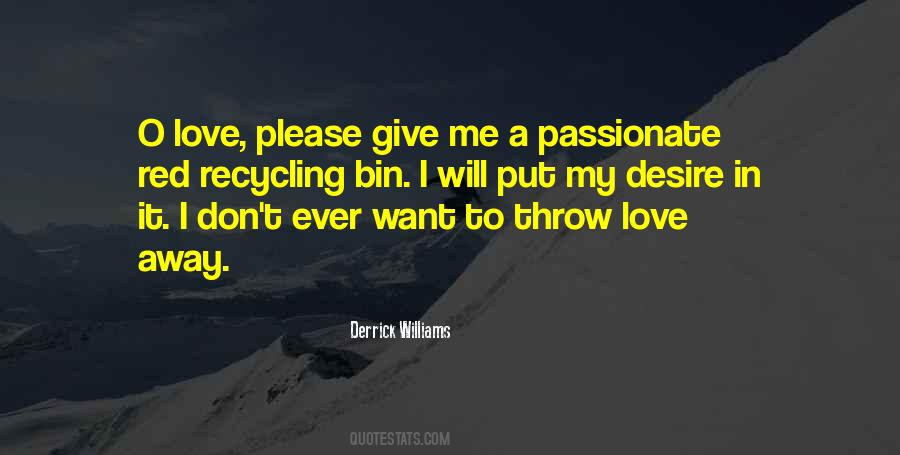 #25. I don't throw money away. First class tickets are very expensive. Why should I fly first class if I can fly business, which is the same thing? I would only fly first class if the ticket included access to some sort of special compartment that could save me if there was any crash. - Author: Silvio Santos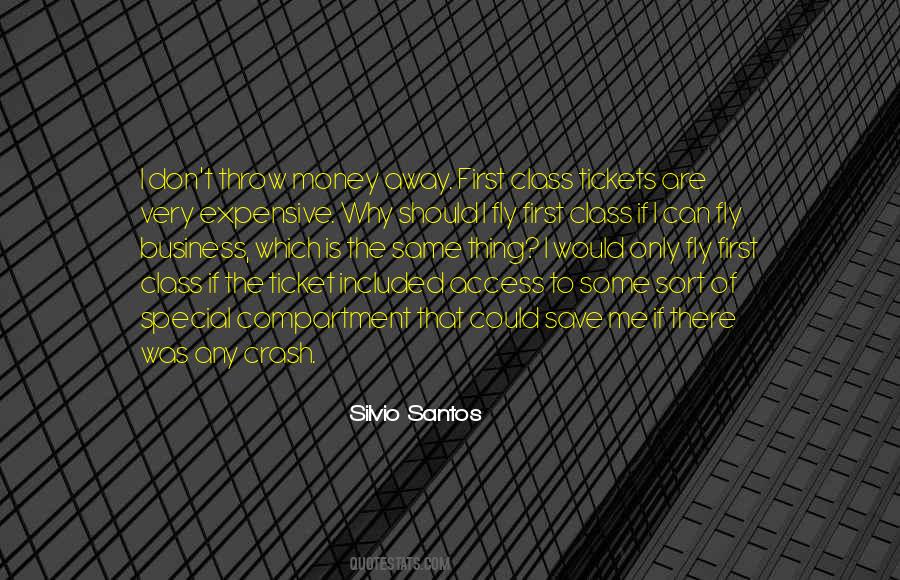 #26. When you wake up everyday
Please don't throw your dreams away
Hold them close to your heart
'Cause we are all a part of
the ordinary miracle - Author: Sarah McLachlan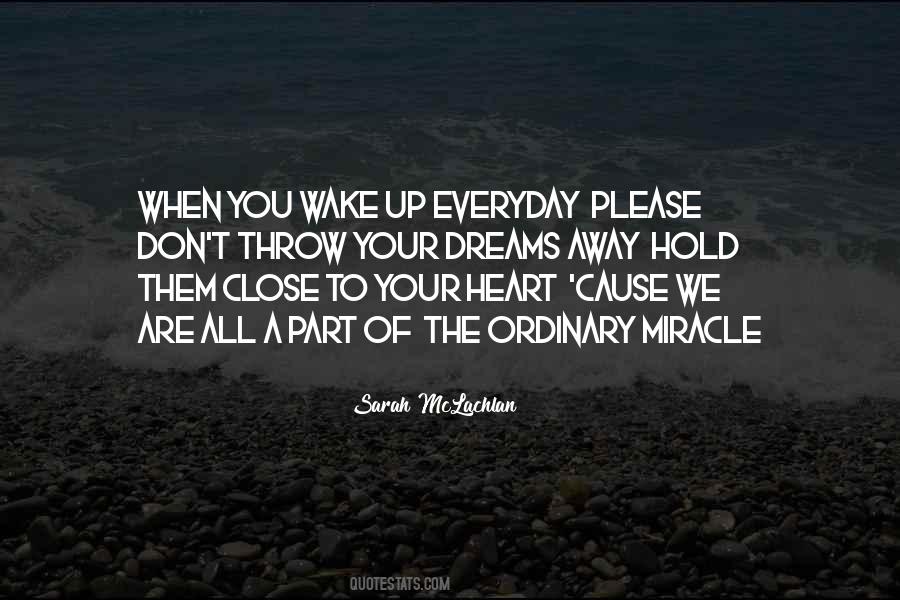 #27. You don't paddle against the current, you paddle with it. And if you get good at it, you throw away the oars. - Author: Kris Kristofferson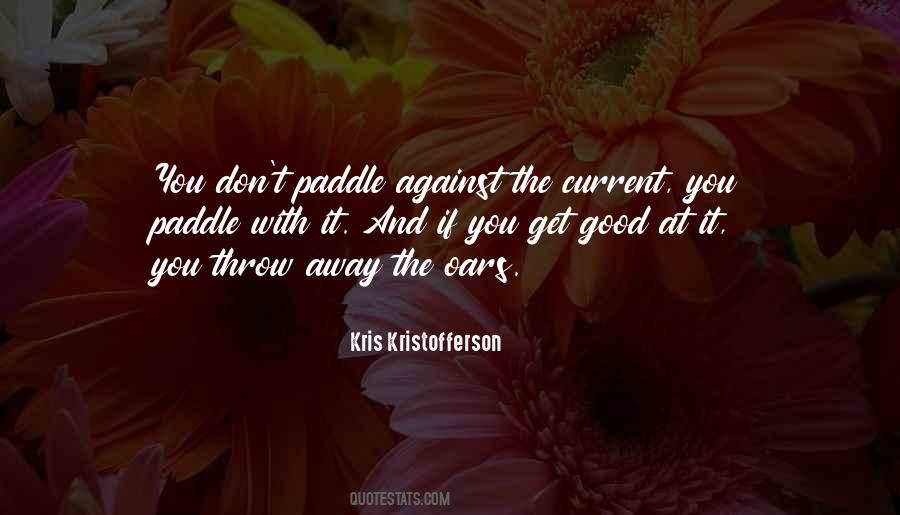 #28. Don't throw away luck on little stuff. Save it up. - Author: Tim O'Brien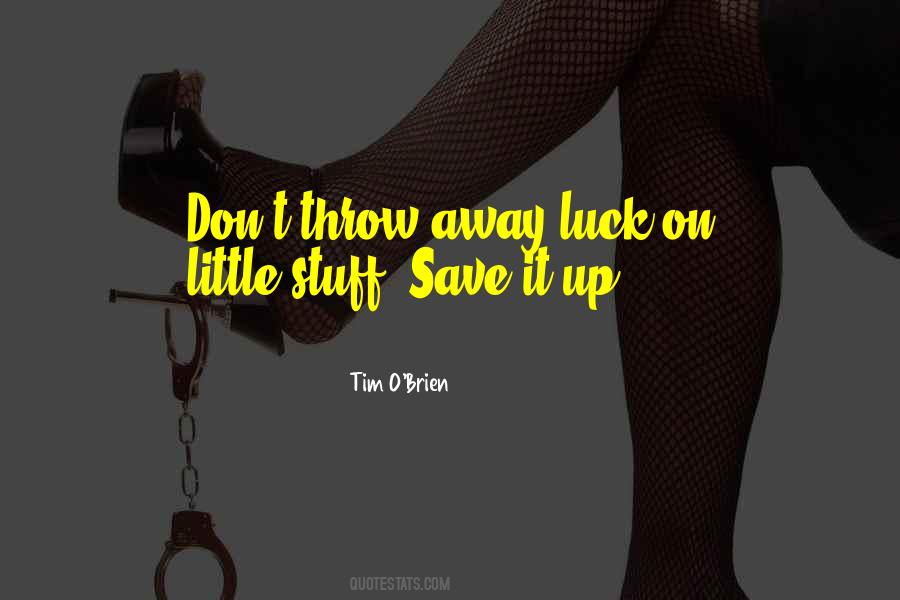 #29. Don't throw your life away because of one man. Don't make yourself something he will always be glad he was rid of. Make yourself something he will wish he had kept. - Author: Lael Morgan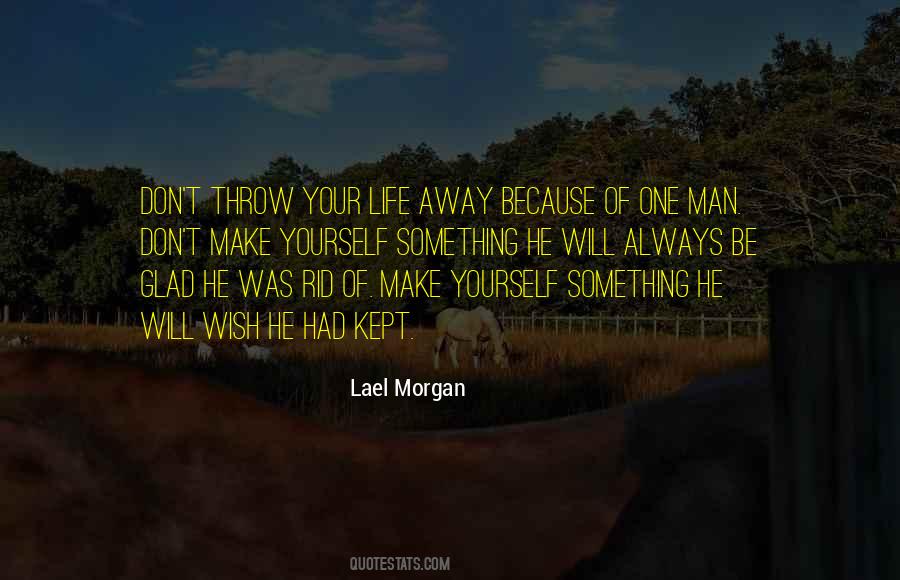 #30. Love Jo all your days, if you choose, but don't let it spoil you, for it's wicked to throw away so many good gifts because you can't have the one you want. - Author: Louisa May Alcott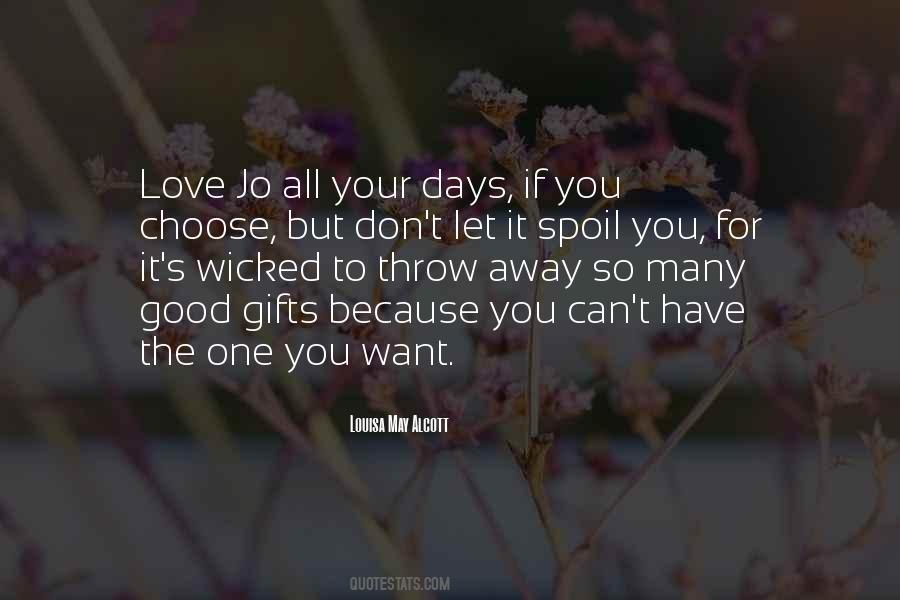 #31. You don't get to pick which parts of me you find acceptable and throw away what you don't. - Author: Jessica Park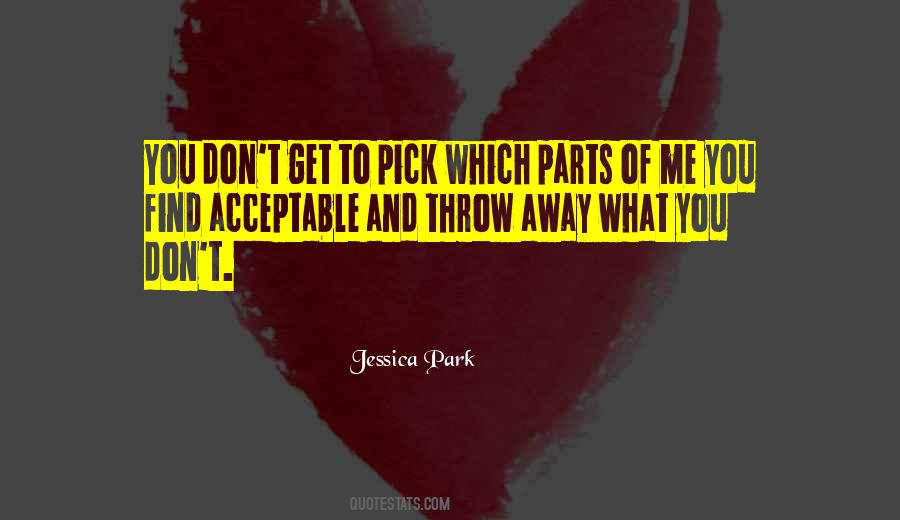 #32. We don't ask any people to throw away any good they have got; we only ask them to come and get more. What if all the world should embrace this Gospel? They would then see eye to eye, and the blessings of God would be poured out upon the people, which is the desire of my whole soul. - Author: Joseph Smith Jr.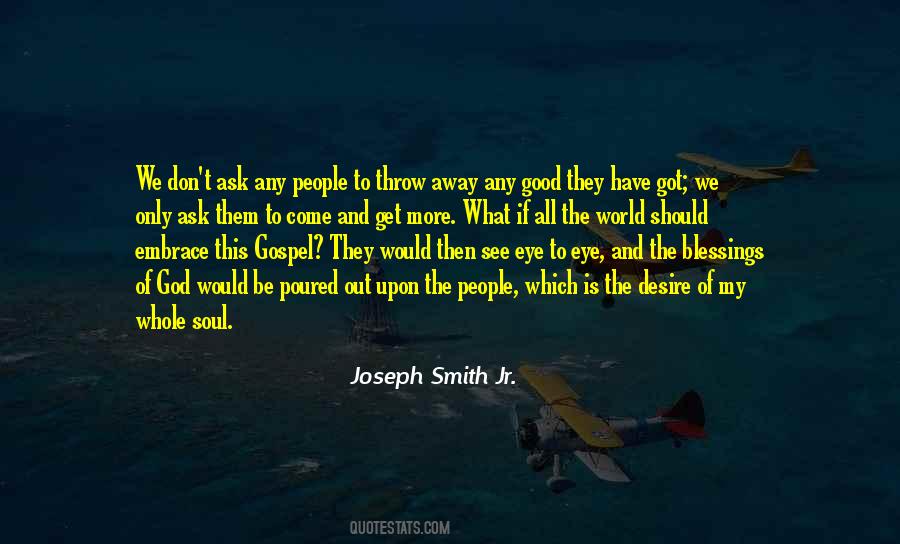 #33. I don't want to throw everything away for something uncertain. - Author: David Levithan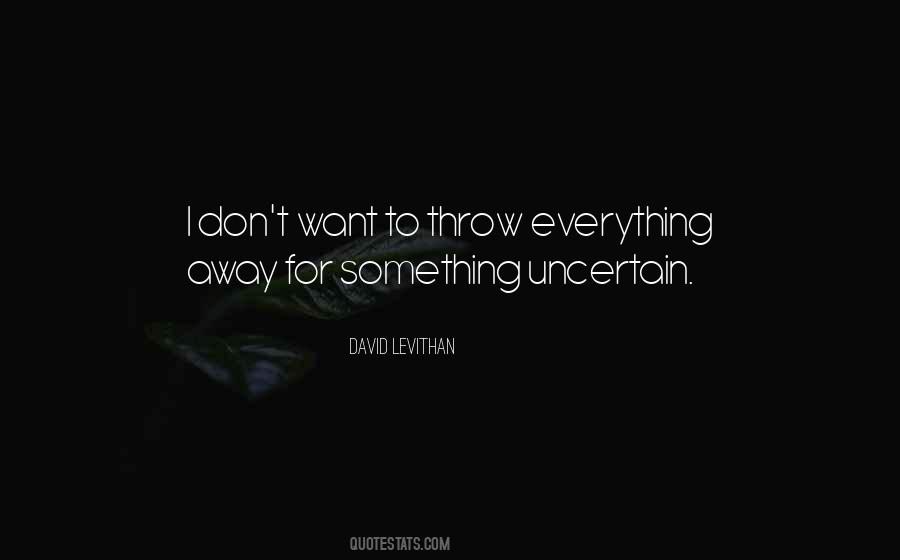 #34. You don't throw away the love of a lifetime because someone gets injured - that's when you prove what your love's really made of. - Author: Nicole Williams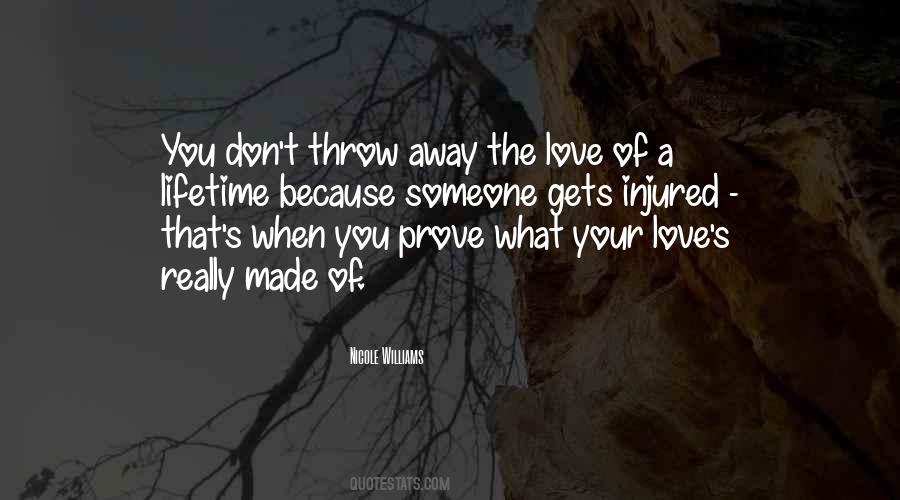 #35. Armistice Day has become Veterans' Day. Armistice Day was sacred. Veterans' Day is not.
So I will throw Veterans' Day over my shoulder. Armistice Day I will keep. I don't want to throw away any sacred things.
What else is sacred? Oh, Romeo and Juliet, for instance.
And all music is. - Author: Kurt Vonnegut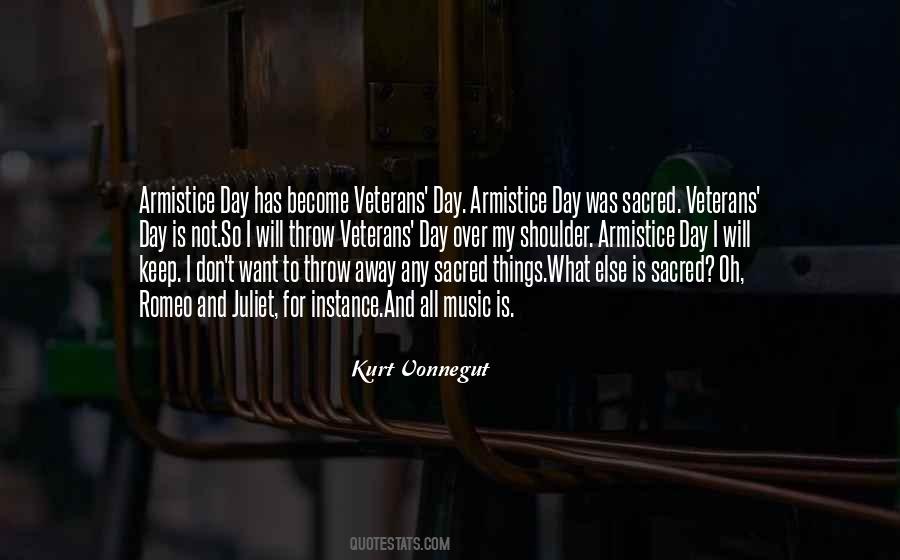 #36. If something doesn't work exactly right, or maybe needs some special treatment, you don't just throw it away. Everything can't be fully operational all the time. Sometimes, we need to have the patience to give something the little nudge it needs. - Author: Sarah Dessen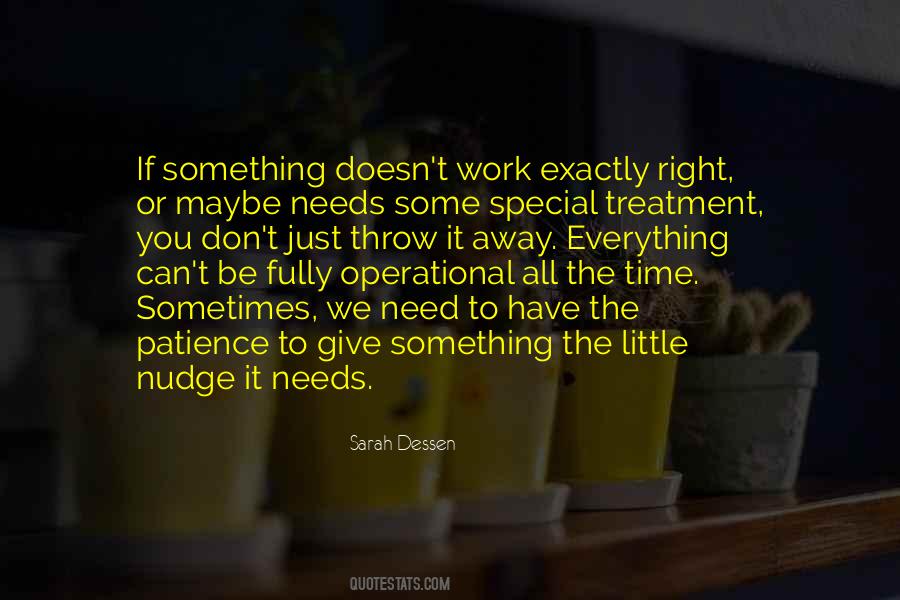 #37. Fame, money and the size of the market are not very important to me. What is, is writing a book that is worth doing and then publishing it. I don't write books for entertainment, for people to pass the time then throw away. - Author: Aidan Chambers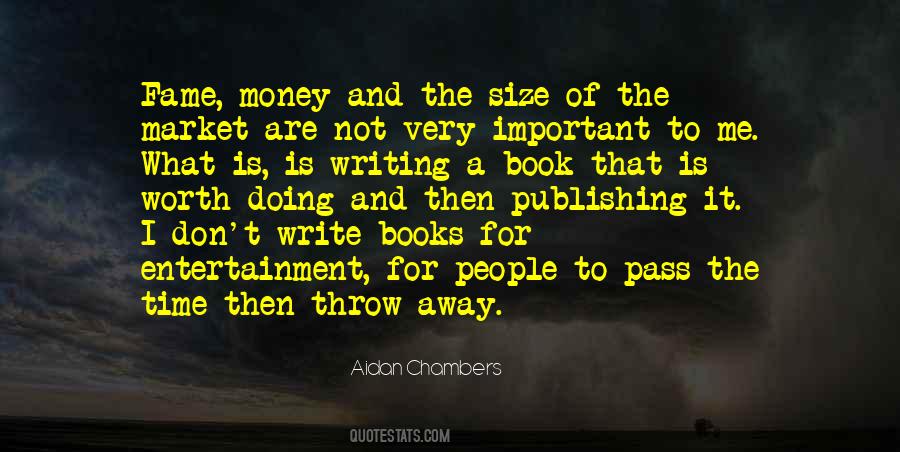 #38. I would quit while you're ahead. Really. It's an awful field. Just torture. Awful. You write and you write, and you have to throw almost all of it away because it's not any good. I would say just stop now. You don't want to do this to yourself. That's my advice to you. - Author: Philip Roth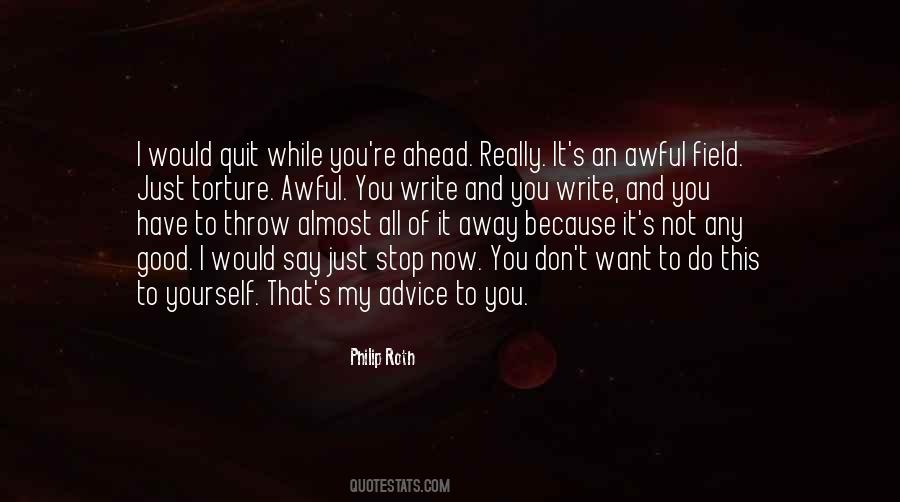 #39. When you are doing one thing - talking on your phone, texting, whatever - you are automatically not doing something else. What is the greatest scarcity in the world today? It's not oil. It's time. Time is precious. Don't throw it away. - Author: Martin Cooper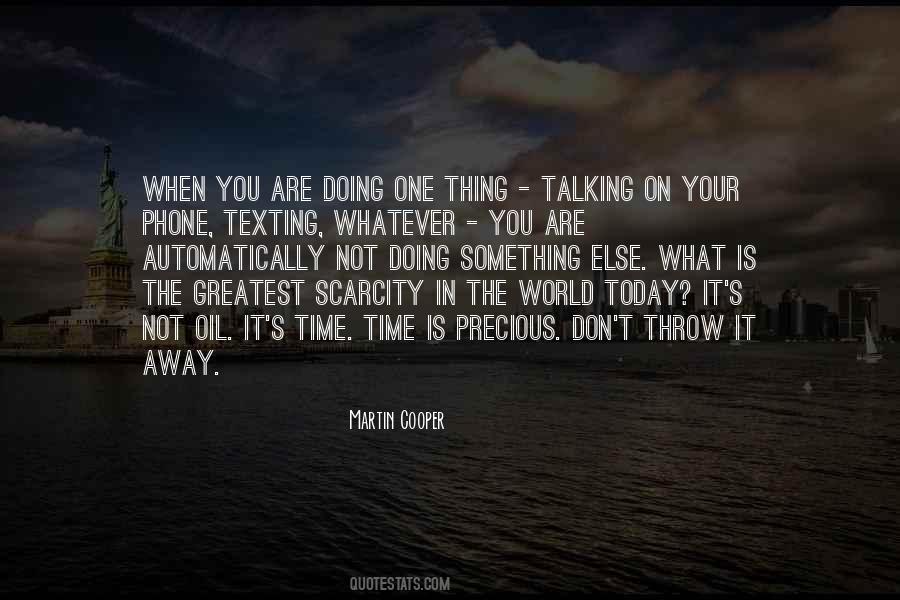 #40. I have had more honors than I've deserved and more rewards than I expected. It can be tempting just to say, 'Well, I'm going to retire.' But what would I do then? Sit in a chair and watch TV? Don't let fulfillment throw away your tomorrow. - Author: Robert H. Schuller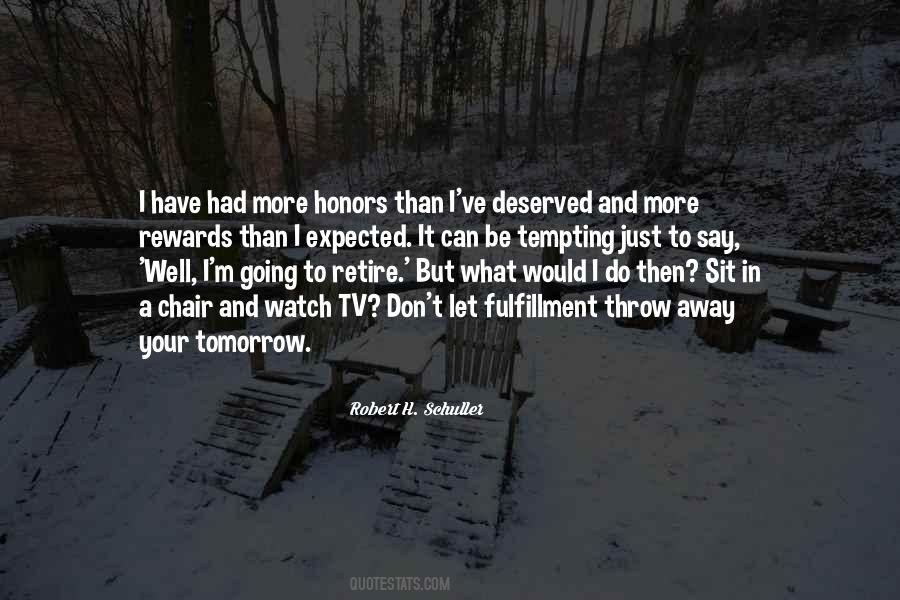 #41. Wisdom stems from personal accountability. We all make mistakes; own them ... learn from them. Don't throw away the lesson by blaming others. - Author: Steve Maraboli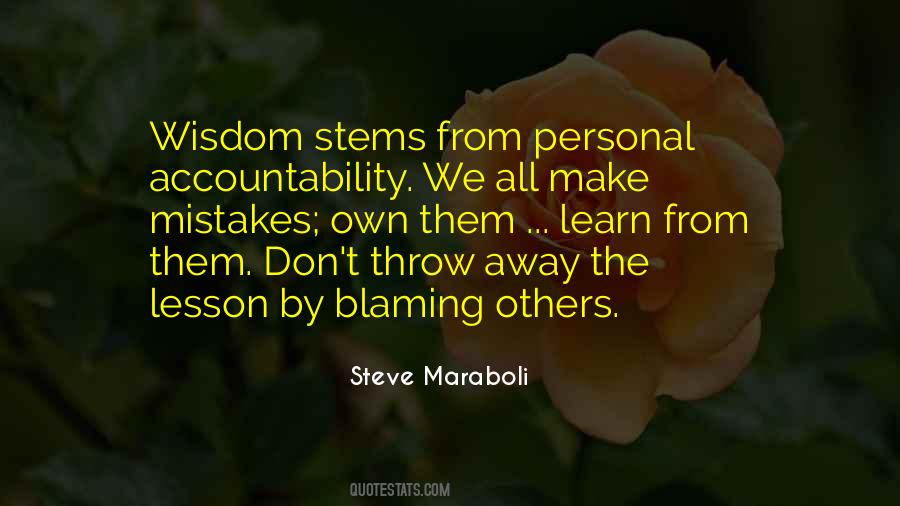 #42. Whatever problems we had back then don't exist anymore. It's why we have this second chance, and we can't throw it away. Besides, you were the one who said we're not exactly the same as we were back then. If we're not the same, then things can turn out differently. - Author: Michelle Madow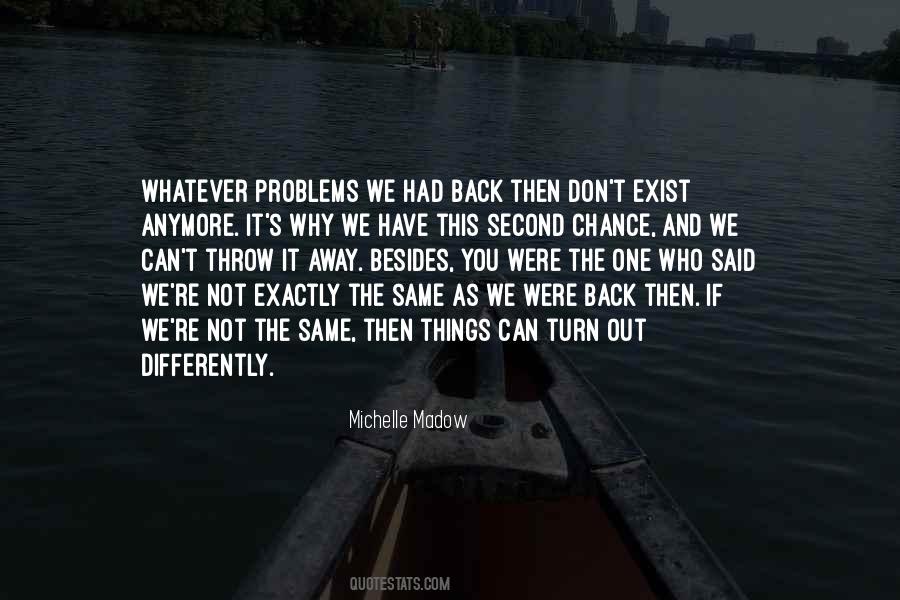 #43. If you can play guitar and sing, you can probably get a gig down the road playing at a restaurant, but don't throw your life away chasing something that is so elusive it will only lead you to regret and may turn you bitter. - Author: Cliff Richard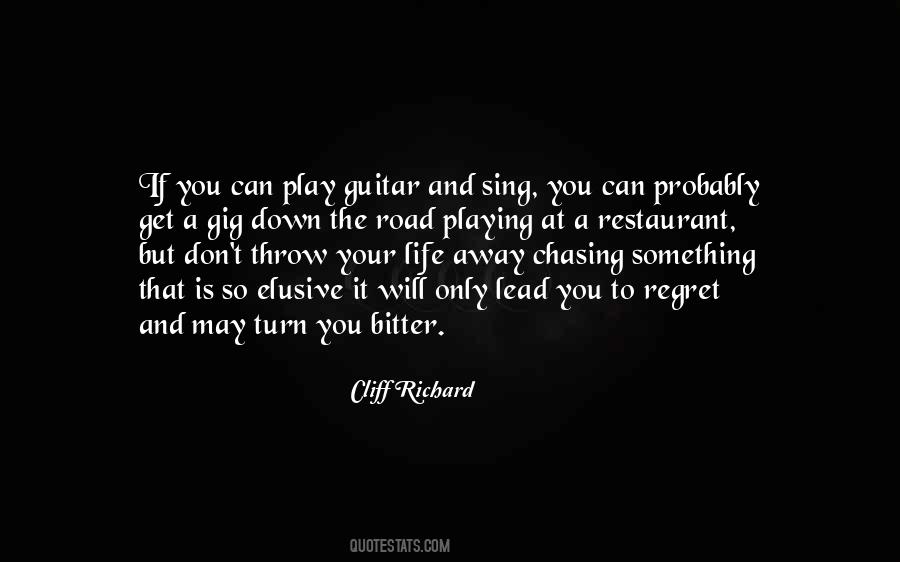 #44. There's no meaning to life as a wolf. If you don't have memories, it's like you never existed. You can't leave anything behind. I mean - how can I defend humanity? It's all that matters. Why would you throw that away? - Author: Maggie Stiefvater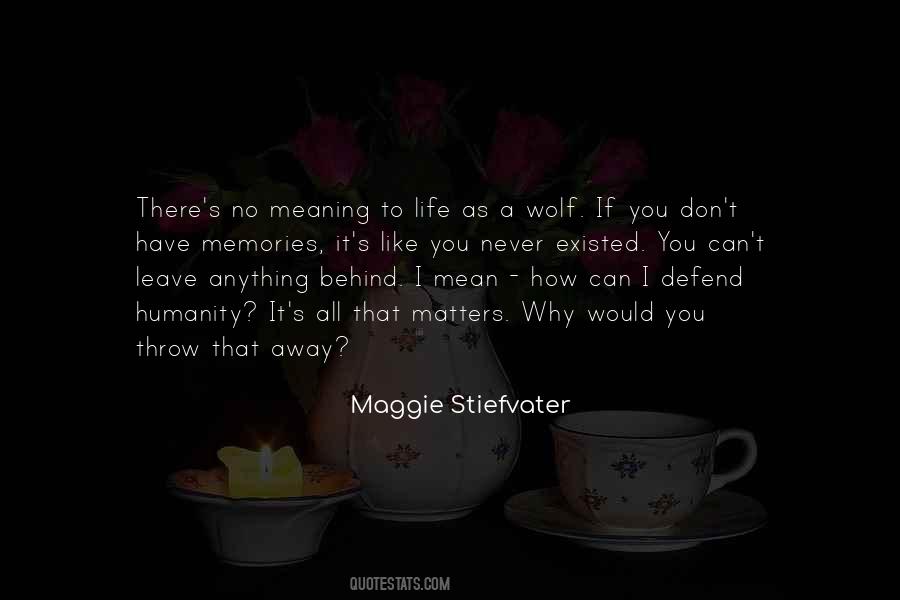 #45. I worked my butt off in high school and received a lot of scholarships for college and to throw all that away for acting was tough for my family, but it was just something I felt my heart pulling me towards and don't regret a single minute of it. I love to act! - Author: Kellan Lutz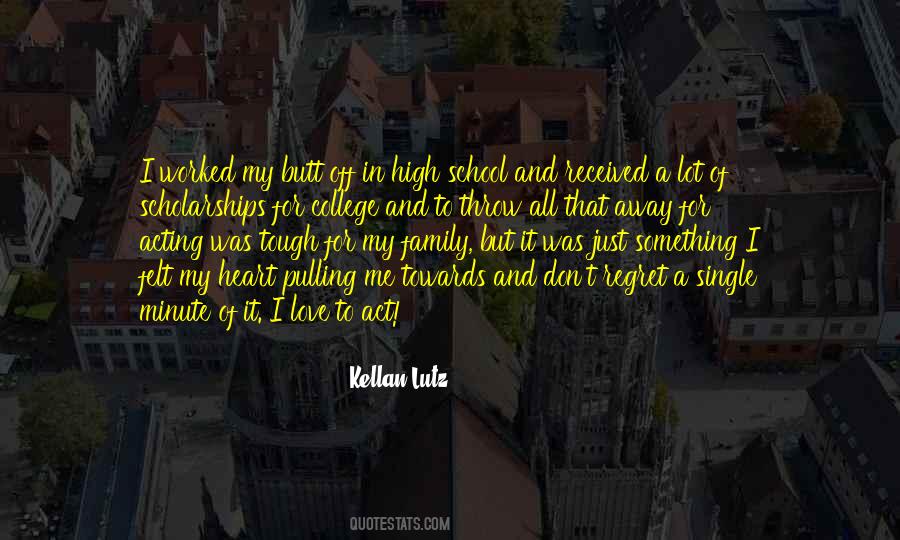 #46. In California, they don't throw their garbage away - they make it into TV shows. - Author: Woody Allen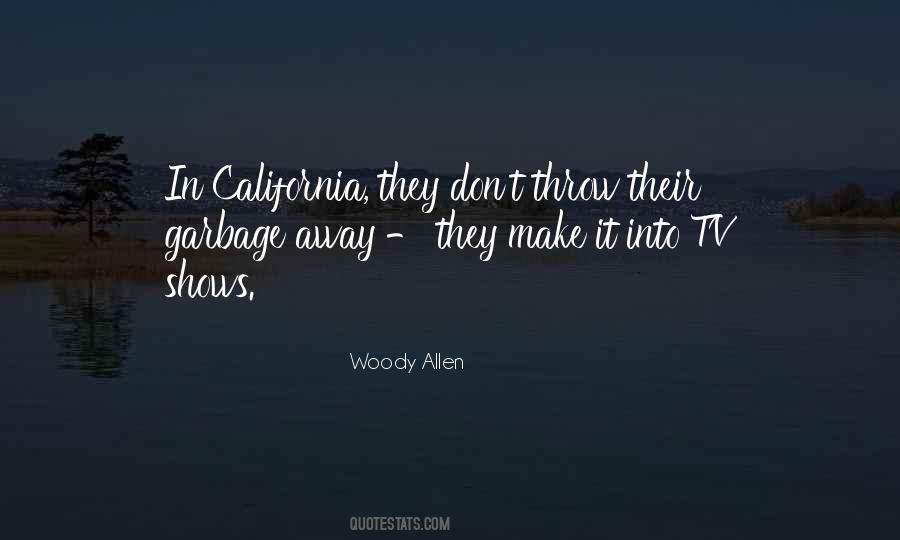 #47. Don't be polite.
Bite in.
Pick it up with your fingers and lick the juice that may run down your chin.
It is ready and ripe now, whenever you are.
You do not need a knife or fork or spoon.
For there is no core
or stem
or rind
or pit
or seed
or skin
to throw away. - Author: Eve Merriam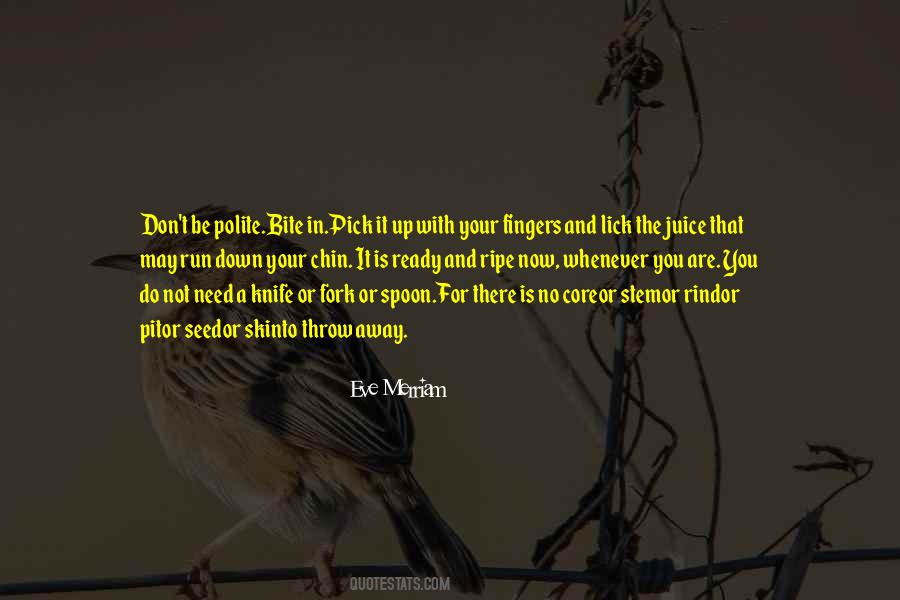 #48. If we could throw away the hate and make love last another day, don't give up just for today, life would be so simple - Author: Demi Lovato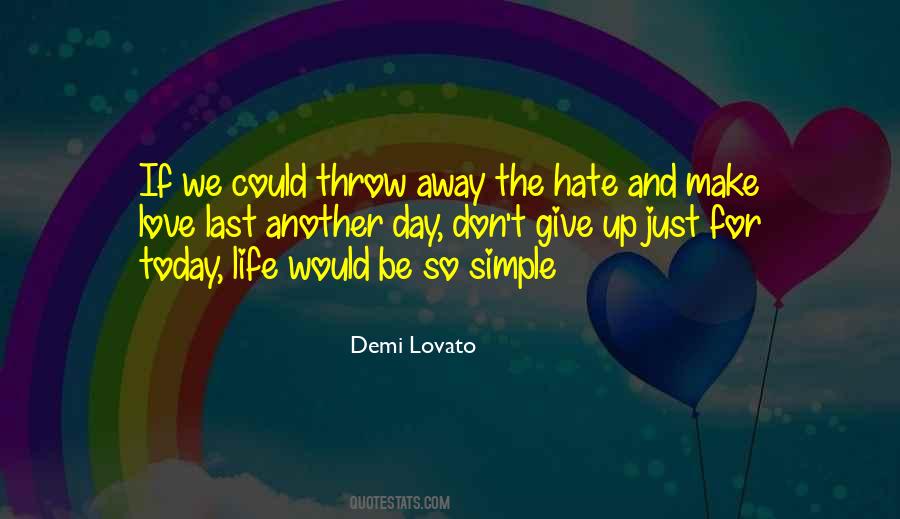 #49. When a train goes through a tunnel and it gets dark, you don't throw away the ticket and jump off. You sit still and trust the engineer. - Author: Corrie Ten Boom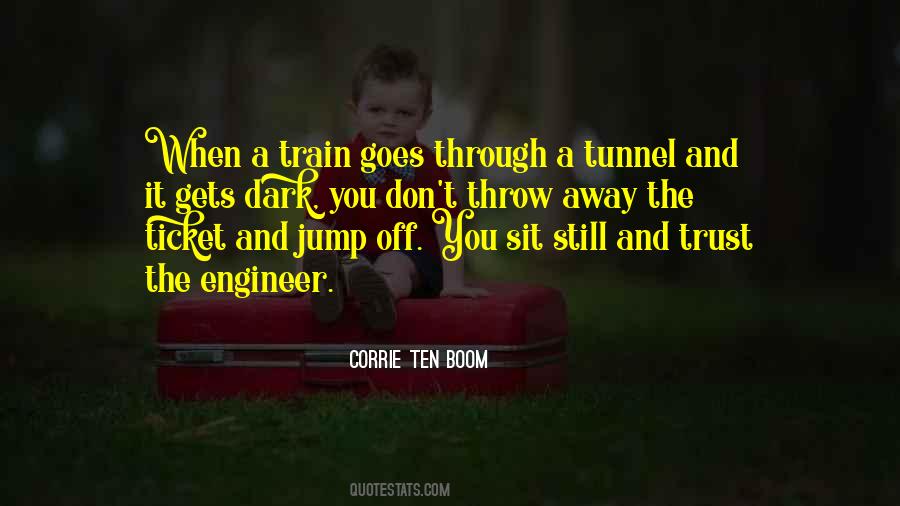 #50. Don't throw away another day! No more procrastinating! Only YOU can make it happen. So, UN-ASS the couch and make it happen! - Author: Steve Maraboli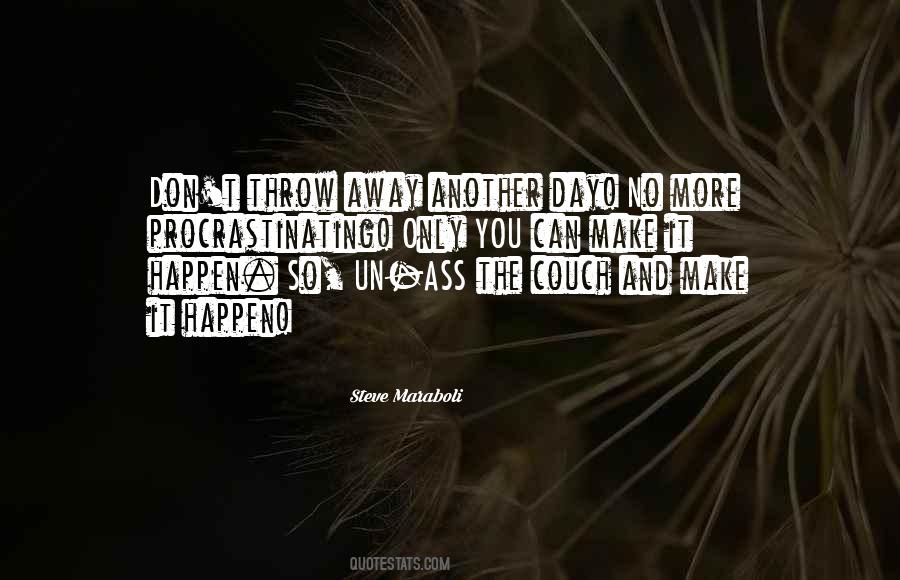 Famous Authors
Popular Topics