Don't Miss Famous Quotes & Sayings
List of top 100 famous quotes and sayings about don't miss to read and share with friends on your Facebook, Twitter, blogs.
Top 100 Don't Miss Quotes
#1. I believe that pop culture is just, like, so ready for 'Watchmen.' We tried so hard to ride that wave between satire and reality, and all the things that make you still care about the character, but you don't miss the commentary about them. - Author: Zack Snyder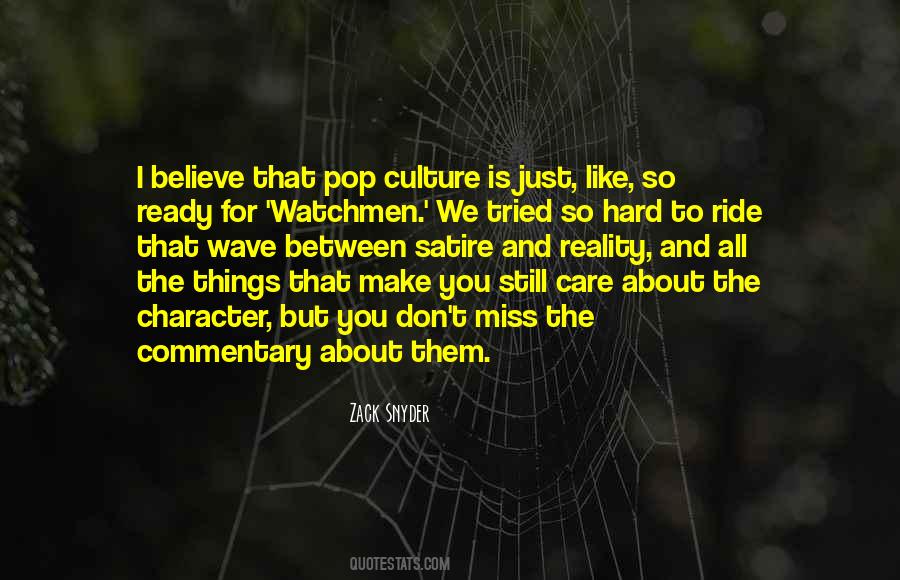 #2. Don't waste too much time chasing the wrong guy or you might miss the right one. - Author: Jana Aston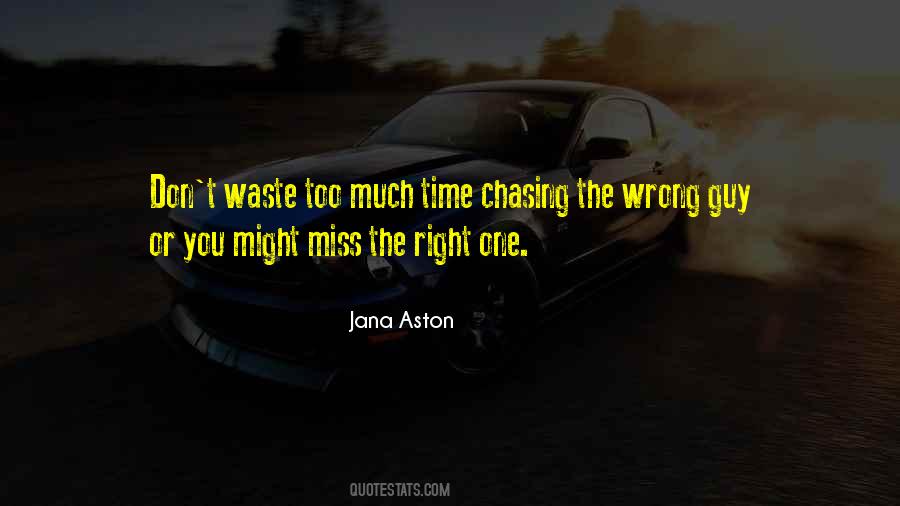 #3. It's just how it is. What's wrong with talking about it? Mum said if women don't learn to self-orgasm at your stage of development, they can miss out on a whole world of pleasure further down the track. There's nothing to be ashamed or guilty about, if you are healthy in your thoughts about it. - Author: Rachael Treasure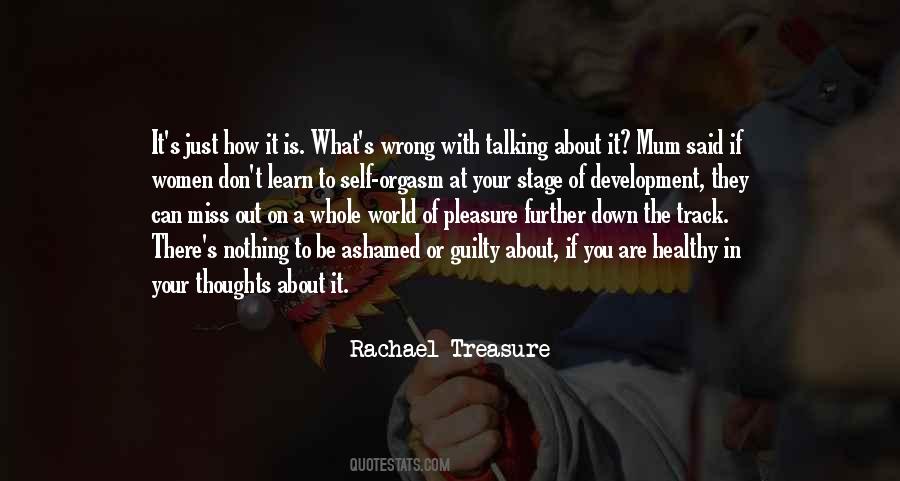 #4. By striving to prove how much they deserve God's love, legalists miss the whole point of the gospel, that it is a gift from God to people who don't deserve it. The solution to sin is not to impose an ever-stricter code of behavior. It is to know God. - Author: Philip Yancey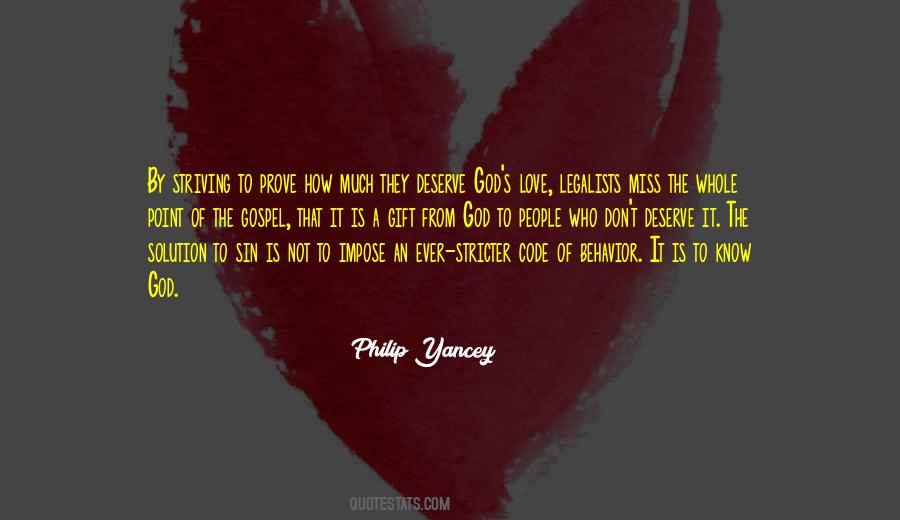 #5. I was never one to seek out the spotlight. I am kind of a private person, so I don't miss that part of show business at all. - Author: Angela Cartwright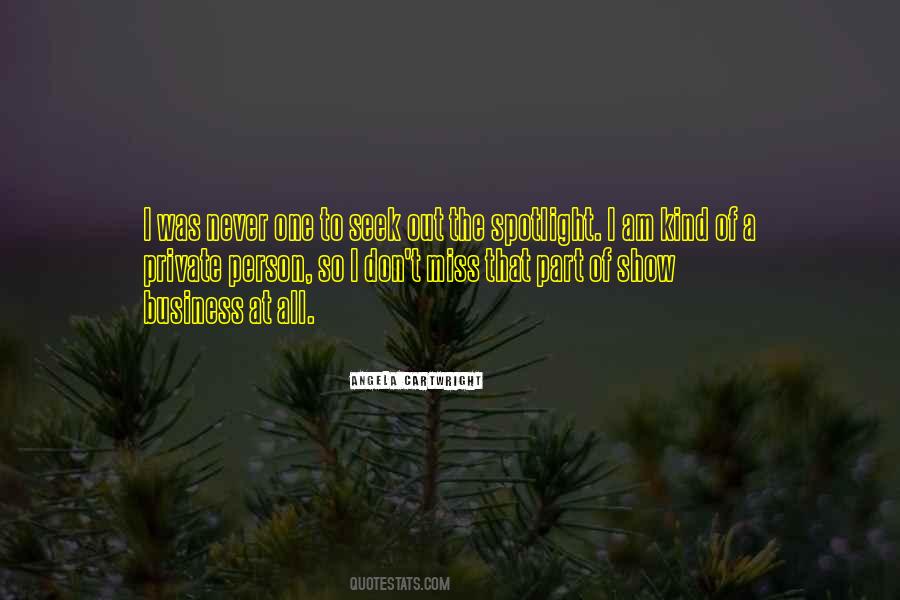 #6. When people talk about how fast children forget, how fast they forgive, how sensitive they are, I let it go in one ear and out the other. Children can remember and forget and totally freeze to death the people they don't like. - Author: Peter Hoeg Miss Smilla's Feeling For Snow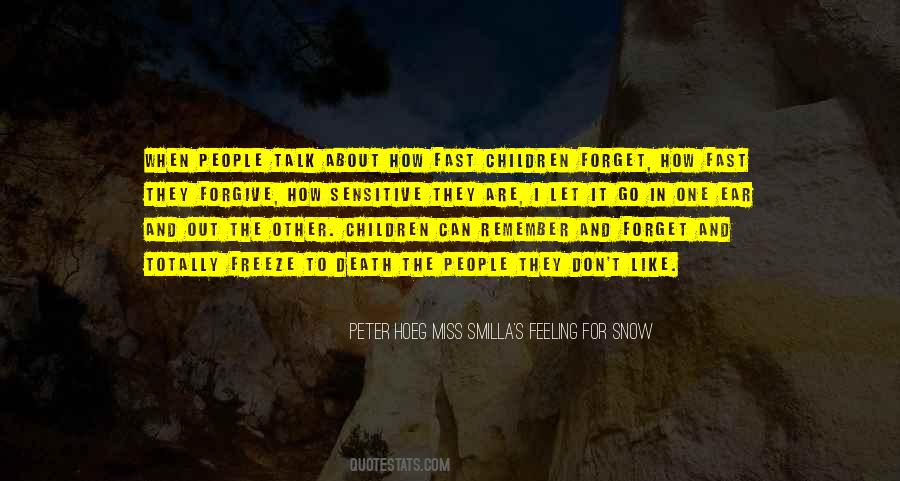 #7. If you take it step by step, you shall least miss a step! - Author: Ernest Agyemang Yeboah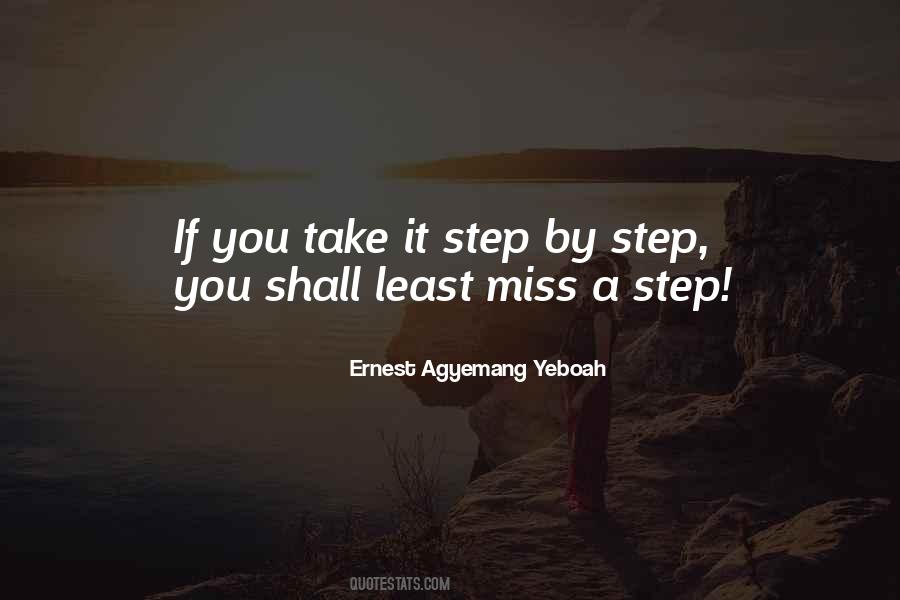 #8. Will I miss Gandalf? Well, I don't miss him, because people are constantly coming up to me mentioning him and talking about him, so I don't feel that I've lost contact. - Author: Ian McKellen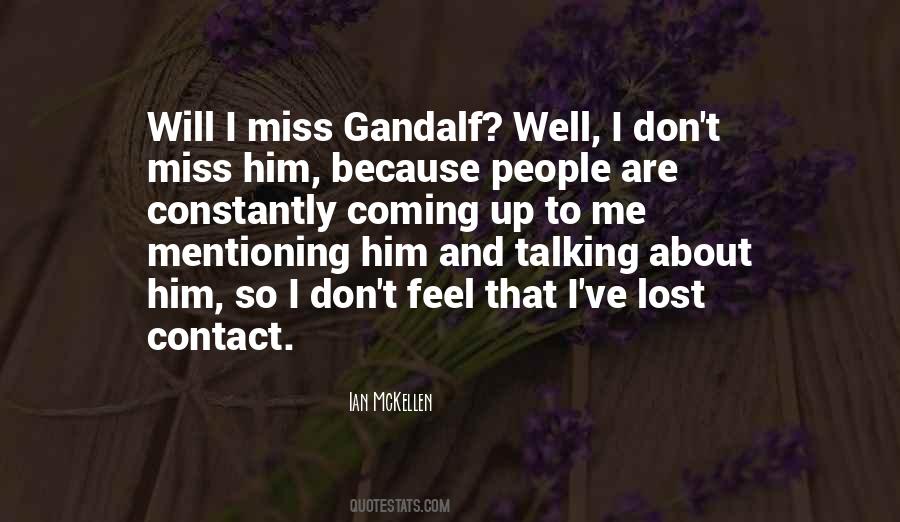 #9. Think boldly. Don't be afraid of making mistakes. Don't miss small details, keep your eyes open and be modest in everything except your aims. - Author: Albert Szent-Gyorgyi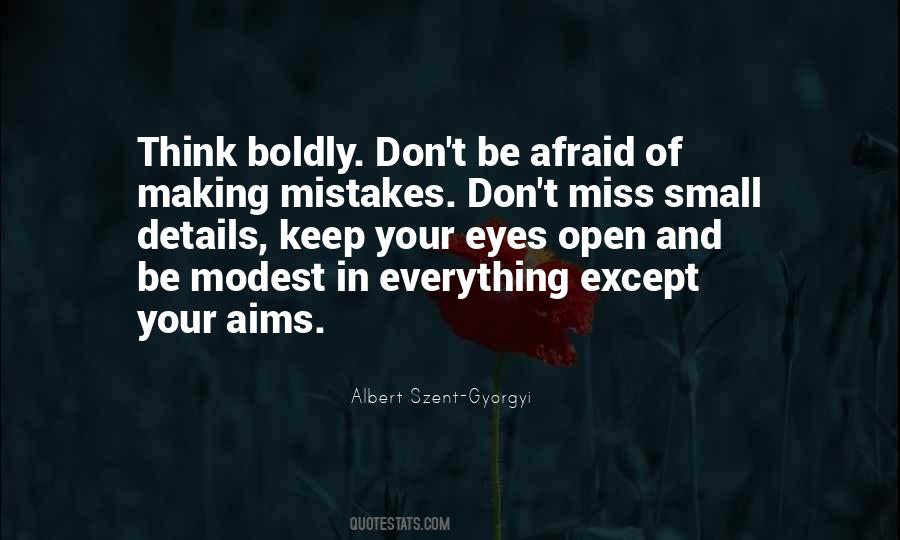 #10. Sometimes it's okay to let your guard down, Cole. If you don't, you'll miss the best things in life. - Author: S.E. Jakes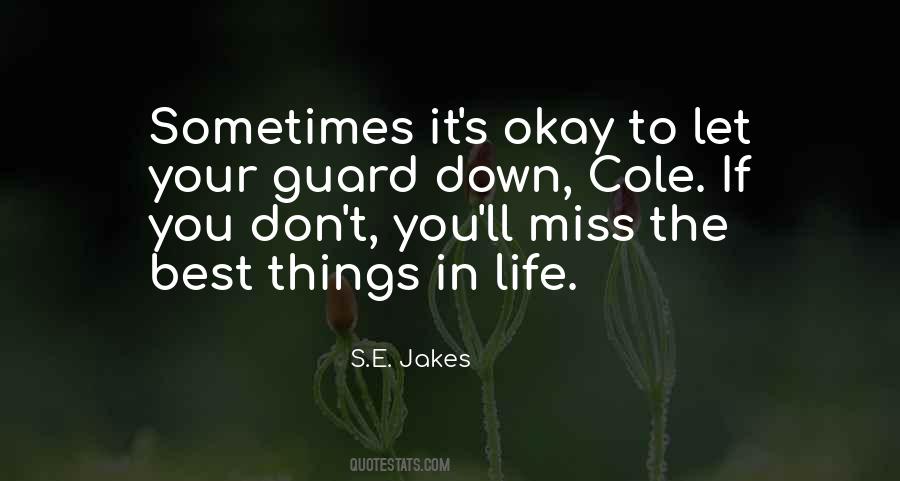 #11. Lonely people want to be dead, yet we're still not quite ready to go - we don't want to miss the action; we want to see who wins next year's Academy Awards. - Author: Douglas Coupland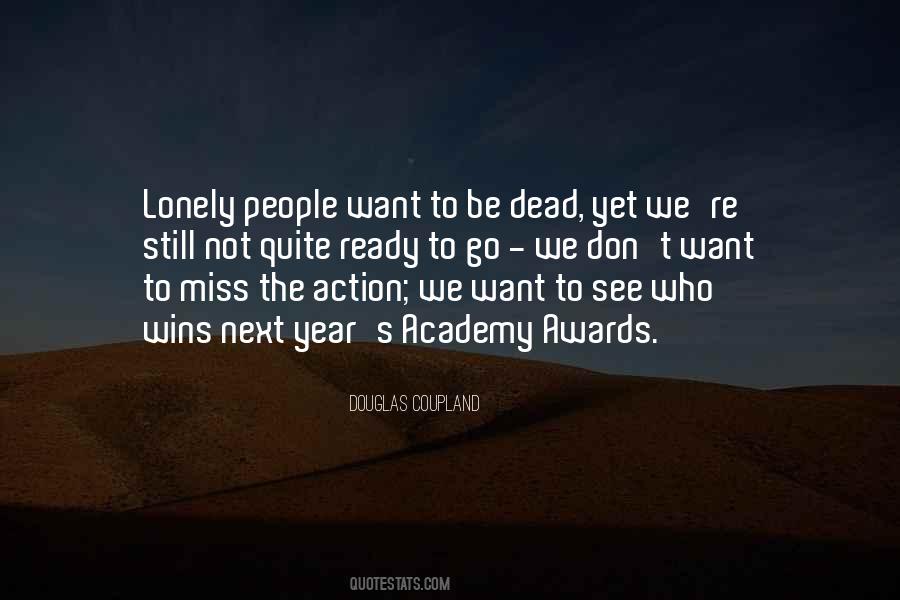 #12. I actually don't miss modeling and I think the reason why is because of America's Next Top Model. - Author: Tyra Banks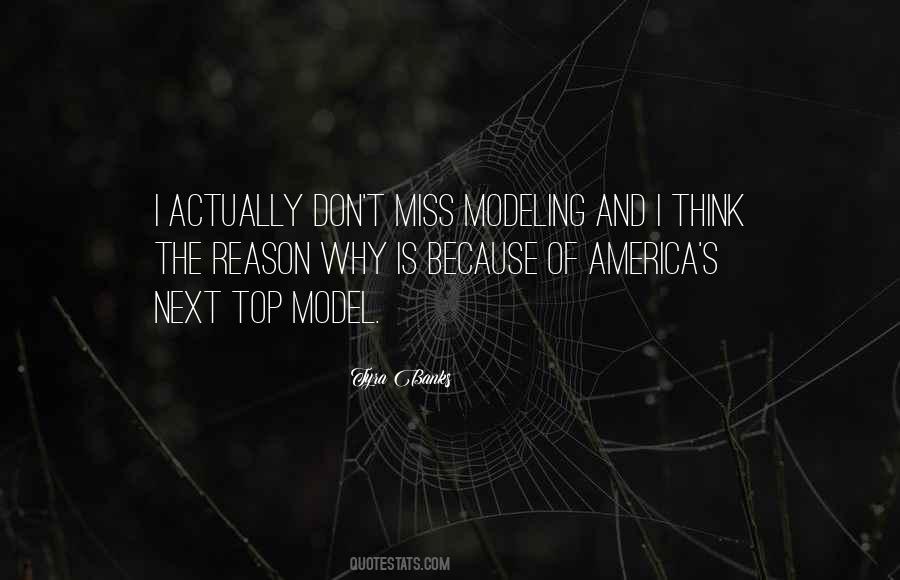 #13. In life; don't go chasing after everything, or if you go for something, never doubt and miss the step, Or else you will miss a trick of the tail and lose everything. - Author: Auliq Ice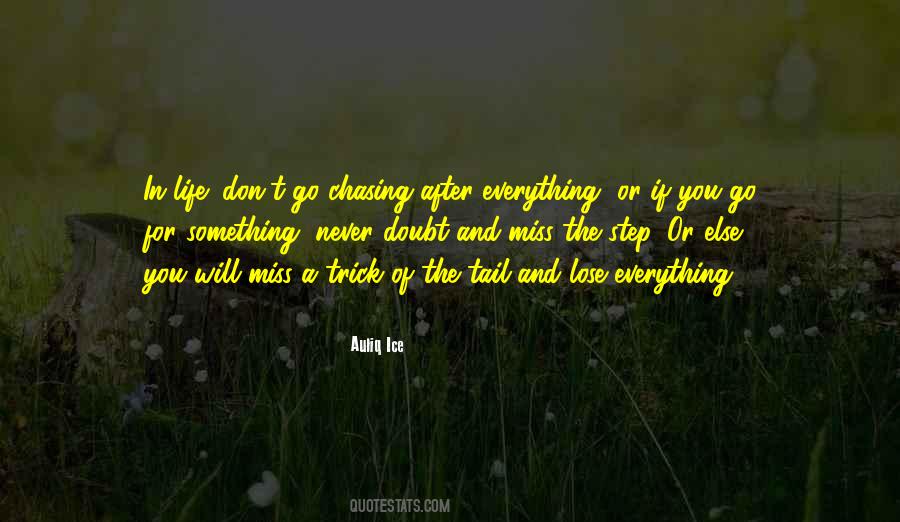 #14. Don't miss CAST IN HONOR! - Author: Michelle Sagara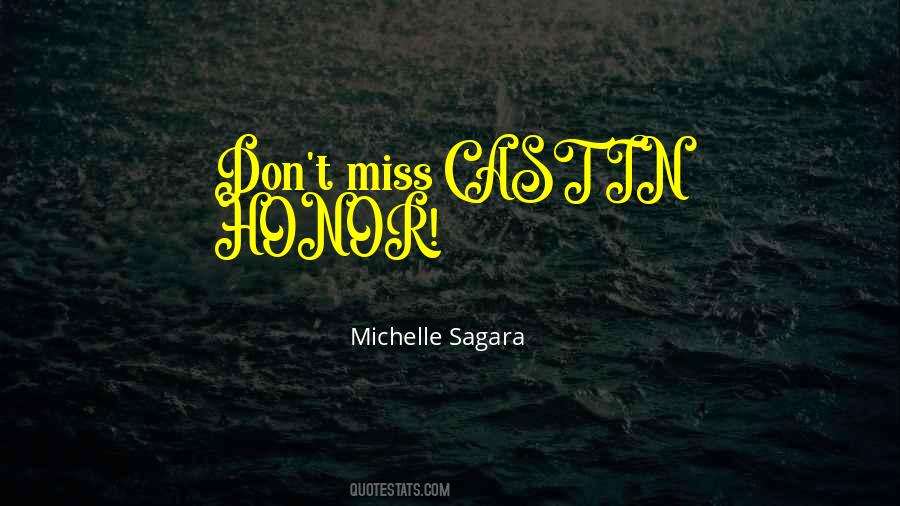 #15. Some other things I don't miss: the media and the pressure of just being asked to do, and being asked questions every day. - Author: Pedro Martinez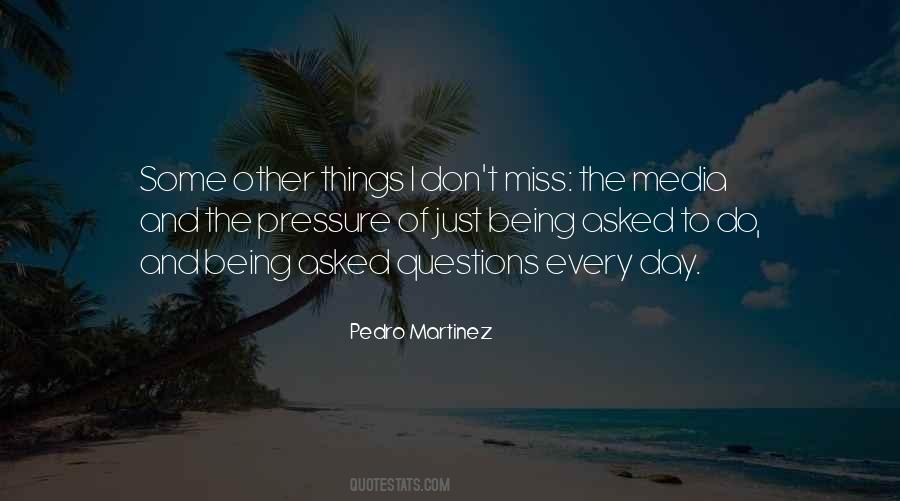 #16. If you don't act now while it's fresh in your mind, it will probably join the list of things you were always going to do but never quite got around to. Chances are you'll also miss some opportunities. - Author: Paul Clitheroe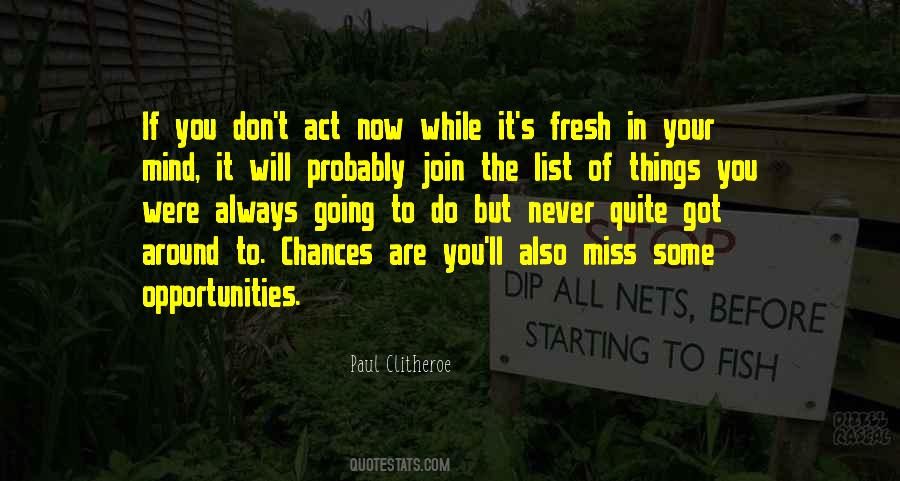 #17. That's right. Watch closely, so there's no fucking way you can miss how indisputably beautiful you are, because I don't intend to argue about this again. The next time I tell you you're gorgeous, you're going to say, 'Damn right I am. - Author: Samanthe Beck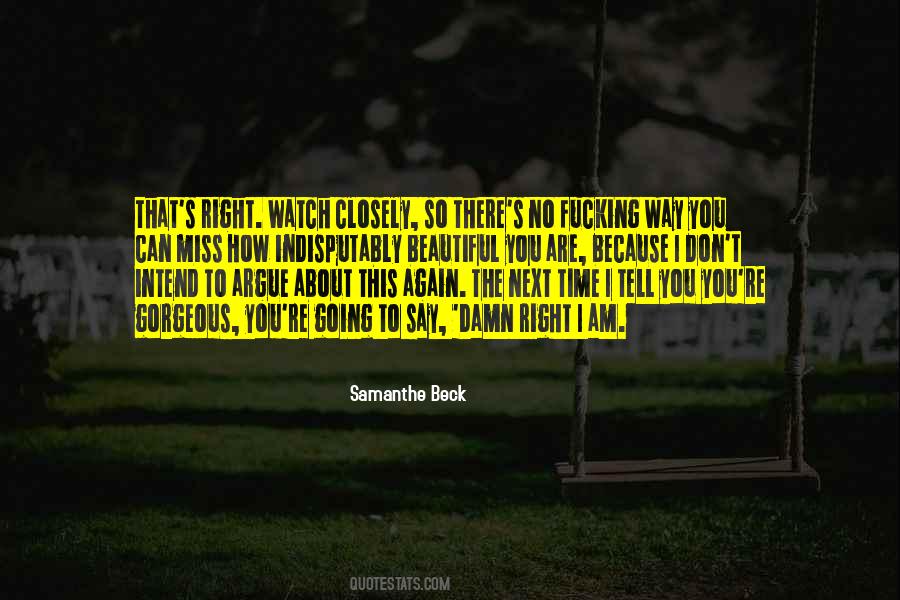 #18. I do miss 'Battlestar', the cast and crew. That was a pretty well-oiled machine. It's sort of like you don't know what you've got till it's gone. But I go to a lot of sci-fi conventions, and I love going and talking about the show. - Author: Aaron Douglas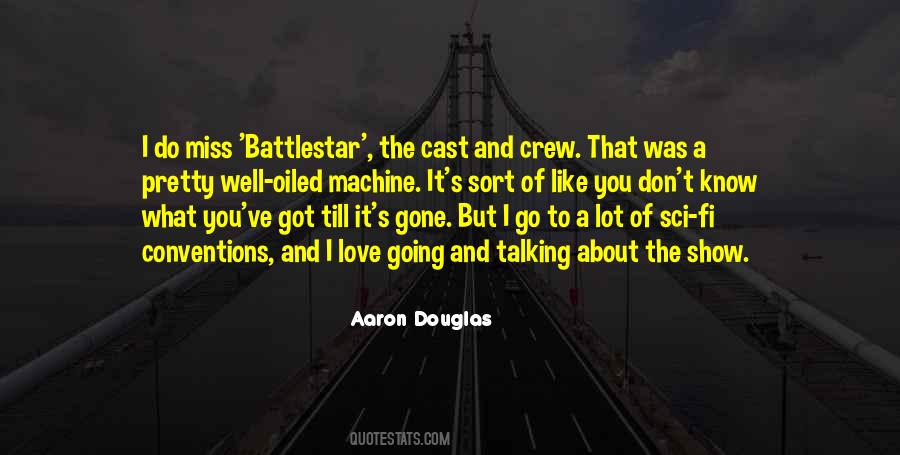 #19. It's not about destiny," I said, "but I do think there's balance in the world, and sometimes forces we don't understand intervene to tip the scales the right way. Miss - Author: Ransom Riggs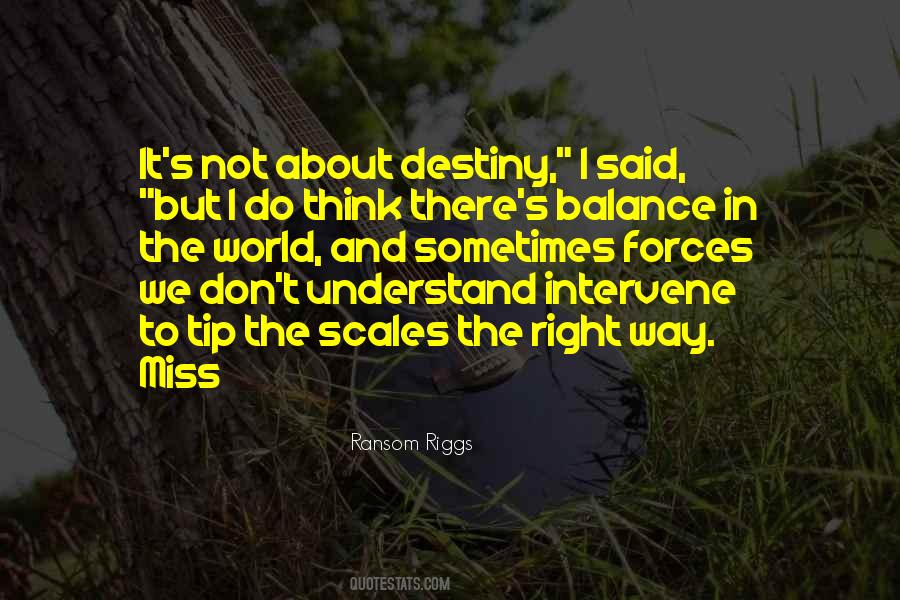 #20. Intelligence is like good taste. If you don't have it, you don't miss it. - Author: John C. Dvorak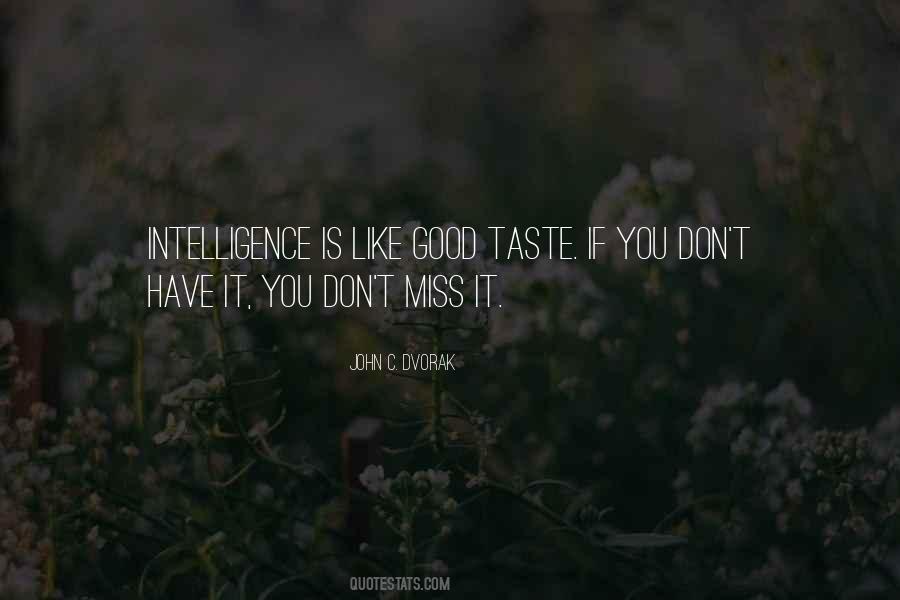 #21. If you don't know the kind of person I am
and I don't know the kind of person you are
a pattern that others made may prevail in the world
and following the wrong god home we may miss our star. - Author: William Stafford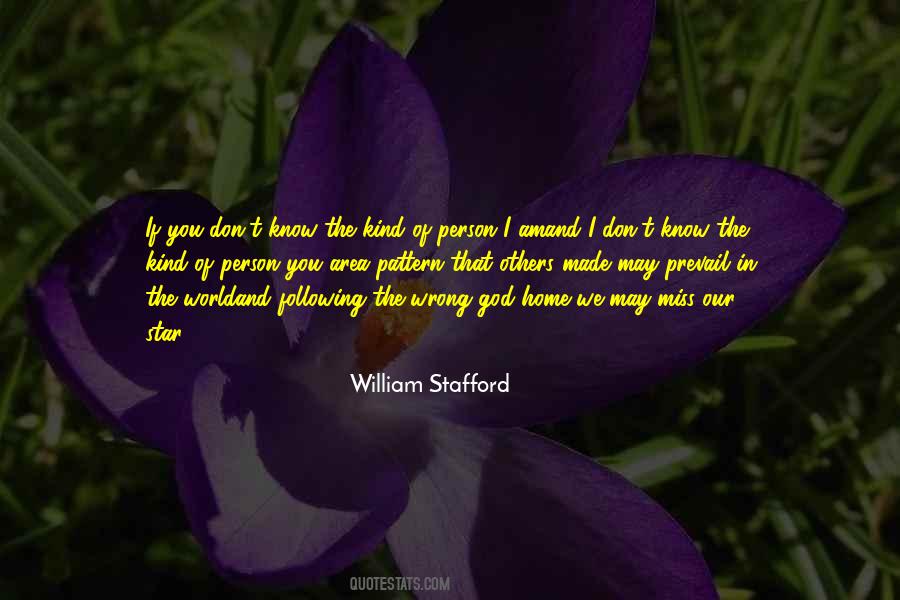 #22. It took me a lifetime to realizethings don't get lost if they don't have value- you don't miss what you don't care about. - Author: Jodi Picoult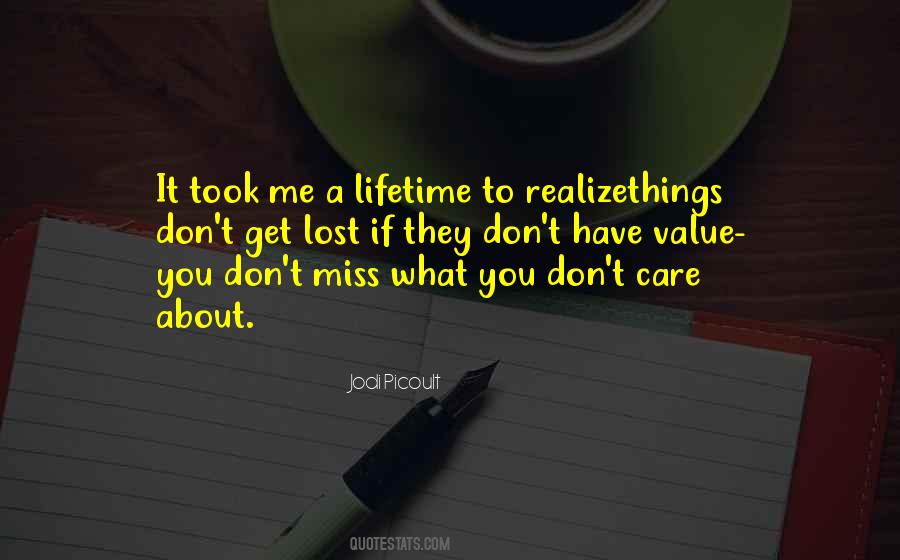 #23. Placing too much emphasis on a yes/no diagnosis, meaning you either have a disease or you don't, can lead even the most well-meaning physicians to miss underlying causes and early warning signs of illness. - Author: Mark Hyman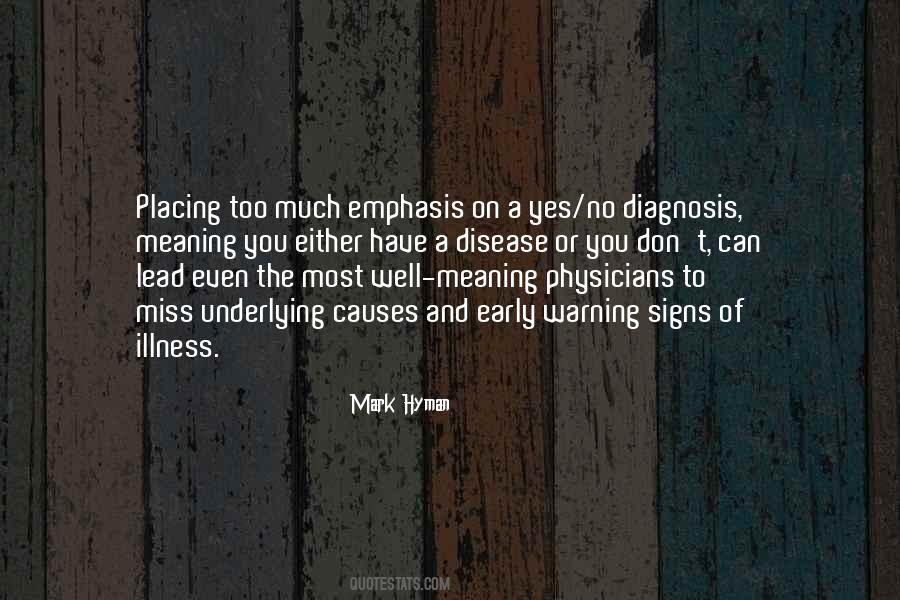 #24. Miss Skeeter say maybe don't spec nothing at all, that most Southern peoples is "repressed." If they feel something, they might not say a word. Just hold they breath and wait for it to pass, like gas. - Author: Kathryn Stockett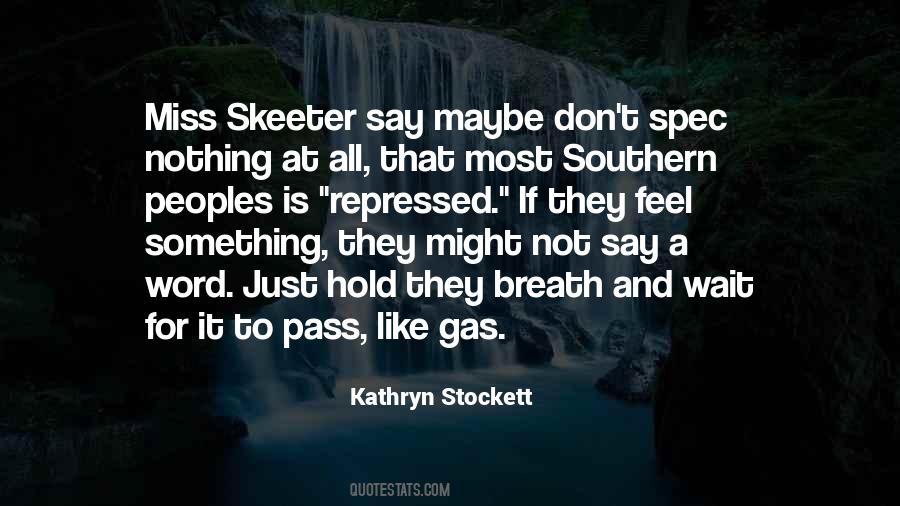 #25. I don't miss my youth. I'm glad I had one, but I wouldn't like to start over. - Author: Umberto Eco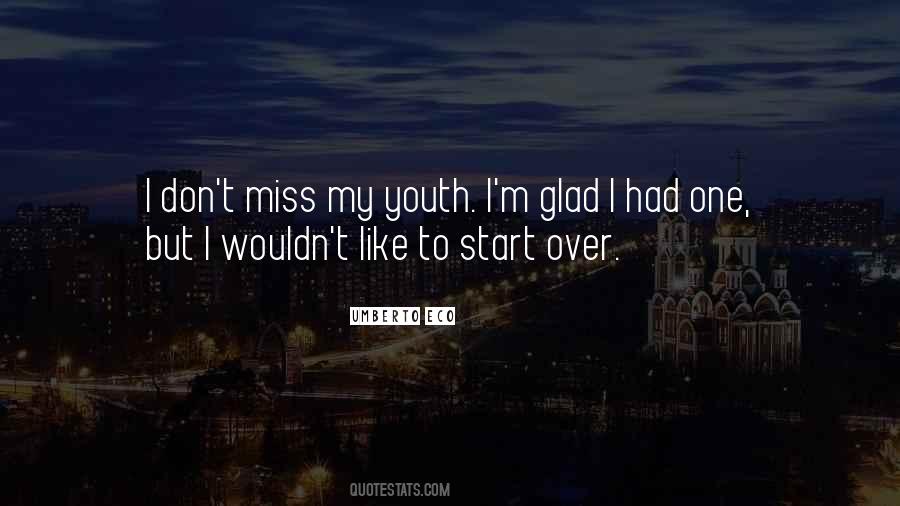 #26. I don't miss another opportunity to try to do my best to finish the things I have left undone. I could say: It's my unresolved karma that wakes me up in the morning. - Author: Sharon Gannon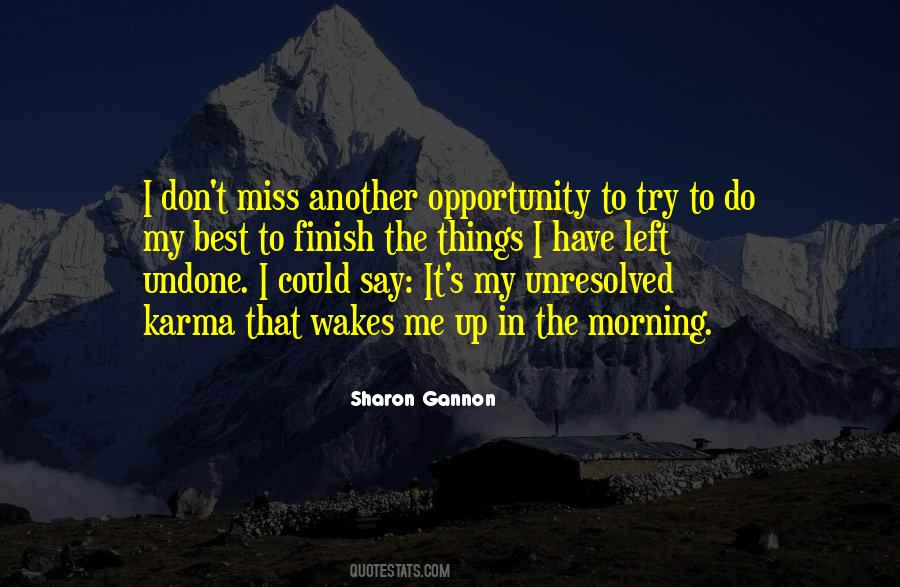 #27. I'm not practising, I don't go to church, but what I got from it was a sense of belonging to something bigger. What I really miss is being forced to be in a community with people that aren't the same as you. Then, you really have to work through the ways that you're different. - Author: Win Butler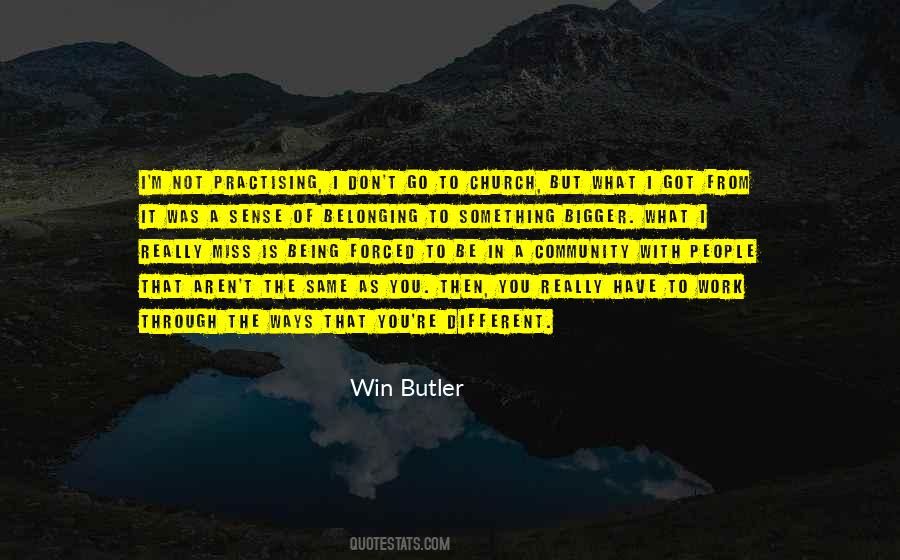 #28. Most people don't know there are angels whose only job is to make sure you don't get too comfortable & fall asleep & miss your life. - Author: Brian Andreas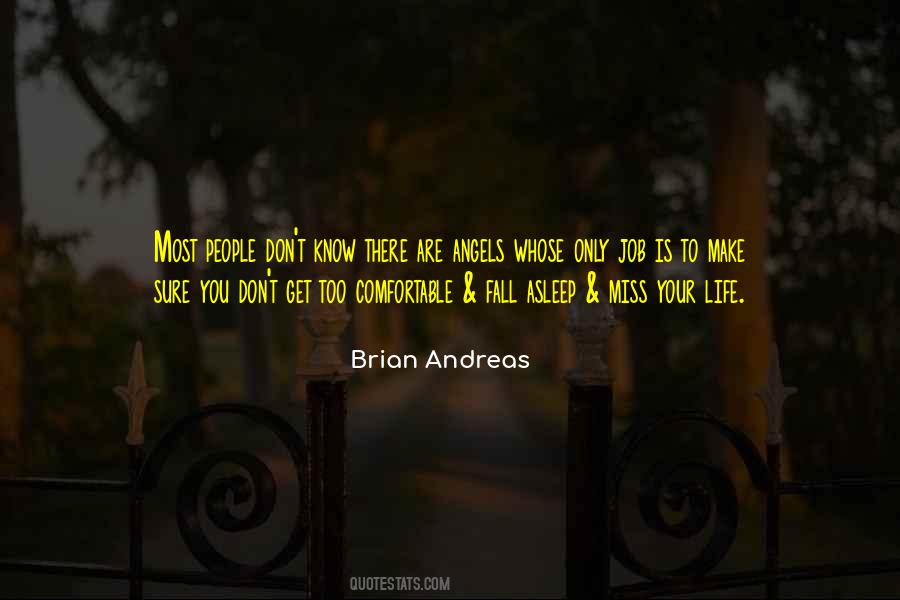 #29. Don't you ever wonder if this life has just gotten old and stale? When suddenly faced with my possible demise, I can't think of one thing I would miss, except you.
- Vampire, Michel Baptiste - Author: Denise K. Rago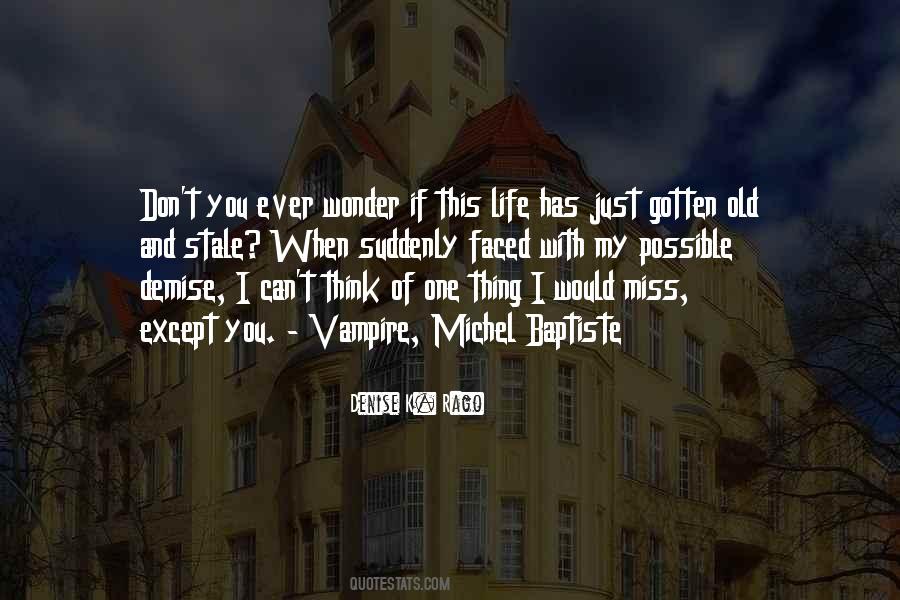 #30. Until I say otherwise, we're still on my terms, Miss Gates," he warned her, his voice rough and thick with promise. "Don't think I'm finished with you yet. - Author: Lara Adrian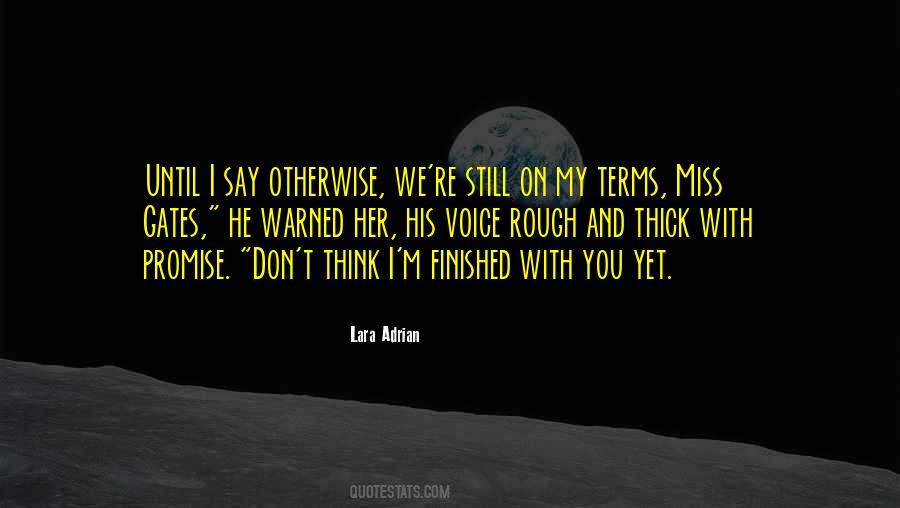 #31. No I don't miss fighting, I still got my wits about me and there are a lot of people who do it and get beat up, and I don't want to be one of them, I have children to raise. - Author: Michael Moorer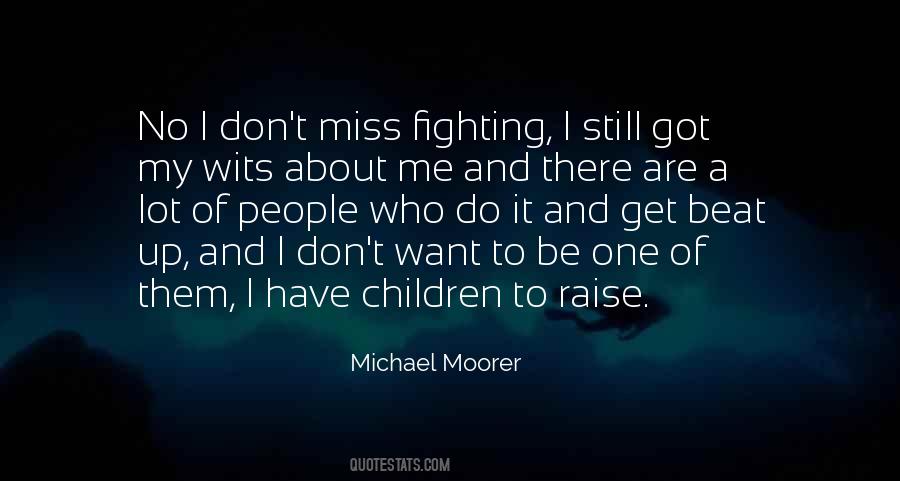 #32. You don't miss your water until your well runs dry. - Author: William Bell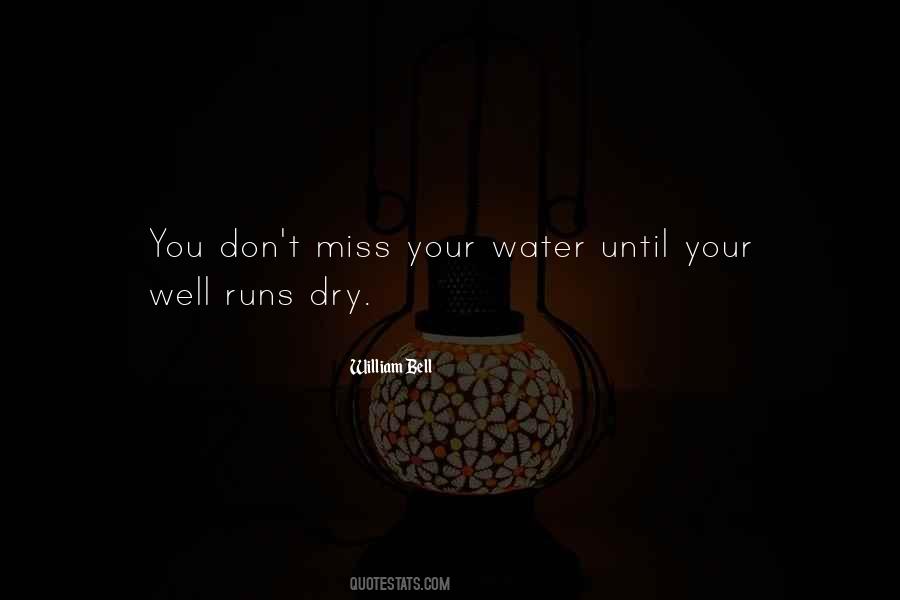 #33. I never cake someone who doesn't want to be caked - at least, I try not to. Sometimes I miss my target. I'm pretty much going through the crowd making sure I find someone who wants to get caked. If you don't want to get caked, shake your head or tell me you don't want to get caked. It's that easy. - Author: Steve Aoki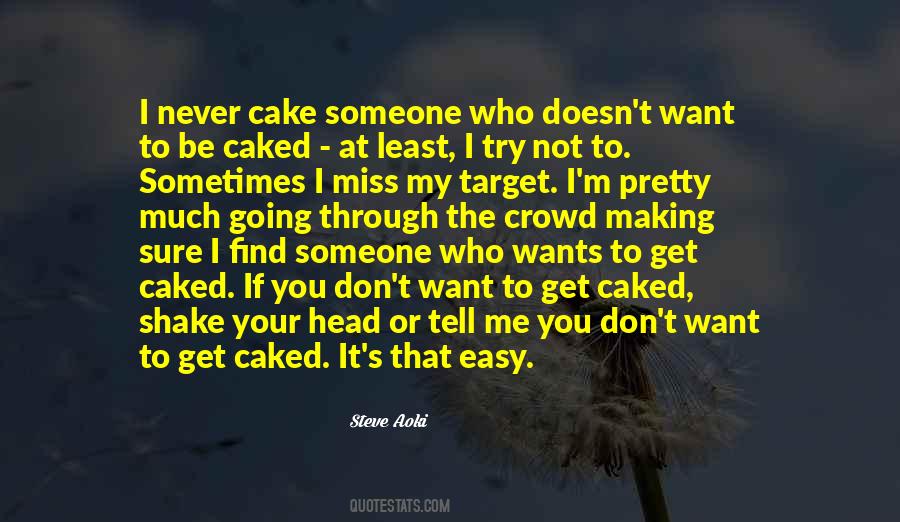 #34. I don't try for strikeouts, but batters just swing and miss. I'd exchange strikeouts for more innings. As a starter, my job is to go deep into the game. When you get strikeouts, you throw a lot of pitches and sometimes you come out early. - Author: Johan Santana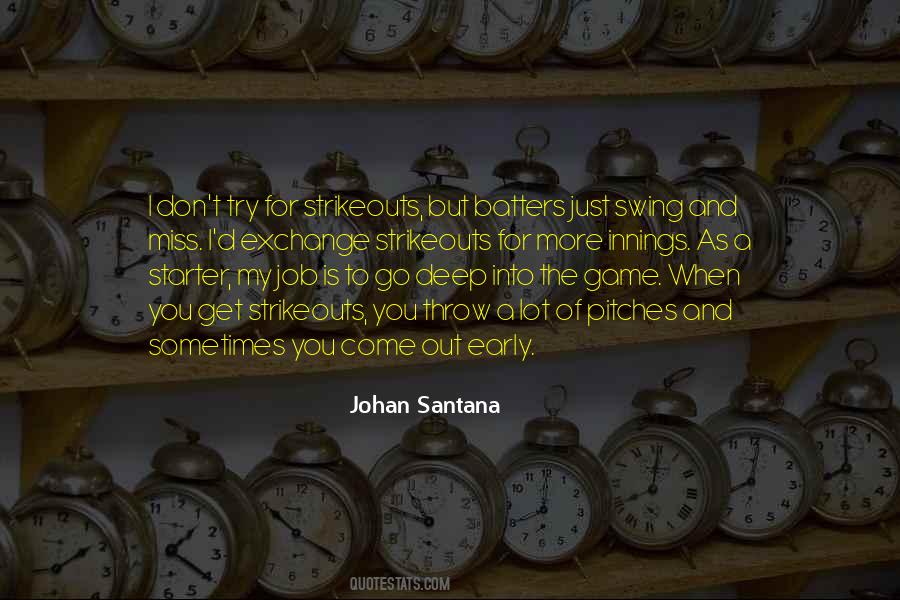 #35. When you do something, you miss something else! If you don't want to miss anything, you have to do everything! - Author: Mehmet Murat Ildan
#36. Don't you miss the days when America was just MORALLY bankrupt? - Author: Bill Maher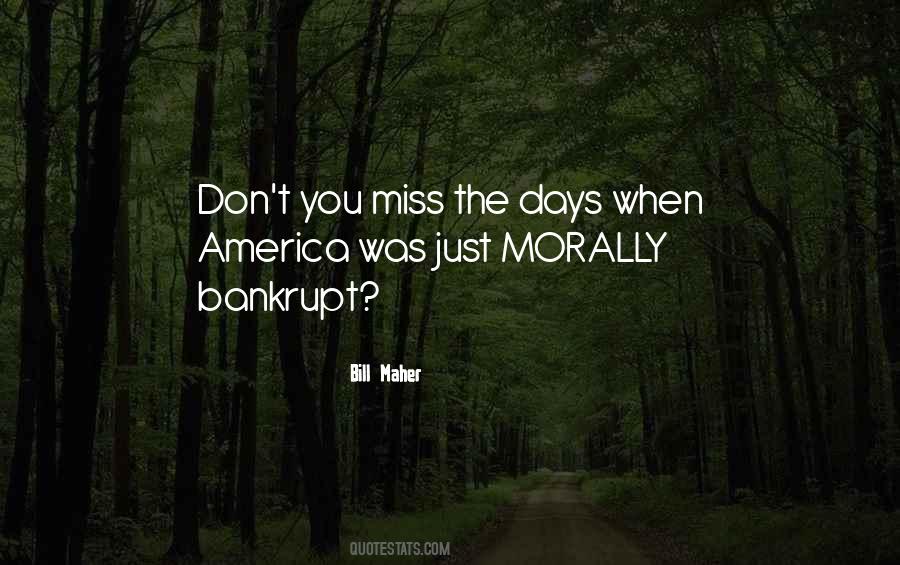 #37. Don't be so bitter about a bad experience from your past that you miss the opportunities in front of you. - Author: Robert Kiyosaki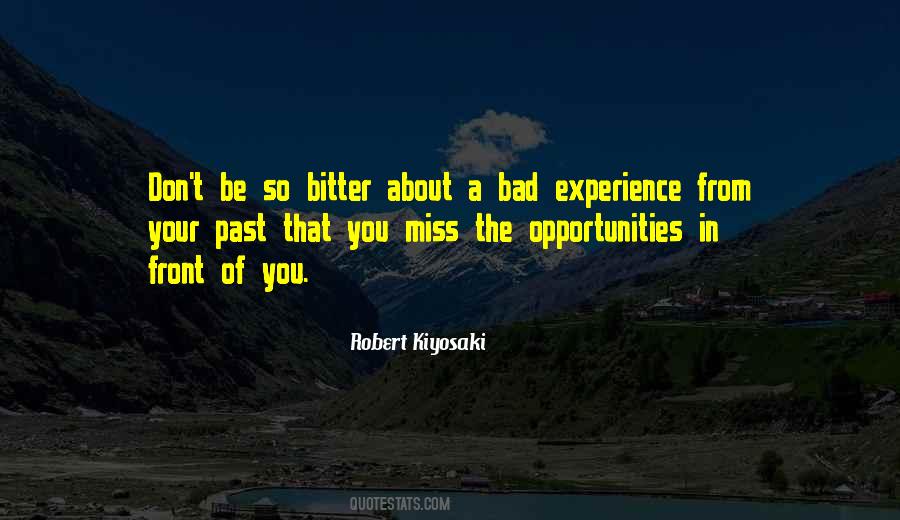 #38. You only miss the idea of him. You weren't happy with him even before you found out he was cheating. You were only with him because it was comfortable. You miss the relationship, but you don't miss Hunter. - Author: Colleen Hoover
#39. Don't blow your own horn, or you might just miss the music. - Author: Jim Rohn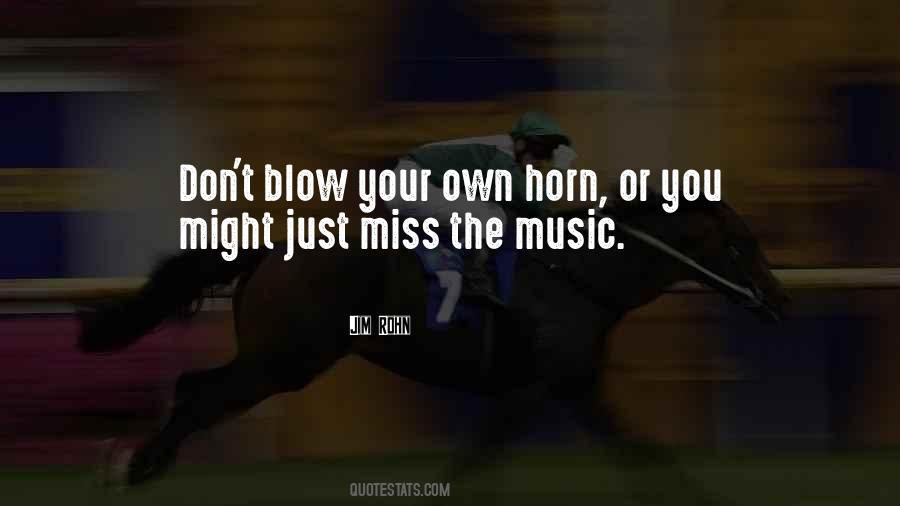 #40. I don't mind walking. I always feel so sorry for women who don't like to walk; they miss so much
so many rare little glimpses of life; and we women learn so little of life on the whole. - Author: Kate Chopin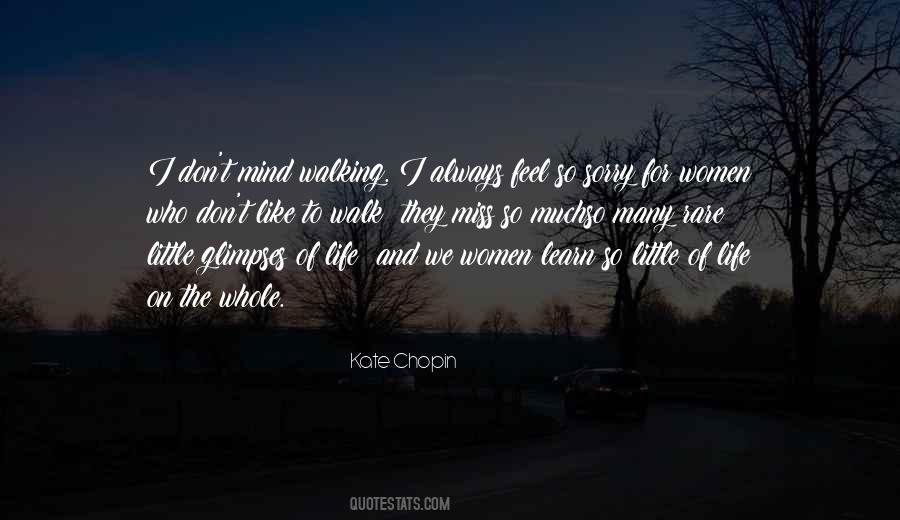 #41. I don't miss the frustration of youth, the anticipation of love and pain, the paralysis of choices still ahead. The pressure of "What are you going to do?" makes everybody feel like they haven't done anything yet. - Author: Amy Poehler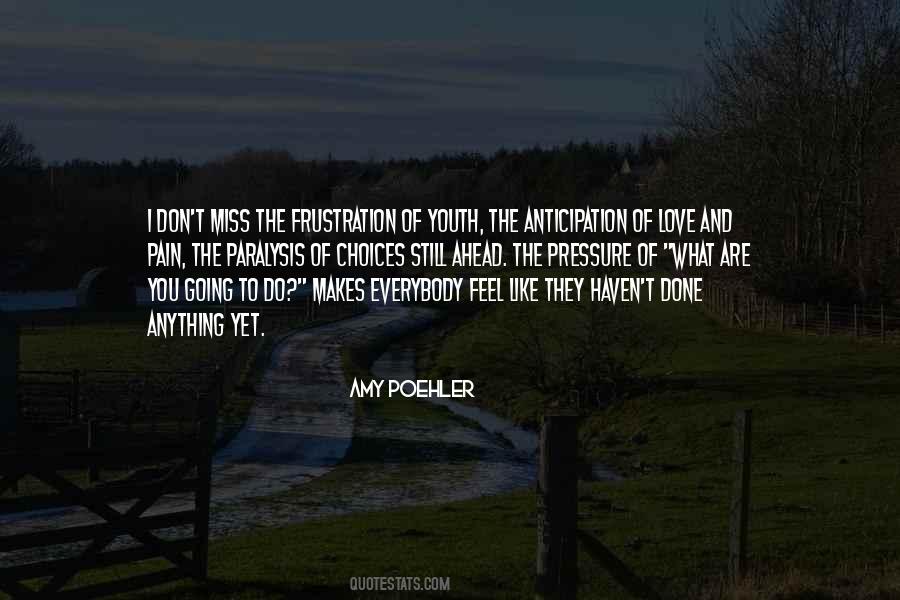 #42. I don't miss much about my childhood. I lived in a good neighborhood, a wacky neighborhood. It was a very boy-heavy neighborhood - kind of Lord of the Flies-y. So many weird things happened, funny things. - Author: Justin Theroux
#43. I miss her every now and then, but finally, she didn't move me. I don't know, sometimes I think I've got this hard kernel in my heart, and nothing much can get inside it. - Author: Haruki Murakami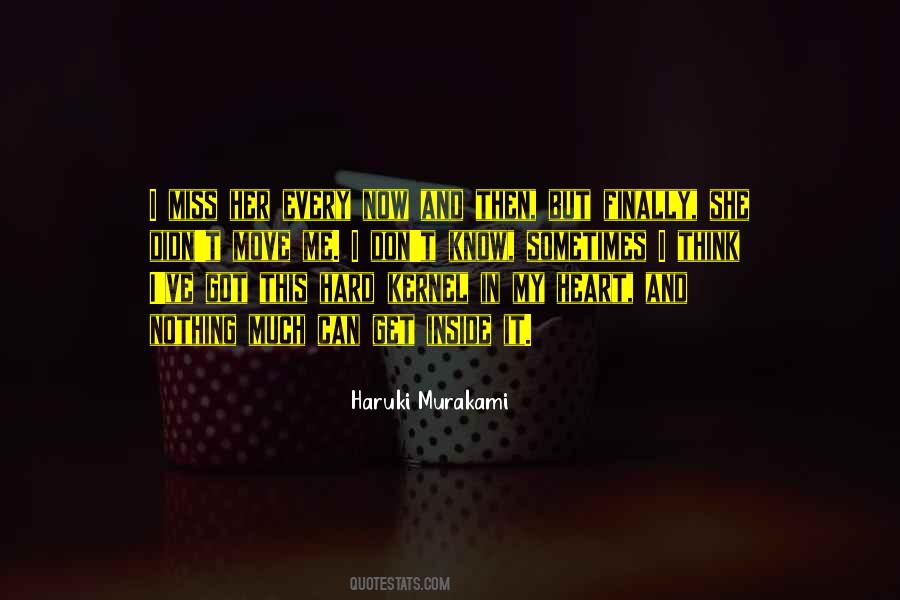 #44. Don't miss understand me, I'm not getting soft, all I want is a couple days off. - Author: Huey Lewis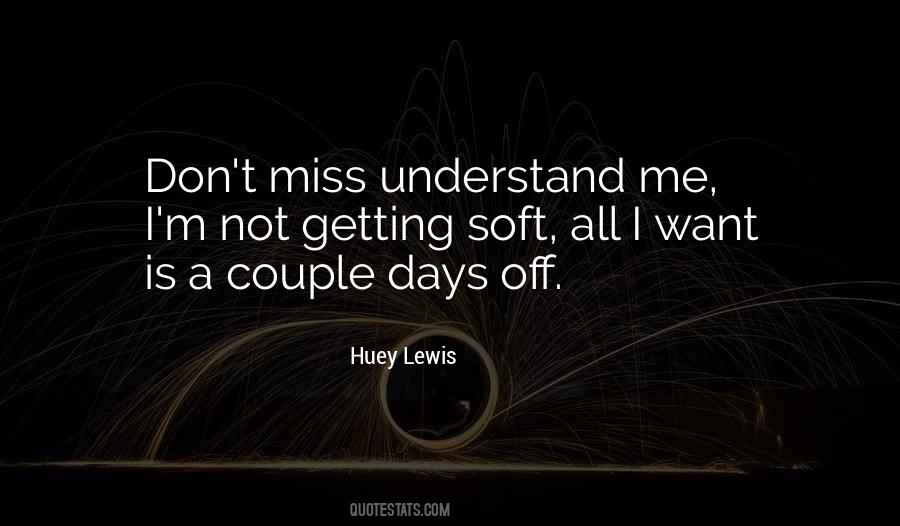 #45. You miss 100% of the shots that you don't take. Still wondering whether it is worth giving a shot at your dreams? - Author: Manoj Arora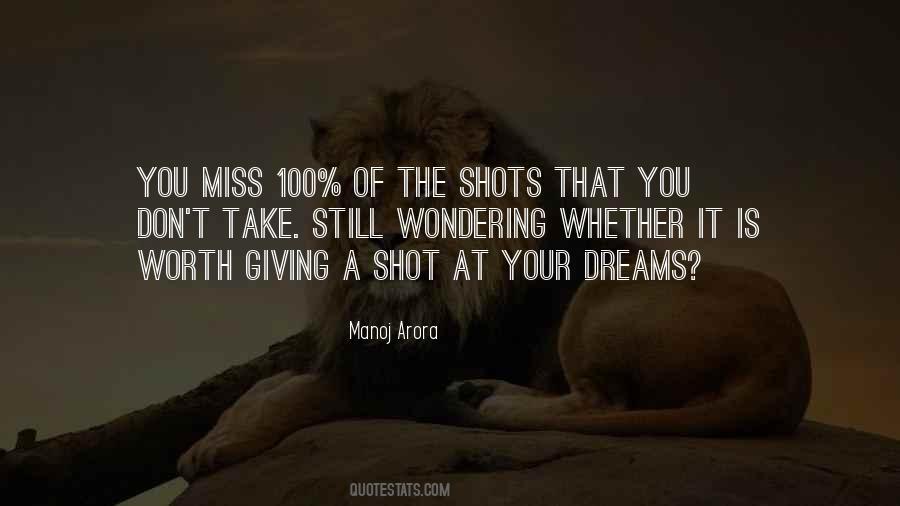 #46. Never wear pride as the jersey of your dreams. You will miss the goal and lose your dreams if you put on pride! - Author: Israelmore Ayivor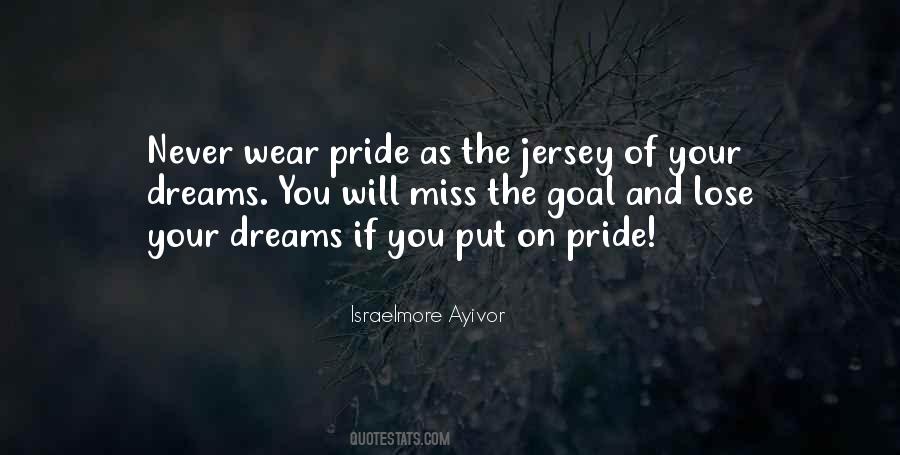 #47. Don't focus on what others want. See what it is that you want.
When you stop looking inside and look at others, that is when you miss the boat. - Author: Sri Sri Ravi Shankar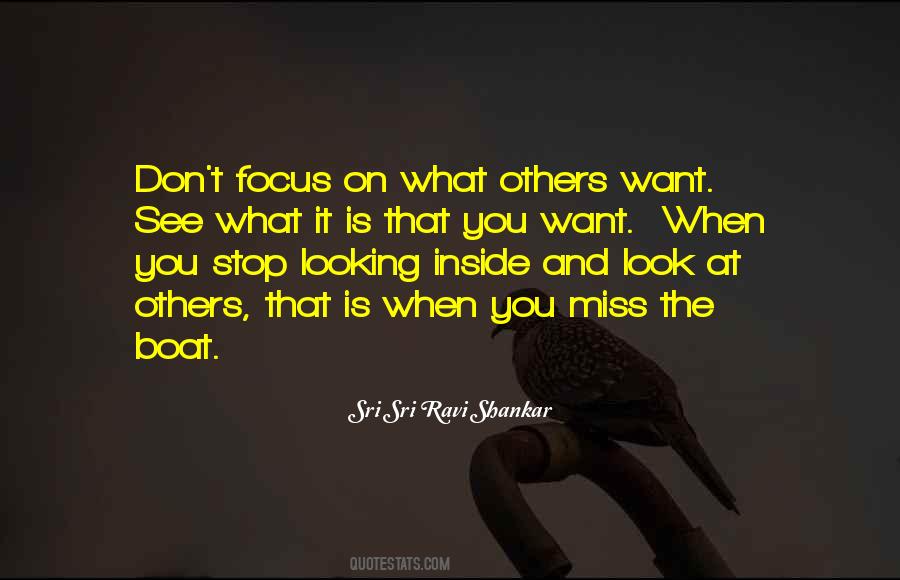 #48. When we hesitate to change on time, we predispose ourselves to miss the boat that would take us to our envious future... - Author: Assegid Habtewold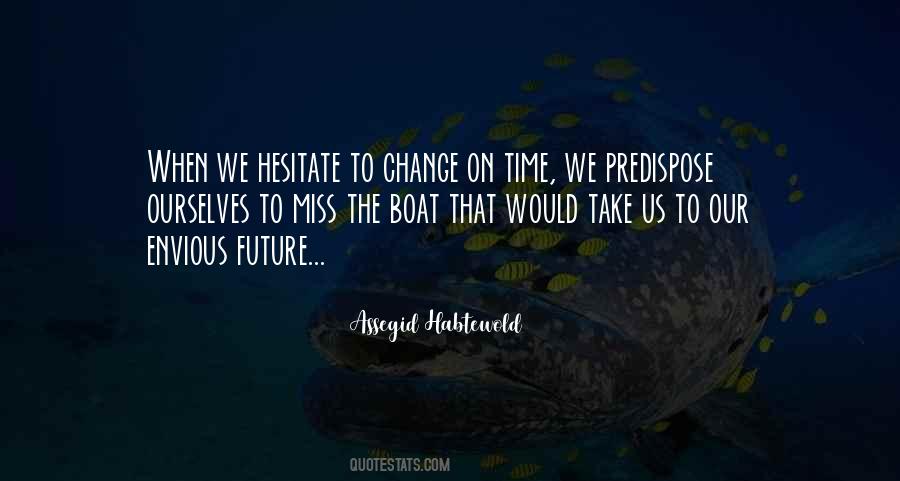 #49. I think once you have children, you just don't have the same kind of freedom to pick up and go. But then, I sort of think, how often did I really do it? How spontaneous was I really? Part of what I think I miss is this fantasy of my wild days, but they never existed! - Author: Brooke Shields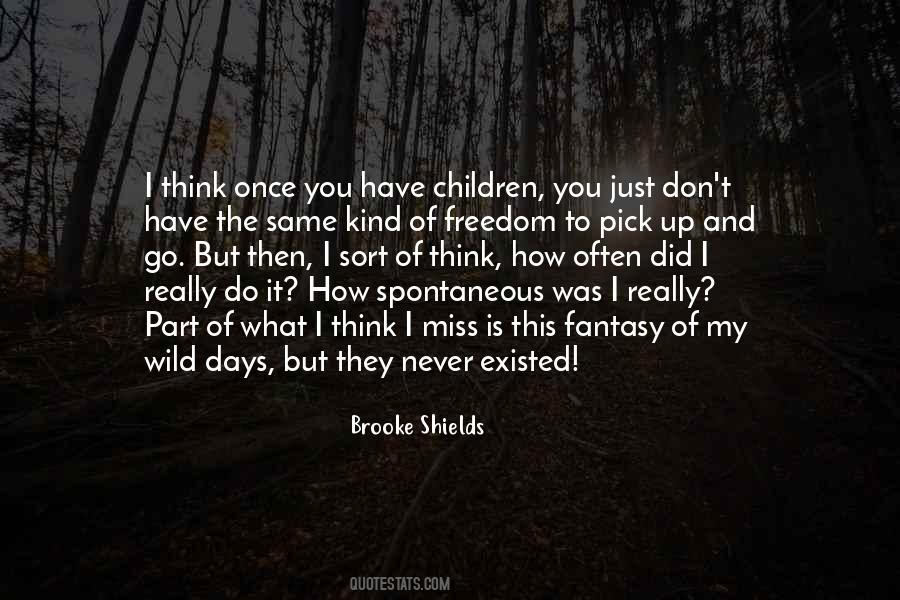 #50. I miss you. I don't want to let you go - Author: Nicole Williams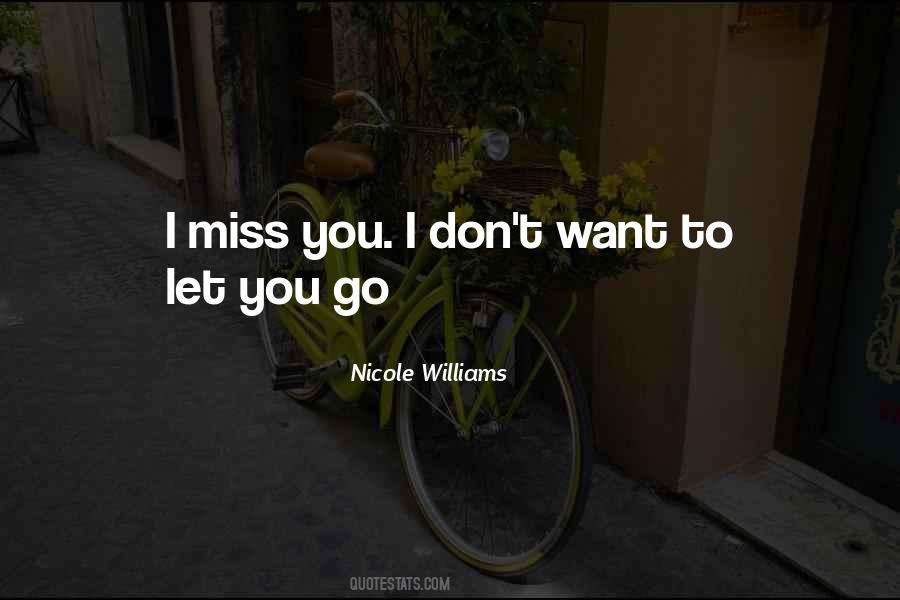 #51. Oh, but I am quite resigned to taking second place in the shadow of my husband. I am humbly aware that the wife of a great man has to be contented with reflected glory - don't you think so Miss Taggart?"
"No," said Dagny, "I don't. - Author: Ayn Rand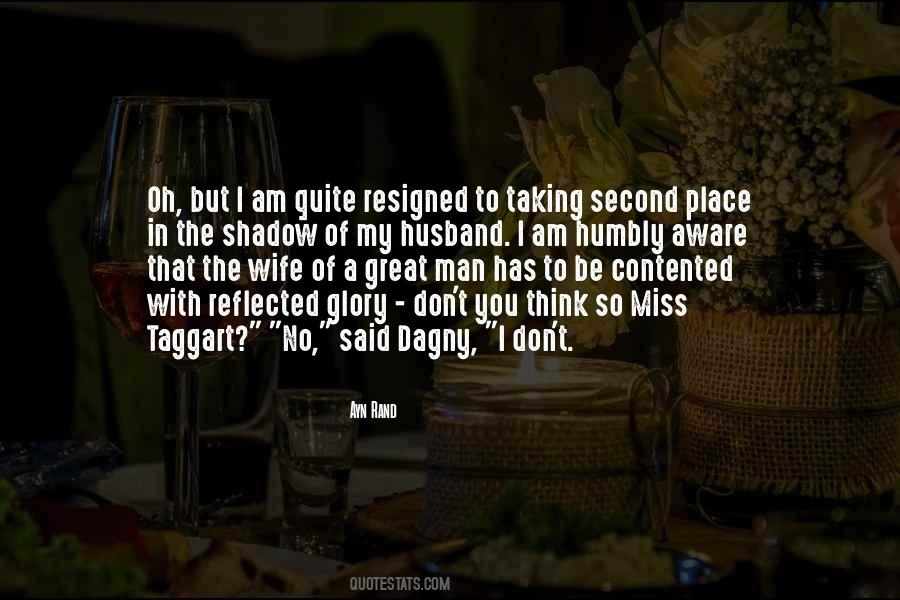 #52. Many times, we miss out on God's best because we give up too soon. We don't realize how close we are to victory. - Author: Joel Osteen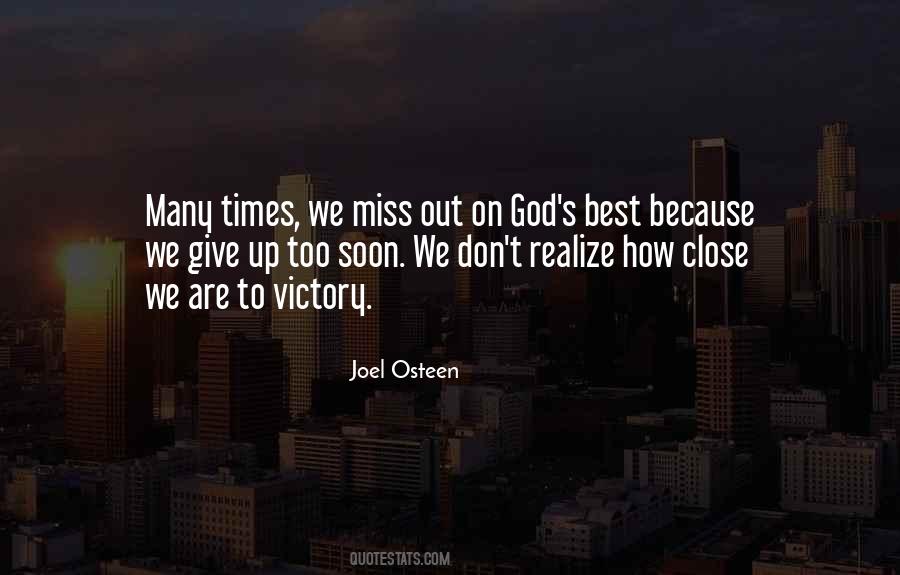 #53. Miss Gregory took nearly everything. Her clothes. New girls don't have the privilege of wearing their own clothes. Her books. Socrates, Plato, Shakespeare? Much too stimulating. No wonder you have Ideas. Certainly, you don't wish to become a bluestocking! - Author: Suzanne Lazear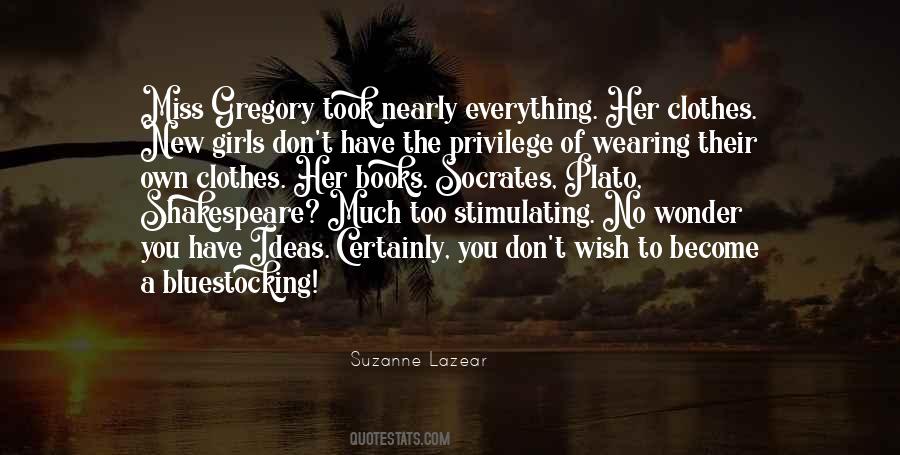 #54. There's a sunrise and a sunset every single day, and they're absolutely free. Don't miss so many of them. - Author: Jo Walton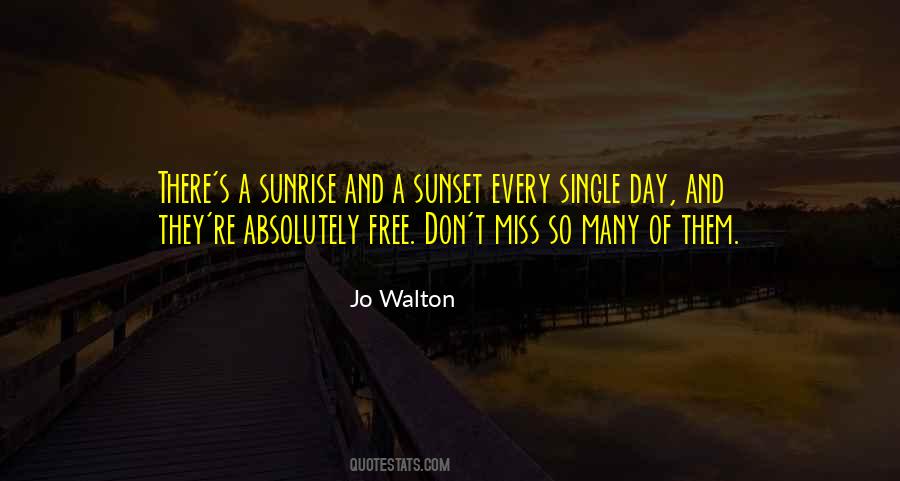 #55. Don't concentrate on the obvious. They might want you to miss something else. - Author: John Flanagan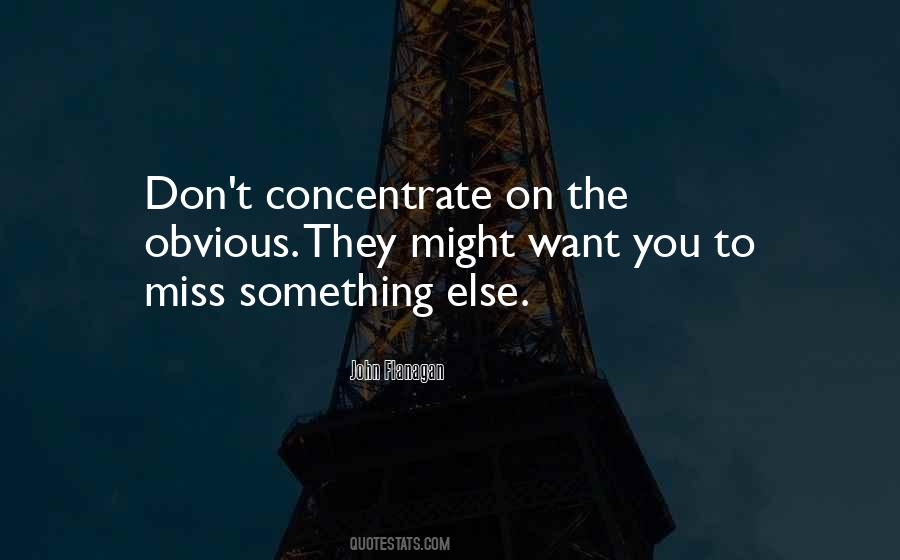 #56. Miss a meal if you have to, but don't miss a book. - Author: Jim Rohn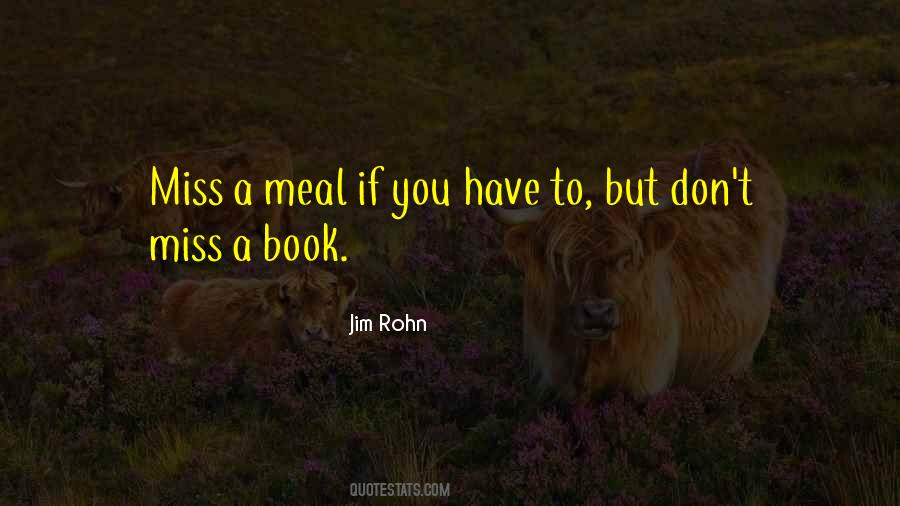 #57. When you don't know where to start,
just go to a place you miss so much. - Author: Toba Beta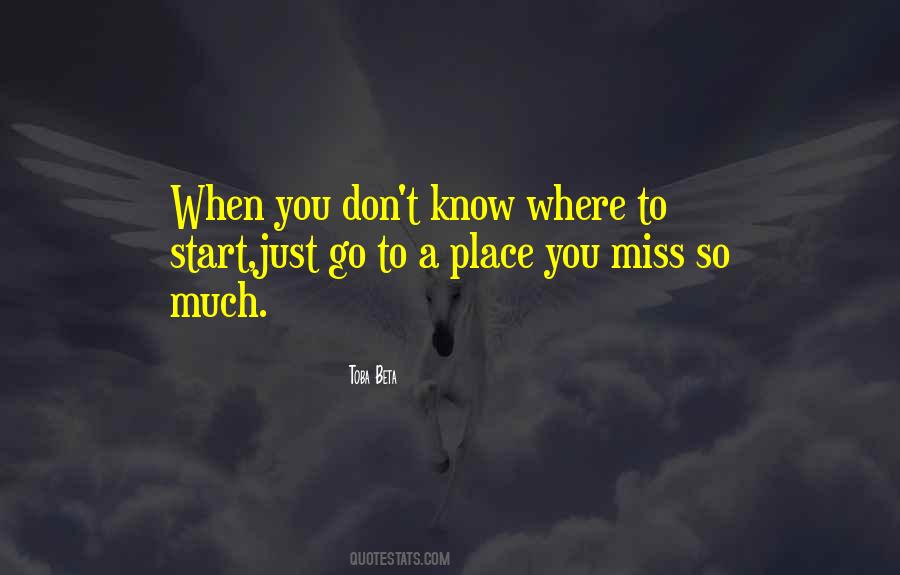 #58. I think everything is happening all the time, but if you don't put yourself in the path of it, you miss it. - Author: Gayle Forman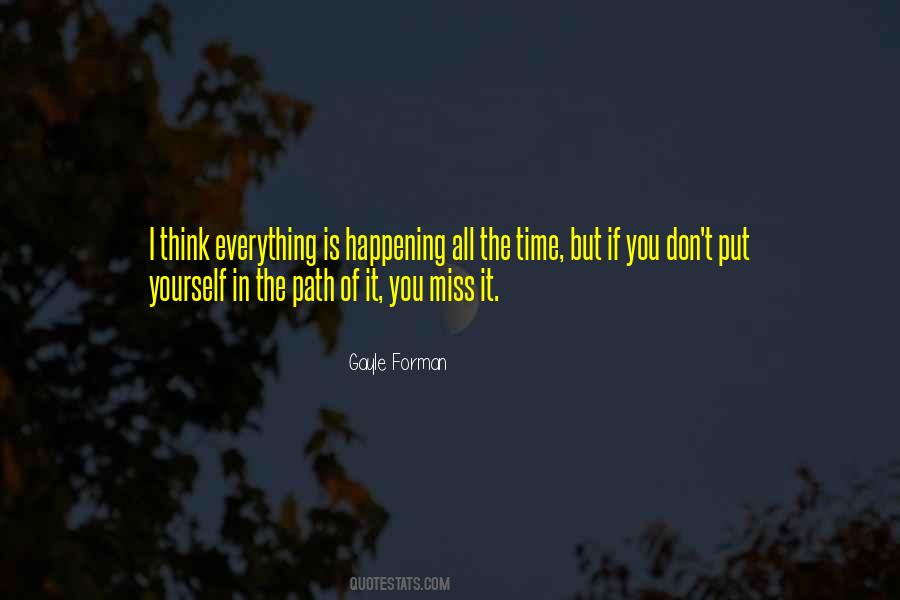 #59. What I do miss that I don't get anymore? You're going to think I'm crazy, but you want the truth, so here it is. The lights! I miss the spotlights. I don't mean it figuratively. I mean it literally. I love the feeling of lights. - Author: Barbara Mandrell
#60. It's really fun to go back and forth from acting projects to directing projects. You don't have as much responsibility when you're acting, but you have more fun. But then you miss having that responsibility, and so you go back and torture yourself and make a movie. - Author: Katie Aselton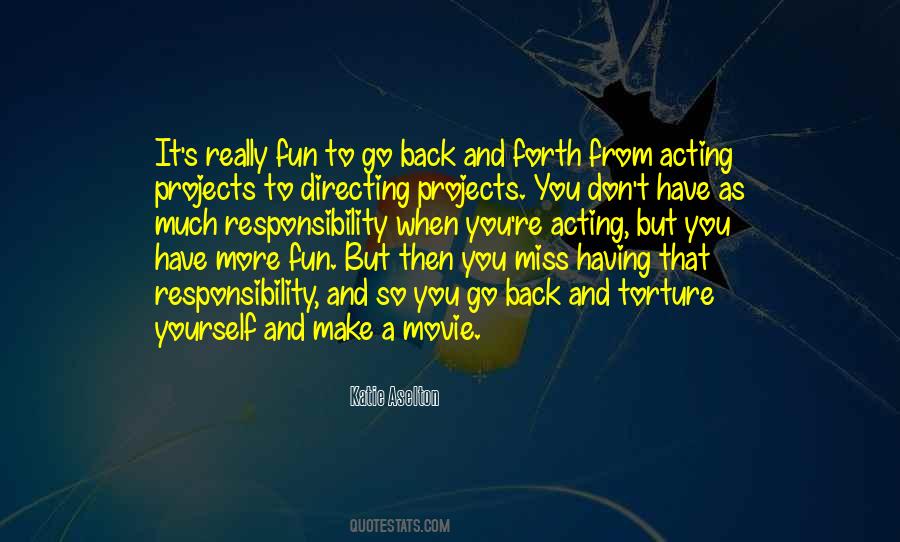 #61. God, I miss you.
I love you so much, Natalie, and when I get home I'm going to keep loving you until you tell me to stop. But don't, please. Don't tell me to stop.
I love you.
With everything.
- Ry. - Author: Andrea Randall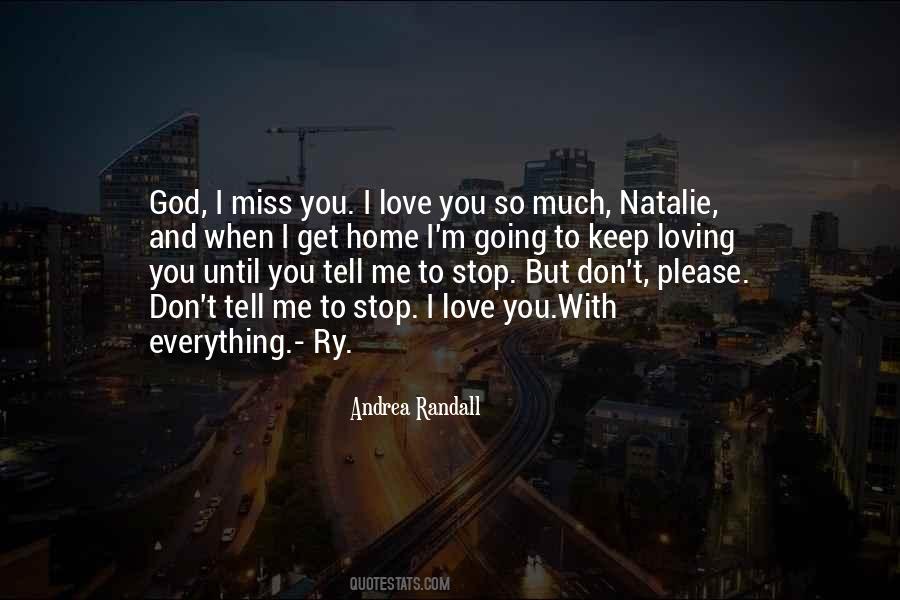 #62. Your key concerns at that stage?"

"Well, Miss LaRoux had a party she didn't want to miss, and I - "

"Major, you don't seem to understand the seriousness of your situation."

"Sure I do. What the hell do you think our key concerns were? - Author: Amie Kaufman
#63. When you sit in America you miss the open plains and you miss the sound of rain and the smell of rain and the smell of the veld. If you're African it's different and I don't think one will ever become an American or British. It doesn't matter where you move, you will always be a South African, - Author: Zola Budd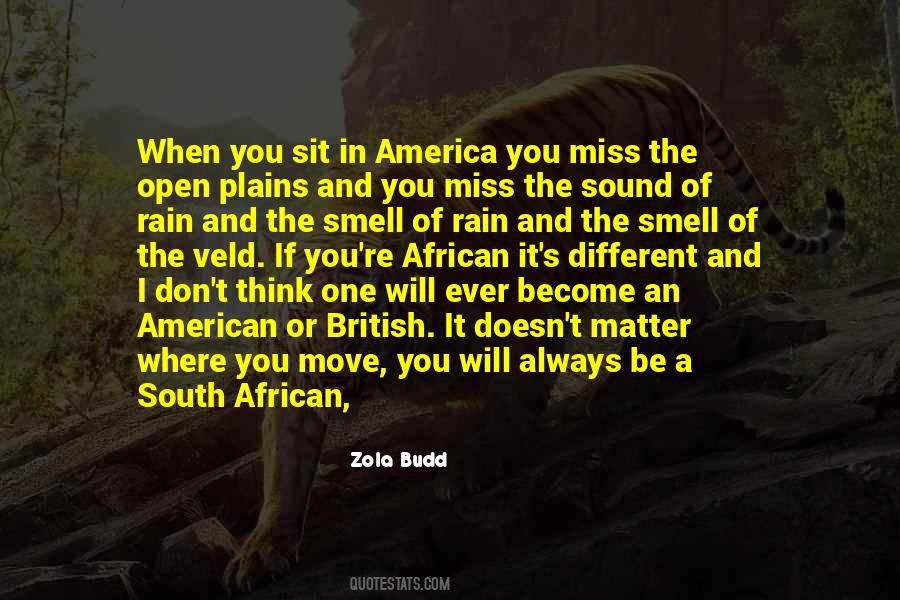 #64. I don't claim to be some Aaron Sorkin expert, but it is like a Camelot. His shows are a place where people are trying to reach their highest potential. And I think we miss that sometimes. If I got a chance to do 'The Newsroom,' I would have done it yesterday. - Author: Dule Hill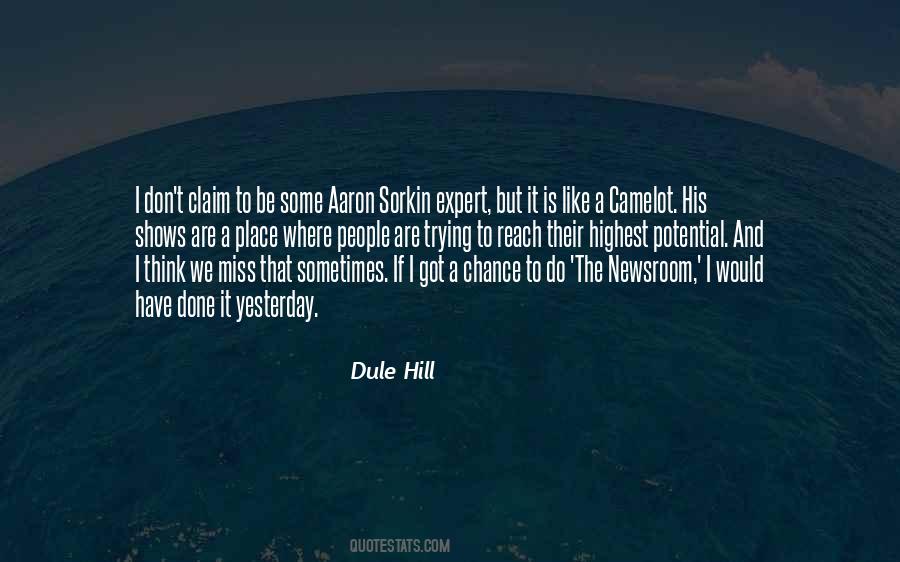 #65. I don't think there is a question as to whether or not I want you, because that is painfully blatant right now, but did I miss you? It was so much more than that. And do I need you? Yes. I need you. My heart needs you, Delilah. - Author: Lindy Zart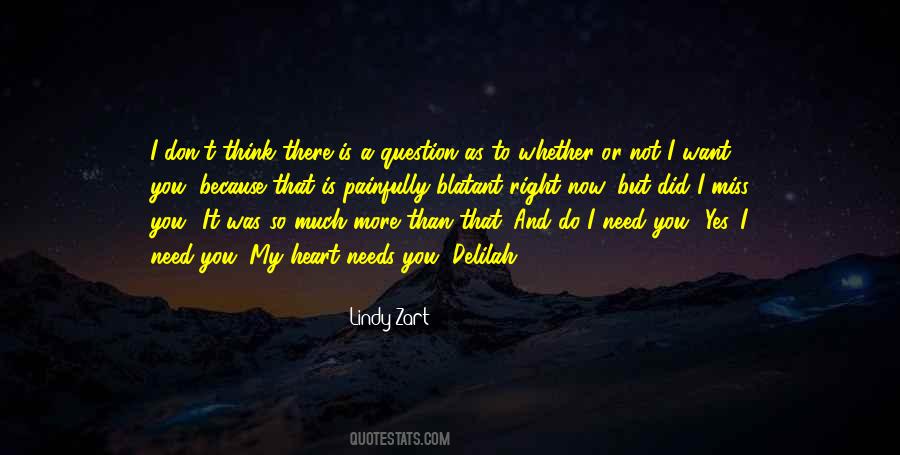 #66. Nobodys life ever goes according to plan.
So why do we keep on planning?
Because that's how we know who we are. By what we intend to be. By what we try to become.
And fail.
I don't say 'fail'. I saw we aim and miss. But we still hit something. - Author: Orson Scott Card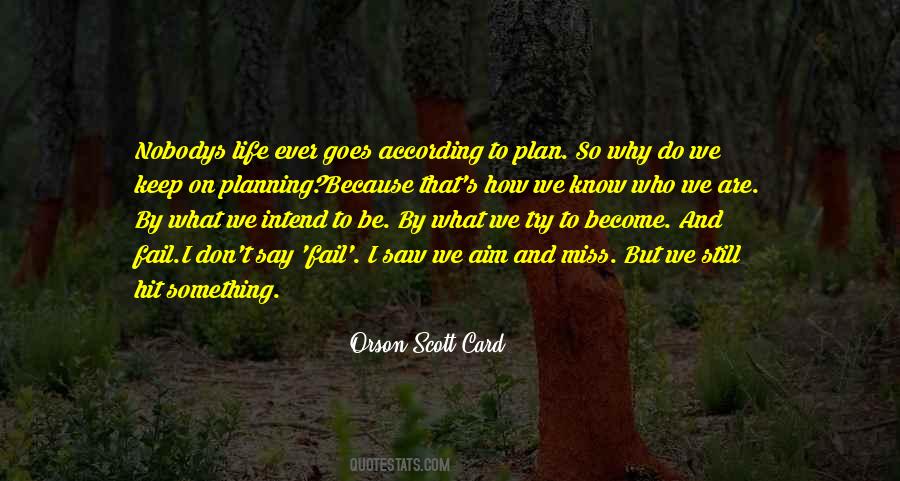 #67. You never know when it's going to be the last time you see somebody and don't want to miss your chance to say good-bye. - Author: Rainbow Rowell
#68. Don't be so obsessed with stardom that you miss out on success - Author: Rasheed Ogunlaru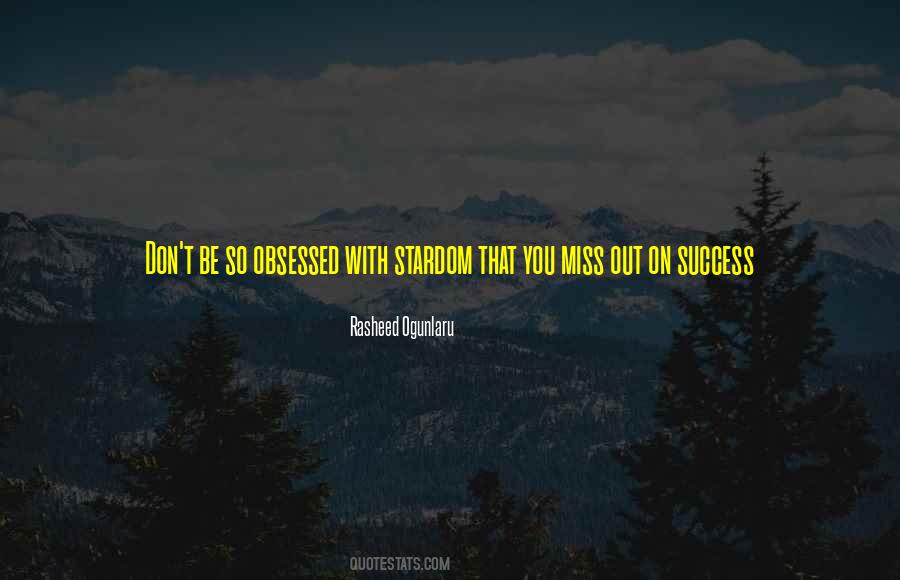 #69. Liam. We'll figure something else out. Please don't go."
"Why not? Would you miss me?"
Ty looked into his eyes and nodded jerkily. "Yes, I would."
"So tell me why I shouldn't go." They stared at each other. Liam took a step back. "Or better yet, come with me and tell me every night. - Author: Abigail Roux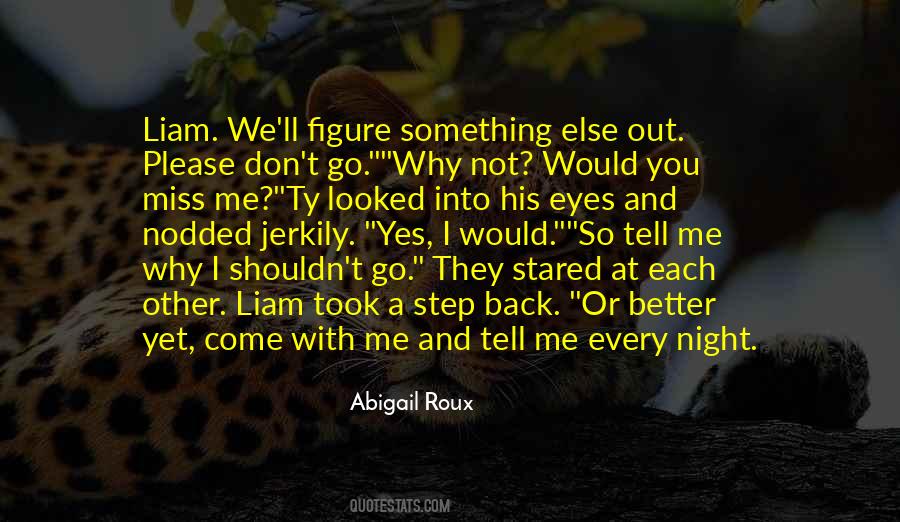 #70. I'll tell you what I miss most. What I would love to do, more than anything, is just anthologies. With an anthology you can tell any story and be in every division of television. We don't have any anthologies anymore, do we? - Author: Aaron Spelling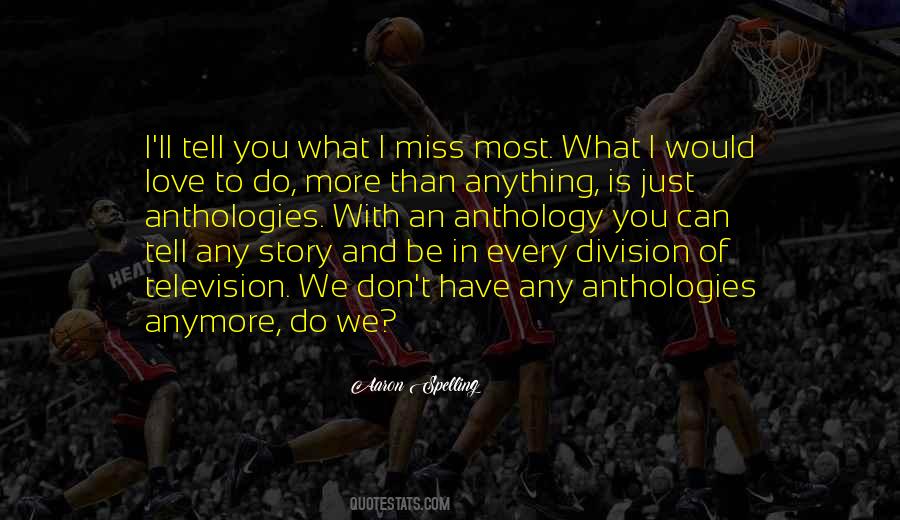 #71. I don't miss you, I miss who I thought you were. - Author: Waseem Latif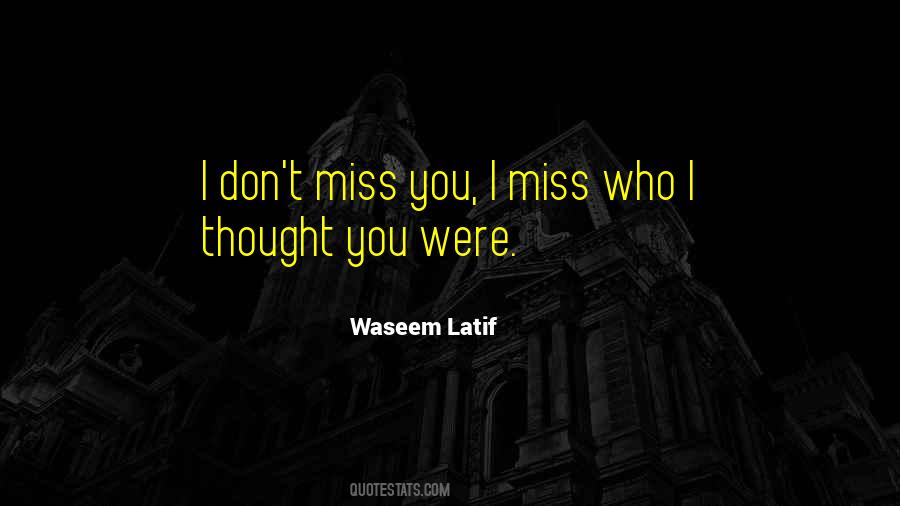 #72. You don't have to love somebody to miss them. You get used to having them around, like a cat or a bird. - Author: Ann Rinaldi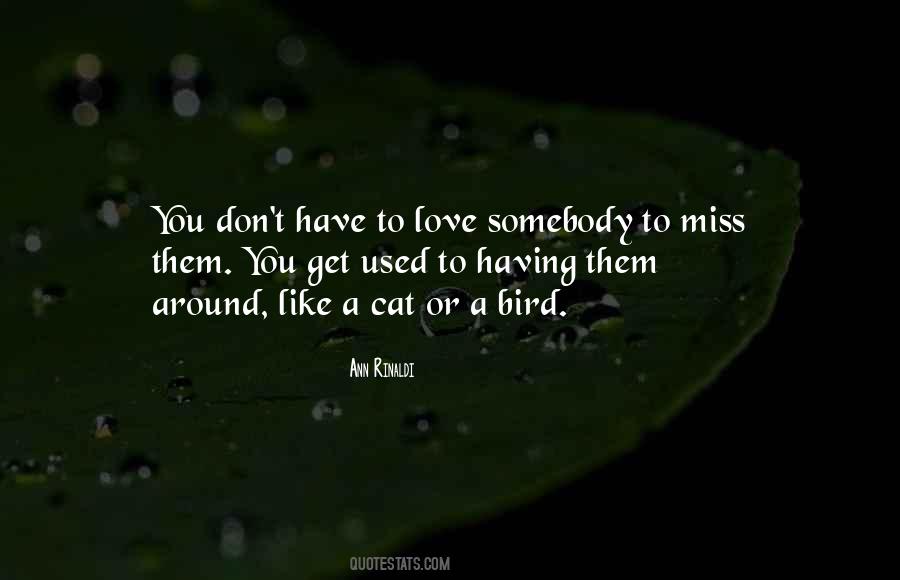 #73. Let's do, let's get some handles. I don't know why I'm talking about this stuff. Look, I love you and I miss you and you're doing the right thing. It's costing you too, I know that. I'm here and I'll be here whenever you come home, or I'll meet you anywhere, anytime. That's what. - Author: Thomas Harris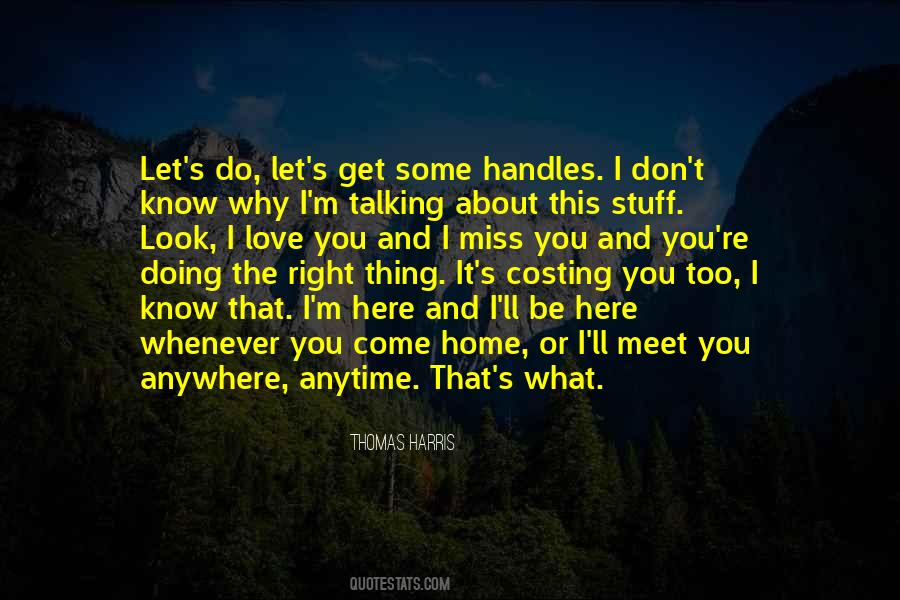 #74. I have spent my life waiting for something to happen,' she said. 'And I have come to understand that nothing will. Or it already has, and I blinked during that moment and it's gone. I don't know which is worse - to have missed it or to know there is nothing to miss. - Author: Tracy Chevalier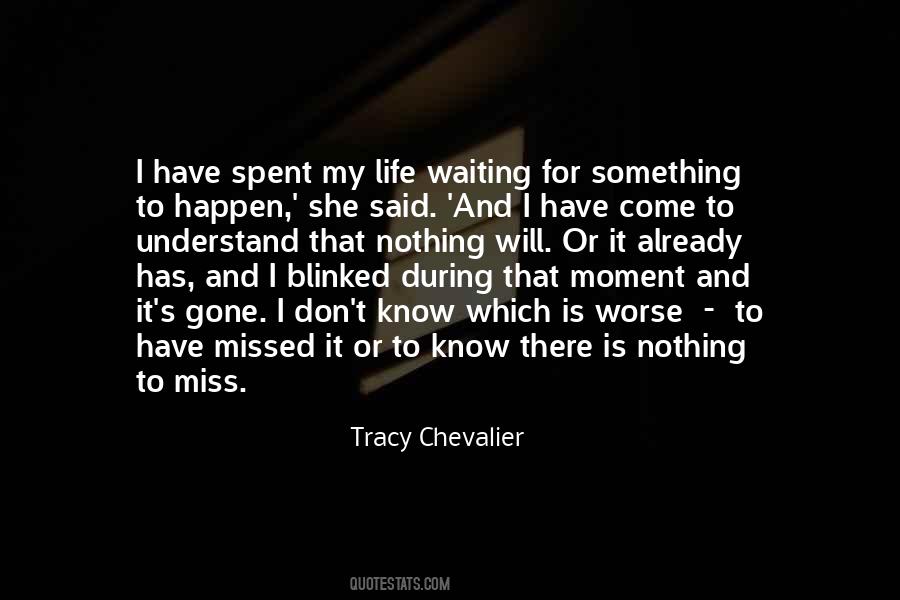 #75. Don't chase ghosts. You'll waste your life and miss out on the love that's right here in front of you. - Author: Lilly Pink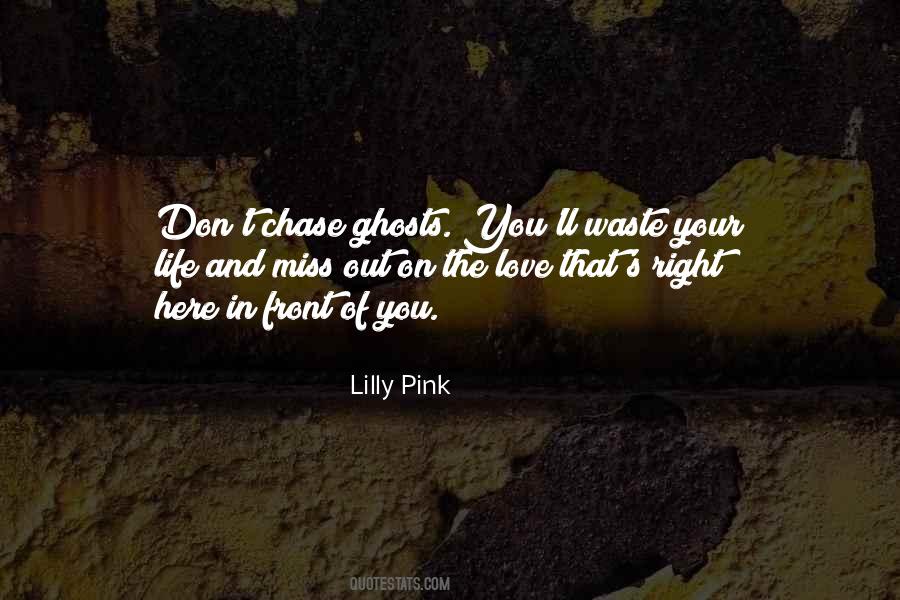 #76. I have no time for the endless nostalgia: 'Oh gosh I used to ... ' Life is too short; I don't have any time for sitting and saying I miss things. What's the point? Go and do something else. - Author: Kate Adie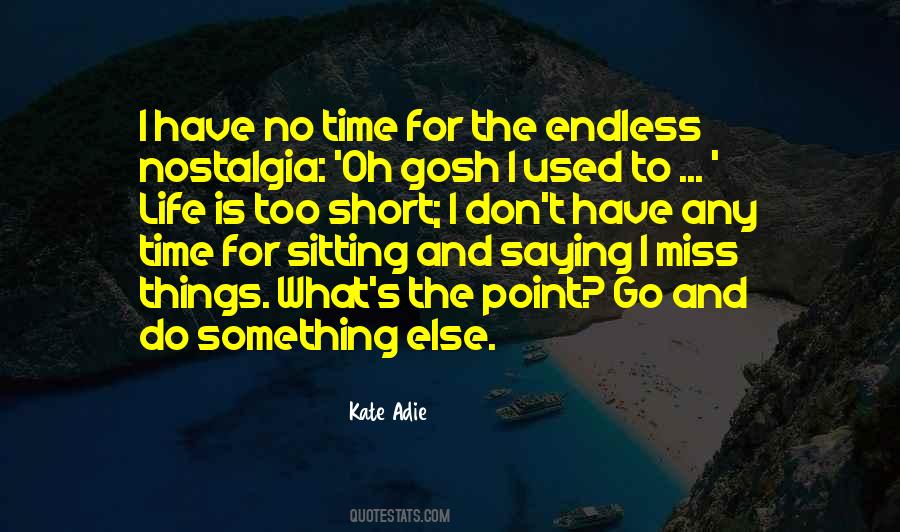 #77. I'm the only one in my family who is deaf, and there are still conversations that go around me that I miss out on. And I ask what's going on, and I have to ask to be included. But I'm not going to be sad about it. I don't live in sad isolation. It's just a situation I'm used to. - Author: Marlee Matlin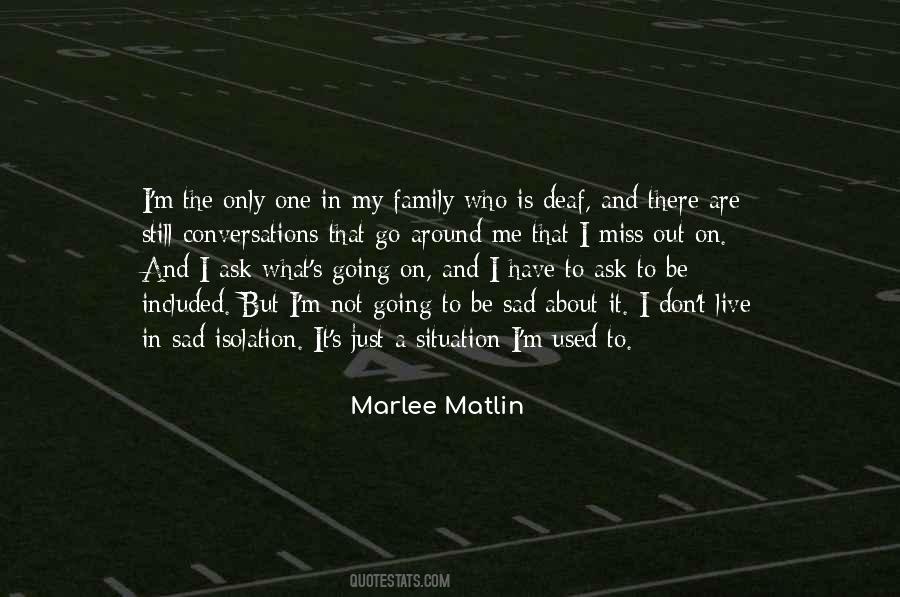 #78. No, I don't miss you... Not in a way that one is missed.
But I think of you.
Sometimes.
In the way that one might think of the summer sunshine
On a winter night... - Author: Sreesha Divakaran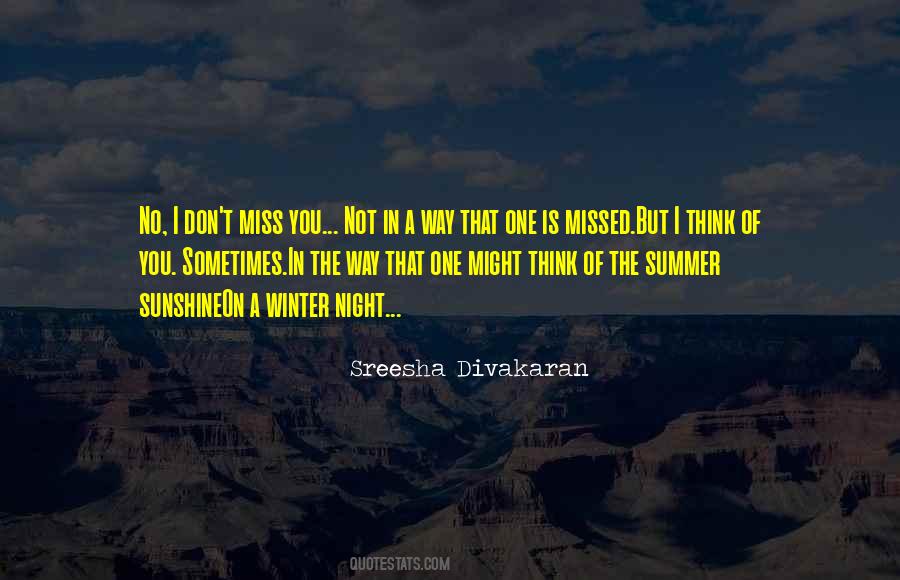 #79. Covenant community is like air. We don't miss it until we need it. - Author: Timothy Keller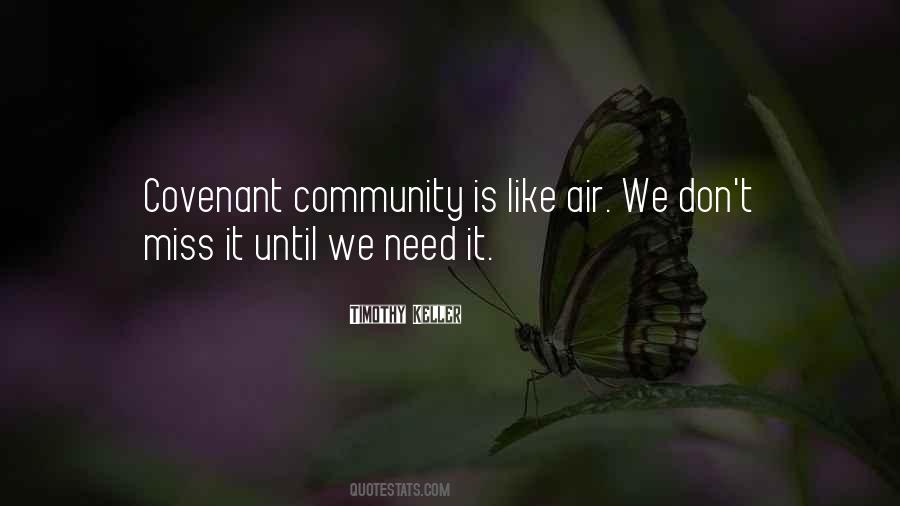 #80. We don't have to miss each other, come over
We don't have to fix each other, come over
We don't have to say forever, come over
You don't have to stay forever, come over - Author: Kenny Chesney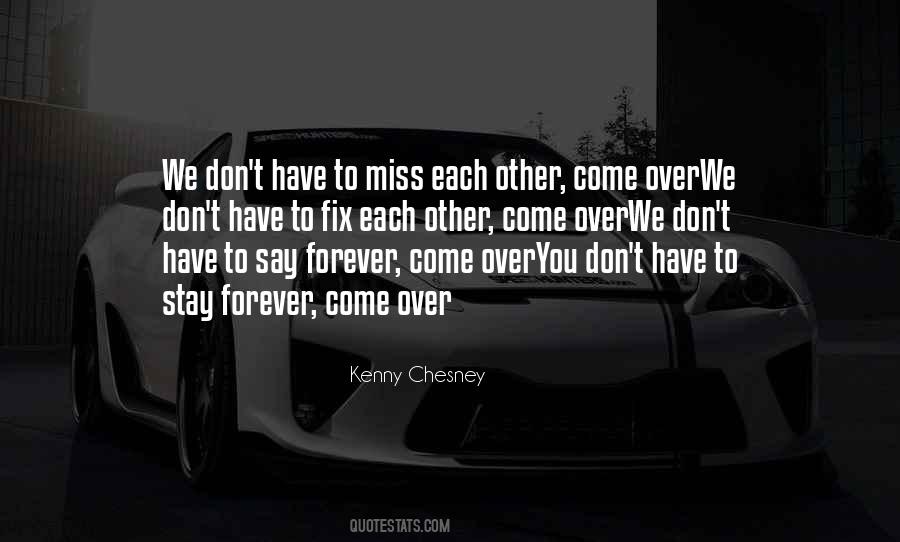 #81. I don't know how it would play out it the long run, if I were go to series with the story, I don't know. I just miss Peter so much on a personal level, that's about what I can say. He's my buddy and I wish he were around. - Author: Andreas Katsulas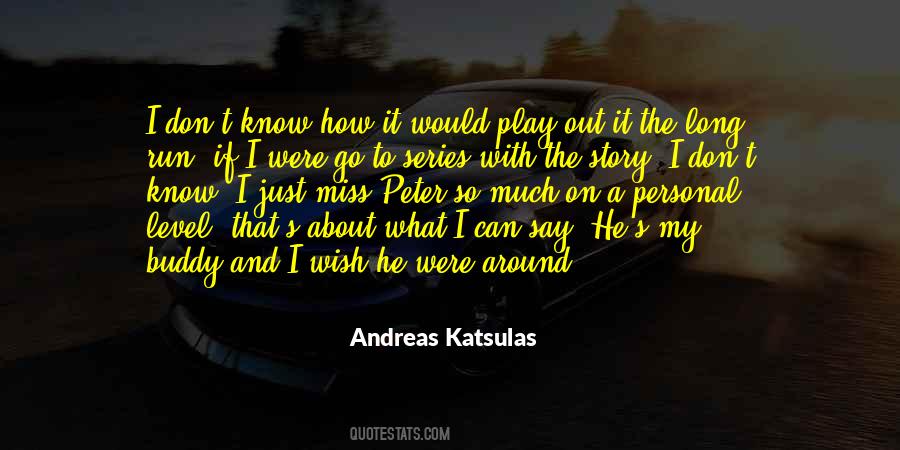 #82. Do we know her, Mother?" said George.
"What? No, of course we don't."
"Because when I see her," he went on, as if she hadn't answered no, "I don't miss anyone. I just feel happy that she's near. - Author: Lydia Netzer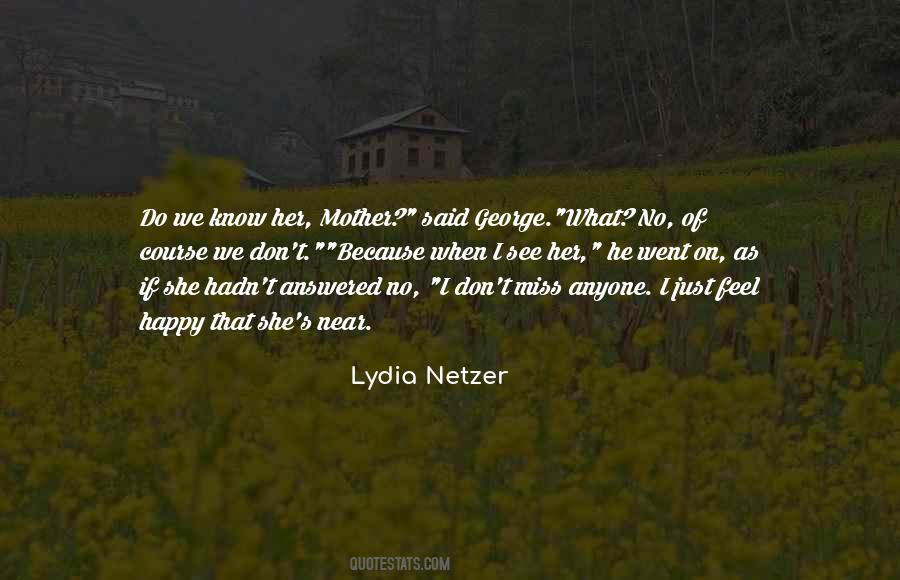 #83. We don't often notice the people who look after us, do we? Though we'd miss them if they weren't there - Author: Ann Cleeves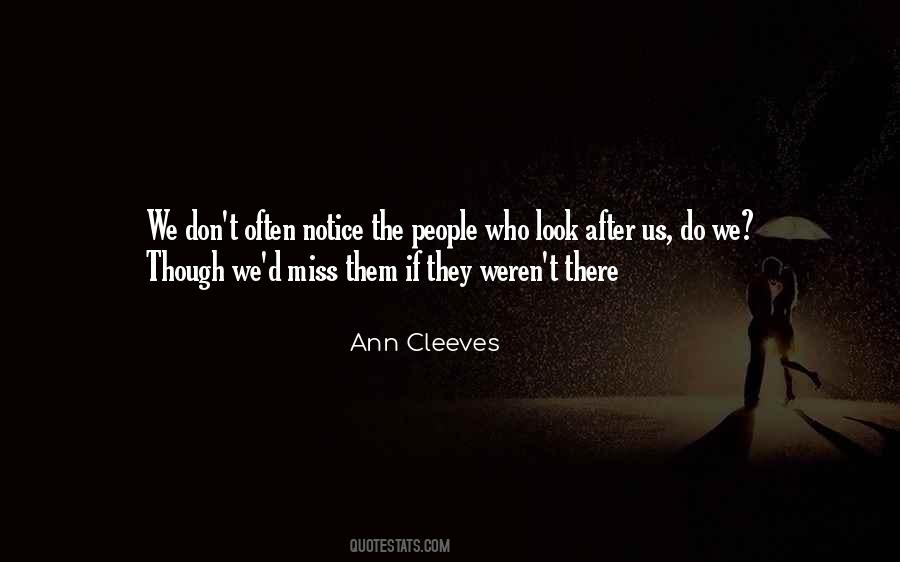 #84. As much as I miss the work, I don't miss NBC. I don't miss being there. It was just the wrong atmosphere for me. - Author: David Gregory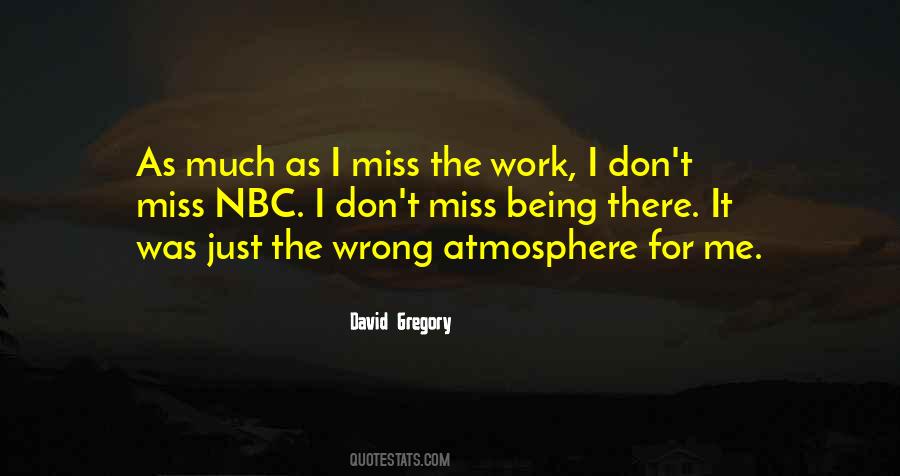 #85. Don't go any farther, Miss Marina," warned Stanley, a half-grin on his face. " 'Tempt ye not the dragon's wrath when his claws are yet to retreat.' Dragon claws ya just can't mess with. - Author: Kenzie Kovacs-Szabo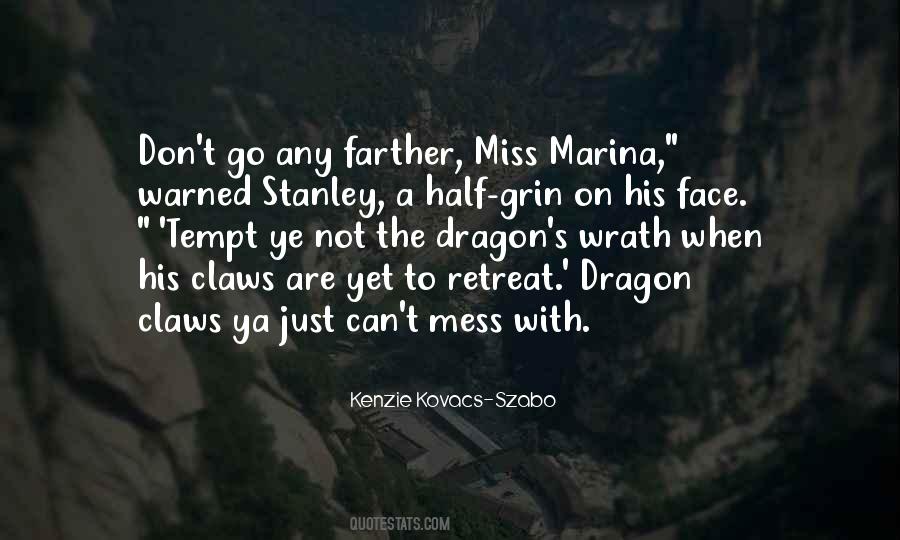 #86. Please don't miss me too much. Please don't be too sad. Find someone else to love, because you have much love to give and it's a gift that shouldn't be wasted. You , Jesse, were the rose that made my life sweet.I will wait for you in heaven. - Author: Lurlene McDaniel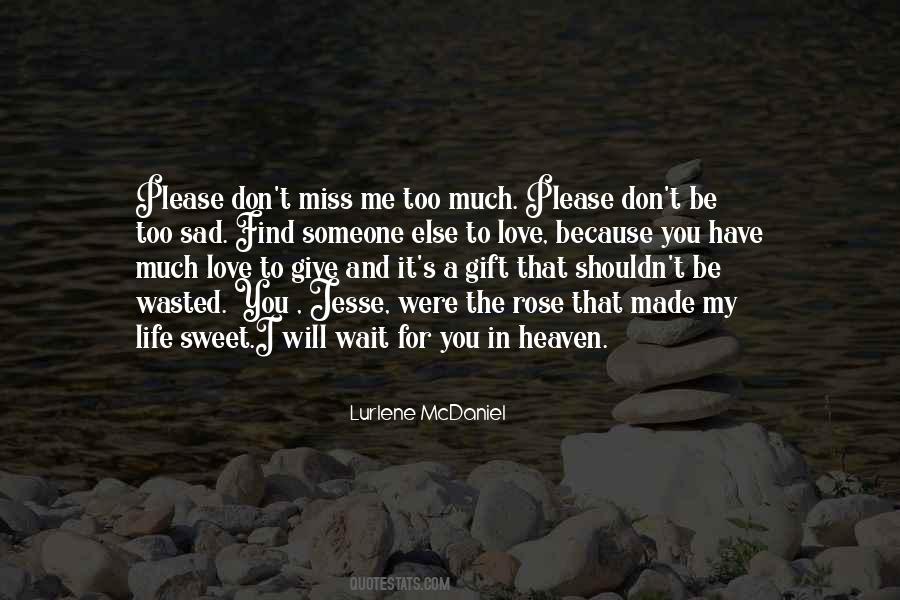 #87. I don't miss playing football, but I do miss going into the dressing room every day and having a laugh. - Author: Alan Hansen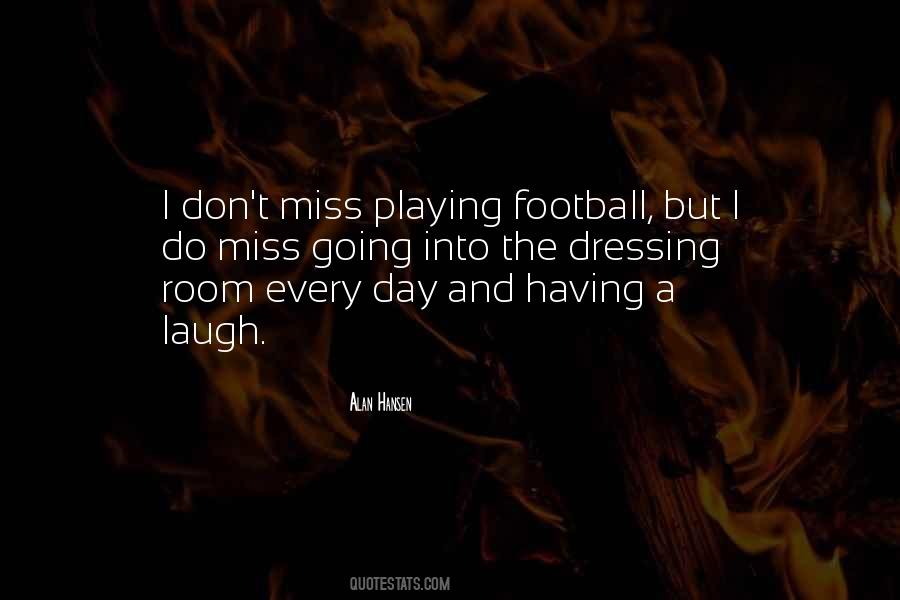 #88. As a comedian, especially one that works as much as I do, there is a lot of sacrifice. People don't see that I'm away from my family 46 weeks out of the year. I miss all the birthdays and anniversaries and holidays. - Author: Gabriel Iglesias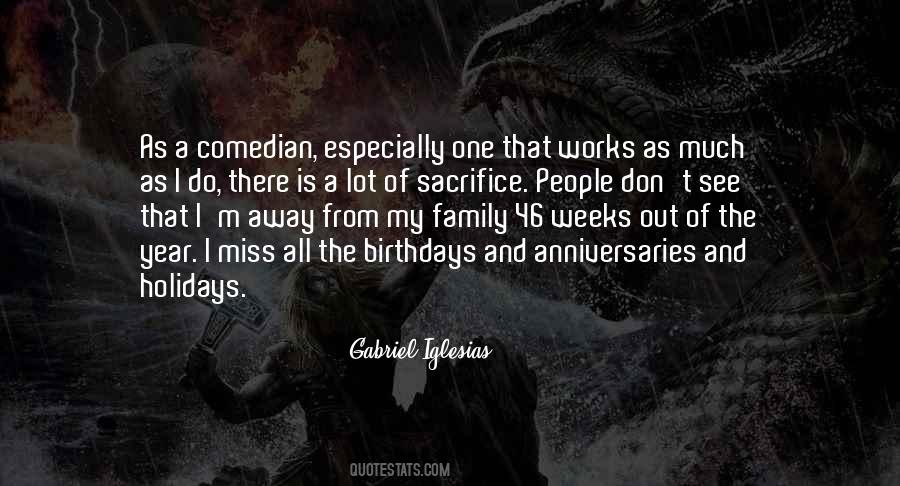 #89. I don't miss the bureaucracy of being in the Army. But I still love the relationships you can build. And it doesn't have to be in military service - it can be anything you're doing with someone that matters. You develop a bond. - Author: Stanley A. McChrystal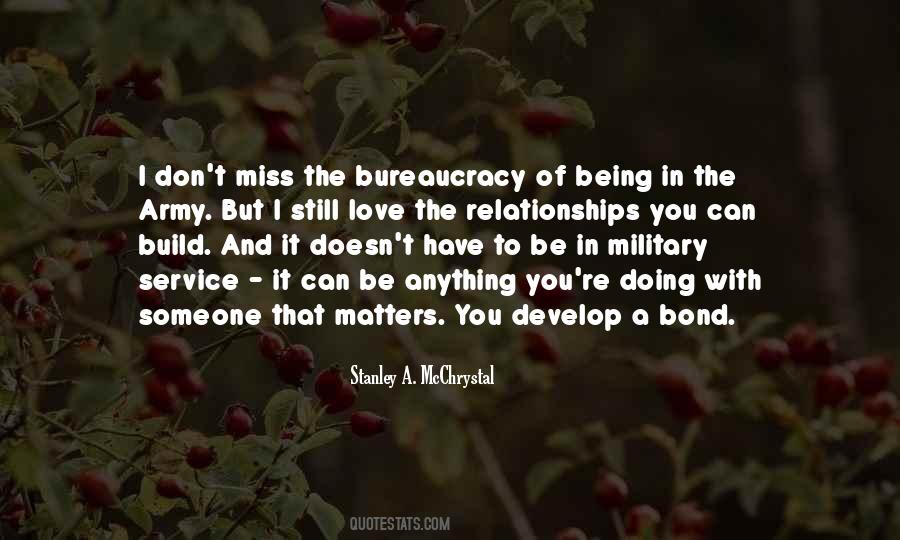 #90. I don't miss him, I miss who I thought he was. - Author: Anonymous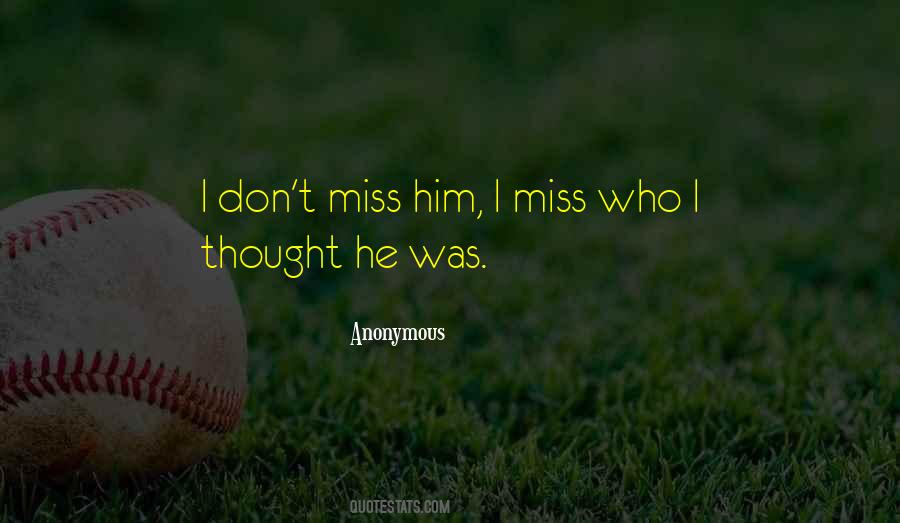 #91. Some things you miss because they're so tiny you overlook them. But some things you don't see because they're so huge. - Author: Robert M. Pirsig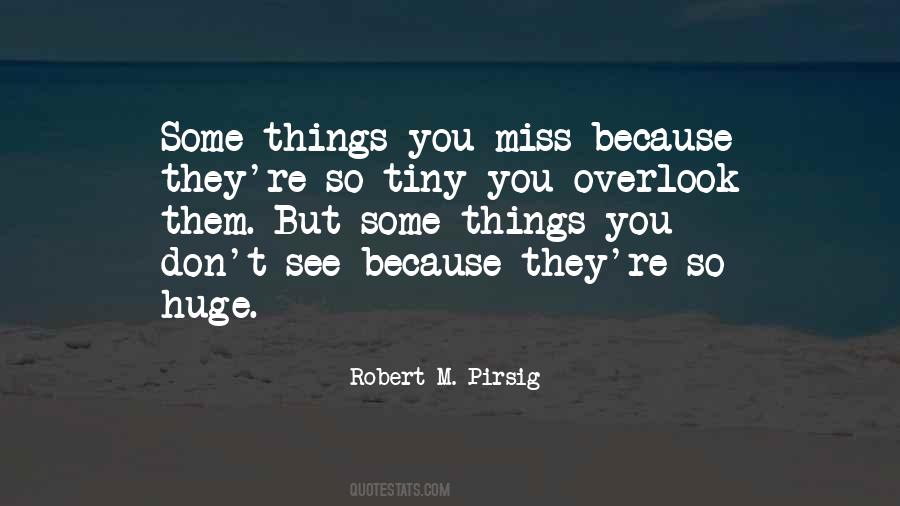 #92. I just wanna make sure that you don't miss out on the things in life that are happening when you're not thinking. Because believe me, those are the best things in life. - Author: Colleen Hoover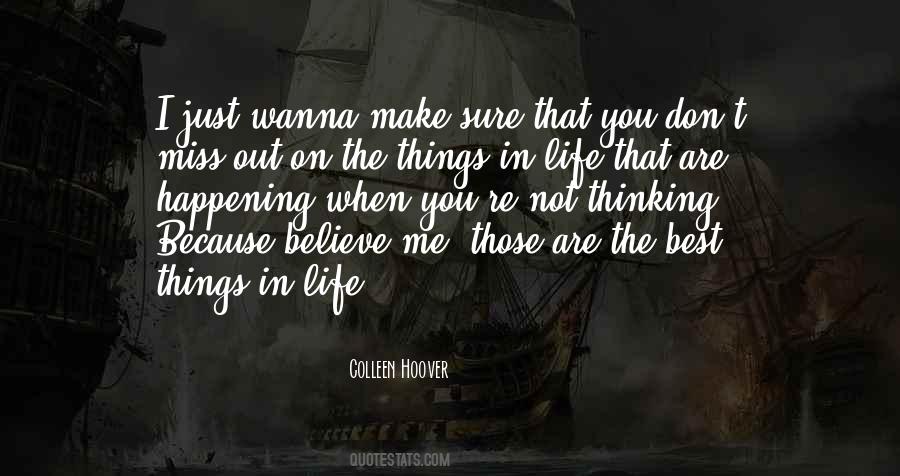 #93. Fine," Jeb said curtly, stowing his gun. "But don't test me. I haven't shot anyone in a real long time, and I sort of miss the trill of it. - Author: Stephenie Meyer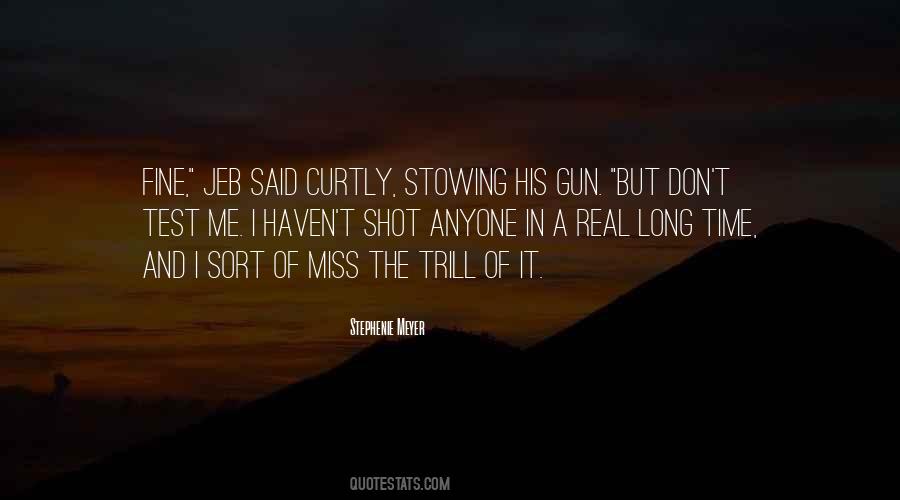 #94. You miss a lot of a person's life when you don't keep in touch. Maybe that's the point. - Author: Bryant A. Loney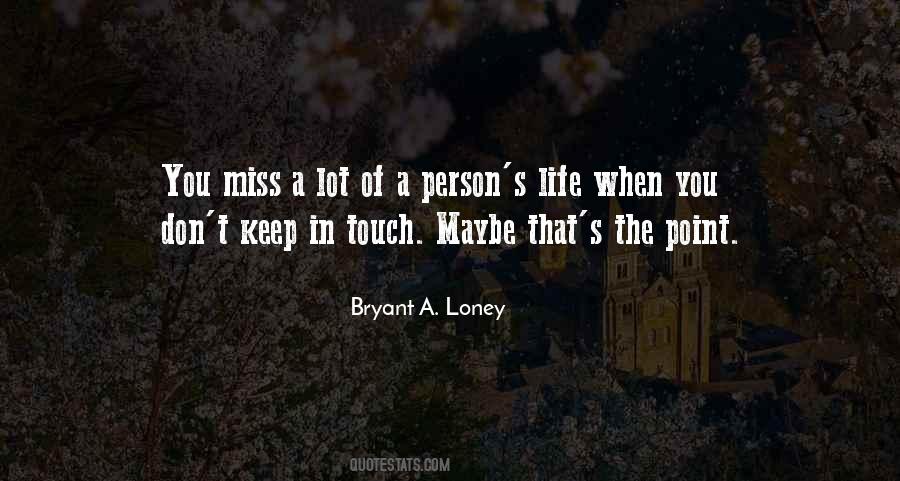 #95. Don't worry about failures, worry about the chances you miss when you don't even try. - Author: Jack Canfield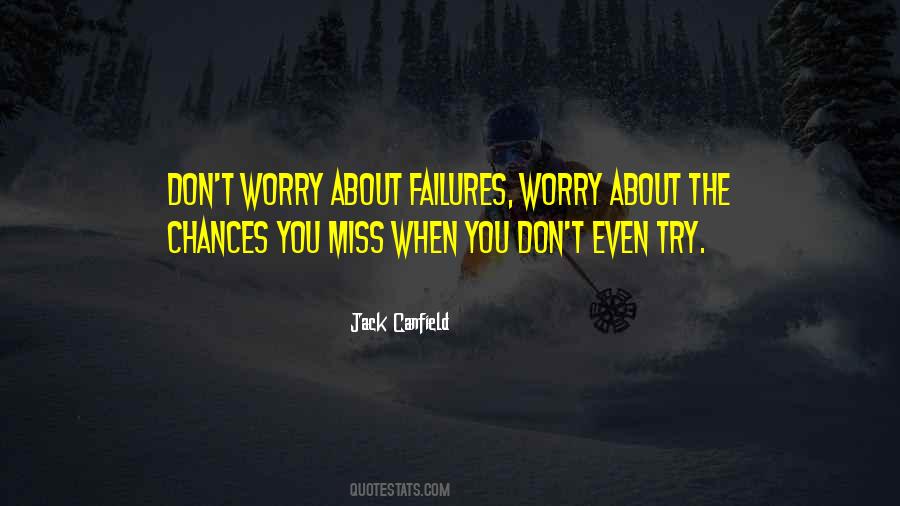 #96. I told Miss Kay we need to make sure our children don't turn out like I turned out, so they were raised up around biblical instruction. That mixed with discipline - the discipline code, I call it. They just had a lifestyle of seeing their parents do good things. - Author: Phil Robertson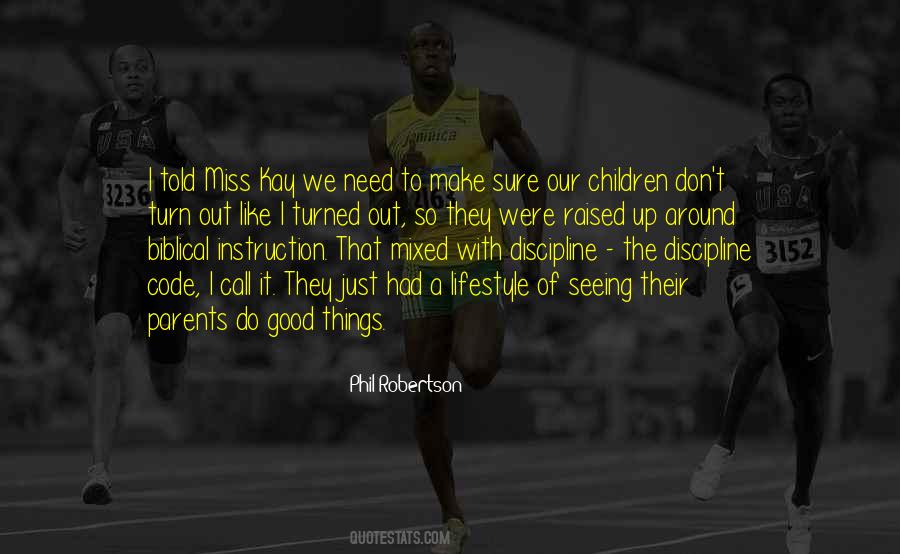 #97. Before I had kids I'd go out on the road for months and months at a time, but now I don't think I'd want to do that anymore, because I'd miss too much time at home, so it's just a matter of monitoring how much work that I do and how much time I'm on the road. - Author: Harry Connick Jr.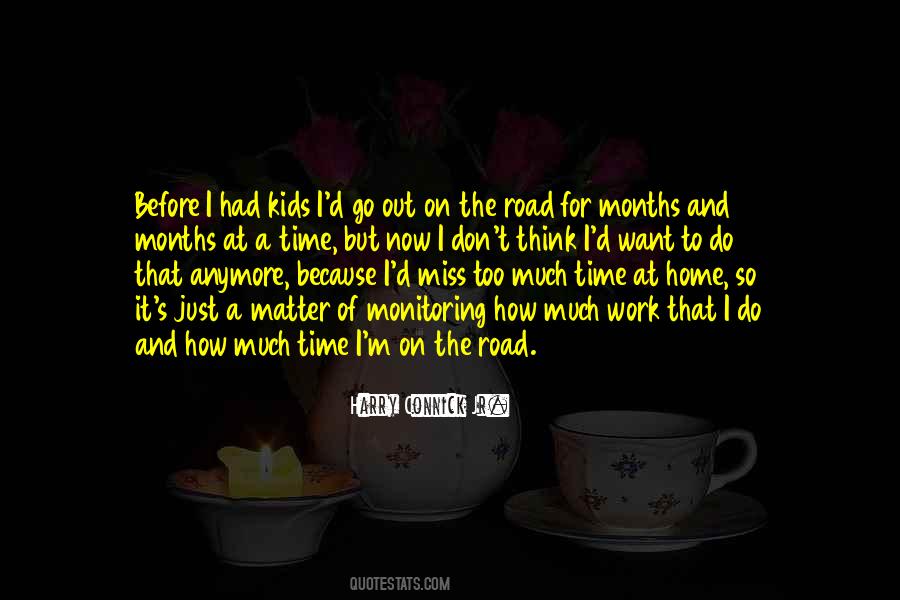 #98. I don't do sketch anymore and sometimes I miss it. But I think what I really miss is that time in my life, it was kind of like college. No kids, no real responsibilities, just comedy, food and late nights. - Author: Alex Borstein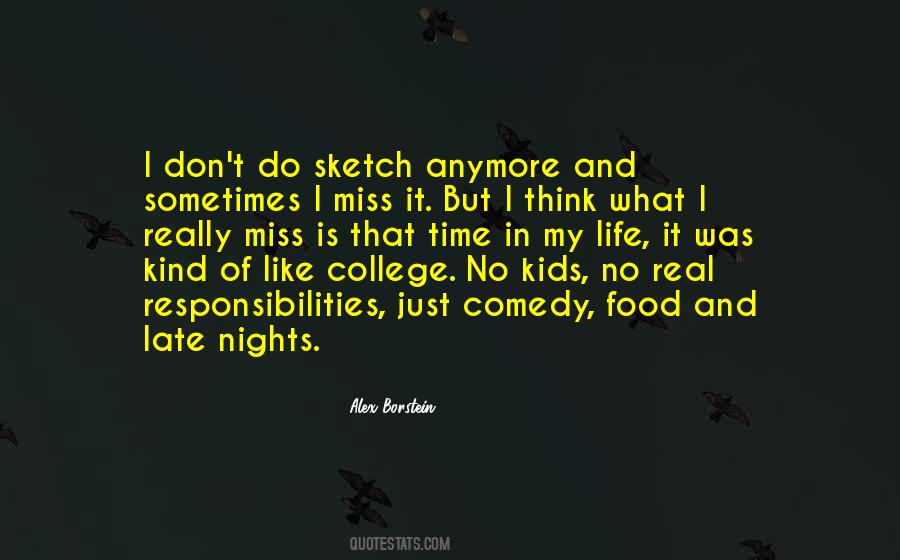 #99. I miss her, but I don't want to see her. - Author: Kim Do-Jin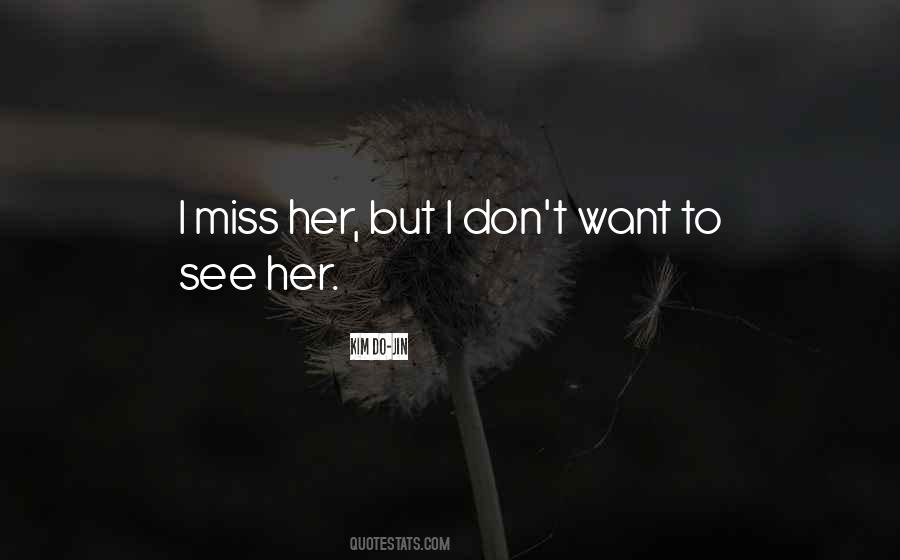 #100. I suppose the things that you always take for granted, that you don't even notice, are what you miss the most. - Author: Sarra Manning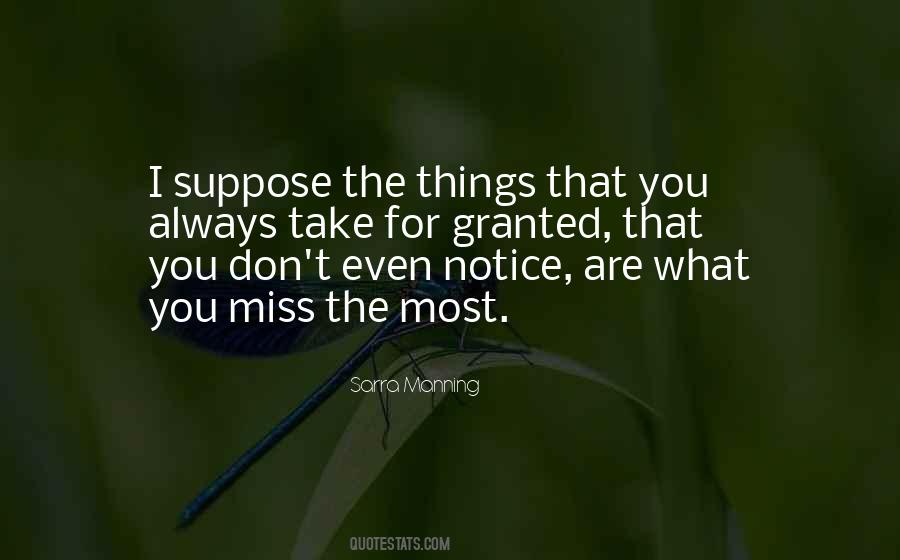 Famous Authors
Popular Topics