Distance Best Friendship Famous Quotes & Sayings
List of top 32 famous quotes and sayings about distance best friendship to read and share with friends on your Facebook, Twitter, blogs.
Top 32 Distance Best Friendship Quotes
#1. Most men will not ignore the present world that they can see in order to make the world they cannot see the object of their desires. Therefore, there is an
immediate friendship between this world and a man's fleshly desires and a corresponding distance between carnal man and eternal things. - Author: John Bunyan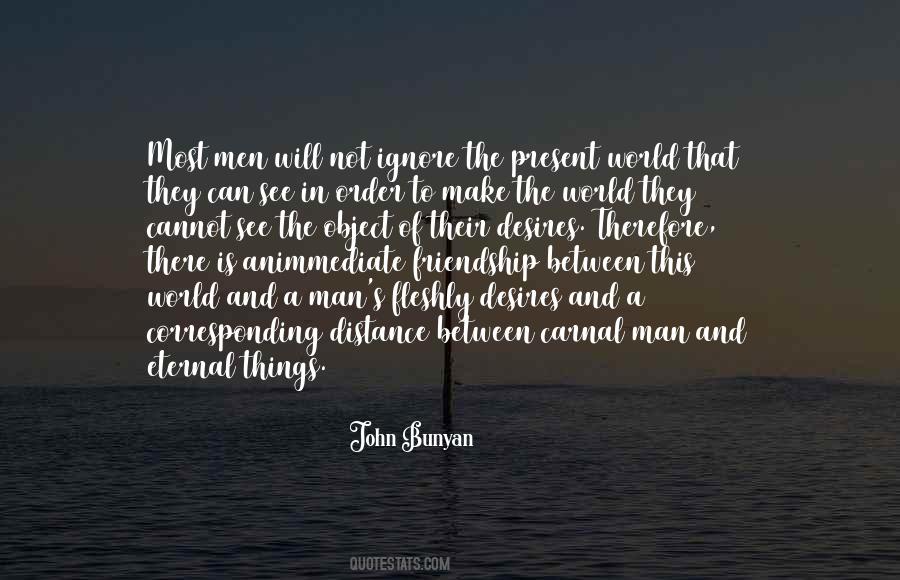 #2. Sometimes your soul just can't let go of someone. They mean too much to you. Do you very best to love them from a distance. Love is the only thing that travels with clarity and doesn't have to be dissected, disputed or questioned. - Author: Shannon L. Alder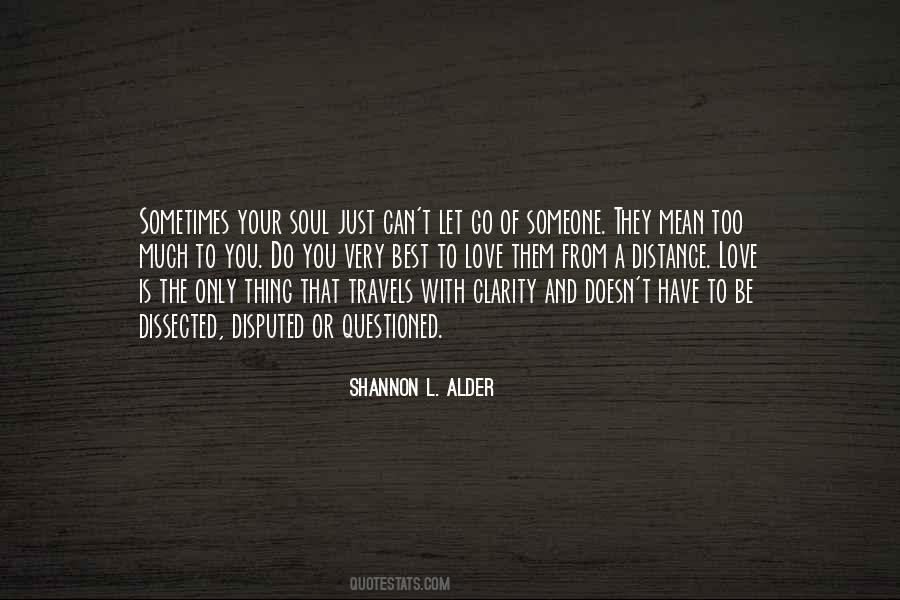 #3. You understood that proof of your friendship lay in keeping your distance, in accepting what was told you, in turning and walking away when the door was shut in your face instead of trying to force it open again. - Author: Hanya Yanagihara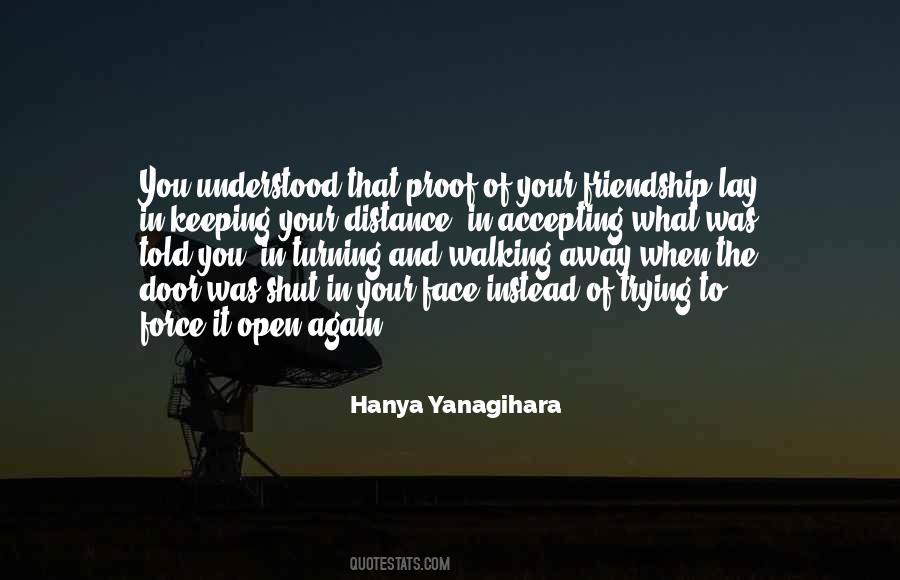 #4. My life would be allegiance instead of love, fealty instead of friendship. I would weigh each decision, consider every action, trust no one. It would be life observed from a distance. - Author: Leigh Bardugo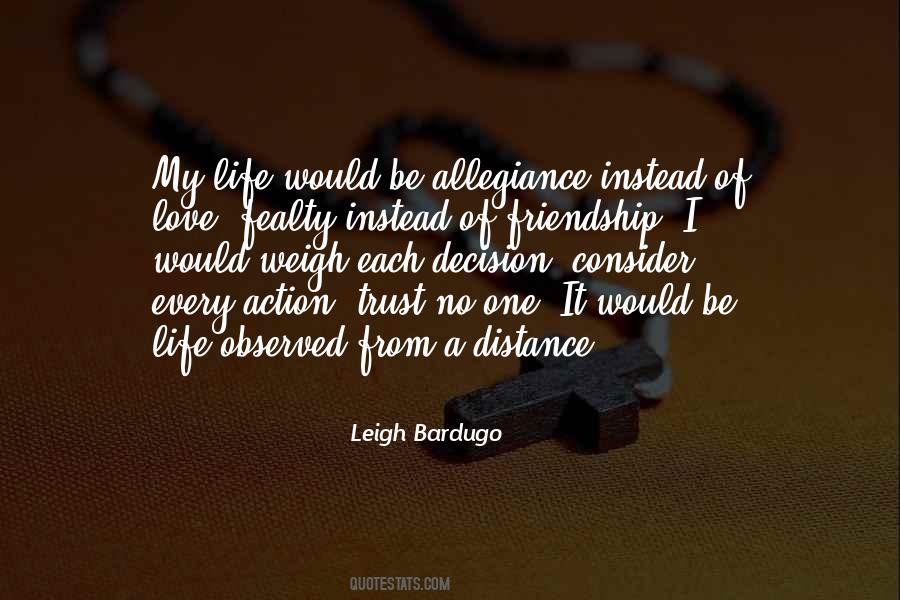 #5. Geography and mileage mean nothing. Separate is a single word that covers all distances that aren't together. - Author: Rivera Sun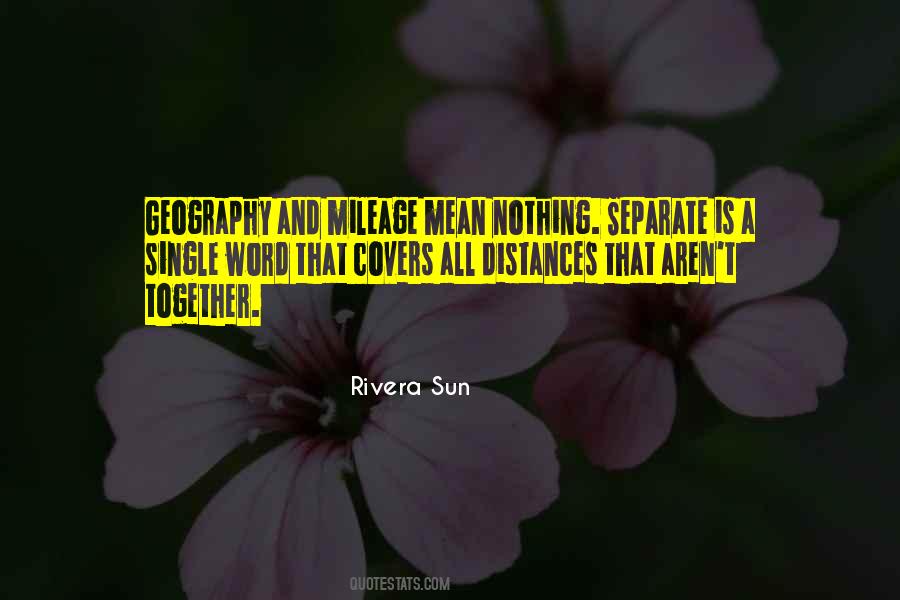 #6. You're my closest friend and you're thousands of miles away. - Author: Anthony Horowitz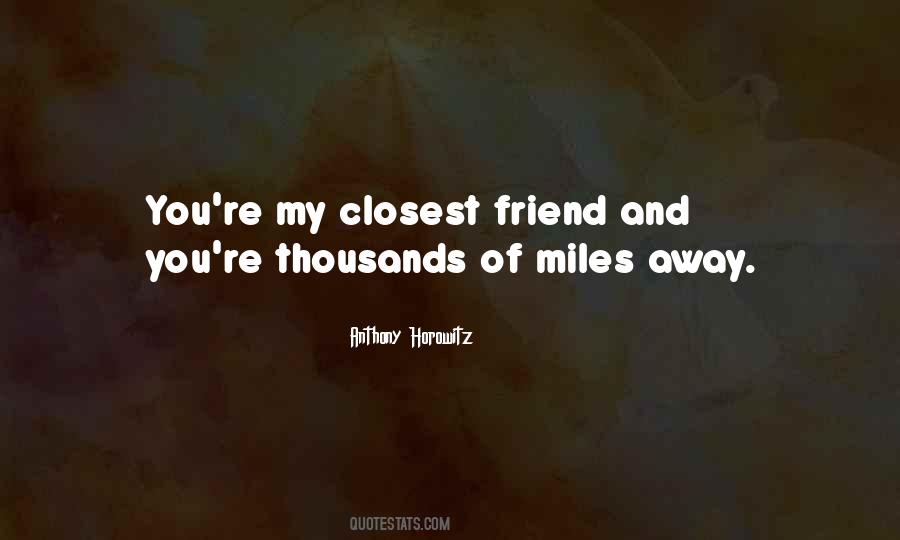 #7. He was lonely; I wanted to help, of course, but not from so intimate a distance; and lately our meetings had become memorable as a series of comically protracted farewells on station platforms and embarrassed, hasty protestations of friendship made through the windows of departing taxicabs. - Author: M. John Harrison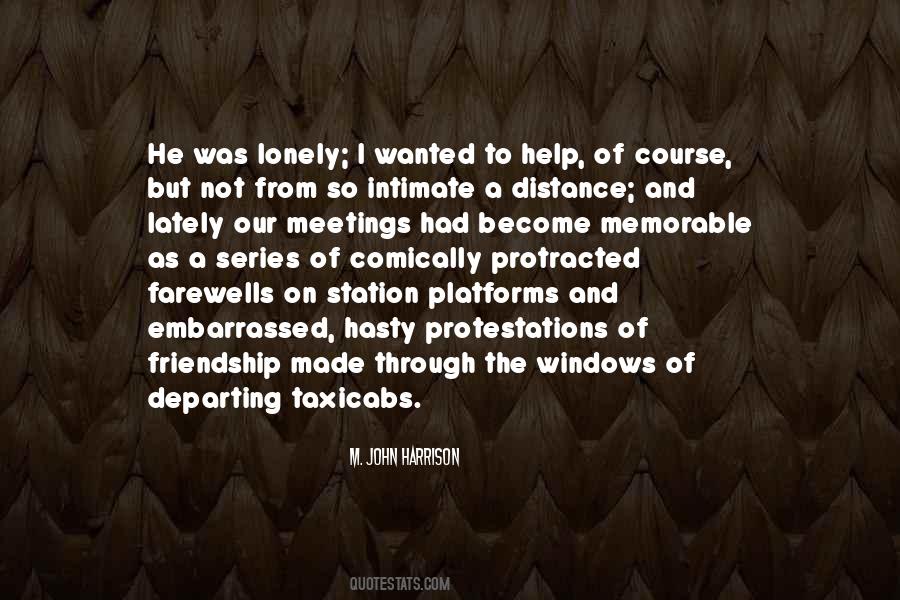 #8. Do not stand at a distance and wave hands. Get closer and hug. - Author: Lailah Gifty Akita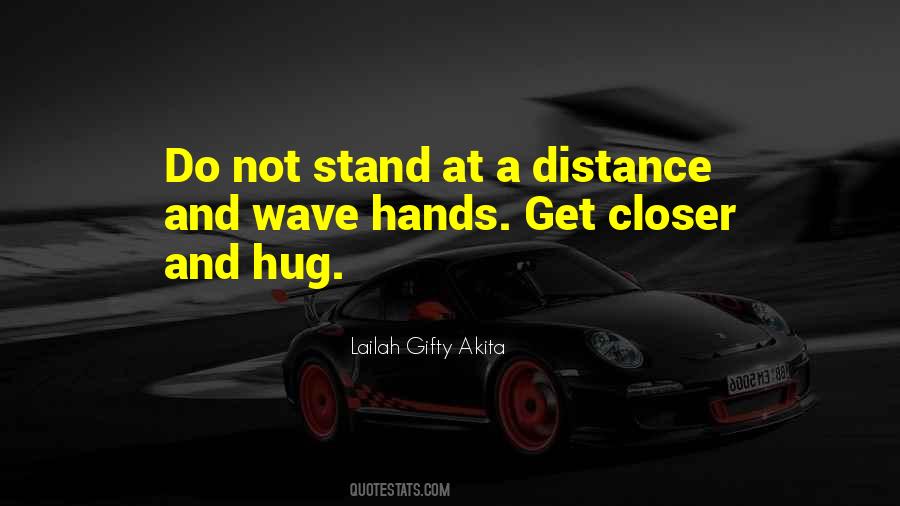 #9. The author observes that the friendship of John Hay and Charles Francis Adams benefited from a physical distance that required correspondence, meaning that feelings only implied in person had to be explicitly expressed. - Author: John Taliaferro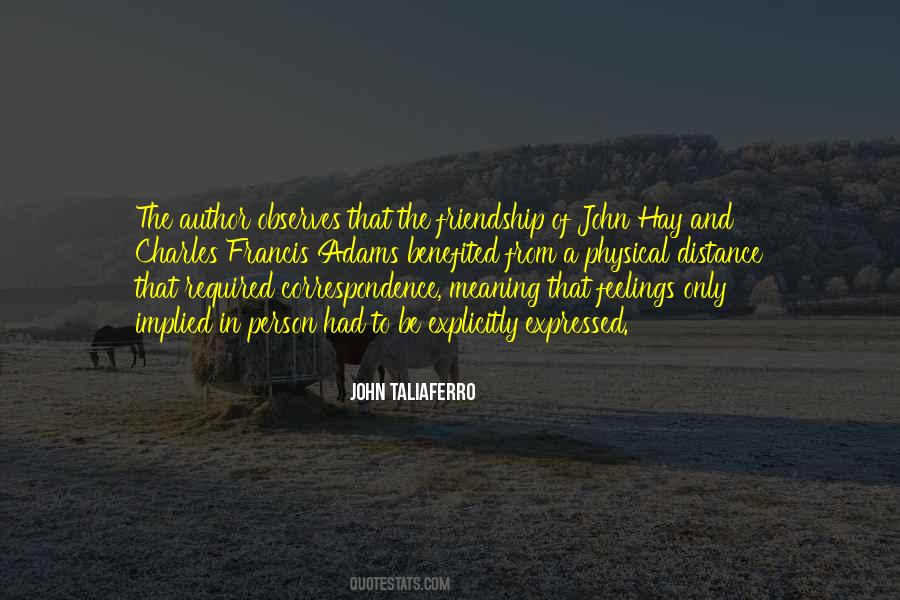 #10. Nothing makes the earth seem so spacious as to have friends at a distance; they make the latitudes and longitudes. - Author: Henry David Thoreau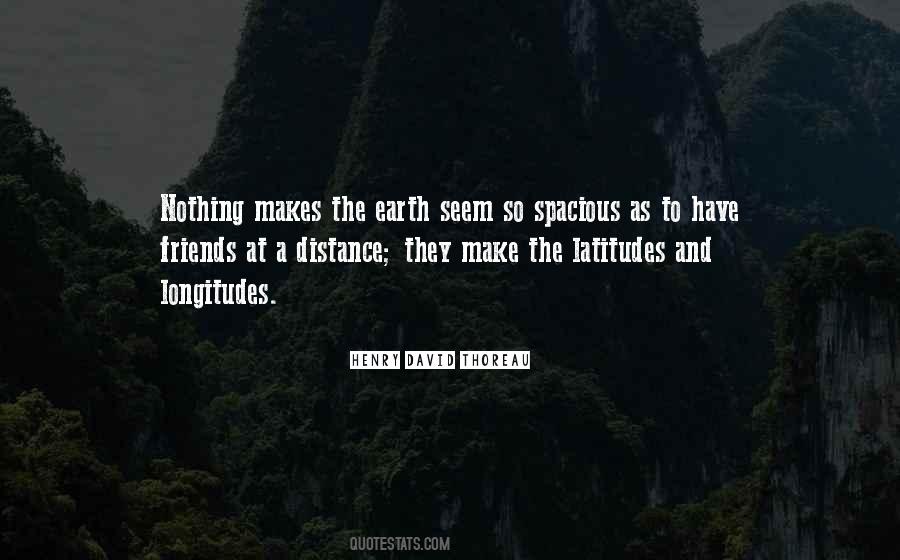 #11. Distance sometimes endears friendship, and absence sweeteneth it. - Author: James Howell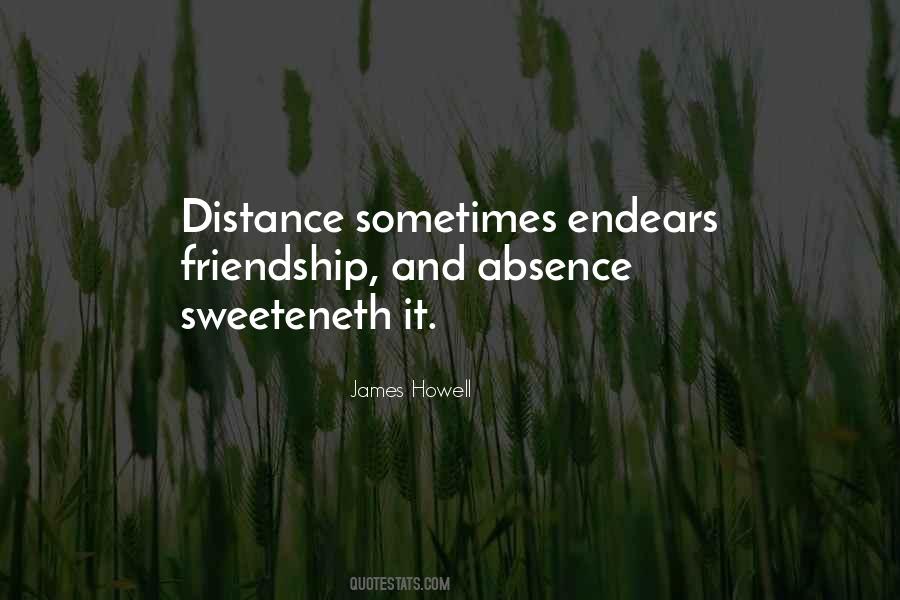 #12. Sometimes the worst tidings come as an absence. A friend who does not visit at the usual time, and who quickly thereafter withdraws from the friendship. An awaited letter that does not arrive, followed at some distance by news of an untimely death. - Author: Alma Katsu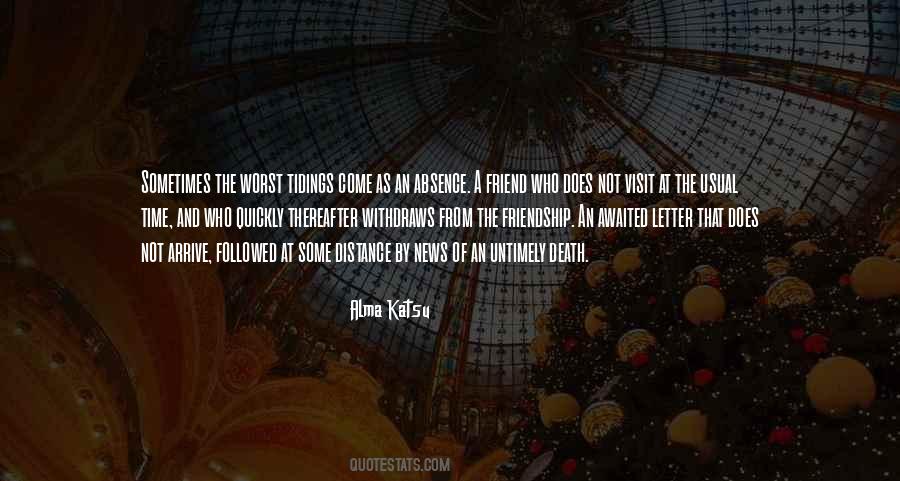 #13. A Life in Men is a joyful, ambitious novel that is also an adventure traversing three continents, as well as a meditation on love, sex, and, most important, friendship, which can overcome time, distance, and even death. - Author: Bonnie Jo Campbell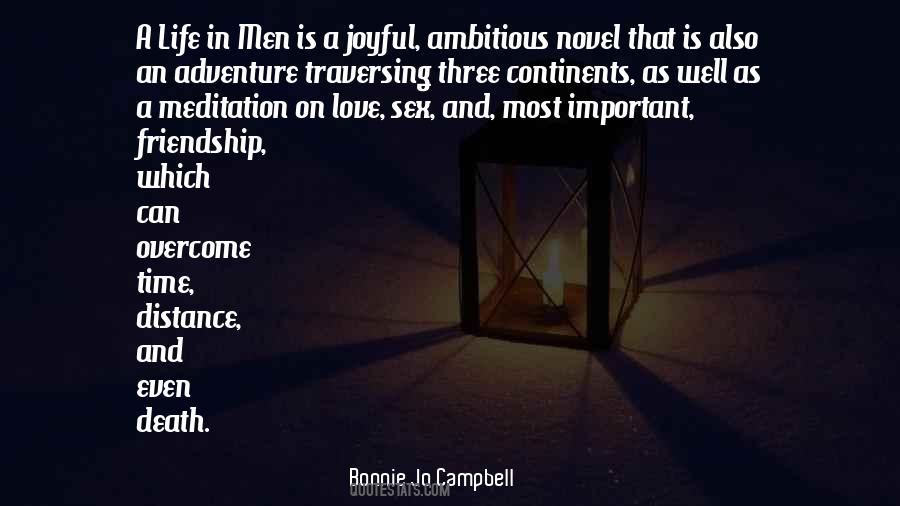 #14. Friendship is a miracle by which a person consents to view from a certain distance, without coming any nearer, the very being who is as necessary to him as food. - Author: Simone Weil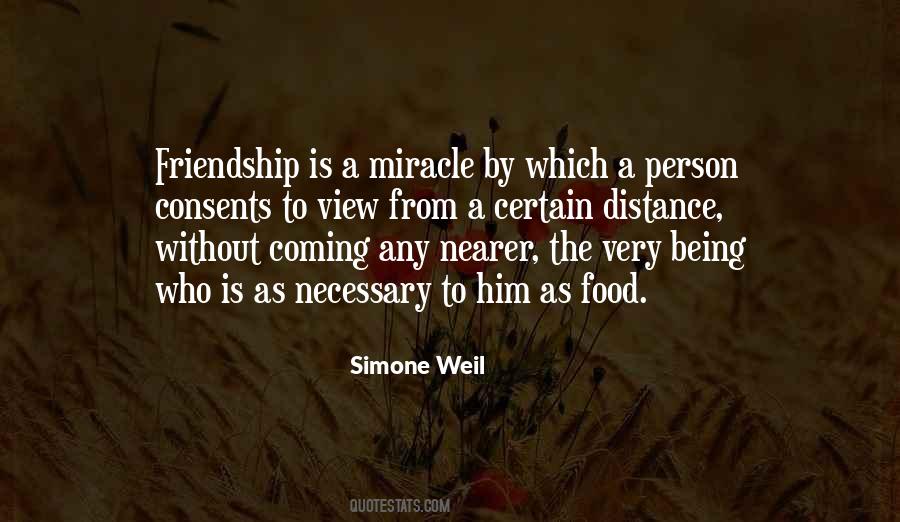 #15. What you could learn from me, you child, you have learned." "Oh no," cried Goldmund, "we didn't become friends to end it now! What sort of friendship would that be, that reached its goal after a short distance and then simply stopped? Are you tired of me? Have you no more affection for me? - Author: Hermann Hesse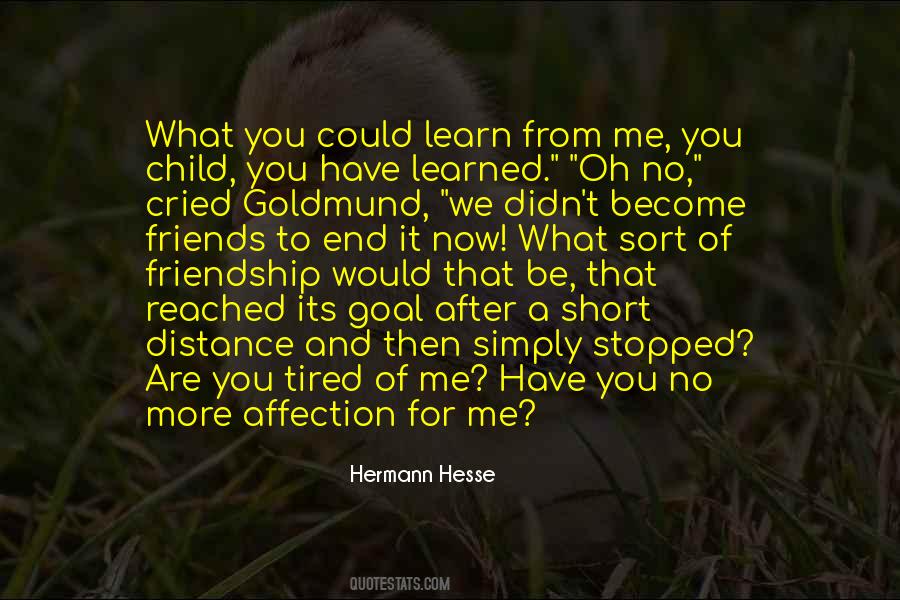 #16. Most of us wander in and out of one another's lives until not death, but distance, does us part
time and space and the heart's weariness are the blander executioners of human connection. - Author: Gail Caldwell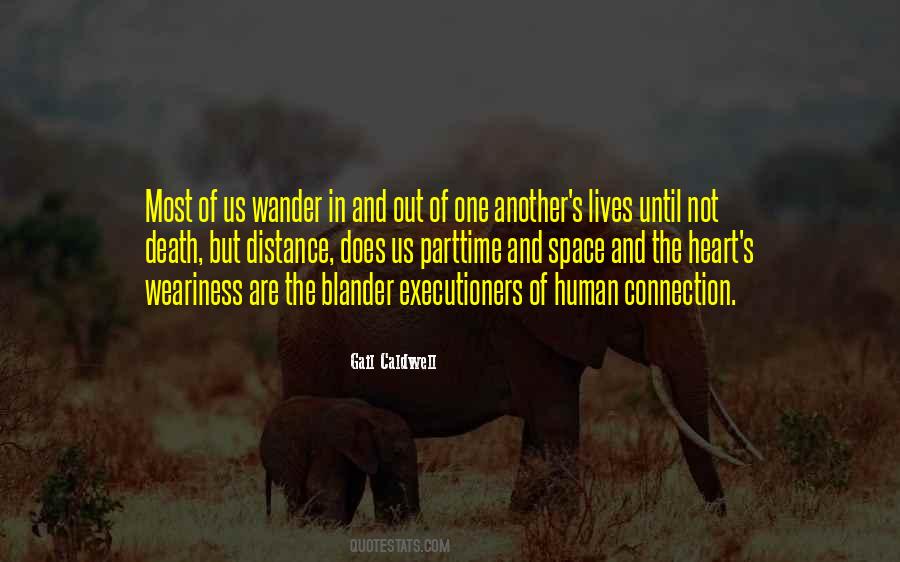 #17. The strength of a good friendship that goes the distance will be unconditional love. - Author: Brian Houston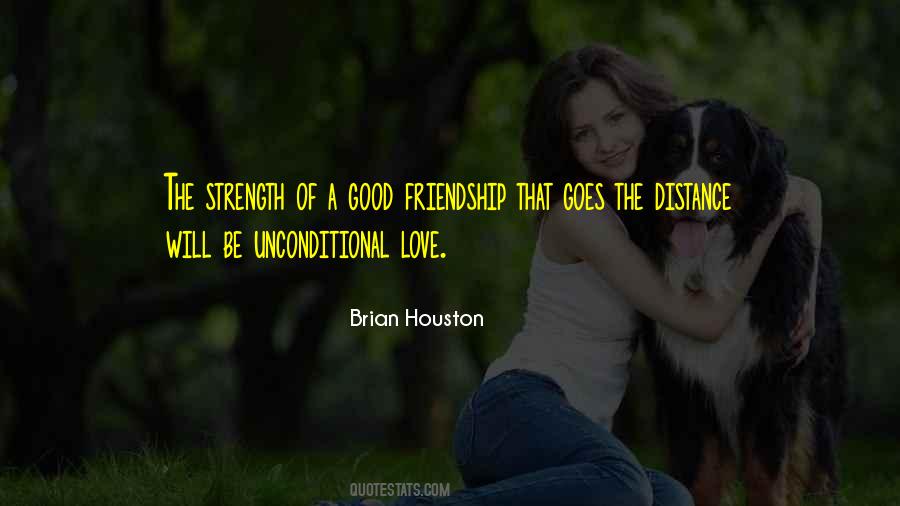 #18. Friendship is not diminished by distance or time, by imprisonment or war, by suffering or silence. It is in these things that it roots most deeply. - Author: Pam Brown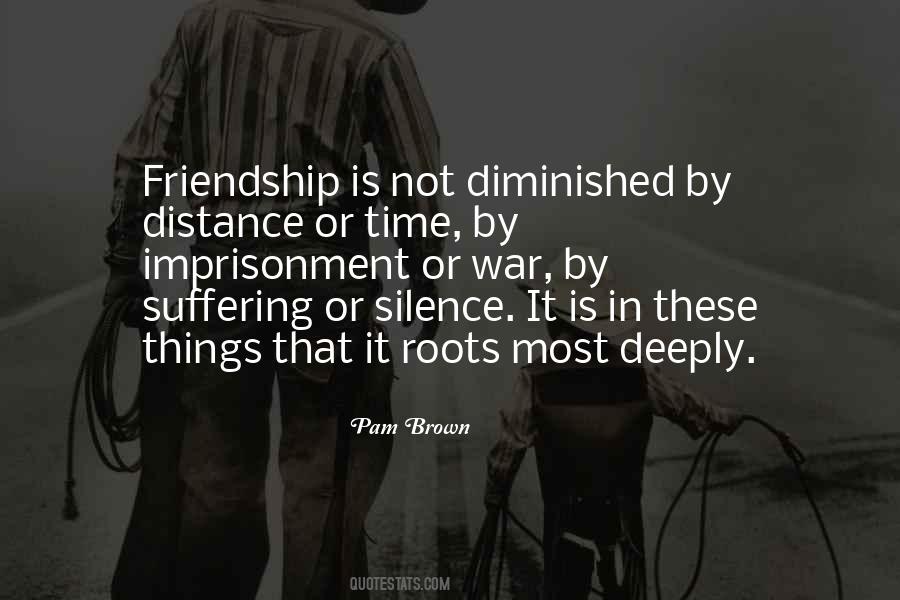 #19. They say distance makes old friendships fade away. They say with time and distance lovers forget one another. I find it quite the opposite. Distance, time, they all enhance the aroma of every moment two close souls once spent together, they magnify every little shared pleasure. - Author: Carol Vorvain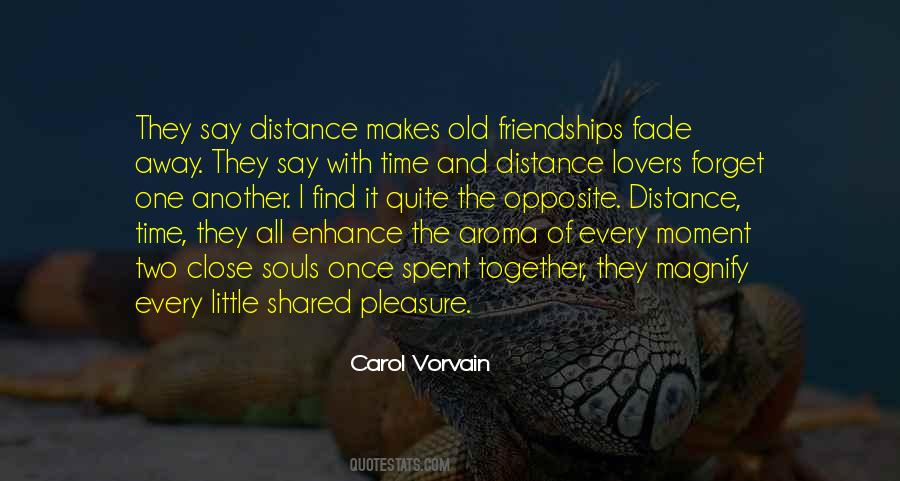 #20. To love purely is to consent to distance, it is to adore the distance between ourselves and that which we love. - Author: Simone Weil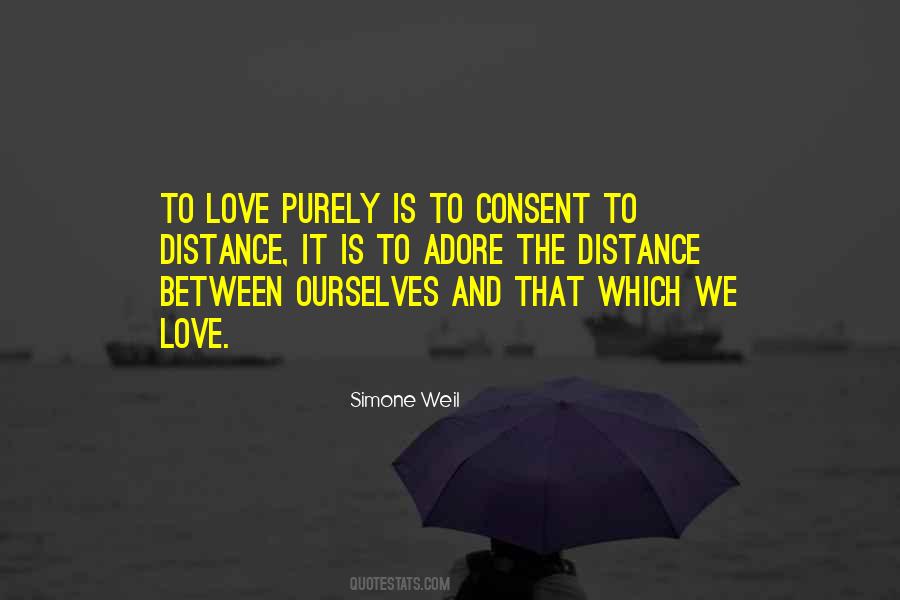 #21. I loved him like I loved walking through summer grass barefoot, like I loved a warm mug in my palms, like I loved driving on a long road as the sun sets in the distance. It was a good, safe, simple sort of friendship - well, at first, anyway. - Author: Matthew Quick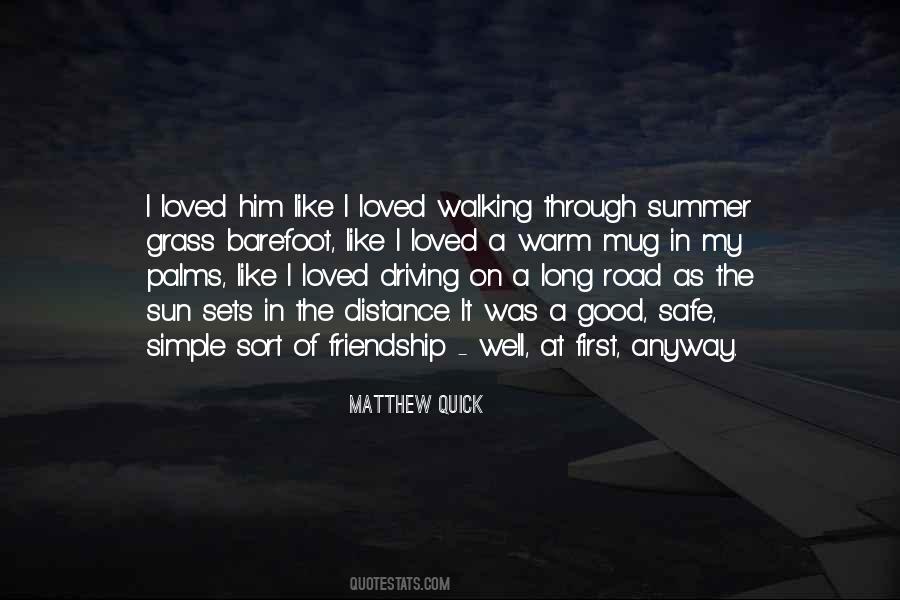 #22. Friendship is a promise. Made in the heart,
unbreakable by distance,
unchangeable by time. - Author: Unknown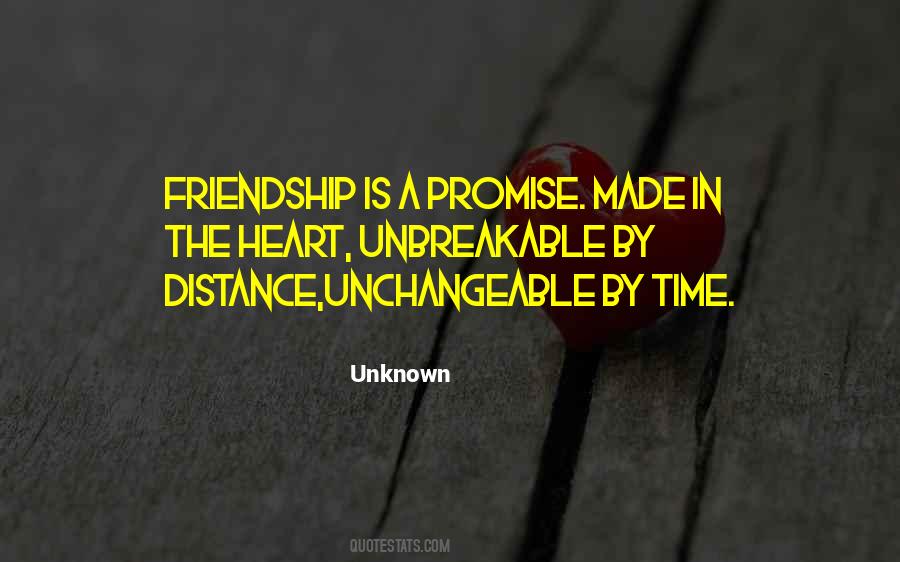 #23. Distance and time might keep people apart, but the heart and mind will always stay connected by memories, miracles and the power of two unlikely souls that were destined to meet. - Author: Shannon L. Alder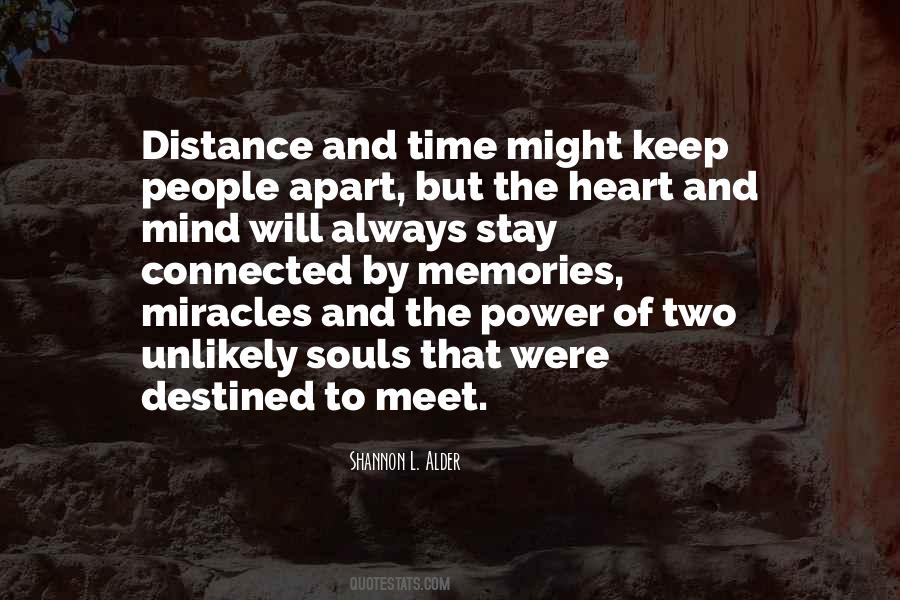 #24. Distance does not break off the friendship absolutely, but only the activity of it. - Author: Aristotle.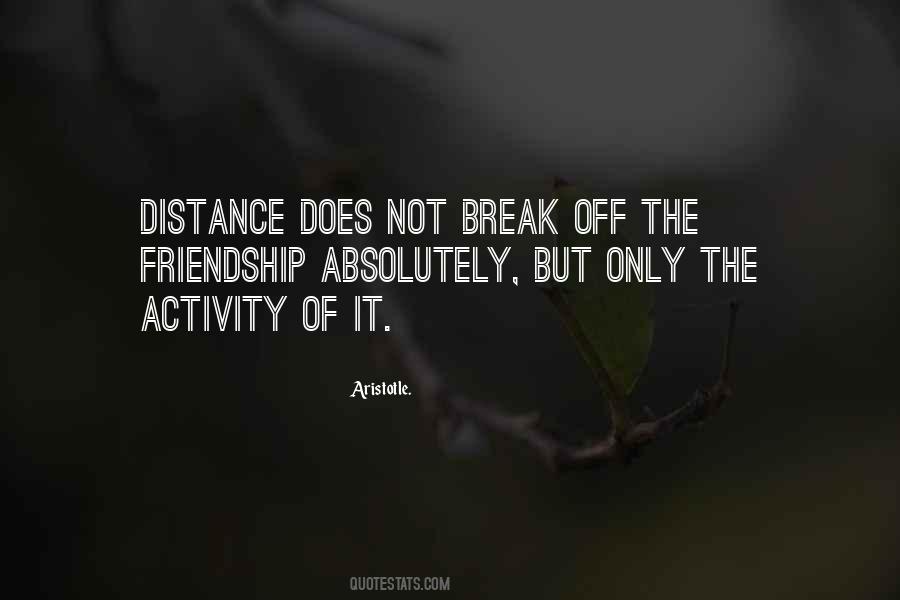 #25. If you love somebody, tell them. If there is conflict, let it go and fight instead for peace. Break the numb false silence and break the distance too. Laugh and cry and apologize and start again. This life is short and fragile but friendship is among the greatest miracles. - Author: Jamie Tworkowski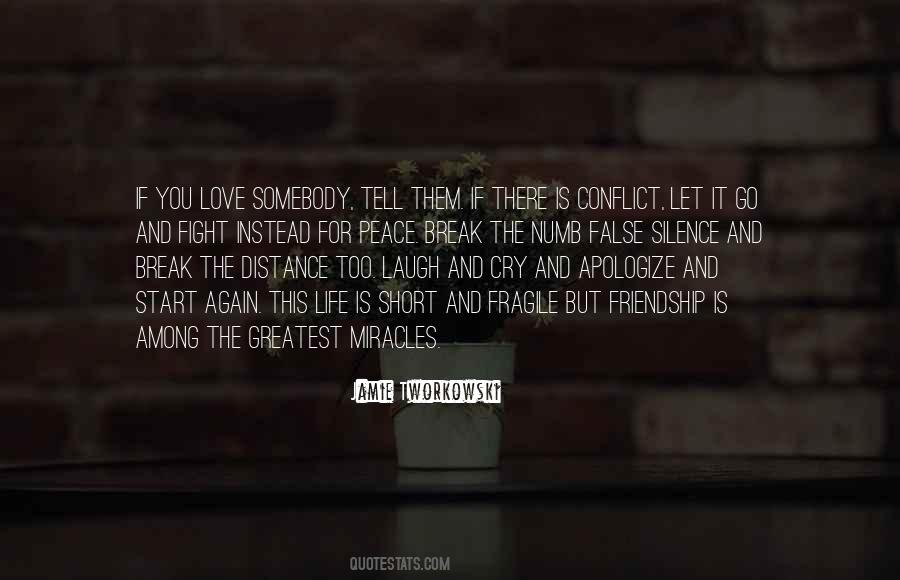 #26. Yet sometimes being a friend meant letting people do things that hurt, like putting distance between you, just because it made them happy. - Author: Ann Aguirre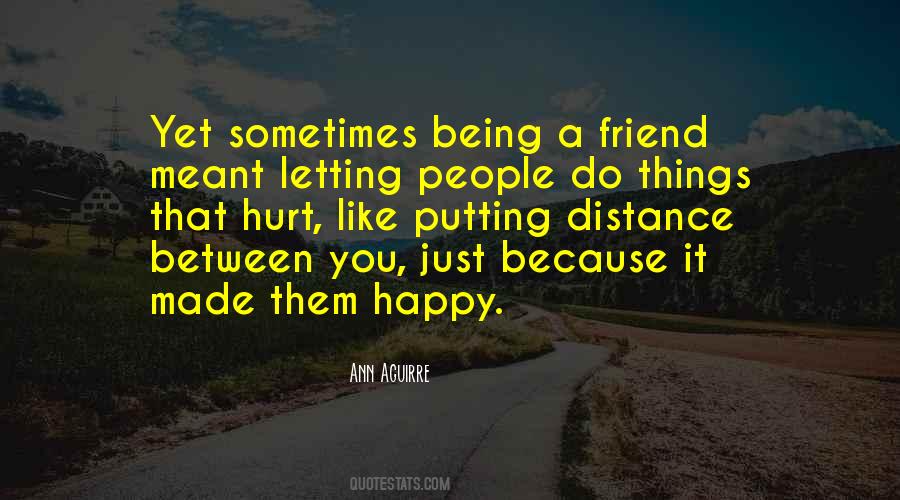 #27. There's April in her hair. Motion and stillness. Wings and earth. There are tears, and there is ... friendship. There is velvet, and traveling, and distance, bones and blood, summer coming again as it always does, love. - Author: Laura Kasischke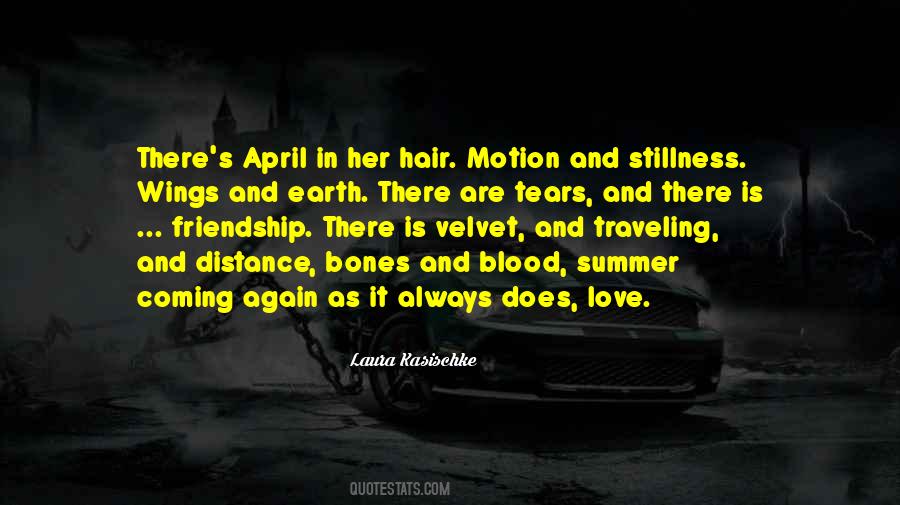 #28. They sat in silence on the windowsill, their hands locked across the distance between them. - Author: Cassandra Clare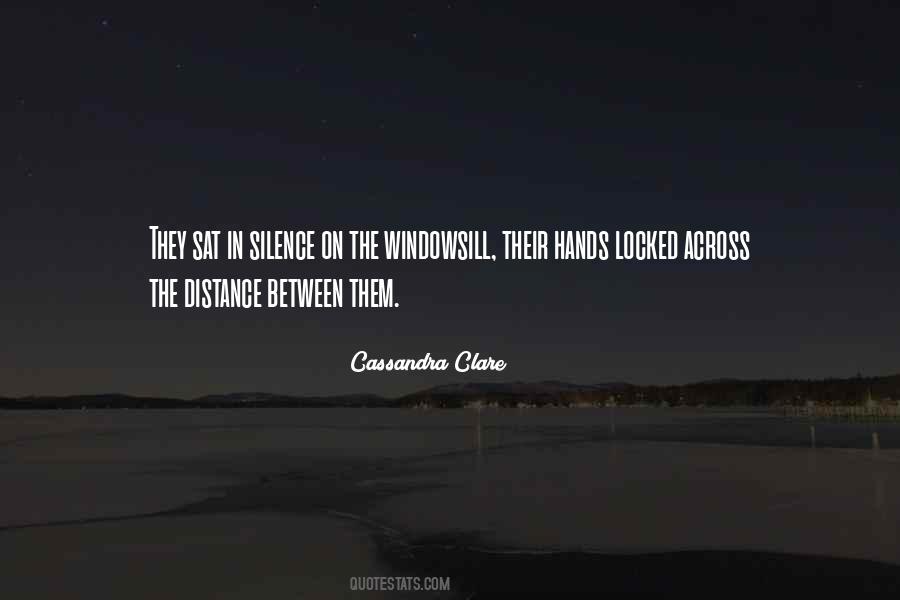 #29. Shifts within friendships happen in imperceptible increments. There is distance, then assurance. Misconjecture, caution, gradual convergence. So much depends on the respect accorded to vulnerability. - Author: Gail Jones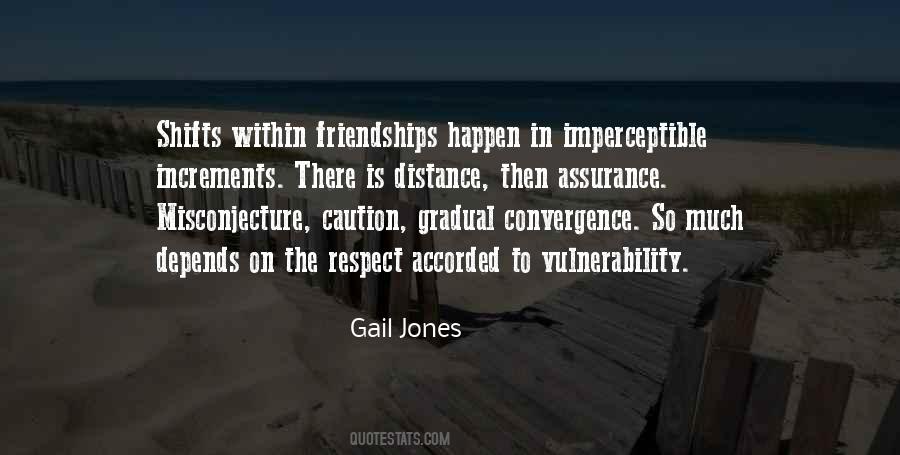 #30. Now, in my opinion, a woman has no business with Power-Power admits no equal, and dismisses friendship for flattery. Besides, it keeps the men at a distance, and that is not always what we wish. - Author: George Edward Moore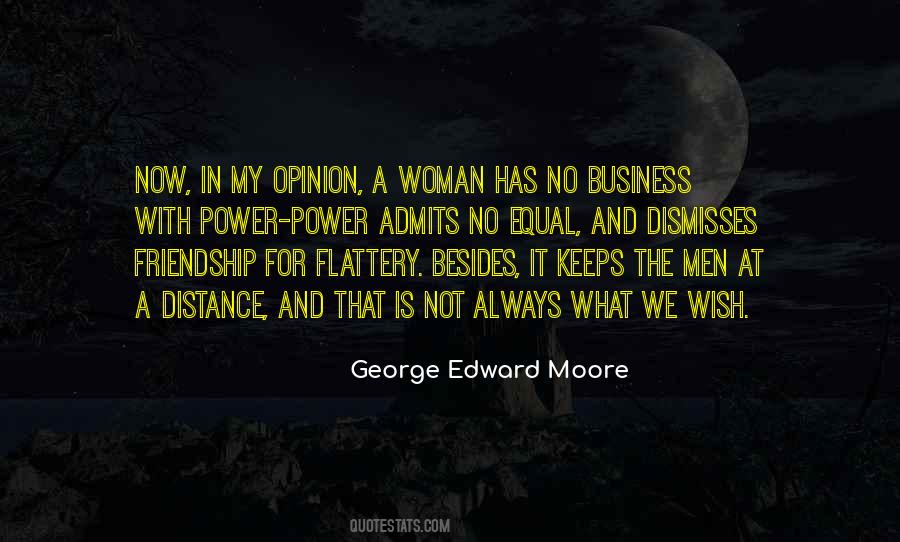 #31. True friends may only speak several times a year and visit even less. But when life's challenges leave one of them vulnerable and in need of compassion, time and distance are no obstacles. - Author: Shane Eric Mathias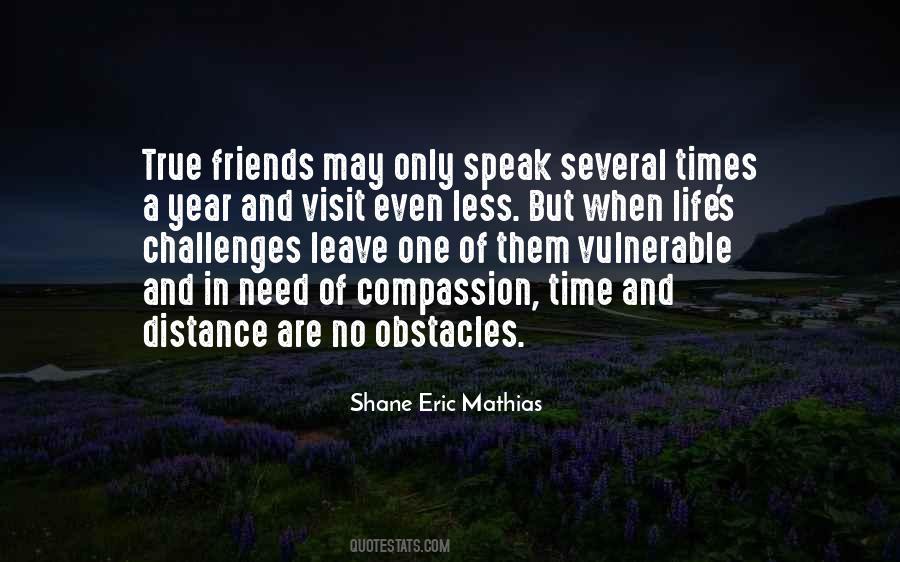 #32. No distance of place or lapse of time can lessen the friendship of those who are thoroughly persuaded of each other's worth. - Author: Robert Southey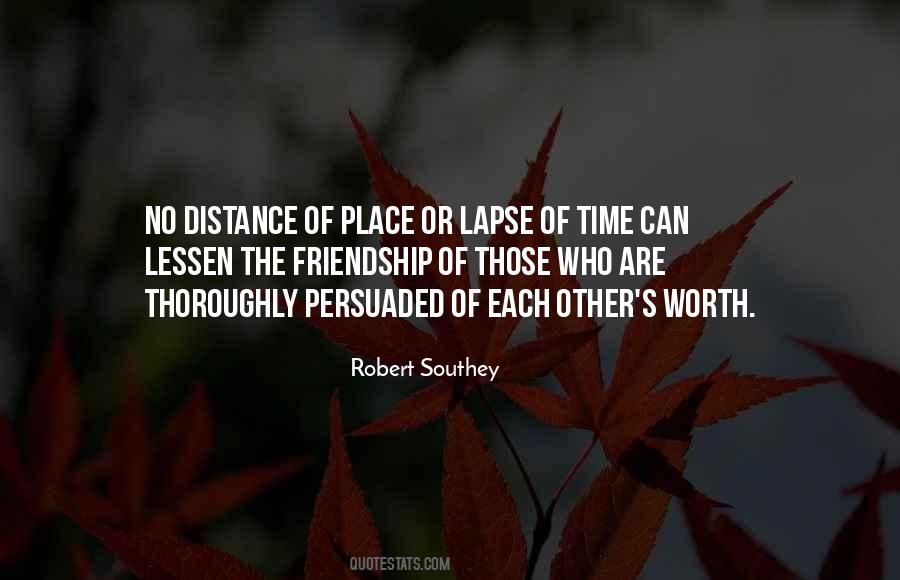 Famous Authors
Popular Topics