Decision Ever Made Famous Quotes & Sayings
List of top 54 famous quotes and sayings about decision ever made to read and share with friends on your Facebook, Twitter, blogs.
Top 54 Decision Ever Made Quotes
#1. I want you to know that I would be happy if the two of us spent the rest of our lives living in the cabin. It's not the size of the house that makes it a home. It's the love inside. Marrying you is the best decision I've ever made, Eric Hawke. - Author: Pamela Clare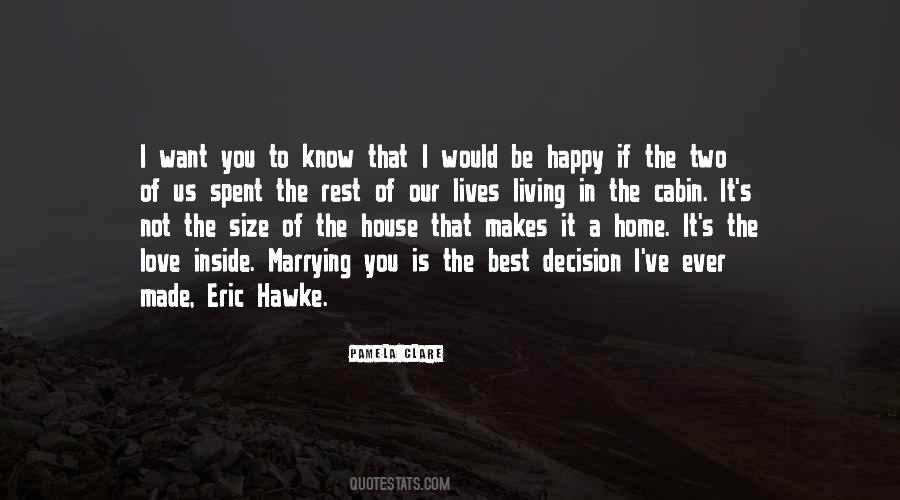 #2. I made the only decision I ever knew how to make,' Truman famously asserted in one of his carefully scripted reminiscences. What does that mean, exactly? Did Truman see himself as a professional decision-maker with a narrow specialty, the choice between destroying and not destroying Japanese cities? - Author: James K. Morrow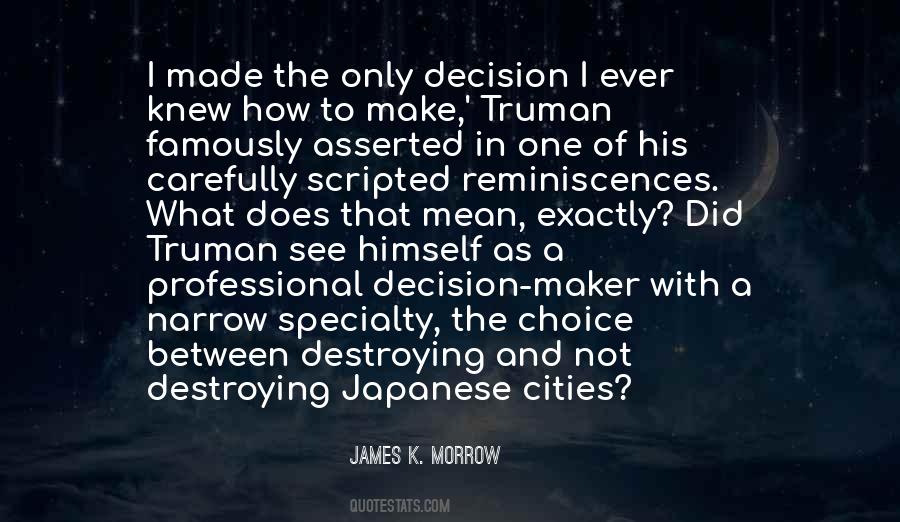 #3. Any wrong decision you have ever made will become unimportant when your attention has shifted from it to a creative reason for living right here and now. - Author: Raymond Charles Barker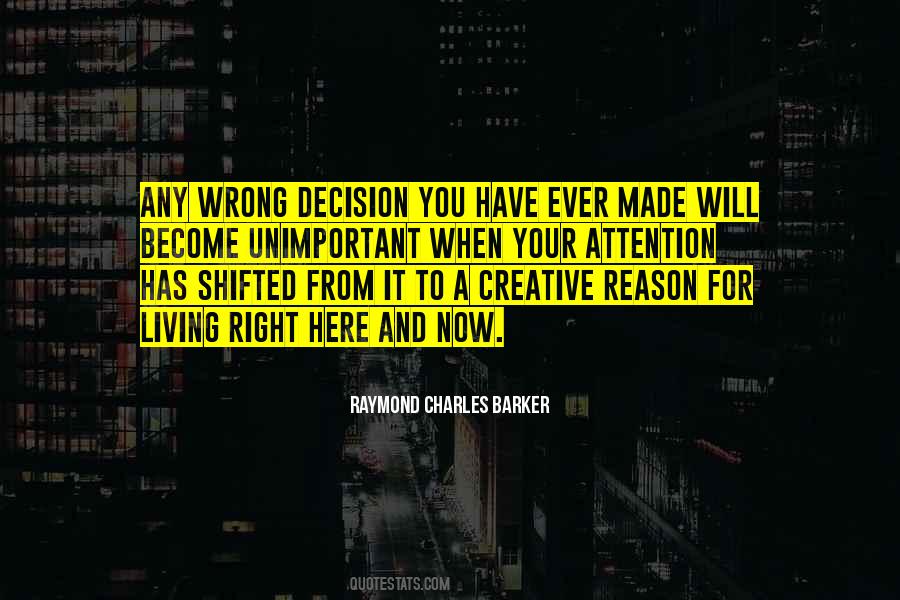 #4. But where, after we have made the great decision to leave the security of childhood and move on into the vastness of maturity, does anybody ever feel completely at home? - Author: Madeleine L'Engle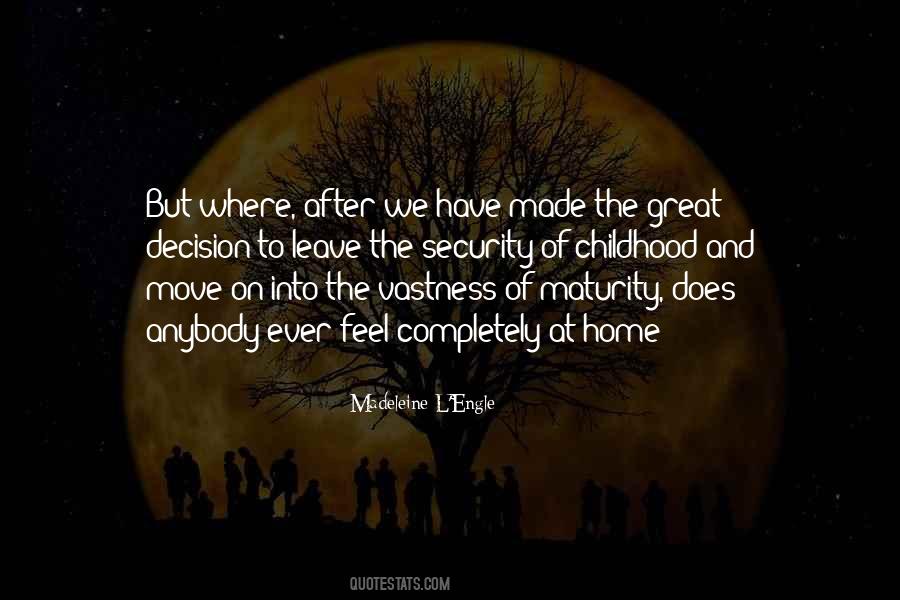 #5. The best decision I ever made was to marry Dave. - Author: Sheryl Sandberg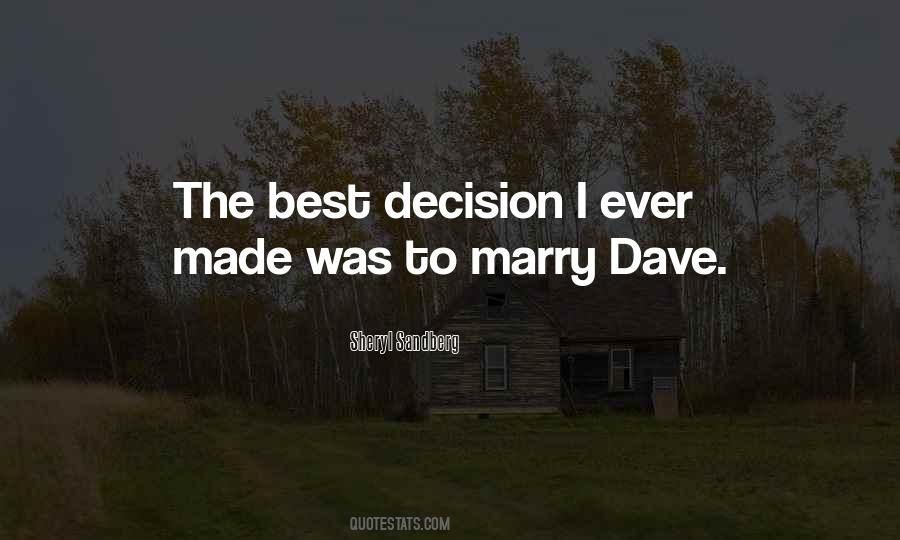 #6. I made a vow to myself, then, that no one would ever control my emotions. I would save love for the children I expected to have and for my animals. I would never allow myself to be made weak by it, never allow anyone to come that close. It was a decision that would cloud my life for many years. - Author: Toni Maguire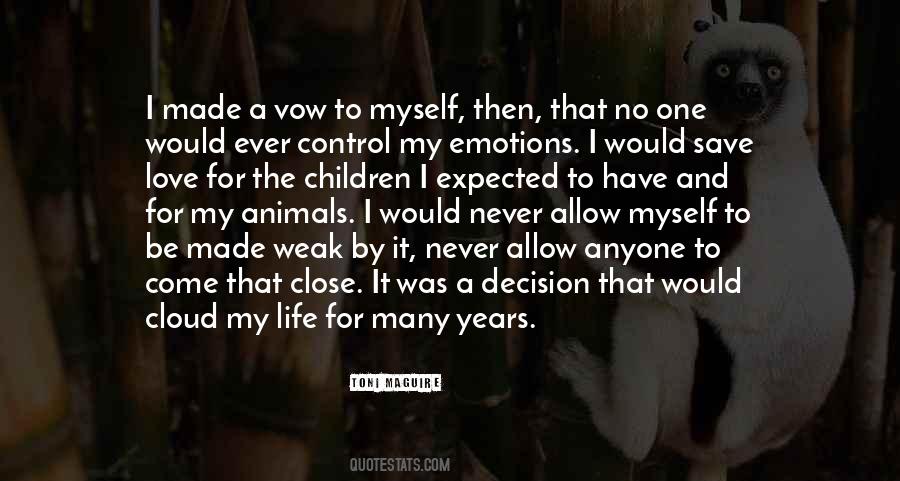 #7. In the quantum multiverse, every choice, every decision you've ever and never made exists in an unimaginably vast ensemble of parallel universes. - Author: Nick Payne
#8. I'm joking, I'm joking. Best decision I ever made. - Author: Joe Biden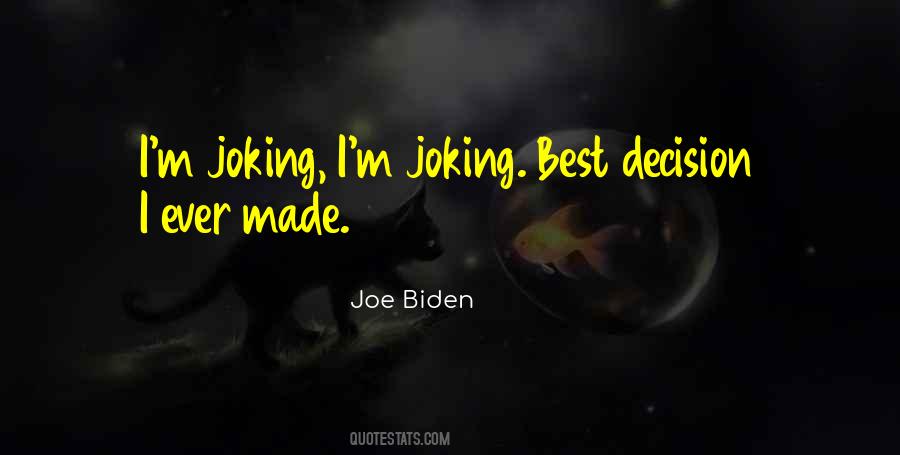 #9. I made up my mind when I was 15 years old that I would never smoke or drink. I have kept that pledge to myself, and it was one of the smartest decisions I ever made. - Author: Ann Landers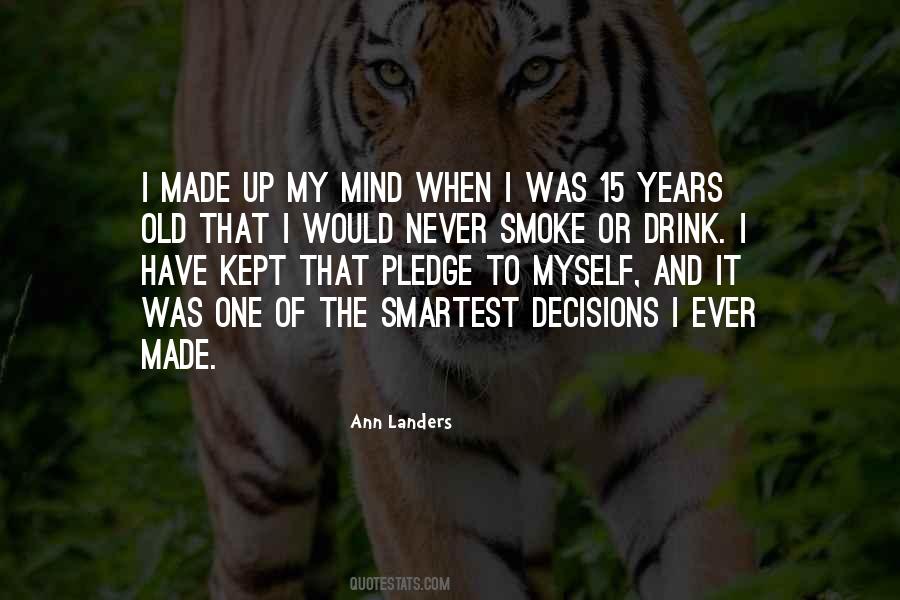 #10. Nobody has ever said in the United States government that we are going to war next month. No decision has been made by the president because, as he said to the United Nations, he wants the United Nations to live up to its responsibilities and he wants Saddam Hussein to cooperate. - Author: Colin Powell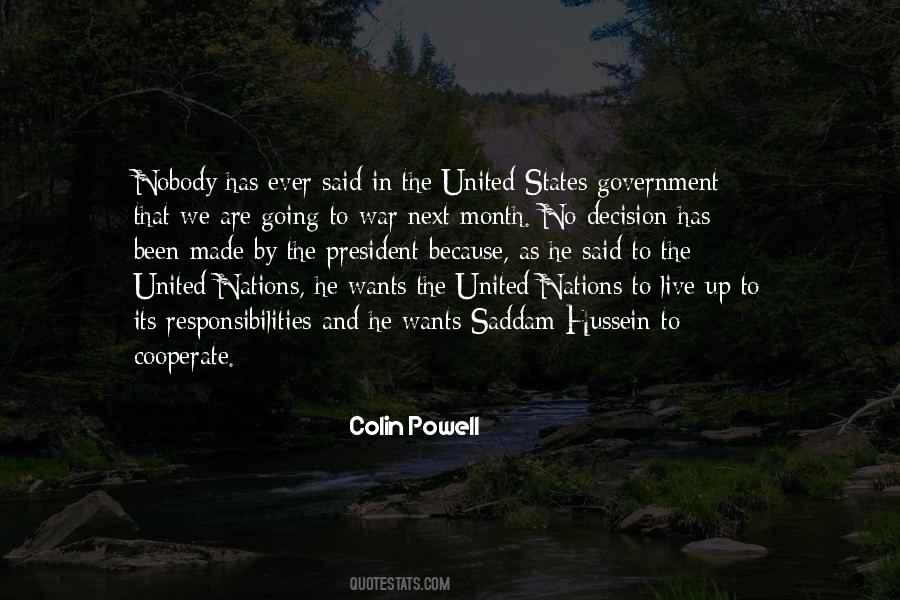 #11. It was never you. Leaving you was the hardest thing I've ever done and I've regretted that decision every second since the moment I walked out. I've made a lot of dumbass mistakes in my life, but letting you go is the one I'd give anything to erase.
- Jason - Author: Michelle McLean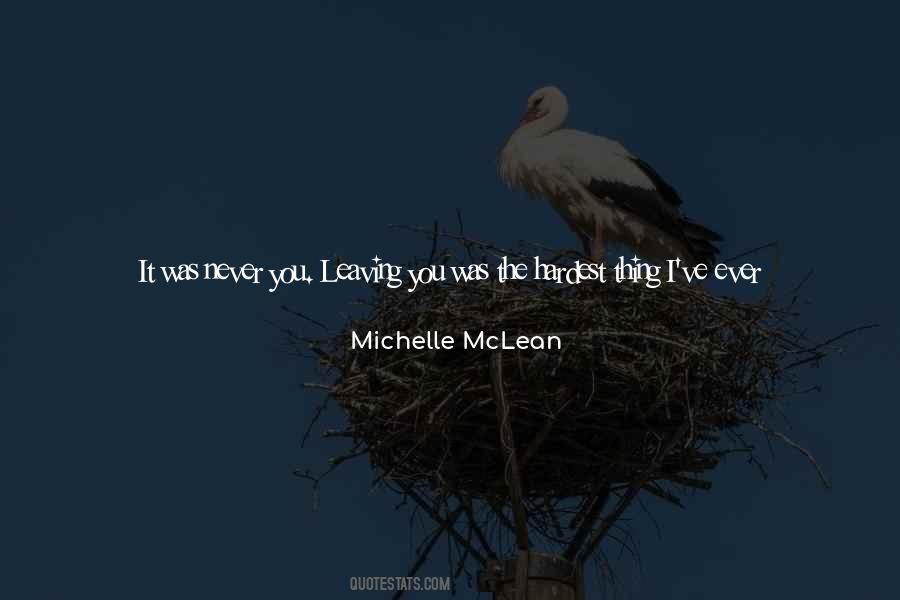 #12. I couldn't understand what was important about school. Dropping out was the first adult decision I made. If I ever have kids, I would hate for them to drop out. But I wasn't a rebel. I never cared to be against school. I just wanted to do what I wanted to do. - Author: Philipp Meyer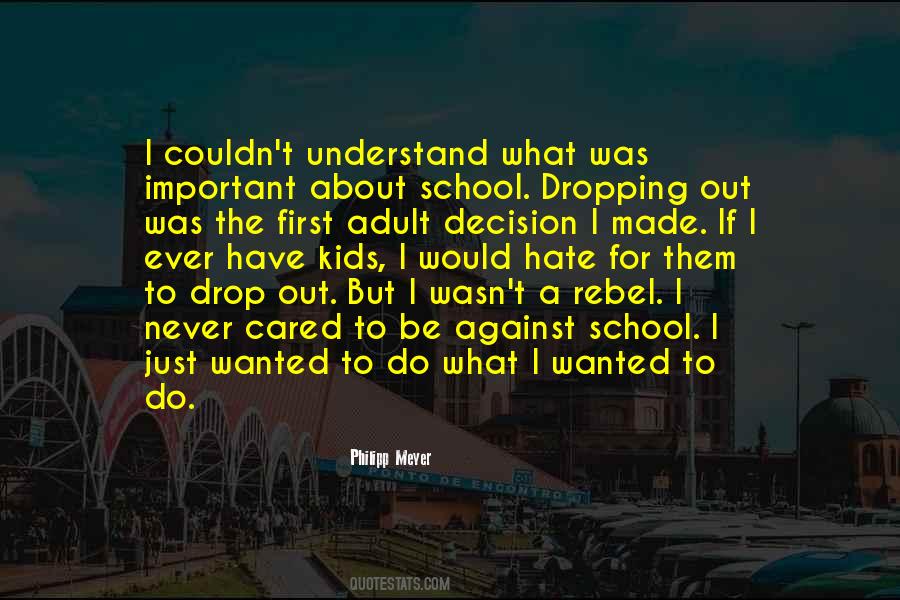 #13. The best decision I ever made was to drop out of school. - Author: KSI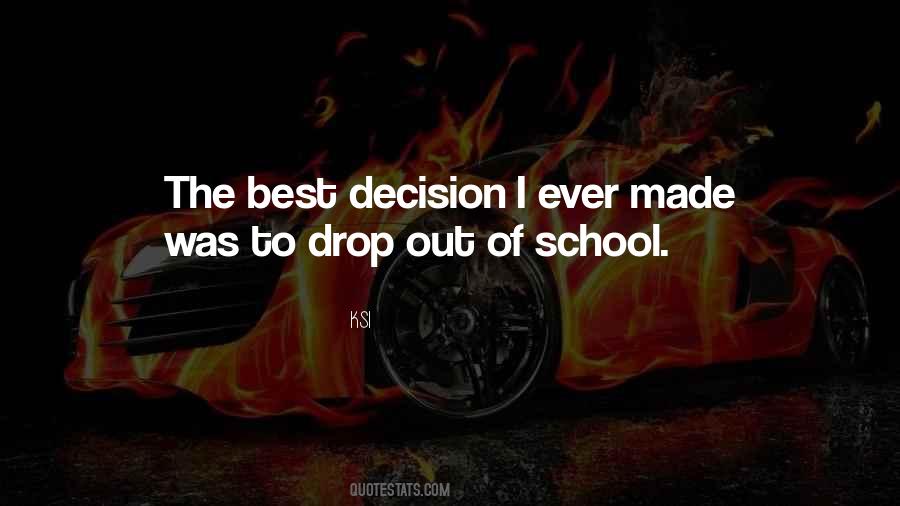 #14. I never felt brave. I never had a moment of extreme courage or belief that this was going to be the best decision I had ever made. I just did the next thing. - Author: Annie F. Downs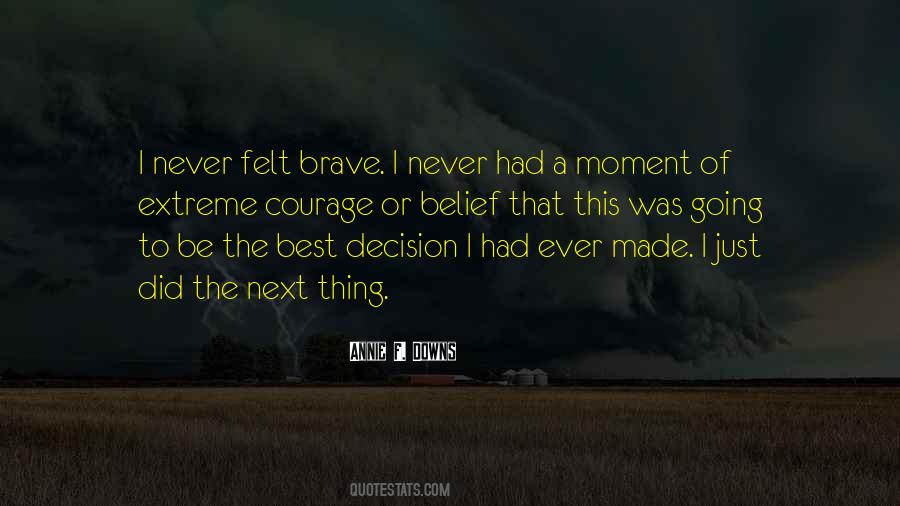 #15. Being with you is the best thing that's ever happened to me, the one perfect decision I've made in a lifetime of fumbling and poor judgment. I'd go through it all again to be by your side. Never doubt that. Never doubt how I feel about you. - Author: Richelle Mead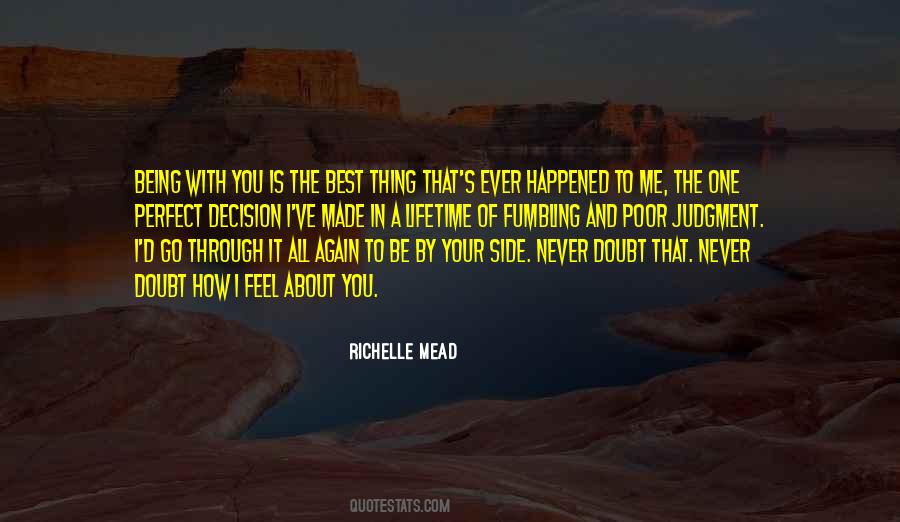 #16. I made the decision I will own my own show. So never again will I ever be told what I can and can not do. - Author: Oprah Winfrey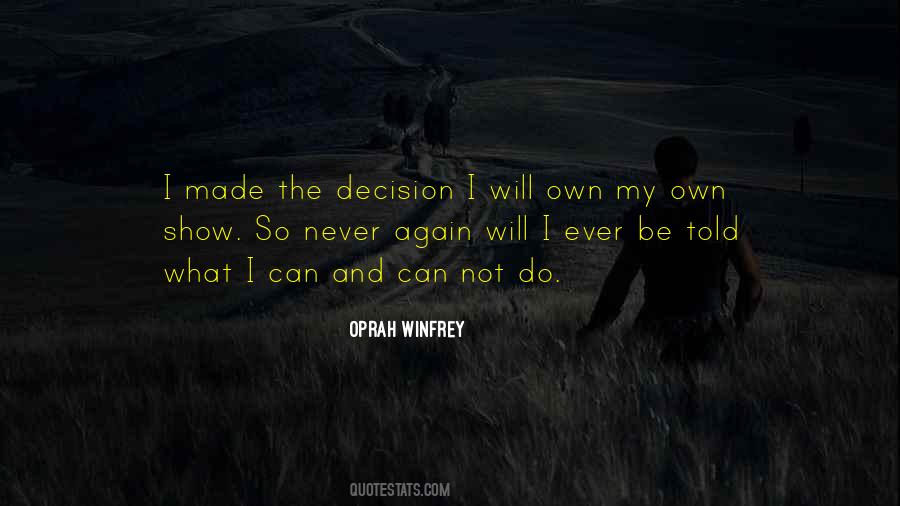 #17. If you are ever in doubt about which way you should travel, make a choice that contains the essence of goodness and love and then go in that direction. This way, you can have absolute faith that you made the right decision. - Author: Molly Friedenfeld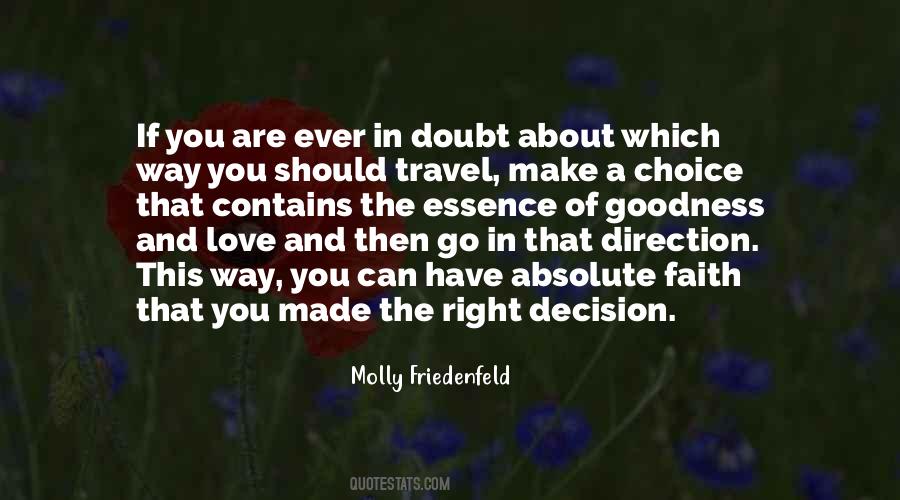 #18. You are the best decision my heart ever made. - Author: Kennedy Ryan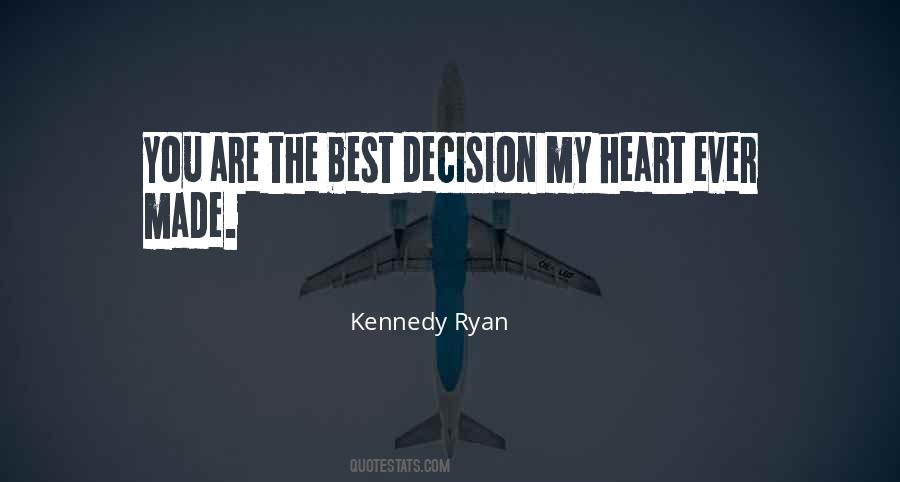 #19. Moving to New York was the best decision I ever made. - Author: Johnny Damon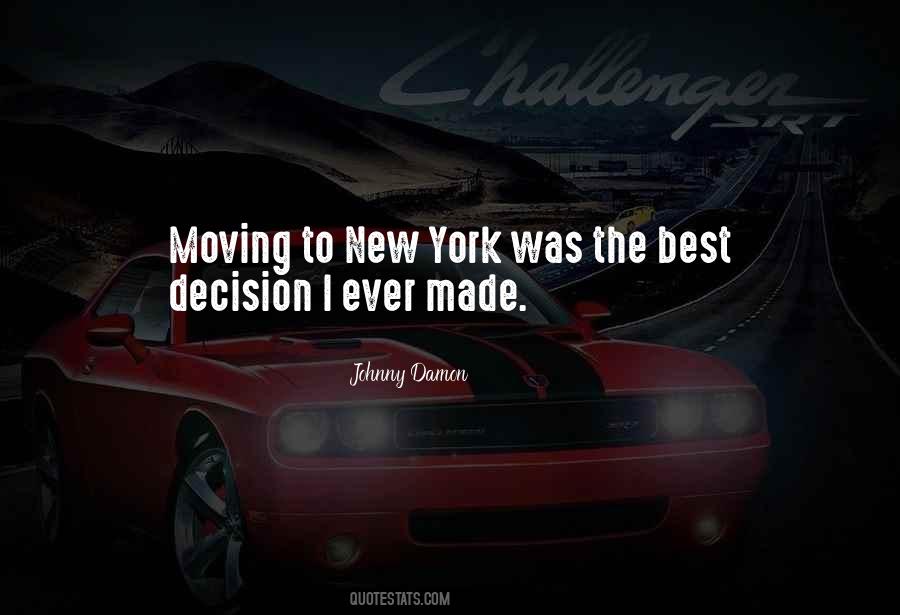 #20. No great marketing decisions have ever been made on qualitative data - Author: John Sculley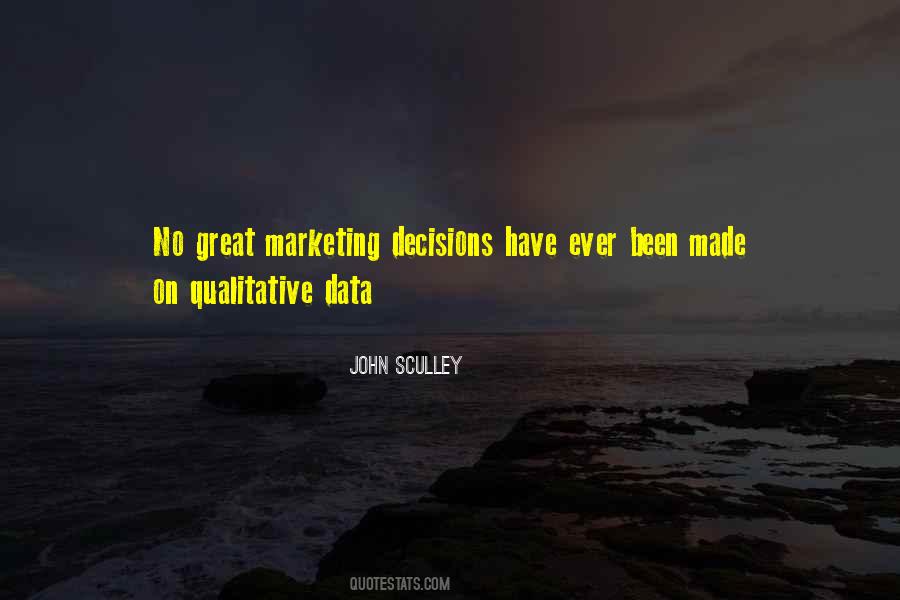 #21. While I hate to ever lose a supporter, I've come to realize that one who would abandon me over a single statement or decision I made is a person who would abandon me sooner or later anyway. - Author: Mike Huckabee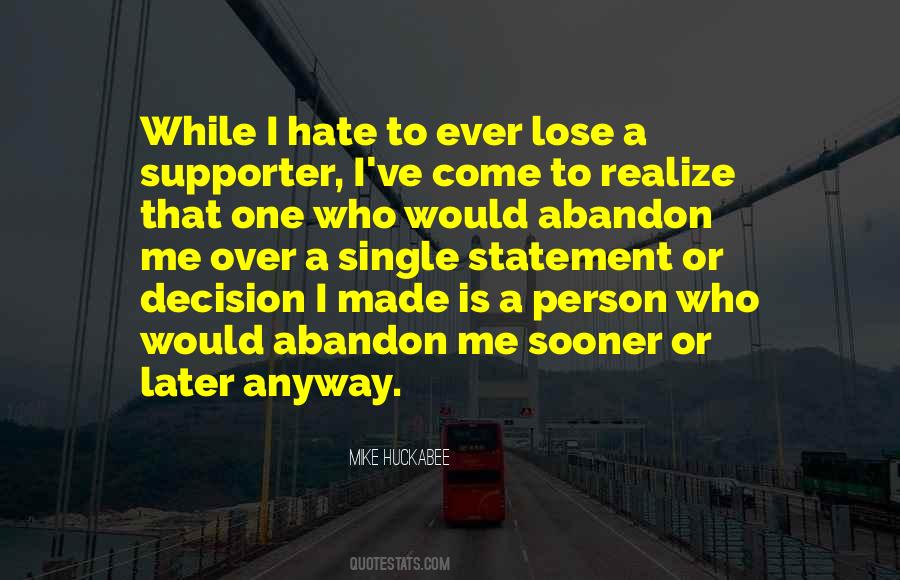 #22. Men. You can't live with them ... and you can't legally shoot them. I tossed out my husband eight years ago and got a llama instead. Best decision I ever made. - Author: Jodi Picoult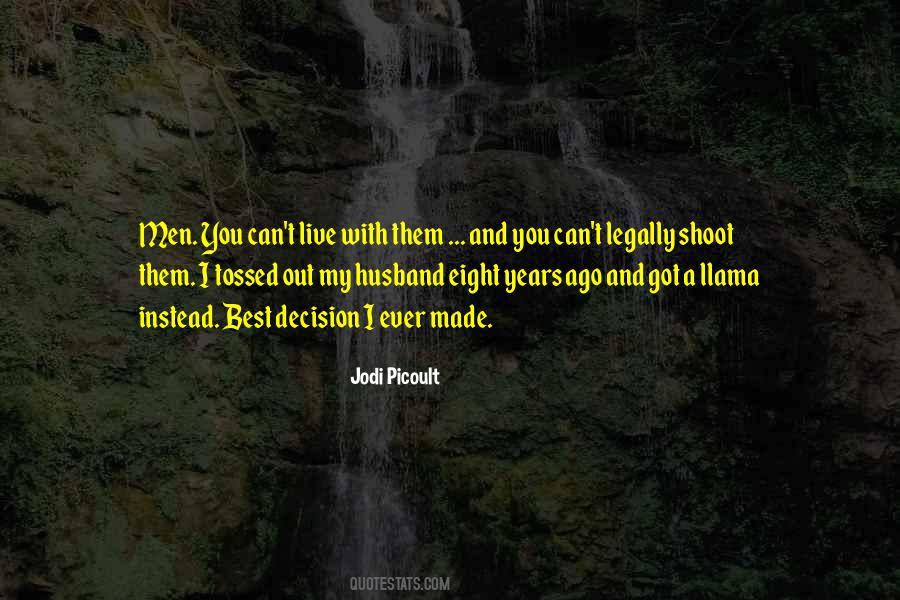 #23. I've always been terrified about being bored. I always think being bored is the worst thing. The only strategic decision I ever made as an actor was to try and make each job as different as possible. - Author: Alfred Molina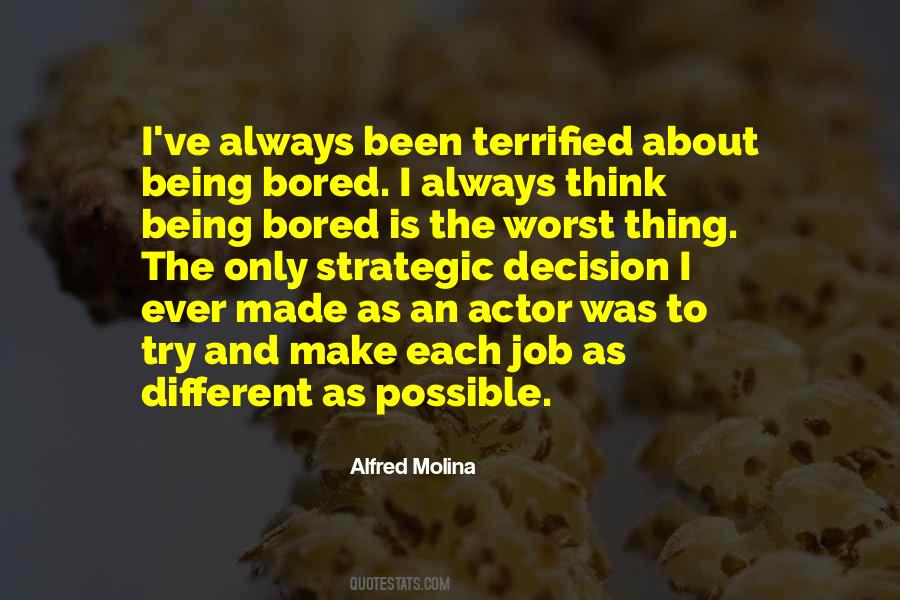 #24. Christina Stead has a Chinese say, "Our old age is perhaps life's decision about us" or, worse, the decision we have made about ourselves without ever realizing we were making it. - Author: Randall Jarrell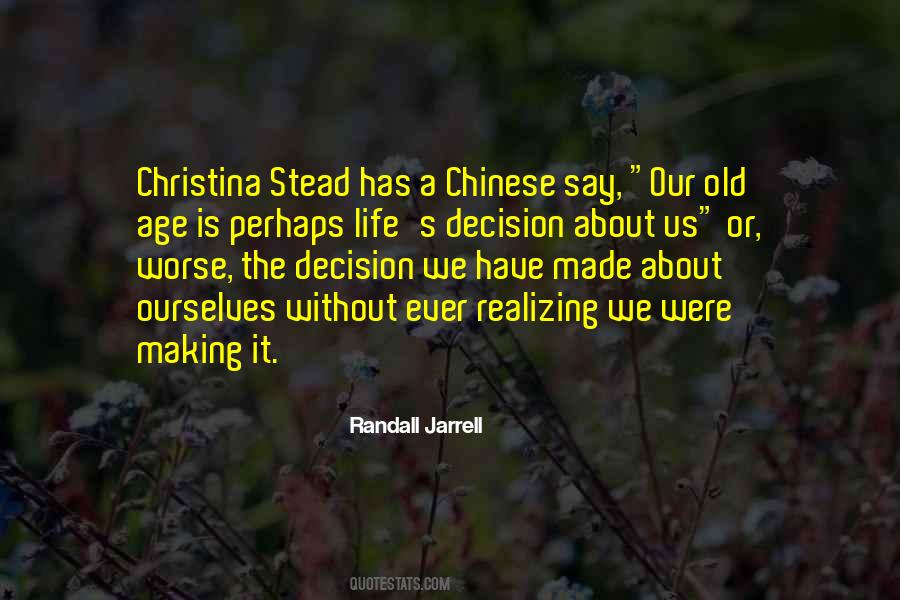 #25. He thought the column was magnificent, everything it said about old age was the best he had ever read, and it made no sense to end it with a decision that seemed more like a civil death. - Author: Gabriel Garcia Marquez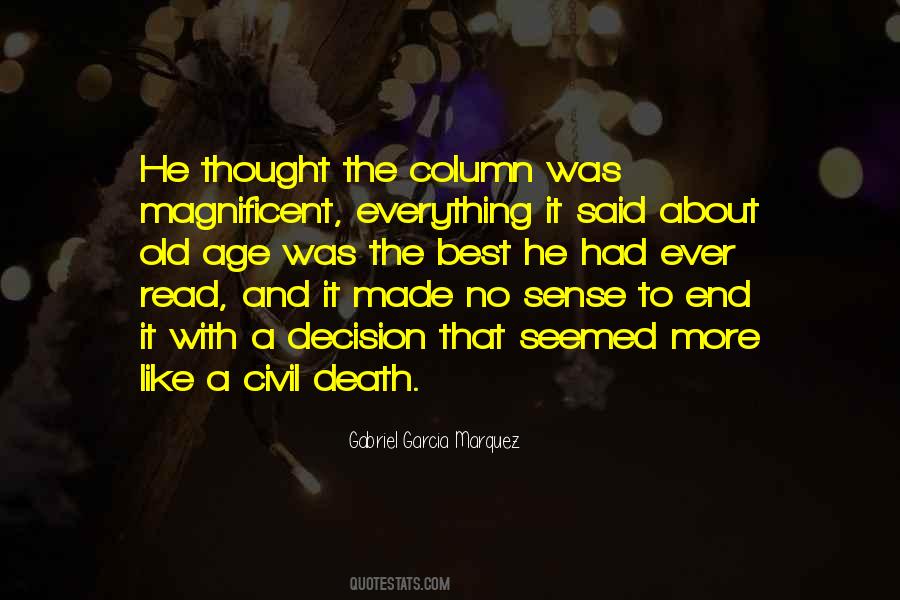 #26. In the course of the century, so many individual decisions are made that no single one of them is ever critical. Each decision is lost in the torrent of judgments that make up a century. - Author: George Friedman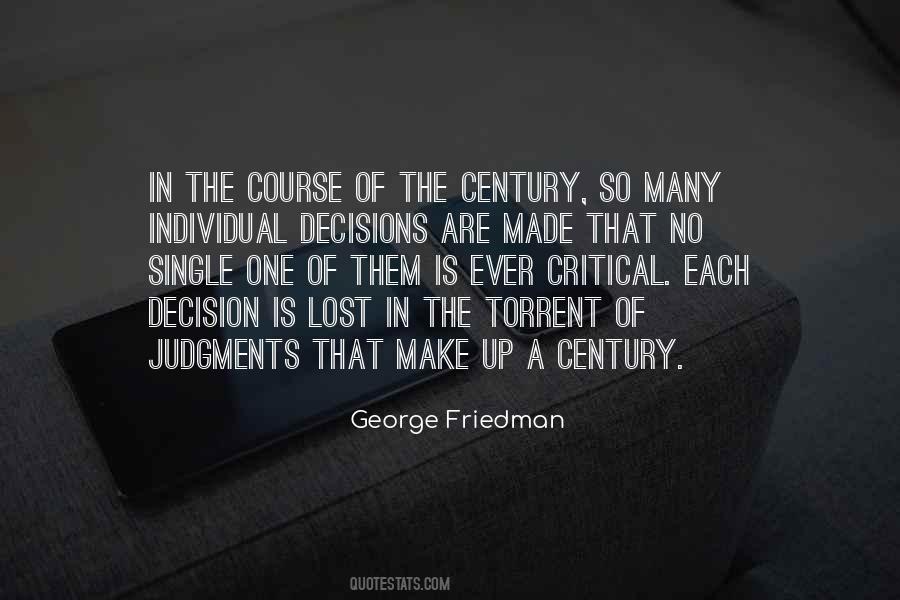 #27. The best decision I ever made, period, was to get into the music business. - Author: Ja Rule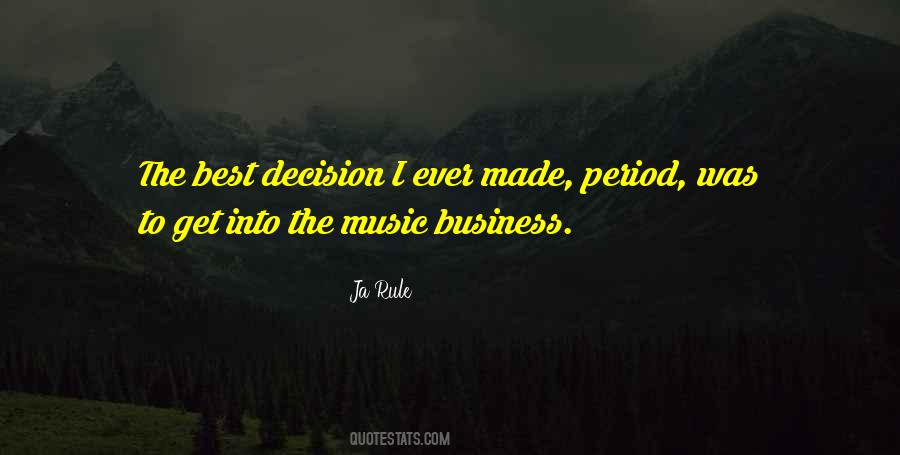 #28. One of the things that is not so good is that a decision was made long ago about the size of an IP address - 32 bits. At the time it was a number much larger than anyone could imagine ever having that many computers but it turned out to be to small. - Author: Jon Postel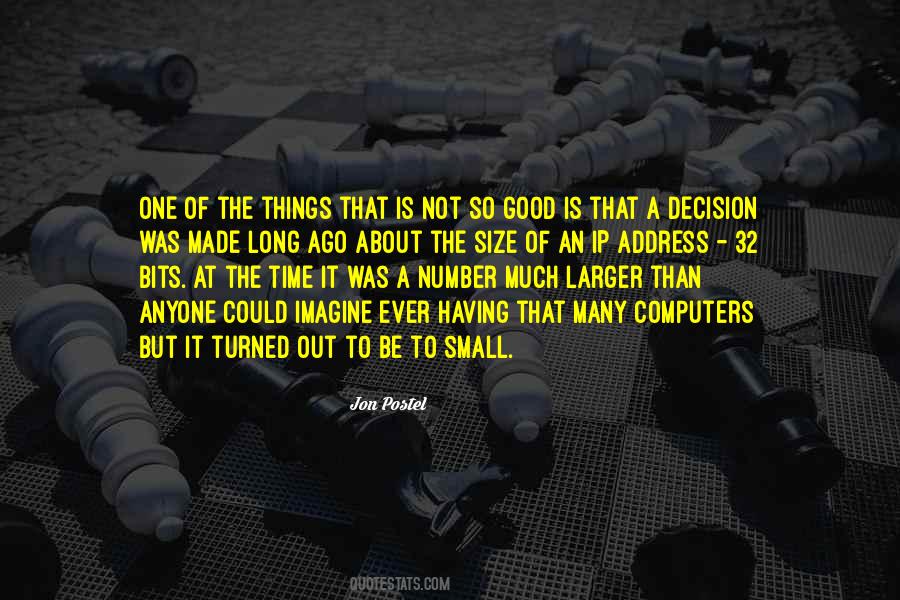 #29. Listening to a book and in the same time playing chess is one of the best decision ever made. - Author: Deyth Banger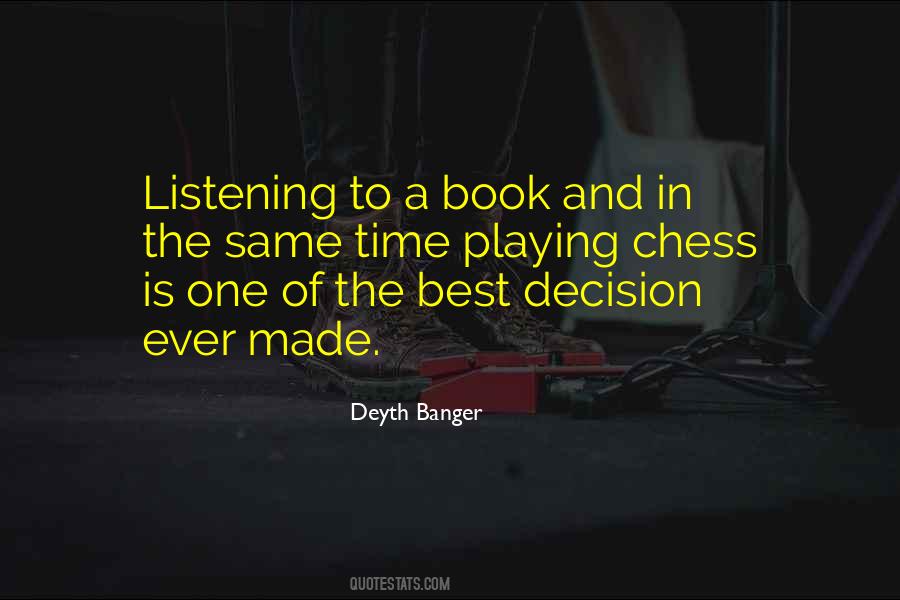 #30. My name on her lips twisted something up inside my chest. Looking back, I think that's the instant I made my decision. I wasn't going to give her up. Ever. I'd die first. - Author: Joanna Wylde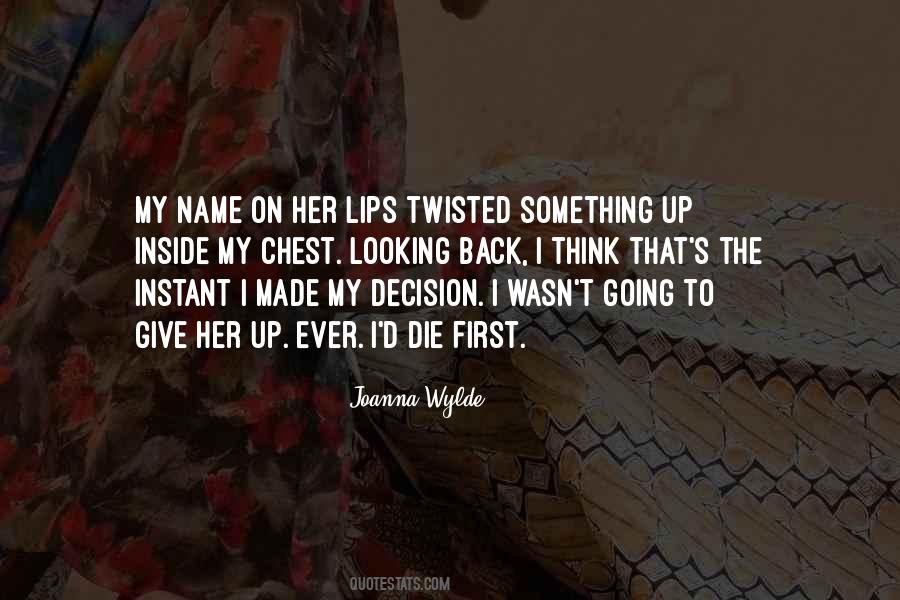 #31. The most important decision I ever made in my career was to live my life in sports as honestly and ethically as possible. Never having compromised my values allows me to look back on my life with no regrets and feel satisfaction in what I was able to accomplish. - Author: Greg LeMond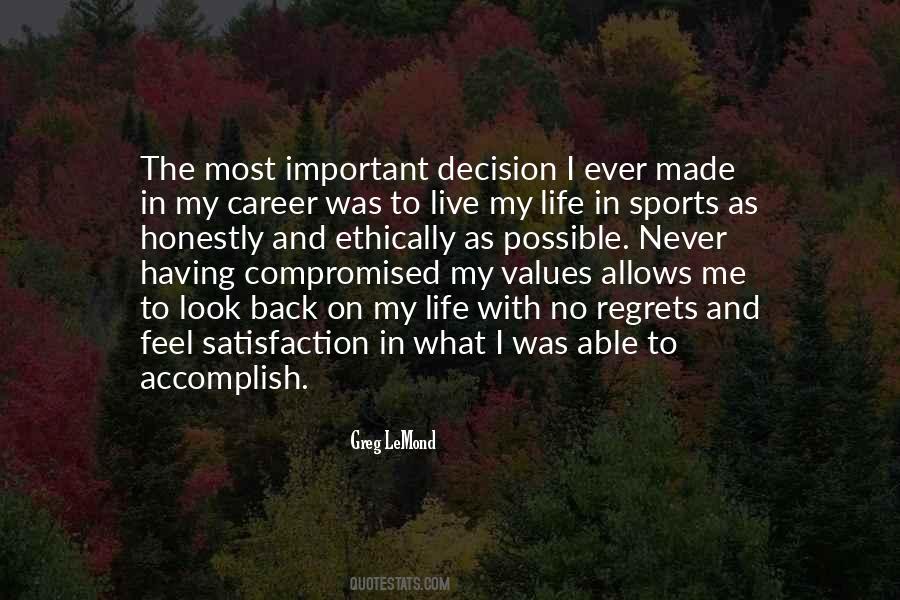 #32. Sometimes the smallest decisions reap the biggest rewards ... and you were the best decision I ever made. - Author: Loni Flowers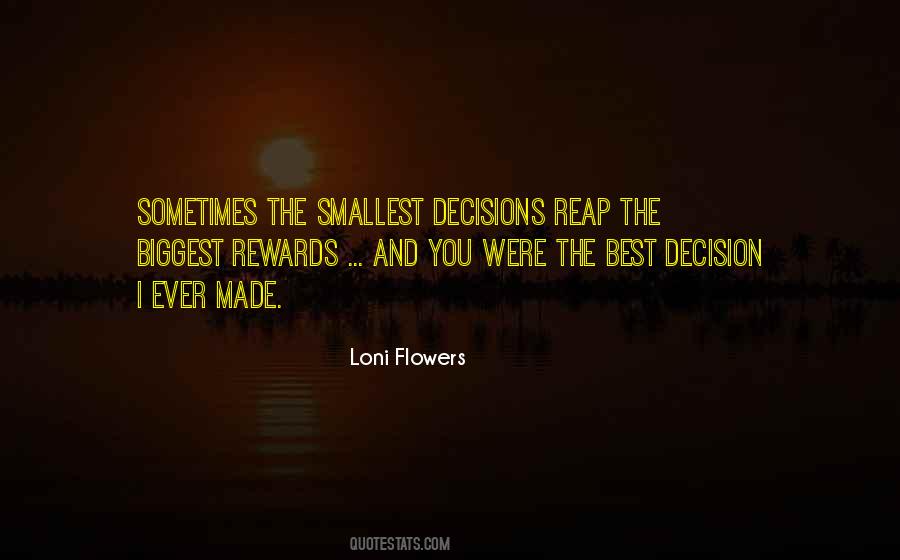 #33. Generalissimo Stalin directed every move ... made every decision ... He is the greatest and wisest military genius who ever lived ... - Author: Georgy Zhukov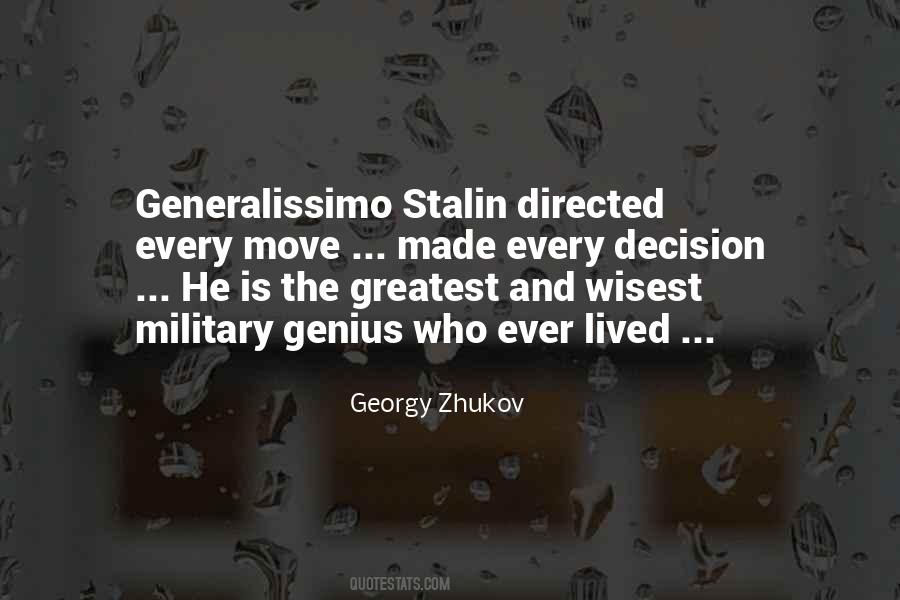 #34. I must never equate the degree of pain as evidencing the incorrectness of a decision, for if I do I will default on some of the most critical decisions I should have ever made. - Author: Craig D. Lounsbrough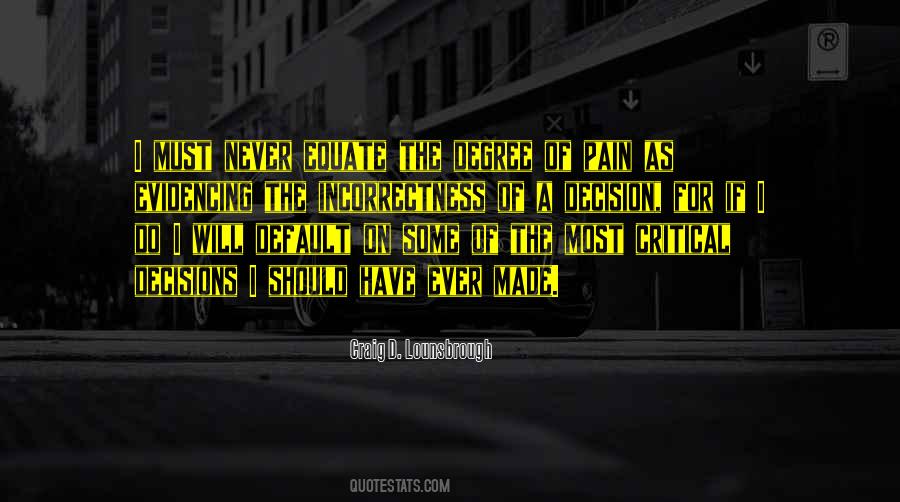 #35. Suze, your whole life," my dad went on, not without sympathy, "you've always made the right decisions. Not necessarily the easiest ones. The right ones. Don't mess that up now, when you're facing what's probably the most important decision you'll ever have to make. - Author: Meg Cabot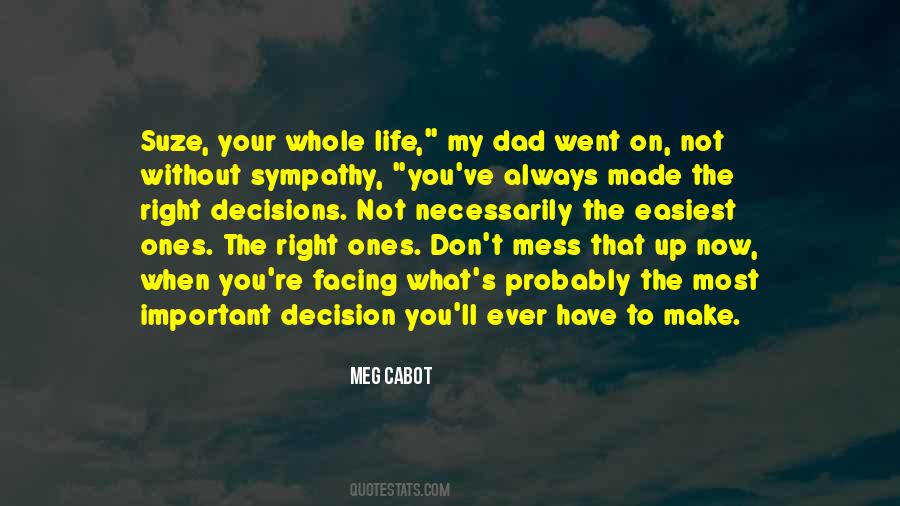 #36. I'm trying to feel terrified and alone. And regret every decision I've ever made, drenched in a cold sweat. It's called going to sleep. Maybe you've heard of it. - Author: Arj Barker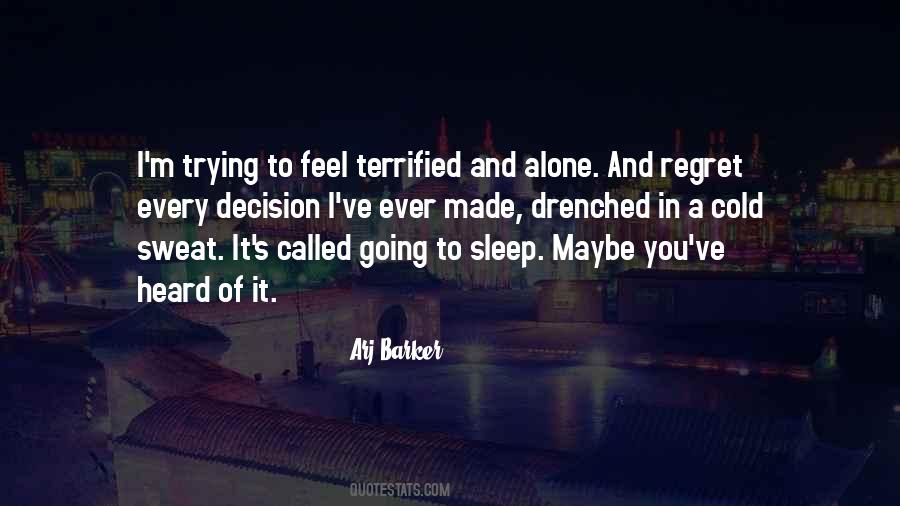 #37. Every business decision I ever made I learned from my grandfather Papa Sam. He moved here from Russia when he was a boy. He worked his way up selling newspapers and ladies' handbags, and eventually, he became Cadillac Sam, one of the biggest car dealers in Chicago. - Author: Bobbi Brown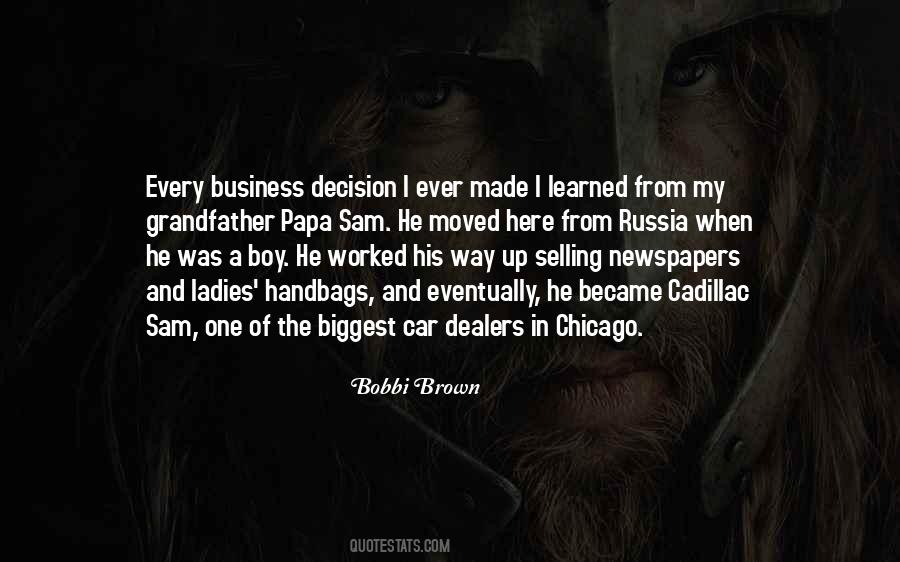 #38. No good decision was ever made in a swivel chair. - Author: George S. Patton Jr.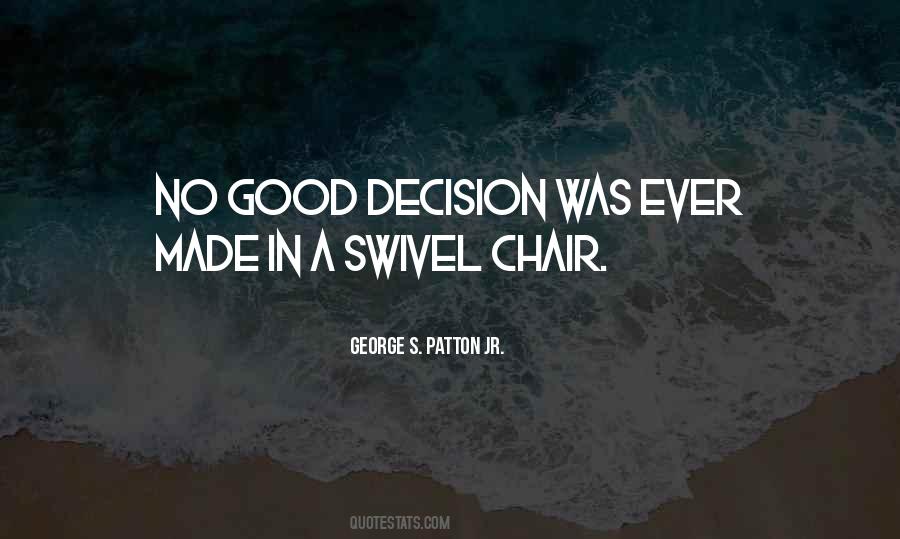 #39. Have you ever made a decision that sounded good at the time but then led to unanticipated results? - Author: Holly Elissa Bruno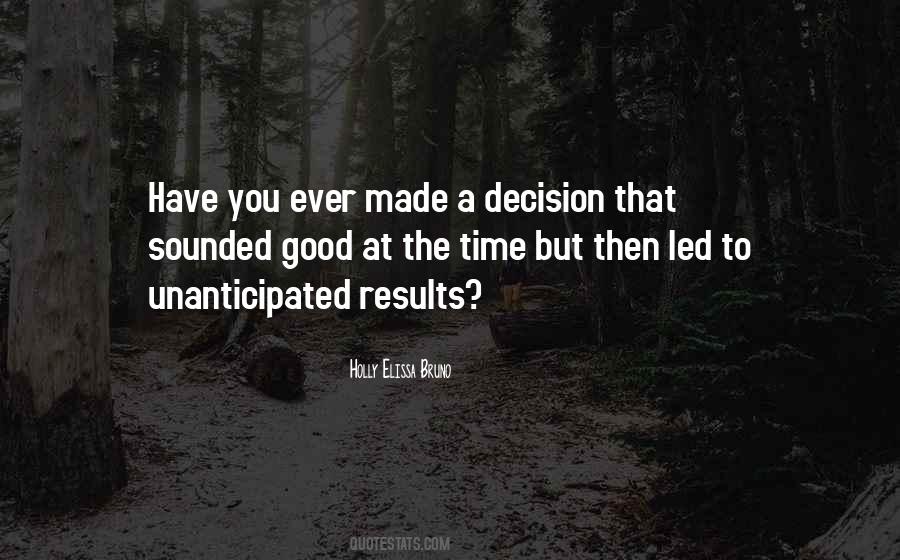 #40. Going to rehab was the best decision I ever made. - Author: Lara Stone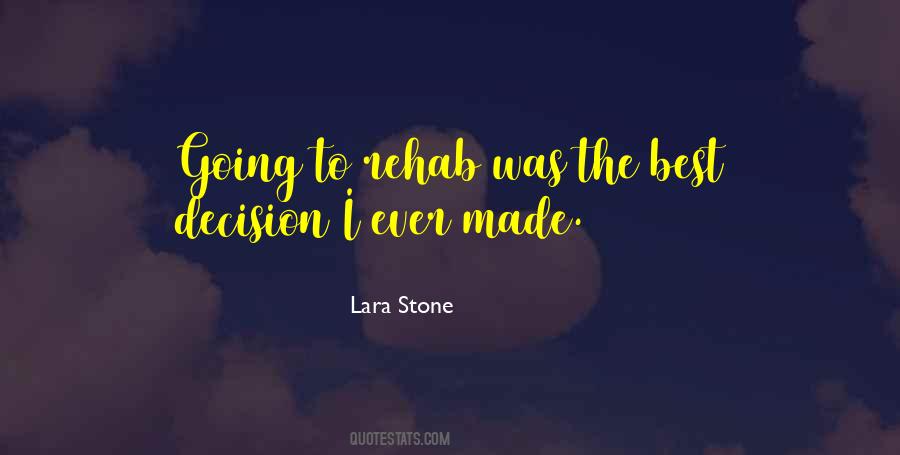 #41. I understand why people might be interested. But I just don't talk about my personal life. It's a decision I made a long time ago, before I ever even knew anyone would be interested in my personal life. - Author: Anderson Cooper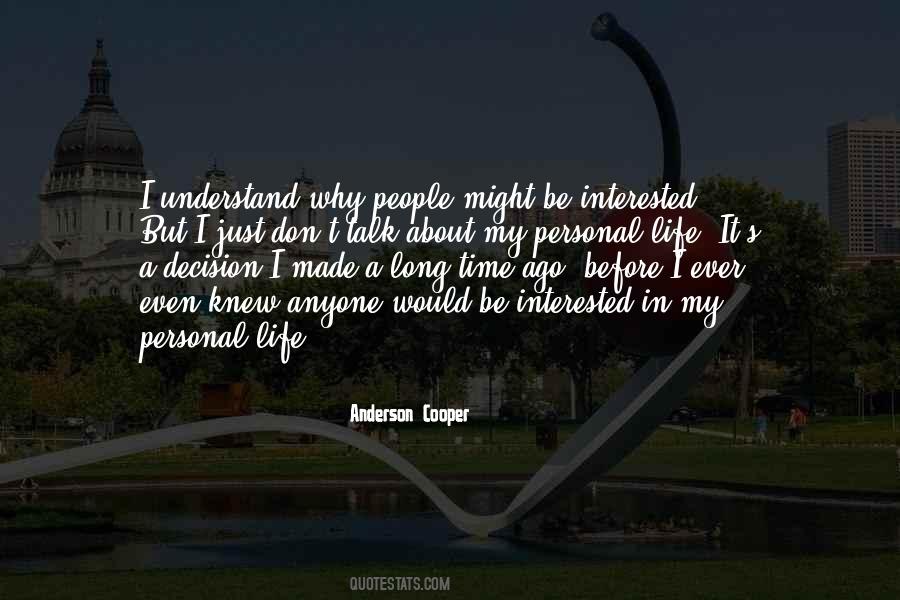 #42. You're the best bad decision I ever made, and you are, by far, my favorite story to tell. - Author: Jay Crownover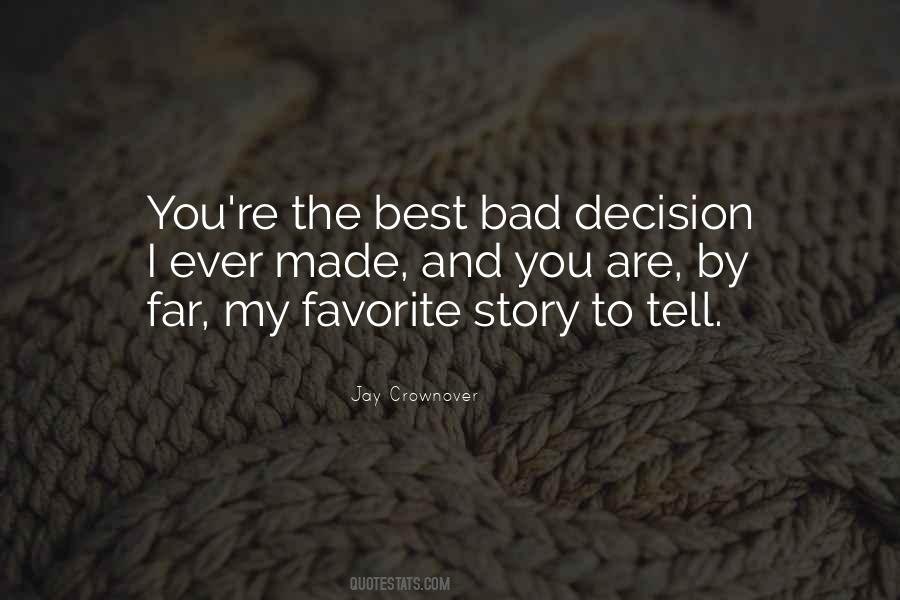 #43. I would say my best decision I ever made was to pursue my dream and give it my all. Thankfully, I have not yet made really bad decisions, I'm the kind of person to play it on the safe side. - Author: Zendaya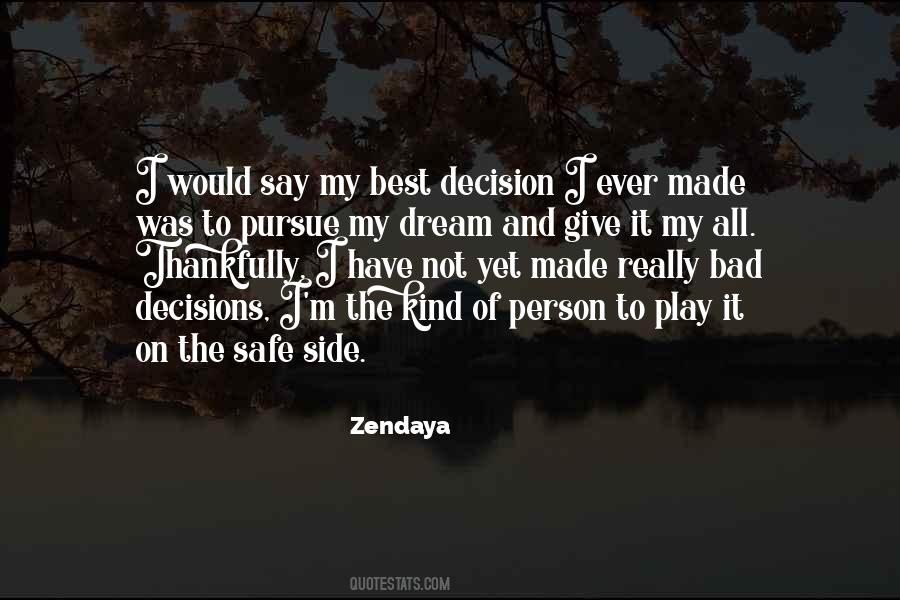 #44. Ever dumb thing I ever done in my life there was a decision I made before that got me into it. It was never the dumb thing. It was always some choice I'd made before it. - Author: Cormac McCarthy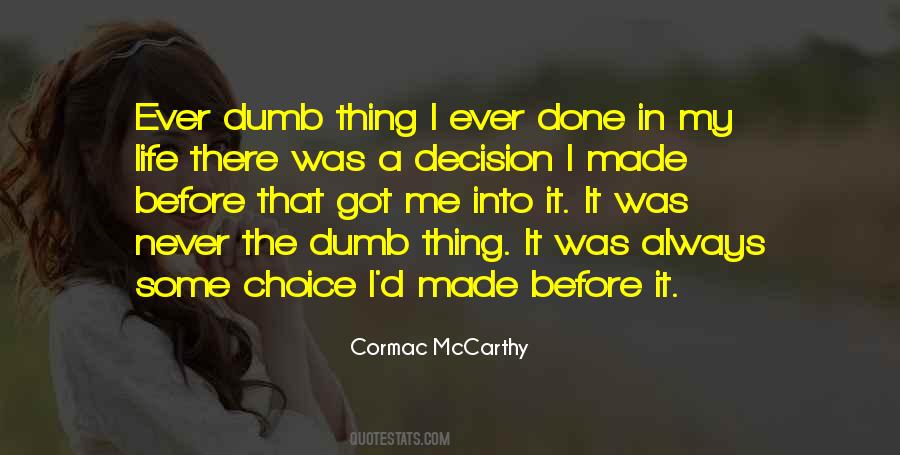 #45. I think doing the podcast may have been one of the best career decisions I've ever made in my life. - Author: Chris Hardwick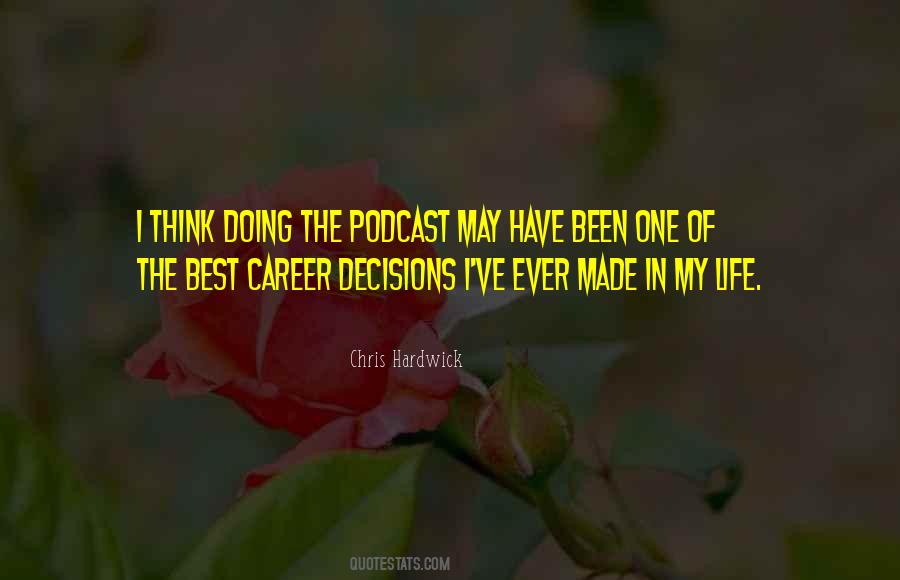 #46. To everyone who's ever second-guessed a decision they've made, our past makes us who we are. Have no regrets. - Author: Karyn Bosnak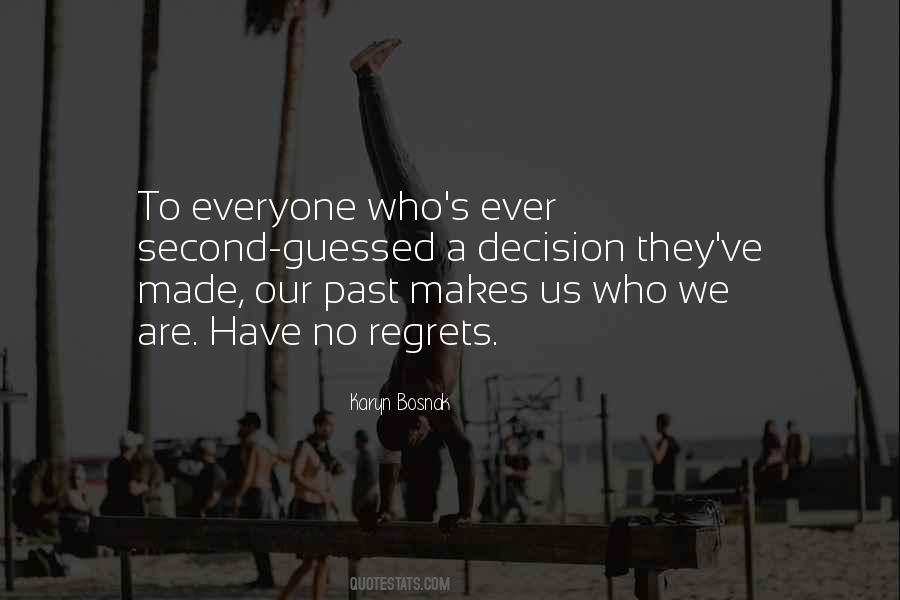 #47. After years of infertility tests, the best decision we ever made was to adopt, and in 1987, we were bestowed a three-month-old baby girl from an island off the south coast of Korea called Cheju Island. - Author: Robert M. Parker Jr.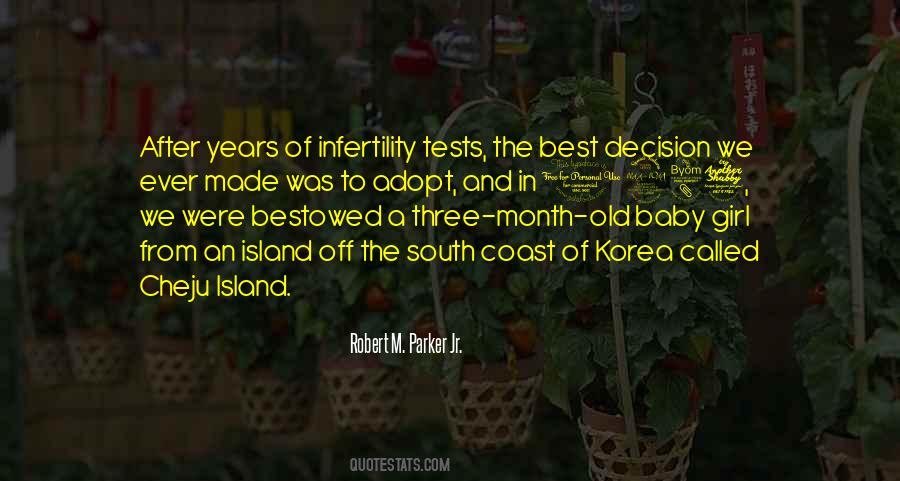 #48. Obviously, as you grow up, no one's ever 100 percent proud of every decision that they've made, and that's OK. I think as long as you learn from your mistakes and don't make them over and over again, you're on the right path. - Author: Kim Kardashian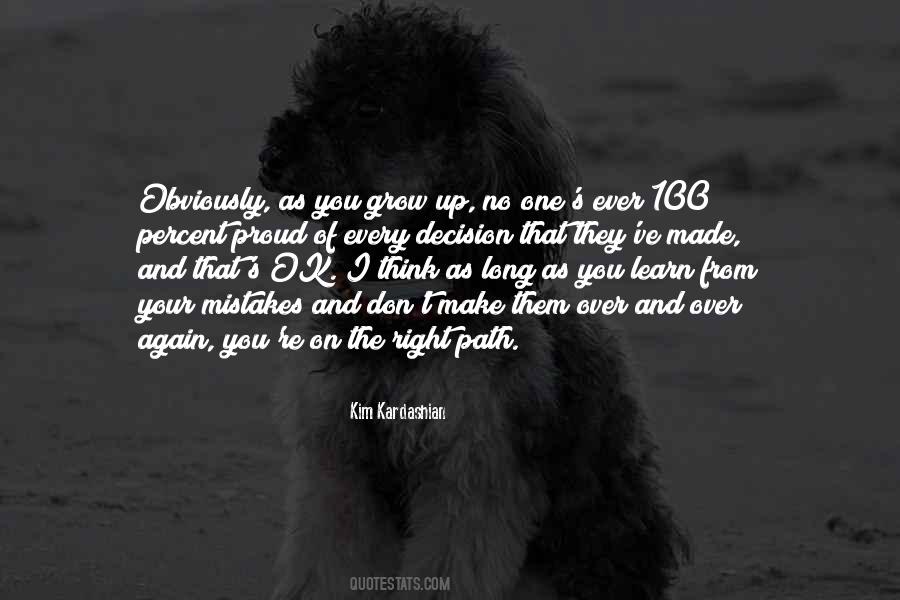 #49. I don't think I've ever made any conscious decision to be a comic artist, but to me there's something quite anarchic about comedy. - Author: David Shrigley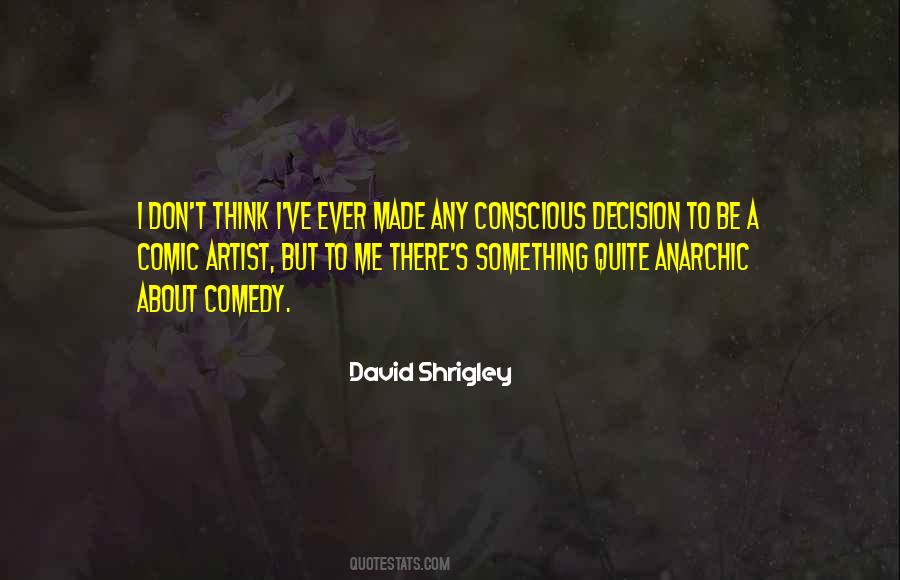 #50. But in the end self-confidence mostly comes from a gut-level realization that nobody has ever died from making a wrong business decision, or taking inappropriate action, or being overruled. And everyone in your operation should be made to understand this. - Author: Andrew S. Grove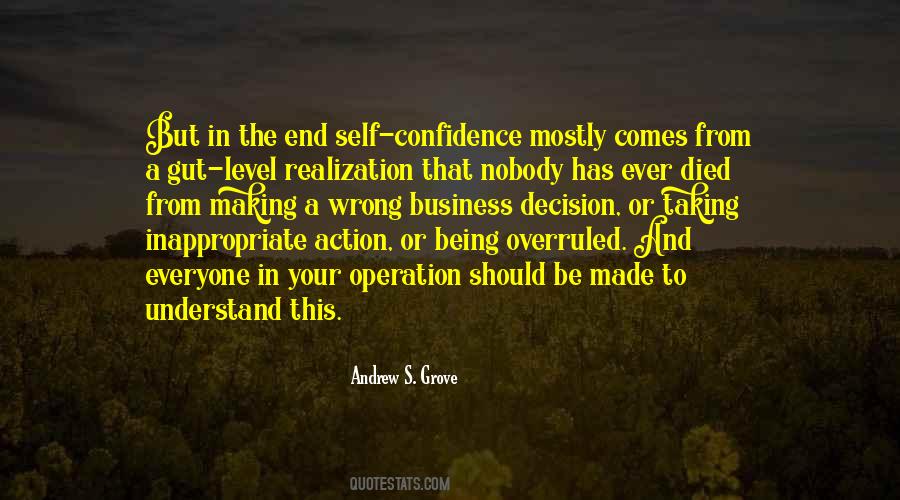 #51. The best decision I ever made was to become a priest and I think the second best was to resign. - Author: John O'Donohue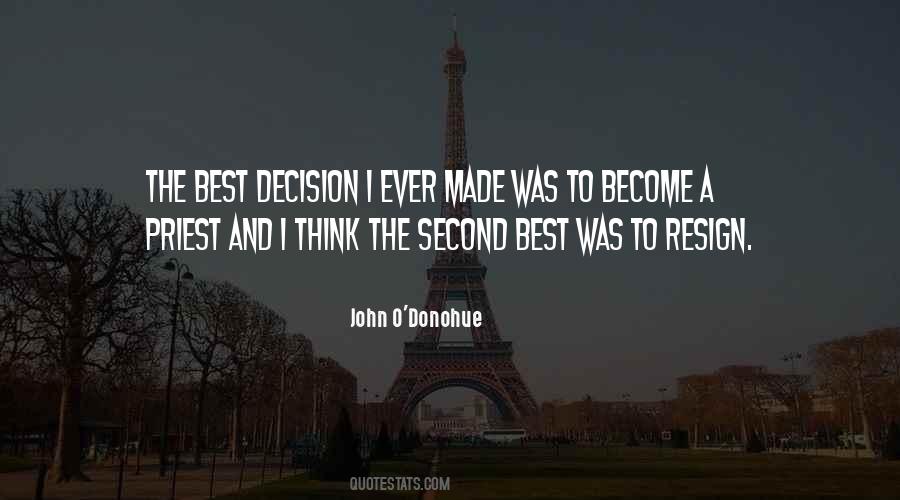 #52. Even though it was a start-up with fewer than 20 people, and I was pregnant with my first child, the best decision I've ever made was to join Google in 1999. Worst decision? Deciding to get a puppy and a bunny right when the baby came. - Author: Susan Wojcicki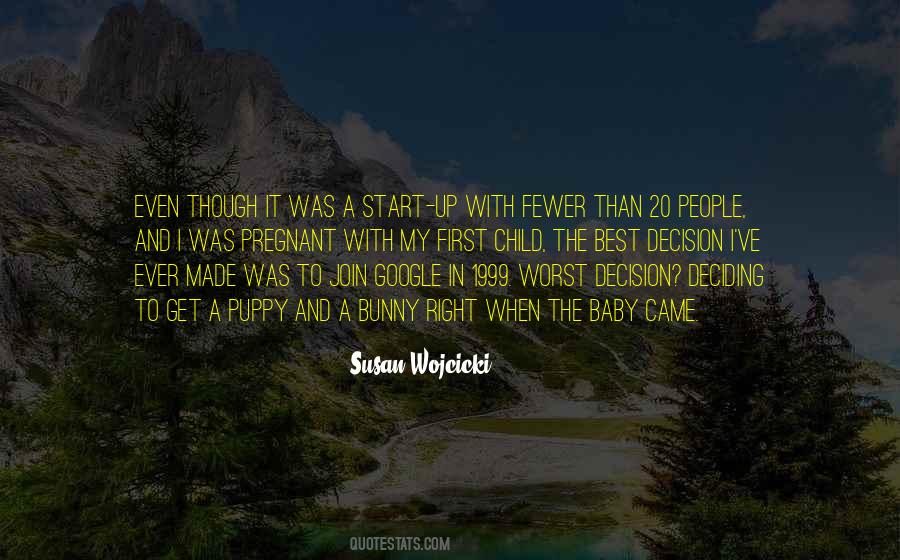 #53. I made a conscious decision back then that I would rather be the best actress who ever lived than the most famous one. - Author: Sally Kirkland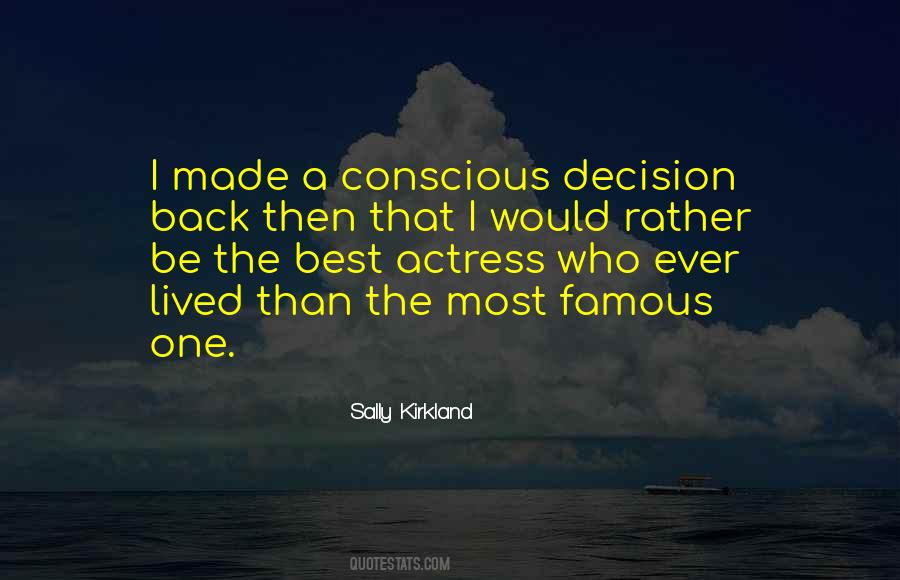 #54. Check your ego at the door and check your gut instead. Every right decision I have ever made has come from my gut. Every wrong decision I've made was the result of me not listening to the greater voice of myself - Author: Oprah Winfrey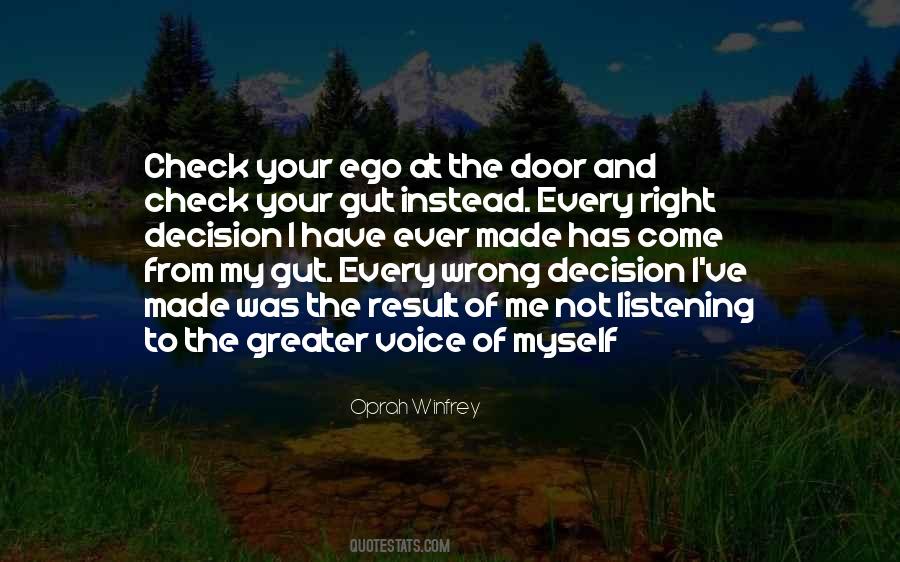 Famous Authors
Popular Topics