Day Tour Famous Quotes & Sayings
List of top 61 famous quotes and sayings about day tour to read and share with friends on your Facebook, Twitter, blogs.
Top 61 Day Tour Quotes
#1. I try to find 15 minutes a day to just be alone without any distractions just for headspace to meditate and get my Zen on. I think that helps me get through the hecticness of the day on tour with the interviews, the sound check, the meet and greets, the show and the post-show meet and greets. - Author: G-Eazy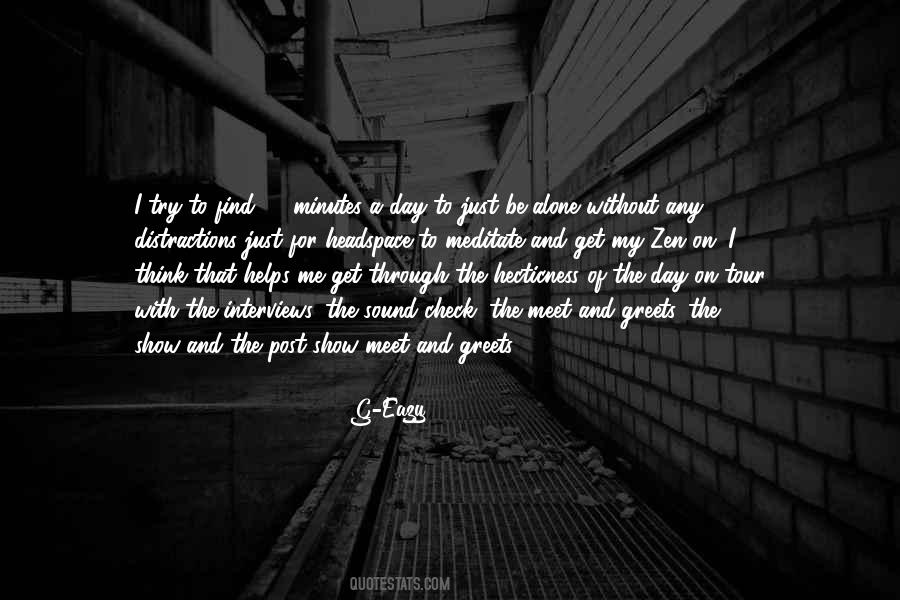 #2. I used to work at my dad's peanut mill, and worked 15 hours a day, 6 days a week. So, now, riding around on a nice tour bus and doing shows, you'd have to get picky to have a downside. - Author: Luke Bryan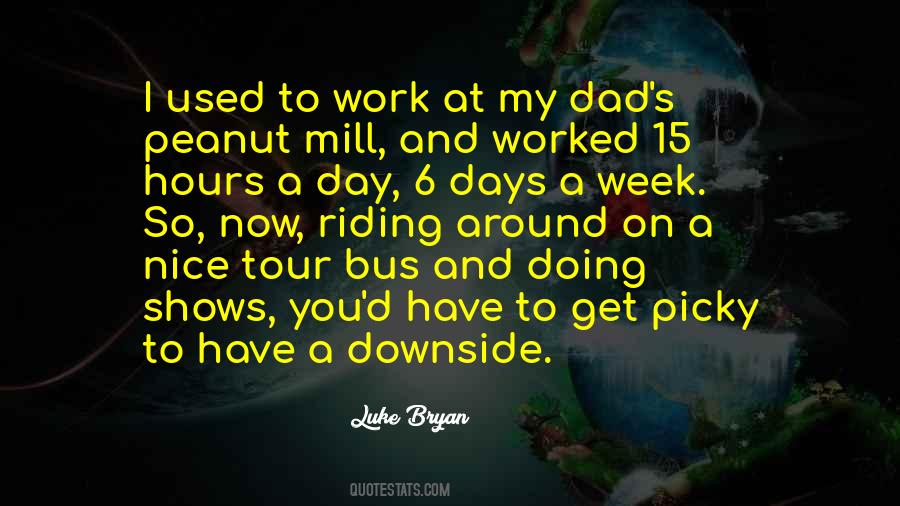 #3. You know, I go to work in a great office every day, and the amount of freedom that goes with being a pro golfer on the tour is awesome. So I get to enjoy my weeks off away from the course, and then I get to go to work on some of the best golf courses in the world out here. - Author: Adam Derek Scott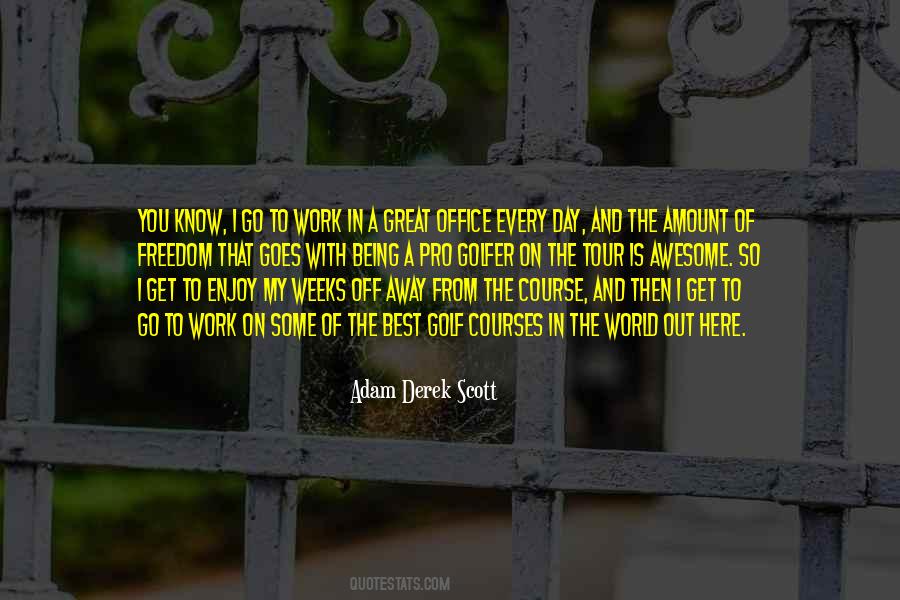 #4. And my voice now is a struggle, it's a daily struggle to keep it up. Gravity has begun to fight the vocal cords the way it does with everybody. So I have a vocal therapist, and we record the sessions and I use them on tour every day. - Author: Joan Baez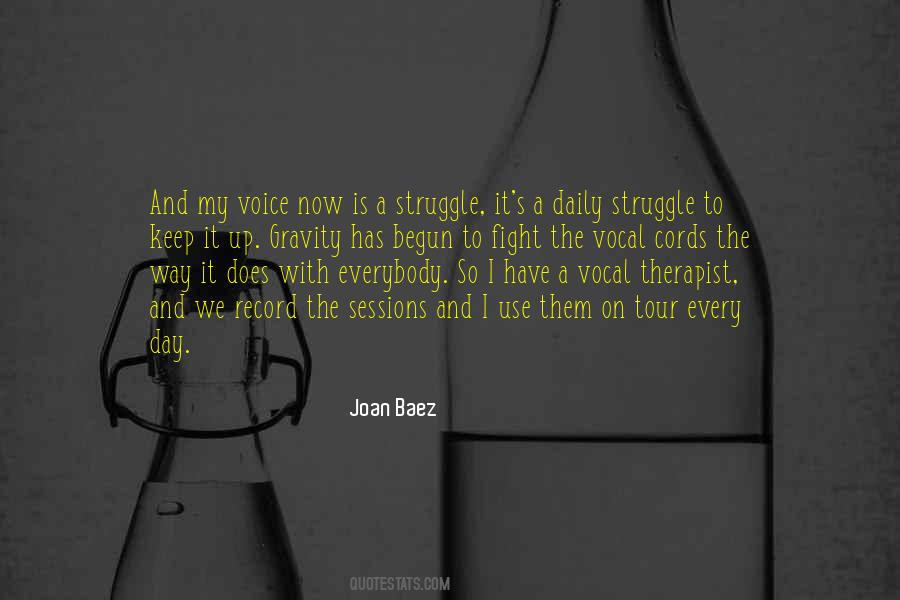 #5. When I was a teenager, I went on an organised three-day tour of Rome. It was the worst experience ever. I promised myself that I would never travel like that again, with someone telling you what to see and what not to see. - Author: Diego Luna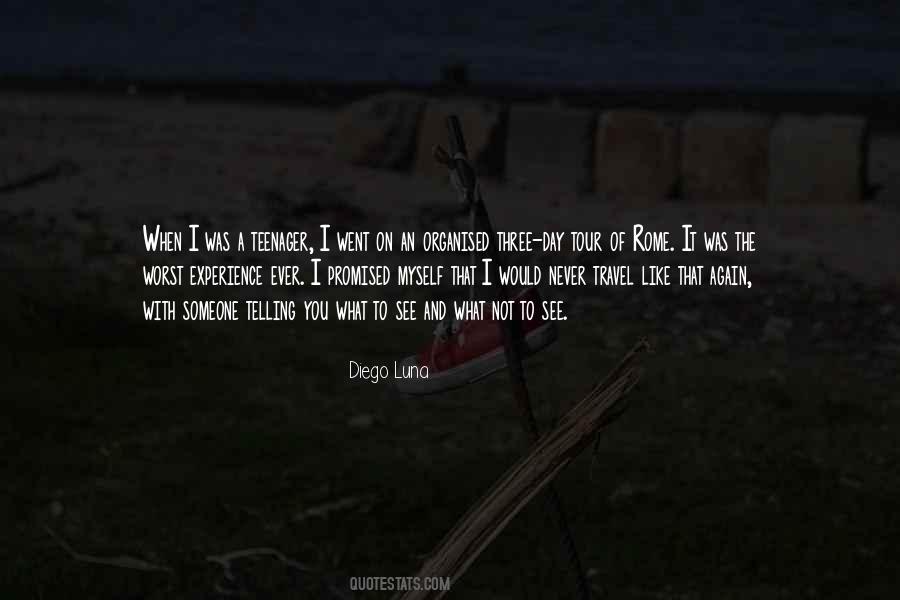 #6. Performing is the craziest workout for me, because I feel like, on the first day of tour, I'm going nuts. Halfway through, I'm just so tired but obviously you keep pushing yourself because you have fans watching you. - Author: Hayley Williams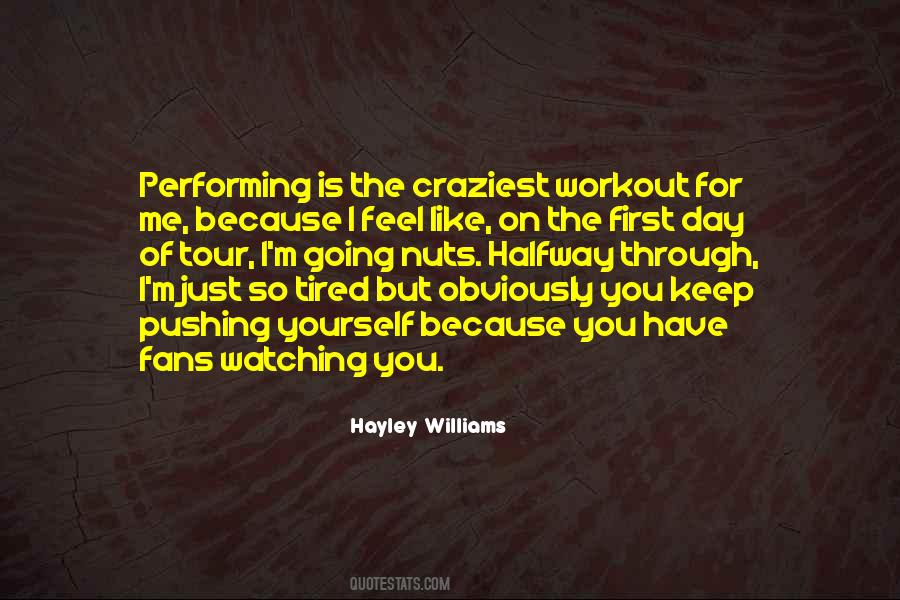 #7. I just saw Jensen the other day. They are gonna be in the States at the same time when we are doing the tour, Se we'll see if we are going to see somewhere. - Author: Kerry King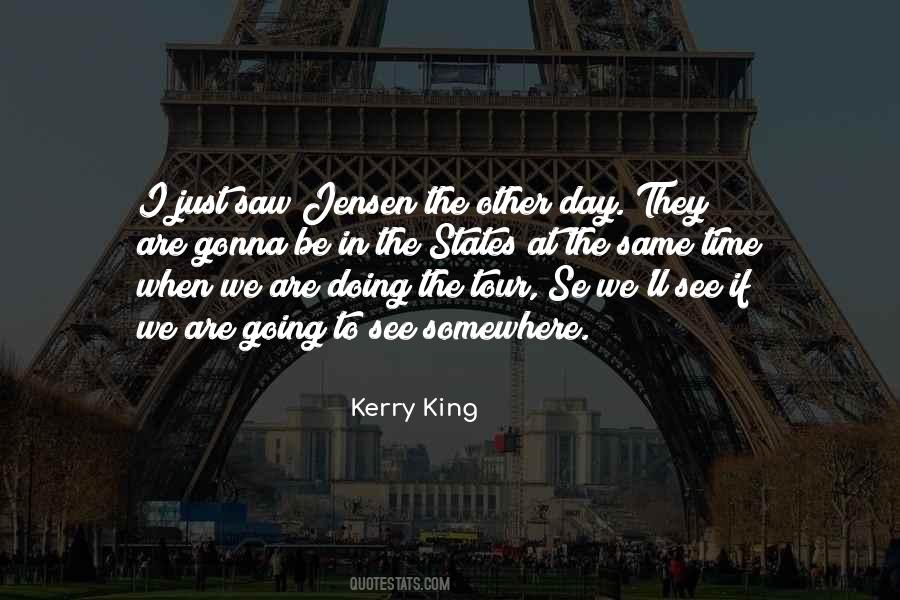 #8. That was our first major tour and we got a chance to play in front of like 5000 people every day so it was like a Rock and Roll boot camp for us really, we learned a lot and made a lot of good friends. - Author: Adam Rich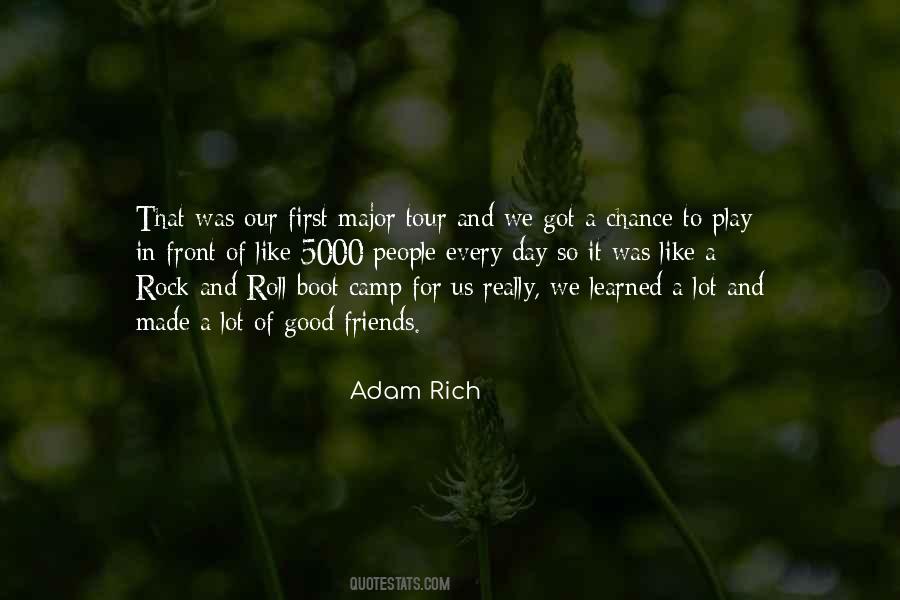 #9. Improvisation is risky. I like that. Another practical reason for that is that you have to go out and play every day on a tour. I couldn't do it if I thought I was going to do the same songs every day in the same order, like a full-on robot. - Author: Jamie Lidell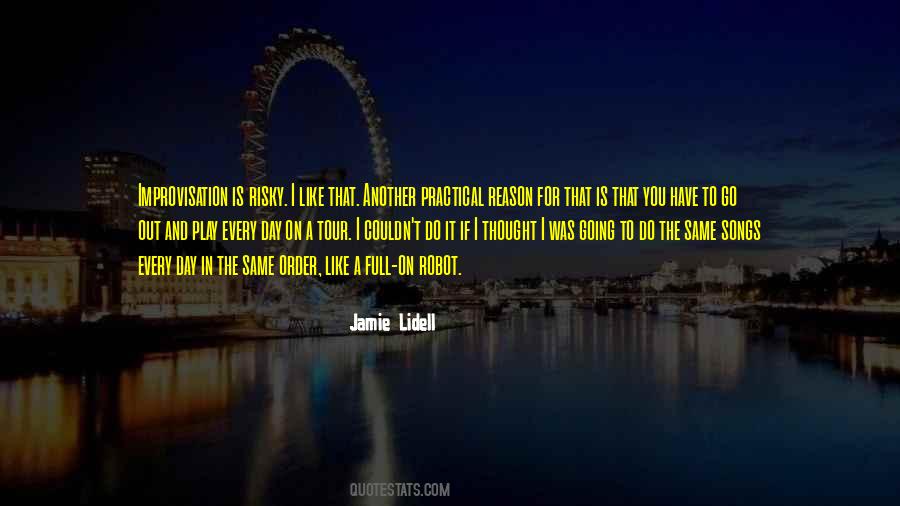 #10. For the first time that day, I felt as if I could breathe. As if this, this was what God was leading me to. Waiting, abiding, resting. Enjoying what was rather than fearing what might be or resenting what had come before. - Author: Lisa Tawn Bergren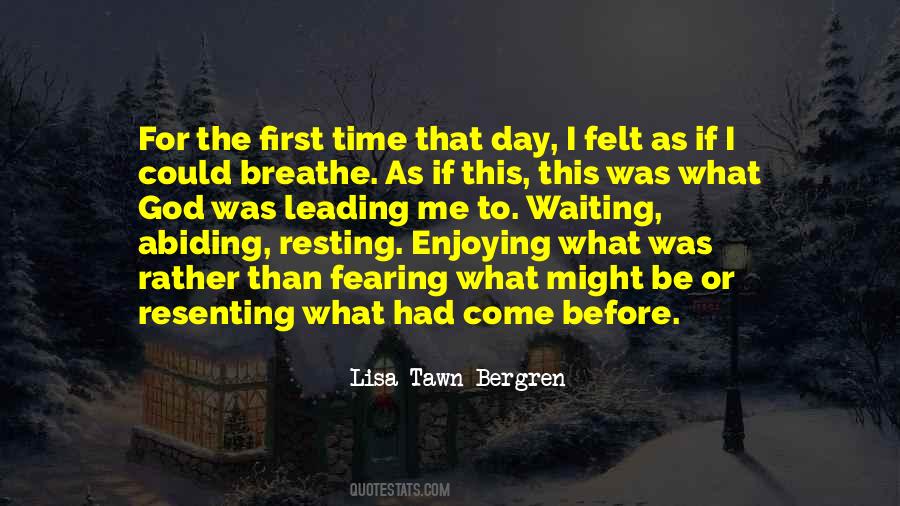 #11. It's a fun day, a day which kicks off the start of our tour, it's got great tradition - Australian cricketers just love tradition - and it's been a really pleasant day. - Author: Matthew Hayden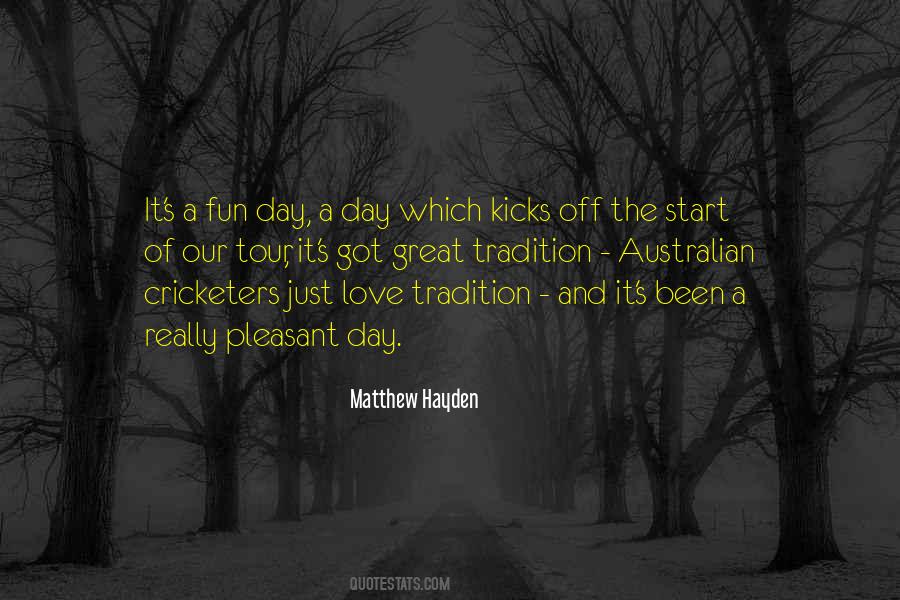 #12. I'd been acting in Chicago since I came back after University, and I got a call from my agent saying, 'They're doing this revival of 'On a Clear Day,' and I actually auditioned when the team came through Chicago for the 'American Idiot' tour. - Author: Jessie Mueller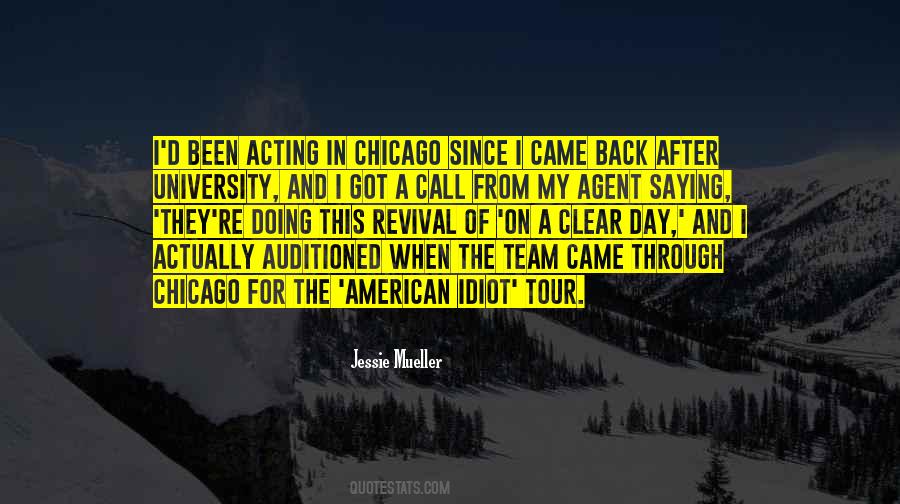 #13. Sometimes when you're on tour, it feels like you're living the same day over and over again. - Author: David Longstreth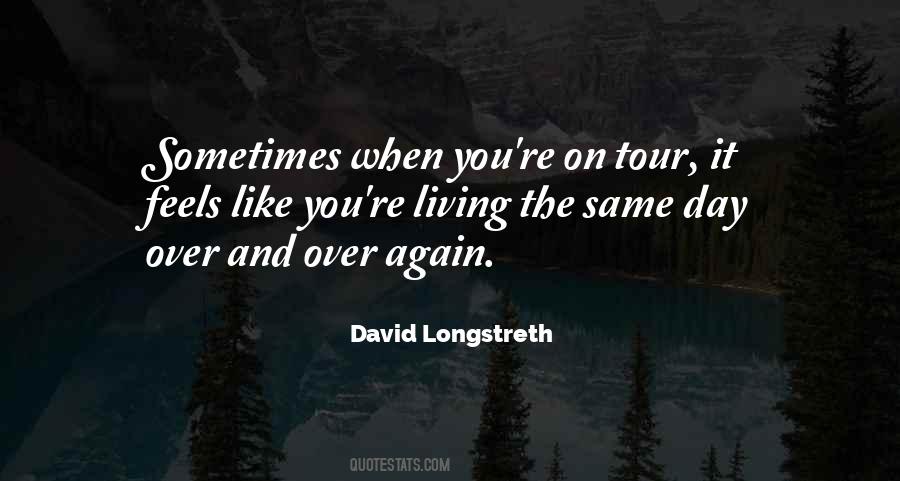 #14. I don't write on tour. There is so much to do day in and day out when you are on the road. - Author: Tommy Shaw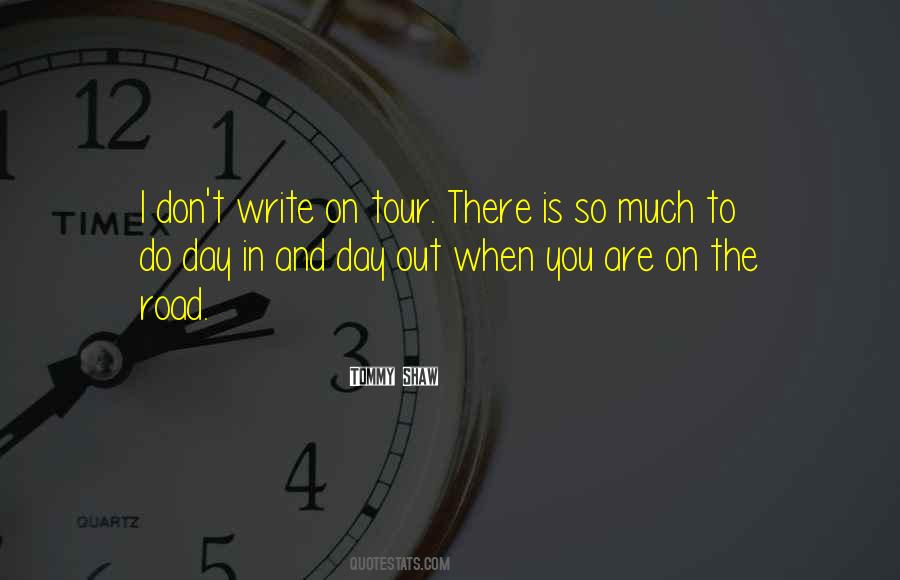 #15. I was in 'Jacques Brel' Off-Broadway for many years, so I've always been a singing actress, but the songwriting was a complete surprise. I had never written a song in my life. We were on the road with 'Jacques Brel' doing the national tour, and I picked up a guitar one day and I wrote a song. - Author: Amanda McBroom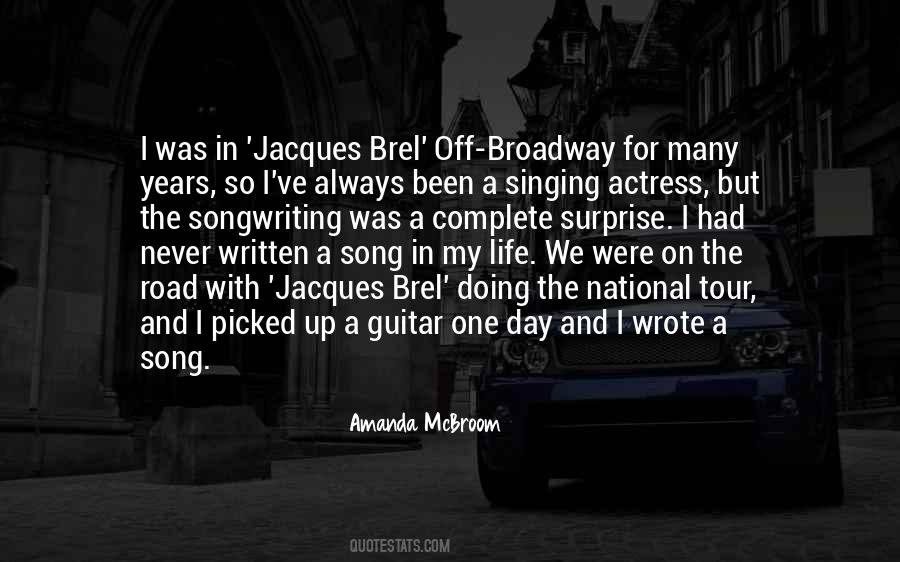 #16. I have such a profound respect for what they do day in and day out. This USO tour is especially meaningful because of the friends I have met and I am honored to be apart of it. - Author: Karl Malone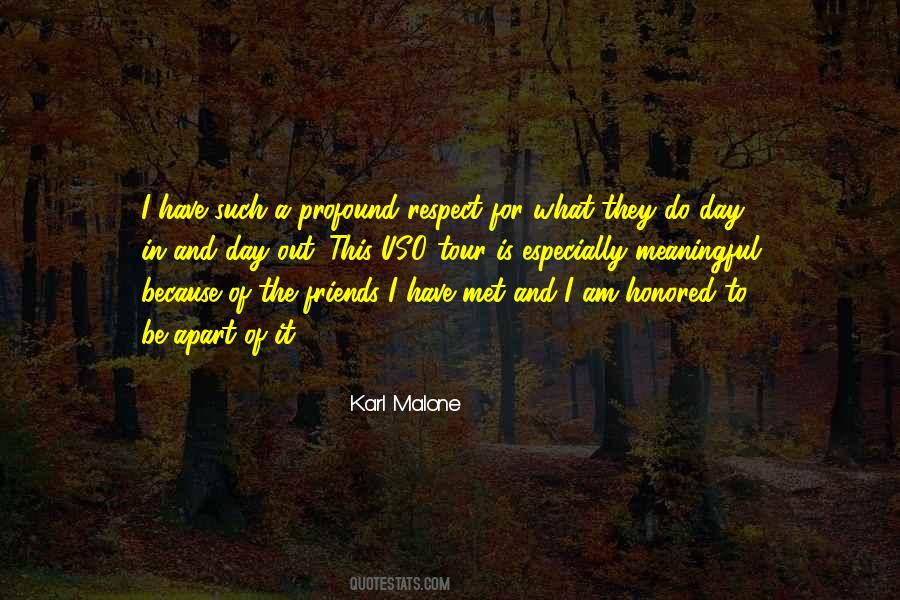 #17. When I get on the World Cup tour, I'm kind of disconnected from the world. I just kind of get wrapped up in my world and wrapped up in trying to ski fast every day, and I forget about everything else. - Author: Lindsey Vonn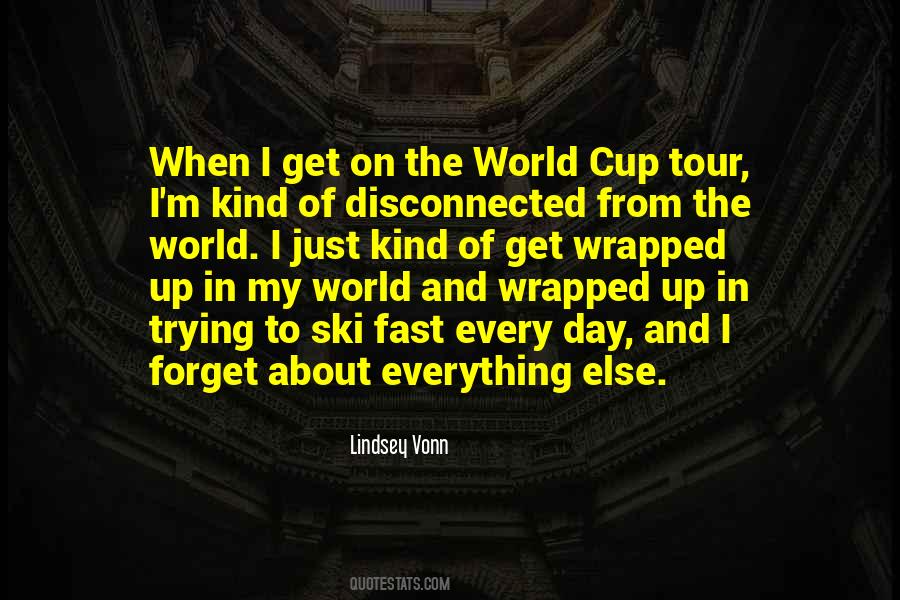 #18. Generally my day-to-day is pretty much the same. Just busy and working and on tour. And trying to put on the best show possible every night. - Author: St. Vincent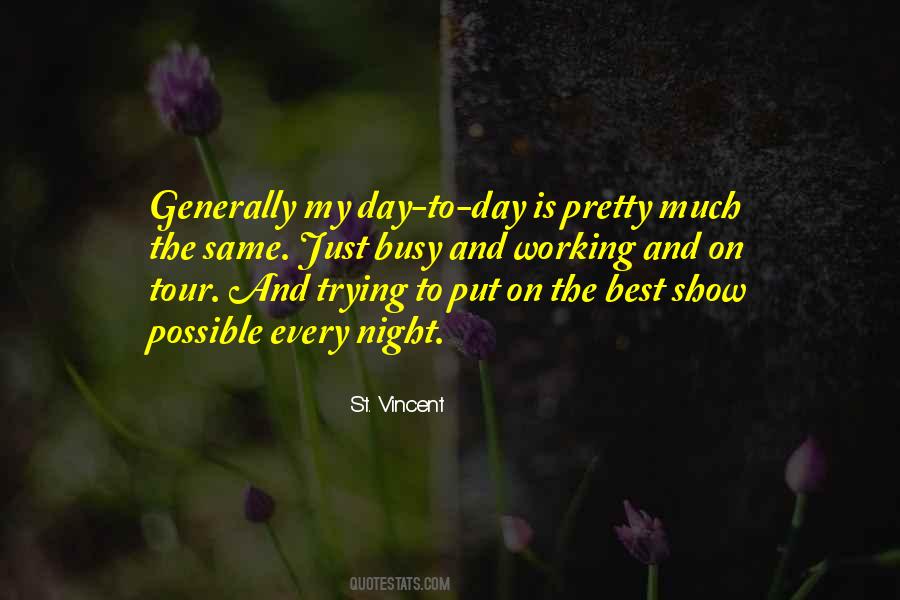 #19. The reason I stopped doing the band is that I wanted to do something different ... Yes had become like 'Groundhog Day' for me. I loved being in the band, but it was album-tour, album-tour, different album-different tour. - Author: Trevor Rabin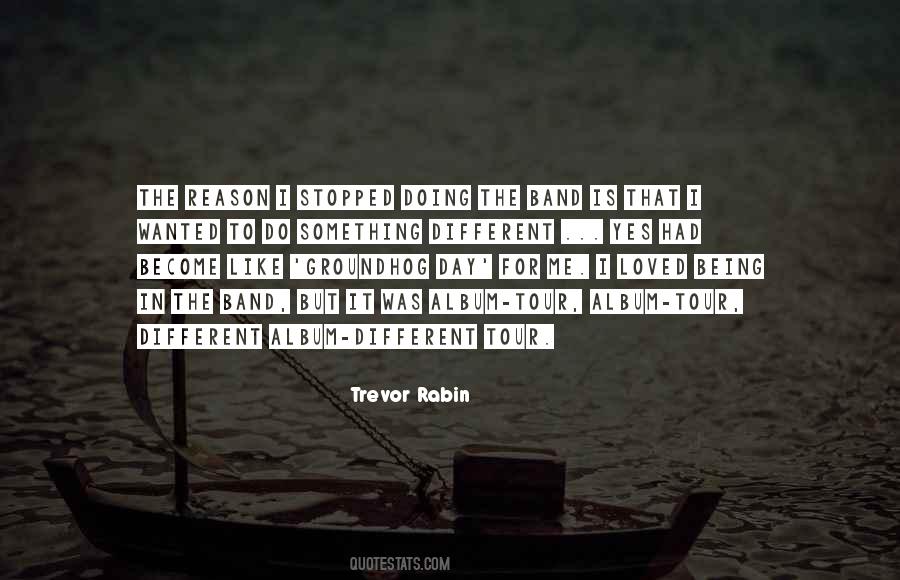 #20. I'd love to follow the Tour de France one day. It's a really exciting spectacle. I've only seen it once as it was coming into Paris and that was very exciting for me. I have memories of that. - Author: Bryan Ferry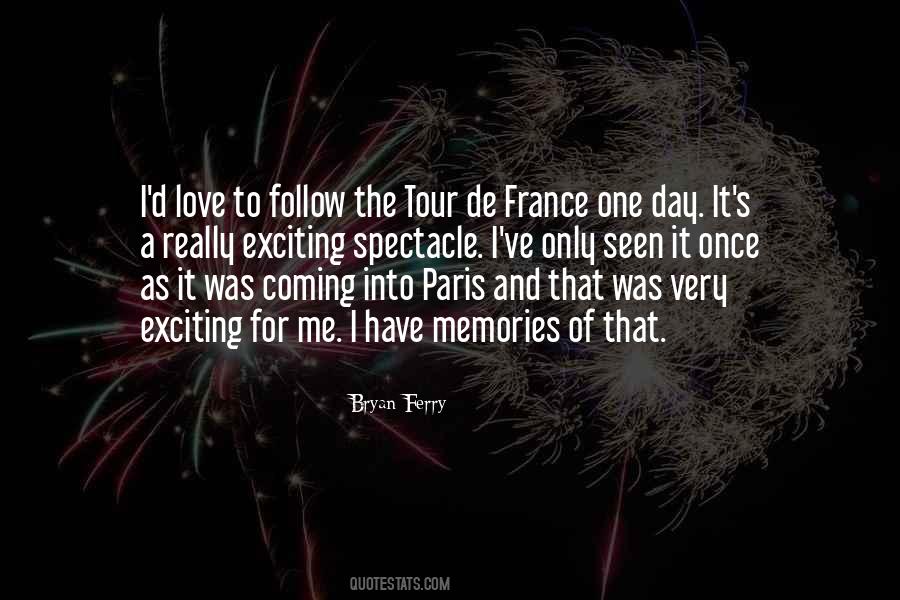 #21. At the Tour, you always have some fantastic days and some days where you hit the asphalt. Today was an asphalt day for me, - Author: Jens Voigt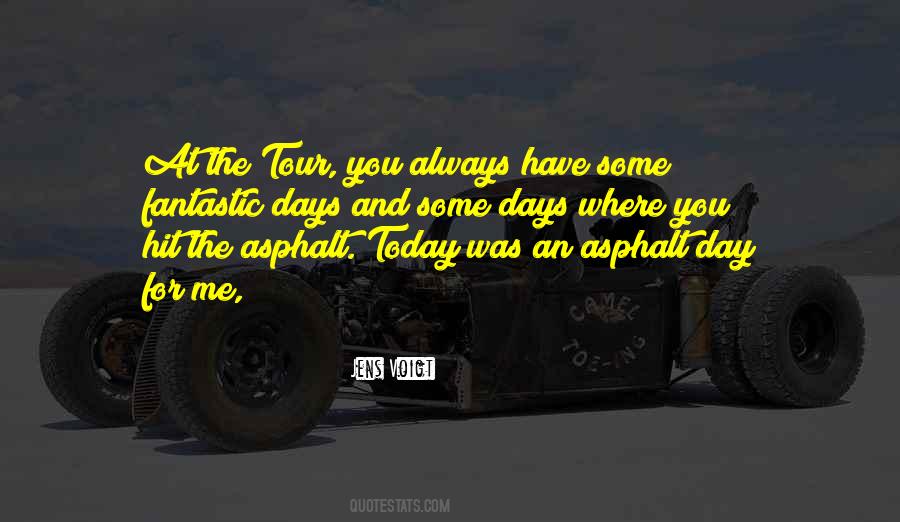 #22. Tax day was yesterday. And marijuana growers are complaining that they can't write off a single expense thanks to federal laws. Well, apparently someone tried to claim the Phish tour as his home office and that's not going to happen. - Author: Conan O'Brien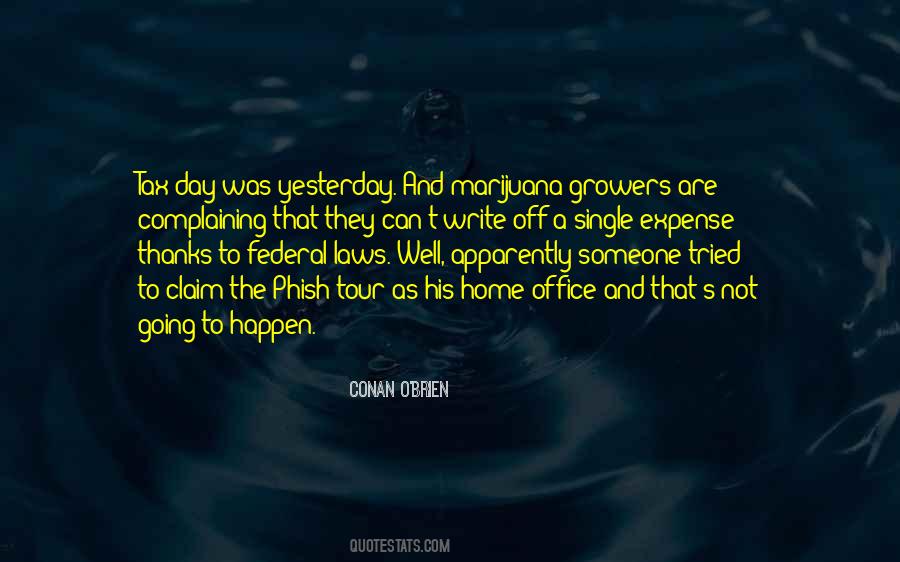 #23. I just got a call one day from Ringo asking me if I wanted to go out on the tour. It was as simple as that. He was putting together this band and he heard of me in the context of doing this and he gave me a call. I jumped at the chance. - Author: Greg Lake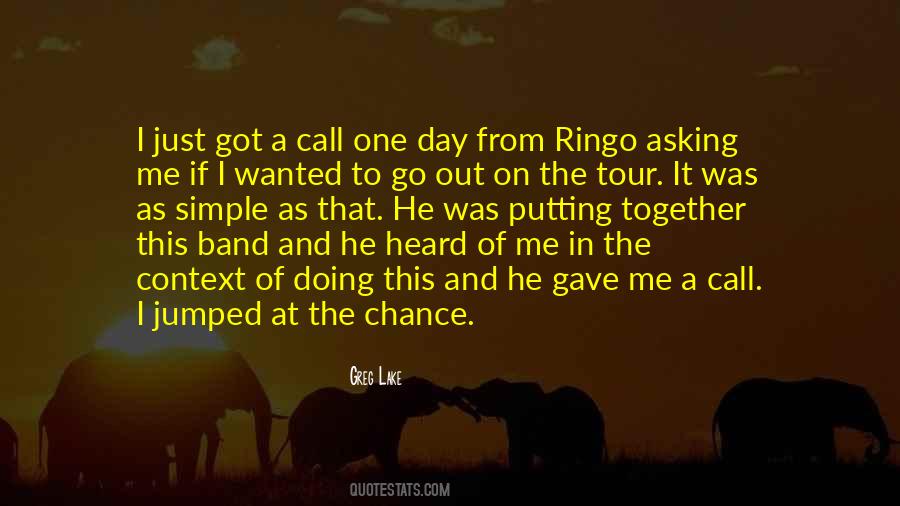 #24. Out on a 30 day tour, you got nothing, but groupies and promoters to love you. - Author: Frank Zappa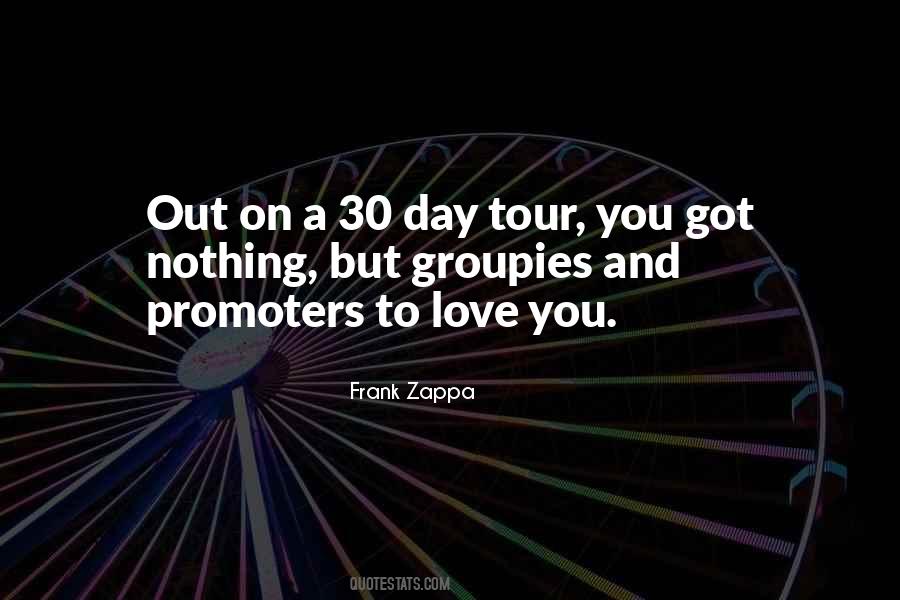 #25. I had to go to Europe to tour and he died on the second day of the tour. - Author: Percy Heath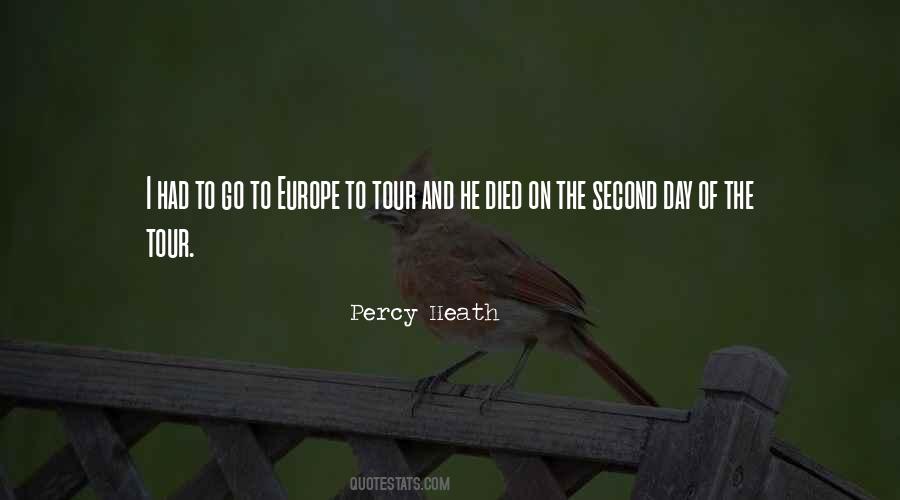 #26. WE used to tour quite a lot during the summer with Everton in my day. - Author: Dixie Dean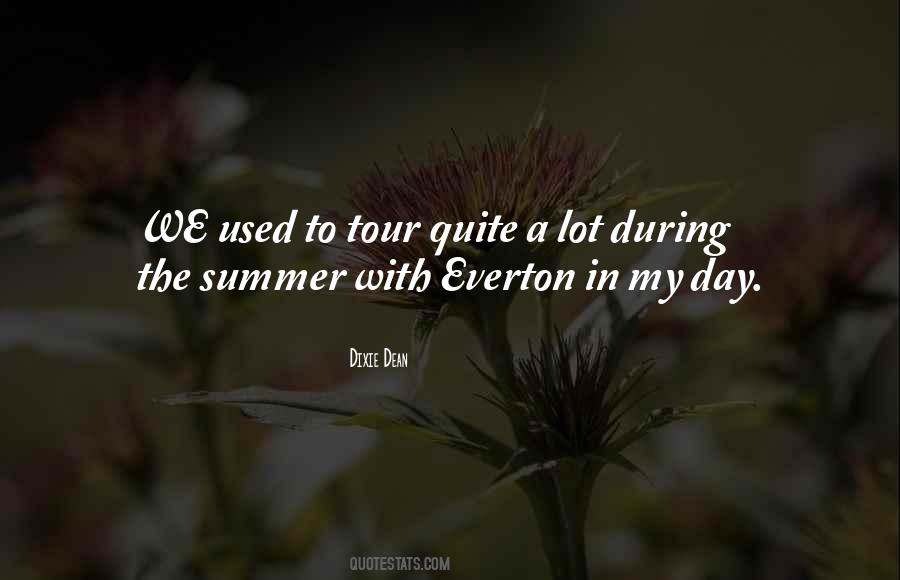 #27. New Orleans lives by the water and fights it, a sand castle set on a sponge nine feet below sea level, where people made music from heartache, named their drinks for hurricanes and joked that one day you'd be able to tour the city by gondola. - Author: Nancy Gibbs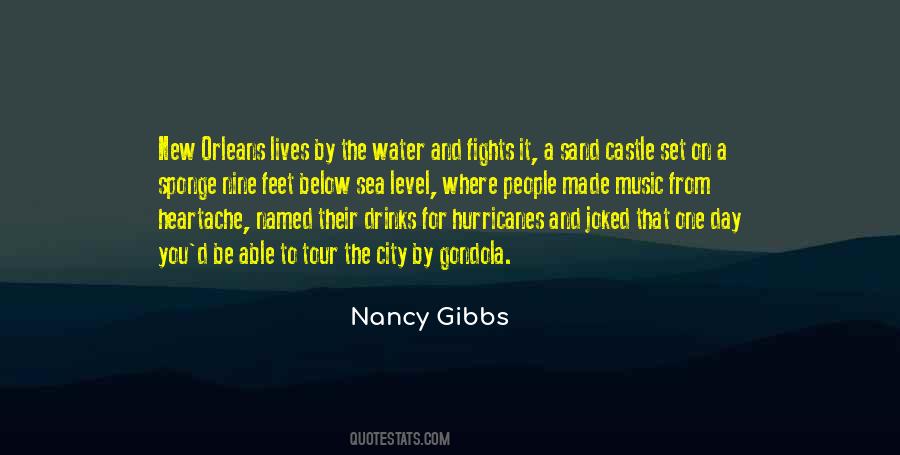 #28. Every day since the start of the Tour de France, the popular 'Le Parisien' newspaper has published a story about a book written with the bicycle in mind. - Author: Elaine Sciolino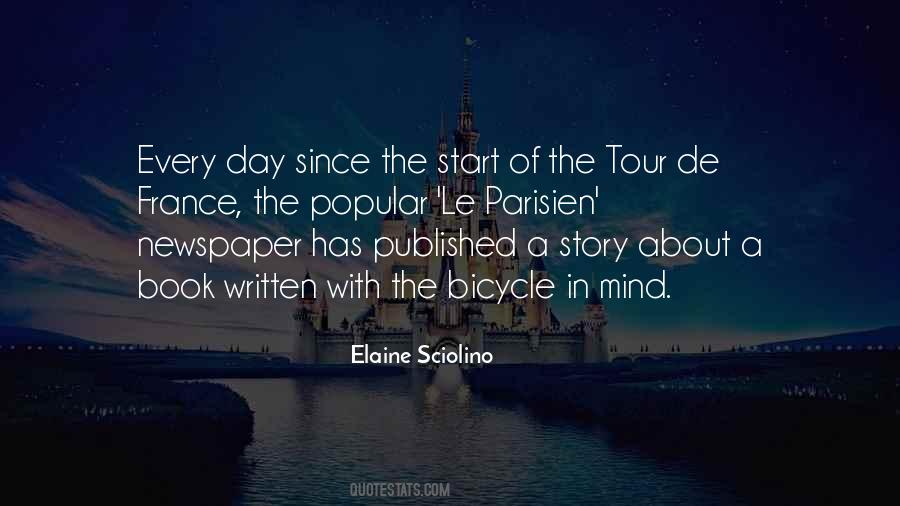 #29. I'm not a great practiser at all. We were never great practisers. The Beatles would come together for about a day before we had a tour, to make sure the amp worked. - Author: Paul McCartney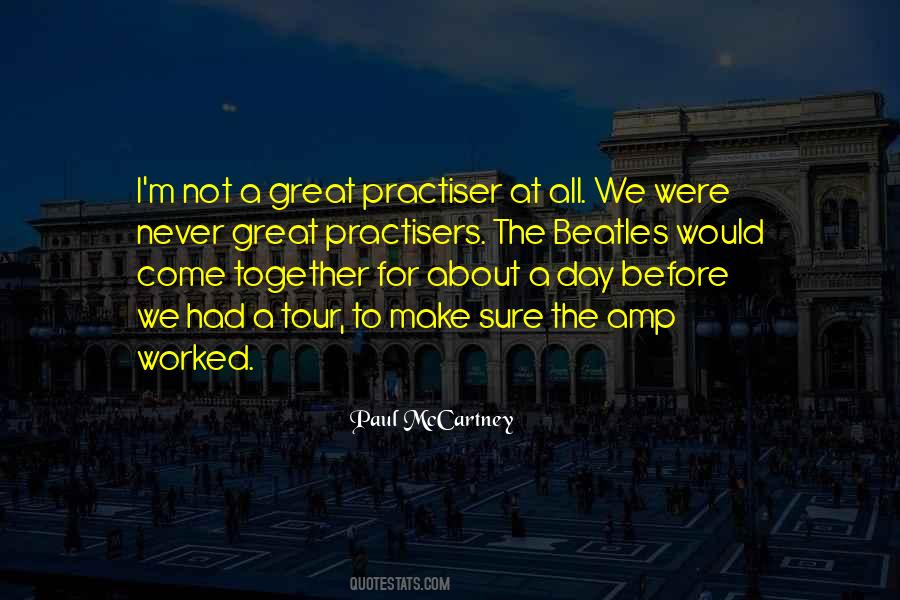 #30. The mall tour was right off of my second record, before it came out. It was very different. I did an acoustic performance every day in a different mall! One interesting thing I remember is playing 'My Happy Ending' a lot, and that song was so new that I remember getting emotional. - Author: Avril Lavigne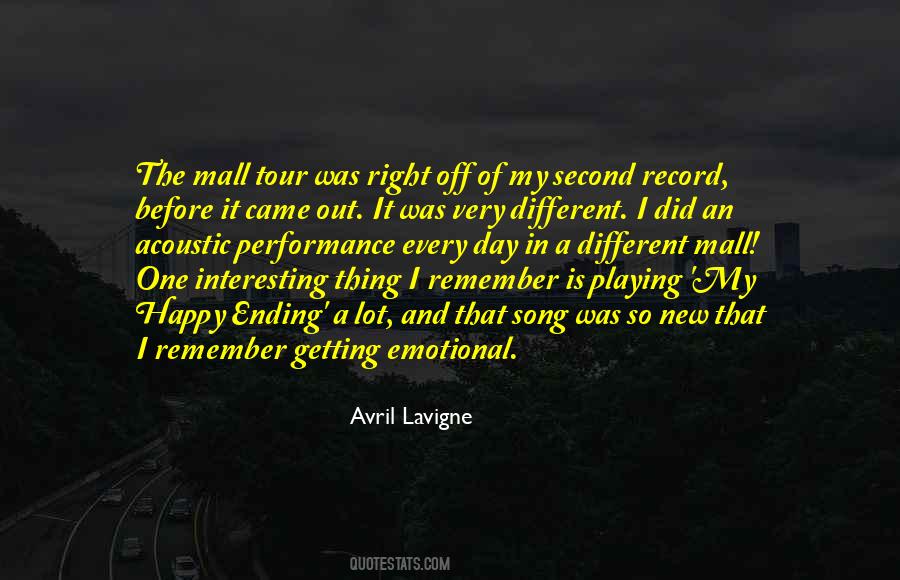 #31. My fans are crazy, but in a good way. Very supportive, and some tweet me more like a 100 times a day. As for tour tales, I have a saying: 'What happens on tour stays on tour.' - Author: Tiesto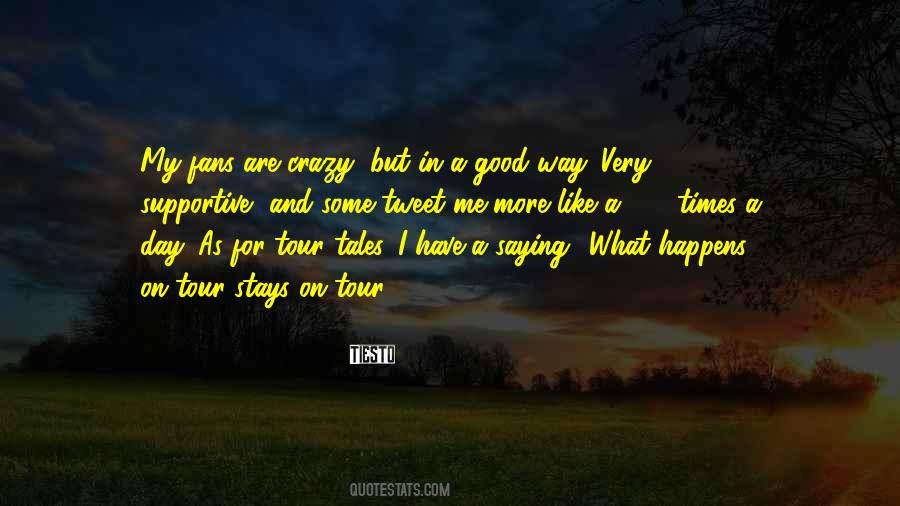 #32. One day I undertook a tour through the country, and the diversity and beauties of nature I met with in this charming season, expelled every gloomy and vexatious thought. - Author: Daniel Boone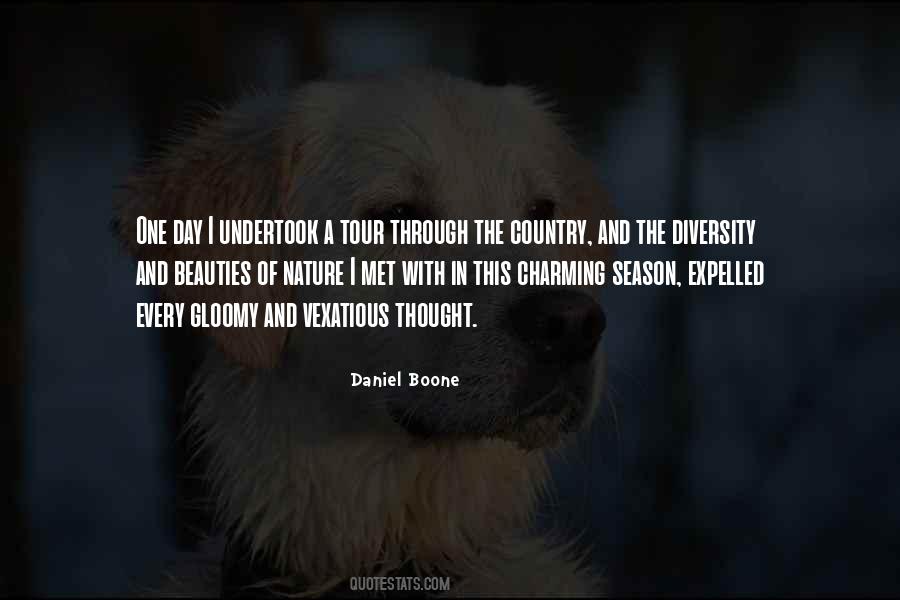 #33. I'm most in my element on tour, with a gig that day, like today. I'm on the road where I am supposed to be. I will be where I'm supposed to be at nighttime, on stage, in front of people, doing my thing. - Author: Henry Rollins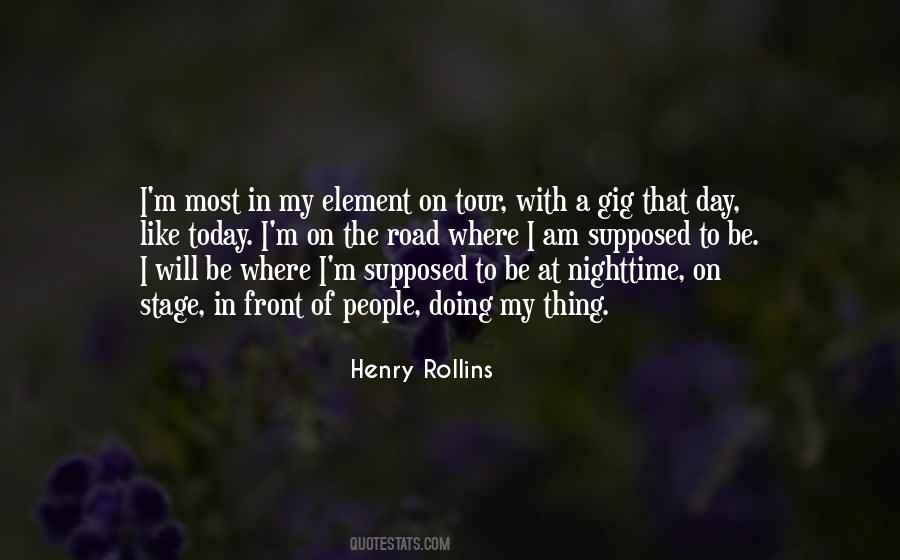 #34. Bernie Sanders has done a great job of, social media black kids know about him. Young black people progressives know about him. Through barbershops and barbershop tour that we have been on, we hit three barbershops a day. People know about him. - Author: Killer Mike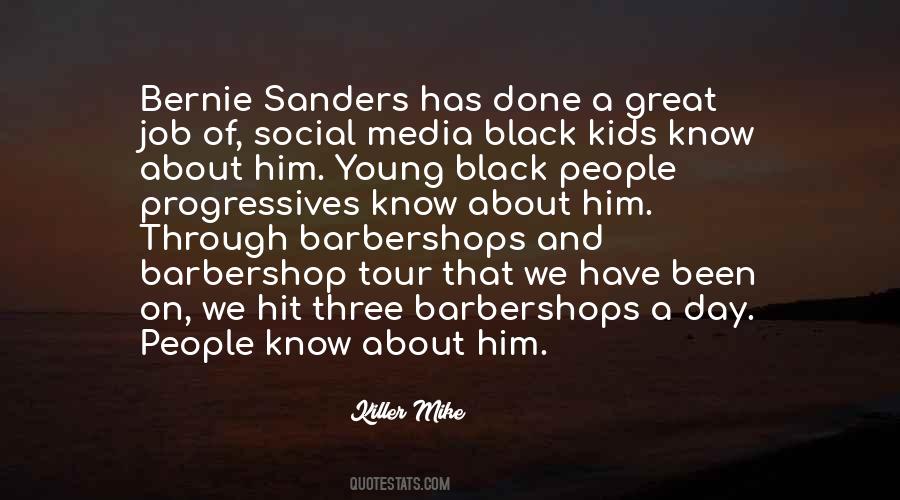 #35. I cannot believe that I get a tour bus. I've been traveling in a van for 15 years. I used to look at people who were on buses and be like, 'Whoa, man, some day.' - Author: Rachel Platten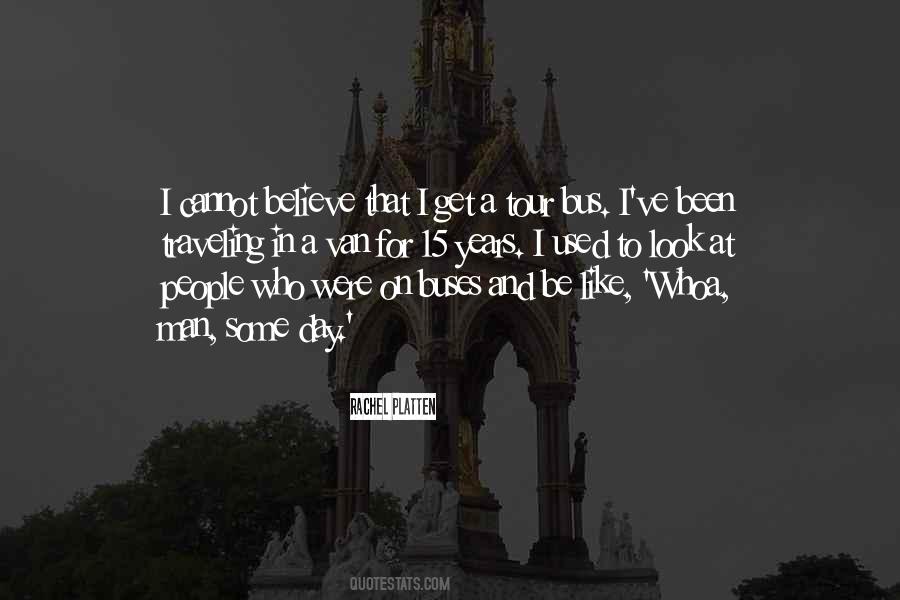 #36. For us as entertainers traveling, the schedule gets really crazy - flying all the time, being on a bus tour, changing hotels every day. And it's challenging. - Author: Sheila E.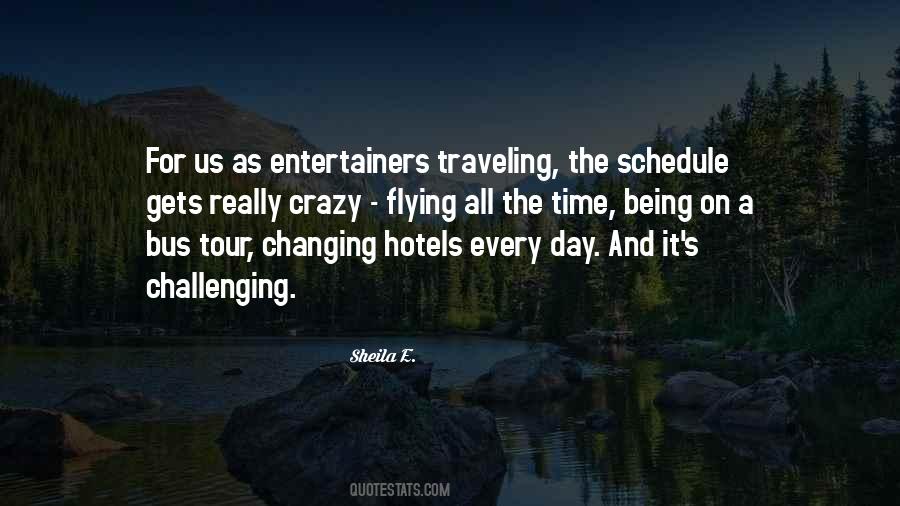 #37. Let her go. Better to waste a day than another month. Maybe a little tour of Twelve is just what she needs to convince her we're on the same side. - Author: Suzanne Collins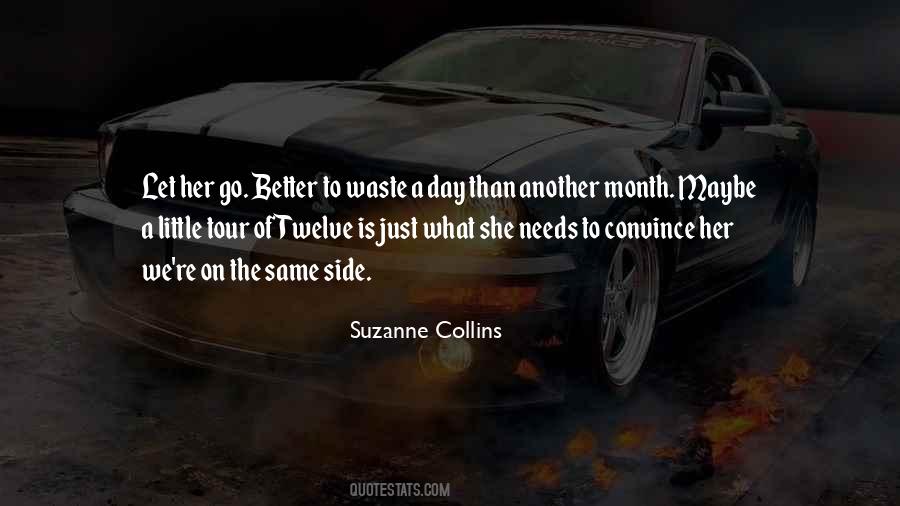 #38. I don't do interviews at all when I'm on tour, so this time, on a day off, I'll do that kind of thing a little bit. I don't do big promotion schedules, not when I'm touring. - Author: Bryan Ferry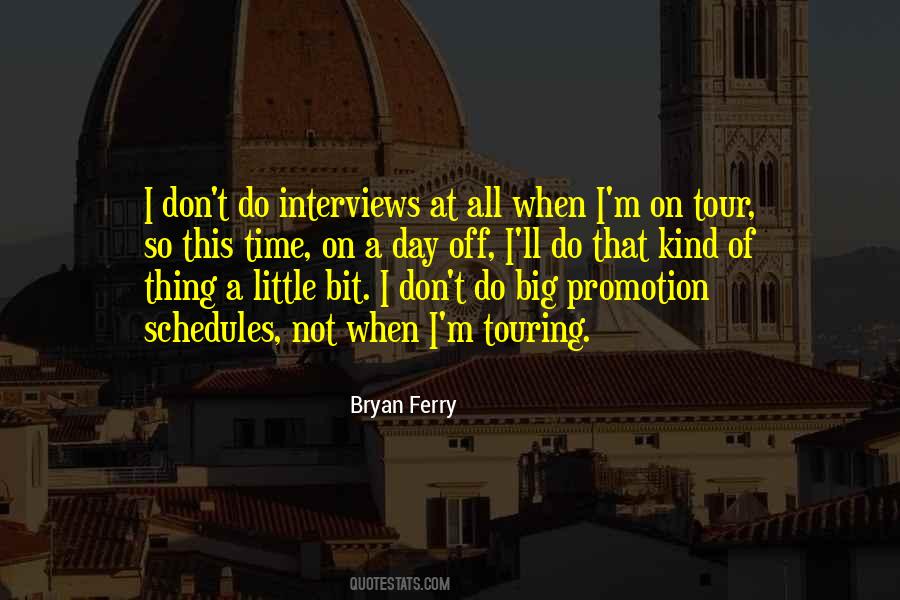 #39. As much as I want to go out and tour every single day and I'm ready to rip it right now, there's five people in the band, there's five people who've evolved and grown and there's five people who have to get on the same page and want the same things, and it takes a lot to tour. - Author: Fred Durst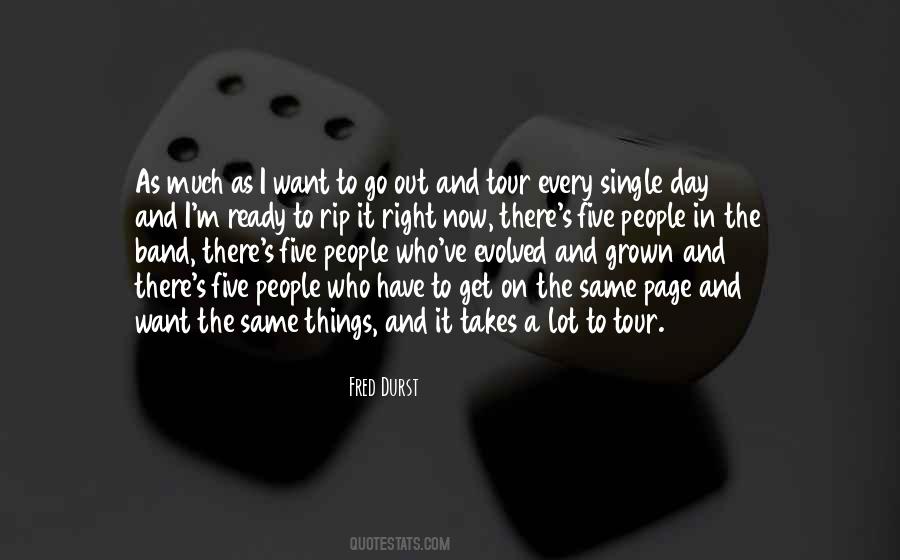 #40. You're in the gym eight hours a day; you're not preparing for cameras and running around and doing tour stops and making acting appearances. - Author: McKayla Maroney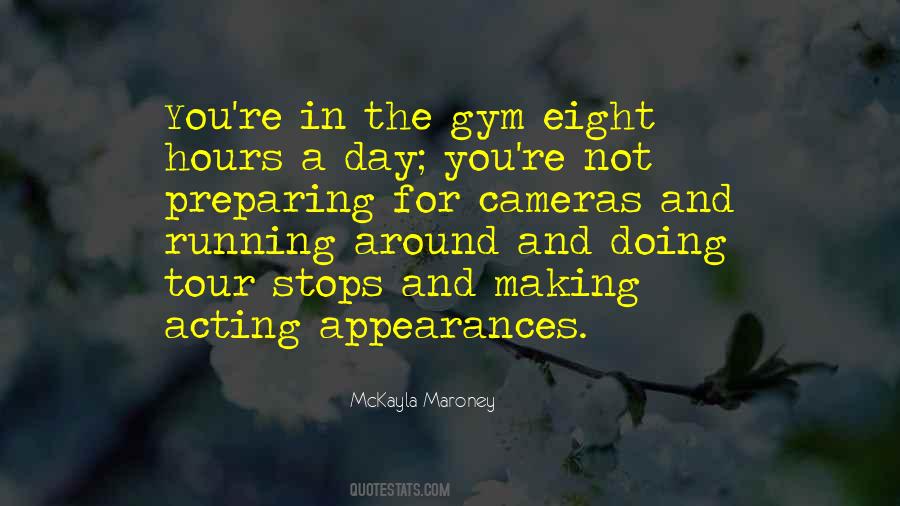 #41. Back in the day people made music to go on tour. They didn't make music to make a video. - Author: Raphael Saadiq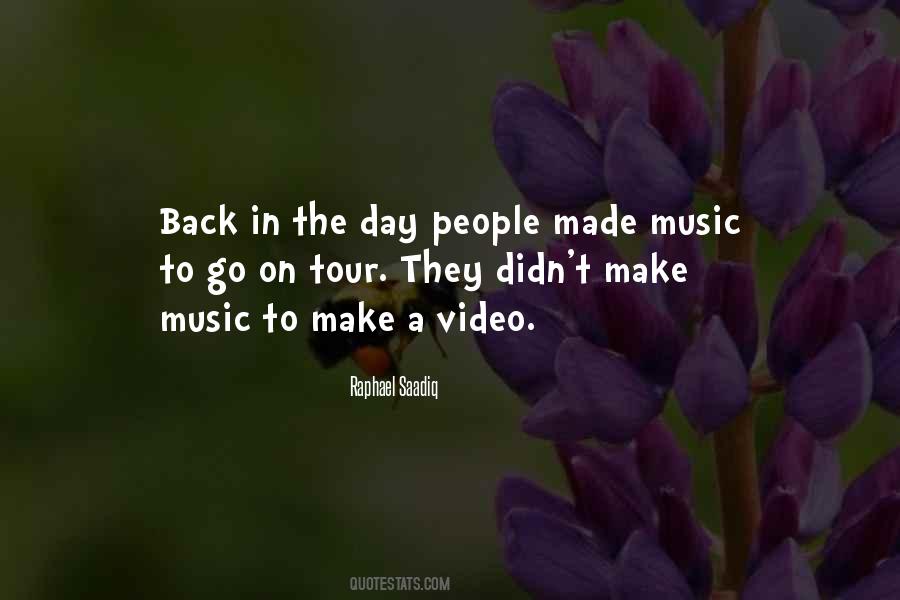 #42. Some day I shall write a novel and call it 'A Walking Tour in the Congo' or 'Thrills and Spills in Aeronautics'; but I keep this type of title as a last & mercenary resort. - Author: Louis MacNeice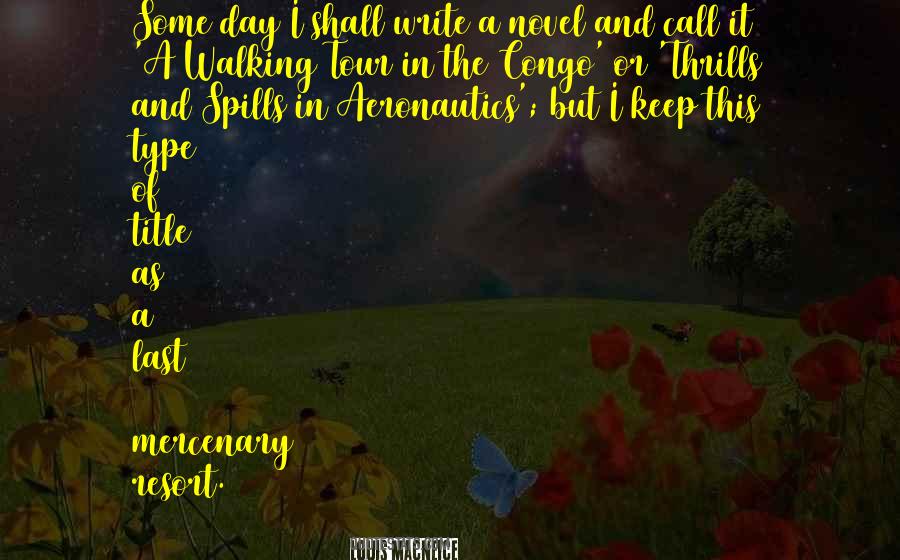 #43. When Josh and I are recording a record, we're very mindful of how the music will manifest itself live. That's where we have to live every day. When we tour for the next record, I imagine there will be a new story to tell, and we'll introduce new characters. - Author: Tyler Joseph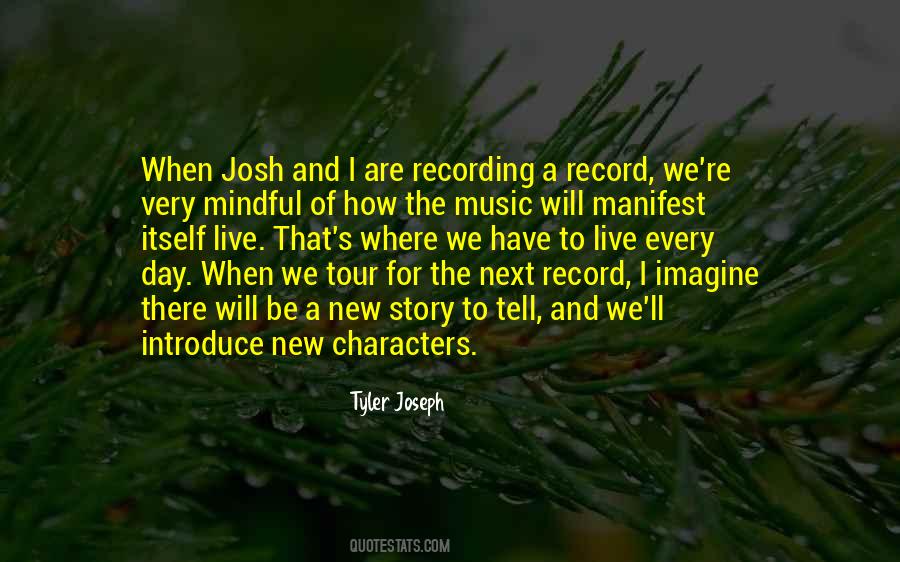 #44. I was actually privately in the White House like invited by Clinton to screen Independence Day, so I know how the private residence looks. I didn't snap a picture, but I have a photographic memory and then I could take a guided tour in the West Wing. - Author: Roland Emmerich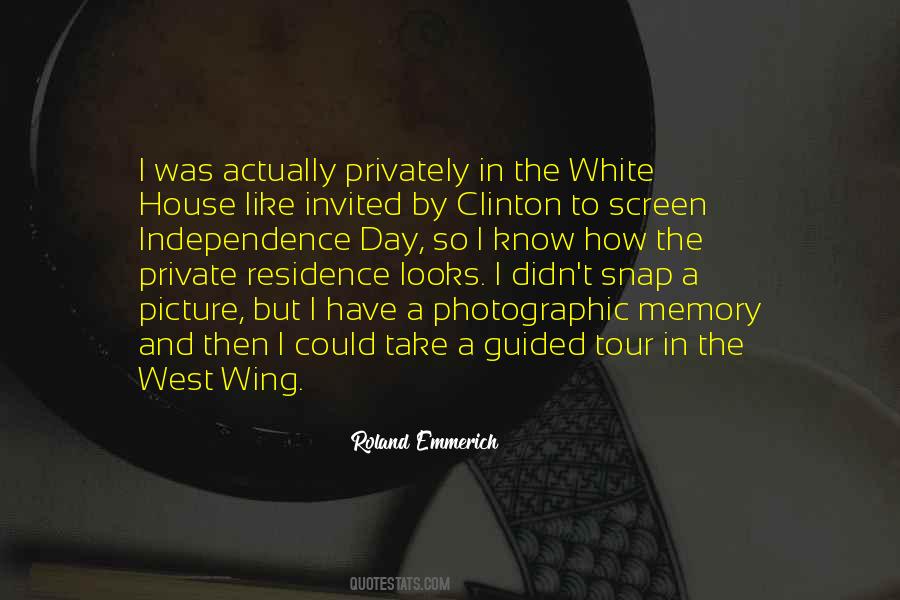 #45. My favourite two festivals have always been the Big Day Out and Summersonic in Japan. The Big Day Out is a little more fun because it lasts longer. It's like an abbreviated version of the Warped tour because you get to play with the same people every day, which is really fun. - Author: Gerard Way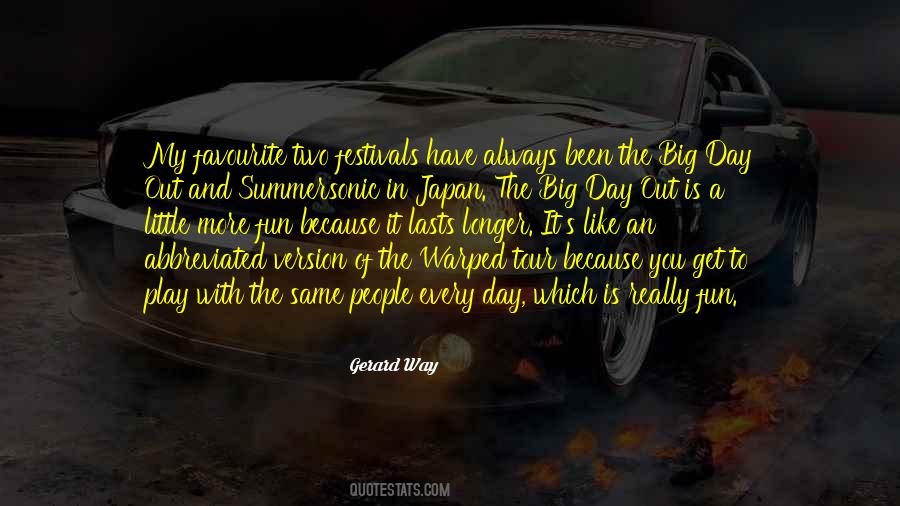 #46. You know, I didn't have enough money to quit my day job ... the myth of the major label deal. Nowadays, you have a tour bus and a stylist and all this stuff. But back then, no way. - Author: Mary Chapin Carpenter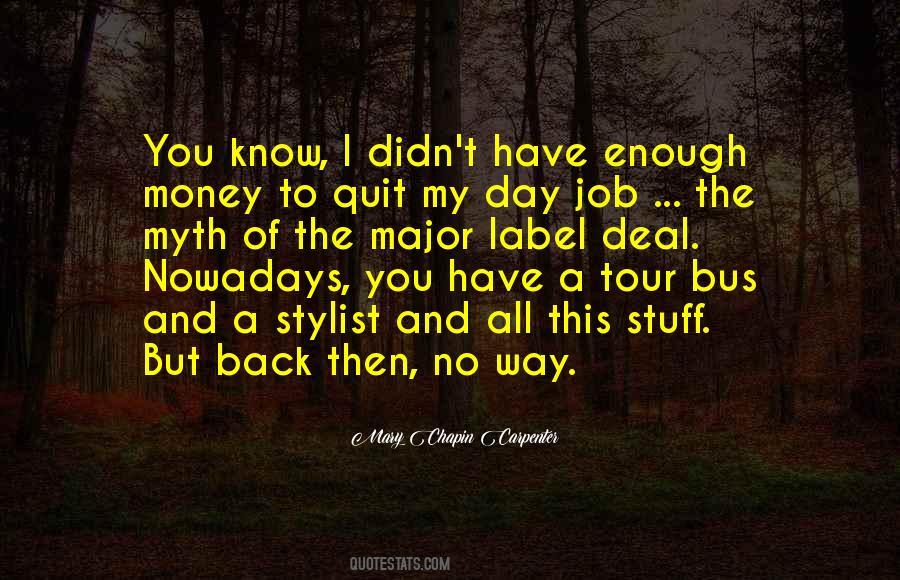 #47. The tour life definitely puts strains on your body, not just because of the dancing but because of the fact that you are traveling into the wee hours of the day, getting up early, going to sound check - just the grueling process of it all. - Author: Harry Shum Jr.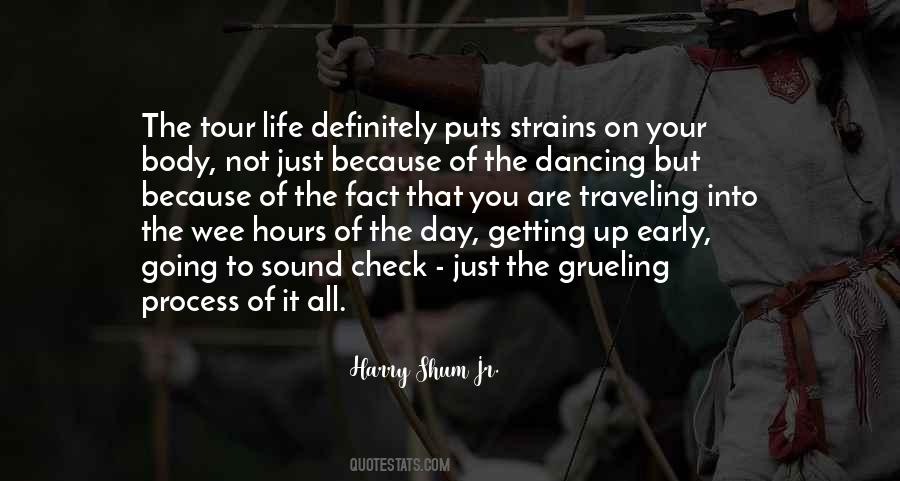 #48. Designing a tour is a daily thing.
I work on it every day for several months. I'm involved with every department, from lighting, sound, music direction, the visual direction. The set list is something I create myself and that's the root of everything - Author: Shania Twain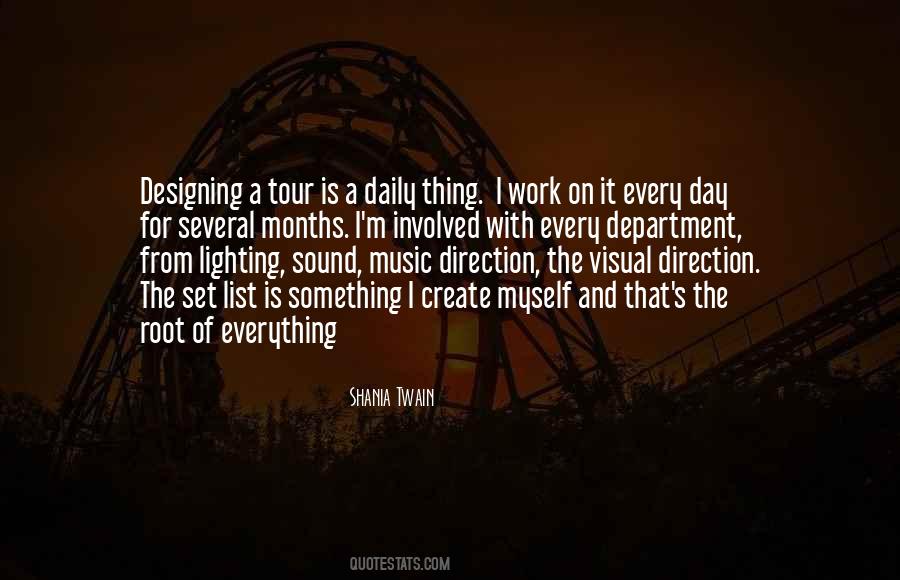 #49. On the tour we get a case of beer on the bus every day from Ozzfest. - Author: Zakk Wylde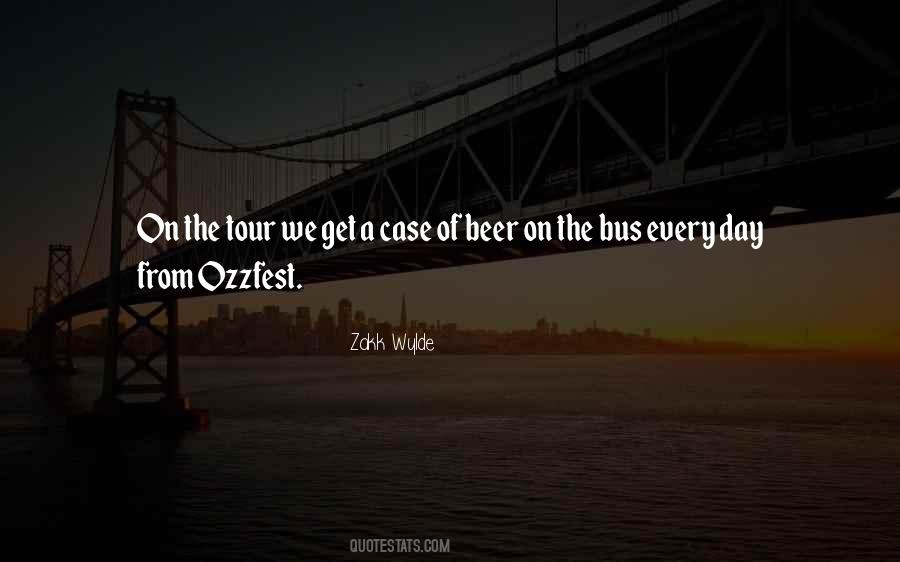 #50. European festivals area lot bigger than American ones, but I like the travelling festivals, it's the same production every day and the bands get used to the stage set up and by the third or fourth show of the tour they're putting on a better show than if they just played one day. - Author: Tim Lambesis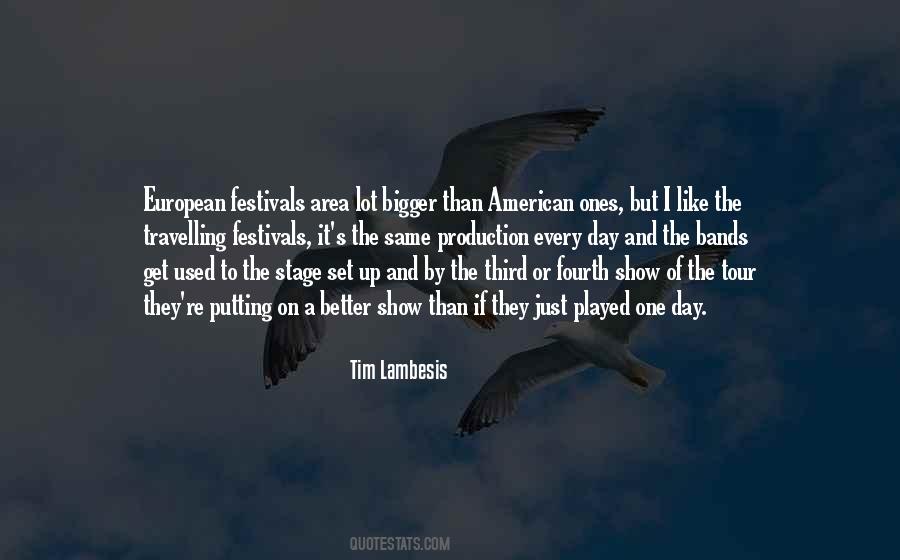 #51. I'm not sure about the selling part, but I've always found that the things I've worn on tour have moved over to what people wear every day. Sometimes the things I wore in the beginning before I had money were things I put together. - Author: Steven Tyler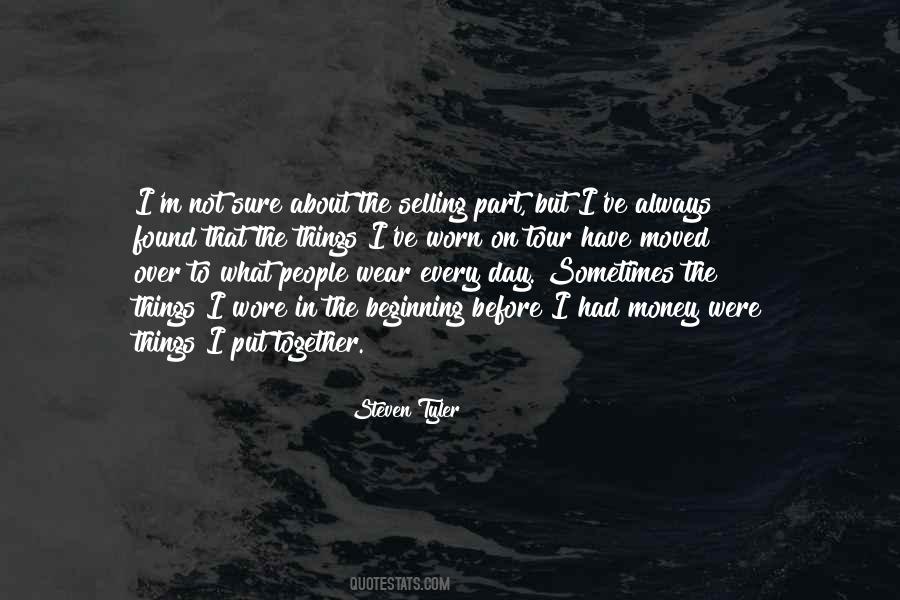 #52. This is a dream come true. I have wanted to tour with Green Day since I was 15. - Author: Frank Iero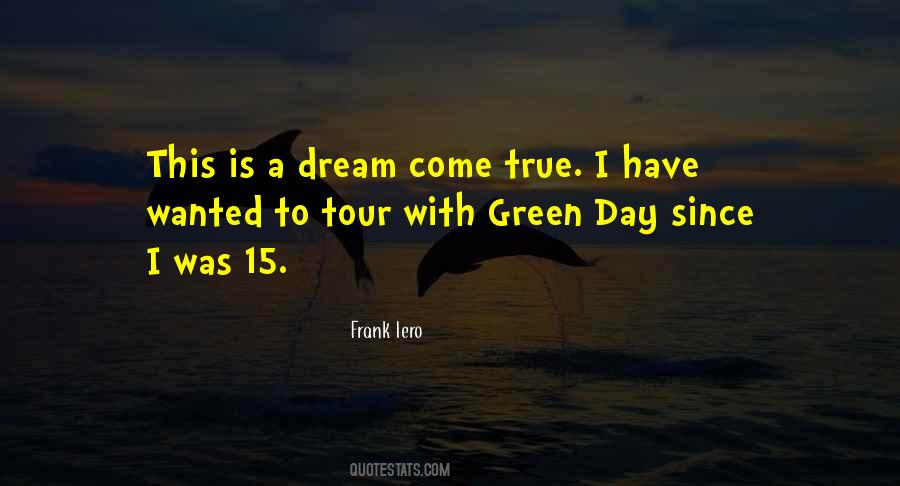 #53. I've always thought that travelling every day as a journalist on the Tour's got to be harder than actually racing. - Author: Greg LeMond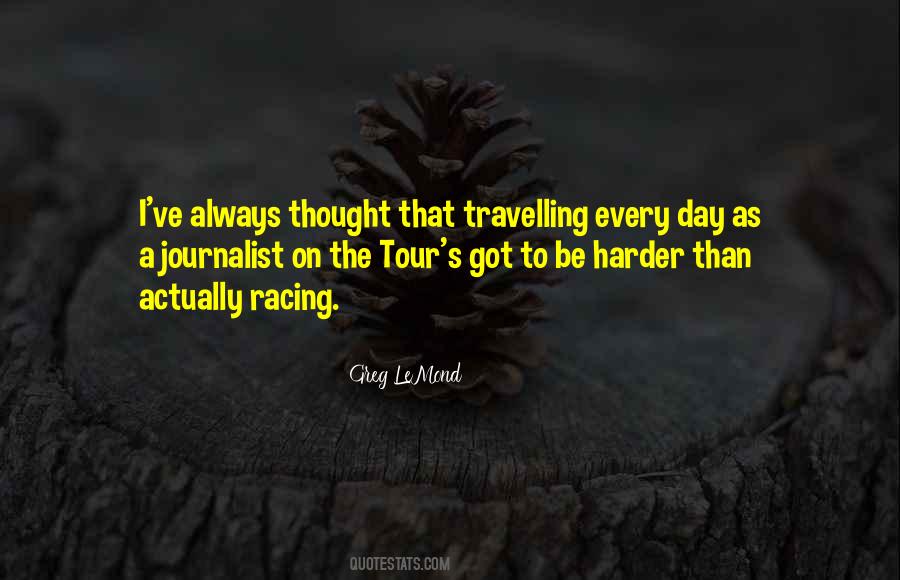 #54. The day of the week on which the tour took place was known to all workers. All devices in its path ought to have been carefully neutralized or locked, since it was unreasonable to expect human beings to withstand the temptation to handle knobs, keys, handles and pushbuttons. - Author: Isaac Asimov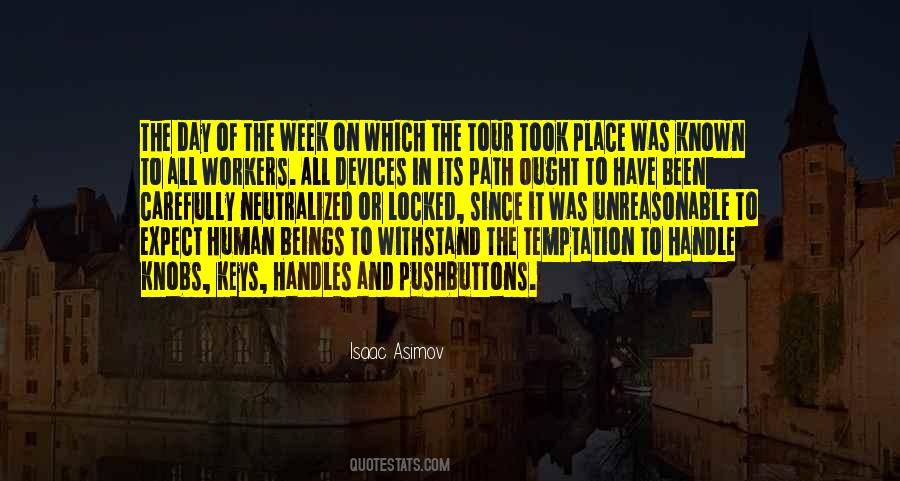 #55. I have a life coach out with me on tour, a very nice guy from L.A. He just prepares me for each day. - Author: Ronnie Wood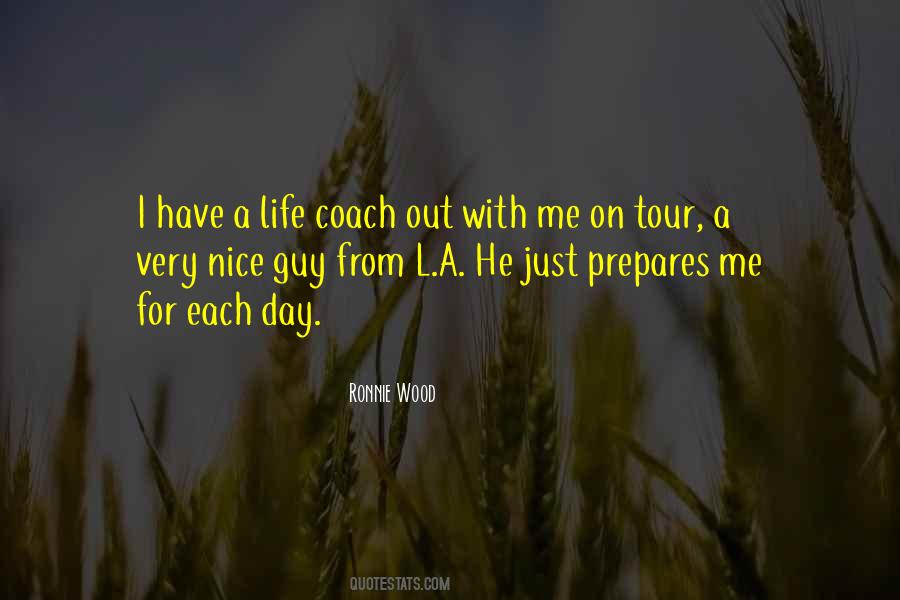 #56. Once I got over the fact that my Latin teacher was a horse, we had a nice tour, though I was careful not to walk behind him. I'd done pooper-scooper patrol in the Macy's Thanksgiving Day Parade a few times, and, I'm sorry, I did not trust Chiron's back the the way I trusted his front. - Author: Rick Riordan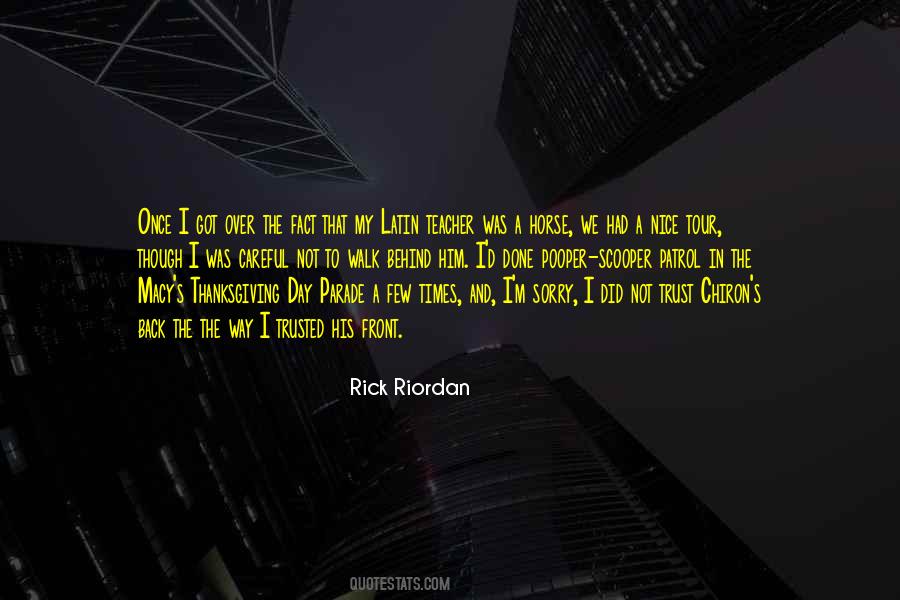 #57. I once went on the most grueling radio tour. Living in hotel rooms, sleeping in the backs of rental cars as my mom drove to three different cities in one day. - Author: Taylor Swift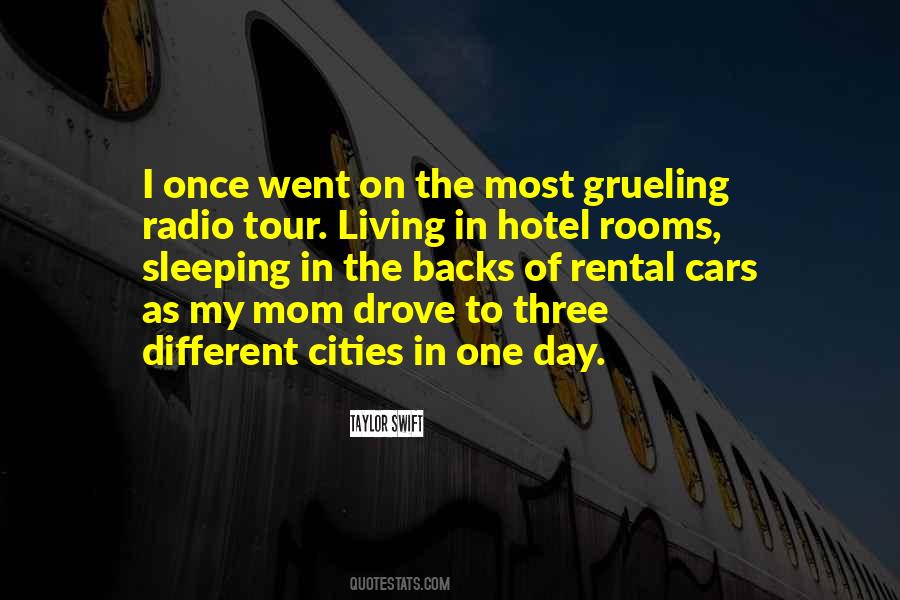 #58. I tour alone. There's no sound check, no back up. I stay with the hosts; I am in a family home and it's really nourishing. I just have to remember after the show not to run out into the living room in my pyjamas. Every day, it's a new relationship being built. It's odd and wonderful. - Author: Jane Siberry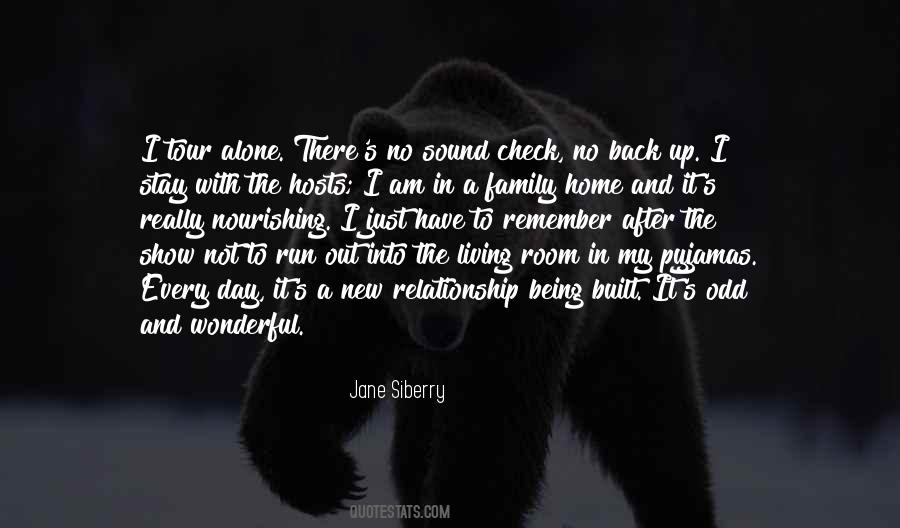 #59. I was looking the other day at the calendar and I was like oh my gosh we only have two weeks left and I've been on tour since June I don't know how I'm going to switch back into normal life. It's been so much fun. - Author: Demi Lovato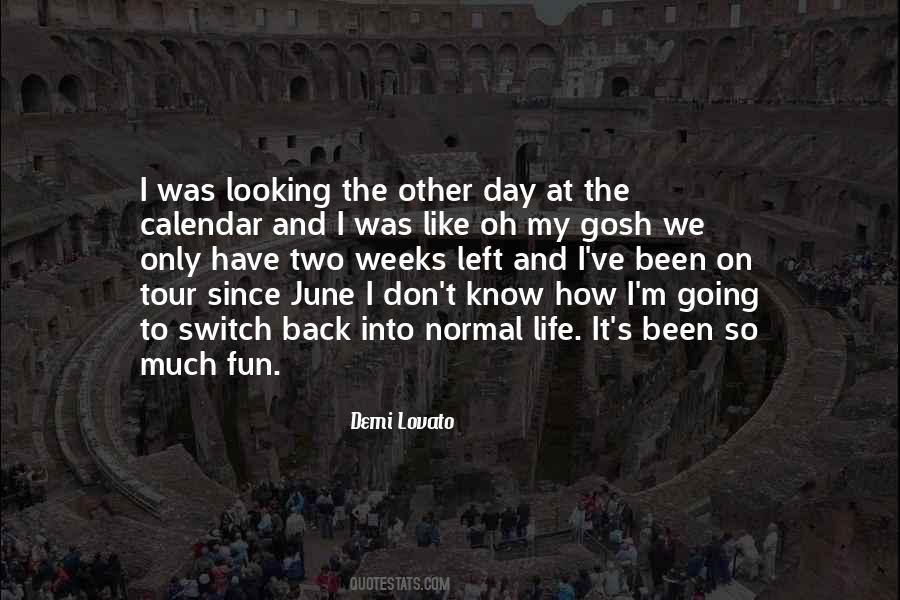 #60. A whirlwind tour, I think, with each day starting in a different city, you wearing a different silk dress, tasting food the likes of which you cannot even imagine and learning how to weave your word-spells in all the world's languages. - Author: Lisa Mantchev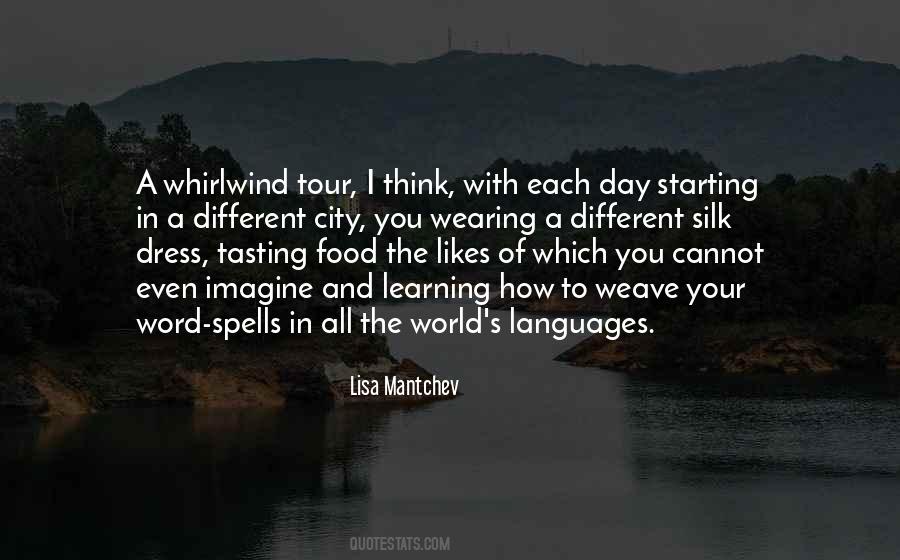 #61. I sit in places like Costa Coffee in Banstead and write rubbish. I need a deadline. I think about the 44 tour dates and keep imagining standing in front of all these people. Then every day I write 15 jokes minimum. - Author: Tim Vine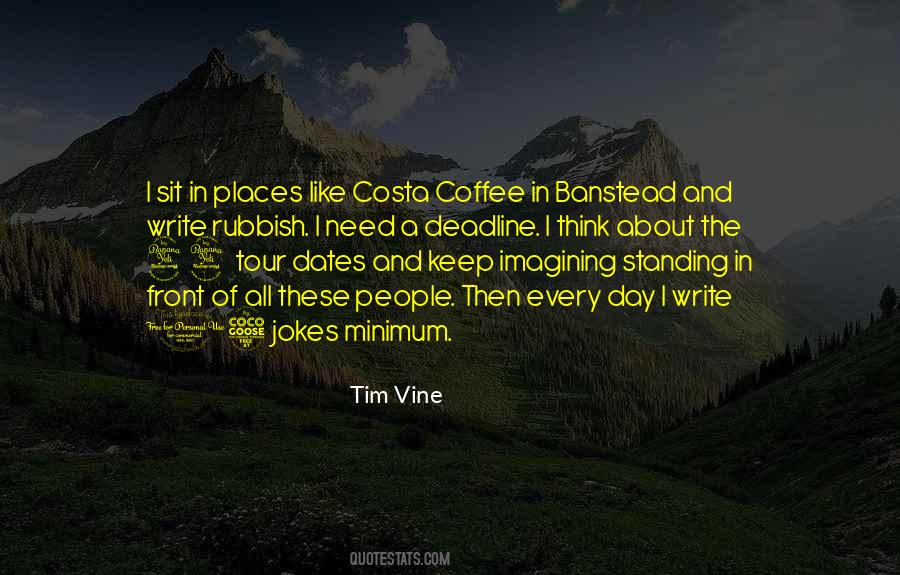 Famous Authors
Popular Topics