Come To Church Famous Quotes & Sayings
List of top 100 famous quotes and sayings about come to church to read and share with friends on your Facebook, Twitter, blogs.
Top 100 Come To Church Quotes
#1. God literally moves his throne from heaven. When this happens the church is building a chair, a seat, a place for God to come. - Author: Tommy Tenney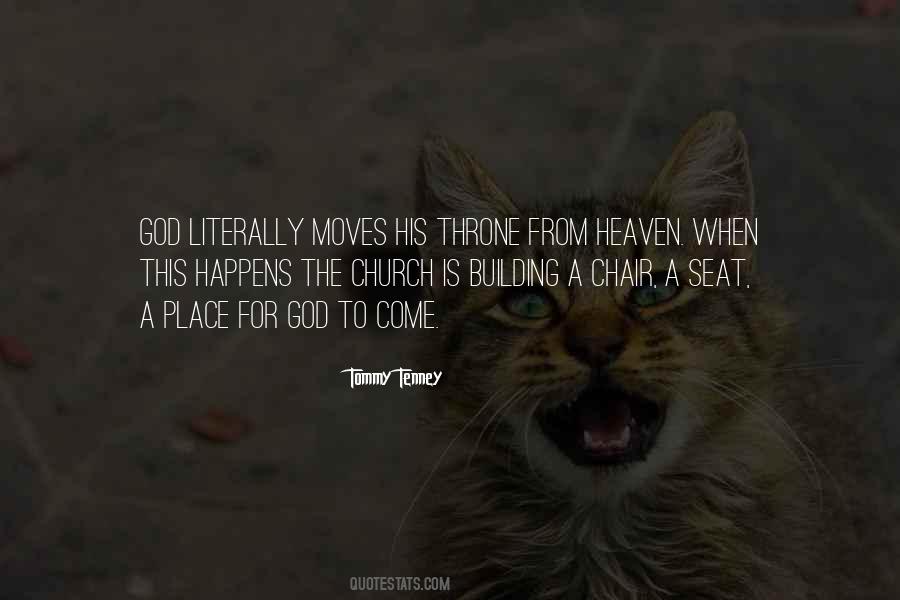 #2. 1 Nephi 6:4 4 For the fulness of mine intent is that I may persuade men to come unto the God of Abraham, and the God of Isaac, and the God of Jacob, and be saved. - Author: The Church Of Jesus Christ Of Latter-day Saints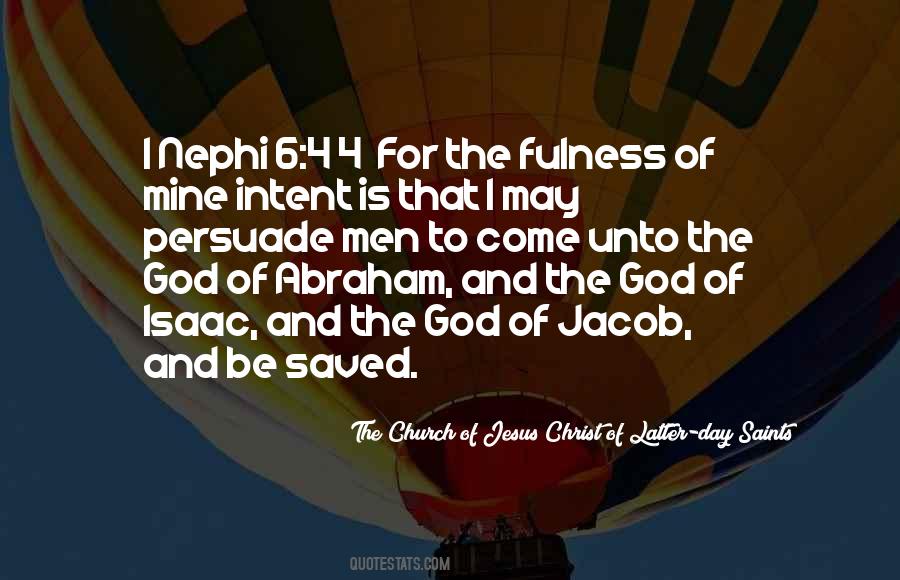 #3. I think that's really where we need to be more consistent as believers. Exodus will do that for people who come to us for help. But we will encourage the church to do that in general for anyone and everyone who's seeking to be a mature believer in Christ. - Author: Alan Chambers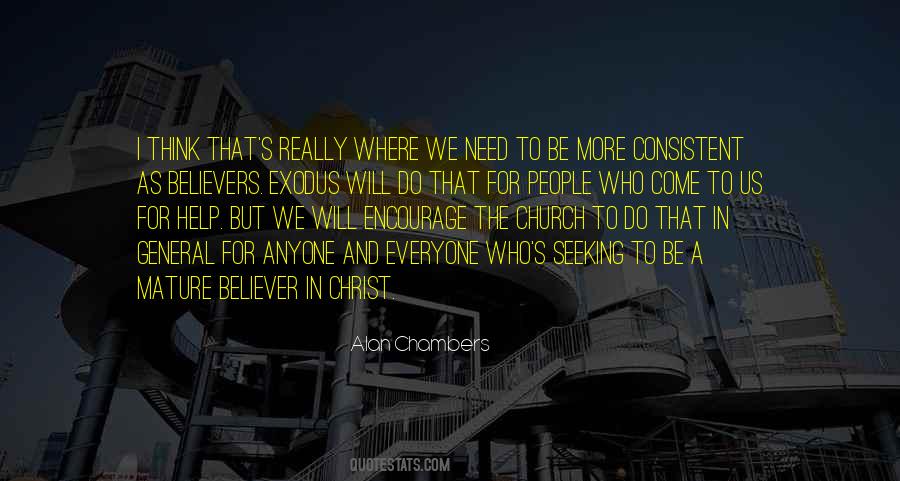 #4. 80% of the people who come into a Christ-following relationship is because a friend, co-worker, family member or neighbor invited them to church. - Author: Johnny Hunt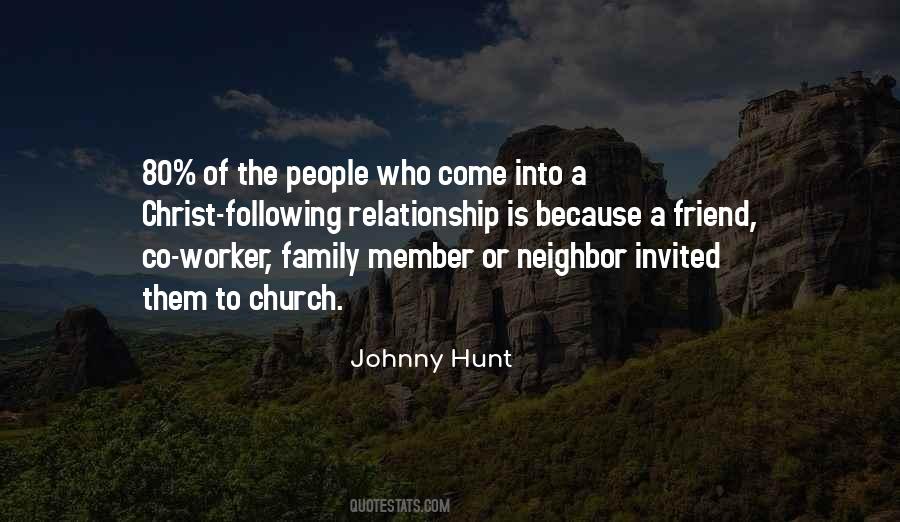 #5. God wants to use you right where you are. Every day you probably come in contact with people who will never enter a church, or talk with a pastor, or open a Bible - and God wants to use you to point them to Christ. You may be the "bridge" God would use to bring them to Himself. - Author: Billy Graham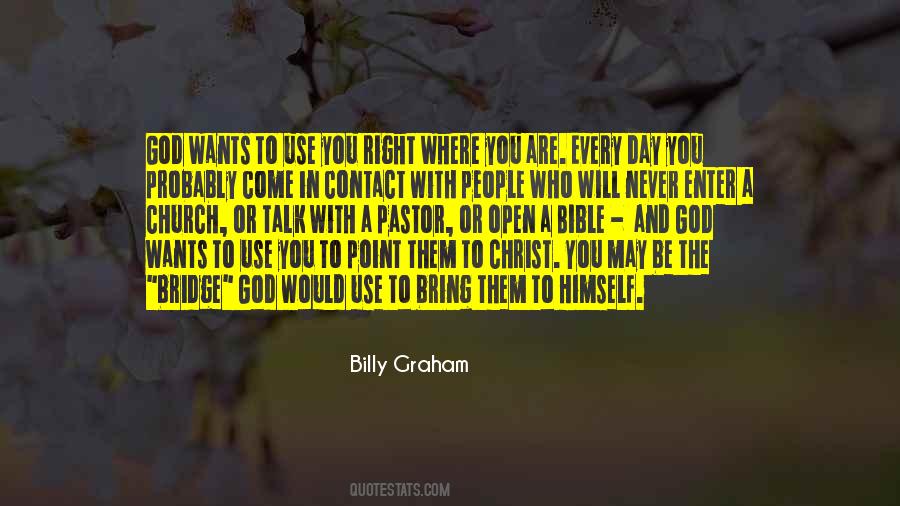 #6. Now they always accuse me of carrying around a sledge hammer with which to pound the church members. Yes sir, I do pound them, every time I come down, I knock one of the halfway fellows out of the doorway, and every time I knock one out I get a sinner in. - Author: Mordecai Ham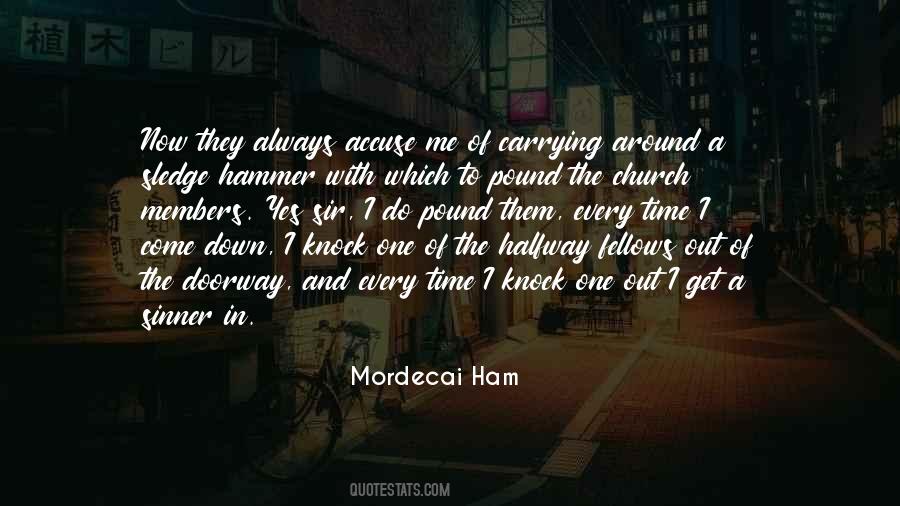 #7. Churches and trains
they all look the same to me now
they shoot you some place
while we ache to come home somehow. - Author: Gregory Alan Isakov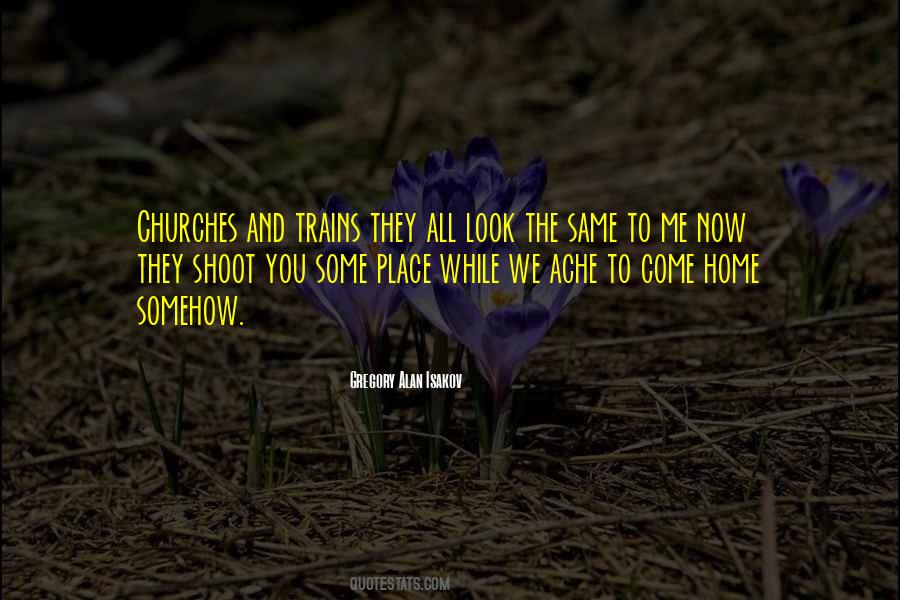 #8. Clearly a big challenge for Christianity is how to remain in contact with the millions of people who look for God but do not come to Church. - Author: Timothy Radcliffe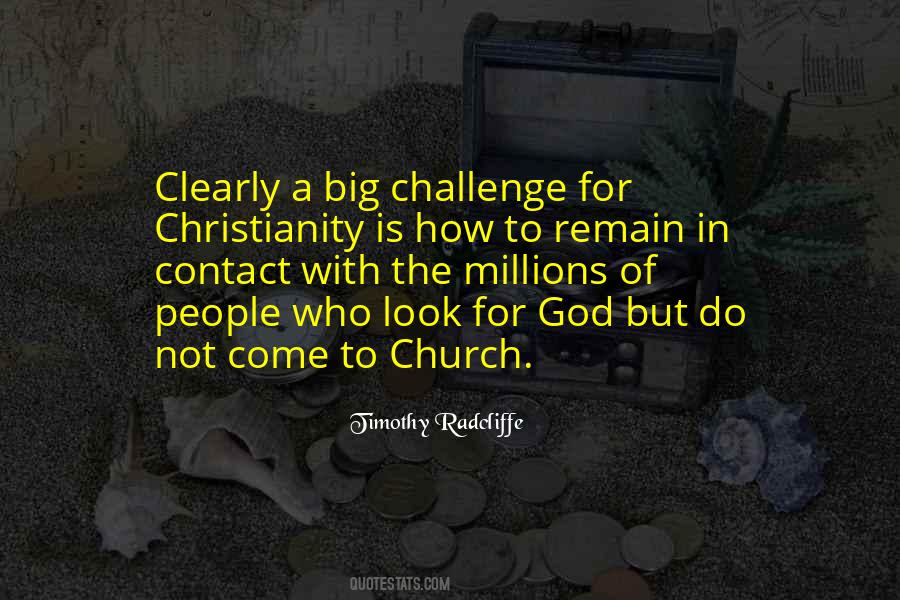 #9. The plays of children are nonsense, but very educative nonsense. So it is with the largest and solemnest things, with commerce, government, church, marriage, and so with the history of every man's bread, and the ways by which he is to come by it. - Author: Ralph Waldo Emerson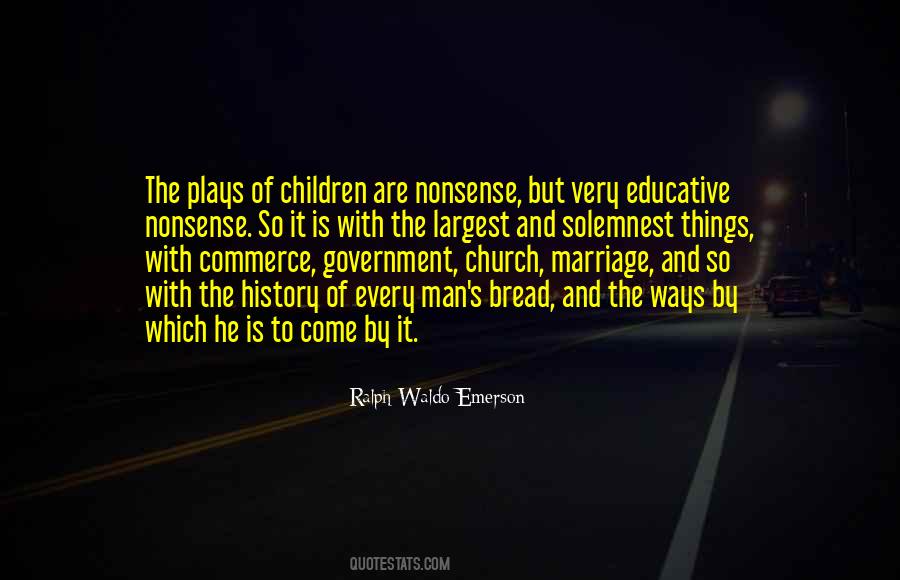 #10. The Church of Rome ... has become the most lawless den of thieves, the most shameless of all brothels, the very kingdom of sin, death and hell; so that not even antichrist ,if he were to come, could devise any addition to its wickedness. - Author: Martin Luther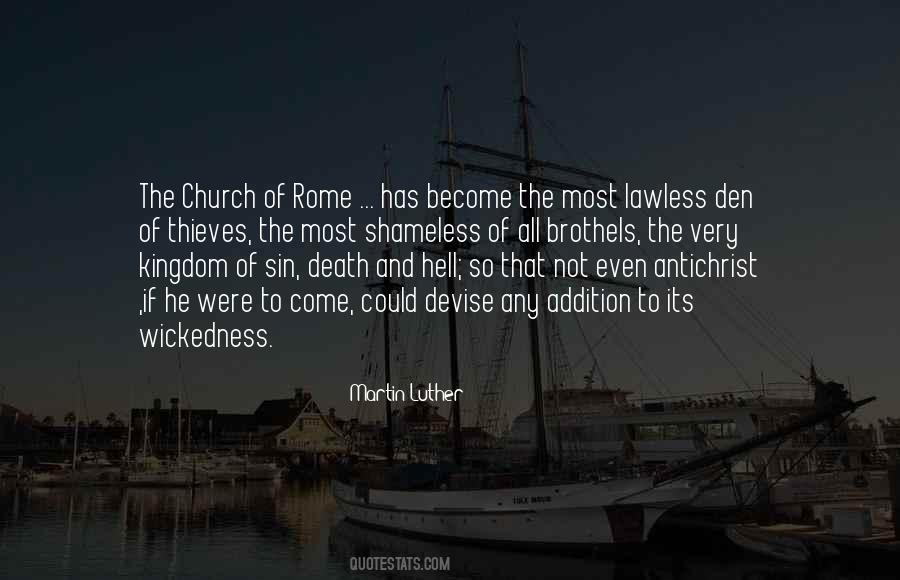 #11. Too often, however, the church professes its faith but is unsure how to practice it. Even some of my seminary students come to theology classes somewhat reluctantly, assuming that doctrine is neither practical nor relevant to their future ministry. - Author: Kevin Vanhoozer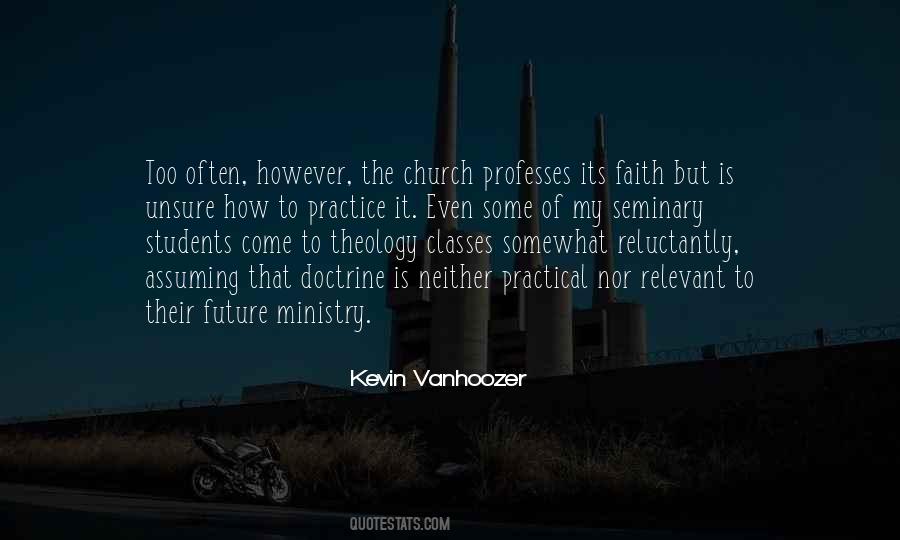 #12. Religious institutions should have religious freedom on this issue. No church or minister should ever have to conduct a marriage that is inconsistent with their religious beliefs. But I think as a civil institution, this issue's time has come and we need to move forward. - Author: Kay Hagan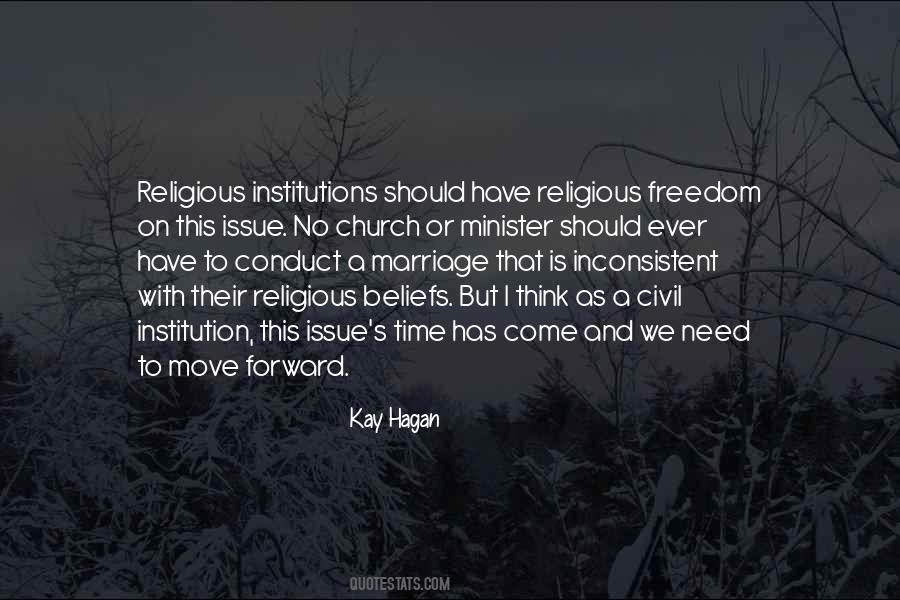 #13. However, if you live the church life, the very Christ whom you offer to God will heal you. He is better than any psychiatrist. Do not go to a psychiatrist - come to Christ and offer Him to God. Then you will be healthy, sober, and emotionally balanced. - Author: Witness Lee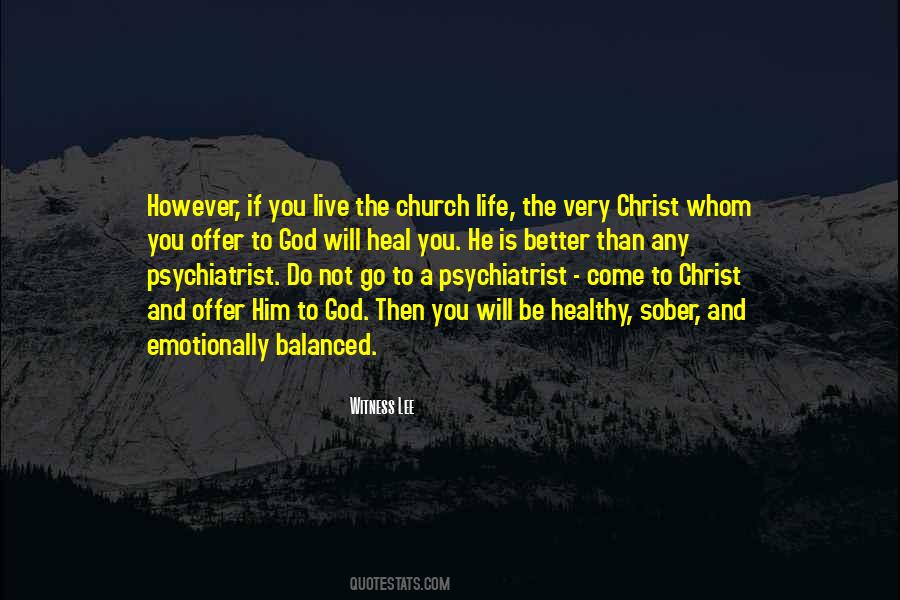 #14. I have very good relations with Pope Francis. I read constantly what he says and follow his speeches. Pope Francis has come to renew the Catholic Church, and he has new air to renew the spiritual world. Now, Venezuela does not need mediation. - Author: Nicolas Maduro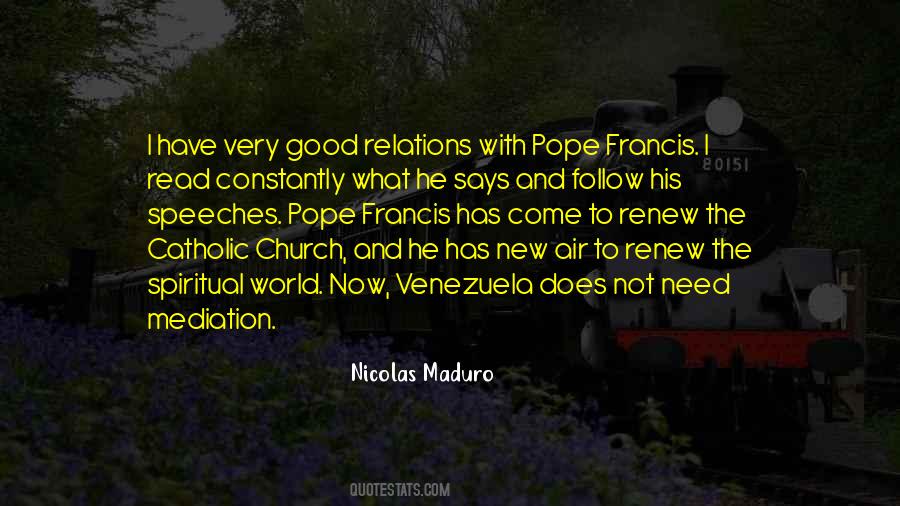 #15. I have come to make distinctions between what I call the academy and literature, the moral equivalents of church and God. The academy may lie, but literature tries to tell the truth. - Author: Dorothy Allison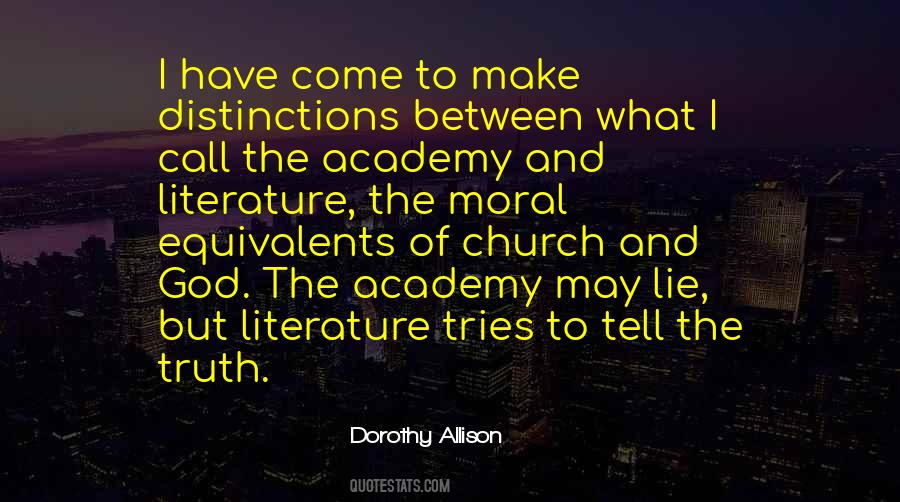 #16. C. S. Lewis observed that almost all crimes of Christian history have come about when religion is confused with politics. Politics, which always runs by the rules of ungrace, allures us to trade away grace for power, a temptation the church has often been unable to resist. - Author: Philip Yancey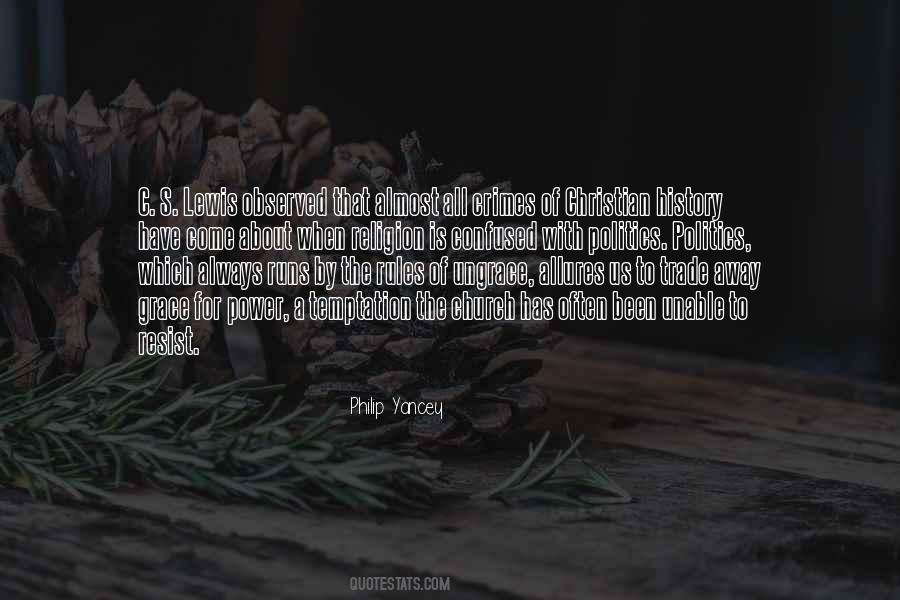 #17. The Church has not yet touched the fringe of the possibilities of intercessory prayer. Her largest victories will be witnessed when individual Christians everywhere come to recognize their priesthood unto God and day by day give themselves unto prayer. - Author: John Mott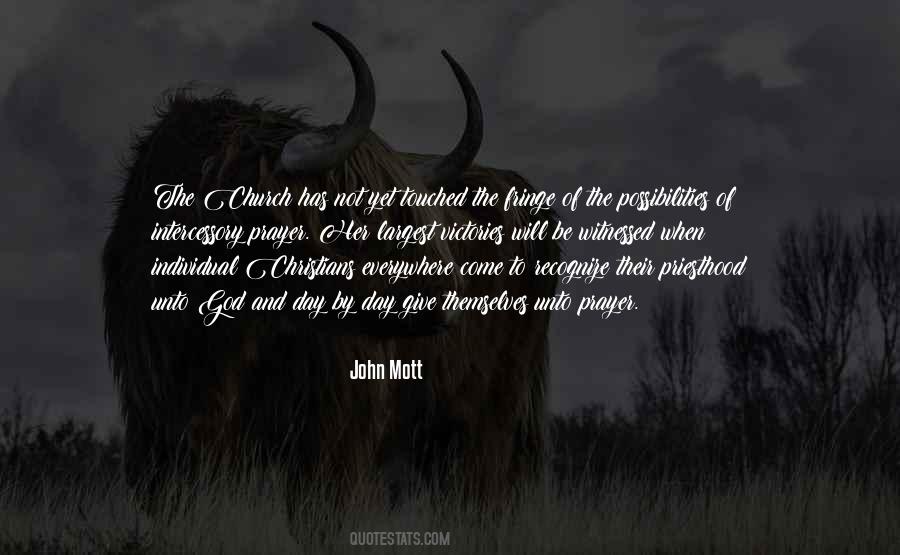 #18. We come to the house of the Lord to study the Word of the Lord and learn how to live according to the teachings of our Lord and Savior, Jesus Christ, so when we step out of the church building and enter back into the activities of life, we can conquer the hindrances and attacks against us. - Author: Mark T. Barclay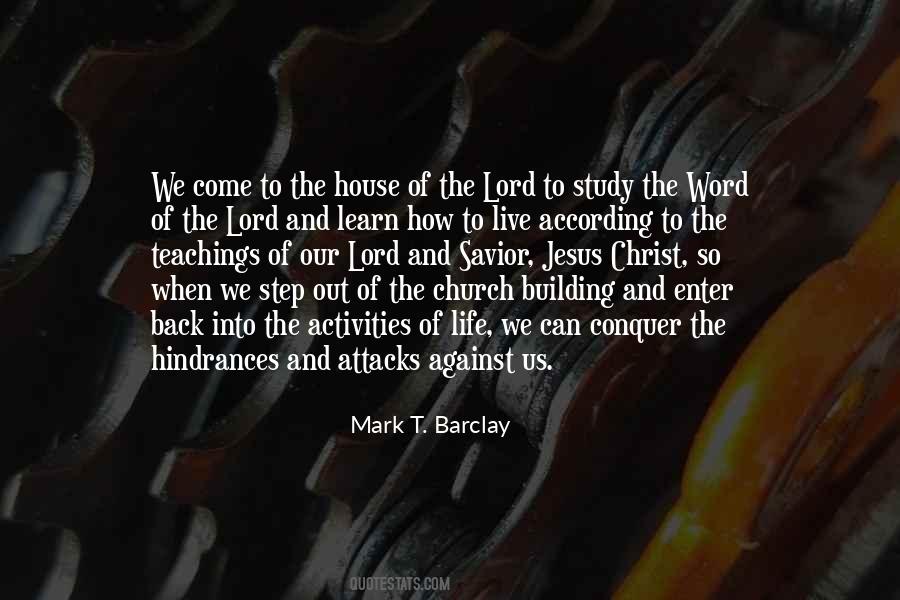 #19. The people who had turned their heads turned them again as the service proceeded; and at last observing her they whispered to each other. She knew what their whispers were about, grew sick at heart, and felt that she could come to church no more. - Author: Thomas Hardy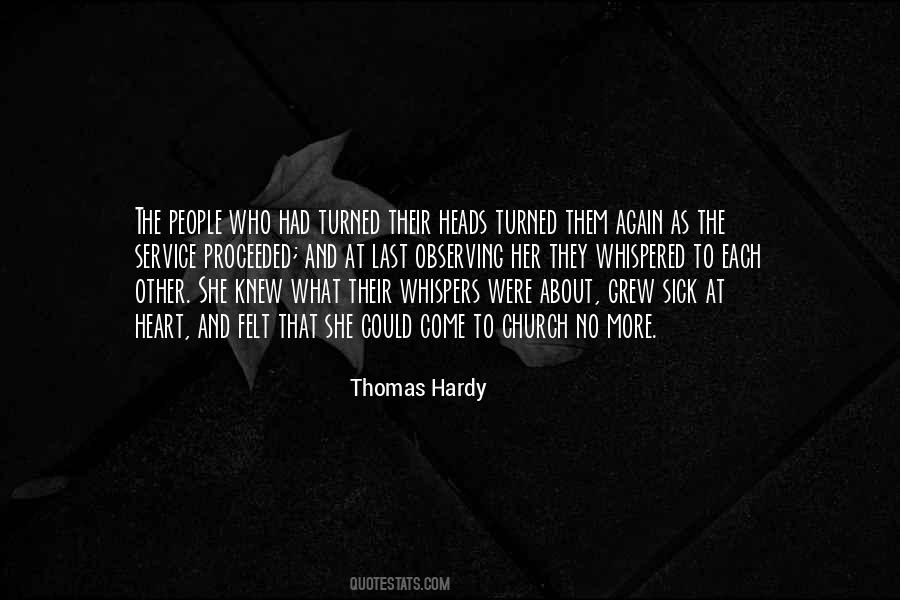 #20. Again, a conversation with the doctor. We always come back to the same point: "The church may not mix in politics." he says. And I tell him that when you are a Christian and profess that God is almighty, there is no single area of life from which you can eliminate God. -From the diary of Diet Eman - Author: Diet Eman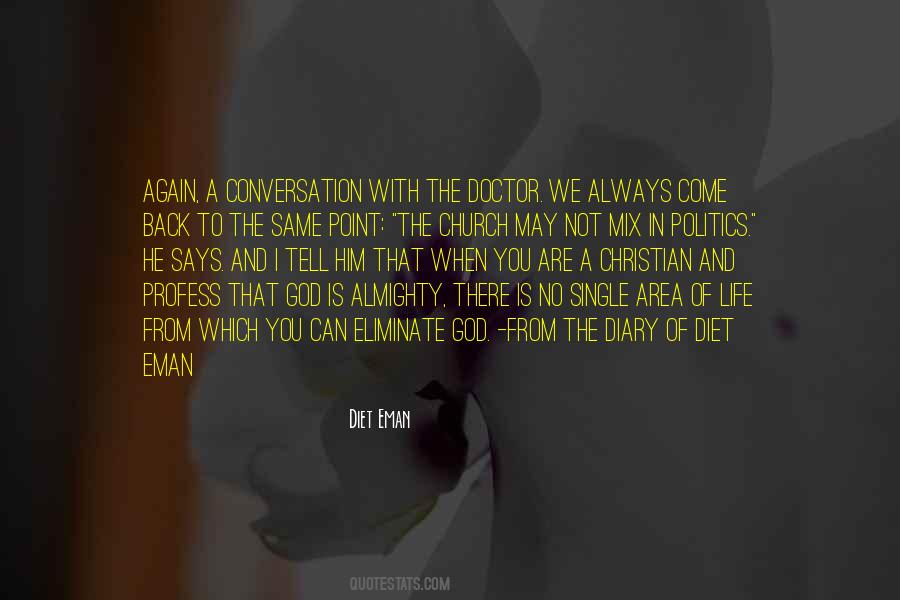 #21. An unholy church! it is useless to the world, and of no esteem among men. It is an abomination, hell's laughter, heaven's abhorrence. The worst evils which have ever come upon the world have been brought upon her by an unholy church. - Author: Charles Haddon Spurgeon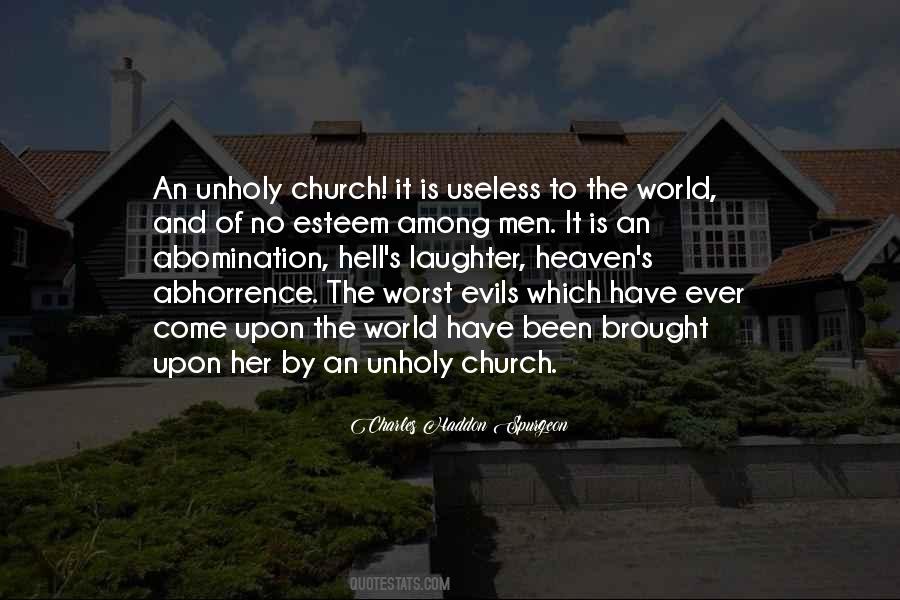 #22. What's up?' he said, like the church was always burning down and I always called him on a school night, telling him to come over after dark and bring a shovel. - Author: Brenna Yovanoff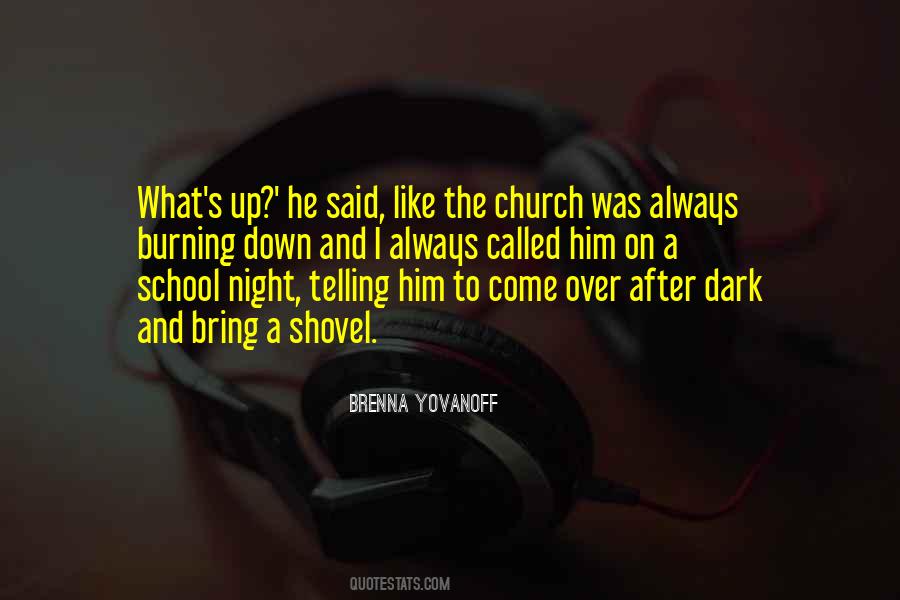 #23. I prayed for all his dreams to come true. I prayed that I would always be able to connect with him
even if I was no longer on earth. - Author: Alexandra Adornetto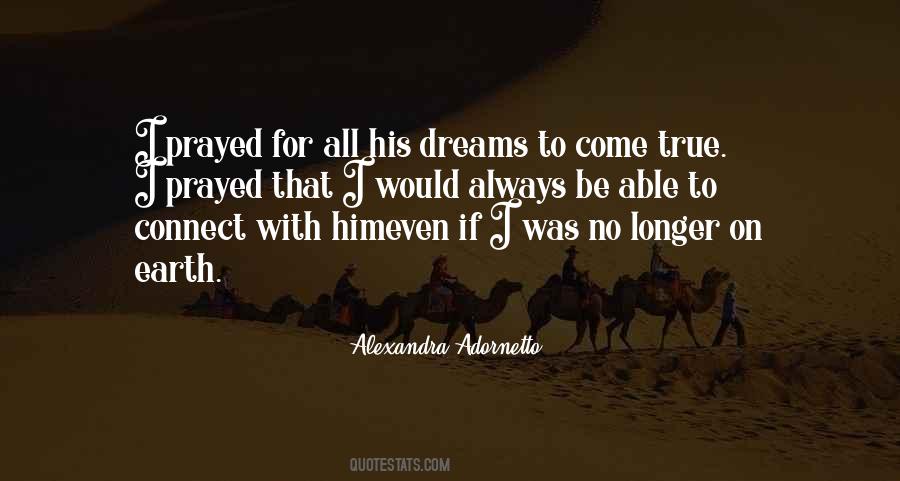 #24. I am deeply aware of the pain caused to any victim of child abuse, especially at the hands of a trustworthy person within the church. I do encourage any person who believes they have been a victim of abuse to come forward and to inform the police. - Author: David Hope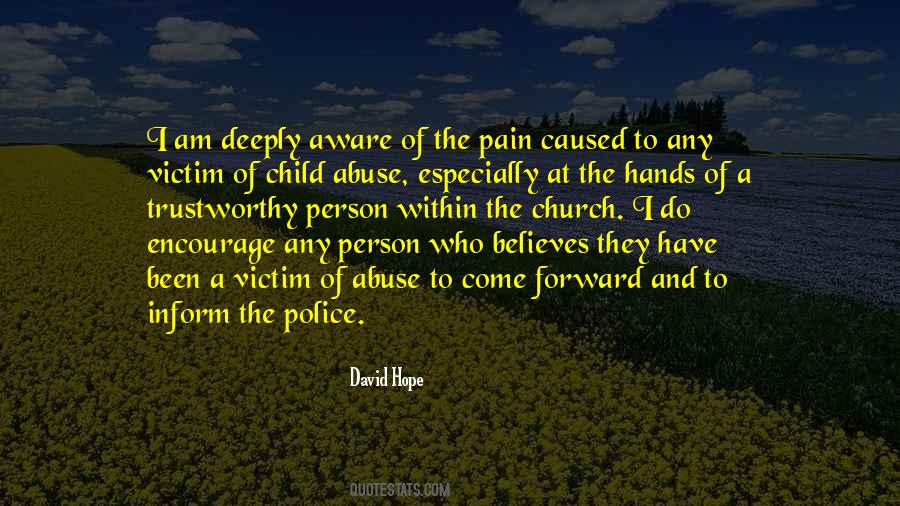 #25. My grandmother made sure that I went to church every Sunday. And she'd come over and pick us boys up, and we would go to the Nazarene church. And back then, that was about as close to heaven as I ever got, because just the time to be able to spend with her, and she was very, very religious. - Author: John Mellencamp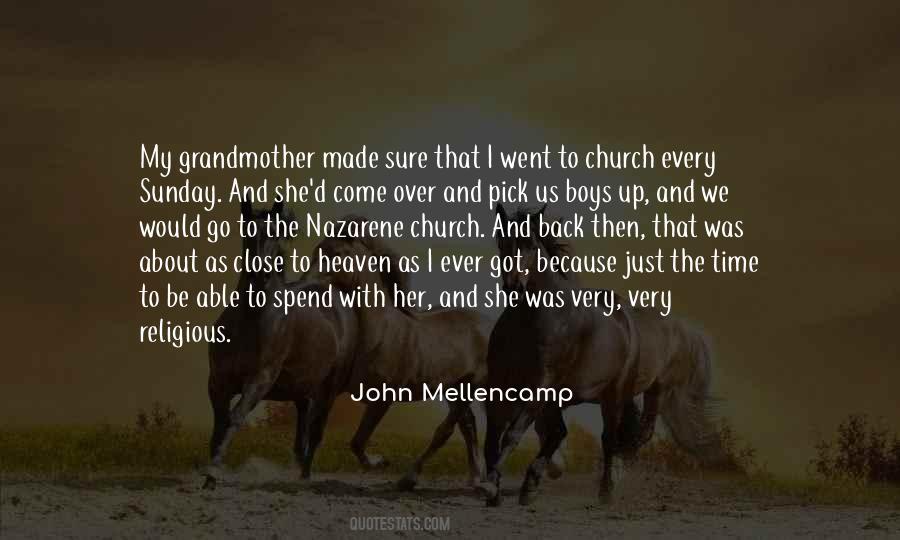 #26. There are so many opportunities where people are thirsting: young people who are preparing for Confirmation, young adults who are searching, people of every age. There's a great thirst, I think, of people to come to understand and to belong to the Church of Christ. - Author: Joseph Edward Kurtz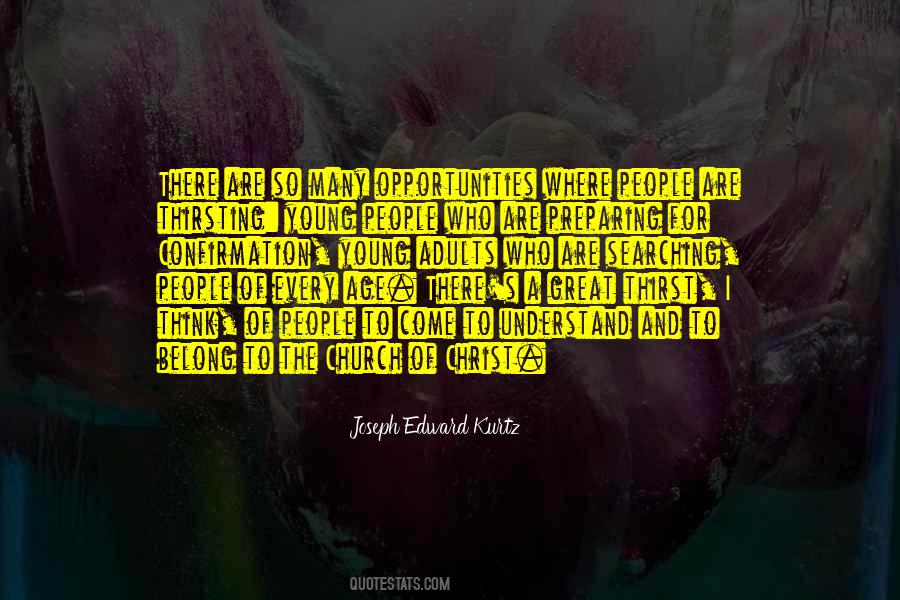 #27. The top 10% of the people who are most creative, constructive and thoughtful, do not have much to do with churches. To them the canons of reason come first, making faith secondary and questionable. - Author: Joseph Fletcher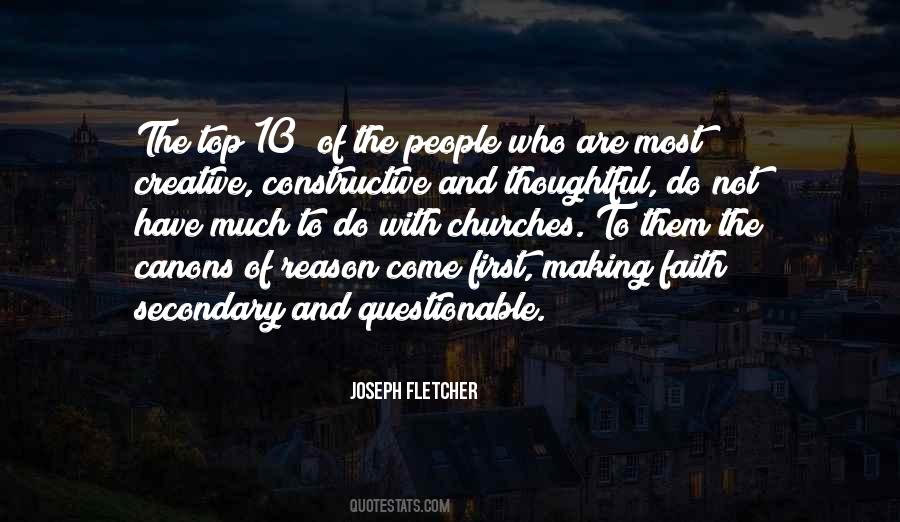 #28. We have come to the church, Sancho. - Author: Miguel De Cervantes Saavedra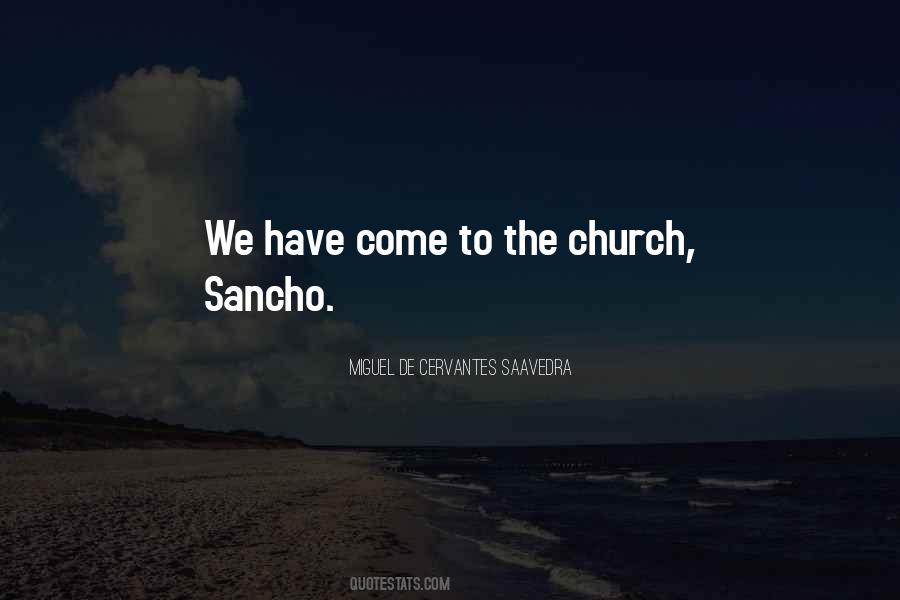 #29. Jesus never says to the poor: 'come find the church', but he says to those of us in the church: 'go into the world and find the poor, hungry, homeless, imprisoned. - Author: Tony Campolo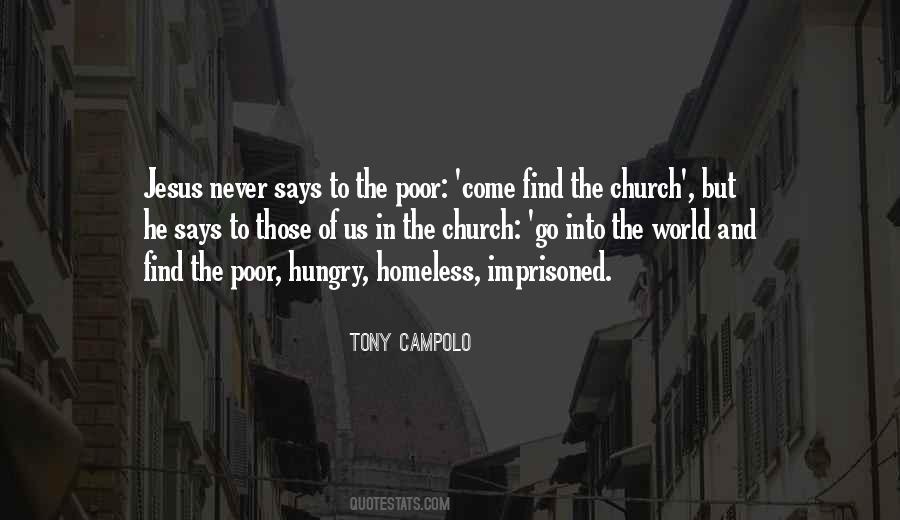 #30. It's true, the Church will be raptured before the final seven years of Earth's history, but during that final seven years, many people will come to faith in Christ, but they will pay a terrible price to do so. - Author: Robert Jeffress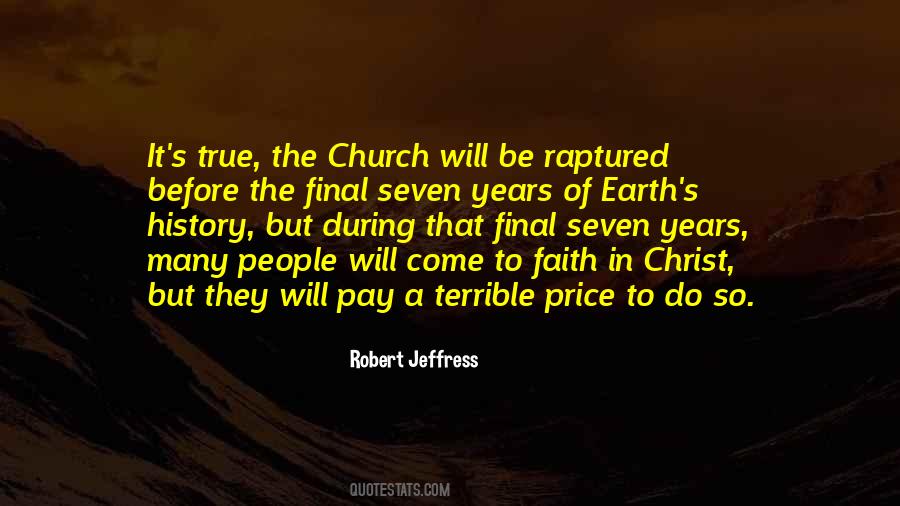 #31. Of course we're Christian. The very name of the church declares that. The more people see us and come to know us, the more I believe they will come to realize that we are trying to exemplify in our lives and in our living the great ideals which (Jesus Christ) taught. - Author: Gordon B. Hinckley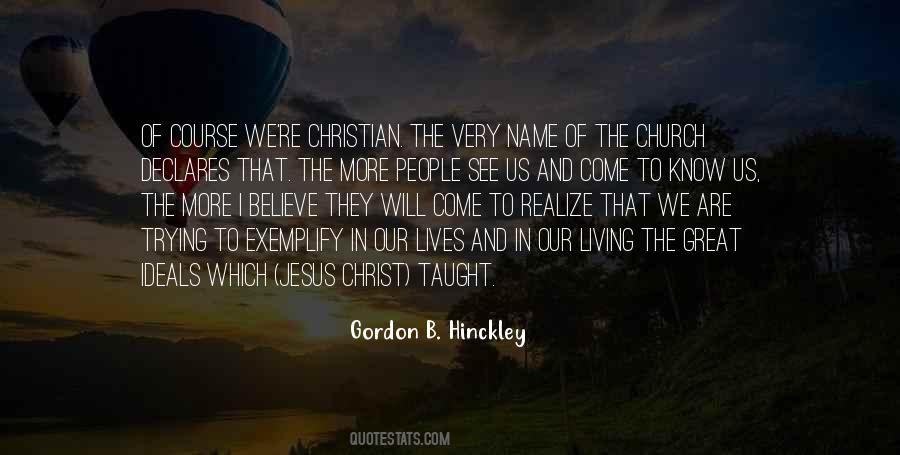 #32. The time has come for us to stand a little taller, to lift our eyes and stretch our minds to a greater comprehension and understanding of the grand millennial mission of this, The Church of Jesus Christ of Latter-day Saints. - Author: Gordon B. Hinckley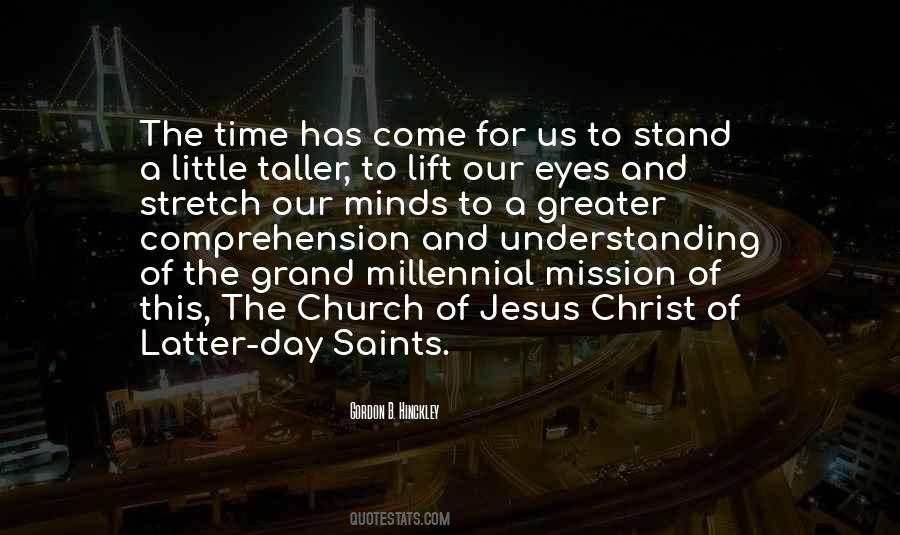 #33. It was a real surprise to me to come across the evidence that Christianity might once have been a danced religion. Certainly, some of the early church leaders thought this was great and spoke of what seems to have been circle dancing, perhaps around an altar. - Author: Barbara Ehrenreich
#34. So many people come to church with a genuine desire to hear what we have to say, yet they are always going back home with the uncomfortable feeling that we are making it too difficult for them to come to Jesus. - Author: Dietrich Bonhoeffer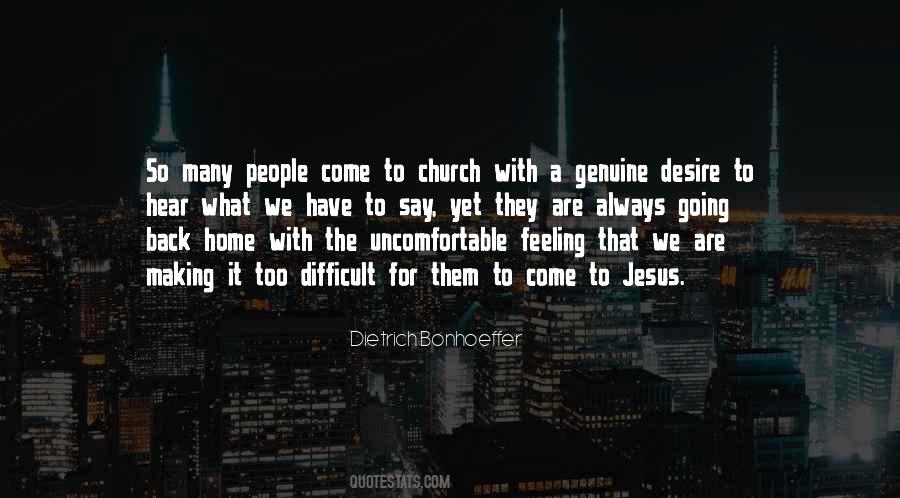 #35. I have church on Sunday." "Of course you do." "You're welcome to come along." "Thanks, but I'm allergic to incense." "That's a shame." "It's the bane of my existence." - Beth and Jake - Author: Alexandra Adornetto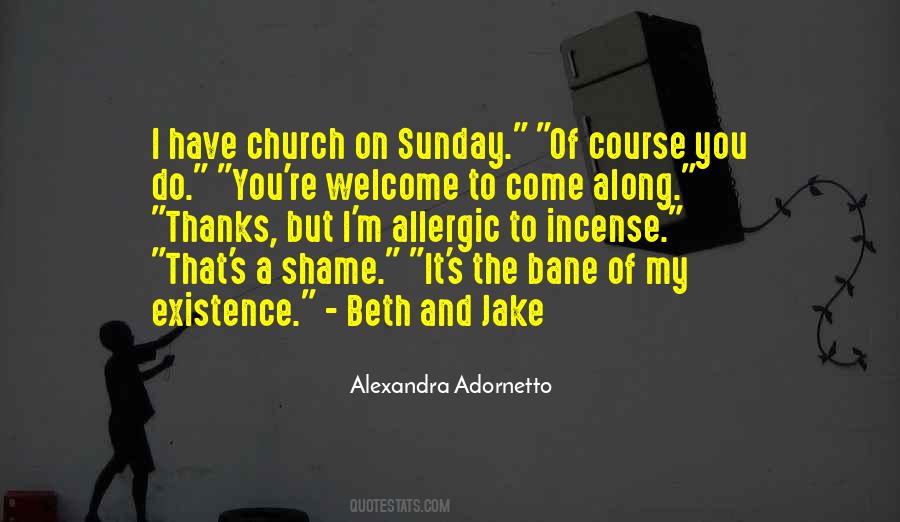 #36. The wonderful thing about the black church for me is that it forces you to come to terms with the centrality of love in the world. - Author: Cornel West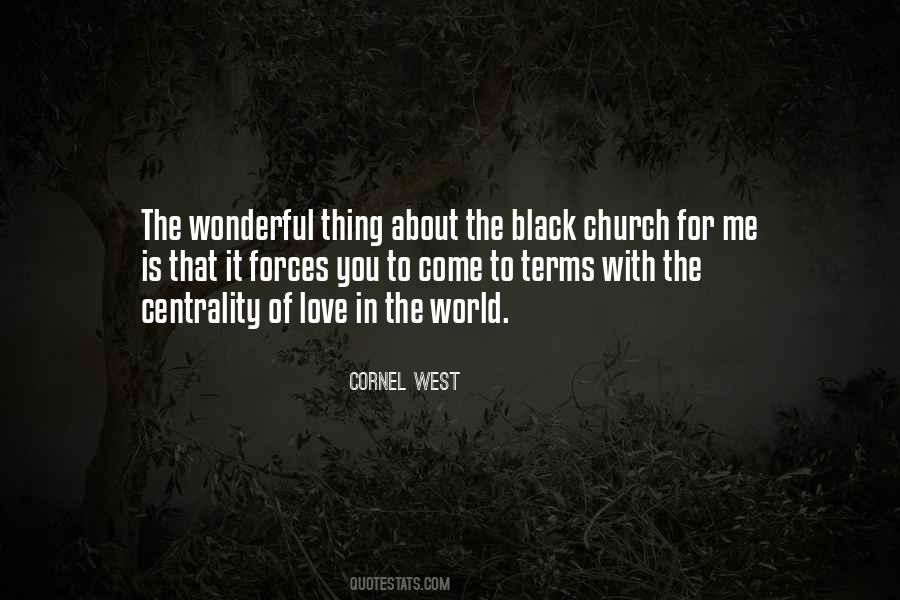 #37. When I am at Rome I fast as the Romans do; when I am at Milan I do not fast. So likewise you, whatever church you come to, observe the custom of the place, if you would neither give offence to others, nor take offence from them. - Author: Ambrose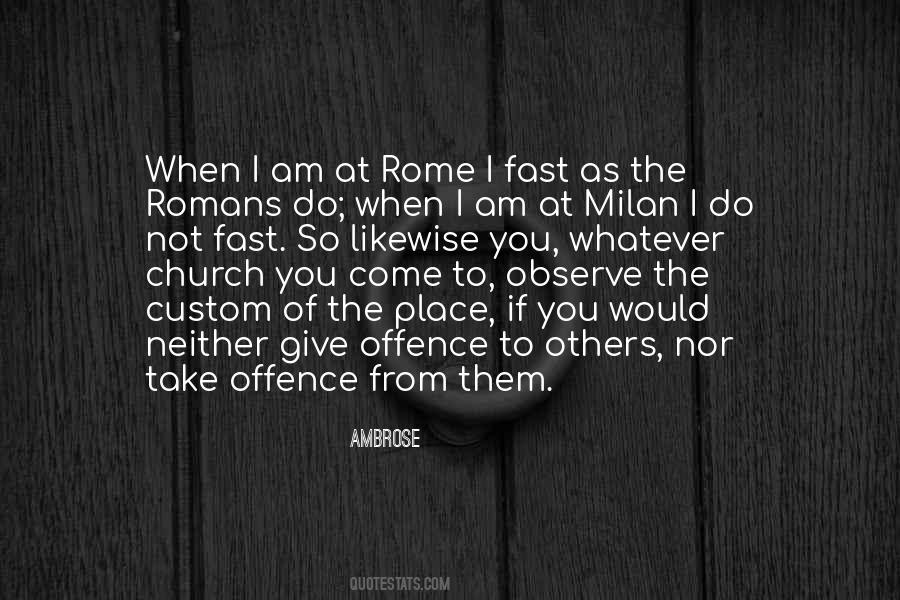 #38. The restoration of the church must surely depend on a new kind of monasticism, which has nothing in common with the old but a life of uncompromising discipleship, following Christ according to the sermon on the mount. I believe the time has come to gather people together to do this. - Author: Dietrich Bonhoeffer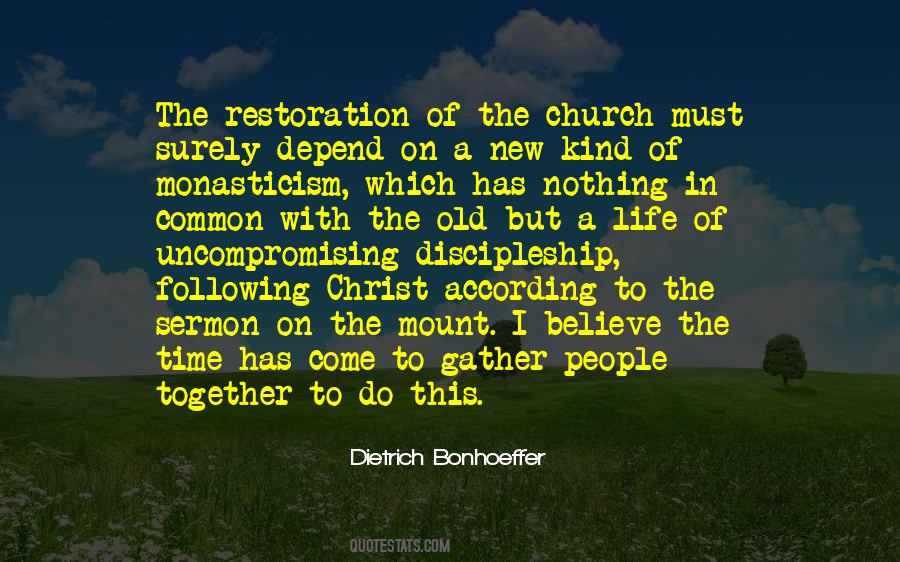 #39. If they won't come to worship God in a church, something must be done. We have to instigate a nationwide search for a way to make it fun. - Author: Paul McCartney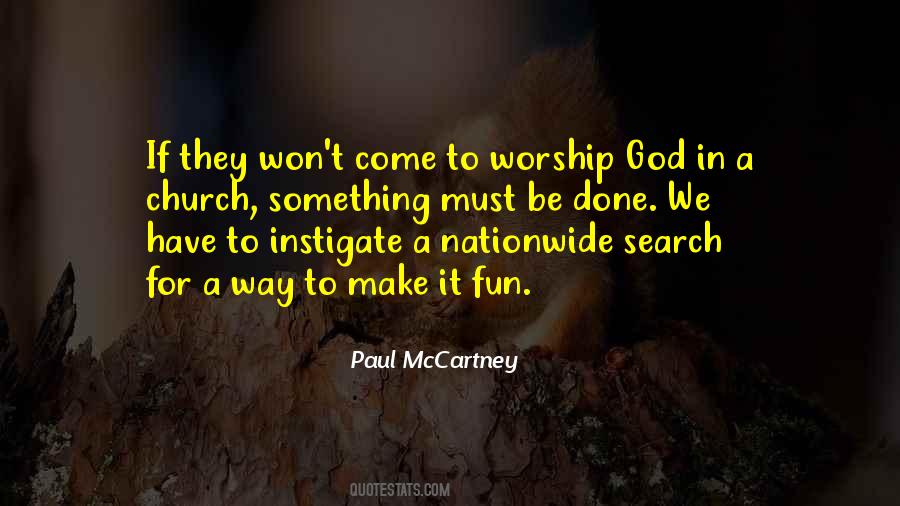 #40. Friends, the light has come to the earth. We now have no right any longer to be in any form of darkness, especially in the Church of the Lord Jesus Christ. - Author: Sunday Adelaja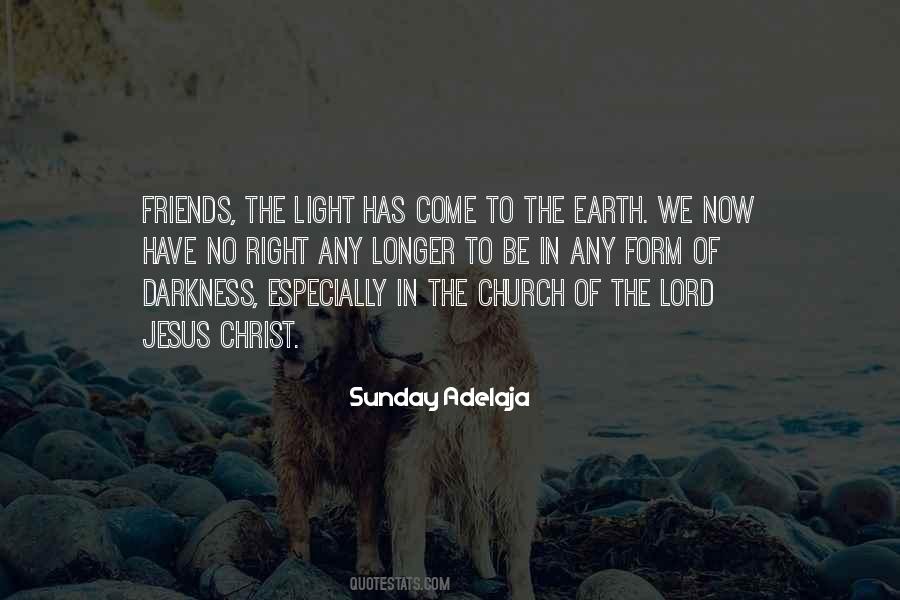 #41. The bells they sound on Bredon, And still the steeples hum. "Come all to church, good people"- Oh, noisy bells, be dumb; I hear you, I will come. - Author: A.E. Housman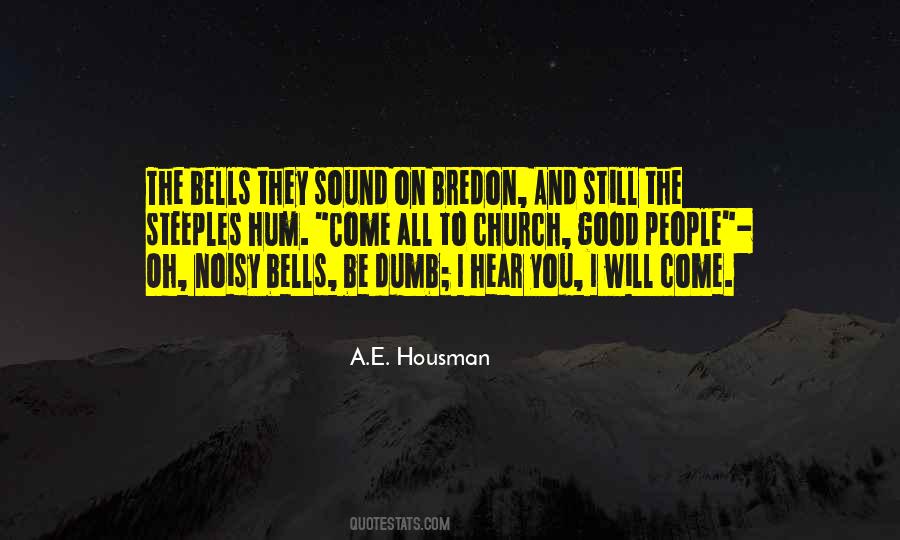 #42. You may speak but a word to a child, and in that child there may be slumbering a noble heart which shall stir the Christian Church in years to come. - Author: Charles Spurgeon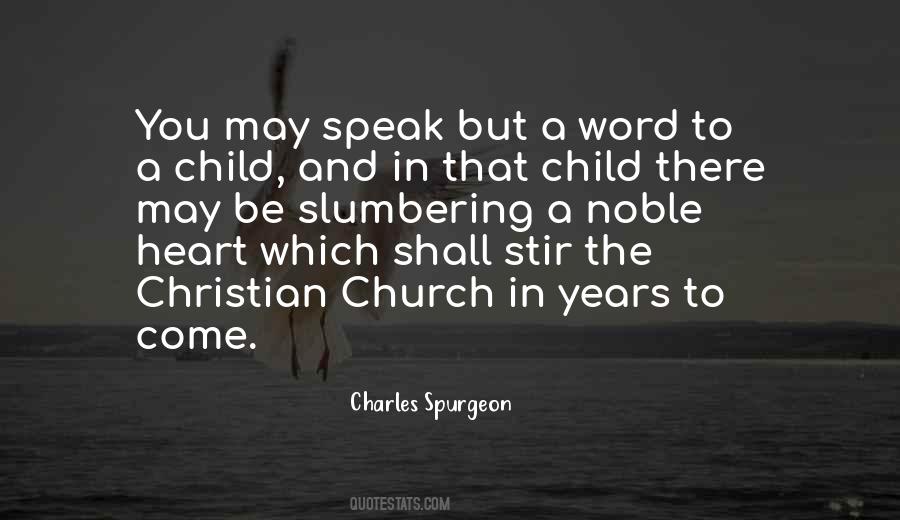 #43. Even in earliest youth my fondest desire was to understand Nature, and thus to come closer to the truth; a truth that I was unable to discover either at school or in church. - Author: Viktor Schauberger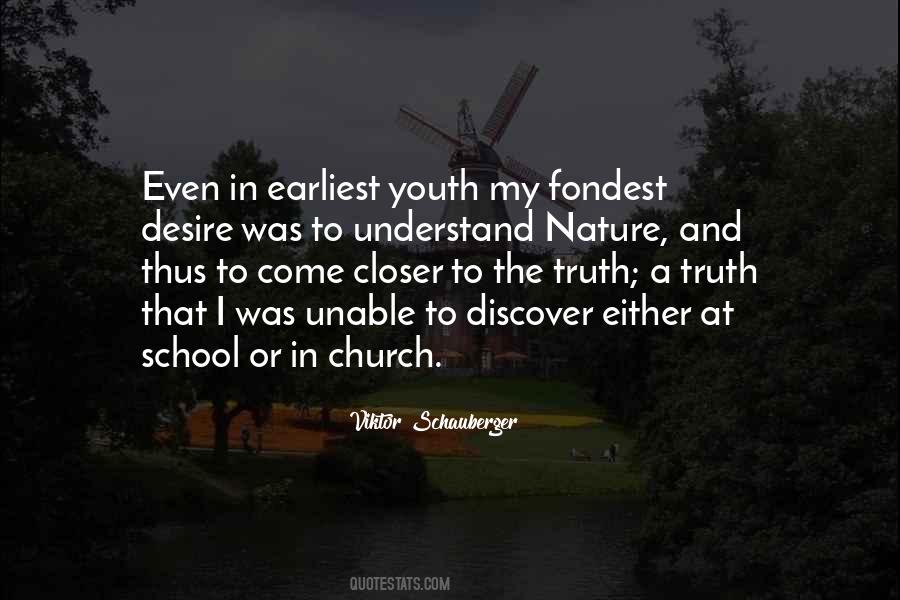 #44. When I was 25, I believed I could change the world. At 41, I have come to the realization that I cannot change my wife, my church, or my kids, to say nothing of the world. Try as I might, I have not been able to manufacture outcomes the way I thought I could, either in my own life or other people's. - Author: Tullian Tchividjian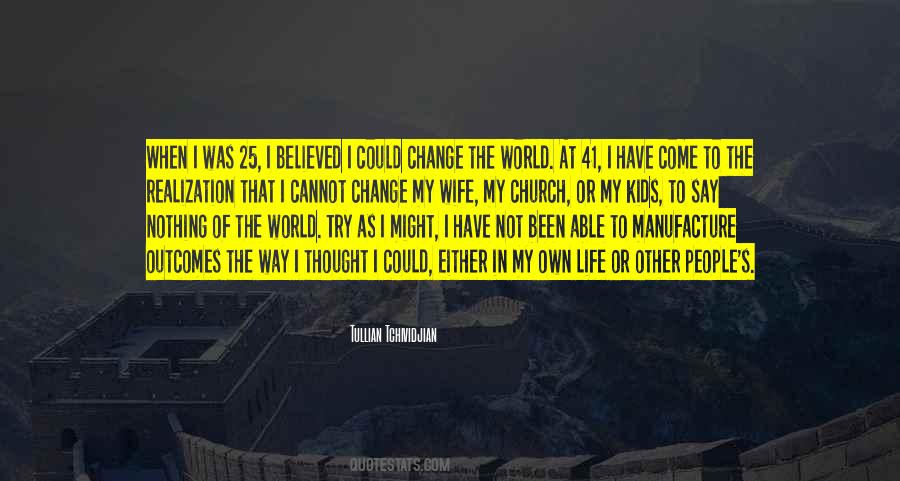 #45. The Church is not an automobile showroom - a place to put ourselves on display so that others can admire our spirituality, capacity, or prosperity. It is more like a service center, where vehicles in need of repair come for maintenance and rehabilitation. - Author: Dieter F. Uchtdorf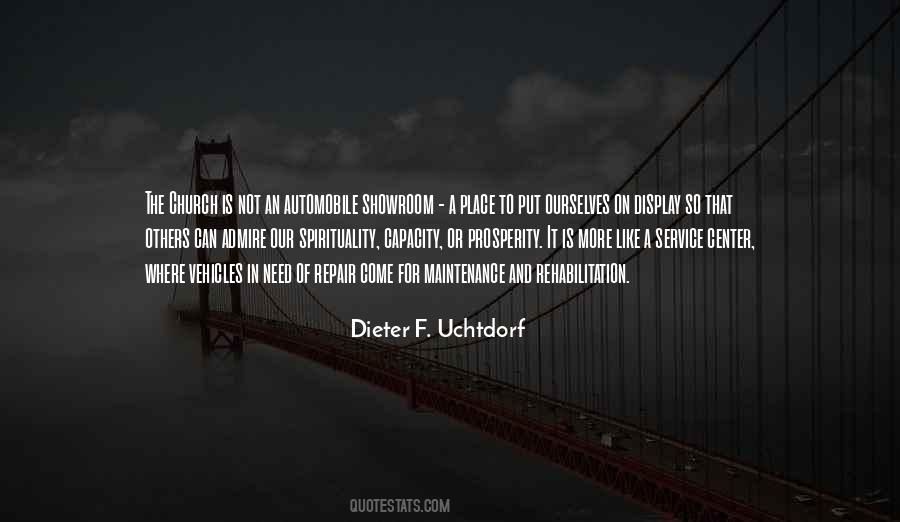 #46. Don't ever come to church without coming as though it were the first time, as though it could be the best time, and as though it could be the last time. - Author: Vance Havner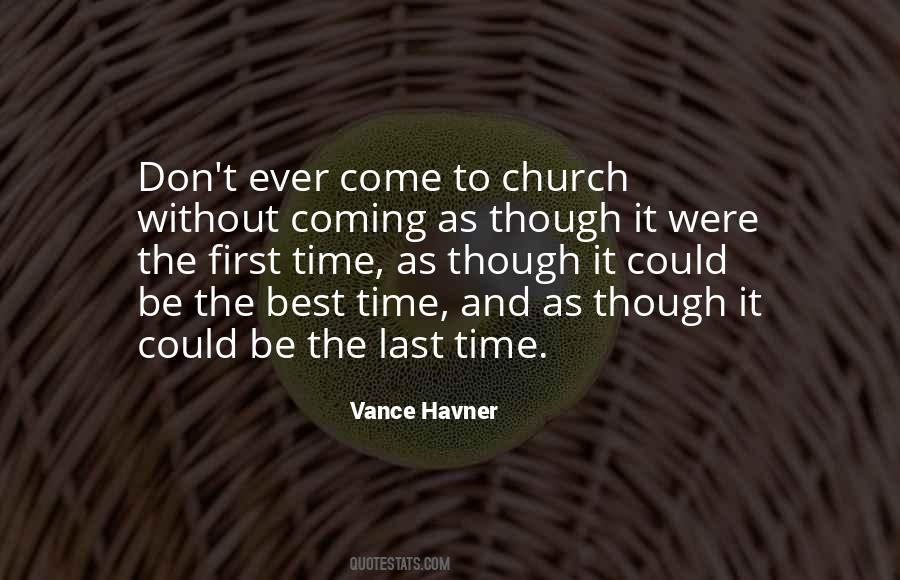 #47. We have come to love darkness in the church rather than finding God in creation. - Author: Sunday Adelaja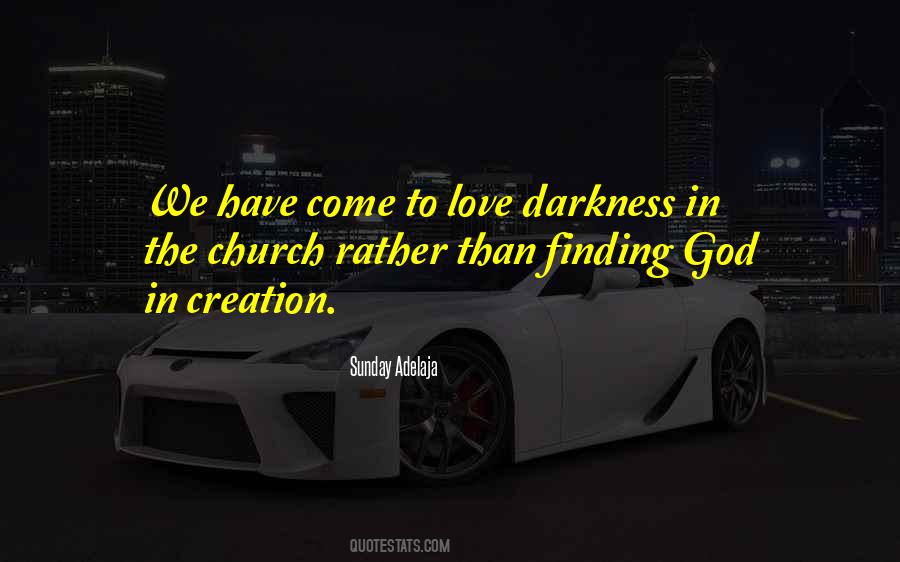 #48. In the Church, bodily asceticism has always been the supreme road to
theological knowledge. It is not possible for man to come to know the truth of life, the truth of Godand the truth of his own existence purely through intellectual categories ... - Author: Christos Yannaras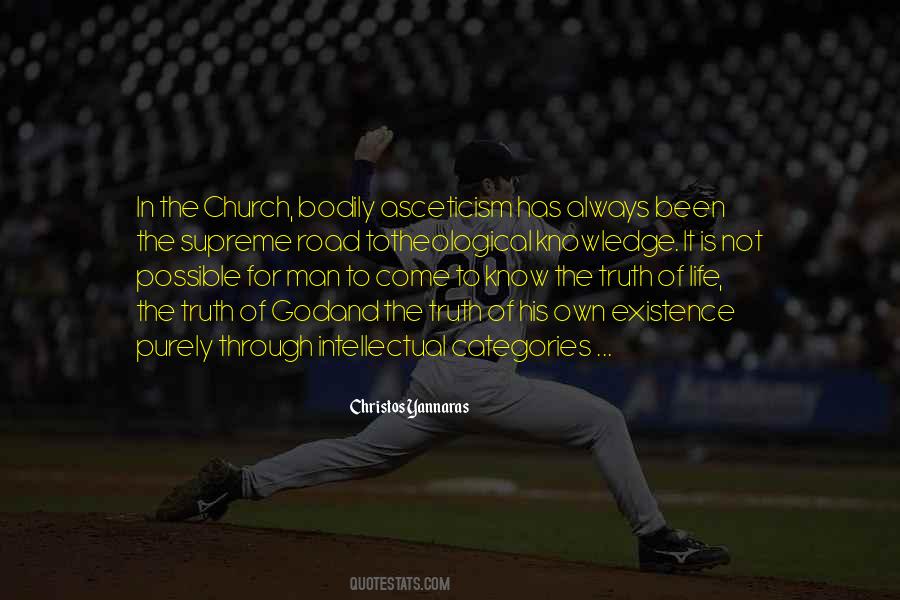 #49. The Crusaders come to one immediate decision. They decide that the Orthodox Greek Christians, the Georgian Christians, the Armenian Christians and the Jacobite Christians no longer could hold services in the Church of the Holy Sepulcher. Only the Latin rite could be celebrated in Jerusalem. - Author: Paul L. Williams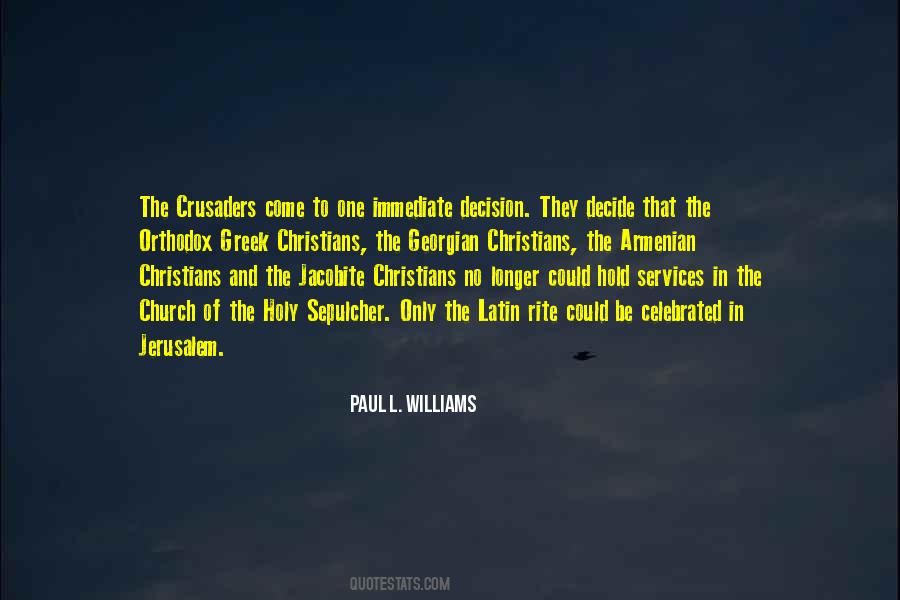 #50. Brothers, why are you here?" He looked
astonished, even perturbed.
"We come to help."
"I thought the monks and priests were to be in the church, praying."
"We pray with our feet," answered Anseau.
"Tell us how we can help. - Author: D.W. Koons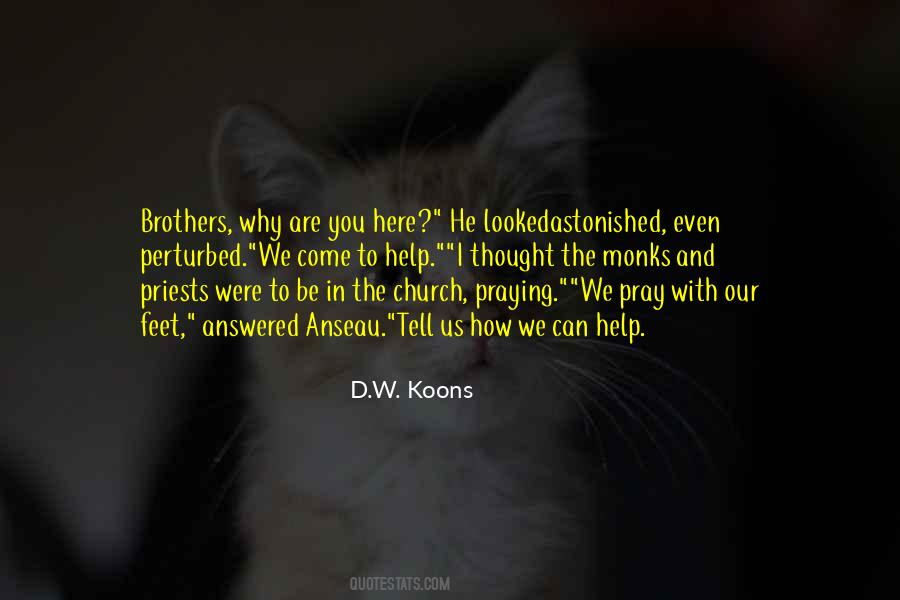 #51. Some go to Church, proud humbly to repent, And come back much more guilty than they went: One way they look, another way they steer, Pray to the Gods; but would have Mortals hear; And when their sins they set sincerely down, They'll find that their Religion has been one. - Author: Edward Young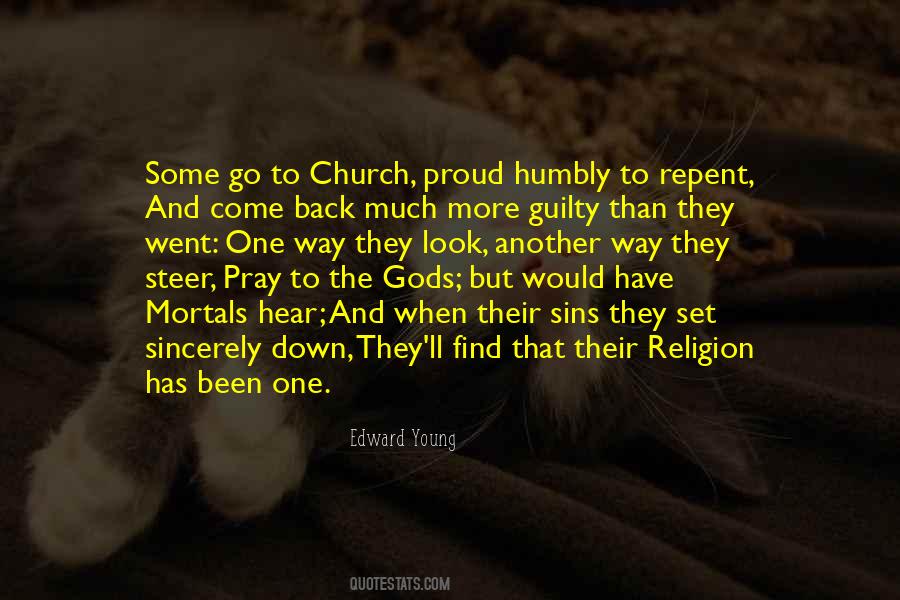 #52. Many people have come to think they can just wake up and have things handed to them. - Author: Eric Church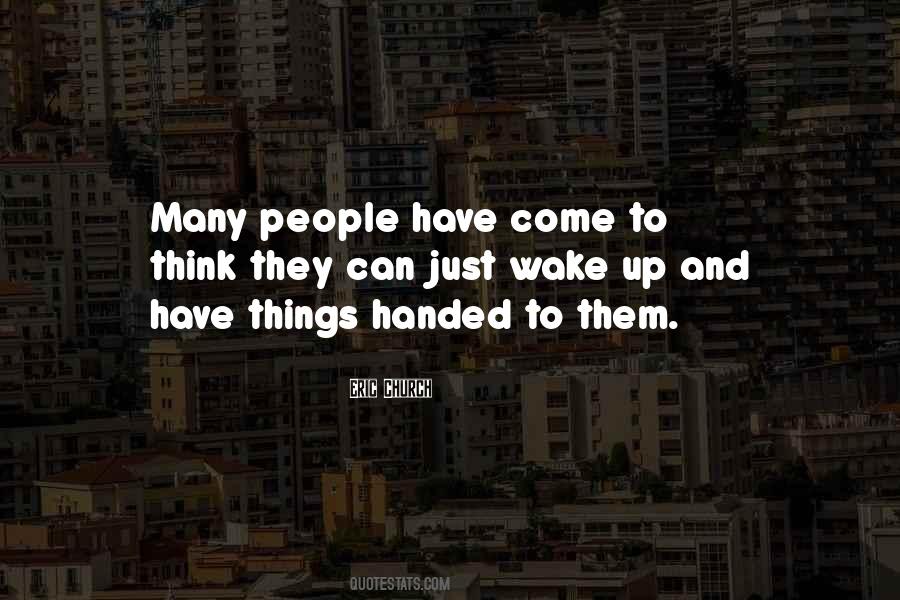 #53. As a parish priest of the Church Of England I promise to look after everyone in the community, not just those who come to church, not just white people, not just the Christians. - Author: Alan Green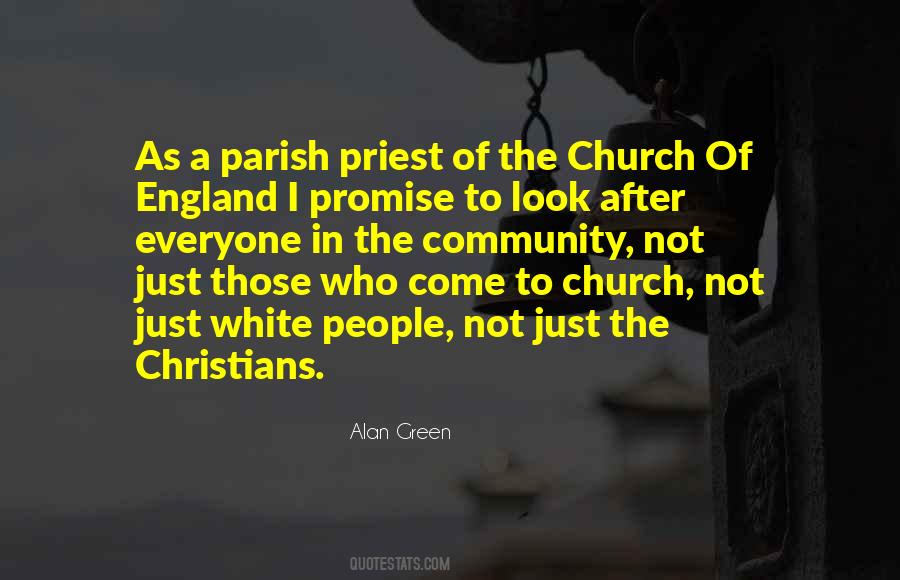 #54. Today five out of six non-Christians in our world have no hope unless missionaries come to them and plant the church among them. - Author: David Bryant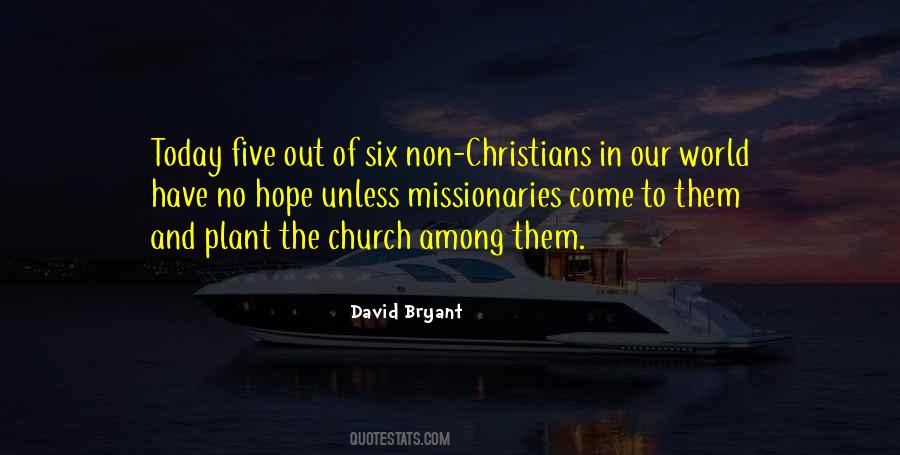 #55. Christians often want to hide behind the walls of the church, where we are comfortable, but sometimes we have to come out of the box. - Author: Cheryl James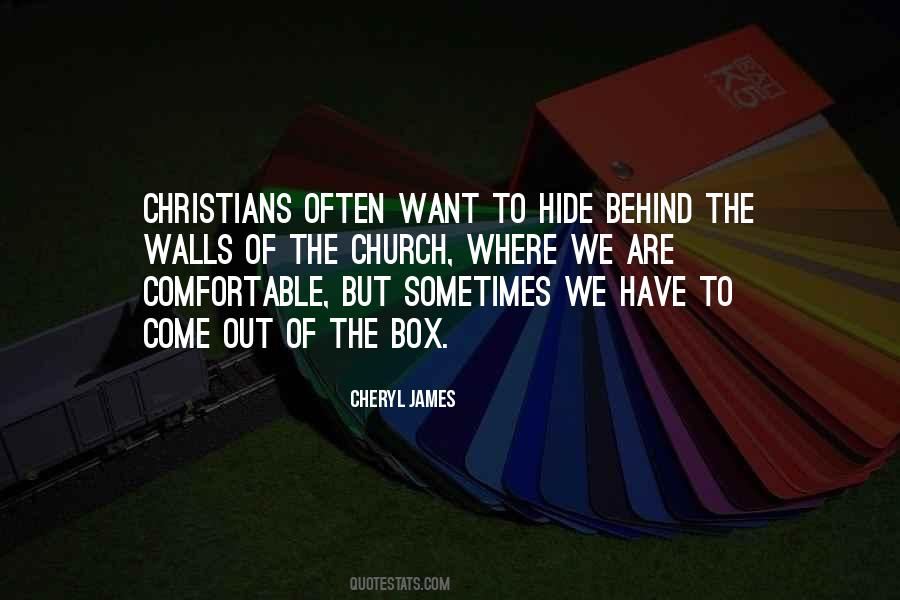 #56. The notion that you can come to church on Sunday and bend your knee in worship when in fact you have not done so during the week is a delusion. - Author: Mark Ashton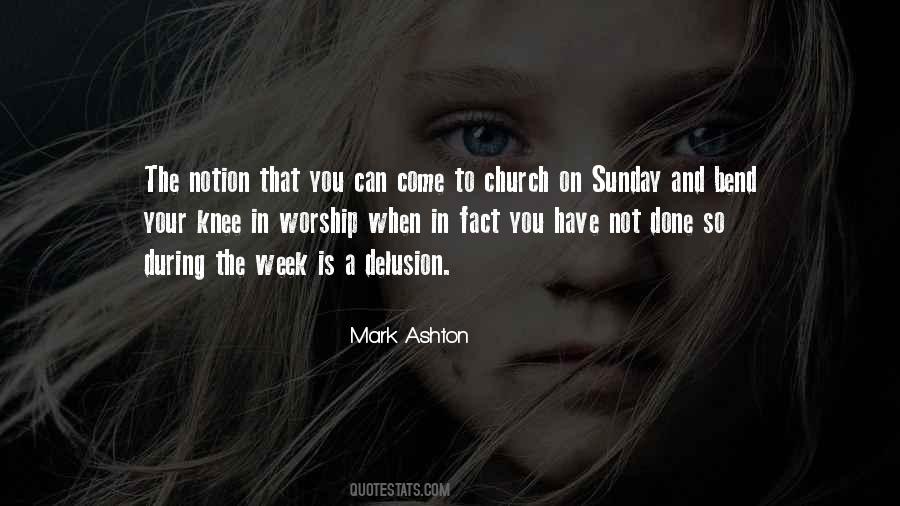 #57. When serious people of good faith disagree, they've got to go back into the narratives and come at it again. One of the problems in the church is that people are not willing to do that. People have arrived at a place where they think they have got the answer. - Author: Walter Brueggemann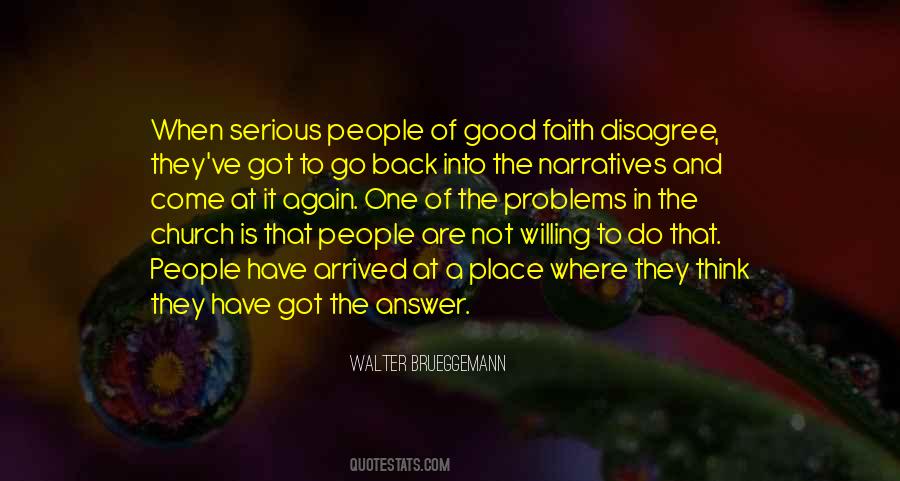 #58. But now that was all gone by, and had left her neither happier nor wiser; and the best she could do with her mornings was to come up here into the cold church and juggle for a slice of heaven. - Author: Robert Louis Stevenson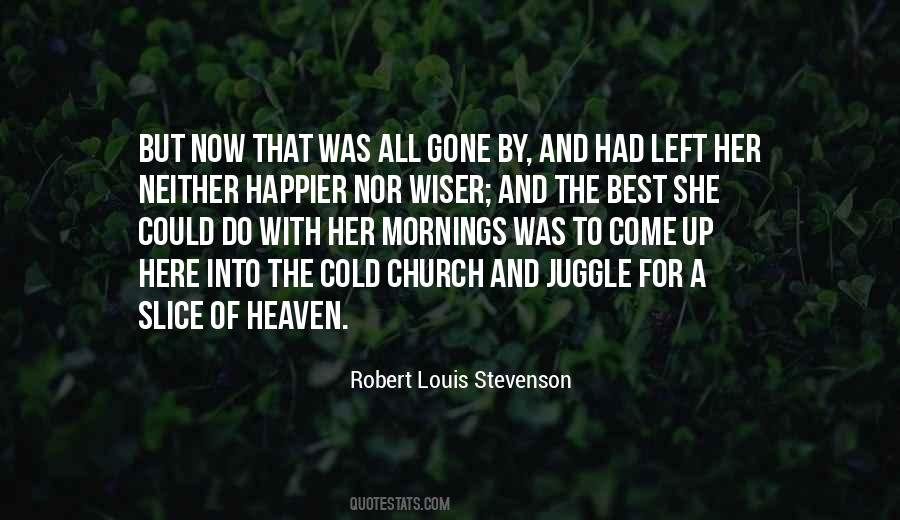 #59. Inviting others to help us with our work in the Church helps them feel needed and helps them feel the Spirit. When these feelings come, many people often then realize that something has been missing from their lives. - Author: Clayton Christensen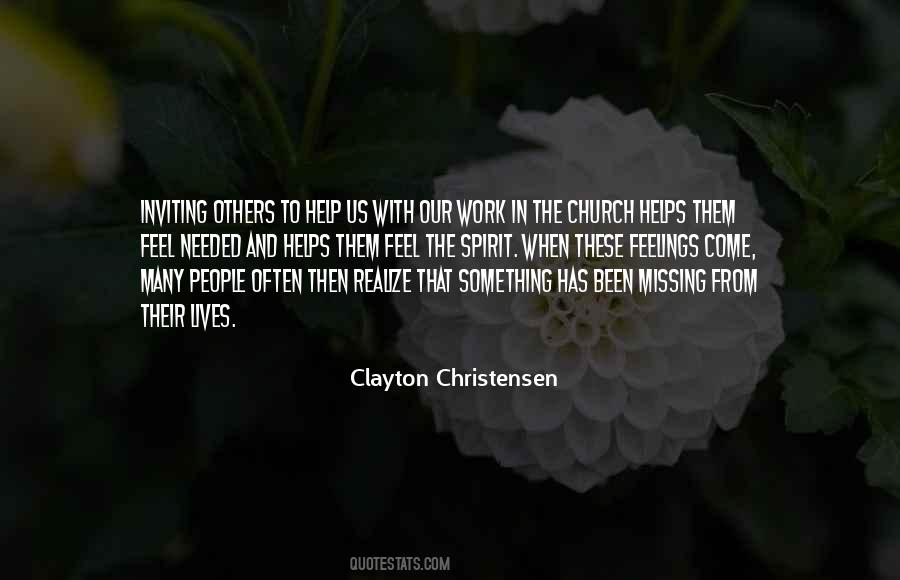 #60. We come to church not to hide our problems but to heal them. - Author: Dieter F. Uchtdorf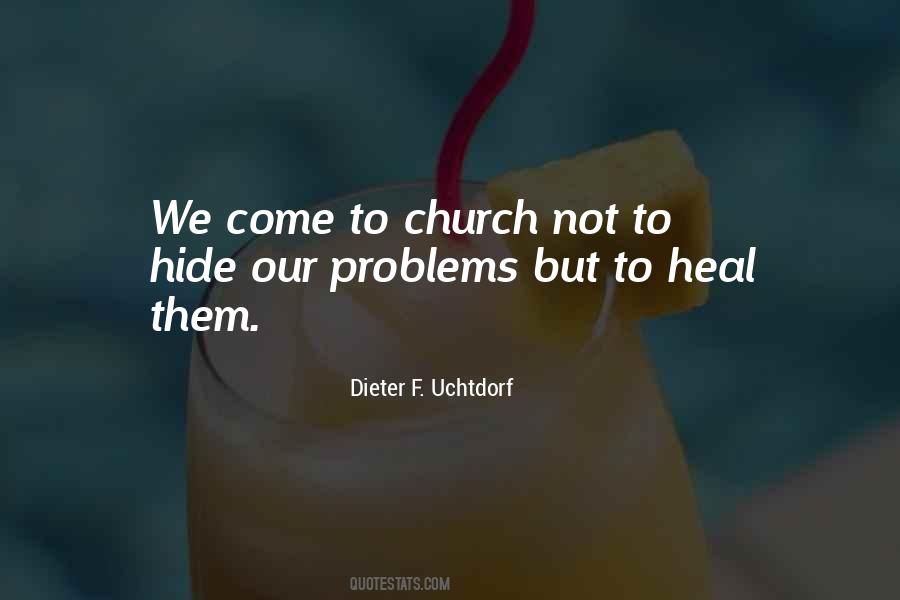 #61. I don't really see a conflict between the church and the movies, the sacred and the profane ... there are major differences, but I could also see great similarities ... Both are places for people to come together and share. - Author: Martin Scorsese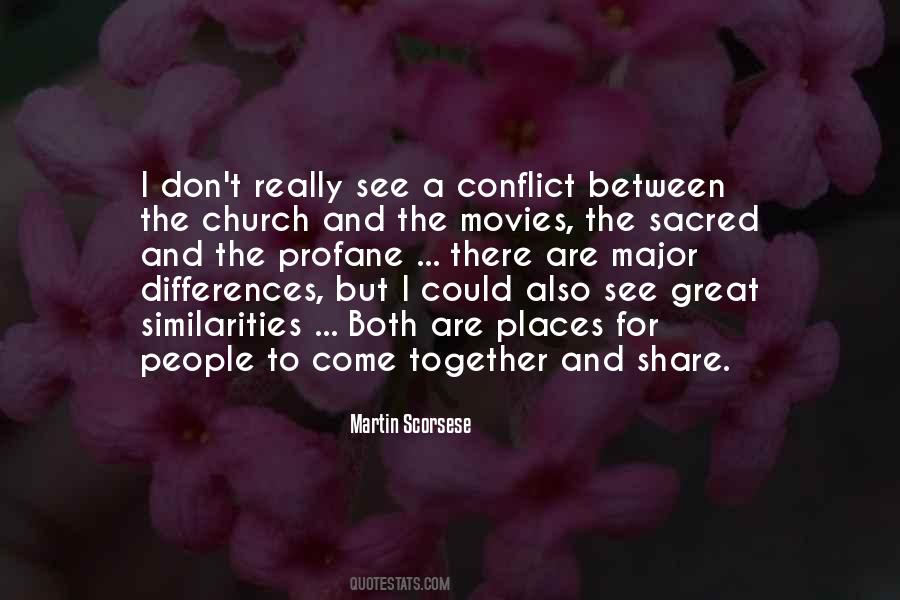 #62. When I look at the Church today, not just in Africa but worldwide, it seems to me that we have come to love darkness even if we are called Church or some other religious names. - Author: Sunday Adelaja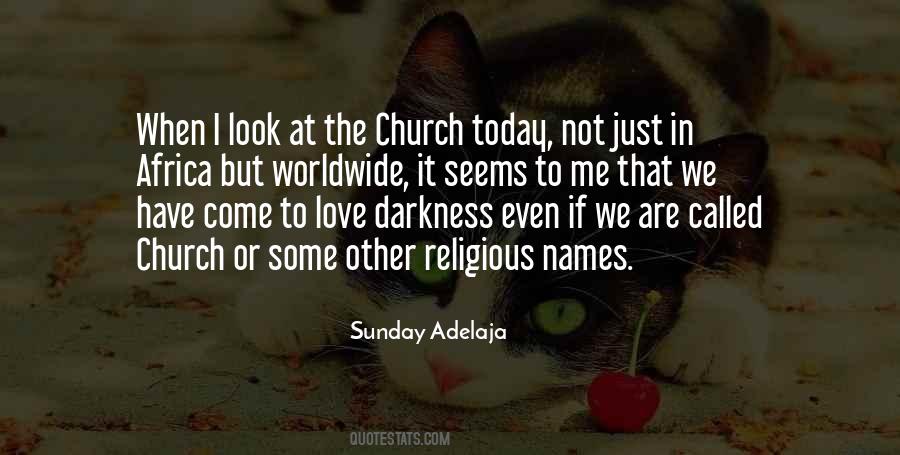 #63. I kind of knew that there were a lot of people that didn't go to church and normally wouldn't listen to people, but they would come and listen to me talk. - Author: Eric Thomas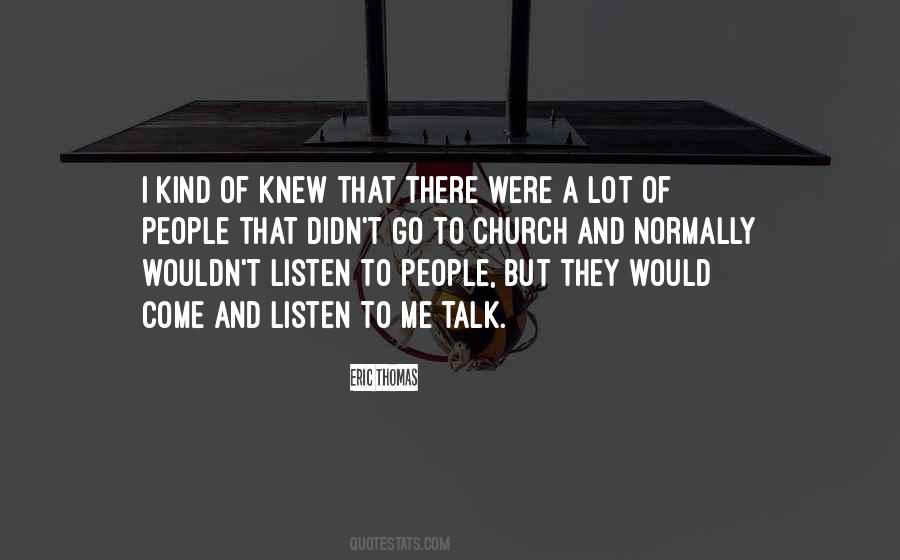 #64. If we wait for the needy to walk through our church doors, we may wait a long time. God doesn't wait for people to come to Him. He goes to them. - Author: Beth Moore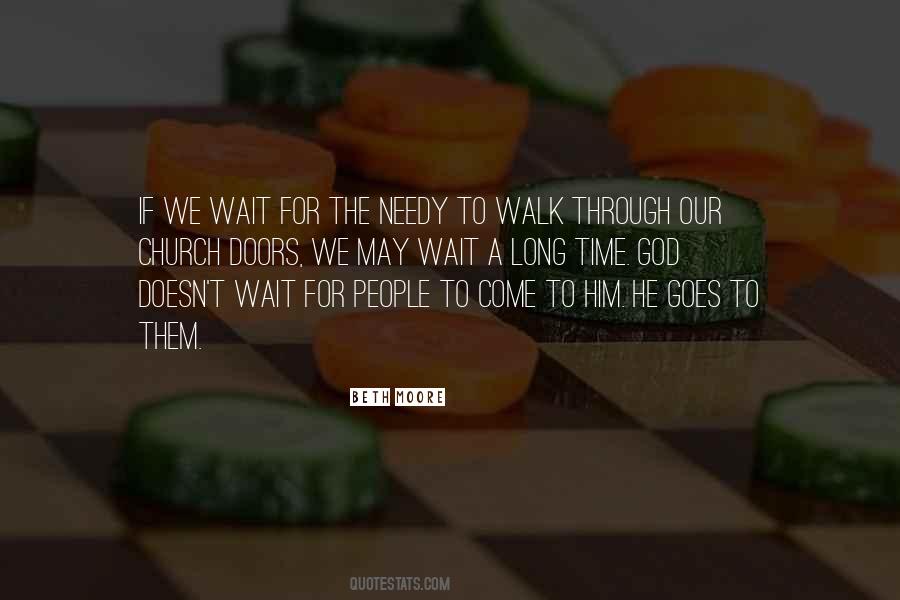 #65. and although her mother and father come to church every Sunday, and give liberally to charities, their little girl is not taught to find happiness by thinking of others rather than of herself, and so that poor little self of hers often feels as much neglected as Maggie Horn ever did. - Author: Amy Ella Blanchard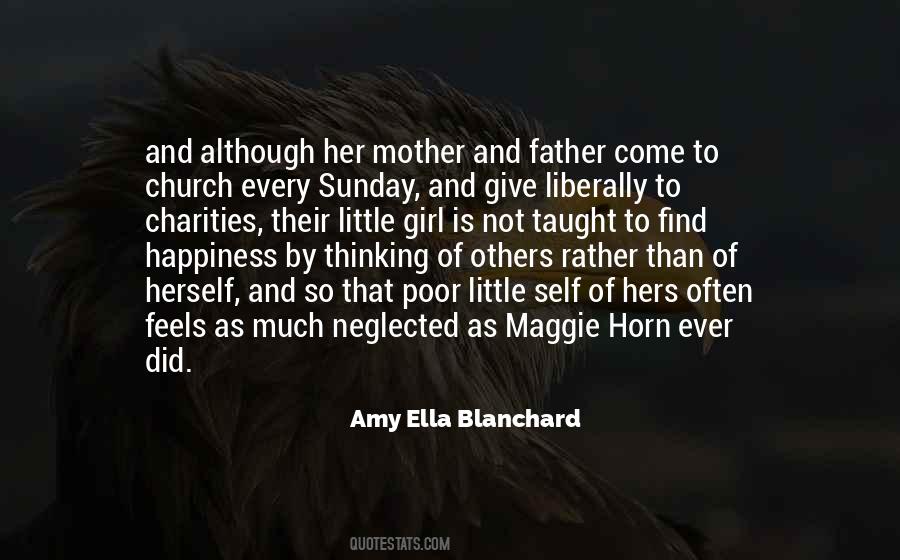 #66. Jesus did not come to strike a balance between grace and truth. He brought the full measure of both ... It's easy to create an all-truth church model. It may be even easier to create an all-grace model, but Jesus didn't leave either option on the table. - Author: Andy Stanley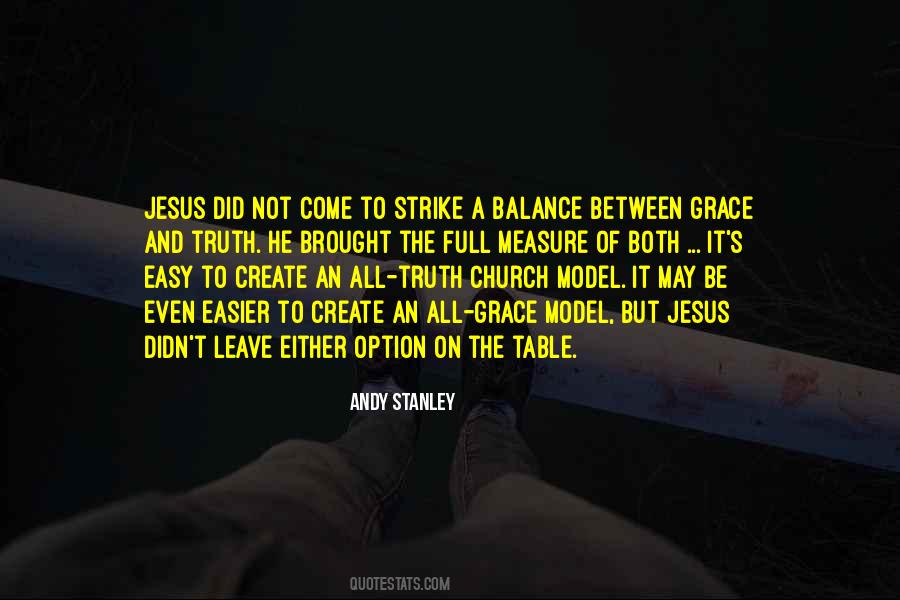 #67. No local church can afford to go without the encouragement and nourishment that will come to it by sending away its best people. - Author: David Penman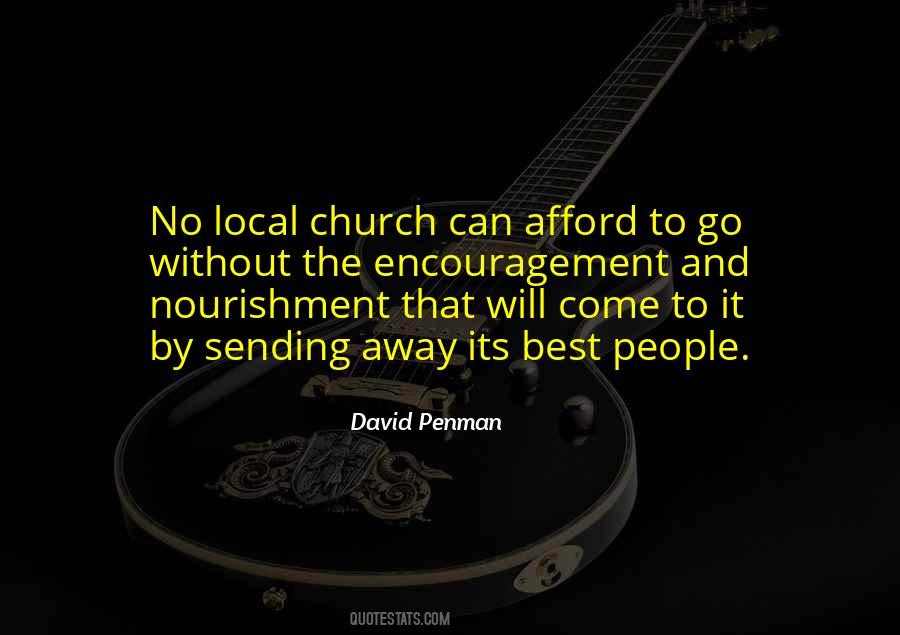 #68. Many come to bring their clothes to church rather than themselves. - Author: Thomas Fuller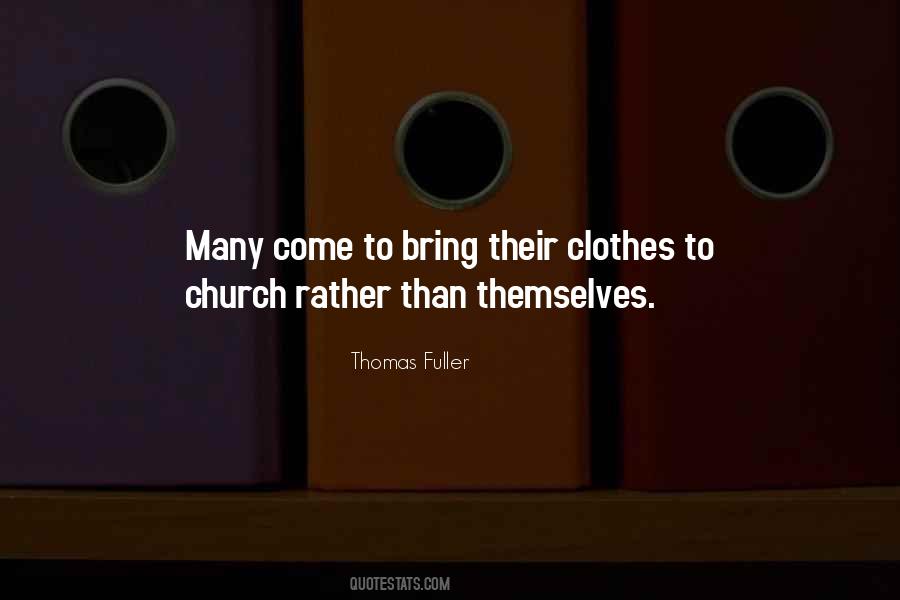 #69. Donald Lydecker: Alcoholism is not a disease, it's a failing. You've turned it into a church. You worship the altar of self-pity. I come to these rooms for one reason, to remember what I don't want to become ... helpless, impotent, and weak. - Author: James Cameron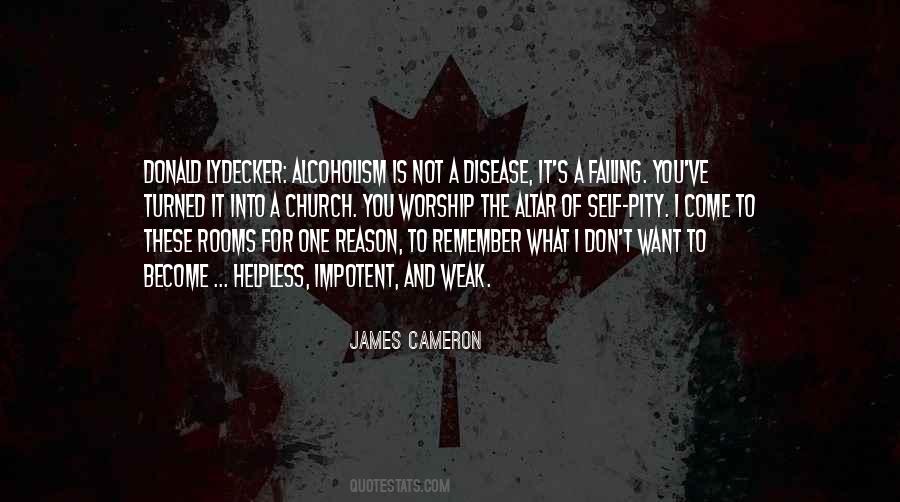 #70. We don't ask any people to throw away any good they have got; we only ask them to come and get more. What if all the world should embrace this Gospel? They would then see eye to eye, and the blessings of God would be poured out upon the people, which is the desire of my whole soul. - Author: Joseph Smith Jr.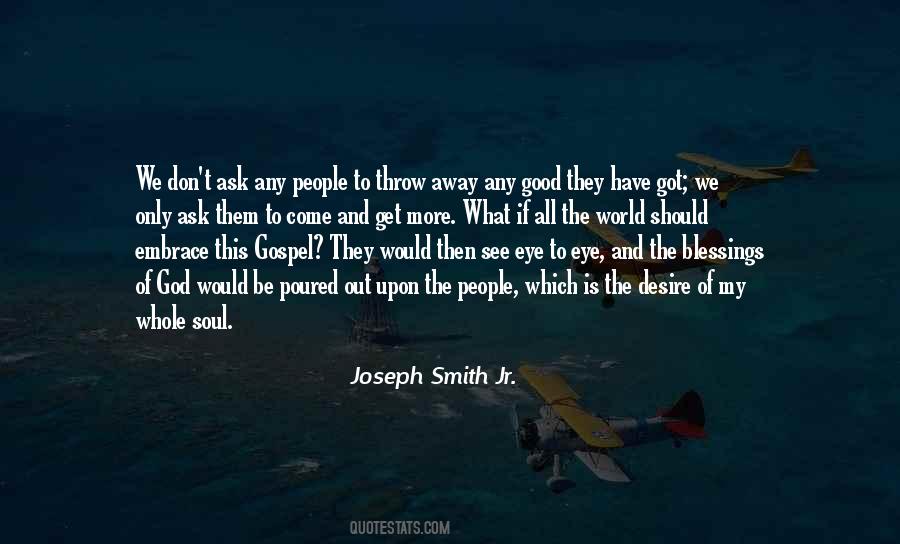 #71. I am atheist in a very religious mould. I'm always asking myself the big questions. Where did we come from? Is there a meaning to all of this? When I find myself in church, I edit the hymns as I sing them. - Author: Mark Haddon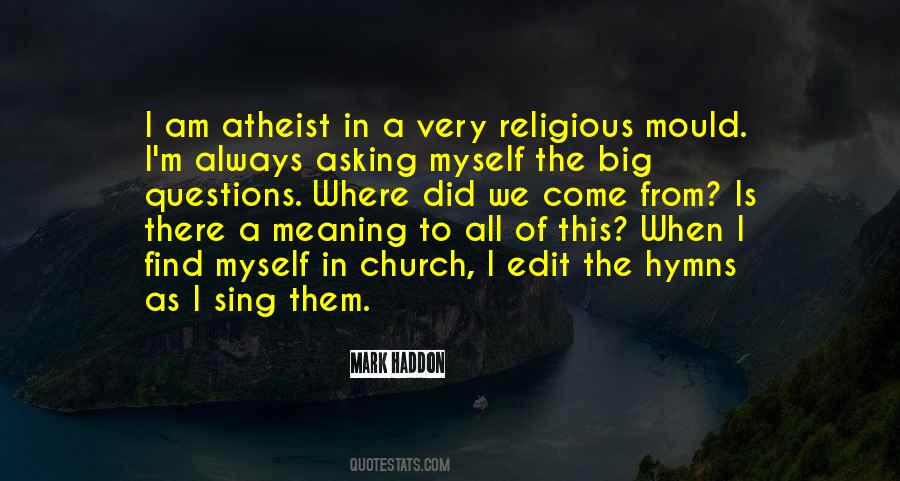 #72. It is a better thing to save souls for the Lord than to save treasures. He who sent forth his apostles without gold had not need of gold to form his Church. The Church possesses gold, not to hoard, but to scatter abroad and come to the aid of the unfortunate. - Author: Saint Ambrose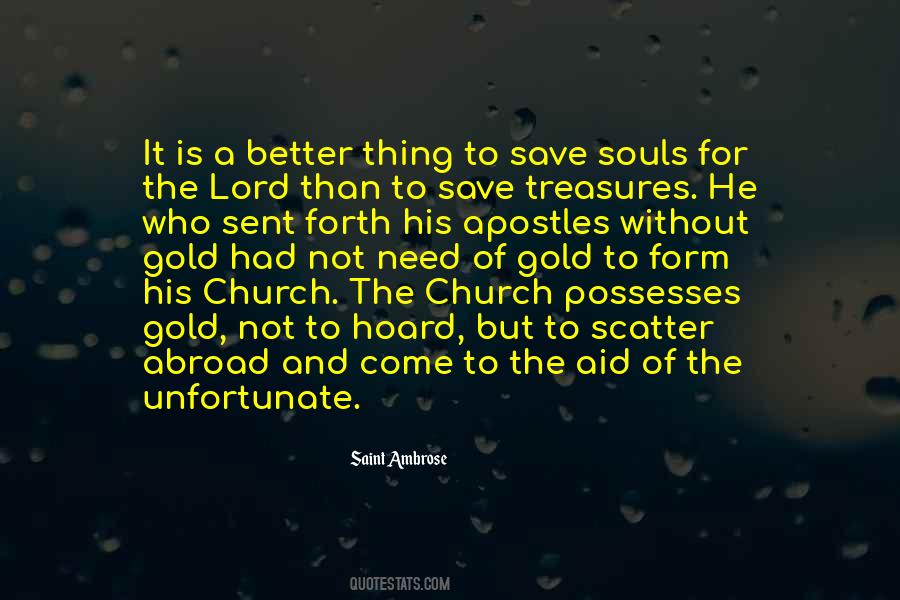 #73. Influences come from everywhere. I don't really feel like I had too many influences for the first record because I grew up listening to music in church, and that was pretty much it. I didn't really grow up listening to AC/DC and all those bands. - Author: Avril Lavigne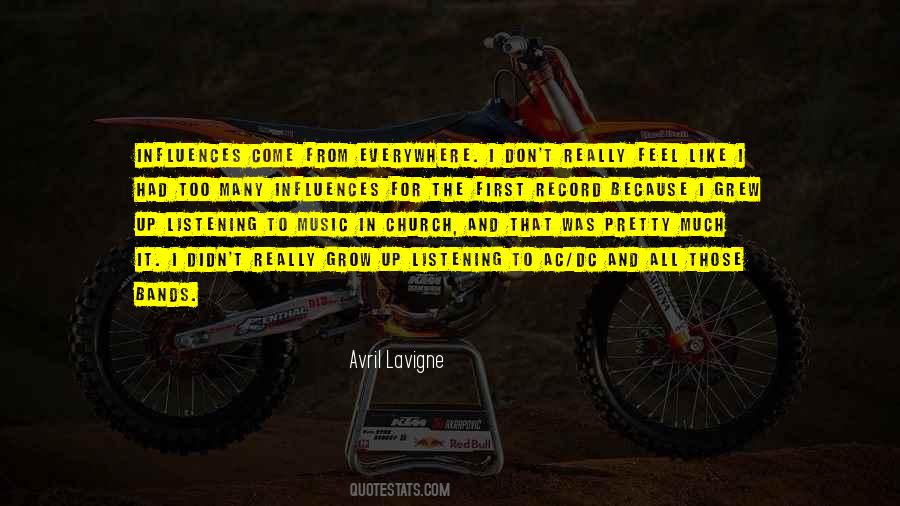 #74. Says one brother to another, 'Joseph says all covenants are done away, and none are binding but the new covenants; now suppose Joseph should come and say he wanted your wife, what would you say to that? I would tell him to go to hell.' This was the spirit of many in the early days of this Church ... - Author: Jedediah M. Grant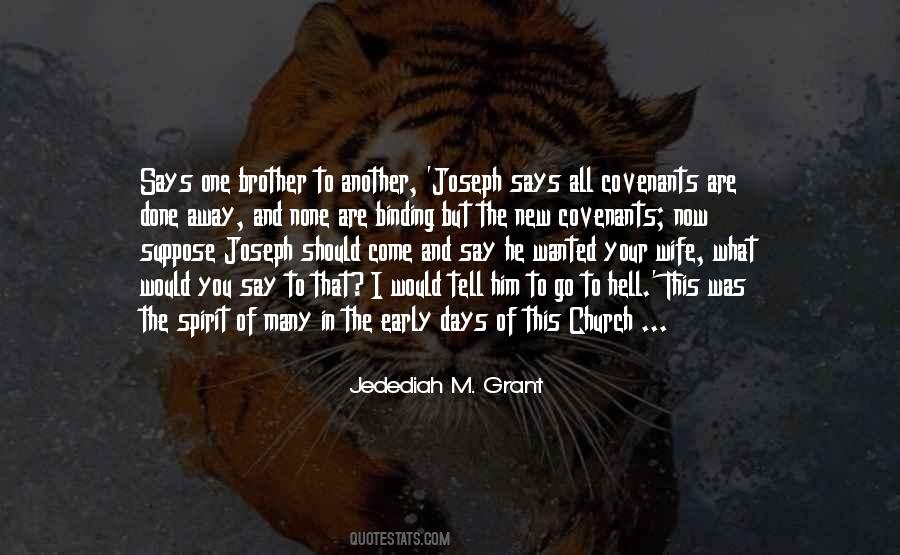 #75. We do not need to wait for the Holy Spirit to come: he came on the day of Pentecost. He has never left the church. - Author: John Stott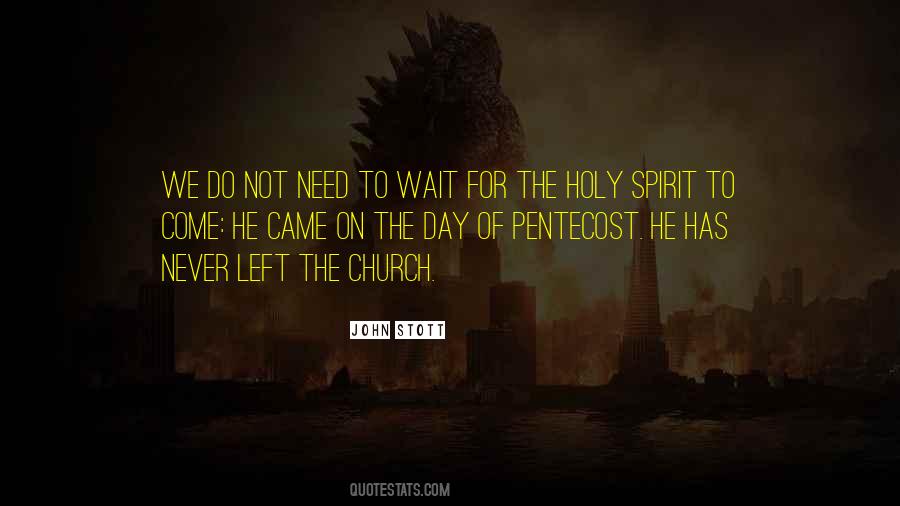 #76. I compose with bells a lot. Bells and breath. Both things you react to without thinking about it. Bells traditionally give us orders: come to the desk, the truck is backing up, the ice cream is here, it's time to go to church. They're sounds our brains are already associated with. - Author: Sxip Shirey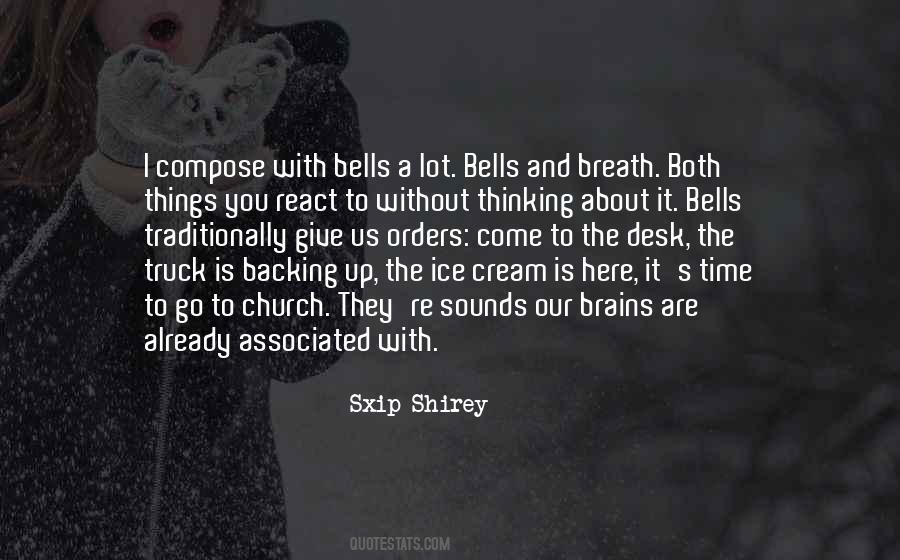 #77. The key to songwriting is just to be able to observe, and put yourself in situations to be around people, and let those ideas come to you. - Author: Eric Church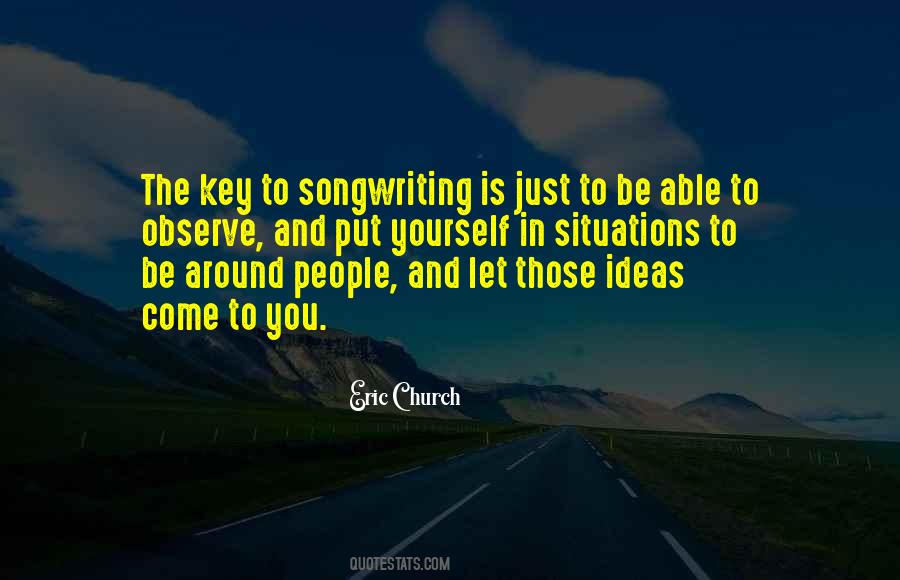 #78. God (mentally on my knees), if I can just get through this night, I'll come to church. On Christmas. Every fifteen years. For the next fifteen years. So once. - Author: K.F. Germaine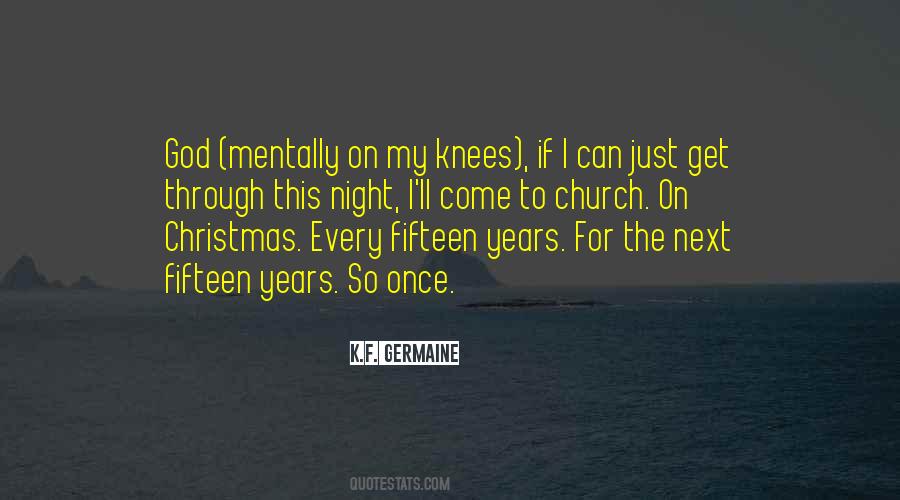 #79. The more I do bookstores, the more people come up to me from church groups. I spoke at Pittsburg State College and had 2 or 3 ministers and book groups from a couple of churches. - Author: Anita Diament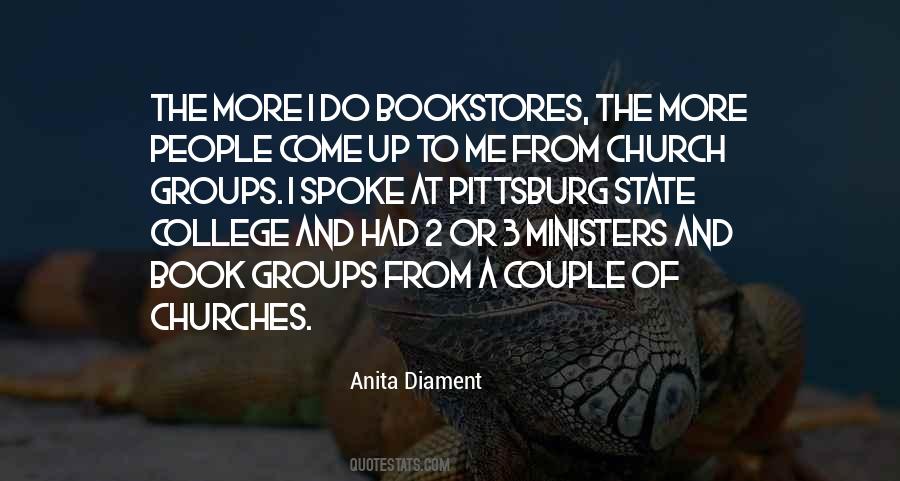 #80. I pity those who can find no good at church. But how should they if prejudice come between, an effectual bar to the grace of God? - Author: John Wesley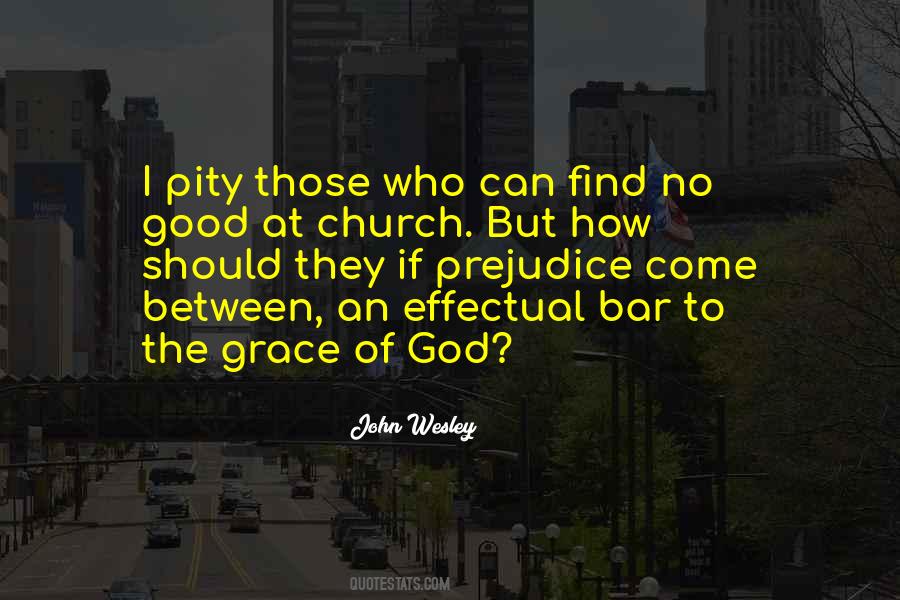 #81. I think people often come to the synagogue, mosque, the church looking for God, and what we give them is religion. - Author: Gene Robinson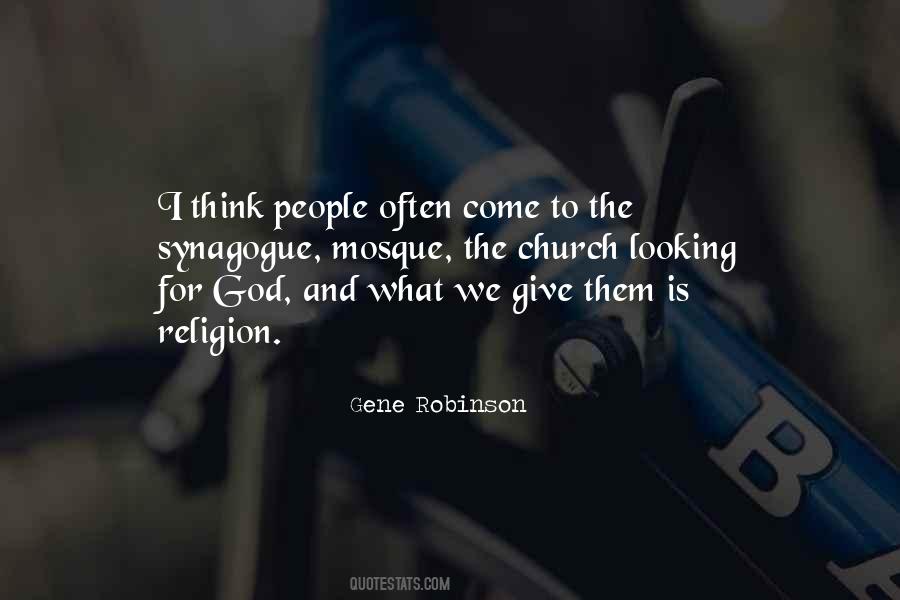 #82. Most of us come to the church by a means the church does not allow. - Author: Flannery O'Connor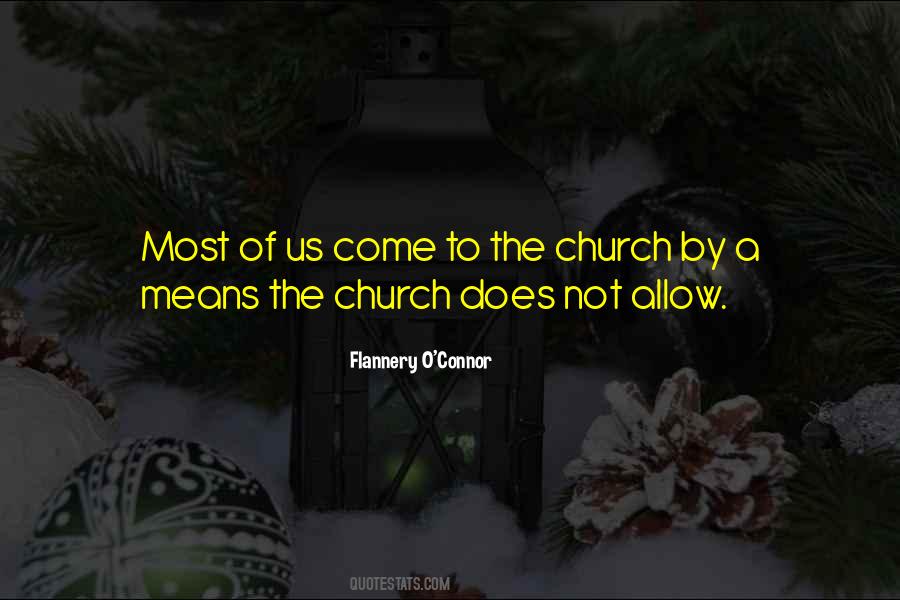 #83. If anyone feels his sins, let him come at once, straight, direct, not merely to church, or to the sacrament, or to repentance, or to prayer, but to Christ Himself. - Author: J.C. Ryle
#84. It has come to be a dreadfully common belief in the Christian Church that the only man who has a "call" is the man who devotes all his time to what is called "the ministry," whereas all Christian service is ministry, and every Christian has a call to some kind of ministry or another. - Author: Charles Spurgeon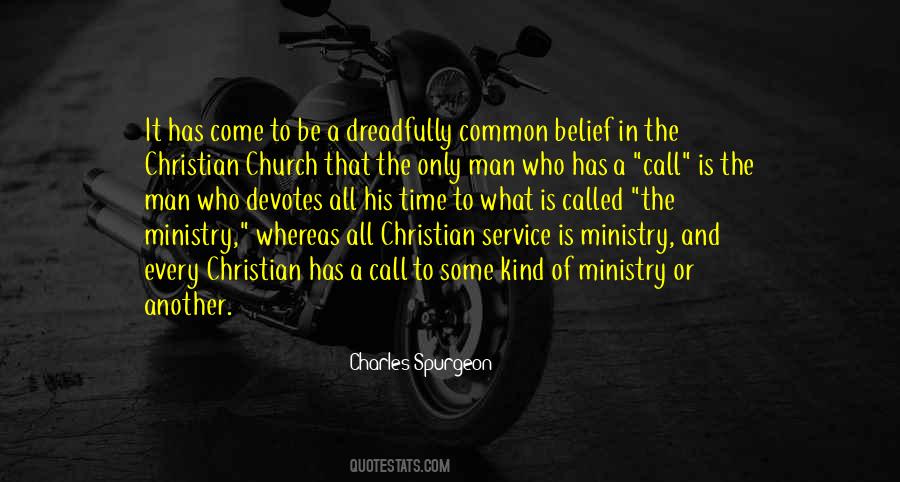 #85. The Bible, undoubtedly, is a mixed bag. I don't see myself coming back to the Church. I do like the tradition. If you come from a strong culture, you can decide what you agree with and what you don't agree with. If you're given a blank canvas, it's almost harder in life. - Author: Steve Coogan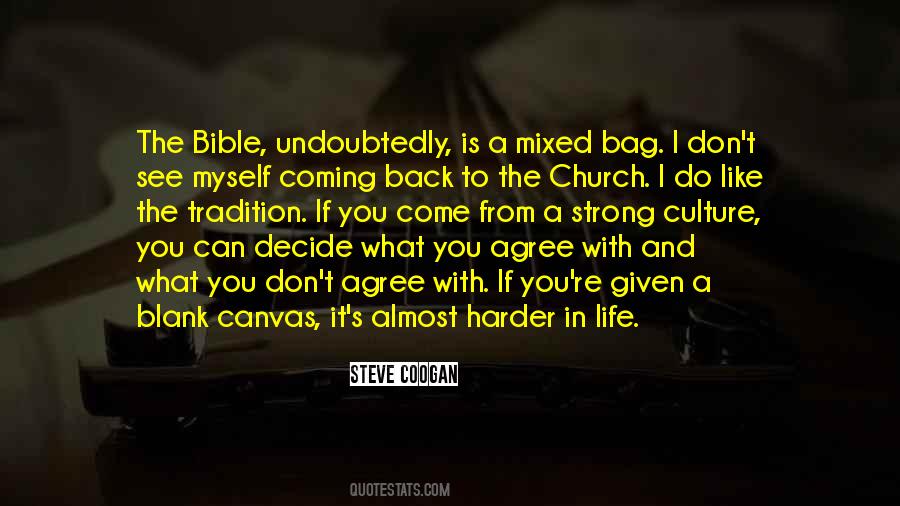 #86. Well, they've come a long way. To think that he now could access a secret document held in the Vatican archives, via electronic technology. - Author: Peter J. Tanous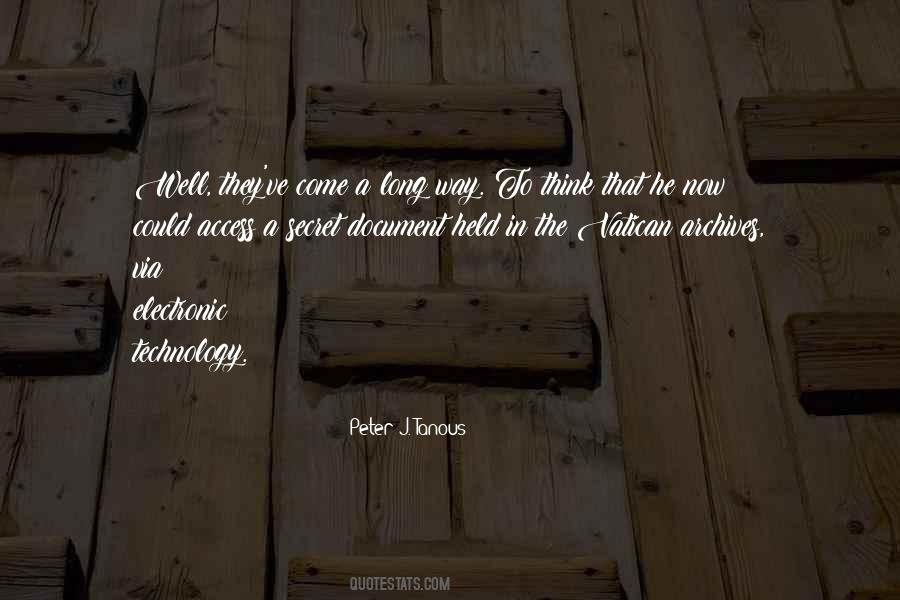 #87. I suggest that all who listen to my voice would benefit by an examination of the lives of those we sustain as general officers of the Church. You will find some important examples among them and come to know those who have "a perfect heart." - Author: Monte J. Brough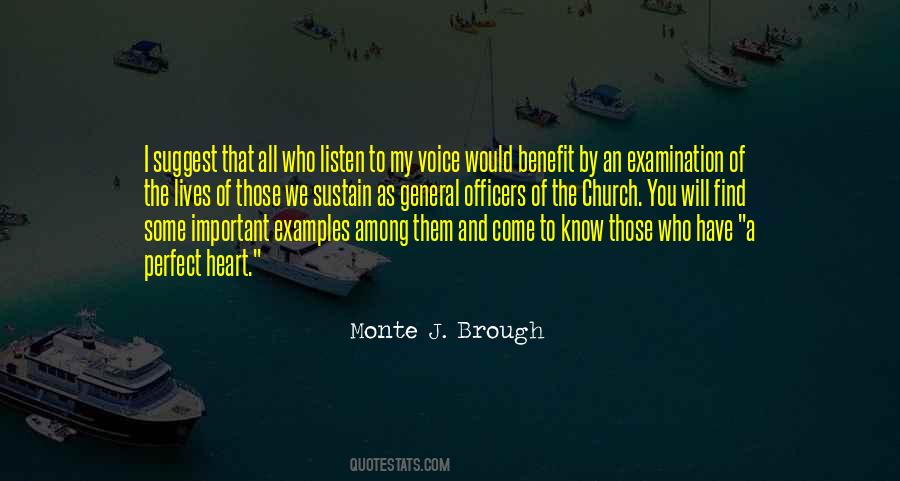 #88. Where Church and State are habitually associated, it is natural that minds, even of a high order, should unconsciously come to regard religion as only a subtler mode of police. - Author: James Russell Lowell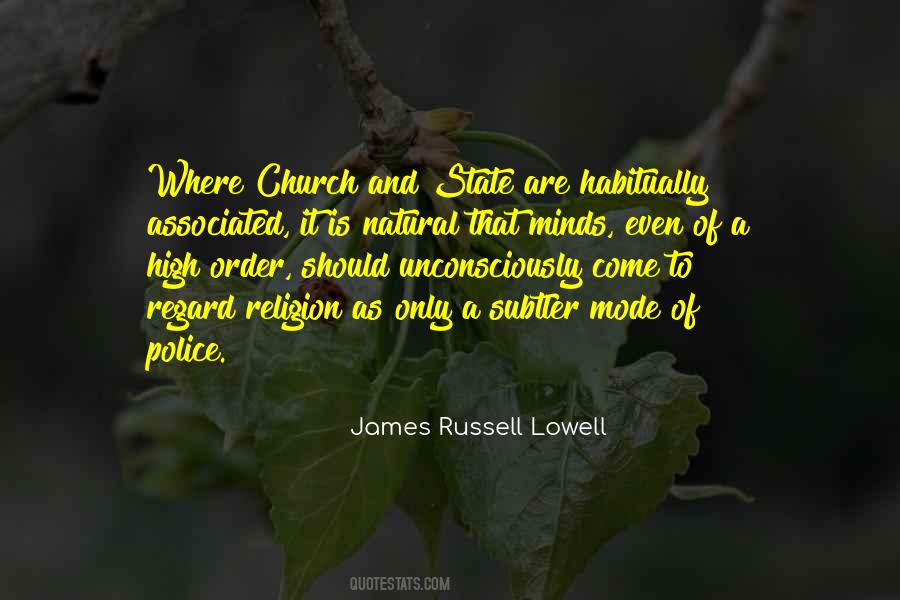 #89. To great sections of the Church the art of worship has been lost entirely, and in its place has come that strange and foreign thing called the "program." This word has been borrowed from the stage and applied with sad wisdom to the type of public service which now passes for worship among us. - Author: A.W. Tozer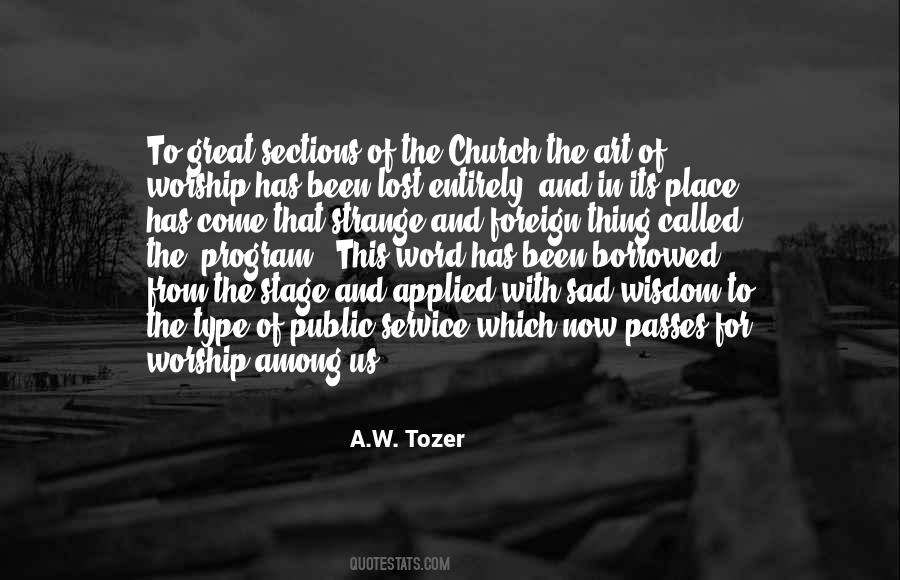 #90. The renewal of the Church will come from a new type of monasticism which only has in common with the old an uncompromising allegiance to the Sermon on the Mount. It is high time people banded together to do this. - Author: Dietrich Bonhoeffer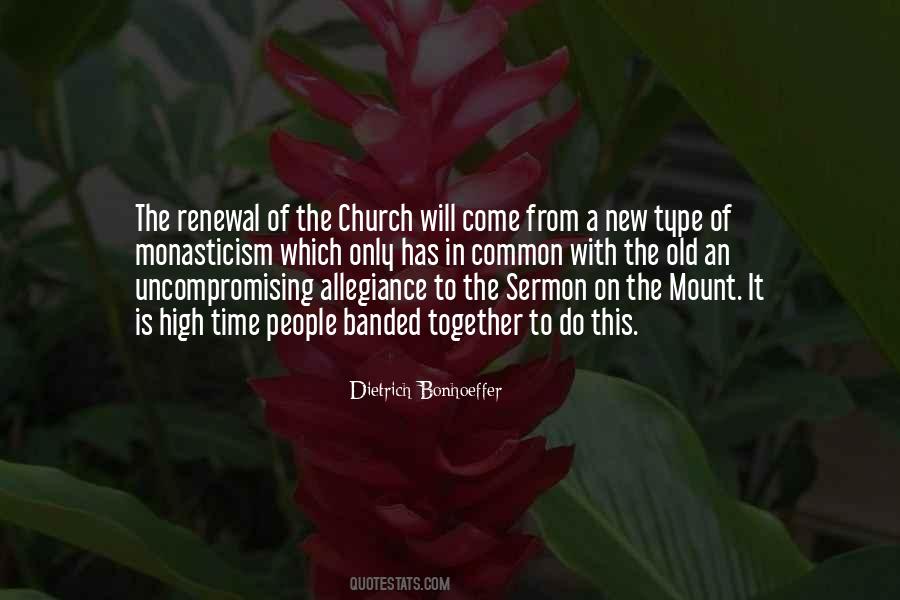 #91. The fact is, most people come to faith through the influence of family members, small-group Bible studies, or a conversation with a friend after a church service: Christians intentionally talking about the gospel. - Author: J. Mack Stiles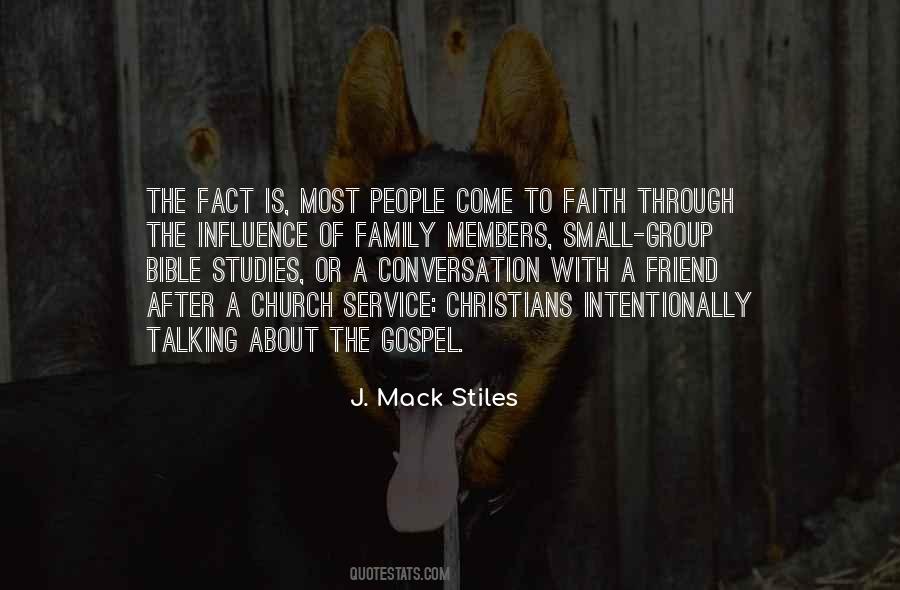 #92. Occasionally she would come to church, stalking unconcernedly up the aisle to a prominent seat. She never put on hat or shoes on such occasions, but when she wanted to be especially grand she powdered face, arms and legs with flour! - Author: L.M. Montgomery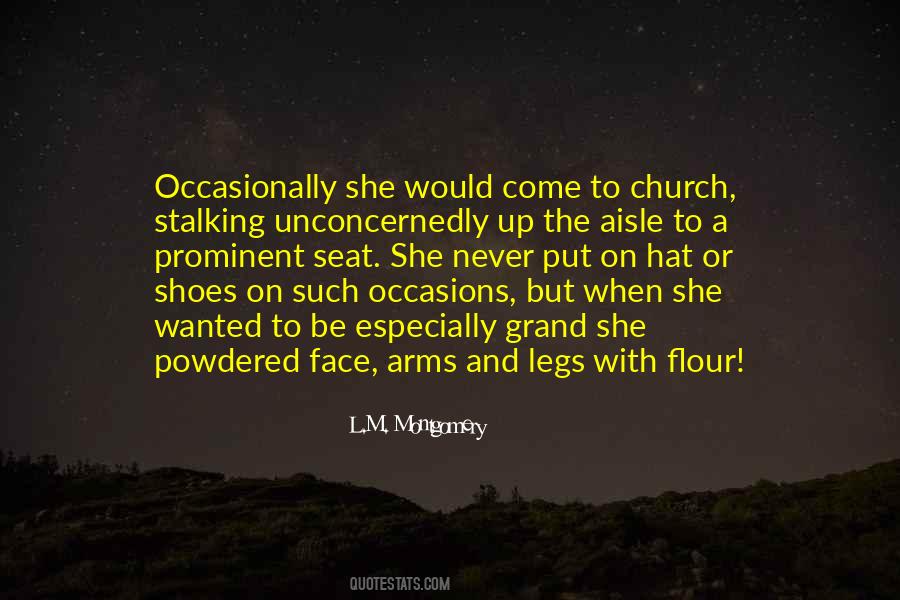 #93. I sense that the moment has come to commit all of the Church's energies to a new evangelization ... No believer in Christ, no institution of the Church can avoid this supreme duty: to proclaim Christ to all peoples. - Author: Pope John Paul II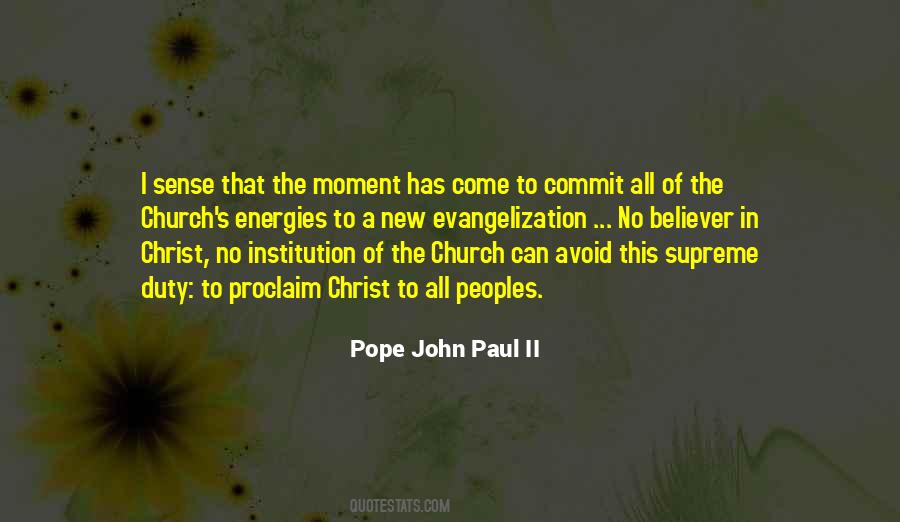 #94. To lift the authority of the church up is for nations to come to church - Author: Sunday Adelaja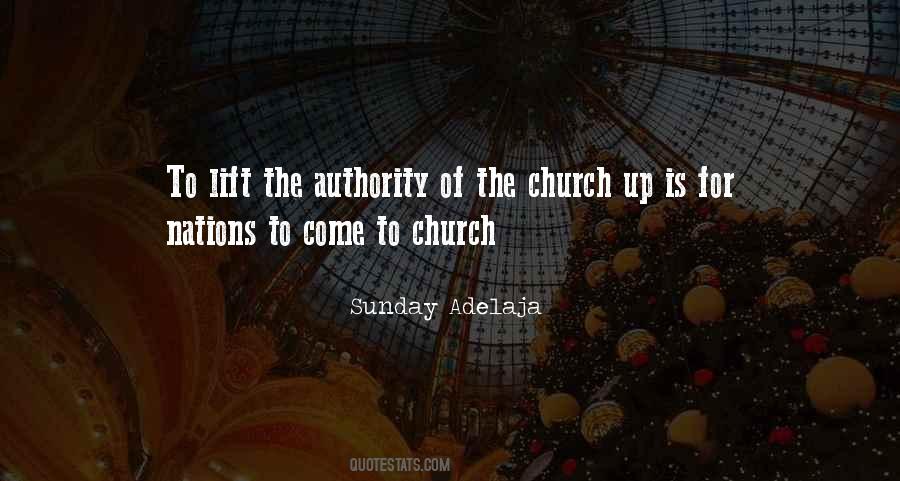 #95. "If any man thirst, let him come and drink from the rivers of living water" (cf. John 7:38). Where shall he who thirsts come? To heretics where the fountain and river of water is in no way life-giving? Or to the Church, which is One? - Author: Cyprian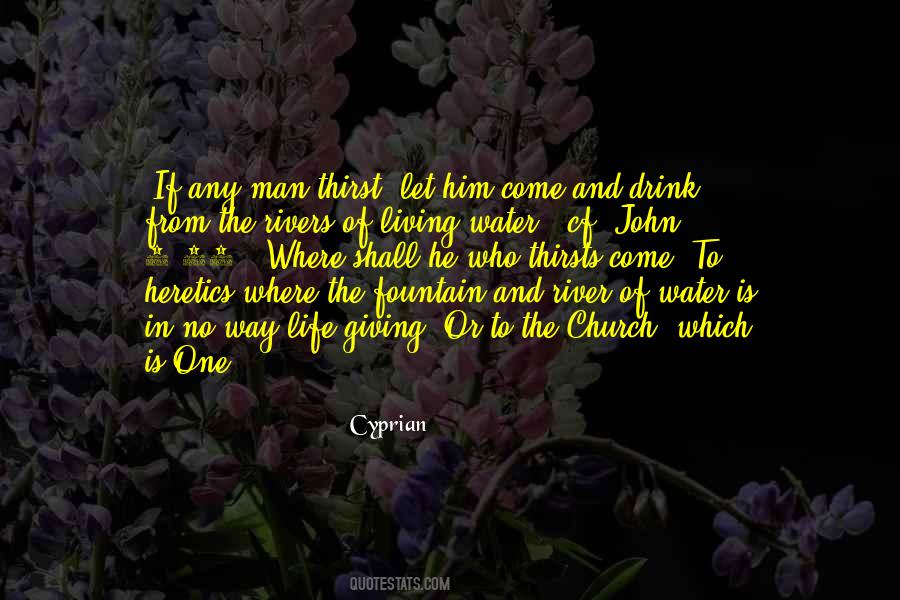 #96. Whenever the Psalter is abandoned, an incomparable treasure is lost to the Christian church. With its recovery will come unexpected power. - Author: Dietrich Bonhoeffer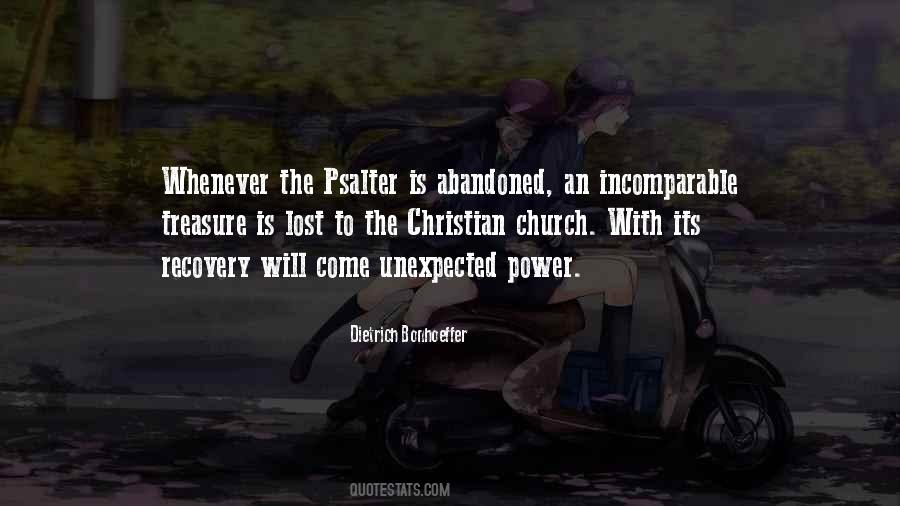 #97. There is no reason to regret that I cannot finish the church. I will grow old but others will come after me. What must always be conserved is the spirit of the work, but its life has to depend on the generations it is handed down to and with whom it lives and is incarnated - Author: Antonio Gaudi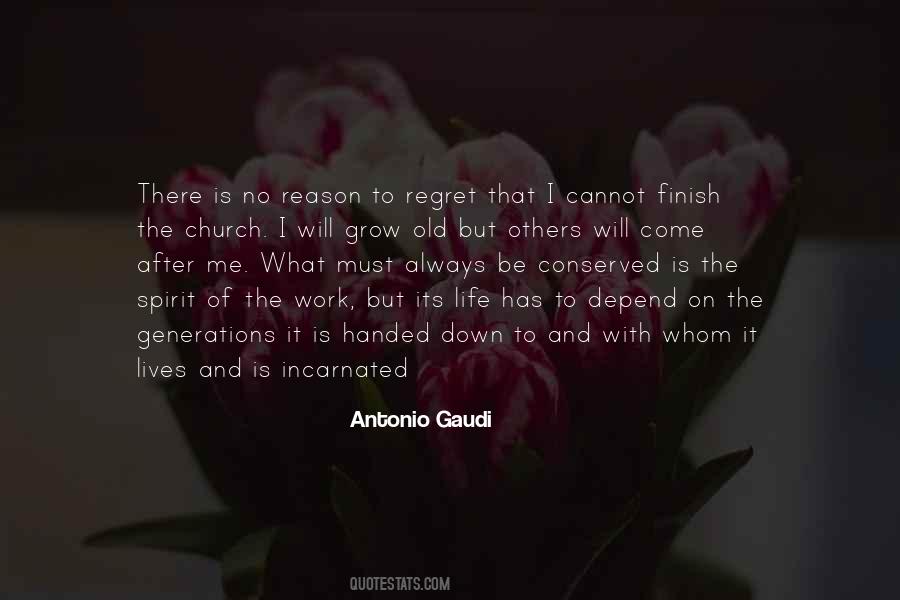 #98. You have to work at having quality in your church, because people that are influential in your city may be God's instruments for resolving all kinds of problems that will most surely come up in the future. - Author: Sunday Adelaja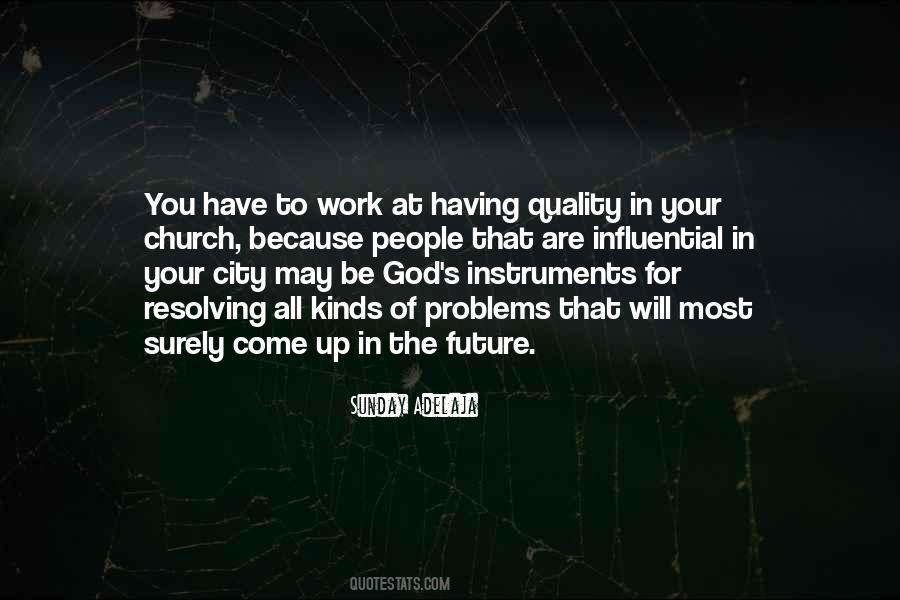 #99. You've come to understand gang violence as symptomatic of an abiding civil conflict whose proportions we can only begin to fathom; now you watch church kids fumble their fingers toward Eastside, toward Killaz. - Author: Leslie Jamison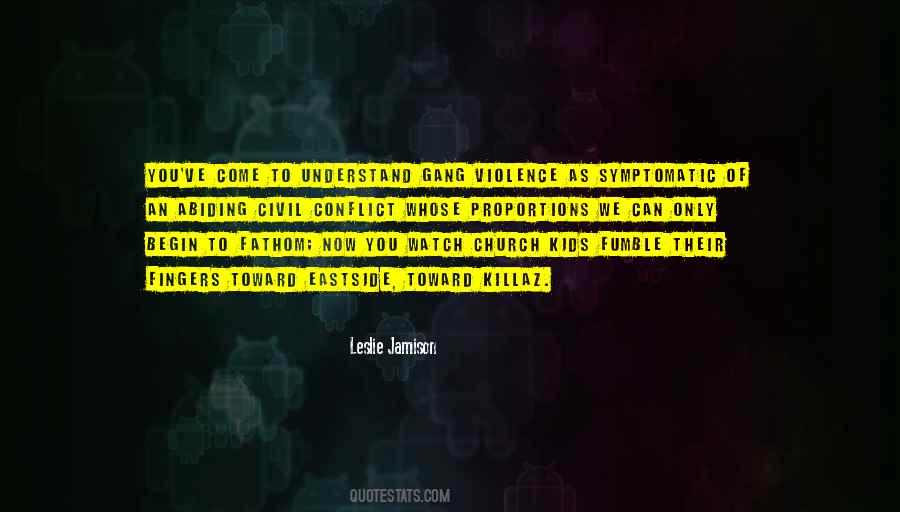 #100. The disciples worshipped the most high Lord Who had come down from heaven, made the earth into heaven and gone up again whence He came, having united things below with things above and formed one Church, at the same time heavenly and earthly, to the glory of His love for mankind. - Author: Gregory Palamas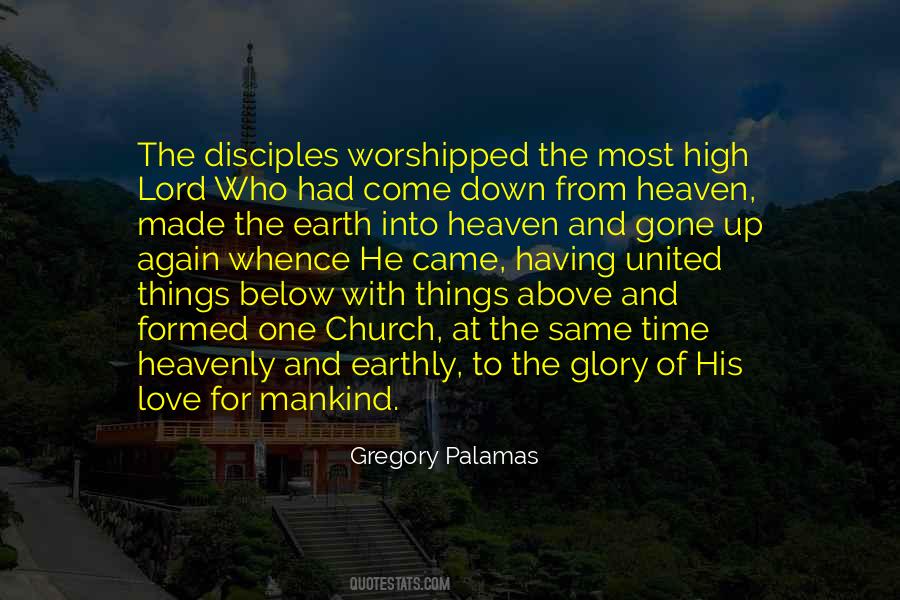 Famous Authors
Popular Topics