Care Only About Yourself Famous Quotes & Sayings
List of top 62 famous quotes and sayings about care only about yourself to read and share with friends on your Facebook, Twitter, blogs.
Top 62 Care Only About Yourself Quotes
#1. If you care about other people, you might try to organize to undermine power and authority. That's not going to happen if you care only about yourself. - Author: Noam Chomsky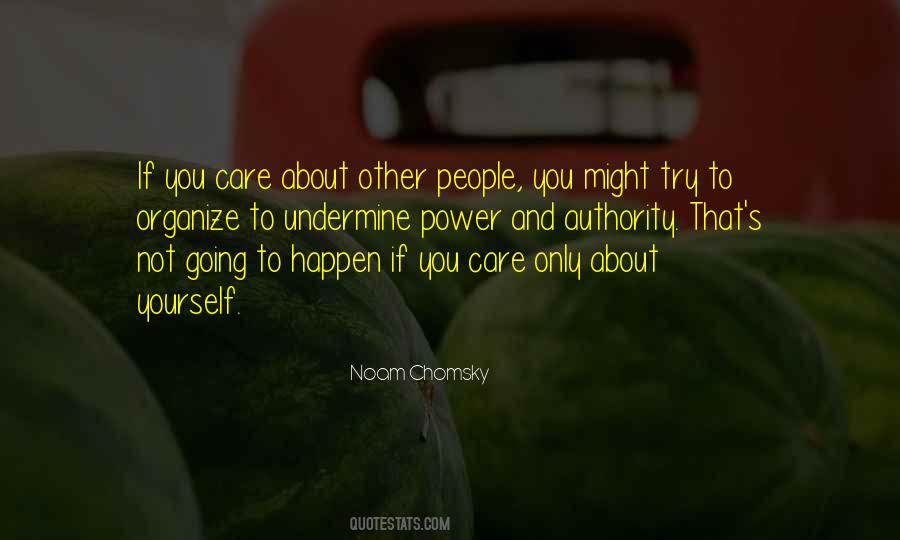 #2. Then teach me how to not care about someone who was everything to me. All I want is to know she's okay. Is that too much to ask? - Author: Ellen Hopkins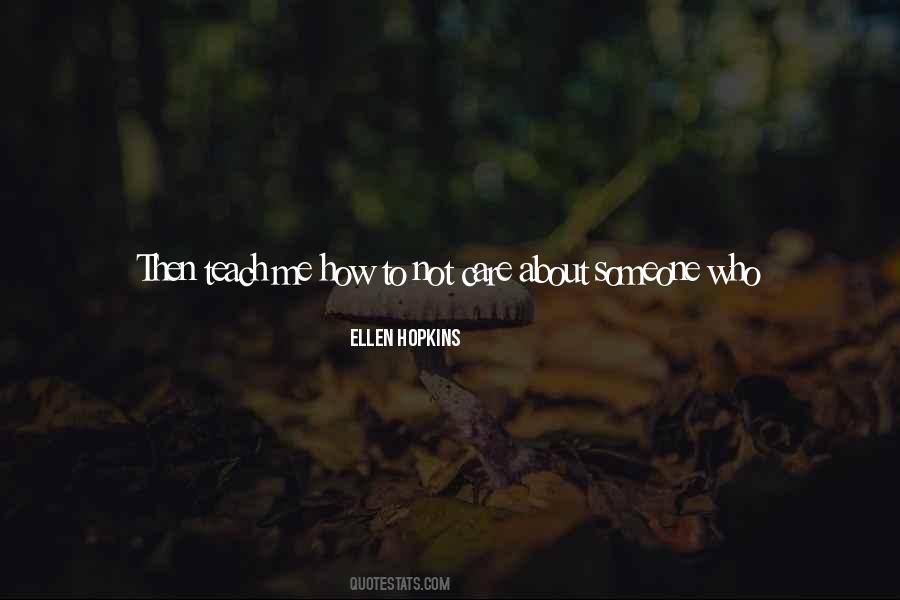 #3. There's nothing less than that. I don't care about just going to the playoffs; I've been to the playoffs before. - Author: Allen Iverson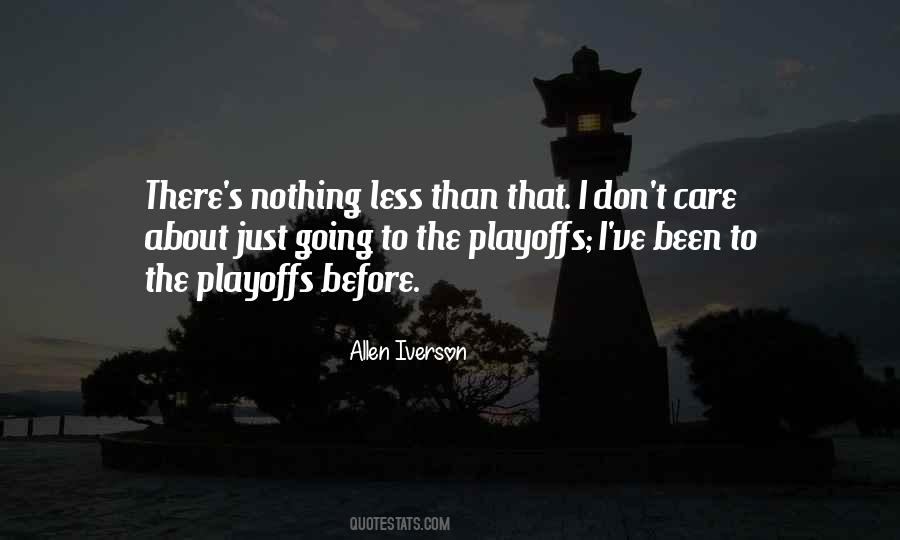 #4. I kept telling myself this word, process. Focus on my process, don't care about the result. - Author: Rory McIlroy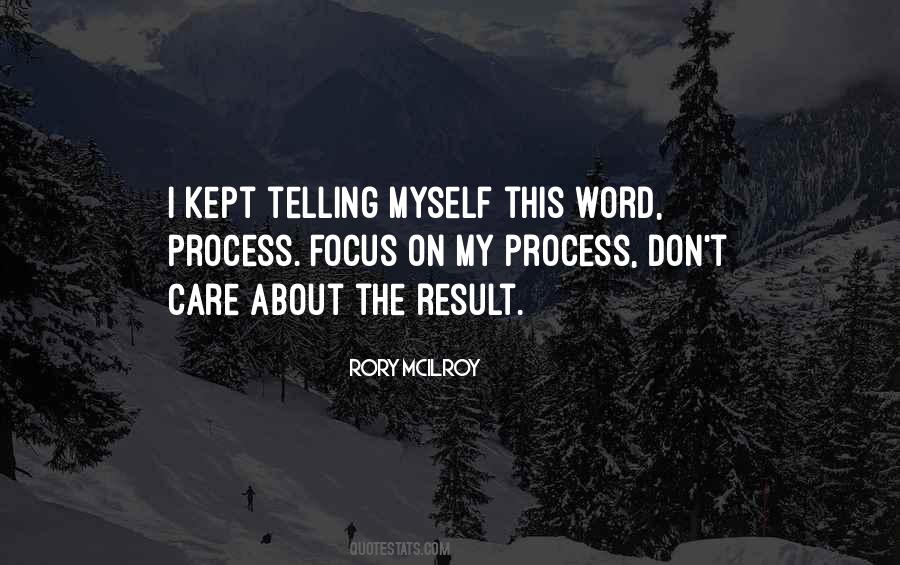 #5. We continue to fight for good jobs that pay well and jobs that last. Helping to get folks back to work is about helping them to regain their dignity and pride. That's what families care about. - Author: Jodi Rell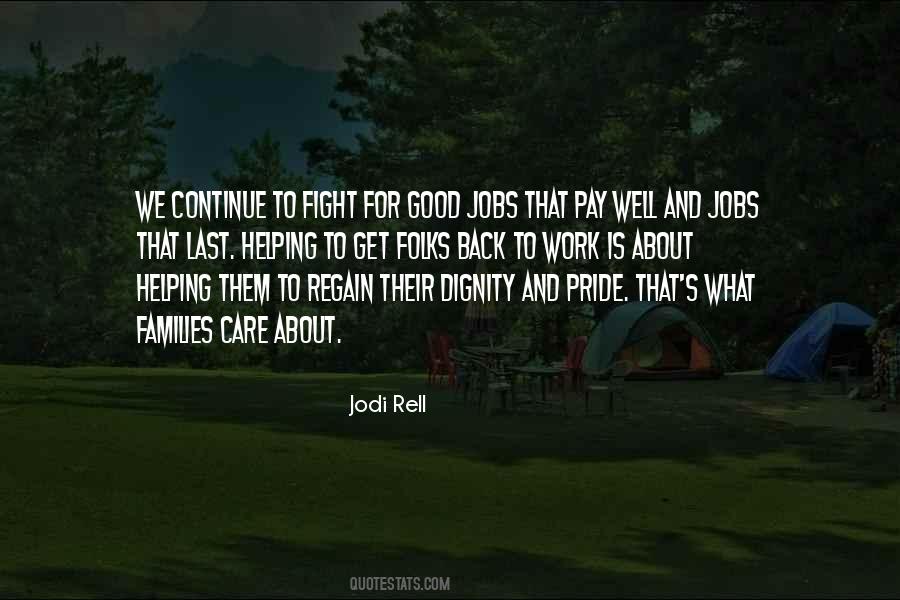 #6. I don't care what Einstein said about God not playing dice; If he exists, he's addicted to craps. - Author: Henry Mosquera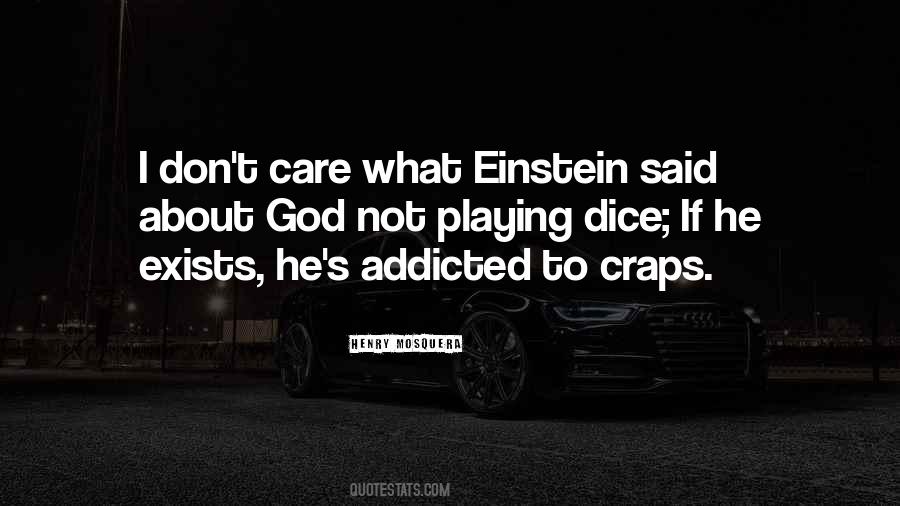 #7. If you care about what you do, you don't want to let people down. - Author: Michael Learned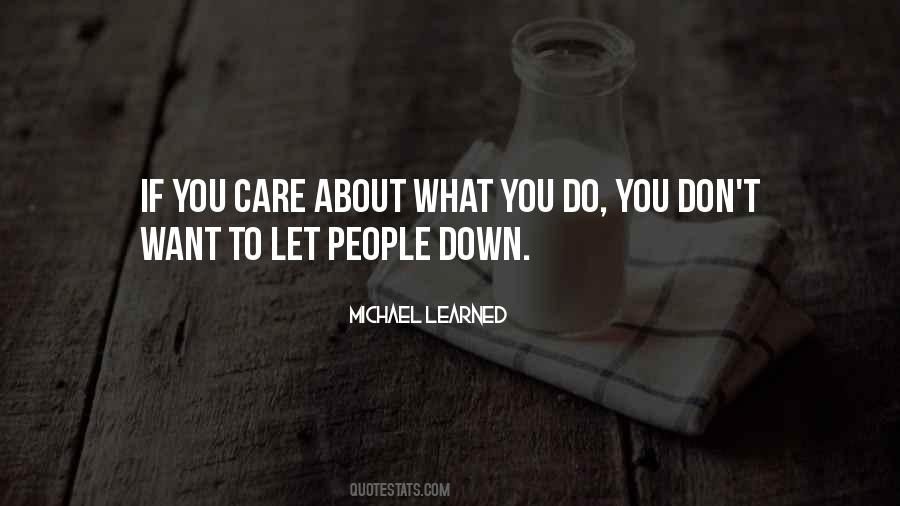 #8. So: this is where we are going to become parents. You walk into the building as a couple, and leave a few minutes later as a family. You walk in recollecting long romantic dinners, nights at the theater, and care-free vacations. You leave worrying about where to get diapers, milk, and Cheerios. - Author: Scott Simon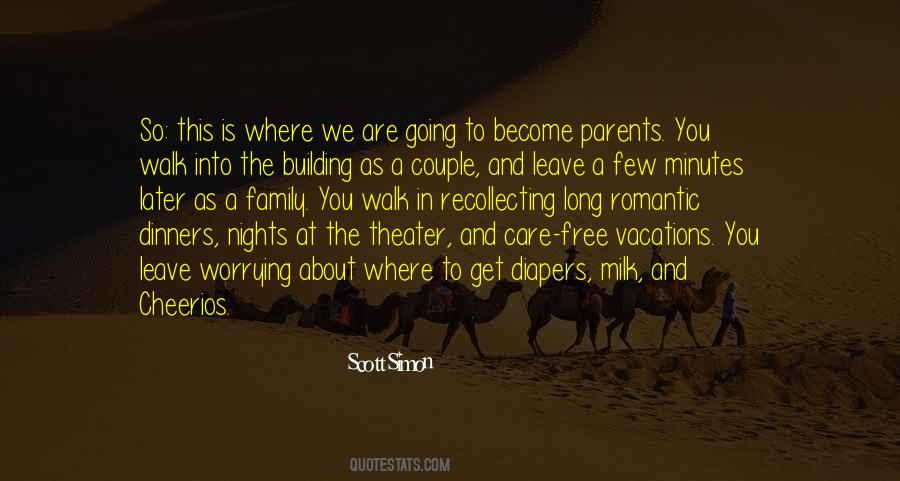 #9. Cabot Searcy began to care about learning not for the sake of making good grades, but because he still wanted to change the world. - Author: John Corey Whaley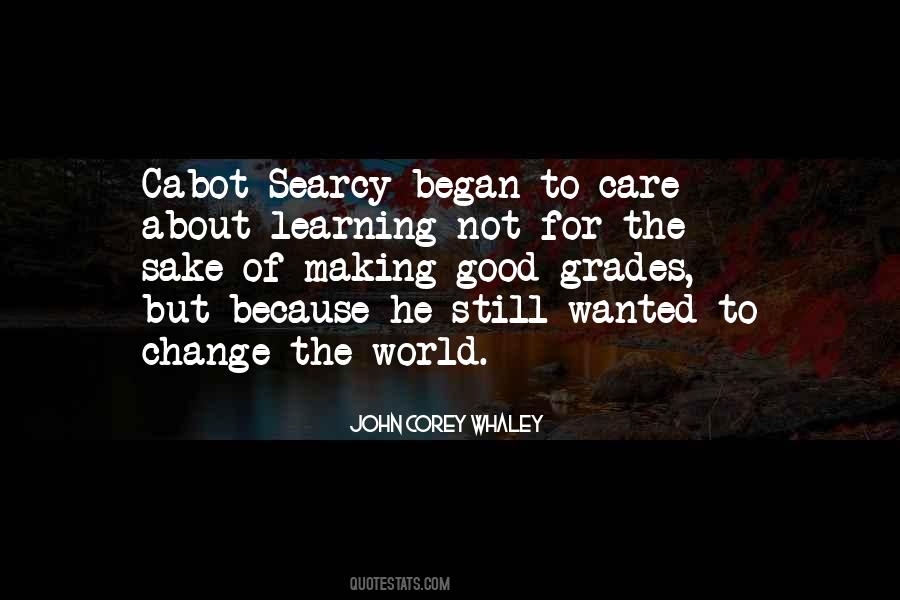 #10. When you love someone, you care about them. If they have a disaster, you don't abandon them. - Author: Julie Nixon Eisenhower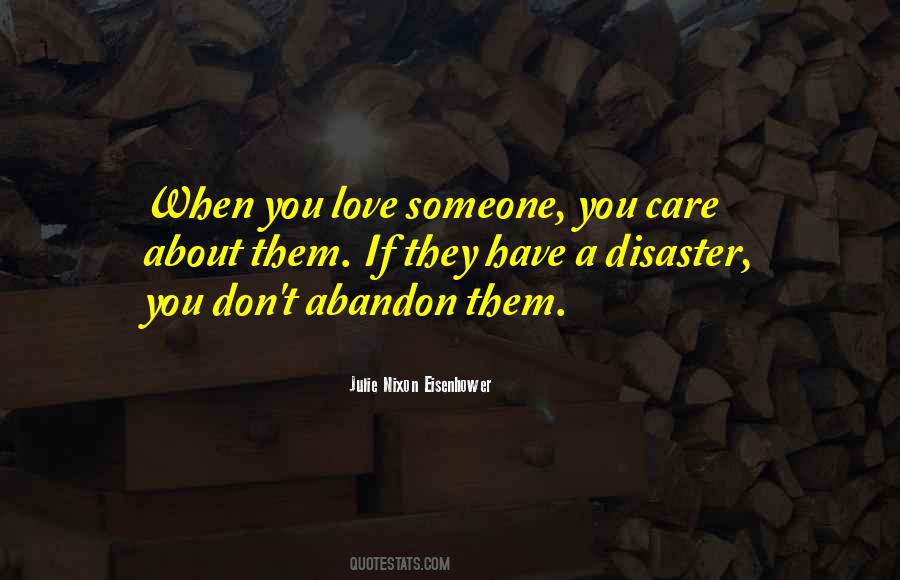 #11. I am indeed completely nuts, but that doesn't mean I don't care about how I look. Sometimes, I admit, I will privilege appearance over comfort. - Author: Russell Smith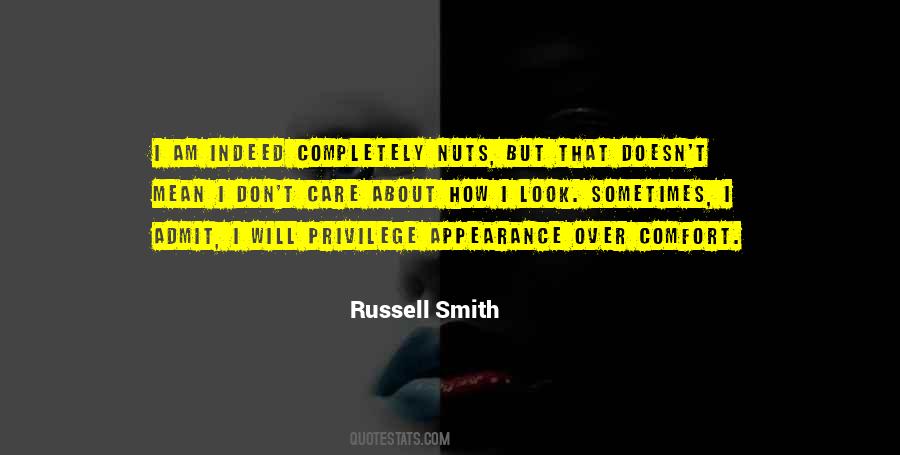 #12. If you take care of yourself, 60 is nothing for women these days. In today's world you can be the kind of woman you want to be ... Of course, I've aged a bit in the face, but not enough to worry about it. I've common sense enough to know that if I'm nearly 70 something has to give. - Author: Tina Turner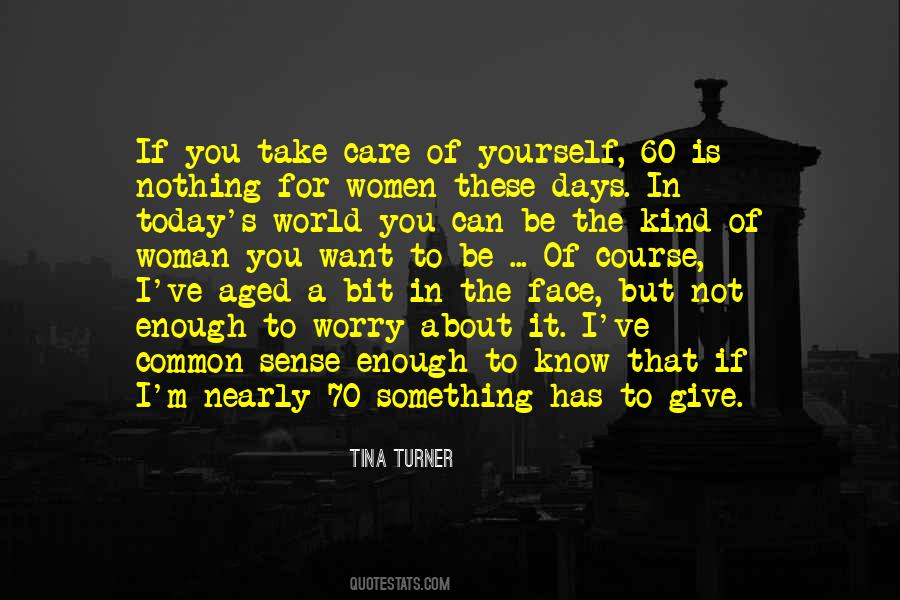 #13. Within the microcosm of a film you get drawn to people. There are certain projects you care enormously about, and 'The Edge Of Love' was one because I was portraying a great hero of mine, Dylan Thomas. - Author: Matthew Rhys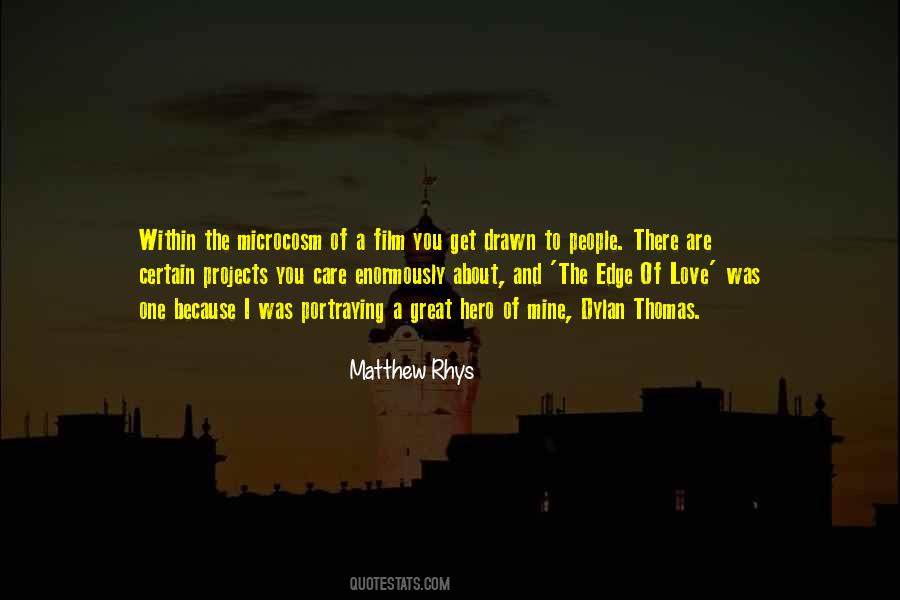 #14. And you shouldn't choose to care about someone. There shouldn't be a time and a place for it. Either you do or you don't. Don't try." He looks off. "There can be falseness in trying to do something that should come naturally to people. - Author: Celia Mcmahon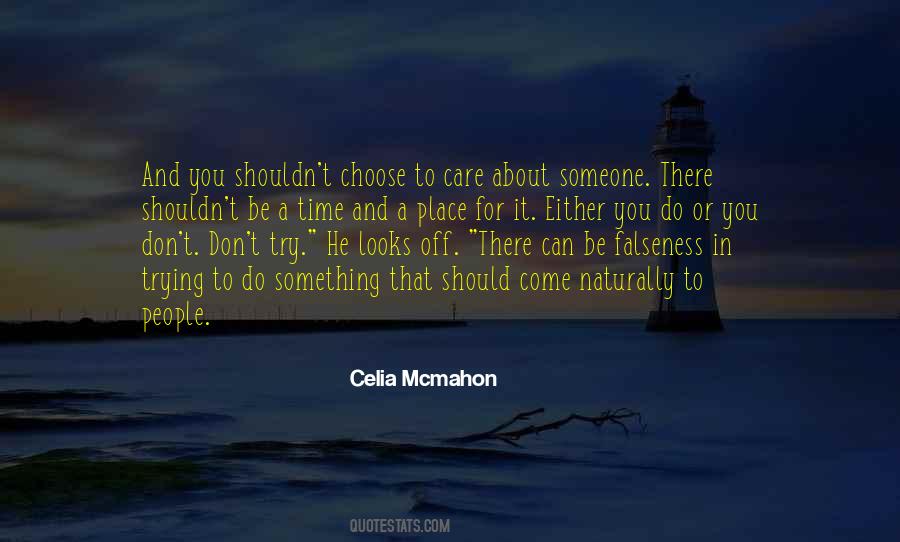 #15. You can't test great advertising. You can only test the mediocre. Not that I don't care about demographics. You have to understand who you're going after. - Author: George Lois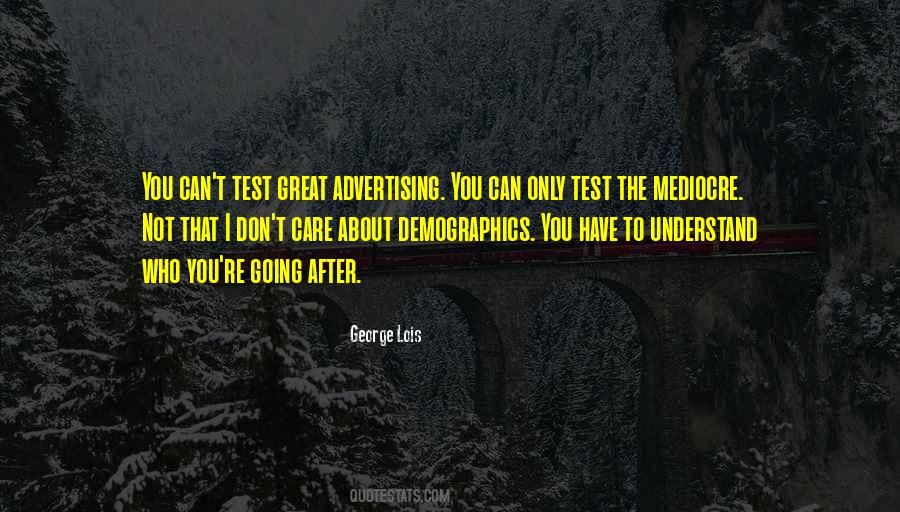 #16. There will be times when it seems that it would be best to just call him and see how he's doing. Don't deceive yourself, you don't care about how he's doing, you're just craving him, don't do it. You'll only hurt yourself. - Author: Osayi Emokpae Lasisi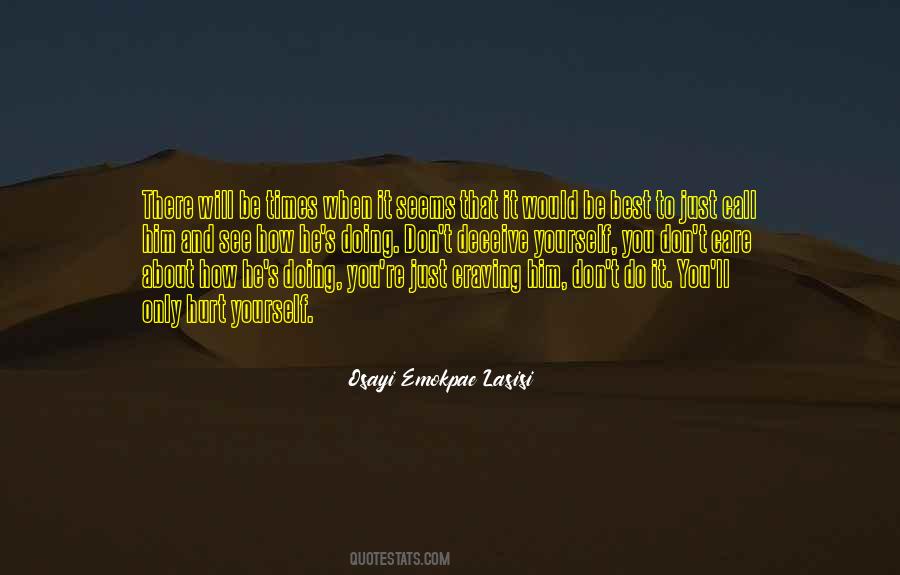 #17. Monsanto doesn't care about feeding the world. We have to think about the wage slavery of migrant workers and salary slavery of those who are desperately unhappy. - Author: Wendell Berry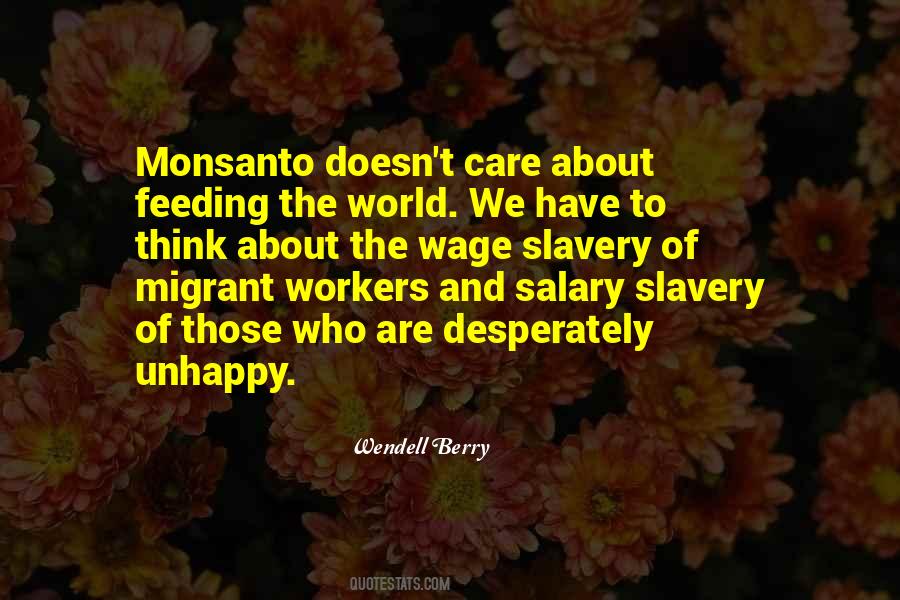 #18. This truth remains: Only those you care about can hurt you. You expect more from them-after all, you've given more of yourself to them. The higher the expectations, the greater the fall. - Author: John Bevere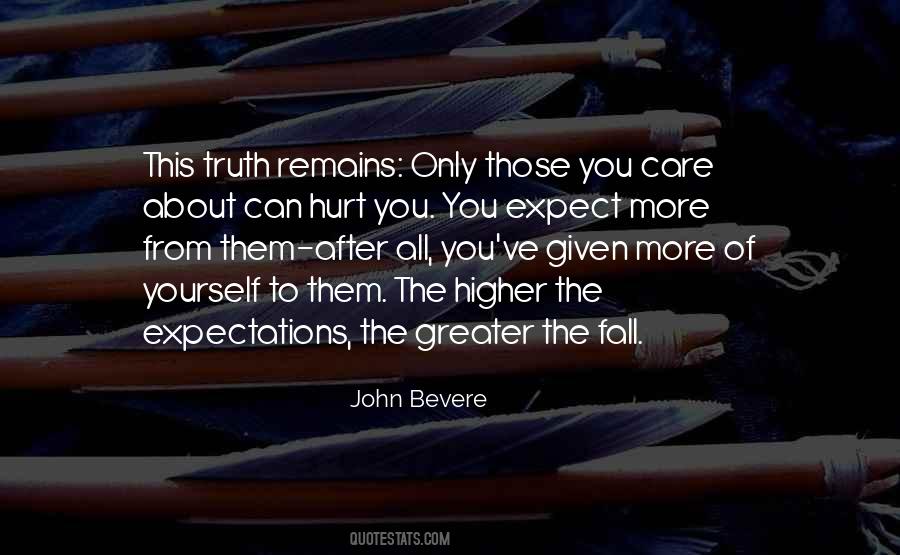 #19. You can only take care about someone else,
when you take care of yourself.
Petra Cecilia Maria Hermans
Worldpoet 546
October 3, 2016 - Author: Petra Hermans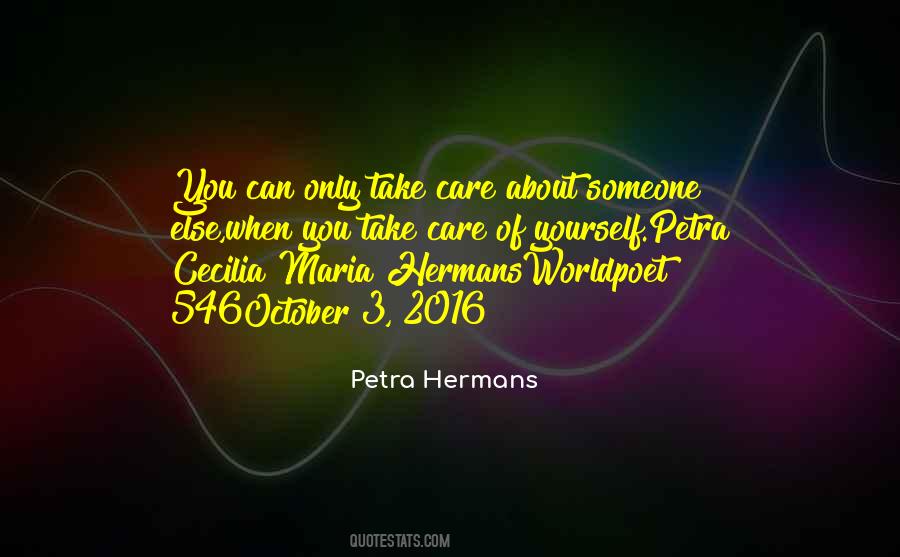 #20. You don't have to wait till the beginning of a new year to make resolutions for yourself. It's all about loving and taking care of the only body you will ever have ... cherish it, love it, embrace it ... Because when you do ... It begins to show. - Author: Demi Lovato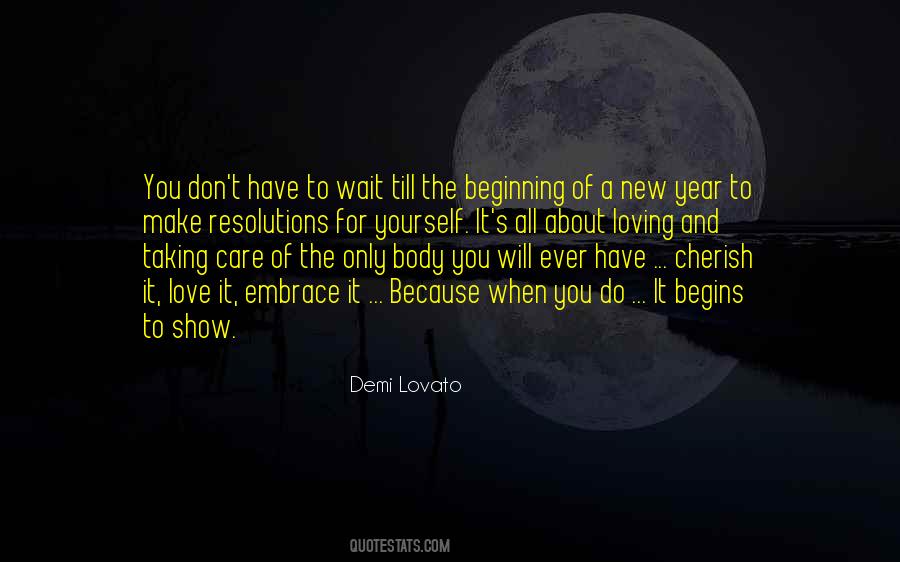 #21. This is what you have to ask yourself: Do you want to be good, or just seem good? Do you want to be good to yourself and others? Do you care about other people, always, sometimes, never? Or only when convenient? What kind of person do you want to be? - Author: Charles Yu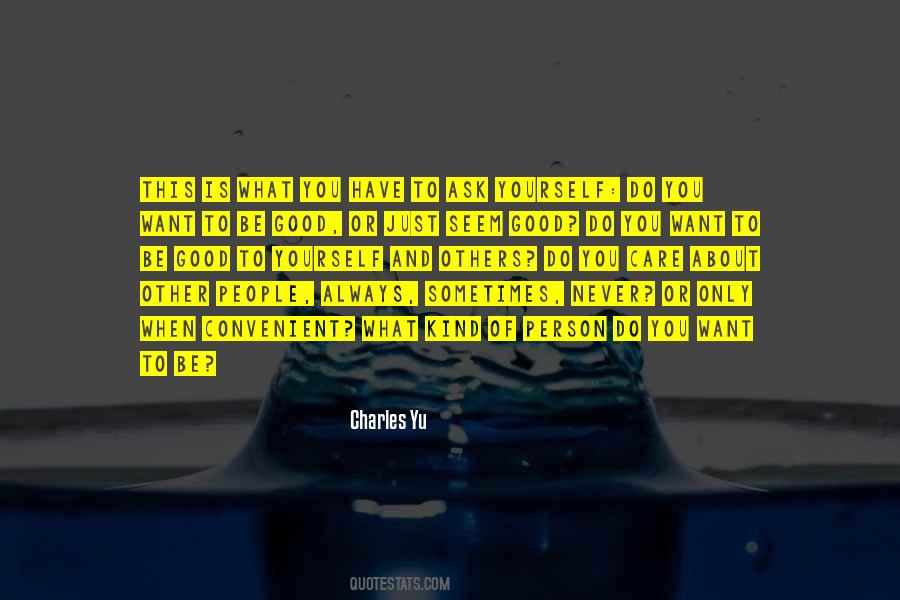 #22. If you care about yourself, you should care about learning - even learning simple things. You come to have pride in yourself only by accomplishing things, even from fixing some old stairs ... Others can't grant you self-respect, even others who care about you. You have to earn self-respect yourself. - Author: Terry Goodkind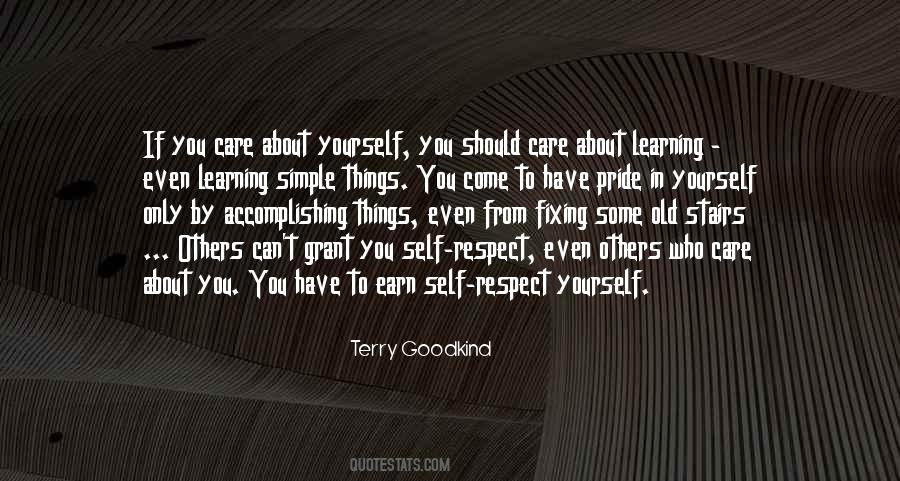 #23. Sometimes in life you really have to start taking care of yourself even if it means hanging around only those people that really cares about you". - Author: Abdulazeez Henry Musa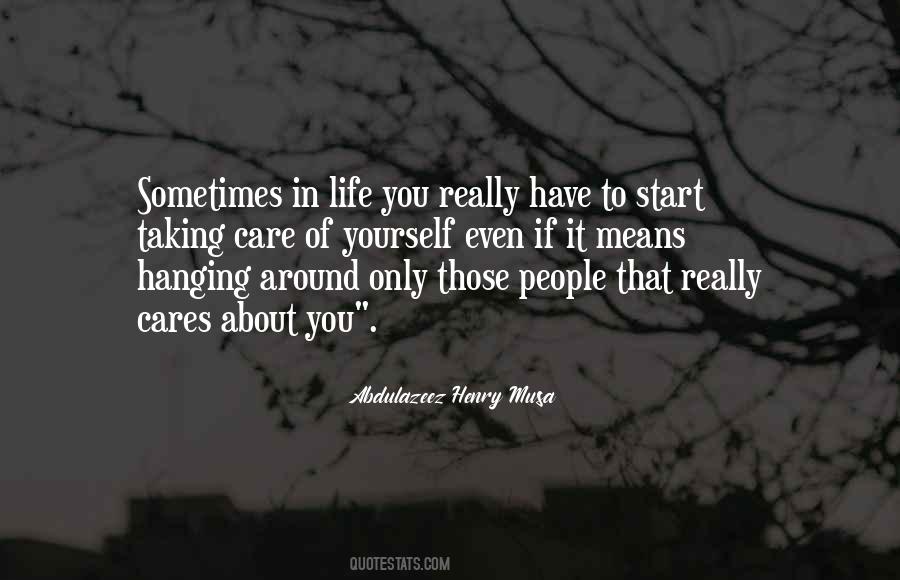 #24. Letting go doesn't mean that you don't care about someone anymore. It's just realizing that the only person you really have control over is yourself. - Author: Deborah Reber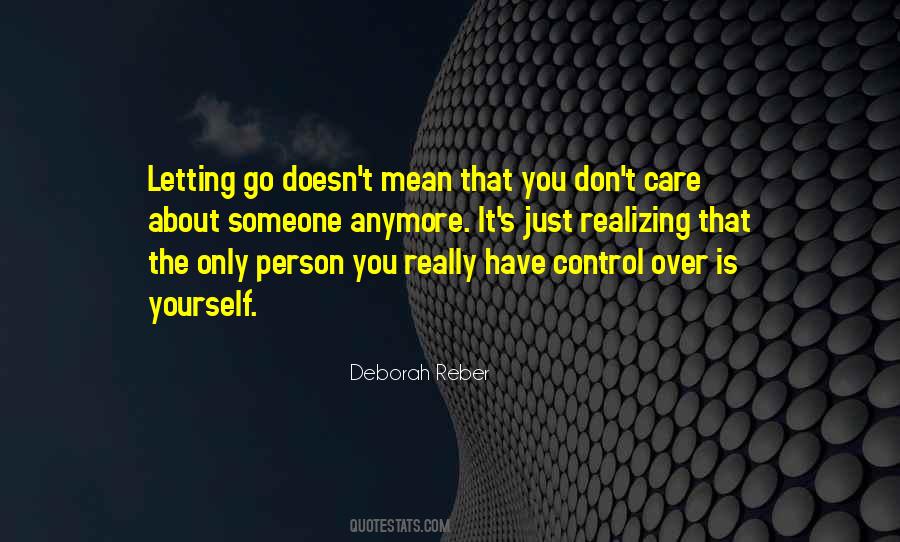 #25. I recognize that I have the ability to be selfish, but I also recognize that you can't be happy if you only care about yourself at the expense of other people. - Author: Russell Brand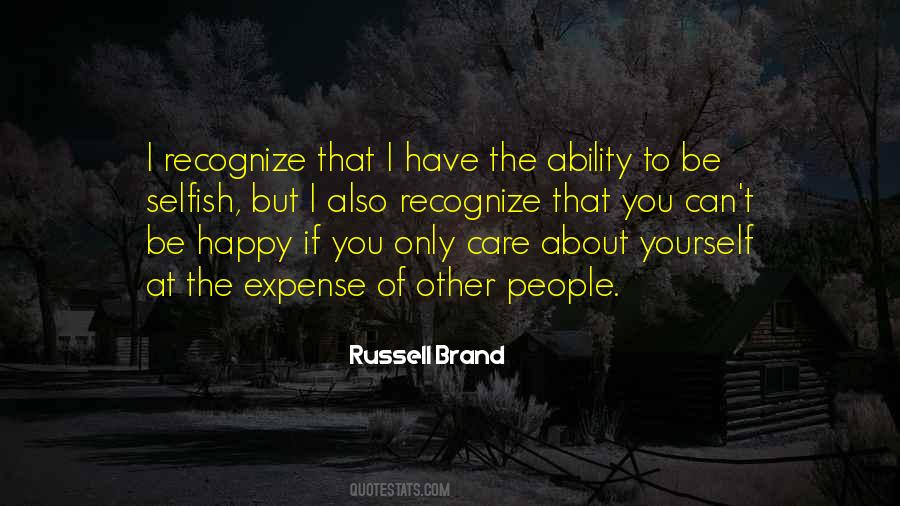 #26. Never stop learning, and always be ready to teach yourself things you don't know. The only things you will remember are things you care about. - Author: Jonathan Tepper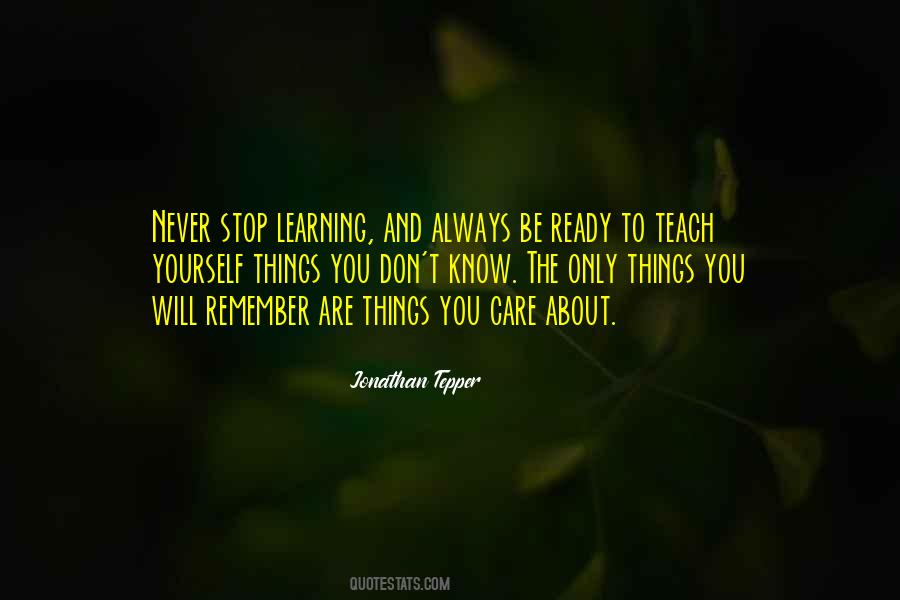 #27. That, dillop brain, is what getting close to the Darke does. It makes you think only of yourself. It takes you away from people you care about. And now you don't have anyone to talk to and it serves you right. - Author: Angie Sage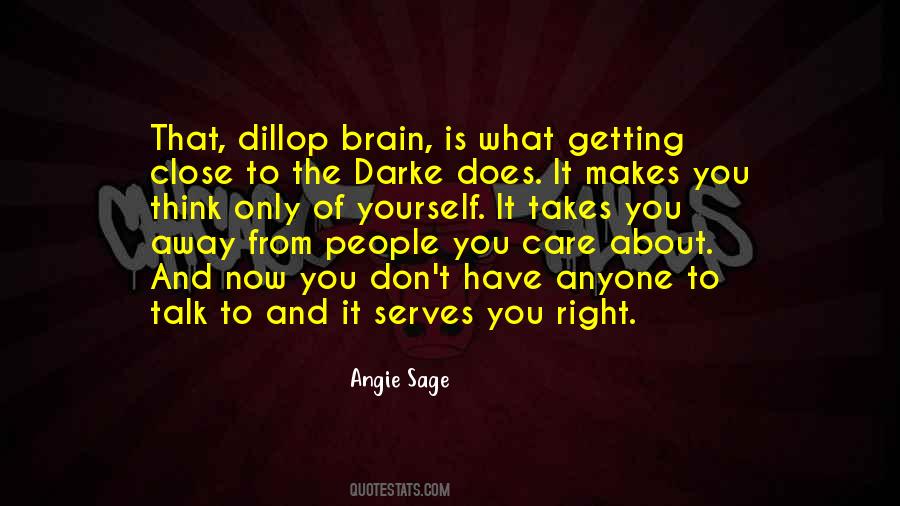 #28. When I was 20 or 21, I didn't ... I won't say care about anything, but you're like in your own world - you made something that you always wanted to do, and then you kind of think only about your family and yourself. - Author: Thierry Henry
#29. Don't care what people think about you, Only care what you think about yourself.As we knows ourselves better than anyone.. - Author: Debolina Bhawal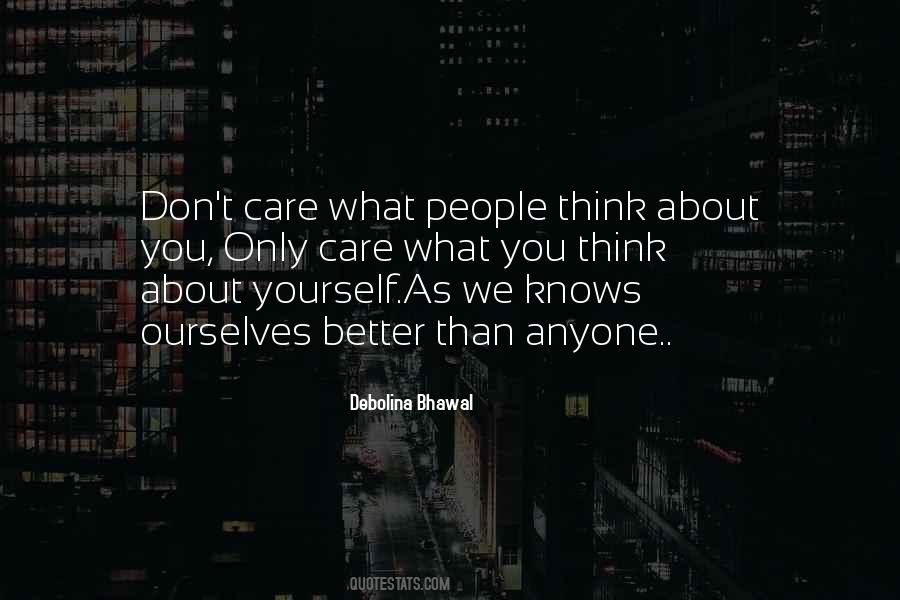 #30. The only thing that works with writing is that you care so passionately about it yourself, that you make someone else care passionately about it. - Author: Judy Blume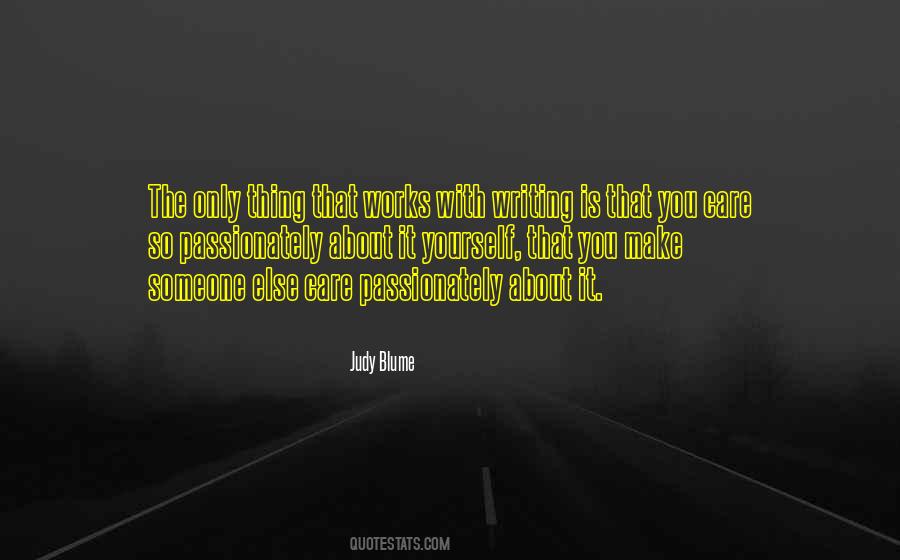 #31. Don't lose yourself to anger. It's gasoline. You can burn it as fuel, or you can use it to torch everything you care about and end up standing on a scorched battlefield, with everybody dead, even you-only your body doesn't have the good grace to quit breathing - Author: Karen Marie Moning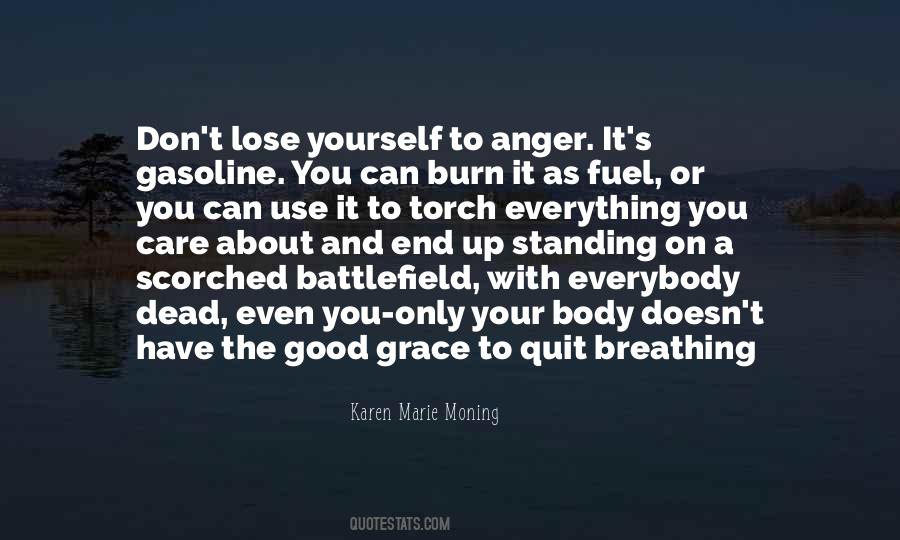 #32. What you have is Mitt Romney running around the country saying 'Well, you know, my wife tells me that what women really care about are economic issues, and when I listen to my wife, that's what I'm hearing.' Guess what? His wife has actually never worked a day in her life. - Author: Barack Obama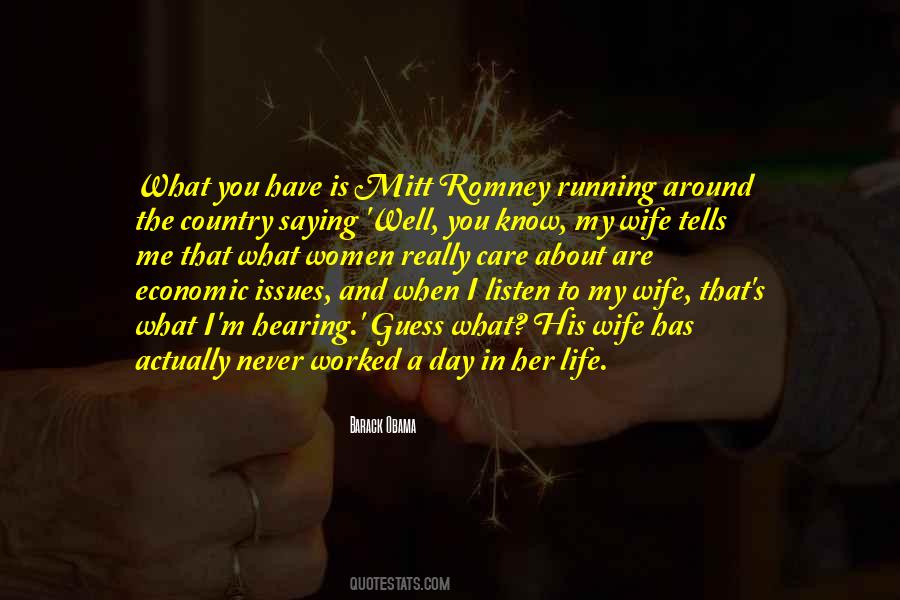 #33. 'American Playhouse' is very supportive of writers. That's really why writers like to write for 'American Playhouse' for very little money. They care about making your play, your script, not some network production. We're treated like playwrights, not like fodder for some machine. - Author: Terrence McNally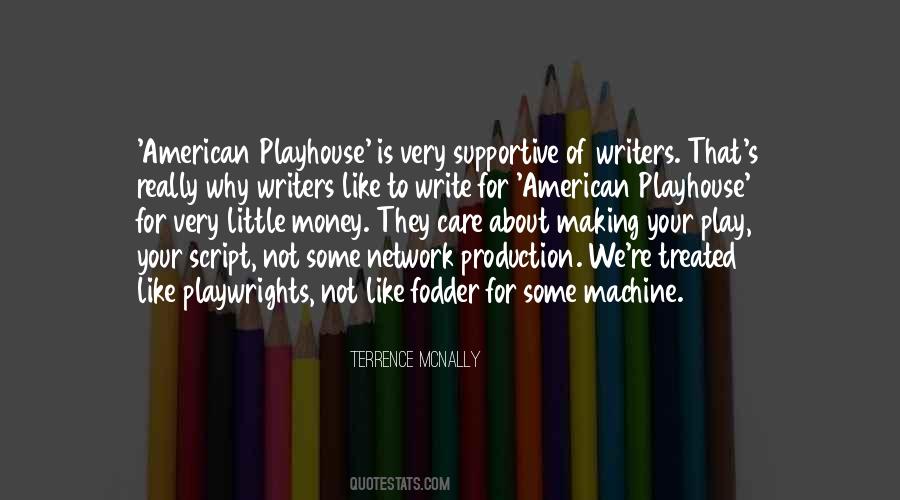 #34. I can't seem to make myself care about anything to the right or left of the present. - Author: Isaac Marion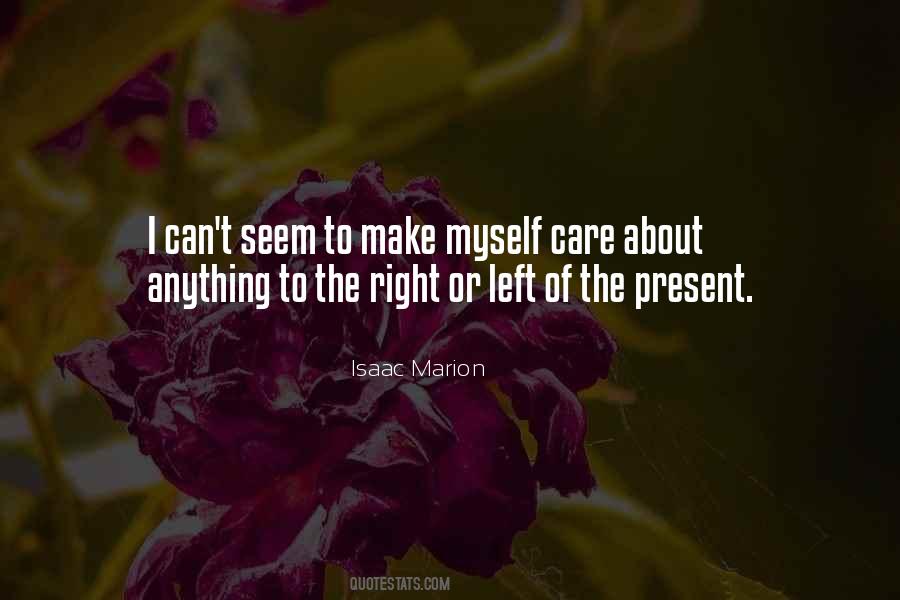 #35. Society just doesn't care about young people anymore, even if we are the future. - Author: Erin Gruwell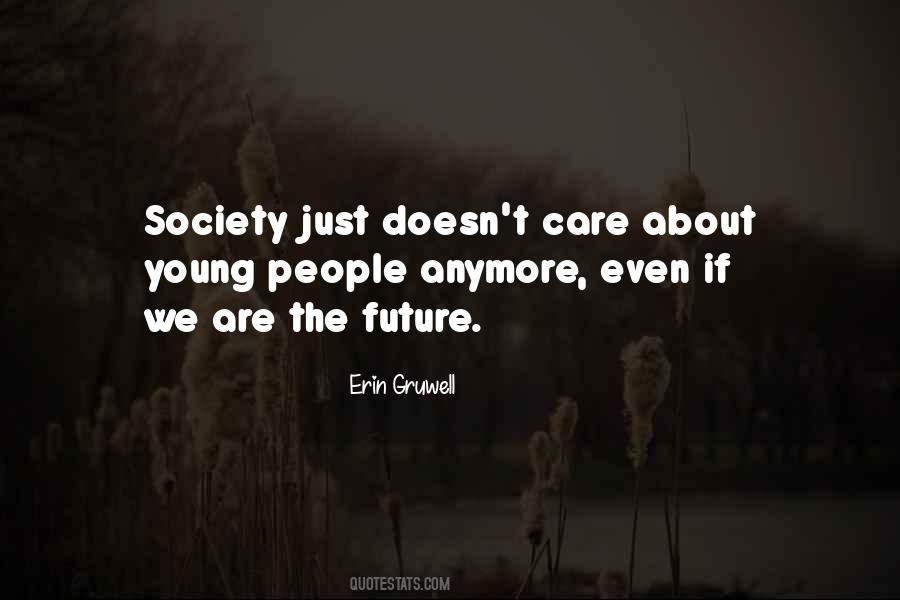 #36. I didn't care that we'd caught a few stares from students passing by. I didn't care that the bell to begin class rang. I didn't care that everything between us had changed. All I cared about was the fact that no matter how hard I tried, I couldn't get any closer to Jack. - Author: Brodi Ashton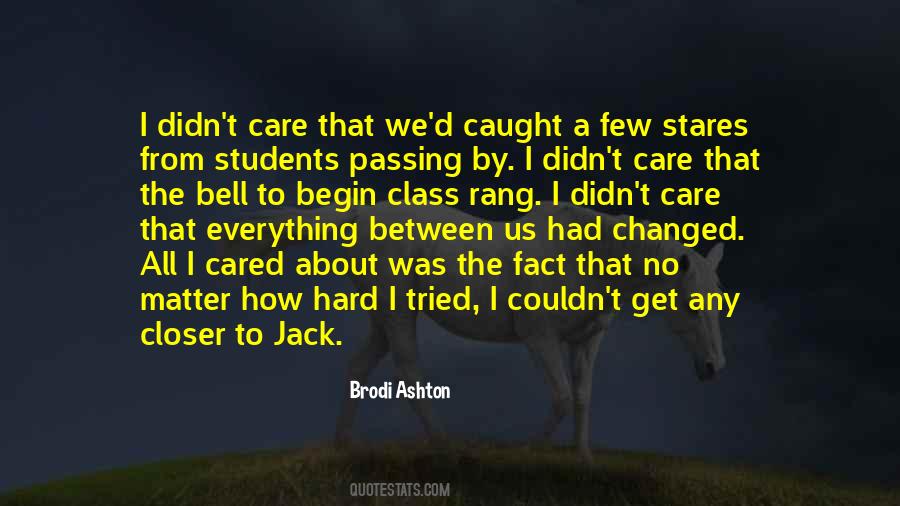 #37. I don't care about the weight. You know, I'm lucky; I'm one of those people - I can eat donuts, whatever, and I just get fat. - Author: Louis C.K.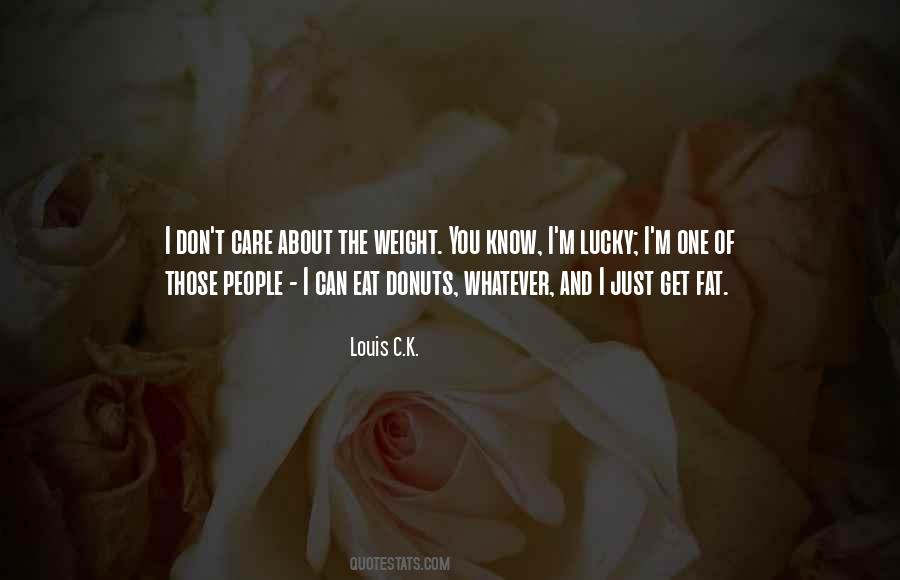 #38. There was no one to comfort the children, no one to embrace them, no one to love them. Care and control were what the dormitories were all about, not love and affection. - Author: Ruth Hegarty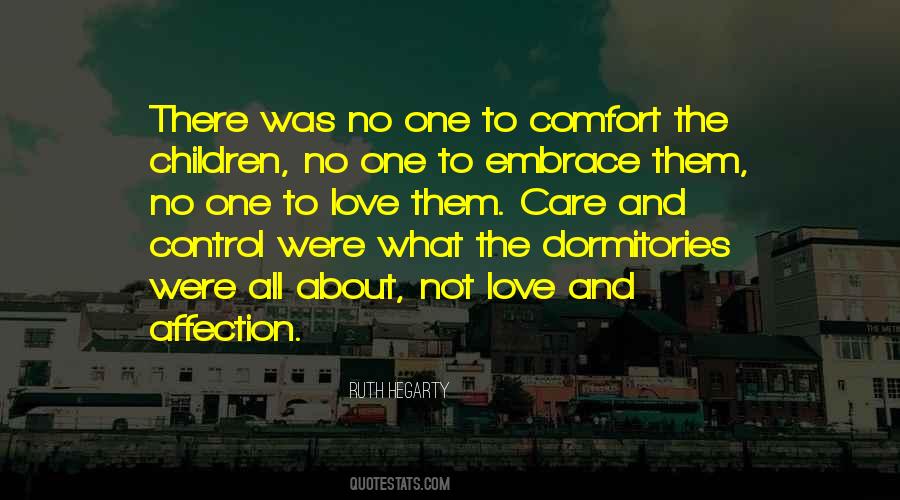 #39. To be a good writer, you not only have to write a great deal but you have to care. You do not have to have a complicated moral philosophy. But a writer always tries, I think, to be a part of a solution, to understand a little about life and to pass this on. - Author: Anne Lamott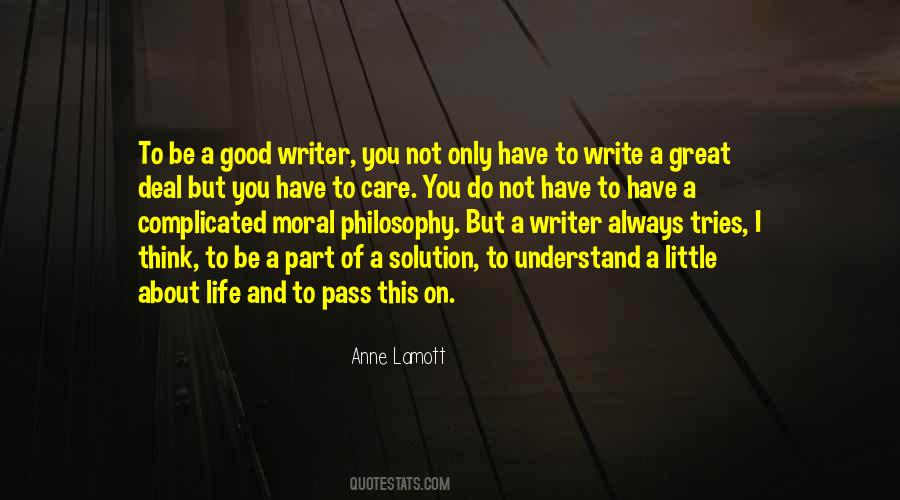 #40. I'm a sci-fi fan, and I guess you have to let go of some of that at some point, and realize that as long as you're focused on telling a story that you care about, at the end of the day, that's what really matters, even to hard-core sci-fi fans. - Author: Rian Johnson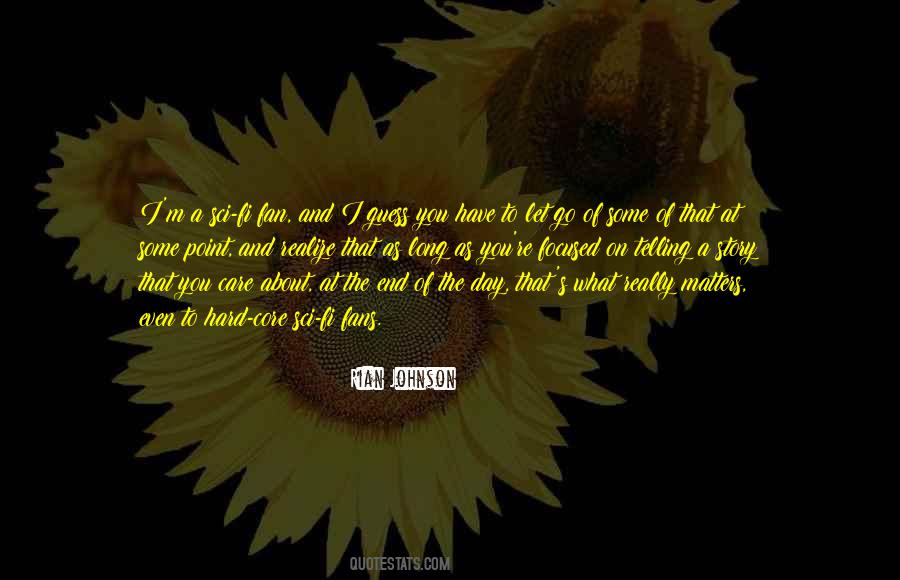 #41. I'm passionate about the issues that I care about, and I'm a really good listener. - Author: Alan Lowenthal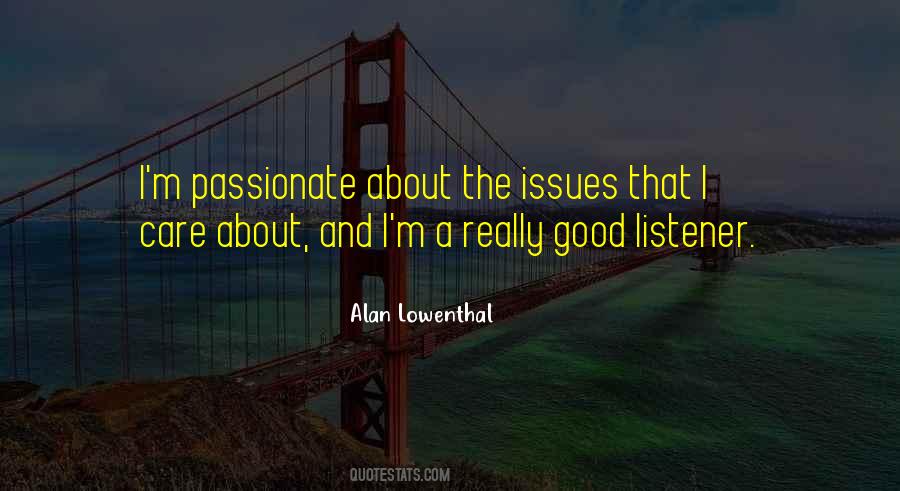 #42. Finally, we can accept this stunning, irrevocable truth: Our Lord can lift us from deep despair and cradle us midst any care. We cannot tell him anything about aloneness or nearness! ... He who cannot lie, will atteast to our adequacy with the warm words, Well Done. - Author: Neal A. Maxwell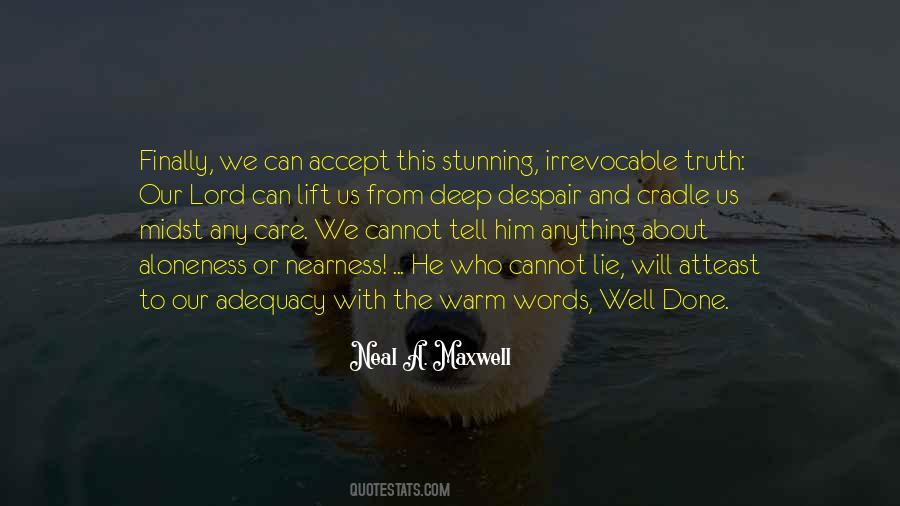 #43. I don't care about what brand you are, I'm concerned what type of man you are, what your principles and standards are. - Author: Mos Def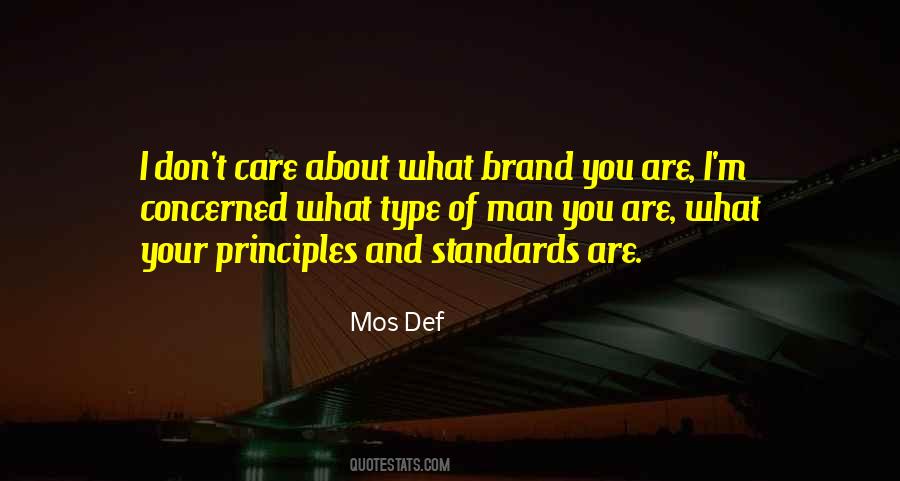 #44. Immortality of the soul is something of such vital importance to us that one must have lost all feeling not to care about knowing the facts of the matter. - Author: J.P. Moreland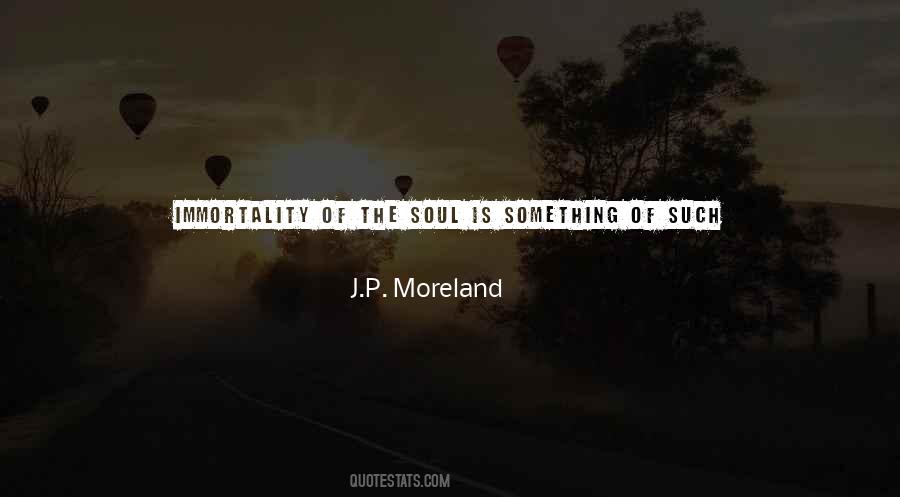 #45. Being a parent is not for the faint of heart. I may joke about knowing fear, but the fact is, the first time I ever knew real fear was the day Charlotte, my first child, was born. Suddenly there is someone in the world you care about more than anything. - Author: Harlan Coben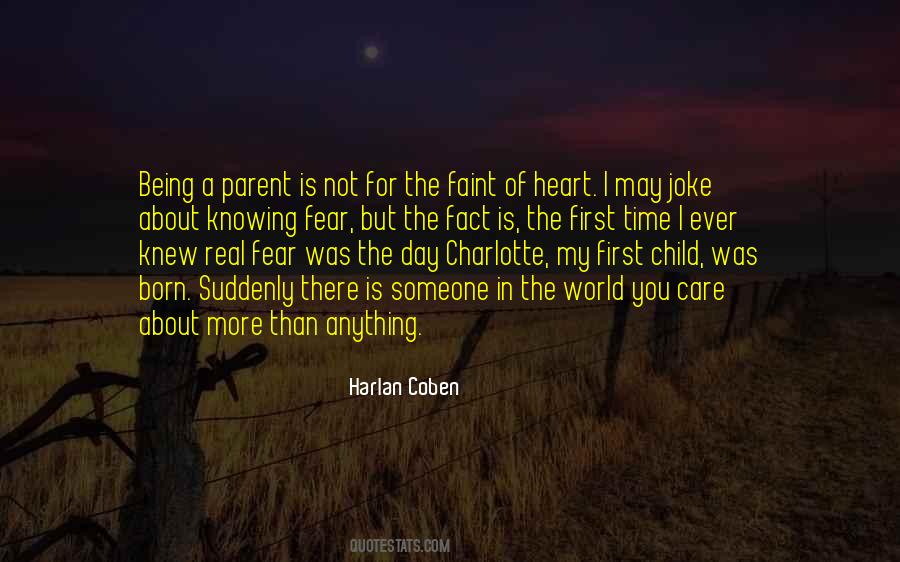 #46. I love dogs. They live in the moment and don't care about anything except affection and food. They're loyal and happy. Humans are just too damn complicated. - Author: David Duchovny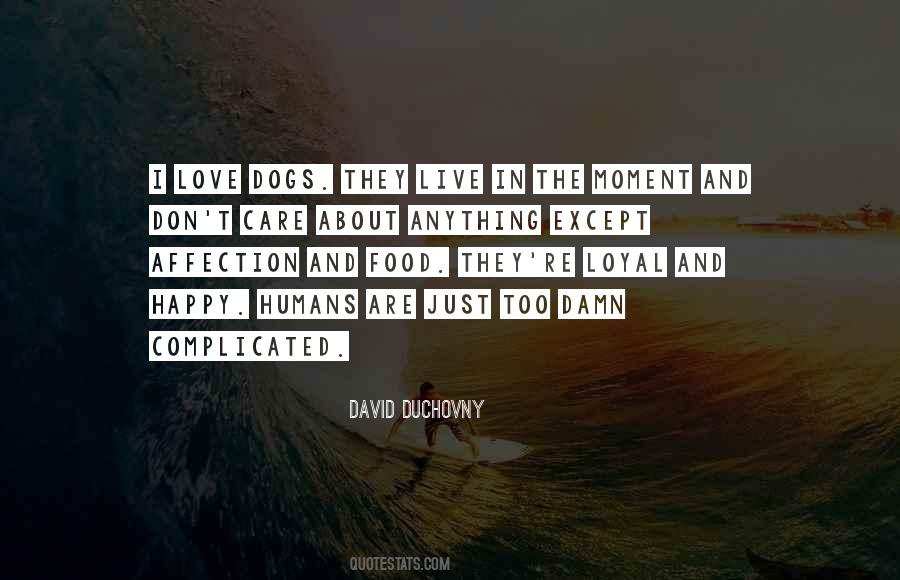 #47. People were concerned about national security, and that precluded us from having the opportunity to break through on the issues that we cared most about - the economy, education and health care. - Author: Tom Daschle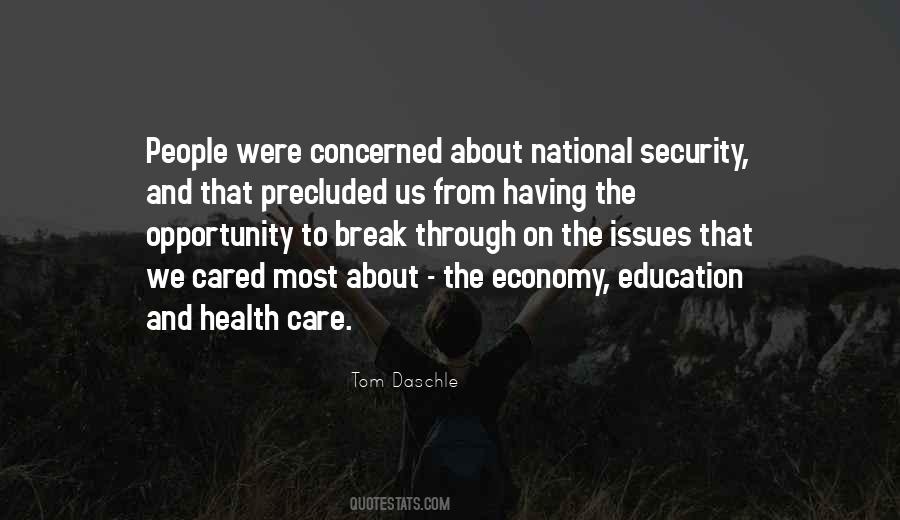 #48. Rappers hate each other, not the labels that got rich,
Don't care about culture, they only want profit.
If your album sell slow, bet you'll get dropped quick;
Q-Tip warned us: the industry's toxic.
For reference, check out BDP's Sex and Violence. - Author: Cormega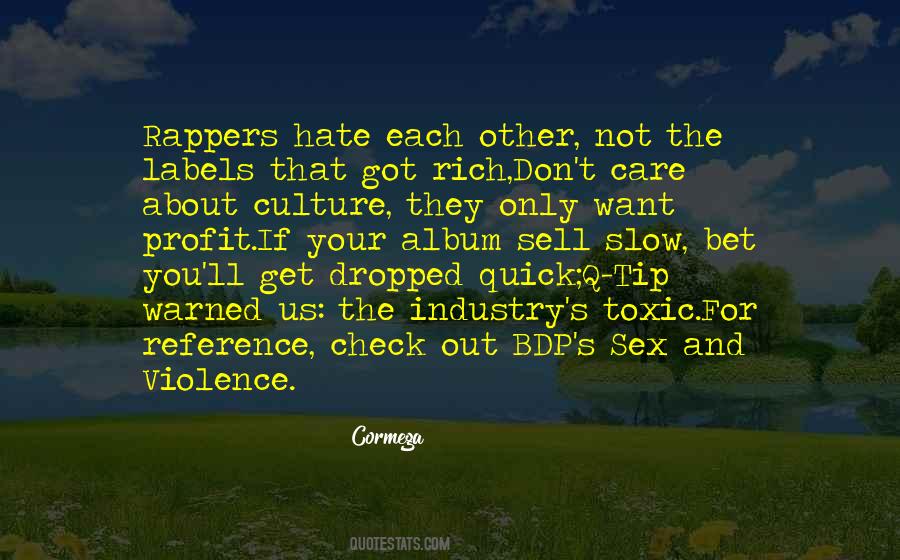 #49. I've learned to accept the fact that my students are far too busy preparing for their own legal careers to care one bit about the off-campus antics of Professor Burke. I get the impression that my students are vaguely aware of my novels, but are at best mildly curious. - Author: Alafair Burke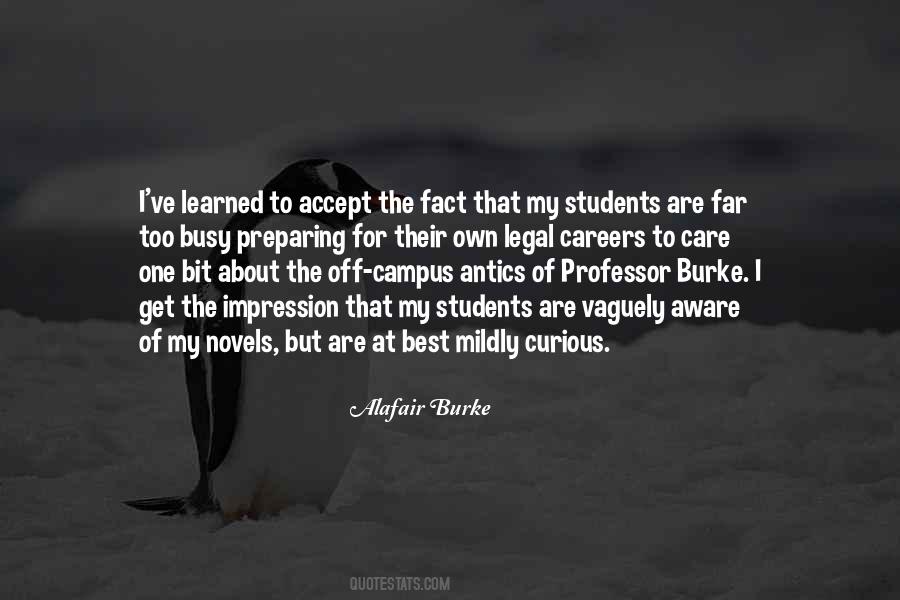 #50. What I look for in a voice is for it to be unique. I don't really care if a singer sings well. Really, it's about emotion, or being able to sing the lyrics and actually mean it. A lot of singers sing good notes but forget about what words they use. - Author: Zedd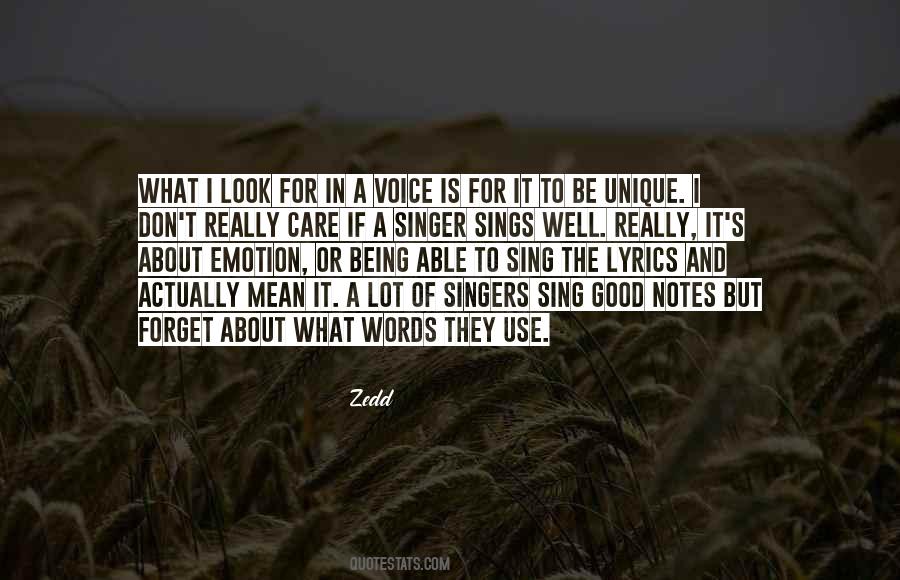 #51. The really important kind of freedom involves attention, and awareness, and discipline, and effort, and being able truly to care about other people and to sacrifice for them, over and over, in myriad petty little unsexy ways, every day. - Author: David Foster Wallace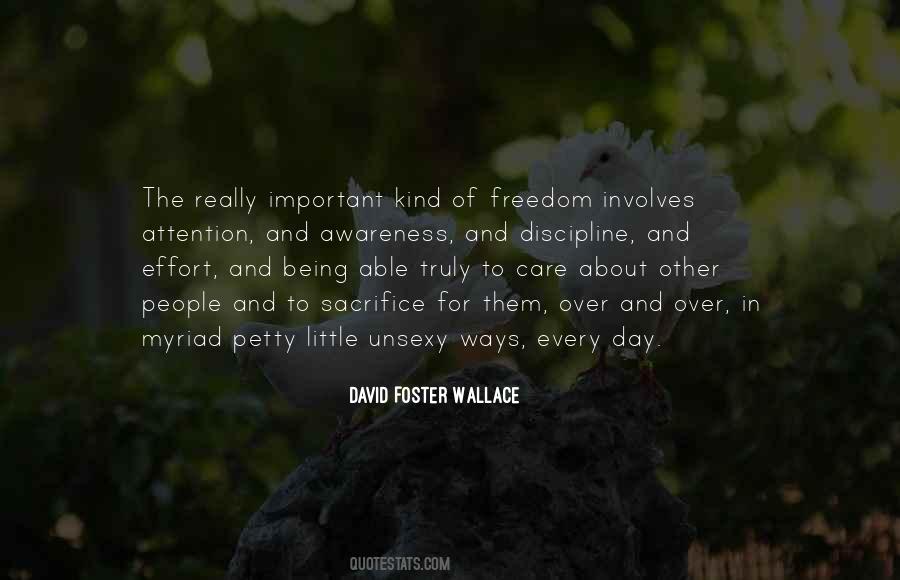 #52. I don't want to make music for people who don't care about music. - Author: T Bone Burnett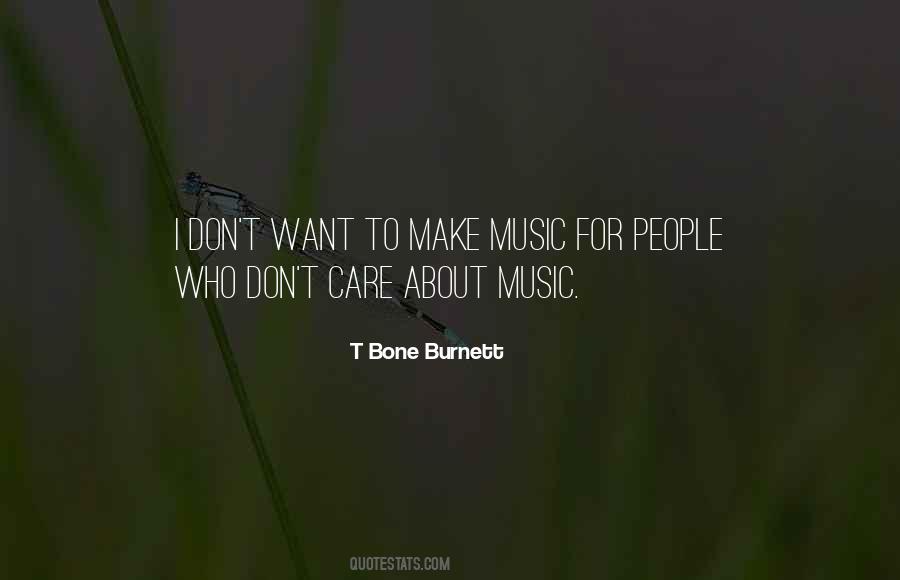 #53. Songwriting is my way of channeling my feelings and my thoughts. Not just mine, but the things I see, the people I care about. My head would explode if I didn't get some of that stuff out. - Author: Dolly Parton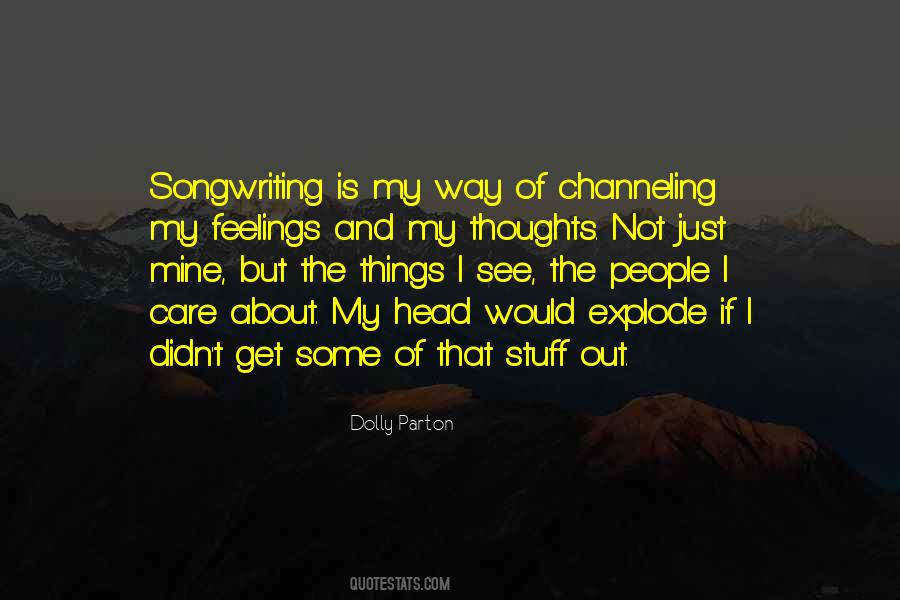 #54. I don't want to be labeled one thing. My main thing I care about is being able to create the things I want to do with my friends, whatever platform that is. - Author: Derek Waters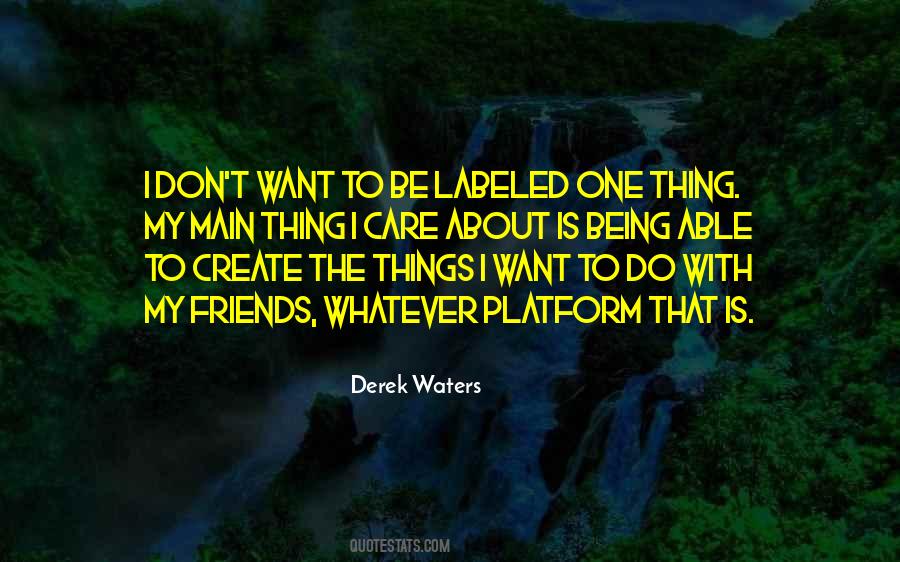 #55. I'm never interested in movies where you don't care about the people you're watching, and that's my biggest quibble about horror, that kids have gotten stupider and stupider. - Author: Joss Whedon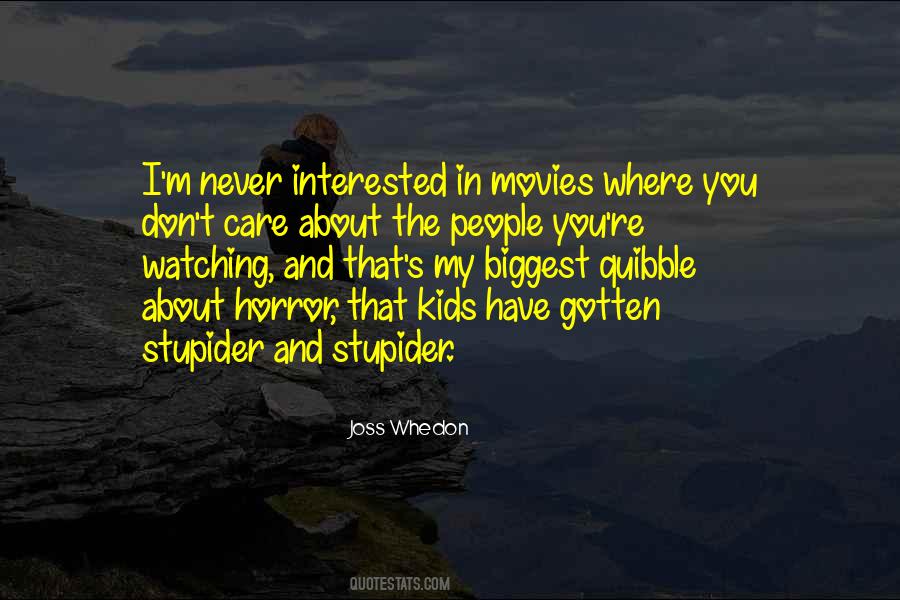 #56. I just watched another person I care deeply about basically turn into Gollum and my heart is broken. - Author: Grimes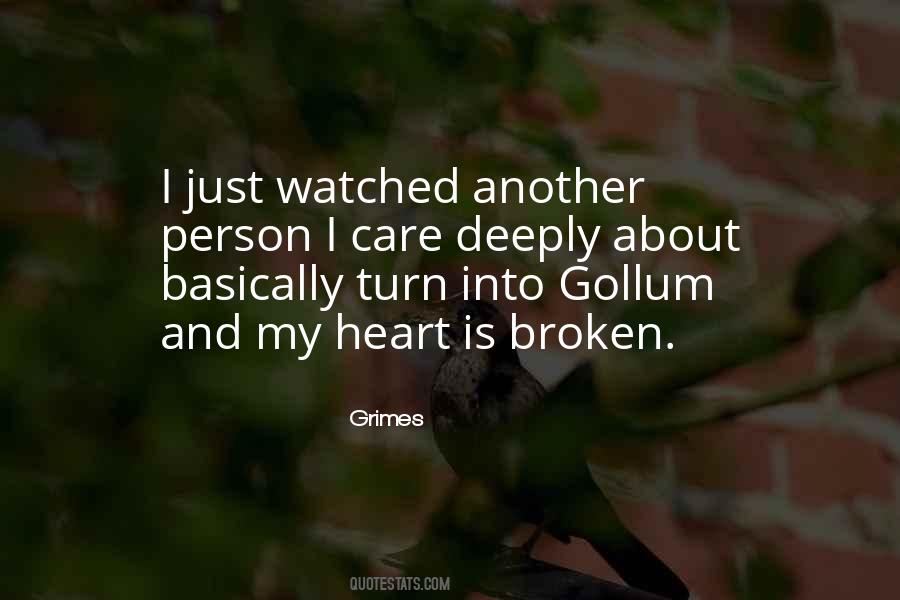 #57. Liberals seem to assume that, if you don't believe in their particular political solutions, then you don't really care about the people that they claim to want to help. - Author: Thomas Sowell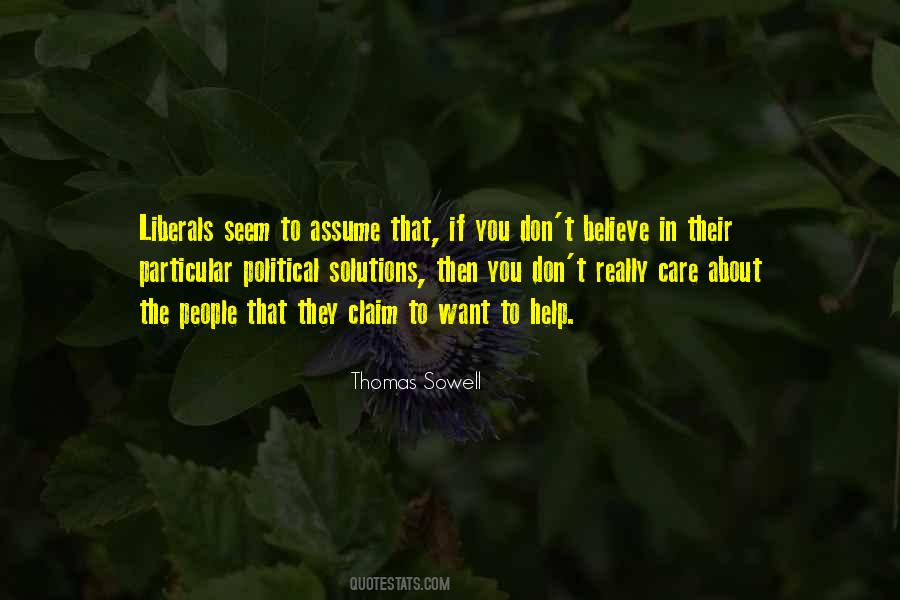 #58. He took a step back, his wings beating the air like mighty drums. As long as the people who matter most know the truth, I don't care about the rest. Get some sleep. - Author: Sarah J. Maas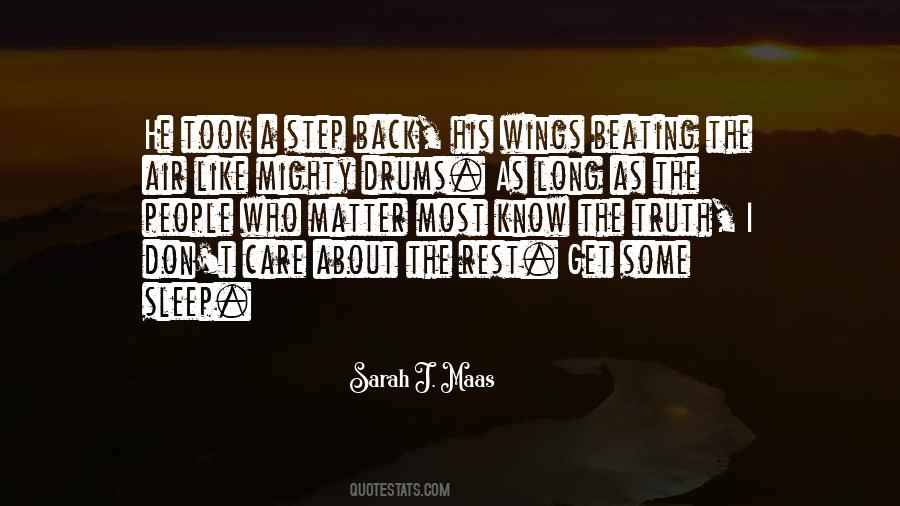 #59. Australians aren't really that crazy; in L.A. you get a little crazier. From my experience at least, Aussies don't really care that much about celebrities or things like that. - Author: Brody Jenner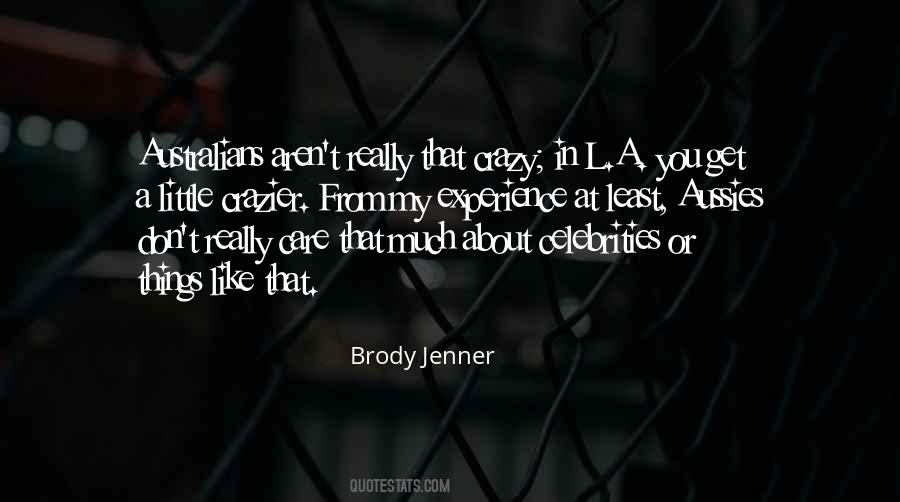 #60. I couldn't care less about sex unless I meet someone who I think is wonderful. - Author: Kirstie Alley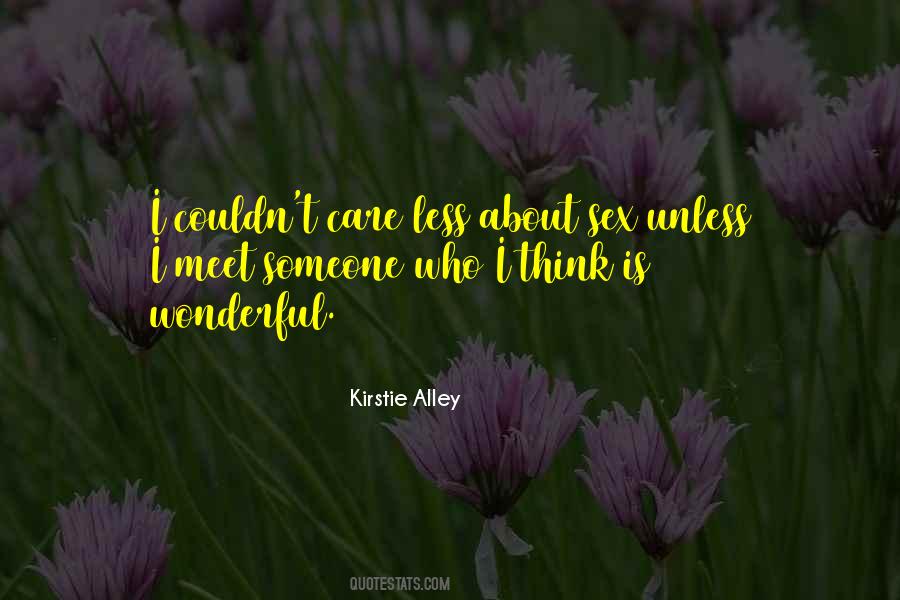 #61. The feathers have been retired to the London Hard Rock Cafe. I don't obsess about it as much. Also, it's strange - the better physical shape I get in, the less I care about what suit I'm covering myself up in. I'm not really out to flaunt it, but I'm just more comfortable in my own skin. - Author: Brandon Flowers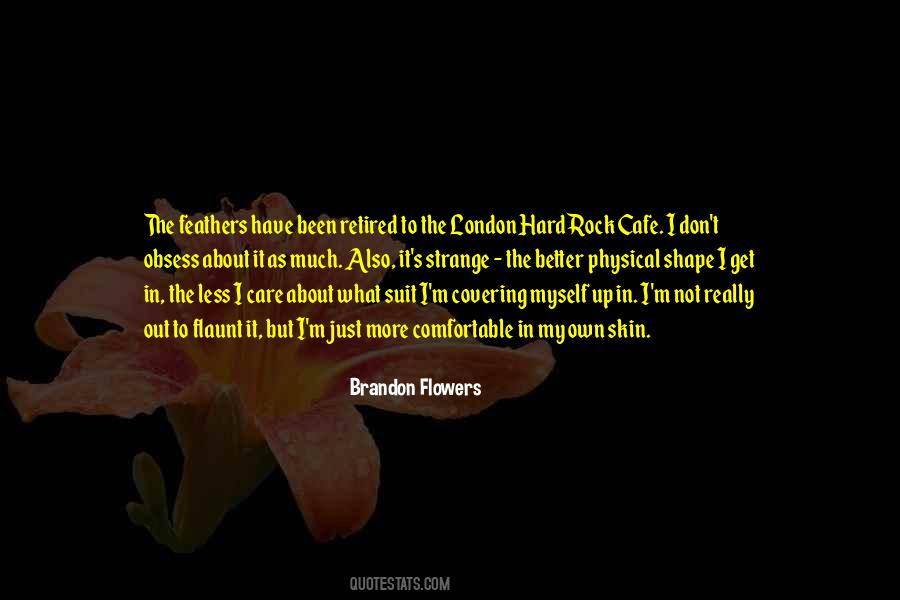 #62. Do a good job. You don't have to worry about the money; it will take care of itself. Just do your best work then try to trump it. - Author: Walt Disney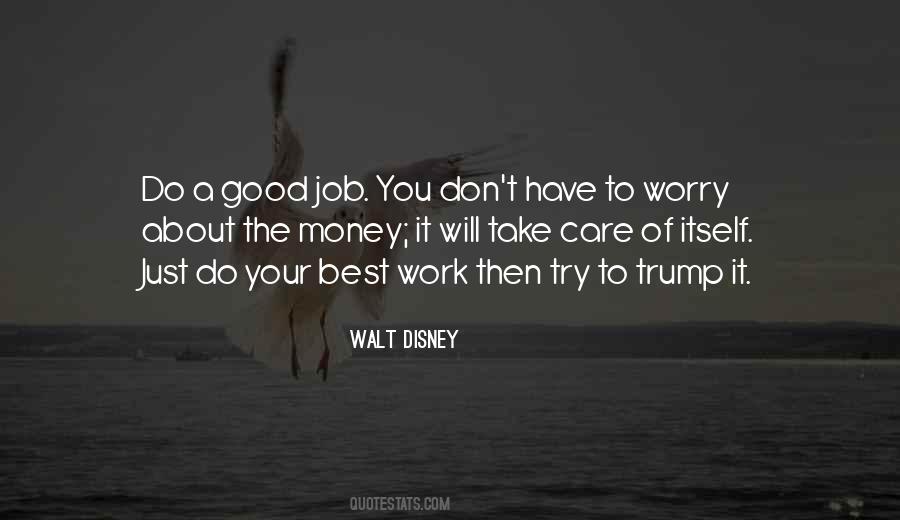 Famous Authors
Popular Topics