Born To Live Famous Quotes & Sayings
List of top 100 famous quotes and sayings about born to live to read and share with friends on your Facebook, Twitter, blogs.
Top 100 Born To Live Quotes
#1. I think women should start to embrace their age. What's the alternative to getting older? You die. I can't change the day I was born. But I can take care of my skin, my body, my mind, and try to live my life and be happy. - Author: Olivia Munn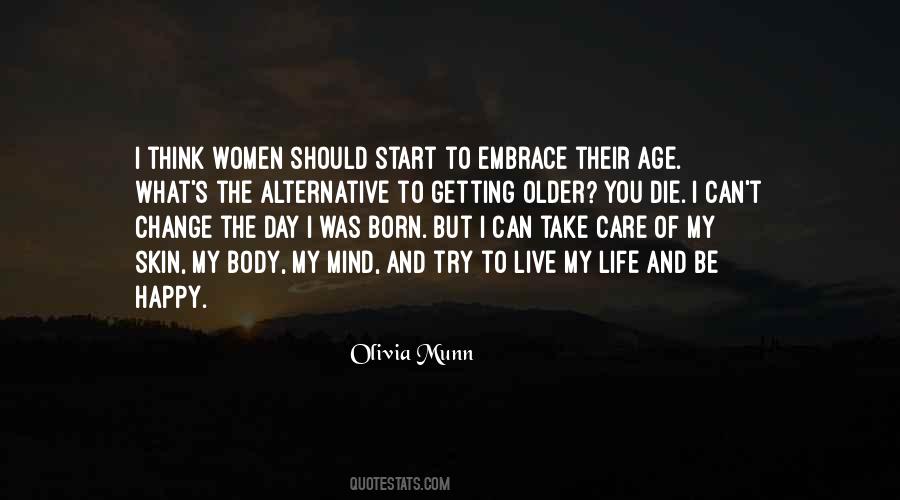 #2. The real color of my hair is mouse. I always want to be ginger, which I was when I was born, or blond, because I live in L.A., and I want to look like I go surfing without any physical effort. - Author: John Lydon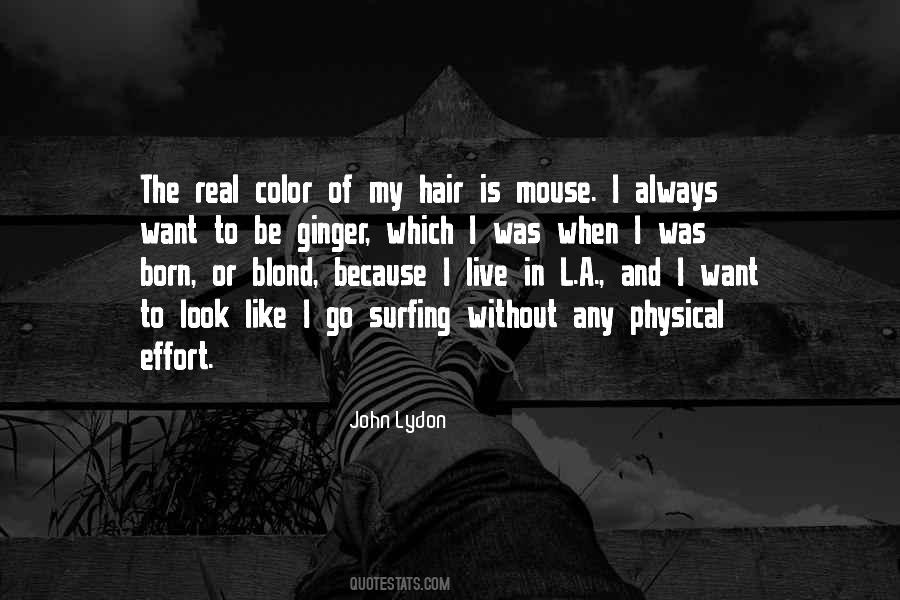 #3. If I could be anything in the world I would want to be a teardrop because I would be born in your eyes, live on your cheeks, and die on your lips. - Author: Mary, Queen Of Scots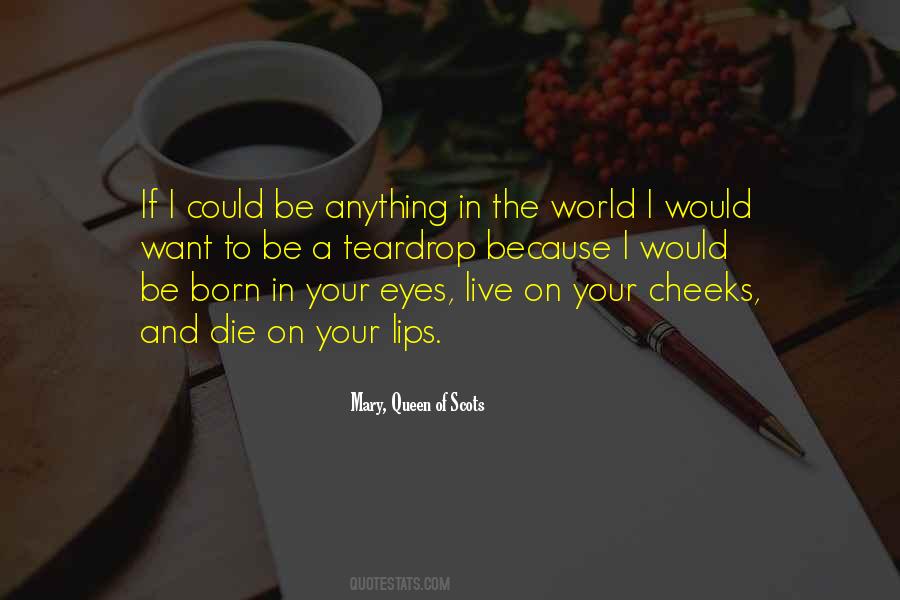 #4. Fundamentally, we are all in the same place: we're born, we live, and we're going to die. In between, we'll have joy and we'll have sadness. - Author: Annie Lennox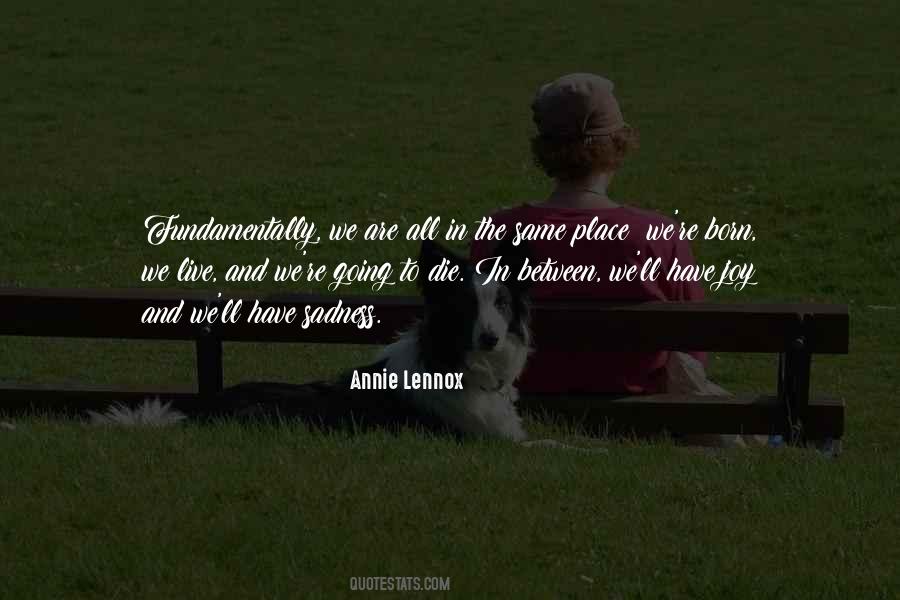 #5. Inde fernut, titidem qui vivere debeat annos, corpre de patrio parvum phenica renasci' It's from Ovid. It means, 'A little phoenix is born anew from the father's body, fated to live the same number of years. - Author: Ian Caldwell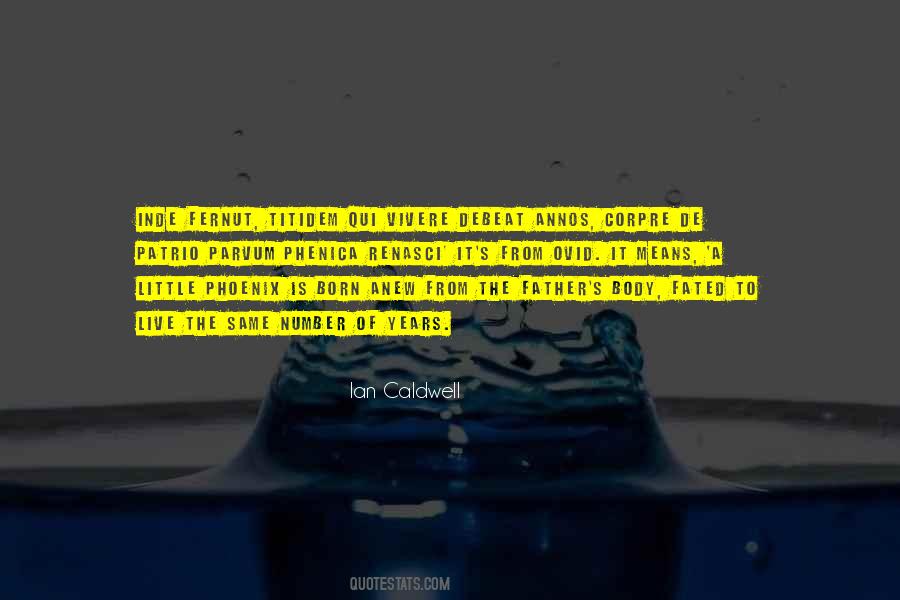 #6. Old people who live too long come to resemble turtles. As though time turned in a curve, and down they go to the reptiles again. Not the little wet naked frog they were born. But the tortoise. Cold eyes, sagging circles of skin, the nose becomes beak. The shell of sleep. - Author: Josephine Winslow Johnson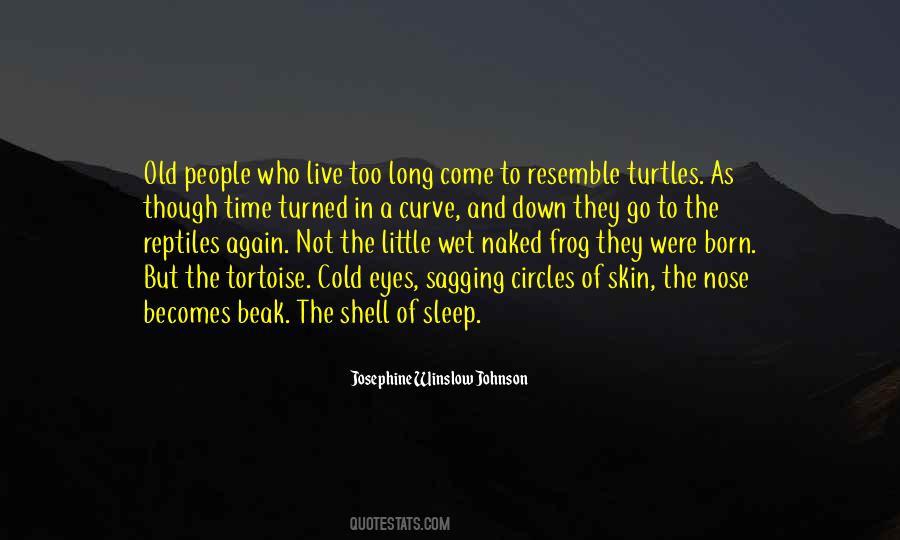 #7. I found this quote more relevant today than it was yesterday: 'Man is born to live in the convulsions of anxiety or the lethargy of boredom. Hard work is the final solution - it prevents all of the above.' - Voltaire - Author: Shane Joseph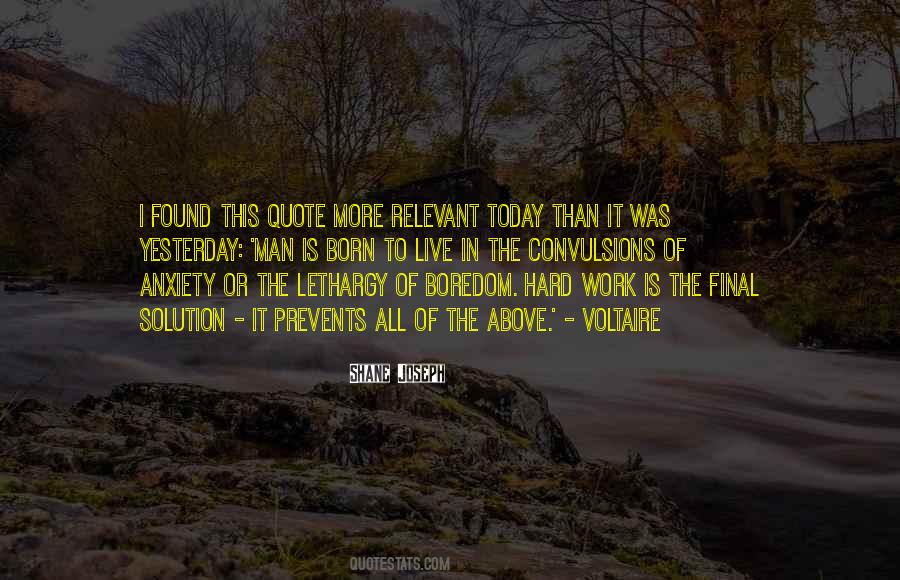 #8. We are born to a time. What you do with it is on you. Do the best you can. Try to be good. And live. - Author: Charlie LeDuff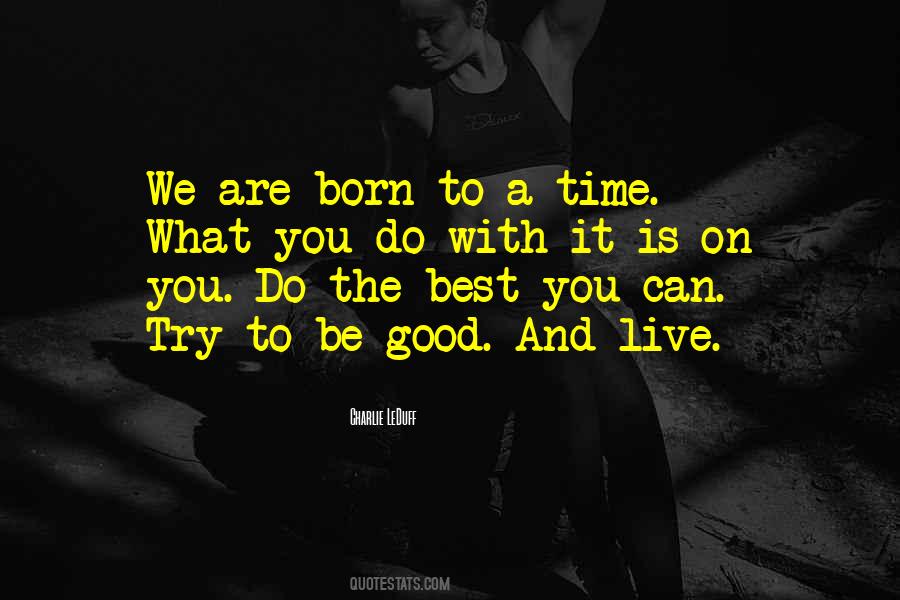 #9. We were born to shine, we must live our dreams. - Author: Lailah Gifty Akita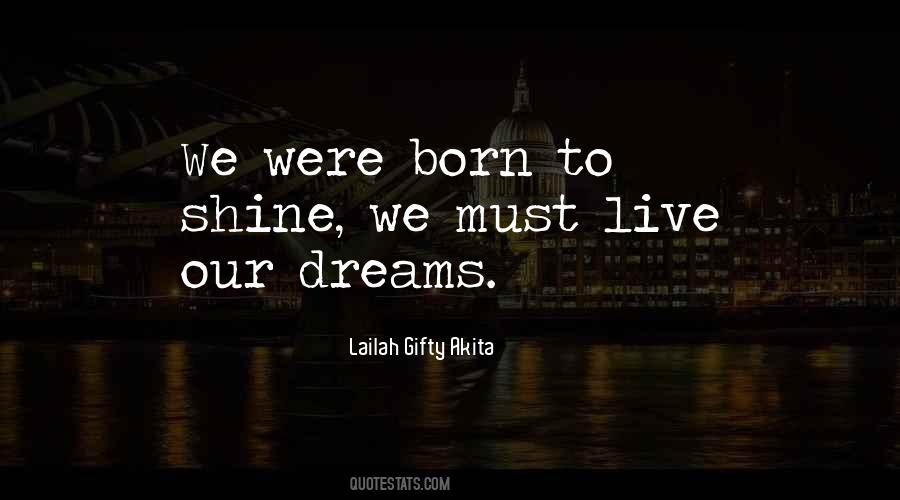 #10. Women live lives of continual apology. They are born and raised to take the blame for other people's behavior. If they are treated without respect, they tell themselves that they have failed to earn respect. If their husbands do not fancy them, it is because they are unattractive. - Author: Germaine Greer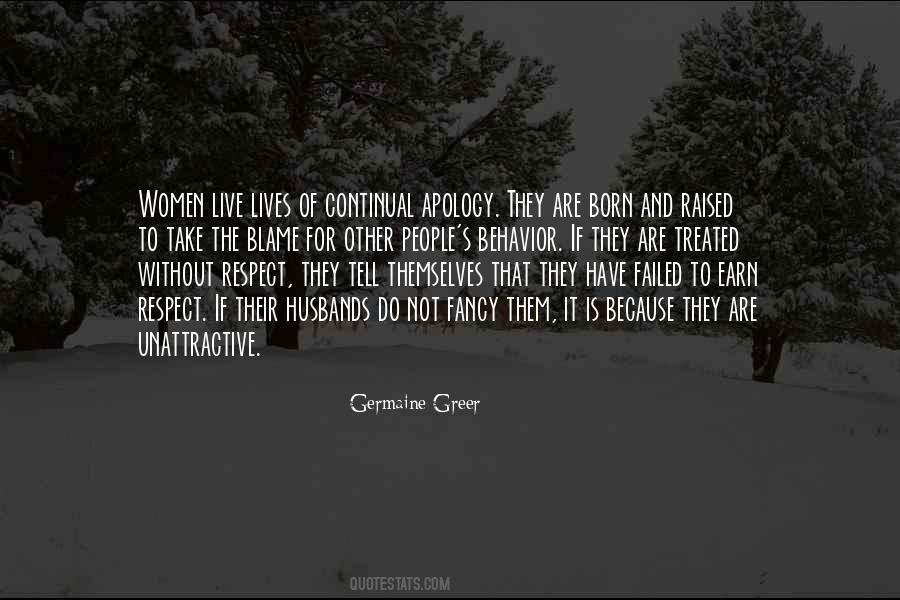 #11. The soil out of which such men as he are made is good to be born on, good to live on, good to die for and to be buried in. - Author: James Russell Lowell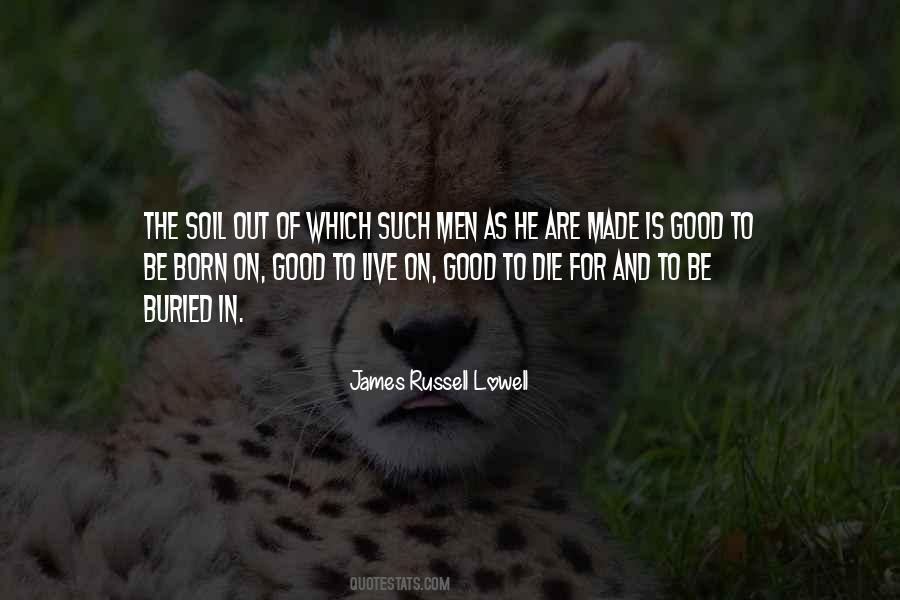 #12. At the core, the American citizen soldiers knew the difference between right and wrong, and they didn't want to live in a world in which wrong prevailed. So they fought, and won, and we all of us, living and yet to be born, must be forever profoundly grateful. - Author: Stephen E. Ambrose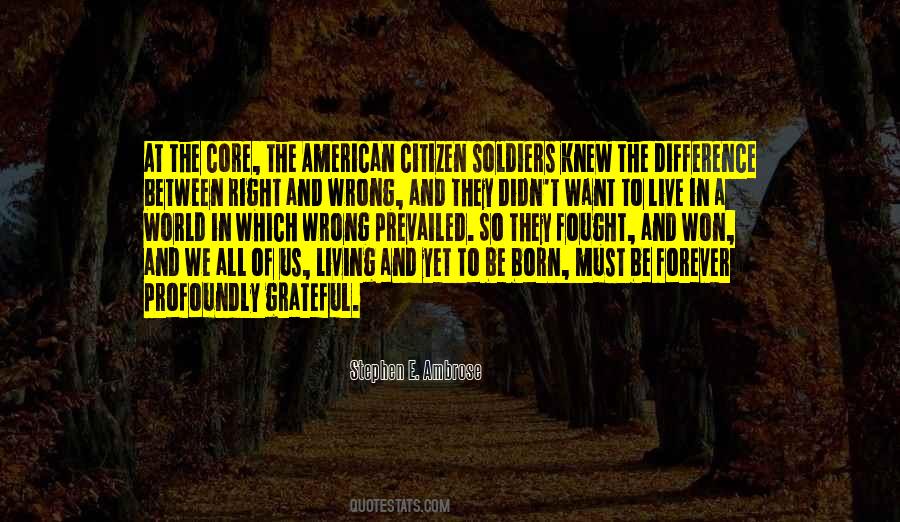 #13. When you see your life through the eyes of a dinosaur, albeit parrot, that's when you truly see the magic of God here and now. Stop questioning the past and live in the moment to strive for a better, more promising future. We're all born to make a difference. - Author: Jes Fuhrmann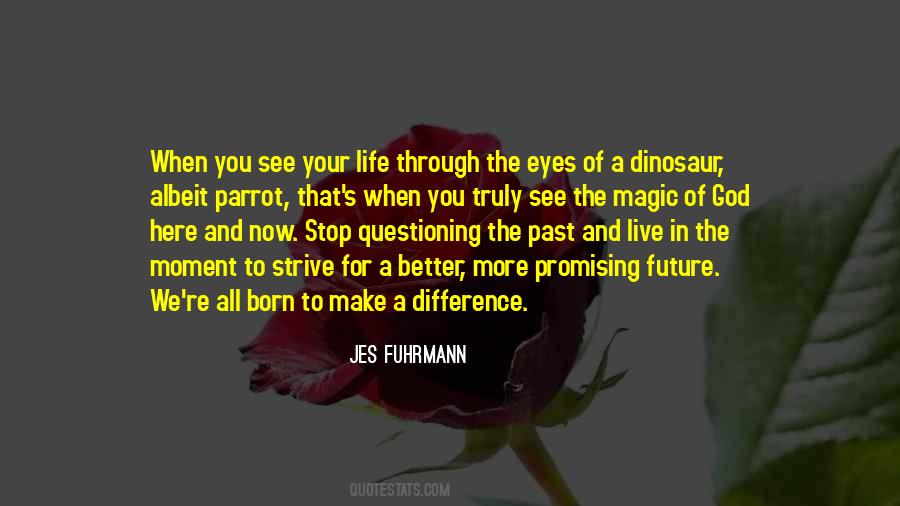 #14. Everyone who's born has a mysterious life path to follow. We must live to find that one reason to live - Author: Suchet Chaturvedi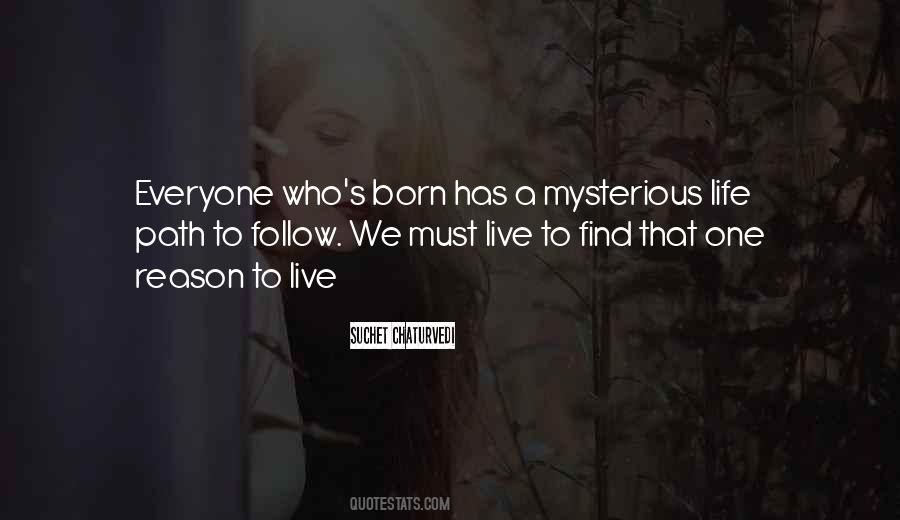 #15. Remember that animals are born to live their own lives, not to serve you! Do not use them; do not exploit them. Let them live their own lives. - Author: Mehmet Murat Ildan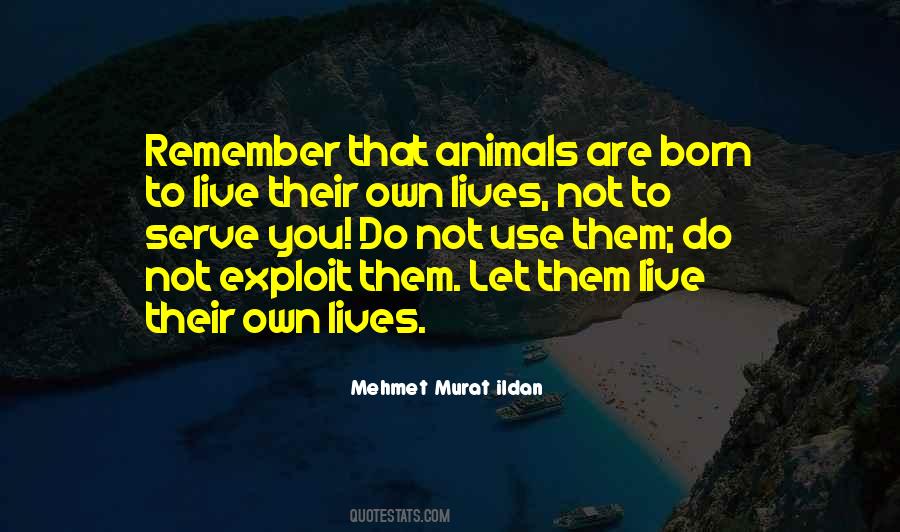 #16. Why are we born? We're born eventually to die, of course. But what happens between the time we're born and we die? We're born to live. One is a realist if one hopes. - Author: Studs Terkel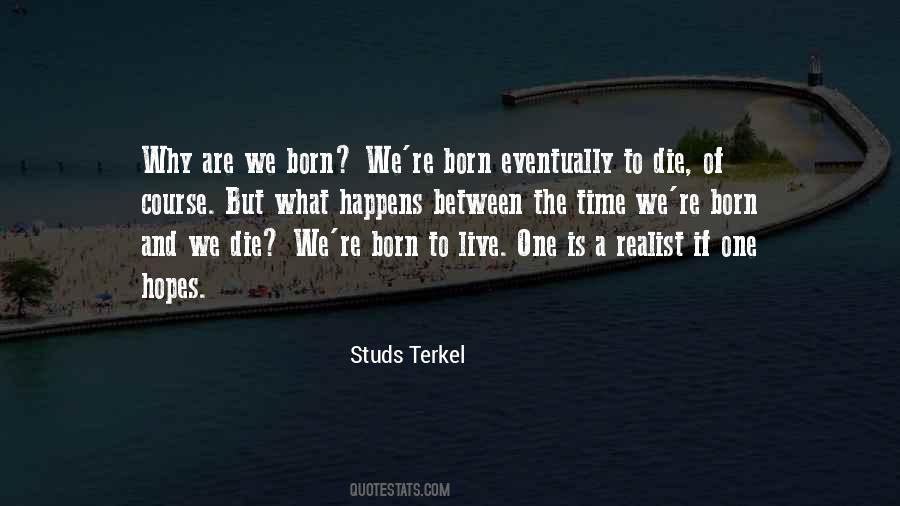 #17. To live is to be born every minute. Death occurs when birth stops. - Author: Erich Fromm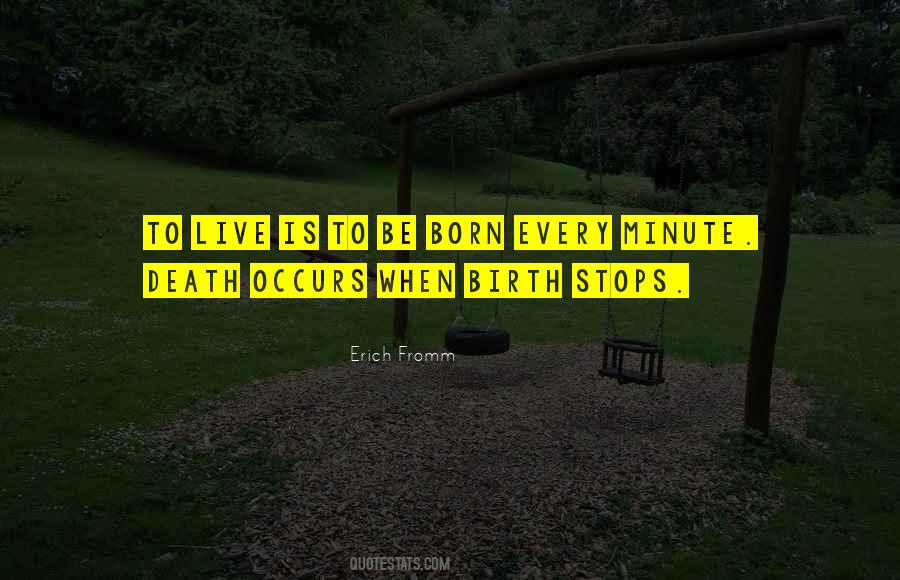 #18. We are born to be loved, we live to be loved, and we die to be loved; so life is for love. - Author: Debasish Mridha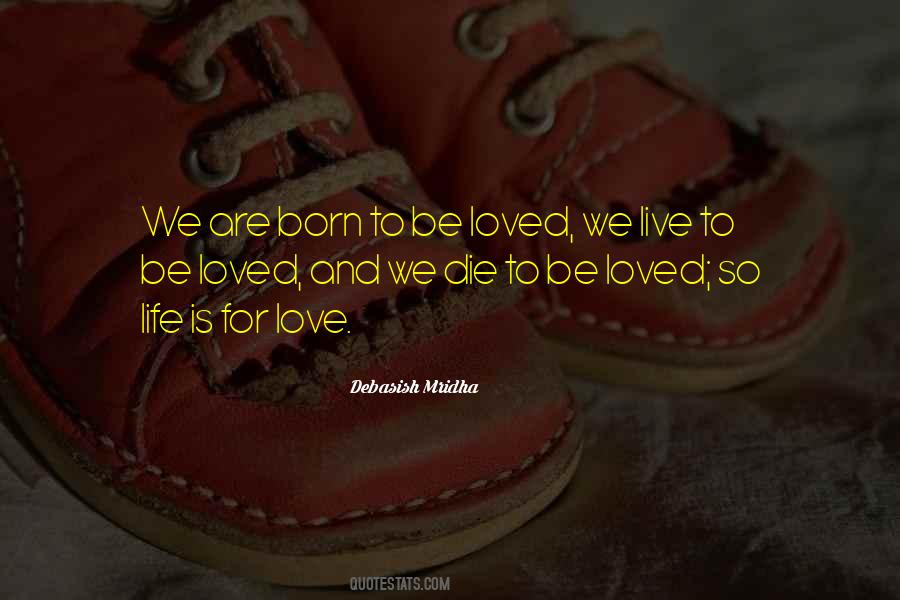 #19. Michael and Gabriel-
"Creatures of an unremembered beginning, born of light and sent to protect this place and live among men of free will. To comfort them in death and guide their souls to a new form." Angels - Author: Jon Steele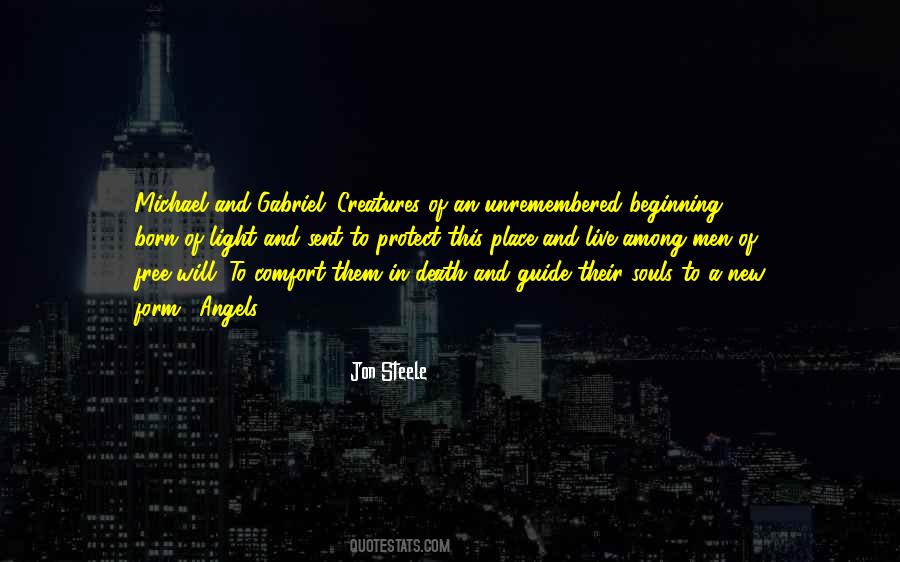 #20. The purpose of this glorious life is not simply to endure it, but to soar, stumble, and flourish as you learn to fall in love with existence. We were born to live, my dear, not to merely exist. - Author: Becca Lee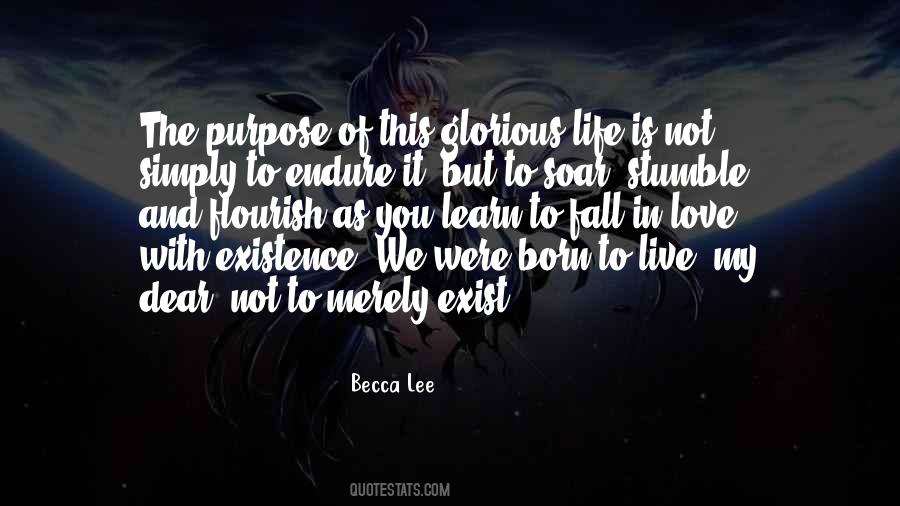 #21. Our deeds are like children that are born to us; they live and act apart from our own will. Nay, children may be strangled, but deeds never: they have an indestructible life both in and out of our consciousness. - Author: George Eliot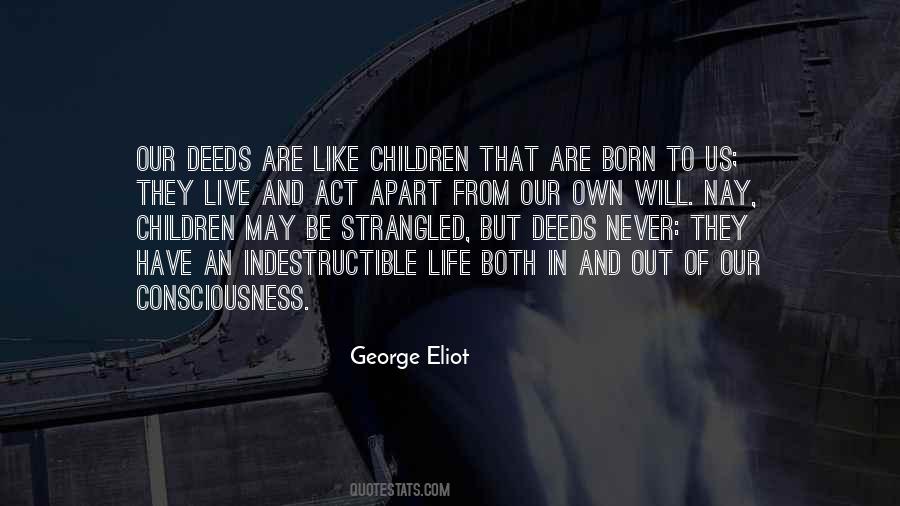 #22. Never refuse any who ask you for help; if your pockets are empty, give them hope. Your every action must be born of kindness, your every word spoken with love. Live as God would have you live, and others will be inspired to do the same. - Author: Immaculee Ilibagiza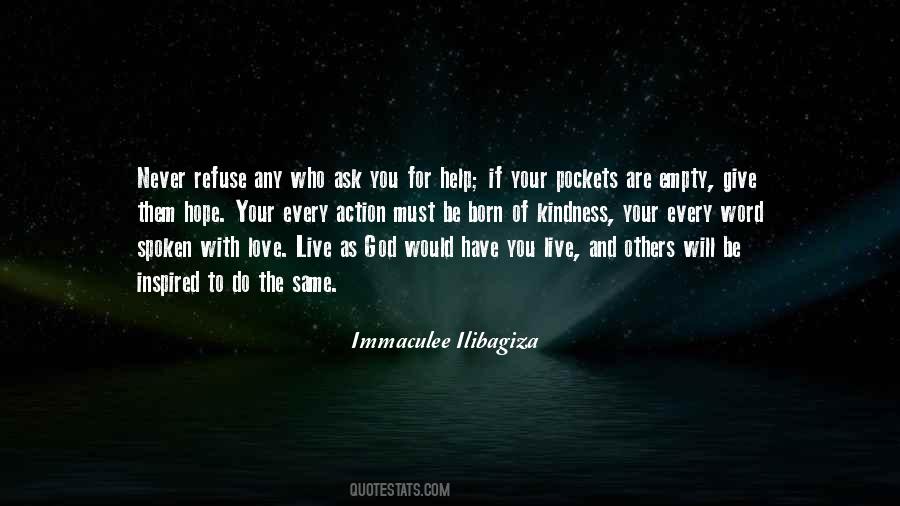 #23. Martin in particular concluded that man was born to live either in the convulsions of misery, or in the lethargy of boredom. - Author: Voltaire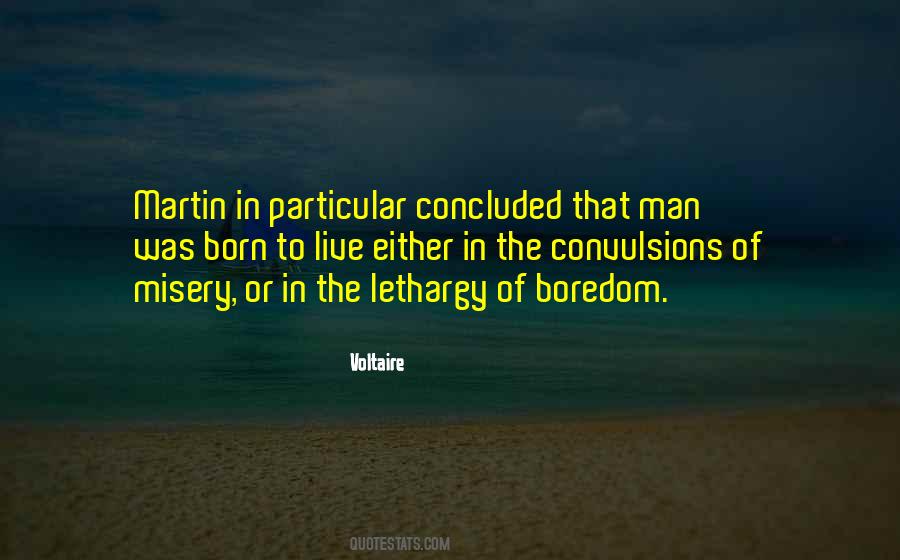 #24. We are all born to die - the difference is the intensity with which we choose to live. - Author: Gina Lollobrigida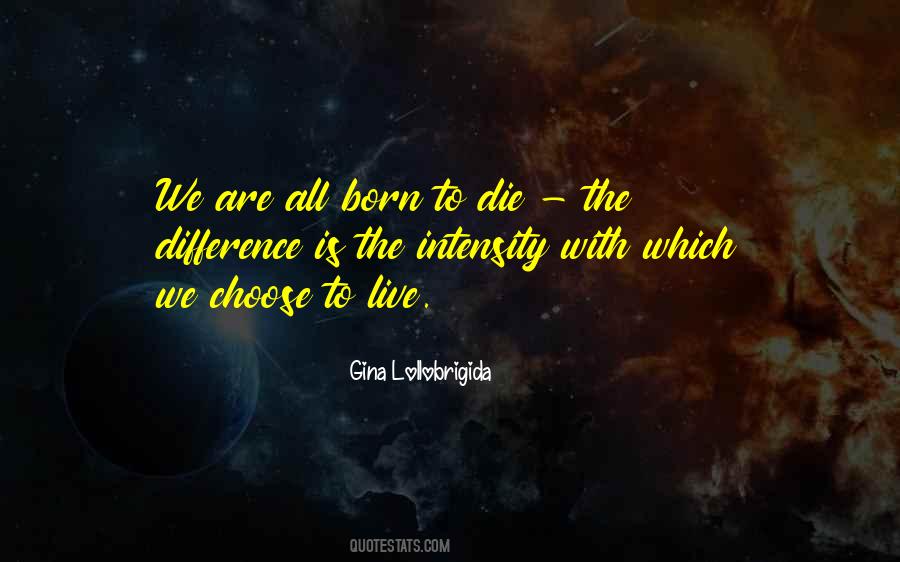 #25. When man was put into the garden of eden, he was put there with the idea that he should work the land; and this proves that man was not born to be idle. - Author: Voltaire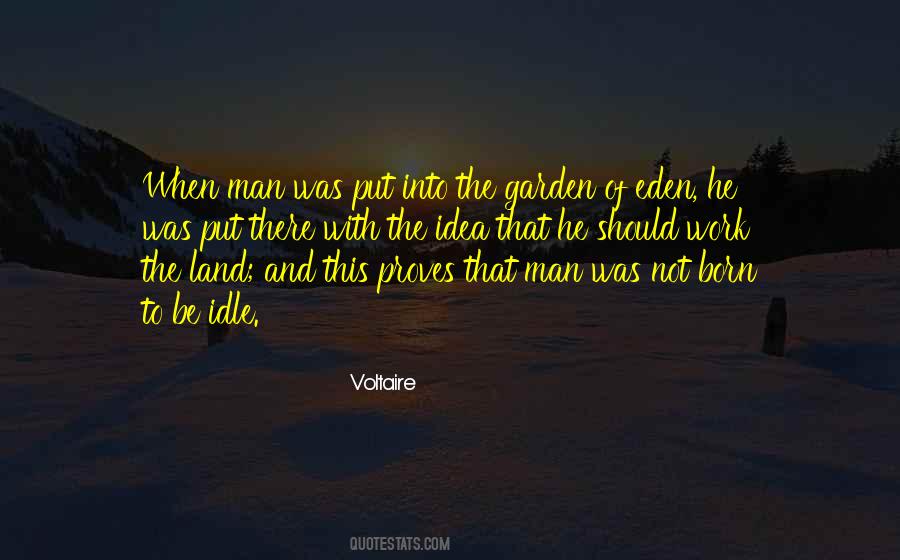 #26. Why was I born, if just to live in misery - Author: Noah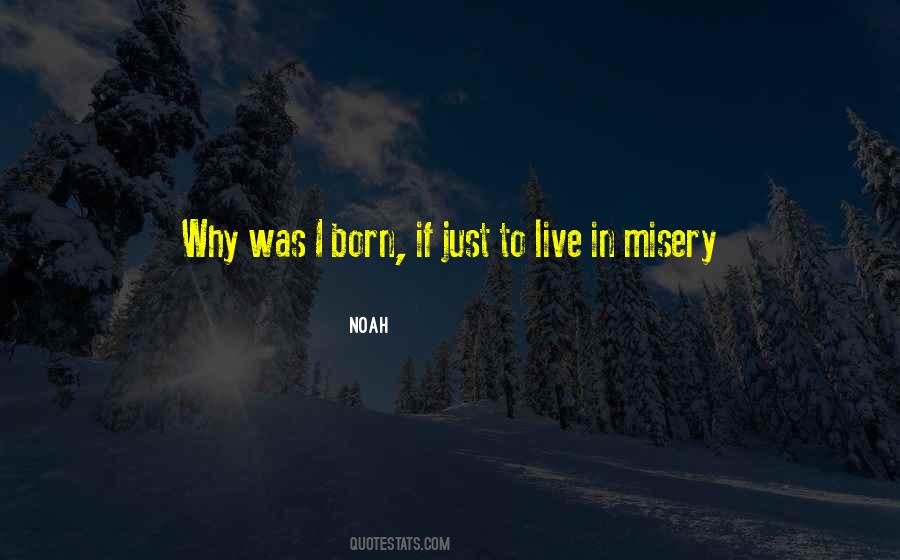 #27. Some of us are born to Run. Some of us are born to Climb. But we are all born to Live. - Author: Saim .A. Cheeda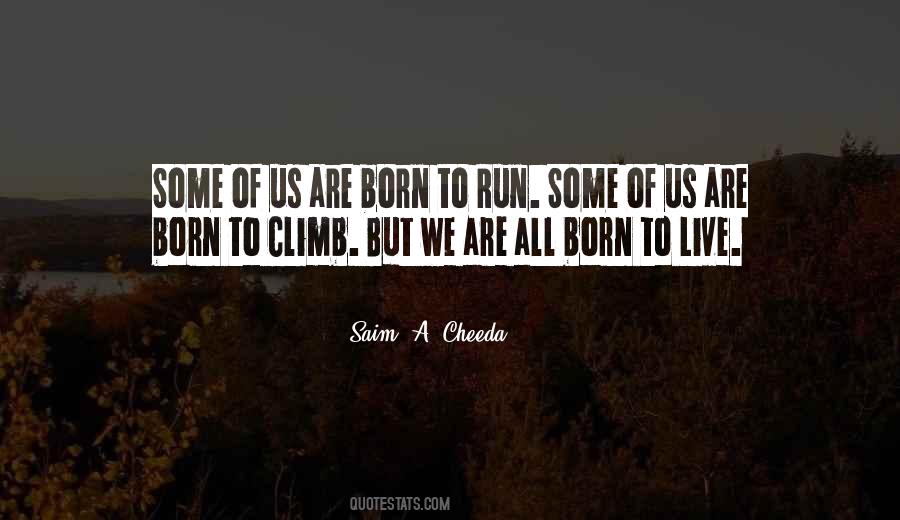 #28. I have the feeling that I was born in Vienna in order to live in Paris. - Author: Romy Schneider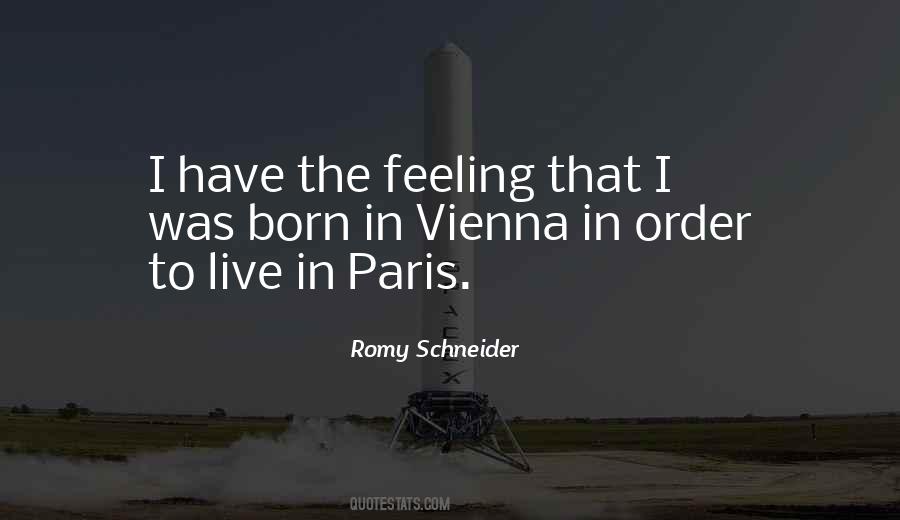 #29. Everyone is born a millionaire, it is your God-given right to have an abundance of everything, health, money and love. - Author: Charanjit Singh Mannu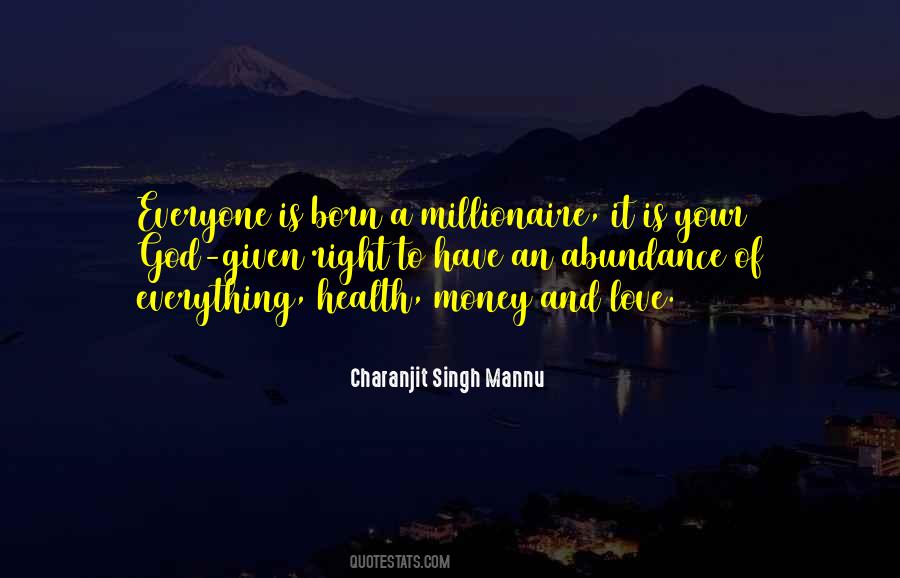 #30. I loved him even now, as he took a knife to my throat, as I drowned in blood, as I whispered Cousin, you were wrong. We were born to live. - Author: Alice Hoffman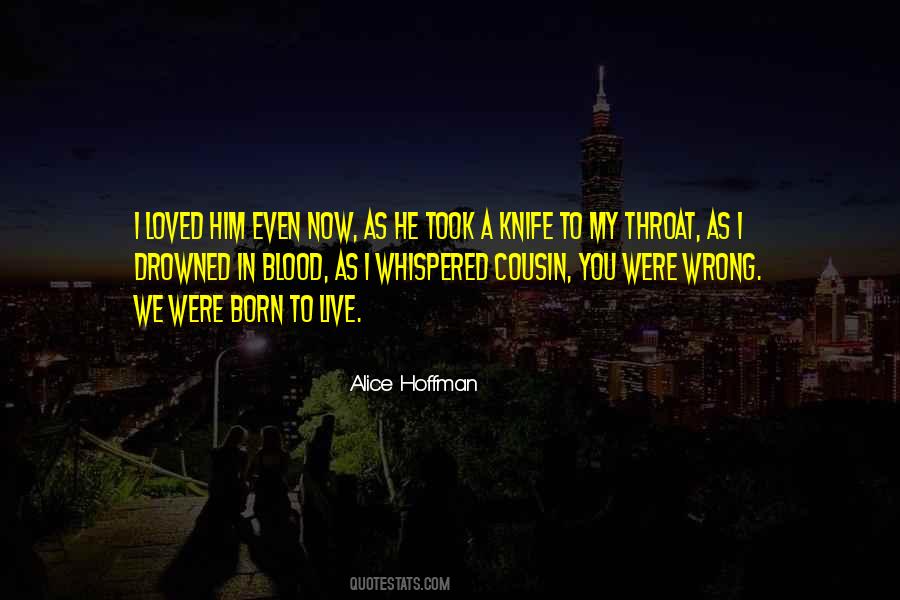 #31. Why am I afraid to live, I who love life and the beauty of flesh and the living colors of earth and sky and sea? Why am I afraid of love, I who love love?.. Why was I born without a skin, O God, that I must wear armor in order to touch or to be touched? - Author: Eugene O'Neill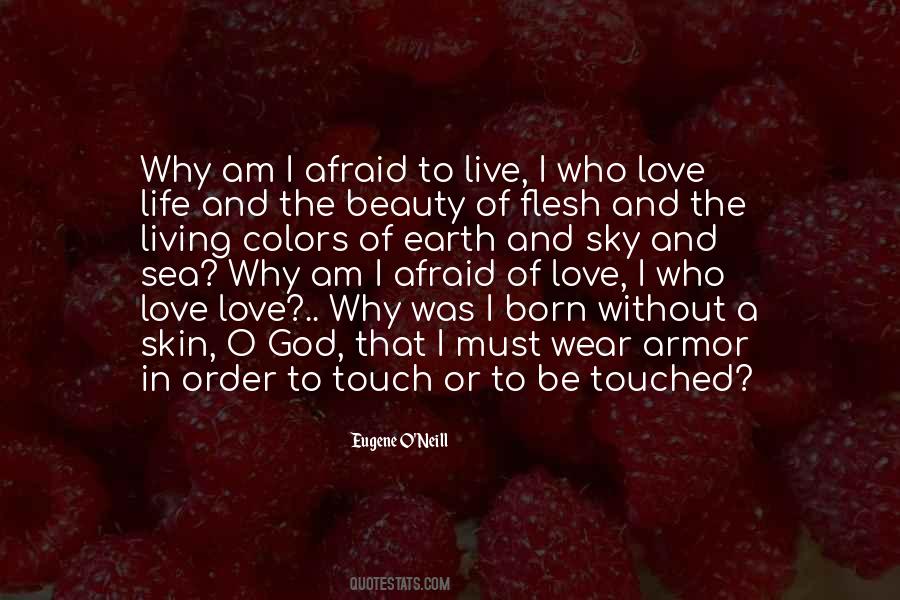 #32. How is domestication a violent process? A living thing's wildness is something potent: its strength lies in every cell of the body. Nothing was born to live in captivity, to be tamed, subdued and made submissive, and nothing accepts such a role without being forced. - Author: Miles Olson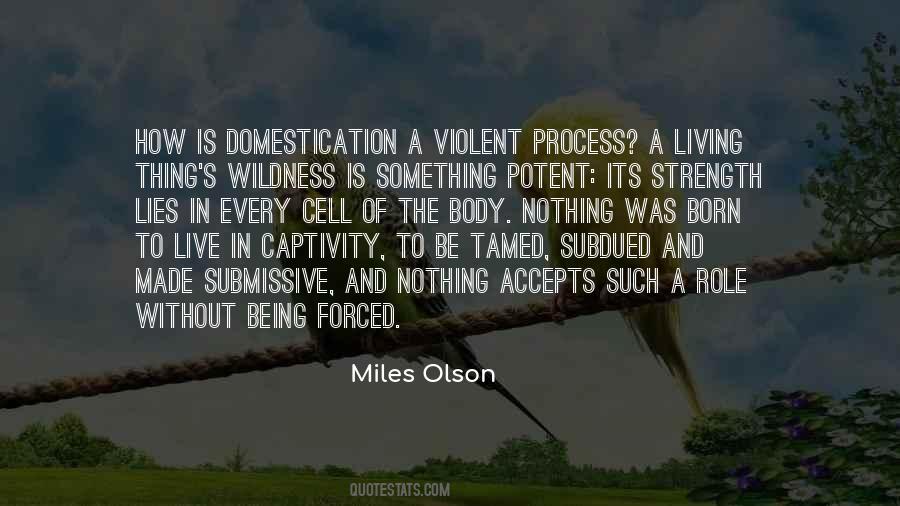 #33. I think human beings must have faith or must look for faith, otherwise our life is empty, empty. To live and not to know why the cranes fly, why children are born, why there are stars in the sky. You must know why you are alive, or else everything is nonsense, just blowing in the wind. - Author: Anton Chekhov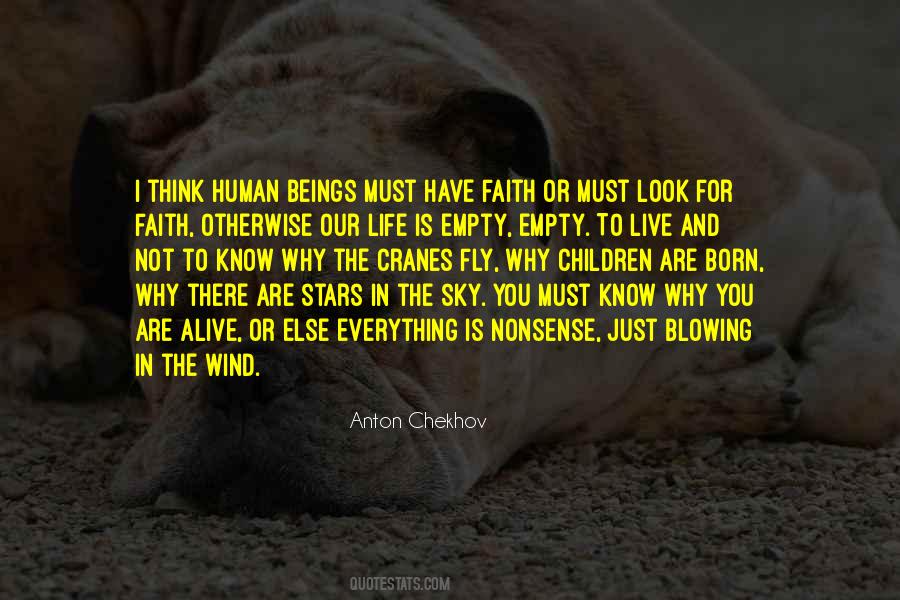 #34. Years don't begin and end because everybody gets together at the same time and says they do. Years really start when important things happen to you. When you're born. When you find the human you're going to live with forever. Your life begins when it becomes important. - Author: Gwen Cooper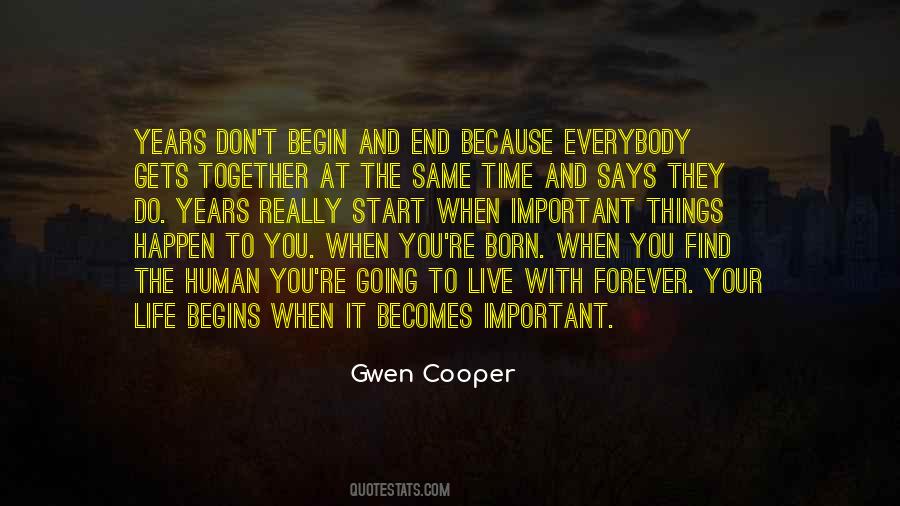 #35. I come from a very small rural village in northern Germany, and being an actor never even seemed like a possibility. I thought you would have to live in a big city, or be discovered somewhere, or be born into an artistic family, which I certainly wasn't. - Author: Diane Kruger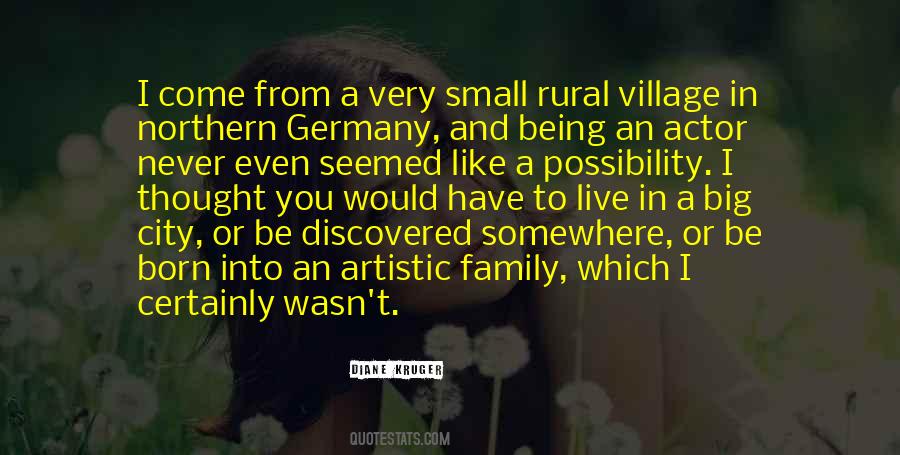 #36. You born with three obligations: to love, to live, and to be happy. - Author: Debasish Mridha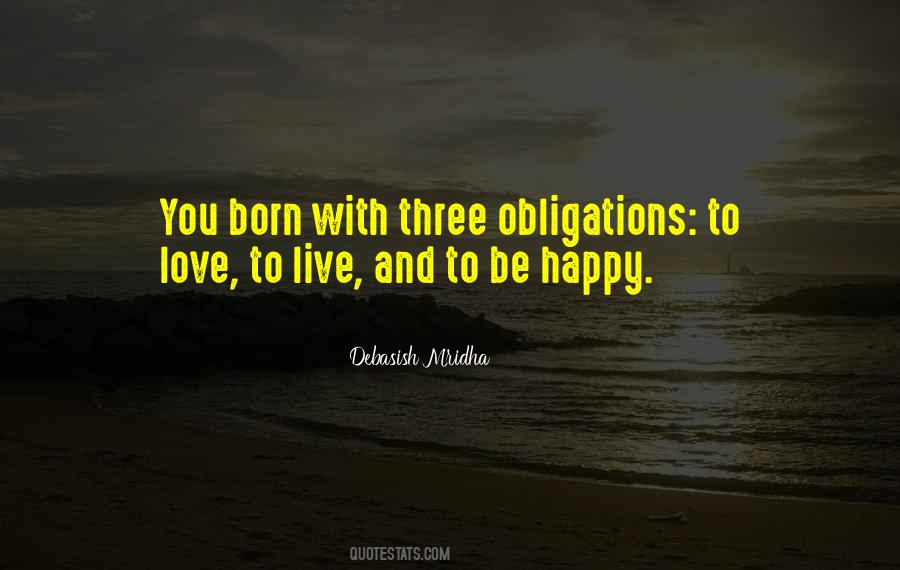 #37. Born to win.
May you live up to your highest calling. - Author: Lailah Gifty Akita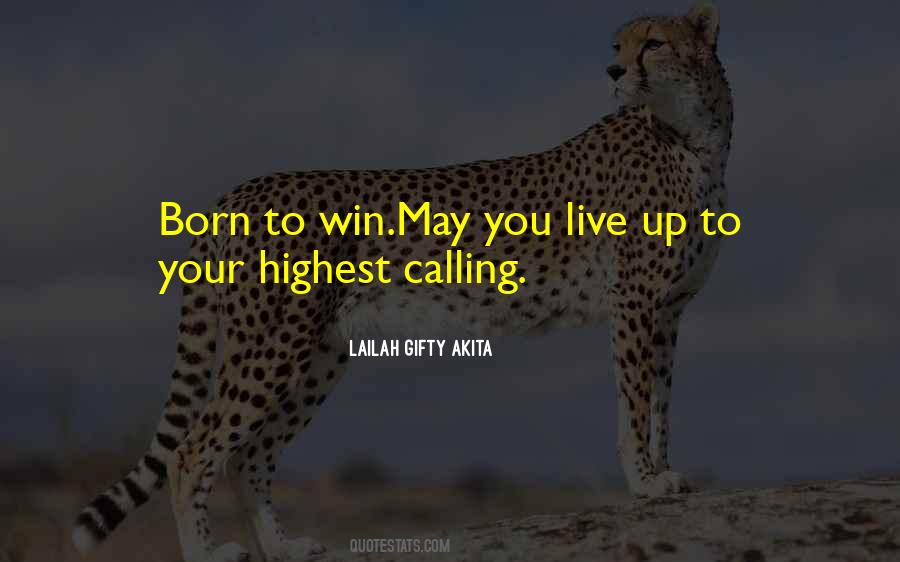 #38. All are born with the Light of Christ, a guiding influence which permits each person to recognize right from wrong. What we do with that light and how we respond to those promptings to live righteously is part of the test of mortality. - Author: Boyd K. Packer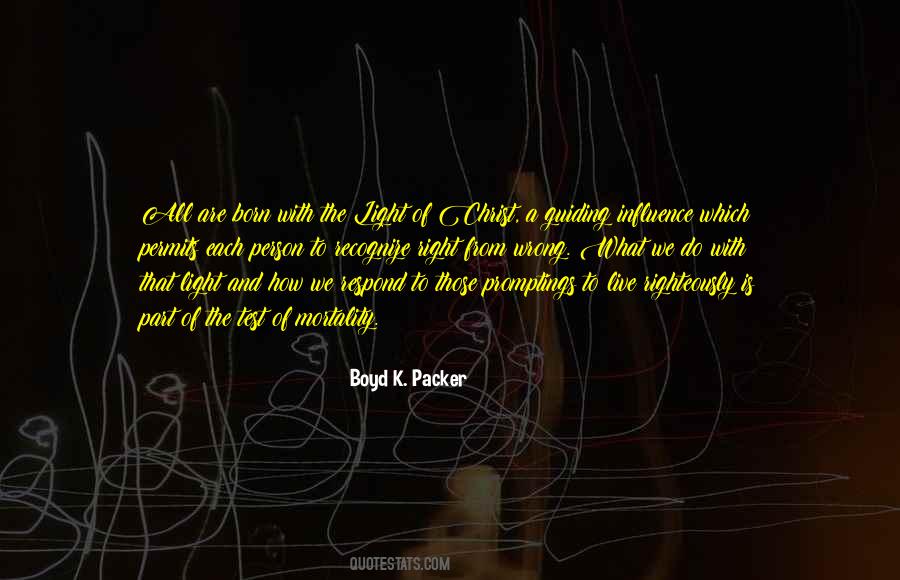 #39. I have to listen to New York; I live there. I wasn't born there, but I've been living there all my life. - Author: Thelonious Monk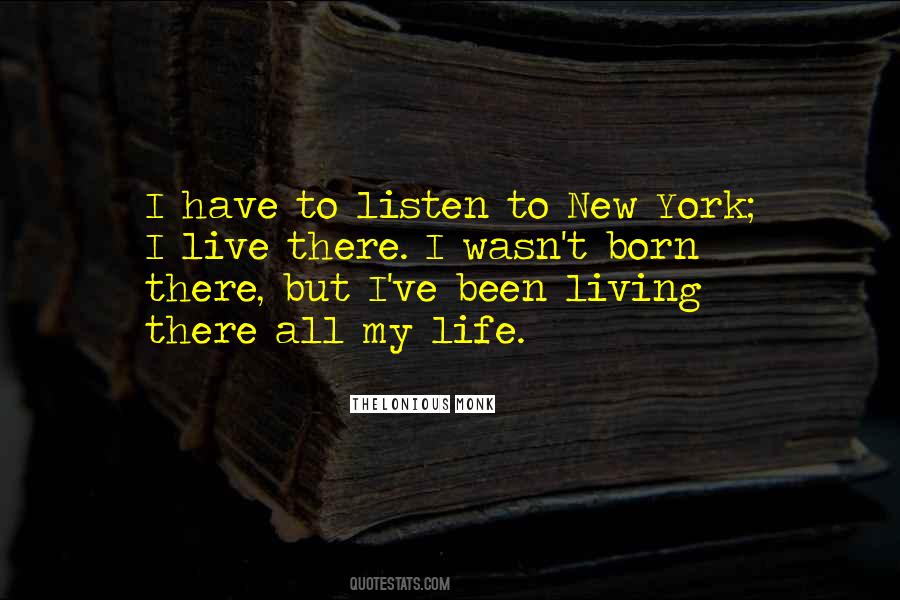 #40. Not one of the creatures of blood can escape death. We all face it, and succumb to it. It follows us like a dark shadow. Yet if we live in terror of it, then we do not live at all. Yes we are born alone, and yes we will die alone. But in between, Tae, we live. We know joy. - Author: David Gemmell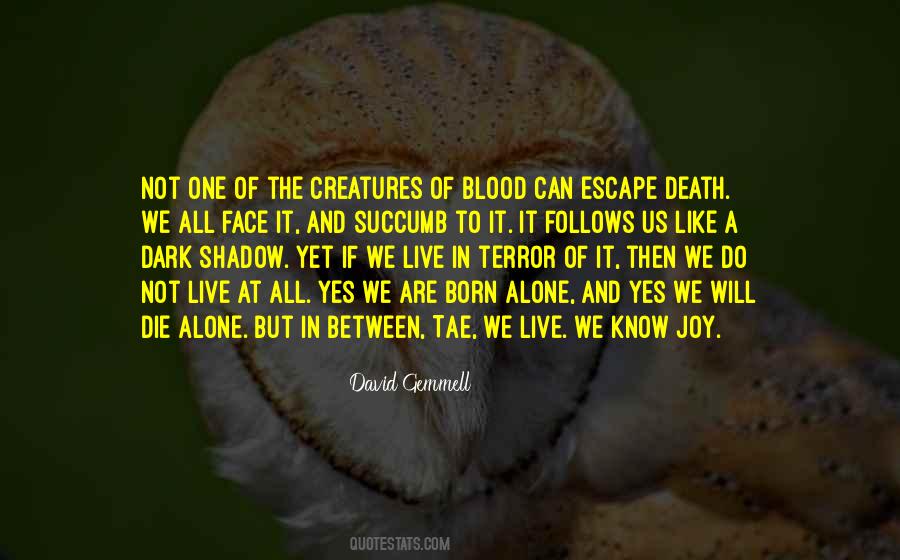 #41. Gratitude feels so good because it is the state of mind closest to your natural state in which you were born to live. - Author: Esther Hicks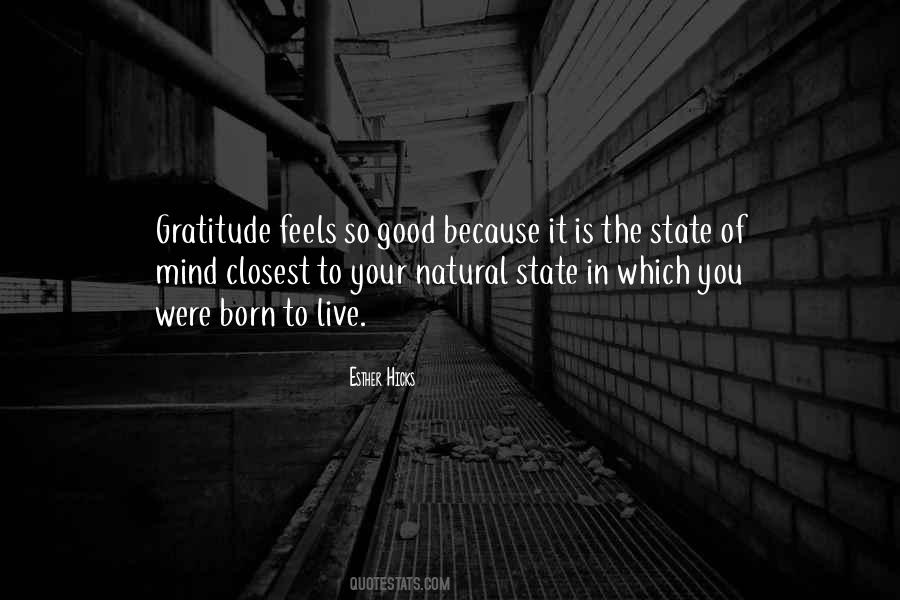 #42. There's a common misunderstanding among all the human beings who have ever been born on the earth that the best way to live is to try to avoid pain and just try to get comfortable. - Author: Pema Chodron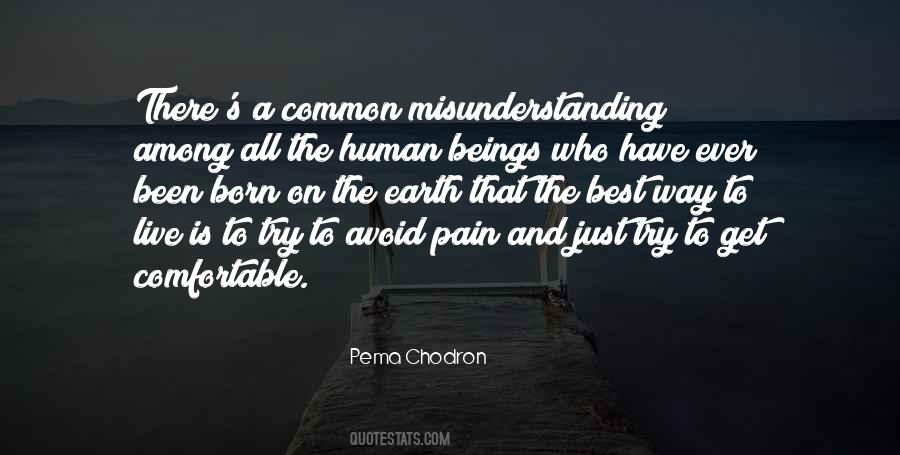 #43. I can feel the sickening fear inside of me subside as my instincts take over. Inside of me are animal instincts. They were born in a world I wasn't. They take over when I need them to. They've taught me how to survive. I have learned it is the most important part of the world I live in. - Author: Tara Brown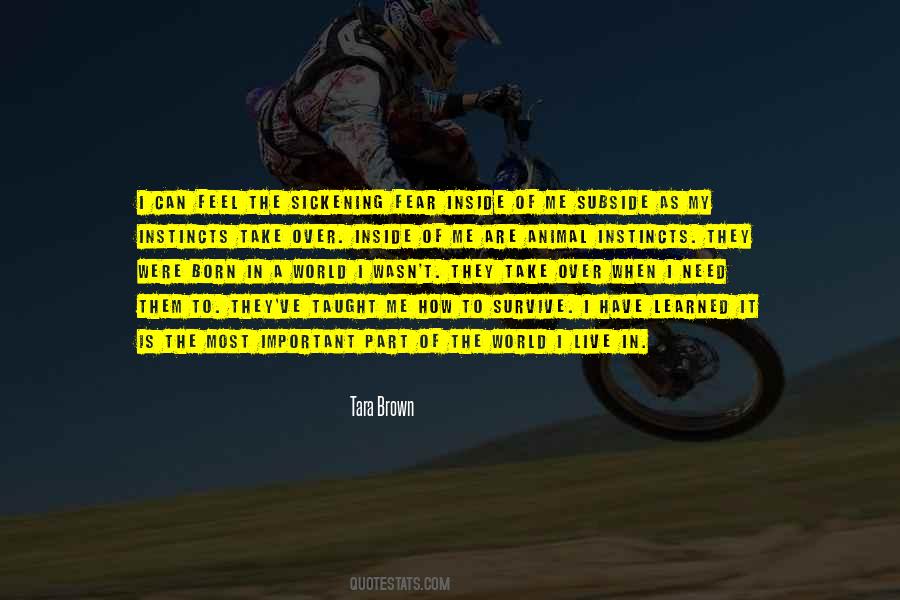 #44. We are born, we live, and we perish, perhaps to be born again in some other form ... Galaxies are but one living entity burning with the energy from all of us. Life and death are but siblings who turn the universe continually. Endlessly. - Author: Tony DiTerlizzi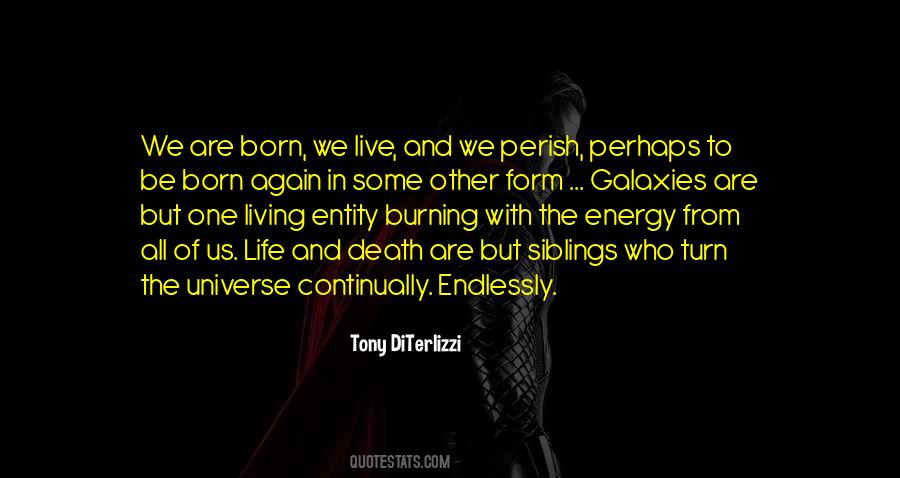 #45. I wanted my children and grandchildren to know that no matter when you are born or where you live, happiness and disappointments have the same flavors the world over. - Author: Phyllis Reynolds Naylor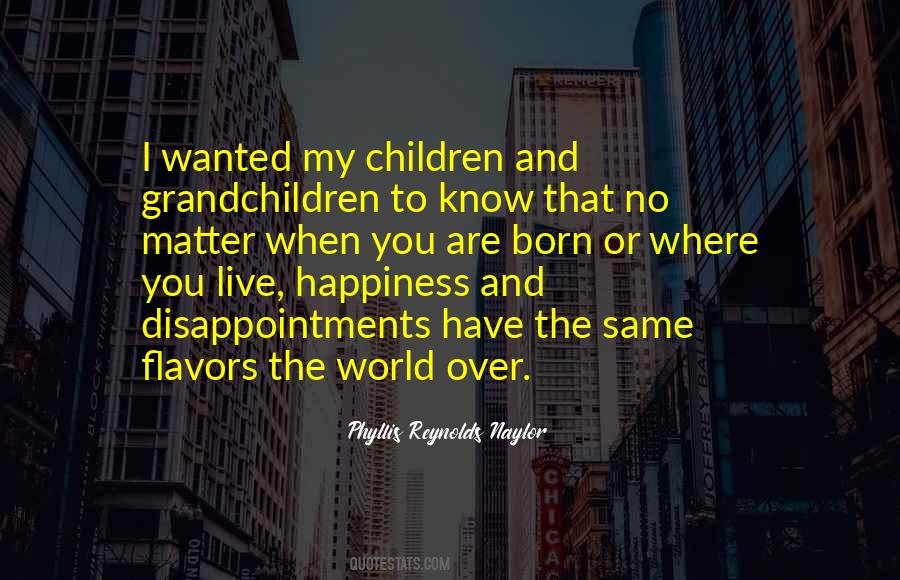 #46. We all know Christmas is about the Infant Child, what he brings to our lives, what he offers to our hearts. We know this, but we live as if he hadn't been born in that manger so long ago. We live as if the Christ child hadn't exchanged heaven for a manger - for you and for me. - Author: Vannetta Chapman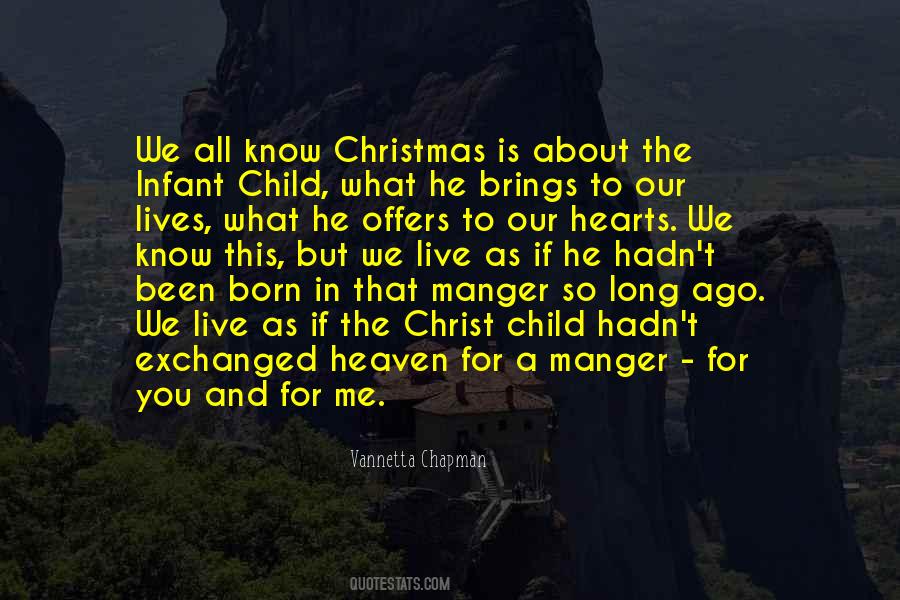 #47. Among the Spartans all newly born children were subject to a careful examination or selection. All those that were weak, sickly, or affected with any bodily infirmity, were killed. Only the perfectly healthy and strong children were allowed to live, and they alone afterwards propagated the race. - Author: Ernst Haeckel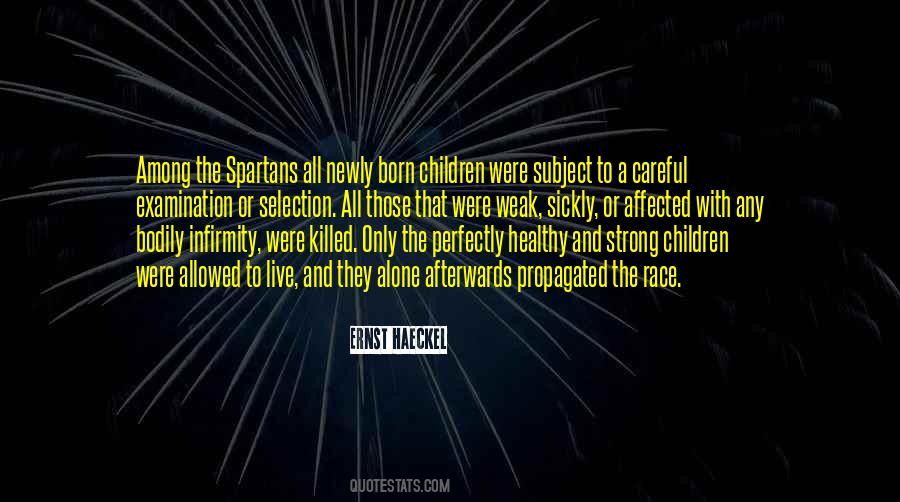 #48. Born to be wild - live to outgrow it. - Author: Douglas Horton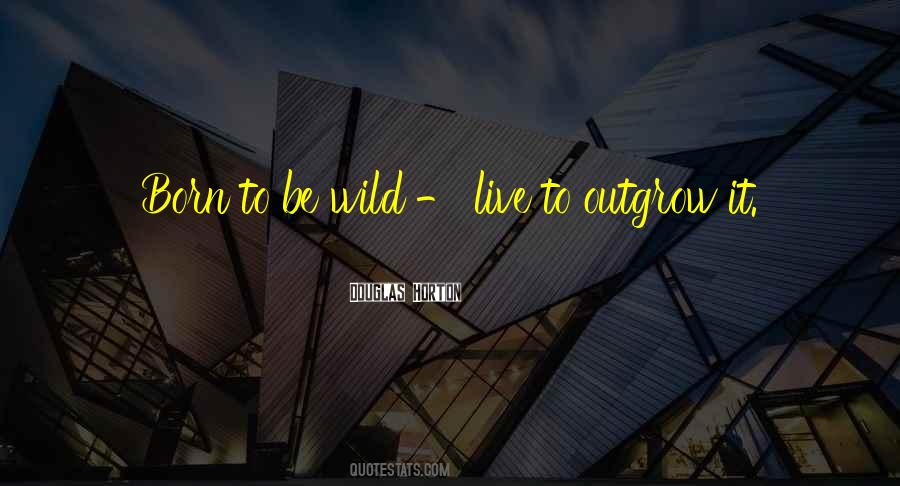 #49. After all, each human being - or so she believed then - had been born to love and to live with their beloved. - Author: Paulo Coelho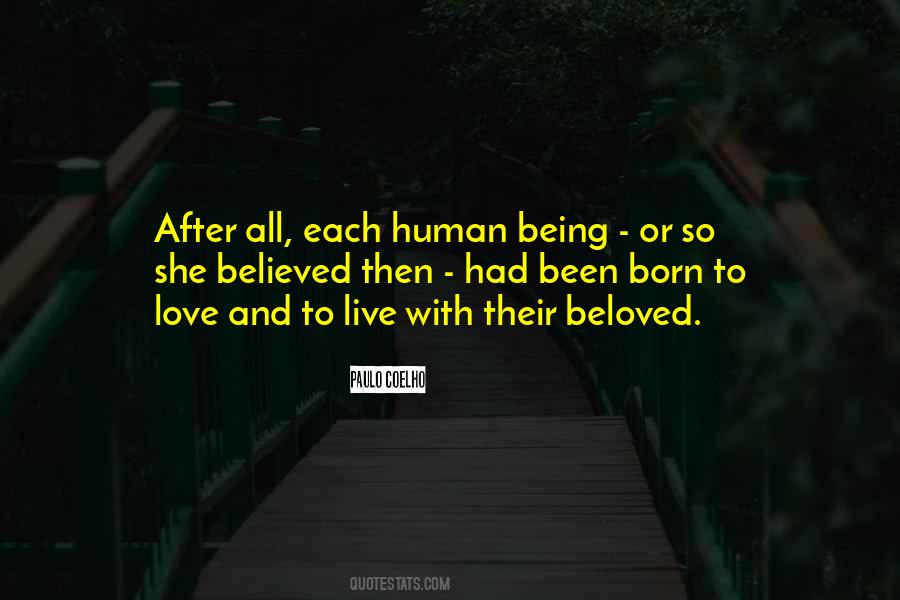 #50. By his disobedience of God's law, before man had exercised his power to bring children into the earth, not only Adam lost everything for himself, but his children were born as sinners, imperfect, and without the right to live. - Author: Joseph Franklin Rutherford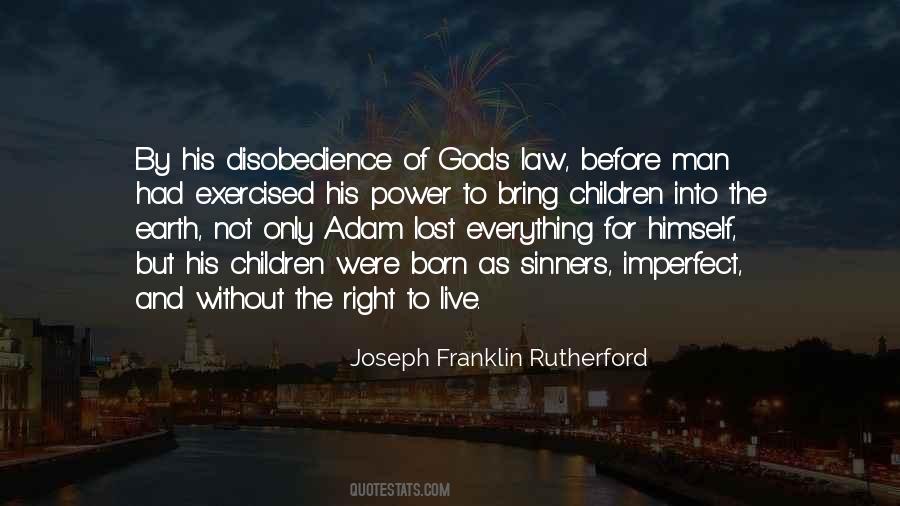 #51. Not to have knowledge of what happened before you were born is to be condemned to live as a child. - Author: Marcus Tullius Cicero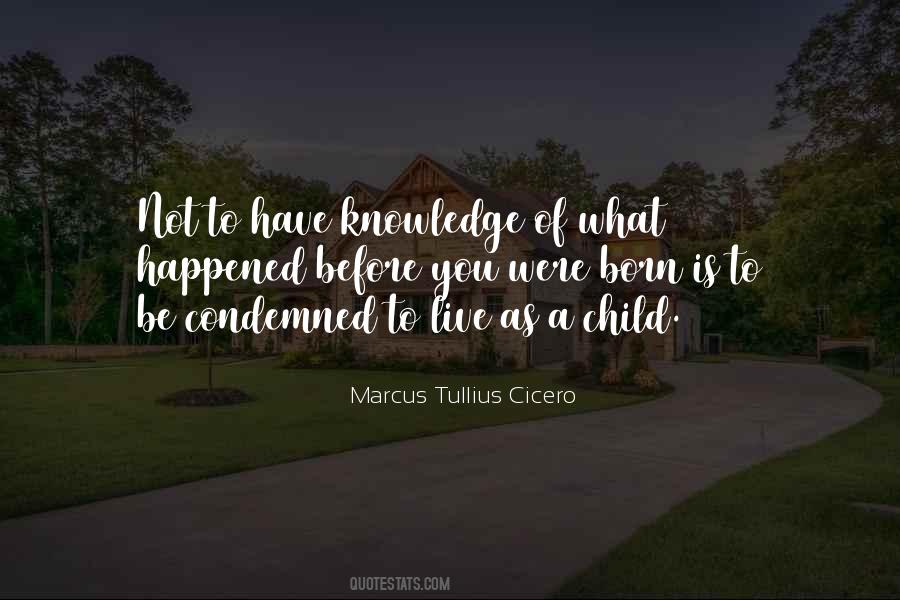 #52. I learned a long time ago we've control of little in this world, Amanda. It doesn't belong to us. It's out of our hands. Like being born or being sold into prostitution at eight. All we can change is the way we think and the way we live. - Author: Francine Rivers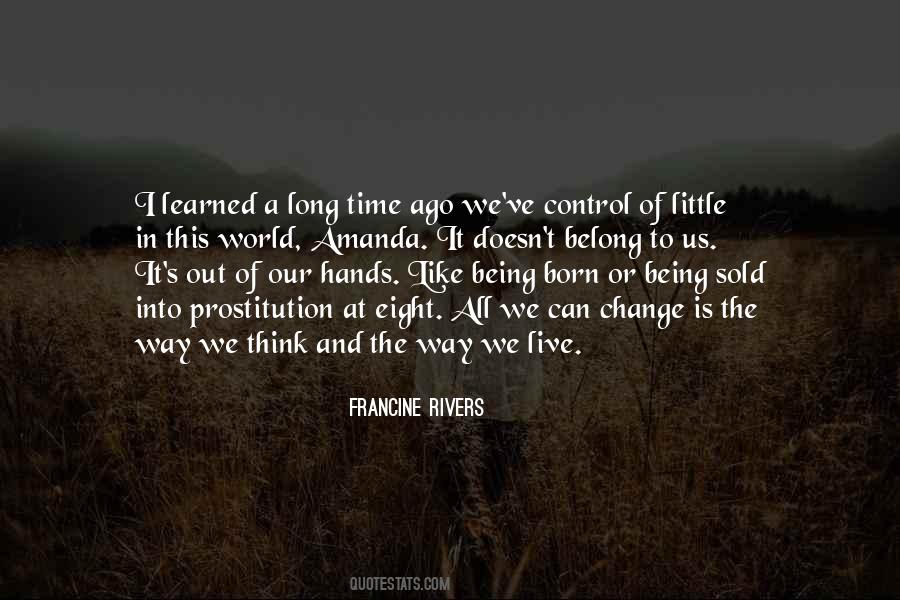 #53. When I was born, my father wanted to drown me, but my mother persuaded him to let me live in disguise, to see if I could bring any wealth to the household. - Author: Jeanette Winterson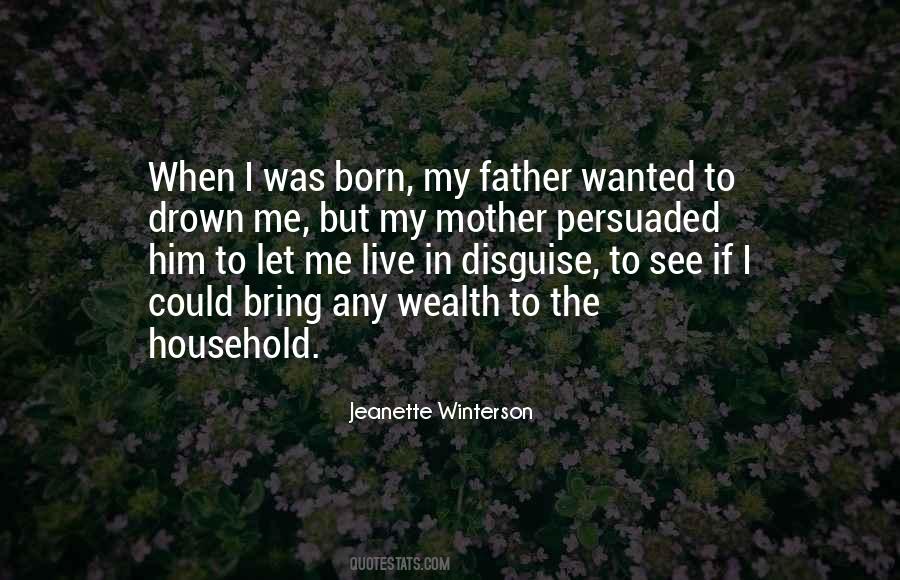 #54. Grace / to be born and live as variously as possible - Author: Frank O'Hara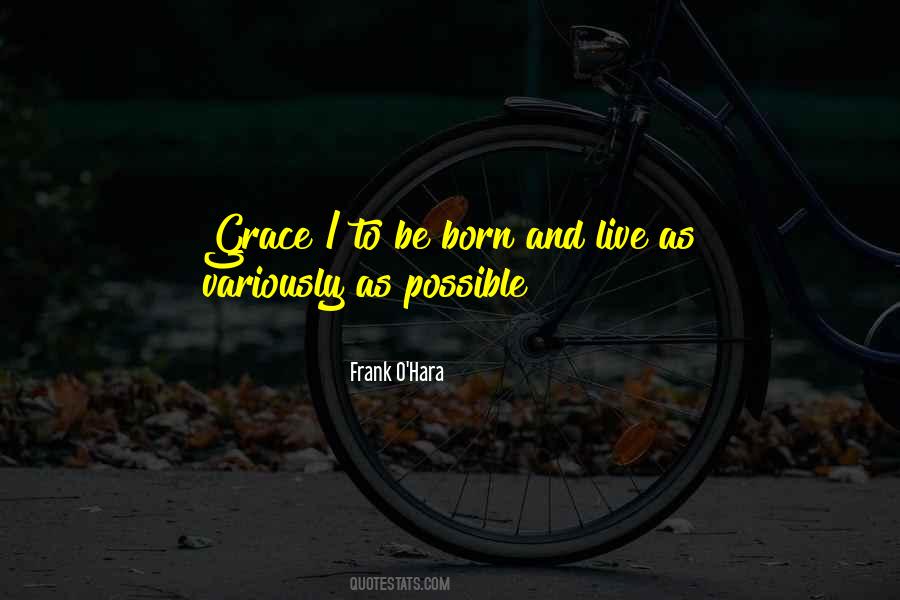 #55. In Bolivia there are Catholic, Evangelical, Methodist, Baptist churches, and so on. In Bolivia there are indigenous religious beliefs like the rite of Pachamama Mother Earth, which shows us that Mother Earth is our life, we are born out of the Earth we live on the Earth and return to the Earth. - Author: Evo Morales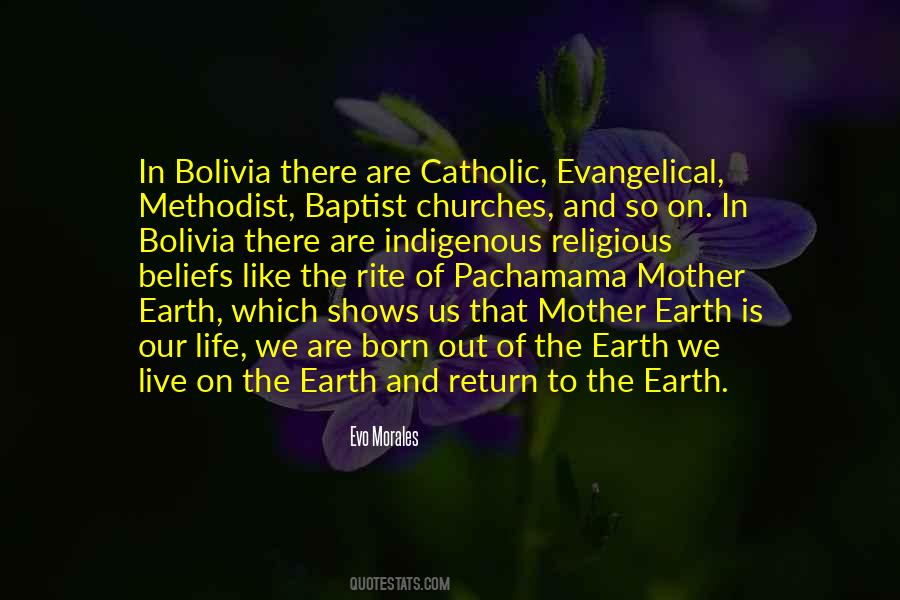 #56. You were born to be real, not to be perfect. You are here to be you, not to live someone else's life. - Author: Ralph Marston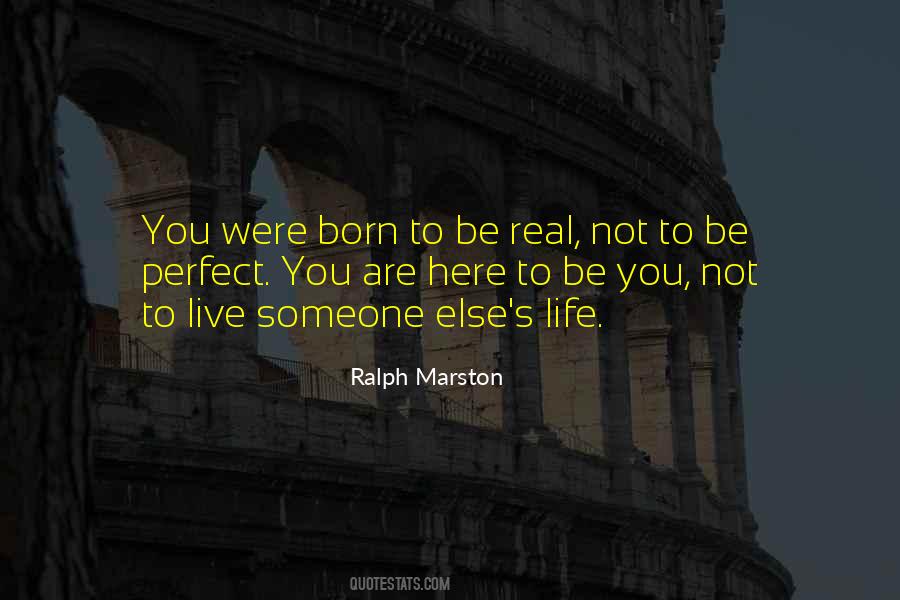 #57. I call Iran home because no matter how long I live in France, and despite the fact that I feel also French after all these years, to me the word 'home' has only one meaning: Iran. I suppose it's that way for everyone: Home is the place where one is born and raised. - Author: Marjane Satrapi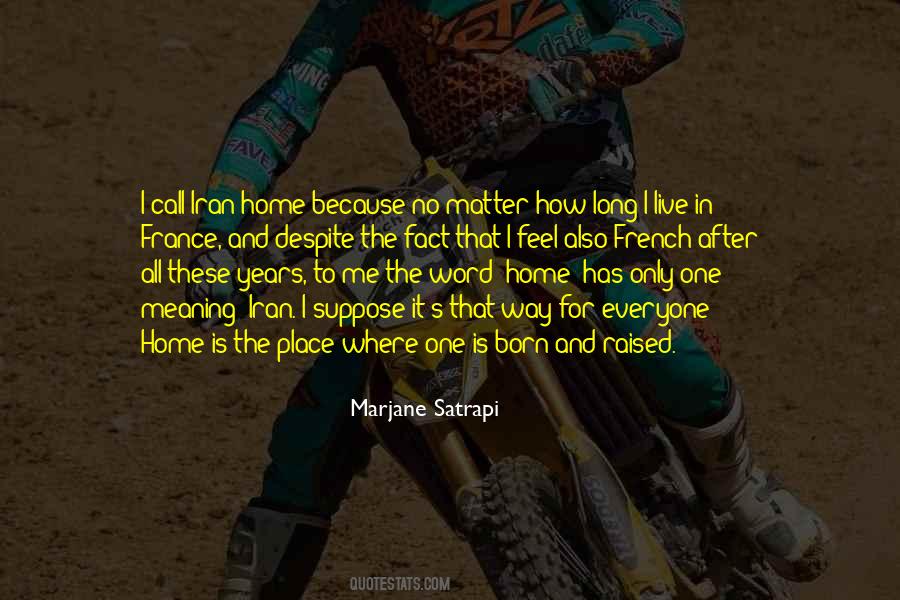 #58. We don't get to choose how we're born, Miranda, and very rarely how we die; but we get to choose how we live. Life is too short to spend in dread and guilt. - Author: Dianne Sylvan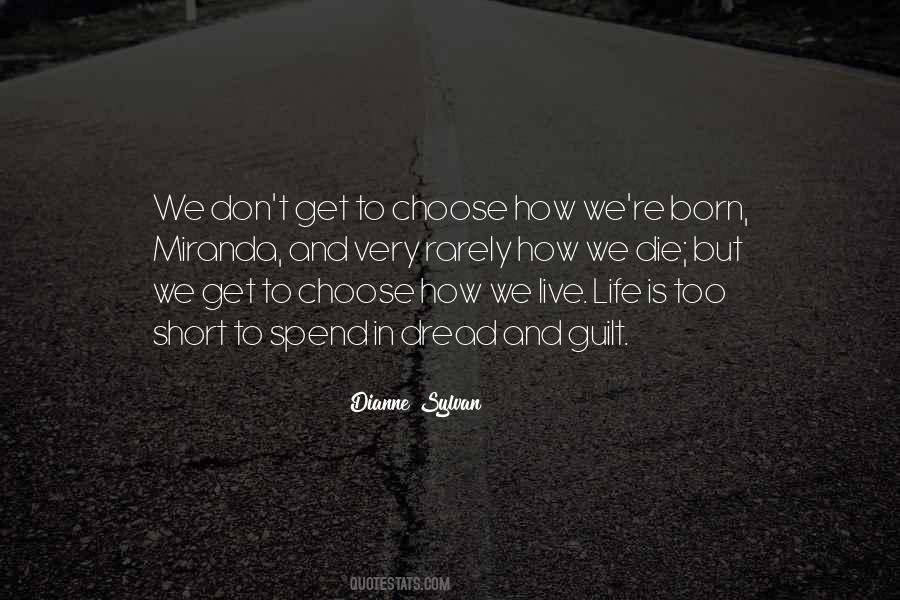 #59. Why were we born different? Why do we see the world how it actually is? Because we were meant to change the world, but not live in it. - Author: Jennifer Megan Varnadore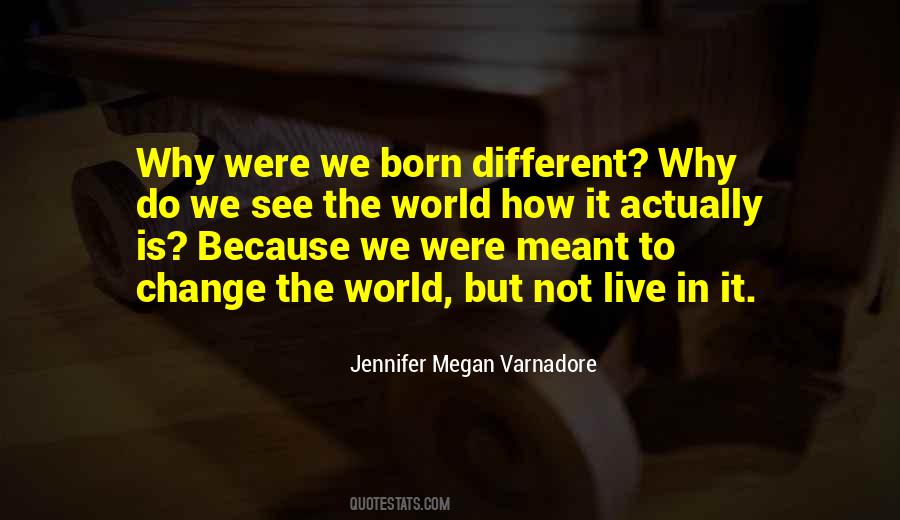 #60. There are those that are born to die and stay dead, and those who are born to die and live on forever. - Author: R.M. Grace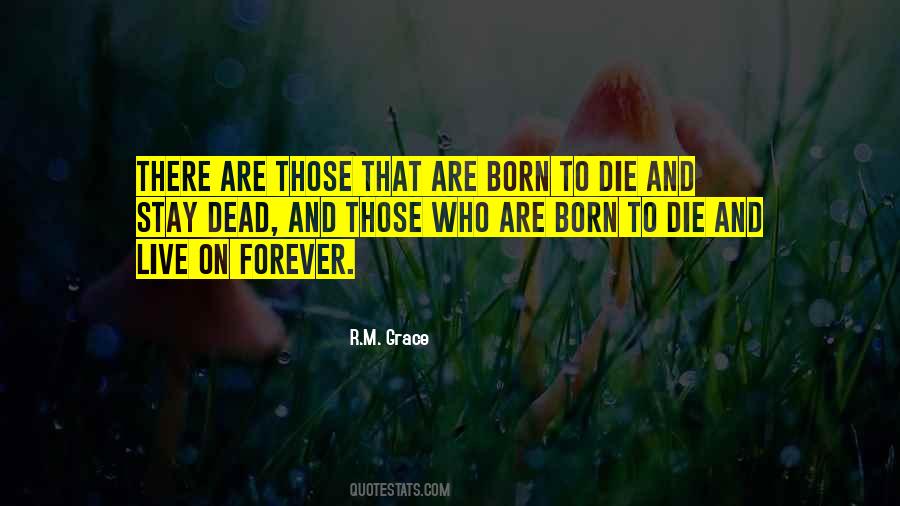 #61. Everybody is born so that they can learn to live a good life-like loving everybody and being nice, right? Well animals already know how to do that, so they don't have to live so long - Author: Robin Downing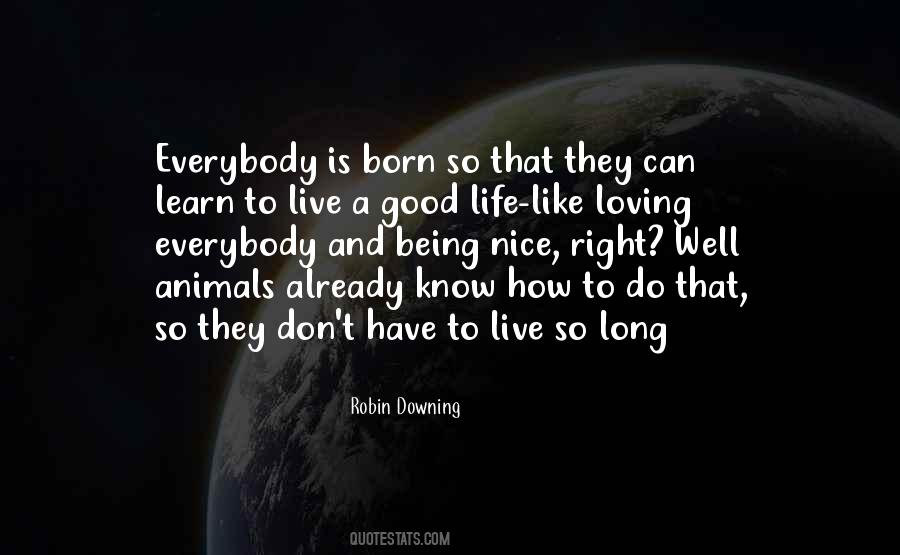 #62. We who are so lucky as to be born into the light - who see it every day and never think about it, we're blessed. We could have been born shadow souls who live and die in crimson darkness, never even knowing that somewhere there is something better. - Author: L.J.Smith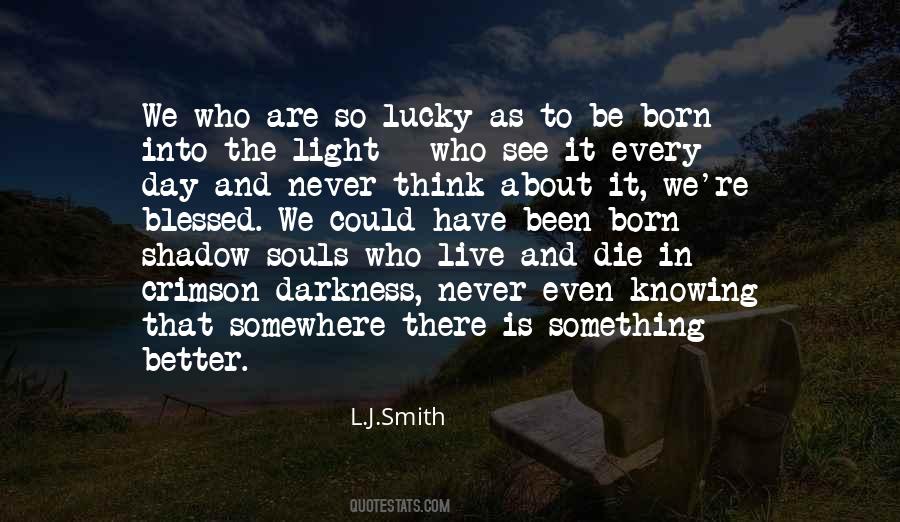 #63. Woodcutter. Cut my shadow from me. Free me from the torment of being without fruit. Why was I born among mirrors? Day goes round and round me. The night copies me in all its stars. I want to live without my reflection. And then let me dream that ants and thistledown are my leaves and my parrots. - Author: Federico Garcia Lorca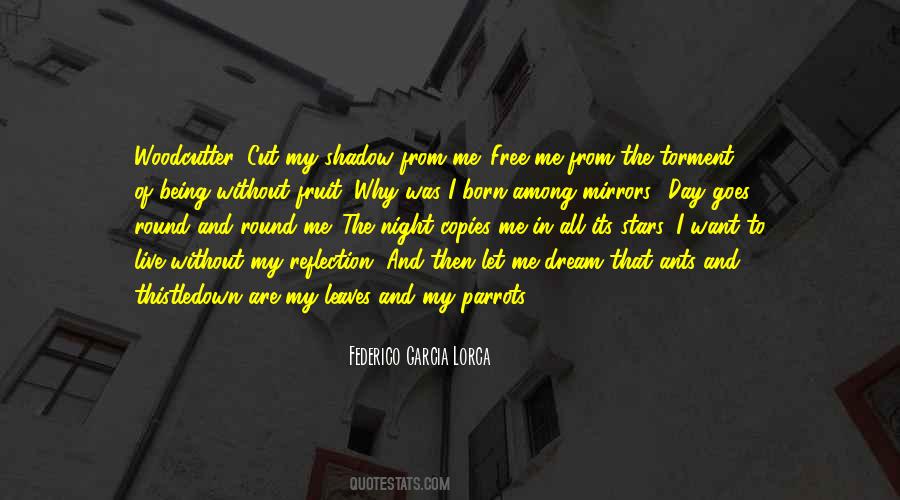 #64. You were not born to make only a living but to live life. - Author: Lailah Gifty Akita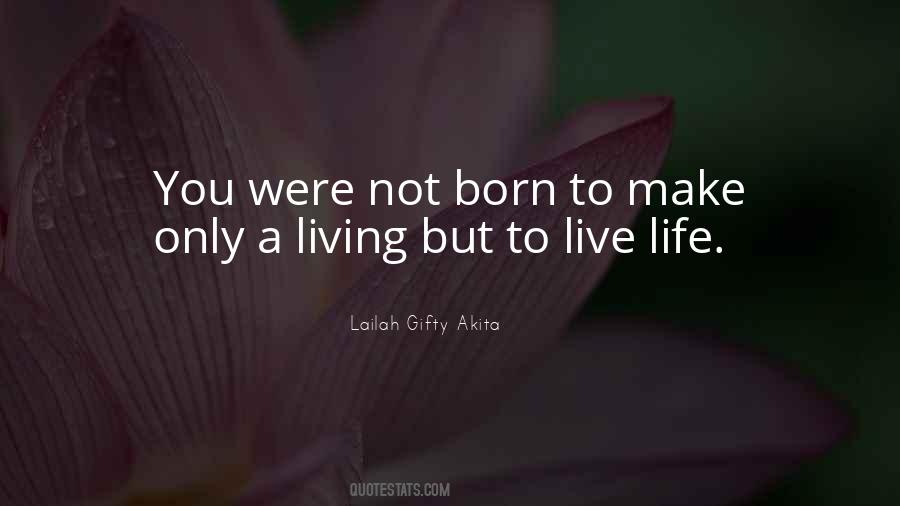 #65. I was born not to die but to live and never born. - Author: Santosh Kalwar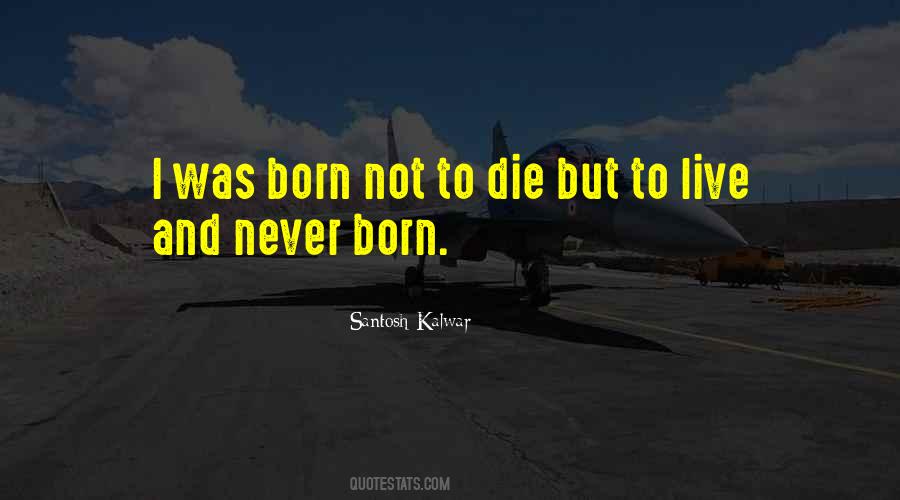 #66. When Jesus comes to the earth in the New Testament, we are quickly introduced to him as an immigrant. Fleeing a brutal political situation in Bethlehem after he is born, Jesus' family travels to Egypt, where they live for years as sojourners in a foreign land. - Author: David Platt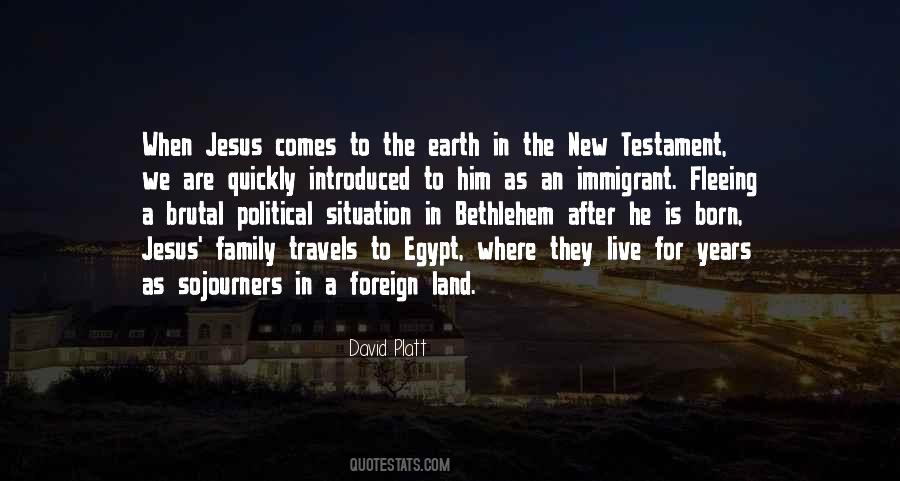 #67. A child born today is more likely to reach retirement age than his forebears were to live to their fifth birthday. - Author: Johan Norberg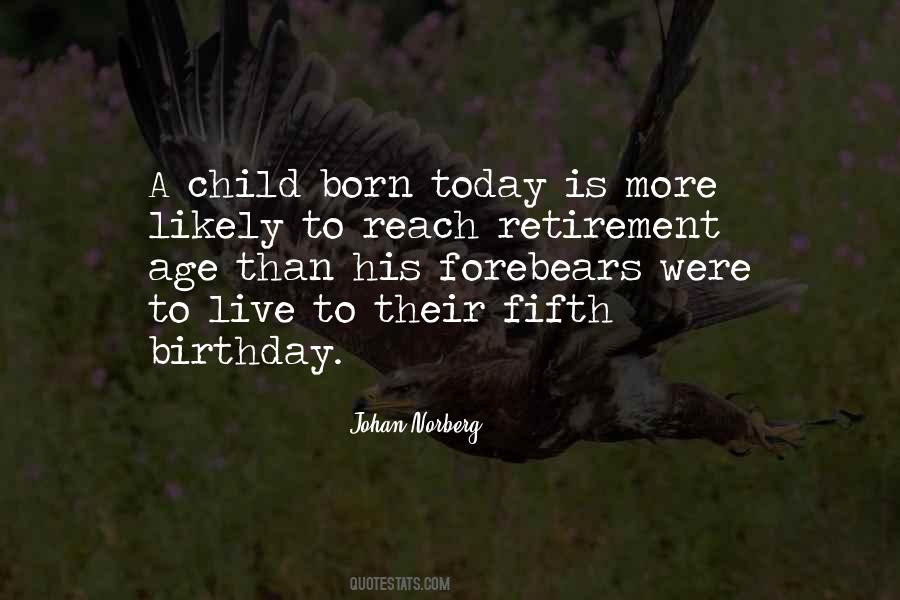 #68. Compassion is born from the imagination. To have the desire to be compassionate, you have to imagine a world that's better than the one you live in. - Author: Ryan Henry Ward Artist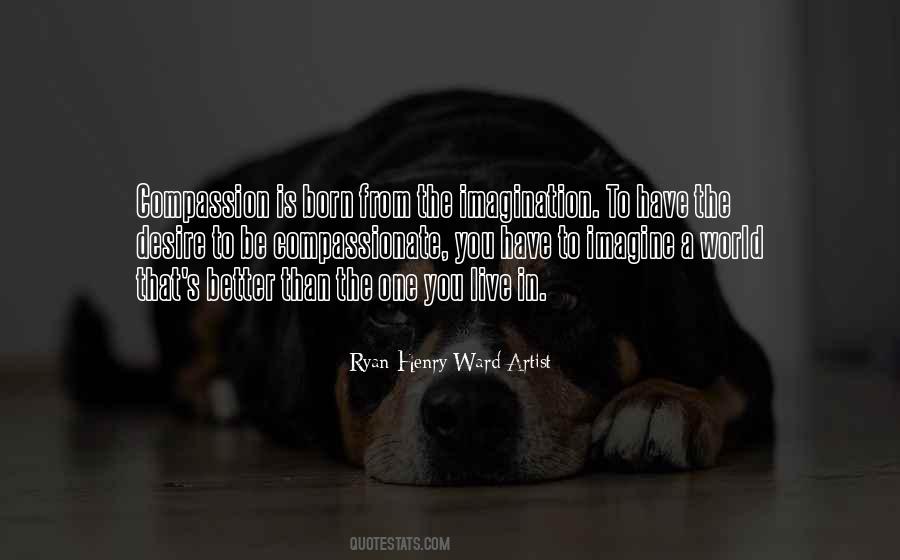 #69. If we live by subhuman means we might as well never have had the good fortune to be born human. - Author: Ihara Saikaku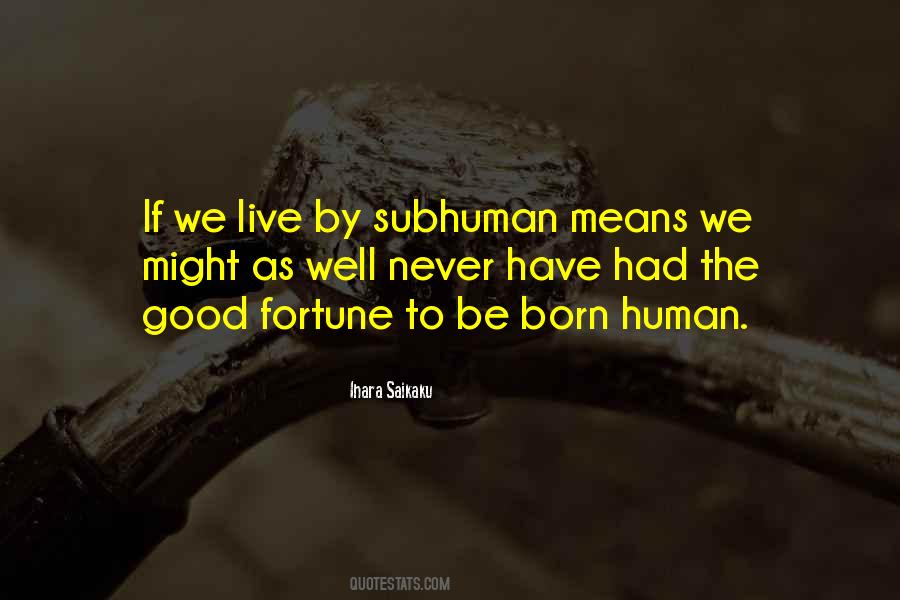 #70. You can always live extraordinary live.
You are born to reach your full potential.
The only limit is yourself. - Author: Lailah Gifty Akita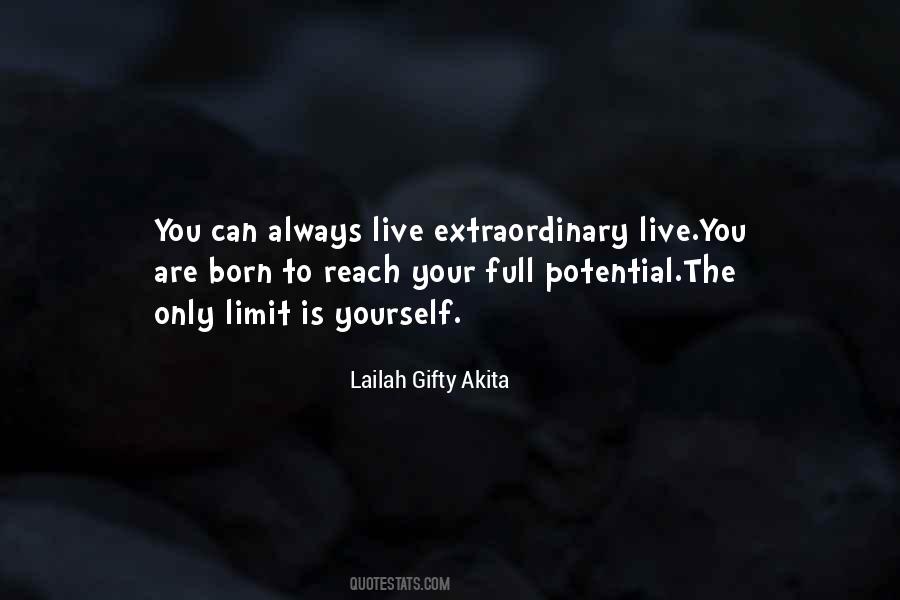 #71. You can be born-again and believe in Jesus, believe in Jesus' ideas and try to live them out, without becoming totally intolerant of other people. - Author: Martin Scorsese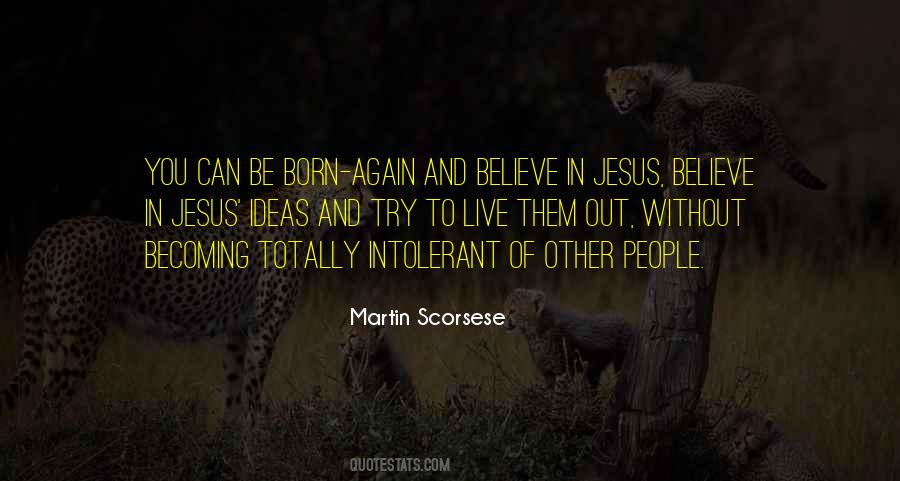 #72. We are at a crossroads in the music business: with the rise of the internet, the world we live in has changed, and the past is not coming back. But I see the glass as half-full: the internet and social networking are new avenues for the next Bob Dylan to be born on. - Author: Jon Bon Jovi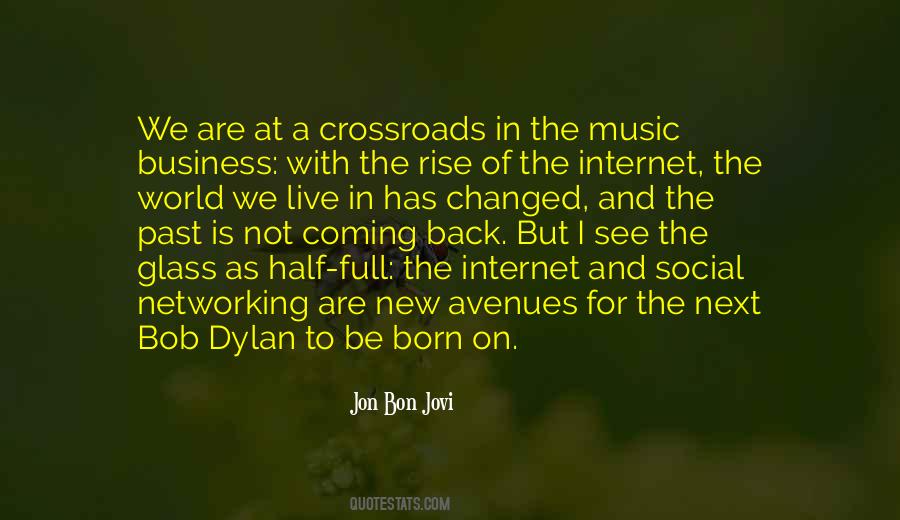 #73. I simply knew, via song, sunlight, redwings and cottonwoods, that there was a world I was born to live in, that the men I was standing beside lived in another, and that as long as I remembered this their words would never hurt me again. - Author: David James Duncan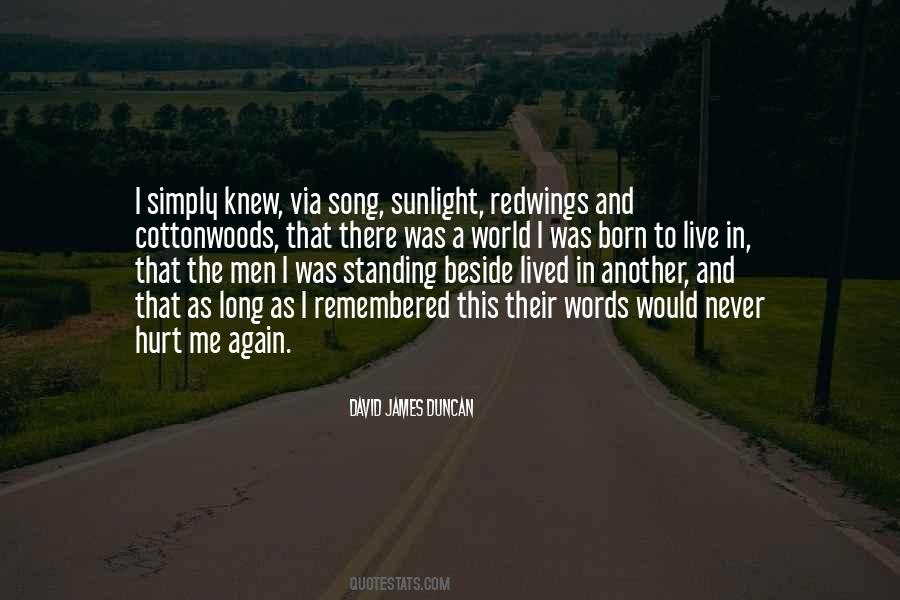 #74. These are the days in which a true leader wants to live. These are days when opportunities to change lives and even destinies are nearly endless. You are running the anchor leg of the relay because you were born to lead. You were born for glory. - Author: Sheri L. Dew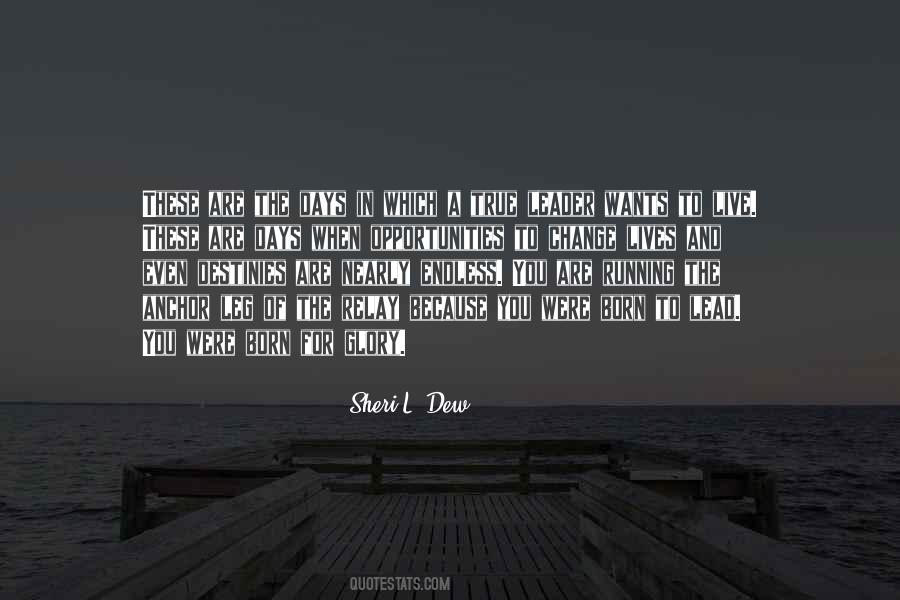 #75. Whatever circumstances you were born into, whatever family life and education you had or didn't have, you came here to make your dreams come true, and no matter where you are now, you are fully equipped with everything you need to do it! - Author: Rhonda Byrne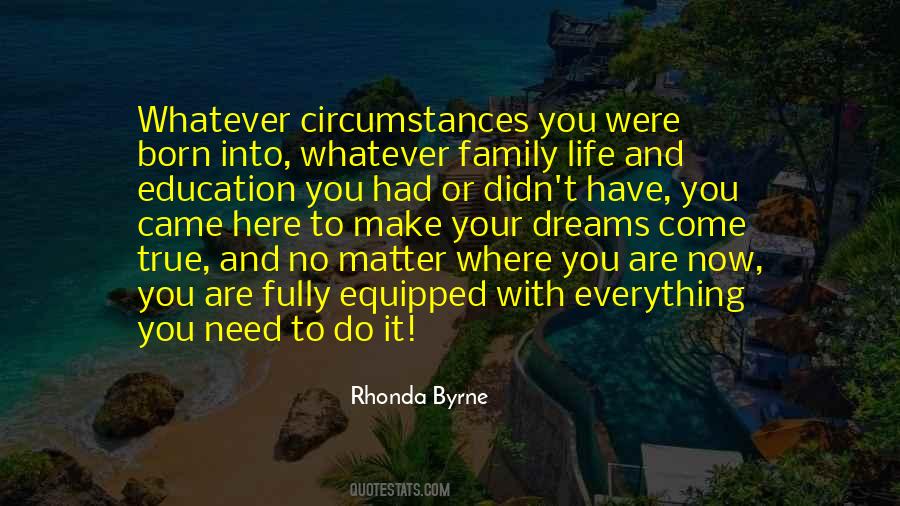 #76. I was born with more power inside myself than I ever dreamed. But along with it there came no more sense than any other idiotic kid. Somewhere along in here I need to grow up into a man I can stand to live with. A man who doesn't just survive, but deserves to. - Author: Orson Scott Card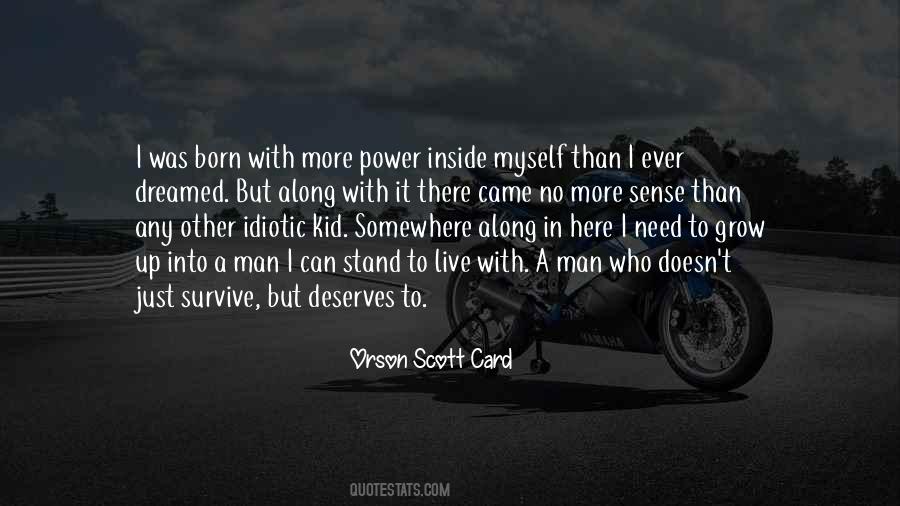 #77. I could live in a sari; I was born to wear a sari. - Author: Vidya Balan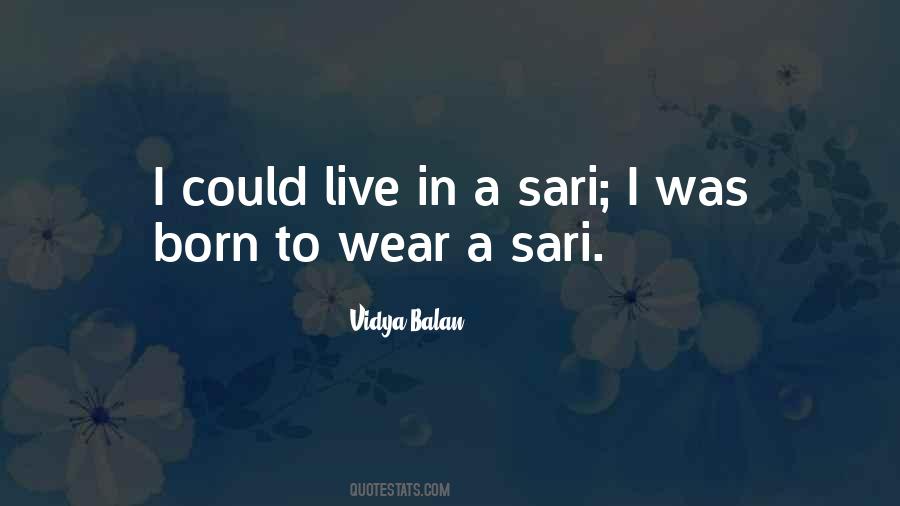 #78. Many people are born crying, live complaining, and die disappointed; they chew the bitter pill which they would not even know to be bitter if they had the sense to swallow it whole in a cup of patience and water. - Author: Charles Spurgeon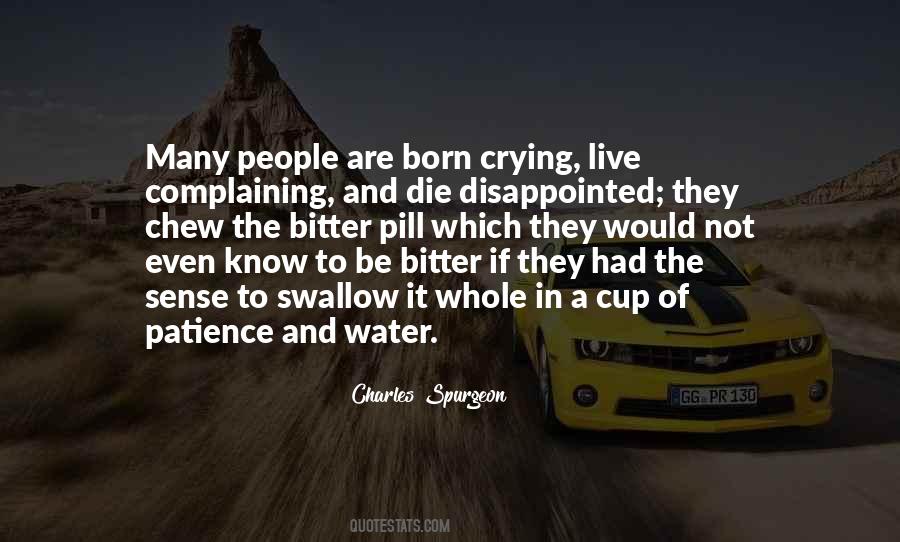 #79. You are born, you live and then you die. But when you forgive you are free to live again! - Author: Stephen Richards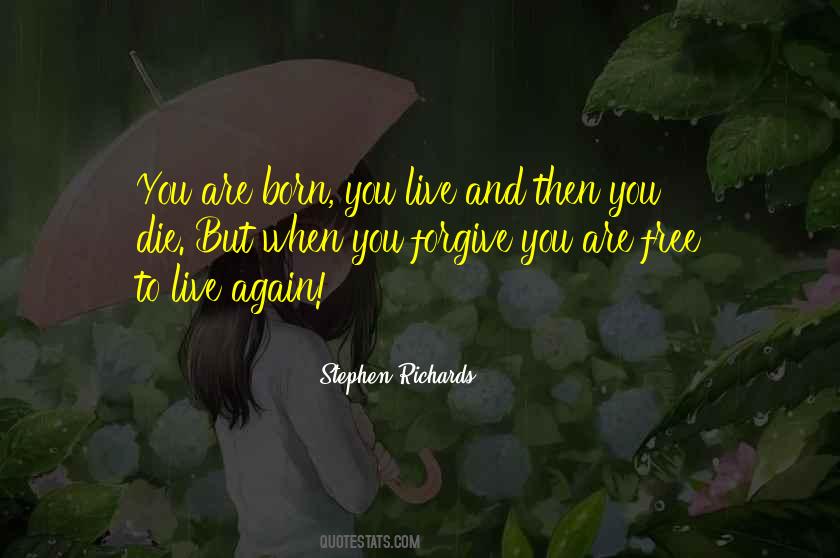 #80. I think that once you're born, the thing you have to do is find out who you are and live that life as well as you can. You can't spend your time wondering how things would have been if you were someone different. - Author: Fuyumi Ono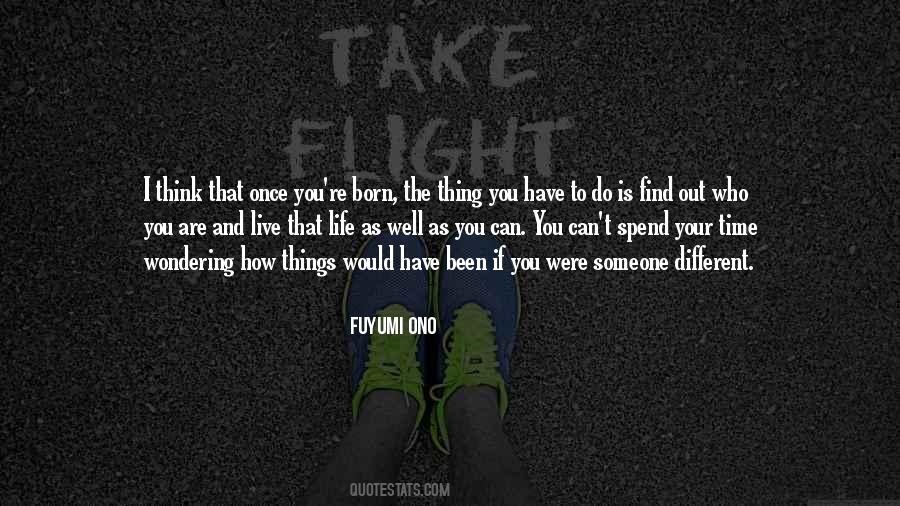 #81. To live is to be born slowly. it would be a little too easy to borrow ready-made souls! - Author: Antoine De Saint-Exupery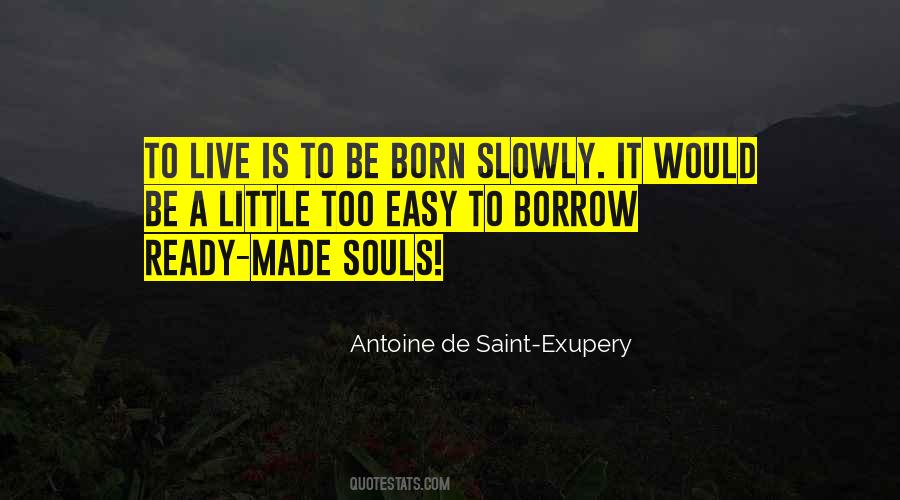 #82. Think of it, I literally had to touch death and be born again to live a glimpse of the life that I never had. - Author: Sapan Saxena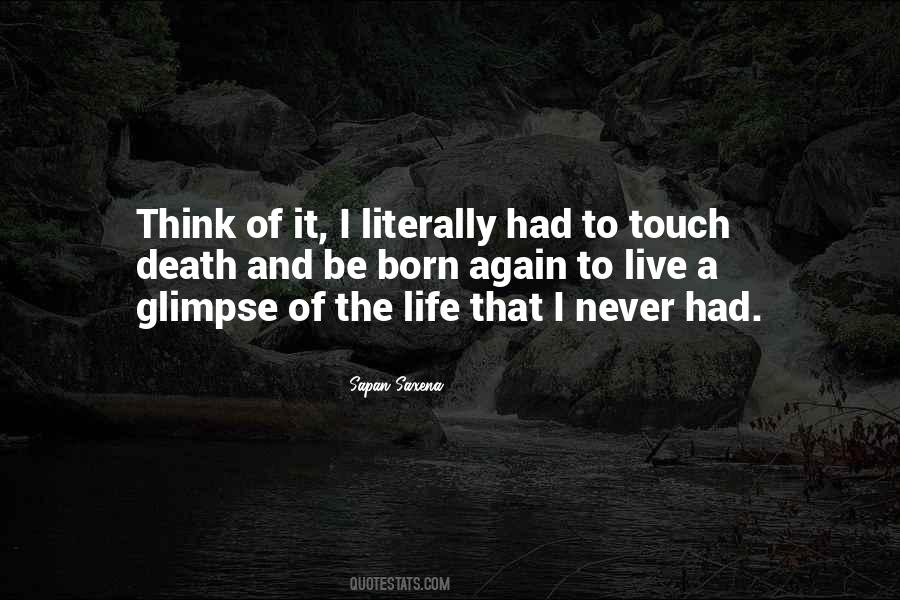 #83. The principle of free speech is no new doctrine born of the Constitution of the United States. It is a heritage of English-speaking peoples, which has been won by incalculable sacrifice, and which they must preserve so long as they hope to live as free men. - Author: Robert M. La Follette, Sr.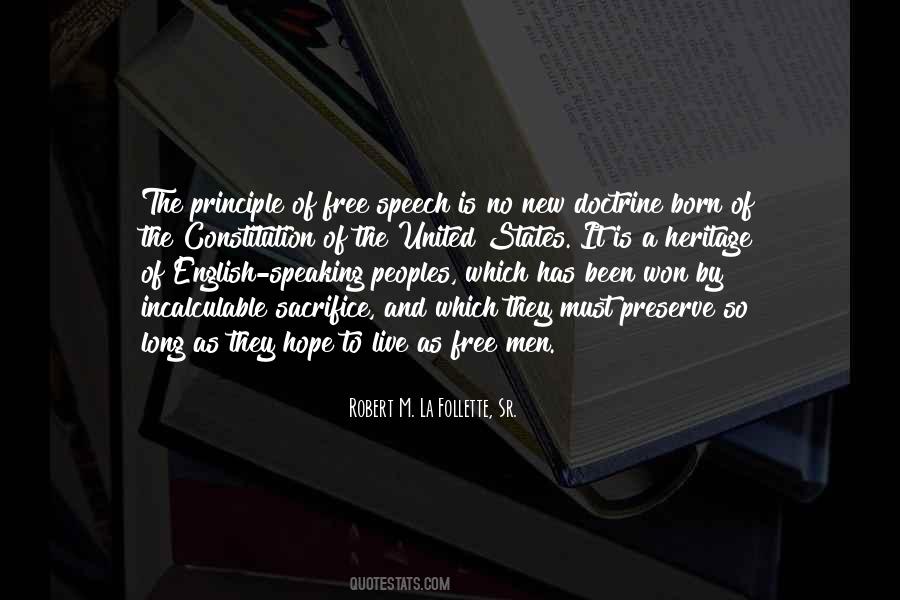 #84. Born to fight.
Learn to win.
Live to help. - Author: Rickson Gracie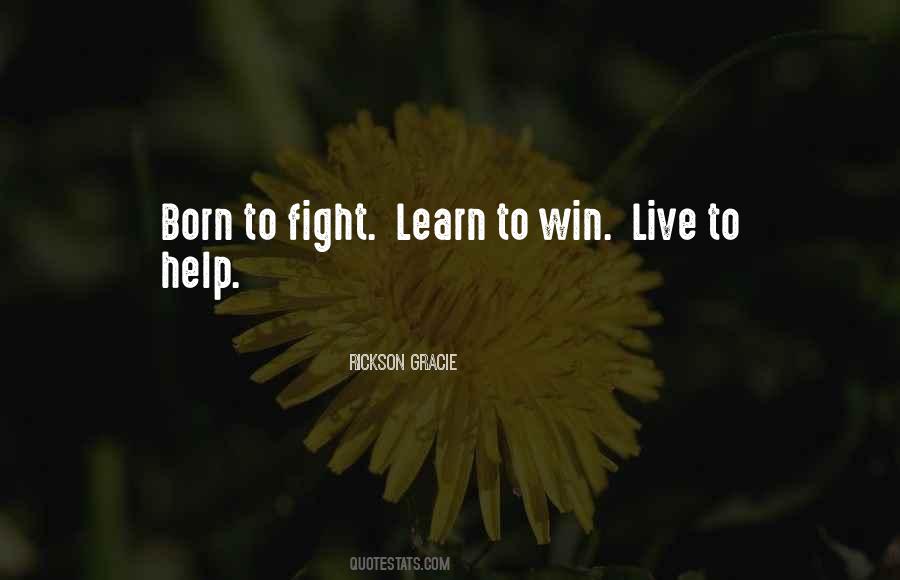 #85. Some people are born to survive. No matter what comes their way, no matter how much pain is dealt them, they live." ~Mercy~ - Author: Lucian Bane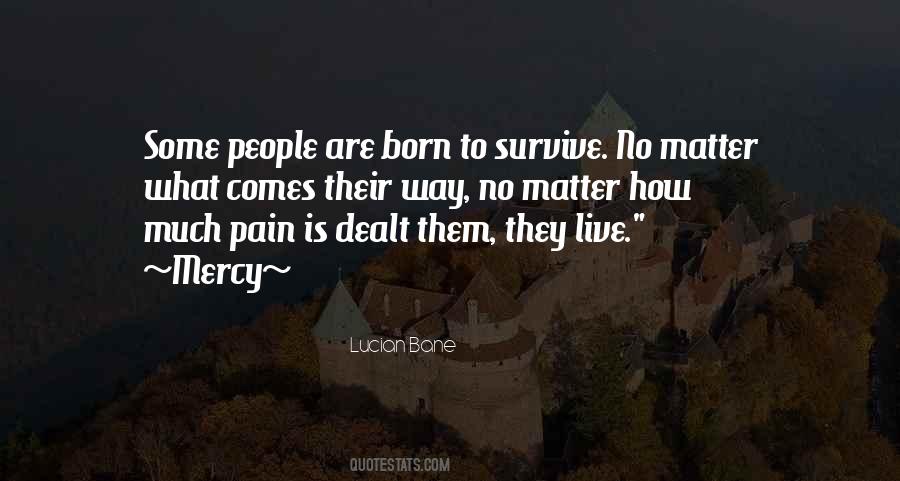 #86. To live is nothing more than to come here to die, to be what we were before being born, but with apprenticeship, experience, knowledge of cause, and perhaps with will. - Author: Juan Ramon Jimenez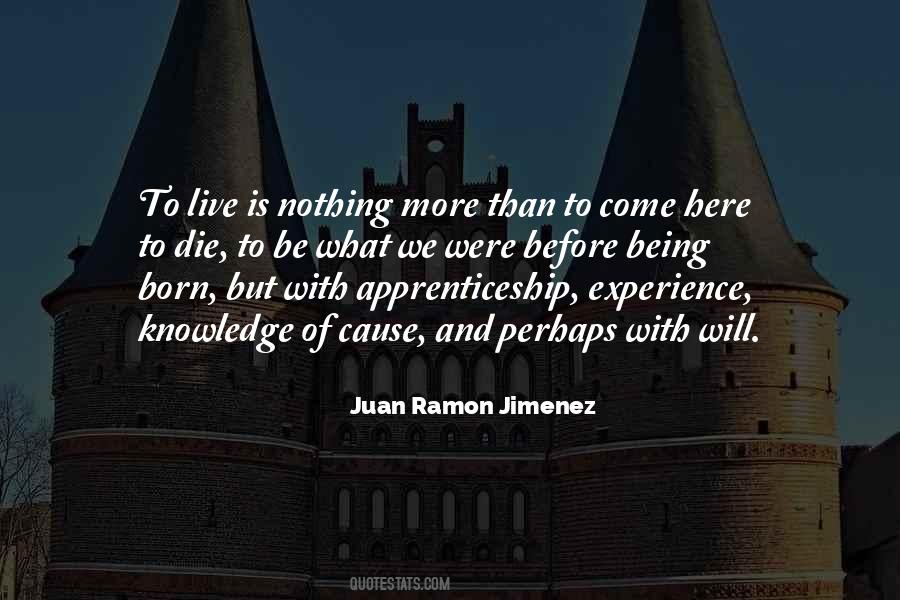 #87. Kids born today will see us navigate past the first greatest test of humanity, which is: can we actually be smart enough to live on a planet without destroying it? - Author: Alex Steffen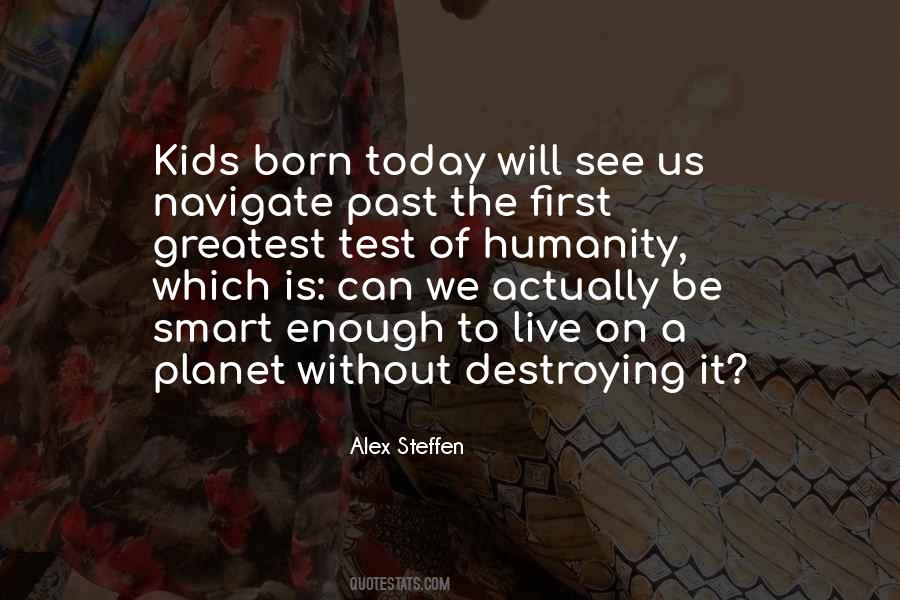 #88. When you are born as a man, you live as a man. When you born as a woman however, you have two choices; to live like a slave, or as a woman. I love the fact that I was born as a woman because I got to make my choices. Who did you chose to be? - Author: Shahla Khan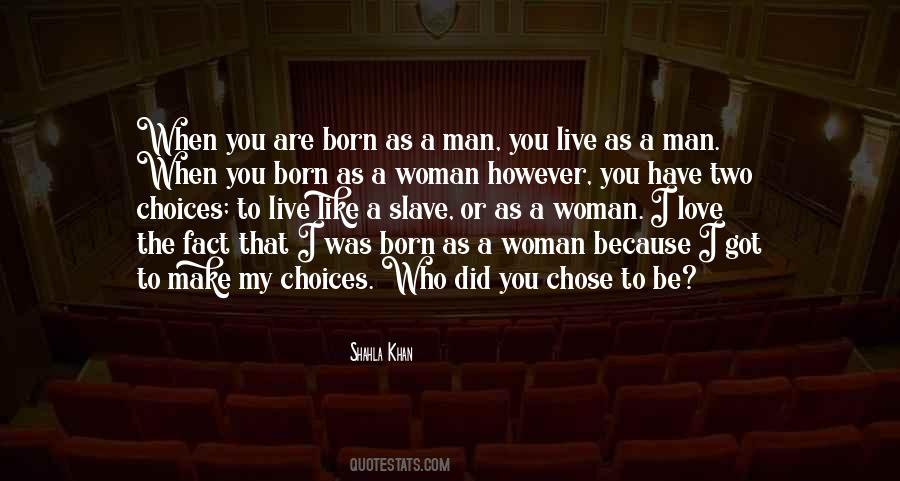 #89. He knows he will be born again,
And start fresh anew. - Author: Dejan Stojanovic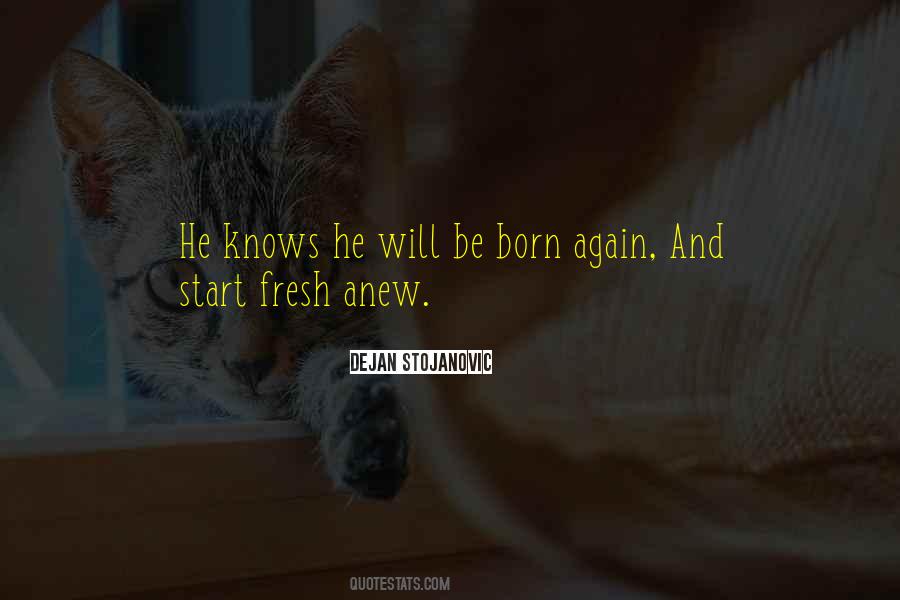 #90. When Autumn was born, it was as if she recognized her, as if she'd always known that it would be her, this little person who had come to live with her and reside permanently in her heart. It was a love unlike any other: fierce and powerful. - Author: Sanjida Kay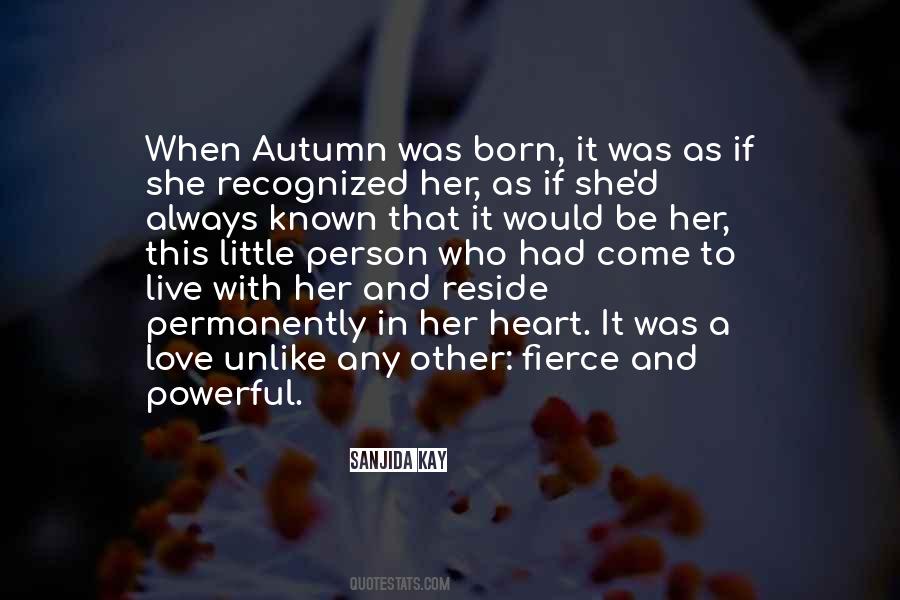 #91. After my daughter was born, I made a promise to myself to live in the moment. - Author: Kourtney Kardashian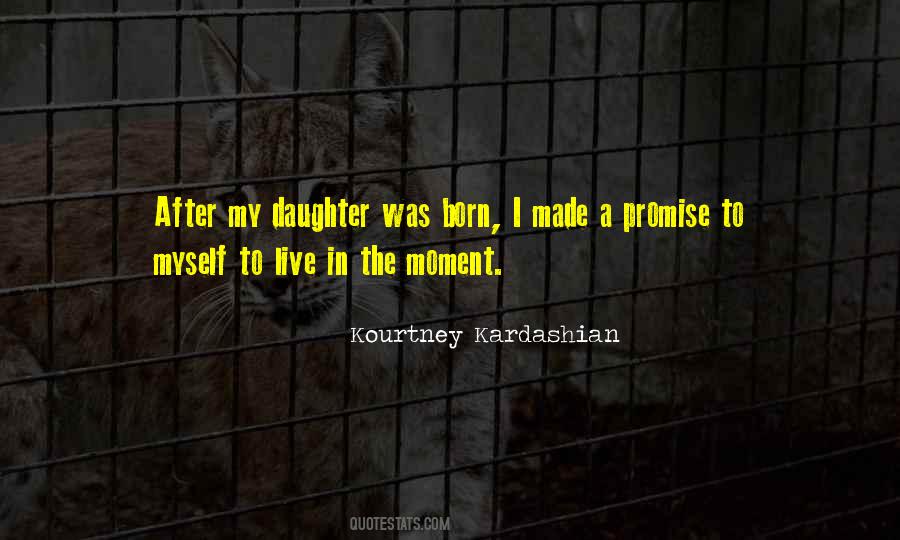 #92. We are born to love, we live to love, and we will die to love still more. - Author: Saint Joseph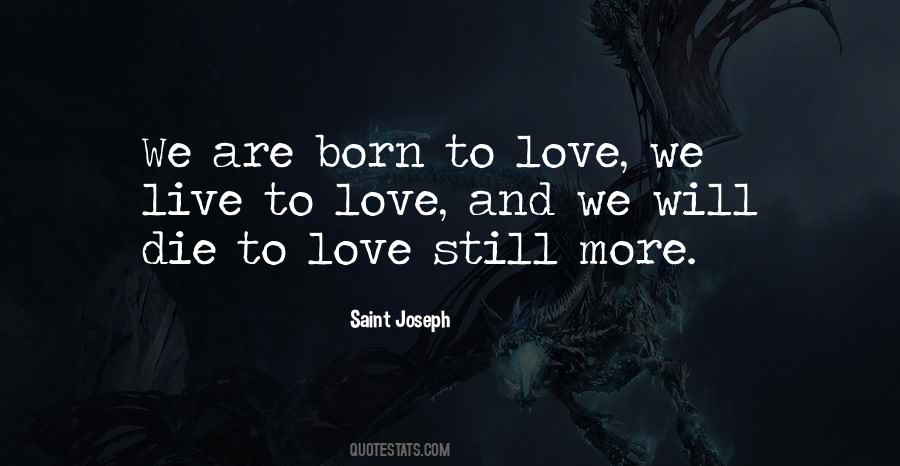 #93. I am the son of poor peasants who came at a very young age to live in Algeria. I only recently saw the place where they were born, near the city of Marrakech. - Author: Ahmed Ben Bella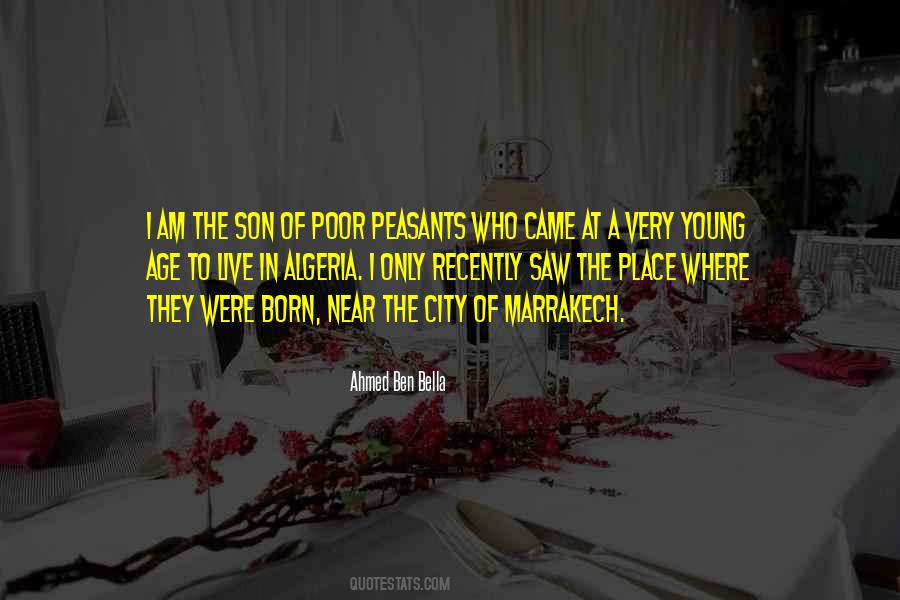 #94. The problem is that those of us who were born into Islam and who don't want to live according to scripture - we don't have what the Jews have, which is a rabbinical tradition that allows you to ask questions. We also don't have the church tradition that the Christians have. - Author: Ayaan Hirsi Ali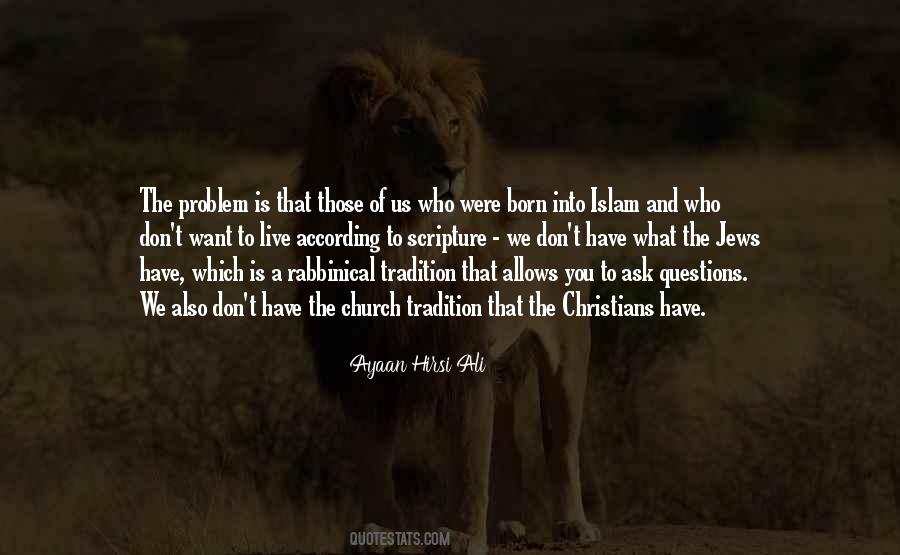 #95. Why I Wrote Redeeming Love Many born-again Christians talk about a single conversion experience that changed their lives forever. They can tell you the day and the hour they made their decision to live for the Lord. I can't do that. - Author: Francine Rivers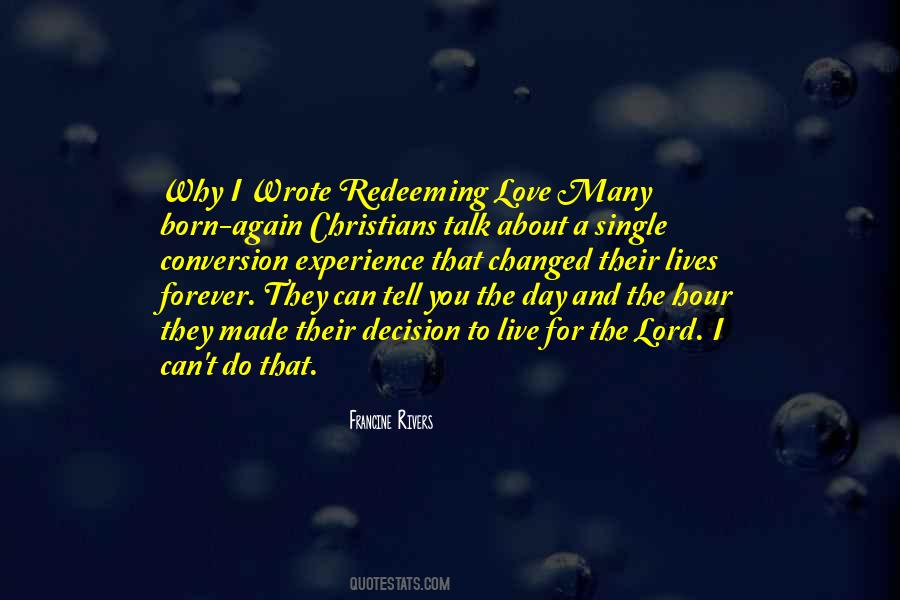 #96. Origin stories are irrelevant. Nothing matters less than how you were born. What matters is how you die, and how you live. We live for each other, so anything that got us to that point must have been right. - Author: Robin Wasserman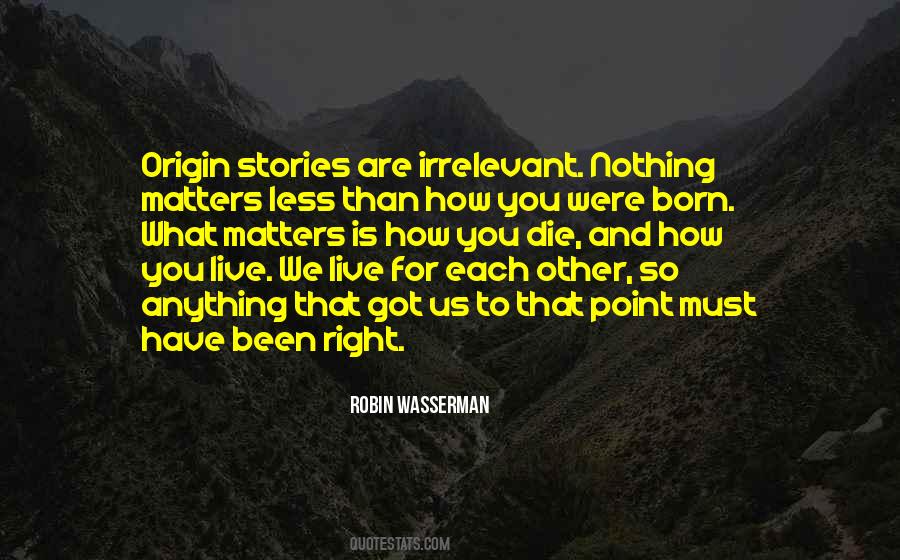 #97. We live a life of privilege. That doesn't mean we can literally switch off these women, whose only fault was being born in the Congo during civil war. We need to bear witness. - Author: Maria Semple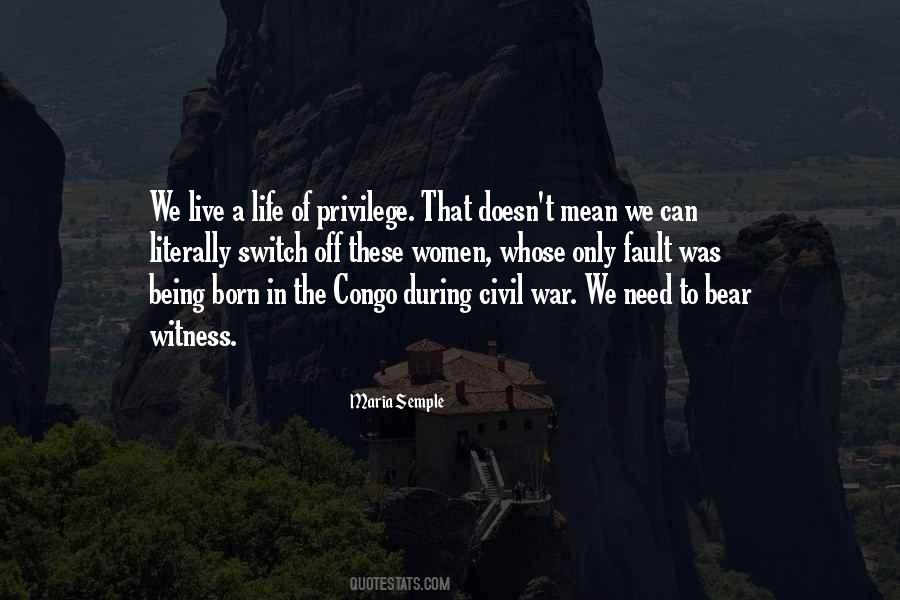 #98. First of all, when you live in a country like Canada, it's quite different from America in the sense that it's very tied to traditions that were born in Britain. - Author: Geddy Lee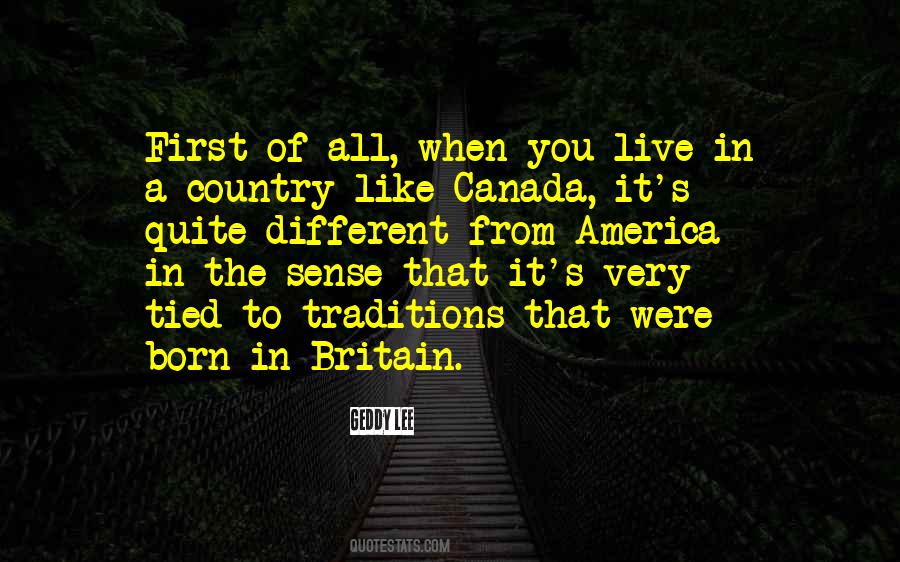 #99. Choicelessness is the alchemy of transformation, of inner mutation. A new being is born who has nothing to do with the past, who is absolutely discontinuous with the past. He has no desire. And when there is no desire, for the first time you live - Author: Rajneesh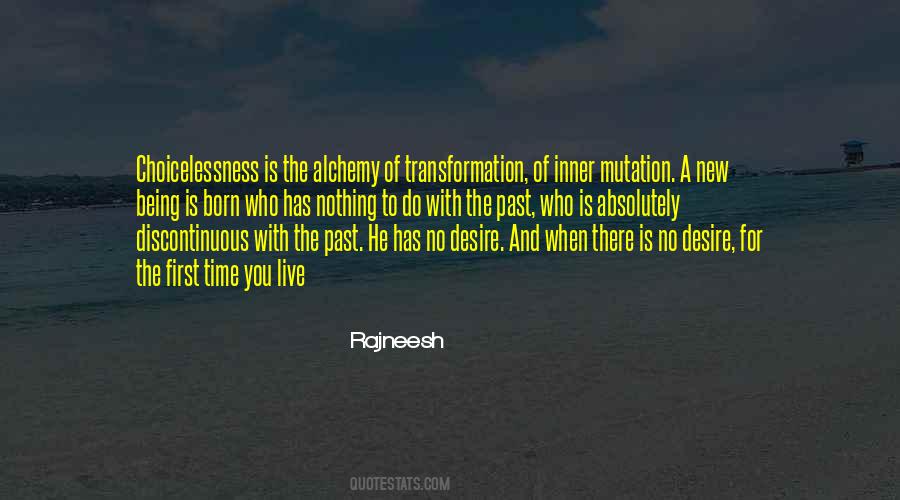 #100. Born Berlin 1931, Germany, father a British diplomat, mother an American artist. Educated at various schools all over the world. 1958 Settled down to live in London. 1966 Became interested in photography through photographing my young children. No formal training. - Author: Fay Godwin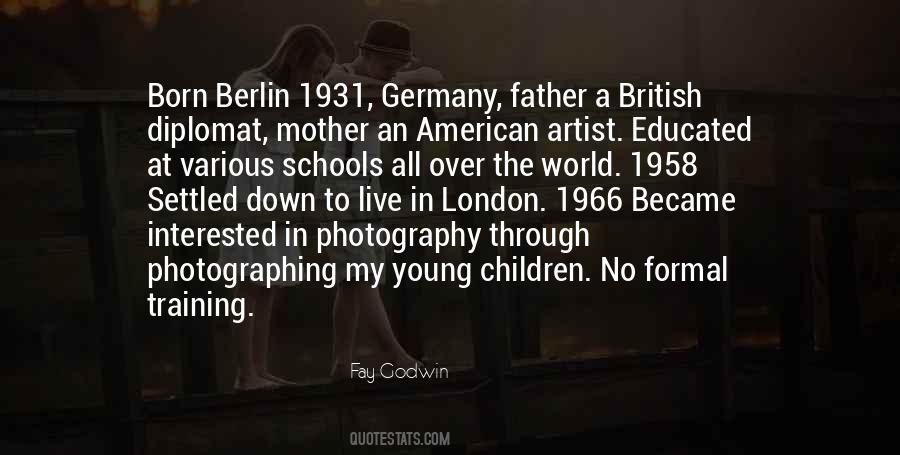 Famous Authors
Popular Topics