Better Before Famous Quotes & Sayings
List of top 100 famous quotes and sayings about better before to read and share with friends on your Facebook, Twitter, blogs.
Top 100 Better Before Quotes
#1. To comprehend the Wisdom of this Injunction the better, and explain the Duty before us, it should be considered, that Government is the only Means by which human Happiness can be attained. - Author: Charles Inglis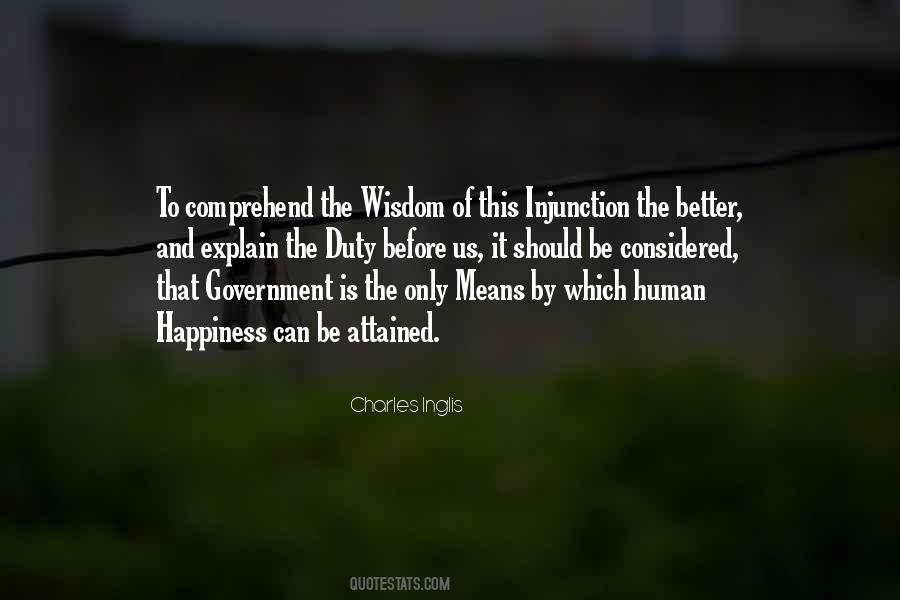 #2. It may be that religion is dead, and if it is, we had better know it and set ourselves to try to discover other sources of moral strength before it is too late. - Author: Pearl S. Buck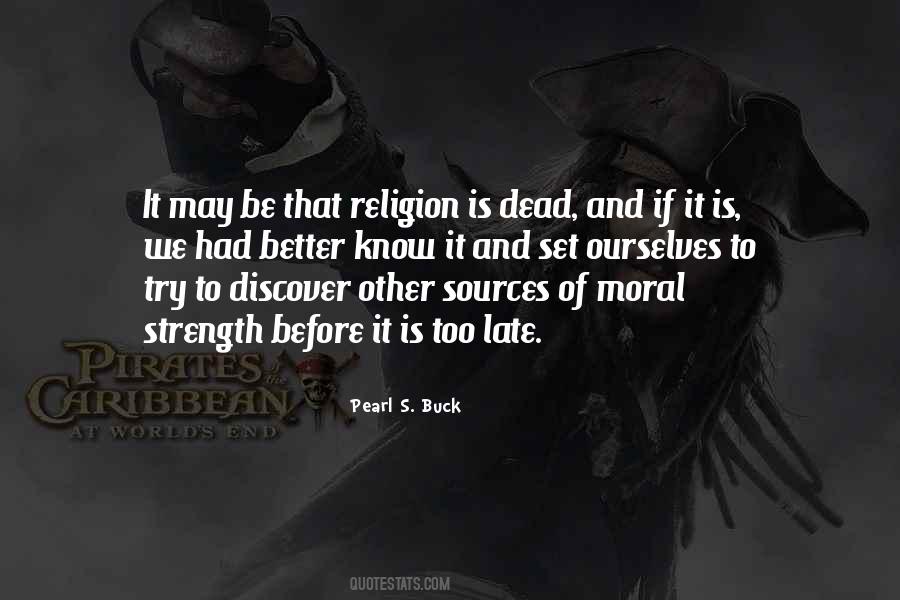 #3. I learned that we must obey in faith before we feel better or different. At this time, though, obeying in faith, to me, felt like throwing myself off a cliff. Faith that endures is heroic, not sentimental. And - Author: Rosaria Champagne Butterfield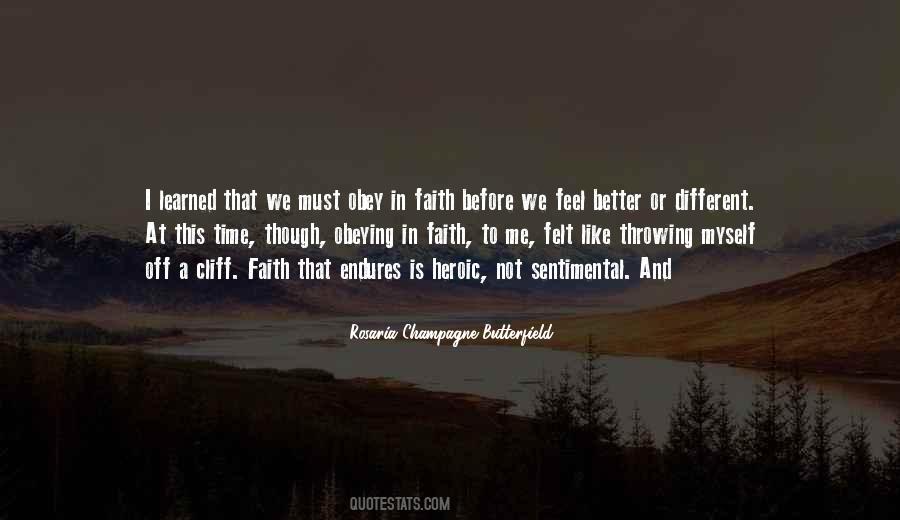 #4. Sam was helping animals long before he was Sam Simon. He lived what he believed; his thing was making the world better and having rights for animals, and every area of his life reflected that. - Author: Justin Baldoni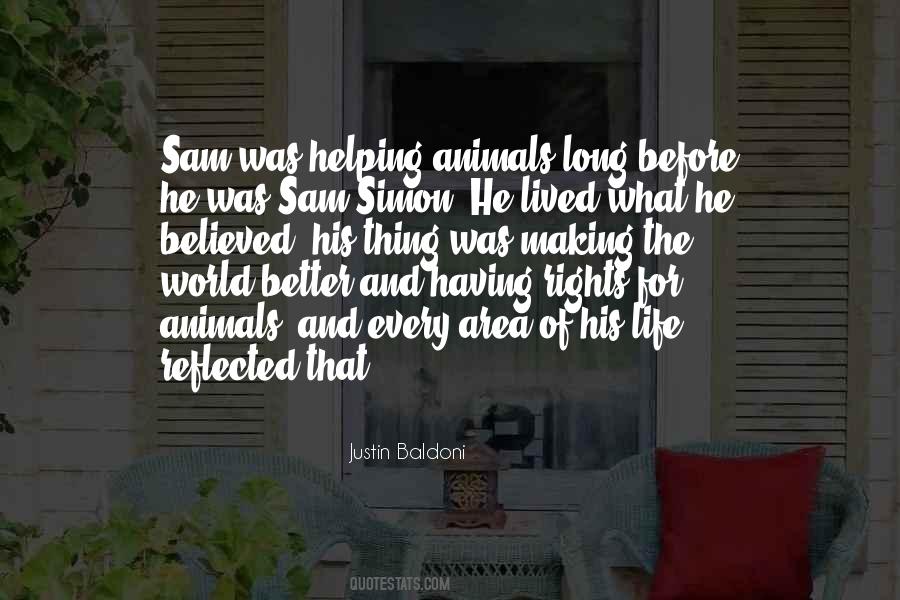 #5. Wine lovers have known for centuries that decanting wine before serving it often improves its flavor. Whatever the dominant process, the traditional decanter is a rather pathetic tool to accomplish it. A few years ago, I found I could get much better results by using an ordinary kitchen blender. - Author: Nathan Myhrvold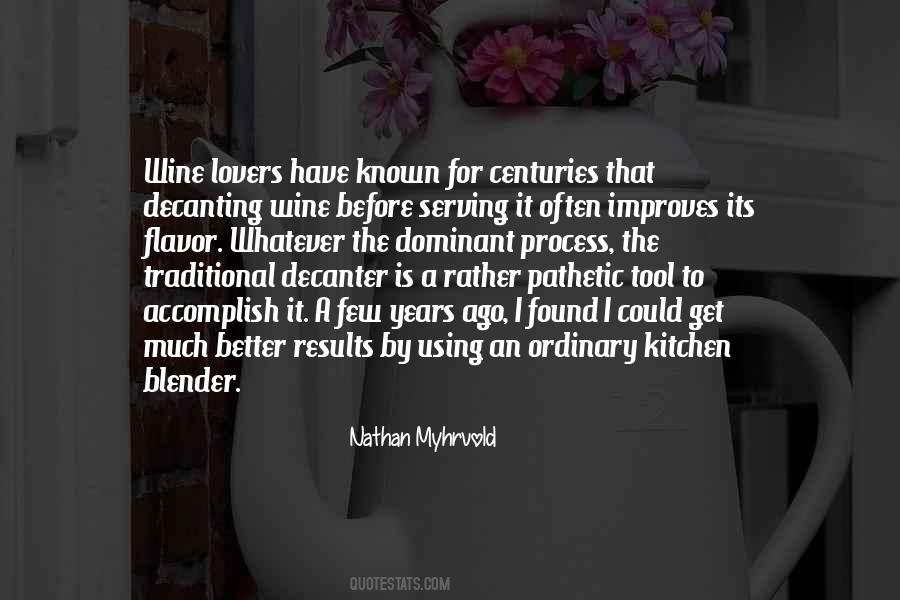 #6. I've never feared death before. I've always been willing to die. Sometimes I even welcomed it, wishing for this all to be over and finally find peace in an endless sleep. But when I look at you, I see possibility, and I start to do what I know better than to do - I wonder - Author: Emalynne Wilder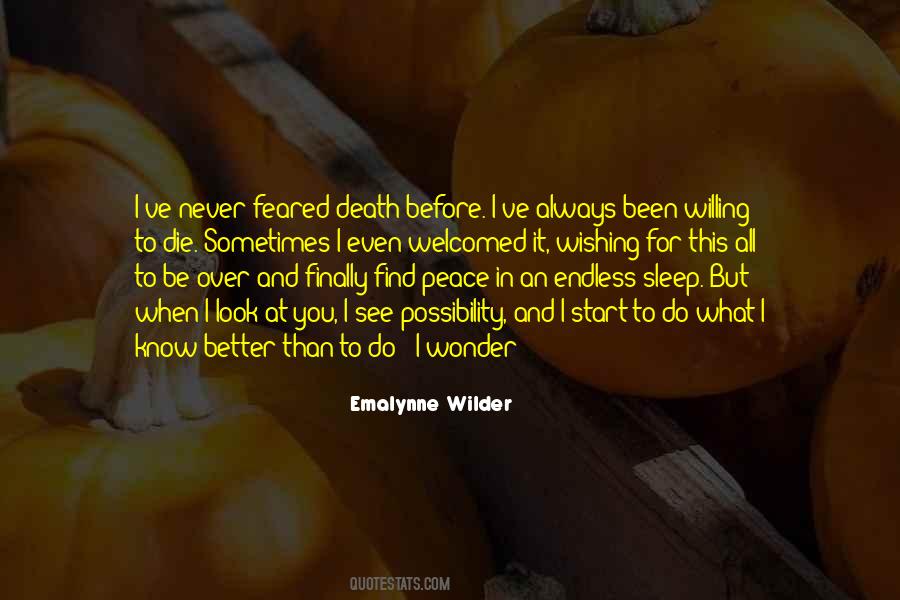 #7. The best is oftentimes the enemy of the good; and many a good book has remained unwritten ... because there floated before the mind's eye the ideal of a better or a best. - Author: Richard Chenevix Trench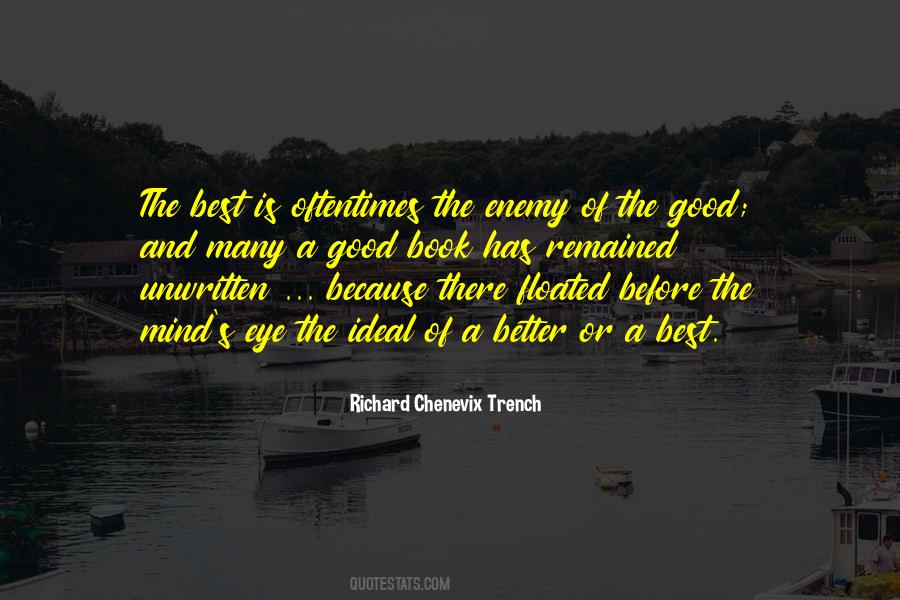 #8. It's better to give before you receive. - Author: Keith Ferrazzi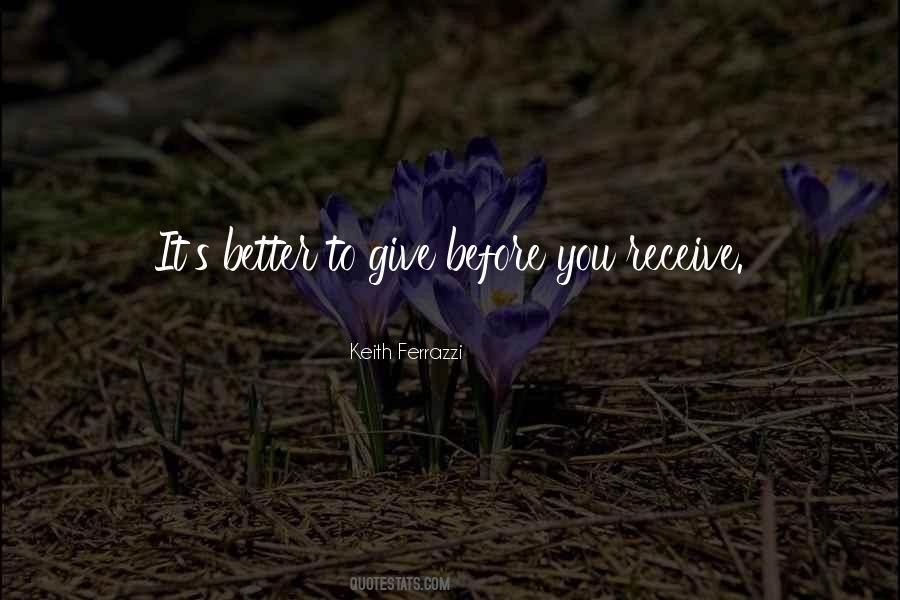 #9. Before you build a better mousetrap, it helps to know if there are any mice out there. - Author: Mortimer Zuckerman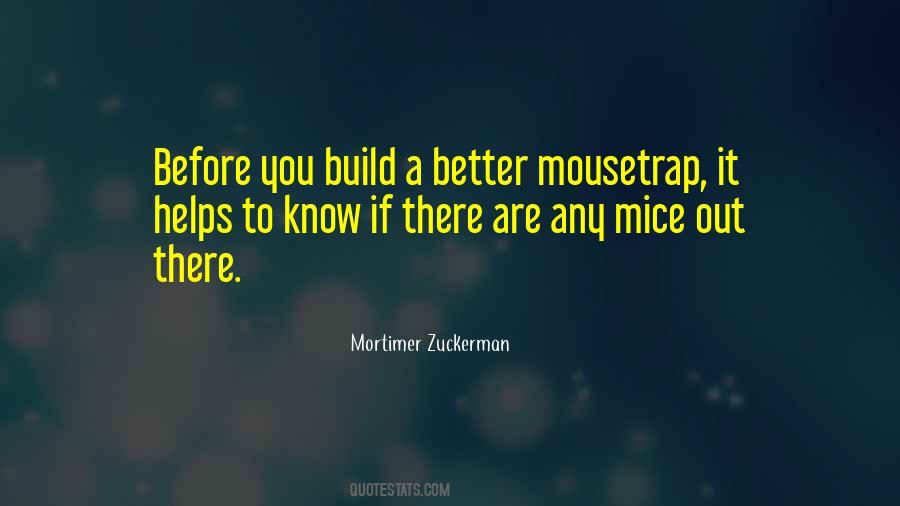 #10. I try not to eat right before I perform. It's better to perform on an empty stomach - it just feels better. You just feel like a leaner machine. You're not worrying about digesting things. - Author: Reggie Watts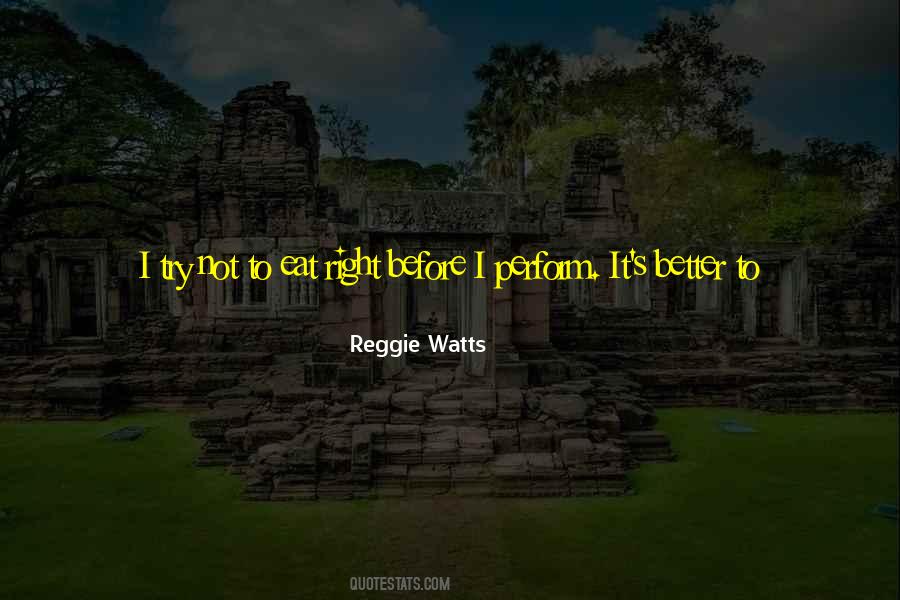 #11. Bottom Line: It's better to give before you receive. And never keep score. If your interactions are ruled by generosity, your rewards will follow suit. - Author: Keith Ferrazzi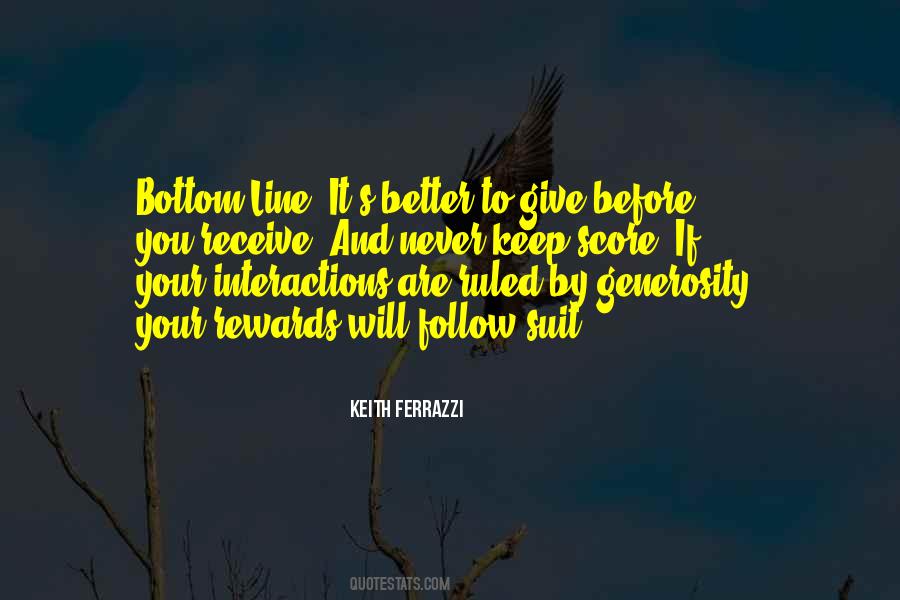 #12. Just give me more, better memories to replace the bad ones. I'll be back to normal before we know it. - Author: A.R. Von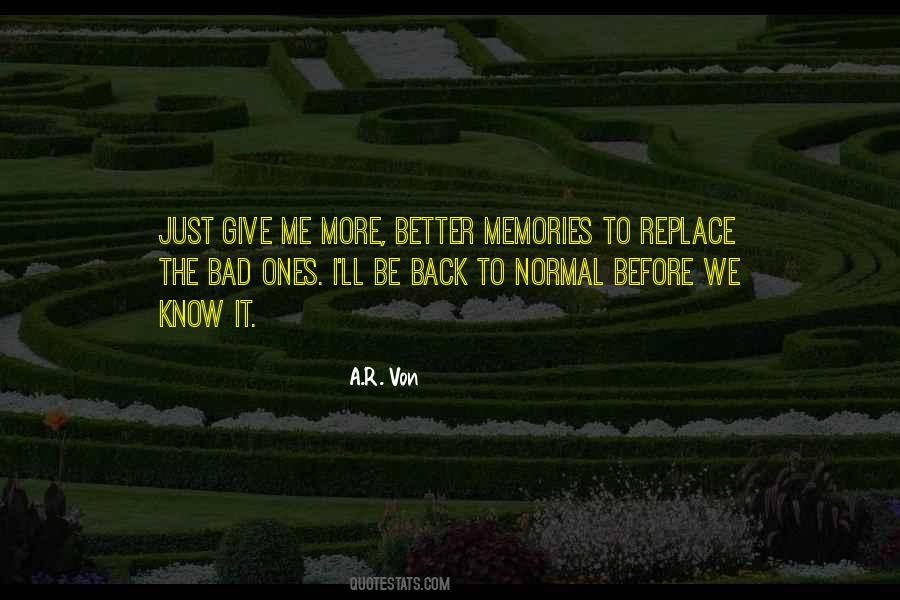 #13. Music before all else,
and for that choose the irregular,
which is vaguer and melts better into the air ... - Author: Paul Verlaine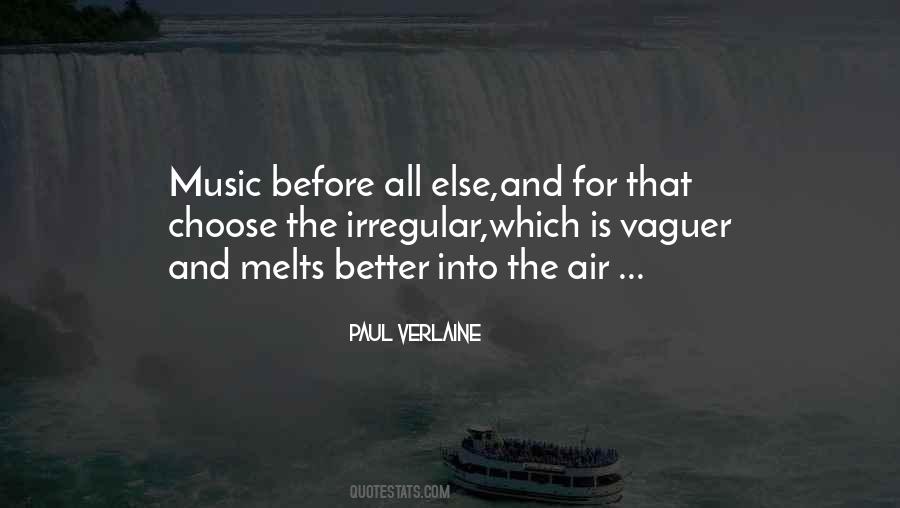 #14. She was crude, but loyal. He began to understand her even better than before. A pity she was so old; it was too late to try to make a human being of her. - Author: Elias Canetti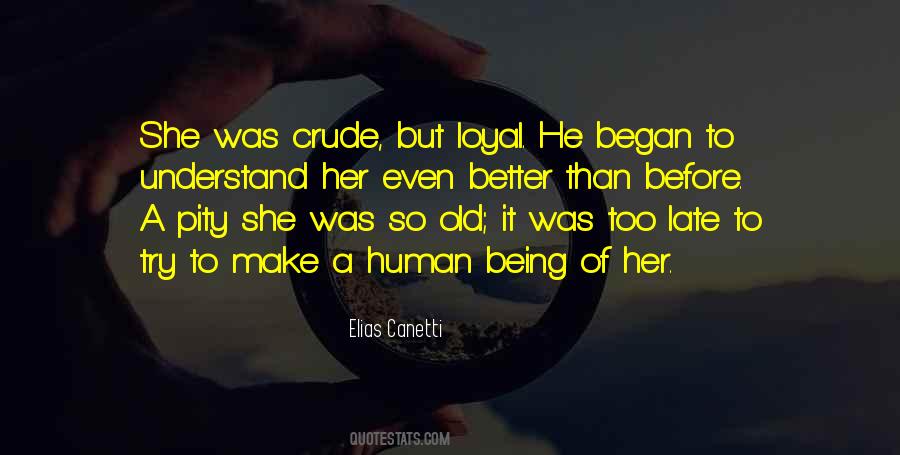 #15. The civil rights situation is like a pregnancy. It will get worse, I believe, before it gets better. What the usual pregnancy comes to is a decent baby. That is what we all hope will be the end product of this stress. It is customary, at the end of a pregnancy, to have for your pains a decent baby. - Author: Gwendolyn Brooks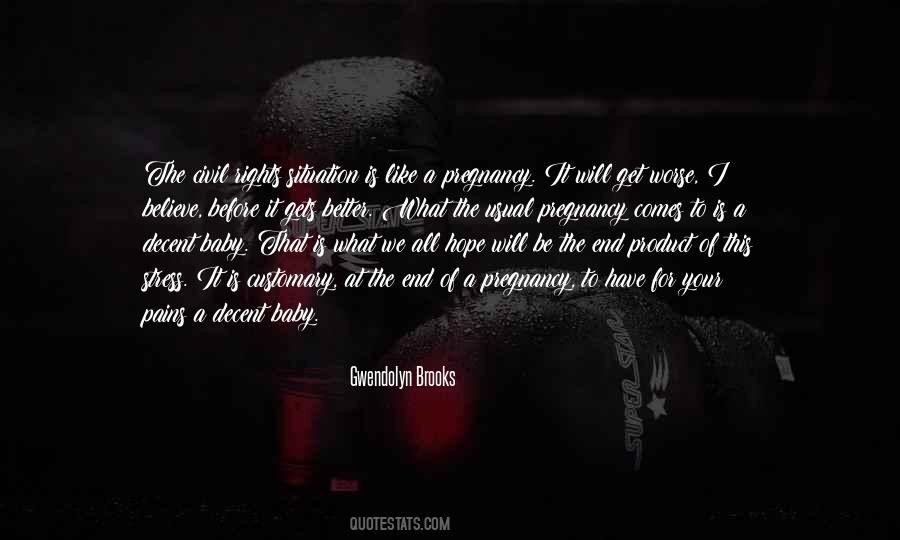 #16. Unless it's a soul-nourishing and breath-taking love, the kind that makes you wonder how you got along without them before you met them and makes you be a better, happier person, it is a waste of time. If the person cannot make you smile simply by thinking of them, they're not the one. - Author: Carlos Salinas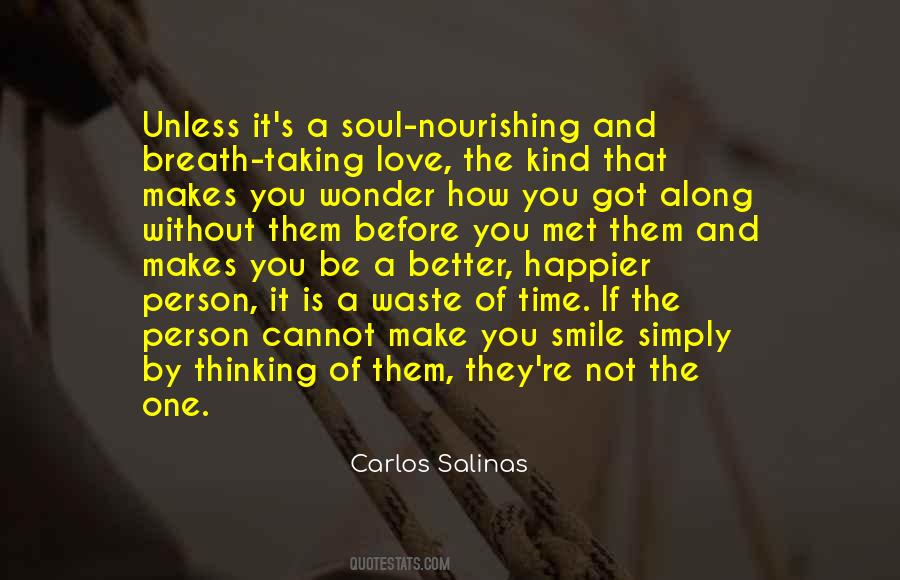 #17. Ready or not! Before I can stop him, Max races toward the bed and dives on top of us. Oh! Oh it feels even better than I imagined. He rolls back and forth across us as Charlie laughs and I wonder why I am friends with such a raging idiot. - Author: Victoria Scott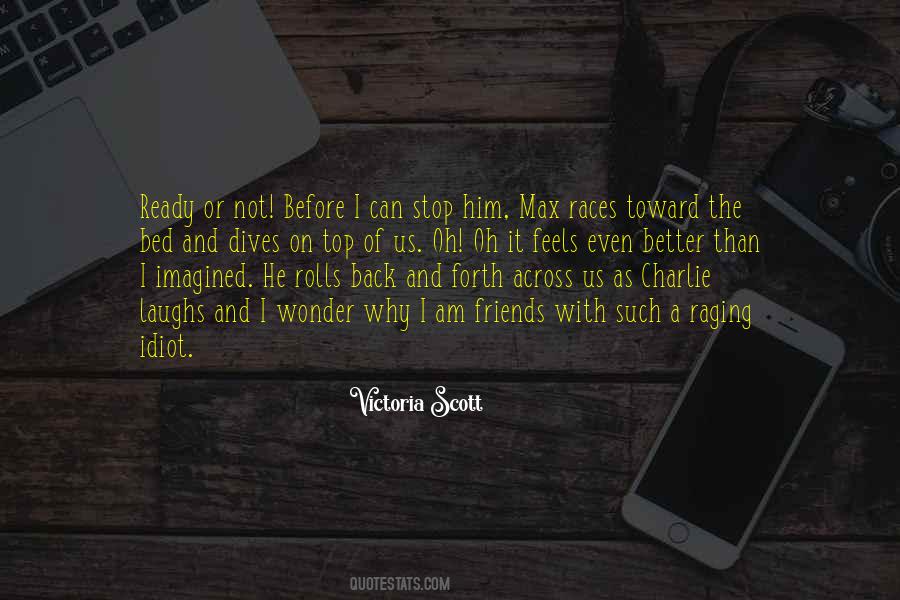 #18. We'd better eat before we raise hell. - Author: Sarah J. Maas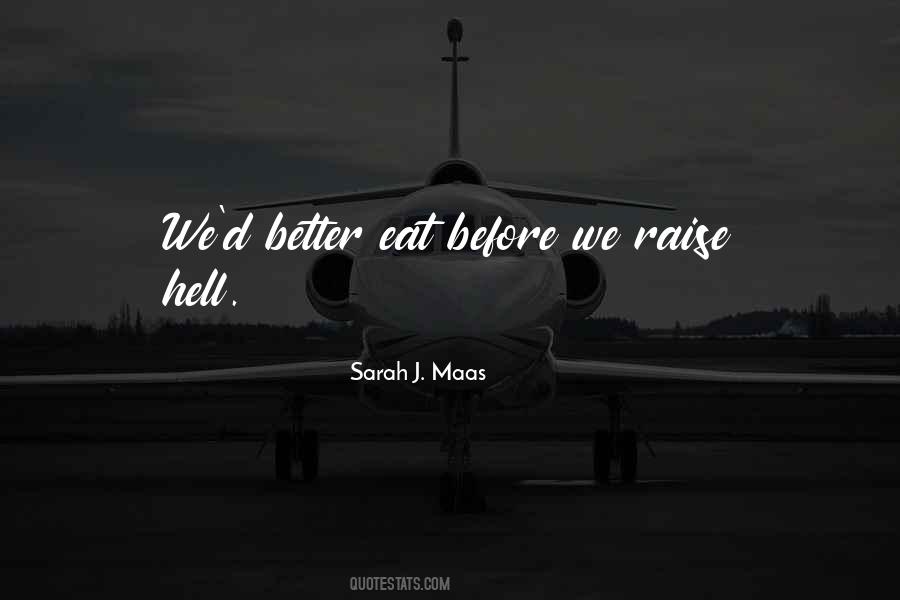 #19. He felt he was himself and did not want to be otherwise. He only wanted to be better than he had been before. - Author: Leo Tolstoy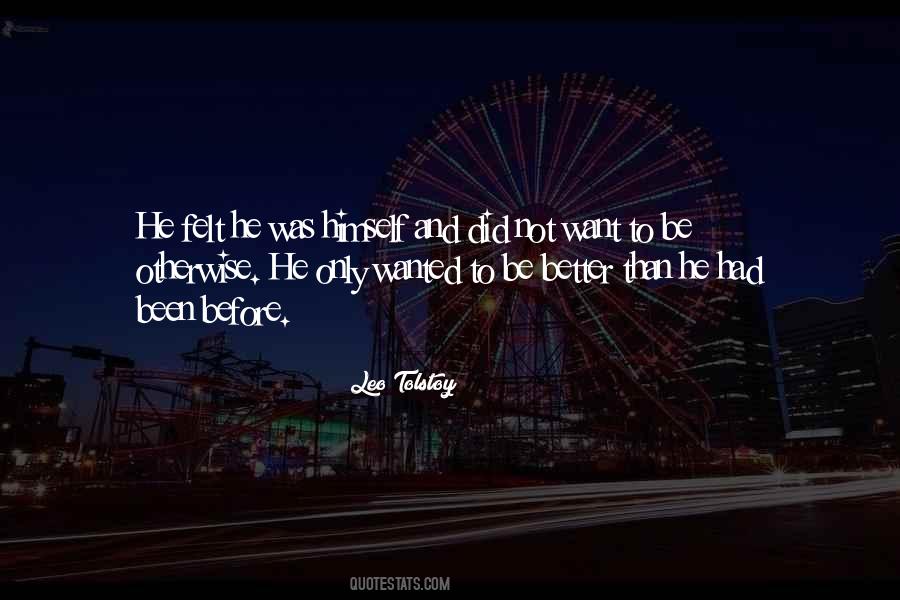 #20. Tease," Ty accused softly.
"Do I have your attention now?" Zane drawled.
"You never lost it," Ty responded before thinking better of it. - Author: Madeleine Urban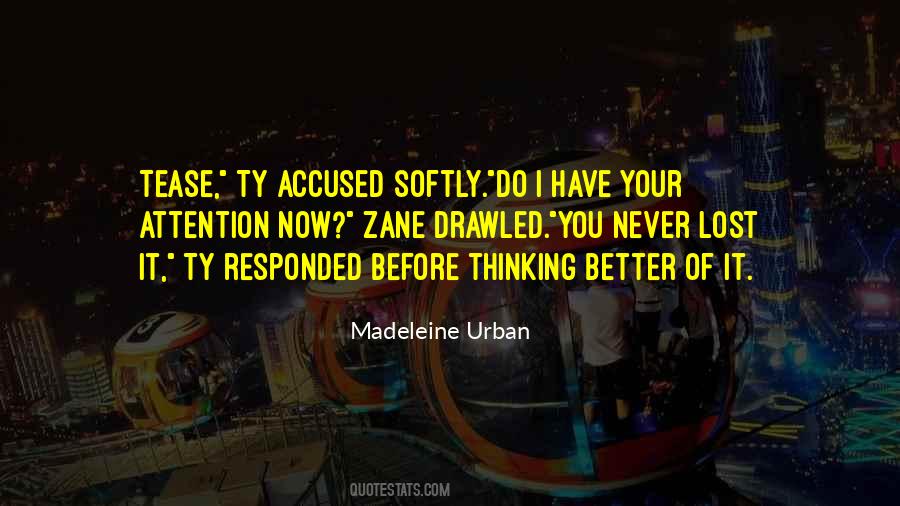 #21. I have never known anyone important enough to consume me in anger beyond a few hours. Better to depart their existence before they poison your own. - Author: Gordon Parks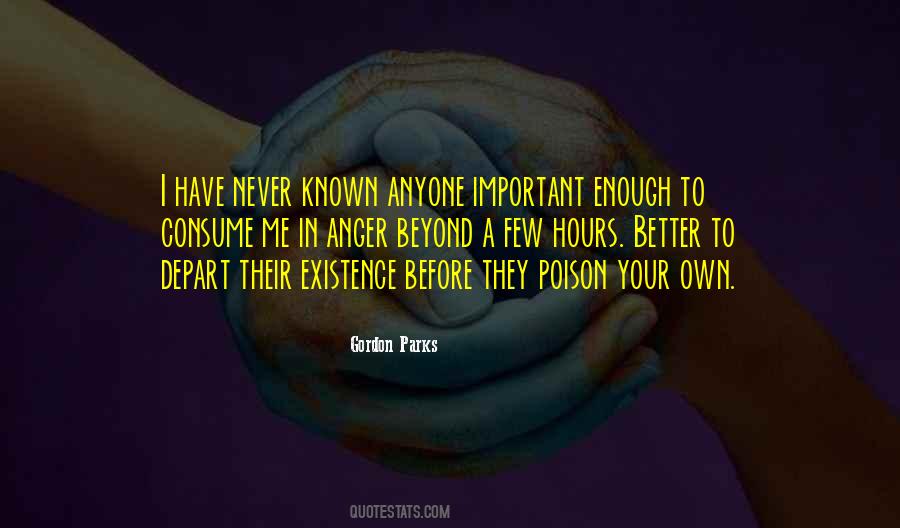 #22. For I've finally realized, that I could be infinitely better than before, definitely stronger. I'll face whatever comes my way, I'll savor each moment of the day, Love as many people as I can along the way. Help someone who's given up, even if it's just to raise my eyes and pray. - Author: Gloria Estefan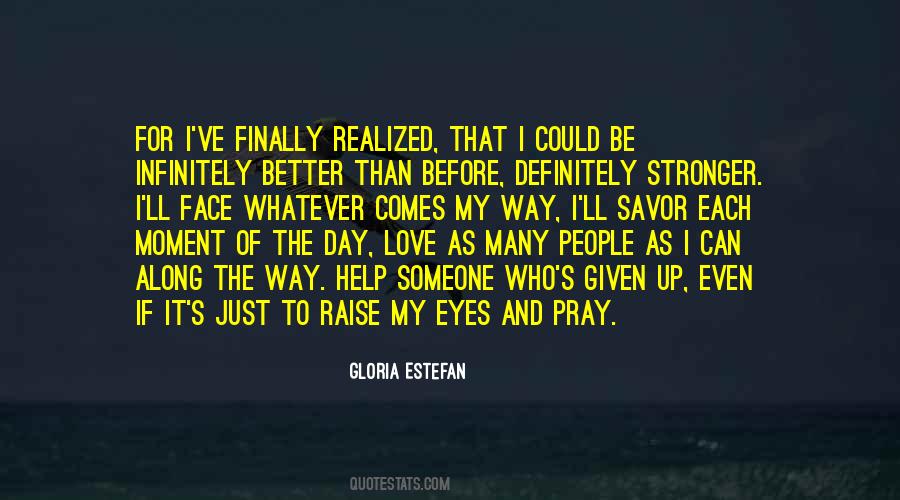 #23. Those that set God always before them and walk before him with all their hearts, shall find him as good as his word and better; he will both keep covenant with them and show mercy to them. - Author: Matthew Henry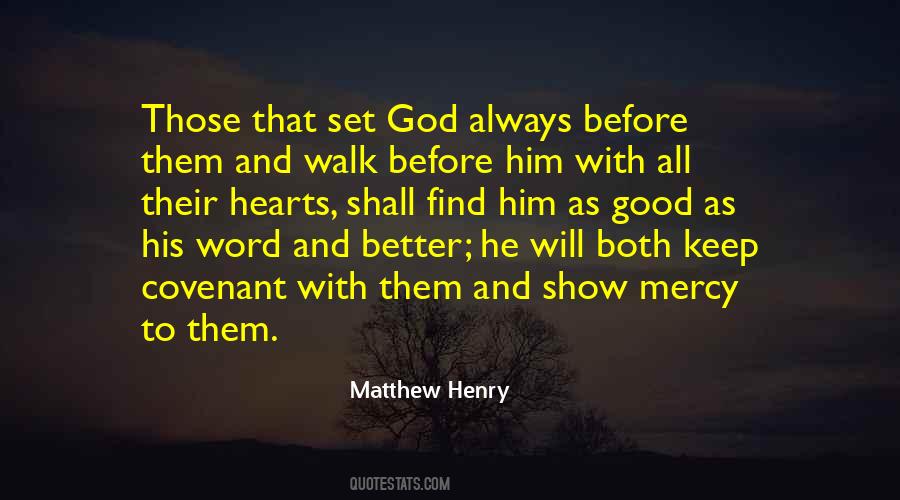 #24. You think they've killed before?"
"I'd bet your ass on it"
"Why my ass?" Eyes slitted, Peabody jabbed a finger in the air. "Because it's bigger? Because it has more padding? That's hitting below the belt."
"Your ass is below your belt. I'd bet mine, too, if it makes you feel better. - Author: J.D. Robb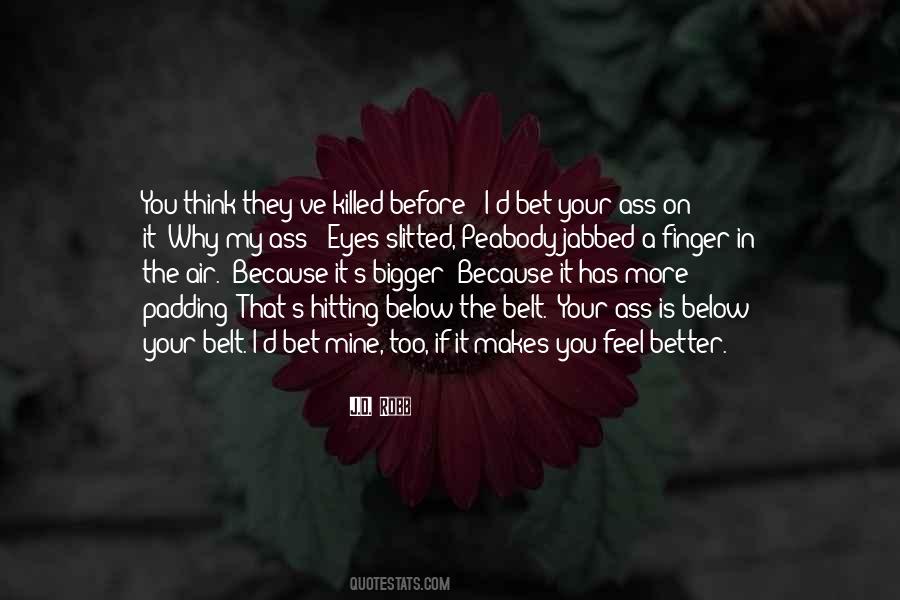 #25. It is better to have no hope than just a little hope. A little hope just gets you thinking something good is about to happen. And when that little hope is taken away, you are worse off than before. - Author: Richard LeMieux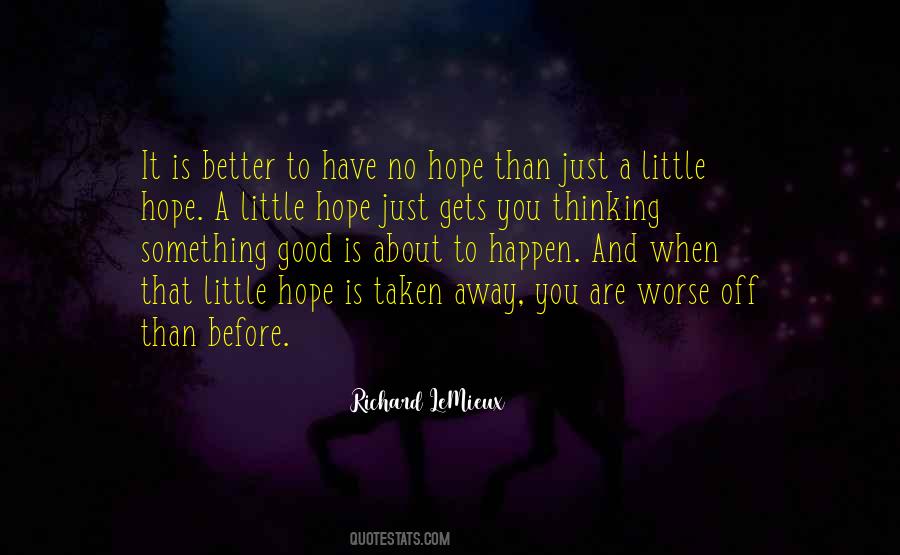 #26. The less said about the things Steve ate for breakfast the better, though I will mention that the food did not want to be eaten, and Steve had to remove the singers before he could pop the things in his mouth. - Author: David Liss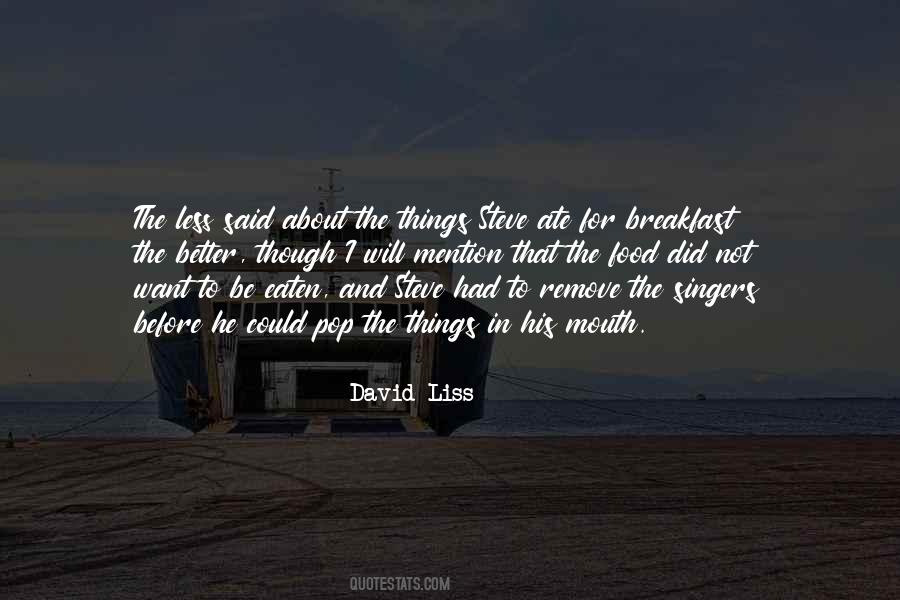 #27. I was once in a very, very bad car accident. So my drawing arm is full of pins and platinum stuff. Occasionally it hurts. But I found that after the arm was put back together I could draw better than before. I have no idea why. - Author: Bernard Tschumi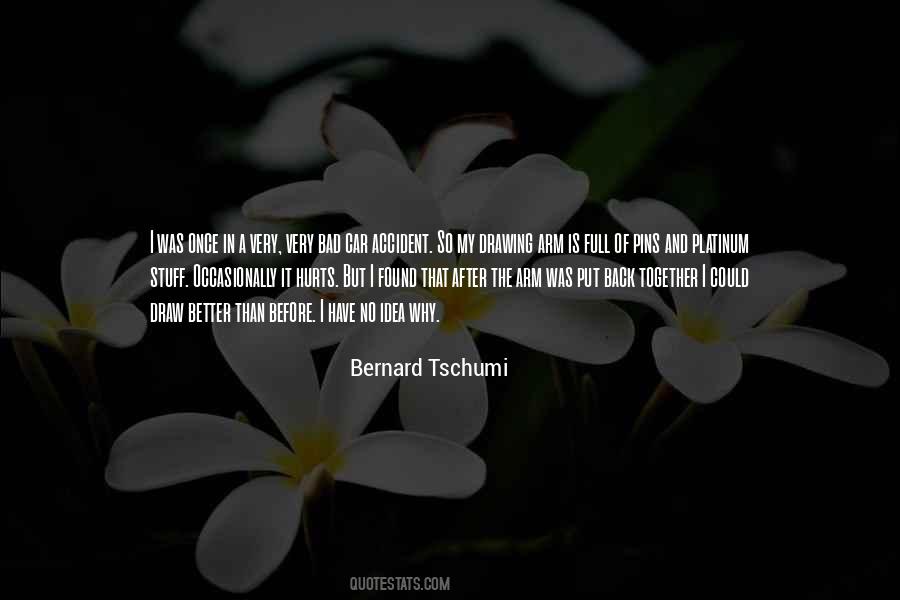 #28. As we travel again between life and death,
Waking and dream, blinking, while layers within layers,
None better, none worse, unravel and knit up before us ... - Author: Jay Woodman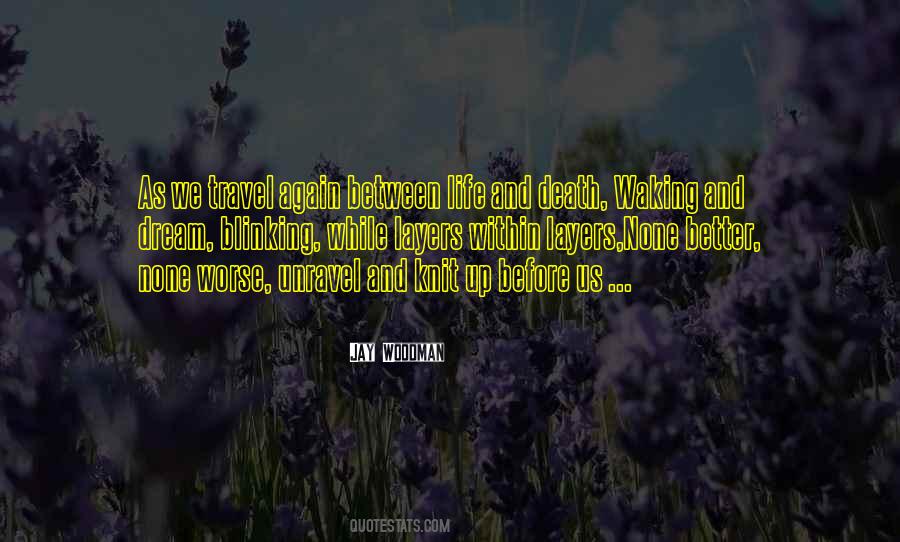 #29. Apathetic people sit back and wait for things to get better before they move. Radical people make things get better, by how they move. - Author: Shannon L. Alder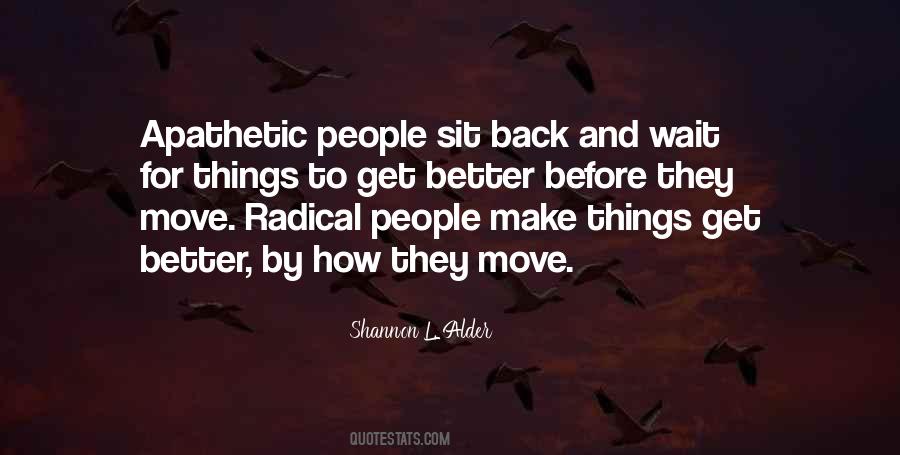 #30. I don't need to be dead to see something like that. Besides, I know you pretty well by now. You better slow down before you run out of eligible men. This is a small town. - Author: J.J. Cook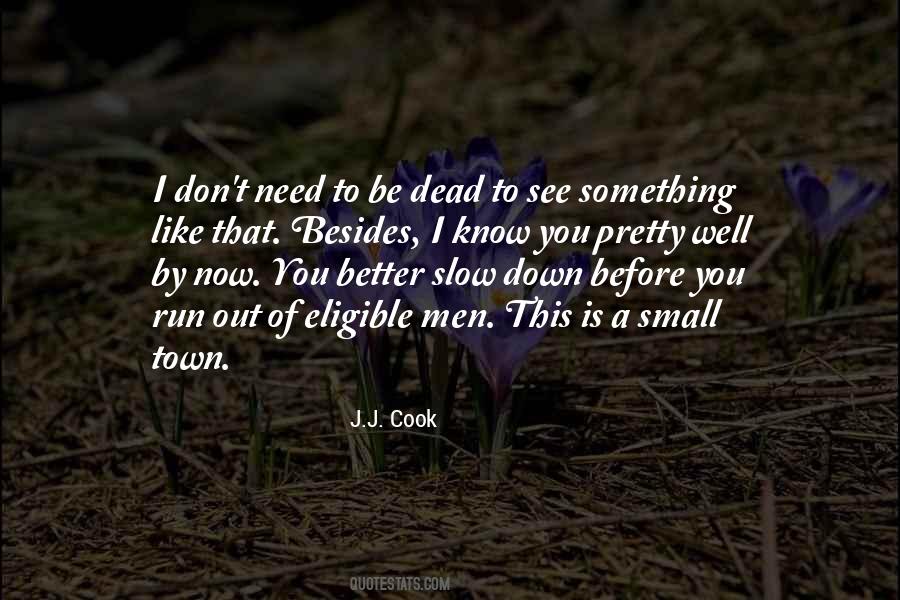 #31. I can't think of a better rationale to create a work of art. I don't care what form one's art takes, it has to be an attempt to leave the world a better place than it was before we got here or it's not doing its job. And I don't mean just making things that are pretty. - Author: Charles De Lint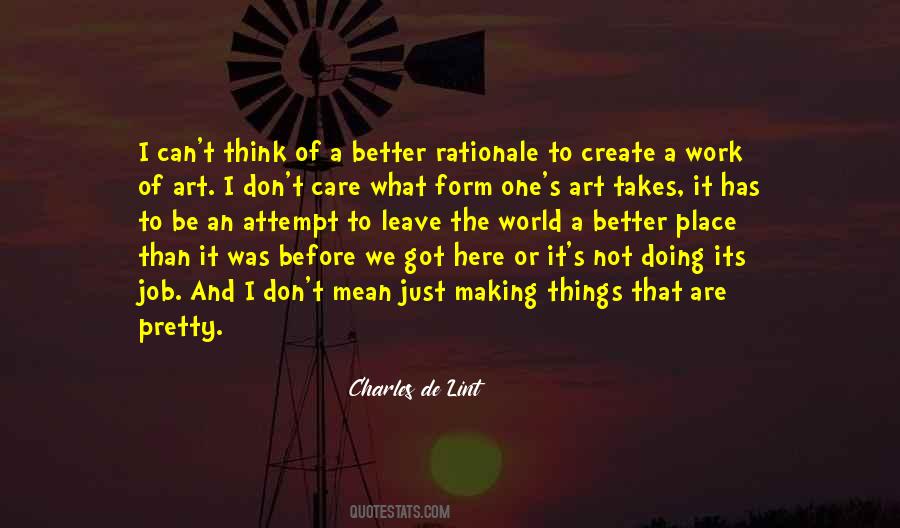 #32. My American strength coach said he liked me better before I could speak English. - Author: Yao Ming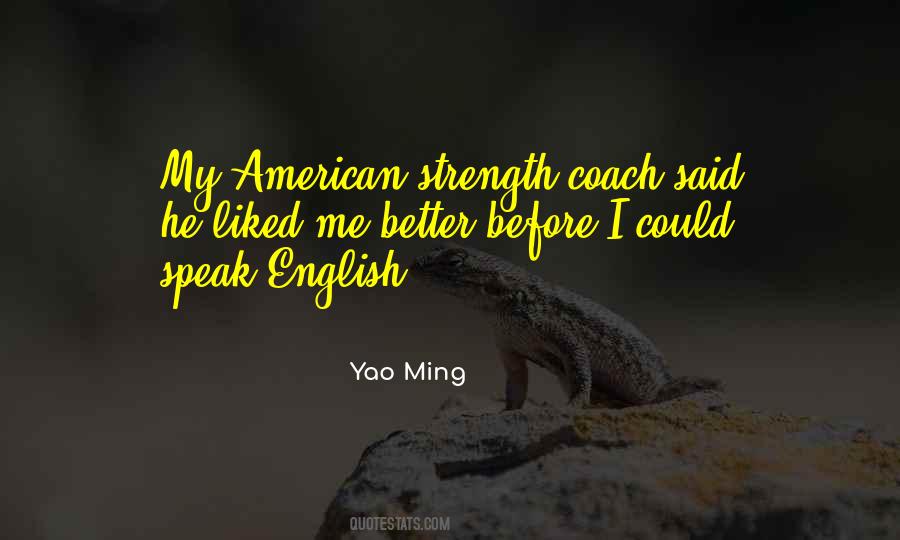 #33. We must humble ourselves before [others] so we may learn from what others have lived. It is only when we have added their expertise to our own that we can truly excel towards our most ambitious goals and reach our fullest potential. - Author: A.J. Darkholme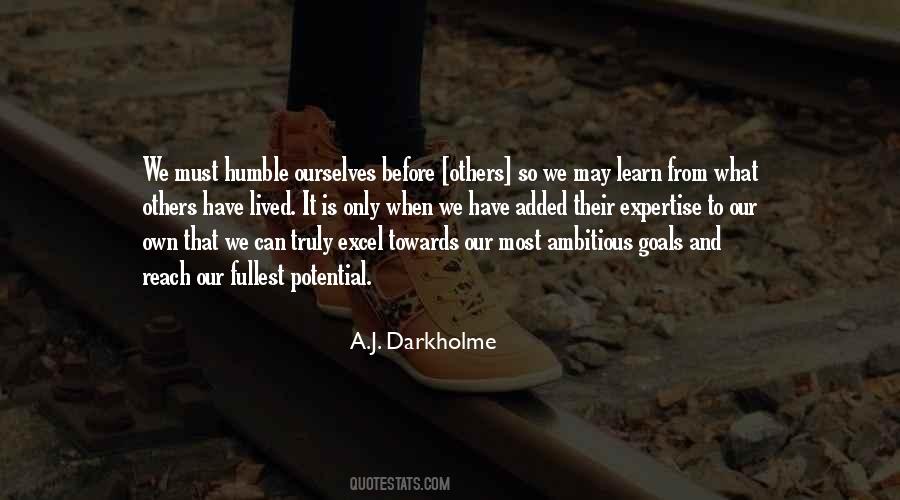 #34. I think it's false, shallow, to be giving to others when your own need is great. The idea is not to comfort people, not to make them feel better but to make them feel worse, to constantly put before them the degradations and humiliations they go through to get what they call a living wage. - Author: John Lennon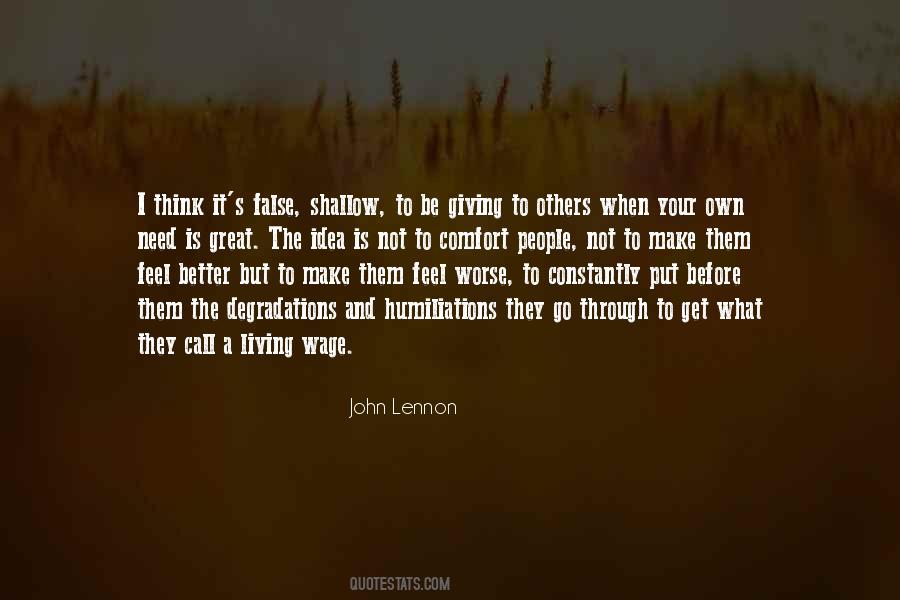 #35. There's a reason why relationships don't work out. It's usually better to take a few steps back if you have any doubts before it gets complicated and you find yourself in a tangled web, not of your doing, but somehow you end up paying the price. - Author: E.R. Wade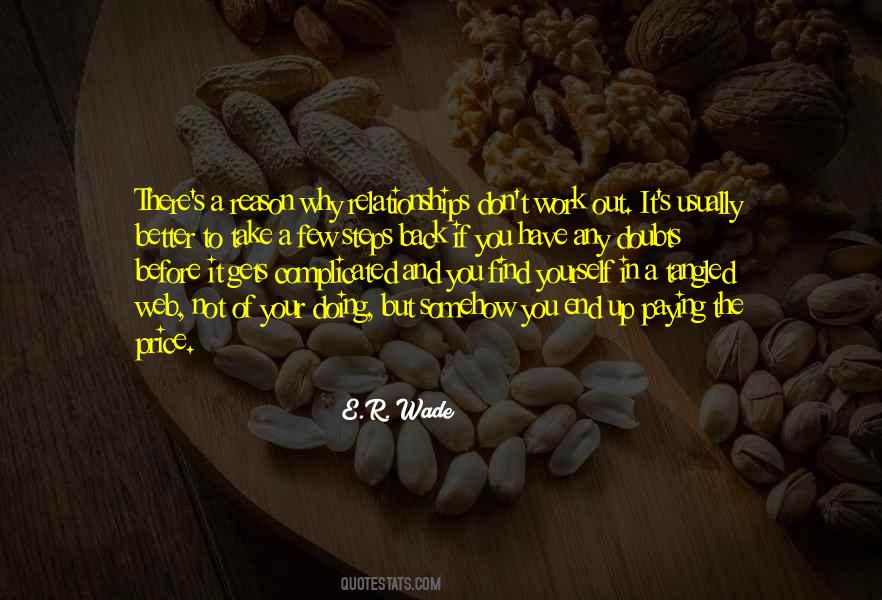 #36. The spiritual path wrecks the body And afterwards restores it to health. It destroys the house to unearth the treasure, And with that treasure builds it better than before. - Author: Rumi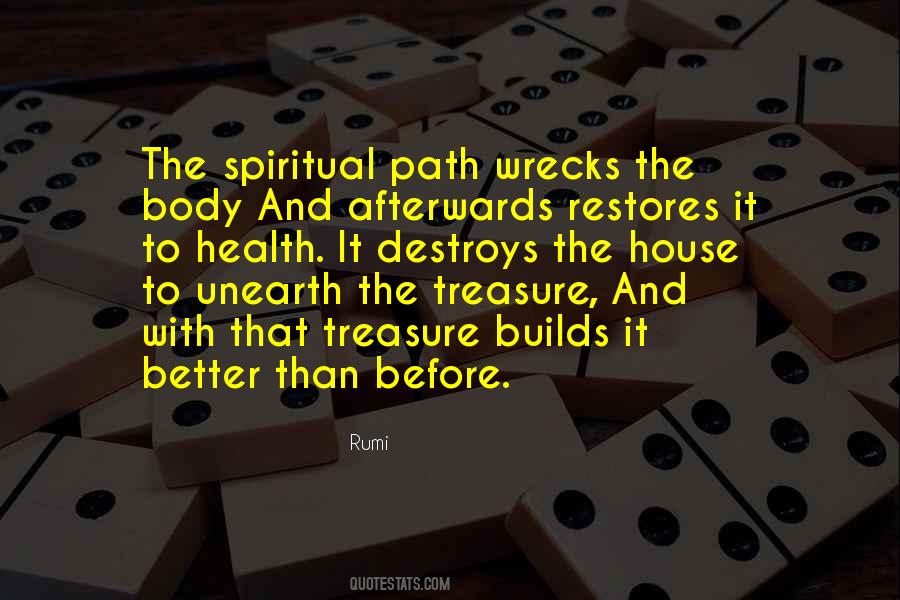 #37. He felt himself, and did not want to be anyone else. All he wanted now was to be better than before. - Author: Leo Tolstoy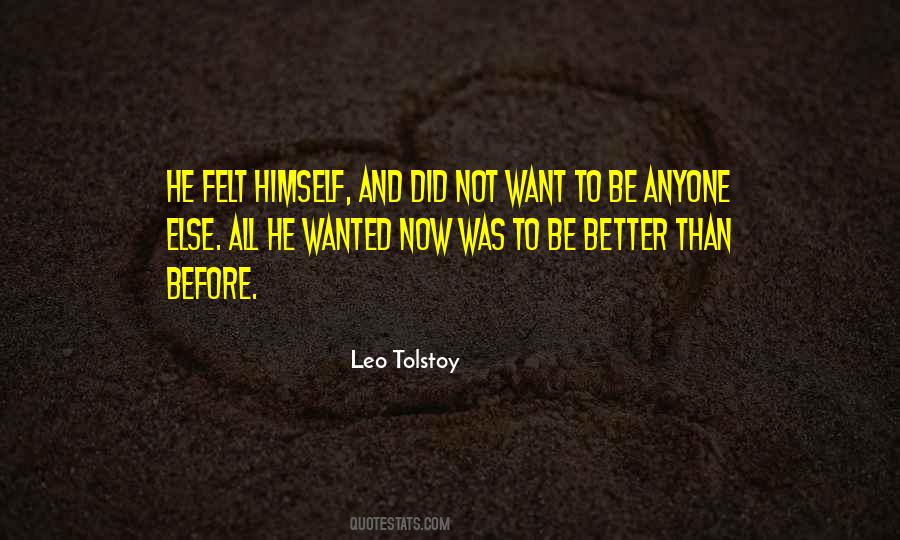 #38. The UK population became, for lack of a better term, Balkanized. And then all of a sudden Sharia mosques started popping up all over the place. And before you knew it, the most popular or frequent male baby name was Mohammed. - Author: Rush Limbaugh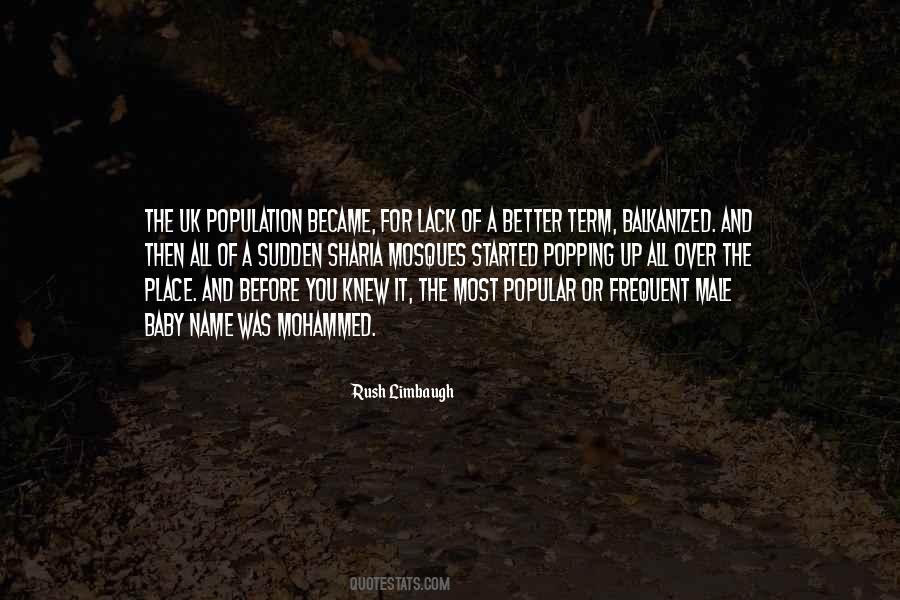 #39. Perfection may be an impossible goal, but habits help us to do better. Making headway toward a good habit, doing better than before, saves us from facing the end of another year with the mournful wish, once again, that we'd done things differently. - Author: Gretchen Rubin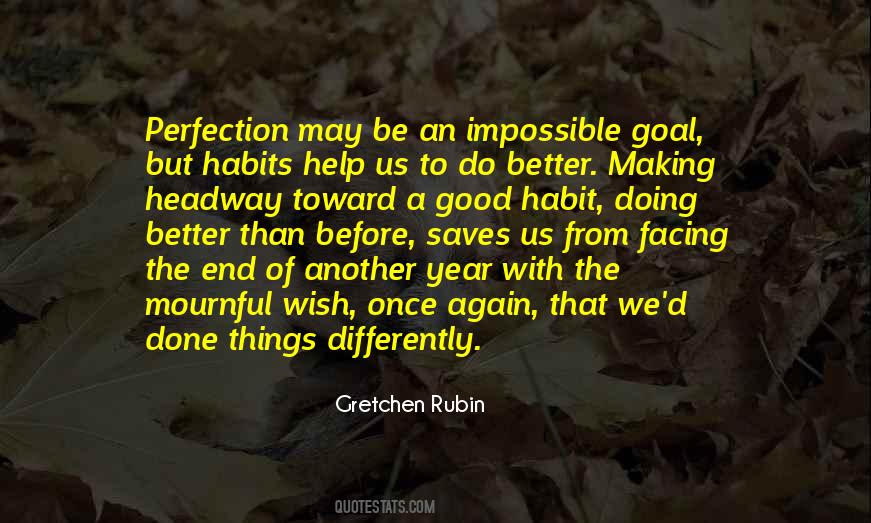 #40. I started acting long before I decided to pursue it. I started acting as an amateur when I was a kid, but I wanted to become a diplomat. It was self-centered and weird, but I had this idea of going out in the world and solving conflicts and making the world a better place. - Author: Stellan Skarsgard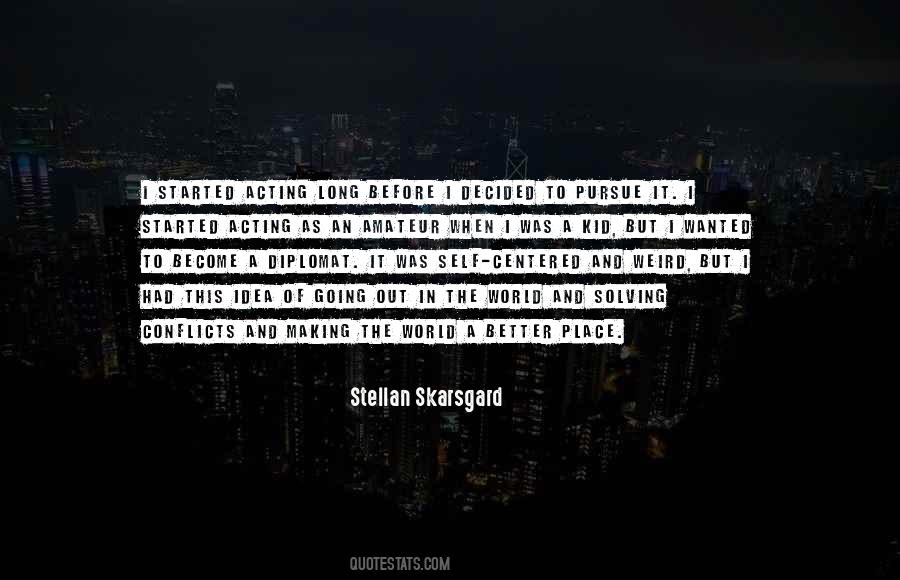 #41. You don't complete me, Tru. You make me who I am. You make me better. I'd be nothing without you. NOTHING. I've been there once before, and I'm never going back. I'm never losing you again. - Author: Samantha Towle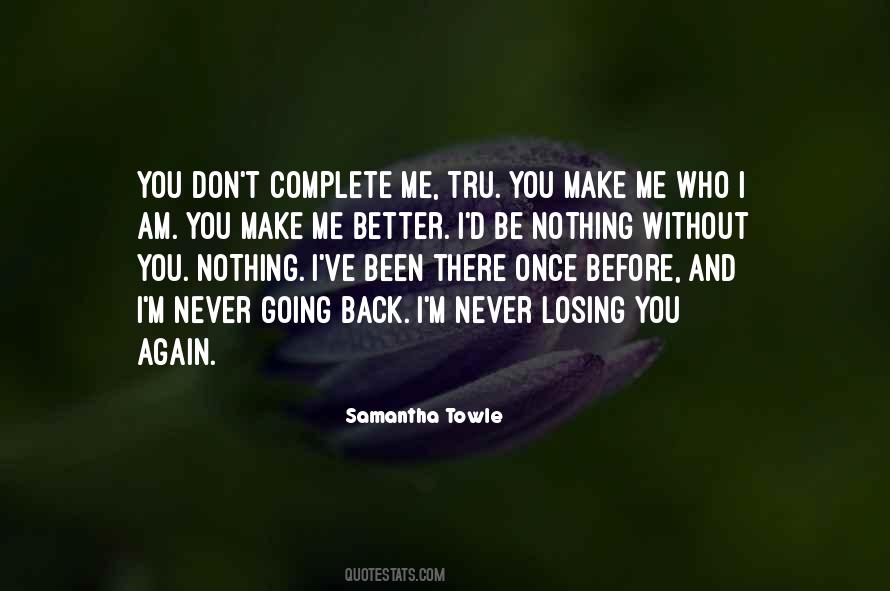 #42. Think about the photo you want to make beforehand. Then do it, but also don't be blind to better options that present themselves at the location. Be flexible, and be patient. Leave ego at home. Get the photo before you yell at the asshole, not after. - Author: Peter Menzel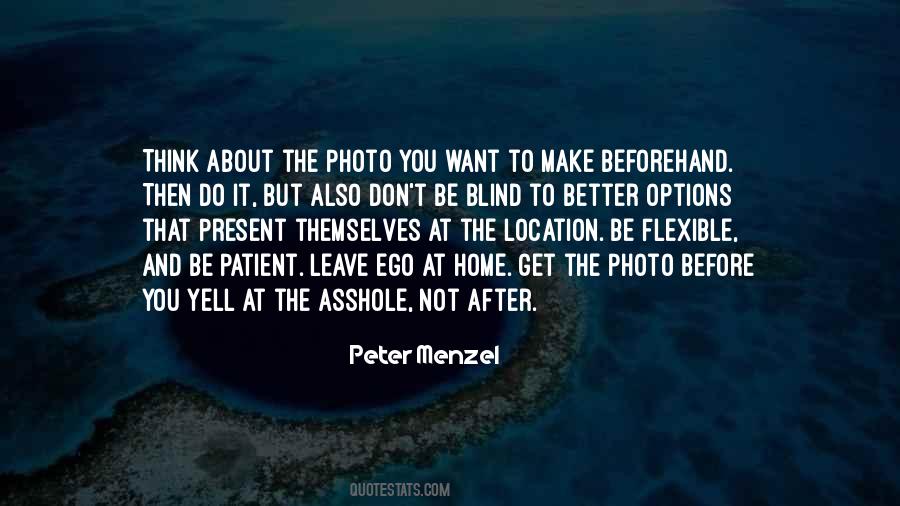 #43. Make every day a little better than the day before. - Author: Joe Evener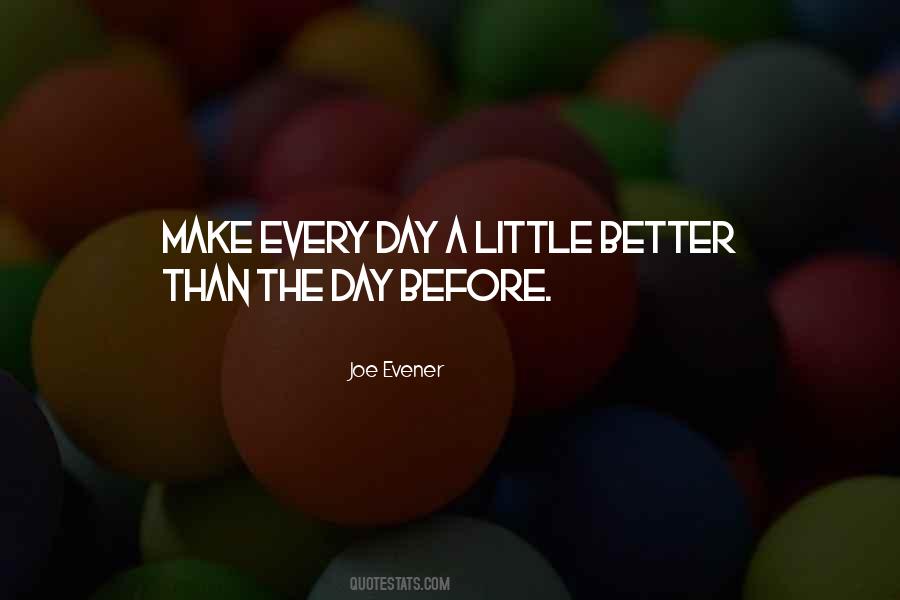 #44. I know when one door closes God will open up another door. What was meant for my harm God will use to my advantage. I'm not only coming out, I will come out better off than I was before. - Author: Joel Osteen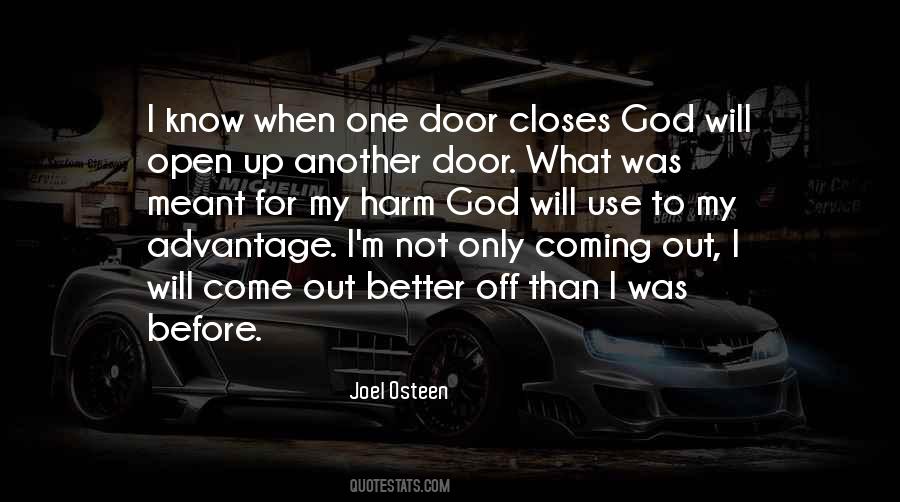 #45. To be Outstanding is to do the same thing others have done in a different way.
But to STAND-OUT is to do what no one has ever done before.
Being outstanding is good, but STANDING-OUT is better.
So Dream, Explore, Discover, and Stand Out!!! - Author: Olaotan Fawehinmi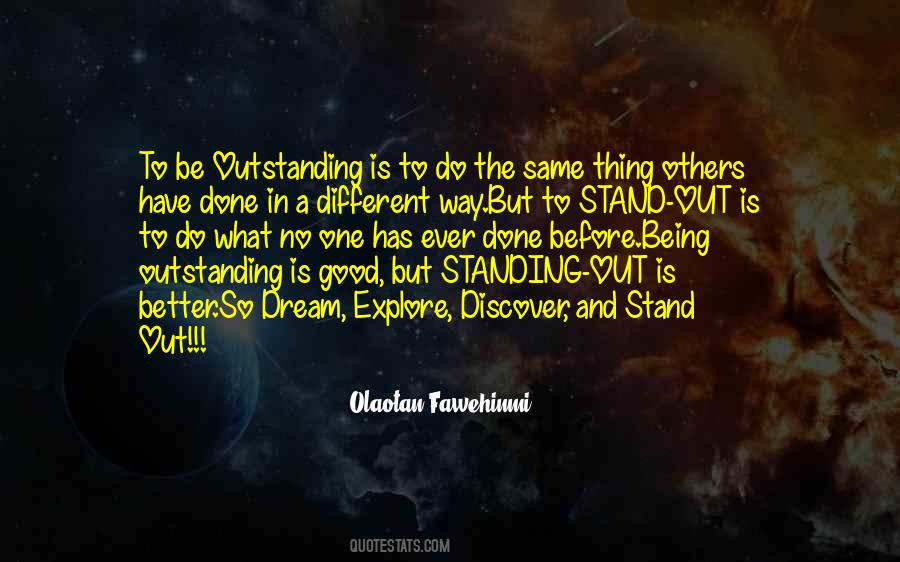 #46. Well," said Pooh, "what I like best," and then he had to stop and think. Because although Eating Honey was a very good thing to do, there was a moment just before you began to eat it which was better than when you were, but he didn't know what it was called. - Author: A.A. Milne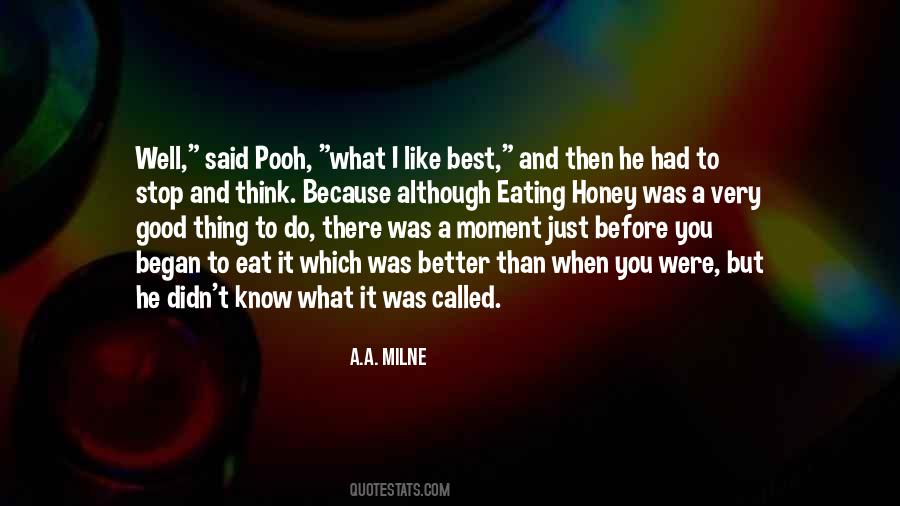 #47. The world is just as concrete, ornery, vile, and sublimely wonderful as before, only now I better understand my relation to it and it to me. - Author: Ralph Ellison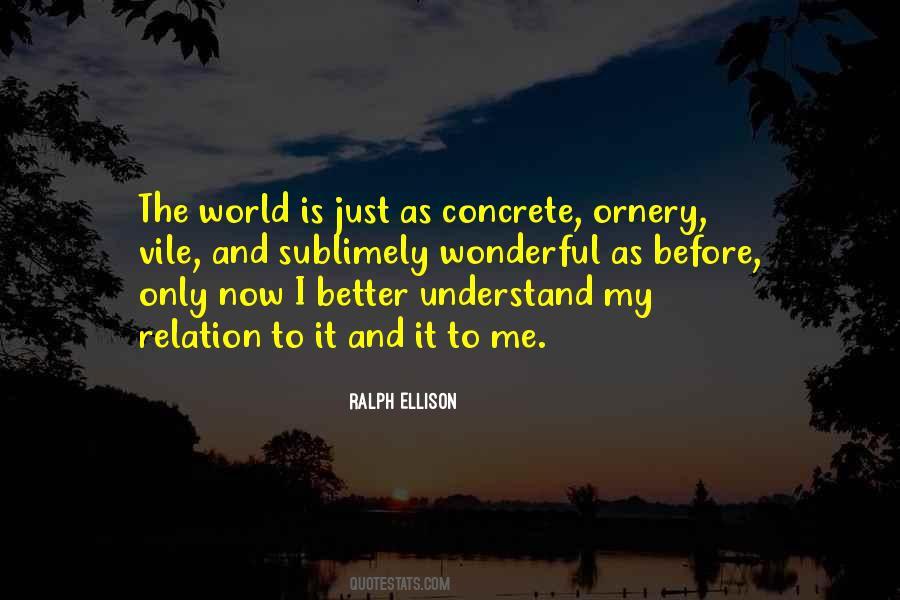 #48. Some guys have trouble sleeping the night before an important round. I never have. Invariably, I sleep longer and better, and have more dreams, when I'm in contention and feeling pressure. - Author: Tom Watson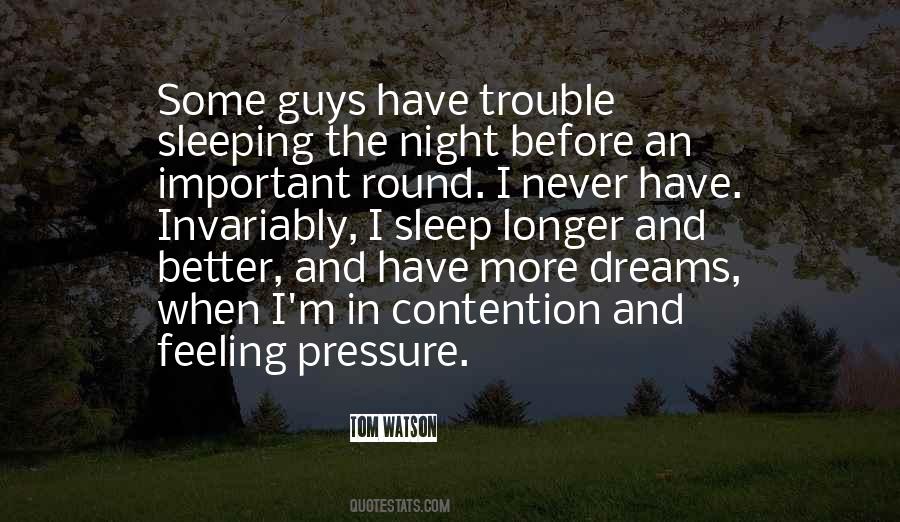 #49. You ... you've been here quite a long time, haven't you?
What? Oh ... yes. Ever since I married What's-her-name. Uh, Martha. Even before that. Forever. Dashed hopes, and good intentions. Good, better, best, bested. How do you like that for a declension, young man? - Author: Edward Albee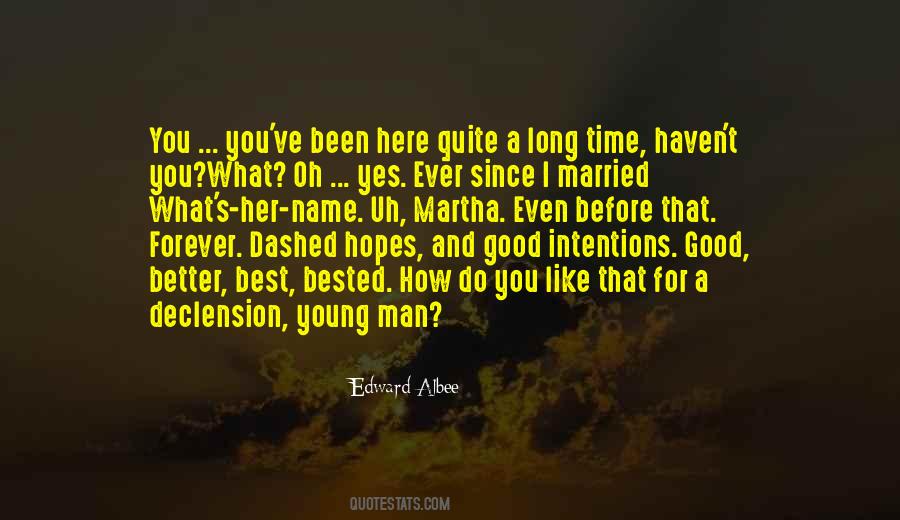 #50. I know this doesn't make sense, but if we ever did this before, exactly this, with you sitting over there and me here, in this same room, well, wasn't the food even better? I mean, a lot better? - Author: Peter Straub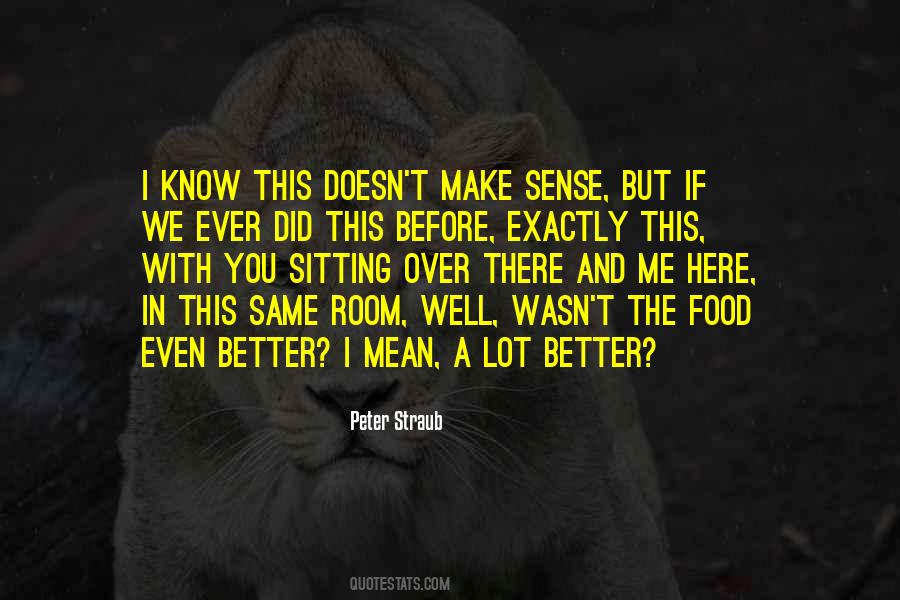 #51. The union with Christ which produces no effect on heart and life is a mere formal union, which is worthless before God. The faith which has not a sanctifying influence on the character is no better than the faith of devils. - Author: J.C. Ryle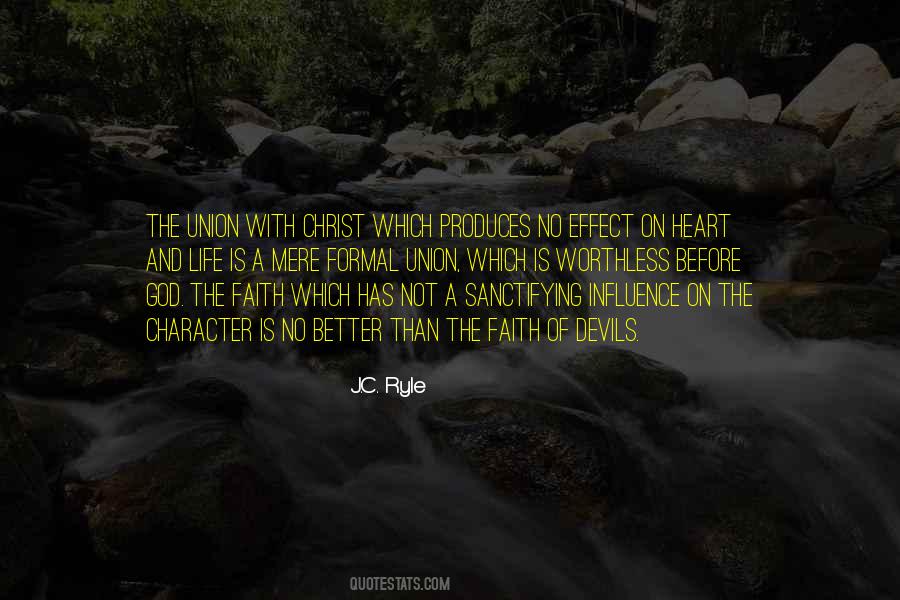 #52. Love isn't always pretty, Tate. Sometimes you spend all your time hoping it'll eventually be something different. Something better. Then, before you know it, you're back to square one, and you lost you heart somewhere along the way - Author: Colleen Hoover
#53. If work is part of your identity, think very carefully before you give it up. Giving it up won't make you a better mother; it will make you less of the person you are; and that will make you less of a mother. - Author: Jean Marzollo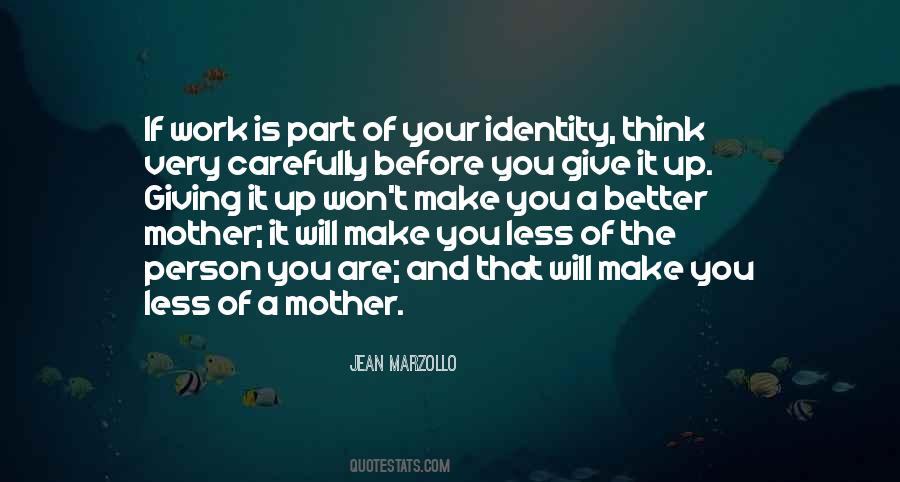 #54. Be lost. Give up. Give In. in the end It would be better to surrender before you begin. be lost. Be lost And then you will not care if you are ever found. - Author: Victoria Schwab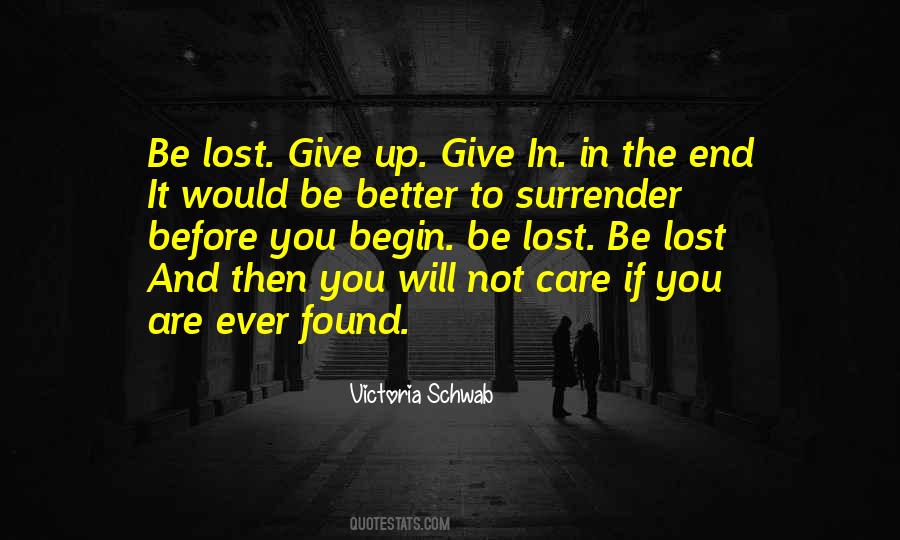 #55. Before you start a war, you better know what you're fighting for. - Author: The Cab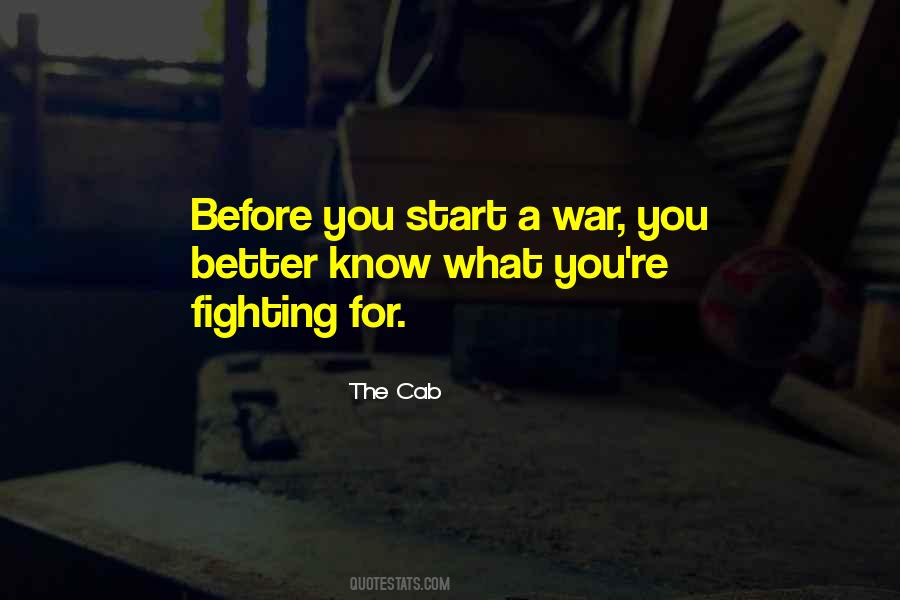 #56. Fiona and Jarl had gotten engaged a few weeks before, on Black Friday. Jarl thought they could get a better deal on rings that way. - Author: J. Ryan Stradal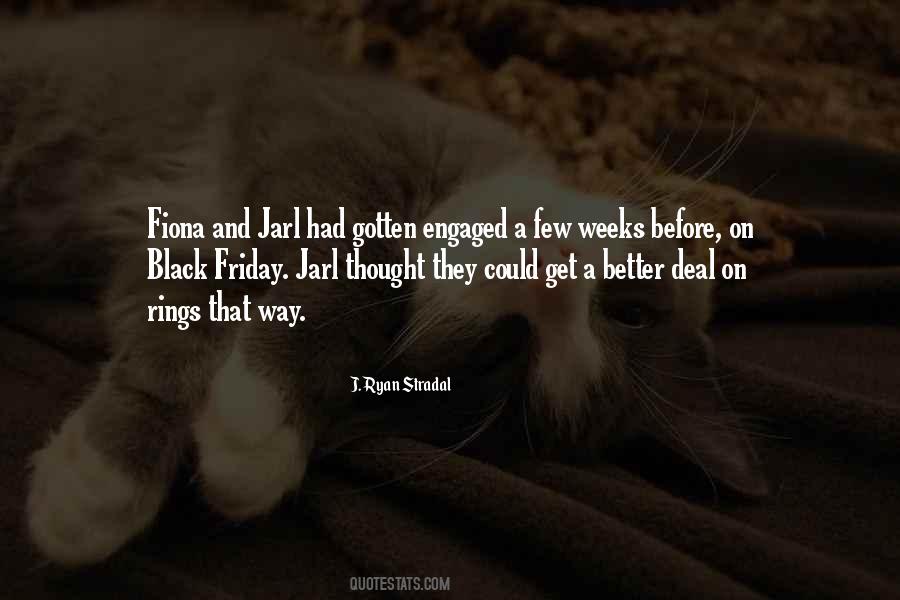 #57. I always work better when I do not reason, when no question of right or wrong enter in,-when my pulse quickens to the form before me without hesitation nor calculation. - Author: Edward Weston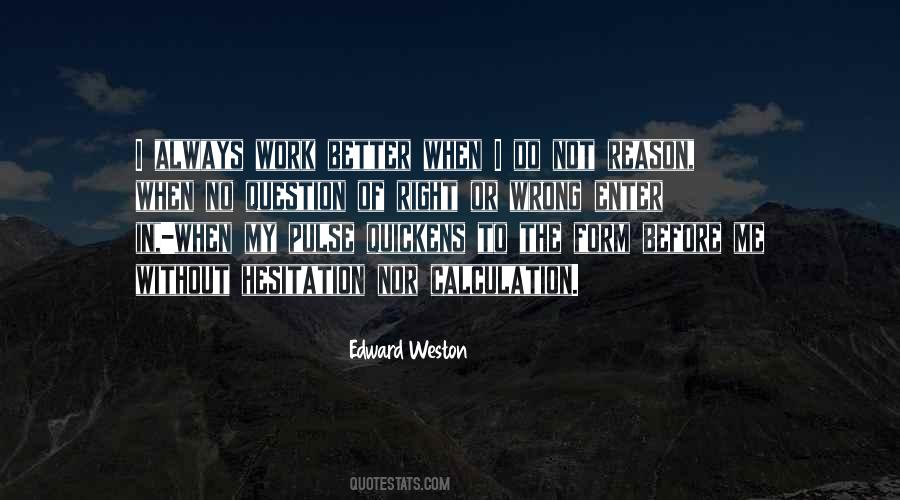 #58. I've said this a lot - I'm afraid to have girls! I've worked with kids before, and I just relate to boys better. I like their competitiveness and aggression: that's more my style. I'm still dead set on doing whatever I can to make sure I only have boys! - Author: Derek Theler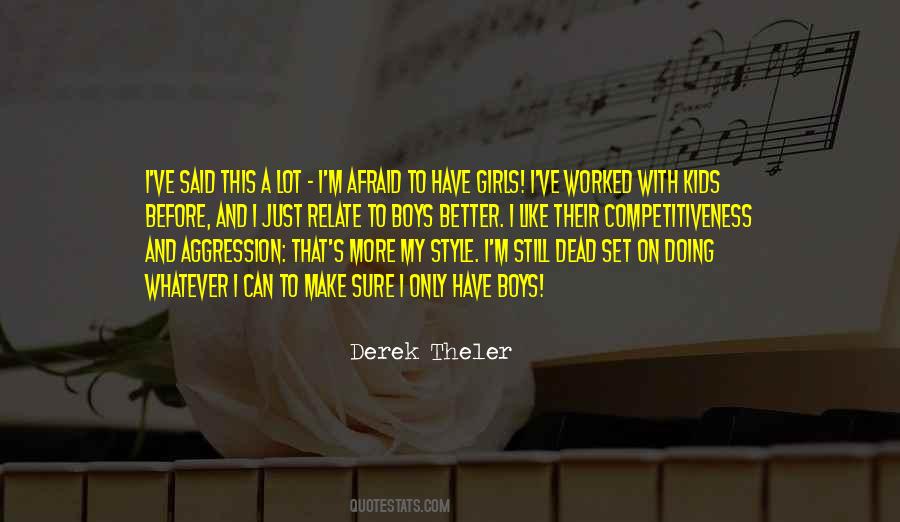 #59. Colonialism has a bad reputation in the modern context, but Colonial Africa was a far better place for both black and white before the colonists gave up. - Author: Jeff Cooper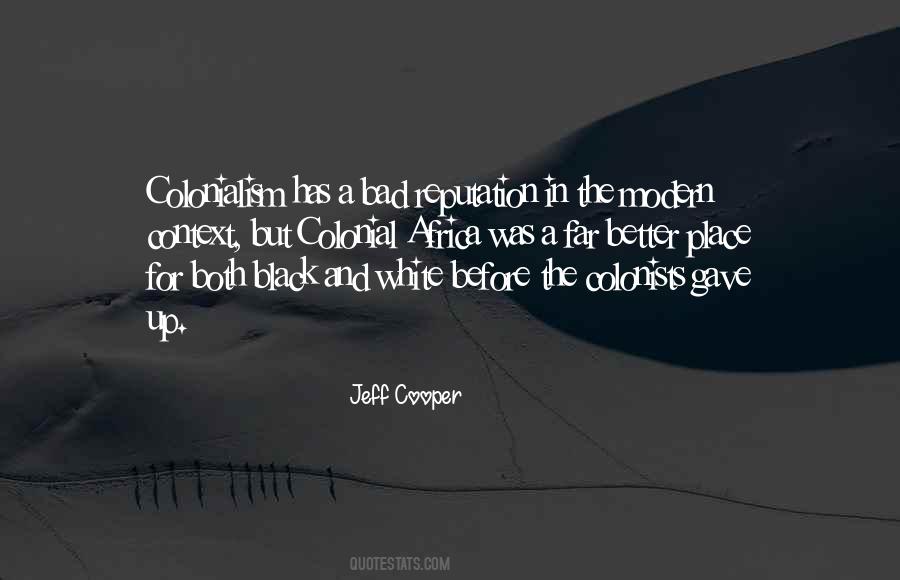 #60. When you're eleven you think every idea is born with you, that no one ever tried it the right way before. Your example, your own honesty, will make you a hero to everyone who knows you - and better, it will make people come to their senses and stop telling vicious lies about each other. - Author: Elana Dykewomon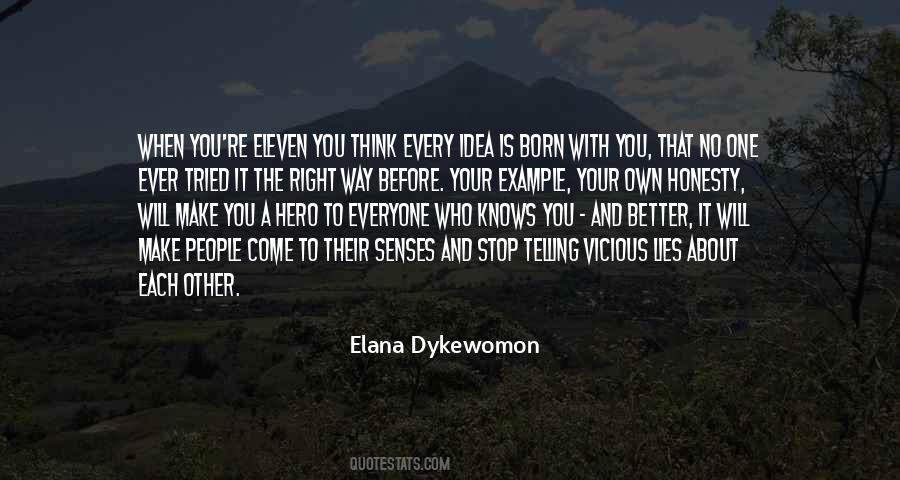 #61. I was shy when I was a kid, I was very shy, but now I think I've improved a lot. I can speak OK with the media and with the people. My English is still bad but I feel a little bit better now than before. - Author: Rafael Nadal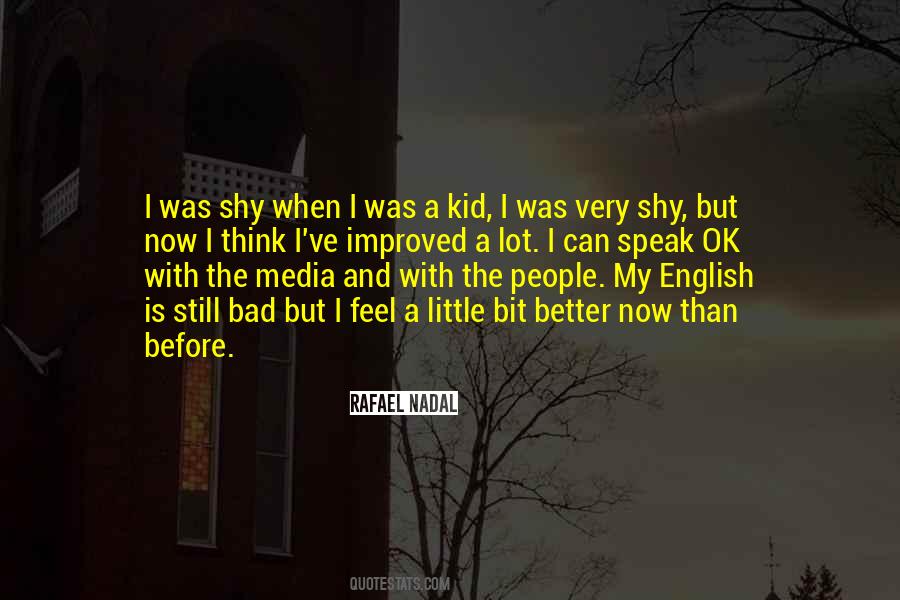 #62. Everything you see before you is the result of poverty. But how are things any better in the wealthy countries? They protect their own environments, but then shift the heavily polluting industries to the poorer nations. - Author: Liu Cixin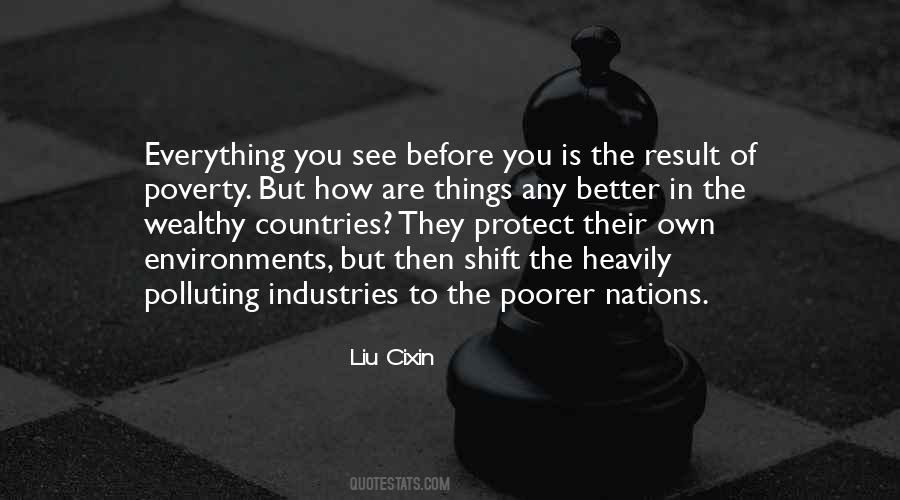 #63. Your parents will die before you do, so you'd better make your own life decisions. Your own choices are always good if you know yourself - especially in art, because whenever you do something new, everyone will be against you. - Author: Yoshitaka Amano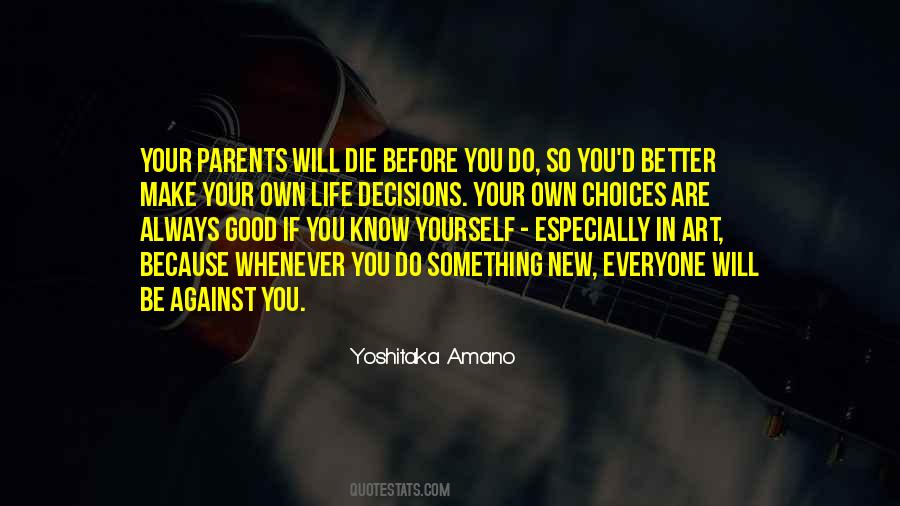 #64. Difficult times have helped me to understand better than before how infinitely rich and beautiful life is in every way, and that so many things that one goes worrying about are of no importance whatsoever. - Author: Karen Blixen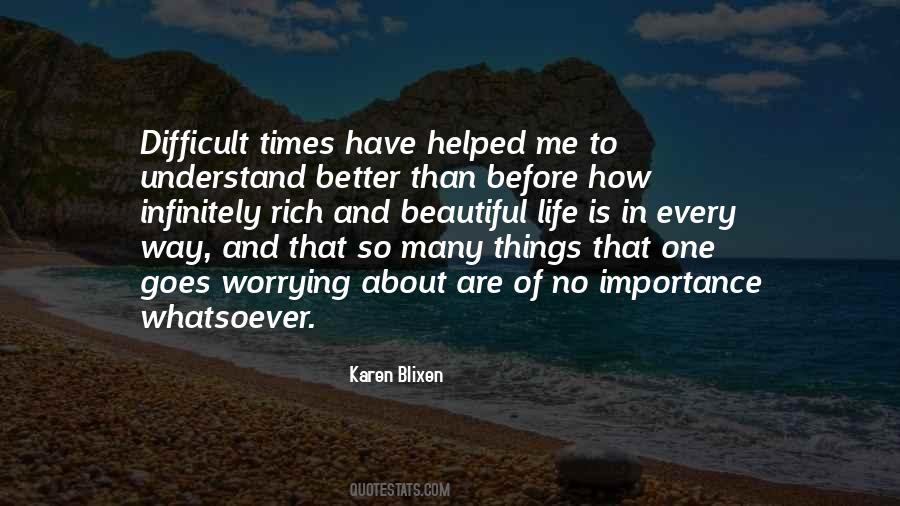 #65. We might have been better off if the question of Obama's patriotism had been raised before he was first elected. Never should we ignore so many red flag warnings again. - Author: Thomas Sowell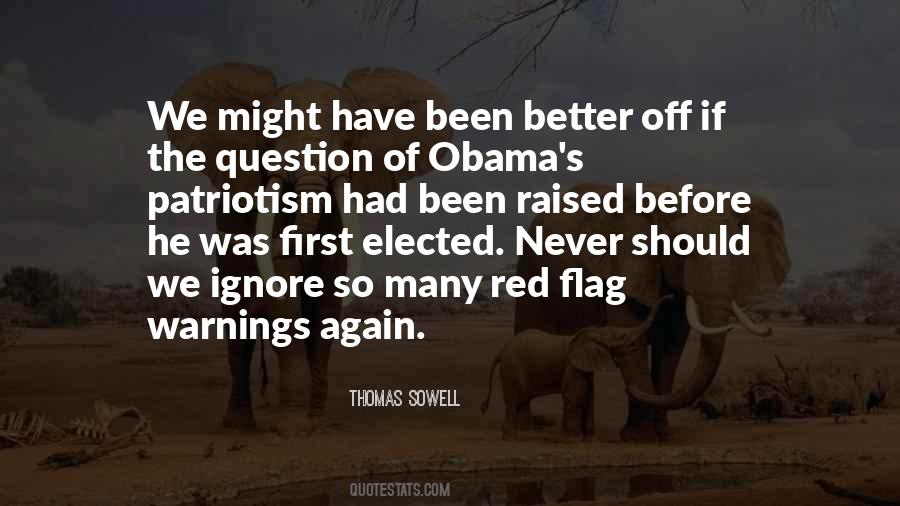 #66. I look at someone's face and I see the work before I see the person. I personally don't think people look better when they do it; they just look different. - Author: Cate Blanchett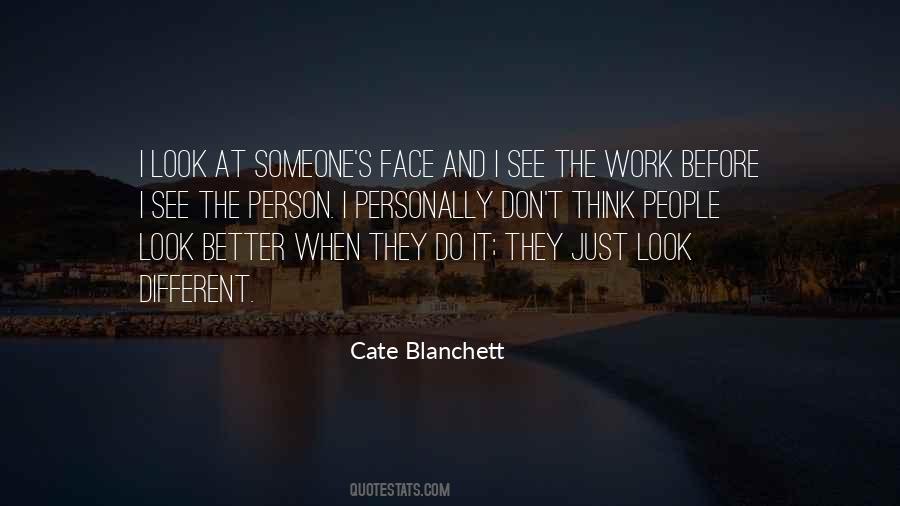 #67. He that first likened glory to a shadow did better than he was aware of. They are both of them things excellently vain. Glory also, like a shadow, goes sometimes before the body, and sometimes in length infinitely exceeds it. - Author: Michel De Montaigne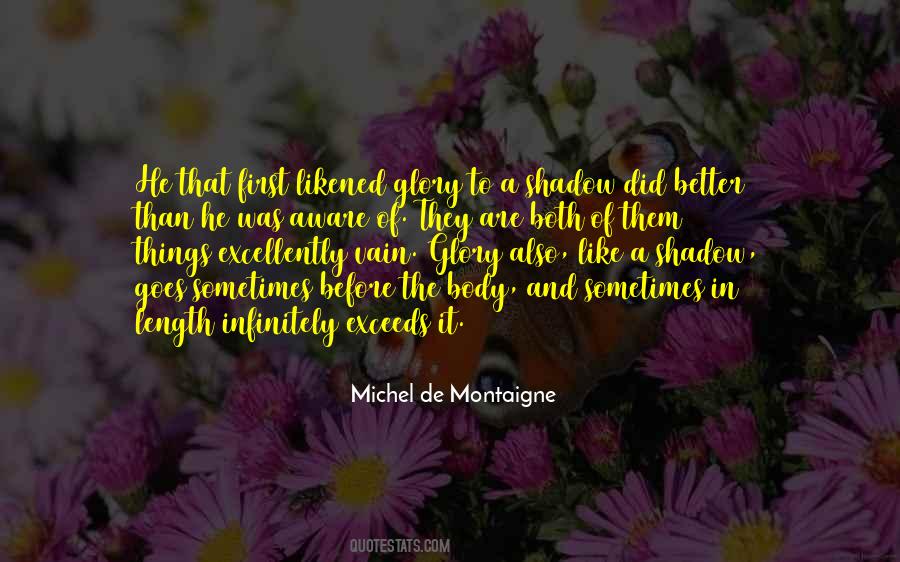 #68. It is easy to act as a Saturday morning quarterback and replay the game lost the night before. All of us seem to have better hindsight (the ability to see after the event what should have been done) than foresight - Author: Carlos E. Asay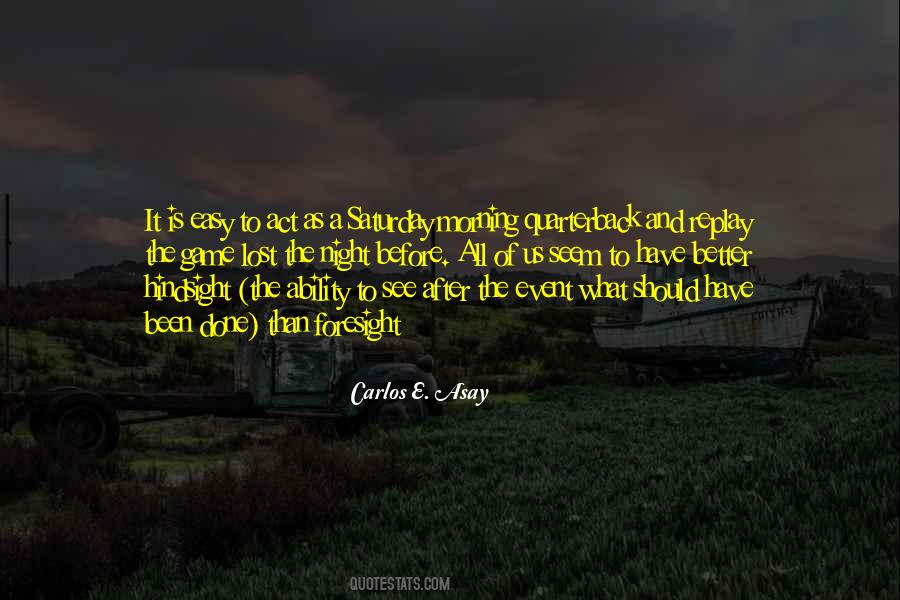 #69. I'm gonna give them the advice that I always took myself, that it's better to get to know somebody before you jump into the sack with them. Because then if you jump into the sack and fall in love, and you liked them already, you're home free. - Author: Pia Zadora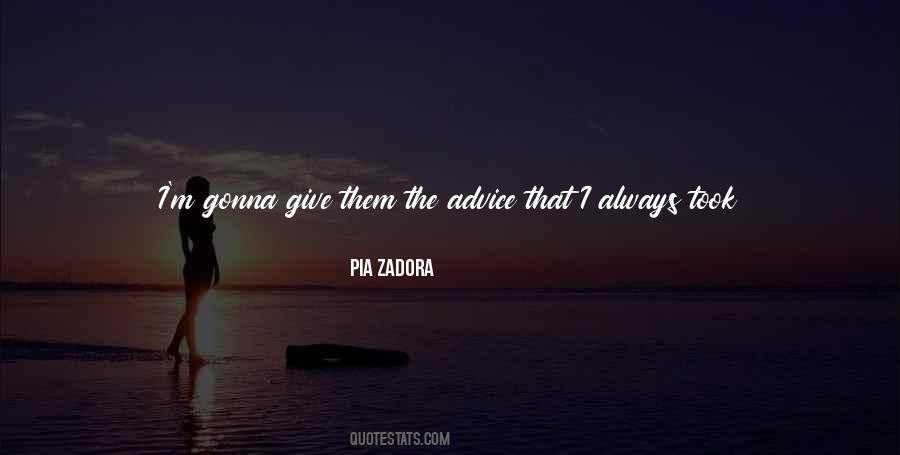 #70. I love dressing up. But I'm very low-maintenance; the week before an event, I'll choose something as quickly as possible and that's that. If I can do my own hair and make-up, even better. I like it to be fun. - Author: Helen McCrory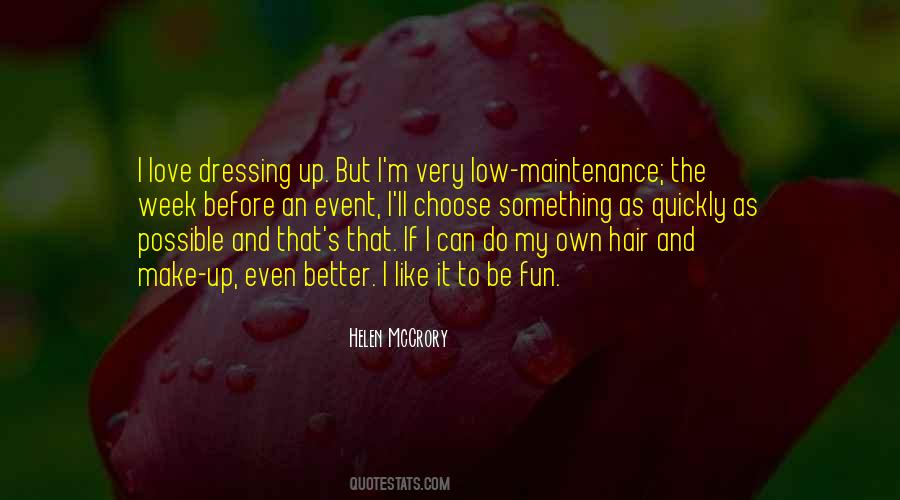 #71. We need a much better understanding of the climate before making policy choices that would impose substantial economic costs on our Nation. - Author: Ted Cruz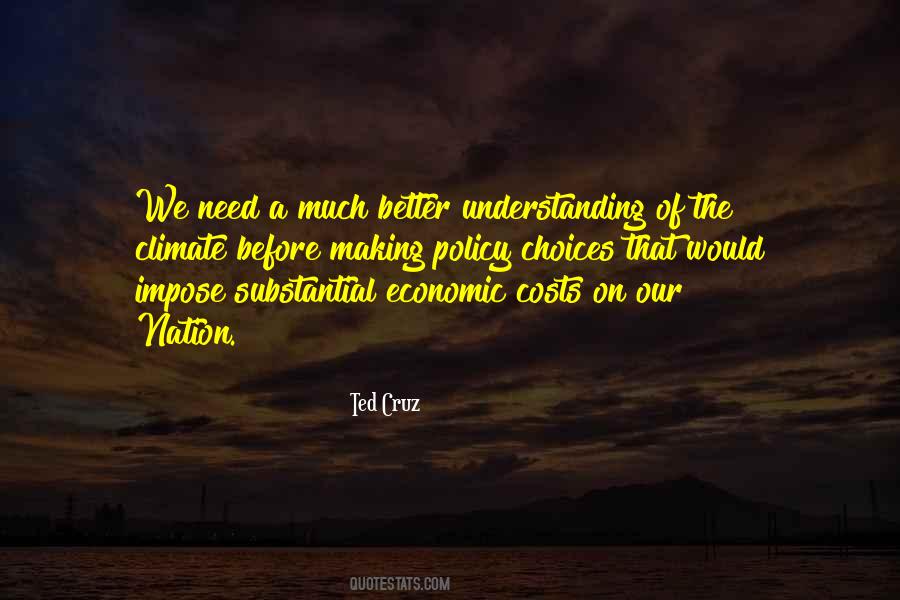 #72. Wagner manages to convey emotion with music better than anyone, before or since. - Author: Stephen Hawking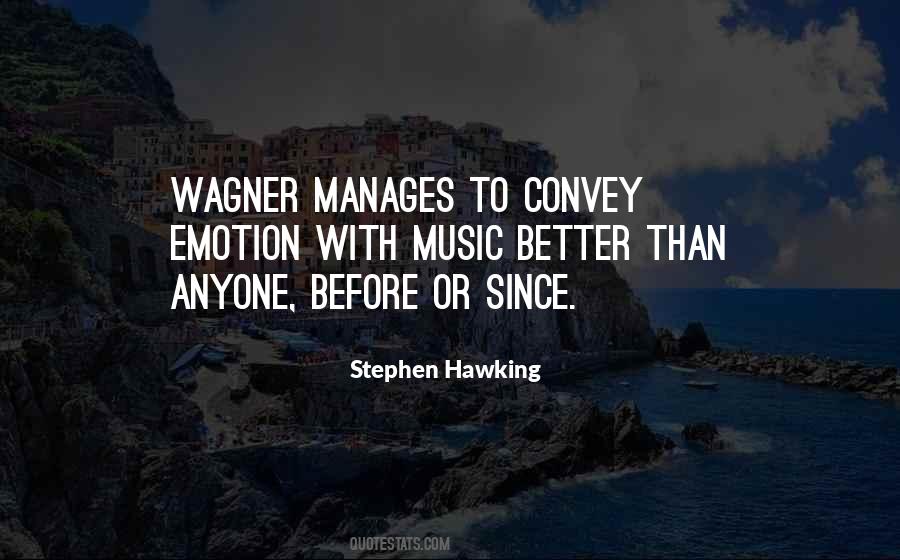 #73. Lust dazzles, sure, at least for the short term. But love clears the vision. You see better, sharper, because you feel more than you did before. - Author: J.D. Robb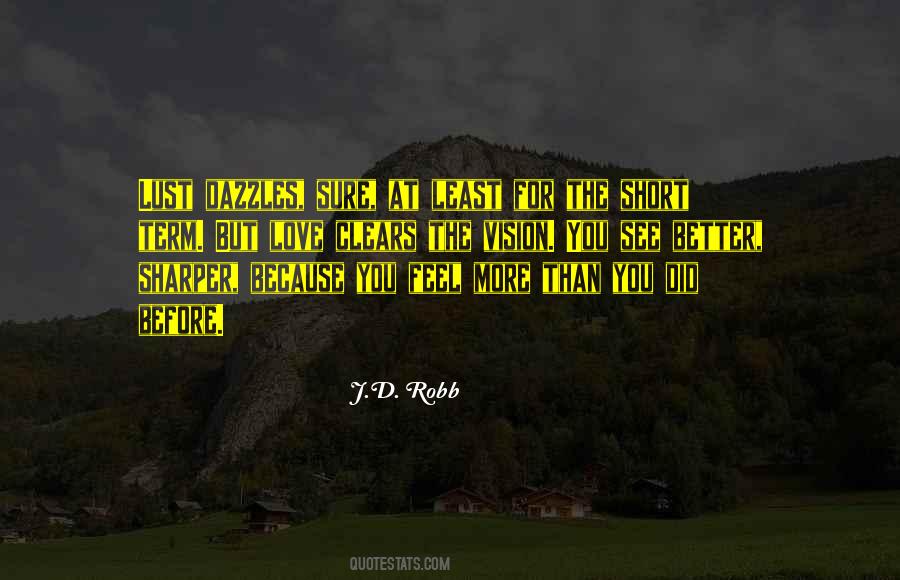 #74. Instead of facing a crisis as I approached middle age, I discovered that a new and better life lay before me. I called the process of discovery 'halftime,' and the outcome led to my second half. - Author: Bob Buford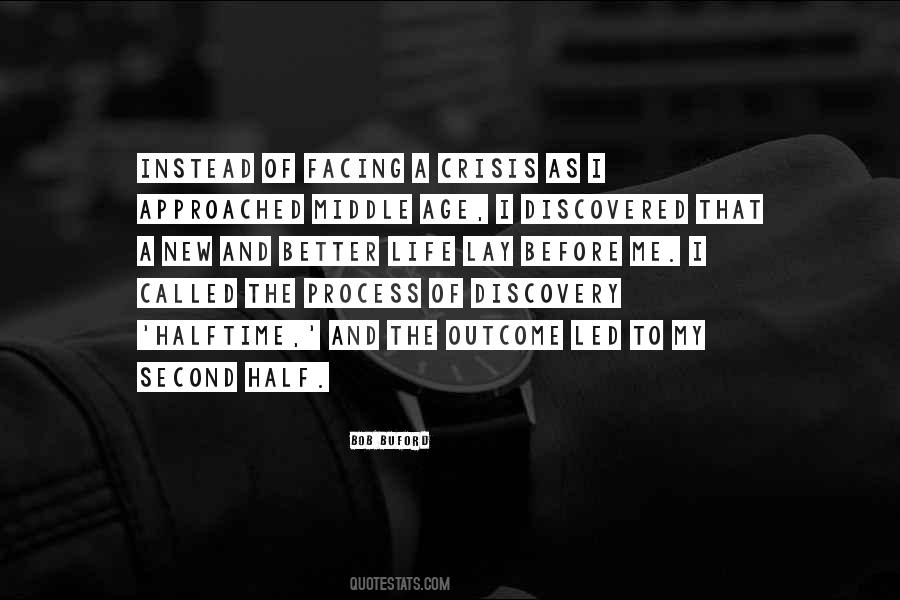 #75. You have to like the present; if not your life becomes secondhand, if you think it was better before. Or that it will be better in the future. - Author: Karl Lagerfeld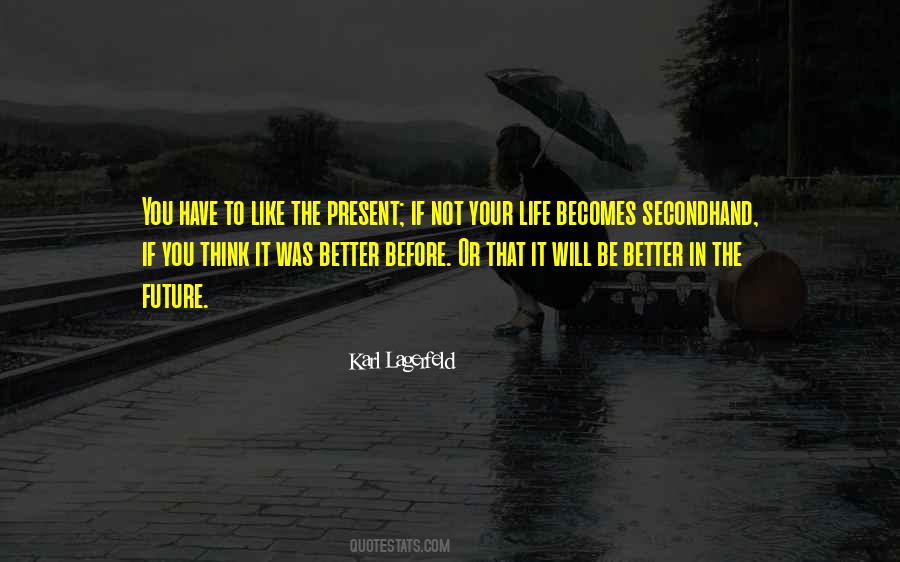 #76. Someone once told me the difference between a rut and a grave is this: a rut has a little more room to move around. When I find myself in a rut, I know I better get out fast before it becomes a grave. - Author: Regina Brett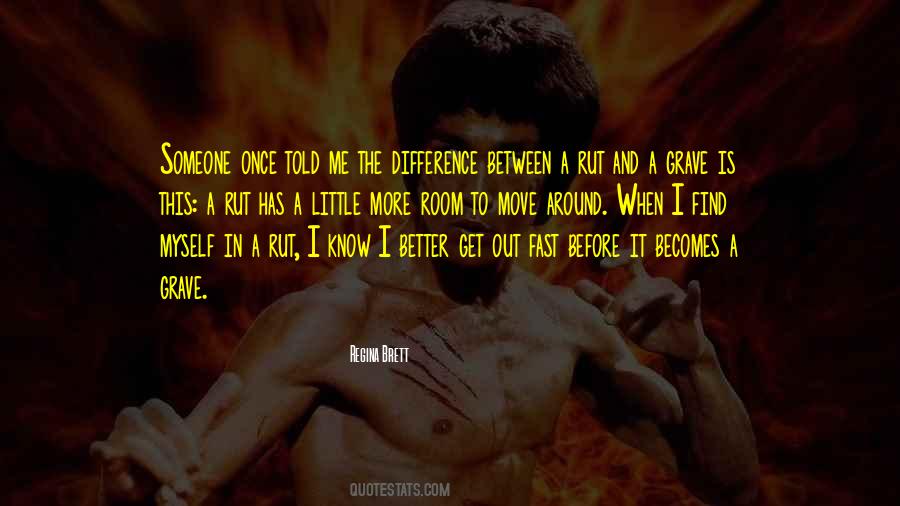 #77. Advertising mourishes the consuming power of men. It sets up before a man the goal of a better home, better clothing, better food for himself and his family. It spurs individual exertion and greater production. - Author: Winston Churchill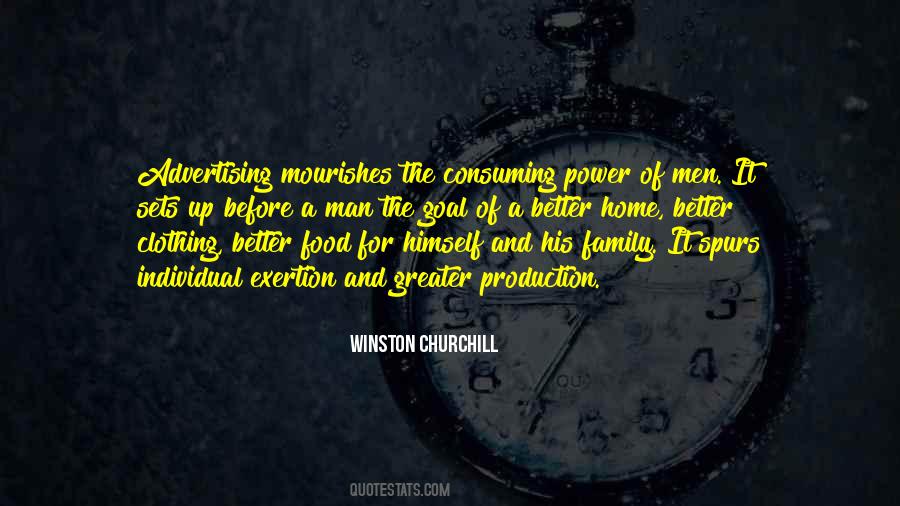 #78. There is one consolation in being sick; and that is the possibility that you may recover to a better state than you were ever in before. - Author: Henry David Thoreau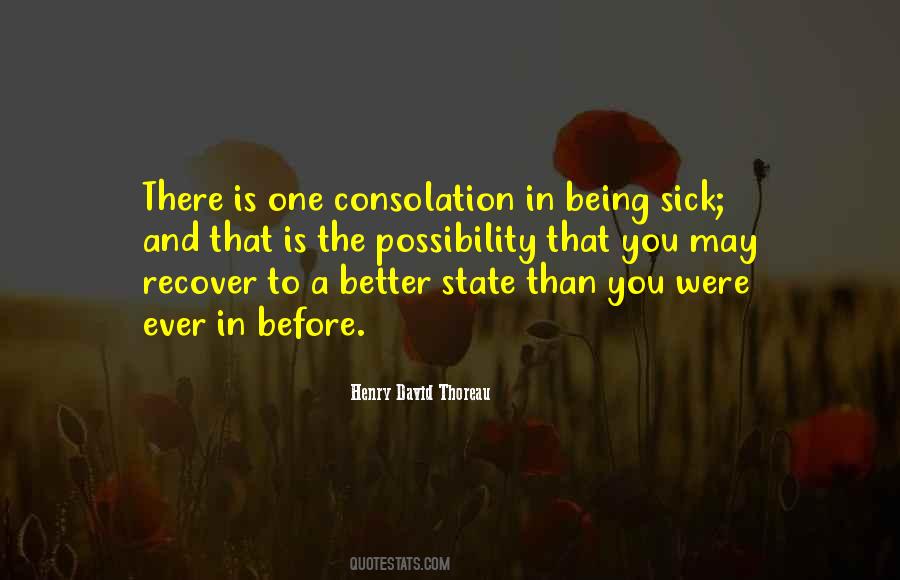 #79. At night, the valleys of my body curve around him, creating a geography I never knew existed before, where size is relative and more is always better, and I can't seem to get enough of it. - Author: Tiffany Baker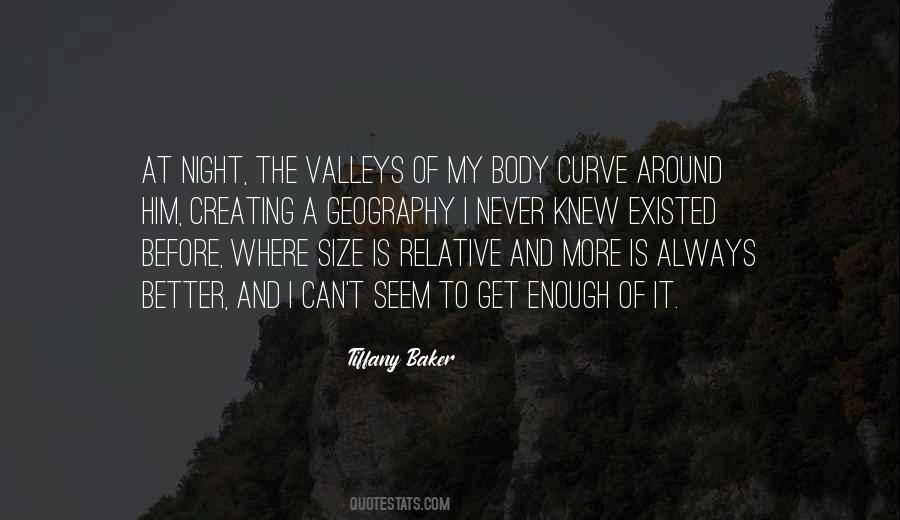 #80. And I said to him when you learn to read then you learn everything you didnt know before. But when you write you write only what you know allready so patientia Im better off not knowing how to write because the ass is the ass - Author: Umberto Eco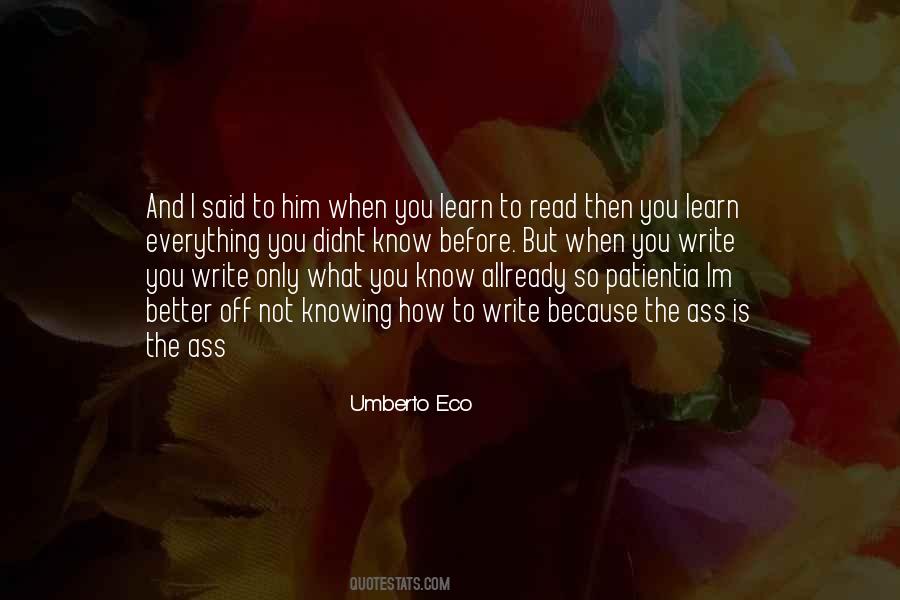 #81. I think your eyes might be the exact same color as mine," she said wonderingly.
"What fine gray-eyed babies we shall have," he said, before he thought the better of it. - Author: Julia Quinn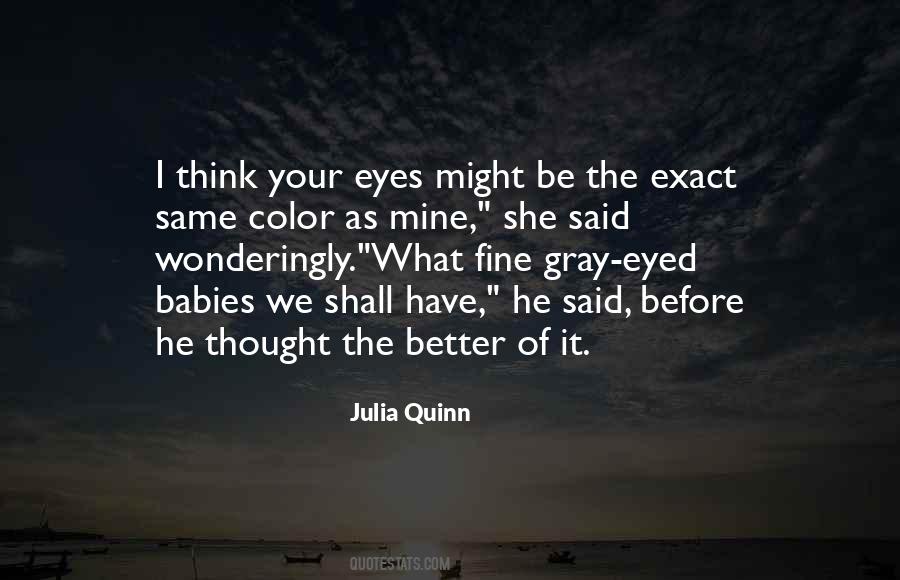 #82. A person can get ... stuck, for lack a better word, in a life. It's surprisingly easy, really. Hours bleed into days; days fade into months. Before you know it, years have passed, and you're just this person, someone your younger self wouldn't even recognize. - Author: Kristen Callihan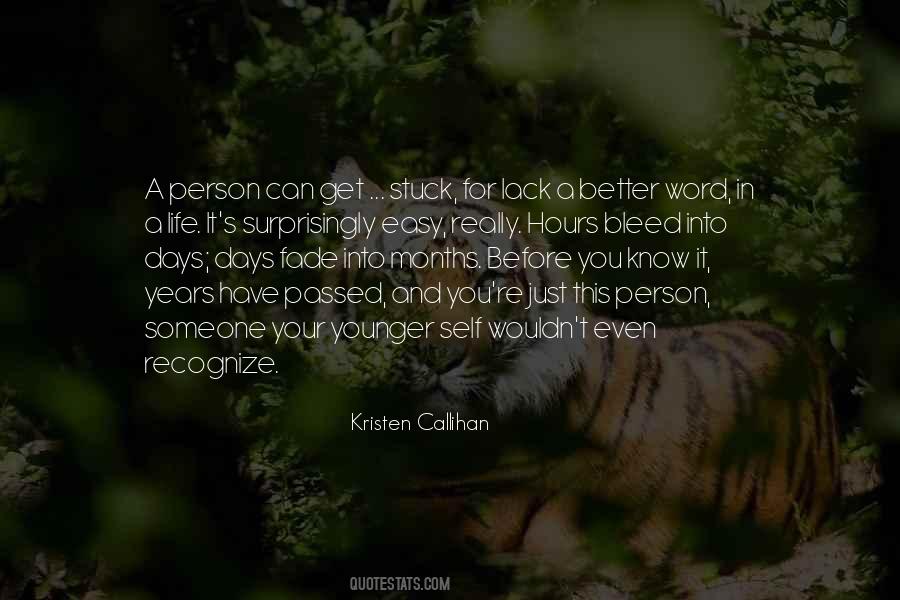 #83. Initially I had intended to study medicine, but before going to University I had decided that I would be better suited to a career in which I could concentrate my activities and interests more on a single goal than appeared to be possible in my father's profession. - Author: Frederick Sanger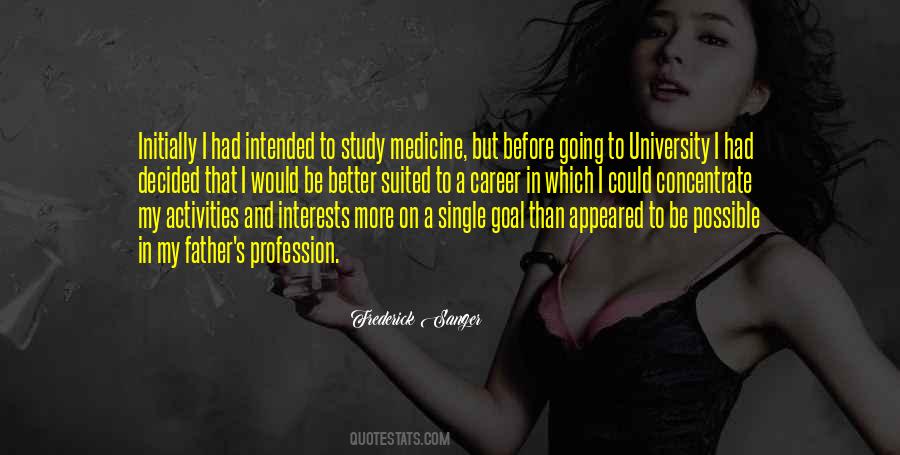 #84. After his failed political career, Lincoln often pondered the question of the purpose of the meaning of life. In 1850 [ten years before he was elected President], Lincoln told Herdon [his law partner] How hard, oh how hard it is to die and leave one's country no better than if one had never lived. - Author: Ronald C. White Jr.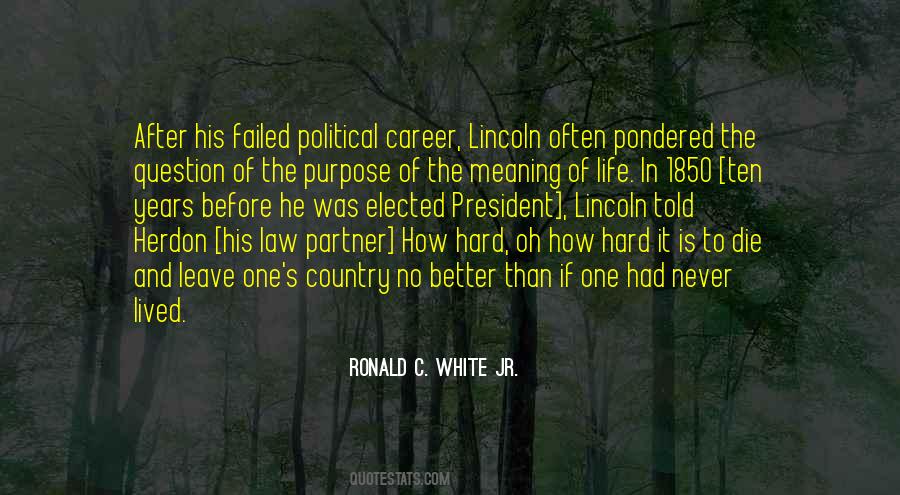 #85. There's a reason diehard fans get to the ballpark hours before game time. It's not for better parking. It's not for extra time to find our seats. It's not so we'll have time to down an extra hot dog, heavy on the mustard, prior to the first pitch. It's called BP. - Author: Tucker Elliot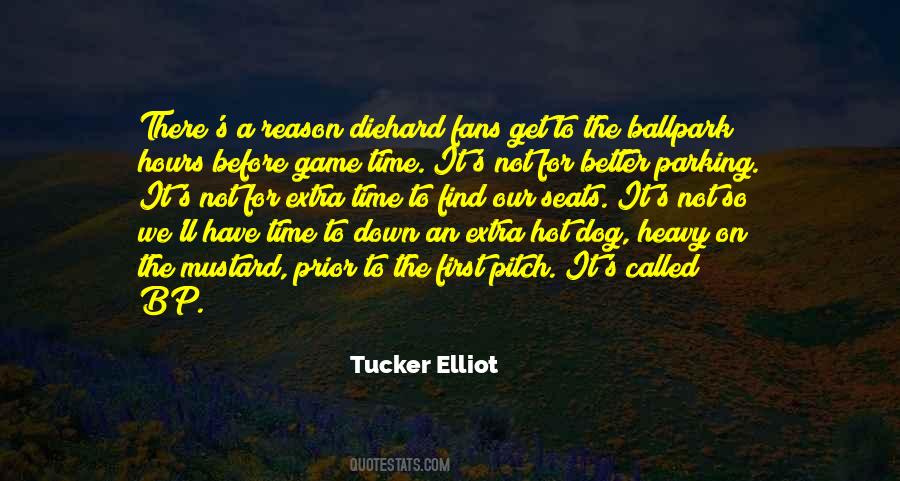 #86. Bodybuilders and fitness people have been using chiropractic very extensively in order to stay healthy and fit. I found it was better to go to a chiropractor before you get injured. We are a perfect team, the world of fitness and the world of chiropractors. - Author: Arnold Schwarzenegger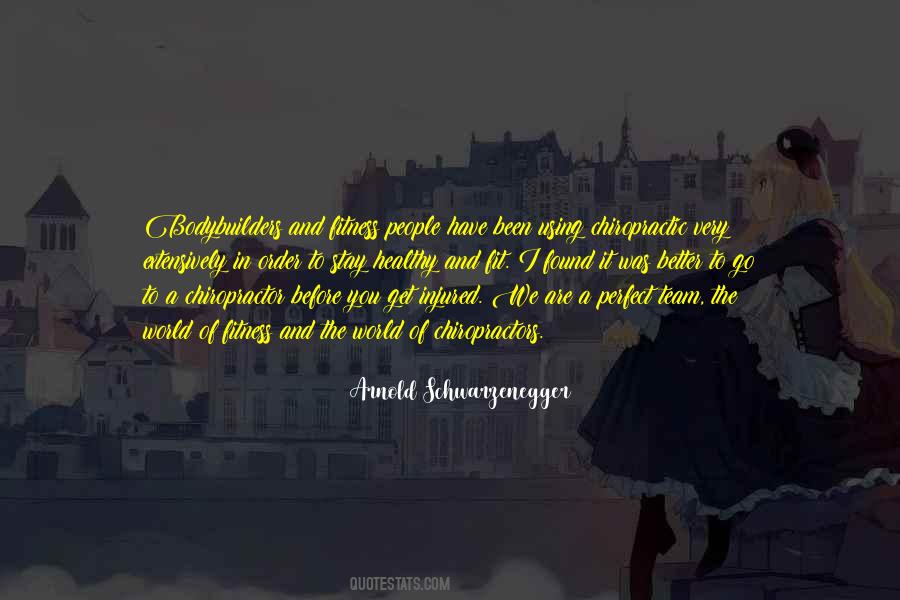 #87. Nature is good, but intellect is better, as the law-giver is before the law-receiver. - Author: Ralph Waldo Emerson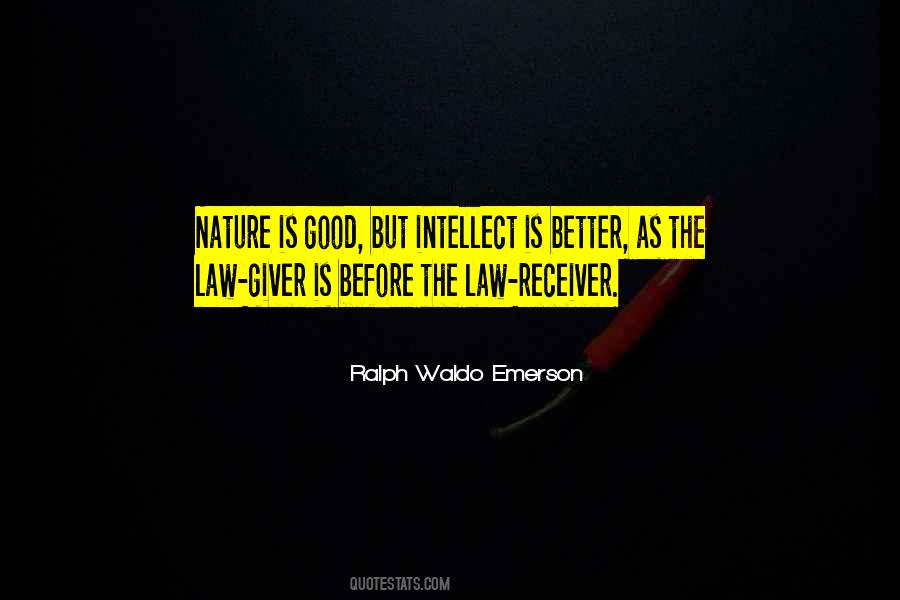 #88. I'm sure it was a good house in its time as well, but sometimes what is left behind when something has been lost is even better than the thing that came before. - Author: Susanna Kearsley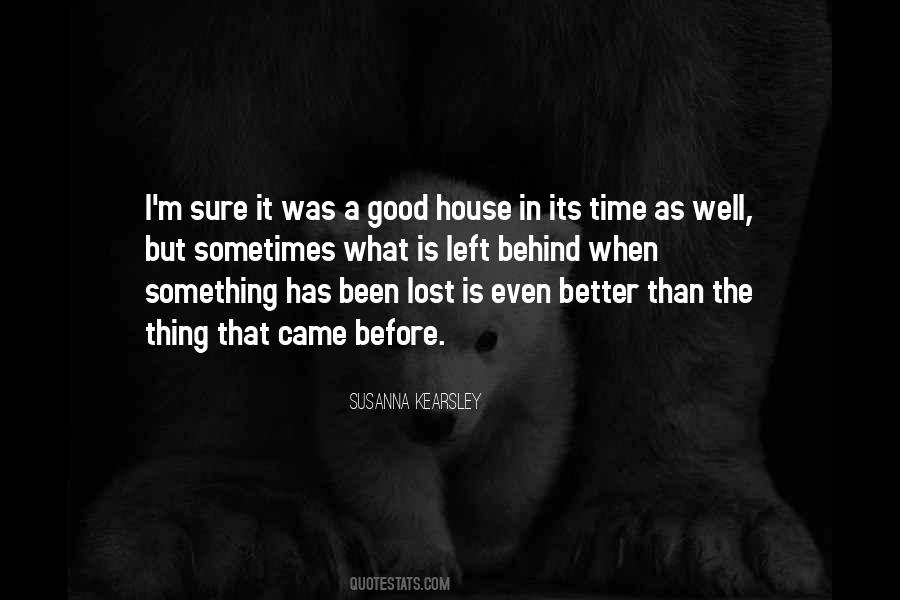 #89. I have seen better faces in my time Than stands on any shoulder that I see Before me at this instant. - Author: William Shakespeare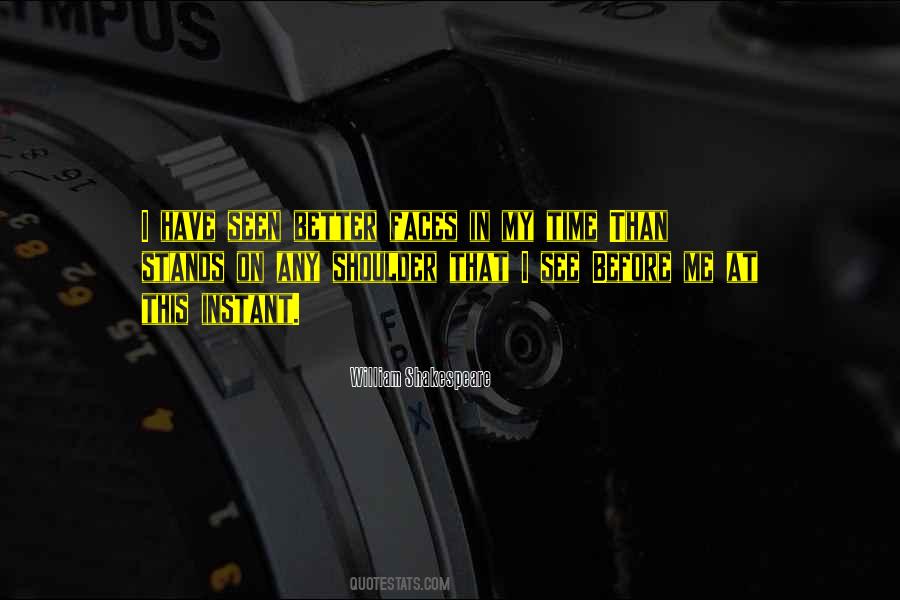 #90. If you no longer believe in the God in whom you believed in before, this comes from the fact that there was something wrong with your belief, and you must strive to understand better that which you call God. - Author: Leo Tolstoy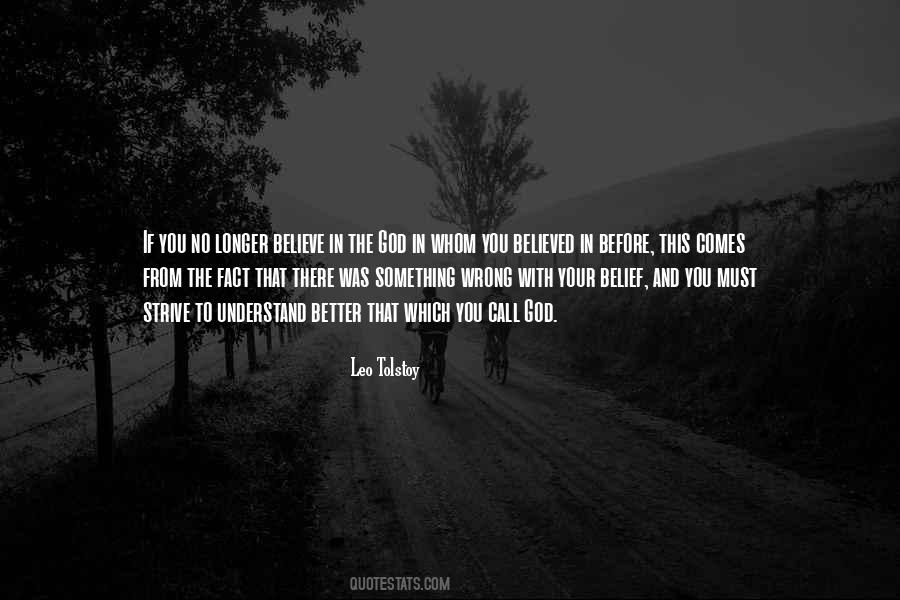 #91. Better and happier those who, recognizing that everything is fictitious, write the novel before someone writes it for them and, like Machiavelli, don courtly garments to write in secret. - Author: Fernando Pessoa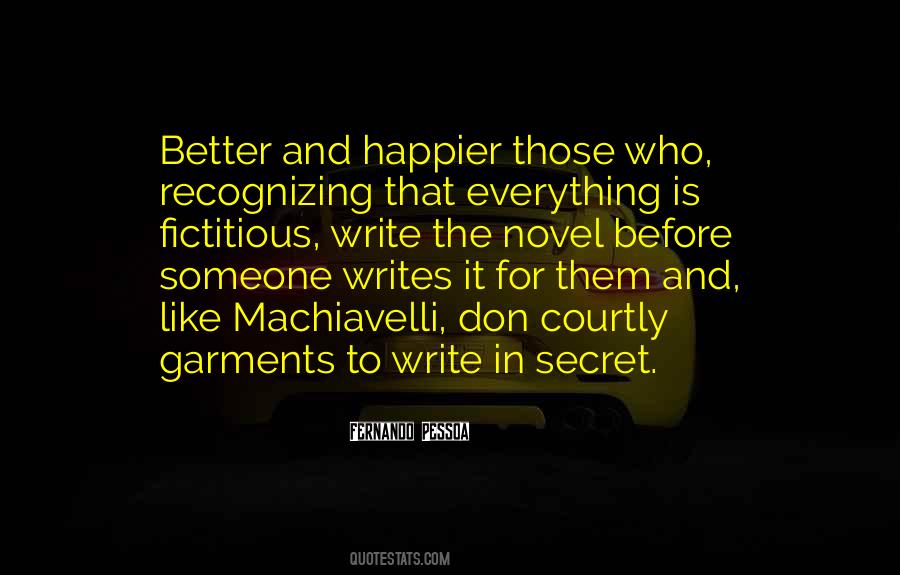 #92. The earth was all before me. With a heart
Joyous, nor scared at its own liberty,
I look about; and should the chosen guide
Be nothing better than a wandering cloud,
I cannot miss my way. - Author: William Wordsworth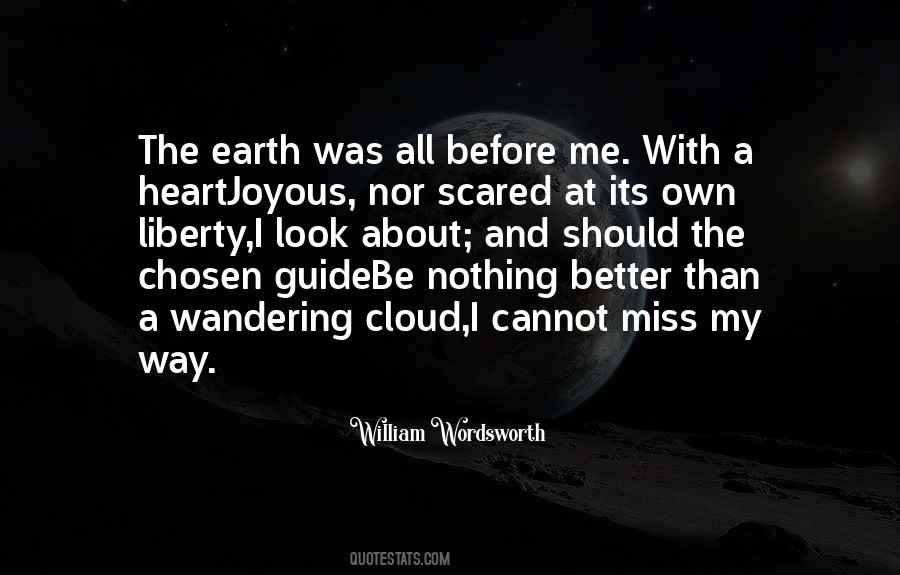 #93. I was so completely anxious before I had a child, but now my biggest worry is something happening to her, so anything other than that I can handle. That's not to say I'm calm, because that would be b****cks! I wish it were the case, but it's getting better as I get older. - Author: Anna Friel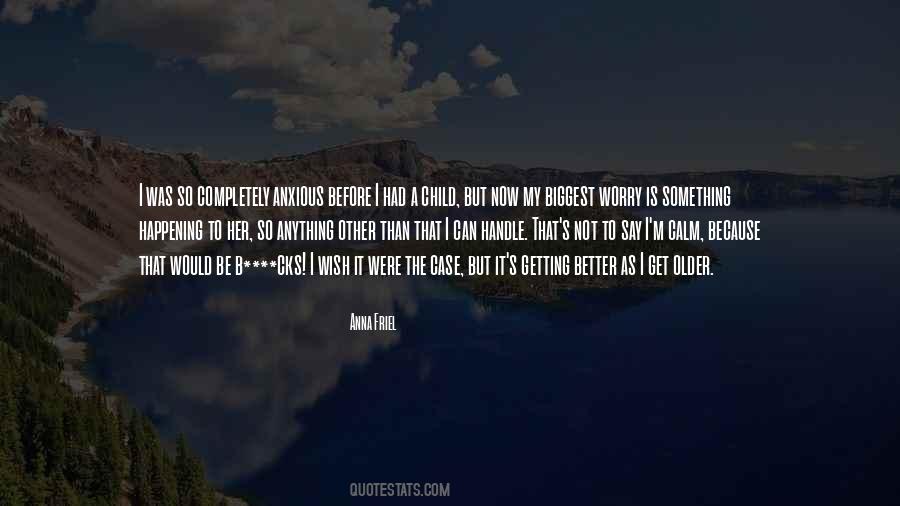 #94. Every year, I just want to do better than I did the year before. - Author: Zach Parise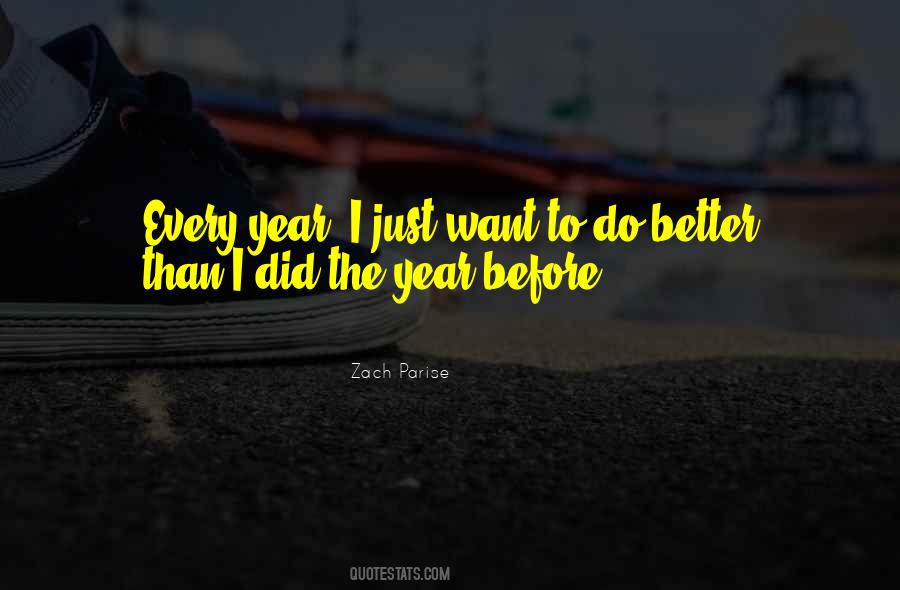 #95. Better not I tell you. You want to know what I do? I say doudou, if you have trouble you are right to come to me. And I kiss her. It's when I kiss her she cry - not before. - Author: Jean Rhys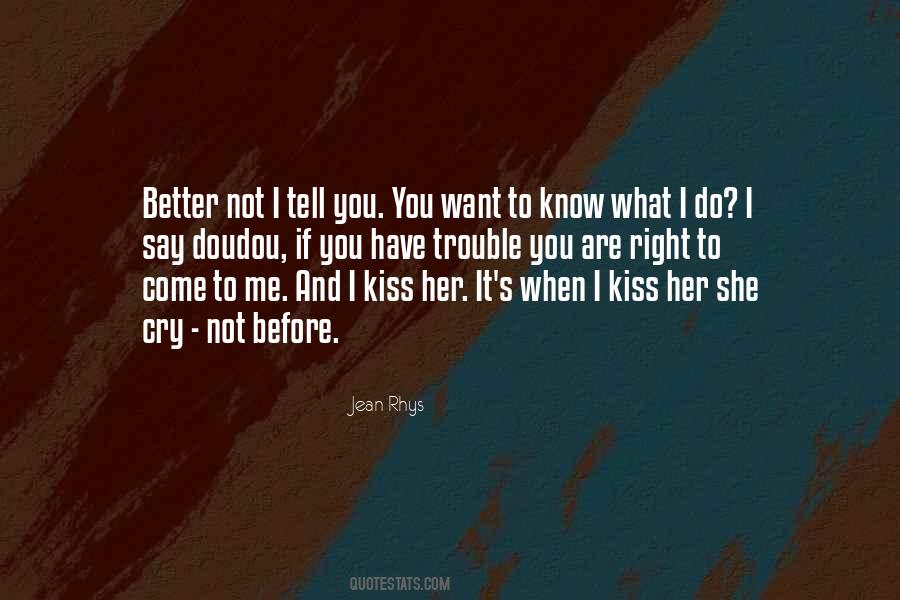 #96. You'd better touch me before something happens spontaneously that makes me look embarrassingly desperate."
"Really?" He lowered just close enough for his chest to graze the fabric covering her bra, squeezing a squeak from her throat. "I'd like to watch that. You're making abstinence sound fun. - Author: Brynn Kelly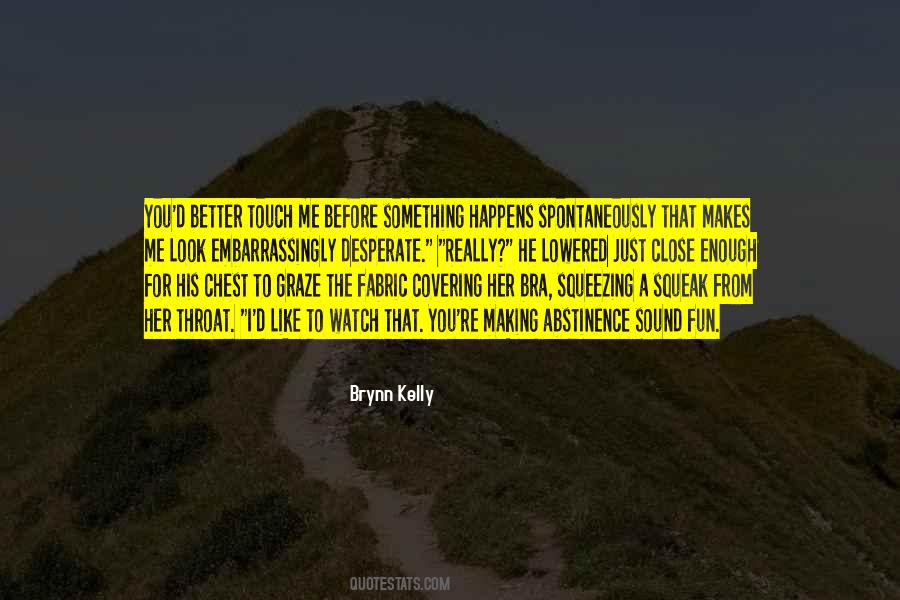 #97. I had to watch government fail for 25 years doing consumer reporting before I really saw it because intuitively, the reaction is problem, bring government and government will make it better. - Author: John Stossel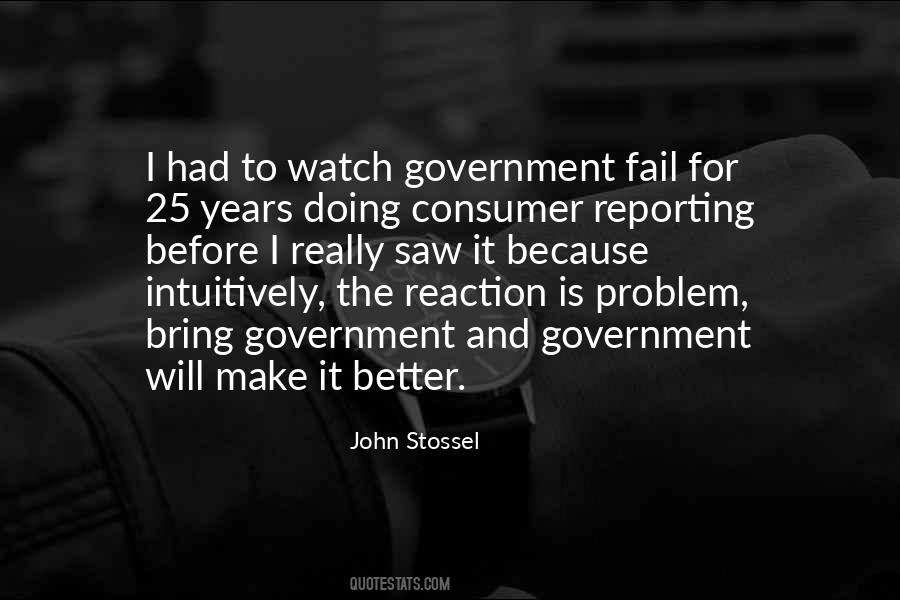 #98. Sometimes I have to pretend I feel brave before I actually do. Sometimes I never make it past the pretending part. But those days are getting fewer and further between. - Author: Nicole Williams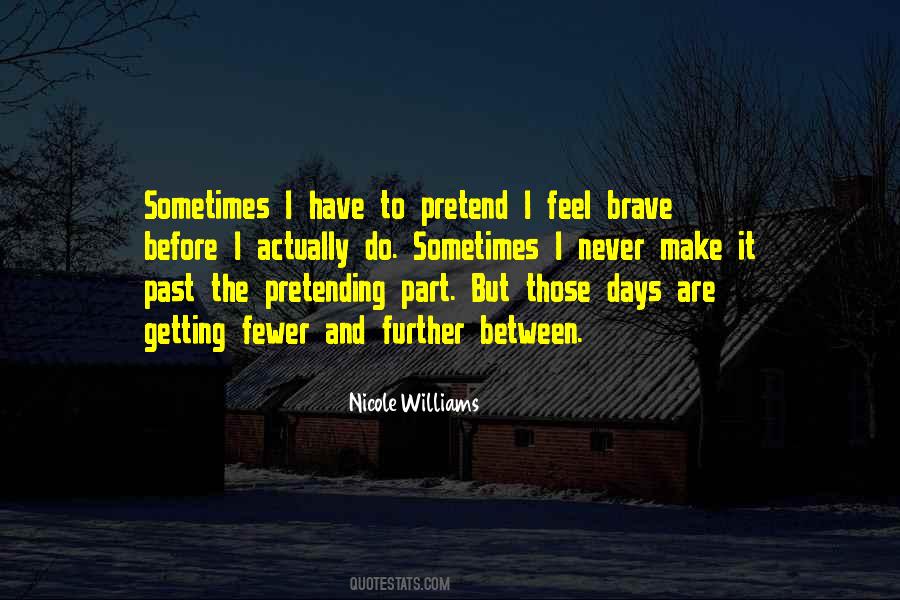 #99. I played a lawyer once, and I had about three or four weeks before we shot, so I was able to go to court and watch lawyers at work. Some were good lawyers and some were bad lawyers, but it was essential. The more time you have to prepare, the better. Always. - Author: Ben Bass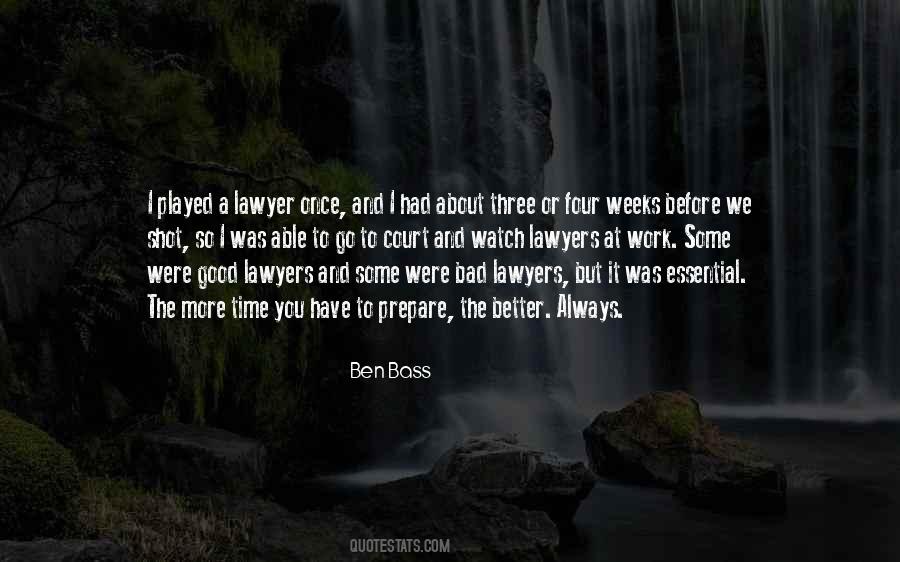 #100. You smile upon your friend to-day, To-day his ills are over; You hearken to the lover's say, And happy is the lover. 'Tis late to hearken, late to smile, But better late than never: I shall have lived a little while Before I die for ever. - Author: A.E. Housman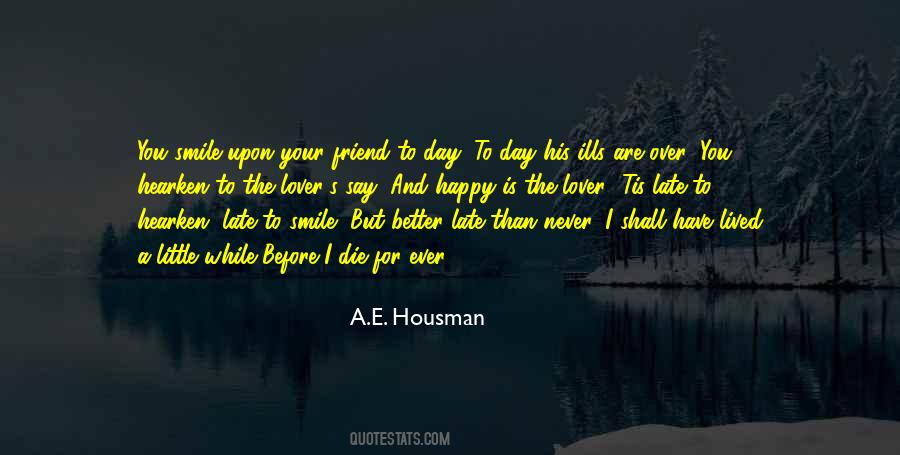 Famous Authors
Popular Topics