A Living Nightmare Famous Quotes & Sayings
List of top 32 famous quotes and sayings about a living nightmare to read and share with friends on your Facebook, Twitter, blogs.
Top 32 A Living Nightmare Quotes
#1. Each person here, except me, was living out his worst nightmare, facing his biggest fear - even the dog. It was under a counter, staring horror-stricken at a bowl of generic dog food. I - Author: James Patterson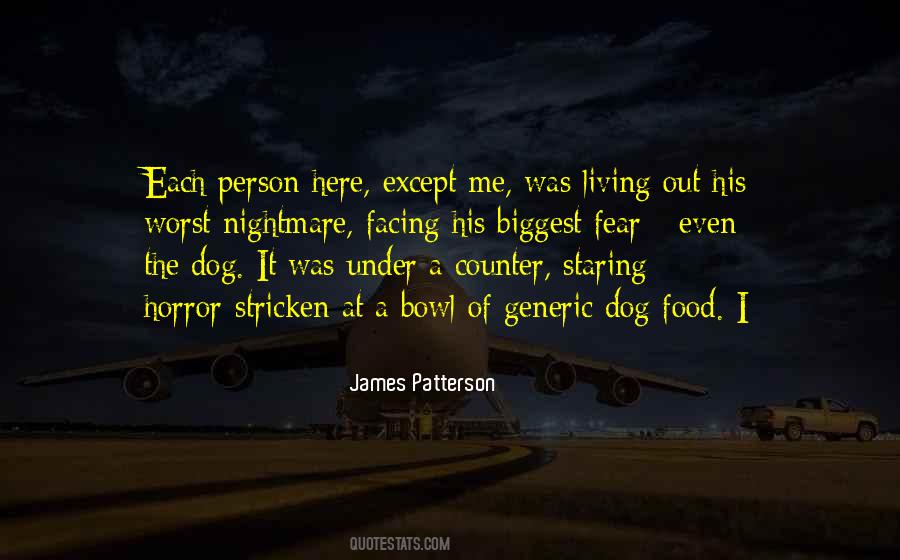 #2. I am living in a nightmare, from which from time to time I wake in sleep. - Author: Ursula K. Le Guin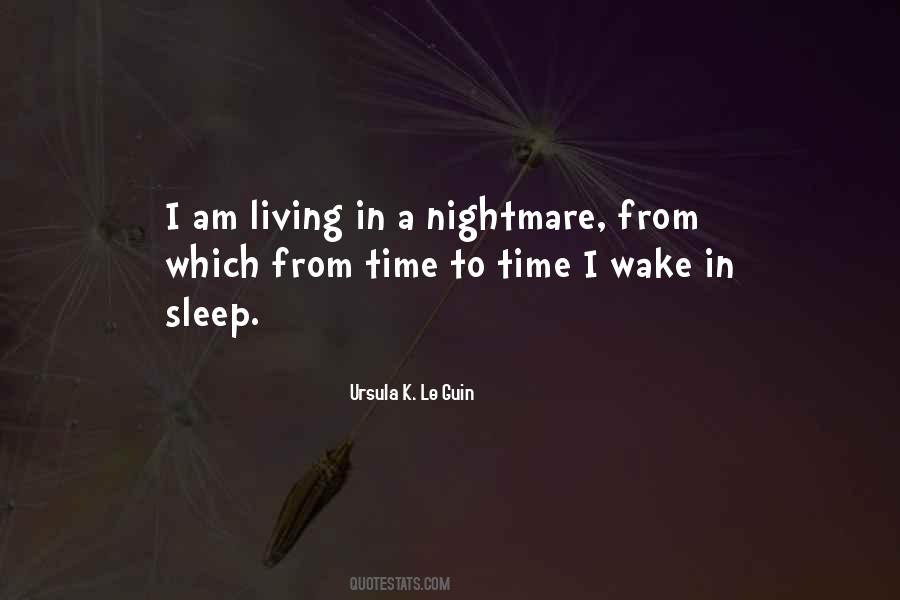 #3. The memory of war was fading into the past as a nightmare vanishes with the dawn; soon
it would lie outside the experience of all living men. - Author: Arthur C. Clarke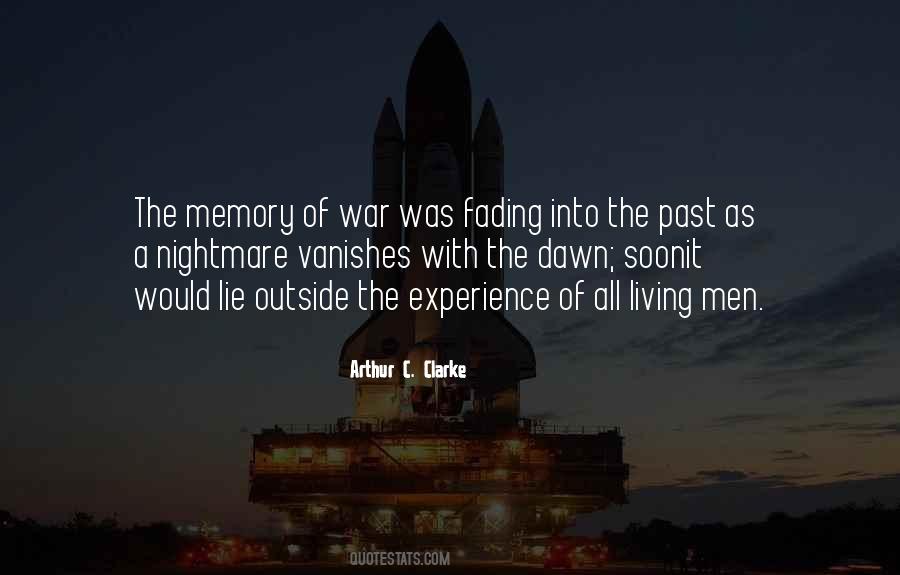 #4. Life was radical right after I met the monster.
Later, life became harder, complicated.
Ultimately, a living hell, like swimming against a riptide,
Walking the wrong direction in the fast lane of the freeway,
Waking from sweetest dreams to find yourself in the middle of a nightmare. - Author: Ellen Hopkins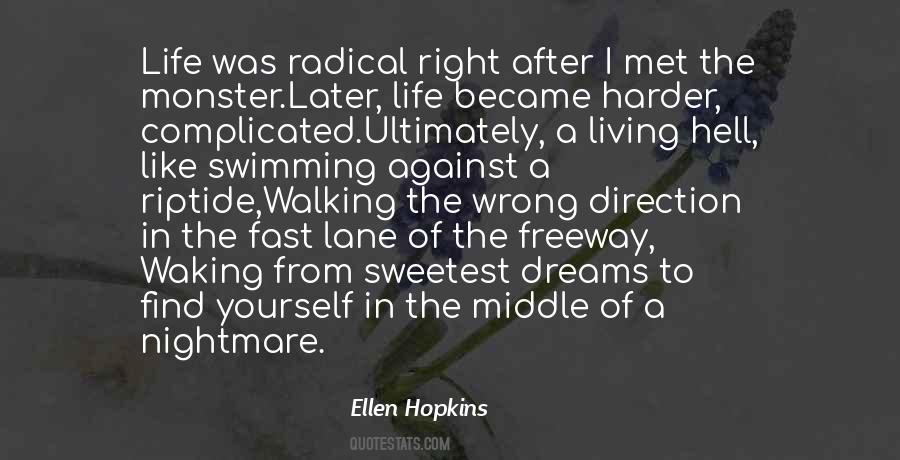 #5. I can't tell whether I am living in a dream or a nightmare. - Author: Bertrand Russell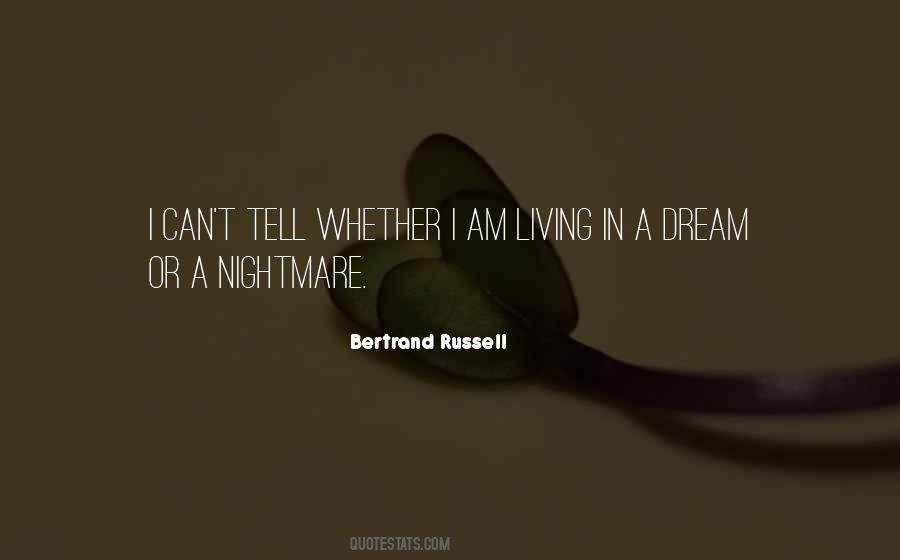 #6. Today we are living in an intellectual and technological paradise and a moral and social nightmare because the intellectual level of evolution, in its struggle to become free of the social level, has ignored the social level's role in keeping the biological level under control. - Author: Robert M. Pirsig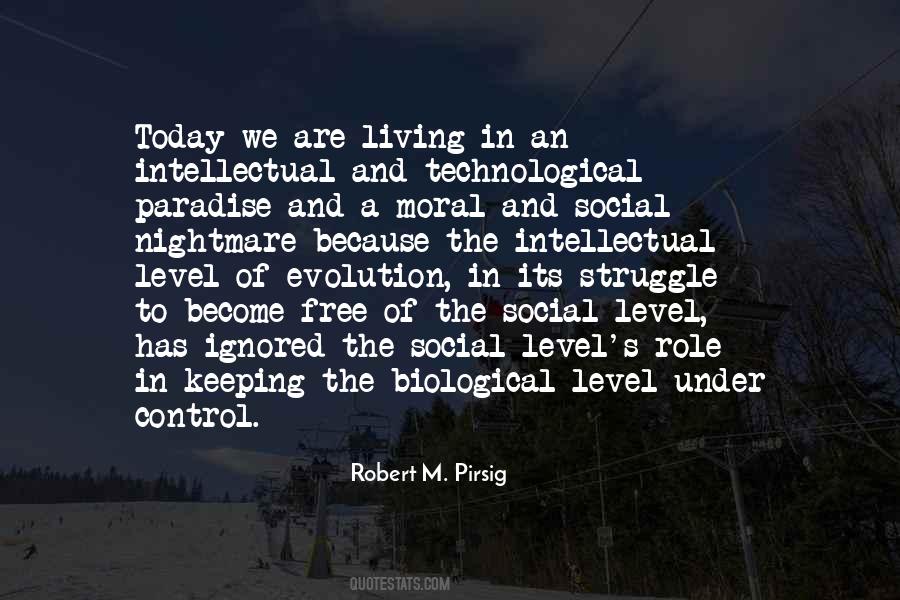 #7. The meat industry spends hundreds of millions of dollars lying to the public about their product. But no amount of false propaganda can sanitize meat. The facts are absolutely clear: Eating meat is bad for human health, catastrophic for the environment, and a living nightmare for animals - Author: Chrissie Hynde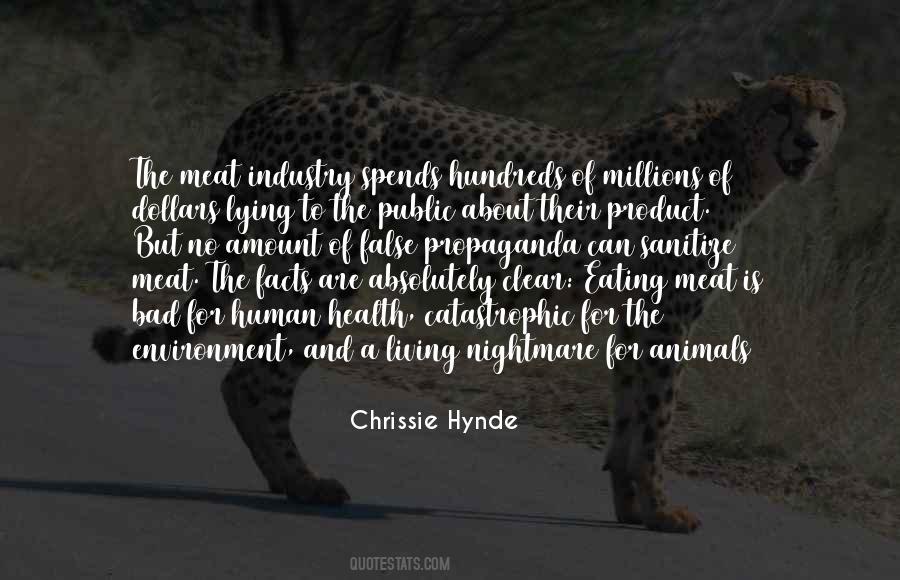 #8. We are living in a science-fiction nightmare where children are gasping for breath on bad-air days because somebody gave money to a politician. And my children and the kids of millions of other Americans can no longer go fishing and eat their catch because somebody gave money to a politician. - Author: Robert F. Kennedy Jr.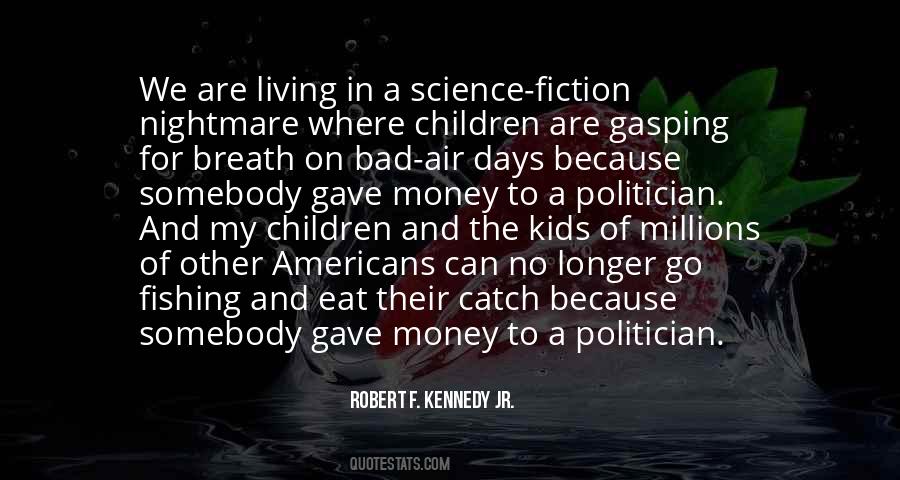 #9. The traditions of the dead generations weigh like a nightmare upon the living. - Author: Karl Marx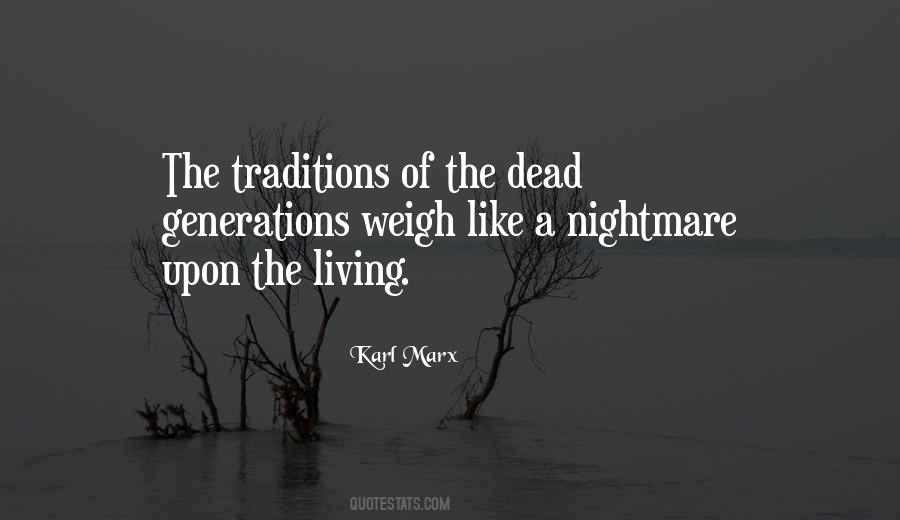 #10. For millions, the retirement dream is in reality an economic nightmare. For millions, growing old today means growing poor, being sick, living in substandard housing, and having to scrimp merely to subsist. - Author: Sylvia Porter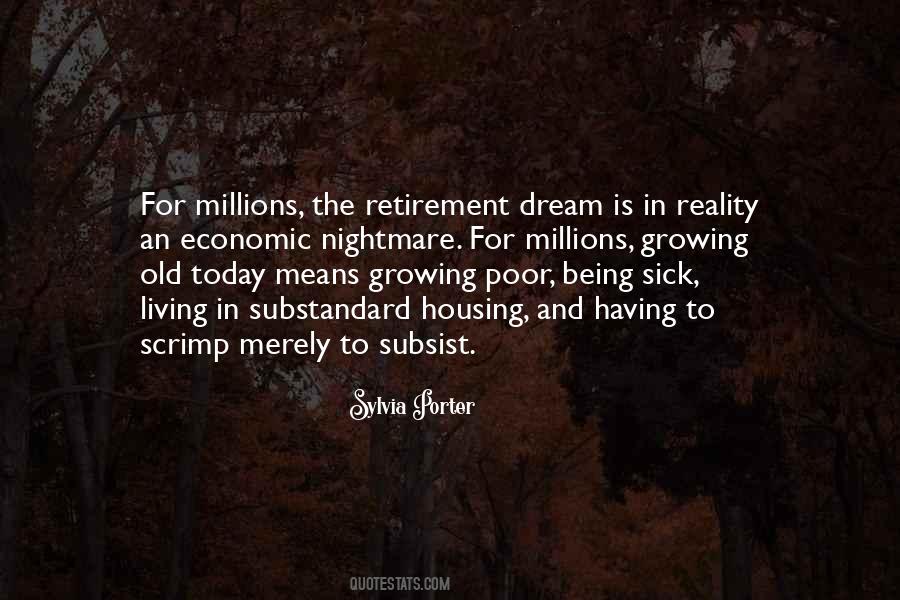 #11. Sleeping is much safer than the nightmare I'm living.
When I sleep I feel nothing and I do nothing and I see nothing and nothing matters and no one cares. There's no one to hurt or disappoint or notice when I'm low and I don't need to face anyone not anyone in the world or not even myself. - Author: Shannon Mullen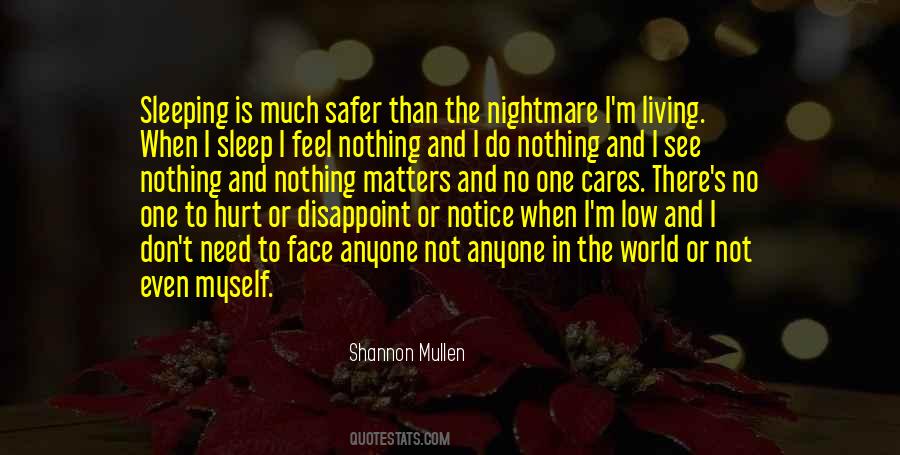 #12. My professional dreams were coming true while I was living a personal nightmare. - Author: Dane Cook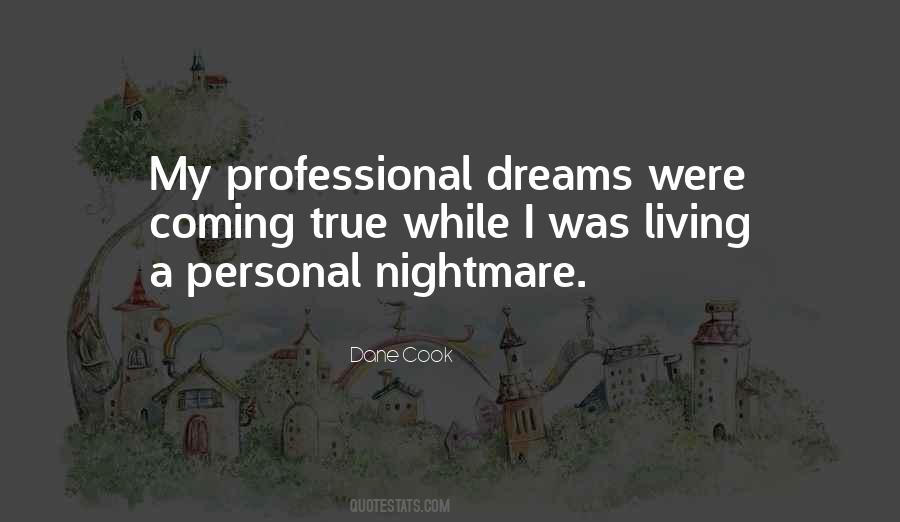 #13. If you have something to hide, I'm your worst nightmare. I'm a living, breathing, and walking lie detector. I can smell you down to the type of soap you use, your morning ritual, and the last time you took a hand and stroked your favorite body part. Everything leaves behind a scent ... Everything. - Author: Ashley Jeffery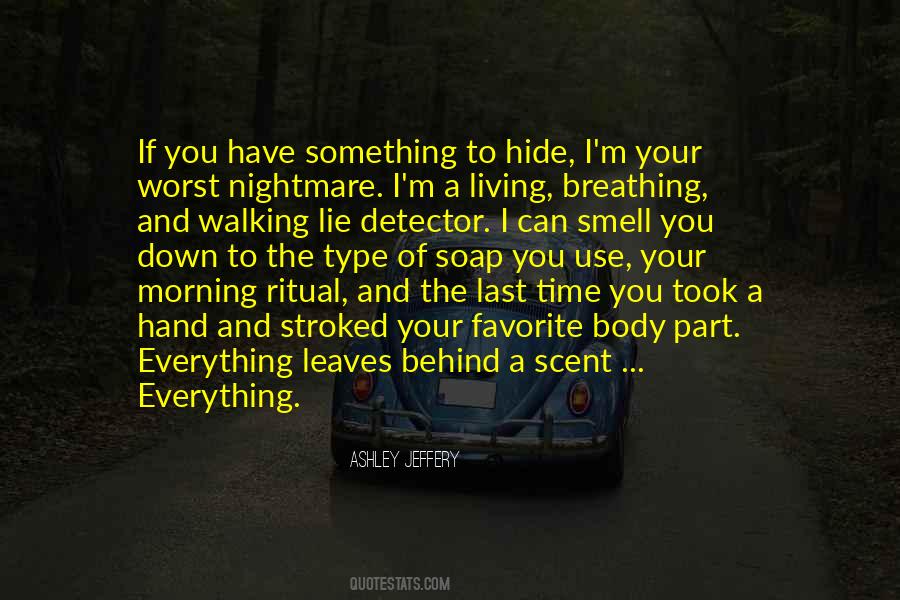 #14. I feel like my job is to give hope. The world is in a dark place and we are living in somewhat of a nightmare. So I want to make films to give hope. - Author: Hany Abu-Assad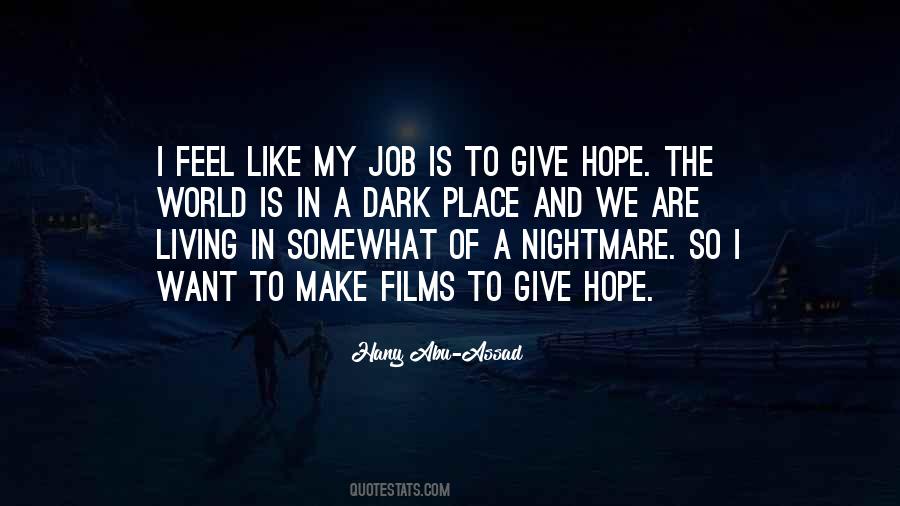 #15. The tradition of all dead generations weighs like a nightmare on the brains of the living. - Author: Karl Marx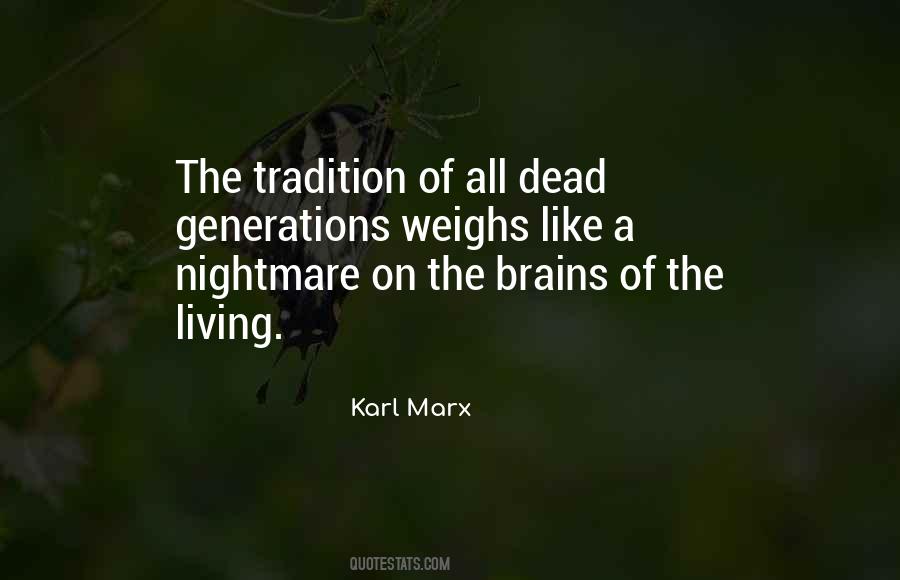 #16. Living someone else's dream is truly a nightmare. None should forfeit their life's aspirations to toil for the goals of another. Unity of purpose is a sentence. Collectivism is a crime; theft of individual worth. - Author: A.E. Samaan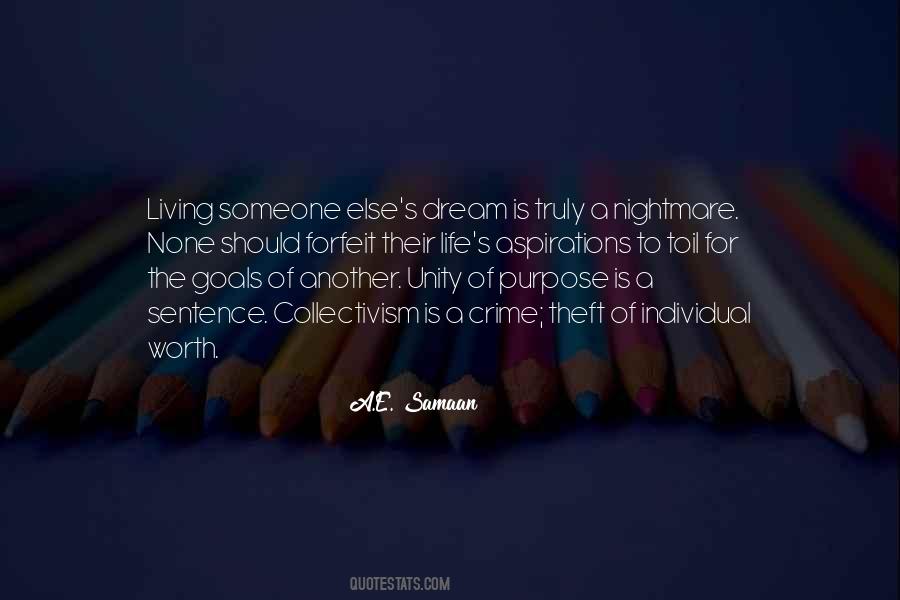 #17. No real fairytale scared me, but Freddy Krueger did. 'Nightmare on Elm Street' scared the living hell out of me, but no fairytale. Maybe 'Hansel and Gretel' a little bit when they were walking through the forest and they met the witch. But I liked being scared, I really enjoy being scared. - Author: Lana Parrilla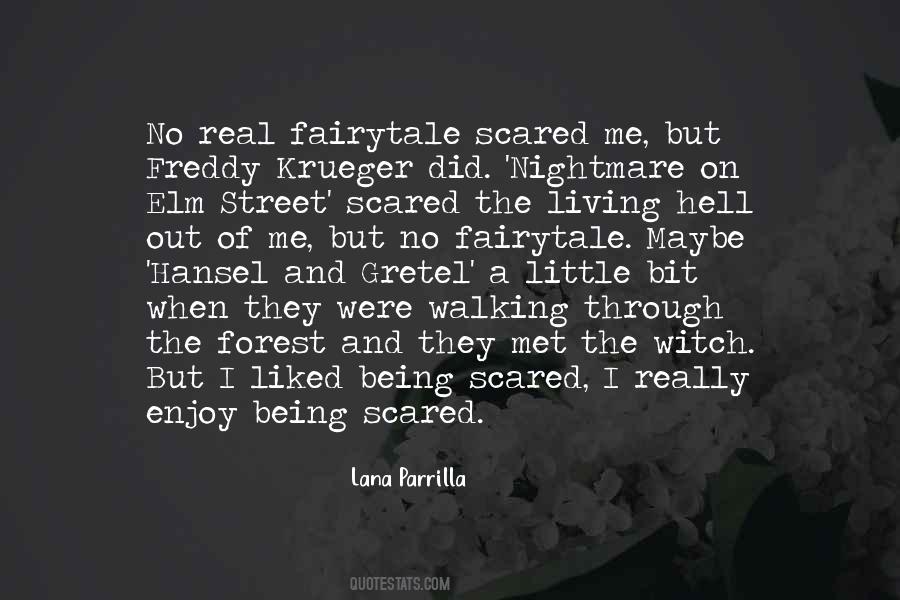 #18. Honestly, to tell you the truth, being trapped in any video game sounds like a living nightmare to me. In most video games, the point is it's a fight for survival, so I think it would be a terrifying place to live. - Author: John C. Reilly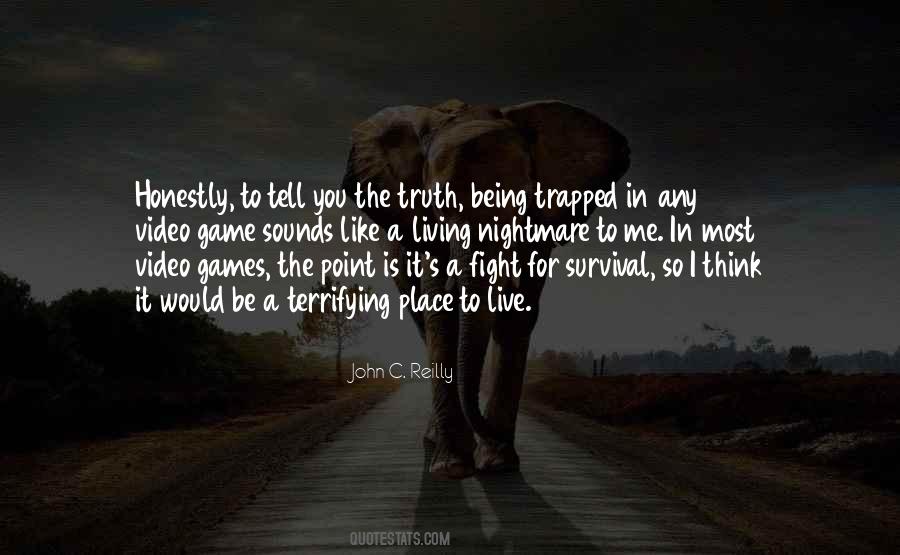 #19. It's an unnerving thought that we may be the living universe's supreme achievement and its worst nightmare simultaneously. - Author: Bill Bryson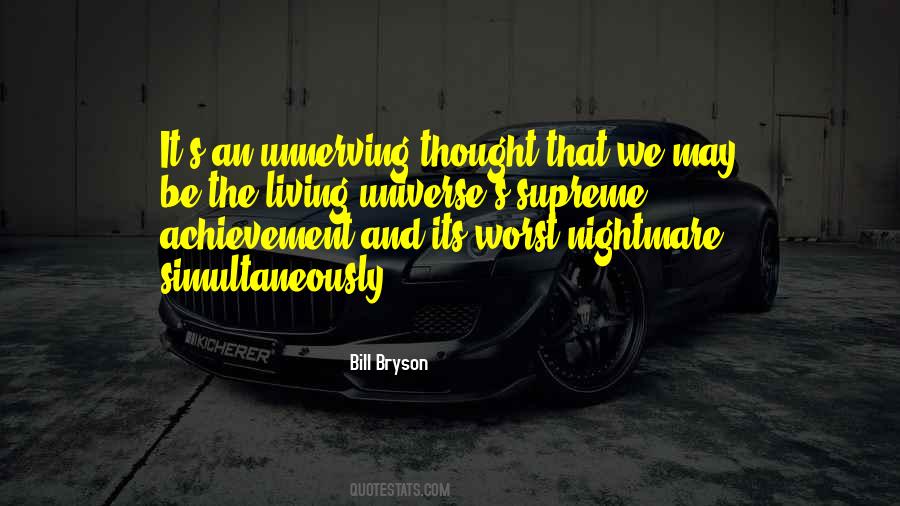 #20. One wrong social move---say---like hanging with the wrong person," she said nastily, "Can make your life around here a living nightmare and I definitely don't think that you want that. - Author: T.L. Clarke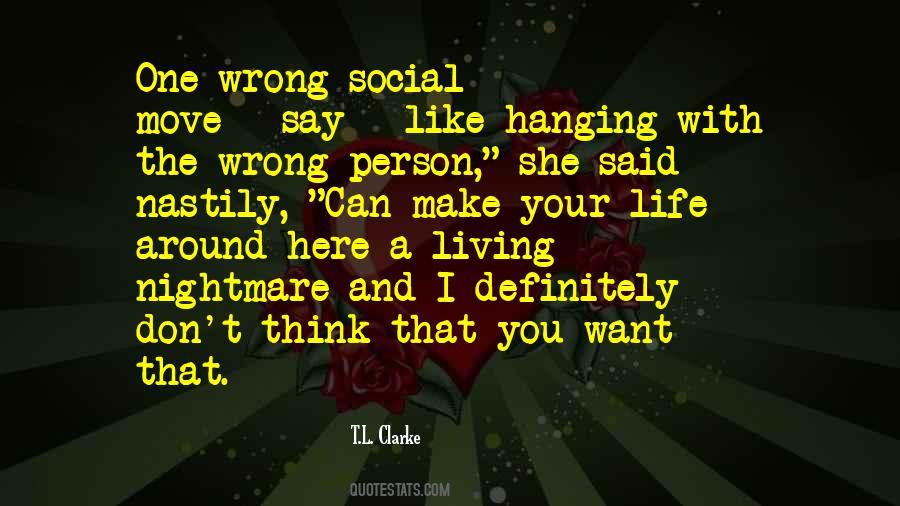 #21. I am the hope of the universe. I am the answer to all living things that cry out for peace. I am protector of the innocent. I am the light in the darkness. I am truth. Ally to good! Nightmare to you! - Author: Akira Toriyama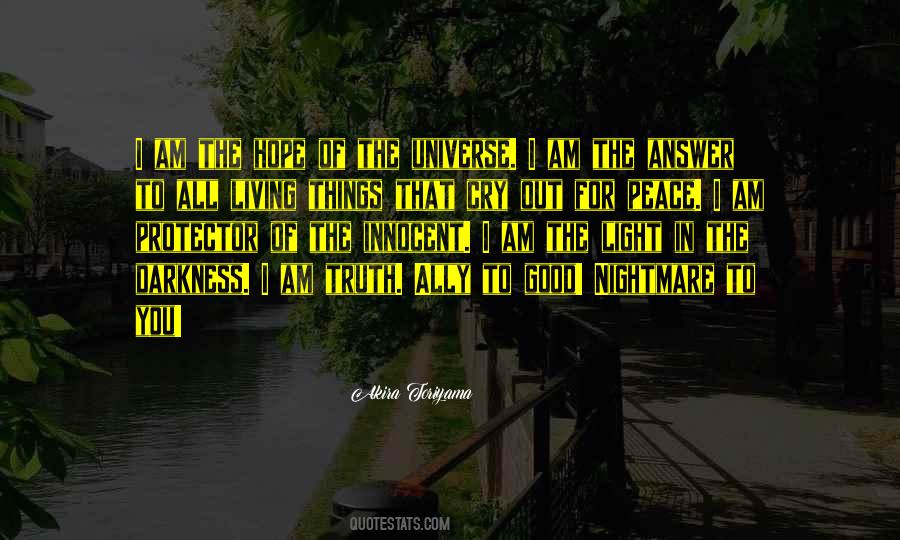 #22. Childhood should be carefree, playing in the sun; not living a nightmare in the darkness of the soul. - Author: Dave Pelzer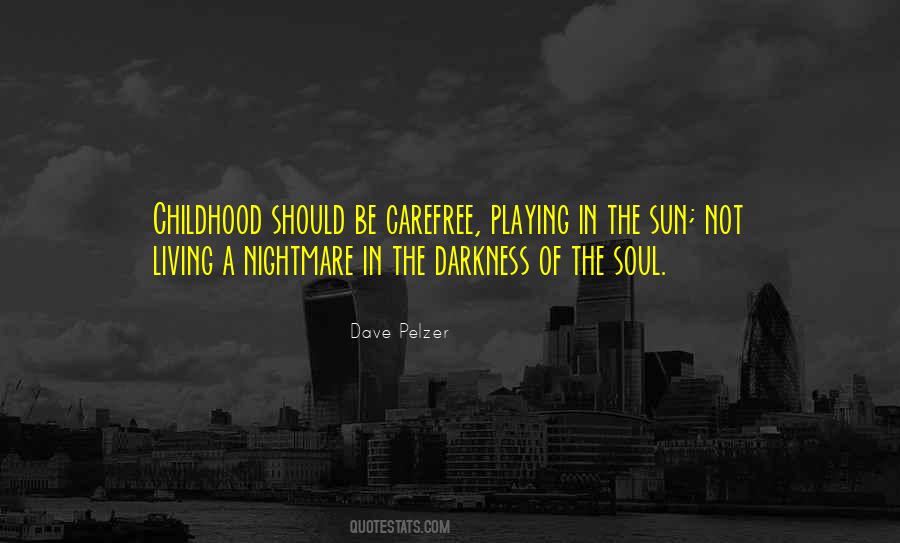 #23. Living, if we go about it with selfishness and lack of awareness about our interdependence with the universal laws and other beings, turns into a nightmare of suffering with brief moments of happiness - Author: Ivan Figueroa-Otero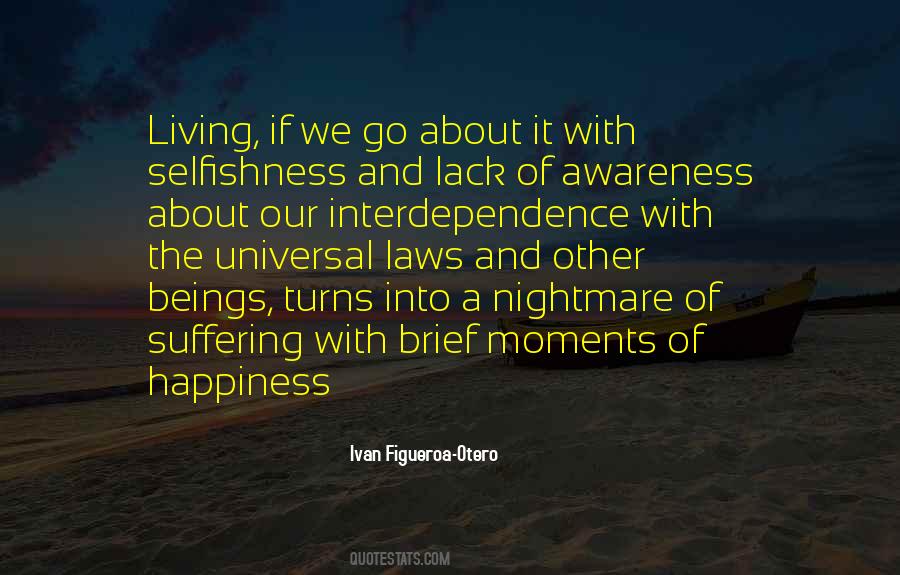 #24. The jungle is alive. It's dangerous as a living nightmare and brimful of hostility. - Author: Sara Sheridan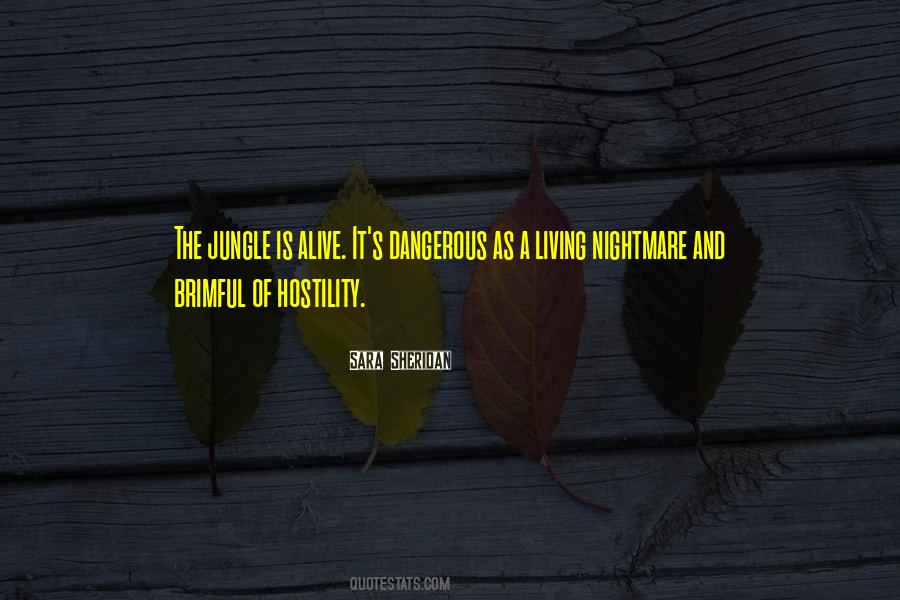 #25. No one tells you how precious and powerful moments of happiness and connection are when you are living through a nightmare. - Author: Philip Gould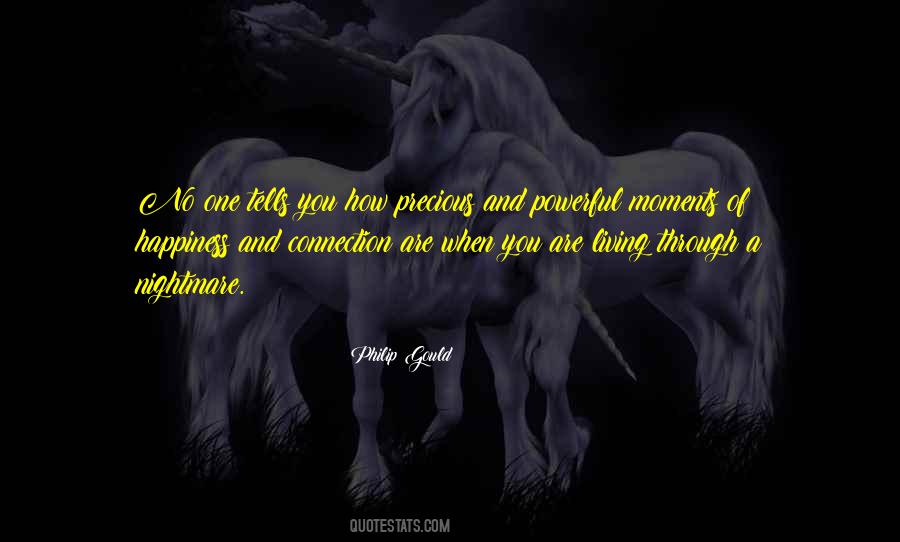 #26. On the contrary, anyone speaking or writing about concentration camps is still regarded as suspect; and if the speaker has resolutely returned to the world of the living, he himself is often assailed by doubts with regard to his own truthfulness, as though he had mistaken a nightmare for reality. - Author: Hannah Arendt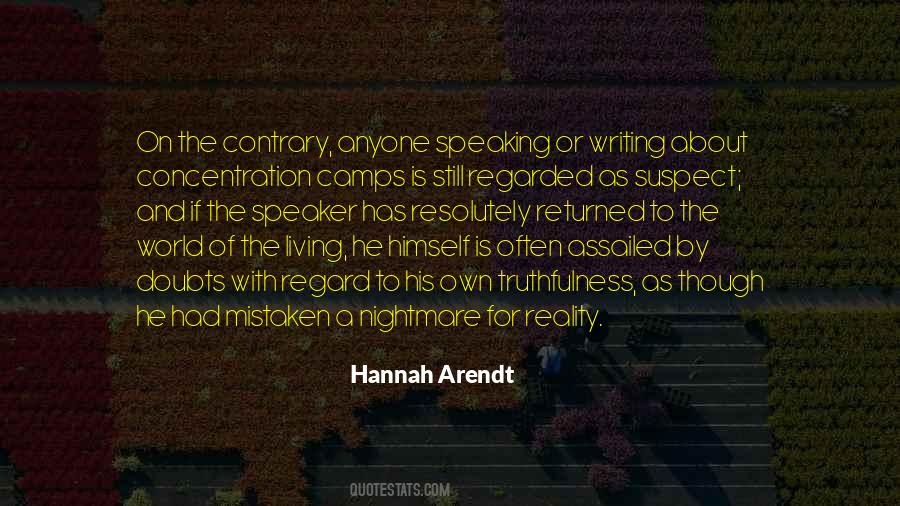 #27. This is what courage is. It's not just living through the nightmare, it's doing something with it afterward. It's being brave enough to talk about it to other people. It's trying to organize to change things. - Author: Leslie Feinberg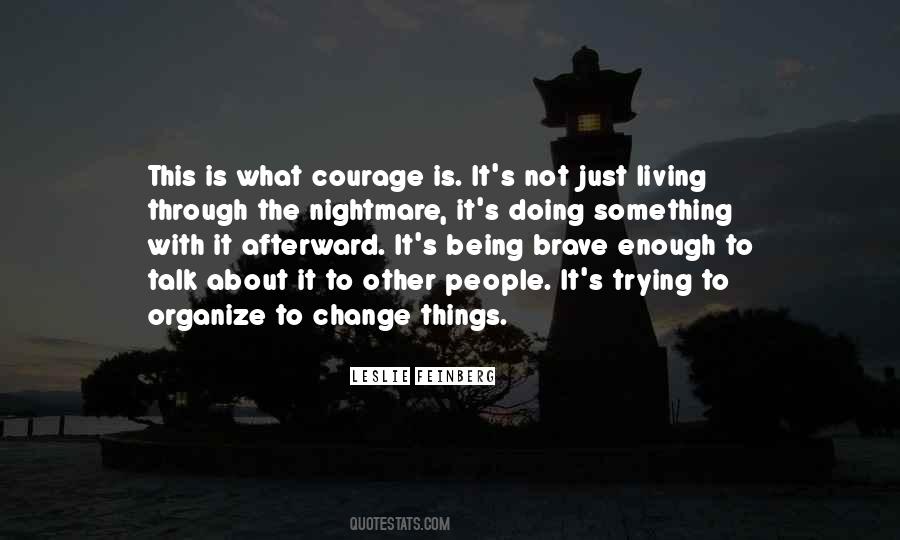 #28. The consciousness of the past weighs like a nightmare on the brain of the living. - Author: Karl Marx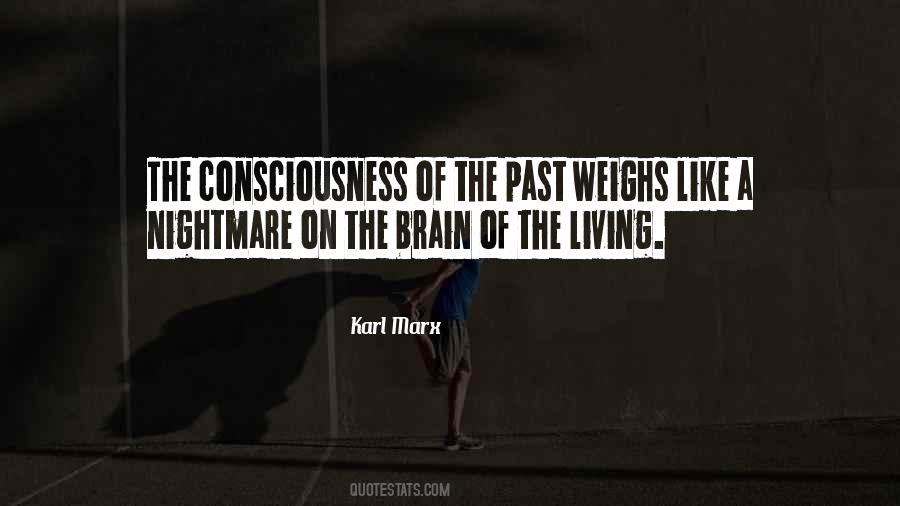 #29. A dream business that doesn't make money is a living nightmare. - Author: Habeeb Akande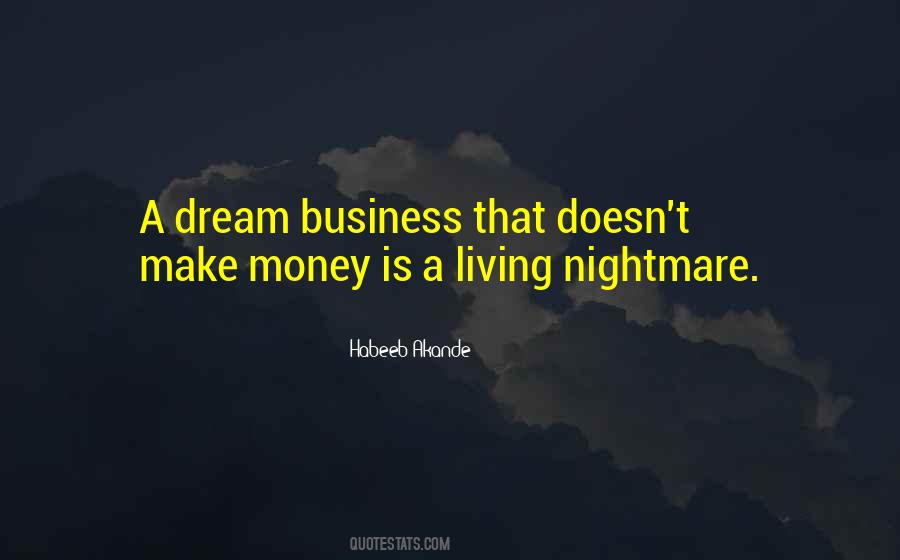 #30. The living nightmare for a red state NASCAR driver would be a gay French driver. - Author: Adam McKay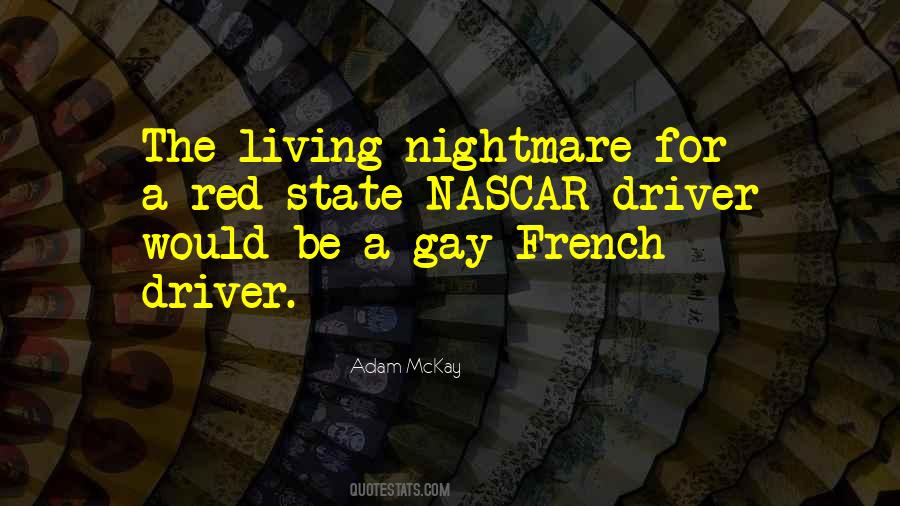 #31. The nightmare of living was begun. - Author: Ray Bradbury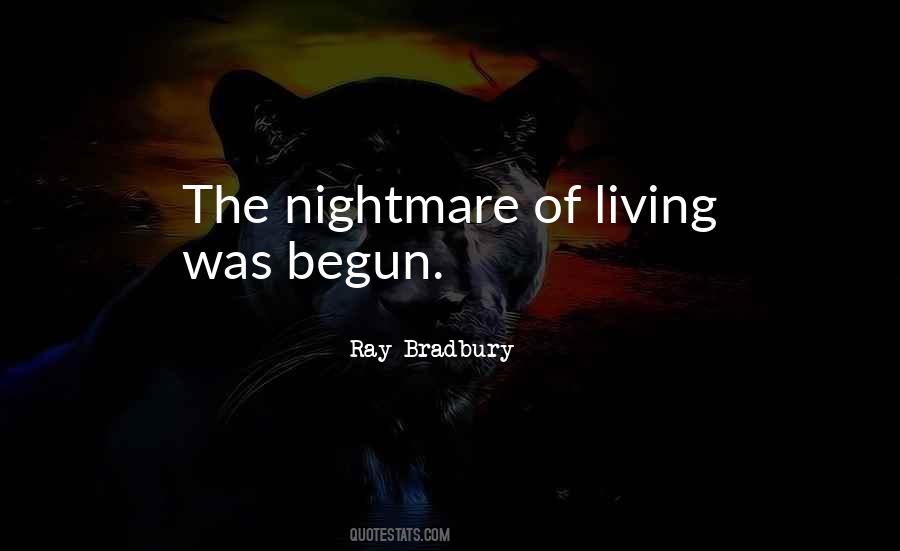 #32. We may be the living universe's supreme achievement and its worst nightmare simultaneously. Because - Author: Bill Bryson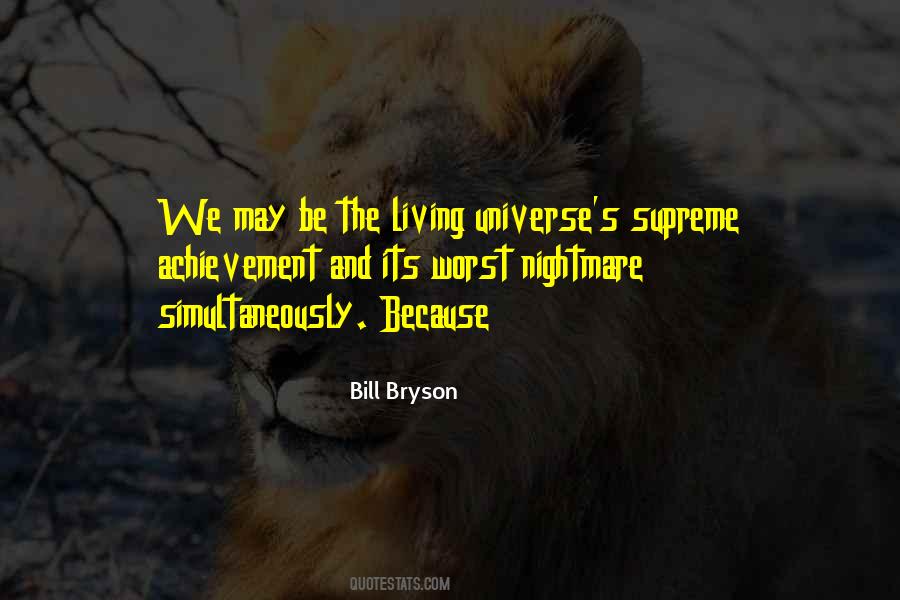 Famous Authors
Popular Topics