Yale's Famous Quotes & Sayings
List of top 100 famous quotes and sayings about yale's to read and share with friends on your Facebook, Twitter, blogs.
Top 100 Yale's Quotes
#1. And Yale is November, crisp and energetic. - Author: F Scott Fitzgerald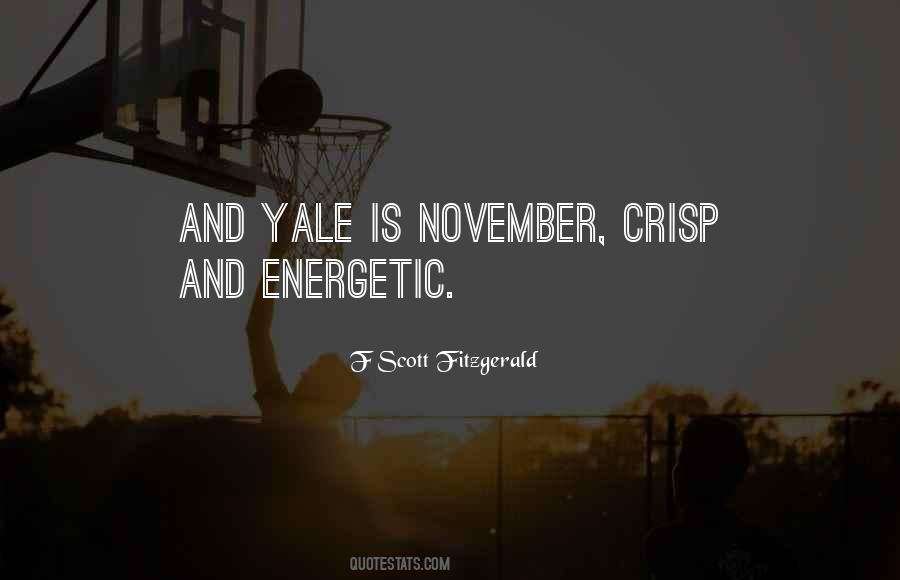 #2. I have lectured at Town Hall N.Y., The Library of Congress, Harvard, Yale, Amherst, Wellesley, Columbia, Michigan, Indiana, Illinois, Louisiana State University, Colorado, Stanford, and scores of other places. - Author: Paul Engle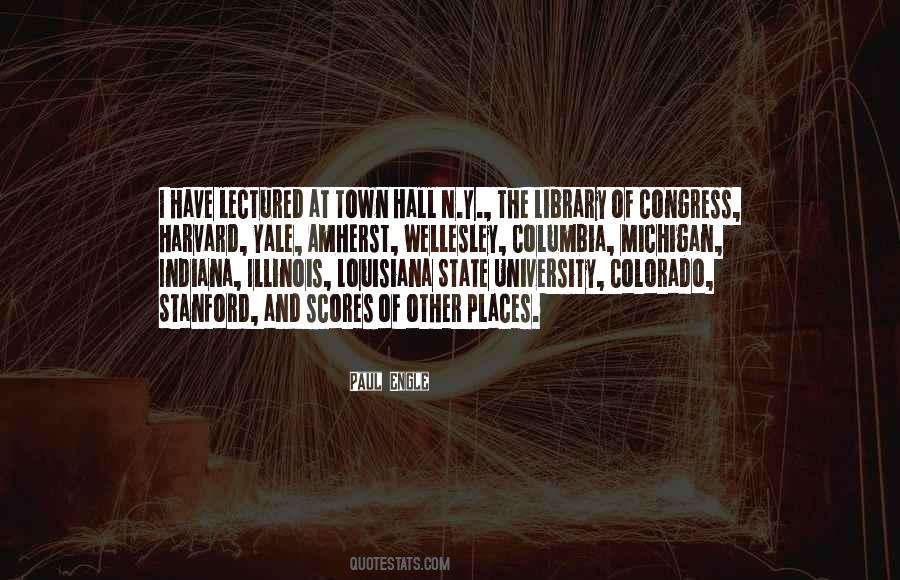 #3. Researches at Yale found a connection between brain cancer and work environment. The No. 1 most dangerous job for developing brain cancer? Plutonium hat model. - Author: Jimmy Fallon
#4. Information design has been around since the 1970s. Pioneers like Yale University design guru Edward Tufte and design agency Pentagram have long known and used its power. But now with the rise of the Internet, it's having something of a second birth. - Author: David McCandless
#5. We have always conducted our relationship privately, and we hope that as we consciously uncouple and coparent, we will be able to continue in the same manner. - Author: Gwyneth Paltrow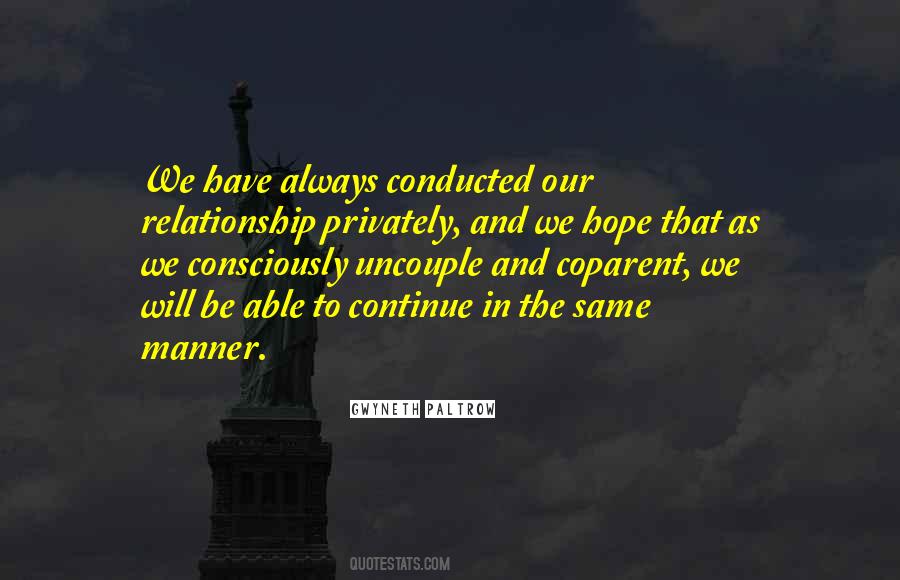 #6. Yale, pointed out that once you let yourself see things this way, lots of things become "musical scores" - although they might never have been intended to be played. - Author: David Byrne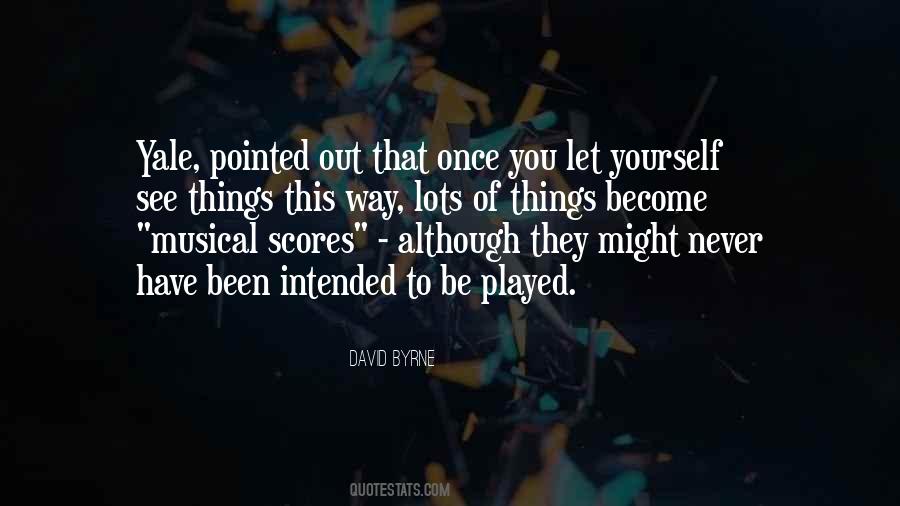 #7. Millar Burrows of Yale observes: 'Archeology has in many cases refuted the views of modern critics. It has shown in a number of instances that these views rest on false assumptions and unreal, artificial schemes of historical development. This is a real contribution and not to be minimized.' - Author: Millar Burrows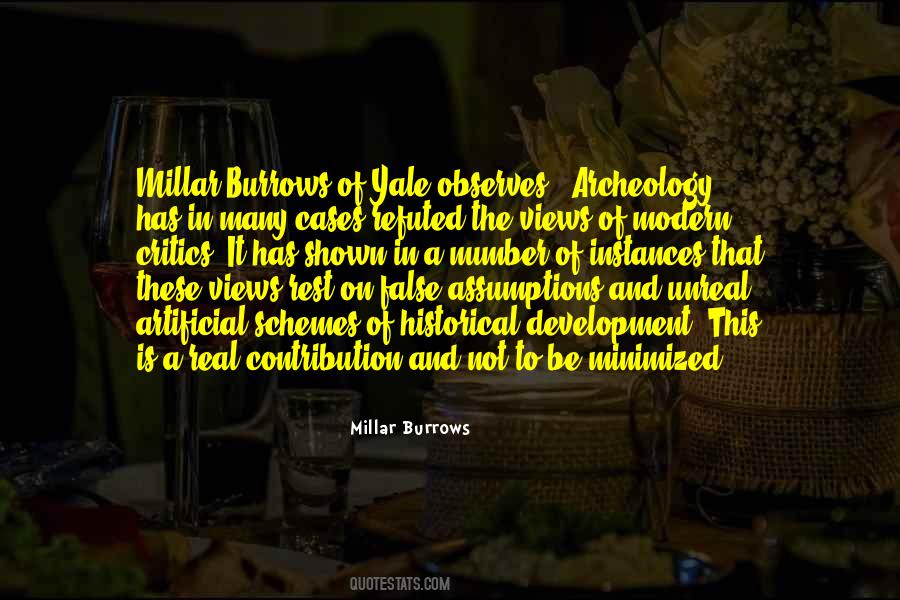 #8. Although most Americans apparently loathe inflation, Yale economists have argued that a little inflation may be necessary to grease the wheels of the labor market and enable efficiency-enhancing changes in relative pay to occur without requiring nominal wage cuts by workers. - Author: Janet Yellen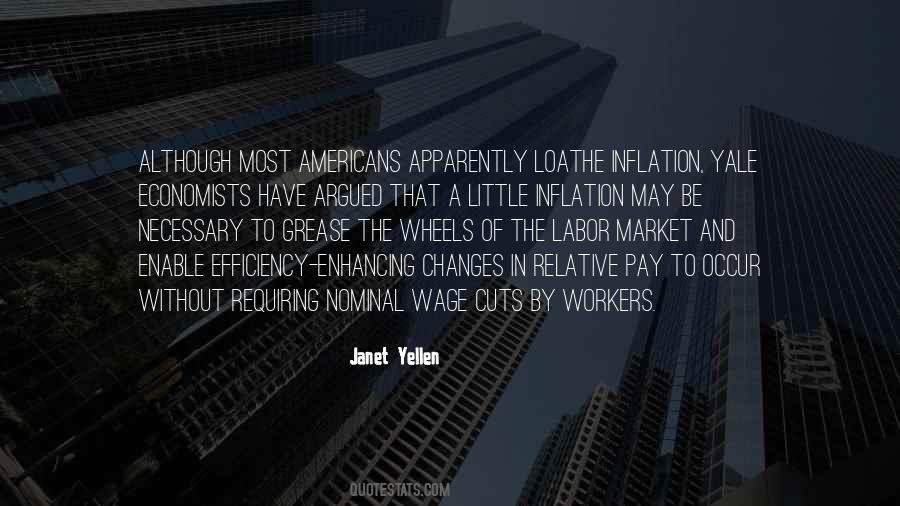 #9. When I interviewed at Yale, the admissions committee asked me why they should let me into the program. I looked at them unblinking and said, 'Because I'm going to change the world some day. And I'm giving you the chance to say, We knew her when. - Author: Sarah Thebarge
#10. I had a very pleasant three years at Yale. I must say I did take it seriously, and consequently it took me a while to get over it. - Author: Will Davis Campbell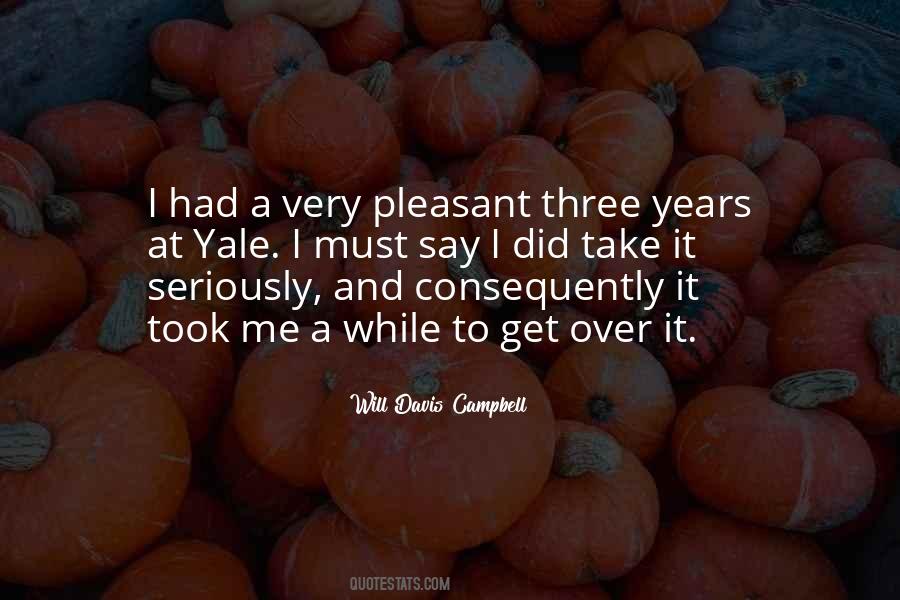 #11. I got fired from a movie that ended up being called 'Windows,' which Gordon Willis, the cinematographer, directed. I got fired because he refused to cast Meryl Streep, who at the time was at Yale. I told him I thought he was an idiot, and he fired me. - Author: Scott Rudin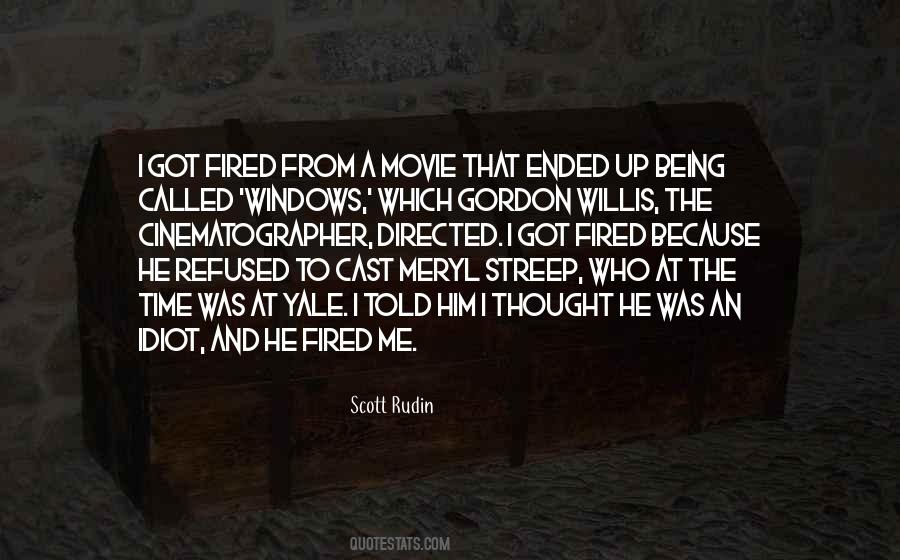 #12. Yeah, I don't have a Yale degree but my bullshit detector is excellent. Top drawer, even. - Author: Caroline Kepnes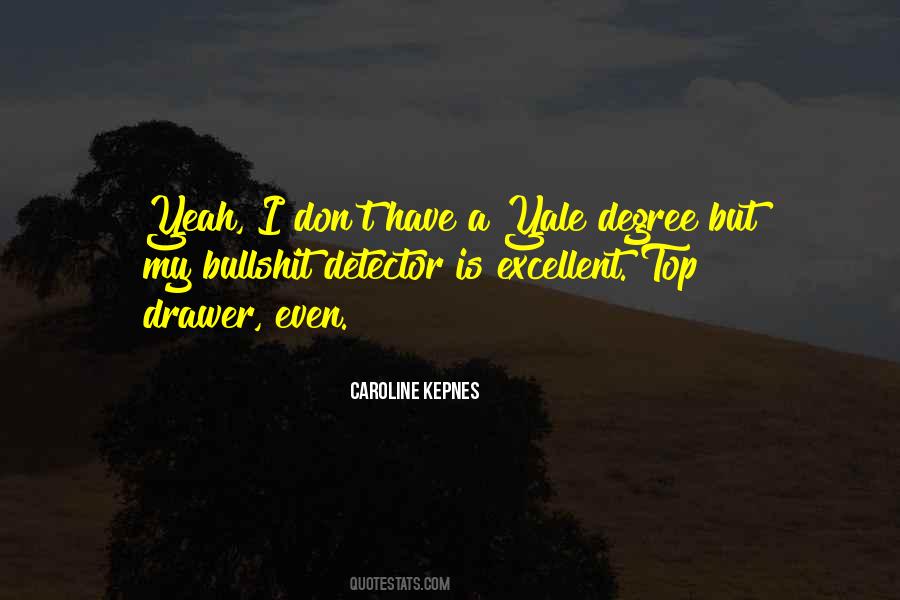 #13. I did improv at Yale, with the Exit Players. It was great, but they played a little rough. - Author: Allison Silverman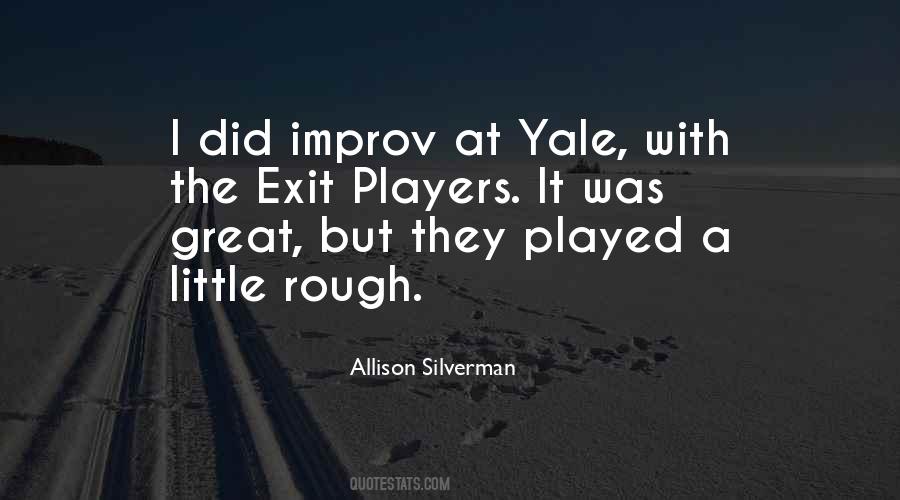 #14. At Yale we don't just want to make new things, we want to make things better. - Author: Peter Salovey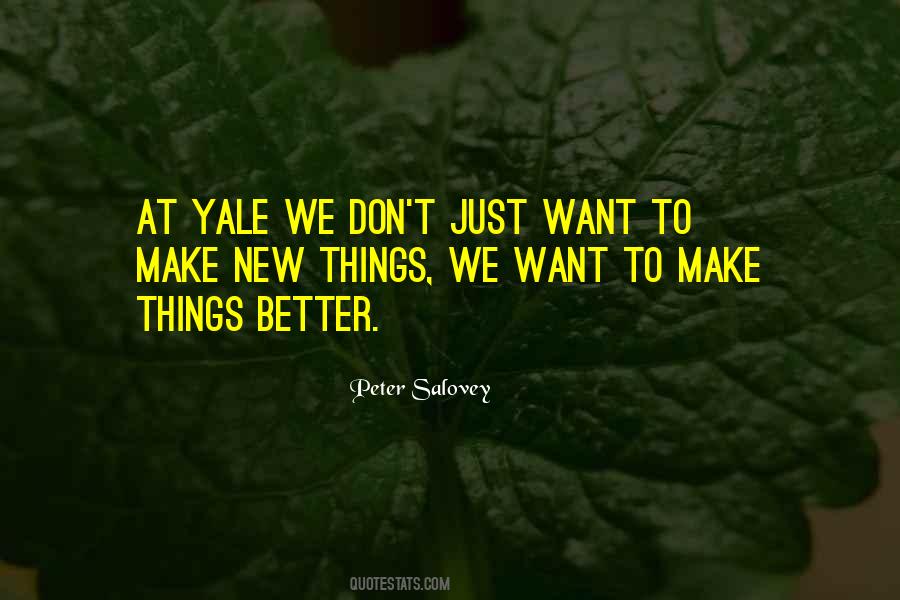 #15. You tell me one other person that graduated from Yale that is as inarticulate as Bush. Yale's a great school, and here's this idiot. - Author: Al Jourgensen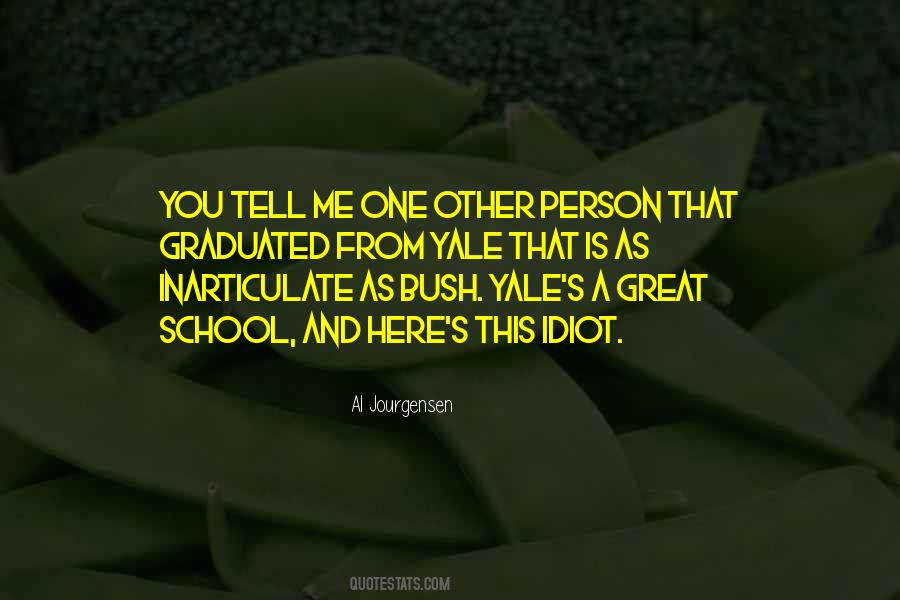 #16. Smart enough to get into Yale. Economists studied students who had been admitted to two schools of higher and lower prestige but decided to attend the school with lower prestige. Estimated sacrifice in lifetime earnings from attending the less prestigious school: none. - Author: Chip Heath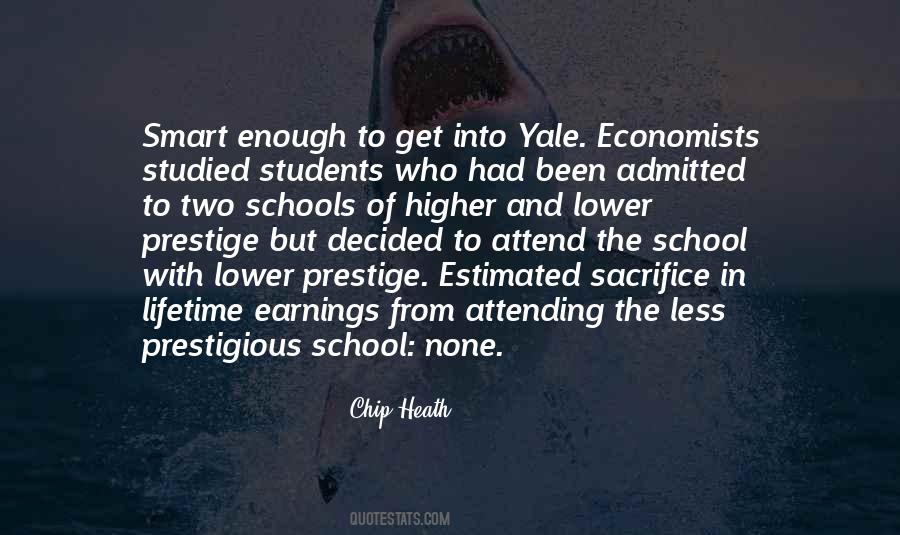 #17. The men
the undergraduates of Yale and Princeton are cleaner, healthier, better-looking, better dressed, wealthier and more attractive than any undergraduate body in the country. - Author: F Scott Fitzgerald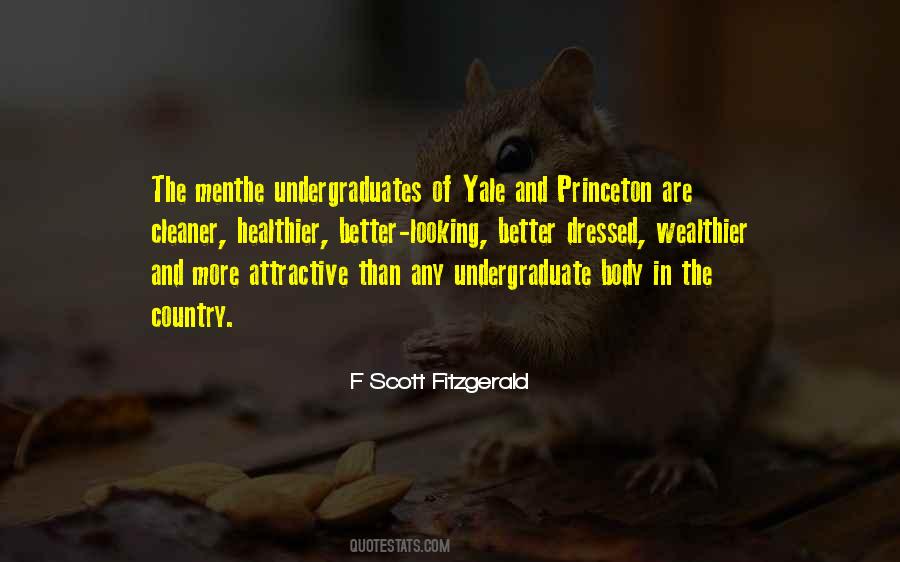 #18. I used to teach at Yale, which was at one time a center of postmodernist literary theory. Derrida was there. Paul de Man was there. - Author: Harry Frankfurt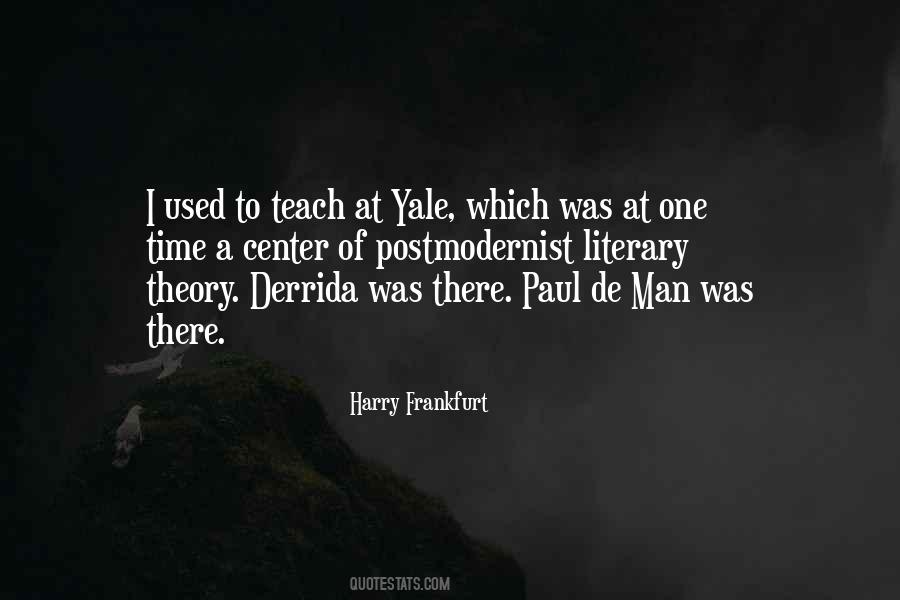 #19. I was at Yale from 1953 to 1957, and I tried to commit suicide in my freshman year because I was gay, and I thought I was the only person in the school who was. I was just totally and utterly miserable. - Author: Larry Kramer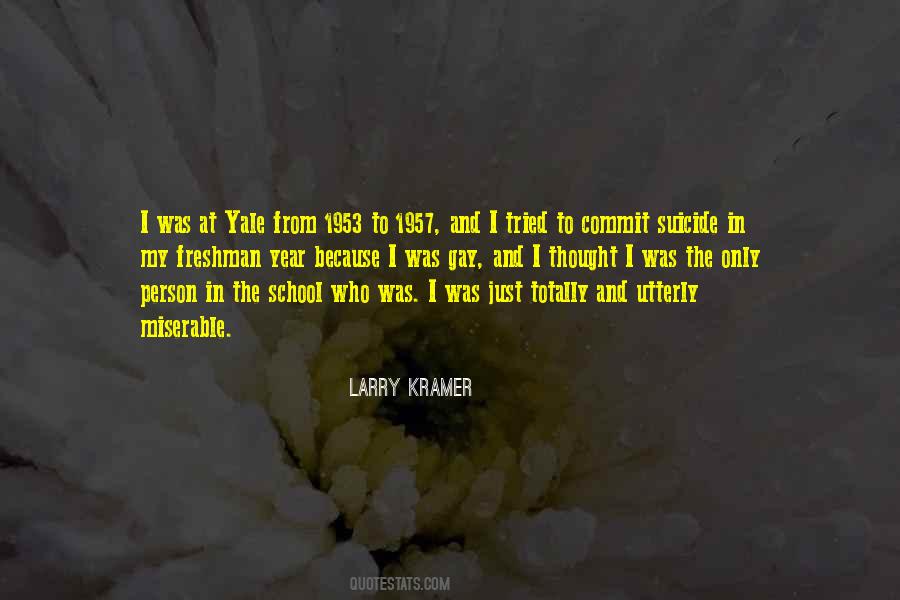 #20. I went to college at Harvard, then did three years of graduate school at Yale. At both places I studied comparative literature. People find it odd that I went to both Harvard and Yale, and I guess it is odd, but that's just what people did where I grew up. - Author: Lev Grossman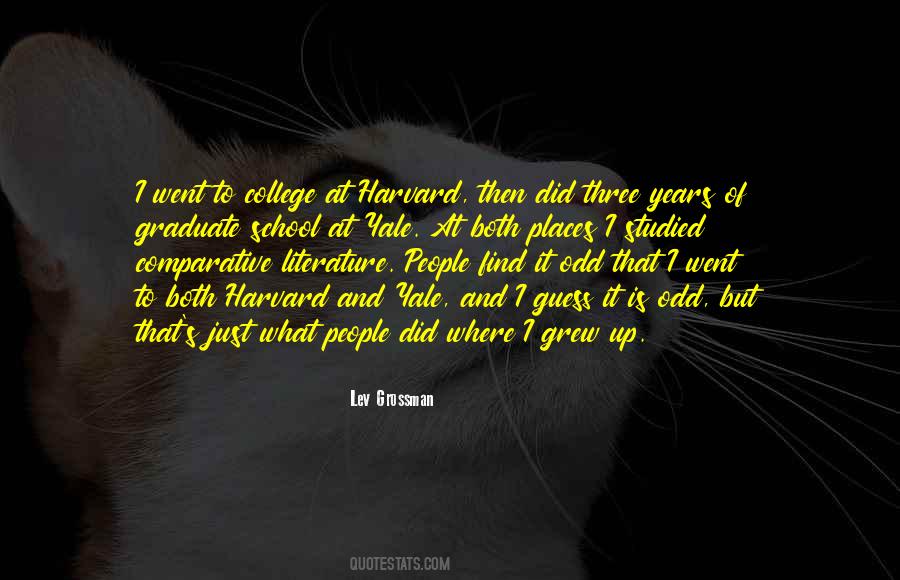 #21. I actually started out as a poet in high school. I published in small literary magazines for probably about ten years. I entered the Yale Younger Poet contest every year, until I was too old to be a younger poet, and I never got more than a form rejection letter from them. - Author: L.E. Modesitt Jr.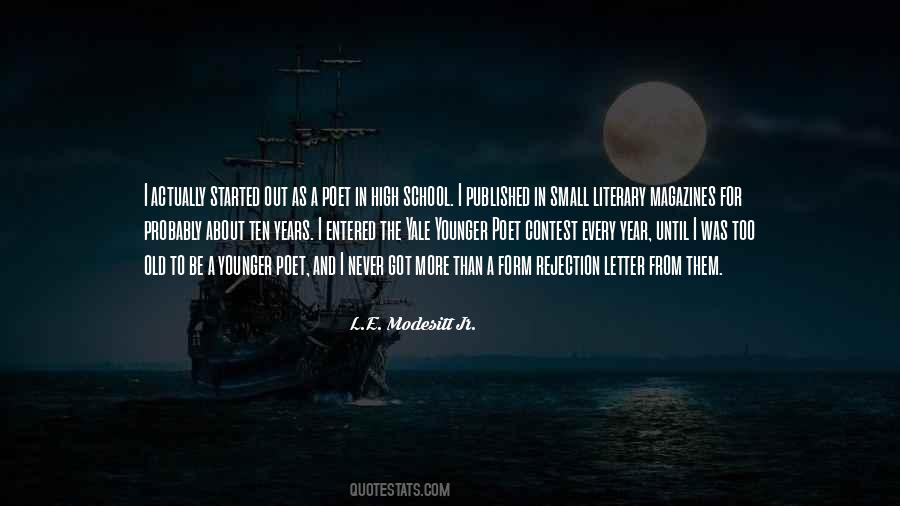 #22. The Yale graduate who had refused to read outside the course curriculum (the future Pres. Taft) suddenly found himself inspired. - Author: Doris Kearns Goodwin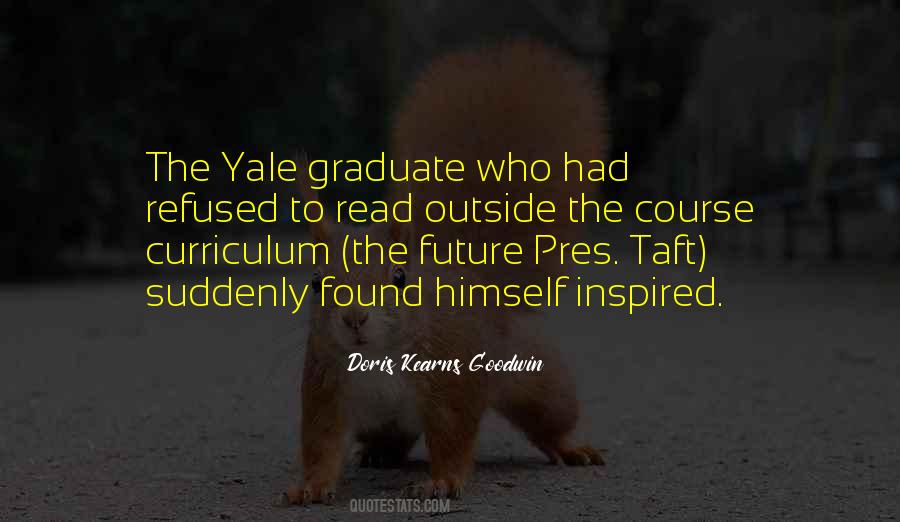 #23. I started making little films with a 16 mm camera as an undergraduate at Yale. My first job out of college was 'assistant editor' on a forgettable low budget feature. - Author: Leslie Cockburn
#24. And the only studies were - Rodney Dangerfield was my mentor and he was my Yale drama school for comedy. - Author: Robert Klein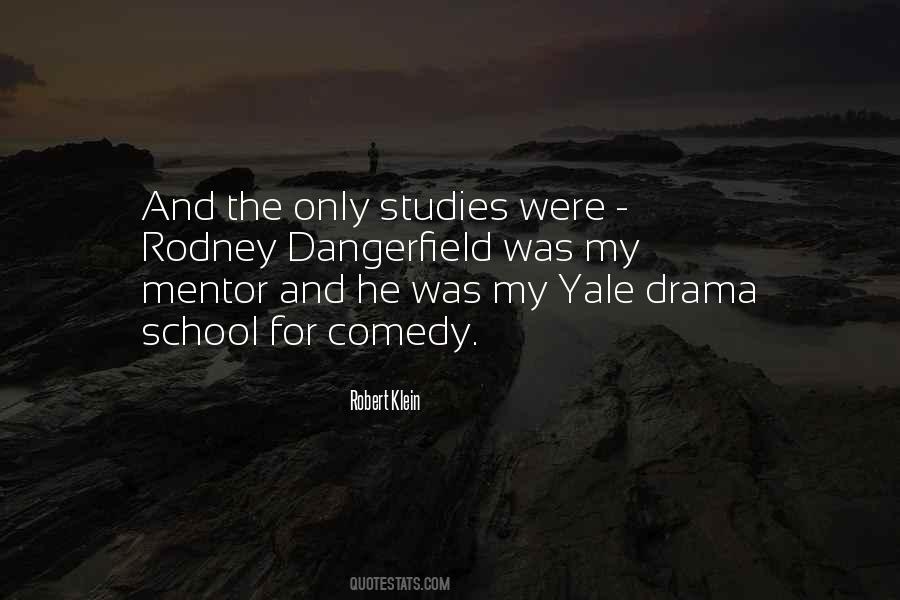 #25. The Yale anthropologist Weston La Barre goes far as to argue that 'a surprisingly good case could be made that much of culture is hallucination' and that 'the whole intent and function of ritual appears to be... a group wish to hallucinate reality'. - Author: Carl Sagan
#26. Even though I went to Exeter and Yale, and I enjoyed all the trappings of those places, I think at the same time - and maybe it's because I'm an immigrant kid and not white - there was always this other consciousness; that is, I was conscious of everything that was going on. - Author: Chang-rae Lee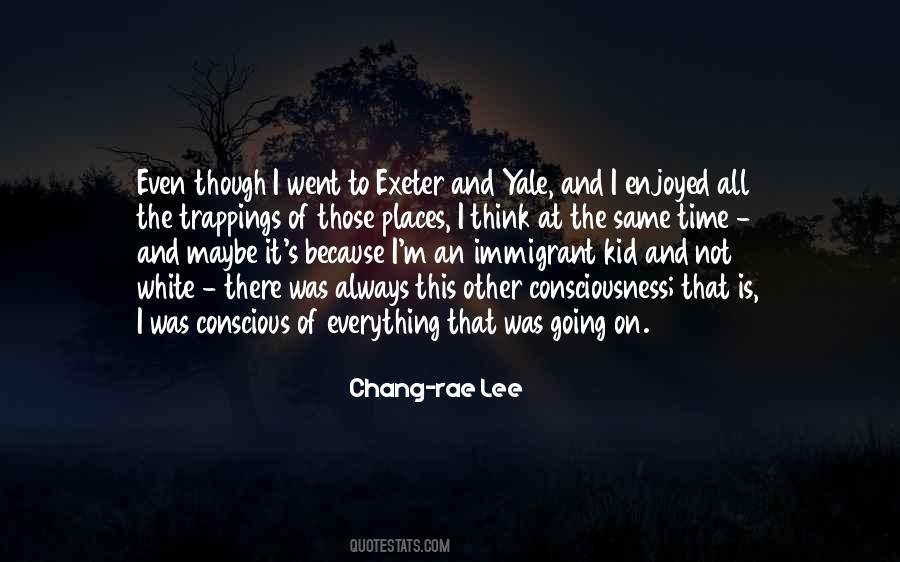 #27. When one considers our nation's educational foundations - Harvard, Yale, Princeton and most of our respected institutions were originally Christian - it becomes evident why we, as Christians, maintain a passion about remaining true to the foundations of Scripture. - Author: Jonathan Falwell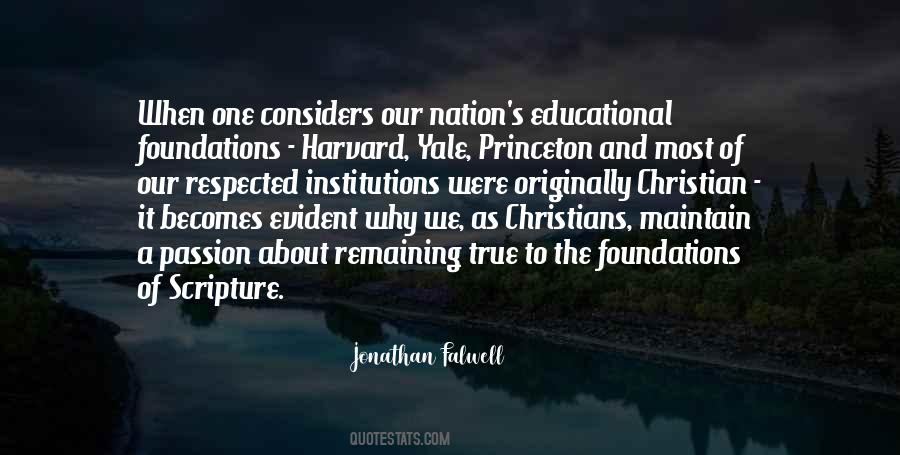 #28. With my academic achievement in high school, I was accepted rather readily at Princeton and equally as fast at Yale, but my test scores were not comparable to that of my classmates. And that's been shown by statistics, there are reasons for that. - Author: Sonia Sotomayor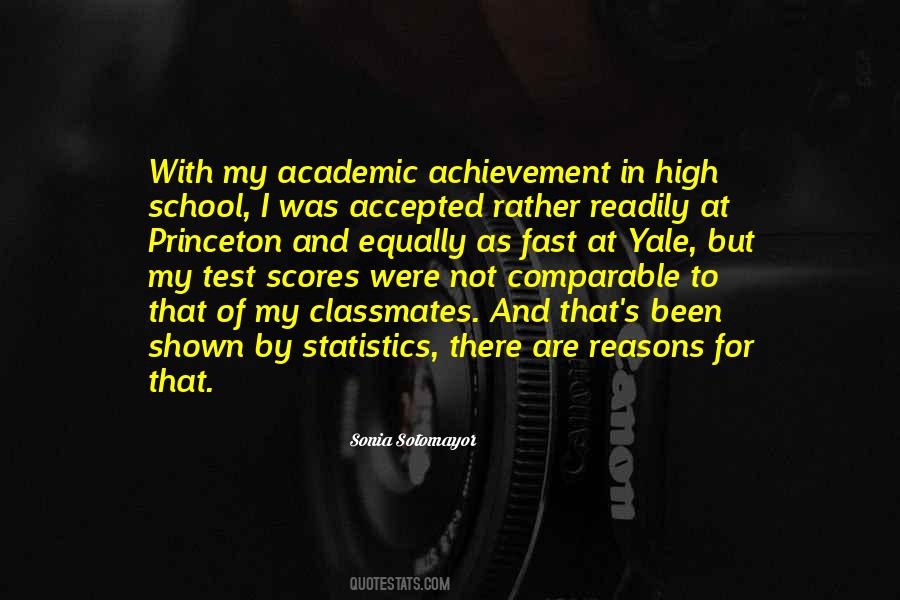 #29. A Yale University management professor in response to student Fred Smith's paper proposing reliable overnight delivery service: The concept is interesting and well-formed, but in order to earn better than a 'C', the idea must be feasible. - Author: Frederick W. Smith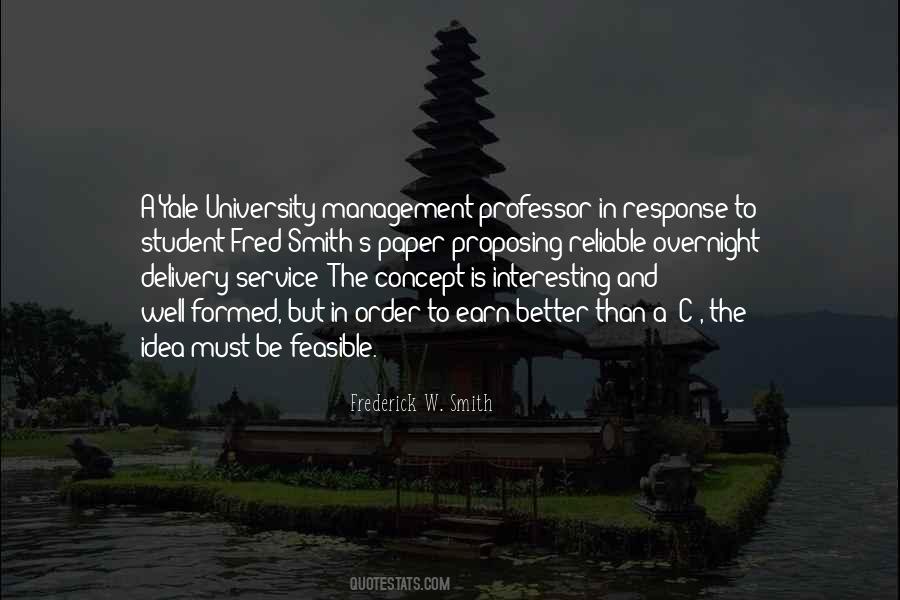 #30. In framing a system which we wish to last for ages, we shd. not lose sight of the changes which ages will produce. [James Madison in the U.S. Constitutional Convention, June 26, 1787. The Records of the Federal Convention of 1787, ed. Max Farrand (New Haven: Yale University Press, 1966), 1:422.] - Author: James Madison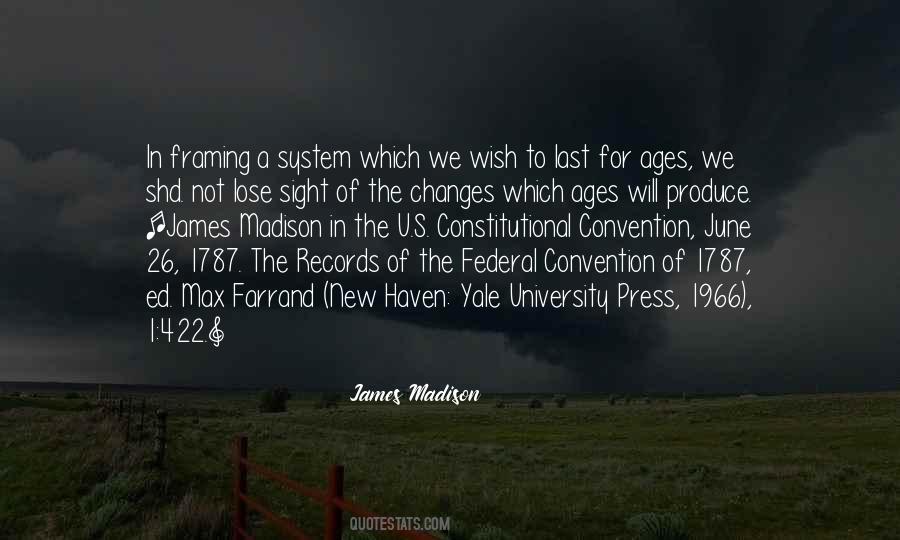 #31. Children are amazing, and while I go to places like Princeton and Harvard and Yale, and of course I teach at Columbia, NYU, and that's nice and I love students, but the most fun of all are the real little ones, the young ones. - Author: David Dinkins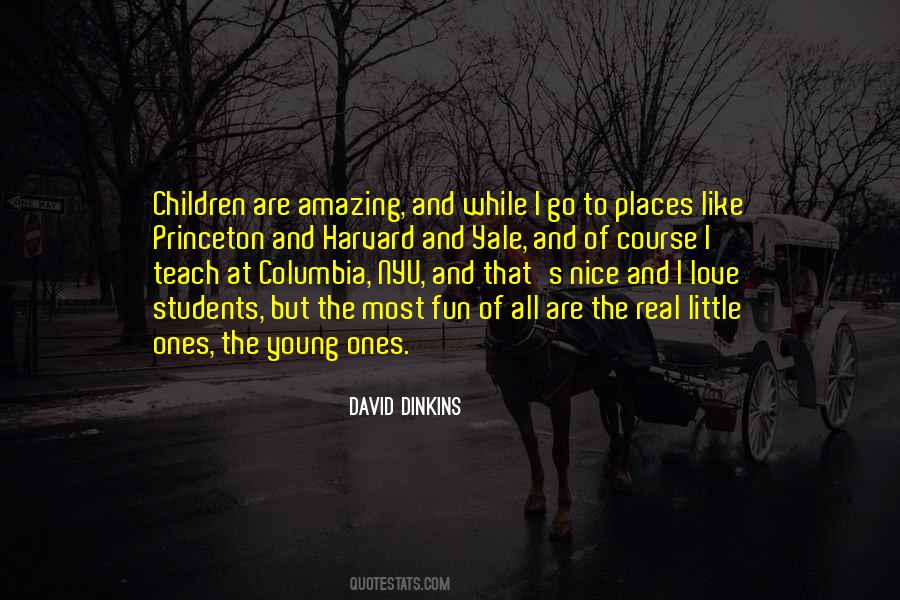 #32. I'm not impressed by people's degrees. Harvard doesn't impress me, Yale doesn't impress me, Columbia doesn't impress me. - Author: Sean Hannity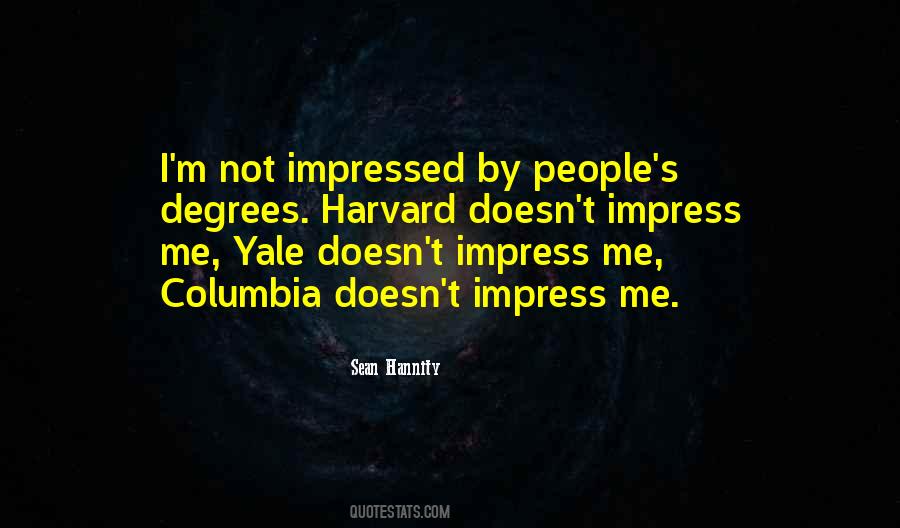 #33. The U.S. is blessed with tremendously creative and imaginative law students at places like Chicago, Harvard, Columbia and Yale. - Author: Cass Sunstein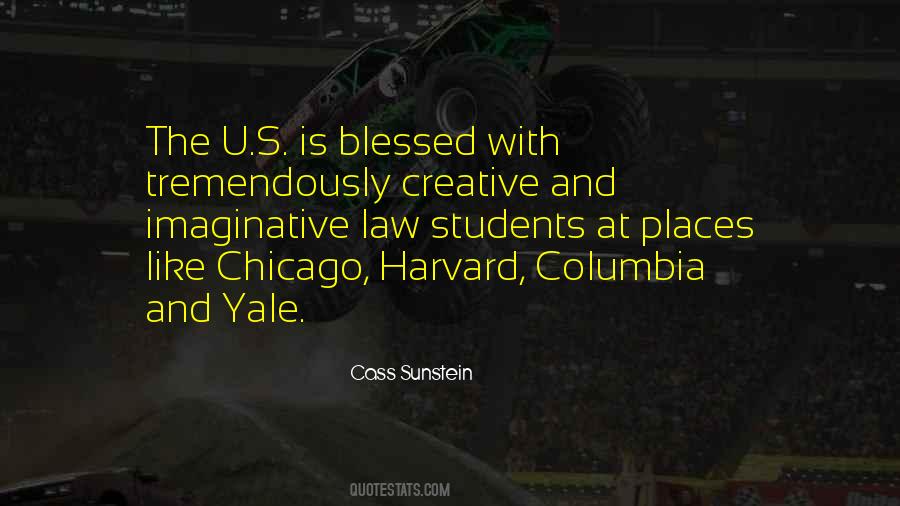 #34. Jenna Bush was cited for underage drinking in Austin Friday. Her dad warned her that too much partying at school could cost her a good career. At $400,000, he's making the lowest salary of any of his Yale classmates. - Author: Argus Hamilton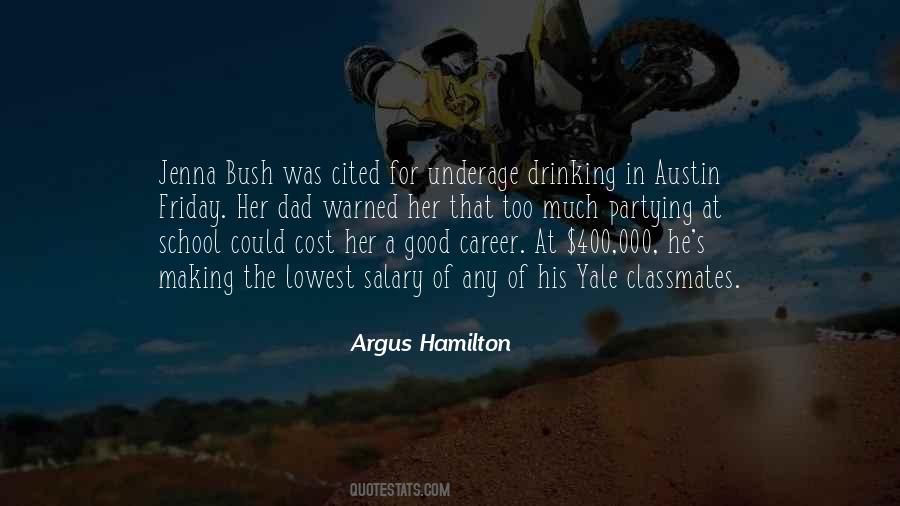 #35. The much-lauded visual artist Roni Horn got her Master's in Sculpture from Yale in the Seventies, but in the course of her career she has moved, among other media, from watercolors to photographs to floor-sized installations and mats of poured gold. - Author: Stacey D'Erasmo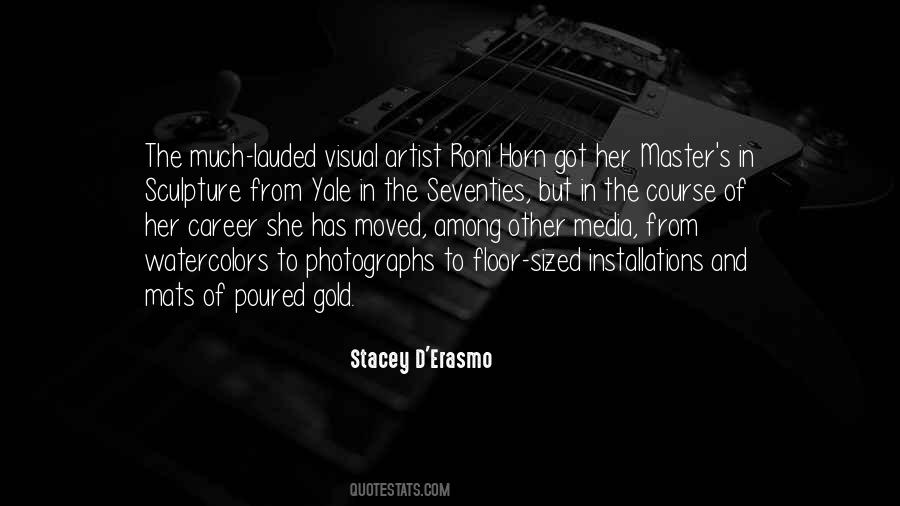 #36. I told the students [at Yale] we were going to talk about love - I meant love in the sense of devotions to one's work - and about half the students got really pissed off. - Author: Kiki Smith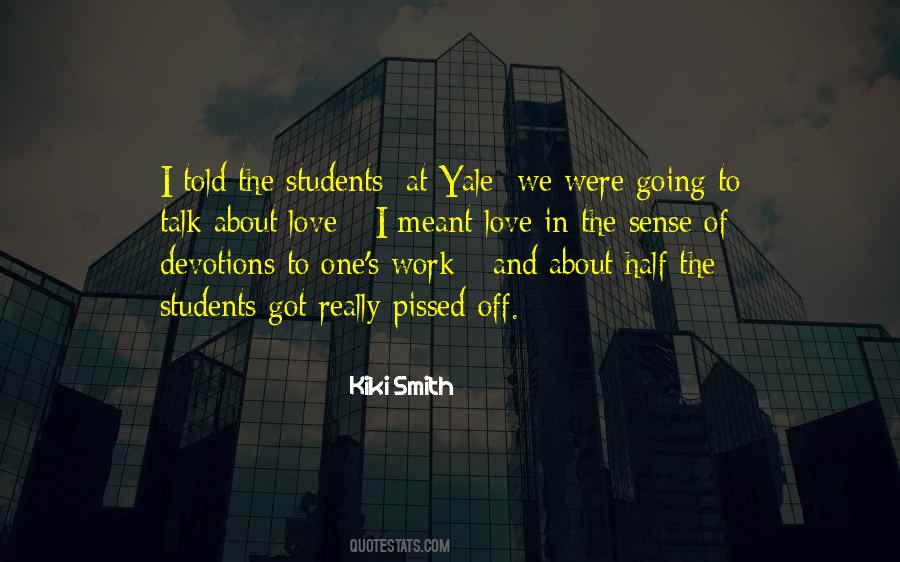 #37. I went to Yale's drama school for theater, so we did tons of Shakespeare; then, I got out of school and said, 'OK, it will be Shakespeare,' and it was like, 'Or, it will be commercials and soaps.' - Author: Kristen Connolly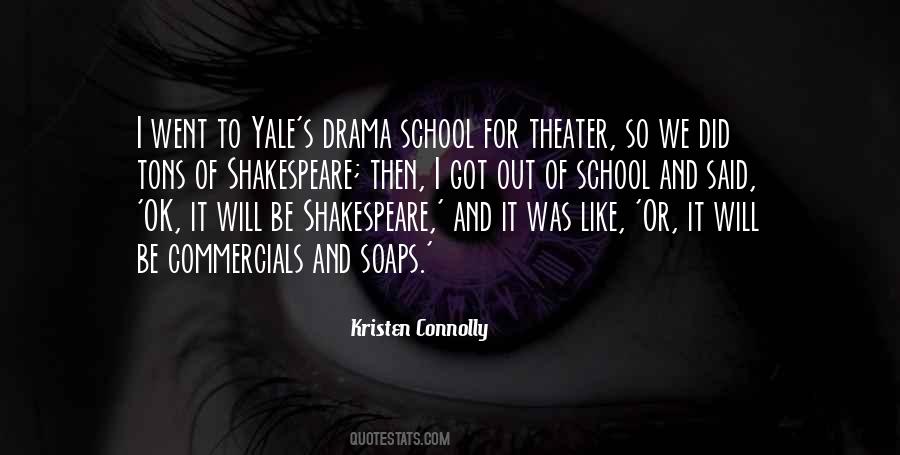 #38. One thing I learned particularly at Yale was how to work with others. Having studied so long trying to master myself, the biggest challenge was learning about the other person's work. - Author: Trai Byers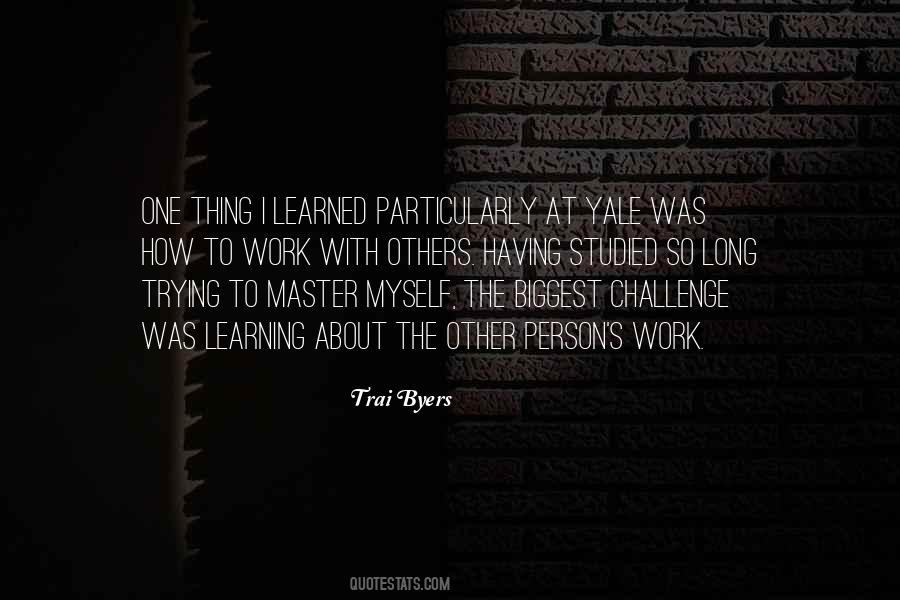 #39. The students at Yale came from all different backgrounds and all parts of the country. Within months, I knew many of them. - Author: George W. Bush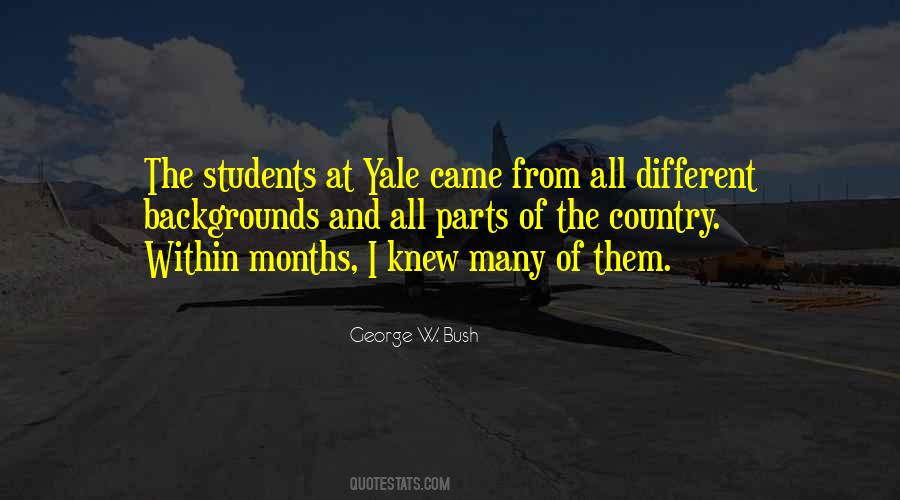 #40. On the analogy of 'Dictionary Johnson,' we call Fred R. Shapiro, editor of the just-published Yale Book of Quotations (well worth the $50 price), 'Quotationeer Shapiro.' ... Shapiro does original research, earning his 1,067-page volume a place on the quotation shelf next to Bartlett's and Oxford's. - Author: William Safire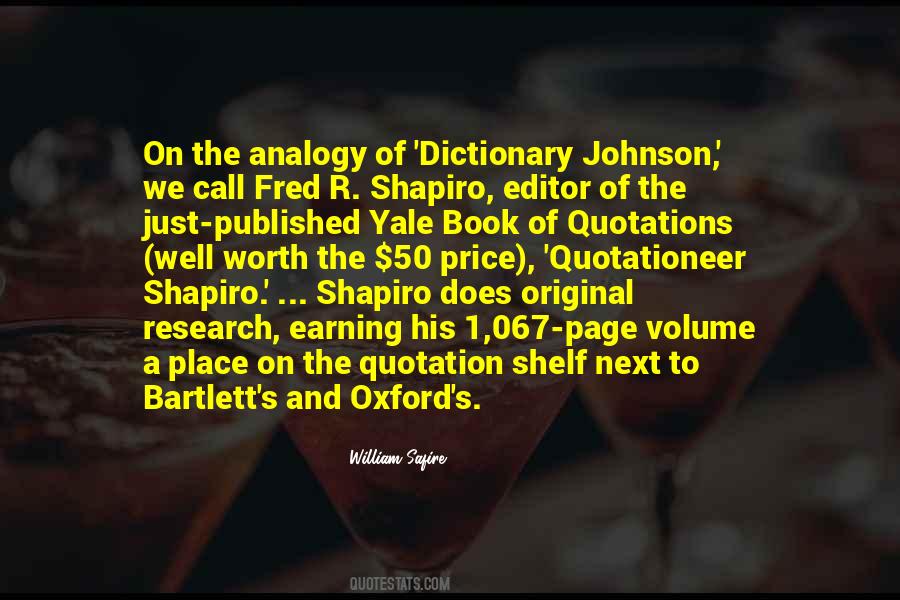 #41. Say she had nefarious motives."
Davis looked over at Jack with a bemused grin. "Nefarious. This is what we get when we hire a
Yale boy."
"You missed sacrosanct earlier. And taciturn and glowering," Jack said.
"What's glowering?"
"Me, apparently. - Author: Julie James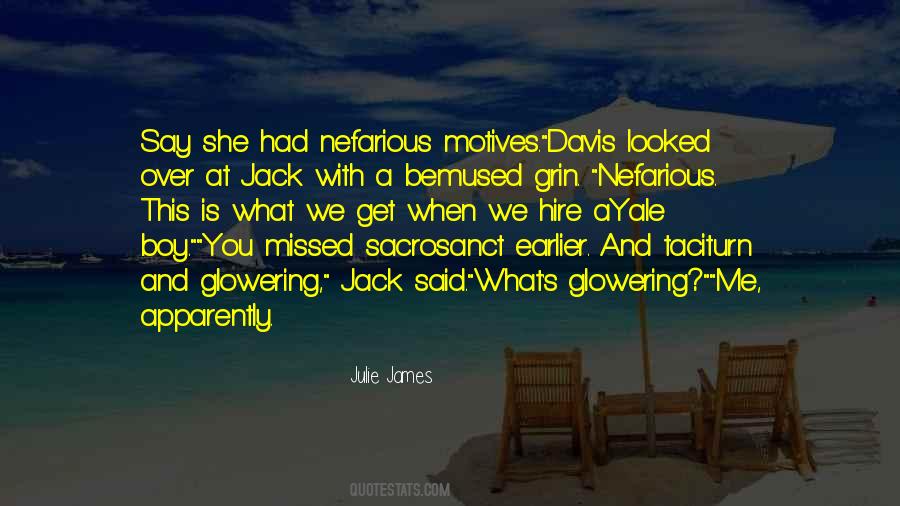 #42. Let's just say, there's not much of a moon out tonight," Nose continued anyway, "but if Yale joined us, there would be. - Author: Ripley Patton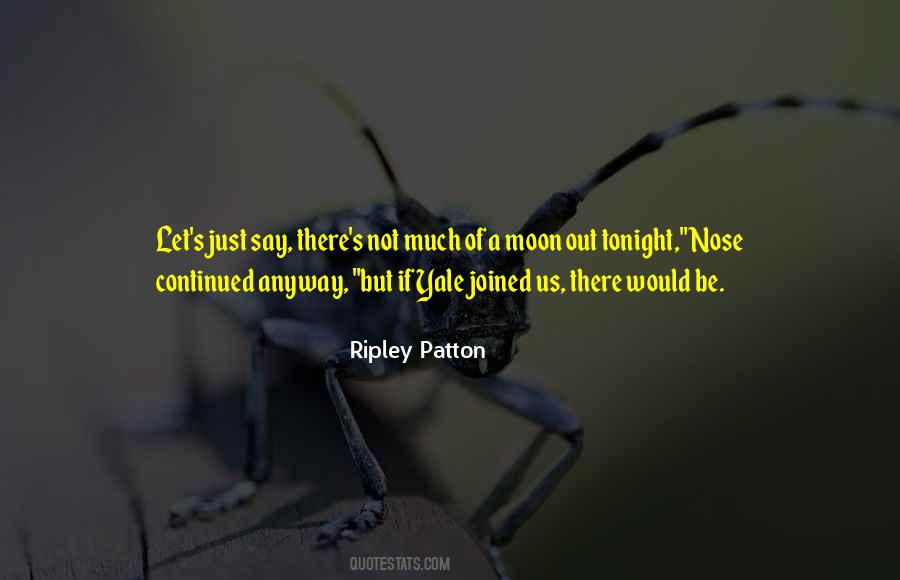 #43. John Lewis Gaddis is not only the favorite historian of the Reagan administration, but he's regarded as the dean of Cold War scholarship, the leading figure in the American Cold War scholarship, a professor at Yale. - Author: Noam Chomsky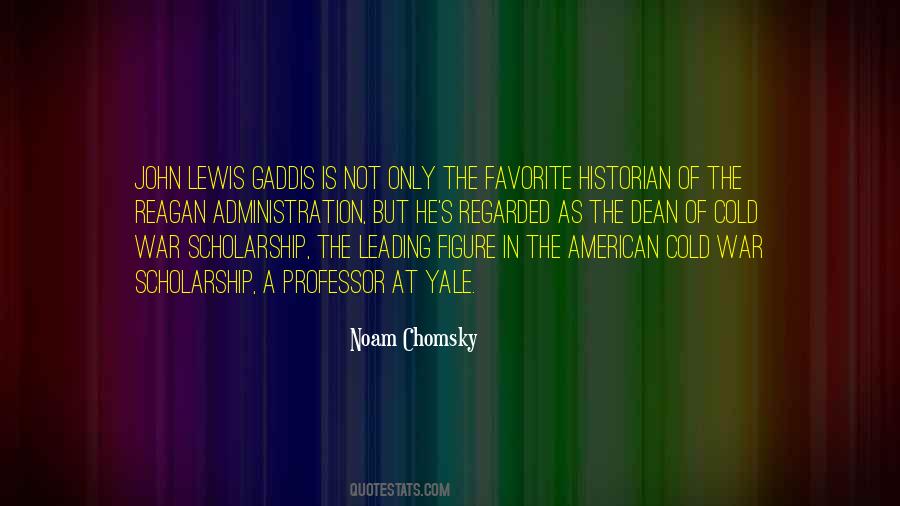 #44. The motto of Harvard isn't 'nice,' it's truth. The motto of Yale isn't
'light and nice,' it's light and truth. - Author: Scott Kenemore
#45. even the presidents of Harvard and Yale saw the War of Independence as part of God's design for the overthrow of Catholicism. - Author: Karen Armstrong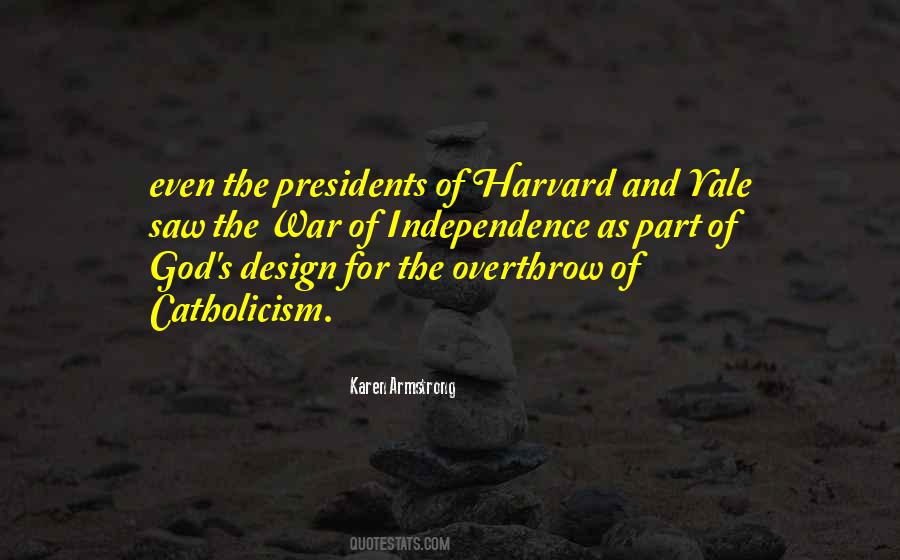 #46. Yale's greatness carries an urgent need to guard against the fall of excellence into exclusivity, of refinement into preciousness, of elegance into class and convention. - Author: Benno C. Schmidt Jr.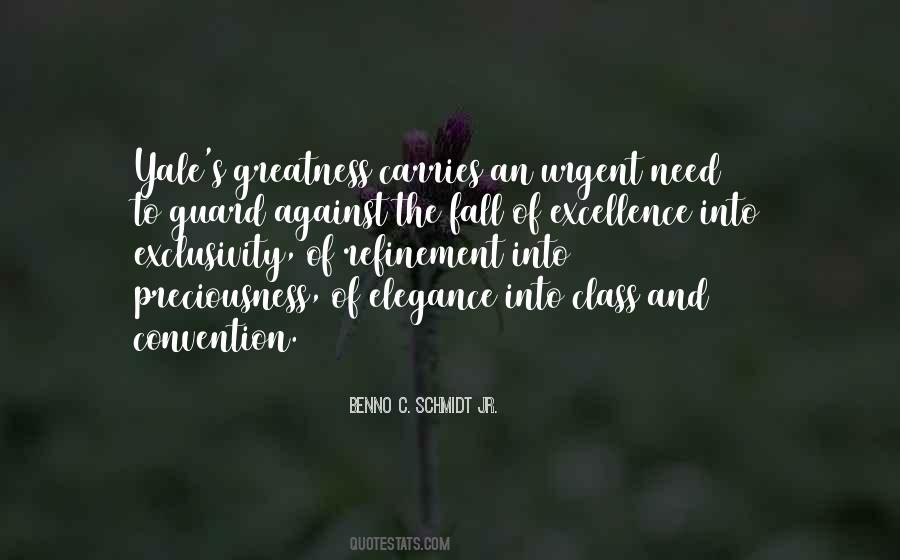 #47. The road to success can take a detour. I tell people that I don't care if they came from Yale or jail, it's what you do from today that counts. - Author: Andy Albright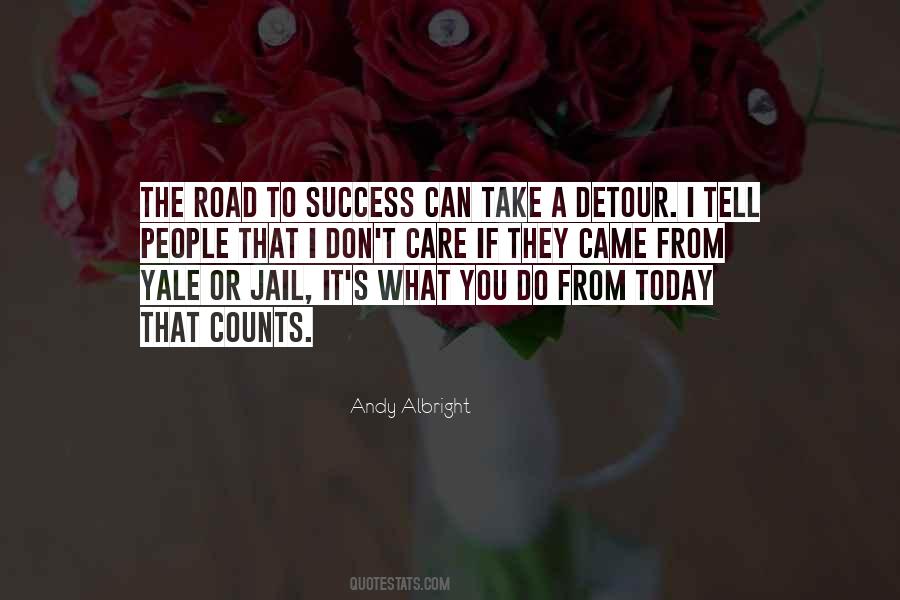 #48. Yale University is famous for its Sex Week. It does not have a Dignity of the Worker Week or even a Save the Planet Week. This self-involved focus speaks volumes about the preoccupations of today's ruling class. - Author: R. R. Reno
#49. When I was in school, my mother stressed education. I am so glad she did. I graduated from Yale College and Yale University with my master's and I didn't do it by missing school. - Author: Angela Bassett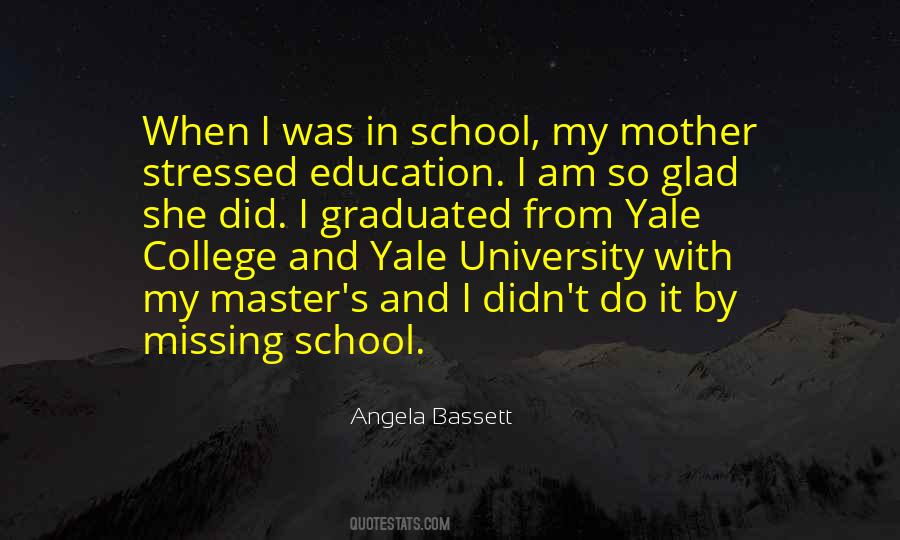 #50. I am a product of affirmative action. I am the perfect affirmative action baby. I am Puerto Rican, born and raised in the south Bronx. My test scores were not comparable to my colleagues at Princeton and Yale. Not so far off so that I wasn't able to succeed at those institutions. - Author: Sonia Sotomayor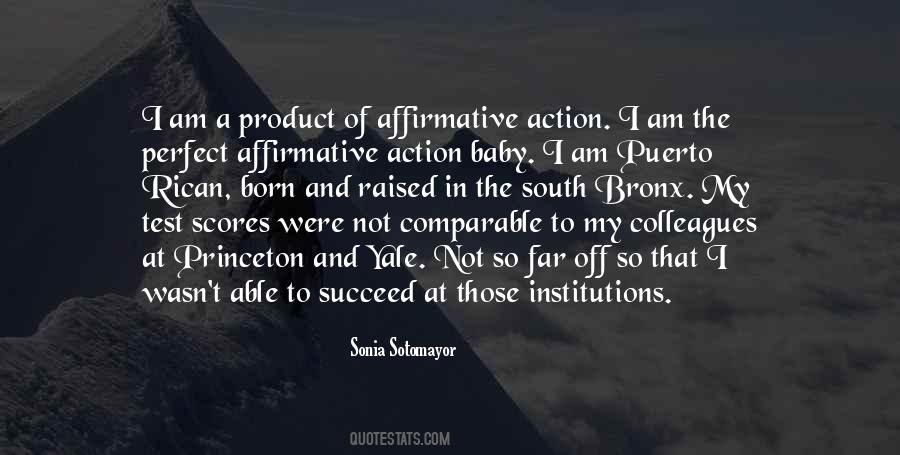 #51. Obviously, it's a great privilege and pleasure to be here at the Yale Law School Sesquicentennial Convocation. And I defy anyone to say that and chew gum at the same time. - Author: Gerald R. Ford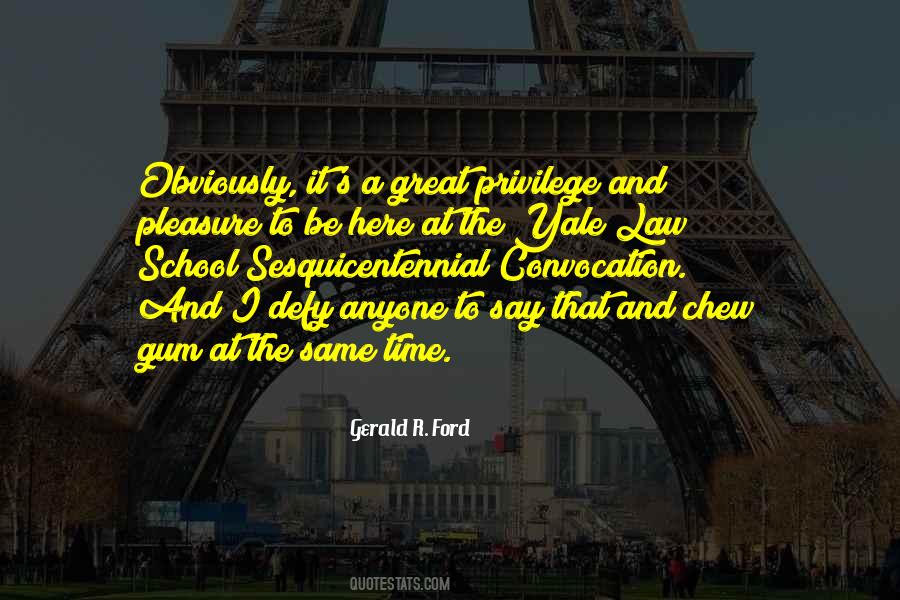 #52. Yale men do not like to be told anything by people who didn't go to Yale. The closest I came to Yale was once I had one of their padlocks. - Author: George Burns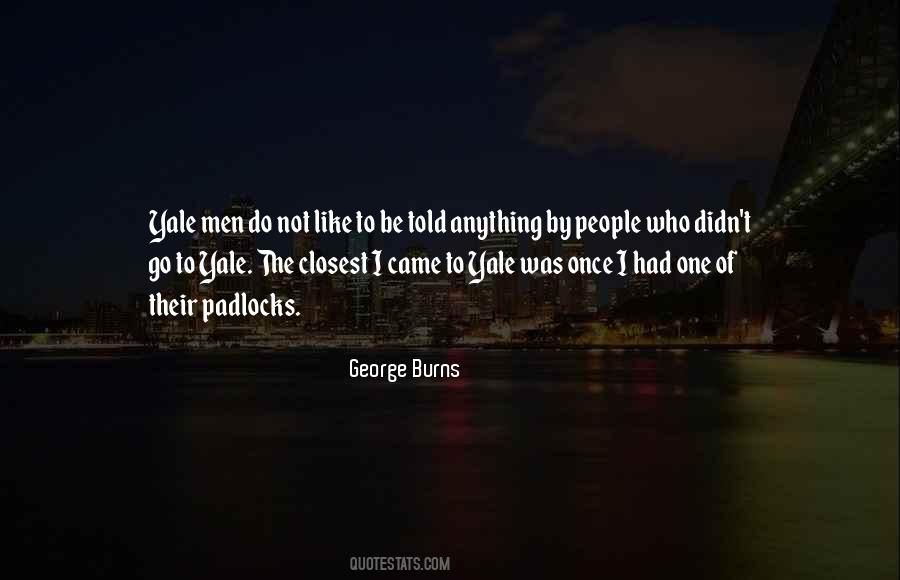 #53. I entered Yale in the fall of 1951, and about November of that year, Bill Buckley published 'God and Man at Yale.' - Author: M. Stanton Evans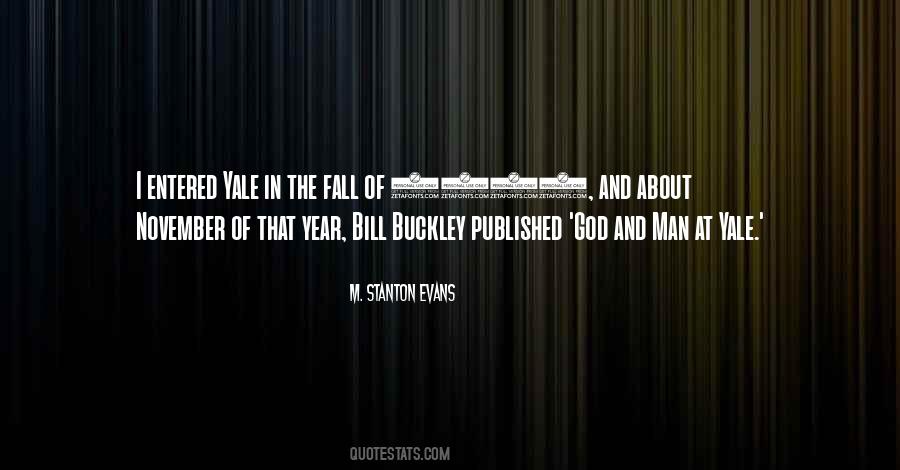 #54. I reject the idea that the guy who comes out of Yale and goes to work in the projects in Newark is good, and the guy who goes to work for a white-shoe law firm is bad. We're all mountain rangers. We all have peaks and valleys. - Author: Cory Booker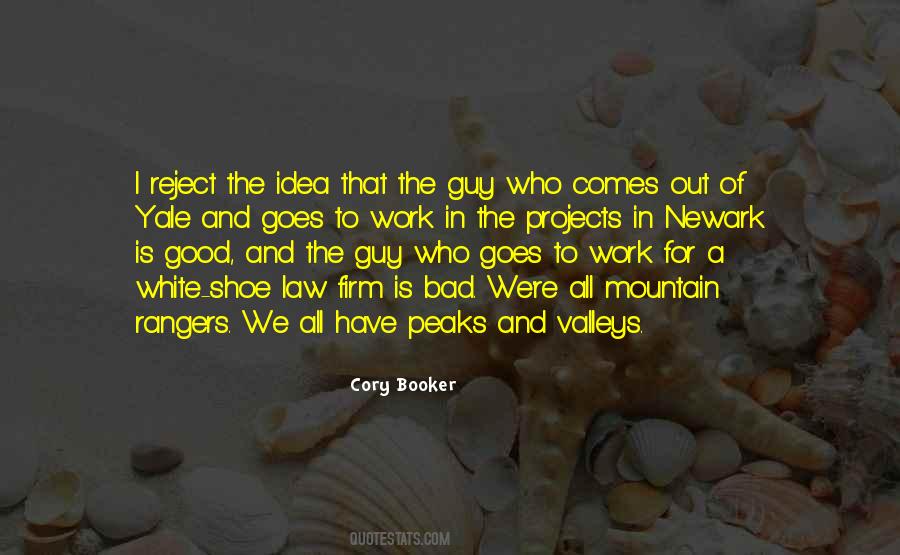 #55. Who knows what Yale thought it was getting when it hired Richard Rodriguez? The people who offered me the job thought there was nothing wrong with that. I thought there was something very wrong. I still do. I think race-based affirmative action is crude and absolutely mistaken. - Author: Richard Rodriguez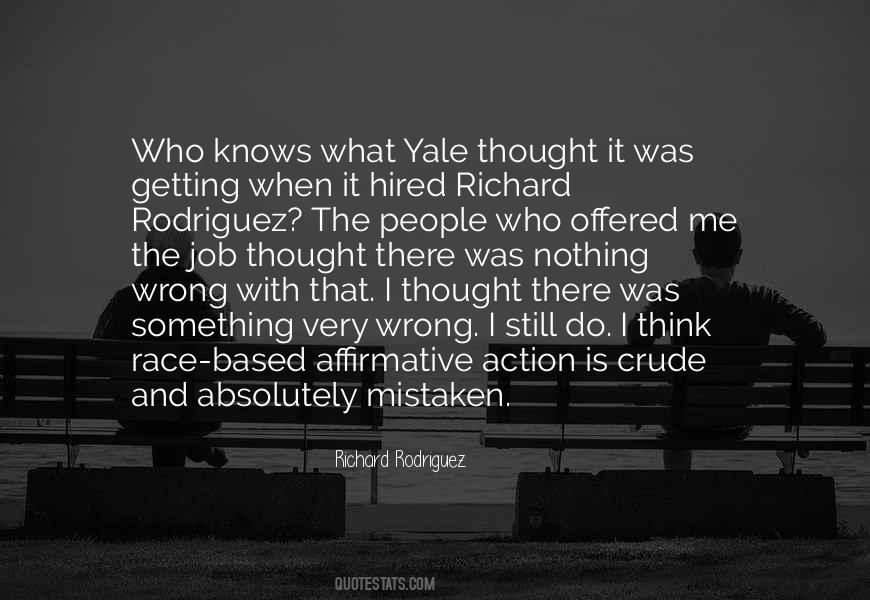 #56. Children whose curiosity survives parental discipline and who manage to grow up before they blow up are invited to join the Yale faculty. Within the university they go on asking their questions and trying to find the answers ... it is a place where the world's hostility to curiosity can be defied. - Author: Edmund Morgan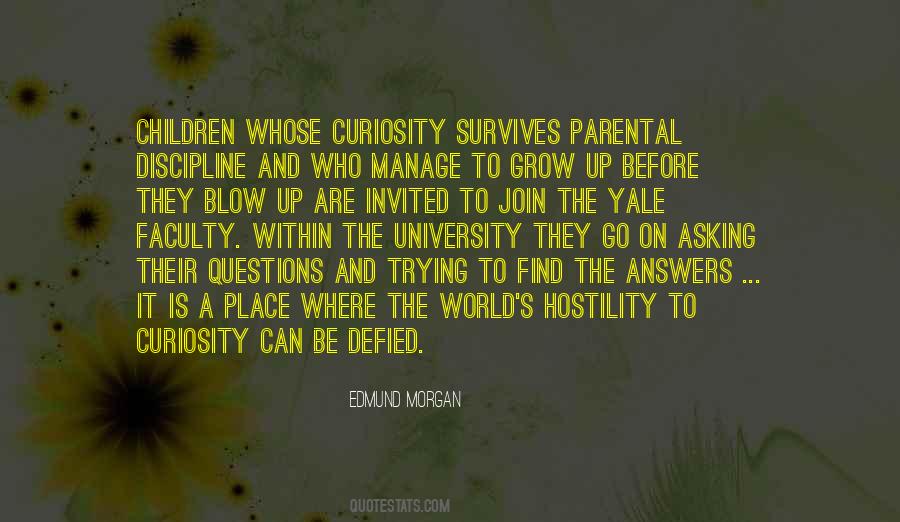 #57. A man who graduated high in his class at Yale Law School and made partnership in a top law firm would be celebrated. A man who invested wisely would be admired, but a woman who accomplishes this is treated with suspicion. - Author: Barbra Streisand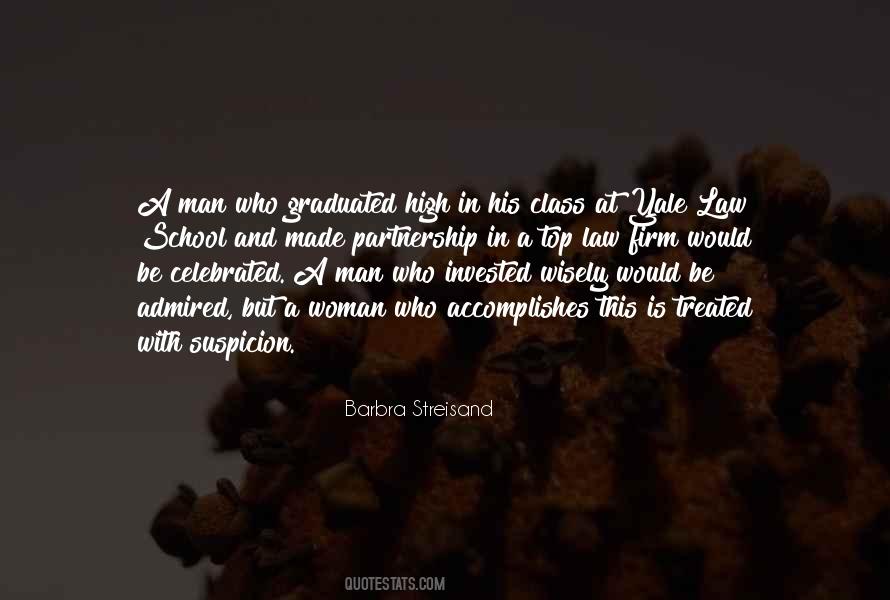 #58. The venerable emeritus professors still at Yale when I entered graduate school [in the 1960s] may have been reserved, puritanical WASPs, but they were men of honor who had given their lives to scholarship. Today in the elite schools, honor and ethics are gone. - Author: Camille Paglia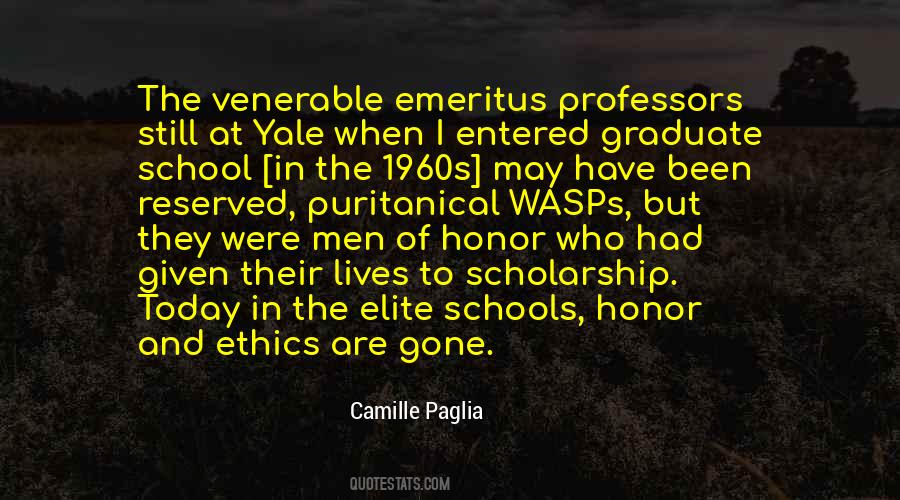 #59. What would you call an insect with a lot of answers? A consult-ant! - Author: David R. Yale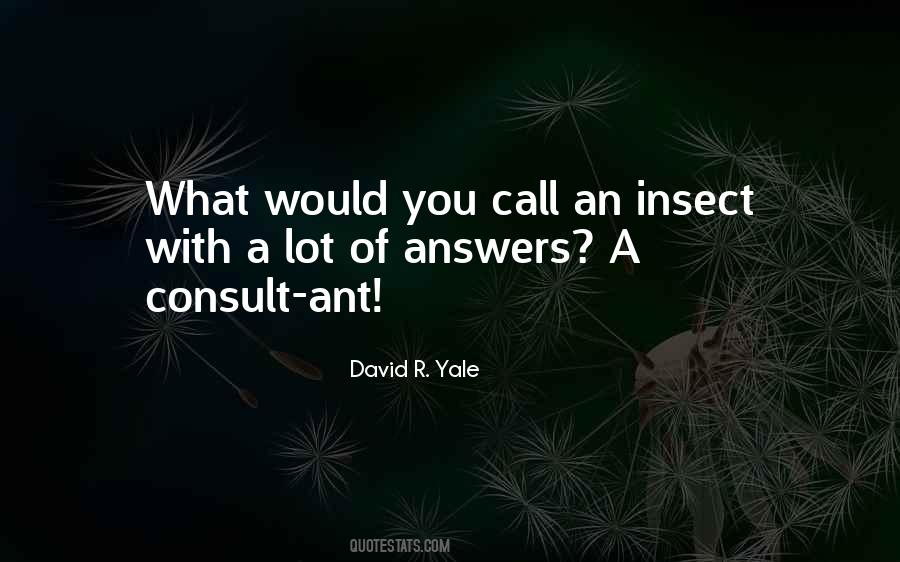 #60. I wrote fiction during my entire childhood, from age 4 to 18, and started writing plays when I went to Yale and Oxford. - Author: Taiye Selasi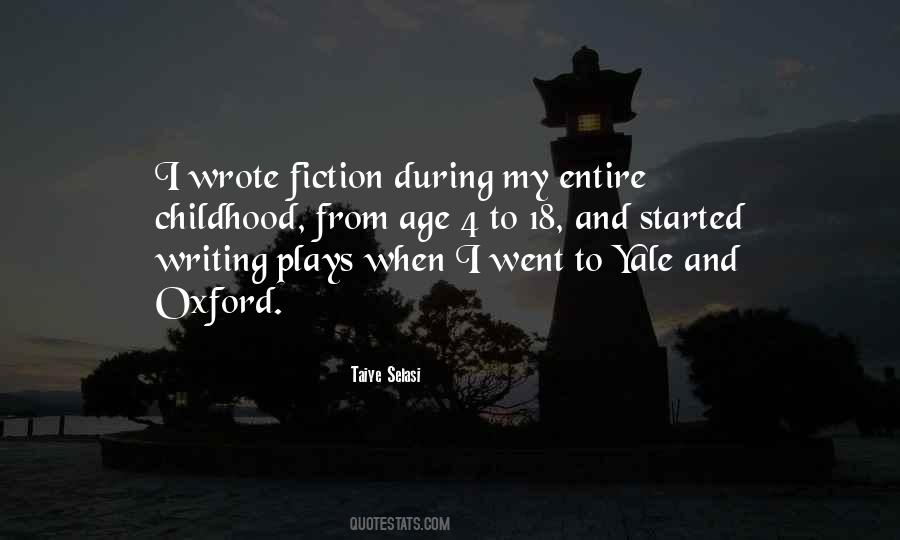 #61. I was going to Yale, for crying out loud. How could anyone think I was guilty of murder? - Author: Eileen Cook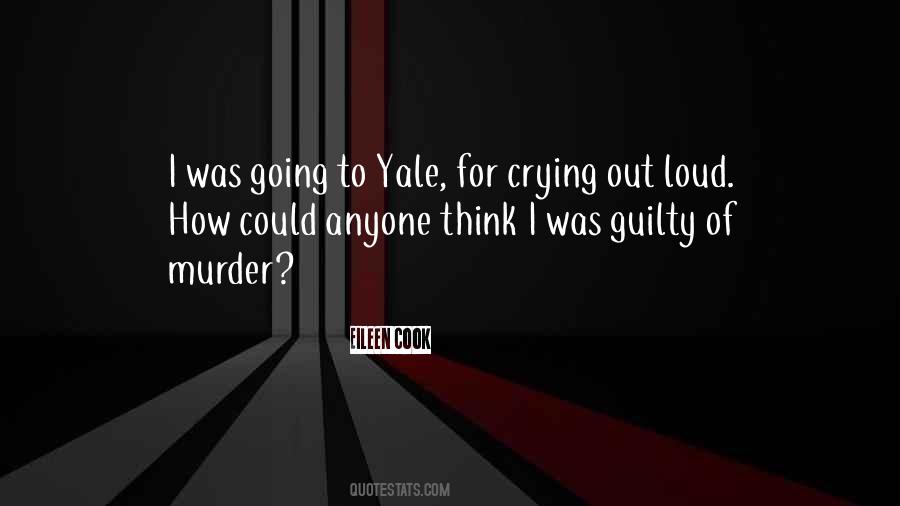 #62. The career I chose was a drama major in college, at Yale, when I played a 90-year-old woman. One of my most celebrated roles. Then I played a really fat person. I played a lot of different things. That's how I thought I loved to wrangle my talent, my need to express myself. I like to do it that way. - Author: Meryl Streep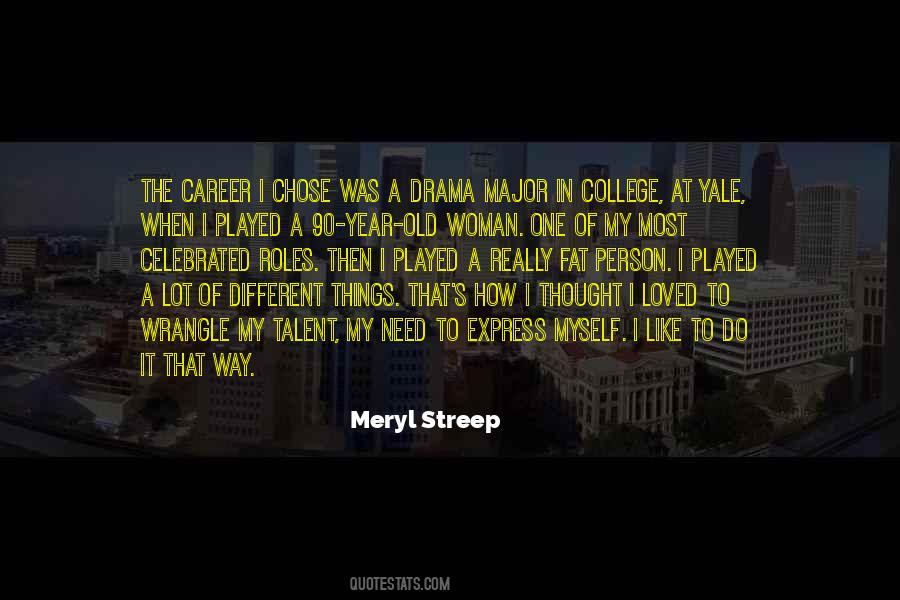 #63. After reading Graham Greene and Joseph Conrad when I was a student at Yale, I wanted to live in the world they captured in their books. I had had some experience living in Africa. I was drawn to that kind of adventure. - Author: Leslie Cockburn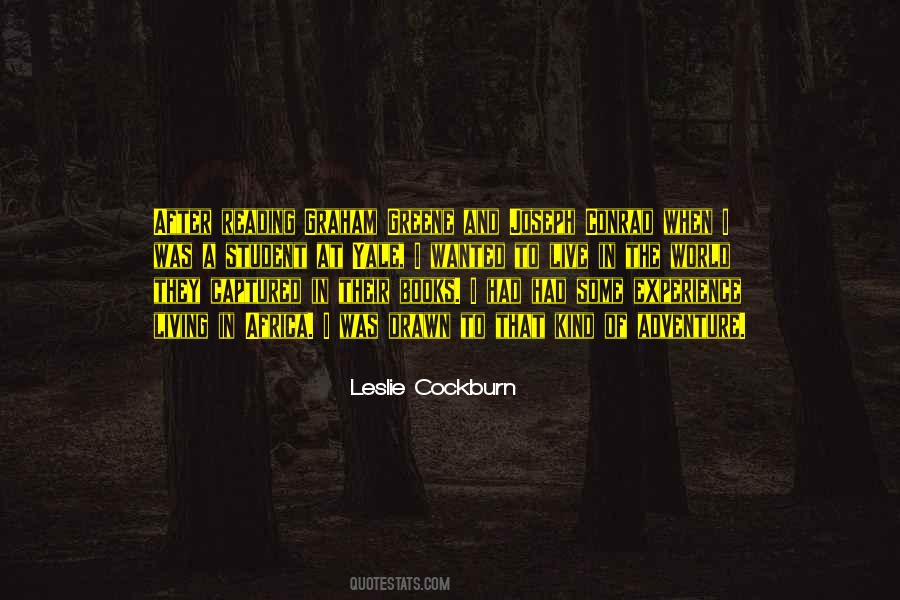 #64. I flew back and forth and did episodes of Roseanne while I was at Yale. - Author: Sara Gilbert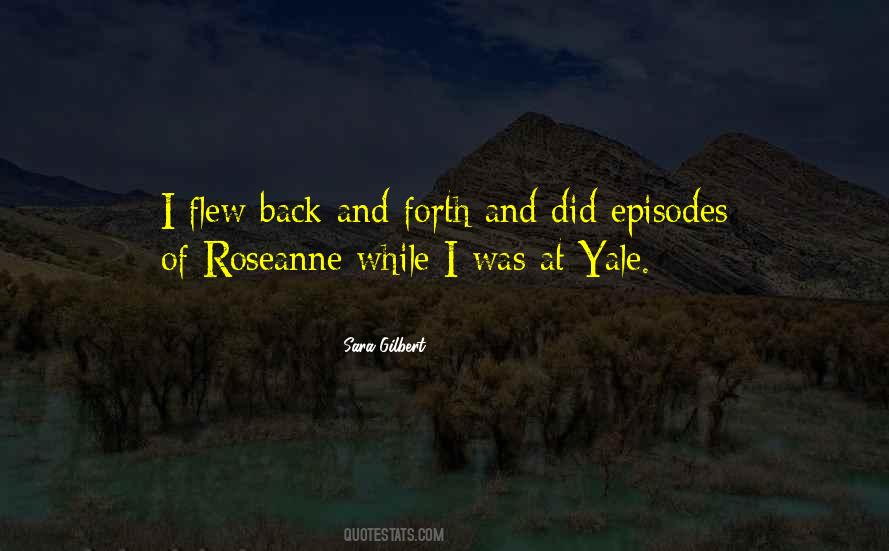 #65. I first became interested in women and religion when I was one of the few women doing graduate work in Religious Studies at Yale University in the late 1960's. - Author: Carol P. Christ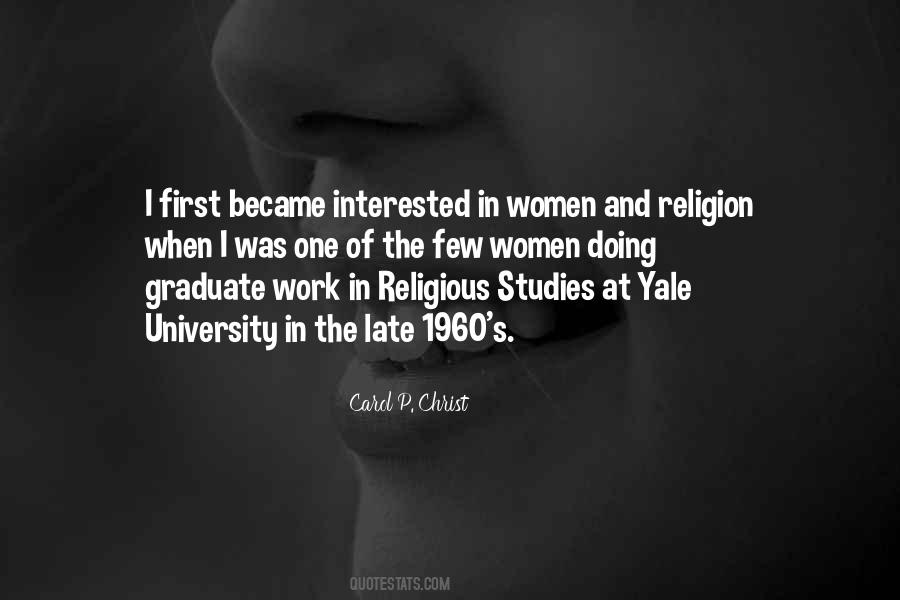 #66. You couldn't escape the literary atmosphere in our home. I grew up as a Britisher. I played a protagonist of every nationality in stage adaptations of Shakespeare and Brecht. I graduated from Yale. When I moved to the U.S., I realized with some amount of surprise that I was seen as an ethnic actor. - Author: Satya Bhabha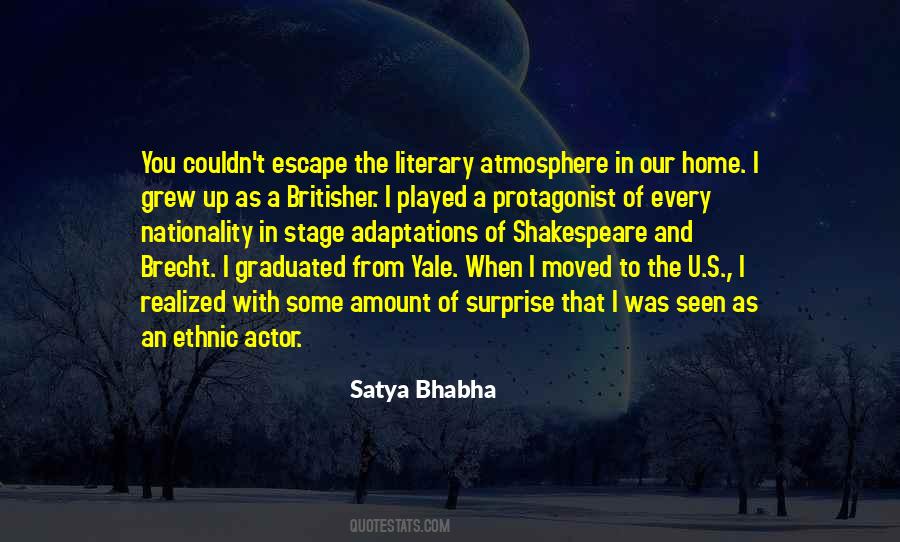 #67. I really liked Yale, although it was extremely intimidating. When I visited the campus, I was hiding behind trees, I felt so unworthy. - Author: Claire Danes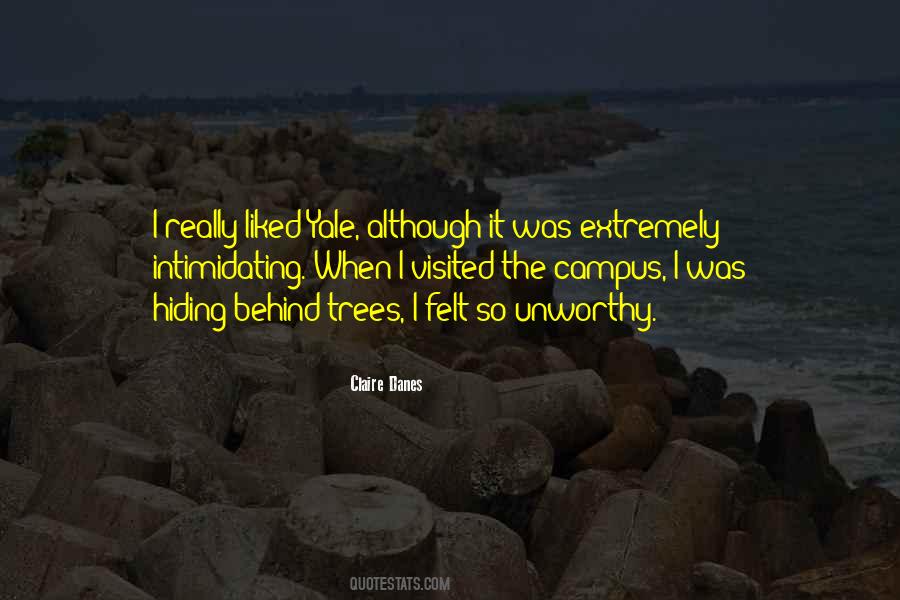 #68. I want to go to Princeton," said Amory. "I don't know why, but I think of all Harvard men as sissies, like I used to be, and all Yale men as wearing big blue sweaters and smoking pipes." Monsignor - Author: F Scott Fitzgerald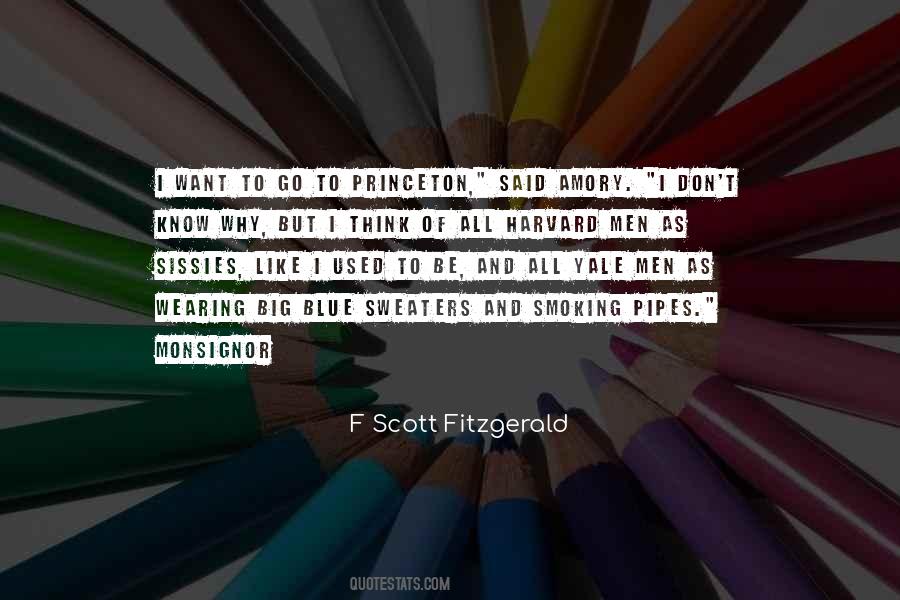 #69. It bothers me a lot that you want to broadcast that you're associating with black people. Do you have to? - Author: Donald Sterling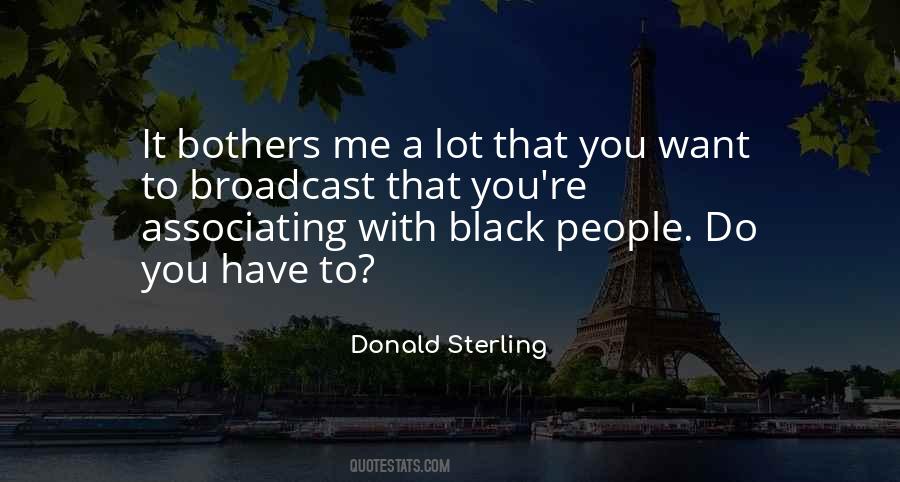 #70. The city's legions of working men disagreed. They always had counted Harrison as one of their own, "Our Carter," even though he was a plantation-reared Kentucky man who had gone to Yale, spoke fluent French and German, and recited lengthy passages from Shakespeare. - Author: Erik Larson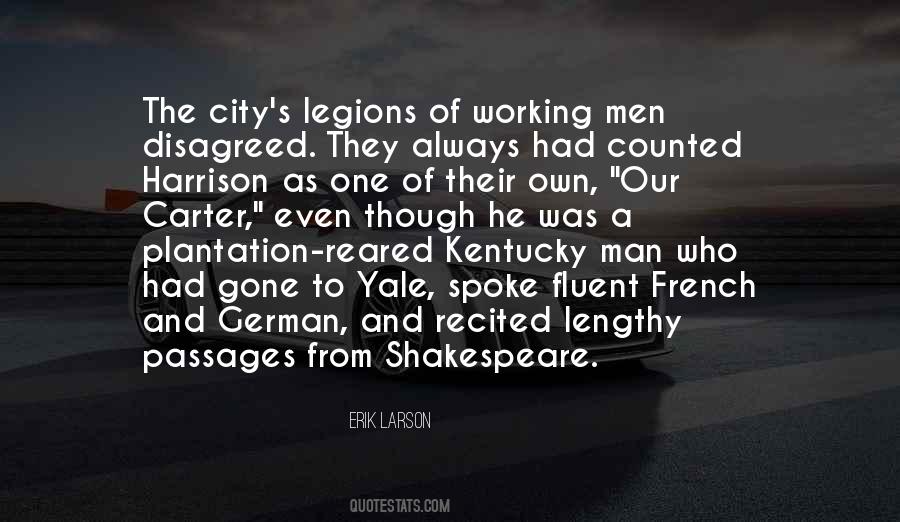 #71. People think because I went to Yale that that implies privilege, and it is a privilege in the sense that it's an incredible opportunity. - Author: Edward Norton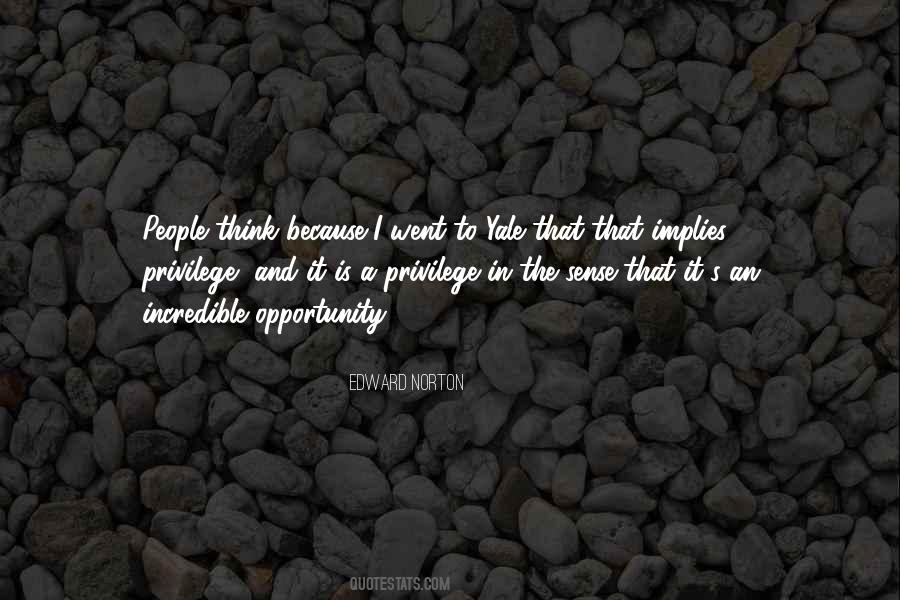 #72. Privilege, if you're very strict, is an immoral and unjust thing to have, but if you've got it you didn't choose to get it and you might as well use it. You're privileged to be at Yale, but you know you're under an obligation to repay what's been put into you. - Author: Walker Evans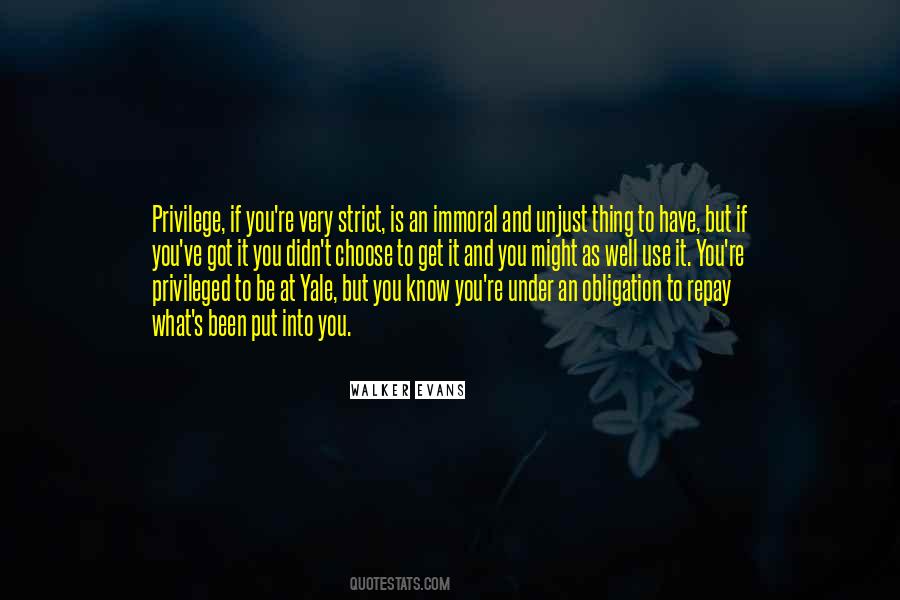 #73. I played varsity soccer at Yale and continued playing at Cambridge. - Author: Sarah Parcak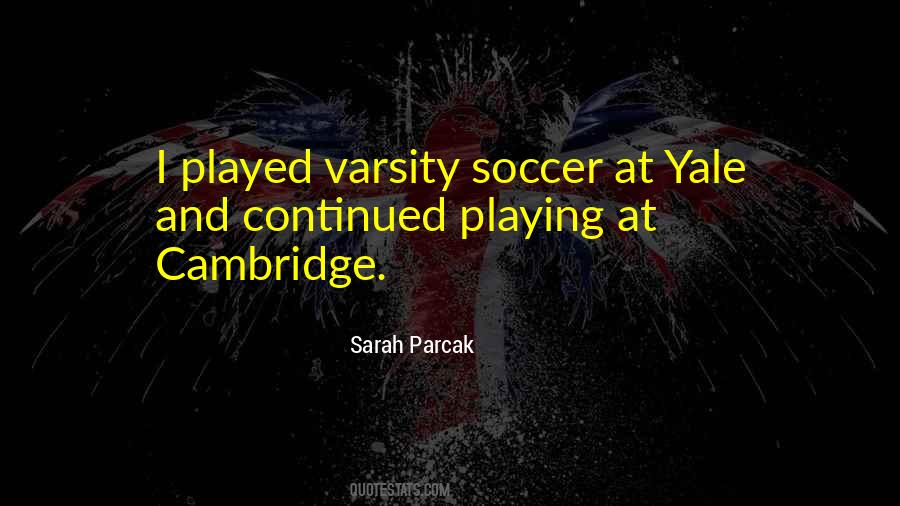 #74. I took the LSAT. My score was decent. I had a plan that if my score was really well, then I might of just went to Yale or Harvard ... But it was just mediocre. I can get into law school. - Author: Vinny Guadagnino
#75. Around the college had grown up in the latter nineteenth century a hap-hazard, ill-blanced collection of professional schools, attended by hard-working meagre creatures with the fun drained out of them... - Author: Yale University
#76. Before I was born [my father] wanted me to go specifically to Yale, which he thought would help. It was easy for him to think I could be president: he didn't have to worry about being president himself, being ineligible because he wasn't born in the United States. - Author: Calvin Trillin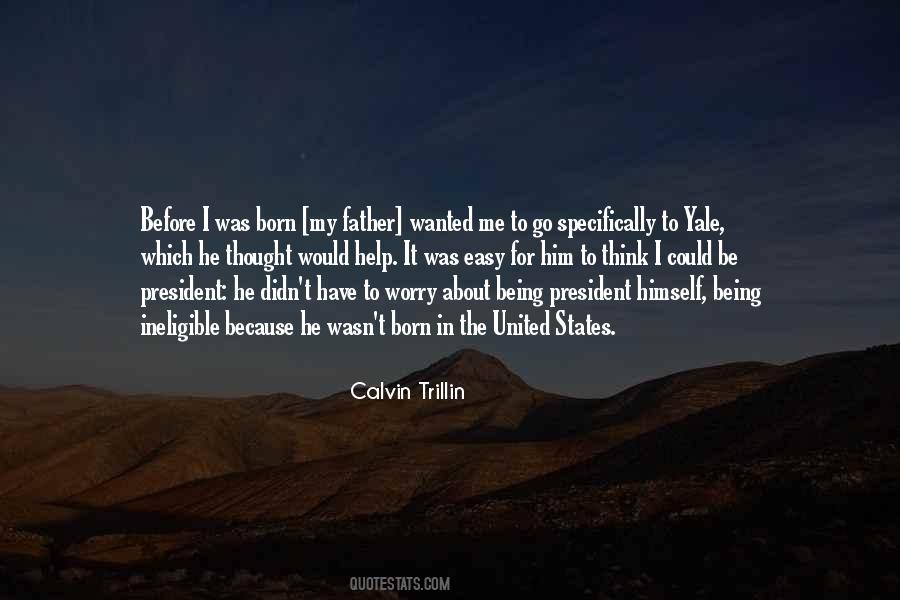 #77. Read Talking With Young Children About Adoption by Susan Fisher, M.D., and Mary Watkins, Ph.D. (Yale University Press, 1995). - Author: Sherrie Eldridge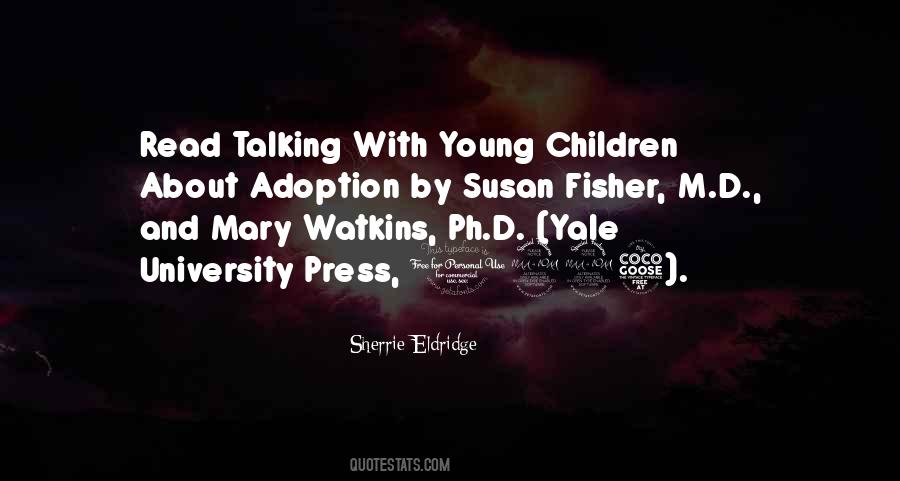 #78. At Yale, most everyone (except Oswaldo Gutierrez) refrained from telling Rob what to do, because of the way he'd grown up in Newark. In Newark, most everyone (except Oswaldo Gutierrez) refrained from telling Rob what to do, because of the way he'd gone to Yale. - Author: Jeff Hobbs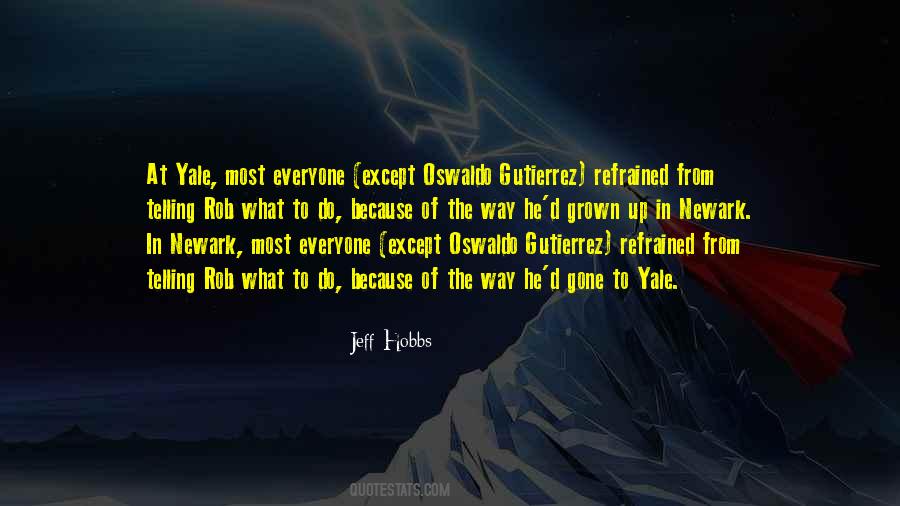 #79. By the time I came down from Yale, I was already more radicalized and had begun to read New Masses. - Author: Albert Maltz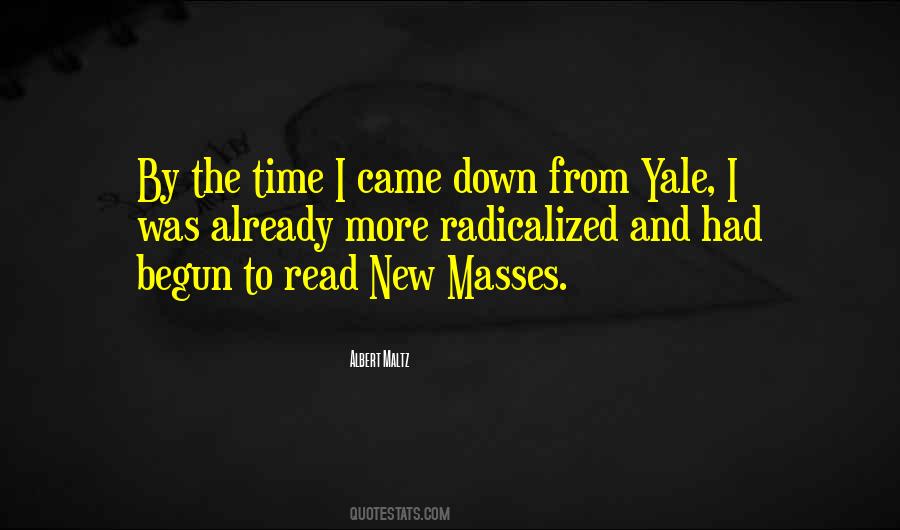 #80. I made a life for myself in Africa that was as far as you could possibly get from art school at Yale. - Author: Peter Beard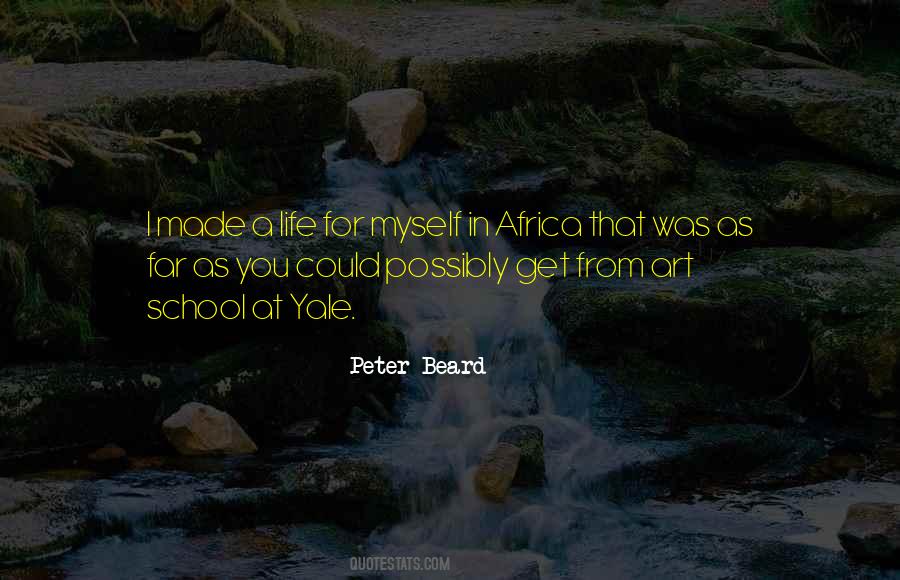 #81. The military was providing him (George H.W. Bush) with an education that was not available at Andover or Yale. - Author: George W. Bush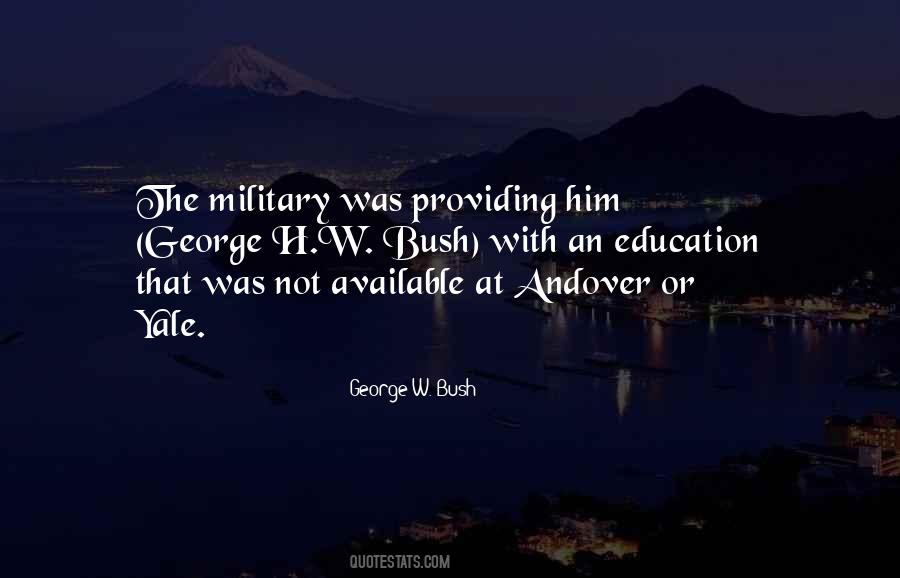 #82. The other boys at Yale came from wealthy families, and none of them were investing outside the United States, and I thought, 'That is very egotistical. Why be so shortsighted or near-sighted as to focus only on America? Shouldn't you be more open-minded?' - Author: John Templeton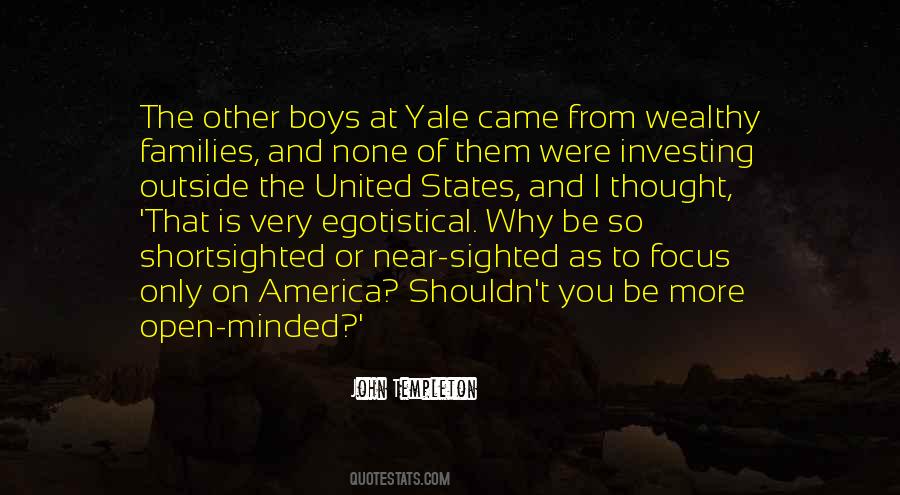 #83. There were several things a Yale freshman was supposed to be able to do. You had to demonstrate in the Olympic-size Yale pool that you could swim 50 yards or be inducted into swimming class. - Author: Dick Cavett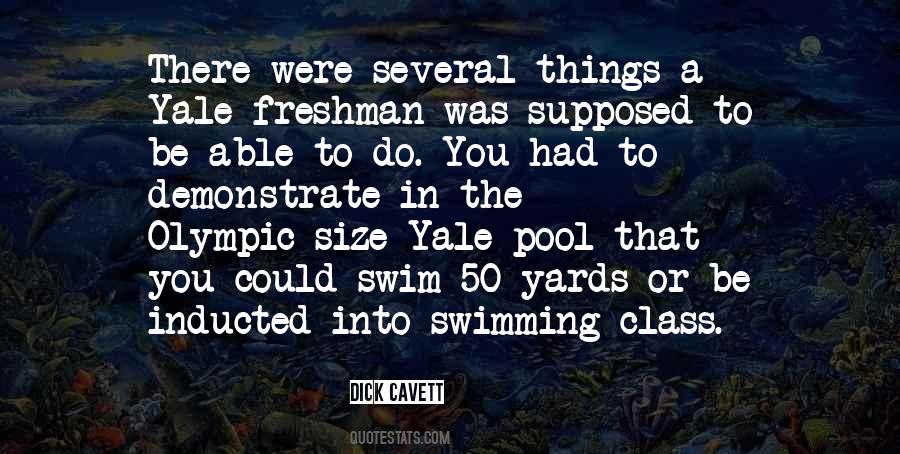 #84. But to do it professionally is a quantum leap difference and my father had to be persuaded by these kind of Ivy League professors that I should go to the Yale Drama School, another one of the stories in there. - Author: Robert Klein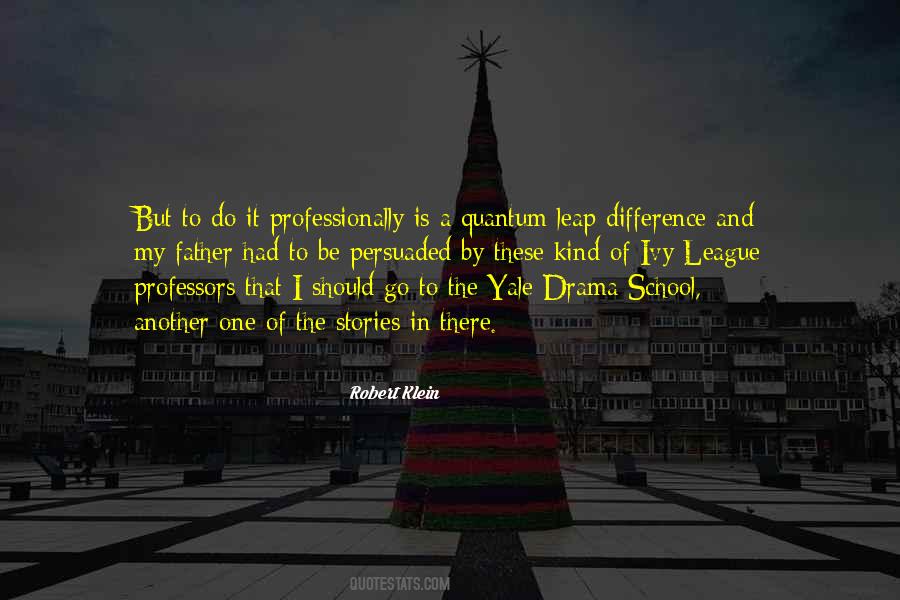 #85. I grew up in Brownsville; most of the kids I grew up with went to jail, not Yale. If they had heard of Yale, they thought it was a lock to pick. - Author: Mitch Leigh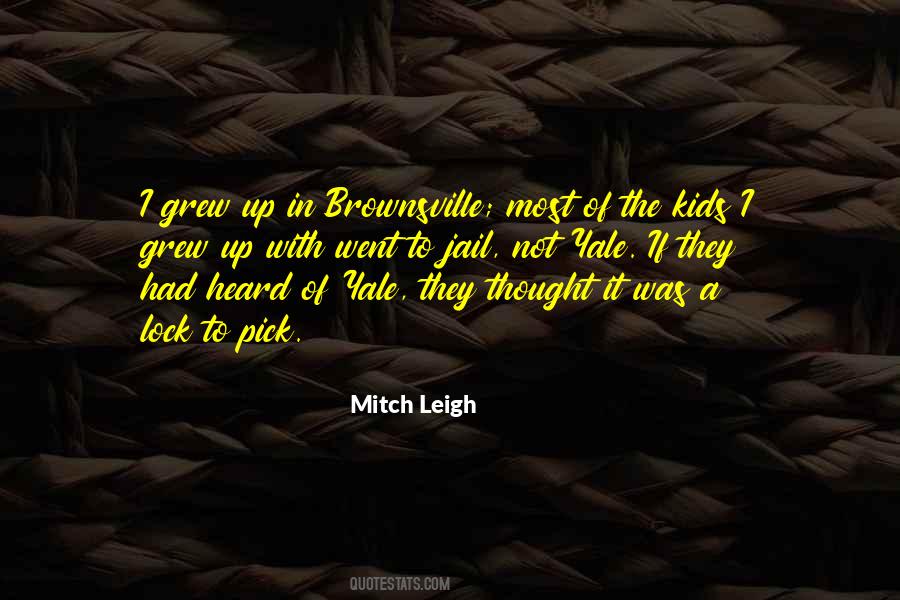 #86. To cite my own alma mater, it's shocking to me that Yale University can teach what it teaches at the Yale School of Environmental Studies and utterly fail to mirror those values in any way in its investment practices. - Author: Edward Norton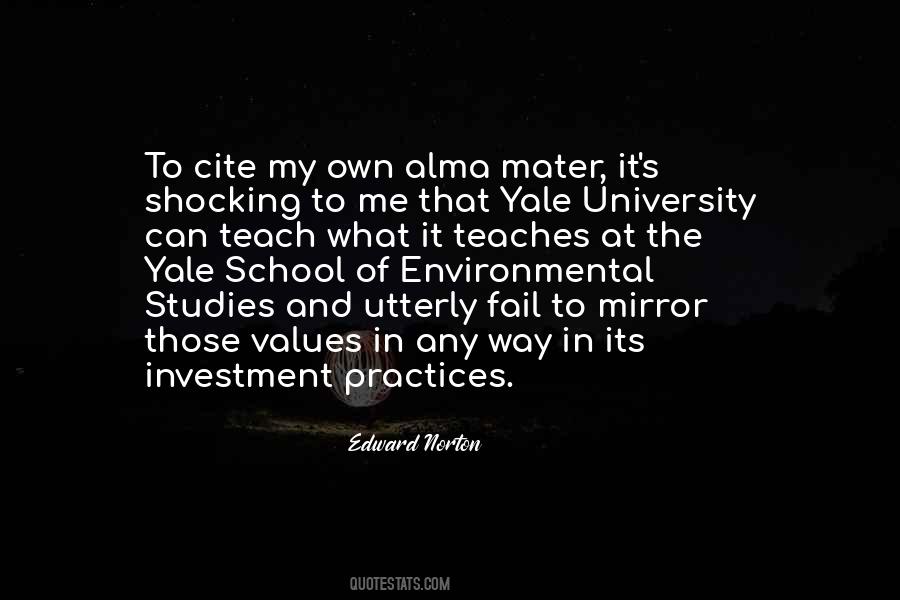 #87. I went to Harvard for examination with two men not as well prepared as I. Both passed easily, and I flunked, having sat through two or three examinations without being able to write a word.' The same happened at Yale, Both schools turned him down. He never forgot it. - Author: Erik Larson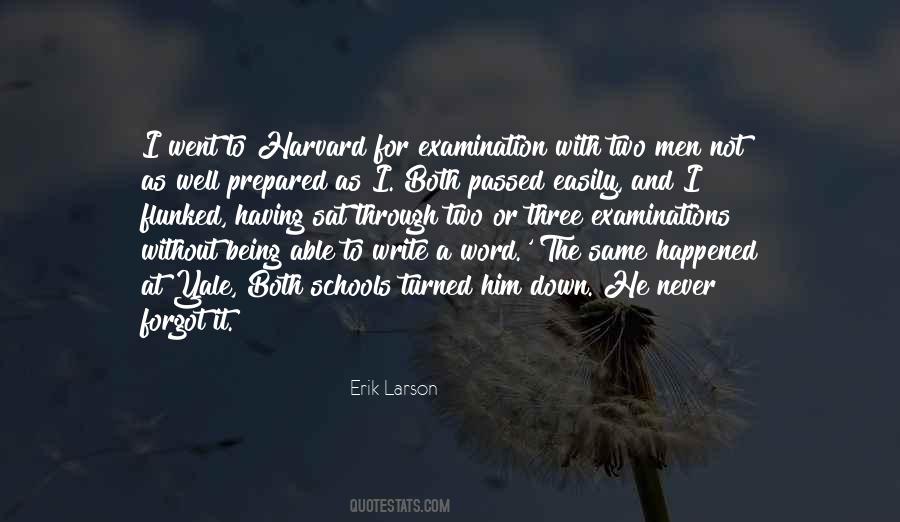 #88. I learned at Yale, one of the biggest lessons was to learn how special I am and therefore how totally unspecial I am. I was special among everyone else who was special. The fact that we're all so individual and that's what makes us special. - Author: Lupita Nyong'o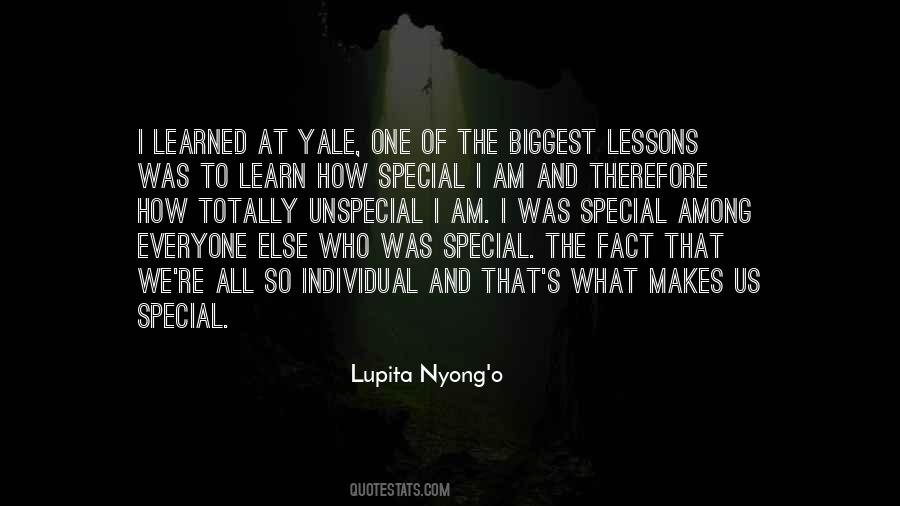 #89. I don't think the alternative to Yale is jail by any means. On the other hand, there is a mass of research that does show that there are real advantages to your subsequent career in going to selective institutions. - Author: Derek Bok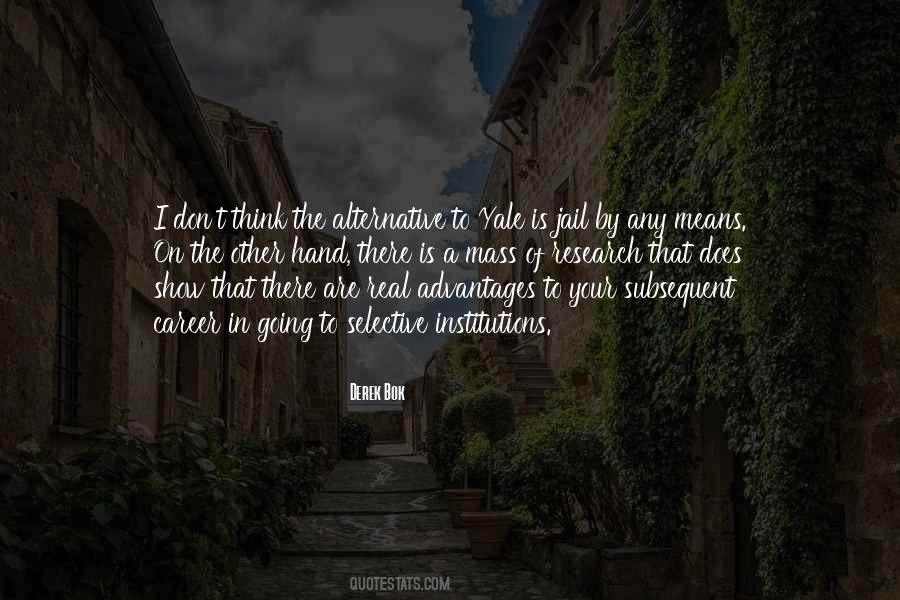 #90. I always wanted to put a sign up on the road to Yale saying, 'Beware: Deconstruction Ahead.' - Author: Gloria Steinem
#91. When I went to college, I thought I was going to become a professional musician. I was a French horn player, so I went to Yale to study with a very unusual French horn player. - Author: Joshua Prince-Ramus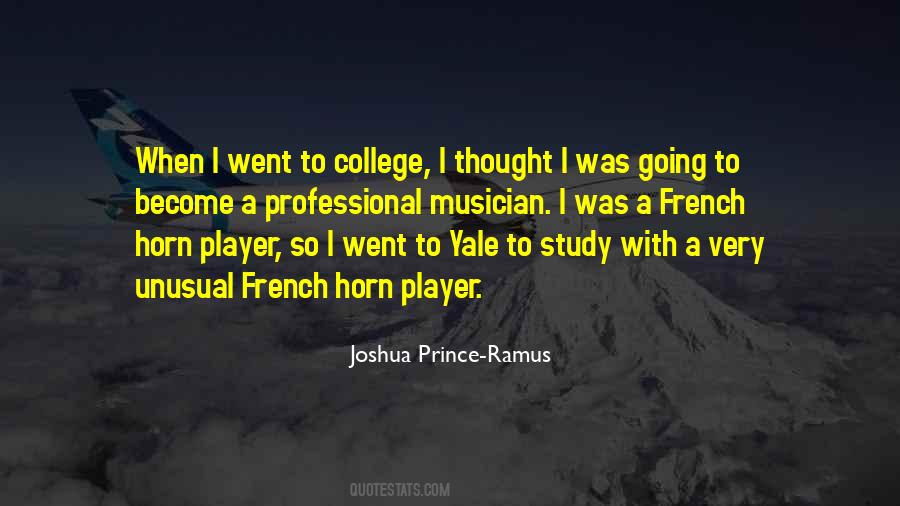 #92. Texas Governor Rick Perry distanced himself from George W. Bush by saying, 'I went to Texas A&M. He went to Yale.' In other words, his idea of instilling confidence is by saying, 'Don't worry. I'm not as smart as George W. Bush.' - Author: Conan O'Brien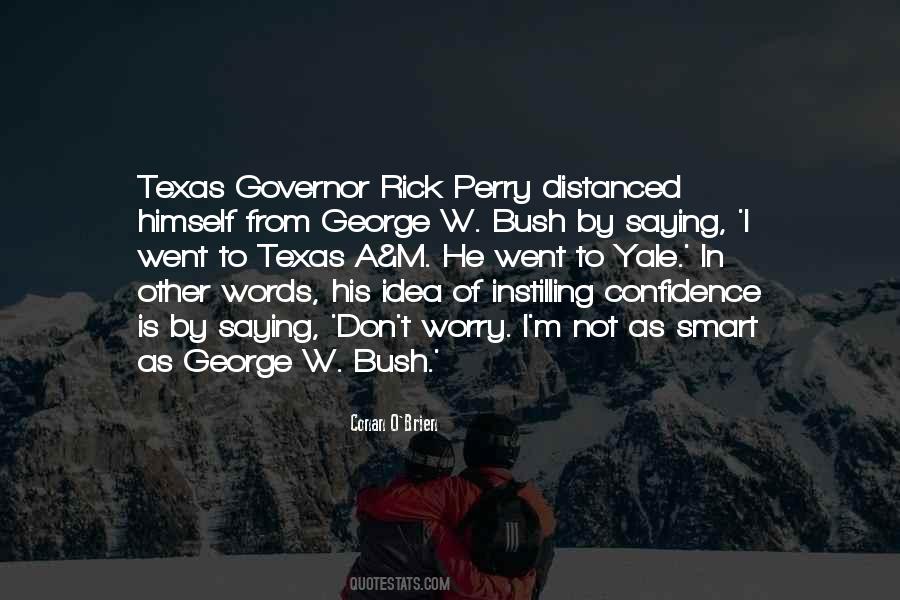 #93. Christ came to take away our sins, not our minds. - Author: William Sloane Coffin Jr.
#94. I don't have an MBA, and I didn't go to Yale. I'm not an academic person and wasn't a good student. Instead, I've been taught by some of the most inspiring people in the world. - Author: Lapo Elkann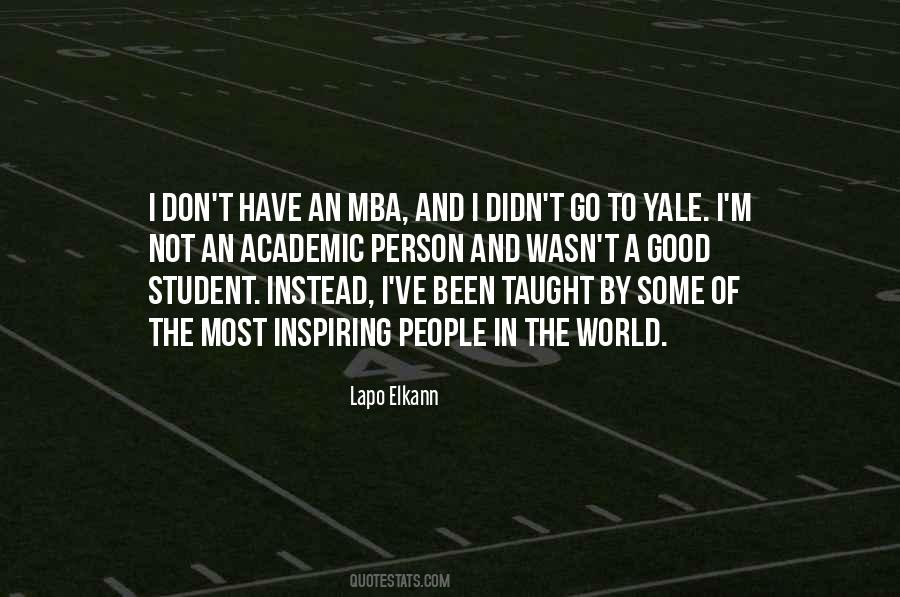 #95. School is very important; it was very important for me. It gave me an enormous amount of confidence, especially at Yale where we were dealing with all the classics. In dealing with the classics, you are dealing with the very best. - Author: Enrico Colantoni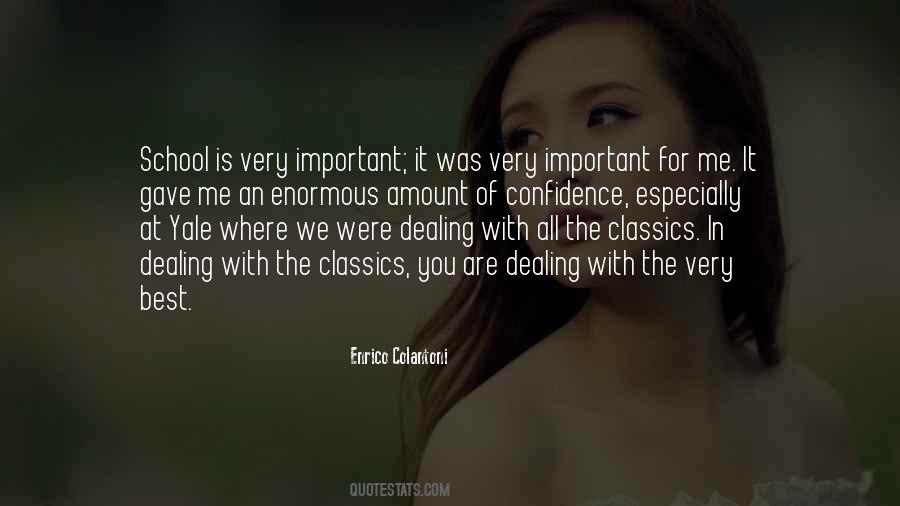 #96. My father worked in high-energy nuclear physics, and my mother was a mycologist and a geneticist. After both parents completed postdoctoral fellowships in San Diego in 1962, my father took a faculty position in the Physics Department at Yale, and so the family moved to New Haven, Connecticut. - Author: Carol W. Greider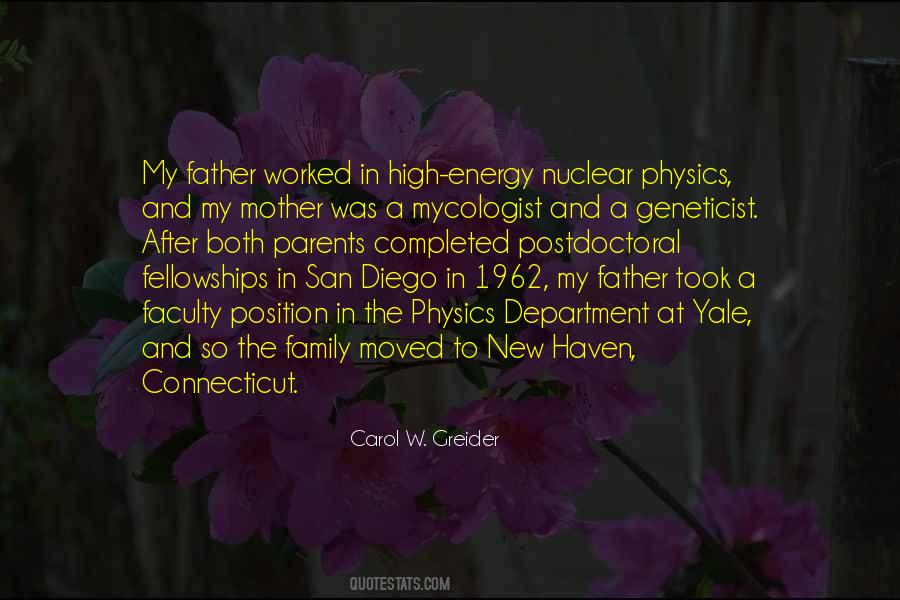 #97. You were saying that once when visiting Yale, you were struck that unlike Pound, Williams's thinking was volatile, I mean, did not stay locked into a pattern of concepts that then defined his subsequent necessary behavior, whereas Pound did. - Author: Robert Creeley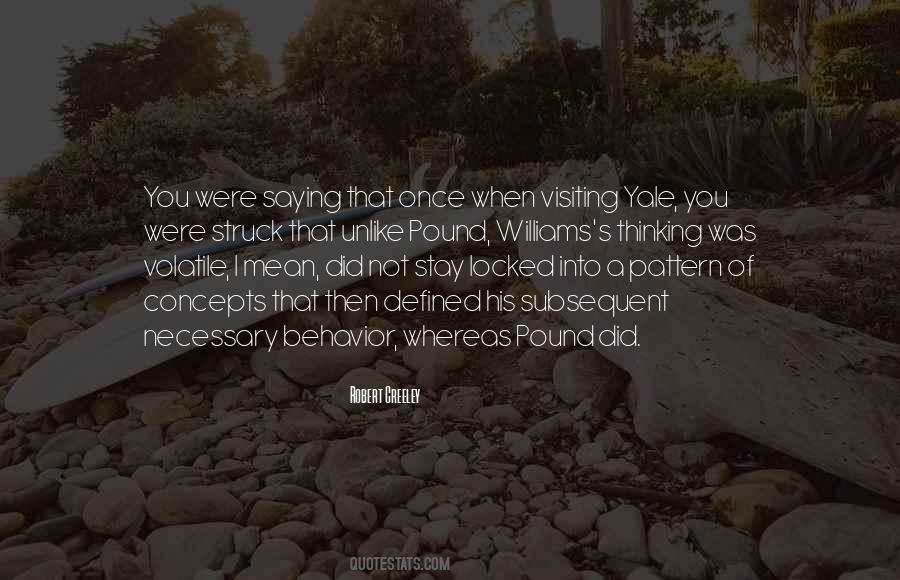 #98. How much does it really matter whether your child will soon be enjoying a first year at Harvard or Yale or will instead end up at her third or fourth or fifth choice? Probably much less than you think. - Author: Barry Schwartz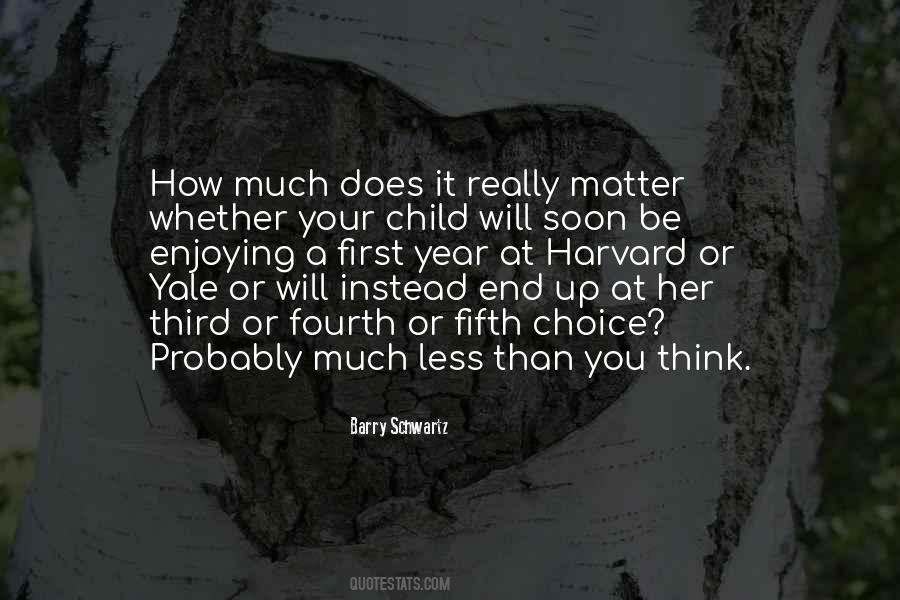 #99. I turned down a scholarship to Yale. The problem with college is that there's a tendency to mistake preparation for productivity. You can prepare all you want, but if you never roll the dice you'll never be successful. - Author: Shia Labeouf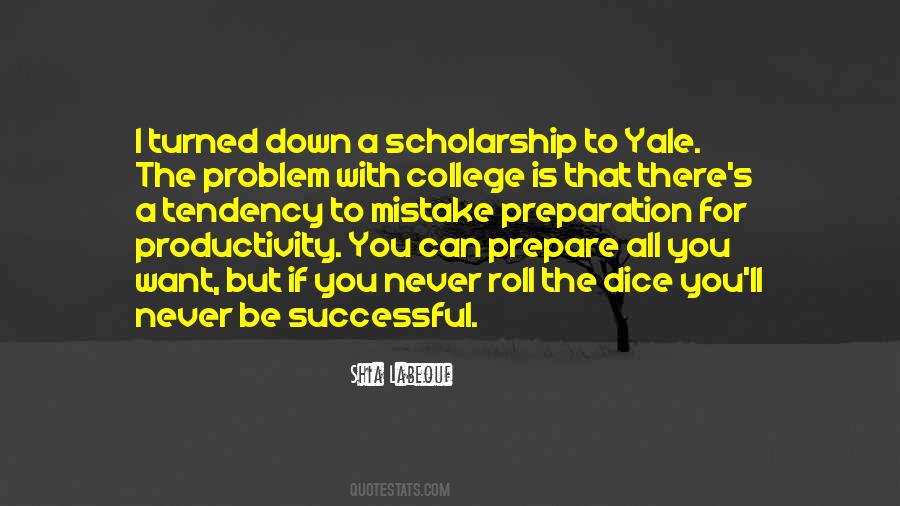 #100. Hair matters. This is a life lesson Wellesley and Yale Law School failed to instil. Your hair will send significant messages to those around you. - Author: Hillary Clinton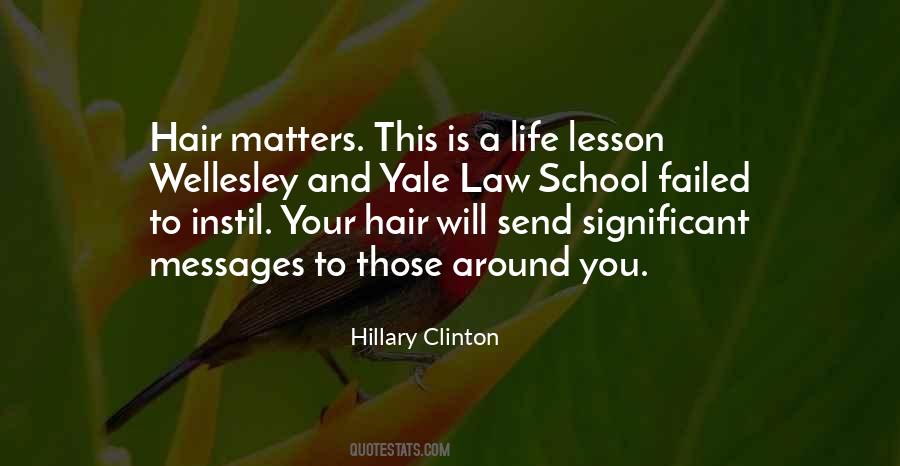 Famous Authors
Popular Topics