Words To Life Famous Quotes & Sayings
List of top 100 famous quotes and sayings about words to life to read and share with friends on your Facebook, Twitter, blogs.
Top 100 Words To Life Quotes
#1. Would that my hands were meant to build. I would know what to say. What to do. Maybe in another life I would have been that man. In this one, my words, like my hands, are clumsy. All they can do is cut. All they can do is break. - Author: Pierce Brown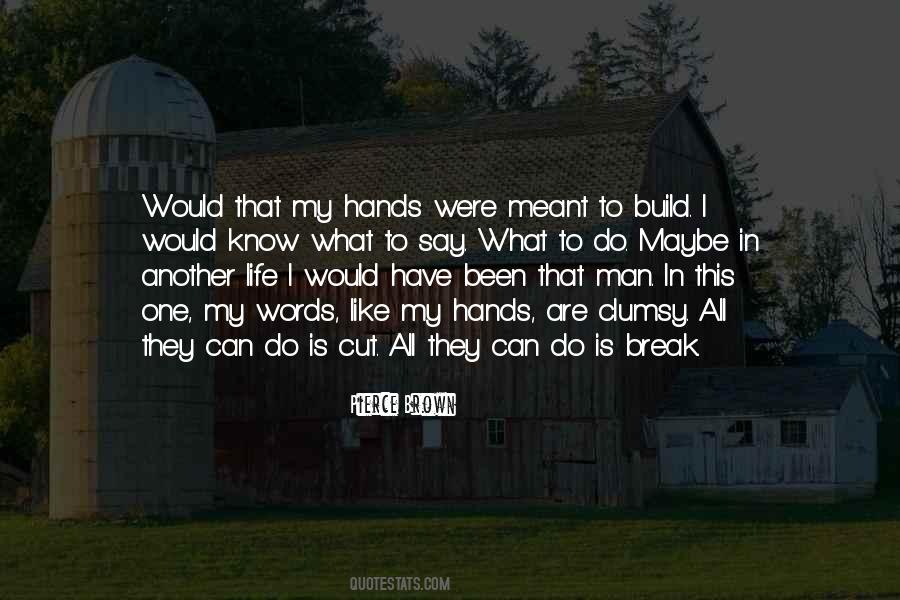 #2. Although life is filled with twists and turns, only you have the ability to make positive changes to your life. You can do it. One day at a time! ~ Taken from "Words of Wisdom for Warriors" by EM.EM.Genesis - Author: E.M. E.M. Genesis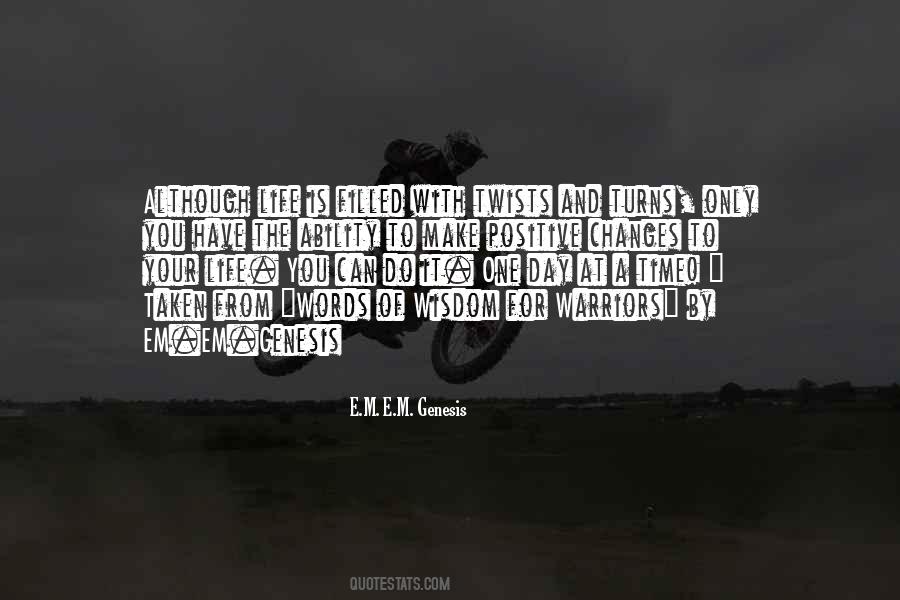 #3. I write about subectivety-and inarticulation-about life pushing you into a state where everything is melting until you're left with the absolute and you can find neither the words nor the images to express it. - Author: Deirdre Madden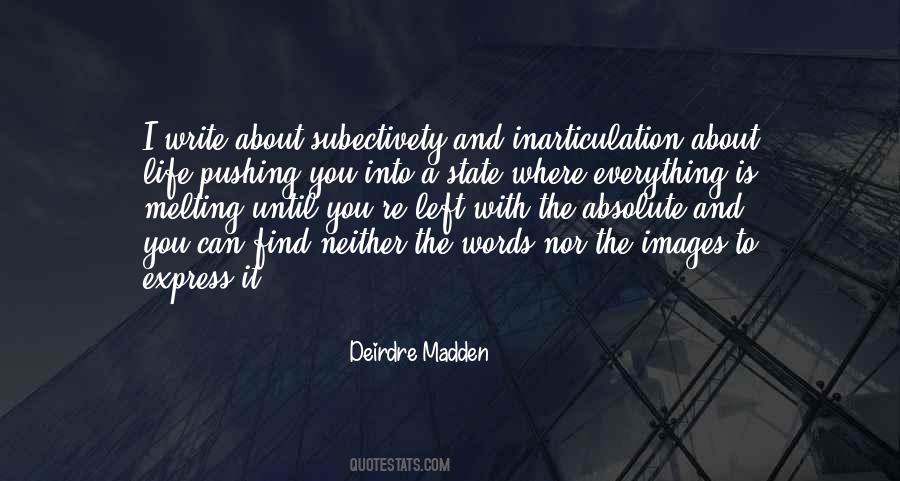 #4. There is an end to every journey.
Even life will come to an end one moment in time. - Author: Lailah Gifty Akita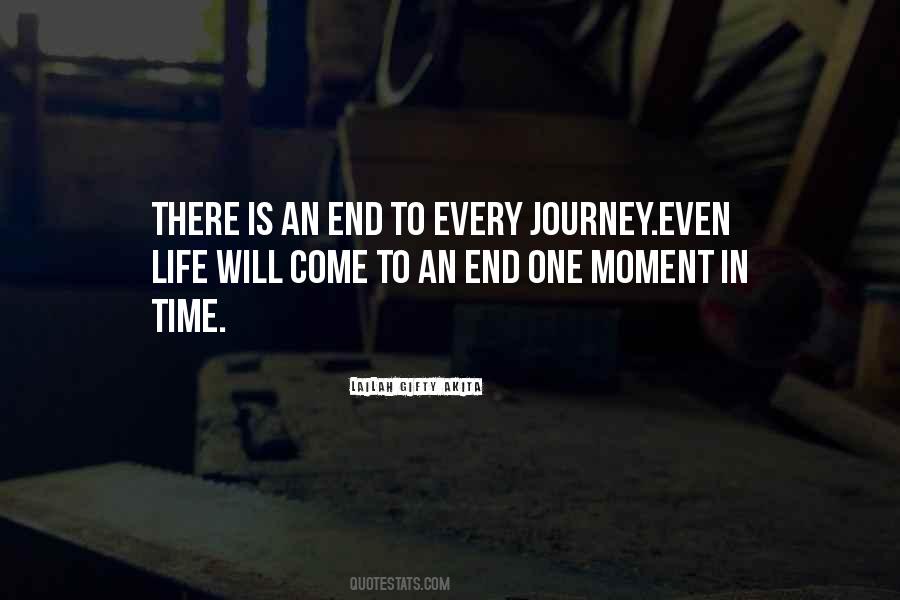 #5. If I made laws for Shakers or a school, I should gazette every Saturday all the words they were wont to use in reporting religious experience, as "spiritual life," "God," "soul," "cross," etc., and if they could not find new ones next week, they might remain silent. - Author: Ralph Waldo Emerson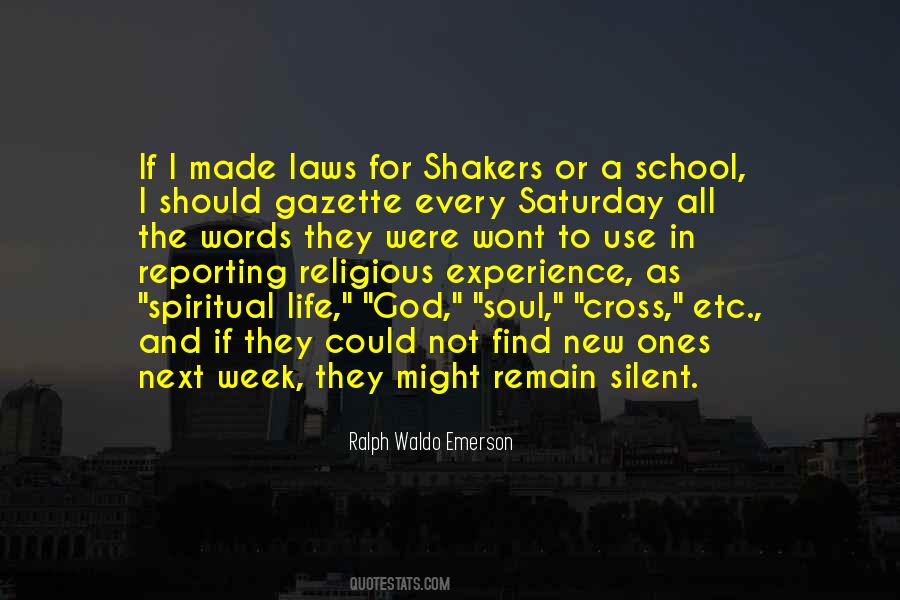 #6. Words have power, and sometimes, they stay with
you for life. It's up to you to allow those words to define who you become. - Author: Daniele Lanzarotta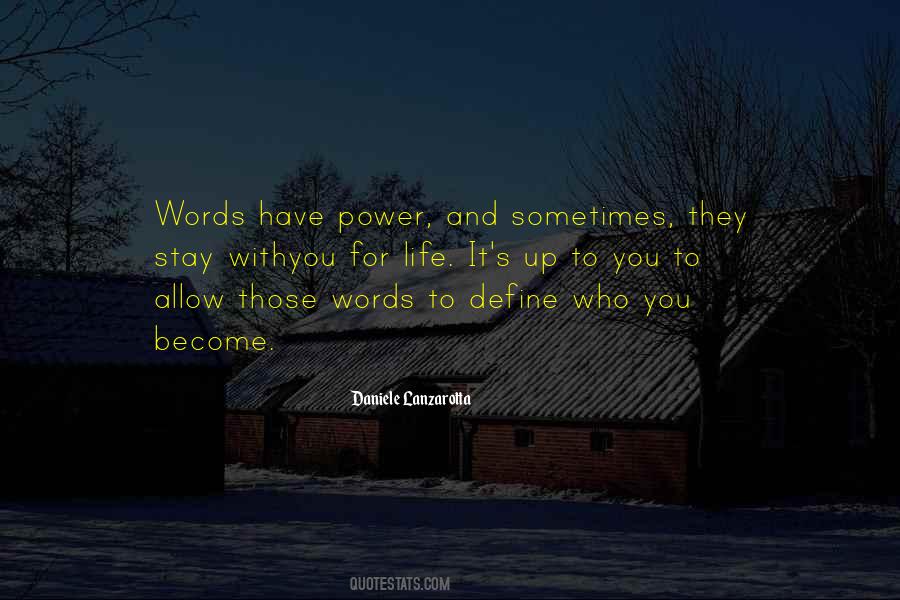 #7. Does the person you're throwing those words at have as much strength to catch catch them as you did to throw them? Would you be able to get the pass back just a powerful? - Author: Audrey Regan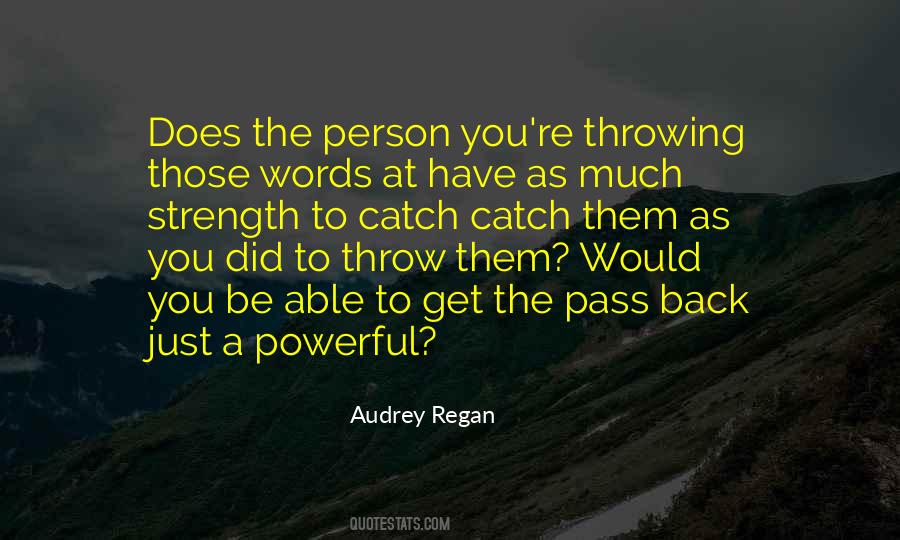 #8. Esoteric words neither make us holy nor righteous; only a virtuous life makes us beloved of God. I would rather experience repentance in my soul than know how to define it. - Author: Thomas A Kempis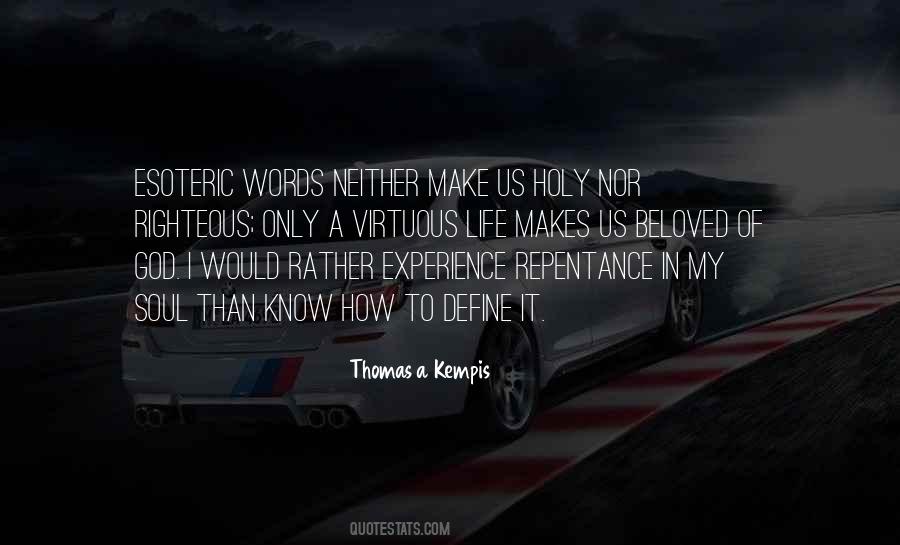 #9. Suddenly I heard the words of Christ and understood them, and life and death ceased to seem to me evil, and instead of despair I experienced happiness and the joy of life undisturbed by death. - Author: Leo Tolstoy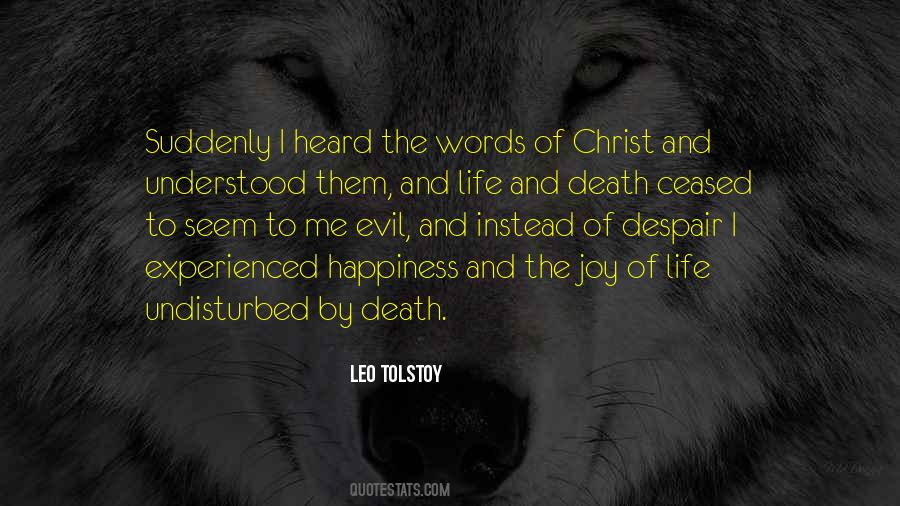 #10. Music overwhelmed me, soaked into my skin like water. I didn't have words for the squiggles and dashes across the pages, or the way his fingers stretched across the keys to make my heart race. If I could hear only one thing for the rest of my life, this was what I wanted. - Author: Jodi Meadows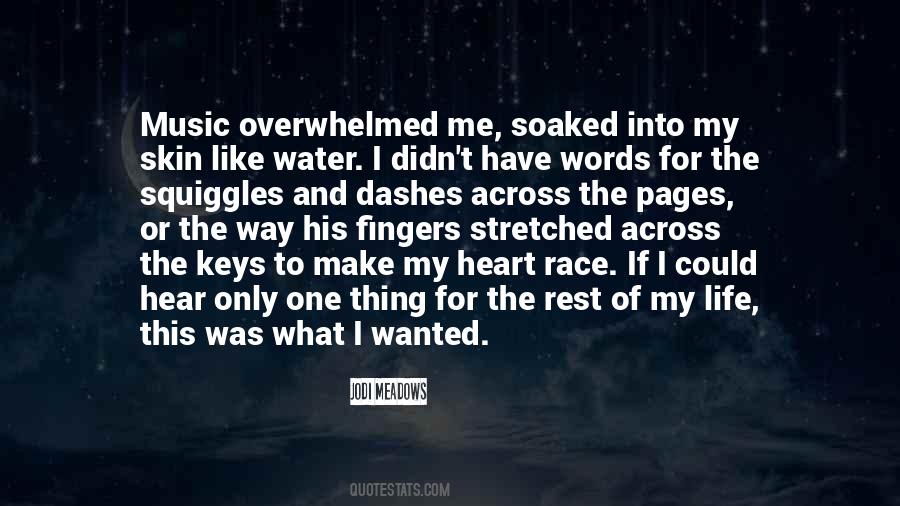 #11. Contentment and happiness didn't exist in my life for more than a few moments at a time, and they were really only illusionary. There was always something hidden. Lying in wait to spring up and ruin everything. - Author: Sylvia Day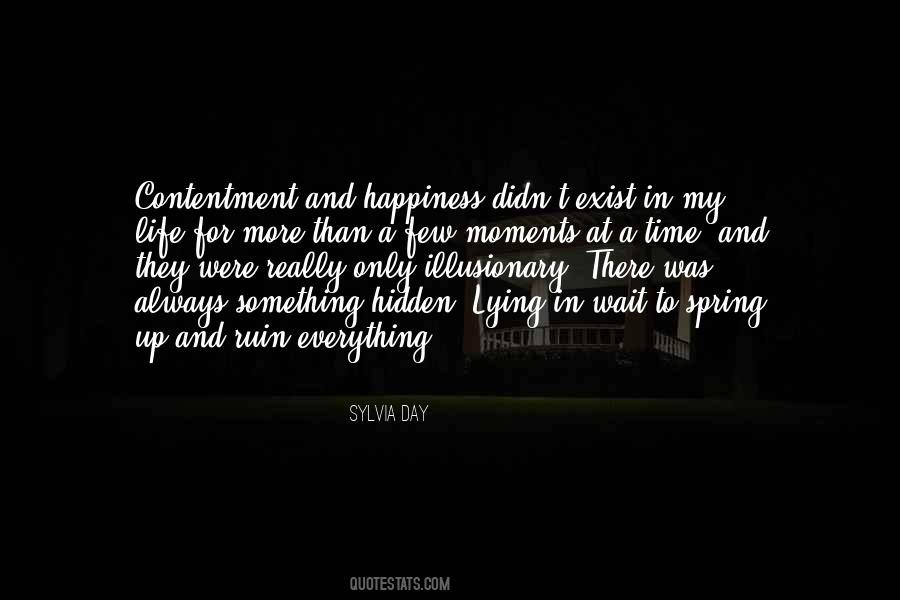 #12. Gratitude is glory to God. - Author: Lailah Gifty Akita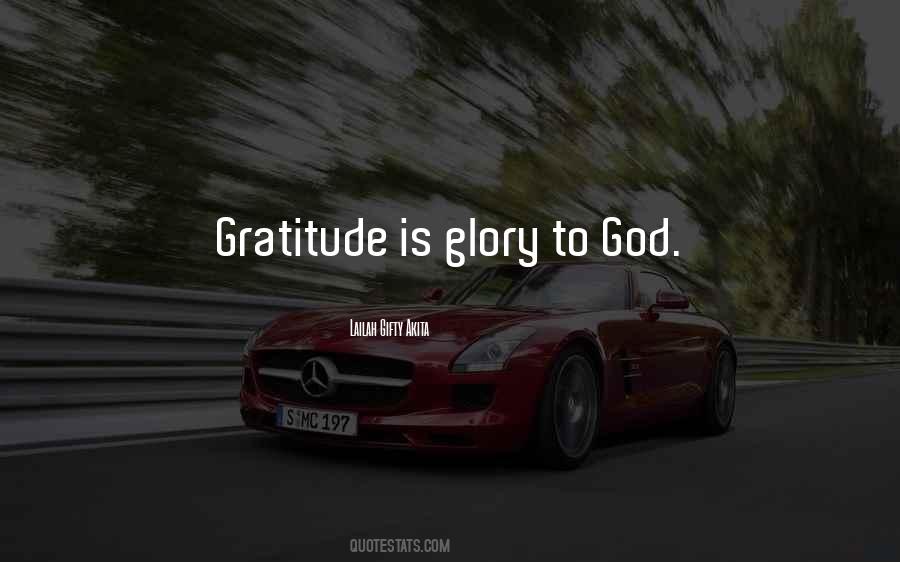 #13. Get in the habit of speaking positive, faith-filled words over your life, because a healthy self-image is one of the greatest assets you can have. It will not only cause you to rise higher, but it will inspire others around you to live at their best. - Author: Victoria Osteen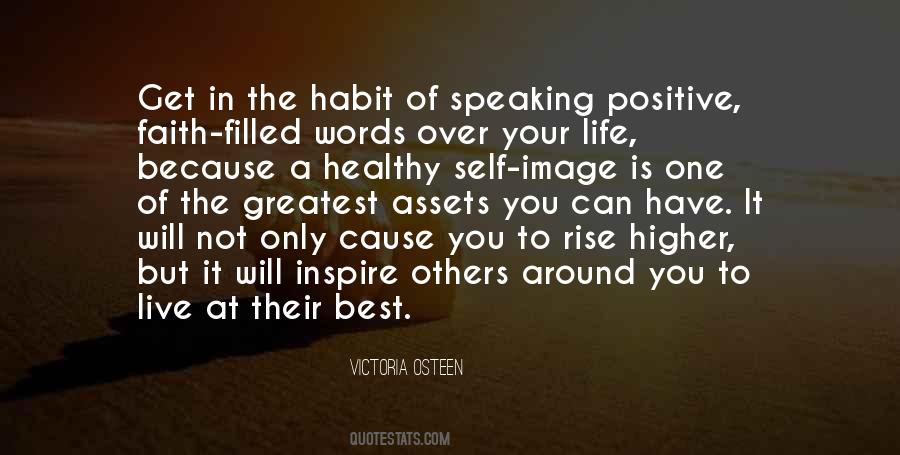 #14. I do believe that the single most important thing I could ever share with you with regard to maximizing the health, harmony, and happiness in your life can be summed up in just two words:
Love yourself. - Author: Mike Dooley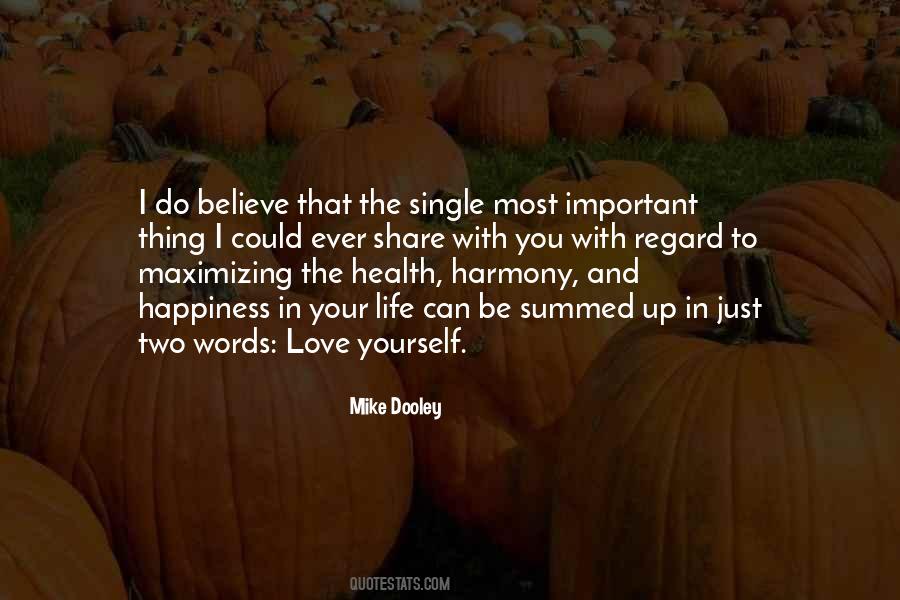 #15. I have always made a distinction between healing and curing. To me, 'healed' represents a condition of one's life; 'cured' relates strictly to one's physical condition. In other words, there may be healed quadriplegics and AIDS patients, and cured cancer patients who are leading unhealthy lives. - Author: Bernie Siegel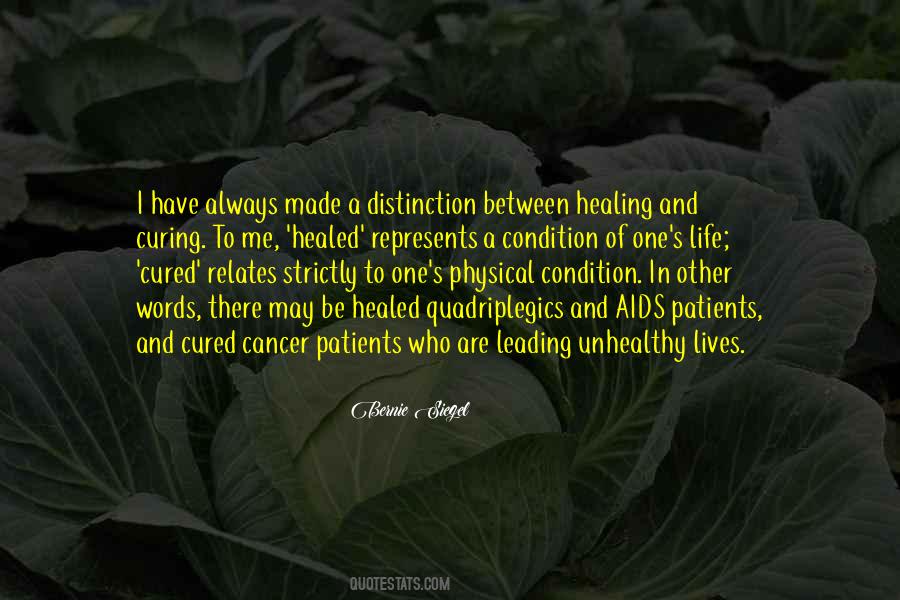 #16. How narrow is the gate and strait is the way that leadeth to life, and few there are that find it!6 are words of our Lord. 8. The narrow gate - Author: San Juan De La Cruz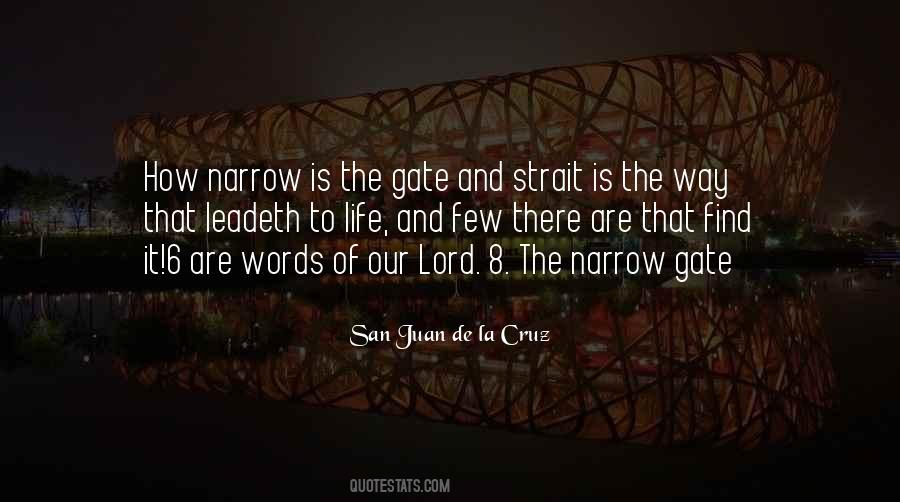 #17. Be the person that will take the first step towards personal success. You will be remembered for it. - Author: Steven Cuoco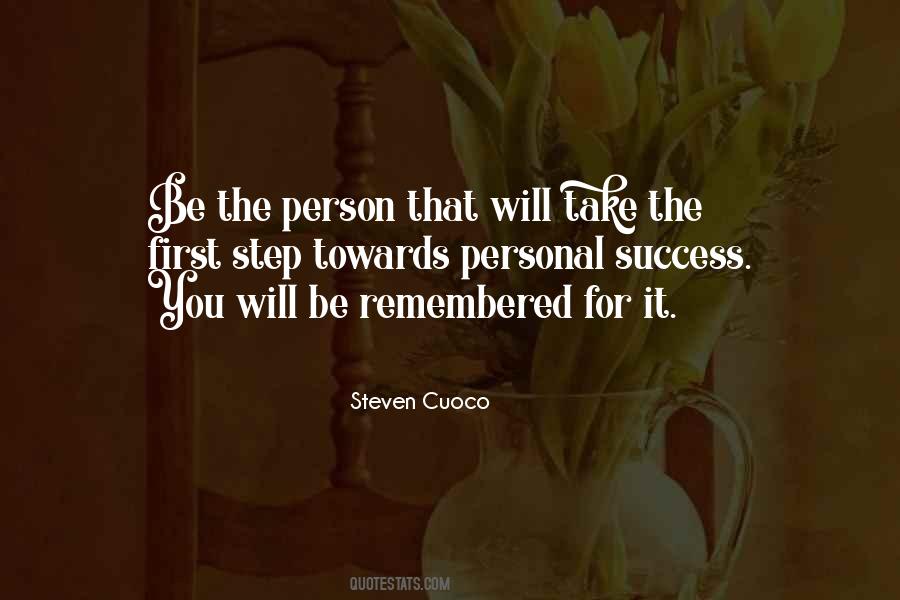 #18. This isn't the first time I've faced death, and I don't intend for it to be the last," I said, repeating the same words he'd told me before fighting in that fateful duel. "I've chosen to live a dangerous life, but it's who I am, and that wouldn't change even if we'd never met. - Author: Jeaniene Frost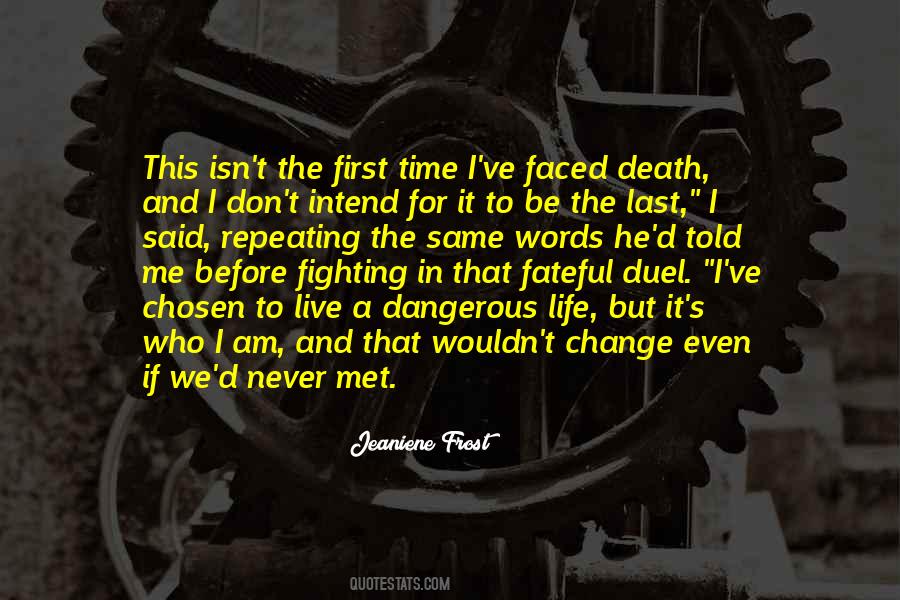 #19. For today ... Be kind to those in despair.
Your words, thoughts and prayers can be the difference between one's life or demise - Author: Timothy Pina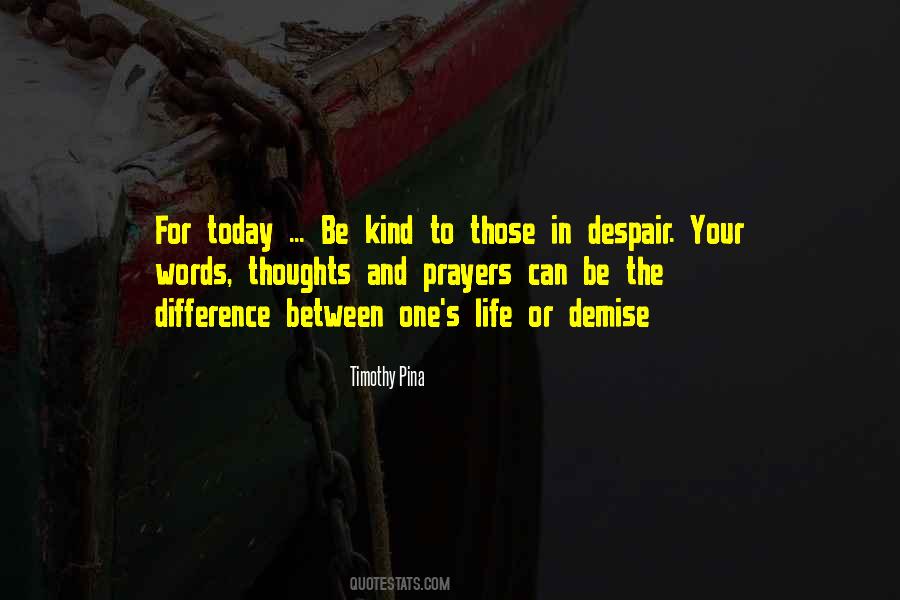 #20. Under the bludgeonings of chance, my head is bloody but unbowed.' In other words, life has a solid right hook, but it's not going to take me down. - Author: Brigid Kemmerer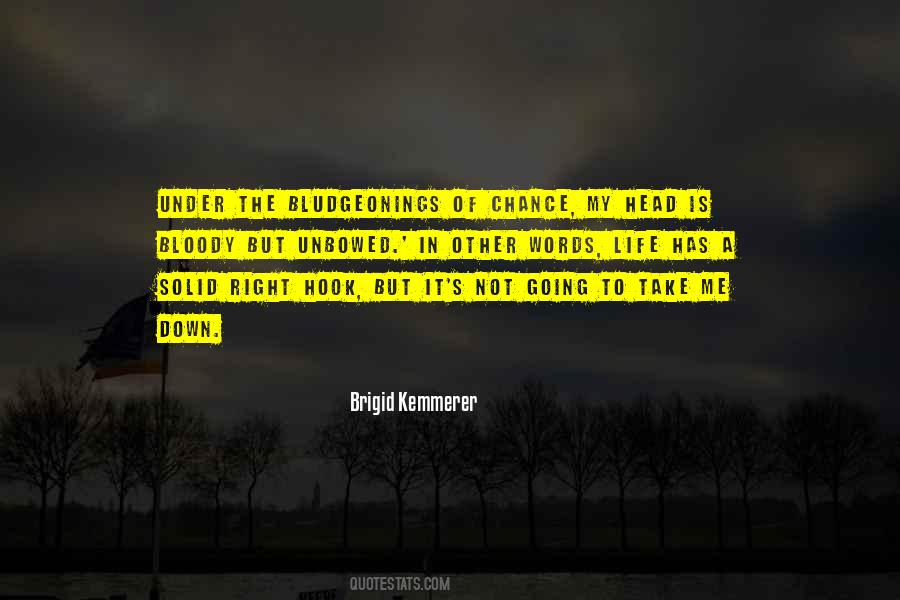 #21. I would think for hours how strange it was that some parts of words are silent, just like some parts of our lives. Did the people who wrote the dictionaries decide to mirror language to our lives, or did it just happen that way? - Author: Rene Denfeld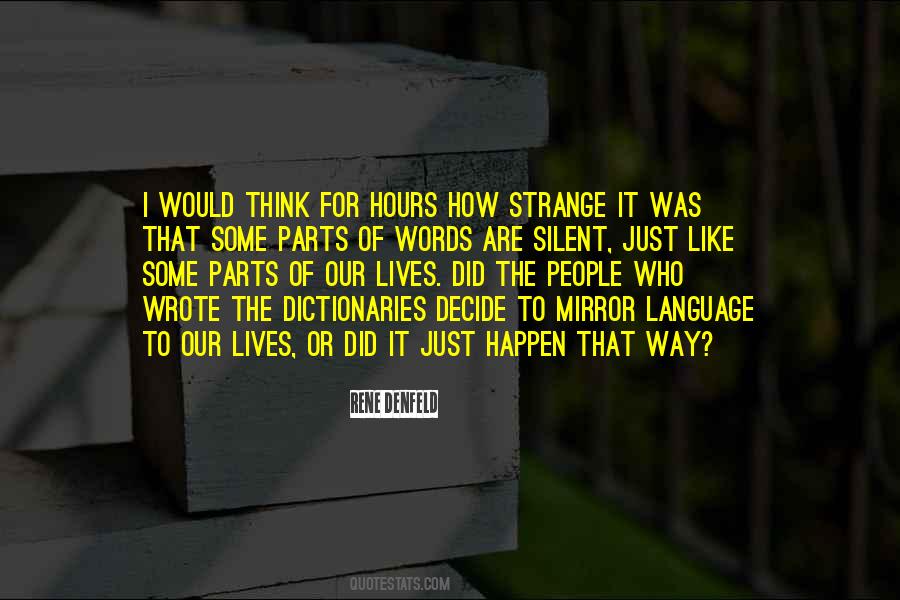 #22. Be sure to taste your words before you spit them out. - Author: Auliq Ice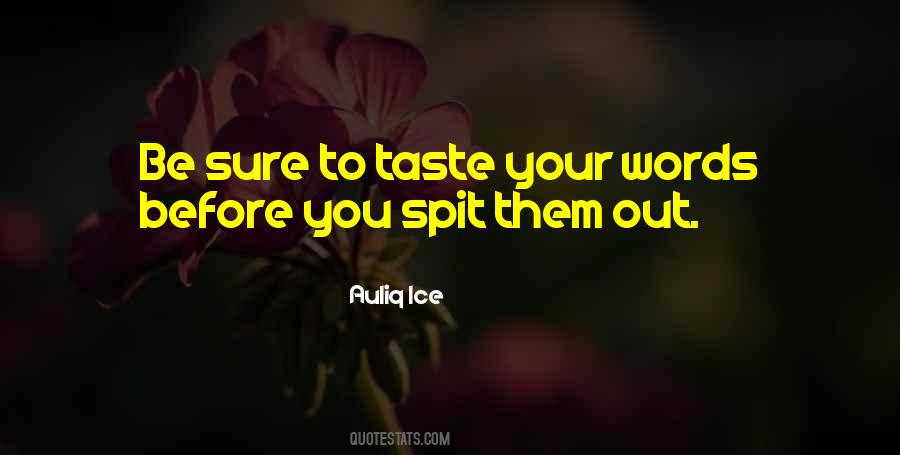 #23. All knowledge which ends in words will die as quickly as it came to life, with the exception of the written word: which is its mechanical part. - Author: Leonardo Da Vinci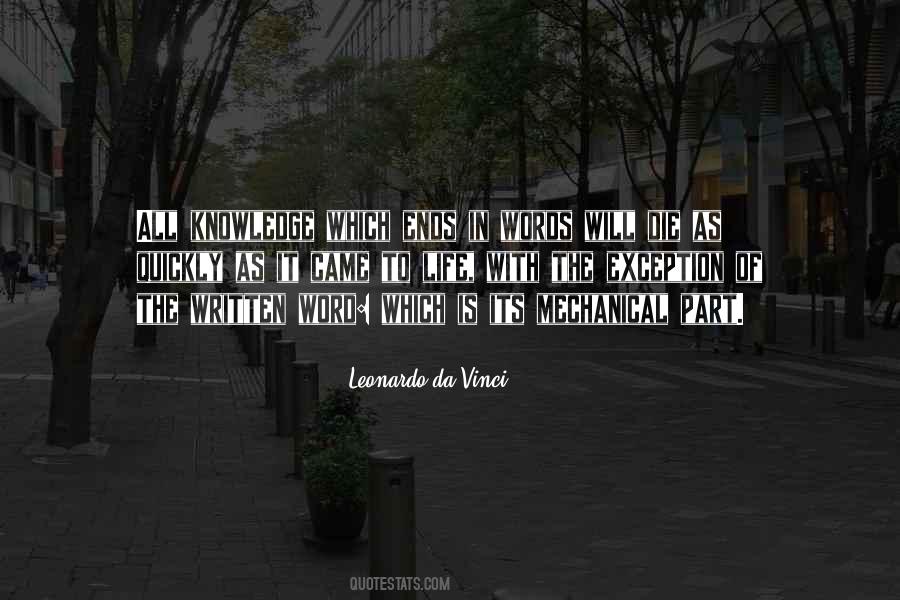 #24. And perhaps,frozen somewhere with time,
Our words will never cease to rhyme - Author: Stuti Dhyani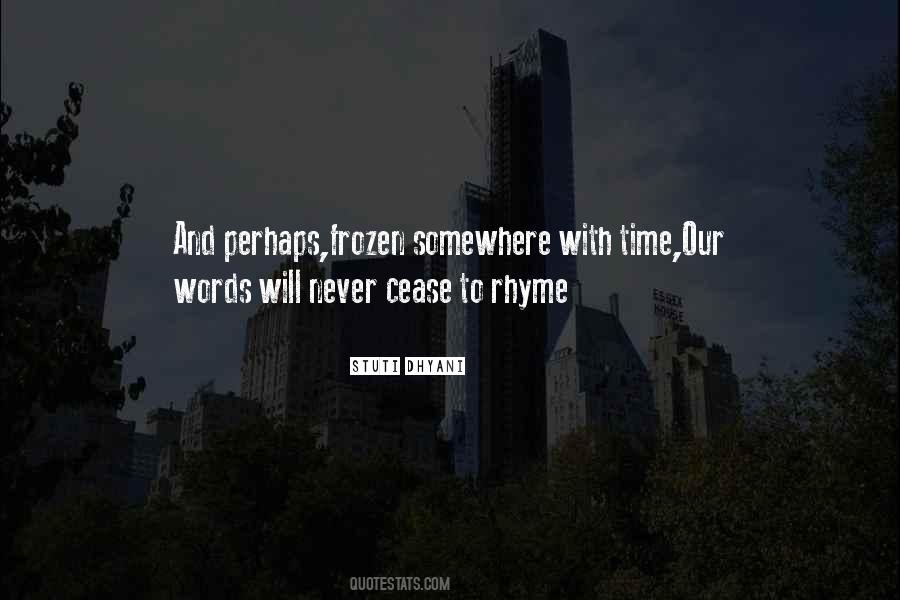 #25. There are questions that are not meant to be answered with words. Some questions take a lifetime to answer. Take action. - Author: J.R. Rim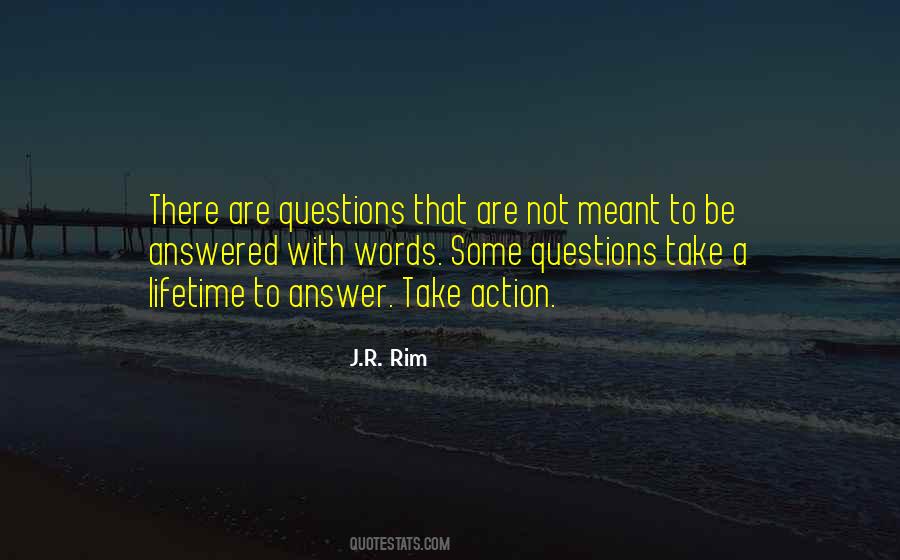 #26. The greatest thing about writing is that you get to shape more than one life. - Author: Katja Michael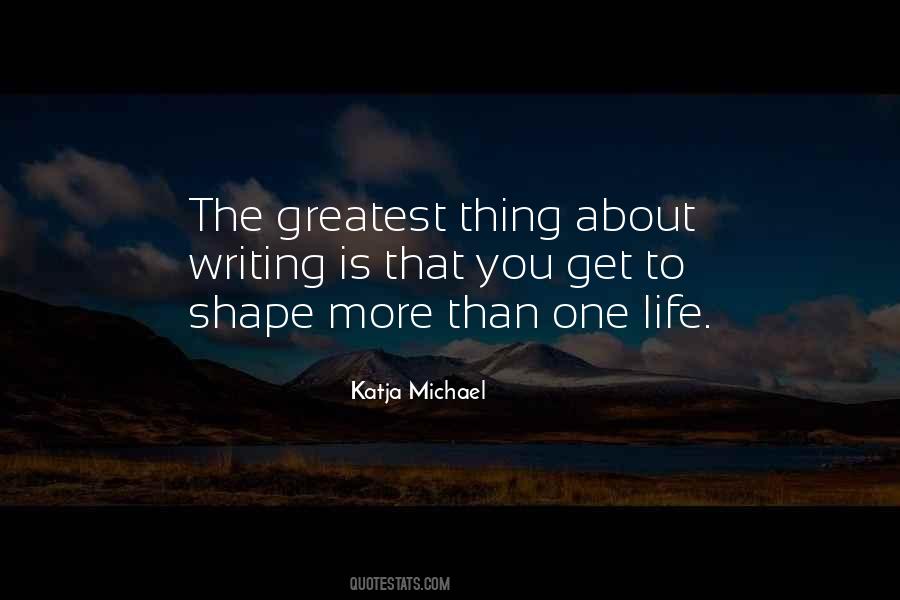 #27. Speak beautiful words to create beautiful world - Author: Rajesh Walecha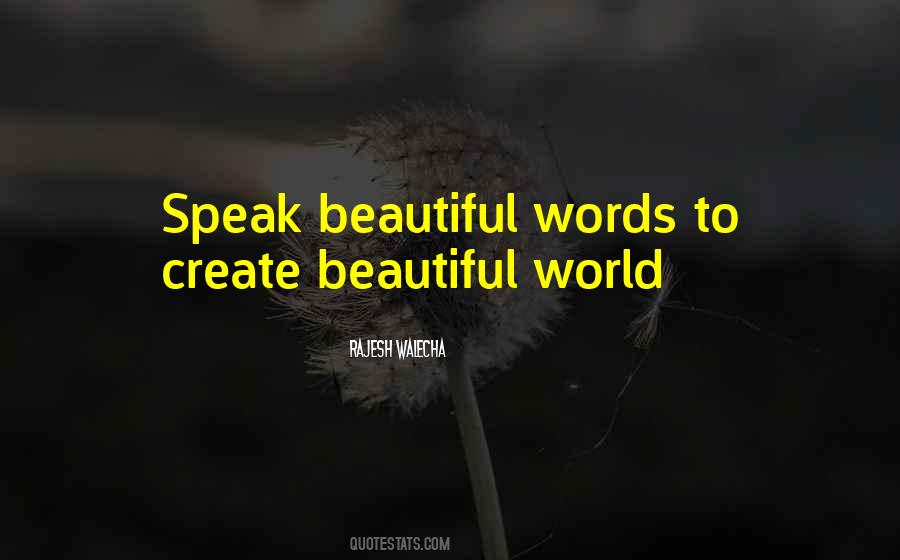 #28. Learn to be assertive without anger attached to it. - Author: Nikki Rowe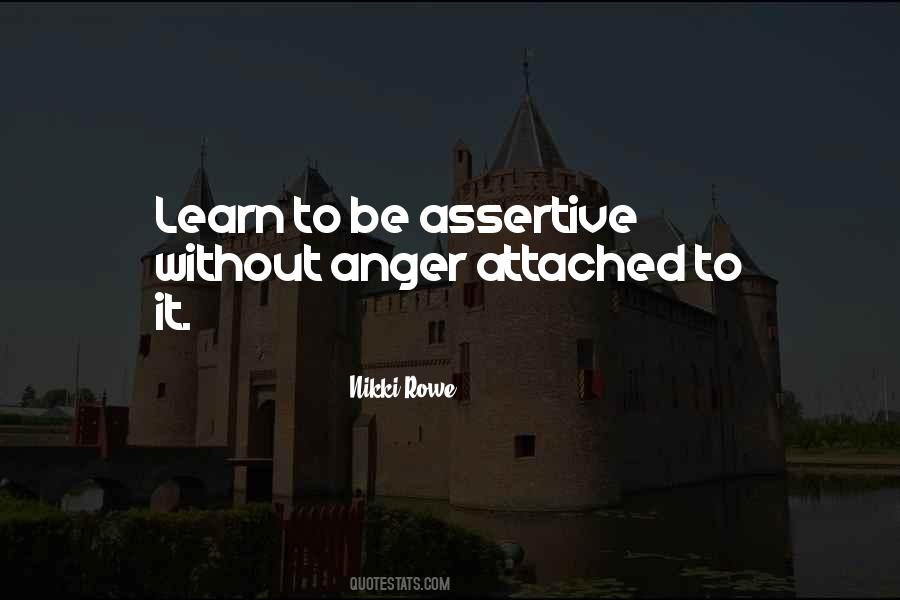 #29. As I looked at the stains on the coral, I recalled some of the eloquent phrases of politicians and newsmen about how "gallant" it is for a man to "shed his blood for his country," and "to give his life's blood as a sacrifice," and so on. The words seemed ridiculous. Only the flies benefited. - Author: Eugene B. Sledge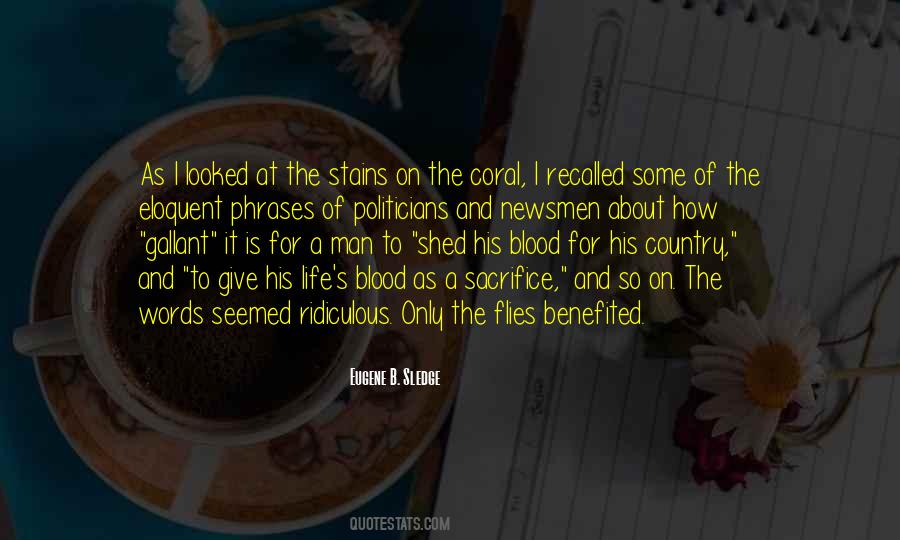 #30. Never allow anyone or anything to demise or dull your truest identity. Hurtful words and harsh judgments have no impact when your north star, your guiding light, shines from the center of your chest and beats from your own truest heart. - Author: Toni Sorenson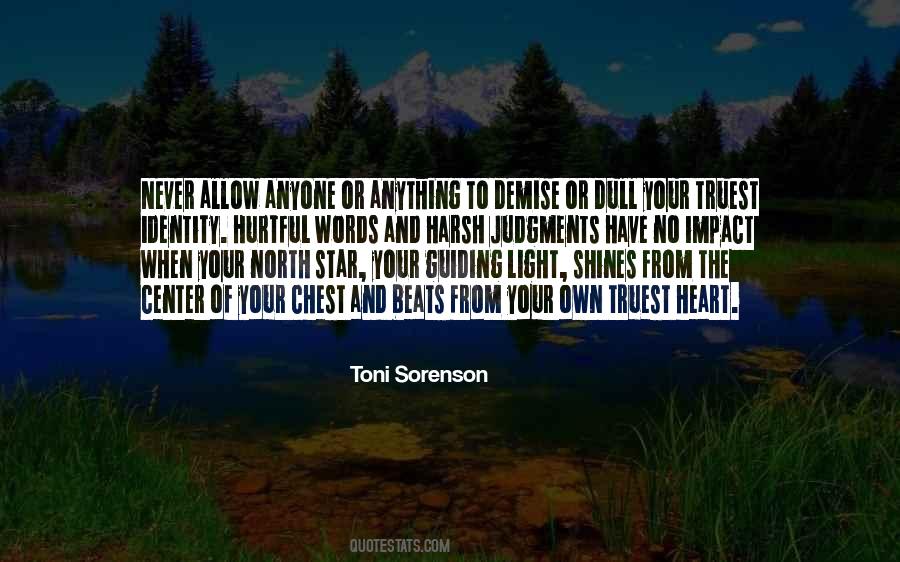 #31. Freedom is the choice to be free than to be a slave. - Author: Lailah Gifty Akita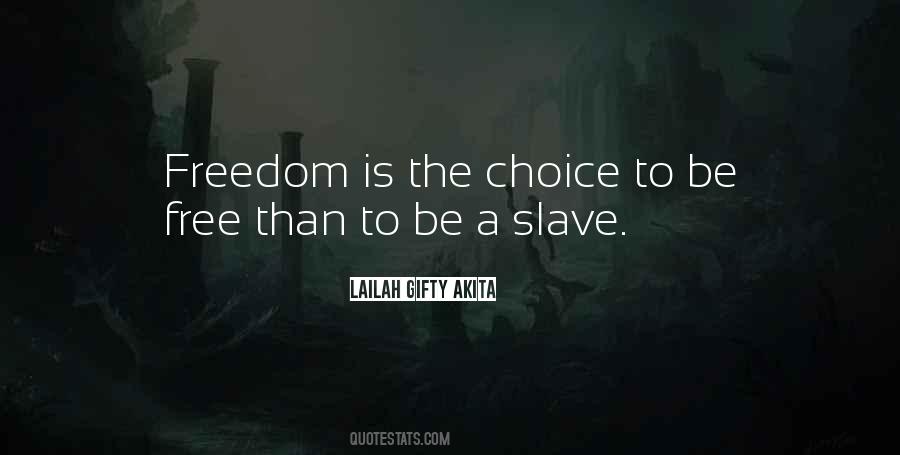 #32. You ought to stop everything and write the sacred-words as its flashes in your mind. - Author: Lailah Gifty Akita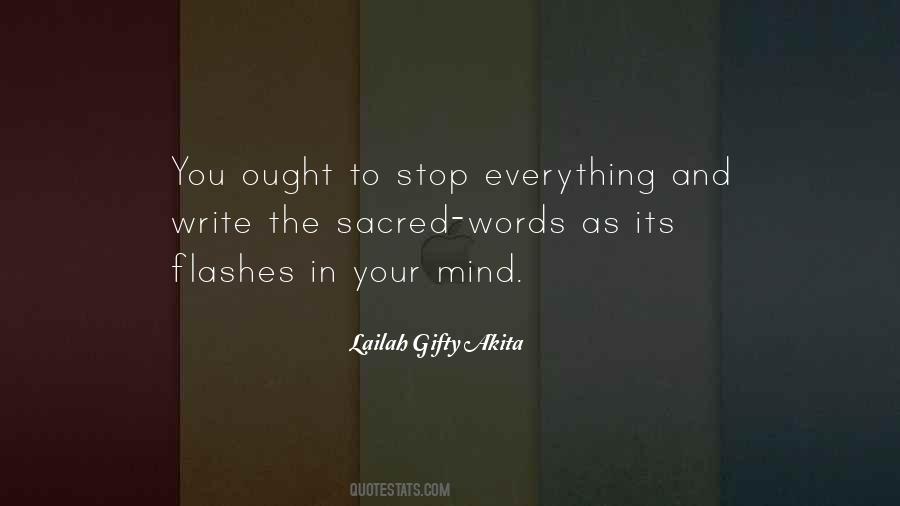 #33. Faith is an excitement and an enthusiasm: it is a condition of intellectual magnificence to which we must cling as to a treasure, and not squander on our way through life in the small coin of empty words, or in exact and priggish argument. - Author: George Sand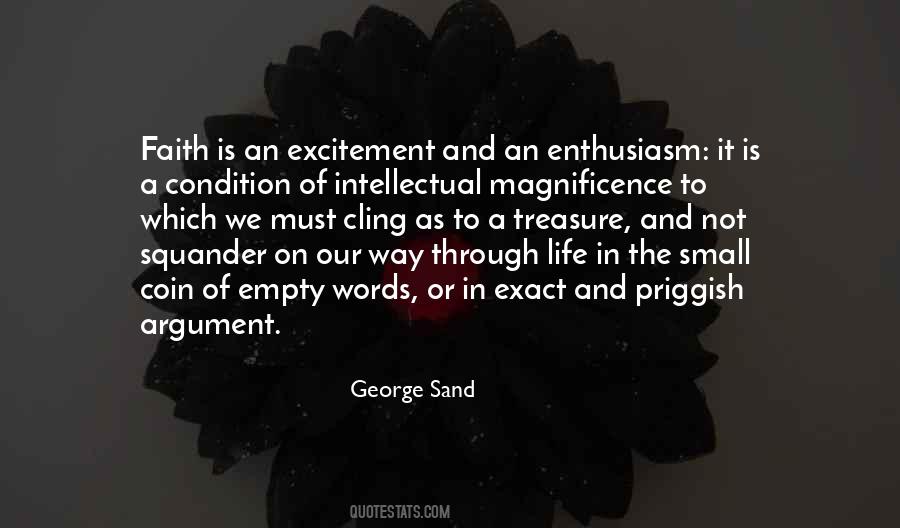 #34. Everybody wishes to have something that somebody else has. And that's the root of all sorrows. - Author: Abhijit Naskar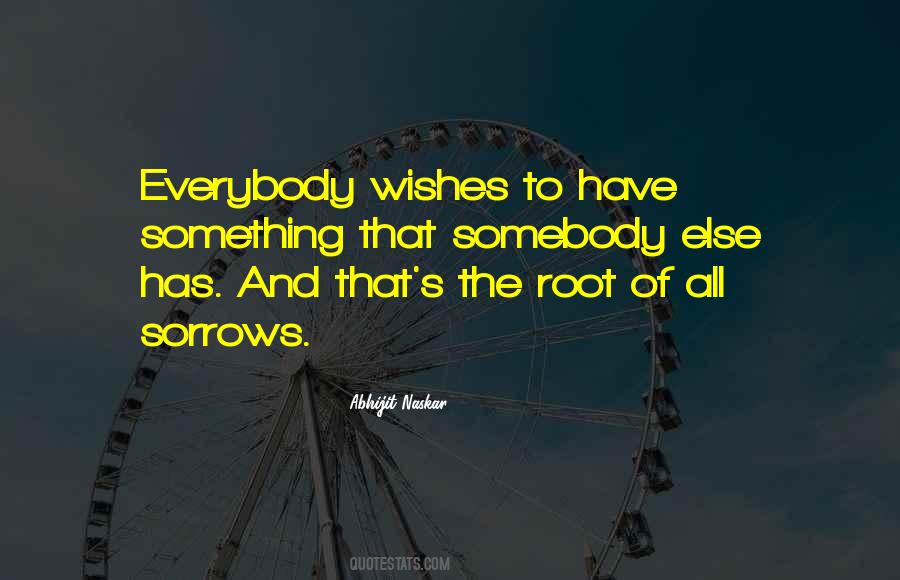 #35. This law ... defines the limits of competition in the community of life. You may compete to the full extent of your capabilities, but you may not hunt down your competitors or destroy their food or deny them access to food. In other words, you may compete but you may not wage war. - Author: Daniel Quinn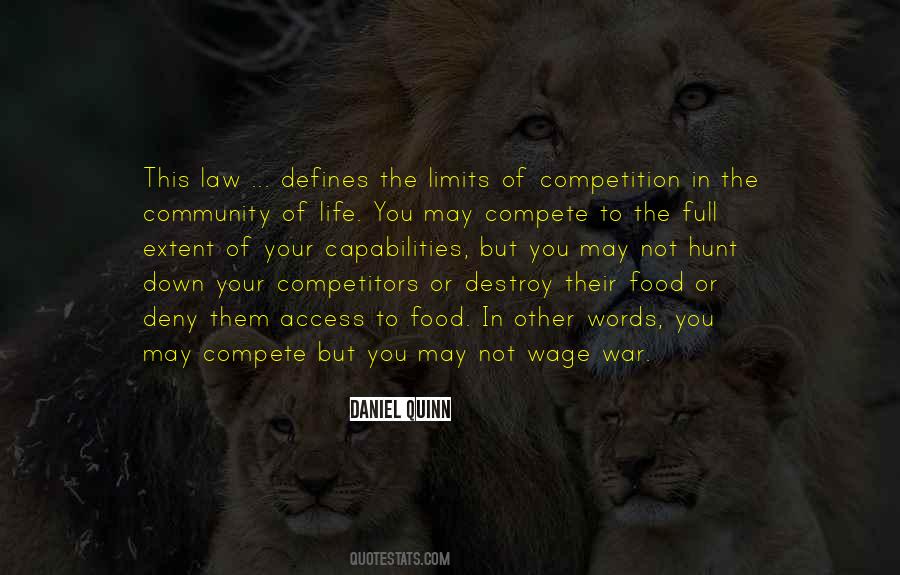 #36. It was the greatest stroke of good fortune he had ever encountered in life. In other words, he had finally worked his way up to the lowest spot on the totem pole. - Author: Haruki Murakami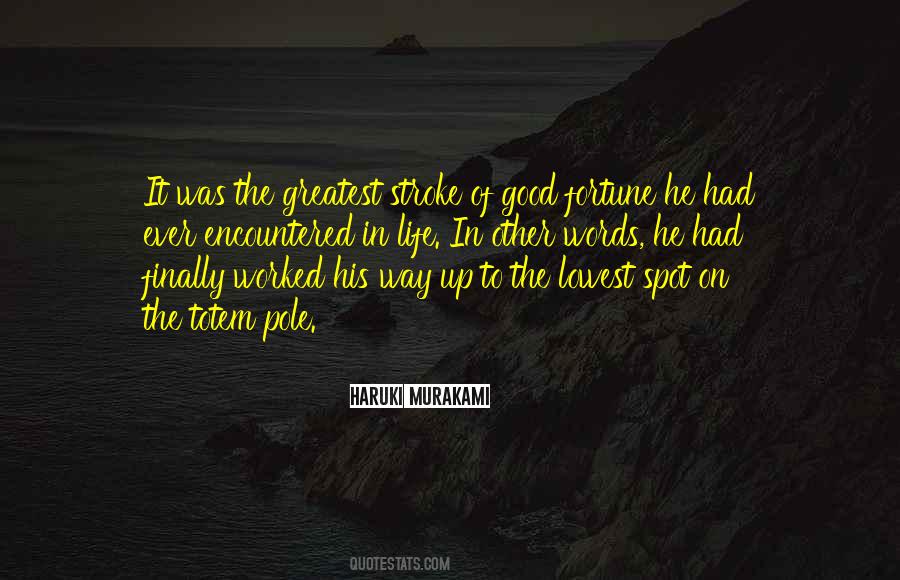 #37. After awhile you realize that putting your actions where your mouth is makes you less likely to have to put your money where your mouth is. - Author: Criss Jami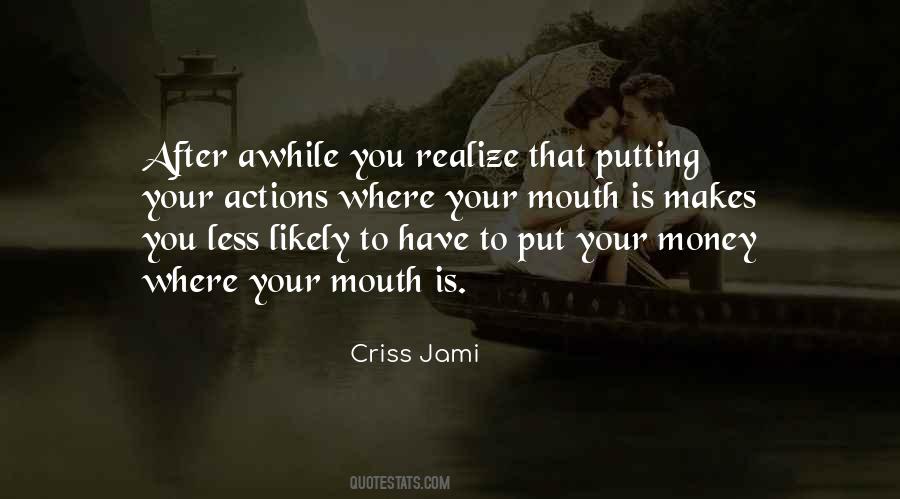 #38. Everyone ought to plant a tree in their lifetime. - Author: Lailah Gifty Akita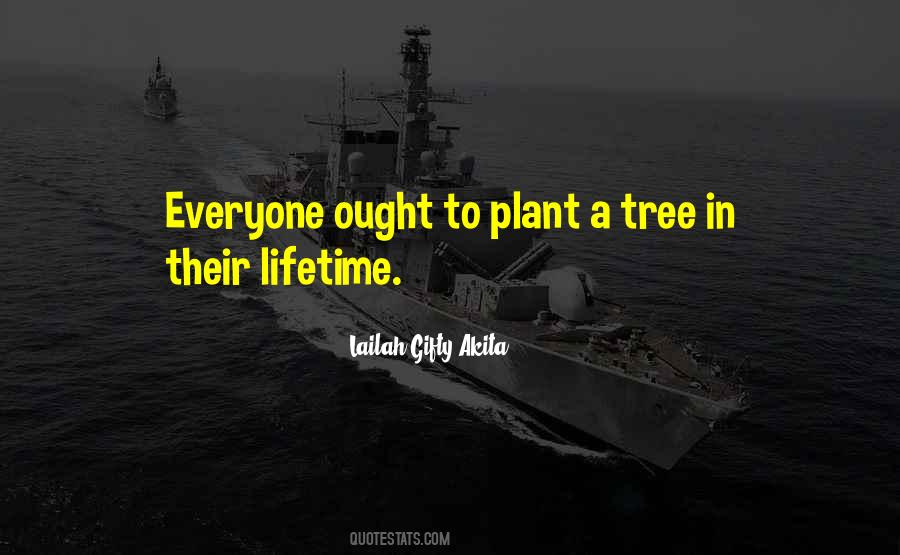 #39. If you're going to fall in love with anyone, fall in love with a writer. Allow yourself to become immortalised in words. - Author: Jamie L. Harding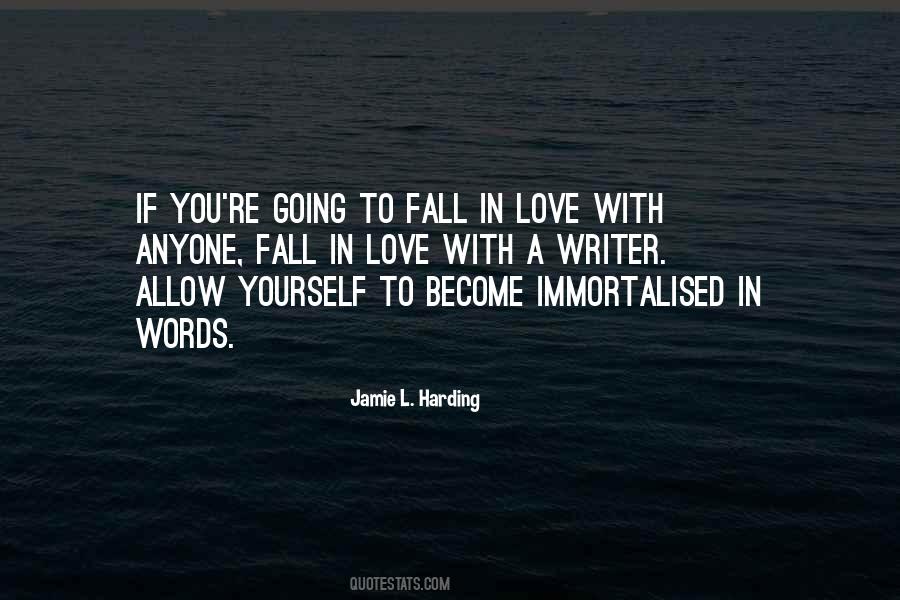 #40. When we connect to Creator, our sacred character develops. - Author: Lailah Gifty Akita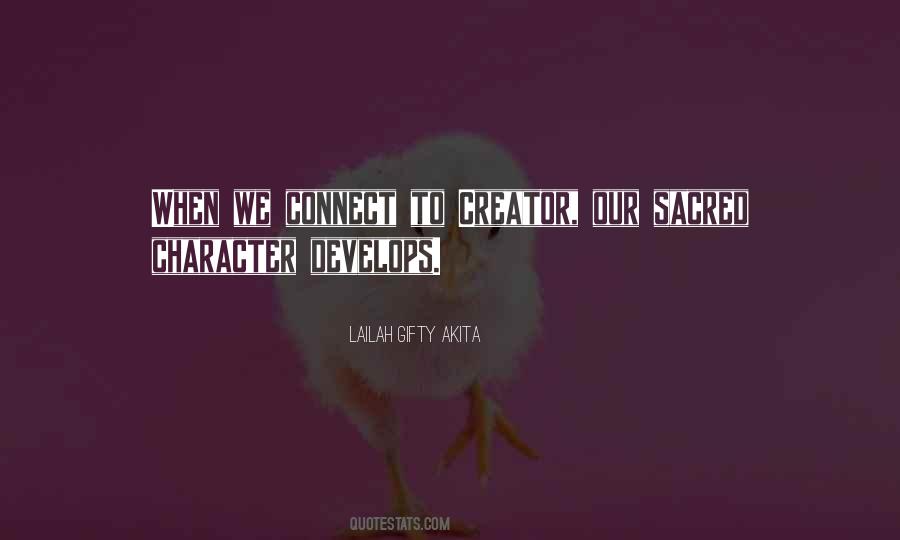 #41. To live is to wonder. - Author: Lailah Gifty Akita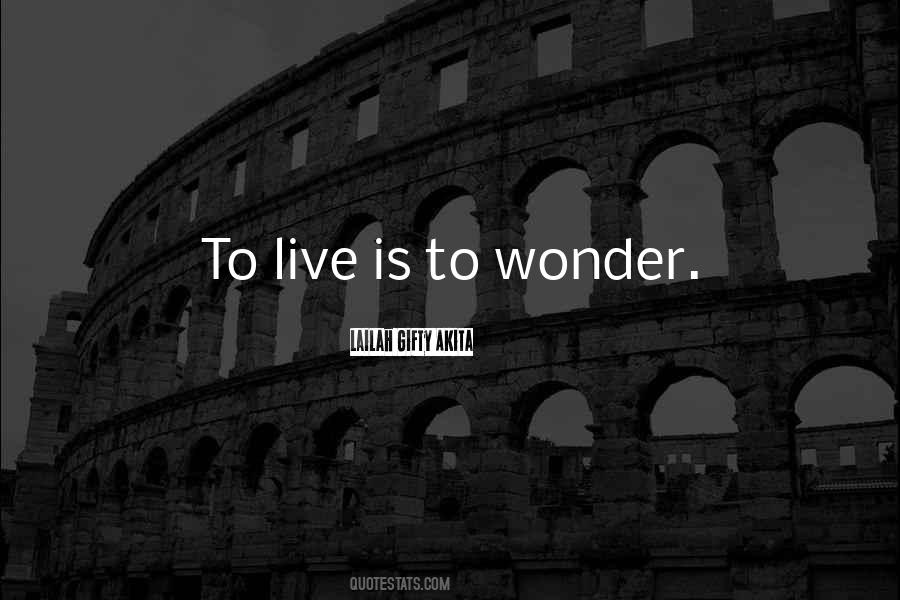 #42. I am indebted to my wife Coretta, without whose love, sacrifices, and loyalty neither life nor work would bring fulfillment. She has given me words of consolation when I needed them and a well-ordered home where #Christian love is a reality. - Author: Martin Luther King Jr.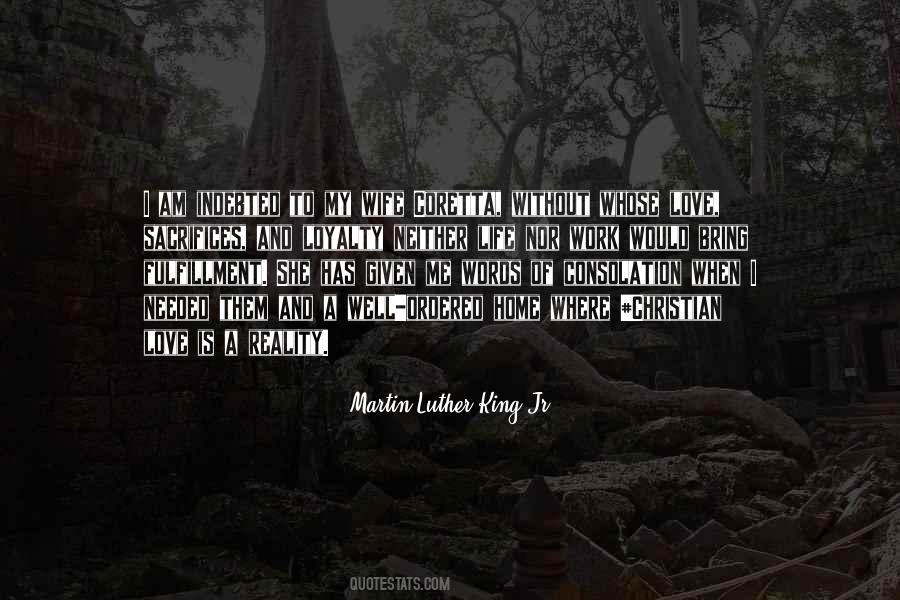 #43. I believe that life supports what supports more of life. In other words, motivation does matter. If you're just trying to take care of yourself, you're part of life and I believe life steps in and gives you a certain level of insight. - Author: Tony Robbins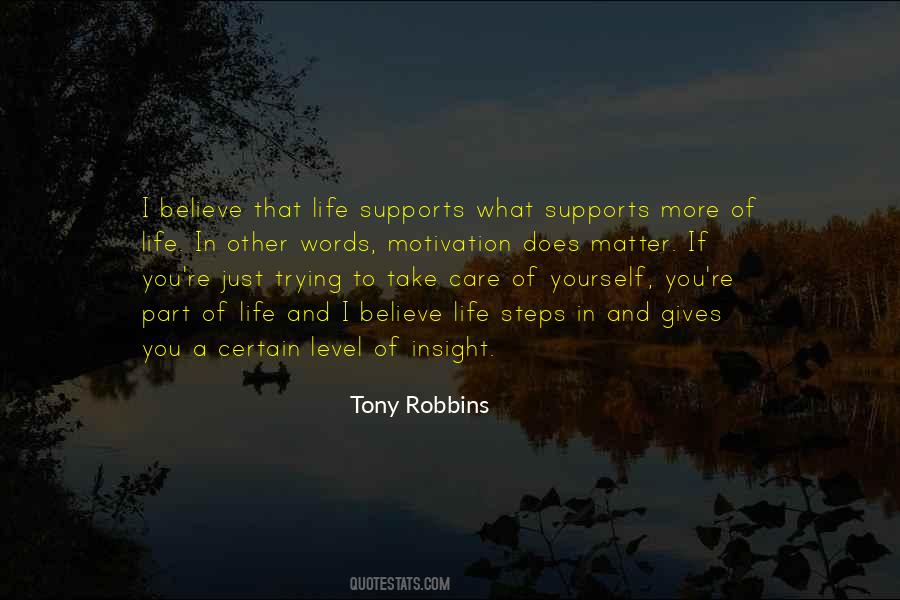 #44. His blood coursed through my veins sweeter than life itself. And as it did, Lestats words made sense to me.
I knew peace only when I killed and when I heard his heart in that terrible rhythm,
I knew again what peace could be. - Author: Anne Rice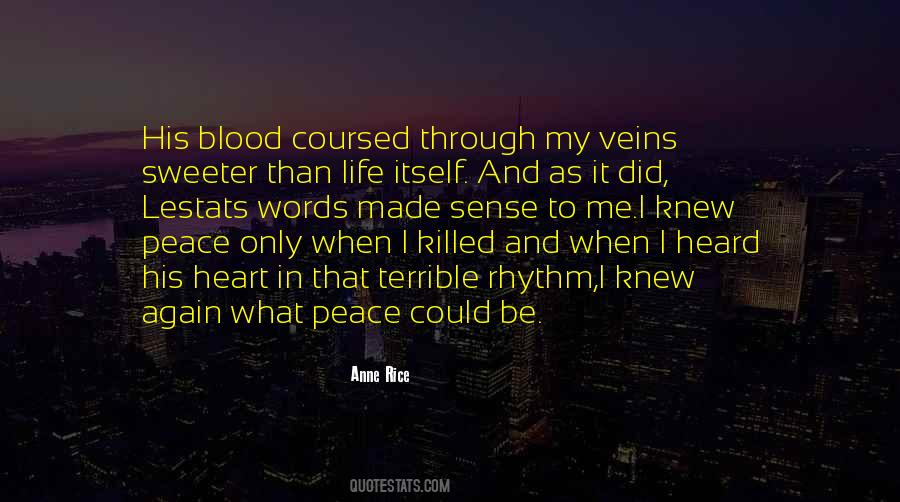 #45. Morality and religion are but words to him who fishes in gutters for the means of sustaining life, and crouches behind barrels in the street for shelter from the cutting blasts of a winter night. - Author: Horace Greeley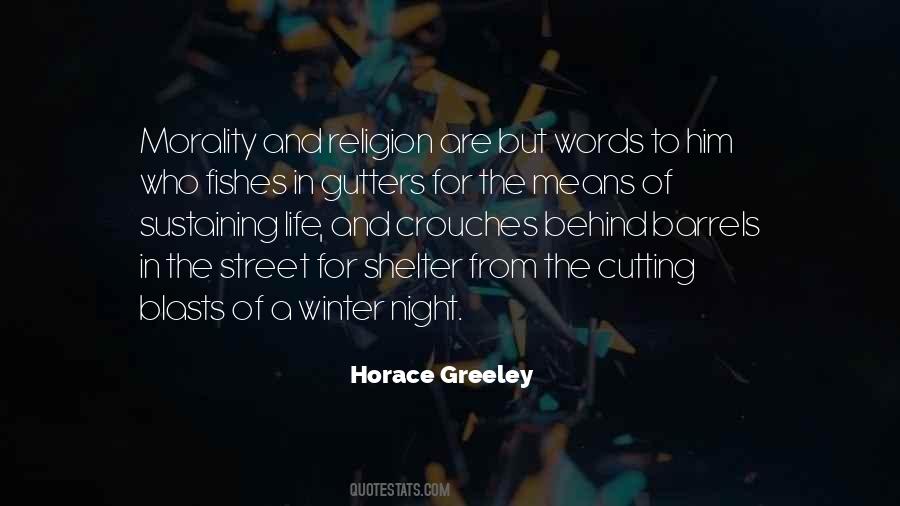 #46. To declare a thing is to possess it. - Author: Lailah Gifty Akita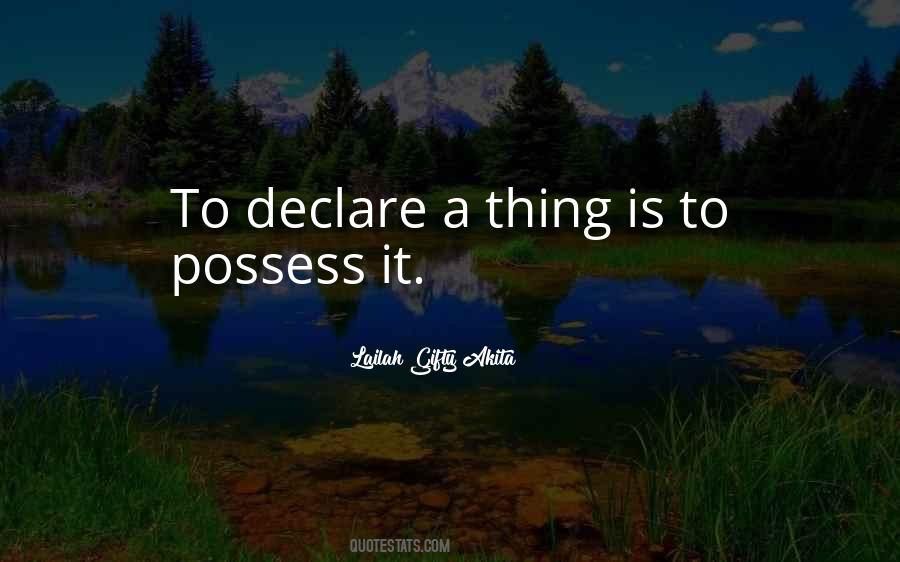 #47. At the end of the day there was nothing to be gained by reminding people that everything that had ever been written, even the greatest and most authoritative texts in the world, were about dreams, not real life, dreams conjured up by words. - Author: Orhan Pamuk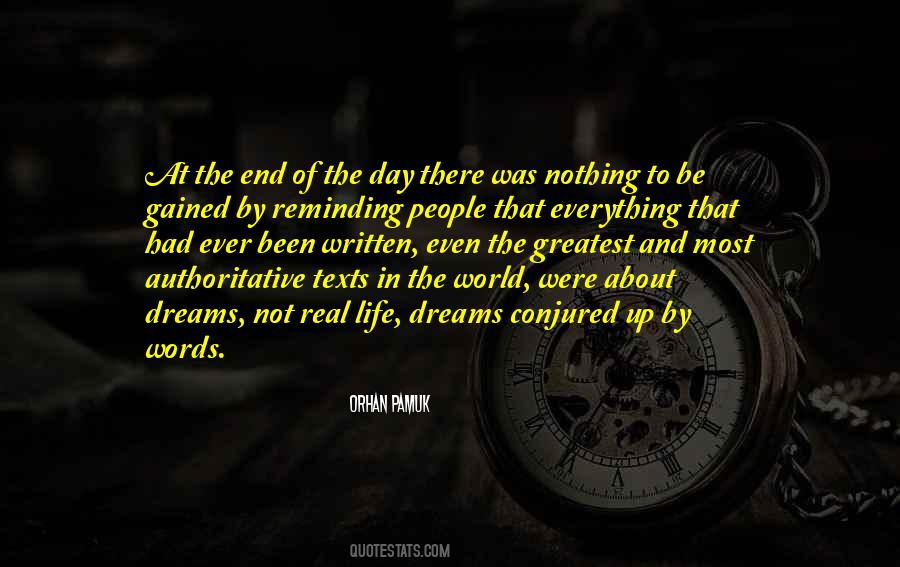 #48. The hope is what America represents to the world and has always represented - the hope for a better life and a better world. We have a duty to protect and support that hope with not just our words, but with our deeds. - Author: Paul Haggis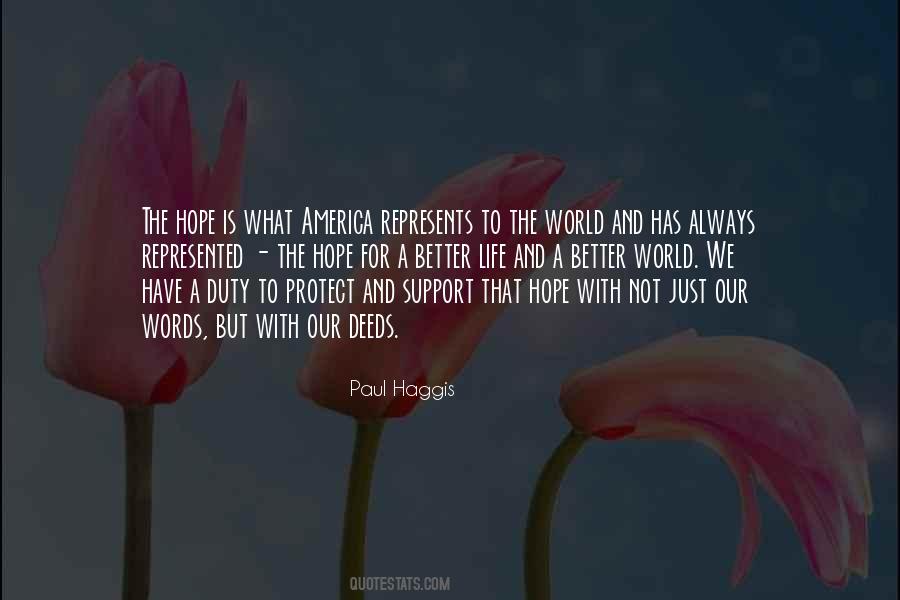 #49. To be honest with you, I don't have the words to make you feel better, but I do have the arms to give you a hug, ears to listen to whatever you want to talk about, and I have a heart; a heart that's aching to see you smile again.
lines from Love Vs Destiny ... - Author: Atul Purohit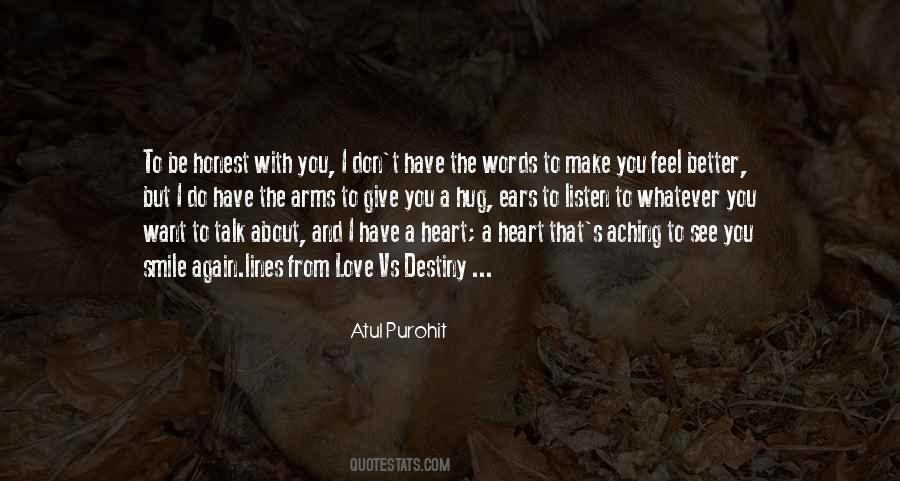 #50. We try to find something to fill our void. But it is only God who can fill the void. - Author: Lailah Gifty Akita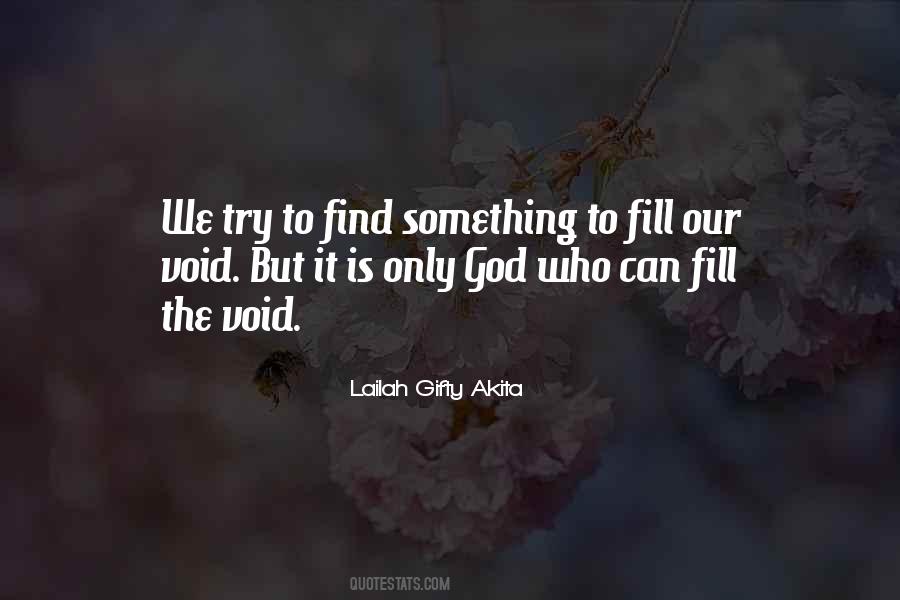 #51. HISTORY IS the life of nations and of humanity. To seize and put into words, to describe directly the life of humanity or even of a single nation, appears impossible. - Author: Leo Tolstoy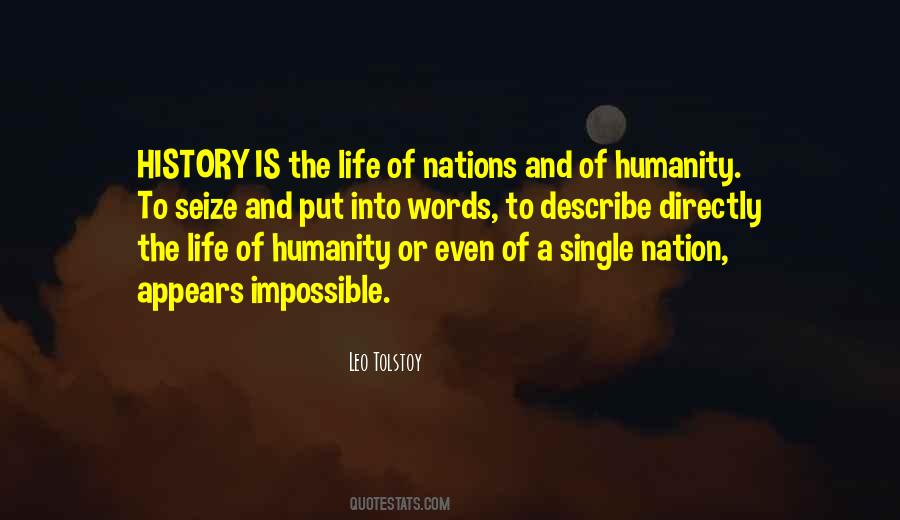 #52. Our doubts are traitors and make us
lose the good we oft might win, by fearing to attempt. In other words, a
wish is a good place to start but then you have to get off your butt and make it
happen. You have to pick up a quill and write your own damn story. (Mimi Wallingford) - Author: Suzanne Selfors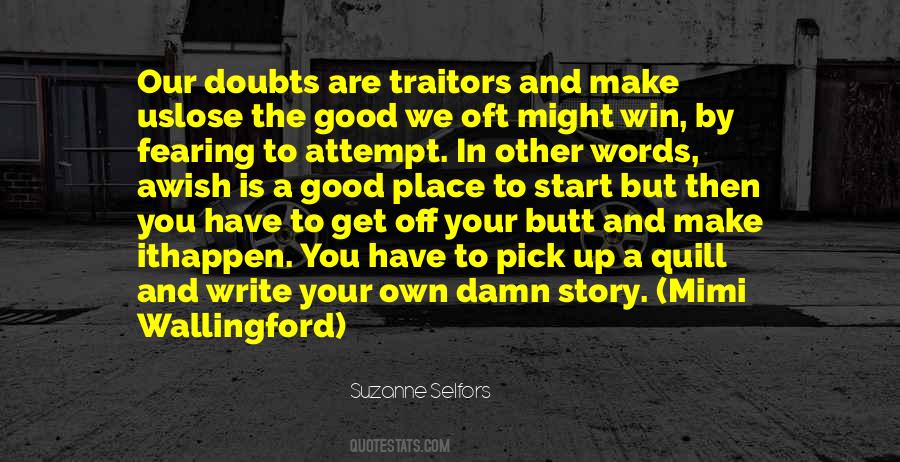 #53. Any time I sit down at my laptop to write and I'm feeling lazy, or that I can't be bothered, or if I'm generally just lacking inspiration, I sit there and remember life with my ex-wife, and the words flow from my fingertips. - Author: Shane K.P. O'Neill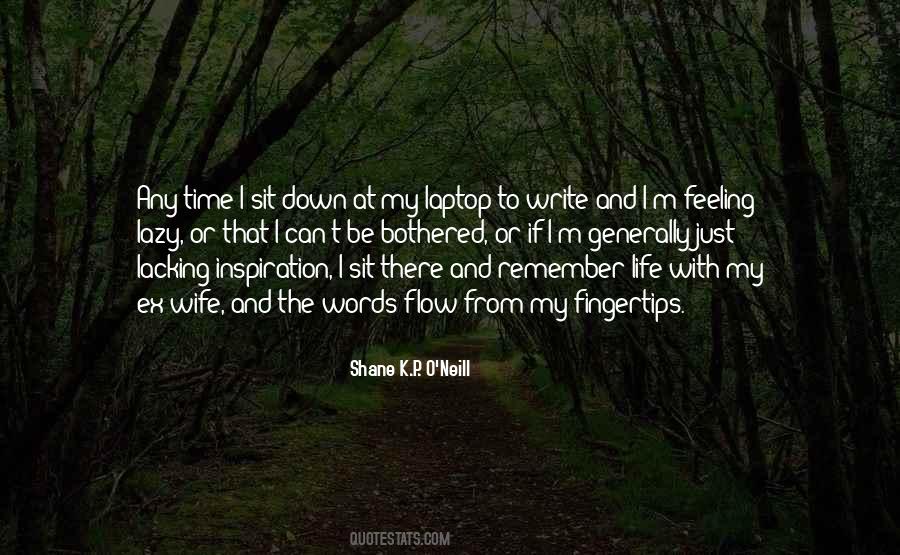 #54. Mastery of impulse is achieved through taking pauses during life's contrasting situations. Mastery of impulse is about developing strong willpower that can be used to redirect the flow of energy in any situation. Mastery of impulse is about responding to the world with a sense of reason and peace. - Author: Alaric Hutchinson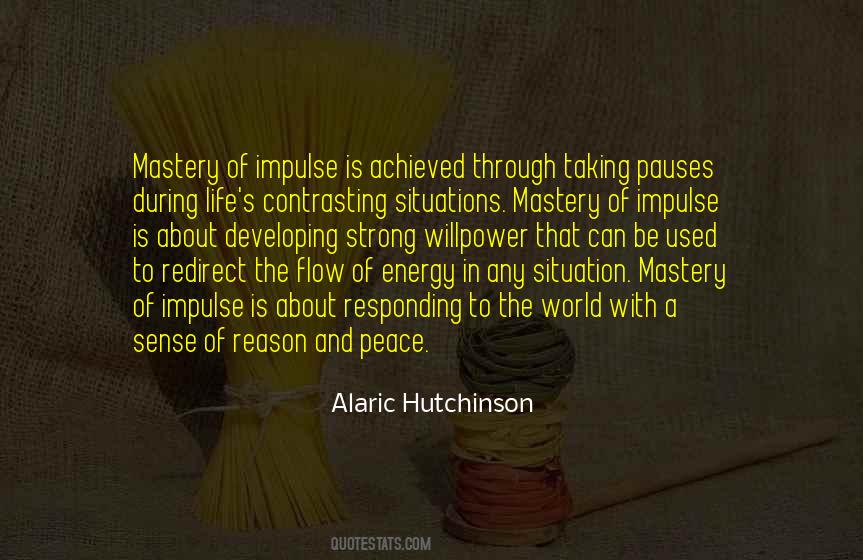 #55. There is nothing to lose in life. Be courageous! - Author: Lailah Gifty Akita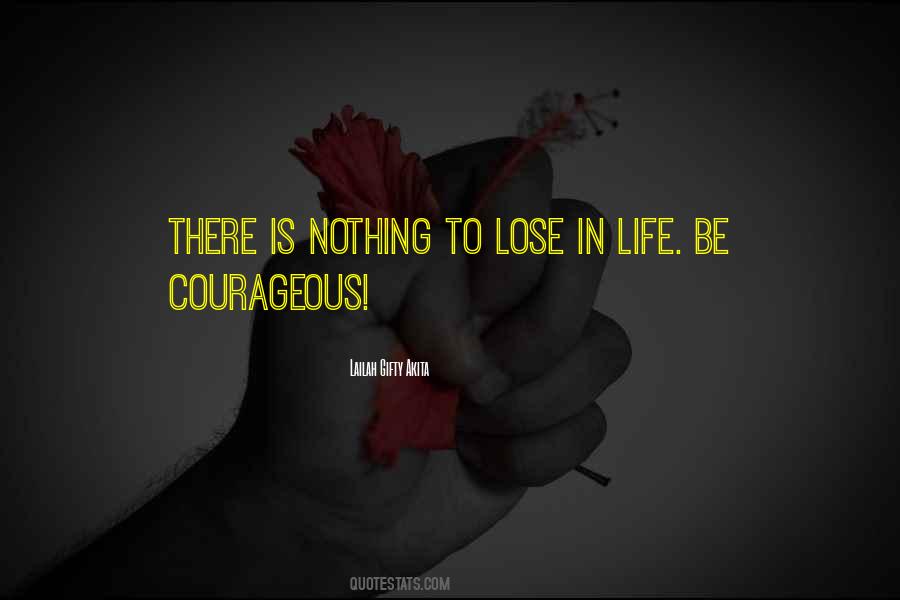 #56. Read the Scripture to renew your mind.
Mediate on the Scripture to nourish your soul.
Affirm the Scripture to revive your spirit - Author: Lailah Gifty Akita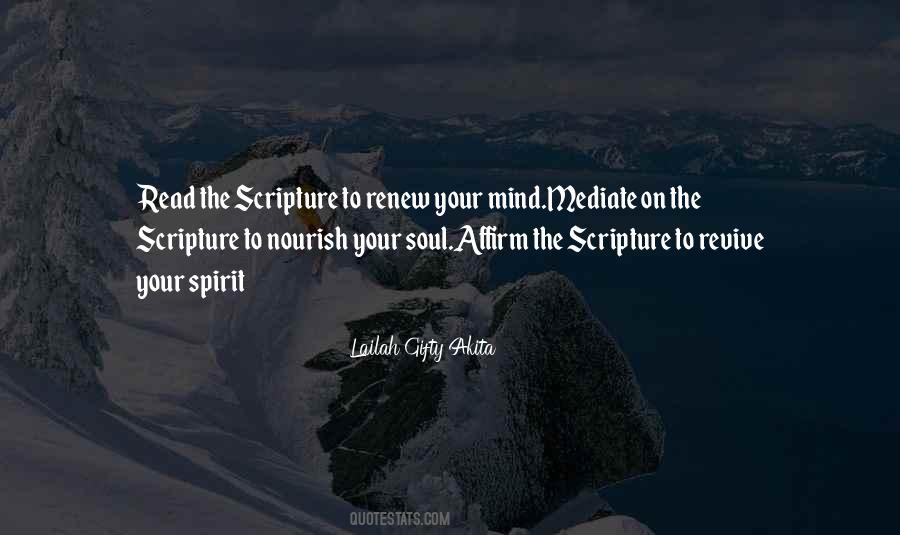 #57. Sometimes life may look complicated than it is, but you'll have to play it just the way it is and make it proper, the way you would wish it to be in your own words. - Author: Auliq Ice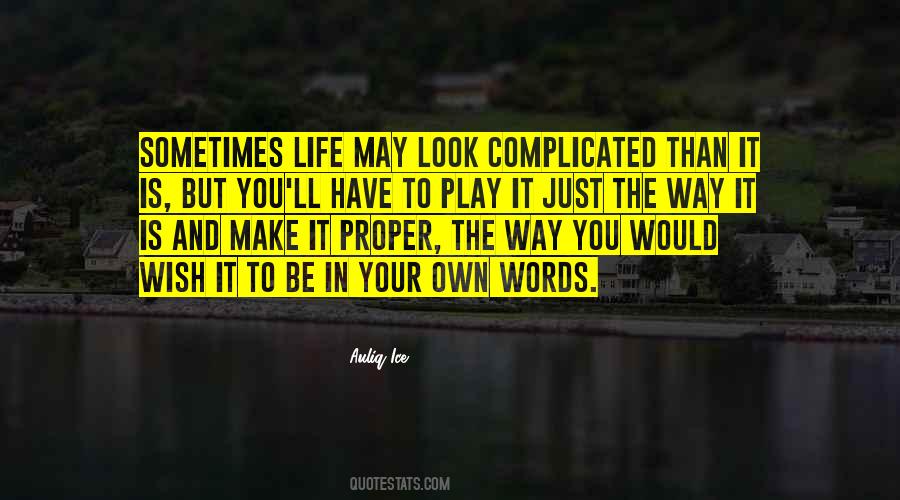 #58. We write to rekindle the inner spirit. - Author: Lailah Gifty Akita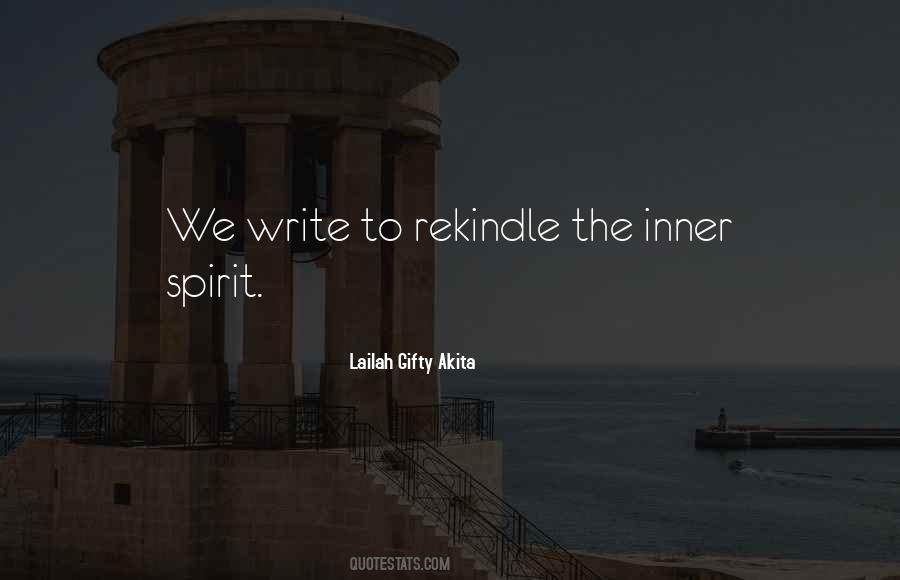 #59. My river of words and her silence seemed to demonstrate that my life was splendid but uneventful, which left me time to write to her every day, while hers was dark but full - Author: Elena Ferrante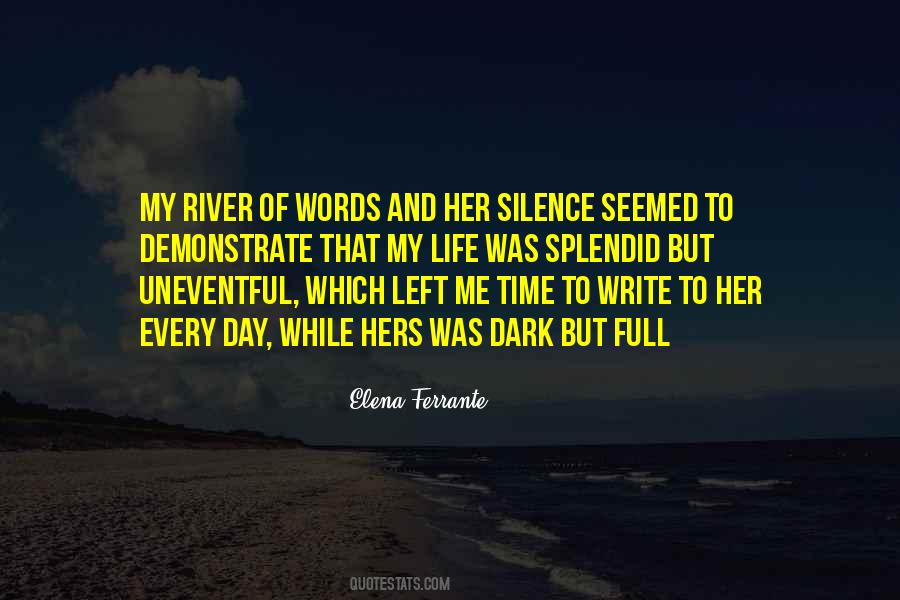 #60. Empty hands held high
such a small sacrifice
if not joined with my life, i sing in vain tonight
may the words i say, and the things i do
make my lifesong sing to you
Let my lifesong sing to you ... - Author: Casting Crowns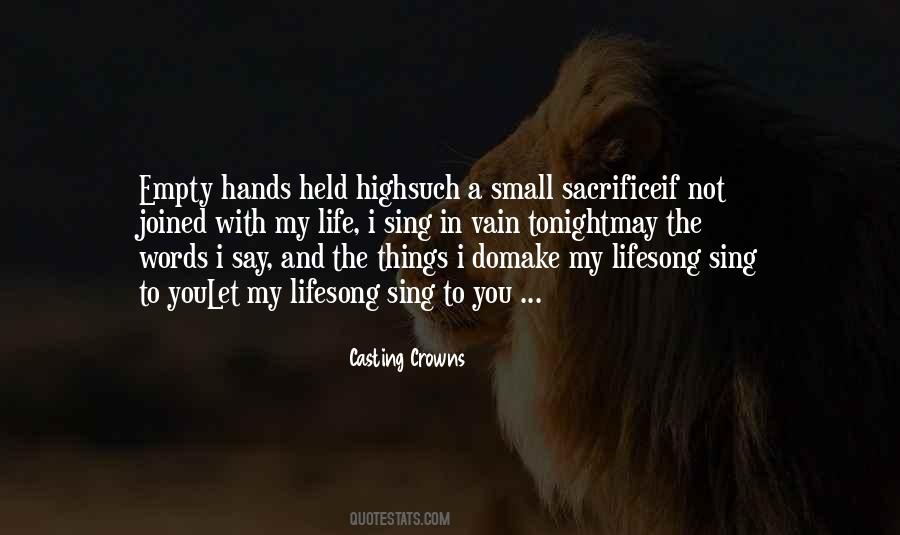 #61. God accentuate our mind with exact words to write. - Author: Lailah Gifty Akita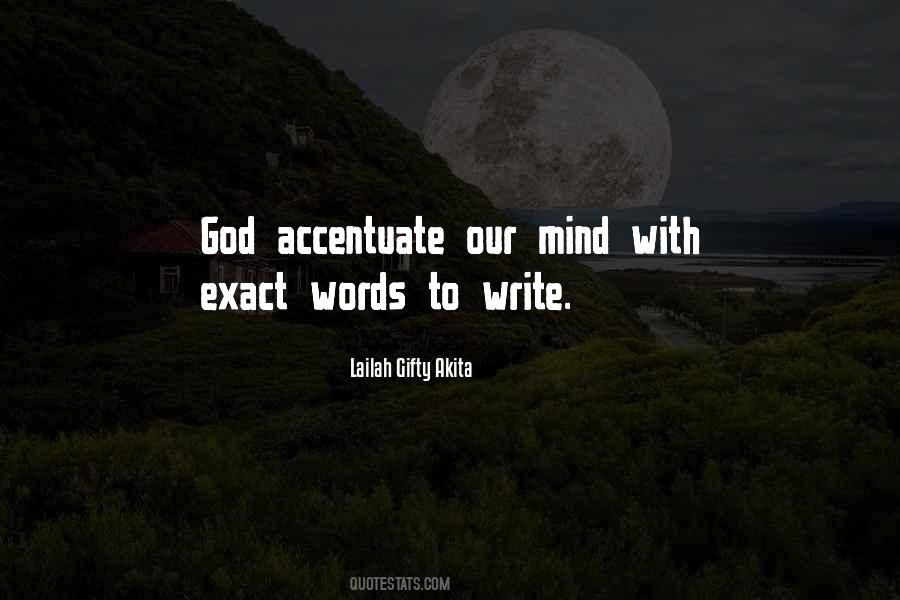 #62. 'Give up ... it's time to quit,' I don't think I've ever really accepted those kinds of words in my life or vocabulary. - Author: Willie Aames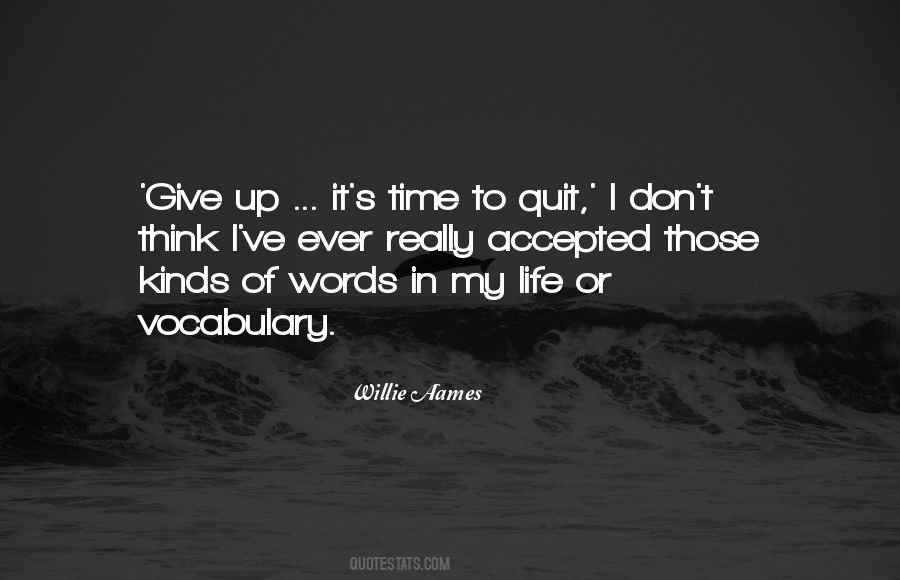 #63. I took on a year of reading books for a reason. Because words are witness to life: they record what has happened, and they make it all real. Words create the stories that become history and become unforgettable. Even fiction portrays truth: good fiction is truth. - Author: Nina Sankovitch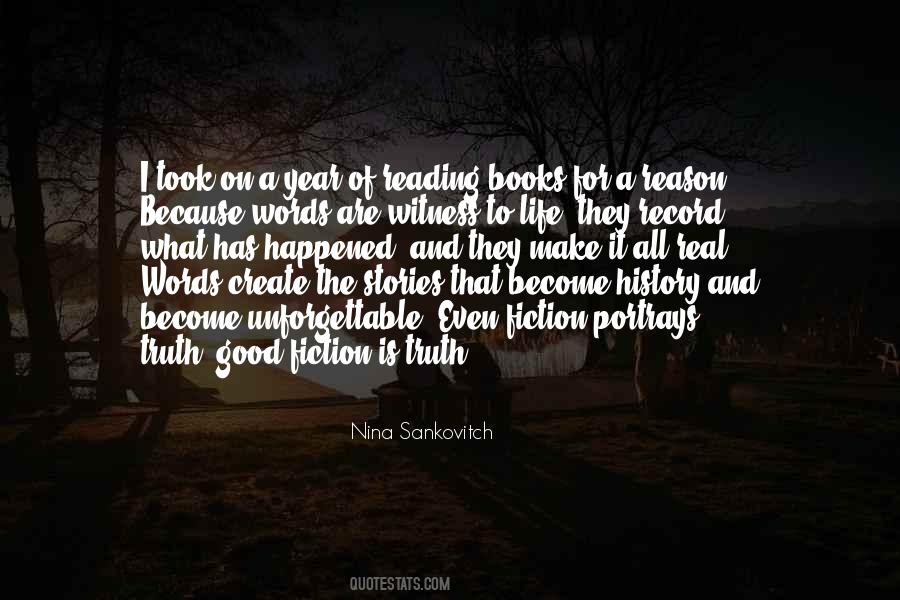 #64. Life is foggy; always try to see what lies behind the fog! - Author: Mehmet Murat Ildan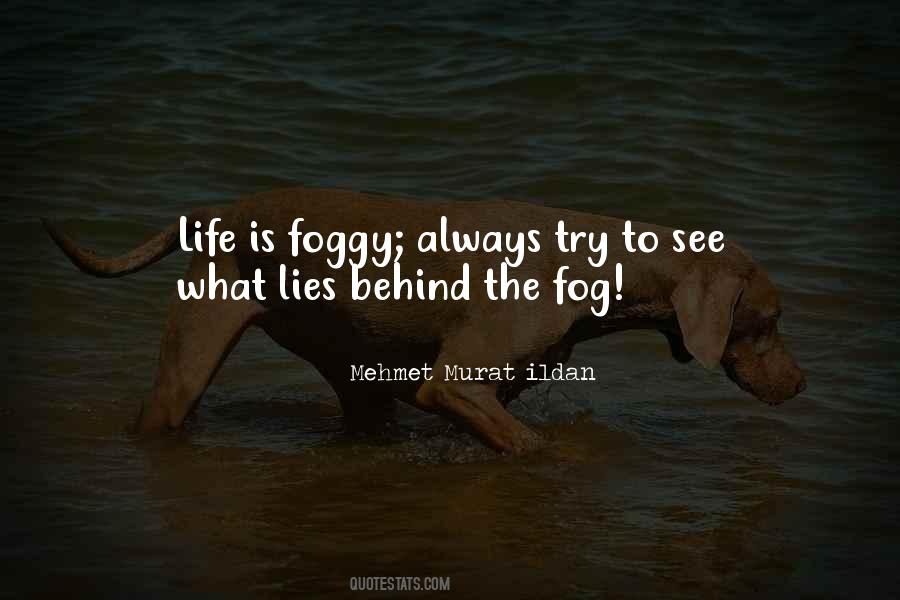 #65. We can only be enlightened to the meaning of wise words
only and only if life have put and made us requiring them. - Author: Toba Beta
#66. ...every day we fill up with anxiety just makes life much harder than it needs to be." Those are words I need tattooed to my forehead! - Author: John I. Snyder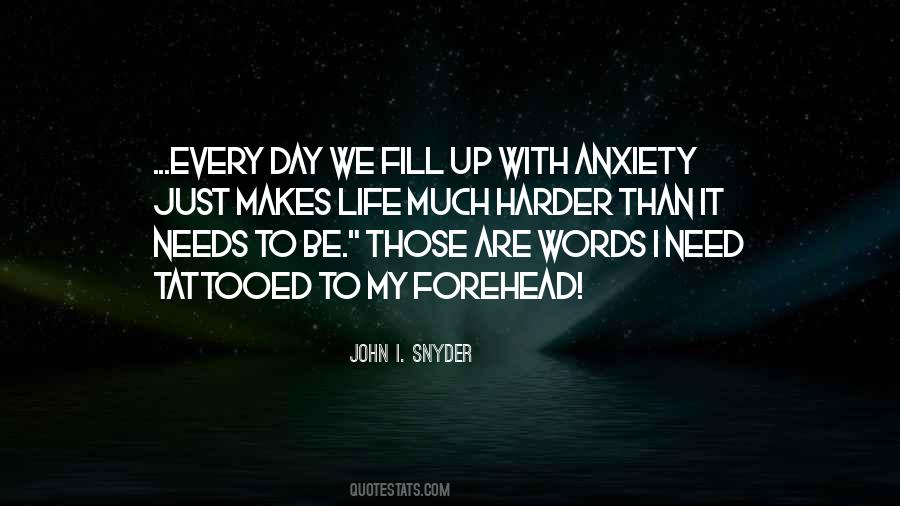 #67. The thrill of seeing my words on a printed page has never faded. Now I've found my niche, my passion. I want to do this every day for the rest of my life. - Author: Marion Smith Collins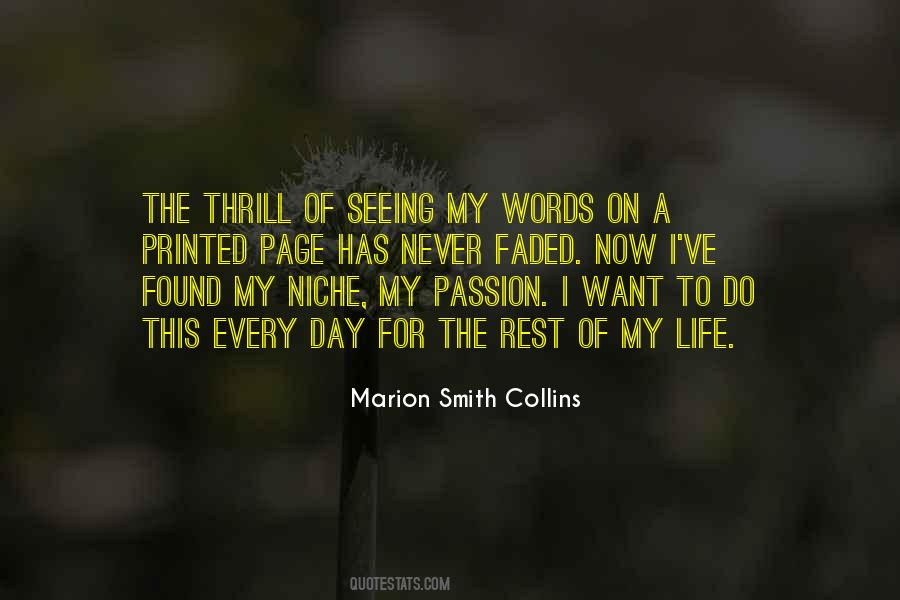 #68. Sometimes, we can't help but to shed tears! - Author: Lailah Gifty Akita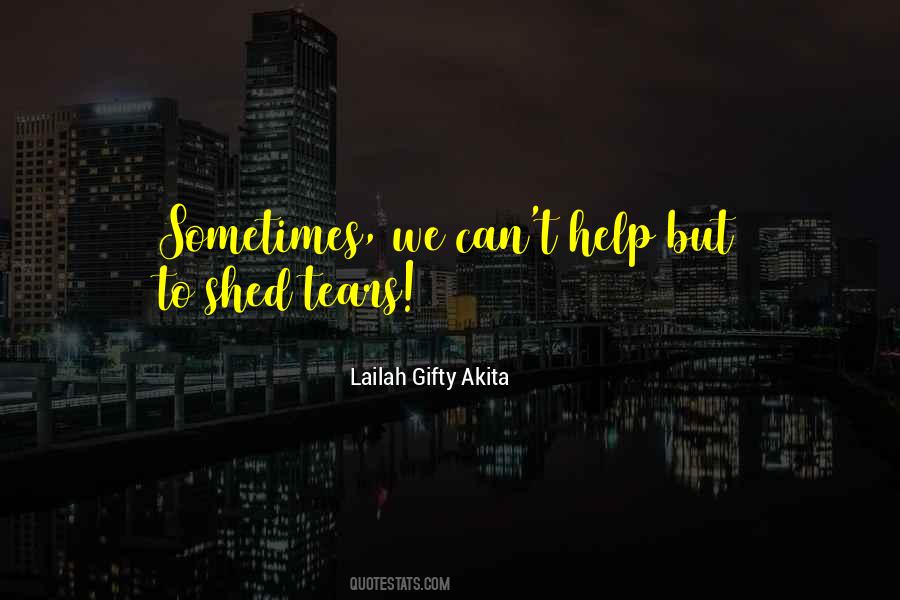 #69. Prove to the world that you are alive, let your words breathe life into the nostrils of the universe. - Author: Michael Bassey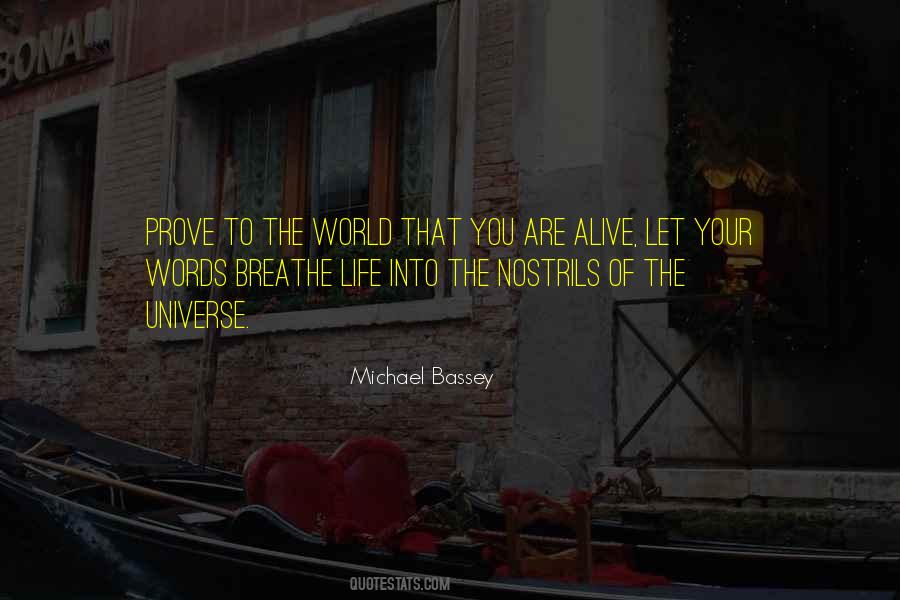 #70. We must give each other the chance to change. - Author: Lailah Gifty Akita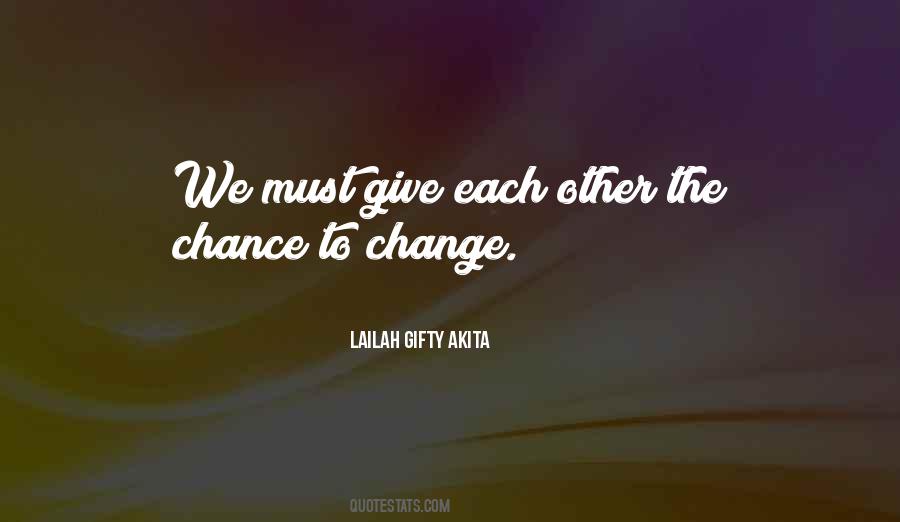 #71. Emphasis must be put on learning: there is no substitute to education. It can be briefly formulated in a few words: always, whatever you do in life, think higher and feel deeper. - Author: Elie Wiesel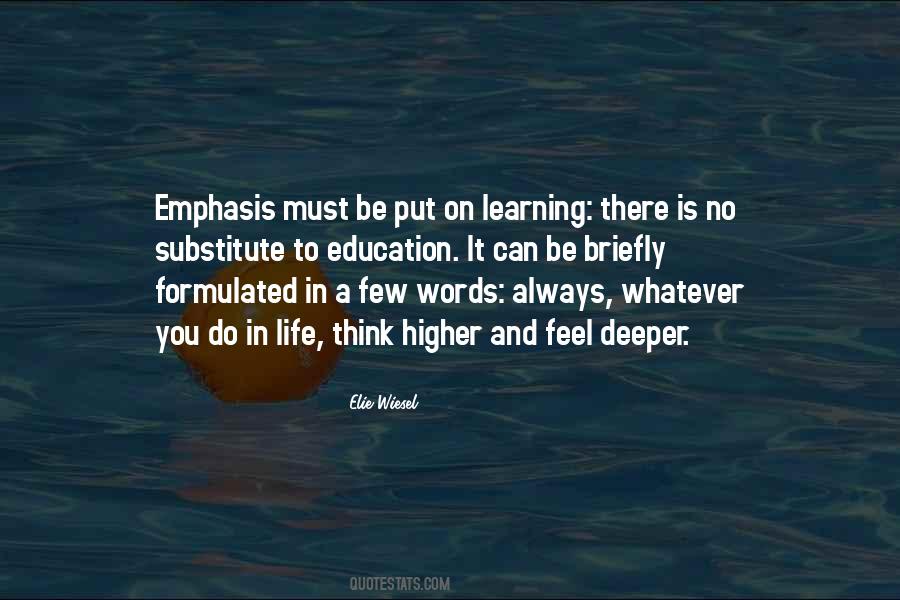 #72. We cannot keep to ourselves the words of eternal life given to us in our encounter with Jesus Christ: they are meant for everyone, for every man and woman ... It is our responsibility to pass on what, by God's grace, we ourselves have received. - Author: Pope Benedict XVI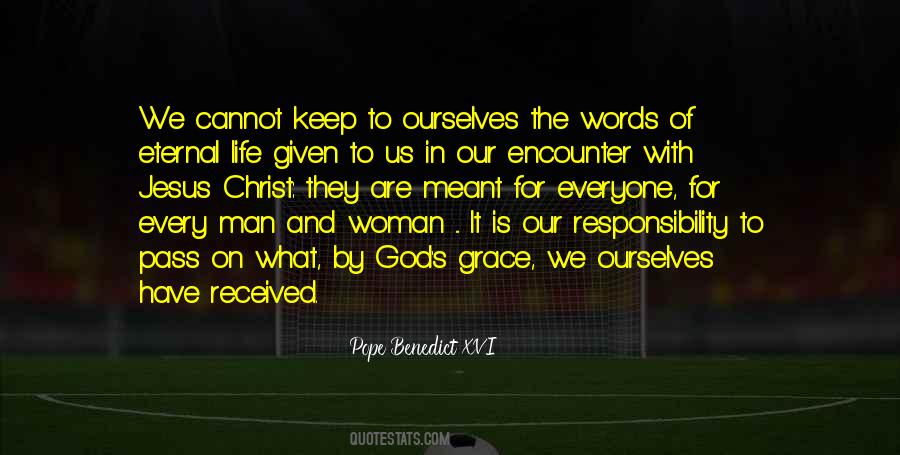 #73. The fourth cat stepped forward; Yellowfang didn't know his name. He was a skinny gray tom, and he studied Brokentail carefully before he spoke. I give you a life for truth. Without it, kin is set against kin, Clan against Clan. Hold fast to truth in all your dealings and let it guide your words. - Author: Erin Hunter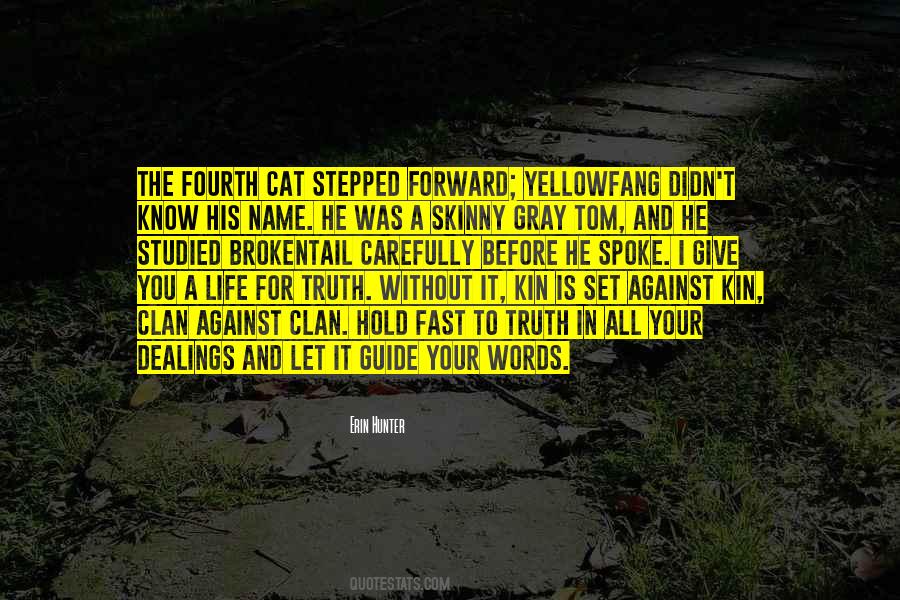 #74. Trying to write about love is ultimately like trying to have a dictionary represent life. No matter how many words there are, there will never be enough. - Author: David Levithan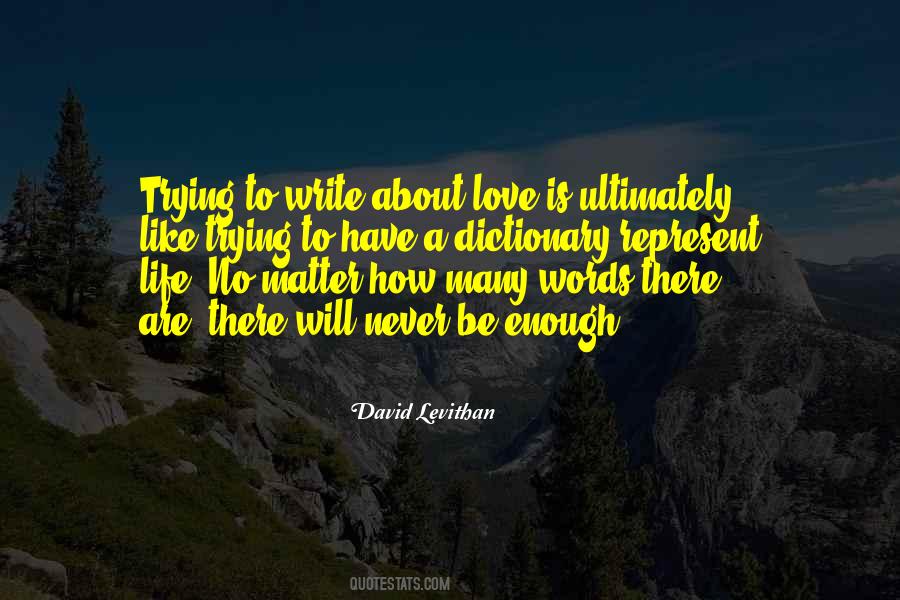 #75. You know, I like to think my life is kind of like the books I read, only I'm the author. I can write the story I want. The future can be anything I want it to be." He moved his head side to side, considering my words. "That works, as long as your story has a blond stud that fucks like an animal. - Author: Adriana Locke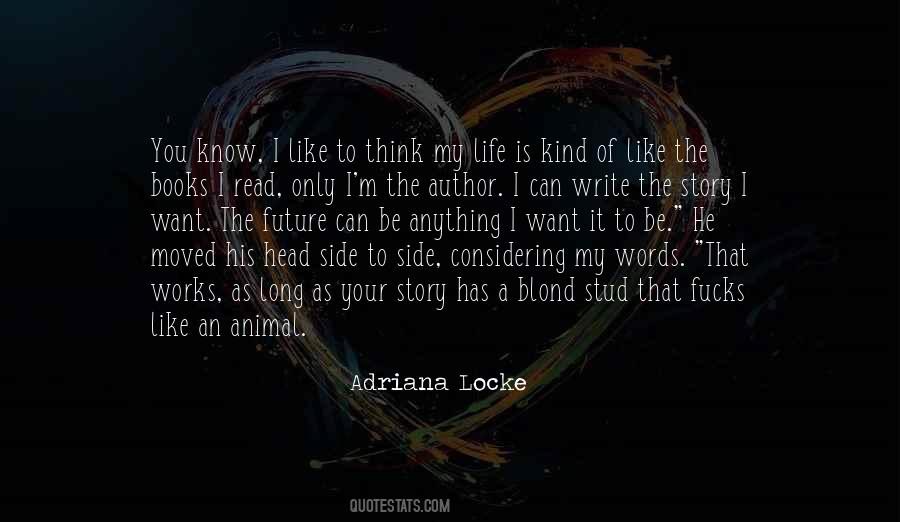 #76. Your words contain great power. So declare that you will prosper despite every difficulty that you may encounter in your life. You are not here just to survive ... So overcome and thrive! - Author: Timothy Pina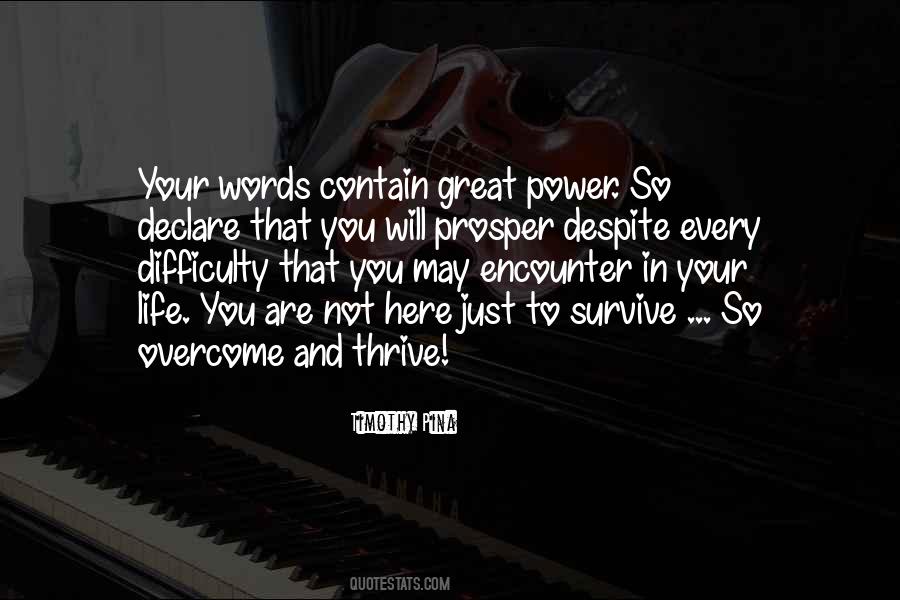 #77. Truth will keep on telling the truth
Lies will lie to be more uncouth
No more rainbow after the storm
Nowhere to escape leaving the norm - Author: Munia Khan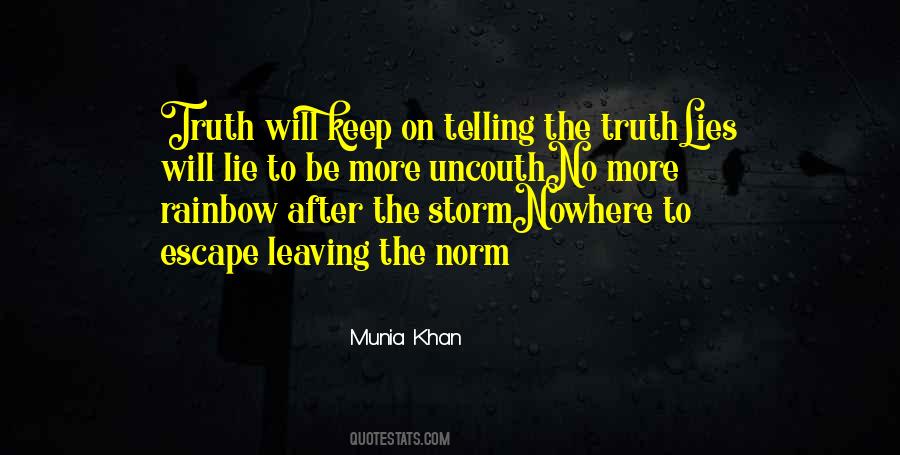 #78. Comedians are innately programmed to pick up oddities like mispronounced words, upside-down books on a shelf, and generally undetectable mistakes in everyday life. - Author: Bob Newhart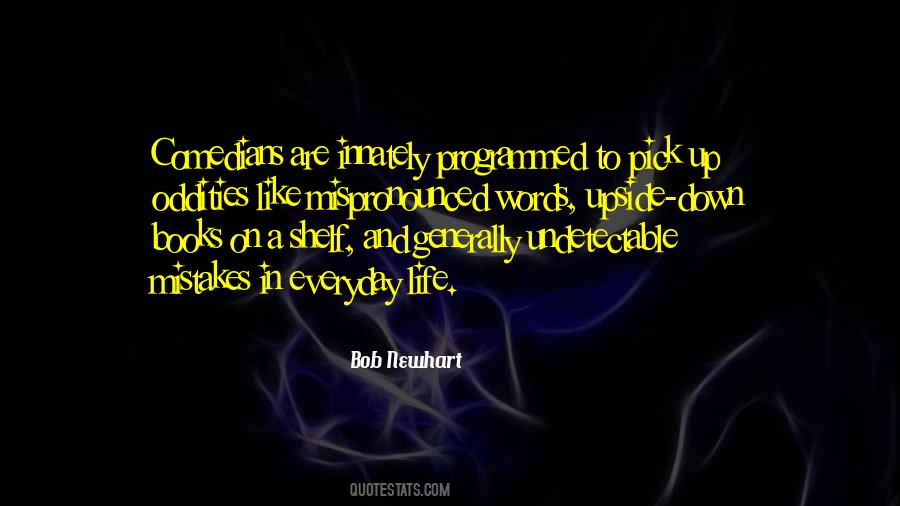 #79. Remember my words: Be truthful, be kind to one another, and you will attain peace. We will meet again in another life. - Author: Jeanne M. Lee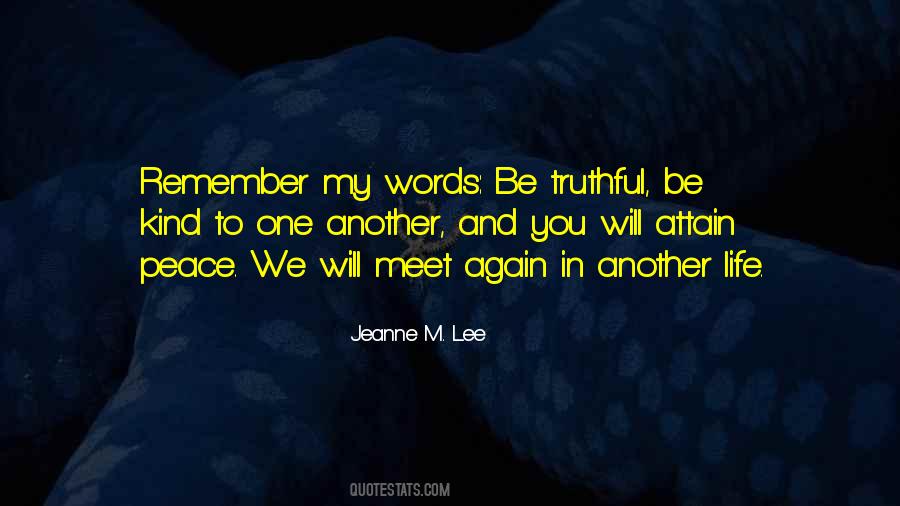 #80. The actual life of a thought lasts only until it reaches the point of speech ... As soon as our thinking has found words it ceases to be sincere ... When it begins to exist in others it ceases to live in us, just as the child severs itself from its mother when it enters into its own existence. - Author: Arthur Schopenhauer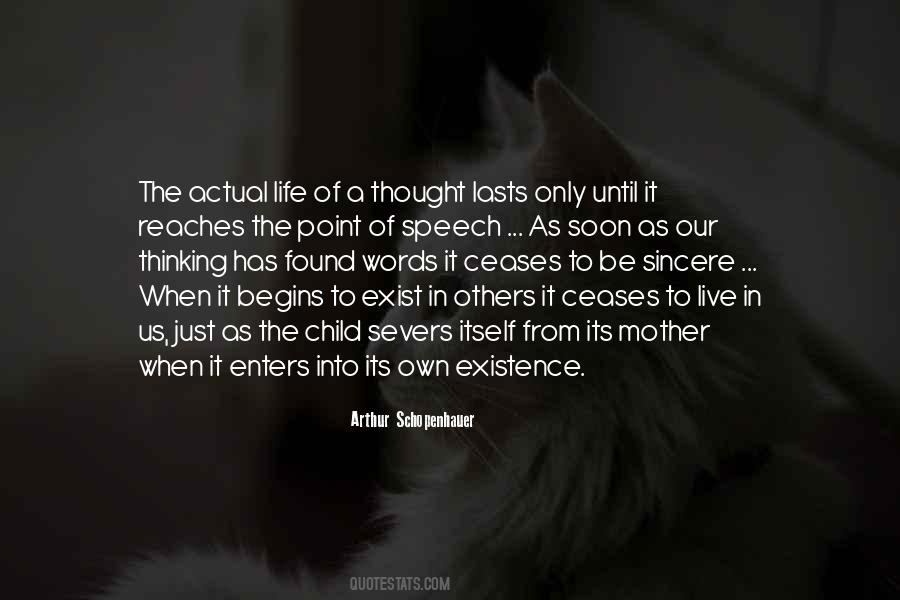 #81. Man's right to life means his right to have the free and unrestricted use of all the things which may be necessary to his fullest mental, spiritual, and physical unfoldment or, in other words, his right to be rich. - Author: Wallace D. Wattles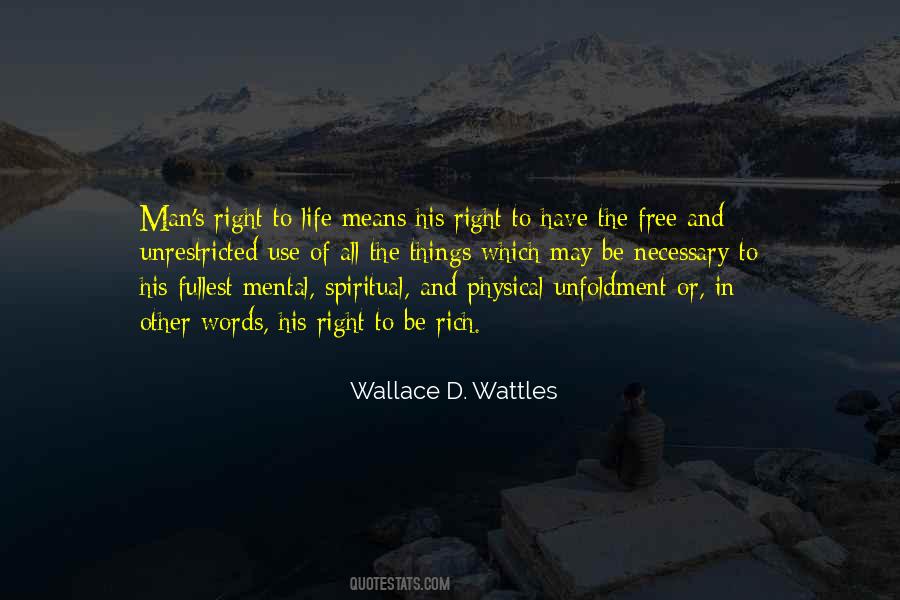 #82. Your love, your facial expression, your spirit and your words to the wise is my fervency: special for my mom and dad - Author: S. Ikom Afriani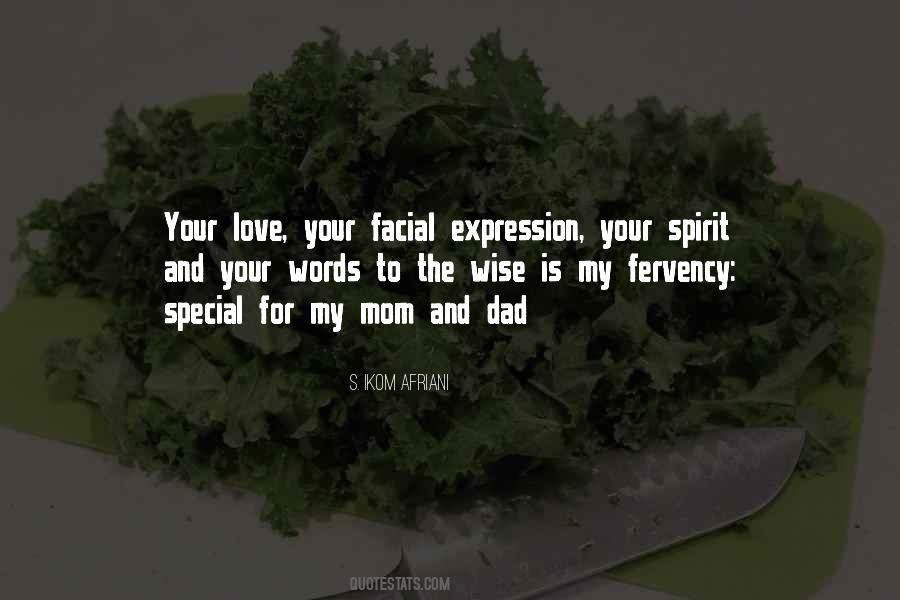 #83. The truth remains that, after adolescence has begun, "words, words, words," must constitute a large part, and an always larger part as life advances, of what the human being has to learn. - Author: William James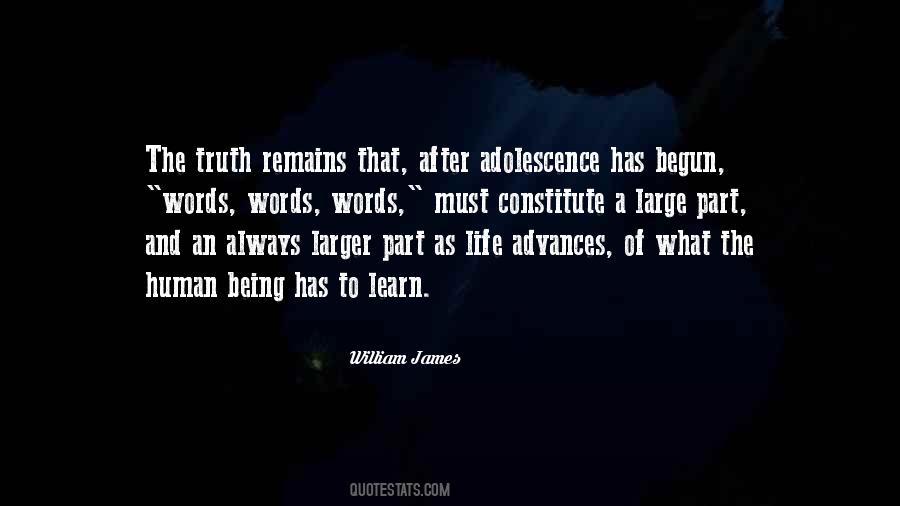 #84. When you really want to help someone, express your love. With kind words, touch their heart and give a sincere compliment. - Author: Debasish Mridha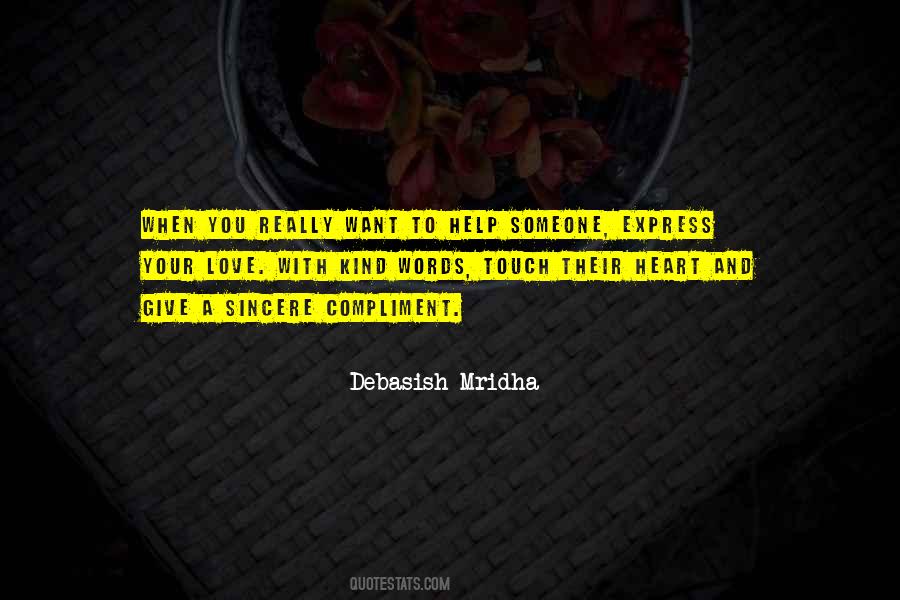 #85. If you are standing in one place waiting for something to change, you may be there for a while. You've got to move. Step up and take a swing. Make something happen - Author: Amaka Imani Nkosazana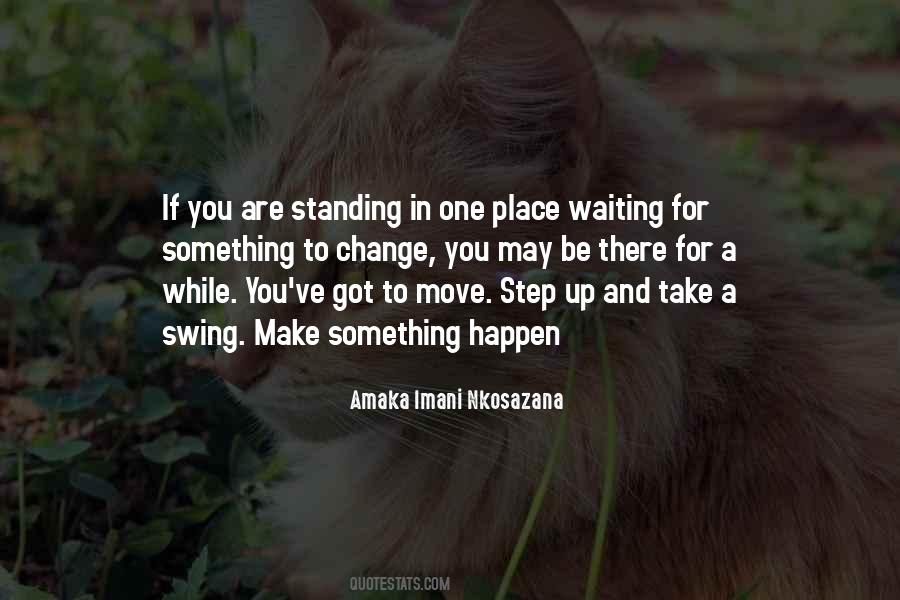 #86. The truth is we never stop being children, terrible children covered in sores and knotty veins and tumors and age spots, but ultimately children, in other words we never stop clinging to life because we are life. - Author: Roberto Bolano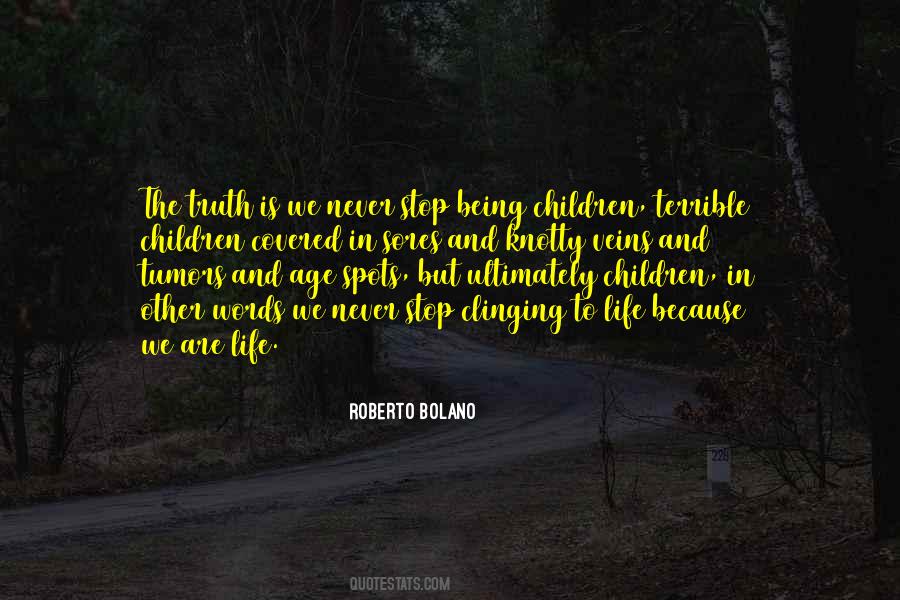 #87. May you occupy your mind with positive words. - Author: Lailah Gifty Akita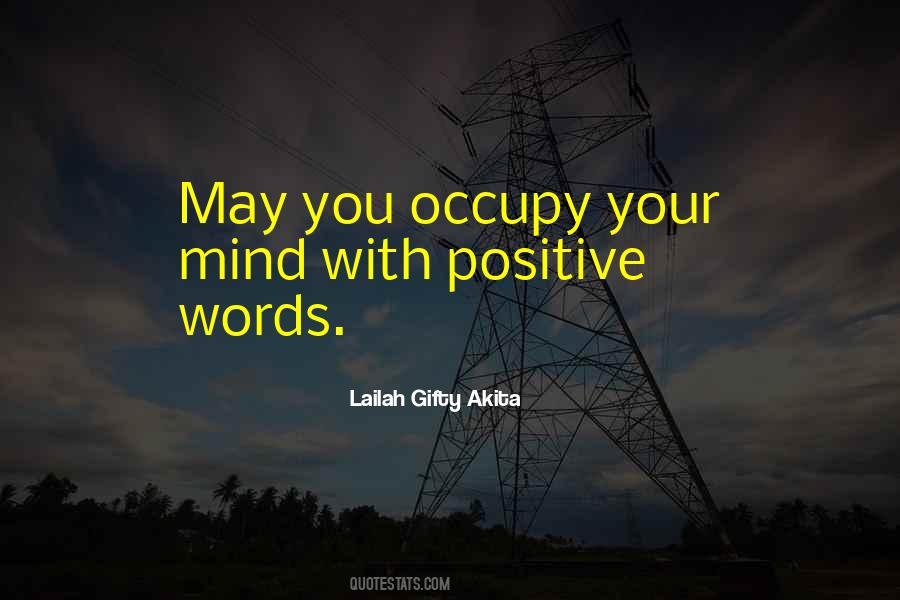 #88. In other words, to Train in the preliminaries is to stop moaning and feeling sorry for yourself and to recognize instead that regardless of what has happened or why, this is your life and you are the only one equipped to deal with it. - Author: Norman Fischer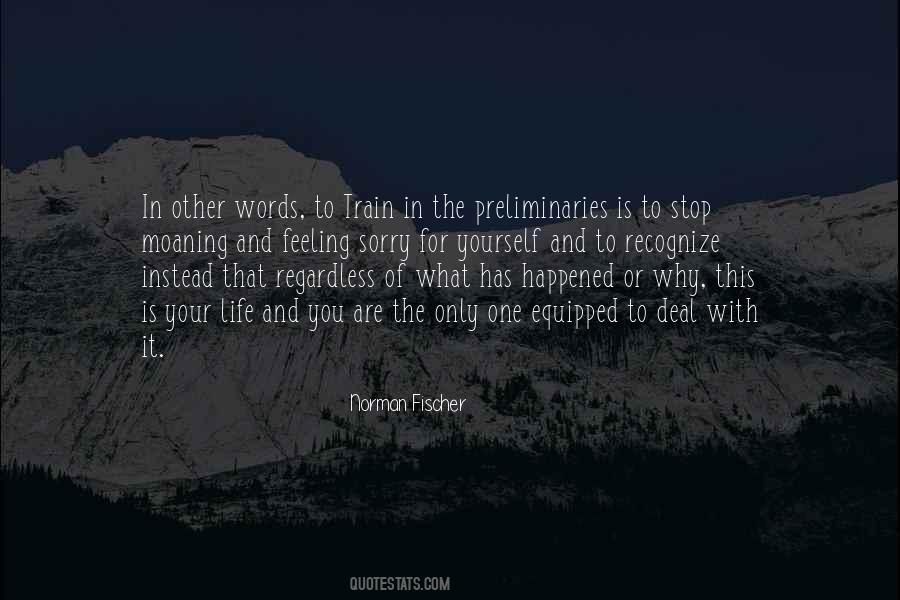 #89. OUT OF AN INFINITE LOVE, you, O Lord, have made me an heir of your kingdom and joint heir with Christ. O Good Jesus, to whom else shall I go? You have the words of eternal life. I hope, and I believe in you. Lord keep me from despair. Amen. O - Author: Derek A. Olsen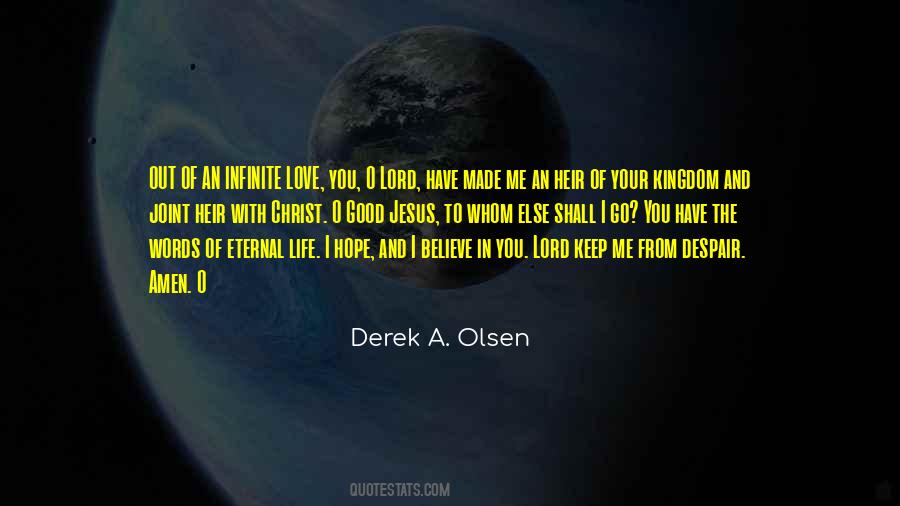 #90. The power we hold comes with an added responsibility to inspire through words or actions and build someone else's life. Our power definitely does not lie in zapping others of their powers. - Author: Tina Sequeira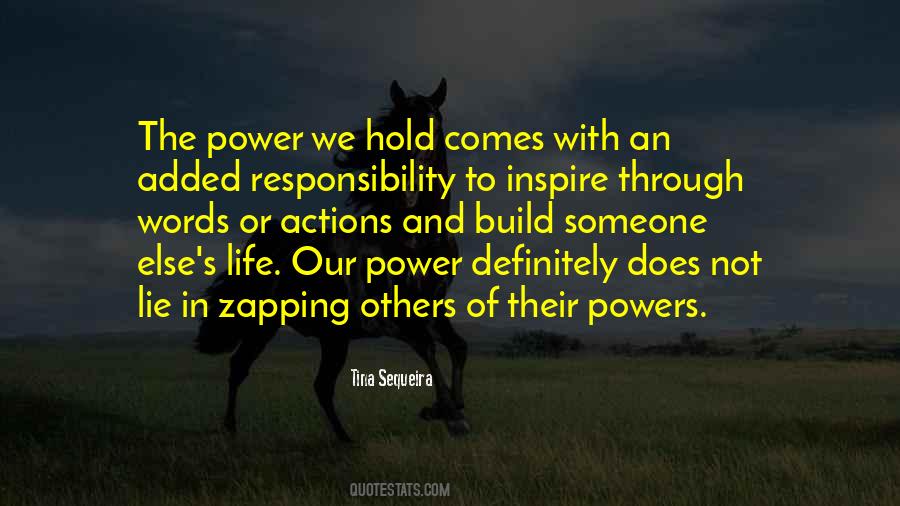 #91. Molecular genetics, our latest wonder, has taught us to spell out the connectivity of the tree of life in such palpable detail that we may say in plain words, "This riddle of life has been solved." - Author: Max Delbruck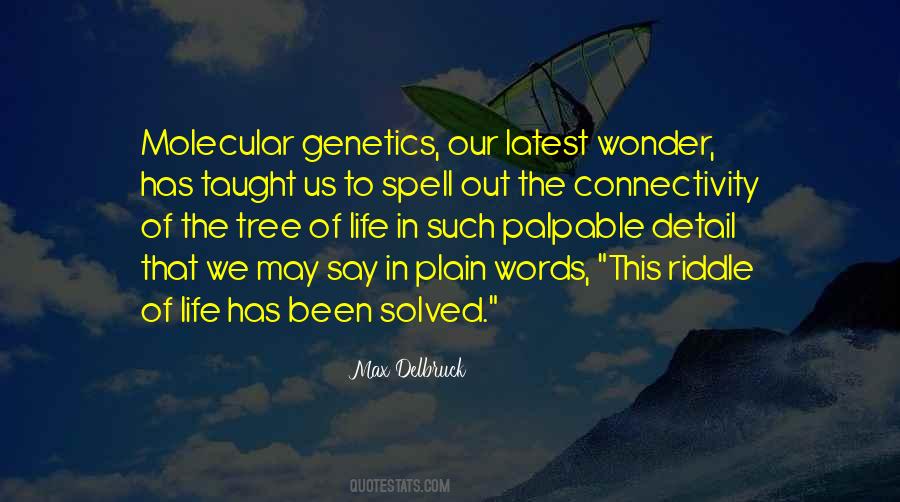 #92. The secret of life was Breath. That was what I always wanted my words to do, to Breathe. - Author: Anais Nin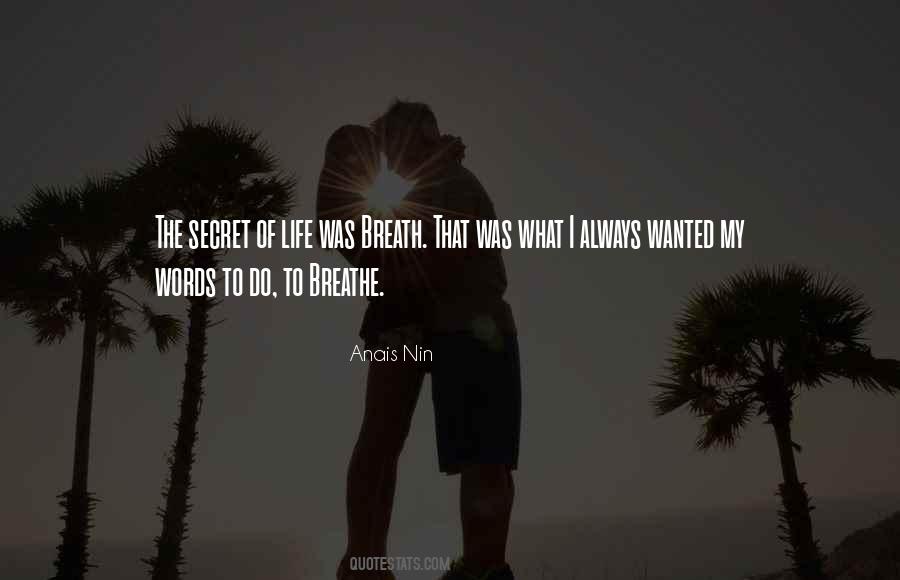 #93. Good well-being leads to good working performance. - Author: Lailah Gifty Akita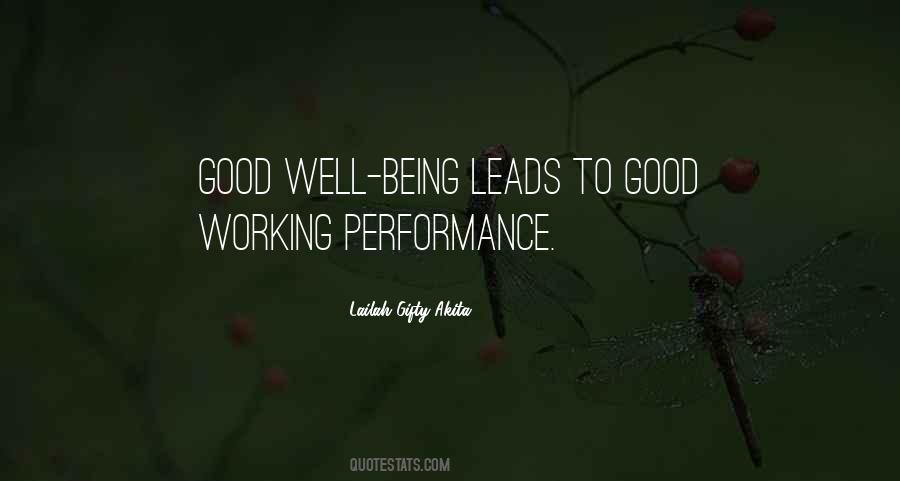 #94. I had learned to have a perfect nausea for the theatre: the continual repetition of the same words and the same gestures, night after night, and the caprices, the way of looking at life, and the entire rigmarole disgusted me. - Author: Isadora Duncan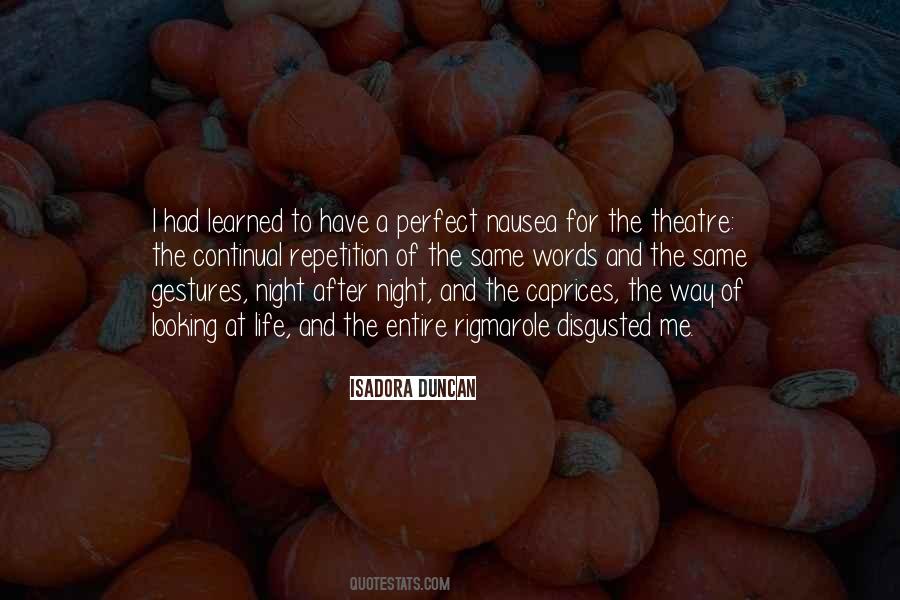 #95. Even as I think them, the words lose their context, dissolve into grains of absurdity in the vast ocean of day-to-day hunger. - Author: Isaac Marion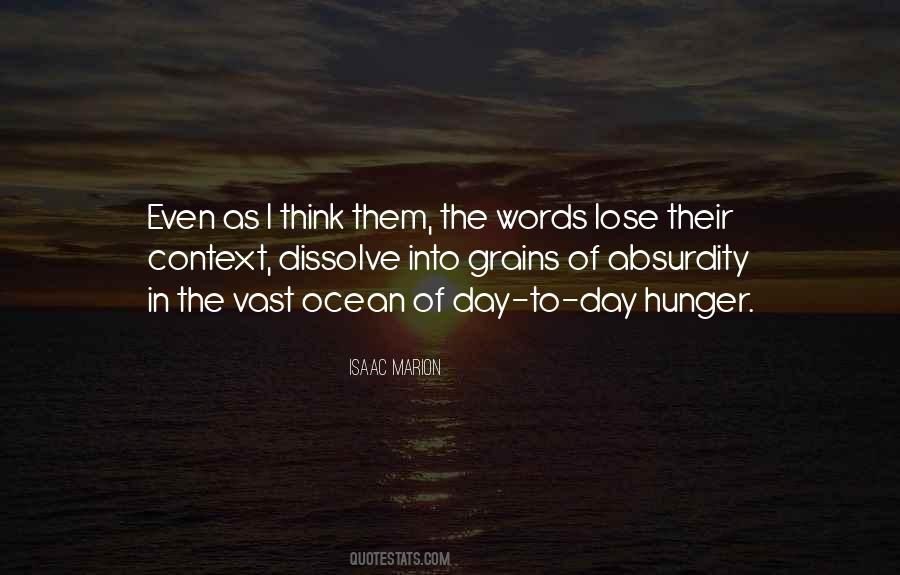 #96. The politician, Johnson's experience had taught him, could make promises without keeping them; words spoken in public had little relation to the practical conduct of daily life. But whatever justification a politician may claim for deceptions, the statesman must align his words with his action. - Author: Doris Kearns Goodwin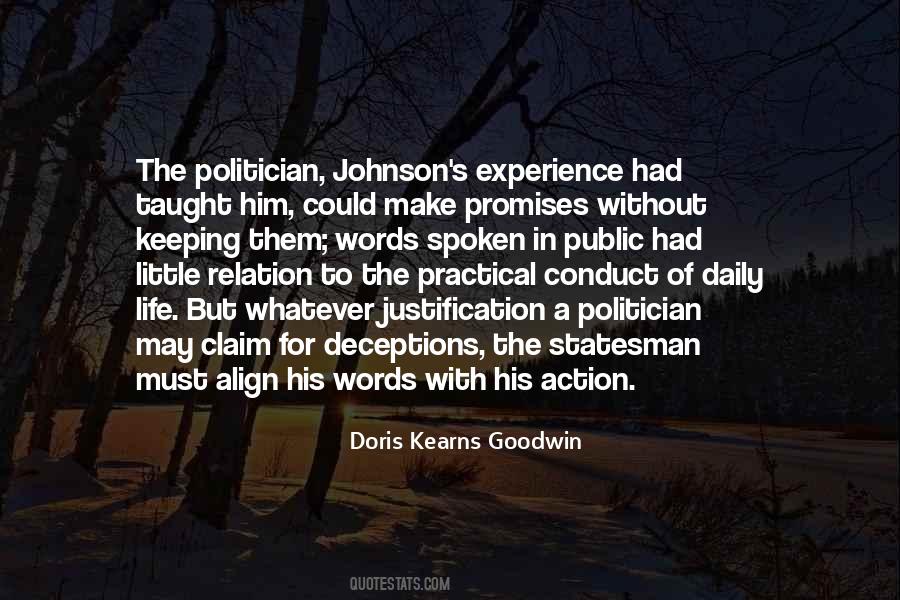 #97. And perhaps it didn't matter to them, not always, what they read aloud; it was the breath of life flowing between them, and the words of the moment riding on it that held them in delight. Between some two people every word is beautiful, or might as well be beautiful. - Author: Eudora Welty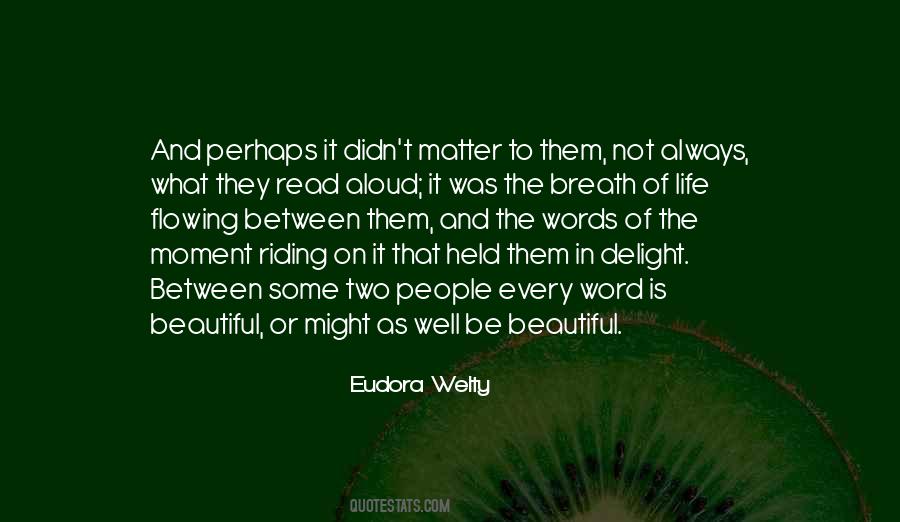 #98. My life is never perfect, but life is always a beautiful thing. I choose to see the beauty out of it. I choose to make it wonderful. I choose to love life and it loves me back in return. I may only have one life to live, but if I do it right, once is enough. - Author: Diana Rose Morcilla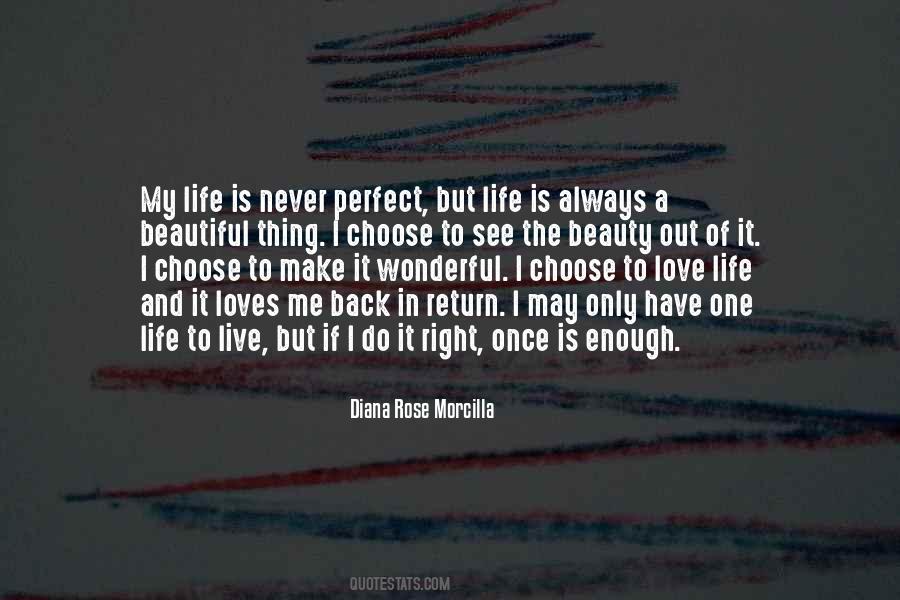 #99. Nothing lasts forever. But there is new life; new colours, fresh words, new tunes to compose. There is now; time present, time future. We build with new bricks and hope our voices are heard, our music is sung and our love cherished for as long as it is offered. - Author: Carol Drinkwater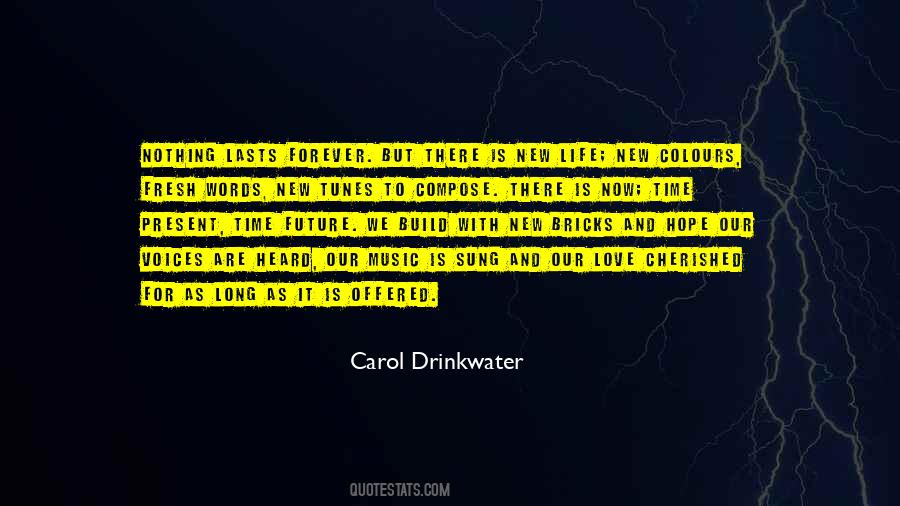 #100. Understand your driving force, whether you're operating out of fear or love. When we operate in fear, we tend to hold back and not get the most from life. When we operate in love, we open new avenues and experience life more abundantly. - Author: Amaka Imani Nkosazana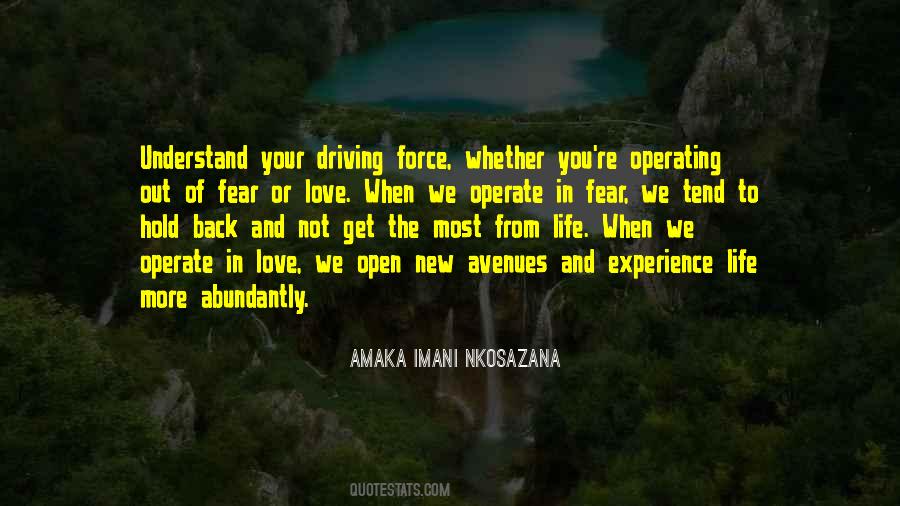 Famous Authors
Popular Topics