Win Or Lose Love Famous Quotes & Sayings
List of top 45 famous quotes and sayings about win or lose love to read and share with friends on your Facebook, Twitter, blogs.
Top 45 Win Or Lose Love Quotes
#1. No.. You have won
You can never lose
I won't let you lose
You are destined to win
You are destined to live in prosperity
..and to tell you.. You have won my existence!! - Author: Anonymous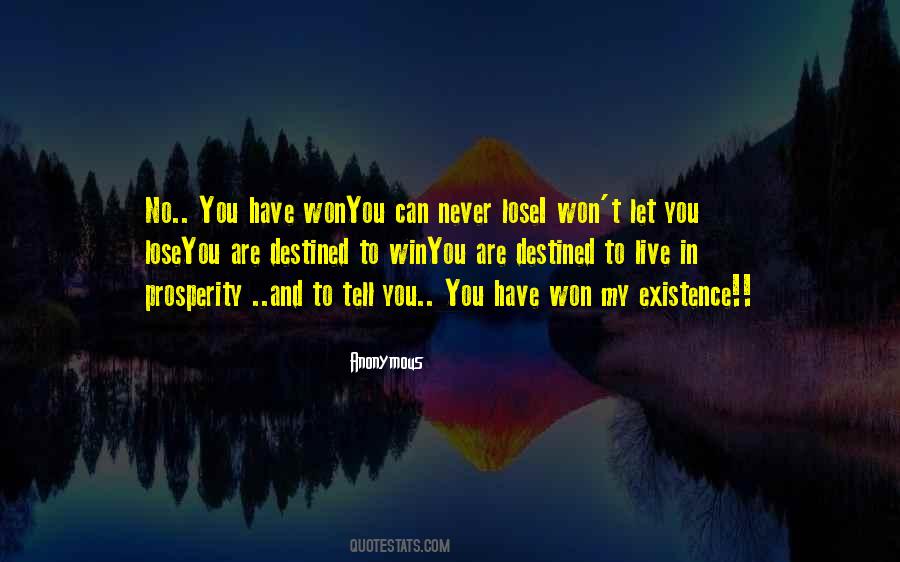 #2. You must be fierce and admit to love, my dear girl. It is the only way to win. And if you do lose, well, at least you lose fairly, with your head high and with no regrets. How could you possibly feel shame for leading with your heart? It is simply the bravest thing anyone can do in this world. - Author: Jennifer Probst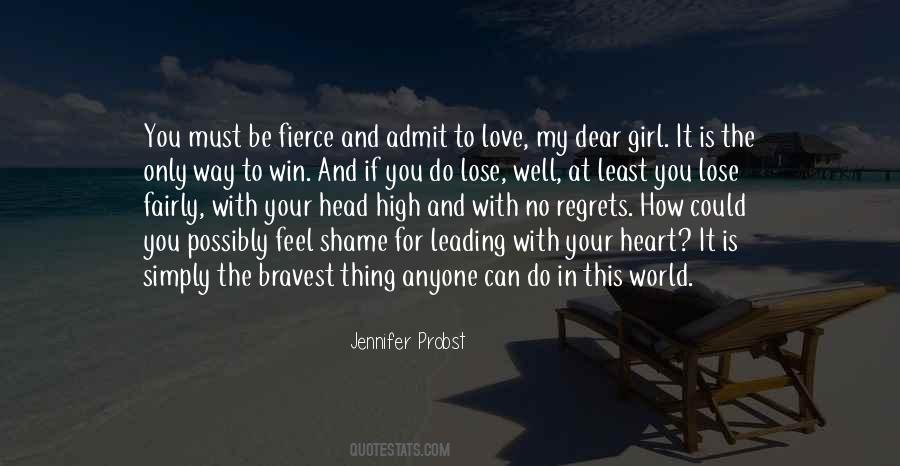 #3. To be born to create, to love, to win at games is to be born to live in time of peace. But war teaches us to lose everything and become what we were not. It all becomes a question of style. - Author: Albert Camus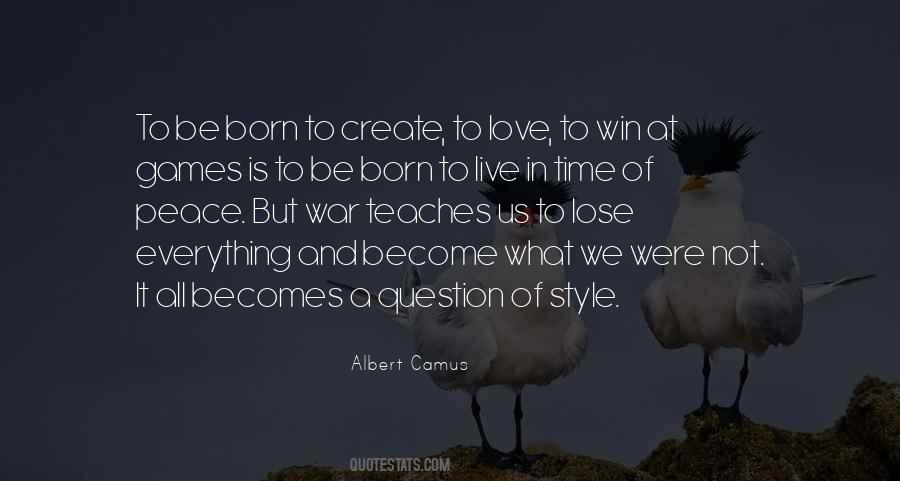 #4. For I am fighting for the old days, the old ways which I love so much, but which, I fear, are now gone forever, no matter how the die may fall. For, win or lose, we lose just the same. - Ashley Wilkes, Gone with the Wind - Author: Margaret Mitchell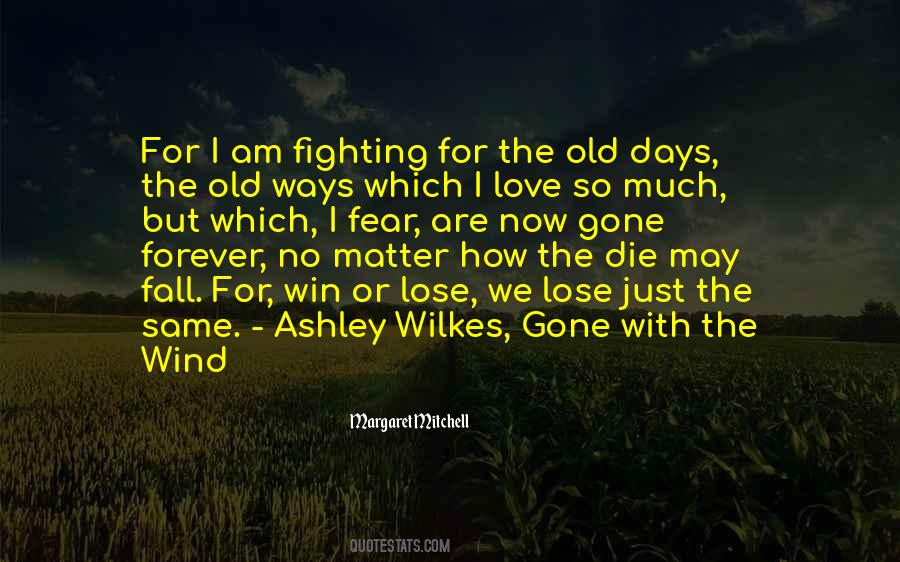 #5. I love to win; but I love to lose almost as much. I love the thrill of victory, and I also love the challenge of defeat. - Author: Lou Gehrig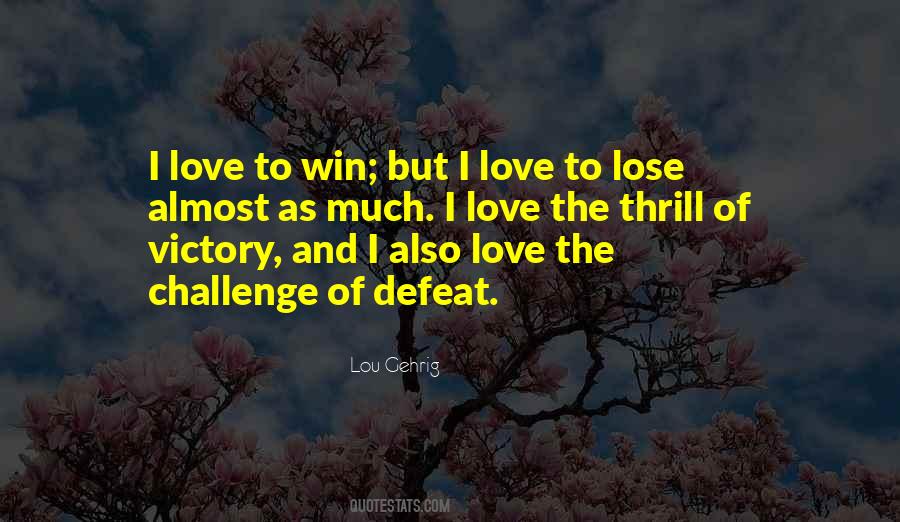 #6. Win, lose or draw, you're all my cousins and I love you. - Author: Chill Wills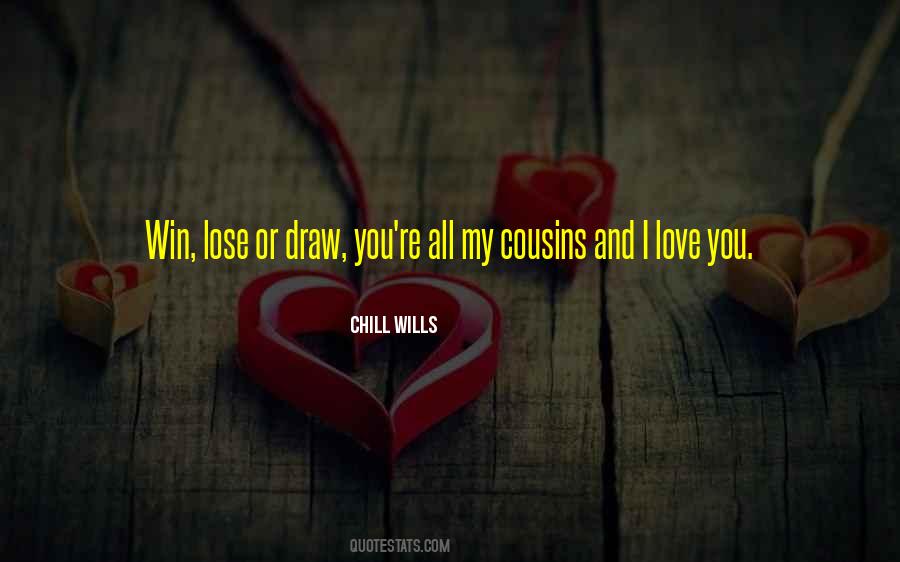 #7. I love competing. I am so competitive. I definitely need to win because I hate losing. I am the type who if I know I will lose I won't compete. - Author: Usain Bolt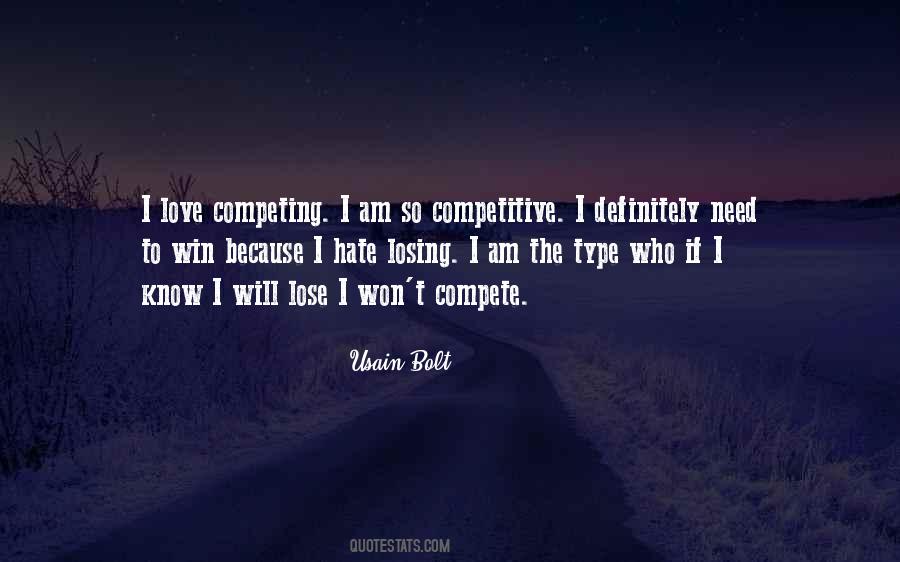 #8. I'm waging war, love. And the only way to win this kind of war is to make you want to lose. - Author: Lisa Kleypas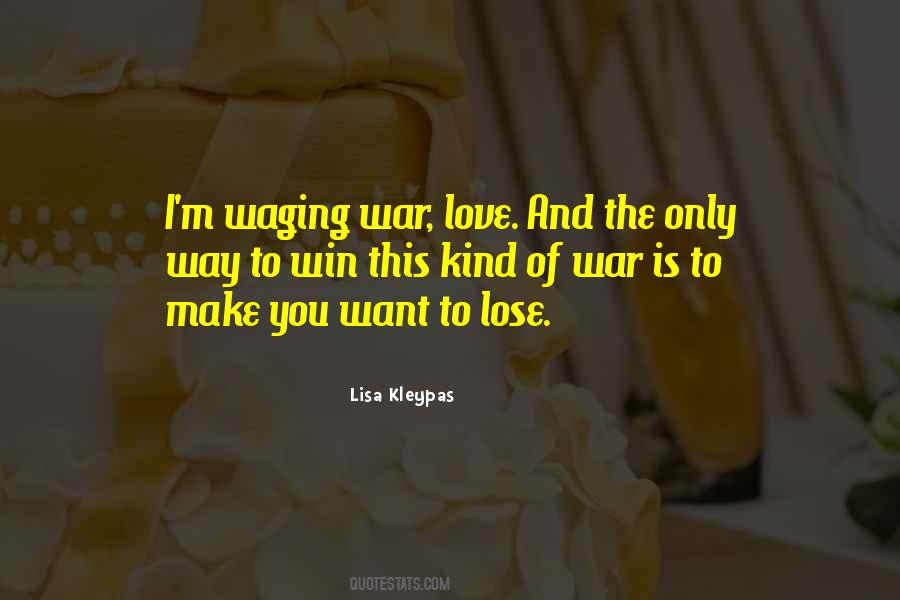 #9. Sure, it's nice to win. But there's only one thing that's important to me and that's the money we're going to get, win or lose ... I don't love baseball, I like it. And to me, baseball means money, and that's all I care about. - Author: Vida Blue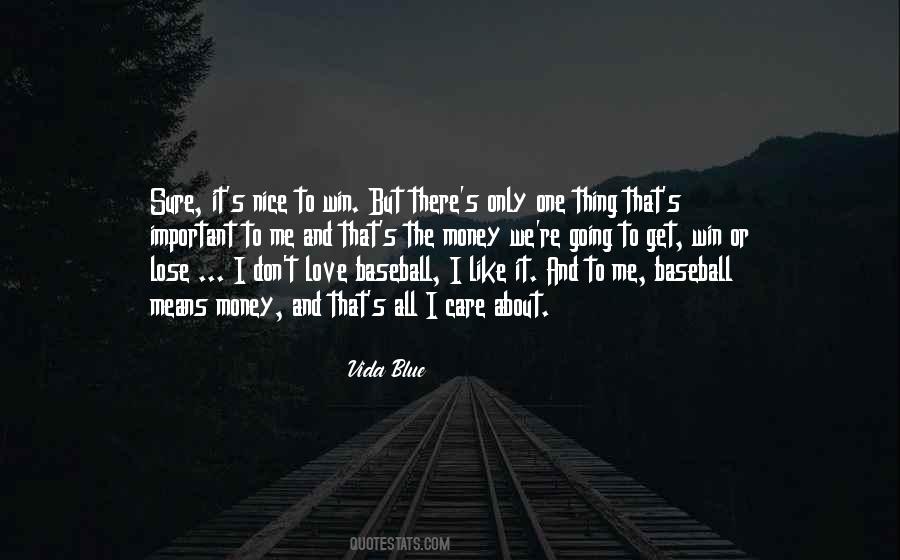 #10. I have on my bookshelf a series of books with opposite titles: 'The Alpha Strategy' and the 'Omega Strategy'; 'Asia Rising' and 'Asia Falling'; 'Free to Choose' and 'Free to Lose'; 'How to Win Friends and Influence People' and 'How to Lose Friends and Alienate People.' Visitors love the collection. - Author: Mark Skousen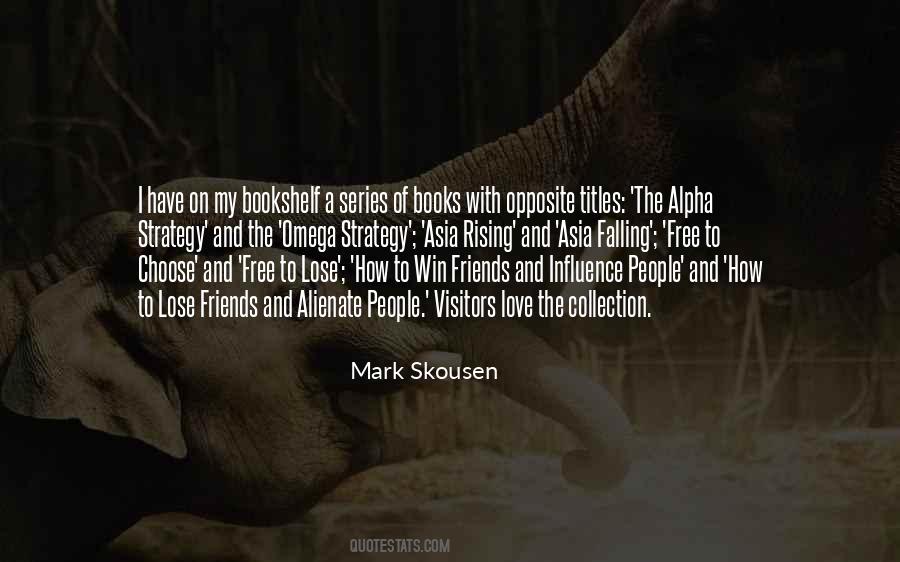 #11. Here we are then, I was thinking, in a war to the finish between everything I love and everything I hate. Fine. We will win and they will lose. A pity that we let them pick the time and place of the challenge, but we can and we will make up for that. - Author: Christopher Hitchens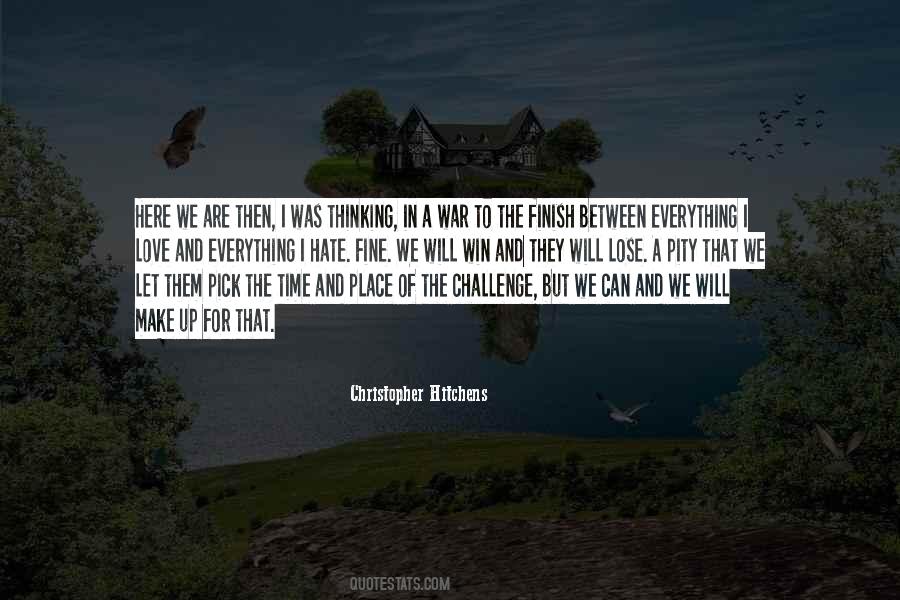 #12. In love you always win, even if you lose. - Author: Paulo Coelho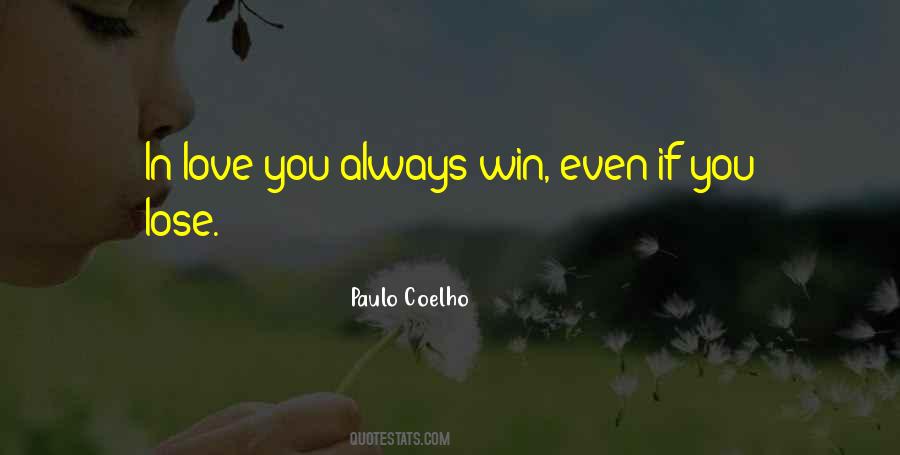 #13. The reason why I love to win is because I don't have to go through that feeling of losing. It's those times where I lose that feeling that will stick with me. - Author: Manti Te'o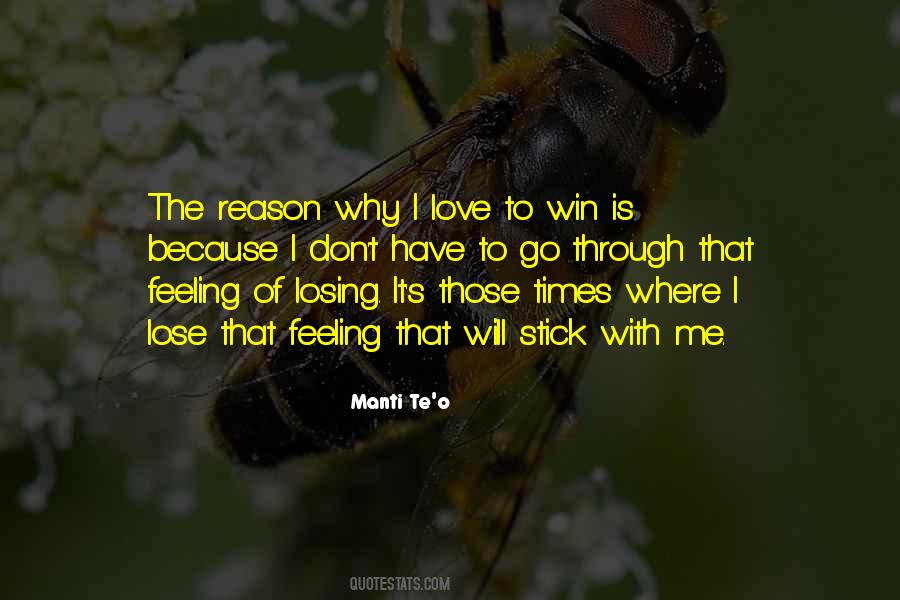 #14. I get to leave here and do what I love, whether I win or lose. And that seems to matter more than anything else. - Author: Kelly Fiore Stultz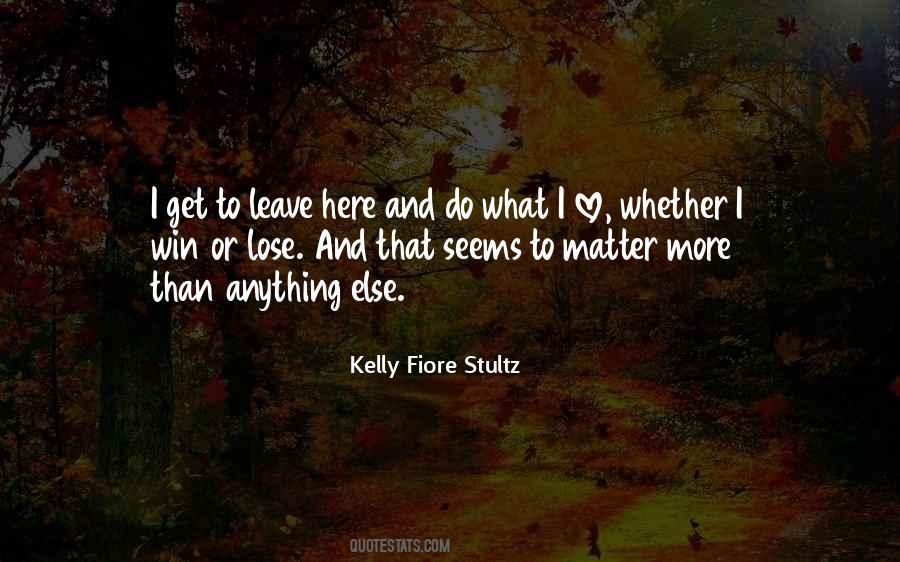 #15. Love is always dangerous. To love is to hope you'll win it all while running the risk that you could lose it all. And sometimes it's also about accepting that there's a risk that you'll love more than you are loved. - Author: Guillaume Musso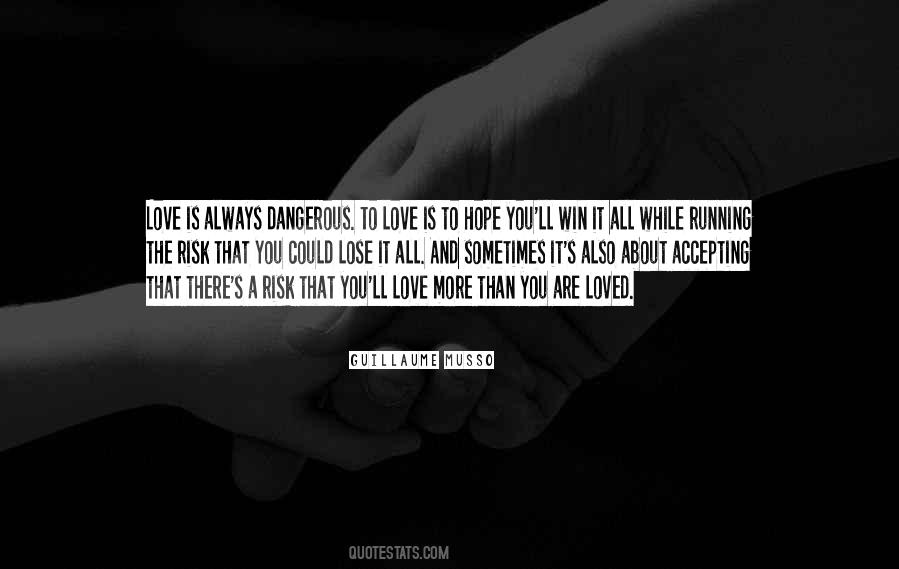 #16. Whether you win or lose, whether you have a good day or bad day, God is with you; He loves you. - Author: Luci Swindoll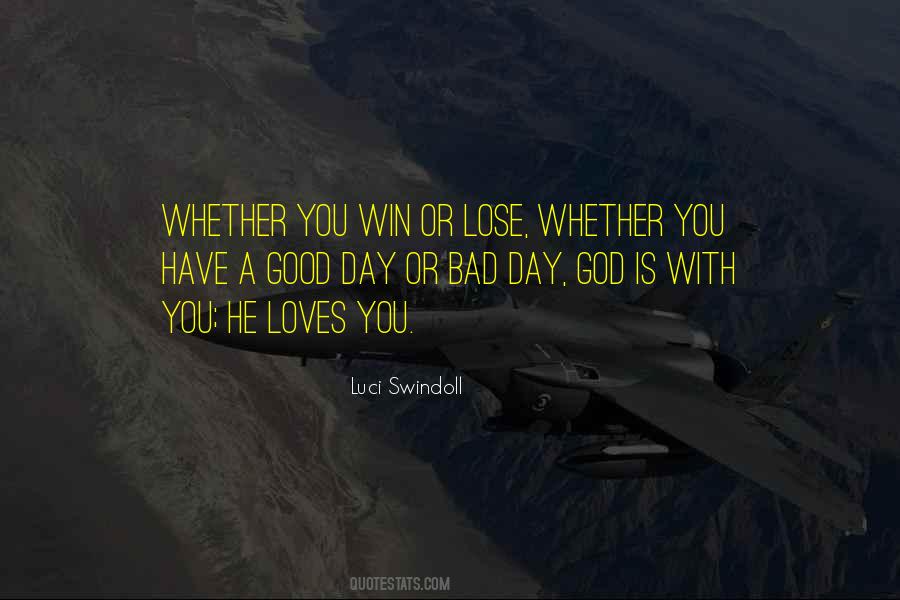 #17. I hate to lose more than I love to win. - Author: Jimmy Connors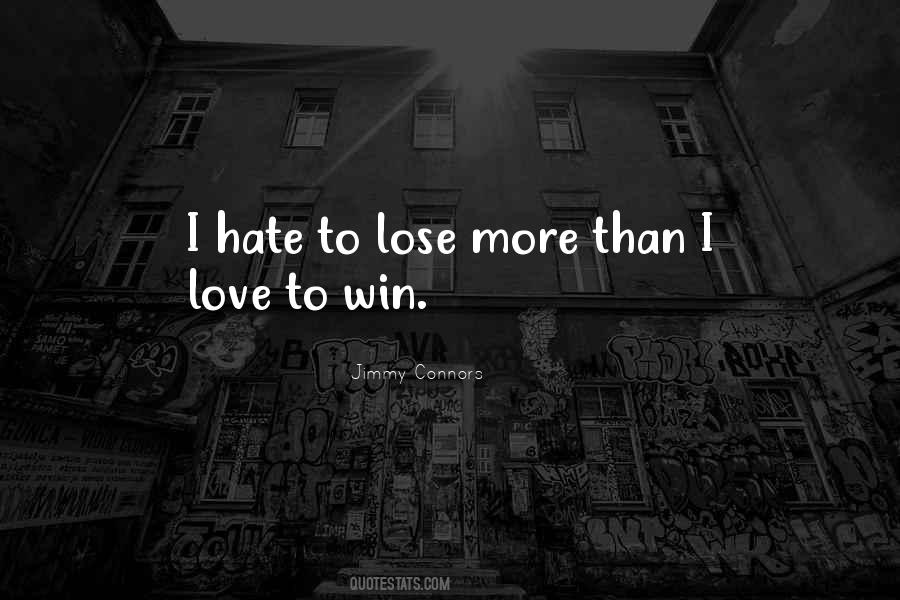 #18. I can't tell you how many life lessons I've learned through bowling. Time management, finding balance in life, how to lose, how to win, how to bowl as a team and deal with people. How to do something I love to do and inspire other people. - Author: Diandra Asbaty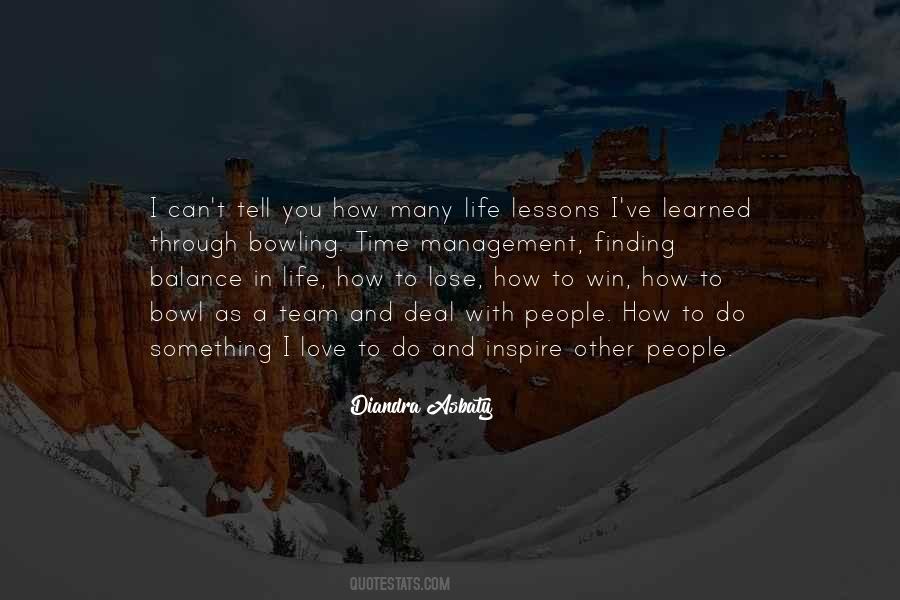 #19. It really hurts when I see two good friends are
not talking to each other from long ago. Life is
just for once. There are so many arguments you
can win with but you are gonna lose the person - Author: Pawan Mehra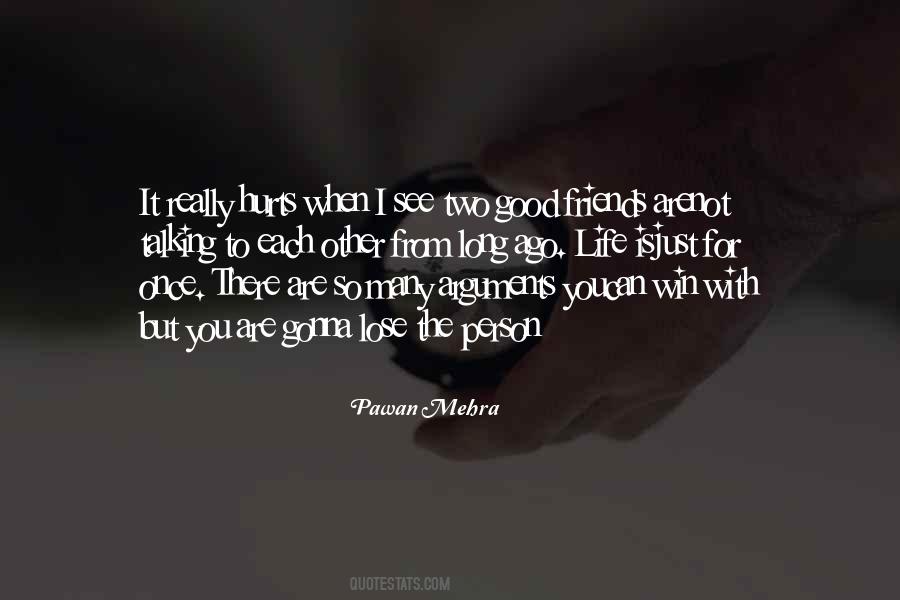 #20. Love is a gamble and sometimes it hurts, but whether you win or lose being in love is a beautiful thing. - Author: M.J. Abraham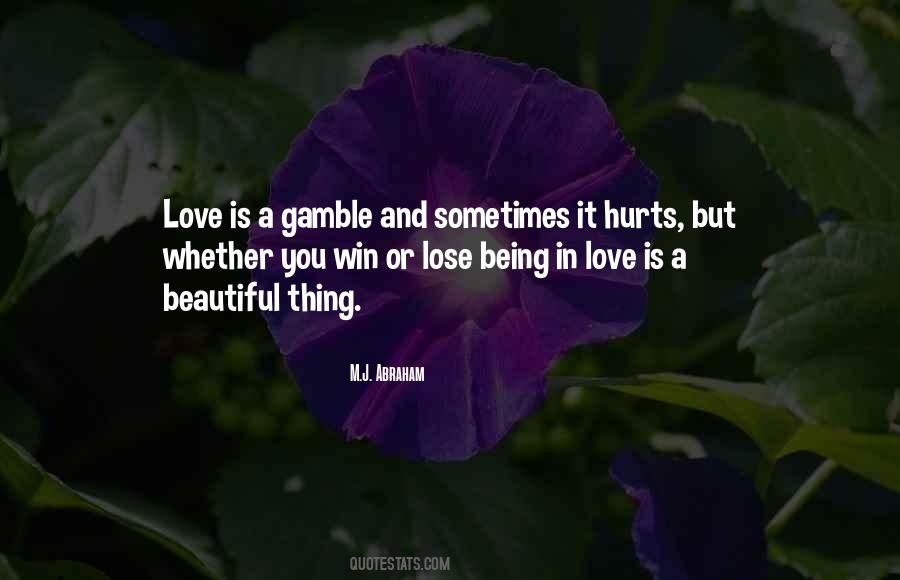 #21. In this world you will never lose if you use the power of love to win. - Author: Debasish Mridha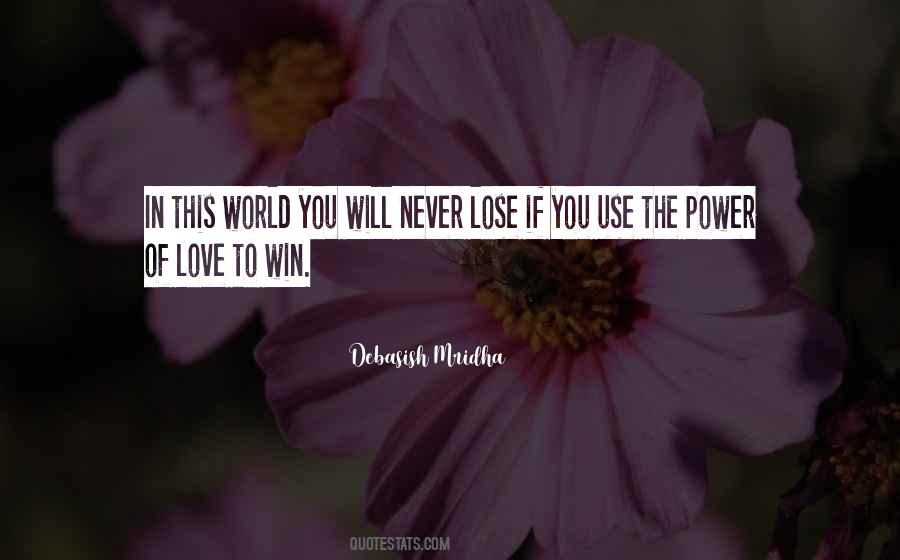 #22. All this while I kept thinking where did I go wrong, all this while he wasn't mine to lose. - Author: Pushpa Rana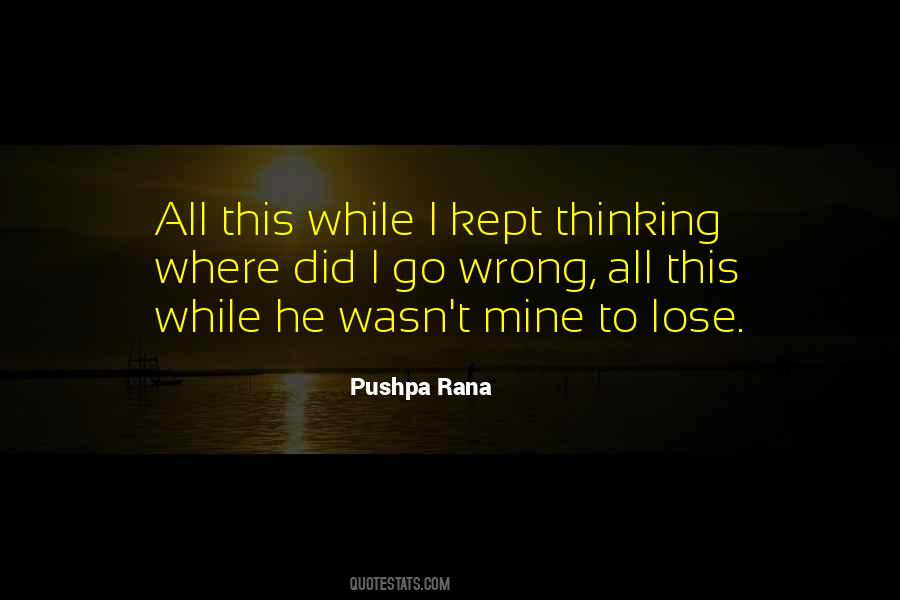 #23. Nobody plays this life with marked cards, so sometimes we win and sometimes we lose. Do not expect anything in return, do not expect your efforts to be appreciated, your genius to be discovered, your love to be understood. - Author: Paulo Coelho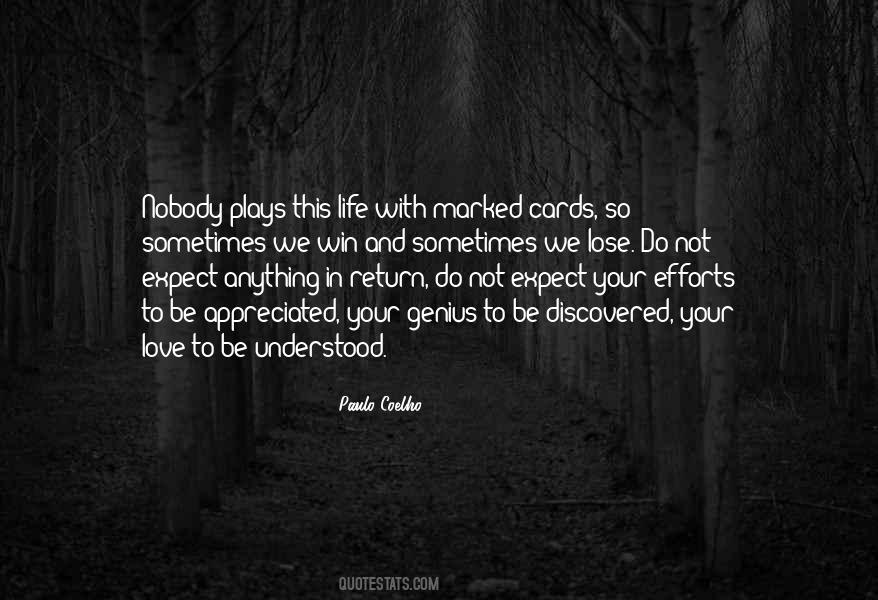 #24. Good isn't obsessed to win
But
Bad is destined to lose - Author: Hemdiva Dev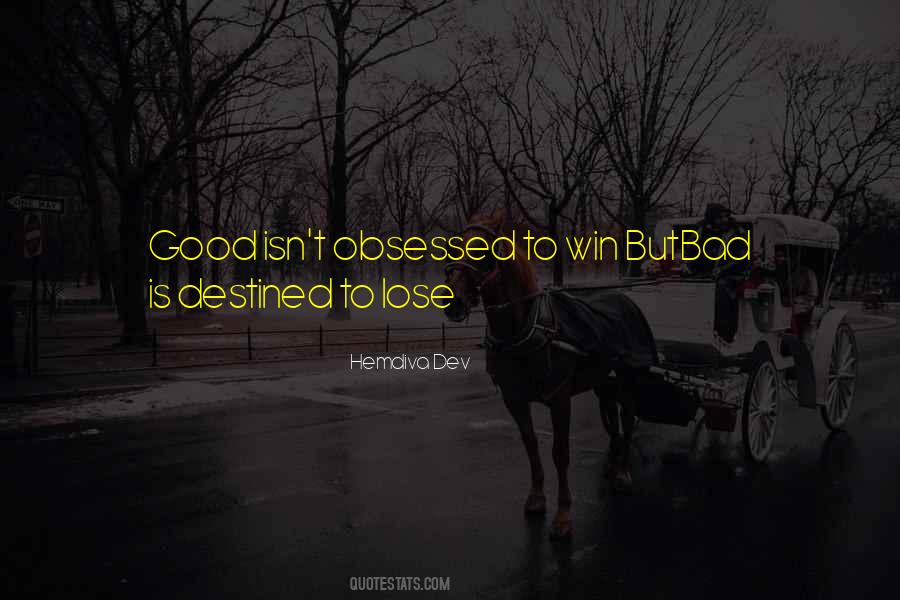 #25. It is better to lose and gain the love, than win and lose the love. - Author: Debasish Mridha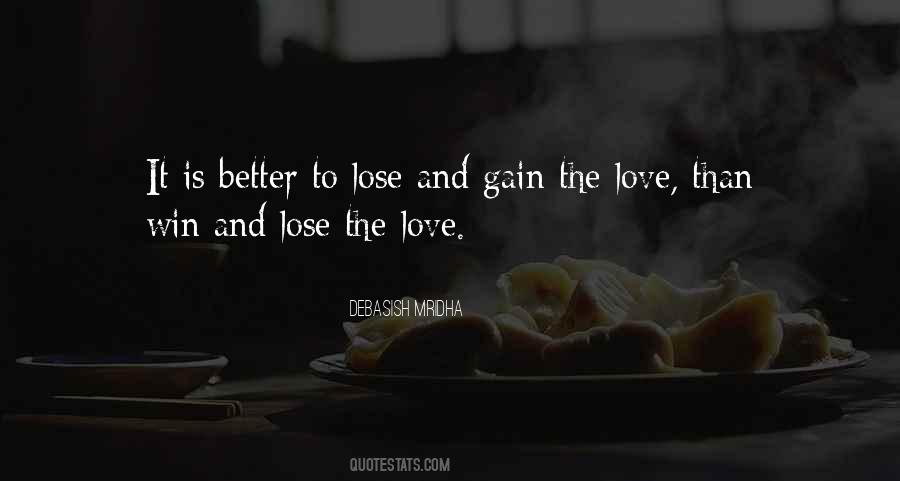 #26. I love the shot put because you win or lose by yourself. Either I get exposed, or I dominate. I always dominated because I trained to dominate. - Author: Tom Lister Jr.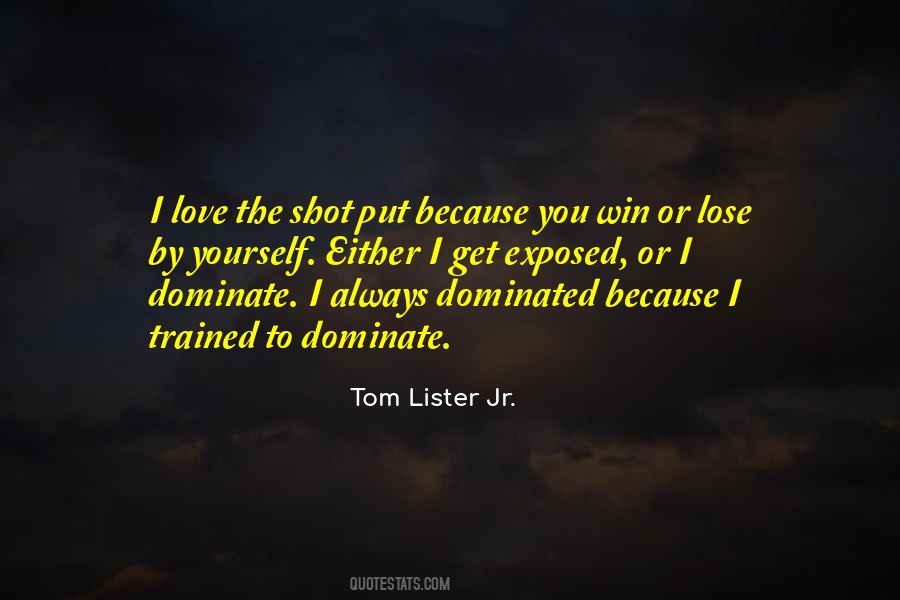 #27. Sometimes you win or sometimes you lose.
I don't wanna lose you, Don't even own you.
I just wanna stay right here, Until never dawns - Author: Corinne Bailey Rae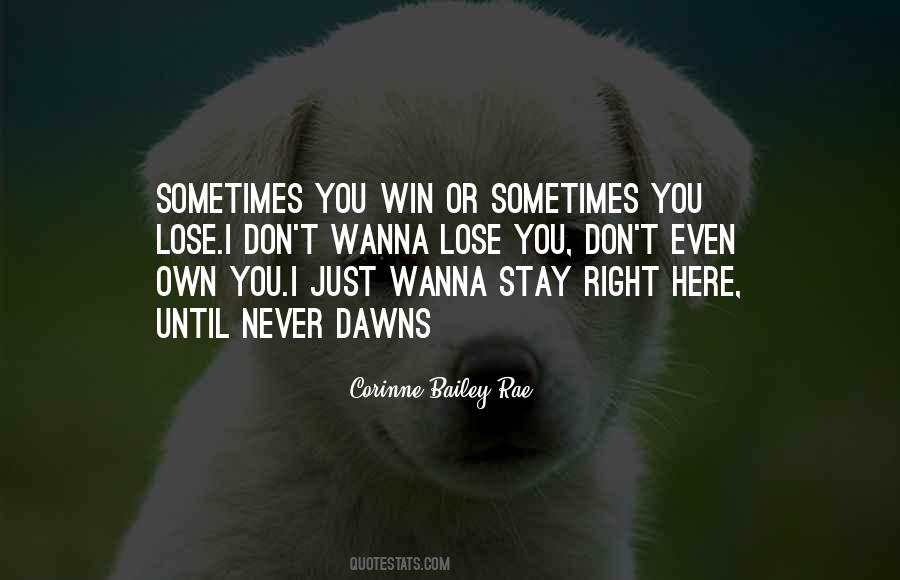 #28. With my beloved I play the game of love .
If I win, he is mine. If I lose I am his... - Author: Amir Khusro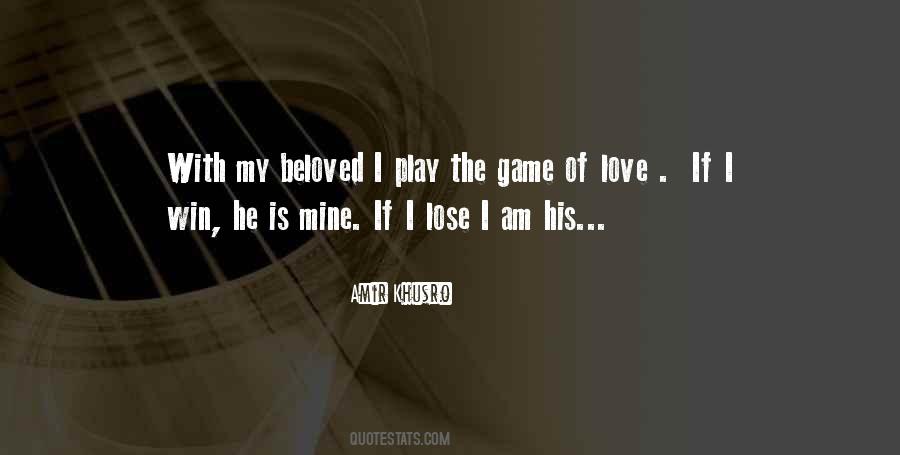 #29. To love and win is the best thing. To love and lose, the next best. - Author: William Makepeace Thackeray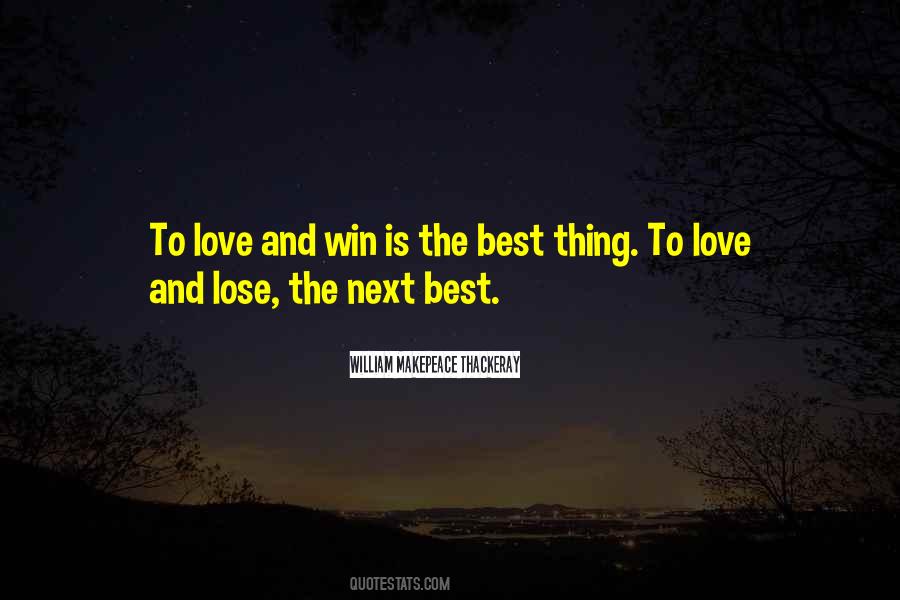 #30. Even if you win in ego it is a loss. Even if you lose in love it is a victory. - Author: Sri Sri Ravi Shankar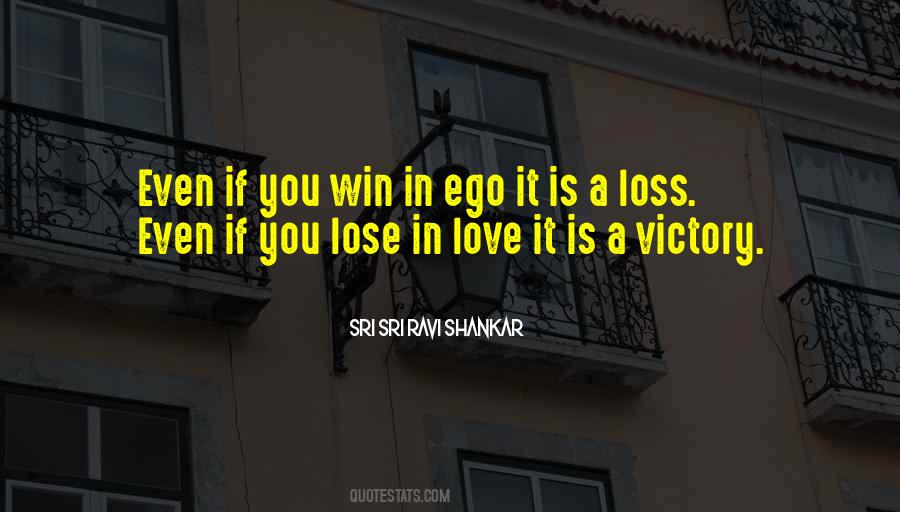 #31. You can only win the game when you understand that it is a game. Let a man play chess, and tell him that every pawn is his friend. Let him think both bishops holy. Let him remember happy days in the shadows of his castles. Let him love his queen. Watch him lose them all. - Author: Mark Lawrence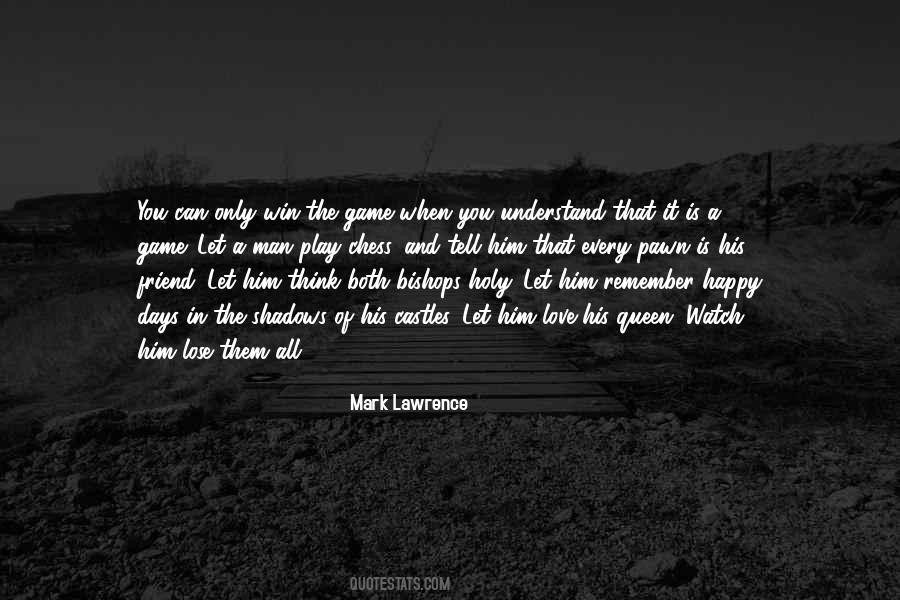 #32. To lose--get angry and fight back. To win--forgive with love. - Author: Debasish Mridha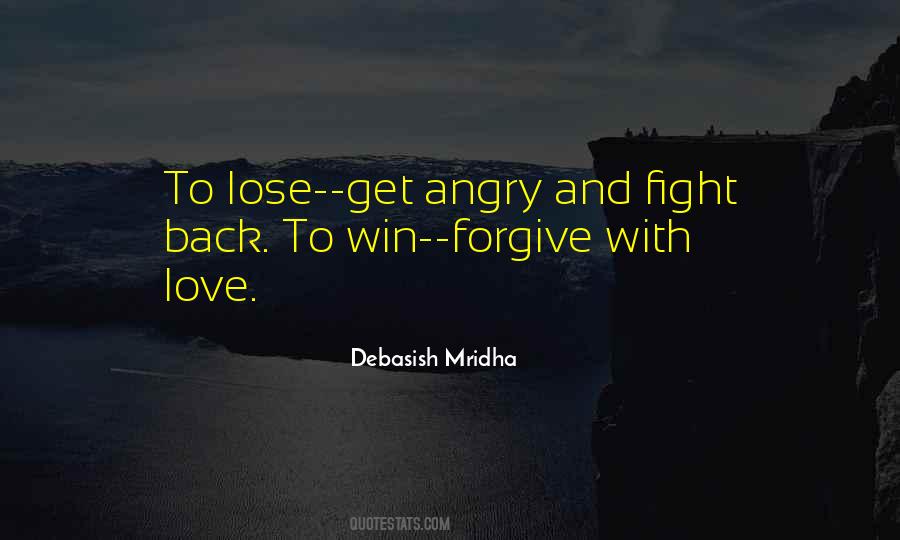 #33. One shouldn't be afraid to lose; this is sport. One day you win; another day you lose. Of course, everyone wants to be the best. This is normal. This is what sport is about. This is why I love it. - Author: Oksana Baiul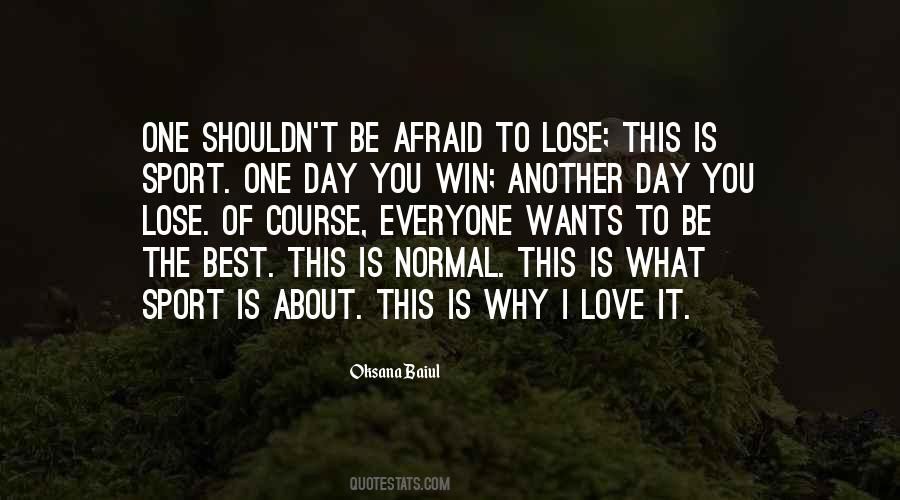 #34. When we continue to hate, we continue to lose. When we amplify mutual respect and love, we have a lot to gain. Quite simply, there is more for us to gain through love than hate. - Author: Suzy Kassem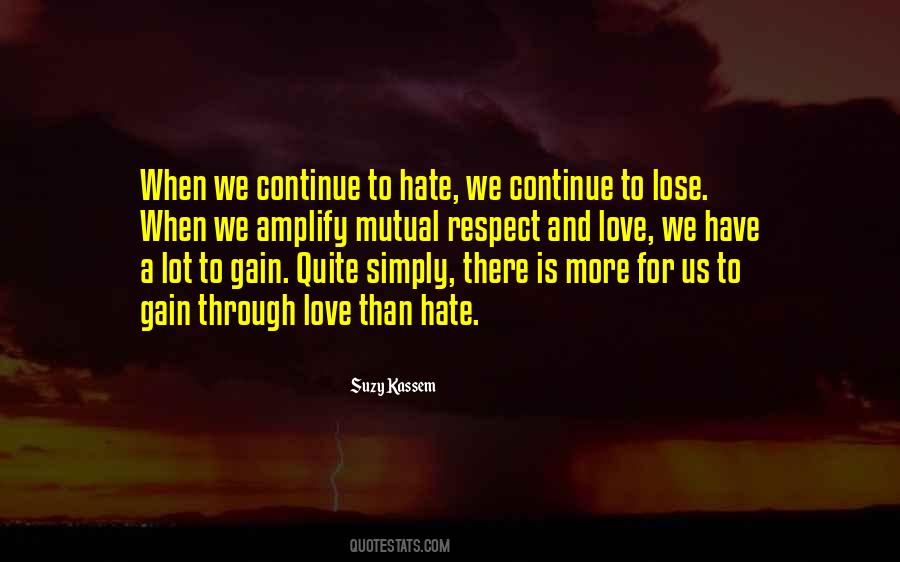 #35. I would rather lose with kindness than win with cruelty. - Author: Debasish Mridha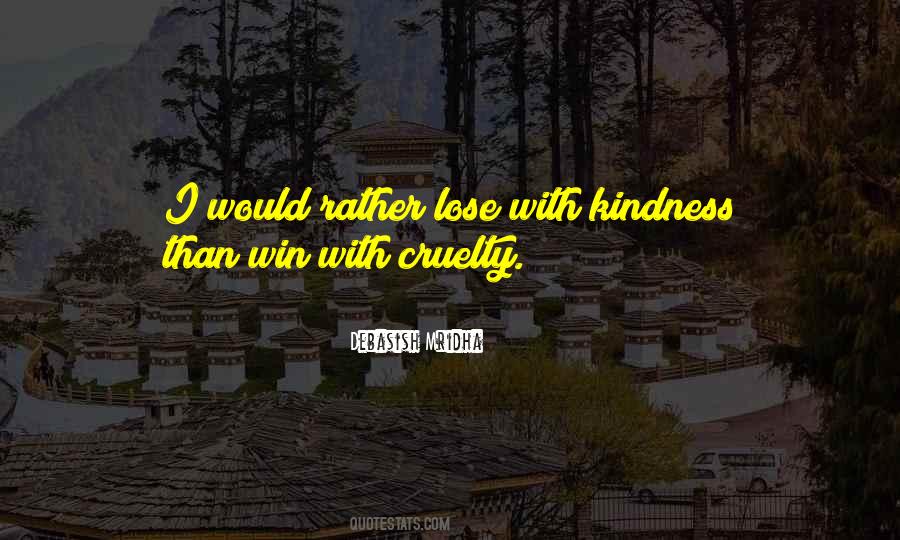 #36. It is better to love and lose than to hurt and win. - Author: Debasish Mridha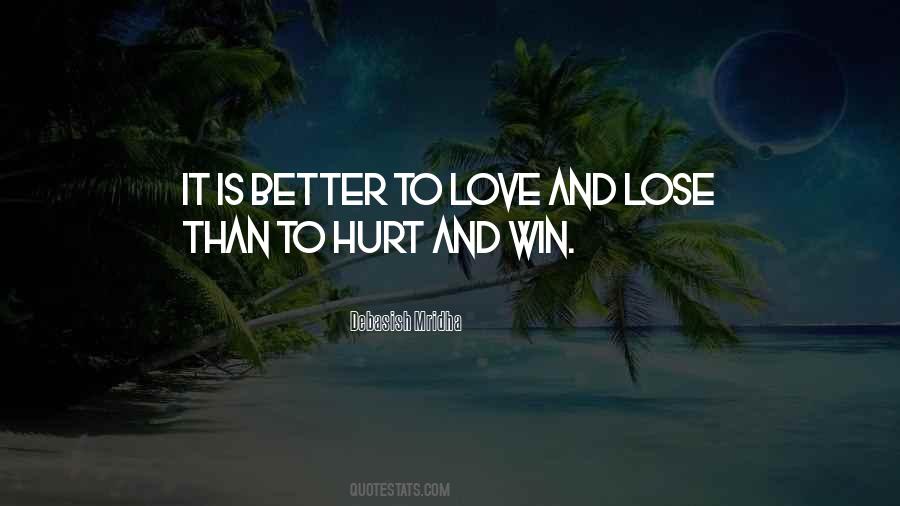 #37. If you play with dirt, no matter if you win or lose, either way you will get dirty. - Author: Debasish Mridha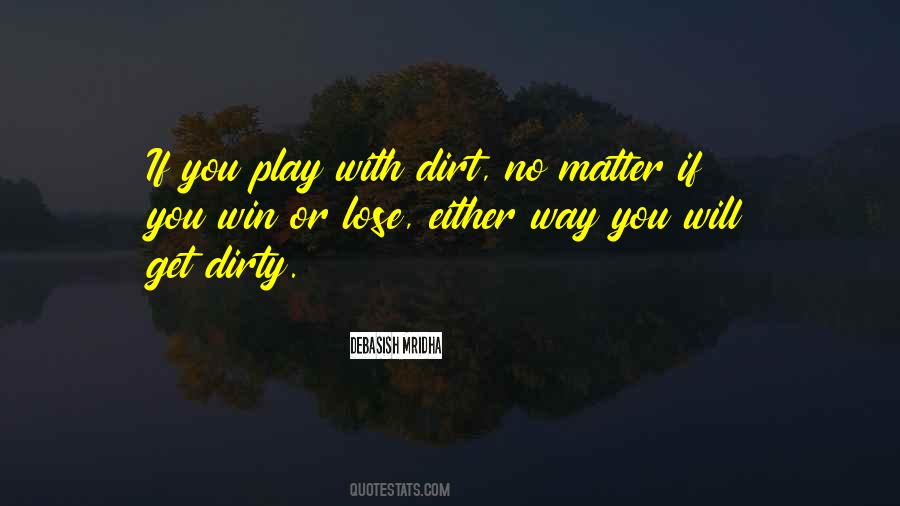 #38. But I'd understand if you chose love, Adam love, over music love. Either way you win. And either way you lose. What can I tell you? Love's a bitch. - Author: Gayle Forman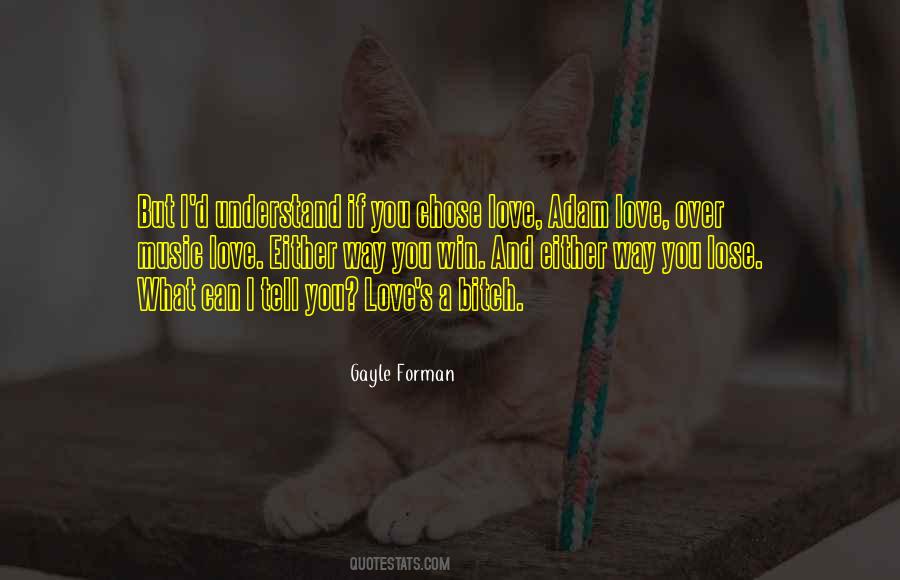 #39. When building a team, I always search first for people who love to win. If I can't find any of those, I look for people who hate to lose. - Author: Ross Perot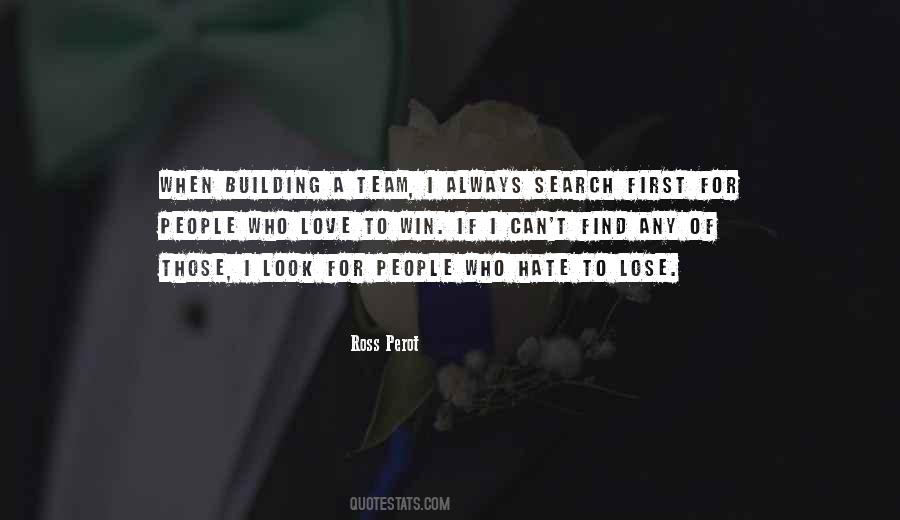 #40. Mark it down: God loves you with an unearthly love. You can't win it by being winsome. You can't lose it by being a loser. But you can be blind enough to resist it - Author: Max Lucado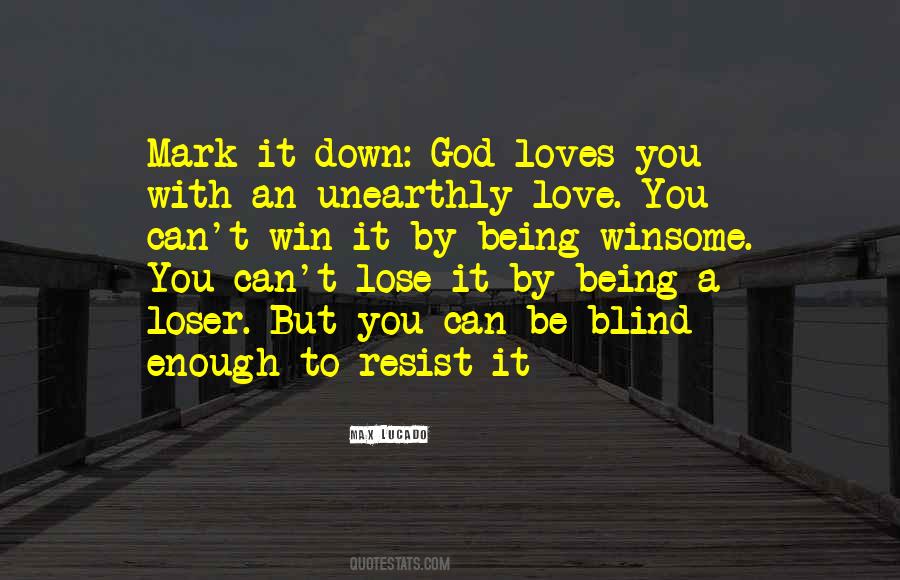 #41. So remember those who win the game
Lose the love they sought to gain
In debitures of quality and dubious integrity
Their small-town eyes will gape at you
In dull surprise when payment due
Exceeds accounts received at seventeen - Author: Janis Ian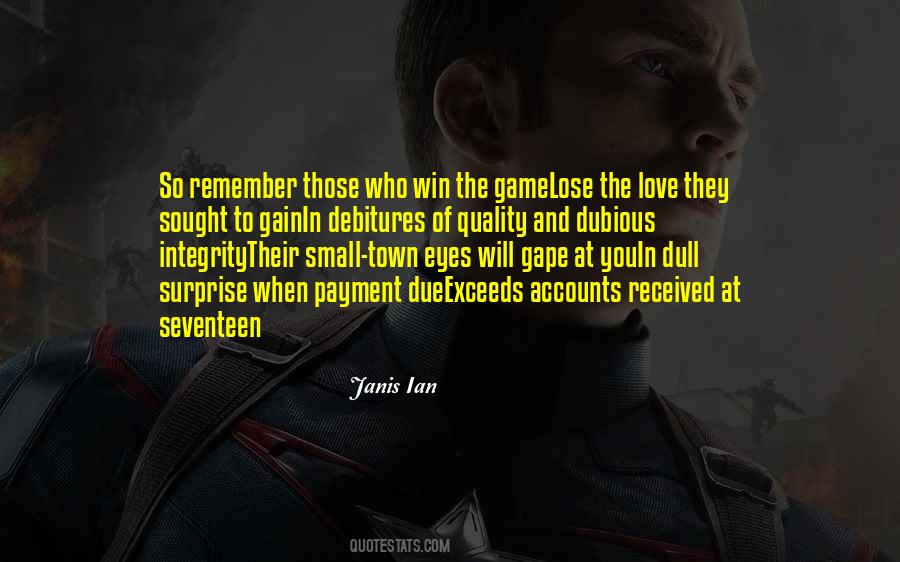 #42. People fight wars for power. But those who win are motivated by love. Never lose sight of that. - Author: Sarah Noffke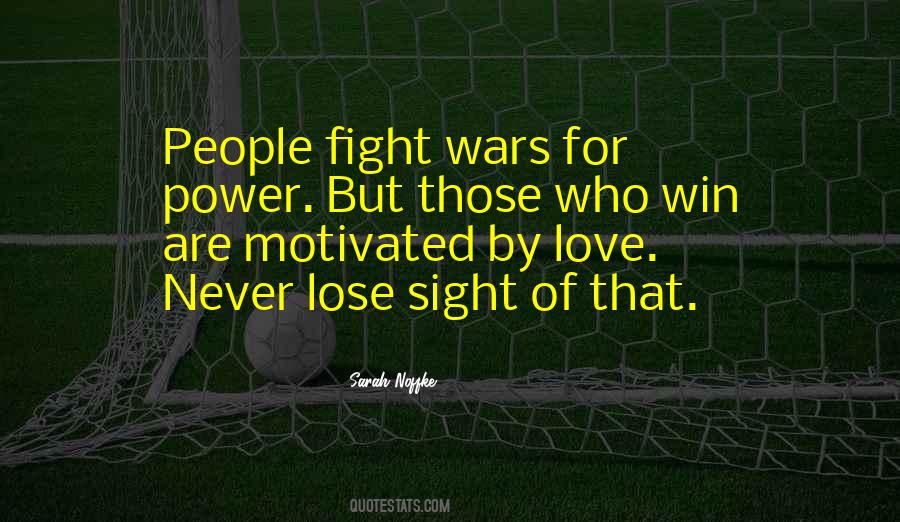 #43. It is our duty to fight for our freedom.
It is our duty to win.
We must love each other and support each other.
We have nothing to lose but our chains. - Author: Assata Shakur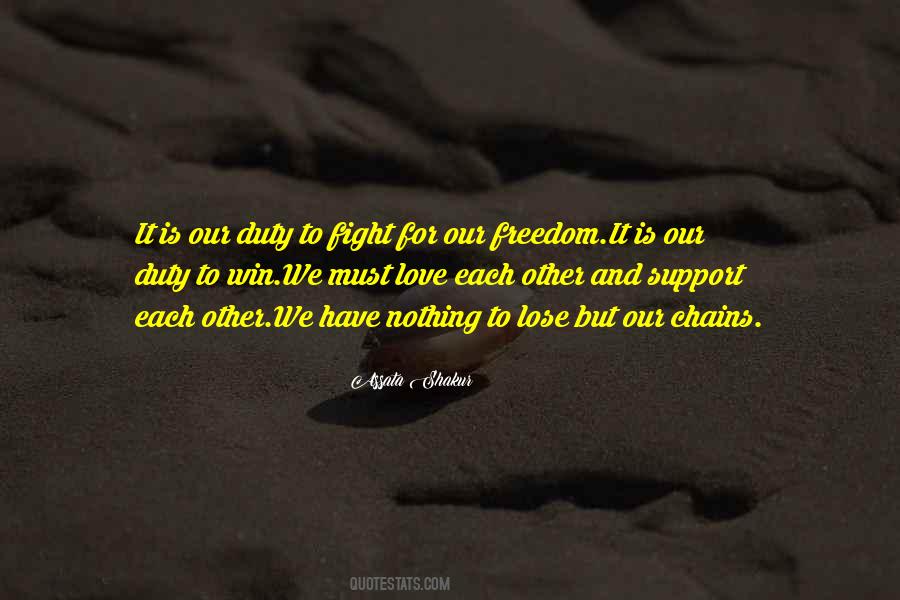 #44. If love is your only weapon, you may lose many times but in the end you win. - Author: Debasish Mridha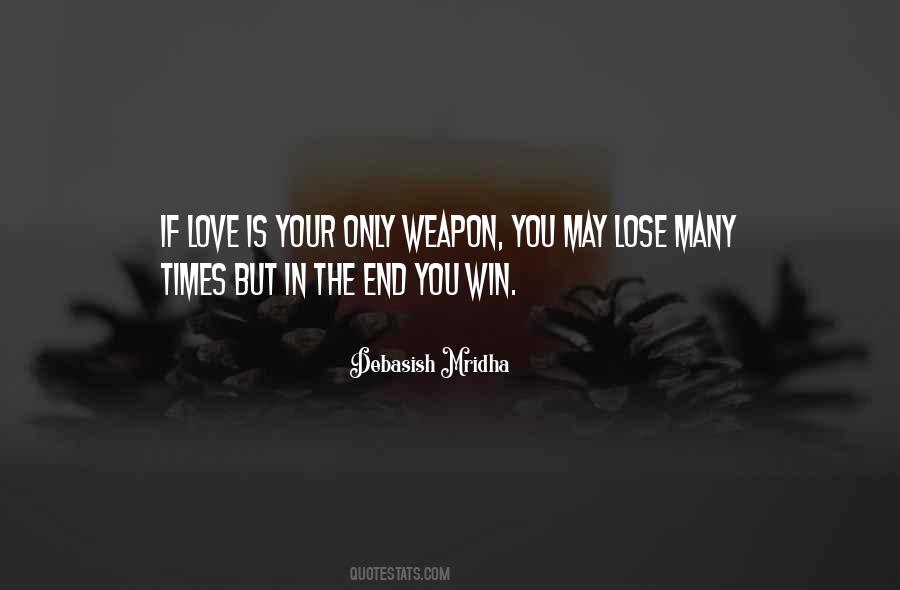 #45. I won't play you because even when I win, I lose. It's never been just a game between us. - Author: Marie Rutkoski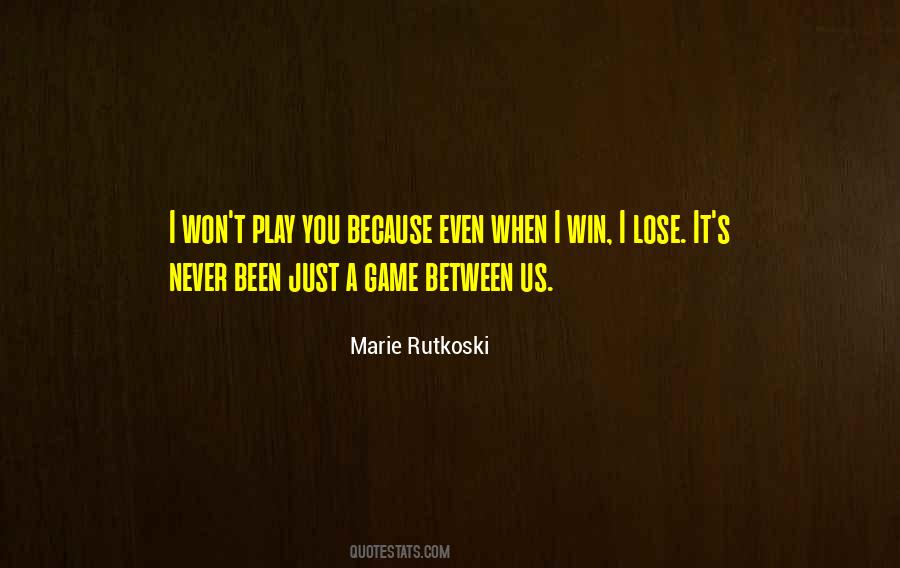 Famous Authors
Popular Topics