Where Is Home Famous Quotes & Sayings
List of top 100 famous quotes and sayings about where is home to read and share with friends on your Facebook, Twitter, blogs.
Top 100 Where Is Home Quotes
#1. What is the function of the heart, if not to convince the blood to stay moving with the limits where it belongs, to stay at home. - Author: Sunil Yapa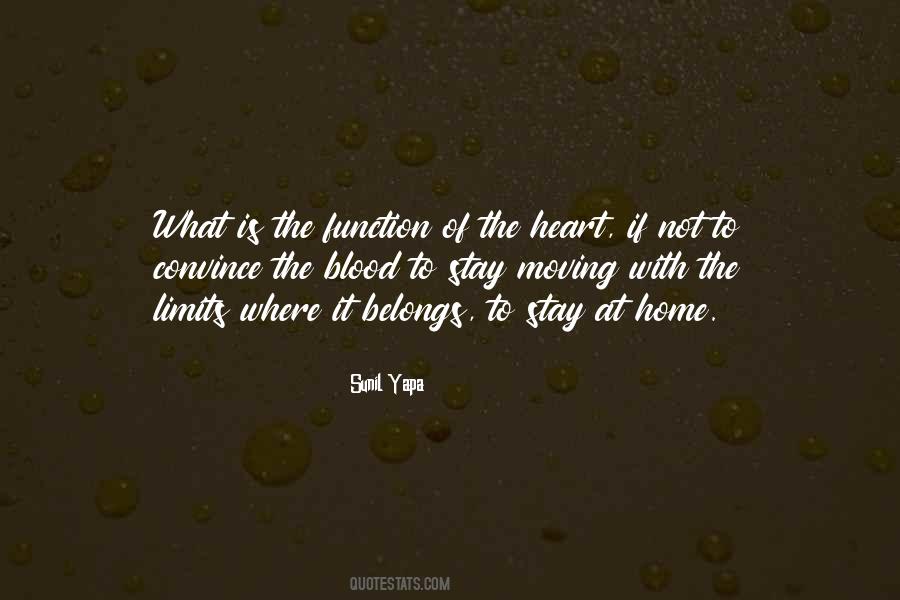 #2. It is enough to say that he dwelt in a city of high walls where sterile twilight reigned, that he toiled all day among shadow and turmoil, coming home at evening to a room whose one window opened not to open fields and groves but on to a dim court where other windows stared in dull despair. - Author: H.P. Lovecraft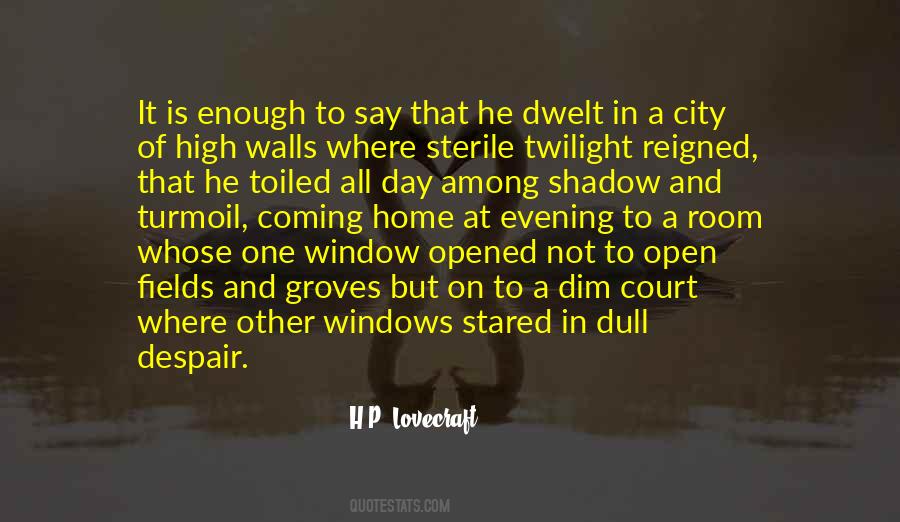 #3. Home is where the college student home for the holidays isn't. - Author: Laurence J. Peter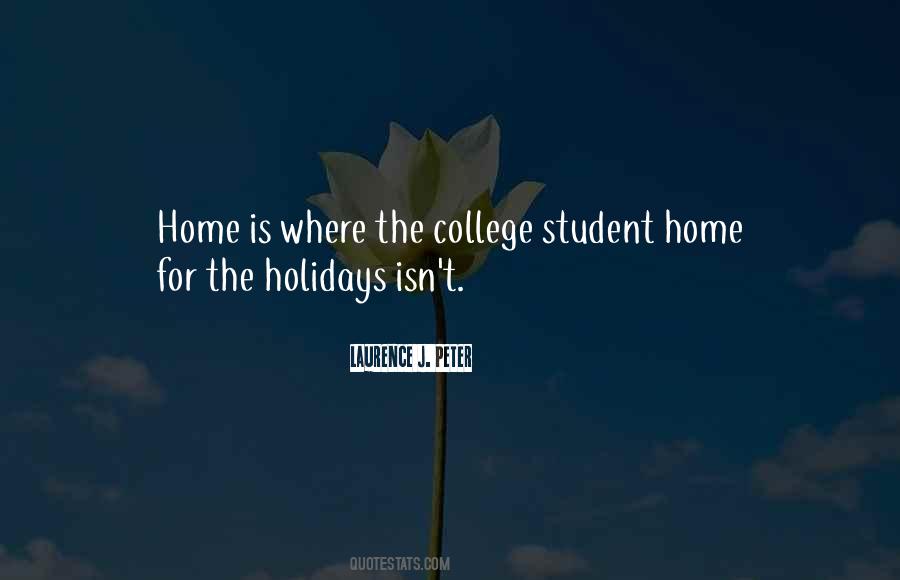 #4. I always knew where I was going eventually, so it helped me to stay at home for three years. It helped me to develop my game. But it also helped me off the ice. Life here is way different, and I was able to get older. - Author: Saku Koivu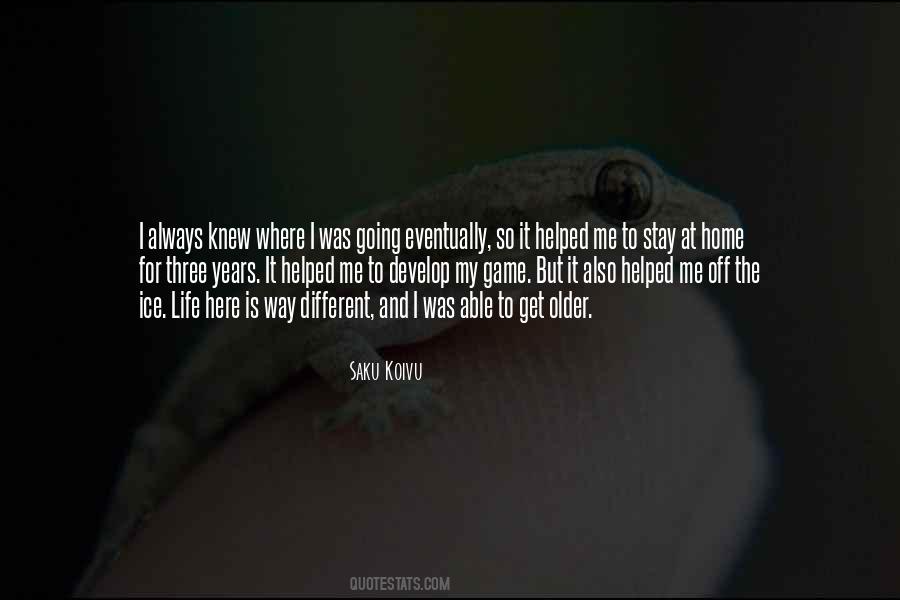 #5. I have a deep and passionate love of America. It is where I have always thought I would be happiest, and although I miss England desperately, I find that my heart definitely has its home over here. - Author: Jane Green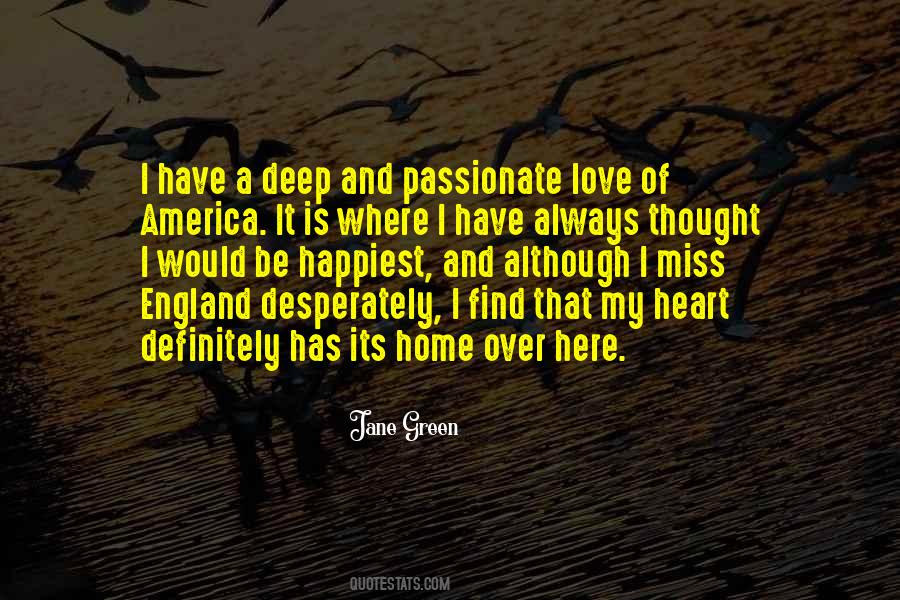 #6. Maybe, in the end, a home is a place where you have no other choice but to stay. - Author: Christopher Bollen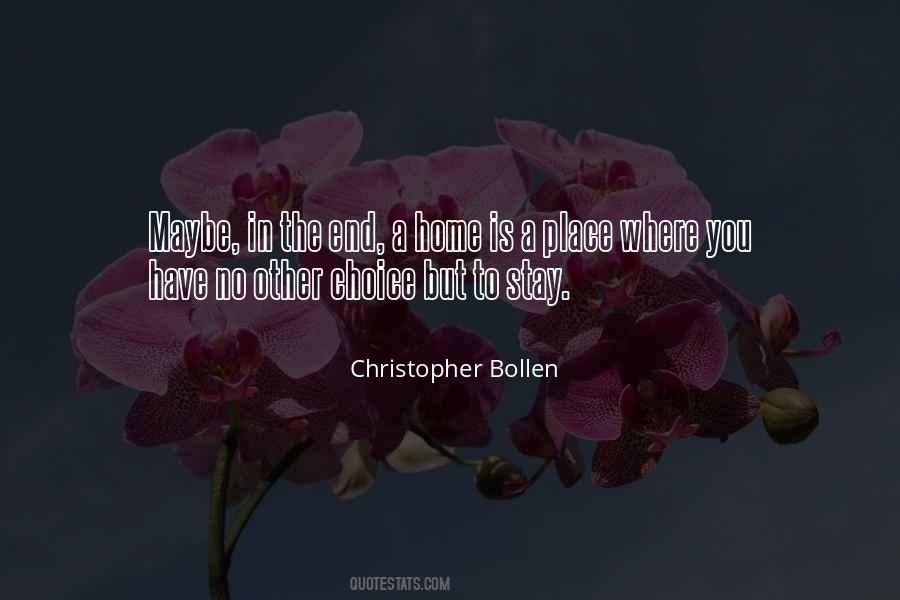 #7. He needs no library, for he has not done thinking; no church, for he is himself a prophet; no statute book, for he hath the Lawgiver; no money, for he is value itself; no road, for he is at home where he is. - Author: Ralph Waldo Emerson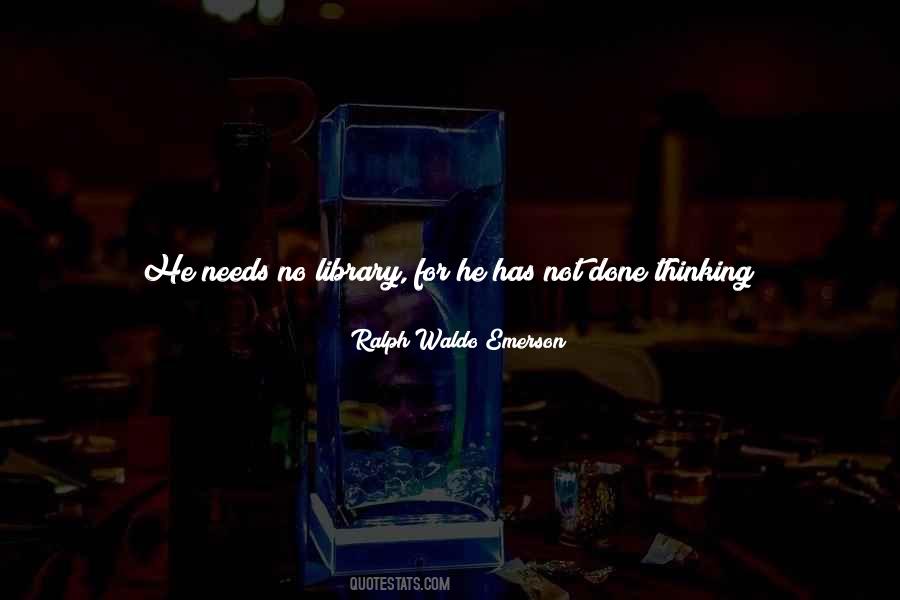 #8. The now reality is our only home, where everything already is. There is no other home we came from, and we might think we shall return to. - Author: Raphael Zernoff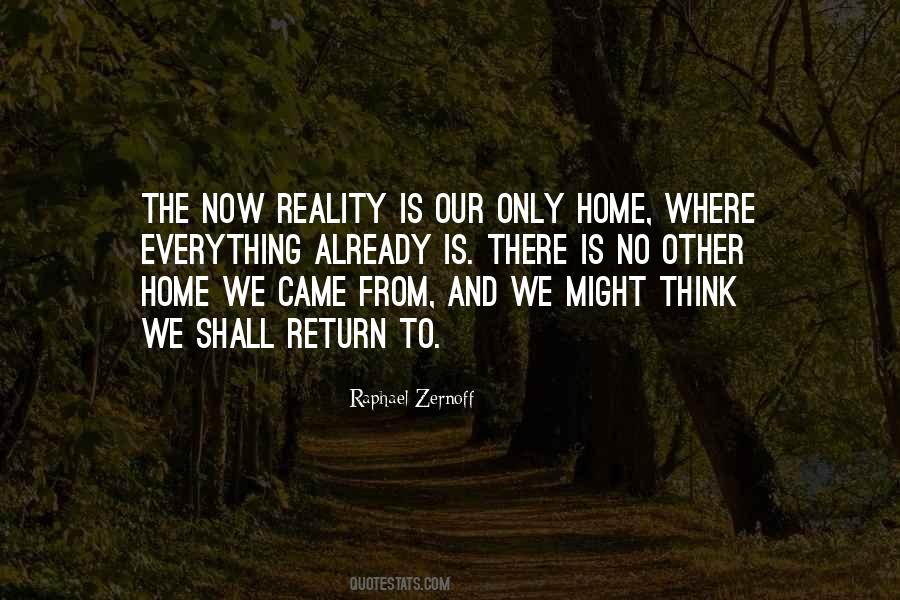 #9. For me, New York is home because that's where I'm from. - Author: Amy Heckerling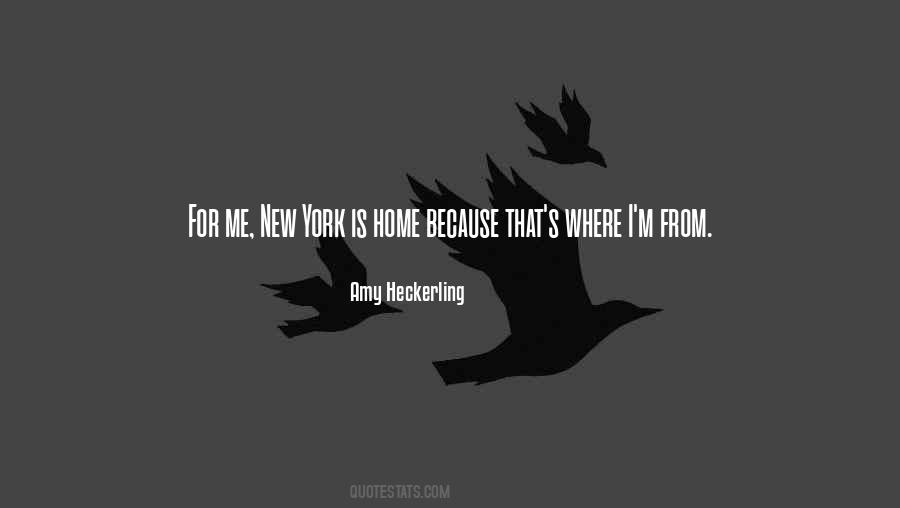 #10. I love doing theater. That's where my home is. - Author: Vanessa Hudgens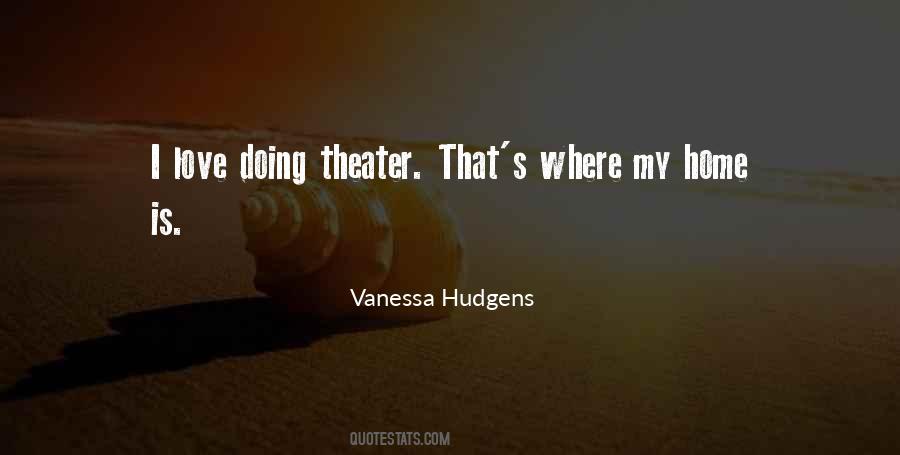 #11. Home is where the pants aren't - Author: Kara Swisher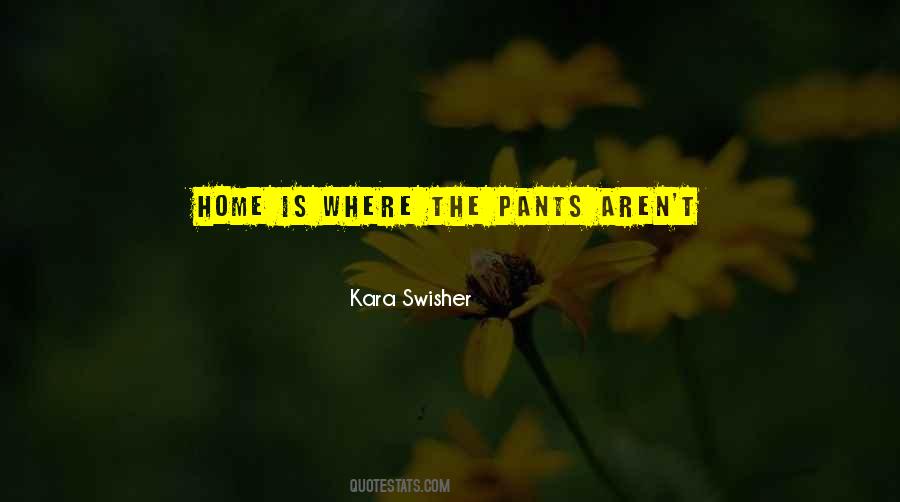 #12. There is no place in God's world where there are no people who will come and share a home as long as it is a real home. - Author: Francis A. Schaeffer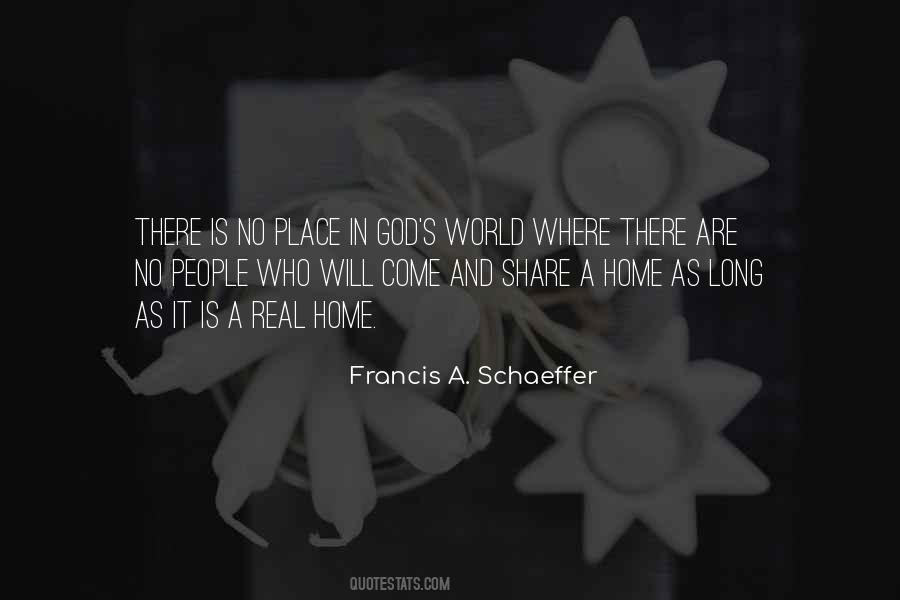 #13. Somewhere slightly before or after the close of our second decade, we reach a momentous milestone
childhood's end. We have left asafe place and can't go home again. We have moved into a world where life isn't fair, where life is rarely what it should be. - Author: Judith Viorst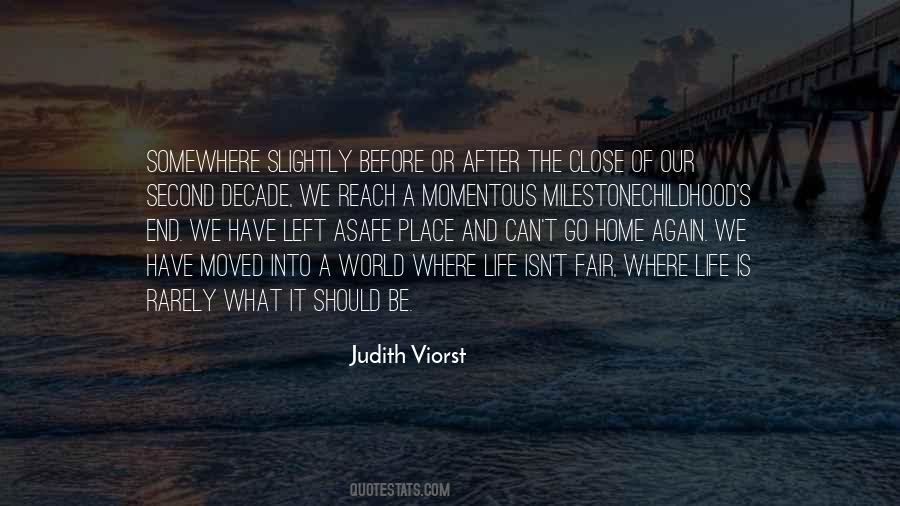 #14. And where is home? Is it where we begin or where we end up? Is it where we long to be or where life puts us to make good use of our gifts? - Author: Mark Nepo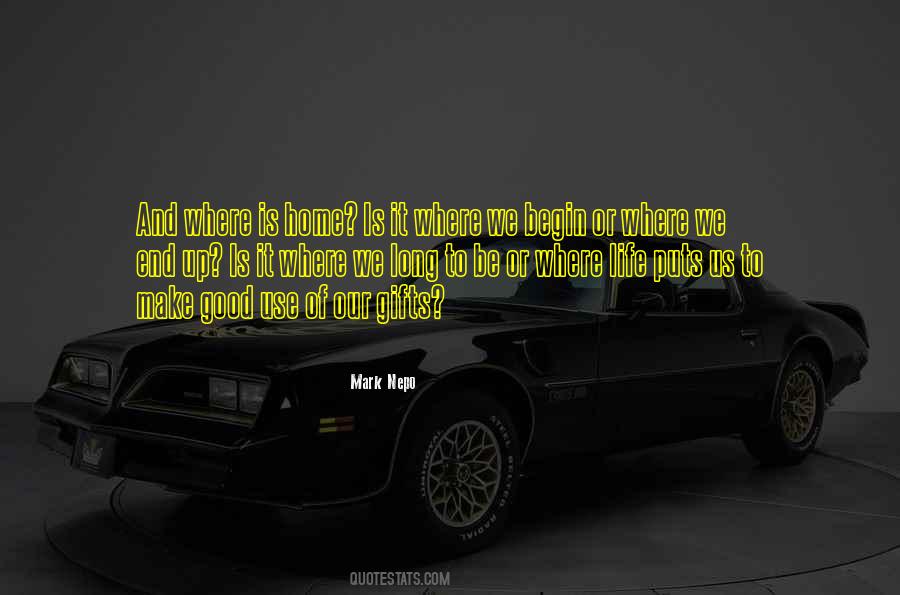 #15. Birds in flight, claims the architect Vincenzo Volentieri, are not between places - they carry their places with them. We never wonder where they live: they are at home in the sky, in flight. Flight is their way of being in the world. - Author: Geoff Dyer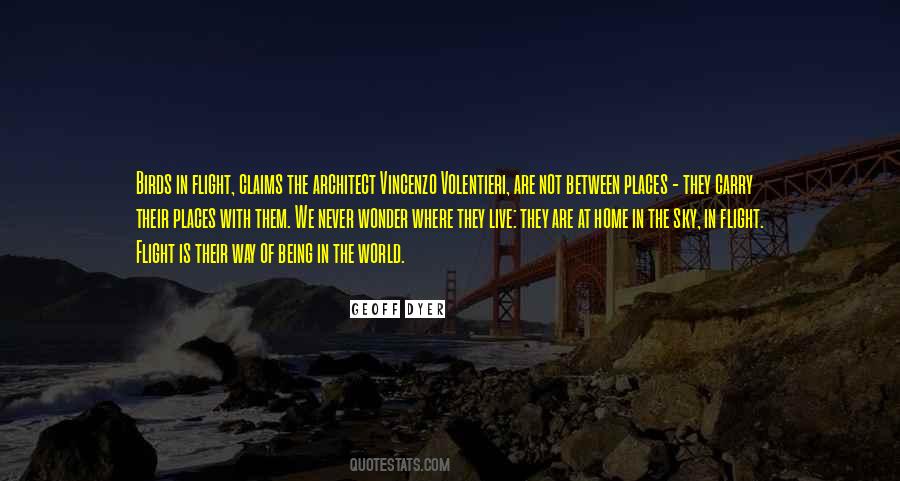 #16. For some students, school is the only place where they get a hot meal and a warm hug. Teachers are sometimes the only ones who tell our children they can go from an Indian reservation to the Ivy League, from the home of a struggling single mom to the White House. - Author: Denise Juneau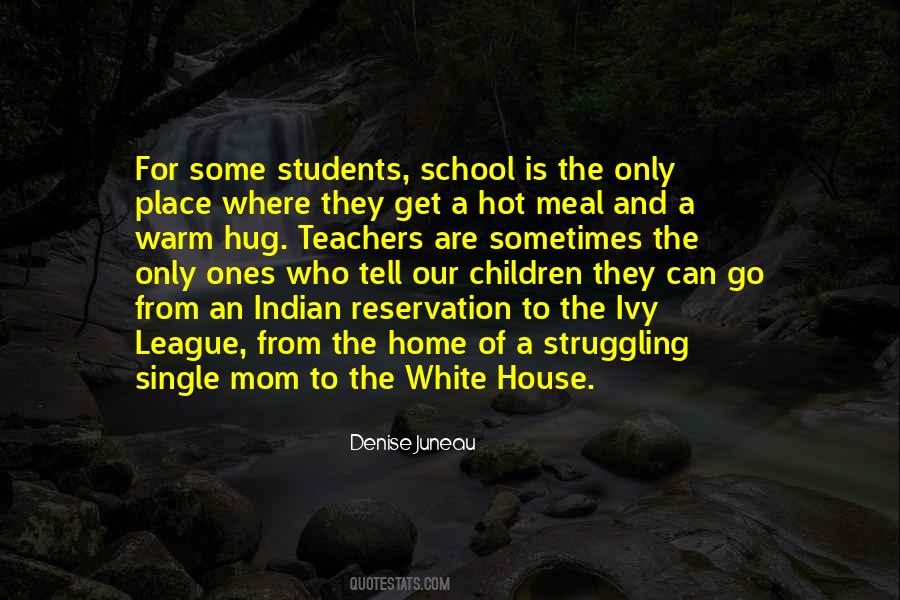 #17. I mean . . . I don't know. I don't know what I want to do, or who I want to be, or where I want to live. I don't know. I like reading about adventure, sure, but I also like doing it from the safety of home. But what is home, besides a quilt-covered bed? Where is it? - Author: Stephanie Perkins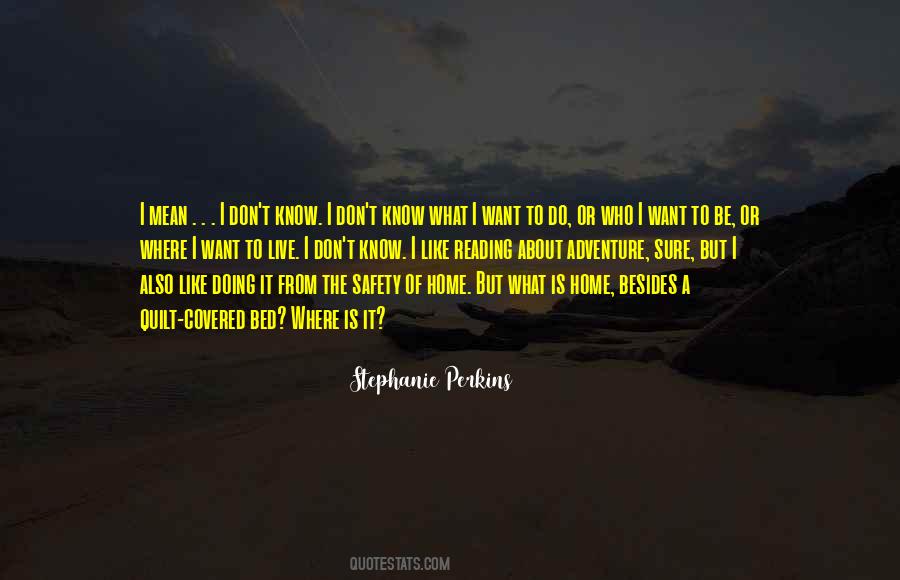 #18. If somebody knows me, they know for sure I'm from Poland because I'm playing for my country every tournament, every match. I'm staying in my hometown and my home country because that is where I feel comfortable. I feel good there. - Author: Agnieszka Radwanska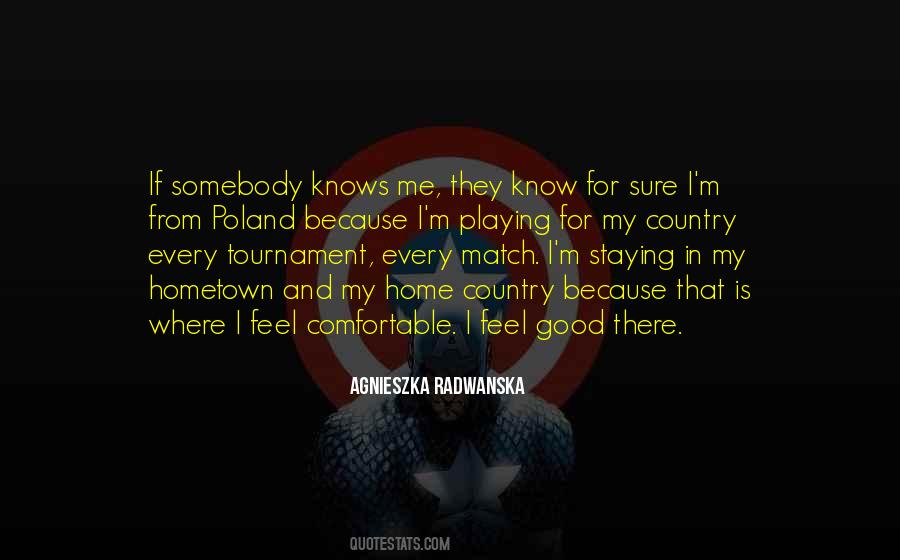 #19. Home is where the heartache is. - Author: Kathy Lette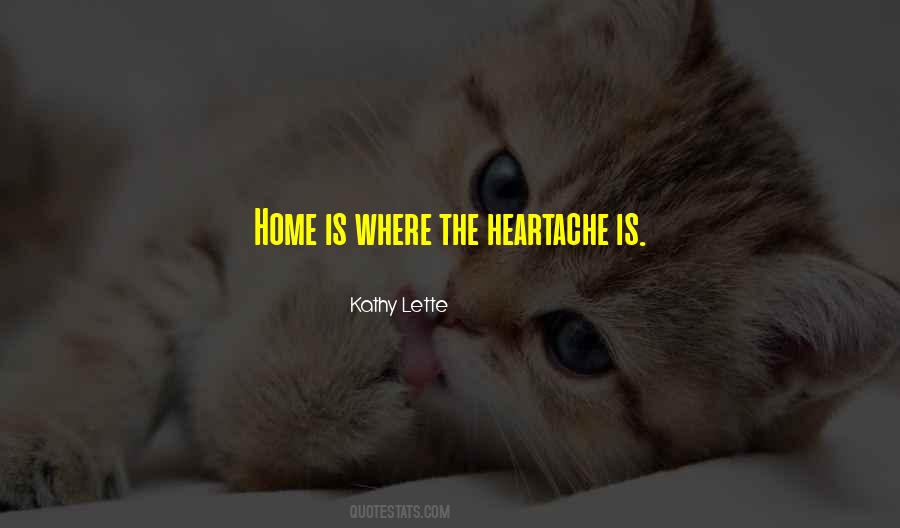 #20. Home is where the heart is, no matter how the heart lives. - Author: Sally Fingerett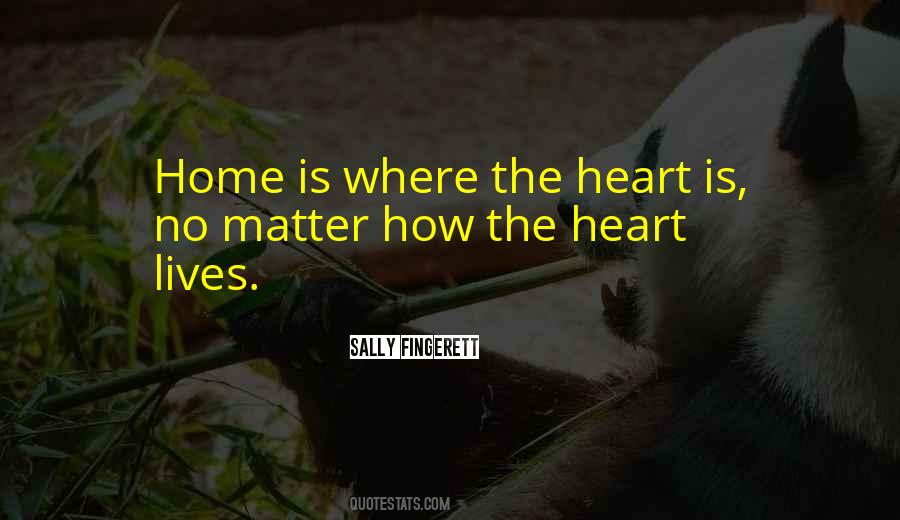 #21. Home is where the heart is, we say, rubbing the flint of one abstraction against another. - Author: Diane Ackerman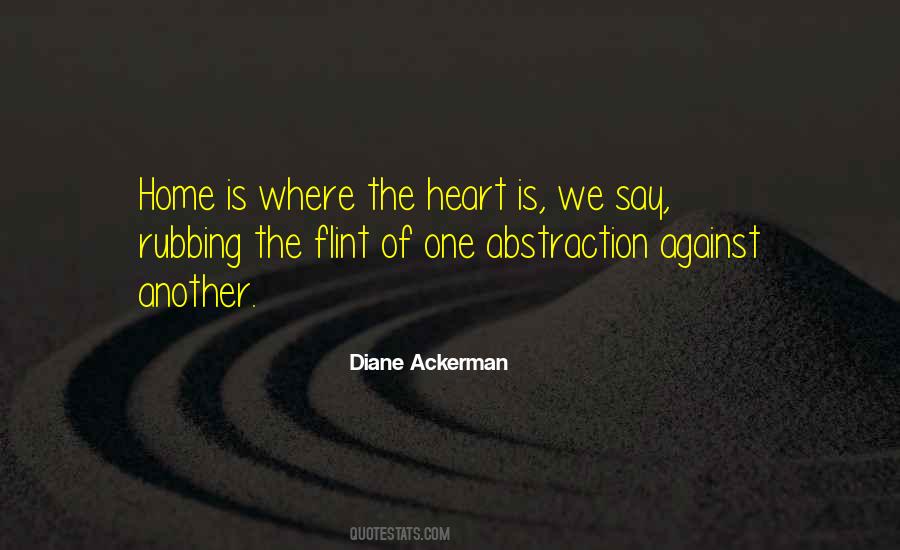 #22. I speak Swedish, it's my first language. Of course, growing up with Latin American parents from Argentina, I also have some other influences from other cultures. But Sweden is where I feel the most at home. - Author: Jose Gonzalez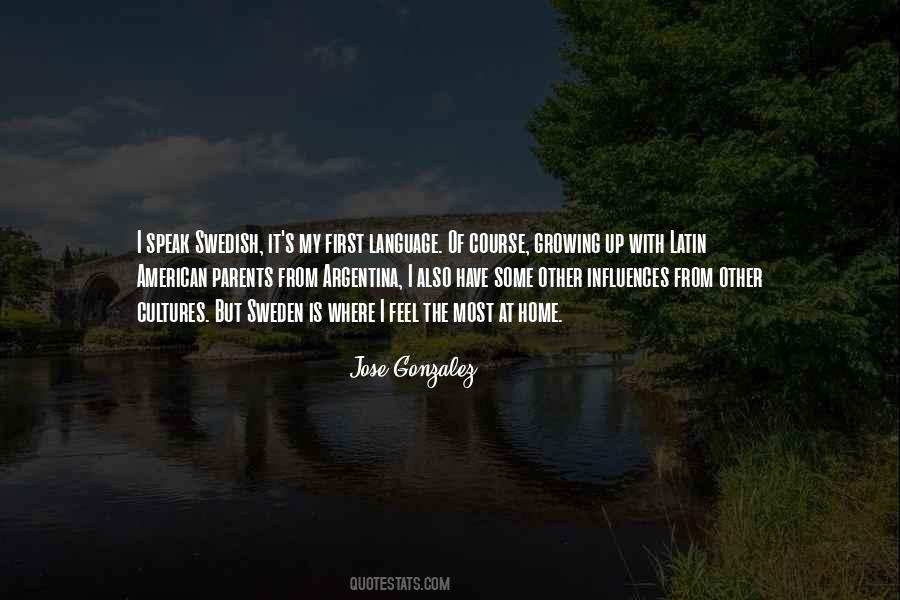 #23. I am British. I love Britain for all its faults and all its virtues. My husband is American and I am largely based in Los Angeles, but whenever someone asks me where home is, I automatically say 'London.' - Author: Helen Mirren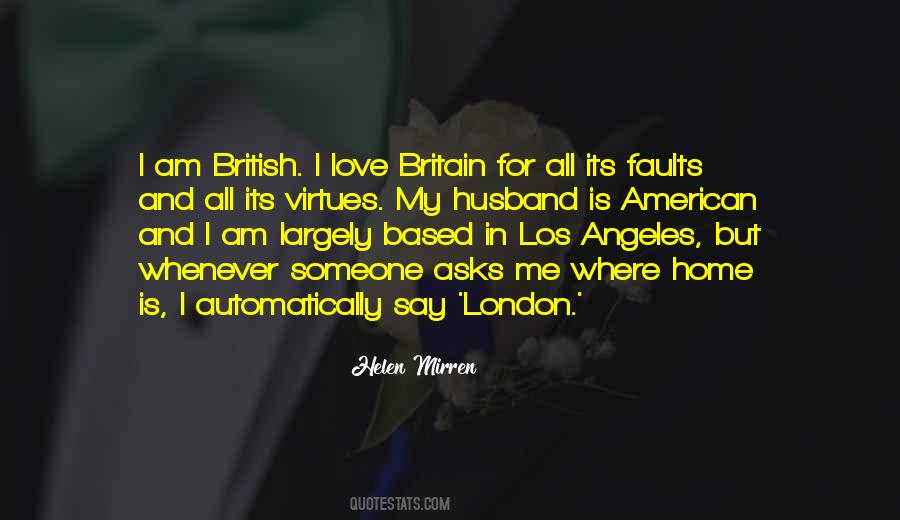 #24. So this is where you grew up. Did you like it here? I guess you couldn't have, if you wanted to leave.' CHRISTINA
'I liked some things and hated some things. And there were some things I didn't know I had until I lost them.' TRIS - Author: Veronica Roth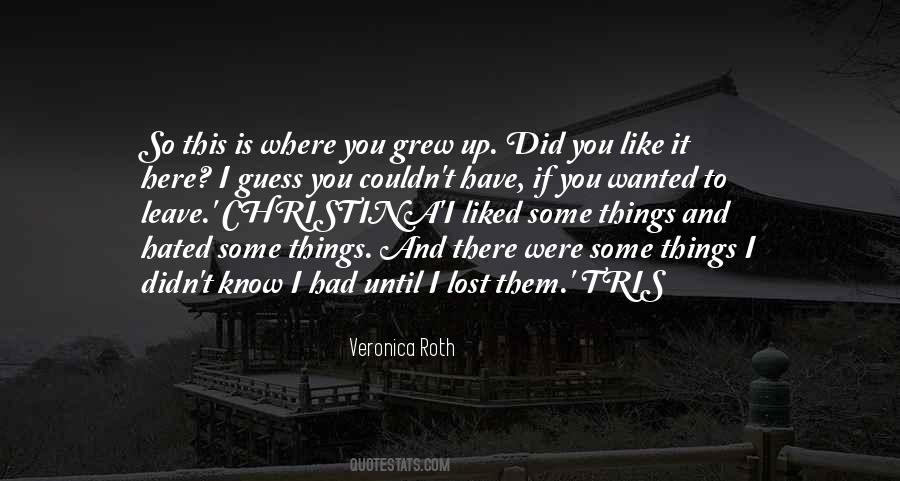 #25. Home will always be where comfort is, even if that comfort is pain - Author: Jackson Saint-Louis
#26. In Lisbon, a street cry gloated over the Spanish defeat: Which ships got home? The ones the English missed. And where are the rest? The waves will tell you. What happened to them? It is said they are lost. Do we know their names? They know them in London. Oh, - Author: Margaret George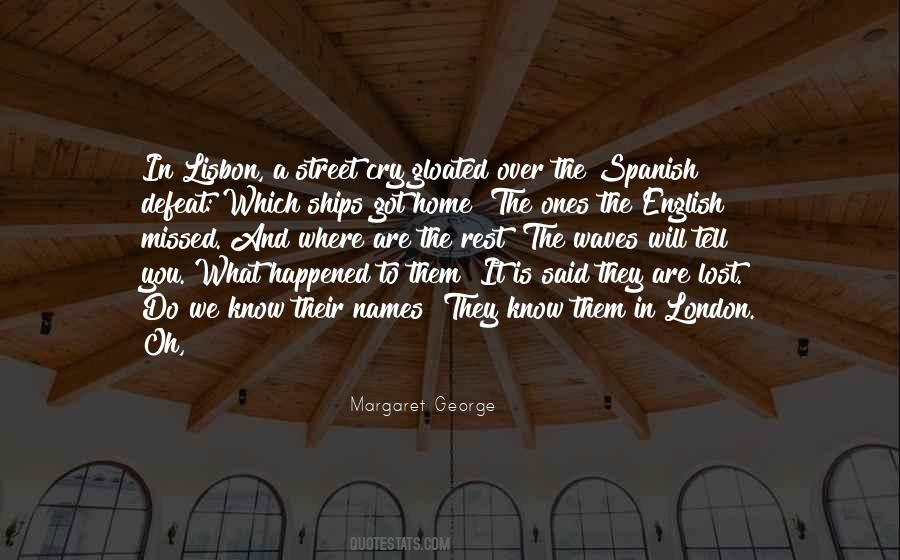 #27. Home is where the heart is ... not necessariliy where you sleep. - Author: Chloe Neill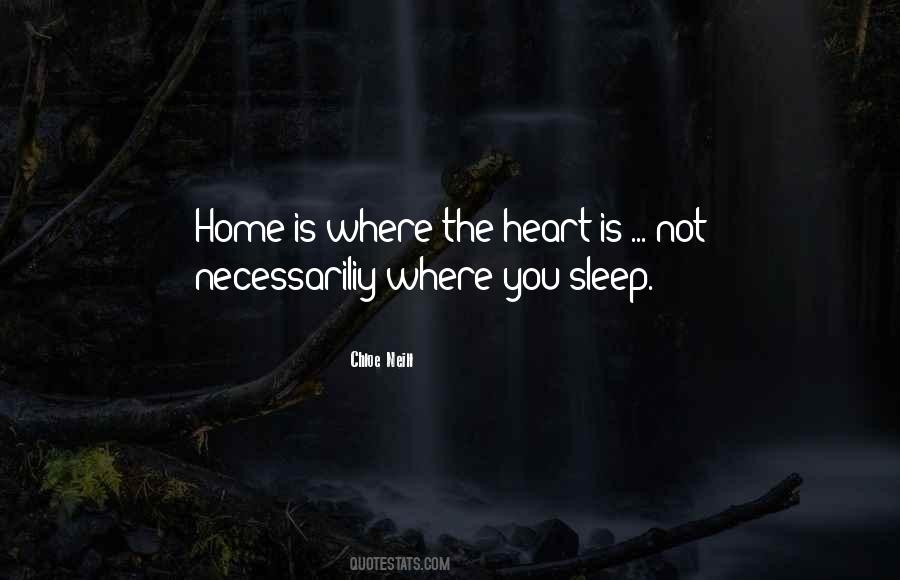 #28. I managed to convince myself that I'd left Bulgaria behind for good. I chose to see emigration and globe-trotting as an escape, not as a loss. Nowhere to call home? No problem, the world is my oyster. Where are you from? they ask. Does it matter? I answer.
But it does. - Author: Kapka Kassabova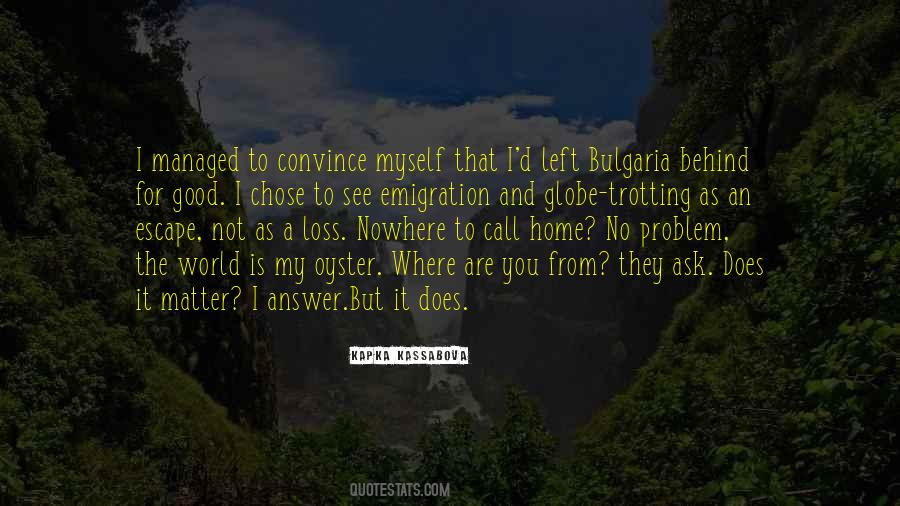 #29. For me, my home is a peaceful place where I can rest, and it gives me back energy. - Author: Fabiola Gianotti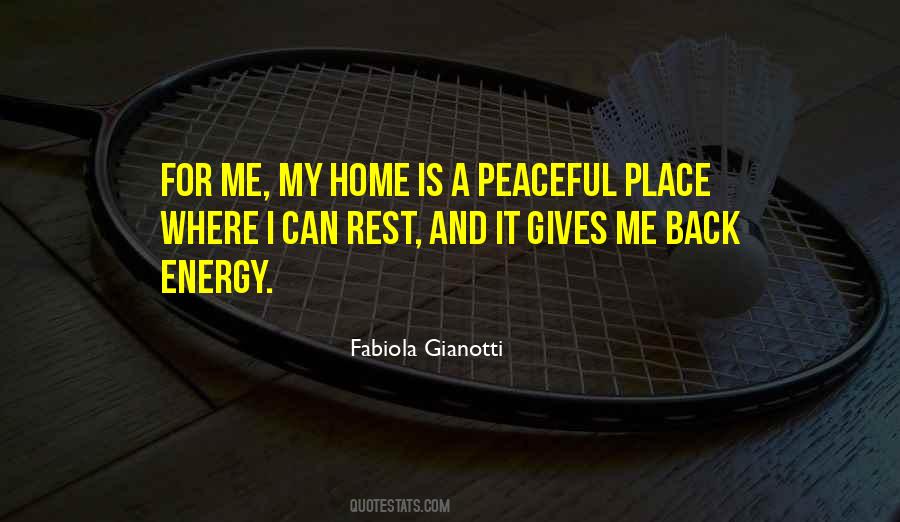 #30. My mom is a great cook, and family dinners were a must growing up, even if that meant eating at 10 p.m. when my dad got home from the hospital. It's where we did our family bonding. - Author: Daphne Oz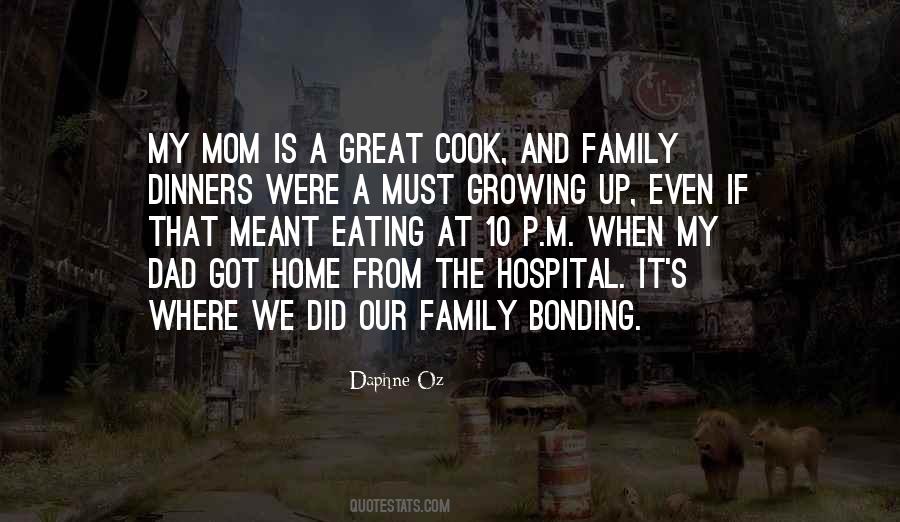 #31. Home is the heart of life Home is where we feel at ease, where we belong, where we can create surroundings that reflect our tastes and pleasures Making a home is a form of creativity open to everyone. - Author: Terence Conran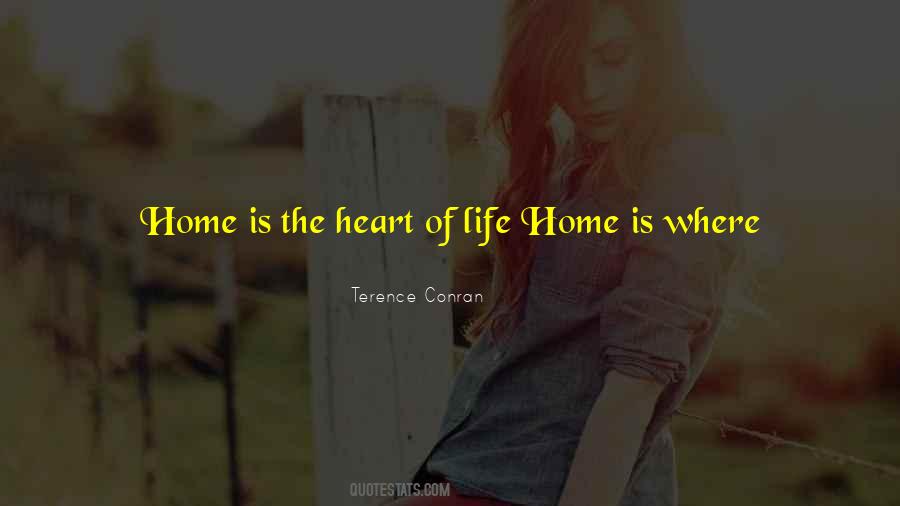 #32. It is mother's influence during the crucial formative years that forms a child's basic character. Home is the place where a child learns faith, feels love, and thereby learns from mother's loving example to choose righteousness. - Author: Ezra Taft Benson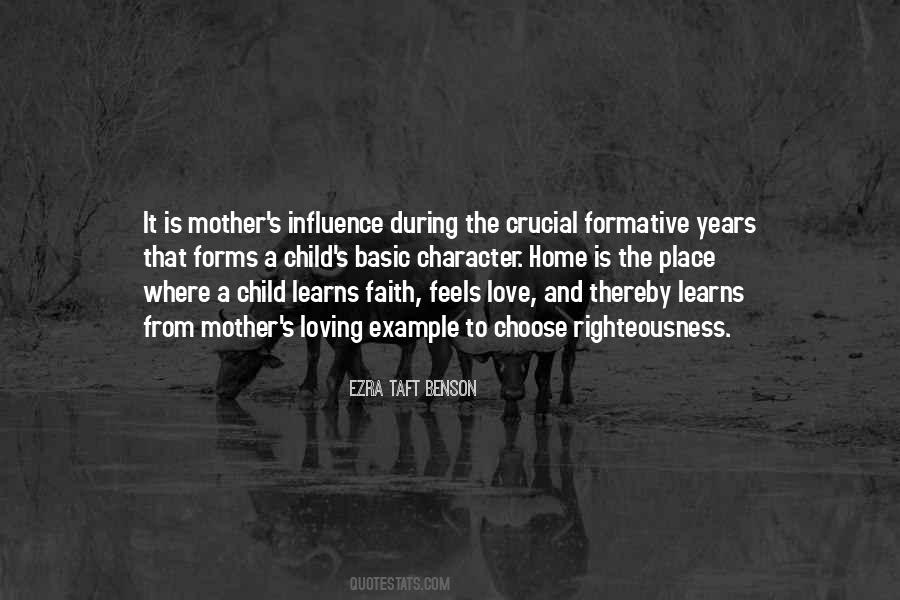 #33. Home is the school where we learn that love shows itself in the details. - Author: Andi Ashworth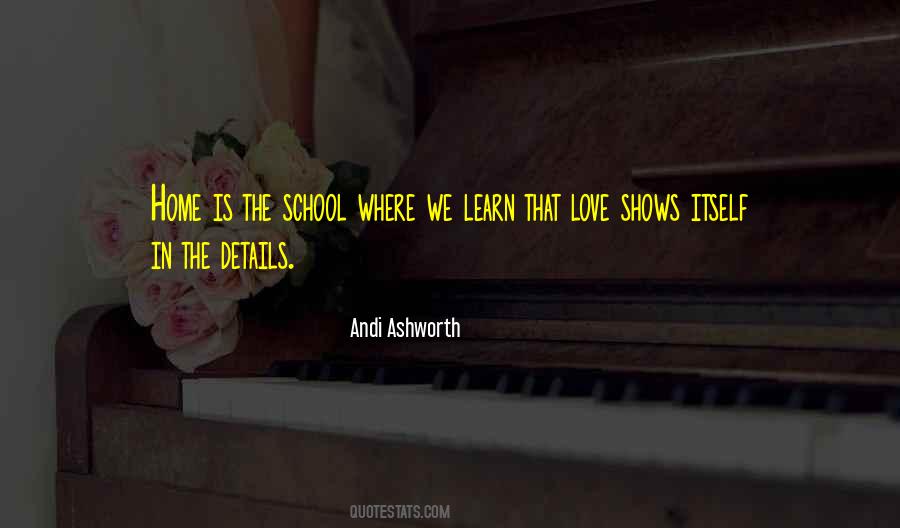 #34. Home is where you hange your memories ... Home is where you begin again to dream again. - Author: Charles Angoff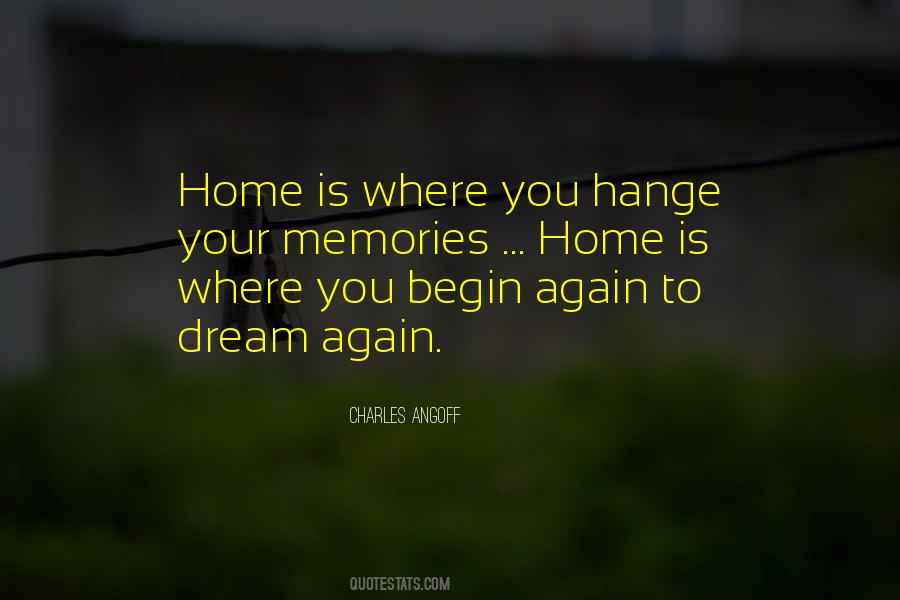 #35. There it was, there it is, the place where during the best time of our lives friendship had its home and happiness its headquarters. - Author: Wallace Stegner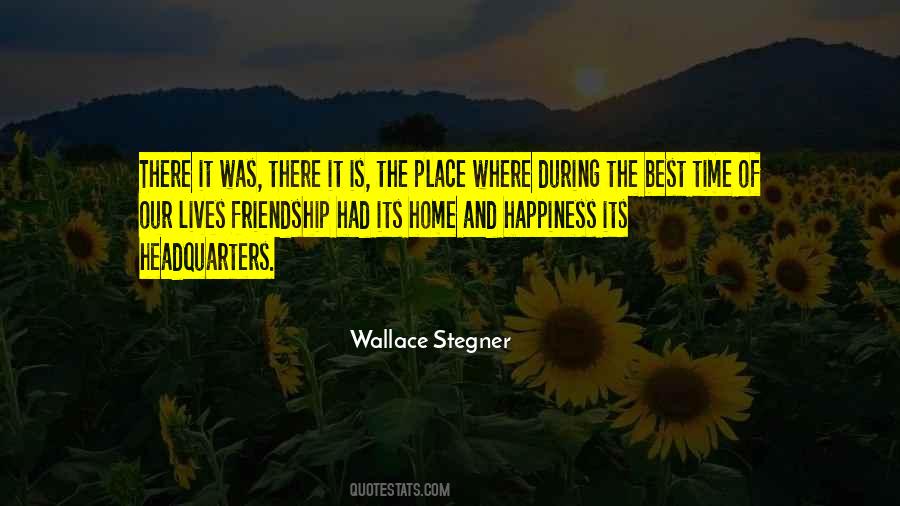 #36. Theater is where I have the most experience and feel most at home, but I'm really, really loving film. - Author: Andre Holland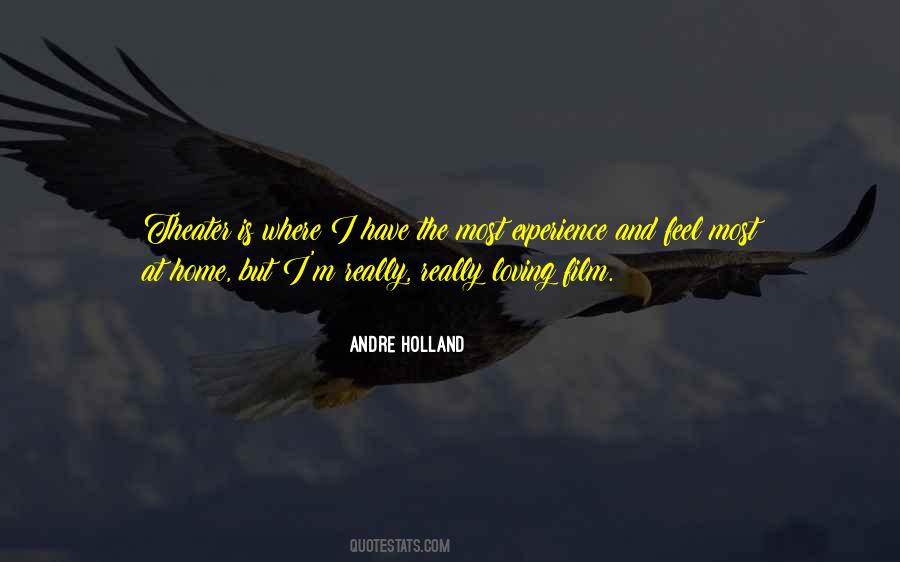 #37. I want my own bed, in my own apartment. Home sweet home. No place like home. Take me home, country roads. Home is where the heart is. But my heart is here. So I must be home. - Author: Audrey Niffenegger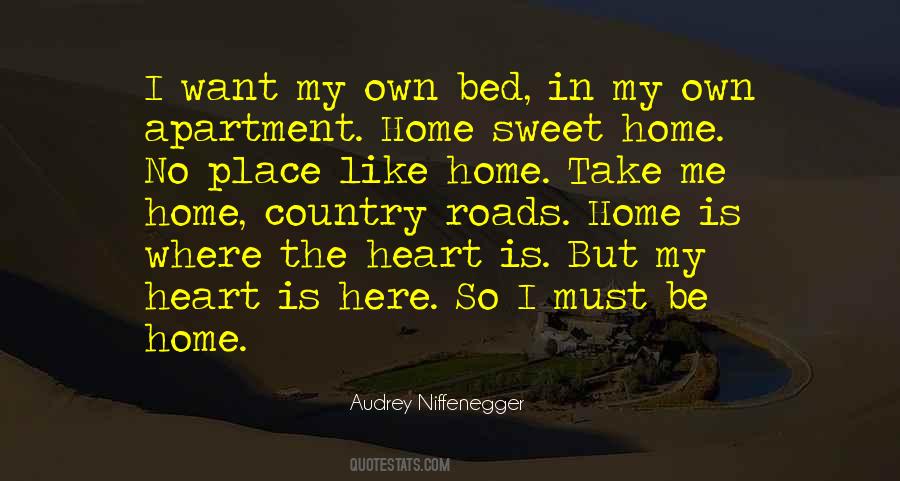 #38. Go back home where you came from. This country is mine, and I intend to stay here and to raise this country full of grown people. - Author: Sitting Bull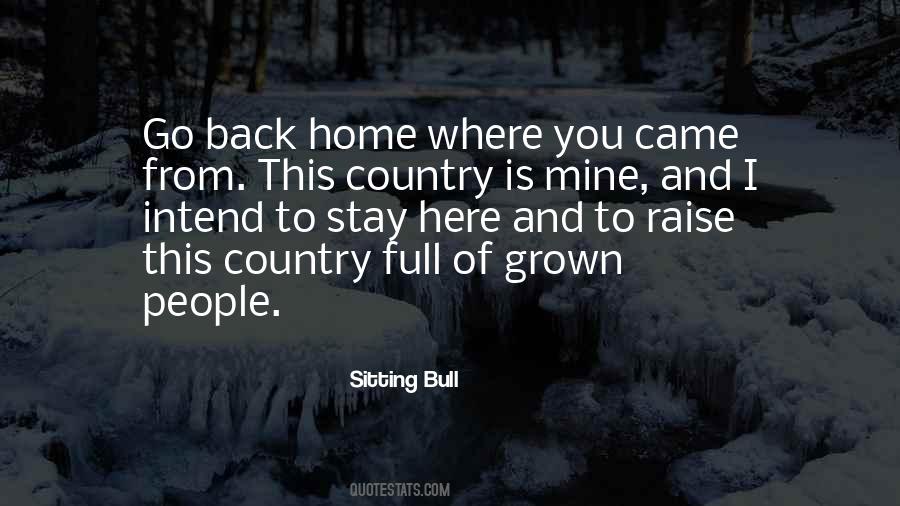 #39. I call Iran home because no matter how long I live in France, and despite the fact that I feel also French after all these years, to me the word 'home' has only one meaning: Iran. I suppose it's that way for everyone: Home is the place where one is born and raised. - Author: Marjane Satrapi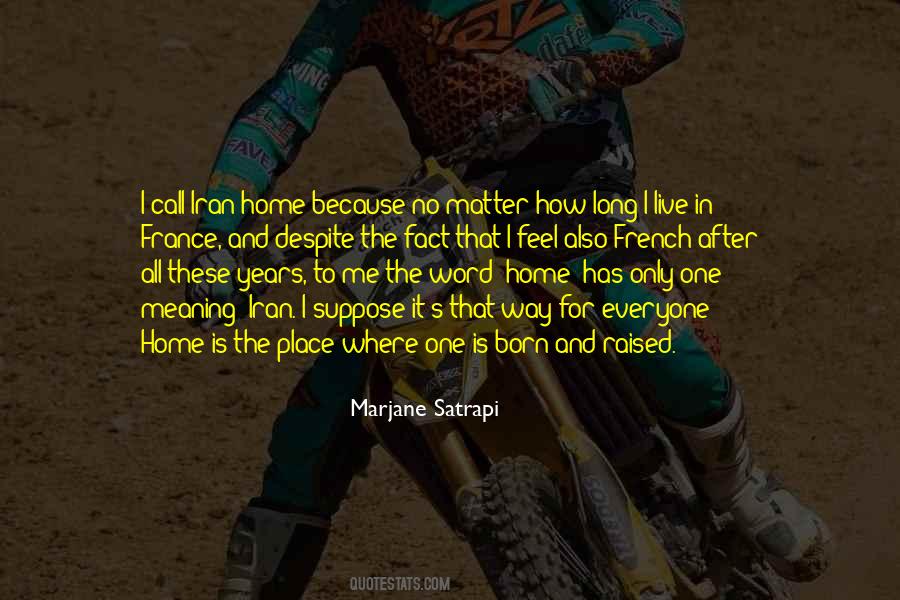 #40. Home is the place where they have to take you in - Author: Diana Gabaldon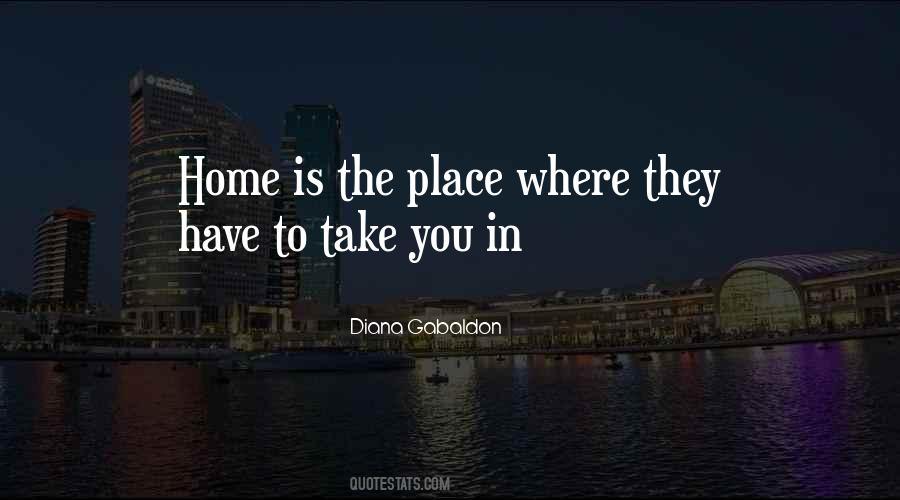 #41. Some people say home is where you come from. But I think it's a place you need to find, like it's scattered and you pick pieces of it up along the way. - Author: Katie Kacvinsky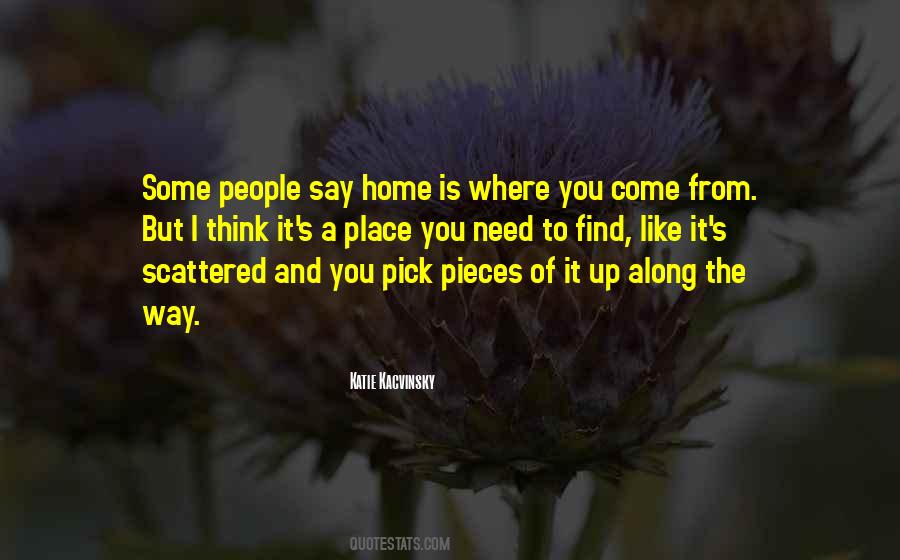 #42. School is no place of education for any children whatever till their minds are well put in action. This is the work which has to be done at home, and which may be done in all homes where the mother is a sensible woman. - Author: Harriet Martineau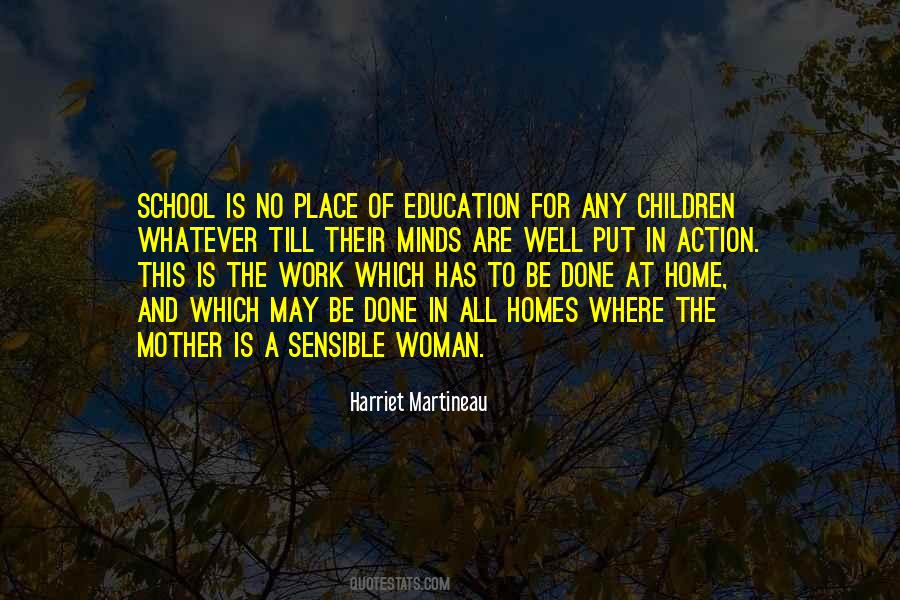 #43. Ubi amo, ibi patria. Where I love. there is my home. - Author: Elizabeth Hunter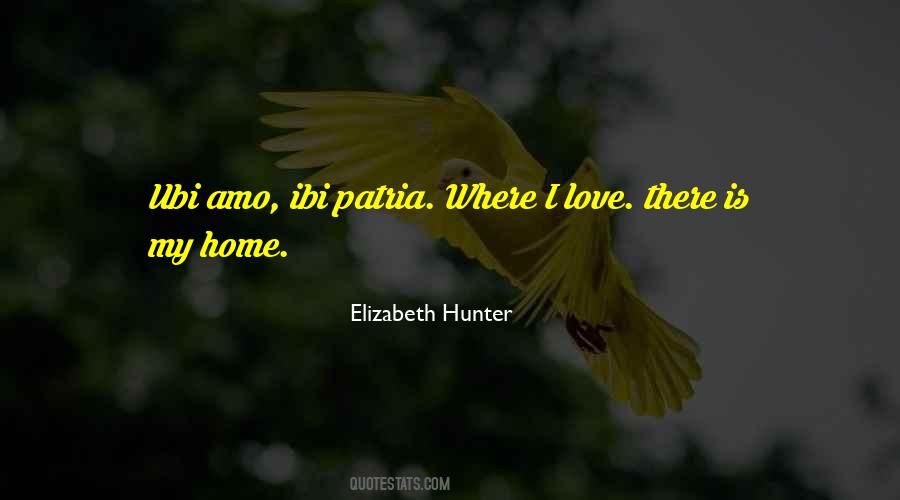 #44. Woman's primary place is in the home, where she is to rear children and abide by the righteous counsel of her husband. - Author: Bruce R. McConkie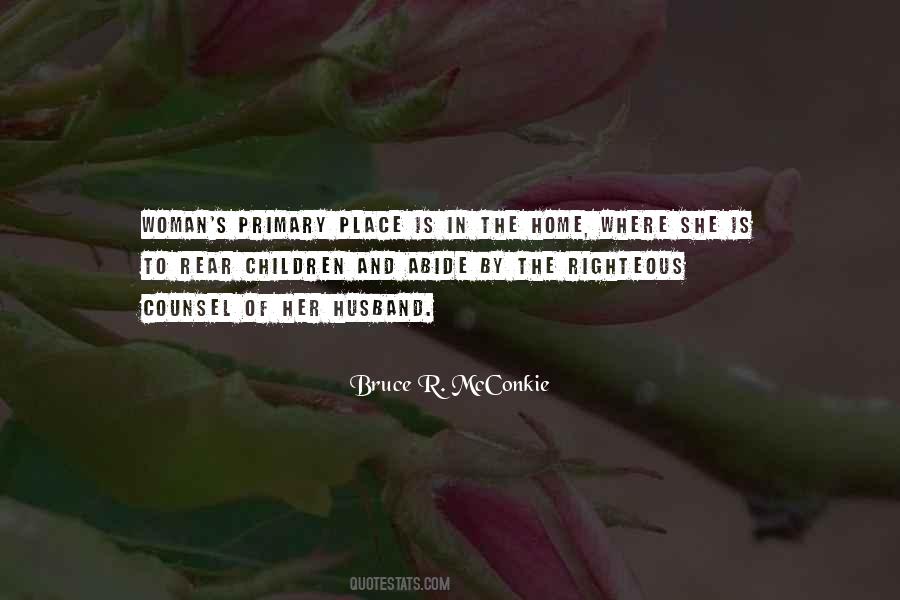 #45. The guy says, "When you work where I work, by the time you get home, it's late. You've got to have a bite to eat, watch a little TV, relax and get to bed. You can't sit up half the night planning, planning, planning." And he's the same guy who is behind on his car payment! - Author: Jim Rohn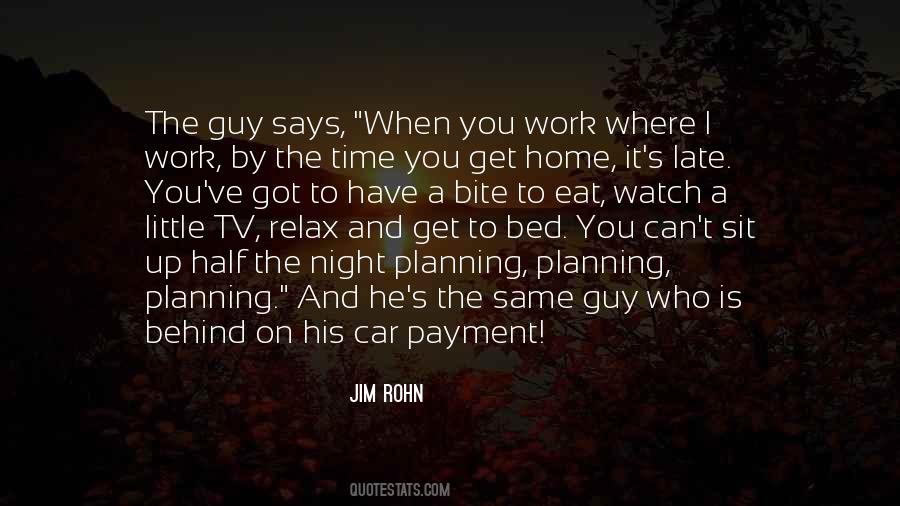 #46. In cold weather states like Vermont, where the weather can get to 20 below zero, home heating assistance is critically important. In fact, it is a life and death issue. - Author: Bernie Sanders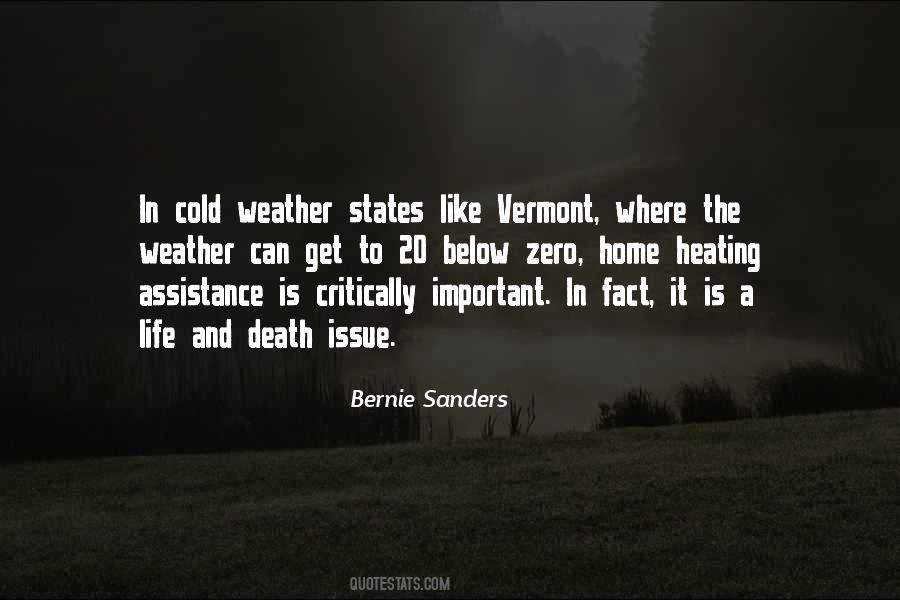 #47. One day you'll get to fly, Soph, just like Pan and Wendy. Fly away home to a better place where everything is brighter, boys are never lost, and mothers don't ever leave. But right now? Don't mourn me, she - Author: Shelly Crane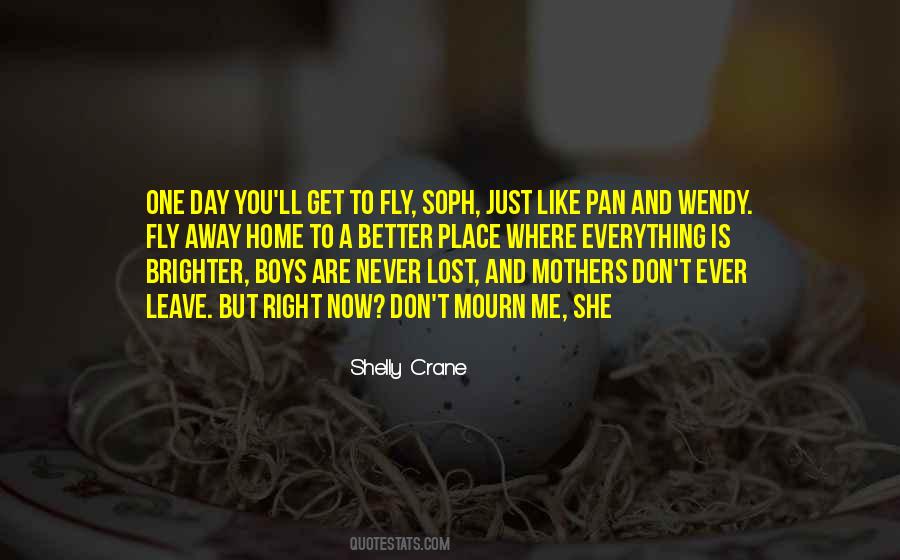 #48. Home is where we have a history. - Author: Terry Tempest Williams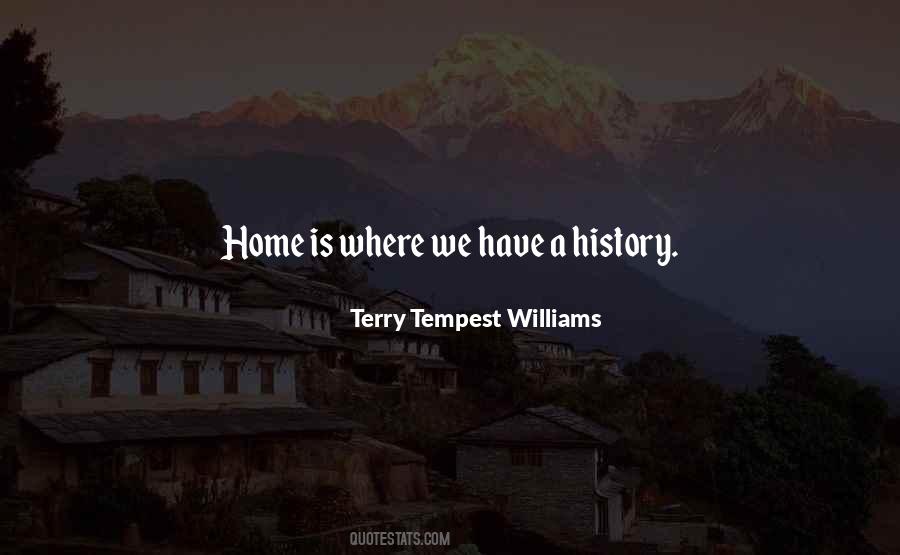 #49. A good heart is a beautiful home where you can always find peace! - Author: Mehmet Murat Ildan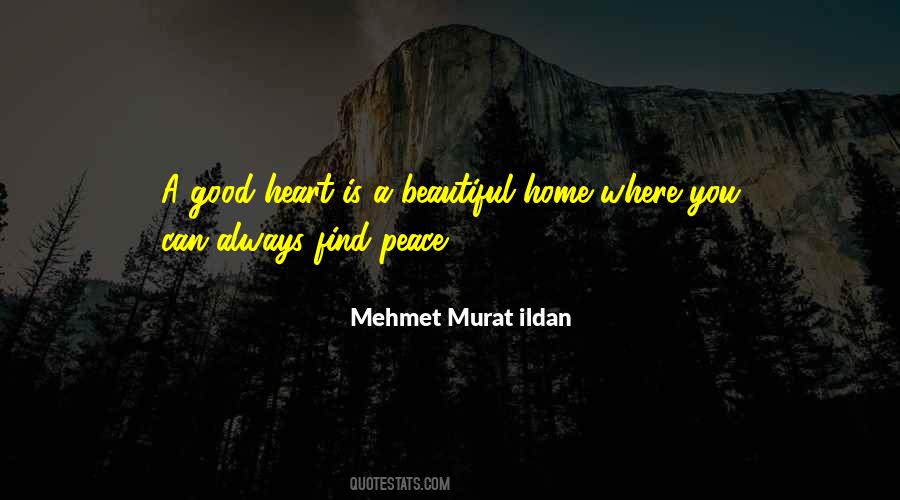 #50. Your first task is to find the place where your soul is at home. - Author: Thomas Moore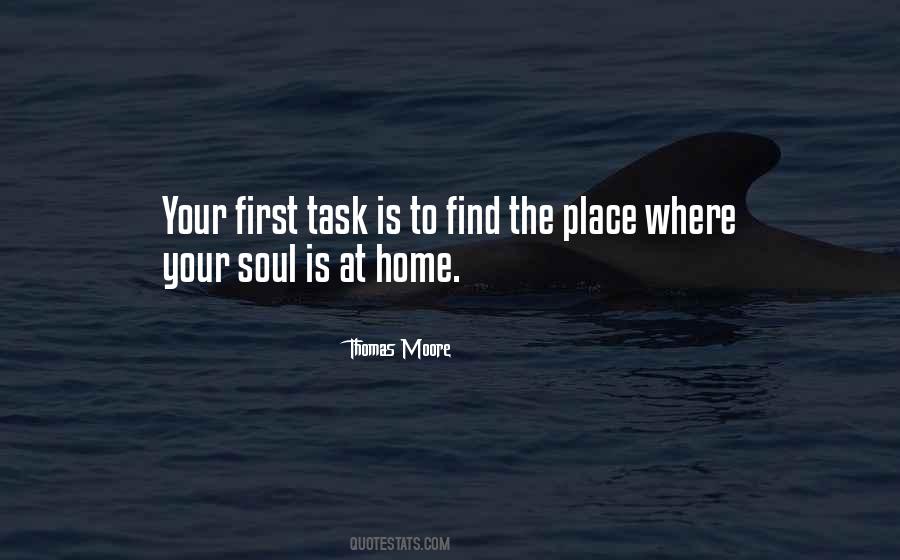 #51. Home is where you feel at home. I'm still looking. - Author: Truman Capote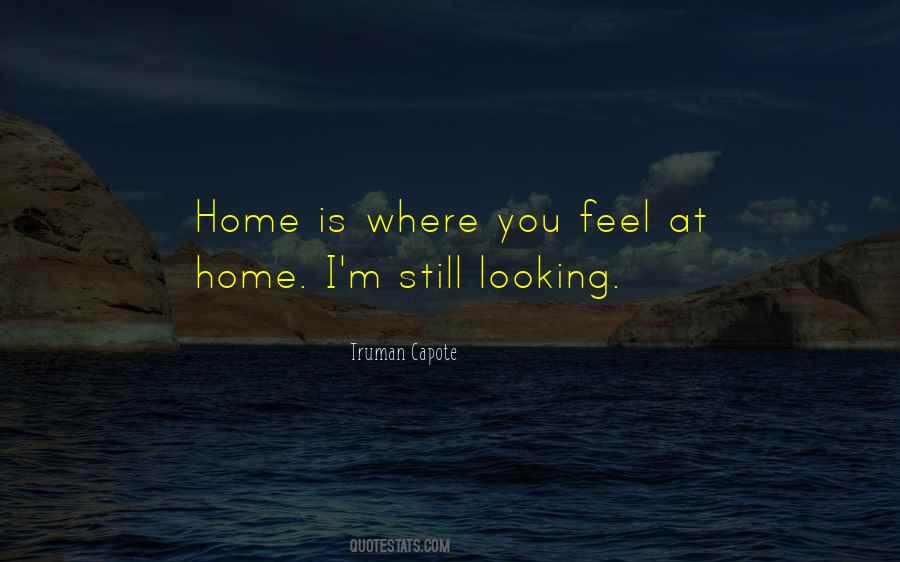 #52. We're [New York] the world's second home, the place where every religion is practiced and every culture is celebrated. - Author: Michael Bloomberg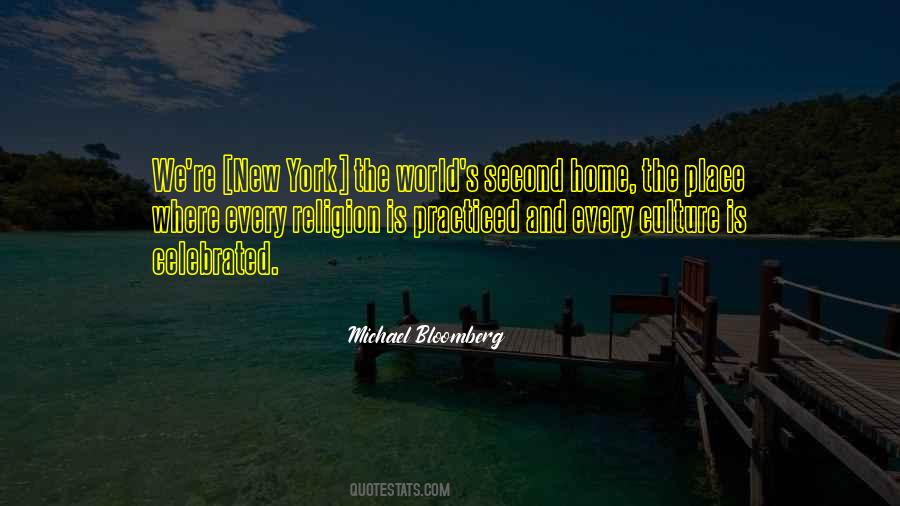 #53. I have two homes, like someone who leaves their hometown and/or parents and then establishes a life elsewhere. They might say that they're going home when they return to see old friends or parents, but then they go home as well when they go to where they live now. Sarajevo is home, Chicago is home. - Author: Aleksandar Hemon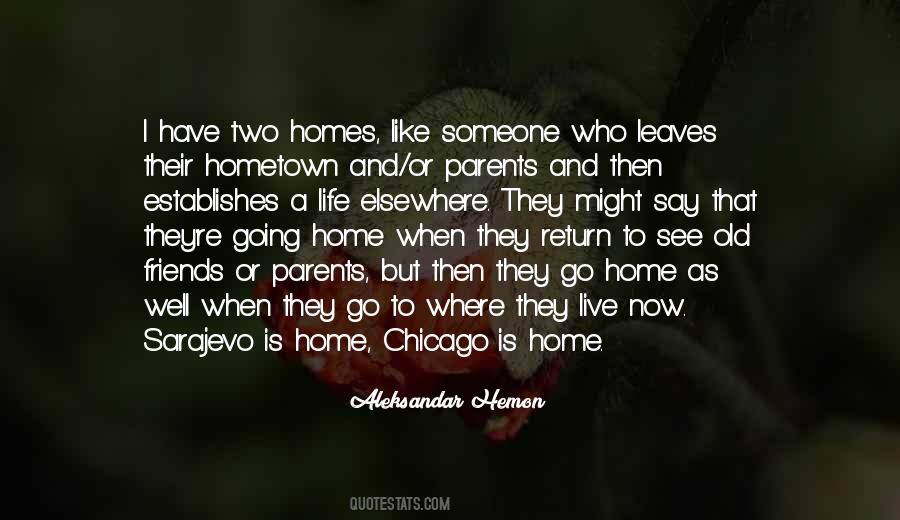 #54. Yes, what is it like? Certainly not like she dreamed. But maybe that's okay. We want what we want. At home, she works herself into a frenzy worrying about what she isn't
and perhaps loses track of just where she is. - Author: Jess Walter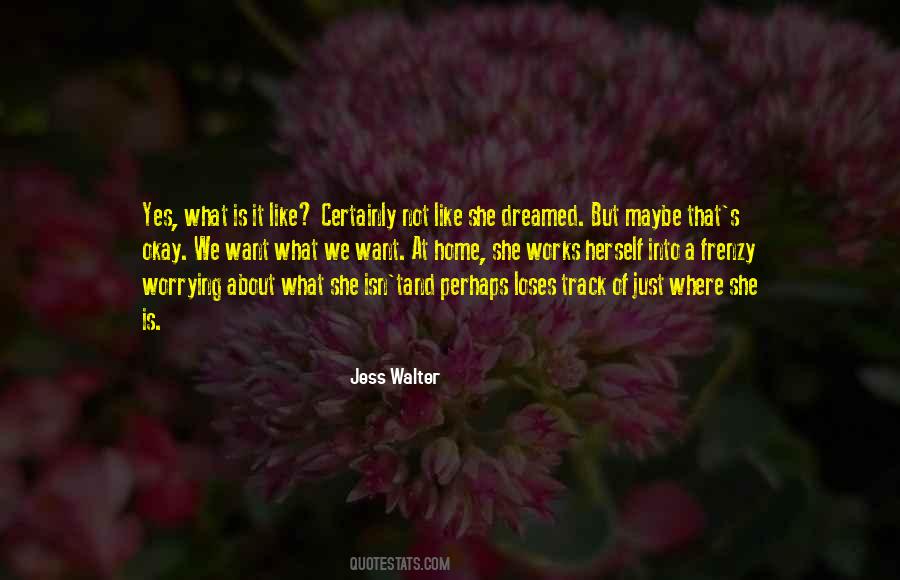 #55. This is home. This is where we are. This is the place we store our love. You just have to be content to be in your own skin, that's all". Charlie to Ginny - Author: Kristen D. Randle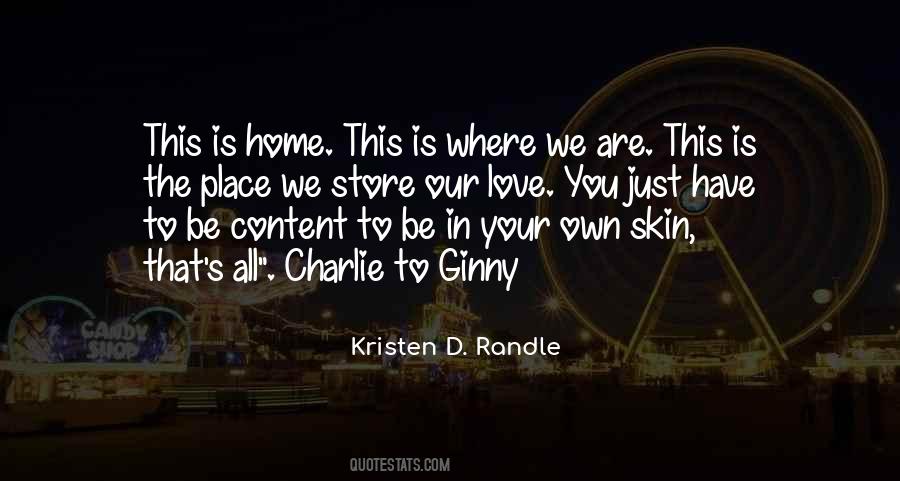 #56. The fishing is best where the fewest go and the collective insecurity of the world makes it easy for people to hit home runs while everyone is aiming for base hits. - Author: Timothy Ferriss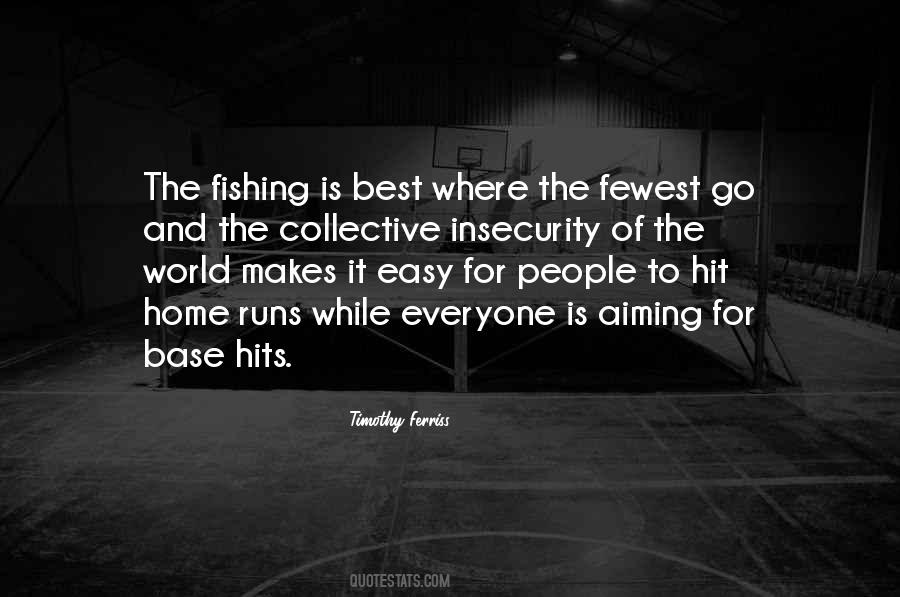 #57. Well, the moral of the story, The moral of this song, Is simply that one should never be Where one does not belong. So when you see your neighbor carryin' somethin', Help him with his load, And don't go mistaking Paradise For that home across the road. - Author: Bob Dylan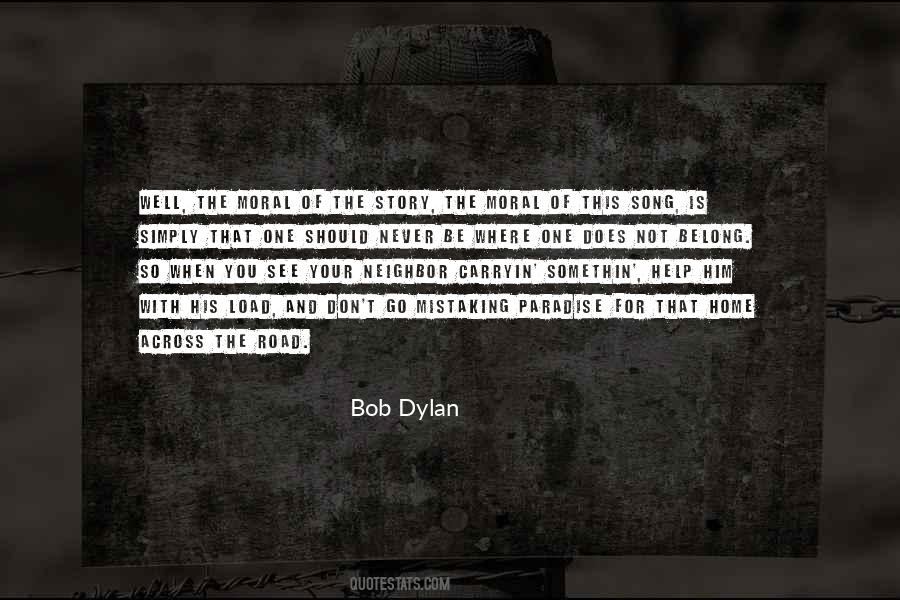 #58. Home is where the love is and where the heart wants to dwell with ease. - Author: Debasish Mridha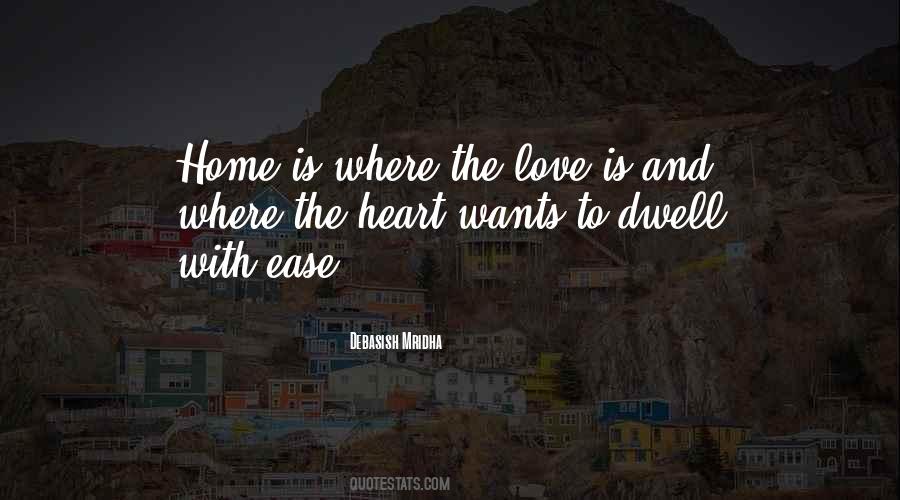 #59. Home is where, when you have to go there, you probably shouldn't. - Author: Edward Abbey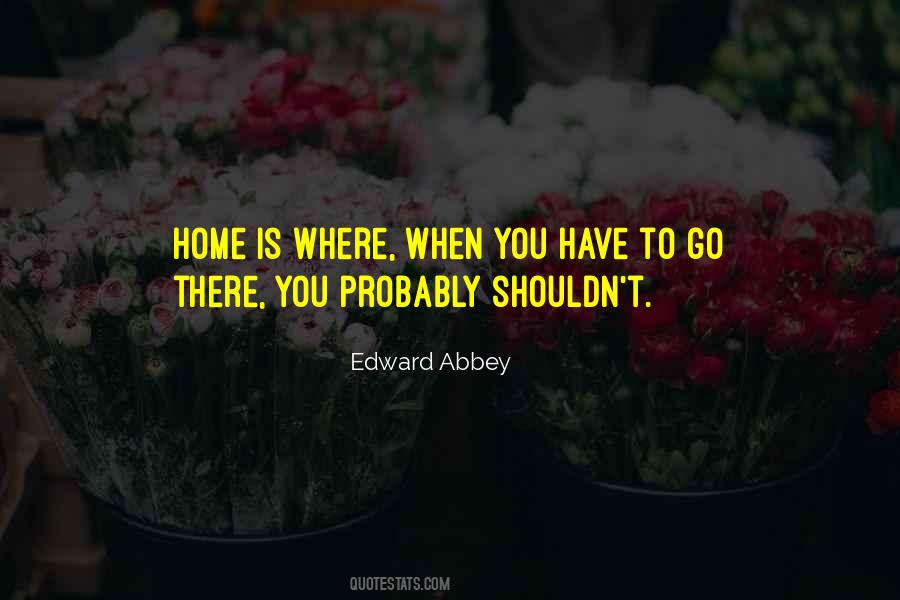 #60. Home is where you hang your architect. - Author: Clare Boothe Luce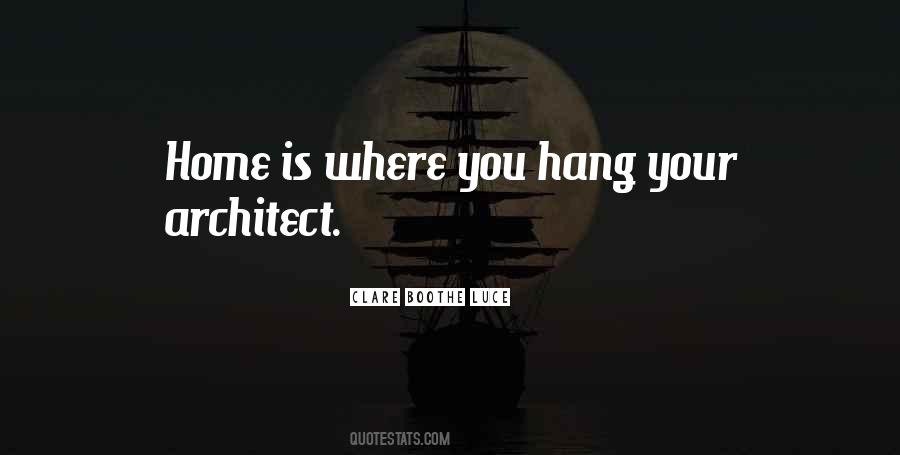 #61. I can only tell where I feel most at home, which is in the erosional landscape of the red rock desert of southern Utah, where the Colorado River cuts through sandstone and the geologic history of the Earth is exposed: our home in Castle Valley. - Author: Terry Tempest Williams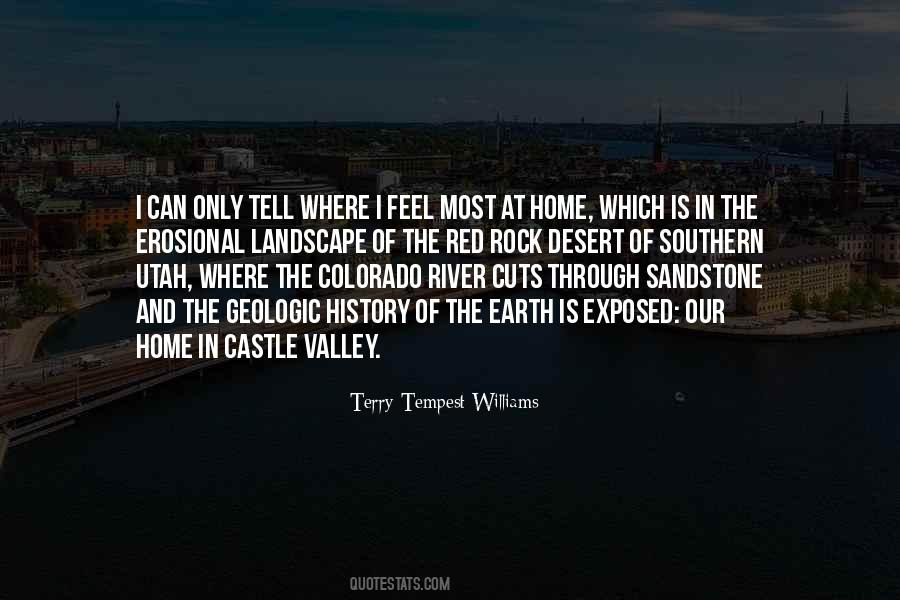 #62. Every day, it's a different country, different time zone. If you asked me where home was, I've never felt like I've had that. My idea of comfort is to leave a place. Two weeks is sort of my max. - Author: Alison Mosshart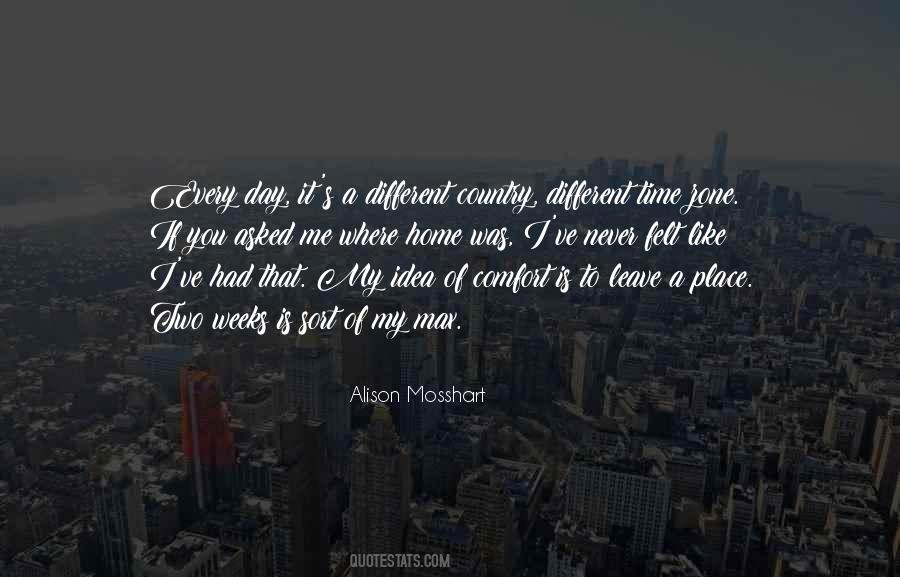 #63. The theater is who I am - it's where I feel the most inspired, the most at home, the most useful. - Author: Mary-Louise Parker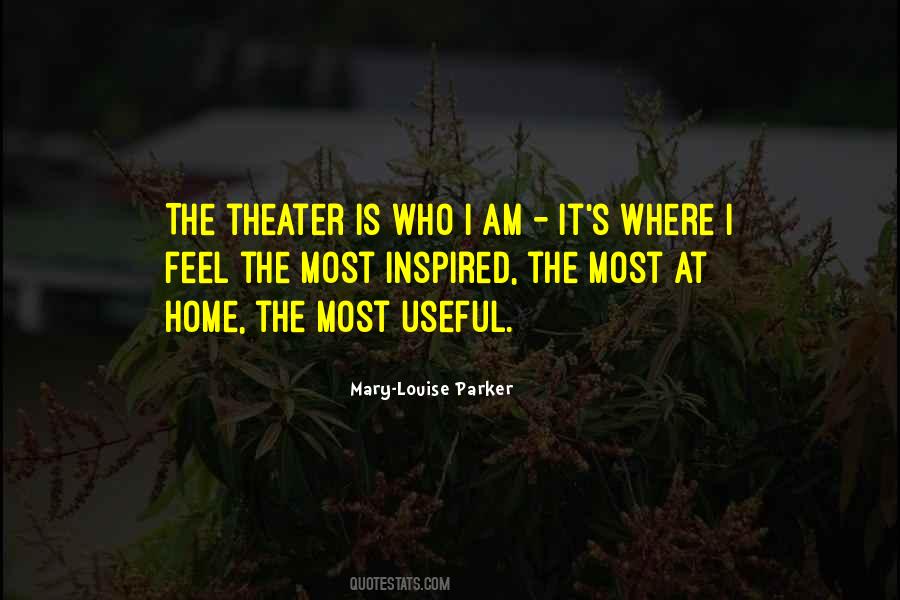 #64. Lowell is my home. It is where I drew my first breath. It is where I will always derive a sense of place and a sense of belonging - Author: Paul Tsongas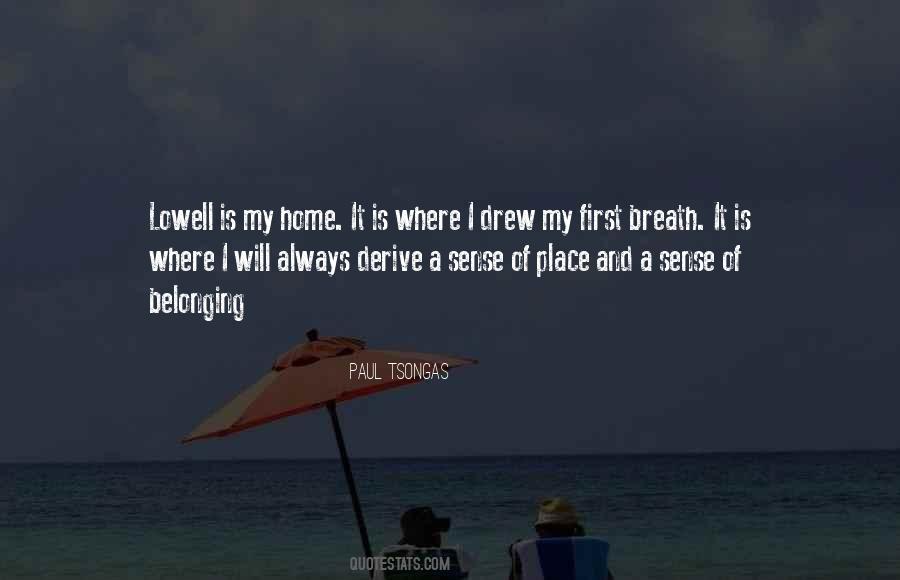 #65. We want you to sit down and leave your egos at home and let's get an understanding as to where all this is foolishness coming from. There are others who are putting things out there or throwing a stick and hiding their hand and keeping things built up in the media. - Author: Afrika Bambaataa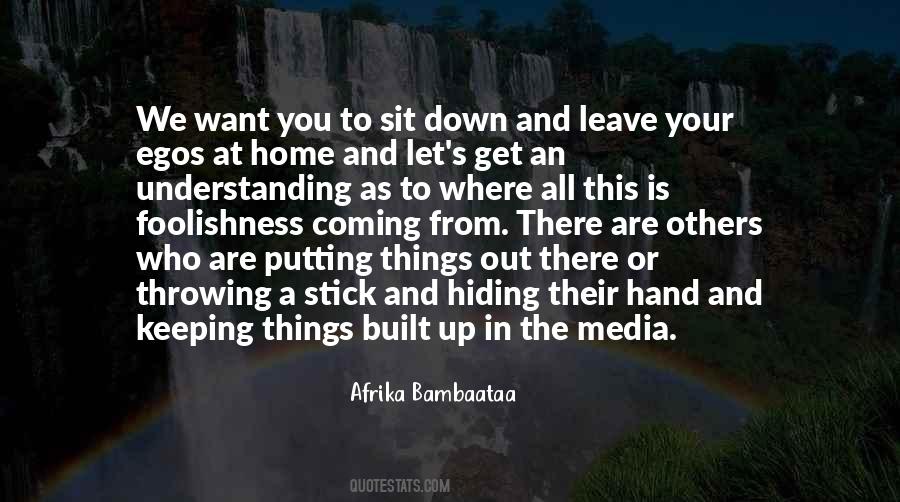 #66. A man would always wish to give a woman a better home than the one he takes her from; and he who can do it, where there is no doubt of her regard, must, I think, be the happiest of mortals. - Author: Jane Austen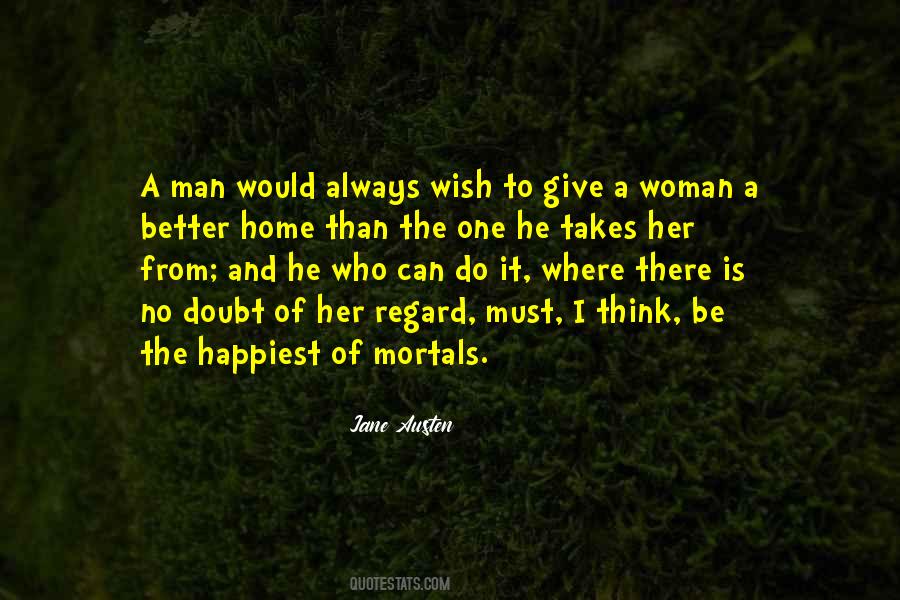 #67. But destiny will be accomplished, and the best man will hold his ground while the undeserving one will vanish into his back-alley for ever - his filthy back-alley, his beloved back-alley, where he is at home and where he will sink in filth and stench at his own free will with enjoyment. - Author: Fyodor Dostoyevsky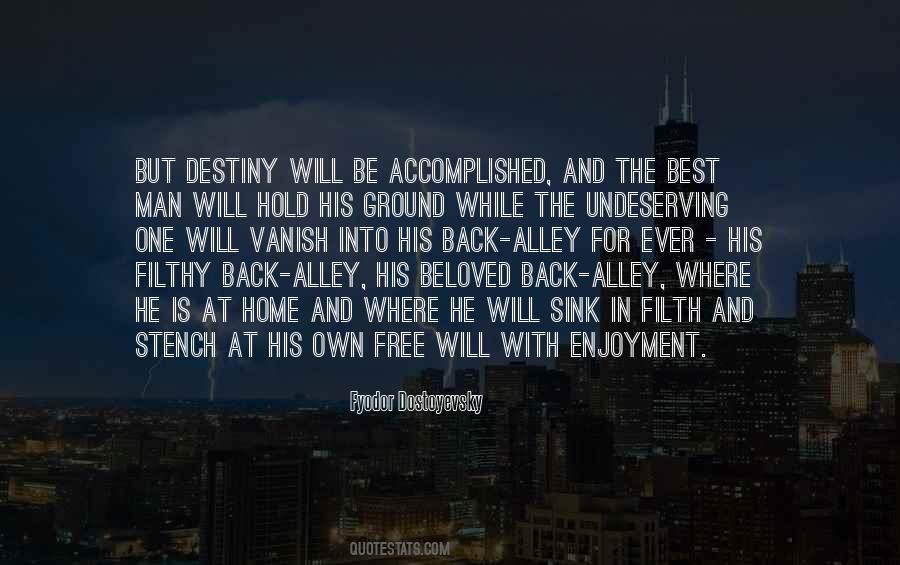 #68. Everyone should feel comfortable they are going to remain in their homes until their dying days. We should never be uneasy or unsure of where our home is in the United States of America. - Author: Tit Elingtin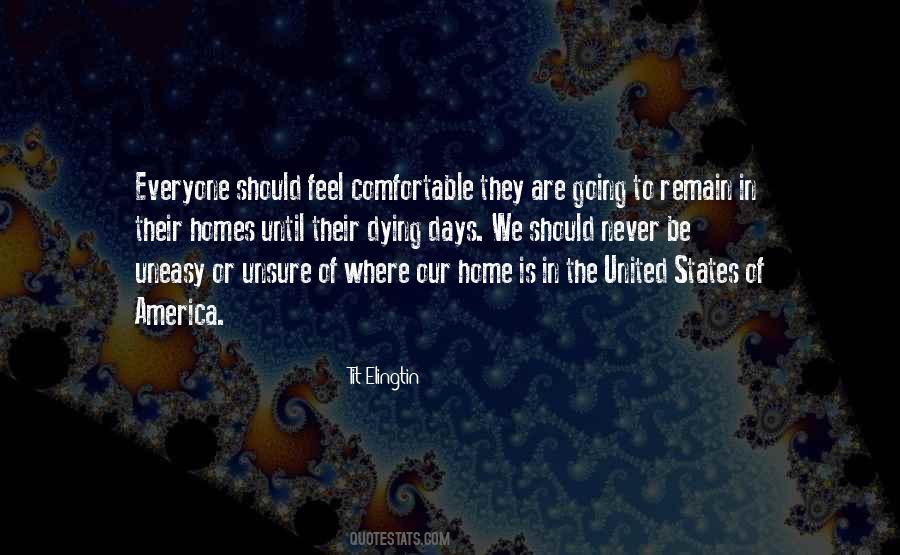 #69. Home is the place where you are most thoroughly yourself, with no pretenses. - Author: Victoria Moran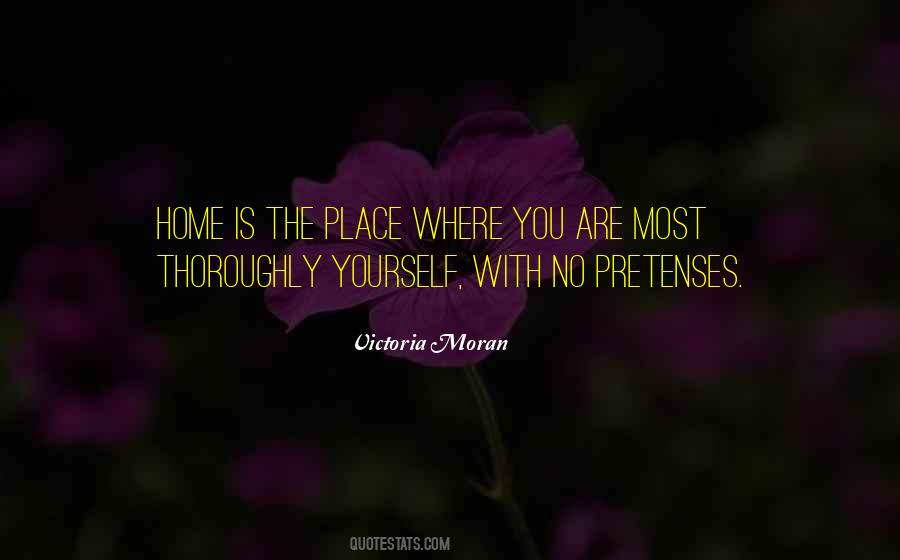 #70. Again - "Are you going home for Christmas?" - and asked it in some sort of way that brought tears to my eyes and made it almost unnecessary for him to move on to his answer to the question, which was that home, finally, is the manger in Bethlehem, the place where at midnight even the oxen kneel. - Author: Frederick Buechner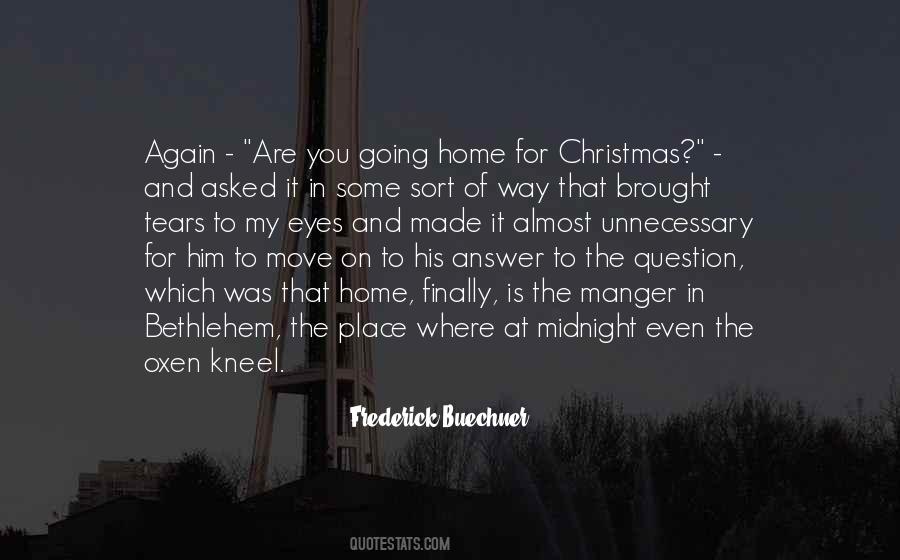 #71. I have but one passion - it is He, it is He alone. The world is the field and the field is the world; and henceforth that country shall be my home where I can be most used in winning souls for Christ. - Author: Nicolaus Zinzendorf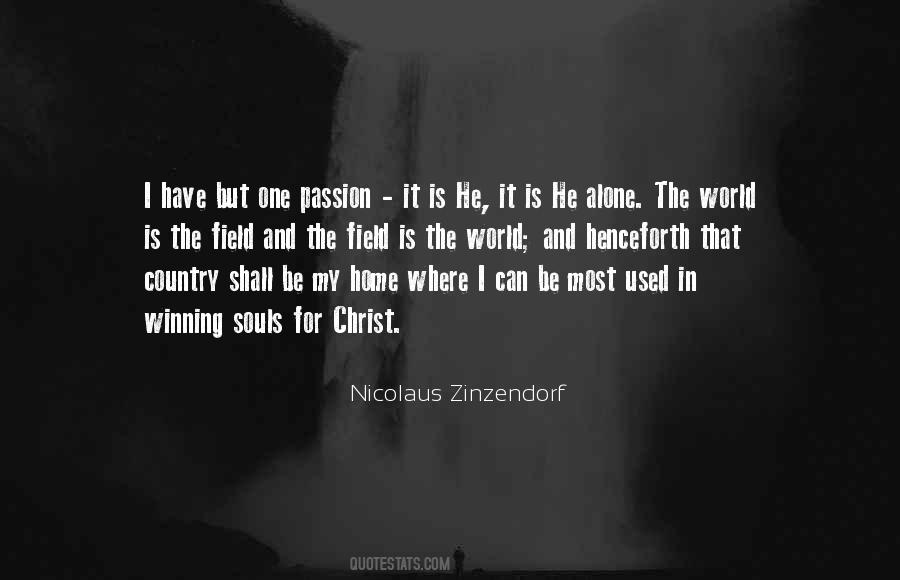 #72. I will make wherever I am my home. Or I'll have no home at all. Either is better than living in a past and future where I don't belong - Author: Kiersten White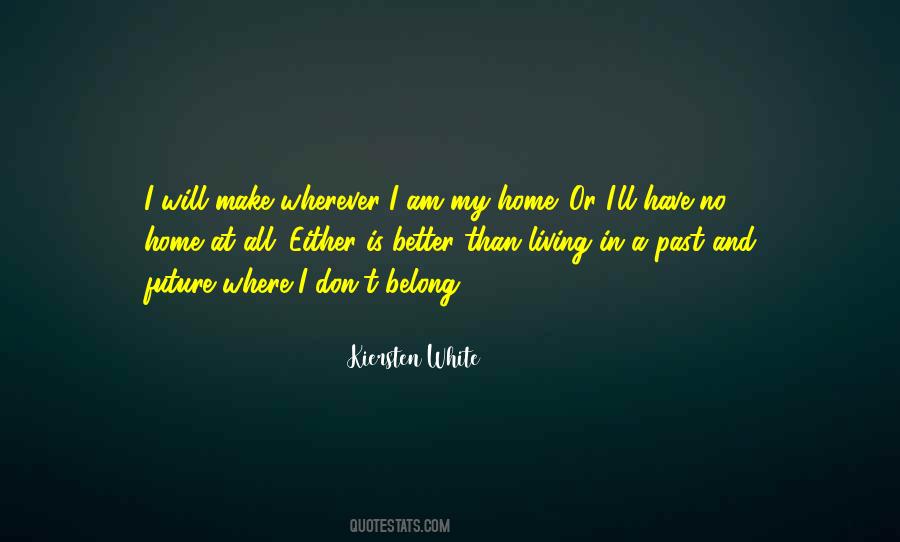 #73. Our home, our special country, is for all of us the place where we find liberation; a very difficult word ... that tries to describe something that can't be described but is the only thing worth having. - Author: Elizabeth Goudge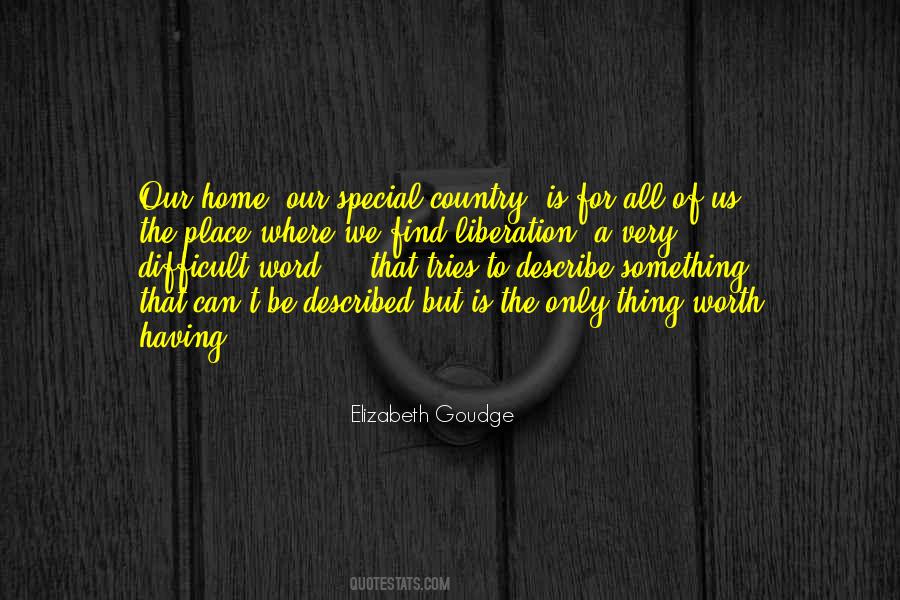 #74. Home is where the heart is, until we get a chance to bury it. Home is where the heart pulled the nails out of its feet, and fled. - Author: Joey Comeau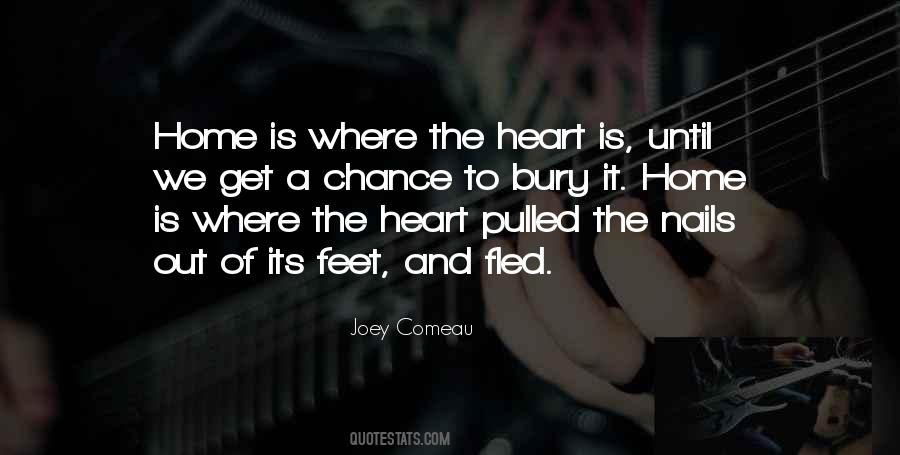 #75. Romance is about putting things aright after some tragedy has put them asunder. It is about restoration of the right relations among things - and going home is where that restoration occurs because that is where it matters most. - Author: A. Bartlett Giamatti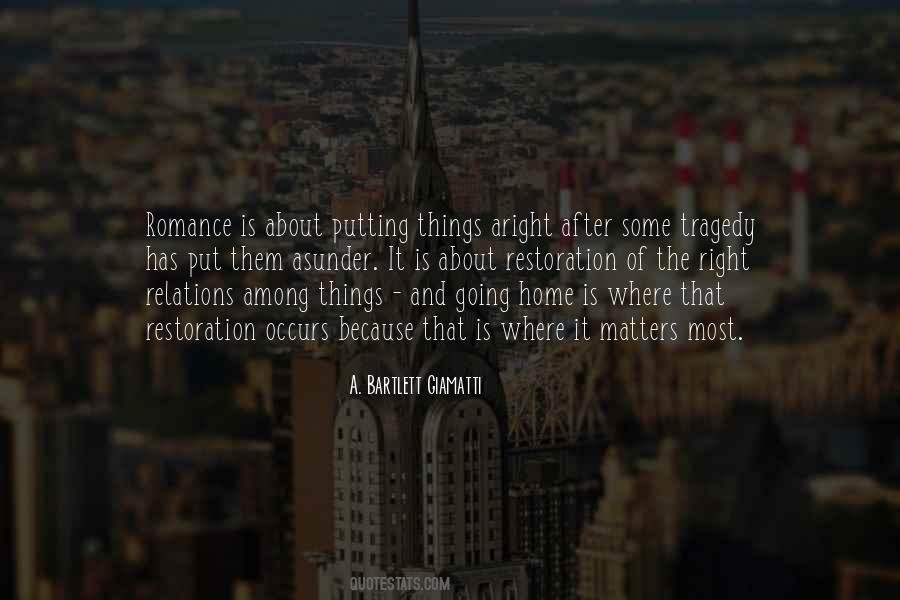 #76. I am indebted to my wife Coretta, without whose love, sacrifices, and loyalty neither life nor work would bring fulfillment. She has given me words of consolation when I needed them and a well-ordered home where #Christian love is a reality. - Author: Martin Luther King Jr.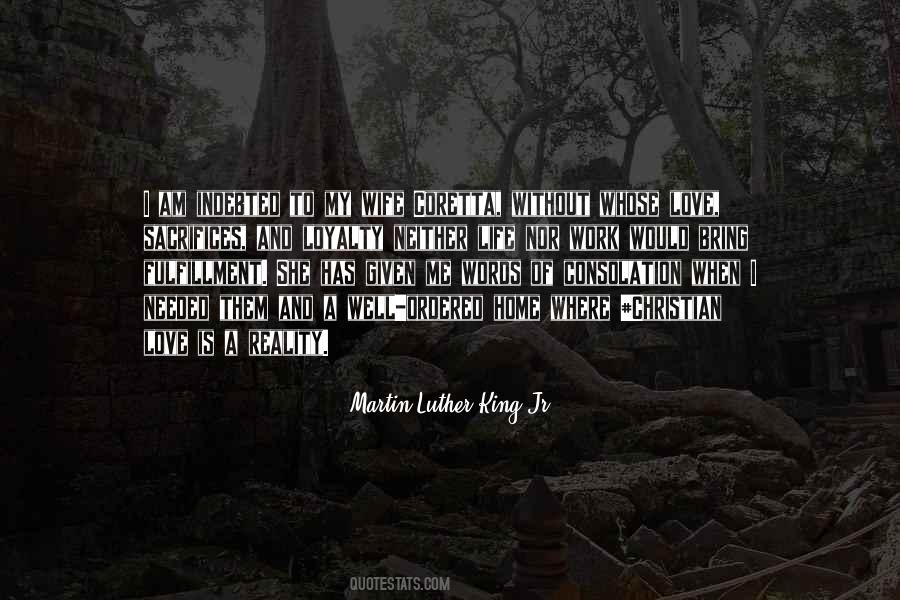 #77. Home is meant to be a place, but for me Dec was my home. He was where I felt secure and loved, and time did nothing to diminish that. No matter what. - Author: Sean Kennedy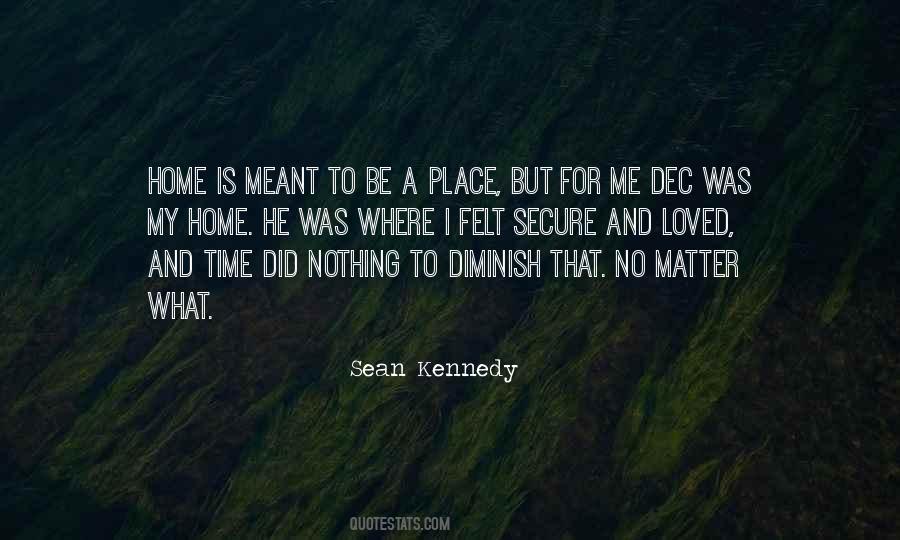 #78. At home in Ghaziabad, everyone is a pure vegetarian. In fact, when I want to cook non-veg there, my mum shoos me out on the terrace where I have my cooking utensils. I'm told categorically that whatever non-veg or egg, etc., that I have to cook, I should do upstairs and not enter her kitchen at all. - Author: Suresh Raina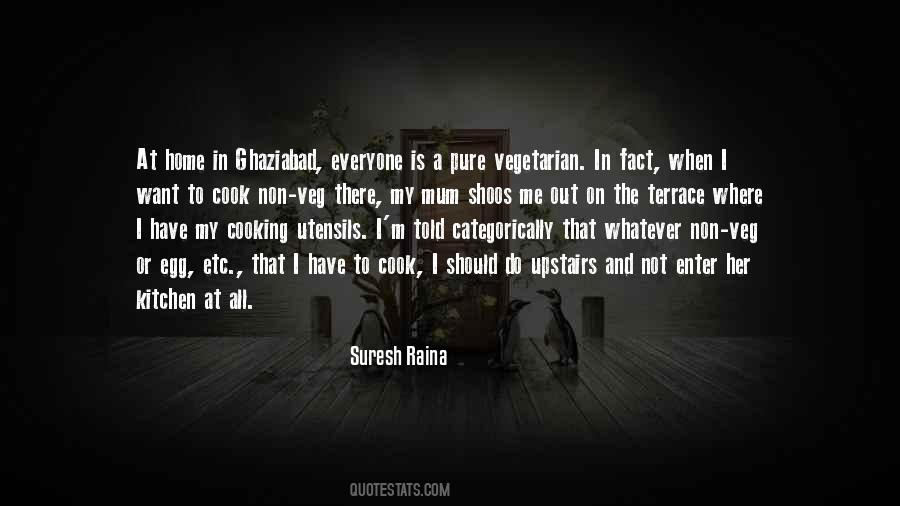 #79. My school in St. Louis is great. They basically created a program where I can do online classes and independent studies when I'm traveling. But then I still get to go home and take classes in a normal school environment. - Author: Karlie Kloss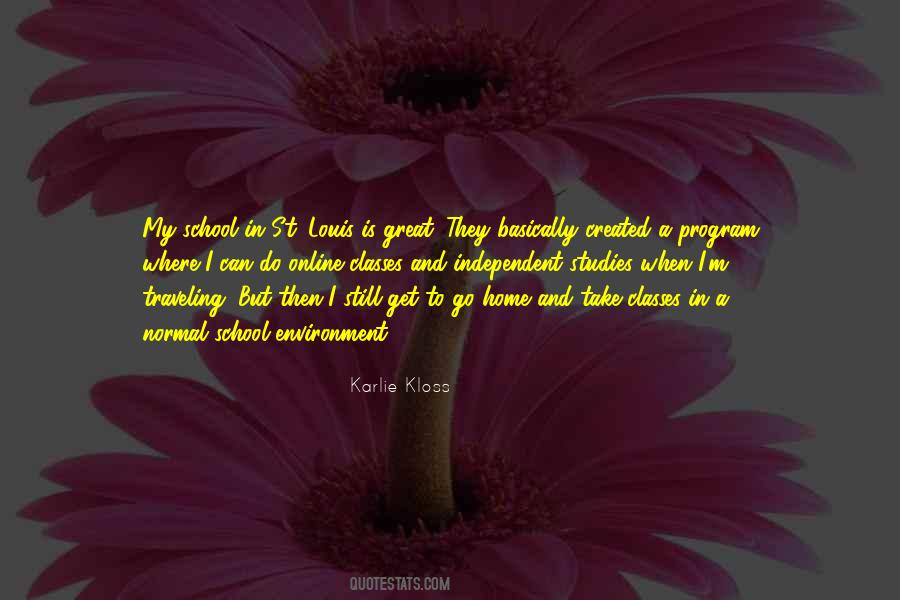 #80. Umpire's heaven is a place where he works third base every game. Home is where the heartache is. - Author: Ron Luciano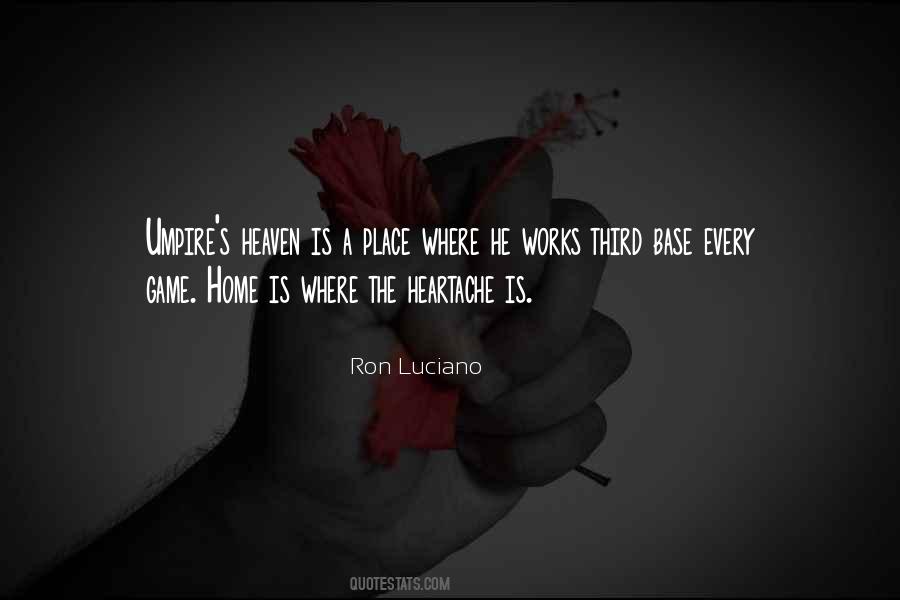 #81. Home, nowadays, is a place where part of the family waits till the rest of the family brings the car back. - Author: Earl Wilson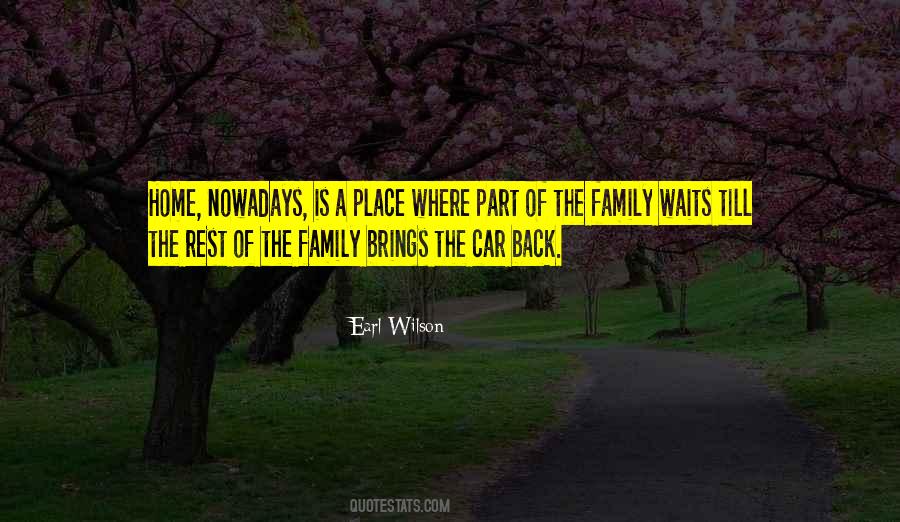 #82. The home is a tryst-the place where we retire and shut the world out. - Author: Elbert Hubbard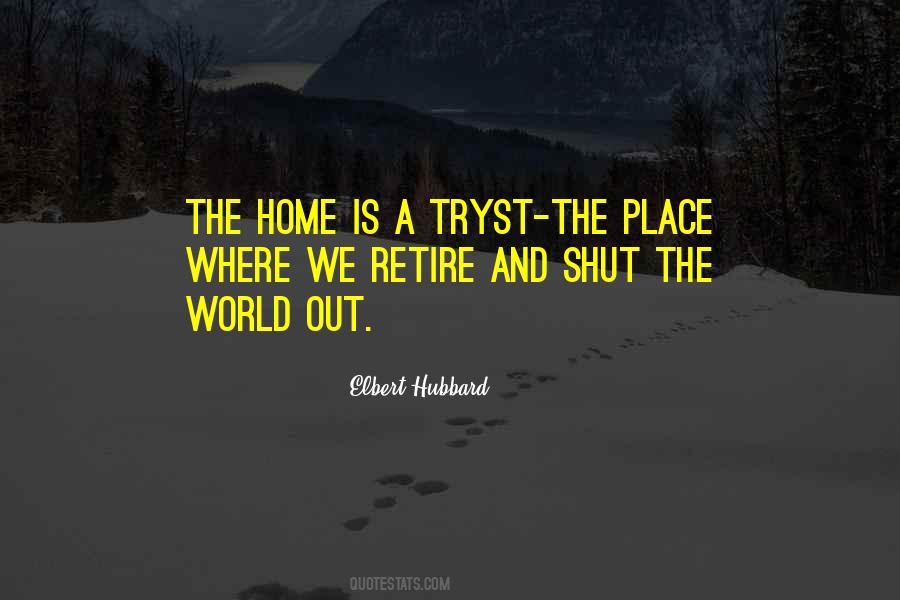 #83. And how do I know that the hate of death is not like a man who has lost his home when young and does not know where his home is to return to? - Author: Zhuangzi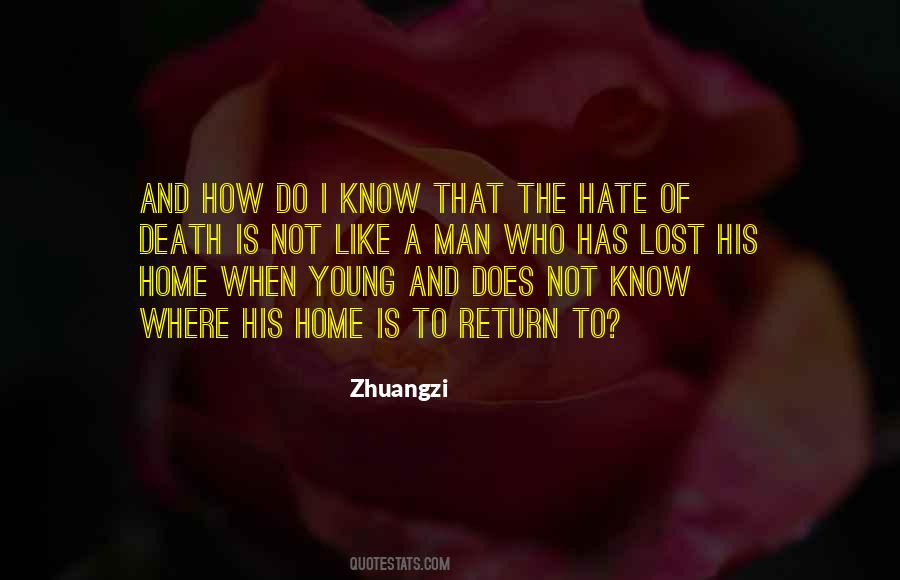 #84. The field of quantum possibility, in which love has opened doors otherwise unimaginable, is our soul's true habitat. The world of fear and limitation is not our home, and who among us is not profoundly weary of hanging out where we do not belong. - Author: Marianne Williamson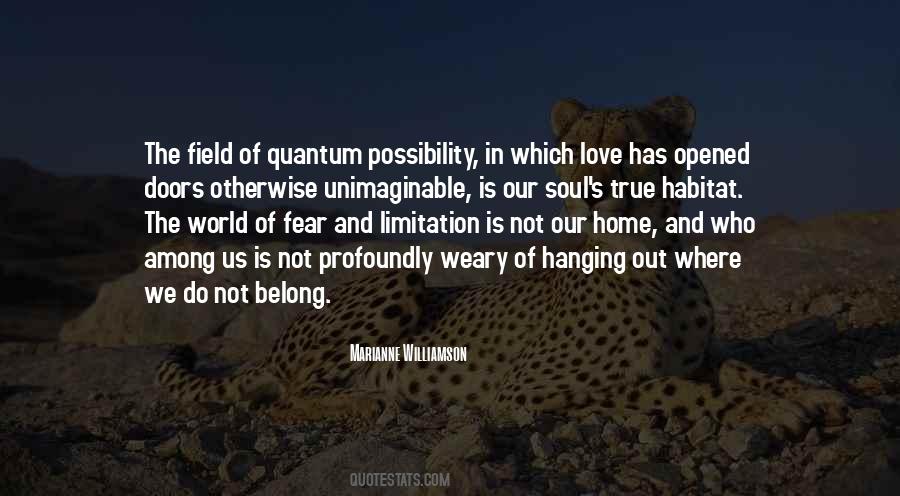 #85. What is home but a place where you are truly known? - Author: Justin Cronin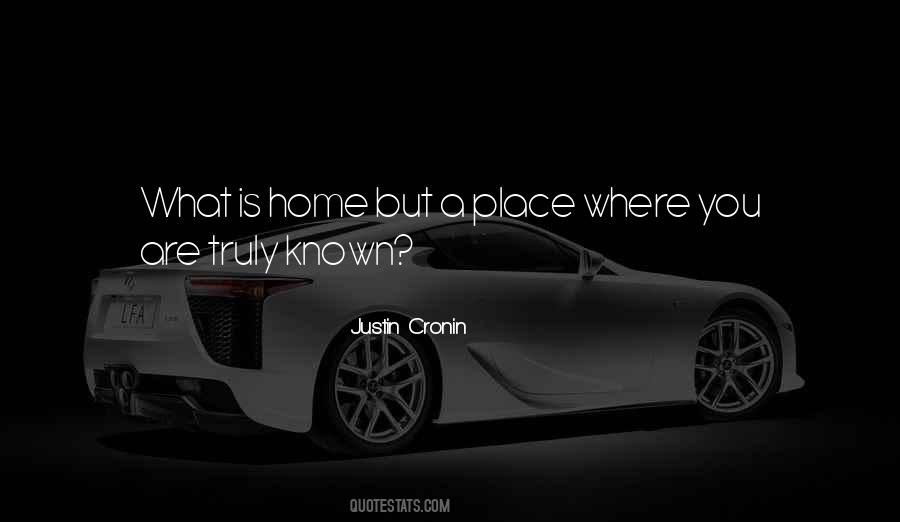 #86. You won't understand where home is until you realize it is the only place your mind takes you back to when every journey ends badly. - Author: Shannon L. Alder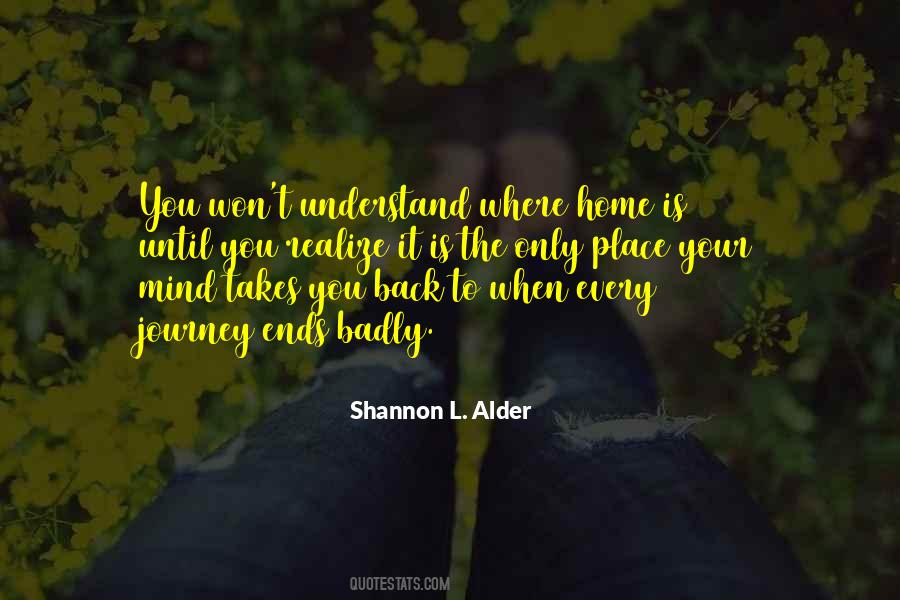 #87. . . .the home place is the safe haven, the convergence of waters, the place where the beloved dead are as real as the living. - Author: Carrie La Seur
#88. Home is the place where you feel happy. - Author: Salman Rushdie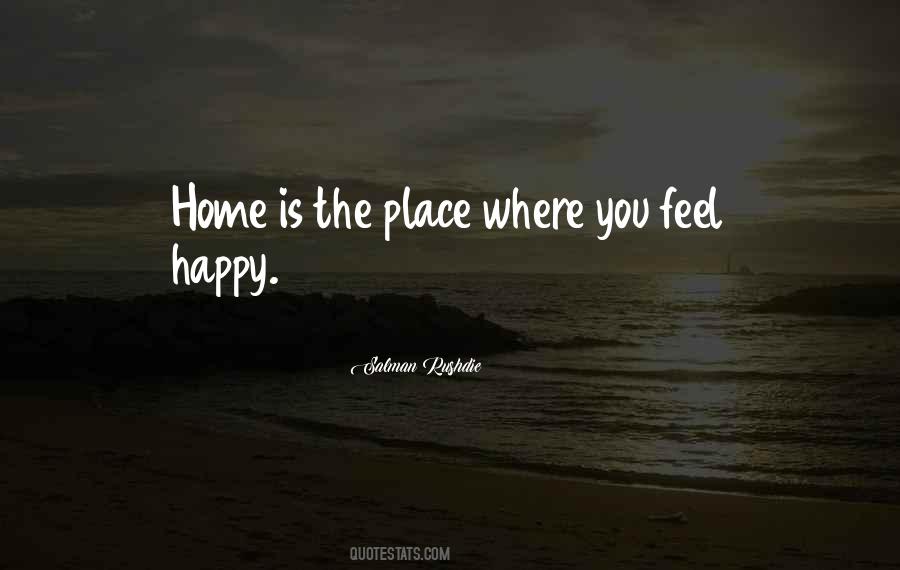 #89. Where is your homework?" Mr. McNulty asked.
It's with Ariel.
"There's no such thing as homework," I said.
"What?"
"I mean, I left it at home. - Author: David Levithan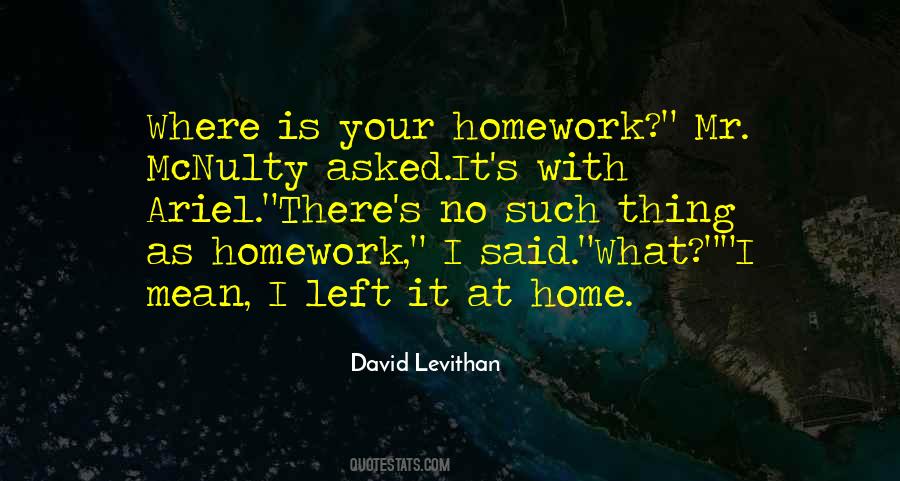 #90. A park like this resembles a large, silent, isolated room. In fact it's always Sunday in a park, by the way, for it's always a bit melancholy, and the melancholy stirs up vivid memories of home, and Sunday is something that only ever existed at home, where you were a child. - Author: Robert Walser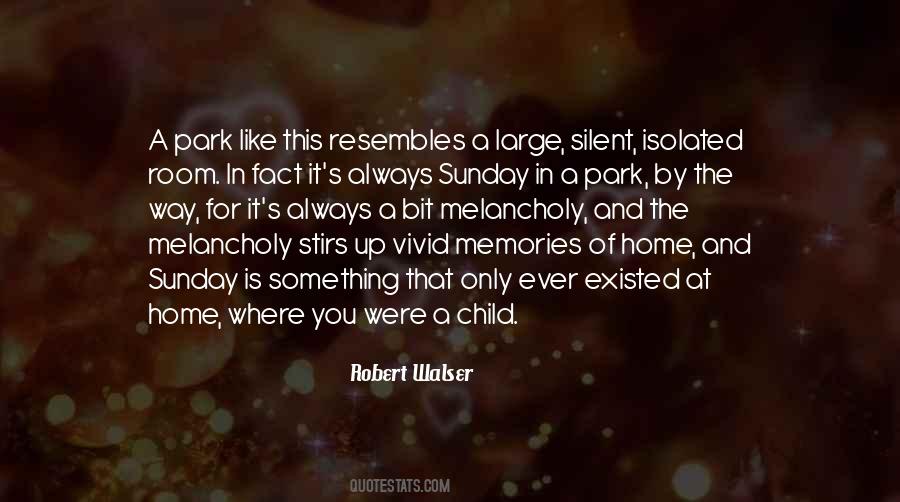 #91. I'm half Puerto Rican and half Jewish and so, in some ways, living in many worlds at once is where I feel most at home. - Author: Quiara Alegria Hudes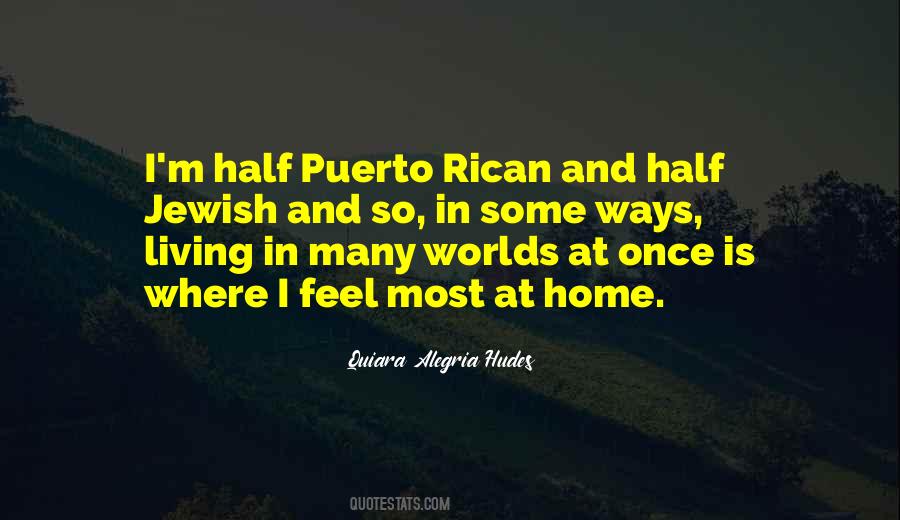 #92. Where we love is home - Author: Cassia Leo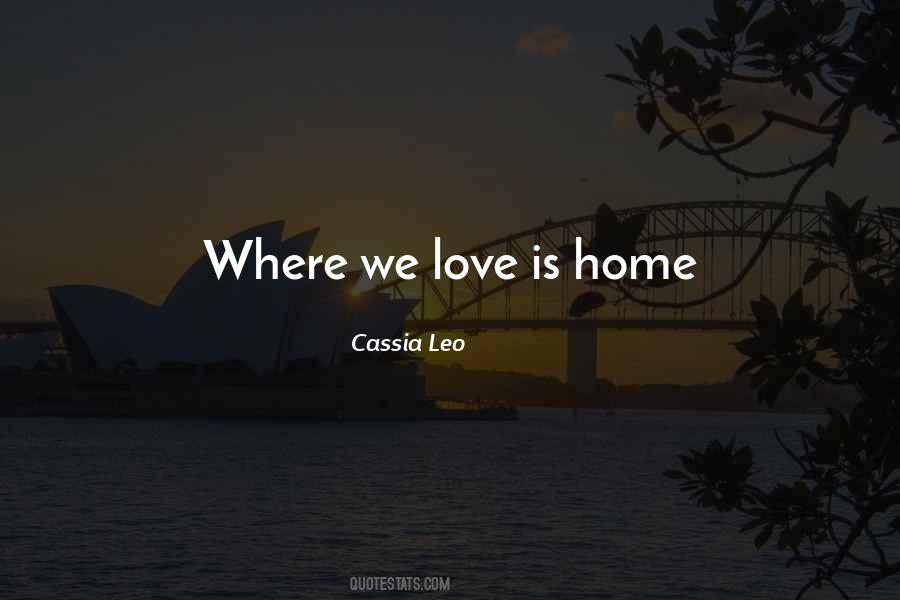 #93. Home is where one starts from. - Author: T. S. Eliot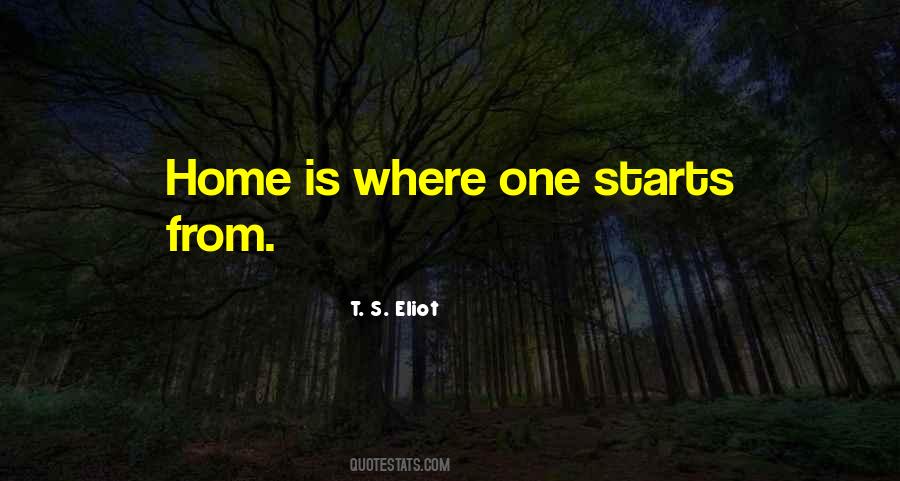 #94. New York, oh my God, in my early 20s. I felt, this is home, this is really where I belong. - Author: June Squibb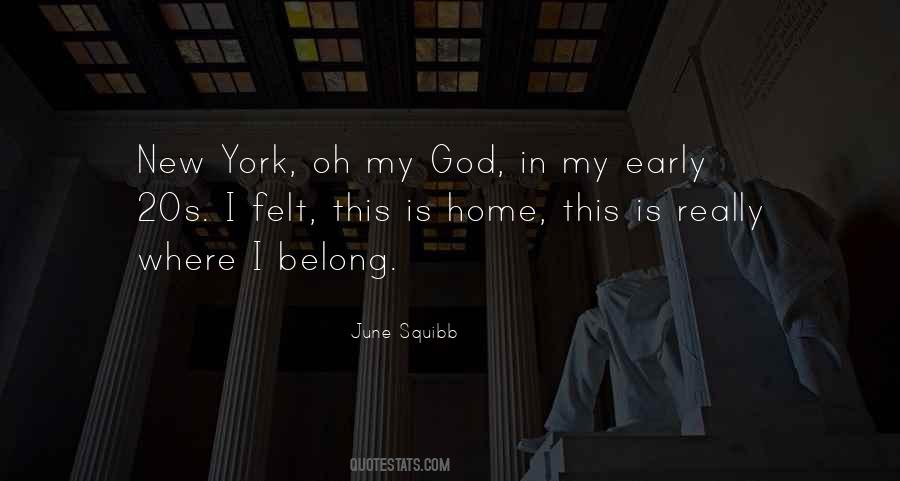 #95. ...it is not news that we live in a world
Where beauty is unexplainable
And suddenly ruined
And has its own routines. We are often far
From home in a dark town, and our griefs
Are difficult to translate into a language
Understood by others. - Author: Charlie Smith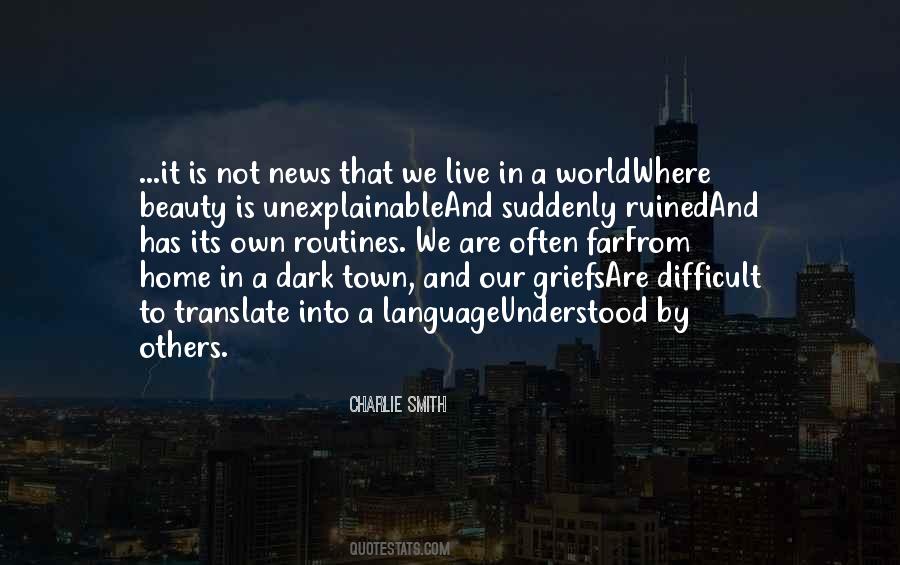 #96. Like the perfect beach vacation, where the routine is so blissfully uneventful that when you return home and friends ask how your trip was, you can't really recall what exactly you did to fill up so many hours. That's what being with Dex is like. - Author: Emily Giffin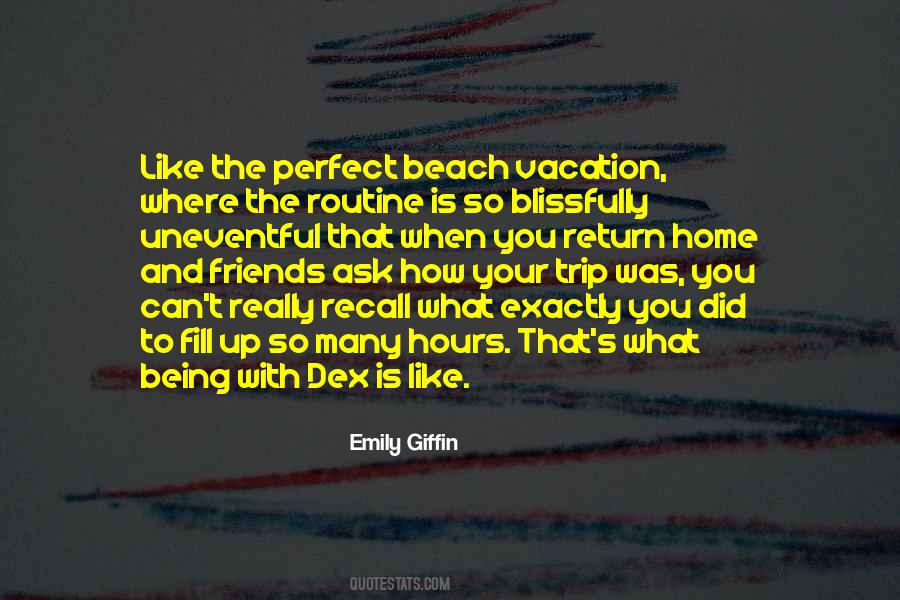 #97. I am not quite sure where home is right now. I do have places in London and Milan, and a house in Spain. I guess I would say home is where my mother is, and she lives in Spain. - Author: Sarah Brightman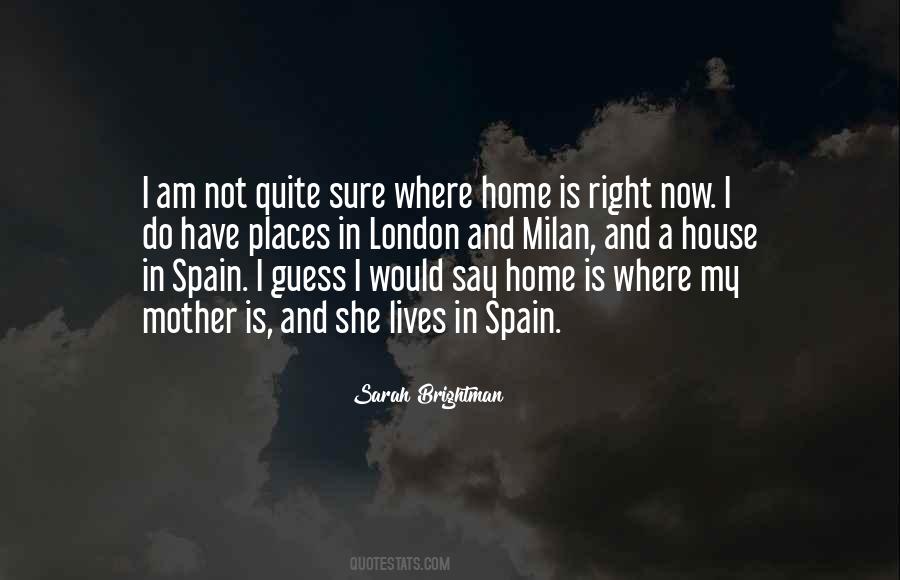 #98. A city man is a home anywhere, for all big cities are much alike. But a country man has a place where he belongs, where he always returns, and where, when the time comes, he is willing to die. - Author: Edward Abbey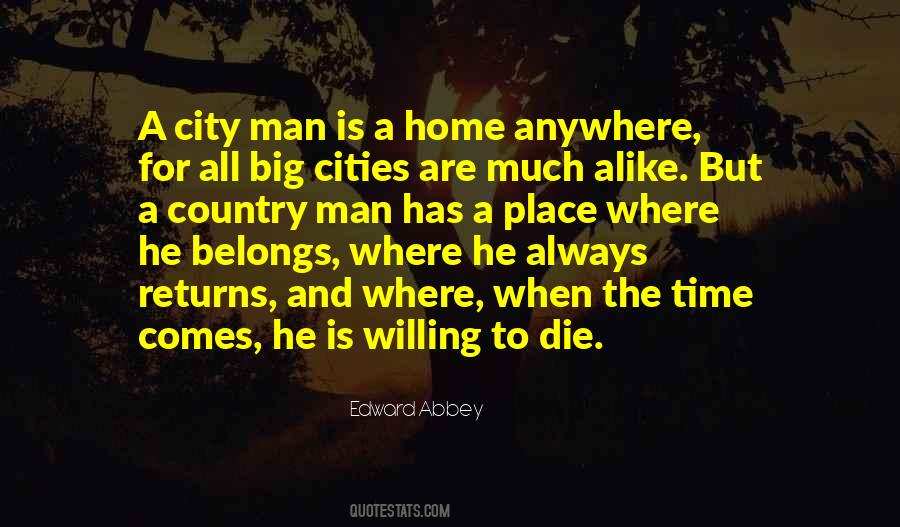 #99. I think that we should make the best of where we live and we all should be able to come back home to a place that is welcoming and represents who we are - Author: David Bromstad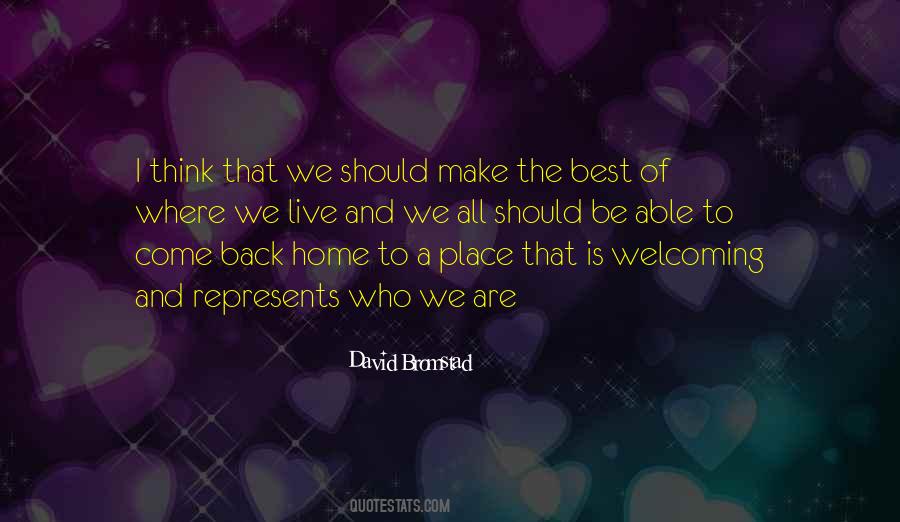 #100. Home is where i hang my toothbrush and where the cats have their commode - Author: Lilian Jackson Braun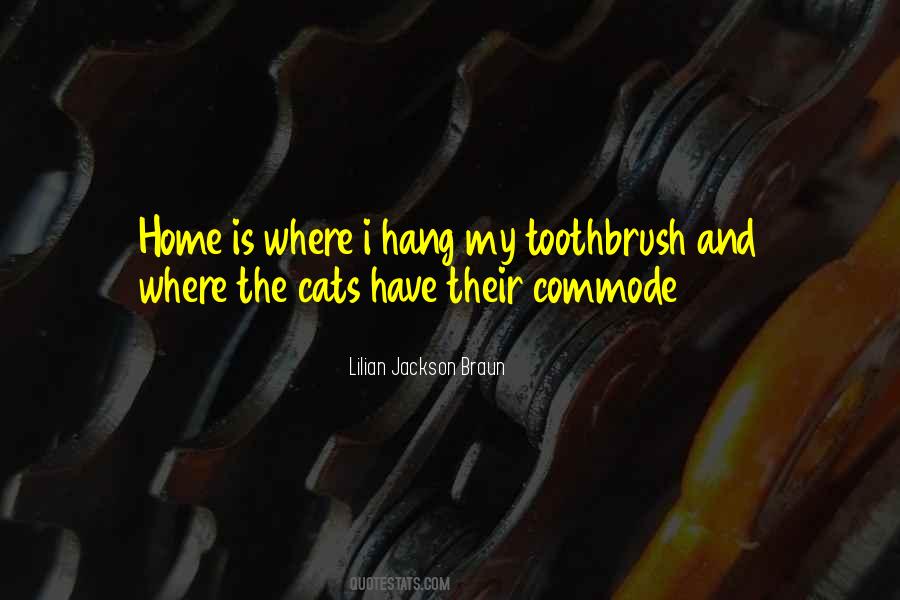 Famous Authors
Popular Topics