When Life Is Difficult Famous Quotes & Sayings
List of top 60 famous quotes and sayings about when life is difficult to read and share with friends on your Facebook, Twitter, blogs.
Top 60 When Life Is Difficult Quotes
#1. When life is difficult, try looking up at the night sky. A million stars proclaim aloud His Handiwork. And you know you are never alone. - Author: Anusha Atukorala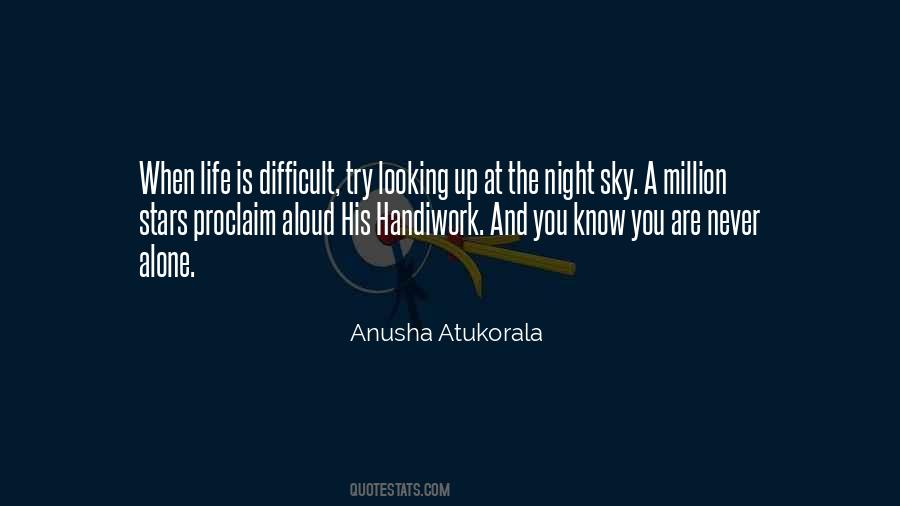 #2. But when nothing in your life happens in a positive frame, it is difficult to think positively and hope for the best. - Author: Faraaz Kazi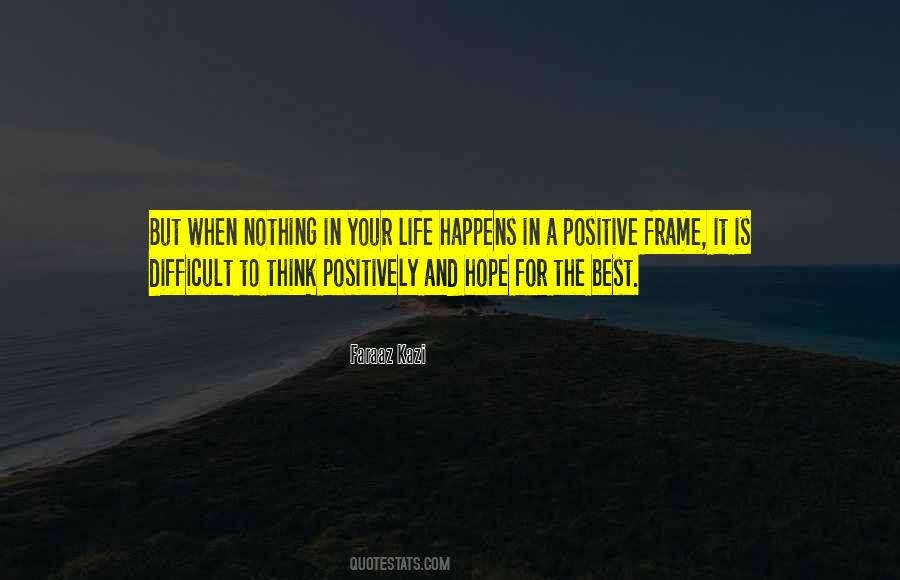 #3. The road does seem long before you embark on the journey,
That's why I think the most difficult part is to start.
But when you are in motion, and steps taken become many,
Nothing can stop you; that's only if you guard your heart. - Author: Innocent Mwatsikesimbe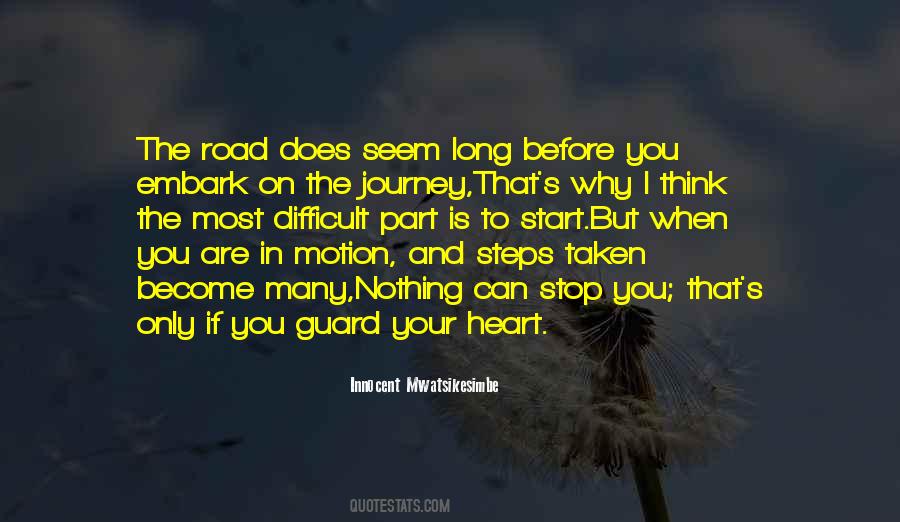 #4. Even when our life is most difficult, it is important to remember that something within us is keeping us alive- the life force-that lift us, energizes us, pulls us back sometimes from the abyss of despair. True spirituality does not exist without love of life. - Author: Nathaniel Branden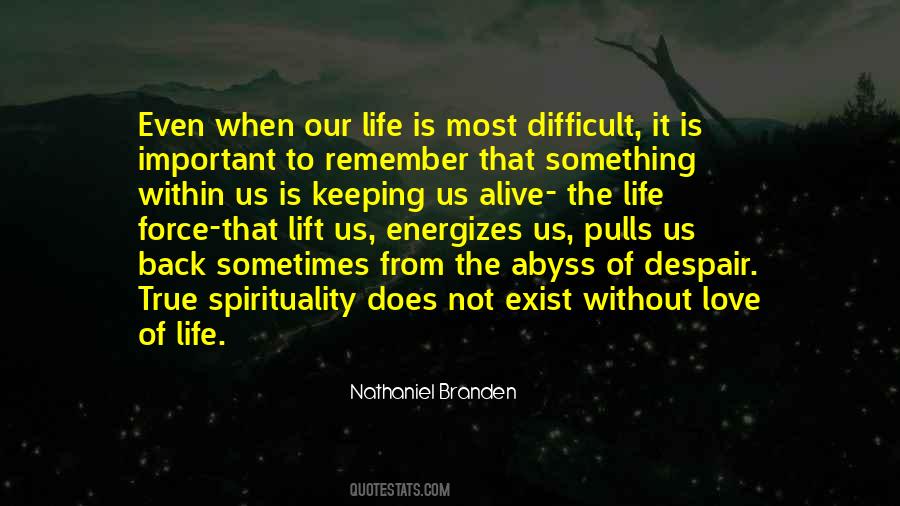 #5. To sought out solace within yourself is the most difficult challenge and is quickly ignored by many, thus can only be achieved when you find truth within oneself - Author: Yolanda De Iuliis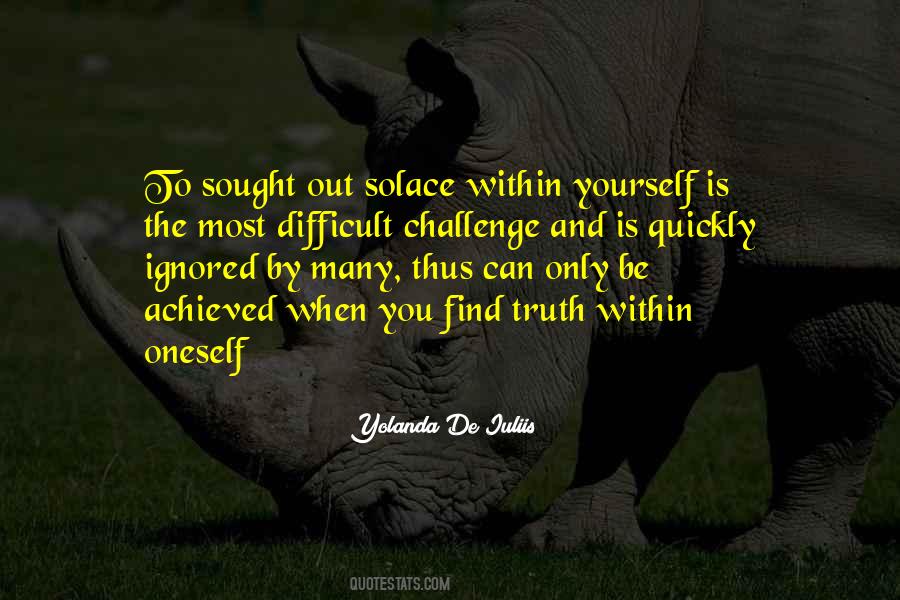 #6. When you move forward in life or move on with life..
Moving on from people is the most difficult and painful..
But probably the most 'necessary'..
One may have to leave behind many who's, what's, when's, where's and why's..
Imperative to maintaining forward momentum in life.. - Author: Abha Maryada Banerjee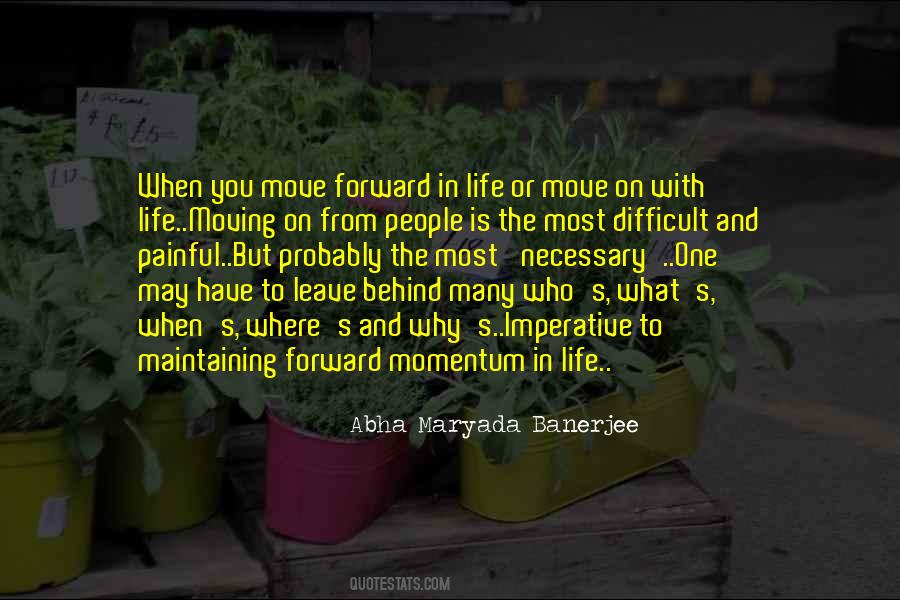 #7. When we are stricken and cannot bear our lives any longer, then a tree has something to say to us: Be still! Be still! Look at me! Life is not easy, life is not difficult. Those are childish thoughts ... Home is neither here nor there. Home is within you, or home is nowhere at all. - Author: Hermann Hesse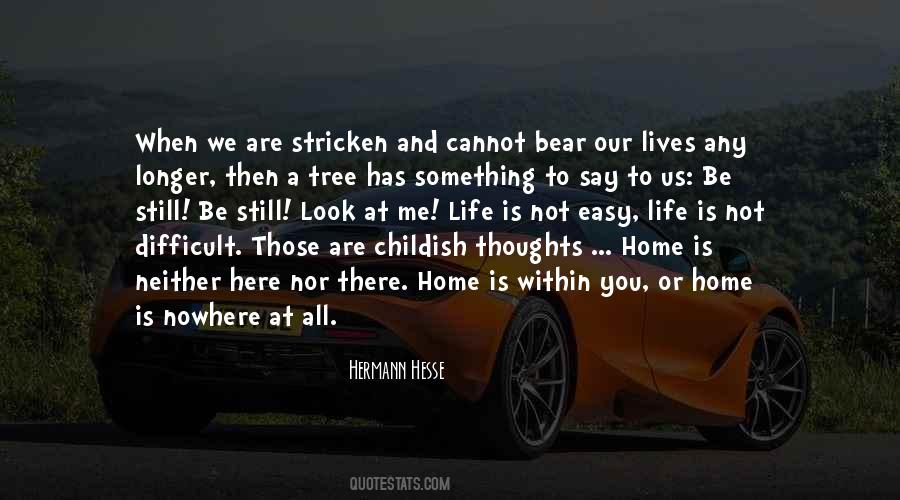 #8. To endure life remains, when all is said, the first duty of all living being Illusion can have no value if it makes this more difficult for us. - Author: Sigmund Freud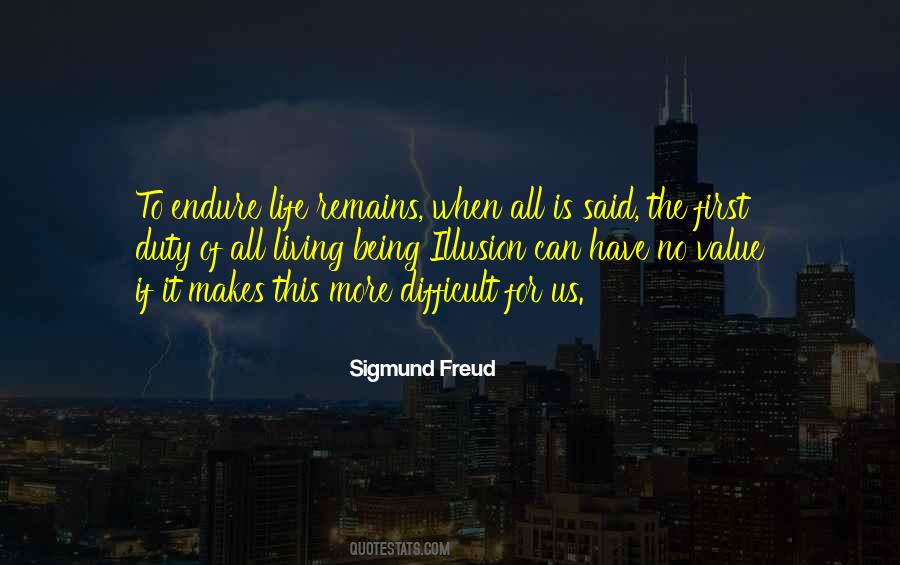 #9. Business, like life, is funny. We all go through difficult times, and we all have to face curve balls and challenges, each and every week. And we need to laugh when things are funny. - Author: Ronnie Apteker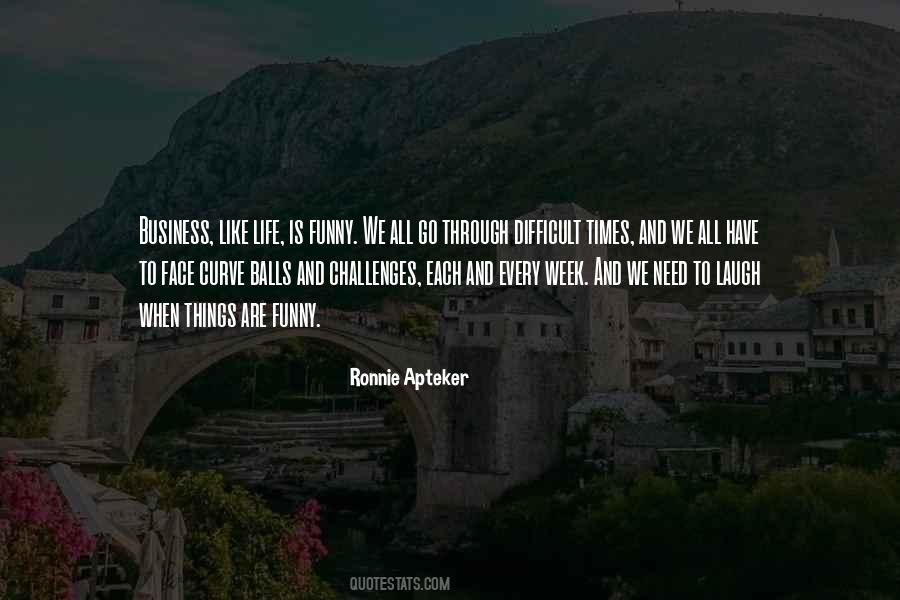 #10. Friendship is like a stubborn child who is playing hide and seek with your life. You have to find him at the darkest places of your heart in difficult times. And when you find the child; his smile will light up the darkness of your life. - Author: Sandeep Sharma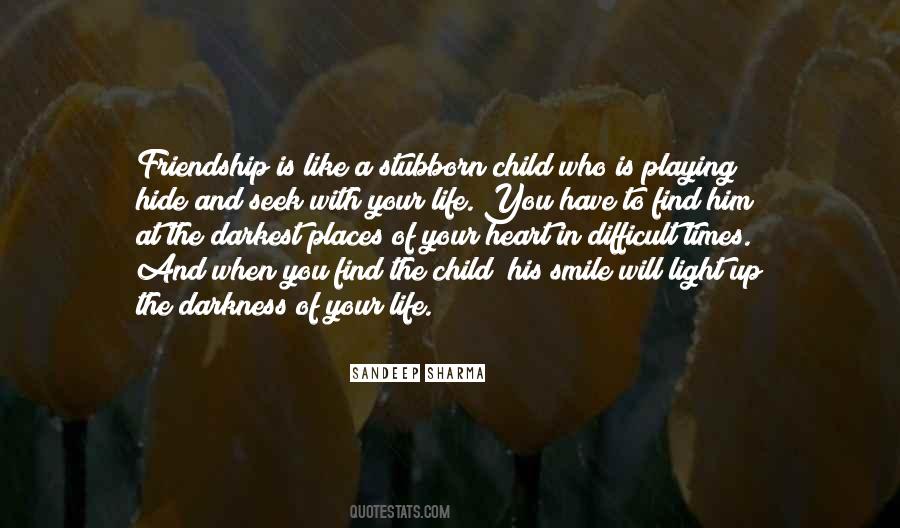 #11. At the most difficult moments of my life, when it seemed that every door was closed to me, the taste of those apricots comes back to comfort me with the notion that abundance is always within reach, if only one knows how to find it. - Author: Isabel Allende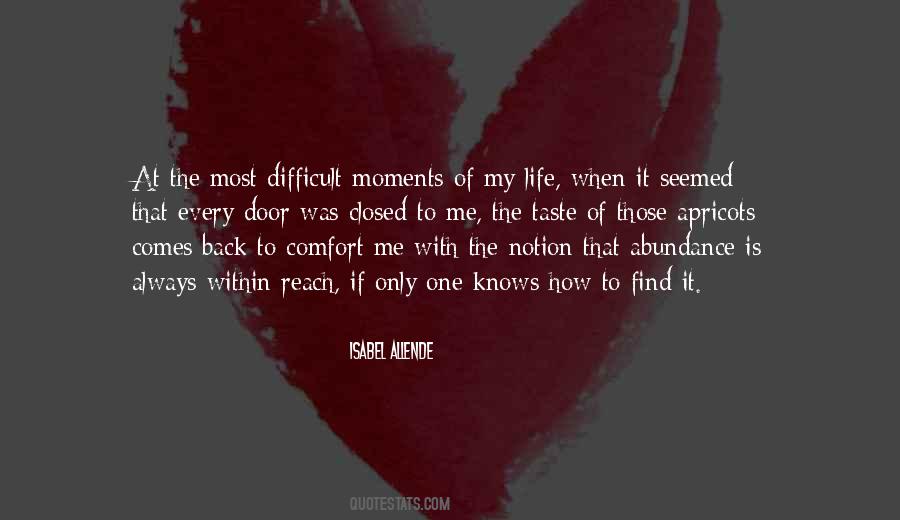 #12. Almost everything worth doing in human life is very difficult in its early stages and the good we are aiming at is never available at first, to strengthen us when we seem to need it most. - Author: Dallas Willard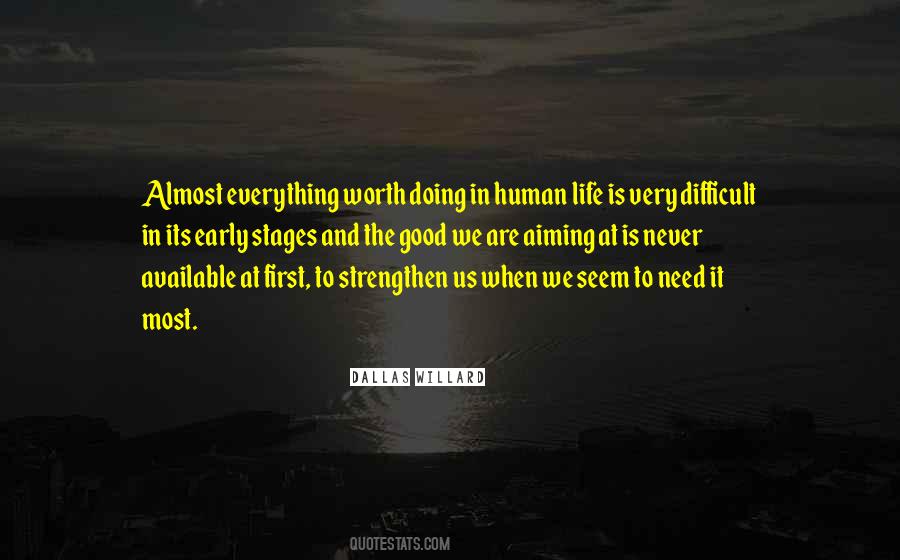 #13. When you walk into a chocolate store, suddenly the most difficult decision you will ever have to make in your life, is which chocolates to pick! It is pure torture! Especially when you are in Belgium surrounded by Belgian chocolates! - Author: C. JoyBell C.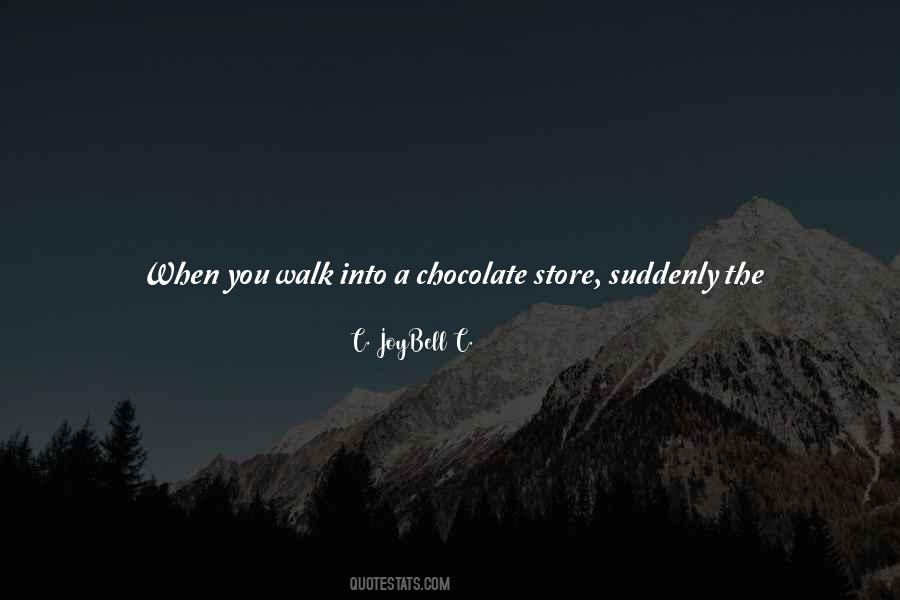 #14. Our true friends are those who are with us when the good things happen. They cheer us on and are pleased by our triumphs. False friends only appear at difficult times, with their sad, supportive faces, when, in fact, our suffering is serving to console them for their miserable lives. - Author: Paulo Coelho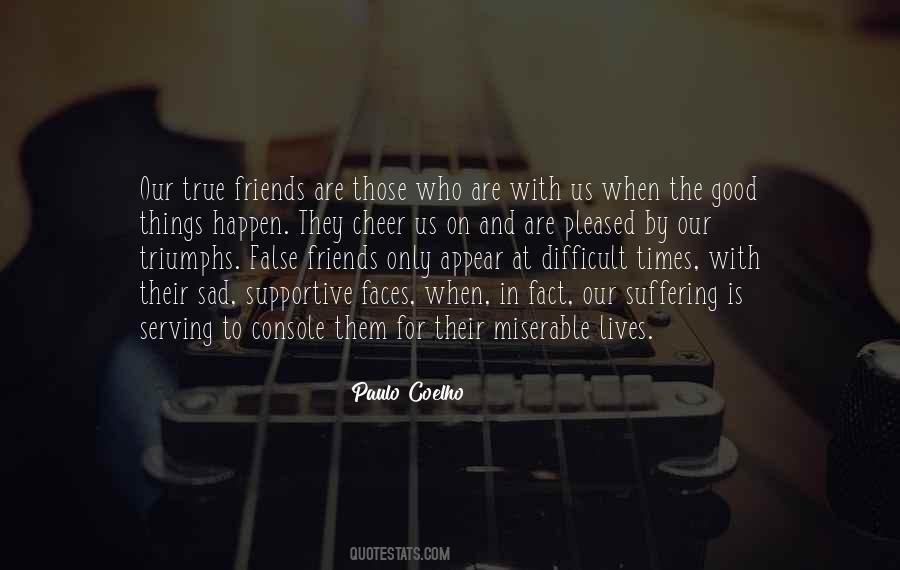 #15. I hope that I will be able to work all of my life - even when I am older. It's easier to do that in Europe than in America, because in America it is difficult for older actresses to find work. - Author: Penelope Cruz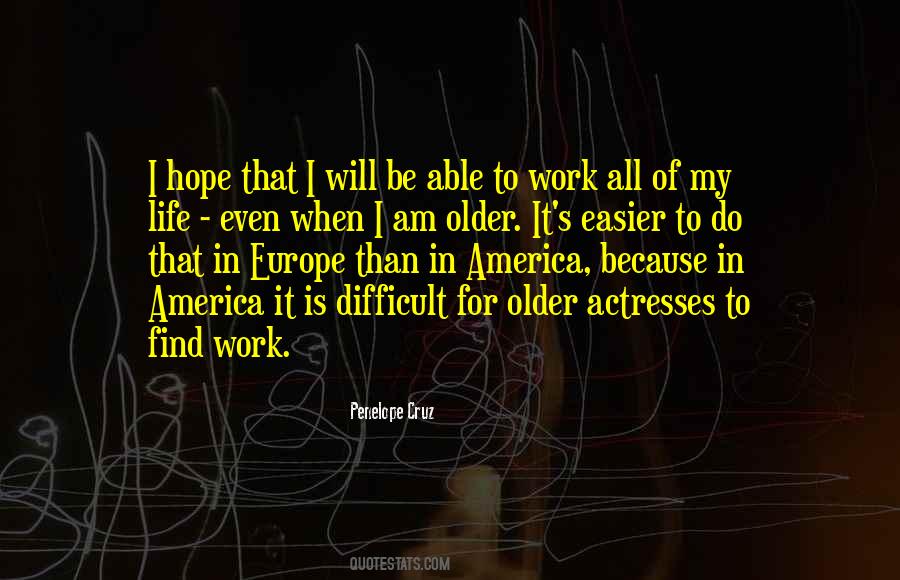 #16. As a general rule, it is difficult for people in public life to change their minds. There is an immediate rush to portray politicians as "flip-floppers" when they shift position on anything, even if they do so following a careful consideration of an issue rather than a meeting with a pollster. - Author: Anonymous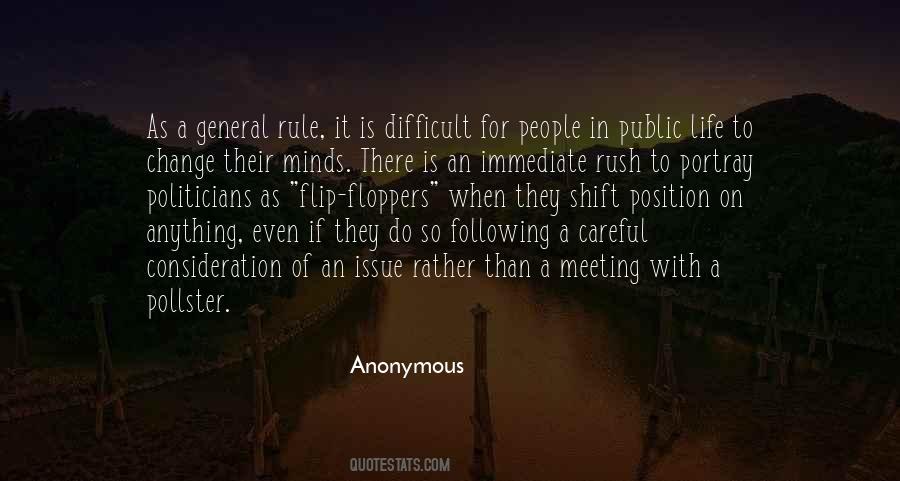 #17. It is difficult to live in and enjoy the moment when you are thinking about the past or worrying about the future. - Author: Roy Bennett
#18. How displaced is the sympathy lavished on adolescents. There is a yet more difficult age which comes later, when one has less to hope for and less ability to change, when one has cast the die and has to settle into a chosen life without the consolations of habit or the wisdom of maturity. - Author: Barbara Pym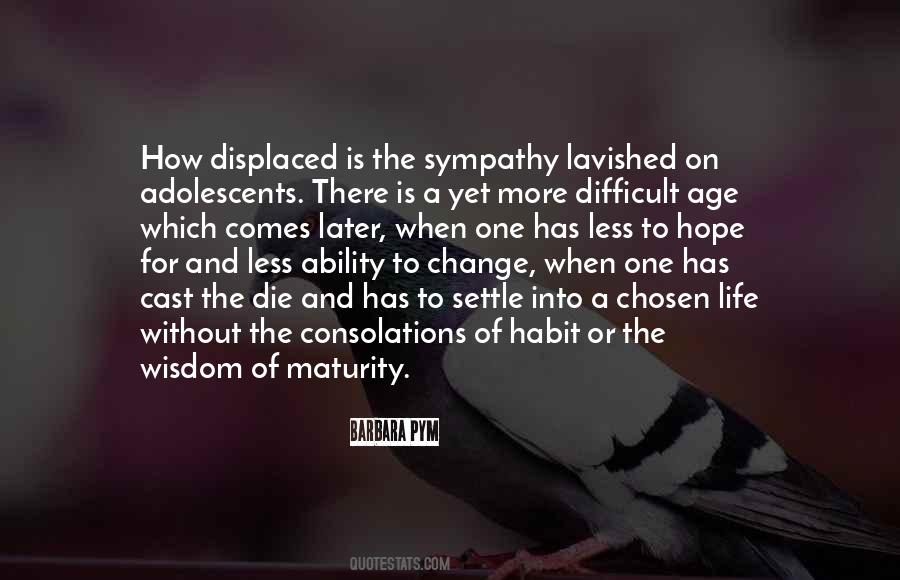 #19. Perhaps when we shrink down to almost nothing, we will at last find one another. Life is, after all, very difficult. Most of us die here simply because we forget to breathe. - Author: Paul Auster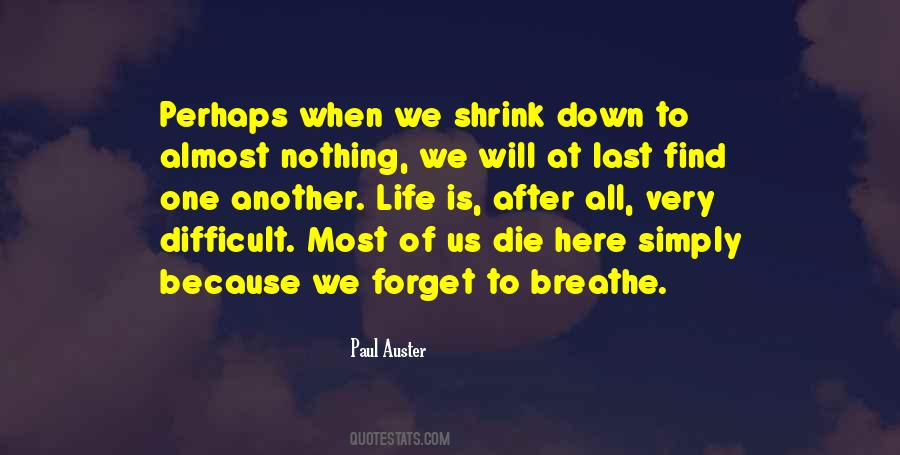 #20. Young horses who cannot bear the whip or spur find life hard. At every smart they start forward and rush to their destruction, and when the way is stony and difficult, they know no better expedient than to overturn the cart and gallop madly away. - Author: Selma Lagerlof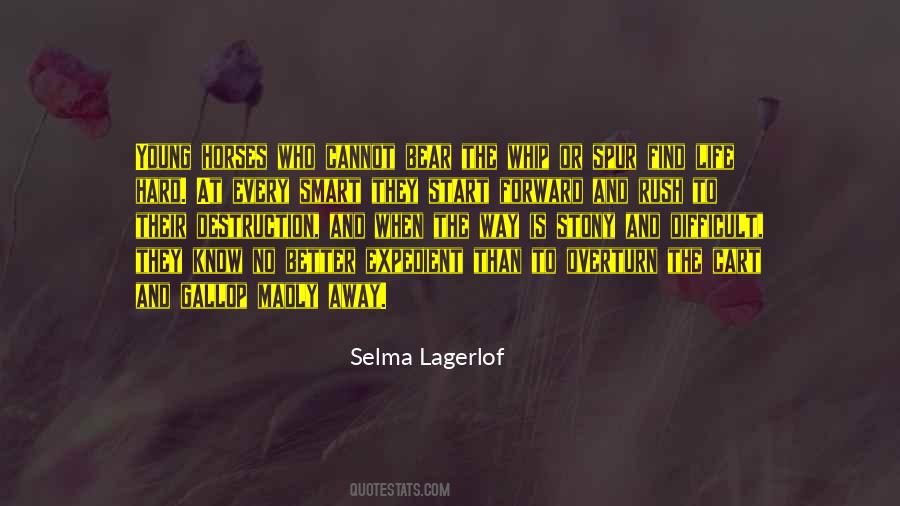 #21. Honesty is most important, and it's difficult when you're young and single and sort of figuring out your own life. - Author: Zac Efron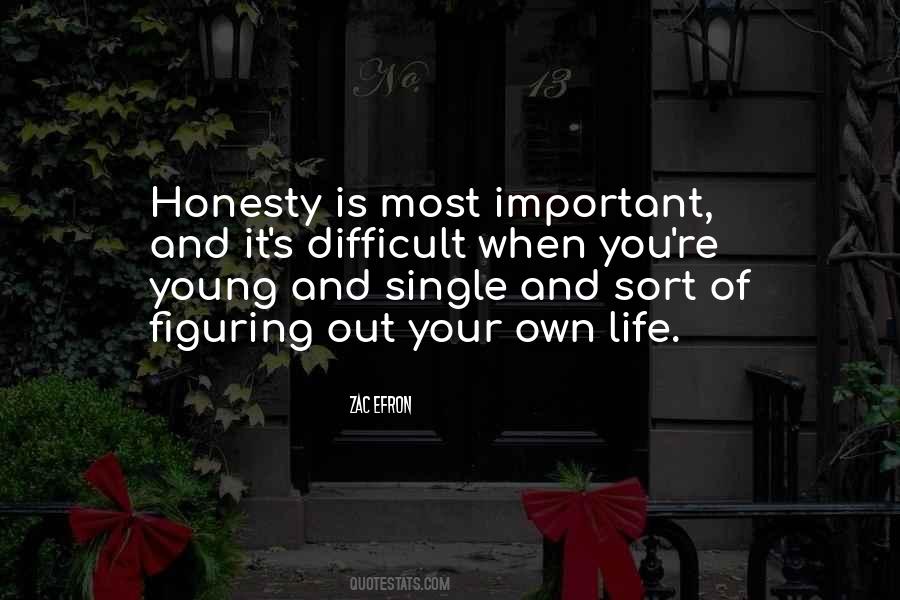 #22. Your human gods love to present you with such riddles and challenges, or so it has seemed to me for most of my life ... You often seem to prefer difficult choices when simple alternatives are available; it is a constant source of amazement to my kind. - Author: Raymond E. Feist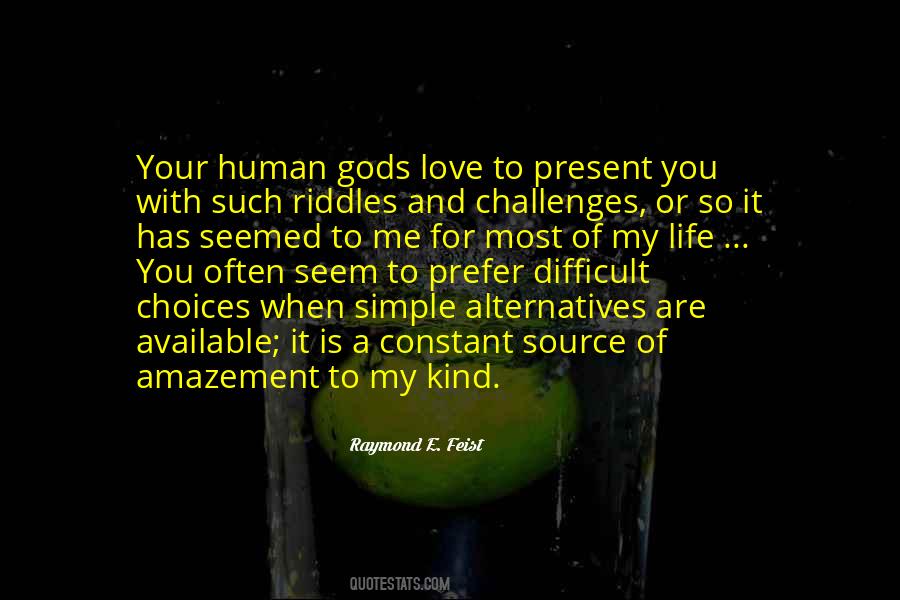 #23. For everything in life there is always a beginning and an end. This is the tough part the most difficult thing when you see that it's coming: The end. - Author: Seve Ballesteros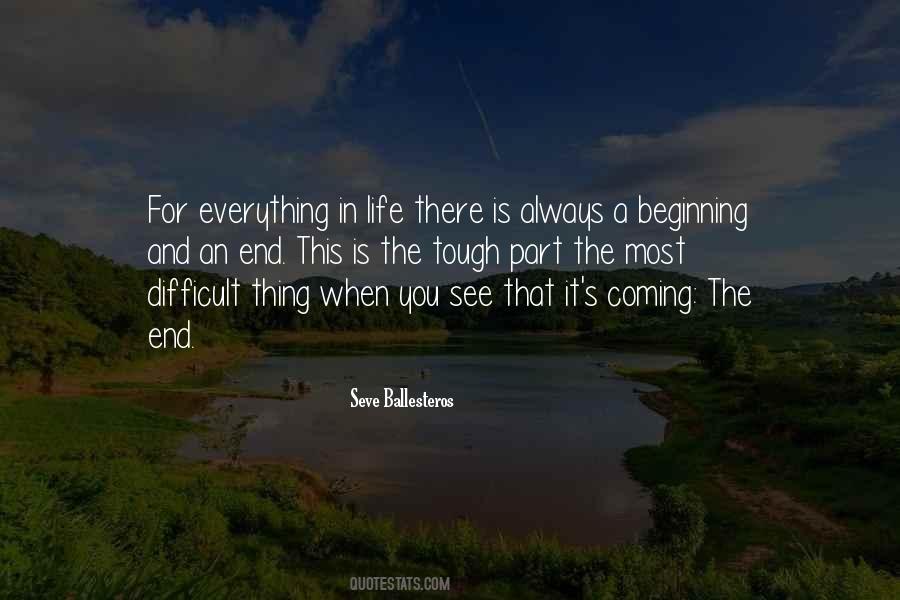 #24. I've lived and seen enough to know how difficult it is to settle for a small life when you're destined for greatness. - Author: Darren Shan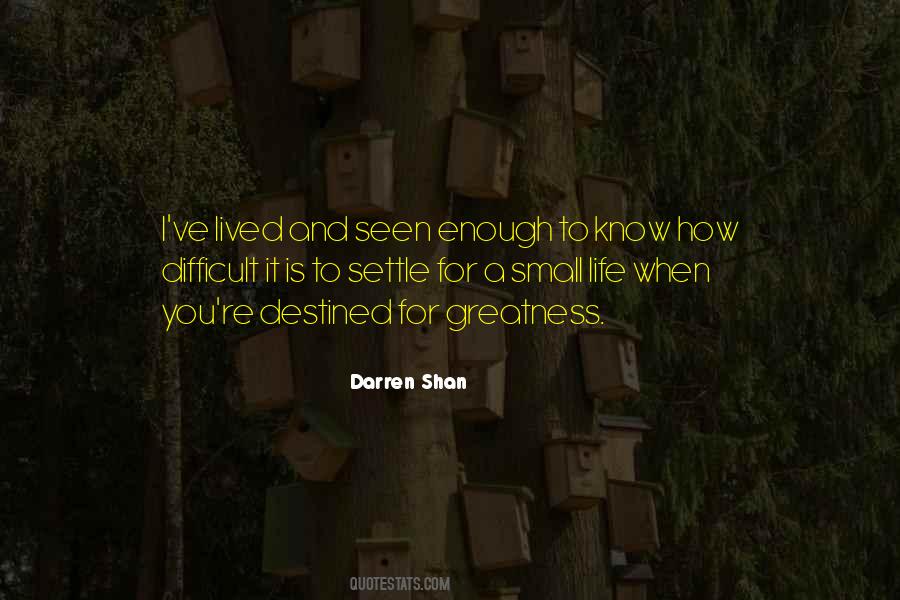 #25. When you do what you love, the seemingly impossible becomes simply challenging, the laborious becomes purposeful resistance, the difficult loses its edge and is trampled by your progress. - Author: Steve Maraboli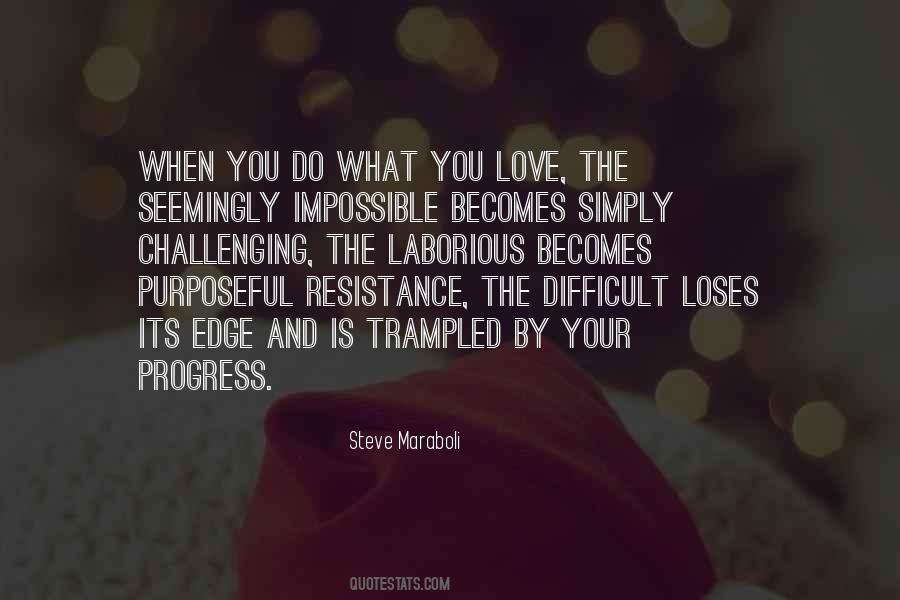 #26. It is much more difficult to deal with the truth about your life when you have no idea that you have feet of clay and it suddenly begins to rain. - Author: Sheila Walsh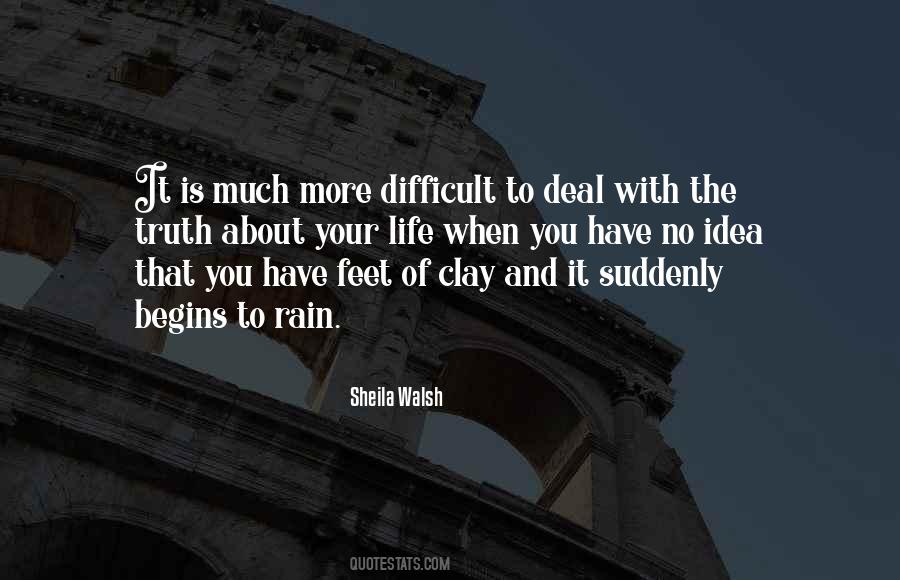 #27. Cancer gave me an understanding of the point of all this. To survive. Most of our lives it is easy but for the moments when it becomes difficult, when accident or sickness or sadness strikes, it's just about remembering one thing. You must simply survive. - Author: Shaun Hick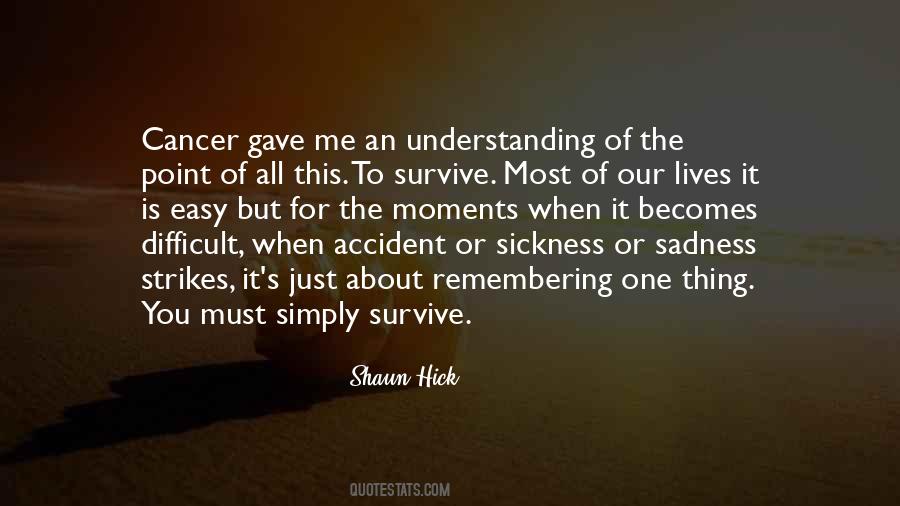 #28. Most of us experience a life full of wonderful moments and difficult moments. But for many of us, even when we are most joyful, there is fear behind our joy. - Author: Thich Nhat Hanh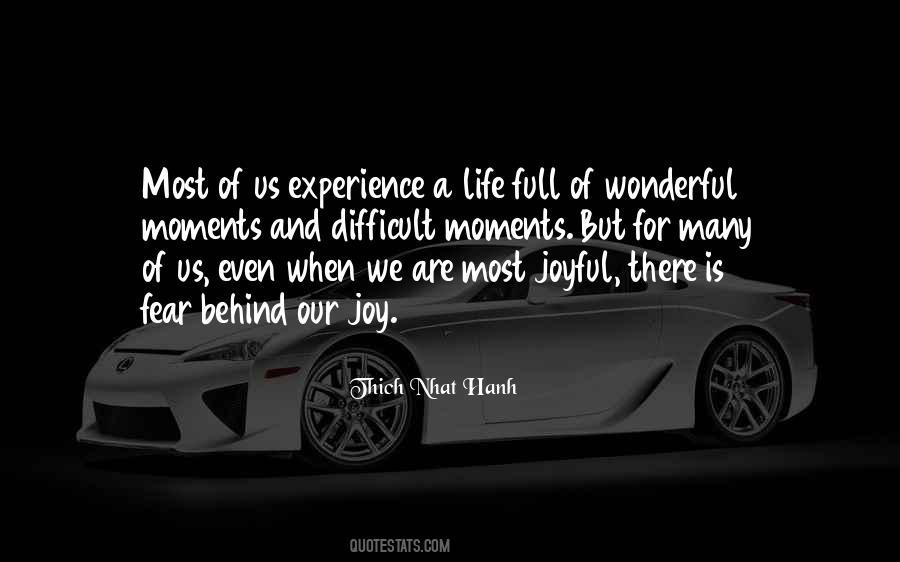 #29. A life of living free and taking endless satisfaction from a person's promiscuous meanderings entails intermittently retooling oneself to meet a desired future. Perhaps the most difficult challenge of life is detecting when the ground moves beneath us and then nimbly shifting our mental perspective. - Author: Kilroy J. Oldster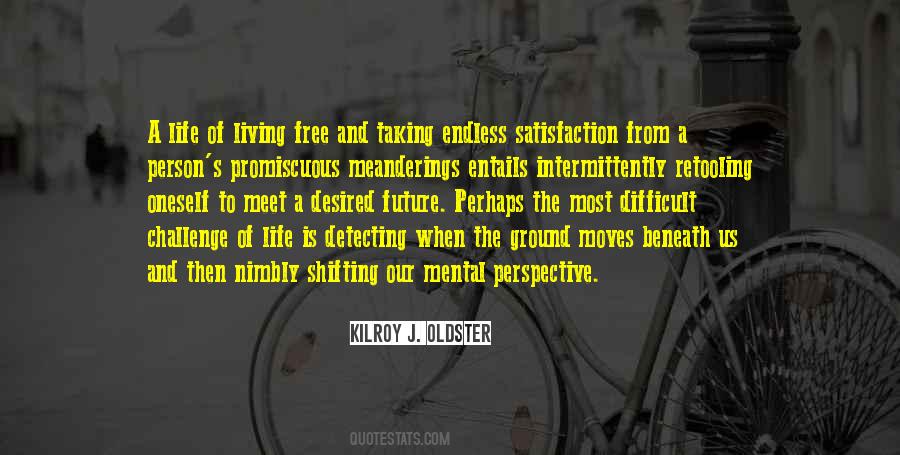 #30. The part you don't expect when you start out is all the people who come into your life wanting a piece of you, not caring about your wellbeing. The insane schedule is very difficult. Touring looks very glamourous but it's hard and gruelling - the travelling, the meet-and-greets - it was too crazy. - Author: Cheryl James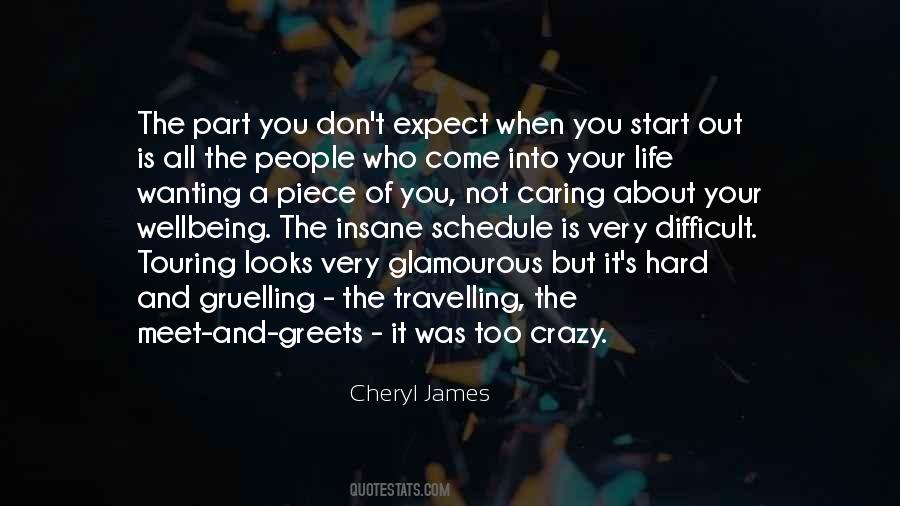 #31. When things are difficult, awful, stressful, the thing that always gets you through is a sense of humour. I don't mean - well, maybe I do - laugh at the hangman as he puts the noose around your neck. But an eye, an ear, for the ridiculous, the absurd in life, can get you through a lot. - Author: Paul Merton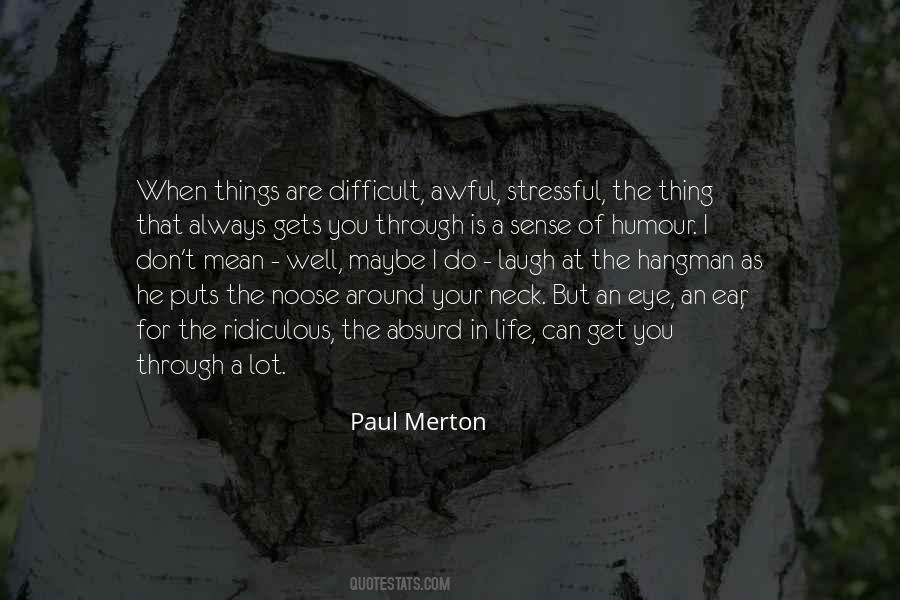 #32. It's not all been rosy; I've had difficult situations where I've failed. But when you fail you learn a lot about yourself and come back stronger. The message is: life need not have limits. Having an opportunity in life is important but what defines you is what you do with that opportunity. - Author: Richard Whitehead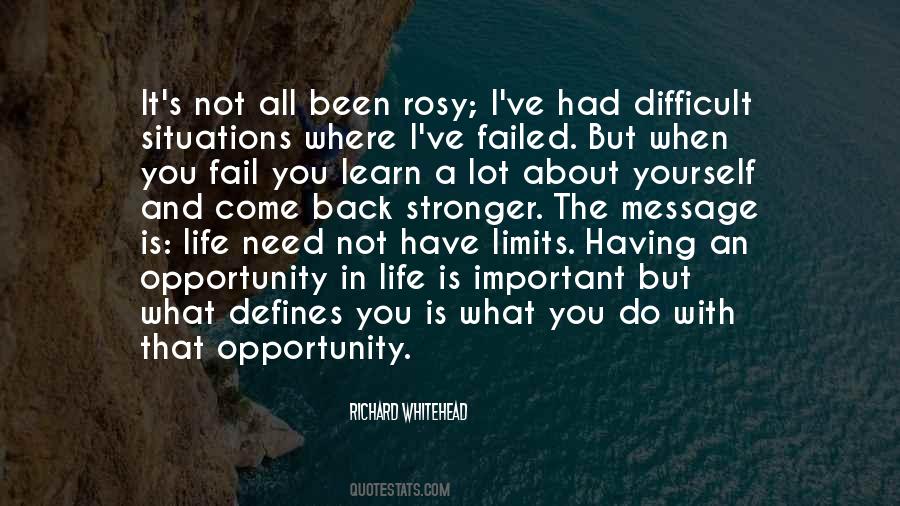 #33. I don't know, I think that if I could just accept the fact that my life is supposed to be difficult. You know, that's what to be expected, then I might not get so pissed-off about it and I'll just be glad when something nice happens. - Author: Jesse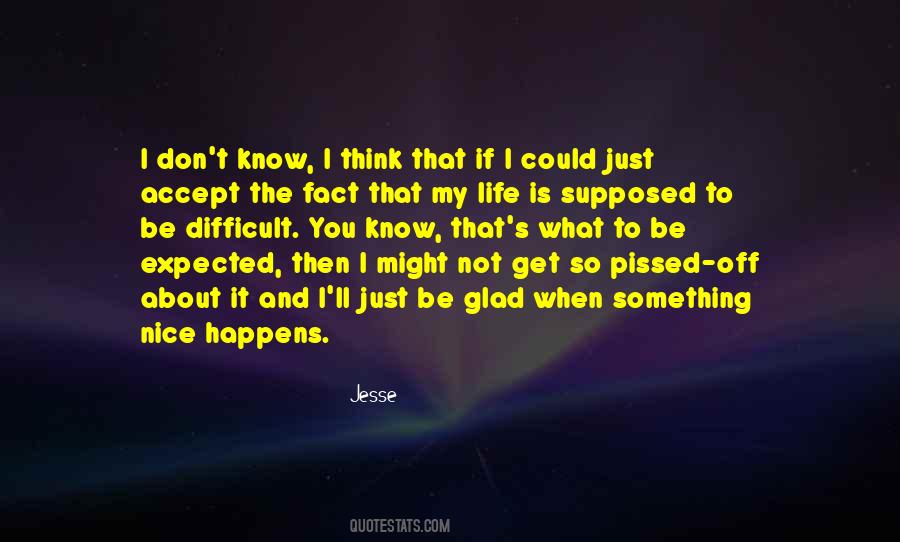 #34. When a problem or a difficult situation arises, say to yourself, as if you already believe it: "This is for my benefit. - Author: Chris Prentiss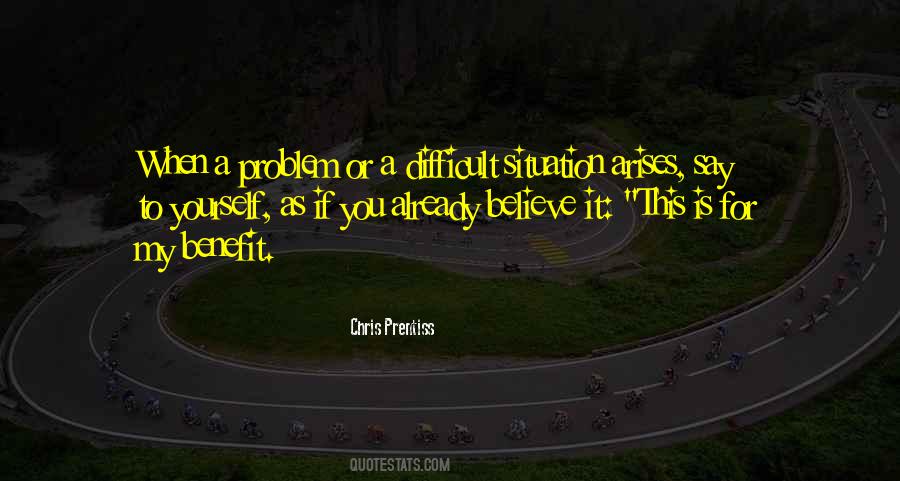 #35. Now I come to 75 years of age, I think what's most important in life is your conscience. If you told a lie and made other people suffer, I think that's very difficult when you reach this age. - Author: Mstislav Rostropovich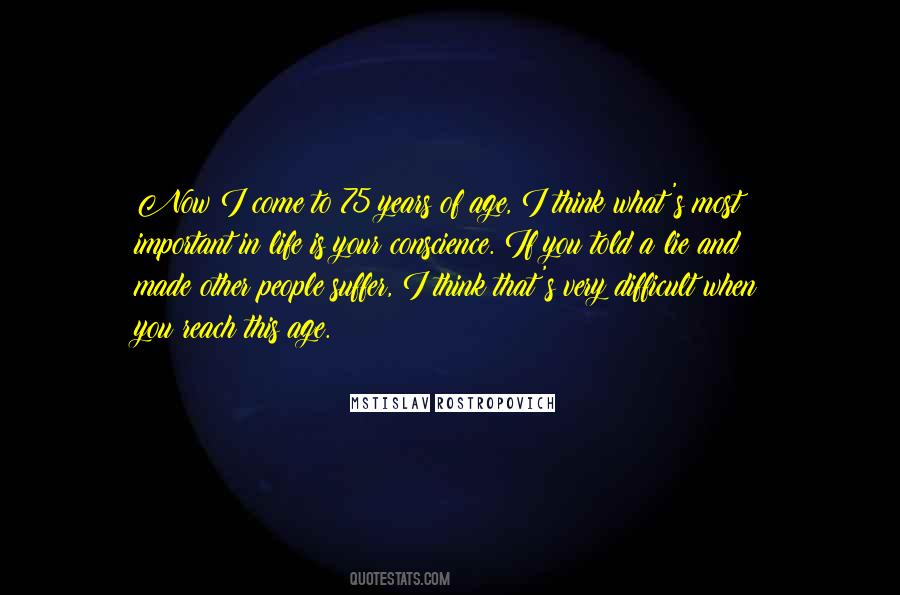 #36. Life's mystery continued to trouble me
A question came to my mind,
is freedom dearer than life?
or does it become easier to live
when life becomes difficult? - Author: Suman Pokhrel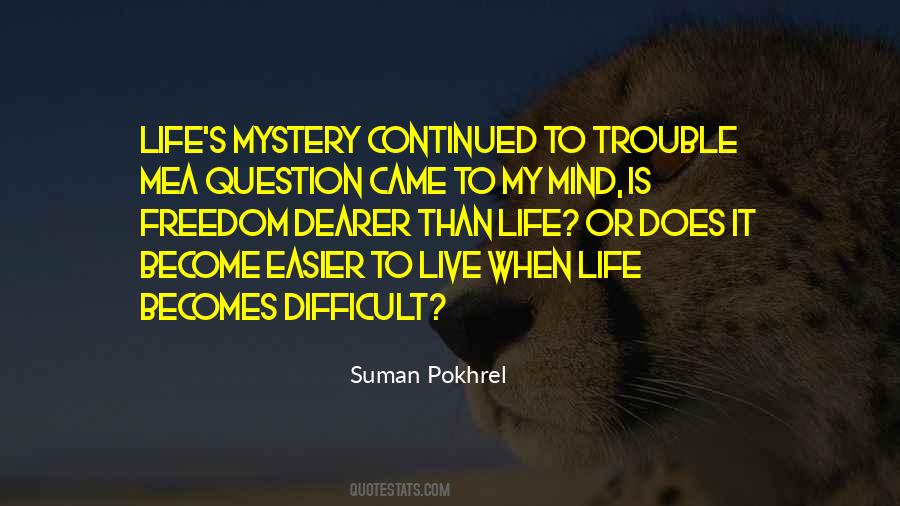 #37. When you consider it from a human perspective, and clearly it would be difficult for us to do otherwise, life is an odd thing. It couldn't wait to get going, but then, having gotten going, it seemed in very little hurry to move on. - Author: Bill Bryson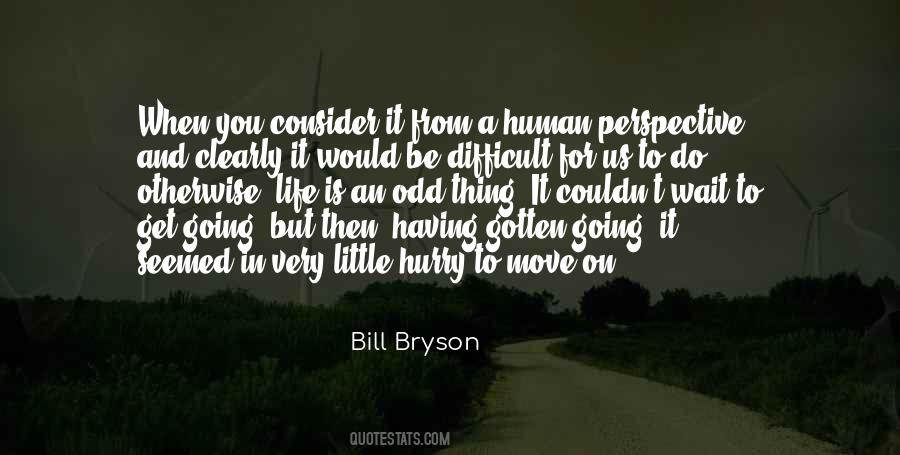 #38. One must be thrust out of a finished cycle in life, and that leap is the most difficult to make - to part with one's faith, one's love, when one would prefer to renew the faith and recreate the passion. - Author: Anais Nin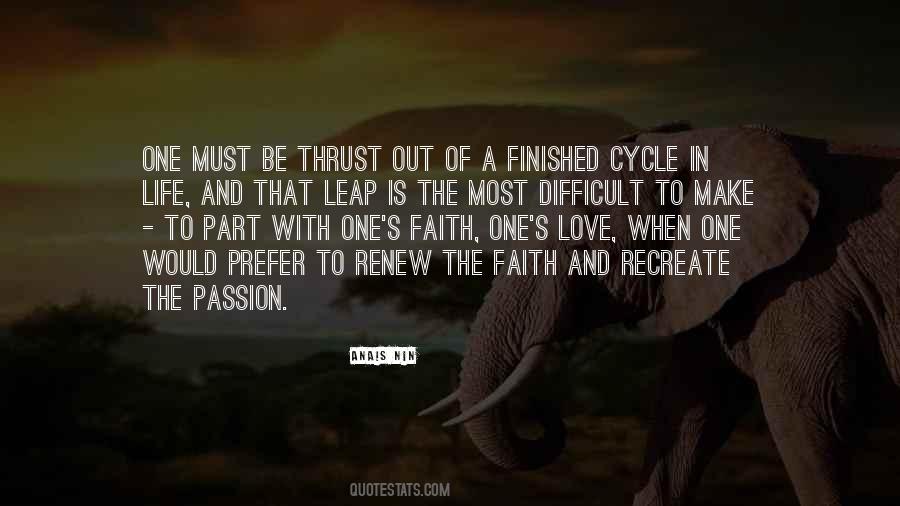 #39. In political life, it is extremely difficult to remain loyal to a friendship when constellations of power or interests are in the way. - Author: Martin Schulz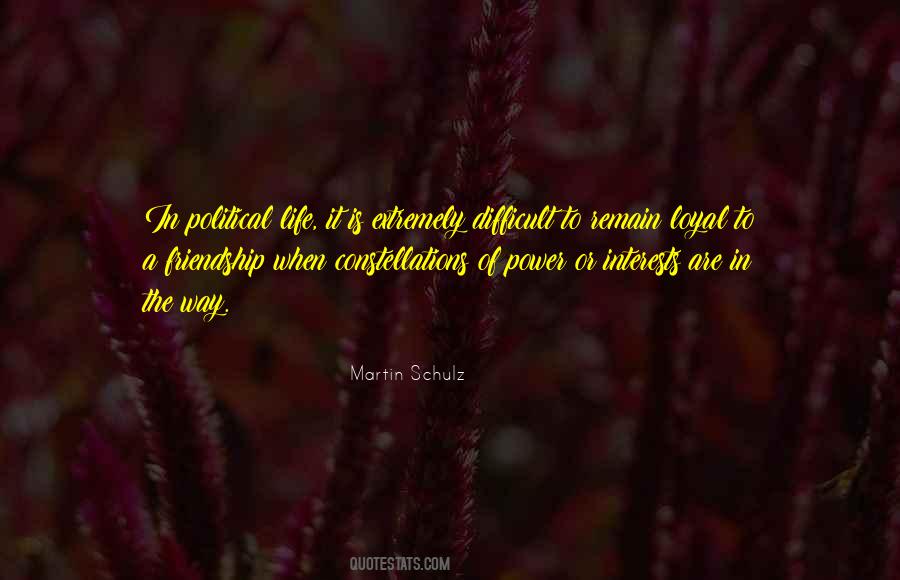 #40. Acting is not as difficult as you may think. People are born natural actors
and play many parts on the stage of life. Everyone is constantly in front of an
audience - or performing monologues when alone. - Author: Bryan Michael Stoller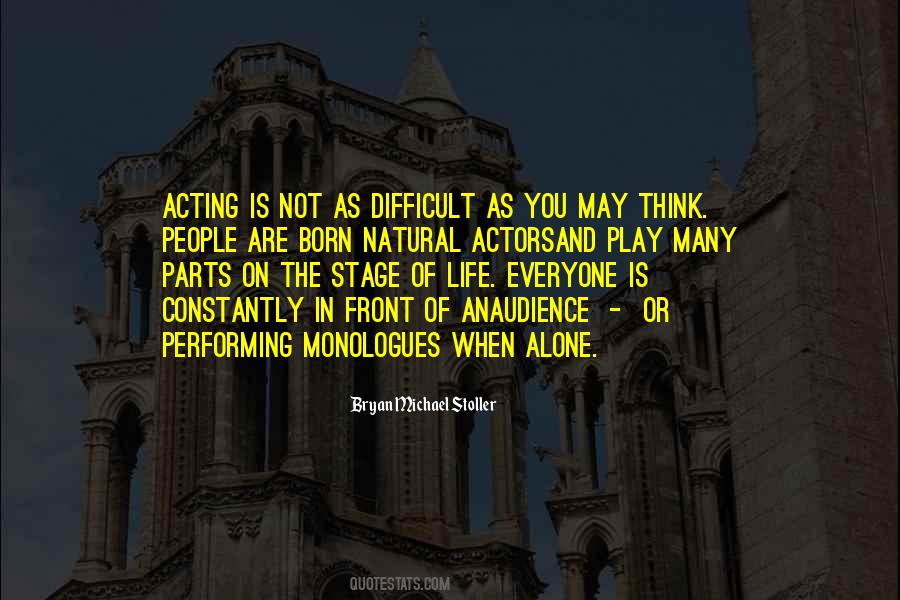 #41. I never eat meat as I think it is wrong to deprive animals of their life when they are so difficult to chew anyway - Author: Leonora Carrington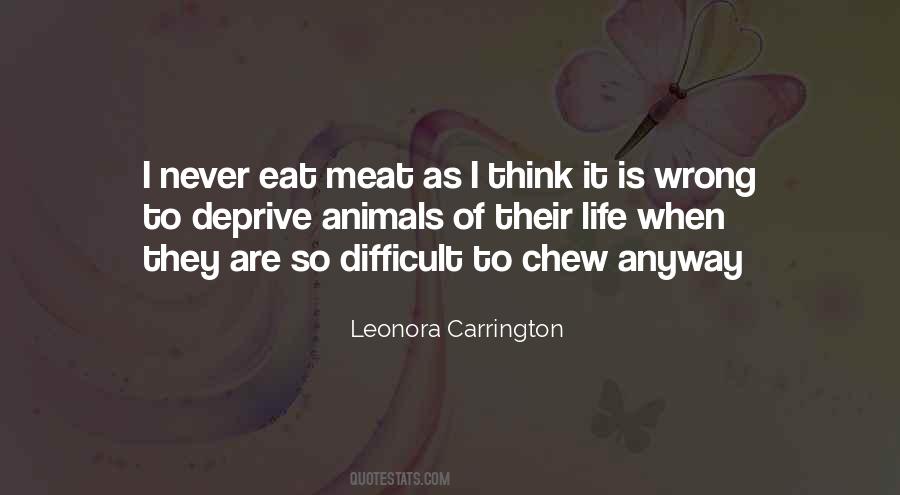 #42. I understand that sometimes when you're young it's difficult to remember the difference between real life and what is part of fantasy. - Author: Dakota Blue Richards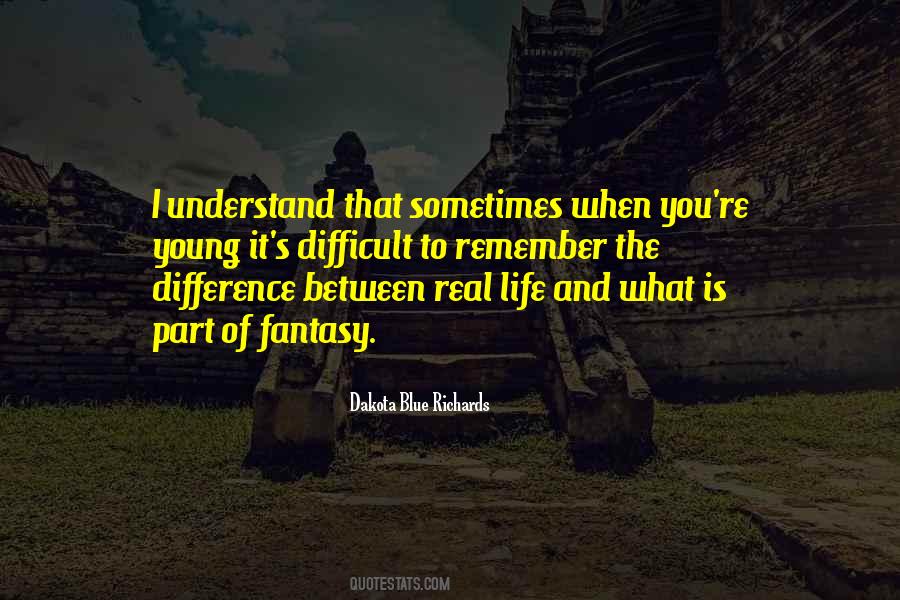 #43. Life's only choosing when to die. Life's a big postponement because the choice is so difficult. It's a tremendous relief not to have to choose. - Author: Anthony Burgess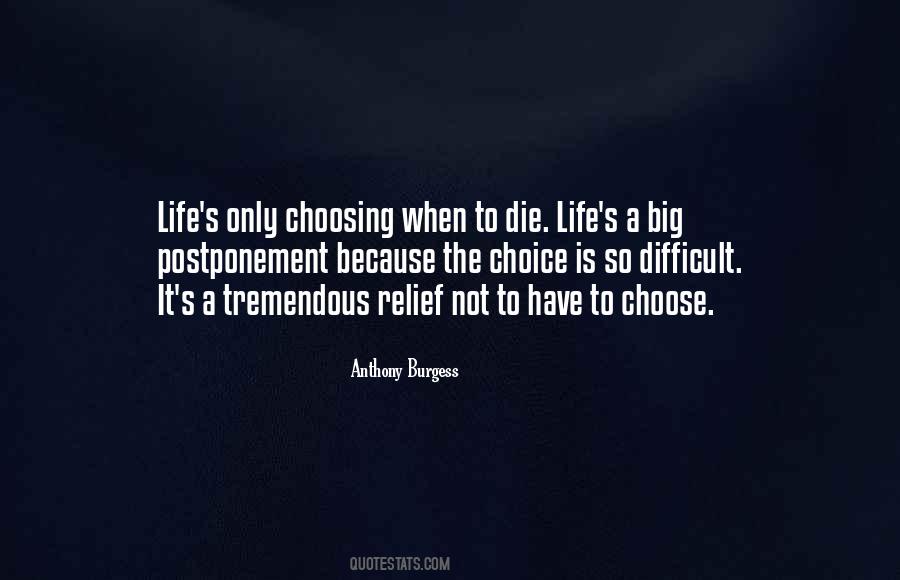 #44. This is difficult to comprehend when one pauses to consider the character of Christ. Admittedly there have been many false caricatures of this Person, but an unbiased look at His life quickly reveals an individual of enormous compassion and incredible integrity. - Author: W. Phillip Keller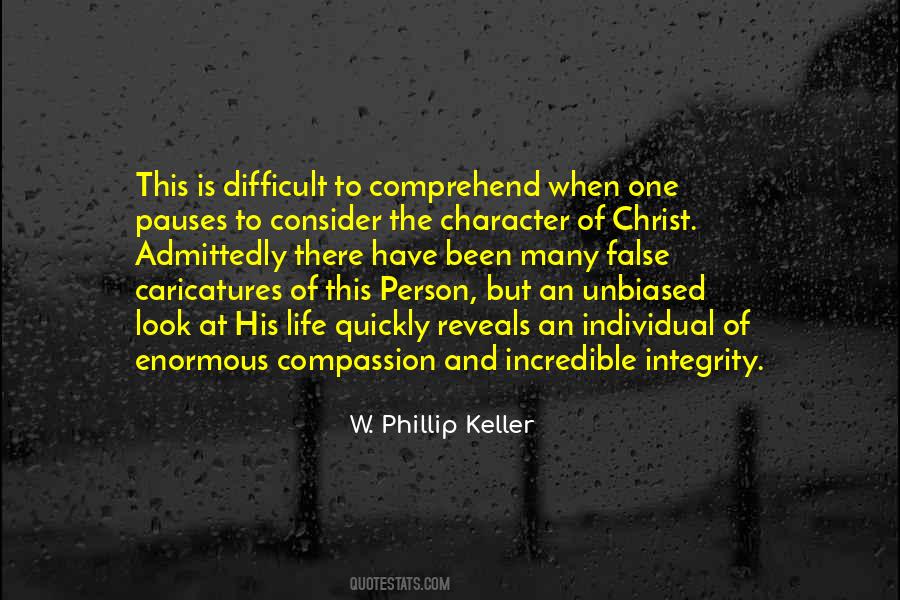 #45. Each of us is leading a difficult life, and when we meet people we are seeing only a tiny part of the thinnest veneer of their complex, troubled existences. To practise anything other than kindness towards them, to treat them in any way save generously, is to quietly deny their humanity. - Author: Derren Brown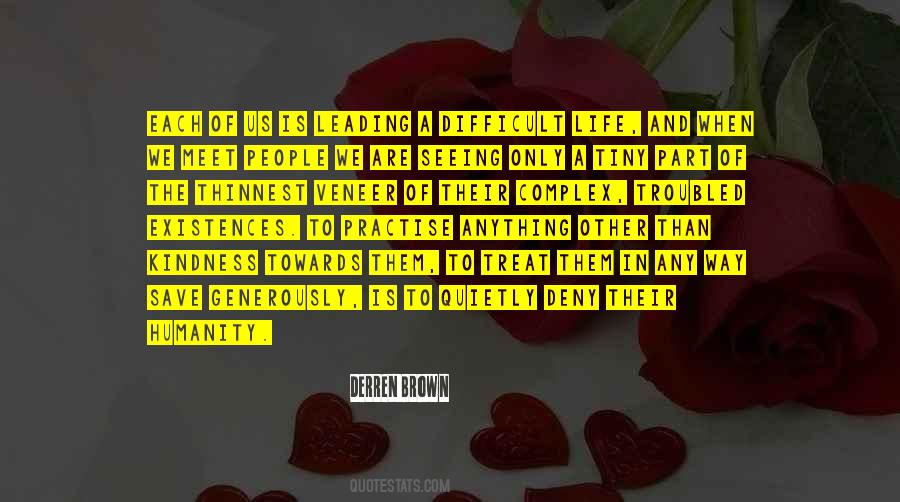 #46. It is difficult when reading the description of certain fictional characters not at the same time to imagine the real-life acquaintances who they most closely, if often unexpectedly, resemble. - Author: Alain De Botton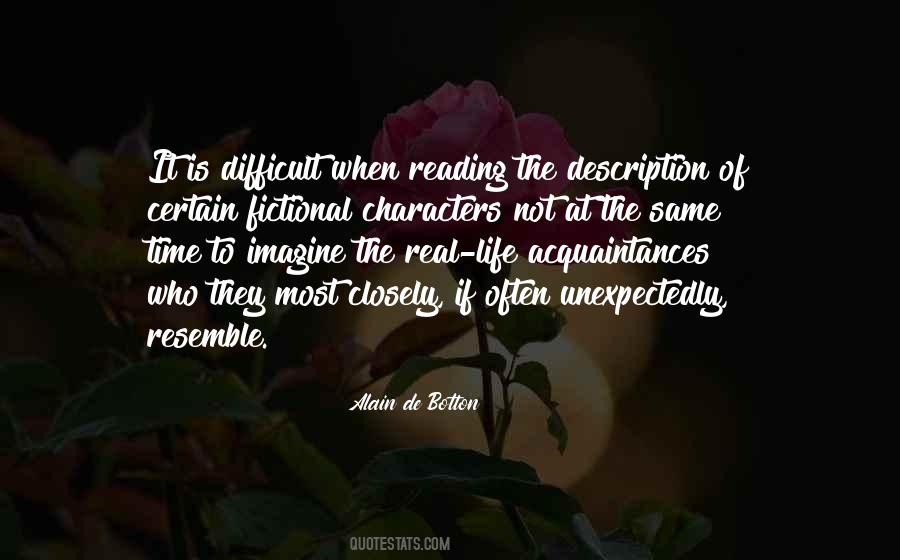 #47. Start with the difficult and when it gets easy, everything else is easier. - Author: Frank Delaney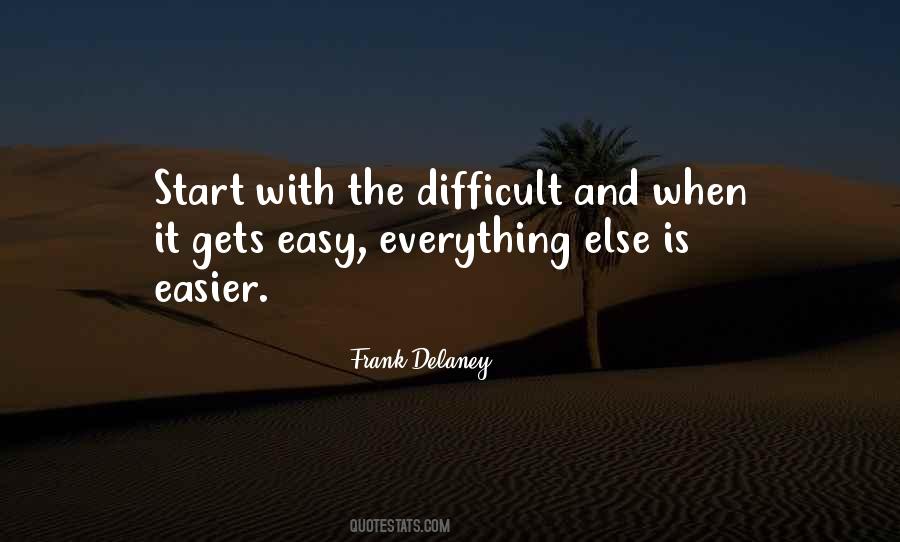 #48. Sometimes it is difficult to see the goodness in your life when you are in turmoil. Just remember that even during a storm, the sun is shining. You may not see it, but it is always there above the clouds, waiting to warm you again. - Author: Karen Lynch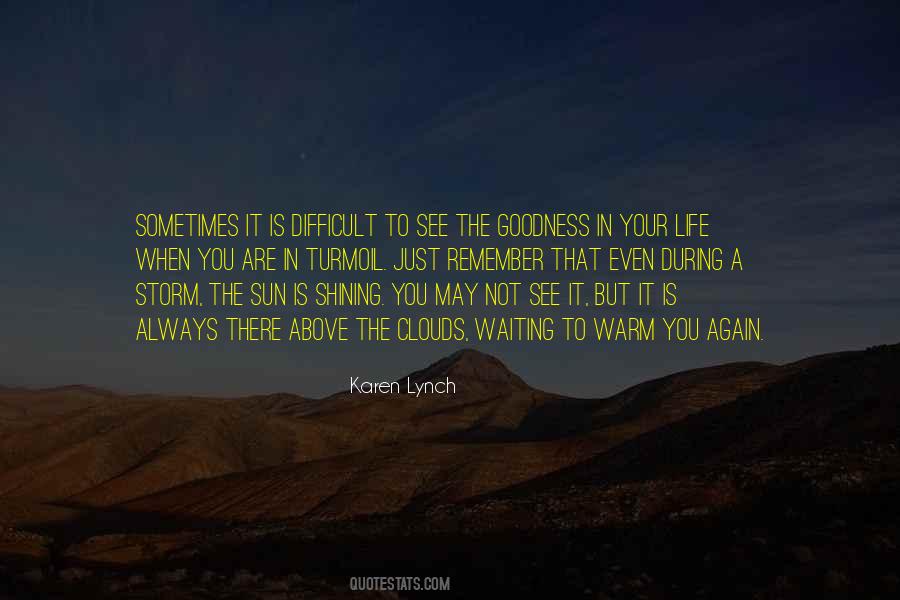 #49. It is easy to love one's enemy when one is making fine speeches; but so difficult to do so in the actual everyday work of life. - Author: Anthony Trollope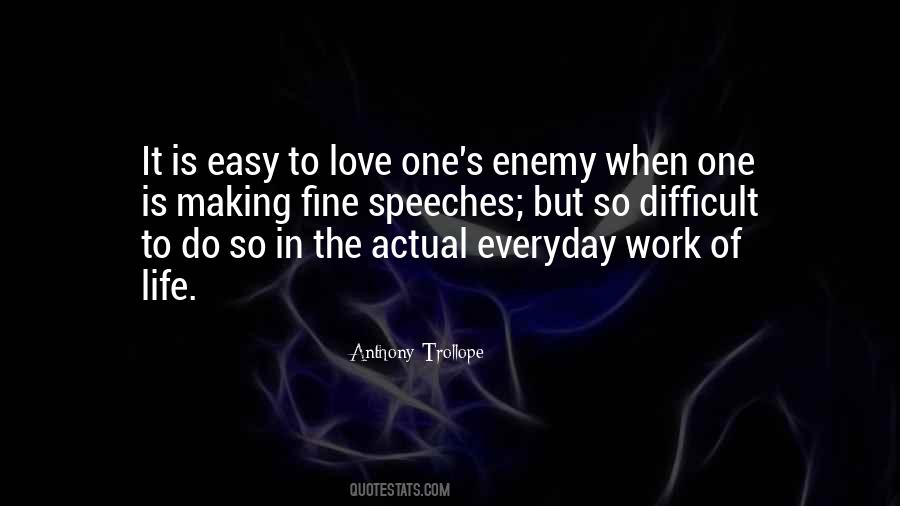 #50. Anyway, I think the two of you should be free to do whatever you want right now. When you're young, you think the only way to happiness is the hard road... but it's actually much simpler than that. - Author: Inio Asano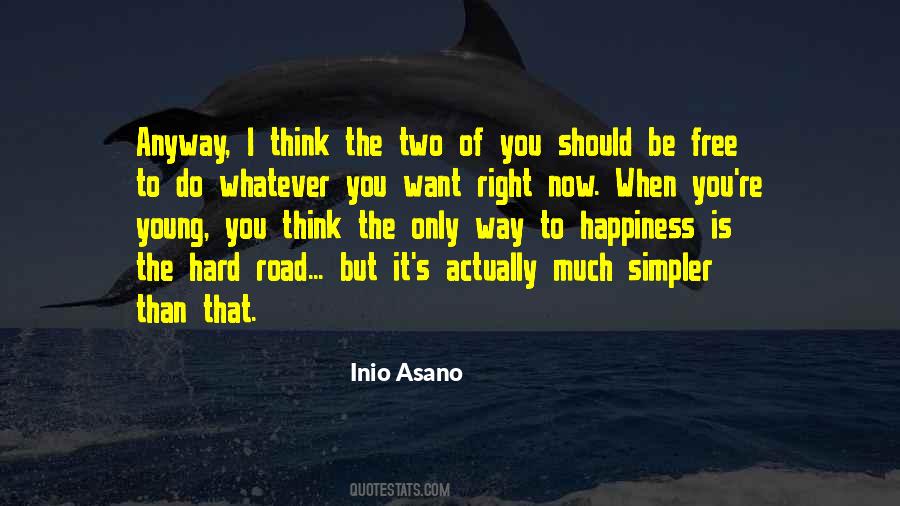 #51. It's unbearable when someone changes around you. Just imagine that your life partner changes, then it is difficult to cope with. Or your mother. Or your father. They were strong and now they're like a baby - it's not so funny. - Author: Michael Haneke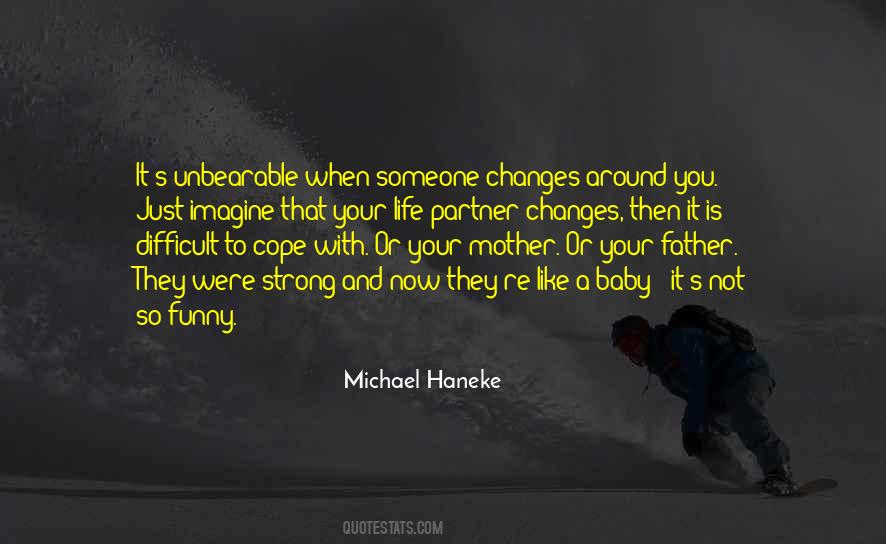 #52. There are many, many things that are difficult in this life, but one thing that isn't difficult at all is figuring out whether someone is excited or not when they open a present. - Author: Lemony Snicket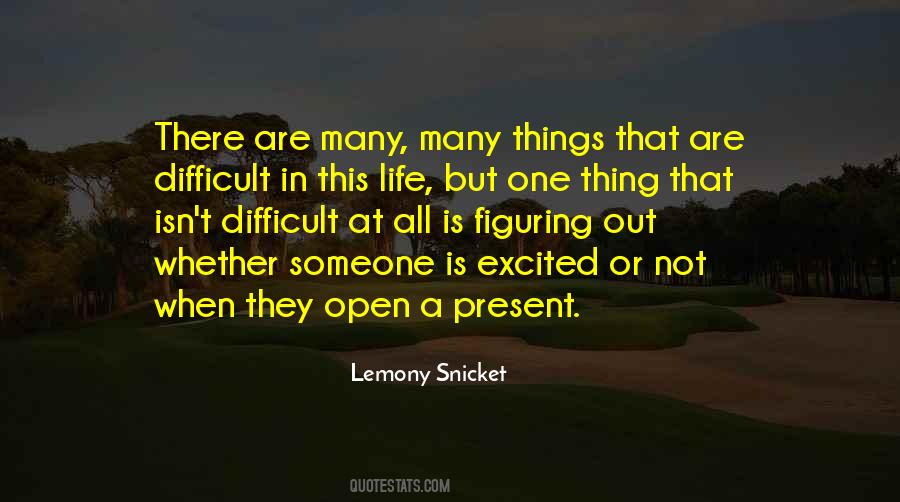 #53. When life is difficult, God wants us to have a faith that trusts and waits. - Author: Kay Arthur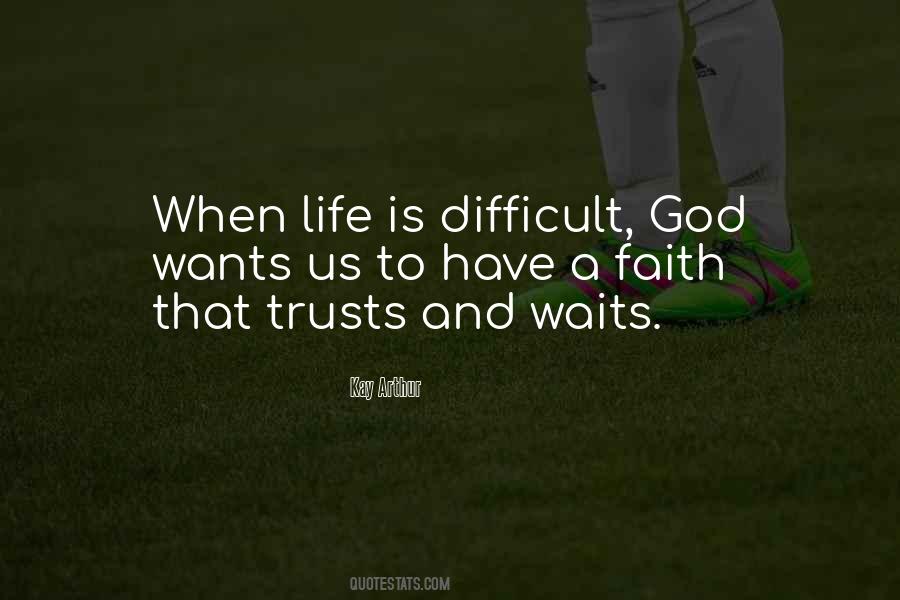 #54. It always helps to have people we love beside us when we have to do difficult things in life. - Author: Fred Rogers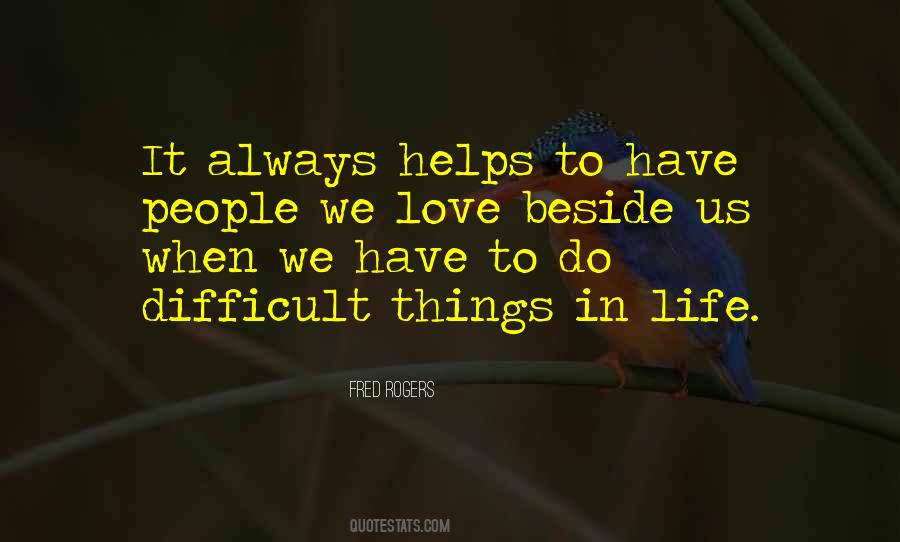 #55. When life makes us face difficult situations-such as a personal loss-we have to understand that eternity is taking one more step. - Author: Paulo Coelho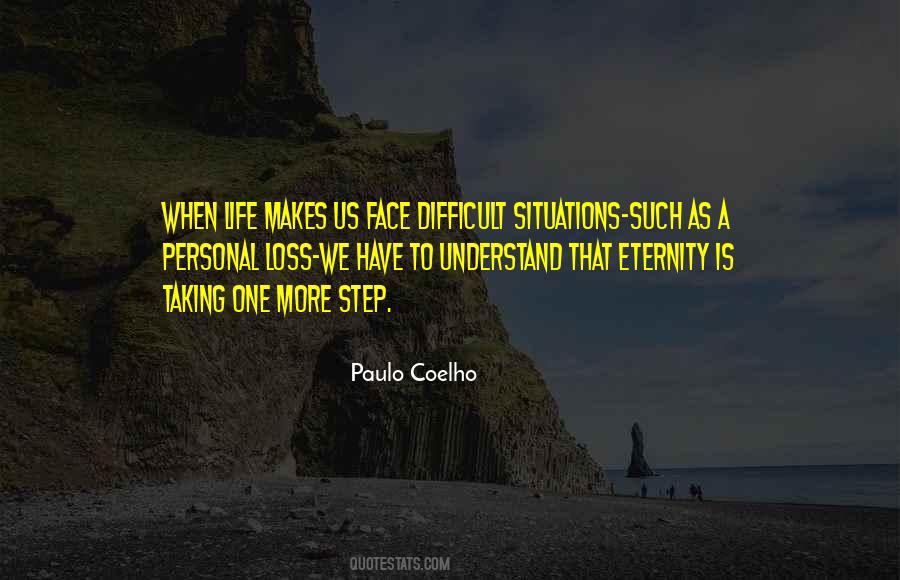 #56. A story works when there's momentum, life behind the words. Some stories have this and others don't, and it's difficult to say why this is. If all stories "worked," though, writing wouldn't be much of a challenge; it wouldn't be art. - Author: Mary J. Miller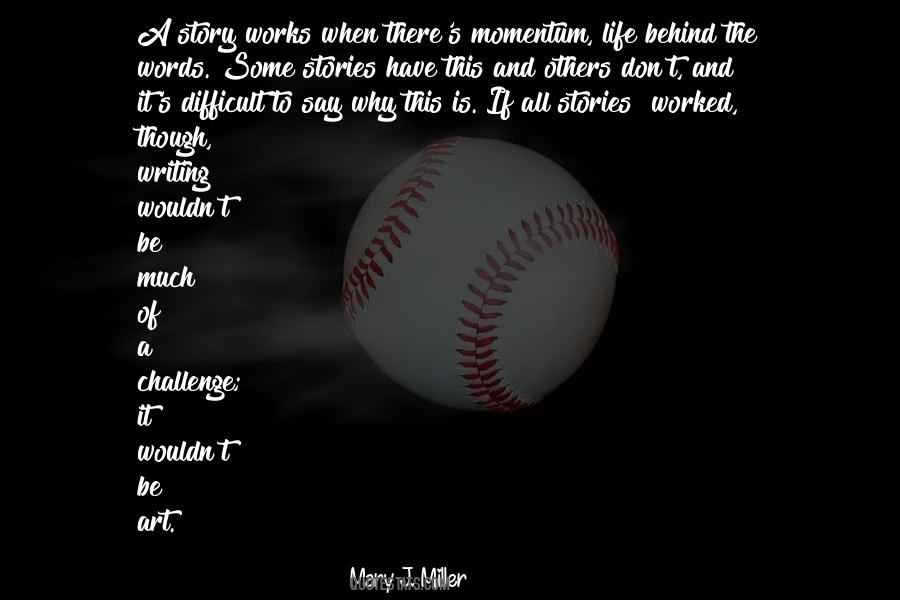 #57. The nuns taught me that the best thing you can do in life when things get difficult is to work. - Author: Frederick Lenz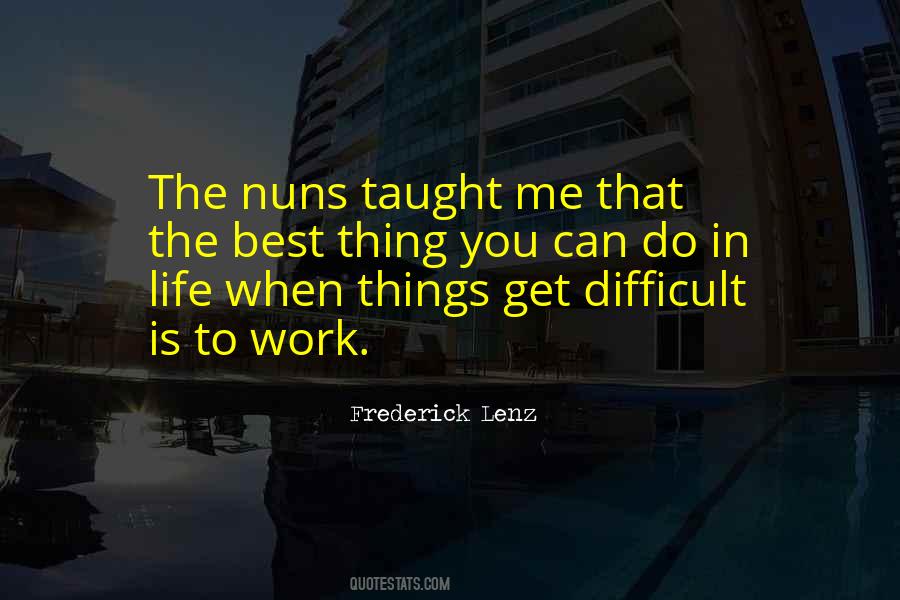 #58. Rather than taking an easy route, taking a difficult route is more satisfying and interesting. Life is hard at times; life is easy at other times. It zig zags and spins round and round. It goes up and down When all that is done, you'll probably smile and say, I lived a very fun life - Author: Minzy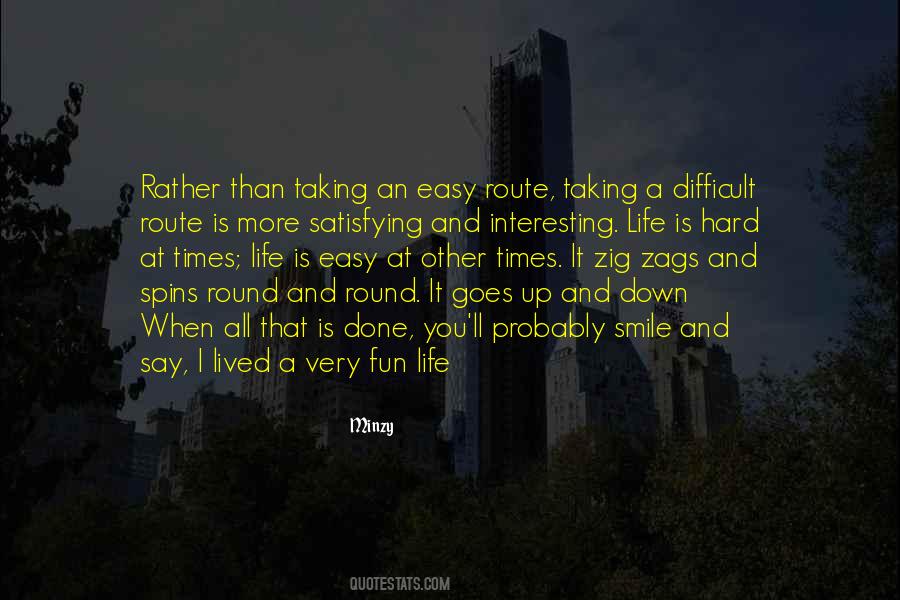 #59. We're all here for a limited amount of time, and life is difficult - not unfair, but difficult. The key is to really confront our fears because when we do, and when we look at them, we really begin to realize that we are capable of handling them. - Author: Bernie Siegel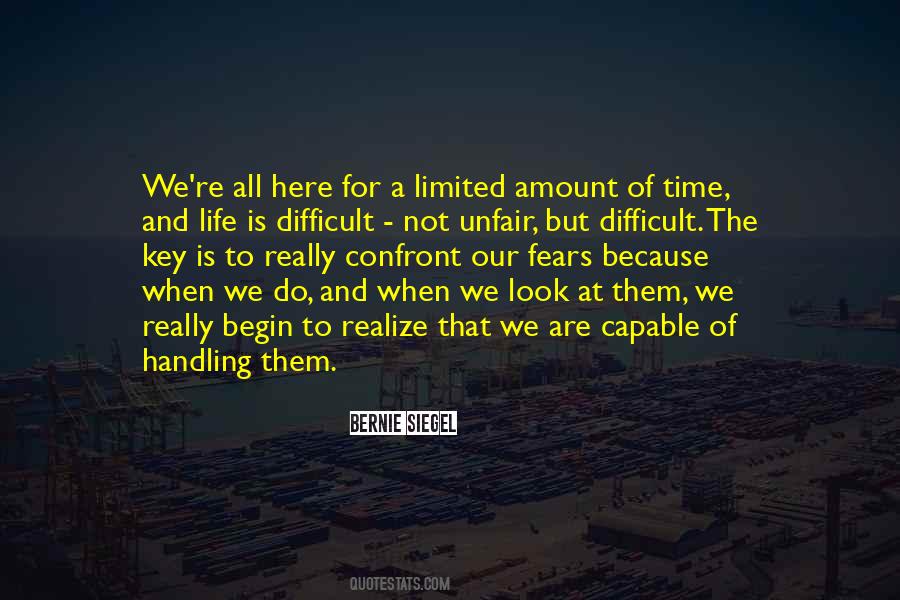 #60. We forget when we're all grown up. 16 was a long time ago. It's hard to remember how freakin' difficult it is as 16! Life is not easy, and you're trying to figure stuff out. - Author: Greg Rucka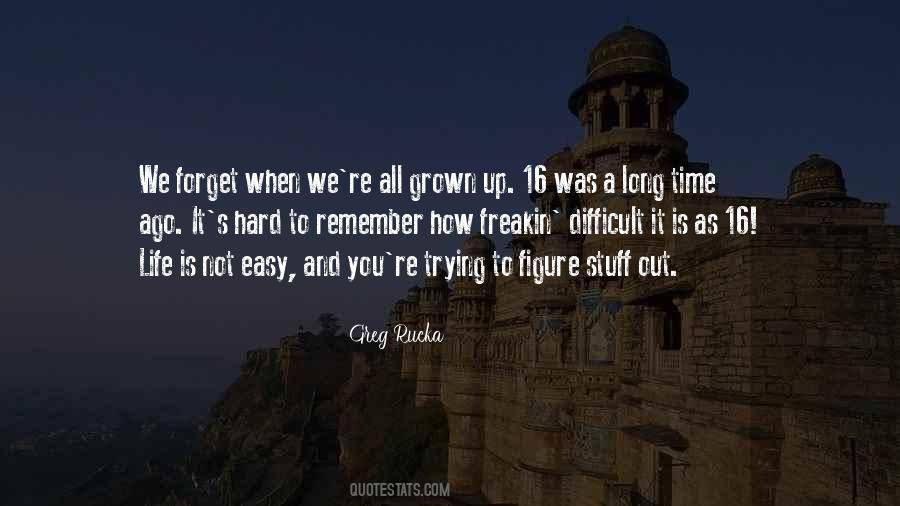 Famous Authors
Popular Topics