We All Are Connected Famous Quotes & Sayings
List of top 100 famous quotes and sayings about we all are connected to read and share with friends on your Facebook, Twitter, blogs.
Top 100 We All Are Connected Quotes
#1. The stones in your driveway may have come from the slaves who spend all day breaking rocks because it's cheaper for the company to get them from India, where the labor is free. We are all connected. And we all have human value. That's what my work is about. - Author: Lisa Kristine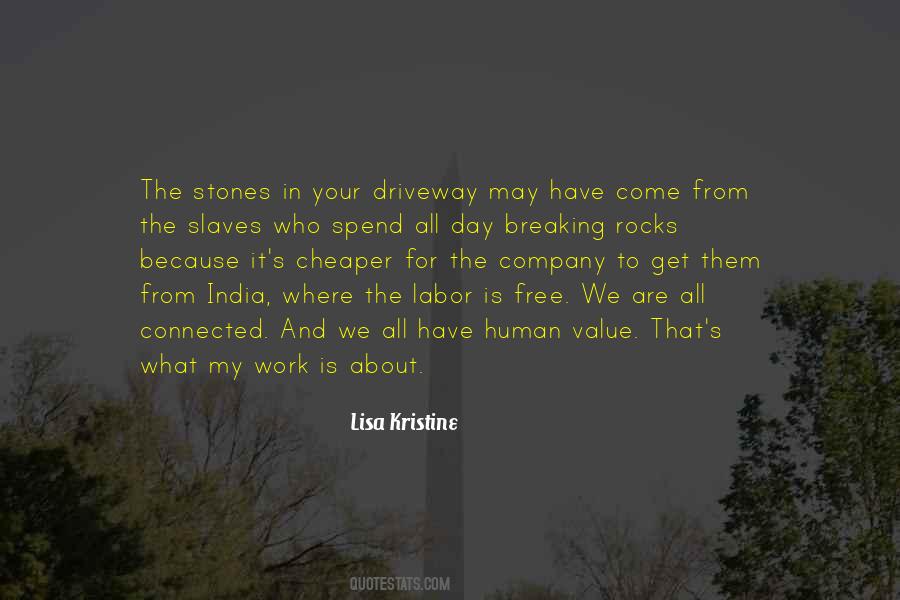 #2. I believe there was a big bang and that because of that we are all connected into infinity, and I know very little having to do with human beings that doesn't also have to do with connection. - Author: Chris Crutcher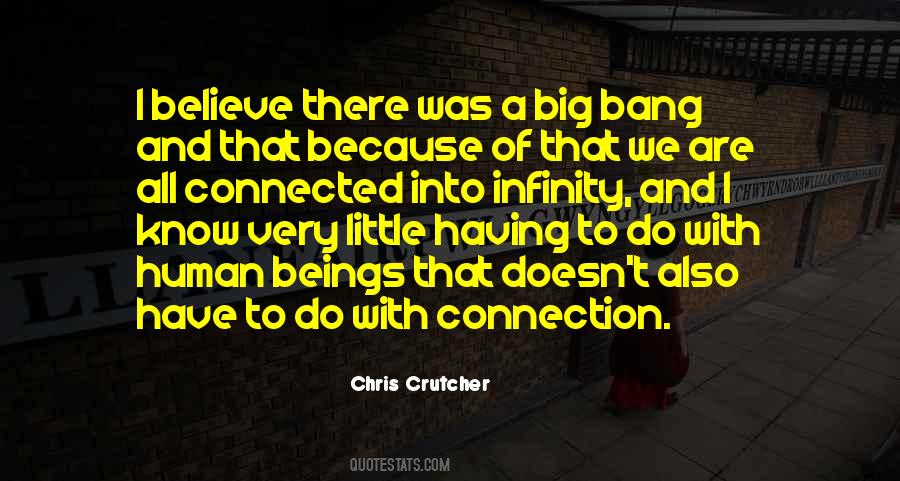 #3. When we root ourselves so that we are experiencing love on all levels - feeling it in our body and heart, accepting love, surrounded by love, generating love - then we are giving as well as receiving at the same time that we are connected to God. - Author: Laura Lane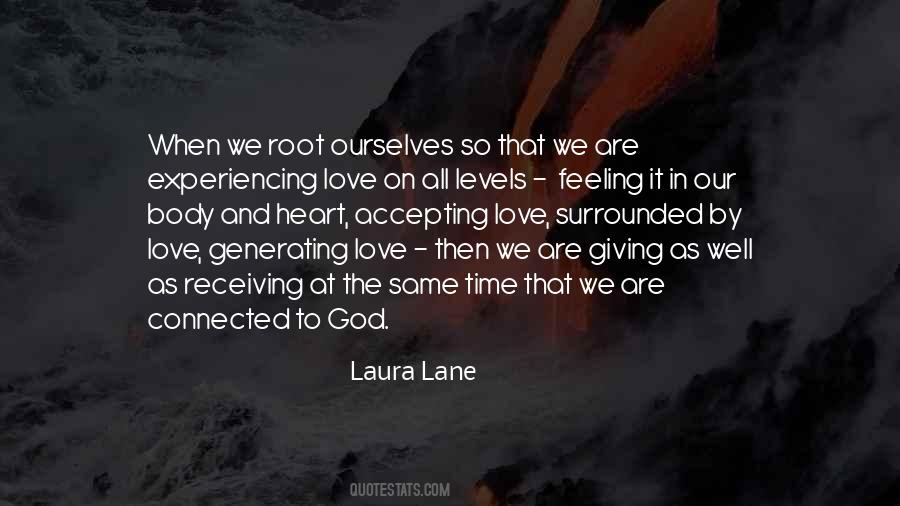 #4. Things that feel super personal actually feel really universal. It's sort of the more you really identify something specific within yourself, the more people connect to it because ultimately we are all connected in some way. - Author: Lena Dunham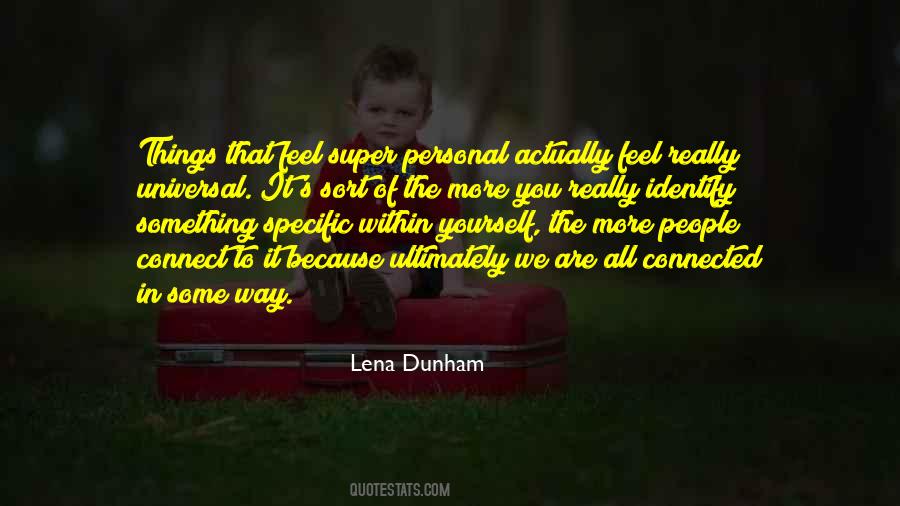 #5. As I look back, I see how all things are connected: today as yesterday, we find ourselves no less deeply caught up in the same mystery. - Author: Pope John Paul II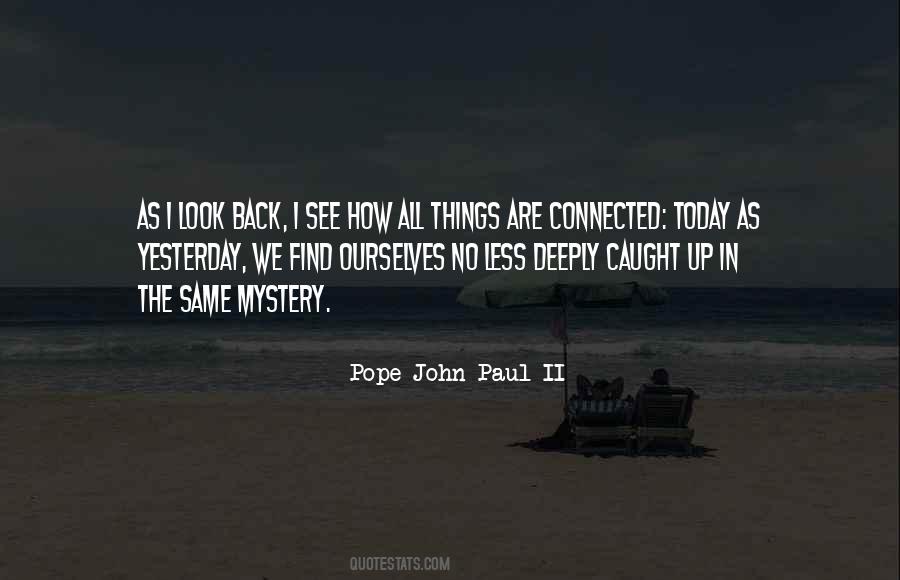 #6. We are part of the whole which we call the universe, but it is an optical delusion of our mind that we think we are separate. This separateness is like a prison for us. Our job is to widen the circle of our compassion so we feel connected with all people and situations. - Author: Albert Einstein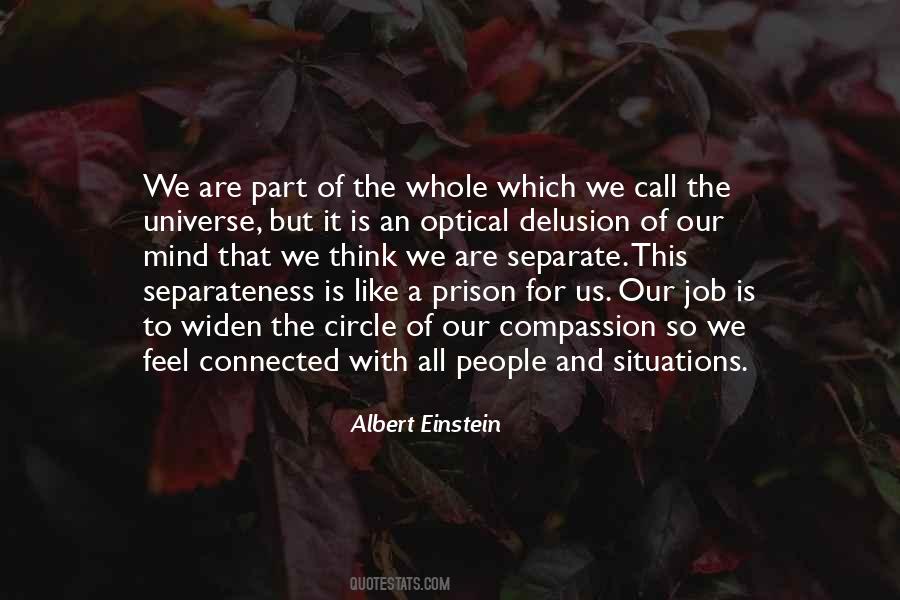 #7. I believe in the goodness of man, and I believe we're all connected and that connection is through God. We have our differences. But if we will recognize that we like each other, that we are more common than uncommon, we will work toward what needs to be done to reconcile that. - Author: Corbin Bernsen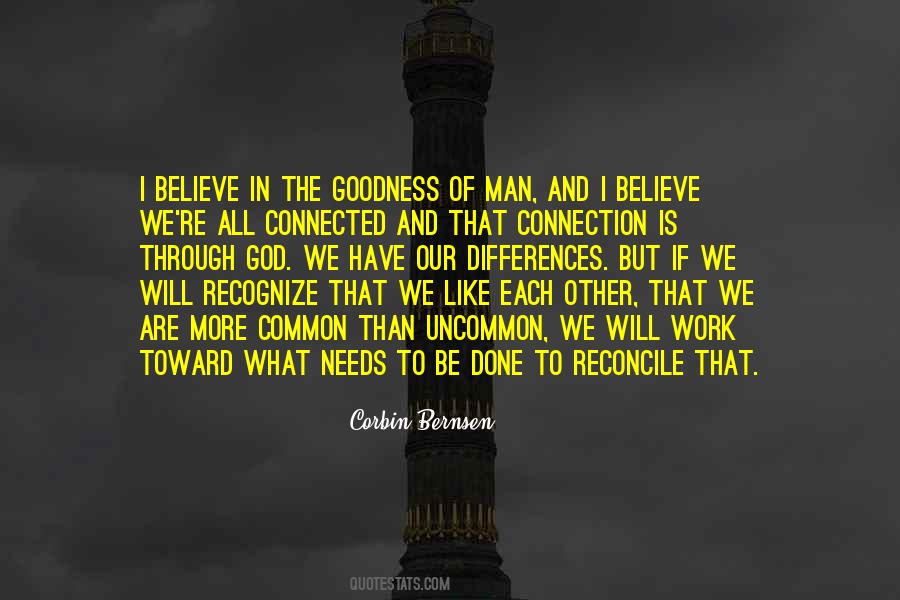 #8. You are here so I can teach you something. That there are no random acts. That we are all connected. That you can no more separate one life from another than you can separate a
breeze from the wind. - Author: Mitch Albom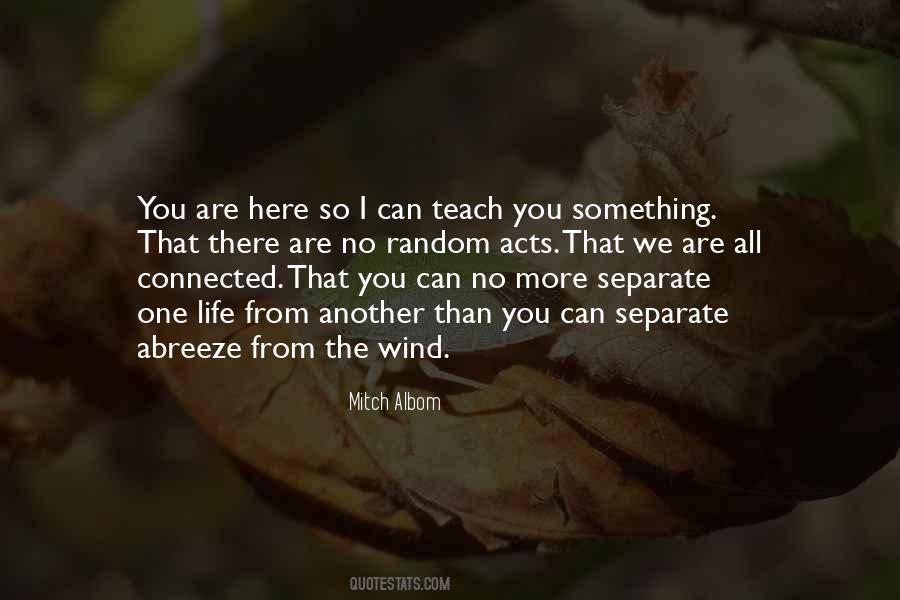 #9. For all of us, love can be the natural state of our own being; naturally at peace, naturally connected, because this becomes the reflection of who we simply are. - Author: Sharon Salzberg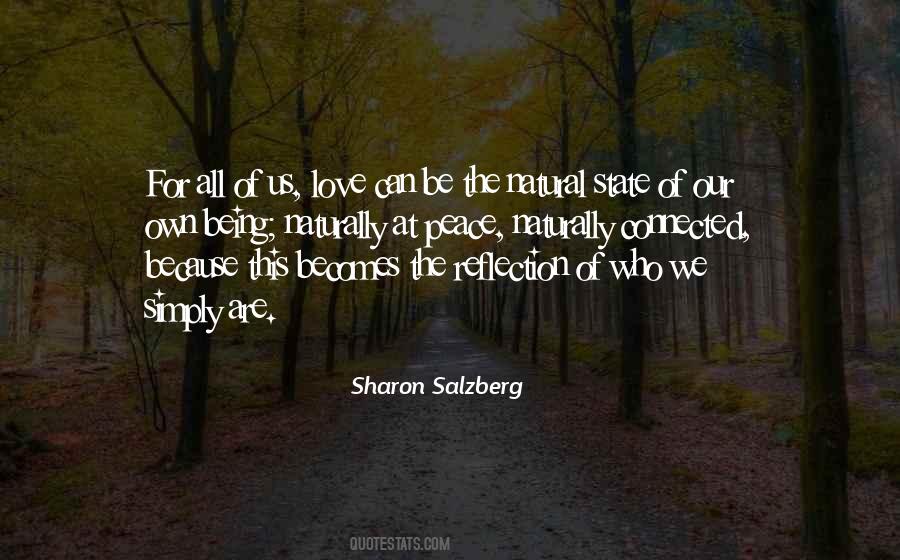 #10. We are all connected on the inside. Your ass is just the far end of your mouth. - Author: Chuck Palahniuk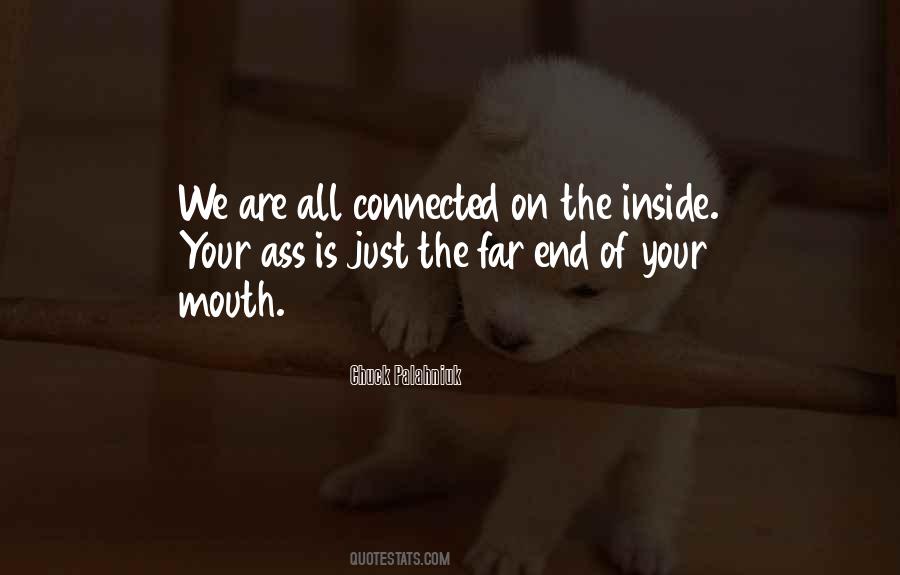 #11. We are not all connected. We are bags of skin. We are all separate bags of thinking skin. - Author: A. L. Kennedy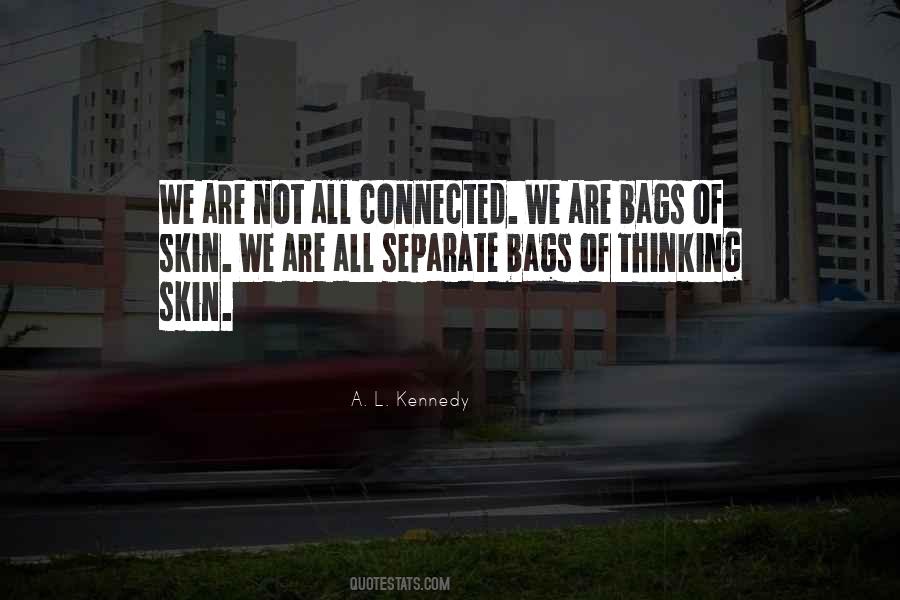 #12. We are all made from the stars and connected to each other and the stars - Author: J. Yates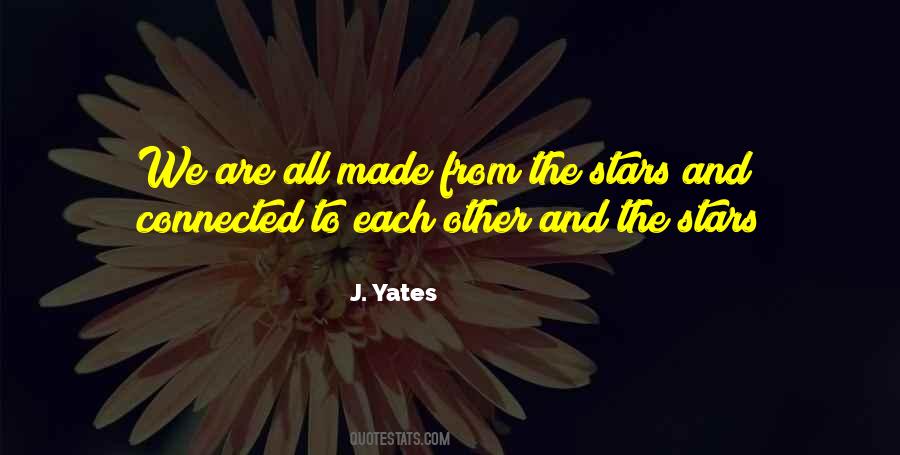 #13. We are all capable of greatness when we know without any doubt that we are directly connected to a higher purpose. - Author: Andrew Cohen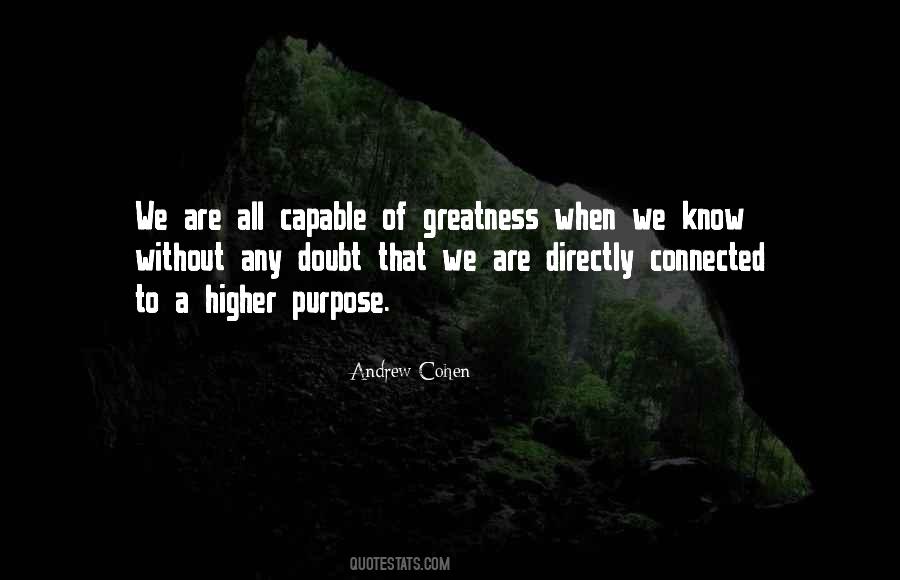 #14. To me, everything is connected. We're a part of nature. We are organic beings. None of us were - all of us come out of a woman. That's the way we're growing. - Author: Ziggy Marley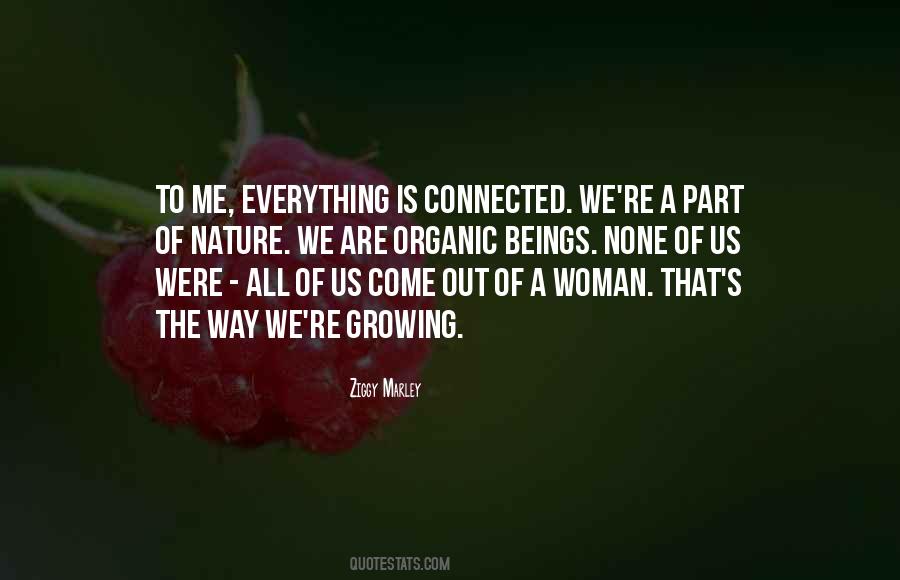 #15. This world isn't a battlefield. Someday you will realise how your success depends on a bunch of other people and that day you will be wiser. You will know how connected we all are.
Either we all make it or none of us does. - Author: Jasleen Kaur Gumber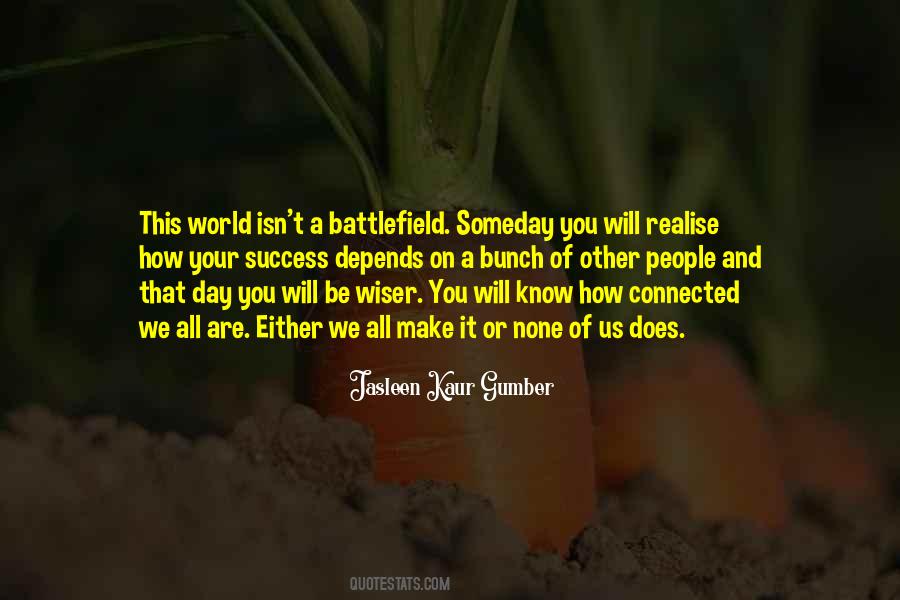 #16. We are all connected at a deep, chemical level. We are all connected to the universe, and the universe is inside us. - Author: Wendy Mass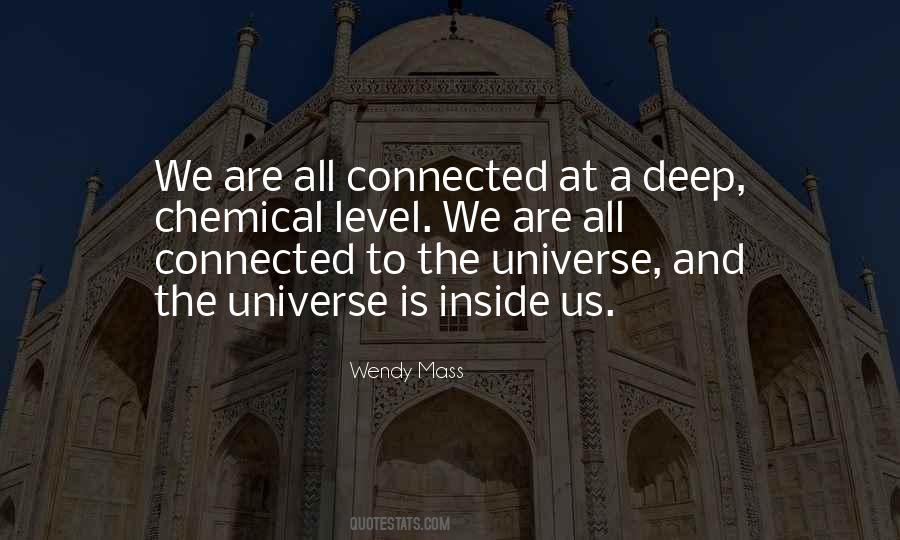 #17. The message is that all things are connected. We have animal aspects, anthropological aspects, plant-animal aspects. - Author: John Dee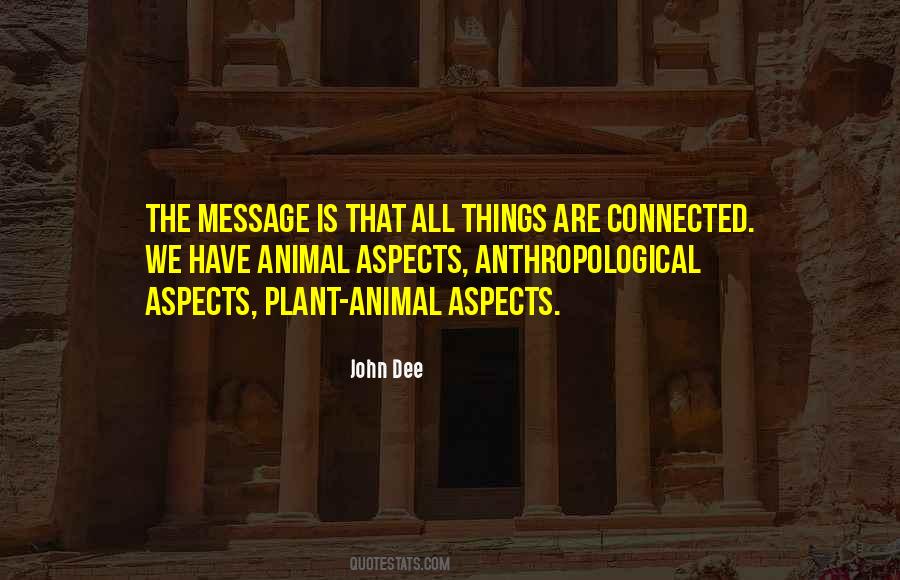 #18. All the borders in the world are man-made There are no borders, we are all hooked together. Everything is connected. There is no line of demarcation. We are hooked together like the colors of a rainbow, our problem is ignorance, we don't understand that. - Author: Bob Proctor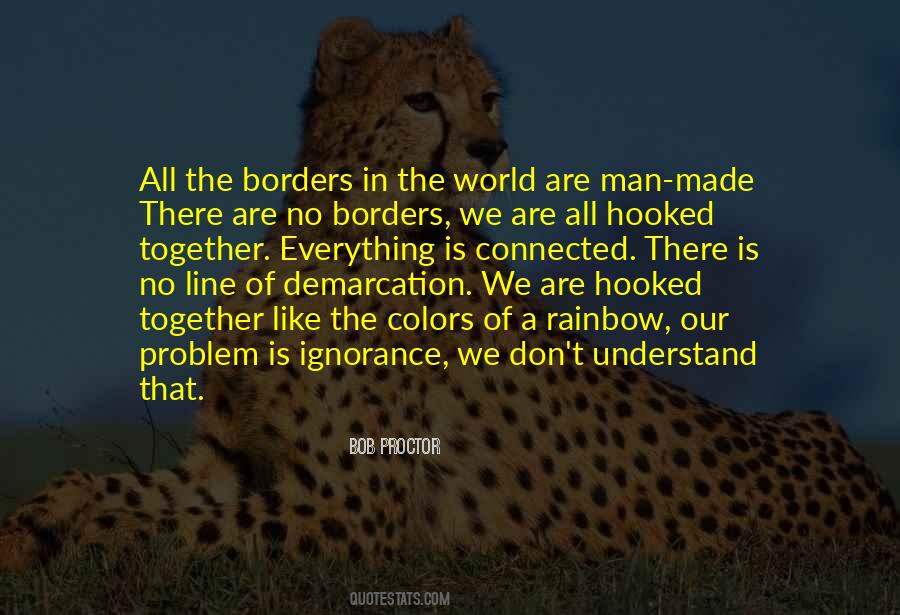 #19. We are increasingly open to understanding how we are all connected and that if we sink the ship that we are all on, we all drown. However, we have simultaneously become so focused on our own life experiences that we think we are alone. - Author: Yehuda Berg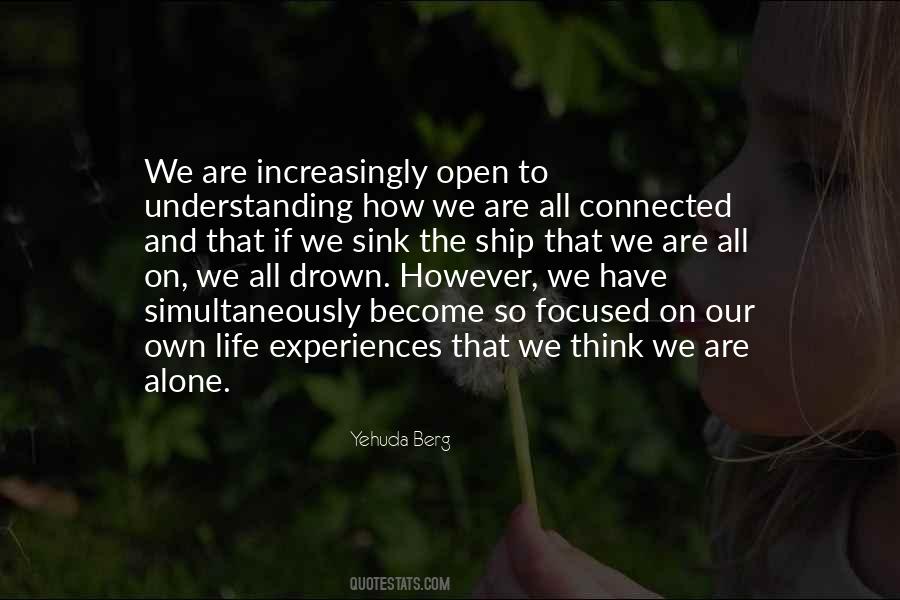 #20. We are all connected, everything that lives and breathes in this world, and glory is what binds.
Next thing he'll be talking about the Force, I know it. - Author: Cynthia Hand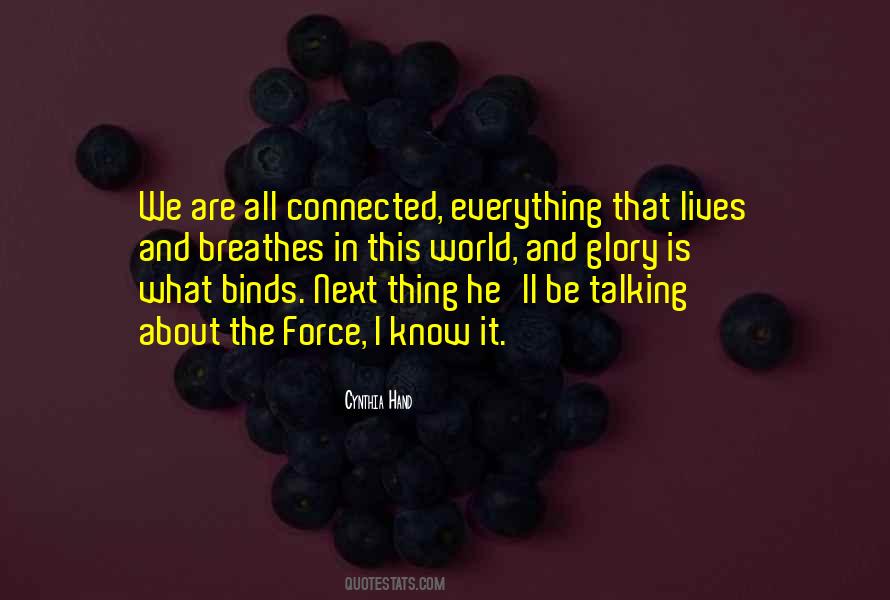 #21. There is something to be said for rain, the sharing of an intimate caress with the leaves, blades of grass and all the living and the dead creatures to remind us we are connected.~Lyn Crain - Author: Lyn Crain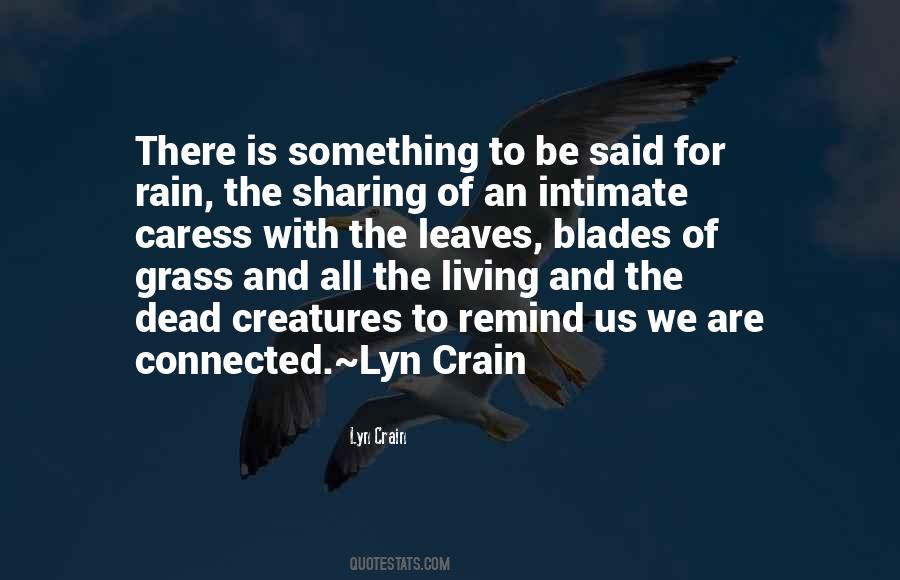 #22. We shall walk together on this path of life, for all things are part of the universe and are connected with each other to form one whole unity. - Author: Maria Montessori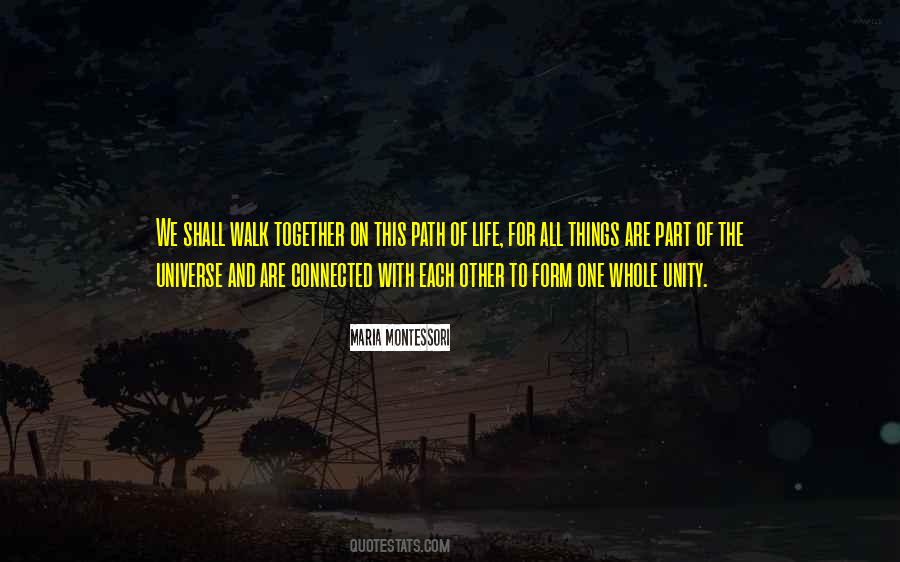 #23. The world today is fast becoming one.Humanity is one, God is one and mankind are all part of one human family.
all Religions are connected, and they all lead to faith in the one God, no matter what name we give him he is but one God. - Author: Naeem Abdullah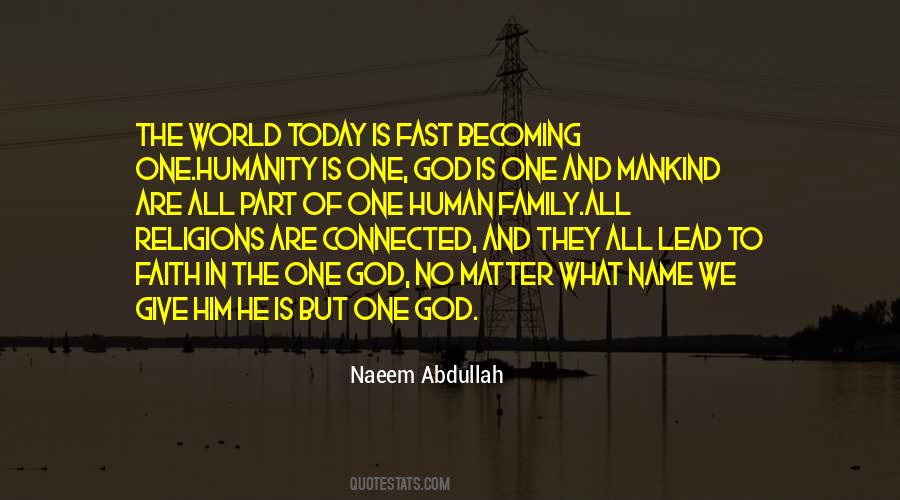 #24. We are all connected by common threads in our experiences despite language barriers or geographical distance. - Author: Esha Young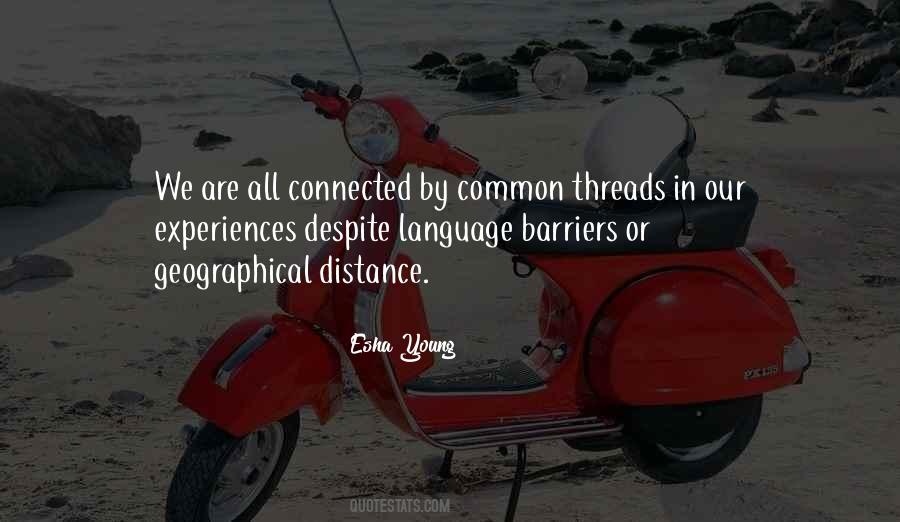 #25. We are all connected....we are One! - Author: Katy Tackes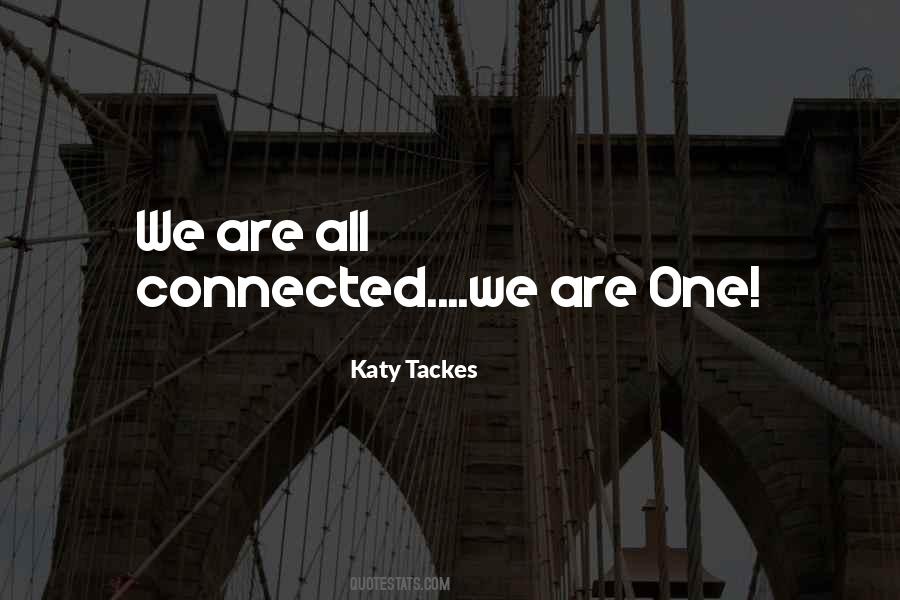 #26. I believe we are all connected to other people. I am connected to people who are suffering. We all are. - Author: Ziggy Marley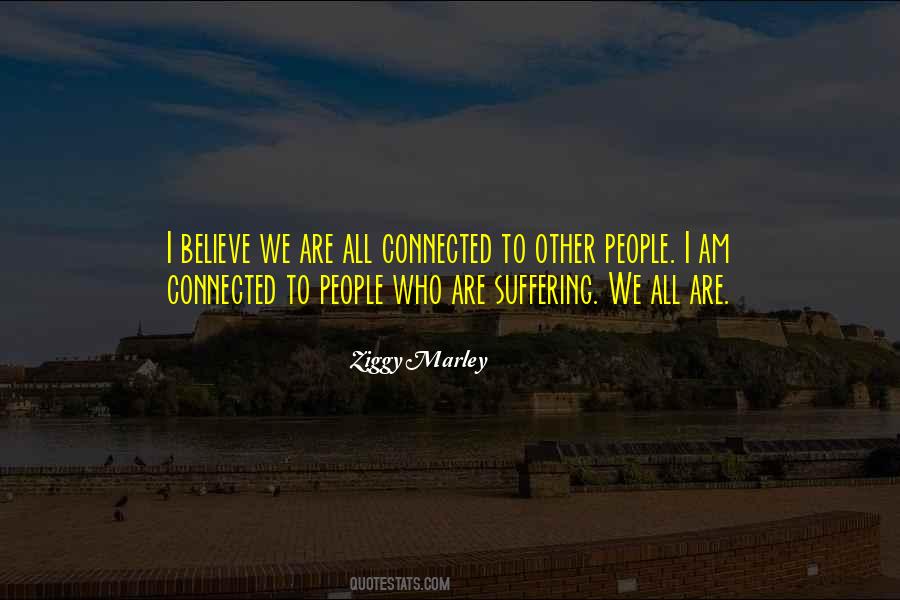 #27. What you are beginning to understand is that these decisions are all directly connected to the way in which we picture how you will be equipped to deal with the world around you when you are finally free of us. I smile as I write these words. Believe me, we want you to be free and self-reliant. We - Author: Omar Saif Ghobash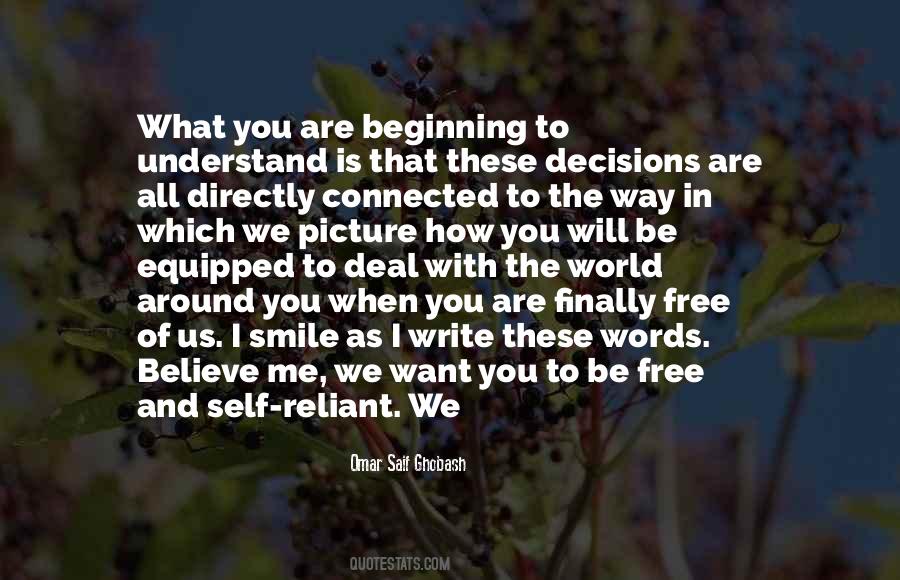 #28. Collective intelligence. Think of how Wikipedia works, how Amazon harnesses user annotation on its site, the way photo-sharing sites like Flickr are bleeding out into other applications ... We're entering an era in which software learns from its users and all of the users are connected. - Author: Tim O'Reilly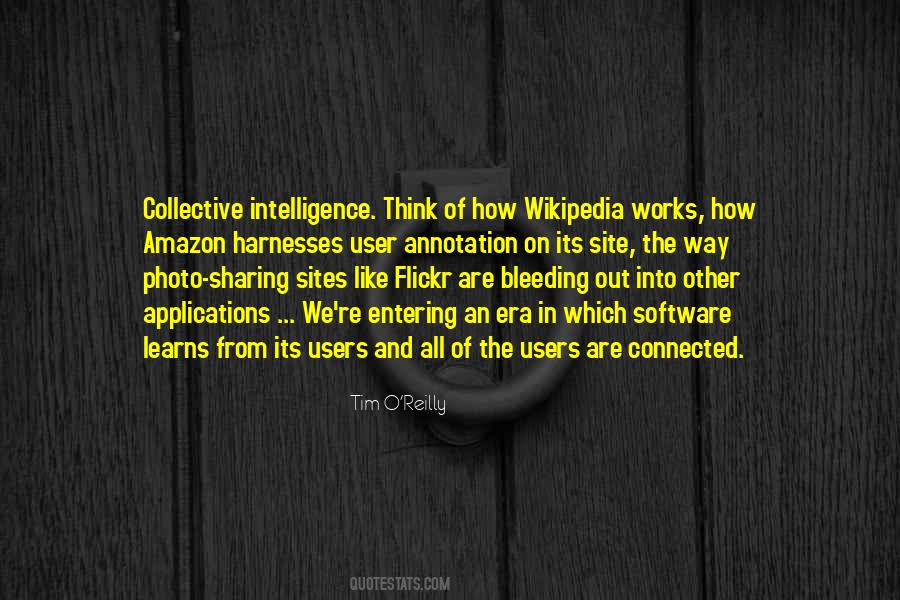 #29. The more grateful we feel, the happier we become. This is because gratitude helps us realize we are all connected. Nobody feels like an island when feeling grateful. Gratitude awakens us to the truth of our interdependent nature. - Author: Haemin Sunim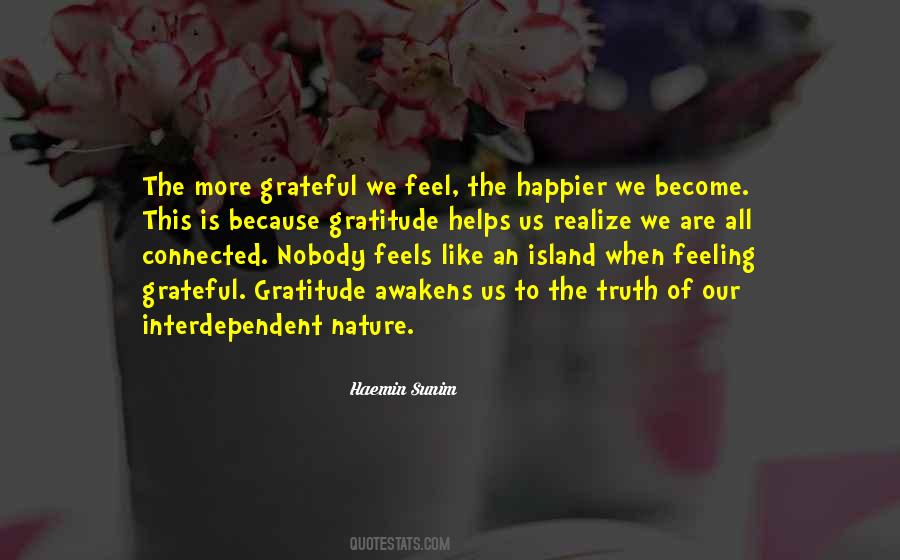 #30. We invite you, in reading this book, to cast away your preconceptions and enter, with us, a magical world where all things are connected to you, and you are connected to all things. - Author: Sun Bear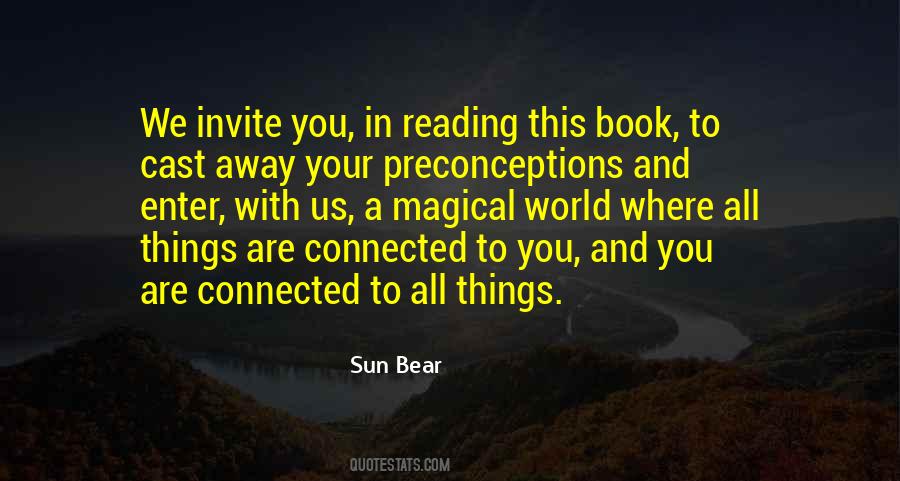 #31. If we could learn to live from the level of the soul, we would see that the best most luminous part of ourselves is connected to all the rhythms of the universe. We would truly know ourselves as the miracle-makers we are capable of being. - Author: Deepak Chopra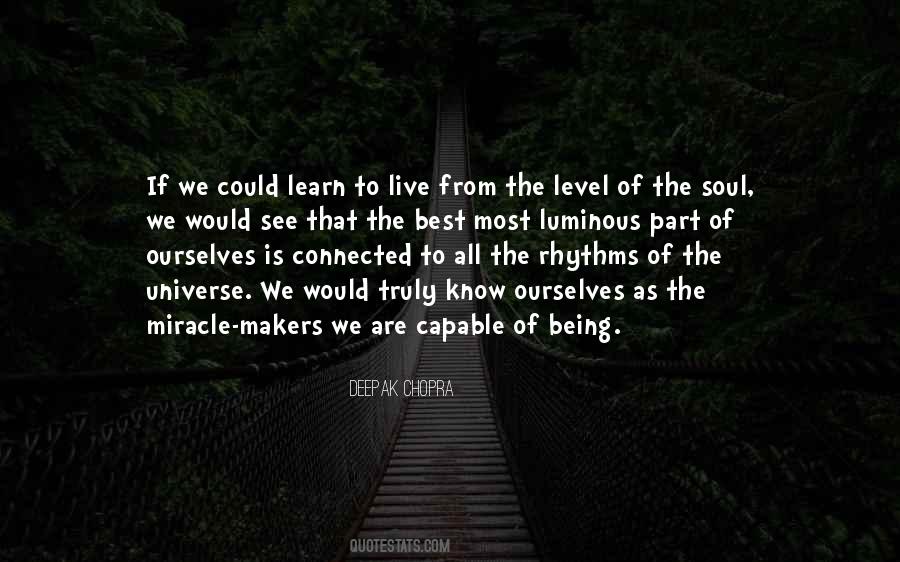 #32. The more we learn of science, the more we see that its wonderful mysteries are all explained by a few simple laws so connected together and so dependent upon each other, that we see the same mind animating them all. - Author: Olympia Brown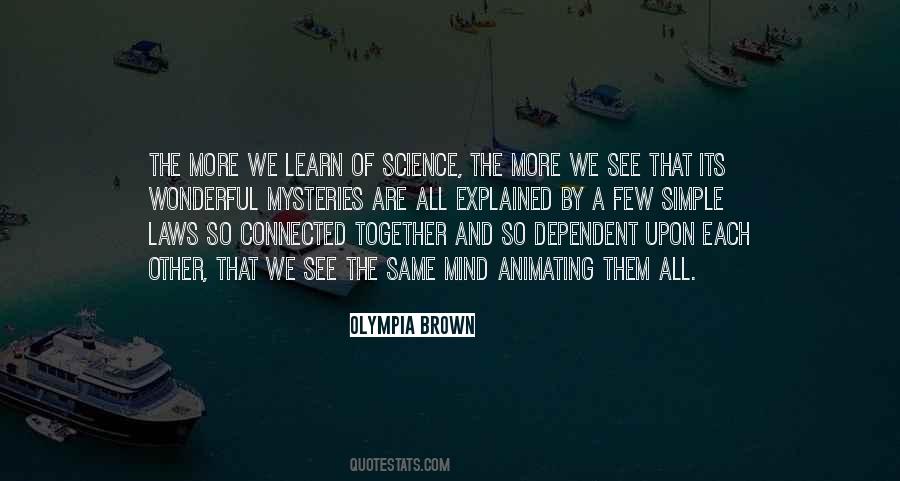 #33. We can hear others, and we can travel with them without moving, and we can imagine them, and we are all connected one to the other by a crazy root system, like so many leaves of grass. But the game makes me wonder wheter we can really ever fully become another. - Author: John Green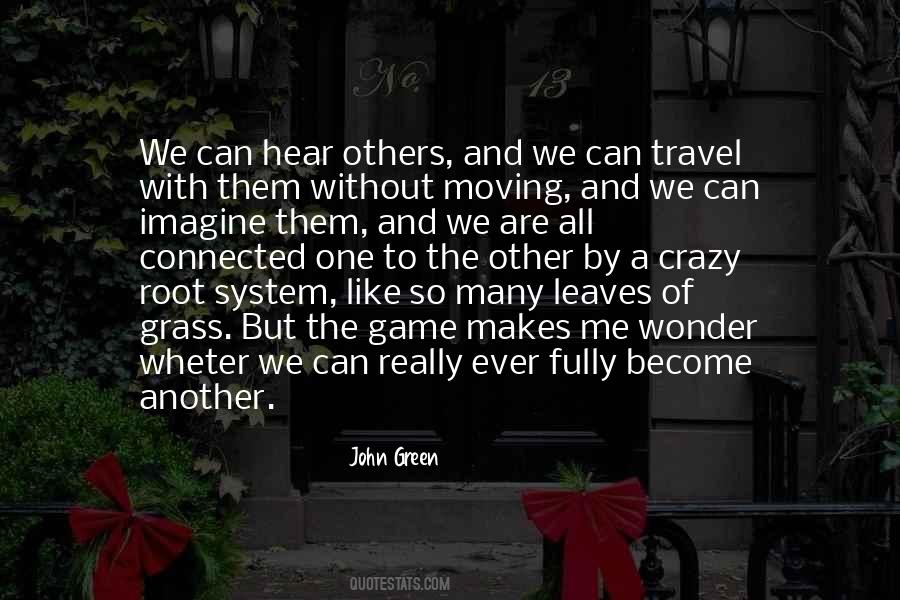 #34. That we are all connected. That you can no more separate one life from another - Author: Mitch Albom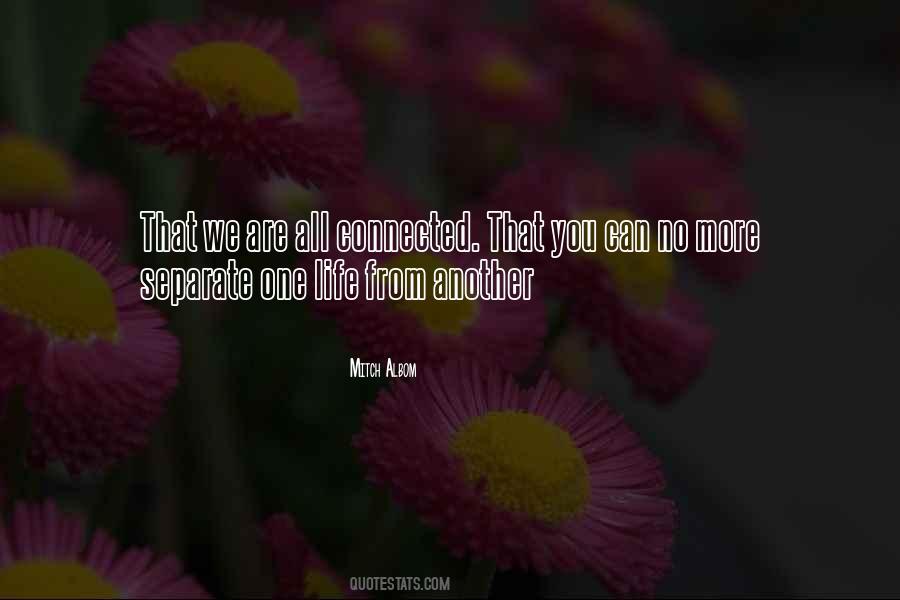 #35. President Obama is casting his lot in the middle of a debate as old as America itself: Are we rugged individualists pulling ourselves up by the bootstraps? Or are we a nation of community, all connected and counting on one another? - Author: Ron Fournier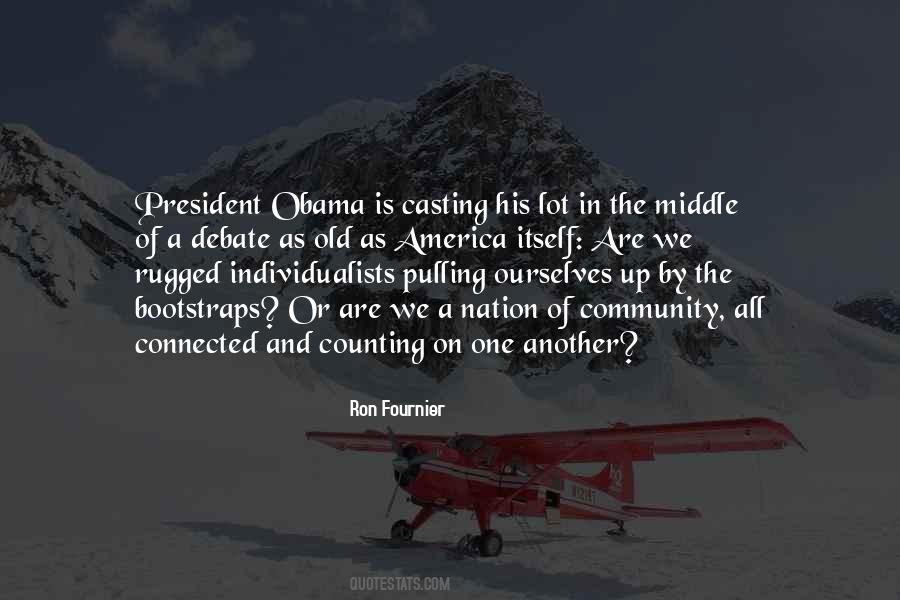 #36. [My first children's book] is very subliminal, let's put it that way. It even has a bit of a metaphysical little message in there [about how] we're all somehow connected and we all have a responsibility toward each other. Although you may feel alone in the world, you definitely are not. - Author: Gloria Estefan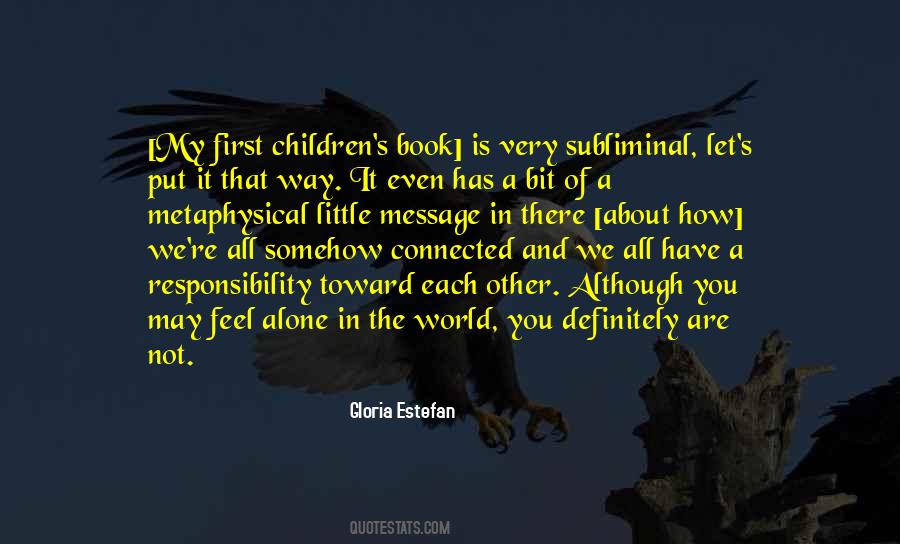 #37. Change your mind. Please change your mind, Jo. I'm showing all my cards here. I have no shame. We're connected, no matter how much distance or fake names are between us. - Author: Tijan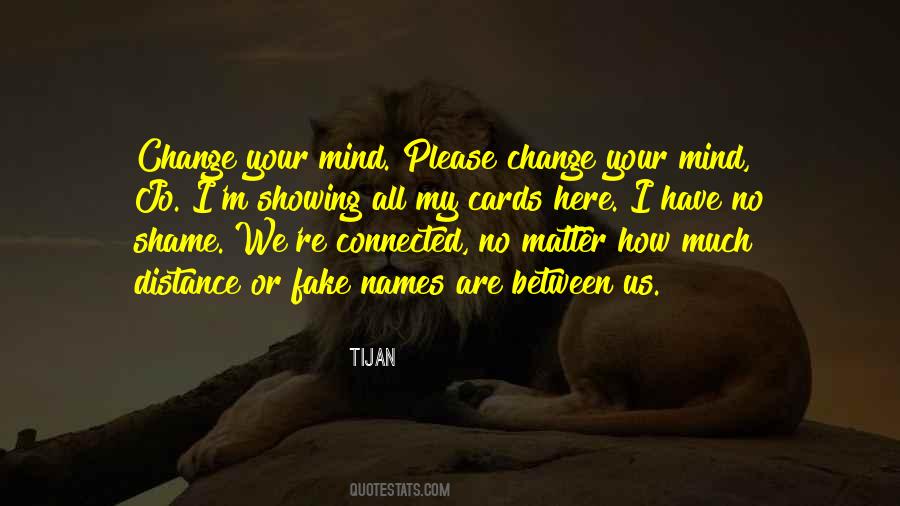 #38. We are too connected. There's noise in our heads all the time. - Author: Isabel Allende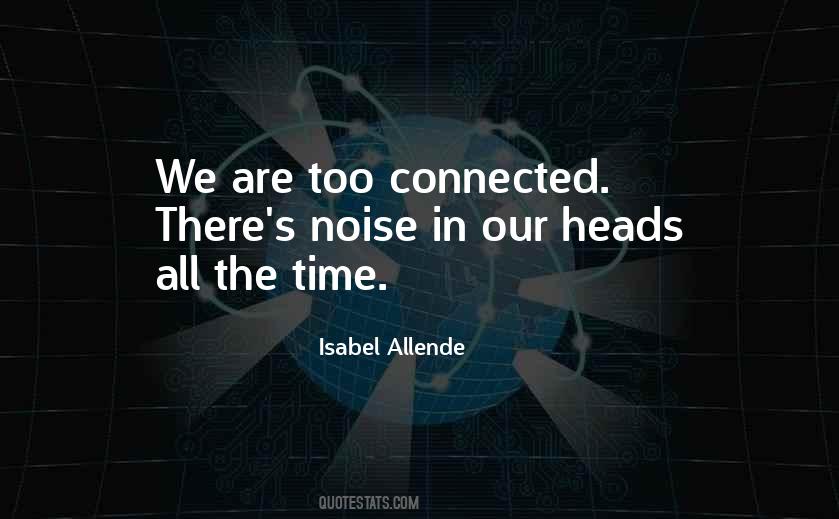 #39. From the boardroom to the bedroom, we're connected 24/7, yet loneliness is at an all-time high. More people are reaching for mobile devices than for the hand of someone in need. Where did our humanity go? - Author: Elizabeth Kapu'uwailani Lindsey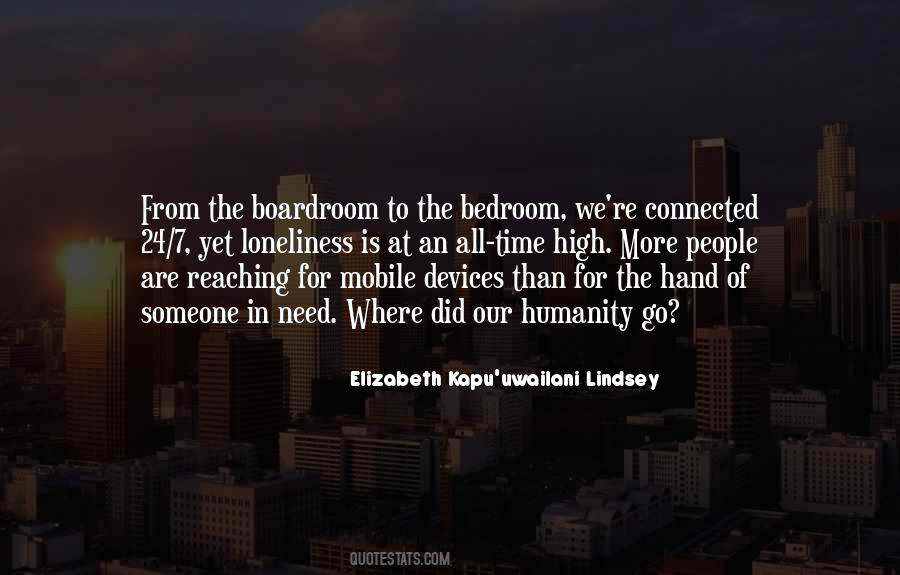 #40. Jessica Jones is very unique, and we are all in awe of the response from the public. It seems that everyone connected with the character, and we enjoyed shooting it. - Author: Mike Colter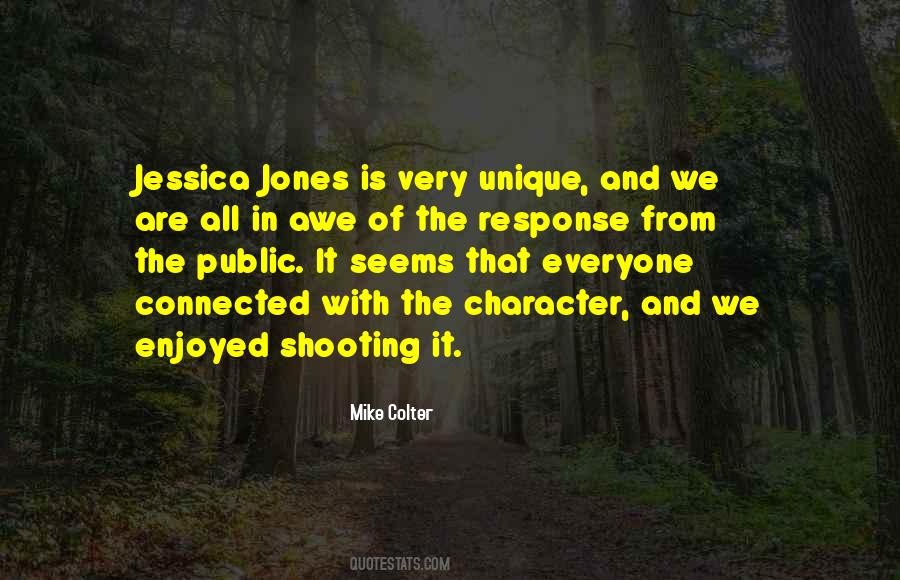 #41. I am saddened by how people treat one another and how we are so shut off from one another and how we judge one another, when the truth is, we are all one connected thing. We are all from the same exact molecules. - Author: Ellen DeGeneres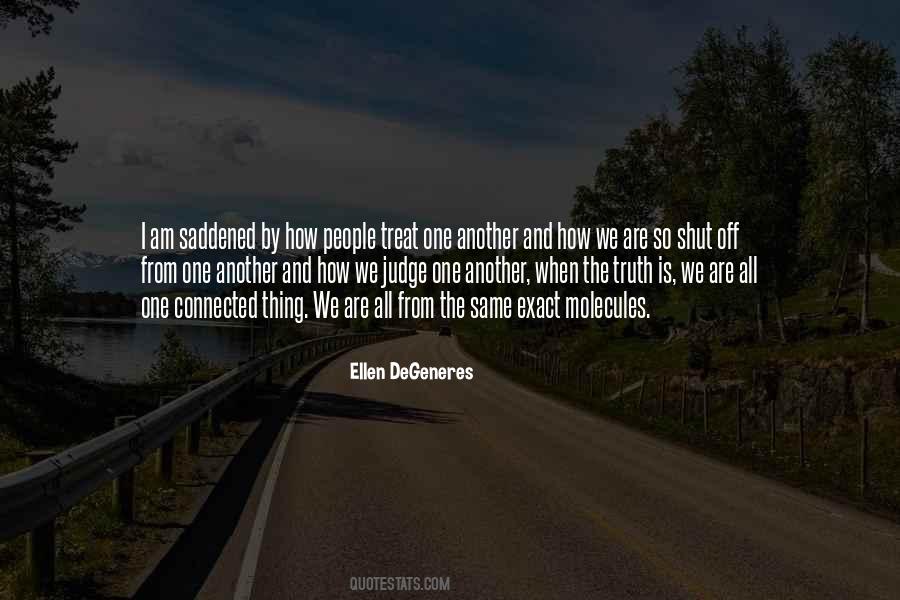 #42. We - each of us - are intricately, irremovably connected to the larger universe. It is our true home, and thinking that this physical world is all that matters is like shutting oneself up in a small closet and imagining that there is nothing else out beyond it. - Author: Eben Alexander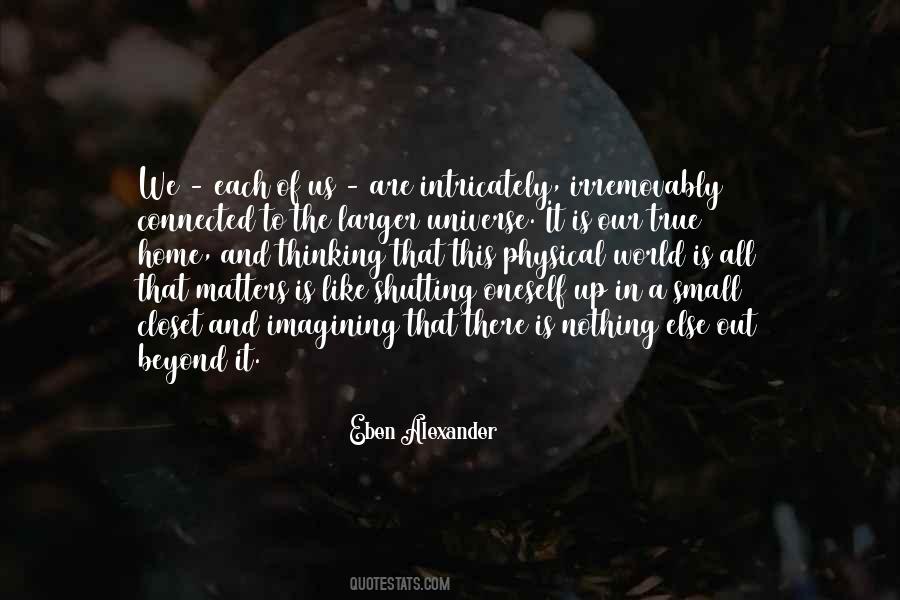 #43. Encourage, lift and strengthen one another. For the positive energy spread to one will be felt by us all. For we are connected, one and all. - Author: Deborah Day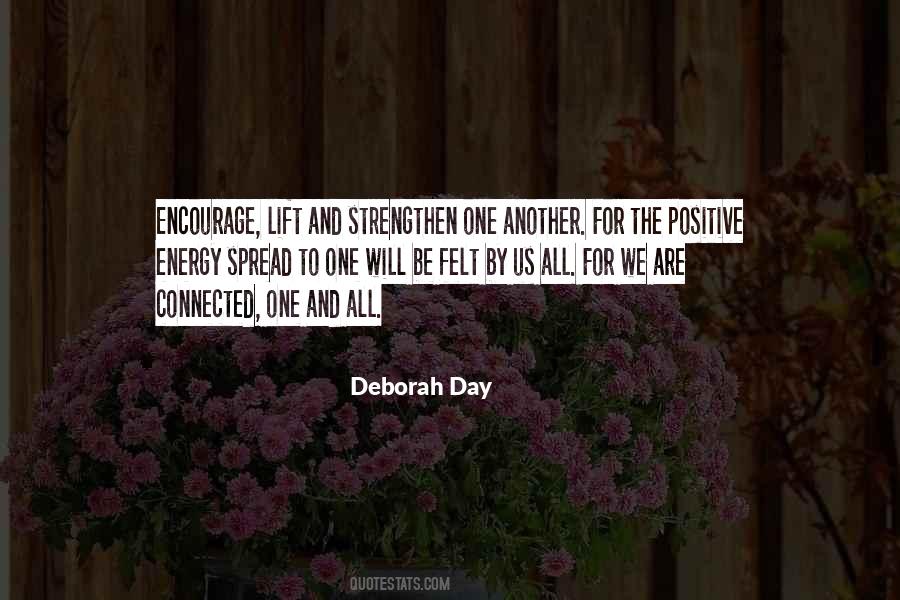 #44. By loving and leaving all that oil has done for us ... we are able to then begin the creation of a world which is more resilient, more nourishing, and in which we find ourselves fitter, more skilled and more connected to each other. - Author: Rob Hopkins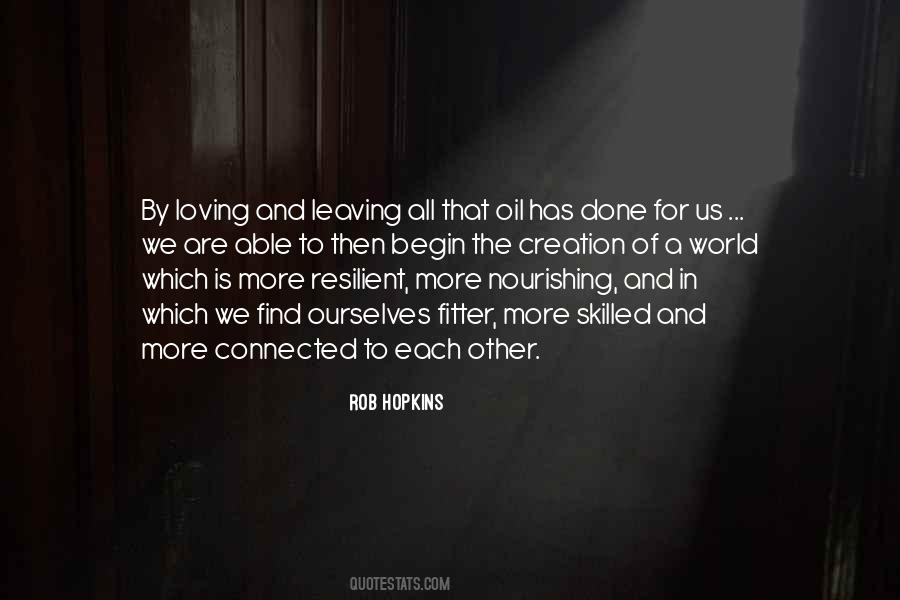 #45. Another example of how connected we all are, and are meant to be, is the story of the "elephant whisperer," the late Lawrence Anthony. He was a conservationist who saved the lives of countless elephants - Author: Christiane Northrup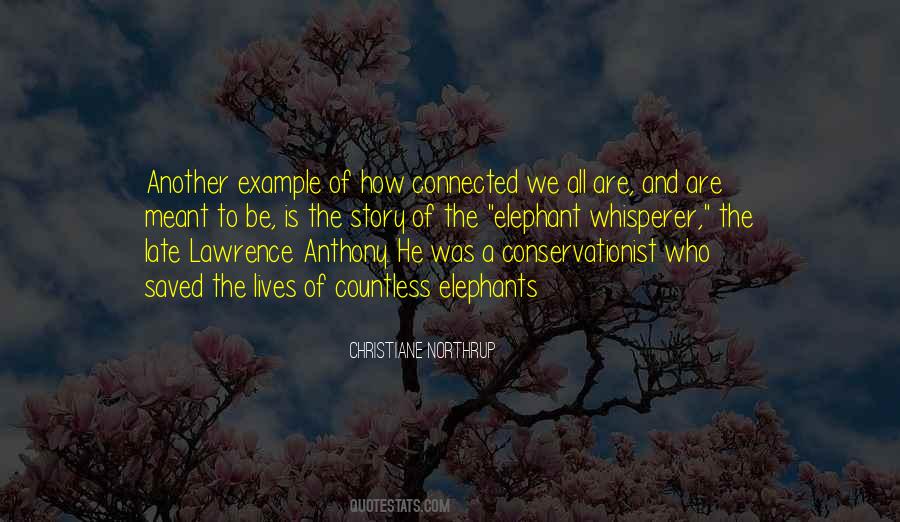 #46. Everyone you meet in your life - even total strangers - are already intimately connected to you. The idea that we are all separate and distinct beings is nothing but an illusion. We are all parts of a larger whole, like individual cells in a body. - Author: Steve Pavlina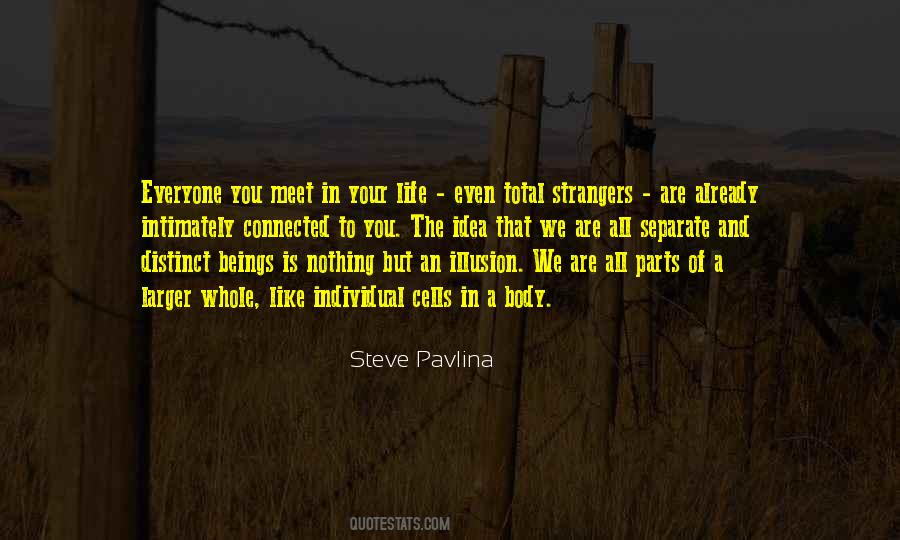 #47. We were all quiet for so long after, touched by the magnitude of it all. This is what we are connected to. What we are all connected to. When the lights go out, so do we. - Author: Sarah Winman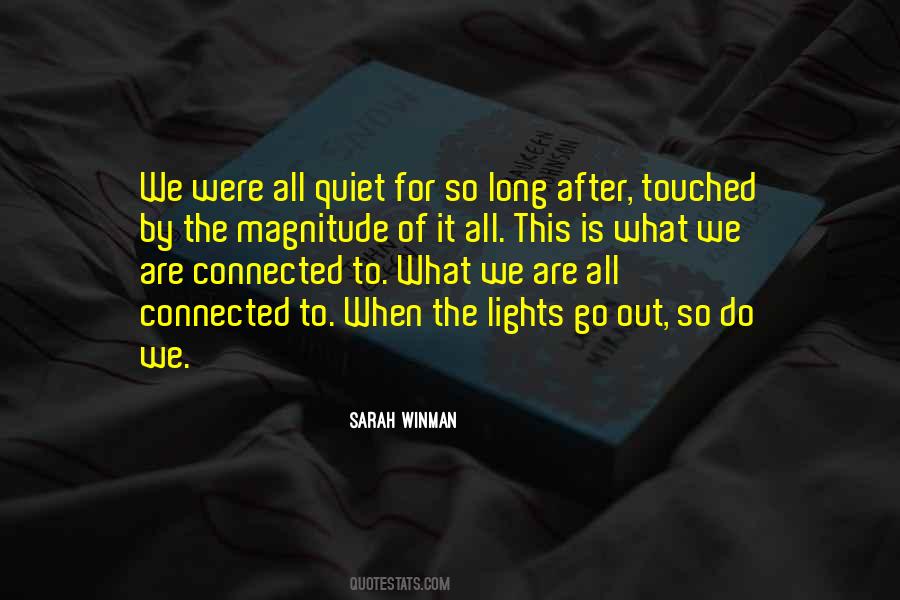 #48. This We Know. All Things Are Connected - Author: Chief Seattle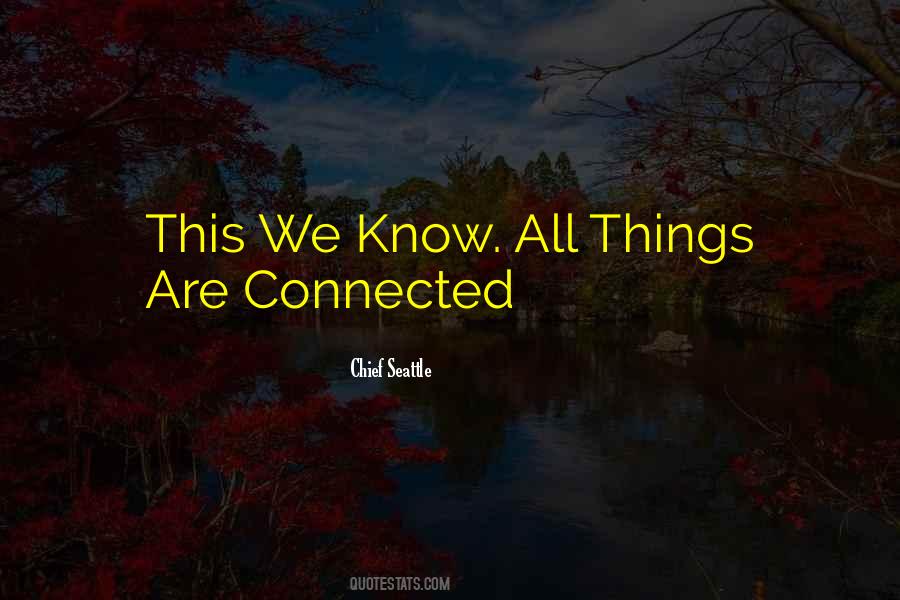 #49. I wonder how it is that we are all connected despite our tremendous differences. - Author: Sarah Ruhl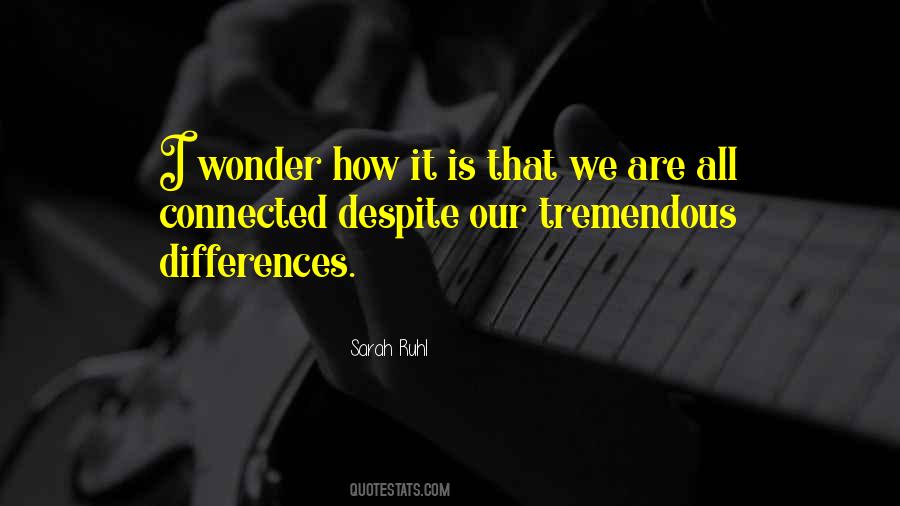 #50. I see more people taking on the cloak of accountability, more people tiring of the blame game. If we are all connected and our actions in Australia affect us in Istanbul, then we are all to blame and all to be healers. We can't blame lawyers anymore for the 'liability' vs. common sense imbalance. - Author: Jane Siberry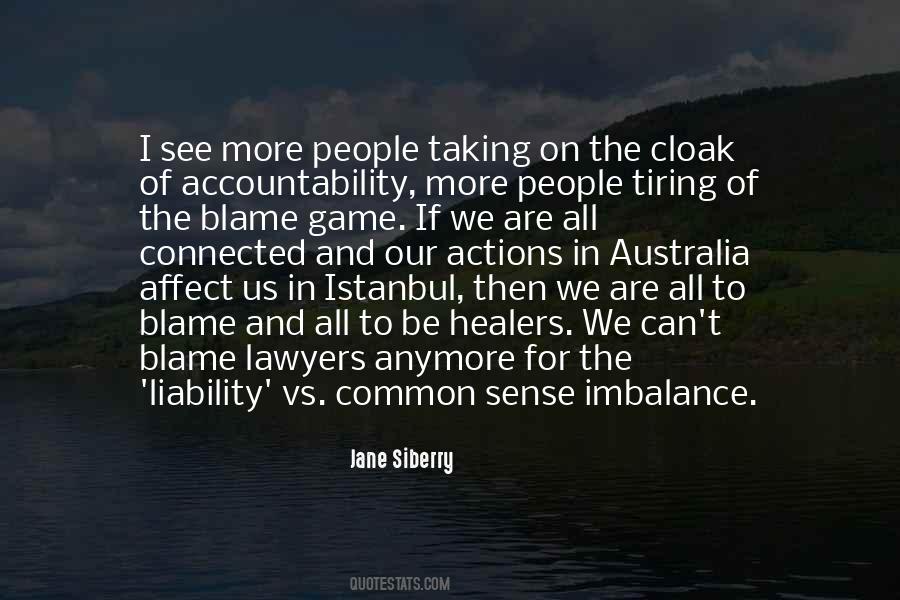 #51. I think it's really important to depict complex, flawed LGBT characters, because we are all connected by our humanity. - Author: Kit Williamson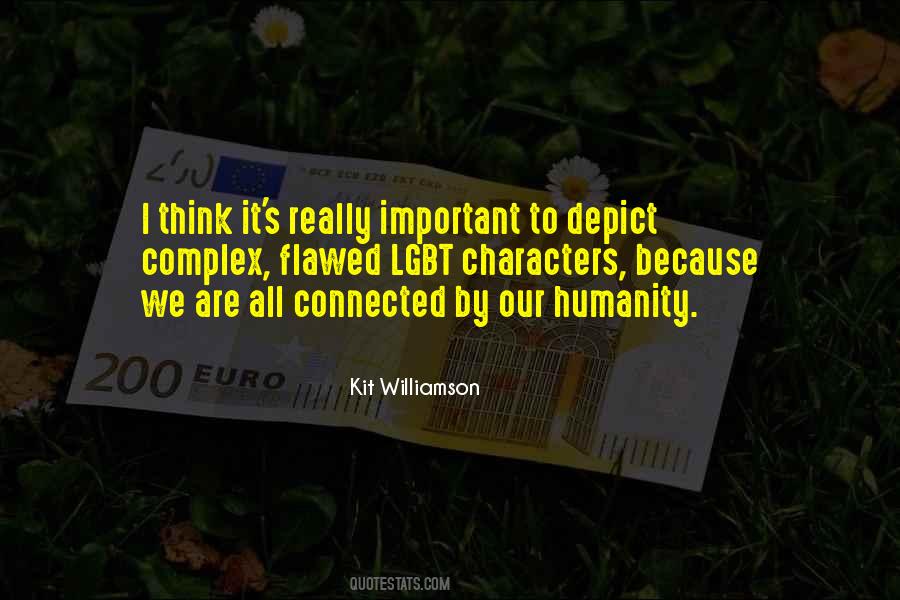 #52. The boy was beginning to understand that intuition is really a sudden immersion of the soul into the universal current of life, where the histories of all people are connected, and we are able to know everything, because it's all written there. - Author: Paulo Coelho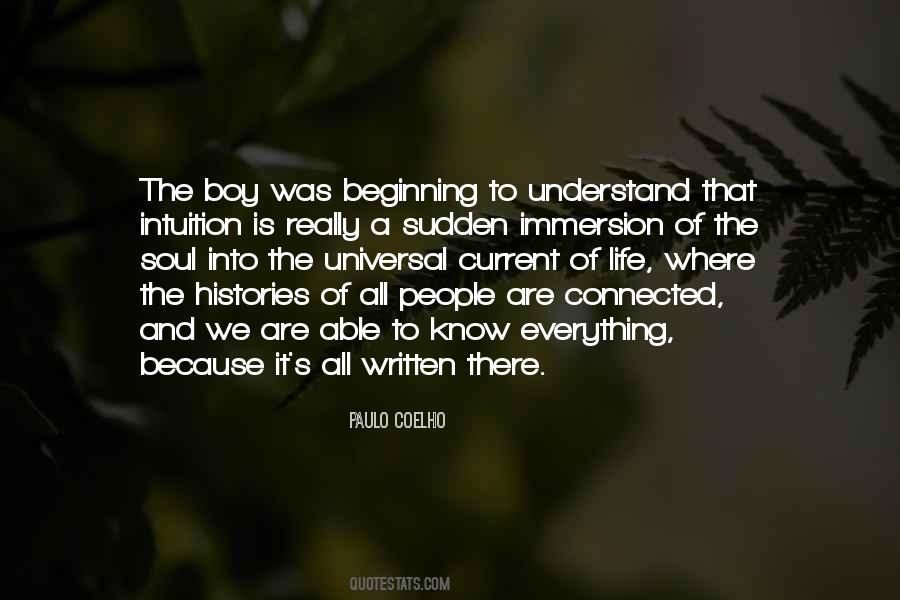 #53. A lot of negative words adults call the young, like 'naive,' 'impulsive' and 'way too connected online,' are all things we can turn into strengths to help us. - Author: Adora Svitak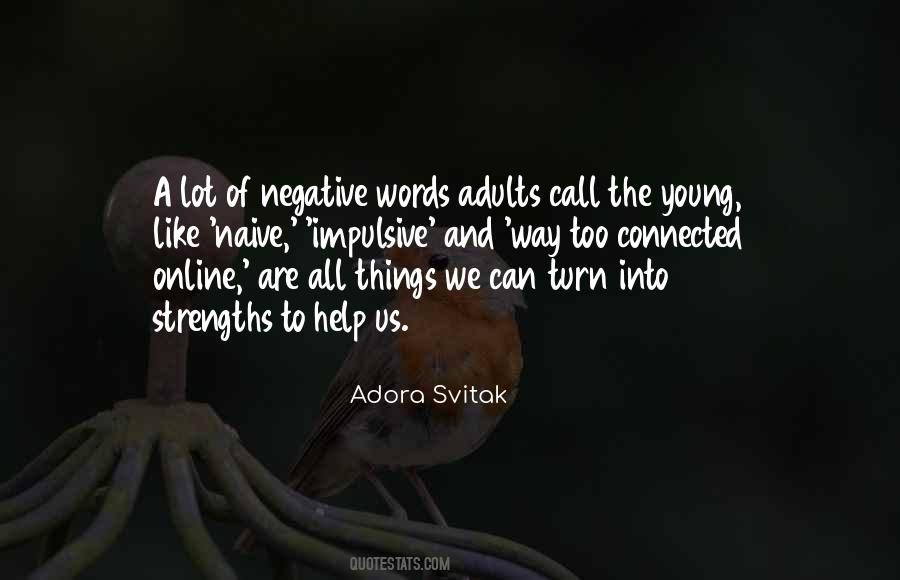 #54. We are all connected; our thoughts affect the whole universe. Every small thought of peace will make the world a little more peaceful. - Author: Debasish Mridha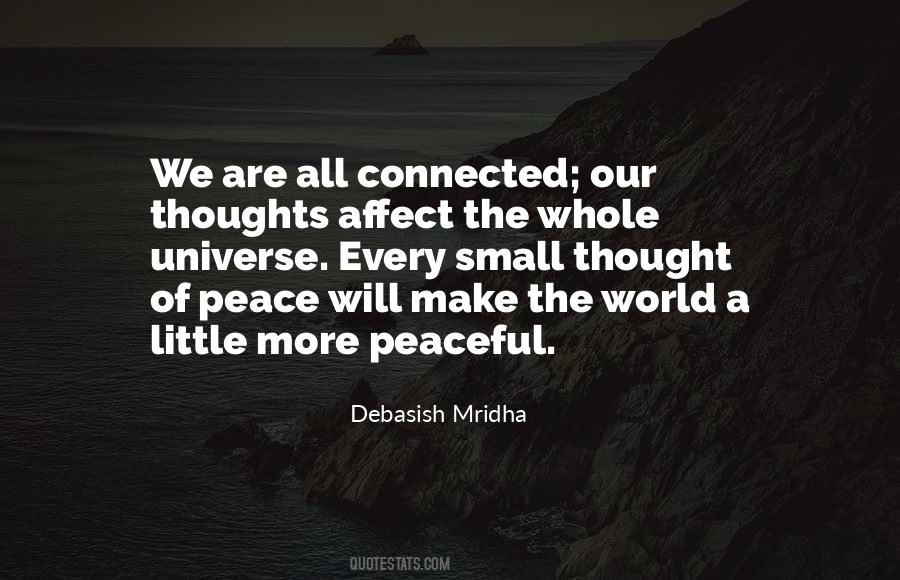 #55. We are all affected by Le Corbusier, Frank Lloyd Wright, Alvar Aalto, and Mies van der Rohe. But no less than Bramante, Borromini, and Bernini. Architecture is a tradition, a long continuum. Whether we break with tradition or enhance it, we are still connected to that past. We evolve. - Author: Richard Meier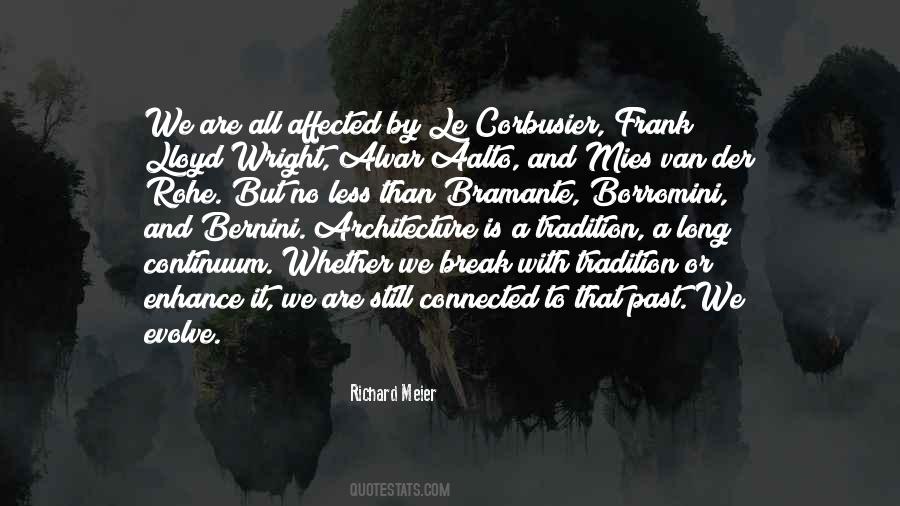 #56. The Universe is not empty.
It's full of energy and we are all connected through this field of Energy - Author: Denis Gorce-Bourge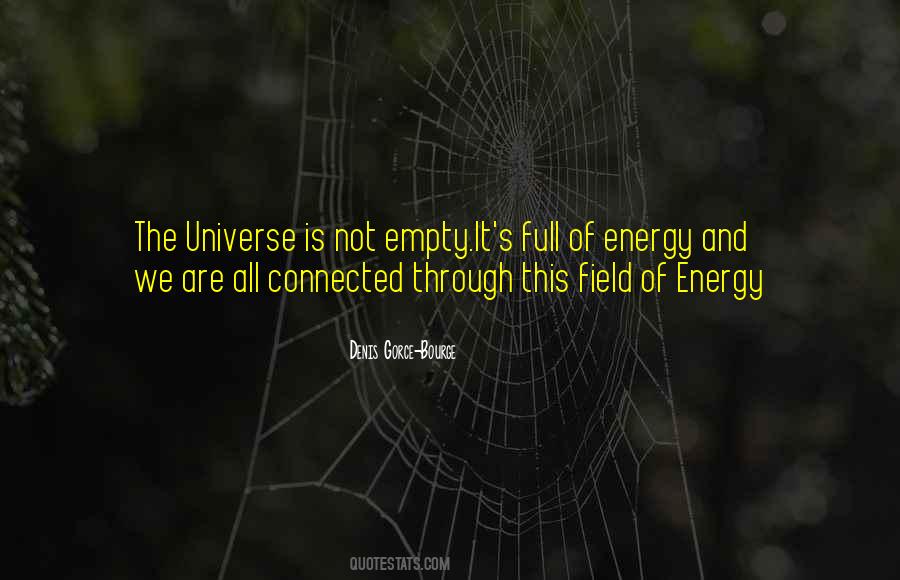 #57. We are all connected. What unites us is our common humanity. I don't want to oversimplify things - but the suffering of a mother who has lost her child is not dependent on her nationality, ethnicity or religion. White, black, rich, poor, Christian, Muslim or Jew - pain is pain - joy is joy. - Author: Desmond Tutu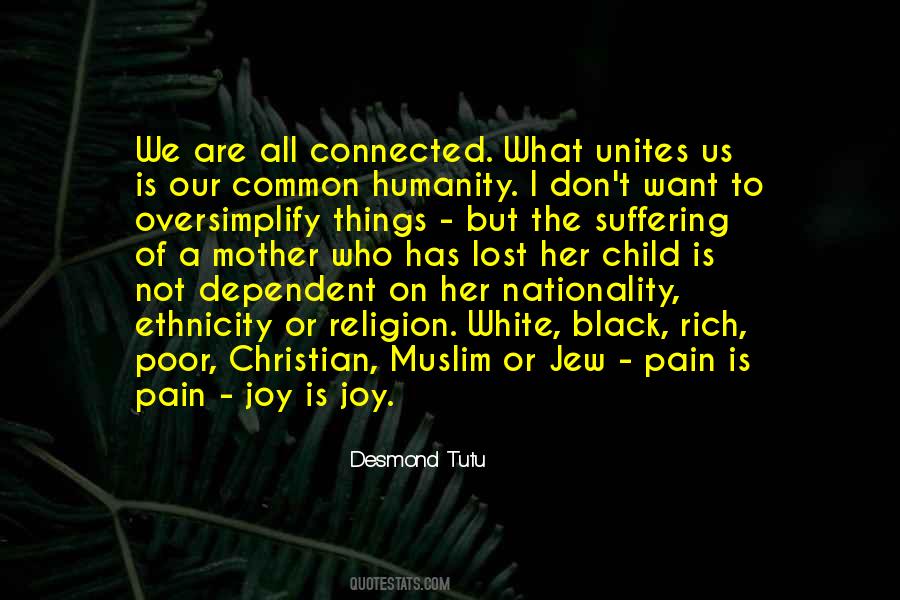 #58. We spend our lives getting caught up in all the wrong things
led astray by our minds, our egos, seeing ourselves as separate from each other, rather than listening to the truth that lies within our own hearts, the truth that we are all connected, we are all in it together. - Author: Alyson Noel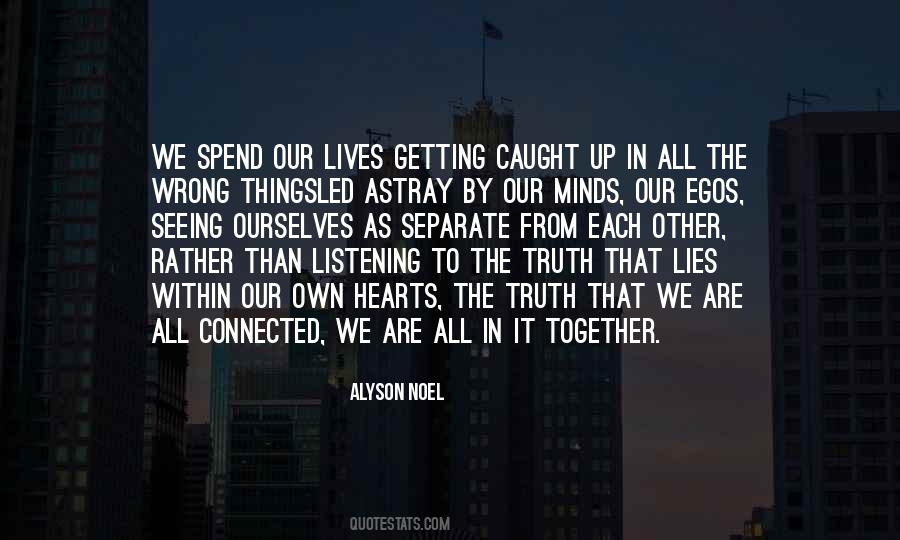 #59. We are all connected. - Author: Regina Taylor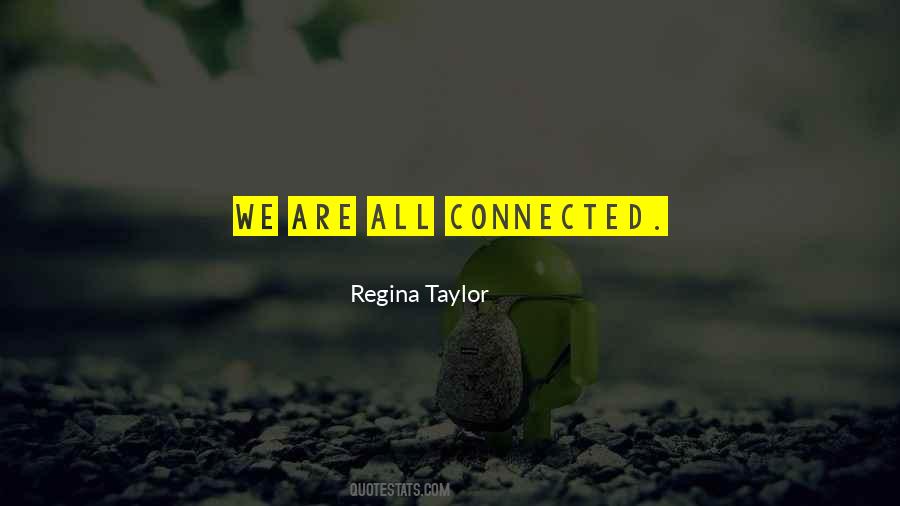 #60. The once-science-fiction notion of hyper-connectivity - where we are all constantly connected to social networks and other bubbling streams of digital data - has rapidly become a widespread reality. - Author: Geoff Mulgan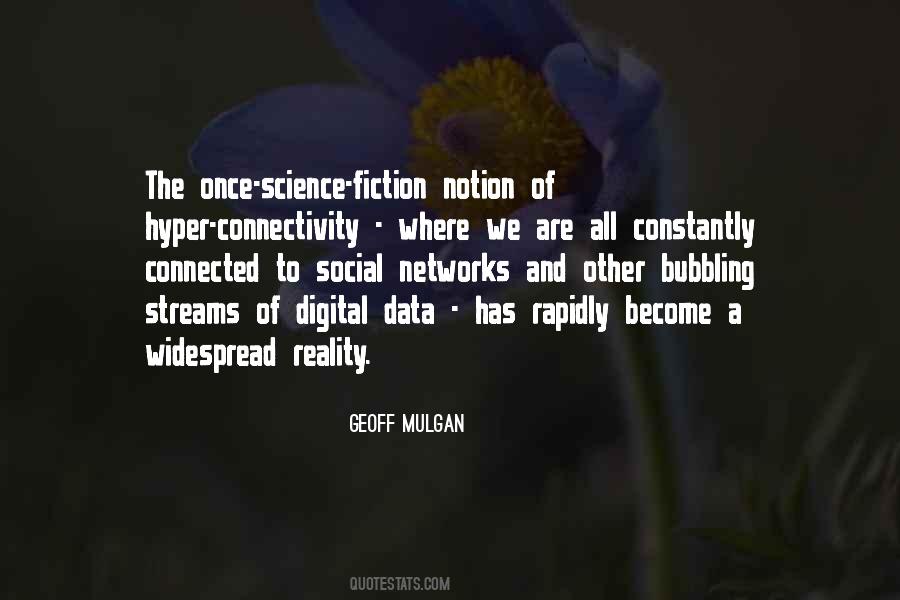 #61. We are all connected. The living to the nonliving, as the nonliving to the living. All things in all directions in all times. It is only in the physical dimension that we have limitations. (The membrane between us is thinner than you think.) - Author: Garth Stein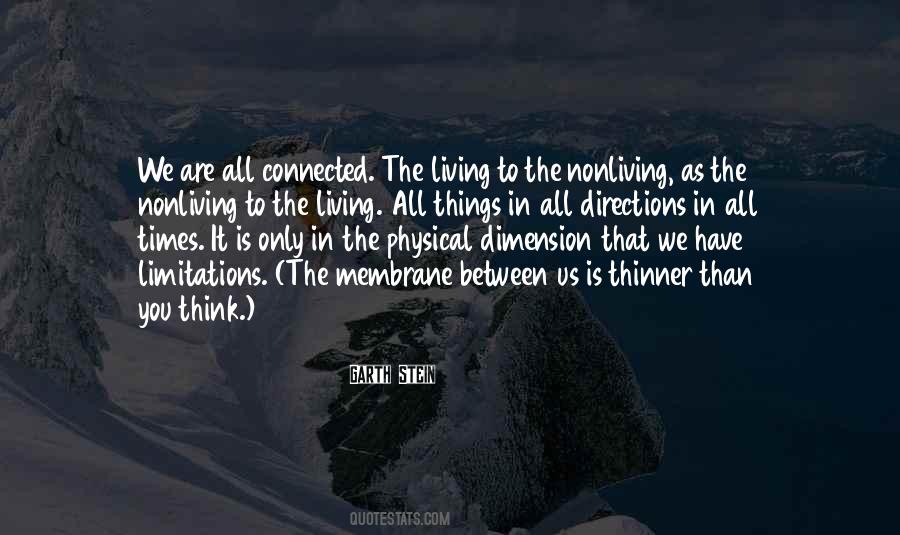 #62. We are all connected in ways we cannot even begin to fathom. Our lives unfold through each other and within each other. What one suffers, we all feel. What one does changes others forever. - Author: David Rhodes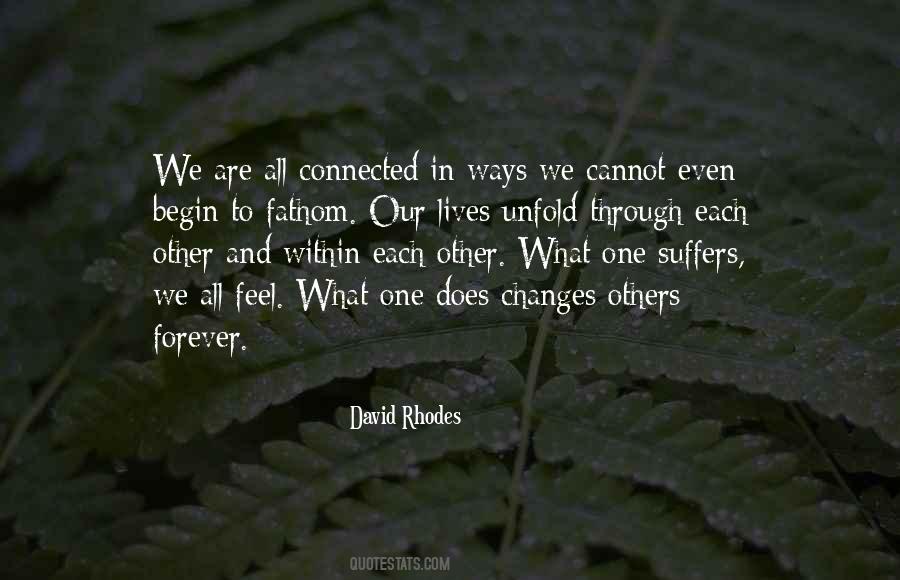 #63. I'm really connected to people, and my relationships with people are paramount, so I write about relationships, particularly strong female ones. In my family, there were six girls born in five years. We were best friends. And my parents raised all of us as first-class citizens. - Author: Alane Ferguson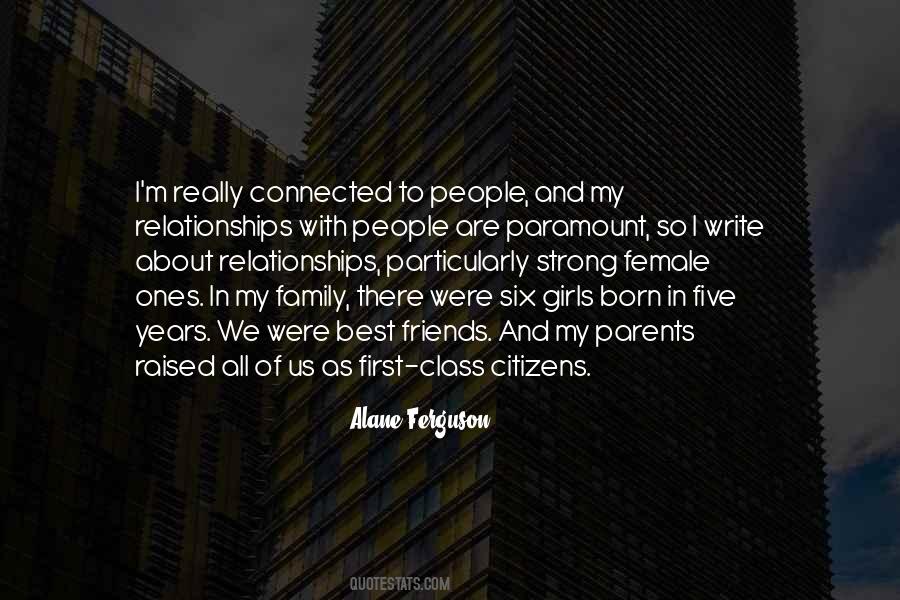 #64. The answers we're looking for are all within ourselves, we just need to become better connected, more present - to what we eat, to nature, to our surroundings and to our inner guide. - Author: Mariel Hemingway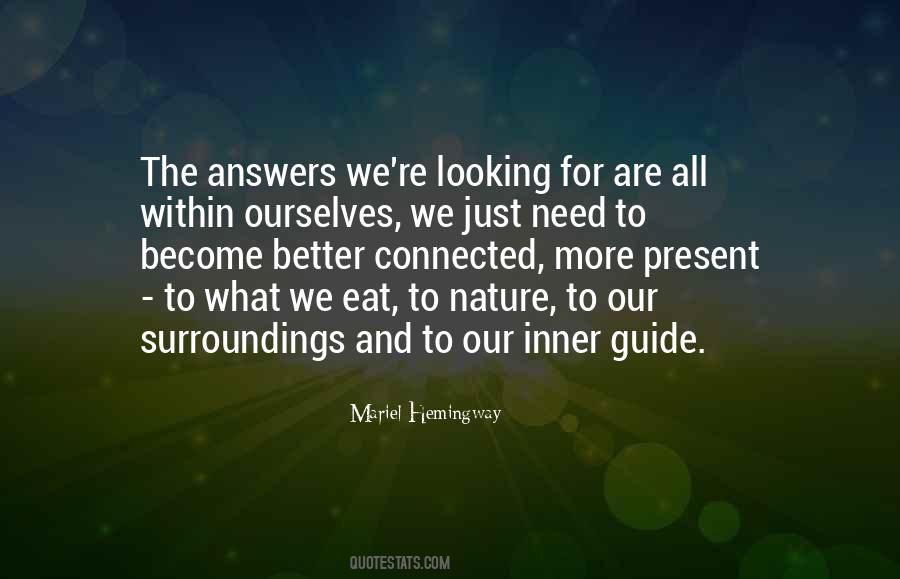 #65. Remember we are all connected by a garland we call love. - Author: Debasish Mridha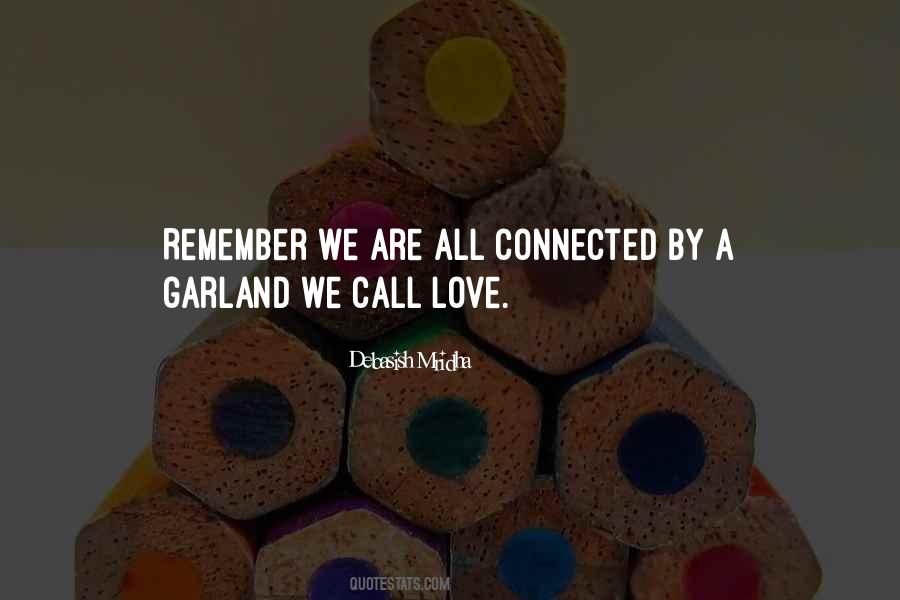 #66. I think we are all connected in this world. - Author: Alejandro Gonzalez Inarritu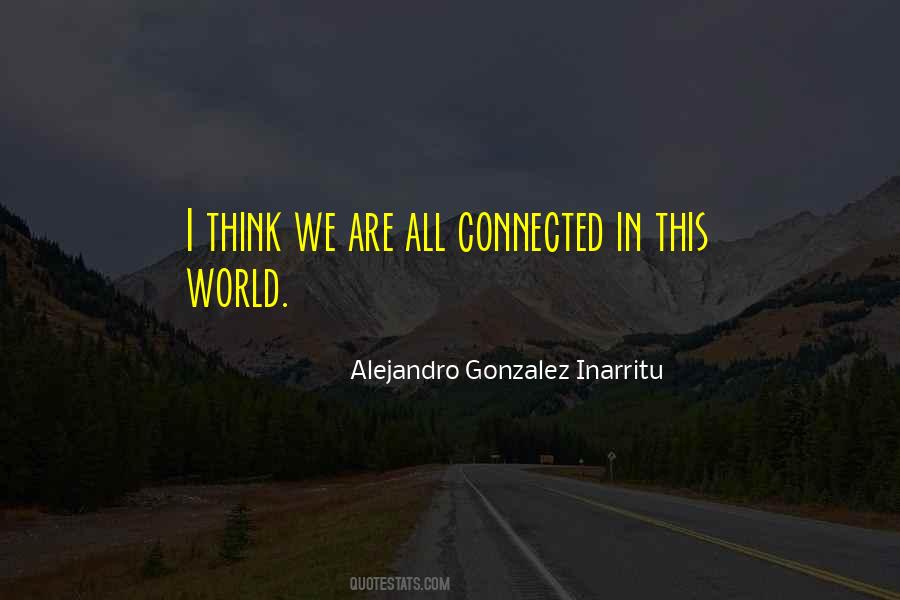 #67. One thing I've found that eases the pain, Cody said, 'is to remember that we are all connected, to those we know and those we don't know. - Author: Jeri Smith-Ready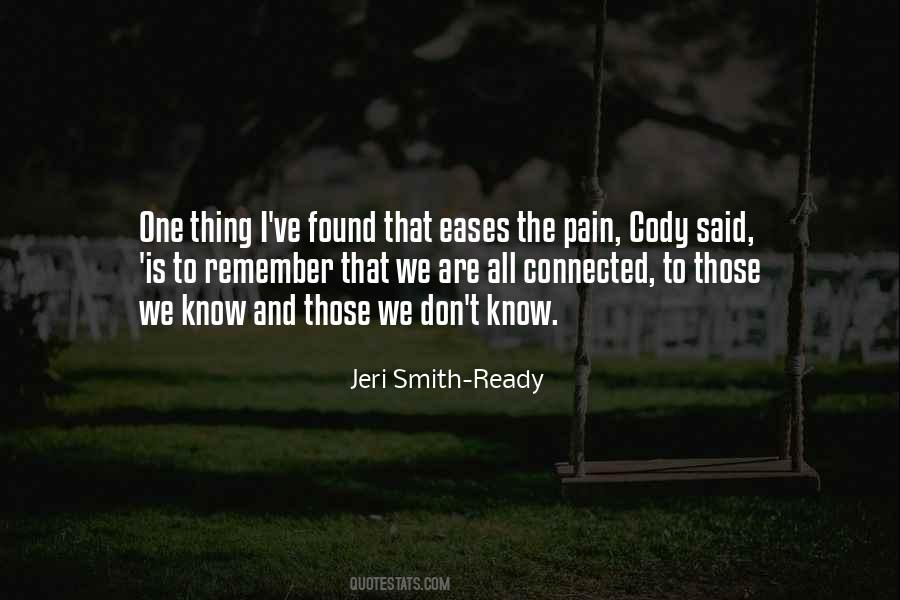 #68. It would seem that when we are sinned against, when someone else does us harm, we are in some way linked to that sin, connected to that mistreatment like a chain. And our anger, fear, or resentment doesn't free us at all. It just keeps us chained. - Author: Nadia Bolz-Weber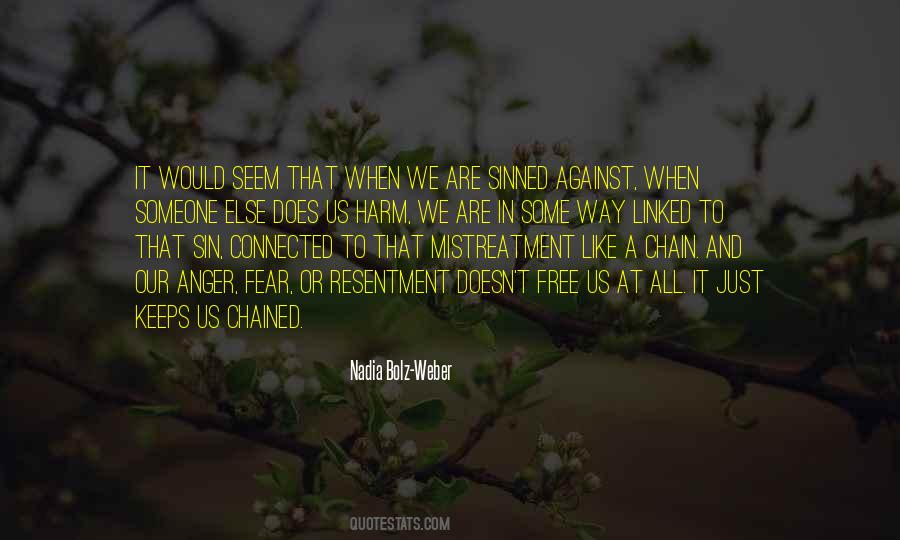 #69. Every plant is an individual.
Wrong again. We are not individuals at all, we are all connected. We are individuals the way each blossom on an apple tree is an individual. - Author: Dale Pendell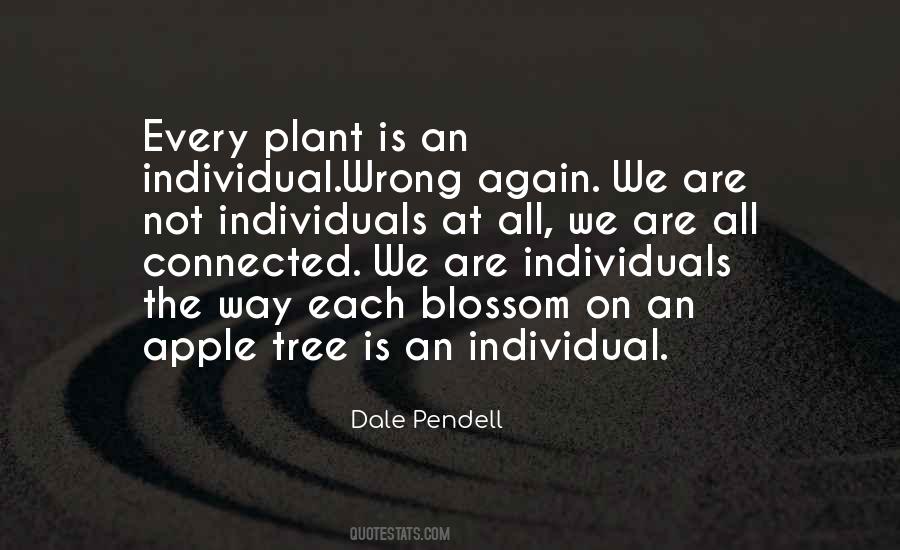 #70. When you see, not only intellectually but with your heart too, how we are all connected, how can you harm another? It's the same as harming oneself. - Author: Narissa Doumani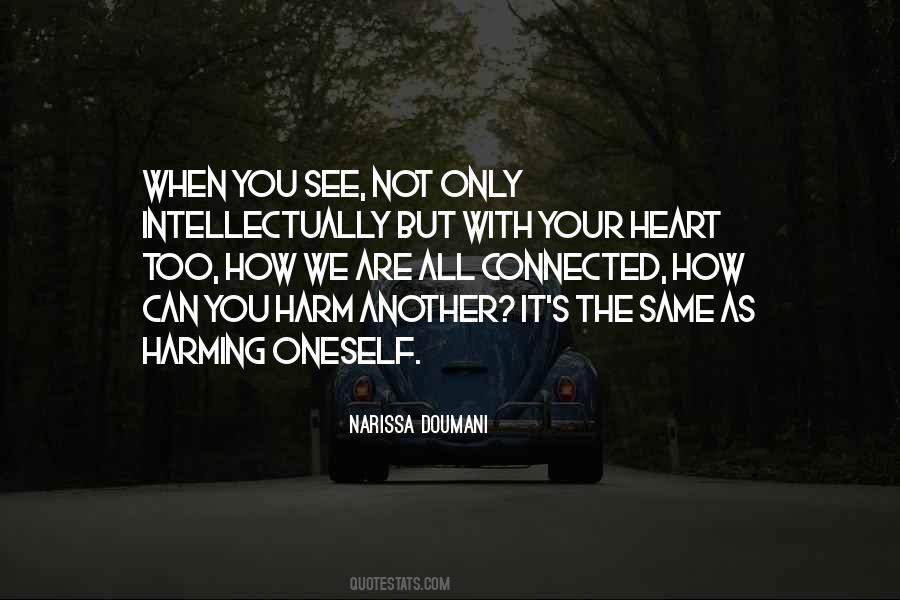 #71. The earliest memories I have of the ocean are actually stories - stories from my grandfather, the legendary ocean explorer and conservationist Jacques Cousteau. My passion for ocean conservation stems from learning at a very young age that we're all connected; we're all in this together. - Author: Philippe Cousteau Jr.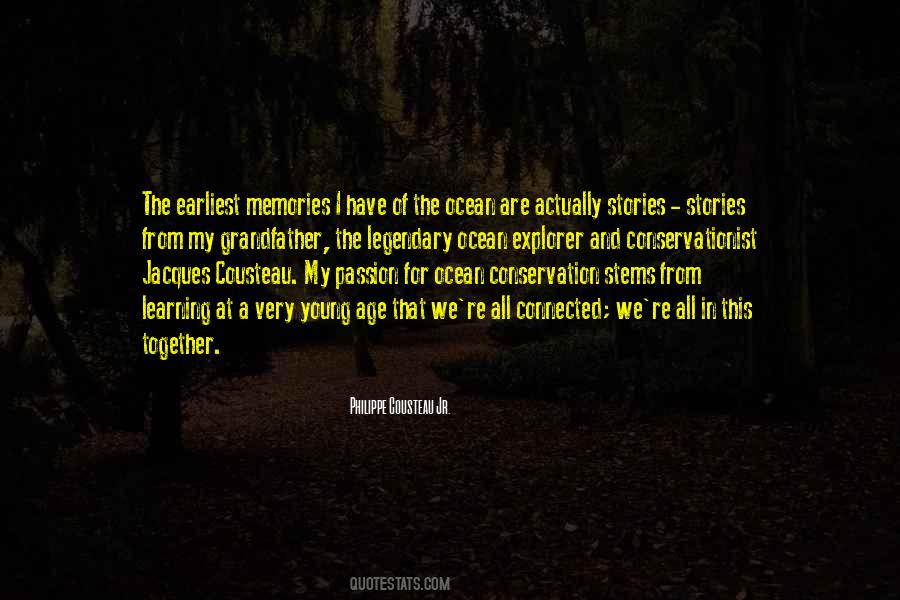 #72. Forgiveness is healing - everything is energy - thoughts create - we are all connected - what you resist persists - true love never dies - the soul's immortality is the only true immortality - - Author: Alyson Noel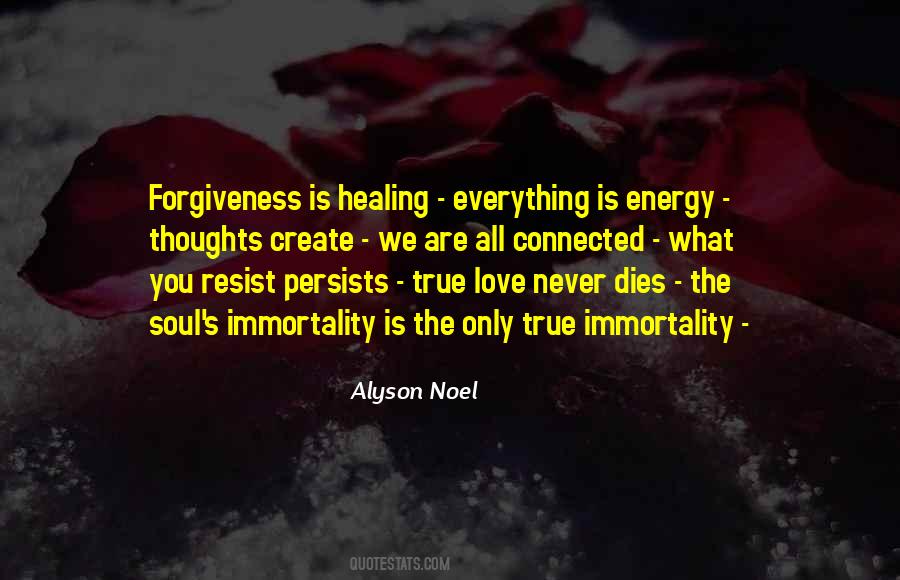 #73. For me, policy is best when connected to the roots, and roots are best when connected to policy. So I encourage you all to stay connected ... and walk with real people while doing the activism. Lord knows we need folks who are engaged. - Author: Simone Campbell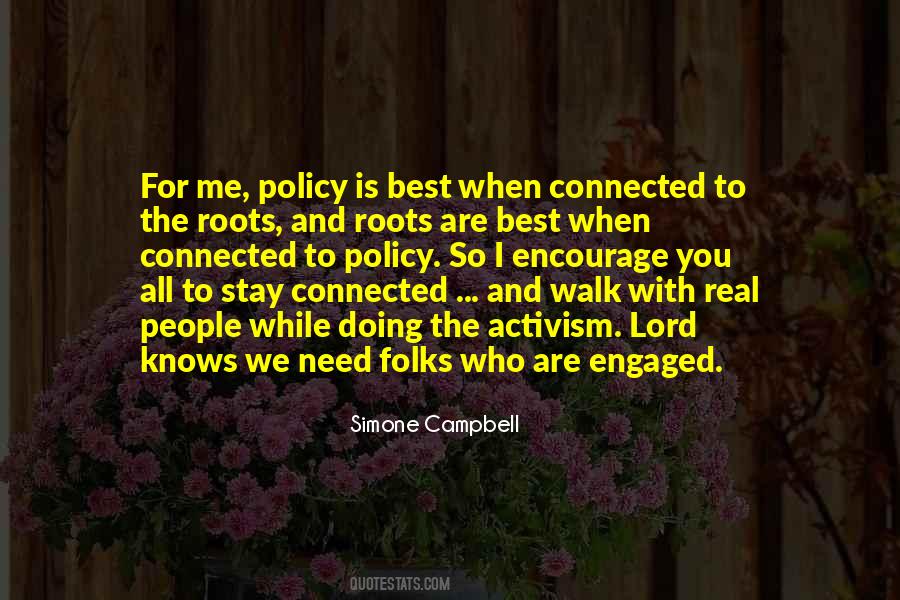 #74. the preferable way to treat one another is with love and kindness; that pursuit of material gain is ultimately empty when measured against eternity; and that somehow, as human beings, we are all connected spiritually. - Author: Christopher Moore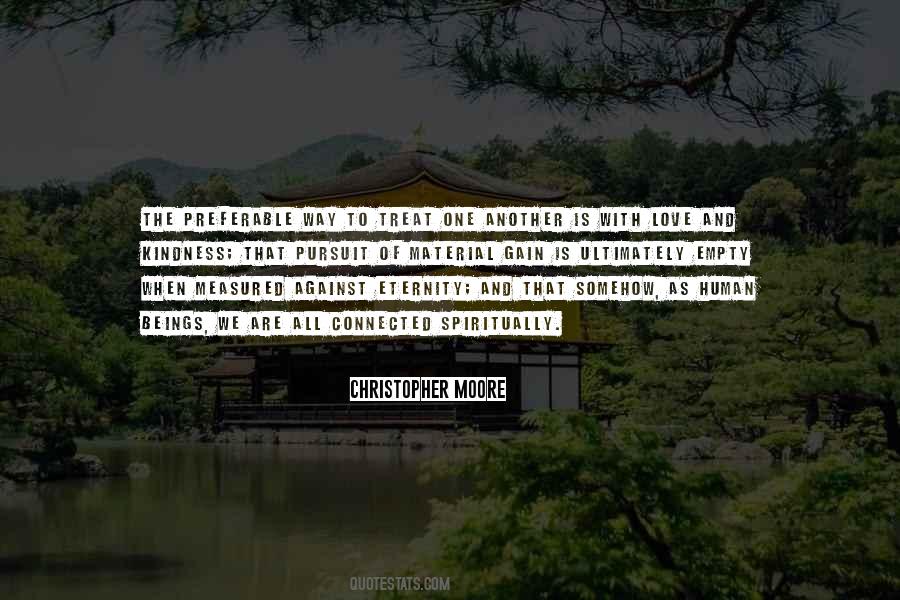 #75. We are all connected, and we are all One. - Author: Rhonda Byrne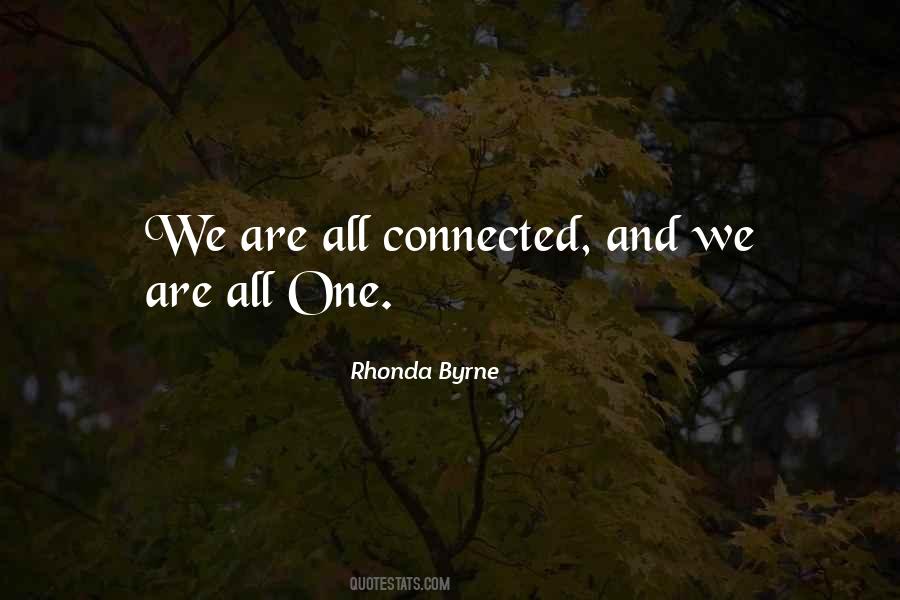 #76. We are all connected to everyone and everything in the universe. Therefore, everything one does as an individual affects the whole. All thoughts, words, images, prayers, blessings, and deeds are listened to by all that is. - Author: Serge King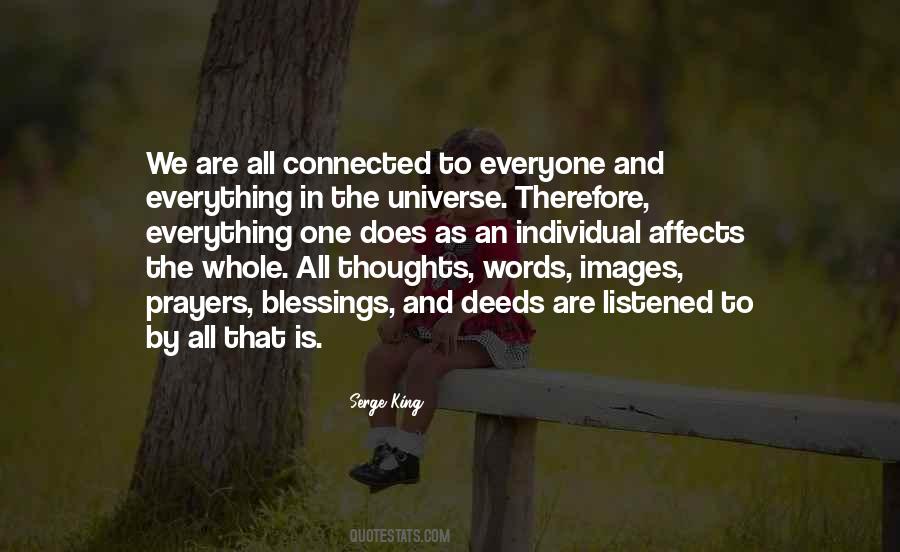 #77. This we know, the earth does not belong to man; man belongs to earth. This we know. All things are connected like the blood which unites one family. So hold in your mind the memory on the land as it is when you take it. And, with all your strength, with all your mind, and with all your heart ... - Author: Chief Seattle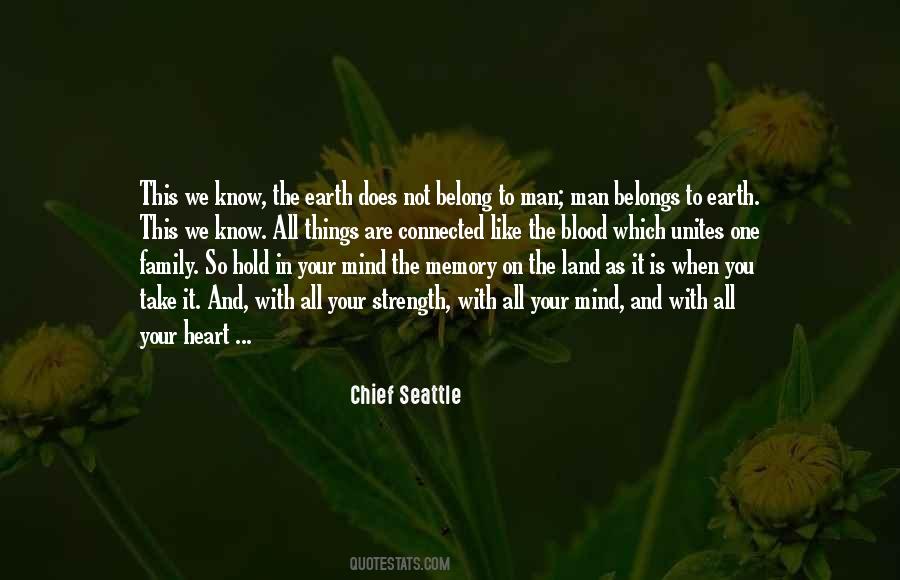 #78. This is what science can do for us, if we let it. If offers us an opportunity to lower our defenses and experience the ways that we are all connected. - Author: Emily Nagoski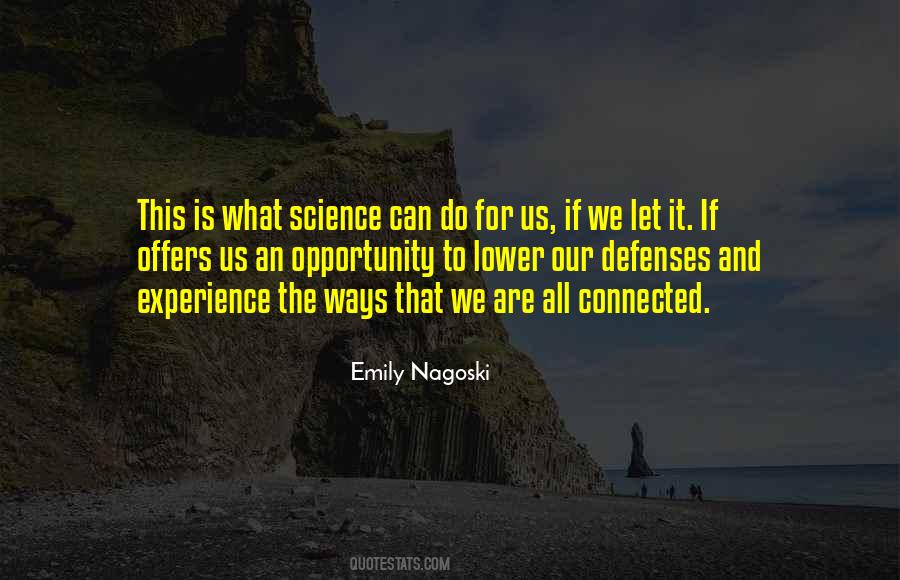 #79. These notes are little pieces of history no one cares about, but they remind you that you're not the first person to hold that book. Someone else owned it first and read the exact same words, and one way or another, it impacted them. We're all connected. - Author: Chelsea Sedoti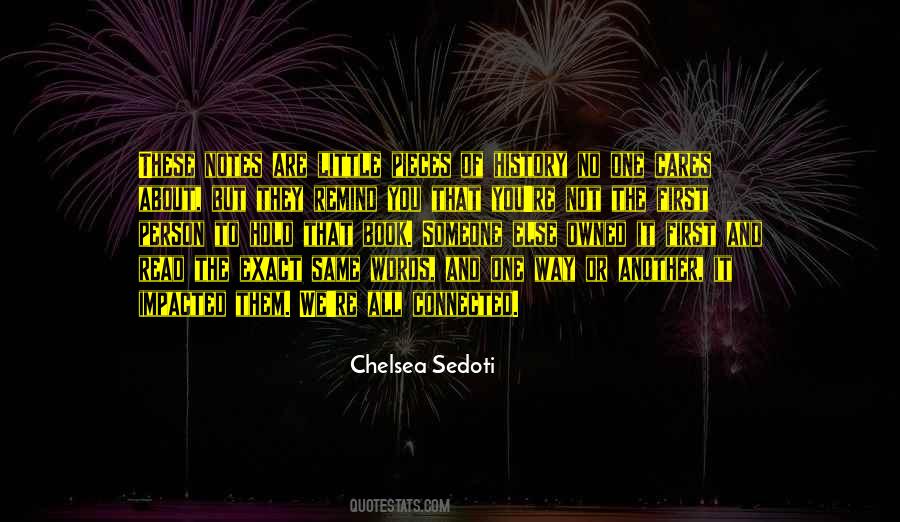 #80. I don't dislike any of my exes. If I took time to form a relationship, it's gonna hurt when we move on, but are you puttin' White-Out over all that beautiful time together? That was real time in your life. It's connected to where you are today. - Author: Matthew McConaughey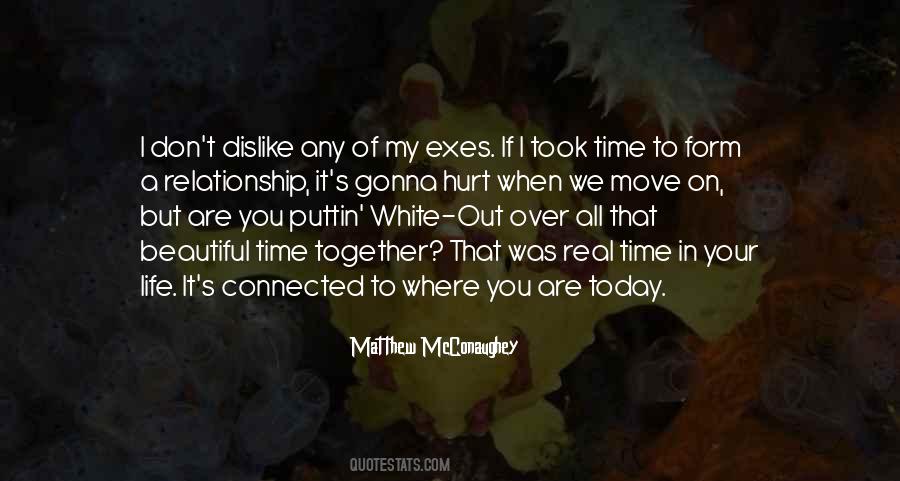 #81. How is it that these two boys who are so different are connected in such unexpected, deep ways? Maybe we all are, I think, and we don't know how to see it anymore. - Author: Ally Condie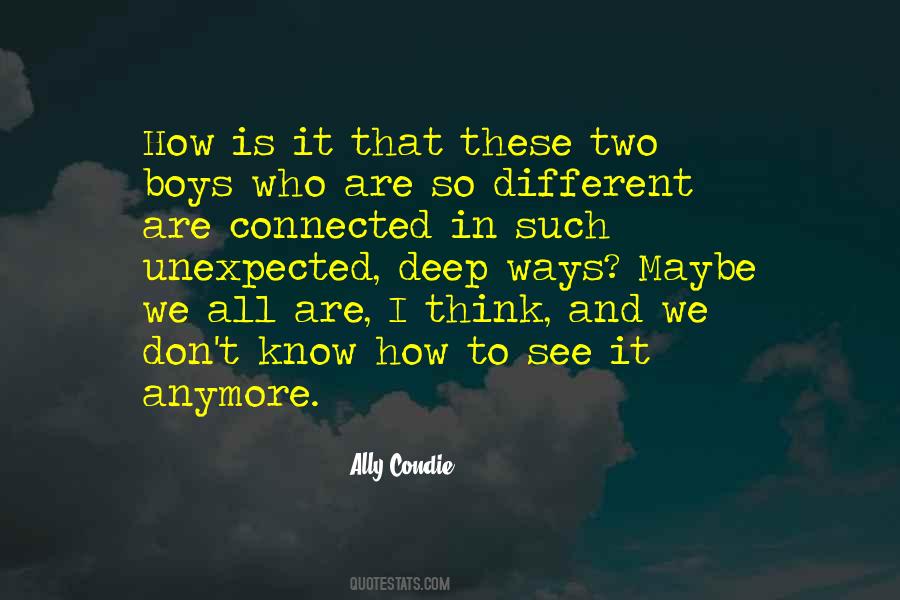 #82. We face challenges pushing us in a million directions all the time, whether we're being pulled to hide our truths or pushed to compromise our integrity. The more we are connected to our true selves, the more whole we are. The more whole we are, the stronger we are to navigate our own life. - Author: Elaina Marie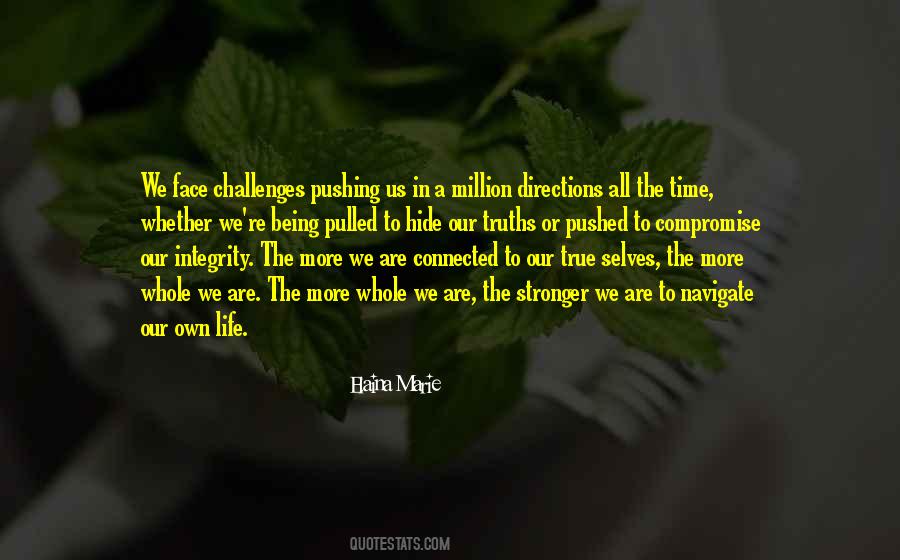 #83. We are all connected directly or indirectly.
We are all related closely or distantly.
We are all the offspring of the same family.
Better an individual and you better society. - Author: Matshona Dhliwayo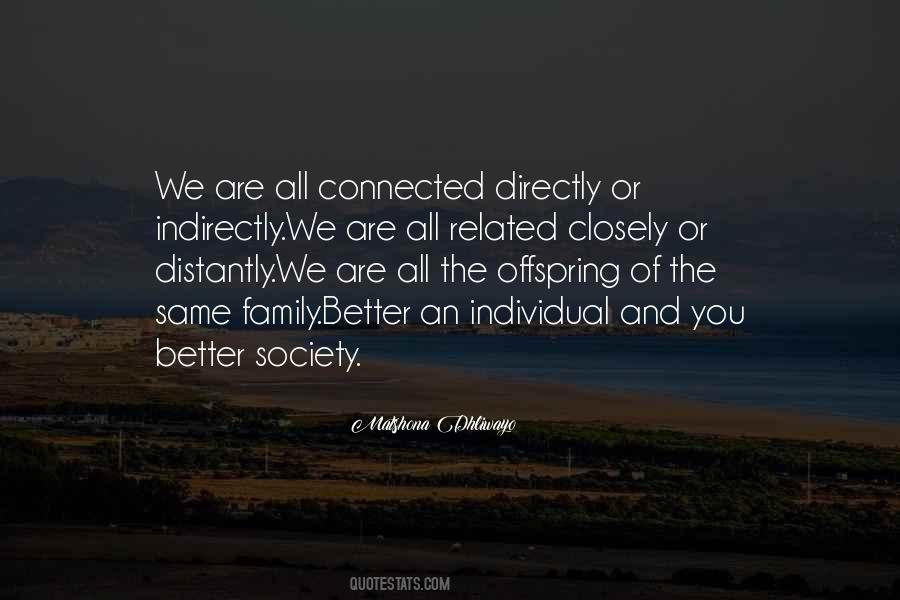 #84. Spend 5 minutes at the beginning of each day remembering we all want the same things (to be happy and be loved) and we are all connected to one another. - Author: Dalai Lama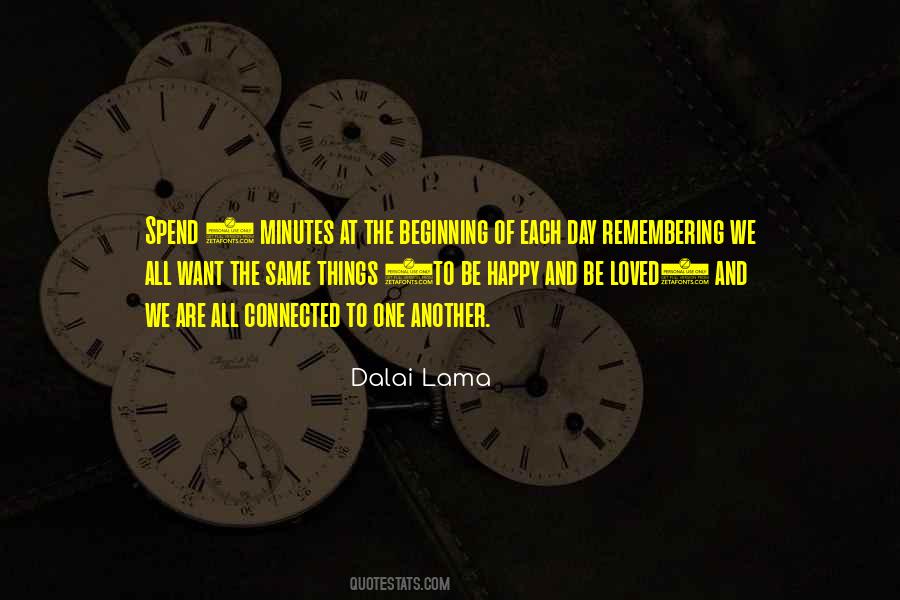 #85. We are in receipt of numerous communications concerning the Harper's Ferry affair, and the various topics connected with it ...
We must decline to publish them all,-simply because we see no possible good which they could accomplish. - Author: Melanie Benjamin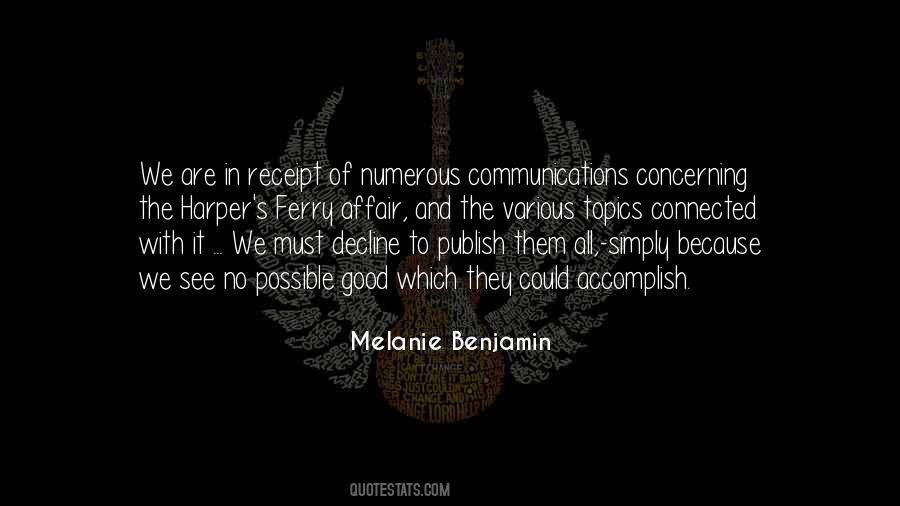 #86. Be more loving, compassionate and understanding with ourselves, with others, and with the planet, because we are all connected. We are one. - Author: Gisele Bundchen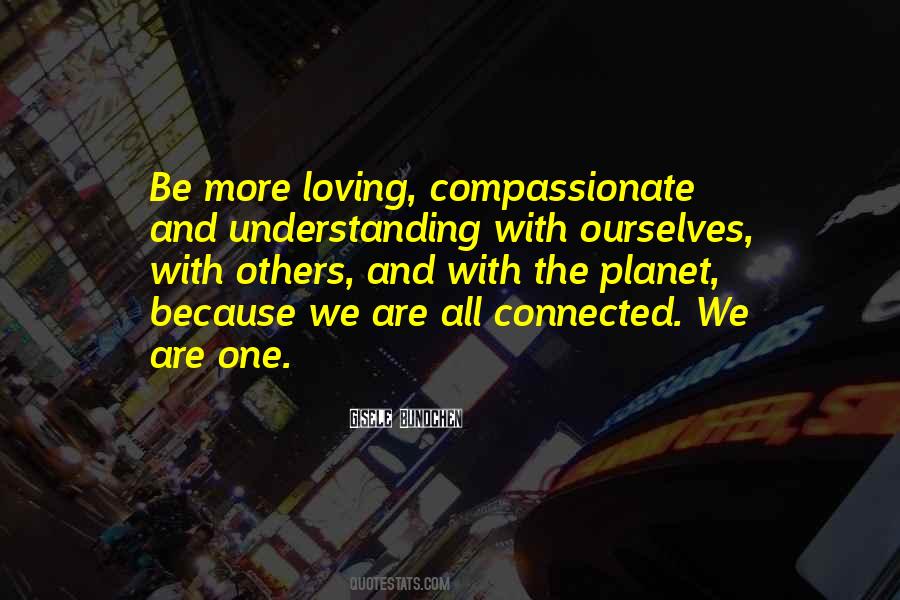 #87. I tend not to dwell on the parallels between chess and business, chess and the martial arts, or any two things for that matter, because the truth is that all pursuits are connected if we gain an eye for the thematic links. - Author: Joshua Waitzkin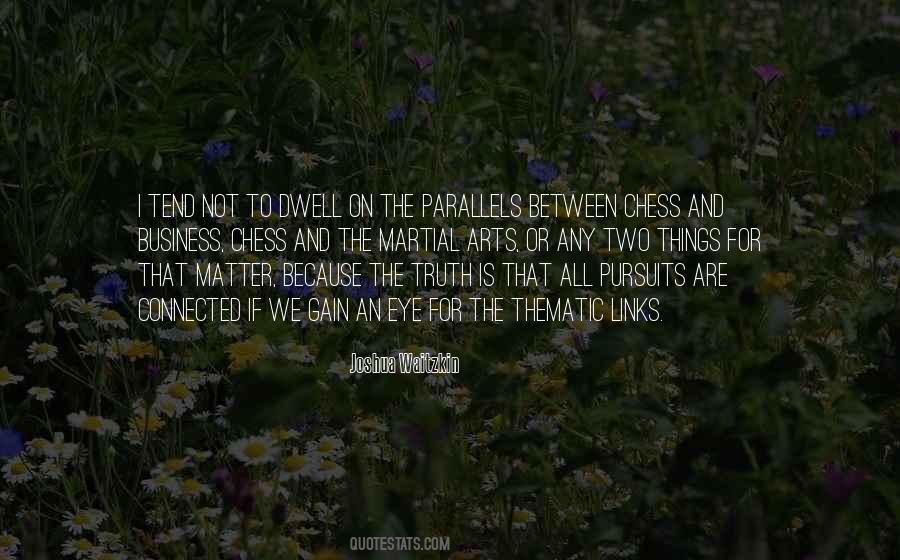 #88. We spring from the Land, we go back to the Land. The Land sustains our life and in all ways we are connected, body and soul to Her. It is the Creator's Creation. It knows us. It loves us. - Author: Rene' Donovan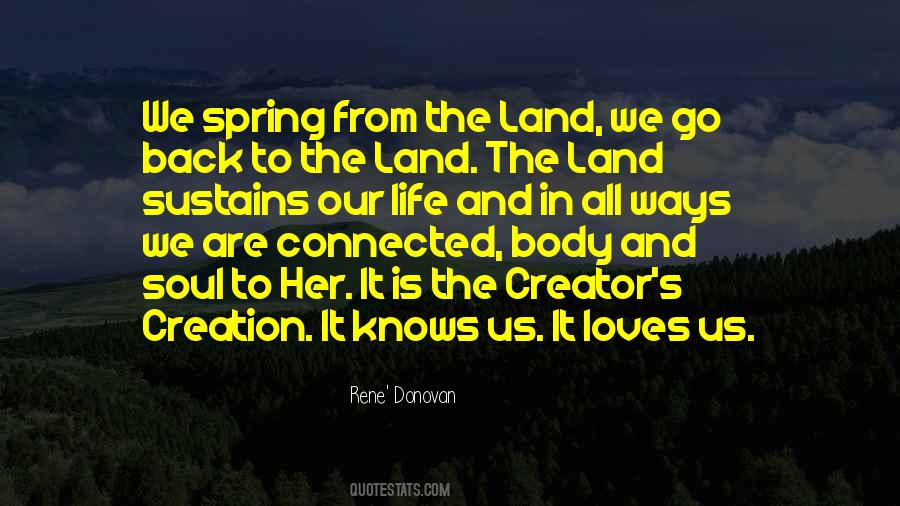 #89. May all beings everywhere with whom we are inseparably connected, be fulfilled, awakened, liberated and free. May there be peace in this world and throughout the entire universe, and may we all together complete the spiritual journey. - Author: Surya Das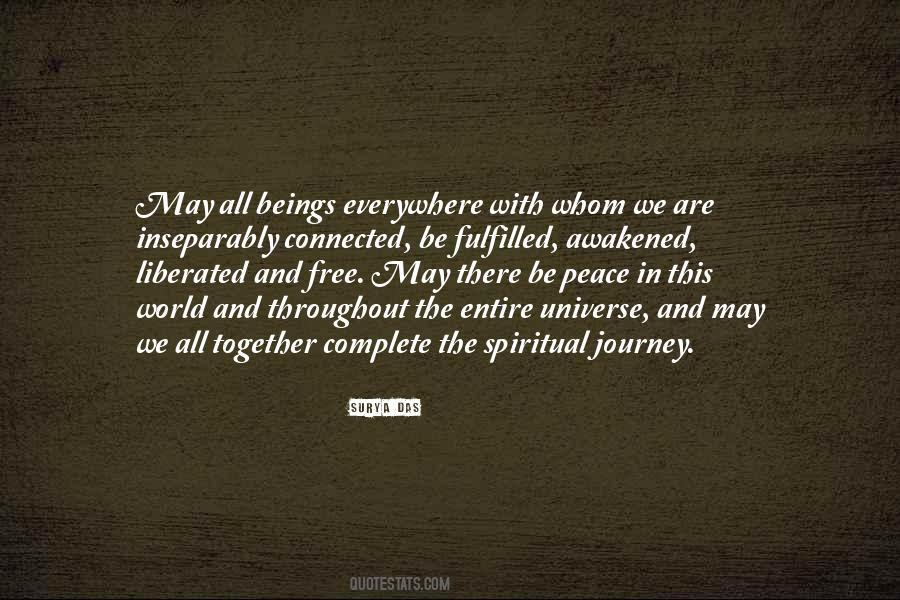 #90. Despite their lack of visual impact, headline sex-appeal, and their 'out of sight, out of mind' nature, we should all care about aquatic dead zones because we are all connected to their causes and we all feel their impacts. - Author: Philippe Cousteau Jr.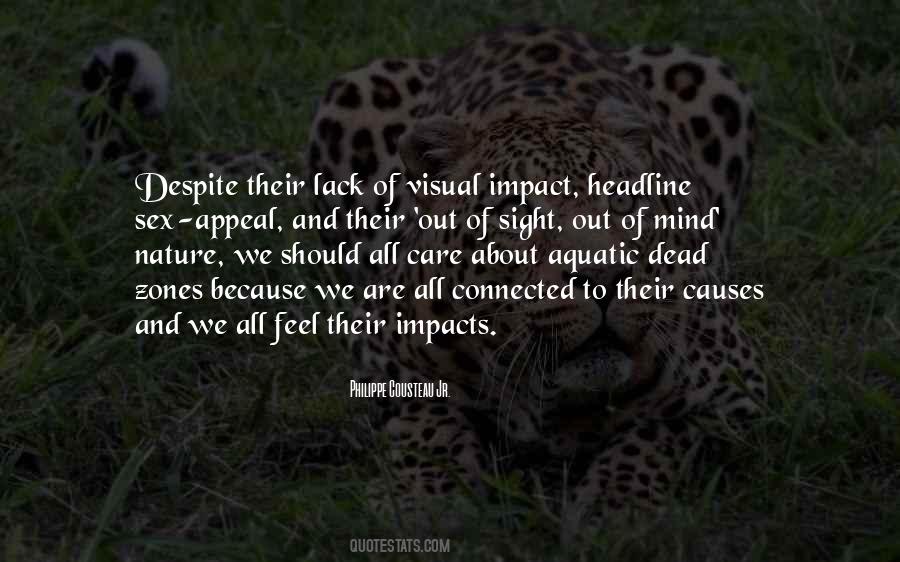 #91. As you see the political problems are closely connected with the economical problems. With the help of politics, we will open the way for the economy and this is why all these problems are included in the program of the newly elected government. - Author: Ibrahim Rugova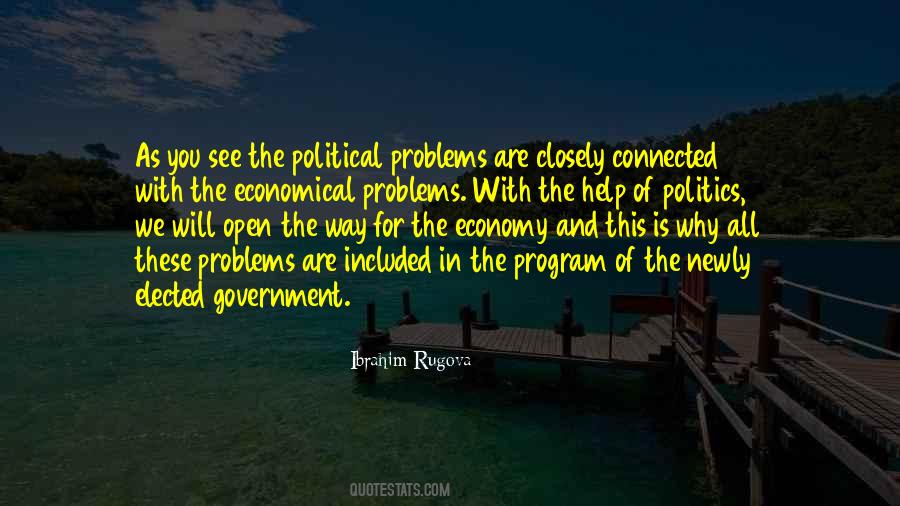 #92. We are all now connected by the Internet, like neurons in a giant brain. - Author: Stephen Hawking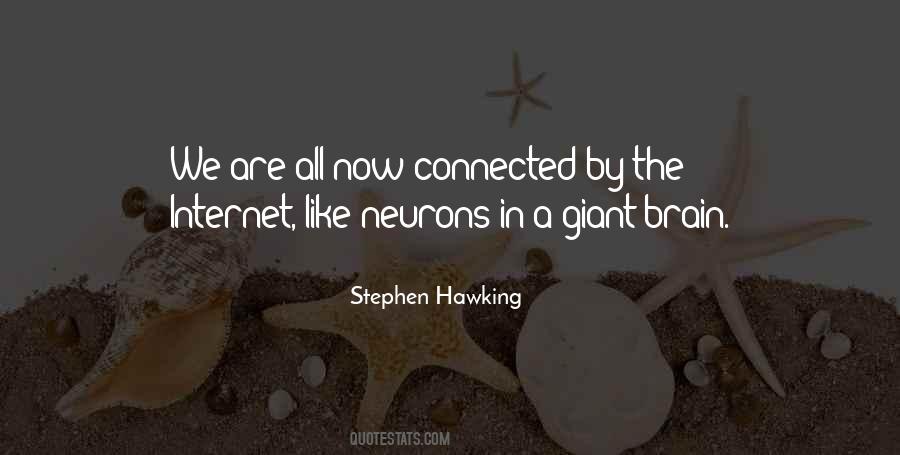 #93. You don't see the plug connected to the environment, so it looks like we're free, wandering around. Take the oxygen away, we all die immediately. Take plant life away, we die. And without the sun, all the plants die. So we are connected. - Author: Jacque Fresco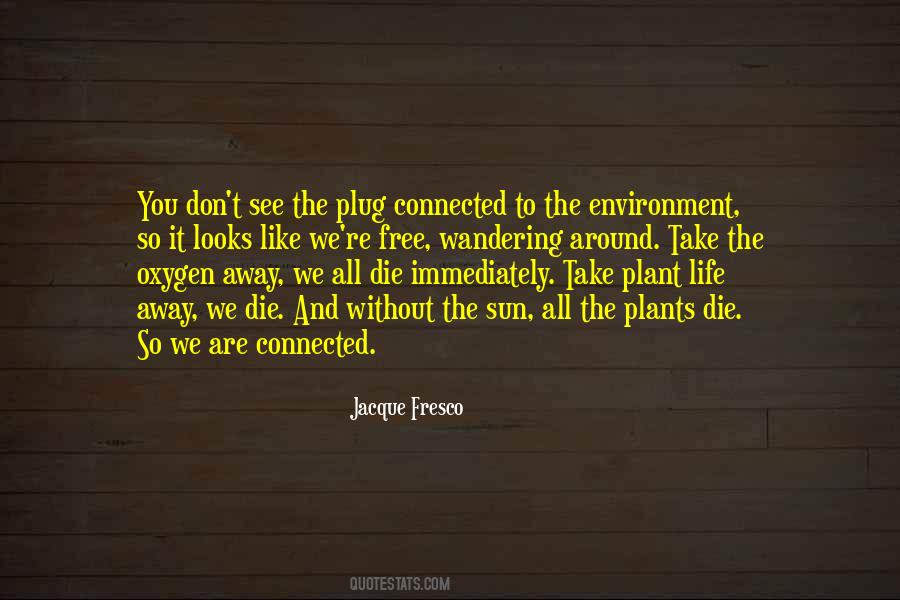 #94. We are all connected to the ocean. Without healthy oceans, no life, not even on land, can exist. - Author: Jean-Michel Cousteau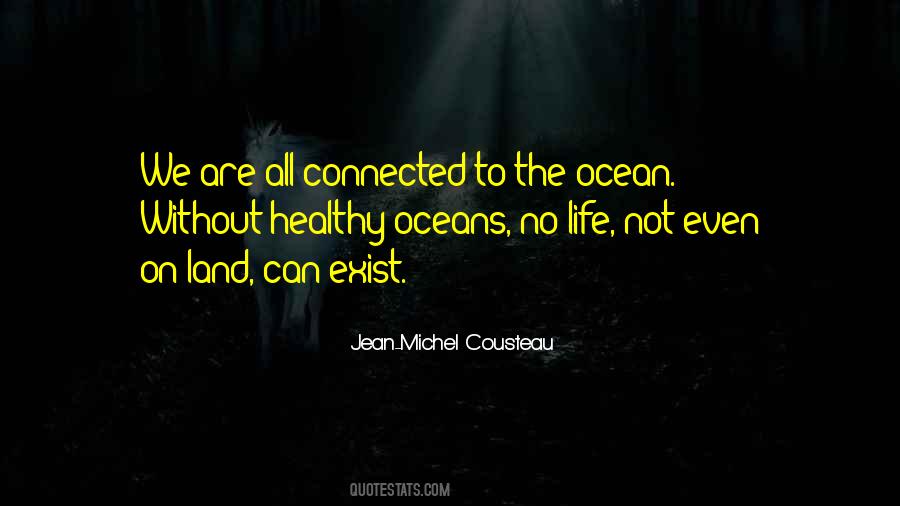 #95. Chepi taught me that all of nature - the sun, the moon, those mountains - all of it knows you from the time you were just an idea. That we're all cells with different purposes, yet we are all connected - existing to serve each other as well as the whole. - Author: Alyson Noel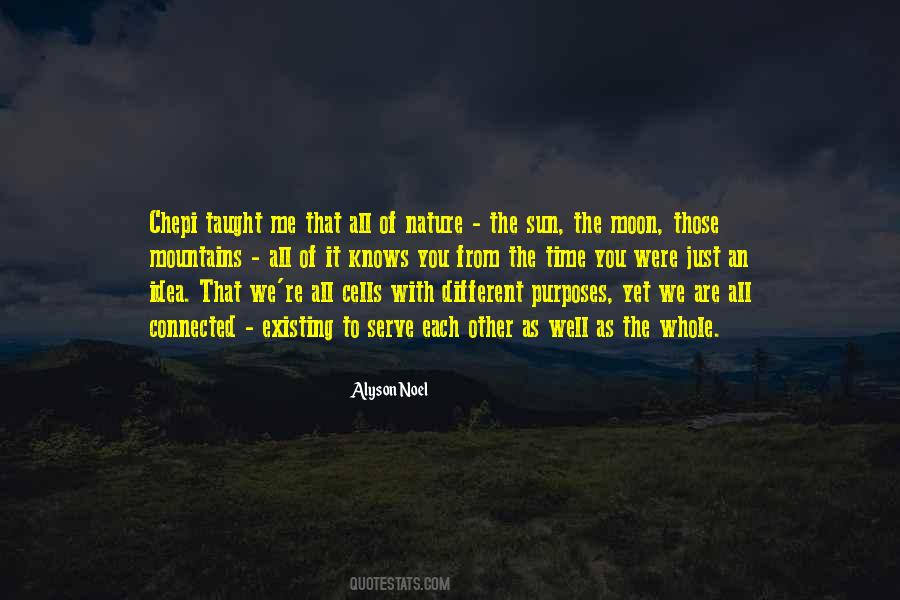 #96. Communicating with God is the most extraordinary experience imaginable, yet at the same time it's the most natural one of all, because God is present in us at all times. Omniscient, omnipotent, personal-and loving us without conditions. We are connected as One through our divine link with God. - Author: Eben Alexander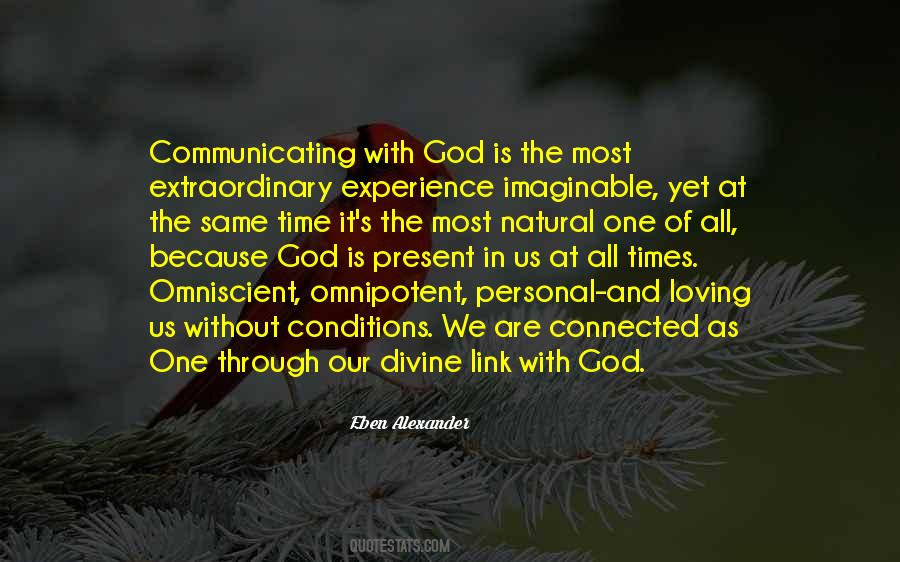 #97. All of us as human beings are connected by one energy and consciousness. So we all affect each other and everything that's happening in the world affects us individually. And what we're each doing as an individual affects what's going on in the world. - Author: Shakti Gawain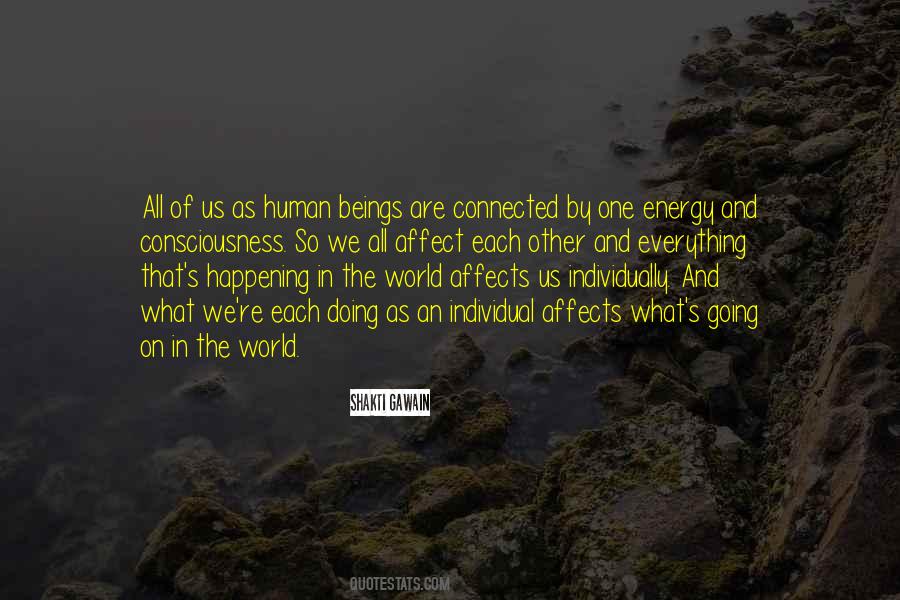 #98. It is all about love. It is all about caring. We are all in this game together, we are all connected. You may not be able to see it with your eyes but if you go to the Quantum Universe, some of the physics of nature, we are all connected. - Author: John Assaraf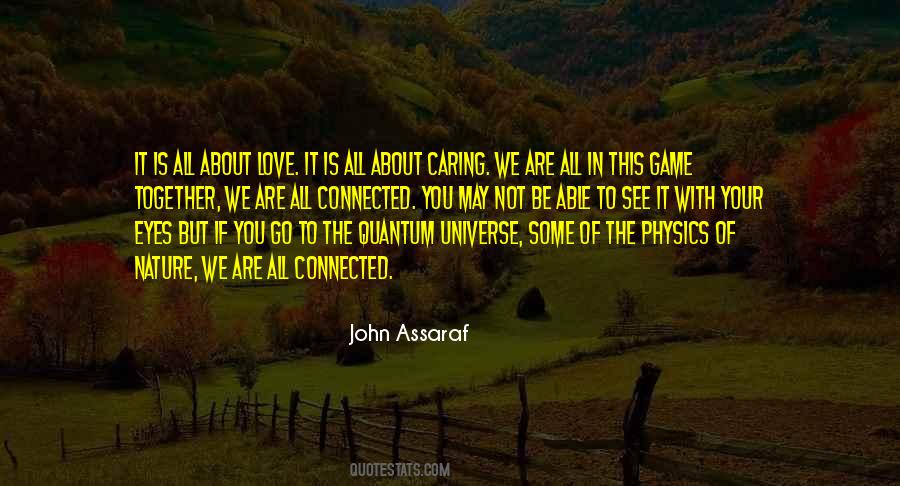 #99. In the tapestry of life, we're all connected. Each one of us is a gift to those around us helping each other be who we are, weaving a perfect picture together. - Author: Anita Moorjani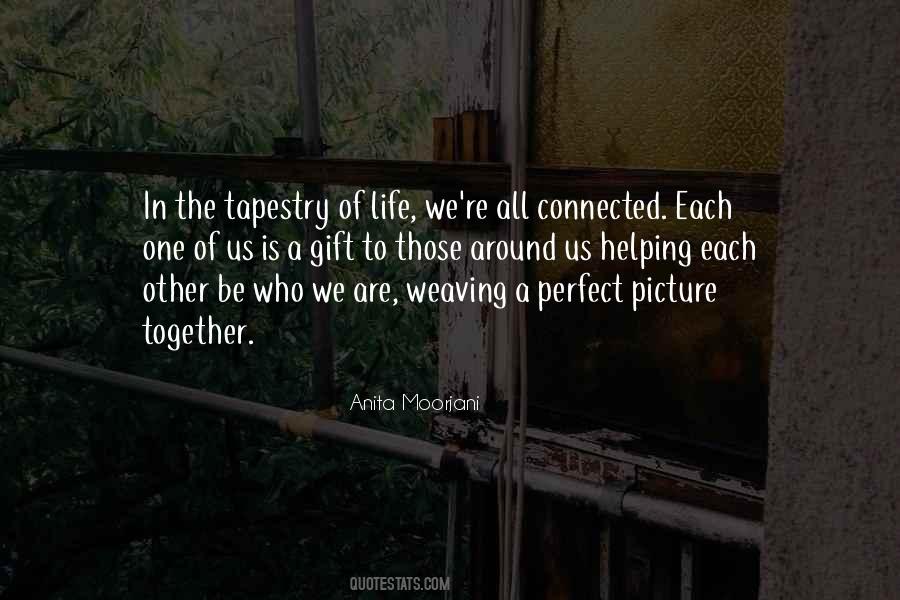 #100. We are all more connected than ever. That connectivity builds tolerance. - Author: Pete Cashmore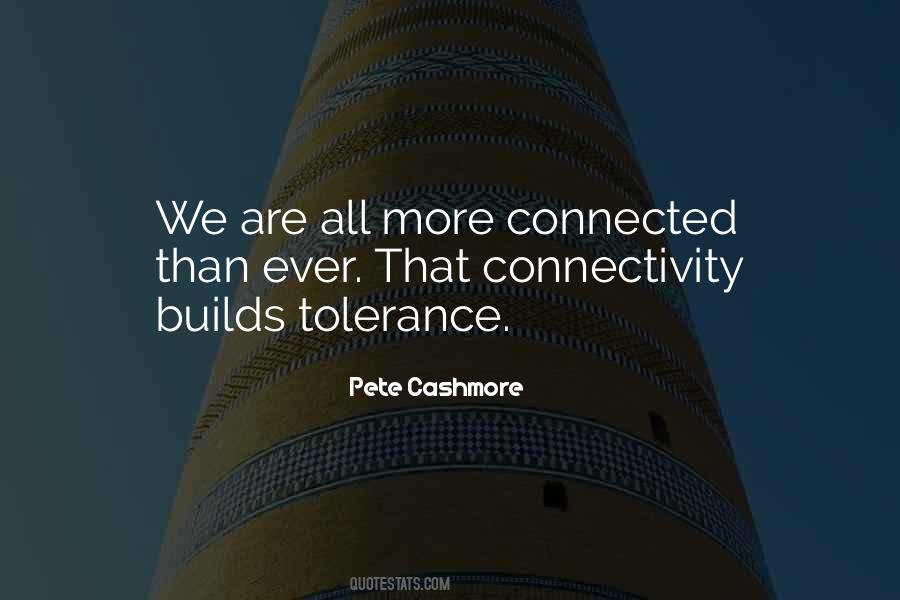 Famous Authors
Popular Topics