Want To Enjoy Life Famous Quotes & Sayings
List of top 100 famous quotes and sayings about want to enjoy life to read and share with friends on your Facebook, Twitter, blogs.
Top 100 Want To Enjoy Life Quotes
#1. The only way to get what you want is to admit you don't really know what you want. But in the end, or course, you never truly get what you want. So just enjoy the ride. - Author: Gregor Collins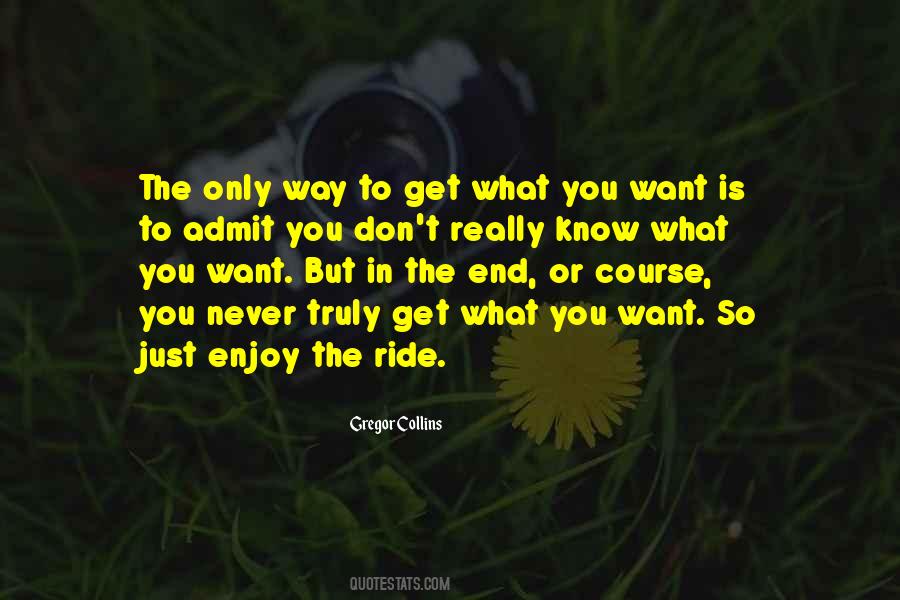 #2. Because you know how to enjoy things. Because you don't deny yourself. Because you let yourself feel pleasure and want. And that's the kind of person who likes gifts. The kind of person who knows how to enjoy life. - Author: Lauren Blakely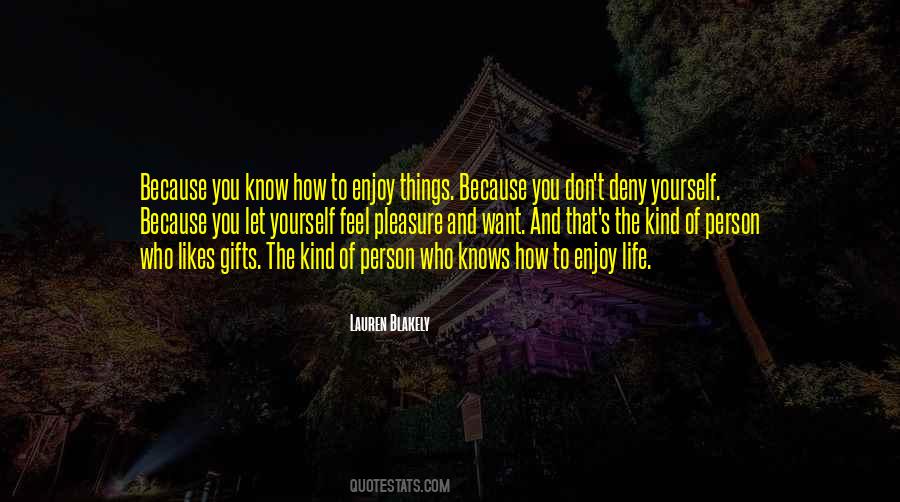 #3. Oh beloved,
I want to live in your love,
to feel the joy of life,
to see the beauty of desires,
to enjoy the song of heart,
to dance with you, my love. - Author: Debasish Mridha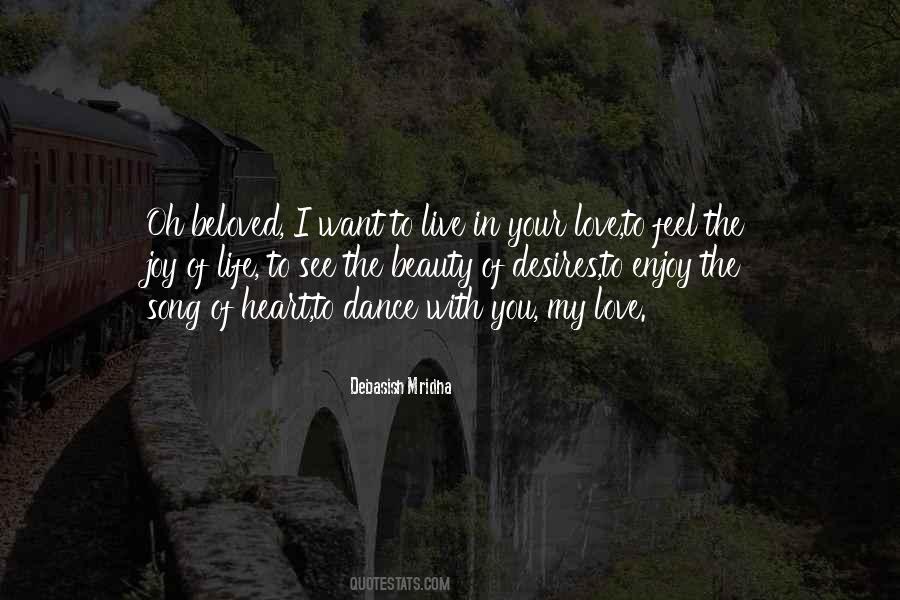 #4. I don't really want to become normal, average, standard. I want merely to gain in strength, in the courage to live out my life more fully, enjoy more, experience more. I want to develop even more original and more unconventional traits - Author: Anais Nin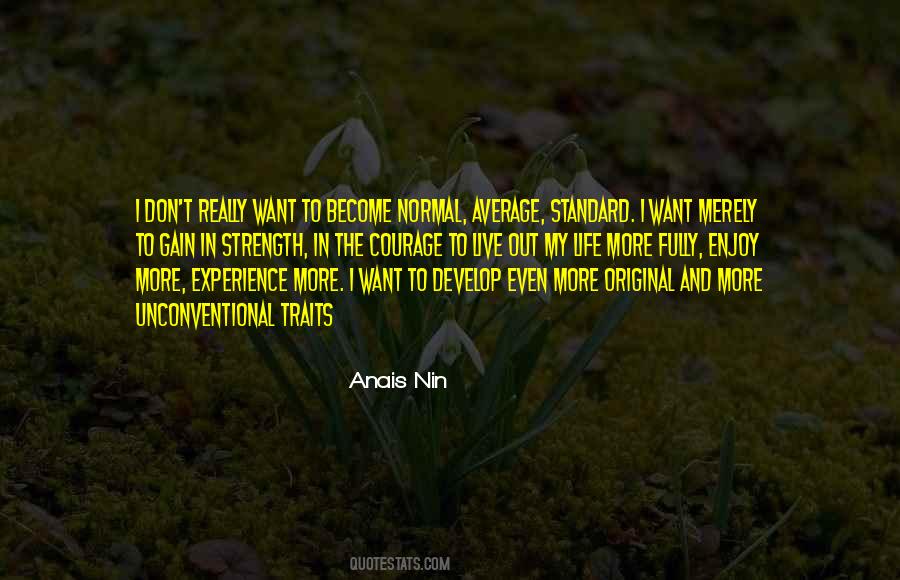 #5. You want something you can't have, Gurgeh. You enjoy your life in the Culture, but it can't provide you with sufficient threats; the true gambler needs the excitement of potential loss, even ruin, to feel wholly alive. - Author: Anonymous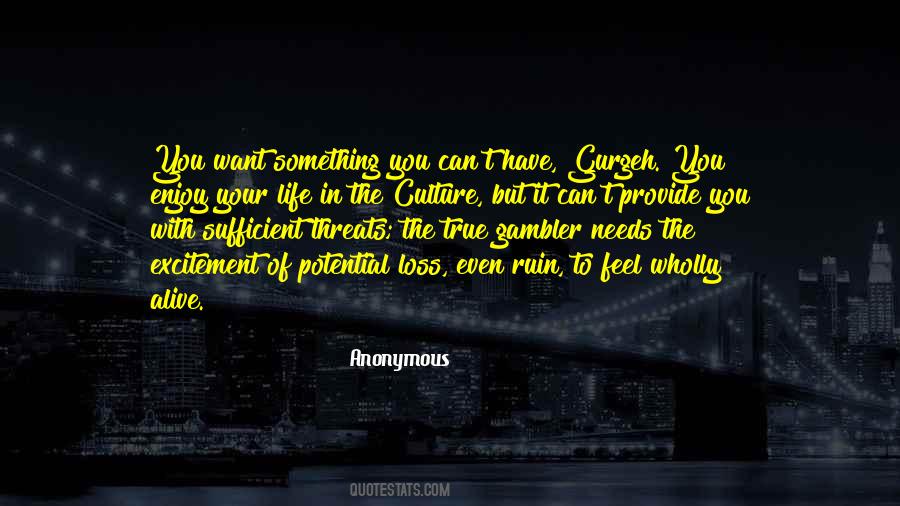 #6. I wouldn't want to be that smart" Clare added. "Sometimes the more you know, the harder it is to enjoy life. It's like you lose curiosity or something. - Author: Katie Kacvinsky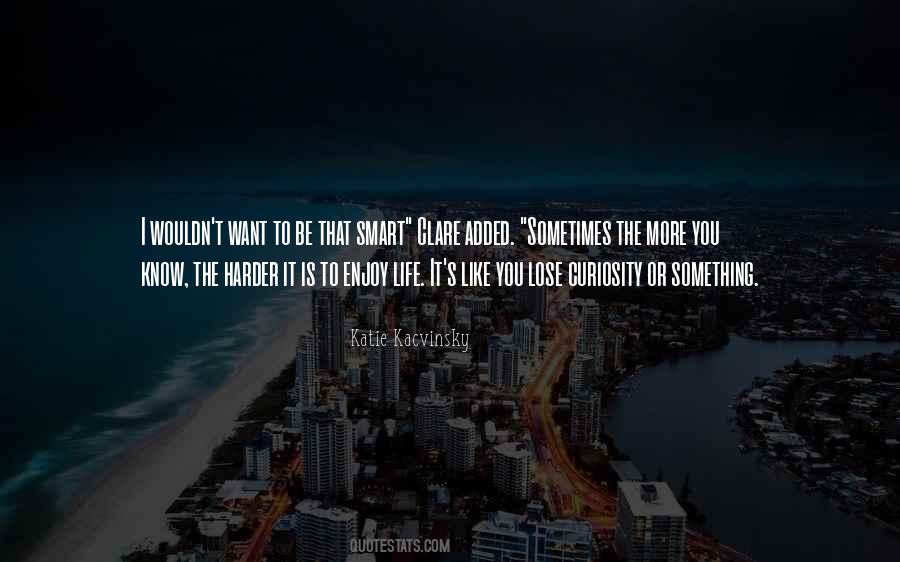 #7. If we want to live consciously, if we want to enjoy our life and not spend it simply completing the task of surviving, each of us must find answers to the questions concerning our destiny - Author: Sunday Adelaja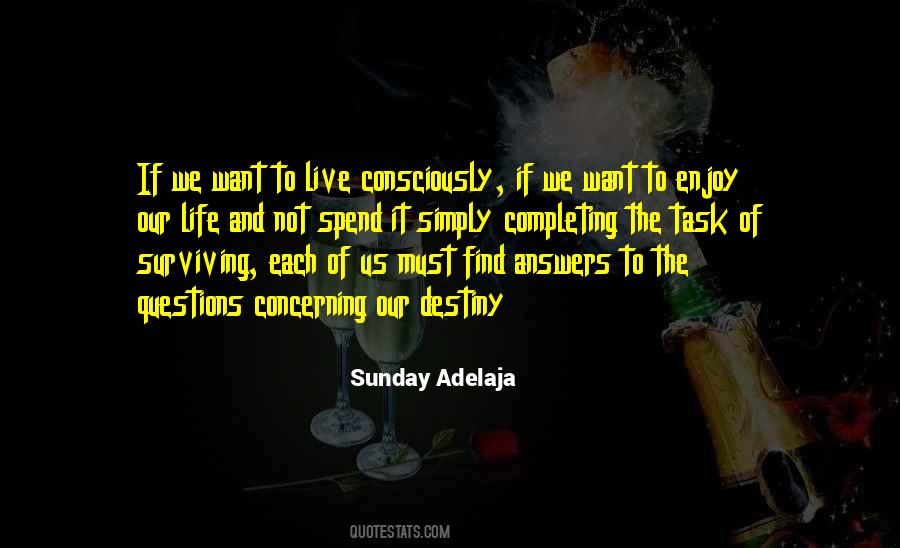 #8. I'm looking at working with people I get on with, that respect me, that don't just see me as a piece of ass. Which I have experienced as well. I've nearly walked off very big films before, and I would, because I don't want that in my life. I want to enjoy the work I do. - Author: Gemma Arterton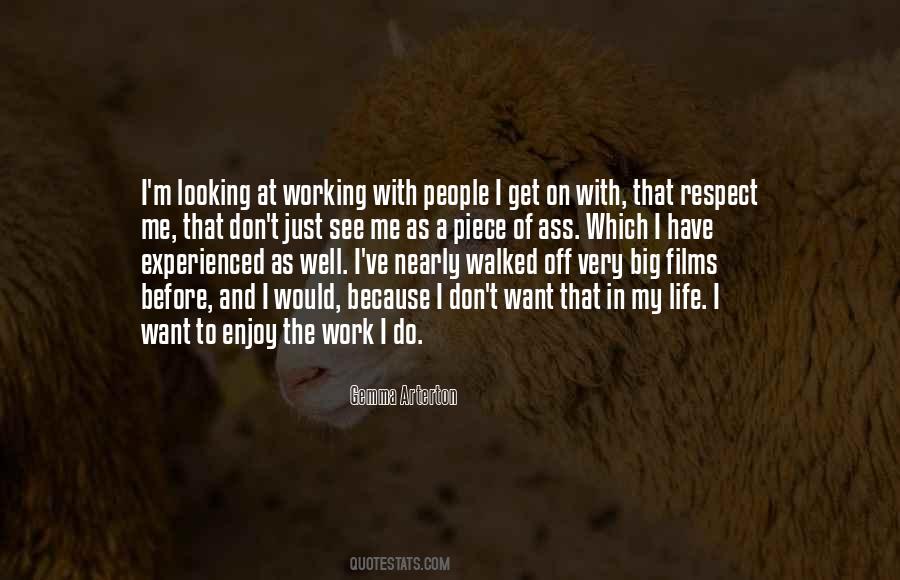 #9. Everybody should be able to enjoy their life, because you only live once. So I just want to get it all out there and be the best role model that I can be, if people want to put me in that kind of predicament. I mean, I didn't ask to be a role model, because I'm not perfect. - Author: ASAP Rocky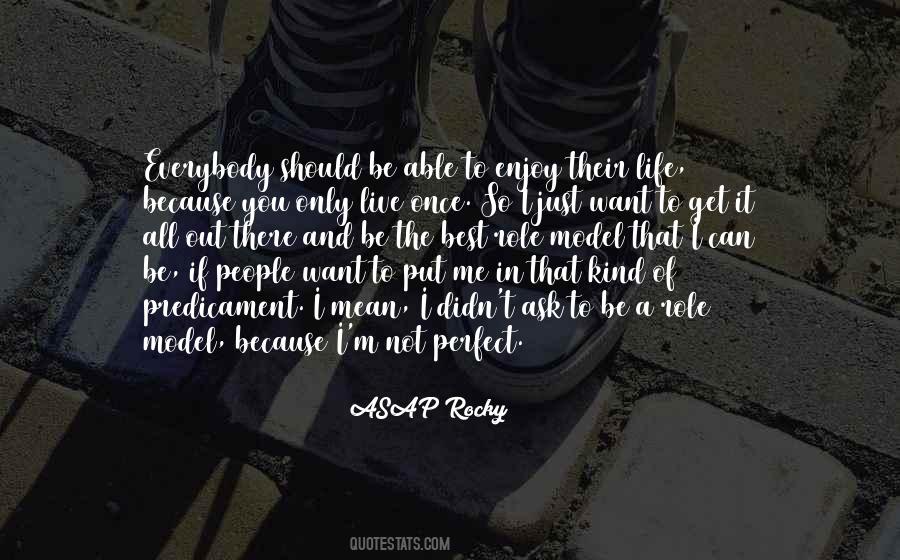 #10. Those people cannot enjoy comfortably what God has given them because they see and covet what He has not given them. All of our discontents for what we want appear to me to spring from want of thankfulness for what we have. - Author: Daniel Defoe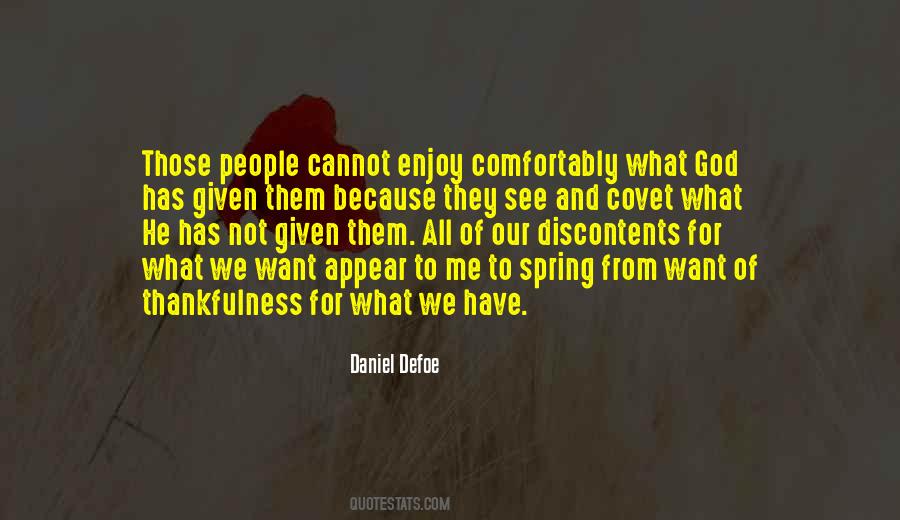 #11. I love using the latest technologies to make life more efficient, but I don't want to advocate that technology replaces the need to get together and enjoy human connections with people. - Author: Maynard Webb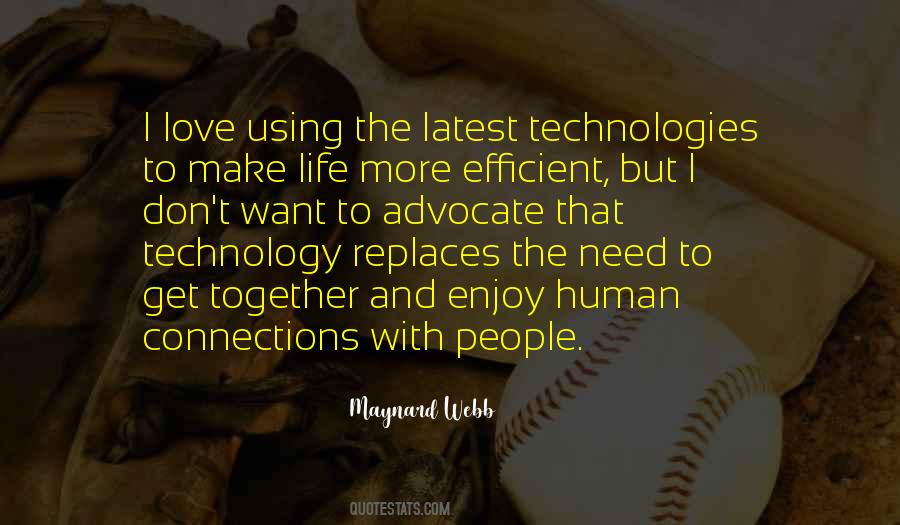 #12. Hopefully life is long. Do stuff you will enjoy thinking about and telling stories about for many years to come. Do stuff you will want to brag about. - Author: Rachel Maddow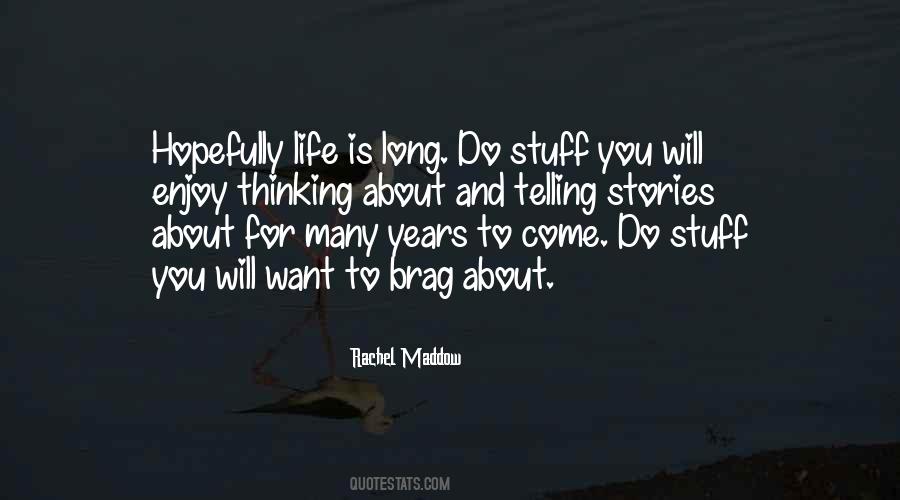 #13. While I didn't have a father around, I did have - and what I want my children to both experience - the ability to explore, experiment and enjoy life as a kid. - Author: Kendra Wilkinson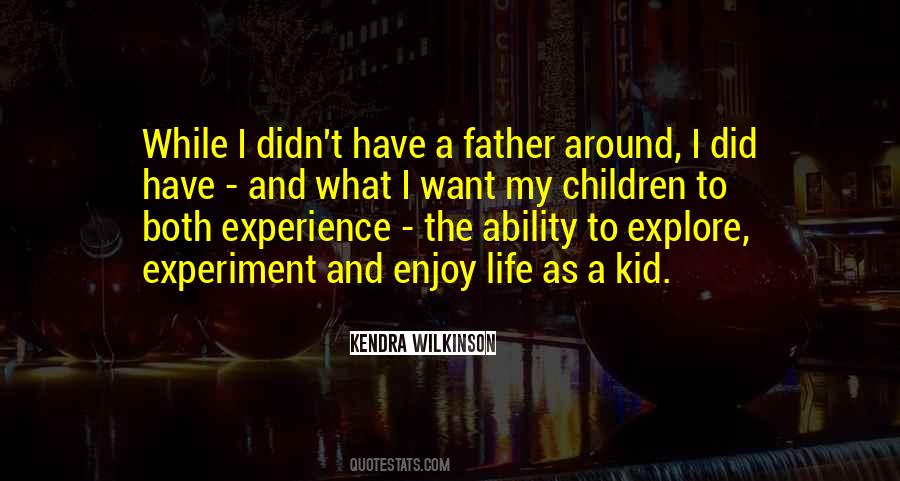 #14. If you want to enjoy life more fully, the trick is to teach yourself to live in the insightful mode more often. - Author: Cheryl Richardson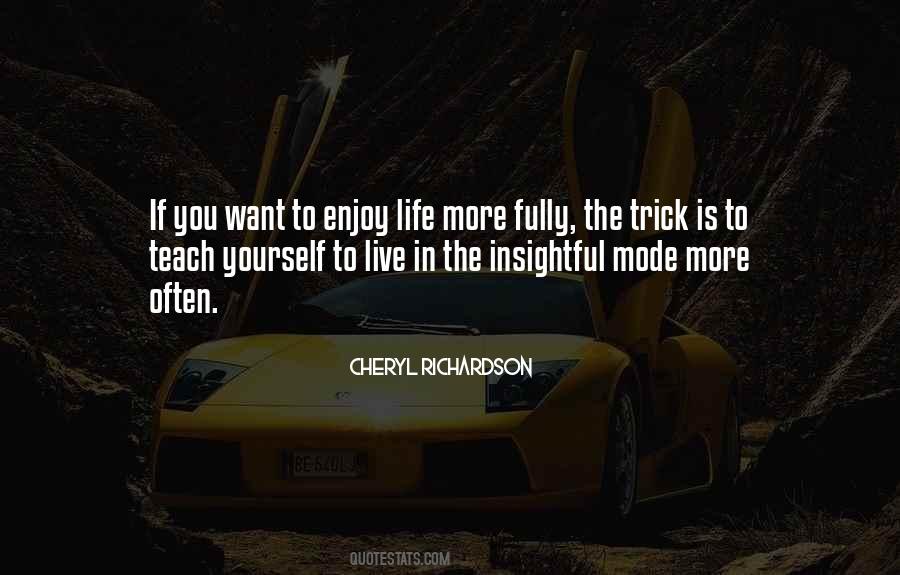 #15. Success is the ability to live your life, the way you want to live it, doing what you enjoy most, surrounded by people you admire and respect. - Author: Brian Tracy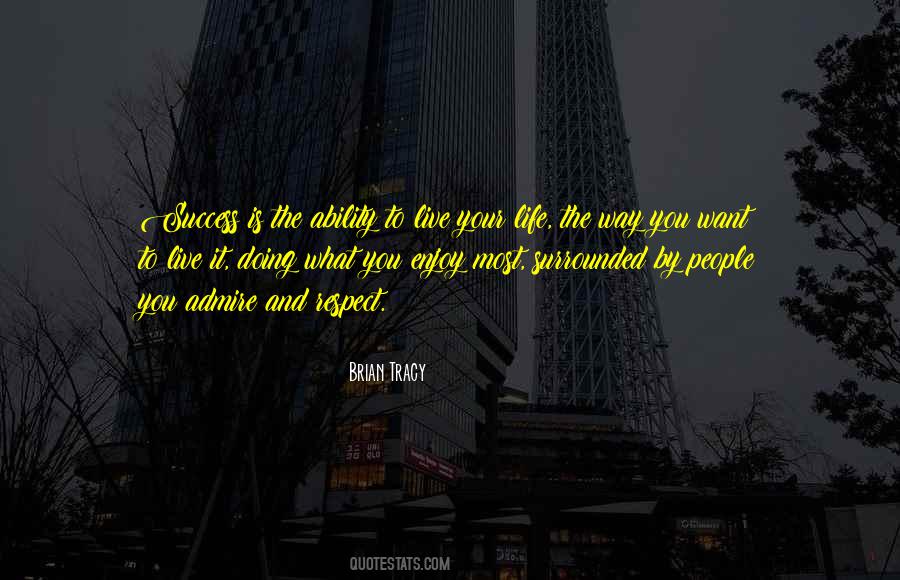 #16. I prayed very hard for this to happen and it happened. I don't even think about what I've achieved, I haven't focused on it and I wish I had, because I really want to enjoy it, and I don't know if I am enjoying it, because I am going through my life like a bulldozer. I still haven't marvelled at it. - Author: Mariah Carey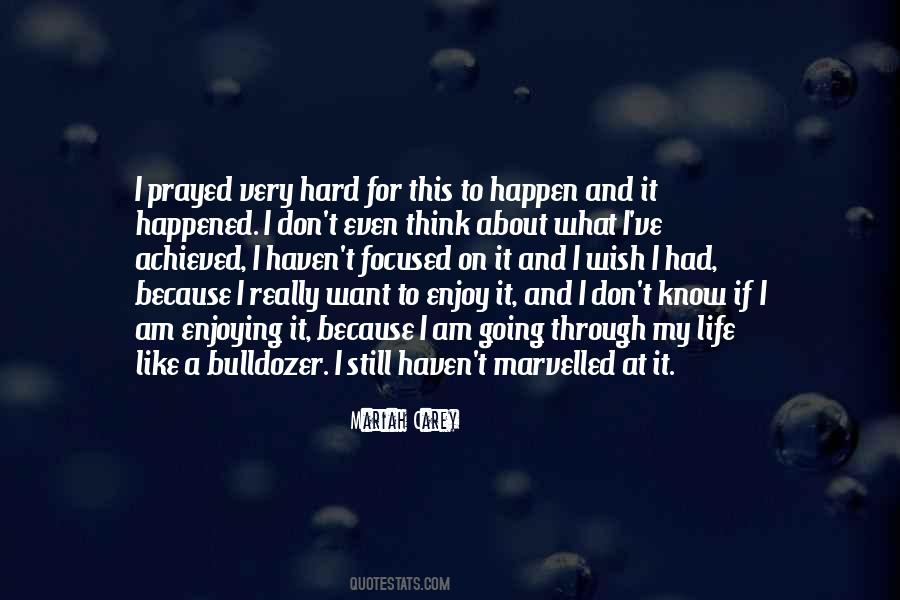 #17. It's nice to look good and have a great body, but you enjoy your life so much more if you are fit. That is the message I definitely want to get out. - Author: Kacy Catanzaro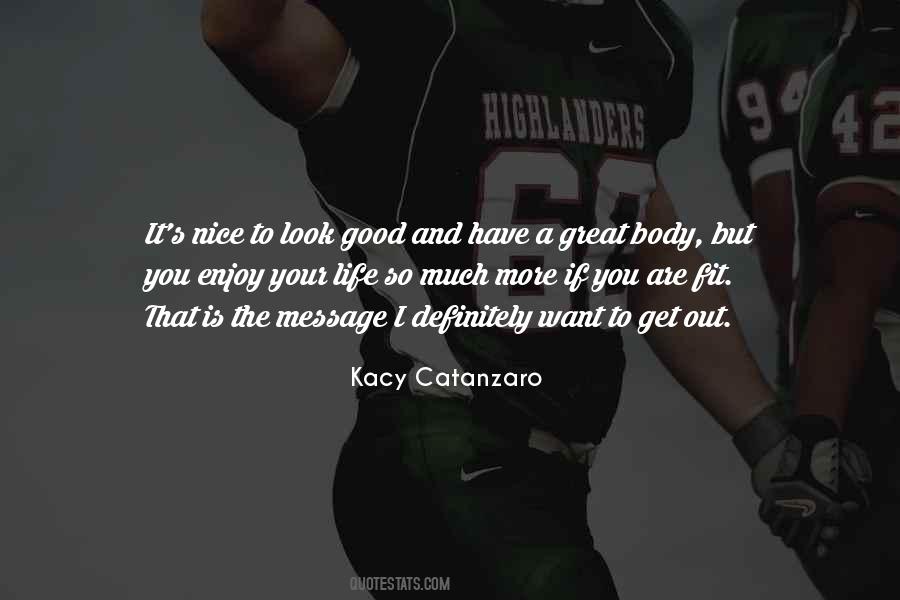 #18. What's the point of prolonging your life if you don't enjoy it? It's your body. Do whatever you want with it. Better to wear out than rust over. - Author: Rita Mae Brown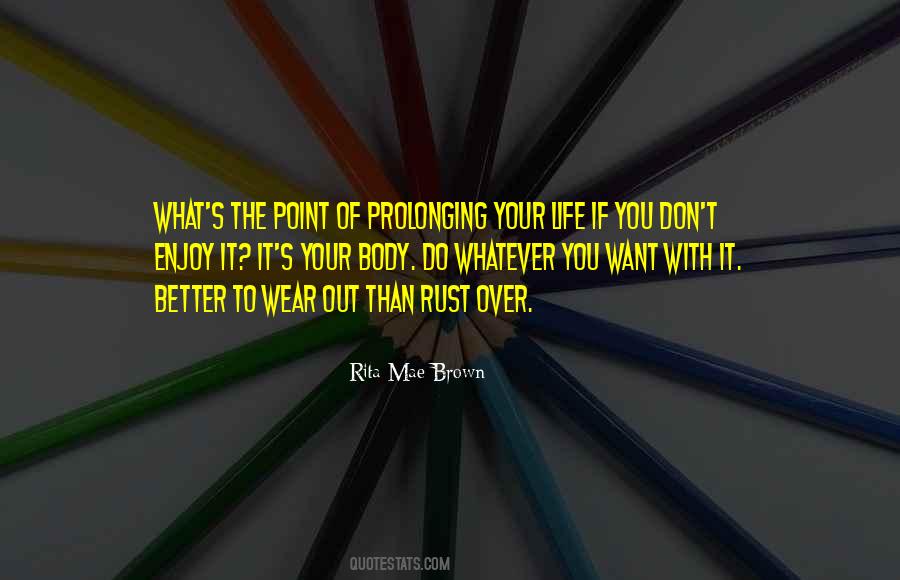 #19. You want to take me on? Do it. I'm going to enjoy this because, honey, I need a distraction from the real turmoil going on in my life. - Author: Tijan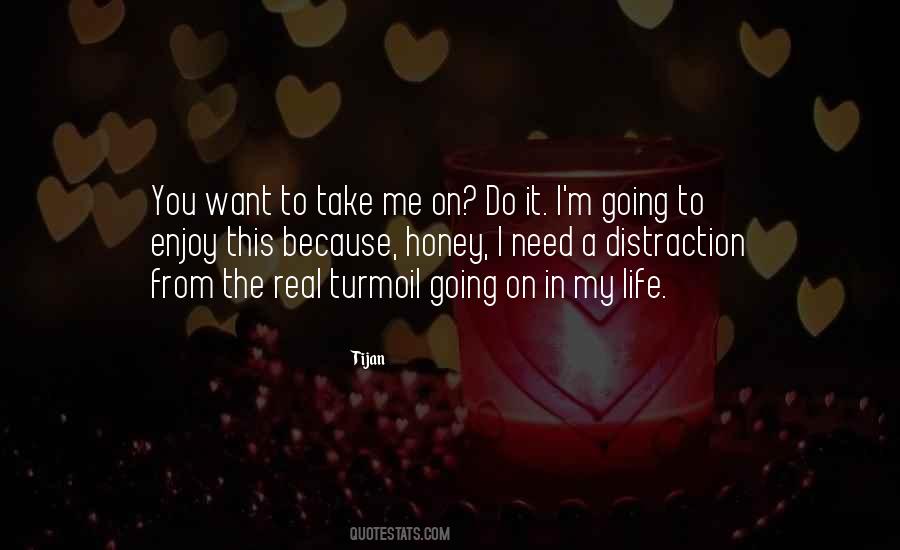 #20. After you've work hard to get what you want, take the time to enjoy it. - Author: H. Jackson Brown Jr.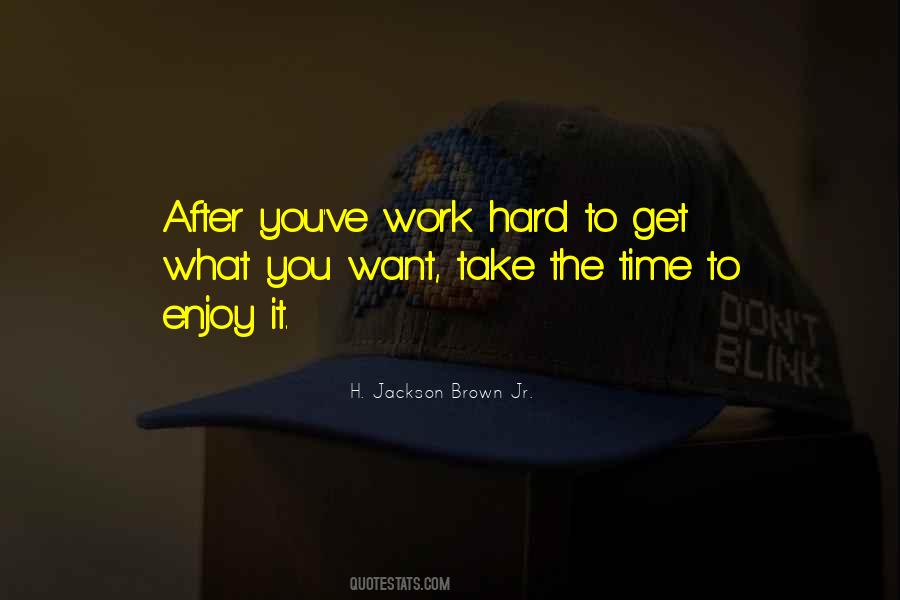 #21. The only advice [for new writers and poets] I can offer is to be yourself: not the self someone else wants you to be, but the self you are. Enjoy yourself and your life. But most of all travel and eat. That's how we learn. - Author: Nikki Giovanni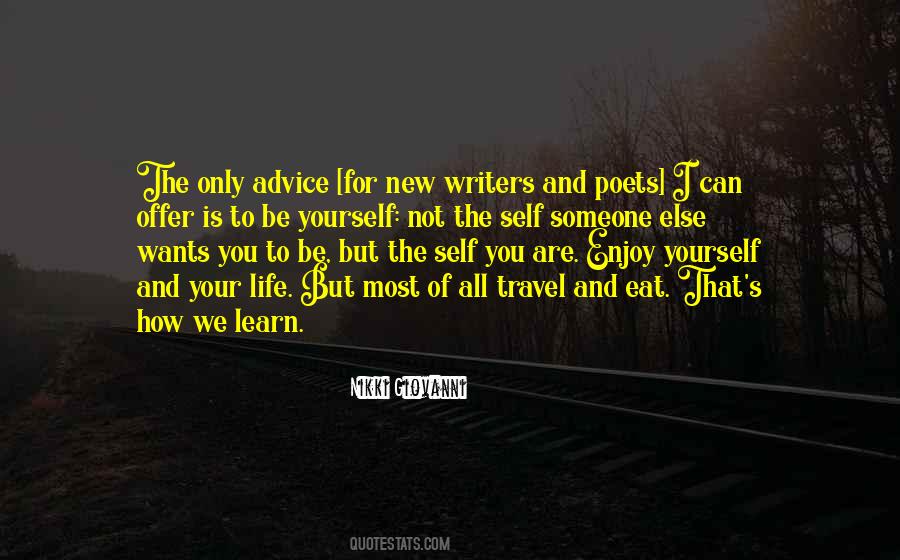 #22. So much of what comes out of the faith community seems so dour and somber, and we want to say, 'Hey, we're real people. You can be a person of faith and really enjoy life and laugh.' - Author: Erwin McManus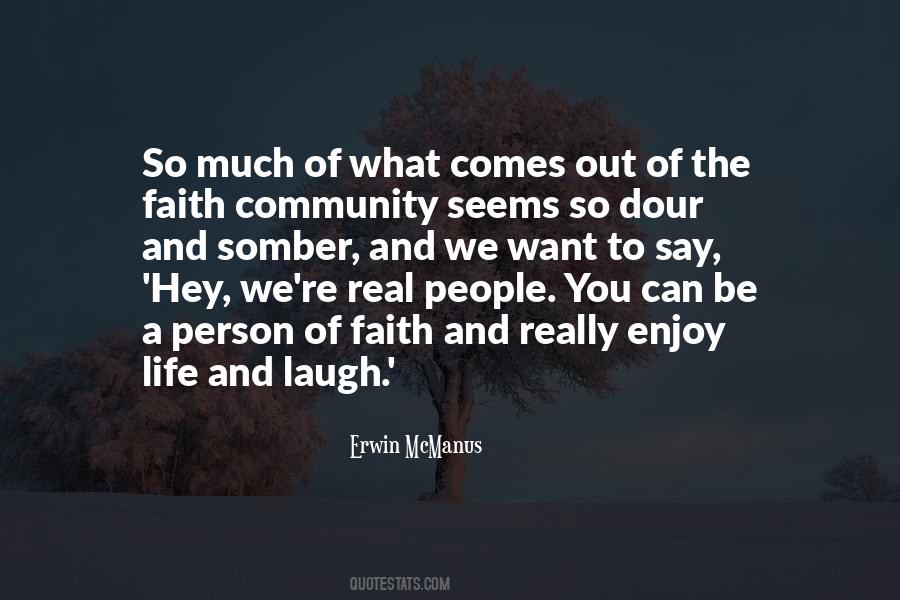 #23. In my work, I want to convince people that I'm that character. If they know everything about Lesley Manville - private life, all of that stuff - it doesn't help. So the kind of anonymity I enjoy is key. - Author: Lesley Manville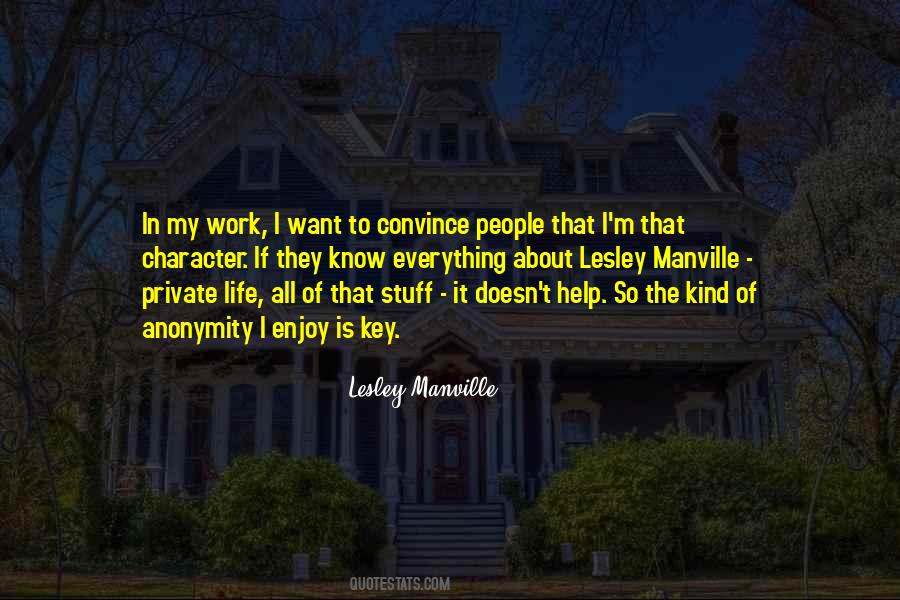 #24. I can only hope to be 10 percent of the mom mine was to me. She encouraged me to be confident and enjoy life. That's what I want for my son. - Author: Charlize Theron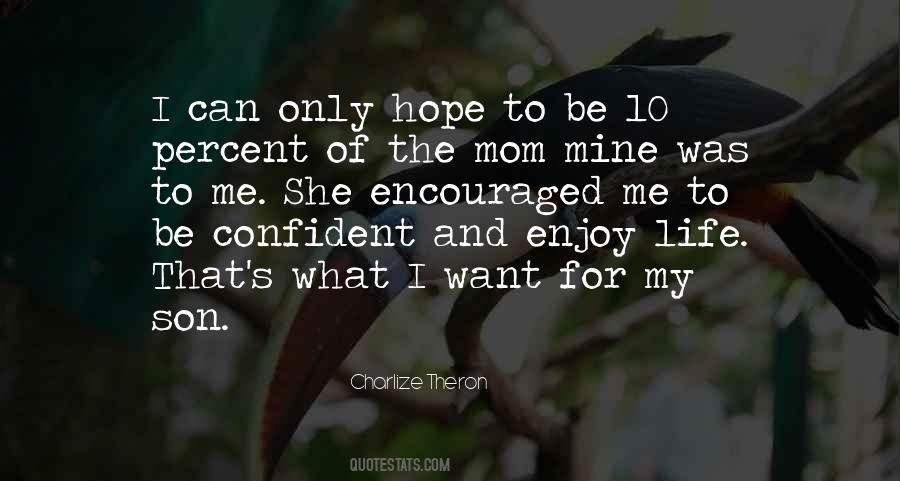 #25. I've always told people that to be successful you have to enjoy what you're doing and right now I really enjoy what I'm doing. I'm having too much fun with my life. Why would I want to do something else? Why would I want to run for governor? - Author: Donald Trump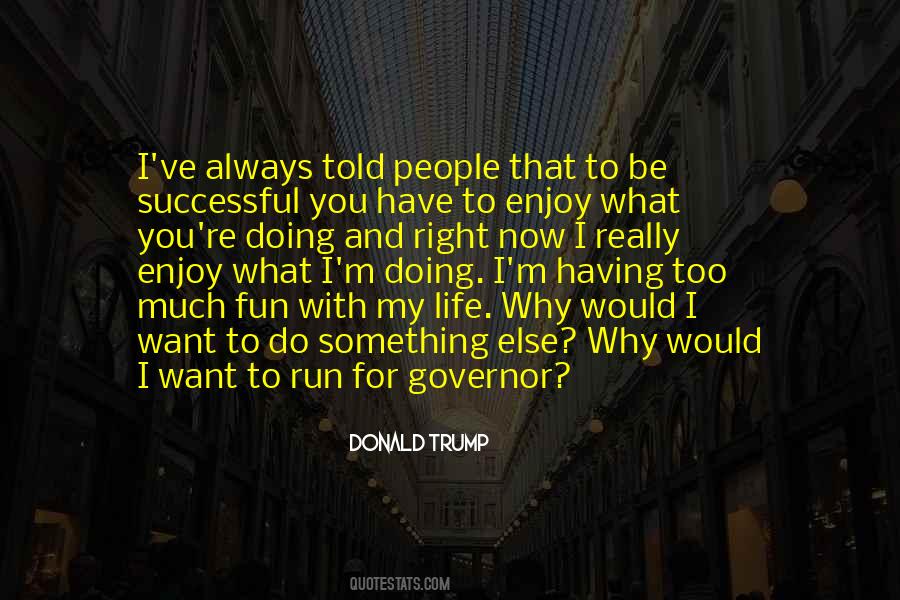 #26. I'm singing and dancing and playing guitar. I really enjoy pushing myself into different aspects. I'm not going to do this for the rest of my life, but I want to keep challenging myself. And if I'm fearful of something I definitely want to step into it and see how good or bad I am at it. - Author: Dustin Clare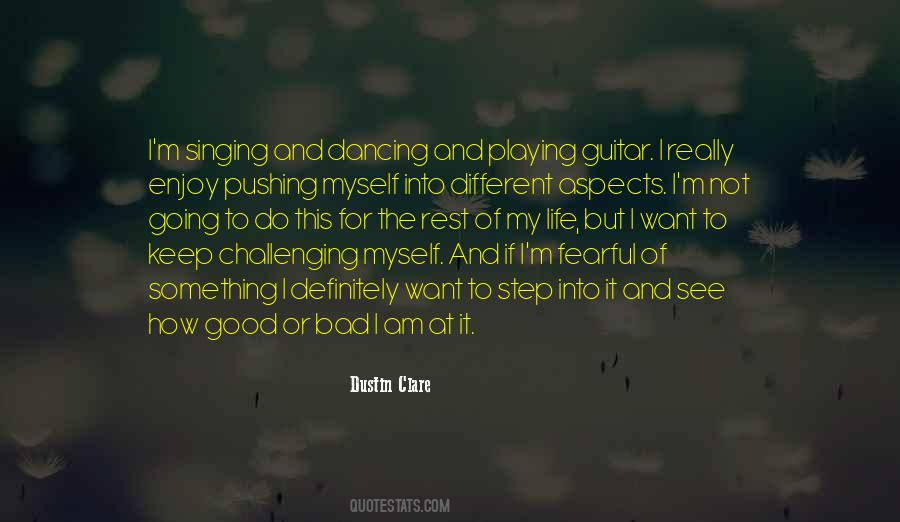 #27. It behooves us to adapt oneself to the times if one wants to enjoy continued good fortune. - Author: Niccolo Machiavelli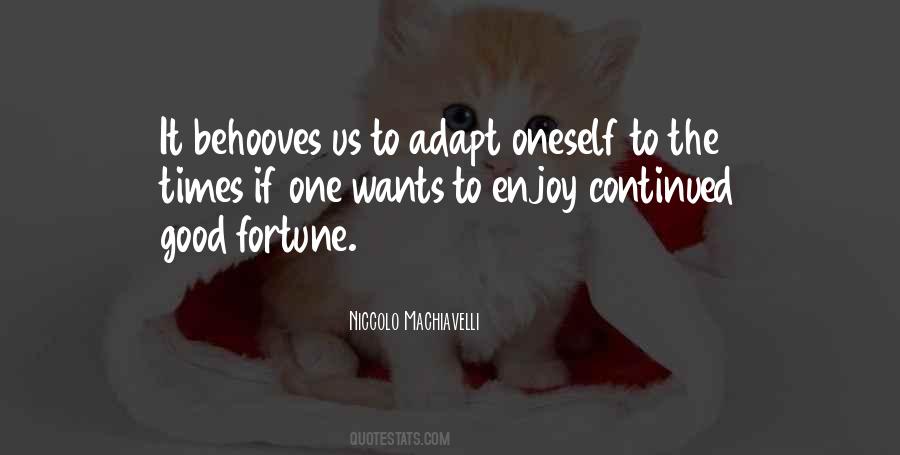 #28. I take parenting incredibly seriously. I want to be there for my kids and help them navigate the world, and develop skills, emotional intelligence, to enjoy life, and I'm lucky to be able to do that and have two healthy, normal boys. - Author: Joan Cusack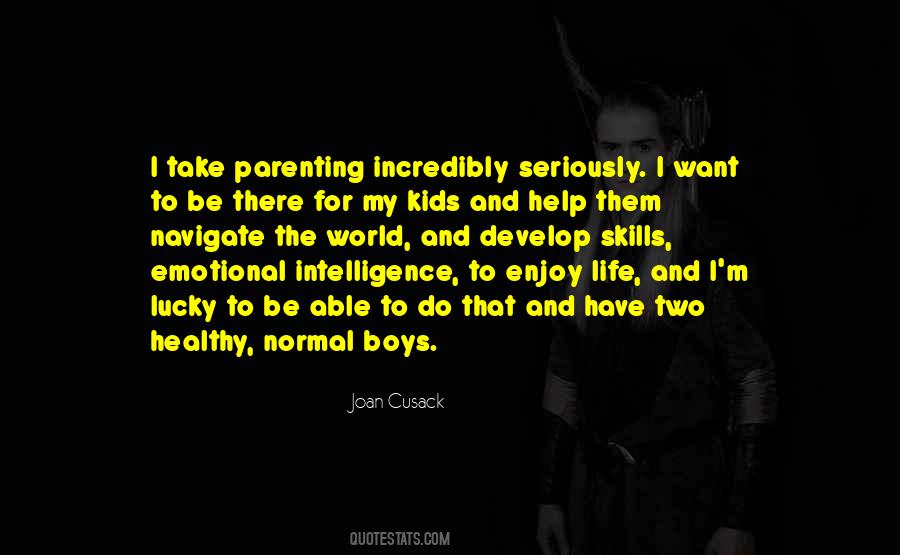 #29. They [leftists] are outraged when people are not cranky and not miserable. They want everybody to be, if they are. It isn't fair that some people should be enjoying life when other people don't. - Author: Rush Limbaugh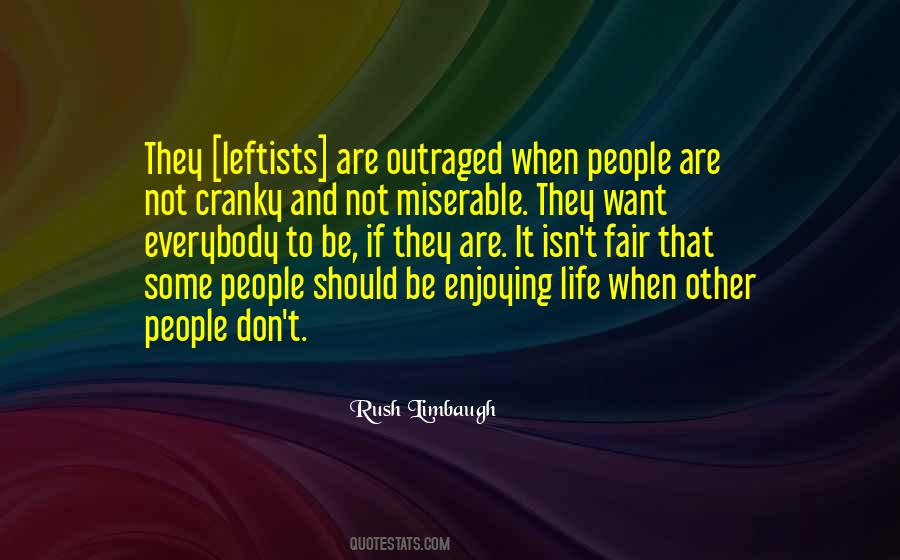 #30. My family made it through Hurricane Sandy. We have water, power, and a roof, but the survivor's guilt makes me want to hide. Sneak away from the brilliance of life. It shouts at me: 'Don't enjoy anything too much; people are suffering.' I feel childlike somehow. - Author: Alysia Reiner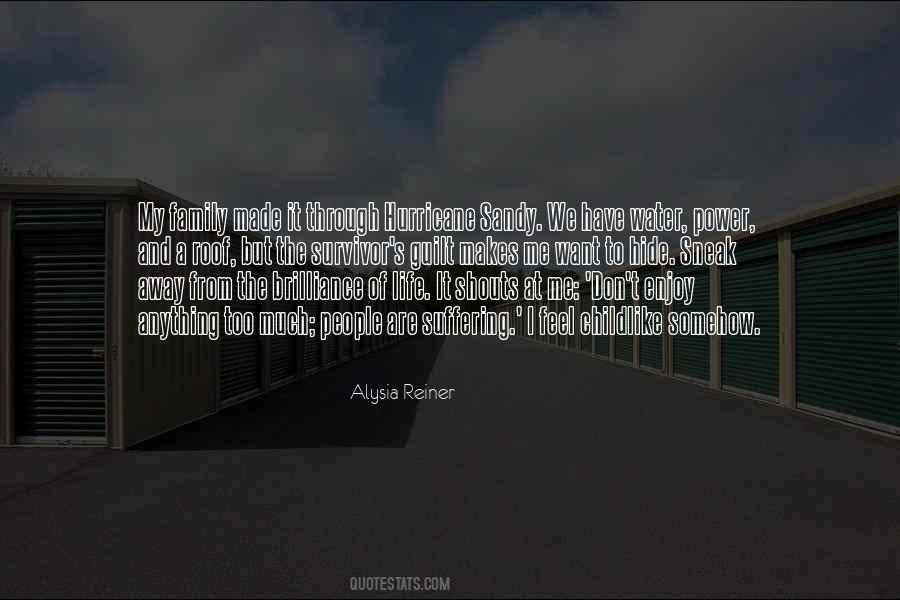 #31. I enjoy my work. The reason I worked so hard all my life is because I want to be making big decisions and managing at the very highest level. - Author: Brendan Rodgers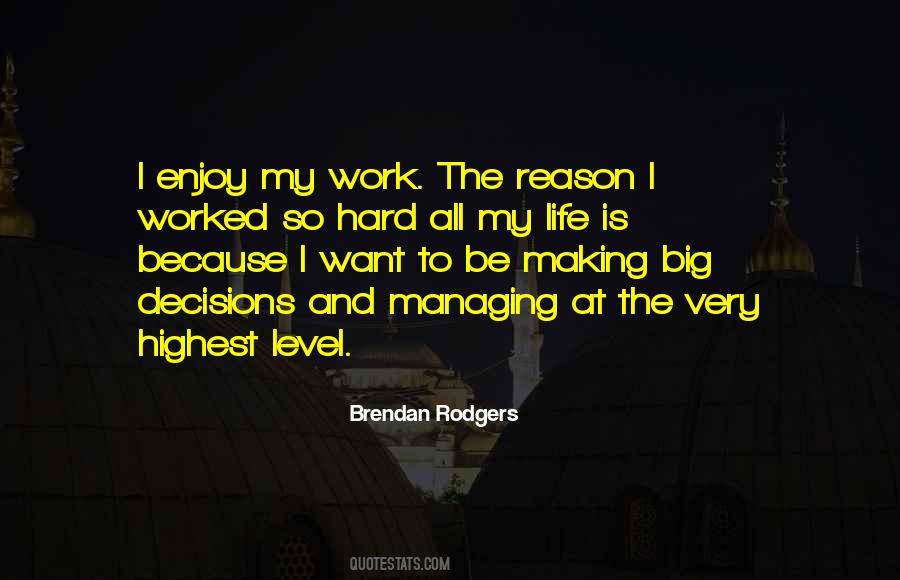 #32. I want fun now, life is here to enjoy, not to complicate and make difficult. - Author: Marc Bolan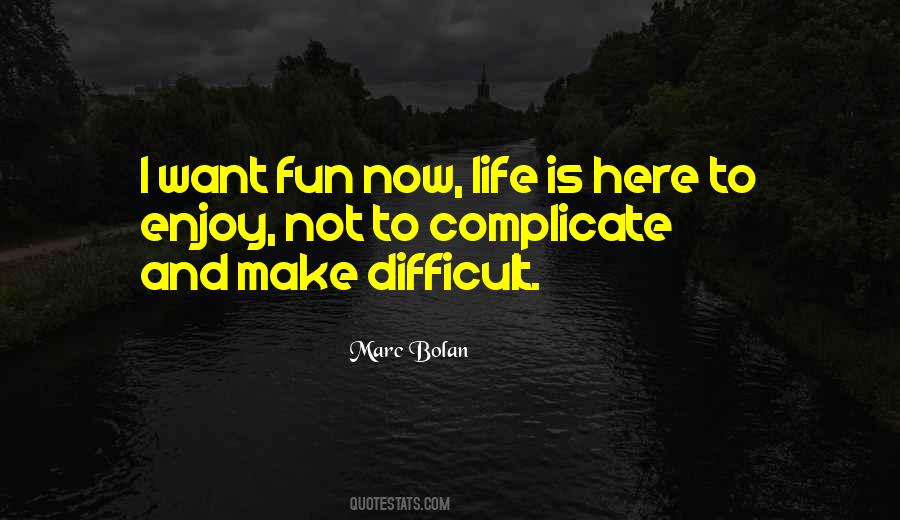 #33. Money lets you enjoy the finer things of life, but it doesn't change who you are. It magnifies and brings into fruition the things that you want to hide most. It is a mask for insecurities as well. - Author: Farrah Gray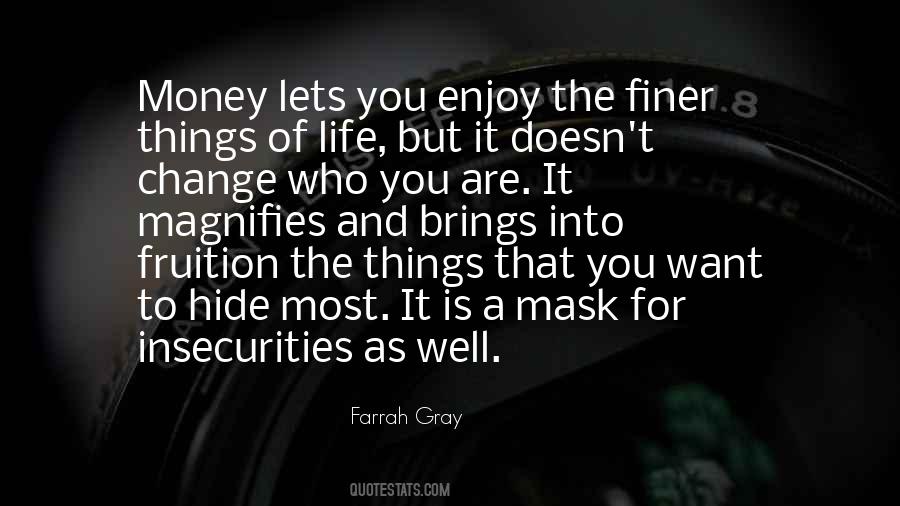 #34. Isn't it interesting how much we dislike the days that allow us to enjoy our weekends? The days that pay. If you don't like Monday's, you're not living your authentic life! You're in the wrong job! What do you really want to do with your life ... ? - Author: James A. Murphy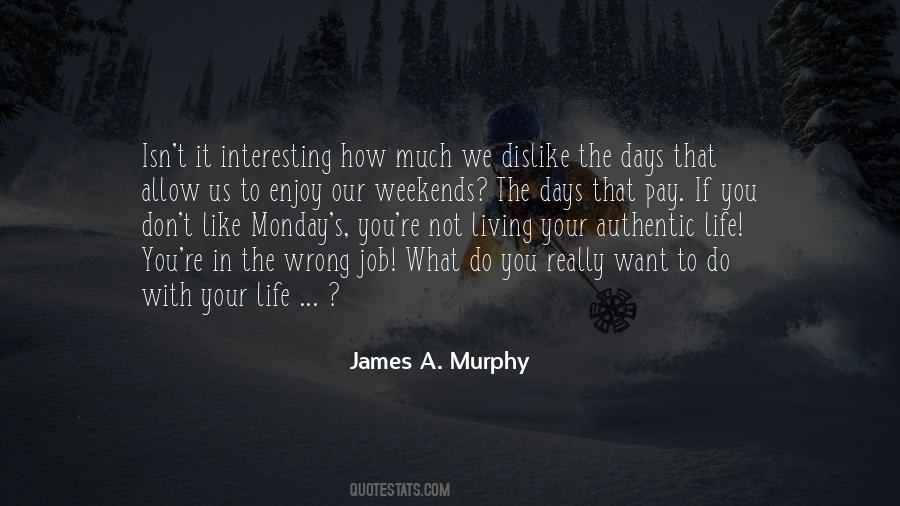 #35. My own mother fought to make herself more than a possession; she lived her life as a mother who chose when she would have children, and a wife who could earn a living if she so chose. I want my daughters to enjoy that same choice. - Author: Mark Ruffalo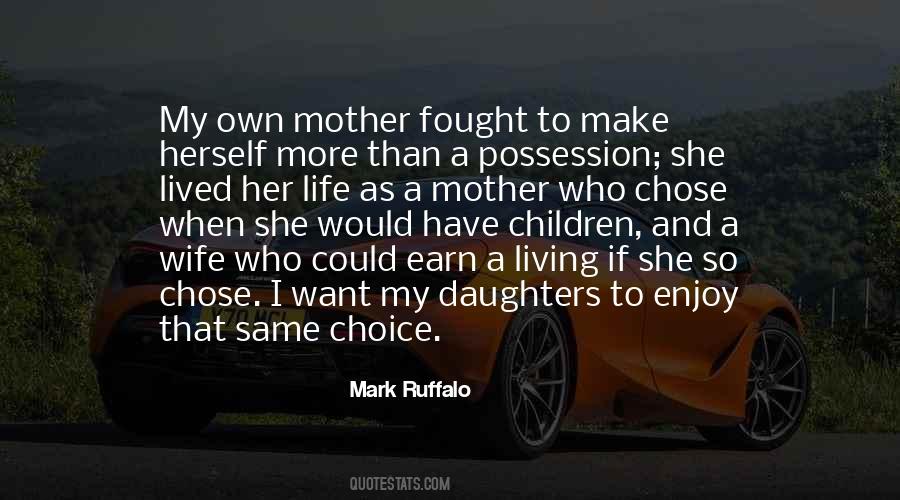 #36. I would always rather be working on the band. All that other stuff is stuff I really enjoy doing, but I don't consider it ... like, I don't want to be a producer. I don't consider that as my life's goal. - Author: Guy Picciotto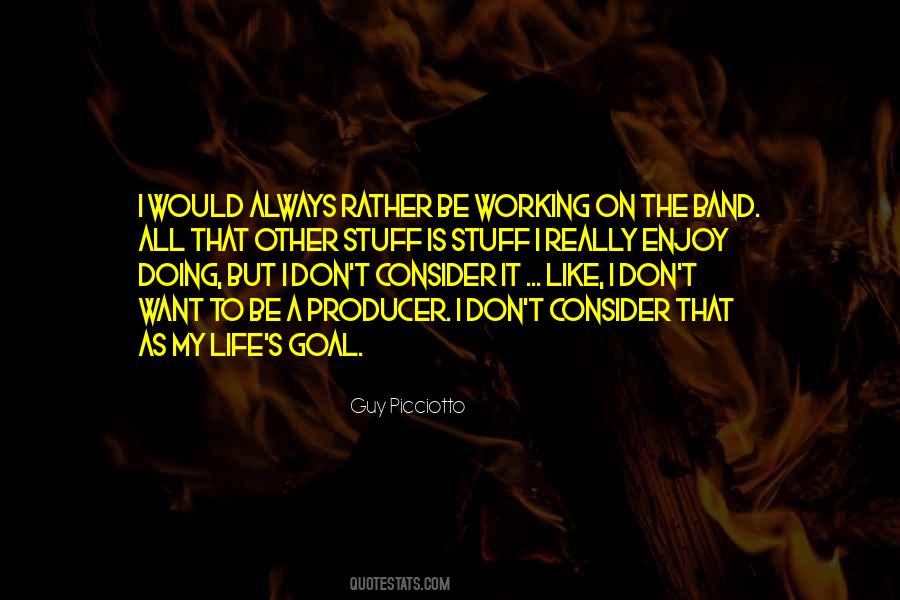 #37. We want to create a society in which our workers and farmers can afford to appear in handsome attire and enjoy a good life and health; we want this kind of society. - Author: Nur Muhammad Taraki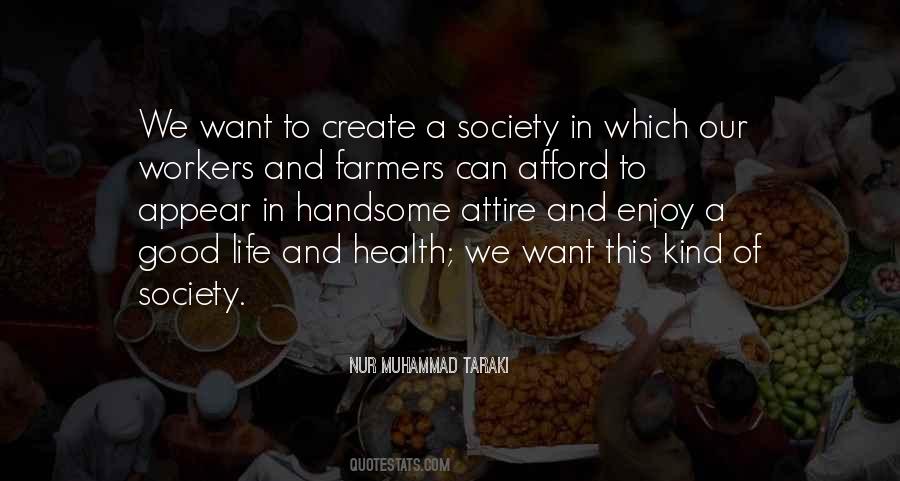 #38. I feel I am lucky. I am grateful for this life that God has given me. I am happy, as I am getting to do work that I want to do and enjoy doing it. - Author: Sonam Kapoor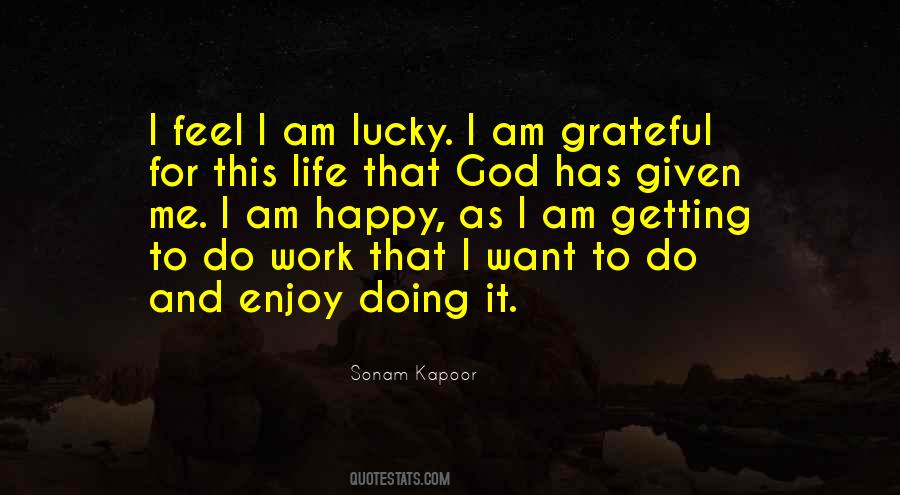 #39. How long do you want to wait until you start enjoying life? When you're sixty-five you get social security. - Author: Neil Simon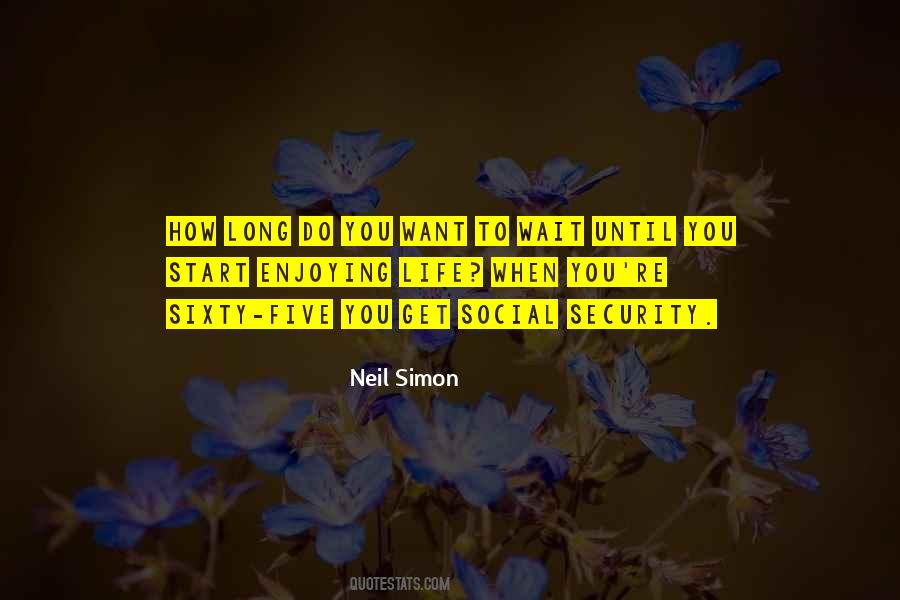 #40. Want to heat up your love life? Do something you don't enjoy doing, but your partner does. And do it with no thought of return ... only out of love. - Author: Toni Sorenson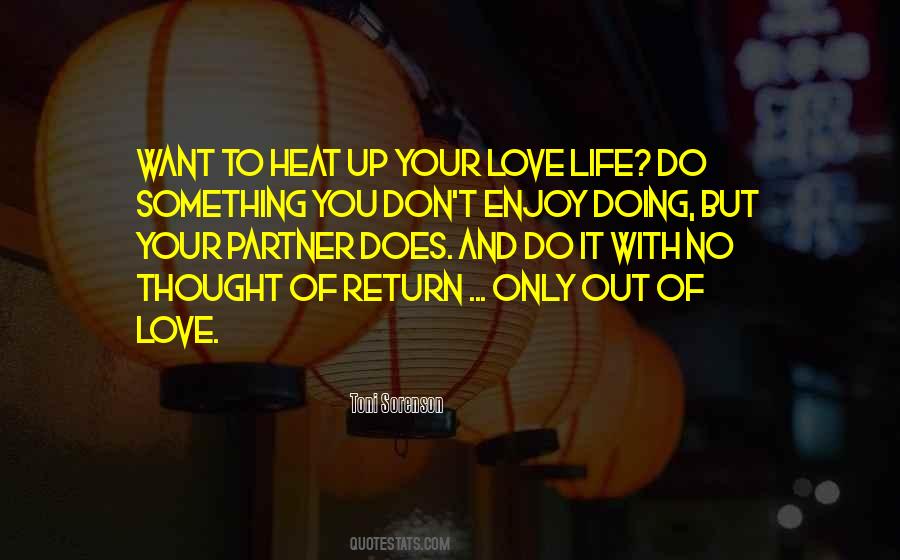 #41. Honestly, a lot of people thought that I was on top of the world selling so many millions of records, and that this is the life that everybody would want, but I never got to enjoy any of my success. - Author: Vanilla Ice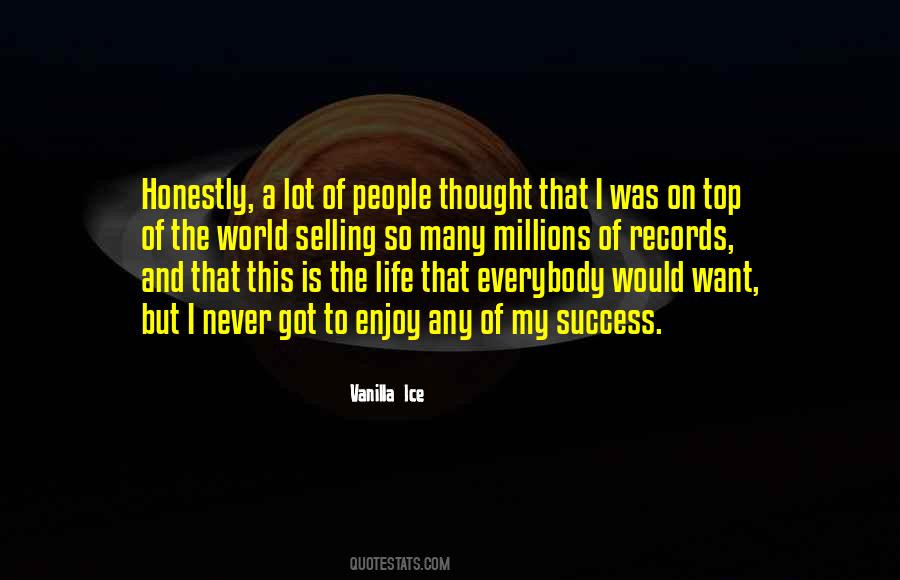 #42. Life continues to flow even if you want to stop for a moment. - Author: Debasish Mridha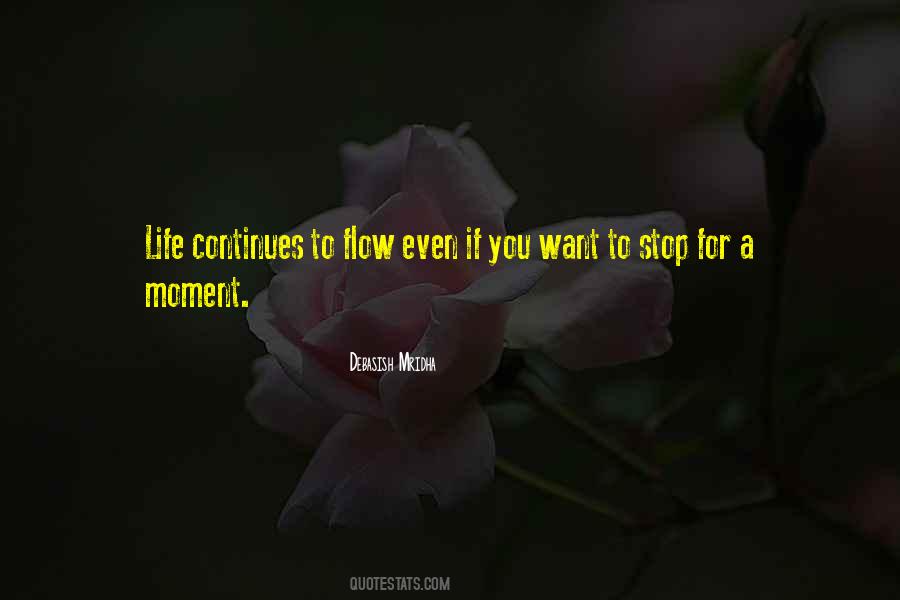 #43. We have to learn how to stop being afraid of people who are different than us, who are supposedly our enemies. We are taught that our enemies are there, not that people want to live in peace. They don't want to fight. They just want to live and enjoy life and accomplish things. - Author: Eytan Fox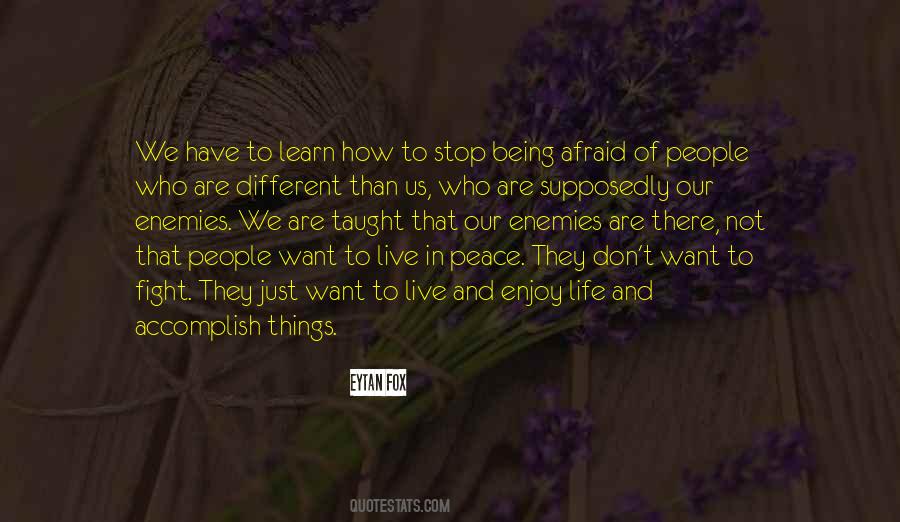 #44. When you've done something for more than a third of your life, your whole adult life, and then all of a sudden you're going to have to switch off and say, 'No more,' you want to grasp as much of it and enjoy the last few years of it as much as you can. Because you can't get those years back. - Author: Brian O'Driscoll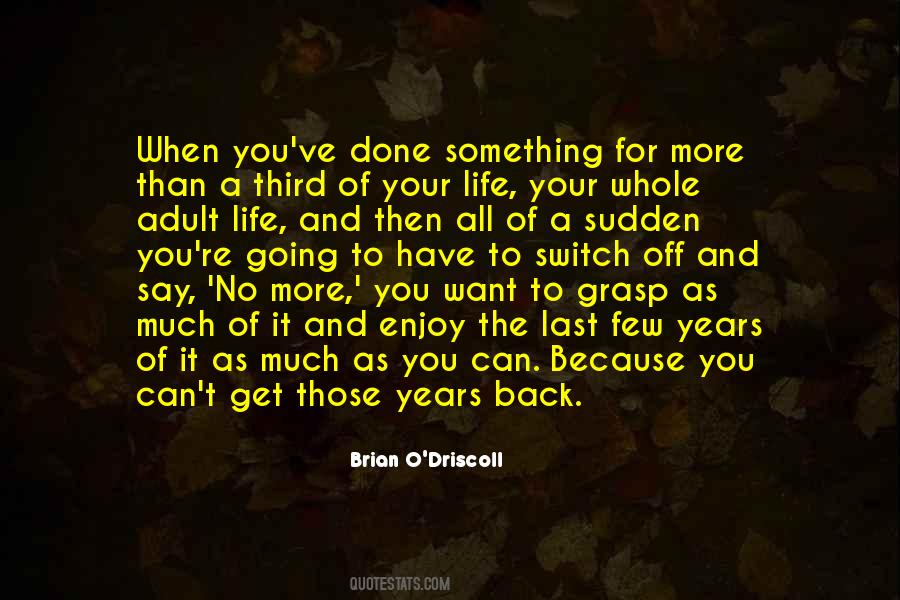 #45. I'm not going to starve just to be thin ... I want to enjoy life and I can't if I'm not eating and miserable. - Author: Kate Upton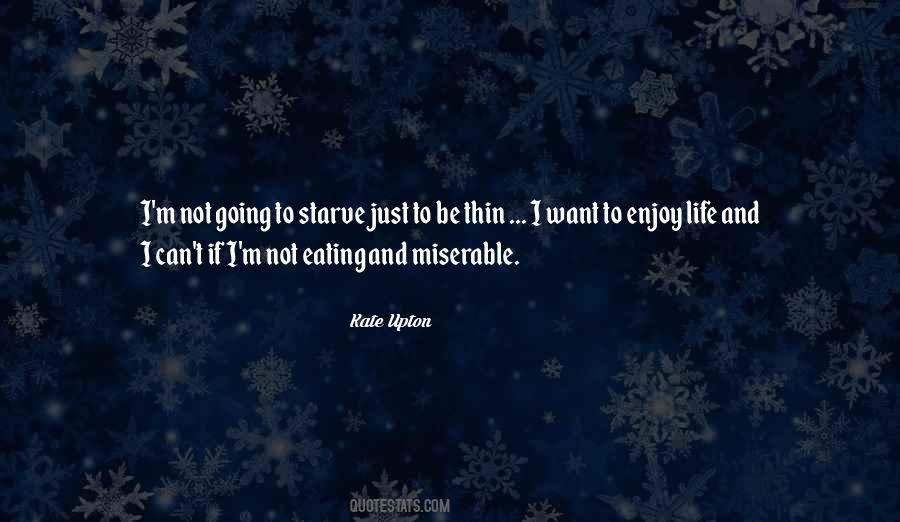 #46. A lot of us don't want to be quite that serious about world problems. Our life is there to enjoy, not to be an eternal dissident, eternally unhappy with how things are and with the state of mankind. - Author: Robert Sheckley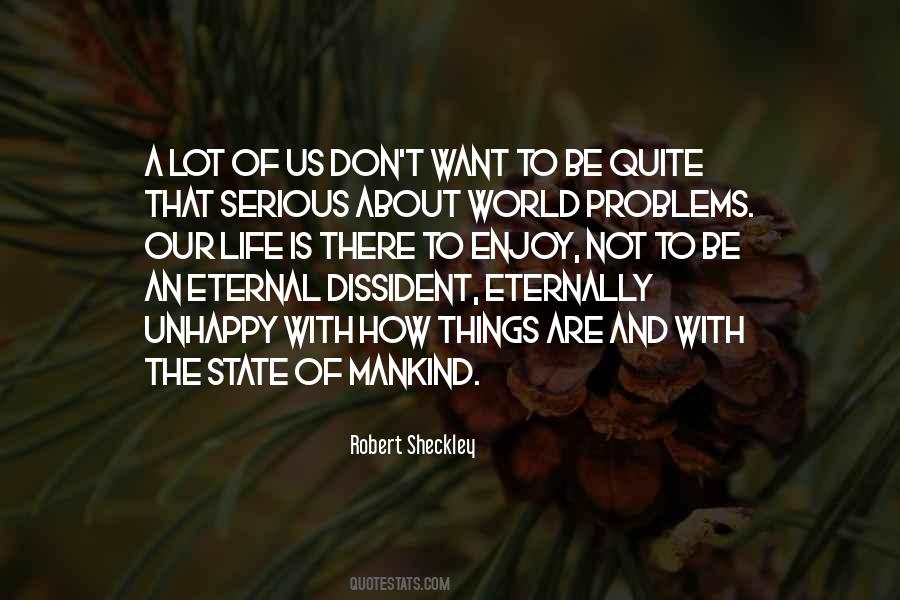 #47. Oh my Valentine! I want to wake up and enjoy every sunrise with you and vanish into your hand at the sunset of my life. - Author: Debasish Mridha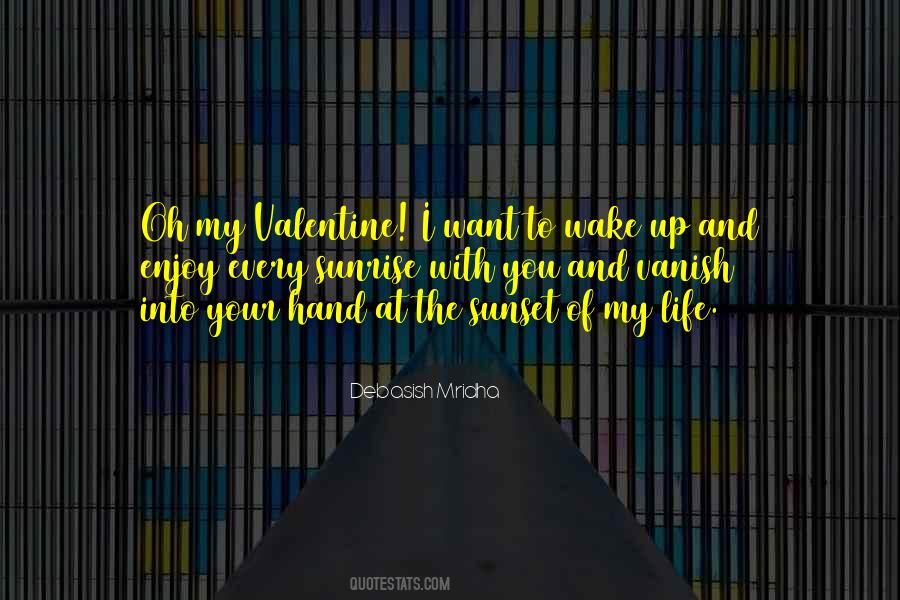 #48. The misfortune in the state is, that nobody can enjoy life in peace, but that everybody must govern; and in art, that nobody will enjoy what has been produced, but that every one wants to reproduce on his own account. - Author: Johann Wolfgang Von Goethe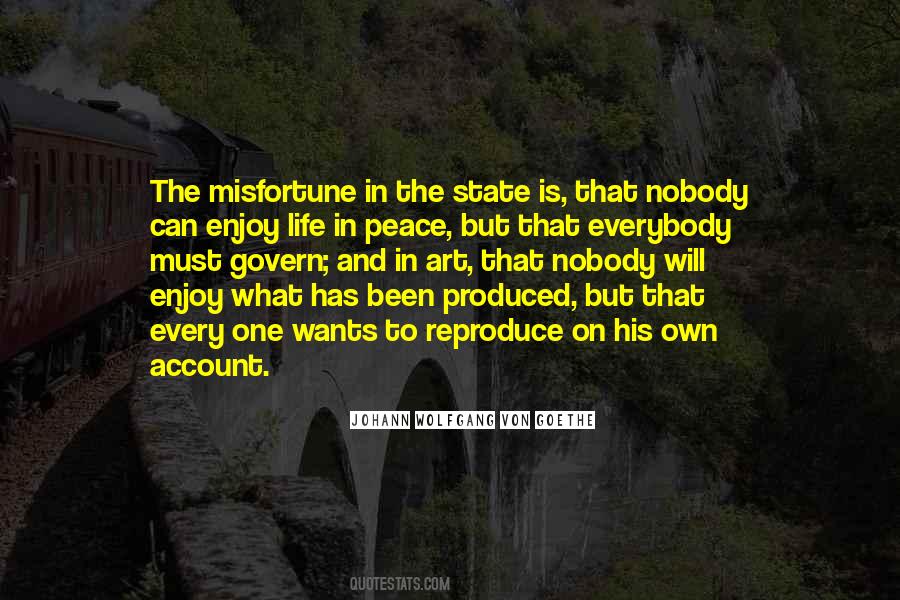 #49. What I've learned is I want to enjoy my life, and food is a big part of it. - Author: Gwyneth Paltrow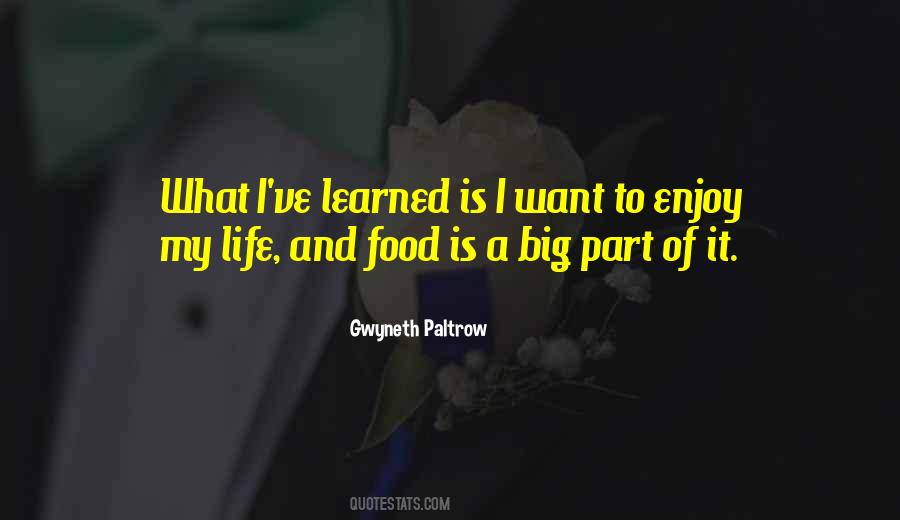 #50. Life is serious, but I do think that God wants us to enjoy the things He's given us, like music. - Author: TobyMac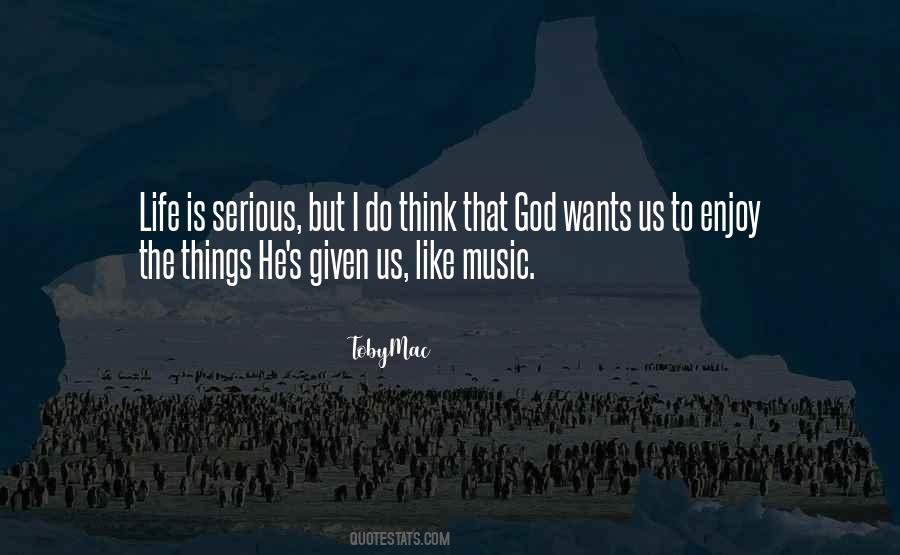 #51. I'm more interested in my life than I am in my career. I don't want to not work. I do enjoy working, but not to the point where that's the only thing I focus on. - Author: Rachel Ticotin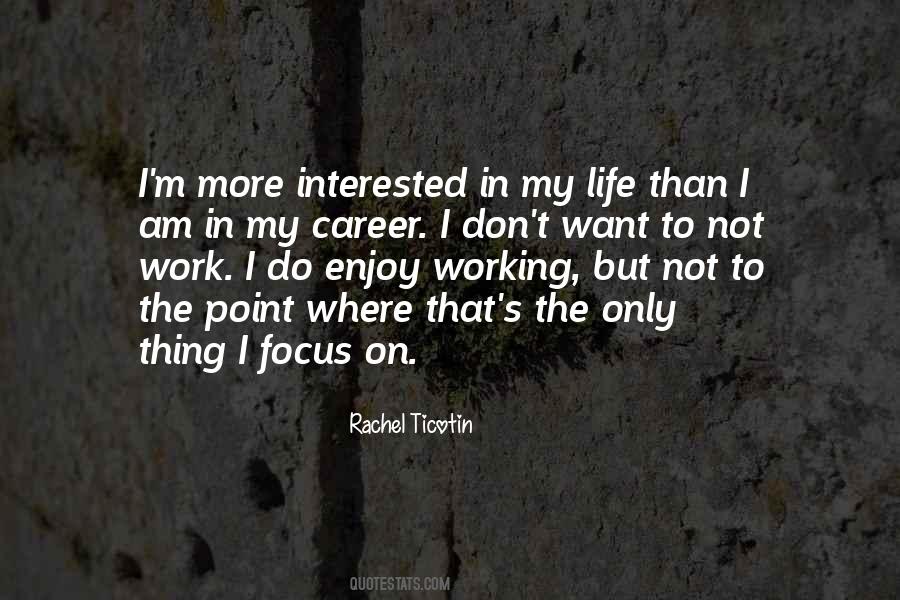 #52. I spent 15 years on the road between touring and recording and I never saw anything. I want to enjoy life. - Author: Gloria Estefan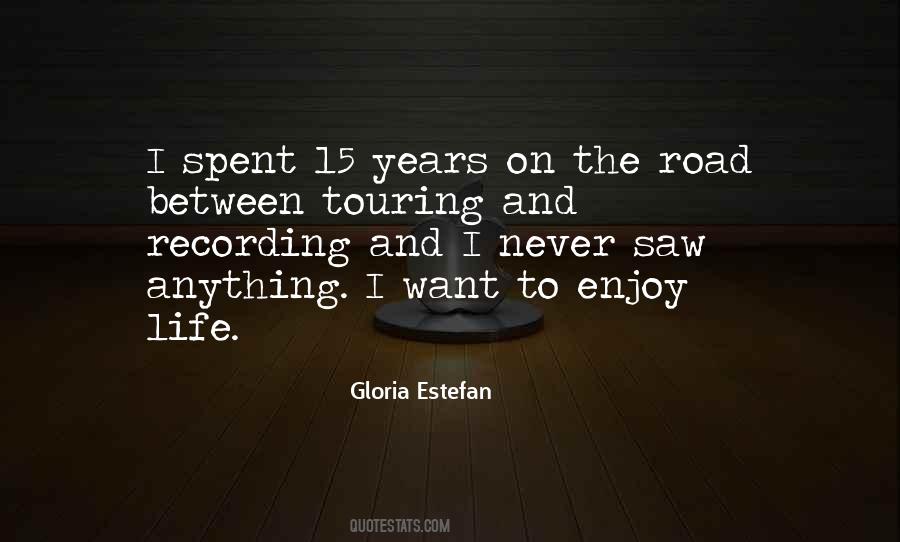 #53. The spark of life is not gain. Nor is it luxury. The spark of life is movement. Color. Love. And furthermore ... if you really want to enjoy life, you must work quietly and humbly to realize your delusions of grandeur. - Author: Mark Helprin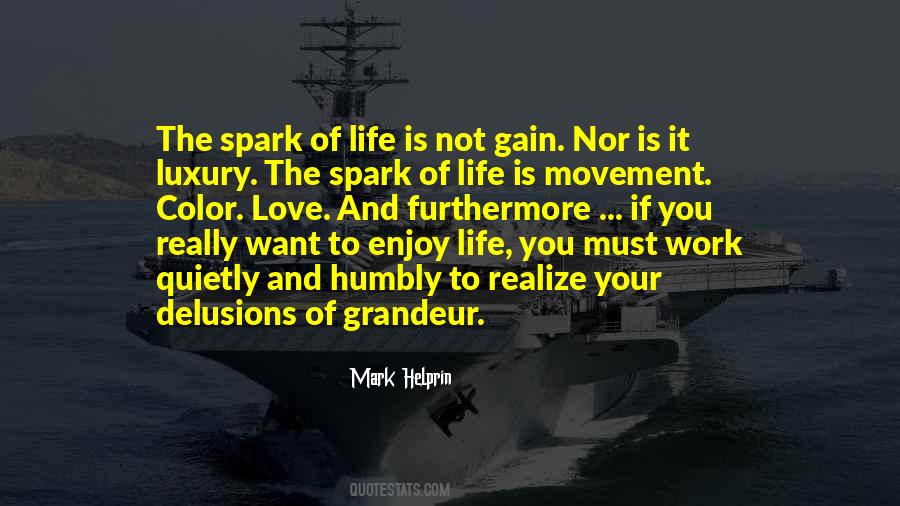 #54. I realize that humor isn't for everyone. It's only for people who want to have fun, enjoy life, and feel alive. - Author: Anne Wilson Schaef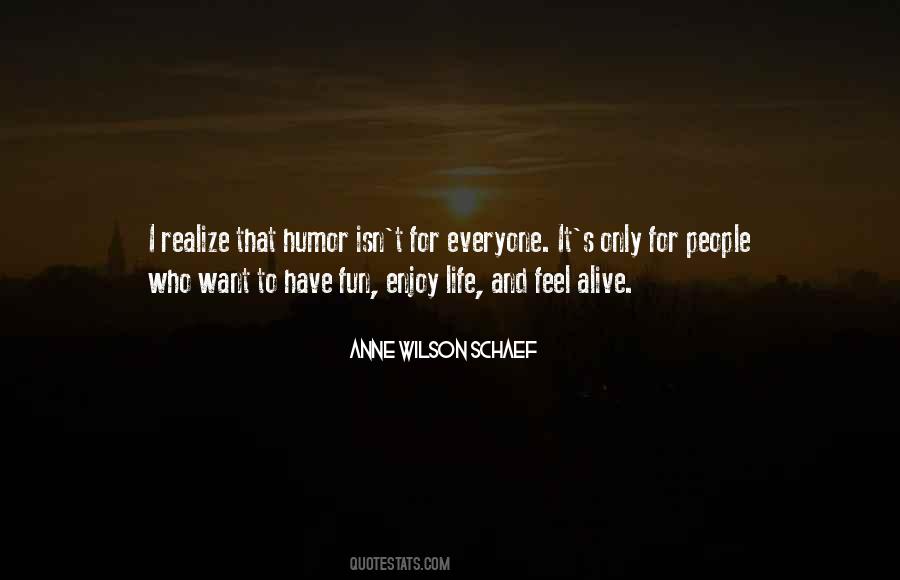 #55. If you want to make room in your life for peace and patience, take small steps on organization, know the value of time. Snatch, seize and enjoy every minute of it! - Author: Emilie Barnes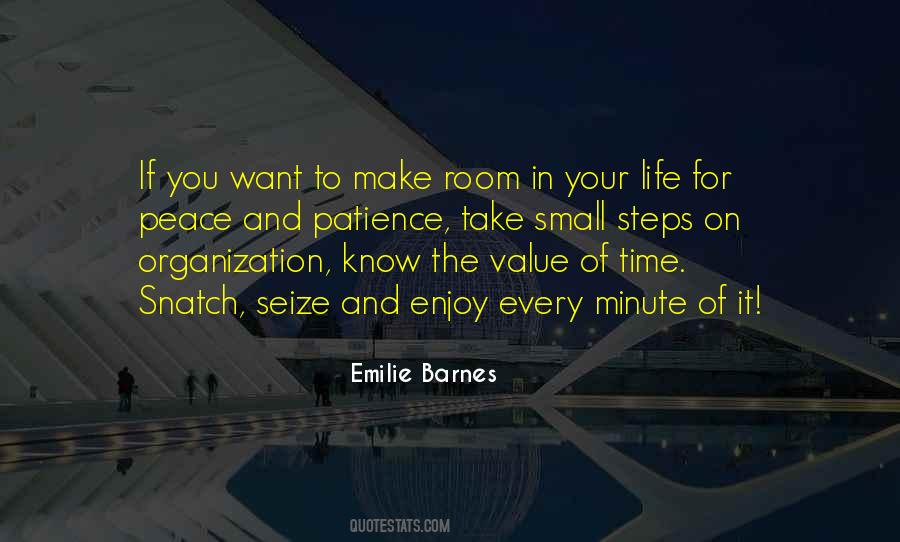 #56. We all die, Damian. Before I do, I want to love with all my heart. Give all I have, experience all I can, and leave behind some piece of me that will never be forgotten. I want to enjoy the time I have left. I'm choosing life. Moments. Memories. For you. - Author: D. Nichole King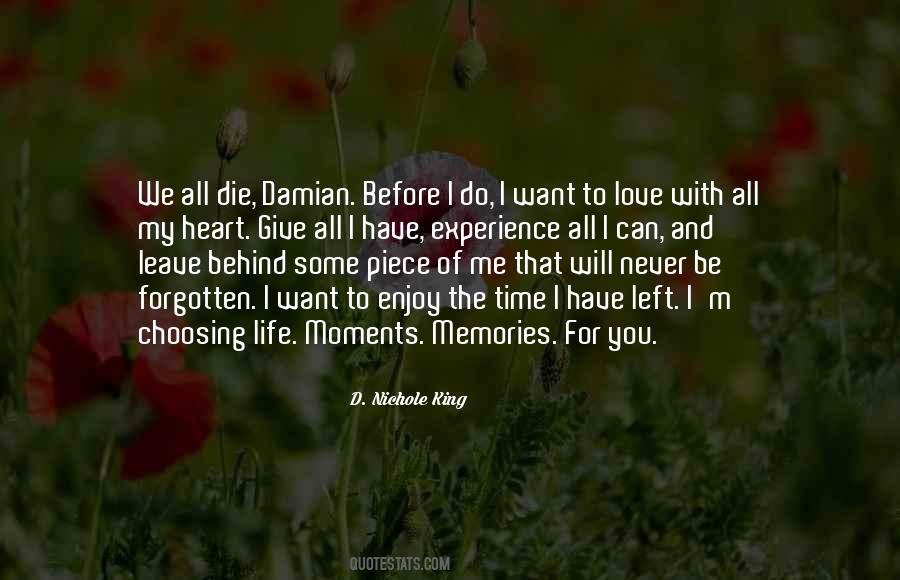 #57. I'm active, but I just don't like being hungry or feeling like I've deprived myself. I want to enjoy life. - Author: Suki Waterhouse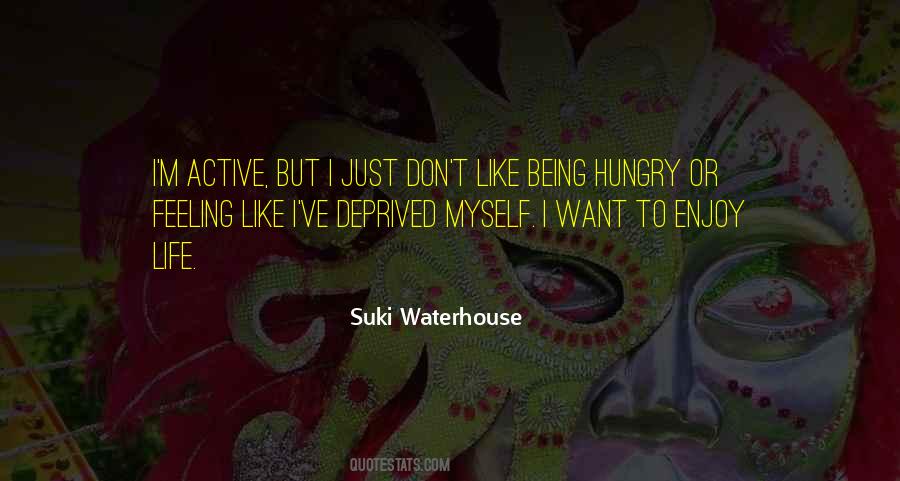 #58. My ambition is to enjoy my life and to do exactly what I want to do. And I'll do that. I will be free. - Author: Venus Williams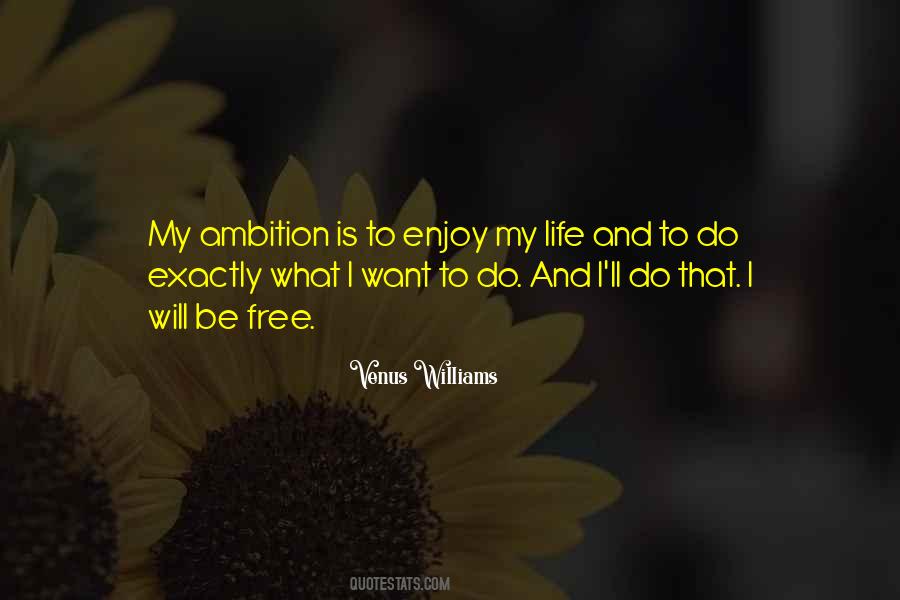 #59. You don't want to be the first person to tell your 5-year-old, like, 'You're going to have a life filled with disappointments and letdowns - enjoy!' - Author: Maya Rudolph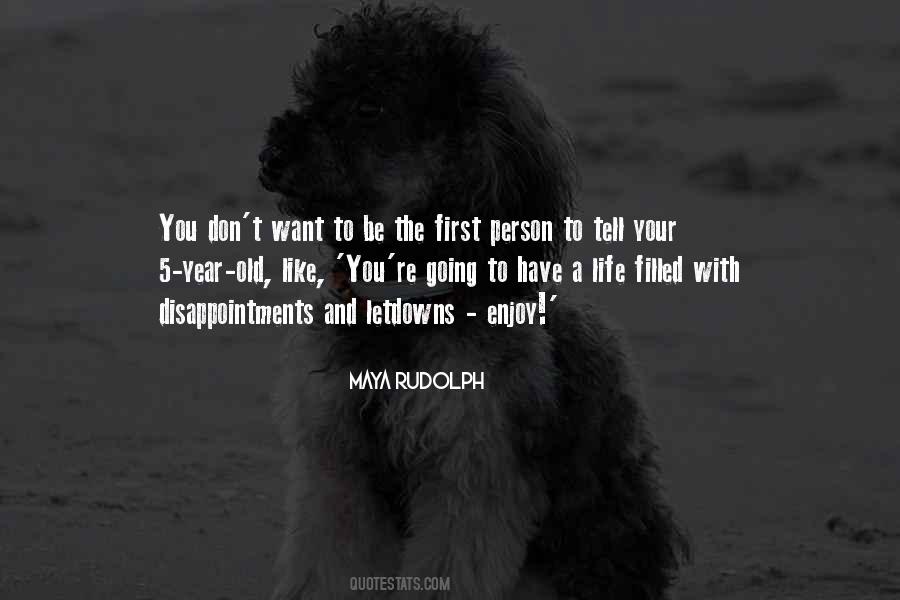 #60. I didn't want to be famous. I just wanted to earn enough money to have a nice life and enjoy acting. - Author: David McCallum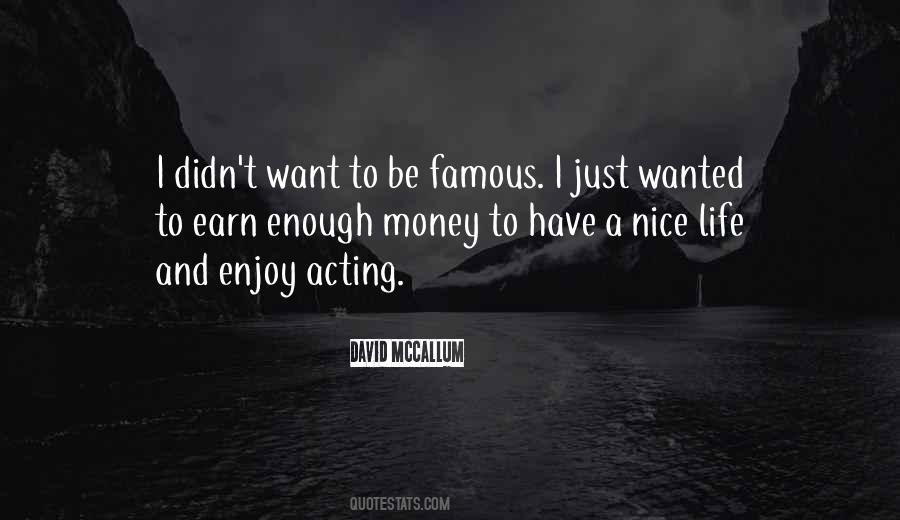 #61. I want you to feel happy and enjoy the theatre of my life the way that I do. No matter what happens with my music and wherever I go - that heart of that glamorous girl in New York will never be gone. - Author: Lady Gaga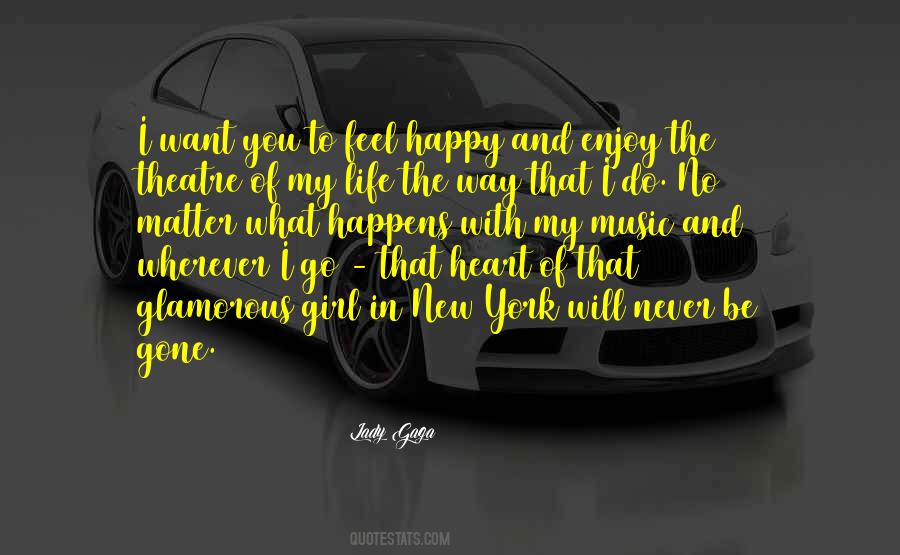 #62. Then when I heard the story of Who Moved My Cheese?, I realized my job was to paint a picture of 'New Cheese' that we would all want to pursue, so we could enjoy changing and succeeding, whether it was at work or in life. - Author: Spencer Johnson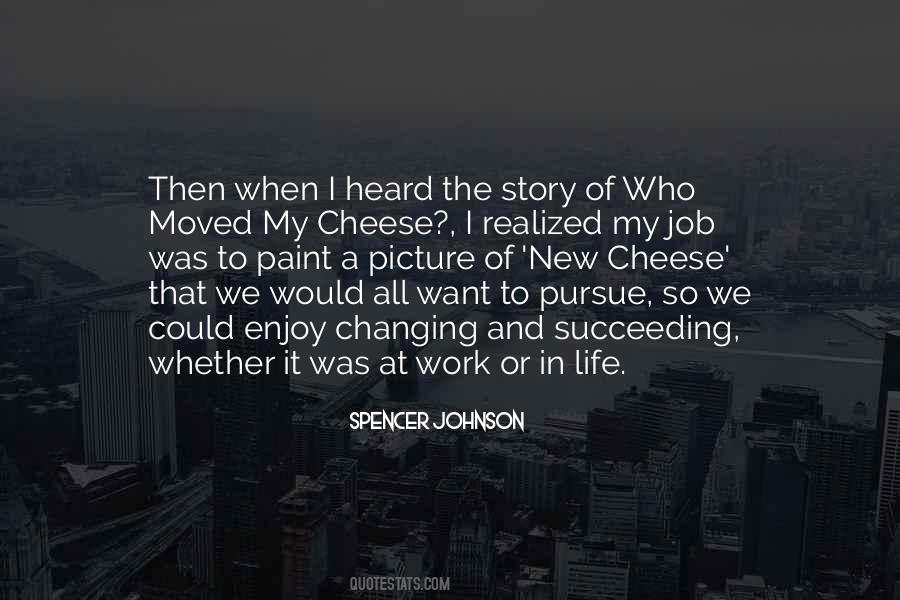 #63. I quite enjoy the lines on my forehead because they show my life. That's my history and I like to see that in other people. Like this wrinkle is due to some girl who broke my heart. I don't want to escape it in any way. - Author: Michael Fassbender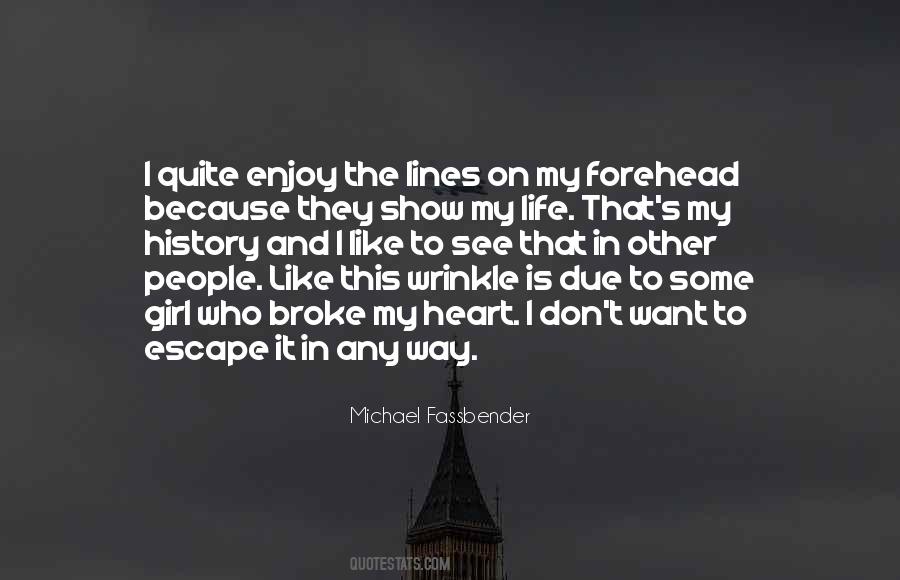 #64. Work hard now and reap the benefits later!
^^^ so wrong!
Work hard later and rip the benefits now!
(What do you want to do when you grow old, travel the world? Instead, get a cosy work place and enjoy the safe life!) - Author: Bogdan Vaida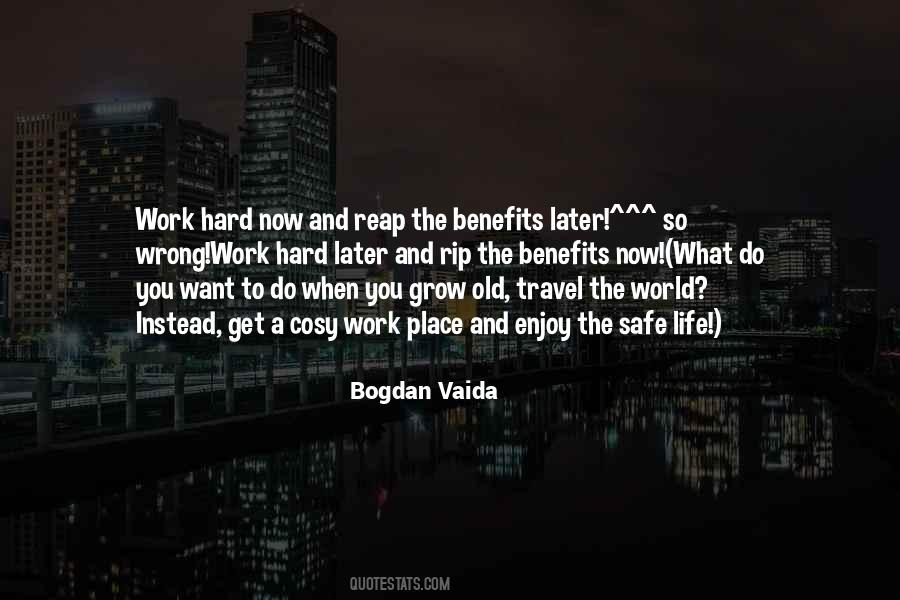 #65. The key is to enjoy life, because they don't want you to enjoy life. - Author: DJ Khaled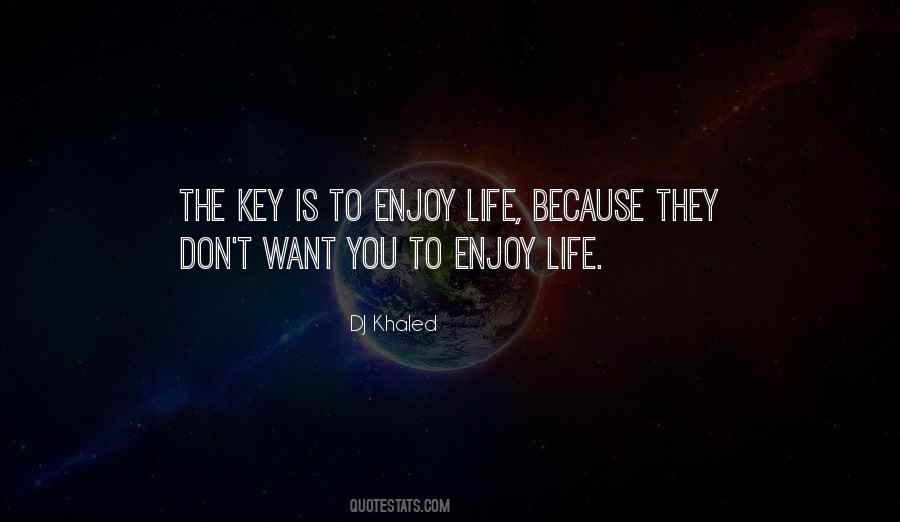 #66. Tragedy of life: we want to possess more material wealth, but fail to enjoy the spiritual riches. - Author: Lailah Gifty Akita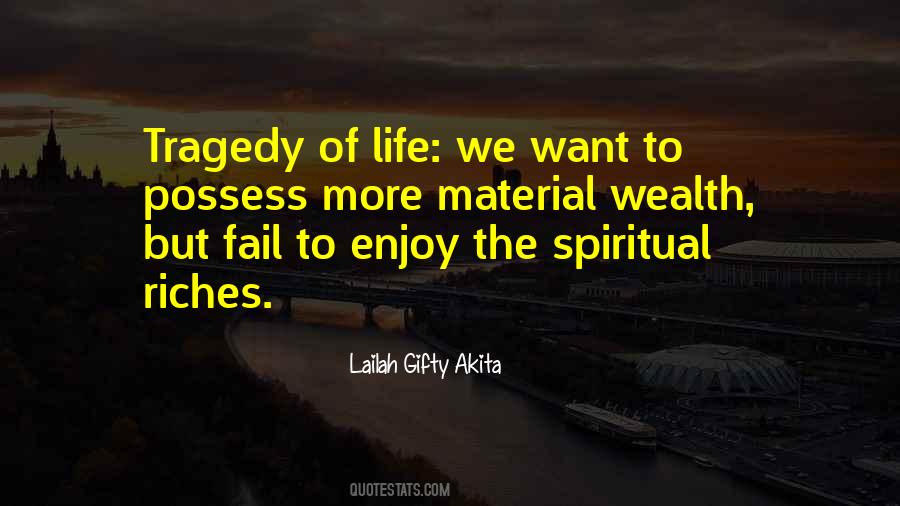 #67. I enjoy being a character actor; I enjoy being different in everything. I want a private life; I want to be able to go to 7-11 and not get into a fight with a guy because he saw me in a movie, or not have people hitting on me simply because they saw me in a movie. - Author: Alexis Arquette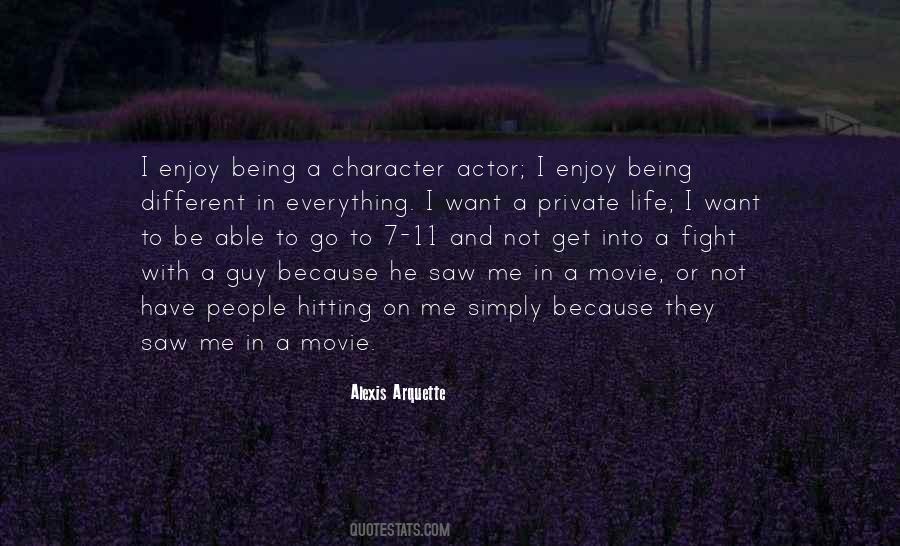 #68. I would want to know that my daughter is going to enjoy a long, happy and healthy life. - Author: Melissa Harris-Perry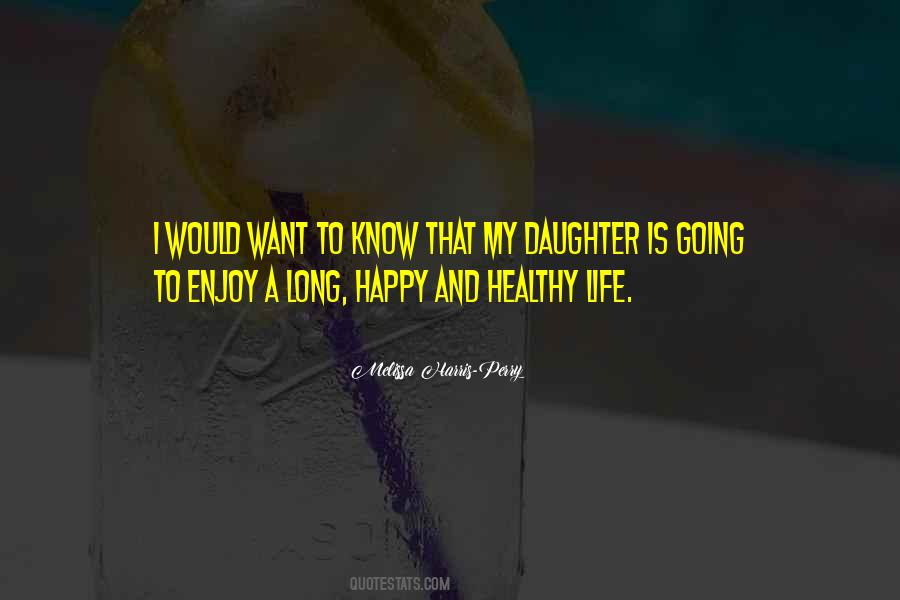 #69. I don't enjoy the life of an actress, but I don't want to go into that. - Author: Claire Bloom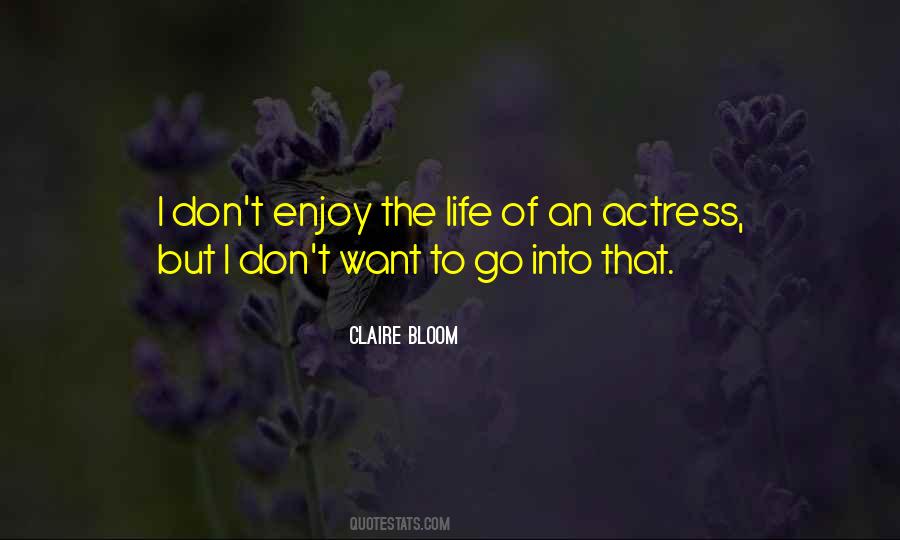 #70. We are bombarded on all sides by a vast number of messages we don't want or need. More information is generated in a single day than we can absorb in a lifetime. To fully enjoy life, all of us must find our own breathing space and peace of mind. - Author: James E. Faust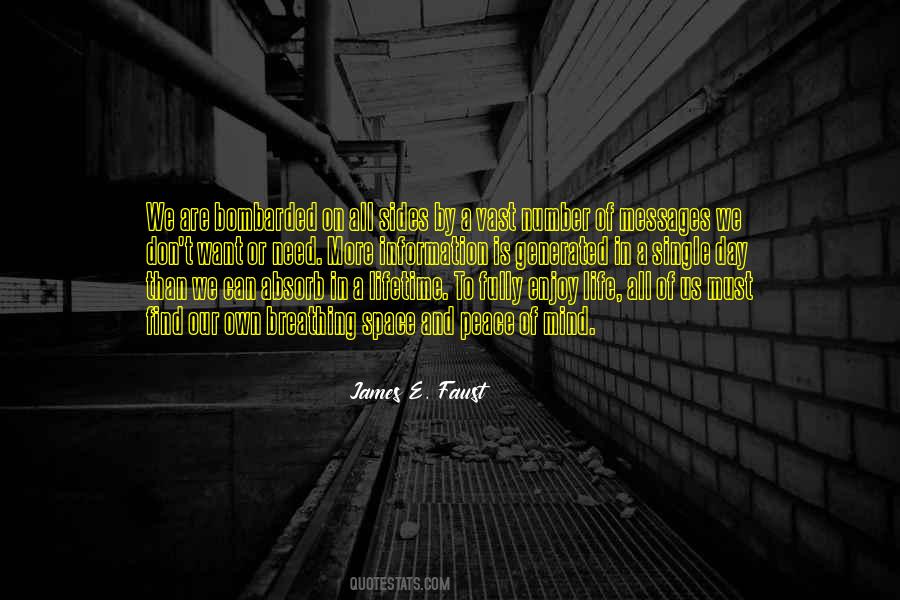 #71. Pick the day. Enjoy it - to the hilt. The day as it comes. People as they come ... The past, I think, has helped me appreciate the present, and I don't want to spoil any of it by fretting about the future. - Author: Audrey Hepburn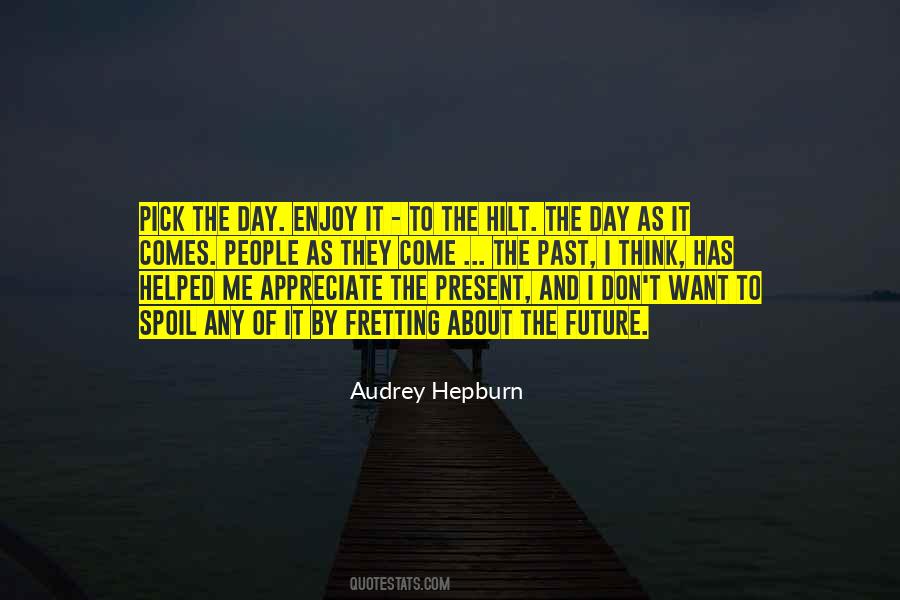 #72. The biggest rewards in life are found outside your comfort zone. Live with it. Fear and risk are prerequisites if you want to enjoy a life of success and adventure. - Author: Jack Canfield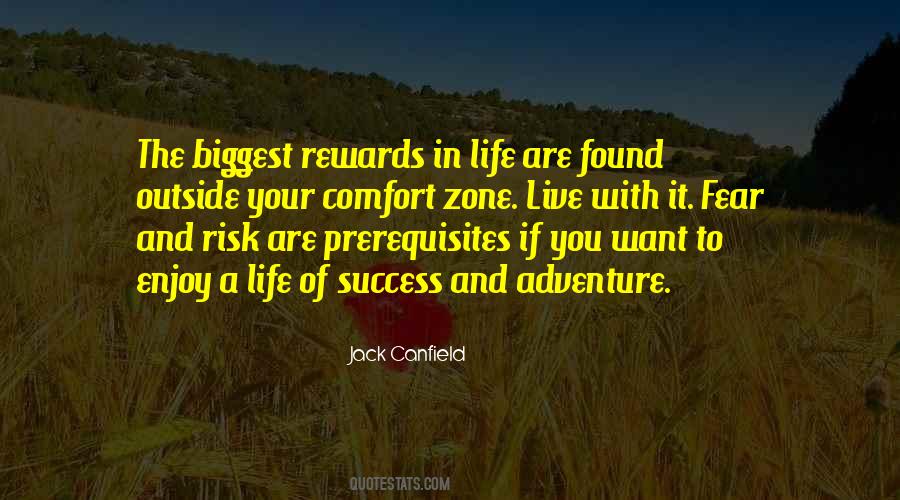 #73. You probably have the ability to get what you want. And you likely have everything you need to be completely satisfied. But do you also have the ability to want what you've got? That just may be one of the most important questions you will ever answer. - Author: Steve Goodier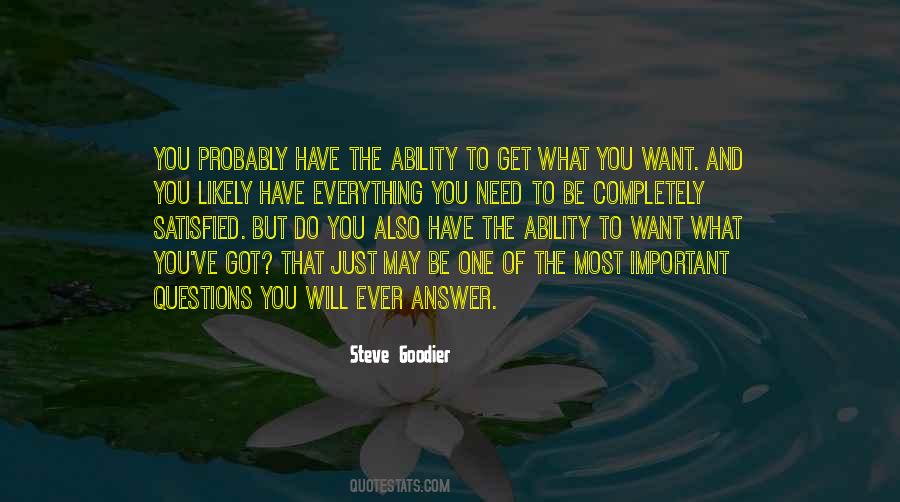 #74. If there is an effect in your life that you want more of, you merely need to trace it back to the causes and
repeat the causes. If there is an effect in your life that you do not
enjoy, you need to trace it back to the causes and get rid of them. - Author: Brian Tracy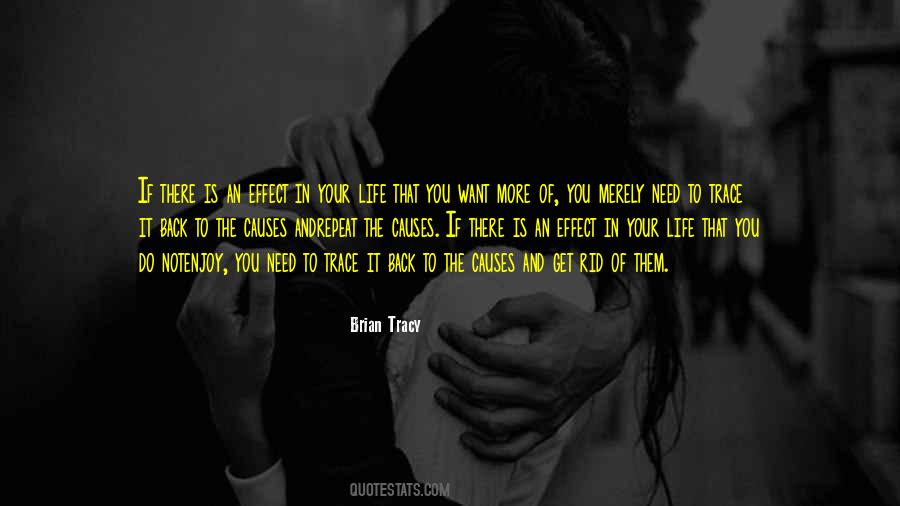 #75. You might want to decide fast. We live in a dangerous world. If you see a chance to be happy, you have to fight for it, so later you have no regrets. - Author: Ilona Andrews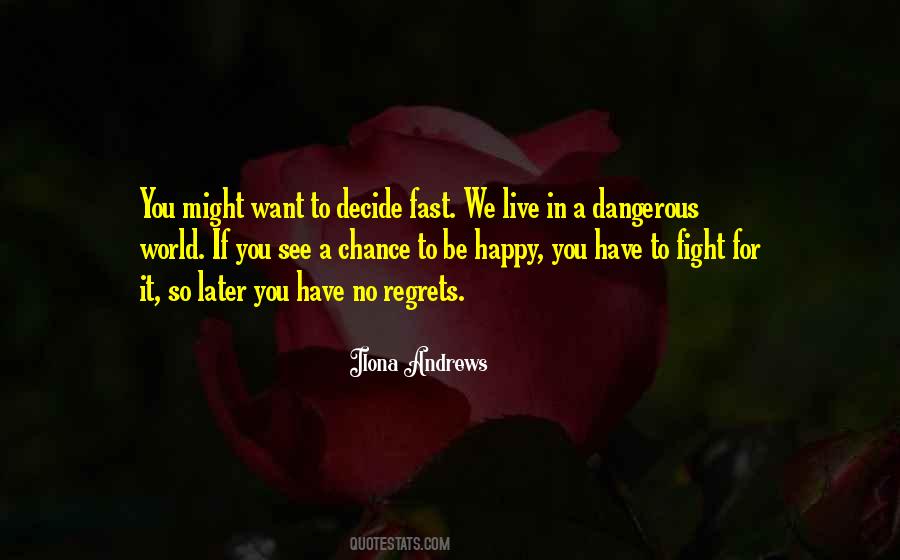 #76. Time. Either you are for it or against it. So be here now. Not later. Do what you want to do, and with the people you love. Learn to appreciate time and make doing so a habit. And if you want to do nothing, then enjoy doing it well. Why do anything by half? Why live a life diluted? What's the use? - Author: Carew Papritz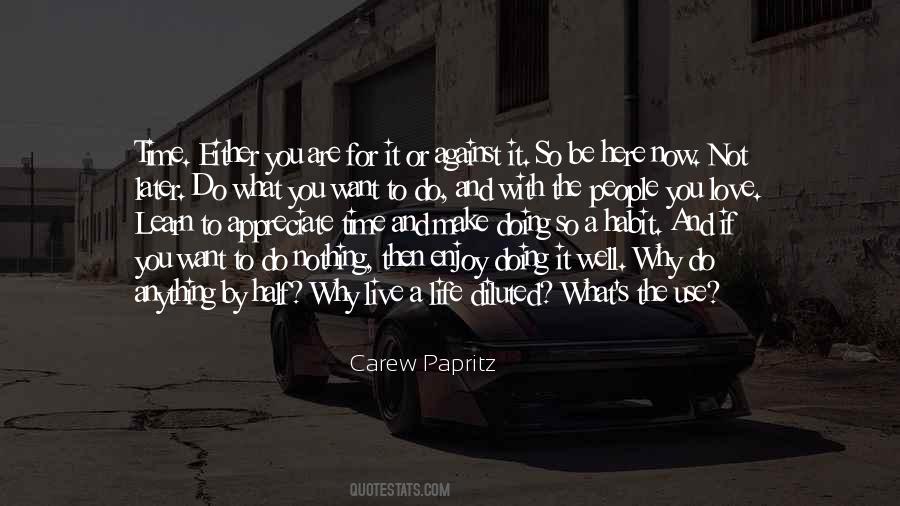 #77. I don't really make plans and I just want to be happy and continue with my business and take care of my wife and kids. I want to sit back, relax and enjoy life. - Author: Larry Holmes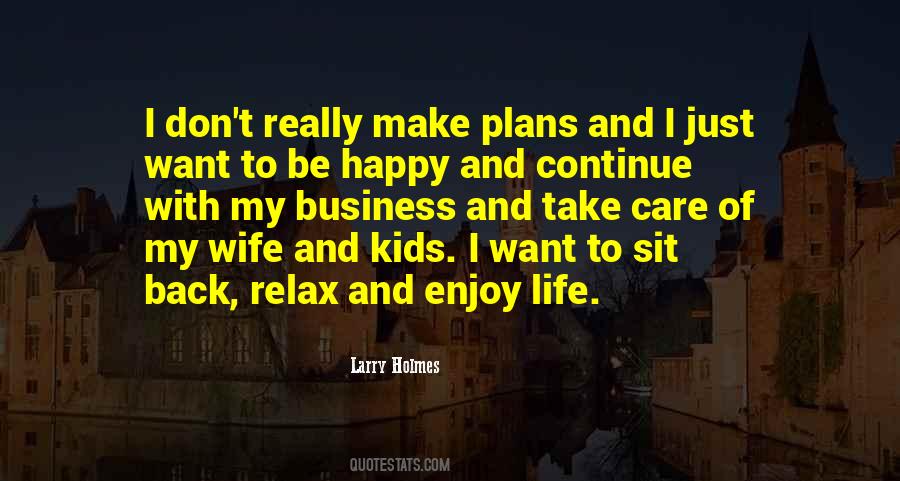 #78. We can let ourselves enjoy life. If we want something and can afford it, buy it. If we want to do something that is legal and harmless, do it. When we're actually involved with doing something that is recreational, don't find ways to feel bad. Let go and enjoy life. - Author: Melody Beattie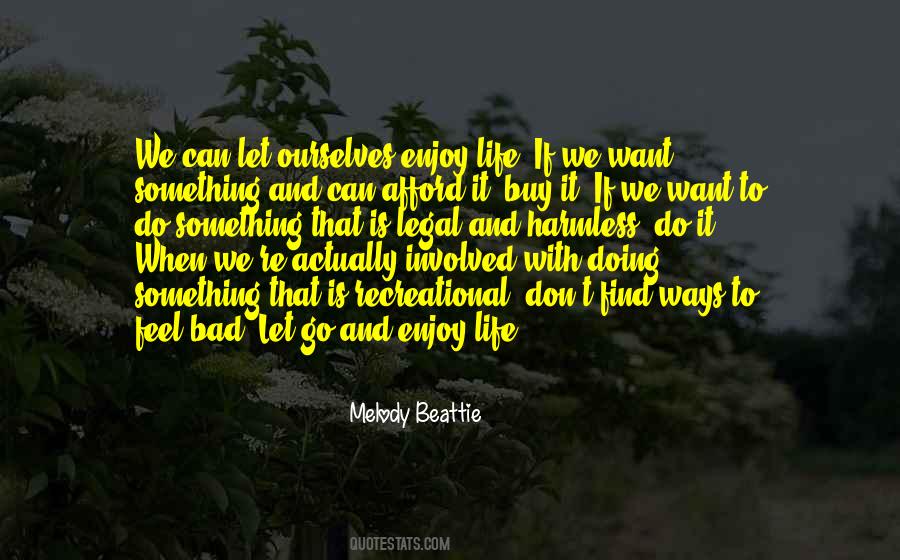 #79. I want to live like a kid,
Away from bothering about others,
Smile without reason but true from heart,
Cry little harder instead of keeping hard things inside,
Stand up again with more determination when i fall,
And enjoy the gift of life by sharing gift of smile with others. - Author: Nitish Sharma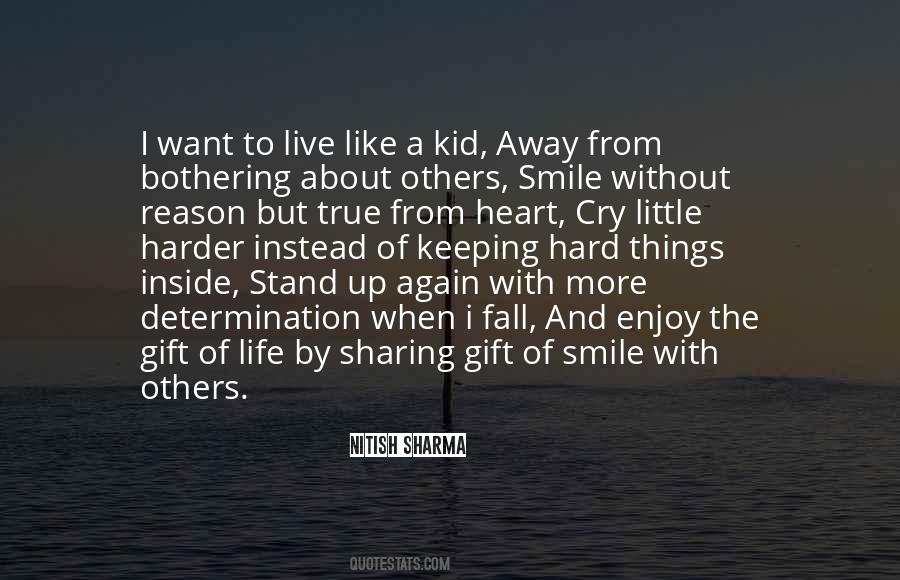 #80. I feel a lot older than I am but at the same time I don't want to play too old on T.V. I still want to be young. I still want to be 20 and enjoy this period of my life where I still have that flexibility. - Author: Leven Rambin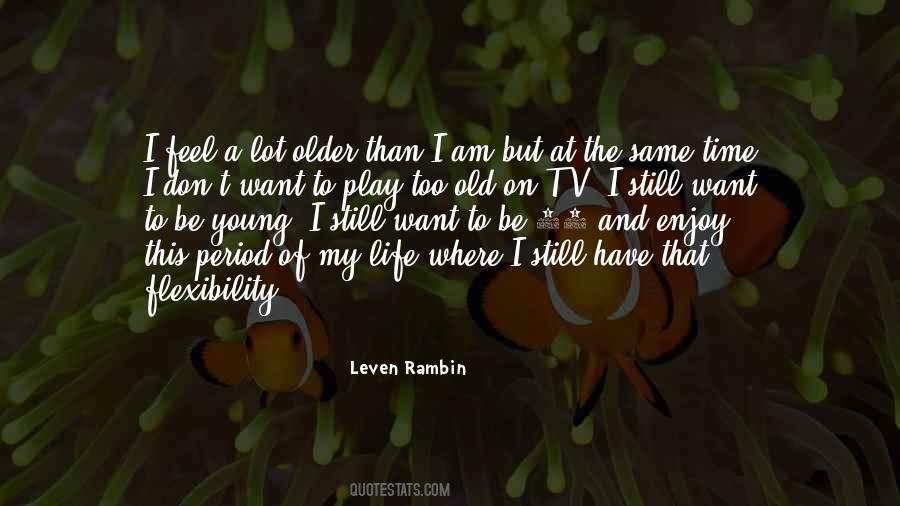 #81. It would be nice if I was remembered at all. I don't really care about being remembered. I just want to enjoy my life today and do my best while I'm here. I'm not that ambitious, other than to have a good life now. - Author: Sean Lennon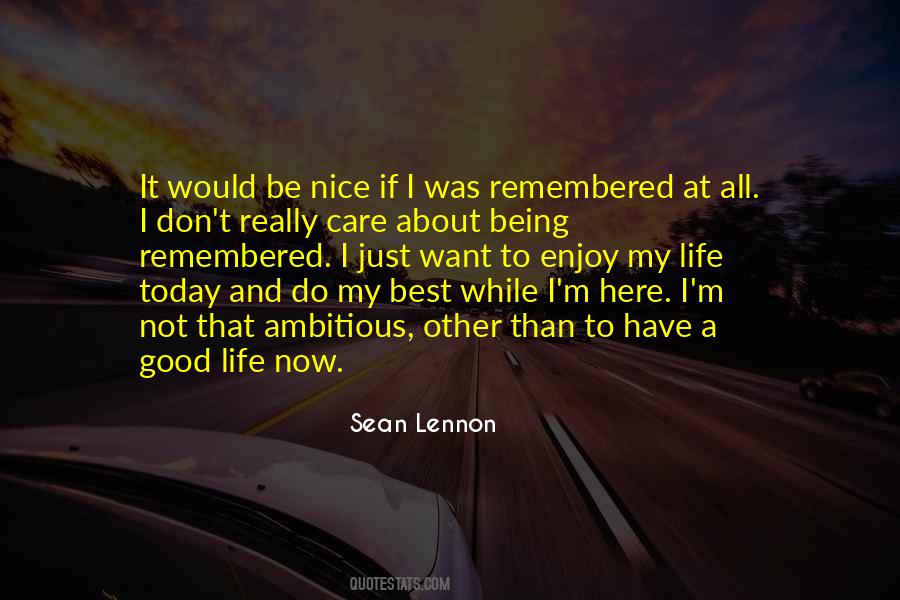 #82. Enjoy your life. God gave us our bodies as a gift. (Granted, to some of us it's kind of a gag gift, but that's okay too.) Wear what you want, love who you want, and have fun. - Author: Ellen DeGeneres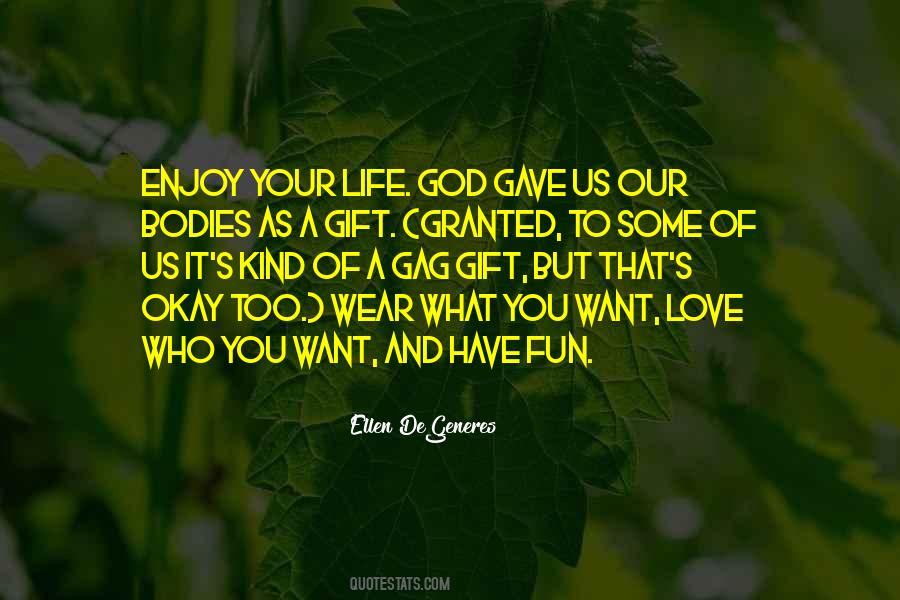 #83. I just want to be happy, have kids, enjoy my life, help others and create some good work. - Author: David Walliams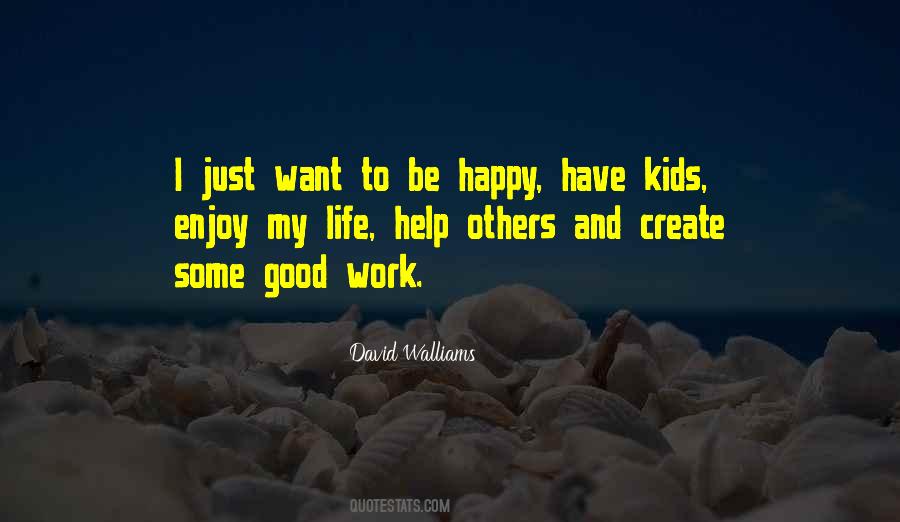 #84. When you think about those of us that live the life that we want to live, we can thank absolutely and completely our men and women in uniform. Because if it were not for them, we wouldn't enjoy the freedoms that we have. - Author: Wayne Newton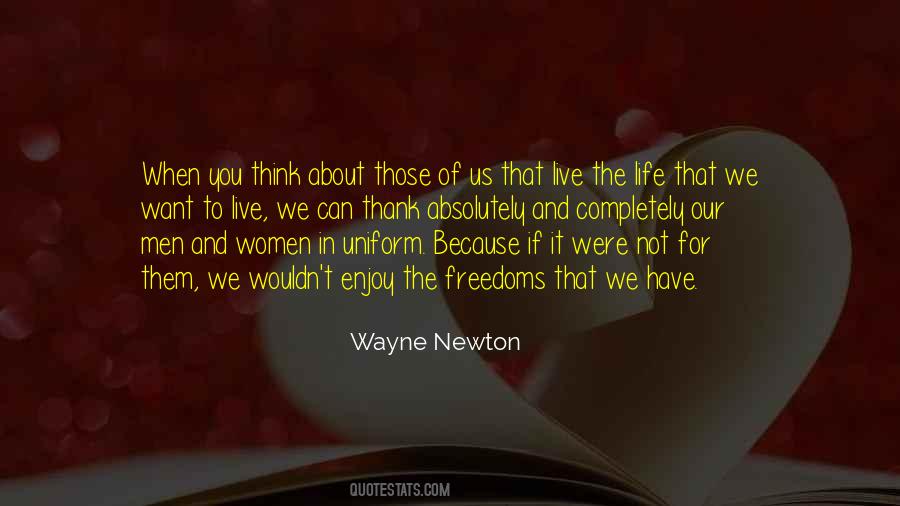 #85. Whatever your situation, God wants to heal you, strengthen you, and lead you to a place where you can enjoy life again. - Author: Joyce Meyer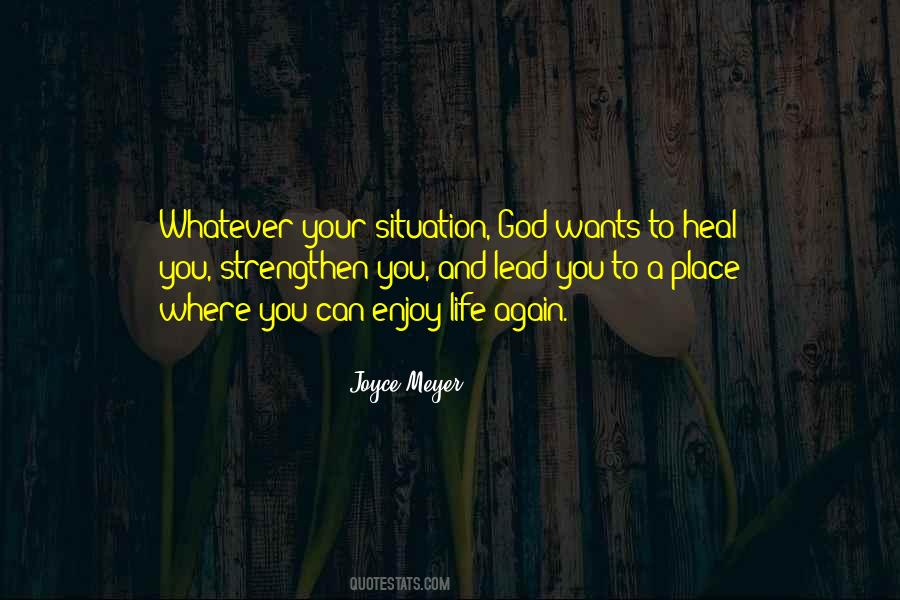 #86. As long as I'm enjoying what I'm doing, then that's fine. That's what I want. I want to enjoy life. We're only here for a small ride, so it may as well be a good one. If I can go to work enjoying what I do, then my life becomes a very nice one. - Author: Aneurin Barnard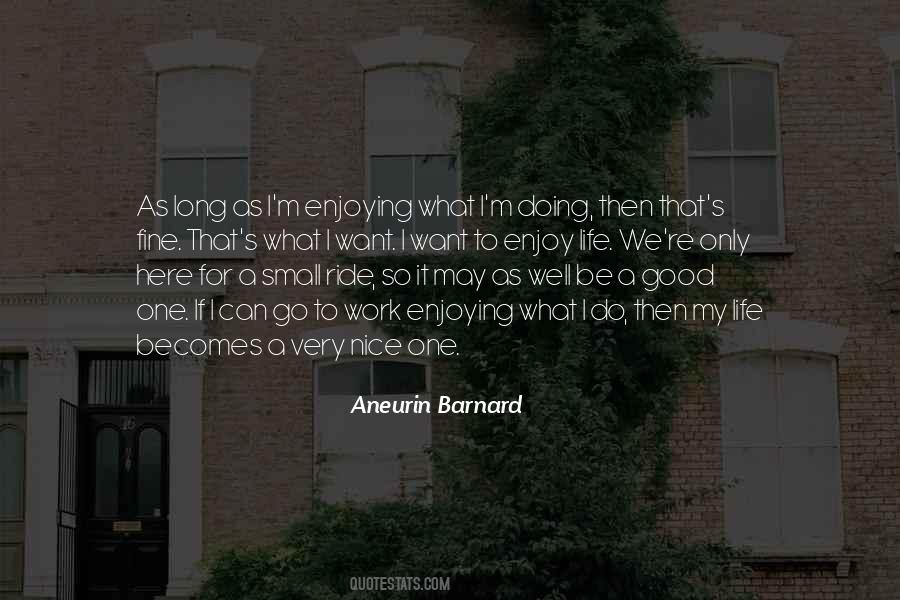 #87. You don't want to have so much money going toward your mortgage every month that you can't enjoy life or take care of your other financial responsibilities. - Author: Dave Ramsey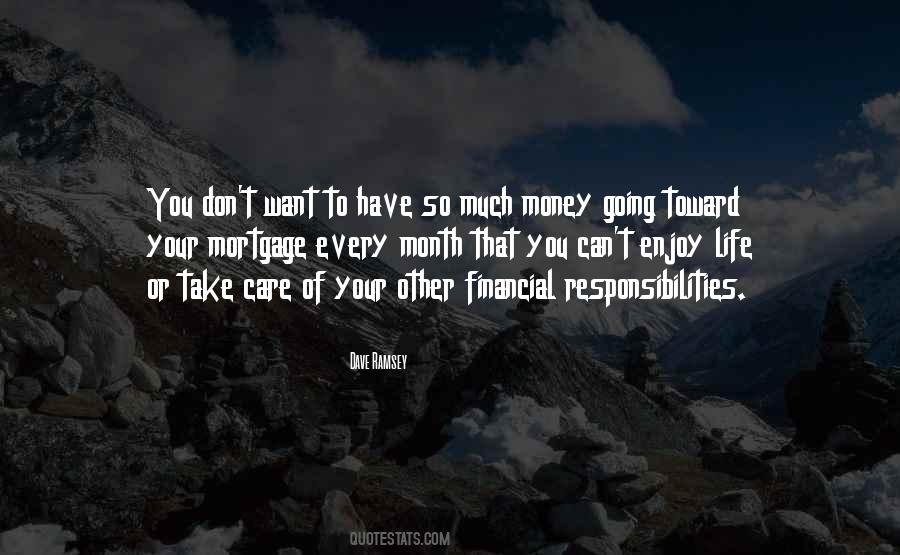 #88. People come into work and actually go home to their families. They want to go there and explore and have a good time, but they also want to go home, which is the best kind of working environment. You go in and do your job, and then you go home and enjoy your life. - Author: Khandi Alexander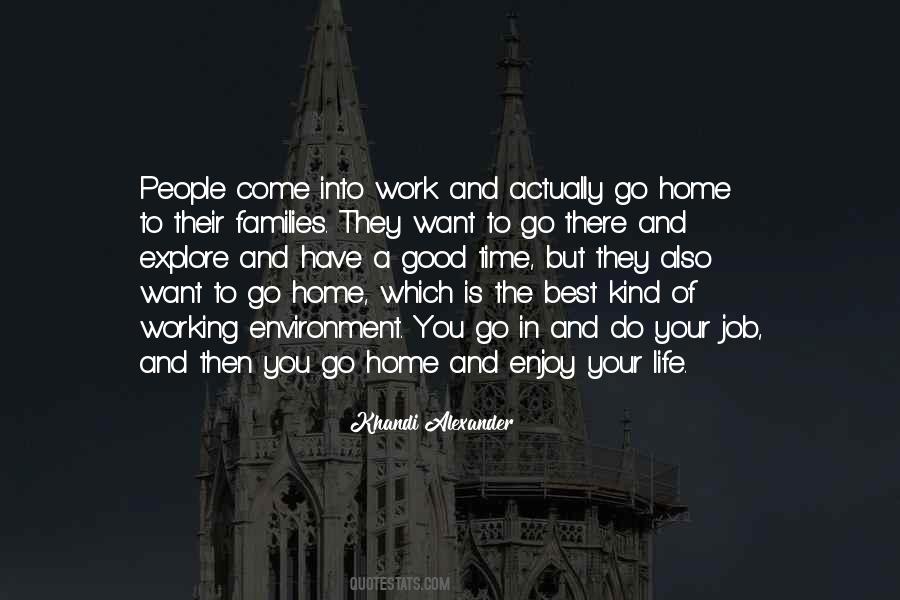 #89. It's vital that you accept yourself and learn to be happy with who God made you to be. If you want to truly enjoy your life, you must be at peace with yourself. - Author: Joel Osteen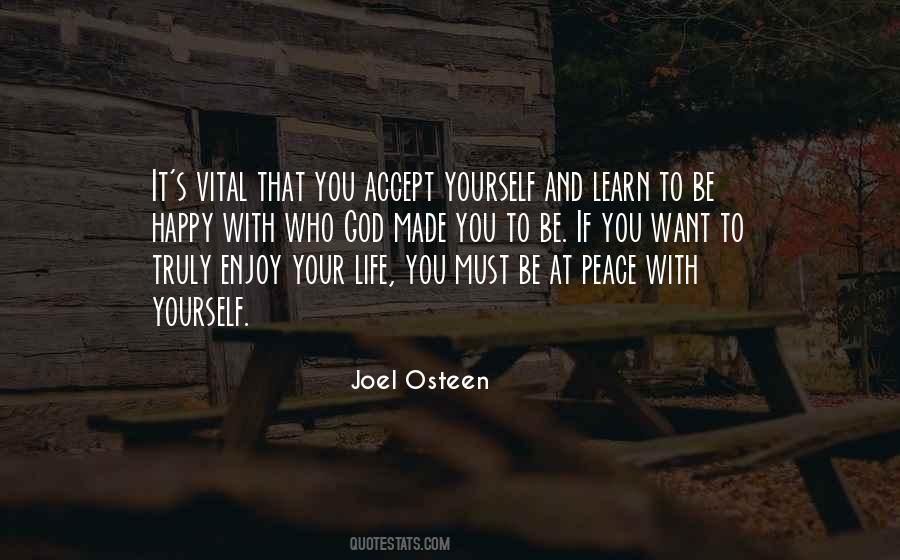 #90. Money doesn't mean anything to me. I've made a lot of money, but I want to enjoy life and not stress myself building my bank account. I give lots away and live simply, mostly out of a suitcase in hotels. We all know that good health is much more important. - Author: Keanu Reeves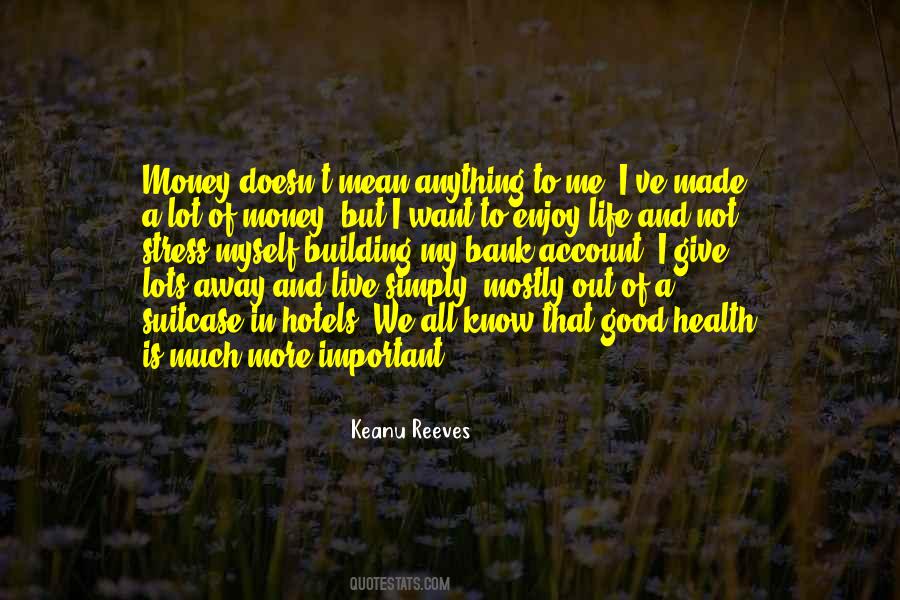 #91. You want to enjoy life, don't you? If you get your job done quickly and your job is fun, that's good isn't it? That's the purpose of life, partly. Your life is better. - Author: Yukihiro Matsumoto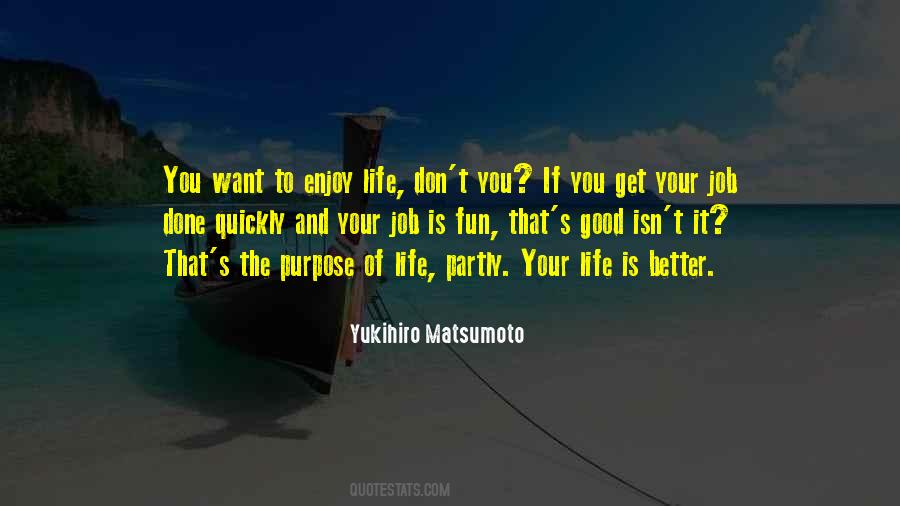 #92. My whole thing is quality of life ... It must always be easy and low-maintenance and stress-free, and that means not trying to fit too much in. I don't ever want to be in a hurry. I want to enjoy the moments. - Author: Ginnifer Goodwin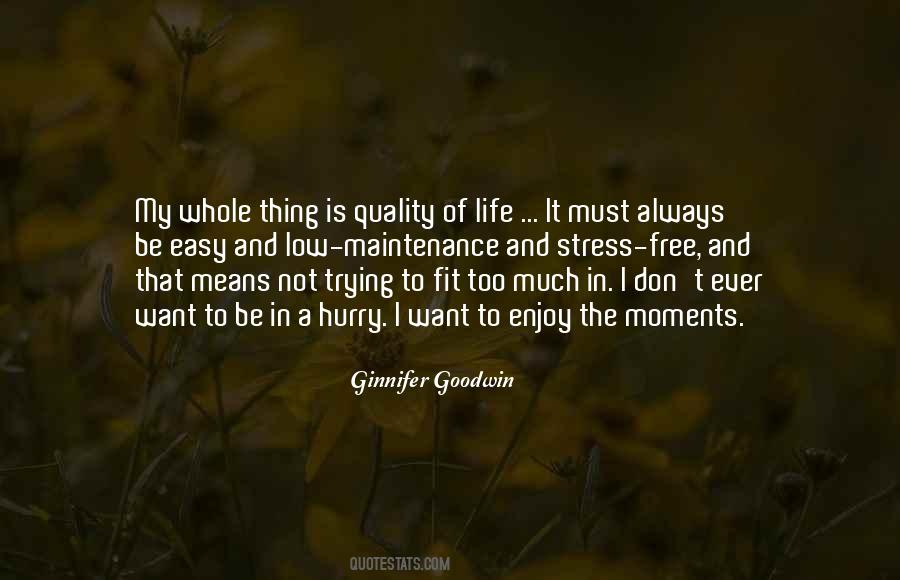 #93. I genuinely want to do my best every day, and I genuinely want to enjoy life every day. - Author: Landon Donovan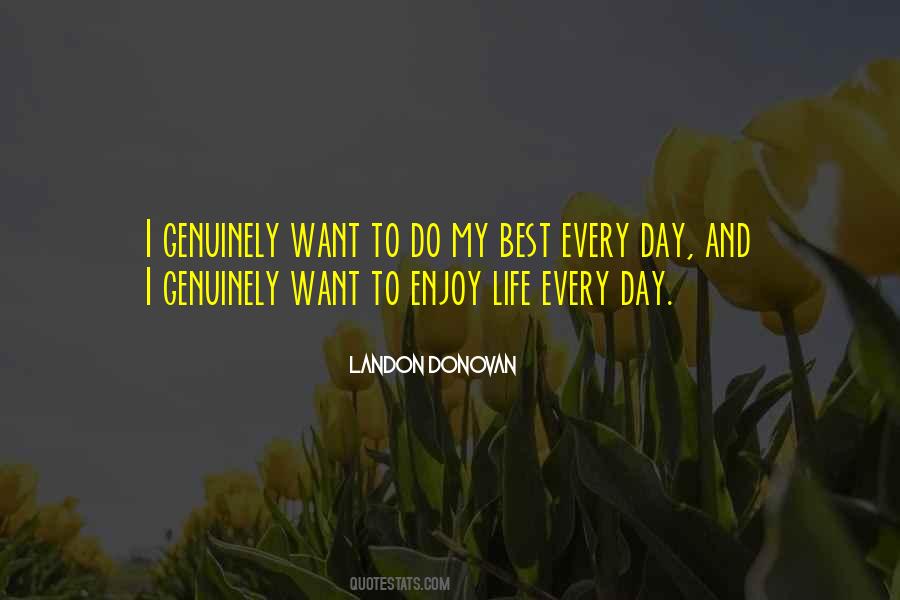 #94. If you want me to swim fast, you have to let me enjoy my life. - Author: Amanda Beard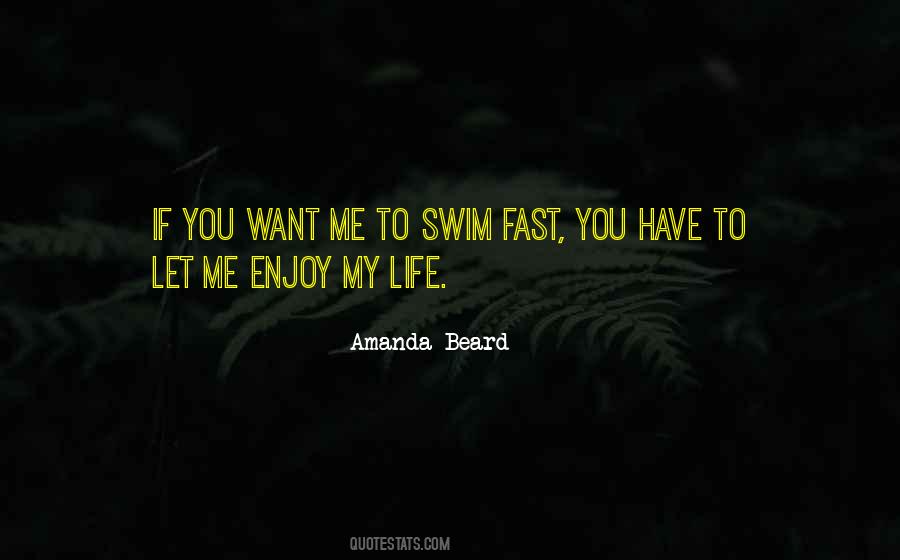 #95. Women want to enjoy life today, men hope for a better tomorrow - Author: Bangambiki Habyarimana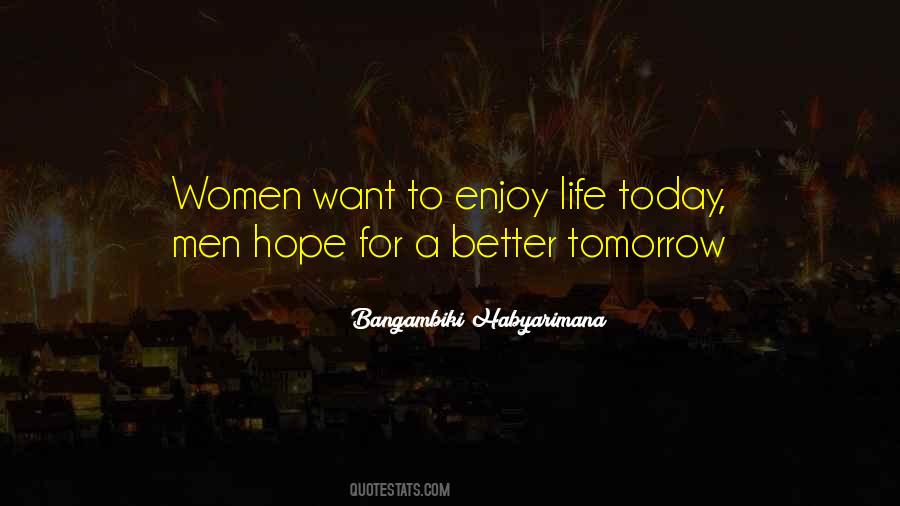 #96. There are two things to aim at in life; first to get what you want, and after that to enjoy it. Only the wisest of mankind has achieved the second.
- Author: Logan Pearsall Smith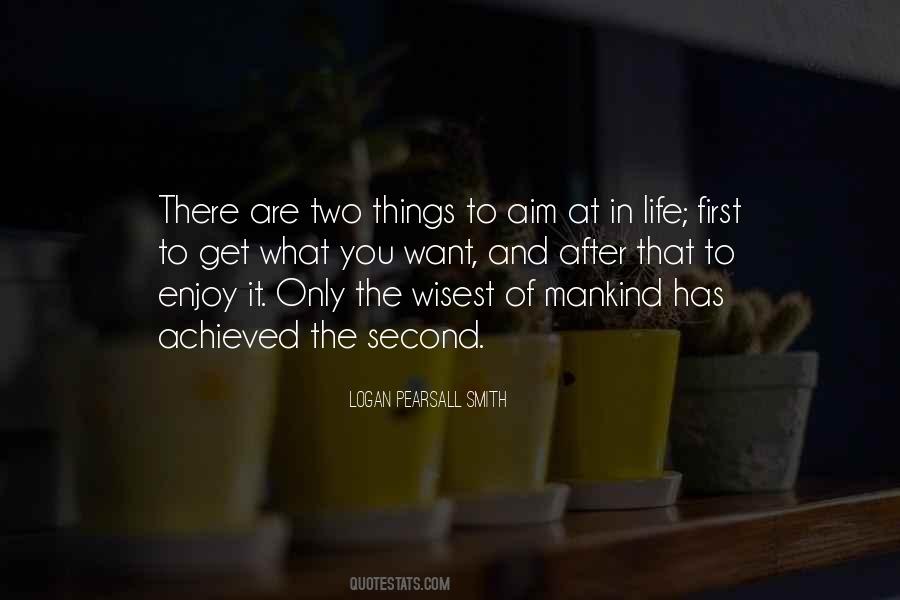 #97. I just want you to enjoy all the pies in life, Perry," I said, gazing at her, trying to get her shy eyes to meet mine. "That's all. - Author: Karina Halle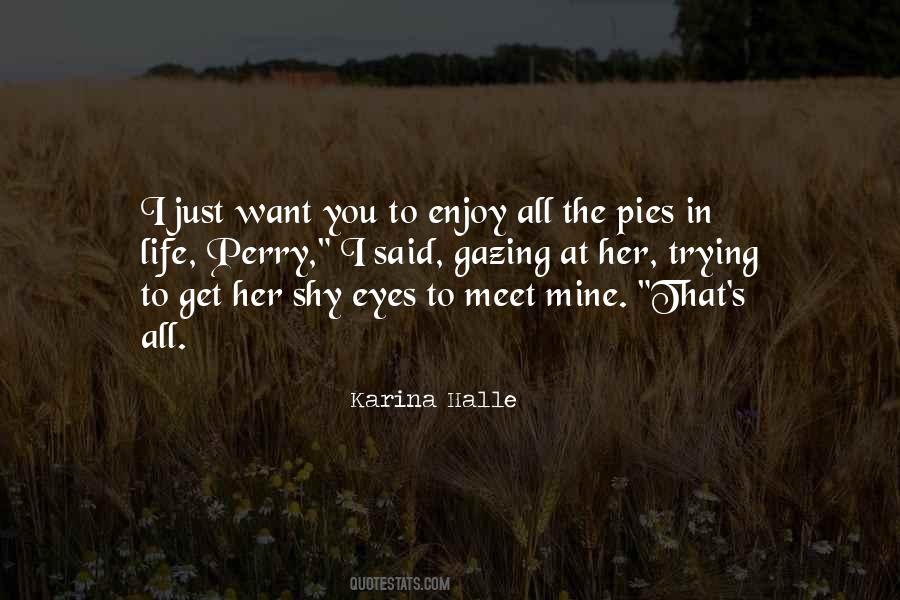 #98. It's never easy moving forward in life. But if you want to prosper & enjoy life ... keep moving ahead on that road. Forward progress is always the wisest choice anyone can make. - Author: Timothy Pina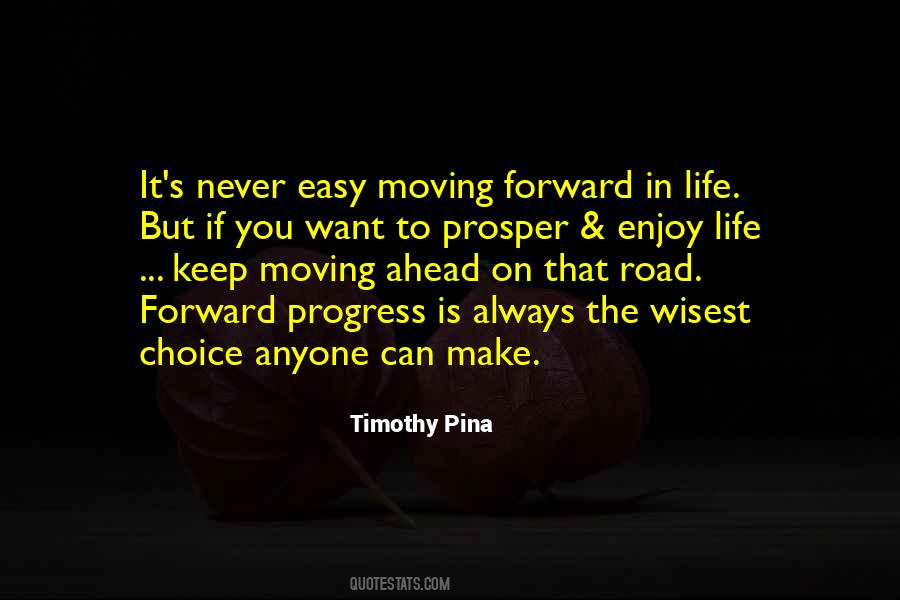 #99. if you want to enjoy life to the fullest you must roll with the punches - Author: Thabiso Monkoe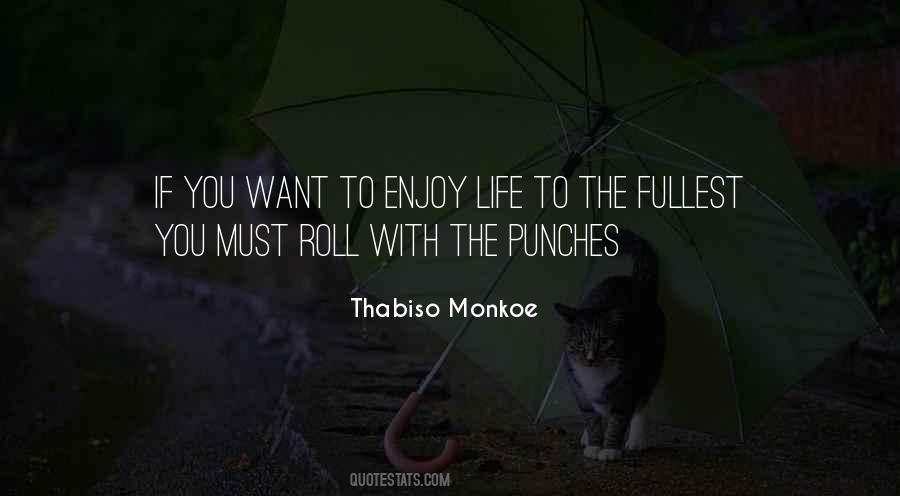 #100. I'll be 65 in September and I work as much as I want to, take cruises with Kay, relax with my family, do everything in moderation, because I want to enjoy my life. - Author: Frankie Avalon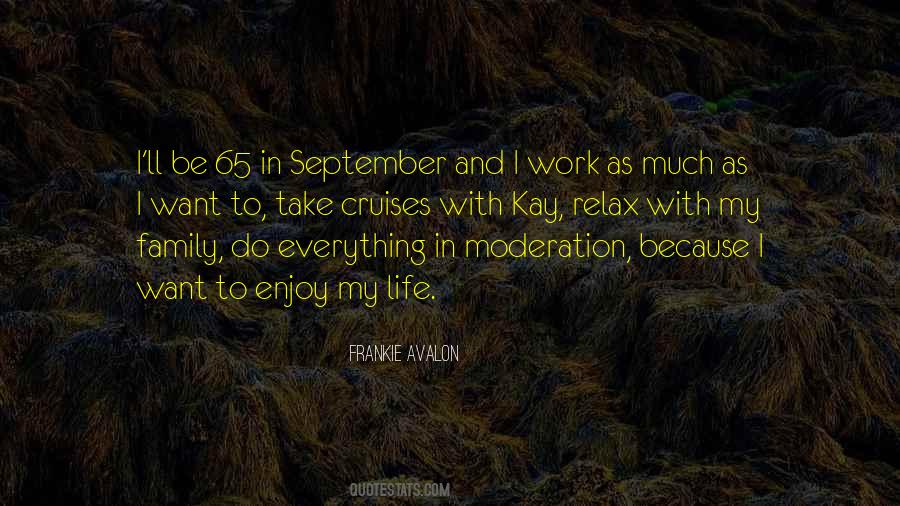 Famous Authors
Popular Topics