Trying To Cover Up Famous Quotes & Sayings
List of top 50 famous quotes and sayings about trying to cover up to read and share with friends on your Facebook, Twitter, blogs.
Top 50 Trying To Cover Up Quotes
#1. A lot of people that are always trying to be funny and "on" and performing are just hiding. It's just a cover for what they really are and how they really feel. - Author: Manny Montana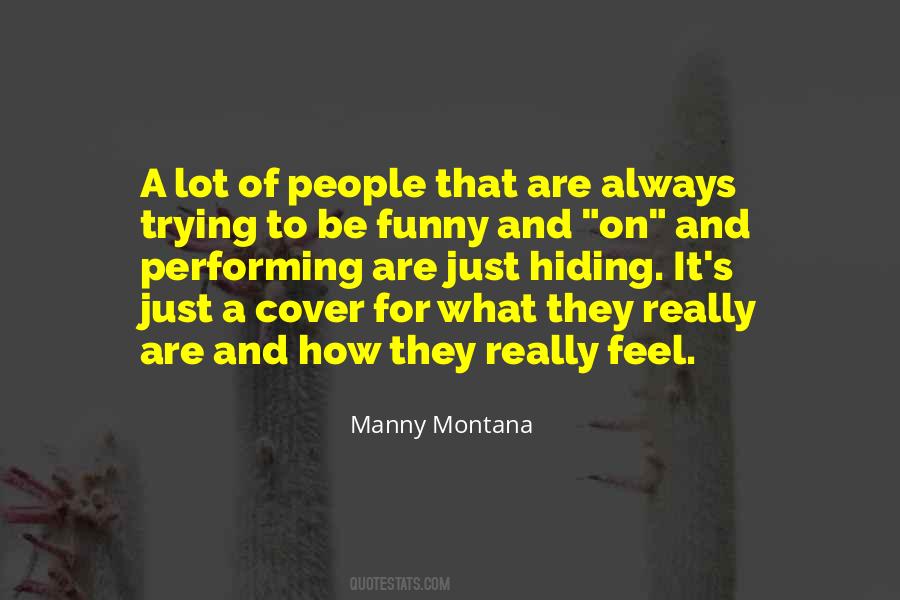 #2. Being bi-racial and being young along with being American and Canadian [allows me to] try and cover all the bases and expand my fan base to a level that has yet to be seen. - Author: Drake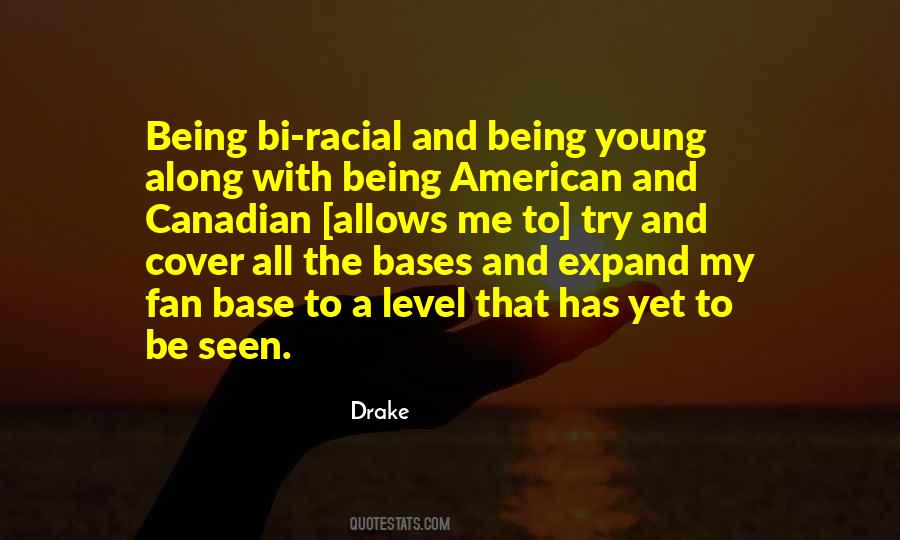 #3. A lot of people have said that I'm trying to be like Justin Bieber by wearing a hat all the time. But the truth is, I don't like the way my hair looks. It's kind of weird, so I wear a hat all the time to cover it. I've been doing it since I was thirteen. - Author: Austin Mahone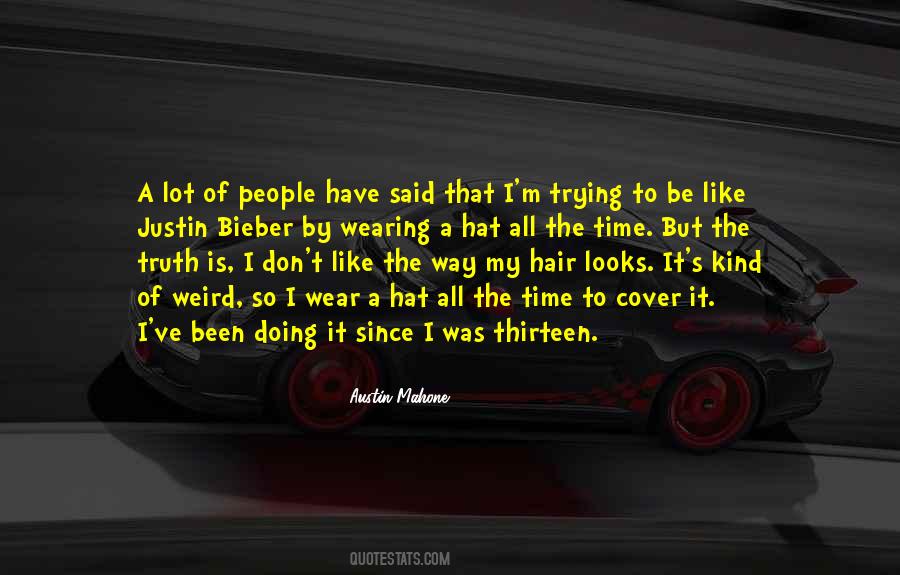 #4. I'm not good with these types of girls, I had thought as Avena lay there in the middle of the bed, crying silently, trying to cover herself up. I always ended up ruining them. - Author: L. Jayne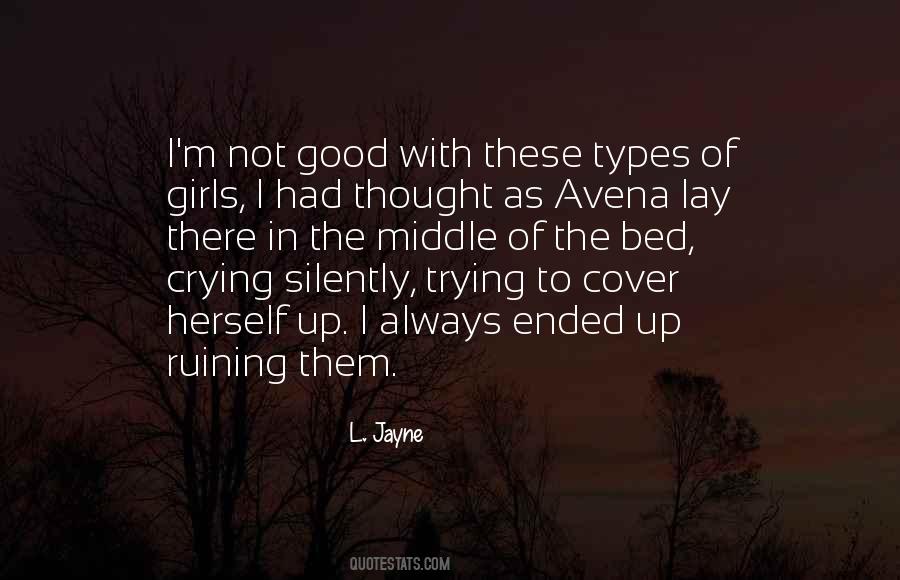 #5. I always think that the most interesting characters are those that are trying to cover something or those that have some sense of bravado or composure. - Author: Emily Blunt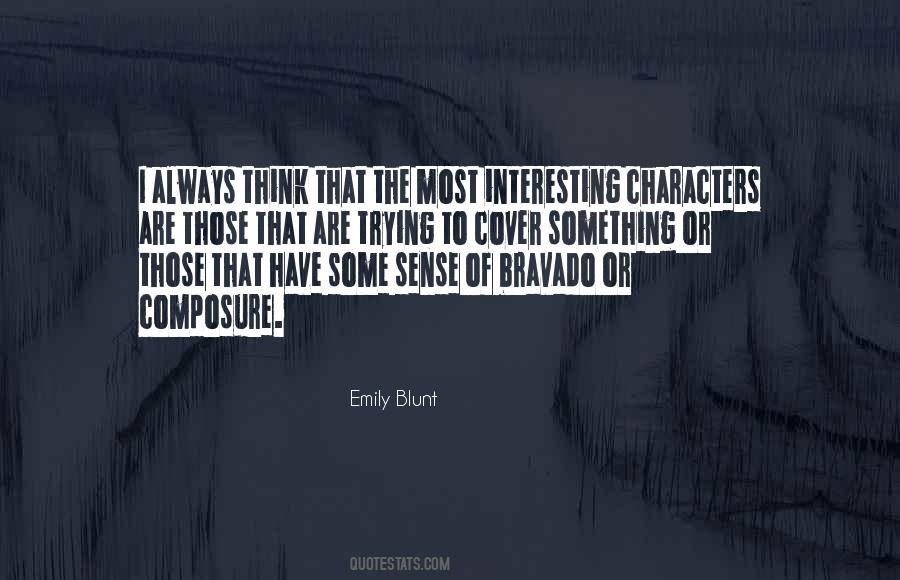 #6. It's a violent world we live in. I don't agree with trying to hide that or cover it up. - Author: Brad Pitt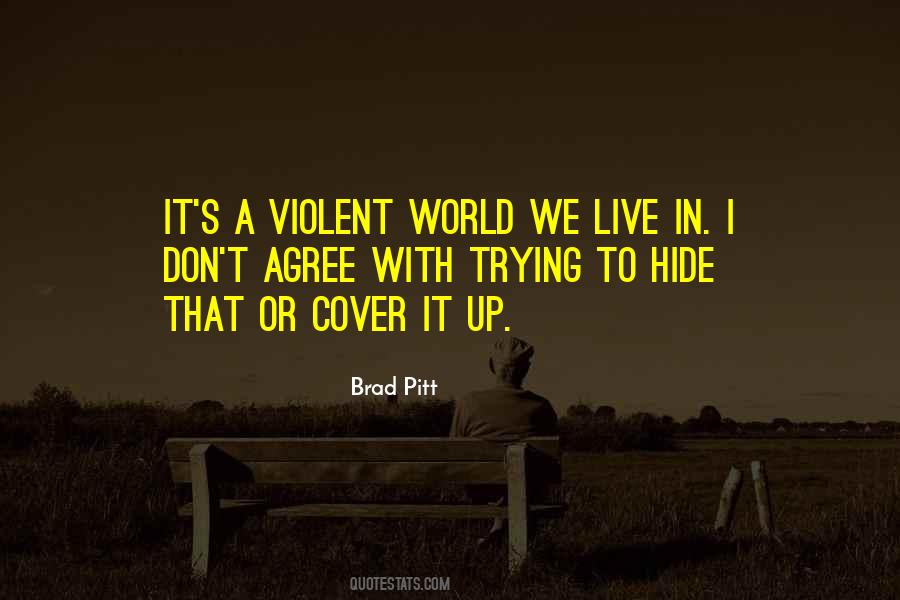 #7. It was very important that it be done in such a way that it be executed with complete conviction. If I had done it both ways, if I was trying to cover myself in case it didn't work, then it would have been to no purpose. - Author: Atom Egoyan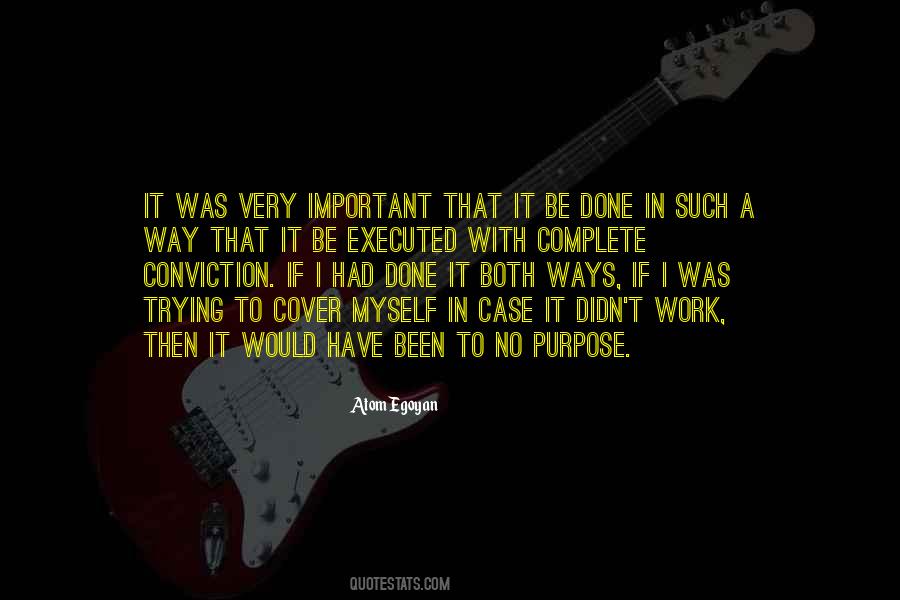 #8. Hollywood-Nobody's impressed by anybody because they're all too consumed with trying to cover up their own shortcomings. Hollywood is a microcosm of a world of lazy moral ideals and social indifference where every man is trying to convince himself he's a king. - Author: J. Matthew Nespoli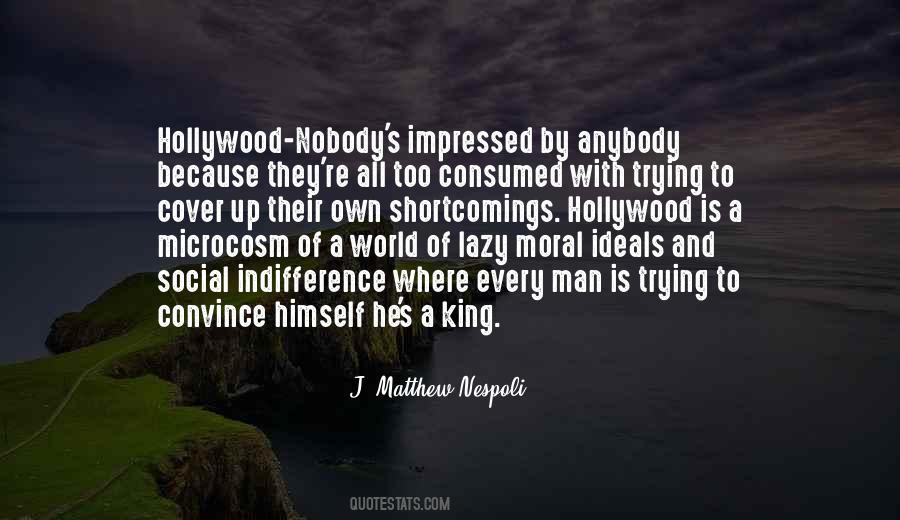 #9. Tell the truth. If you tell the truth all the time you don't have to worry three months down the line about what you said three months earlier. Truth is always the truth. You won't have to complicate your life by trying to cover up. - Author: Ben Carson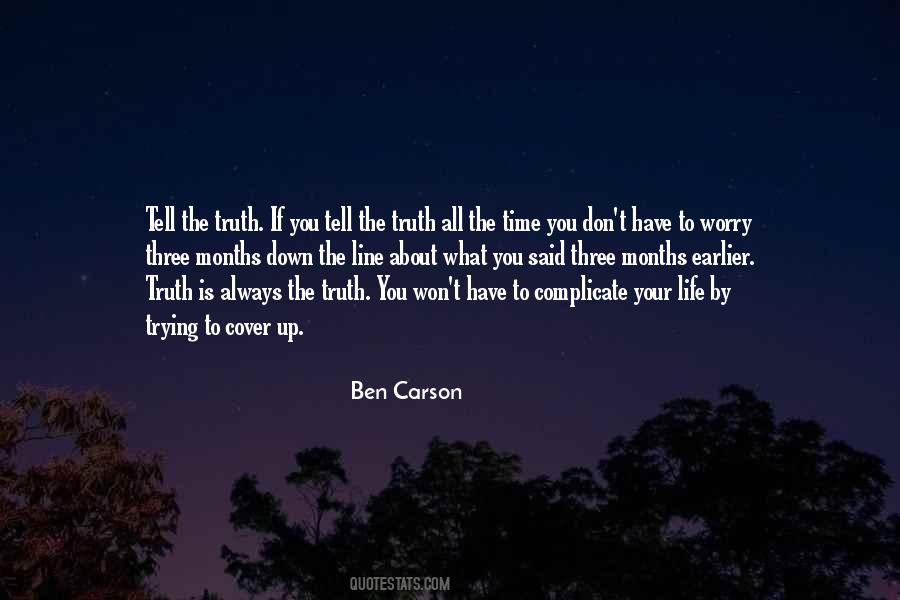 #10. Try not to scream when I break your bones. It bothers me. You can cry if you want; that's fine."
He burst out laughing. I didn't realize that was a funny statement.
"Got it," he said, trying unsuccessful to cover his grin. "Screaming, no. Crying, yes - Author: Amy Tintera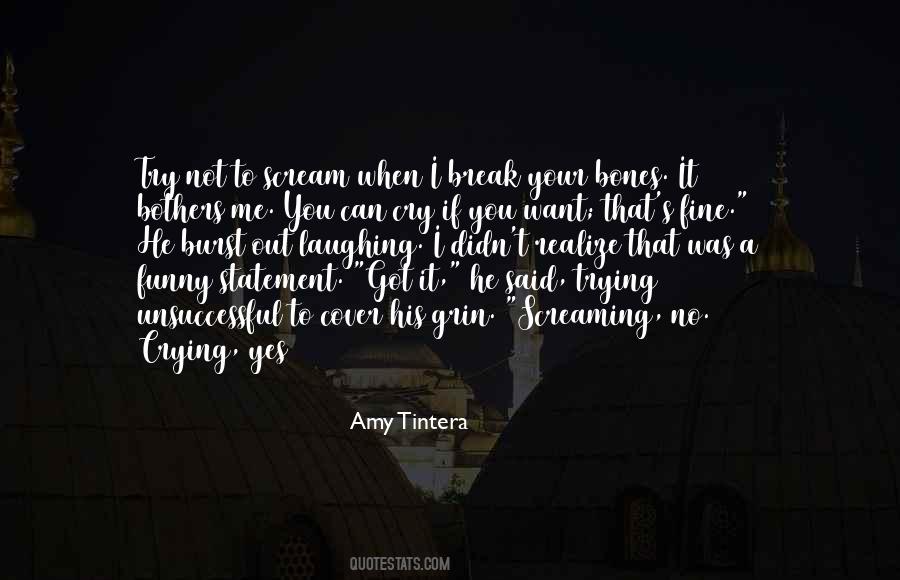 #11. I'm always looking for a cover subject that reflects the magazine, an interest in fashion, in culture, in society. We're trying to bring the world into the pages of 'Vogue.' We do that by tapping into the zeitgeists with our cover subjects. - Author: Anna Wintour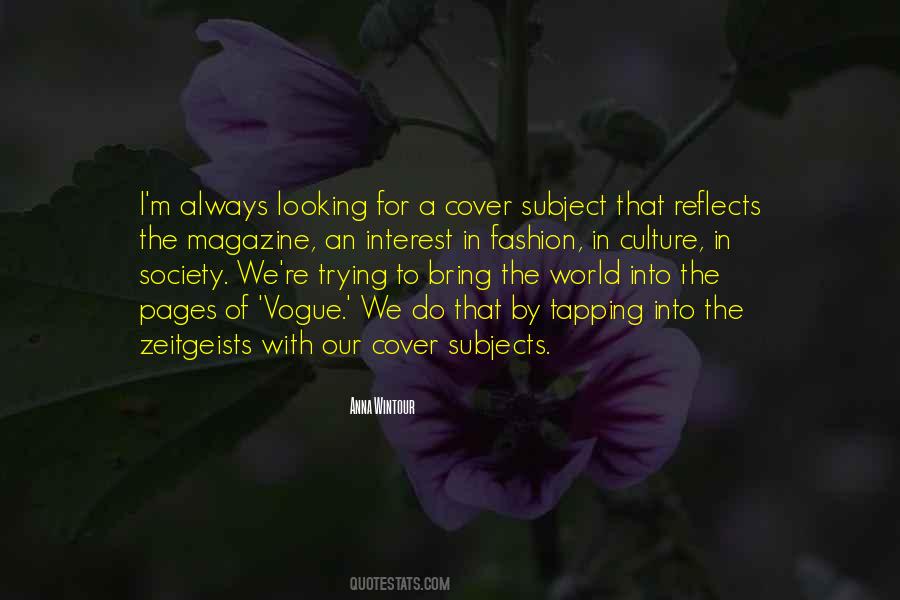 #12. The world is tremendously busy trying to cover up its nakedness, trying to get back again the glory that has been lost. - Author: D. Martyn Lloyd-Jones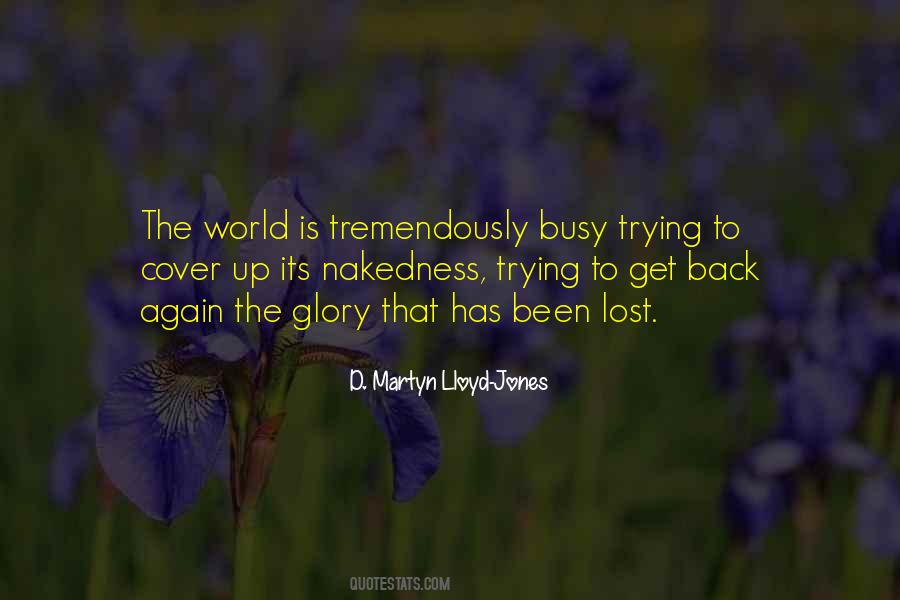 #13. It is a very trying task for deceitful people, always to have to cover up their lack of sincerity and to repair the breaking of their word. - Author: Madeleine De Souvre, Marquise De ...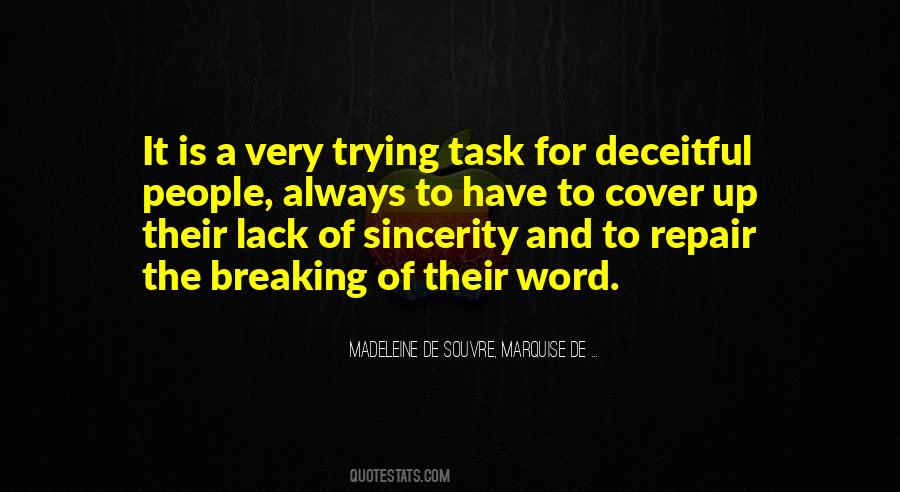 #14. Don't try to cover your mistakes with false words. Rather, correct your mistakes with examination. - Author: Pythagoras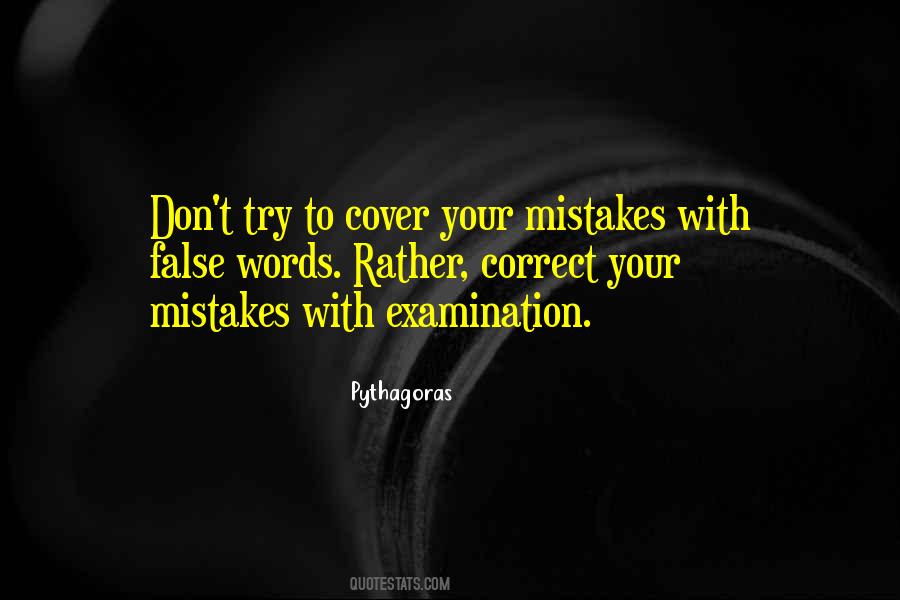 #15. Instead of trying to cover the whole world with leather, put on some sandals. - Author: Shantideva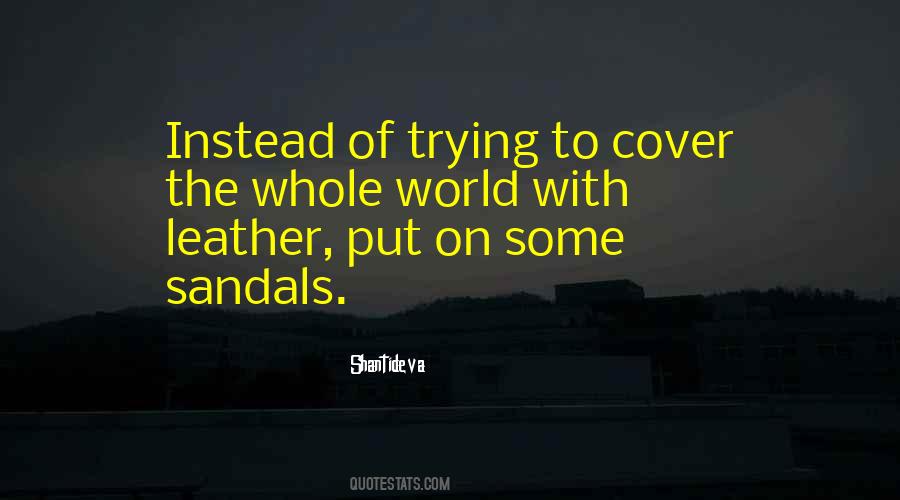 #16. If you are trying to find more information on Marilyn Miles Conner, please look under Marilyn Conner Miles. Name was written wrong on original cover. - Author: Marilyn Miles Conner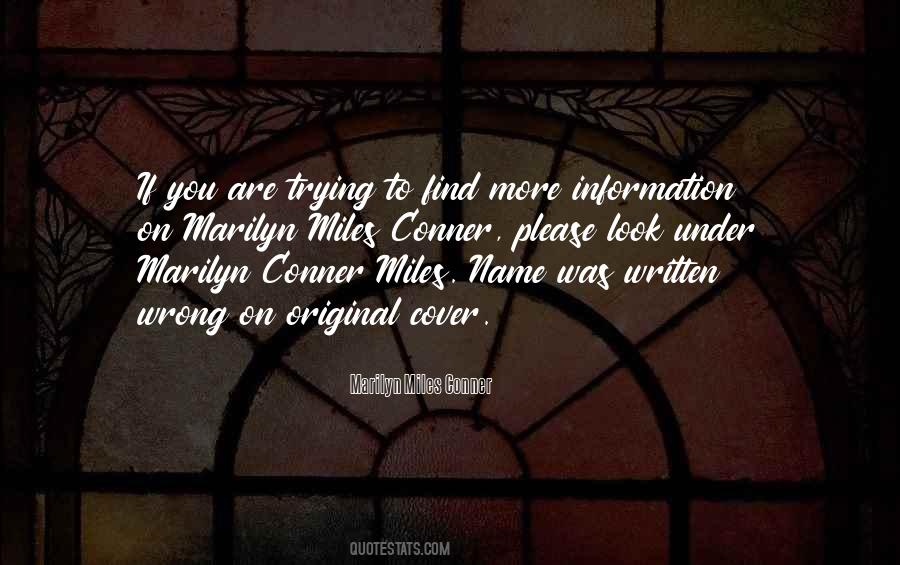 #17. I've realized the most effective writing and living are done when we are willing to be vulnerable. I think we spend most of our lives trying to cover up our insecurities. - Author: Katie Kiesler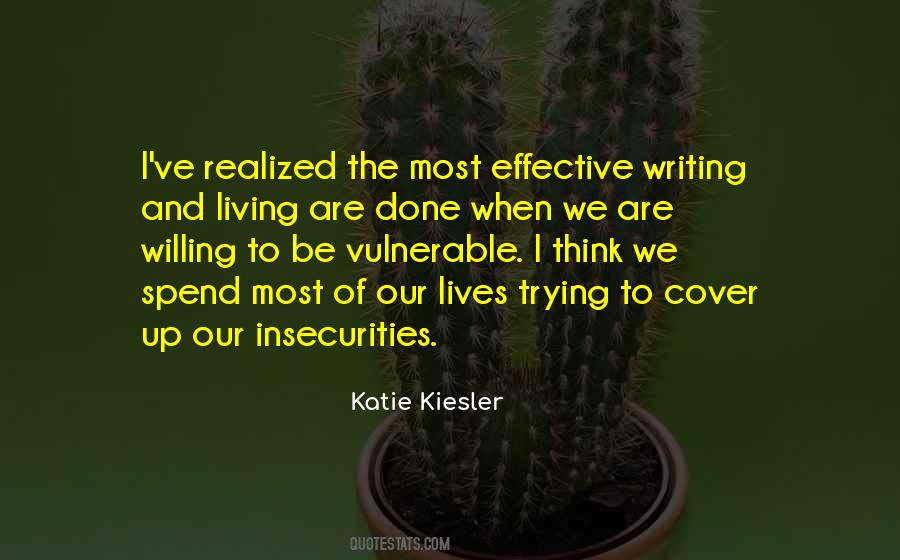 #18. But in all His relationships, God reaches for man. Reaches for you who have fallen and scraped your heart raw, for you who feel the shame of words that have snaked off your tongue and poisoned corners of your life, for you who keep trying to cover up pain with perfectionism. - Author: Ann Voskamp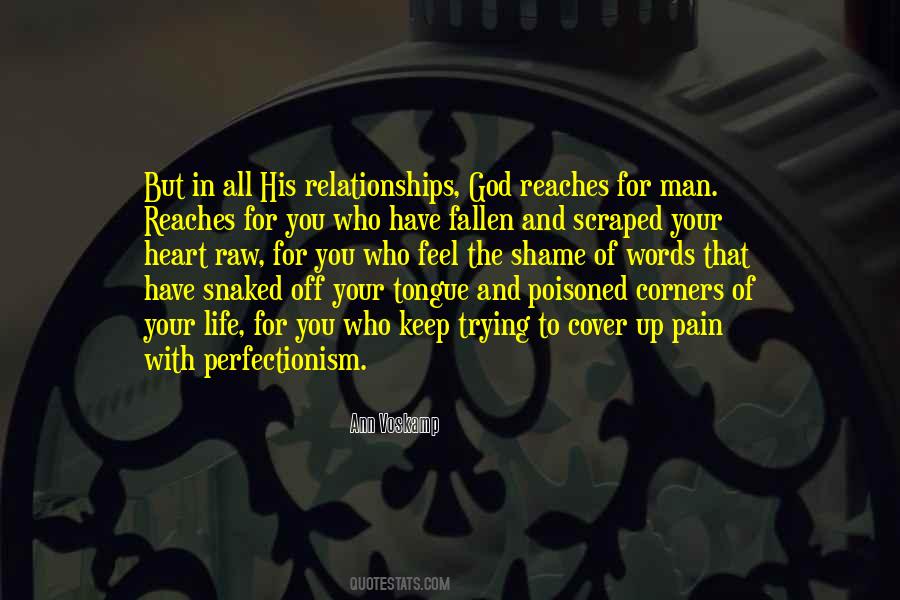 #19. We chose the most interesting image available to us to illustrate the theme of the cover, which is what we always try to do. We apply the same test to photographs of any public figure, male or female: does the image convey what we are saying? That is a gender-neutral standard. - Author: Jon Meacham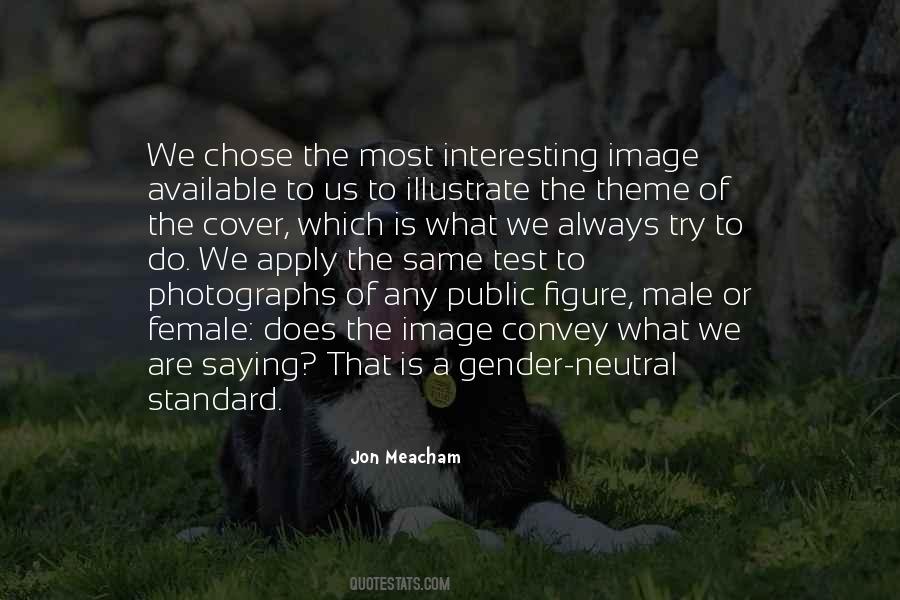 #20. Wanting to reform the world without discovering one's true self is like trying to cover the world with leather to avoid the pain of walking on stones and thorns. It is much simpler to wear shoes. - Author: Ramana Maharshi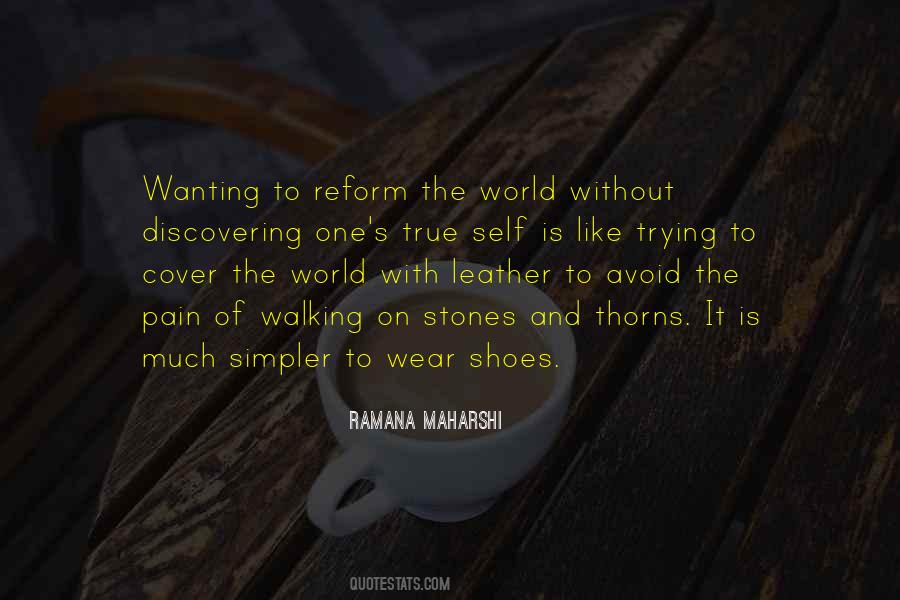 #21. We are trying to evoke and reinforce meanings from the spaces we cover and the times we're given. Short or long this becomes our purpose. What we artists do is important stuff. - Author: Robert Genn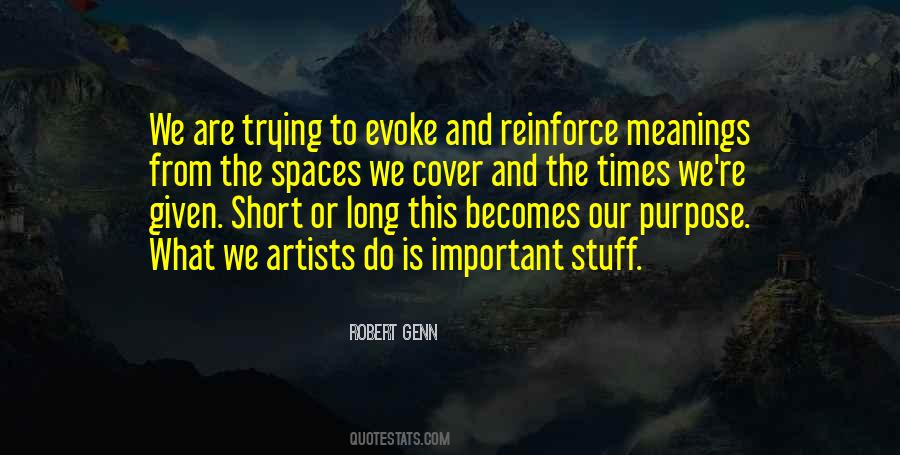 #22. (T)hey at last understood that their problems would never have been solved by trying to cover them up or choke them back or pretend they didn't exist. By repression. No, their problems could only be solved by expression. By telling their tales, and by making up new ones, too. - Author: Adam Gidwitz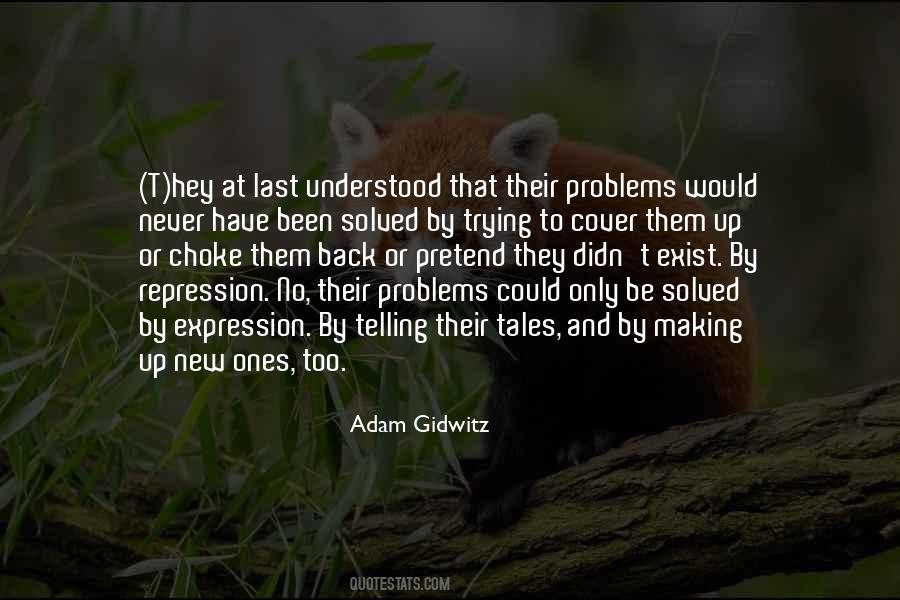 #23. Artists have to show us what is not going well within the person and within the society, not try to cover it up. - Author: Nhat Hanh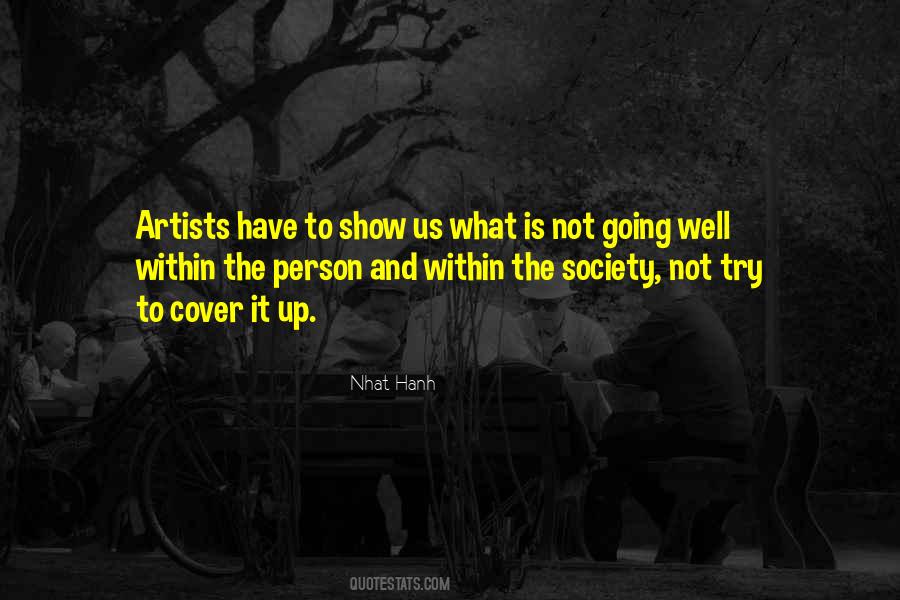 #24. I'm interested in so many different things and I'd like to cover a lot of territory. I'm trying to see my show as the Sunday 'Times.' You have the Arts & Leisure section, you have the Op-Ed page, you have the Book Review ... even the Style section has those wonderful essays about relationships. - Author: Joy Behar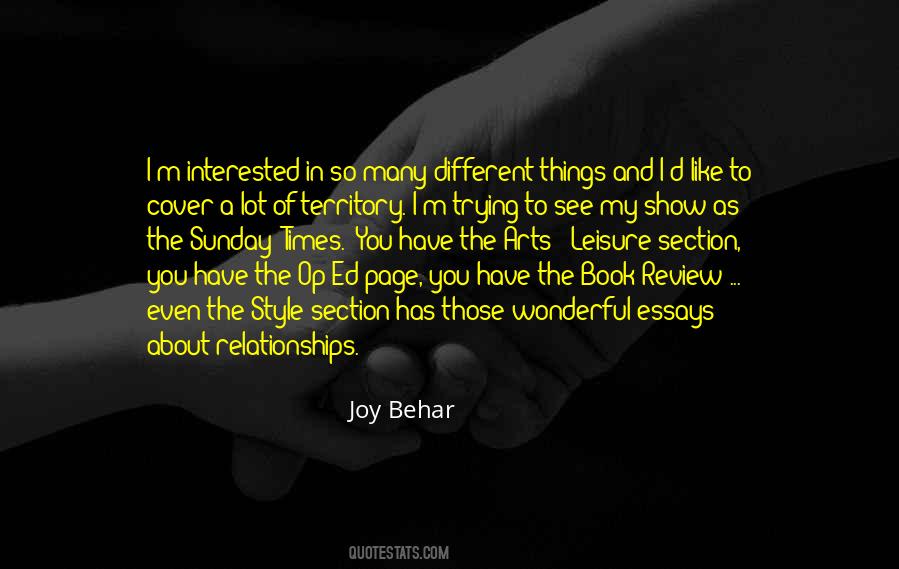 #25. I always found myself trying to cover the mental anguish and the torment and the abuse that I was dealing with. That made me always question my beauty, my intelligence, and a lot of other things about myself. - Author: Tasha Smith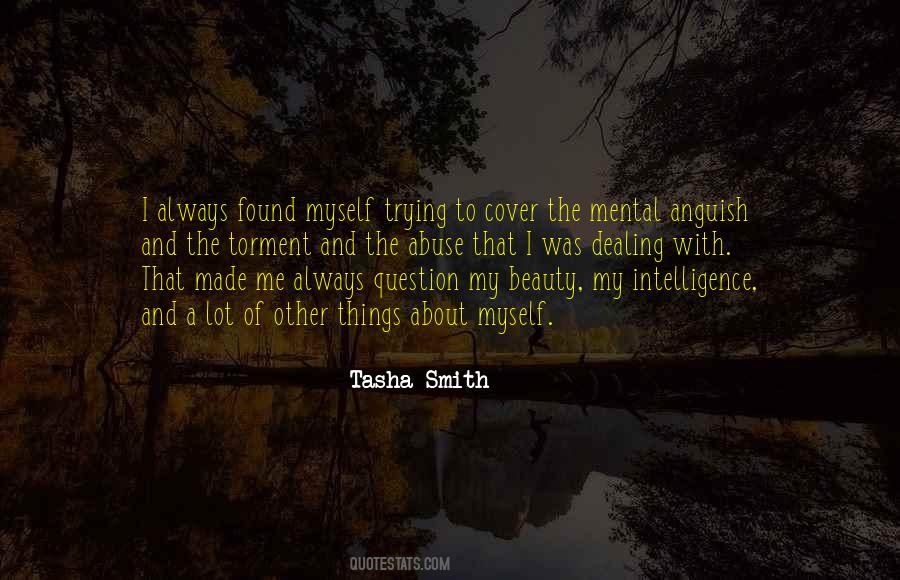 #26. Have I come at a bad time?" she managed to say without guffawing. I believe I said something on the order of "argh," and compounded my embarrassment by trying to cover myself with the sweatpants I'd picked up off the floor. - Author: Jeffrey Cohen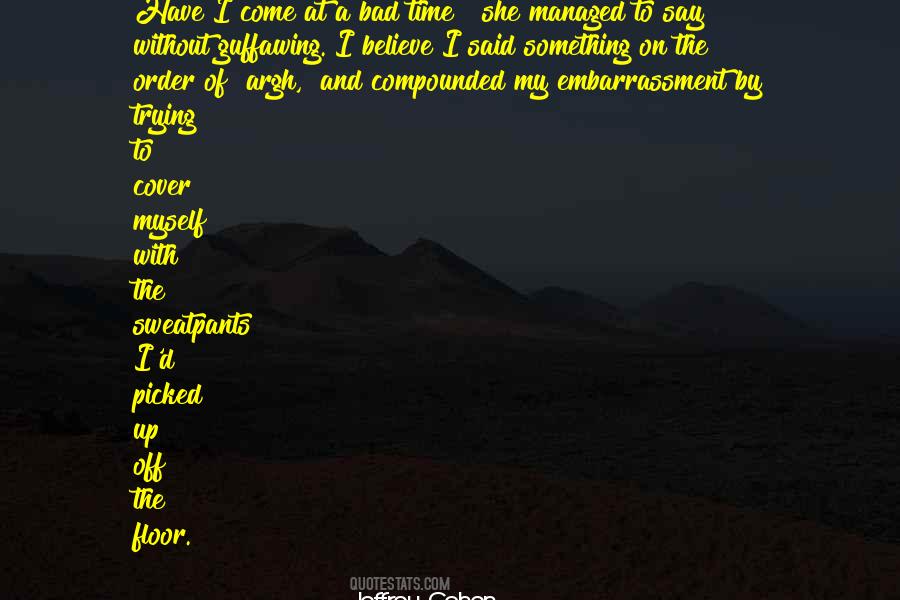 #27. [M]aking a show was better cover than trying to stay inconspicuous; Western capitalism in particular allowed the rich just about the right amount of behavioural leeway to account for the oddities our alienness might produce. - Author: Iain M. Banks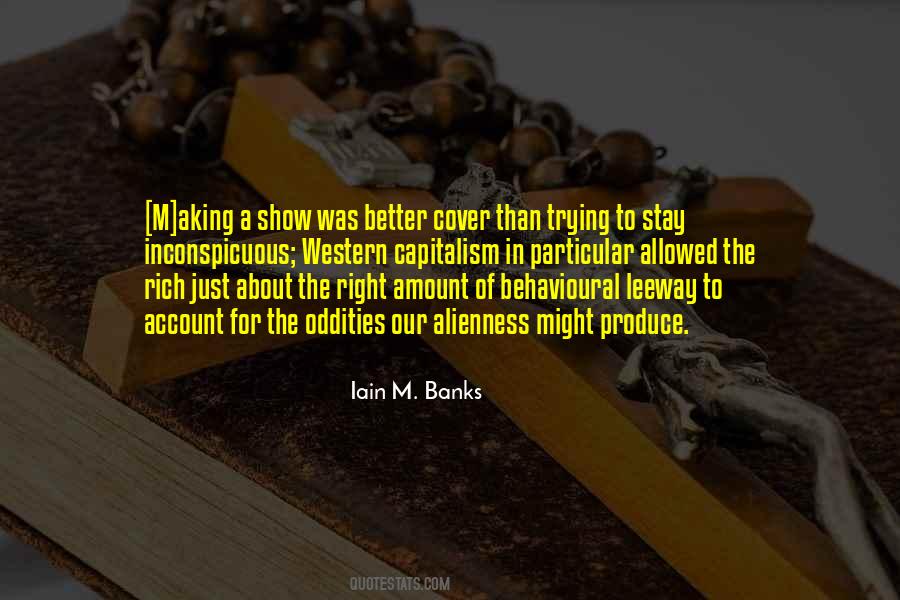 #28. I wouldn't buy a book simply because I like the cover. I would pick it up. The jacket can call your attention to it. But in that sense, Oprah Winfrey is worth all the jackets in the world. A jacket is basically trying to do what she does all on her own. - Author: Chip Kidd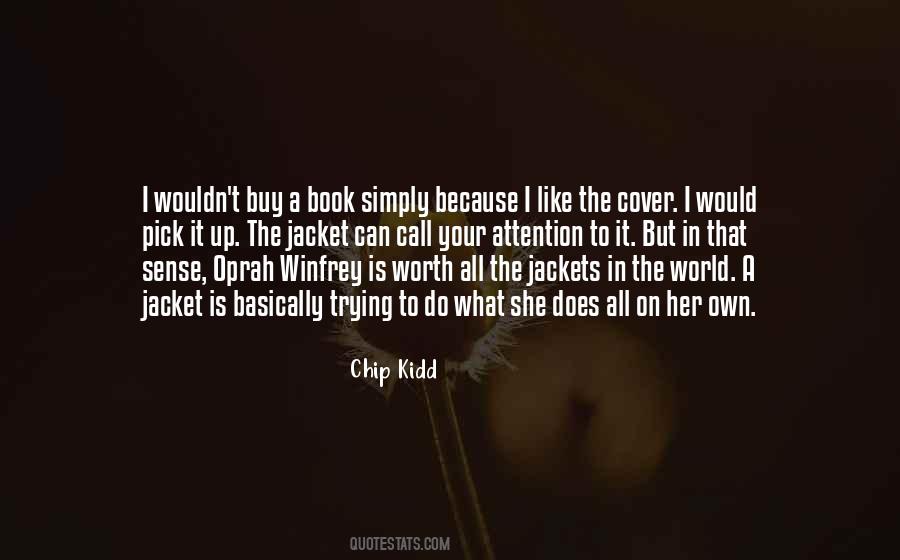 #29. That's what God does. He doesn't try to cover up our flaws; He starts from scratch and makes us new. - Author: Sharon Jaynes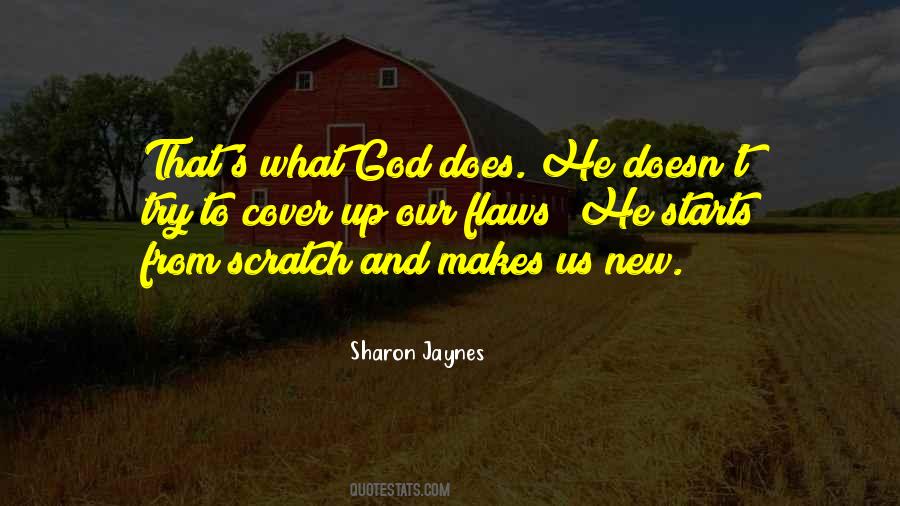 #30. There is something laughable about the sight of authors who enjoy the rustling folds of long and involved sentences: they are trying to cover up their feet. - Author: Friedrich Nietzsche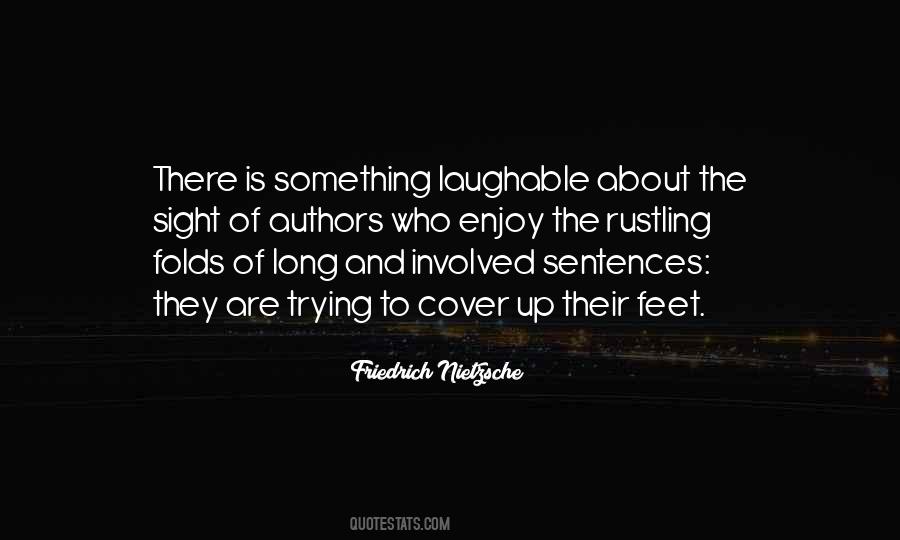 #31. What is it, you ask?" Kali said, trying to cover her surprise with nonchalant words. "I haven't thought of a name yet. Got any ideas?"
"Shit," the pirate said, said of. The gag made elocution difficult.
"That wouldn't impress anyone at the patent office. - Author: Lindsay Buroker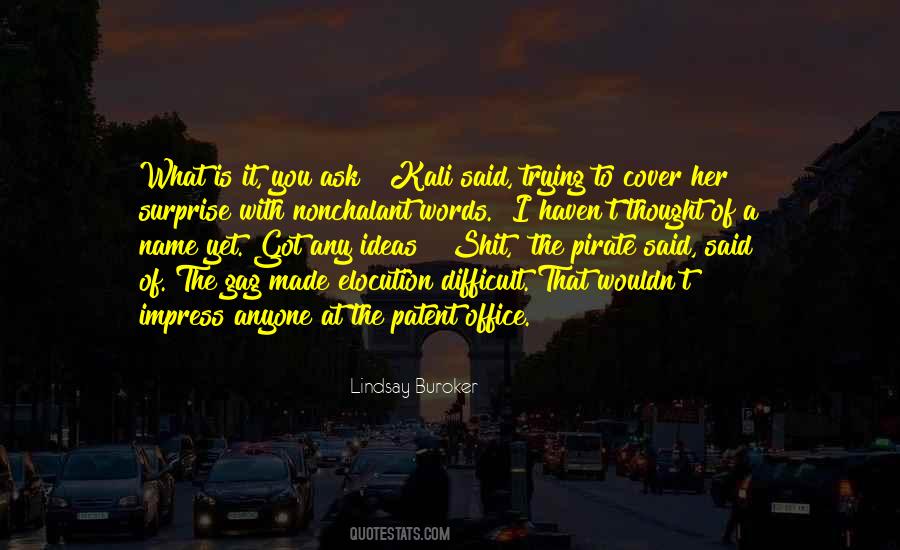 #32. Be very focused. Do your homework so your research and claims are unassailable. Make sure it is bulletproof and then make sure you are really focused. The thing I find is that the issues are usually so large that you try to cover a lot of ground. That's a natural impulse. - Author: Amy Ziering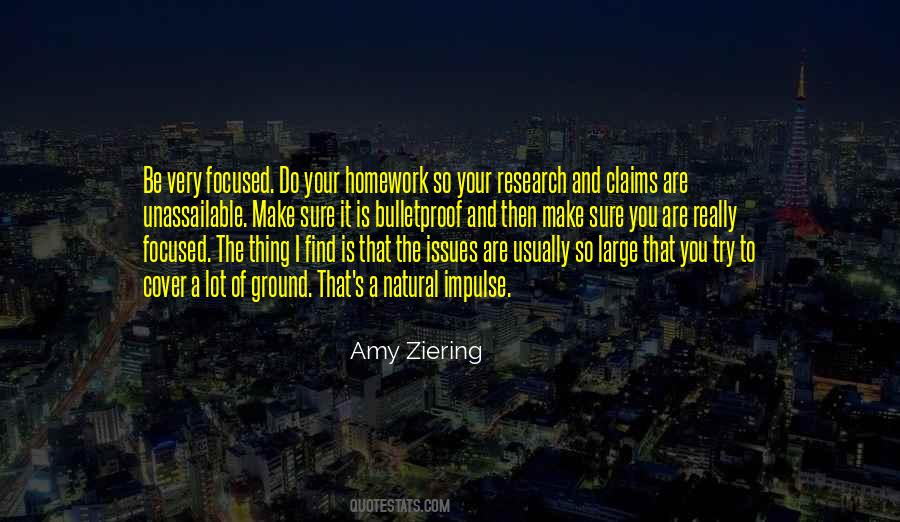 #33. I try to explain that to my kids - the experience of going to a record store, flipping through racks and finding that album cover that intrigues you - but my kids don't want to know about it. They download the one song on the album they like, and pay their 99 cents. - Author: Jon Bon Jovi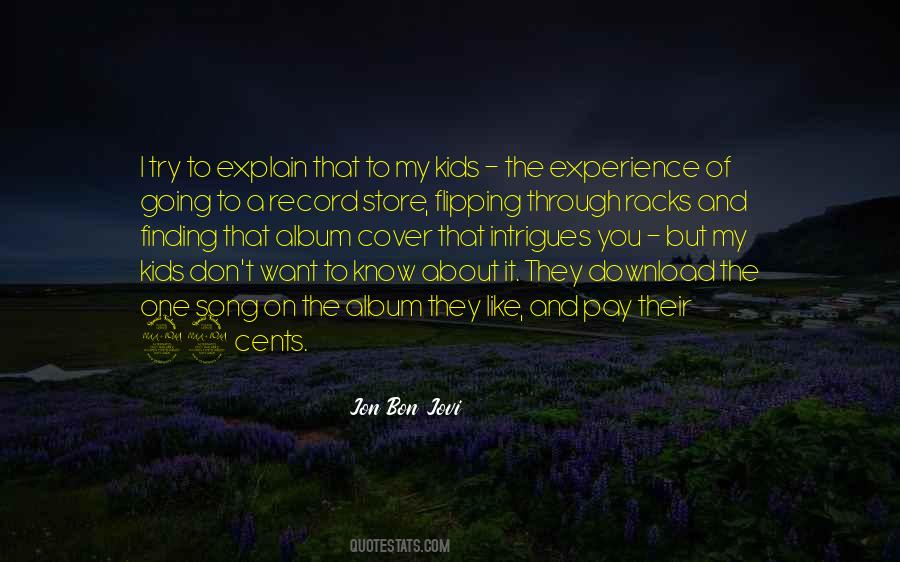 #34. If I try to cover too much ground, you start to get watered down and less interesting. - Author: David Spade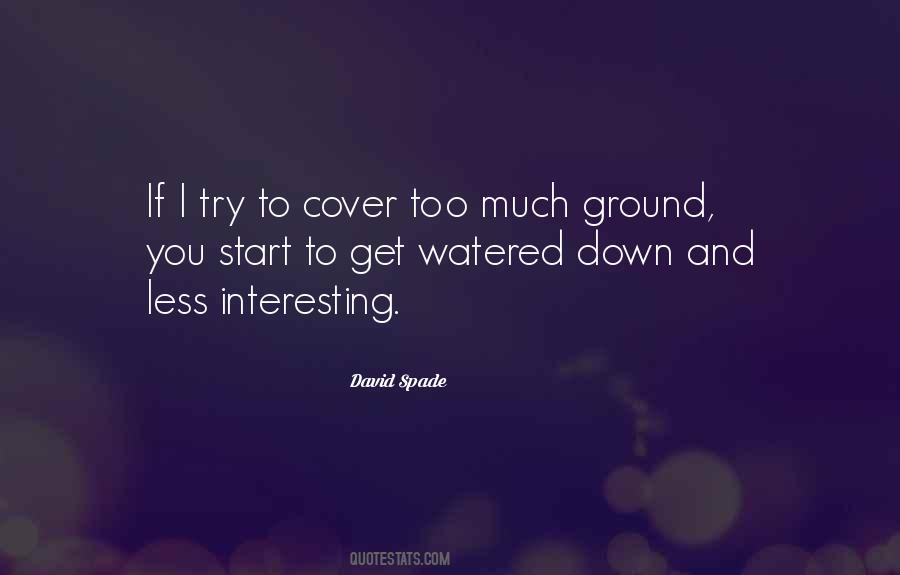 #35. Yahoo has gone too far in wrongfully accusing us of a conspiracy that doesn't exist. If they are having problems retaining engineers, they should be looking at the internal sources of employee dissatisfaction rather than trying to cover that up with this legal action. - Author: Jonathan Sacks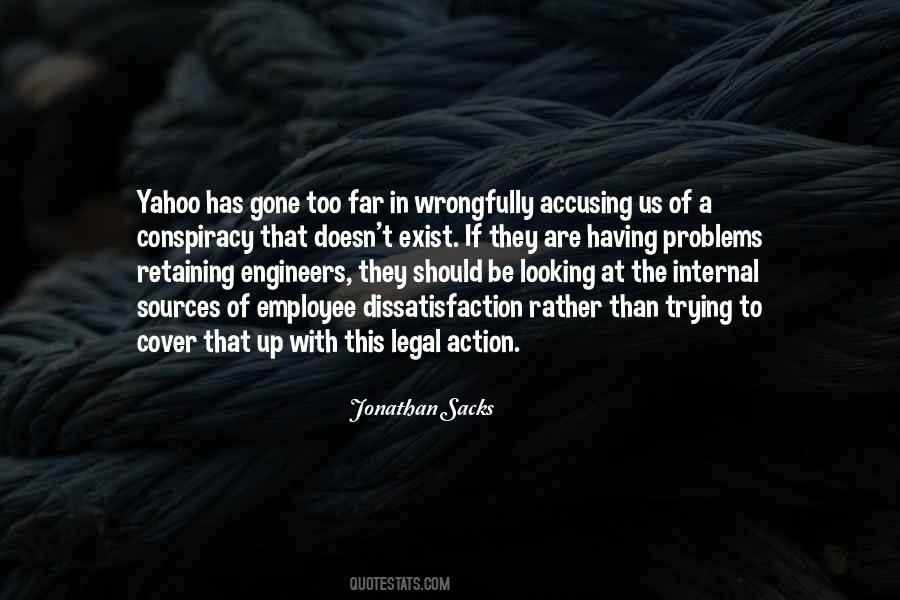 #36. I'm trying to convey to my audience that you really can't judge a book by its cover, and there's more to the universe than you can see with your eyes. - Author: Adam Lambert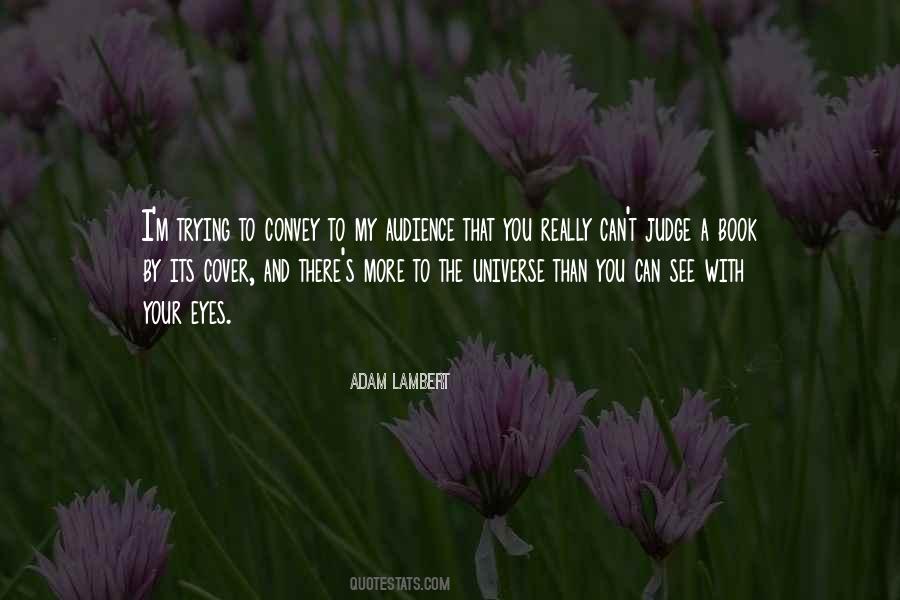 #37. You cover the bad news about America. You do. But you don't get up in the morning hating your country. And so, until somebody shows me lines at the border trying to get out, I think there's some good news. - Author: Roger Ailes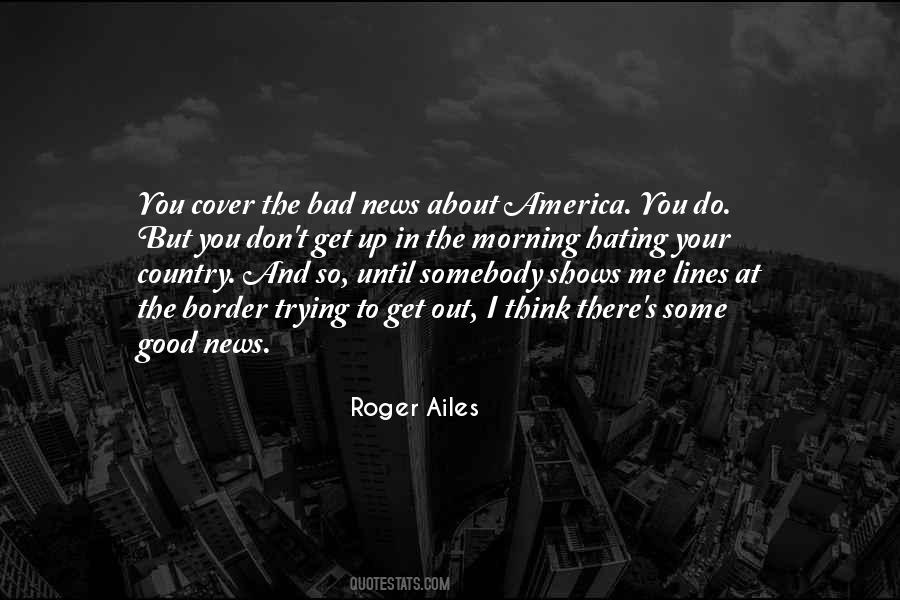 #38. A cover letter can connect the dots between where you've been, where you are, and where you're trying to go. - Author: Sophia Amoruso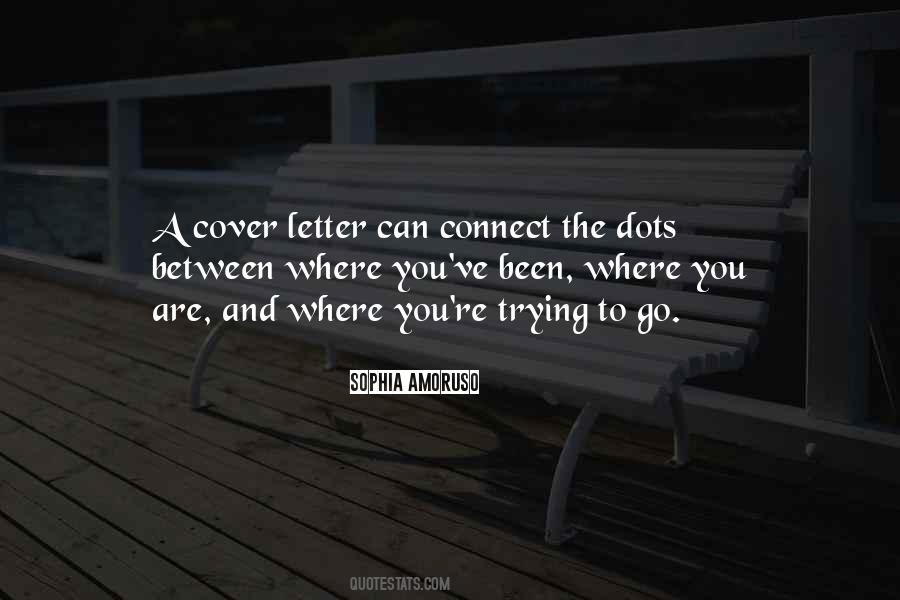 #39. When one set of Jews labels another set of Jews 'anti-Semitic,' they are trying to monopolize the right to speak in the name of the Jews. So the allegation of anti-Semitism is actually a cover for an intra-Jewish quarrel. - Author: Judith Butler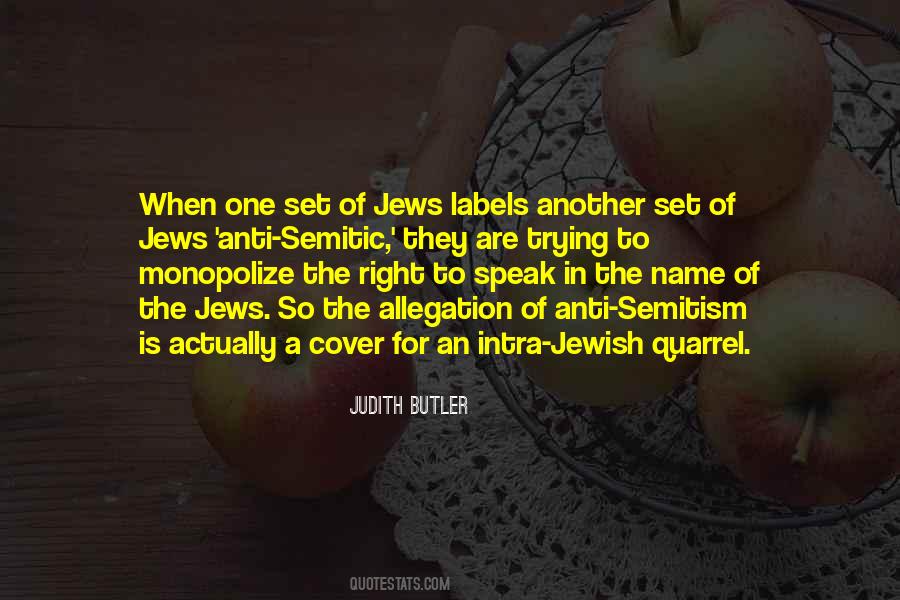 #40. Instead of of being so metaphorical with the rhyme, I was encouraged to go straight at it and hit it dead on and not waste time trying to cover things. - Author: Tupac Shakur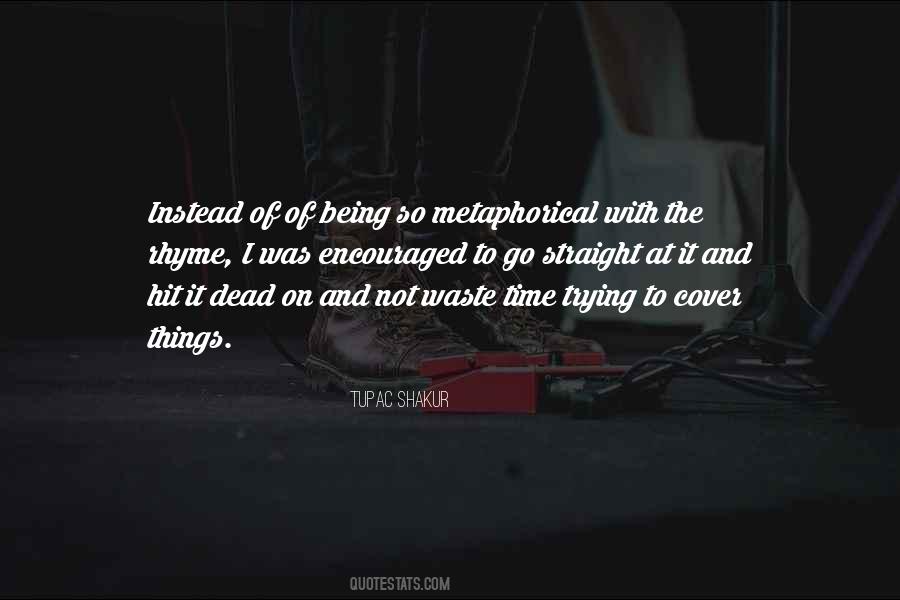 #41. Try this experiment: one day go in a record store and just try and guess what the music sounds like by looking at the album cover. - Author: DJ Spooky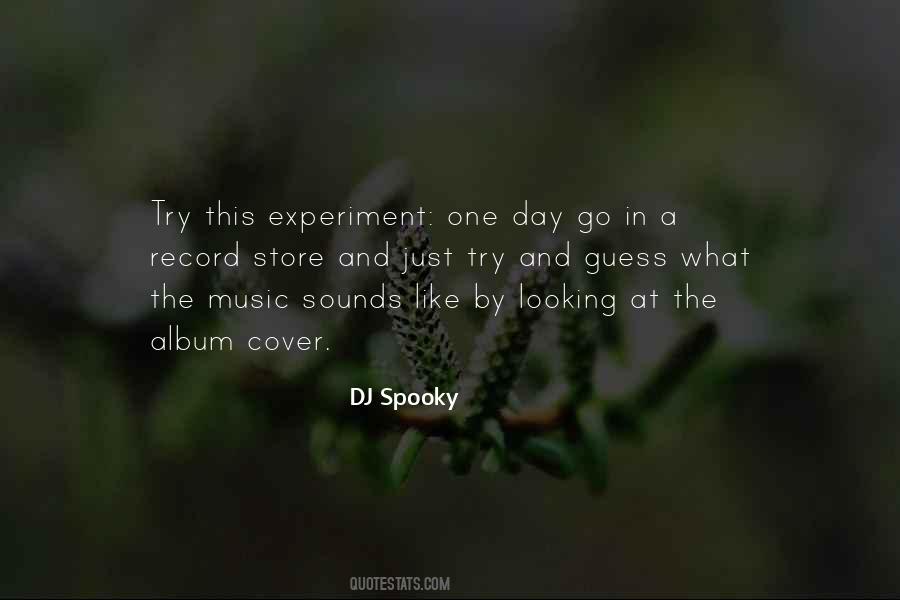 #42. What we are trying to do is to understand this confusion and not cover it up with quotations. - Author: Jiddu Krishnamurti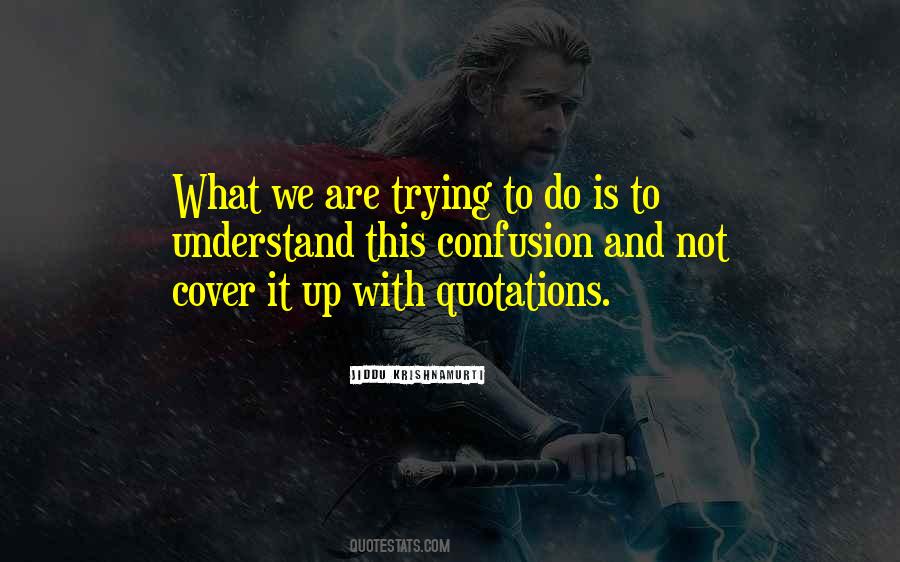 #43. When it comes to conservative social issues, it saddens me when sometimes my fellow Republicans duck and cover in the face of pressure from the left. Our loudest opponents on the left are never going to like us so let's quit trying to curry favor with them. - Author: Rick Perry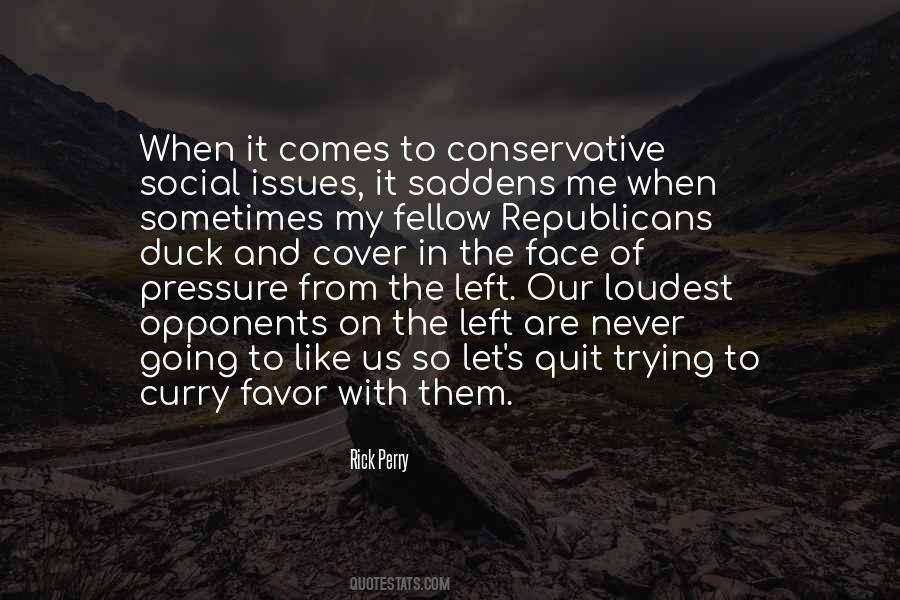 #44. I've learnt that you tend most to make a div of yourself when you're trying to cover up the fact that you don't know what you're doing. And that simply saying 'I don't know what I'm doing' is a massive relief. - Author: Caitlin Moran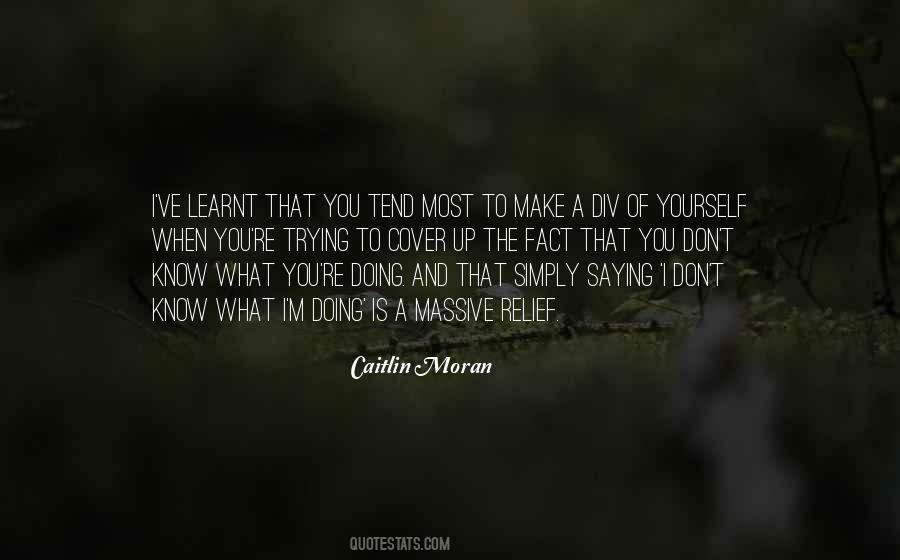 #45. President Bush is in the hot seat over Iraqi pre-war intelligence. Remember the good ol' days when the only thing the president was trying to cover up was a stain? - Author: Craig Kilborn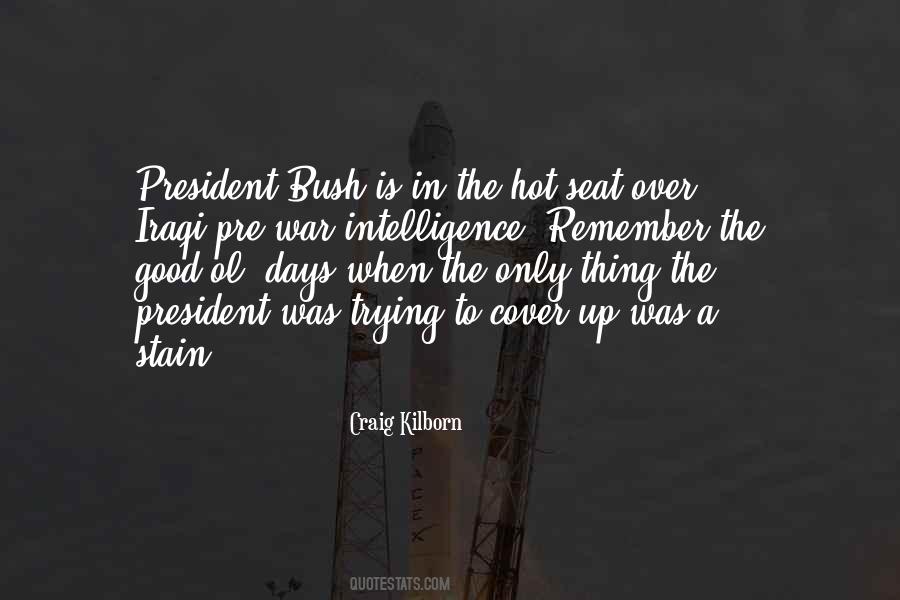 #46. The wild Indian power of escaping observation, even where there is little or no cover to hide in, was probably slowly acquired in hard hunting and fighting lessons while trying to approach game, take enemies by surprise, or get safely away when compelled to retreat. - Author: John Muir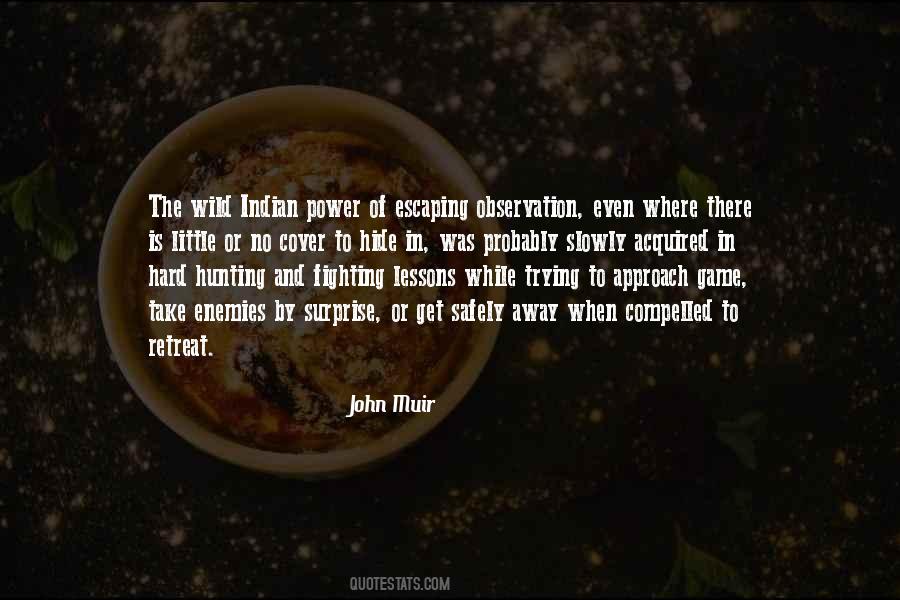 #47. A theory is scientific only if it can be disproved. But the moment you try to cover absolutely everything the chances are that you cover nothing. - Author: Hermann Bondi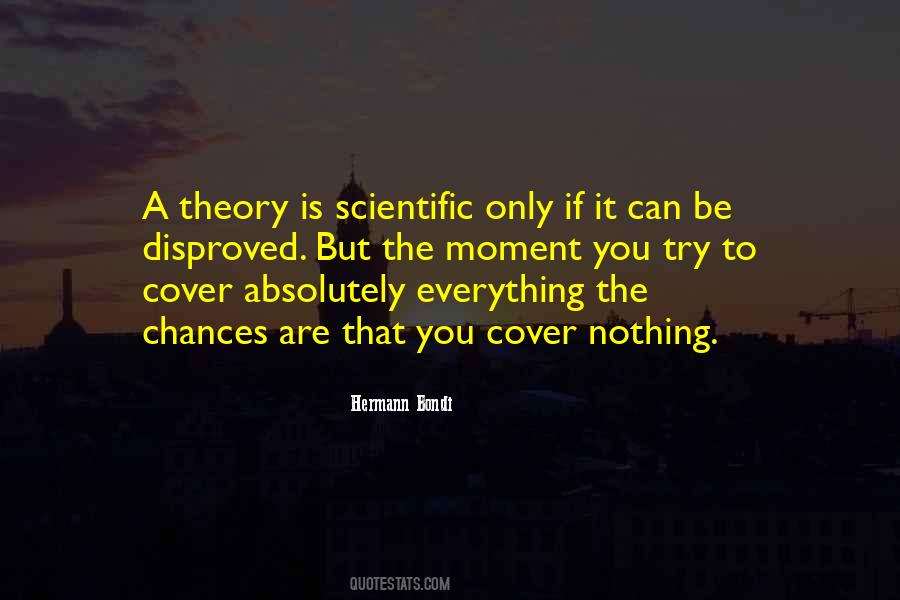 #48. Sometimes you do have a good time. But when it gets to the point where you're sitting in your home and you're just trying to cover what you don't want people to know. It's painful. And then you want more just so that you don't let anybody see you cry. Or anybody to see we're not happy. - Author: Whitney Houston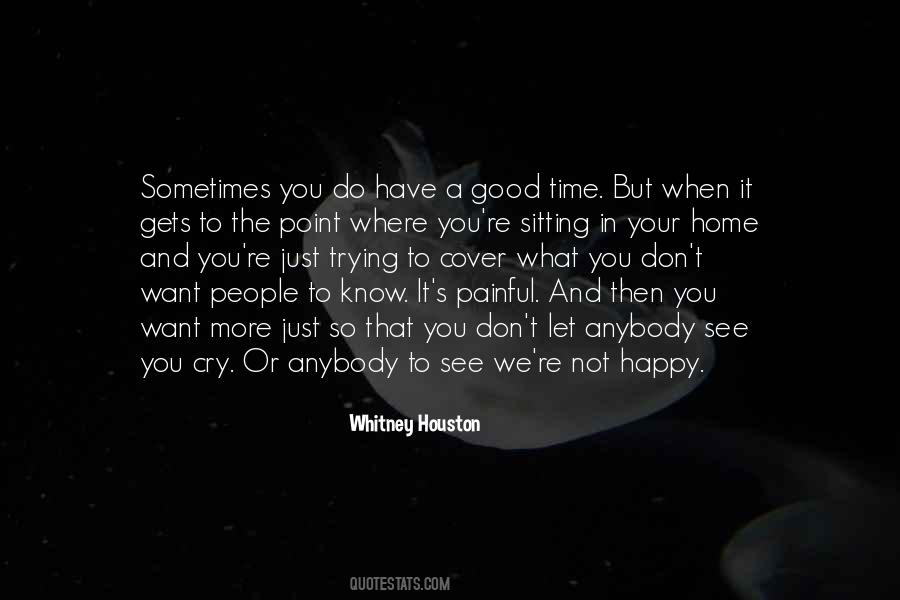 #49. Oh, yuck," said Iko, trying to cover the hole with both hands. "I hate when my wiring is showing." "I know the feeling. - Author: Marissa Meyer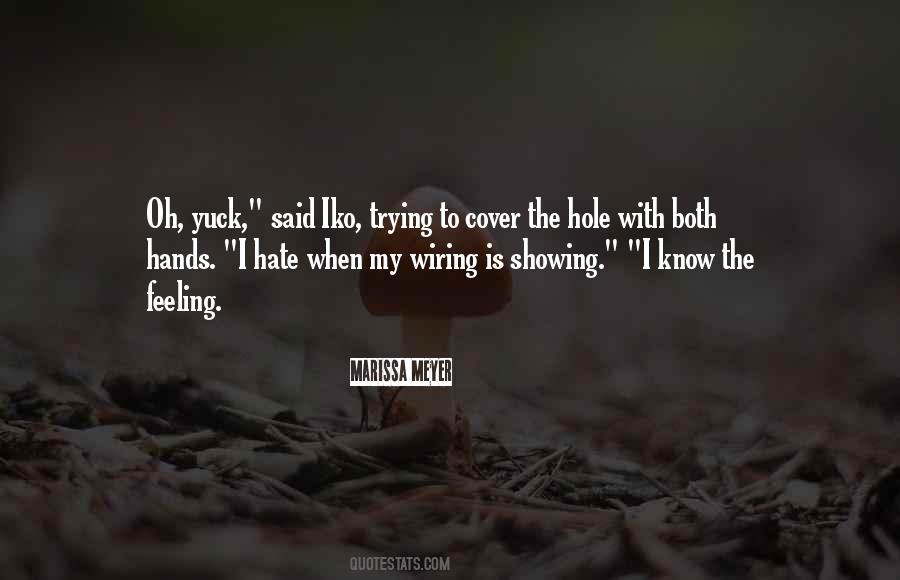 #50. Software suppliers are trying to make their software packages more 'user-friendly' ... Their best approach so far has been to take all the old brochures and stamp the words 'user-friendly' on the cover. - Author: Bill Gates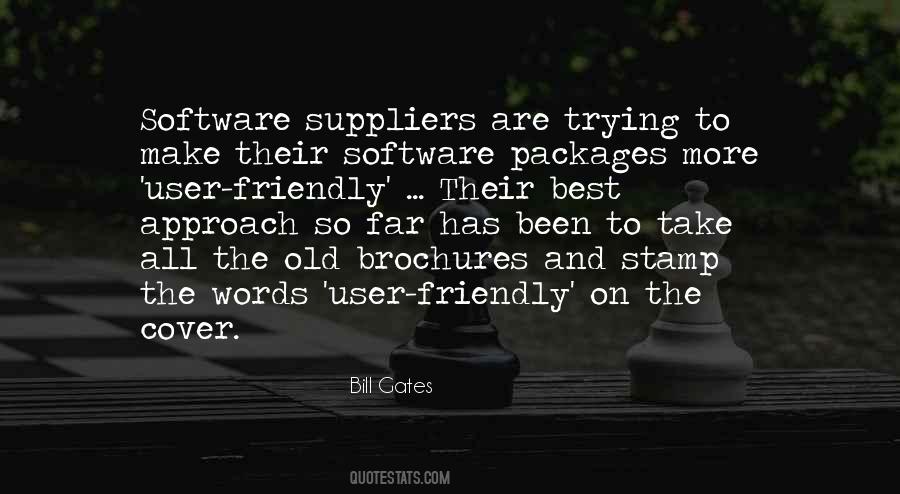 Famous Authors
Popular Topics