Take Control Of Your Own Life Famous Quotes & Sayings
List of top 48 famous quotes and sayings about take control of your own life to read and share with friends on your Facebook, Twitter, blogs.
Top 48 Take Control Of Your Own Life Quotes
#1. Either you must control your thoughts or the outside forces will control them and be warned that the outside forces usually consist of fears, worries and doubts. - Author: Maddy Malhotra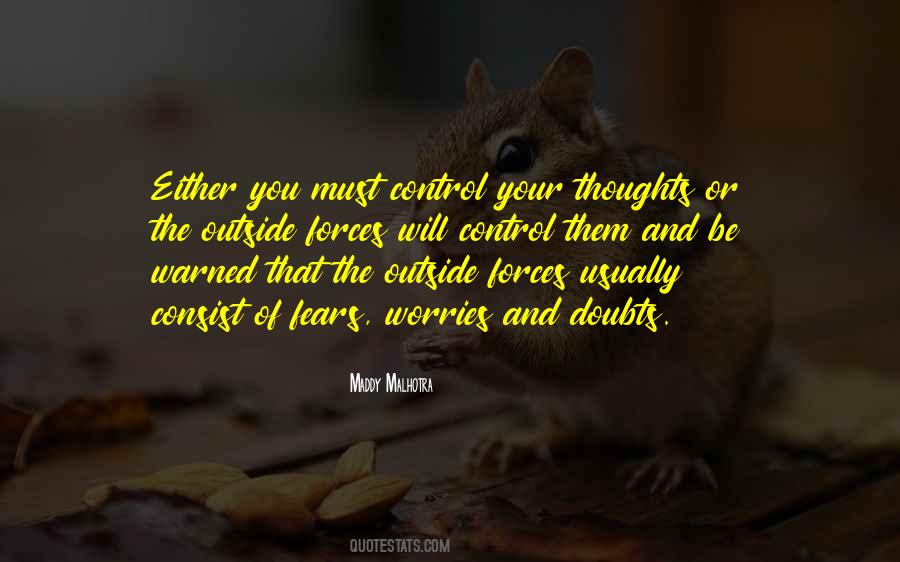 #2. The more you try to control something, the more it controls you. Free yourself, and let things take their own natural course. - Author: Leon Brown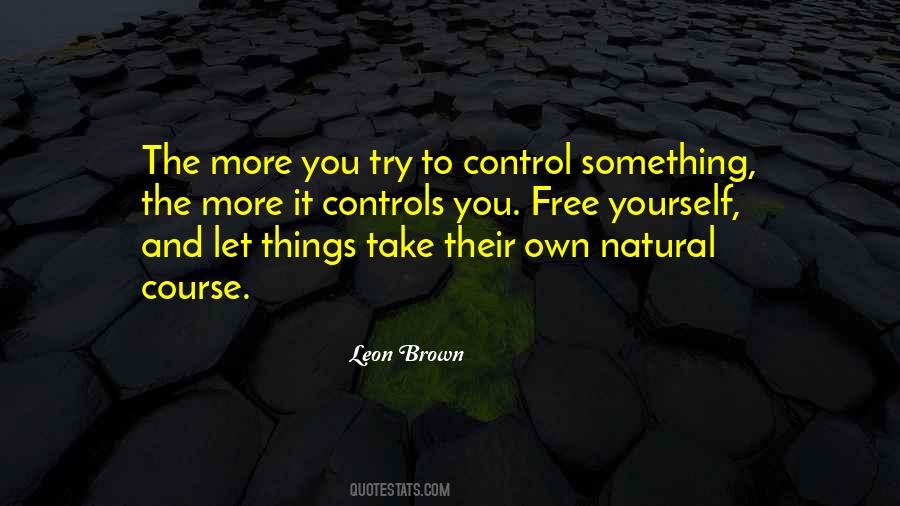 #3. Do you wish to take control of your life? Begin by focusing on steering the storm, rather than where the lightening strikes. - Author: Gary Hopkins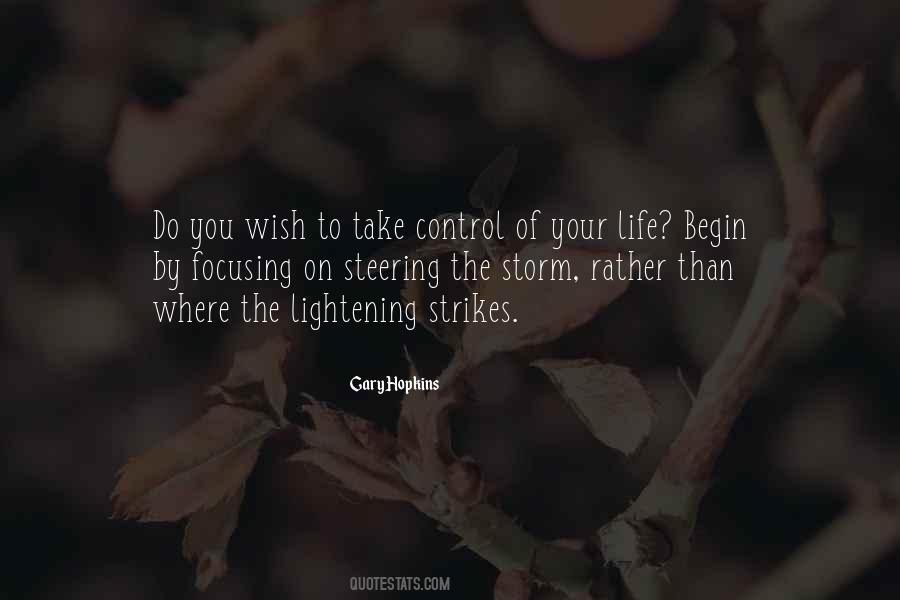 #4. One of the marvels of personality is its resistance to prediction. One man's paralyzing trauma is another man's invitation to take control of his life; one woman's grounds for insanity is another woman's ground to a dramatic shaping of self. - Author: Rosellen Brown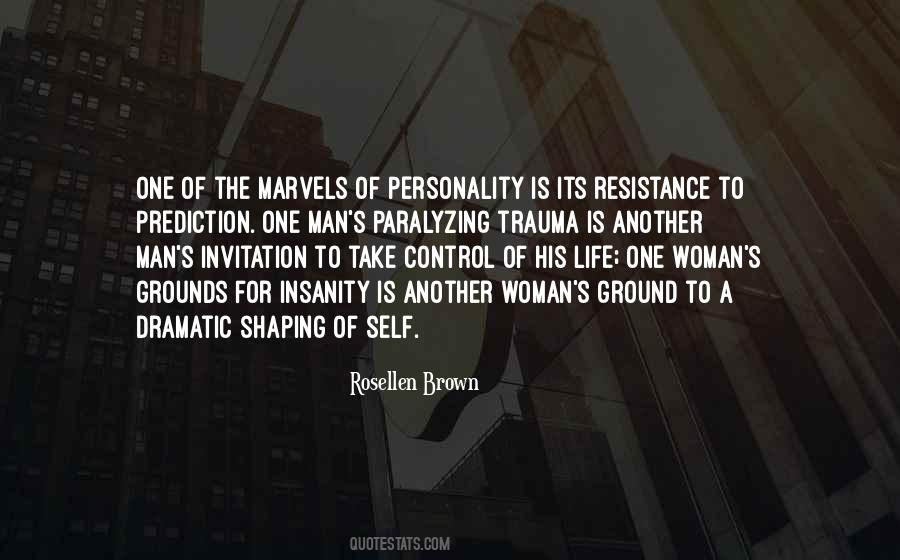 #5. You can use power for good or bad, for control or freedom. You grew up watching your dad abuse it one way and it made you take the opposite direction. That's what we all think. Everything's about balance. That's what sustains life. Maybe your role is to keep your dad in check? - Author: Katie Kacvinsky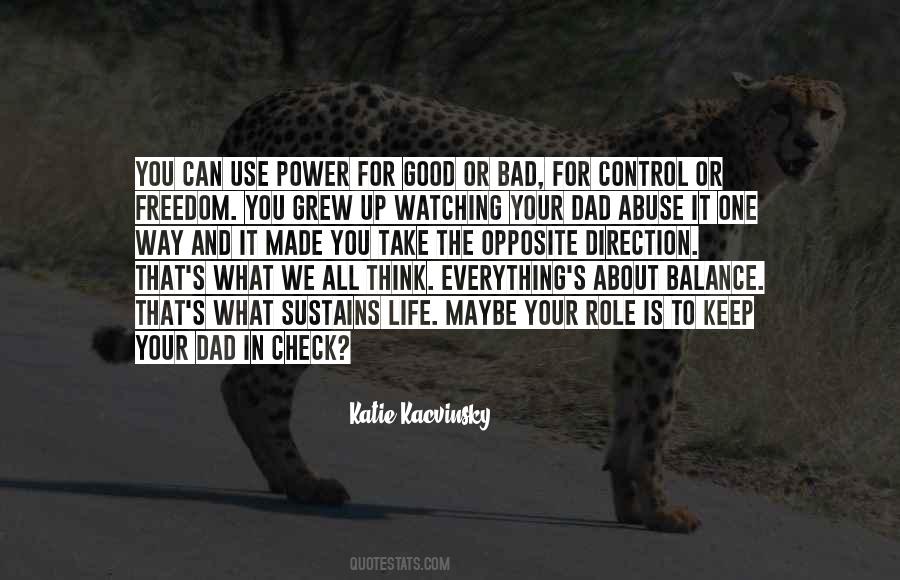 #6. Our personal history does not inhibit our present or our future. Don't let anyone (including yourself) tell you you can't do something. Find your passion and take action everyday to work towards achieving your life purpose. - Author: Miya Yamanouchi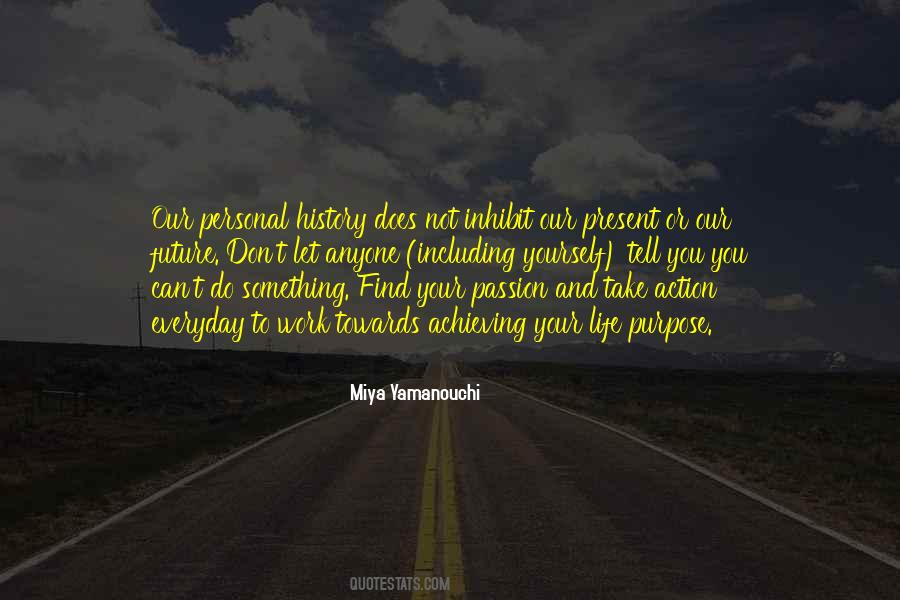 #7. I have never known more than fifteen minutes of anxiety or fear. Whenever I feel fearful emotions overtaking me, I just close my eyes and thank God that He is still on the throne reigning over everything and I take comfort in His control over the affairs of my life. - Author: John Wesley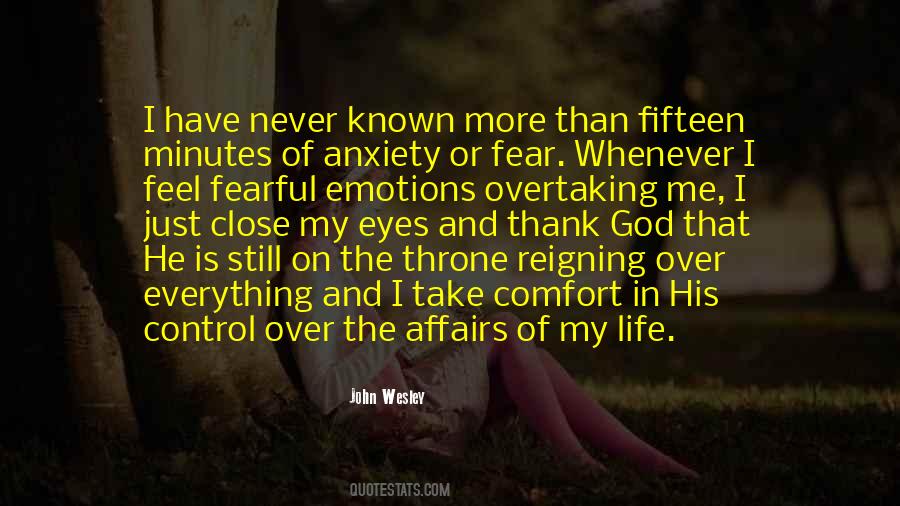 #8. But after a while, she began to experience the new reality of each person as being as strong and as weak as anyone else. Slowly, she learned that each of us grown-ups has as much and as little power as the other, and that we had best learn to take care of ourselves.(83) - Author: Sheldon B. Kopp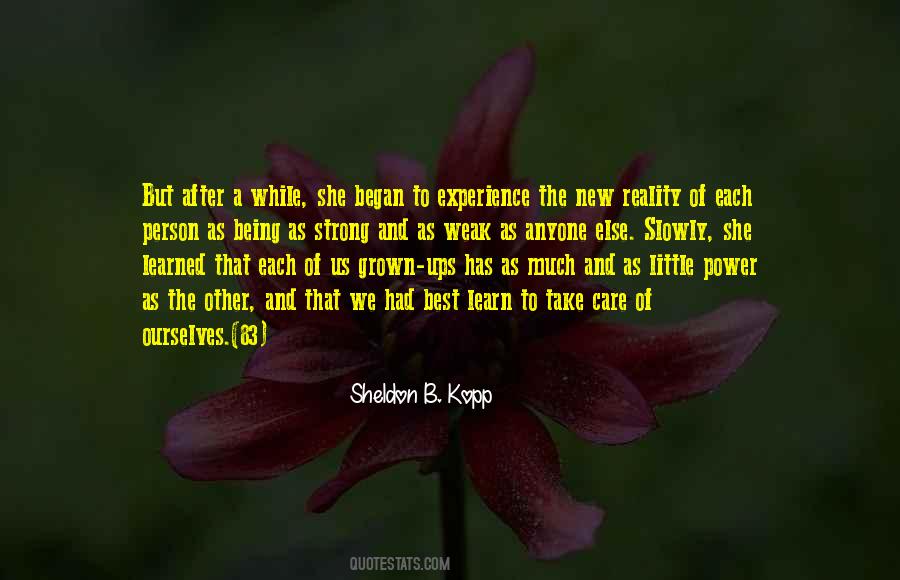 #9. What the myths say, is that you have to be the hero of your own life. You're the one who has to take charge of who you are, you're the one who has to take control. And also, you're the one who can bring something to the community. - Author: Jeanette Winterson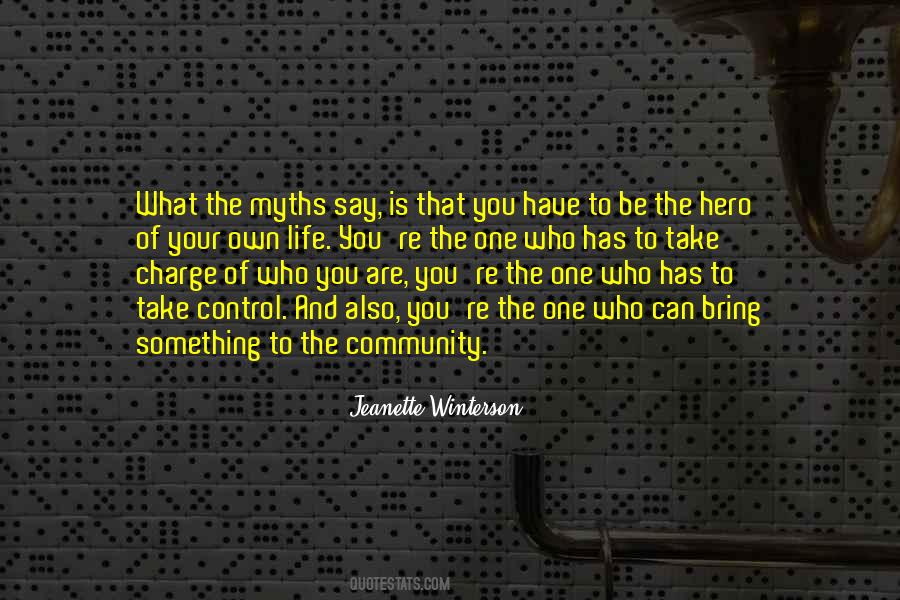 #10. The only way to take command of your life is to realize that you are never going to be in control of it. - Author: Toni Sorenson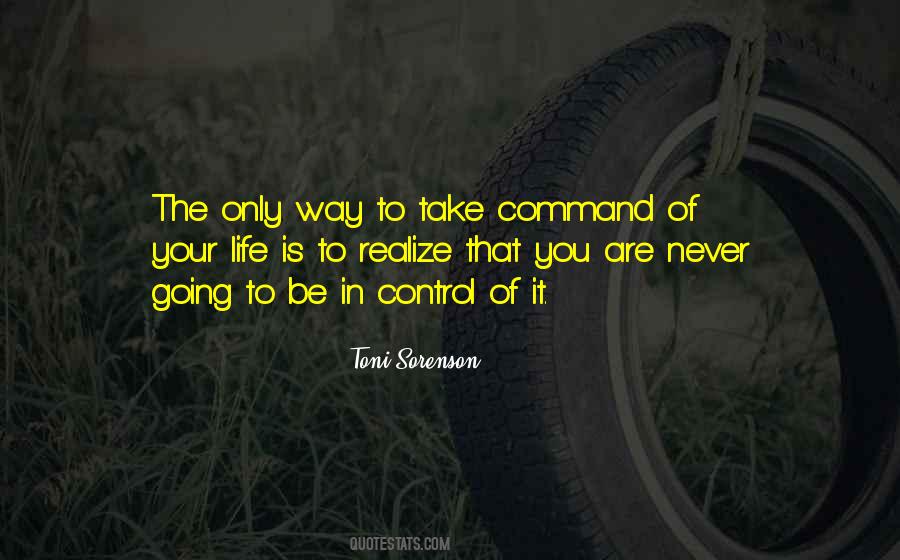 #11. Take control of your consistent emotions and begin to consciously and deliberately reshape your daily experience of life. - Author: Tony Robbins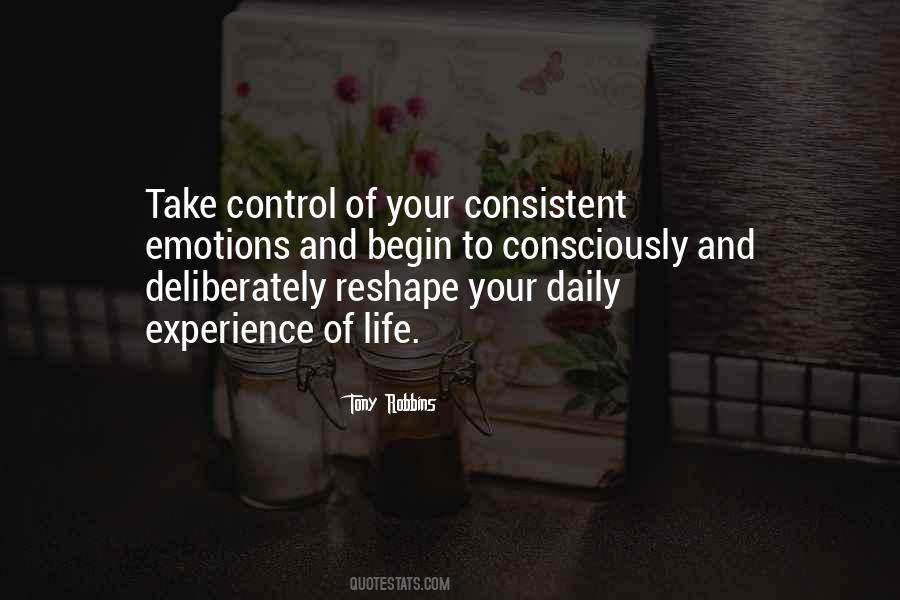 #12. [I'm] an extremely private dude and all this is happening so damn quick. I really haven't had any time to rationalize it. But it's nothing that I'm going to let freak me out or take control of me or my thoughts or my real life. - Author: Heath Ledger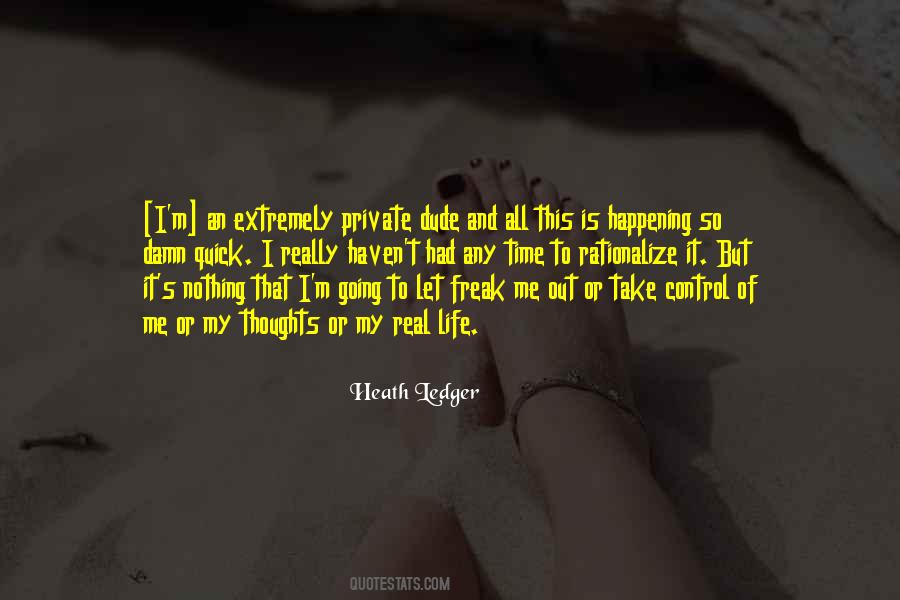 #13. If it doesn't do you any good, dump it. Take some action, push that lever, flush it away, and don't look back. Take small steps everyday of your life, and start taking control of what you say when you talk to yourself. - Author: Dave Pelzer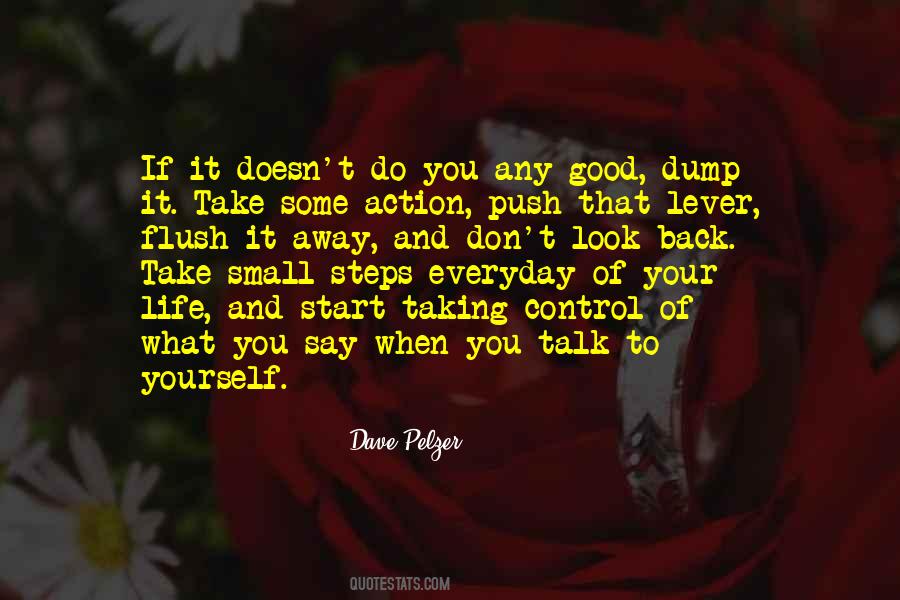 #14. But I do think that women who spend all their lives on a diet probably have a miserable sex life: if your body is the enemy, how can you relax and take pleasure? Everything is about control, rather than relaxing, about holding everything in. - Author: Nigella Lawson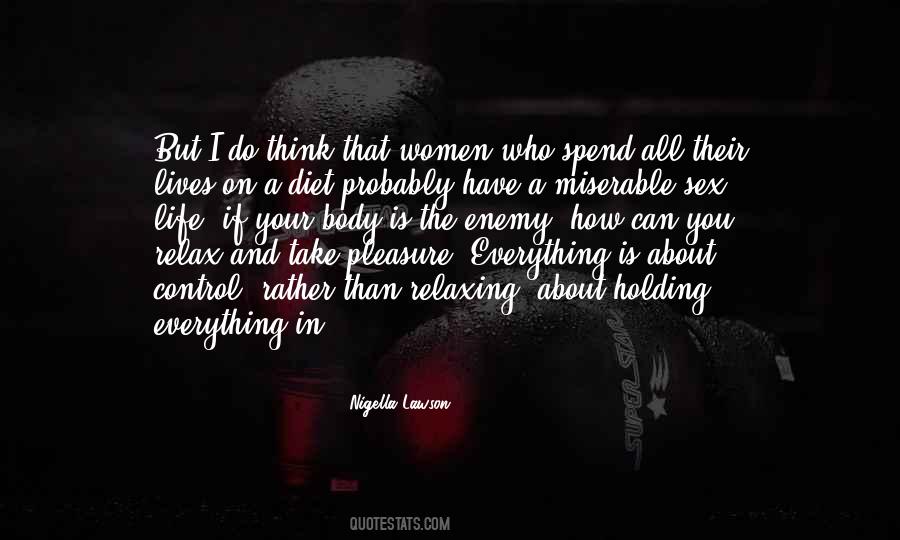 #15. I was always in complete control of everything in my life and I was just so tired of having to do that alone. Not that I wanted someone else to take over my life for me or tell me how to do things, but when you're the only one accountable for everything, that can get old. - Author: Beth Harbison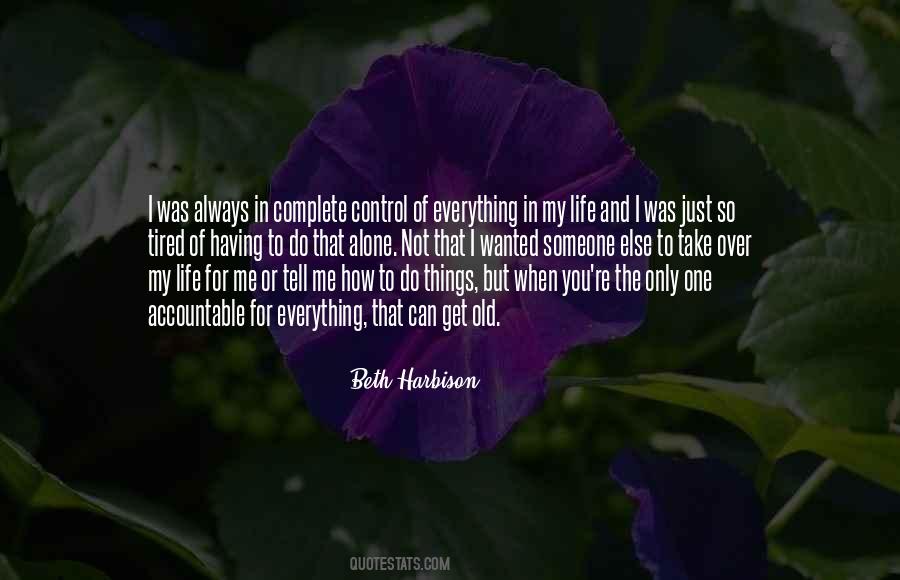 #16. If you are impeccable with your word, if you don't take anything personally, if you don't make assumptions, if you always do your best, then you are going to have a beautiful life. You are going to control your life one hundred percent. - Author: Miguel Ruiz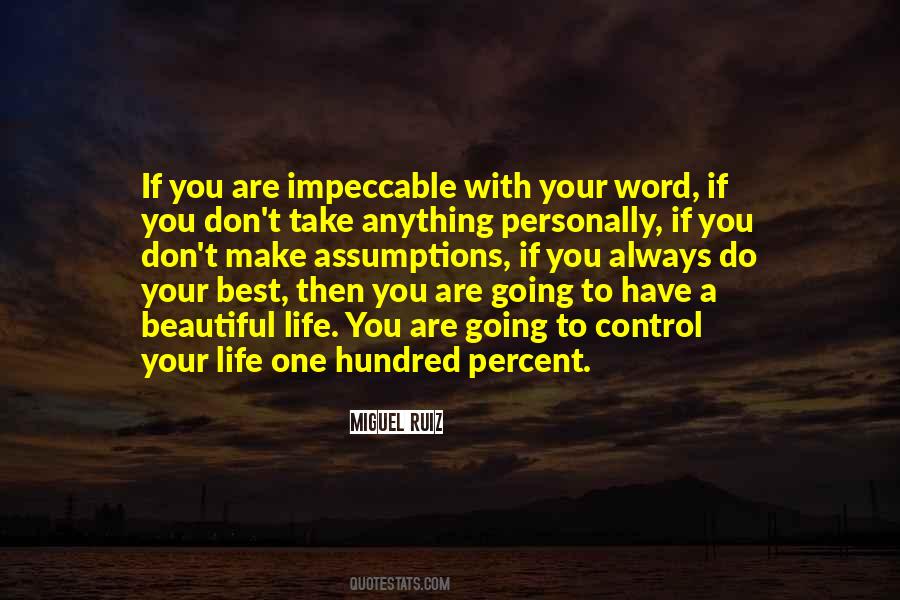 #17. A bad life doesn't justify bad behavior. It's time to stop playing the blame game and take responsibility for your own actions. You have control of your life from here. - Author: Blaque Diamond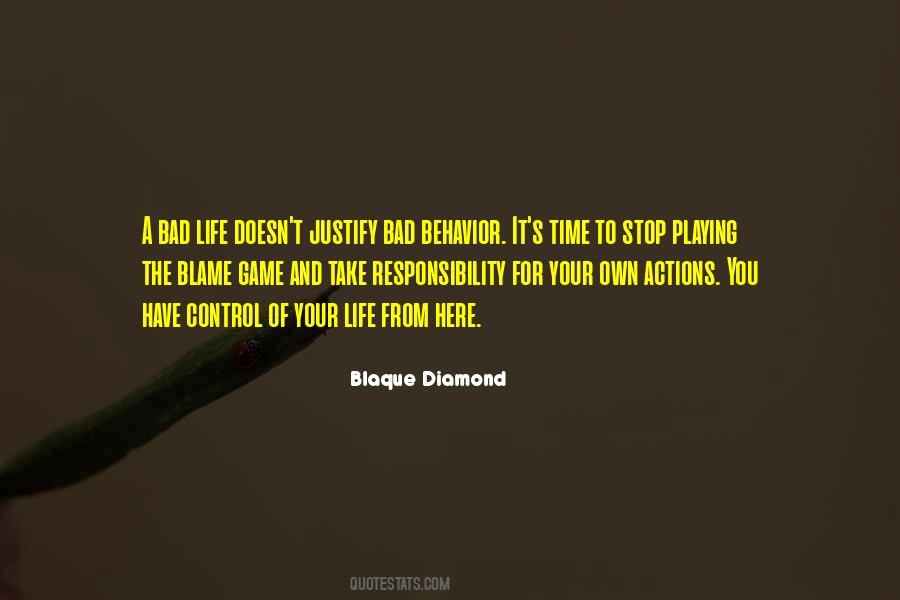 #18. Sometimes, as an actor, you're so deeply immersed in a part that you lose control of it. If you're really lucky, a few times in your life it'll take you somewhere you never expected to go. It really blows the top off your understanding of your craft. - Author: Mark Ruffalo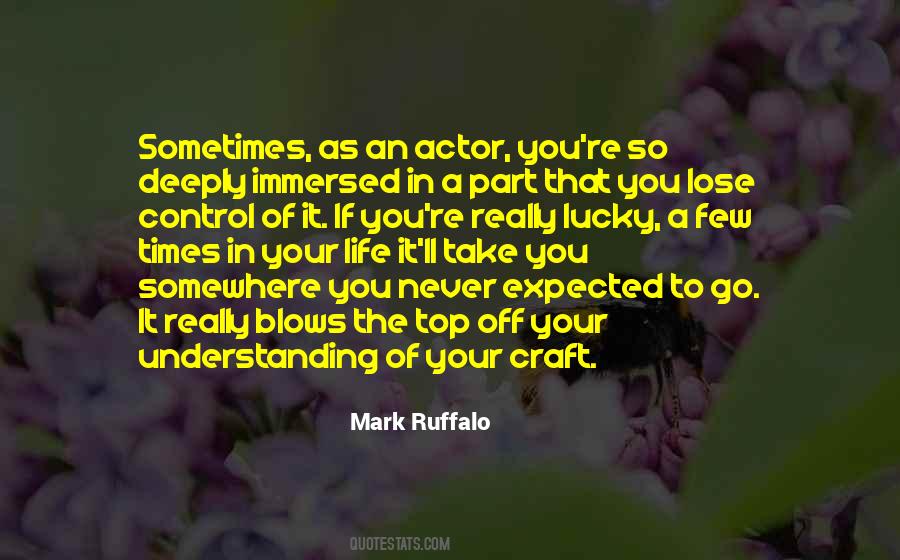 #19. The fact that you can act with love even when you don't feel love is very empowering. Why? Because whereas the feelings of love are fleeting and largely out of your control, you can take the actions of love anytime and anyplace for the whole rest of your life. - Author: Russ Harris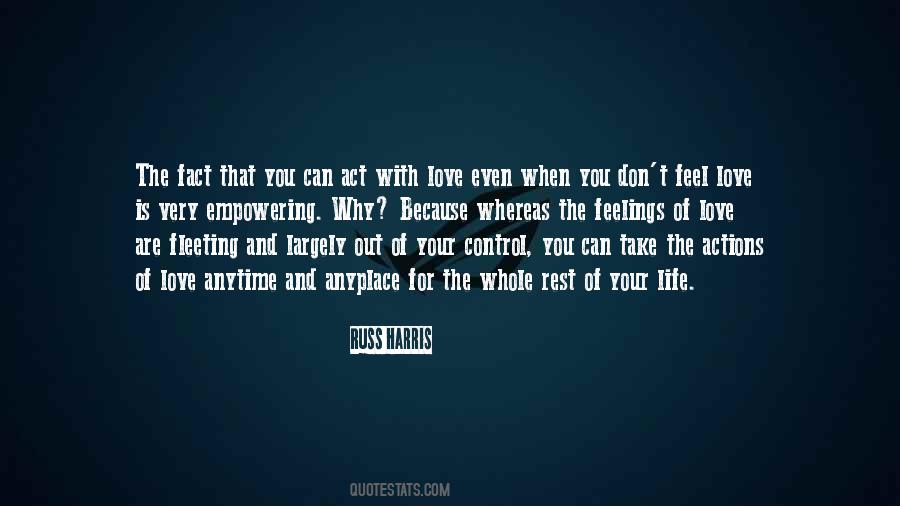 #20. From 1997 through 1999, I had gained so much. People don't realize how something like weight gain can make you sad. Losing weight has changed my life. If you can take control of your life, you can lose weight. - Author: La India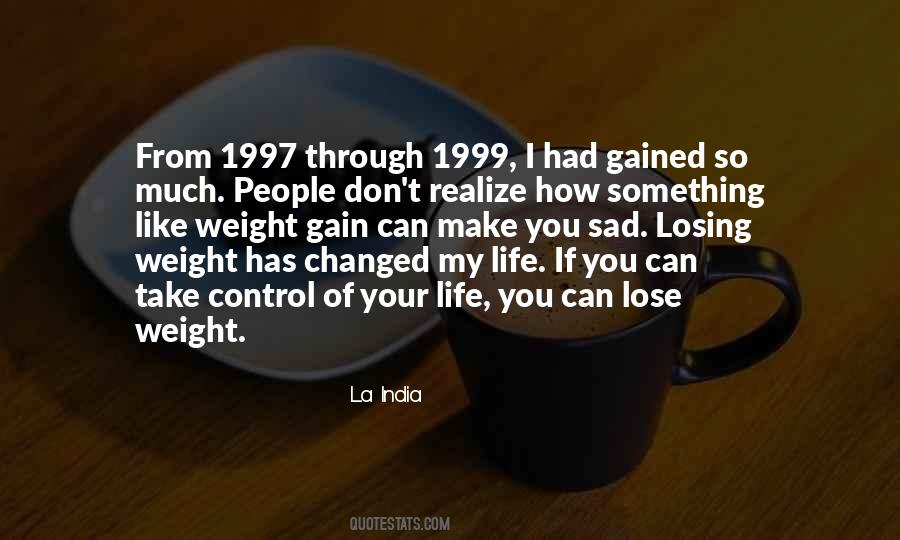 #21. Stop it now and take control. Write this on a card and pin it up where you can see it ... MY THOUGHTS CONTROL MY LIFE! - Author: Peter A. Cohen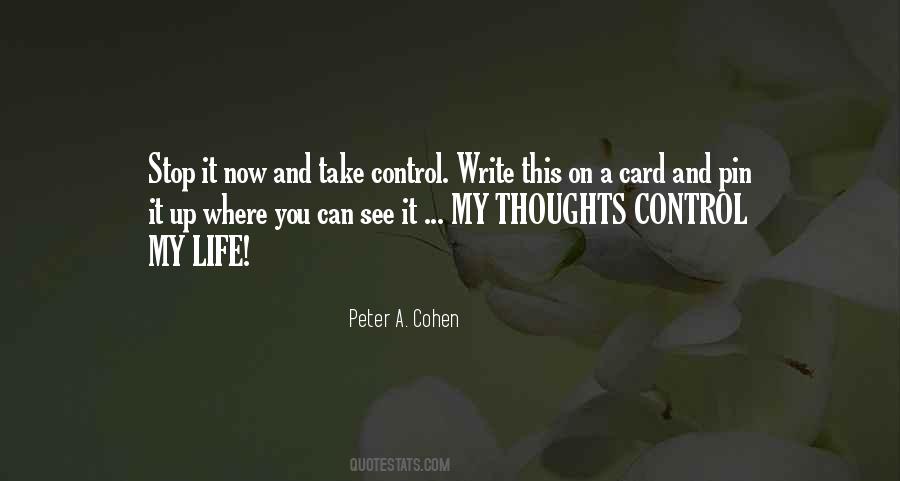 #22. On the other hand, I think it is wonderful for everyone to take ballet classes, at any age. It gives you a discipline, it gives you a place to go. It gives you some control in your life. - Author: Suzanne Farrell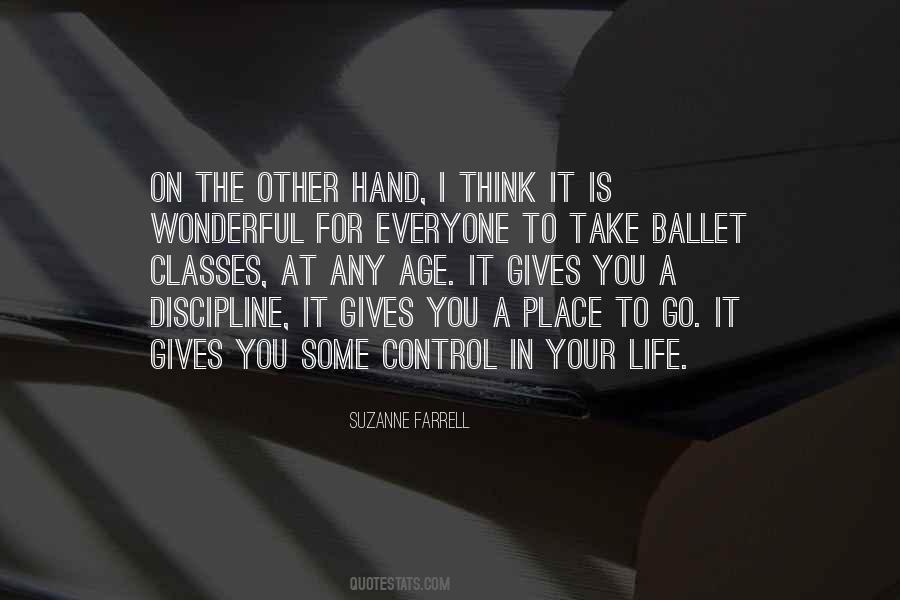 #23. Because you see, when you're a strong person, people often look to you to take care of them. People look to you for help. People look to you for strength.
And when your life spins out of control, it's as if their lives are tied to your own and will come crashing down with yours. - Author: Nessie Q.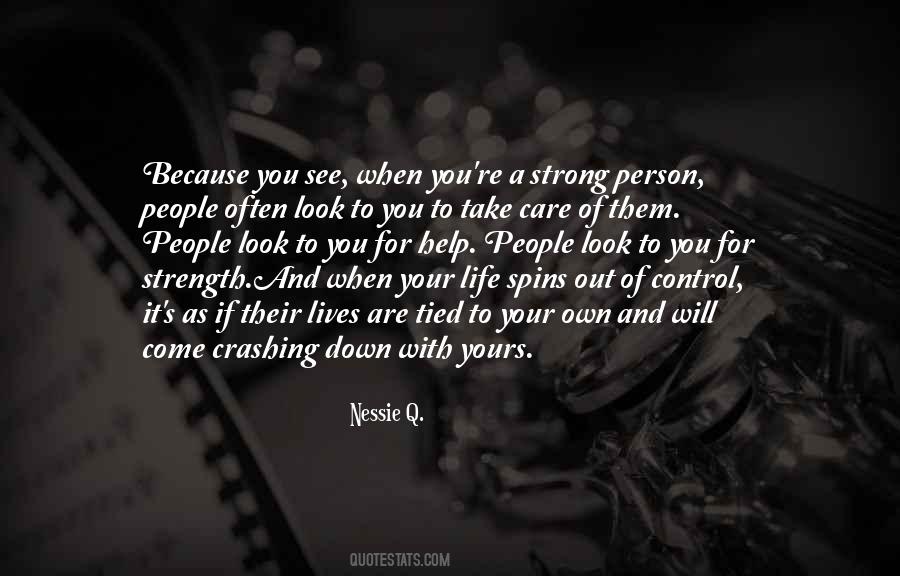 #24. Your life is the sum result of all the choices you make, both consciously and unconsciously. If you can control the process of choosing, you can take control of all aspects of your life. You can find the freedom that comes from being in charge of yourself. - Author: Robert Foster Bennett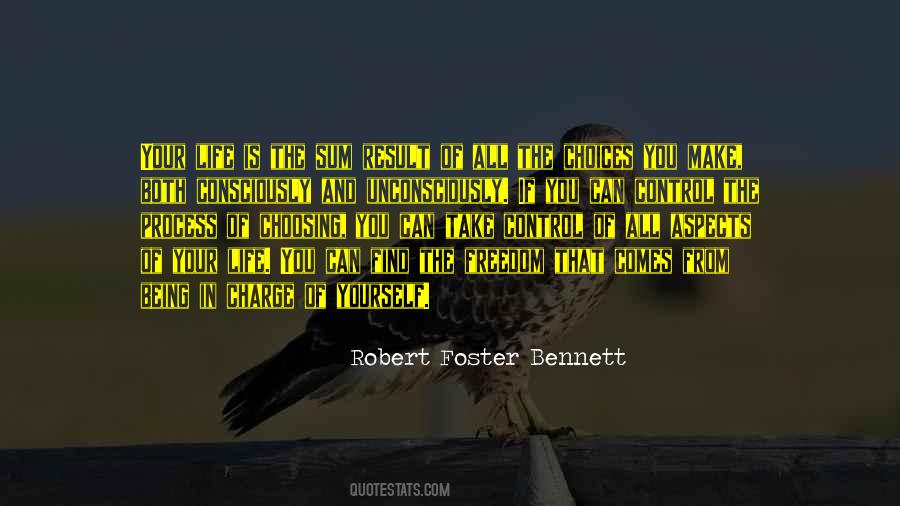 #25. But you have to take control of your destiny. And sometimes that's not easy. - Author: Mari Mancusi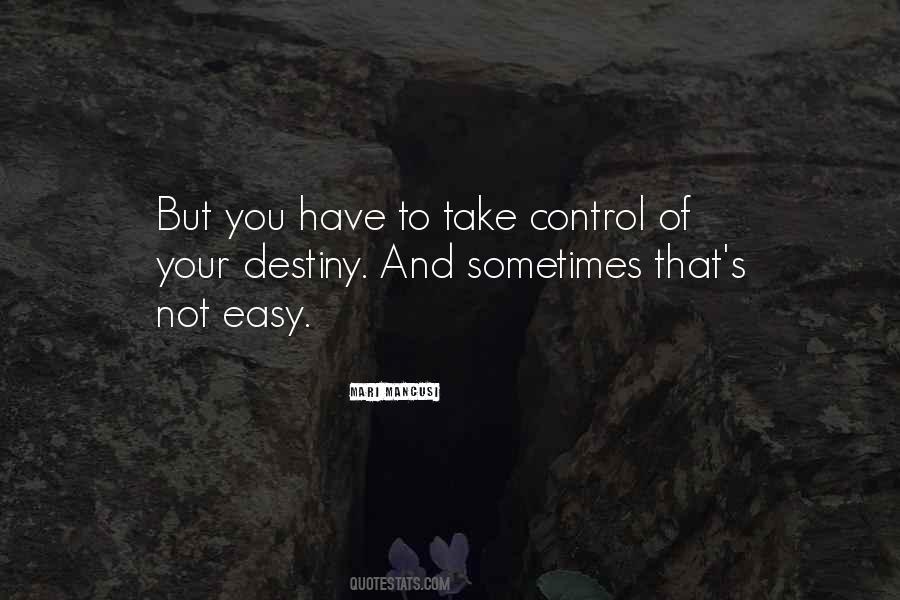 #26. From today onwards, take complete control of your life. Decide, once and for all, to be the master of your fate. Run your own race. Discover your calling and you will start to experience the ecstasy of an inspired life. - Author: Robin S. Sharma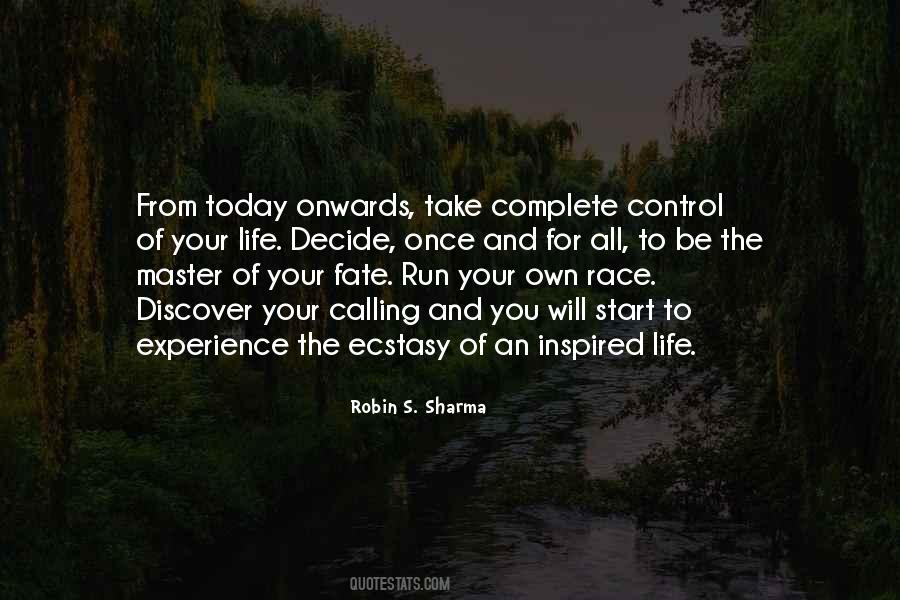 #27. You need to take control of your own destiny. - Author: Jen Calonita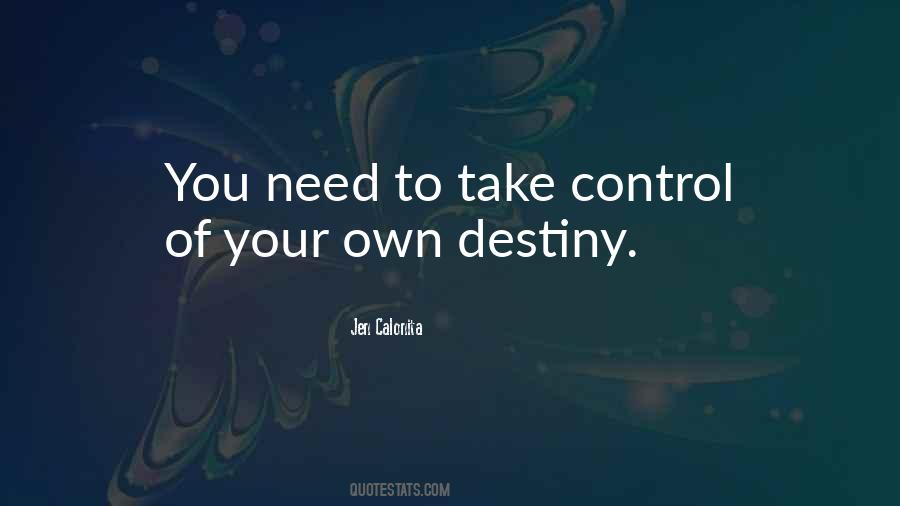 #28. If you don't make a choice, life makes it for you and then you're stuck with what it decides. Take control of your destiny so that doesn't happen - Author: Stewart Stafford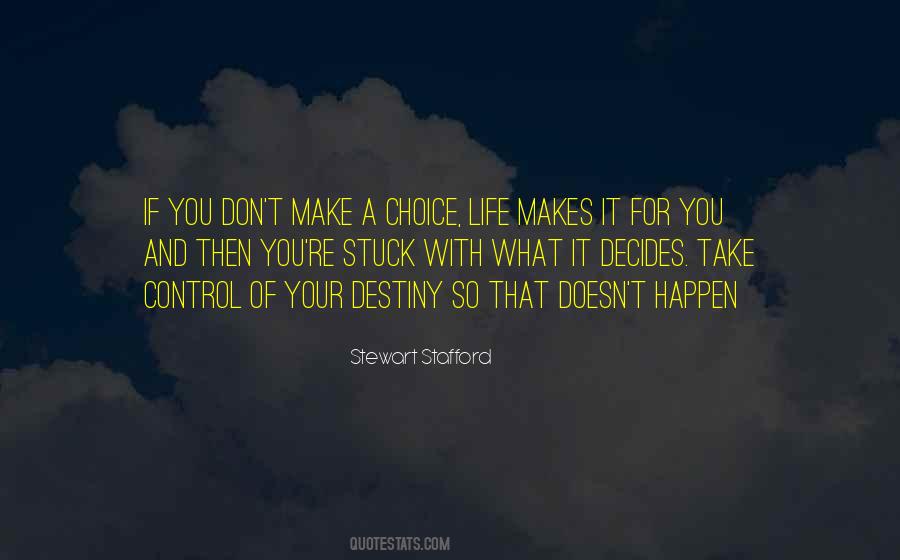 #29. Without awareness, the current of life cedes its sense of control to other deceptive agents that take you into a life that is toxic rather than nourishing. - Author: Garey Gordon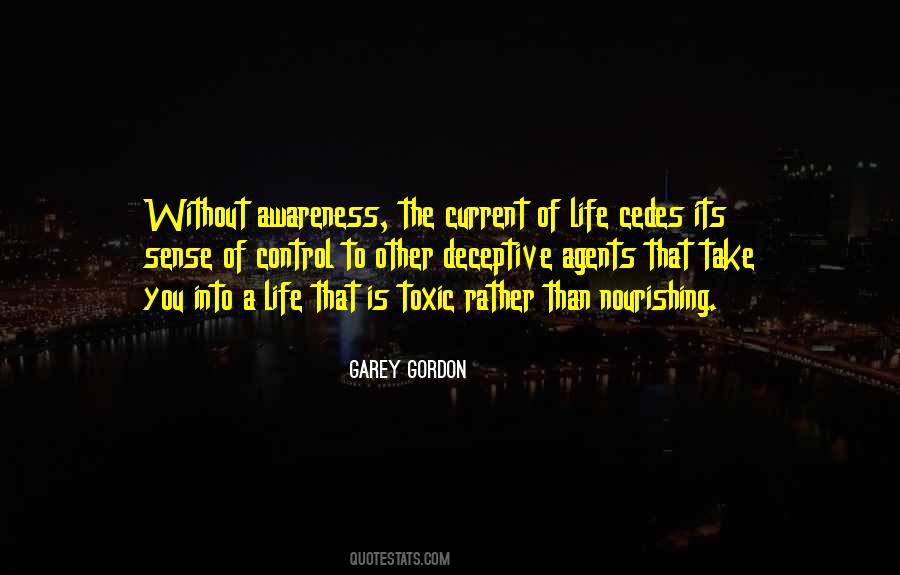 #30. You only have control over three things in your life-the thoughts you think, the images you visualise, & the actions you take. - Author: Jack Canfield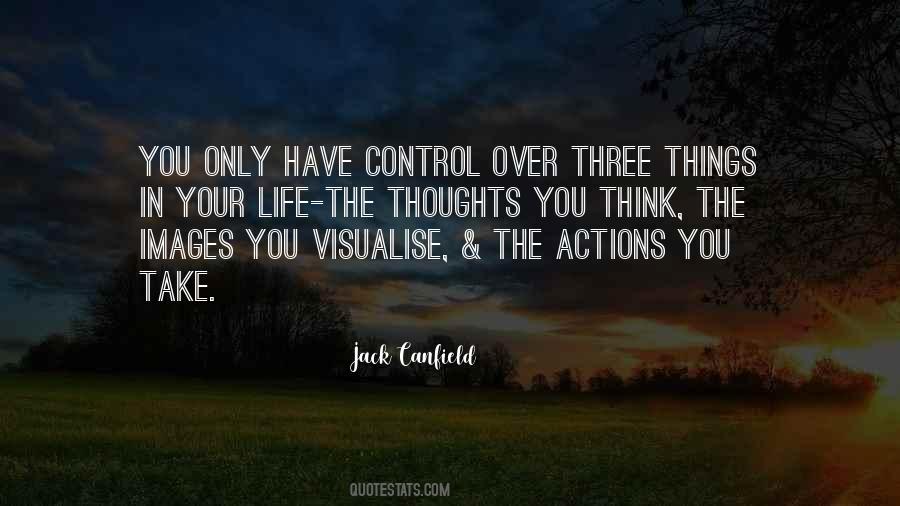 #31. If my life was to be a story, I wanted to take control of the pen. I wanted to change the paper, crumple up what had been written so far and start over. I - Author: Kandi Steiner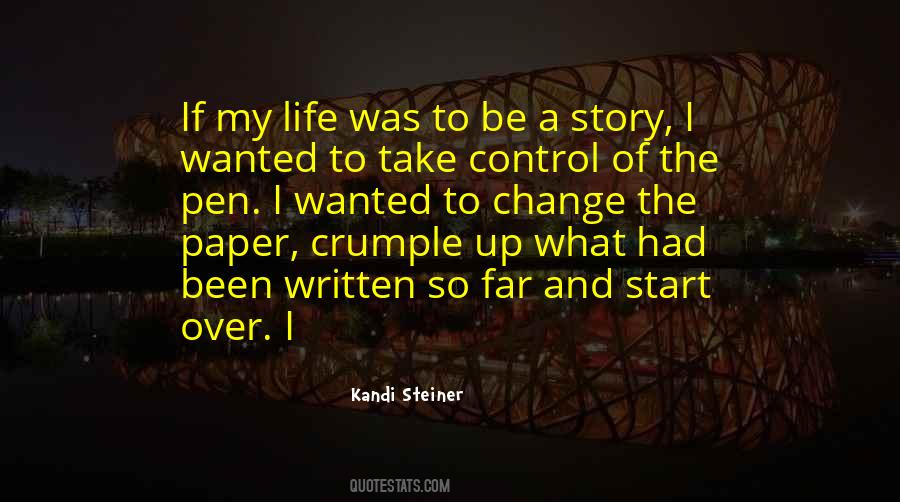 #32. Life is scary, I admit, but we do not have anything to fear. Christ is ultimately in control and will take us on the ultimate adventure if we allow Him to guide our footsteps. - Author: Beau Jason McGlynn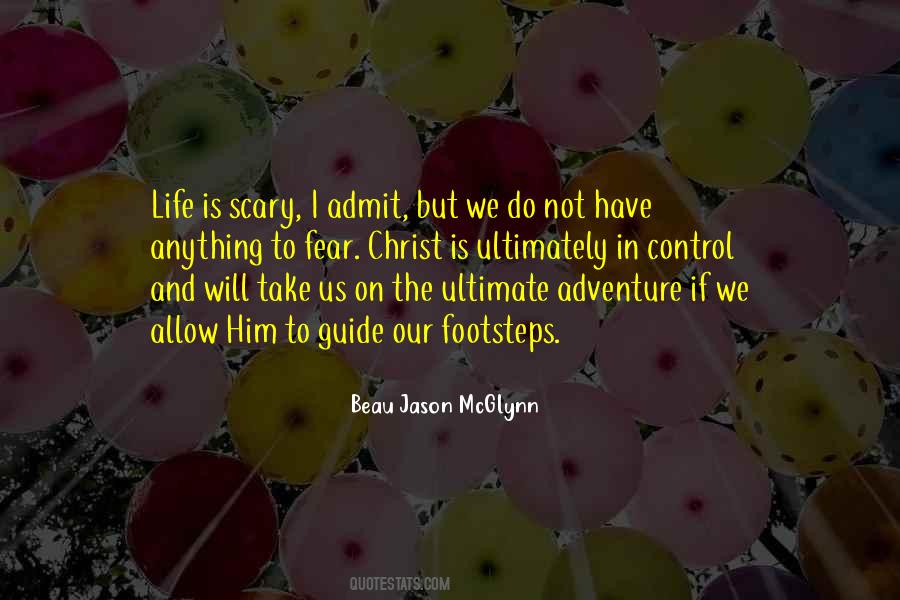 #33. The actual lifespan of a thought is very short ... unless you believe it, trust it, or take direction from it.. Then it can last a lifetime. Be choosy. Pick the ones with which to do this. - Author: Charles F. Glassman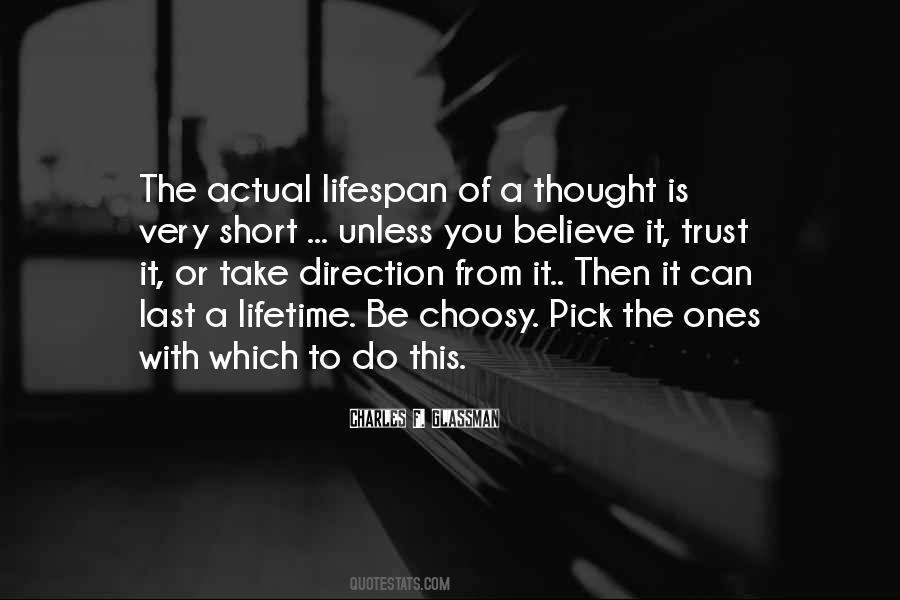 #34. You have the ability to drive your brain and the capability to nab the steering wheel back any time you feel yourself veering off the road you intended to take. - Author: Toni Sorenson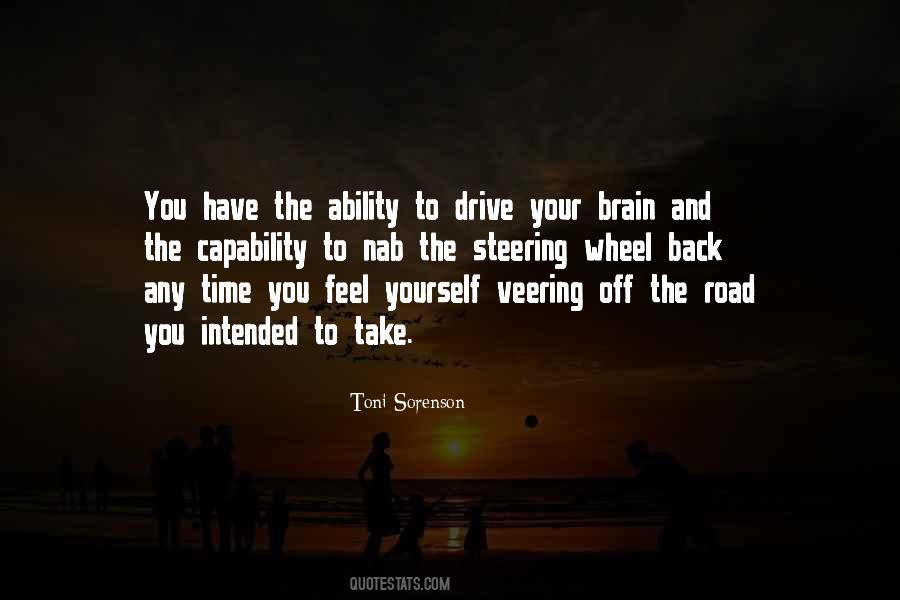 #35. Take full control by creating a life of true bliss through utilising the Power of The Heart. - Author: Steven Redhead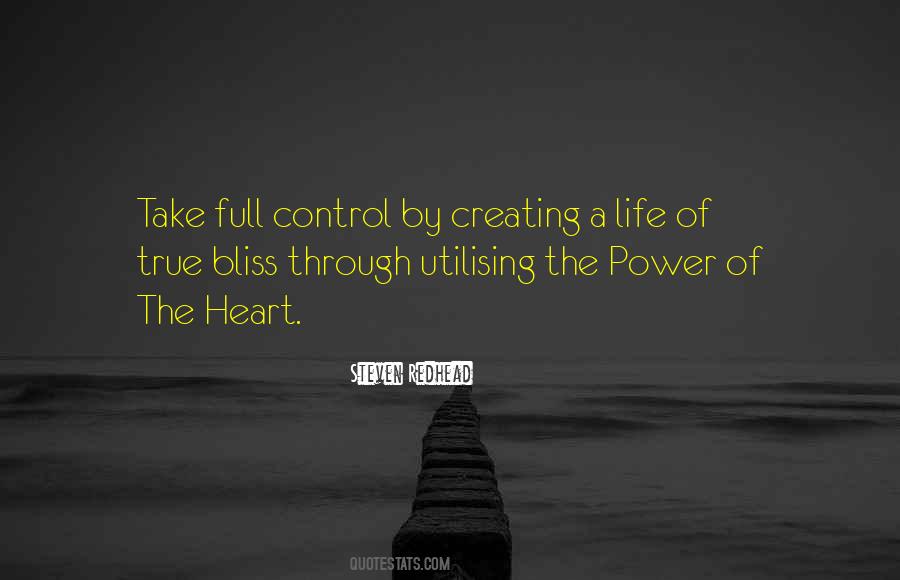 #36. Time plays no favorites and will pass whether you act or not. Take control of your life. Dare to dream and take risks...Compete! If you aren't willing to work for you goals, don't expect others to! Believe in yourself. - Author: Anonymous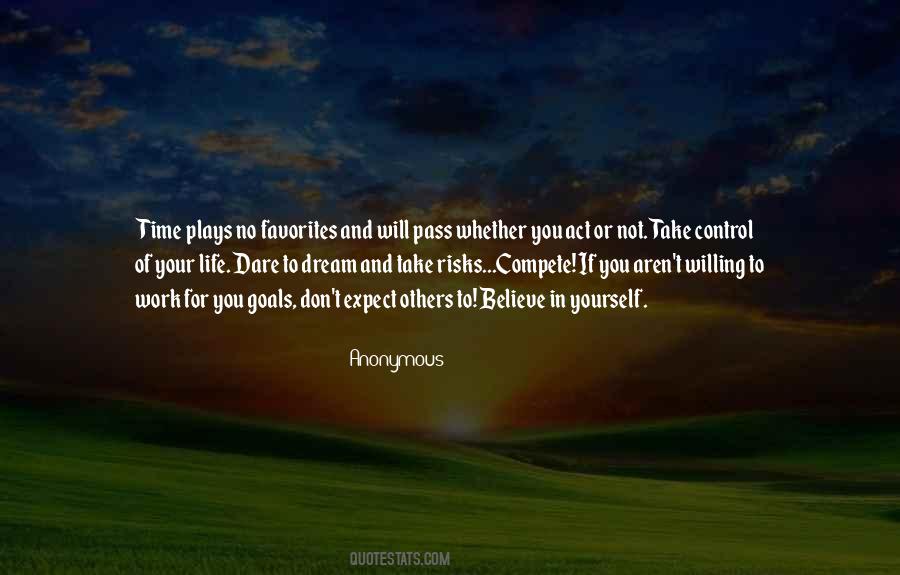 #37. Luxury is ... to be able to take control of one's life, health, and the pursuit of happiness in a way that is joyful. - Author: Andre Leon Talley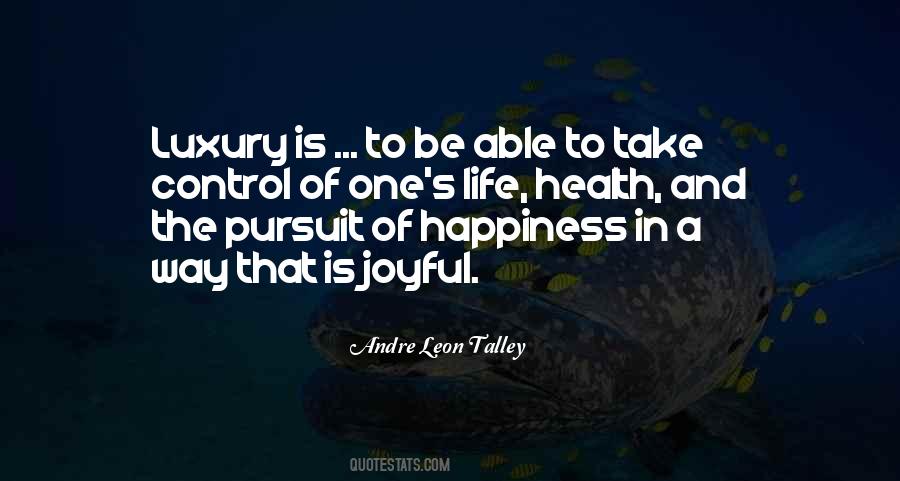 #38. She was in control of her life, even though it seemed she wasn't. All she had to do was take the steering wheel and start driving. - Author: Missy Lyons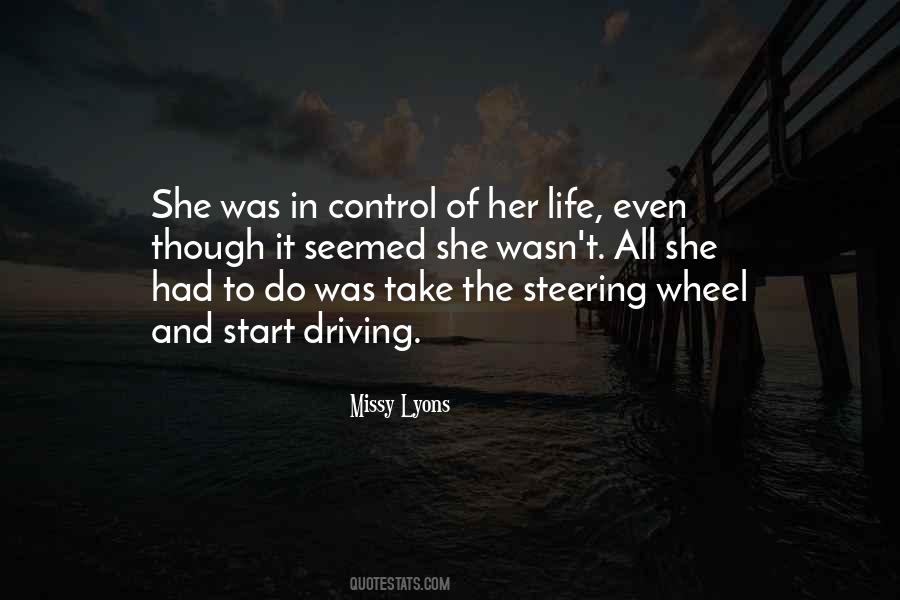 #39. It's funny when you write a song - it's easy for me now - but there's almost a second stage where you take control of the song. You start writing it, and if you're not careful, it just finishes itself and it might not be what you wanted. It's very strange, it takes over itself. It has its own life. - Author: Kate Bush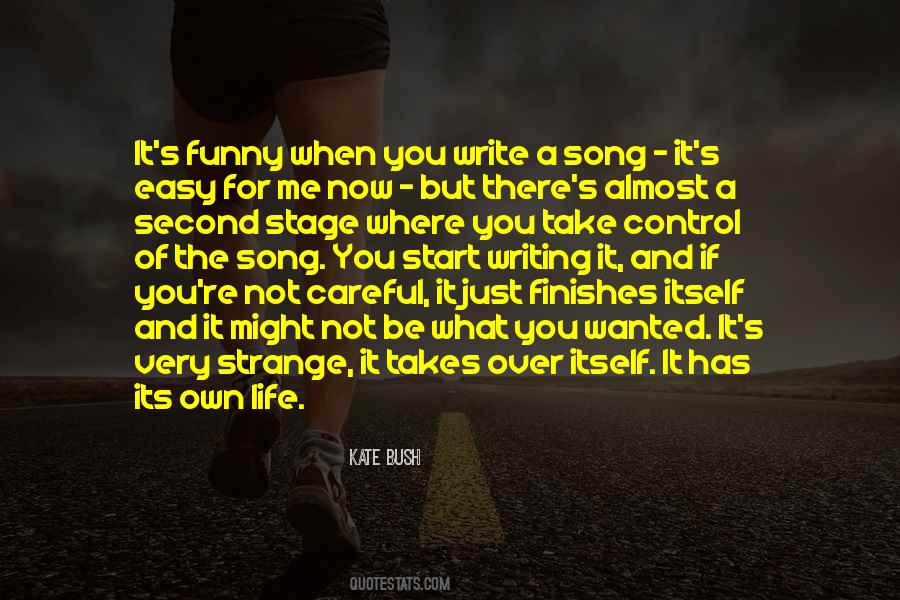 #40. You have to eventually grow up and take control of your life, which is very hard to do. - Author: Farrah Fawcett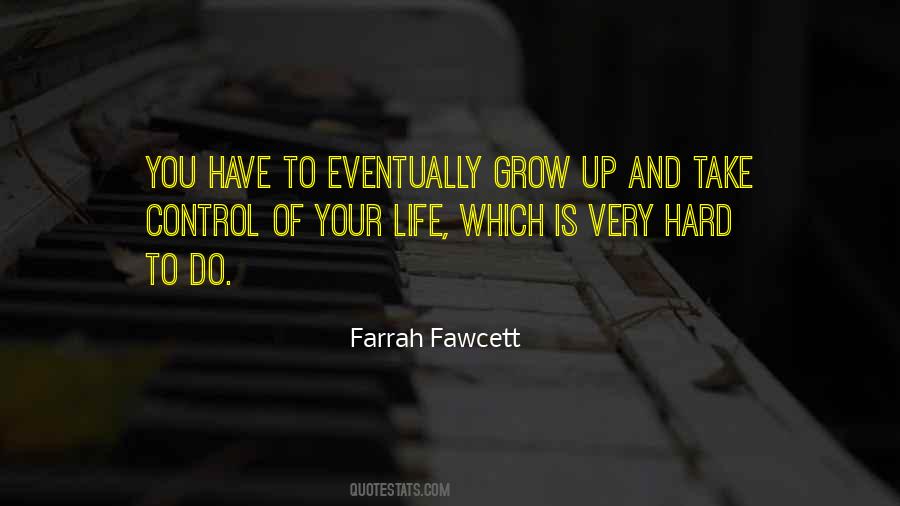 #41. Change is difficult, but necessary for salvation. Turn from your sins and acknowledge Jesus as your Lord and Savior. Let Him take control of your life. He won't let you down. He's not you. He's God. - Author: Calvin W. Allison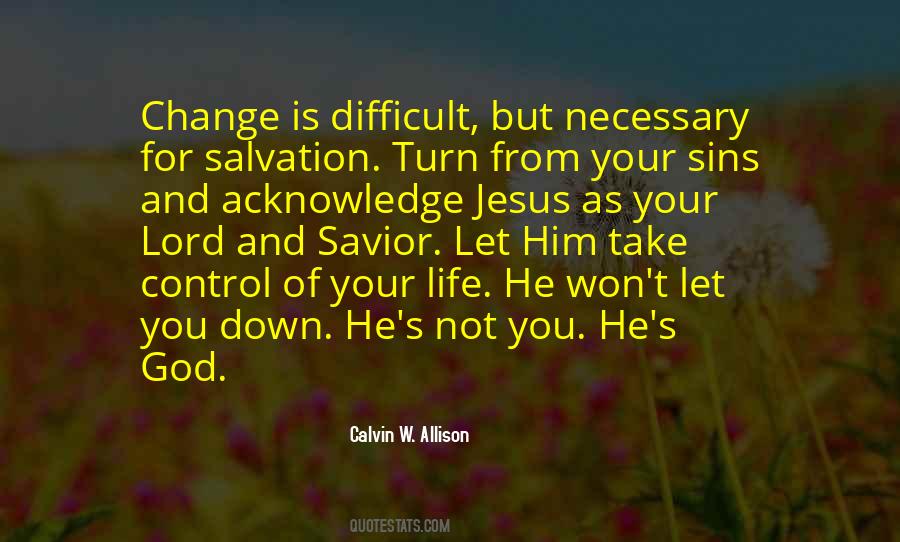 #42. You control your own destiny. Never let anyone put you in a box and say 'This is your space'; You have the whole world to choose from. If you have something to say, say it. Live your life as you want to live it, not how others perceive your life to be lived. Take control. Today. - Author: Michelle Geaney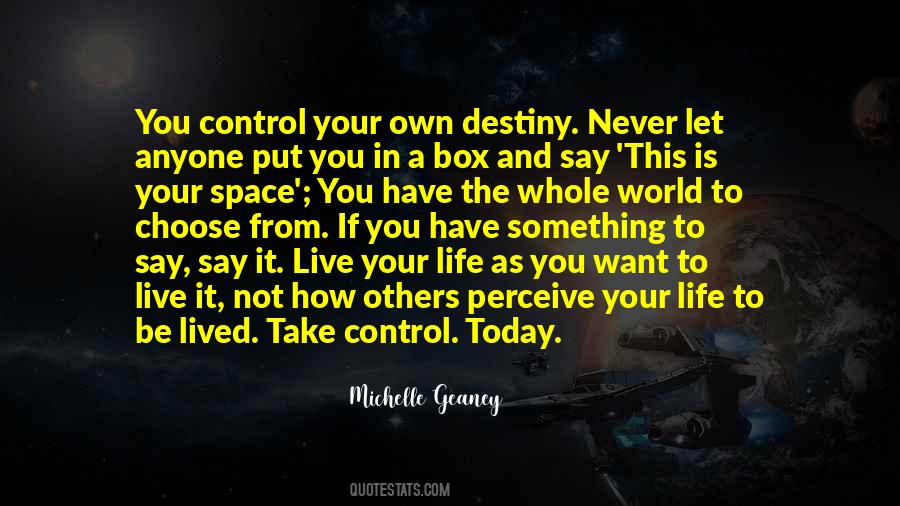 #43. In the changing weather of life, rather than drift with the currents or be cast about in storms, be the wind at your own back. - Author: Gina Greenlee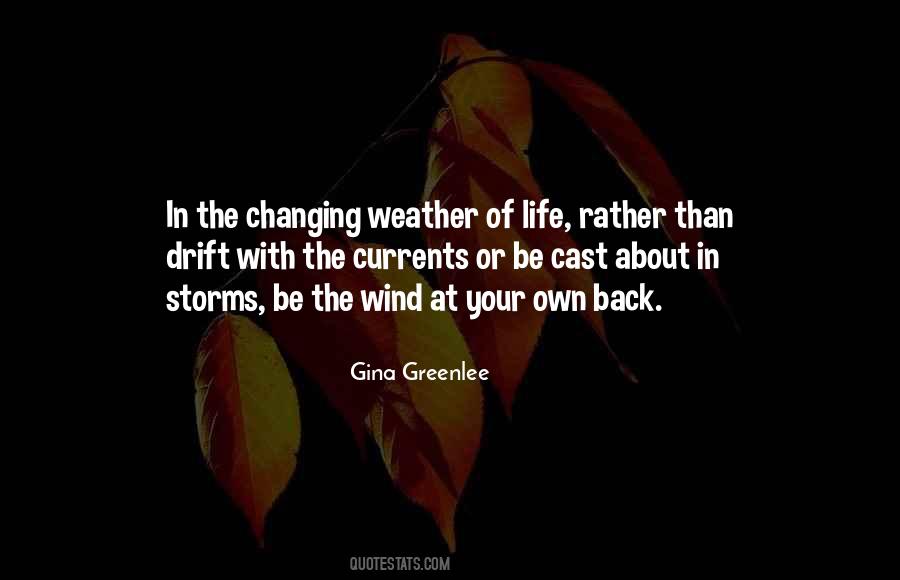 #44. Obviously, this isn't the time in my life that I would have chosen to do this, but I feel like life gives you these challenges for a reason. I feel so happy and glad to be in the place that I am. I really feel blessed. This is something I need to face and take control of. - Author: Reese Witherspoon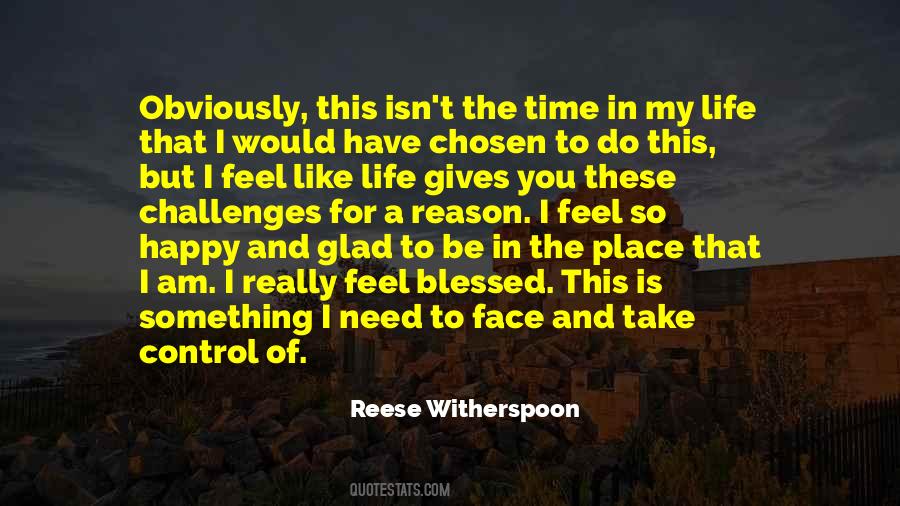 #45. Everybody kind of understands, Oh yeah you take drugs and it does something to your brain and then you can't stop. It's easier to describe that shame, that horrible feeling of not being able to control your own life. - Author: Aimee Mann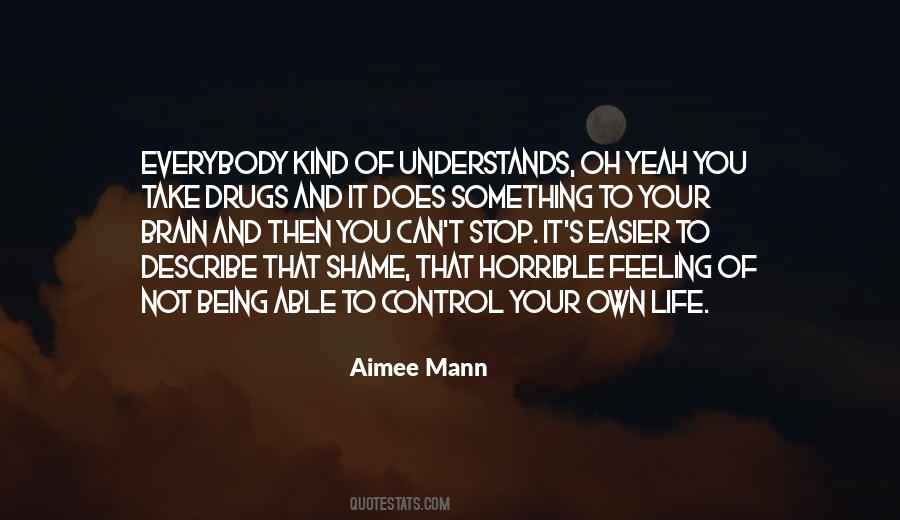 #46. If you take care of the small things, the big things take care of themselves. You can gain more control over your life by paying closer attention to the little things. - Author: Emily Dickinson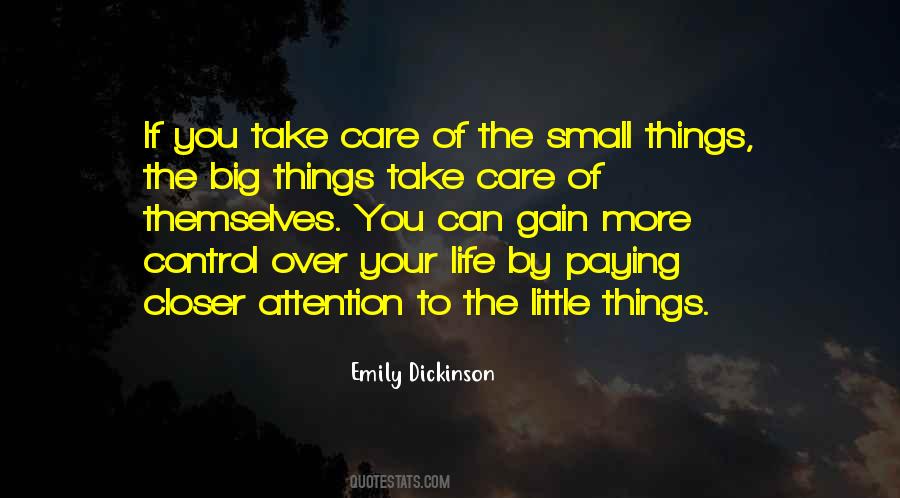 #47. Be yourself,
And take control of your own destiny.
There is nothing more disgraceful in life,
Than living someone else's life. - Author: Mouloud Benzadi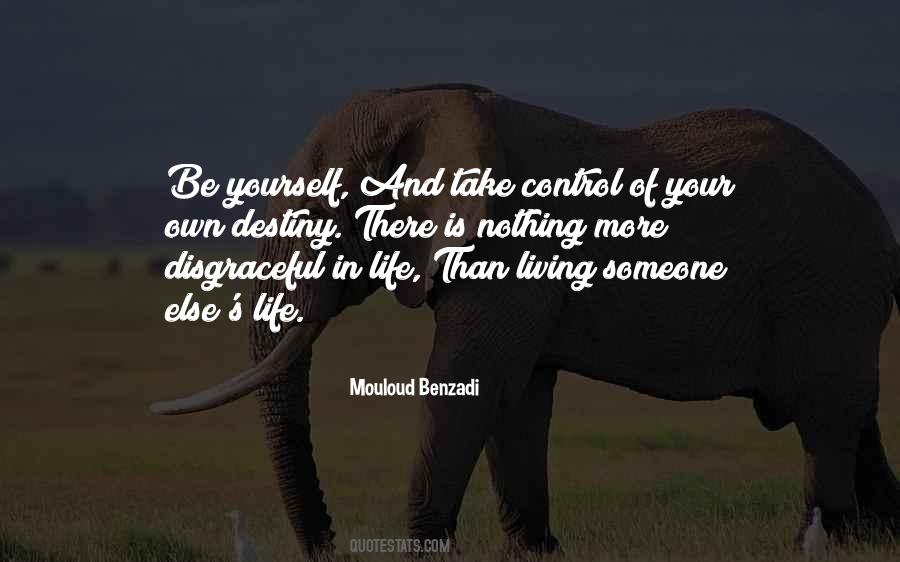 #48. You have to take control of your own life, your own destiny, and your own careers. You can't leave everything up to someone else, 'cause then you can look at them and blame them. - Author: Action Bronson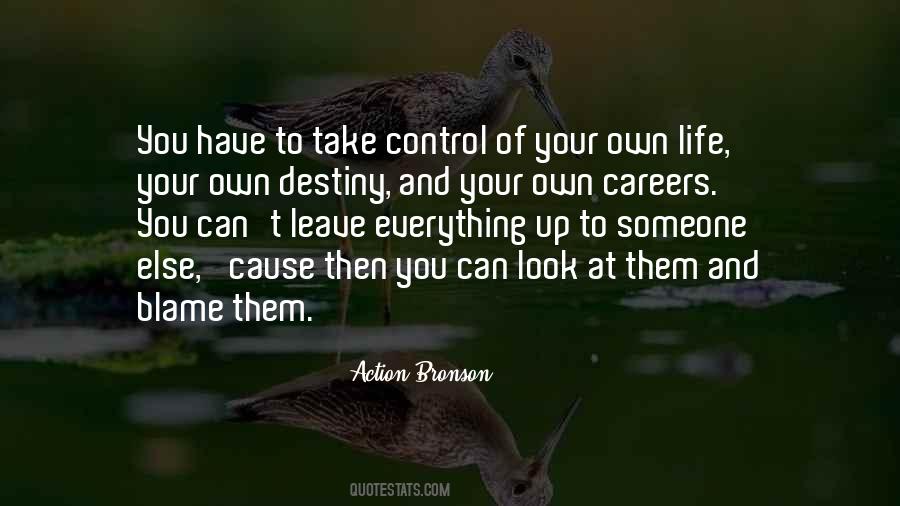 Famous Authors
Popular Topics