Suffering And Sorrow Famous Quotes & Sayings
List of top 77 famous quotes and sayings about suffering and sorrow to read and share with friends on your Facebook, Twitter, blogs.
Top 77 Suffering And Sorrow Quotes
#1. Suffering also has its worth. Through sorrow, pride is driven out And pity felt for those who wander in samsara; Evil is avoided, goodness seems delightful. - Author: Shantideva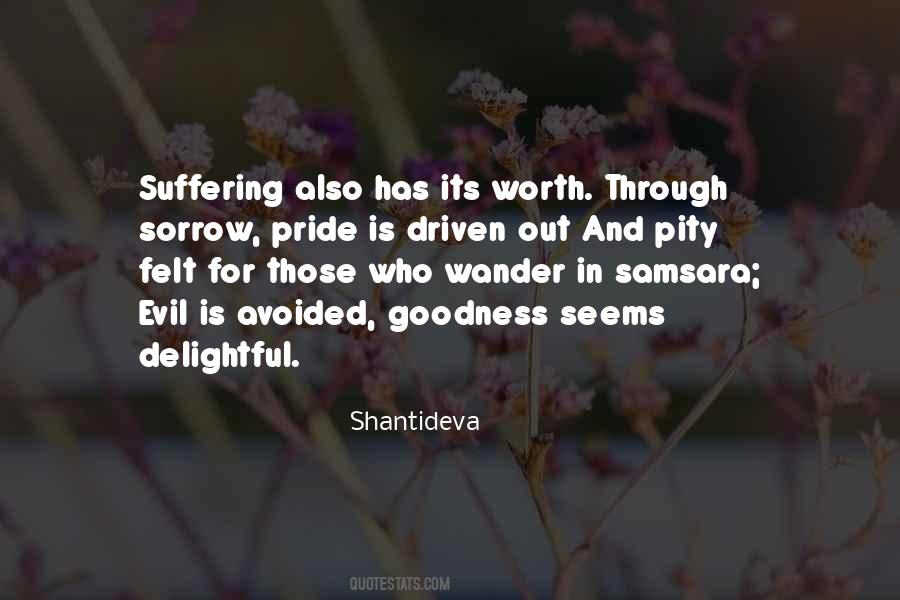 #2. He feels all our sorrows, needs, and burdens as his own. That is why it is said that the sufferings of believers are called the sufferings of Christ. - Author: John Flavel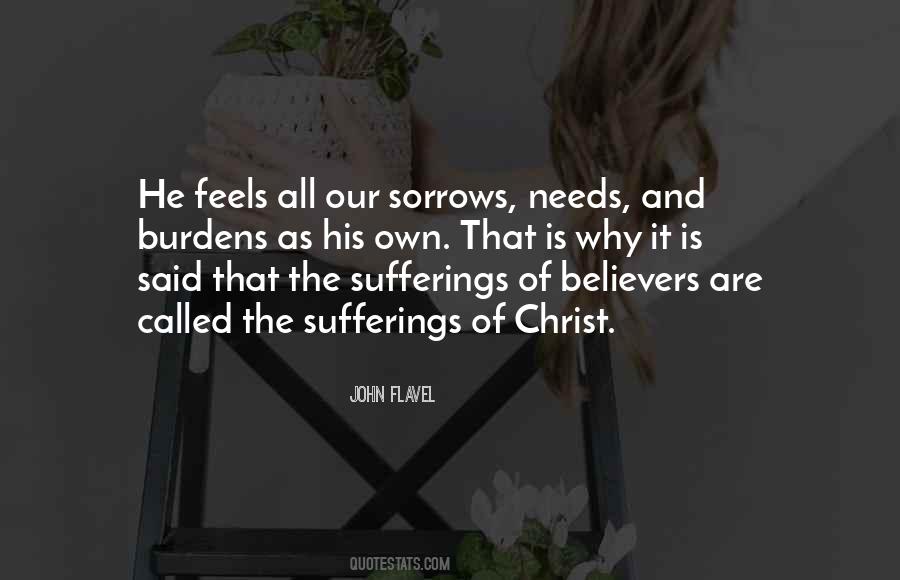 #3. Sorrow is a sanctuary as long as self is kept outside. [ ... ] let us not foster, embrace, rekindle and indulge our grief. For then our sorrow is a selfish and luxurious fiction, a ground in which the Holy Spirit will not dig. - Author: Frederick William Faber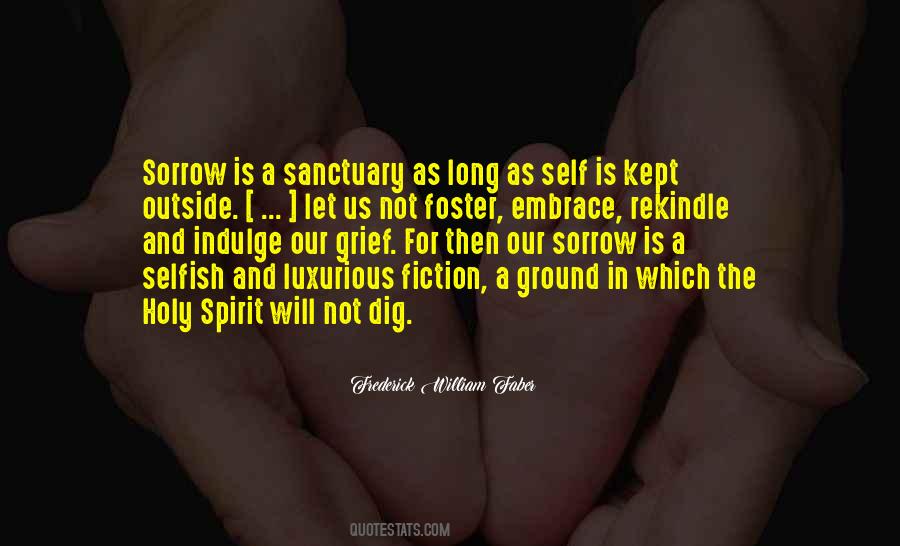 #4. We have listened here to the delegates who have recalled the terrible human suffering, and the great material destruction of the late war in the Pacific. It is with feelings of sorrow that we recall the part played in that catastrophic human experience by the old Japan. - Author: Shigeru Yoshida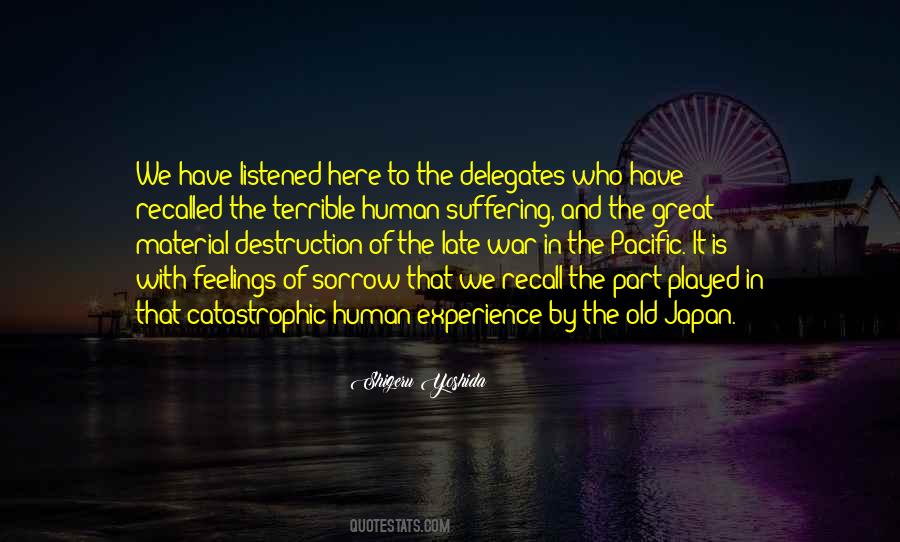 #5. It is only our exactions of life that are terrible. It is only our impossible conceptions of beauty and good and justice that are terrible
because they never are realized, and at the same time they prevent us taking life as it is. That is the real source of all our sorrow and suffering. - Author: Wladyslaw Stanislaw Reymont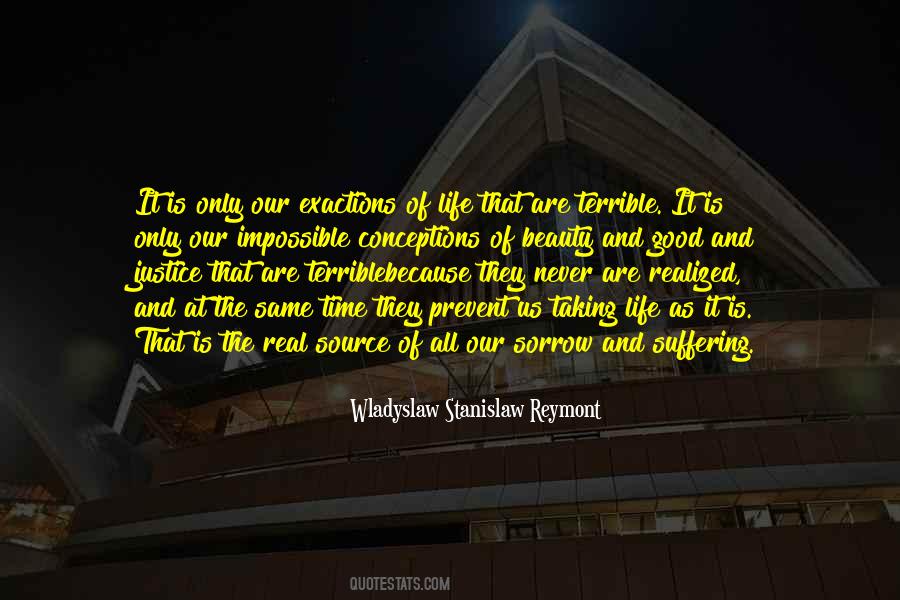 #6. Pain and suffering have come into your life, but remember pain, sorrow, suffering are but the kiss of Jesus - a sign that you have come so close to Him that He can kiss you. - Author: Mother Teresa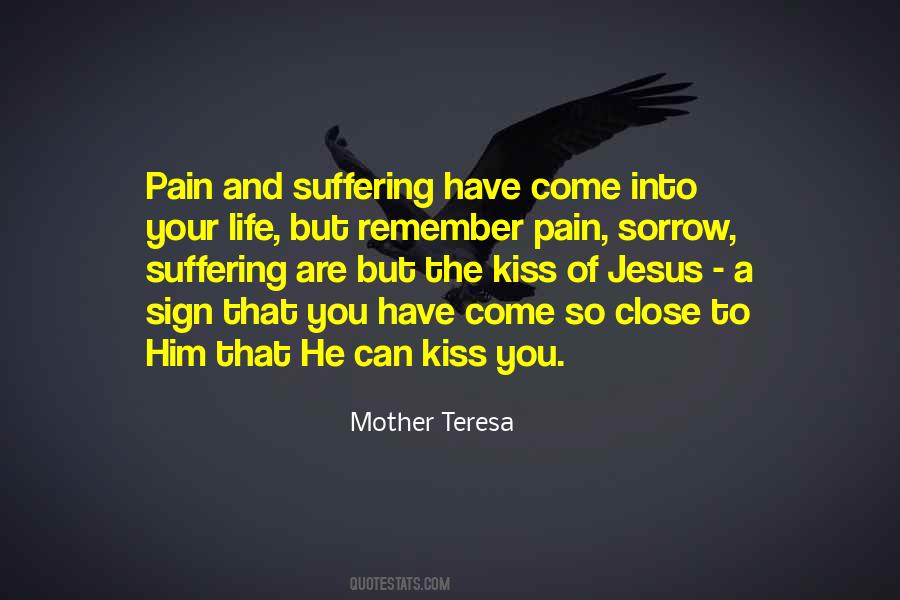 #7. A Buddhist scholar once explained to me that most Westerners mistakenly think that Nirvana is what you arrive at when your suffering is over and only an eternity of happiness stretches ahead. But such bliss would always be shadowed by the sorrow of the past and would therefore be imperfect. - Author: Andrew Solomon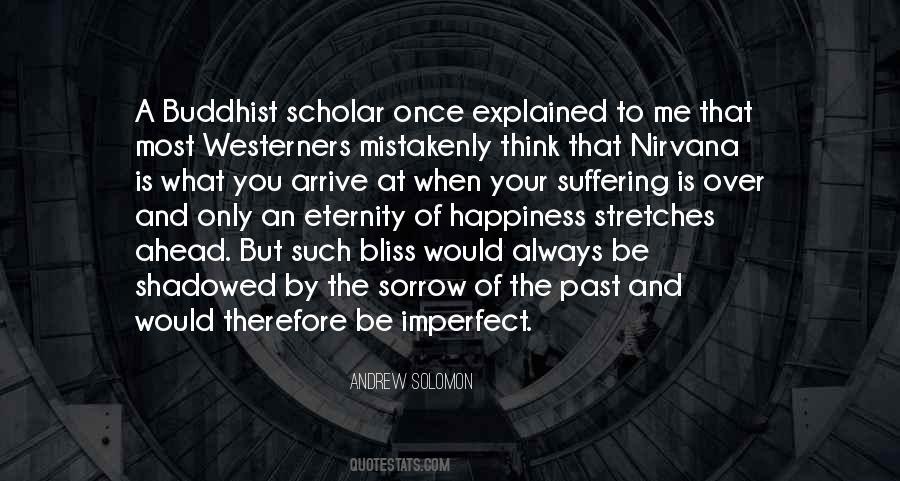 #8. The true Christian reaction to suffering and sorrow is not the attitude of self-pity, fatalism or resentment; it is the spirit which takes life's difficulties as a God given opportunity, and regards its troubles as a sacred trust, and wears the thorns as a crown. - Author: James Stewart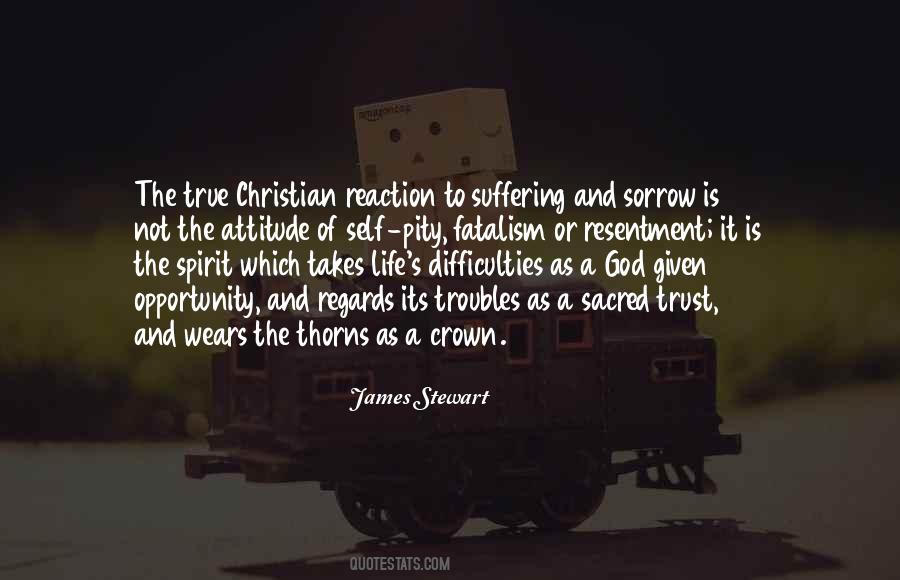 #9. He means to make his subjects merciful and wise; sorrow and struggle bringeth both. We will, he tells me, grow by grieving, live by dying, love by losing. The heart itself is the field of battle and the garden green. - Author: Andrew Peterson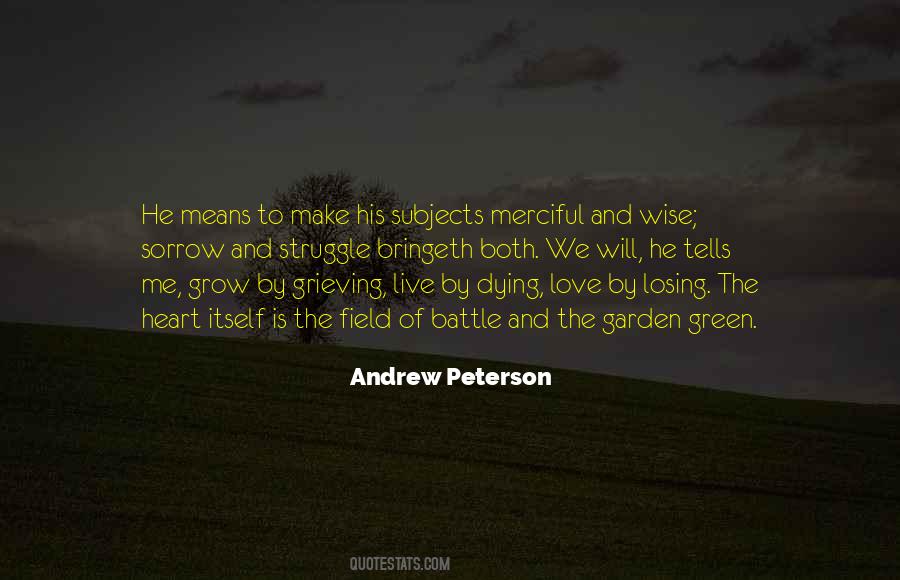 #10. She did not look her best: so thin, so large-nosed, with that pink-and-white checked duster tied round her head. She felt her disadvantage. But she had had a good deal of suffering and sorrow, she did not mind any more. - Author: D.H. Lawrence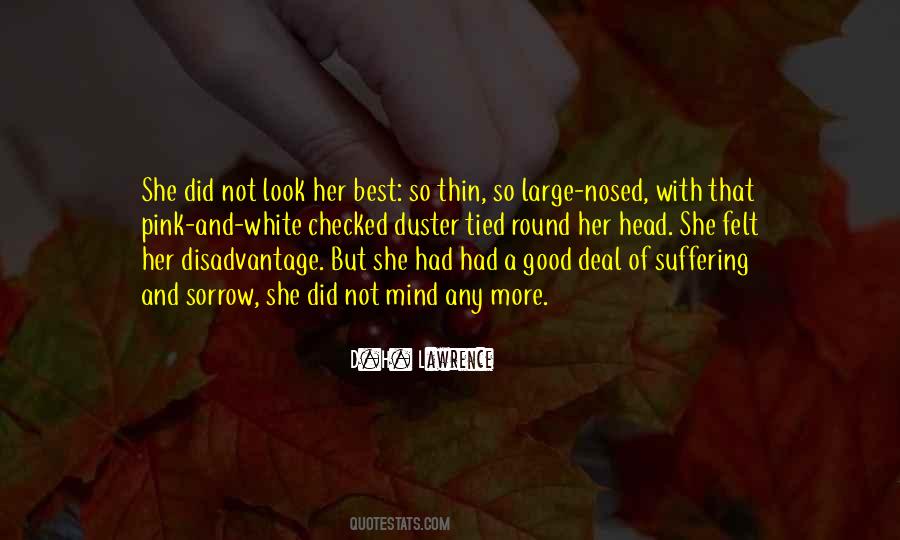 #11. So go back to the books. They will comfort you and cheer you. If you earnestly work with them, neither sorrow nor anxiety nor distress nor suffering need trouble your mind any more, no, not evermore. - Author: Walter Wangerin Jr.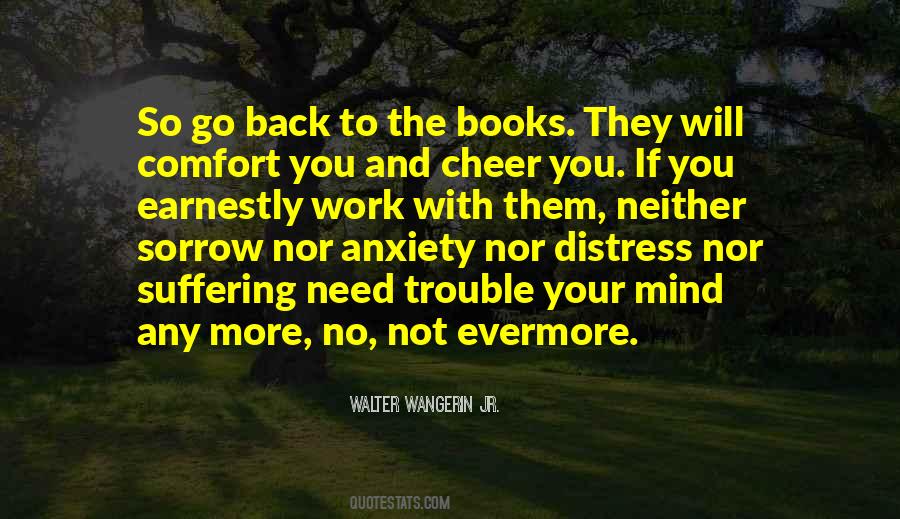 #12. I close my eyes and press my face into his shirt and howl against him, liquid agony pouring from me. He smooths my hair from my face and continues to murmur, but he never shushes me, never tells me to stop. Never tells me it'll be all right. He knows life too well to believe such lies. - Author: Aprilynne Pike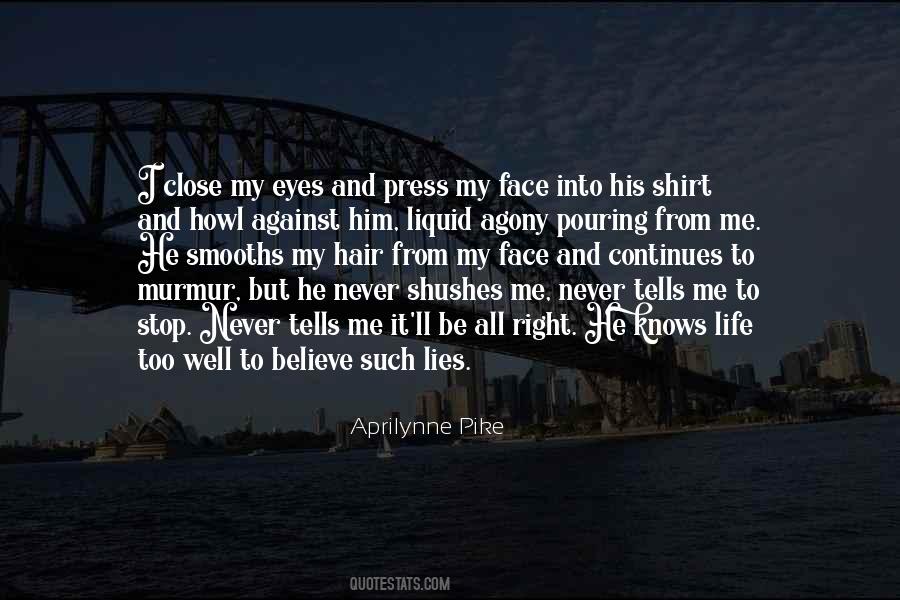 #13. It referred to intense mental suffering, deep remorse, extreme anguish, acute sorrow and the like. - Author: Don DeLillo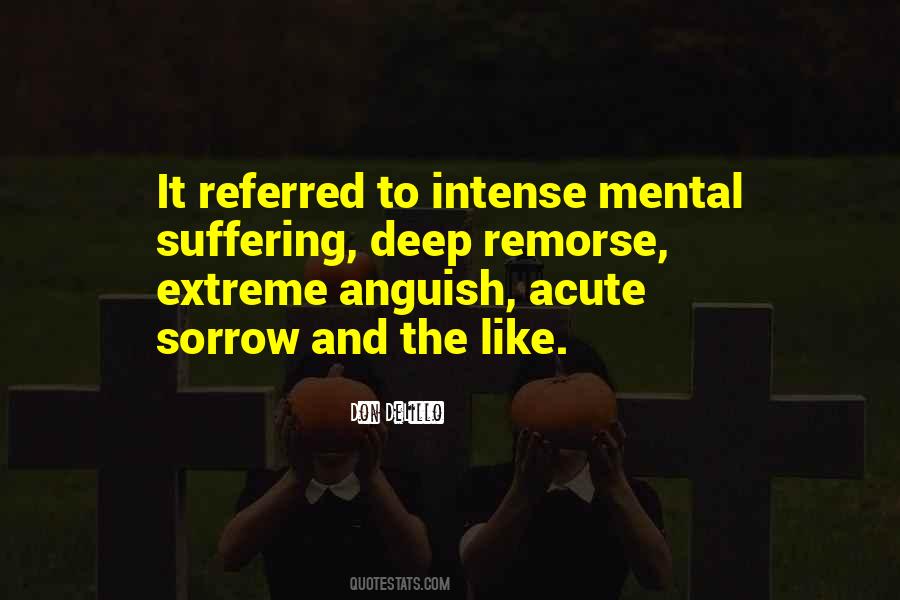 #14. Sometimes ... we grow homesick for heaven. Many times in the midst of the sin, suffering, and sorrow of this life there is a tug at our soul. That is homesickness coupled with anticipation. - Author: Billy Graham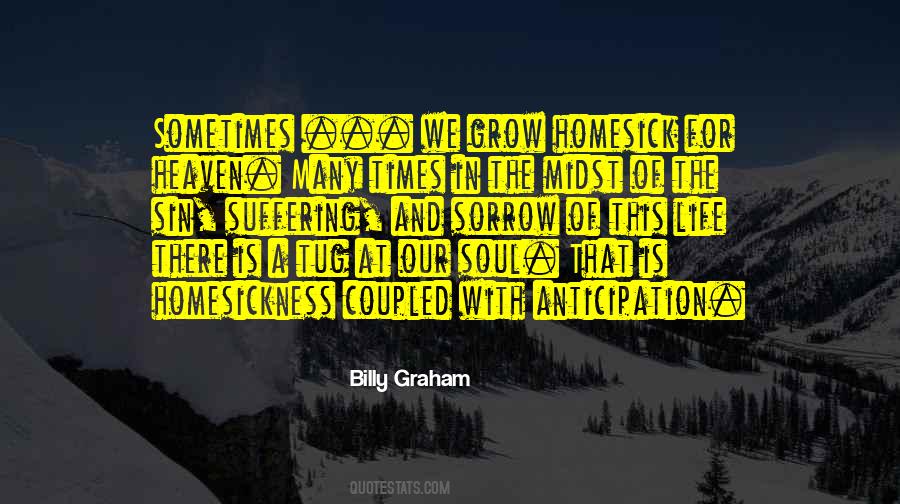 #15. Our response to cruelty, suffering, and sorrow is to remind the world of the face of beauty, which can best restore a man's tranquility, cleanse his hear of evil, and lead him to the path of truth - Author: Anita Amirrezvani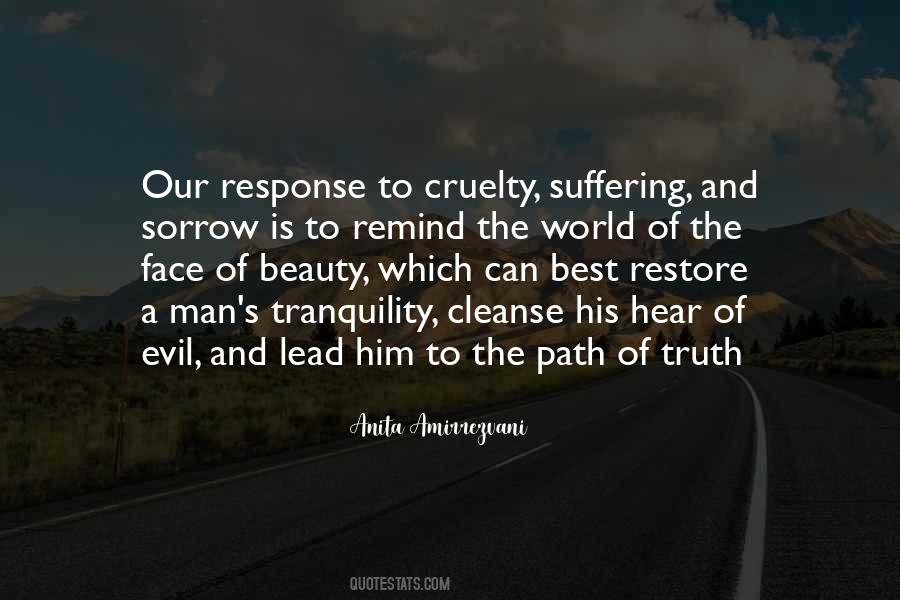 #16. I hear music that comes out of need, out of grief, sorrow, suffering and out of overcoming these things, as well. That journey to freedom still goes on today. It's an incremental change, the culmination of many events in your own life and the lives of your children and grandchildren. - Author: Kathleen Battle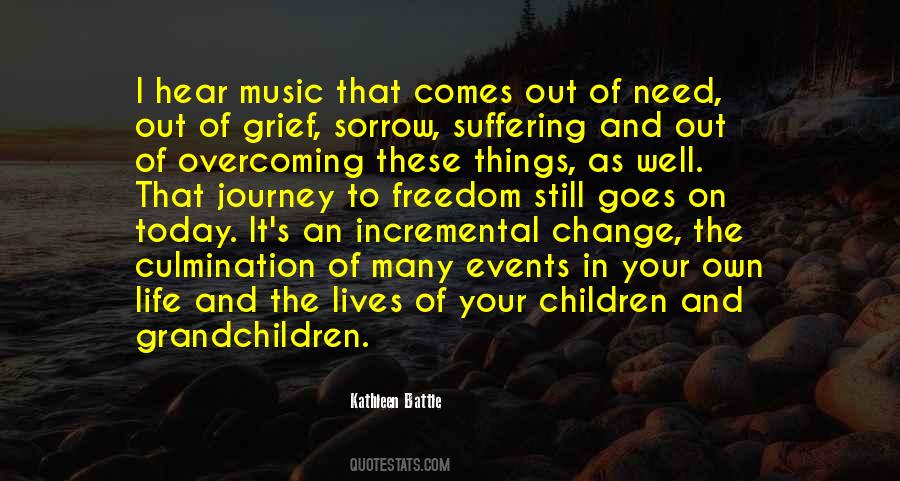 #17. Anger, stress, tension, depression, sorrow, hate, fear - these things start to retreat. And for a filmmaker, having this negativity lift away is money in the bank. When you're suffering you can't create. - Author: David Lynch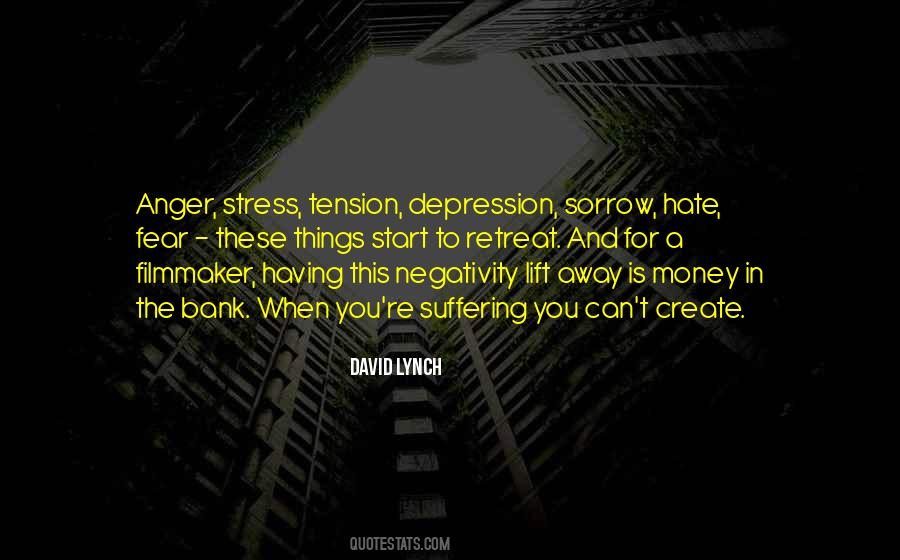 #18. Liquor is not necessary either for health or for so-called gracious living ... It is the cause of untold sorrow, suffering, and material loss, not to mention the spiritual implications of drinking. - Author: Billy Graham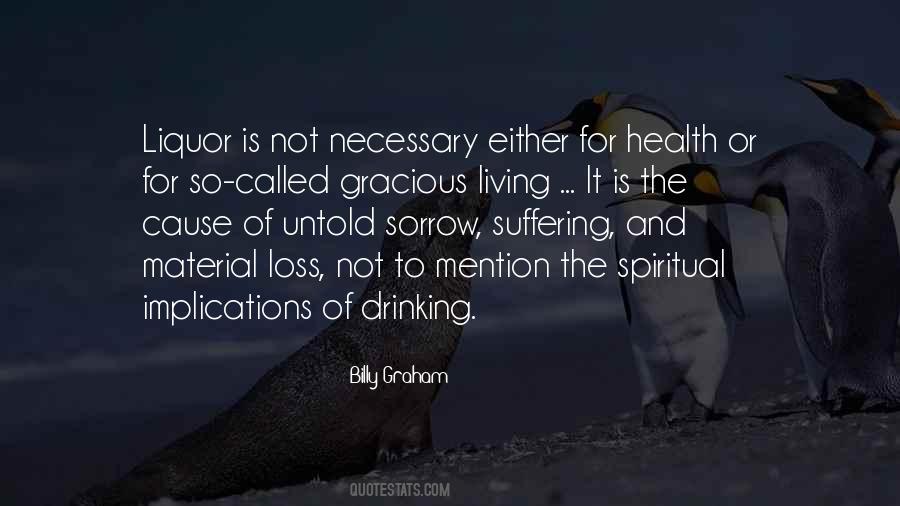 #19. If you don't enjoy your life, sorrow, sadness, suffering, fear, shame and guilt will. - Author: Iyanla Vanzant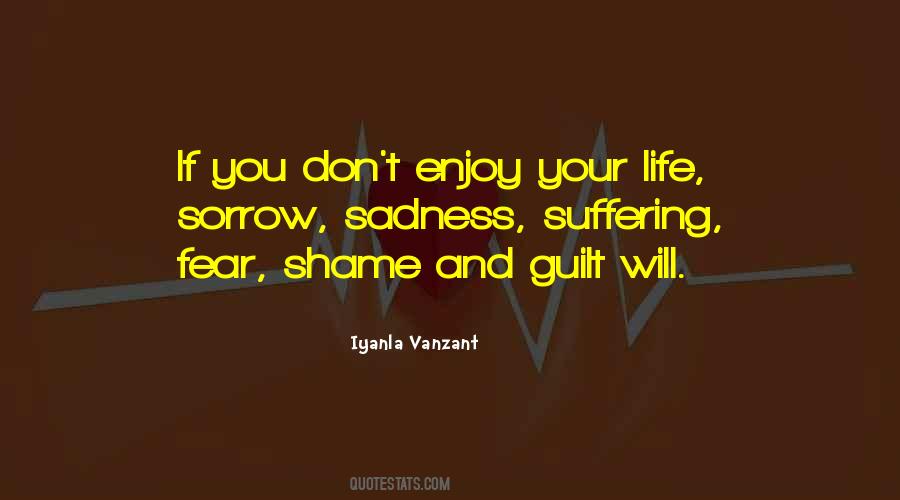 #20. Mom could have shared her suffering with her children, but she didn't. She could have succumbed to a world of pain and sorrow, but she didn't. Instead she loved each of us deeper, and found even more reasons to celebrate our lives together. - Author: Ron Mayes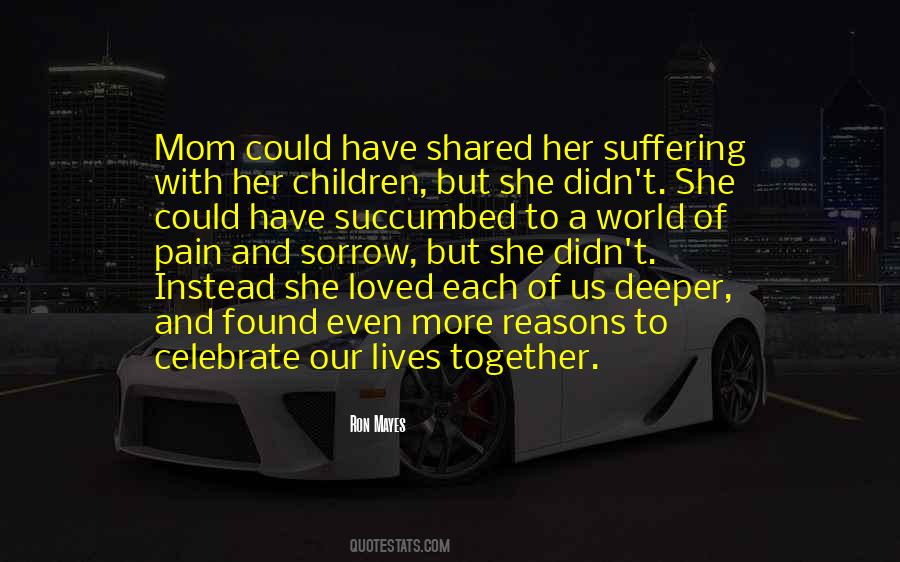 #21. In God, there is no sorrow or suffering or affliction. If you want to be free of all affliction and suffering, hold fast to God, and turn wholly to Him, and to no one else. Indeed, all your suffering comes from this: that you do not turn toward God and no one else. - Author: Al-Ghazali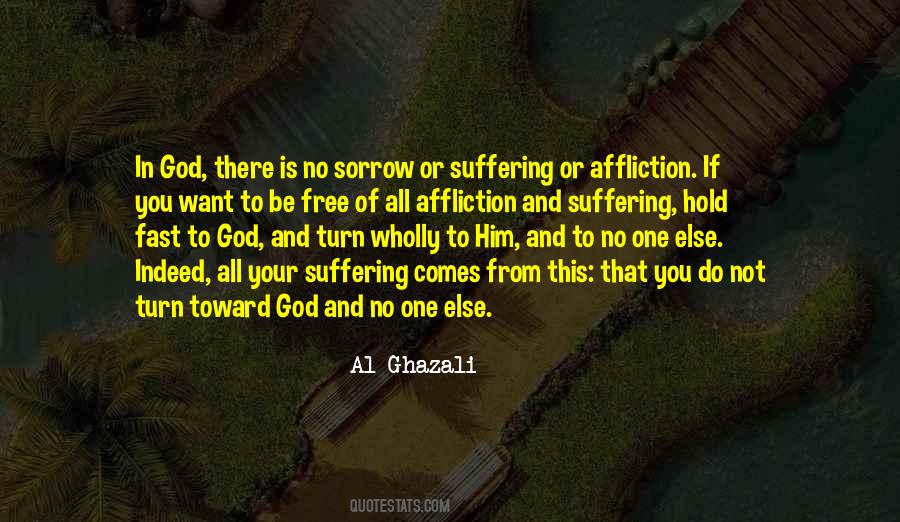 #22. I wondered if all of us churchgoers were just exhausted by grief. For the dying priest and us, I thought, "God" always refused to become glorious, instead stubbornly remaining plain, a headache, a sorrowful knot of language. - Author: Virginia Heffernan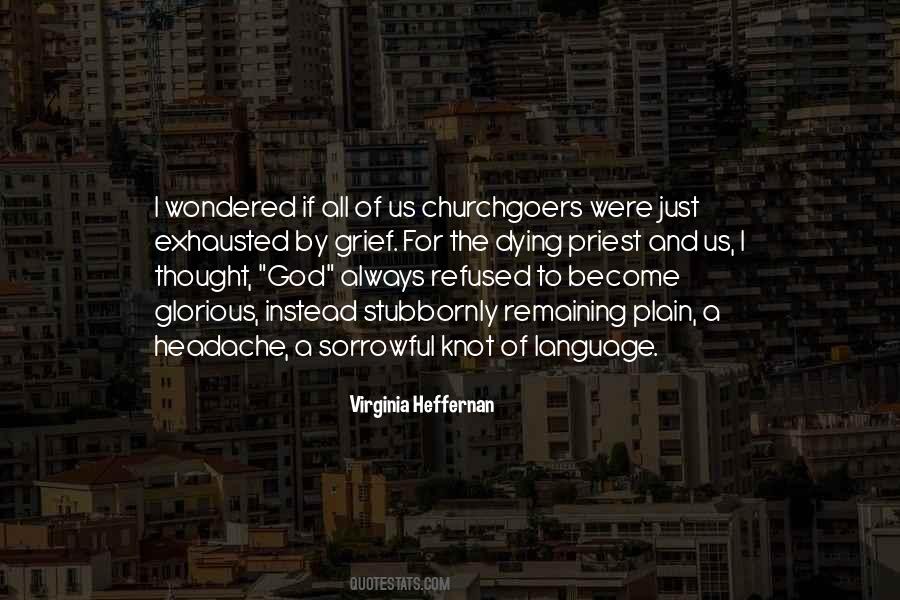 #23. To become a man was something, but to become a man of sorrows was far more; to bleed, and die, and suffer. - Author: Charles Spurgeon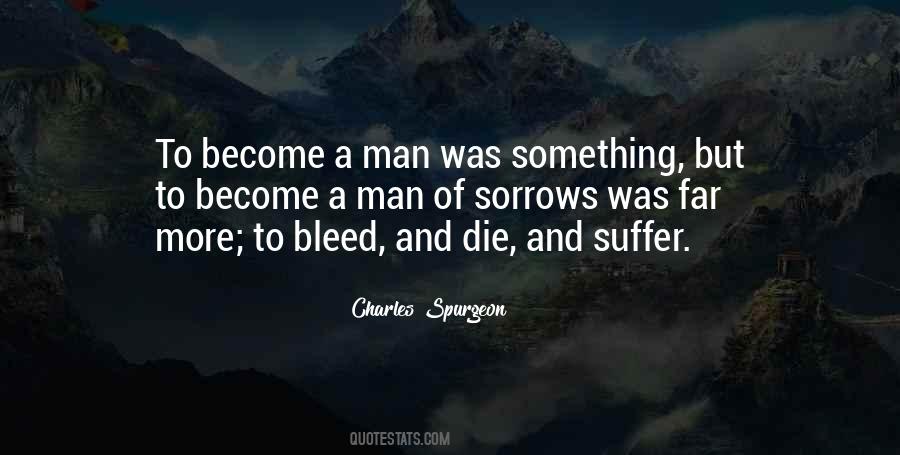 #24. In sorrow and in pain, still do remember your Master Jehovah; He can make things that do not matter, matter. - Author: Ernest Agyemang Yeboah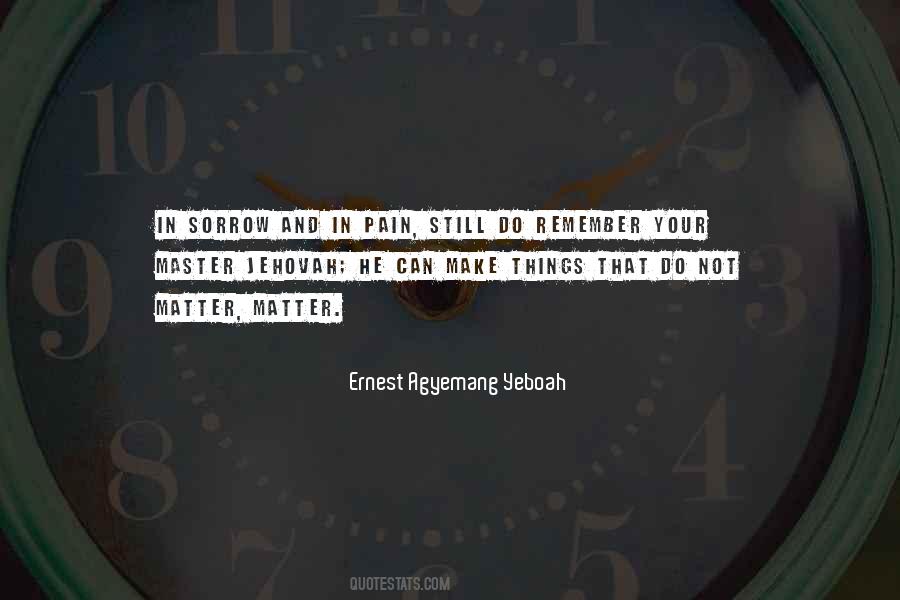 #25. What is the noble truth of suffering? Birth is suffering, ageing is suffering and sorrow and lamentation, pain, grief and despair are suffering. - Author: Gautama Buddha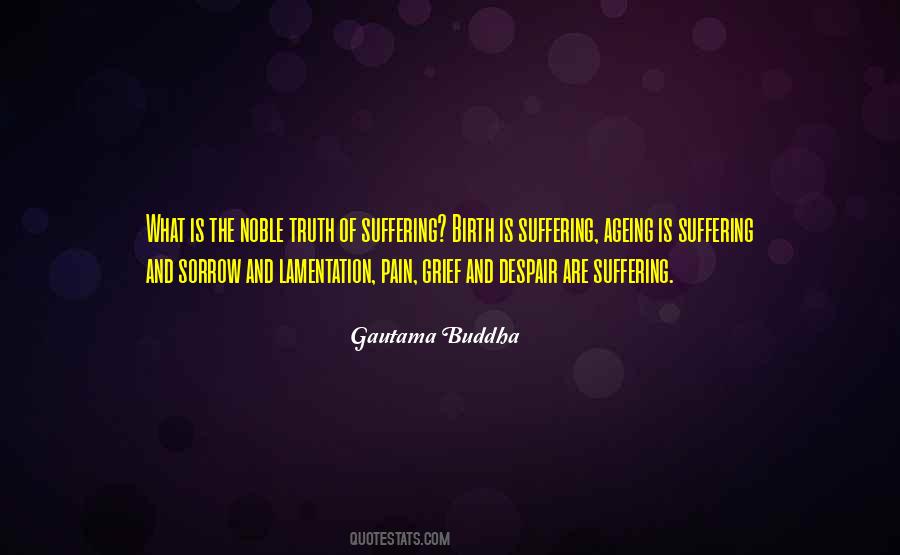 #26. Godly sorrow is a gift of the Spirit. It is a deep realization that our actions have offended our Father and our God. It is the sharp and keen awareness that our behavior caused the Savior, He who knew no sin, even the greatest of all, to endure agony and suffering. - Author: Ezra Taft Benson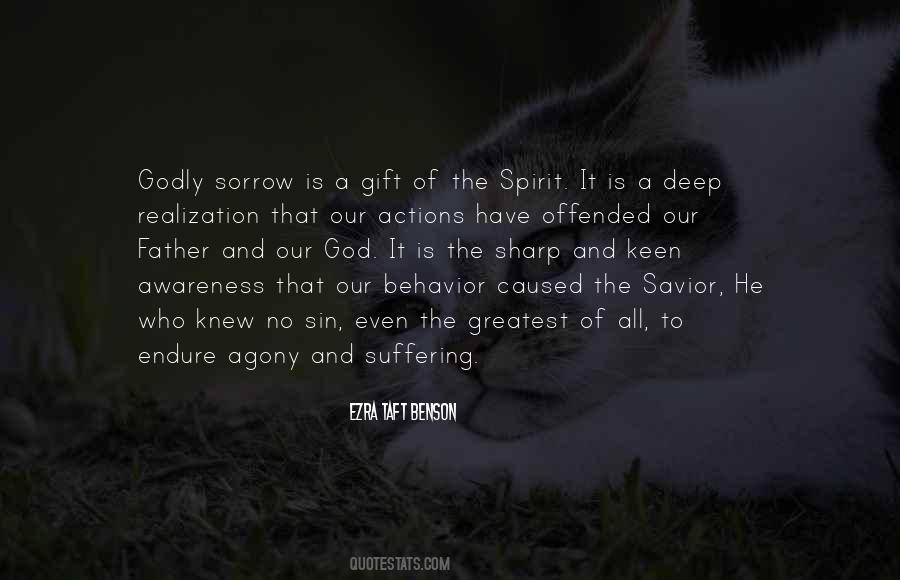 #27. I am bigger than anything that can happen to me.
All these things, sorrow, misfortune, and suffering, are outside my door.
I am in the house, and I have the key. - Author: Charles F. Lummis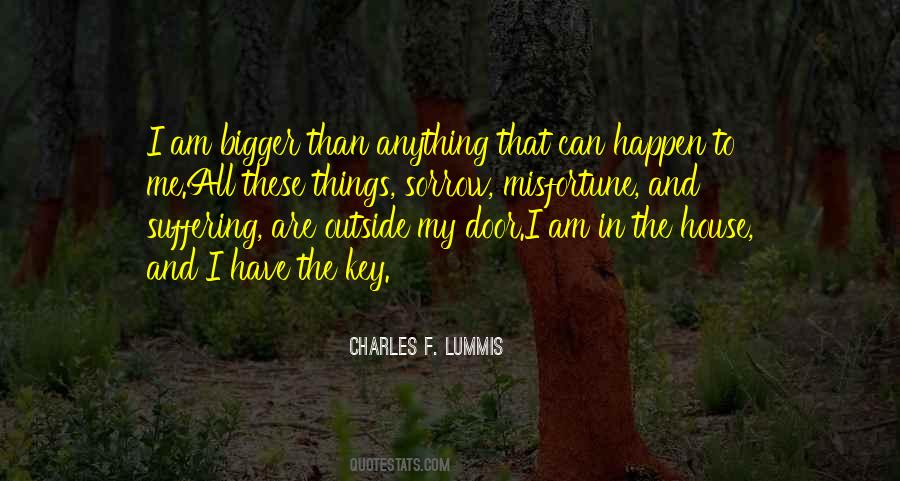 #28. Affliction equips the suffering to empathize with others in anguish and not only does it strengthen them, it enables them to be consoling comforters in a world full of hurt. - Author: Donna Lynn Hope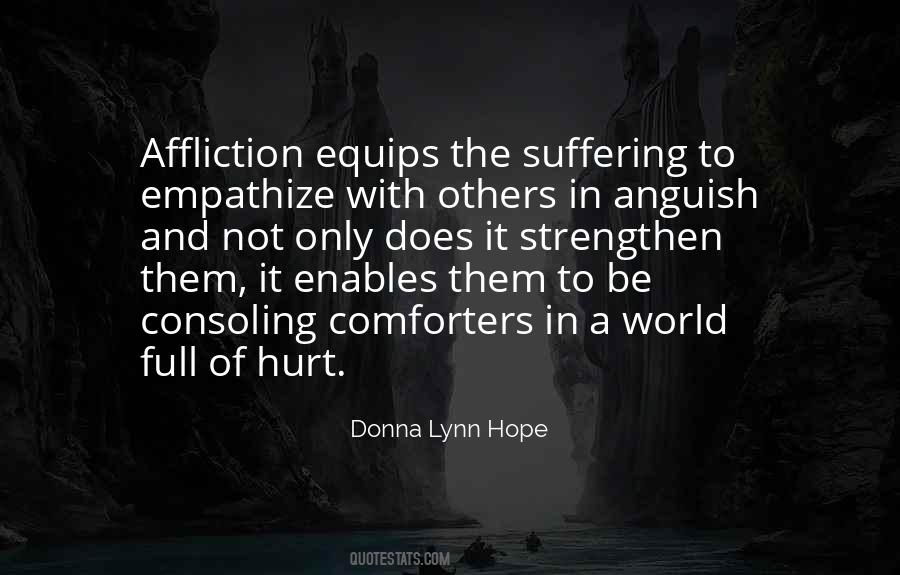 #29. If we love a person, we love him, and whatever he may do will not affect our love. It may cause us pain if he does evil, because we love him; it may cause us sorrow and suffering; but it cannot affect our love. - Author: Charles Webster Leadbeater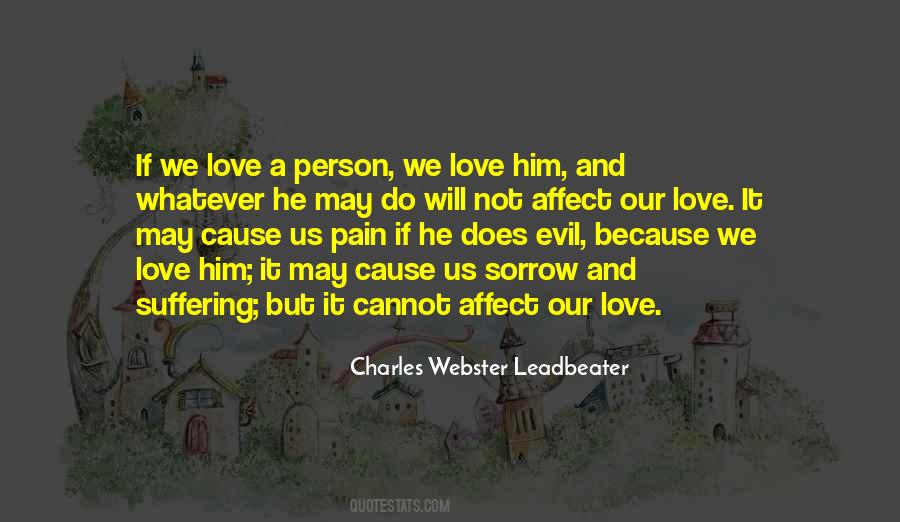 #30. O what a blessed day that will be when I shall ... stand on the shore and look back on the raging seas I have safely passed; when I shall review my pains and sorrows, my fears and tears, and possess the glory which was the end of all! - Author: Richard Baxter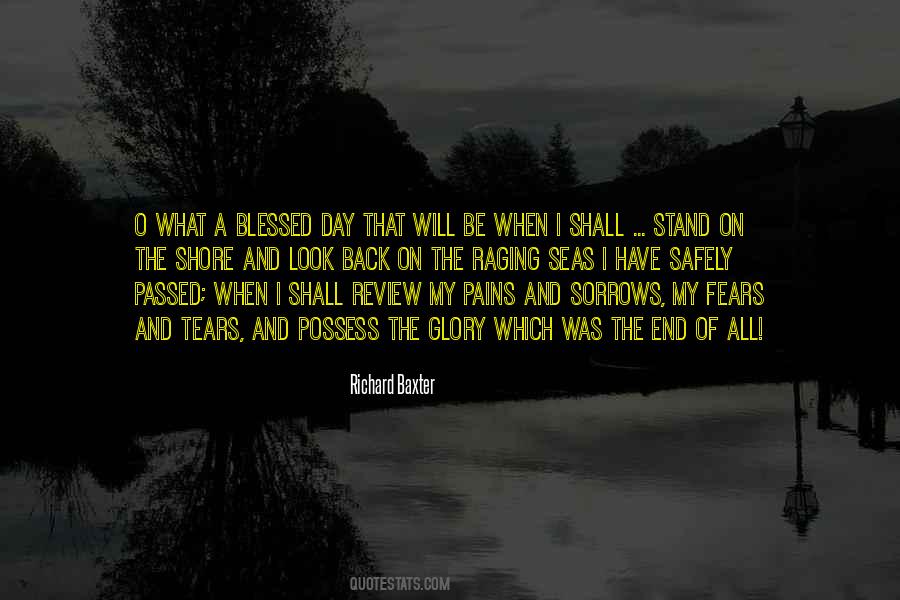 #31. We are all children of a God who knows us, loves us, and is there for us, especially in our sorrow and suffering. To be separated from Him is to be lost. - Author: Toni Sorenson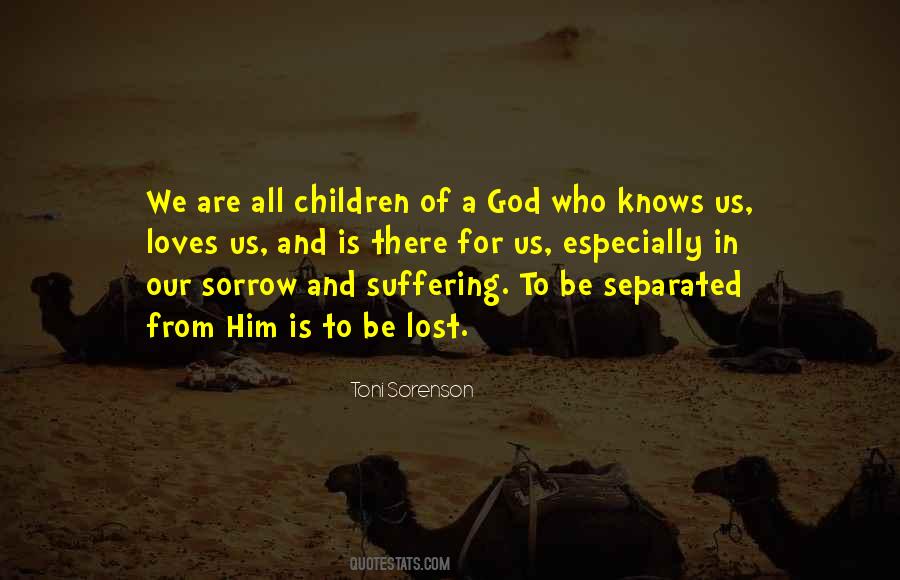 #32. Who is it that loves and who that suffers? He alone stages a play with Himself; who exists save Him? The individual suffers because he perceives duality. It is duality which causes all sorrow and grief. Find the One everywhere and in everything and there will be an end to pain and suffering. - Author: Anandamayi Ma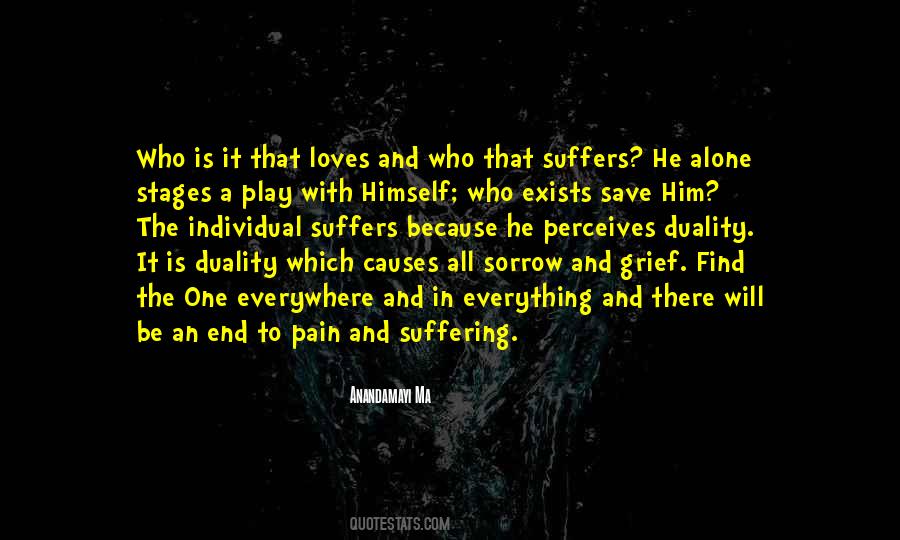 #33. The person who risk nothing, does nothing, has nothing, is nothing. He may avoid suffering and sorrow, but he simply cannot learn and feel and change and grow and love and live. - Author: Leo Buscaglia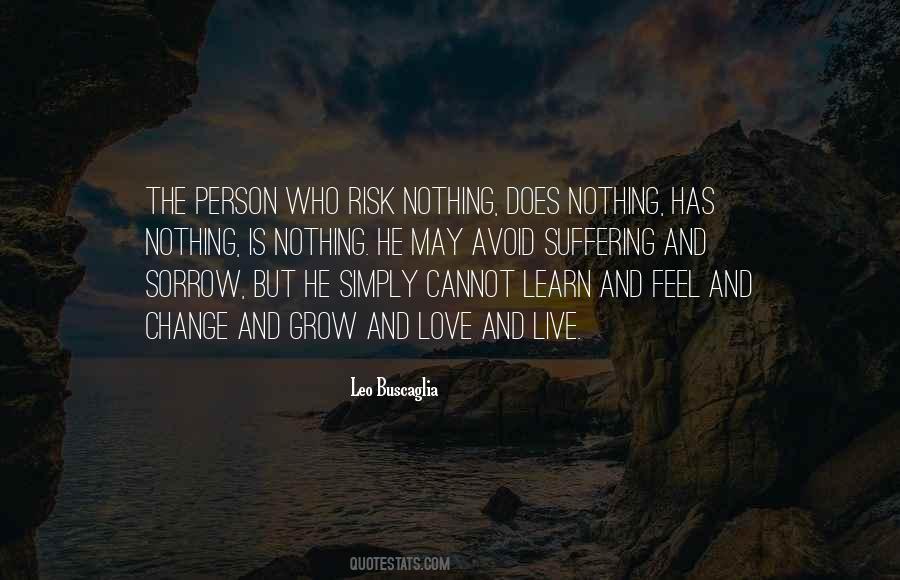 #34. I gives birth to mind; Mind gives birth to ego,
Ego gives birth to sense of separation,
From where originates suffering and sorrow. - Author: Gian Kumar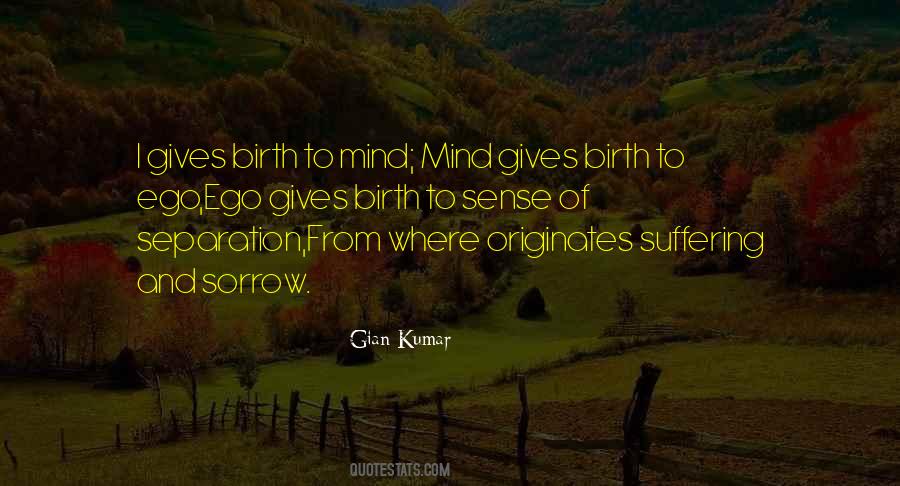 #35. In sorrow and suffering, go straight to God with confidence, and you will be strengthened, enlightened and instructed. - Author: John Of The Cross
#36. When you become a soldier for God, times are going to be hard. You will feel defeat, suffering and sorrow. But it will be the most fulfilling, exciting, adventure you will ever experience. You will know what it means to feel truly alive. - Author: Rachel Hamilton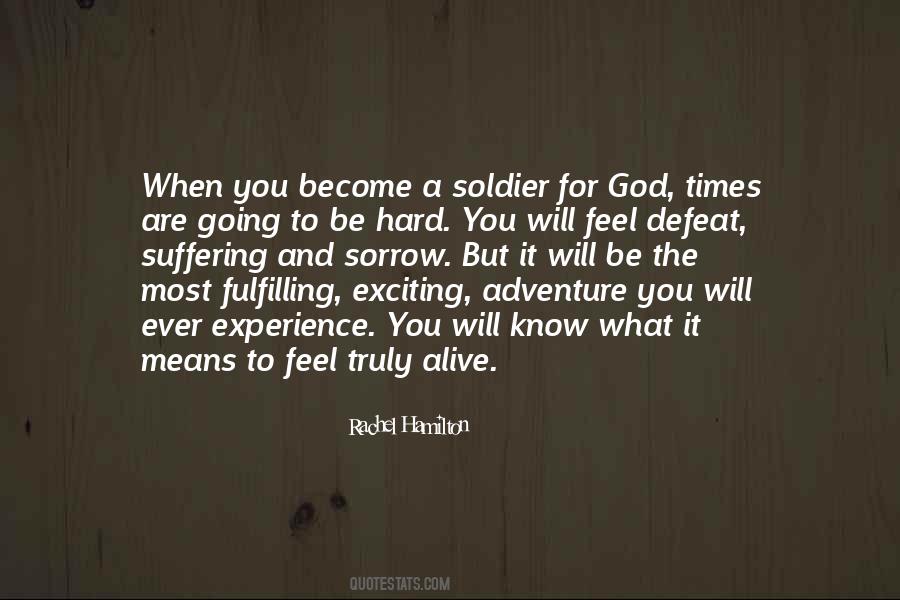 #37. It's not enough for Christians merely to recognize that the world isn't what it ought to be and that people are suffering in ways they shouldn't have to suffer." Instead, our "sorrow and indignation" should prompt us to act in ways that "subvert" that brokenness. - Author: Ed Stetzer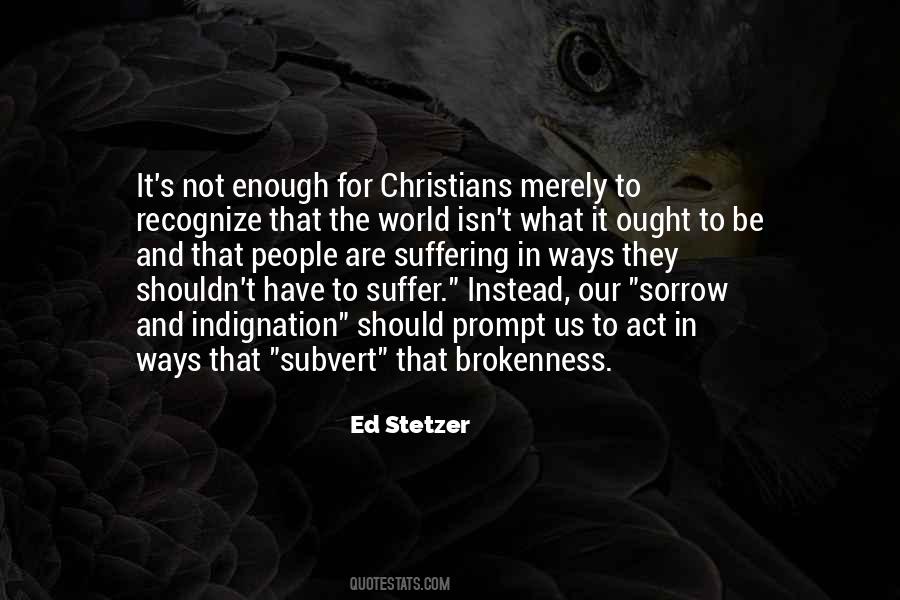 #38. Learning to endure times of disappointment, suffering, and sorrow is part of our on-the-job training. These experiences, while often difficult to bear at the time, are precisely the kinds of experiences that stretch our understanding, build our character, and increase our compassion for others. - Author: Joseph B. Wirthlin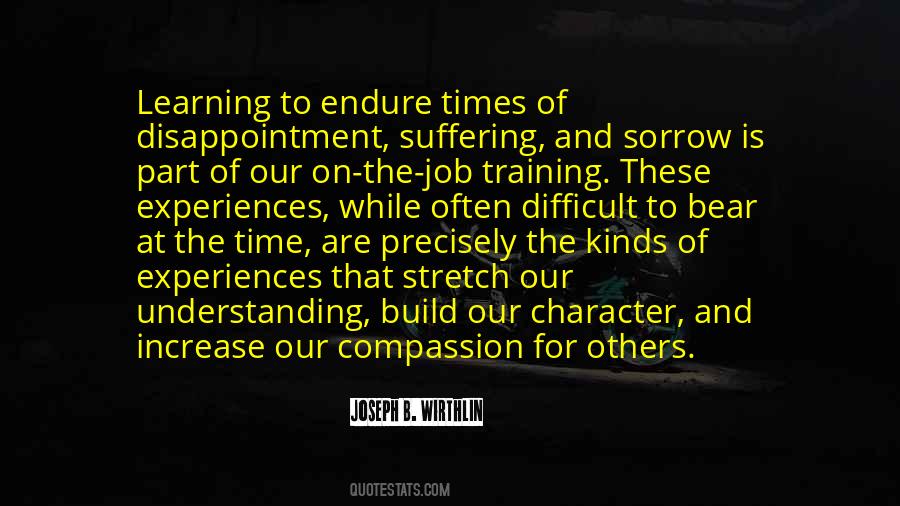 #39. There were so many times that the sorrow and agony of a particular moment was punctuated by something intensely wonderful and beautiful. Laughter was always sweeter through tears, and joy was more potent when born out of suffering. - Author: Laura Sobiech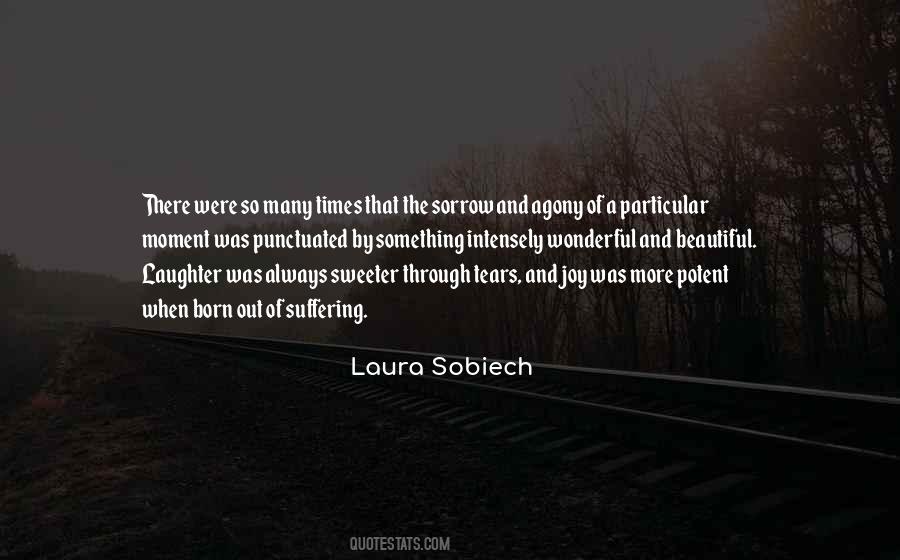 #40. I have been true to the principles of nonviolence, developing a stronger and stronger aversion to the ideologies of both the far right and the far left and a deeper sense of rage and sorrow over the suffering they continue to produce all over the world. - Author: Joan Baez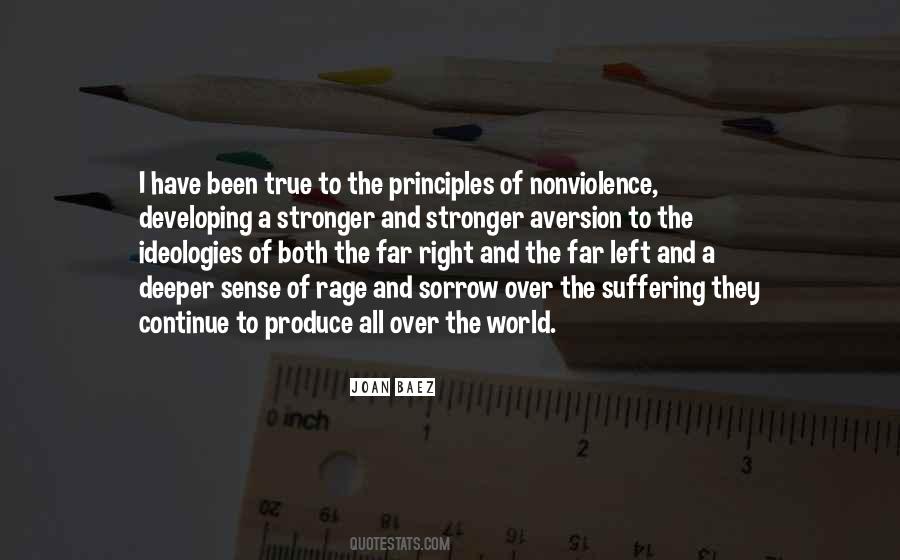 #41. And the tiresome part of sorrows is that they do not hurt in proportion to their validity and excusability. If we are to be sympathetic, we can remember always that silly suffering hurts just as much as sensible suffering. - Author: Menie Muriel Dowie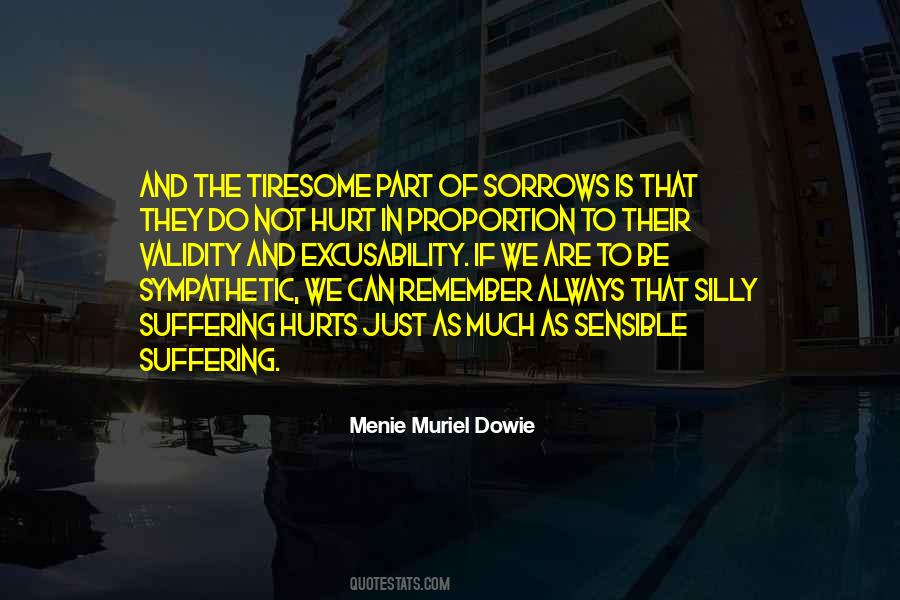 #42. Suffering itself is beloved: love and suffering are far closer to each other than love and pleasure. - Author: Lydia Millet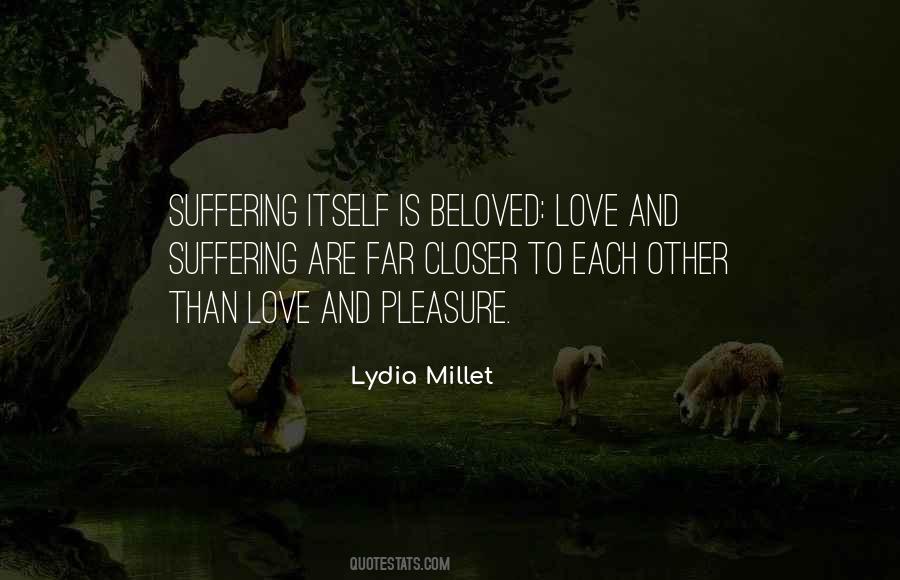 #43. The whole point of Heaven is to relieve us of the suffering, pain, death and tears brought into the world by the evil of humanity. That is why God says that in Heaven there will be no more sorrow, pain, death or crying. - Author: David Berg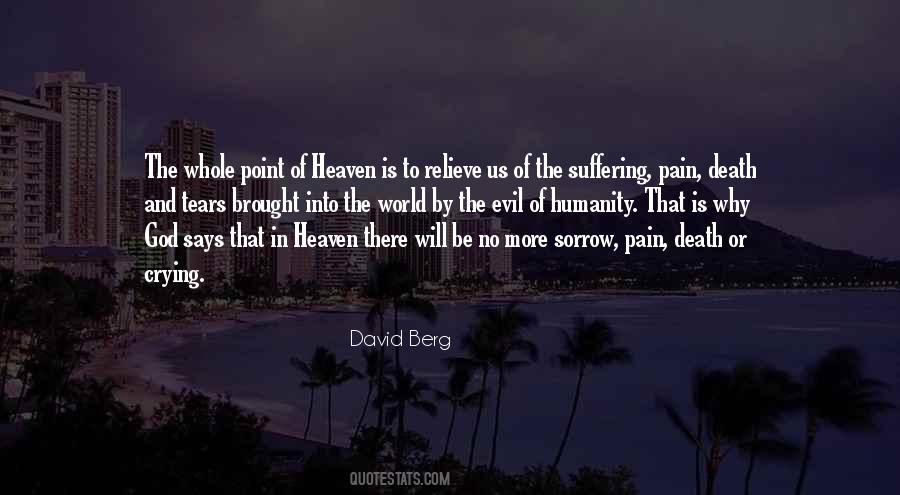 #44. [On her wearing pants:] The greatest sorrows from which women suffer today are those physical, moral and mental ones, that are caused by their unhygienic manner of dressing! The want of the ballot is but a toy by comparison. - Author: Mary Edwards Walker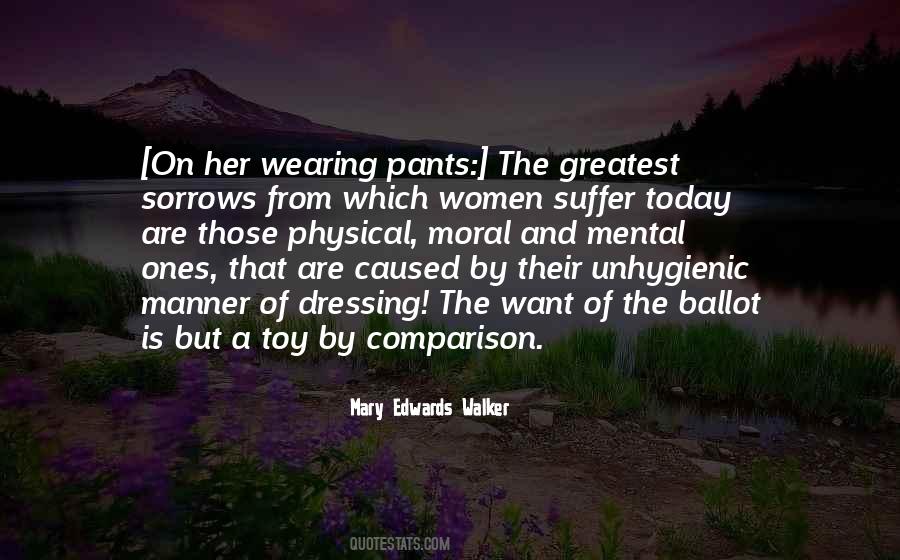 #45. She knew as well as anyone that the world could be a place of trial and sorrow, that there was injustice and suffering and heartlessness - there was enough of all that to fill the great Kalahari twice over, but what good did it do to ponder that and that alone? None, she thought. - Author: Alexander McCall Smith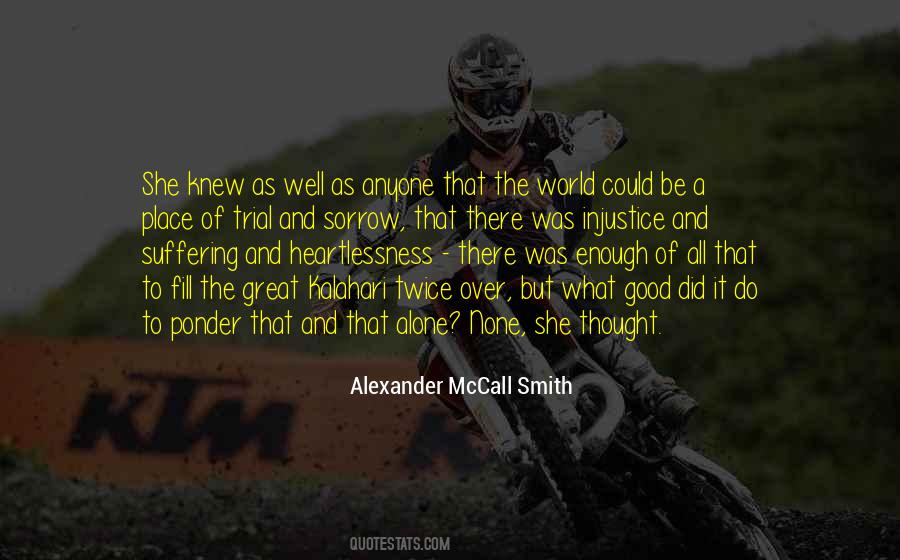 #46. I saw the various museum displays including scenes of torture while feeling heartfelt remorse and sorrow over the great pain and suffering inflicted on South Koreans by Japan's colonial rule, - Author: Junichiro Koizumi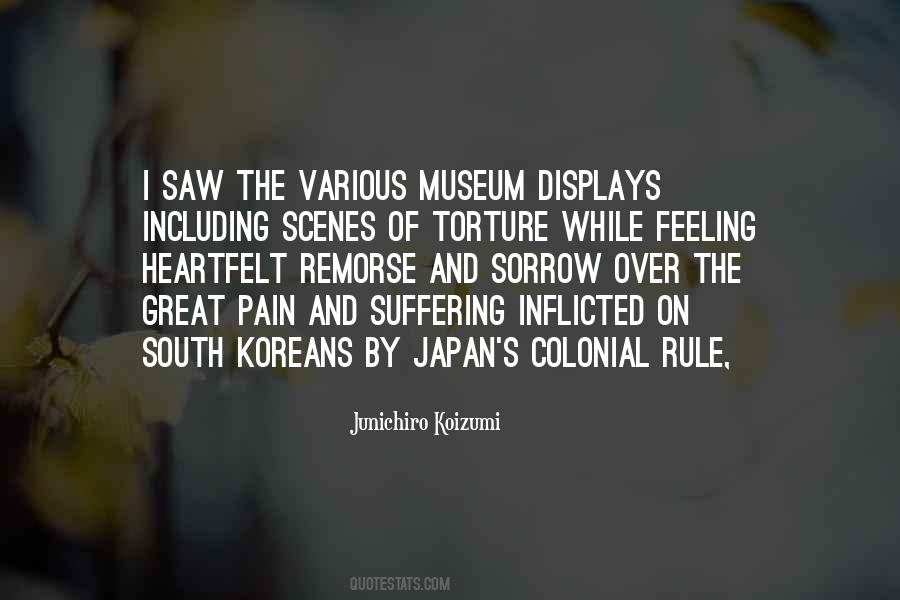 #47. All suffering has an end, David, if only you wait long enough. Sorrow has its life like people. Sorrow is born and lives and dies. And when it's dead and gone, someone's left behind to remember it. Exactly like people. - Author: Anne Holm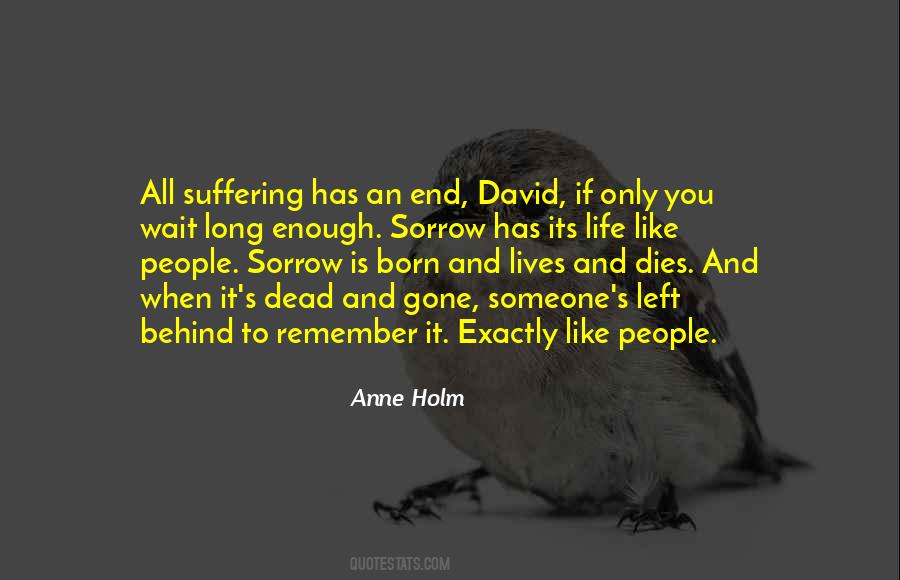 #48. She dove, plunging fully beneath the surface and came up again in tears. Rivulets ran from her face, and the sun ignited them each, transforming them, even amid her sorrow, into gilded runnels set with a diamond shine. - Author: A.S. Peterson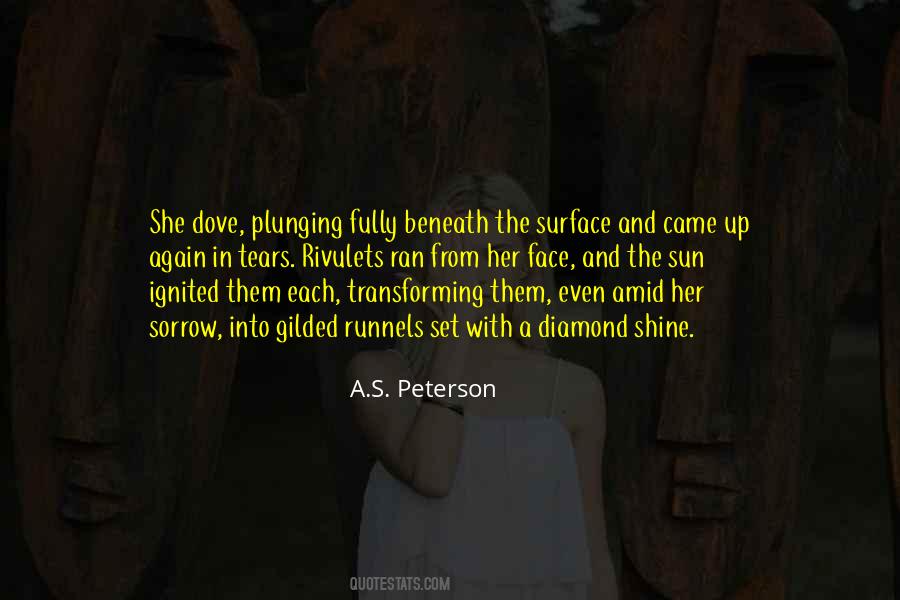 #49. If we knew what people had been through, their sorrow and suffering, we would not be so quick to judge. - Author: Nicky Gumbel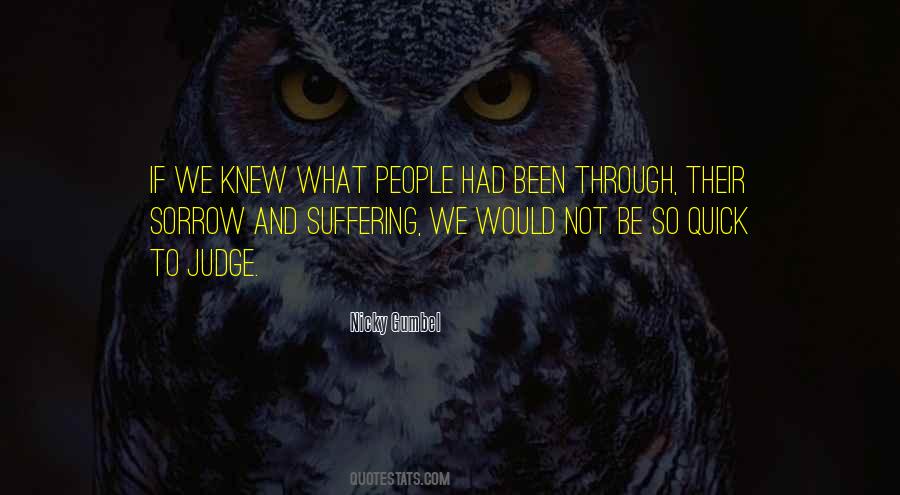 #50. Everything has beauty. Even the ugly. Because without the ugly, there would be no beauty. Because without beauty, we would not survive our pain, our sorrow and our suffering. - Author: Madeline Sheehan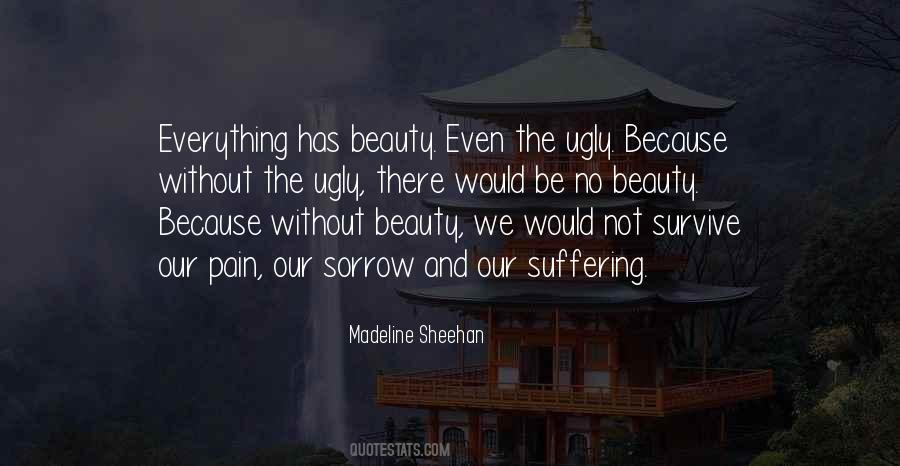 #51. Thus all things are subject to death, sorrow and suffering. I became aware that I too was of the same nature, the nature of beginning and end. What if I searched for that which underlies all creation, that which is nirvana, the perfect freedom from unconditioned existence? - Author: Gautama Buddha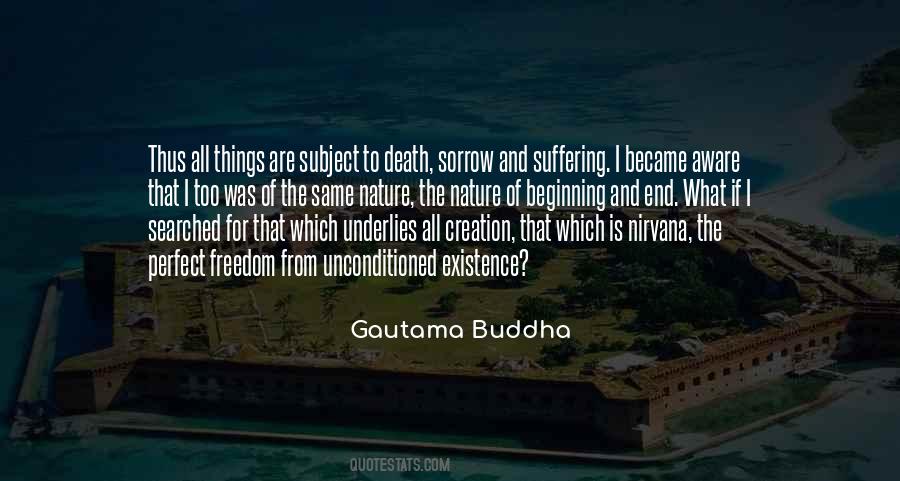 #52. Suffering is not enough. Life is both dreadful and wonderful ... How can I smile when I am filled with so much sorrow? It is natural
you need to smile to your sorrow because you are more than your sorrow. - Author: Thich Nhat Hanh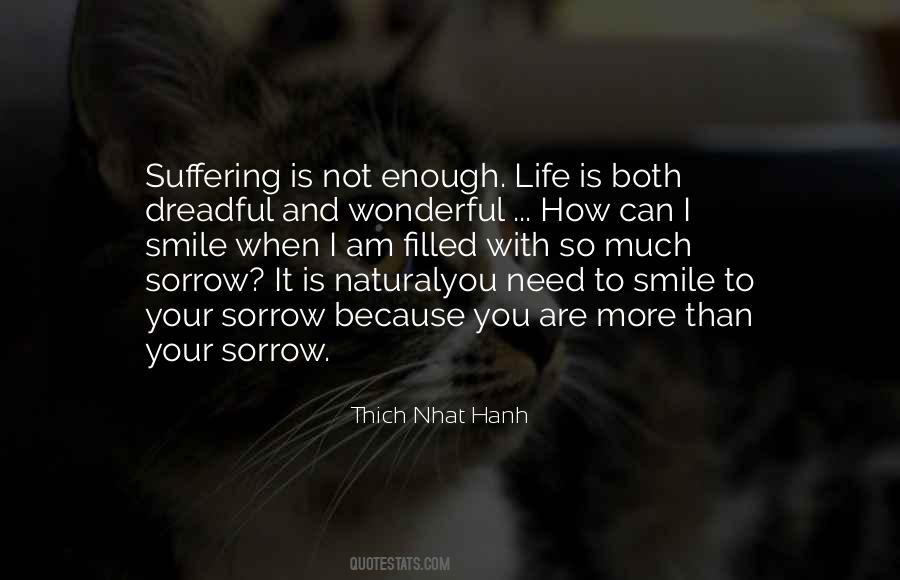 #53. In cities where peace and the arts flourish, men are more consumed by jealousy, worry, and anxiety than they are in cities under the blight of a besieging army. Private sorrows are more bitter than public suffering. - Author: Voltaire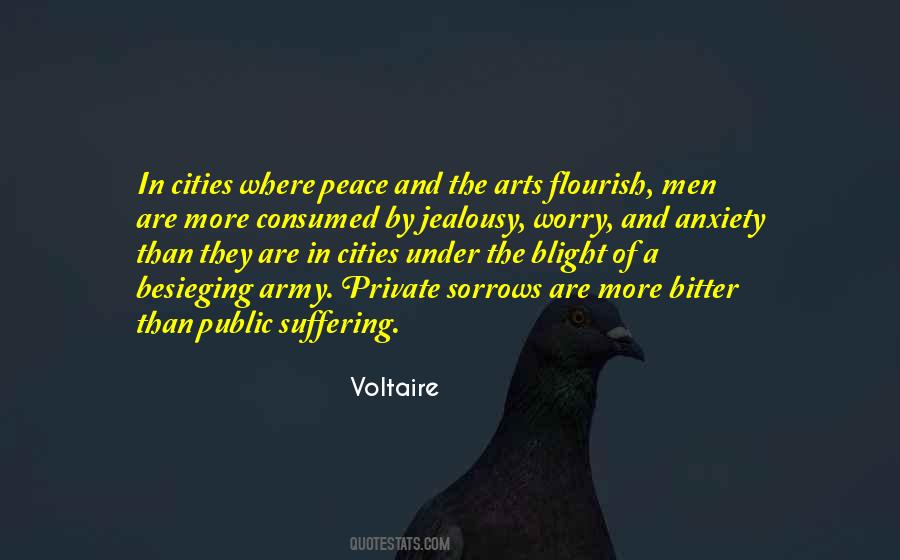 #54. What we can see in most societies is the gravity of suffering, tears of sorrow and nightmares of hopelessness. - Author: Nilantha Ilangamuwa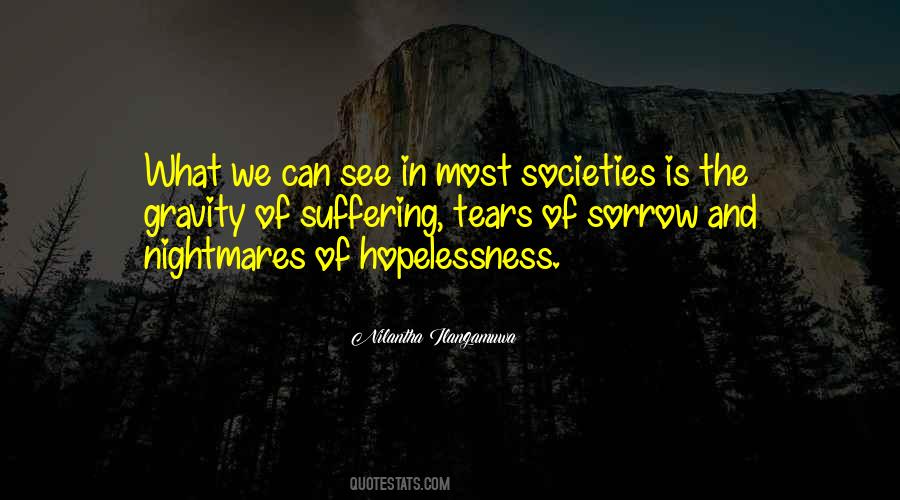 #55. Great suffering brings with it the power of great endurance. When sorrow is deepest all the forces of patience and courage are banded together to do their duty. So while we are cowards before petty troubles, great sorrows make us brave by rousing our truer manhood. - Author: Rabindranath Tagore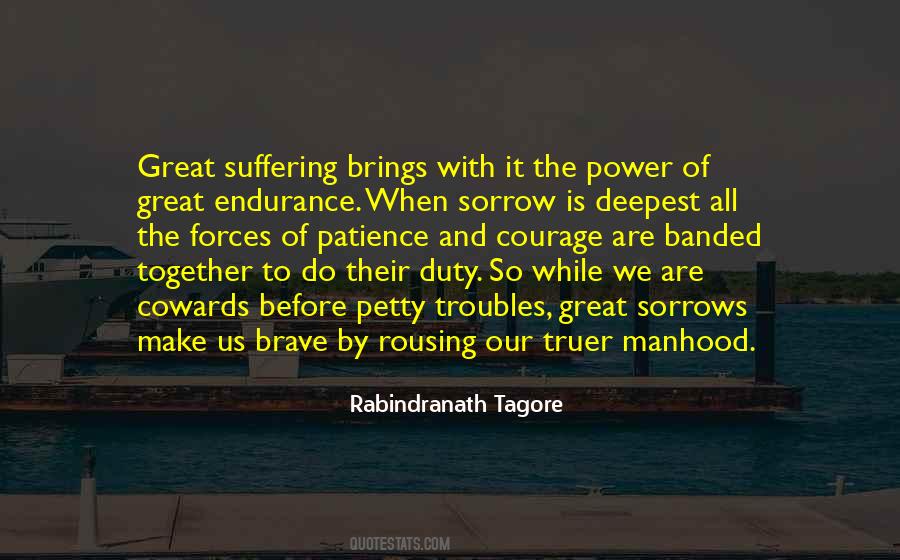 #56. By changing our inner state of mind, we can change any suffering or hardship into a source of joy, regarding it as a means for forging and developing our lives. To turn even sorrow into a source of creativity - this is the way of life of a Buddhist - Author: Daisaku Ikeda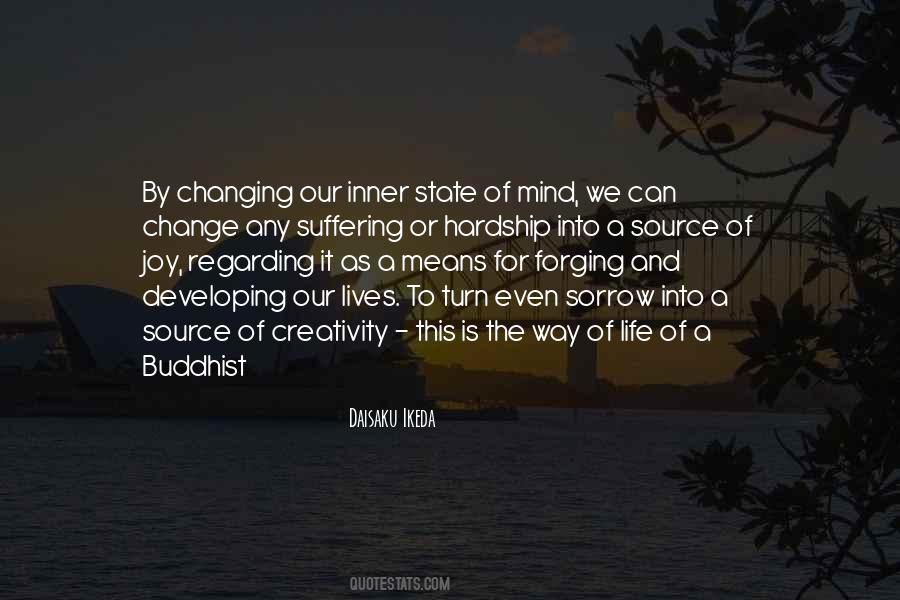 #57. We can experience joy in adverse circumstances by holding God's benefits in such esteem that the recognition of them and meditation upon them shall overcome all sorrow. - Author: John Calvin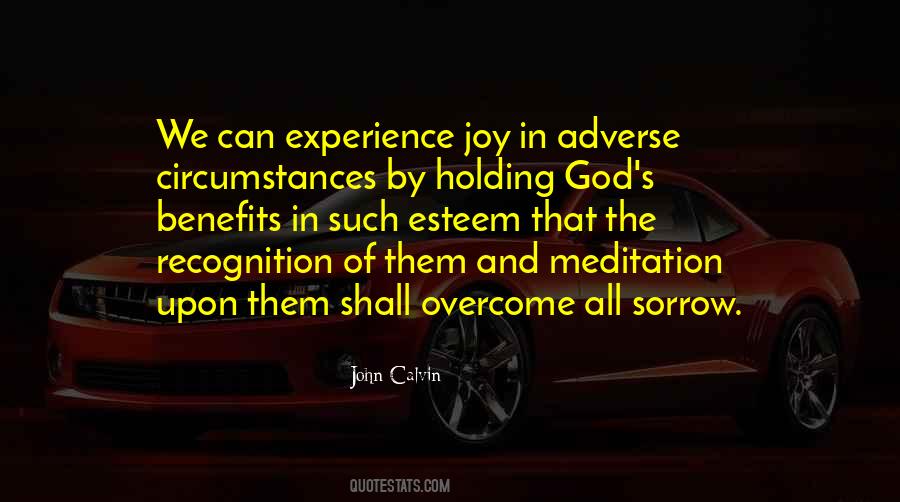 #58. If ever sorrow and suffering set their profaning marks on the youth and beauty of Miss Fairlie's face, then, and then only, Anne Catherick and she would be the twin-sisters of chance resemblance, the living reflections of one another. - Author: Wilkie Collins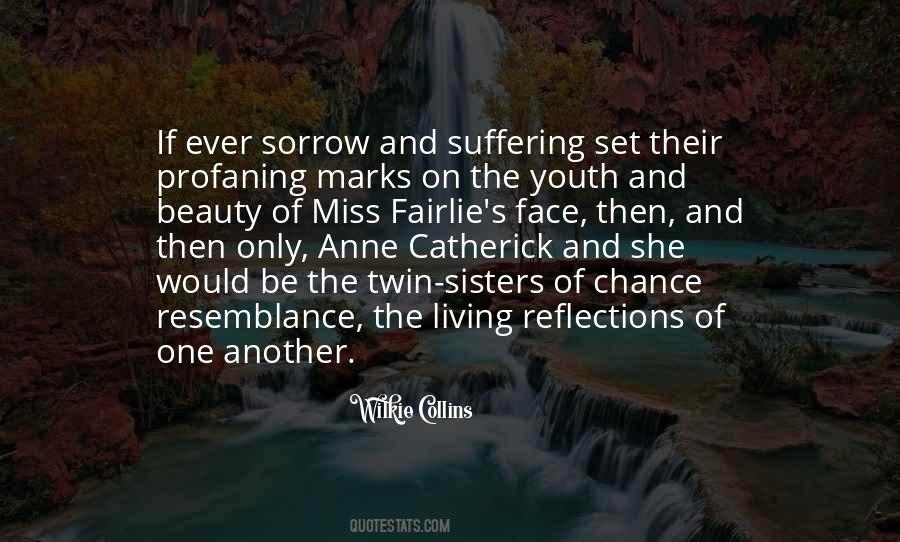 #59. so i will say this-
give me your suffering
and i swear it will be carried
even if that means the death
of sorrow inside you
and the birth of sorrow
inside me. - Author: Christopher Poindexter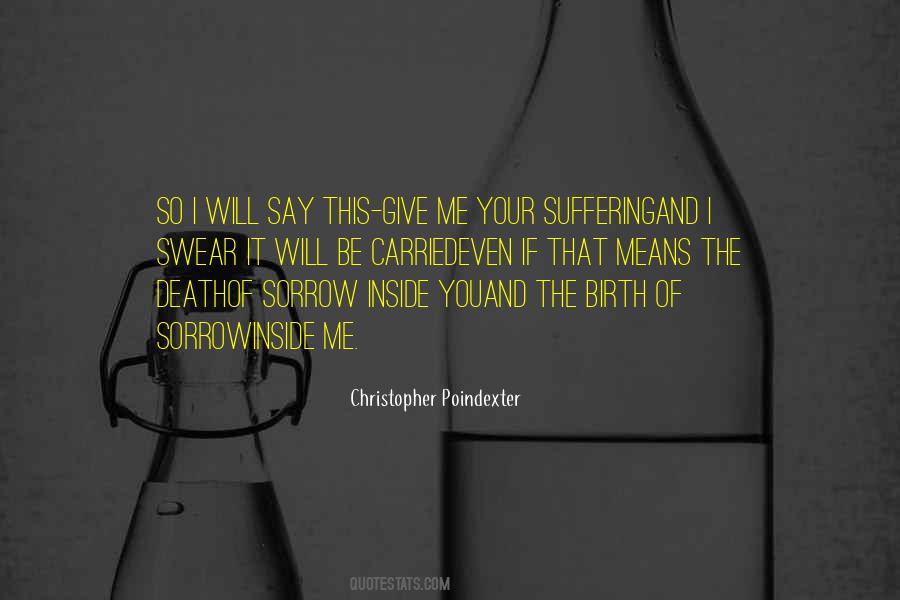 #60. Time sped. And the poet through sorrow Became like his suffering kind. Again he toiled over his poems To lighten the grief of his mind ... - Author: Ella Wheeler Wilcox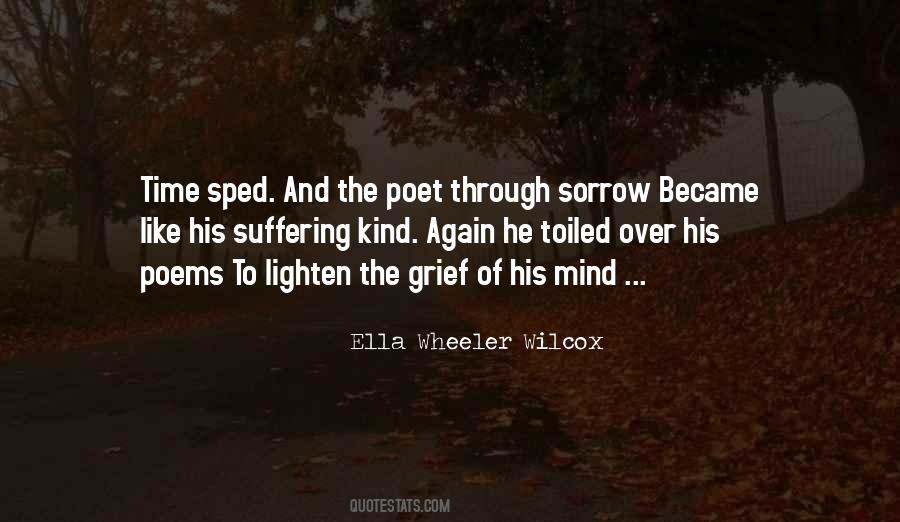 #61. She has suffered so much, and that sorrows me. But she has been strong in the face of unthinkable adversity, and that inspires me. - Author: Dean Koontz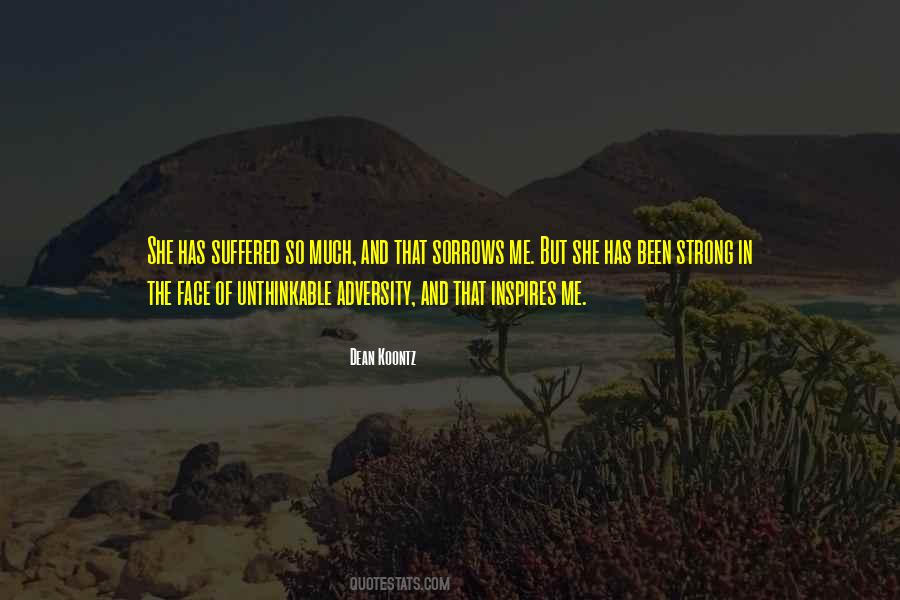 #62. If we could read the secret history of our enemies, we should find in each man's life sorrow and suffering enough to disarm all hostility. - Author: Henry Wadsworth Longfellow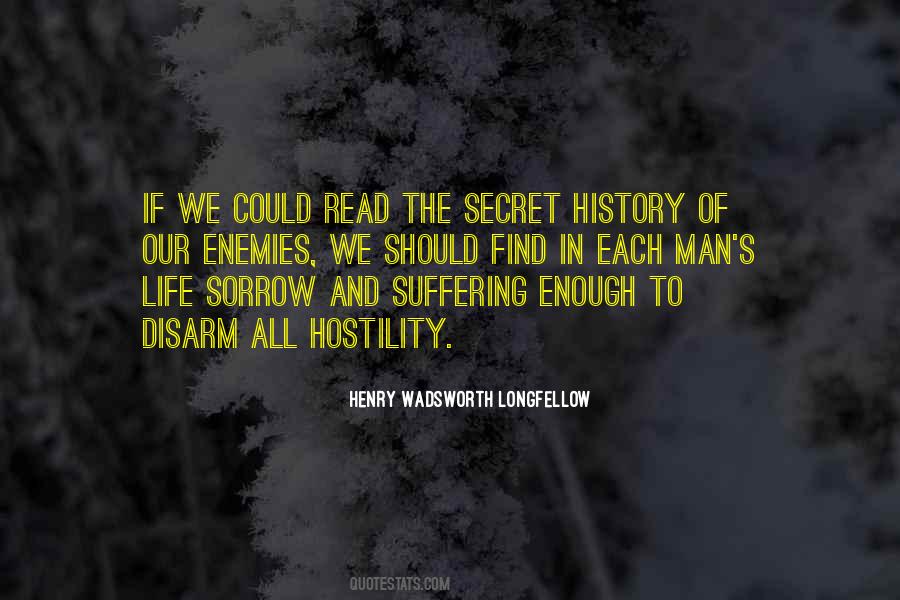 #63. How many young hearts have revealed the fact that what they had been trained to imagine, the highest earthly felicity, was but the beginning of care, disappointment, and sorrow, and often led to the extremity of mental and physical suffering. - Author: Catharine Beecher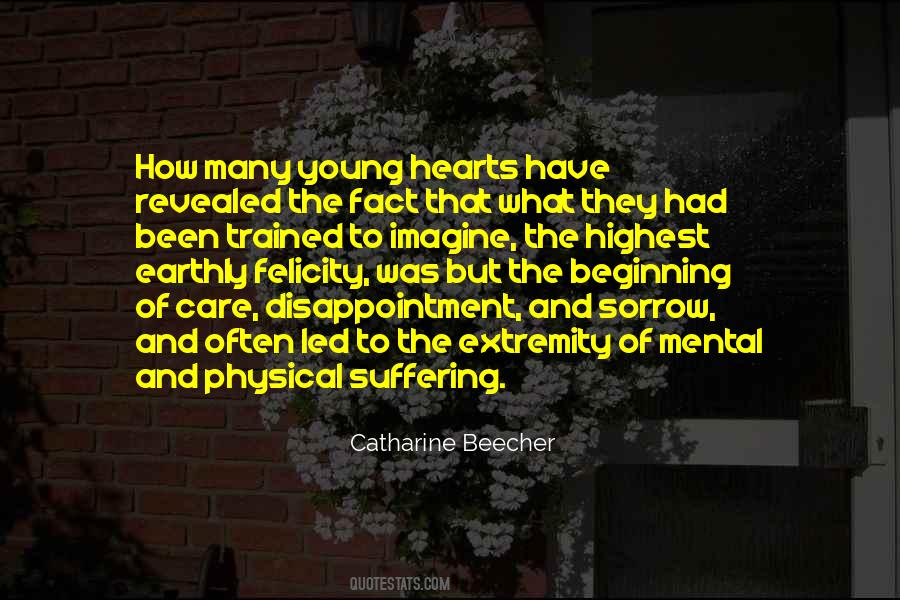 #64. Death remains about the one certain fact in the lives of each one of us, and there will be suffering, sorrow, and sadness next week as there was last week. - Author: Basil Hume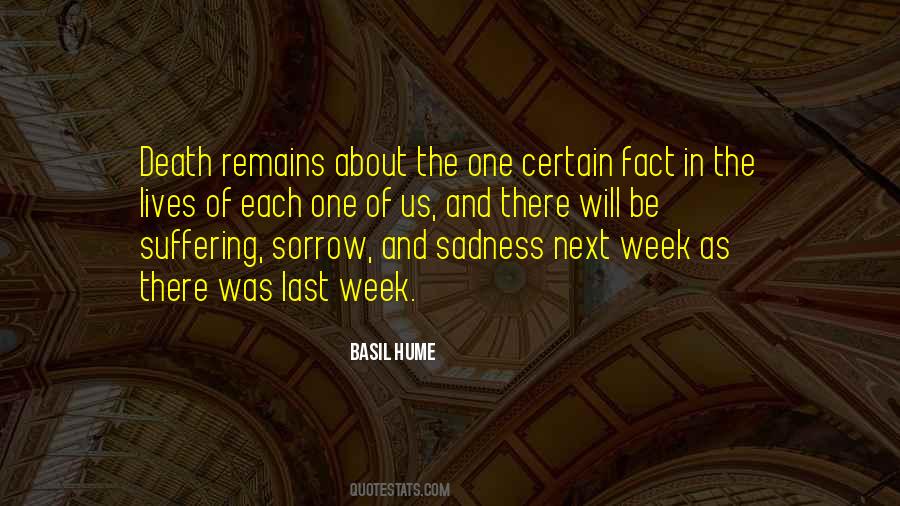 #65. We may have to face God's truth about our pain
it is real, but we must be careful not to get God and life mixed up. God does not cause the pain and sorrow. He suffers with us and desires to comfort us as only he can. - Author: Jill Briscoe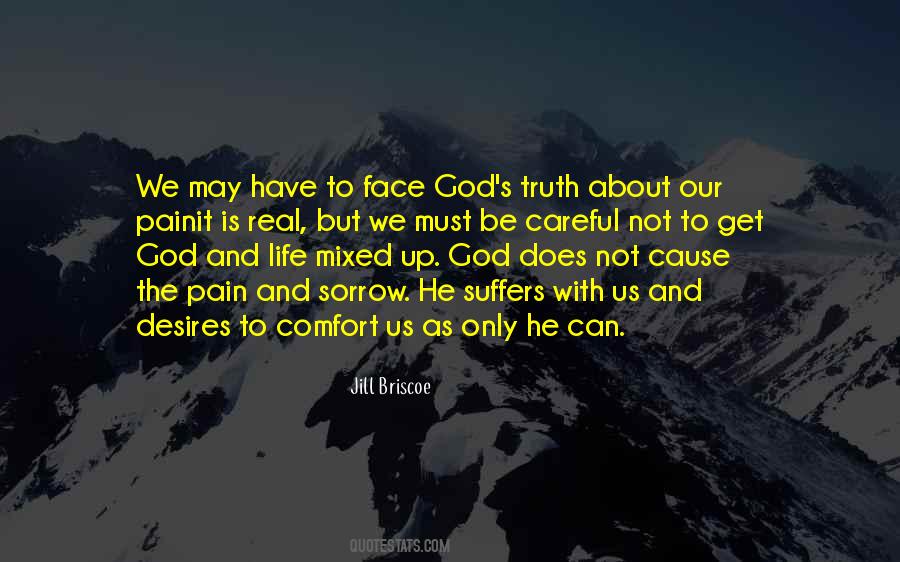 #66. Suffering and pain are always obligatory for a broad consciousness and a deep heart. Truly great men I think, must feel great sorrow in this world. - Author: Fyodor Dostoyevsky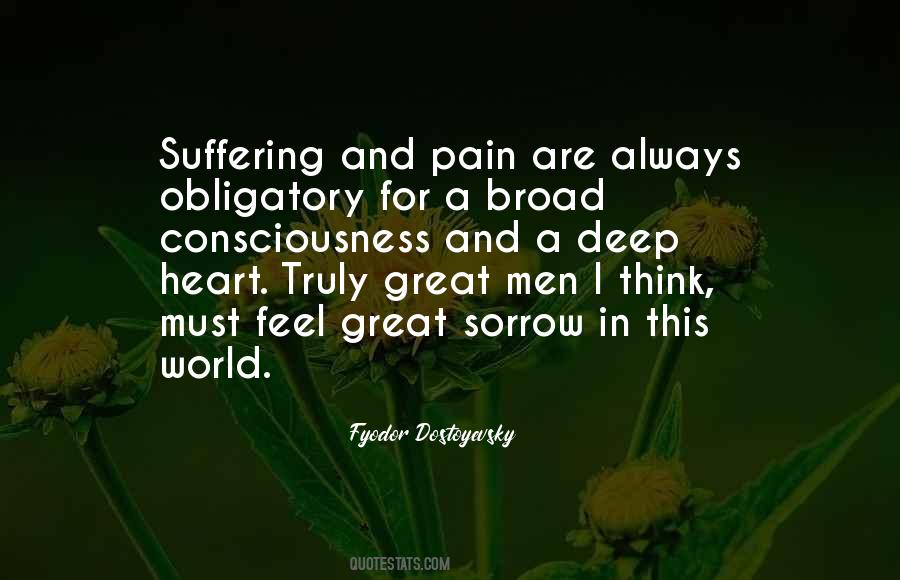 #67. Above all things let us never forget that mankind constitutes one great brotherhood; all born to encounter suffering and sorrow, and therefore bound to sympathize with each other. - Author: Albert Pike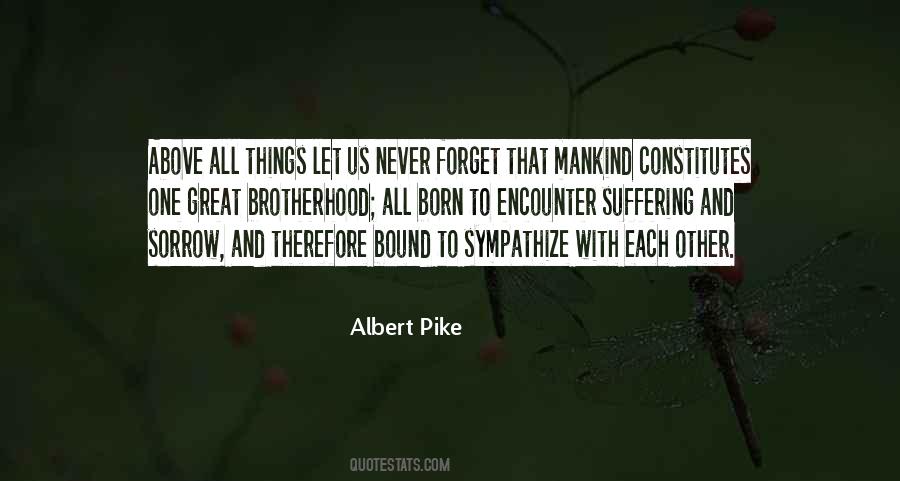 #68. There is nothing that stirs in the whole world of thought to which sorrow does not vibrate in terrible and exquisite pulsation. - Author: Oscar Wilde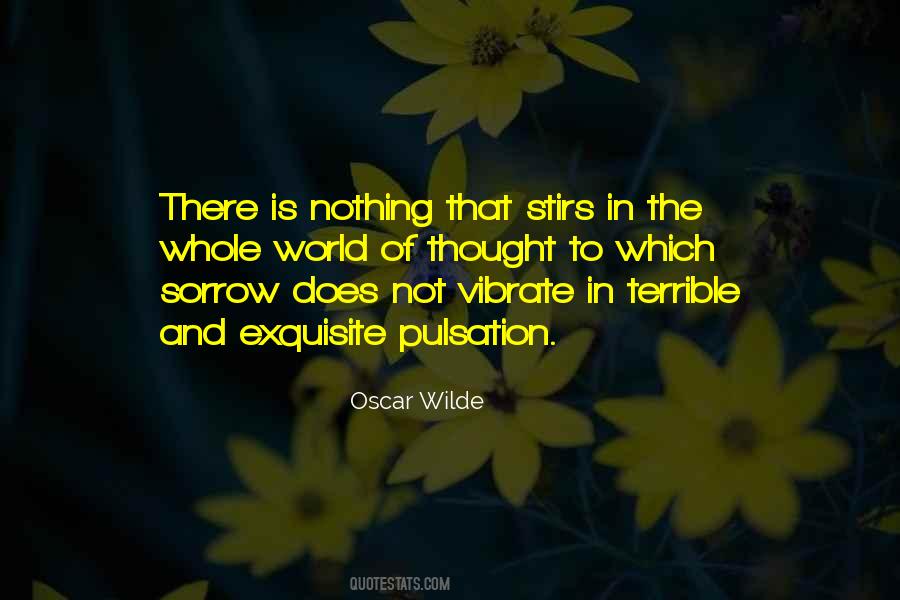 #69. You will be consoled according to the greatness of your sorrow and affliction; the greater the suffering, the greater will be the reward. - Author: Magdalena De Pazzi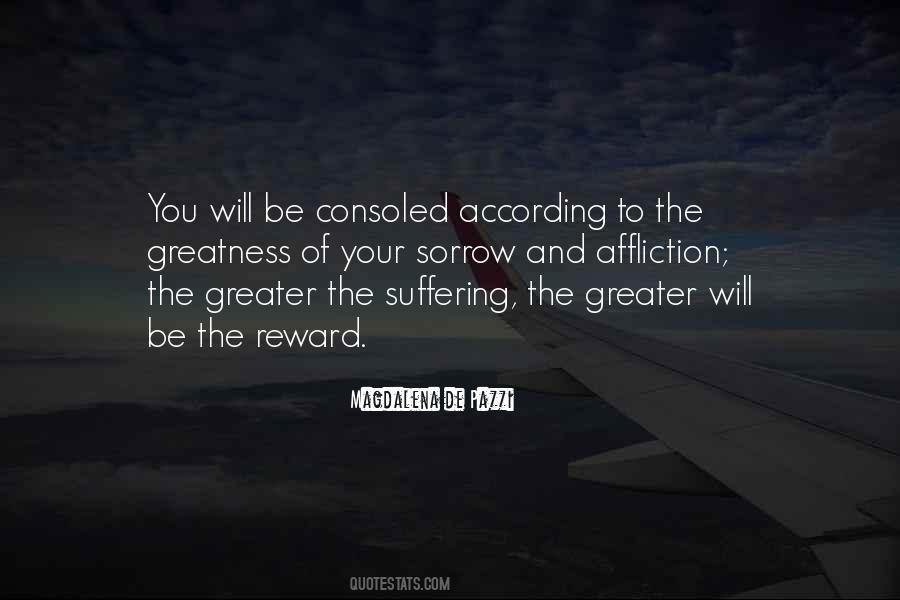 #70. Every living thing is sacred to me. Compassion and love can heal this world, which is set on fire of violence and hatred. I will teach the world about compassion, and end the suffering by halting these floods of sorrow. Said Prince Siddhartha and began his journey of saving the man kind." , - Author: Ama H. Vanniarachchy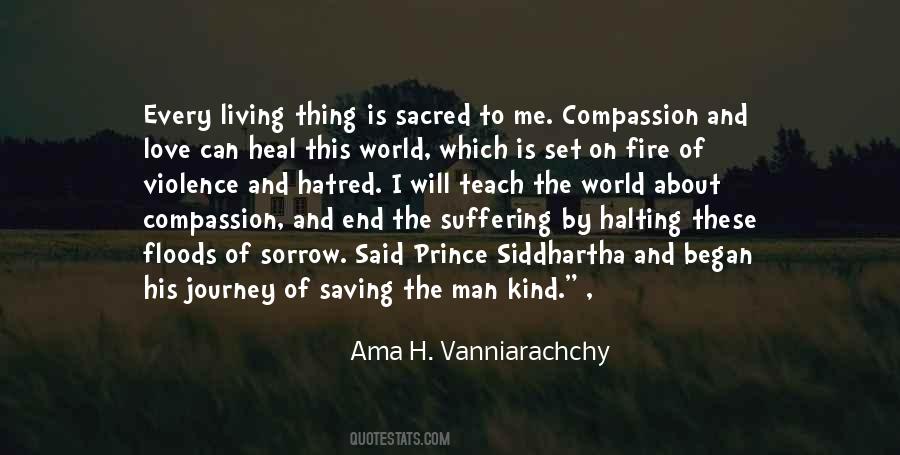 #71. We were resigned to suffering, thinking that we loved outside ourselves, and we perceive that our love is a function of our sorrow, that our love perhaps is our sorrow.. - Author: Marcel Proust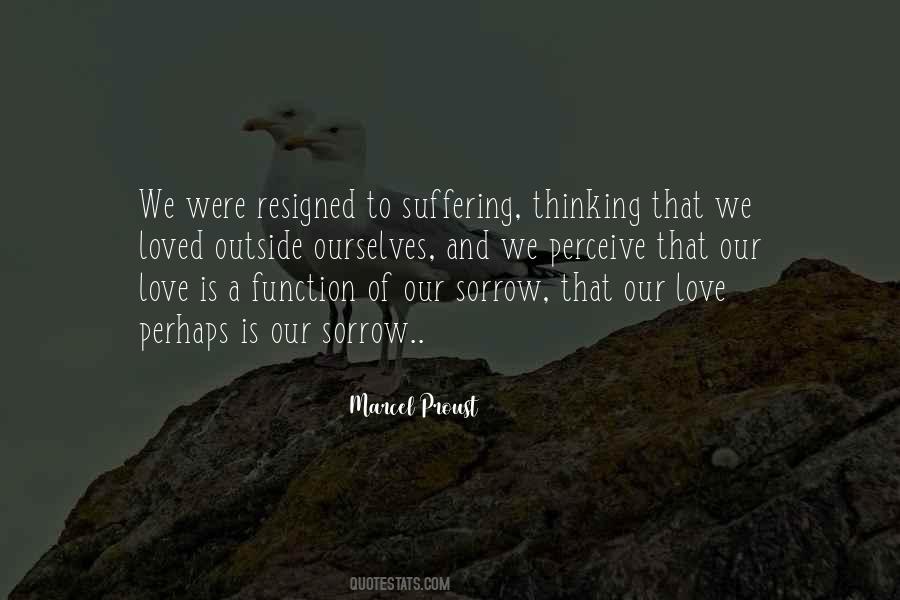 #72. There is no university for a Christian, like that of sorrow and trial - Author: Charles Spurgeon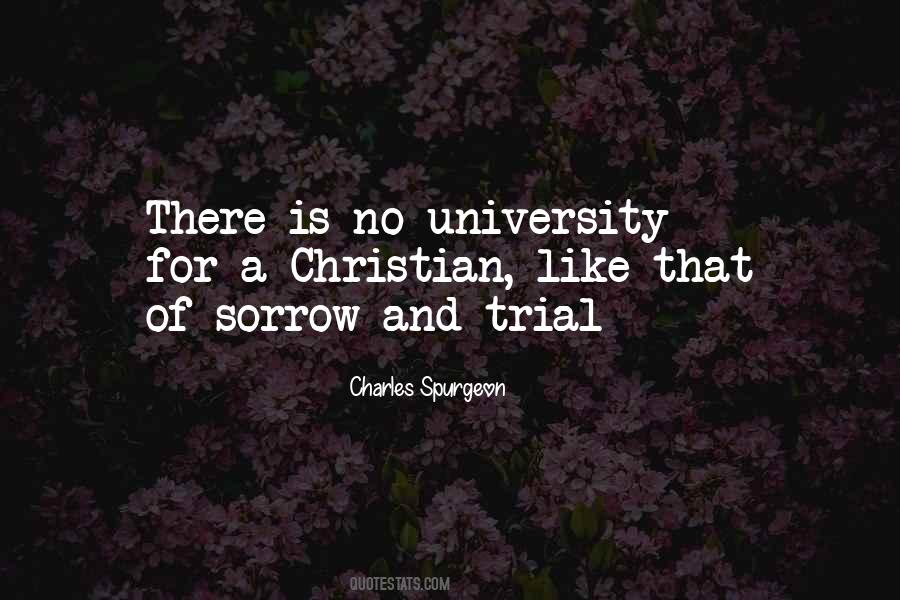 #73. Suffering, failure, loneliness, sorrow, discouragement, and death will be part of your journey, but the Kingdom of God will conquer all these horrors. No evil can resist grace forever. - Author: Brennan Manning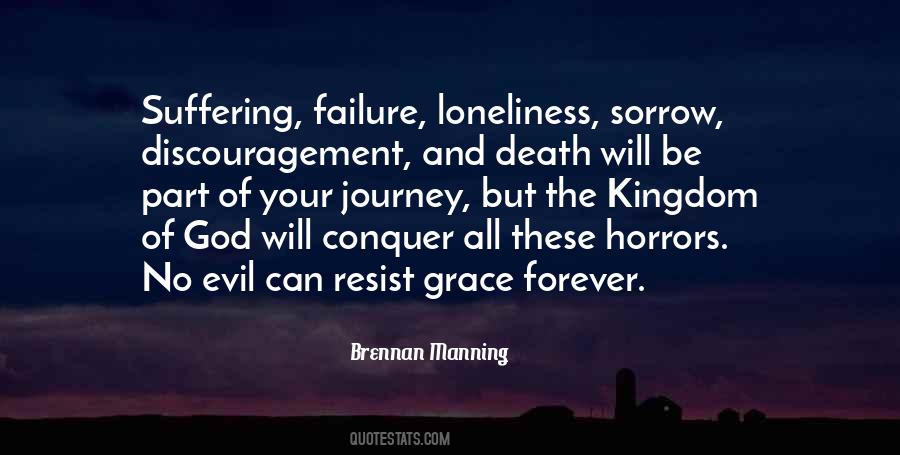 #74. Sorrow and suffering make for character if they are voluntarily borne, but not if they are imposed. - Author: Mahatma Gandhi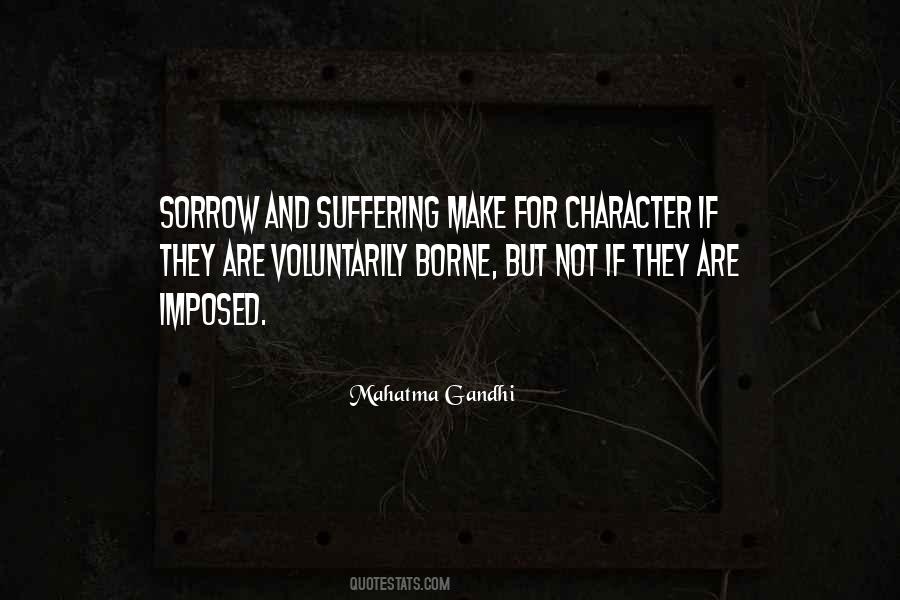 #75. There is quite enough sorrow and shame and suffering and baseness in real life, and there is no need for meeting it unnecessarily in fiction. - Author: Theodore Roosevelt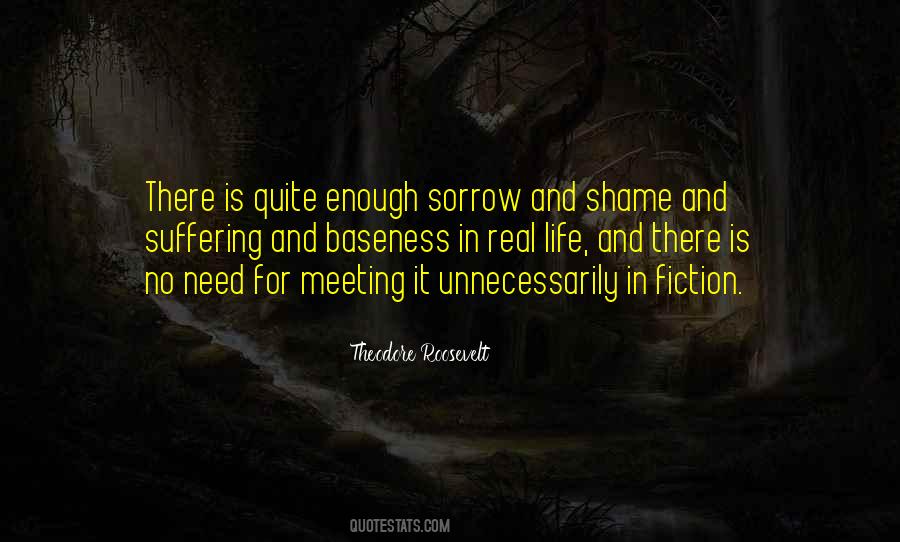 #76. The artist's business is to take sorrow when it comes. The depth and capacity of his reception is the measure of his art; and when he turns his back on his own suffering, he denies the very laws of his being and closes the door on everything that can ever make him great. - Author: Freya Stark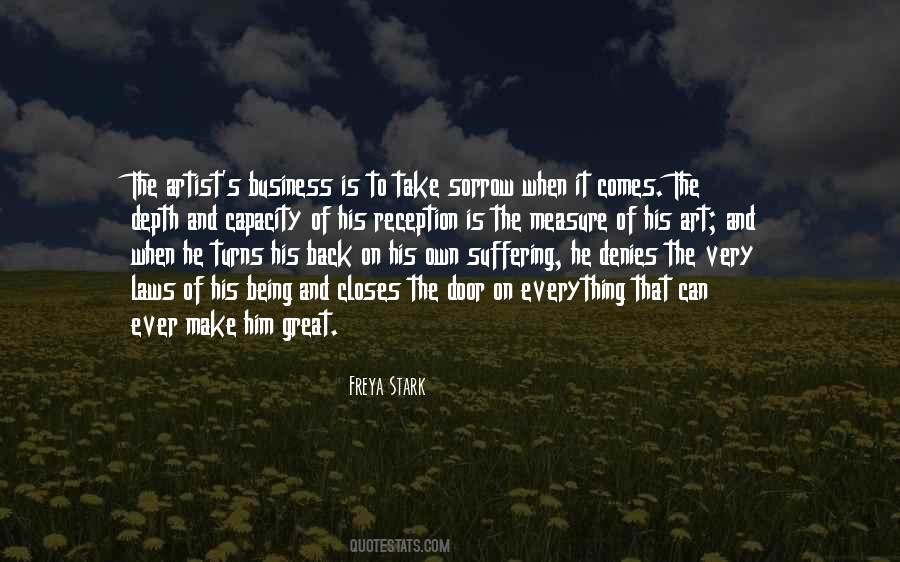 #77. It is plain that there is one moral law for heaven and another for the earth. The pulpit assures us that wherever we see suffering and sorrow, which we can relieve and do not, we sin, heavily. There was never yet a case of suffering or sorrow which God could not relieve. Does He sin then? - Author: Mark Twain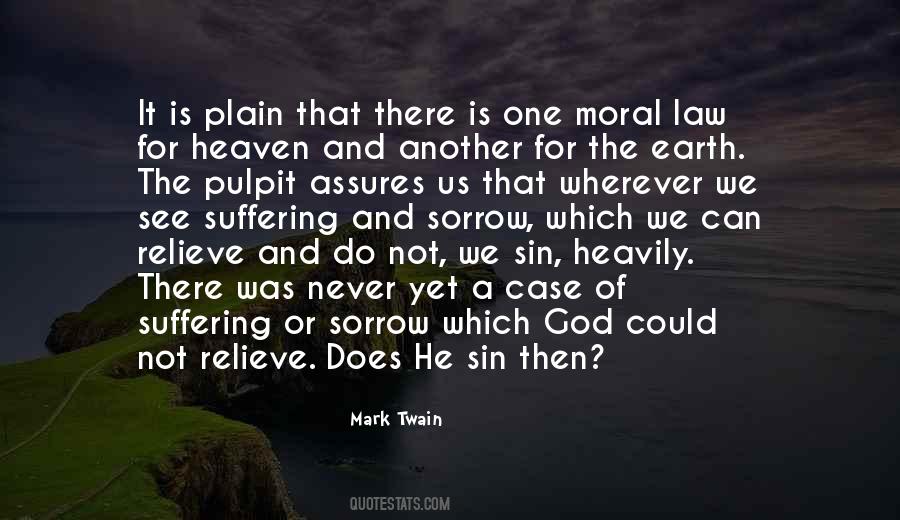 Famous Authors
Popular Topics