Some Things Never End Famous Quotes & Sayings
List of top 46 famous quotes and sayings about some things never end to read and share with friends on your Facebook, Twitter, blogs.
Top 46 Some Things Never End Quotes
#1. Neither you nor I can know your destiny. You may never know it! Destiny isn't always like a party at the end of the evening. Sometimes it's nothing more than struggling through life from day to day. - Author: Arthur Golden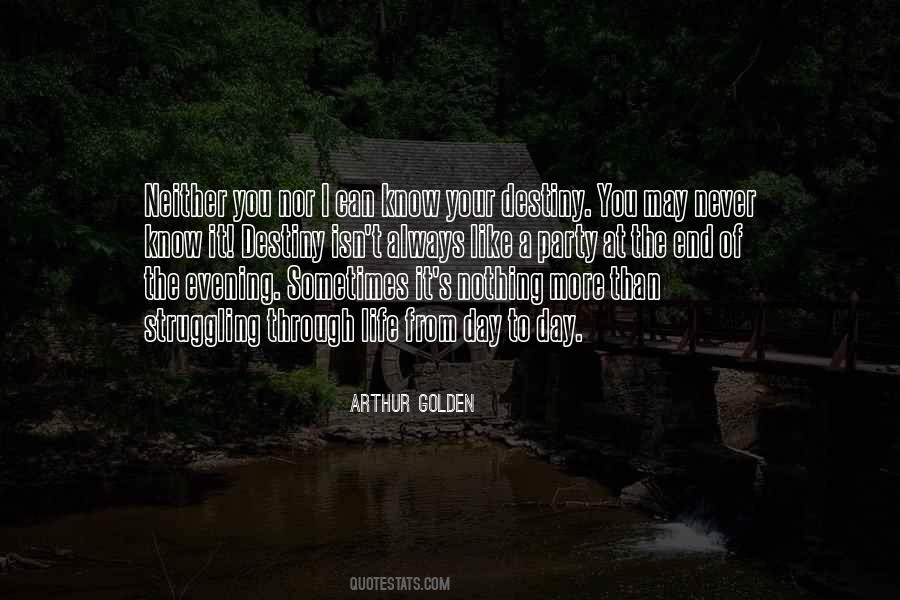 #2. I love that that beauty runs so deep, even when I have it for eternity, I know I'll never find the end. - Author: Kristen Ashley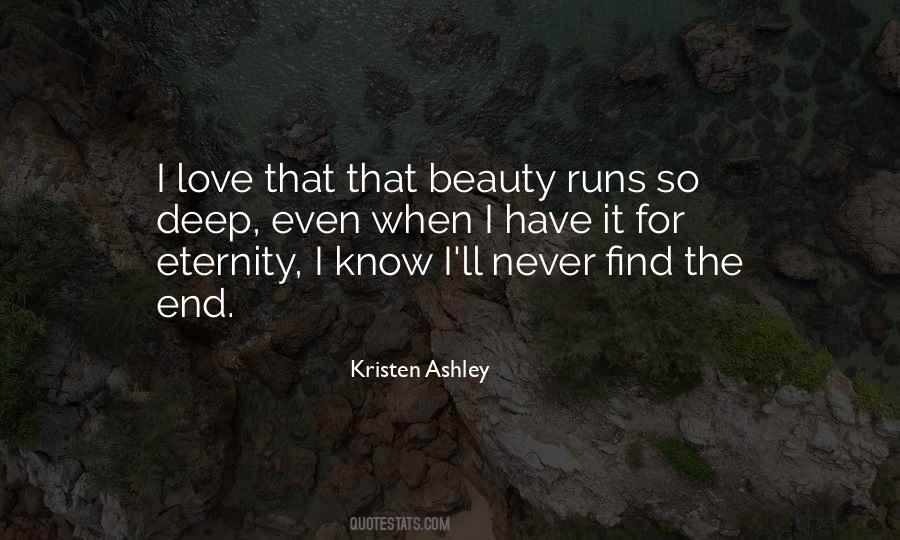 #3. One simply goes around doing egoism and then ultimately he ends up on the wood of the funeral pyre; such is the pitiful state. And if one is a very good person, he will be cremated with sandalwood. But it is all wood in the end. The true victor is the one who never dies. - Author: Dada Bhagwan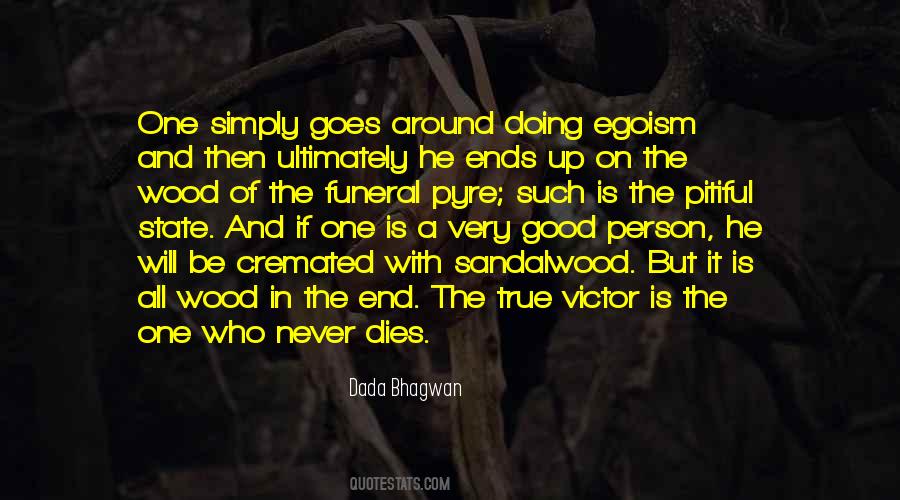 #4. In this life, no matter what you do-you will never be able to satisfy everyone. So stay true to yourself and do you. Trying to please others, you will only end up angry and dissatisfied with life. - Author: Redd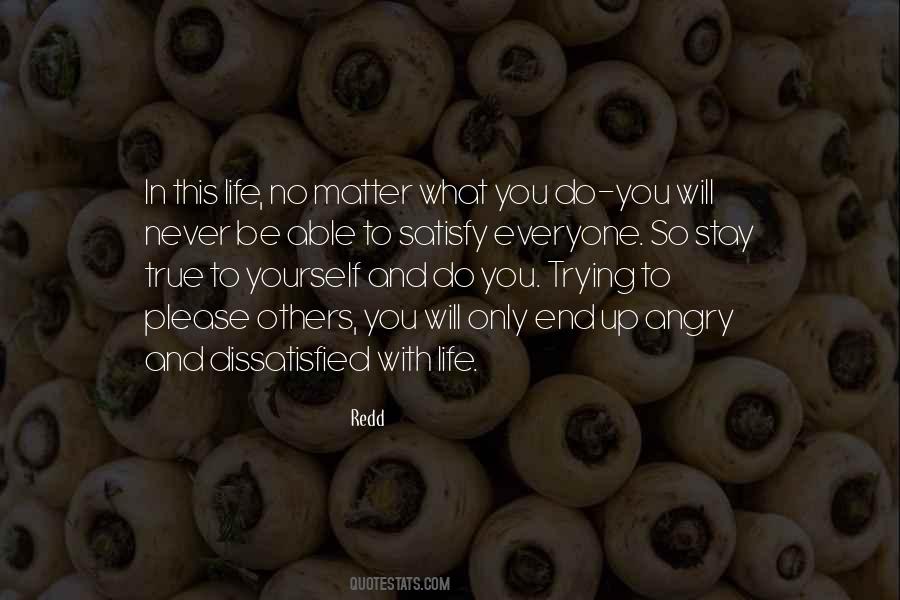 #5. I would never even consider leaving you. No matter who else abandons me...or looks down on me...or spits in my face...I will stay with you to the end. - Author: Hotaru Odagiri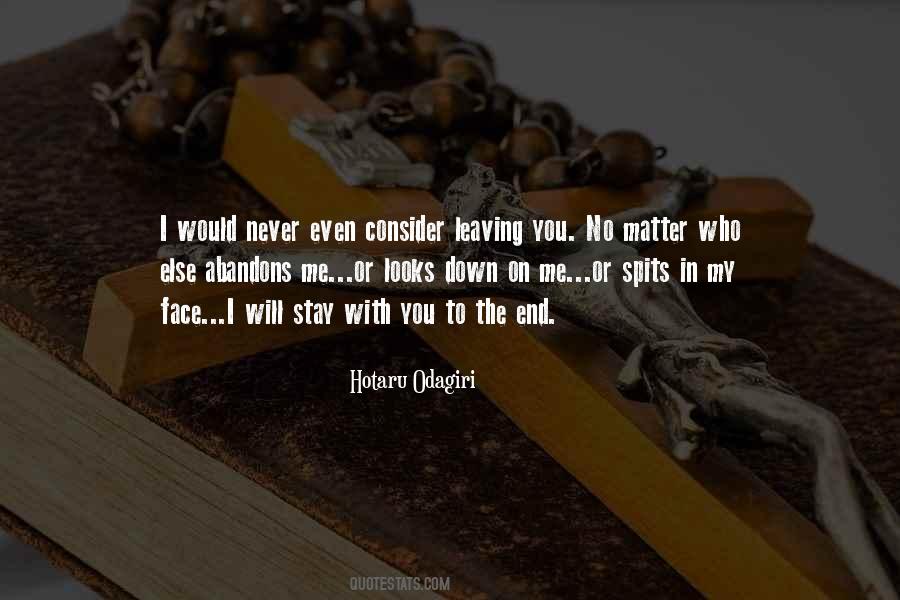 #6. I learned that the story has no beginning, and no story has an end. That the story is all muddle, all middle. That the story is never true, but that the lie is indeed a child of silence. By - Author: Ursula K. Le Guin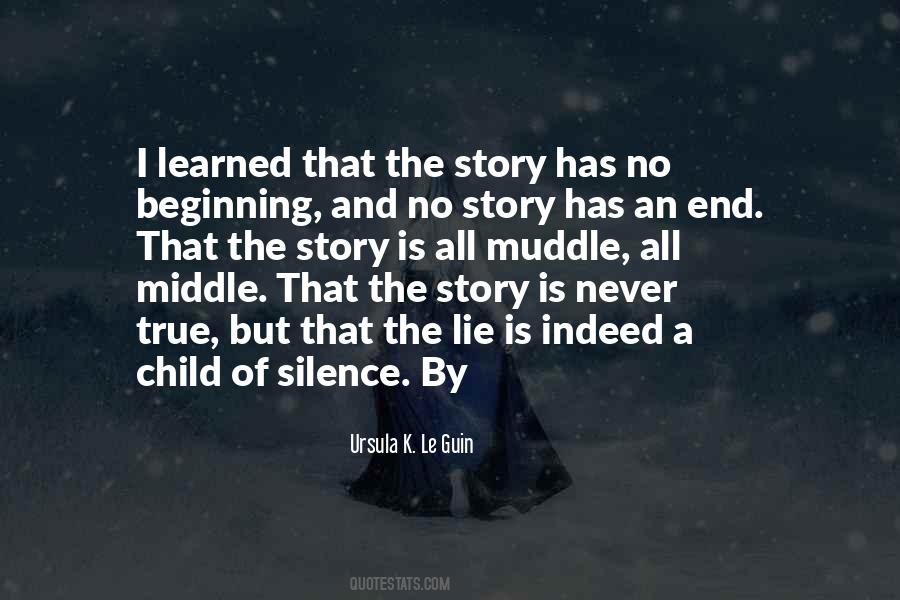 #7. Your Spirit Guides and Angels will never let you down as you build a rapport with them. In the end, they may be the only ones who don't let you down. - Author: Linda Deir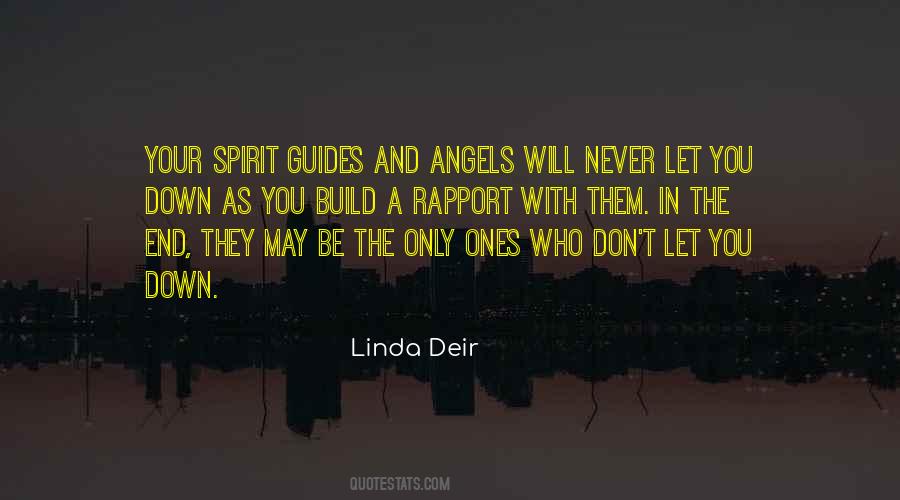 #8. Completion is a goal, but we hope it is never the end. - Author: Sarah Lewis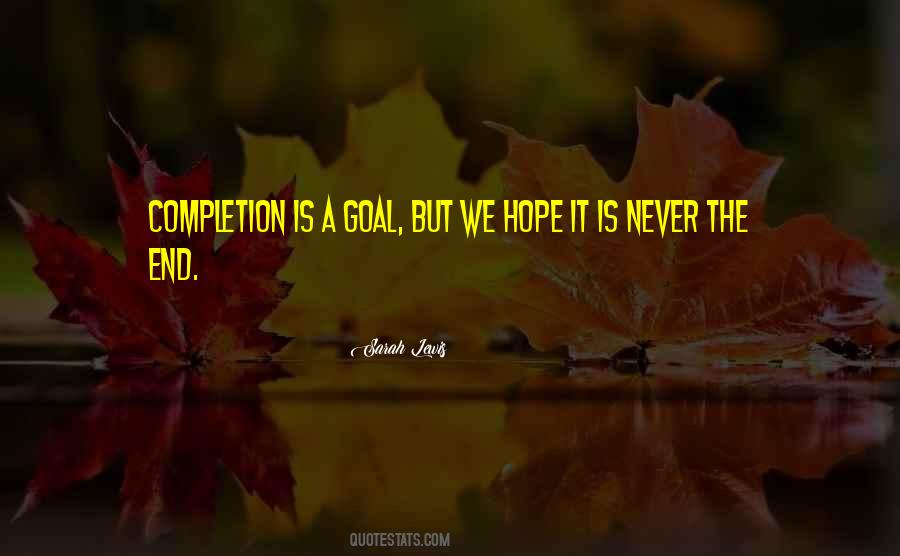 #9. A good artist ought never to allow impatience to overcome his sense of the main end of art - perfection - Author: Michelangelo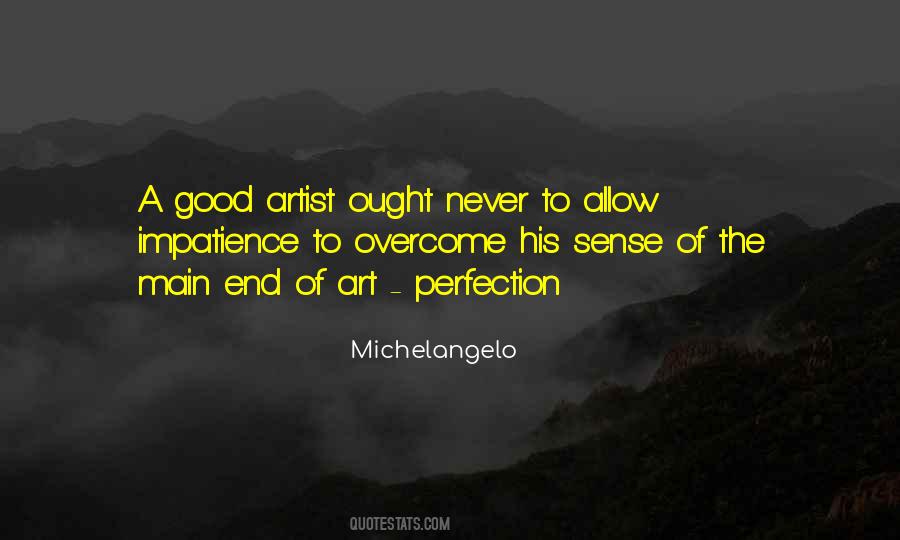 #10. I have this desire to have this immaculate form of love that really doesn't exist, so my obsession goes on through life and I never find it and I end up miserable. But it makes me a better writer. - Author: Angel Haze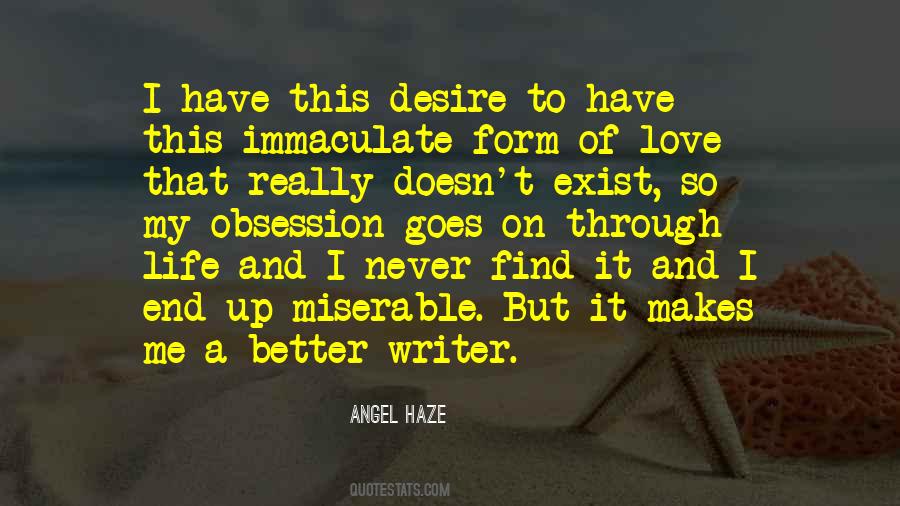 #11. Stories never end. We end. - Author: Peter S. Beagle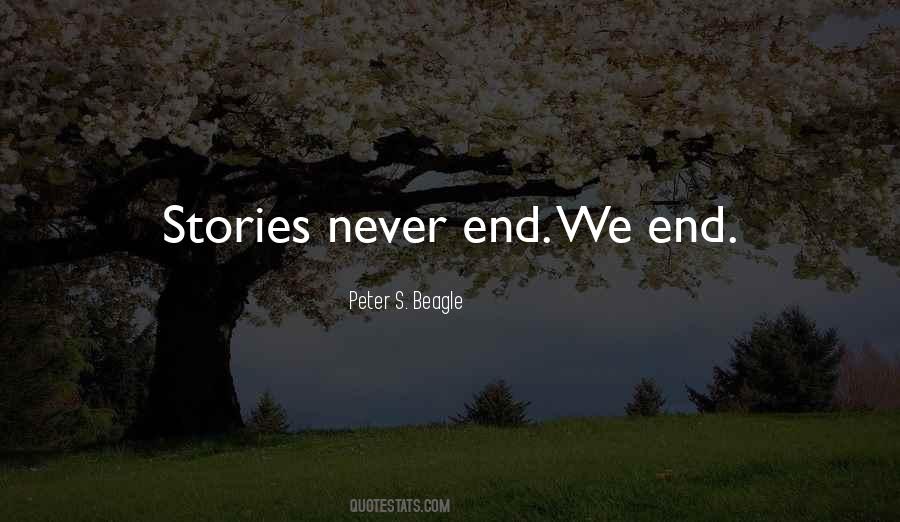 #12. ..the women's movement never left the father Dick's side....We got a share of genocide profits and we love it...If we're Dick's sister and want what he has gotten, then in the end we support that system that he got it all from. - Author: Mary Barfoot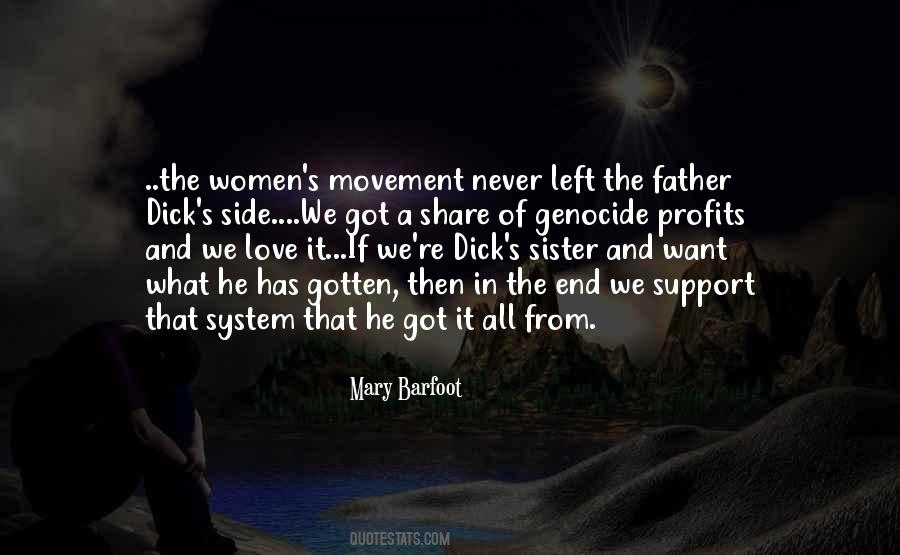 #13. Cracks especially. You have to be careful of the cracks.. Sometimes they are disguised as something else. A doorway, or a smile or even a winking eye. And if you fall through them, you never know were you will end up. - Author: Isobelle Carmody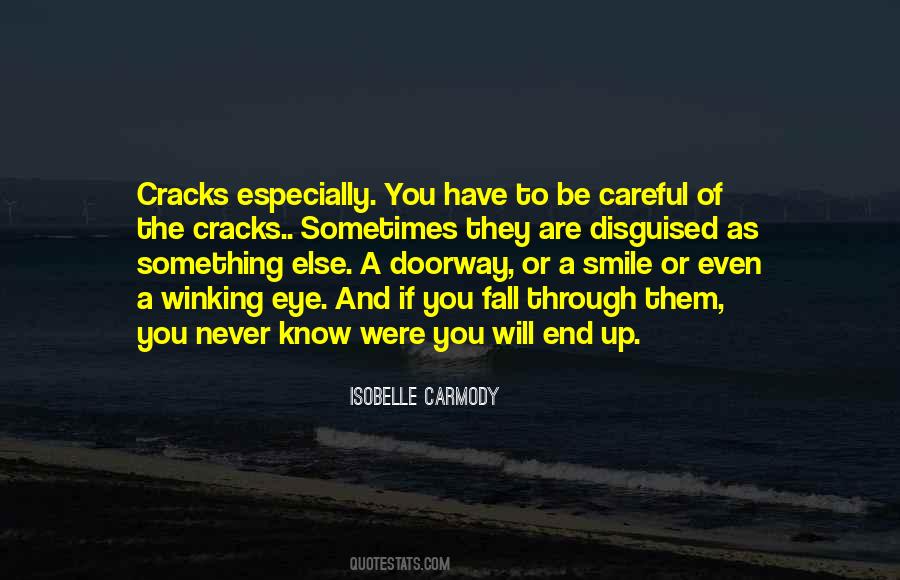 #14. I never saw such crazy musicians. Everybody in Frisco blew. It was the end of the continent; they didn't give a damn. - Author: Jack Kerouac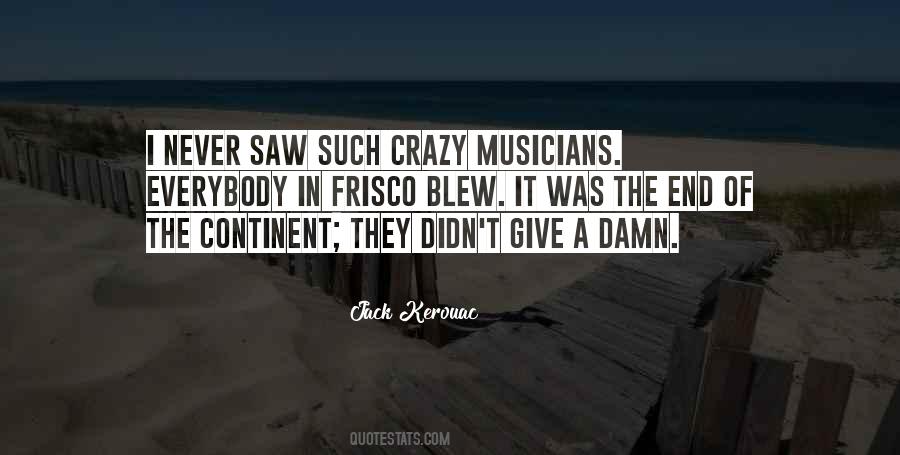 #15. We in the 25th hour,
It's now or never.
We gotta get it 'fore it's gone forever.
In the end, time waits for no man ...
What's your plan? - Author: Reks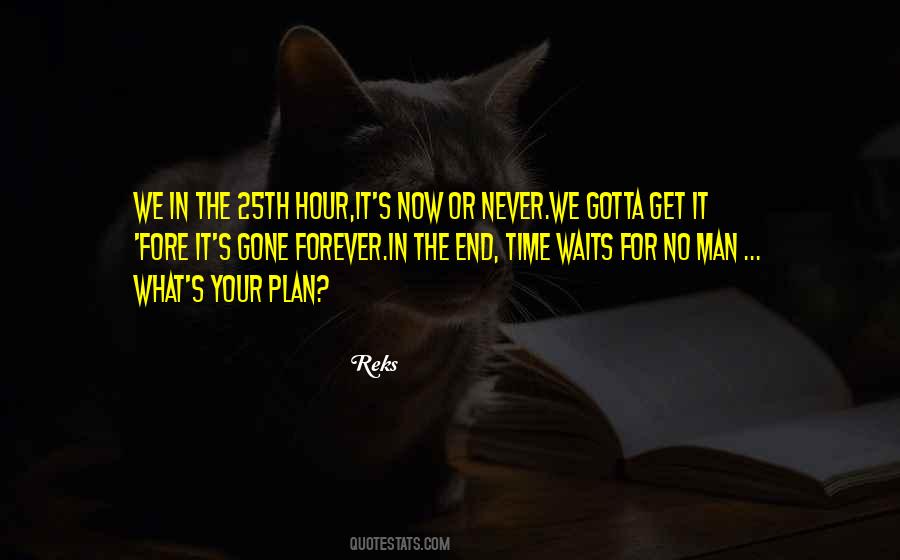 #16. I thought yesterday would never end. There was over me a yearning for sleep in some sort of blind belief that to wake would be to find things changed, and that any change must now be for the better. - Author: Bram Stoker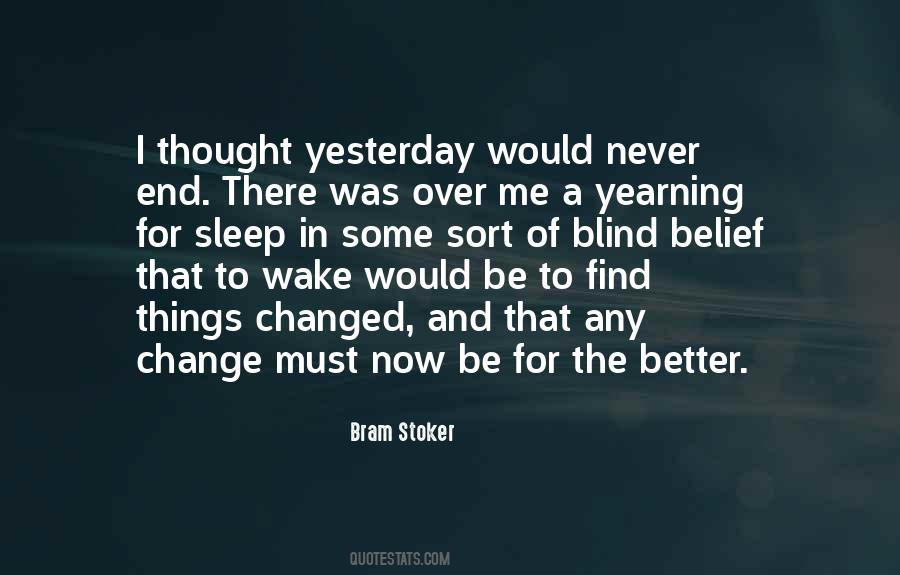 #17. Sometimes in life we fear a dark season that may never arrive, the underpinnings of those grave days set on some unknowable horizon. I had feared a lot of things that in the end proved futile - my - Author: Addison Moore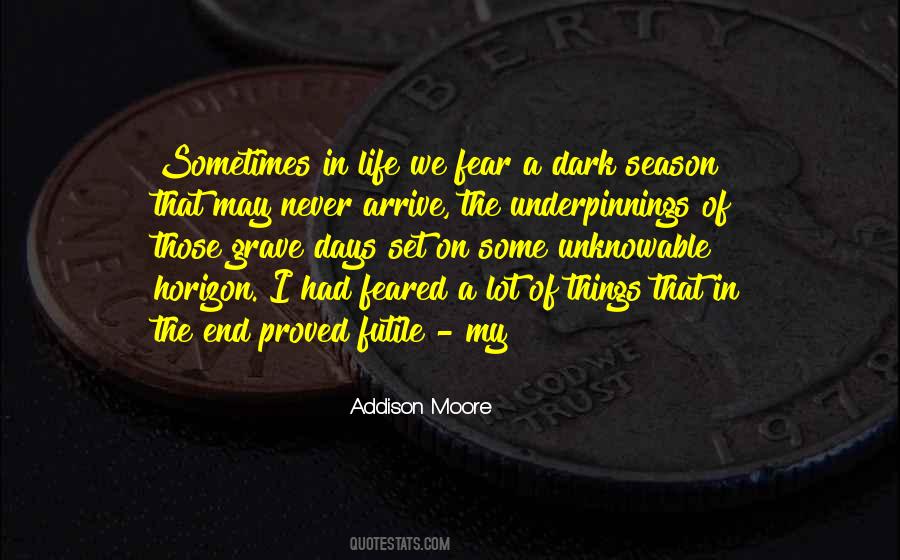 #18. Ends are not bad things, they just mean that something else is about to begin. And there are many things that don't really end, anyway, they just begin again in a new way. Ends are not bad and many ends aren't really an ending; some things are never-ending. - Author: C. JoyBell C.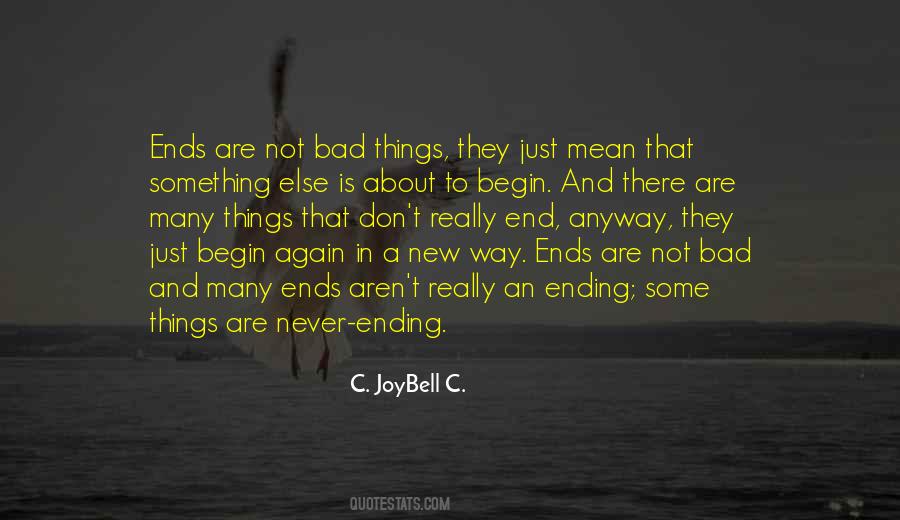 #19. I'll tell them all the good things and some difficulties. The parents may never accept what happened to them and yet accept their child. They're two separate things, the parental loss, and the actual person they will almost always end up loving. - Author: Andrew Solomon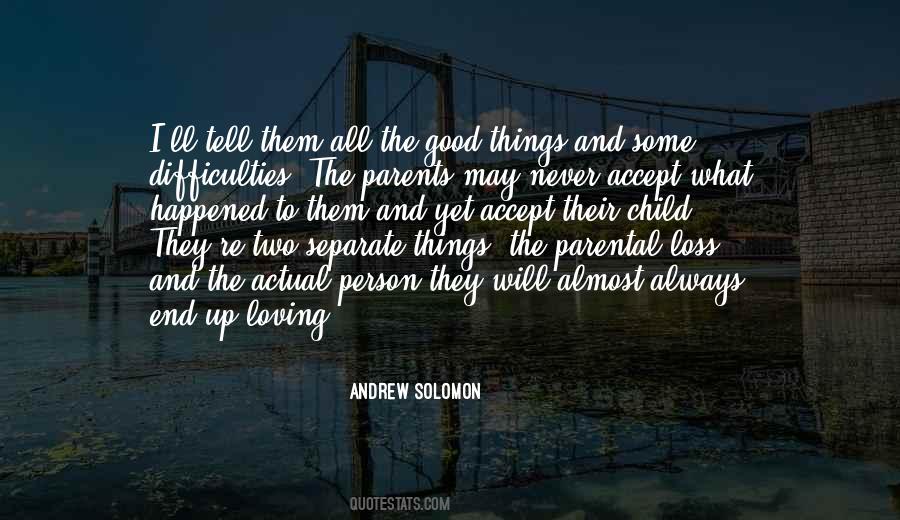 #20. According to some, heroic deaths are admirable things. I've never been convinced by this argument, mainly because, no matter how cool, stylish, composed, unflappable, manly, or defiant you are, at the end of the day you're also dead. Which is a little too permanent for my liking. - Author: Jonathan Stroud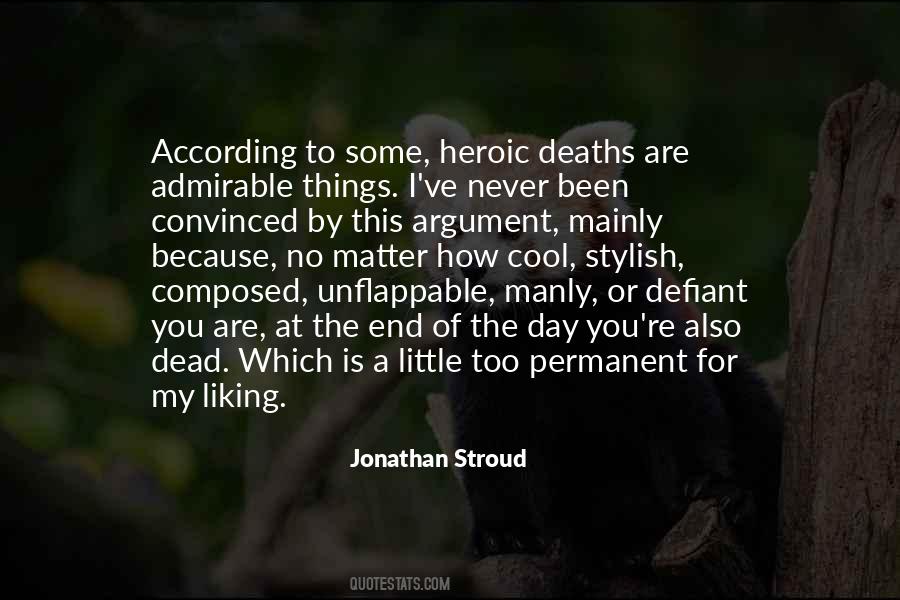 #21. I have done a few roles that I've never watched, and if I happen to be flicking through channels and one pops up, I quickly move on. It's hard enough to sustain some self confidence without being reminded of things we'd rather not revisit but, in the end, it comes with the territory. - Author: Terry O'Quinn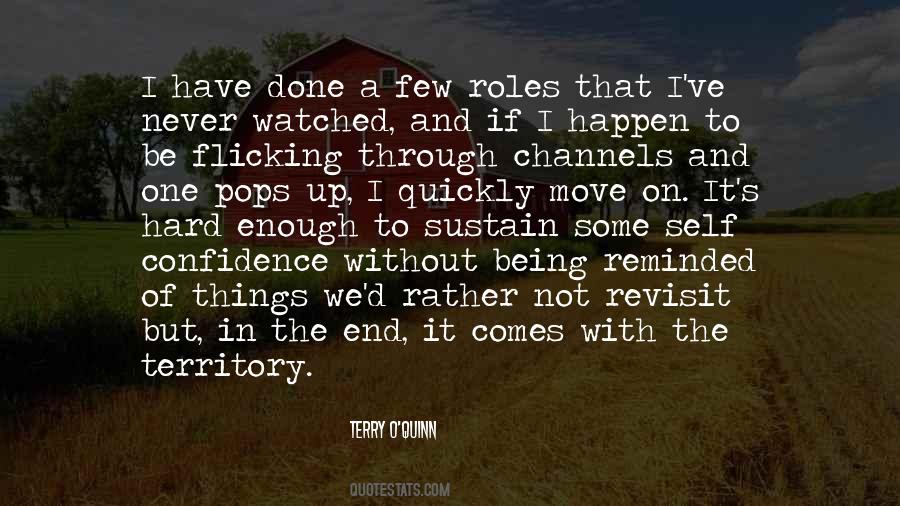 #22. You always end up saying and doing such horrible things to your family, 'cause you know they're never going anywhere, and at some point, they're going to forgive you. - Author: Wendi McLendon-Covey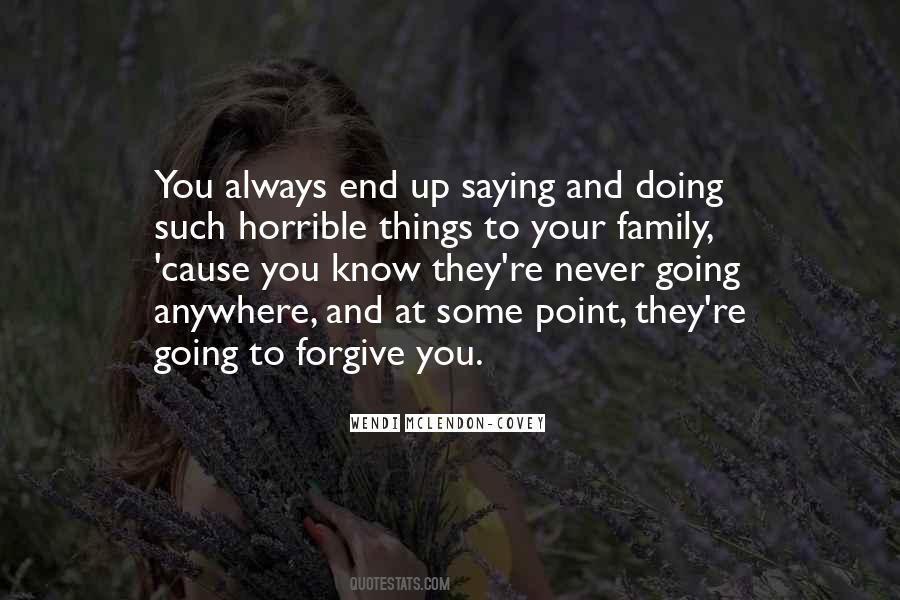 #23. THE FIRST FEW WORDS of every story are always the hardest to write. It's almost as if pulling them out, putting them on paper, commits you to seeing it all through. As if once you start, you are required to finish. And how do you finish when some things never end? - Author: Amy Harmon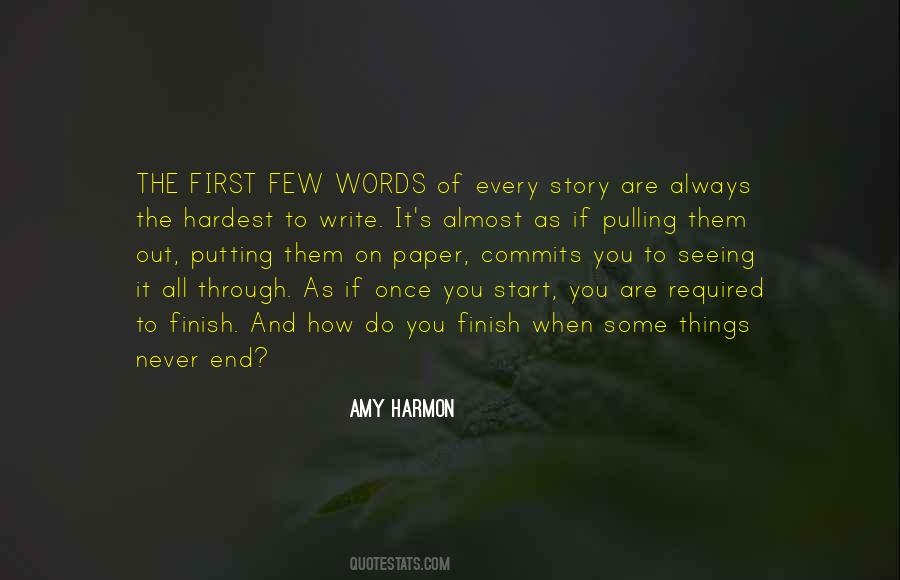 #24. My characters are never heroic. They are mostly lost and trying to find the right door to open and they end up opening the wrong doors. - Author: Gaspar Noe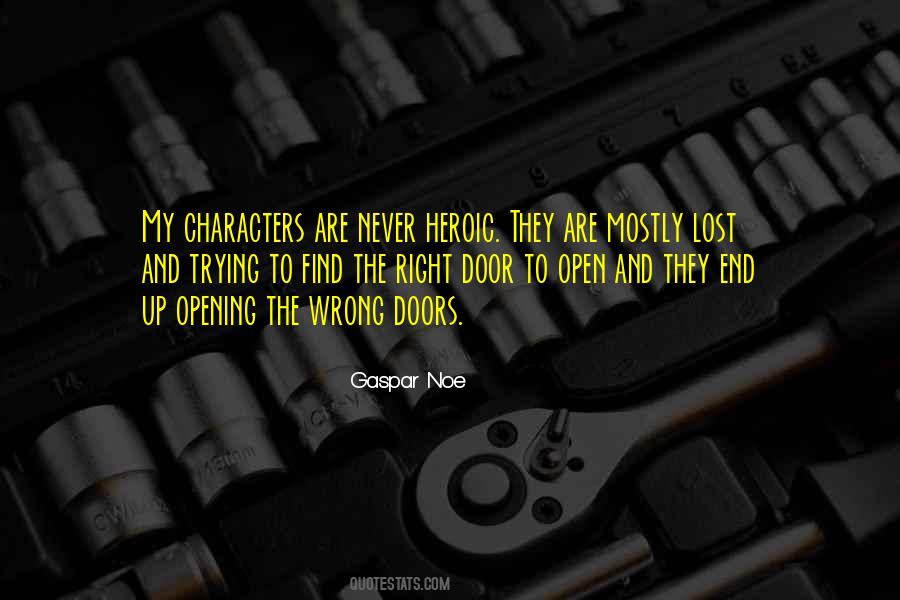 #25. Hate isn't like love, it doesn't end. It goes on forever. You can never get to the bottom of it. And it's so pure, so unconditional! - Author: Lev Grossman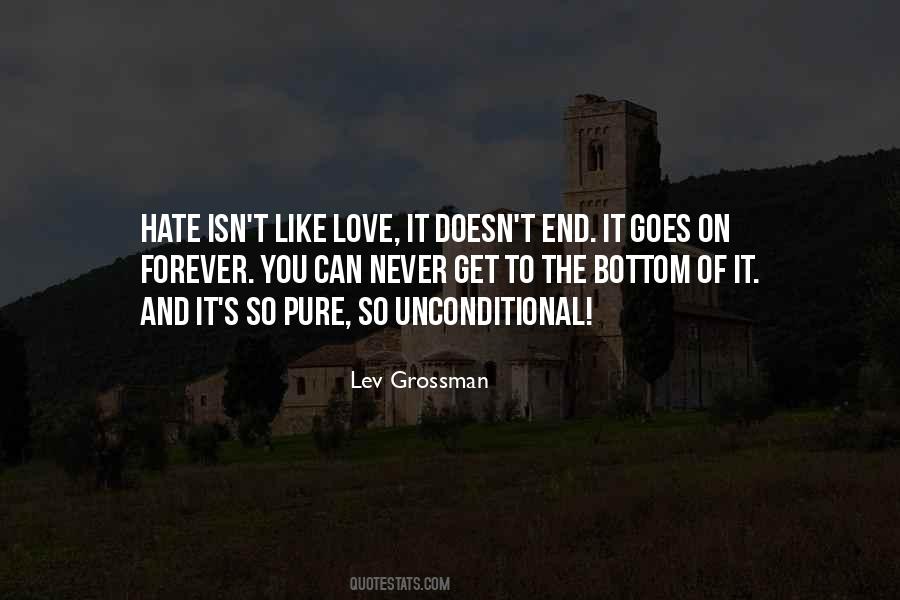 #26. Sometimes, when it seems like the pain is never going to end, I wish I'd gotten a different suite of magical talents from my mother. Like the power to avoid situations that end with me willingly jamming my arm into a door made entirely from animate, apparently angry rose briars. - Author: Seanan McGuire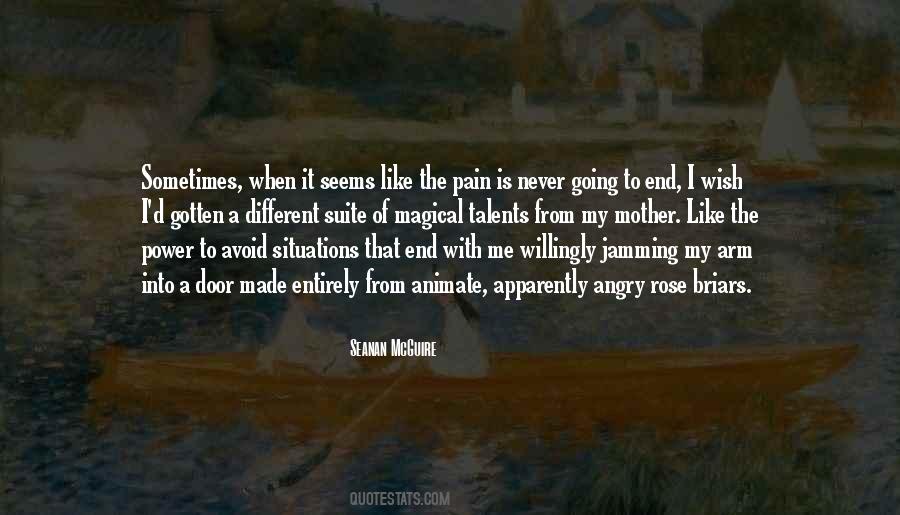 #27. The end justifies the means. But what if there never is an end? All we have is means. - Author: Ursula K. Le Guin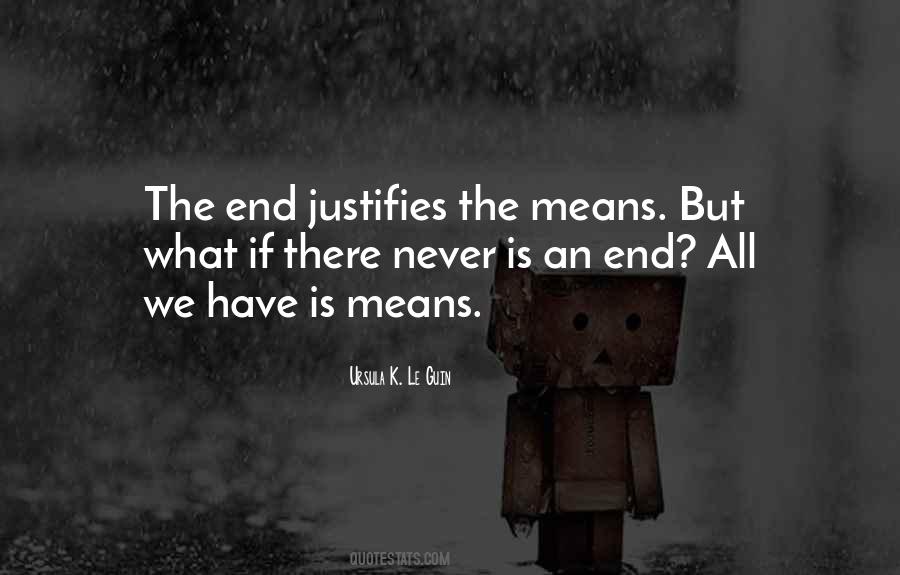 #28. I've come to believe that the most dangerous man in the world is the one who feels no remorse. The one who never apologizes and therefore seeks no forgiveness. Because in the end it is our emotions that make us week, not our actions. - Author: Tahereh Mafi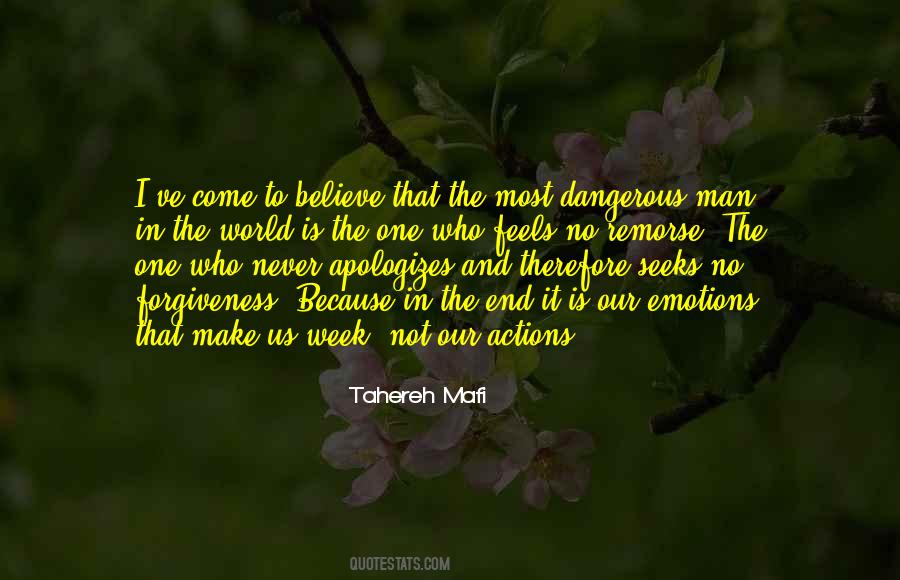 #29. If I let a little of the emotion out, all of it will come out, and it will never end. - Author: Veronica Roth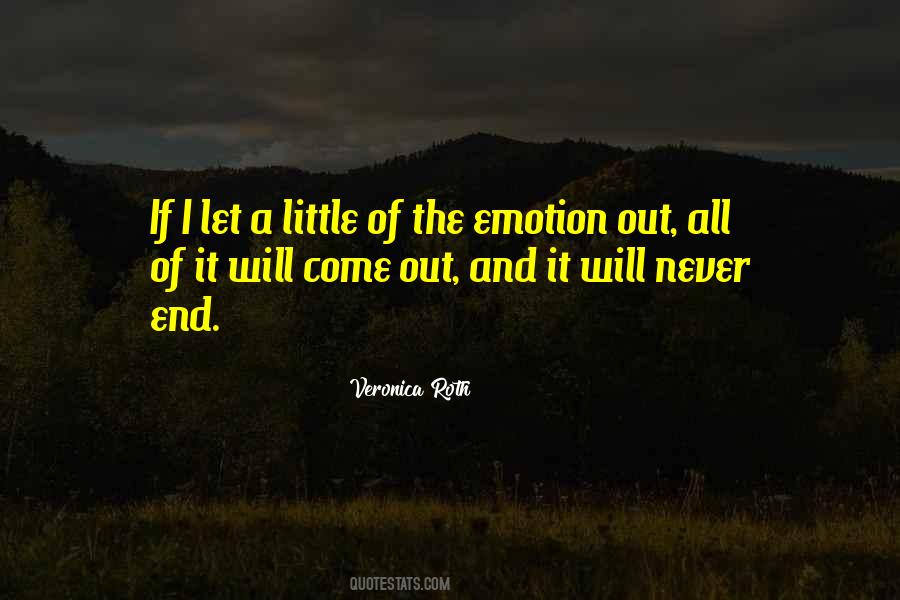 #30. My message is to never quit, never give up. When you have a little trouble here and there, just keep fighting. In the end, it will pay off. - Author: Gabby Douglas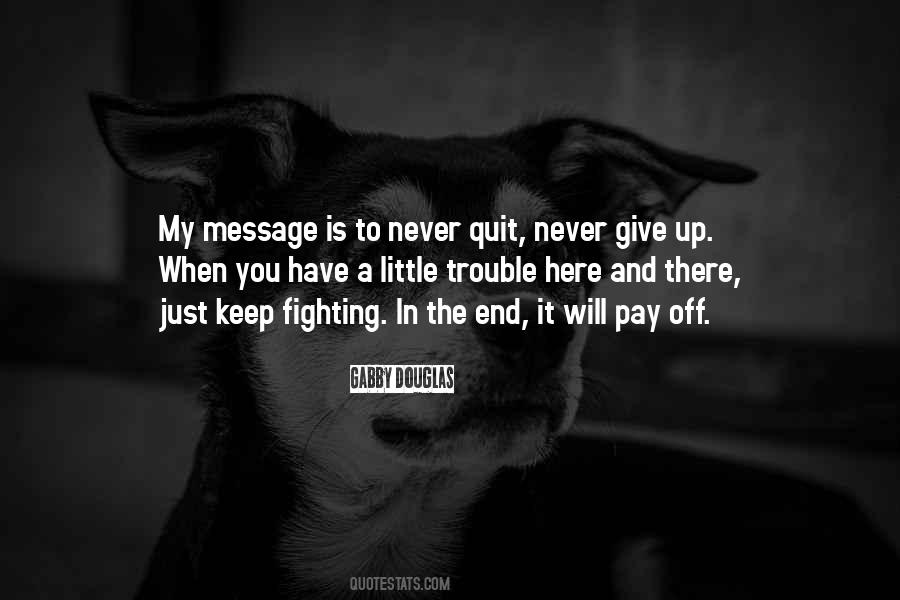 #31. Issa knelt down in front of her, taking her hands in his. Until the end of time, I will love you. You are the moon in my endless night. I have never abandoned this world, even when I desperately wanted to, and I will never leave you, either. - Author: Lisa Kessler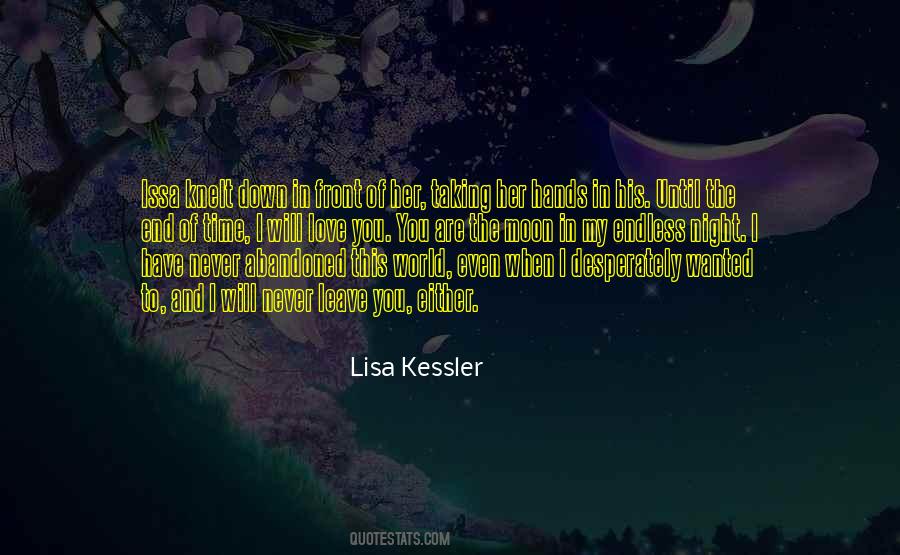 #32. there's going to come a time when we won't speak for days on end." "There won't." "There will. Every parent thinks it will never happen to them, but it happens to everyone. - Author: Jonathan Safran Foer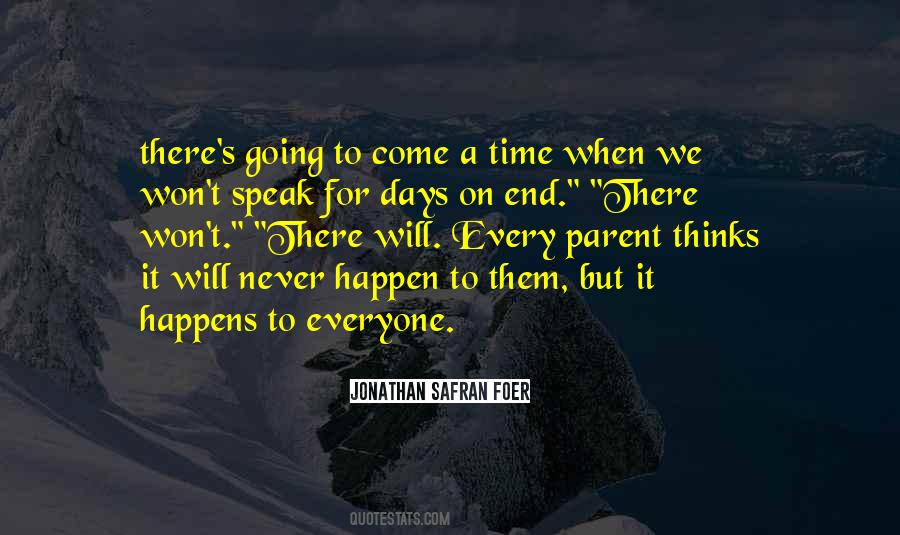 #33. As it so happens, I like your mouth."
"It doesn't
"
"Challenge me?" He set the bottle down and moved to the end of the bed. "An outspoken woman makes the world a livable place. You have fire in you, and I would never put that out. - Author: Dannika Dark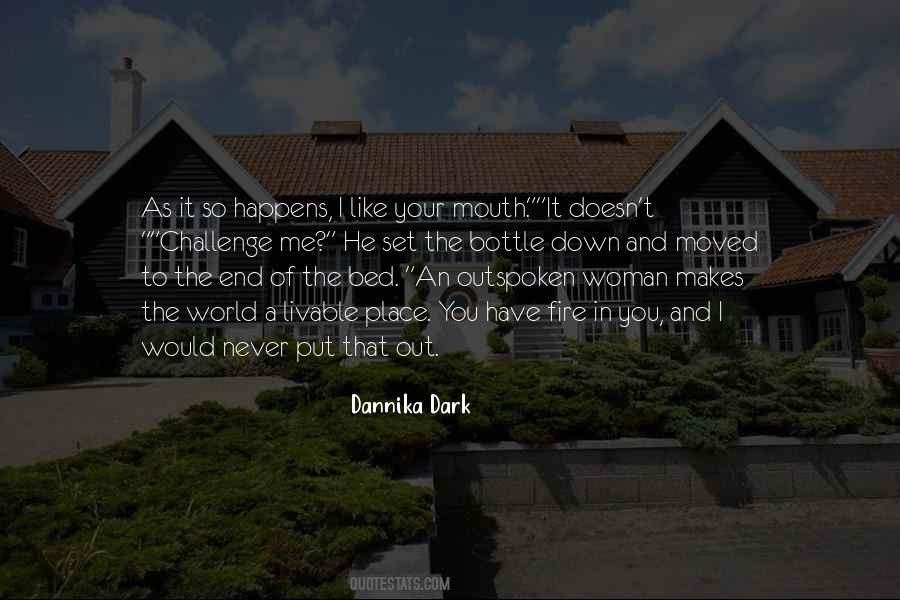 #34. I met Roy's father once ... And I think that Roy's relationship with his father is still at the heart of what Roy does. But at the end of the day, he's trying to prove himself to a father he'll never really please. - Author: Jim Lampley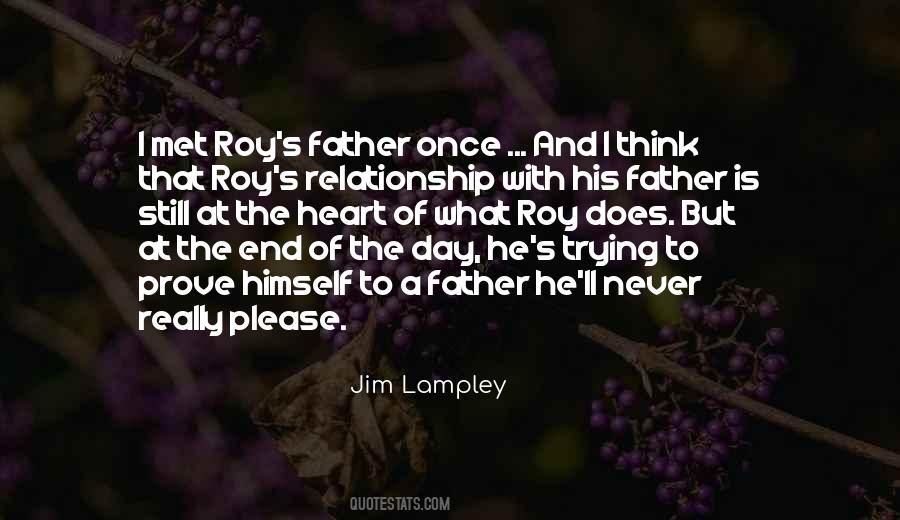 #35. You think winter will never end, and then, when you don't expect it, when you have almost forgotten it, warmth comes and a different light. - Author: Wendell Berry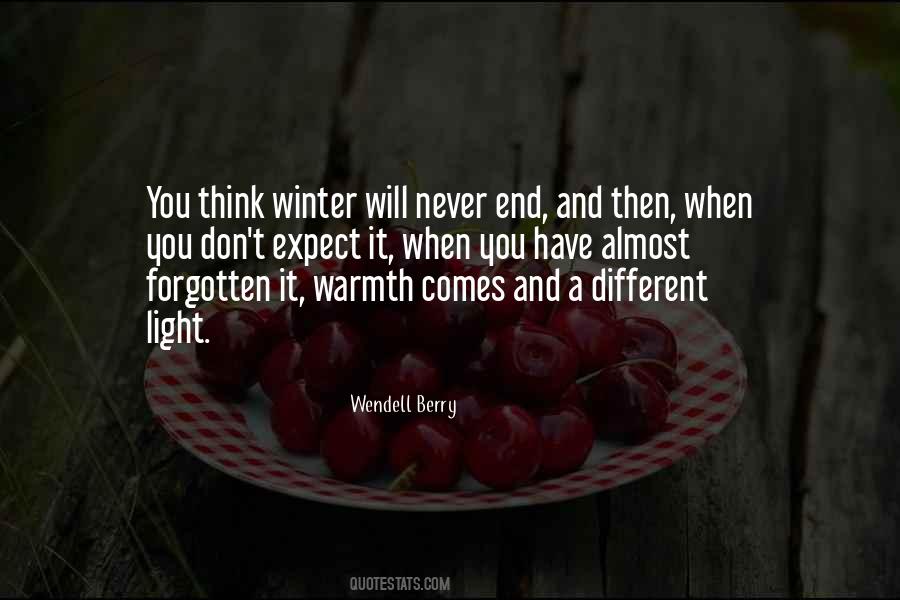 #36. The only way to get what you want is to admit you don't really know what you want. But in the end, or course, you never truly get what you want. So just enjoy the ride. - Author: Gregor Collins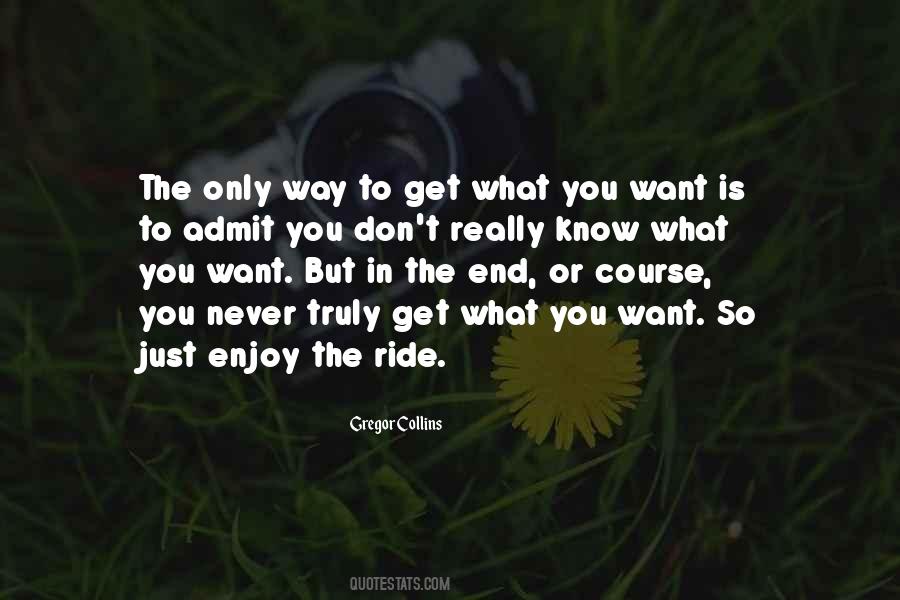 #37. Never give up your day job. I do all sorts of things, but at the end of the day, it all boils down to 'The Today Show,' and I love doing this thing, and they will have to blow me out of here with dynamite before I leave. - Author: Al Roker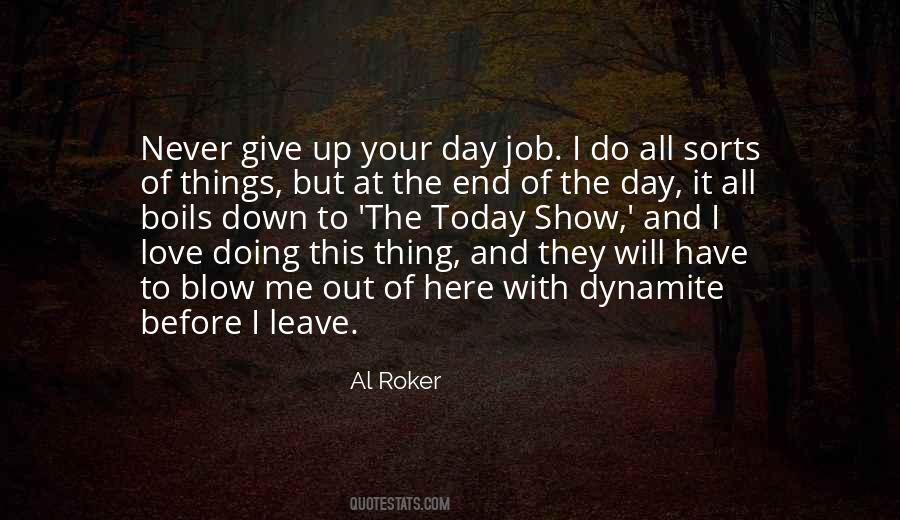 #38. I was never a joiner. I tried - I had people I admired and liked and wanted to hang with, but I ended up starting a theatre company and that took me back to Chicago ... I guess I wasn't a scenester in the end. Something must have worked out right, as I'm still here - but I'm only a binge socialite. - Author: John Cusack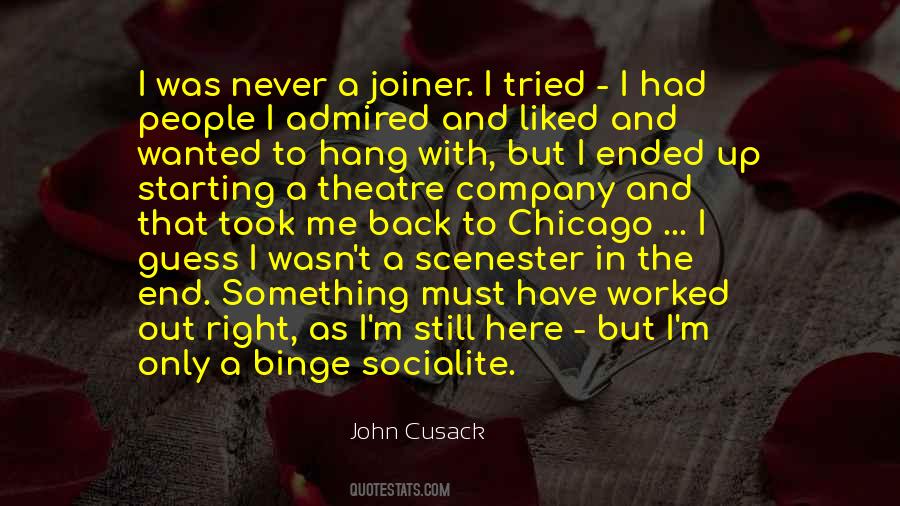 #39. Success, which is something so simple in the end, is made up of thousands of things, we never fully know what. - Author: Rainer Maria Rilke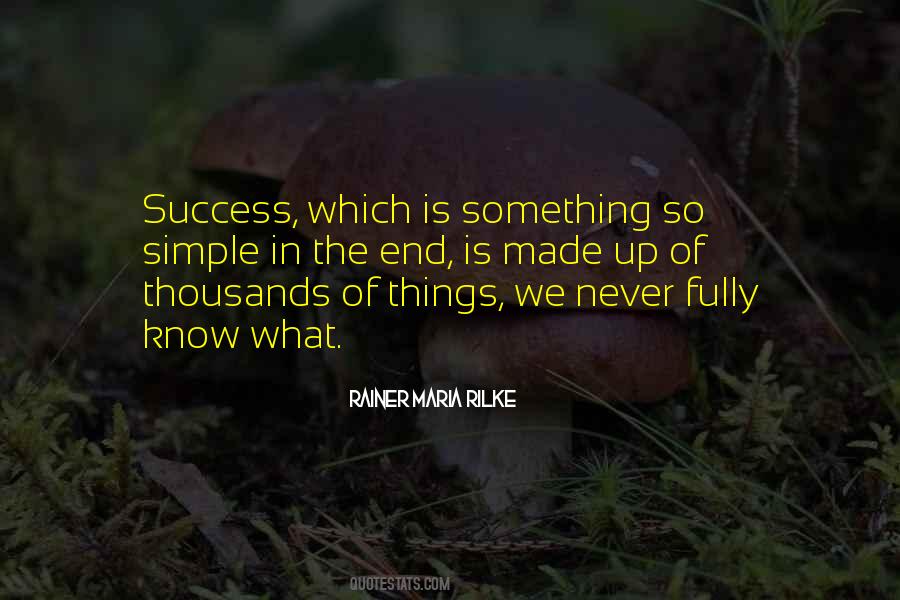 #40. Except thou desire to hasten thine end, take this for a general rule, that thou never add any artificial heat to thy body by wine or spice. - Author: Walter Raleigh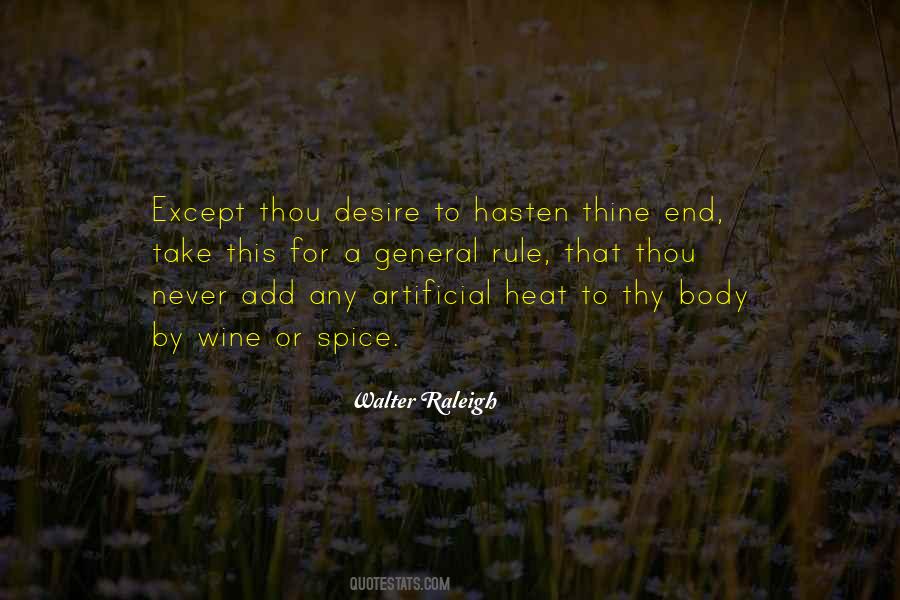 #41. To you, death does not simply end life. It steals away the sunsets you'll never see, the children you'll never hold, the wife you'll never love. It's frightening to almost lose your future, and it's heartbreaking to witness death snuff out other people's tomorrows. - Author: Robert Liparulo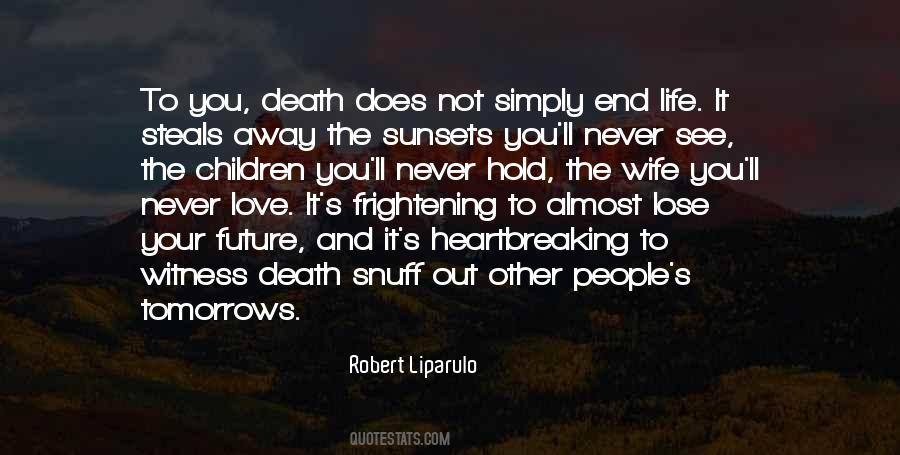 #42. Roads never end, only your ability to continue the road may end! - Author: Mehmet Murat Ildan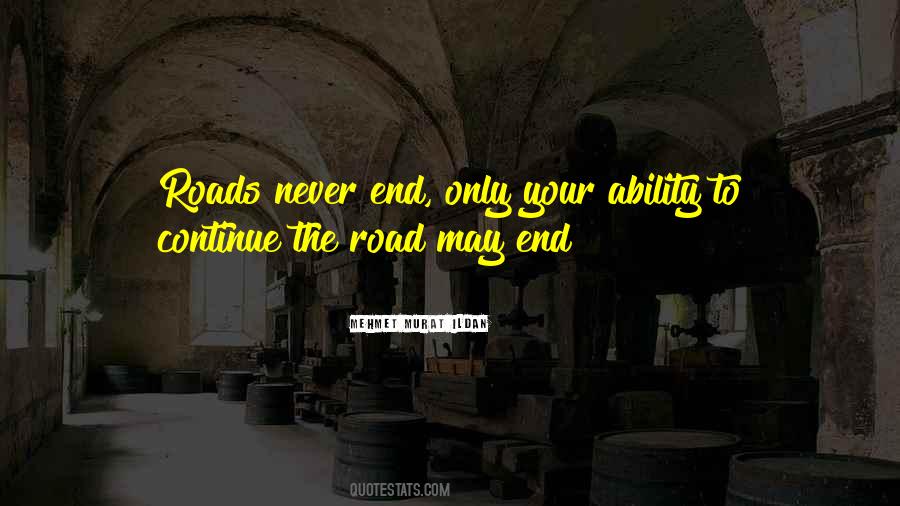 #43. Everybody knows that I am not usually patient enough to actually sit down and watch one of my own films from the beginning to the end - I never do. - Author: Abbas Kiarostami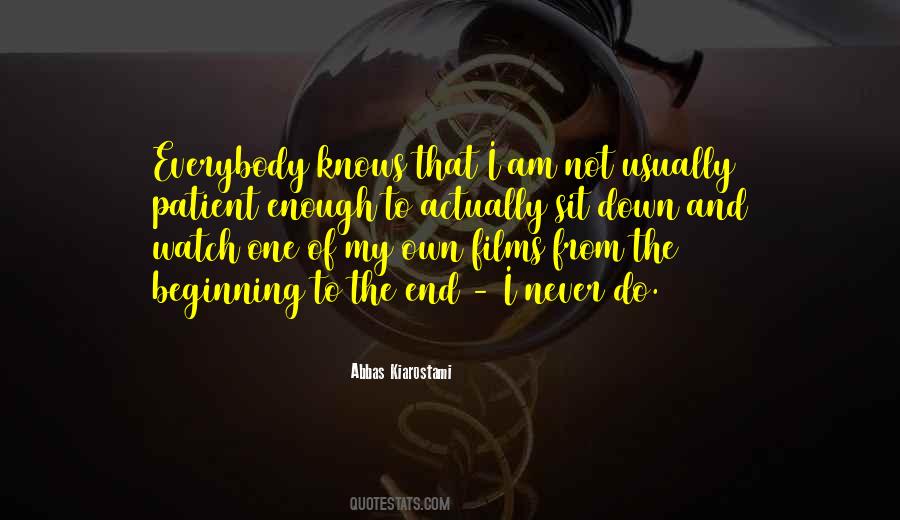 #44. You never like it to happen, for something as hopeful and sudden as a January thaw to come to an end, but end it does, and then you want to have some quilts around. - Author: Leif Enger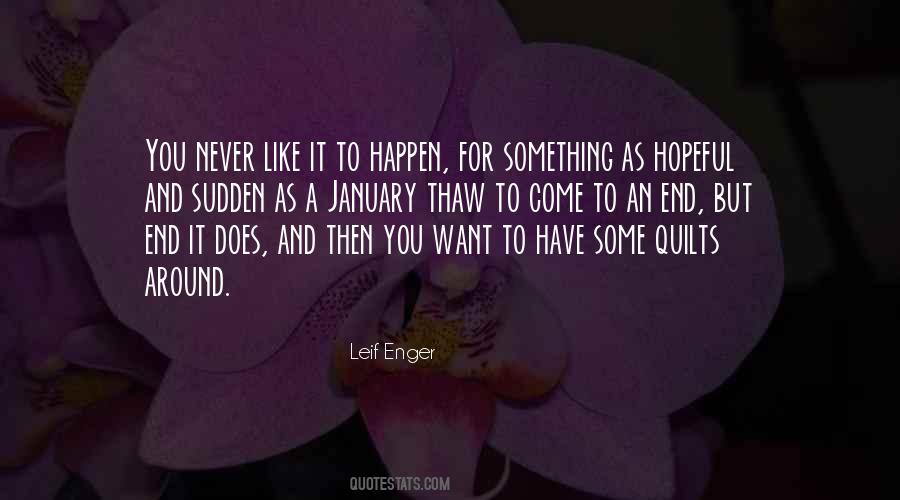 #45. I just randomly fell into acting. I was so young at the time that I never really thought about acting ... After I was into it, I had a feeling that I was going to end up doing this anyway somehow. - Author: Tye Sheridan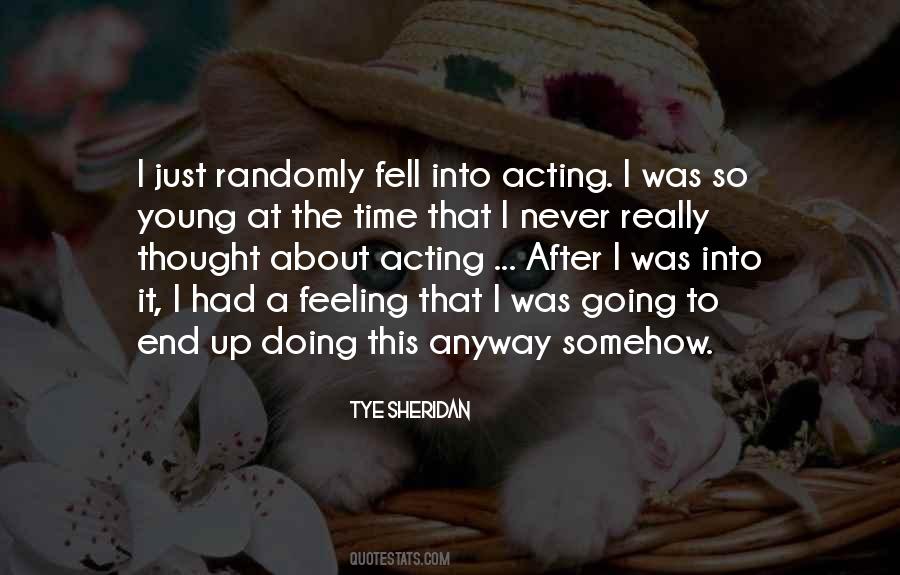 #46. In short, whoever does violence to truth or its expression eventually mutilates justice, even though he thinks he is serving it. From this point of view, we shall deny to the very end that a press is true because it is revolutionary; it will be revolutionary only if it is true, and never otherwise. - Author: Albert Camus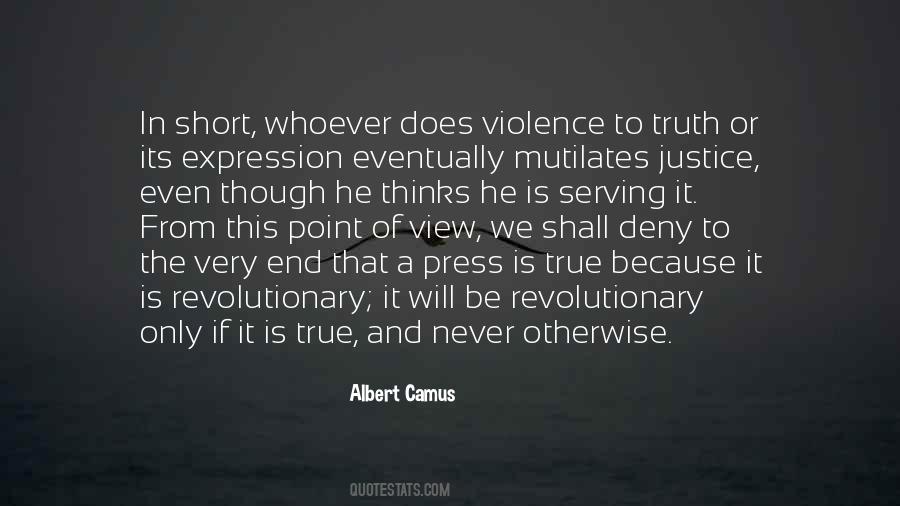 Famous Authors
Popular Topics