So Many Questions In My Mind Famous Quotes & Sayings
List of top 32 famous quotes and sayings about so many questions in my mind to read and share with friends on your Facebook, Twitter, blogs.
Top 32 So Many Questions In My Mind Quotes
#1. His mind reeled. Now, empowered to ask questions of utmost rudeness-and promised answers-he could, conceivably (though it was almost unimaginable), ask someone, some adult, his father perhaps: "Do you lie?"
But he would have no way of knowing if the answer he received was true. - Author: Lois Lowry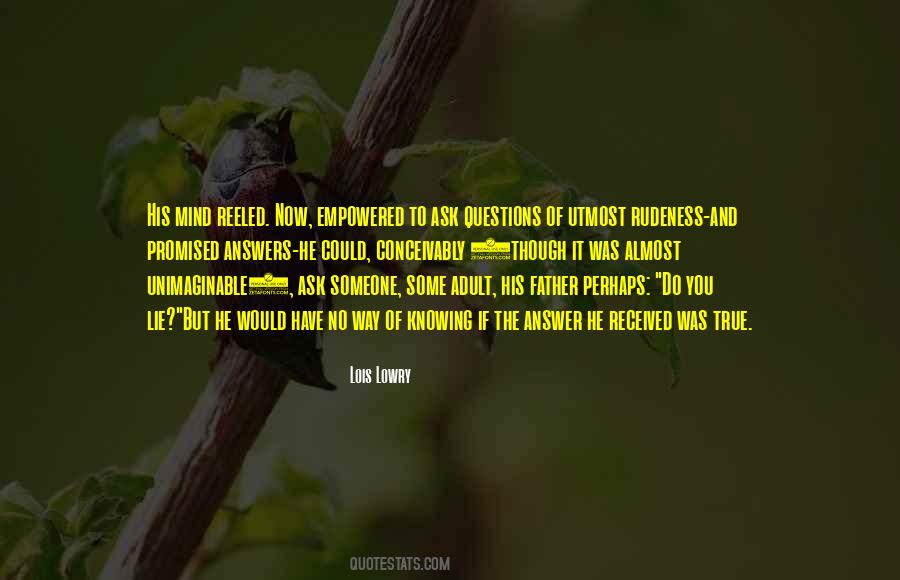 #2. I don't mind that people have questions and would look for someone to respond to their questions, particularly if their faith is not terribly well-known. - Author: Mitt Romney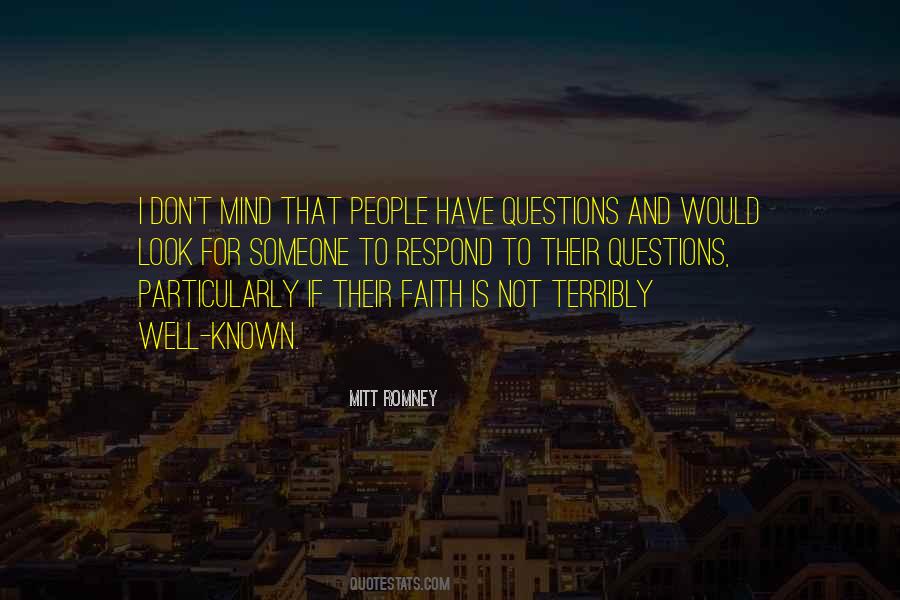 #3. Libraries shelter the spirit, provide food for the mind, and answer the questions raised by the problems of life. They have been the home of my heart since I was a very young child, in whatever place I happened to live. - Author: Roberta Gellis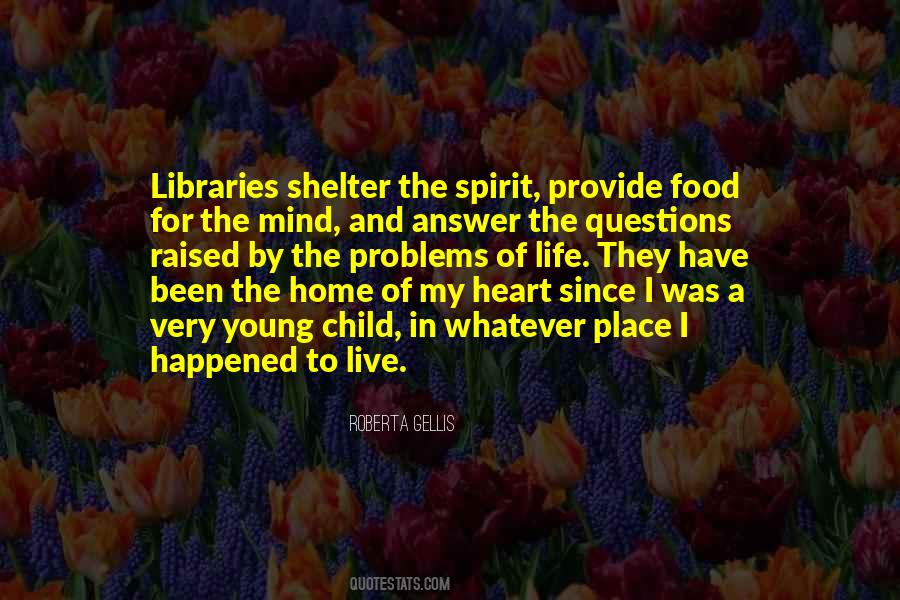 #4. If I have questions about the universe on my mind when I go to bed, I can't turn off. I dream equations all night. - Author: Stephen Hawking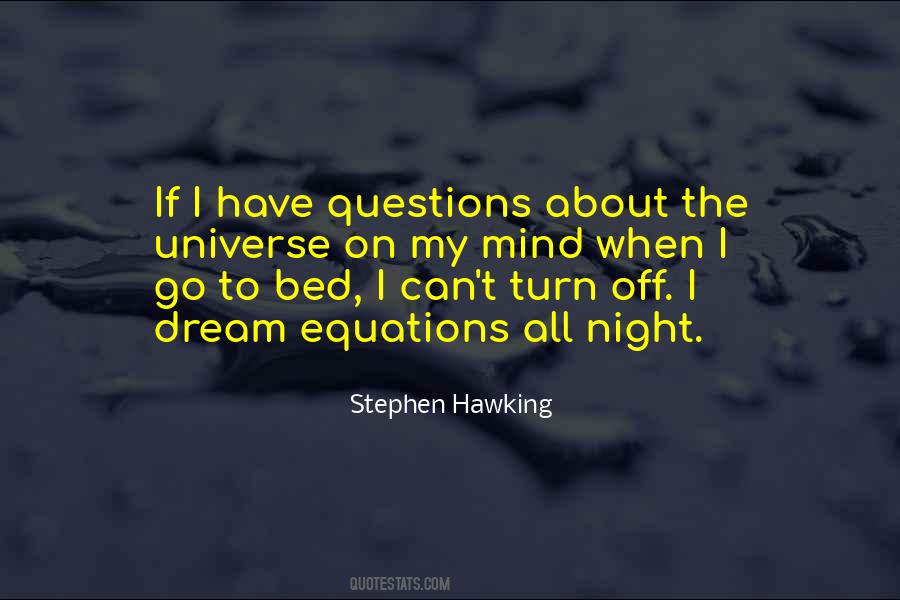 #5. Revolution starts in the mind. Question Everything! - Author: Bryant McGill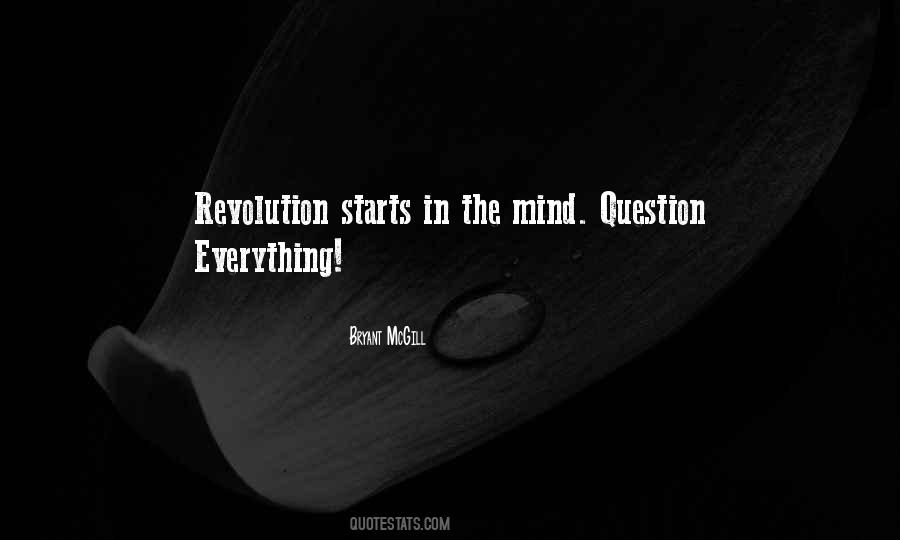 #6. The old huntsman was a surprisingly good teacher. He didn't belabor his points, didn't talk down to us, and didn't mind questions. Even Tempi's trouble with the language didn't frustrate him. Even - Author: Patrick Rothfuss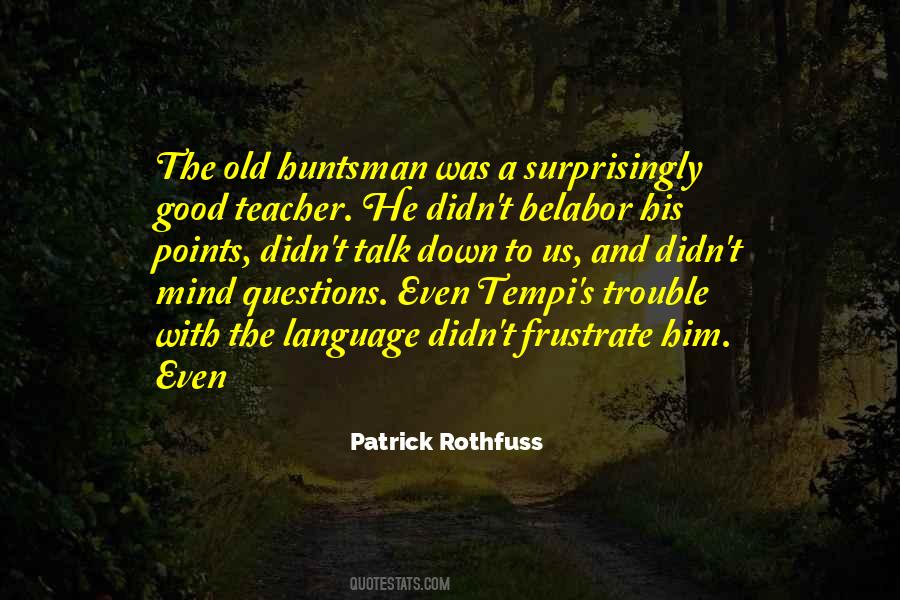 #7. But I wondered sometimes, the way your mind asks those big questions, like whether or not there's a god or how a girl can think she's ugly one day and pretty the next. - Author: Julie Murphy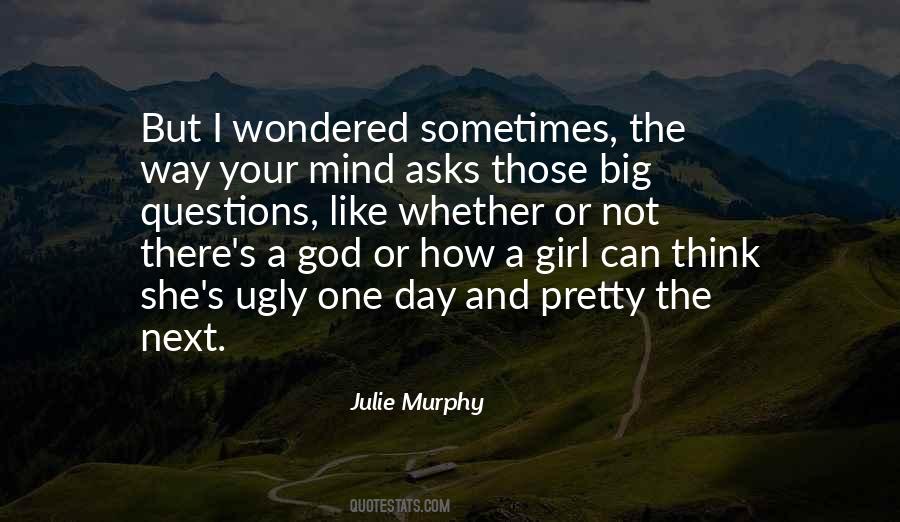 #8. I have always kept ducks, even as a child, and the colours of their plumage, in particular the dark green and snow white, seemed to me the only possible answer to the questions that are on my mind. - Author: W.G. Sebald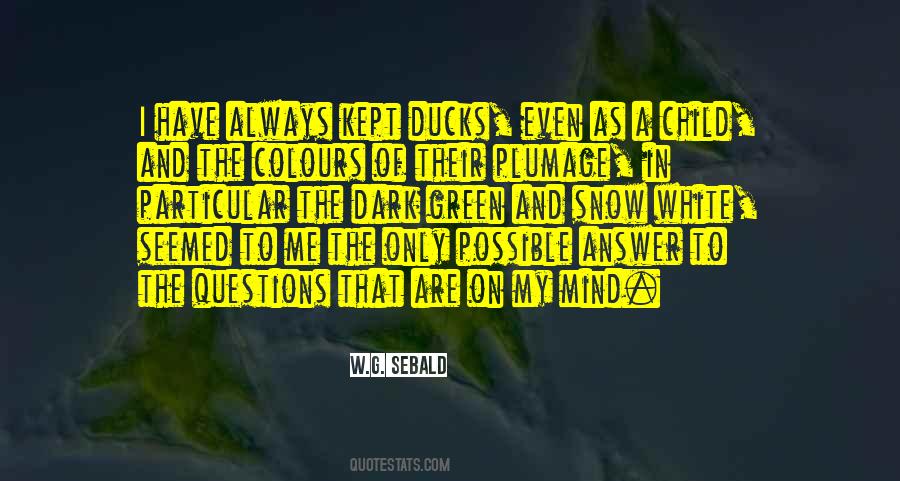 #9. A series of disconcerting questions nibbles at hearts of troubled youths. These same unanswered questions, along with their acerbic toxins, reveal their pungent fumes more frequently and with greater intensity as a person rushes headfirst into life's concrete jungle. - Author: Kilroy J. Oldster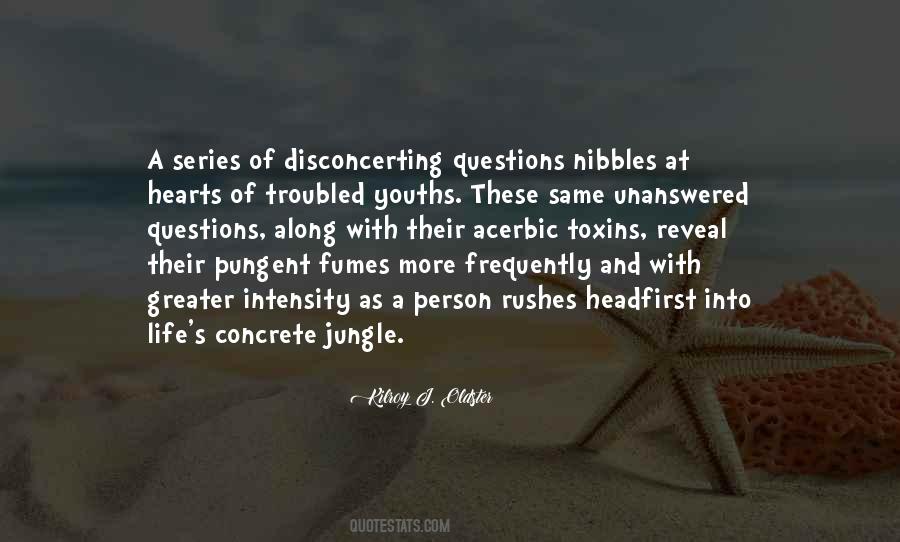 #10. In examining witnesses, I learned to ask general questions so as to elicit details with powerful sensory associations: the colors, the sounds, the smells that lodge an image in the mind and put the listener in the burning house. - Author: Sonia Sotomayor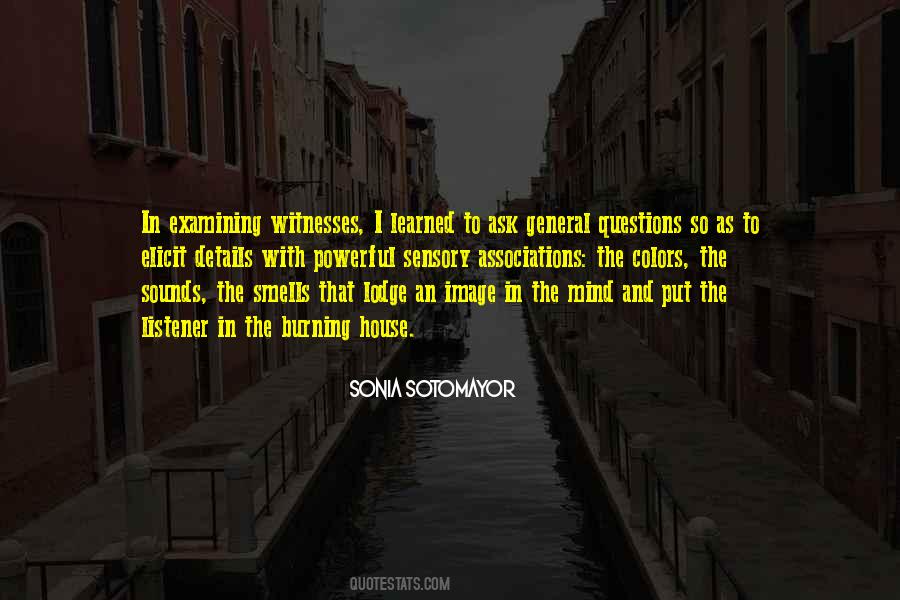 #11. Ten different questions popped into his mind. He forgot them all when Aria smiled and said, You look handsome. - Author: Veronica Rossi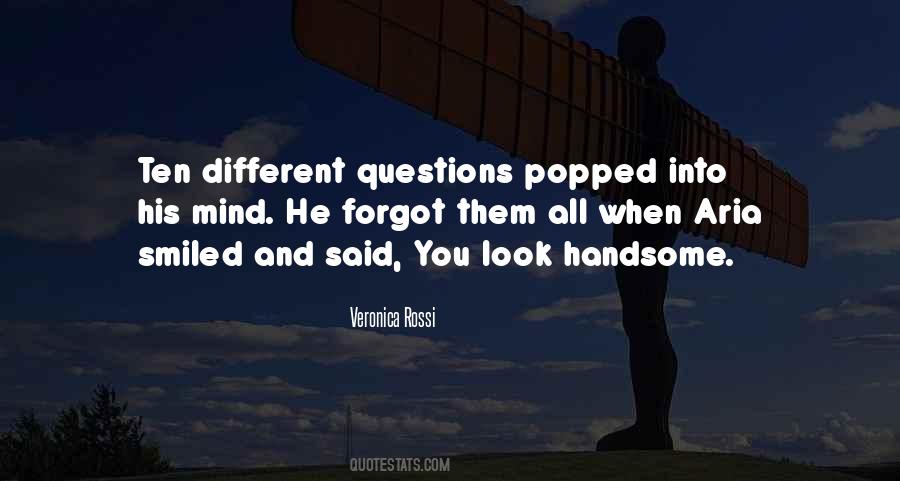 #12. We need to encourage an attitude of constant questioning, which is a genuine part of our potential as students. If students were required to drop their questions, that would create armies of zombies- rows of jellyfish ... The questioning mind is absolutely necessary. - Author: Chogyam Trungpa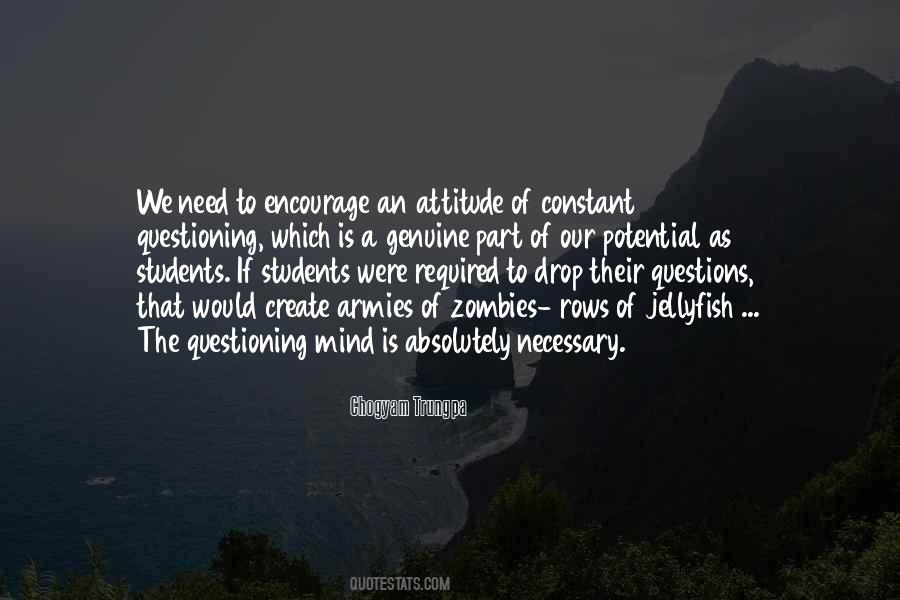 #13. Whenever someone asks me craft questions like that I feel like I can give one of two answers. I can give the academy answer and say that it was very deliberate and I had a plan in mind and I executed that plan exactly to the letter. But this isn't the case. - Author: Ron Currie Jr.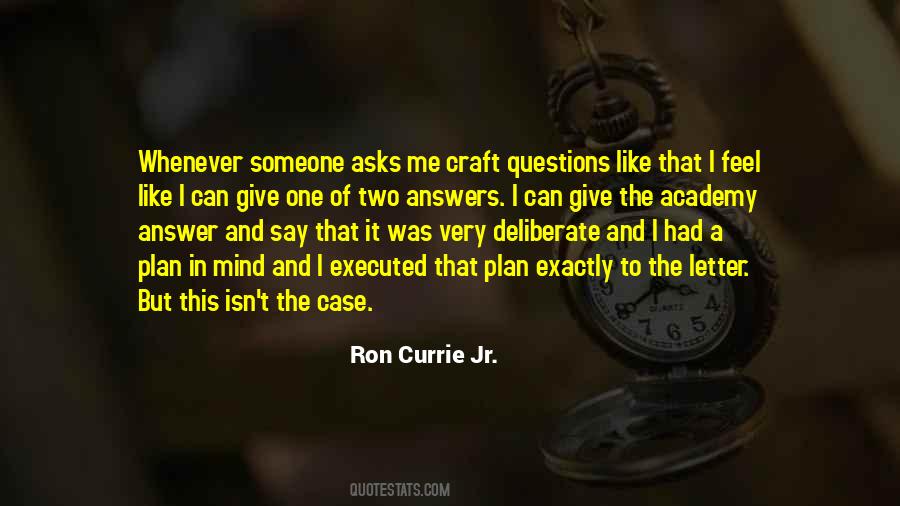 #14. The real questions are the ones that obtrude upon your consciousness whether you like it or not, the ones that make your mind start vibrating like a jackhammer, the ones that you 'come to terms with' only to discover that they are still there. - Author: Ingrid Bengis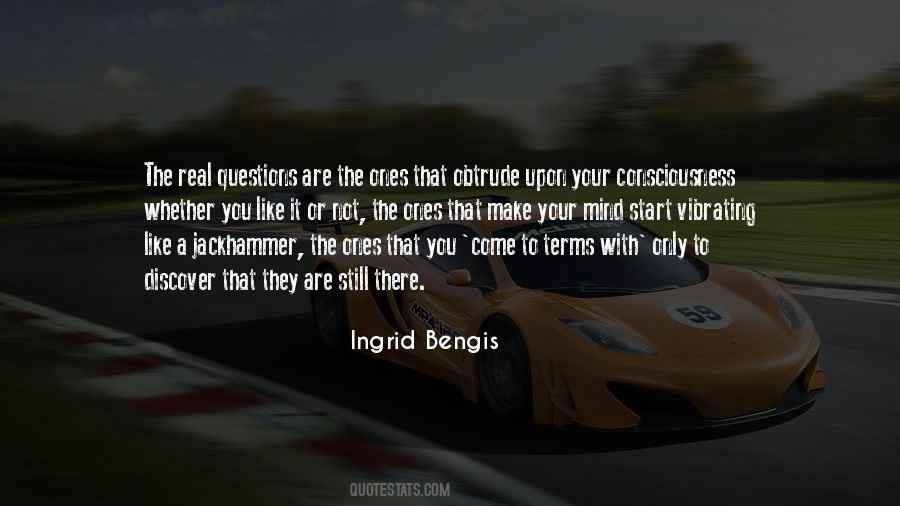 #15. I am besieged by such strange thoughts, such dark sensations, such obscure questions, which still crowd my mind - and somehow I have neither the strength nor the desire to resolve them. It is not for me to resolve all this! - Author: Fyodor Dostoyevsky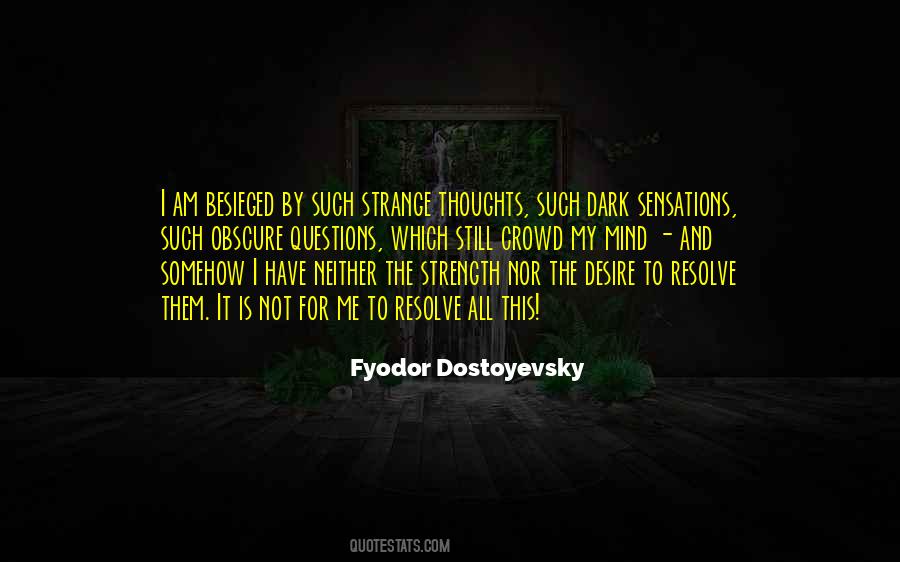 #16. To go beyond the mind, you must be silent and quiet. Peace and silence, silence and peace - this is the way beyond. Stop asking questions. - Author: Sri Nisargadatta Maharaj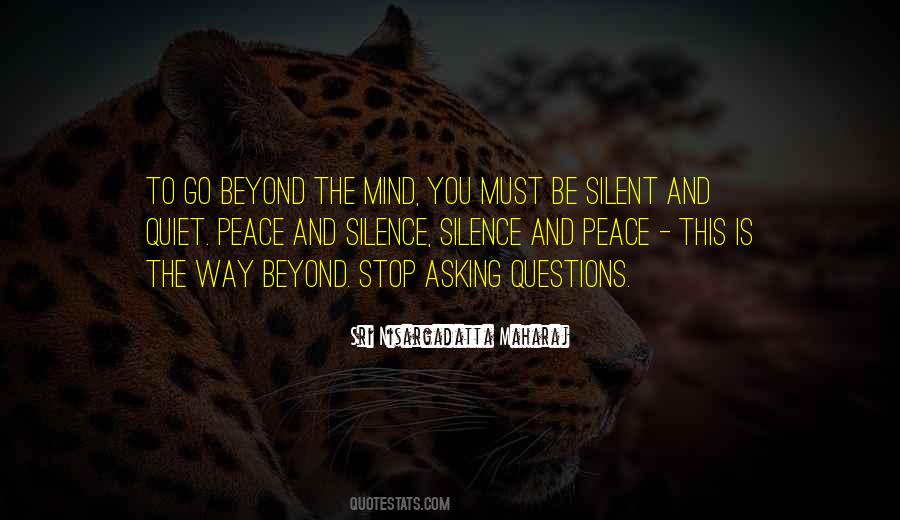 #17. What are all the thoughts rattling in your mind when you're not listening to the answers to questions you ask?
-Jo, Boom - Author: Peter Sinn Nachtrieb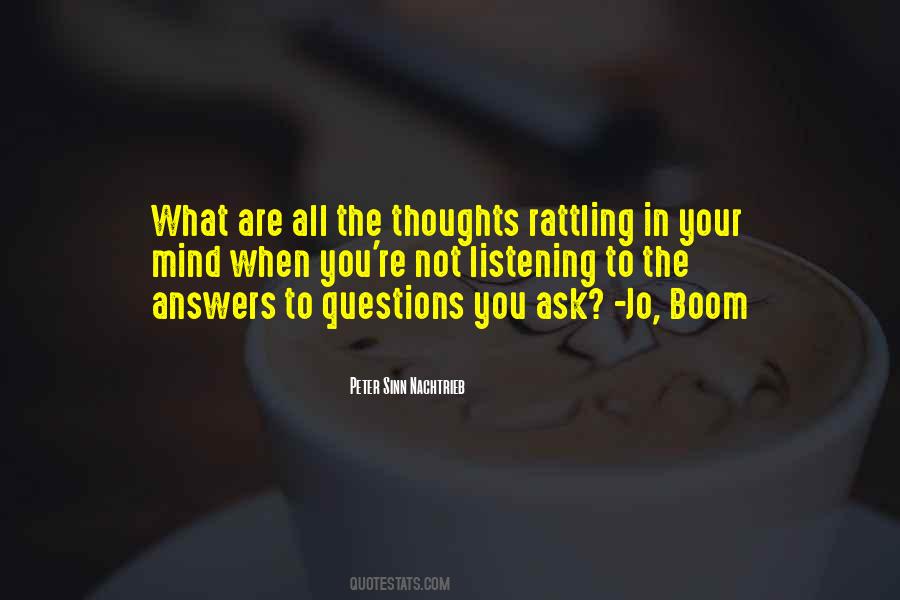 #18. Before I was a Scientist, I was a Monk. And before I was a Monk, I was a naive young mind with ever- flowing streams of questions. And one of those questions, that always used to create intense ripples of curiosity in my psyche, was - Does God exist? And has anyone seen or experienced him? - Author: Abhijit Naskar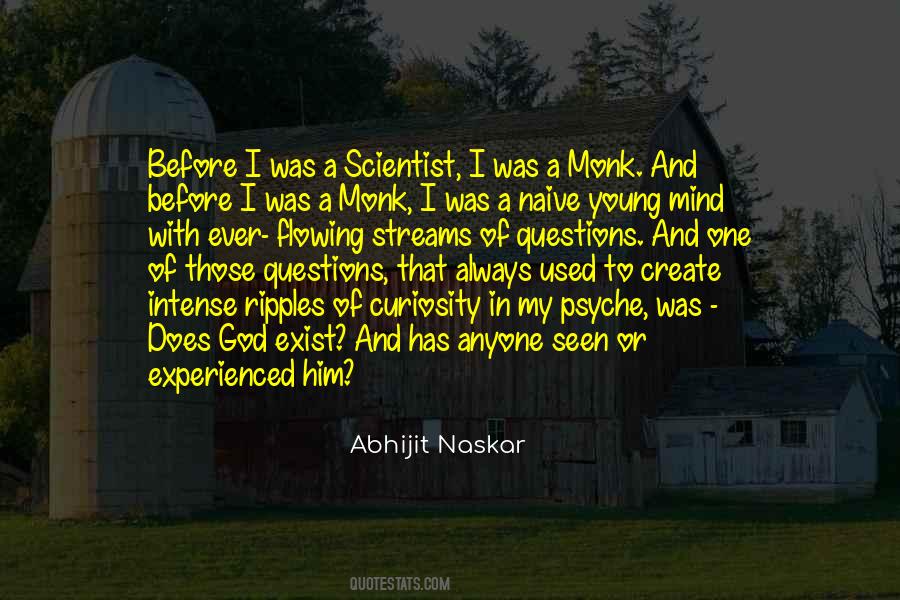 #19. People naturally want to know about what happened, about my leukemia. They ask the same questions again and again. And there have been so many positive conclusions, even through the bad times, that I don't mind at all to be reminded of my struggles. - Author: Jose Carreras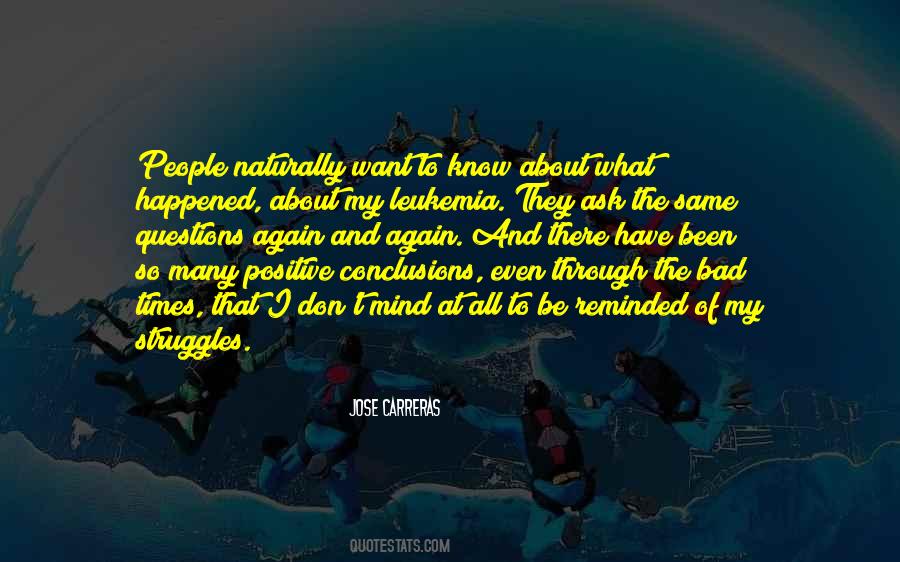 #20. To my mind, the best SF addresses itself to problems of the here and now, or even to problems which have never been solved and never will be solved - I'm thinking of Philip K. Dick's work here, dealing with questions of reality, for example. - Author: John Sladek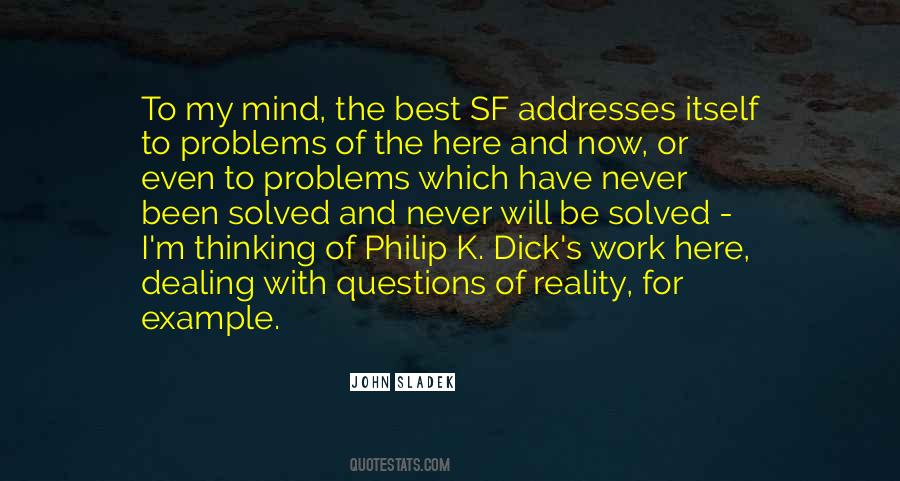 #21. Please ... tell me who you are and what you want. And if you think those are simple questions, keep in mind that most people live their entire lives without arriving at an answer. - Author: Gary Zukav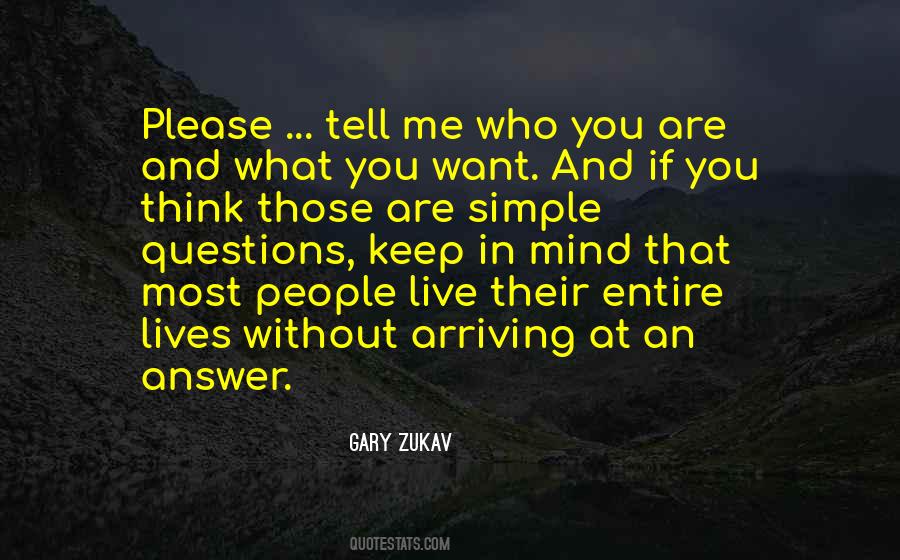 #22. My hands trembled, so I took a deep drag to calm my frayed nerves. I just wanted to forget that terrible sight, but questions multiplied in my mind as the smoke furled. - Author: Katherine McIntyre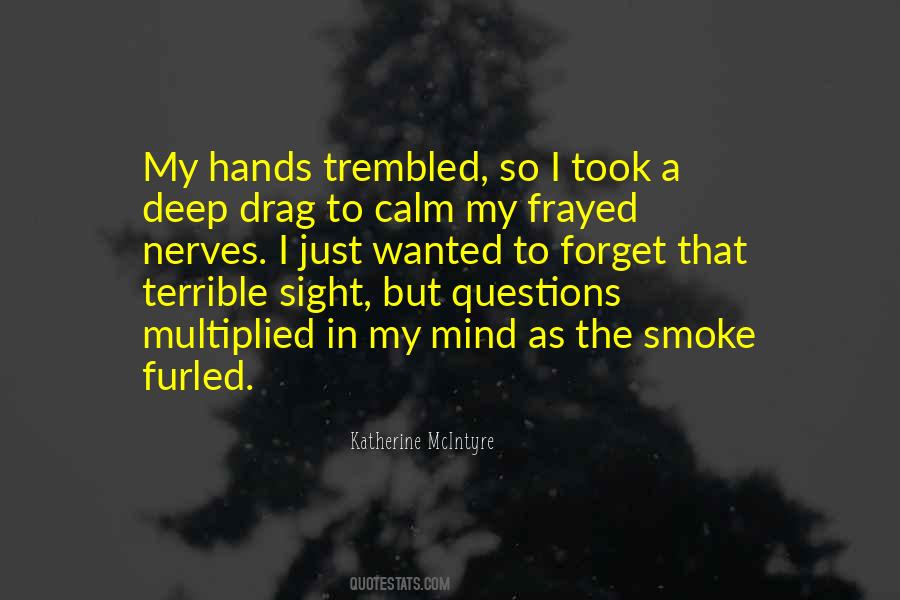 #23. Those meaningless and unanswerable questions the minds keep returning to, like a tongue exploring a broken tooth. - Author: Arthur C. Clarke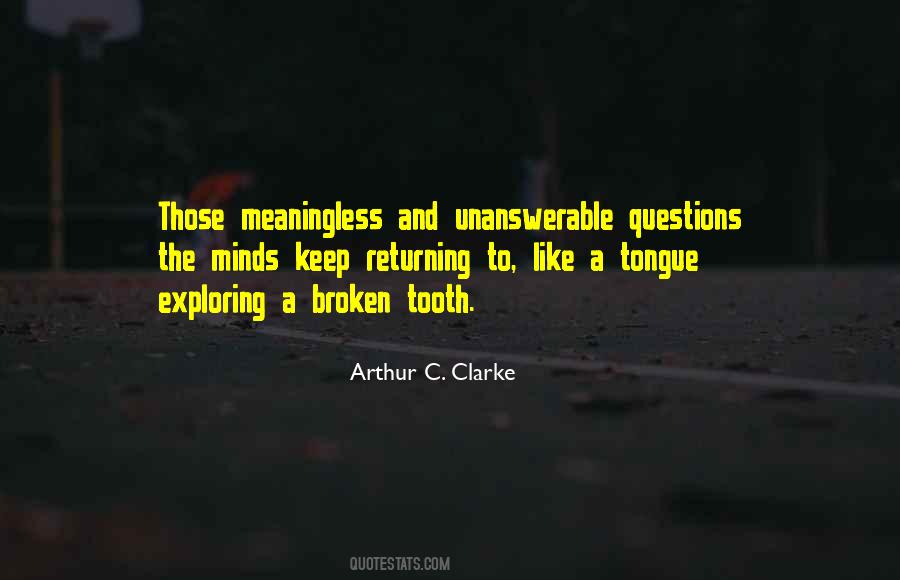 #24. The mind of man has perplexed itself with many hard questions. Is space infinite, and in what sense? Is the material world infinite in extent, and are all places within that extent equally full of matter? Do atoms exist or is matter infinitely divisible? - Author: James C. Maxwell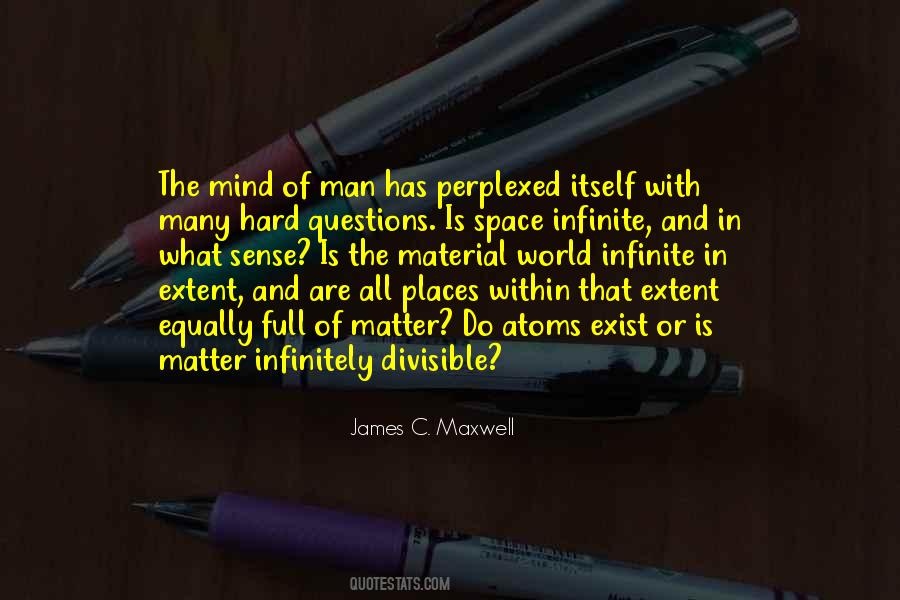 #25. We begin to ask questions, such as: "What is the purpose of life? What is my true nature? What is the source and origin of this entire creation?" When questions of this kind arise in a person's mind, his or her quest for knowledge begins. - Author: Tejomayananda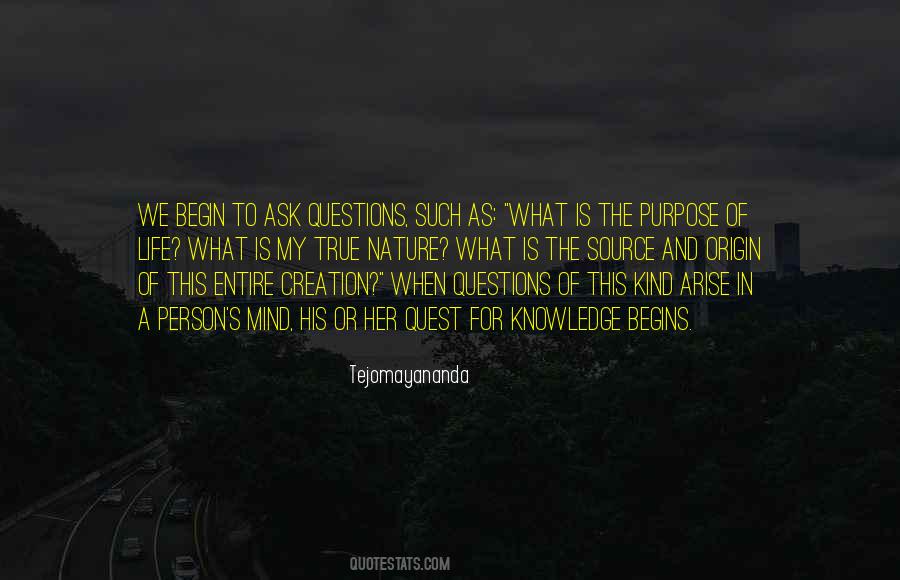 #26. As one reads mathematics, one needs to have an active mind, asking questions, forming mental connections between the current topic and other ideas from other contexts, so as to develop a sense of the structure, not just familiarity with a particular tour through the structure. - Author: William Thurston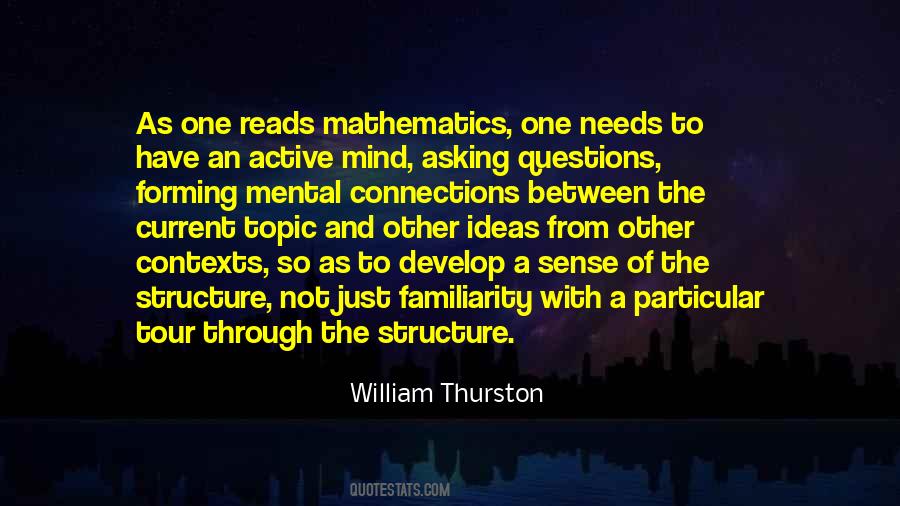 #27. Your mind will answer most questions if you learn to relax and wait for the answer. - Author: William S. Burroughs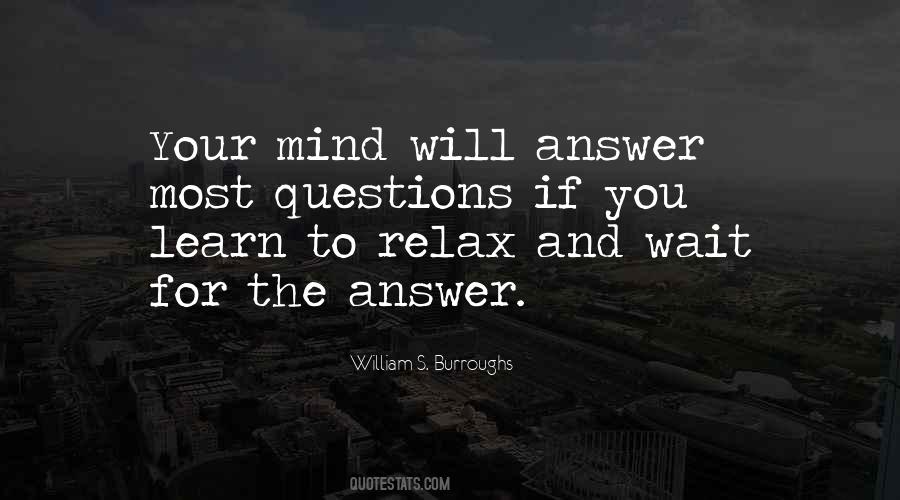 #28. The great minds approaching understanding will admit they continually gain more questions and less answers. - Author: Doug Berry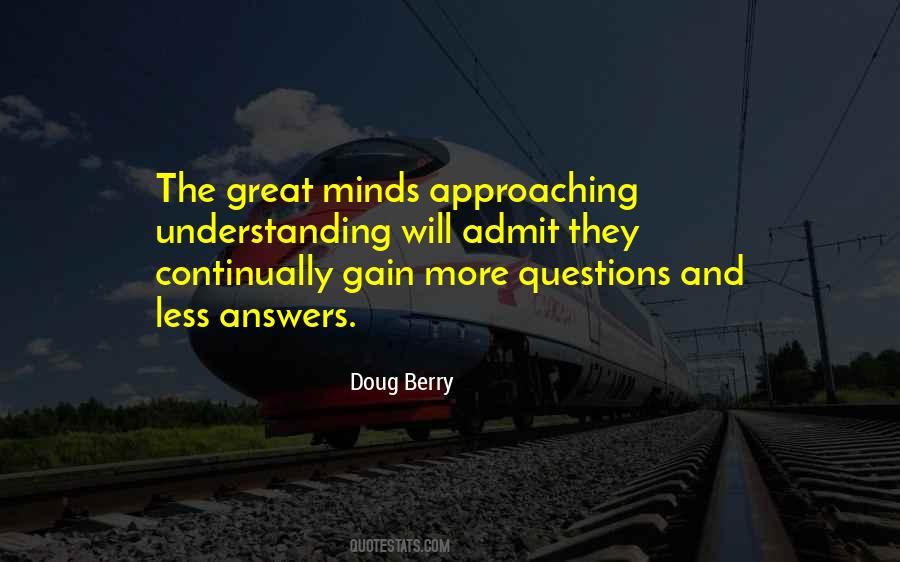 #29. What we need to do, however, is figure out what our best available theories of the mind suggest about epistemological issues, while we recognise that we may need to change our views on these questions as new evidence comes in. - Author: Hilary Kornblith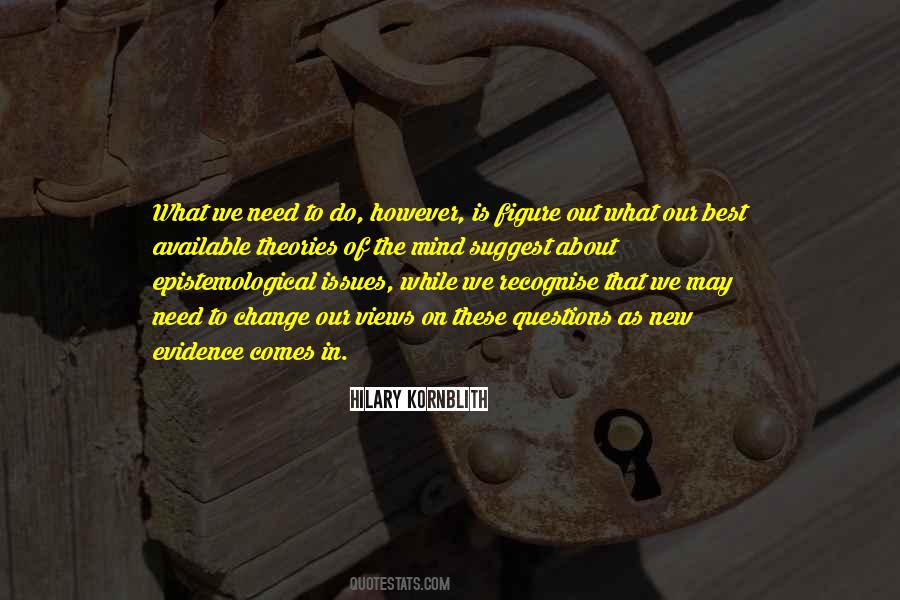 #30. And of course you are mad, if by a madman we mean a mind that questions and rejects every civilized norm. - Author: Stephen Fry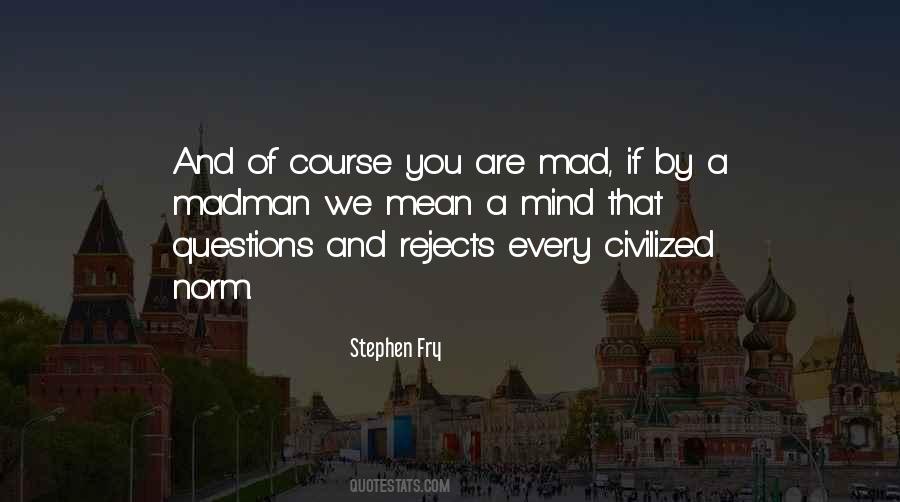 #31. When I was involved with 'Star Wars,' I was very interested in all the backstories, and I used to pepper George with all kinds of questions about anything that crossed my mind, because I was very, very into it. But when the job came to an end, I had to move on. - Author: Mark Hamill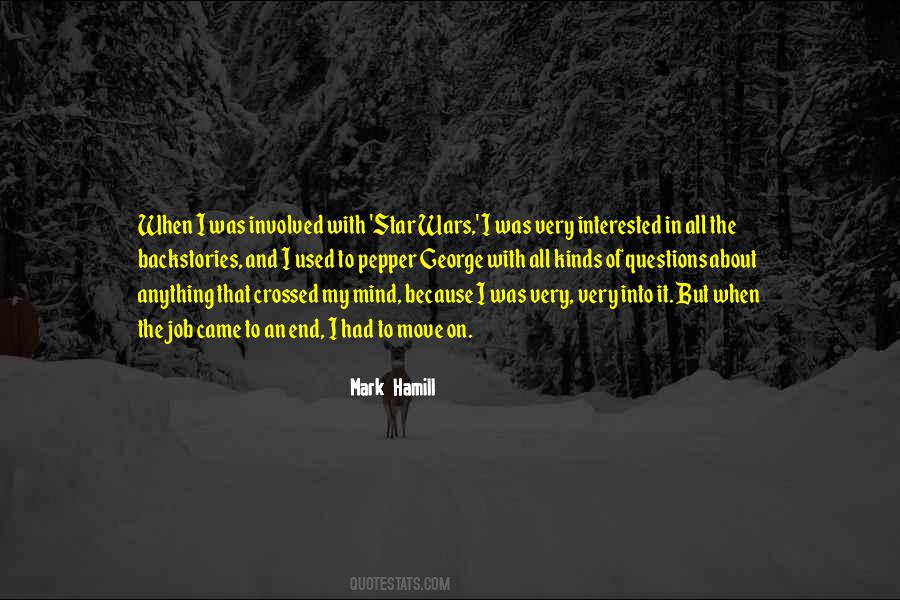 #32. I do question everything. But I want to have my questions. I want to have more thoughts than my mind can hold, so many that I have to write them in fragments like a madman. - Author: Lauren DeStefano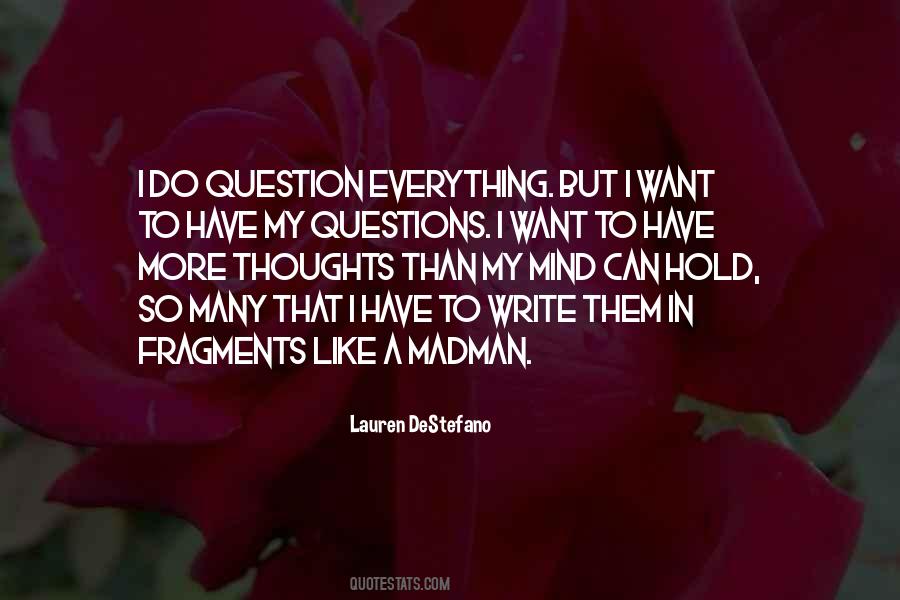 Famous Authors
Popular Topics