Smell The Sea Famous Quotes & Sayings
List of top 30 famous quotes and sayings about smell the sea to read and share with friends on your Facebook, Twitter, blogs.
Top 30 Smell The Sea Quotes
#1. It is impossible that a fish doesn't carry any smell of the sea and a real love, of the melancholy! - Author: Mehmet Murat Ildan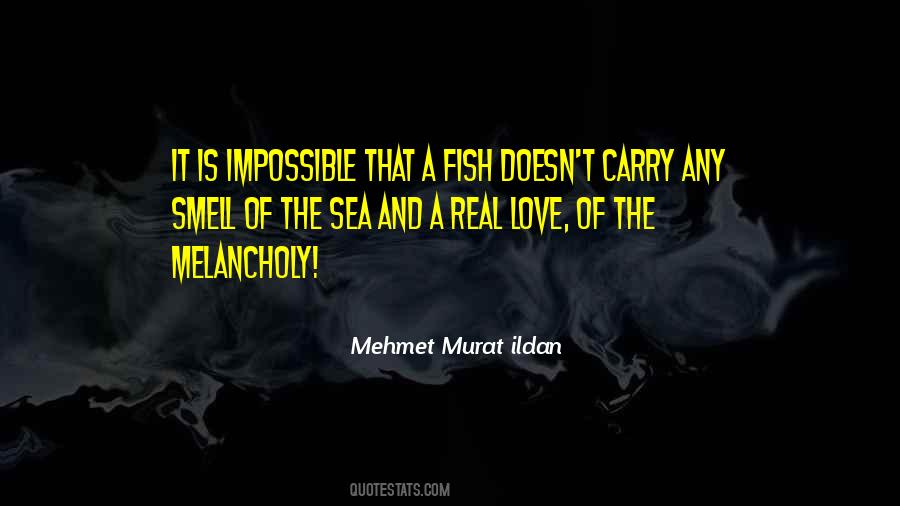 #2. I love Miami; I miss it so much. I miss the beach, the peace it brings you. I love the sound and smell of the sea. - Author: Genesis Rodriguez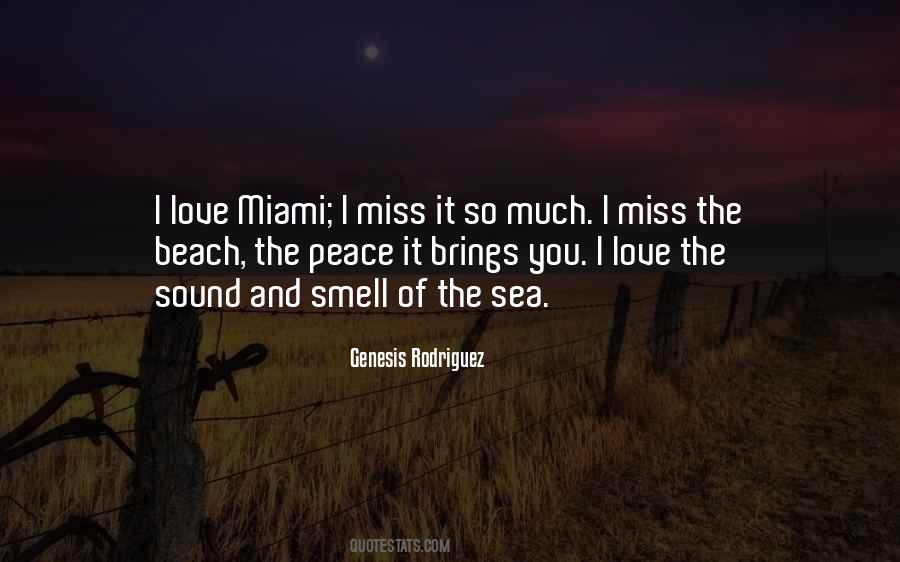 #3. I smell the fresh sea air, and have never felt so at home in my life, out on the open waters, no land as far as the eye can see. It's amazing, beautiful and the air smells of adventure, just the way it should. Just the way it always would if I could control everythig. - Author: Naya S.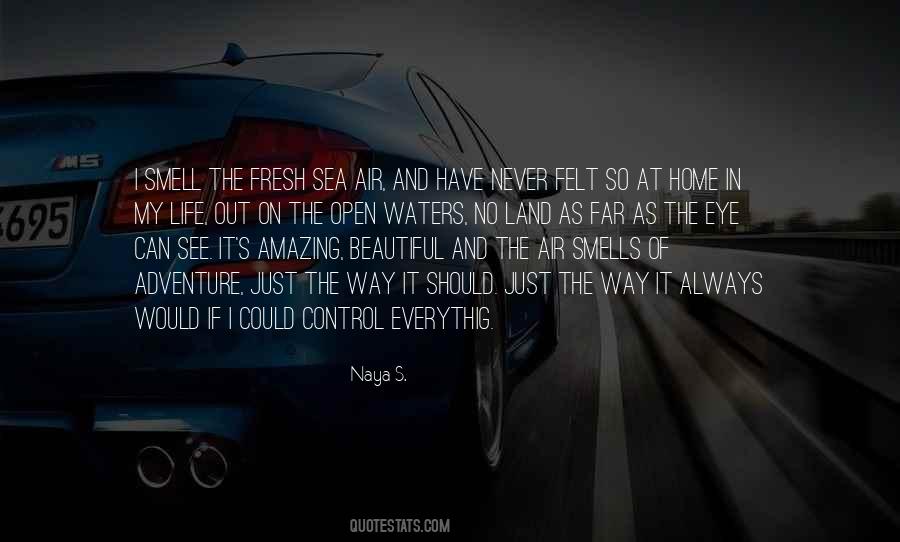 #4. She smells the way a mermaid ought to smell. She smells of the sea. - Author: George R R Martin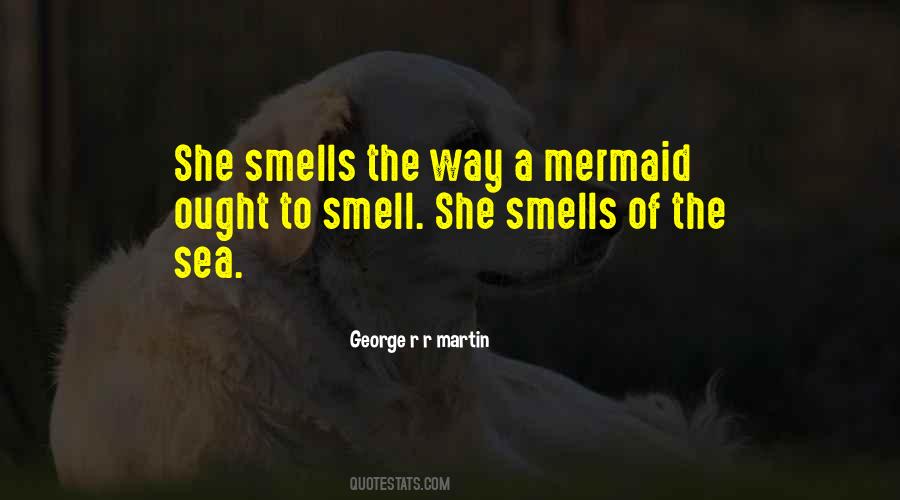 #5. Hark, now hear the sailors cry, smell the sea, and feel the sky let your soul & spirit fly, into the mystic ... - Author: Van Morrison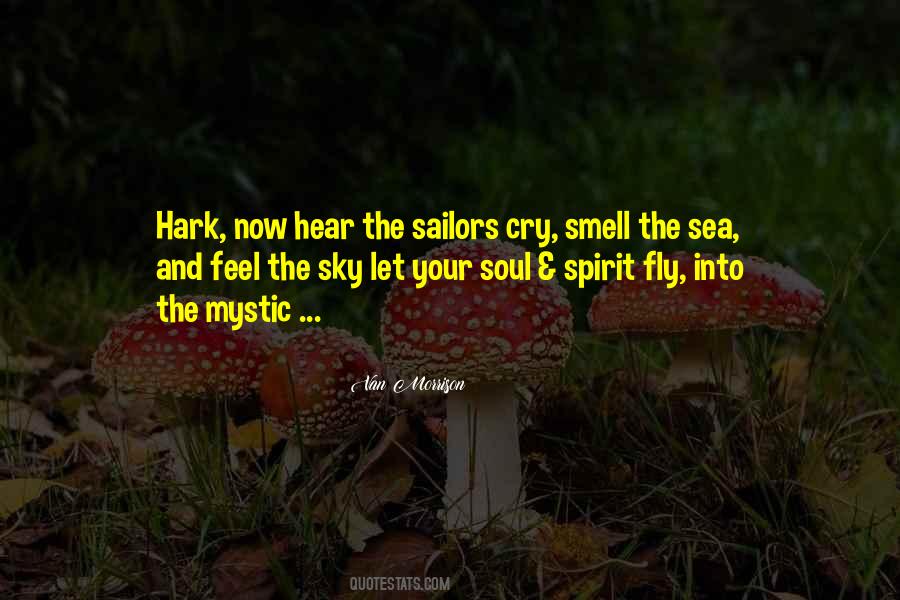 #6. I value the kind of prayer when you stand at the edge of the sea, or beneath a tree, or smell a flower, or love someone, or do a good thing. Those prayers validate existence and snatch it away from meaningless routine. - Author: Roger Ebert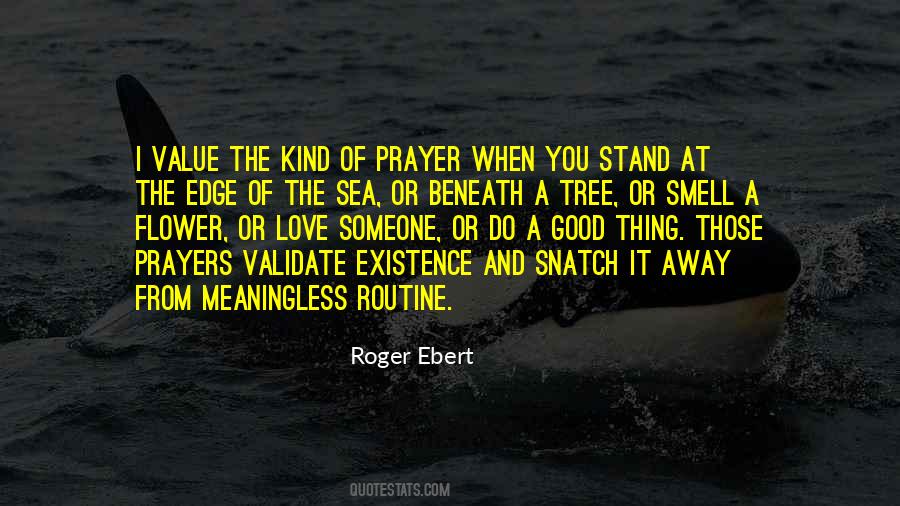 #7. Aomame closed her eyes and, in a split second, reviewed the long span of years as if standing on the edge of a sheer cliff, surveying an ocean channel below. She could smell the sea. She could hear the deep sighing of the wind. - Author: Haruki Murakami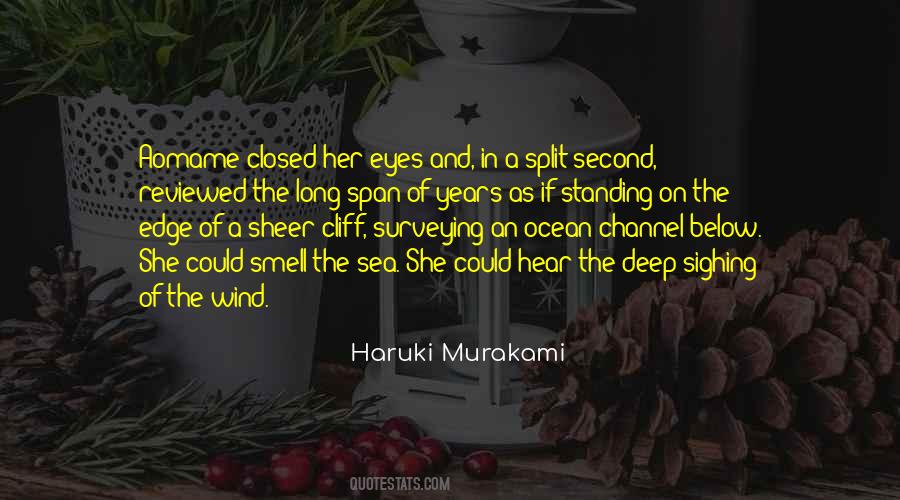 #8. The sea was like another member of the household, a recalcitrant child at times, a soothing aunt at others. She crooned them awake; she crooned them to sleep. Everywhere, there was the smell of salt. - Author: Hala Alyan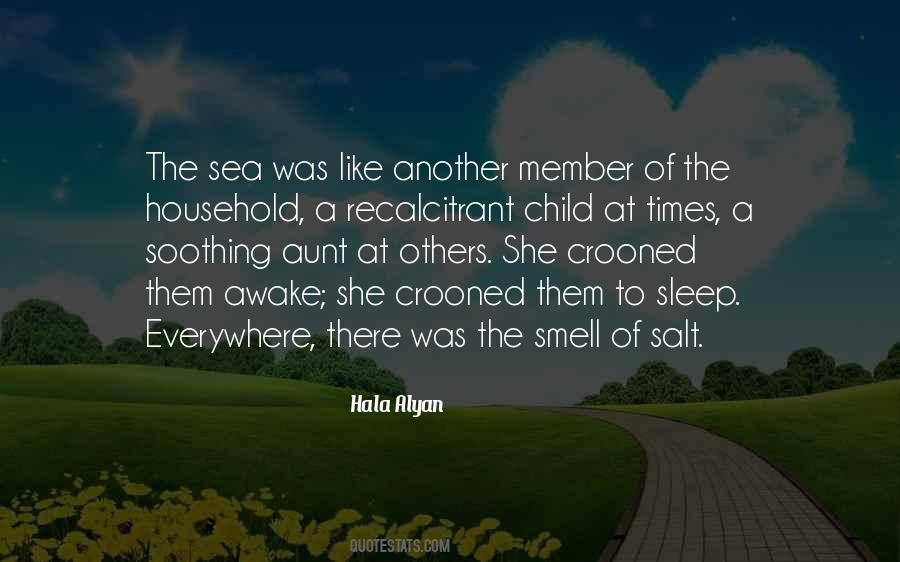 #9. Rommel could smell the sea. At Torbruk the heat and the dust and flies were as bad as they had been in the desert, but it was all made bearable by that occasional whiff of salty dampness in the faint breeze. - Author: Ken Follett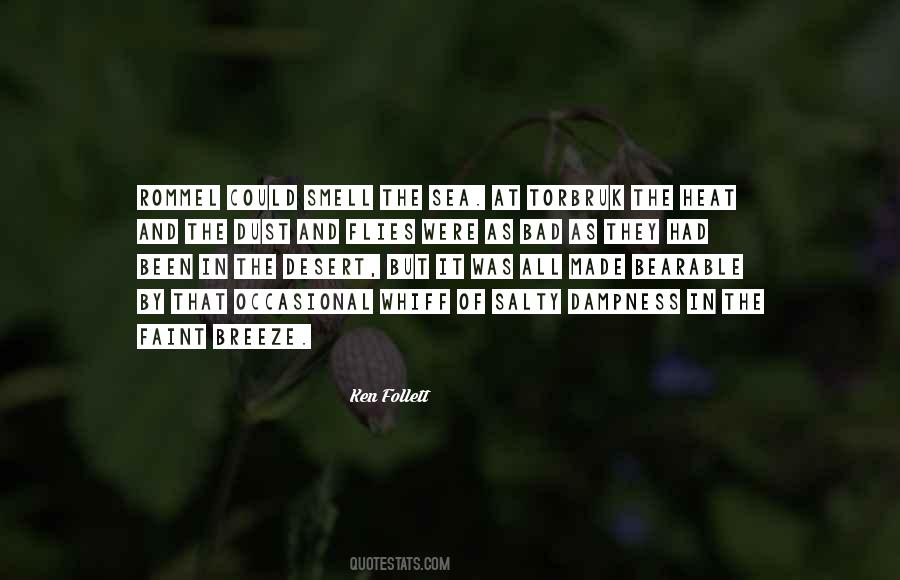 #10. Ross took a deep breath of the air, which was heavy with the smell of sea. He fancied he could hear the waves breaking. - Author: Winston Graham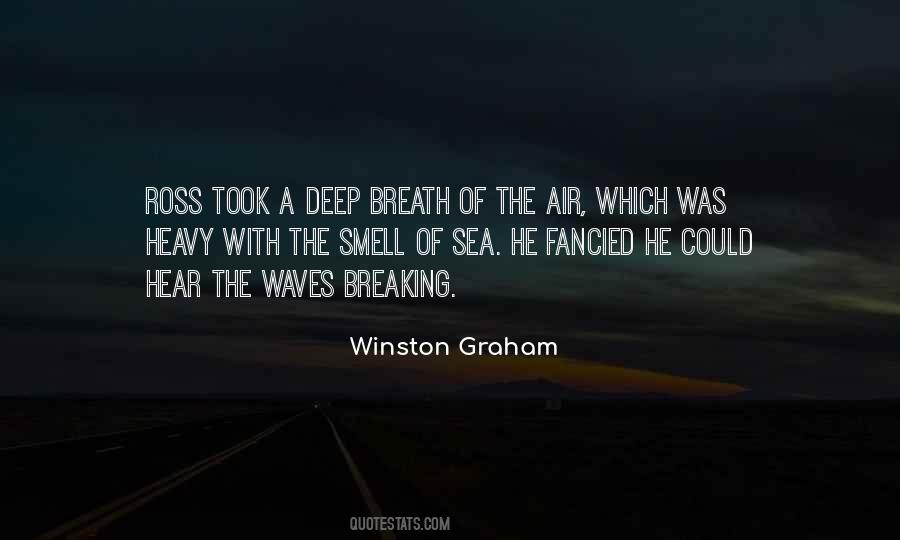 #11. And Francie whispered yeah in agreement. She was proud of that smell. It let her know that nearby was a waterway, which, dirty though it was, joined a river that flowed out to the sea. To her, the stupendous stench suggested far-sailing ships and adventure and she was pleased with the smell. - Author: Betty Smith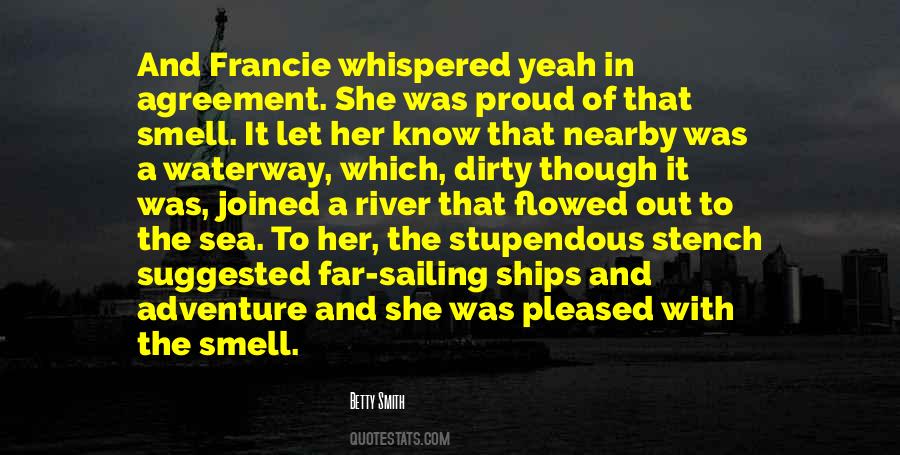 #12. It had been the first kiss for both of them, and to this day, when Dean kissed a woman, he longed for the smell of the sea. - Author: Kristin Hannah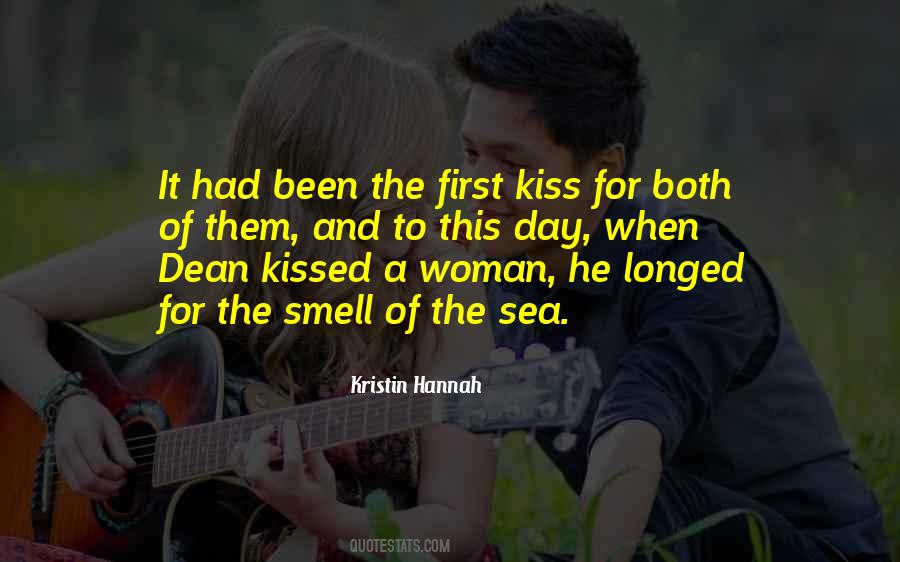 #13. The smell of roasting meat rose from the street stalls in a sizzle and a fiddle player begged for coin as he rasped a haunting melody. Life could not be more perfect. - Author: Sara Sheridan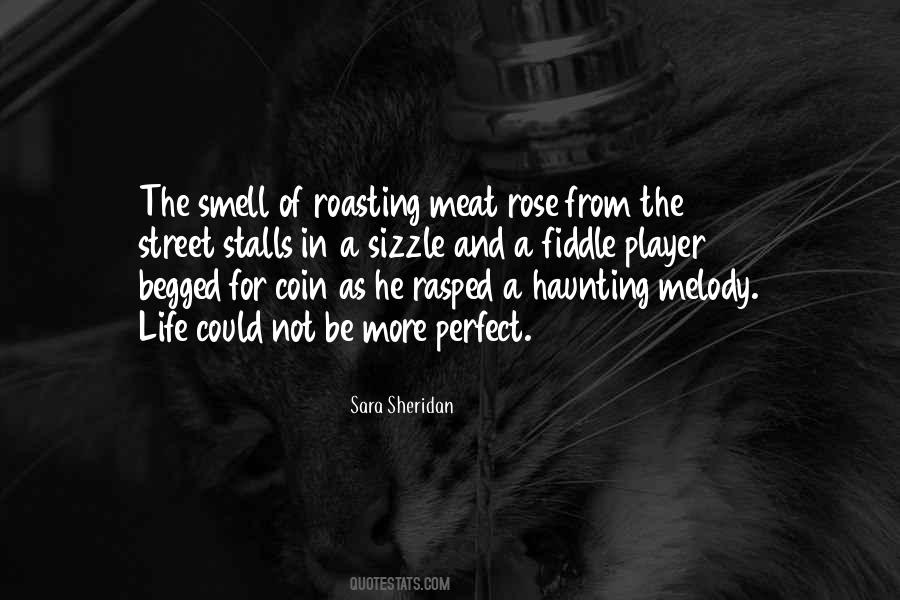 #14. And the lost heart stiffens and rejoices in the lost lilac and the lost sea voices and the weak spirit quickens to rebel for the bent golden-rod and the lost sea smell quickens to recover. - Author: T. S. Eliot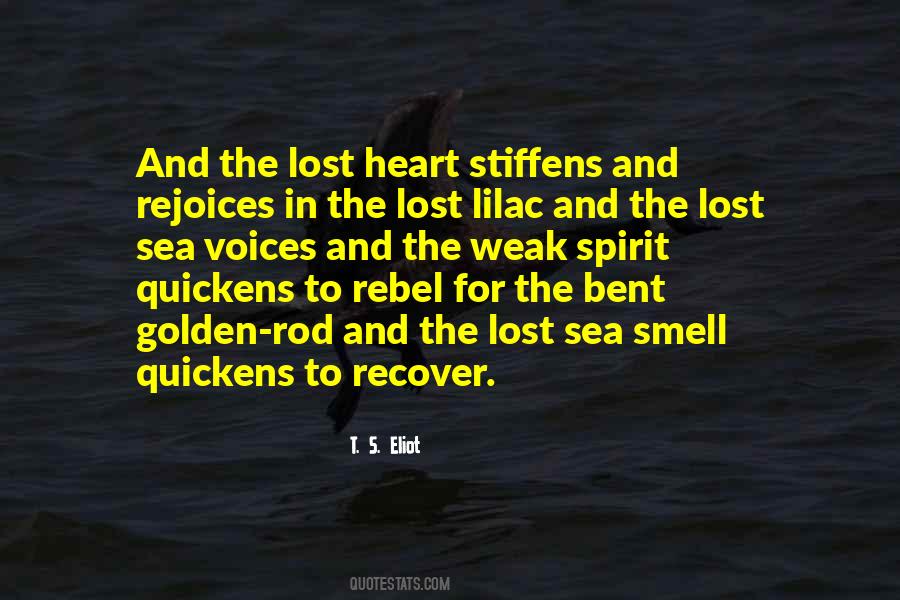 #15. We sat talking on a rock. The air was filled with the tang of sea-weed and of something else that could only have been the ocean smell. I felt so happy that I wasn't even afraid it wouldn't last. - Author: Tove Jansson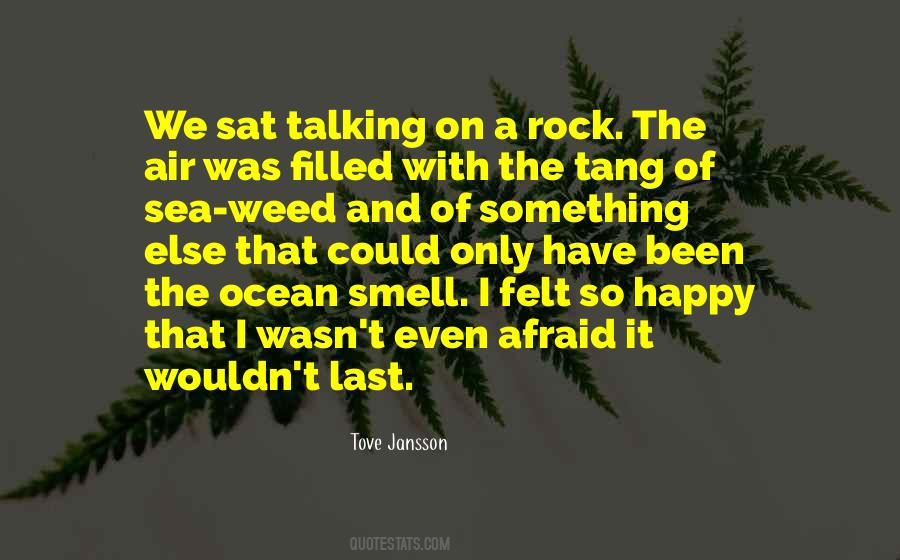 #16. What have we here? a man or a fish? dead or alive? A fish: he smells like a fish; a very ancient and fishlike smell; a kind of not of the newest poor-John. A strange fish! - Author: William Shakespeare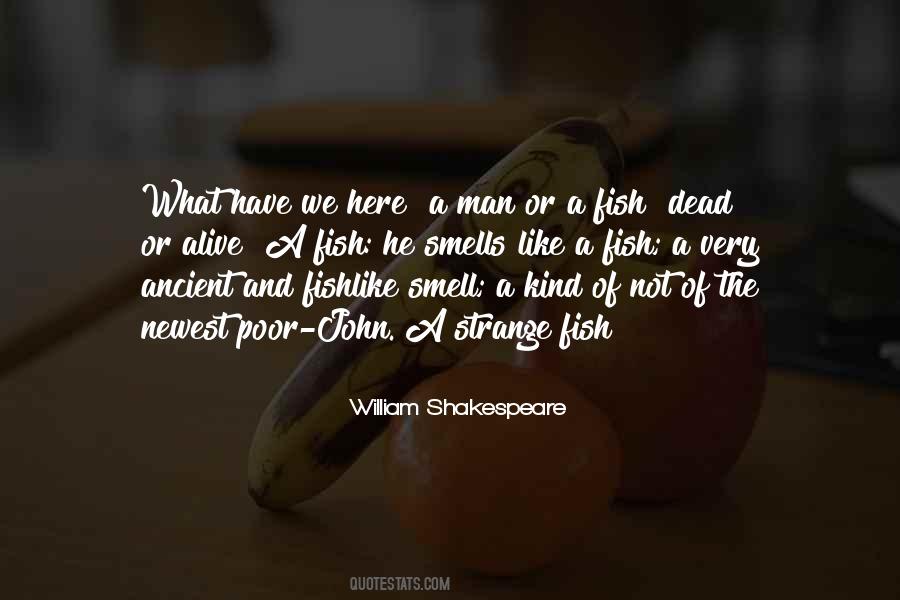 #17. The night air moved up towards the Downs, washing over sea and orchard. I breathed it in, and thought that henceforth, loneliness would smell to me like fermenting apples. - Author: Laurie R. King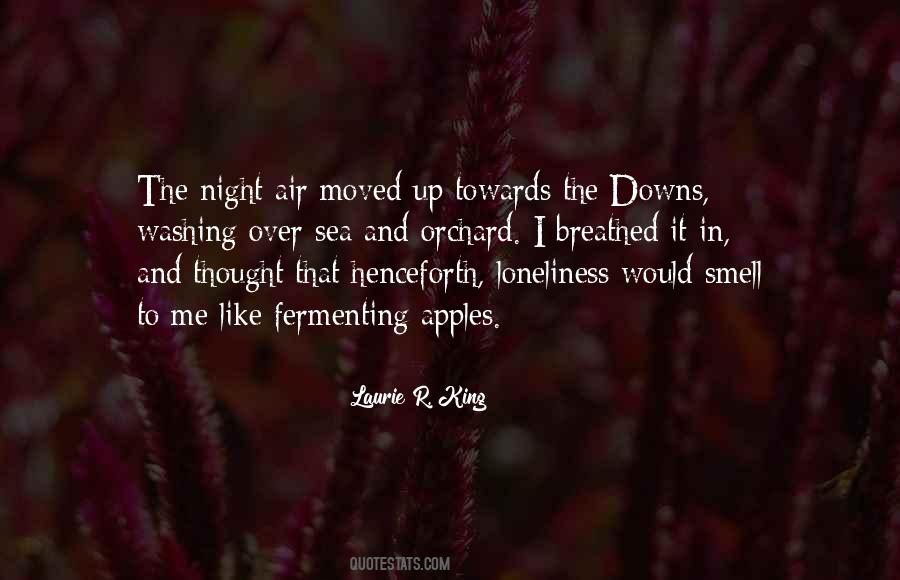 #18. Well, the plenty of fish in the sea thing is bullshit," I said. "The other fish are weird, smell funny, or hooked on someone else's fishing line. - Author: L.D. Davis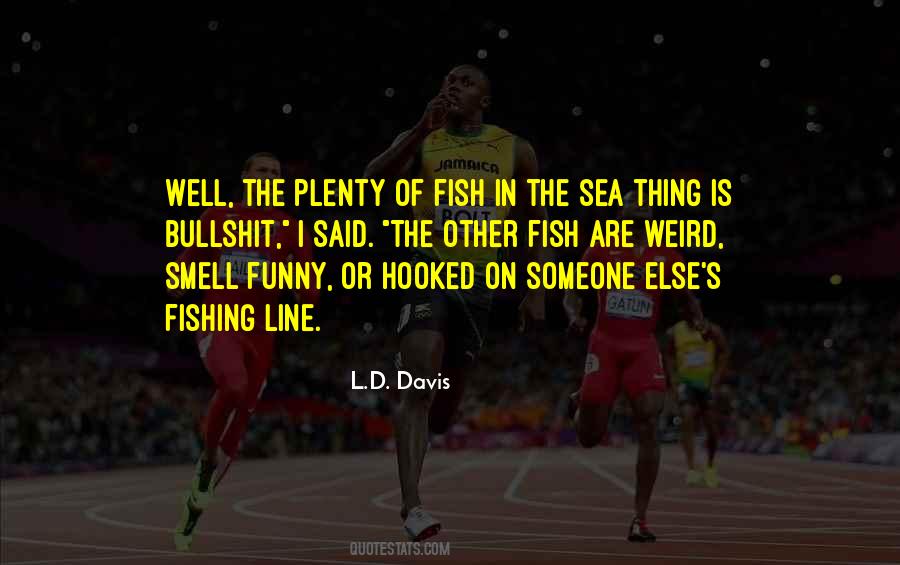 #19. She loved the sea. She liked the sharp salty smell of the air, and the vastness of the horizons bounded only by a vault of azure sky above. It made her feel small, but free as well. - Author: George R R Martin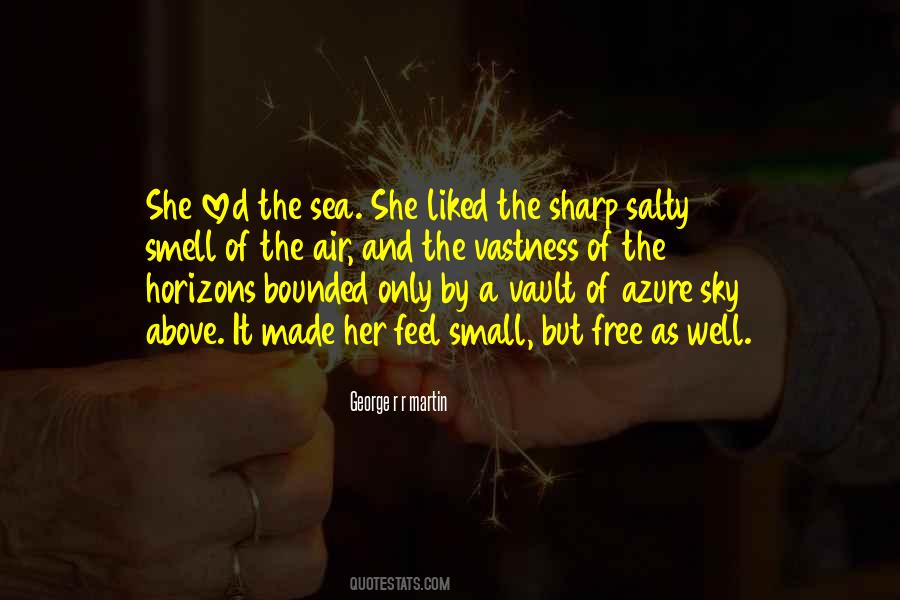 #20. She liked the sharp salty smell of the air, and the vastness of horizons bounded only by a vault of azure sky above. - Author: George R R Martin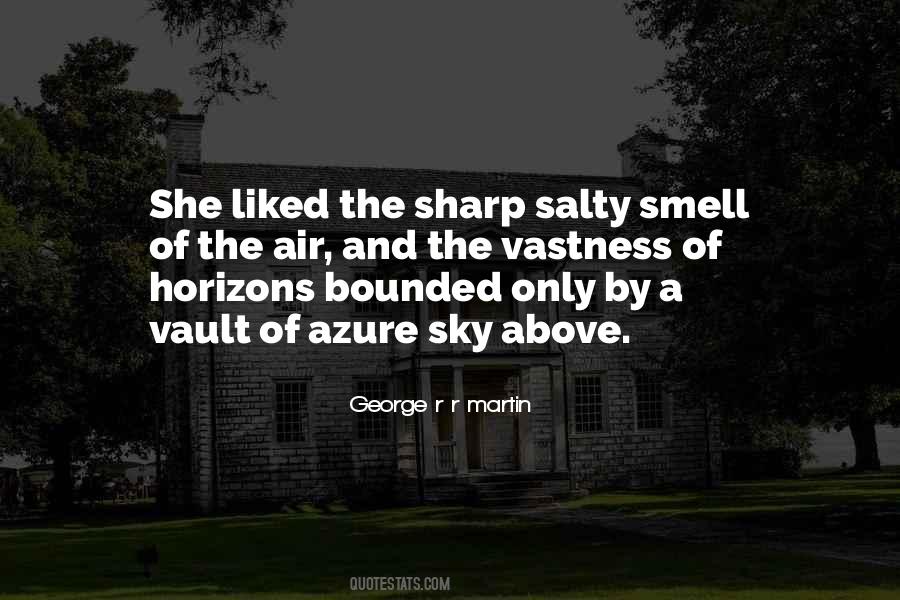 #21. The old man knew he was going far out and he left the smell of the land behind and rowed out into the clean early morning smell of the ocean. - Author: Ernest Hemingway,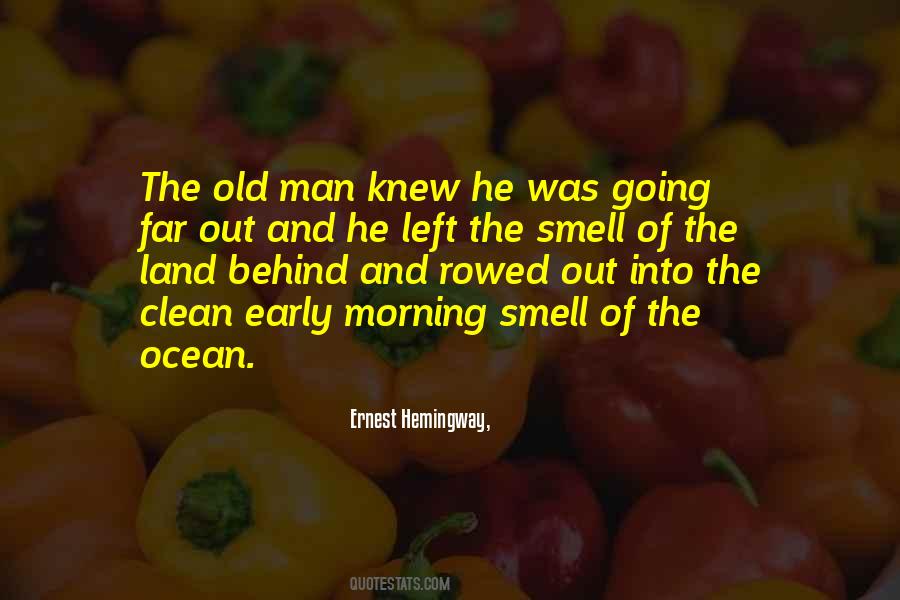 #22. Smell the sea and feel the sky. - Author: Van Morrison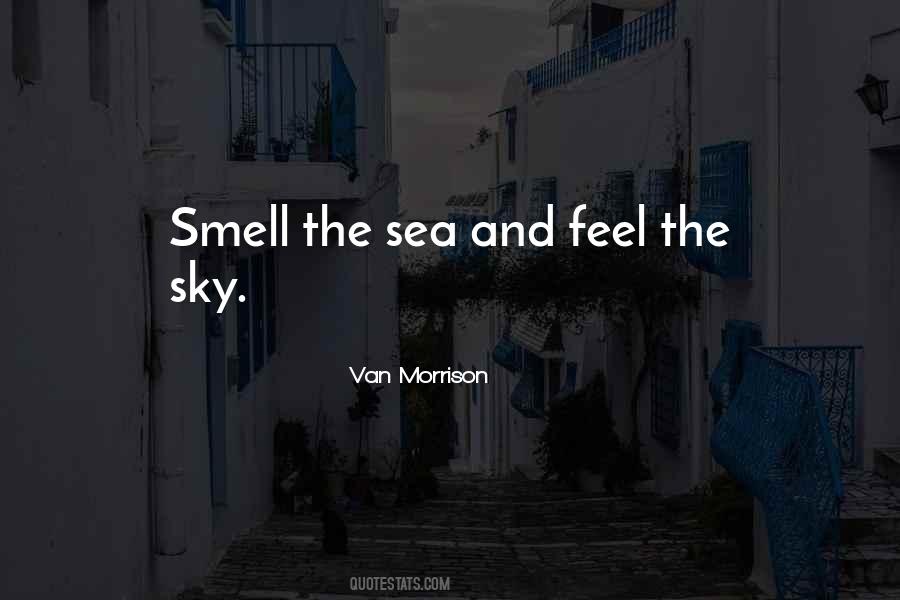 #23. If I have made you dream, laugh, cry and smell the roses in bloom, the salt on the sea air, then I have accomplished what I set out do. Feel the magic. - Author: Barbara Mason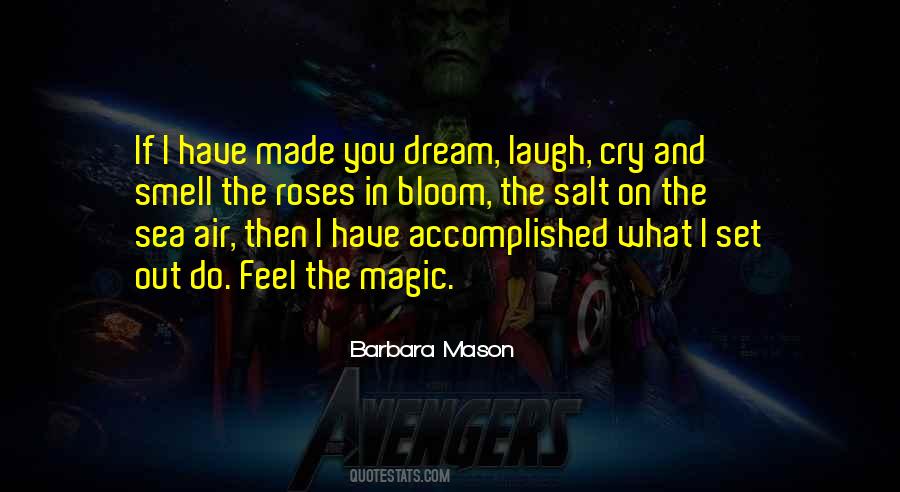 #24. Never stop reading, Luke. The words from the pages make me feel like I'm right there, like I can smell the sea and hear the wind. It's my one regret that I didn't read much over the years. How can you learn about all the things happening in the world if you don't read? - Author: Lea Davey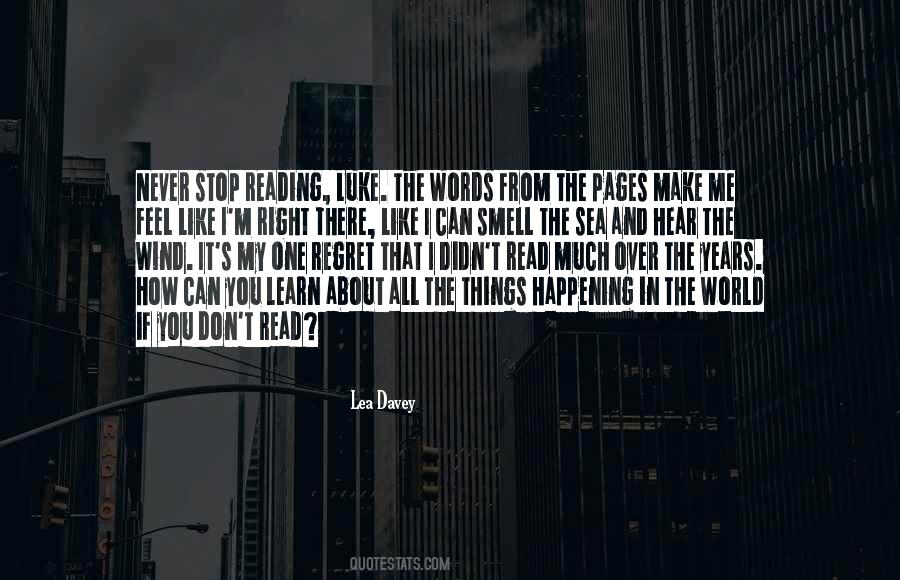 #25. She could smell the sea in the air, but more than that, she could smell the scent of the grass as it awoke from its winter slumber. She could hear the sound of crickets as they sang to the emerging stars. It was springtime on the North Island. It was springtime for the world. - Author: Diana Peterfreund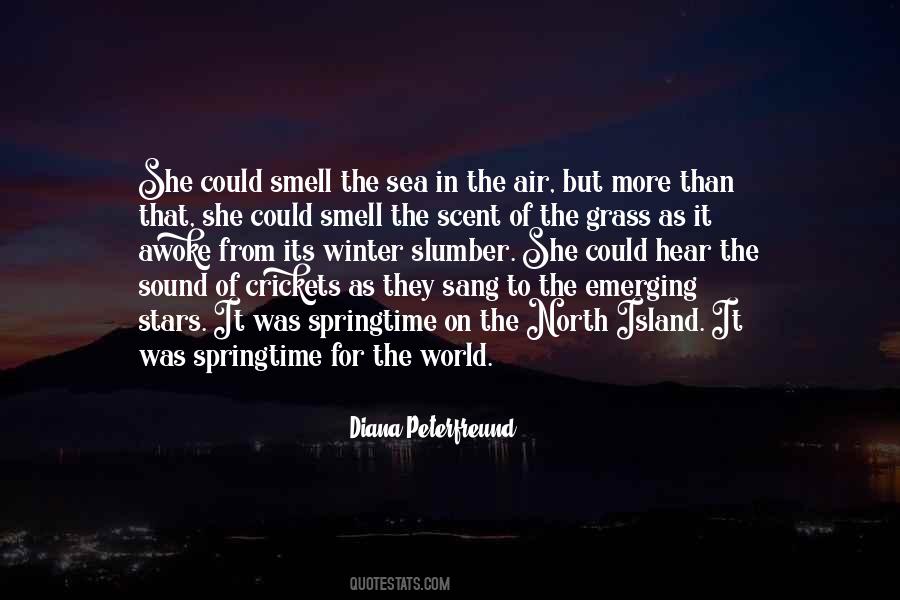 #26. The fish,
Even in the fisherman's net,
Still carries,
The smell of the sea. - Author: Mourid Barghouti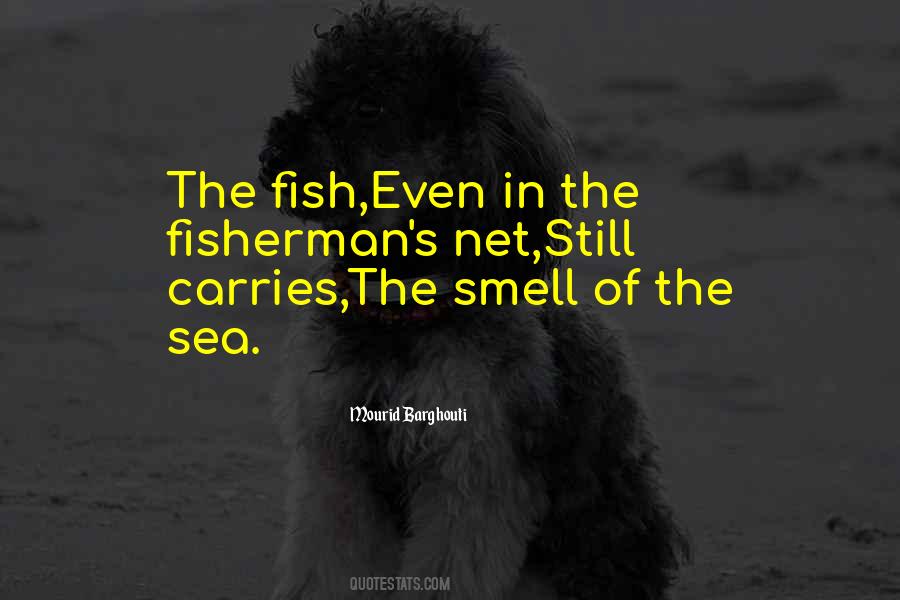 #27. If my life were a fragrance, it would smell like the sea. - Author: Sanober Khan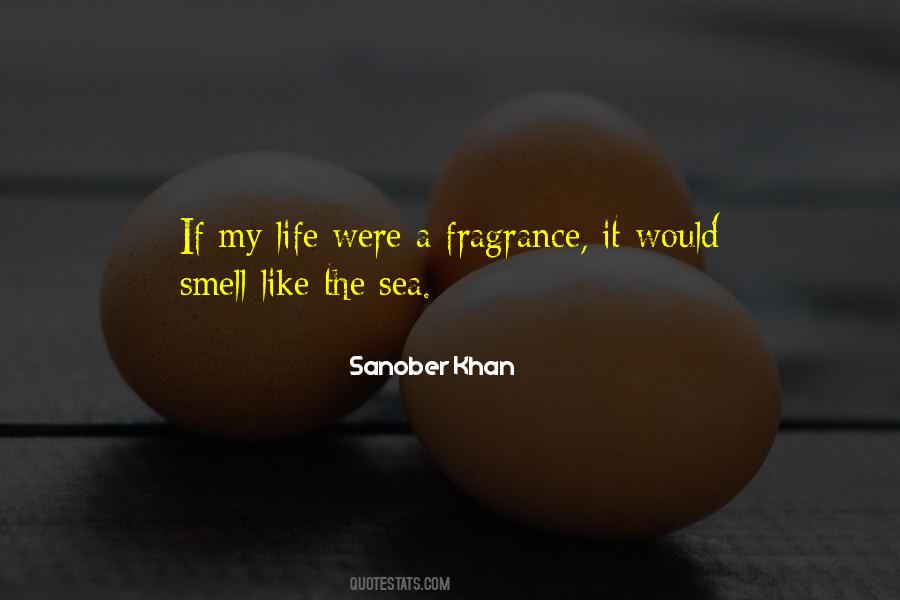 #28. Papa," Alessandro said, his eyes closing. "She swims nude in the sea. She carries a pistol. And she wears perfume that makes me dizzy. Sometimes I go to the garden gate and smell the handle, because, when she touches it, the perfume stays. - Author: Mark Helprin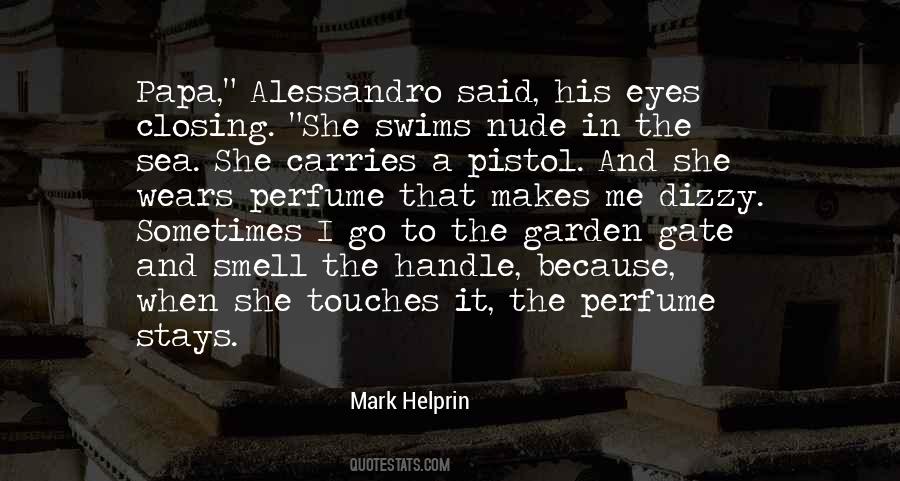 #29. I could smell fog even at this level now. It was rolling down from the mountains, flooding out the moon, as well as rising from the sea. The - Author: Ross Macdonald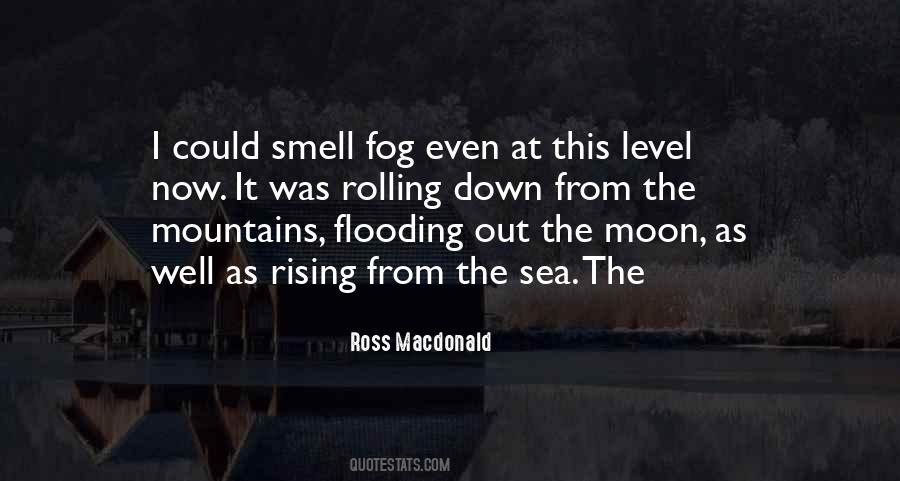 #30. I love the smell of you. Sea air, leather, and your skin...all of you." She sewed soft kisses over his chest, inching toward the hollow at the base of his neck. "You'll never be free of me."
His arms tightened like manacles, squeezing her closer. "Never have I wanted to be free of you. - Author: Gina Conkle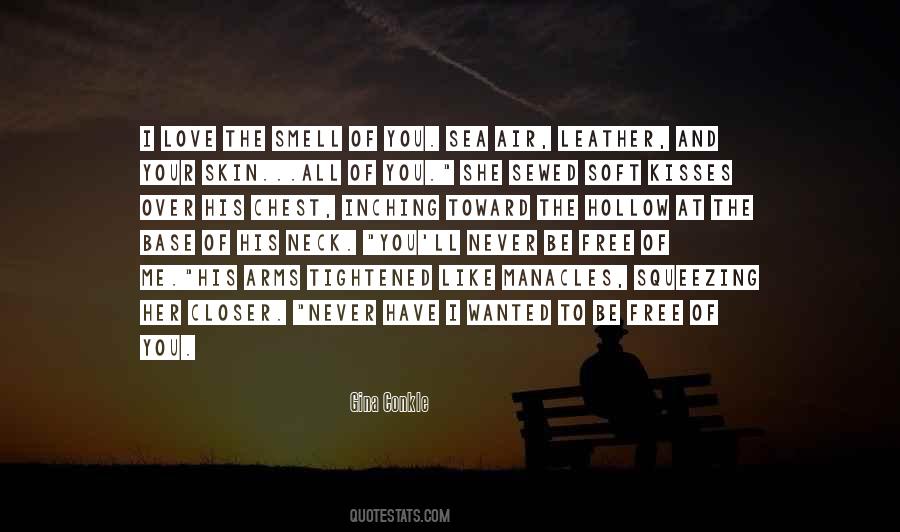 Famous Authors
Popular Topics