Seek Opportunity Famous Quotes & Sayings
List of top 43 famous quotes and sayings about seek opportunity to read and share with friends on your Facebook, Twitter, blogs.
Top 43 Seek Opportunity Quotes
#1. Being involved in competition is a privilege and an opportunity. Seek to make the most of that opportunity by pushing yourself to the limit of your abilities. When it is over, you will have earned the respect of your opponents, your coaches, and yourself. - Author: Tony La Russa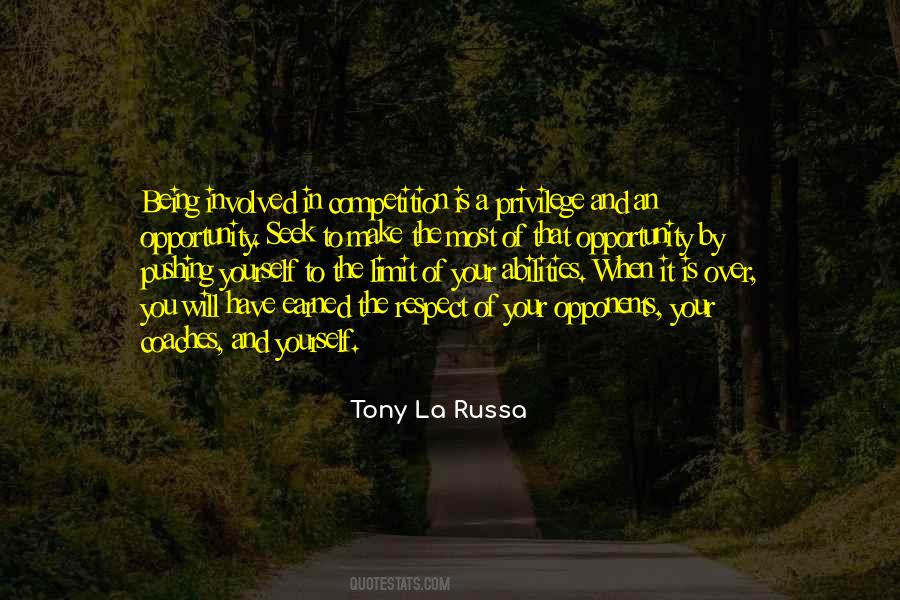 #2. I love silence. I seek and create it at every opportunity. I need it to work. - Author: Anne Lamott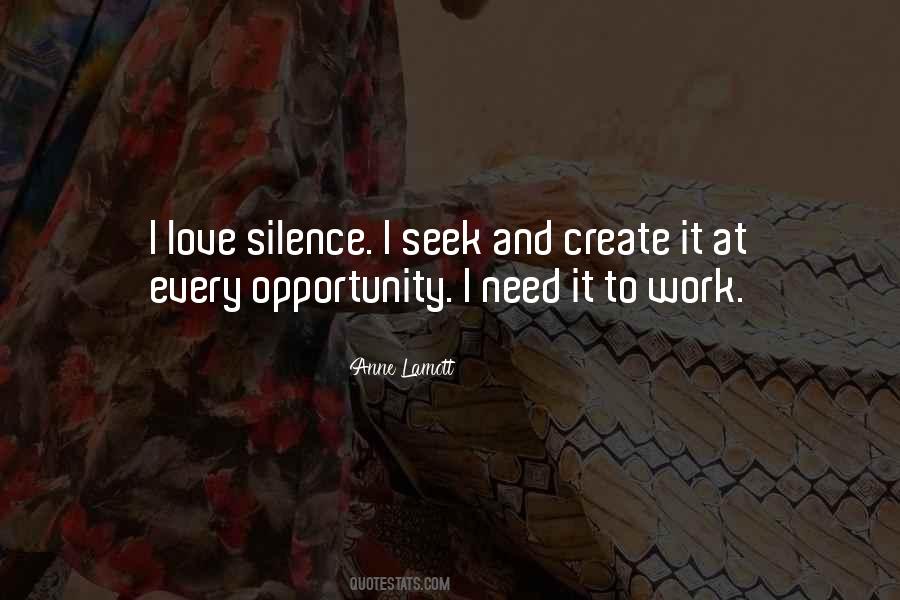 #3. If man sees hazard as a misfortune rather than an opportunity, he will seek to close the door to freedom rather than keep it open. - Author: J.G. Bennett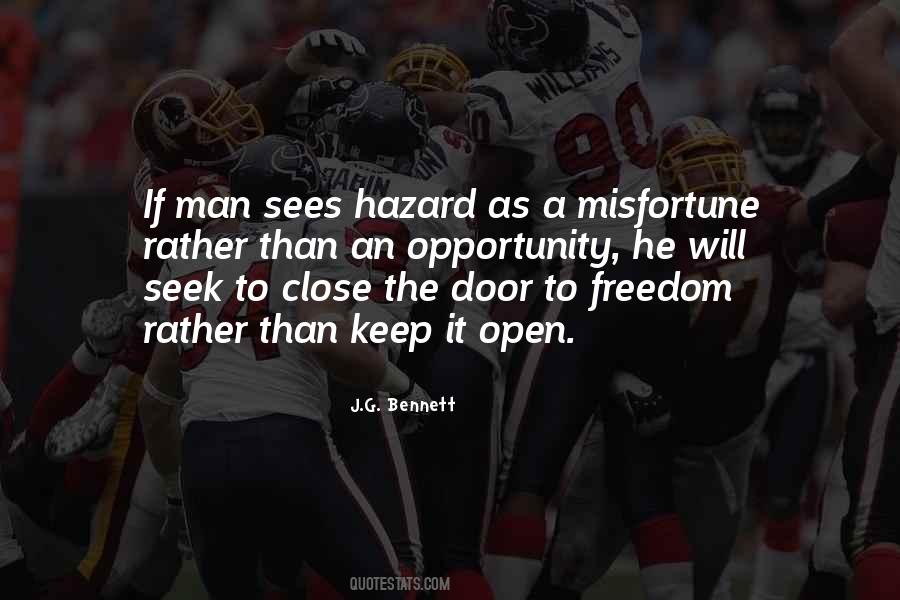 #4. I'm all for lifestyle evangelism, but I'm also in favor of intentionality, where we seek out opportunities for spiritual conversations and are equipped to explain the gospel and why we believe it. - Author: Lee Strobel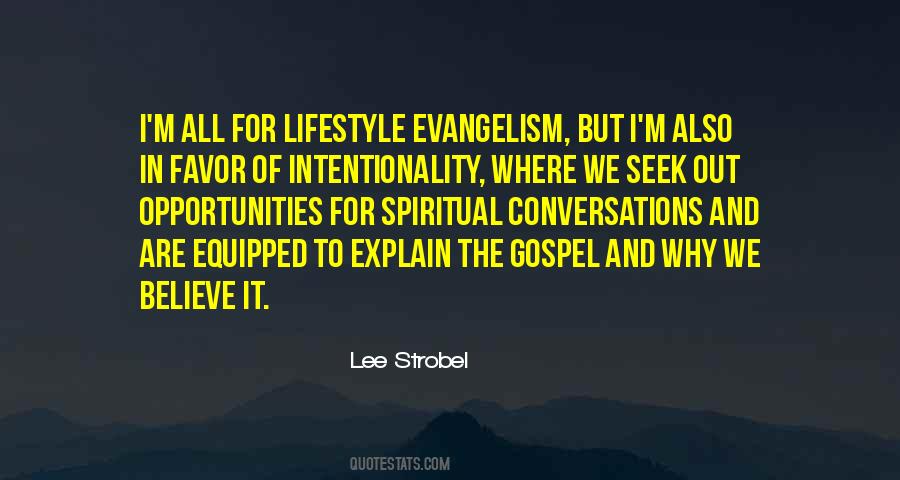 #5. Seek opportunity, not security. A boat in the harbor is safe, but in time its bottom will rot out. - Author: H. Jackson Brown Jr.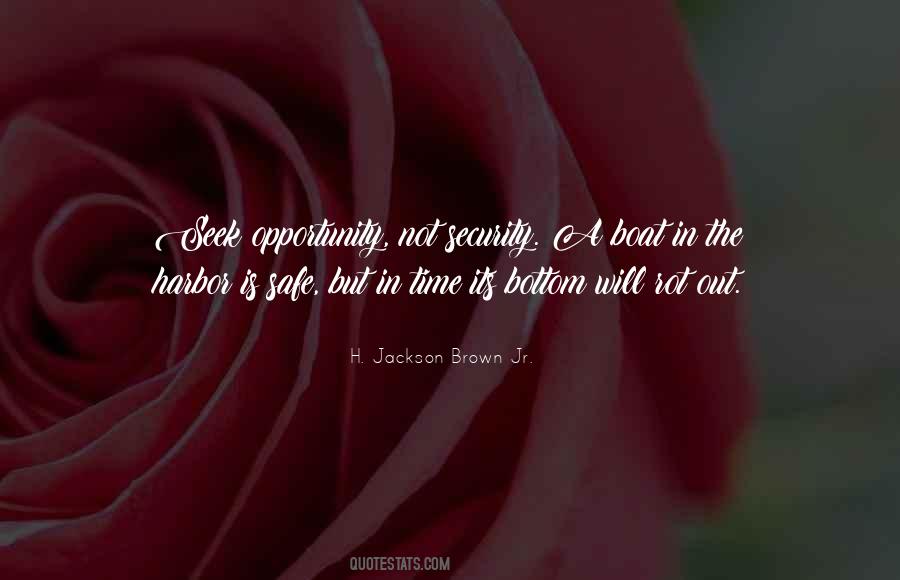 #6. People who offer you conflict may be offering you the opportunity for growth. Seek these people out. These are the people who can show you that you can do it for yourself. You can be a big circle. - Author: Kaleel Jamison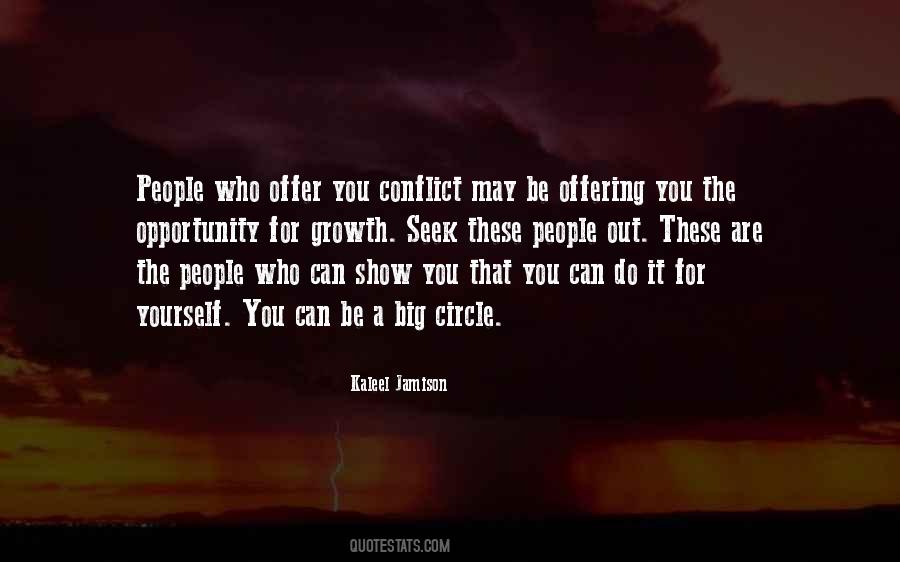 #7. The most improper job of any man, even saints (who at any rate were at least unwilling to take it on), is bossing other men. Not one in a million is fit for it, and least of all those who seek the opportunity. - Author: J.R.R. Tolkien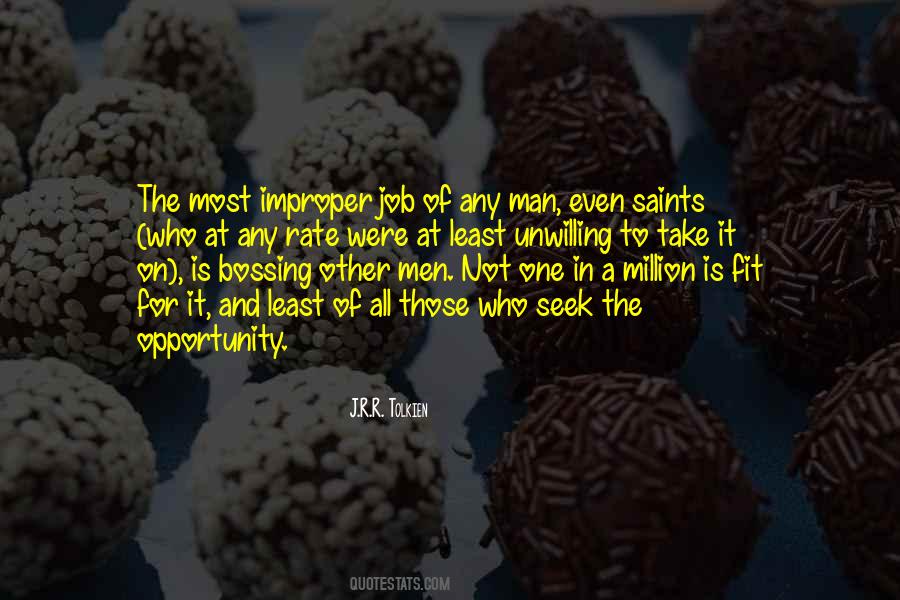 #8. There are tens, perhaps hundreds of millions of people living in poverty and danger who might readily seek to enter a Western country if the opportunity is there. - Author: Tony Abbott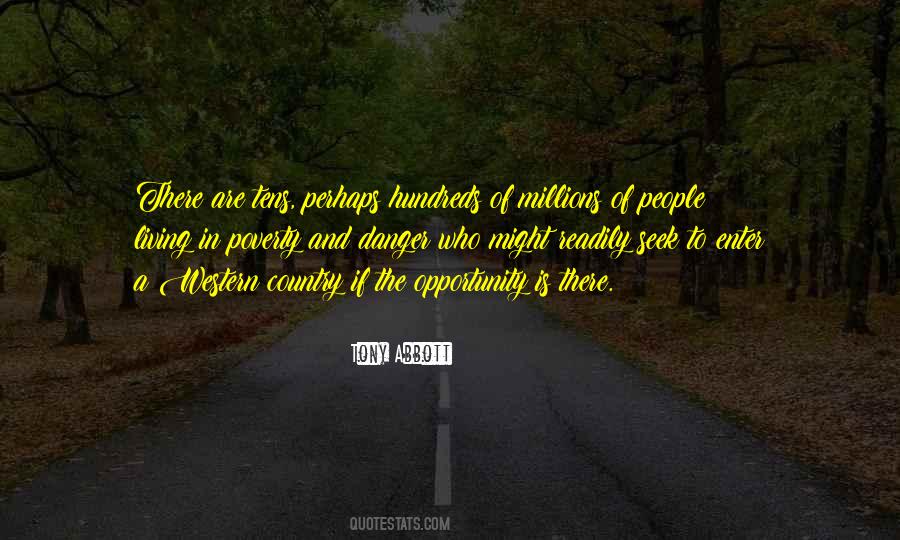 #9. a paradox; the best opportunities we want are the best opportunities we miss; the best opportunities we wanted, are the best opportunities we missed and the best opportunities we seek for stay far away from us. In the end, we only settle for any opportunity. Life! - Author: Ernest Agyemang Yeboah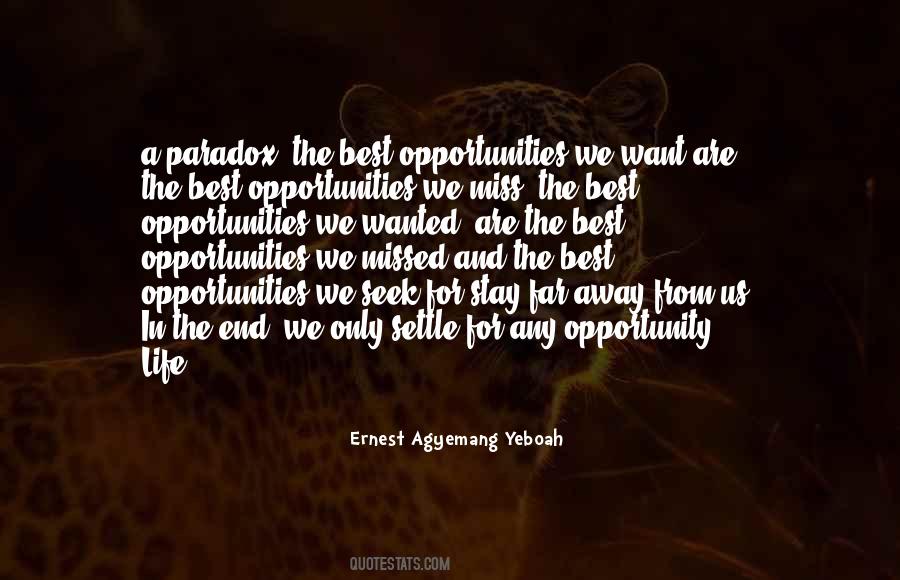 #10. For generations, America has served as a beacon of hope and freedom for those outside her borders, and as a land of limitless opportunity for those risking everything to seek a better life. Their talents and contributions have continued to enrich our country. - Author: Spencer Bachus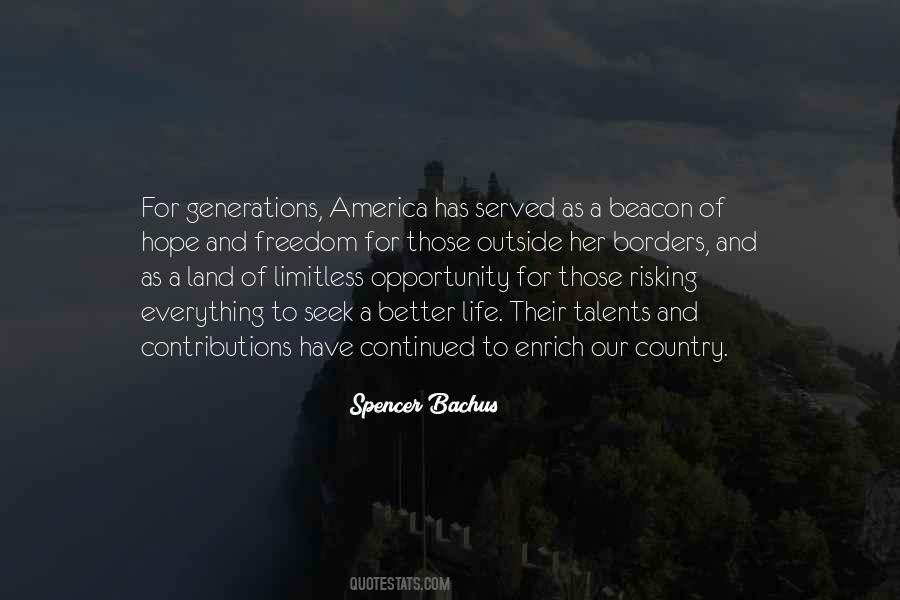 #11. You don't need to seek opportunity. All you have to do is seek God. And if you seek God, opportunity will seek you. - Author: Mark Batterson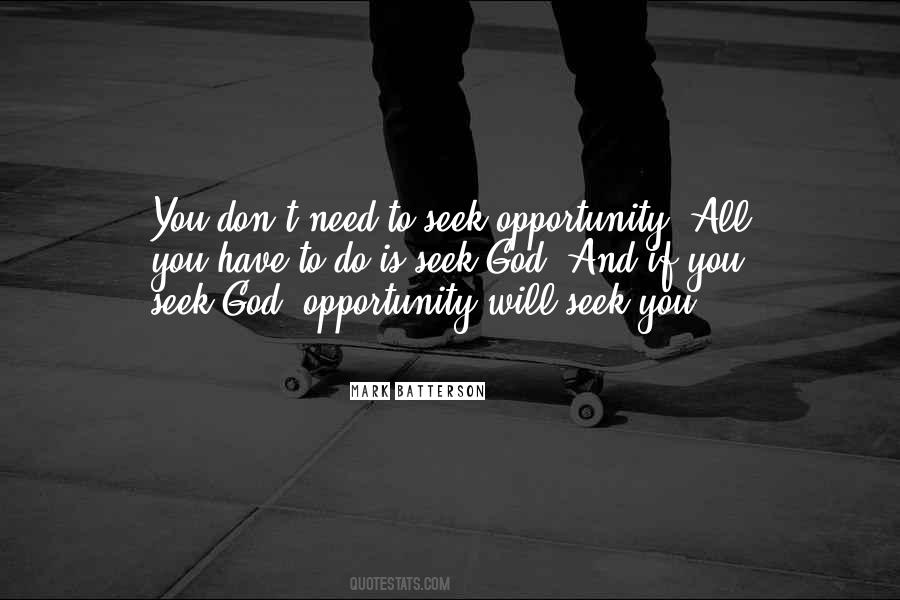 #12. Where others fear trade and economic growth, we see opportunities for creating new wealth and undreamed-of opportunities for millions in our own land and beyond. Where others seek to throw up barriers, we seek to bring them down; where others take counsel of their fears, we follow our hopes. - Author: Ronald Reagan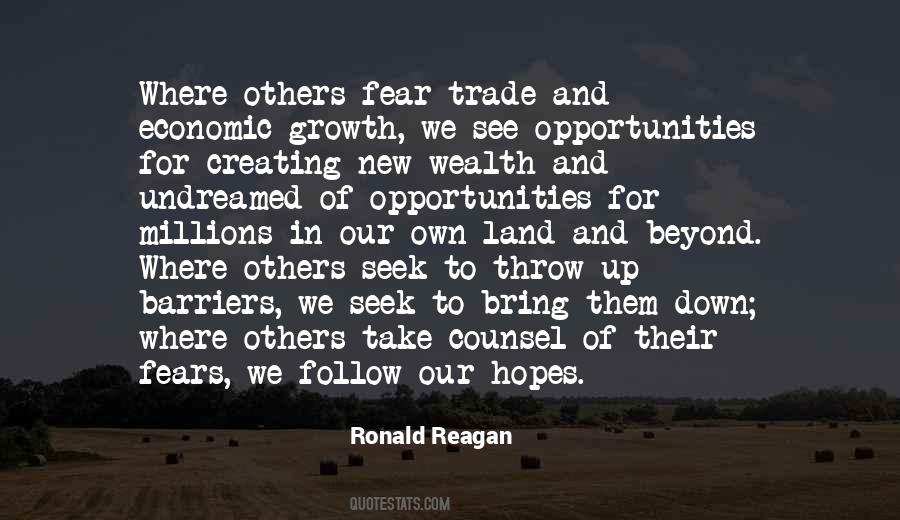 #13. Most of us will have more than one job in our working lives, which means we will have more than one opportunity to seek meaningful work at different stages of our own deepening humanity. - Author: Barbara Brown Taylor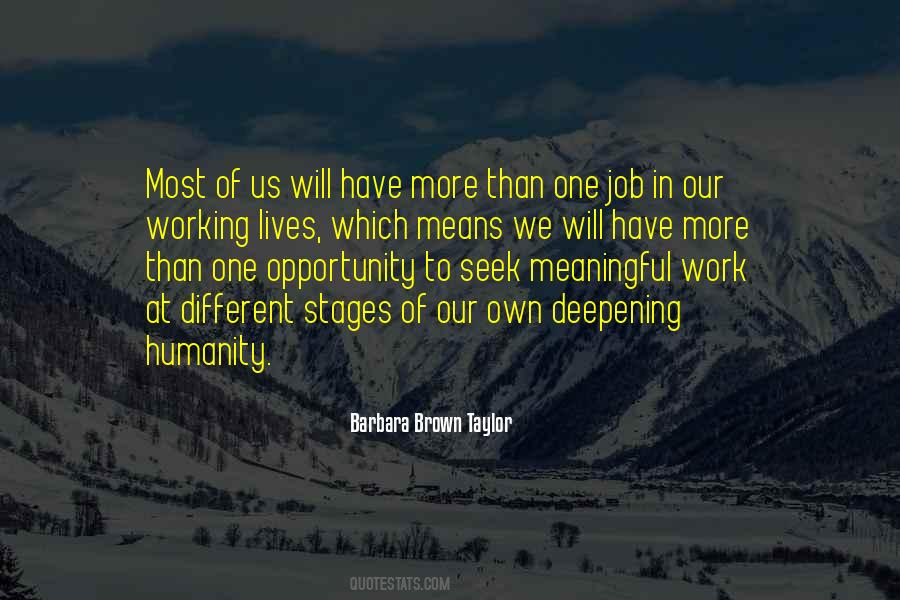 #14. Seek opportunities to improve upon yourself. It is only you who can decided what you want to be. - Author: Lailah Gifty Akita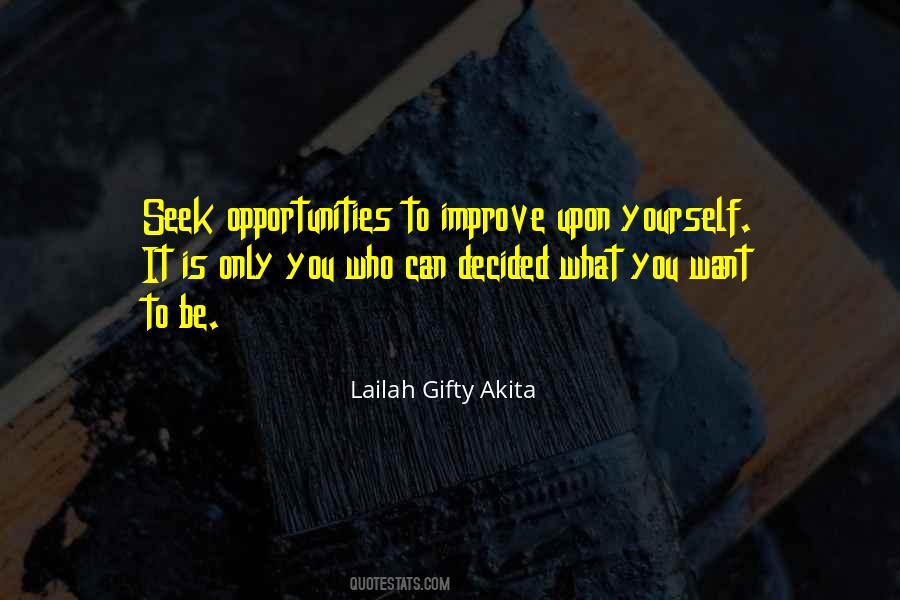 #15. Seek the opportunity to act on your ideas and dreams. - Author: W. Arthur Porter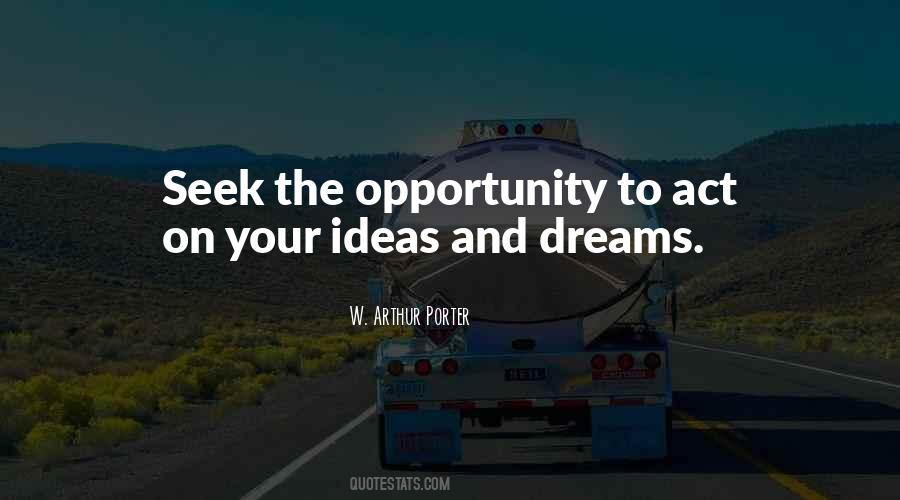 #16. The innovation point is the pivotal moment when talented and motivated people seek the opportunity to act on their ideas and dreams. - Author: W. Arthur Porter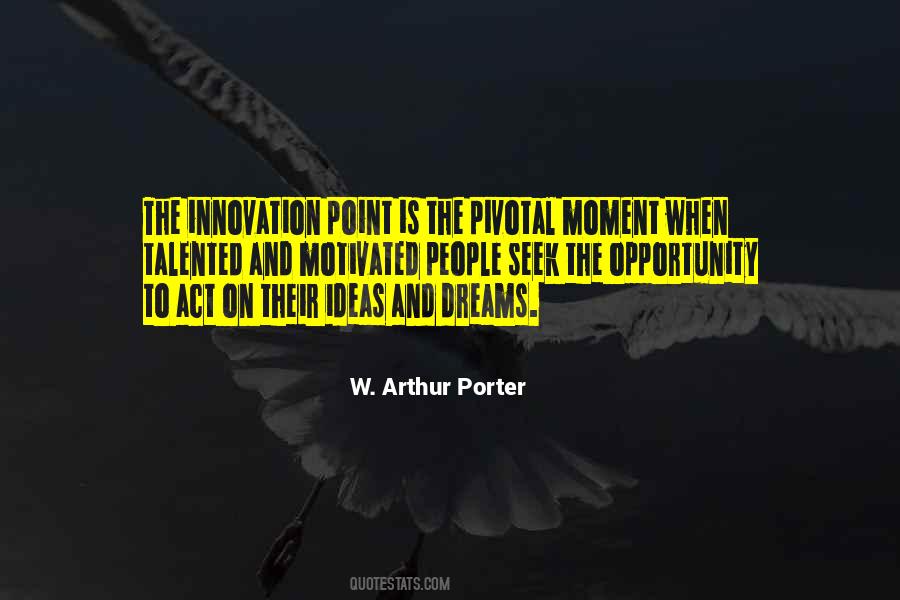 #17. If we seek the essence of every situation, if we seek to connect to God within our hearts, then we will find an opportunity there, to grow internally in wisdom in every trial we face. - Author: Radhanath Swami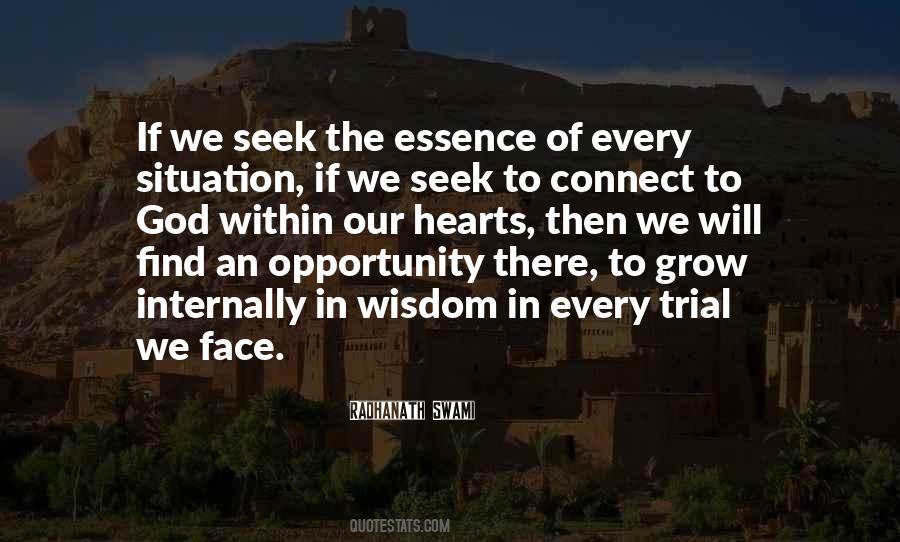 #18. The online shopping paradigm is finally changing. Indeed, I think we've seen more innovation in the last 10 months than in the last 10 years. We've seen an explosion of interesting technologies and opportunities that seek to change online shopping. - Author: Josh Kopelman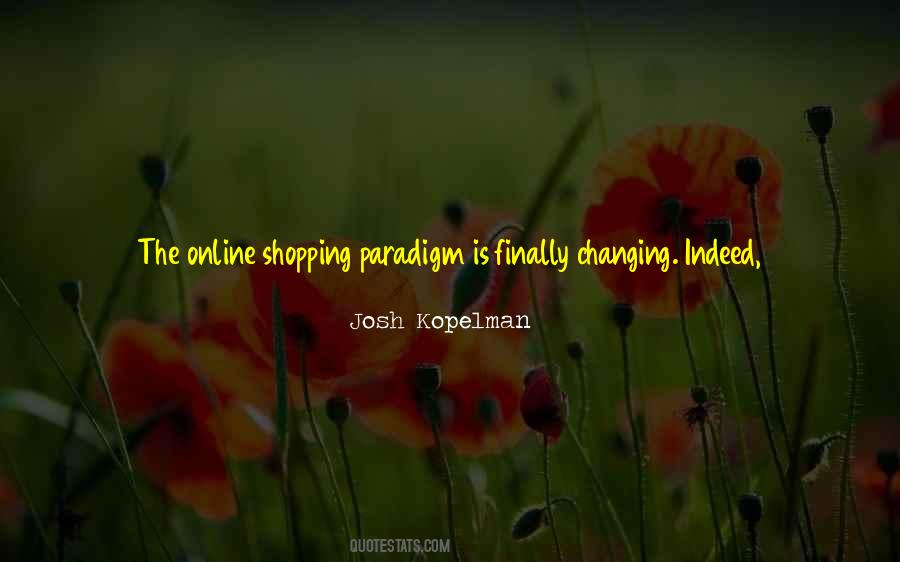 #19. Like Israel, New York City's history has been defined by immigrants who come in search of freedom and the opportunity to build a better life. And like Israel, New York City has remained a target for terrorists who seek to destroy that freedom - Author: Michael Bloomberg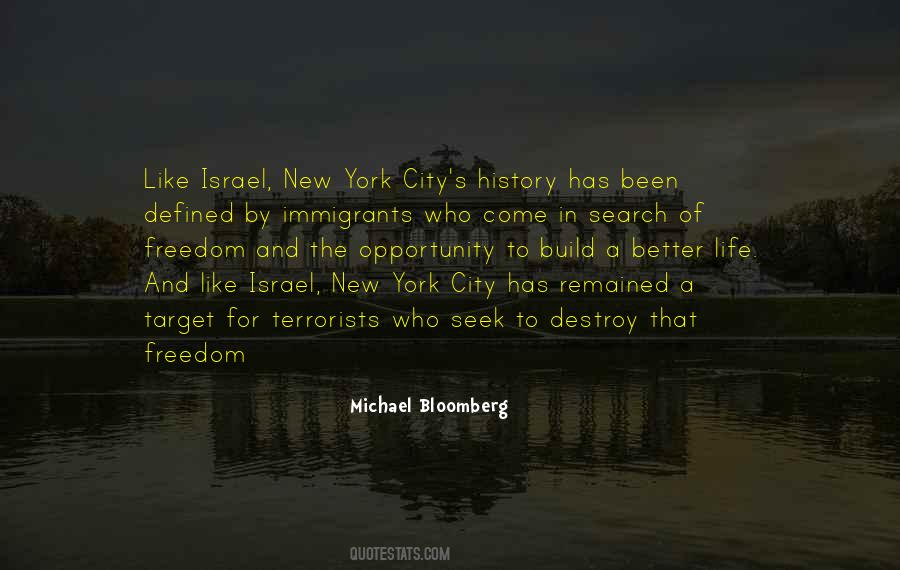 #20. You can be saved without suffering, but you cannot be sanctified without suffering. That doesn't mean you seek it out, but it does mean you see it for what it is. It's an opportunity to glorify God. - Author: Mark Batterson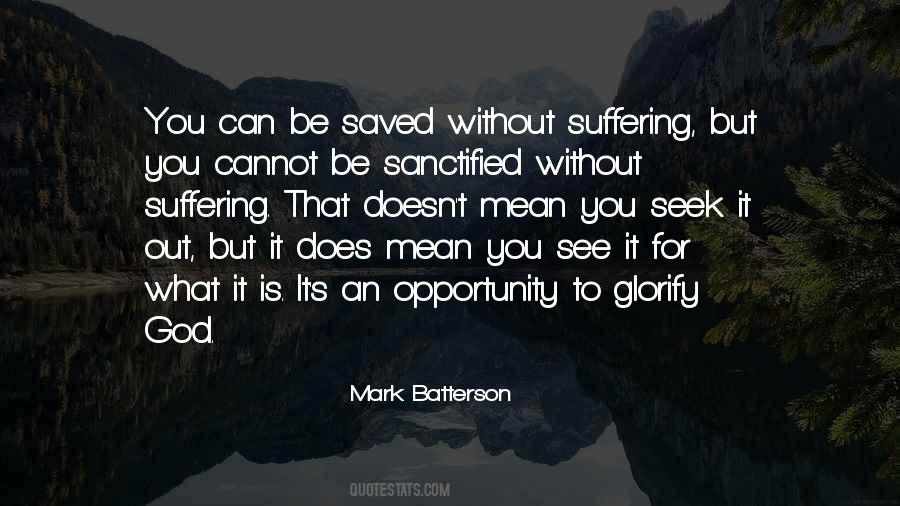 #21. I think it's tremendously important that women continue to be full participants in the corporate environment, and that they continue to seek the same responsibilities, opportunities and rewards in that environment that in the past have only been available to men. - Author: Betty Friedan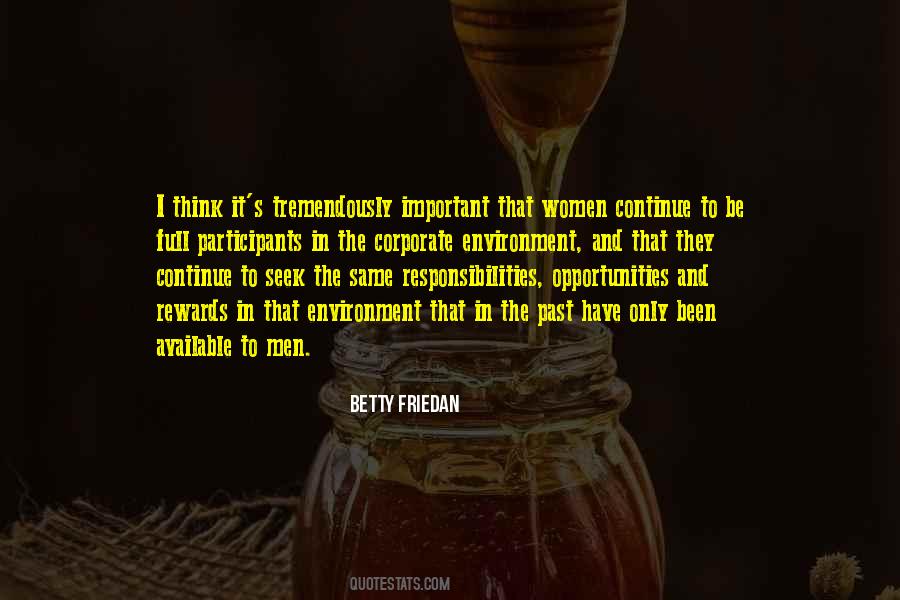 #22. The peace we seek to win is not victory over any other people, but the peace that comes "with healing in its wings;" with compassion for those who have suffered; with understanding for those who have opposed us; with the opportunity for all the peoples of this Earth to choose their own destiny. - Author: Richard M. Nixon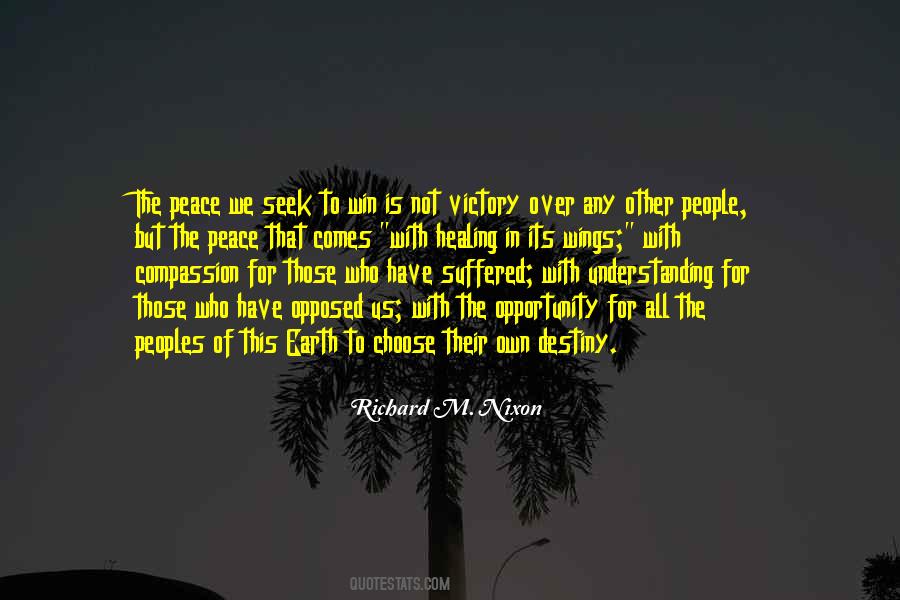 #23. You ought to explore, search and seek the boundless possibilities in life. - Author: Lailah Gifty Akita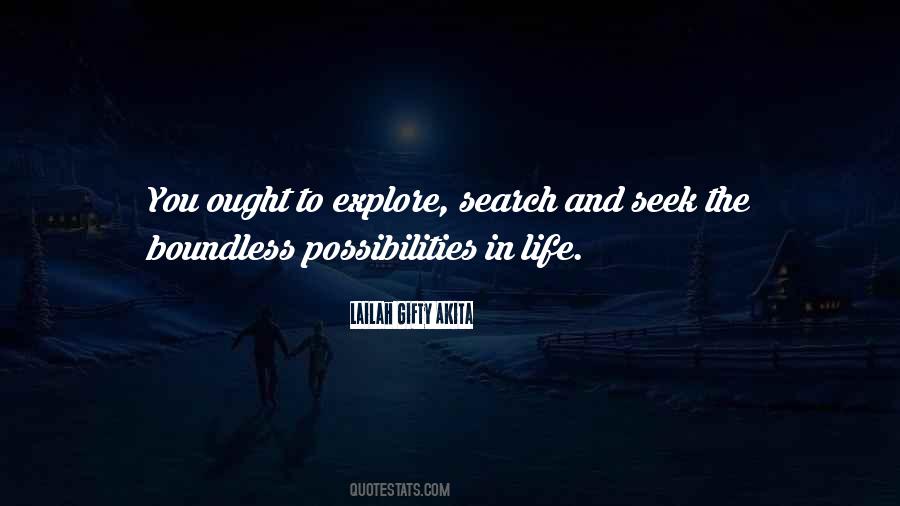 #24. I am possibly thinking about doing an Internet show in the future that will highlight political organizations that I seek out to let people know about them, volunteer opportunities, and donation opportunities. - Author: Kathleen Hanna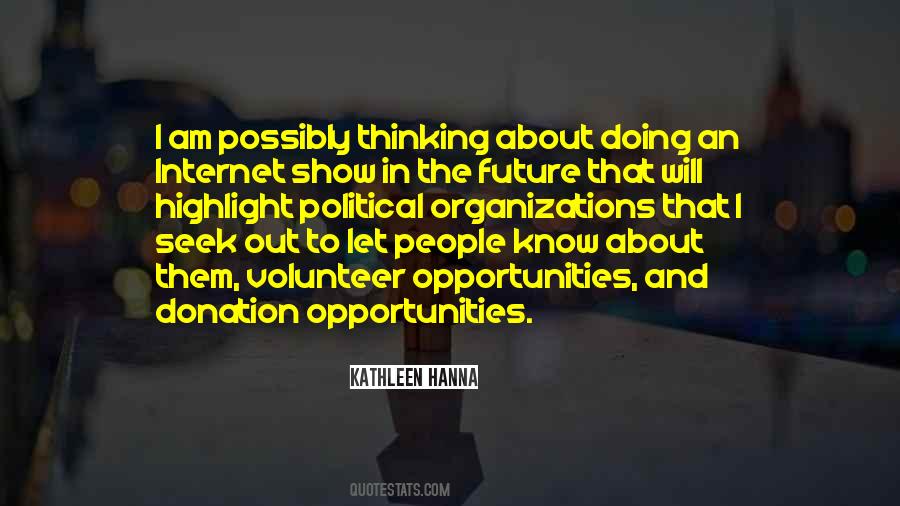 #25. One of the greatest dangers to peace lies in the economic pressure to which people find themselves subjected. One of the most practical things to be done in the world is to seek arrangements under which such pressure may be removed, so that opportunity may be renewed and hope may be revived. - Author: Calvin Coolidge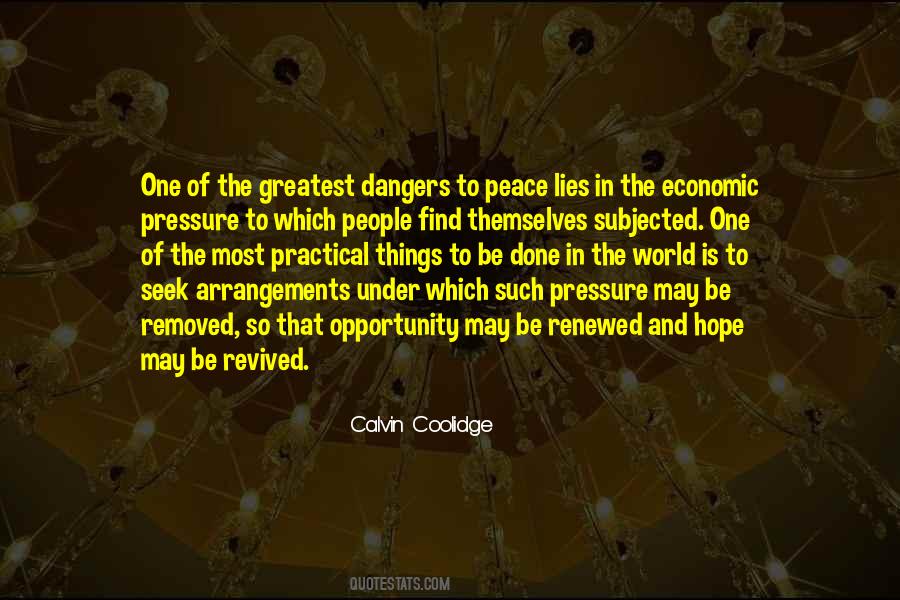 #26. Liberals like to achieve fairness by spreading the misery. Conservatives seek to expand opportunity. - Author: Rush Limbaugh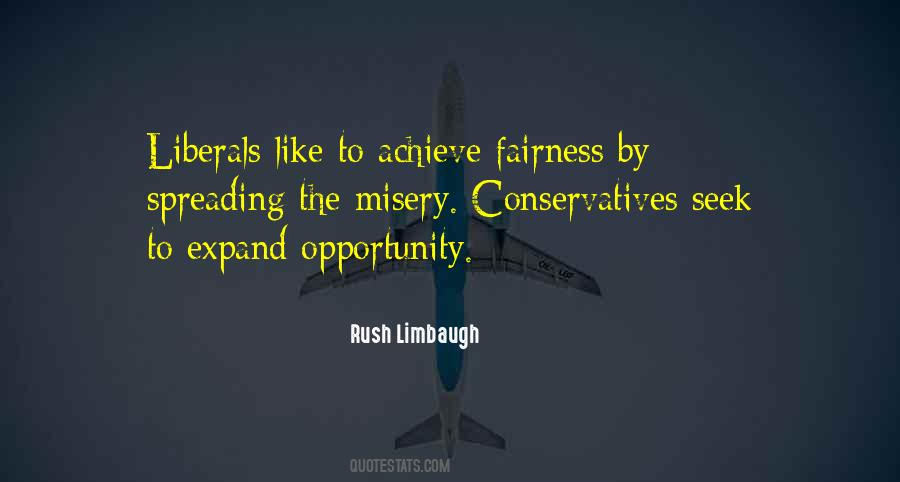 #27. What has made America great have been the opportunities given to everyone in this country. Since our founding, individuals and families have come to America to seek freedom, opportunity and the choice for a better life. - Author: Cathy McMorris Rodgers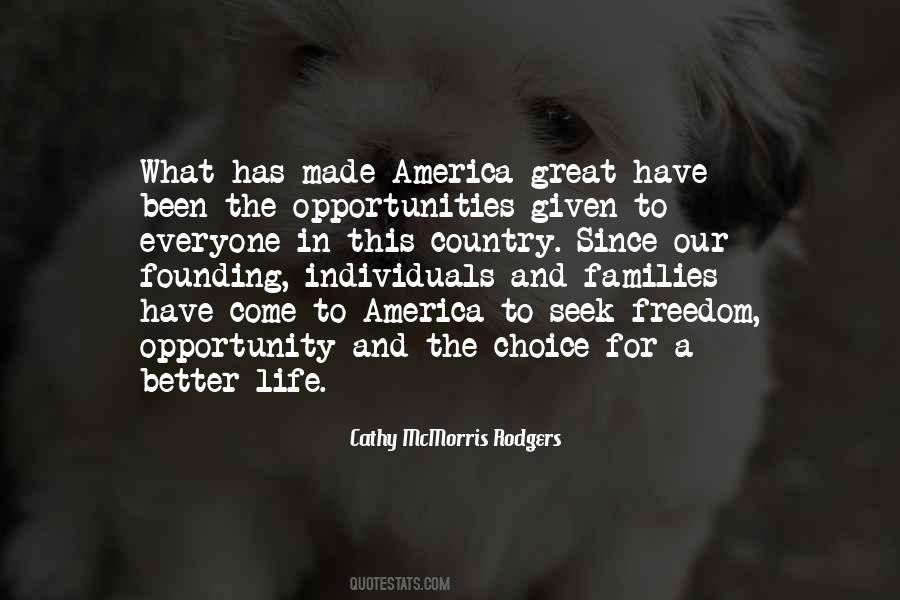 #28. Opportunists seek for a chance.
Entrepreneurs make new chances. - Author: Toba Beta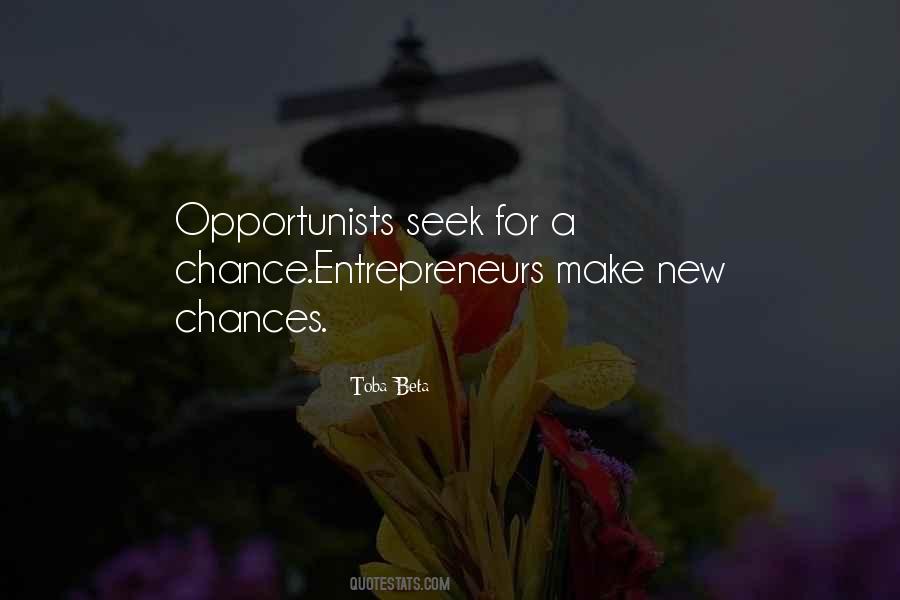 #29. When you do feel shame, seek out someone who loves and accepts you for who you are, in the intimacy that exposure brings, an amazing opportunity of being loved for who we are - Author: Daniel Gottlieb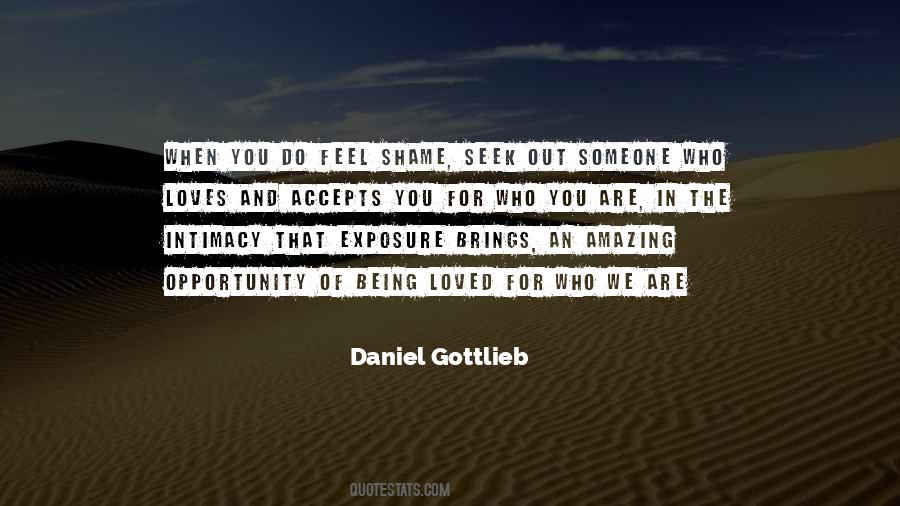 #30. Is there a reason why you seek every opportunity to annoy me?"
"It's fun. Your scar flashes when you frown. It almost looks like a dimple," said Vikram. "I'm still waiting for your face to turn red with anger. It might make you look like you're blushing. Or perhaps I am making you blush? - Author: Roshani Chokshi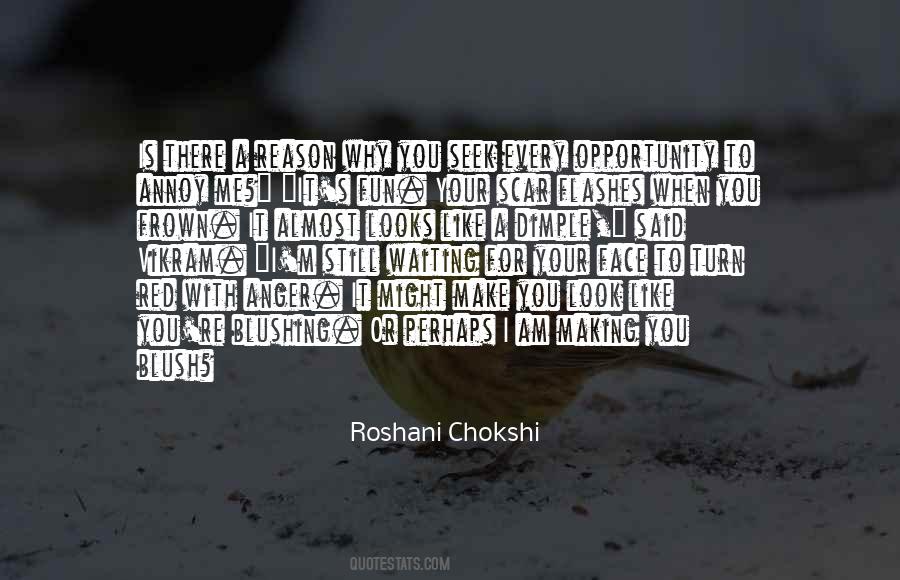 #31. Teach a child not to seek help but to seek the opportunity to help others. - Author: Debasish Mridha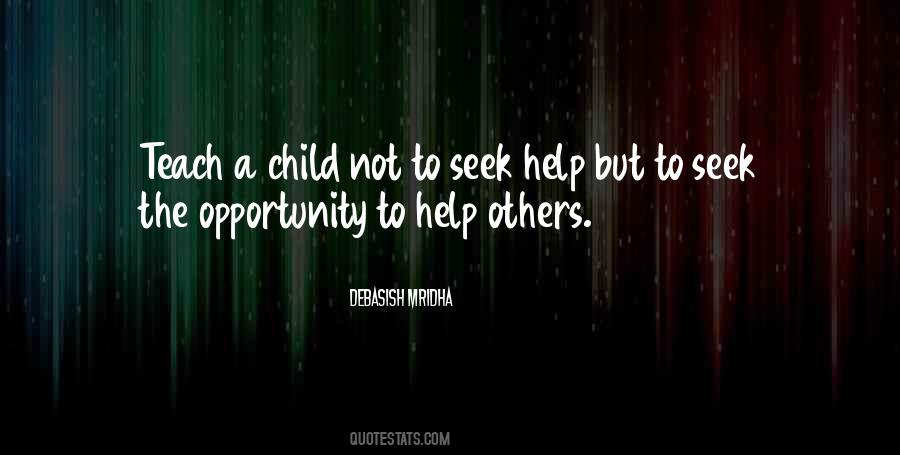 #32. For generations, people have come to U.S. shores to seek opportunity. It's what my grandfather did a century ago, when he came to Seattle, and worked as a houseboy just one mile from the Washington State governor's mansion that I was privileged to inhabit for eight years. - Author: Gary Locke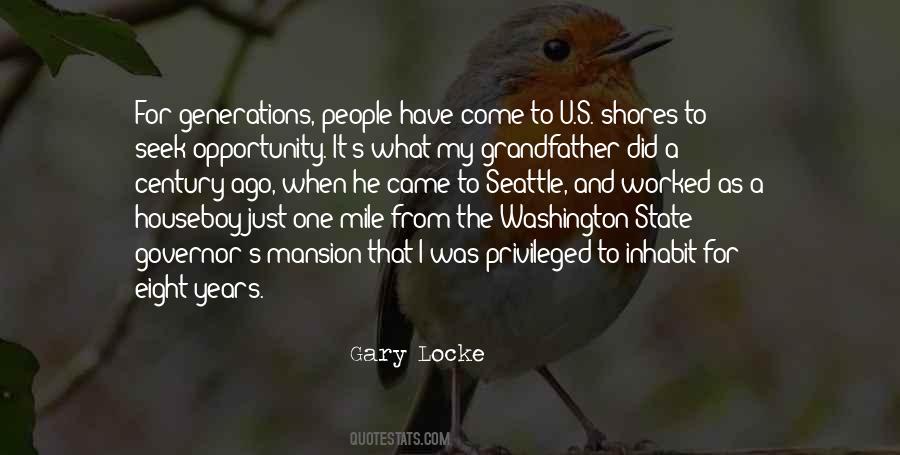 #33. Don't seek opportunity. Seek God and opportunity will seek you. - Author: Mark Batterson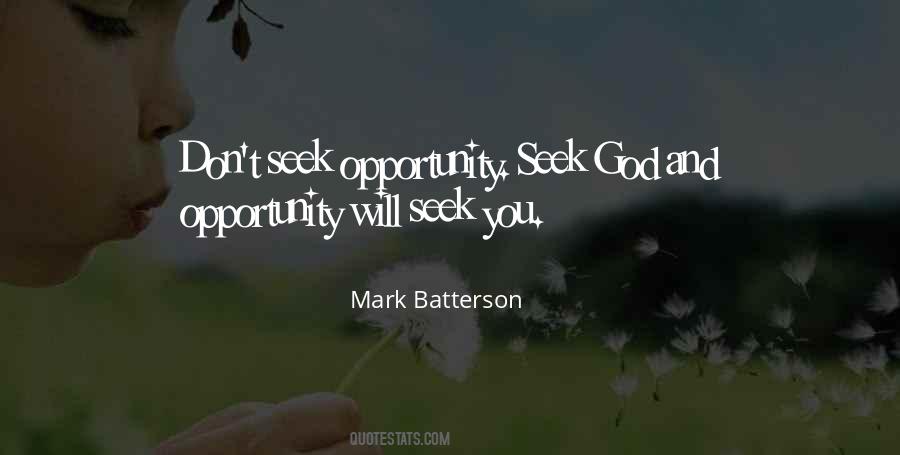 #34. This is the next and the more profound stage of the battle for civil rights. We seek not just freedom but opportunity. We seek not just legal equity but human ability, not just equality as a right and a theory but equality as a fact and equality as a result. - Author: Lyndon B. Johnson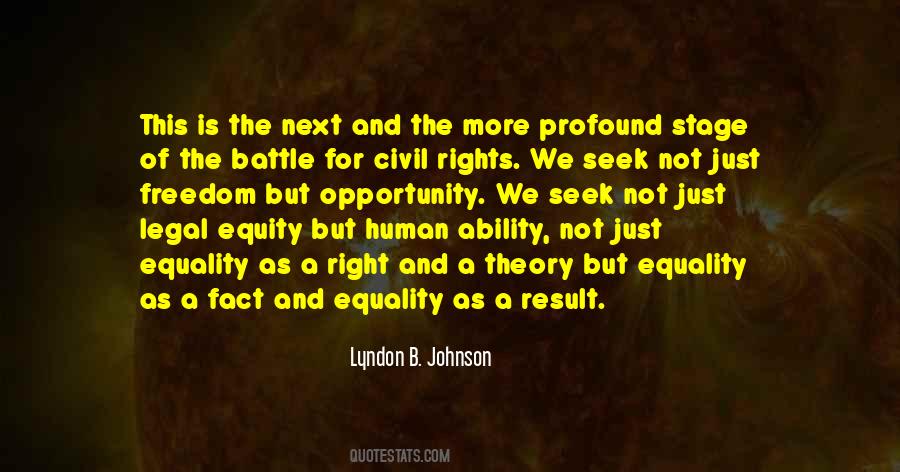 #35. As you seek new opportunity, keep in mind that the sun does not usually reappear on the horizon where last seen. - Author: Robert Breault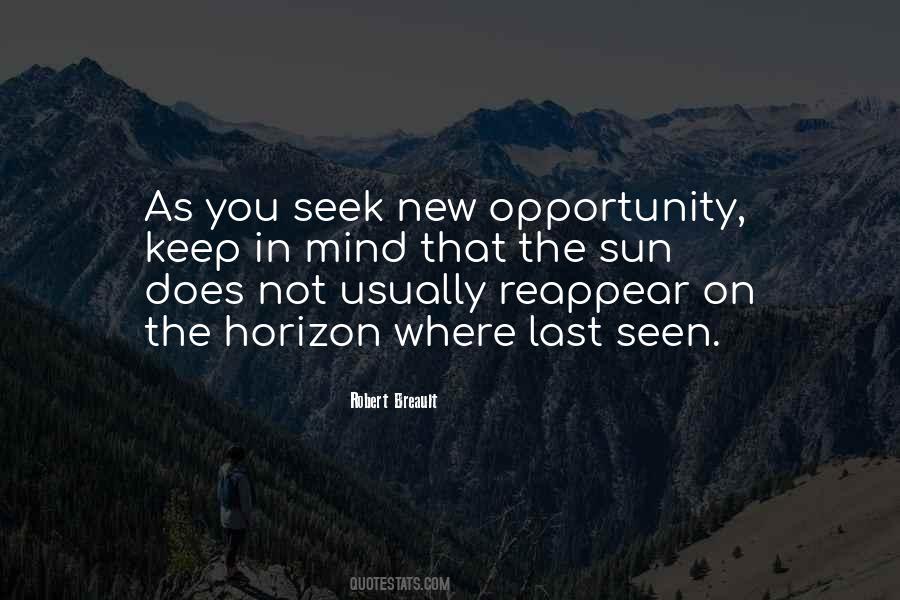 #36. The more you seek security, the less of it you have. But the more you seek
opportunity, the more likely it is that you will achieve the security that you
desire. - Author: Brian Tracy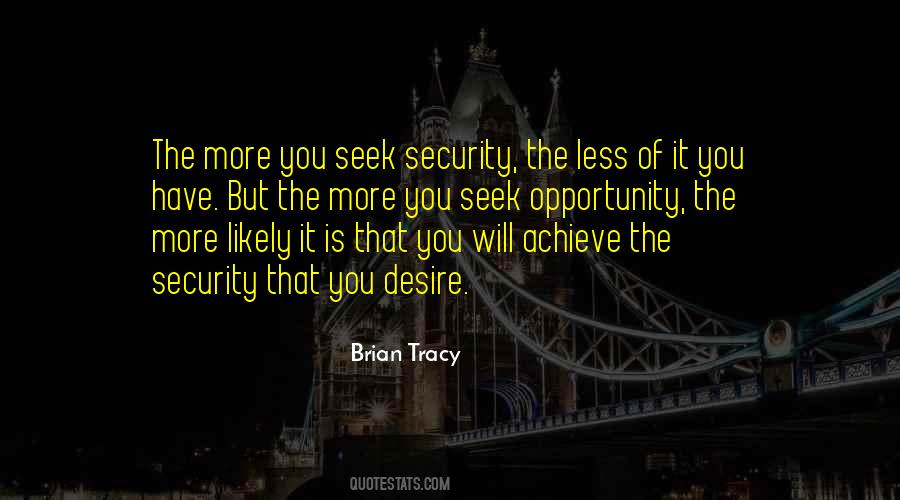 #37. Seek more opportunities to put more love in the world. - Author: Marianne Williamson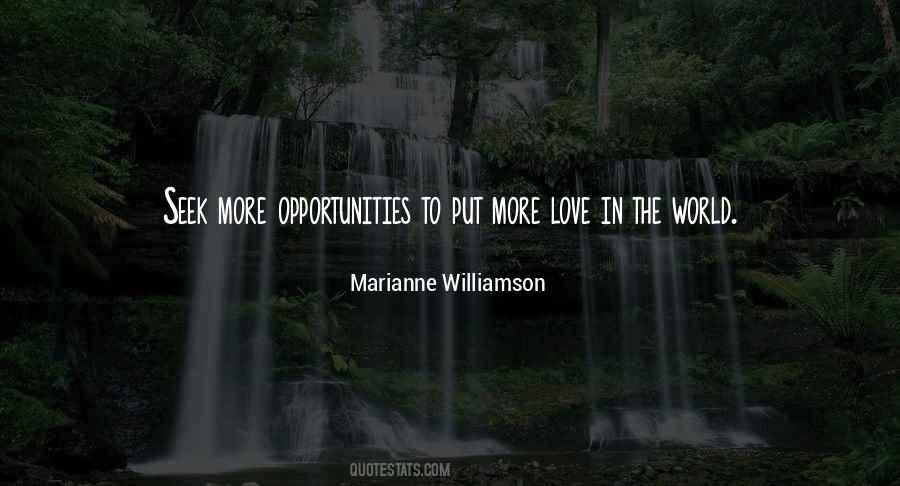 #38. It just means that your talents lie elsewhere, so take the opportunity to seek out what you are good at, and find a place where you can flourish. Once you do, you're going to kill it. - Author: Sophia Amoruso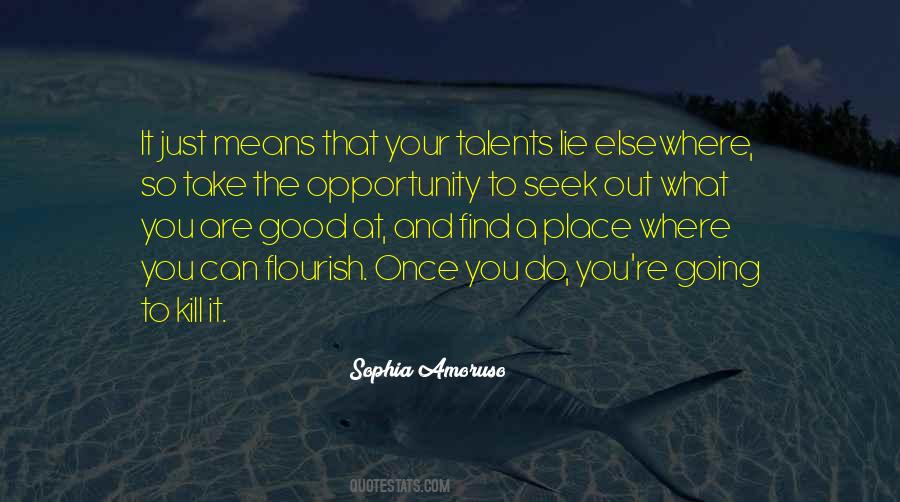 #39. We have now the precious opportunity to find out for ourselves whether the words we have heard and read so often can be taken literally: 'Seek ye first the kingdom of God and His justice, and all these things shall be added until you'. - Author: Maria Von Trapp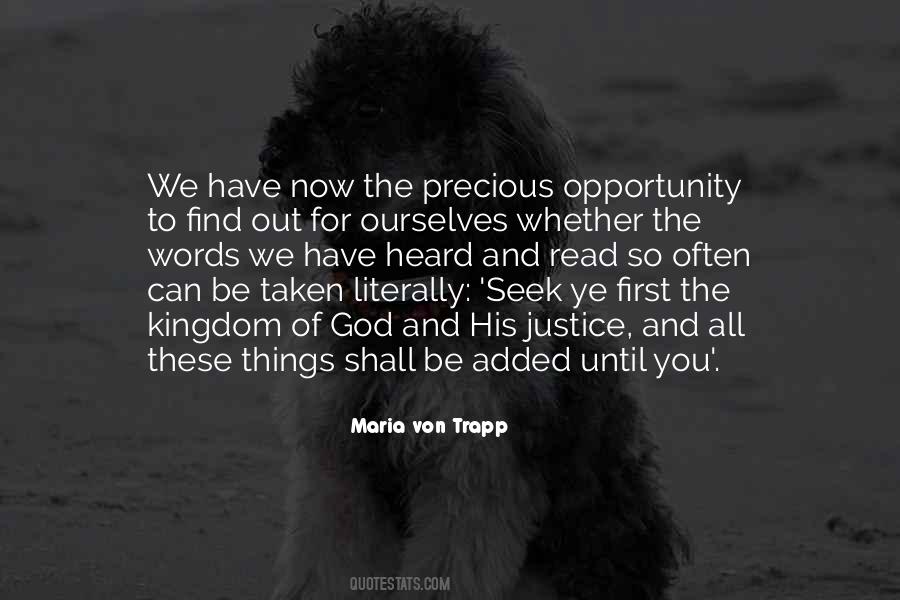 #40. Unleash your potential. Seek the opportunity to make a difference. Success is attainable. You just have to reach out and grab it. - Author: Amaka Imani Nkosazana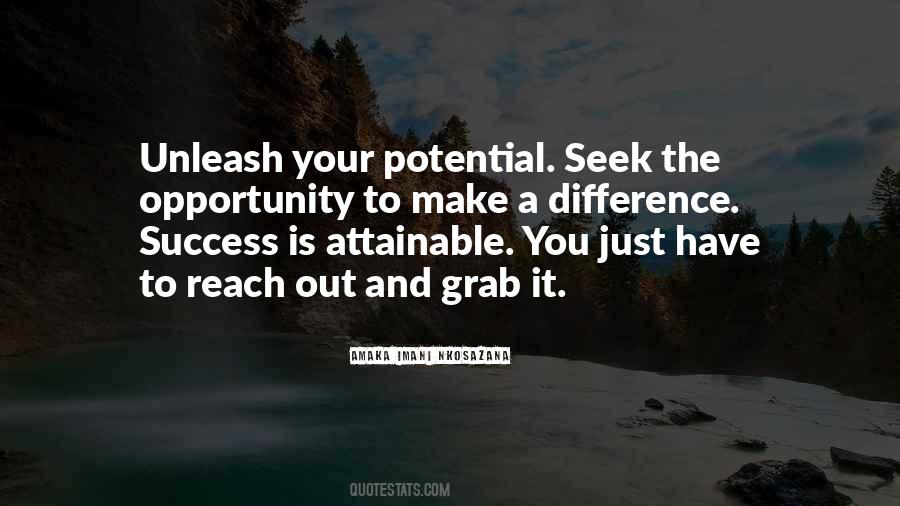 #41. Seek the joy and beauty of life to find the opportunity in life. - Author: Debasish Mridha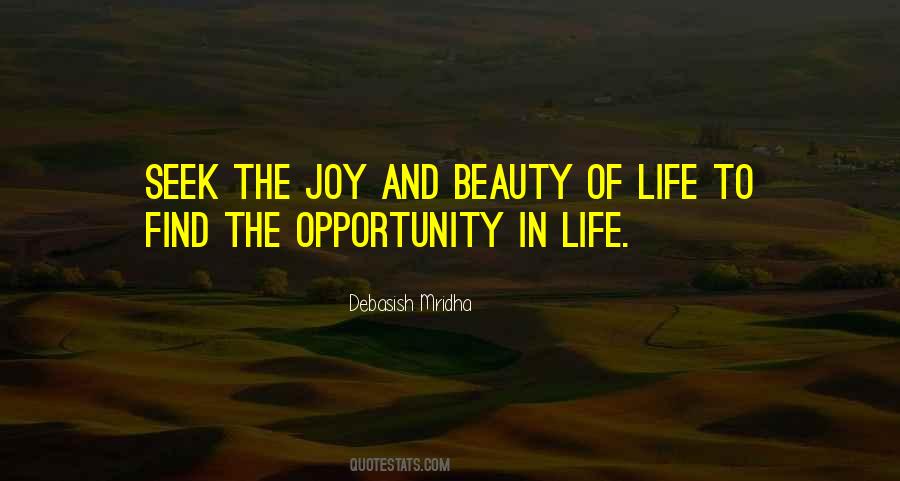 #42. A man who is truthful and does not mean ill even to his adversary will be slow to believe charges even against his foes. He will, however, try to understand the viewpoints of his opponents and will always keep an open mind and seek every opportunity of serving his opponents. - Author: Mahatma Gandhi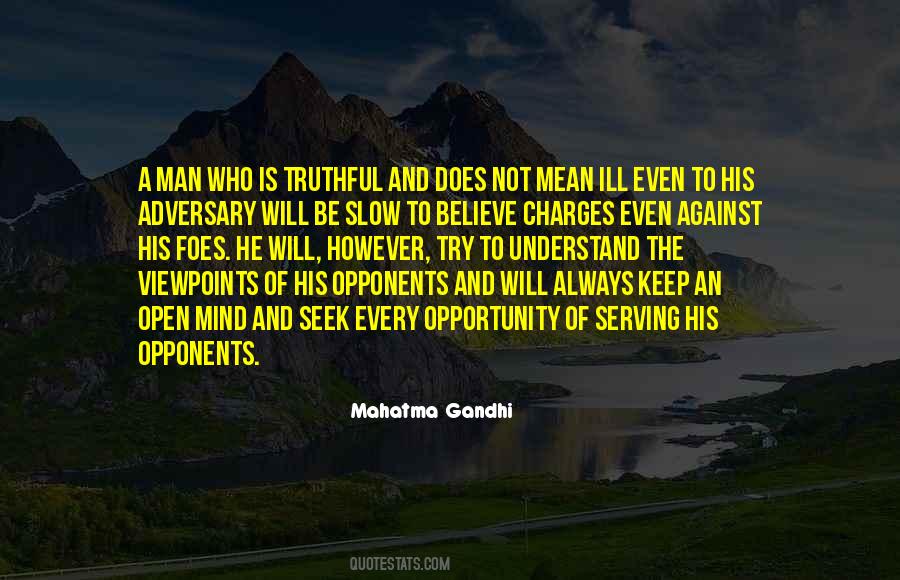 #43. Rancher Bundy should've told the feds that those were Mexican cows - who came across the border illegally to seek better grazing opportunities. It was an act of love. - Author: Todd Starnes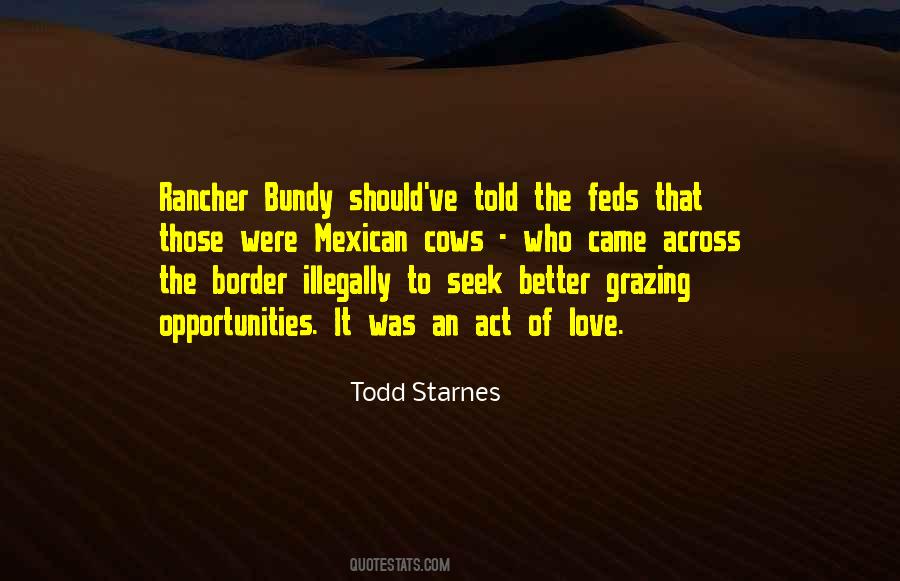 Famous Authors
Popular Topics