Love And Promises Famous Quotes & Sayings
List of top 89 famous quotes and sayings about love and promises to read and share with friends on your Facebook, Twitter, blogs.
Top 89 Sayings About Love And Promises
#1. 'Hell is for Children' is amazing to do every night and 'Promises in the Dark' and 'Love Is a Battlefied,' of course, but my absolute favorite would be 'Heartbreaker.' It's the one that started everything, so it has a very special place in my heart. And it still rocks every night! It's so fun to do. - Author: Pat Benatar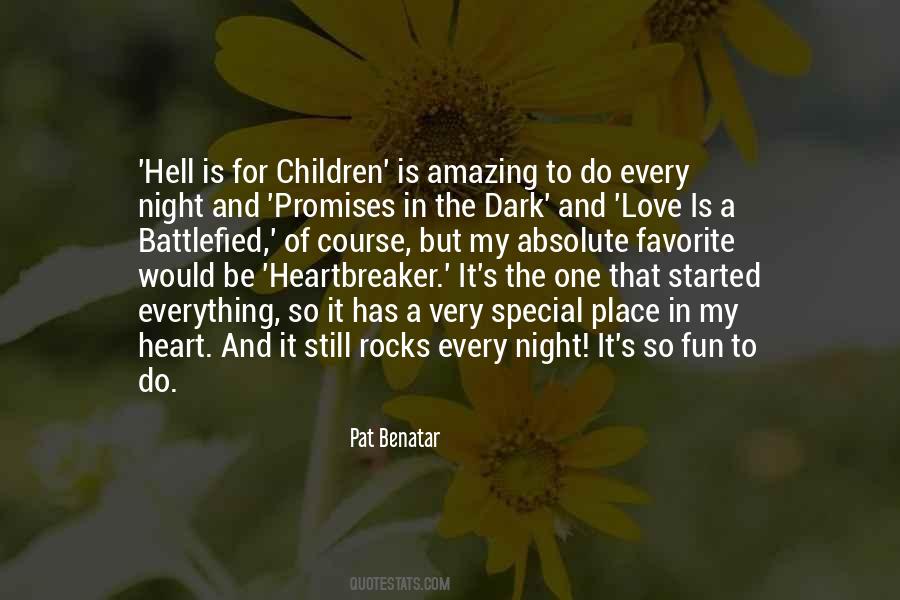 #2. My mascara a mess, harsh words for your princess
Boy, you and your promises
If your goal was to love, you scored an epic miss
Now you'll just have memories - Author: Sian Reynolds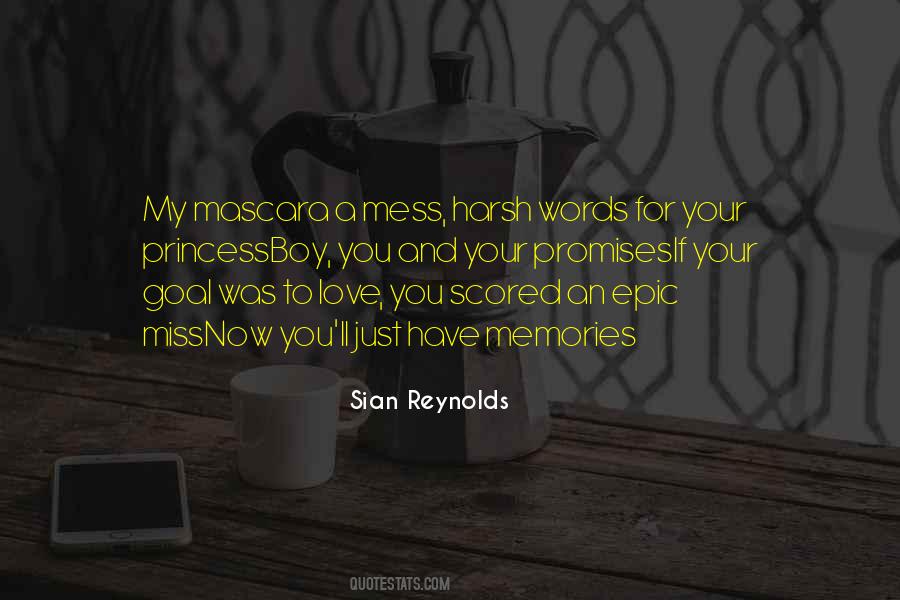 #3. She paused, cleared her throat twice, and I suddenly realized she was crying. If you want to love someone, then go right ahead. I know what love feel like; you didn't invent love. But the Lord Almighty doesn't give out promises just because you love someone. Love only gets you so far. - Author: Wally Lamb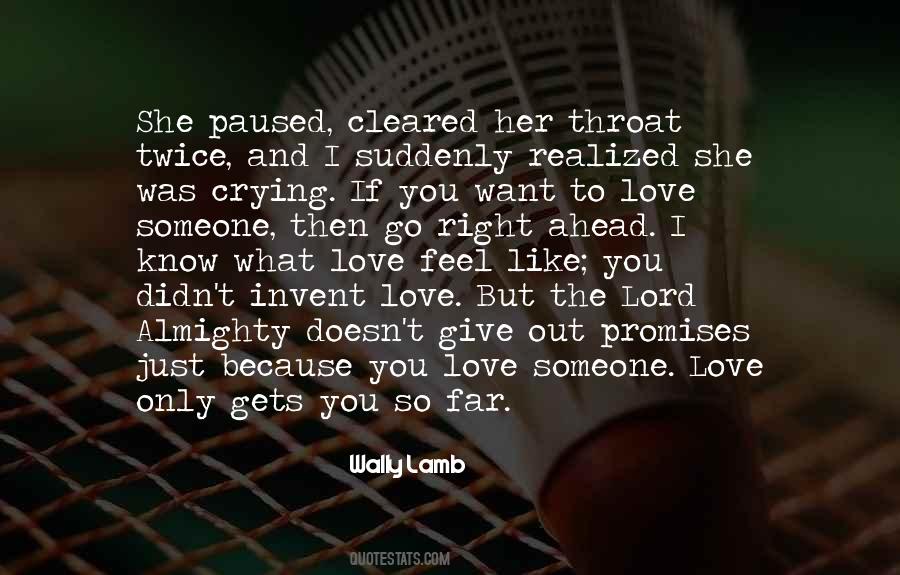 #4. My hope is not in the absence of suffering and comfort returned. My hope is in the presence of the One who promises never to leave or forsake, the One who declares nothing "will be able to separate us from the love of God" (Rom. 8:39). Nothing. - Author: Kara Tippetts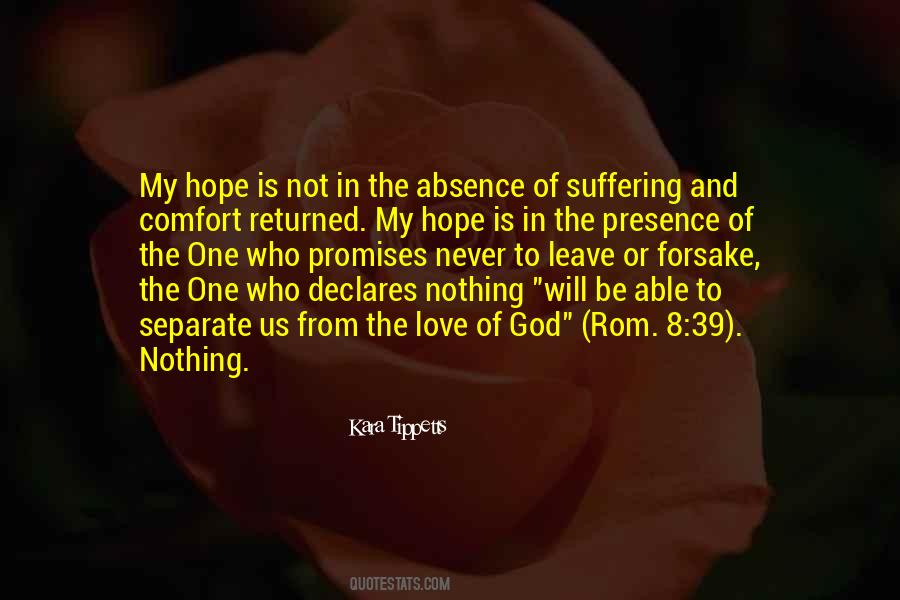 #5. It's like we made promises last night, and you're not sure you can keep them." "Yeah," Carson confessed, his lips brushing Dale's chest. Dale pulled him tight against his chest and dropped a kiss on his hair. "Don't be scared, baby. We'll find a way. I'm not a fan of letting go. - Author: Amy Lane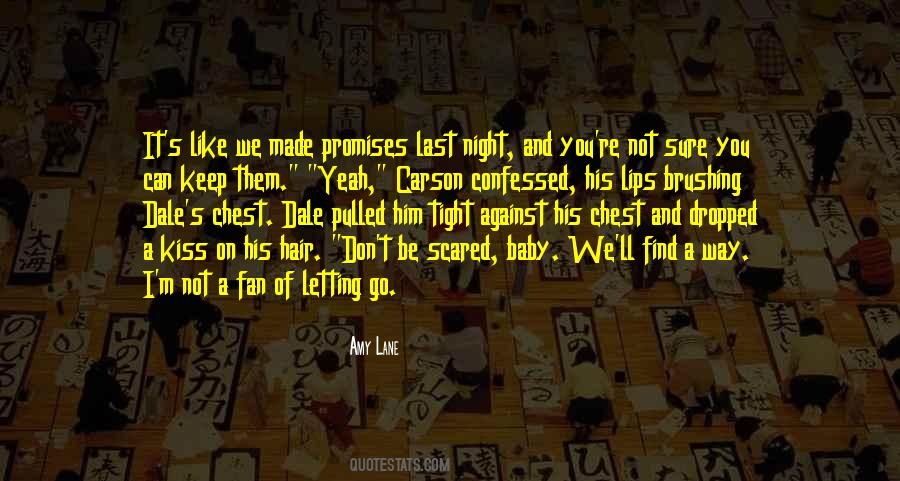 #6. I love him who scatters golden words in advance of his deeds, and always does more than he promises: for he seeks his own down-going. - Author: Friedrich Nietzsche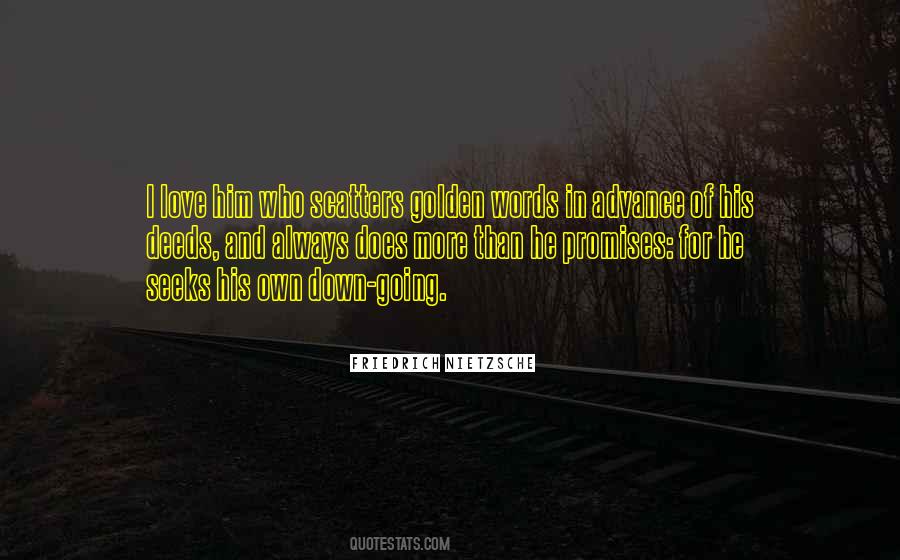 #7. All I want to do is, help you rebuild yourself.
Restructure your devastated heart. For I
know, it's impossible to build the exact same
shrine once destroyed in a place but at least
you can make a garden of bliss over a
wreckage - Author: Sameer Khan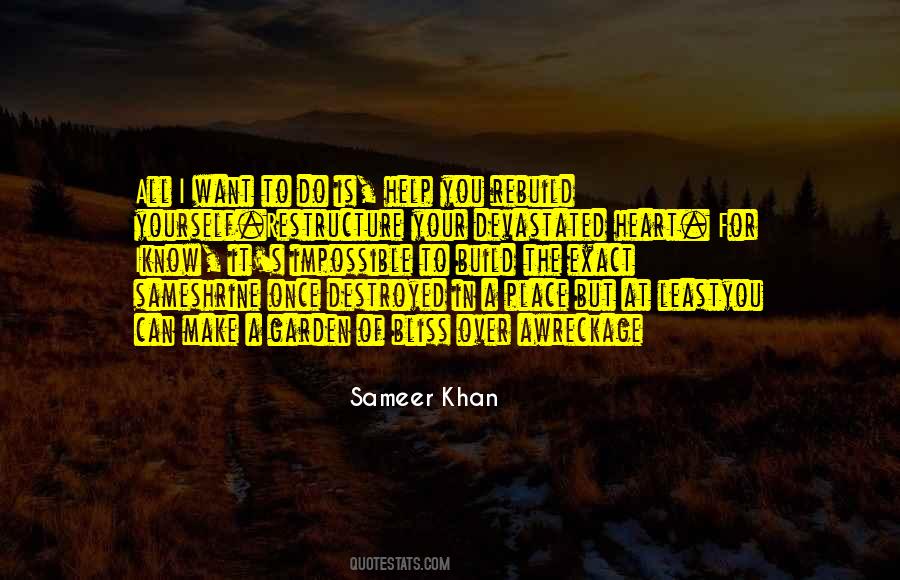 #8. God promises to open the door when we knock, and to always welcome us back into his love, no matter how far we have strayed. - Author: Mary C. Neal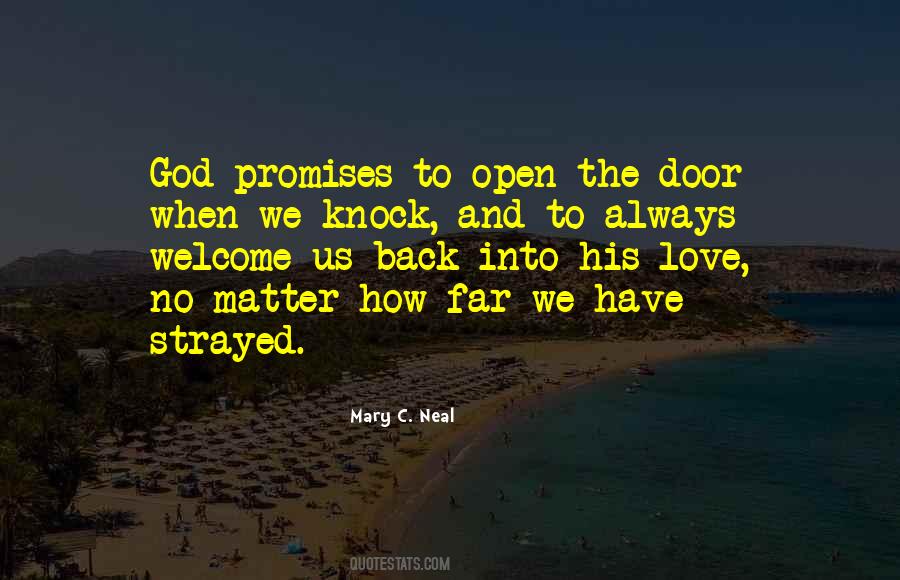 #9. I lie in the dirt and pretend his words about my love don't hurt, but they slice me like the ice cold winds of winter. It takes all of the power I have left to lie there quietly and not remind him of the promises he has not kept. - Author: Inger Iversen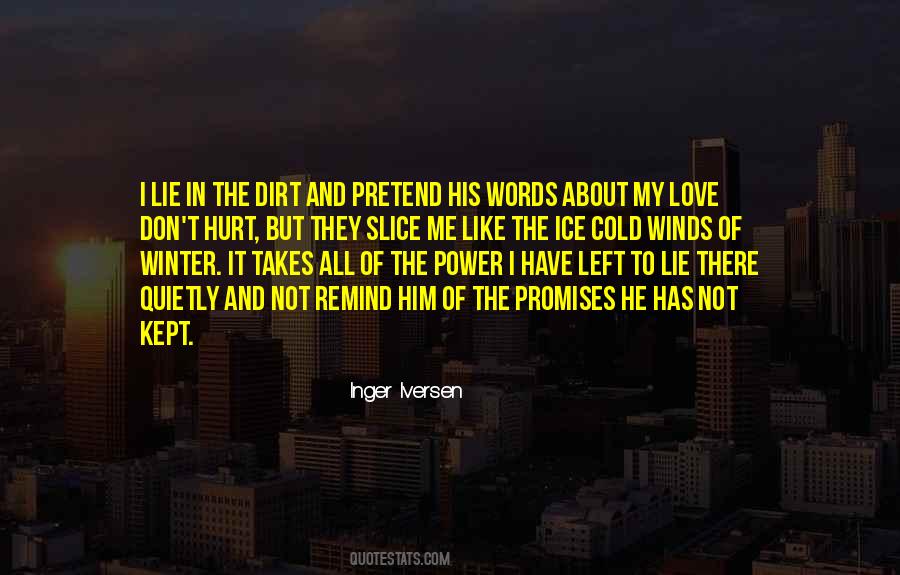 #10. When you adapt to someone, they become a part of your routine, a part of you. And when they're taken away, you feel a bit lost. No matter how much you think it won't affect your life, it does. - Author: E.L. Montes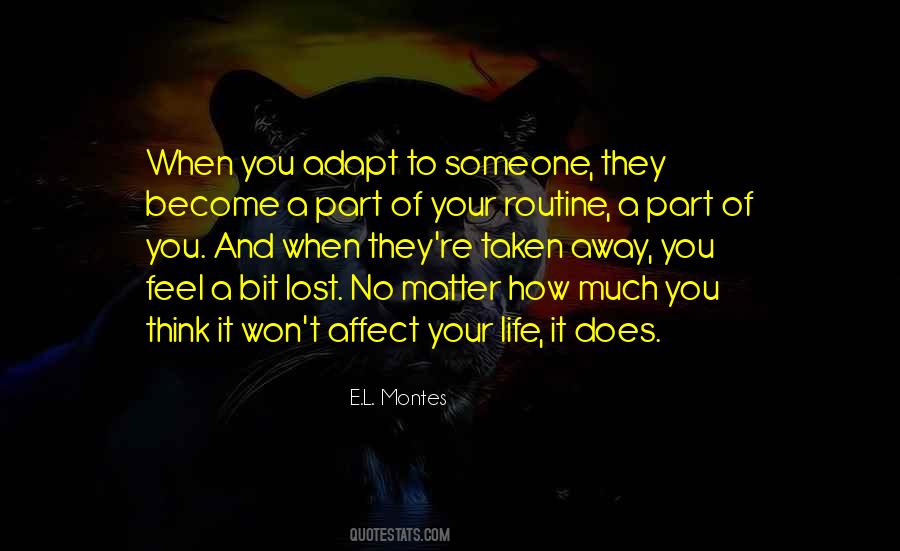 #11. I choose faithfulness ... Today I will keep my promises. My debtors will not regret their trust. My associates will not question my word. My wife will not question my love. And my children will never fear that they father will not come home. - Author: Max Lucado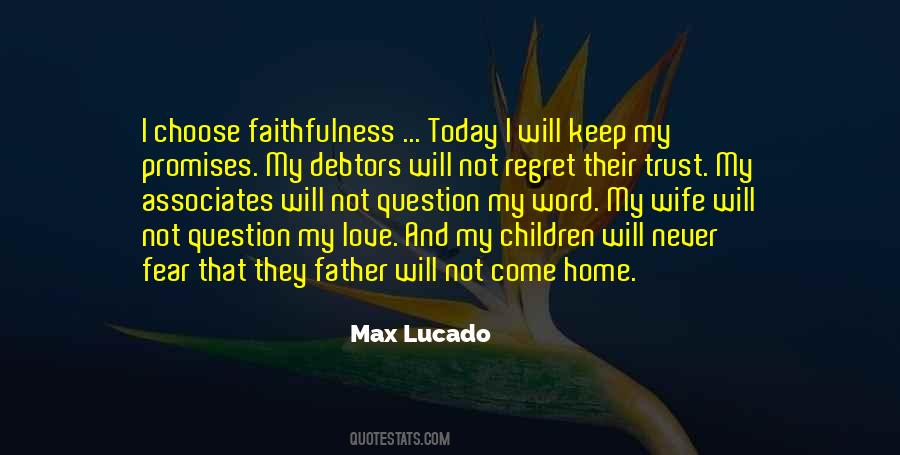 #12. I praise your name for your unfailing love and faithfulness; for your promises are backed by all the honor of your name. PSALM 138:2 - Author: Chris Hodges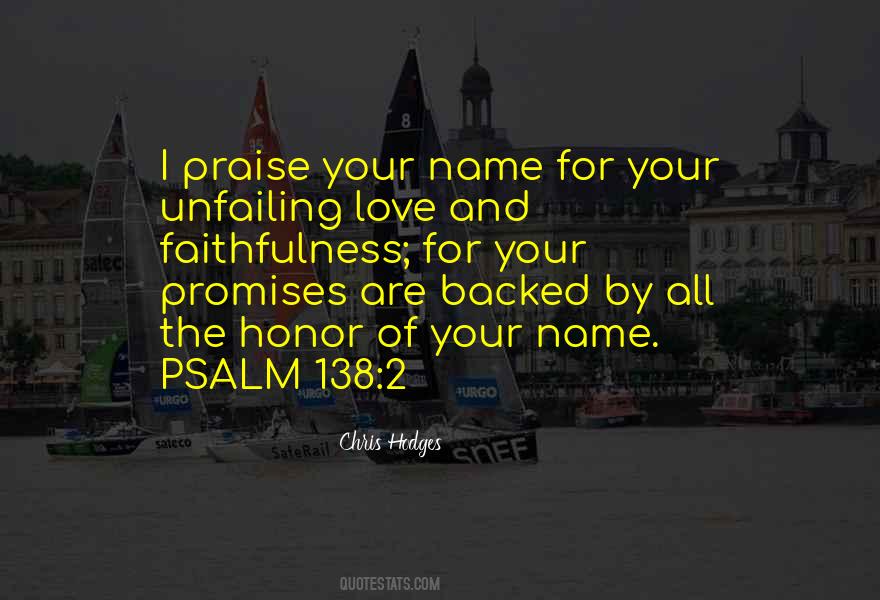 #13. We kissed and murmured impossible promises. - Author: Petra March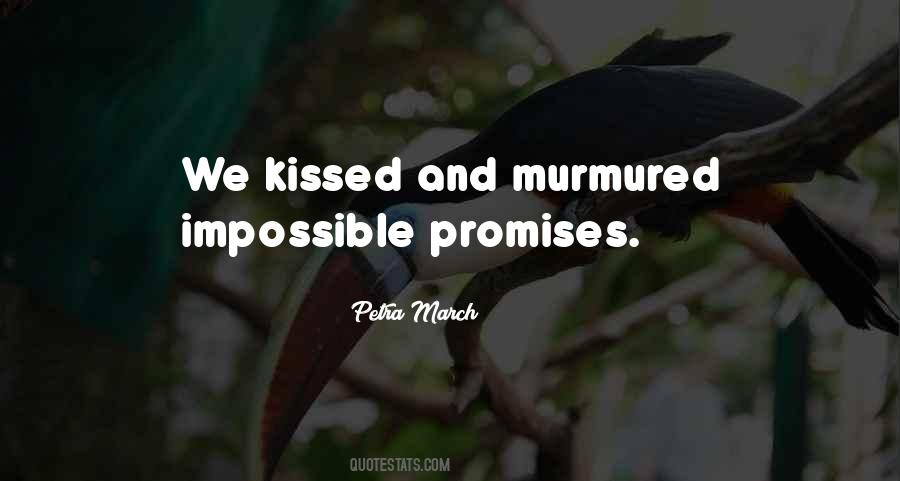 #14. But all fairytales have rules, and perhaps it's their rules that actually distinguish one fairytale from the other. These rules never need to be understood. They only need to be followed. If not, what they promise won't come true. - Author: Jostein Gaarder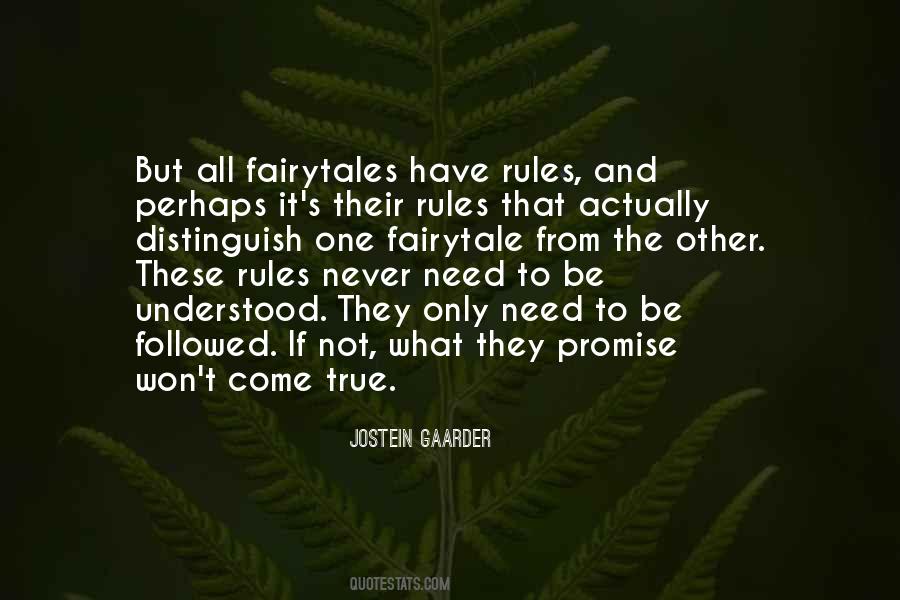 #15. God cannot change. He cannot be anything other than who He is. Out of His love and His promises, you were selected as His treasure. God's faithfulness has been the bedrock of His dealings with humanity throughout time. - Author: Graham Cooke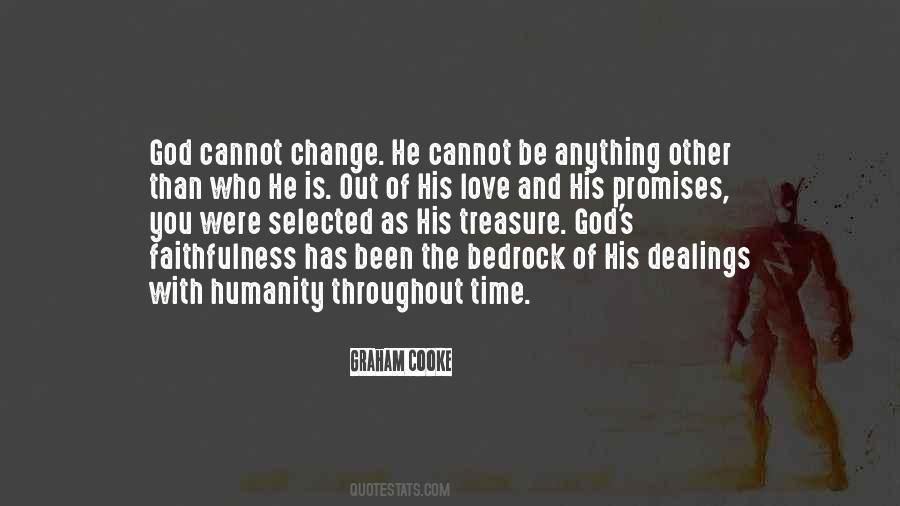 #16. I feel keeping a promise to yourself is a direct reflection of the love you have for yourself. I used to make promises to myself and find them easy to break. Today, I love myself enough to not only make a promise to myself, but I love myself enough to keep that promise - Author: Steve Maraboli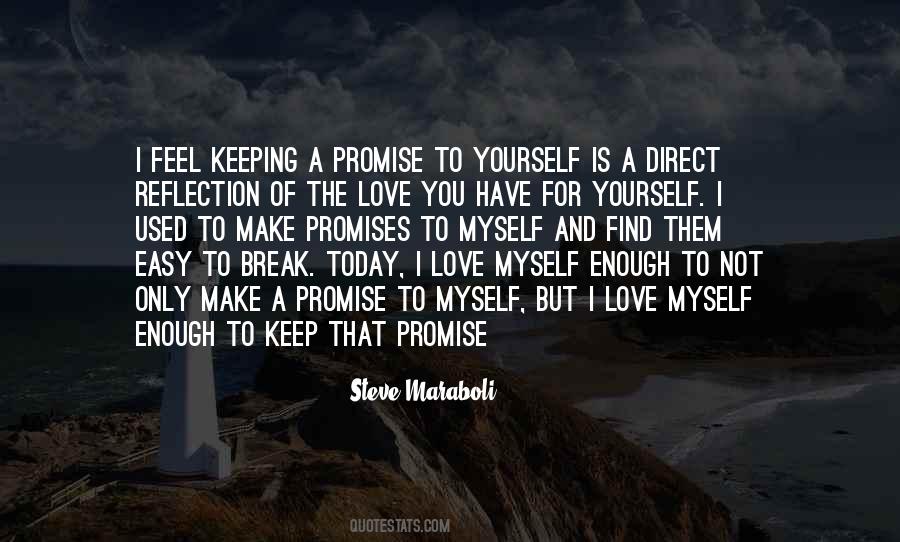 #17. Love is strengthened by distance. Dreams have weight and velocity. They are signals, promises. They have a destination. One night we will know no doubts, feel no foreign forces, and our particles will come to rest. - Author: Sean Michaels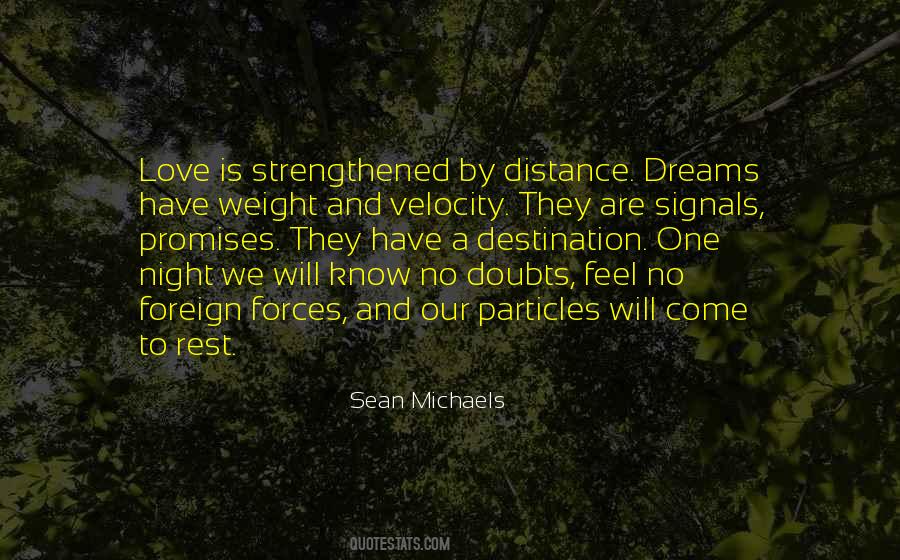 #18. When expectations delay for too long, doubt draw nearer in haste and patience goes farther - Author: Ernest Agyemang Yeboah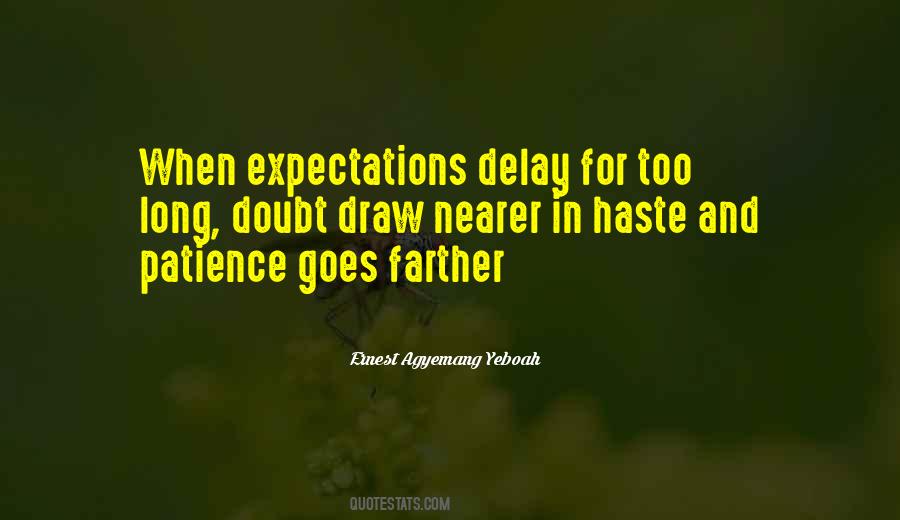 #19. Of all treasures of knowledge, the most vital is the knowledge of God, his existence, powers, love, and promises. - Author: Spencer W. Kimball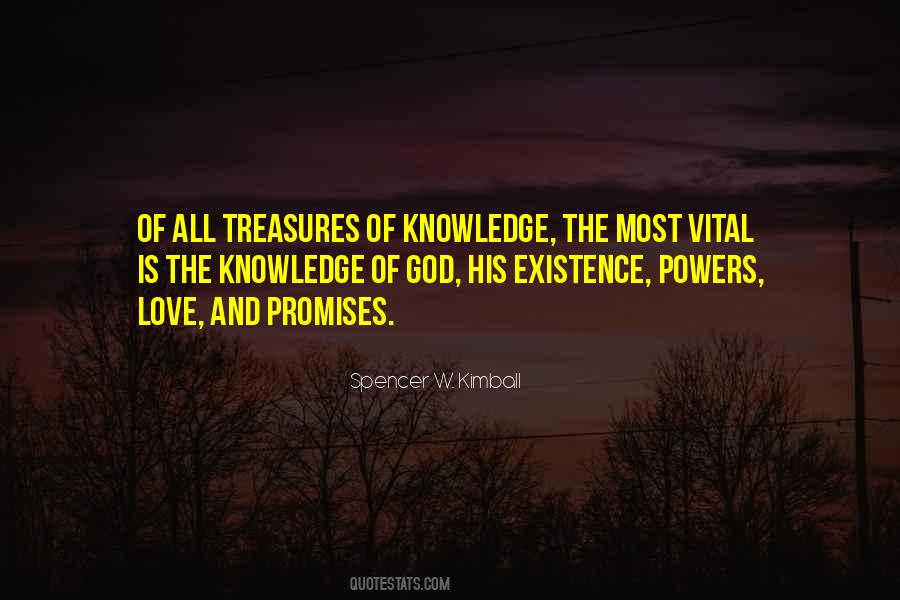 #20. This Bible of Mine? It is the breath of God spoken into my weary bones. It is the armor I need to walk the roads He has chosen for me, and it's the confirmation of promises that withstand the test of hours and adversity.
It's a love letter, and it has my name on it.
It has your name on it. - Author: Angie Smith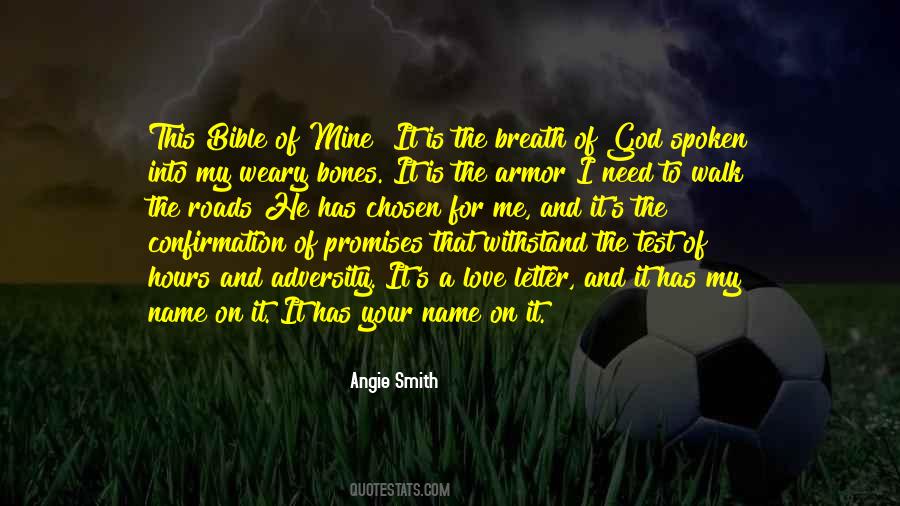 #21. God, I thank you for my family. I thank you that my parents life for me. I pray for your blessings and that your promises will manifest and bring harvest to my bloodline today. I pray that your love will surround my family members for the rest of their days. Amen. - Author: M. Johnson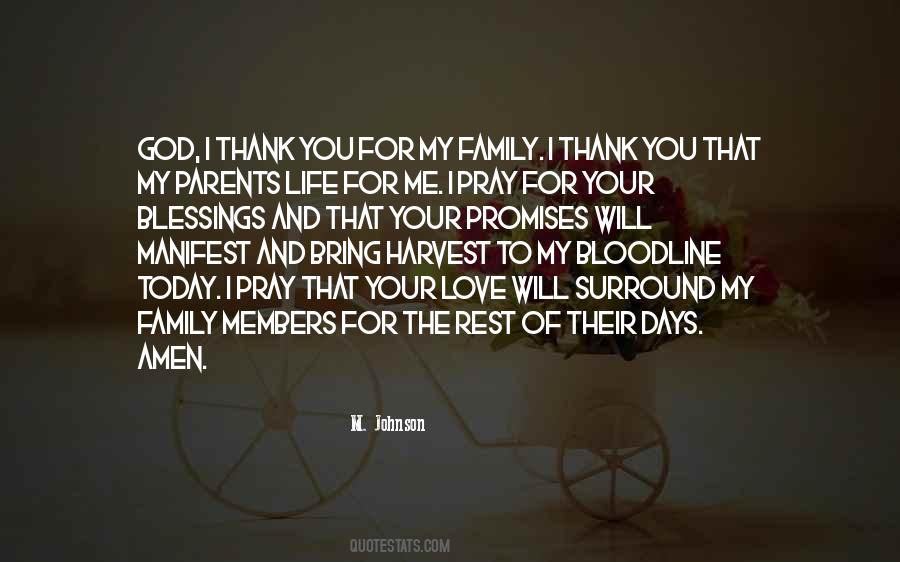 #22. Lisa Marie Rice thrilled fans and new readers alike when she returned to the world of her popular Midnight Series with Midnight Vengeance and Midnight Promises. This June, in Midnight Secrets, we get to fall in love with her cracktastic and sexy romantic suspense series all over again. - Author: Lisa Marie Rice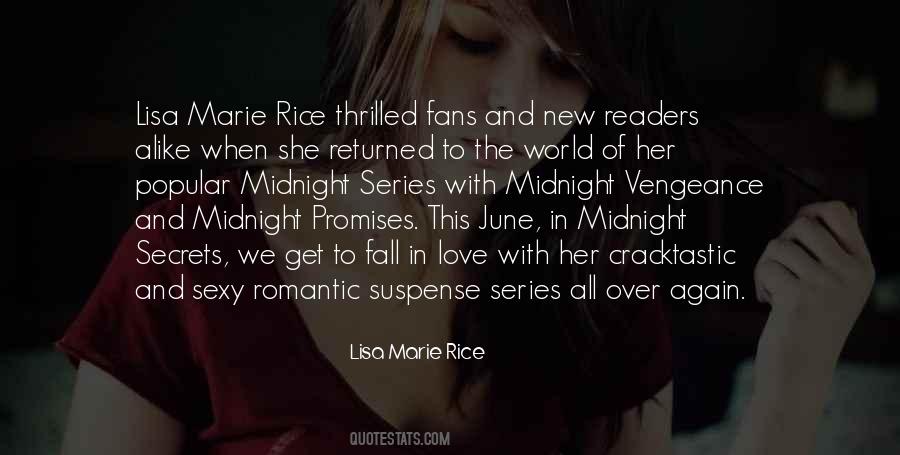 #23. We often promise our friend to hold there hand in time of need and crisis but maximum fails to keep it. Who don't fail is your true friend. Learn to keep the promise. Friendship is ever thing. - Author: Debolina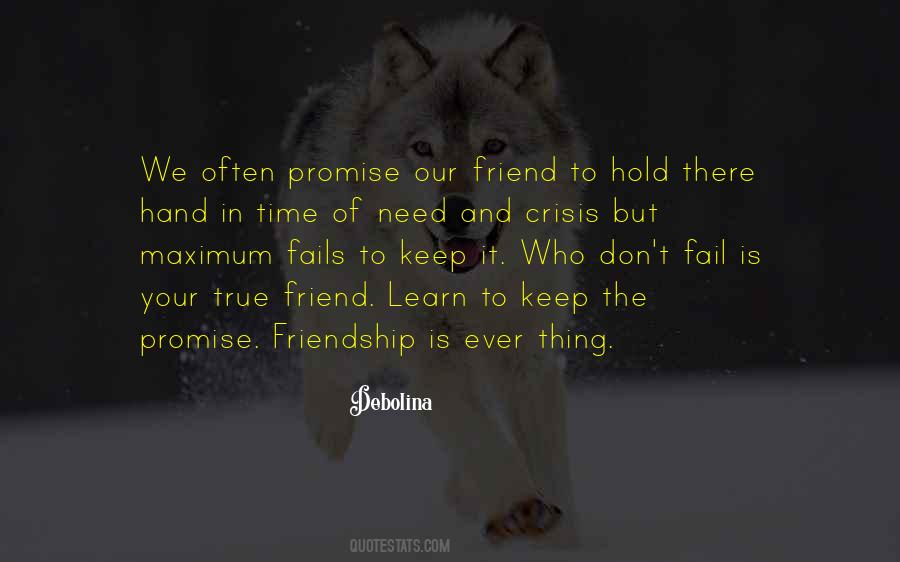 #24. Yes. I love you. I should have told you sooner, Lina. Not that I deserve to have your love after what I did to you. I wasn't there for you when you needed me. And I promised you I wouldn't let you down again. I'm not a guy who goes back on his promises. Can you ever forgive me for that? - Author: Jaci Burton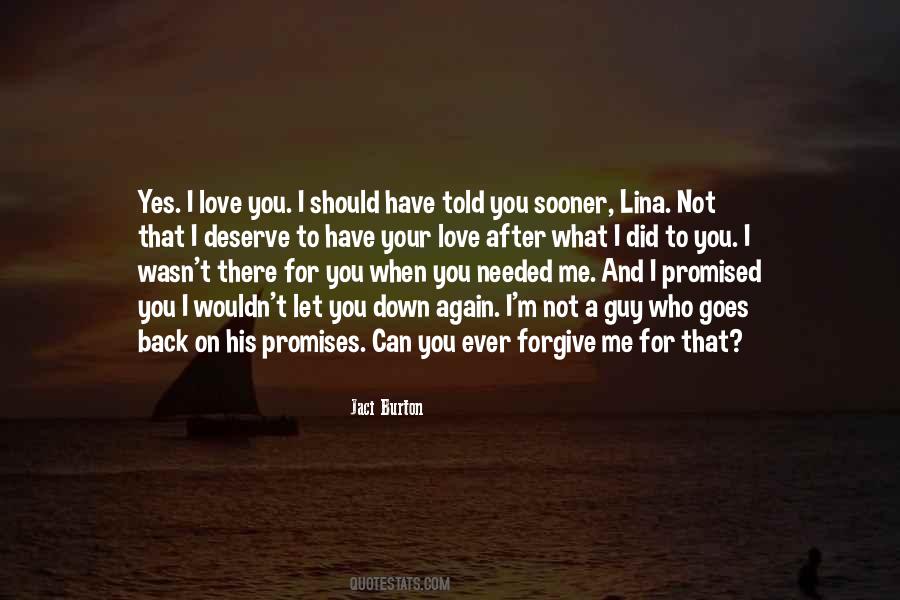 #25. We splinter into a thousand pieces in her kitchen, becoming more together than we were apart. More than we were alone. With whispered promises and words of love, we exchange hearts. - Author: Kennedy Ryan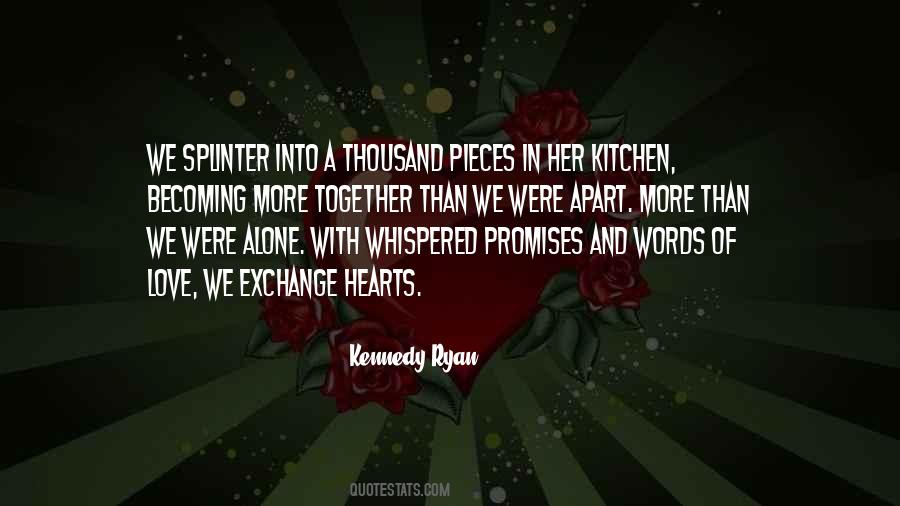 #26. And truths, these days, are spoken
The same way promises are made,
With gritted teeth and crossed fingers. - Author: Sanhita Baruah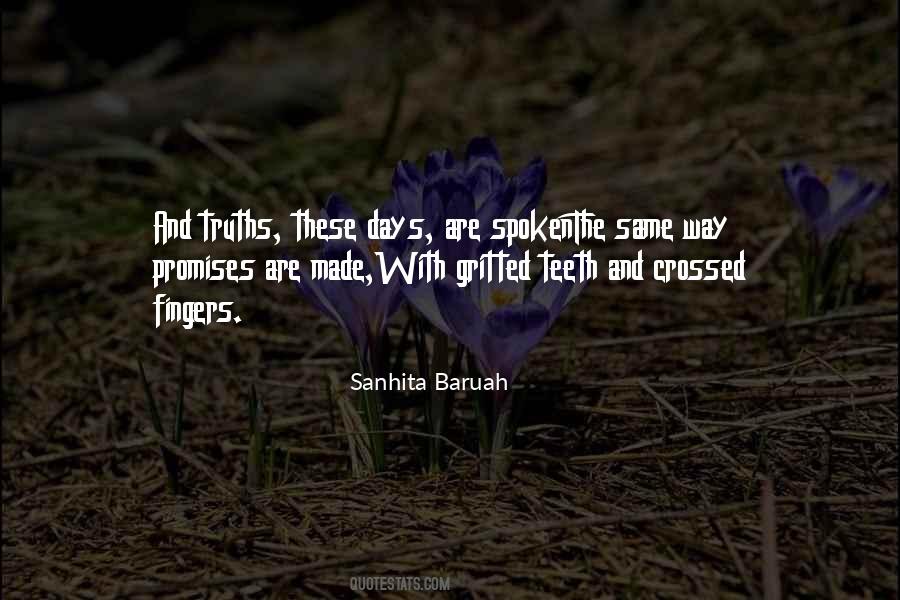 #27. You can make a thousand promises to yourself that you'll take that same fantastic love and give it to someone else, but the moment you see that person with someone else, it's like a gut full of razorblades. It never gets easier. And it shouldn't, really. - Author: Corey Taylor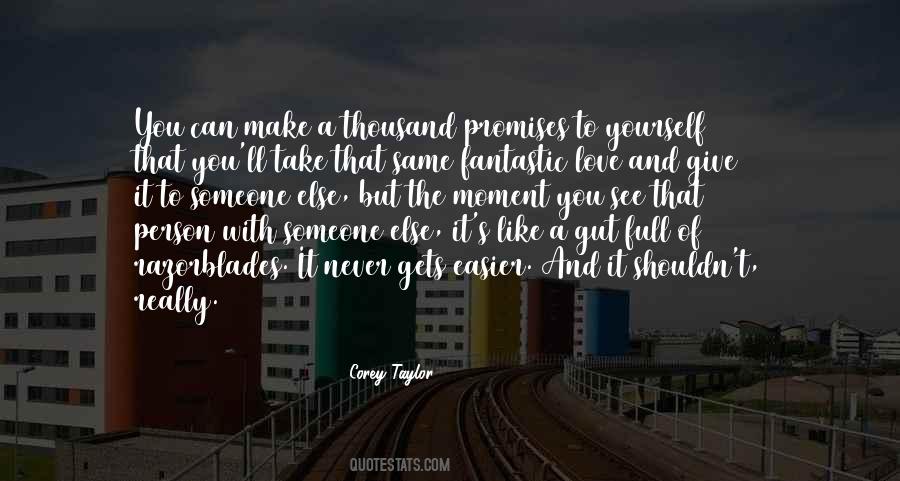 #28. I also wanted you to realize that even though the pain will always be there, I'm living proof you can get past this. Right now I know it feels impossible, but one day you'll look back and see how far you've come. - Author: E.L. Montes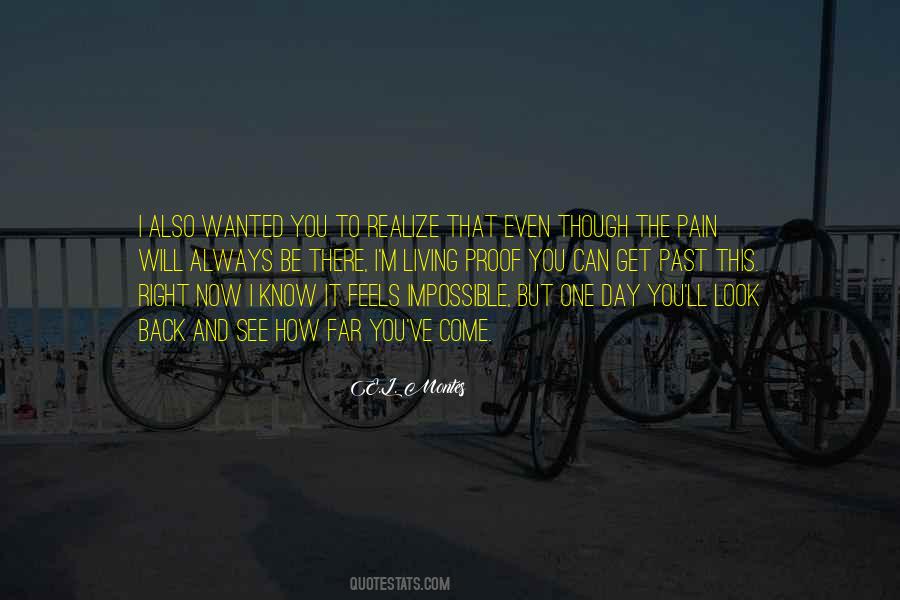 #29. But the question to precede all others, which finally determines the course of our lives is What do I really want? Was it to love what God commands, in the words of the collect, and to desire what He promises? Did I want what I wanted, or did I want what He wanted, no matter what it might cost? - Author: Elisabeth Elliot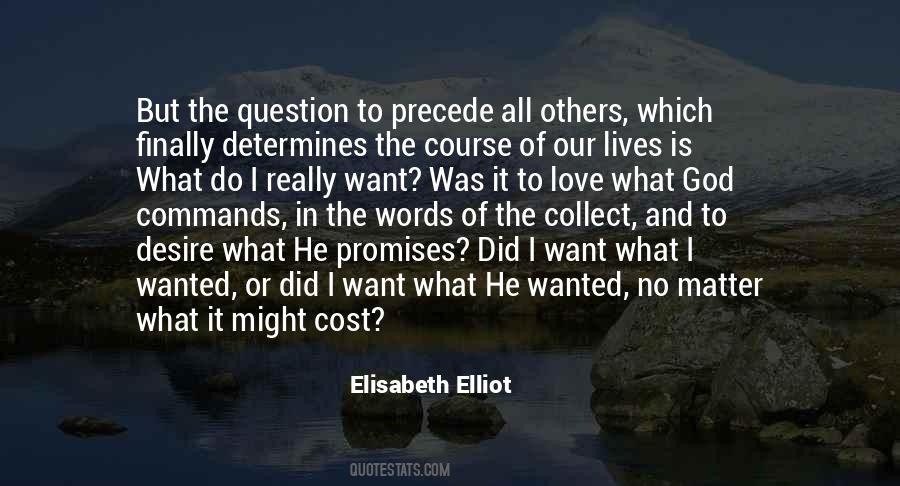 #30. He does not exist here, with me, but flesh that does not exist will never die, and promises unmade are never broken. - Author: Haruki Murakami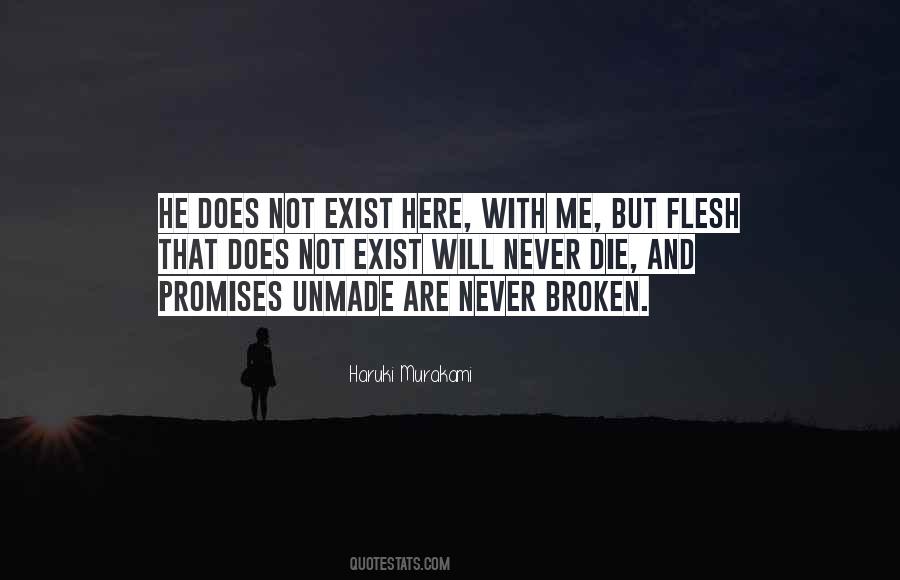 #31. I promise to stand by you, to hold you up when you're about to fall, and to always keep you safe. I never believed there was a girl out there for me. Until I met you. You changed everything. And I never want to live without you. I love you more than I ever thought possible. - Author: J. Sterling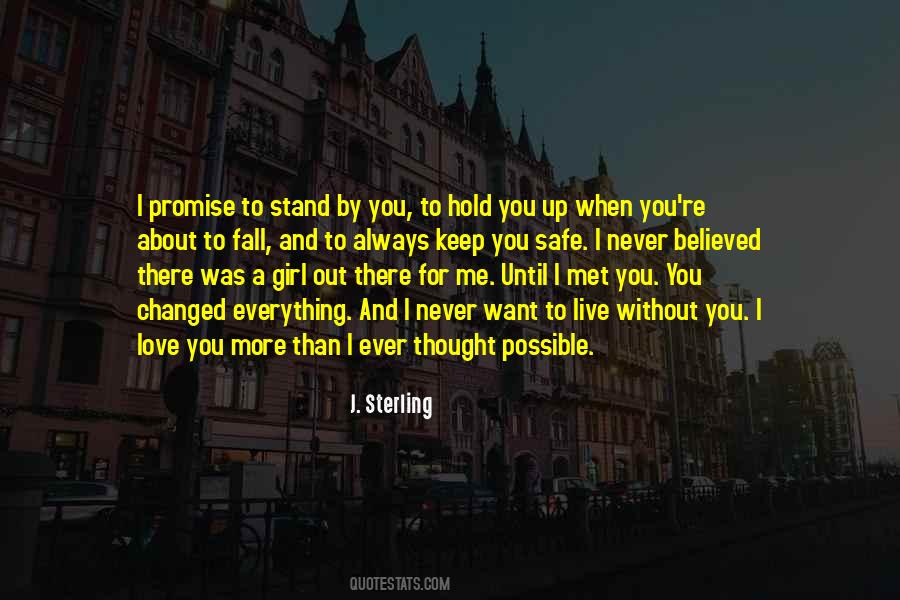 #32. Of all the rash and midnight promises made in the name of love, none, Boone now knew, was more certain to be broken than I'll never leave you. - Author: Clive Barker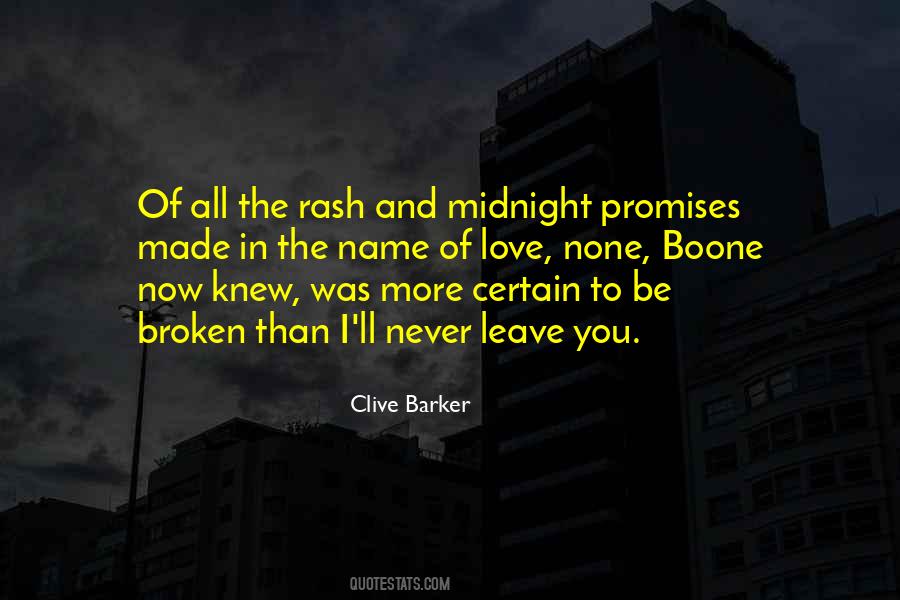 #33. For a woman, love is the highest dream, and if a man promises to build a ladder tall enough to reach it, she believes him, hikes up her skirt, and follows him to the stars. Now - Author: Adriana Trigiani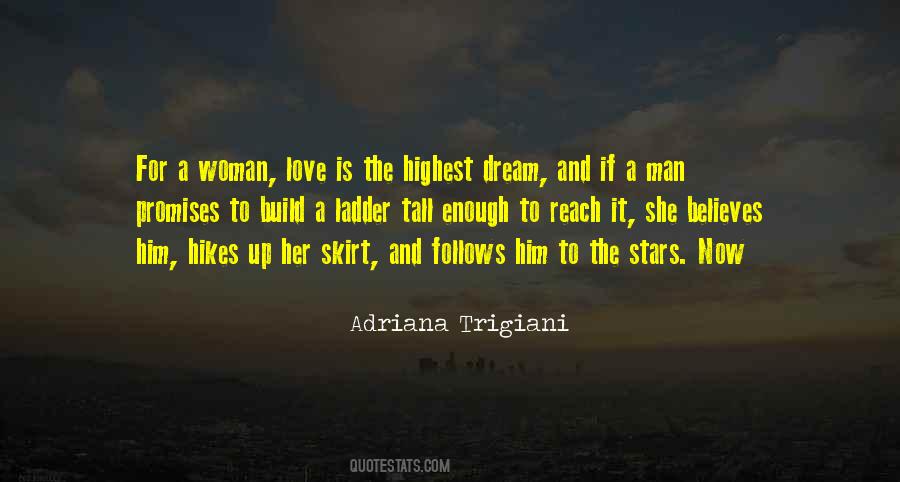 #34. Beirut is the Elizabeth Taylor of cities: insane, beautiful, falling apart, aging, and forever drama laden.She'll also marry any infatuated suitor who promises to make her life more comfortable, no matter how inappropriate he is. (p.88) - Author: Rabih Alameddine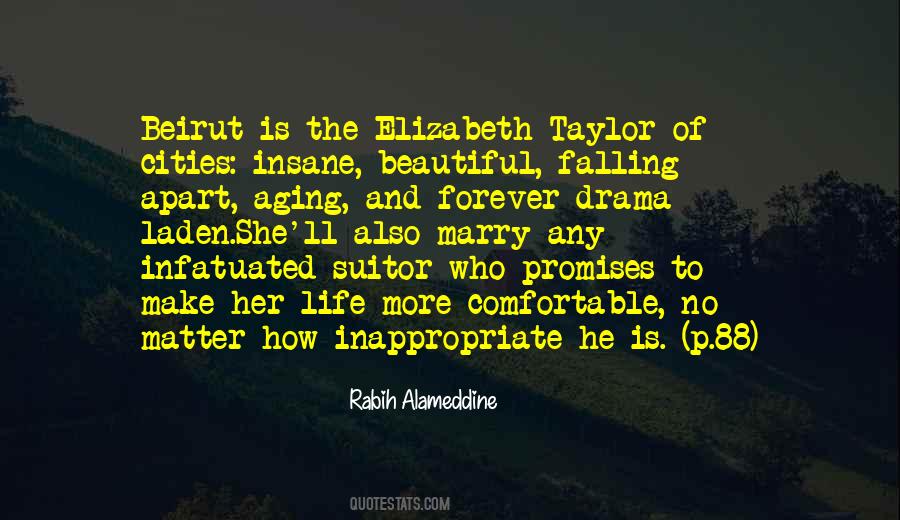 #35. God is a supreme being.
God is a great God of wonders.
God is love and life
God is faithful to His promises.
God is all powerful and mighty. - Author: Lailah Gifty Akita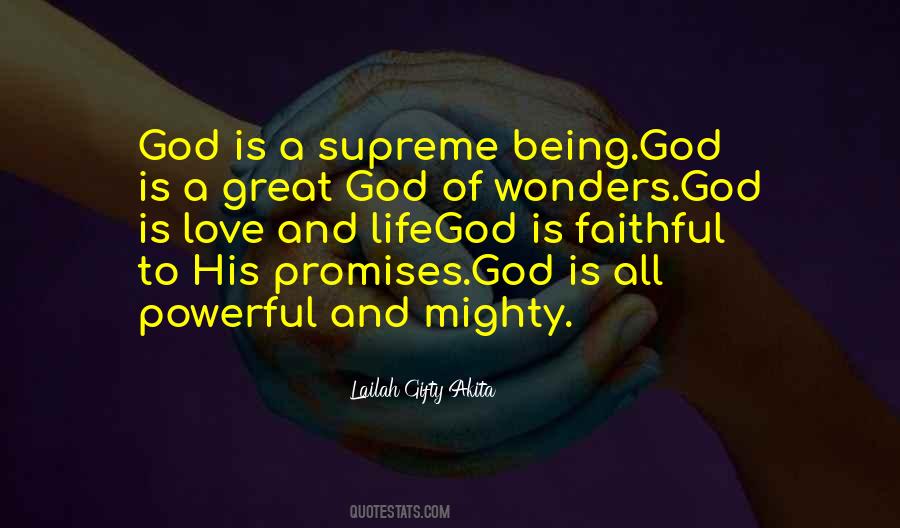 #36. I'm a realist," I said. "Lying and making promises about forever is almost as bad as one day at a time. - Author: Nicole Williams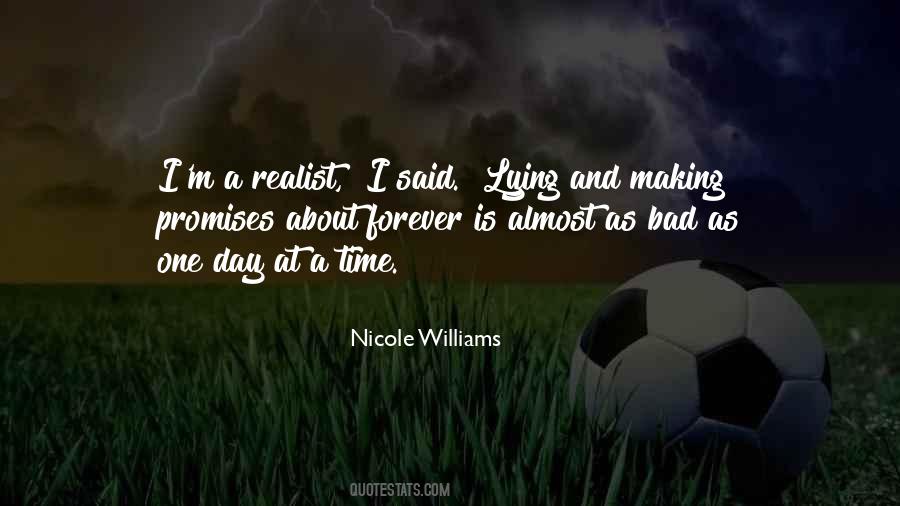 #37. Now's the time for sweet good-bye To what could never be, To promises we ne'er could keep, To a magic you and me. If we should try to prove our love, Our love would be in danger. Let's put our love beyond all harm. Good-bye - sweet, gentle stranger. - Author: Kurt Vonnegut Jr.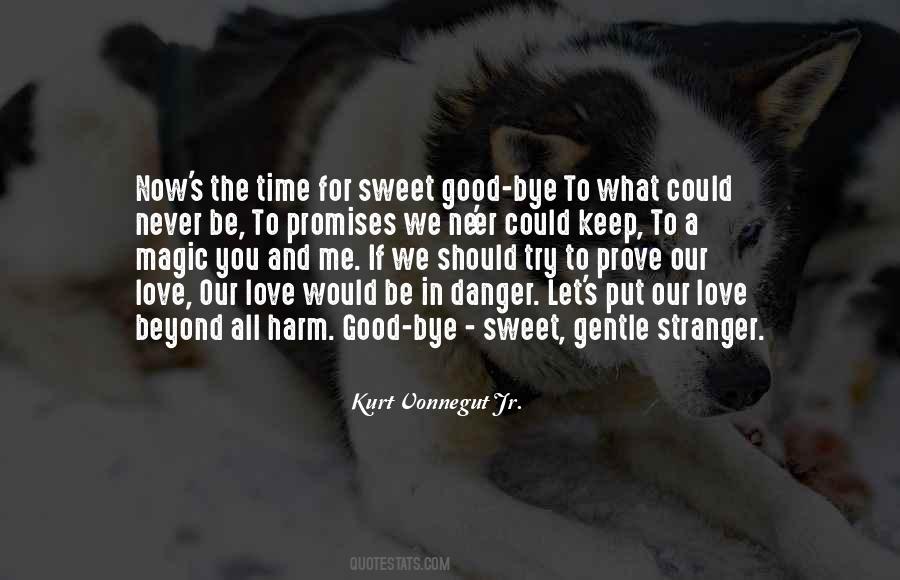 #38. One of my professors in college used to say As the wise man said, Do or do not, there is no try, but the advice columns generally say the opposite. If someone promises to try, and you're happy with that, don't push. It can backfire. You can get yourself in a lot of trouble asking for too much. - Author: Jael McHenry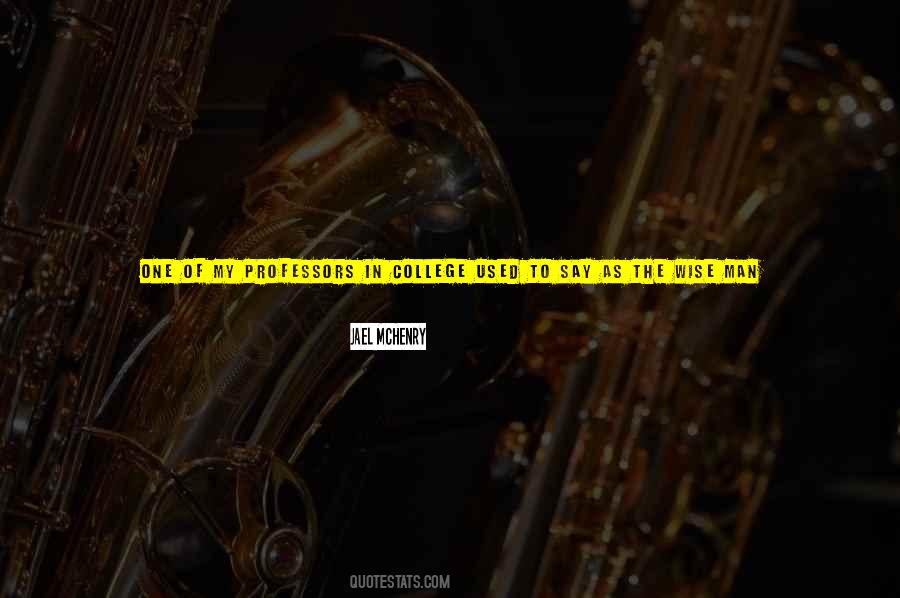 #39. Unlike the made and broken promises of love, the transactions of employment were absolute. "Love's - Author: Suanne Laqueur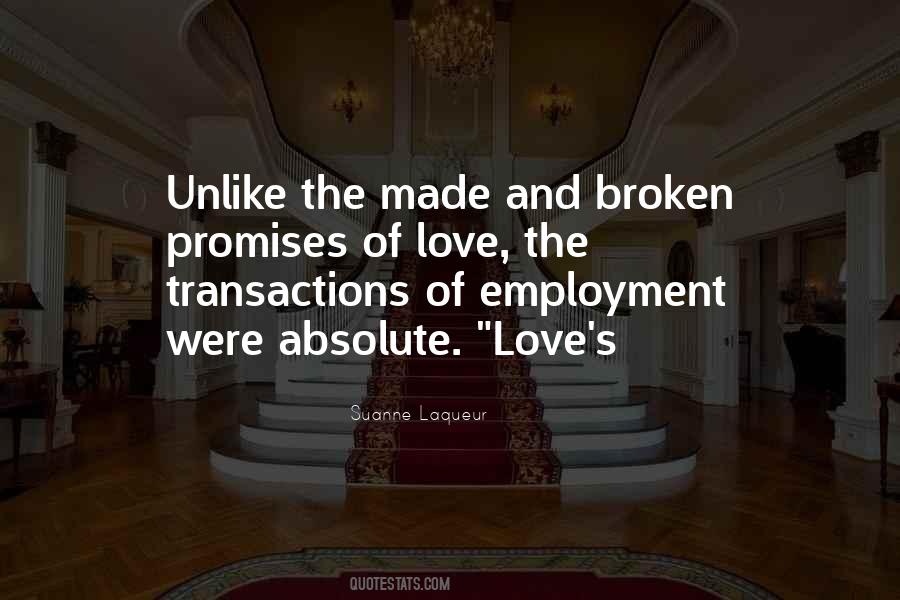 #40. Sex contained all sorts of promises - I love you, I will see you again, I will not hurt you. It bonded people. It took down defenses. It made humans do unwise things with their hearts and their money. - Author: Maggie LaCroix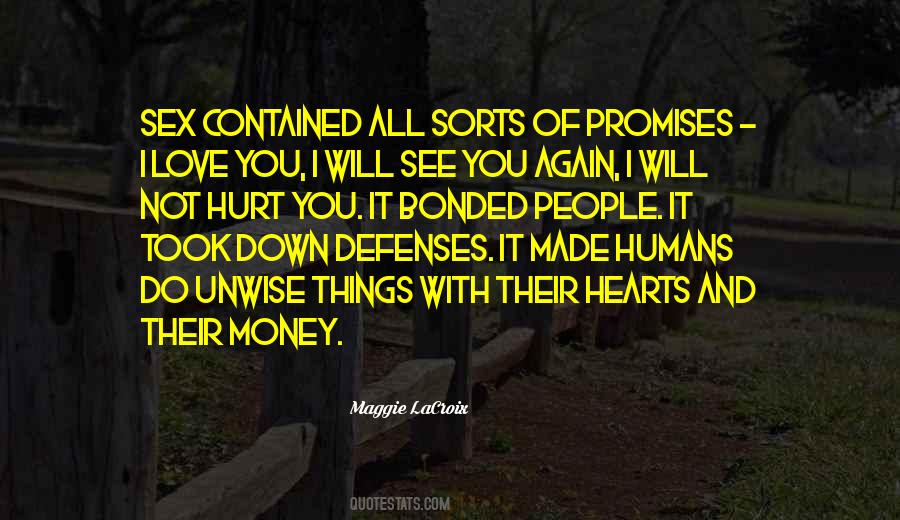 #41. House payments, kids, career, and the rinse and repeat of life moved in where love and promises had moved out. - Author: Kathryn Perez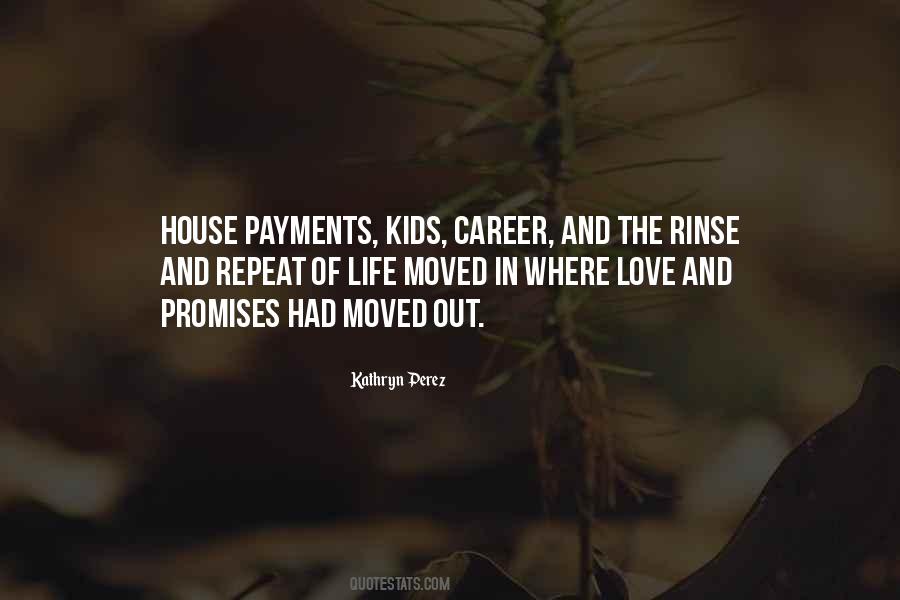 #42. I am here not to let you fall alone, suffocate alone, quit life easy. I'll fight the fate for you and with you. - Author: Parul Wadhwa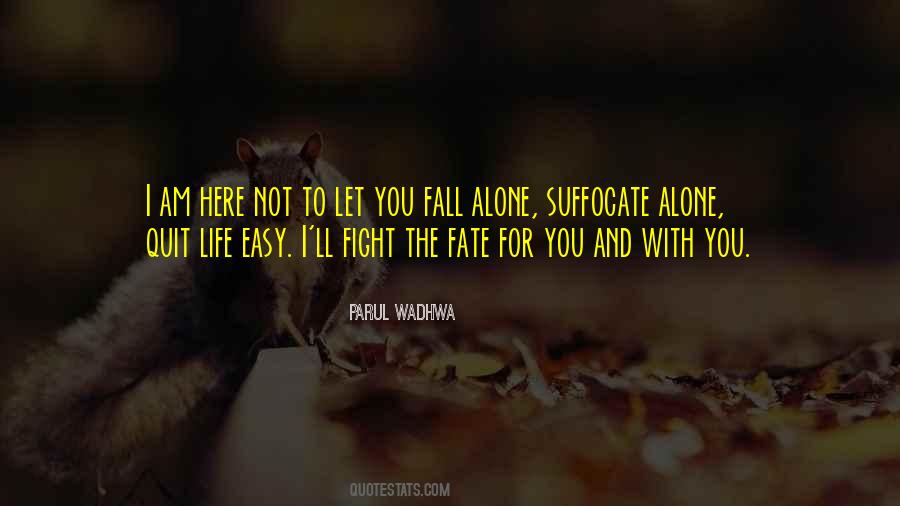 #43. A year ago, you fell into my arms and I felt some crazy connection to you. I'm sure as hell not good enough for you, and I'm sure as hell not making any promises, but I'm damn sure you were worth waiting for. - Author: Victoria James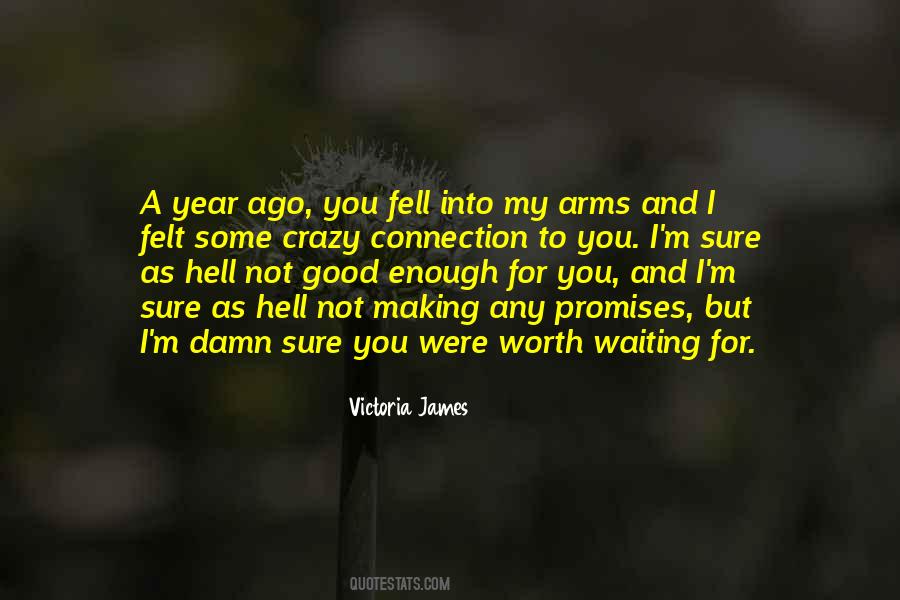 #44. They're promise rings," he whispered. Picking up the woman's, he lifted my right hand. Sliding it on my finger, he softly said, "You wear one," he slipped the man's on the ring finger of his right hand, "and I wear one. - Author: S.C. Stephens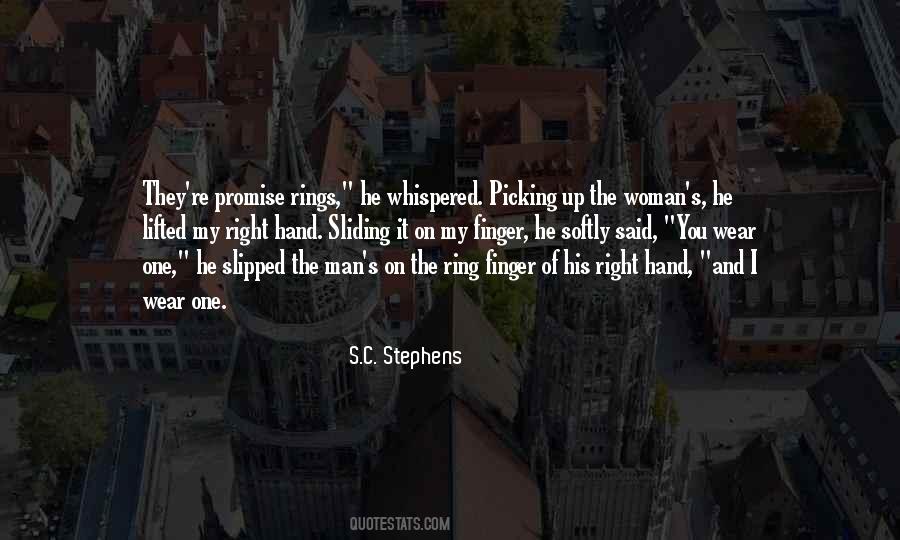 #45. Love's language is hyperbole, but whispered,
sibilant similes and promises sotto voce.
It's easy to imagine you've misheard, - Author: Richard Hoffman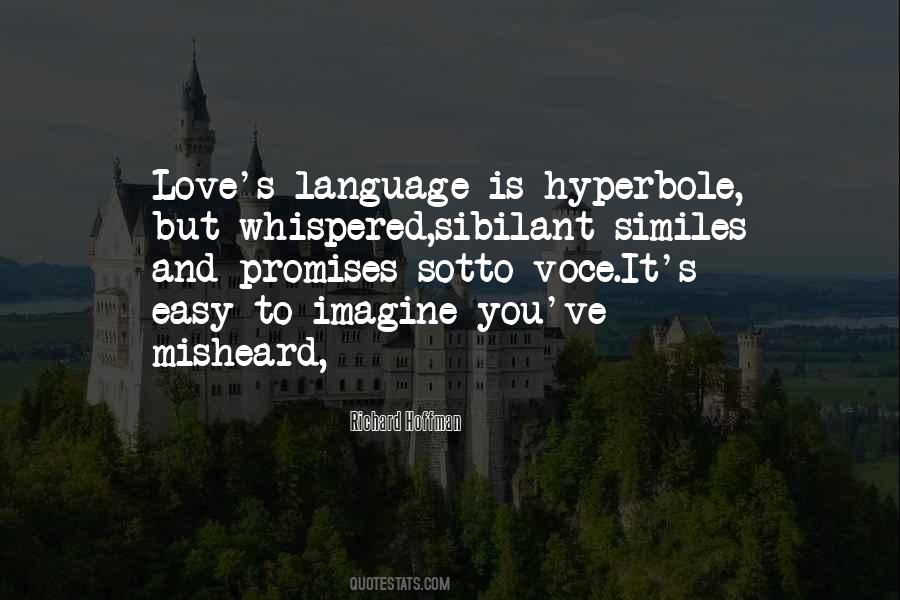 #46. I guess the most epic romances are still tucked away within the pages of her favorite novels, safely swathed in inked lies and faded paper promises. Forever fictional. Just like love. - Author: S.L. Jennings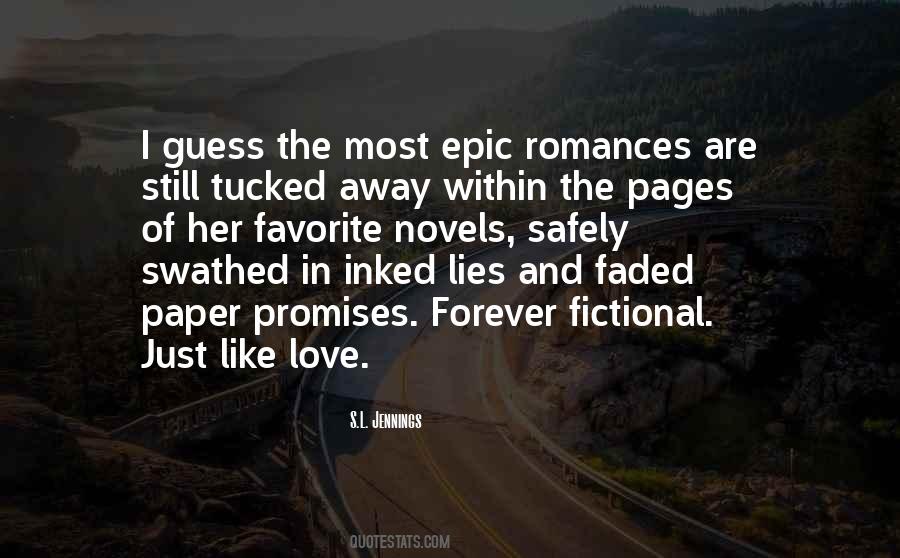 #47. Love in all its incantations, promises made with flesh and bone and word and intent. - Author: Kim Holden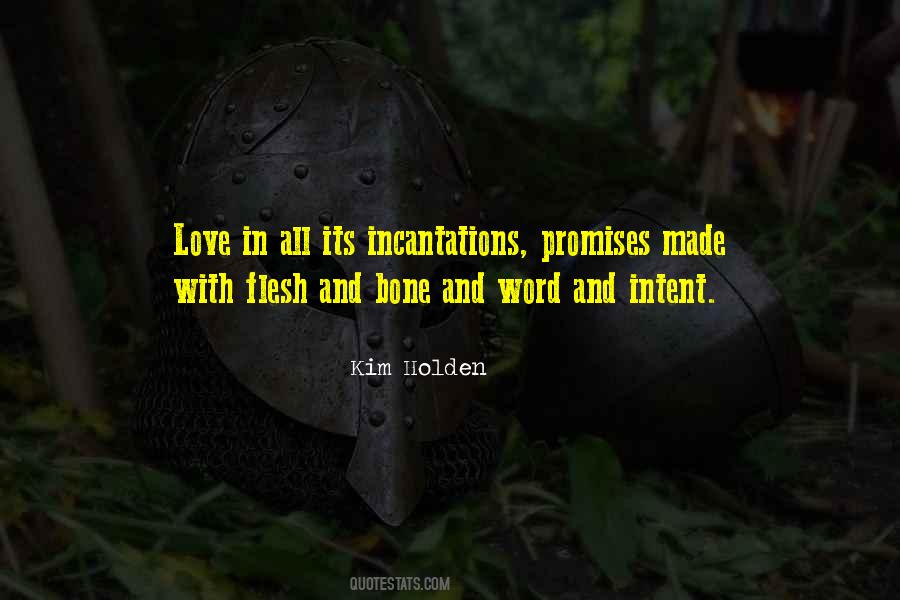 #48. When we have no reason to be happy we often think to end ourselves, We often think we have no one in this world, it happens when our loved ones leave us and make us alone in this vast universe. - Author: Debolina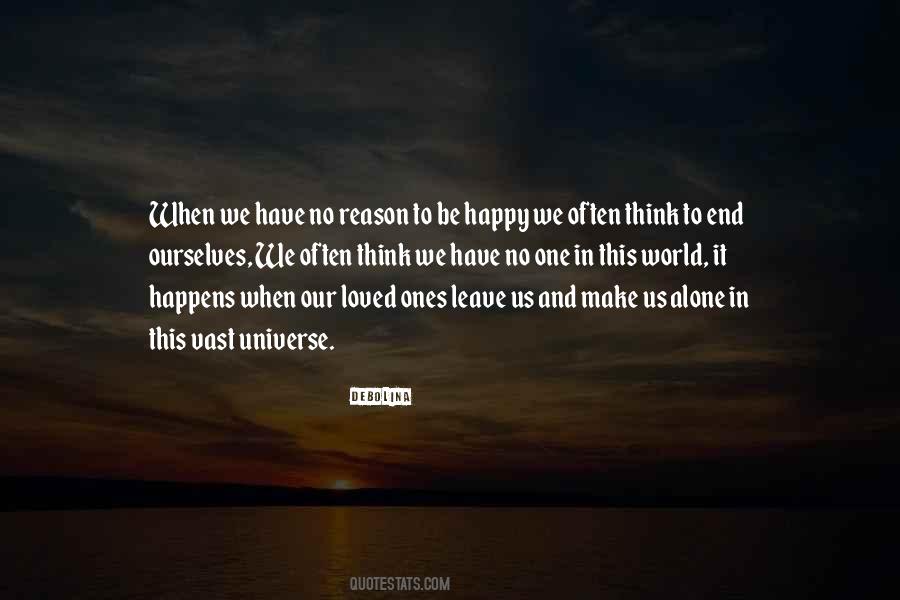 #49. Maybe," she said. "Maybe. But now you're making promises you might not be able to keep, and that's how people in love get very badly hurt. - Author: Ransom Riggs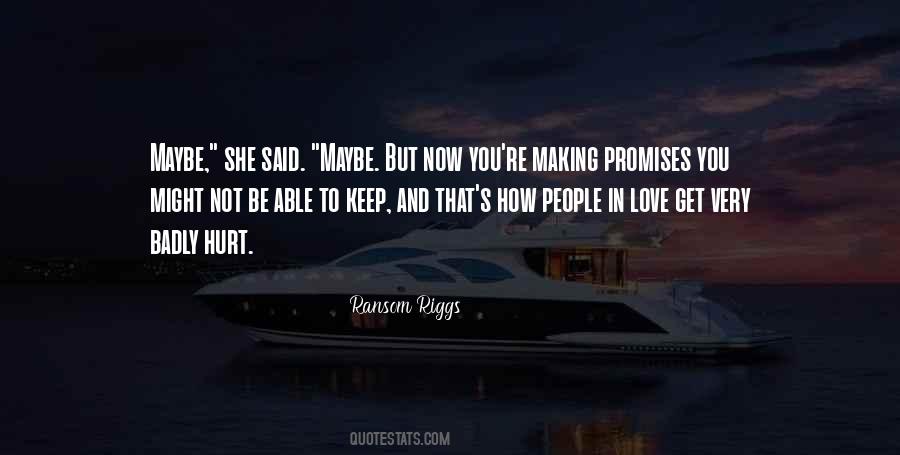 #50. You must make a choice, Libby. I can make you no promises of a fine house or an easy life. I can only pledge that as my wife you will never doubt that I love you and that I will protect you with the last ounce of my strength. - Author: Elizabeth Camden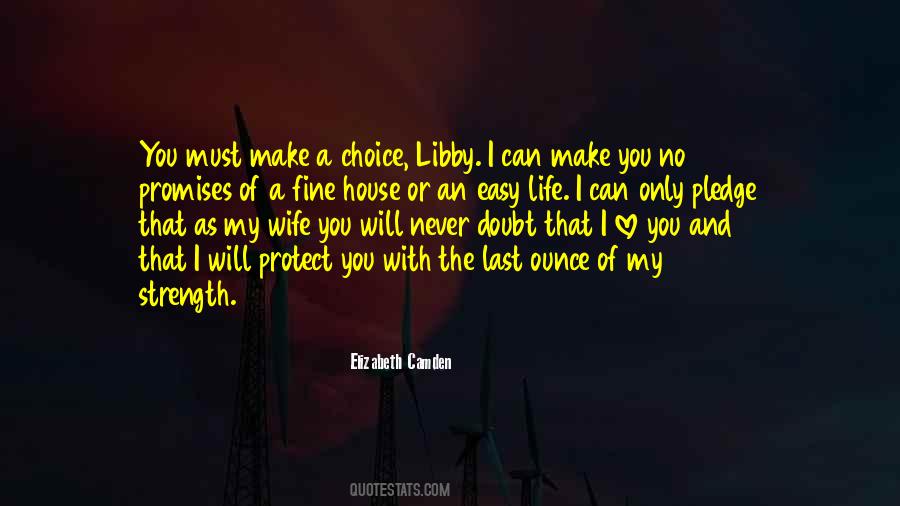 #51. If you want money, buy lottery tickets. If you love music, practice and keep your overhead to the bare minimum. Keep your promises, who you are is more important than what licks you know to any band leader. - Author: Steve Morse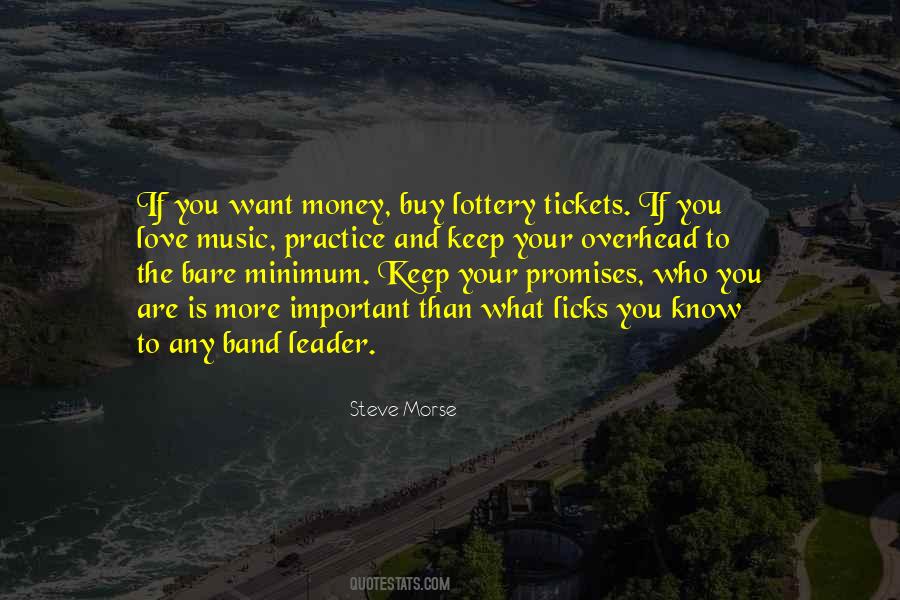 #52. Promises of his love, that he'd always protect me and keep me safe, filled the air around us until I believed it, with every ounce of my soul. - Author: Meredith Wild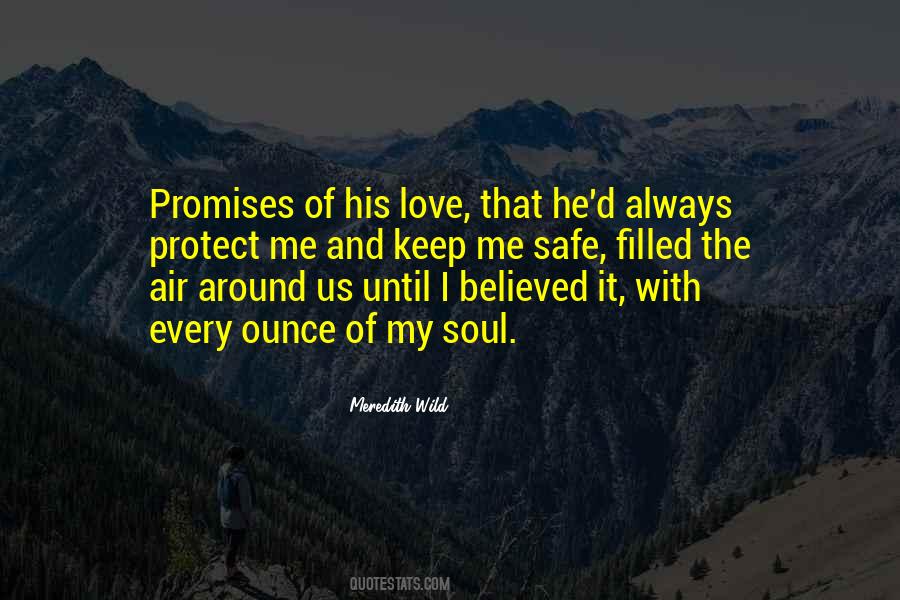 #53. The land promised to Abraham and his descendants is once again theirs. God always keeps His promises. Even in times of cataclysmic upheaval and change, God's love and faithfulness are unchanging. - Author: Lynn Austin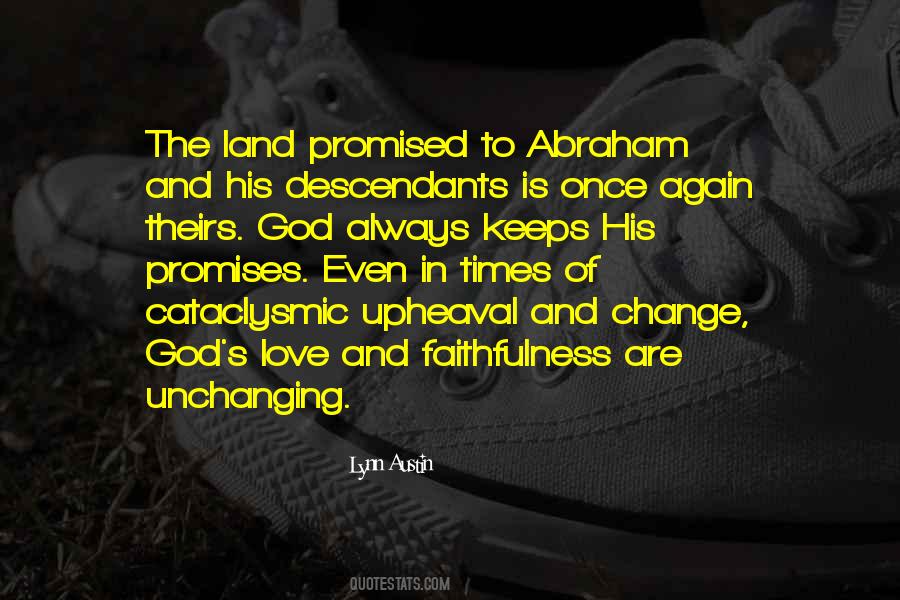 #54. Her kiss was a good-bye and a promise and a dream. - Author: Shannon A. Thompson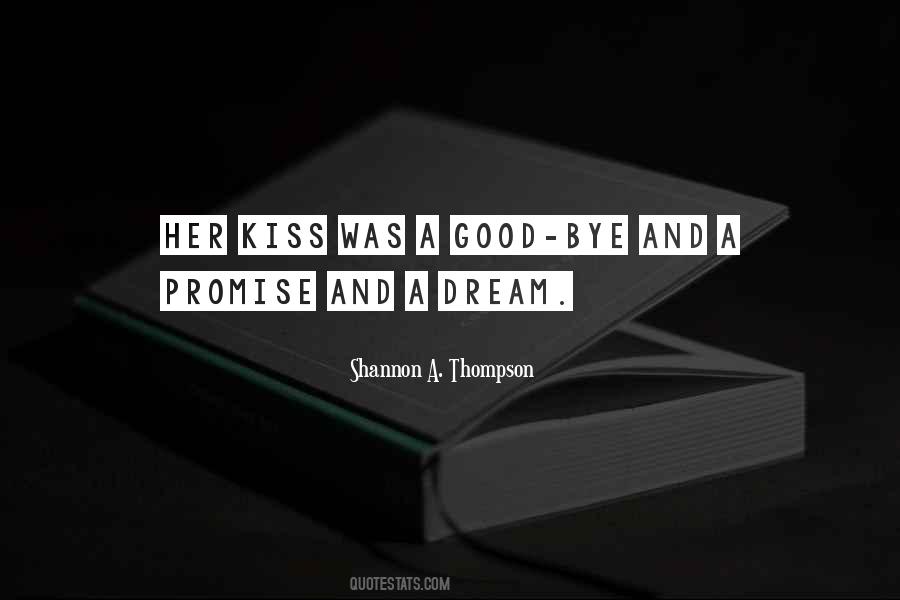 #55. It is your decision what kind of person you will be, how you will respond to the challenges you face. Keep your promises, forgo your grudges, apologize when necessary, speak your love, and speak it again. - Author: David A. Goodman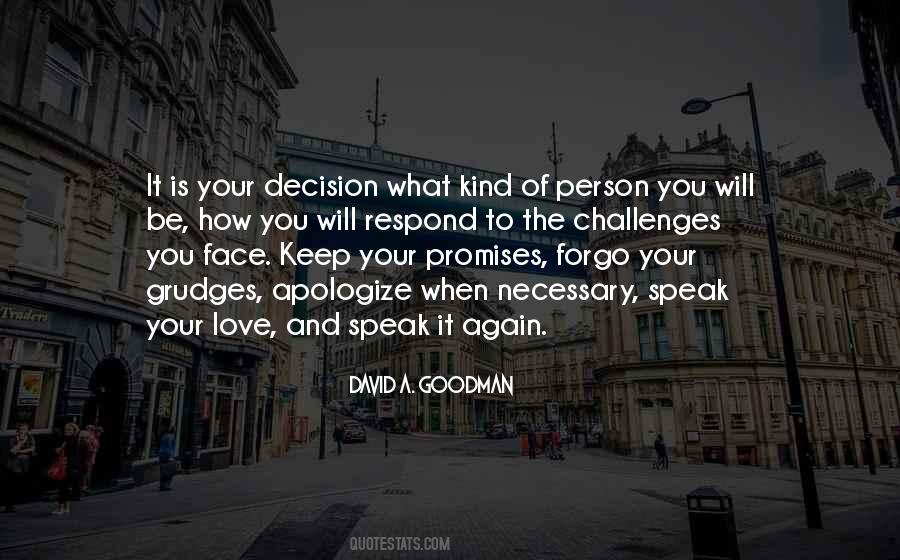 #56. You're beautiful, Jenna. i'm a man and I'm afraid to admit when I'm lucky enough to look at someone as beautiful as you. - Author: E.L. Montes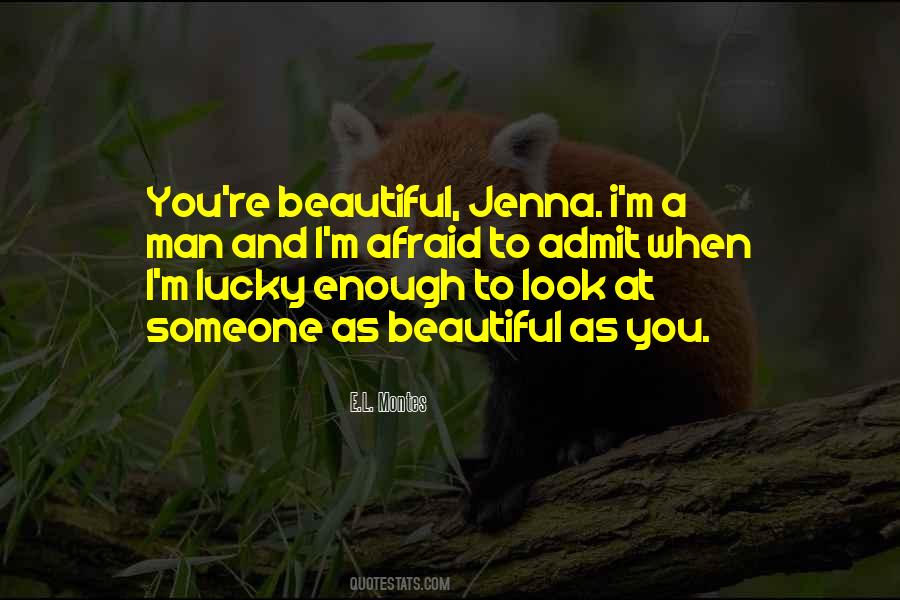 #57. If you can open your mouth to say; I love you! To someone without taking such person(s) as your priority, even with your gifts and money, something more important than your freebie is missing out! - Author: Michael Bassey Johnson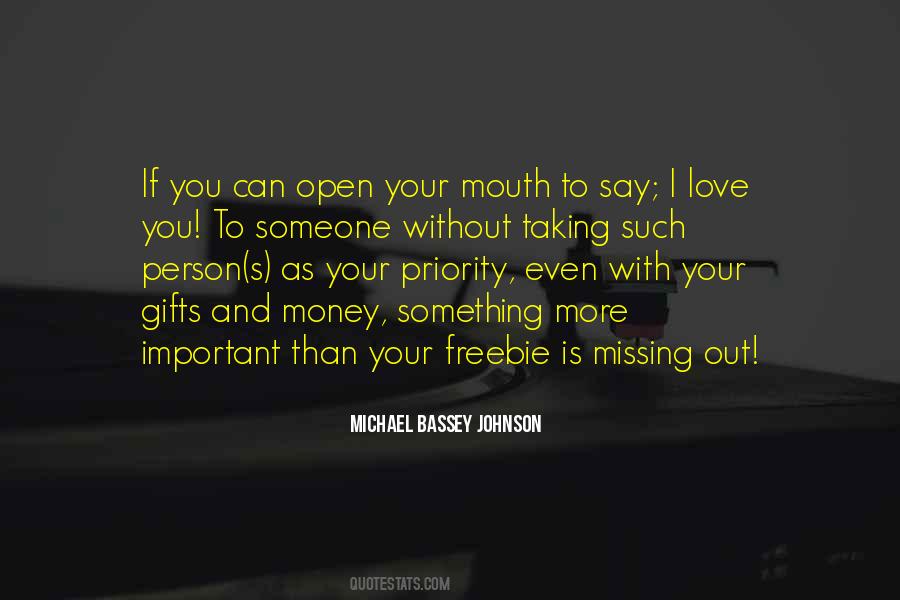 #58. Once I knew what it was to rest upon the rock of God's promises, and it was indeed a precious resting place, but now I rest in His grace. He is teaching me that the bosom of His love is a far sweeter resting-place than even the rock of His promises. - Author: Hannah Whitall Smith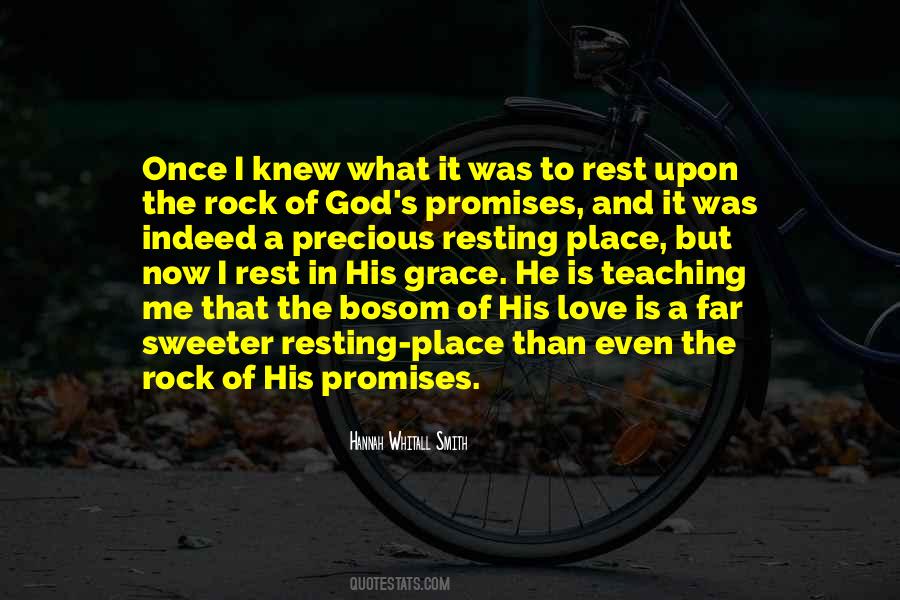 #59. And I hope above all you give your heart to someone again no matter how many broken promises you have recieved. - Author: Nikki Rowe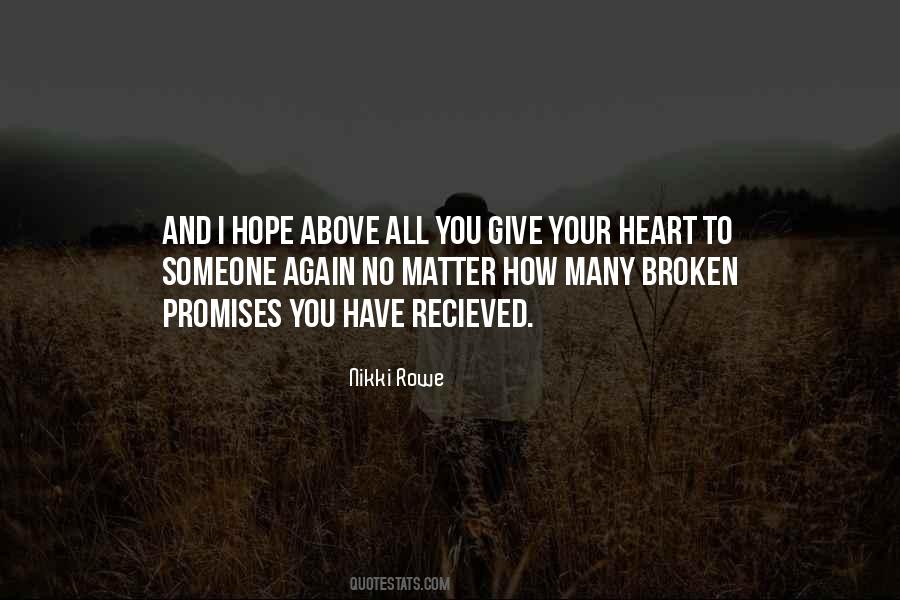 #60. I pledge to love Jesus more than anything or anyone. And you are next in line, God's remarkable gift to me. I promise to protect, honor, and cherish you for the rest of our lives. - Author: Robert Wolgemuth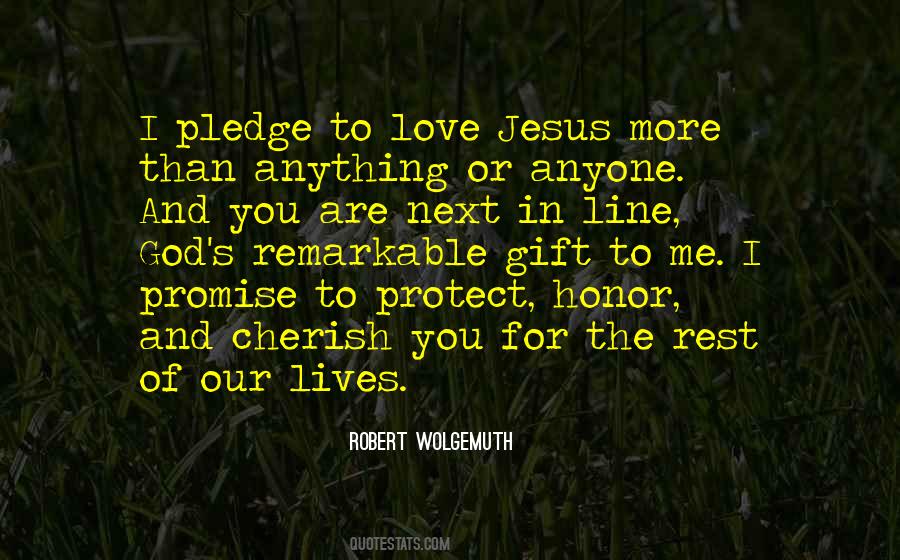 #61. Here's what I've learned about "soon"; it's short for "someday." We make space in our lives for what matters, now. Not in promises and soons, but on mantels with sterling frames, in shelves we clear to make room for our now. Everything else i talk. - Author: Stephanie Klein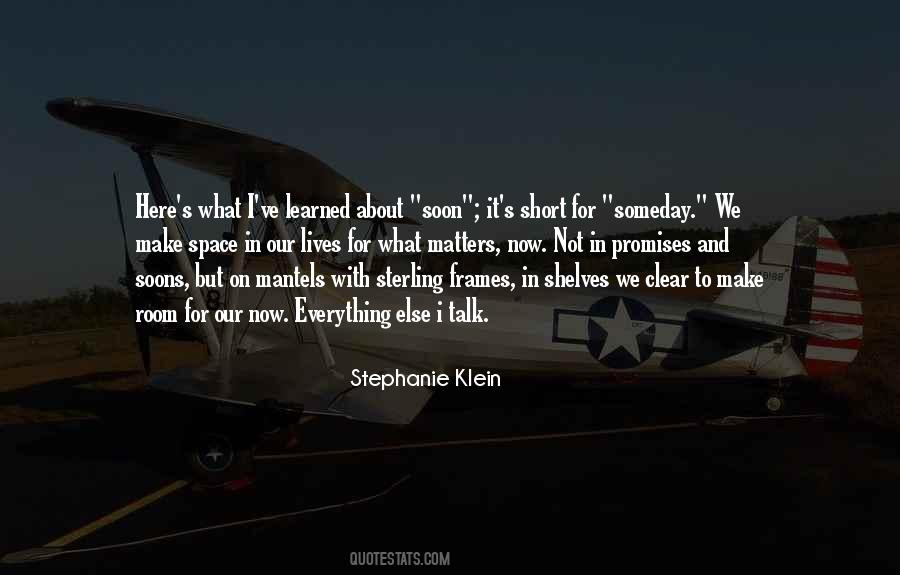 #62. Lot of people do not realize that God cares for them and is able to fulfill His promises - Author: Sunday Adelaja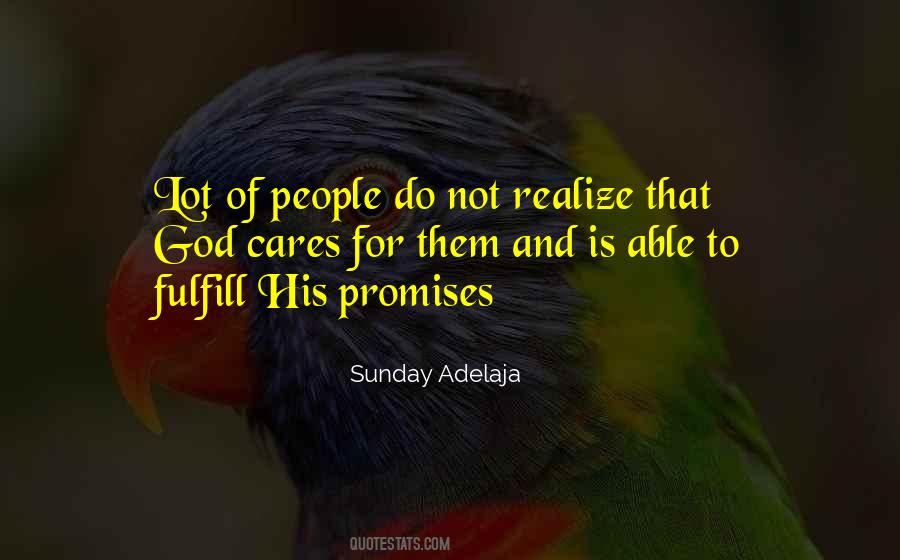 #63. There. That is the answer to this riddle. The promises I can make, and the one I can't. Gwen. I will never leave you willingly. Life is a risk, and so love is, as well. But I swear to God, you will not regret the gamble. - Author: Meredith Duran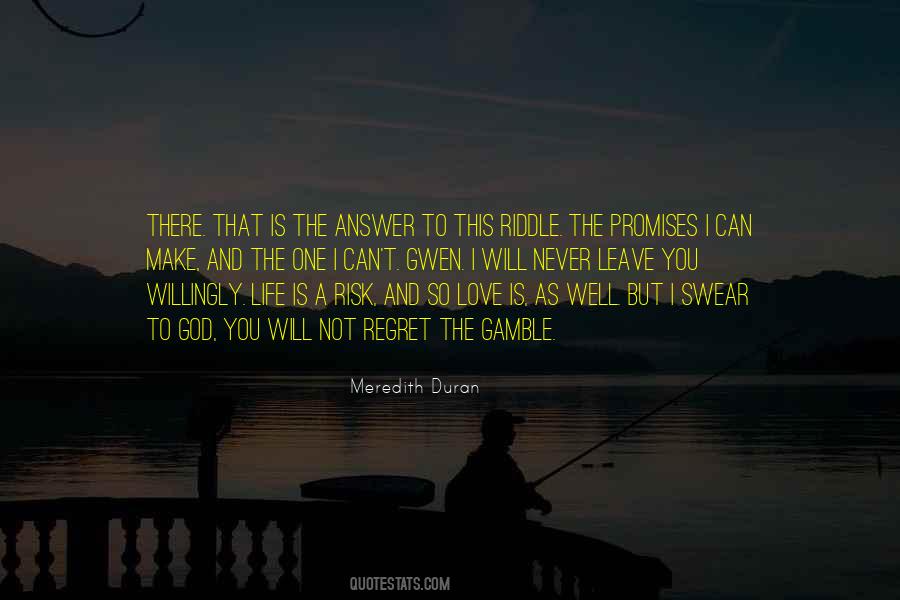 #64. Talk of poems and prayers and promises, and things that we believe in. How sweet it is to love someone, how right it is to care, how long it's been since yesterday. - Author: John Denver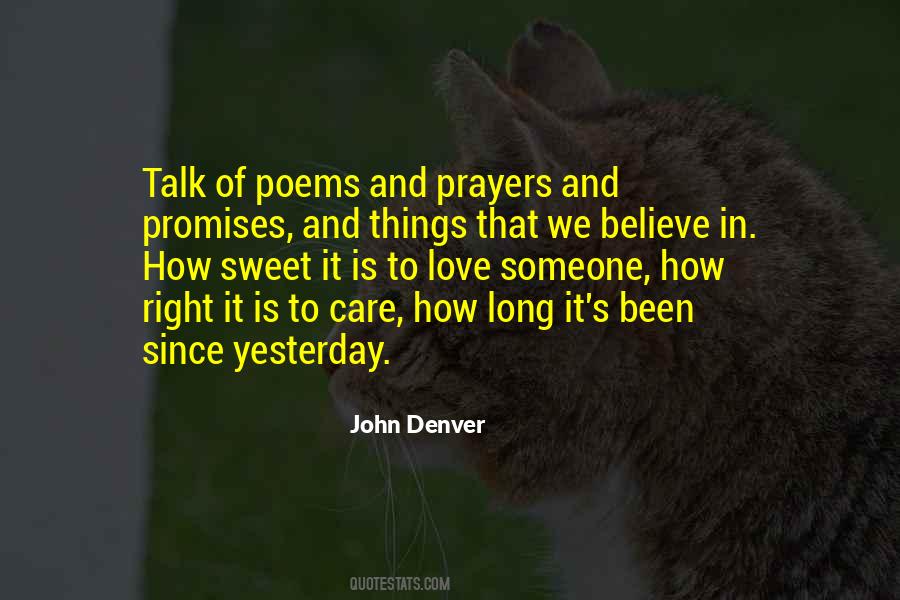 #65. No, I don't have a heart of gold. It's normal - the one that gets hurt by rude words and broken promises. - Author: Saru Singhal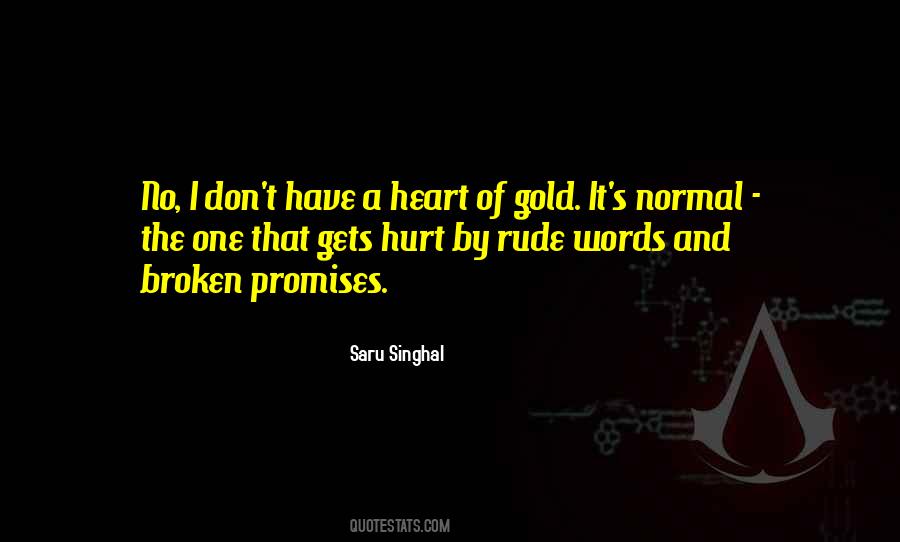 #66. And they can't understand, what hurts more - Missing the other person, or pretending not to. - Author: Khadija Rupa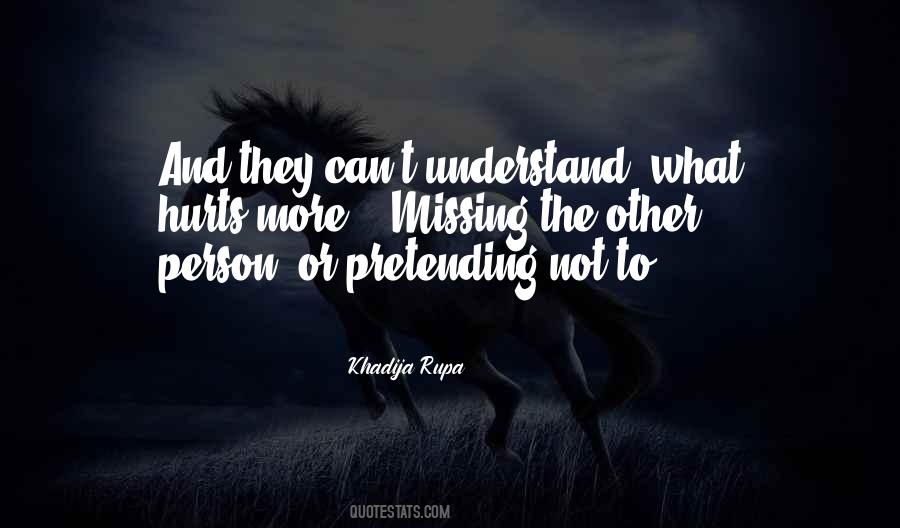 #67. I love planting bulbs. It is making promises with tomorrow, believing in next year and the future. - Author: Jean Hersey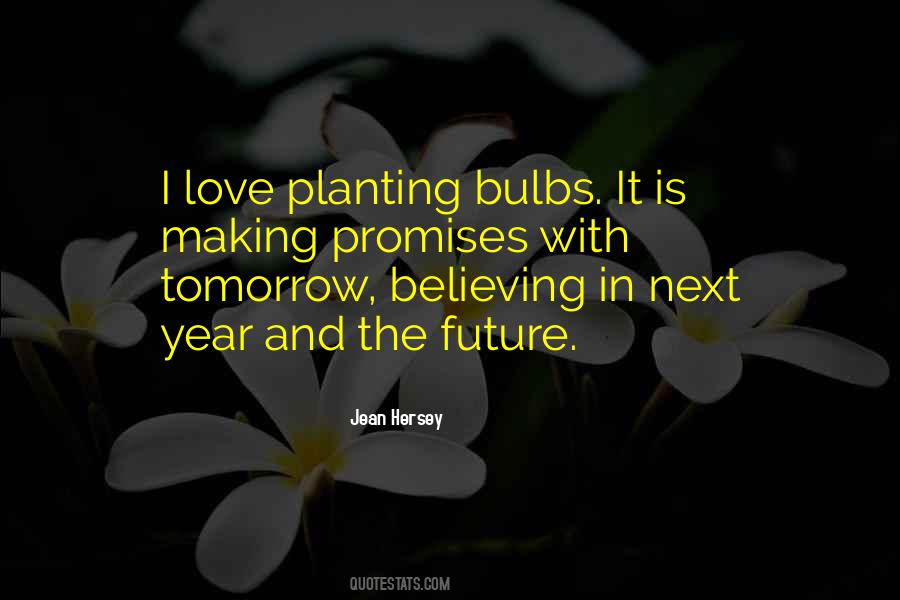 #68. Cam gave him a halfhearted boot on the top of his head with the heel of one hand. "Why don't you shut
up until I say what I have to say?"
The painless smack and impatient order were more comforting to Seth than a thousand promises. - Author: Nora Roberts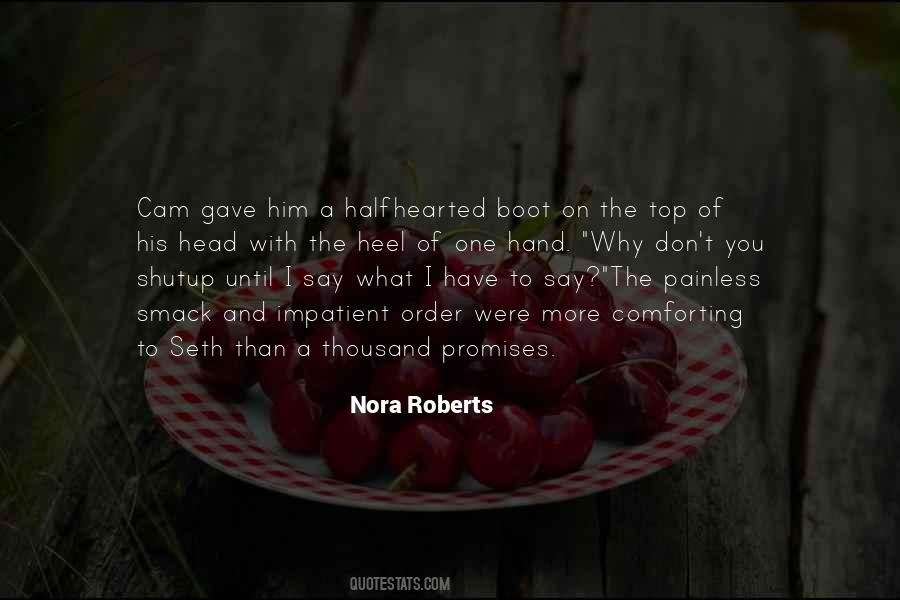 #69. Whether you are living in a wilderness of poverty or loneliness or sorrow, God's promises, love, and protection are just as available to you now as they were to Hagar. - Author: Ann Spangler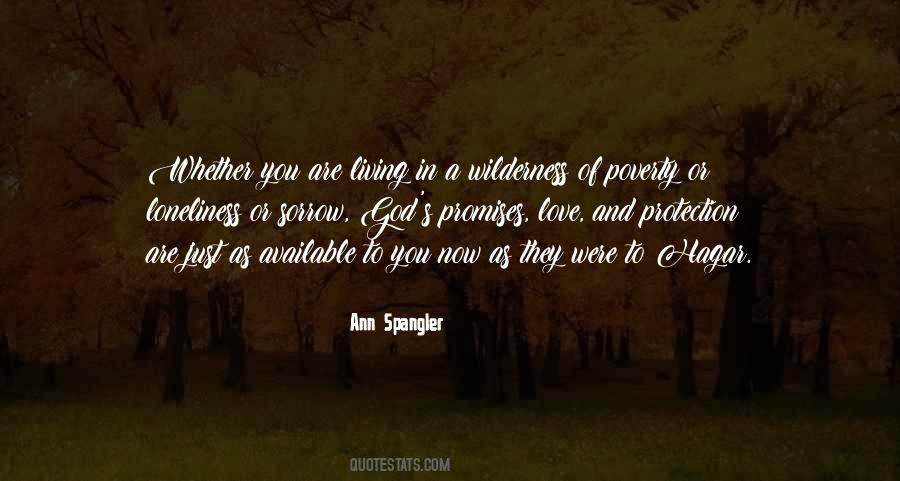 #70. These days I think people give up too easily. Everyone says it's about compromise, which it is. Love, compromise, promises, presents help. But ultimately it's about not giving up. People are led to believe that if it's not perfect then just ditch it and change it, these days. That's a mistake. - Author: Simon Le Bon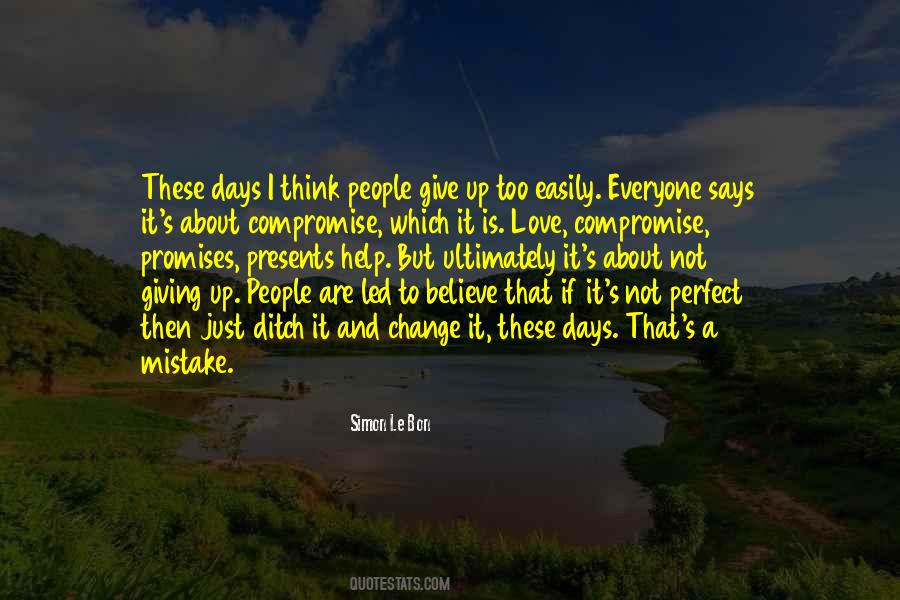 #71. But I have promises to keep, and miles to go before I sleep, and miles to go before I sleep. - Author: Robert Frost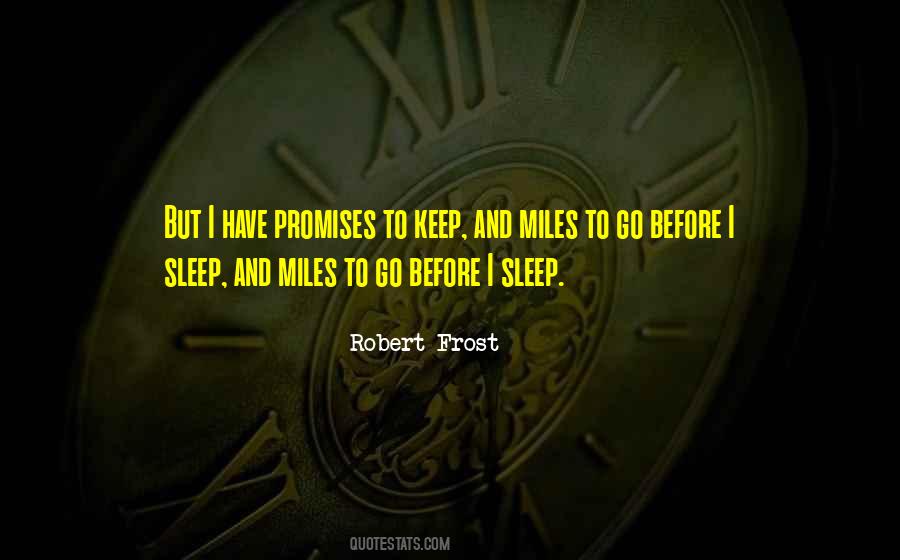 #72. Go to your happy place. Go to the house, the one with the red door and the white picket fence. Go back to where nighttime meant kisses and hugs, bedtime stories and cuddles with Buster. Go to where sunrises were promises instead of just false hope. Go to where love still lives. - Author: J.M. Darhower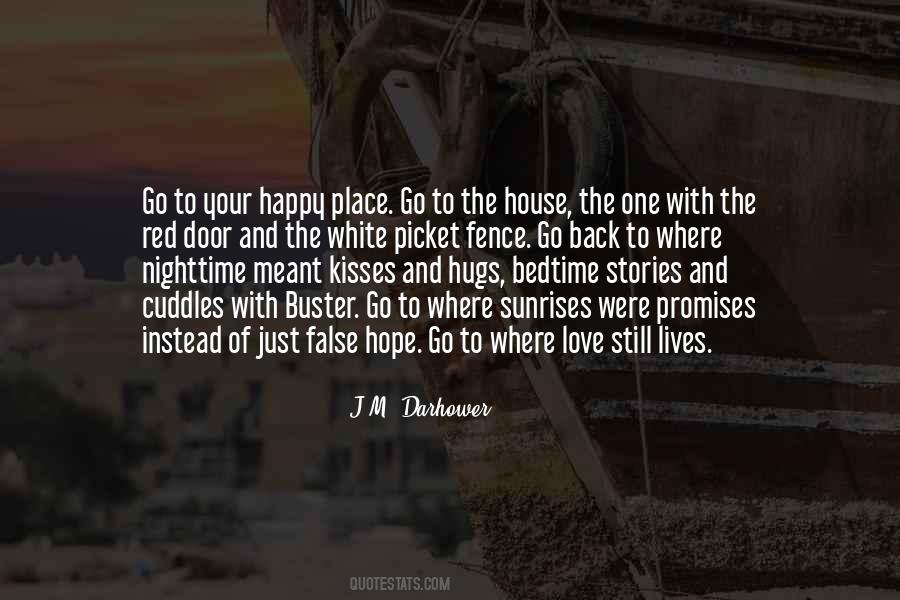 #73. I don't have diamonds or solitaires now, but with this water of the pool and this bottle of beer, I vow before you to love you forever. - Author: Parul Wadhwa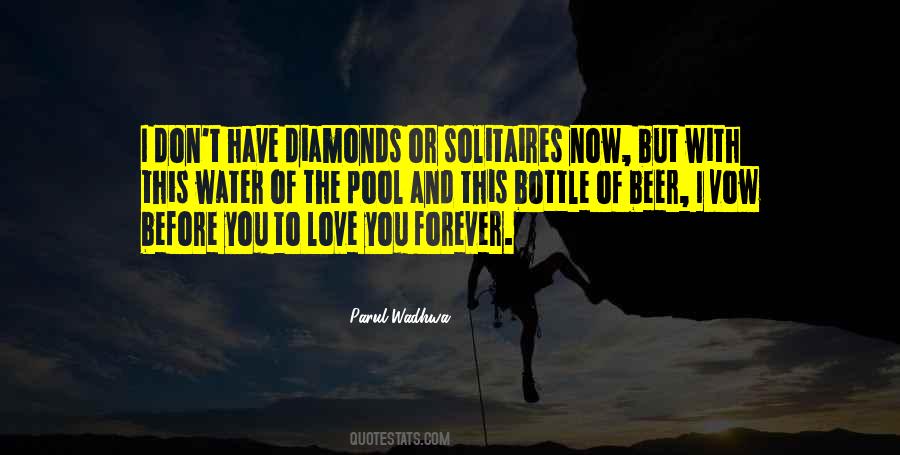 #74. Is good to always say "Yes" I can to all things.And the enemy, the devil would flee from you.All these secret of life can be found in the book(Pleas,Praises and Promises by Evelyn M.Johnson - Author: Jerry Y. Sarkw.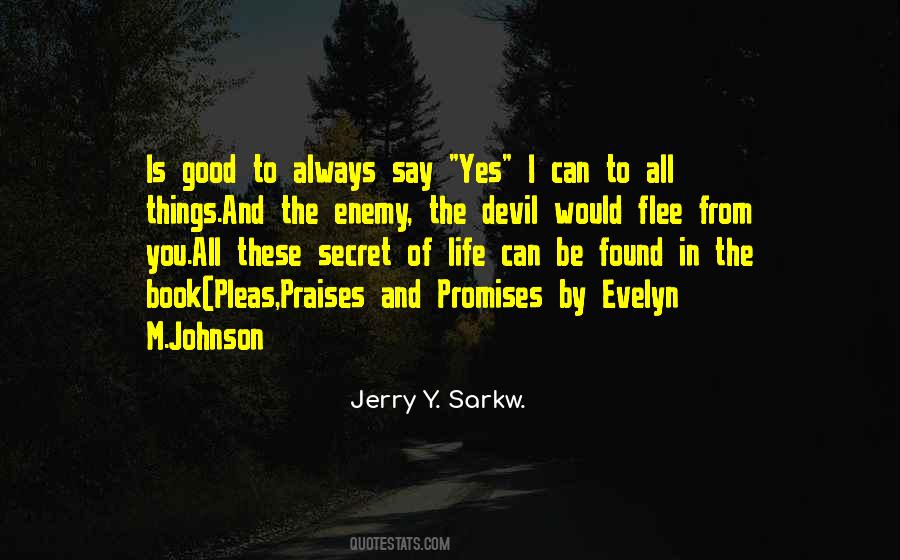 #75. After a while you learn the difference between holding a hand and falling in love.. You begin to learn that kisses don't always mean something, Promises can be broken just as quickly as they are made, and goodbyes sometime really are forever! - Author: Atul Purohit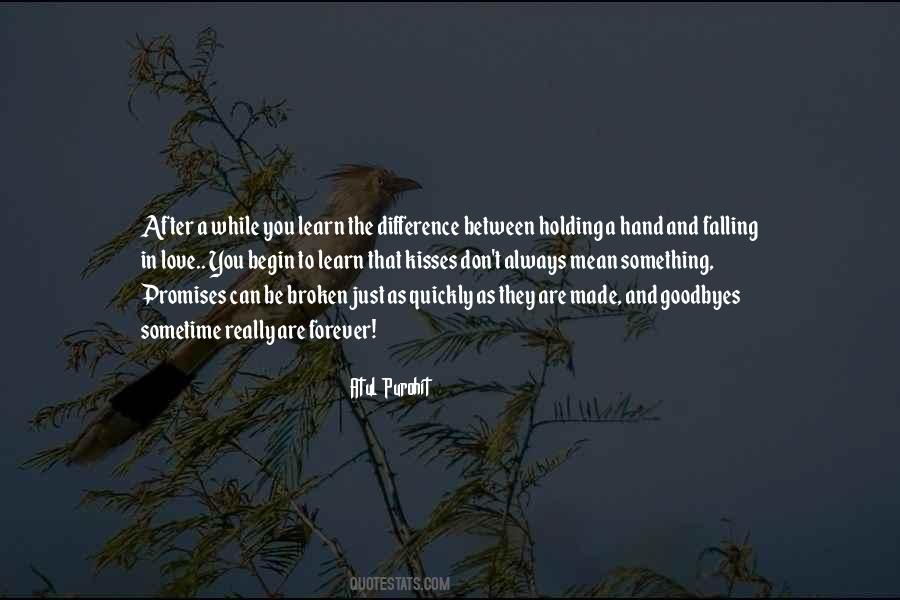 #76. We find hope in a hostile place when we focus on the goodness of God as revealed in His promises. In other words, hope and security come when we - like the Israelites - acknowledge God's love for us. - Author: Elizabeth George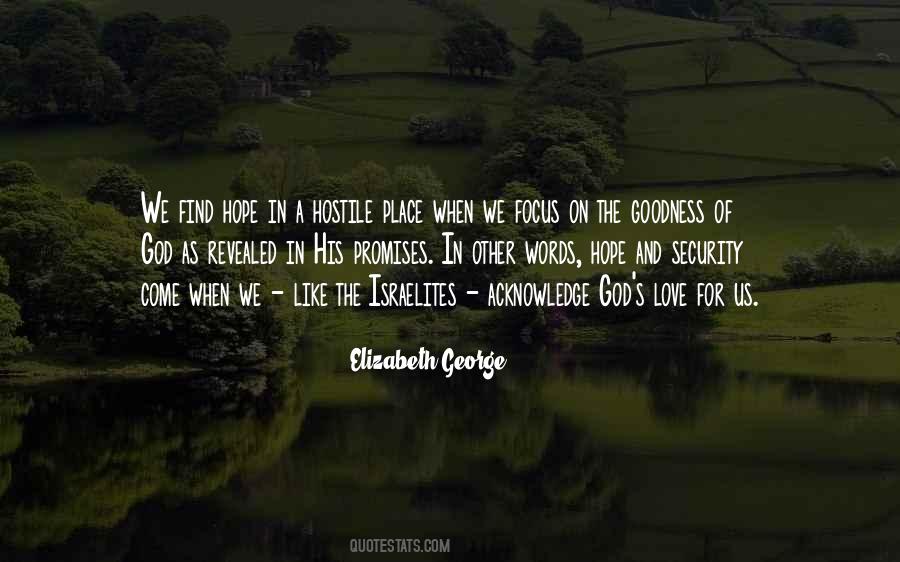 #77. Illusion close to reality was your love, you certainly are quintessential with your licks and promises. - Author: Na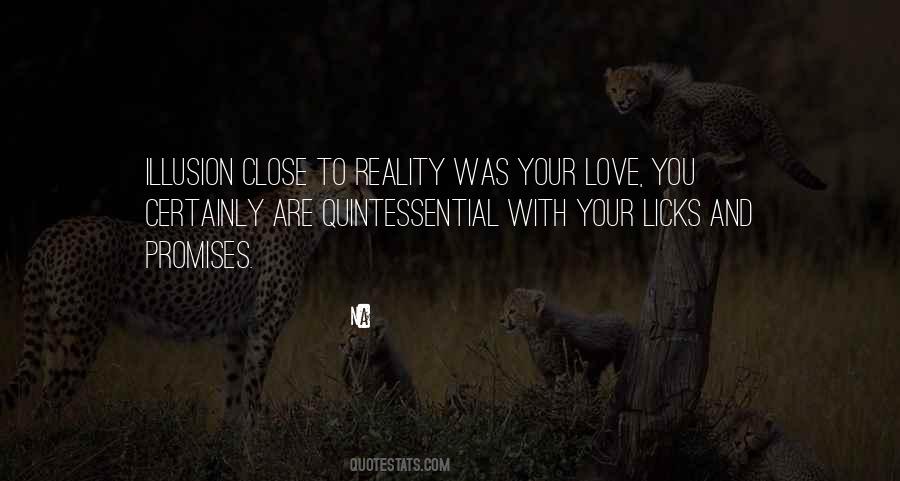 #78. In love, one should simplify, choose persons worthy of their promises and leave them if they don't keep them. - Author: Isabelle Adjani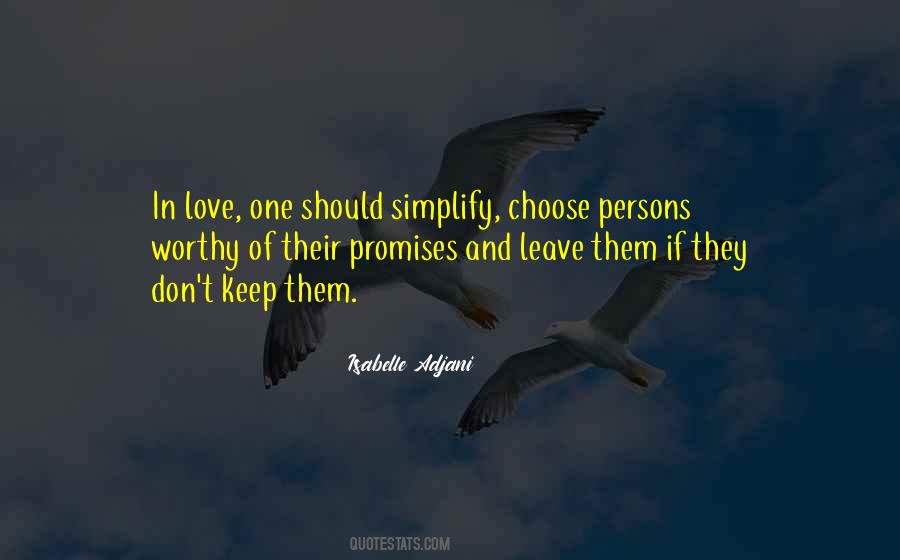 #79. You know you are getting old when yesterday turns out to be a fading memory you have difficulties recollecting, when today becomes a challenge that is hard to grasp and when tomorrow promises an uncertainty that you dread encountering. - Author: Janvier Chouteu-Chando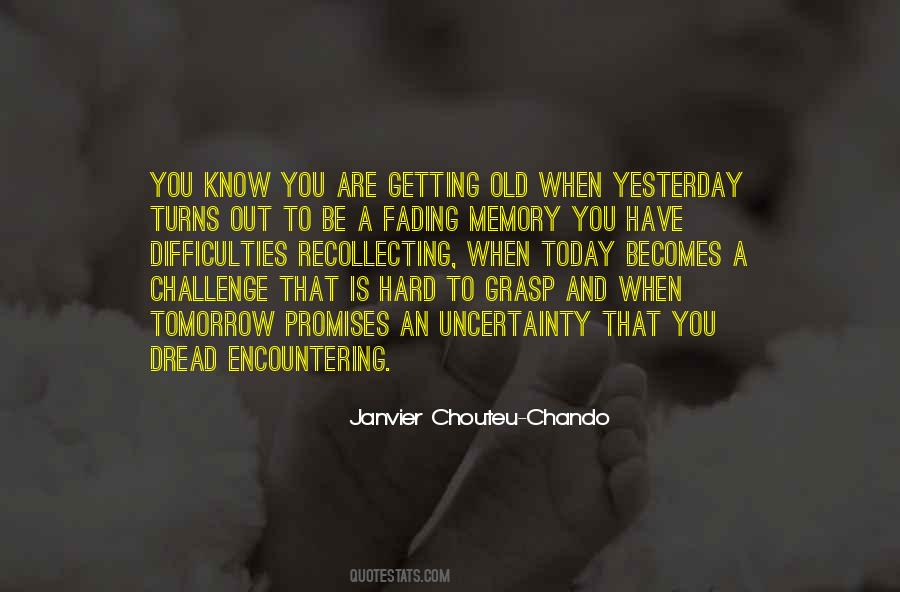 #80. When there's a shadow, you follow the sun.
When there is love, then you look for the one.
And for the promises, there is the sky.
And for the heavens are those who can fly. - Author: Enya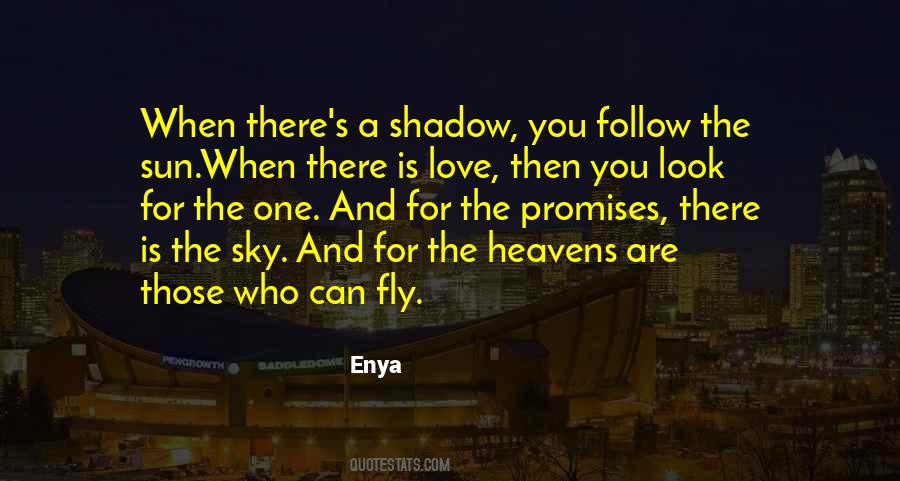 #81. While it's easy to believe the worst, God wants you to believe the best. He never promises a trouble-free life of leisure, but he does promise never to leave you and always to love you. - Author: Craig Groeschel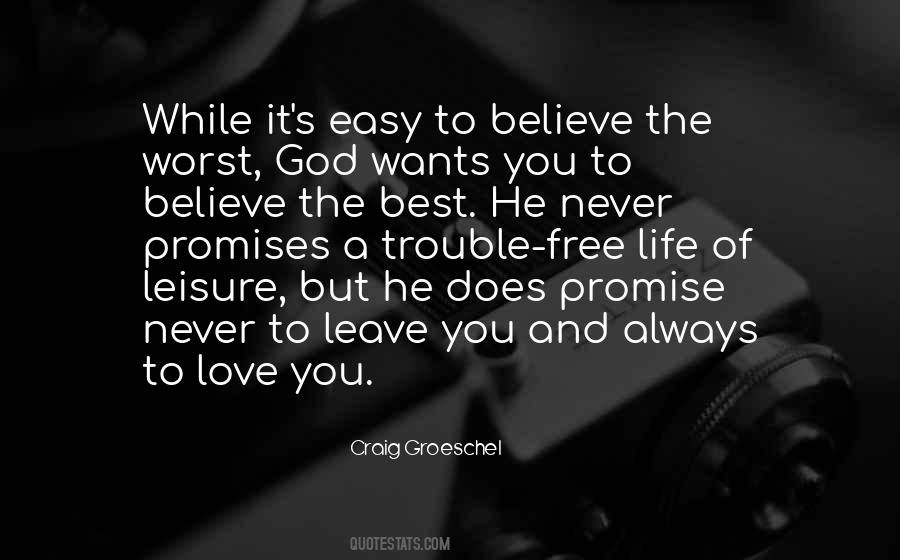 #82. What good would it
do to
shutter your windows, never
dream of rainbows or find hope
in promises? Why choose to
walk away
rather than hold your ground
and fight for love? - Author: Ellen Hopkins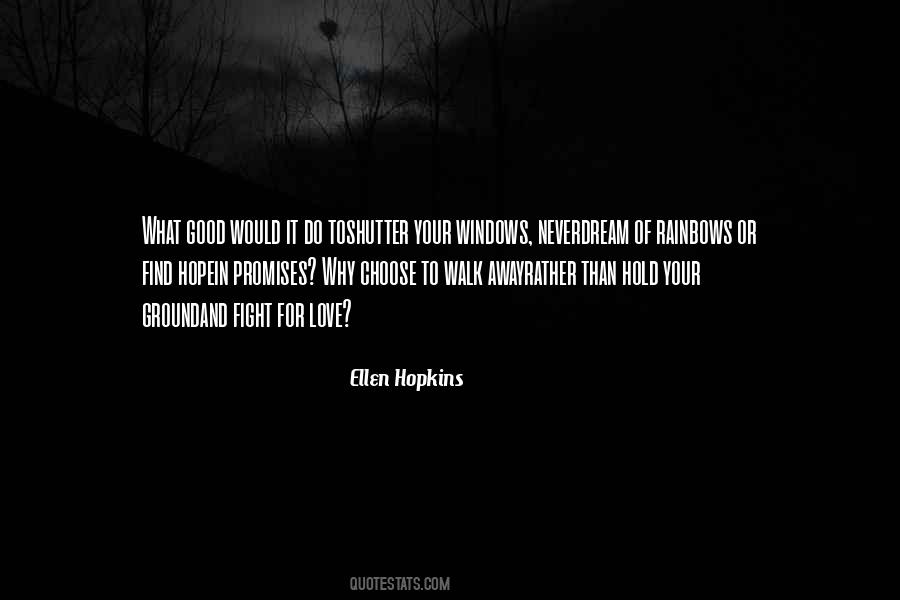 #83. Pain of the past never goes away, you just find a way to deal with it. And in the future ... all the promise it holds ... that's what keeps you moving forward, and out of the darkness. - Author: Samantha Towle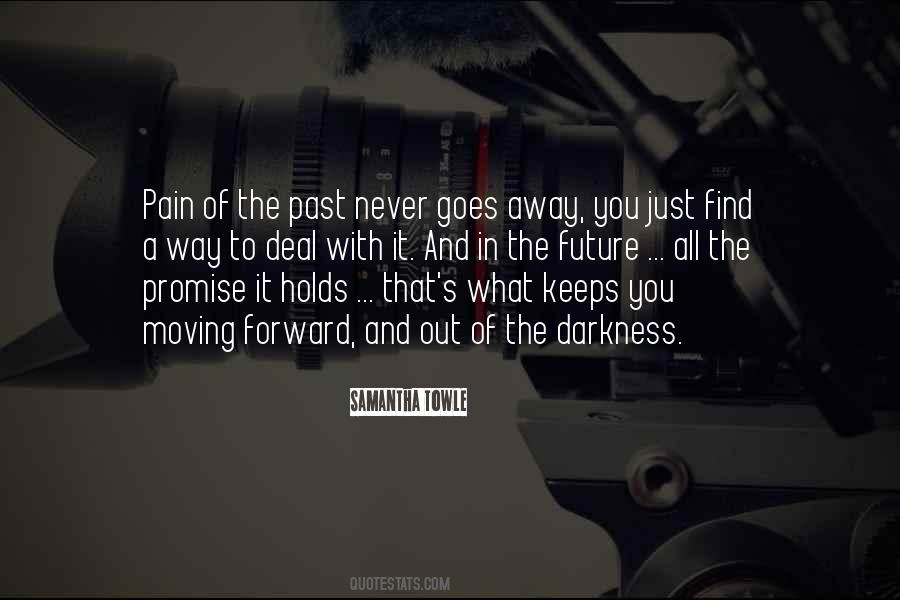 #84. It isn't very pretty to have been made a fool of by one's own feelings,' he said. 'To take childish promises and build a--a castle out of them... - Author: Winston Graham
#85. I got uncertain from this, I'll be perfect from now on. But all my promises, they're out the window once you're gone. You pack your bags. You say I love you but I cannot stay. - Author: Tegan Quin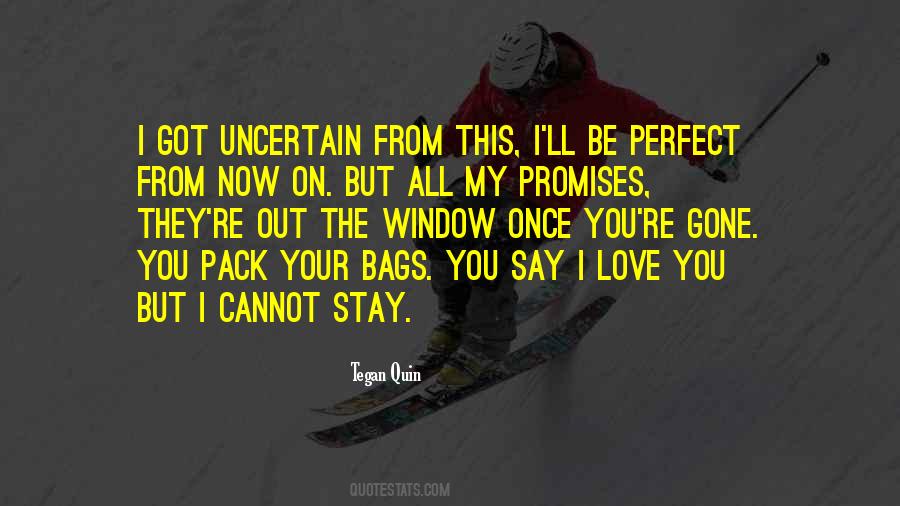 #86. Loss should teach us to cherish those we love, to never do anything that will result in regret, and to cheer on tomorrow with all of its promises of greatness. - Author: Samantha Young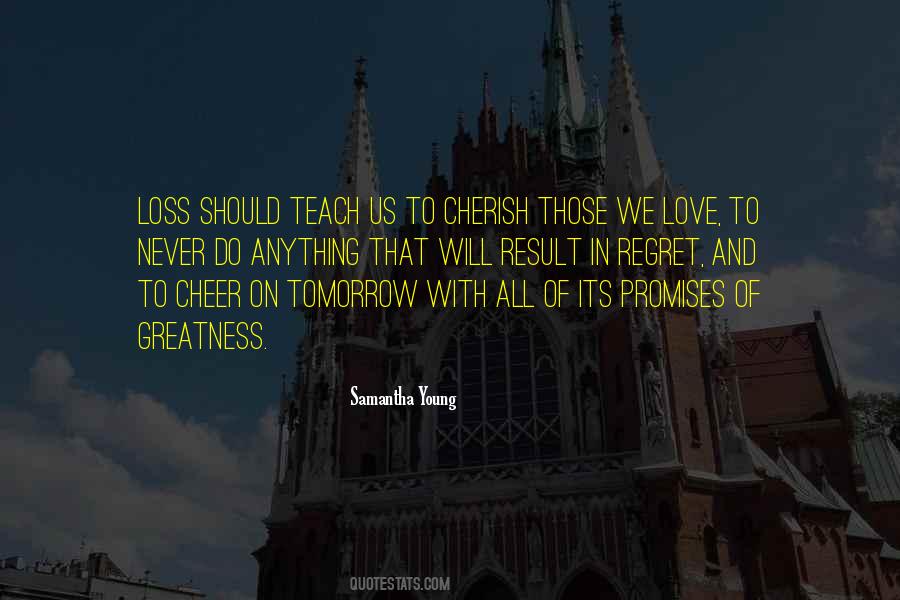 #87. There was plenty of life left and if he had to he would use it all to get her back. The time had passed for making promises to her-all that was left for him was to act. - Author: Anna Godbersen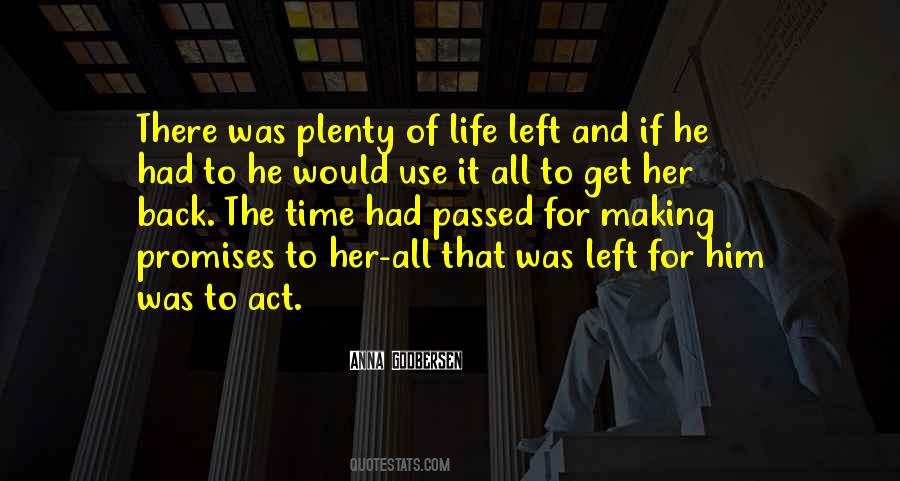 #88. The culture of drink endures because it offers so many rewards: confidence for the shy, clarity for the uncertain, solace to the wounded and lonely, and above all, the elusive promises of friendship and love. - Author: Pete Hamill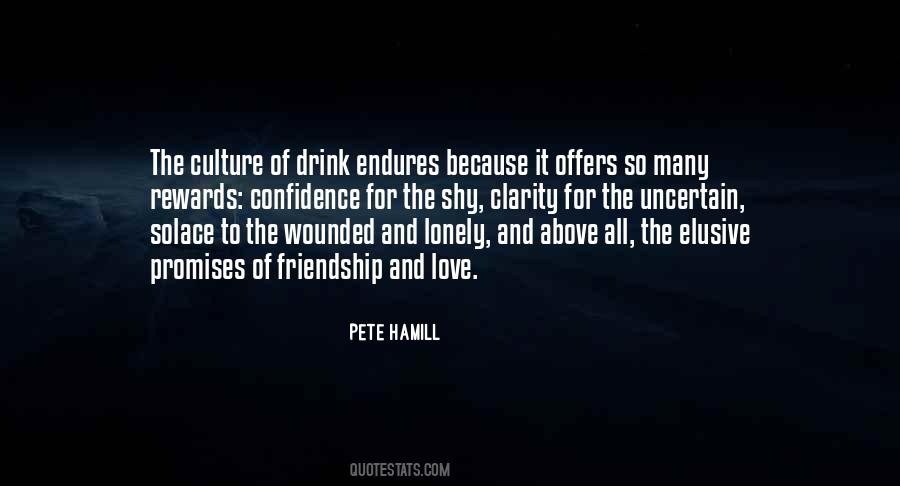 #89. For I'll keep my humanity, though I did not keep my promises.
... and Love shall not be wrested from my veins. - Author: Susan Abulhawa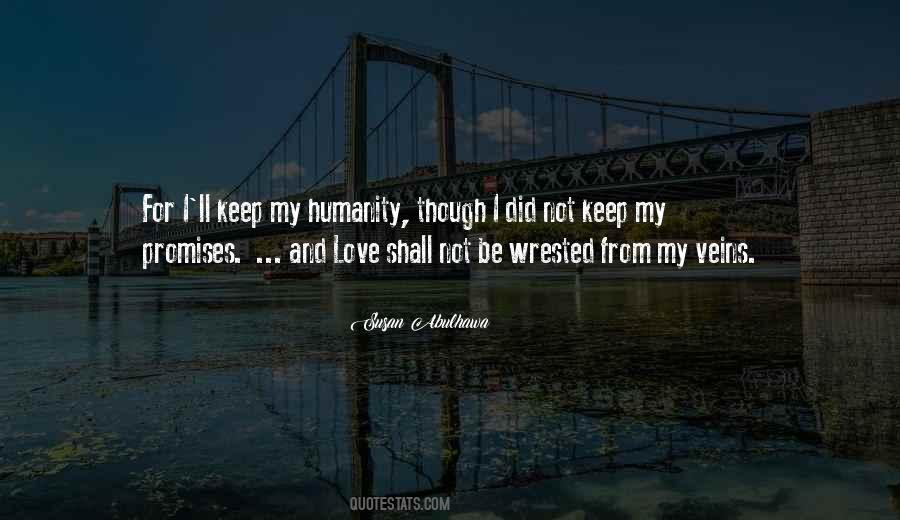 Famous Authors
Popular Topics