A Grateful Heart Famous Quotes & Sayings
List of top 69 famous quotes and sayings about a grateful heart to read and share with friends on your Facebook, Twitter, blogs.
Top 69 Sayings About A Grateful Heart
#1. Be calm, be strong, be grateful, and become a lamp full of light, that the darkness of sorrows be annihilated, and that the sun of everlasting joy arise from the dawning-place of heart and soul, shining brightly. - Author: Abdu'l- Baha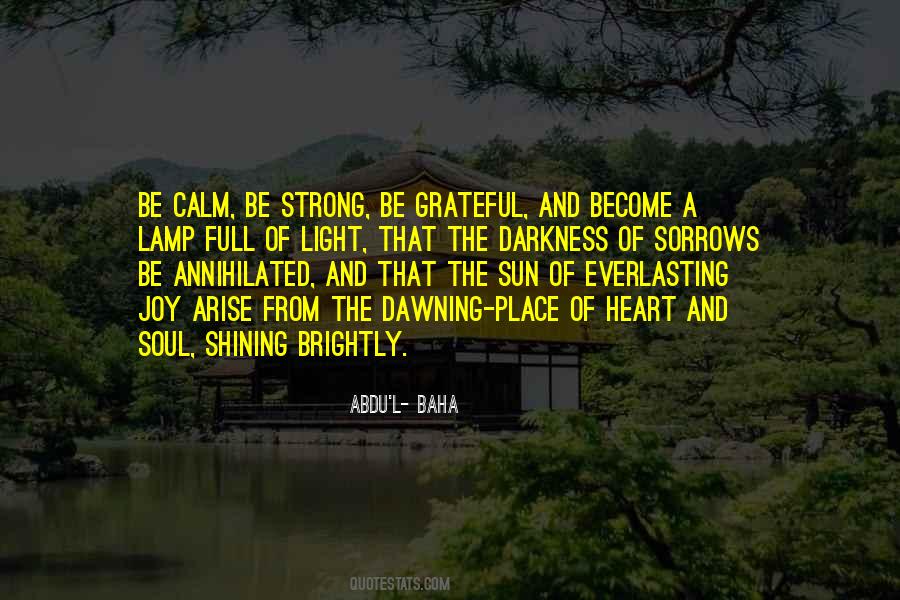 #2. Thou that hast given so much to me give me one thing more, a grateful heart: not thankful when it pleaseth me, as if Thy blessings had spare days, but such a heart whose pulse may be Thy praise. - Author: George Herbert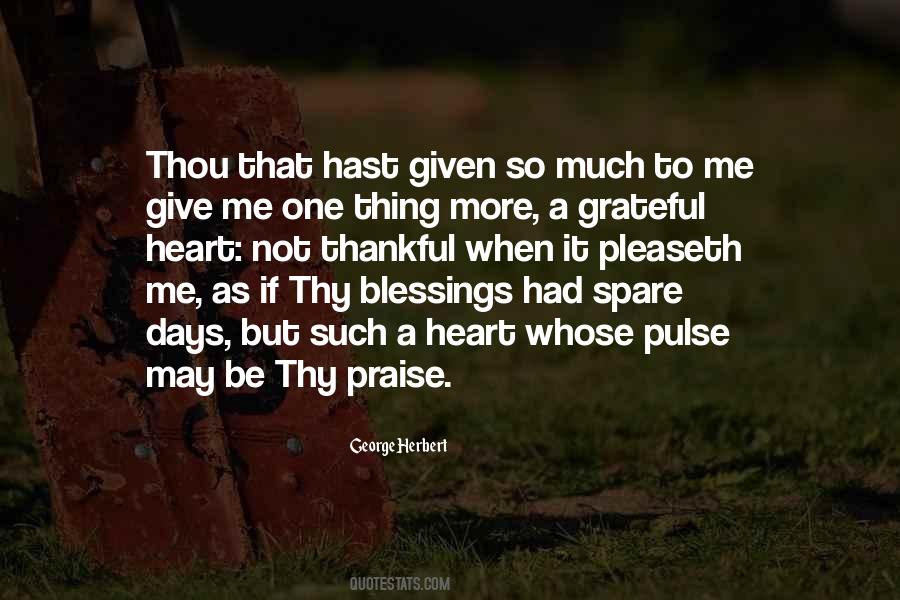 #3. Thou who hast given so much to me, give me one more thing ... a grateful heart! - Author: George Herbert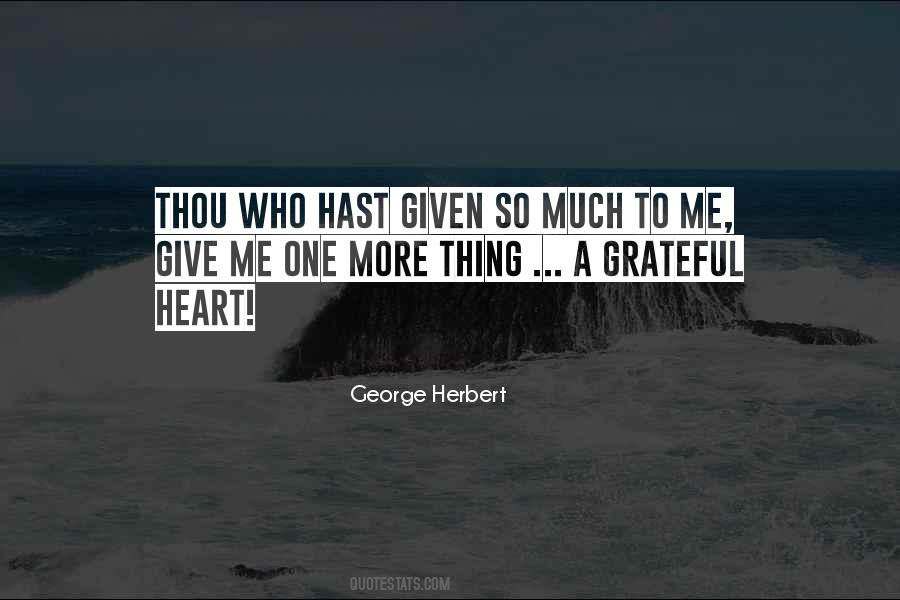 #4. What a sacred journey? - Author: Lailah Gifty Akita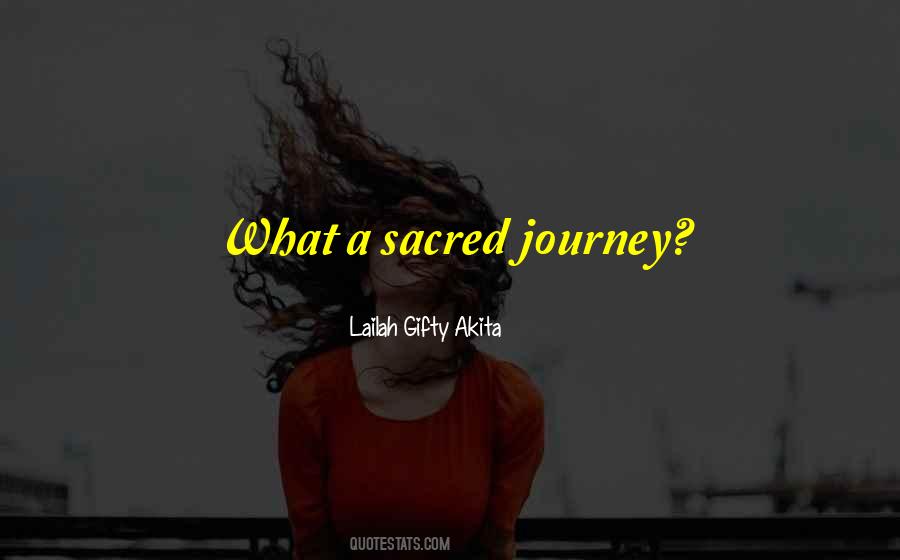 #5. I am grateful for the unending hunger to rest in the mind of Buddha, the heart of Krishna, a domain where all yogis, sages, and saints abide, waiting for those whose real self has emerged from the searing pilgrimage of Spirit's flames. - Author: Rod Stryker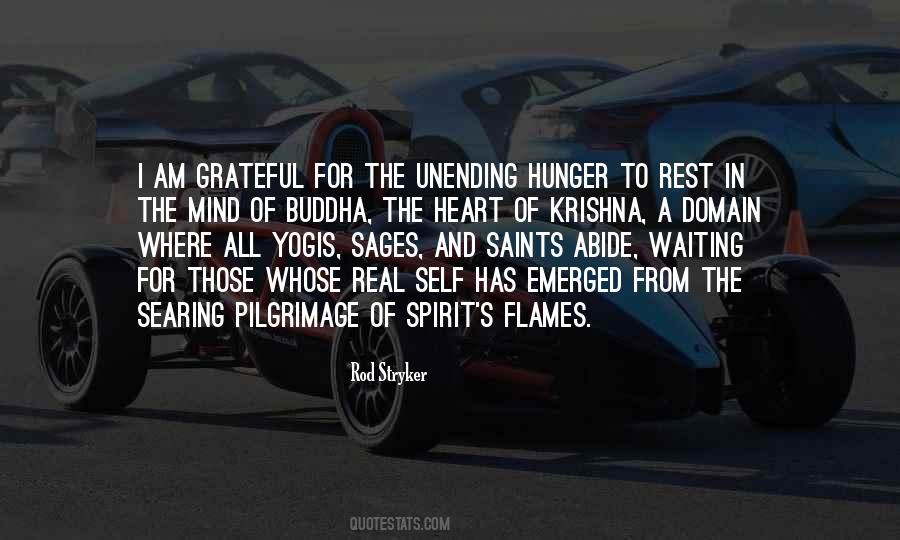 #6. Allow yourself to experience fully every step of the journey, both the joy and the pain. You're alive. Greet the moment at hand with a grateful heart. - Author: Eleanor Brown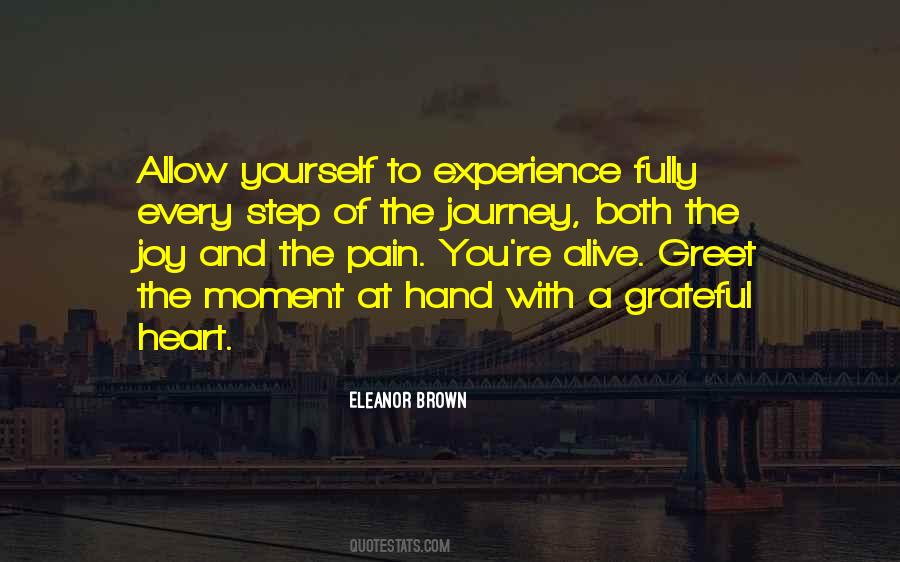 #7. Nothing is more honorable than a grateful heart. - Author: Seneca.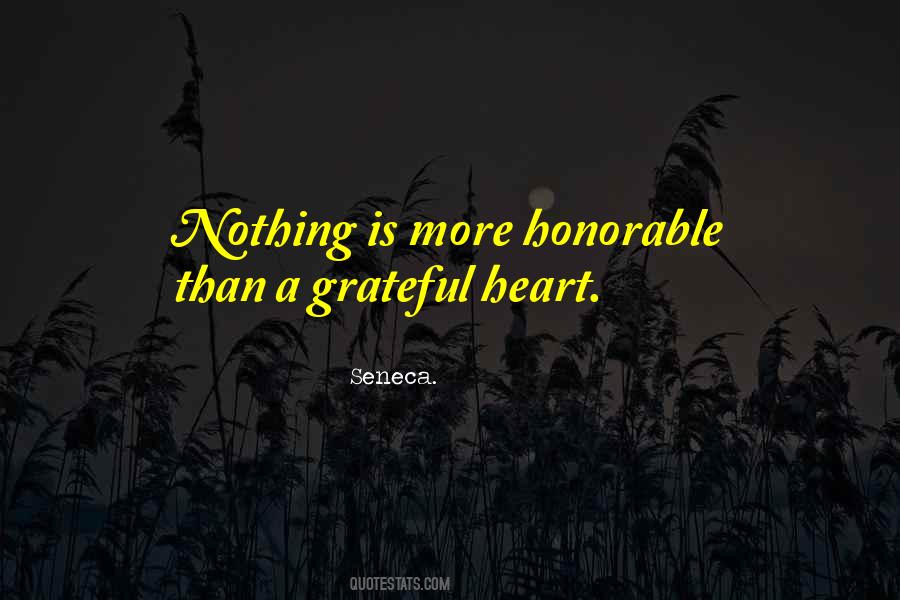 #8. The grateful heart sits at a continuous feast. - Author: Anonymous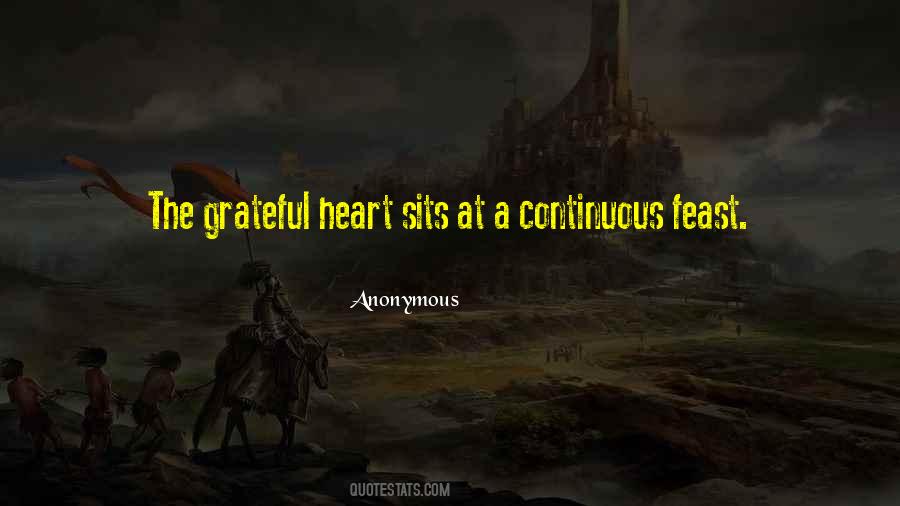 #9. A joyful heart is an endless flowing stream. - Author: Lailah Gifty Akita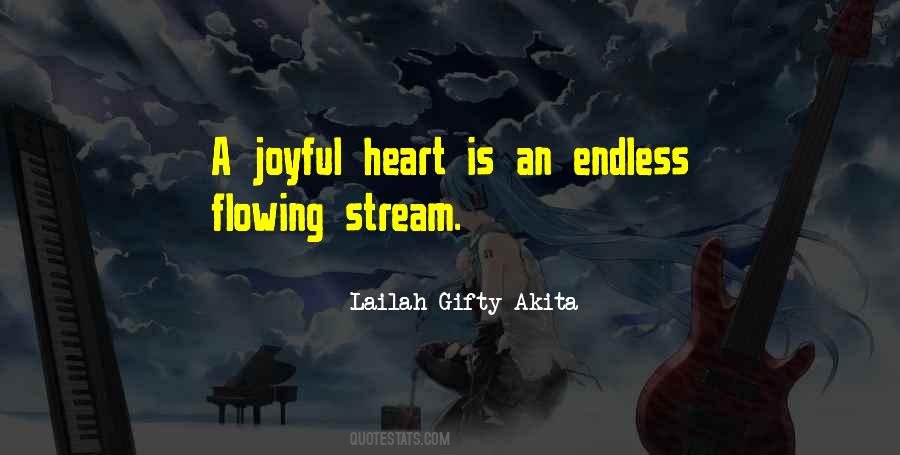 #10. Grace is available for each of us every day - our spiritual daily bread - but we've got to remember to ask for it with a grateful heart and not worry about whether there will be enough for tomorrow. - Author: Sarah Ban Breathnach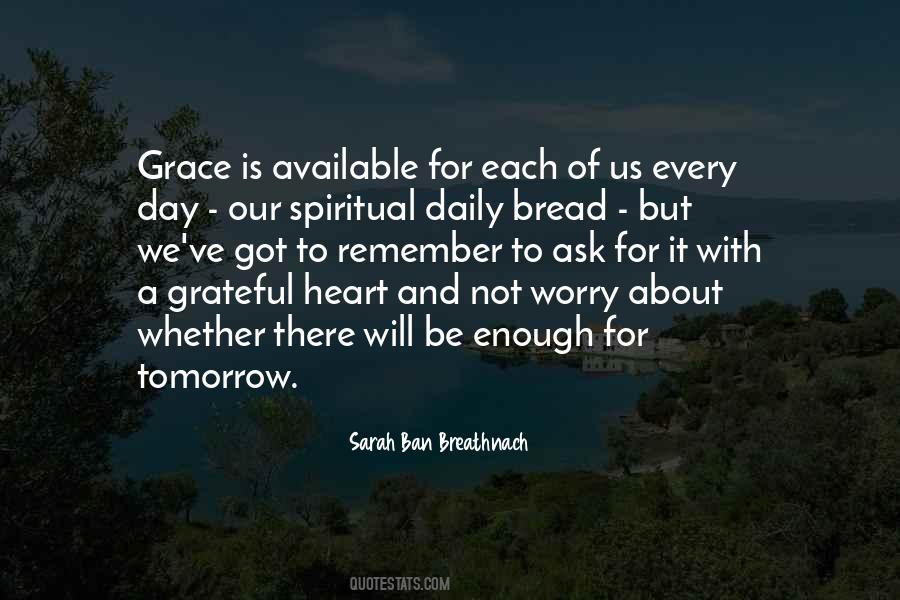 #11. A grateful loving heart carries with it, under every parallel of latitude, the warmth and light of the tropics. It plants its Eden in the wilderness and solitary place, and sows with flowers the gray desolation of rock and mosses. - Author: John Greenleaf Whittier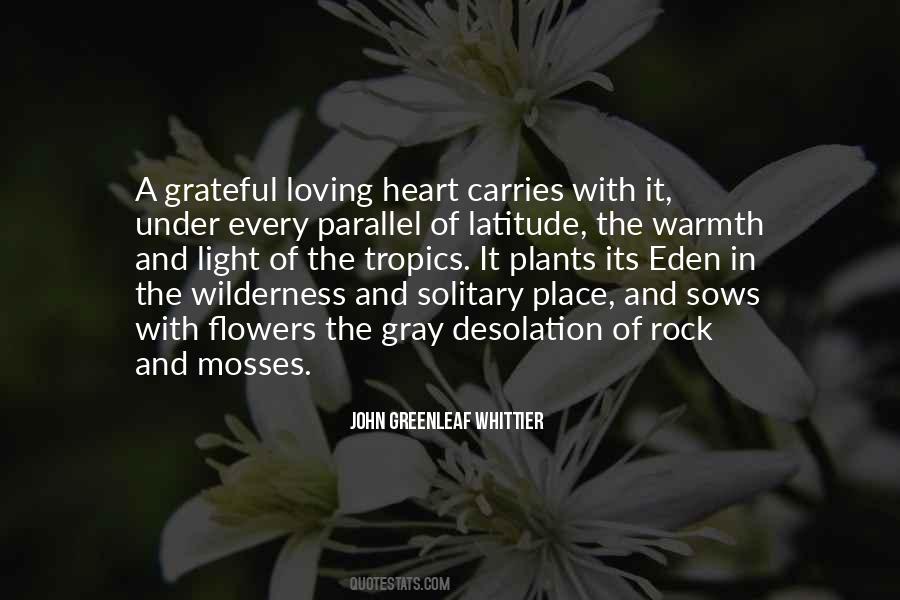 #12. A joyful spirit is evidence of a grateful heart. - Author: Maya Angelou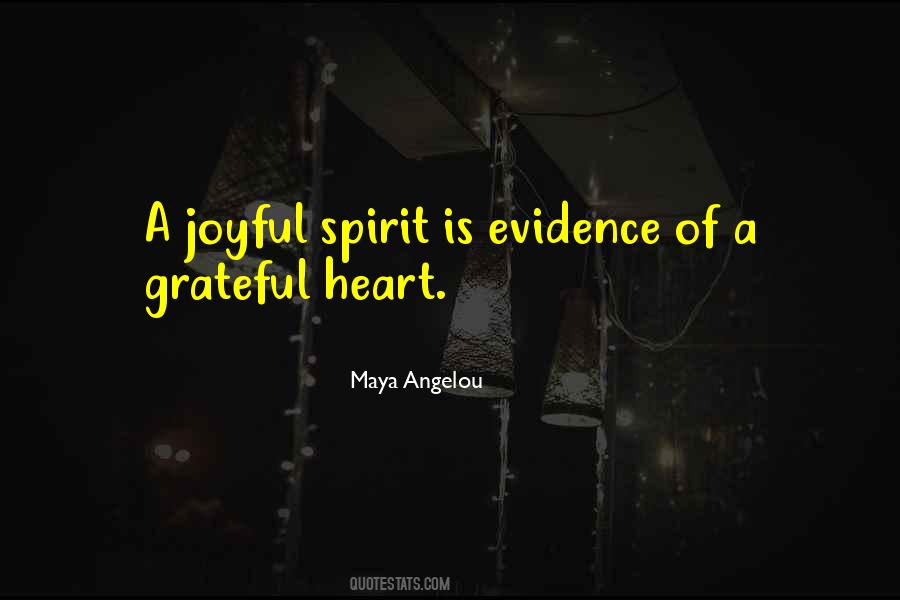 #13. I have prayed with the families and wept at the funerals of Hoosiers who did not shrink from 9-11 but grew into heroes whose names will forever be engraved in the heart of a grateful nation. - Author: Mike Pence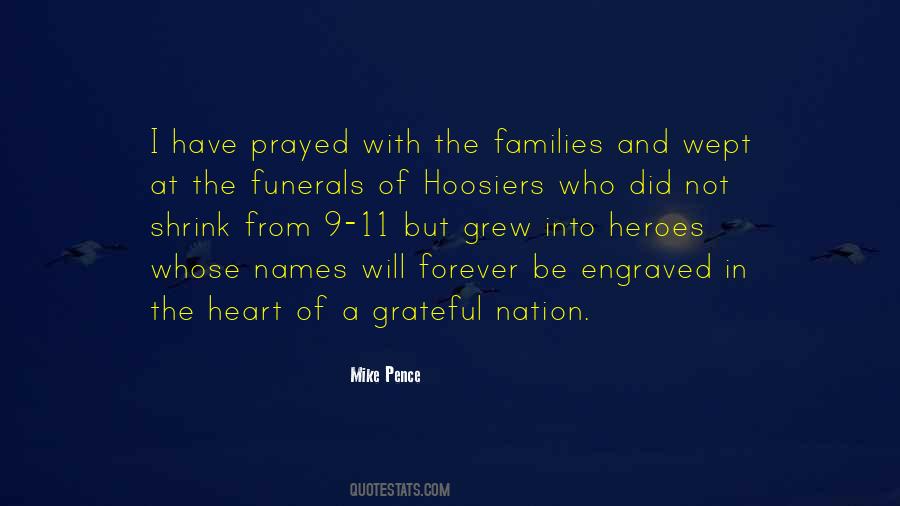 #14. Start each day with a positive thought and a grateful heart. - Author: Roy Bennett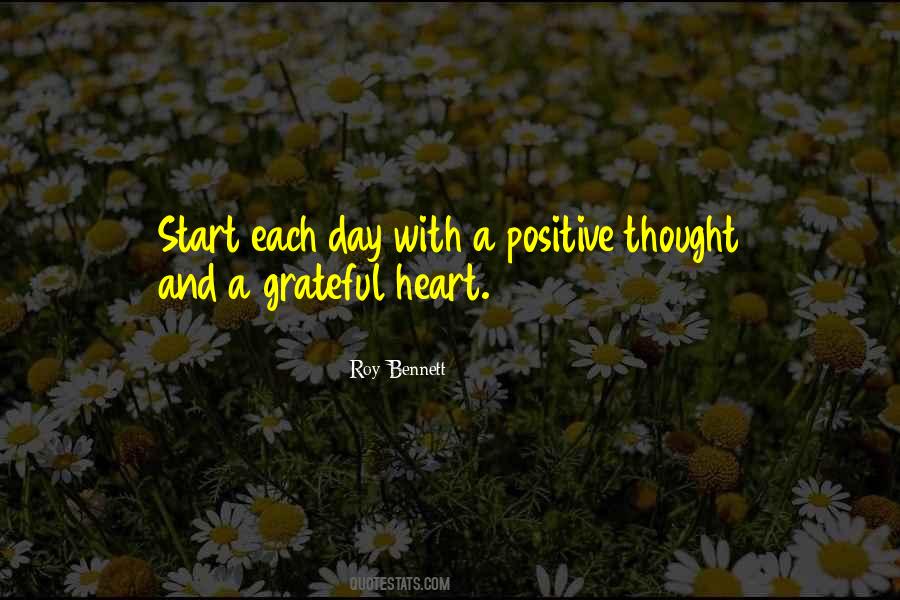 #15. An aware heart is a grateful heart. - Author: Toni Sorenson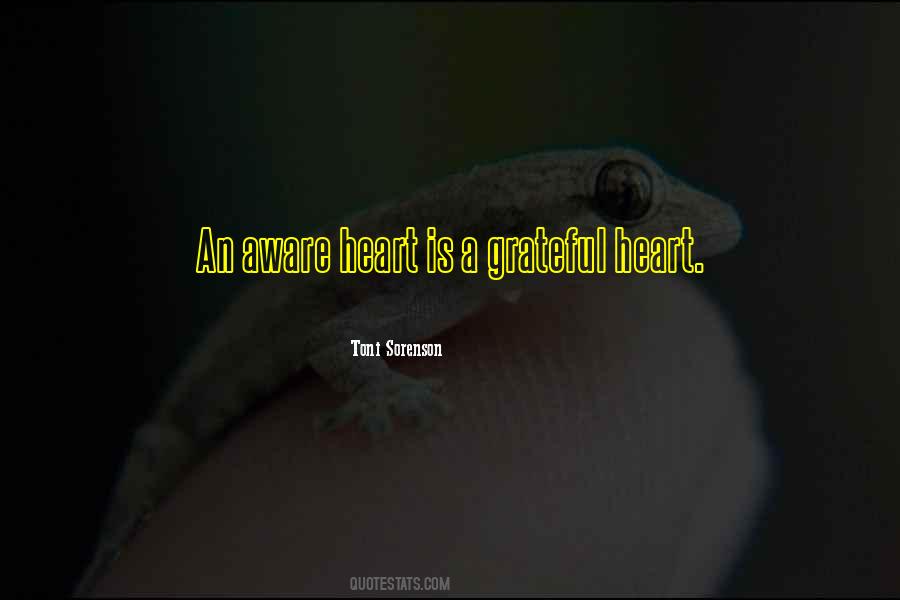 #16. Commit yourself to constant improvement. Commit yourself to quality. Be persistent, persistent, persistent ... and have a grateful heart! - Author: H. Jackson Brown Jr.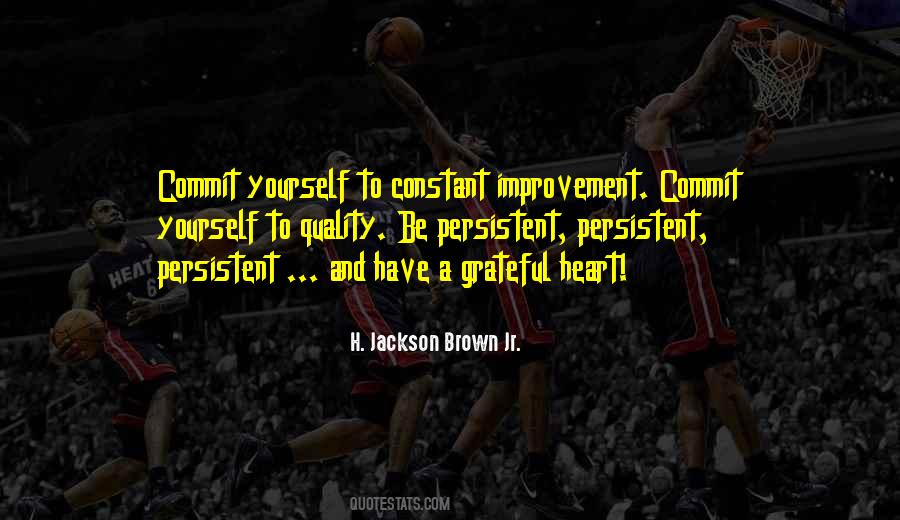 #17. Each day offers us the gift of being a special occasion if we can simply learn that as well as giving, it is blessed to receive with grace and a grateful heart. - Author: Sarah Ban Breathnach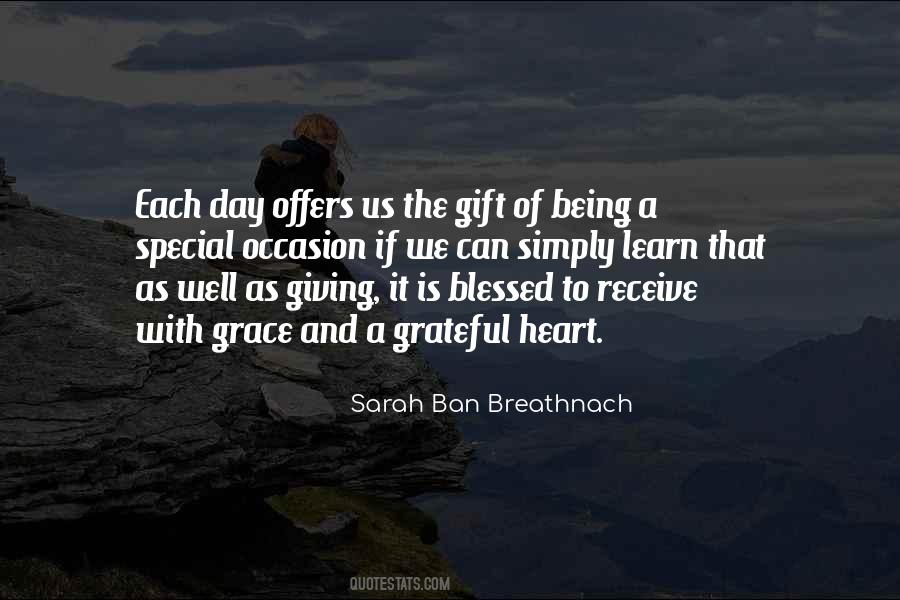 #18. People should relate to nature as birds do. Birds don't run around carefully preparing fields, planting seeds, and harvesting food. They don't create anything ... they just receive what is there for them with a humble and grateful heart. - Author: Masanobu Fukuoka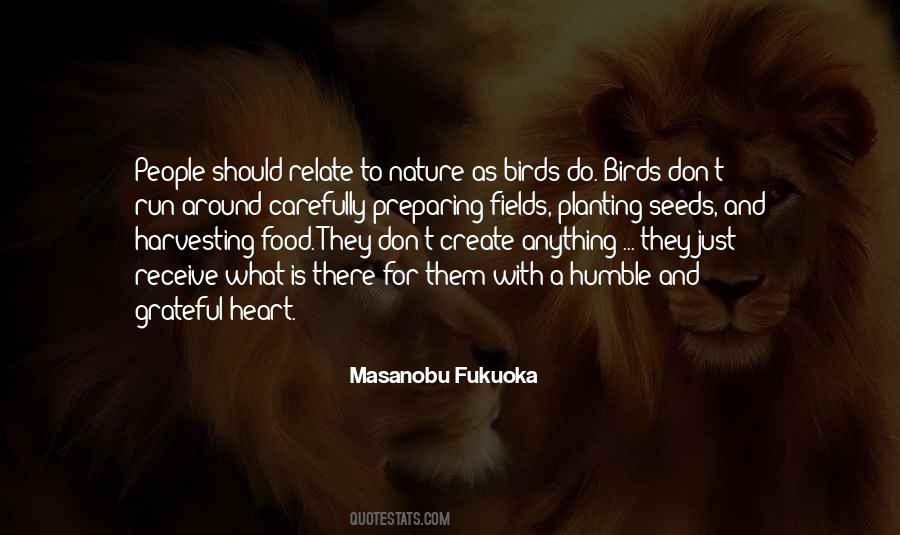 #19. There is no reason in the world why you should not be important where you are known. You have good sense, and a sweet temper, and I am sure you have a grateful heart, that could never receive kindness without hoping to return it. I do not know any better qualifications for a friend and companion. - Author: Jane Austen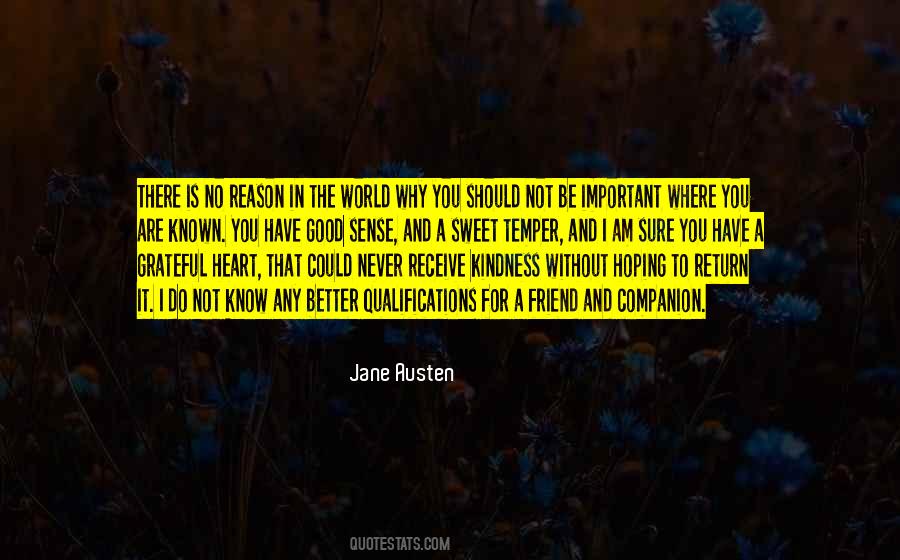 #20. Abundance flourishes in a grateful heart; gratutude is the secret of love. - Author: Harold Klemp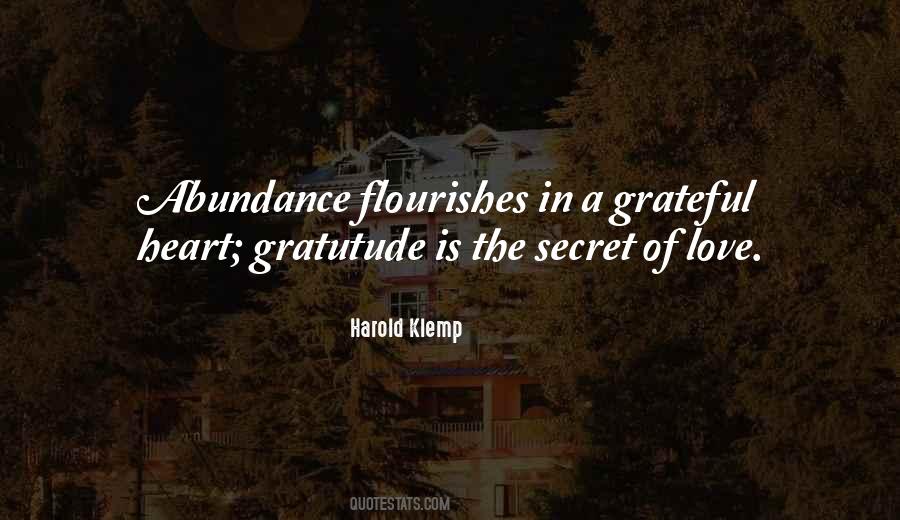 #21. Discipline yourself to start each day identifying something to be grateful about. The world opens to those who approach it with a grateful heart. - Author: Michael Josephson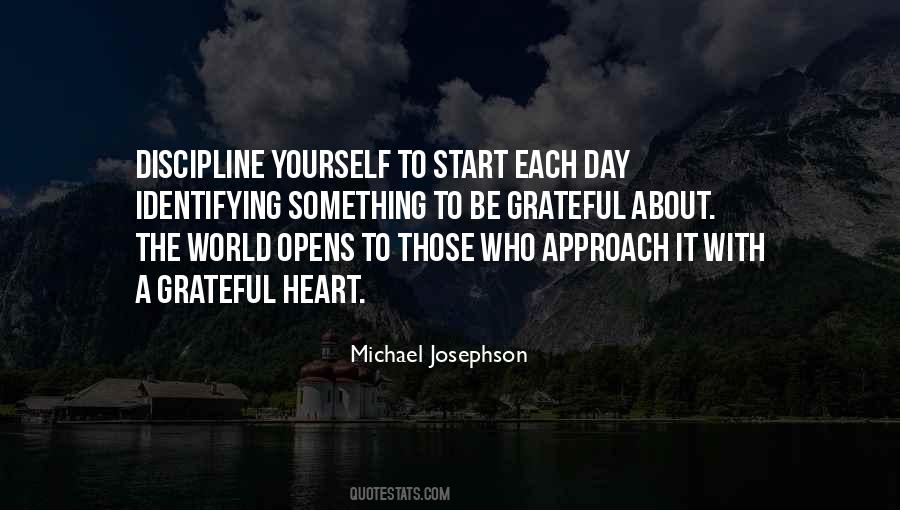 #22. A grateful heart is good medicine. - Author: Lailah Gifty Akita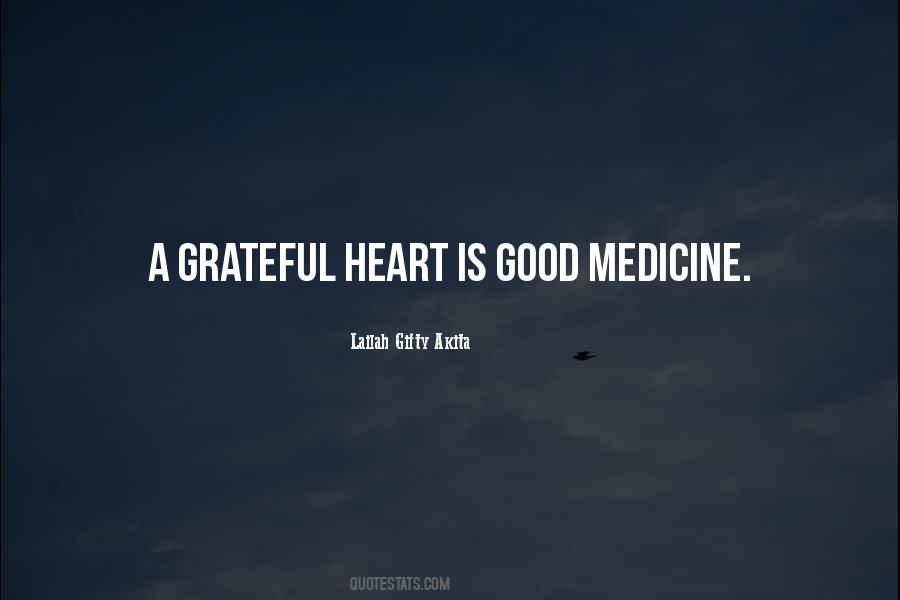 #23. A grateful heart is not one that is very selective and choosy about what to be grateful for. - Author: Radhanath Swami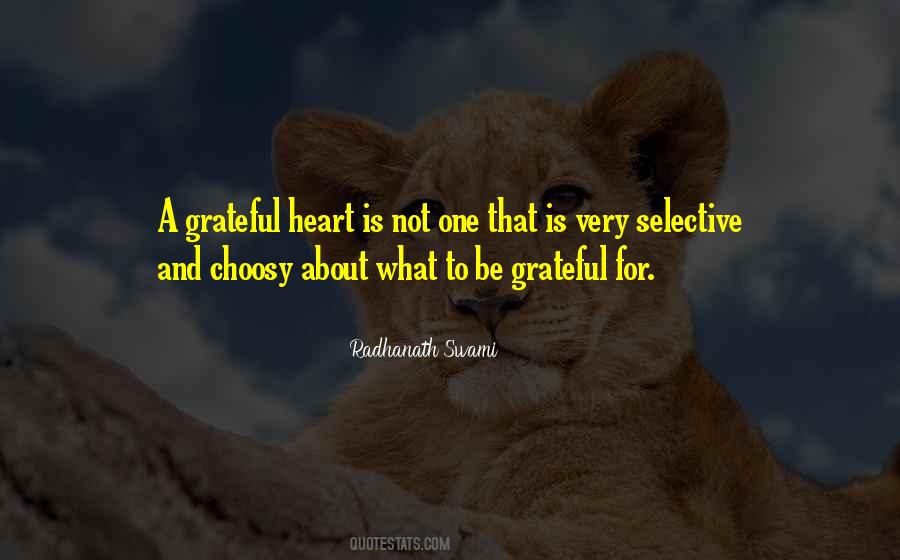 #24. A richer present I design,
A finished form, of work divine,
Surpassing all the power of art;
A thinking head, a grateful heart. - Author: Mary Barber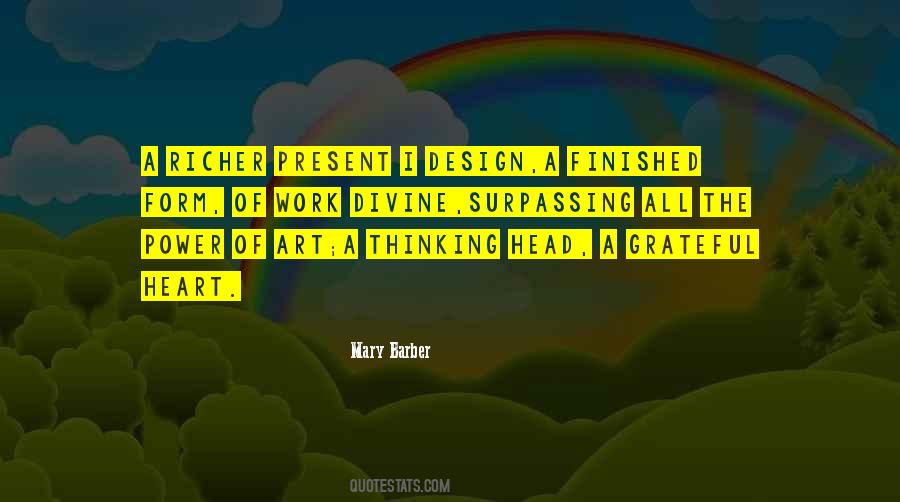 #25. I am grateful for all the chances I took which lead to a great paths. - Author: Lailah Gifty Akita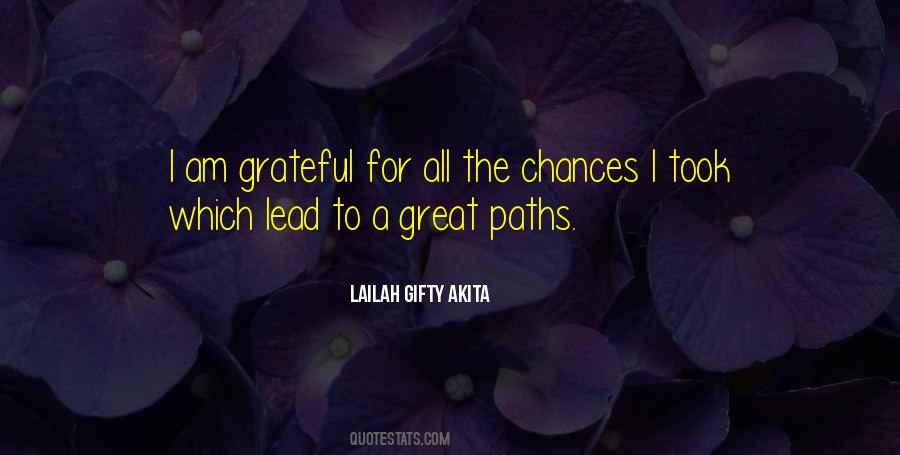 #26. Be cheerful [and grateful for the good that you have]: do not brood over fond hopes unrealized until a chain is fastened on each thought and wound around the heart. Nature intended you to be the fountain-spring of cheerfulness and social life, and not the mountain of despair and melancholy. - Author: Arthur Helps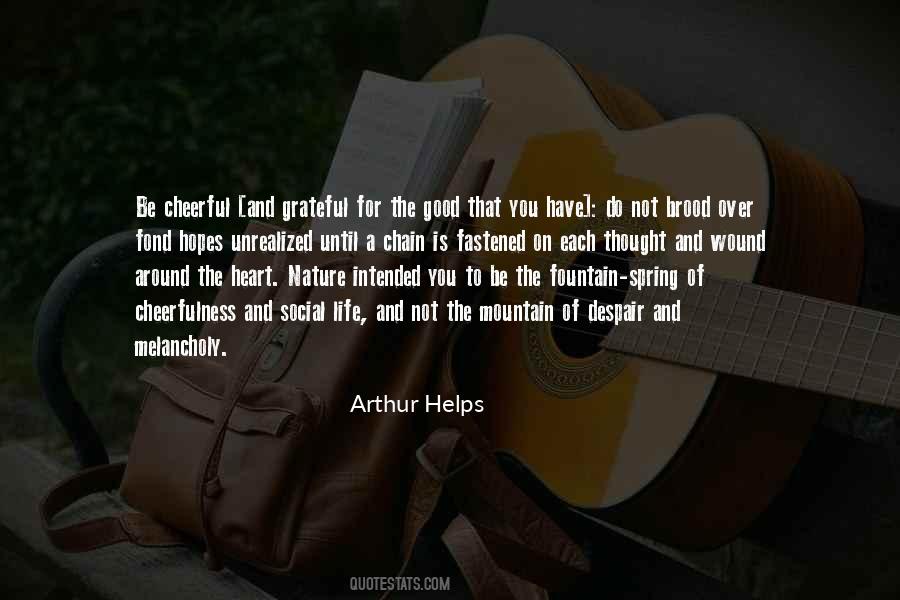 #27. Courtesies of a small and trivial character are the ones which strike deepest in the grateful and appreciating heart. - Author: Henry Clay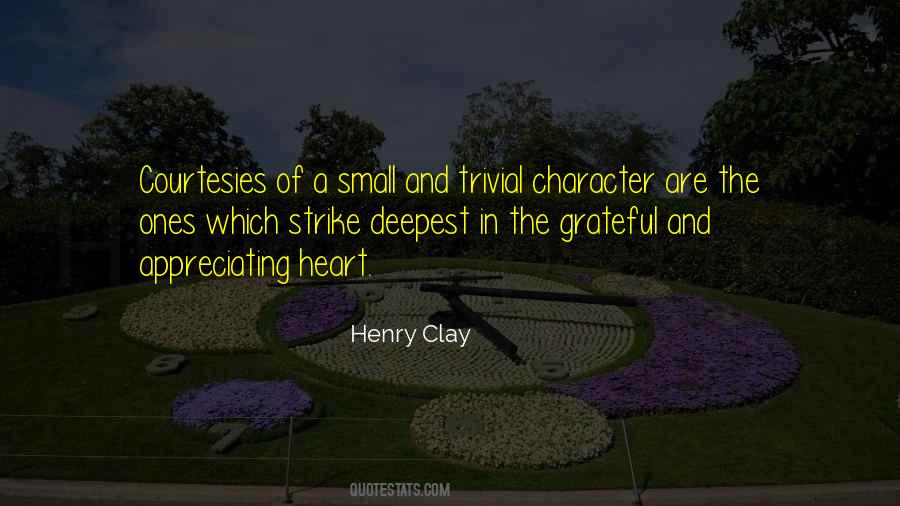 #28. I like life, it's wonderous and chaotic and somewhere in the middle I've created a safe place to do my thing in the world ~ I can't ask for much more & I am already so thankful when everything I got - Author: Nikki Rowe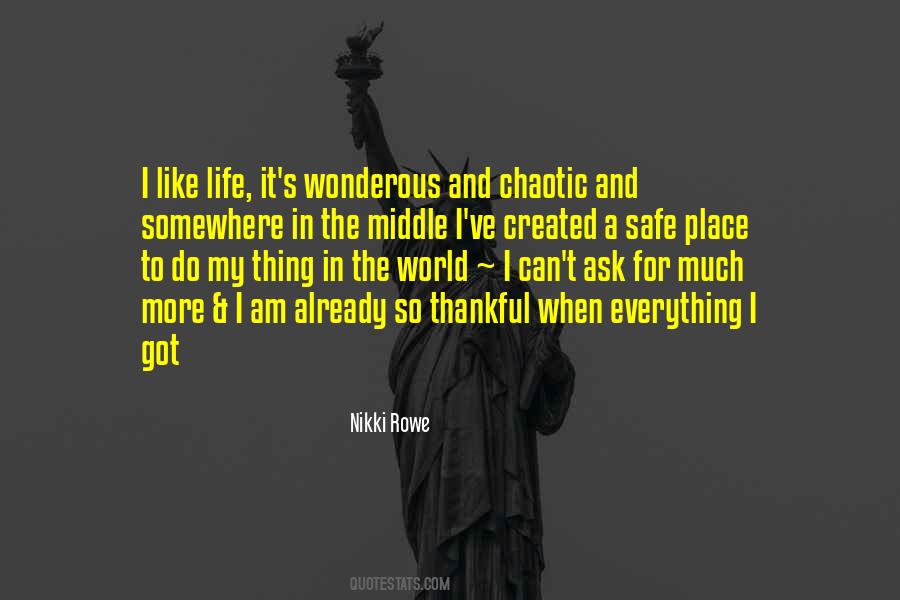 #29. In our heart, we are all the same and I think that belief makes me open up, reach out to others, and bring my own warmth and loving to them. I am very grateful that I have found a way to express what means so much to me, which is that caring for one another. - Author: Agapi Stassinopoulos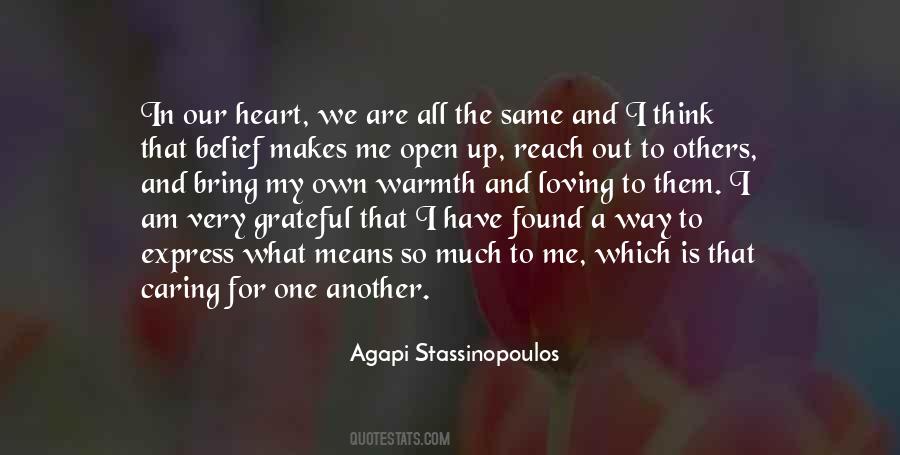 #30. I am grateful to God for a second-chance to live my life to the fullness. - Author: Lailah Gifty Akita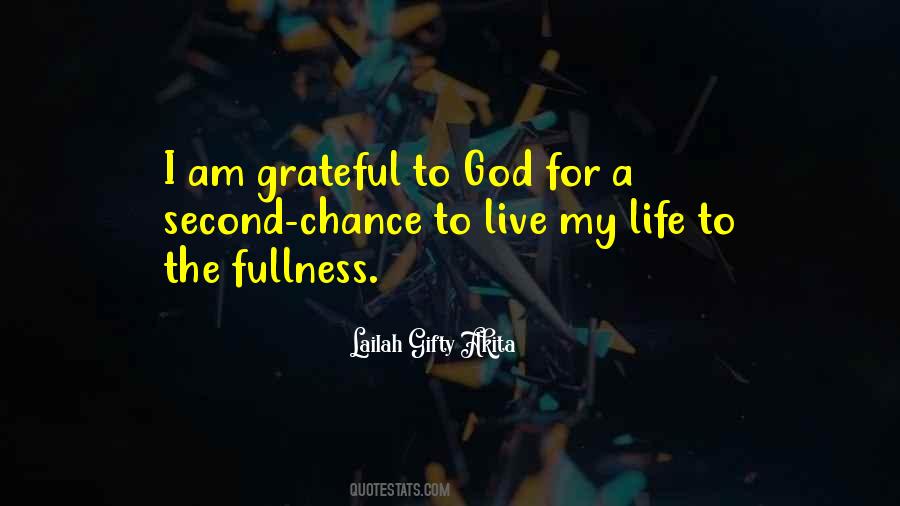 #31. I am persuaded that there is no affection of the human heart more exquisitely pure, than that which is felt by a grateful son towards a mother ... - Author: Hannah More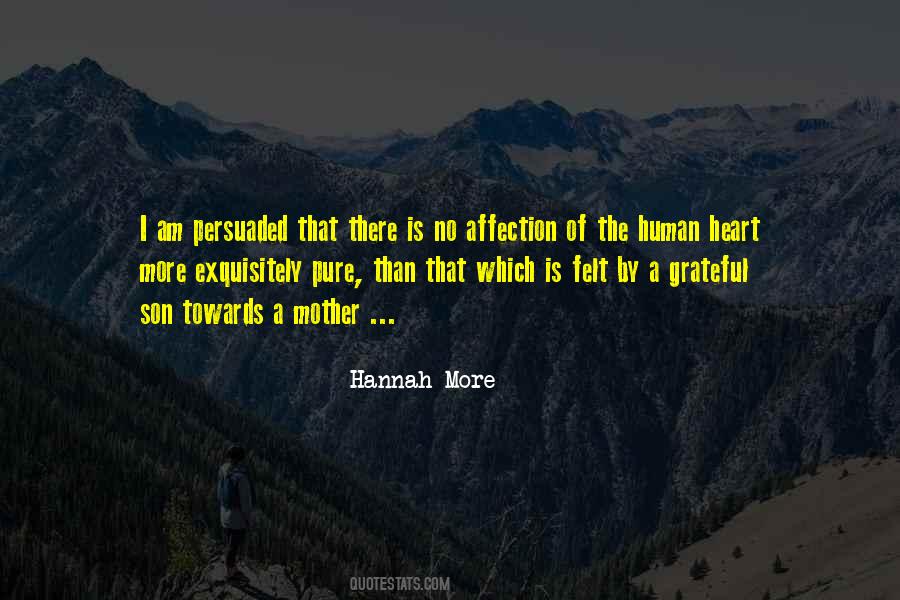 #32. Only a fulfilled heart can pray, because only a fulfilled heart can be grateful and can feel the grace descending. - Author: Rajneesh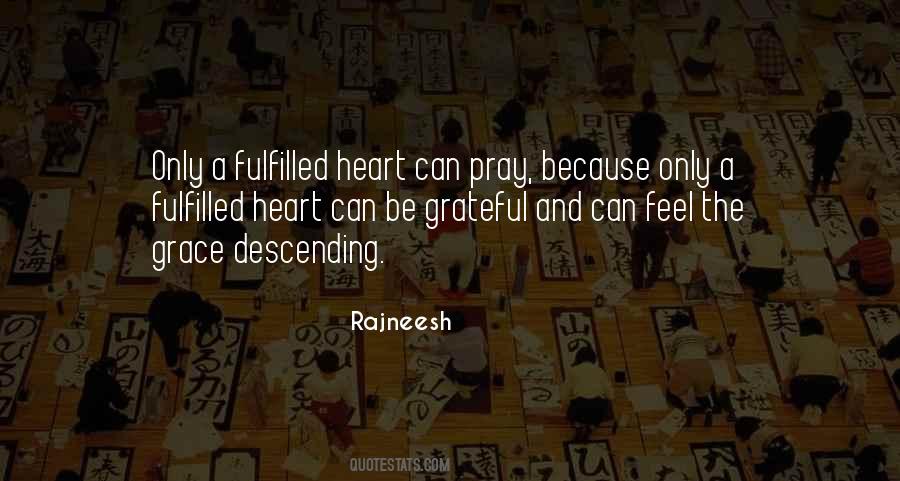 #33. A grateful heart is like a sponge that soaks up God's goodness. - Author: Joel Osteen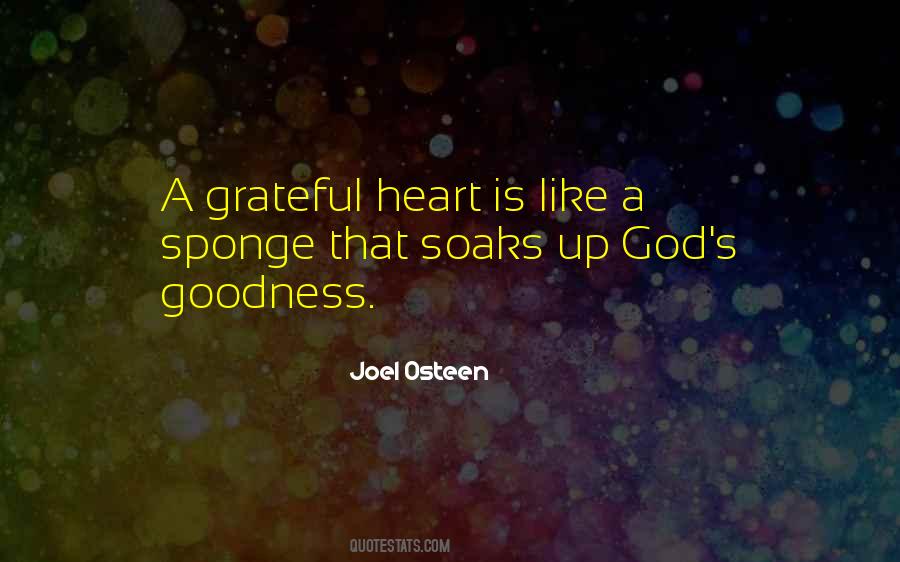 #34. We also learned our own history and I was so grateful that such richness comes from our family stories. Now we will forever remember the day that a Russian cellist spoke the heart of Czech people. Rostropovich loved Prague and so he viewed that performance as a personal tragedy. - Author: Kytka Hilmar-Jezek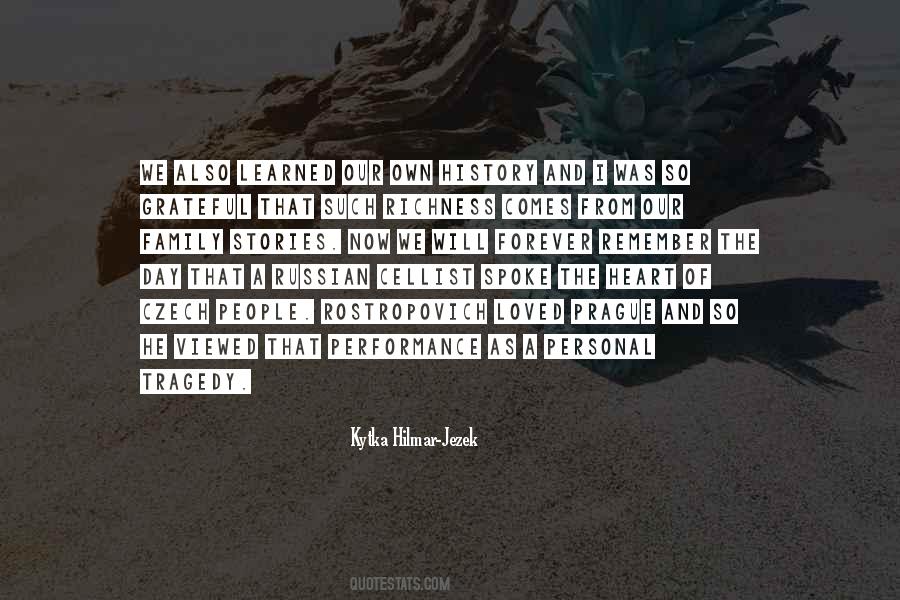 #35. We must exude a sense of proportional gratitude that humankind's exquisite texture is composed of a feeling soul and an intelligent will, which people refer to as memory of the heart. - Author: Kilroy J. Oldster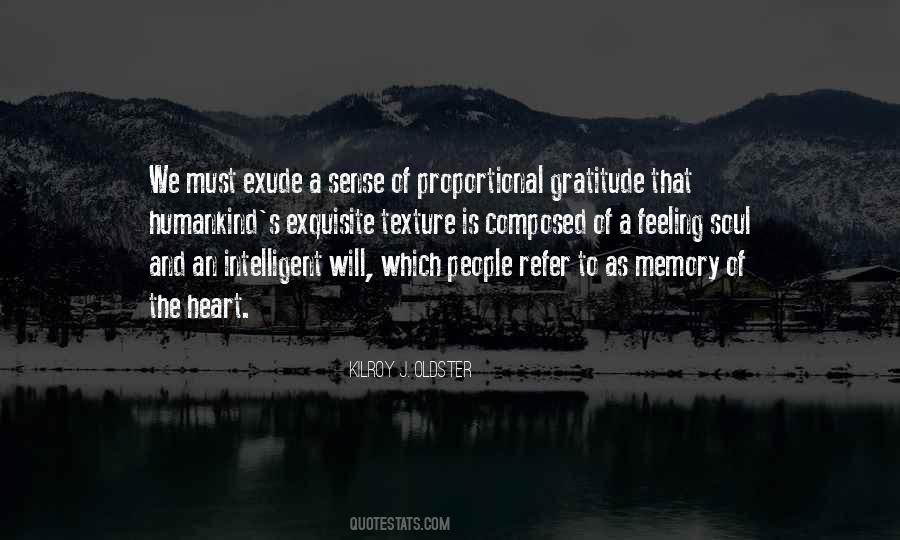 #36. Looking back, I am grateful for so many friends who helped me in my youth to gain a testimony of the restored Church of Jesus Christ. First, I exercised simple faith in their testimonies, and then I received the divine witness of the Spirit to my mind and to my heart. - Author: Dieter F. Uchtdorf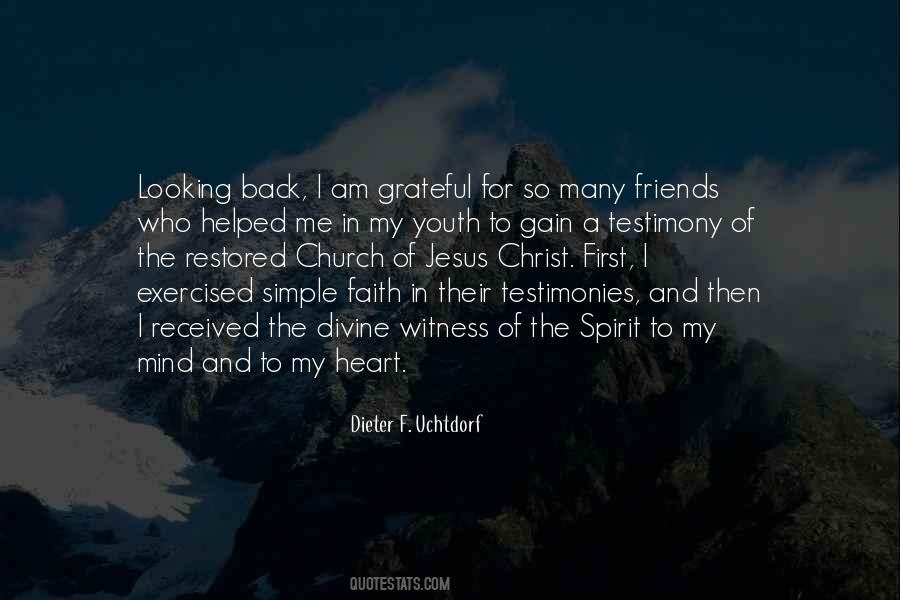 #37. How grateful are we
how touched a frank and generous heart is for a kind word extended to us in our pain! The pressure of a tender hand nerves a man for an operation, and cheers him for the dreadful interview with the surgeon. - Author: William Makepeace Thackeray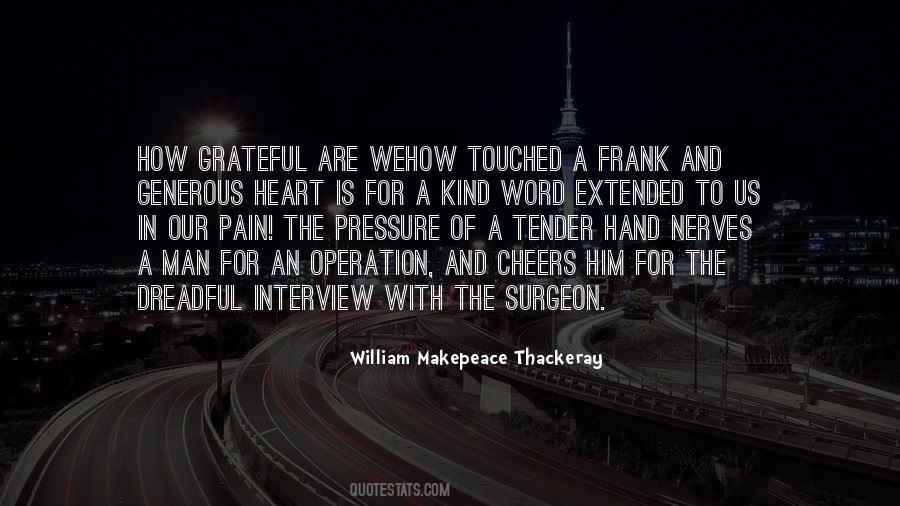 #38. A grateful heart ... comes through expressing gratitude to our Heavenly Father for His blessings and to those around us for all that they bring into our lives. - Author: Thomas S. Monson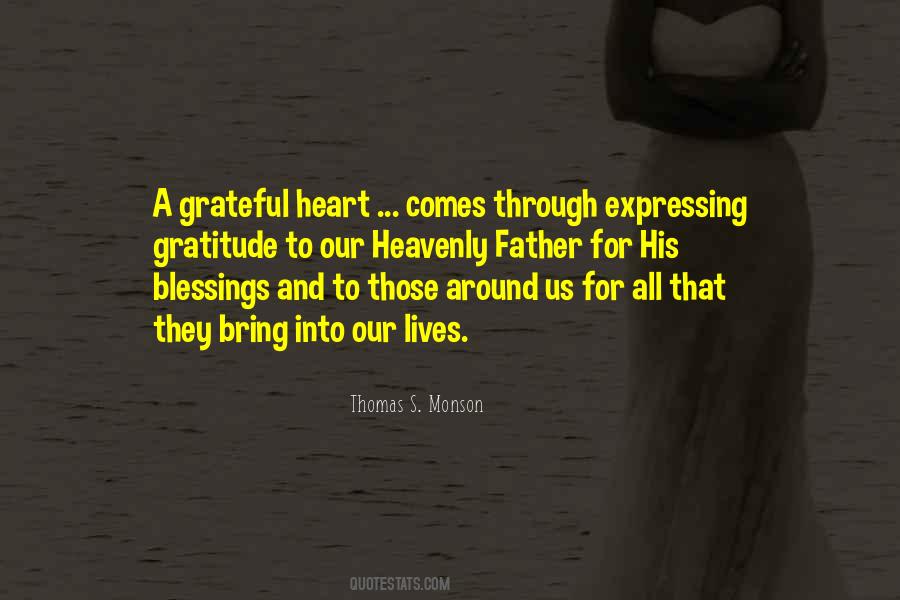 #39. Pray for and work for fullness of life above every thing; full red blood in the body; full honesty and truth in the mind; and the fullness of a grateful love for the Saviour in your heart. - Author: Phillips Brooks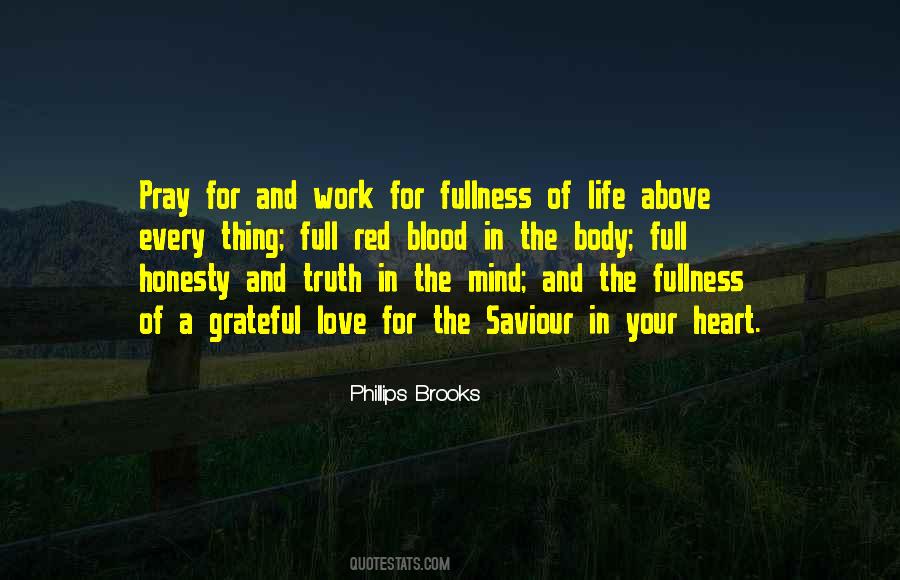 #40. A grateful heart is a beginning of greatness. It is an expression of humility. It is a foundation for the development of such virtues as prayer, faith, courage, contentment, happiness, love, and well-being. - Author: James E. Faust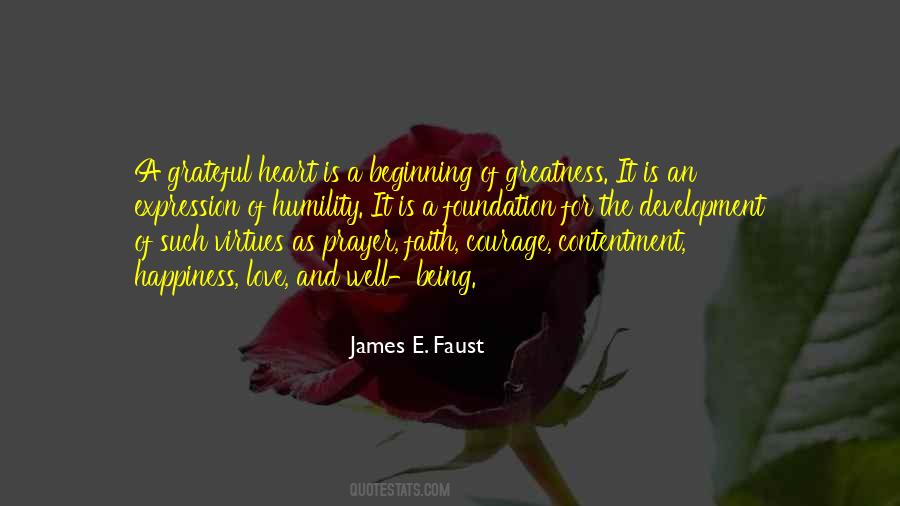 #41. The Negro people of America ... have cut our forests, tilled our fields, built our railroads, fought our battles, and in all of their trials they have manifested a simple faith, a grateful heart, a cheerful spirit, and an undivided loyalty . - Author: Mordecai Wyatt Johnson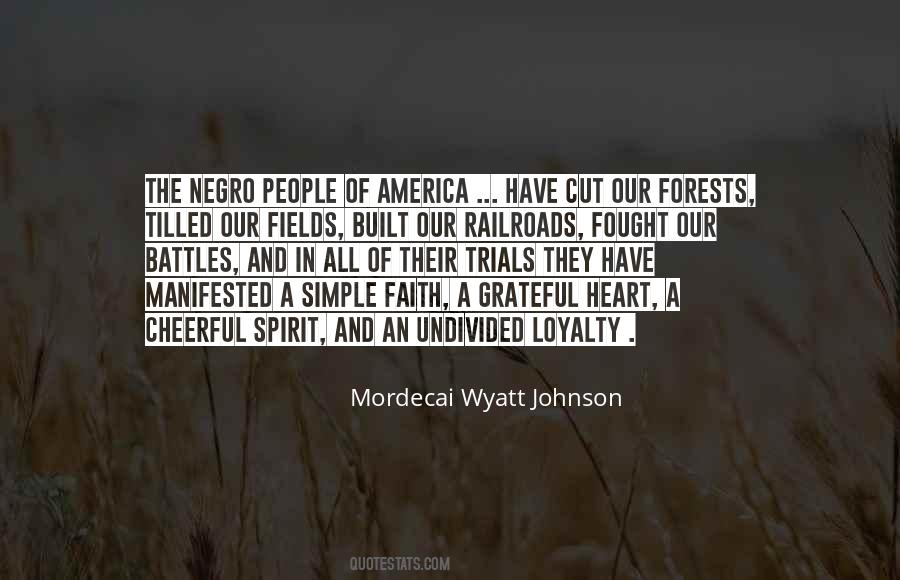 #42. Only when we're thoroughly convinced that the Christian life is entirely of grace are we able to serve God out of a grateful and loving heart. - Author: Jerry Bridges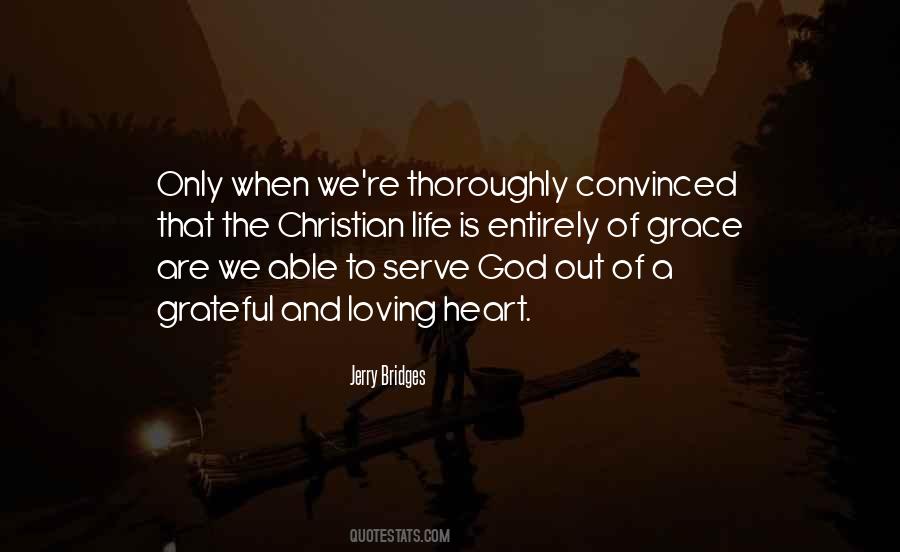 #43. Of whom I can say with a grateful heart, 'I was hungry, and he gave me meat; I was thirsty, and he gave me drink; I was a stranger, and he took me in.' - Author: Frederick Douglass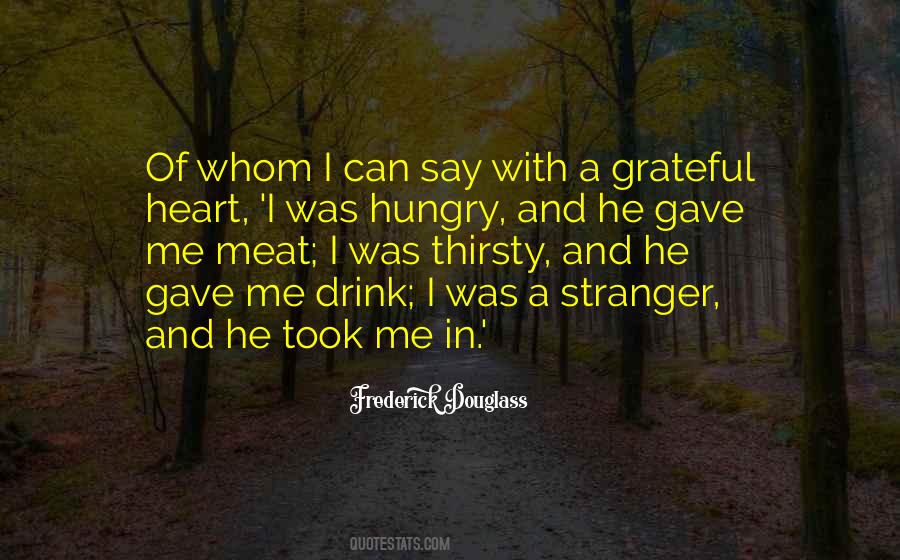 #44. Aiden had filled a part of my heart that I hadn't known was empty. And for that I'd be forever grateful. Beneath the pain was the reality of the end of whatever it was we'd shared. I missed him, and his absence was profound. He was everywhere, yet he was nowhere at all. - Author: Lilly Wilde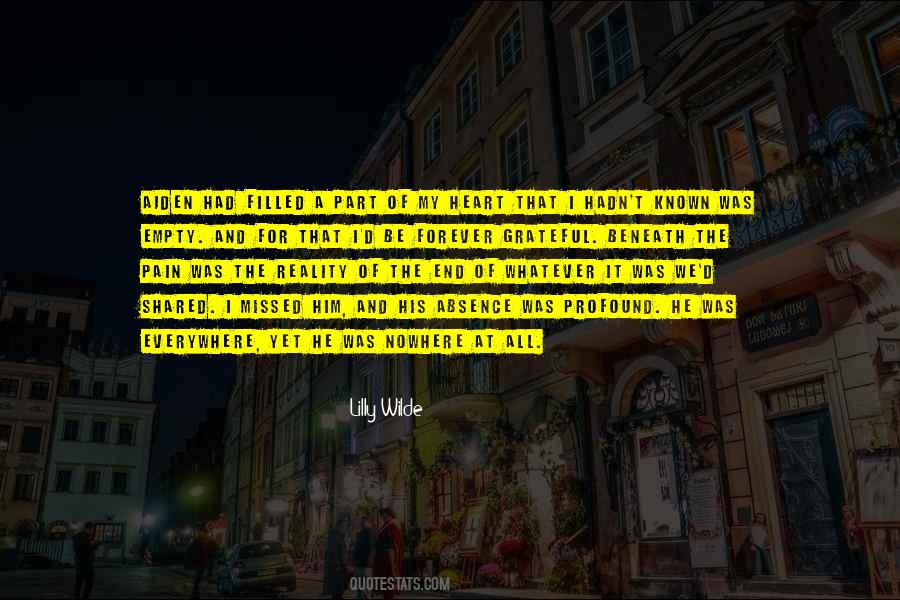 #45. To "hallow" God's name is not merely to live righteous lives but to have a heart of grateful joy toward God - and even more, a wondrous sense of his beauty. We do not revere his name unless he "captivate[s] us with wonderment for him."198 - Author: Timothy Keller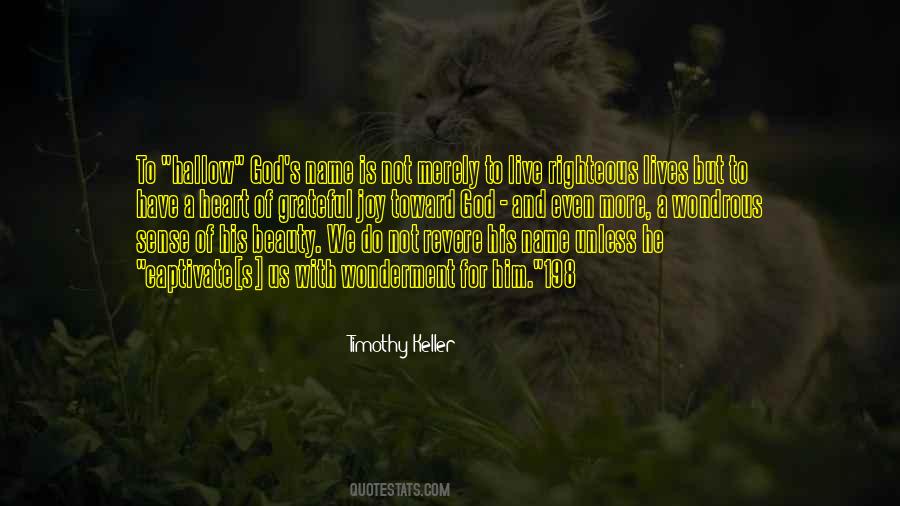 #46. Count your blessings. A grateful heart attracts more joy, love and prosperity. - Author: Cheryl Richardson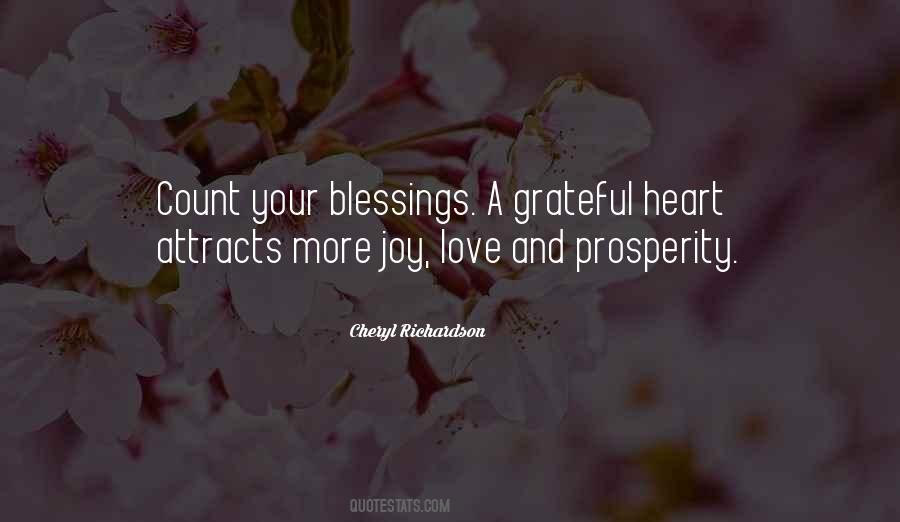 #47. Have a grateful heart to be happy. - Author: H. Jackson Brown Jr.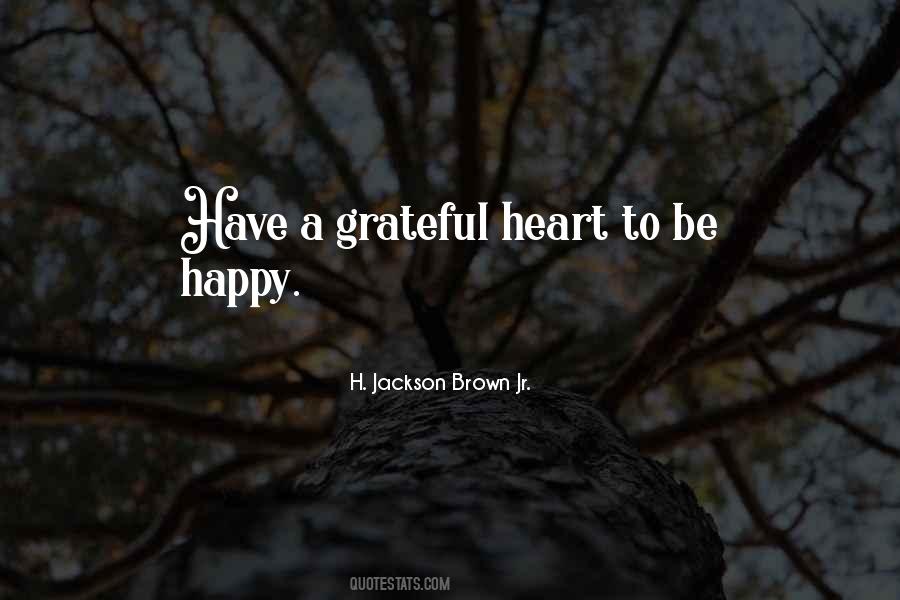 #48. Gratefulness heightens awareness. - Author: A.D. Posey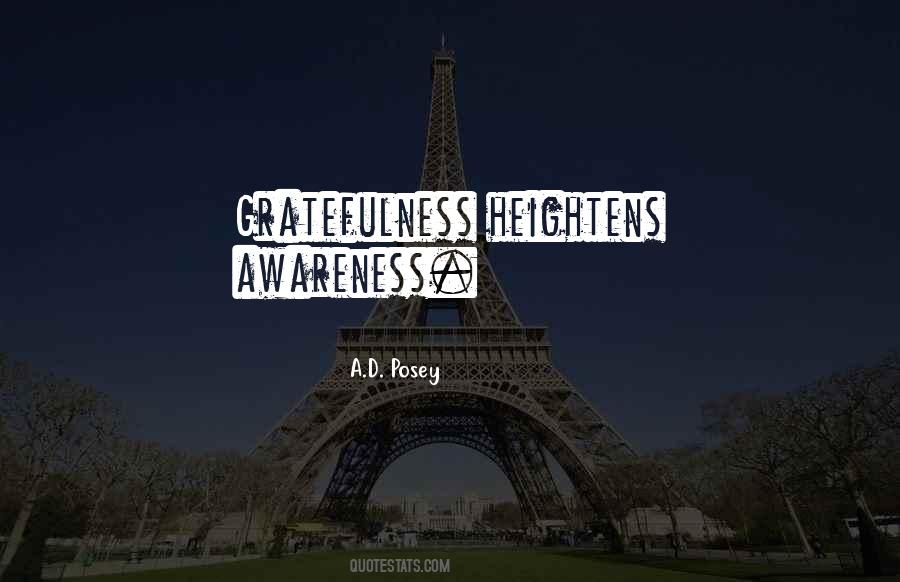 #49. I'm alive with love in my heart.. I'm grateful for each moment.. With a little patience and god's grace I know everything in my life will work out on its own time! - Author: Nehali Lalwani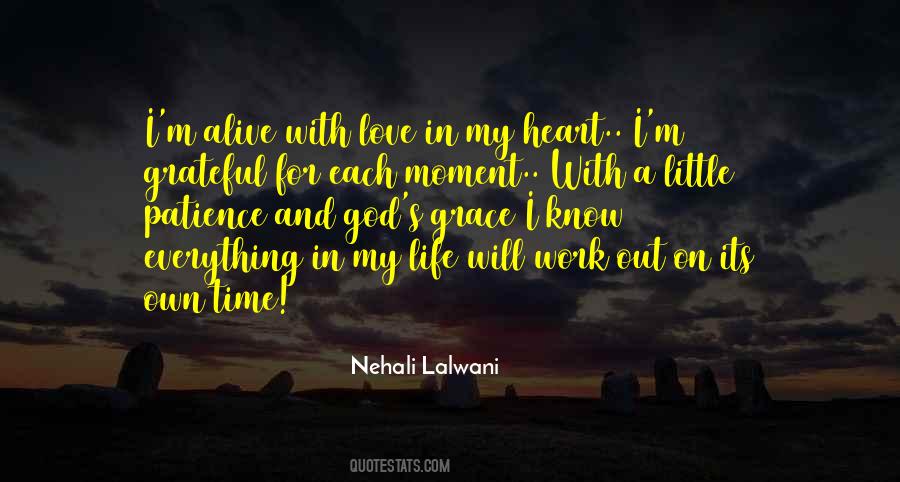 #50. A second chance is a direct pathway to a grateful heart and an astonished mind. - Author: Holly Elissa Bruno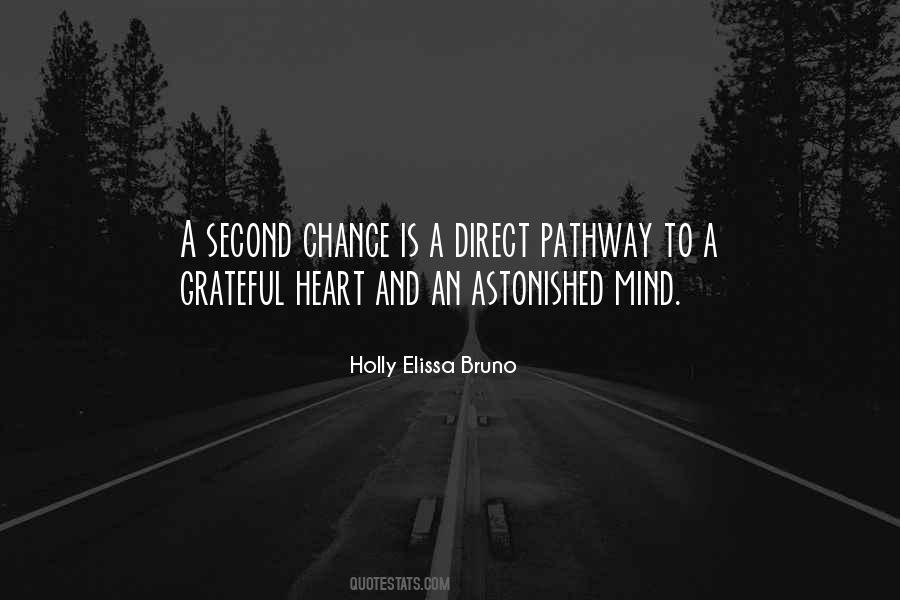 #51. As we become curators of our own contentment on the Simple Abundance path ... we learn to savor the small with a grateful heart. - Author: Sarah Ban Breathnach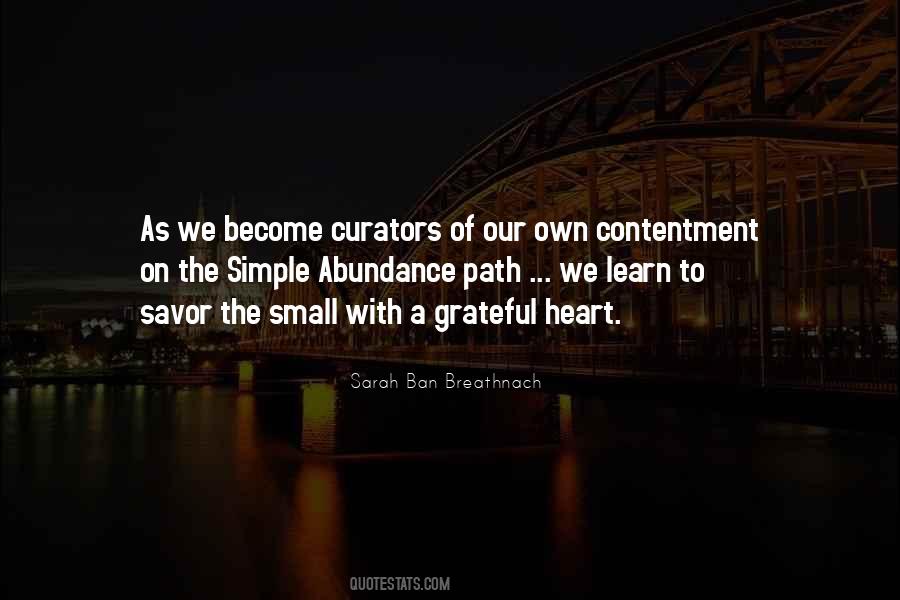 #52. A thankful heart, a grateful soul. - Author: Lailah Gifty Akita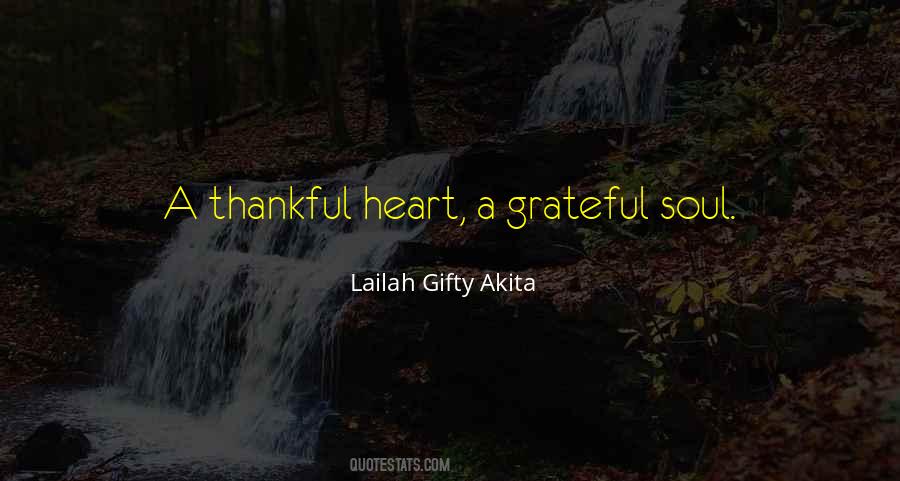 #53. On the contrary, having the amiable vanity which knits us to those who are fond of us, and disinclines us to those who are indifferent, and also a good grateful nature, the mere idea that a woman had a kindness towards him spun little threads of tenderness from out his heart towards hers. - Author: George Eliot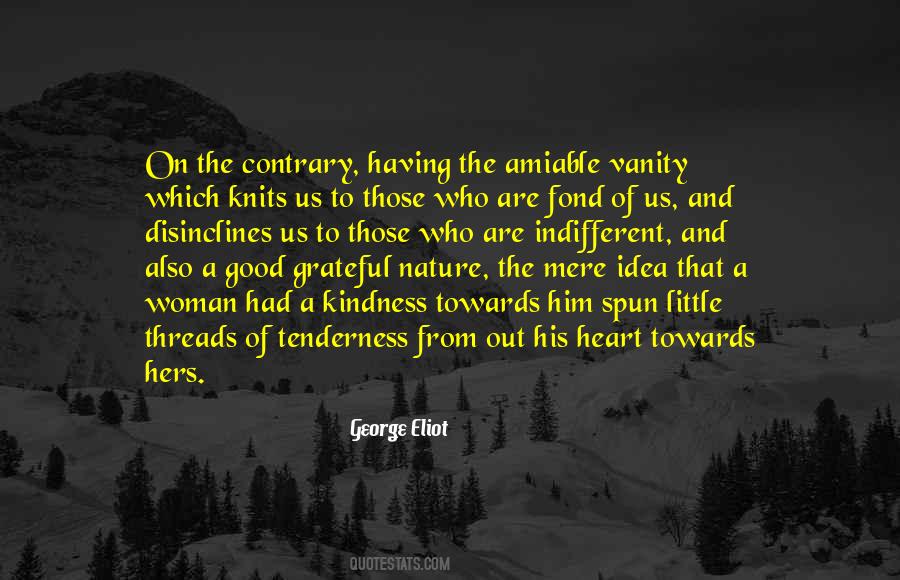 #54. What? What's so funny? Some idiot tried to put a stake through your heart, and he didn't even hit the darn thing!"
For which I am grateful. And I am even more grateful that you rescued me. I did not like being imprisoned and in such pain. - Author: Christine Feehan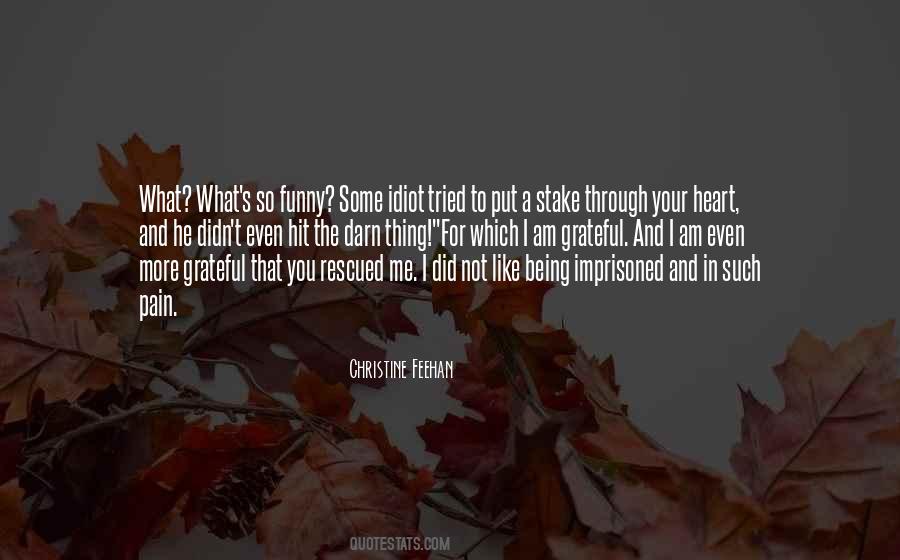 #55. We can set our deeds to the music of a grateful heart, and seek to round our lives into a hymn - the melody of which will be recognized by all who come in contact with us, and the power of which shall not be evanescent, like the voice of the singer, but perennial, like the music of the spheres. - Author: William Mackergo Taylor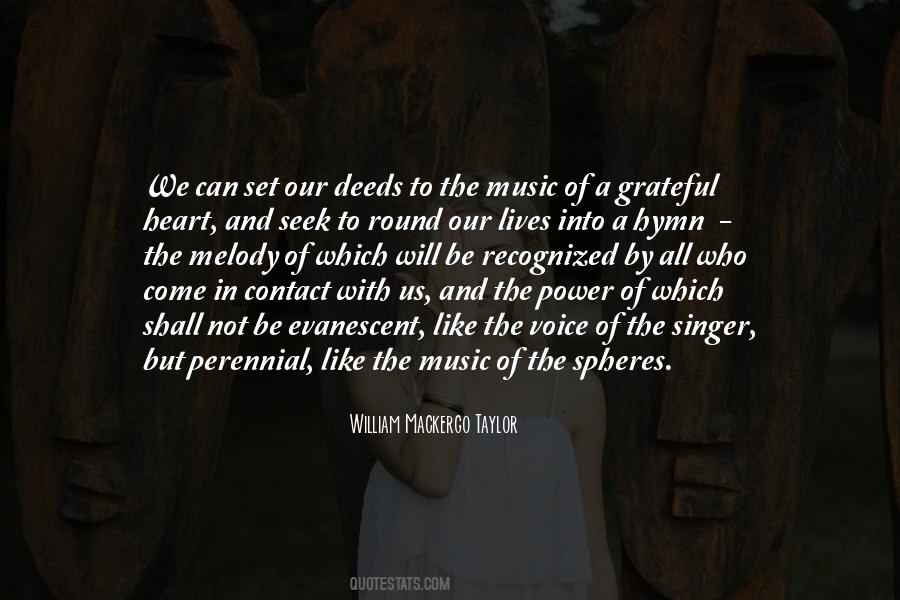 #56. A grateful heart is a medicine to the soul. - Author: Lailah Gifty Akita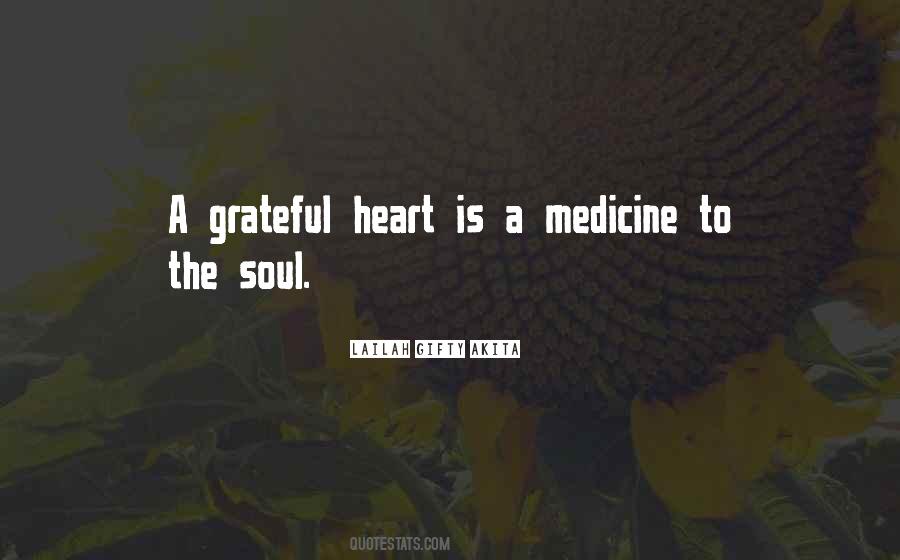 #57. I'm grateful to myself and those closest to me me for having given me that non-material base that means I'm a happy man, one who doesn't have to compete or engineer projects he doesn't have his heart in. - Author: George Harrison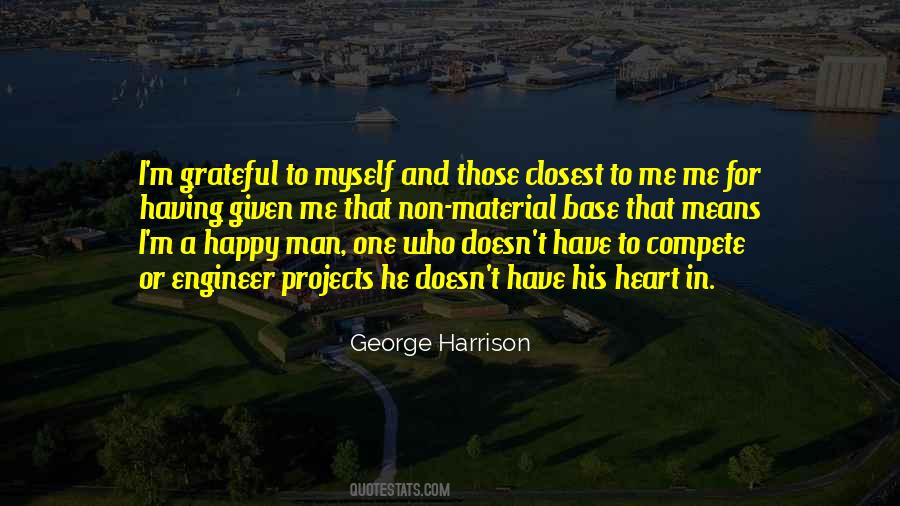 #58. Be like a lotus. Let the beauty of your heart speak. Be grateful to the mud, water, air and the light. - Author: Amit Ray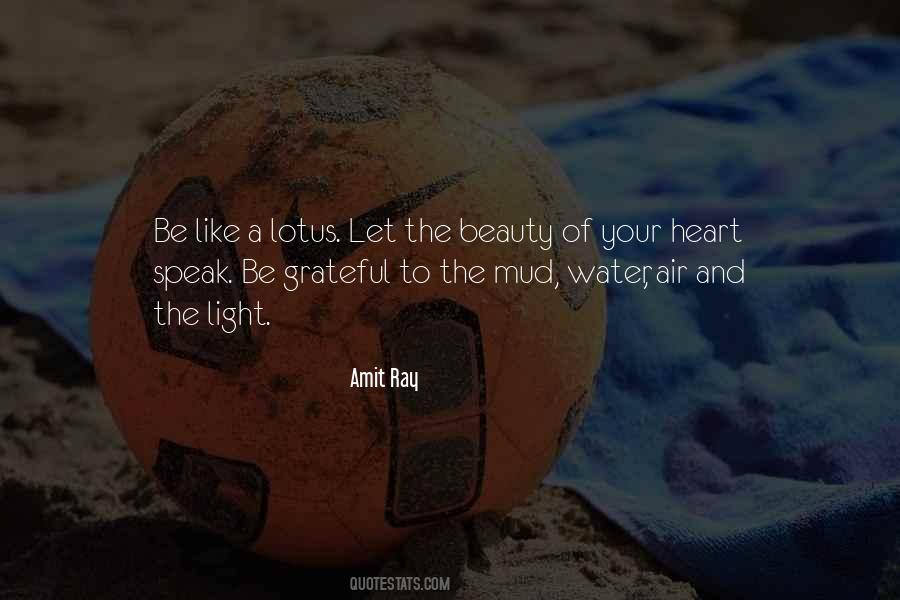 #59. End your day with a smile, a happy thought, and a grateful heart. - Author: Clint Walker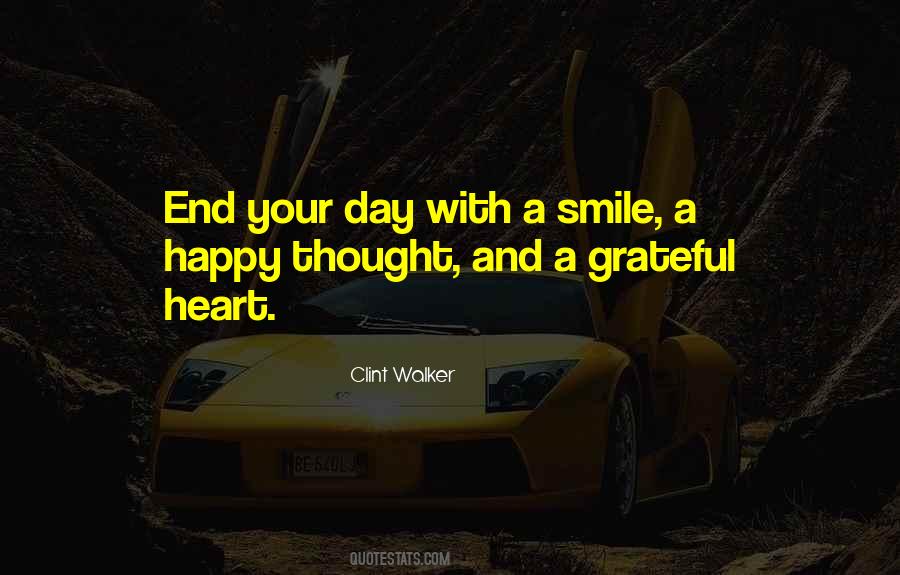 #60. A noble heart is a thankful heart that loves to acknowledge whenever it has received any mercy. - Author: Jeremiah Burroughs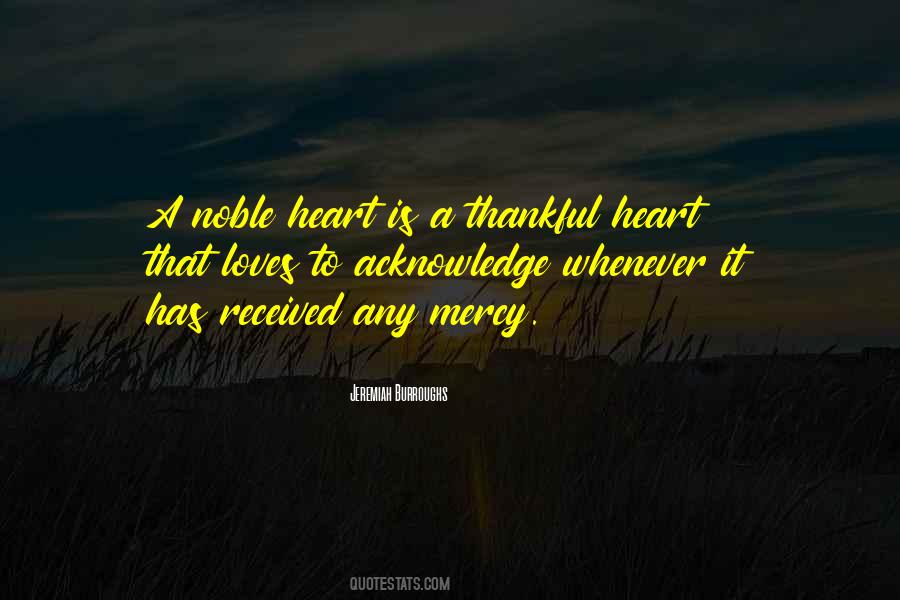 #61. I love physics with all my heart ...
It is a kind of personal love, as one has for
a person to whom one is grateful for many things. - Author: Lise Meitner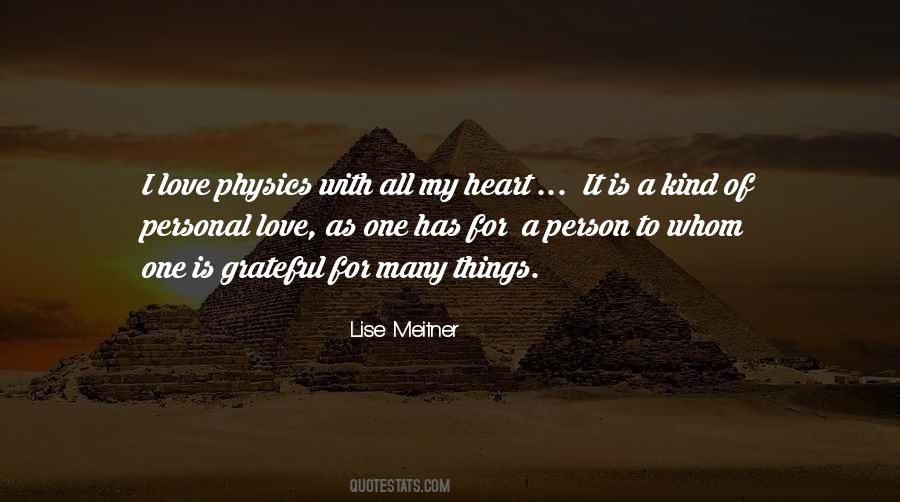 #62. After all, the seeds of depression cannot take root in a grateful heart. - Author: Andy Andrews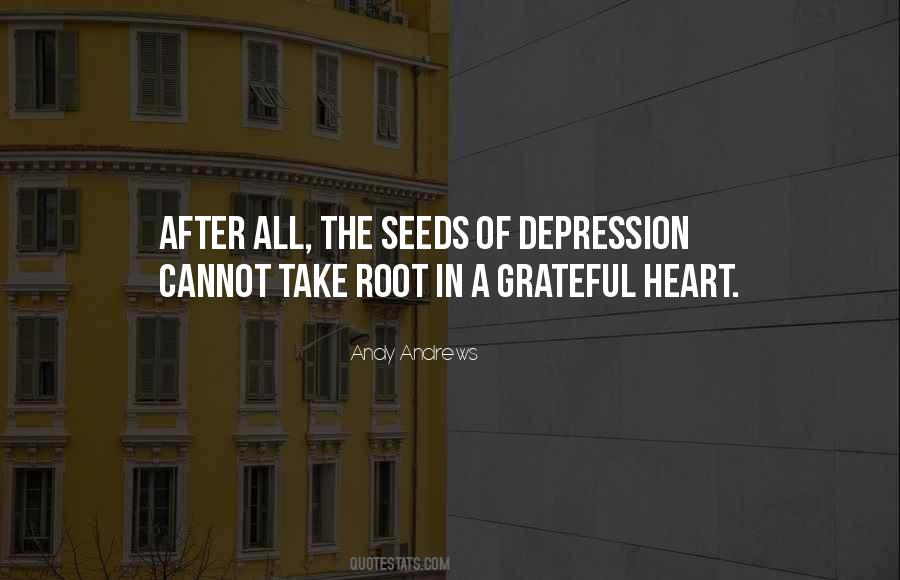 #63. Among the things you can give and still keep are your word, a smile, and a grateful heart. - Author: Zig Ziglar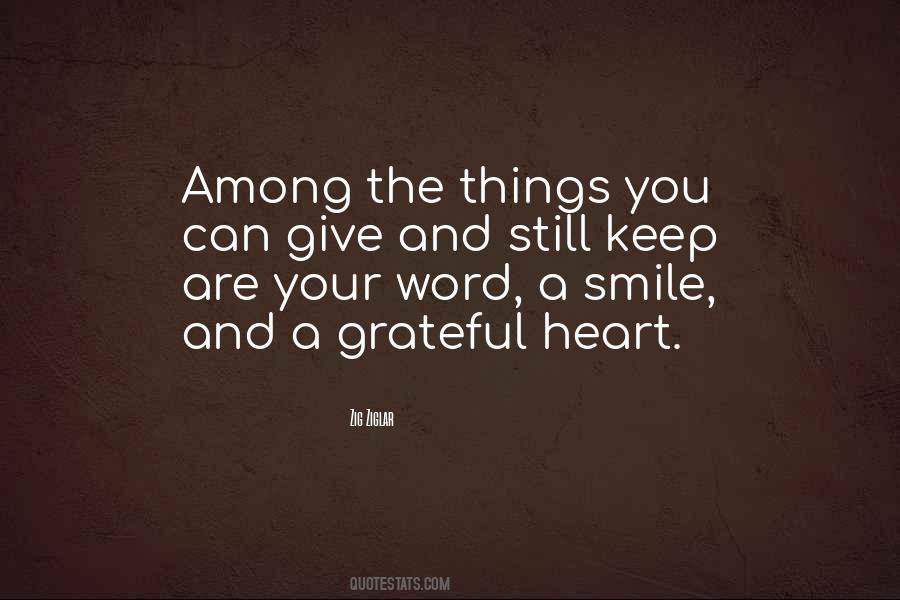 #64. A proud man is seldom a grateful man, for he never thinks that he gets as much as he deserves."1 The grateful heart, on the other hand, sees each day as a gift. - Author: Max Lucado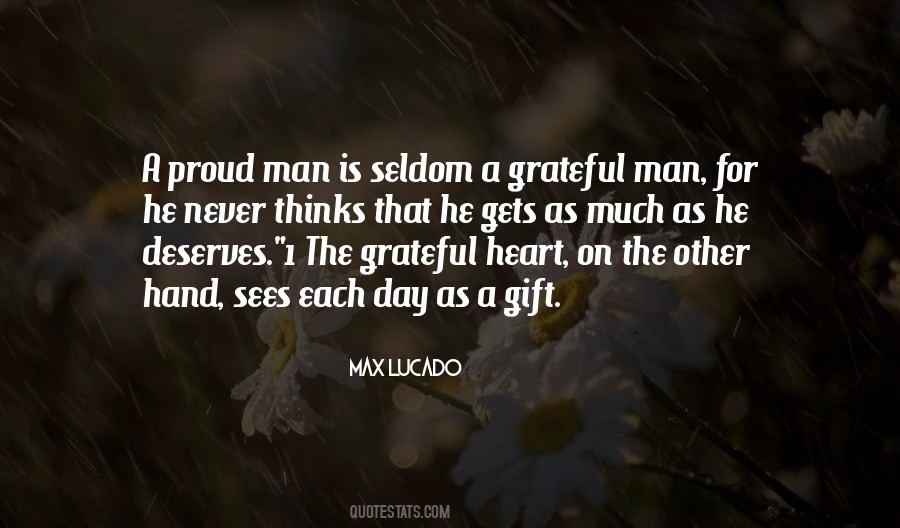 #65. I fell in love with a monster who had a heart, even though darkness surrounded him. And while I wouldn't wish for anyone to endure the same circumstances or past we did, I was so grateful for becoming the monster's ultimate obsession. - Author: V.F. Mason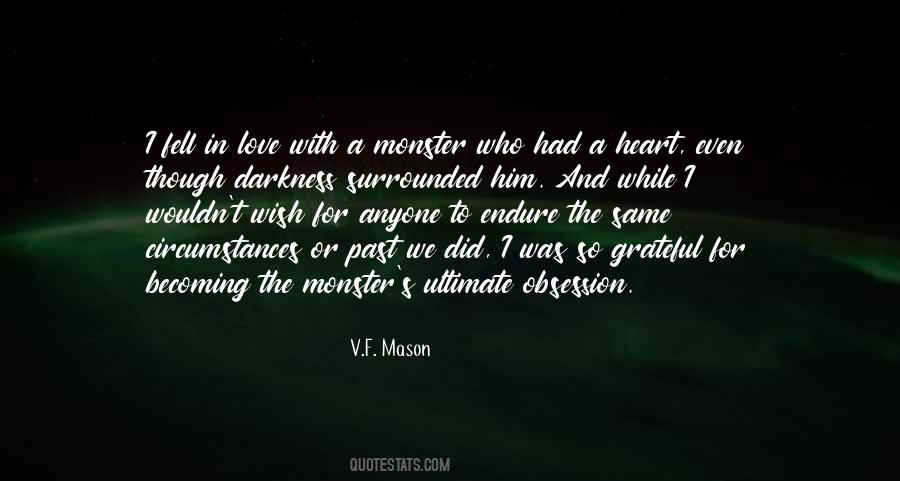 #66. Kindness is like a warm blanket of snow, softly covering and gently touching the heart. - Author: Heather Wolf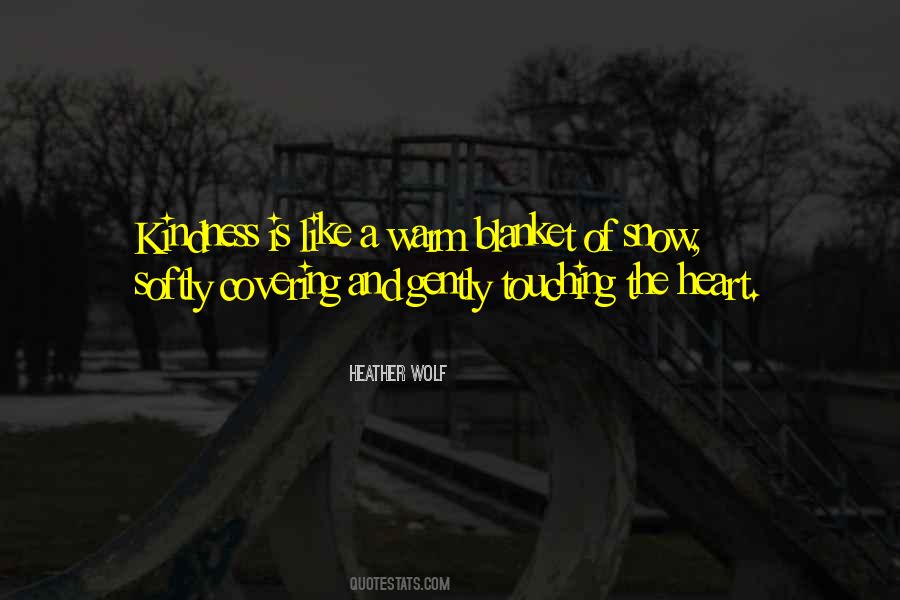 #67. For me, prayer means launching out of the heart towards God; it means lifting up one's eyes, quite simply, to heaven, a cry of grateful love, from the crest of joy or the trough of despair; it's a vast, supernatural force which opens out my heart, and binds me close to Jesus. - Author: Therese Of Lisieux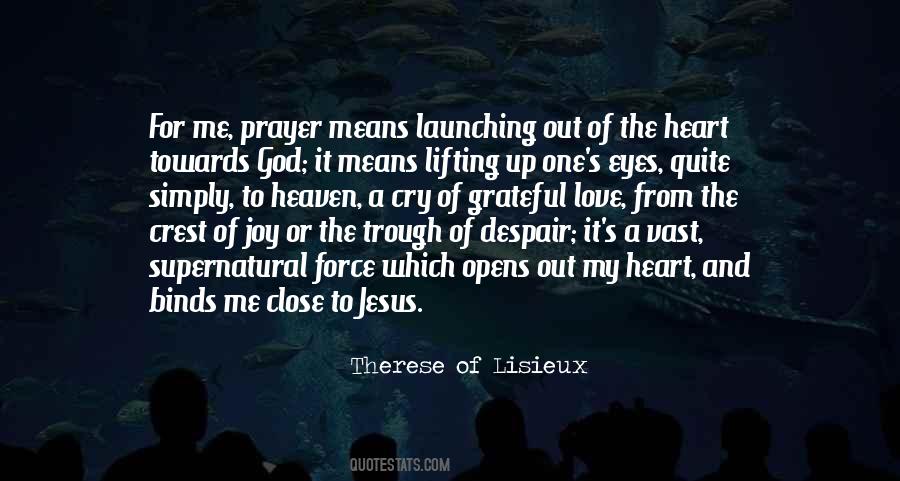 #68. The grateful heart is not developed in a single moment; it is the result of a thousand choices. - Author: Pete Wilson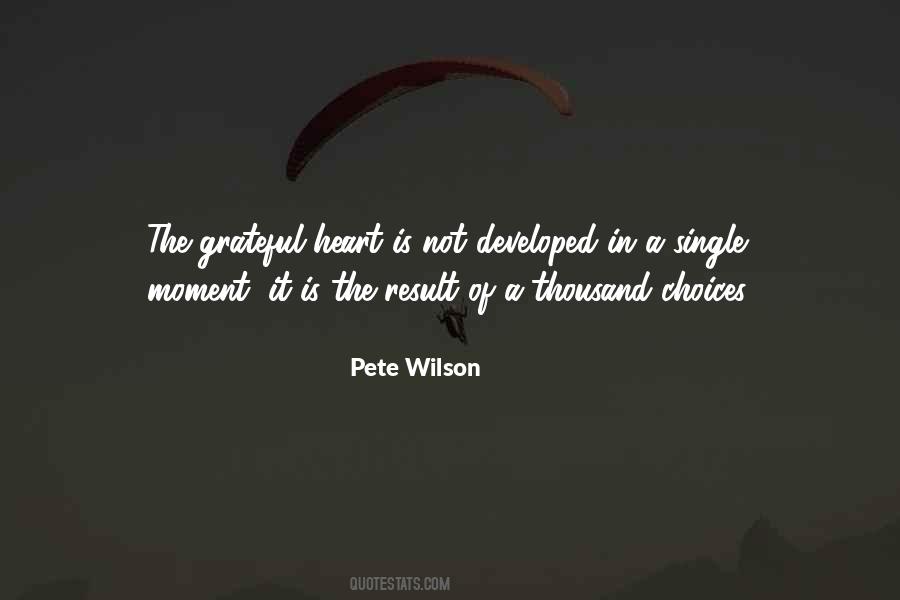 #69. The abundance of a grateful heart gives honor to God even if it does not turn to Him in words. An unbeliever who is filled with thanks for his very being has ceased to be an unbeliever. - Author: Paul Tillich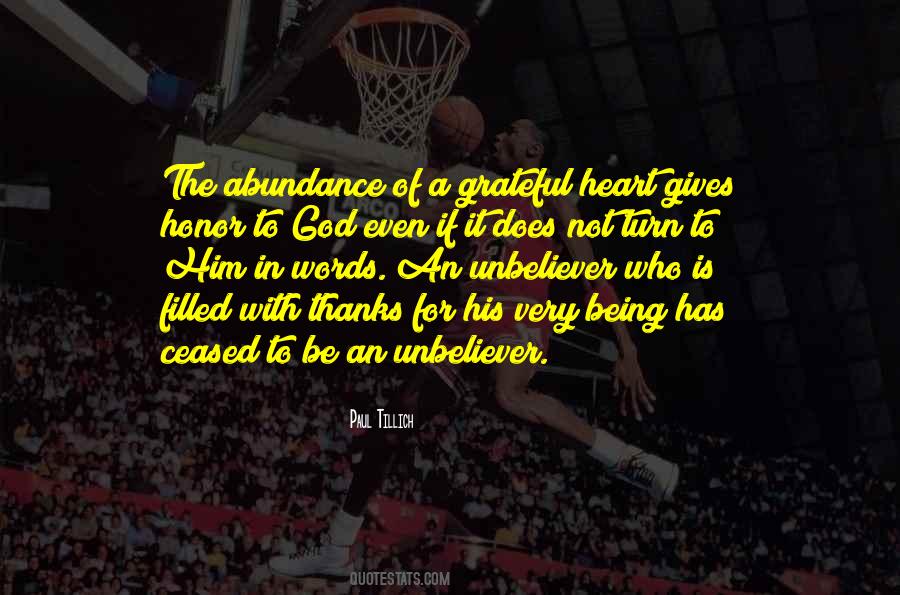 Famous Authors
Popular Topics