Saved By God Famous Quotes & Sayings
List of top 92 famous quotes and sayings about saved by god to read and share with friends on your Facebook, Twitter, blogs.
Top 92 Saved By God Quotes
#1. EPH2.8 For by grace are ye saved through faith; and that not of yourselves: it is the gift of God: EPH2.9 Not of works, lest any man should boast. - Author: Anonymous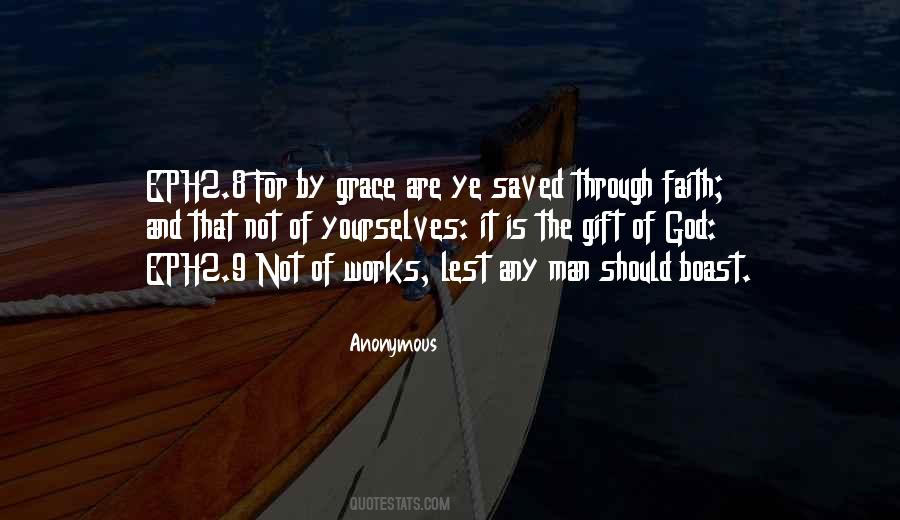 #2. For it is by free grace (God's unmerited favor) that you are saved ([6]delivered from judgment and made partakers of Christ's salvation) through [your] faith. And this [salvation] is not of yourselves [of your own doing, it came not through your own striving], but it is the gift of God; - Author: Anonymous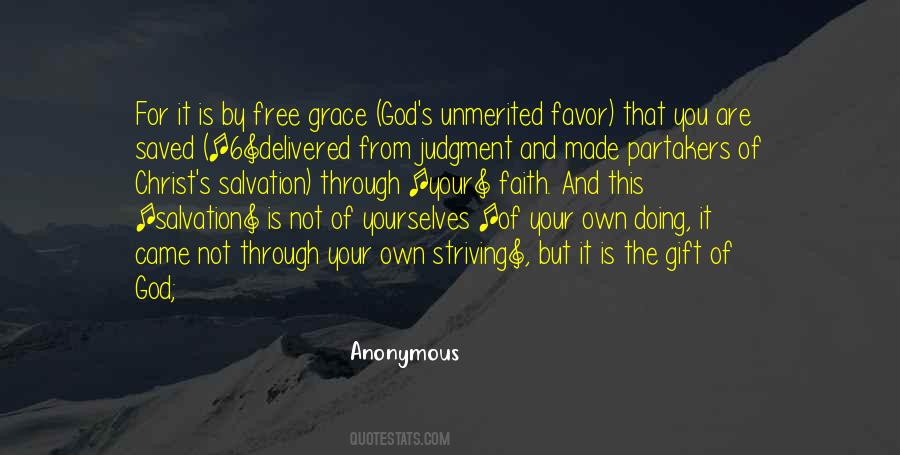 #3. Christians risk becoming utterly irrelevant in their own culture if they continue to seperate people into "We the Saved" and "They the Damned". Again, I ask, do we need Jesus to protect us from God? Is that what Christianity as we've known is about? Are we saved from God by God? - Author: Carlton D. Pearson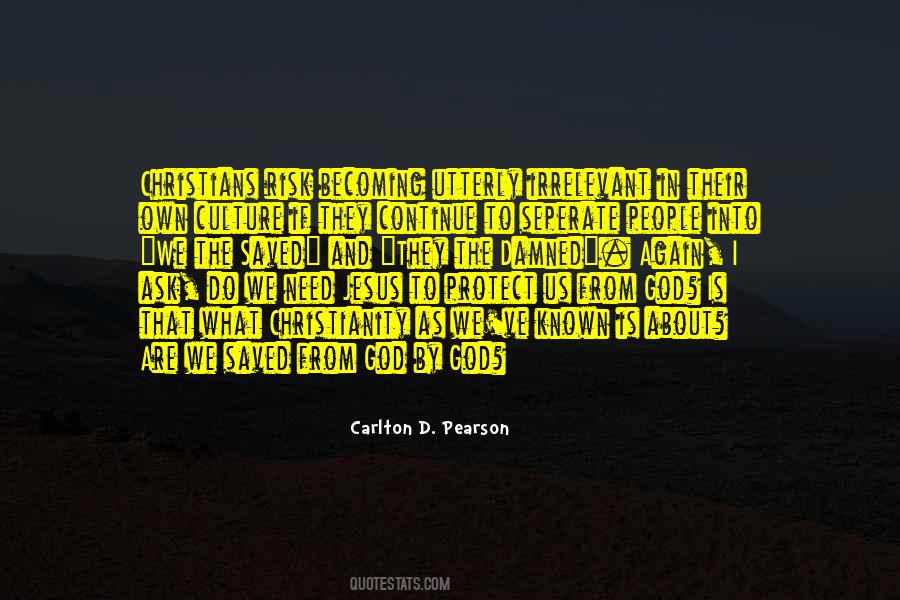 #4. The Creator seeks to save the lost souls. - Author: Lailah Gifty Akita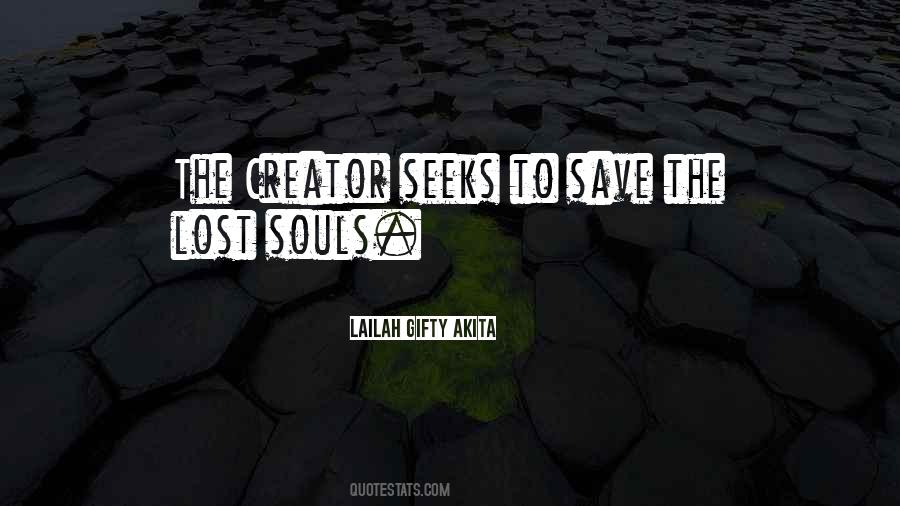 #5. You will never be saved against your will; God drags nobody to heaven by the ears. - Author: Charles Spurgeon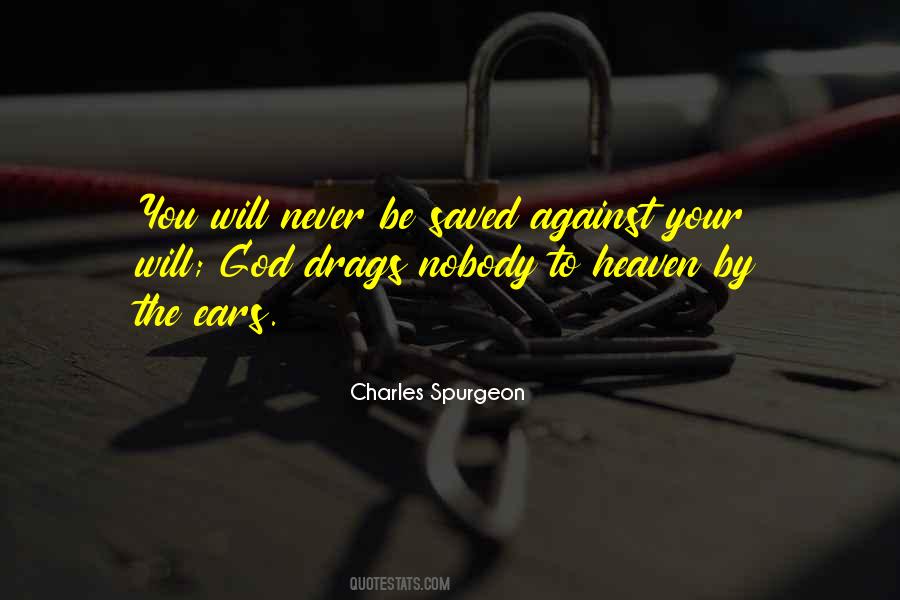 #6. That so-called faith in Christ which professes to release men from the obligation of obedience to God, is not faith, but presumption. "By grace are ye saved through faith." But "faith, if it hath not works, is dead." Ephesians 2:8; James 2:17. - Author: Ellen G. White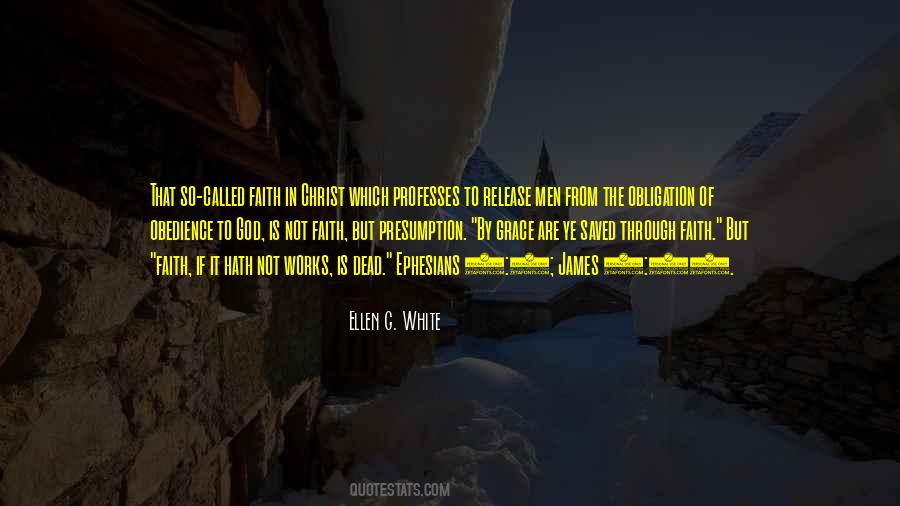 #7. According to the New Testament, the church is primarily a body of people who profess and give evidence that they have been saved by God's grace alone, for His glory alone, through faith alone, in Christ alone. - Author: Mark Dever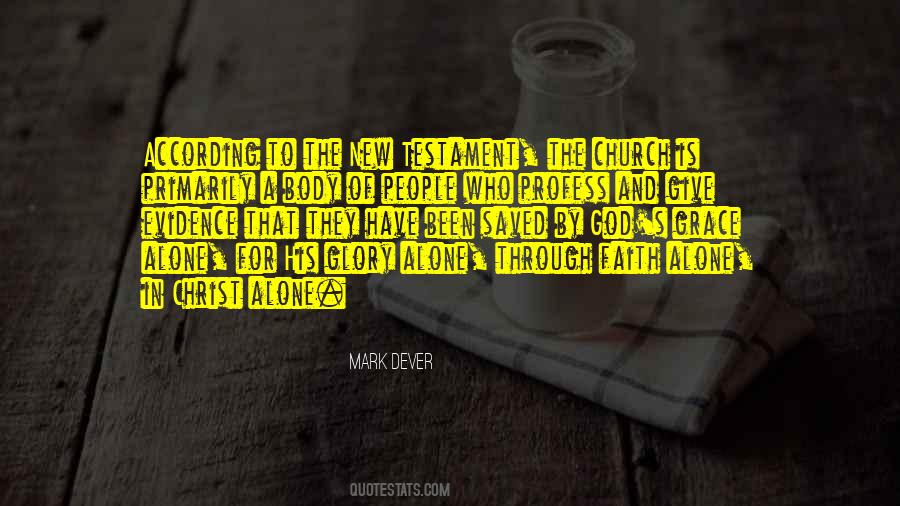 #8. Doesn't it honor Him more when His children no longer see themselves only as sinners saved by grace, but now as heirs of God? Isn't it a greater form of humility to believe Him when He says we are precious in His sight when we don't feel very precious? - Author: Bill Johnson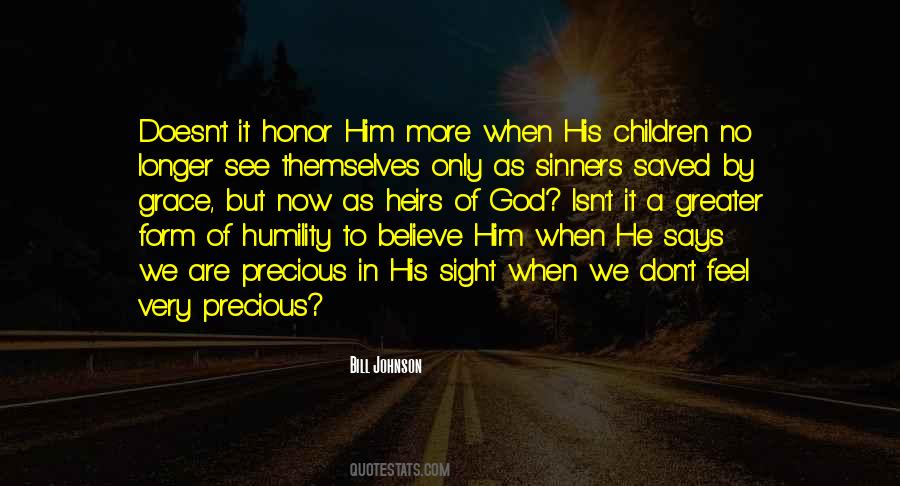 #9. I see myself as someone who's been saved by writing. God knows what I would have been, become or how I would have ended up without it. - Author: Michael Ondaatje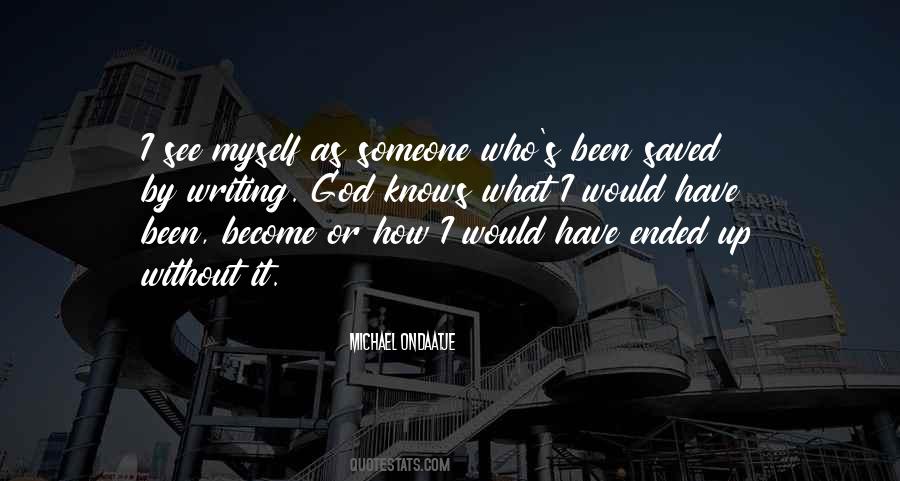 #10. We are all so sunk in sin, and so wedded to the world, that we would never turn to God and seek salvation, unless He first called us by His grace. Without a divine call, no one can be saved. - Author: J.C. Ryle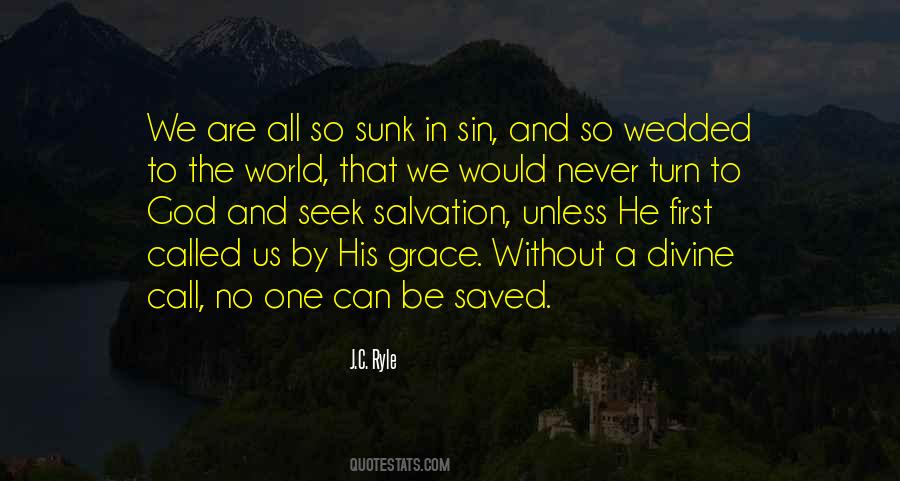 #11. Women will be saved by going back to that role that God has chosen for them. Ladies, if the hair on the back of your neck stands up it is because you are fighting your role in the scripture. - Author: Mark Driscoll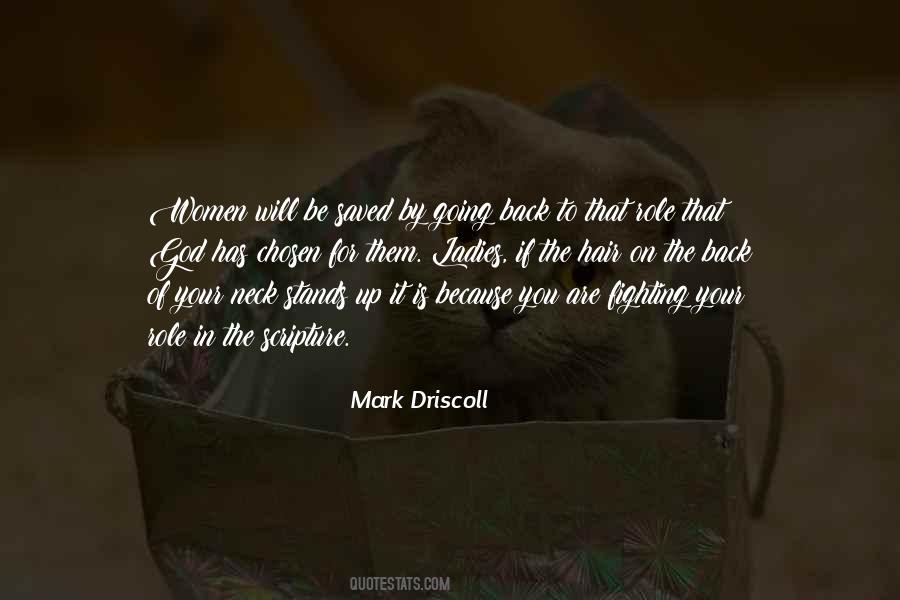 #12. His (Lincoln's) patriotism was saved from idolatry by the overwhelming sense of the sovereignty of God. - Author: Elton Trueblood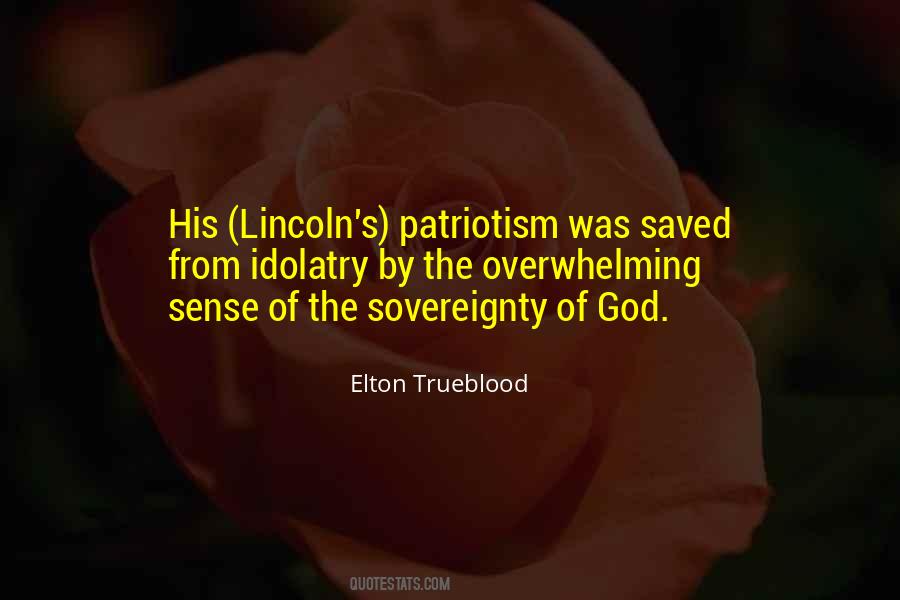 #13. One of the most fallacious doctrines originated by Satan and propounded by man is that man is saved alone by the grace of God; that belief in Jesus Christ alone is all that is needed for salvation - Author: Spencer W. Kimball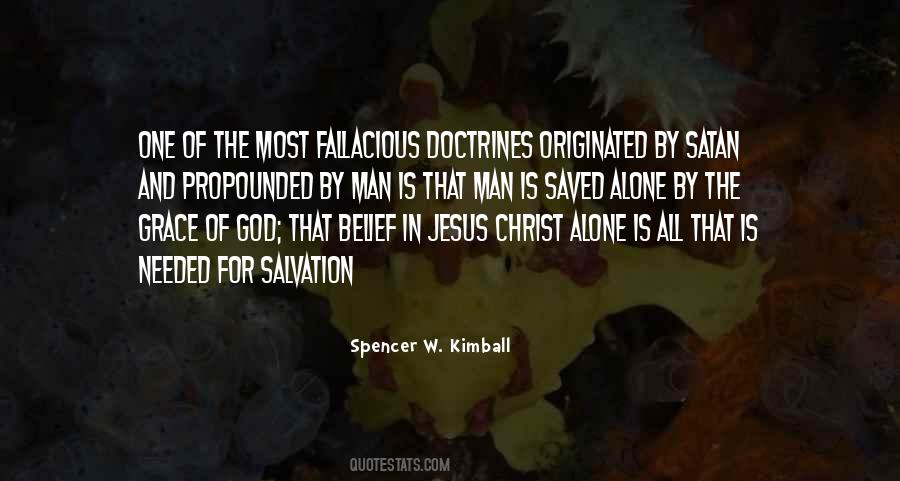 #14. Who will excuse us before God for the loss of such a great number of people, who could be saved by the slight assistance we could give them? - Author: Vincent De Paul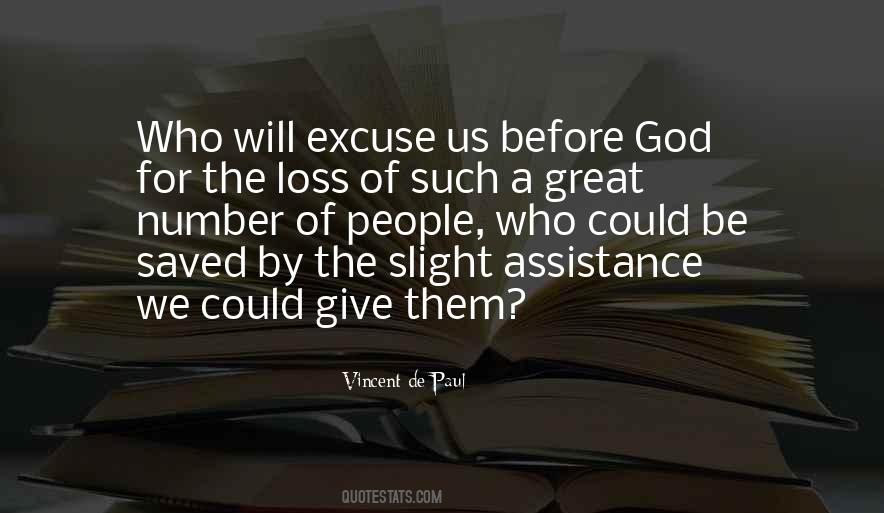 #15. Only God can save every soul. - Author: Lailah Gifty Akita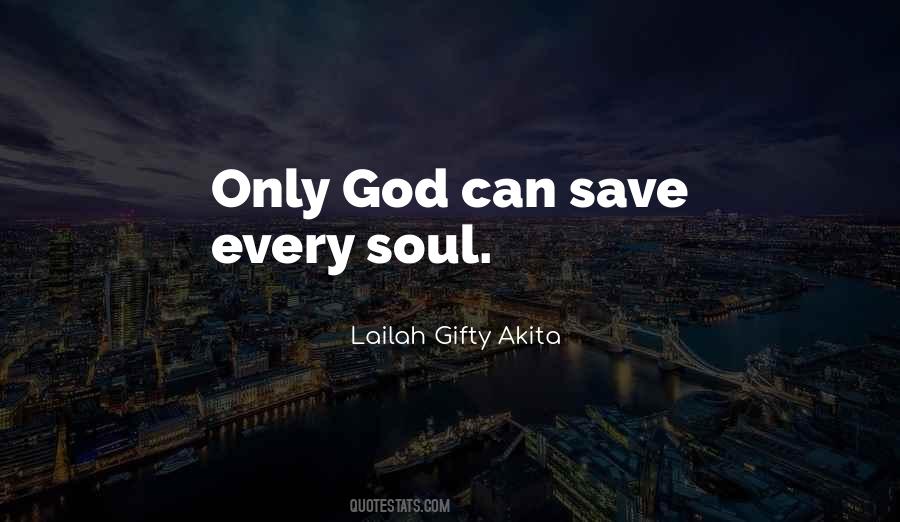 #16. For it is by grace you have been saved, through faith - and this not from yourselves, it is the gift of God - not by works, so that no one can boast. - Author: Anonymous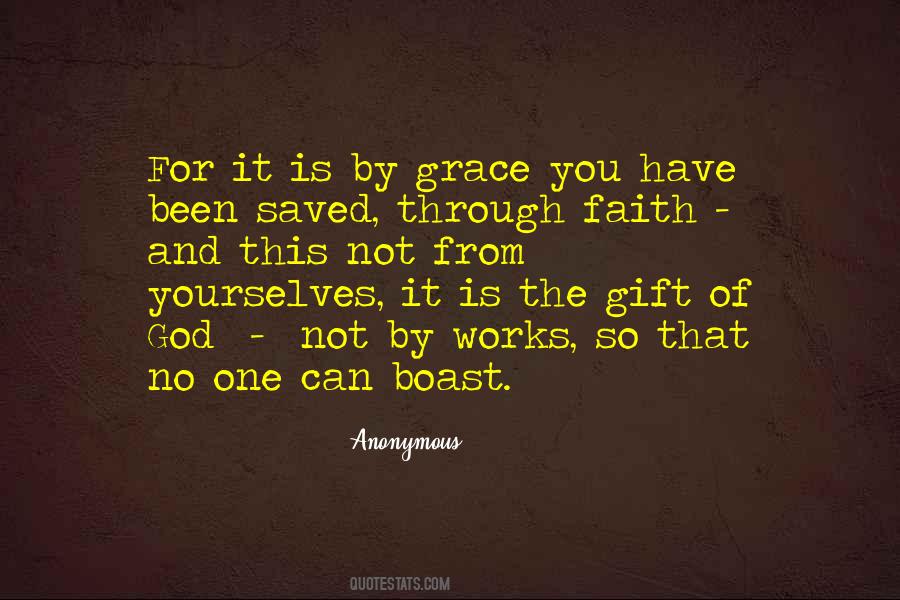 #17. God's grace is amazing! We're saved by grace - God's undeserved favor - and we live by grace, which is also God's power in our lives to do what we could never do in our own strength. And it's all because God is love, and He loves us unconditionally, constantly and completely. - Author: Joyce Meyer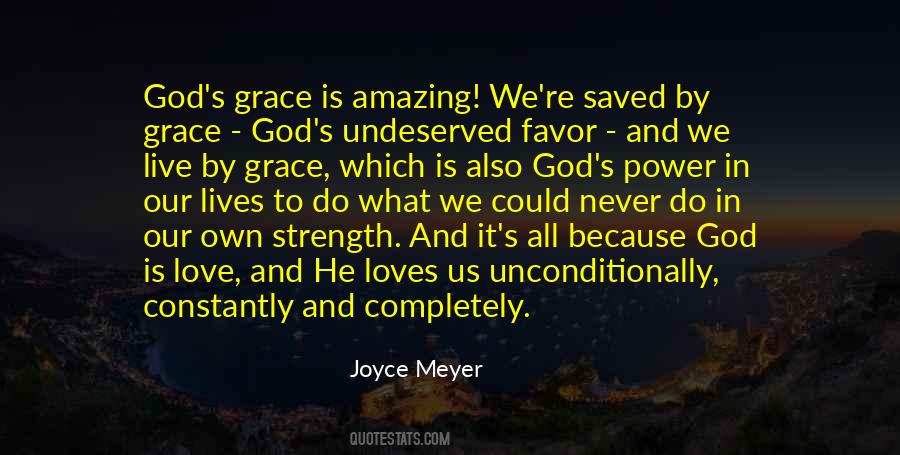 #18. One can memorize all words written about Christ but without a heart connection to Him, one does not know Him, and they will not be saved by Him. - Author: Paula Dickerson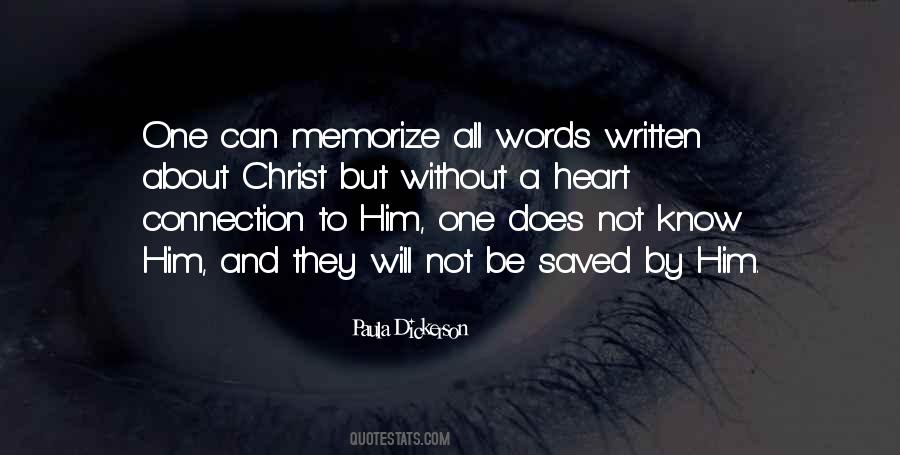 #19. Each of us was saved by God not only to enjoy the kingdom of God but also to have a victorious life here on earth - Author: Sunday Adelaja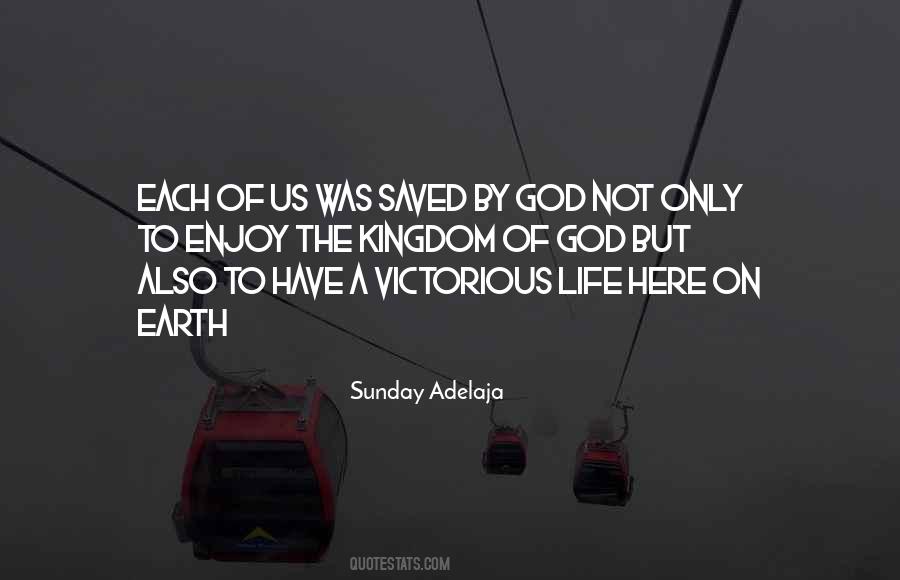 #20. We are
debtors who cannot pay, yet we have been released from the threat of debtors' prison. It is an insult to God for us to withhold forgiveness and grace from those who ask us, while claiming to be forgiven and saved by grace ourselves. - Author: R.C. Sproul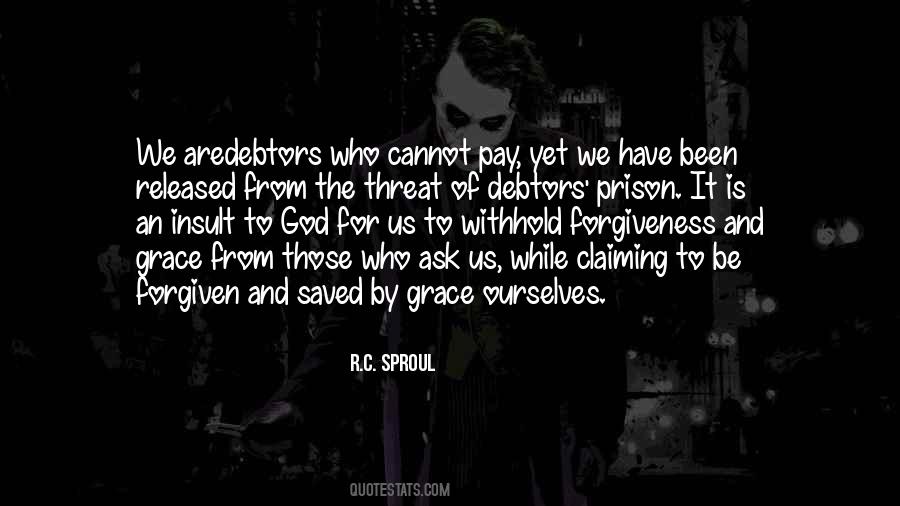 #21. The cross was a glorious outworking of the grace of God, by which the Father commissioned the Son to make full satisfaction so that sinners might be saved with no sacrifice of God's justice. - Author: R.C. Sproul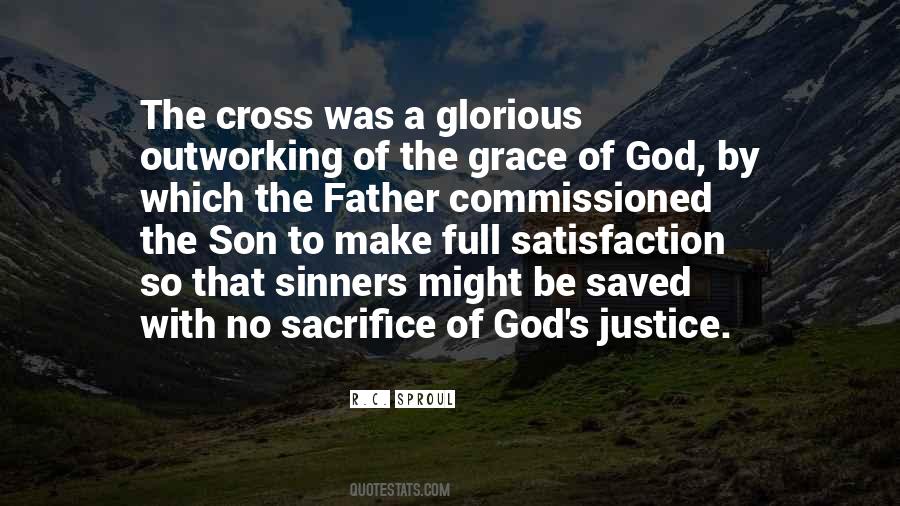 #22. God's great love is the grace of redemption. - Author: Lailah Gifty Akita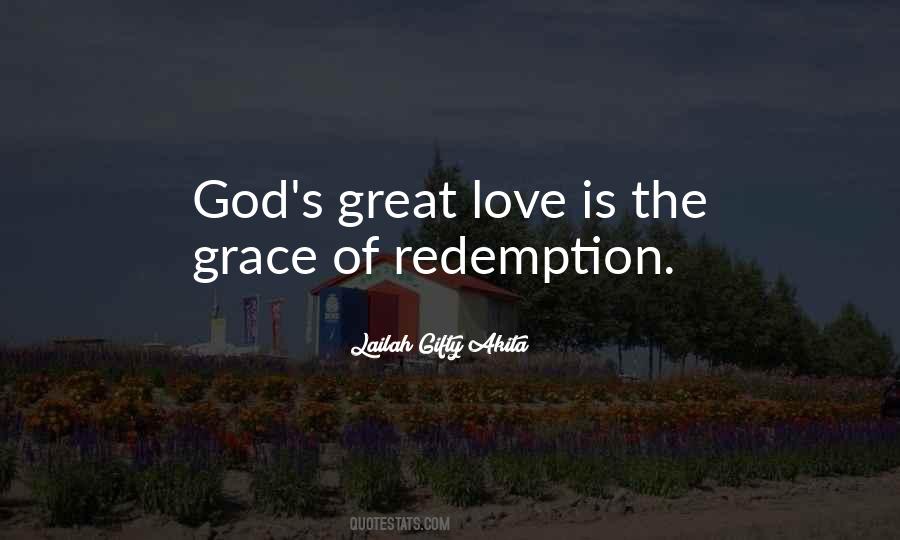 #23. God has nothing to say to the self-righteous. Unless you humble yourself before Him in the dust, and confess before Him your iniquities and sins, the gate of heaven, which is open only for sinners, saved by grace, must be shut against you forever. - Author: Dwight L. Moody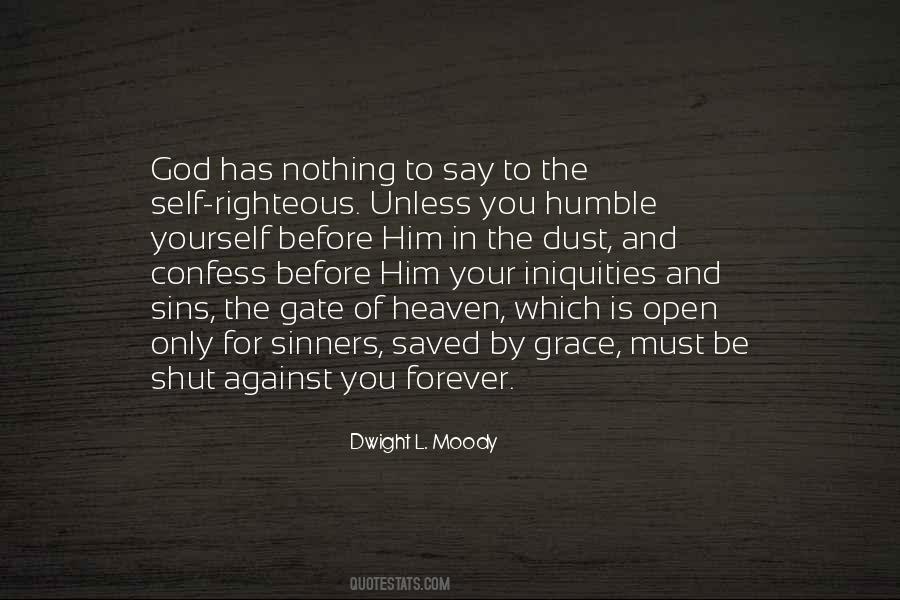 #24. May the weary soul find rest in the Lord. - Author: Lailah Gifty Akita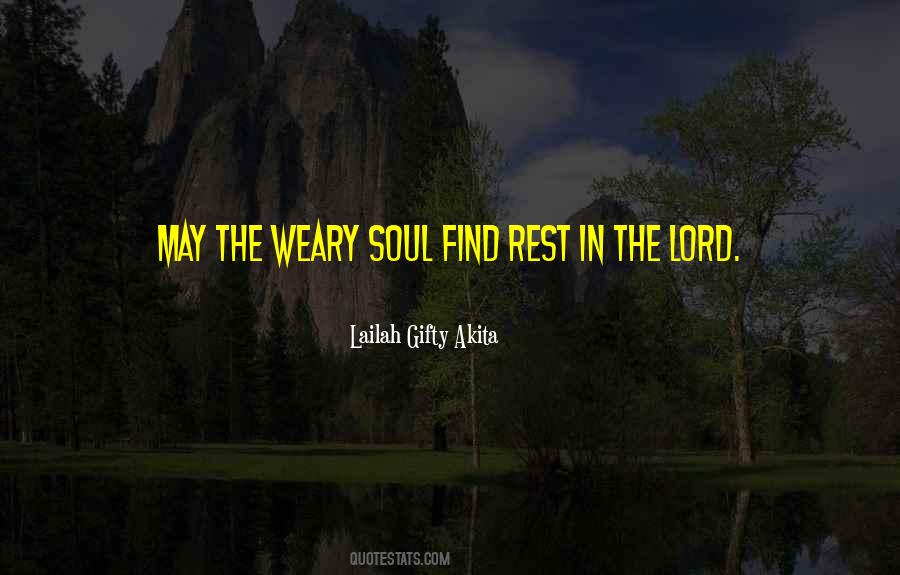 #25. If you are penitent, you love. And if you love you are of God. All things are atoned for, all things are saved by love ... Love is such a priceless treasure that you can redeem the whole world by it, and expiate not only your own sins but the sins of others. - Author: Fyodor Dostoyevsky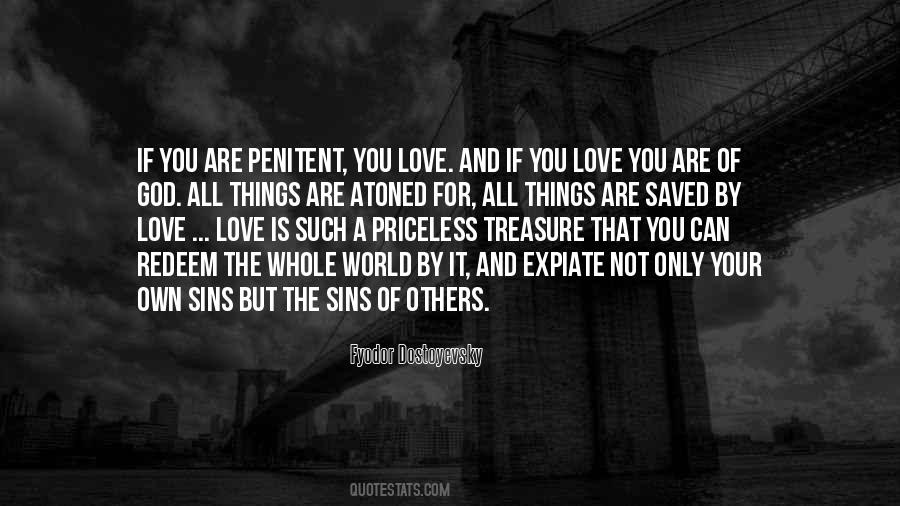 #26. God saved my life miraculously...when I was shot by armed robber. I am a survivor! I am thankful to God for the gift of life. - Author: Lailah Gifty Akita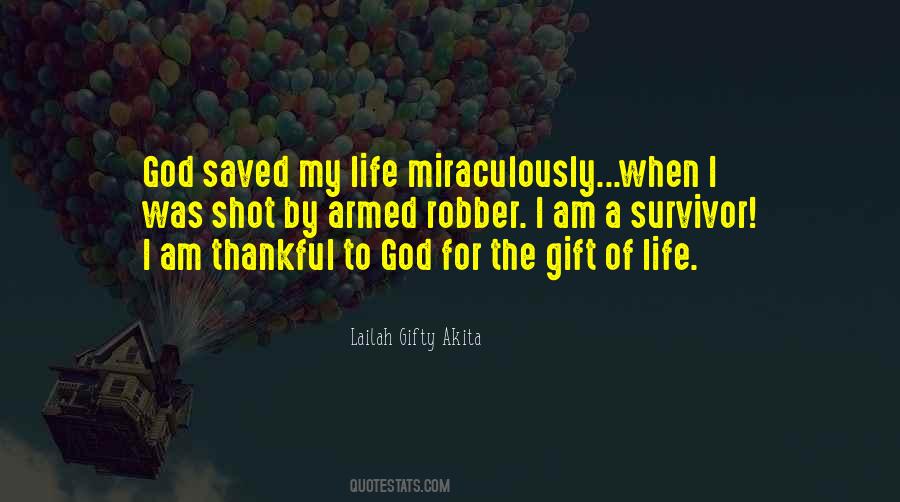 #27. When all other hope is gone, our Father in Heaven provides the Lamb of God, and we are saved by his sacrifice. - Author: Dallin H. Oaks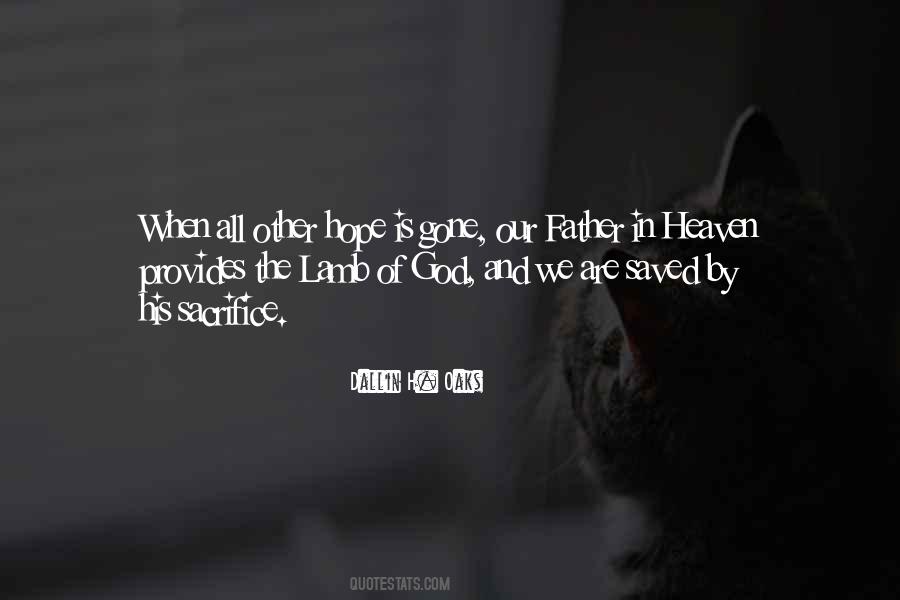 #28. For we are not saved by believing in our own salvation, nor by believing anything whatsoever about ourselves. We are saved by what we believe about the Son of God and His righteousness. The gospel believed saves; not the believing in our own faith. - Author: Horatius Bonar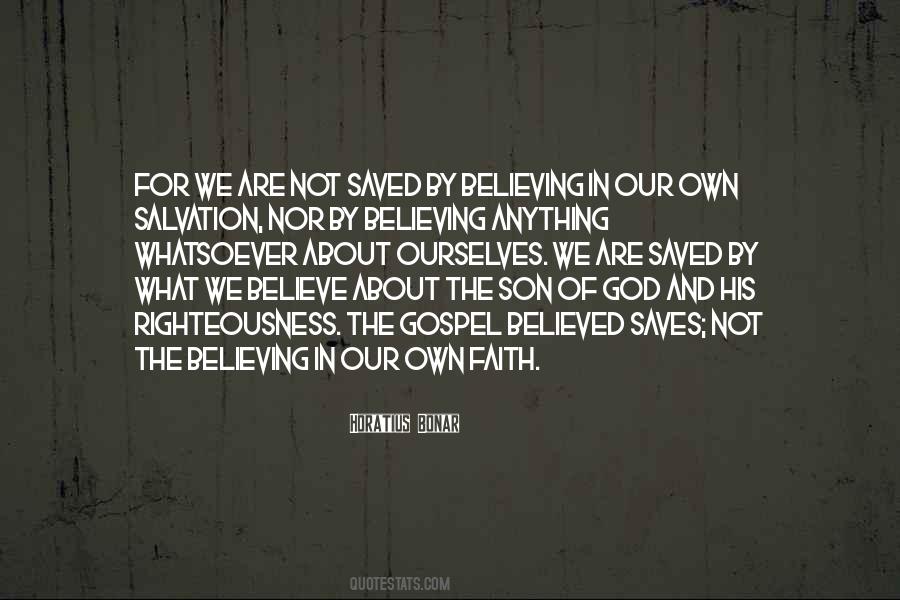 #29. We may live in a culture that believes everyone will be saved, that we are 'justified by death' and all you need to do to go to heaven is die, but God's Word certainly doesn't give us the luxury of believing that. - Author: R.C. Sproul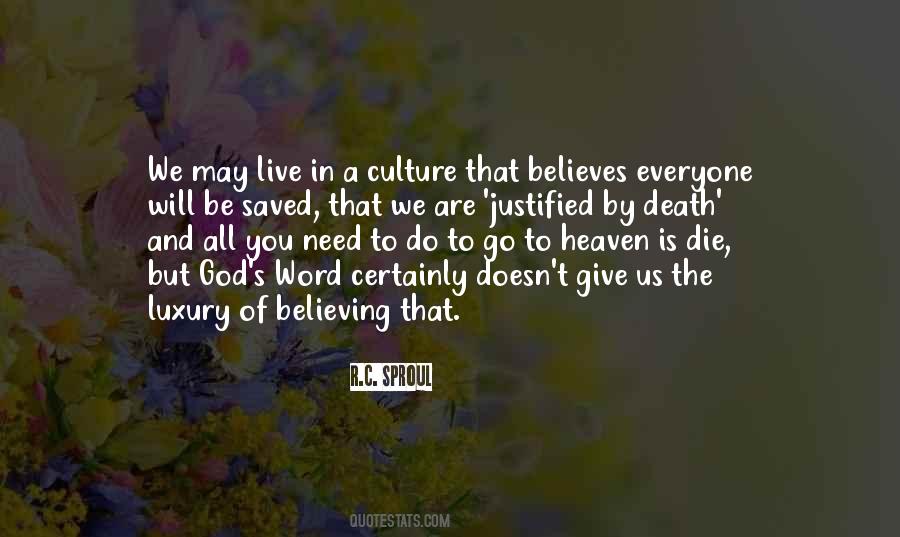 #30. It is impossible to be saved without the help of the Most Blessed Virgin, because those who are not saved by the justice of God are saved by the intercession of Mary. - Author: Saint John Chrysostom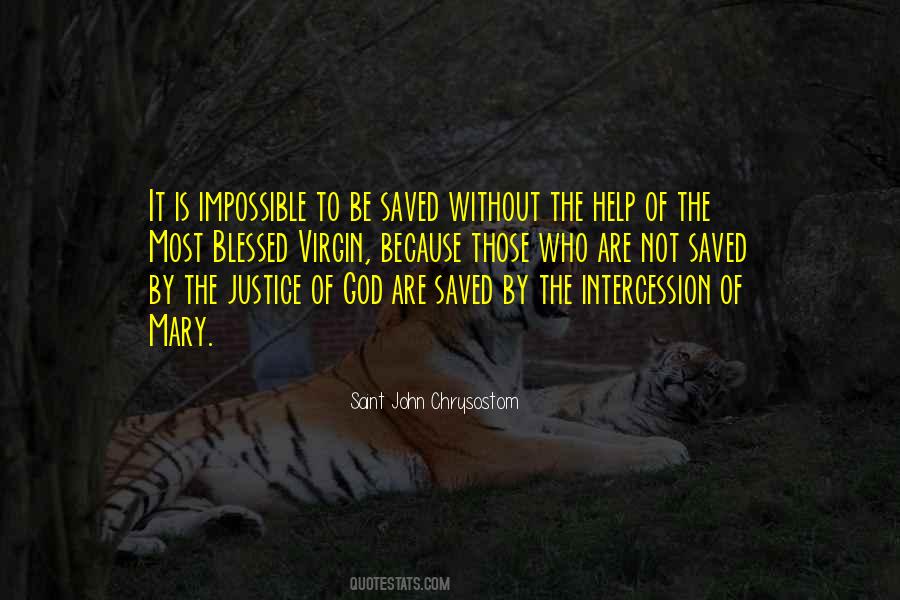 #31. In the light of love, I find the glory of God's grace. - Author: Lailah Gifty Akita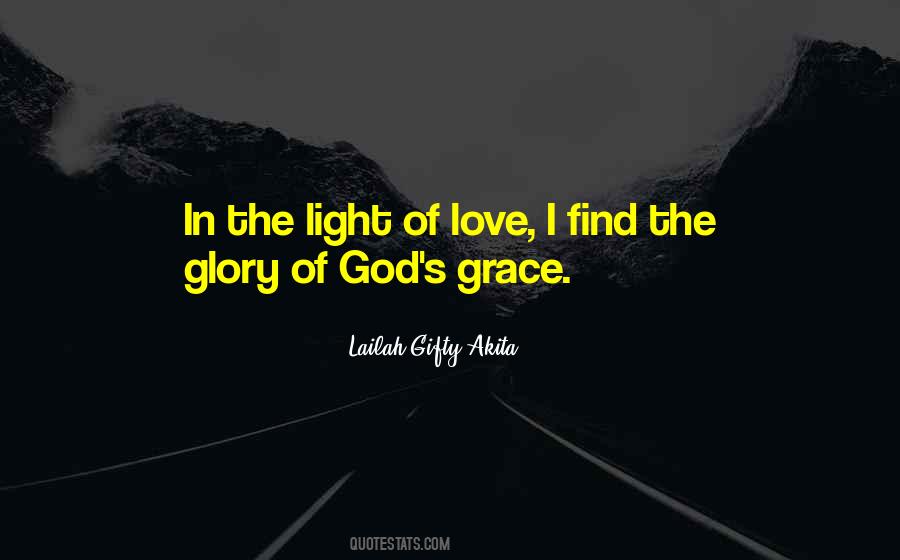 #32. We do know that no person can be saved except through Christ. We do not know that only those who know Him can be saved by Him. - Author: C.S. Lewis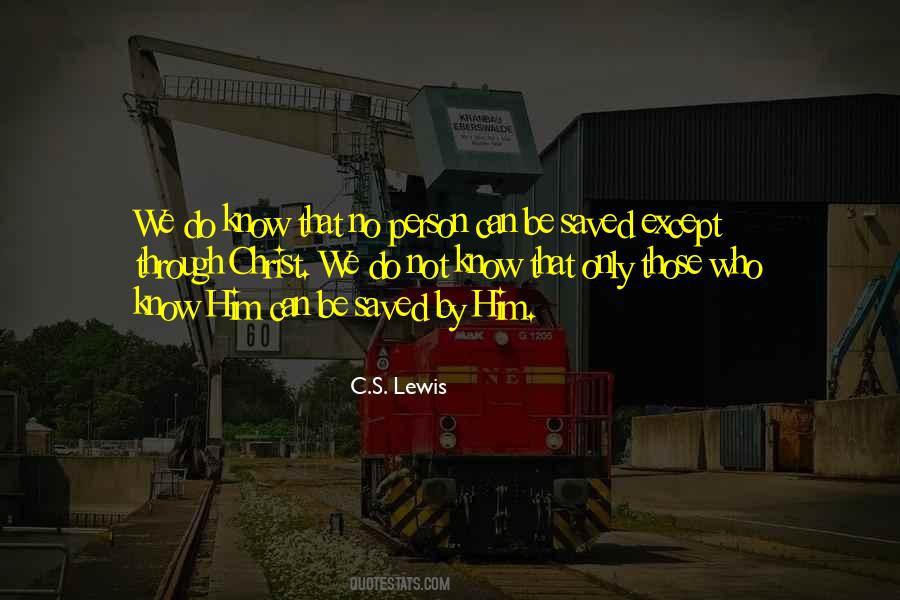 #33. I am saved. I am redeemed. - Author: Lailah Gifty Akita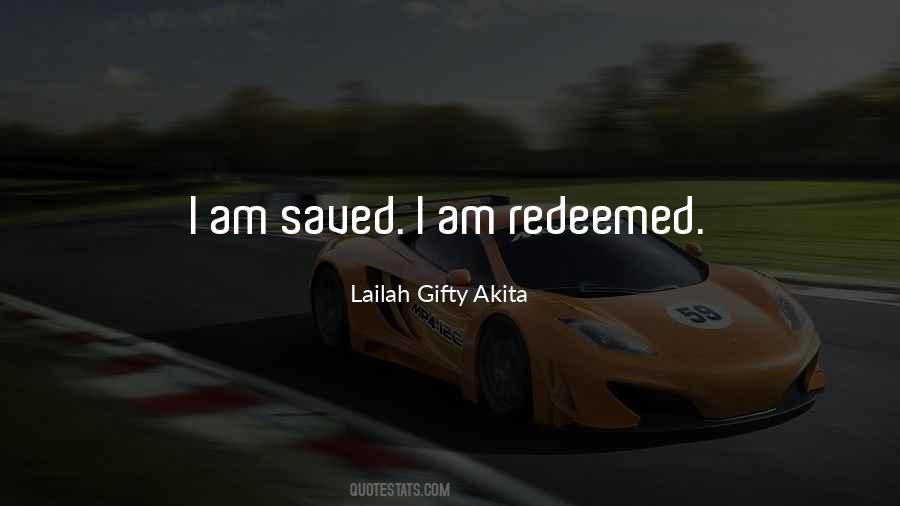 #34. A monument of grace, A sinner saved by blood; The streams of love I trace Up to the Fountain, God; And in His sacred bosom see Eternal thoughts of Love to me. - Author: Charles Haddon Spurgeon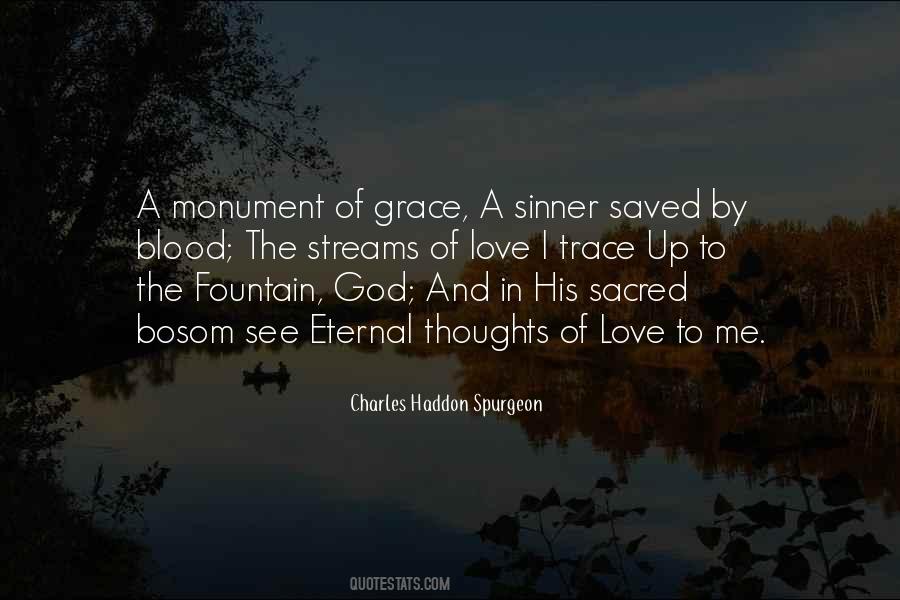 #35. Being saved by discipleship is not a human possibility, but for God all things are possible. - Author: Rodney Combs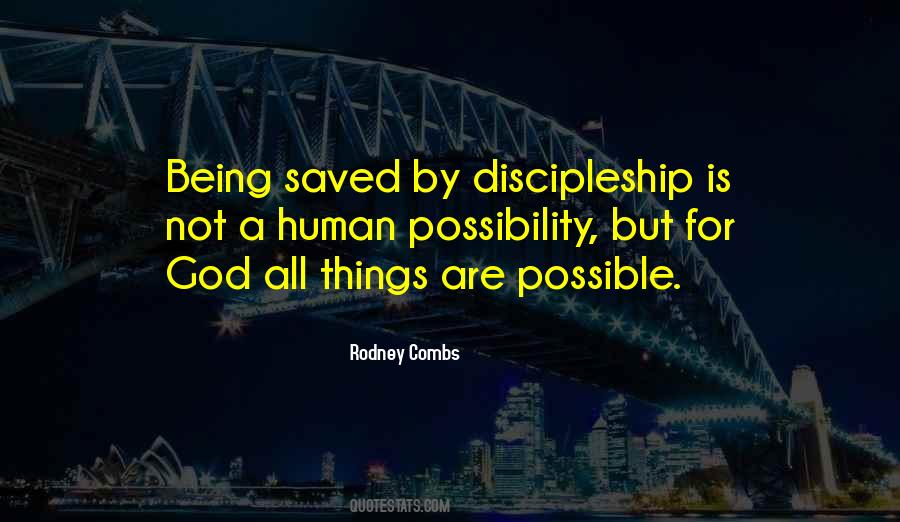 #36. The Law of God was never a ladder for unsaved people to climb up to heaven. It was always a pattern of life for God's people who had been saved from judgment by the blood of the Lamb. - Author: Colin S. Smith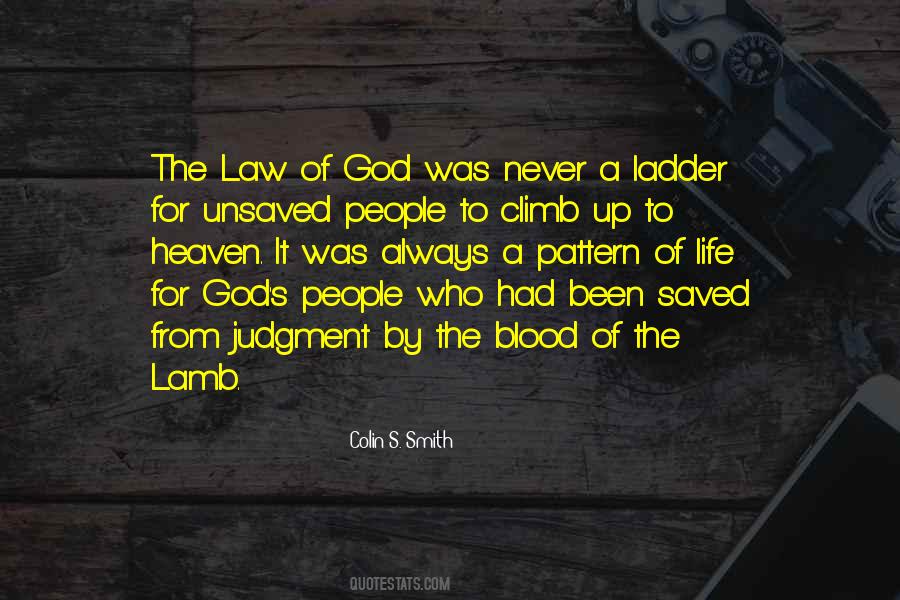 #37. Confess your sins. God will cleanse you of all the wrongs done. - Author: Lailah Gifty Akita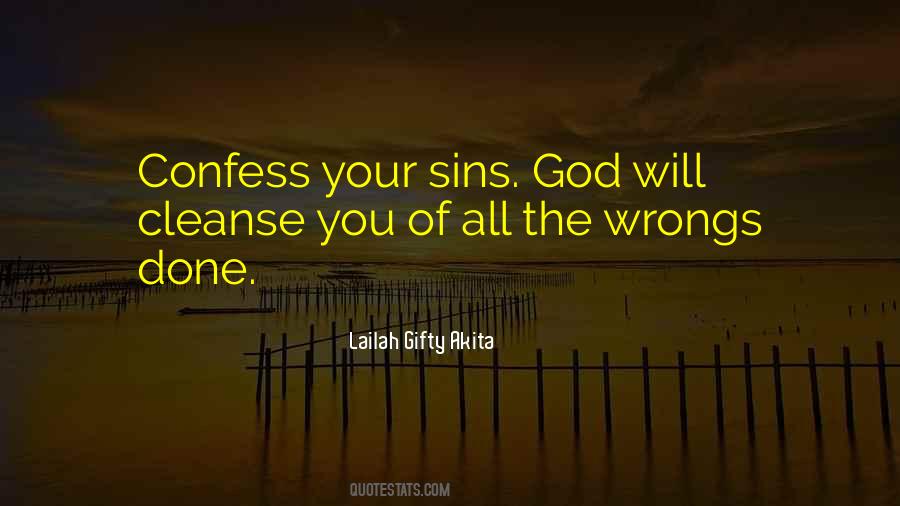 #38. But I want to be clear that this does not mean we are saved by piling up enough good works to satisfy God. No, it means that any authentic and genuine commitment to Christ will be accompanied by demonstrable evidence of a transformed life. - Author: Richard Stearns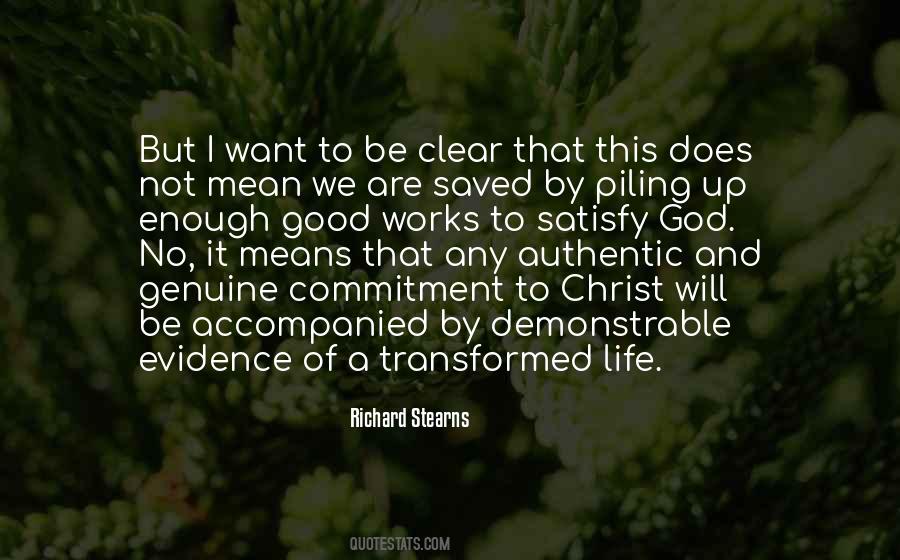 #39. There can be but one will the master in our salvation, but that shall never be the will of man, but of God; therefore man must be saved by grace. - Author: John Bunyan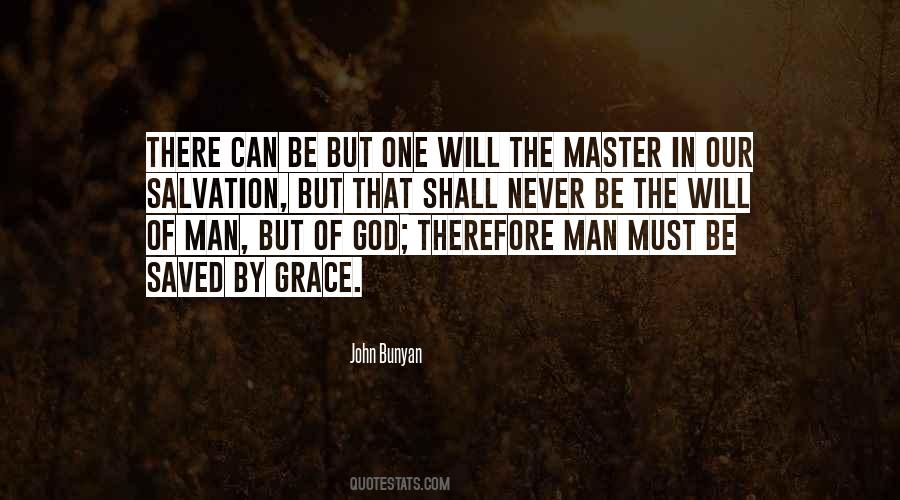 #40. We are all foolish sinners saved only by grace & we can all use a little guidance sometimes. - Author: Lesley Sears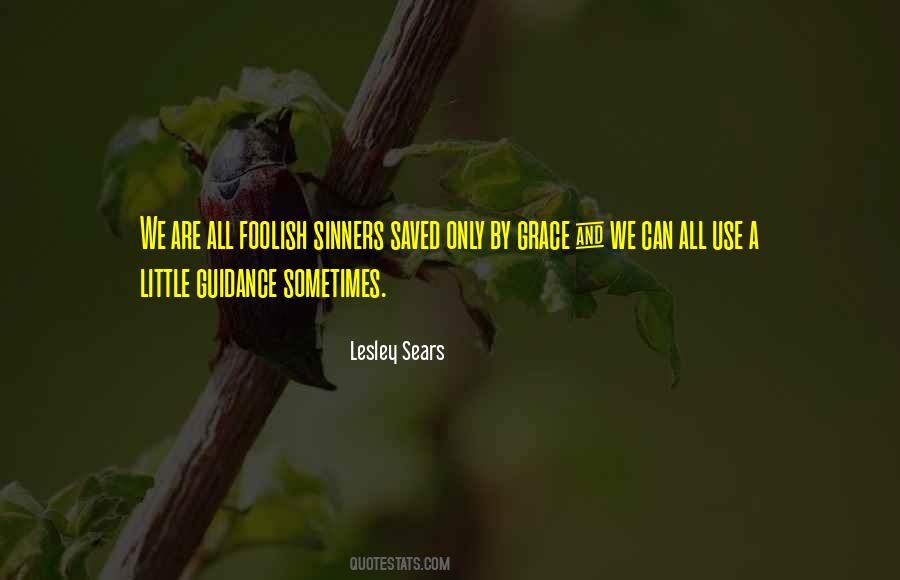 #41. I believe that we are saved by the grace of God because he loves us provided that we have faith in Jesus Christ. - Author: Jimmy Carter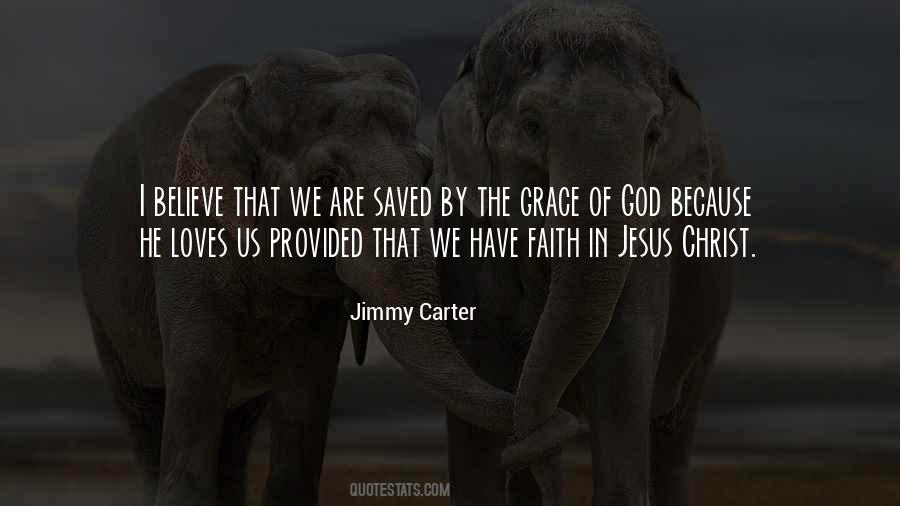 #42. From the time God saved me at 21 years old, I've always been fascinated by the parables of Jesus. - Author: Tullian Tchividjian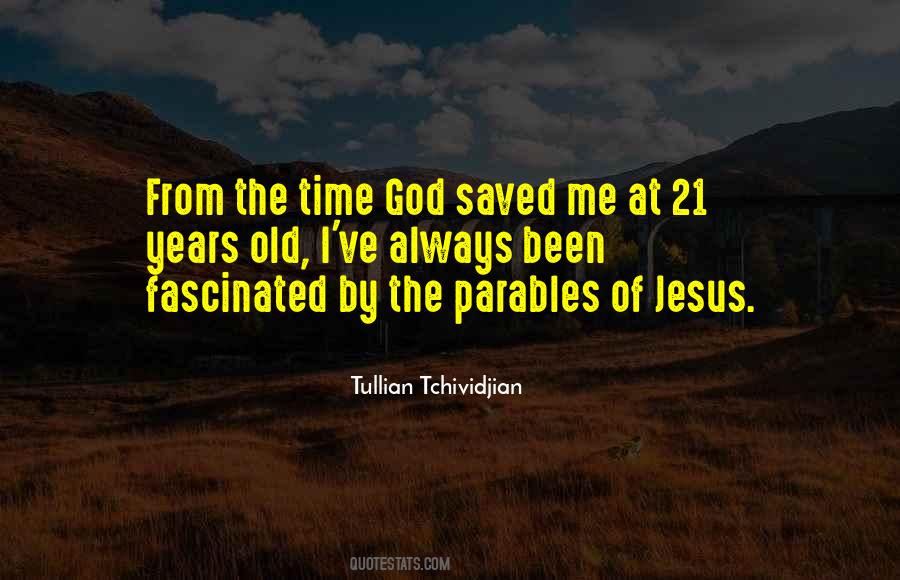 #43. God Himself supplies the necessary condition to come to Jesus, that's why it is 'sola gratia,' by grace alone, that we are saved. - Author: R.C. Sproul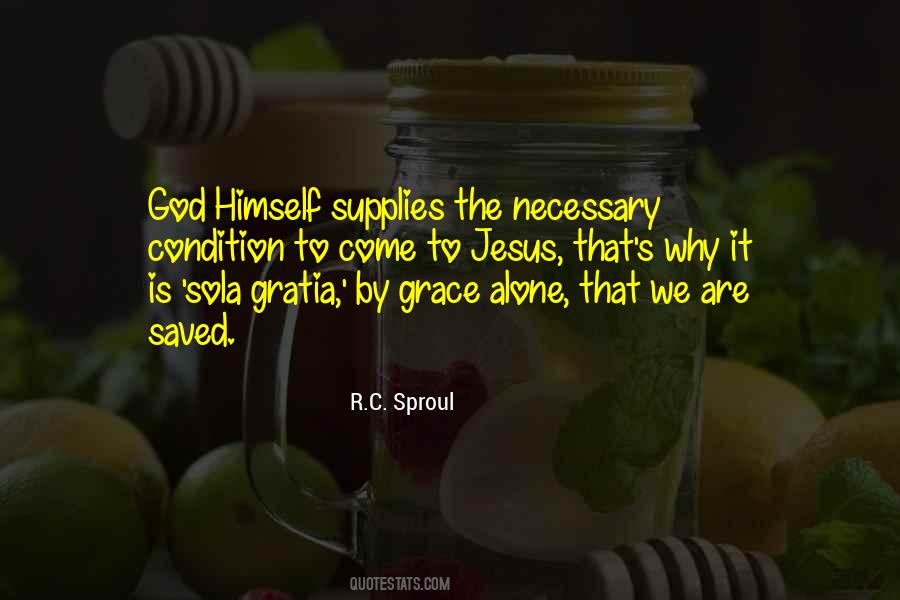 #44. Every day of our Christian experience should be a day of relating to God on the basis of His grace alone. We are not only saved by grace, but we also live by grace every day. - Author: Jerry Bridges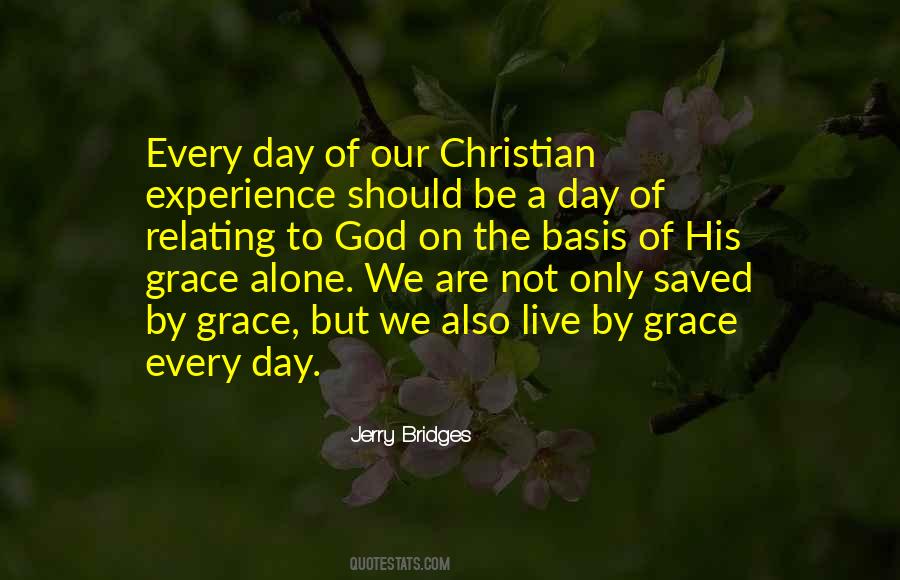 #45. On the Sabbath day, we are remembering that my relationship with God did not begin with what I've done, it is not sustained by what I do, and it is not guaranteed to the end by my effort or work. I'm saved from beginning to end by Jesus' work. - Author: Mark Driscoll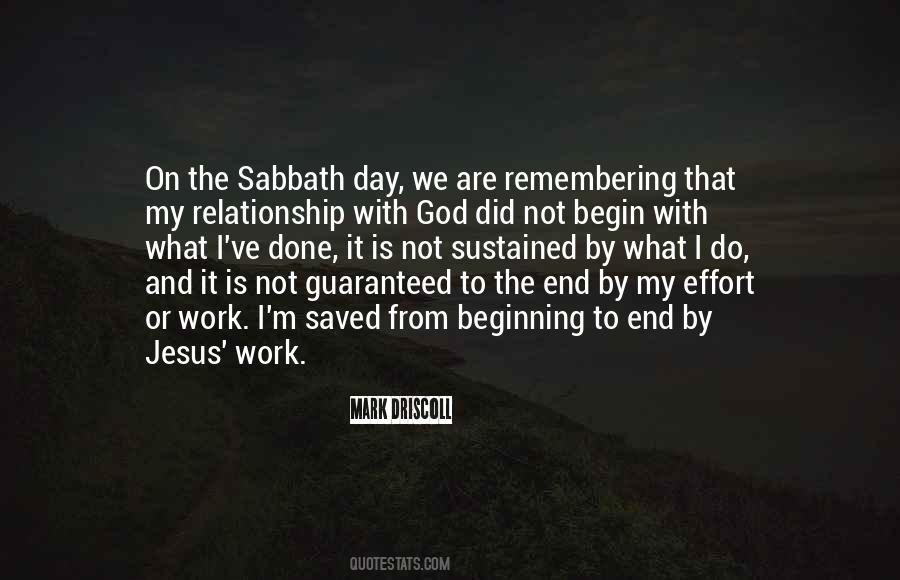 #46. I am one imperfect man saved by God's grace, - Author: Mark Sanford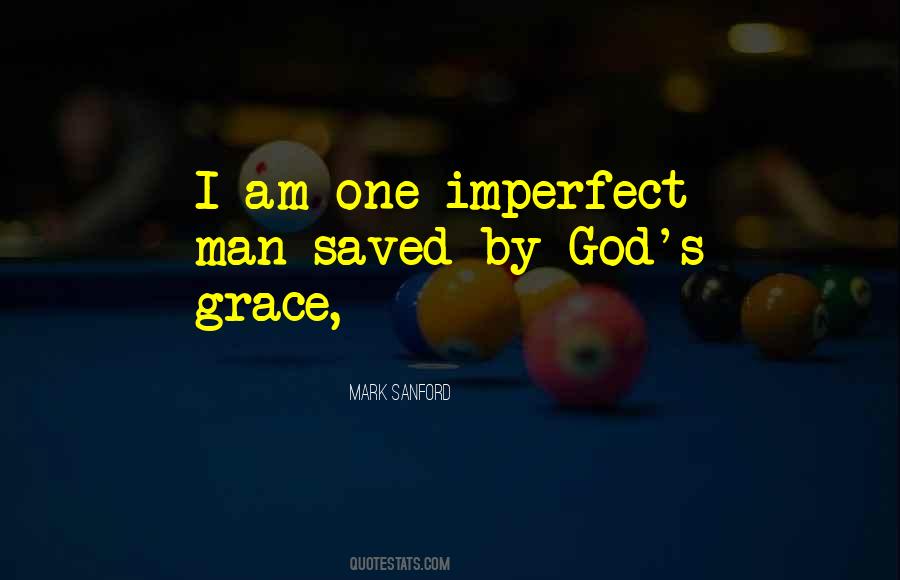 #47. We are all sinners who have been saved by Grace. We have not been saved from sinning, but we have been redeemed despite it".

~ R. Alan Woods [2012] - Author: R. Alan Woods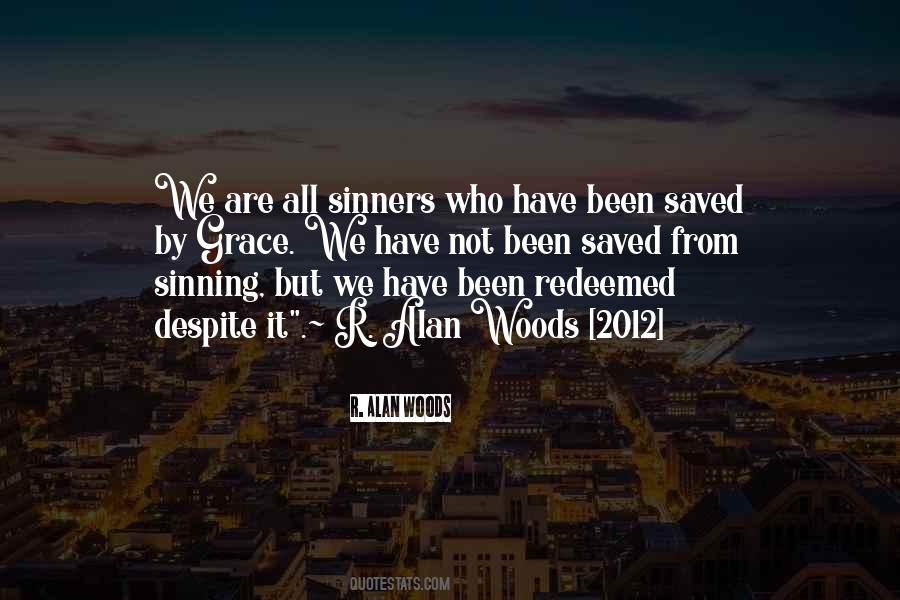 #48. In this deed is my hope, not in the mere timeless fact that God is love. I am saved not by the beautiful Trinitarian life of God but by the gory death of God. I am saved not by the touching of the three Persons in Heaven but by the touching of this love on the Cross to my life. - Author: Peter Kreeft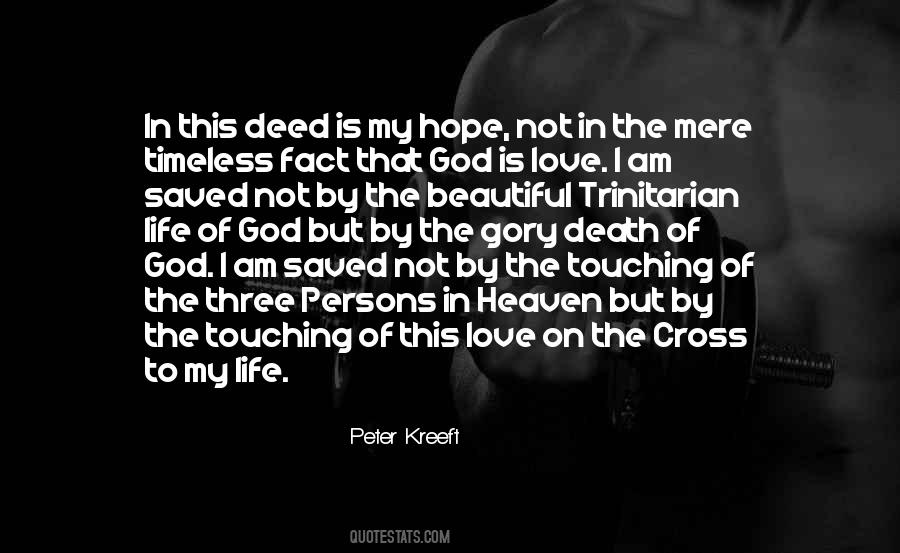 #49. When you get saved, act like you got some sense. You hear me? Whole lotta folks get saved and it take them an entire life before they start living by God's word. That's them ol' deathbed conversioners, them ol' heathens trying to get to heaven a lifetime too late. - Author: Kiese Laymon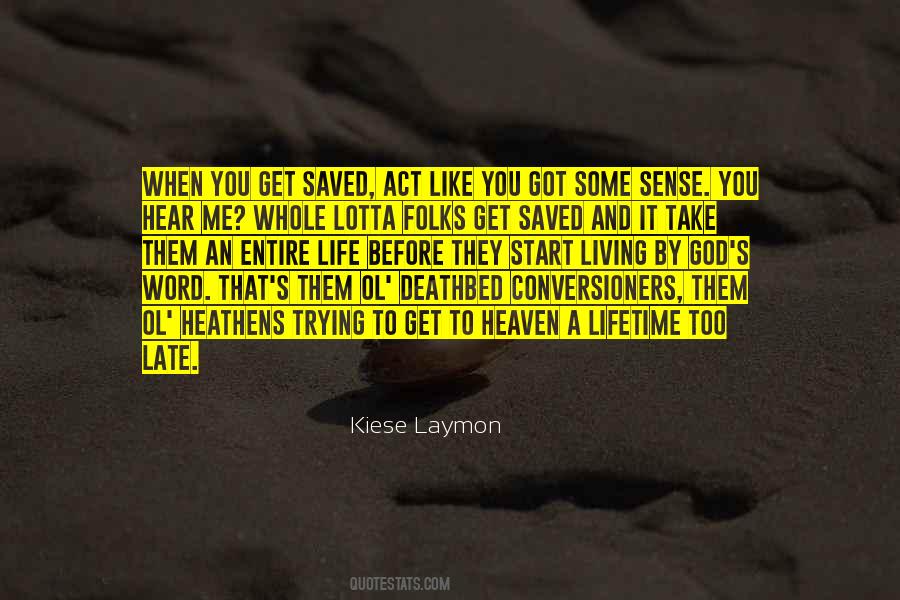 #50. This great question of predestination and free will, of free moral agency and accountability, and being saved by the grace of God, and damned for the glory of God, have occupied the mind of what we call the civilized world for many centuries. - Author: Robert Green Ingersoll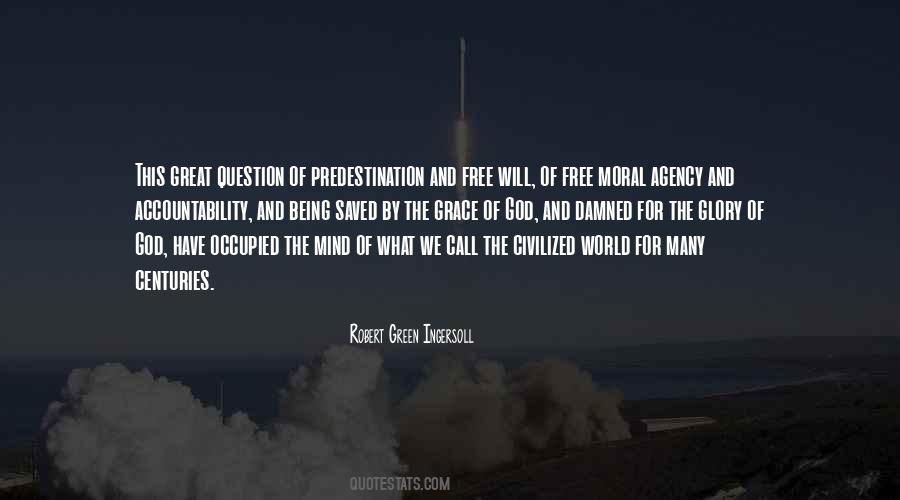 #51. What if the very reason we have breath is because we have been saved for a global mission? And what if anything less than passionate involvement in global mission is actually selling God short by frustrating the very purpose for which he created us? - Author: David Platt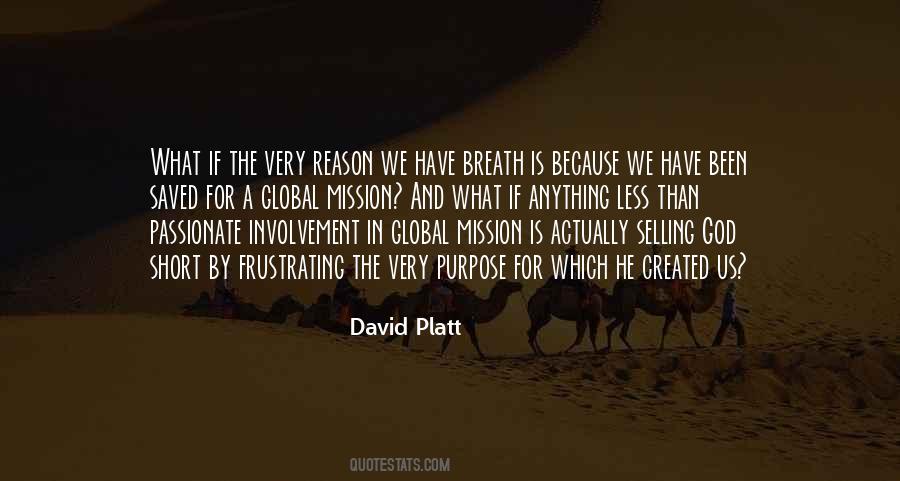 #52. The divine thoughts comes from God, we are only vessel for its transmission. - Author: Lailah Gifty Akita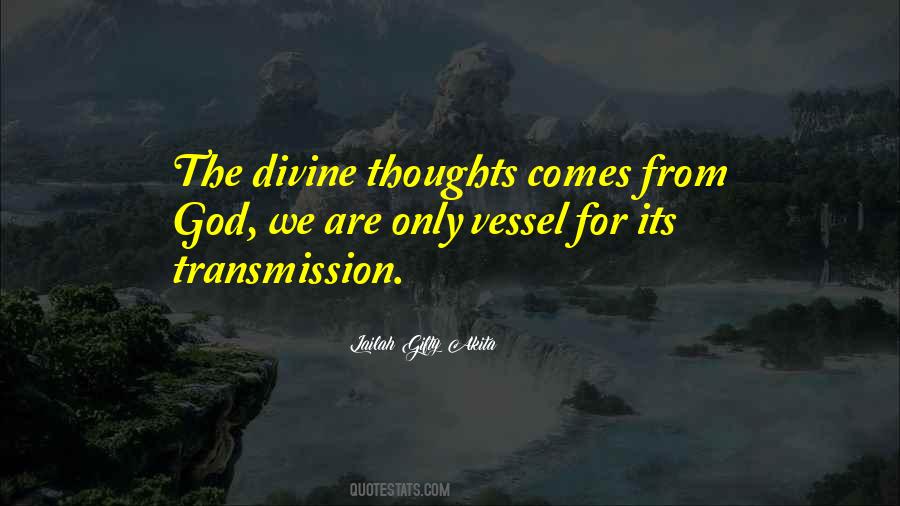 #53. We experience a new life with divine encounter. - Author: Lailah Gifty Akita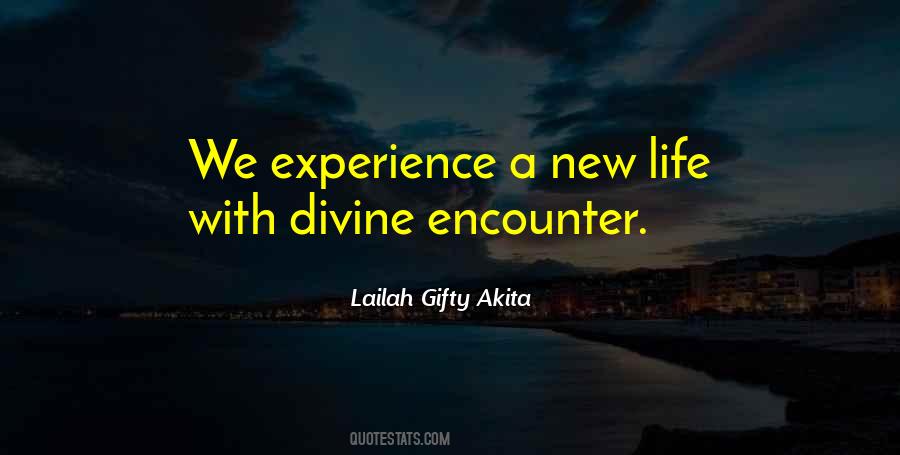 #54. The sinner is saved by the Saviour. - Author: Lailah Gifty Akita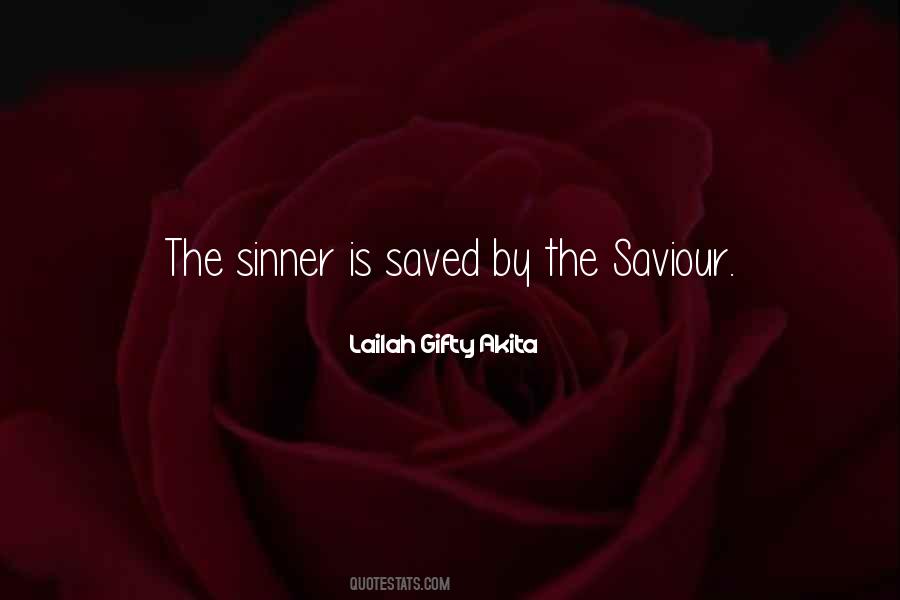 #55. God works by contraries so that a man feels himself to be lost in the very moment when he is on the point of being saved. - Author: Martin Luther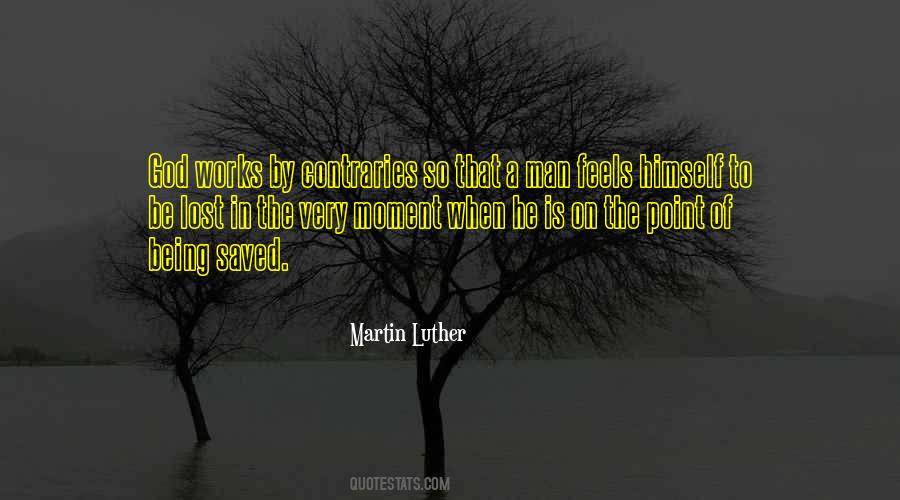 #56. We are justified by faith and saved by grace. - Author: Lailah Gifty Akita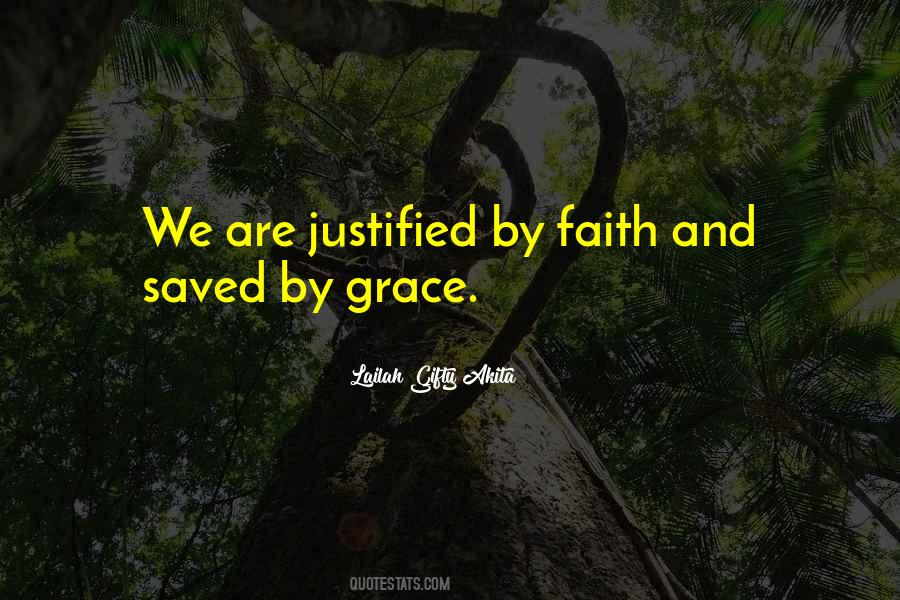 #57. I have decided on my destiny; accepted by calling as writing for God. - Author: Lailah Gifty Akita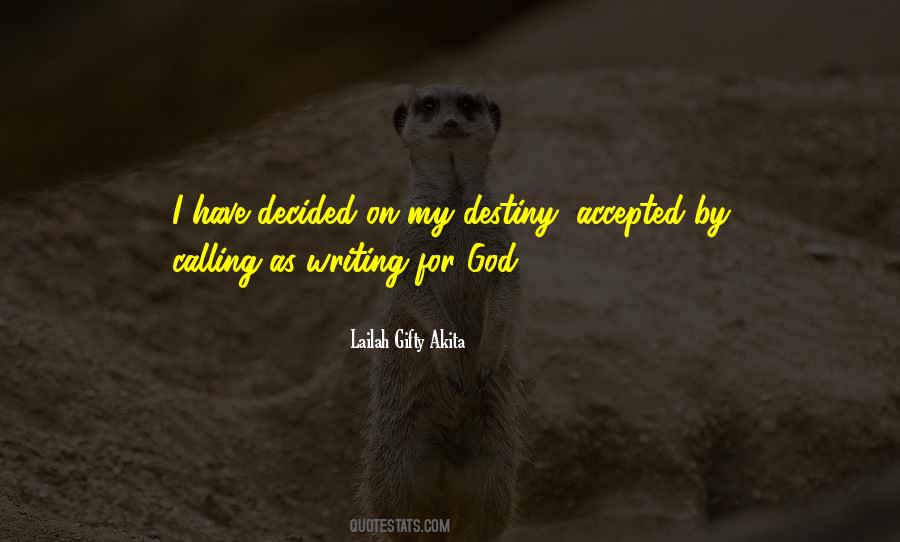 #58. The old saying is true: "We are saved by faith alone, but saving faith is never alone." If you belong to God, you will persevere in doing good. You will not be perfect, but you will persevere with patience. - Author: James Johnston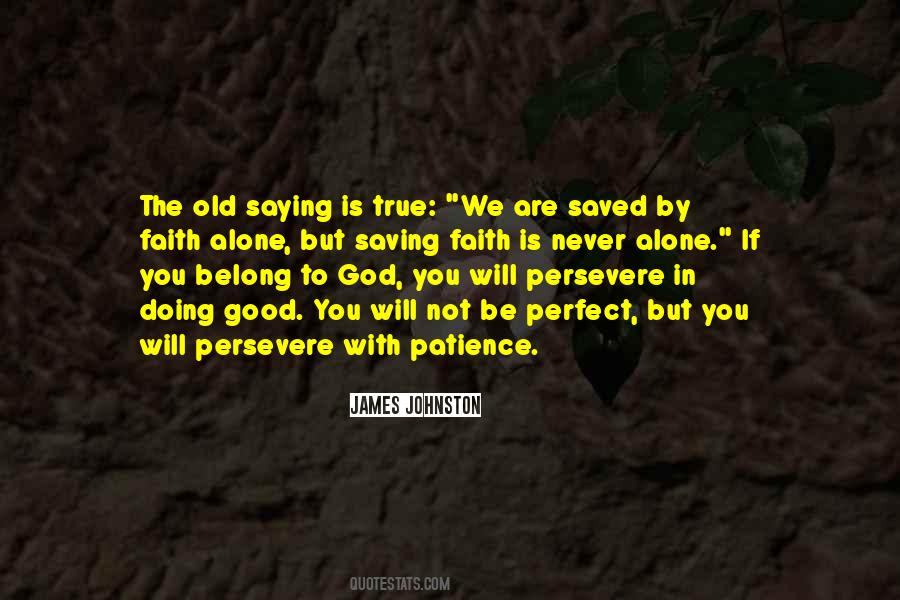 #59. God can save all souls. - Author: Lailah Gifty Akita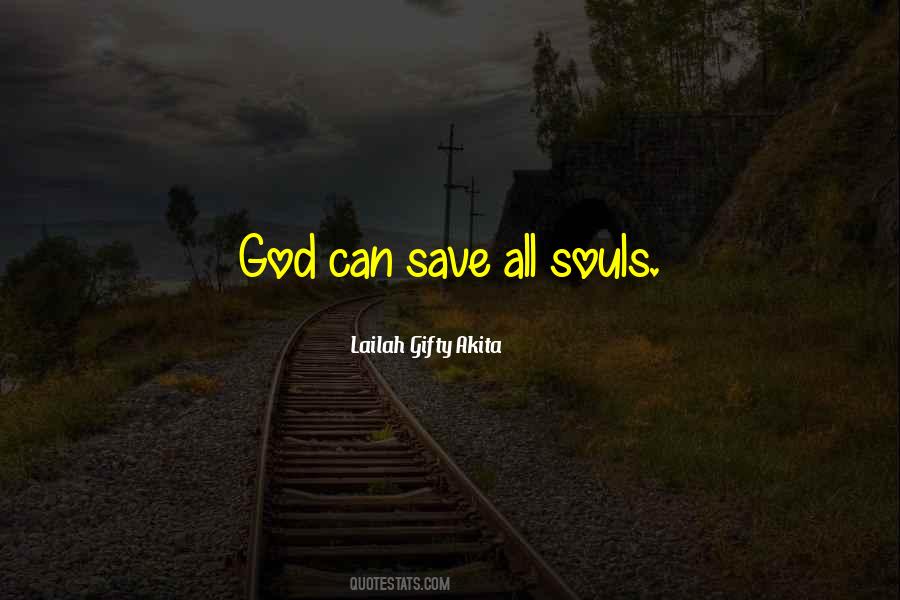 #60. None shall be saved by Christ but those only who work out their own salvation while God is working in them by His truth and His Holy Spirit. We cannot do without God; and God will not do without us. - Author: Matthew Henry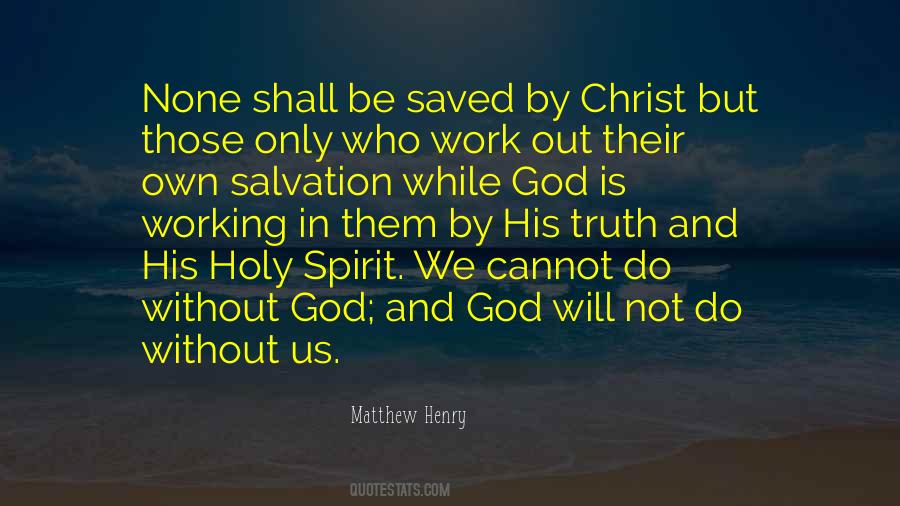 #61. We are not saved by feelings of sorrow over Jesus' death. We are saved when the Word of God 'pierces' our hearts (Hebrews 4:12), when we are convicted of our sins and trust Christ by faith. - Author: R. L. Hymers Jr.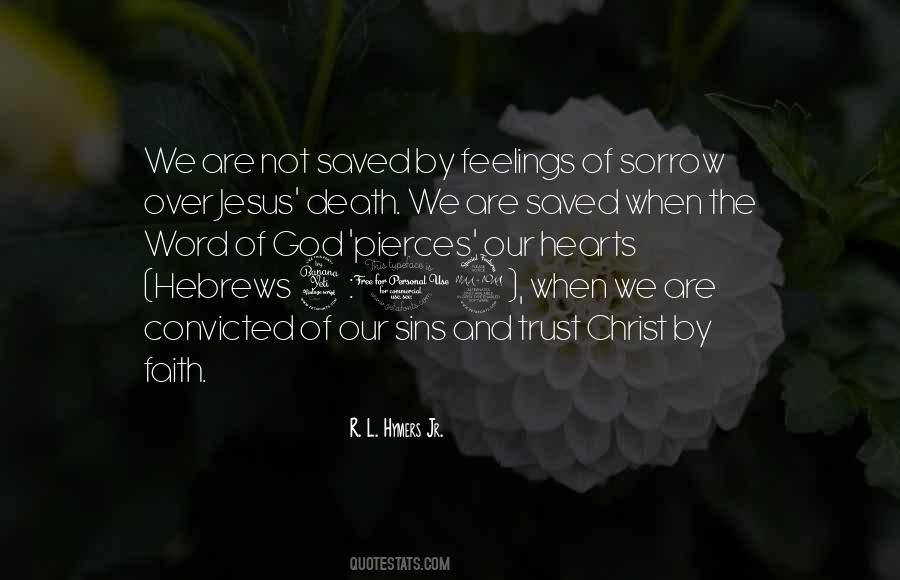 #62. Never water down the Word of God, but preach it in its undiluted sternness. There must be unflinching faithfulness to the Word of God, but when you come to personal dealings with others, remember who you are - you are not some special being created in heaven, but a sinner saved by grace. - Author: Oswald Chambers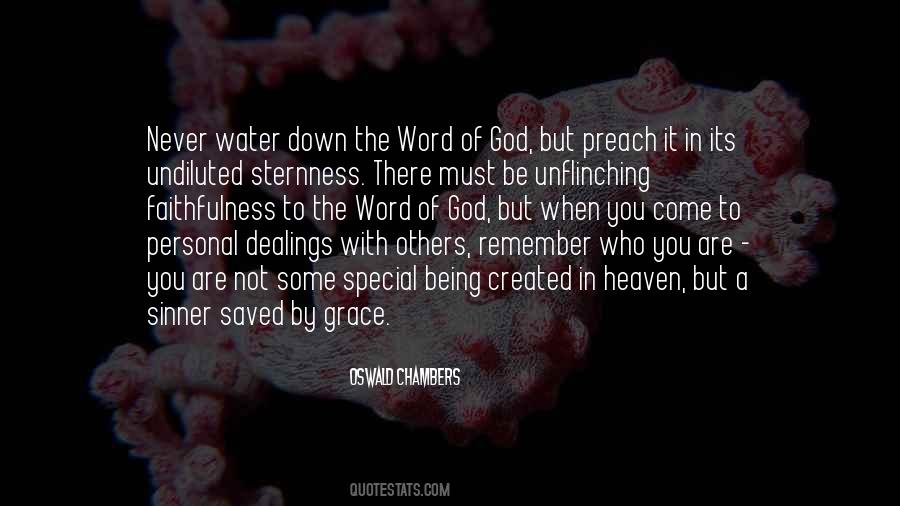 #63. We need God's great-grace in all spheres of life. - Author: Lailah Gifty Akita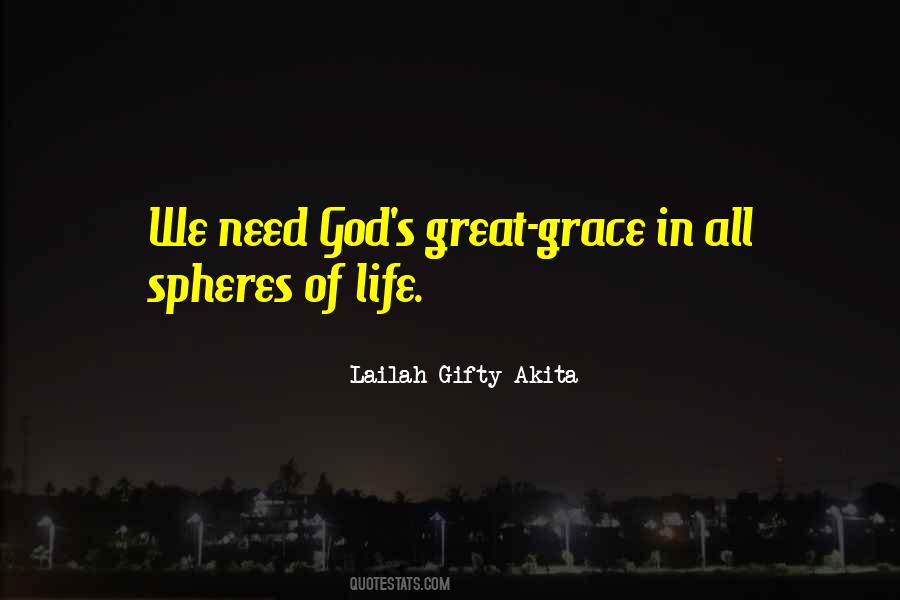 #64. We therefore need to know the gifts given us by God, so that we may use them, for by these we shall be saved. - Author: Walter Hilton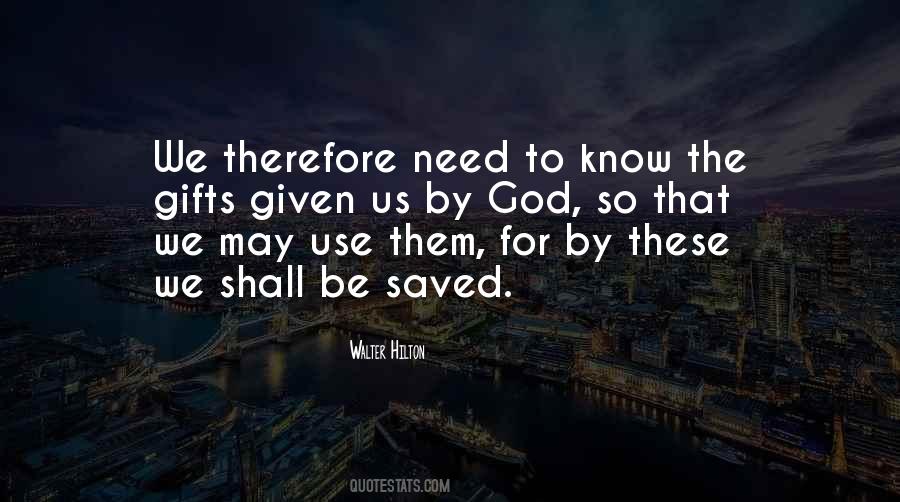 #65. We are a new creation by God's grace. - Author: Lailah Gifty Akita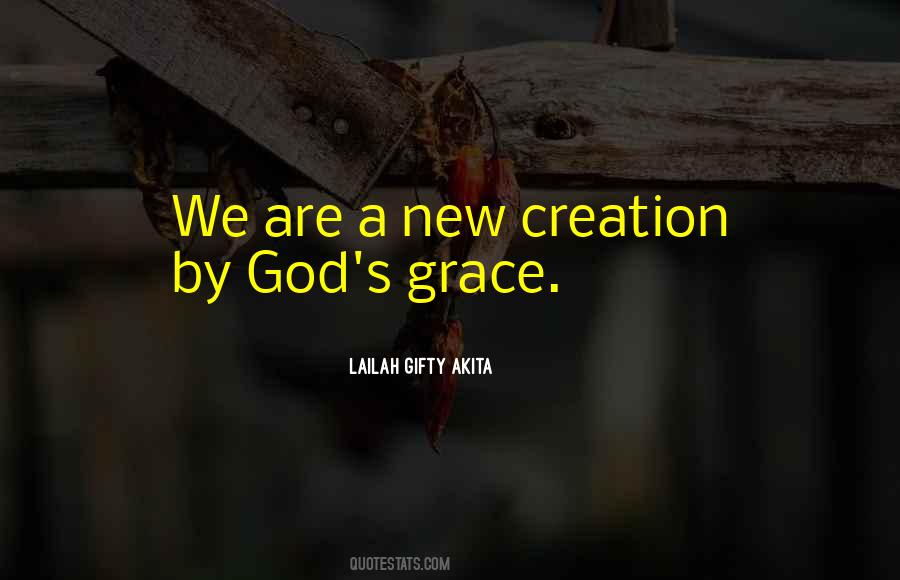 #66. You are a new creation by the blood of Jesus. - Author: Lailah Gifty Akita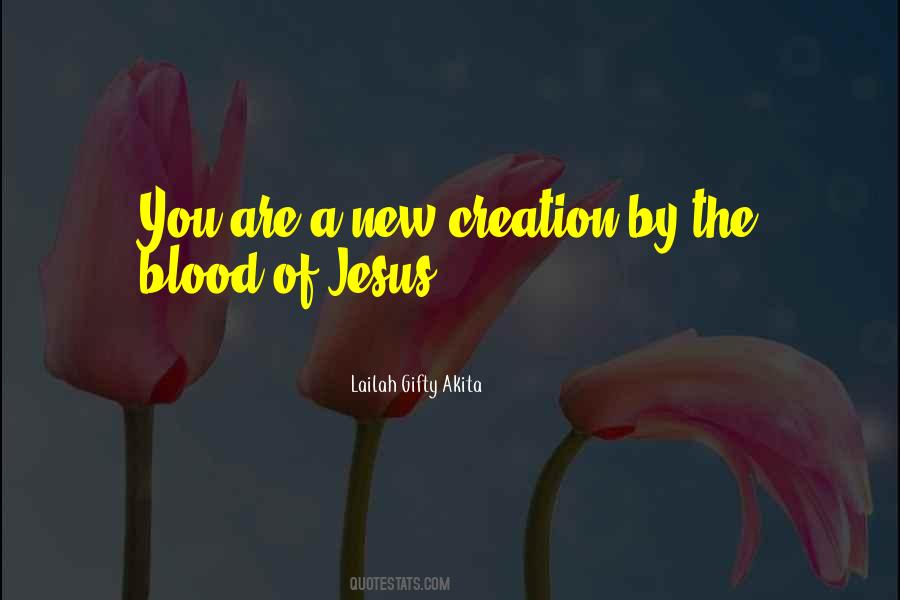 #67. For if you confess with your mouth that Jesus is Lord and believe in your heart that God raised him from the dead, you will be saved. For it is by believing in your heart that you are made right with God, and it is by confessing with your mouth that you are saved. ROMANS 10:9-10 - Author: Francine Rivers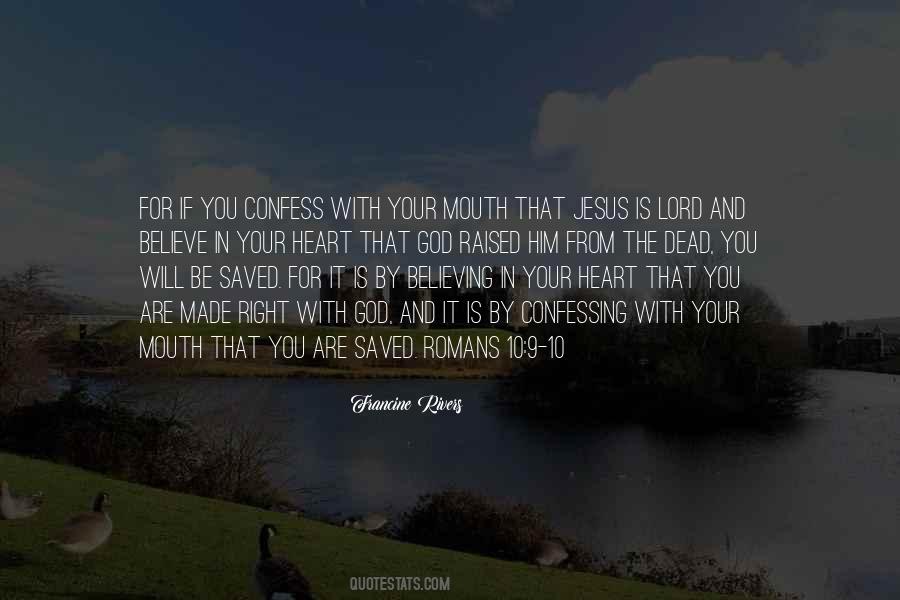 #68. For a group of people supposedly saved by grace, loved unconditionally, and secure in our relationship with Christ, we certainly carry a lot of guilt and baggage in our relationship with God. - Author: Will Davis Jr.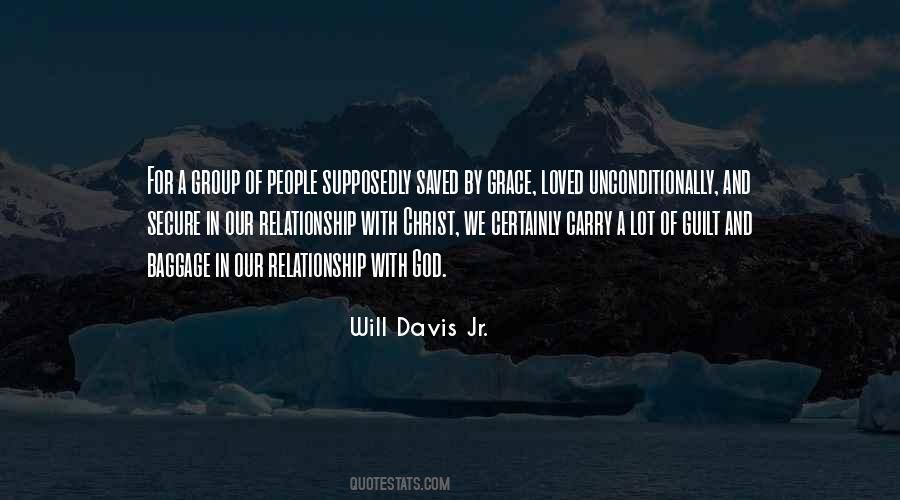 #69. We shall say without hesitation that the atheist who is moved by love is moved by the Spirit of God; an atheist who lives by love is saved by his faith in the God whose existence (under that name) he denies. - Author: William Temple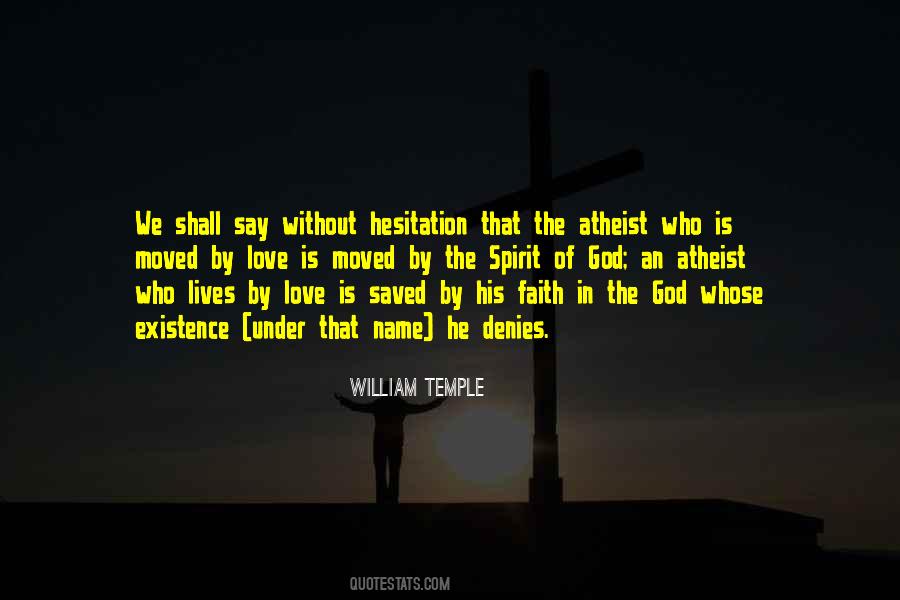 #70. Lord God awakes my soul! - Author: Lailah Gifty Akita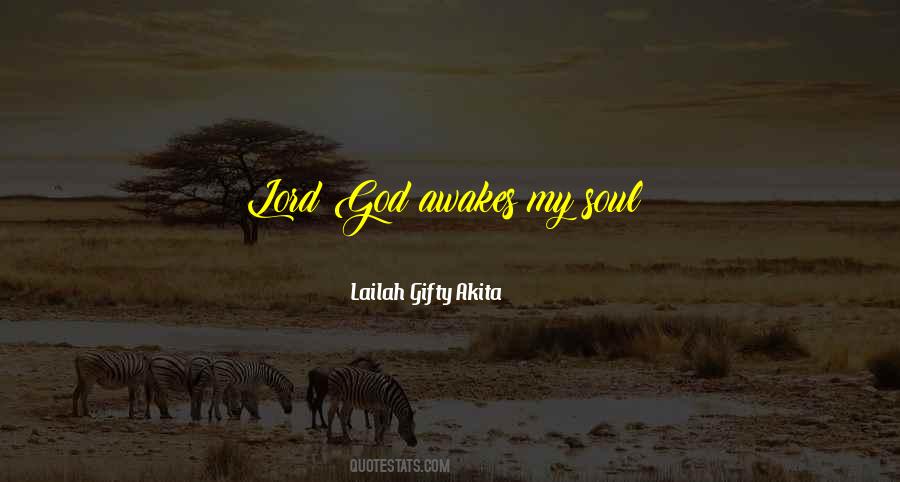 #71. If God has saved you, He has saved you by faith--plus nothing. God is not accepting any kind of good works for salvation. But after you are saved, God talks to you about your works. - Author: J. Vernon McGee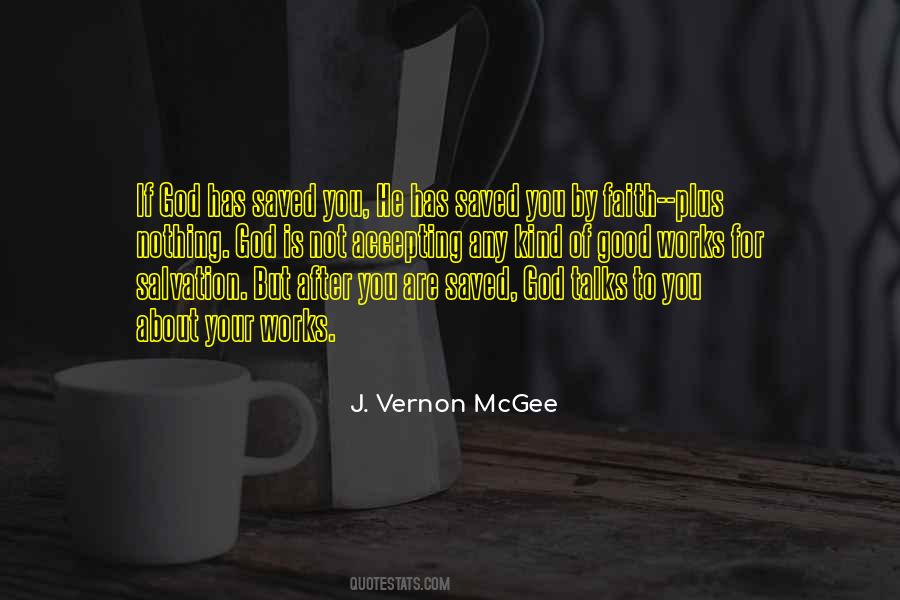 #72. The greatest of all capabilities of a human being is to become born again. - Author: J.R. Rim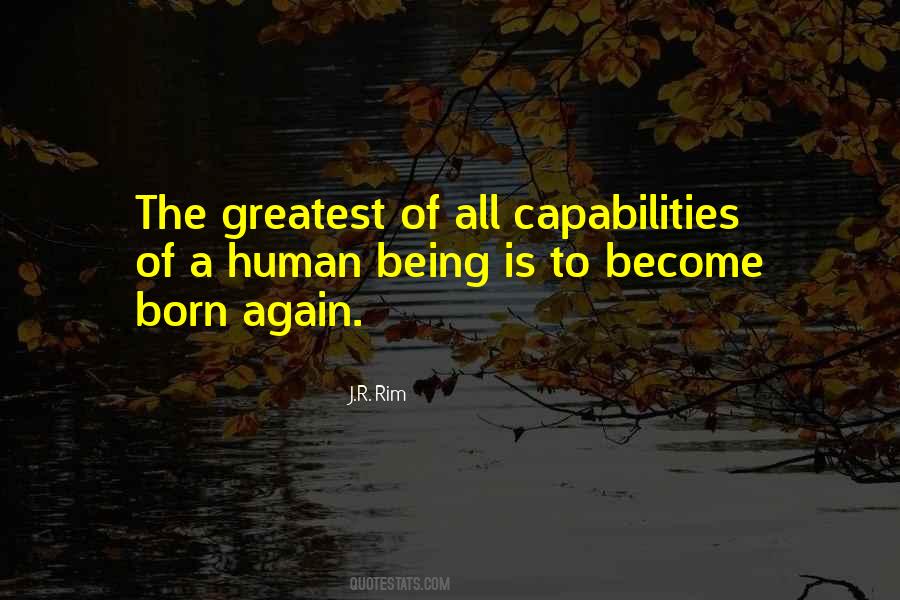 #73. But our God is a God of grace. If we desire to be like him, we need to go beyond being people who are saved by grace to be people who are characterized by grace. - Author: John H. Walton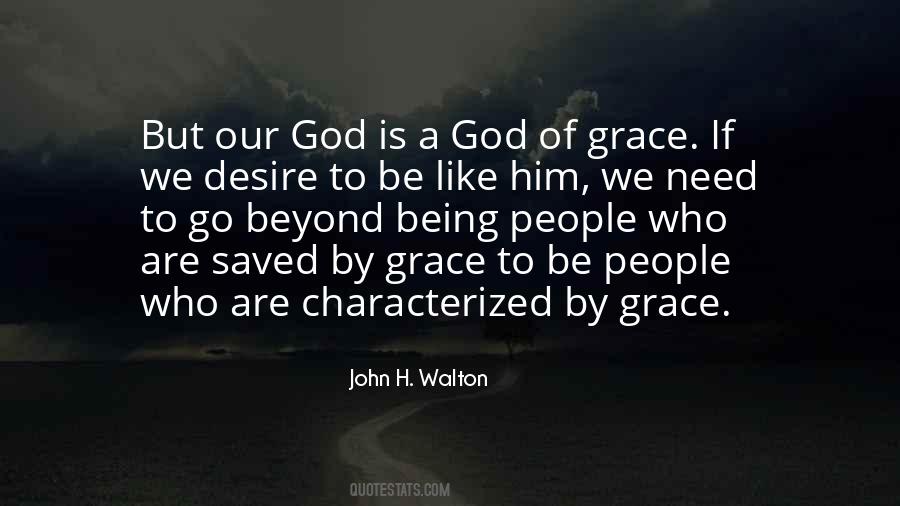 #74. May God open our mind and hearts to the gospel of salvation. - Author: Lailah Gifty Akita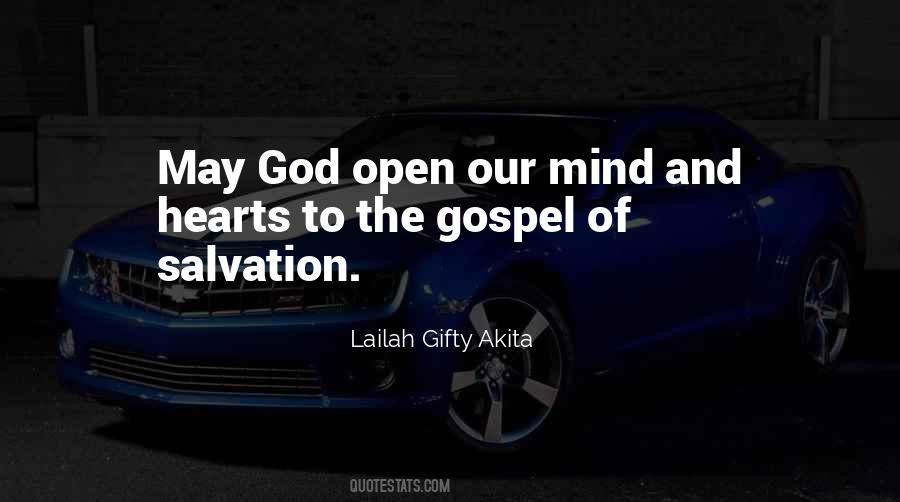 #75. Paul presents the Good News: Salvation is available to all, regardless of a person's identity, sin, or heritage. We are saved by grace (unearned, undeserved favor from God) through faith (complete trust) in Christ and his finished work. Through him we can stand before God justified, not guilty - Author: Anonymous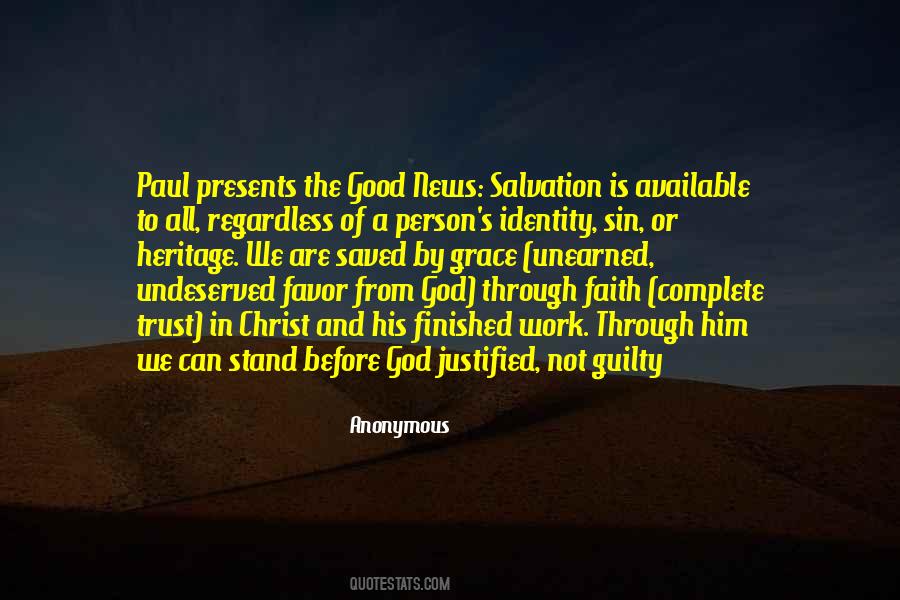 #76. 4 But when the goodness of God and His love for mankind appeared, 5 He saved us - not by works of righteousness that we had done, but according to His mercy, through the washing of regeneration and renewal by the Holy Spirit. - Author: Anonymous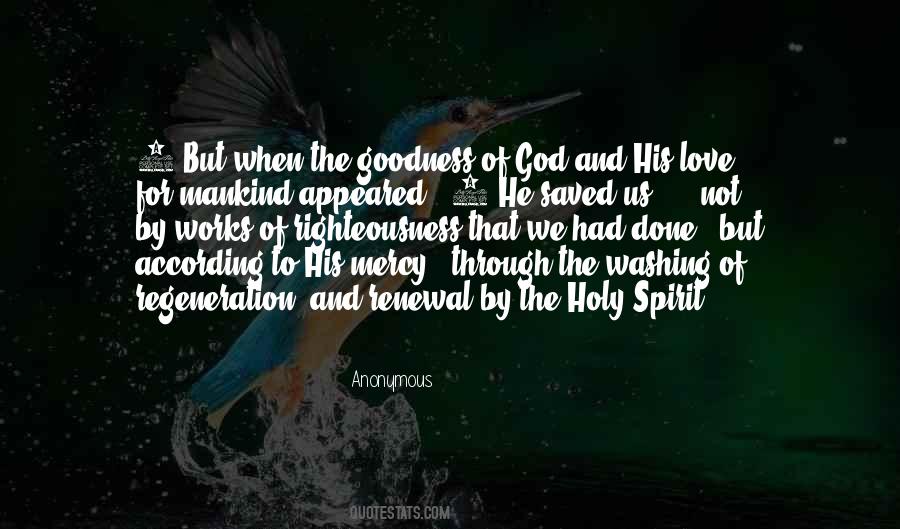 #77. God saved you for Himself; God saved you by Himself; God saved you from Himself. - Author: Paul Washer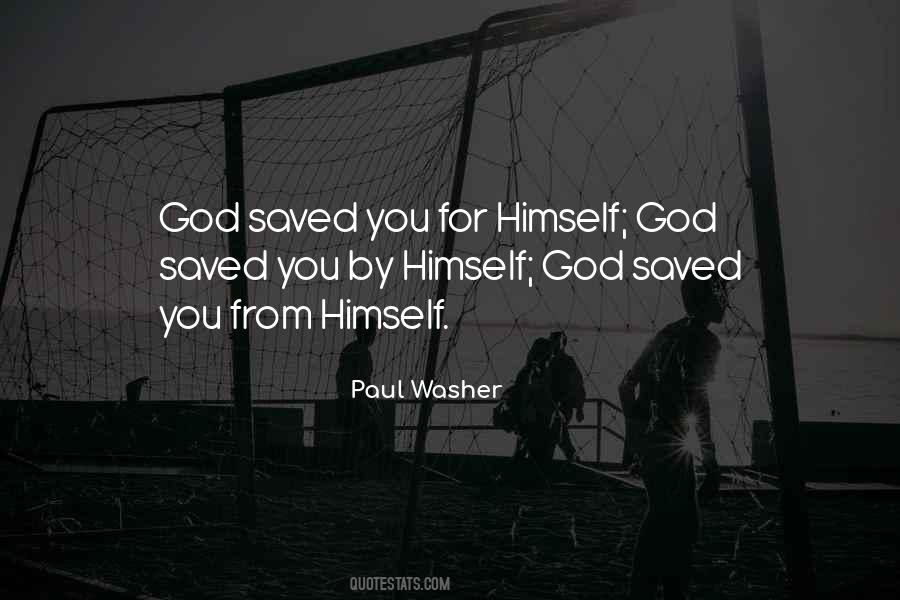 #78. Because we don't know the state of our children's souls, and because they might simply want to please us by praying to be saved, we must continue to give them the Law and encourage them to ask God for faith to believe that He is as good as He says He is. - Author: Elyse M. Fitzpatrick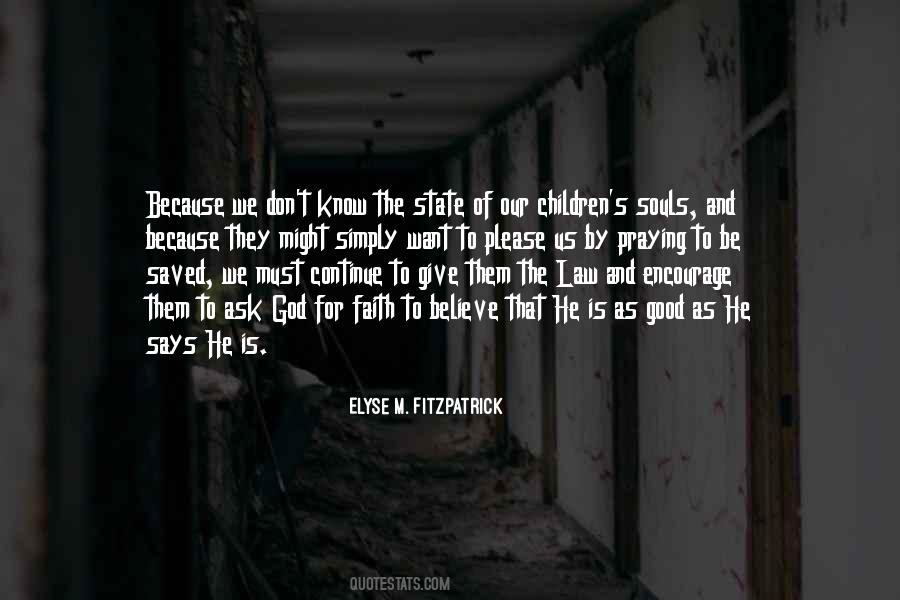 #79. Don't let us rejoice in punishment, even when the hand of God alone inflicts it. The best of us are but poor wretches, just saved from shipwreck. Can we feel anything but awe and pity when we see a fellow-passenger swallowed by the waves? - Author: George Eliot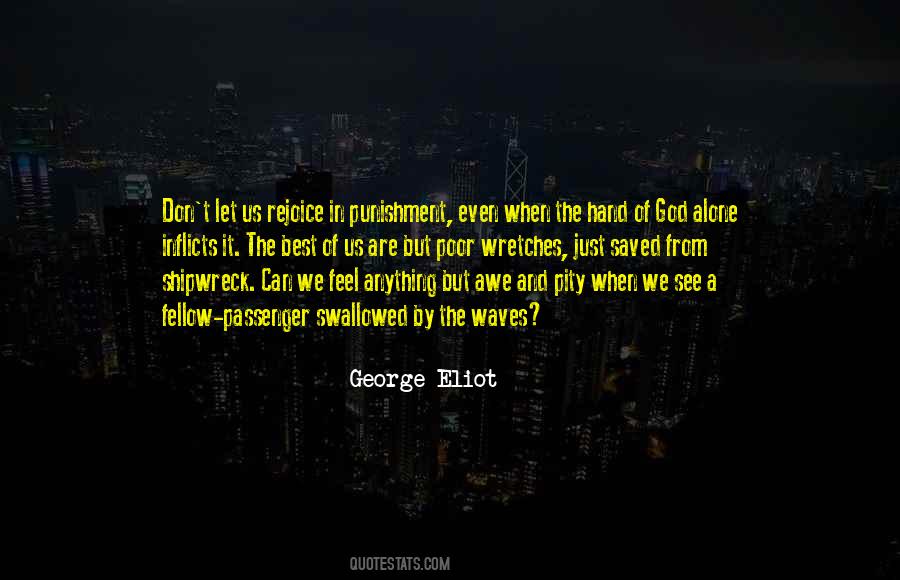 #80. We know for certain that we are not made right with God by our good works. We are saved only by grace through faith. And while we're not saved by good works, we are saved for good works. - Author: Craig Groeschel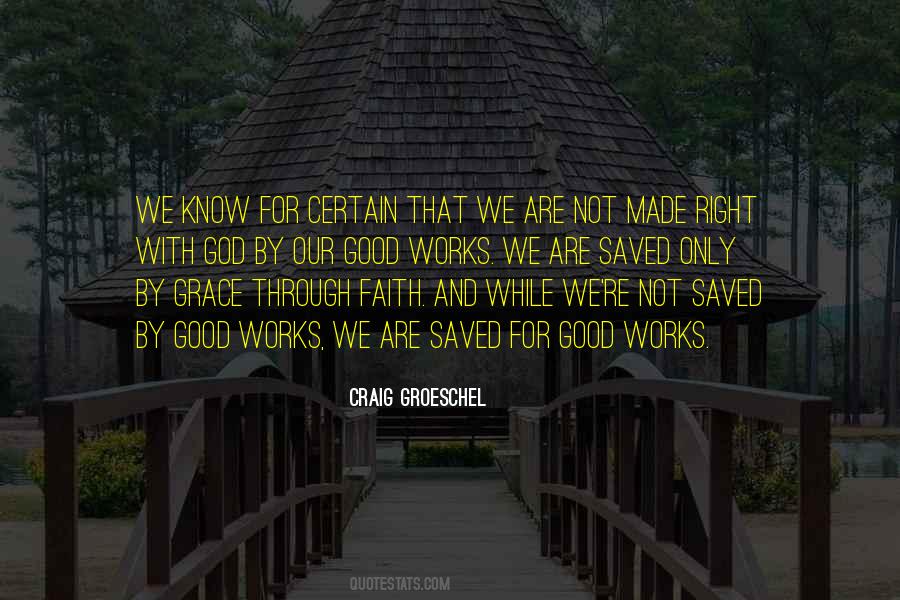 #81. God relentlessly offers his grace to people who do not deserve it, or seek it, or even appreciate it after they have been saved by it. - Author: Timothy Keller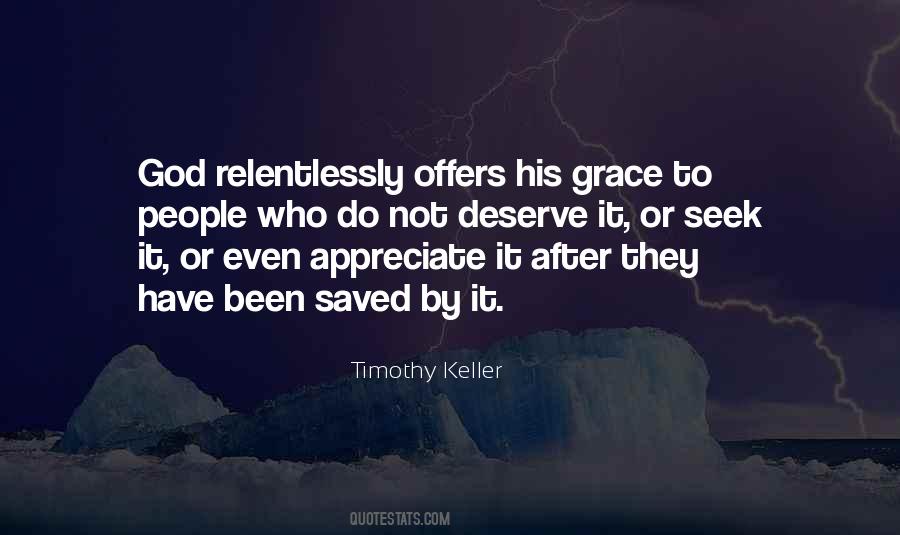 #82. Only God can set the soul in bondage free. - Author: Lailah Gifty Akita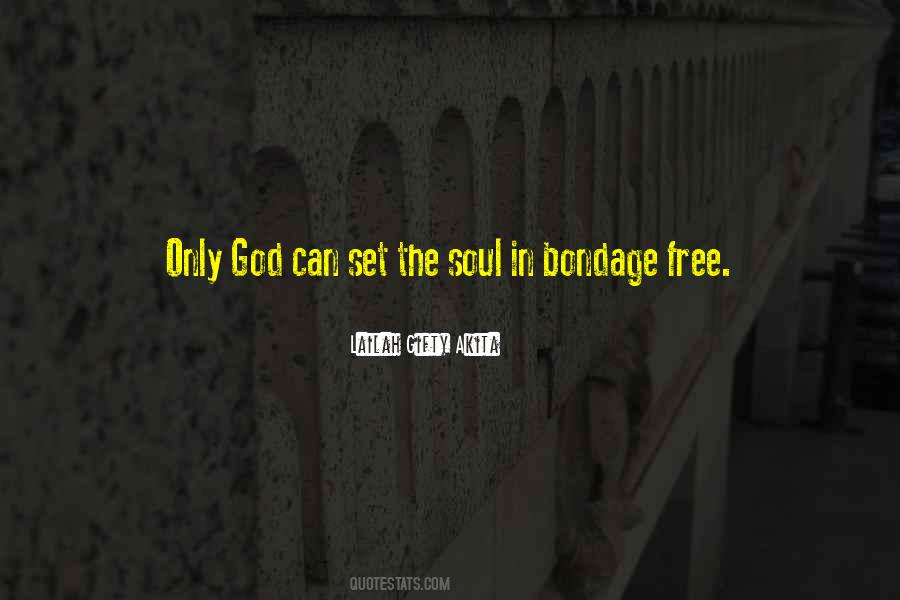 #83. No one is saved by good works (Ephesians 2:8-9), but every Christian has been saved for good works (verse 10). - Author: David Jeremiah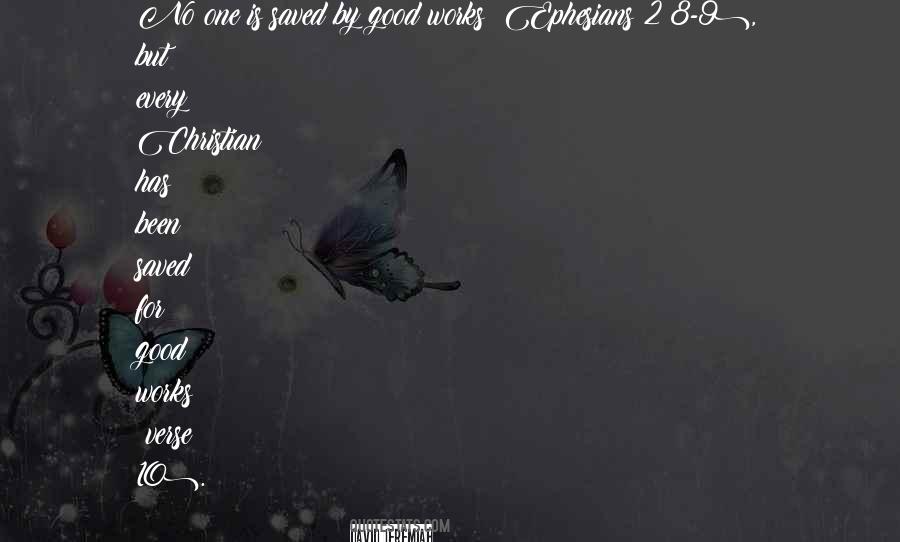 #84. The divinity of Jesus is not a dispensable extra that has no significance for our salvation. On the contrary, our salvation depends on it. We can be saved only by God Himself. - Author: Klaas Runia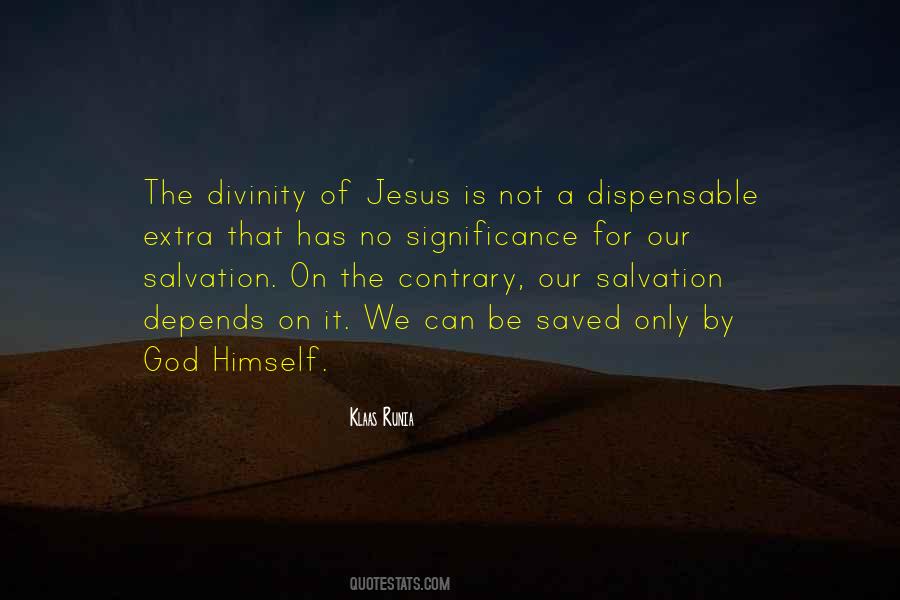 #85. She didn't understand, I hope to God she never understands what I do, what I am. To be dammed by the darkness that lives inside me.
To be saved by her love.
No more half-truths. No more omissions. - Author: Linnea Sinclair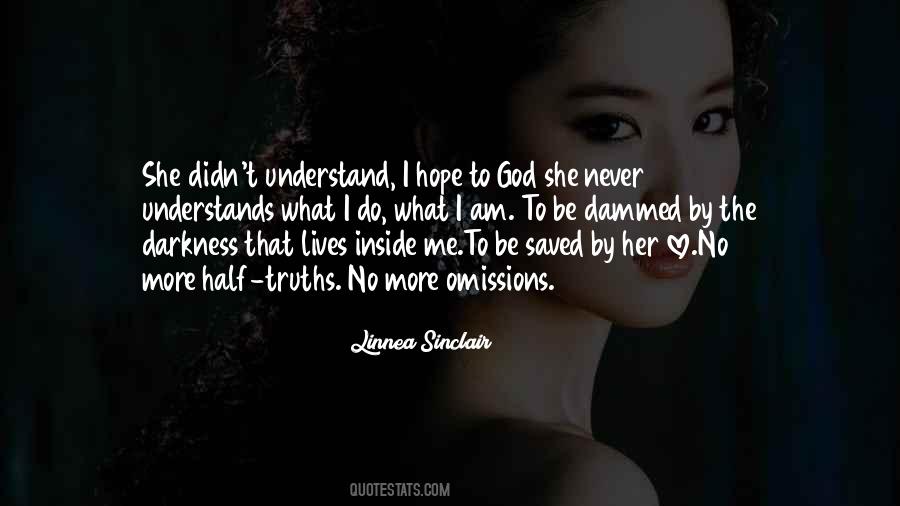 #86. But, while a man can be restrained by strict law and order, he cannot be changed by law; he cannot be saved by law. Man can only be saved by the grace of God through Jesus Christ. - Author: Rousas John Rushdoony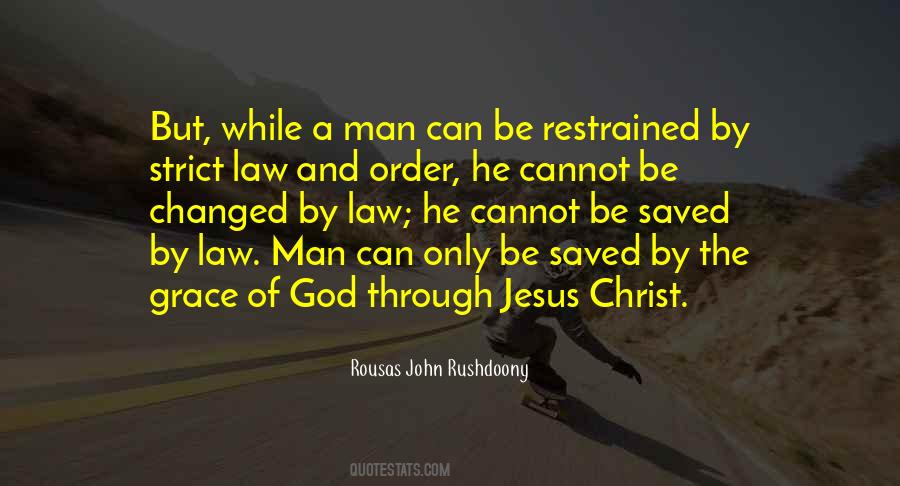 #87. God is the Saviour of all men. - Author: Lailah Gifty Akita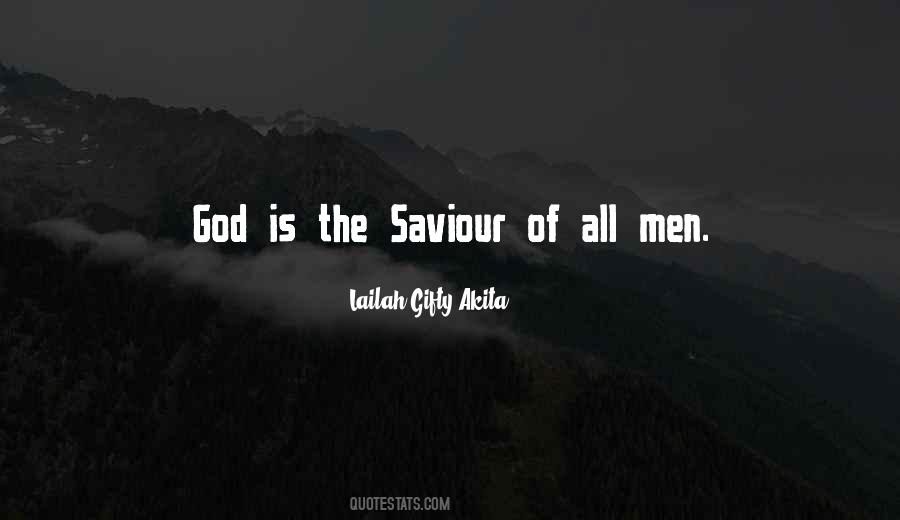 #88. The light of God illuminated my path. - Author: Lailah Gifty Akita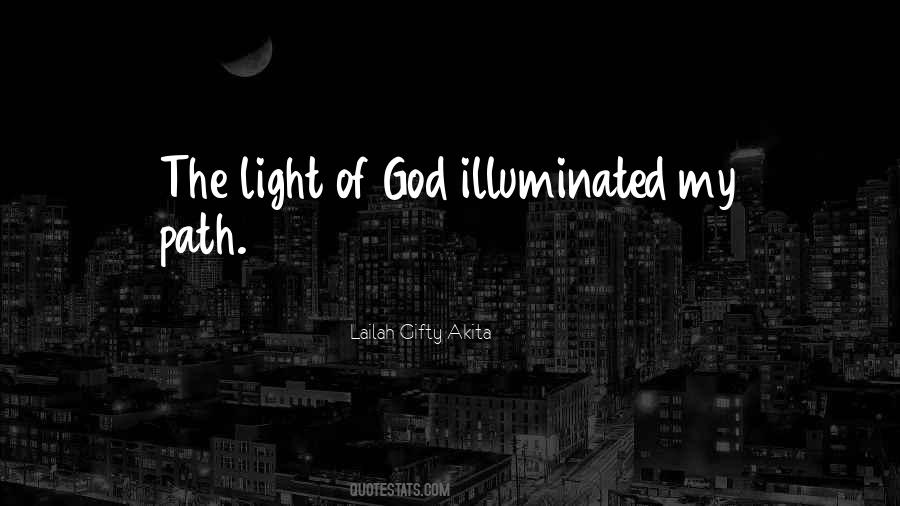 #89. It is by God's mercy that we are saved. May we never tire of spreading this joyful message to the world. - Author: Pope Francis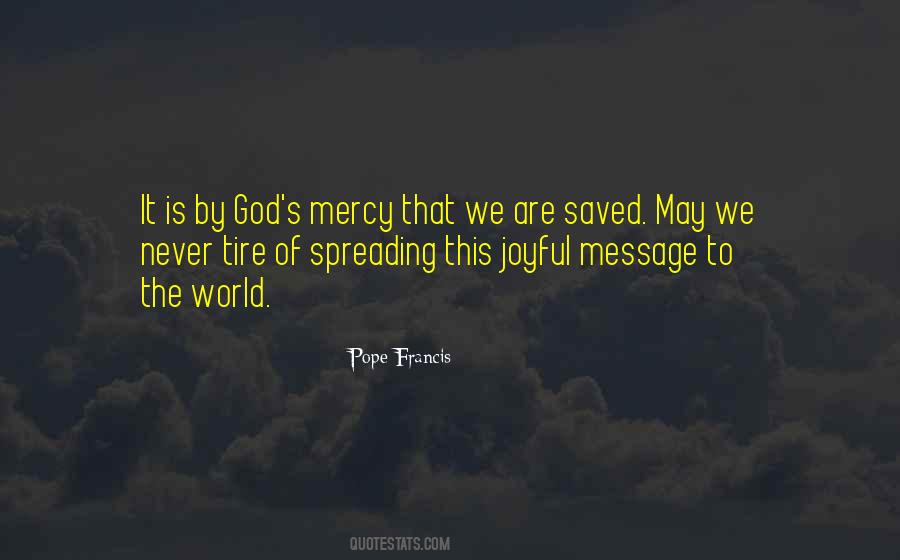 #90. Repent, return and be restored by Jesus Christ. - Author: Lailah Gifty Akita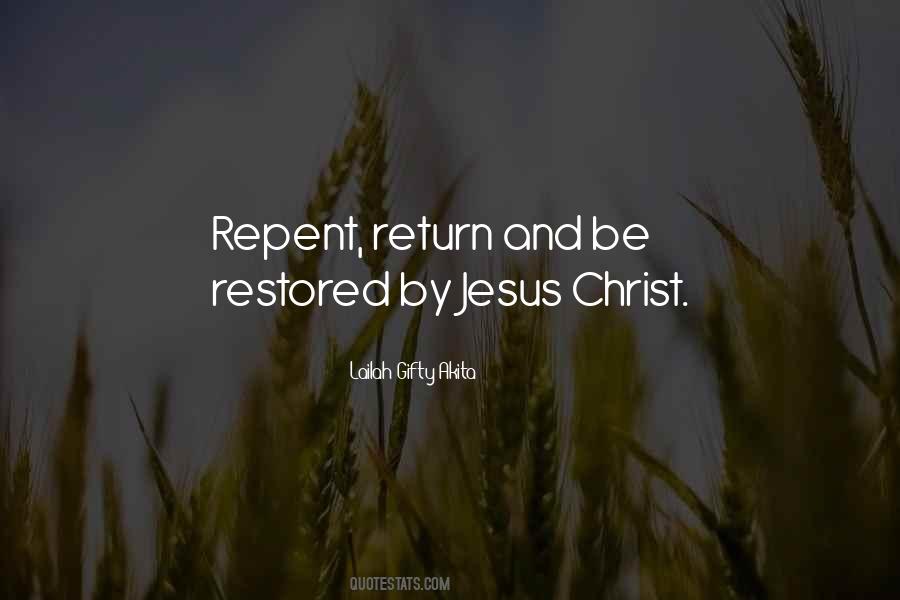 #91. But what I have come to see is that God is big enough to receive us with all our mixture. We do not have to be bright, or pure, or filled with faith, or anything. That is what grace means, and not only are we saved by grace, we live by it as well. And we pray by it. - Author: Richard J. Foster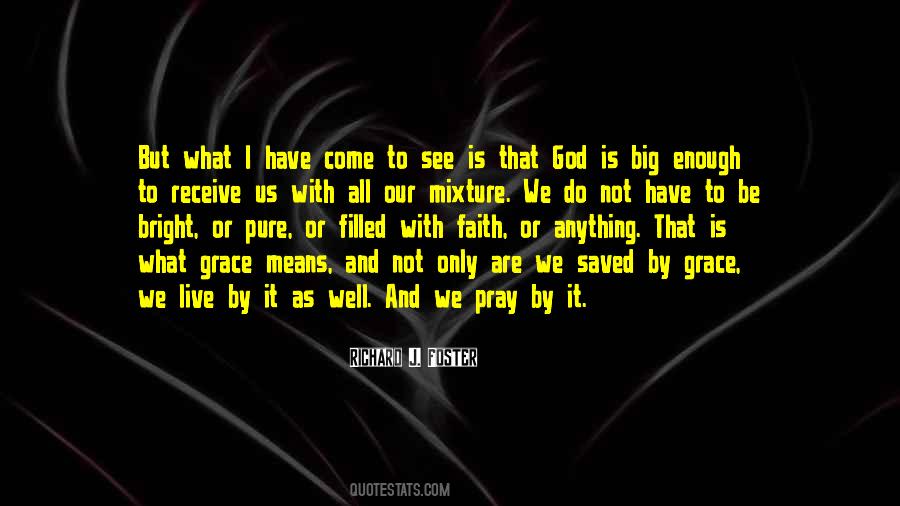 #92. 'Thou shalt not get found out' is not one of God's commandments; and no man can be saved by trying to keep it. - Author: Leonard Bacon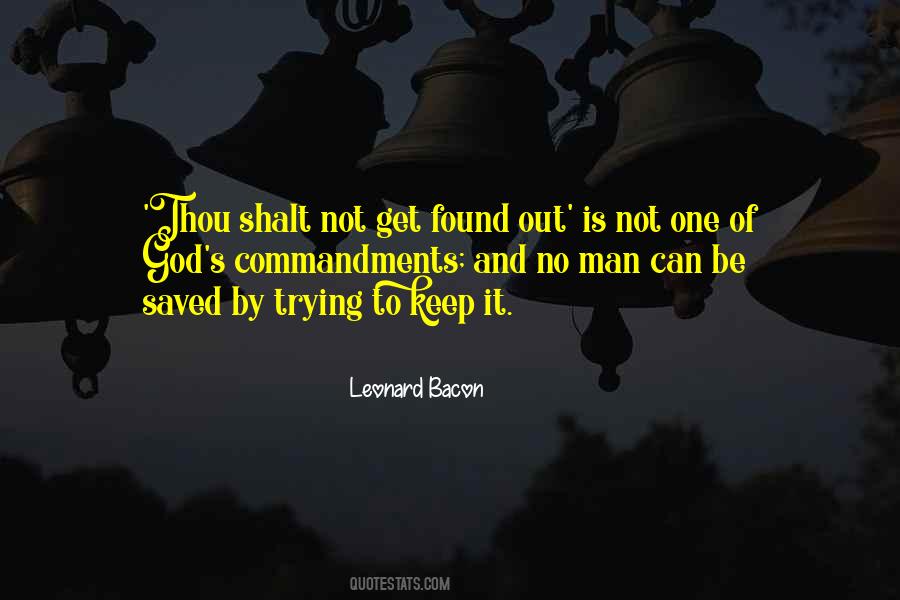 Famous Authors
Popular Topics