Saith Famous Quotes & Sayings
List of top 87 famous quotes and sayings about saith to read and share with friends on your Facebook, Twitter, blogs.
Top 87 Saith Quotes
#1. Time and tide will wait for no man, saith the adage. But all men have to wait for time and tide. - Author: Charles Dickens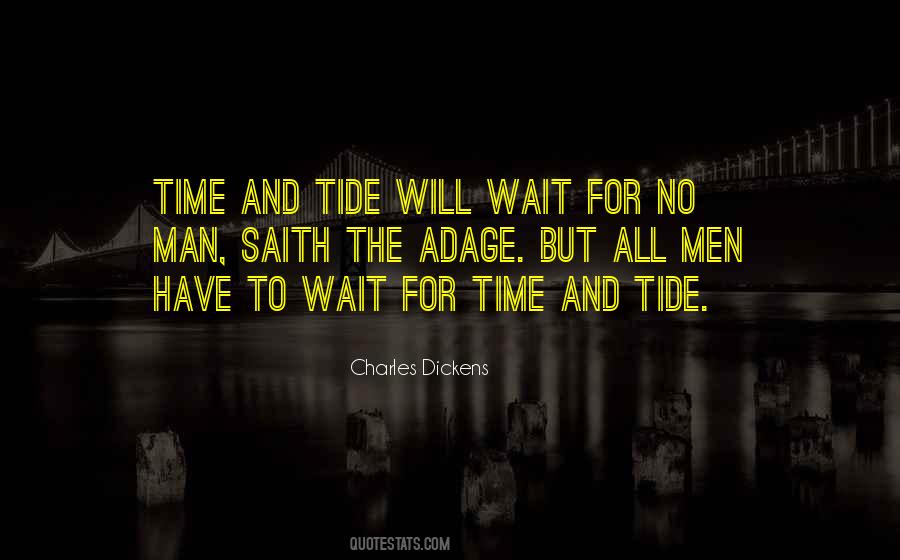 #2. The proverbe saith that many a smale maketh a grate. - Author: Geoffrey Chaucer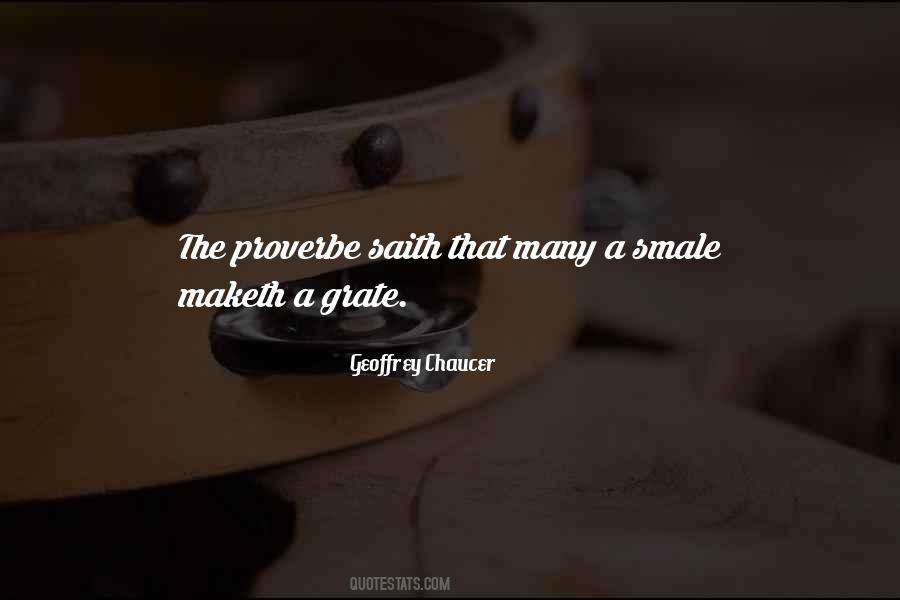 #3. It must not be supposed that the heavens or the luminaries are endowed with life(3). For they are inanimate and insensible(4). So that when the divine Scripture saith, Let the heavens rejoice and the earth be glad(5), it is the angels in heaven and the men on earth that are invited to rejoice. - Author: John Damascene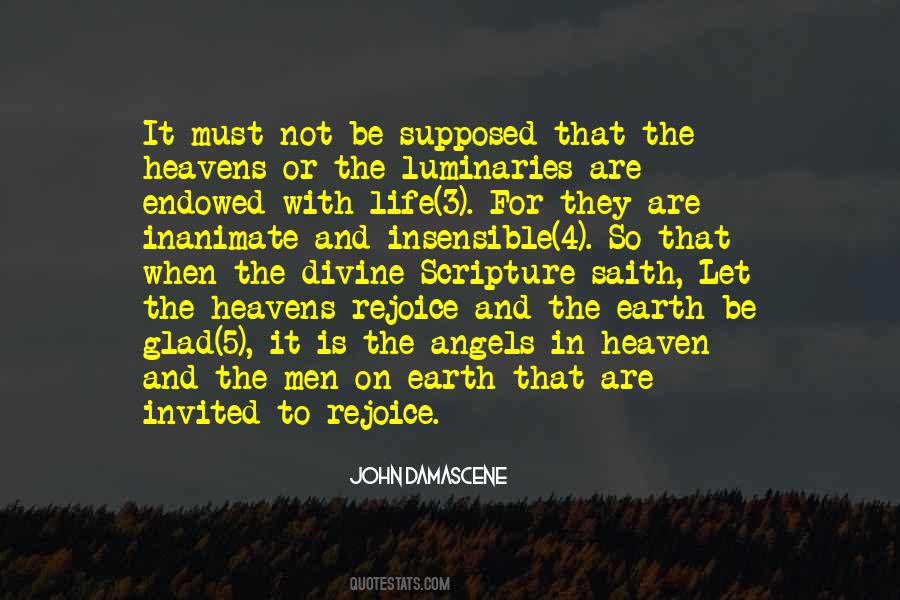 #4. John 14:6
Jesus saith unto him, I am the way, the truth,and the life: no man cometh unto the Father,but by me.
Psalm 45:1
My heart is inditing a good matter: I speak of the things which I have made touching the king: my tongue is the pen of a ready writer. - Author: Tamara Sanguinetti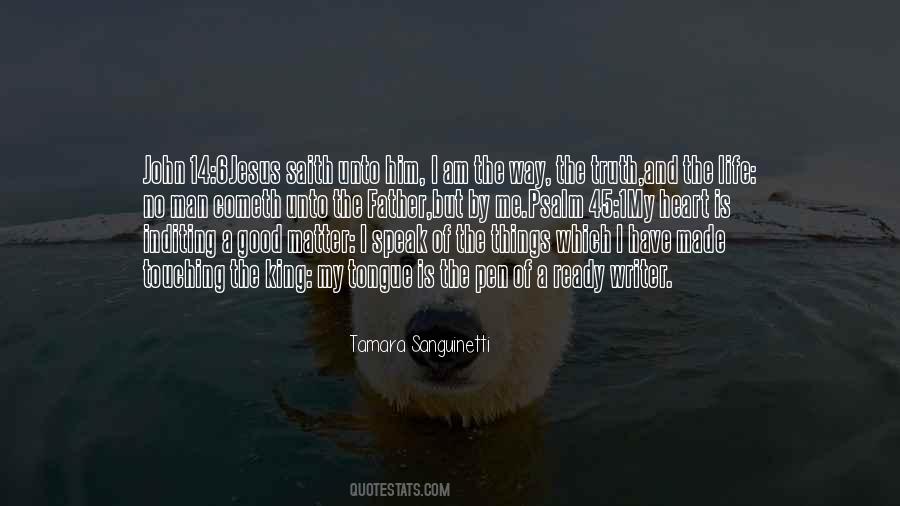 #5. Thus saith the Lord God; When the whole earth rejoiceth, I will make thee desolate. - Author: Anonymous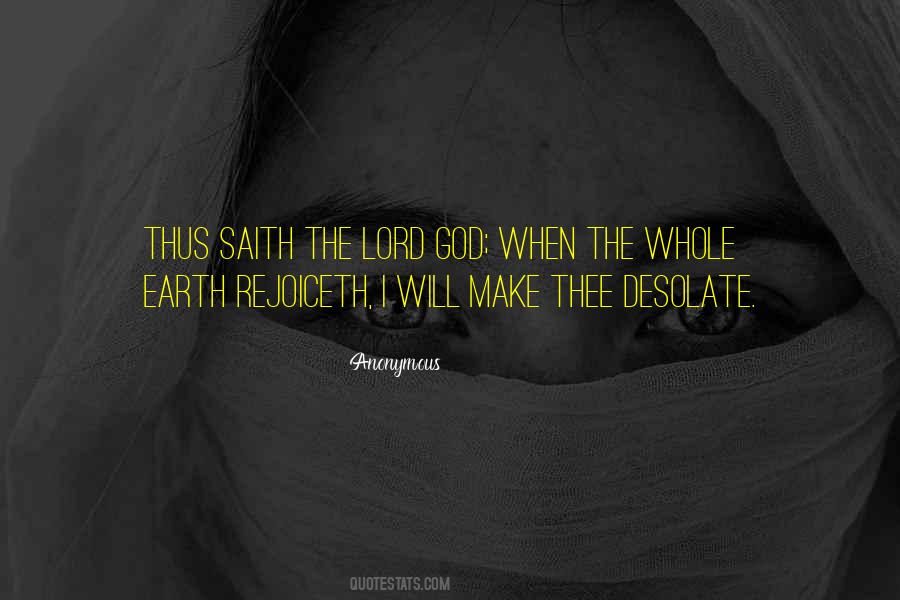 #6. Nay, number itself in armies importeth not much, where the people is of weak courage; for, as Virgil saith, It never troubles the wolf how many the sheep be. - Author: Francis Bacon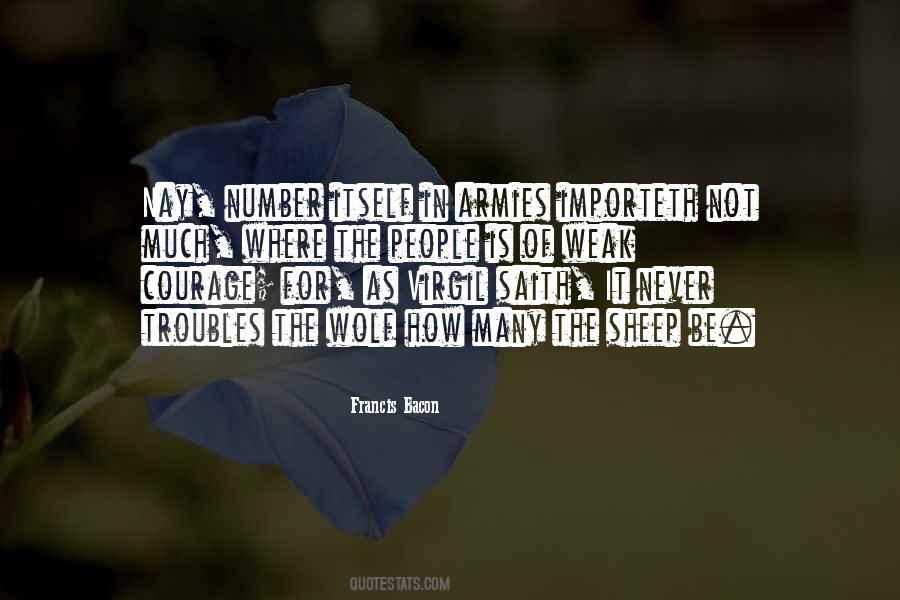 #7. We may search long to find where God is, but we shall find Him in those who keep the words of Christ. For the Lord Christ saith, If any man love me, he will keep my words; and we will make our abode with him. - Author: Martin Luther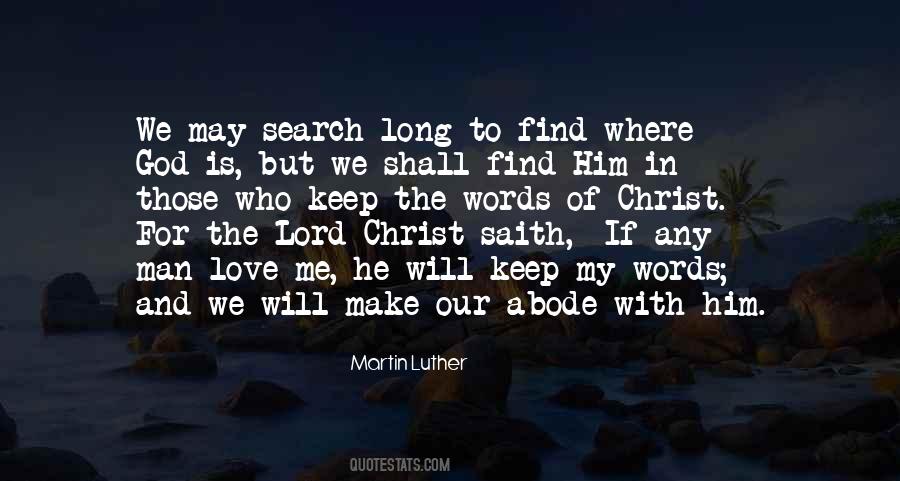 #8. People can get along without your theories and opinions, "Thus saith the Lord" - that is what we want. - Author: D.L. Moody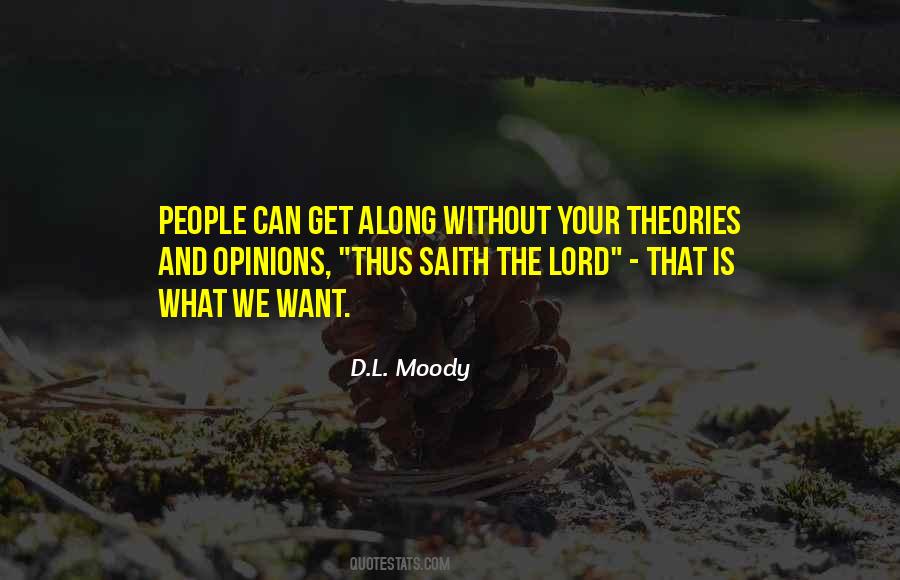 #9. Behold, the fool saith, "Put not all thine eggs in the one basket" - which is but a matter of saying, "Scatter your money and your attention"; but the wise man saith, "Pull all your eggs in the one basket and - WATCH THAT BASKET." - Pudd'nhead Wilson's Calendar - Author: Mark Twain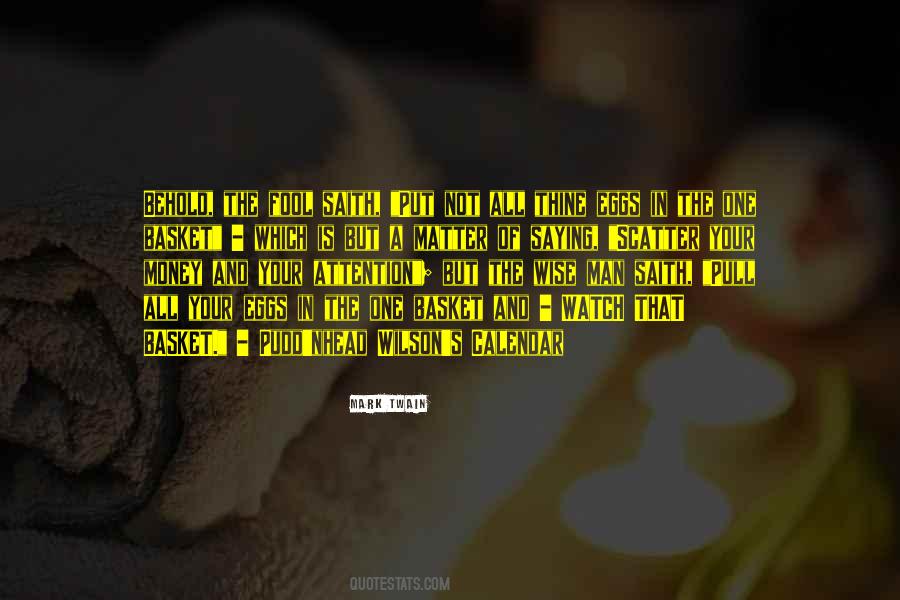 #10. Hear what little Red-Eye saith: Nag, come up and dance with death! - Author: Rudyard Kipling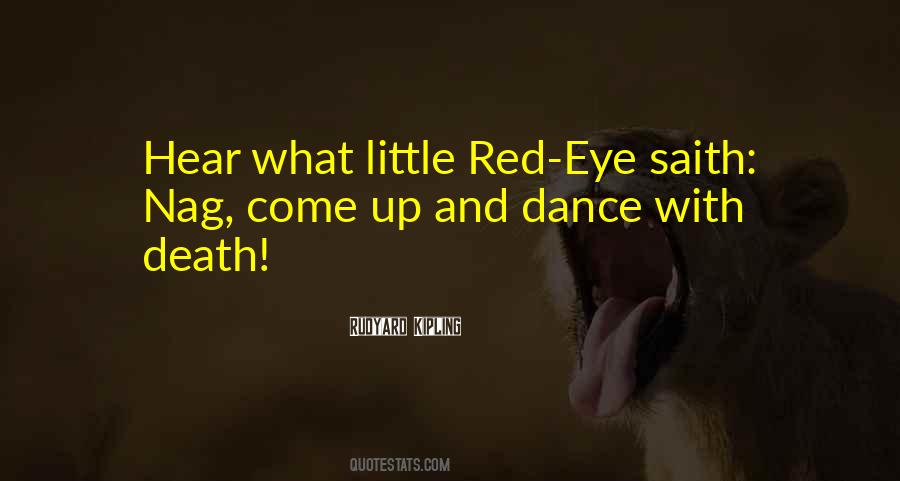 #11. Vengeance is ours saith the Lord and the writers. - Author: Stanley Christopher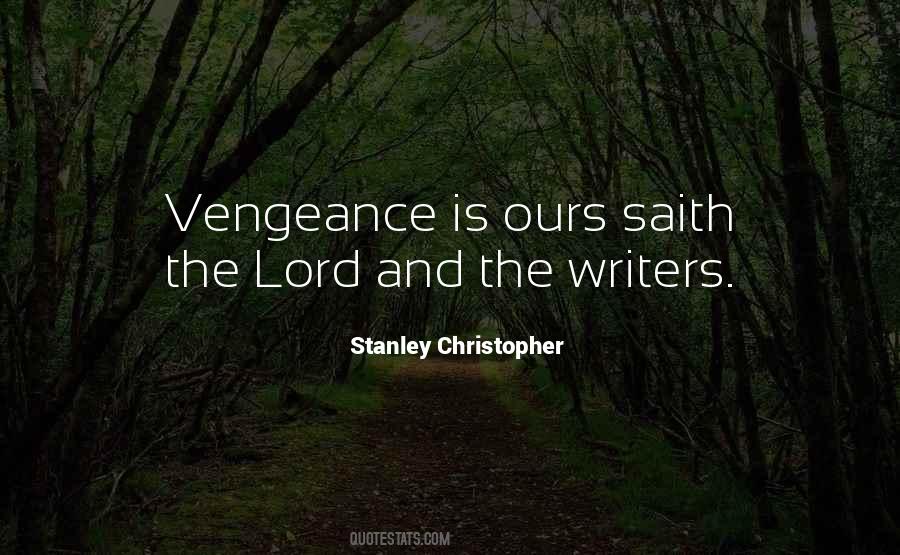 #12. Society, to be sure, does not like this very well; it saith, Whoso goes to walk alone, accuses the whole world; he declares all to be unfit to be his companions; it is very uncivil, nay, insulting; Society will retaliate. - Author: Ralph Waldo Emerson
#13. That scripture did also tear and rend my soul in the midst of these distractions, The wicked are like the troubled sea, when it cannot rest, whose waters cast up mire and dirt. There is no peace, saith my God, to the wicked. Isa. lvii. 20, 21. - Author: John Bunyan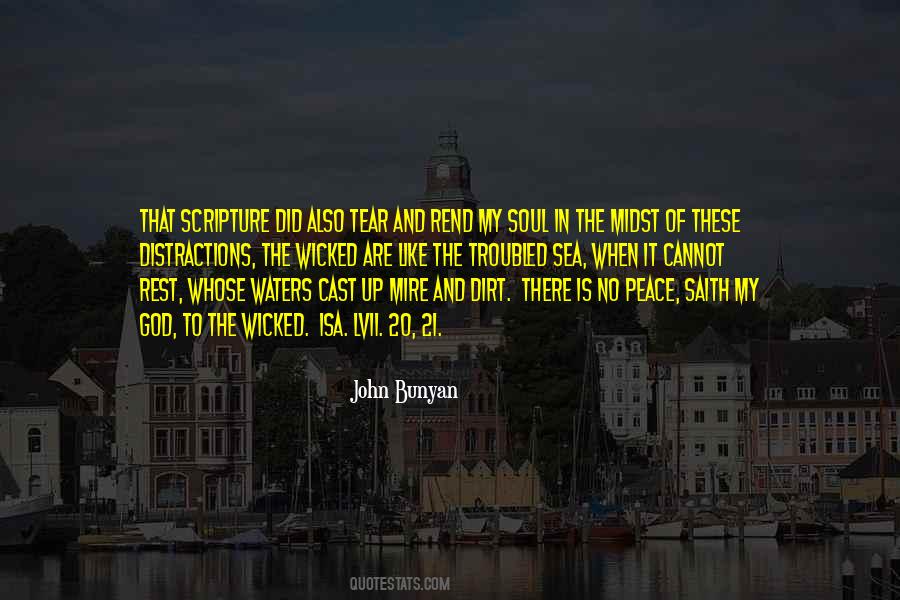 #14. Vanity of vanities, saith the preacher, vanity of vanities; all is vanity. - Author: Qoheleth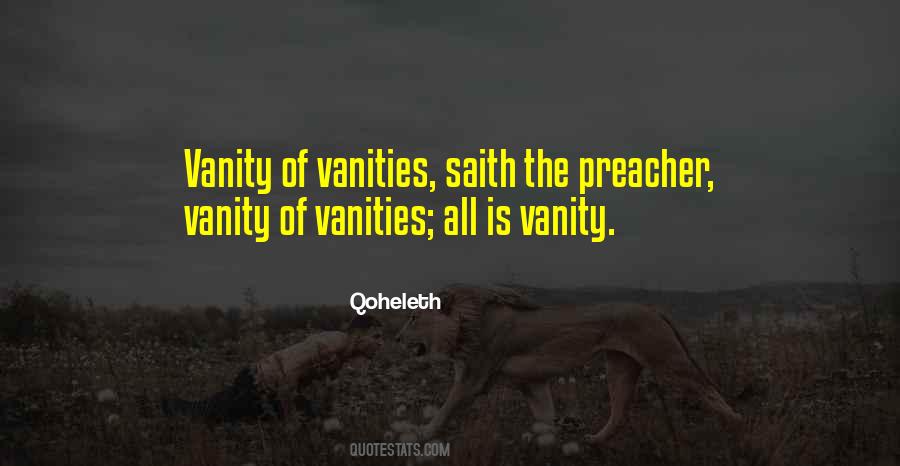 #15. For as saith a proverb notable, Each thing seeketh his semblable. - Author: Thomas Wyatt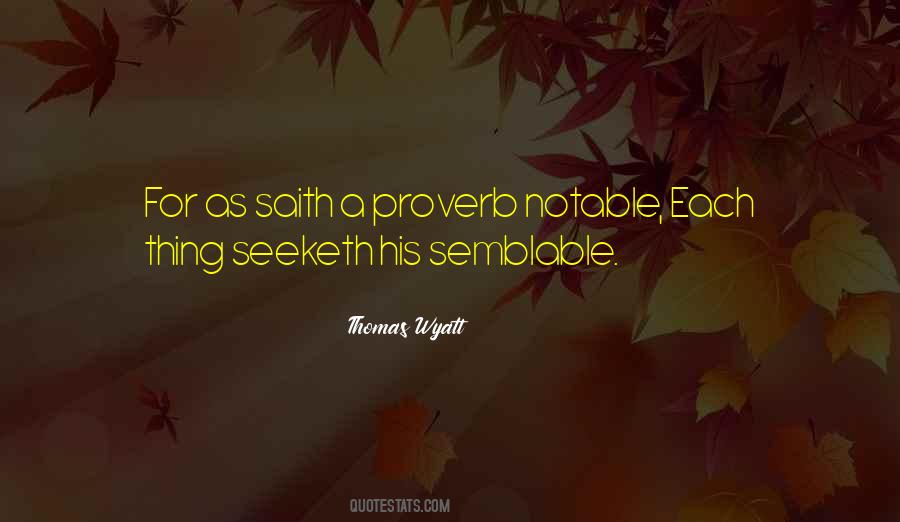 #16. It is of the LORD's mercies that we are not consumed, because his compassions fail not. They are new every morning: great is thy faithfulness. The LORD is my portion, saith my soul; therefore will I hope in him. - Author: Anonymous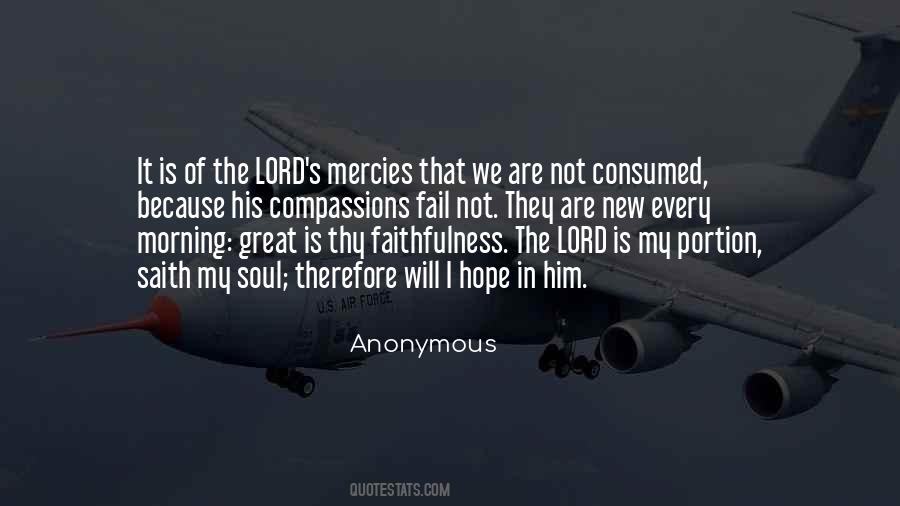 #17. Before none of your printed idols do I bend in acquiescence, and he who saith thou shalt to me is my mortal foe! - Author: Anton Szandor LaVey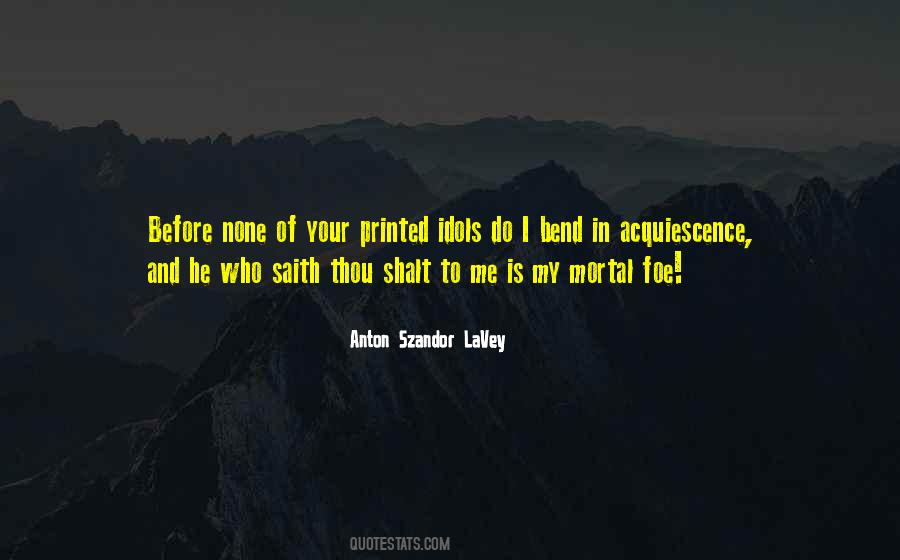 #18. Solomon saith: There is no new thing upon
the earth. So that as Plato had an imagination,
that all knowledge was but remembrance; so
Solomon giveth his sentence, that all novelty is
but oblivion.
Francis Bacon: Essays, LVIII - Author: Jorge Luis Borges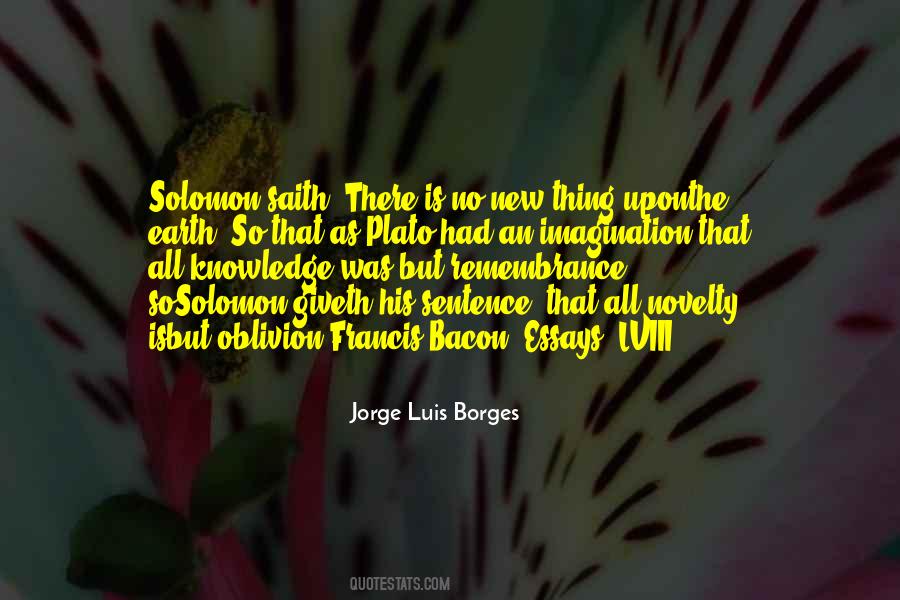 #19. Wo unto that Nation or house or people who seek to hinder my People from obeying the Patriarchal Law of Abraham which leadeth to a Celestial Glory ... for whosoever doeth those things shall be damned Saith the Lord. - Author: Wilford Woodruff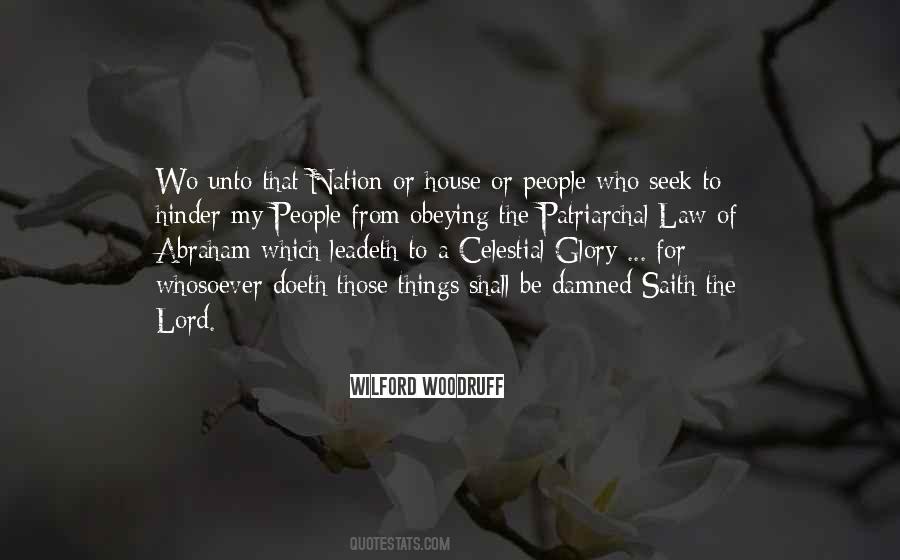 #20. 34 And looking up to heaven, he sighed, and saith unto him, Ephphatha, that is, Be opened. Mk7.35 And straightway his ears were opened, - Author: Anonymous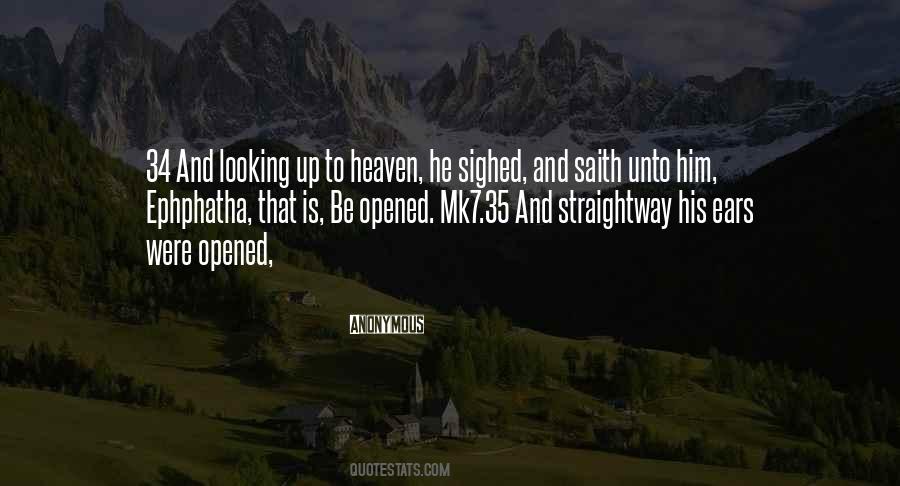 #21. I am the resurrection and the life, saith the Lord; he that believeth in me, though he were dead, yet shall he live: and whosoever liveth and believeth in me shall never die ... - Author: J.K. Rowling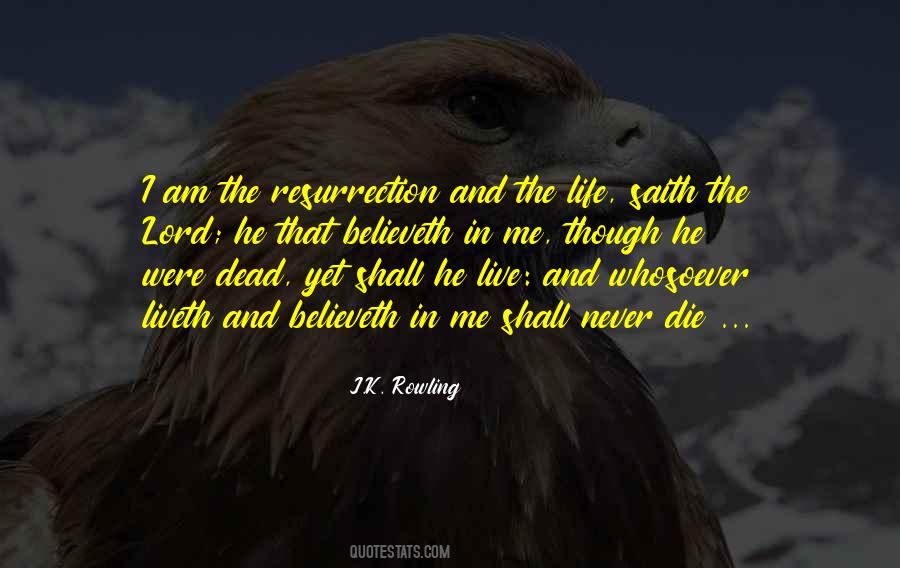 #22. Men use to reason with themselves: It will not always be health, let us lay up for sickness; it will not always be youth, for age; and why not, saith St. Paul, it will not alway be this life, nor alway present life, lay up for yourselves against the life to come. - Author: Lancelot Andrewes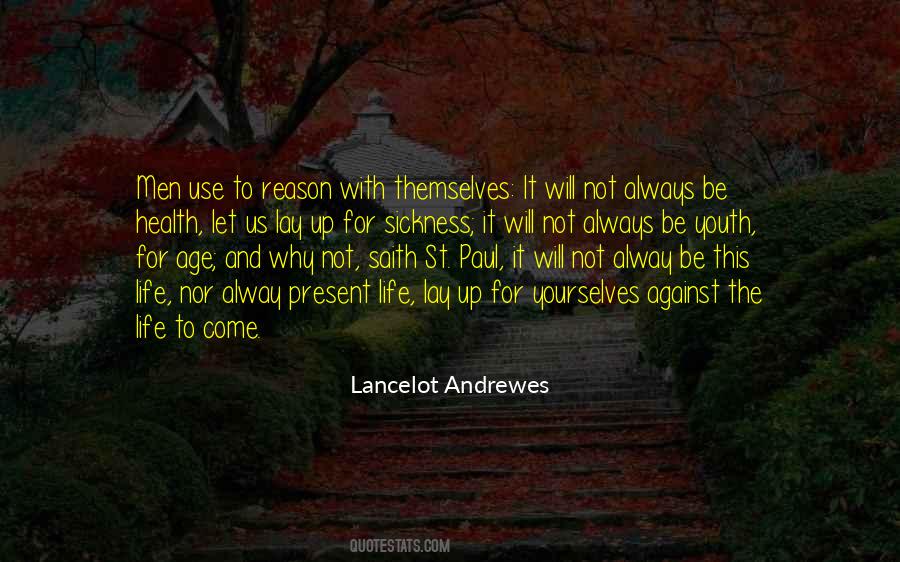 #23. "There is no God," the foolish saith, But none, "There is no sorrow." And nature oft the cry of faith In bitter need will borrow: Eyes which the preacher could not school, By wayside graves are raised; And lips say, "God be pitiful," Who ne'er said, "God be praised." - Author: Elizabeth Barrett Browning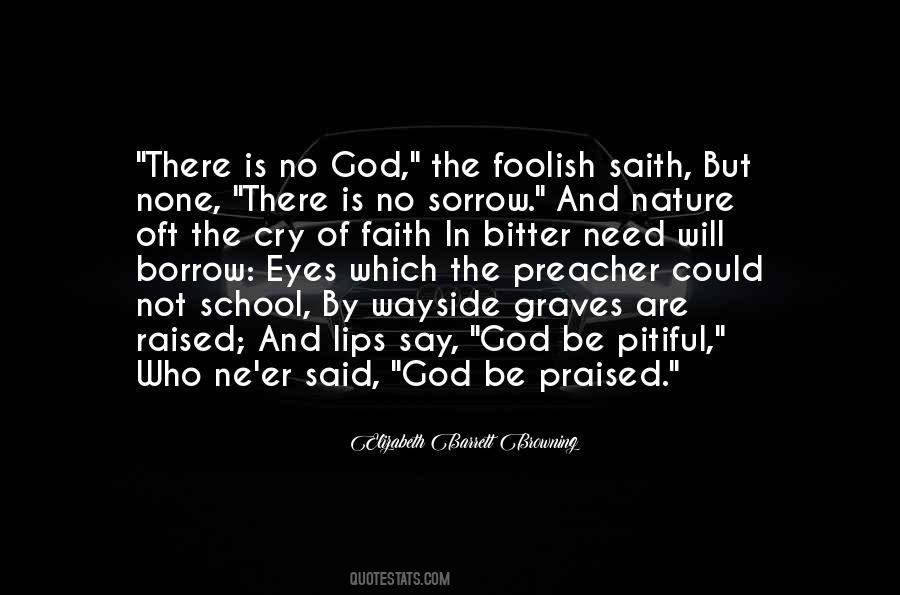 #24. Whatsoever the Lord Jesus commands you, do it, irrespective of consequences. Many who greatly delight to expatiate on the "Whosoever" of John 3:16, are not so much concerned about the "Whatsoever" of John 2:5, "Whatsoever He saith unto you, do it. - Author: Alexander Marshall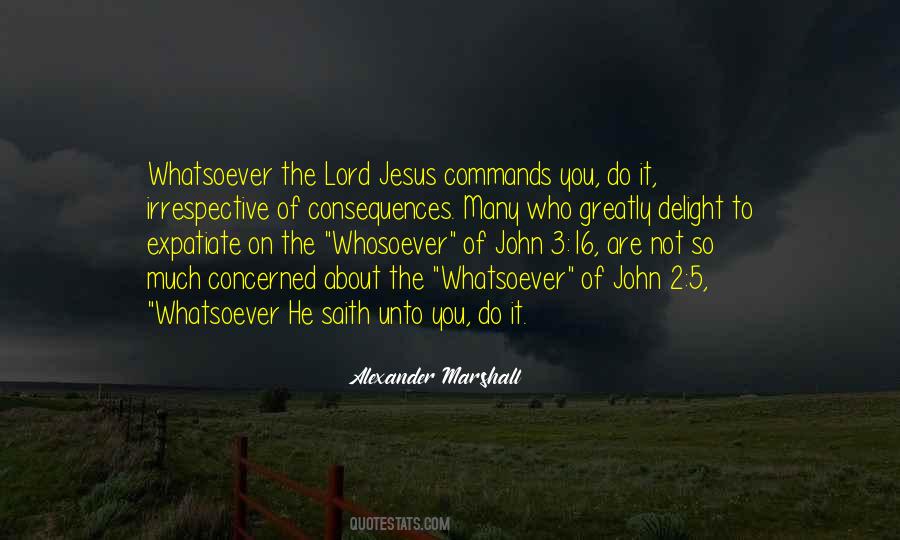 #25. Pray to yourself, because I'm in your self and you're in My self. We are one Spirit, saith the Lord. - Author: Kenneth Copeland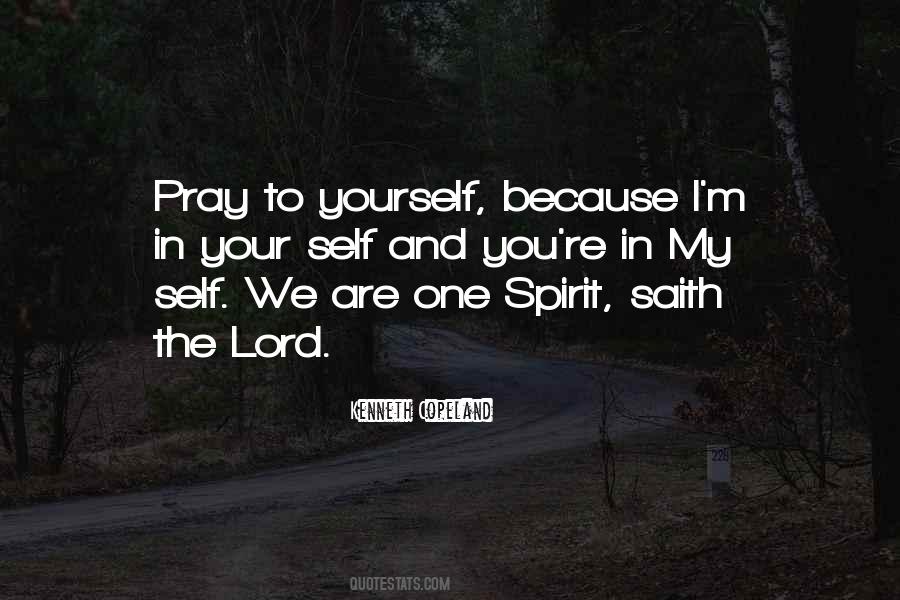 #26. He who walks with the wise will be wise, Scripture saith, and he who walks with the witty will eventually start to pop off himself. - Author: Douglas Wilson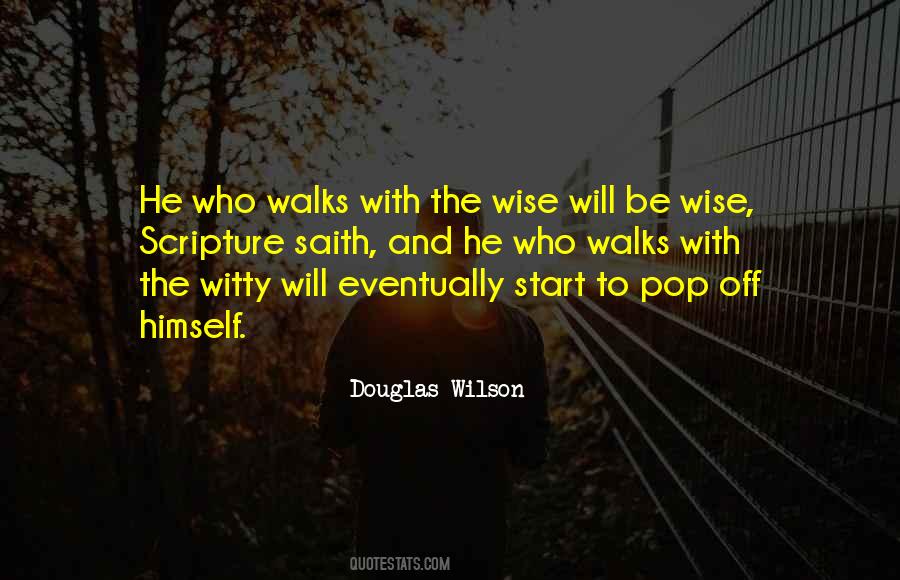 #27. Whatever crazy sorrow saith, No life that breathes with human breath Has ever truly longed for death. - Author: Alfred Lord Tennyson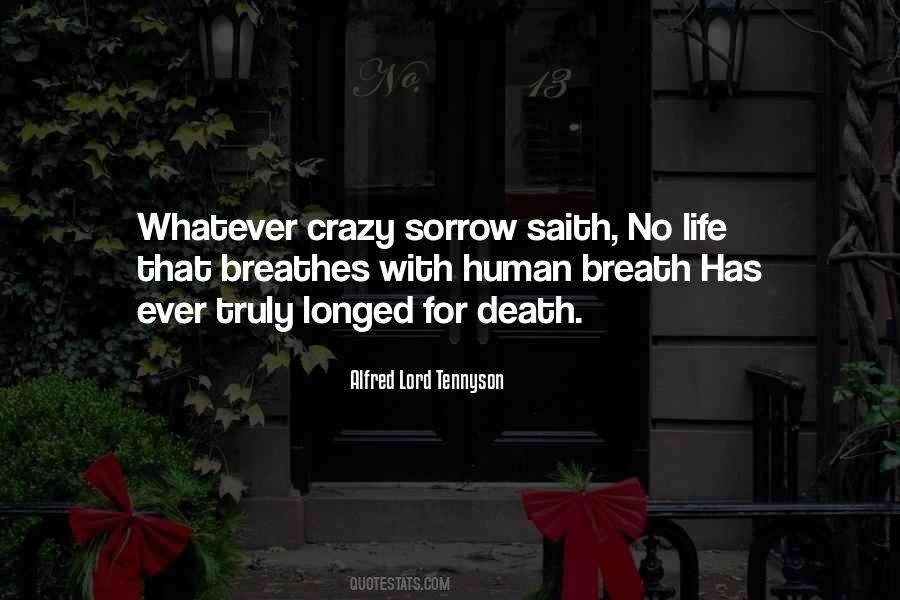 #28. It is a common thing for men to benumb their own arms, and make them as dead and useless by leaning too much upon them: so it is in a moral as well as a natural way: all the prudence and pains in the world avail nothing without God. So saith the Psalmist, in Psalm cxxvii. 2. - Author: John Flavel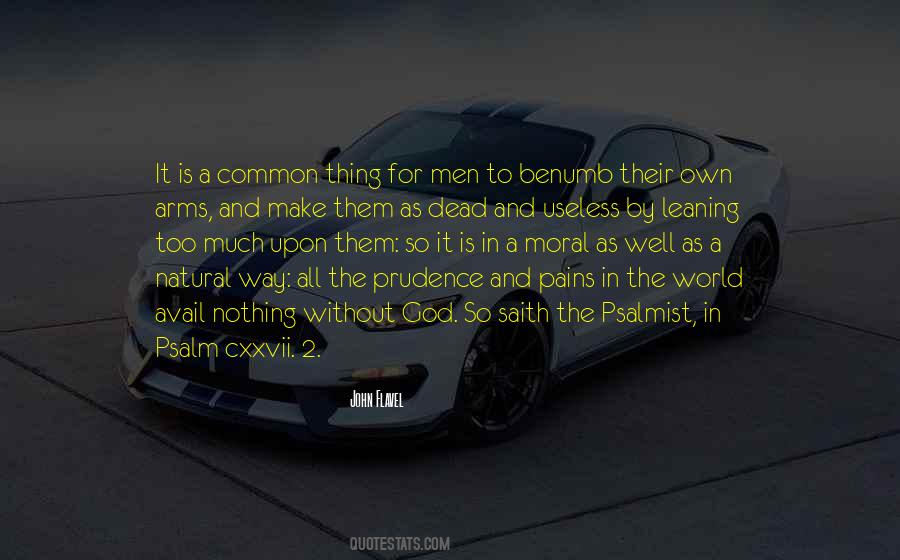 #29. Let thine occupations be few, saith the sage, if thou wouldst lead a tranquil life. - Author: Marcus Aurelius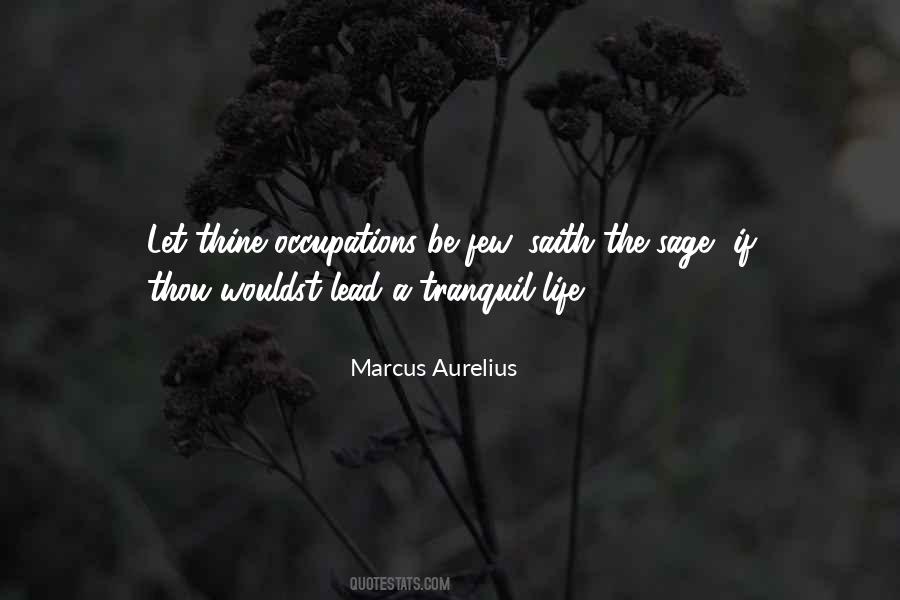 #30. The psalmist saith more to the point about true happiness in this short Psalm than any one of the philosophers, or all of them put together; they did but beat the bush, God hath here put the bird into our hand. John Trapp, 1660 - Author: Charles Haddon Spurgeon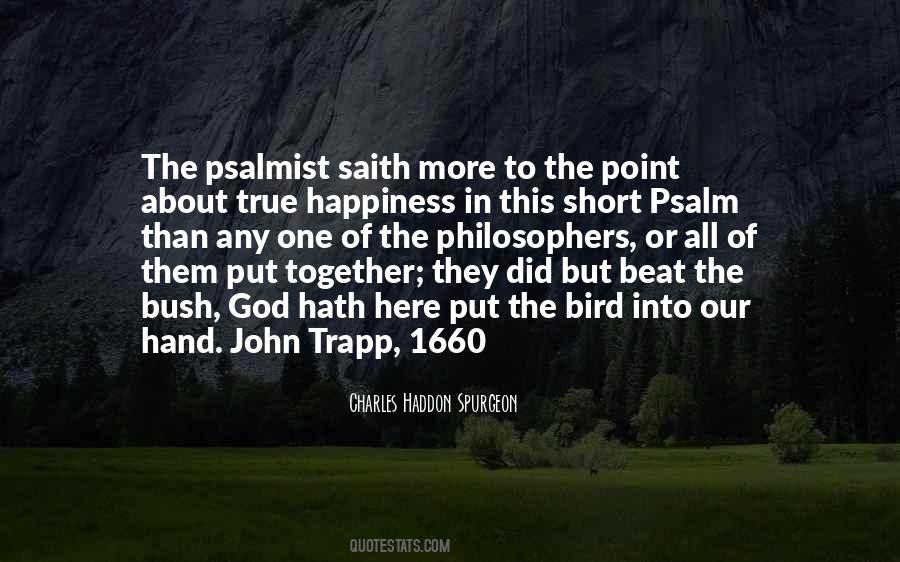 #31. For like to like, the proverb saith. - Author: Thomas Wyatt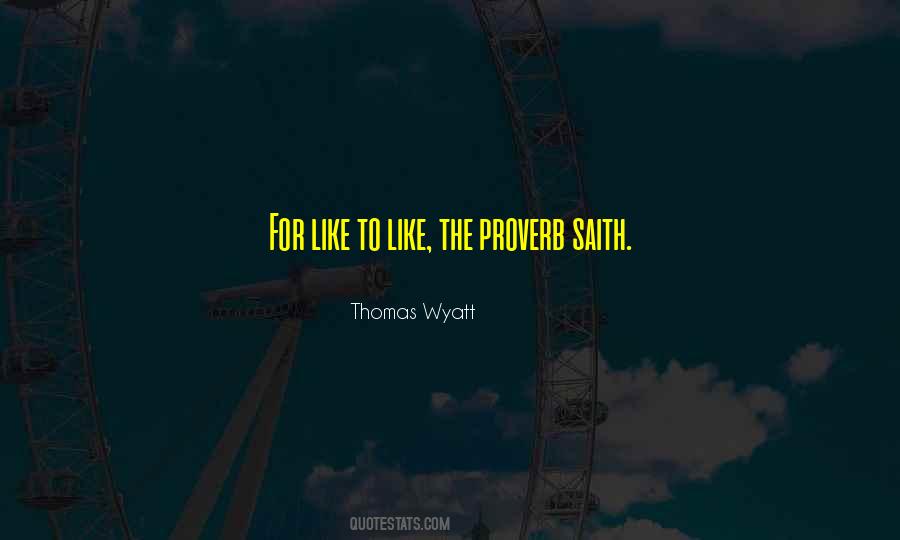 #32. 17 Wherefore come out from among them, and be ye separate, saith the Lord, and touch not the unclean thing; and I will receive you. 2Co6.18 And will be a Father unto you, and ye shall be my sons and daughters, saith the Lord Almighty. - Author: Anonymous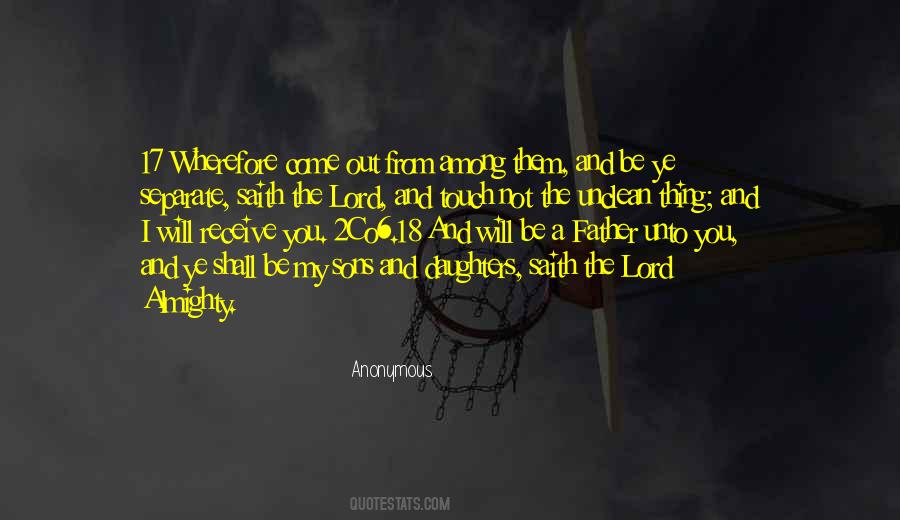 #33. Truly, hope is the saint's covering, wherein he wraps himself, when he lays his body down to sleep in the grave: "My flesh," saith David, "shall rest in hope." - Author: William Gurnall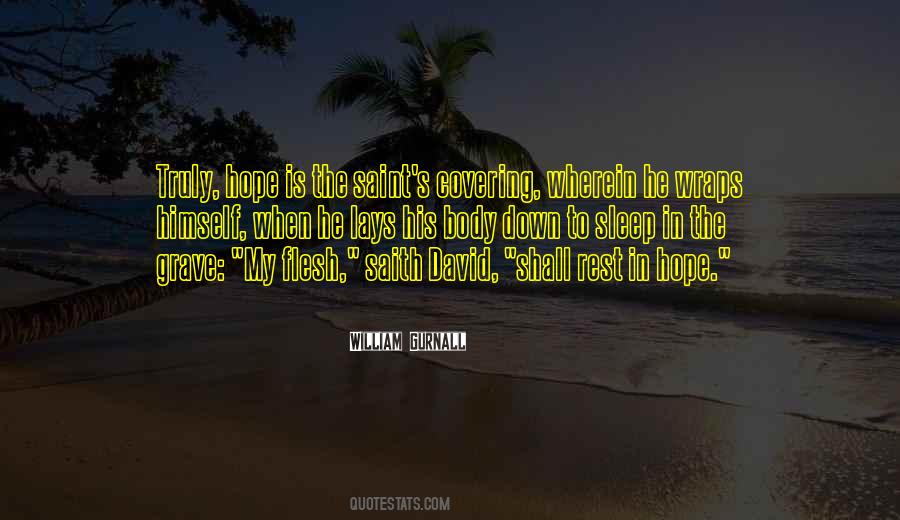 #34. Death, as the Psalmist saith, is certain to all, all shall
die. - Author: William Shakespeare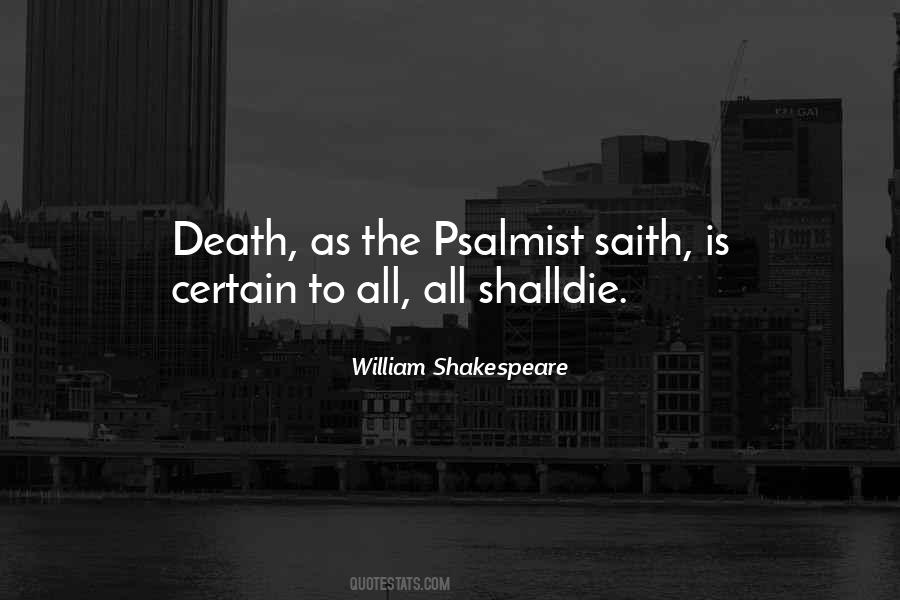 #35. One said he wondered that leather was not dearer than any other thing. Being demanded a reason: because, saith he, it is more stood upon than any other thing in the world. - Author: William Hazlitt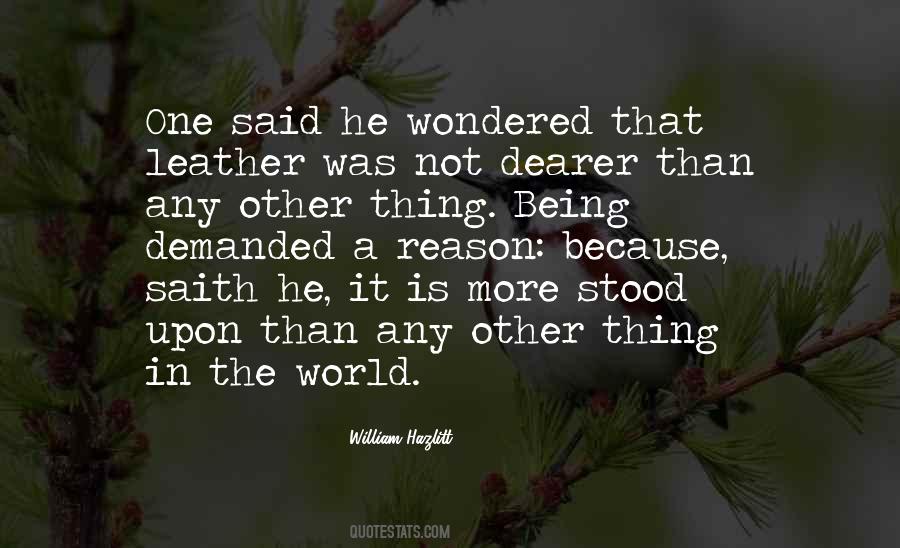 #36. The state lieth in all languages of good and evil; and whatever it saith it lieth; and whatever it hath it hath stolen. - Author: Friedrich Nietzsche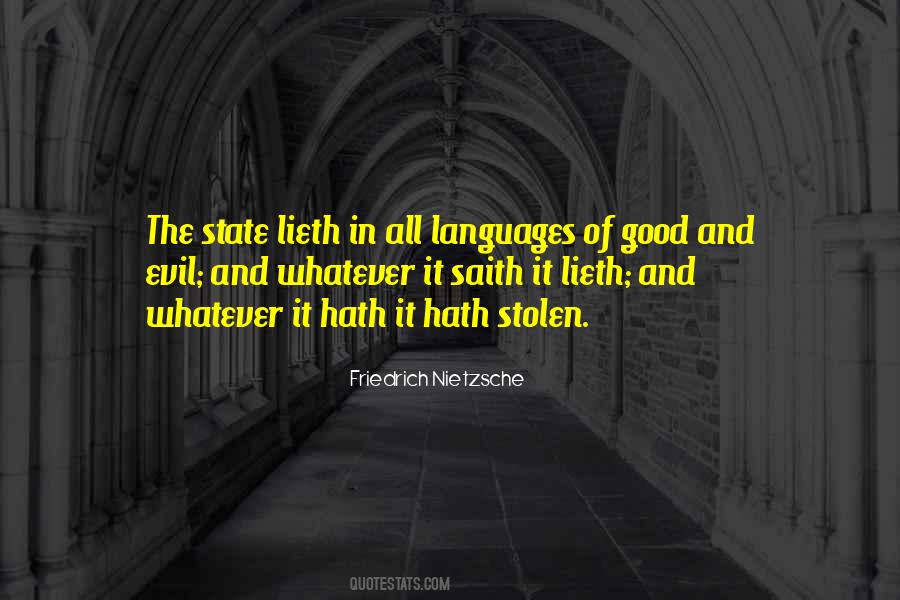 #37. The rose saith in the dewy morn,
I am most fair;
Yet all my loveliness is born
Upon a thorn. - Author: Christina Rossetti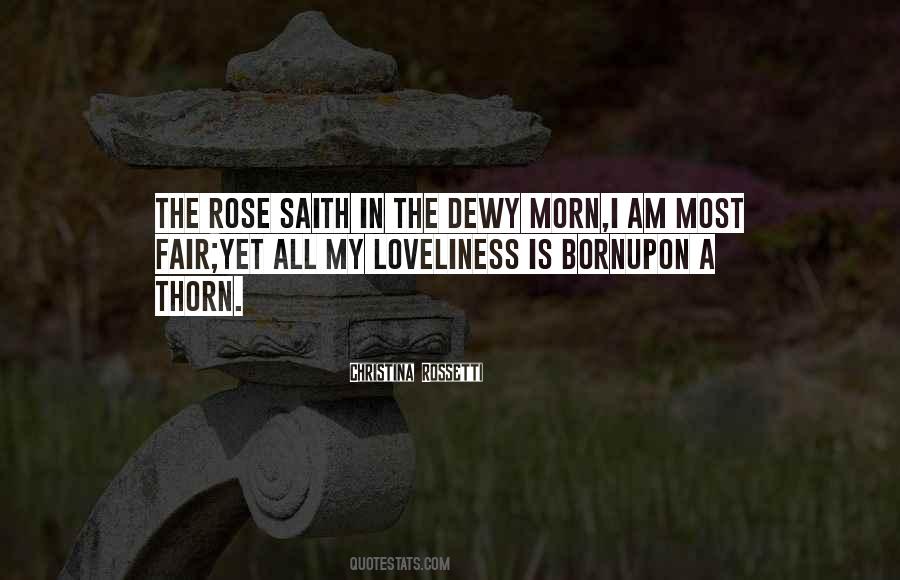 #38. One of the fathers saith ... that old men go to death, and death comes to young men. - Author: Francis Bacon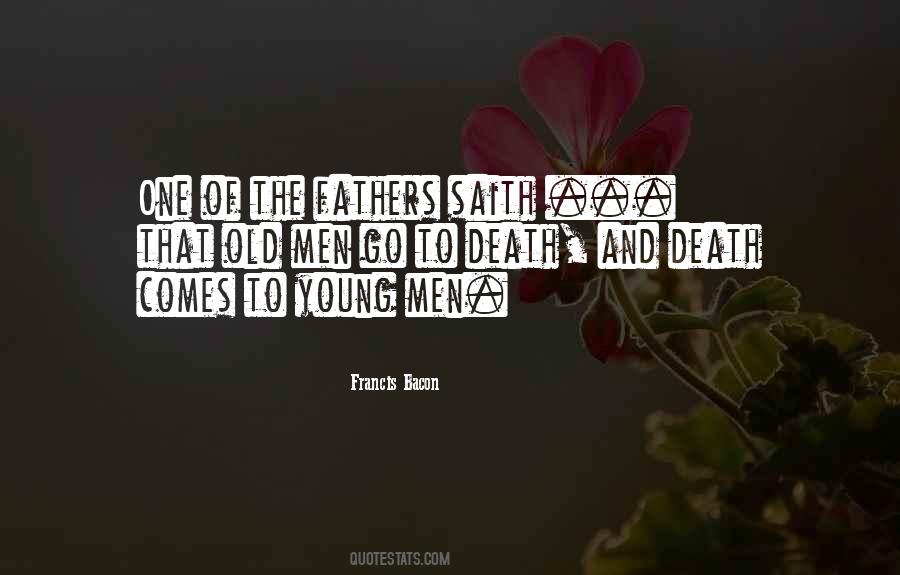 #39. For not many men, the proverb saith, can love a friend whom fortune prospereth unenvying. - Author: Aeschylus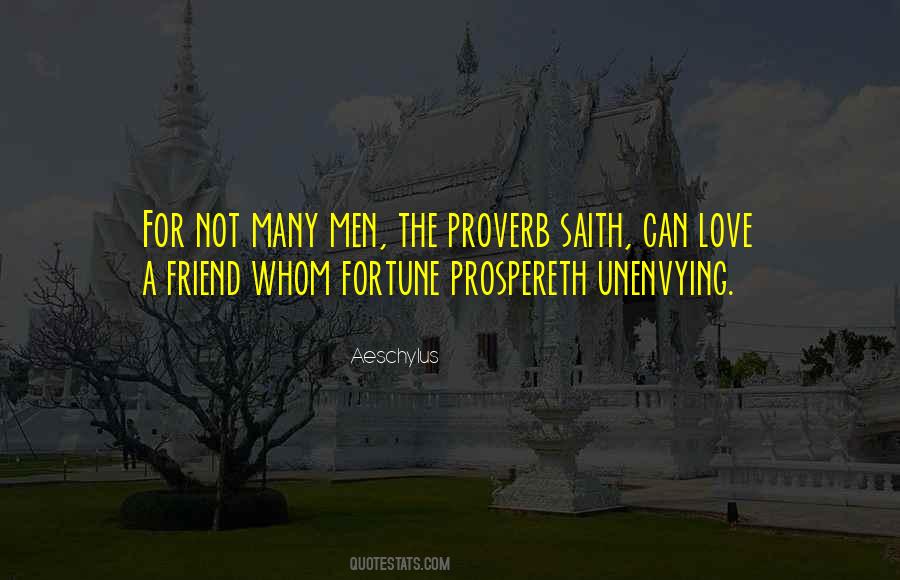 #40. For we love not God first, to compel him to love again; but he loved us first, and gave his Son for us, that we might see love and love again, saith St John in his first epistle. - Author: William Tyndale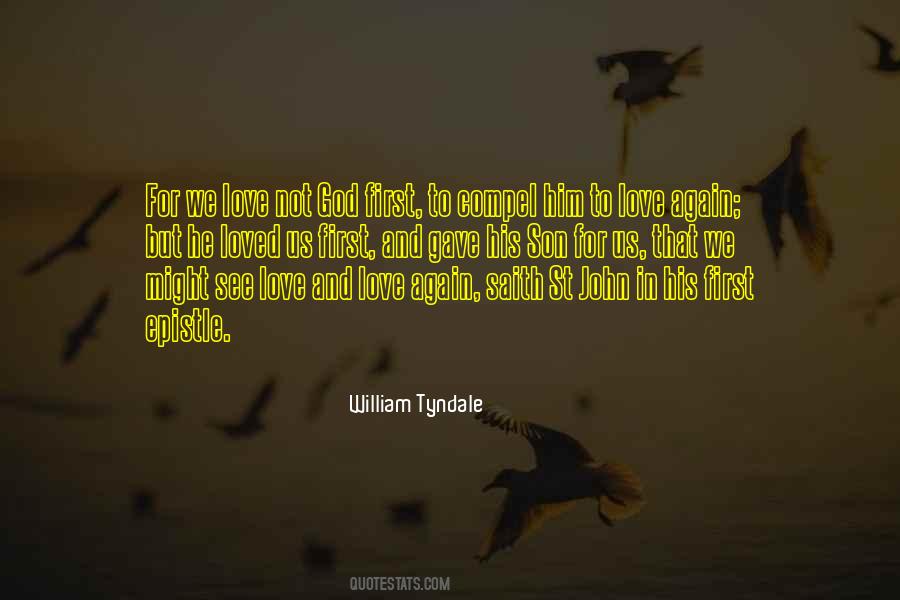 #41. Wherefore saith the Lamb of God: I will be merciful unto the Gentiles, unto the visiting of the remnant of the house of Israel in great judgment. - Author: Joseph Smith Jr.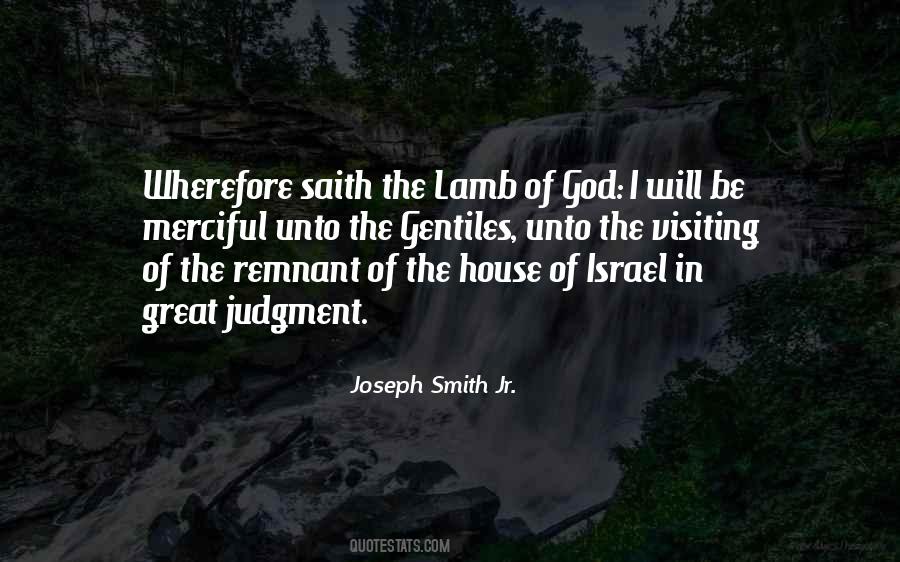 #42. There is an Italian proverb which saith, From my enemy let me defend myself; but from a pretensed friend Lord deliver me - Author: Elizabeth I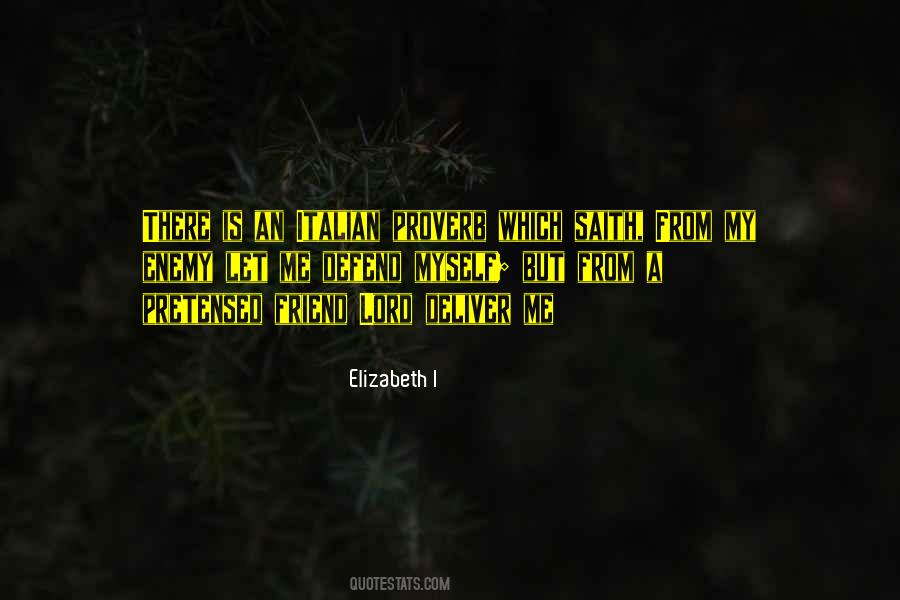 #43. For out of old fields, as men saith, Cometh all this new corn from year to year; And out of old books, in good faith, Cometh all this new science that men learn. - Author: Geoffrey Chaucer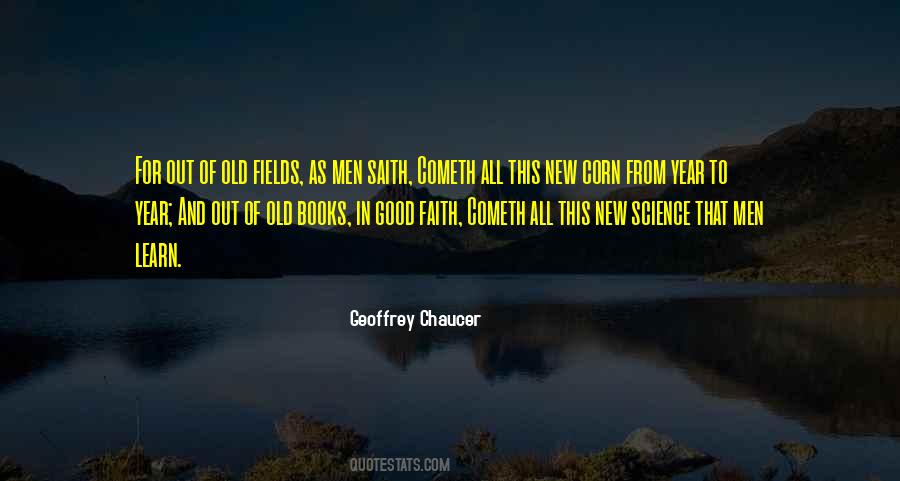 #44. And just look at these men: their eye saith it - they know nothing better on earth than to be with a woman.
Filth is at the bottom of their souls; and alas! If their filth hath spirit in it! - Author: Friedrich Nietzsche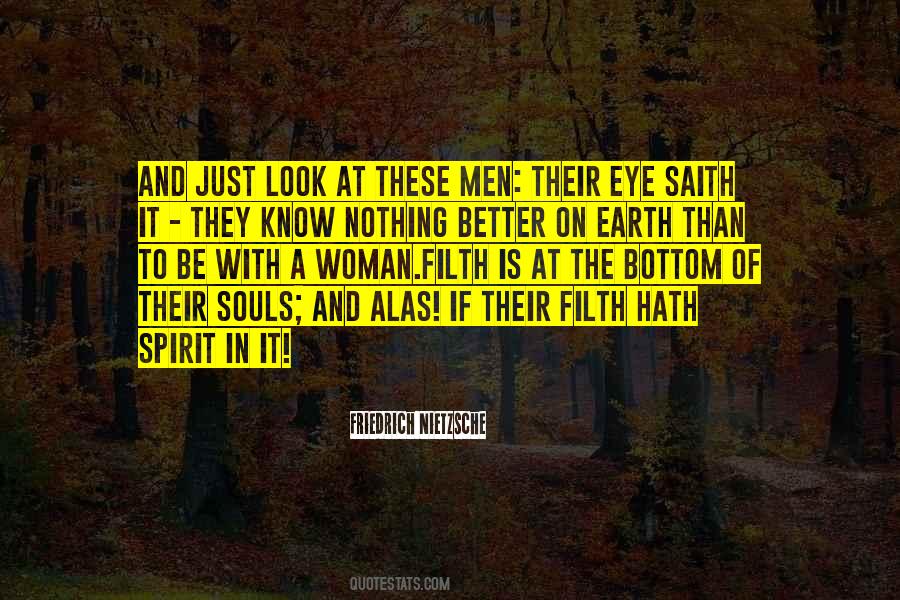 #45. Am I a God at hand, saith the LORD, and not a God afar off? JER23:24 Can any hide himself in secret places that I shall not see him? saith the LORD. Do not I fill heaven and earth? saith the LORD. - Author: Anonymous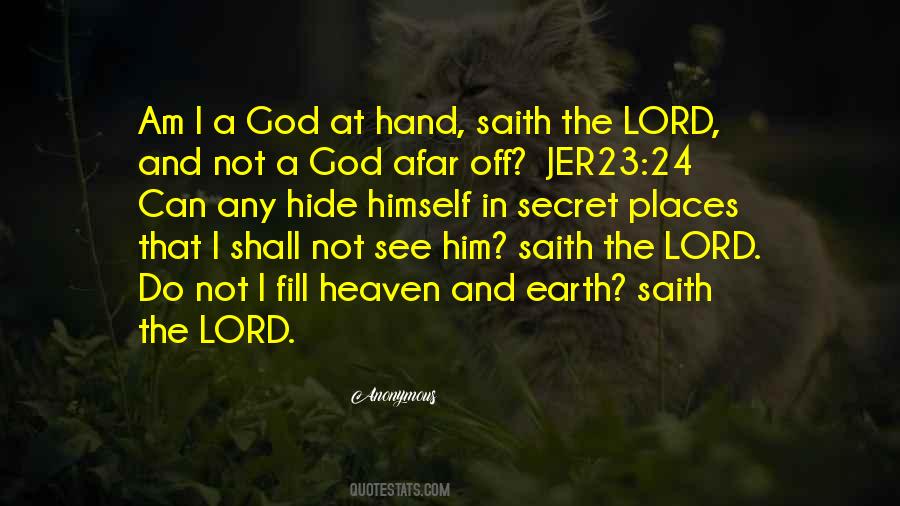 #46. Bring ye all the tithes into the storehouse, that there may be meat in mine house, and prove me now herewith, saith the LORD of hosts, if I will not open you the windows of heaven, and pour you out a blessing, that there shall not be room enough to receive it. - Author: Anonymous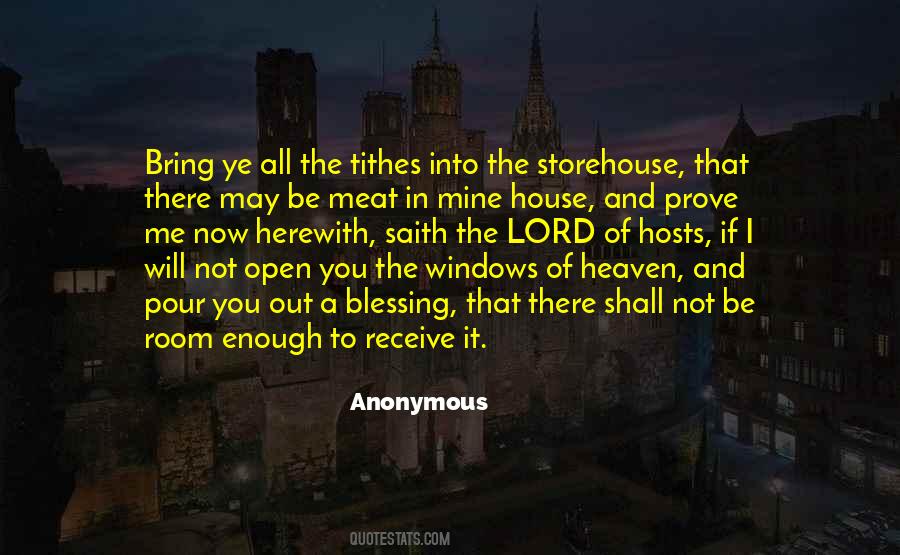 #47. He that saith unto the wicked, Thou art righteous; him shall the people curse, nations shall abhor him: - Author: Anonymous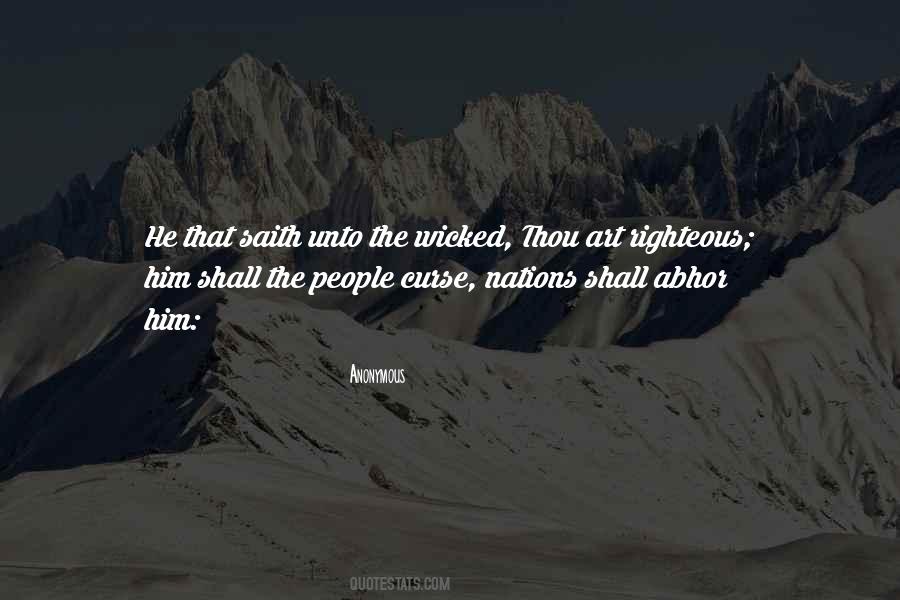 #48. For a possession which is not diminished by being shared with others, if it is possessed and not shared, is not yet possessed as it ought to be possessed. The Lord saith - Author: Augustine Of Hippo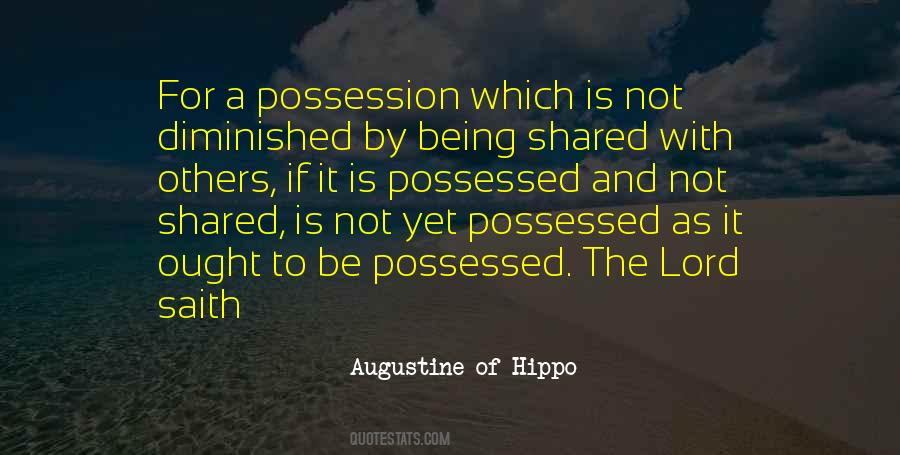 #49. The earth, saith the poet, doth often long after the rain. So is the glorious sky often as desirous to fall upon the earth, which argues a mutual kind of love between them. - Author: Marcus Aurelius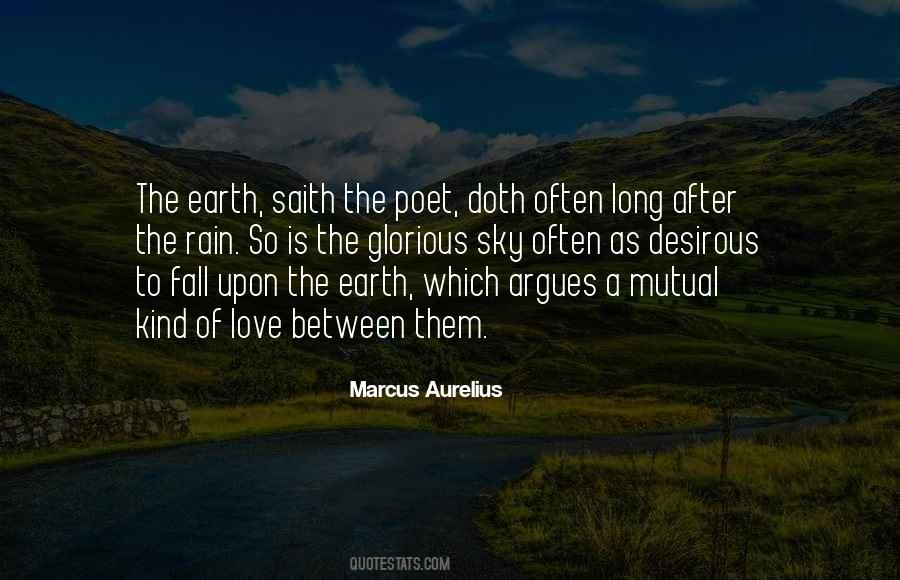 #50. ACT21.11 And when he was come unto us, he took Paul's girdle, and bound his own hands and feet, and said, Thus saith the Holy Ghost, So shall the Jews at Jerusalem bind the man that owneth this girdle, and shall deliver him into the hands of the Gentiles. - Author: Anonymous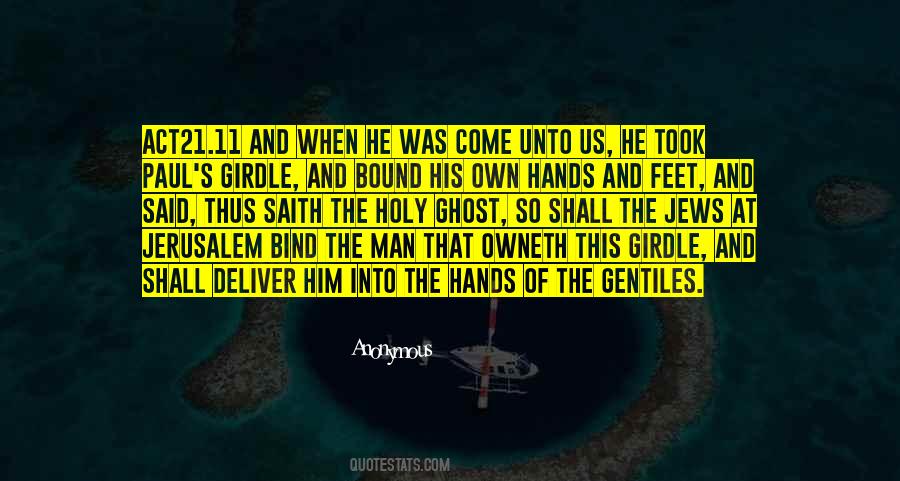 #51. Lord judge between me and thee, and the Lord avenge me of thee: but mine hand shall not be upon thee. 13 As saith the - Author: Anonymous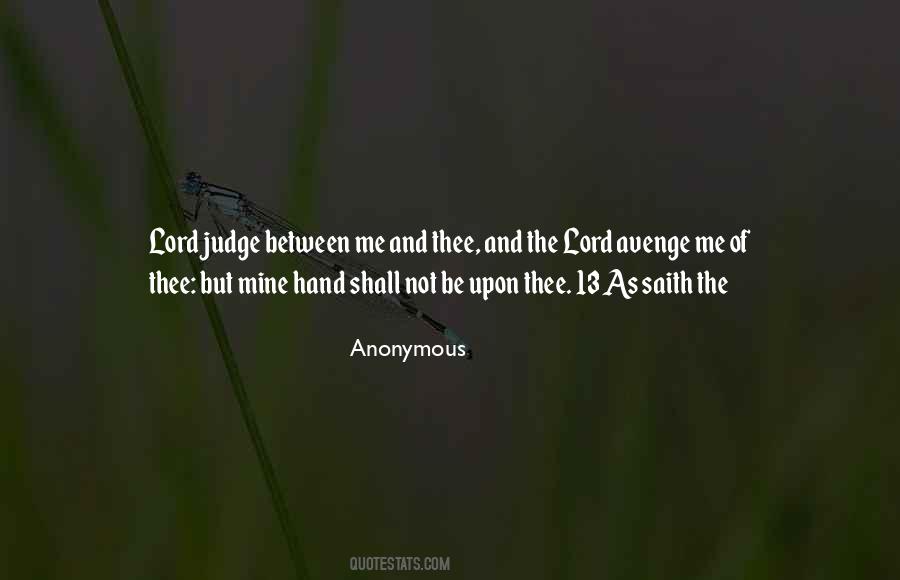 #52. For me the motley and the bauble, yea,
Though all be vanity, as the Preacher saith,
The mirth of love be mine for one brief breath! - Author: Frederic Lawrence Knowles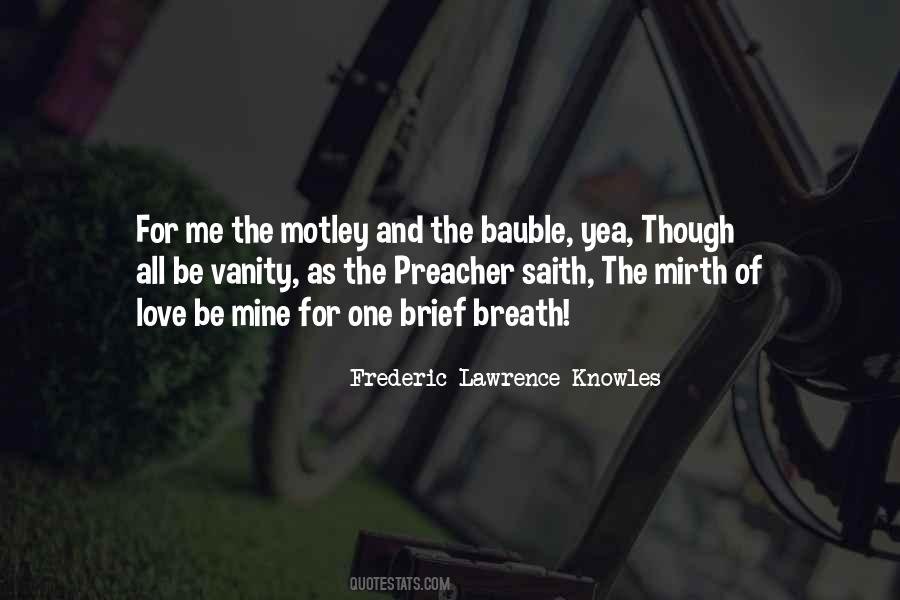 #53. ROM10.15 And how shall they preach, except they be sent? as it is written, How beautiful are the feet of them that preach the gospel of peace, and bring glad tidings of good things! ROM10.16 But they have not all obeyed the gospel. For Esaias saith, Lord, who hath believed our report? - Author: Anonymous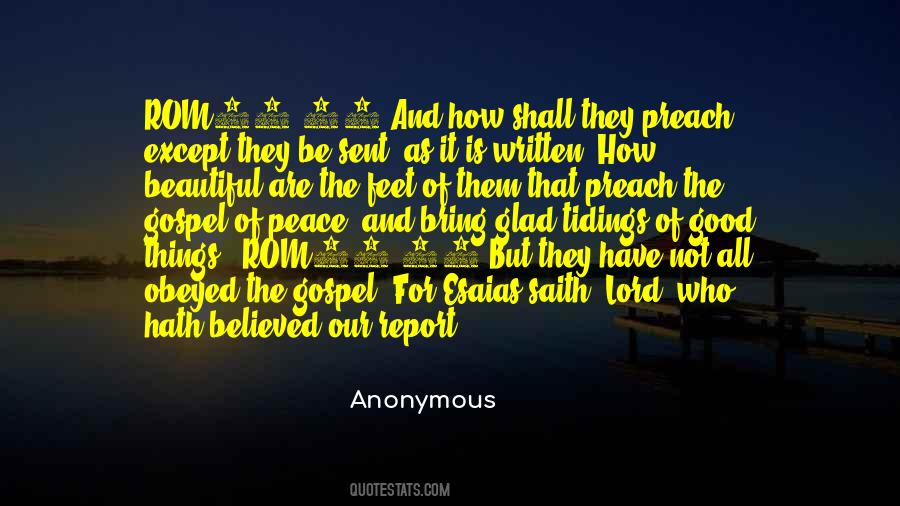 #54. I do not see them here; but after death God knows I know the faces I shall see, Each one a murdered self, with low last breath. 'I am thyself,what hast thou done to me?' 'And Iand Ithyself,' (lo! each one saith,) 'And thou thyself to all eternity! - Author: Dante Gabriel Rossetti
#55. Then saith he unto me, See thou do it not: for I am thy fellowservant, and of thy brethren the prophets, and of them which keep the sayings of this book: worship God.
Revelation 22:9 - Author: Anonymous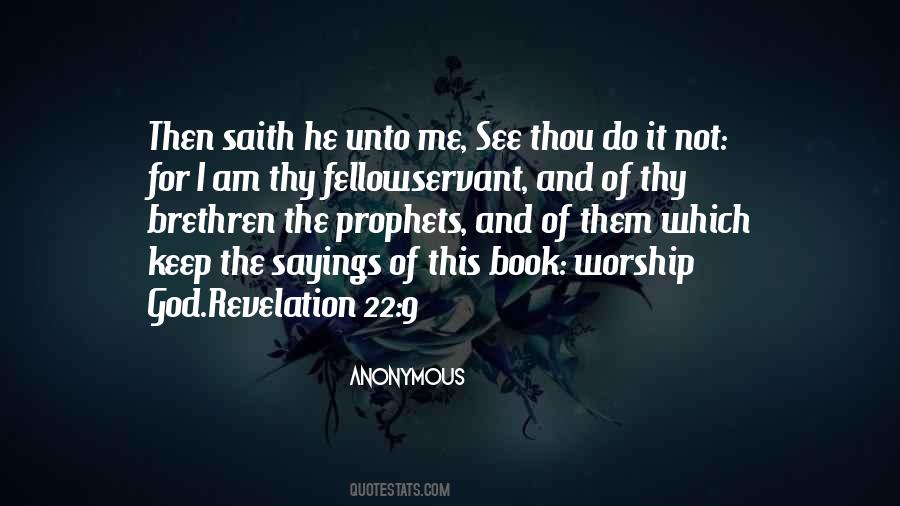 #56. Hear, O God. Alas, for man's sin! So saith man, and Thou pitiest him; for Thou madest him, but sin is in him Thou madest not. Who remindeth me of the sins of my infancy? for in Thy sight none is pure from sin, not even the infant whose life is but a day upon the earth. - Author: Saint Augustine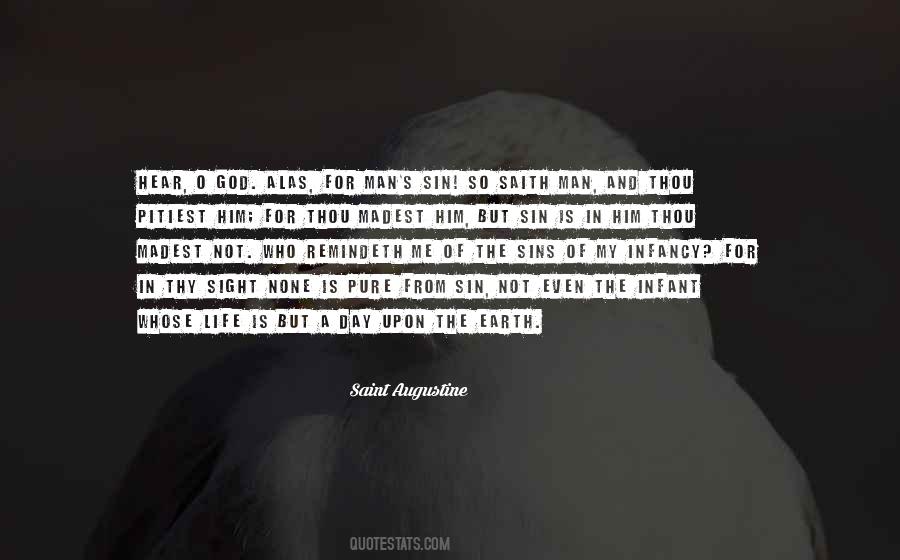 #57. It is less injury to Him to deny His being, than to deny the purity of it; the one makes Him no God, the other a deformed, unlovely, and a detestable God. He that saith God is not holy speaks much worse that he that saith there is no God at all. - Author: Stephen Charnock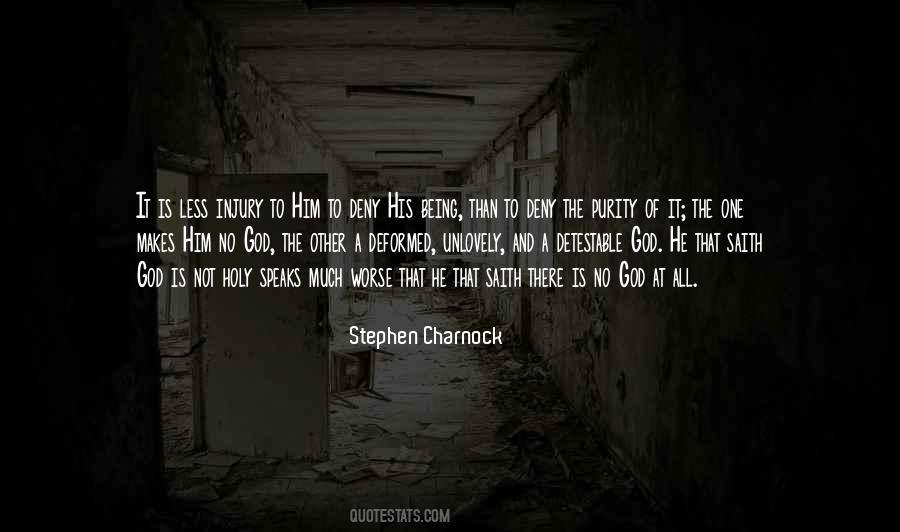 #58. As the people came to a desert place to hear John the Baptist proclaim, "Thus saith the Lord," so [man] in his confusions, frustrations, and bewilderment will come to hear the minister who preaches with authority. - Author: Billy Graham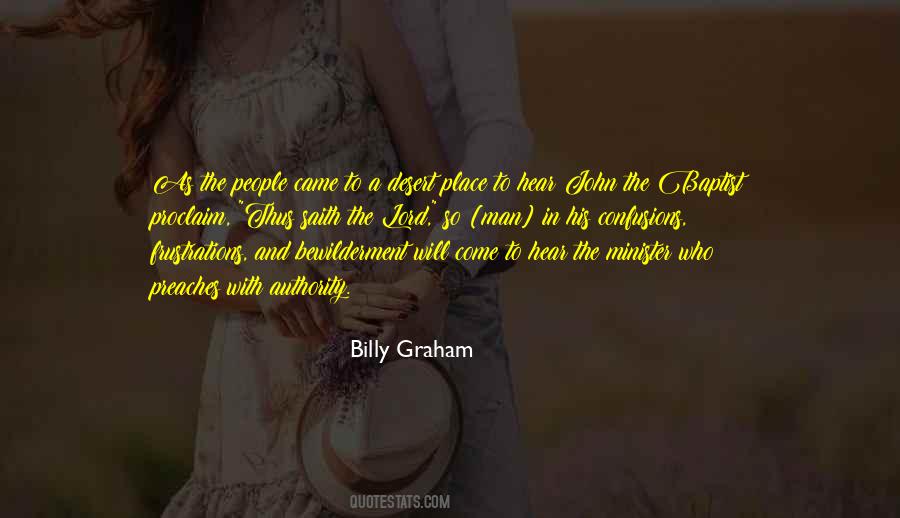 #59. ZEP3.8 Therefore wait ye upon me, saith the LORD, until the day that I rise up to the prey: for my determination is to gather the nations, that I may assemble the kingdoms, to pour upon them mine indignation, even all my fierce anger: for all the earth shall be devoured with the fire of my jealousy. - Author: Anonymous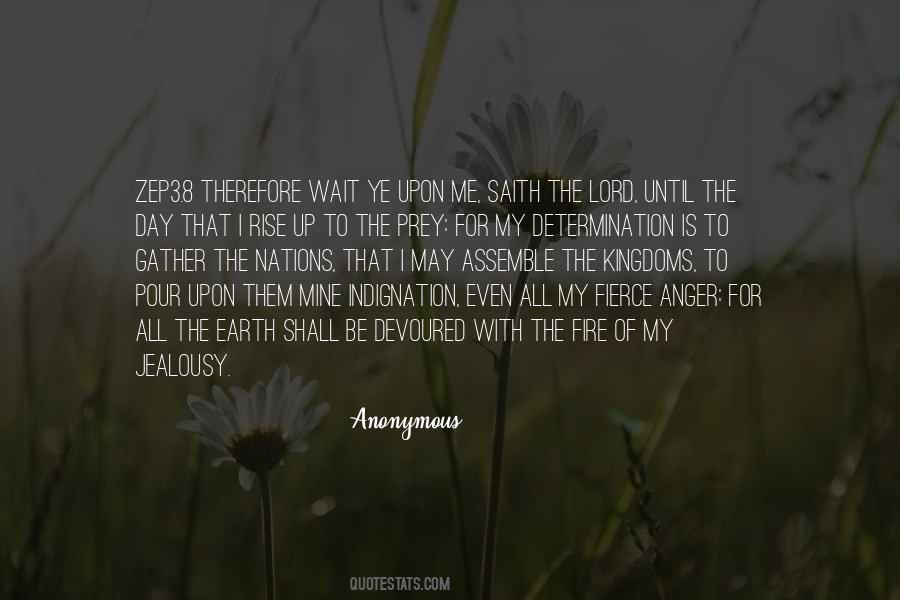 #60. Not everyone that saith unto me Lord, Lord, shall enter into the kingdom of heaven, but he that doeth the will of my Father which is in heaven [14:7:23]. - Author: Richard Maurice Bucke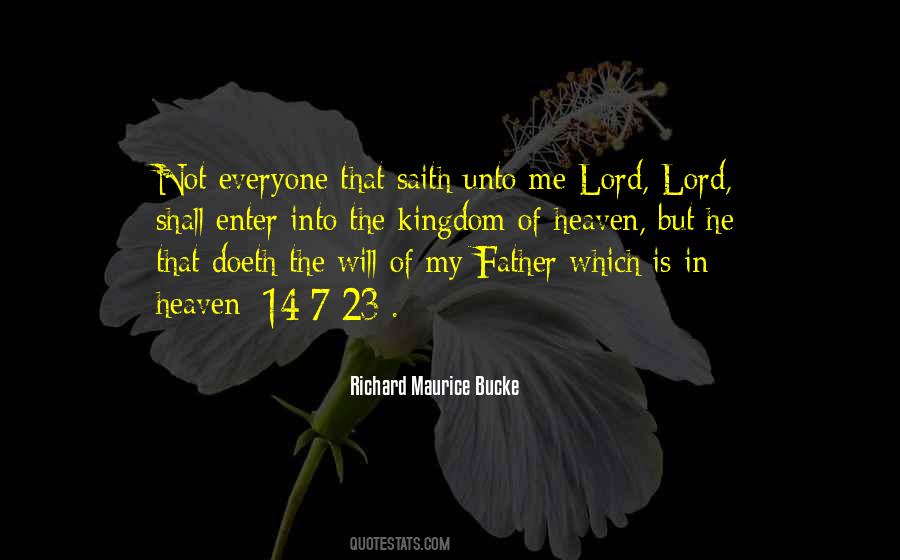 #61. He that saith he abideth in Him ought himself also to walk even as He walked. - Author: Charles M. Sheldon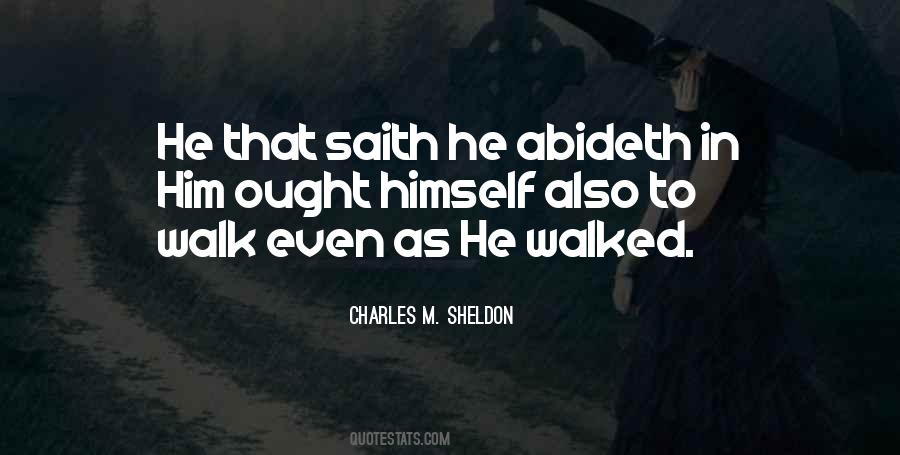 #62. Whatever the State saith is a lie; whatever it hath is a theft: all is counterfeit in it, the gnawing, sanguinary, insatiate monster. - Author: Friedrich Nietzsche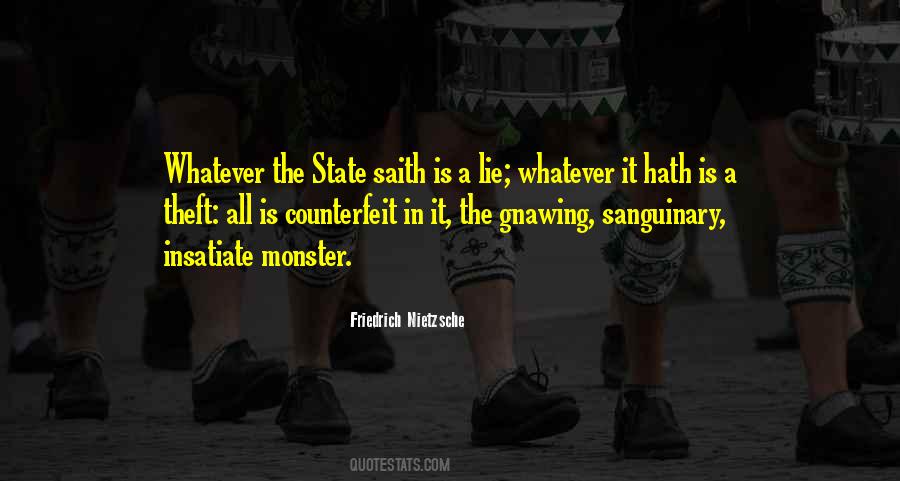 #63. Color" is skin-deep and not soul-deep. Quit making it soul-deep. All souls are mine saith the Lord. As the soul of the father, so also the soul of the son is His. What matters is that, the soul who sins is the one who will die (ref. Ez. 18:4) - Author: Josephine Akhagbeme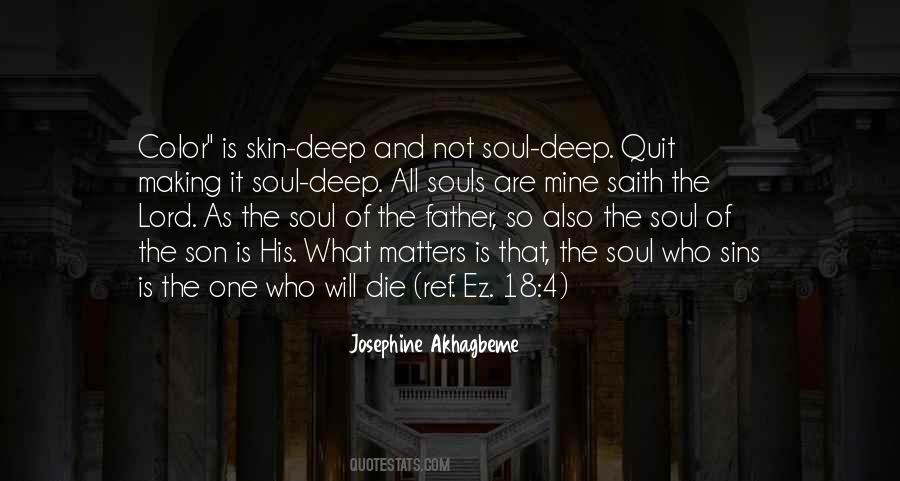 #64. Avenge not yourselves, but rather give place unto wrath: for it is written, Vengeance is mine; I will repay, saith the Lord. - Rom. 12:19 - Author: Michael Punke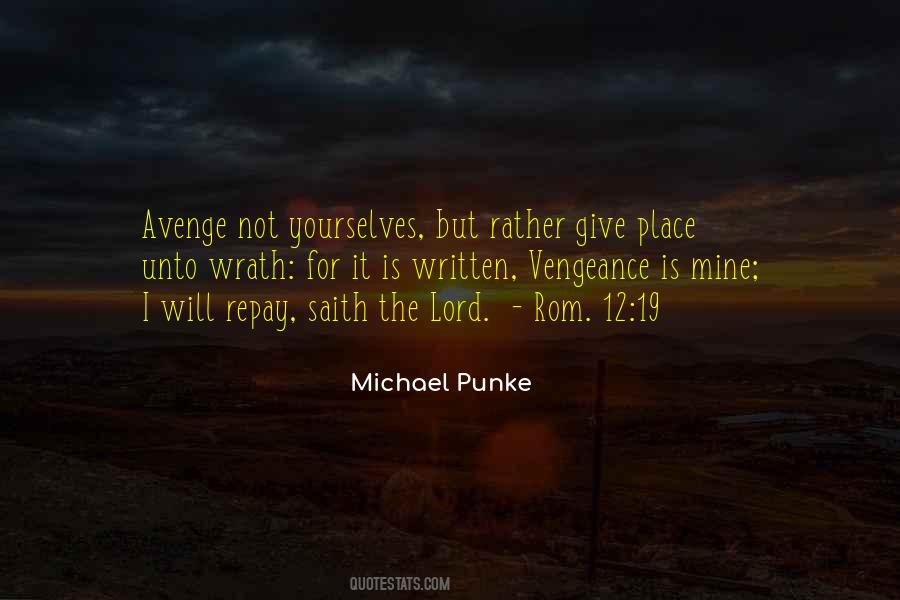 #65. Turn, O backsliding children, saith the Lord; for I am married unto you. - Author: Ellen G. White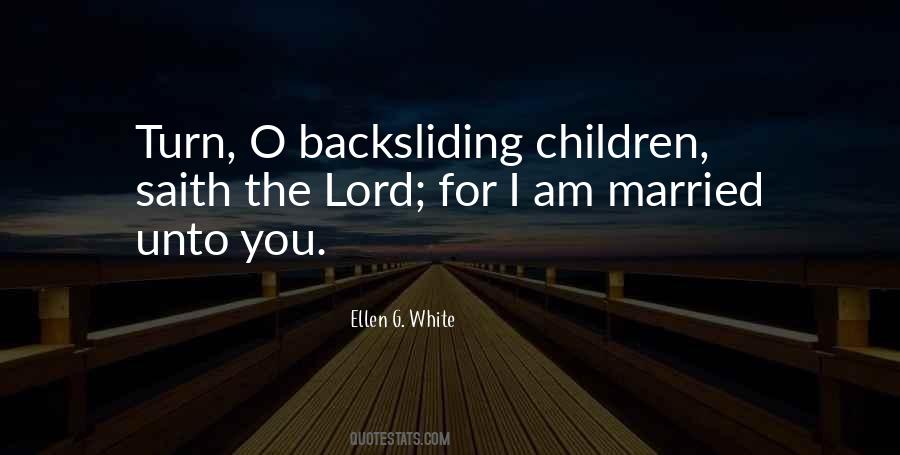 #66. Grow old along with me! The best is yet to be, the last of life, for which the first was made. Our times are in his hand who saith, 'A whole I planned, youth shows but half; Trust God: See all, nor be afraid! - Author: Robert Browning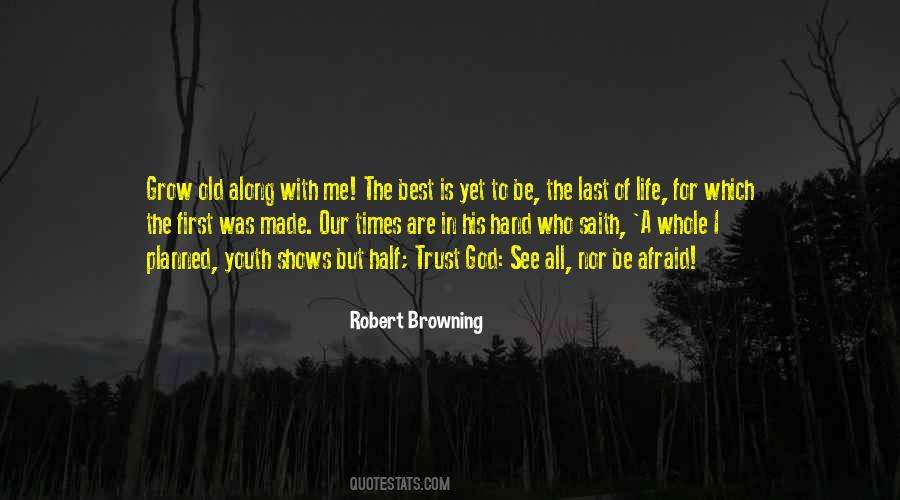 #67. When Eudaemonidas heard a philosopher arguing that only a wise man can be a good general, "This is a wonderful speech," said he; "but he that saith it never heard the sound of trumpets. - Author: Plutarch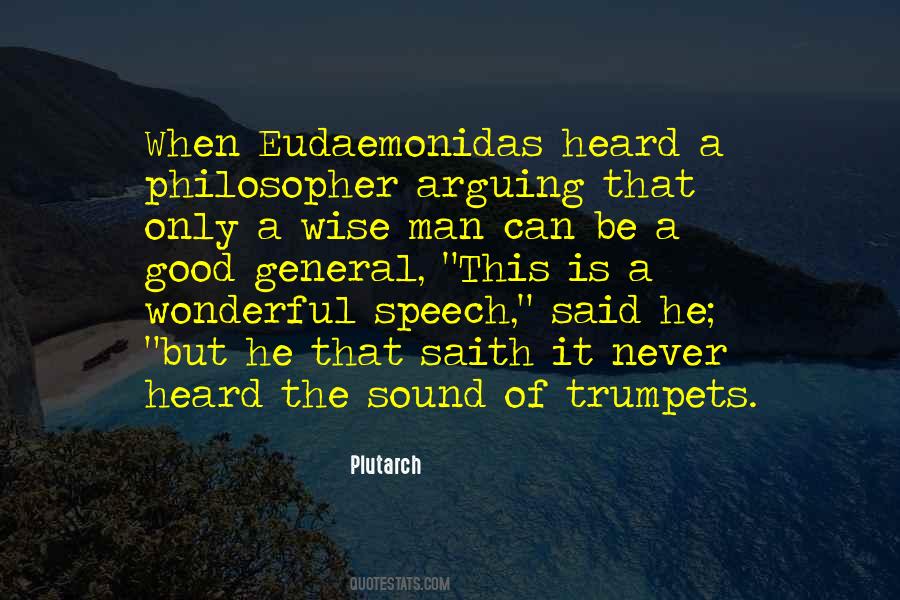 #68. Be strong, saith my heart; I am a soldier;
I have seen worse sights than this. - Author: Homer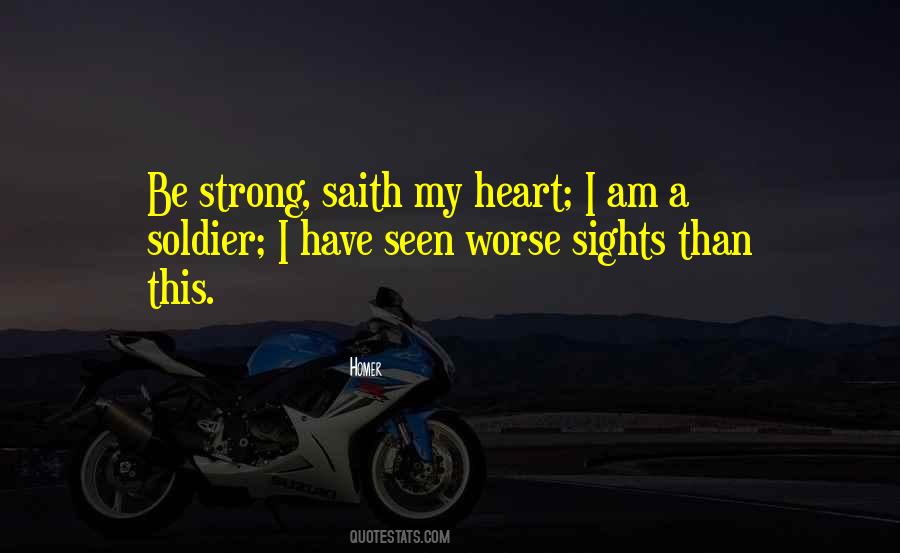 #69. Dare not usurp thy maker's place by giving way to wrath - wrath that goes forth in vengeance; "vengeance is mine, I will repay, saith the Lord." - Author: Charles Simmons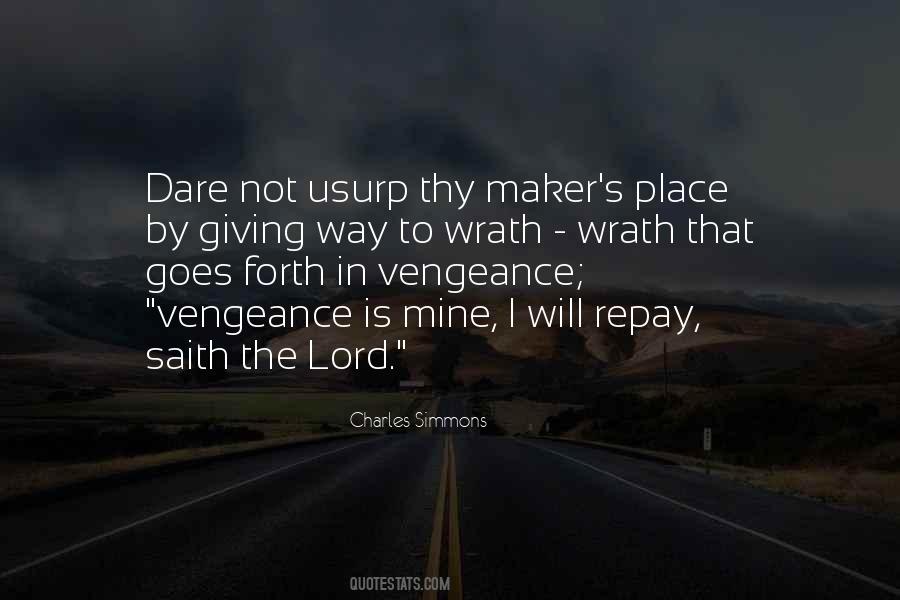 #70. No state sorrier than that of the man who keeps up a continual round, and pries into "the secrets of the nether world," as saith the poet, and is curious in conjecture of what is in his
neighbour's heart. - Author: Marcus Aurelius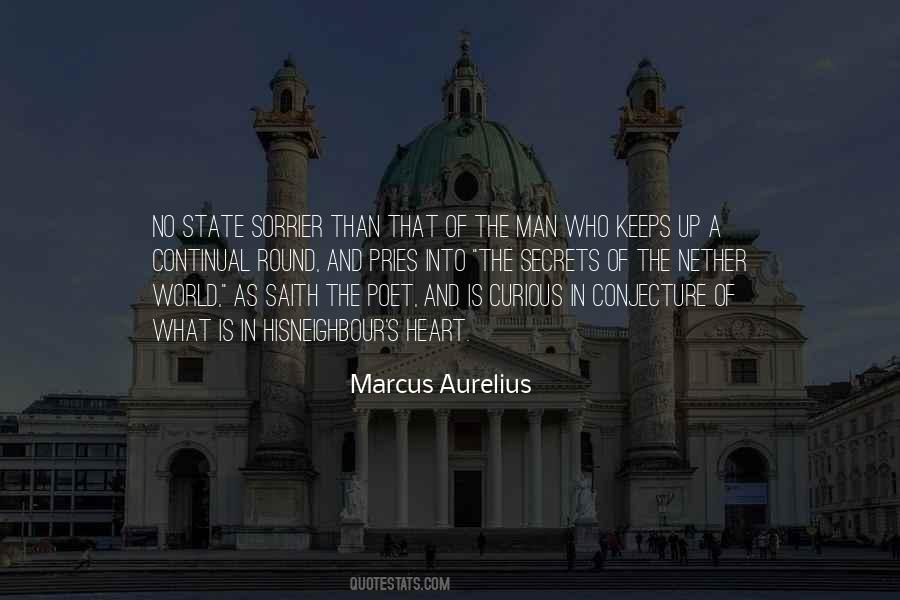 #71. Gaffer Swanthold speaks truth when he saith, 'Better a crust with content than honey with a sour heart. - Author: Howard Pyle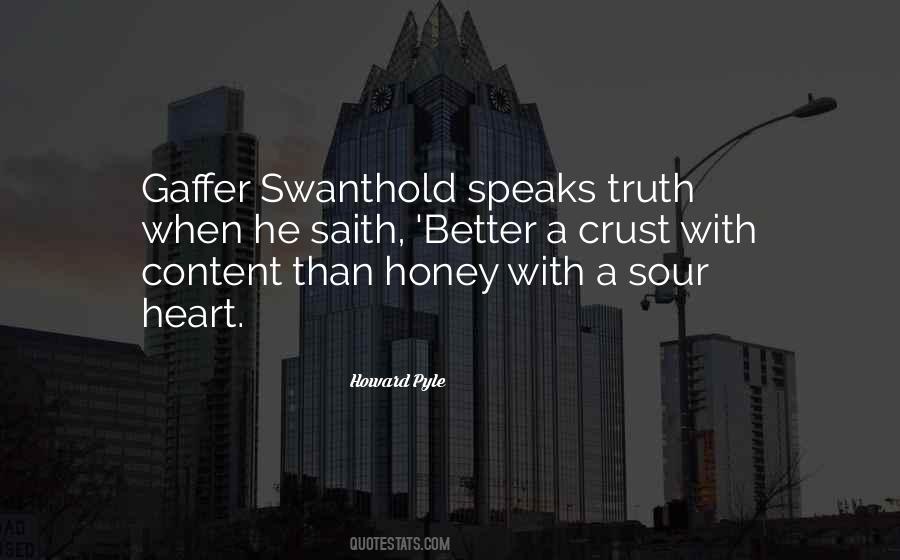 #72. What saith Antisthenes? Hast thou never heard? - It is a kingly thing, O Cyrus, to do well and to be evil spoken of. - Author: Epictetus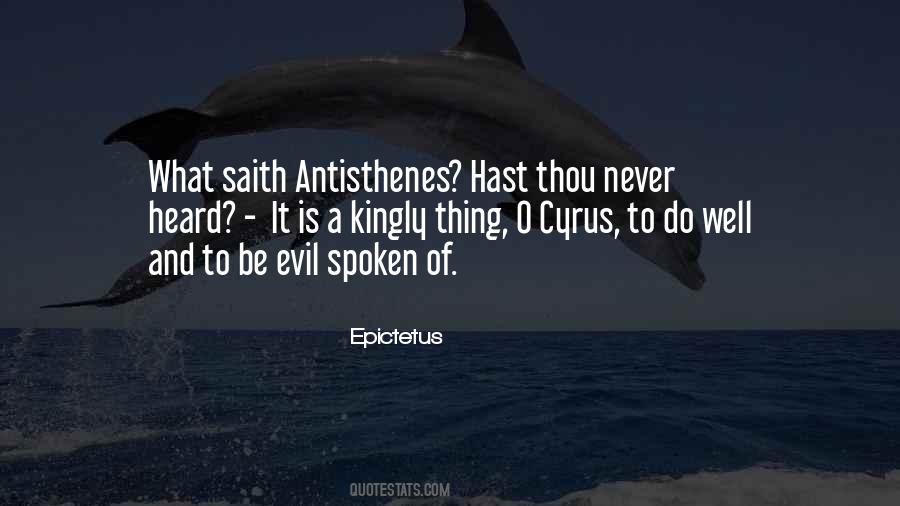 #73. Salomon saith, There is no new thing upon the earth. So that as Plato had an imagination, that all knowledge was but remembrance; so Salomon giveth his sentence, that all novelty is but oblivion. - Author: Francis Bacon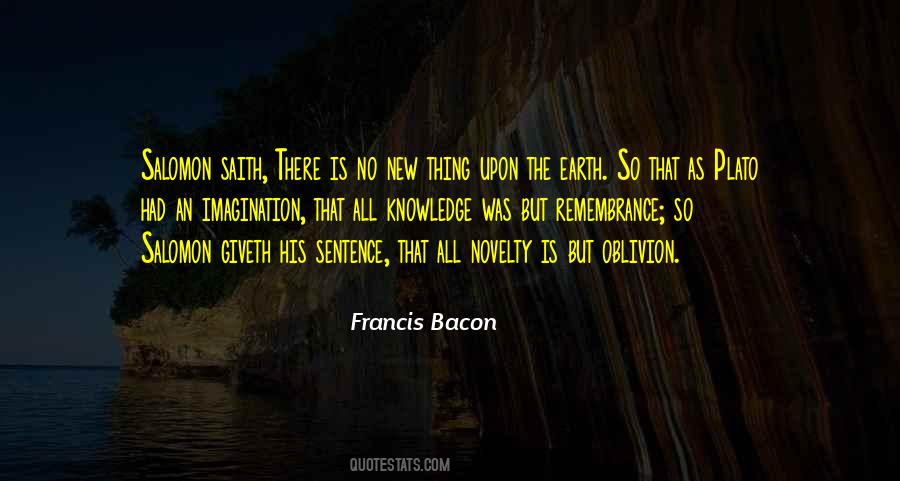 #74. ALPHA (A'LPHA) n.s.The first letter in the Greek alphabet, answering to our A; therefore used to signify the first. I am alpha and omega, the beginning and the ending, saith the Lord, which is, and which was, and which is to come, the Almighty.BibleRevelat. - Author: Samuel Johnson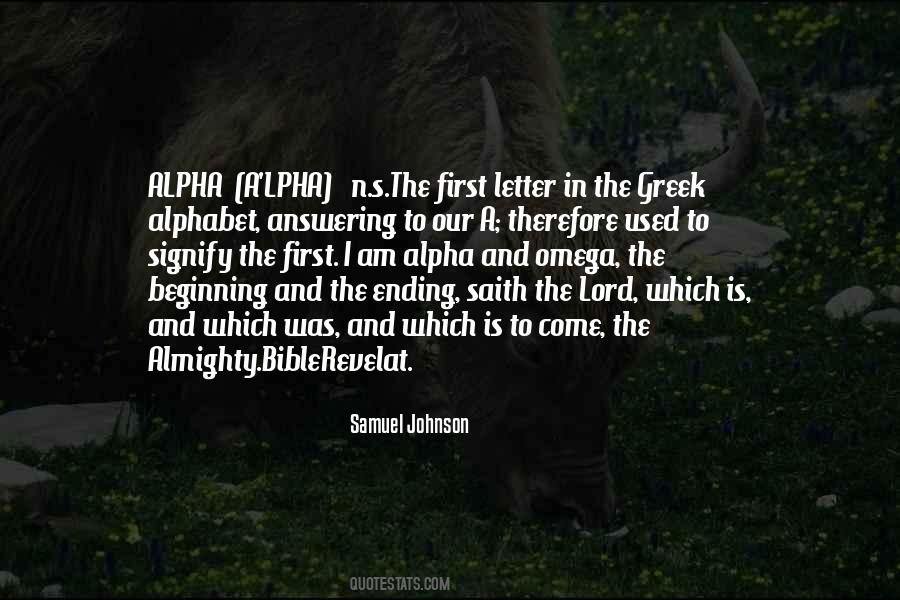 #75. With thoughtless and impatient hands We tangle up the plans The Lord hath wrought. And when we cry in pain He saith, "Be quiet, man, while I untie the knot." (Author unknown, in Jack M. Lyon et al., Best-Loved Poems of the LDS People [1996], 304) - Author: Boyd K. Packer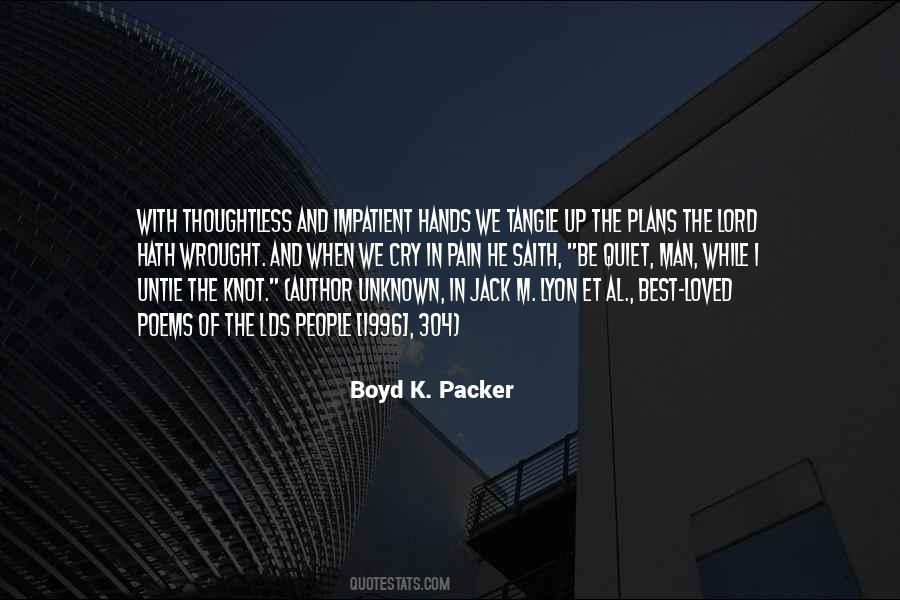 #76. There is no God', the wicked saith, 'And truly it's a blessing, For what he might have done with us It's better only guessing. - Author: Arthur Hugh Clough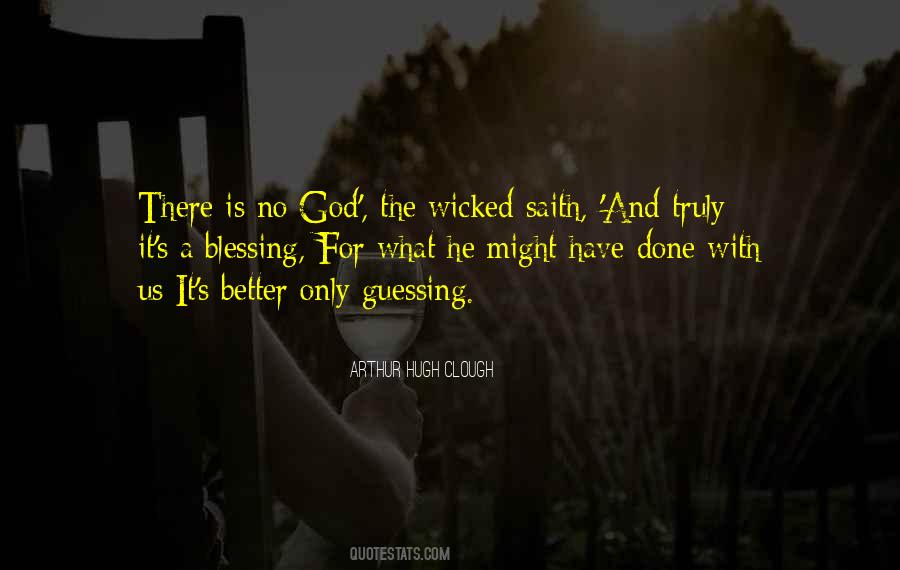 #77. Vengeance is mine; I will repay, saith the Lord,'" I whispered, the words familiar from Scripture. "But not this time, God. You had your chance. - Author: Faith Hunter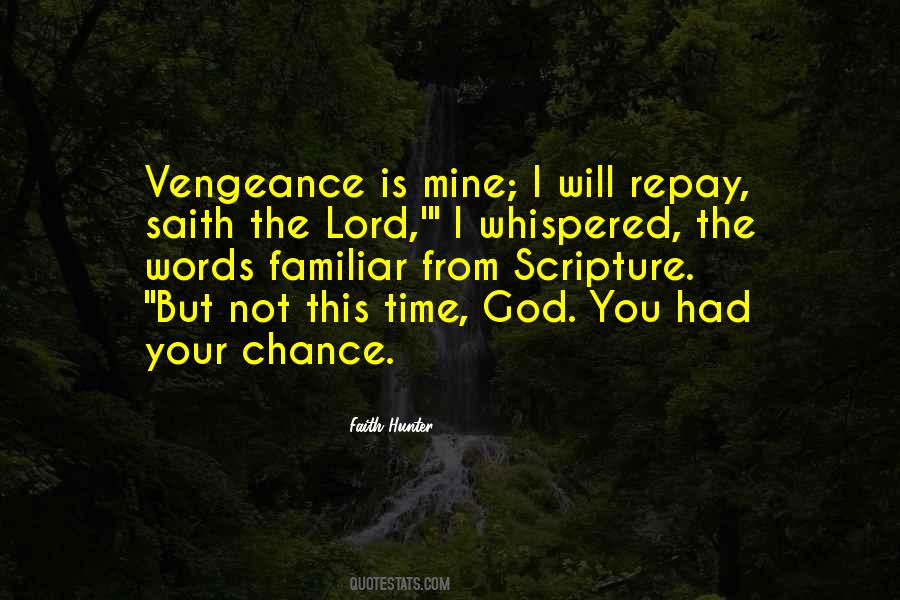 #78. JER29:11 For I know the thoughts that I think toward you, saith the LORD, thoughts of peace, and not of evil, to give you an expected end. - Author: Anonymous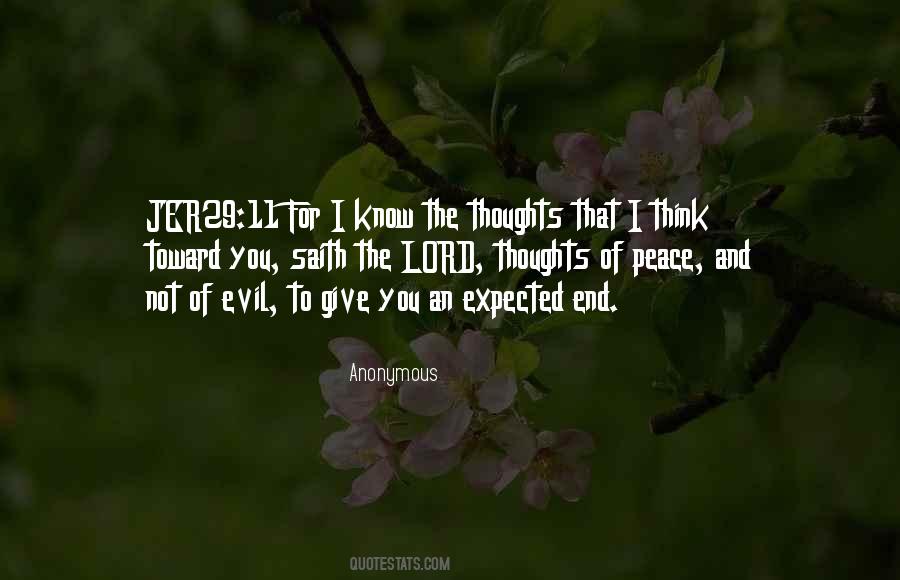 #79. The Law saith, Where is thy righteousness, goodness, and satisfaction? The Gospel saith, Christ is thy righteousness, goodness, and satisfaction. - Author: Patrick Hamilton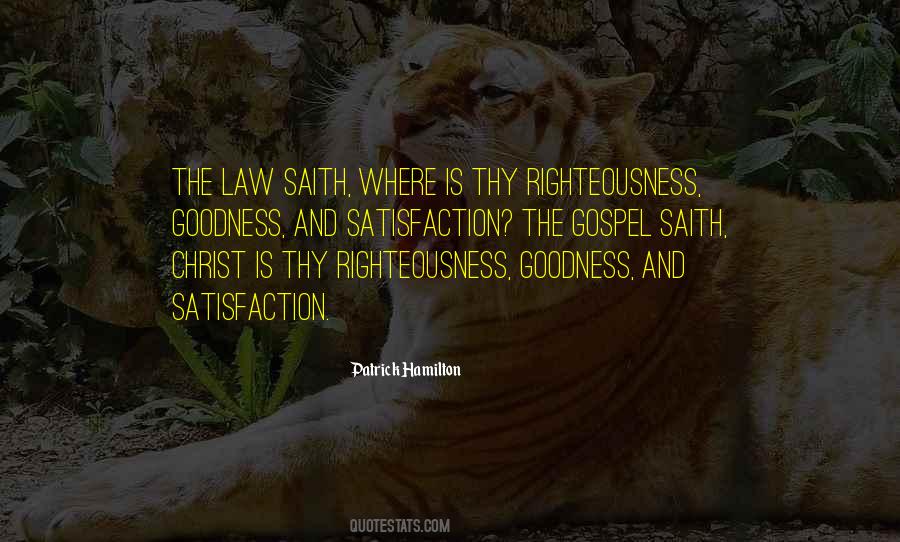 #80. In revenge a man is but even with his enemy; for it is a princely thing to pardon, and Solomon saith it is the glory of a man to pass over a transgression. - Author: Francis Bacon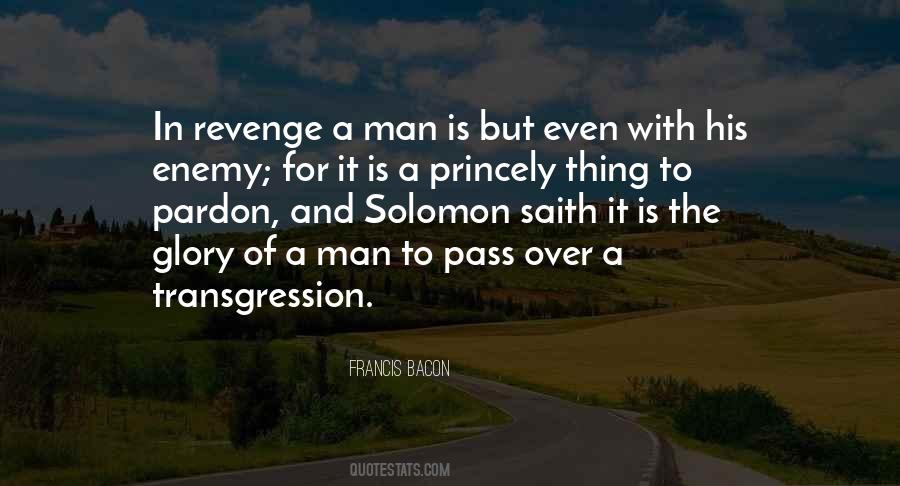 #81. Was bound about with a napkin. Jesus saith unto them, Loose him, and let him go. - Author: Anonymous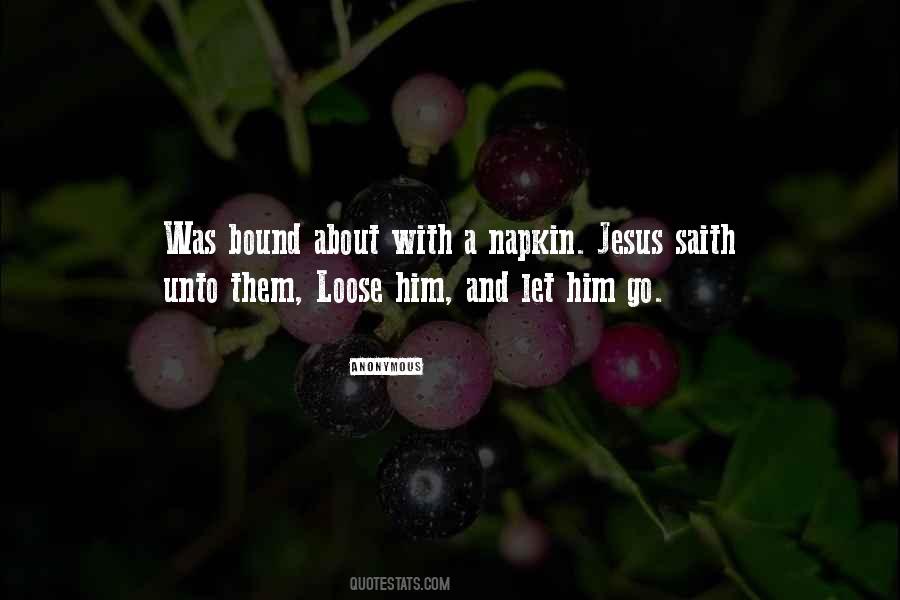 #82. O house of Israel, cannot I do with you as this potter? saith the LORD. Behold, as the clay is in the potter's hand, so are ye in mine hand, O house of Israel. - Author: Anonymous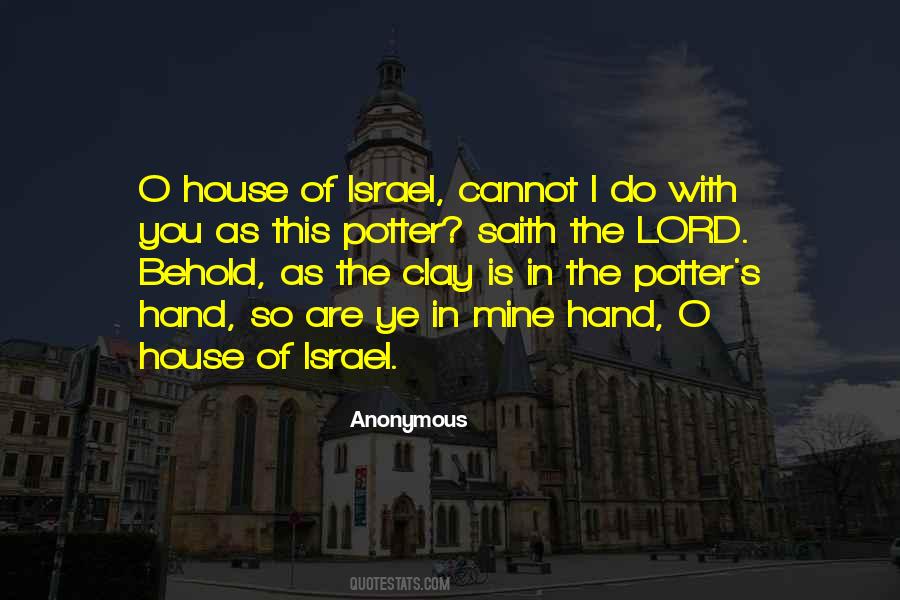 #83. "Some would call you a saint, some a chandala; some a lunatic, others a demon. Go on then straight to thy work without heeding either" - thus saith one of our great Sannyasins, an old emperor of India, King Bhartrihari, who joined the order in old times. - Author: Swami Vivekananda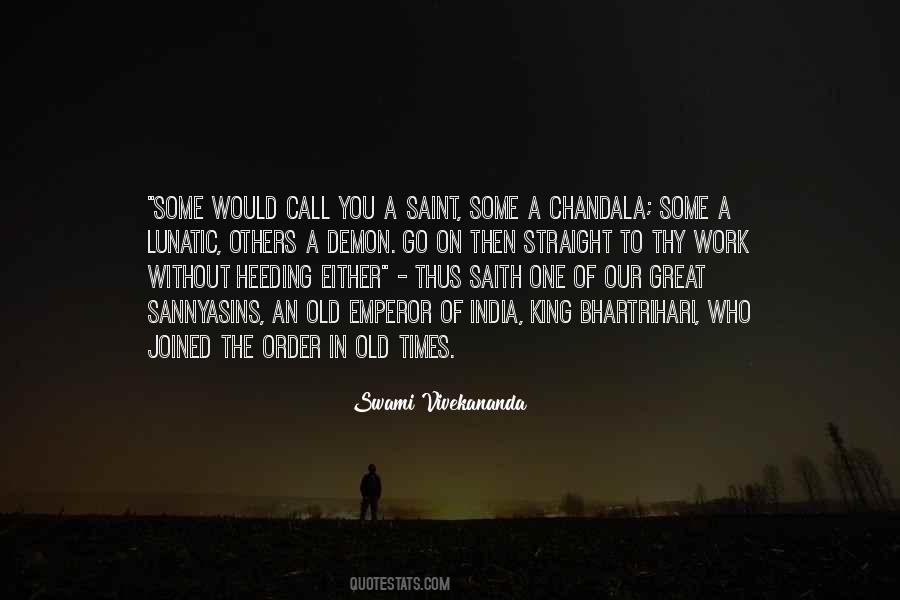 #84. Bun. Sir, said I, Wickliffe saith, that he which leaveth off preaching and hearing of the Word of God for fear of excommunication of men, he is already excommunicated of God, and shall in the day of judgment be counted a traitor to Christ. - Author: John Bunyan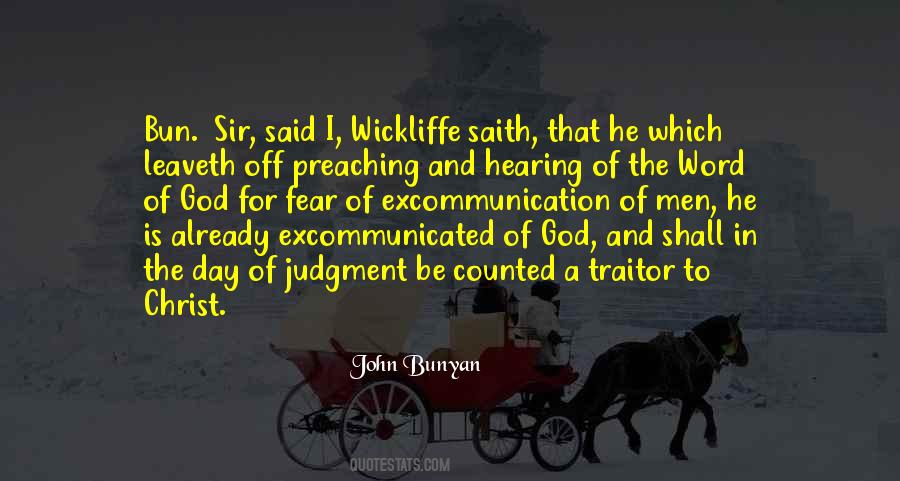 #85. Thus saith the Lord, the Maker of it, Call unto Me and I will answer thee, and show thee great and mighty things which thou knowest not. - Author: A.B. Simpson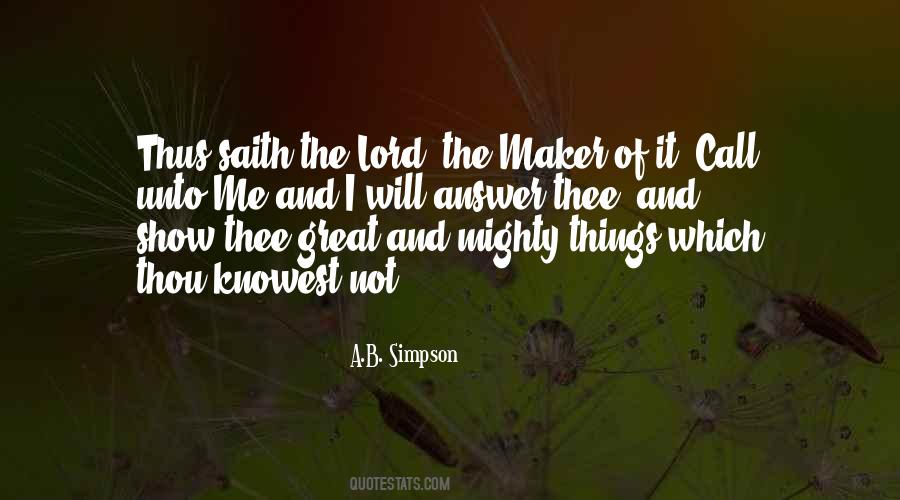 #86. If you ask, what is the first step in the way of truth? I answer humility," saith St. Austin. "If you ask, what is the second? I say humility. If you ask, what is the third? I answer the same - humility. - Author: Antony C. Sutton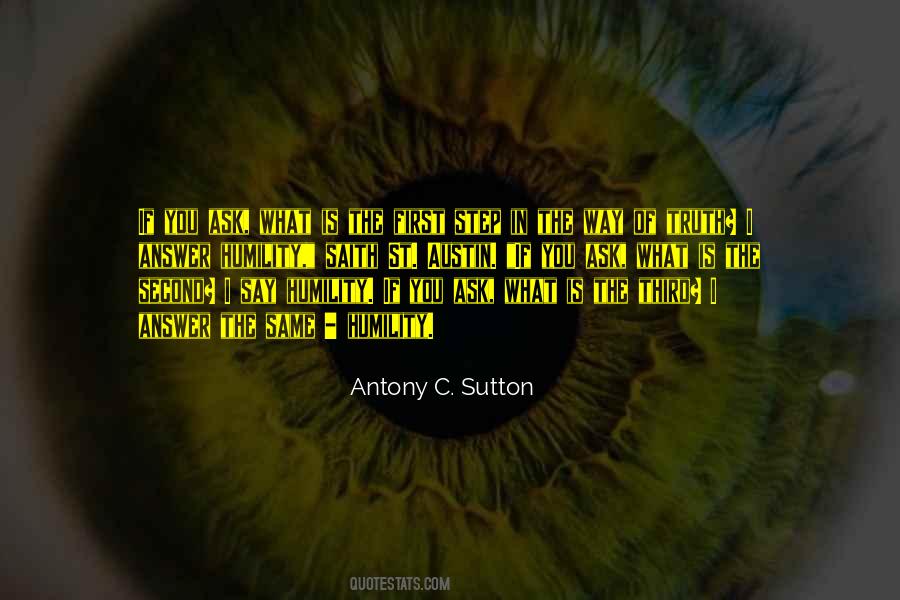 #87. Have faith in God. For verily I say unto you, That whosoever shall say unto this mountain, Be thou removed, and be thou cast into the sea; and shall not doubt in his heart, but shall believe those things which he saith shall come to pass; he shall have whatsoever he saith. Mark 11:22, 23, - Author: Andrew Wommack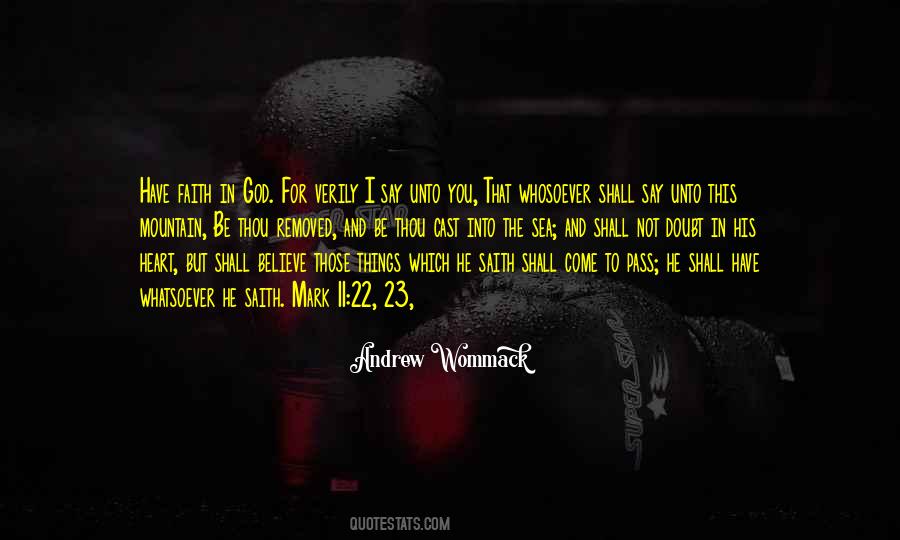 Famous Authors
Popular Topics