Mistakes Of My Life Famous Quotes & Sayings
List of top 69 famous quotes and sayings about mistakes of my life to read and share with friends on your Facebook, Twitter, blogs.
Top 69 Quotes On Mistakes Of My Life
#1. I am not someone who is ashamed of my past. I'm actually really proud. I know I made a lot of mistakes, but they, in turn, were my life lessons. - Author: Drew Barrymore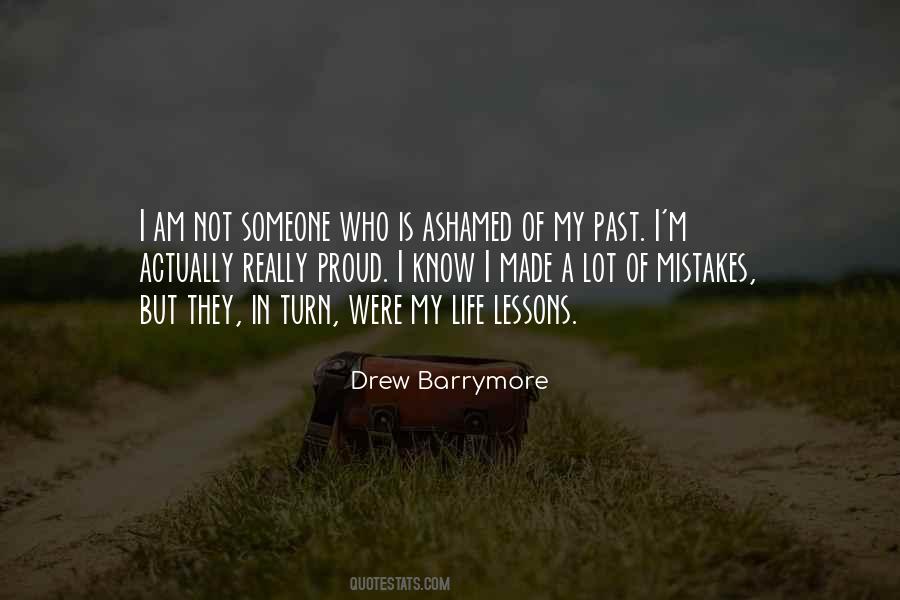 #2. At least half of my life's many mistakes can be safely put down to impetuosity: the other half derive from inertia. - Author: Donald James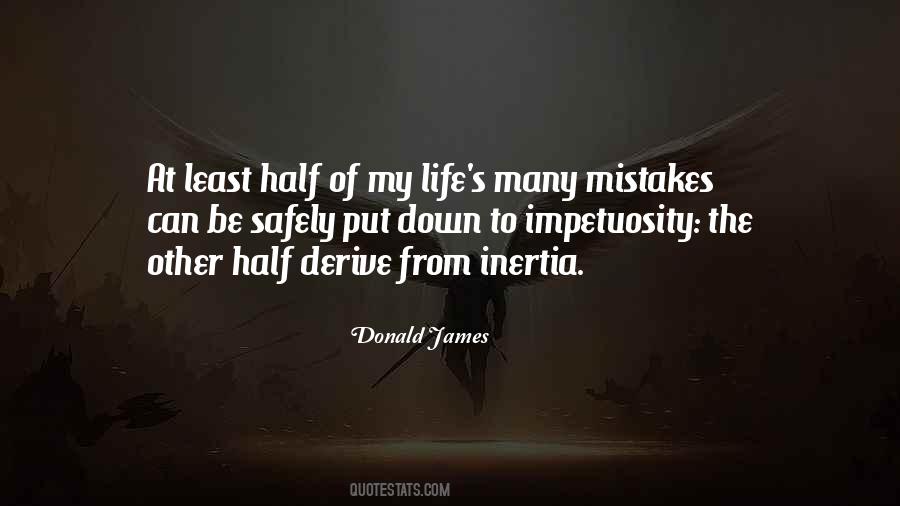 #3. I am the author of my life. Unfortunately, I am writing in pen and can't erase my mistakes. - Author: Bill Kaulitz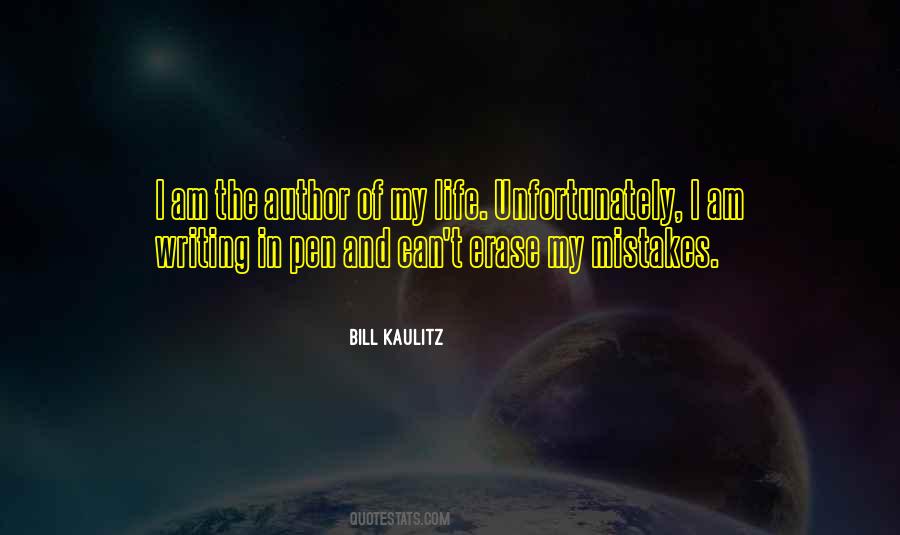 #4. I'm selfish, impatient and a little insecure. I make mistakes, I am out of control and at times hard to handle. But if you can't handle me at my worst, then you sure as hell don't deserve me at my best. - Author: Marilyn Monroe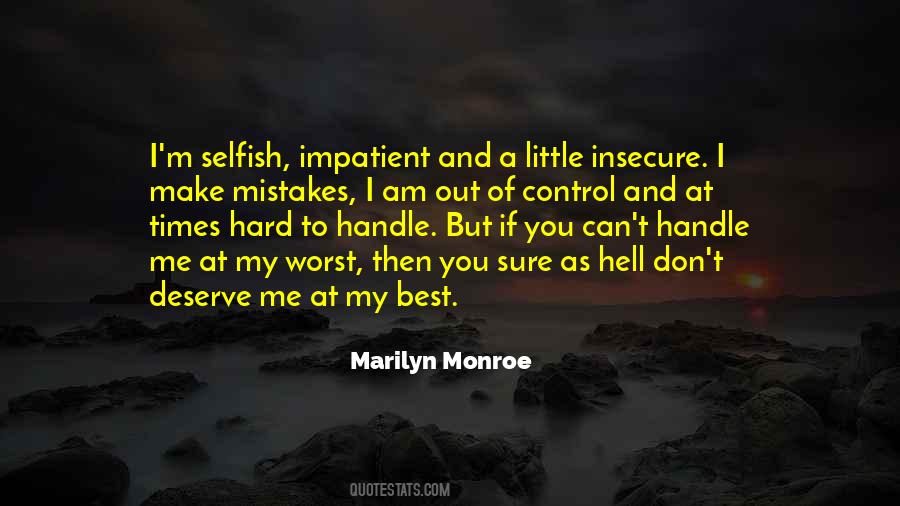 #5. I've found that human beings learn from their misdeeds just as often as from their good deeds. I am envious of that, for I am incapable of misdeeds. Were I not, then my growth would be exponential. - Author: Neal Shusterman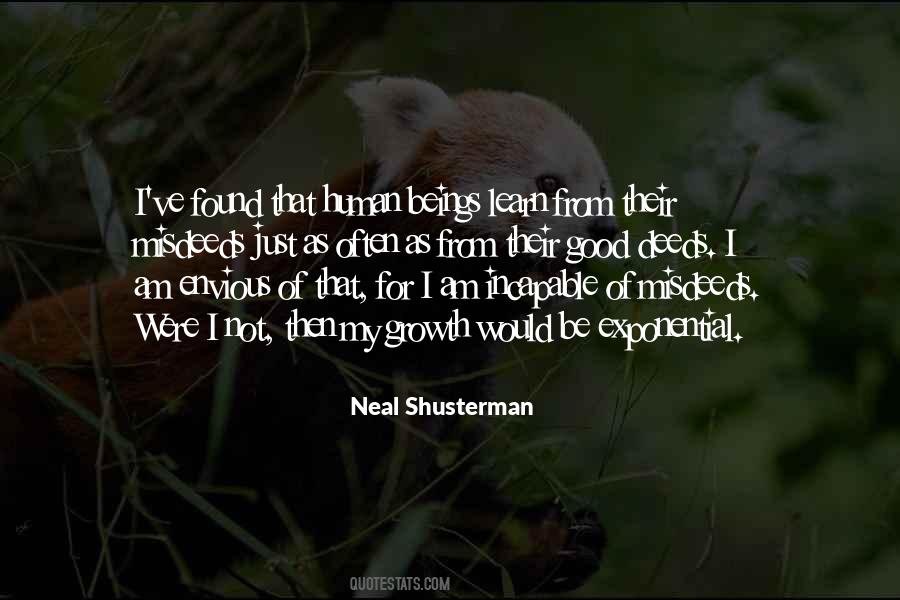 #6. I'm most proud of the blessings that God has bestowed upon me, in my life. He's given me the vision to truly see that you can fall down, but you can still get back up. Hopefully I'll learn from my mistakes and have the opportunity to strengthen and improve the next thing I do. - Author: Martin Lawrence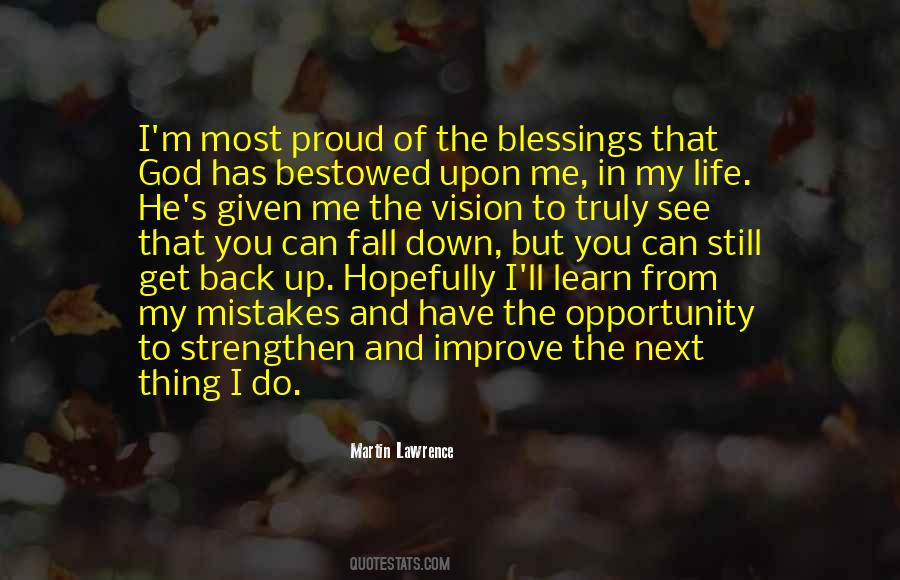 #7. As seemingly impossible as it may seem of having zero regrets, when I look at my life now and all the mistakes I've made, all the bad decisions I've made, all the things I could have done differently or done more in, I don't think I would have changed anything. - Author: Apolo Ohno
#8. You make mistakes, but I don't have any regrets. I'm the kind of person who takes responsibility for it and deals with it. I learn from everything I do. I work very hard, I have so many things going on in my life. Get to know me and see who I am. - Author: Kim Kardashian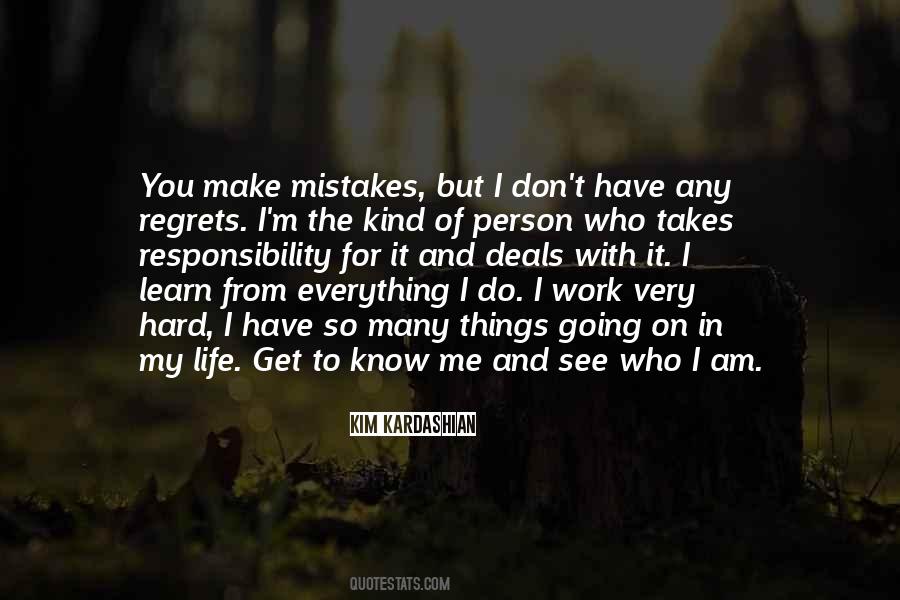 #9. I never want to repeat myself. I can't imagine anything else as upsetting as realizing I'm redoing something I did before. For some reason, when it comes to film, I'm very good at not repeating myself. Even though in the rest of my life, I'm constantly repeating my mistakes. - Author: Doug Liman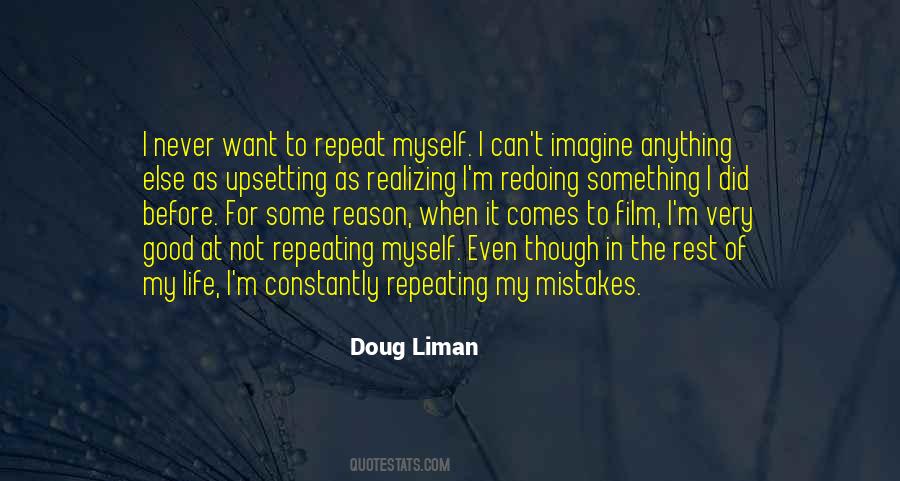 #10. I only accept your mistakes and flaws to the degree that I accept my own. - Author: Vironika Tugaleva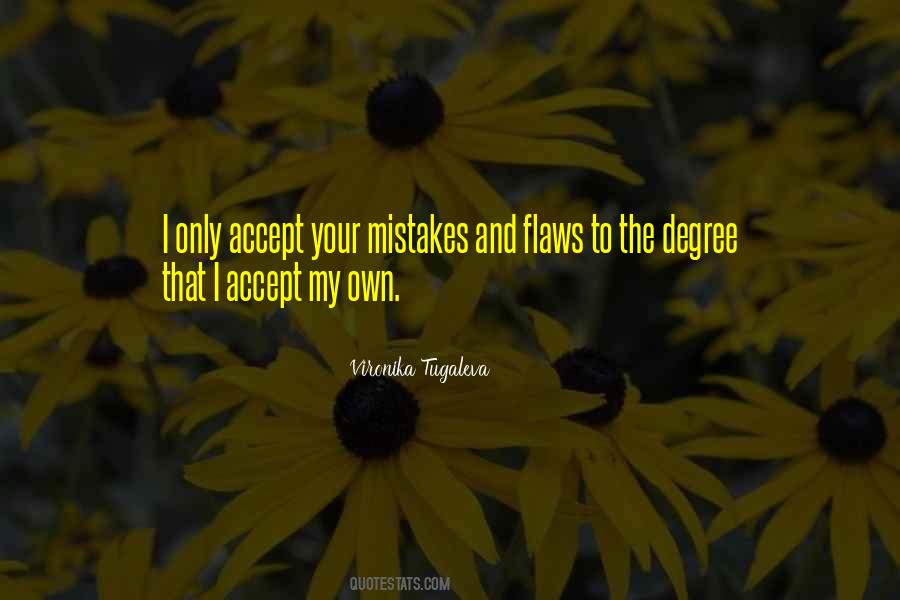 #11. Some of the worst mistakes of my life have been haircuts. - Author: Jim Morrison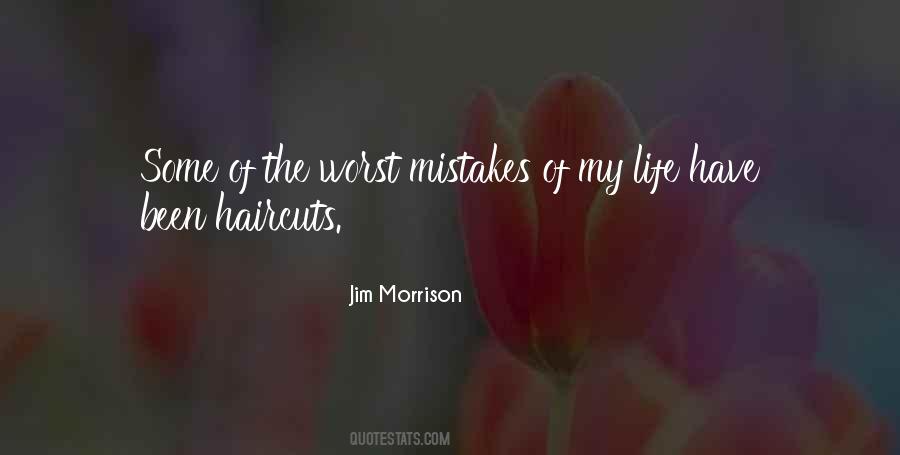 #12. I've made a lot of mistakes in my life. And I'm really sensitive, so I take even small mistakes as huge ones. - Author: John Krasinski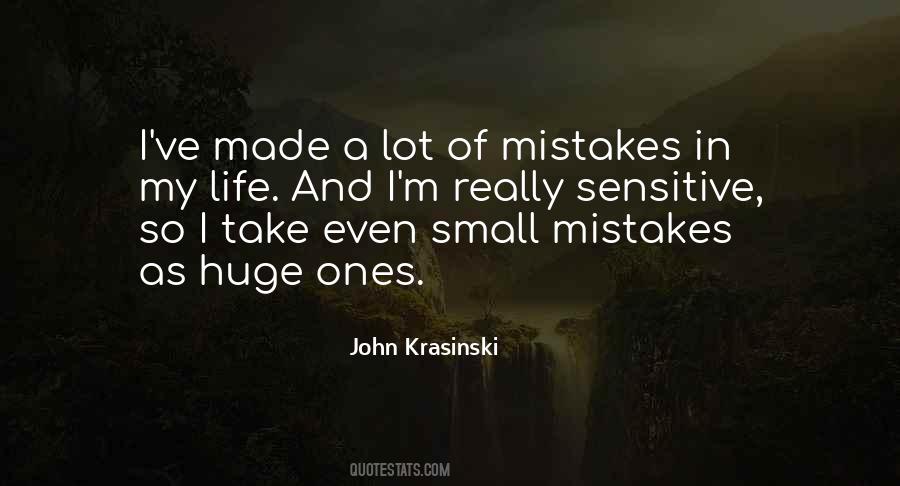 #13. I made my share of mistakes. People can look at that as what not to do, and if they choose to make fun of it, that's fine. I can't control that. All I know is that I can control myself. And at that point in my life, I wasn't even able to do that. - Author: Tiger Woods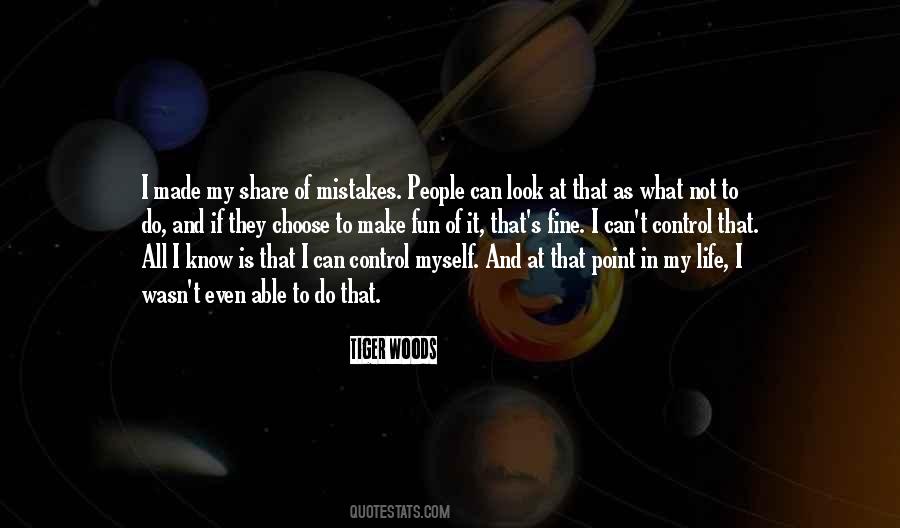 #14. I have learned throughout my life as a composer chiefly through my mistakes and pursuits of false assumptions, not by my exposure to founts of wisdom and knowledge. - Author: Igor Stravinsky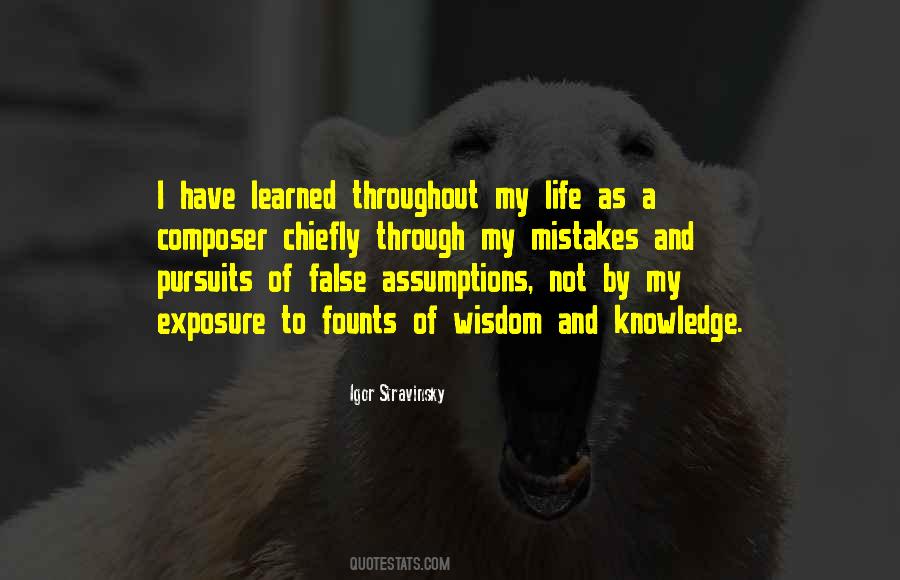 #15. A teachable spirit and a humbleness to admit your ignorance or your mistake will save you a lot of pain. However, if you're a person who knows it all, then you've got a lot of heavy-hearted experiences coming your way. - Author: Ron Carpenter Jr.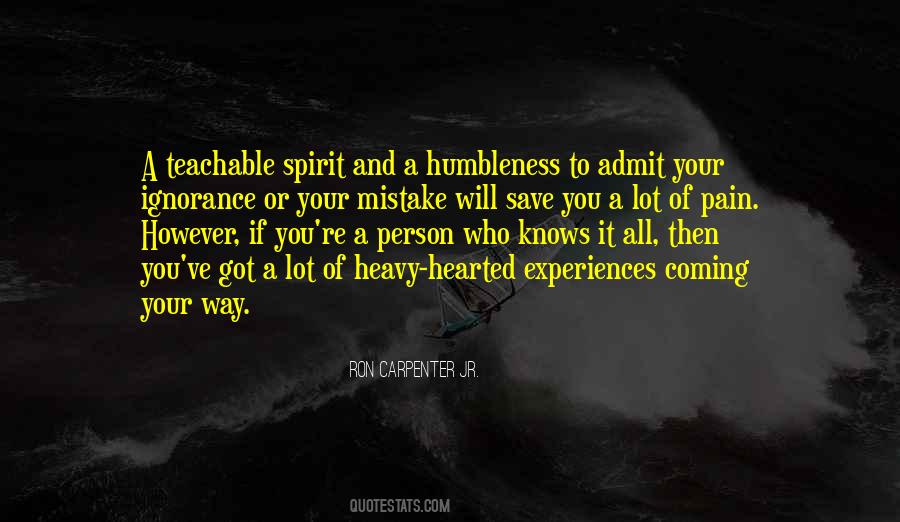 #16. Thinking there is something better out there in the world, something worth more than you already have- of all my mistakes,that was my biggest. - Author: Louise Candlish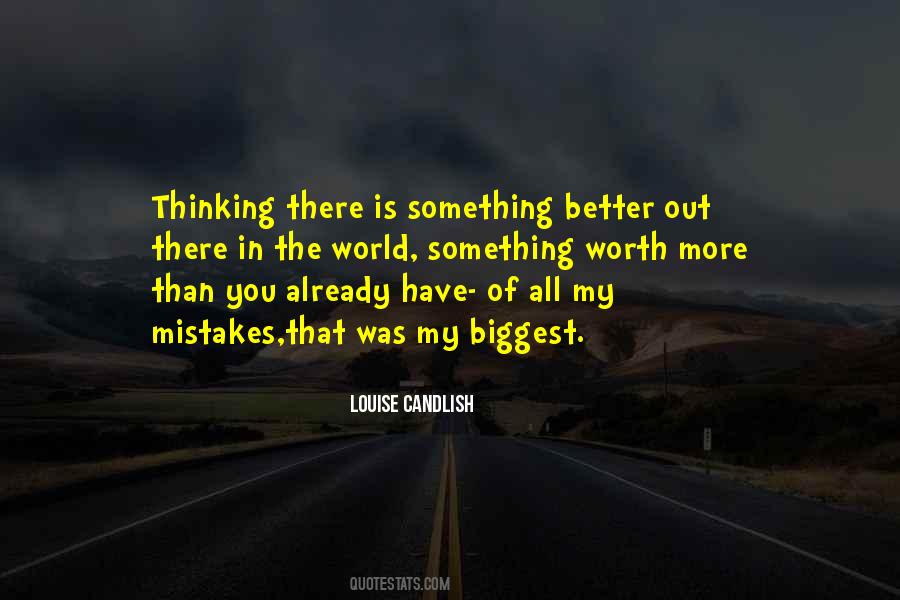 #17. I can think that you are mistaken, but I have to be ready to give my life to maintain your right to make mistakes. I have to, though, have the right to say that you're mistaken. This is the principal of the liberal society. - Author: Rocco Buttiglione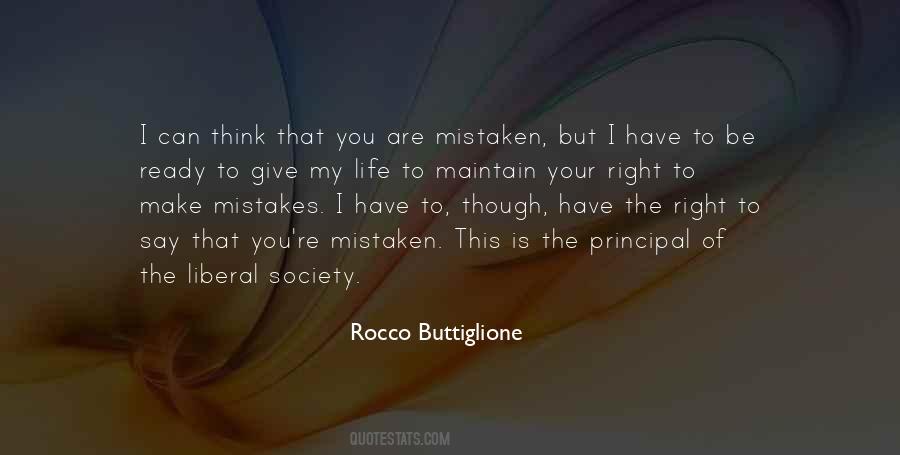 #18. I feel like I've been very smart in the way that I carry myself and treat myself. I feel like my mom was a big part of that just because she's always let us make our own decisions, and we've known very much about the mistakes and the dangers already of whatever this Hollywood life may be. - Author: Evan Ross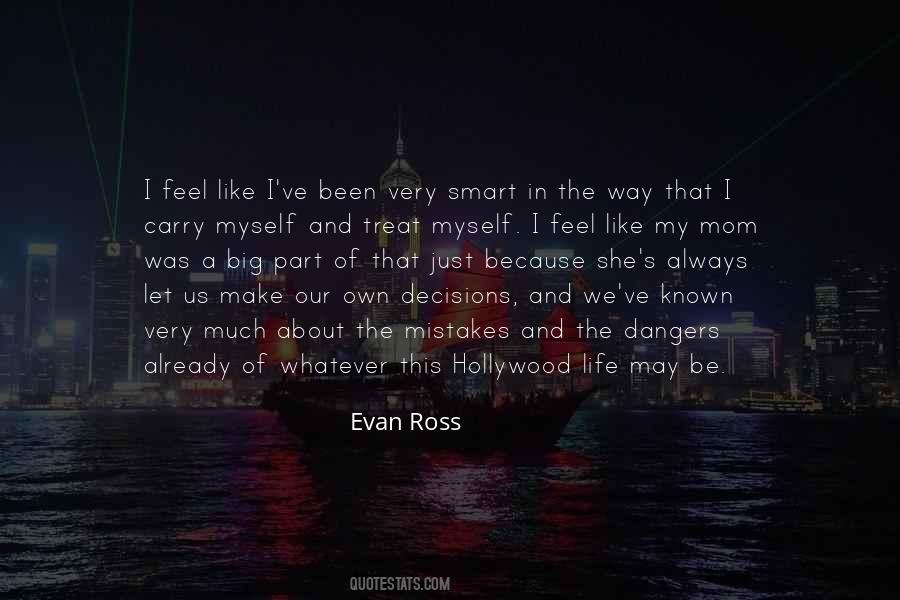 #19. The only thing I regret about my past is the length of it. If I had to live my life again I'd make all the same mistakes - only sooner. - Author: Tallulah Bankhead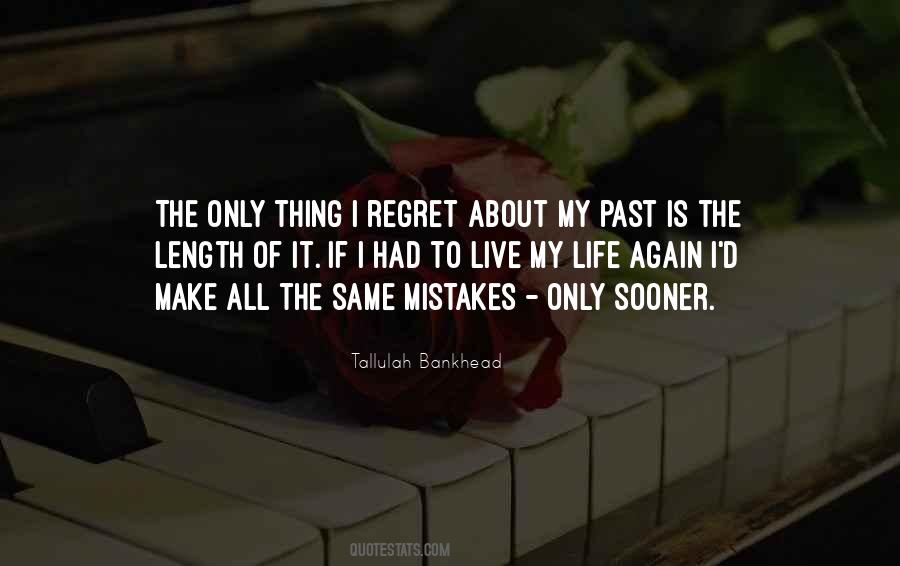 #20. Hell is when we look back during the fraction of a second and know that we wasted an opportunity to dignify the miracle of life. Paradise is being able to say at the moment I made some mistakes, but I wasn't a coward. I Lived my life and did what I had to do - Author: Paulo Coelho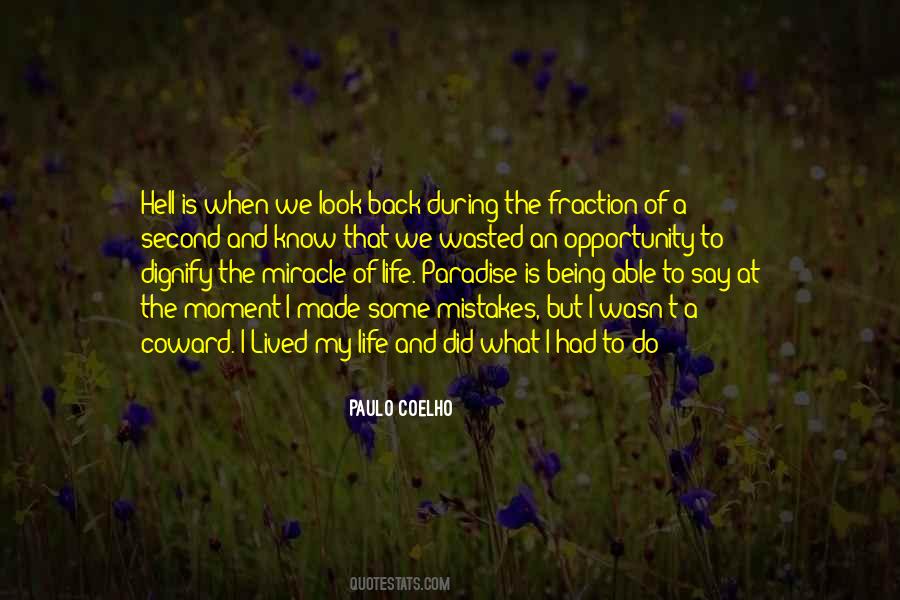 #21. I've made my share of mistakes along the way, but if I have changed even one life for the better, I haven't lived in vain. - Author: Muhammad Ali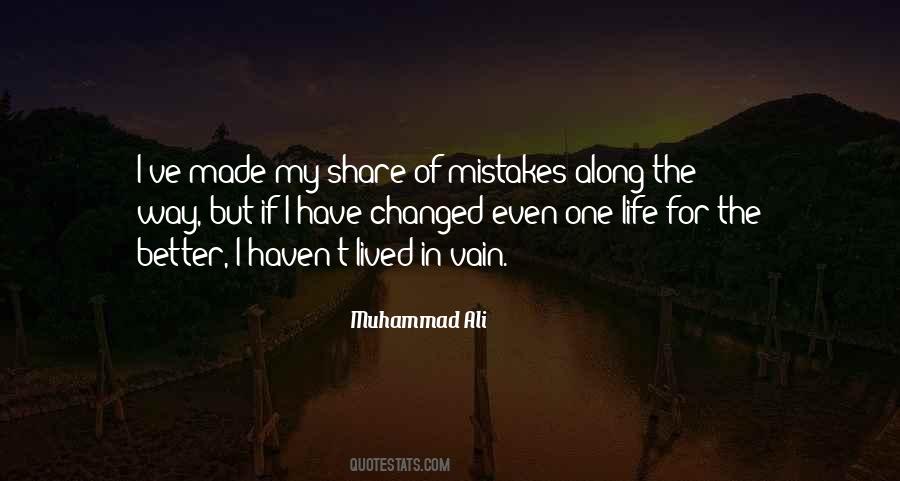 #22. knew I had to walk with my head up, and learned that I'm a human and that we are capable of mistakes, disappointments, the right to change our mind and we have the right to change what we want to in life. - Author: Stormey Ramdhan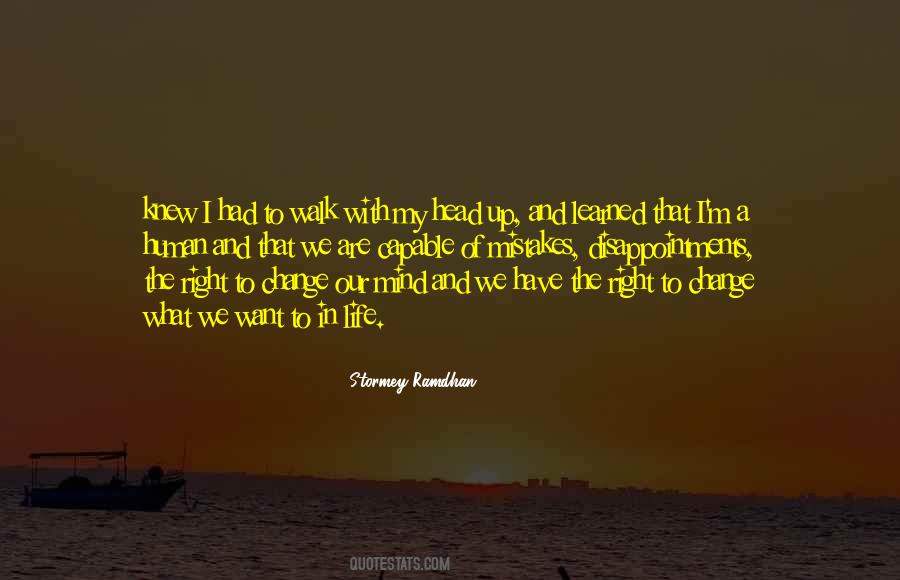 #23. So if I decide to leap for The Fountain when I finish this memo, I want to make one thing perfectly clear - I would genuinely love to make that leap, and if I don't I will always consider it a mistake and a failed opportunity, one of the very few serious mistakes of my First Life that is now ending. - Author: Hunter S. Thompson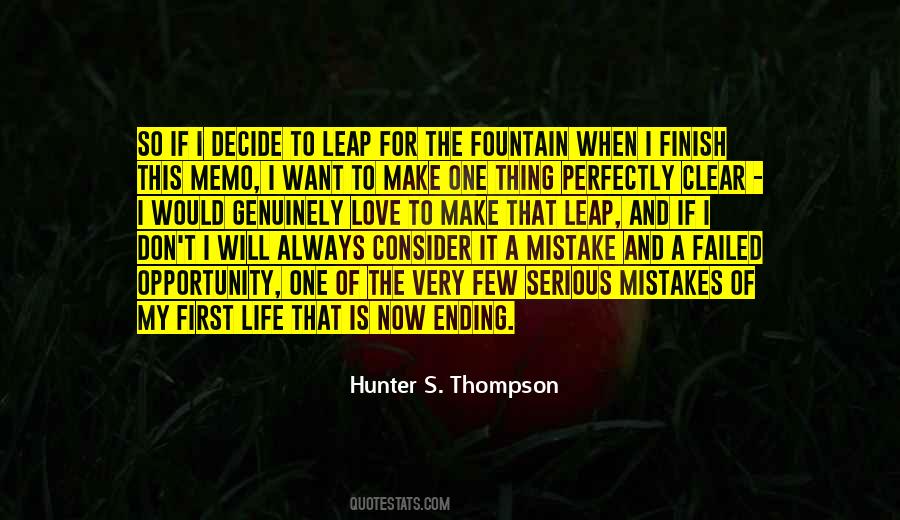 #24. Looking at my life was very difficult. I think I learned that I haven't been as good a person as I'm inclined to think of myself as. I haven't been as good friend, haven't been as good a person, made a lot of mistakes. - Author: Marge Piercy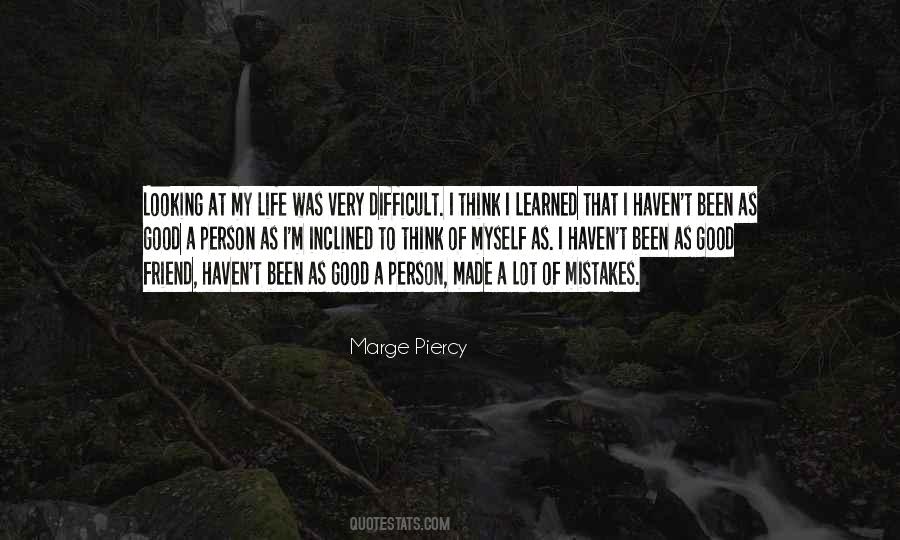 #25. I know better than anyone else that my time is near. I've had a good life, and you don't stop and complain at this stage of the game. I've made some mistakes, and I'd like to stay around a little longer and overcome them, but there isn't time. I'll miss baseball. That I know. - Author: Joe Tinker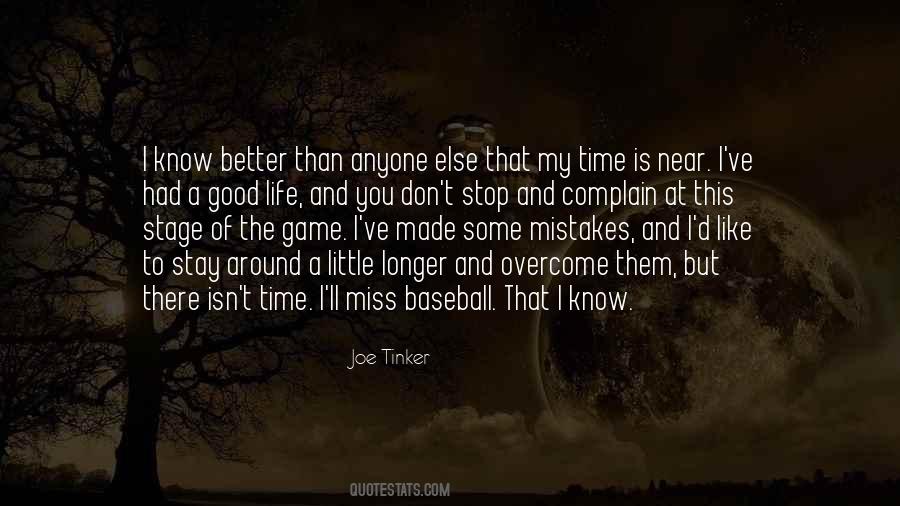 #26. Naturally, in the course of my life I have made lots of mistakes, large and small, for one reason or another, but at the heart of it all, every time I made a mistake it was because I was not radical enough. - Author: Jean-Paul Sartre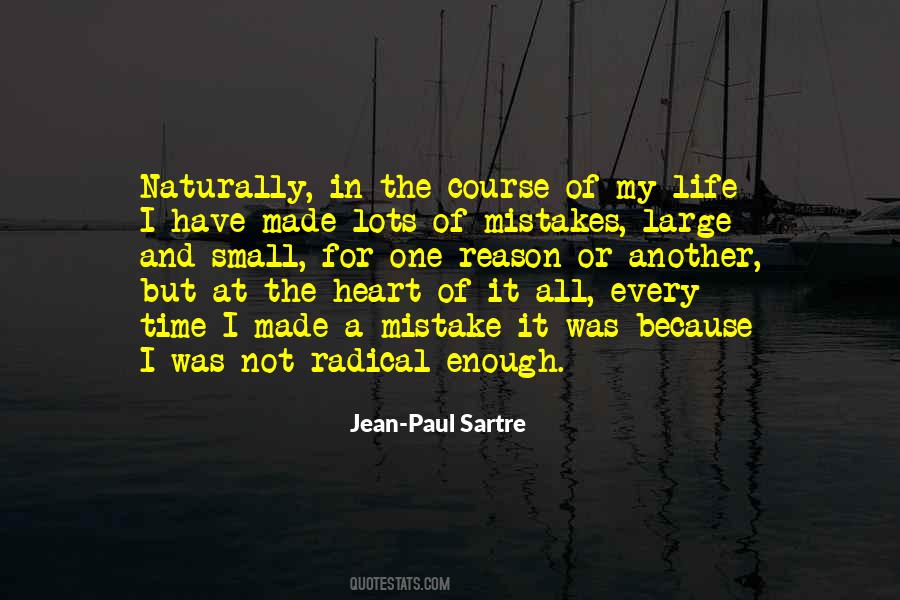 #27. I am glad that I paid so little attention to good advice; had I abided by it I might have been saved from some of my most valuable mistakes. - Author: Edna St. Vincent Millay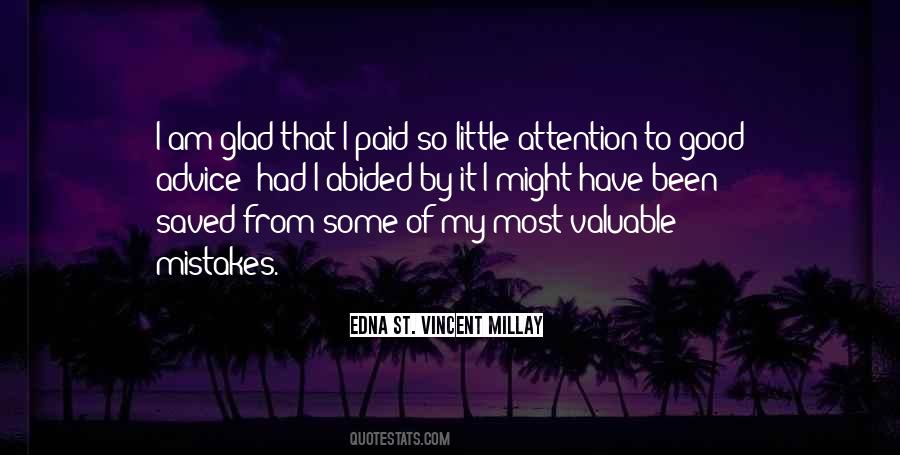 #28. Today, I will try to remember to regret the past. I will think of how many mistakes I have made throughout my life. I will say to myself, "If only I could go back in time and make different choices, so that my life could be the way it should have been." Then I will remind myself that I cannot. - Author: John S. Hall
#29. There was a time in my life when I tried a lot of different things, different looks. Between the ages of 17 and 22, there were a lot of bad looks. But I guess you learn from your mistakes. After that, I kind of found my style and what I like to wear. - Author: Henrik Lundqvist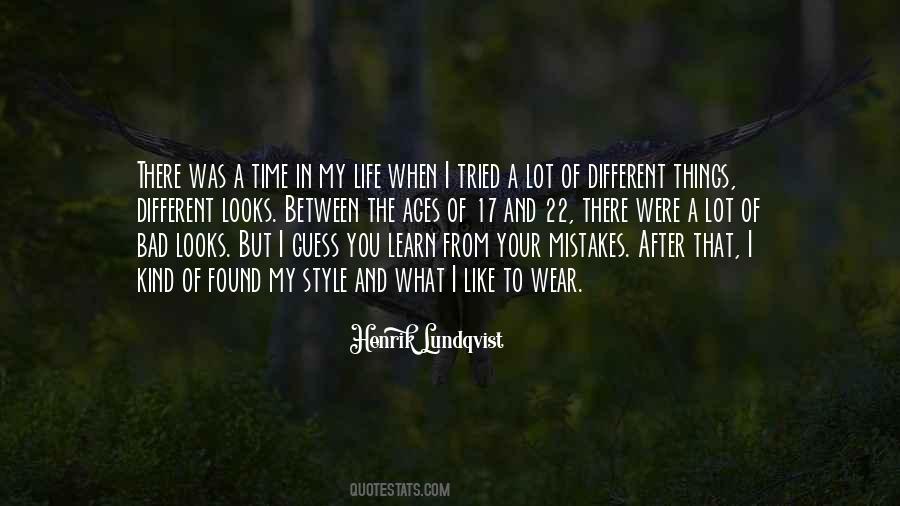 #30. I'll never get over my grappling for balance, never stop believing life is going to be fair, the minute we can clear up all these mistakes of the temporarily misguided. - Author: Barbara Kingsolver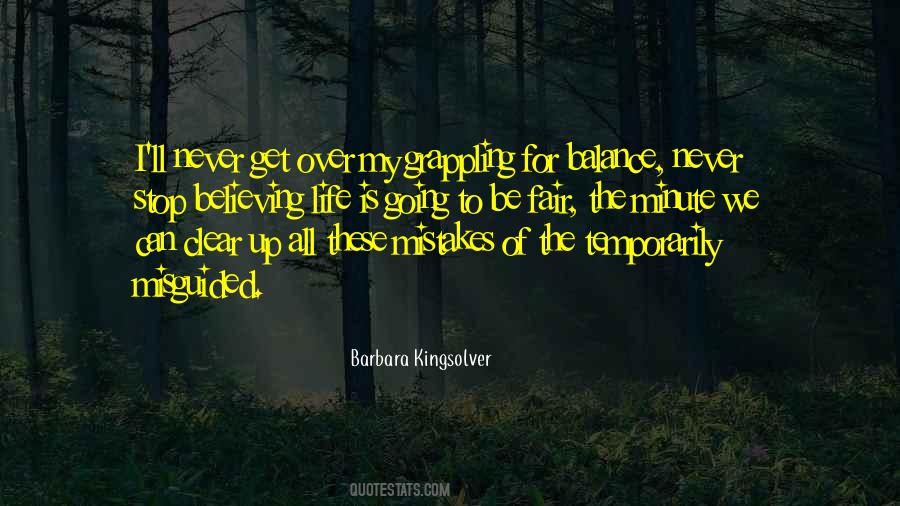 #31. It was never you. Leaving you was the hardest thing I've ever done and I've regretted that decision every second since the moment I walked out. I've made a lot of dumbass mistakes in my life, but letting you go is the one I'd give anything to erase.
- Jason - Author: Michelle McLean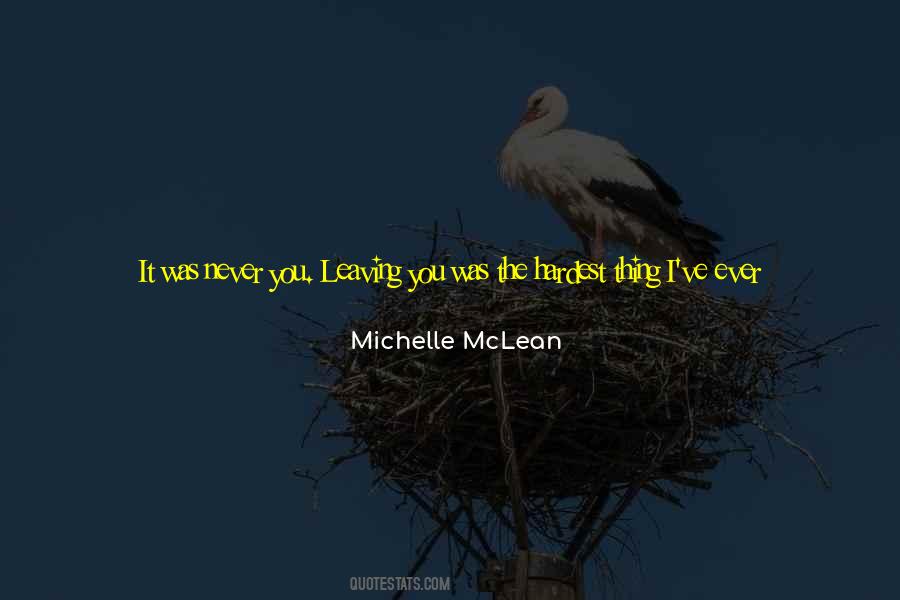 #32. The truth is, I'm proud of the life I've lived so far, and though I've made my share of mistakes, I have no regrets. - Author: Carly Fiorina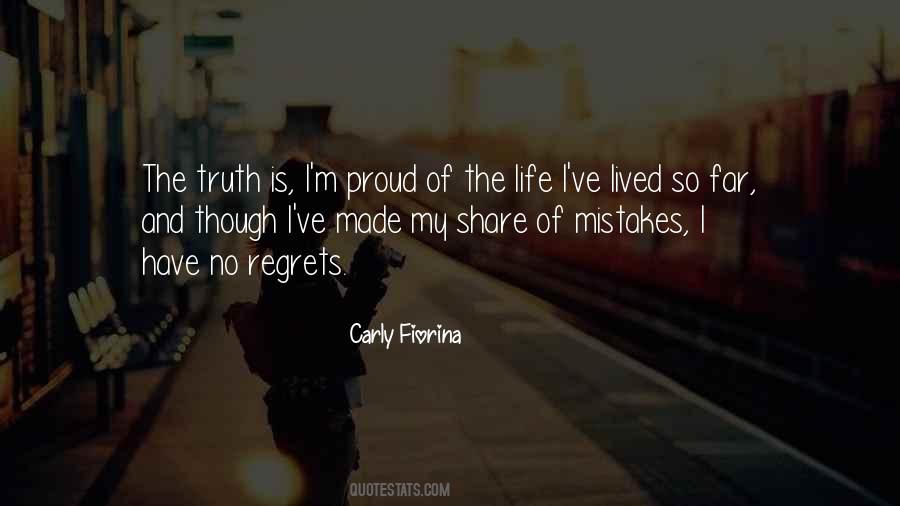 #33. I am a responsible parent and have always provided for my children. That fact cannot be disputed. I have made mistakes in my life, but failing to care for my children is not one of them. - Author: Jamal Lewis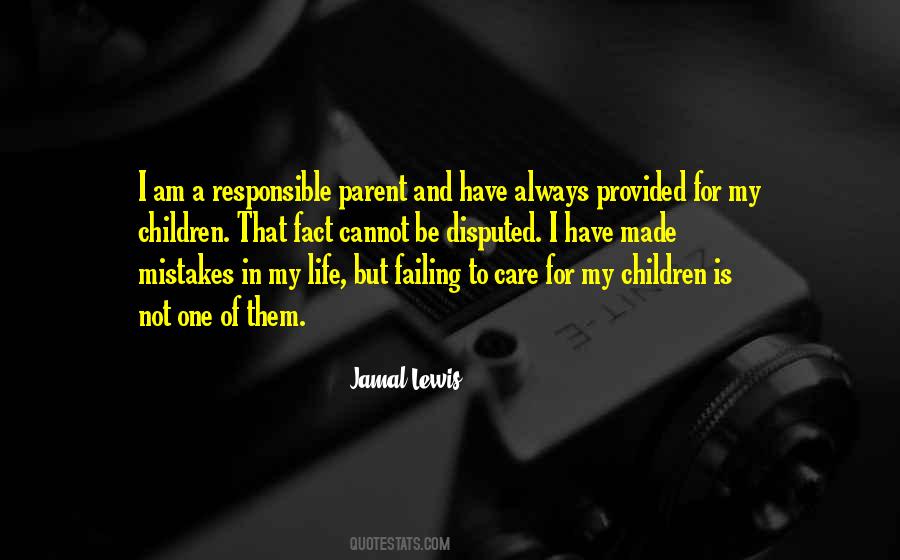 #34. My first program taught me a lot about the errors that I was going to be making in the future, and also about how to find errors. That's sort of the story of my life, making errors and trying to recover from them. I try to get things correct. I probably obsess about not making too many mistakes. - Author: Donald Knuth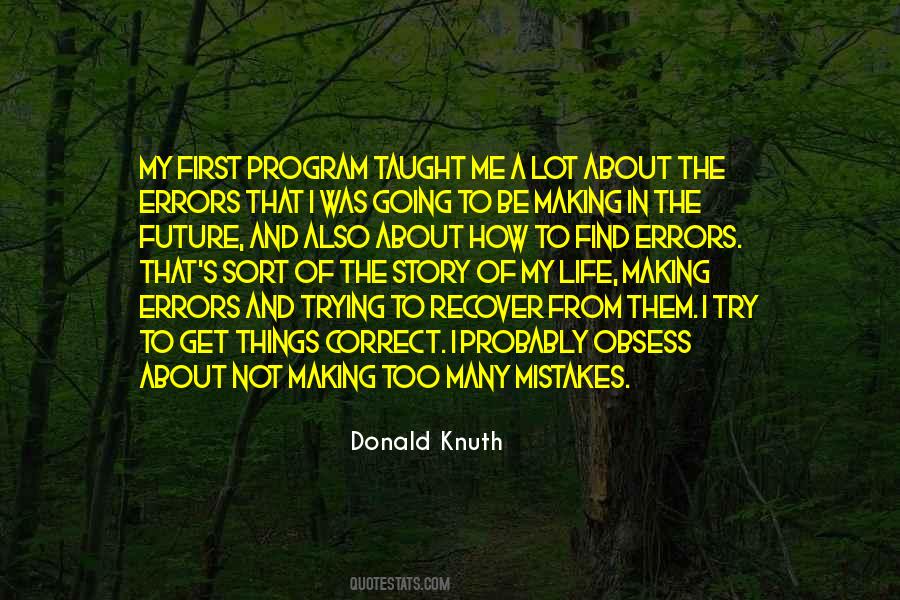 #35. A lot of good things in my life came form half of my mistakes. - Author: Radney Foster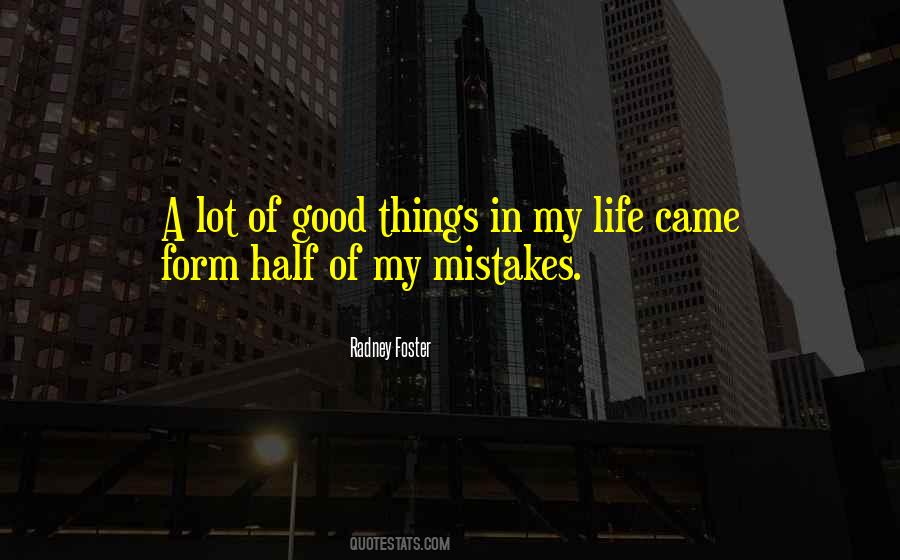 #36. I'm always going to have a soft spot for this city in my life. This is where I sort of grew up. So many romantic mistakes. - Author: Jessica Pan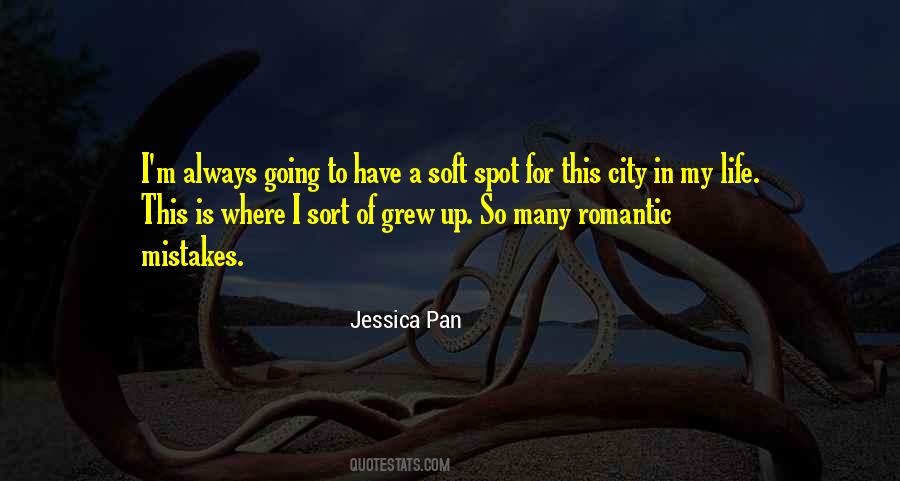 #37. I'm a teenager, and we mess up sometimes. - Author: Jen Calonita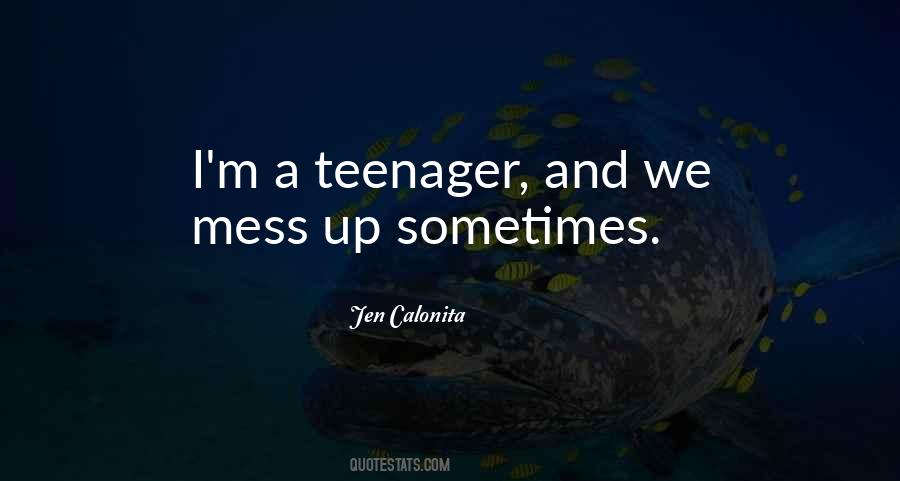 #38. I was doing what I have done for most of my life, which is to cover for the mistakes of others when they don't know they have embarrassed themselves. - Author: Elizabeth Strout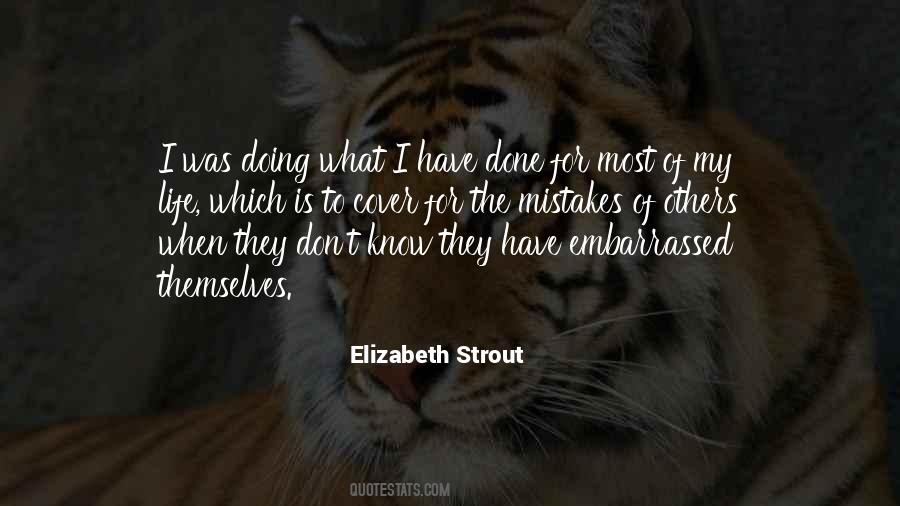 #39. It's taken years, but part of my own personal growth has involved deciding that I can learn something from even the most annoying person. - Author: Auliq Ice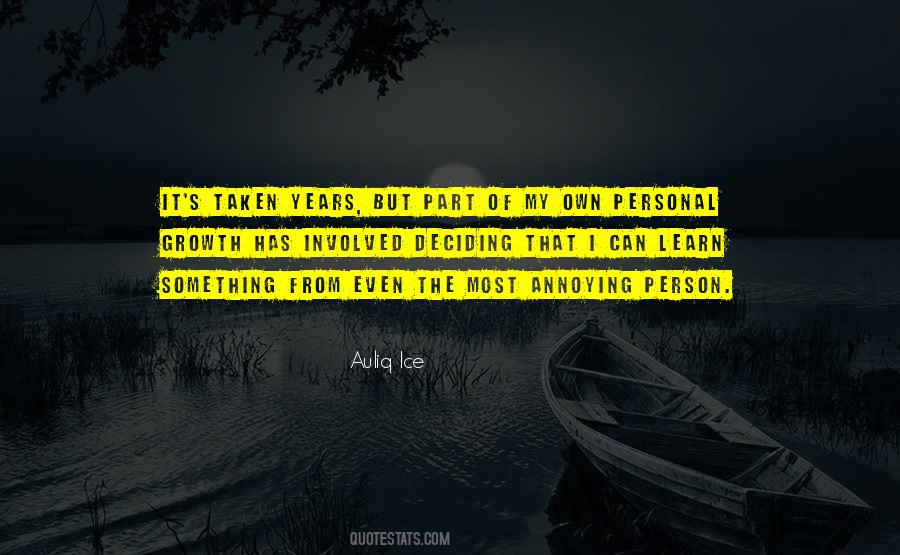 #40. I try to build the things so that they're fairly indestructible. I've learned from my mistakes and some of those units, even if human life disappears from the planet, will still be recognizable a thousand years from now abandoned somewhere in the woods. - Author: John Lindsay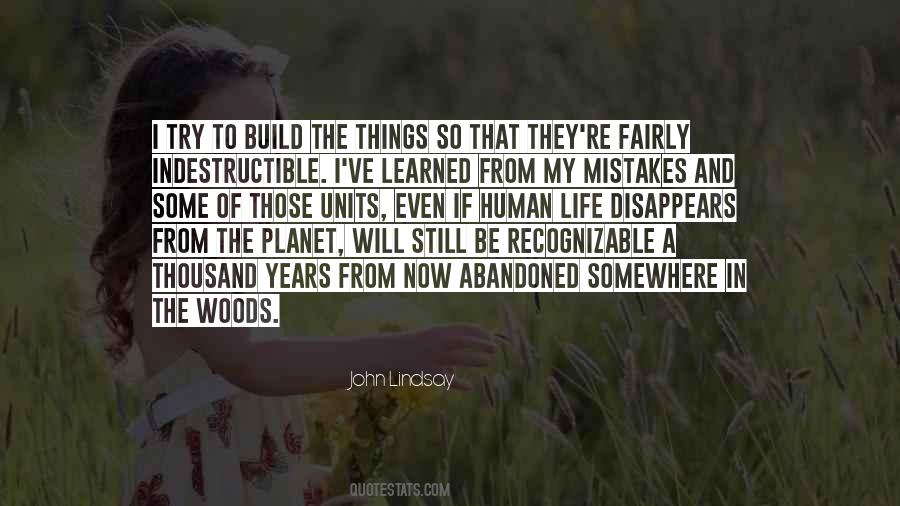 #41. Depression is the feeling of someone whispering in your ear and telling you that you are worthless. Every time you make a mistake, you keep getting reminded of it, it's never painless. From these mistakes, it makes you reckless. Now you ask yourself, is my life priceless or worthless ? - Author: Unknown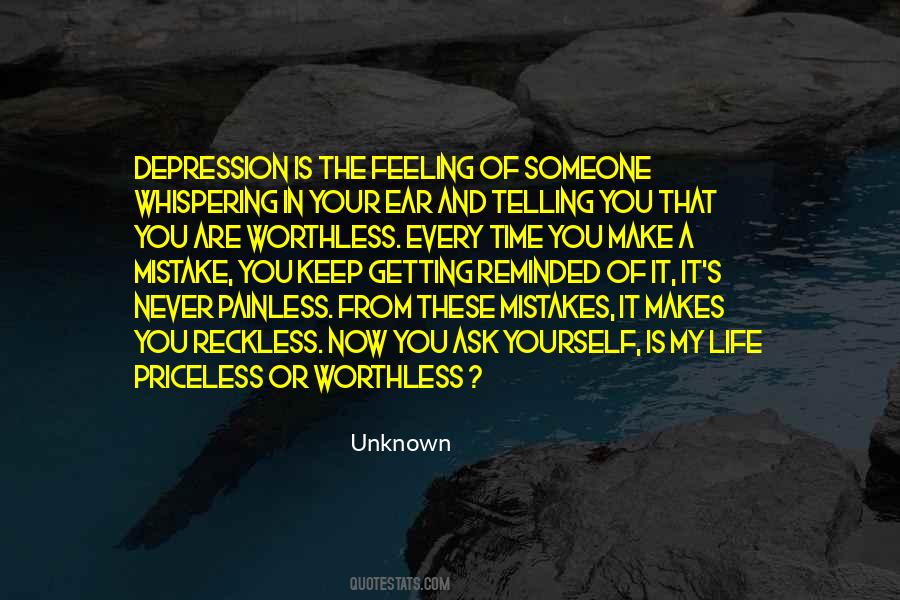 #42. I feel like I've lived a life of making mistakes and learning from them and doing my best to only make each mistake once. - Author: Bre Pettis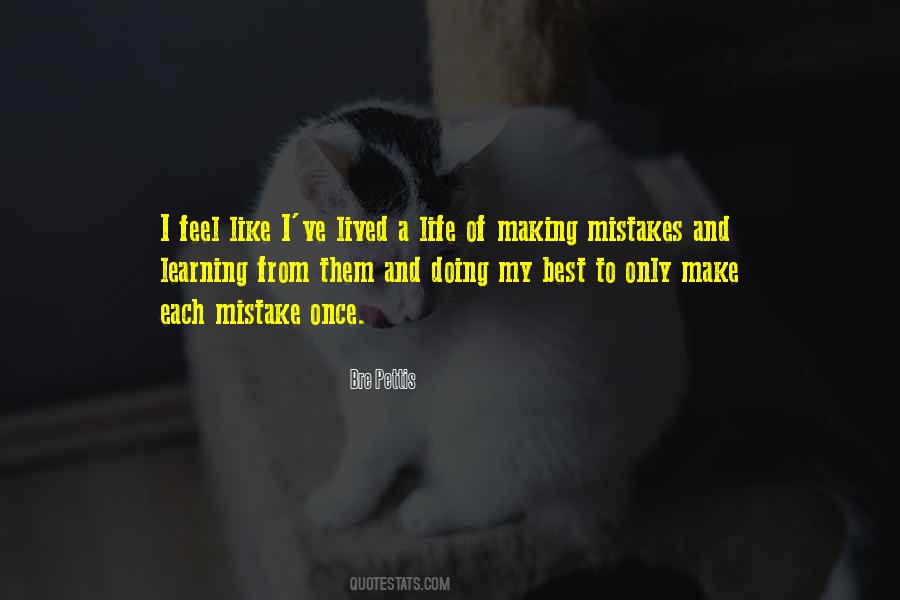 #43. God come save the youth, Ain't nothin else to do but have faith in you, Dear Lord I live the life of a Thug, hope you understand Forgive me for my mistakes, I gotta play my hand. - Author: Tupac Shakur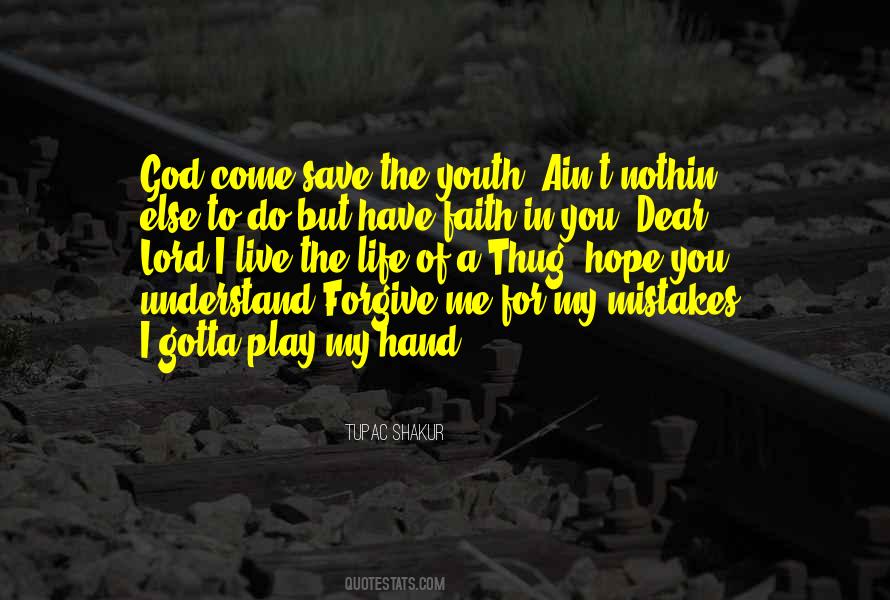 #44. Let me just say this, and I want to say this to the televison audience: I made my mistakes, but in all of my years of public life, I have never profited, never profited from public service - Author: Richard M. Nixon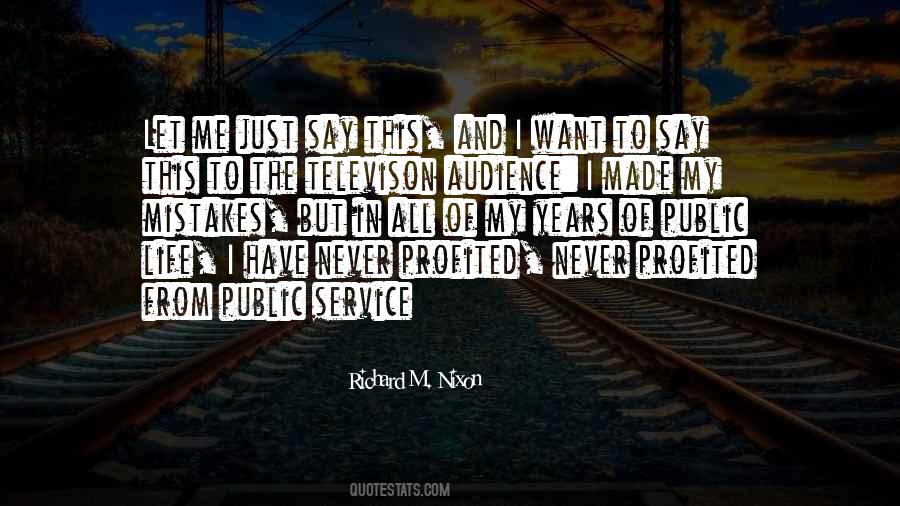 #45. As you begin this day, tell yourself, Today I am incarnated anew! I am released from the hypnosis of my old habits and mistakes! Everything that I have long dreamed of doing I will accomplish in this, my new life. - Author: Goswami Kriyananda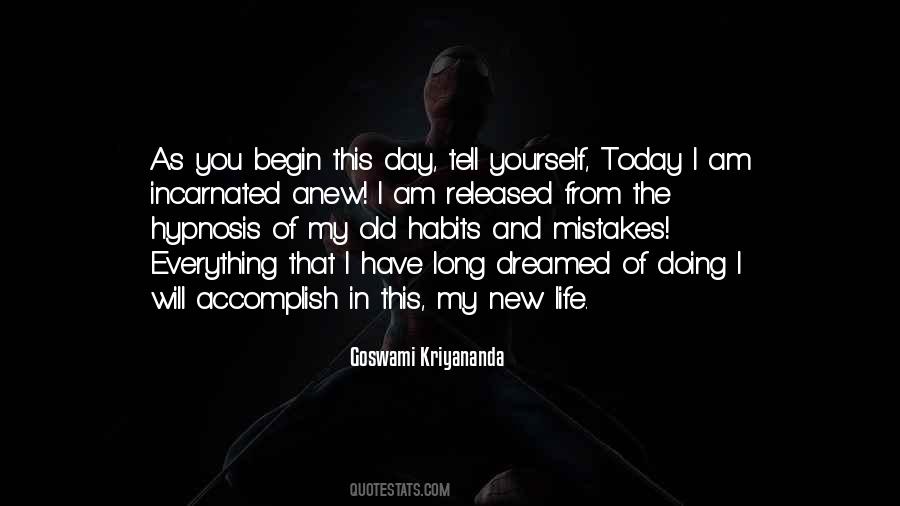 #46. Really, I think among the many mistakes I've made over my life, one of them was caring so much about the short story. - Author: Charles D'Ambrosio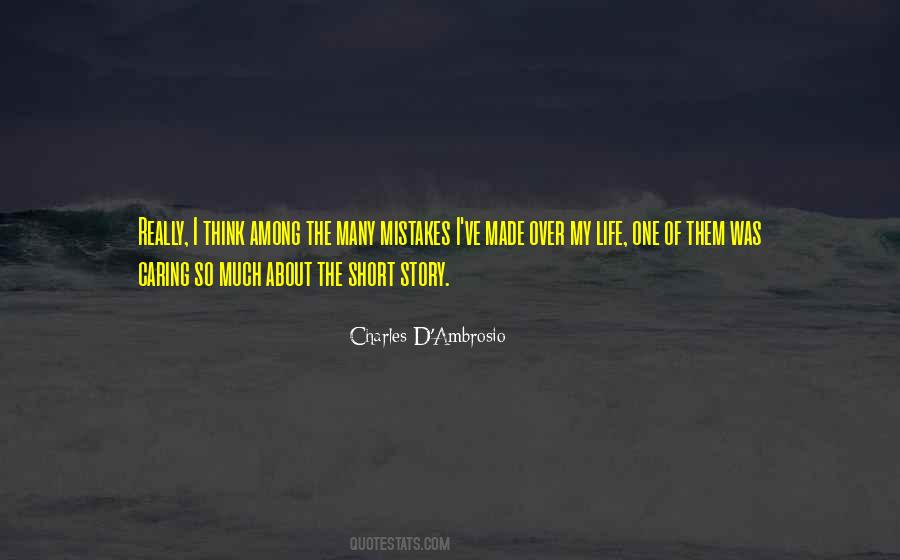 #47. You make your own kinds of mistakes, and I'm sure you'll have your share of regrets in life. But commitment was never your problem, sweetie. You have a better chance of making this work than most forty-year-olds I know. My little middle-aged child. Luckily, you seem to have found another old soul. - Author: Stephenie Meyer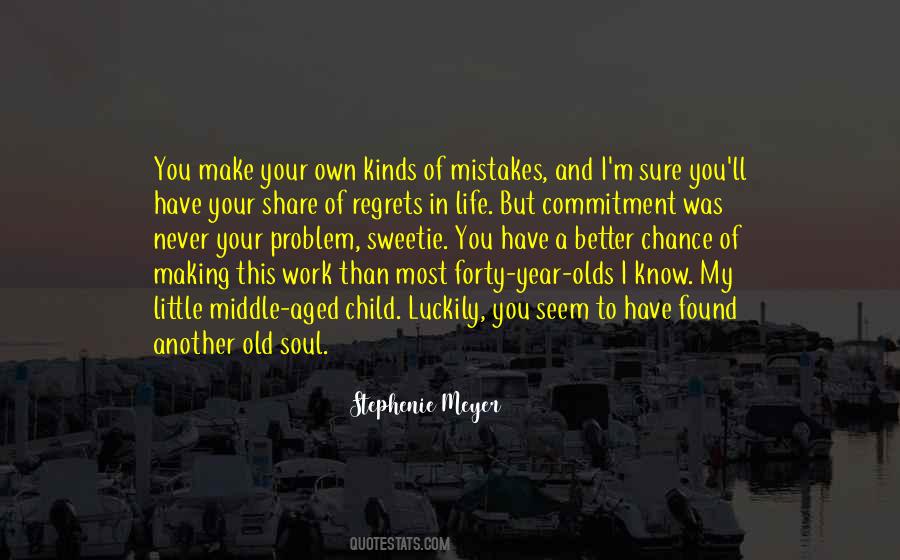 #48. I don't have a lot of regrets about the way I've lived my life. Not because I haven't made mistakes - I've made plenty. But what's the point of regret? You can't undo the past. - Author: Cindy Crawford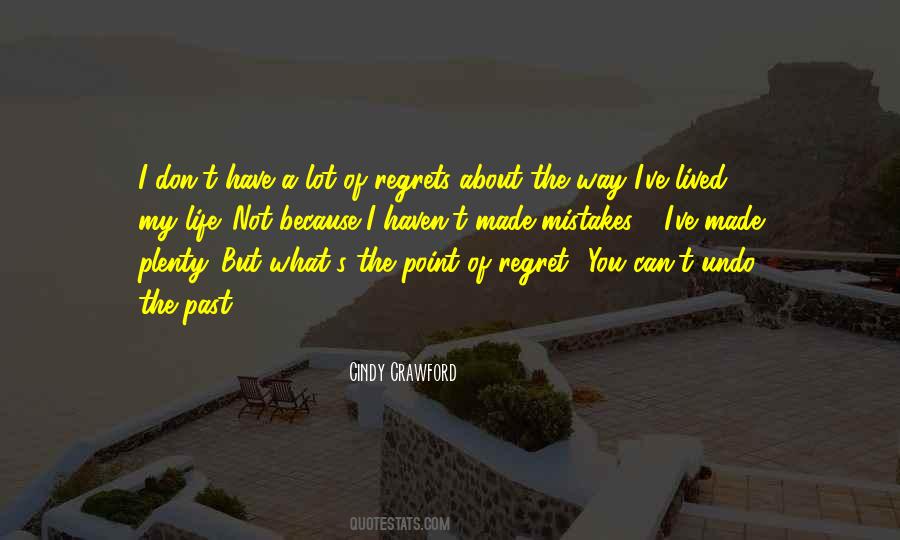 #49. My life is full of mistakes. They're like pebbles that make a good road. - Author: Beatrice Wood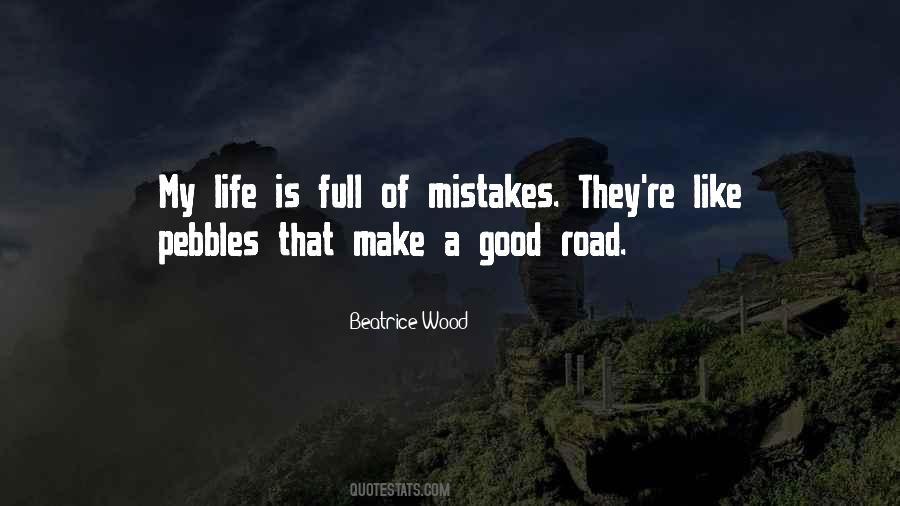 #50. It is my fervent hope and prayer that by exposing my mistakes and by pointing out the things that were a part of my early life, some who might be following the same paths might not make those same mistakes. - Author: John Clayton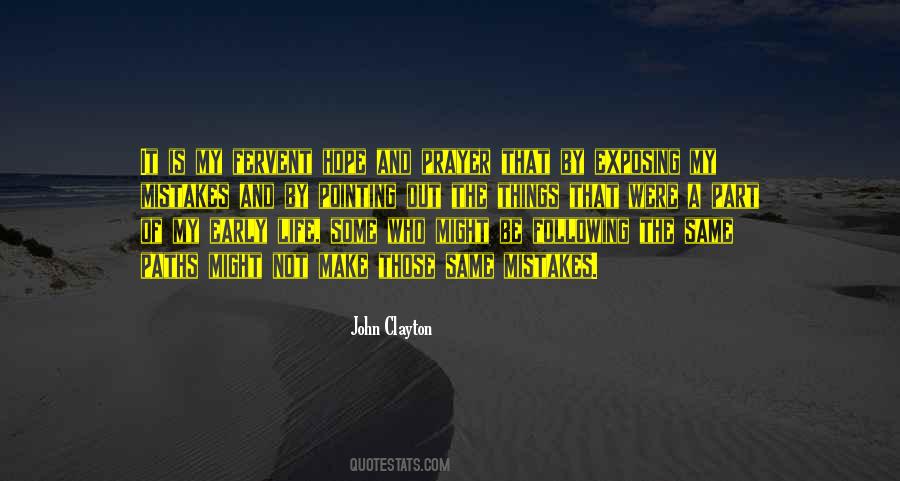 #51. I need to be allowed to make my own decisions and mistakes, take leaps - and fall - without receiving too much help, because it's what I'll be doing for the rest of my life. - Author: Adora Svitak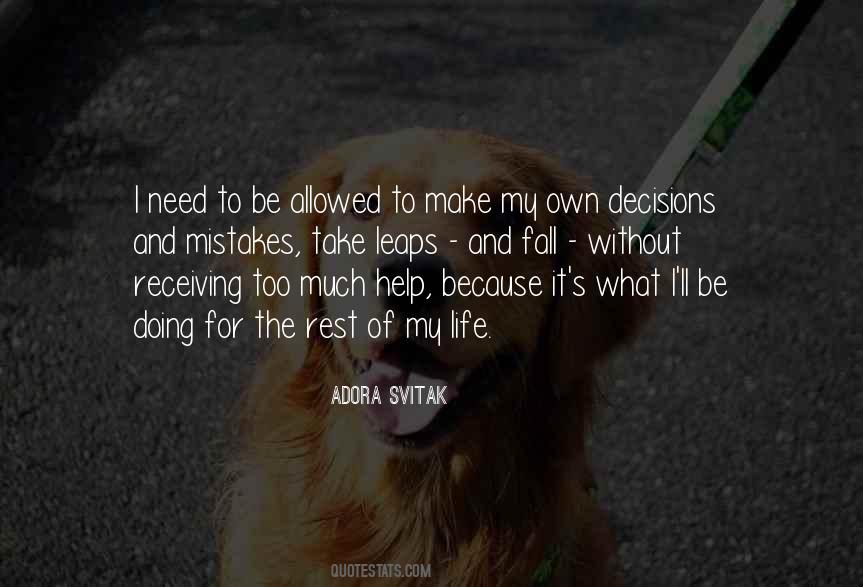 #52. I made a big mistake, and I didn't use it to make my life better. I used it to be okay with a life less lived. I used it to be okay with mediocrity and the mundane. And I didn't make myself any better because of it.
And that's not okay with me. - Author: Dan Pearce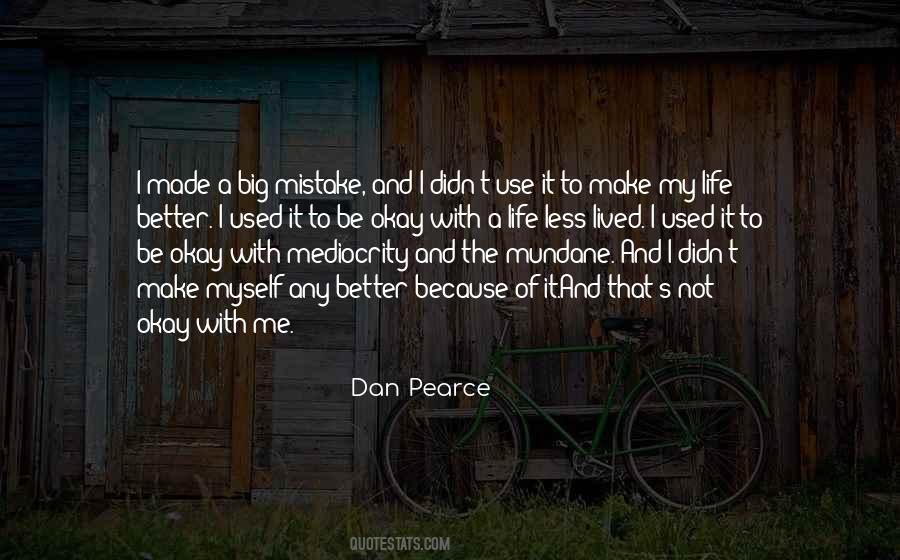 #53. I have learned all kinds of things from my many mistakes. The one thing I never learn is to stop making them. - Author: Joe Abercrombie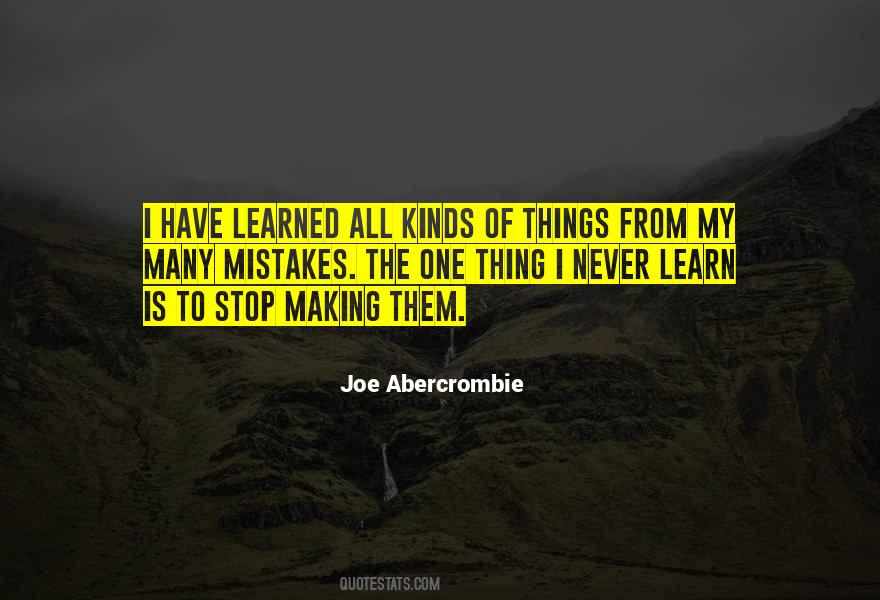 #54. I've made a lot of mistakes in my life. I wouldn't say musically, though. - Author: Nayvadius Cash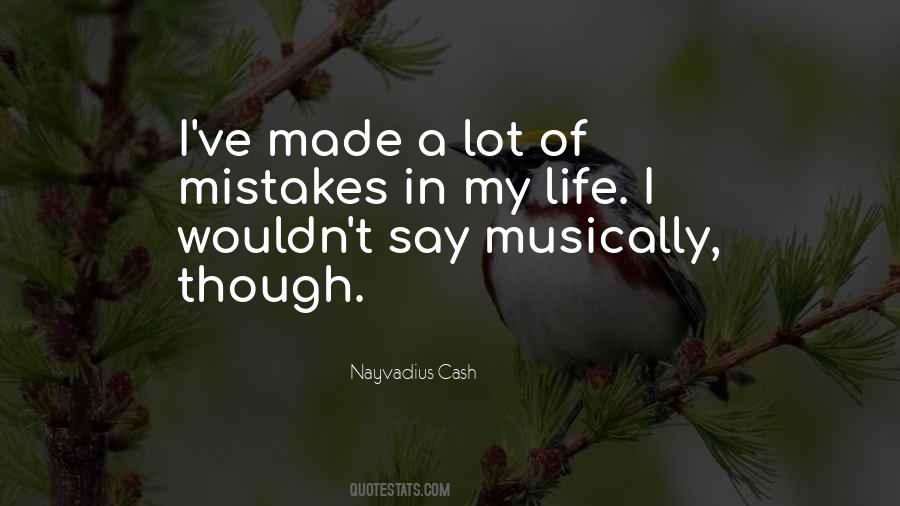 #55. I look back on my 20s. It's supposed to be the prime of your life, the most vital, the most beautiful. But you're making your critical decisions and sometimes your most critical mistakes. - Author: Ann Brashares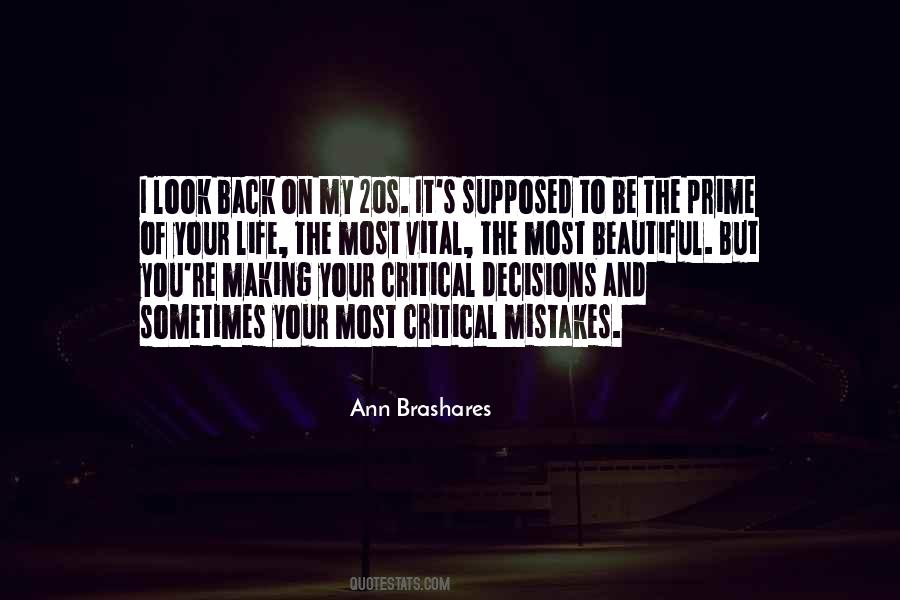 #56. I'm stronger because I had to be
I'm smarter because of my mistakes
Happier because of sadness I've known and
Now wiser because I've learned
Trials = Triumph - Author: Unknown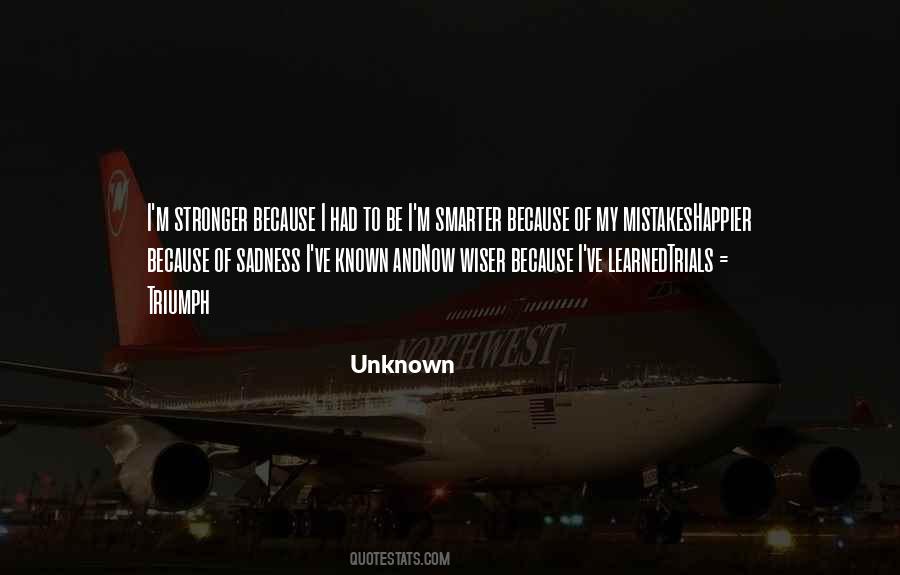 #57. Don't thank me. I'm not pleased with it. Loving you has been the single worst mistake of my life. It's just as enraging as I remember, and I'm making just as many mistakes. - Author: Quil Carter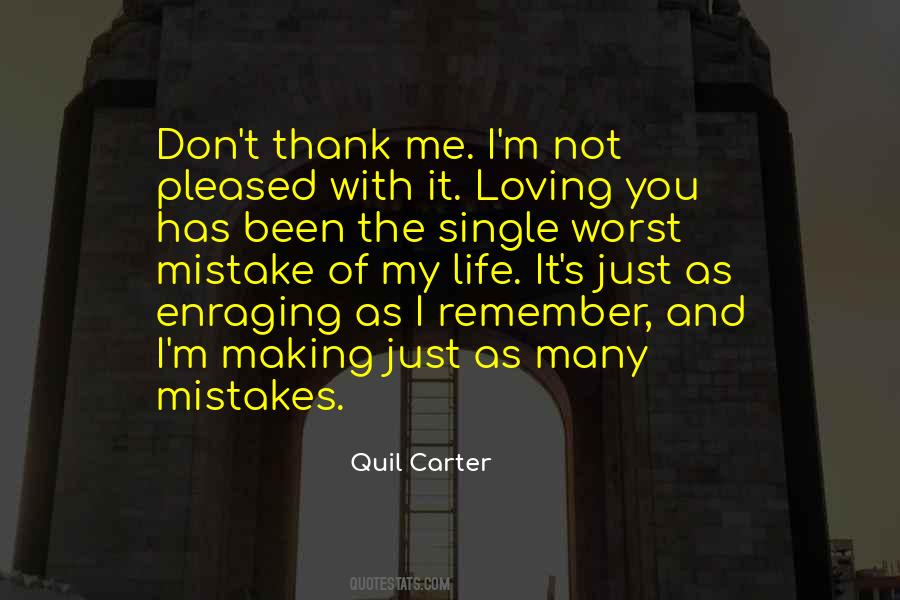 #58. I love my life and my mistakes and my triumphs - all of it. - Author: Flea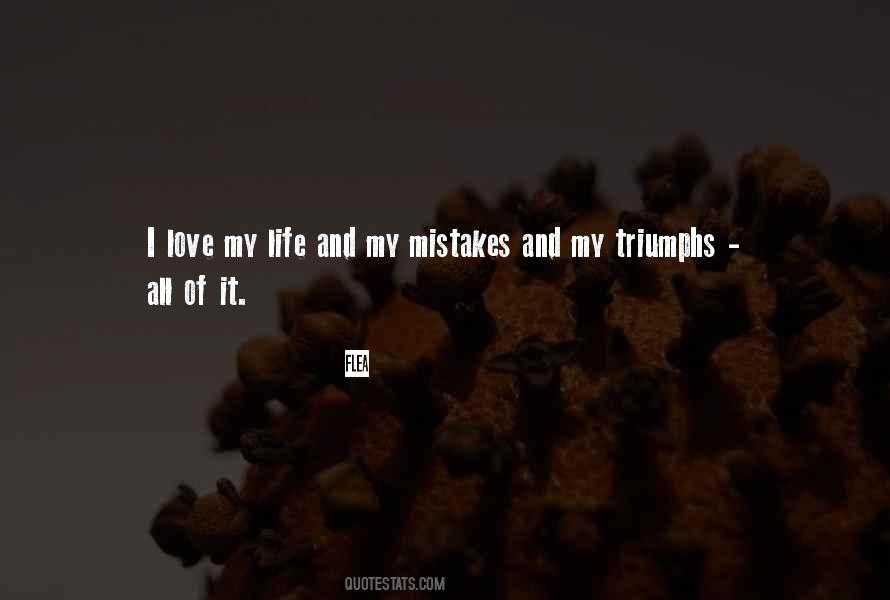 #59. Some of the worst mistakes in my life were haircuts - Author: Jim Morrison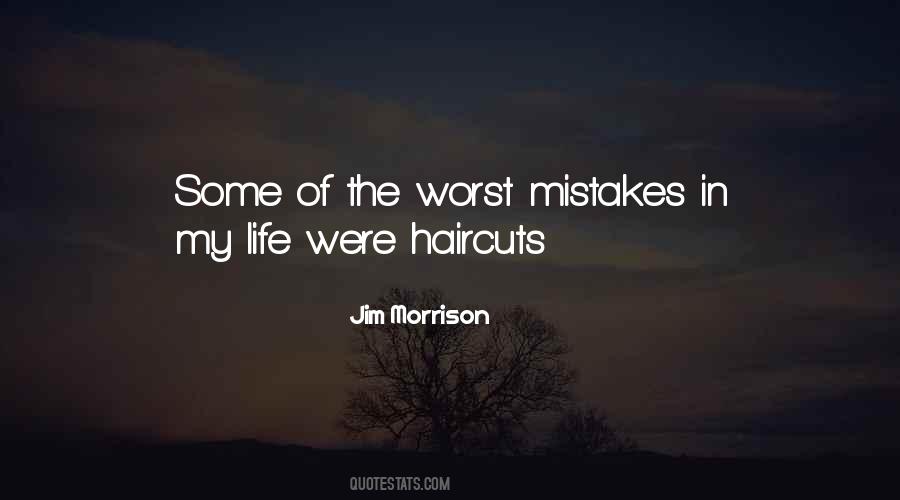 #60. In a flashback, we hear Holly's mother summing up her life in a conversation with her husband, Wylie: "My life is one big mistake," she said. "No, it's not," he said. "It's a series of small mistakes. - Author: Will Allison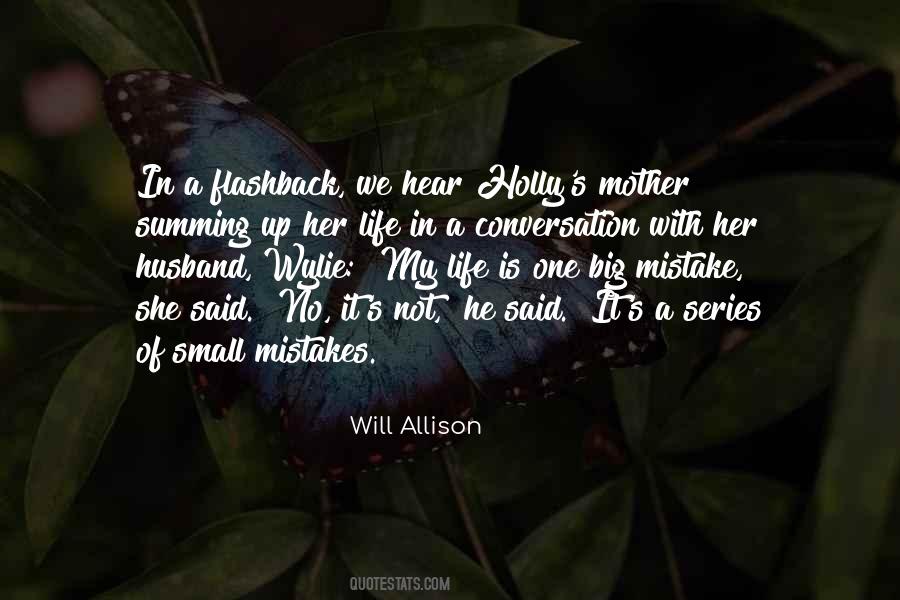 #61. Every person on the face of the earth makes mistakes, Lily. Every last one. We're all so human. Your mother made a terrible mistake, but she tried to fix it.'
'Good night,' I said, and rolled onto my side.
'There is nothing perfect,' August said from the doorway. 'There is only life. - Author: Sue Monk Kidd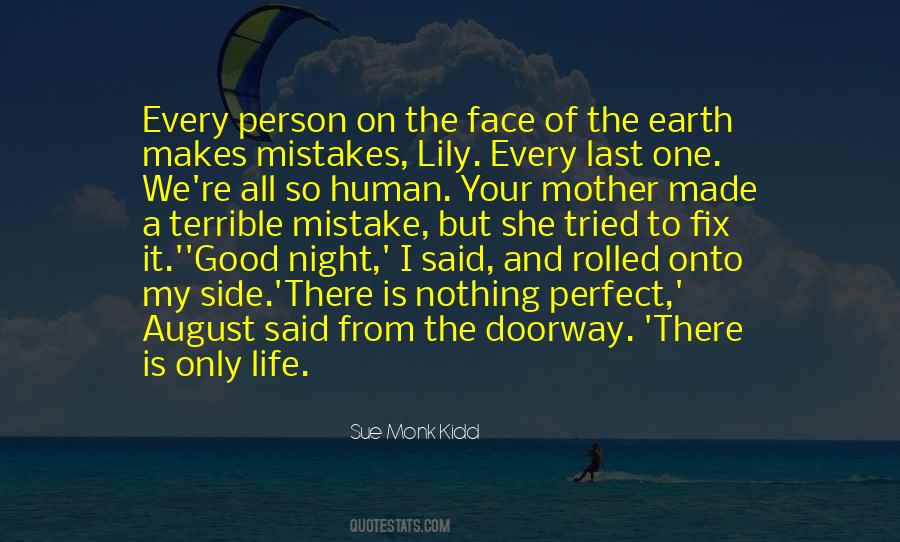 #62. Mistakes,' he said with effort, 'are also important to me. I don't cross them out of my life, or memory. And I never blame others for them. - Author: Andrzej Sapkowski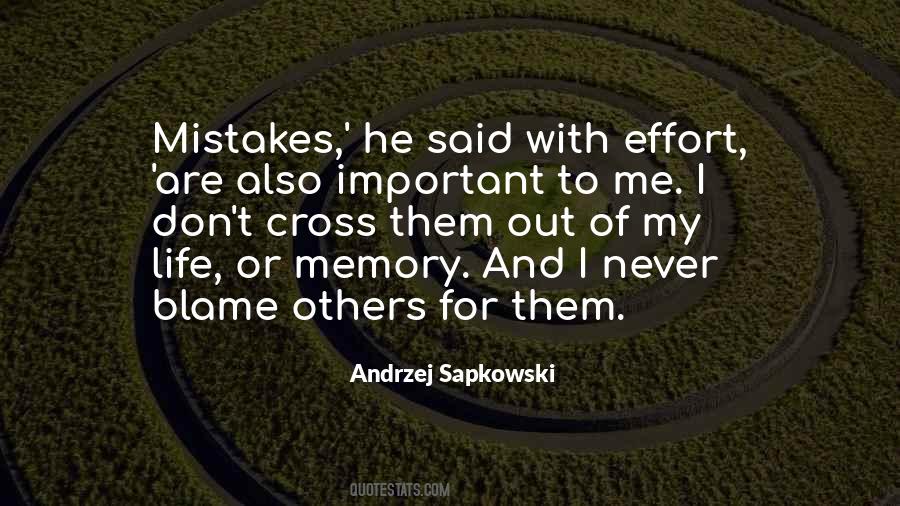 #63. When I look at my life I realise that the mistakes I have made, the things I really regret, were not errors of judgement but failures of feeling. - Author: Jeanette Winterson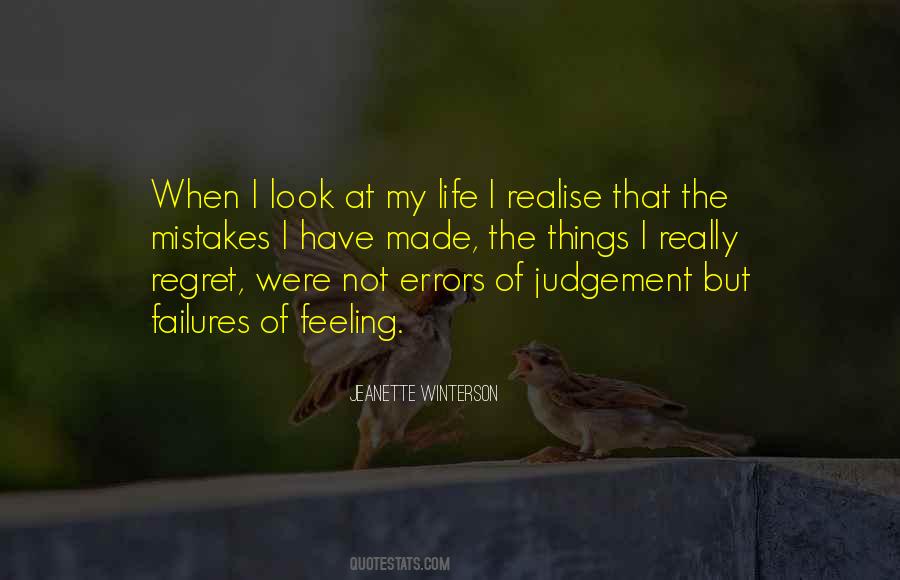 #64. Apart from writing books, my 40s have been about pursuing personal growth. Whatever were the mistakes of my earlier life, I've been committed to a pause, a regroup. I don't want to make the same mistakes in the future. - Author: Monique Roffey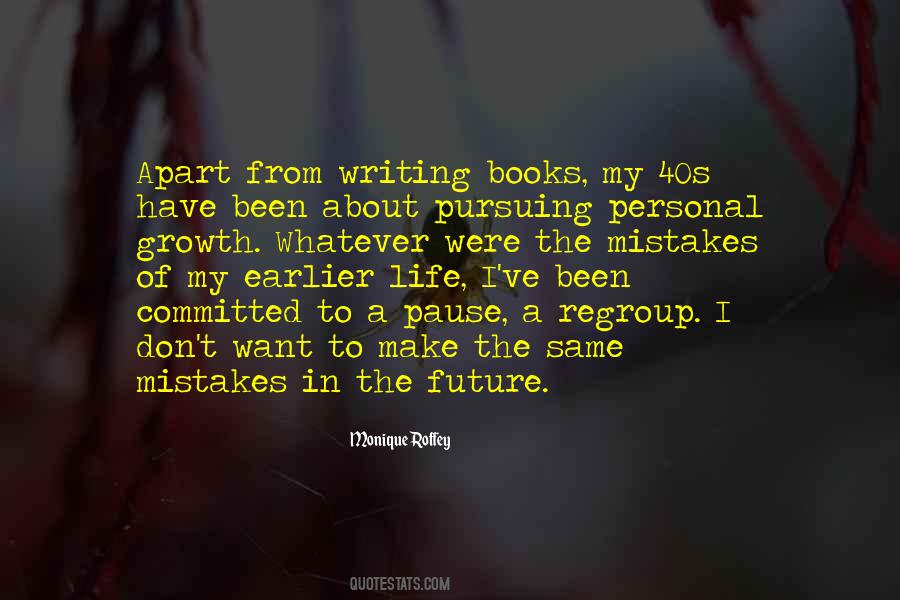 #65. I suspect I said nothing because I was doing what I have done most of my life, which is to cover for the mistakes of others when they don't know they have embarrassed themselves. I do this, I think, because it could be me a great deal of the time. - Author: Elizabeth Strout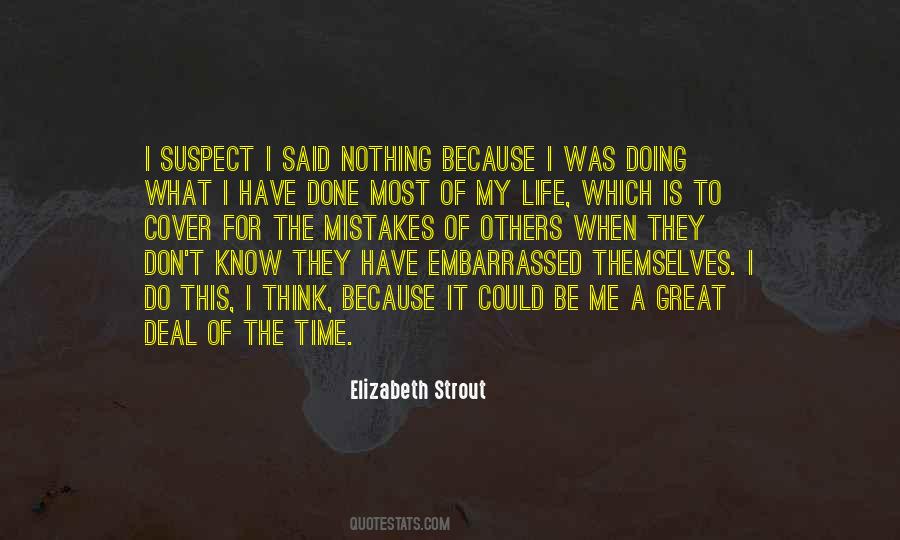 #66. My life has been filled with countless mistakes, but also success. I have been a coward at some points but brave at others. I have loved and been loved; I have failed to love and to accept love. Above all else I have tried my best, every step of the way. - Author: Carolyn Lee Adams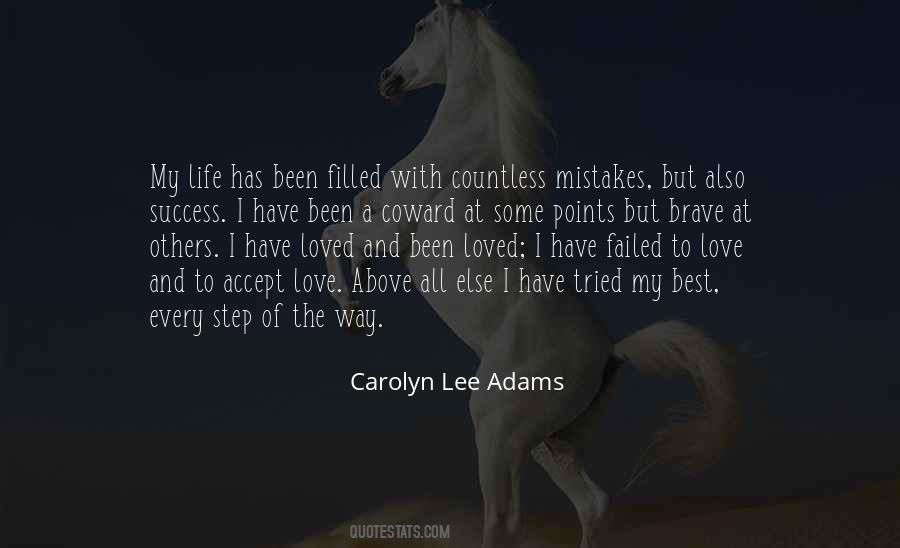 #67. I take all of my life lessons, which some people might call 'mistakes,' and apply them to my future so that I keep growing. - Author: Kimberly Caldwell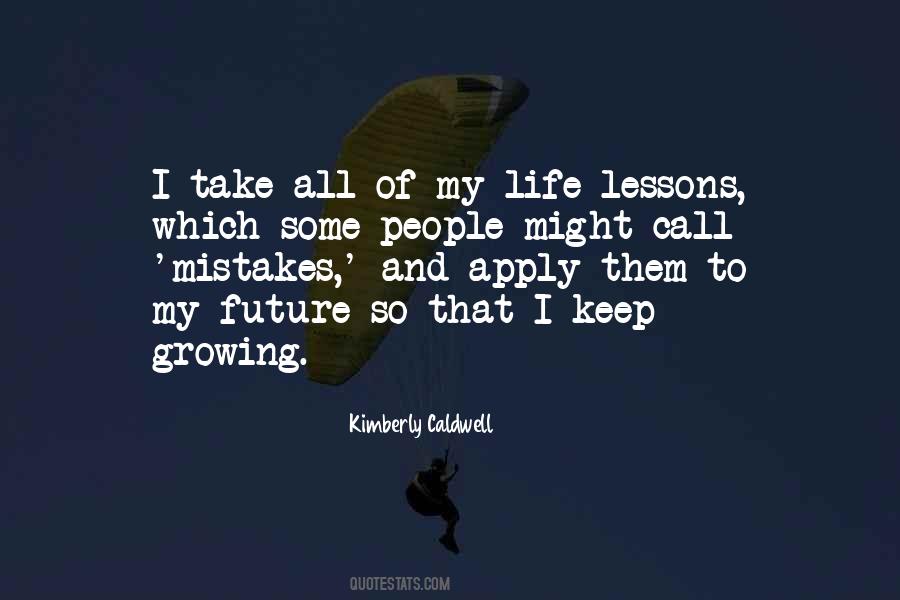 #68. When my oldest boy was about 14, I started to talk to him about some of the mistakes I made in life, just to put a few dents in that shiny armor. - Author: Denzel Washington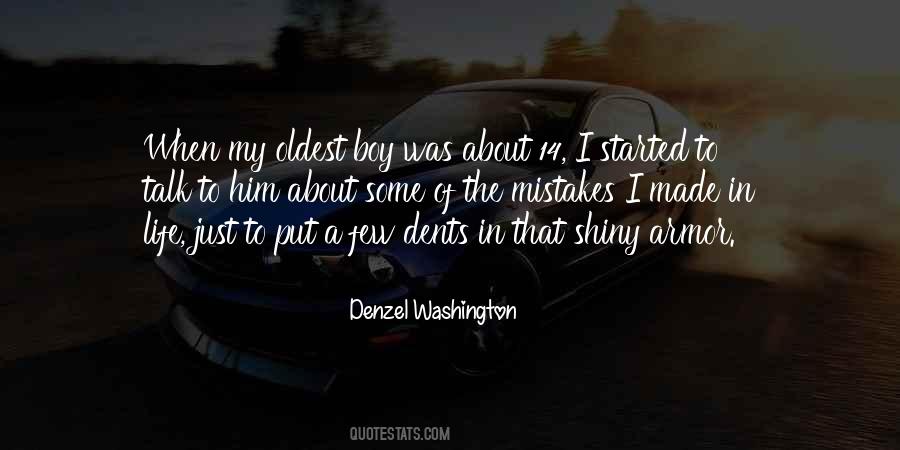 #69. My mistakes have been some of the best teachers of my life. - Author: Kelly Cutrone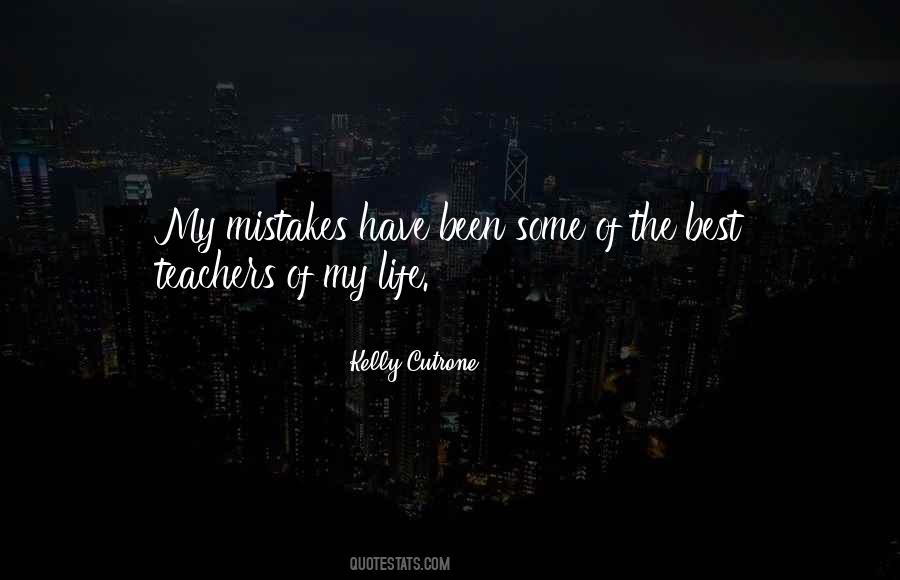 Famous Authors
Popular Topics