Grief And Sorrow Famous Quotes & Sayings
List of top 100 famous quotes and sayings about grief and sorrow to read and share with friends on your Facebook, Twitter, blogs.
Top 100 Quotes On Grief And Sorrow
#1. There is a certain animal vitality in most of us which carries us through any trouble but the absolutely overwhelming. Only a fool has no sorrow, only an idiot has no grief - but then only a fool and an idiot will let grief and sorrow ride him down into the grave. - Author: Edward Abbey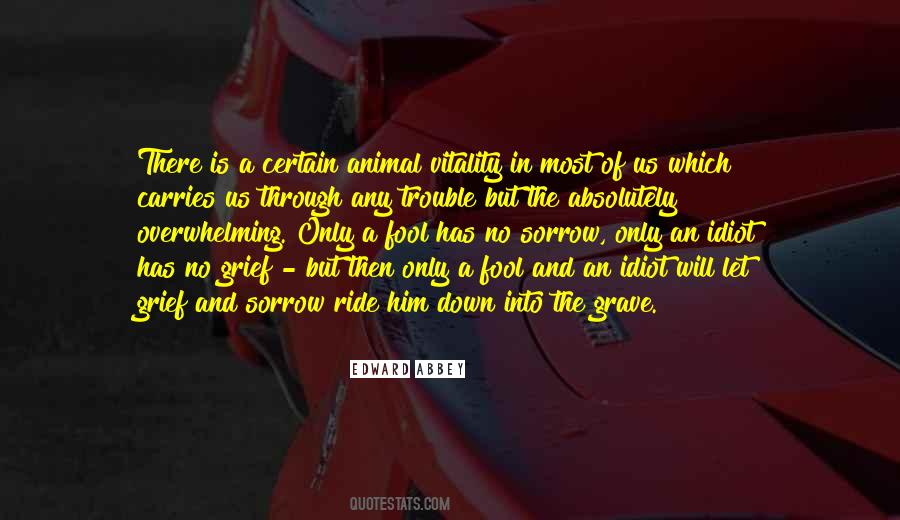 #2. Give sorrow words; the grief that does not speak knits up the o-er wrought heart and bids it break. - Author: William Shakespeare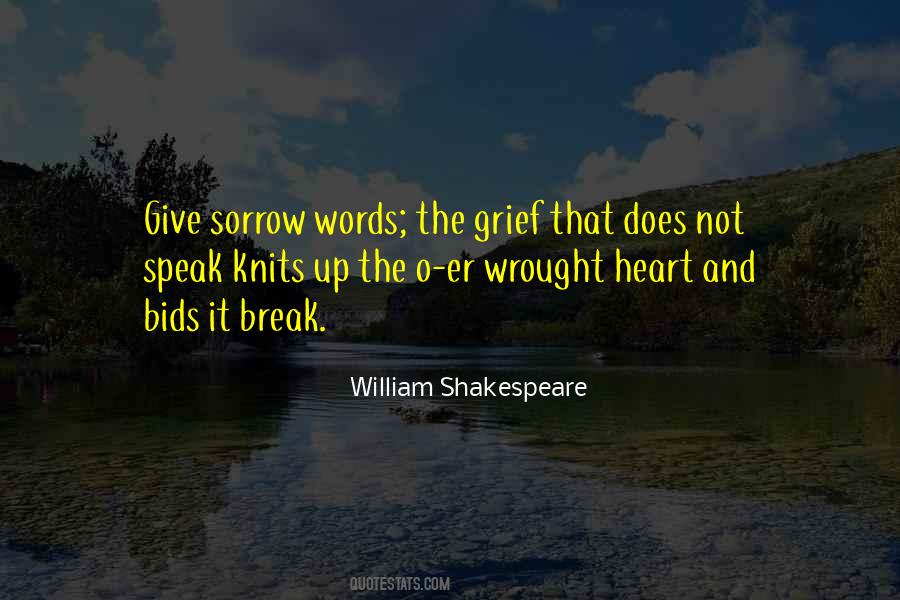 #3. In sex one wants or does not want. And the grief, the sorrow of life is that one cannot make or coerce or persuade the wanting, cannot command it, cannot request it by mail order or finagle it through bureaucratic channels. - Author: Kate Millett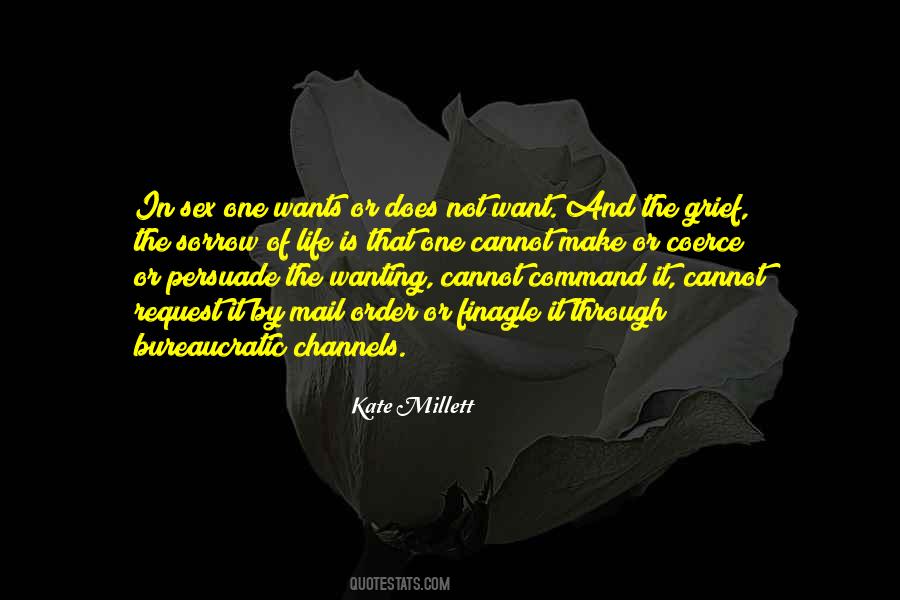 #4. For us there is only one season, the season of sorrow. The very sun and moon seem taken from us. - Author: Oscar Wilde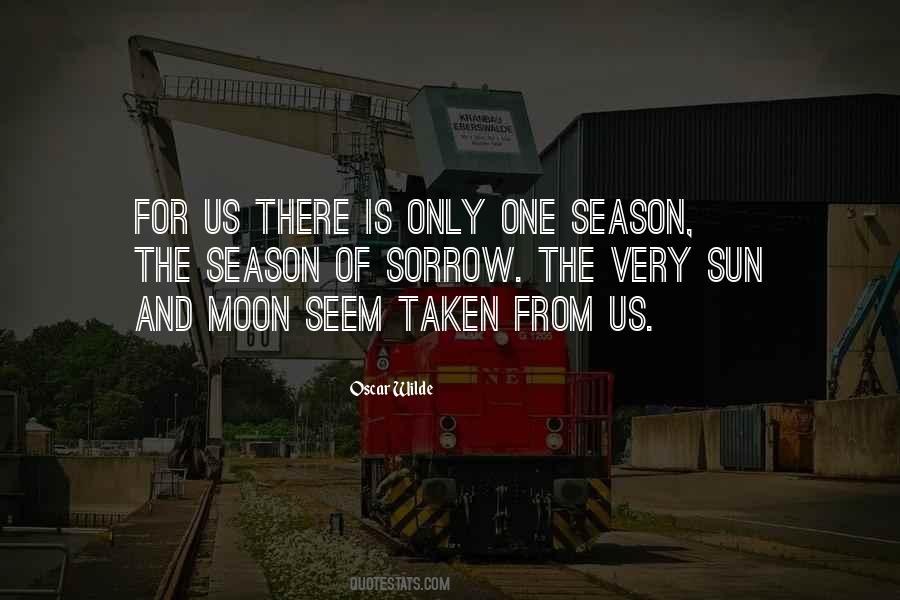 #5. It was that you had to be so careful with grief. Grief sought connections: it stacked, or swarmed. It was only the first time you experienced sorrow that it stood alone, with nothing attached to it. - Author: Meg Howrey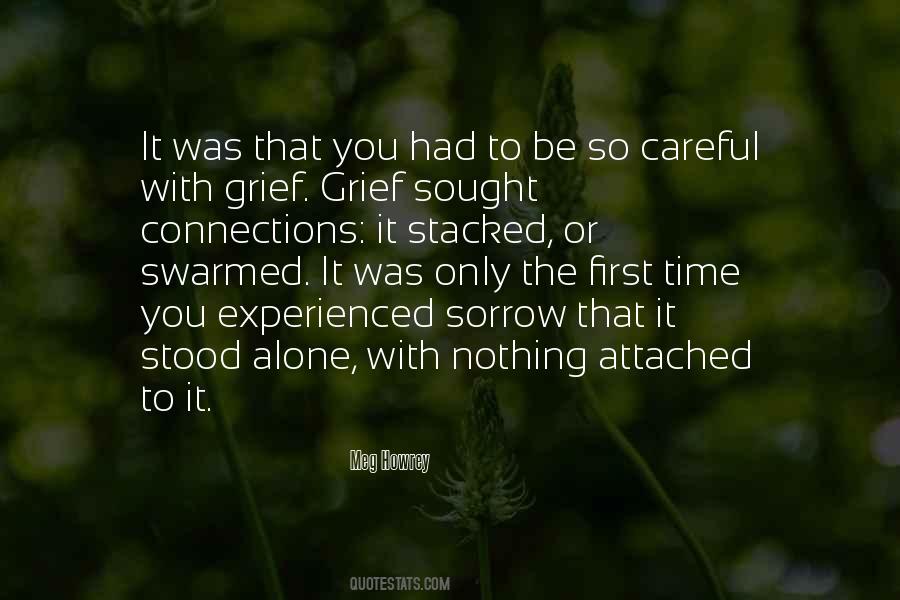 #6. Grief - Happiness is to feel that one's soul is good; there is no other, in truth, and this kind of happiness may exist even in sorrow, so that there are griefs perfable to every joy, and such as would be preferred by all those who have felt them. - Author: Joseph Joubert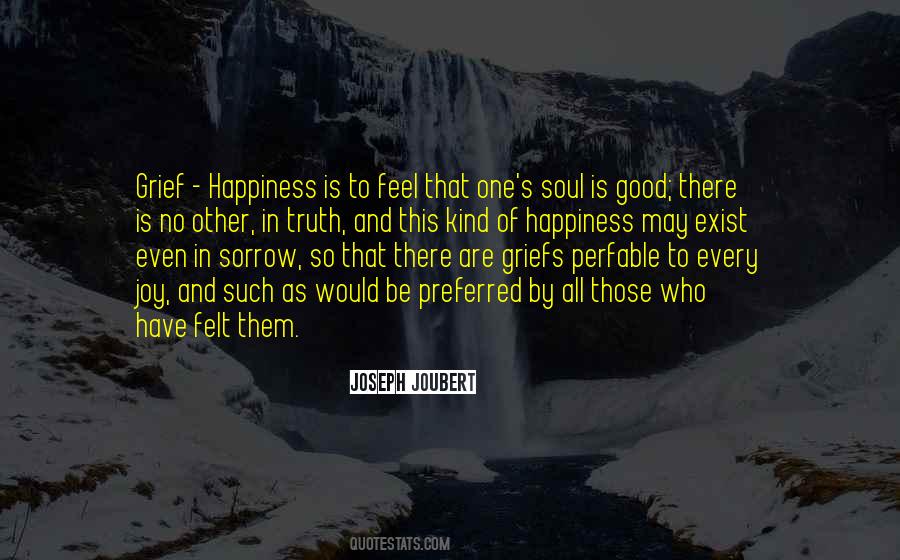 #7. Just as the lame man at the pool of Bethesda needed someone stronger than himself to be healed (see John5:1-9), so we are dependent on the miracles of Christ's atonement if our souls are to be made whole from grief, sorrow, and sin - Author: Merrill J. Bateman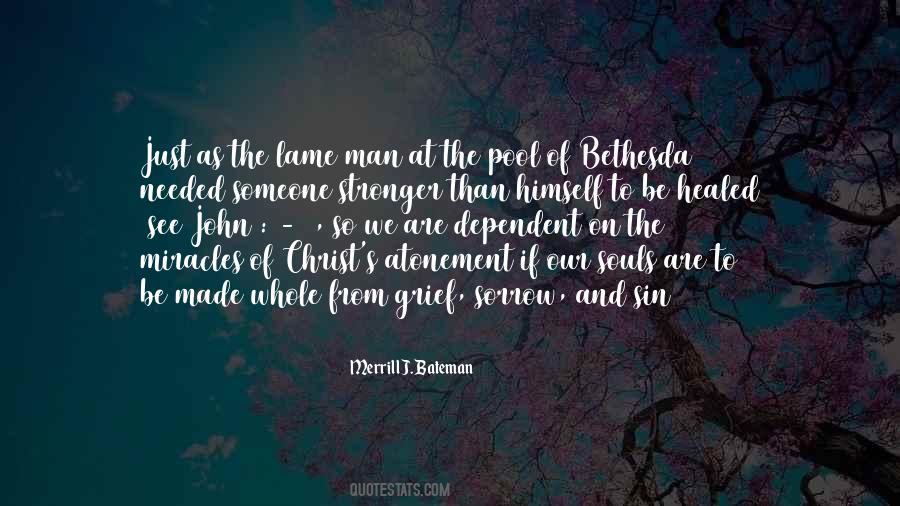 #8. I will instruct my sorrows to be proud; for grief is proud, and makes his owner stoop. - Author: William Shakespeare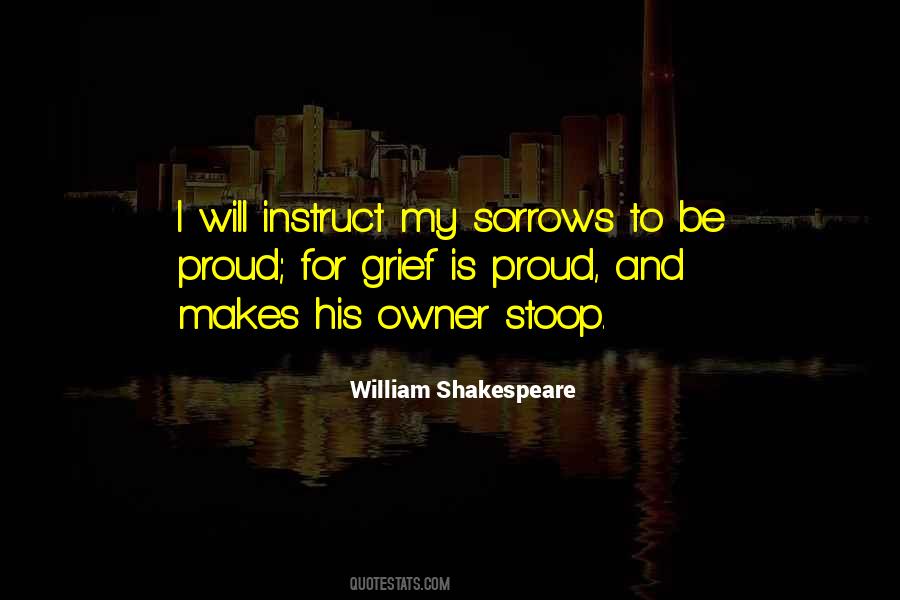 #9. To love means to open ourselves to the negative as well as the positive - to grief, sorrow, and disappointment as well as to joy, fulfillment, and an intensity of consciousness we did not know was possible before - Author: Rollo May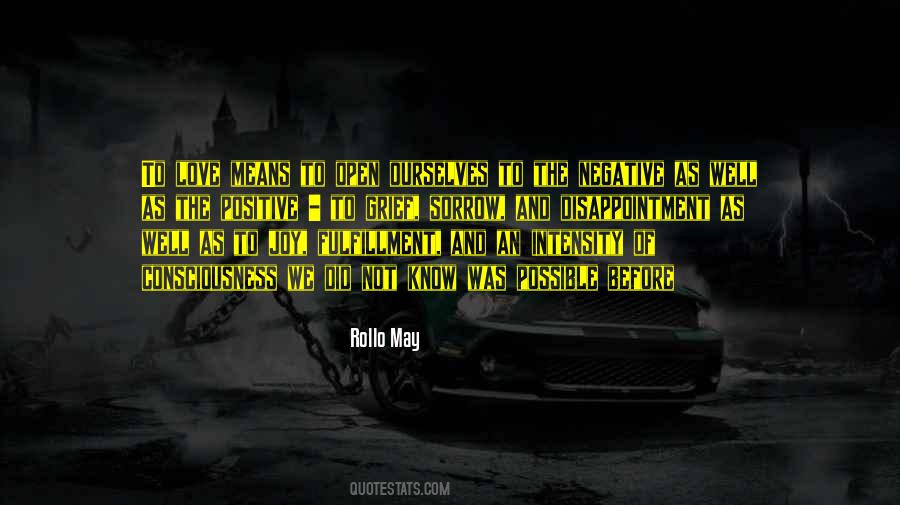 #10. Resistance is vain in any case; it only leads to useless struggle while inviting grief and sorrow. - Author: Epictetus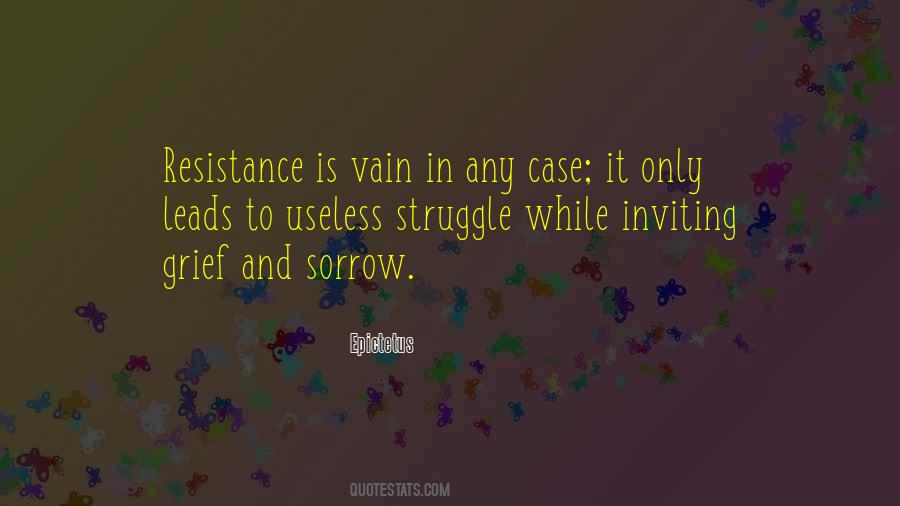 #11. Each moment is a miracle encompassing everything: the joy and sorrow, the failure and success, the disappointment and happiness, the celebration and grief. - Author: Kazuaki Tanahashi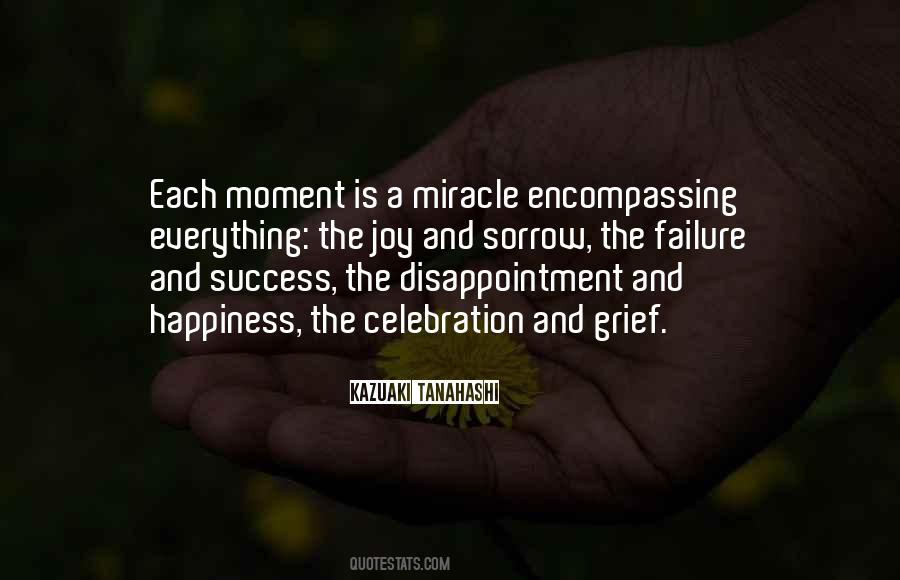 #12. Guilt is a tireless horse. Grief ages into sorrow, and sorrow is an enduring rider. - Author: Dean Koontz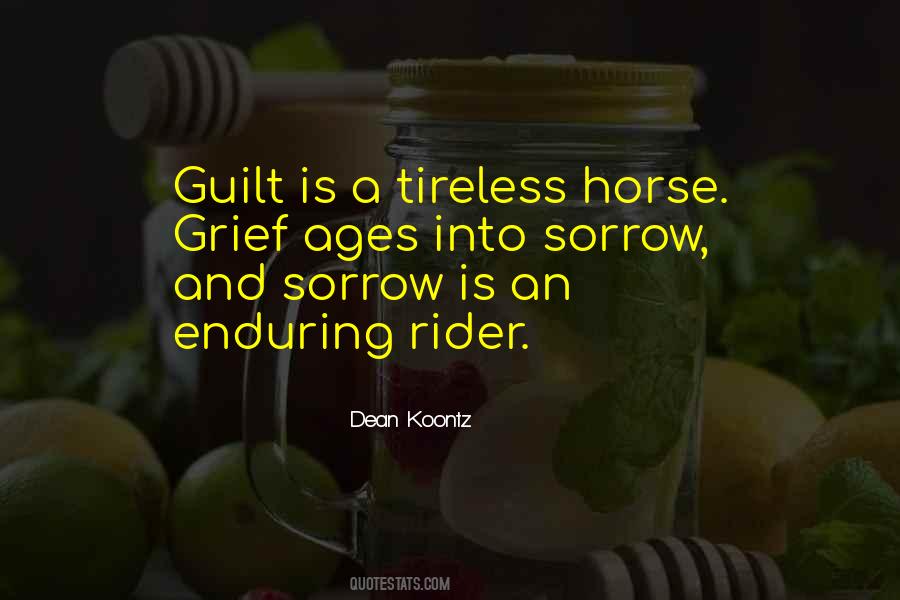 #13. Thus ended the first and adventurous part of his existence.
What followed was so different that, but for the reality of sorrow which remained with him, this strange part must have resembled a dream. - Author: Joseph Conrad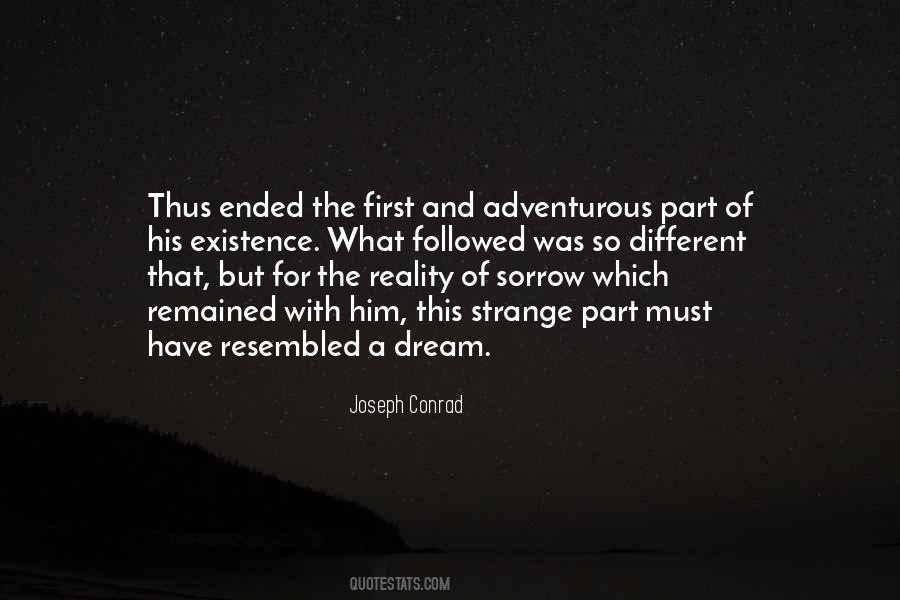 #14. The kindness sent from one compassionate soul to another during the time of loss of one held so dear allows the sorrow-filled heart to open wide, filling the space of emptiness that grief may have created with a renewed sense of peace, compassion, and love. - Author: Molly Friedenfeld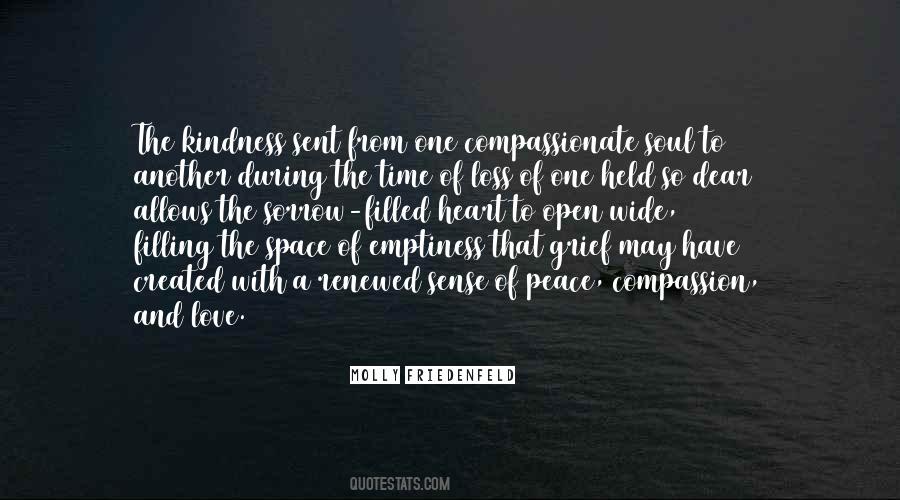 #15. A woman of the world should always be the mistress of sorrow and not its servant. She may have a grief but never a grievance. - Author: Elsie De Wolfe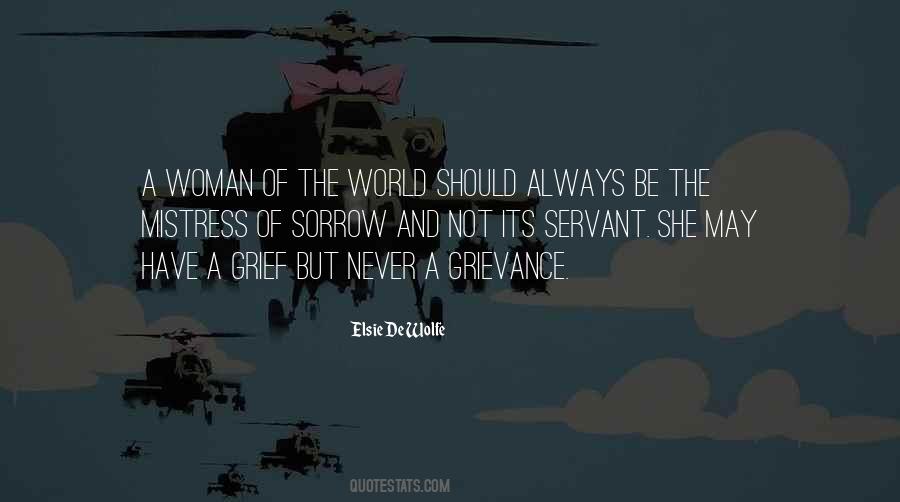 #16. No one ever told me how sorrow traumatizes your heart, making you think it will never beat exactly the same way again. No one ever told me how grief feels like a wet sock in my mouth. One I'm forced to breathe through, thinking that with each breath I'll come up short and suffocate. - Author: Sarah Noffke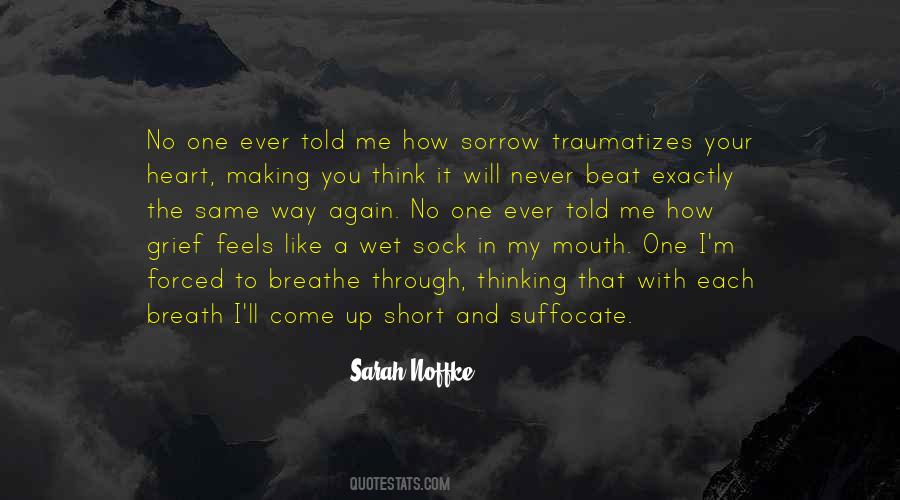 #17. Only people who are capable of loving strongly can also suffer great sorrow, but this same necessity of loving serves to counteract their grief and heals them. - Author: Leo Tolstoy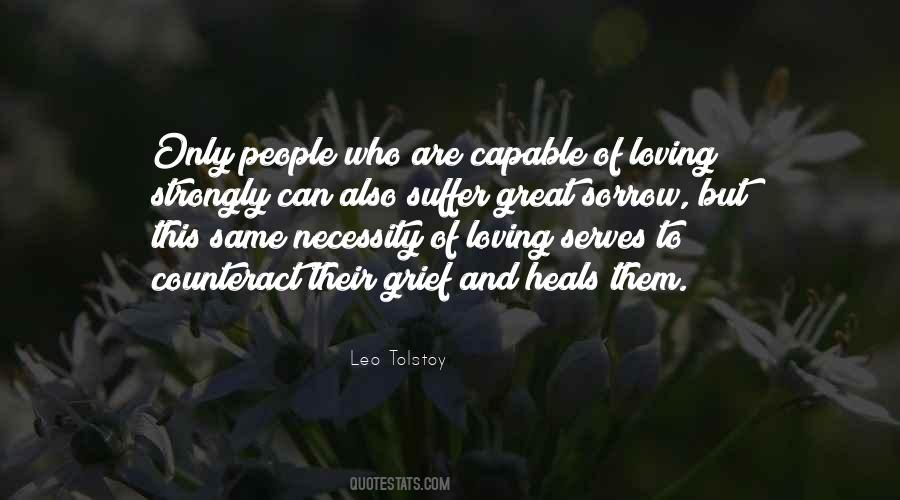 #18. Loss leaves us empty- but learn not to close your heart and mind to grief. Allow life to replinish you. When sorrow comes it seems impossible- but new - Author: Pam Brown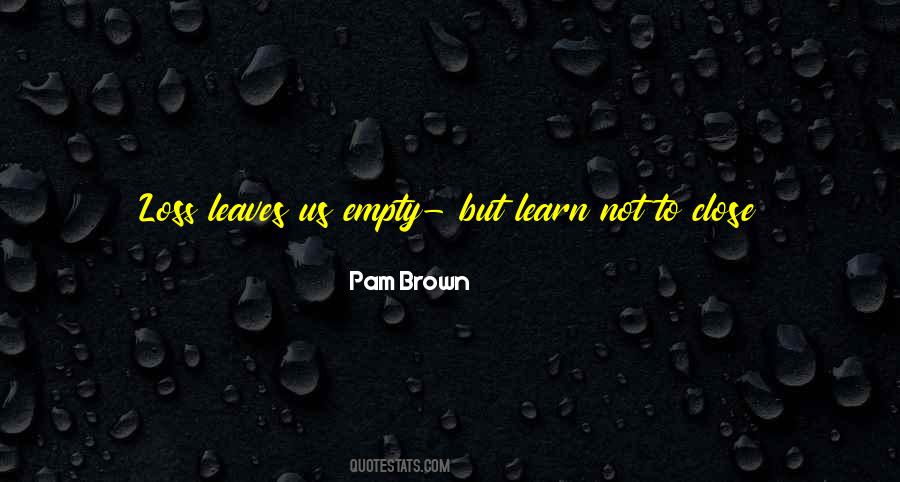 #19. She dove, plunging fully beneath the surface and came up again in tears. Rivulets ran from her face, and the sun ignited them each, transforming them, even amid her sorrow, into gilded runnels set with a diamond shine. - Author: A.S. Peterson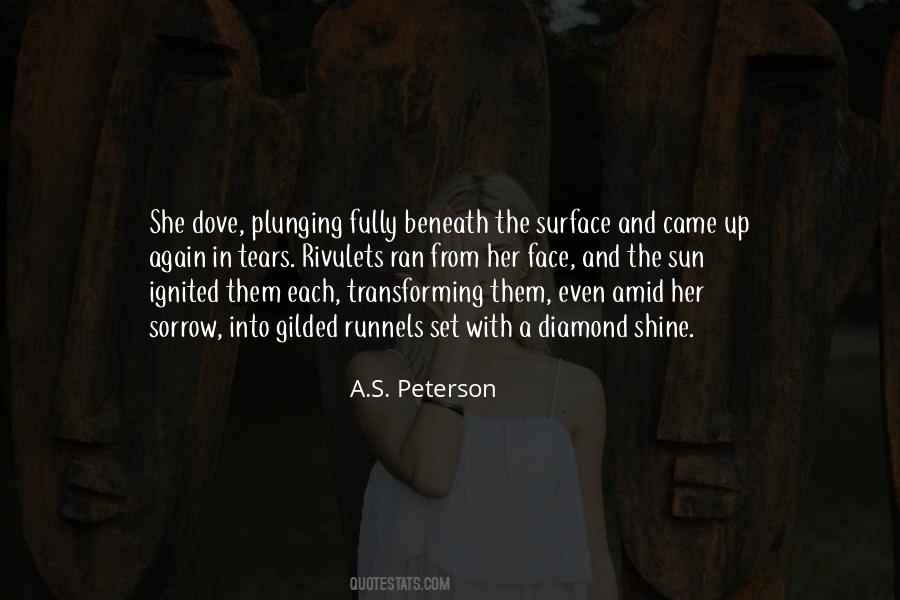 #20. Neither my place, nor aught I heard of business,
Hath raised me from my bed; nor doth the general care
Take hold on me; for my particular grief
Is of so floodgate and o'erbearing nature
That it engluts and swallows other sorrows,
And it is still itself. - Author: William Shakespeare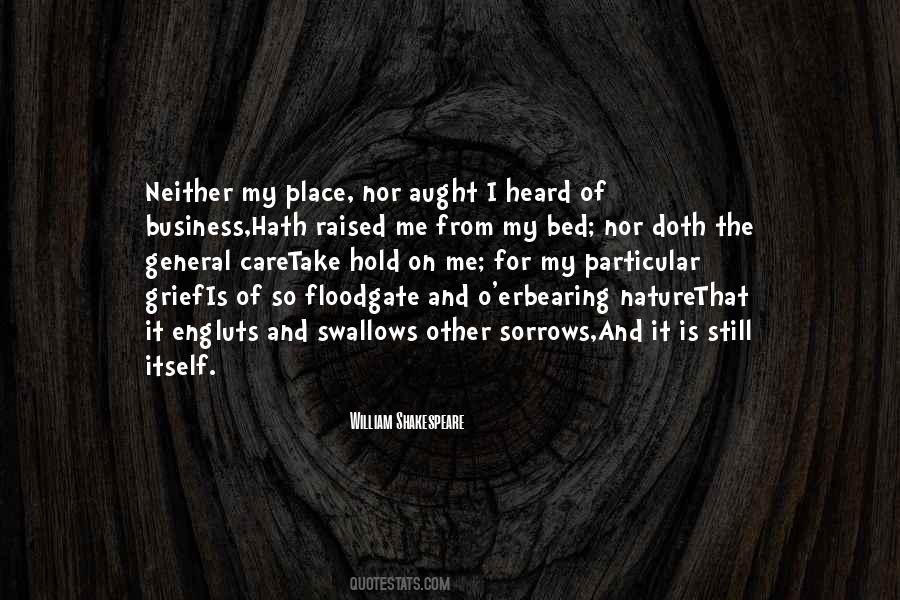 #21. And now, dear Mr. Worthing, I will not intrude any longer into a house of sorrow. I would merely beg you not to be too much bowed down by grief. What seem to us bitter trials are often blessings in disguise.
This seems to me a blessing of an extremely obvious kind. - Author: Oscar Wilde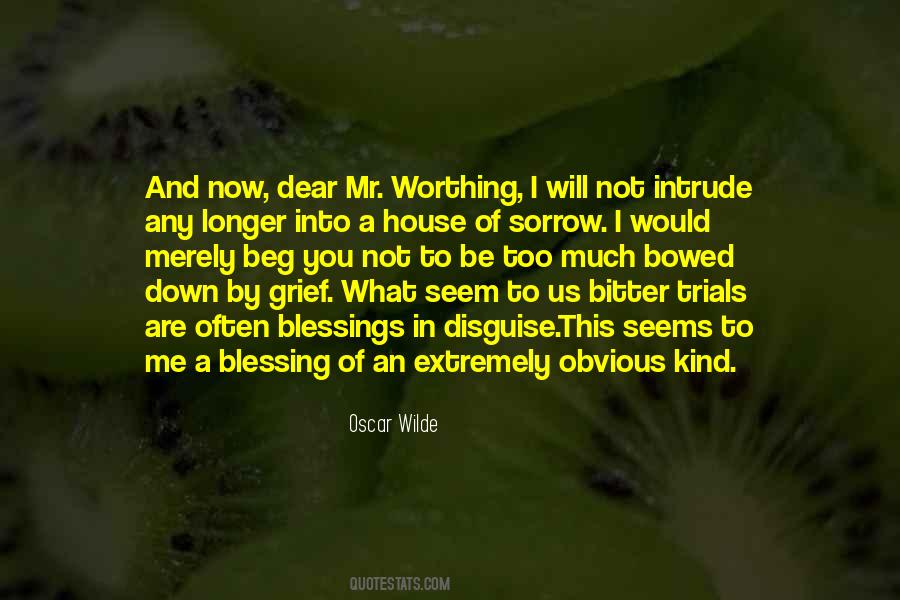 #22. I saw grief drinking a cup of sorrow and called out, 'It tastes sweet, does it not?' 'You've caught me,' grief answered, 'and you've ruined my business. How can I sell sorrow, when you know it's a blessing? - Author: Rumi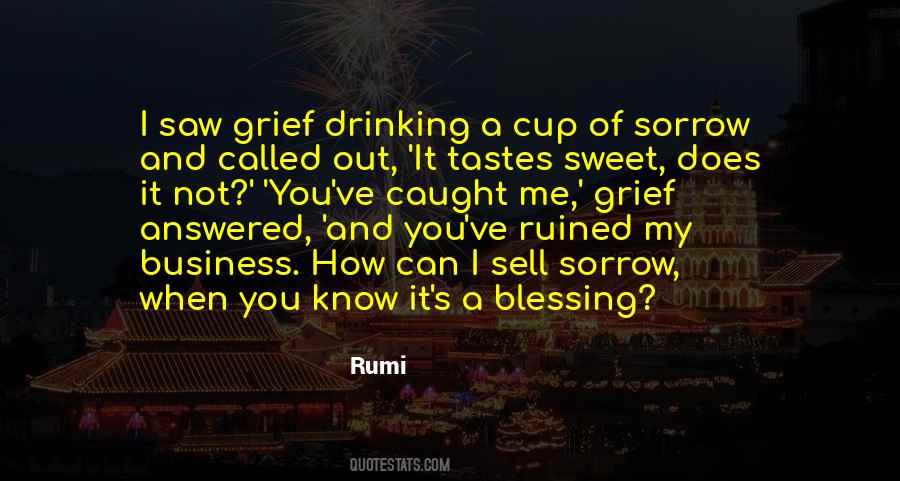 #23. It is proper to ask for sorrow with Christ in sorrow, anguish with Christ in anguish, tears and deep grief because of the great affliction Christ endures for me. - Author: Saint Ignatius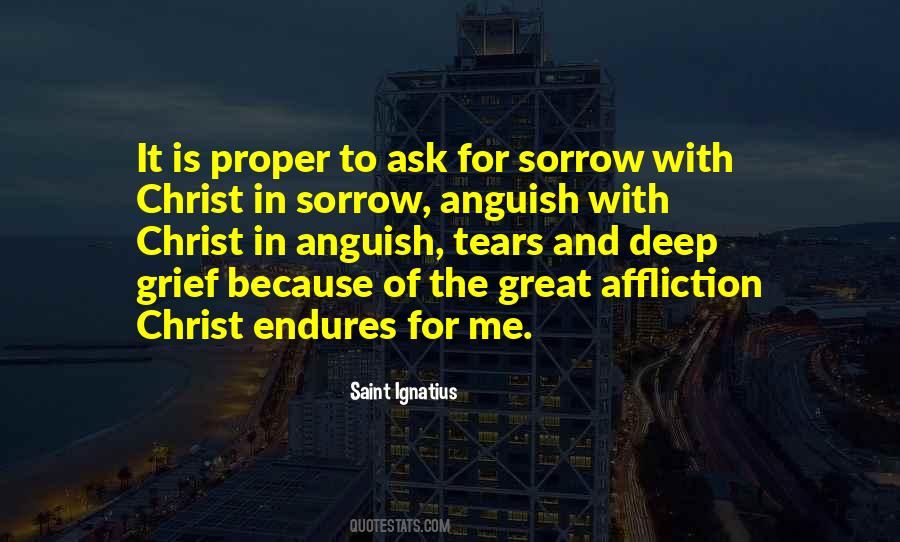 #24. Hello, this is I, and these are my arms and legs, which are useful, and this inconvenient hump is my sorrow, which is less than useful, but I've learned how to hump it around, so pay it no mind. - Author: Gregory Maguire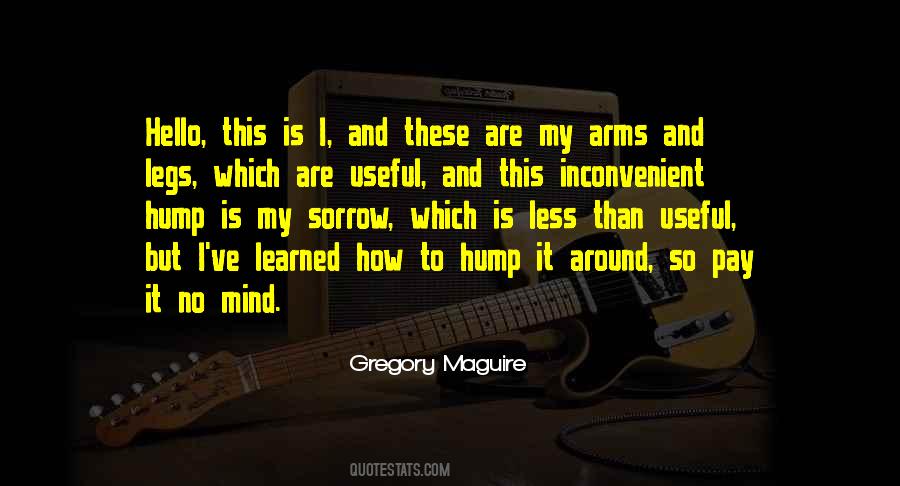 #25. Hope lives. No matter the mistakes we make, no matter our blunders and misunderstandings, no matter the grief and sorrow and loss, no matter how deep the darkness, hope lives. - Author: Margaret Weis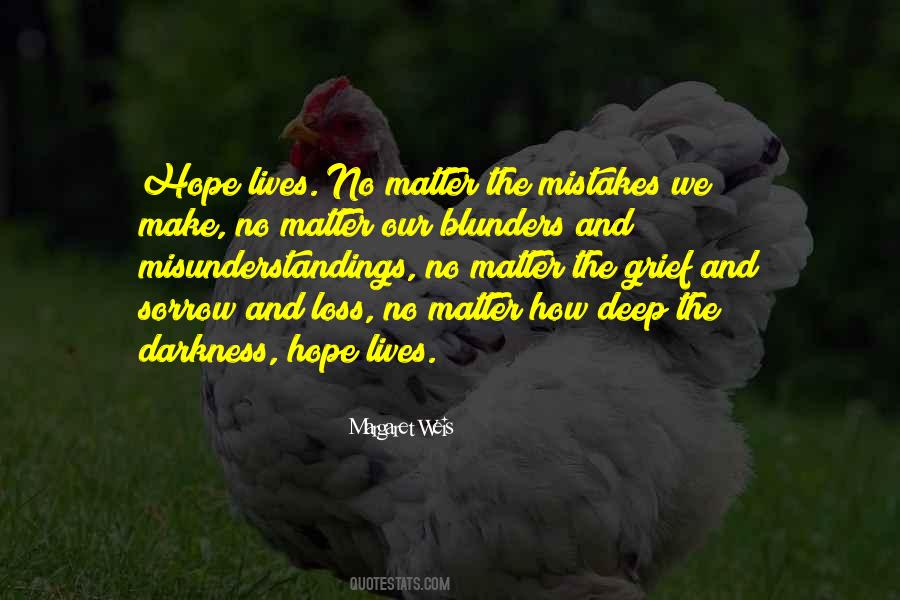 #26. We carry the dead with us only until we die too, and then it is we who are borne along for a little while, and then our bearers in their turn drop, and so on into the unimaginable generations. - Author: John Banville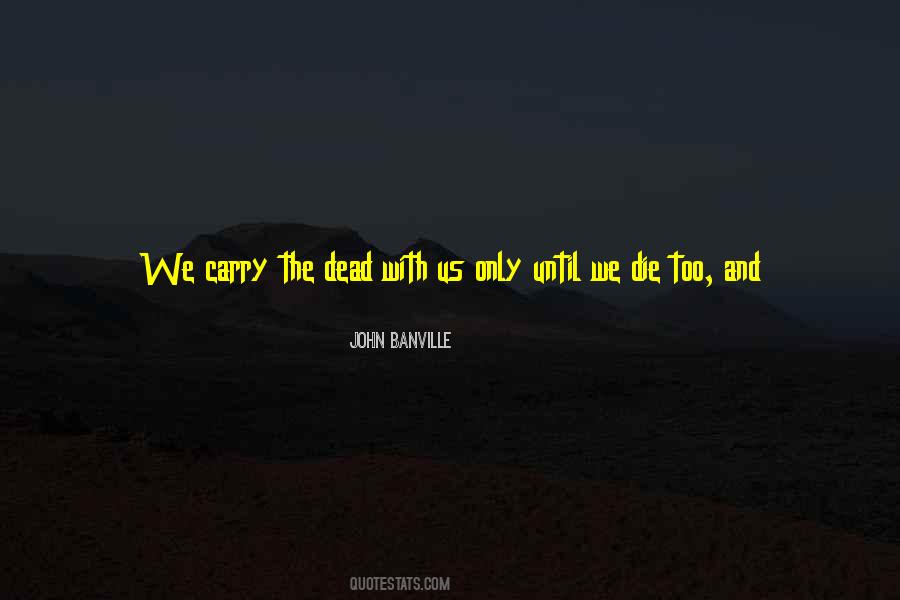 #27. I am convinced that when we bring our griefs and sorrows within the story of God's own grief and sorrow, and allow them to be held there, God is able to bring healing to us ans new possibilities to our lives. That is, of course, what Good Friday and Easter are all about - Author: N. T. Wright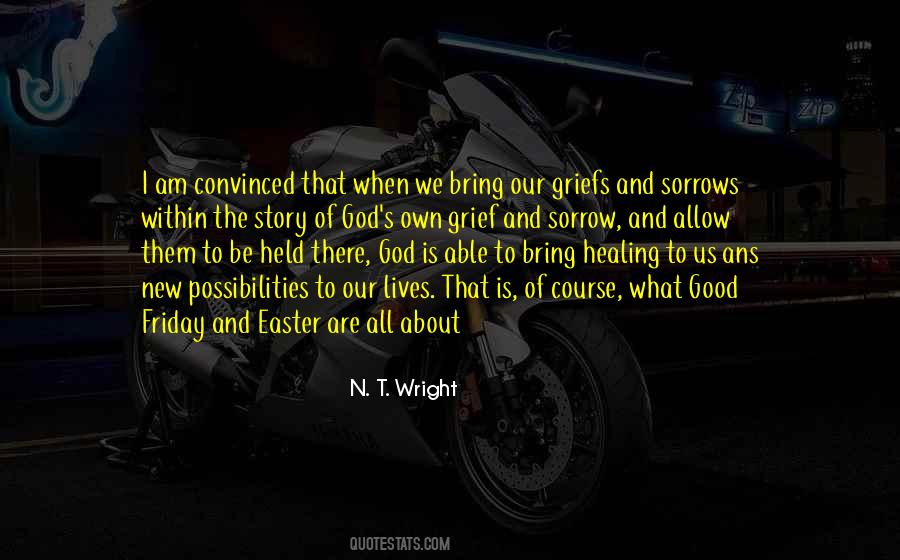 #28. There is no more ridiculous custom than the one that makes you express sympathy once and for all on a given day to a person whose sorrow will endure as long as his life. Such grief, felt in such a way is always present, it is never too late to talk about it, never repetitious to mention it again. - Author: Marcel Proust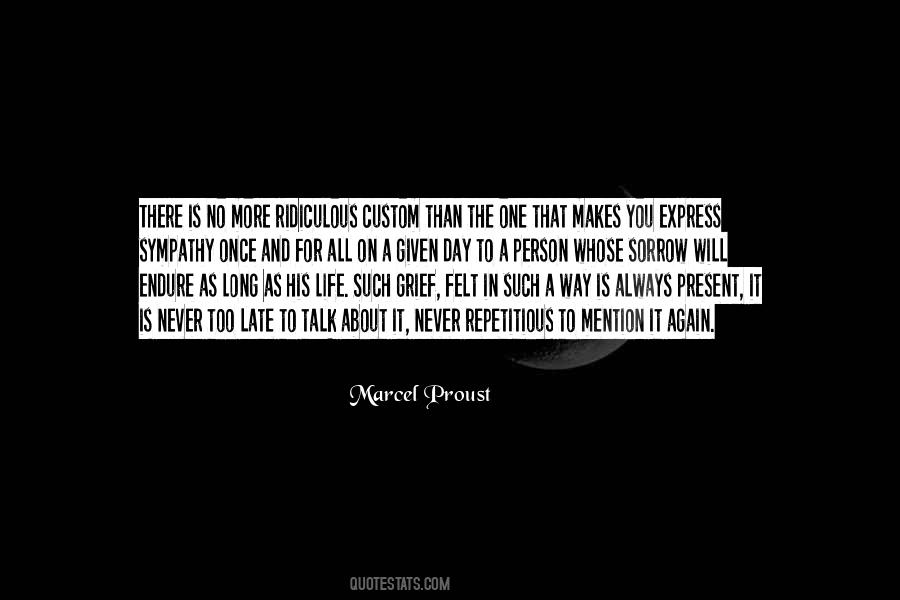 #29. The way to live in the present is to remember that "This too shall pass." When you experience joy, remembering that "This too shall pass" helps you savor the here and now. When you experience pain and sorrow, remembering that "This too shall pass" reminds you that grief, like joy, is only temporary. - Author: Joey Green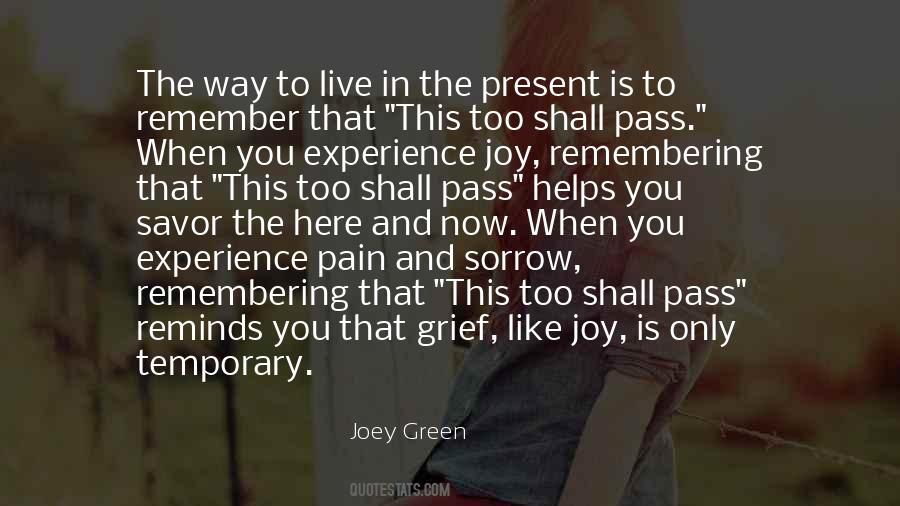 #30. I have suffered through enough illnesses, trauma and heartbreak to finally understand that life will keep moving forward inexorably, if terribly at times. I am starting to realize that it can be delightful too, if I let it. My love is not diminished if I let go of sorrow. I almost believe that. - Author: Jenny Qi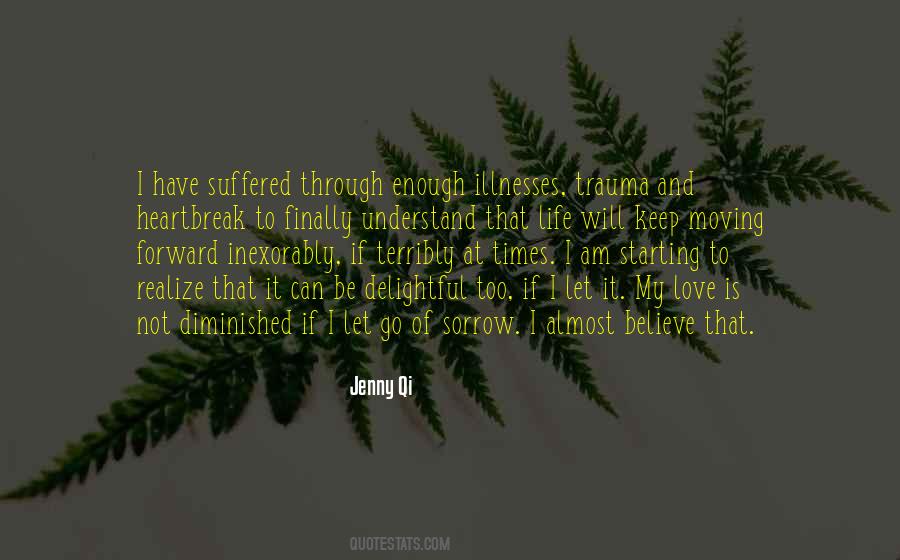 #31. Let me come in when you are weeping, friend, and let me take your hand. I, who have known a sorrow such as yours, can understand. - Author: Grace Noll Crowell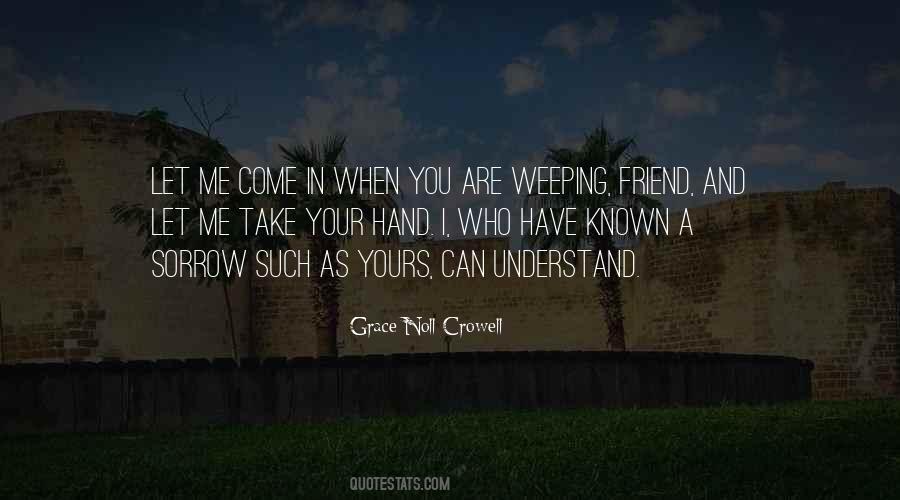 #32. Suffering itself is beloved: love and suffering are far closer to each other than love and pleasure. - Author: Lydia Millet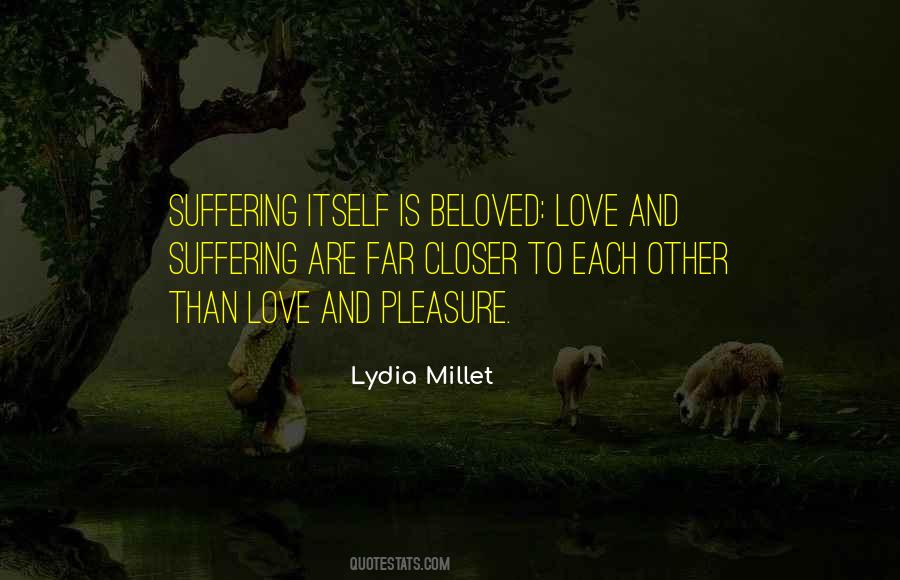 #33. It [In Memoriam] expressed exactly the nature of her own shock and sorrow, the very structure and slow process of pain, and the transformations and transmutations of grief, like rot in the earth-mould, like roots and other blind things moving in the grave. - Author: A.S. Byatt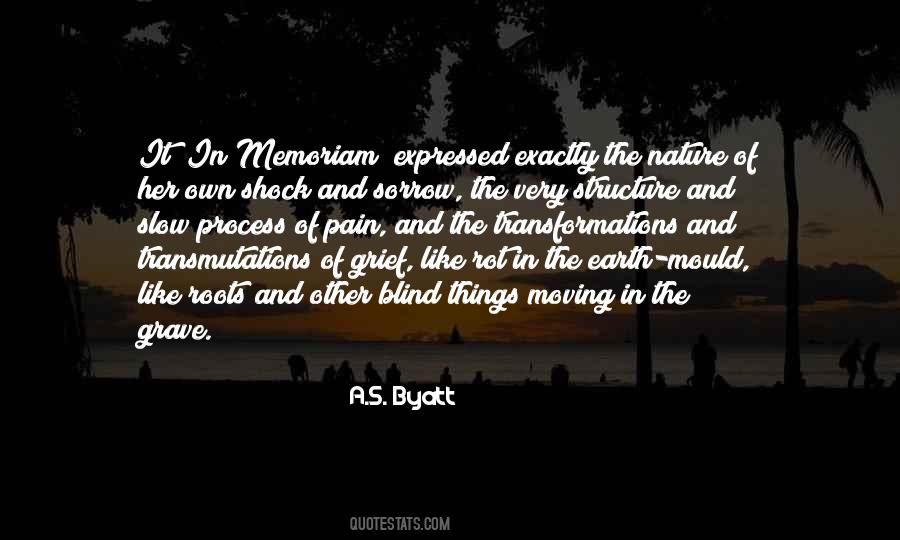 #34. During my days of deepest grief, in all of my shock, sorrow and struggle, I sat at the feet of God. I literally spent hours each day reading God's word, meditating on scripture and praying. I intentionally spent a significant amount of time being still before God. - Author: Rick Warren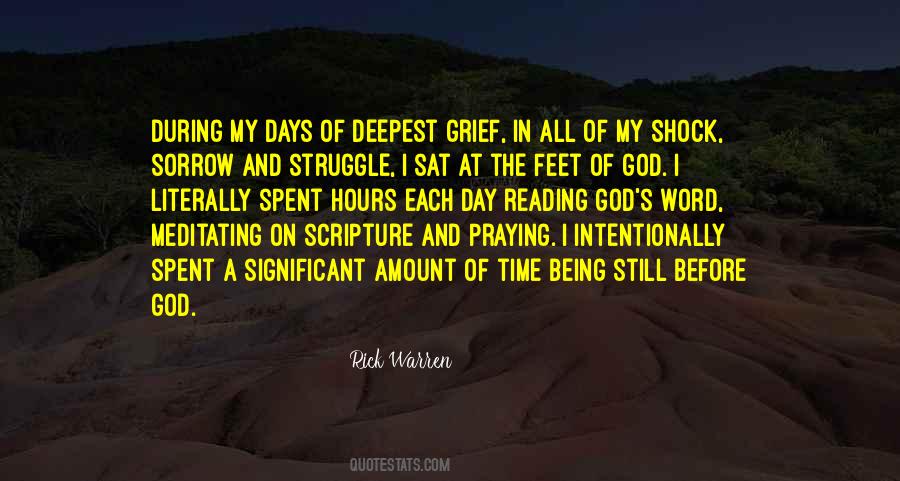 #35. This book, conceived in sorrow, composed in grief, and constructed at the brink of despair, contains my mind's best thoughts, and my soul's triumph over the powers of darkness. - Author: Isaac Mayer Wise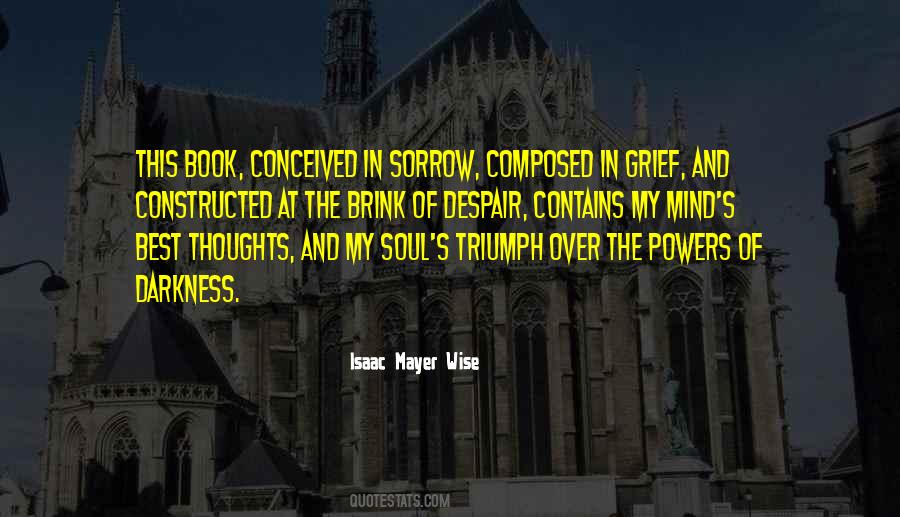 #36. Question me now about all other matters, but do not ask who I am, for fear you may increase in my heart it's burden of sorrow as I think back; I am very full of grief, and I should not sit in the house of somebody else with my lamentation and wailing. It is not good to go on mourning forever. - Author: Homer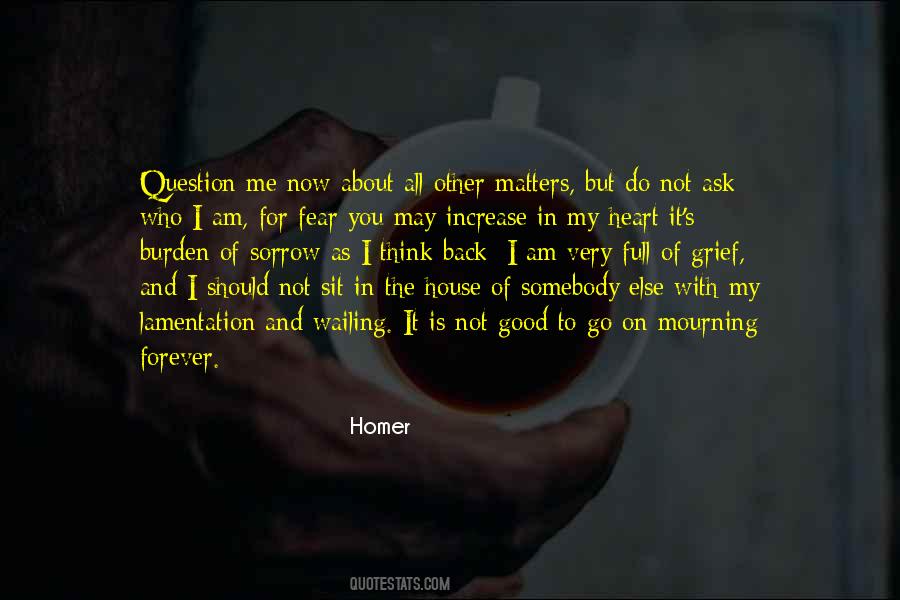 #37. Grief doesn't kill, love doesn't kill; but time kills everything, kills desire, kills sorrow, kills in the end the mind that feels them; wrinkels and softens the body while it still lives, tots it like a medlar, kills it too at last. - Author: Aldous Huxley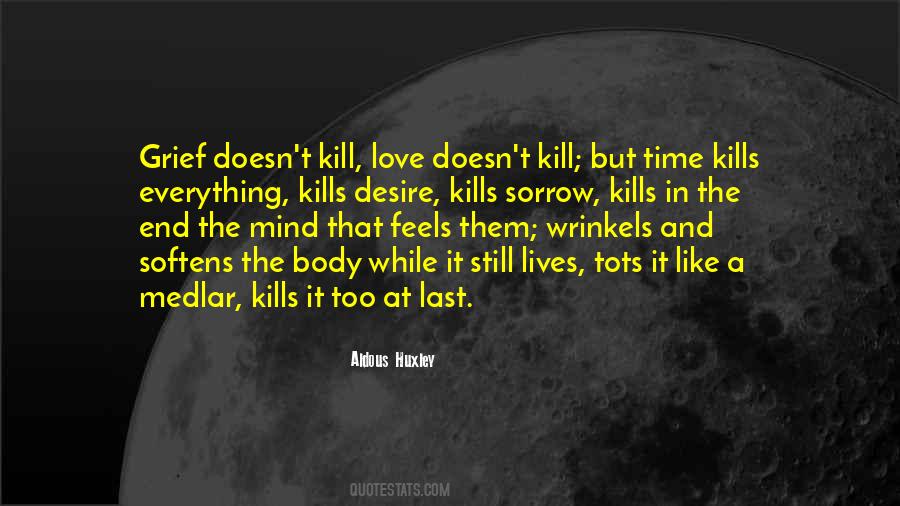 #38. He is happy whom the Muses love. For though a man has sorrow and grief in his soul, yet when the servant of the Muses sings, at once he forgets his dark thoughts and remembers not his troubles. Such is the holy gift of the Muses to men. - Author: Hesiod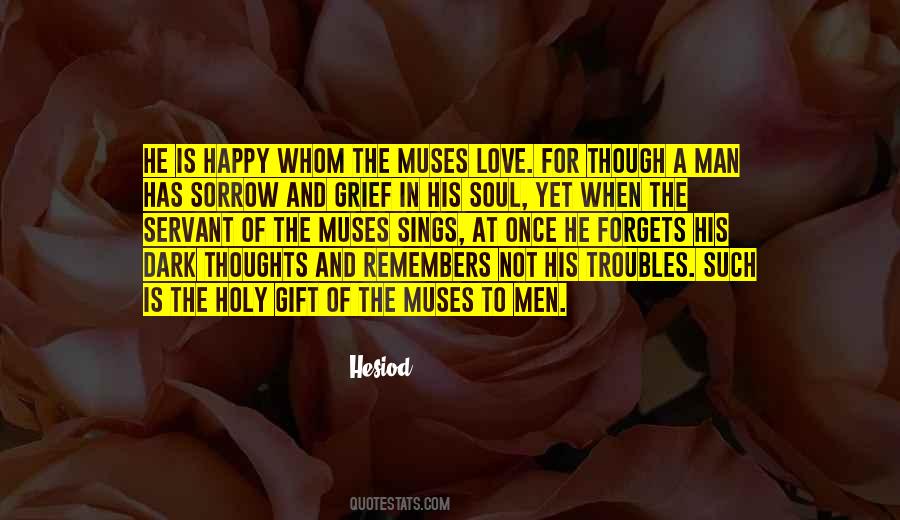 #39. If it were possible to heal sorrow by weeping and to raise the dead with tears, gold were less prized than grief. - Author: Sophocles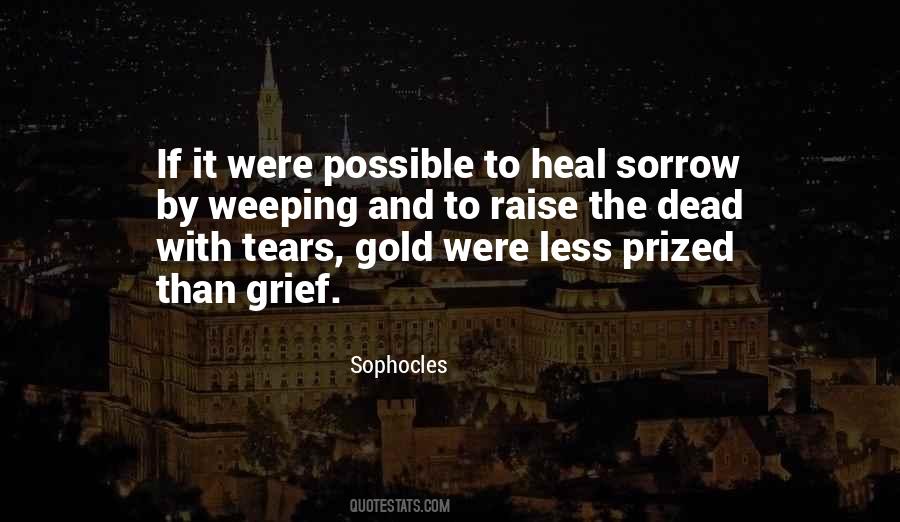 #40. ... struck. Once. And into that blow he put his childhood, his grief, his loss. He put his mother's sorrow and his sister's longing. The menorah, weighed down with that, crushed the Hermit's skull. - Author: Louise Penny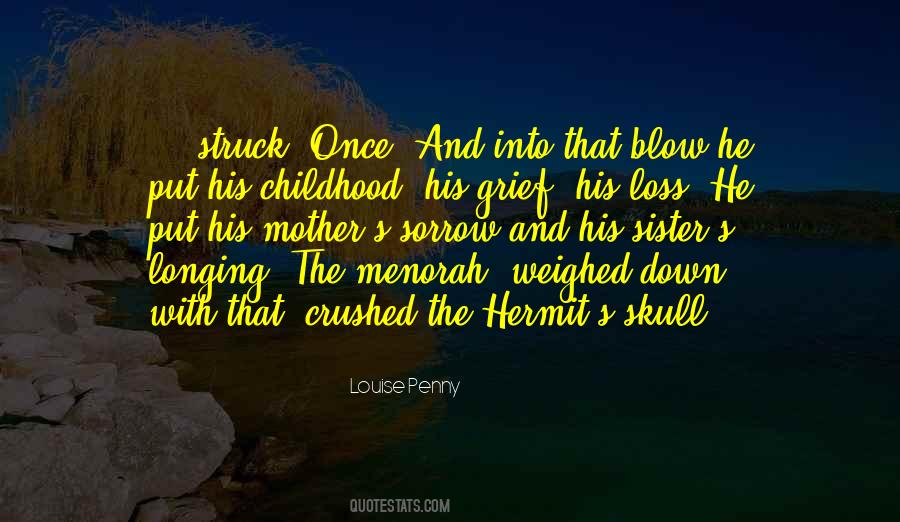 #41. I lived my grief; I slept mourning and ate sorrow and drank tears. I ignored all else. - Author: Robin Hobb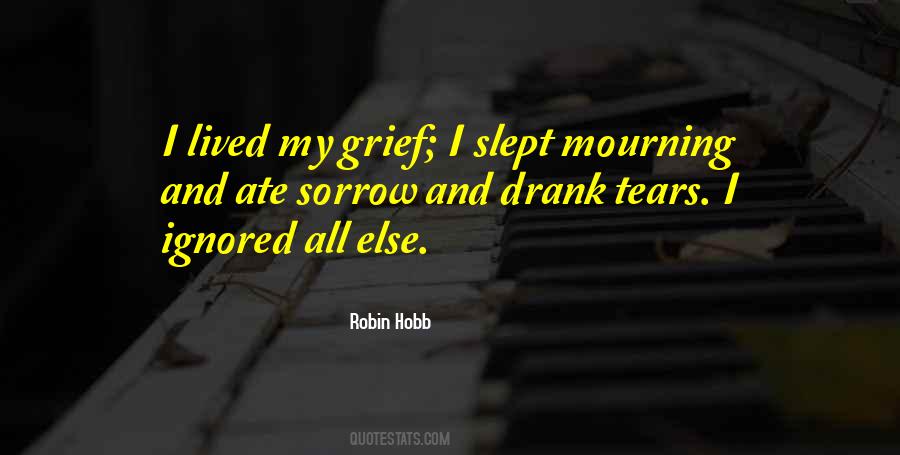 #42. Oh there is always sadness. Always grief. I have heard folks say this life could be all hardship and sorrow, if we let it be. If we let our hearts seal over. - Author: Susan Fletcher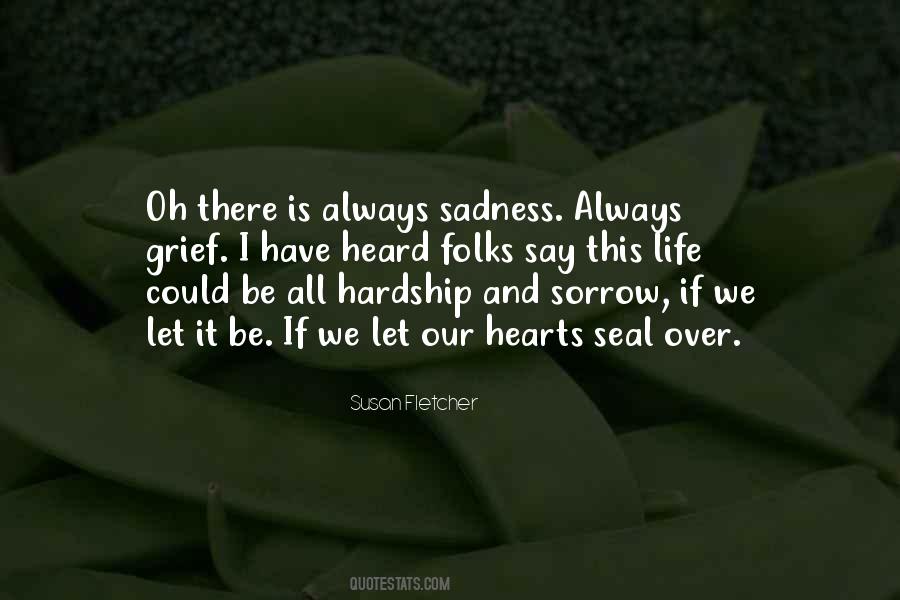 #43. Someday, beyond the clouds and all the world's wrongs, there will be love, compassion and justice, and we shall all understand. - Author: Flavia Weedn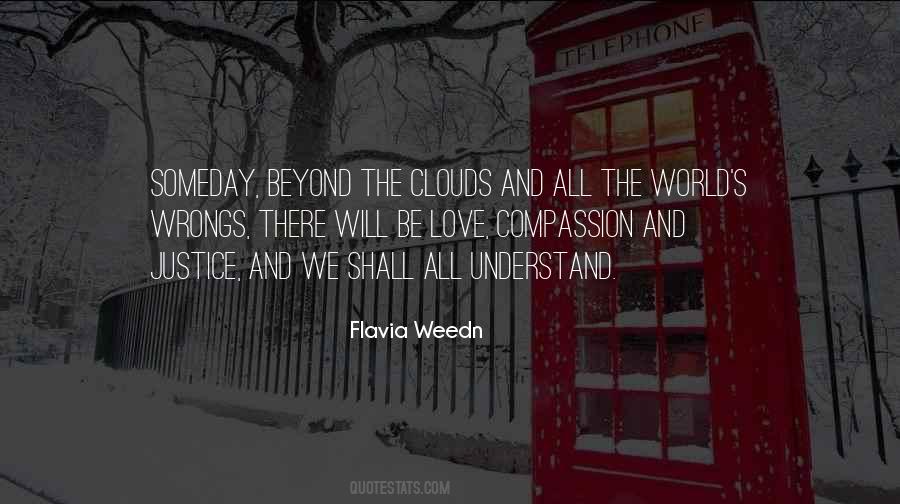 #44. A long while yet will you keep that great mother's grief. But it will turn in the end into quiet joy, and your bitter tears will be only tears of tender sorrow that purifies the heart and delivers it from sin. - Author: Fyodor Dostoyevsky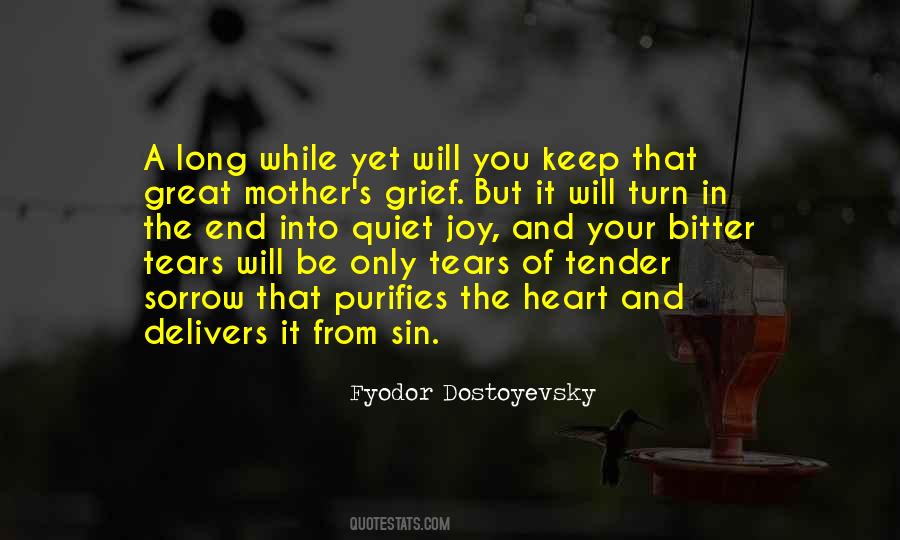 #45. There is nothing that stirs in the whole world of thought to which sorrow does not vibrate in terrible and exquisite pulsation. - Author: Oscar Wilde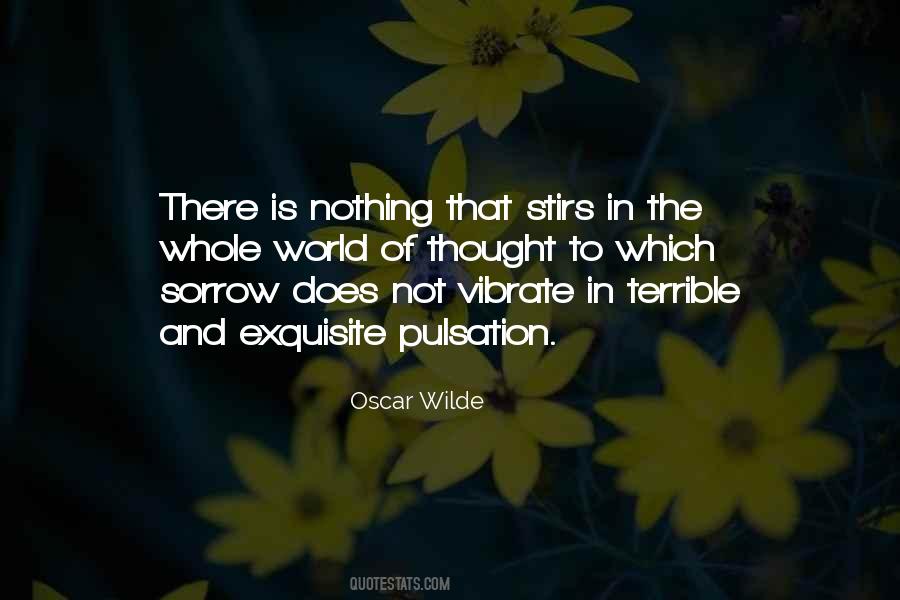 #46. In our mental outlook we have to reconcile ourselves to the fact of sin as the only explanation as to why Jesus Christ came, and the explanation of the grief and sorrow in life. - Author: Oswald Chambers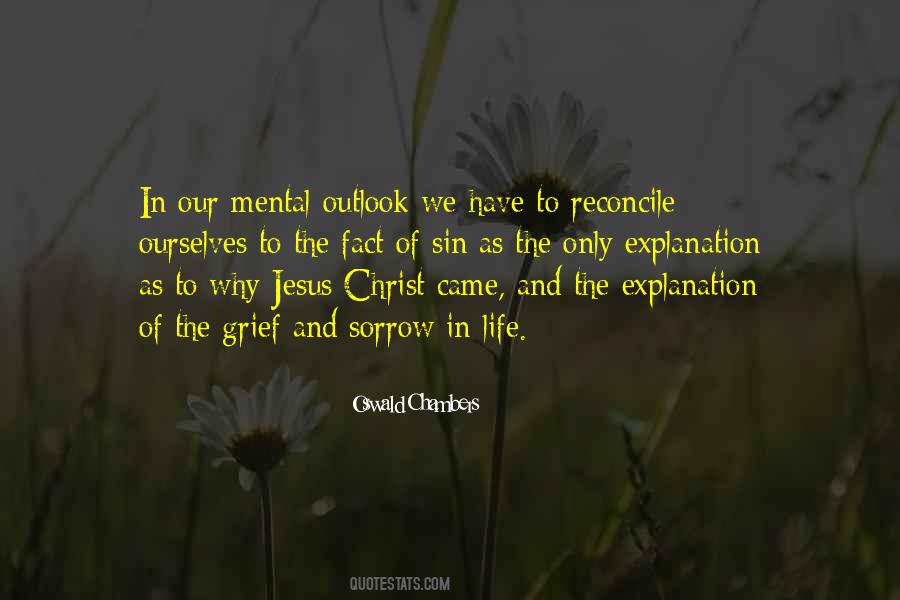 #47. Grief and sorrow; both are fervently shape your character. - Author: Kristian Goldmund Aumann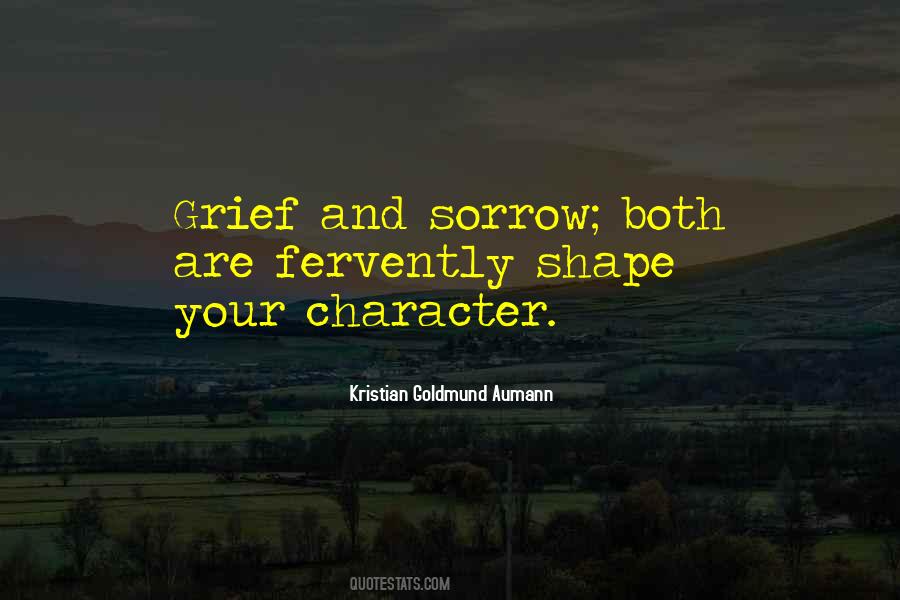 #48. Vice leaves repentance in the soul, like an ulcer in the flesh, which is always scratching and lacerating itself; for reason effaces all other griefs and sorrows, but it begets that of repentance. - Author: Michel De Montaigne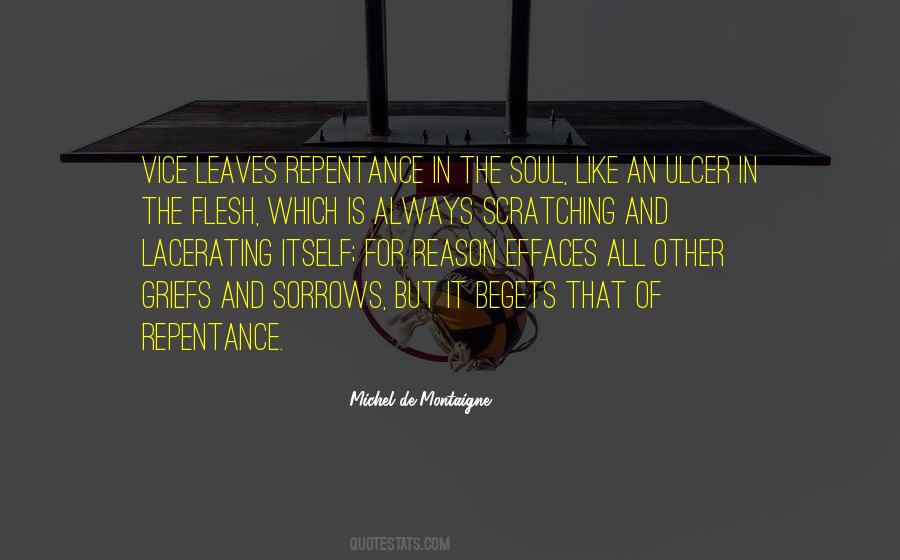 #49. In times of grief and sorrow I will hold you and rock you and take your grief and make it my own. When you cry I cry and when you hurt I hurt. And together we will try to hold back the floods to tears and despair and make it through the potholed street of life - Author: Nicholas Sparks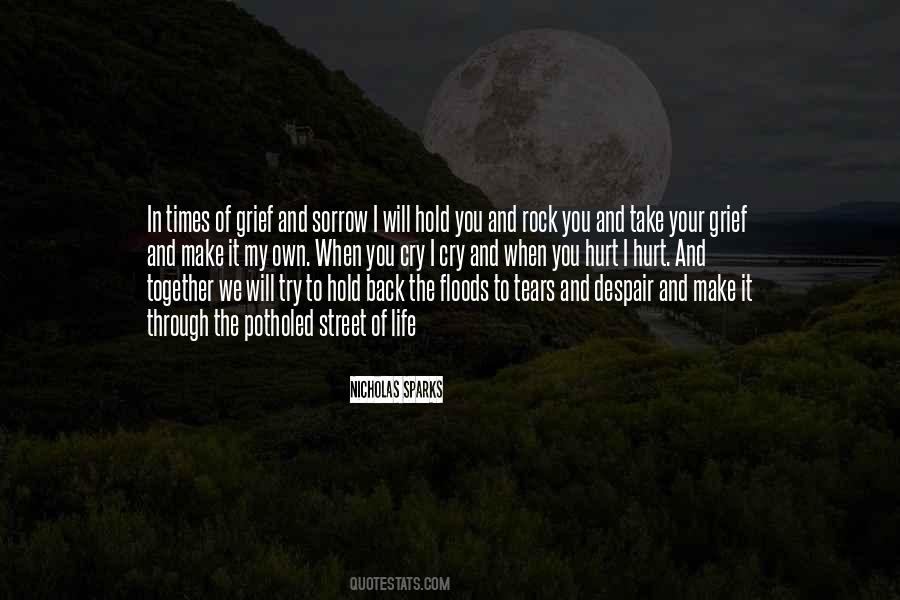 #50. I had never seen such sorrow; it appalled me. And I was even more appalled by her attempts to overcome it, because they so plainly, pathetically failed and in failing opened up a view of the world I had only begun to suspect, where wounds did not heal, and things did not work out for the best - Author: Tobias Wolff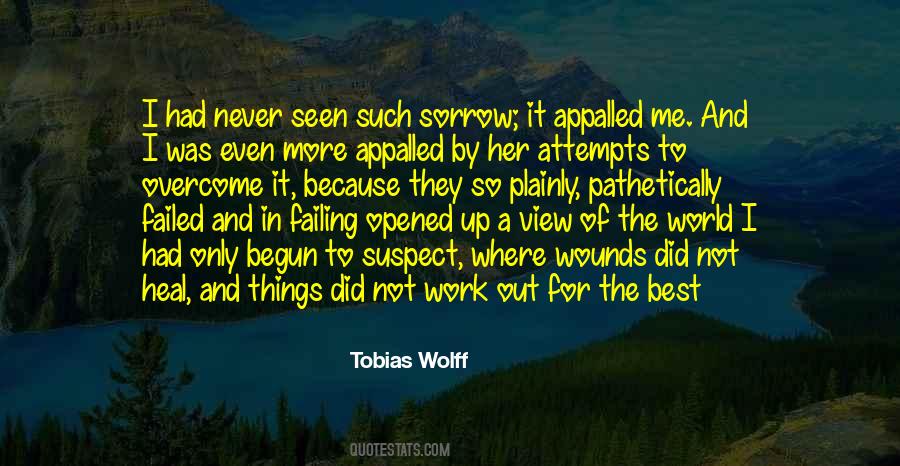 #51. I know I could have saved your ashes to put into the ocean, but I wanted you to have the journey, all the way with the currents, to the open sea. And I know that when I finally get to see the waves washing on the shore, to hear them, I will feel you there. - Author: Ava Dellaira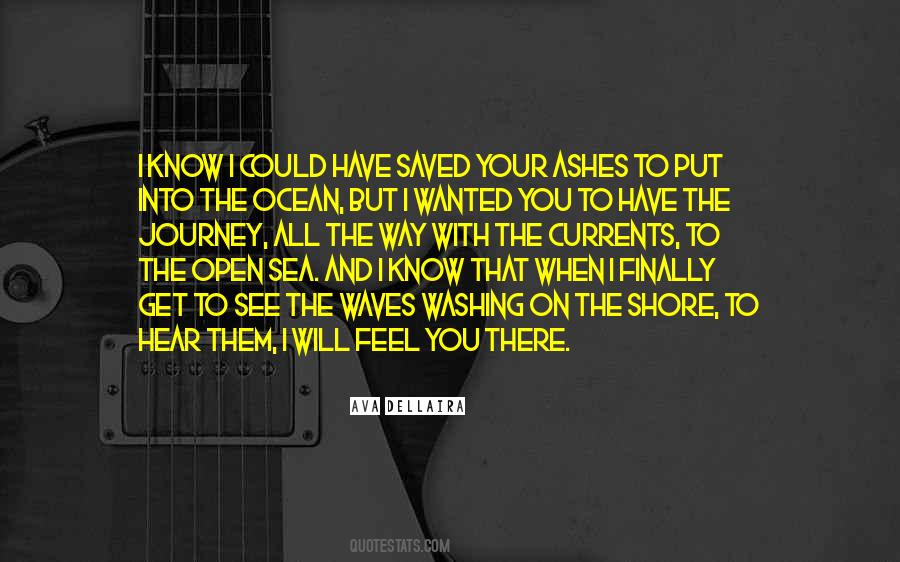 #52. But my world fell apart, and all they could do, the whole universe, was to silently move on. - Author: Khadija Rupa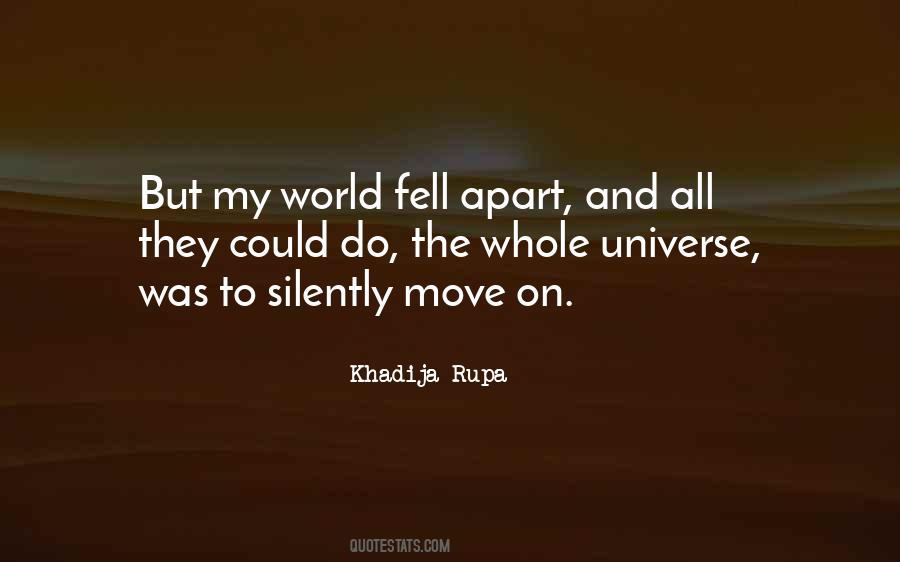 #53. Sometimes all you can do is hug a friend tightly and wish that their pain could be transferred by touch to your own emotional hard drive. - Author: Richelle E. Goodrich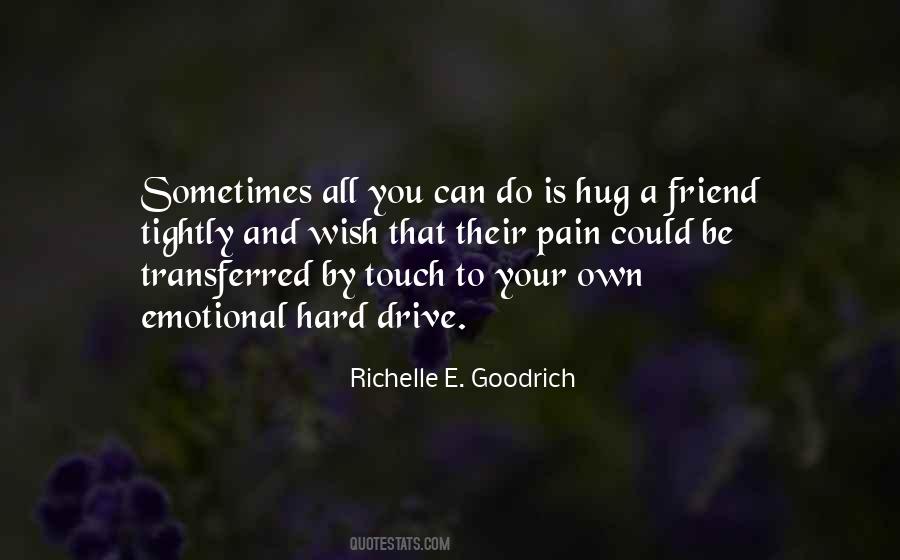 #54. Time sped. And the poet through sorrow Became like his suffering kind. Again he toiled over his poems To lighten the grief of his mind ... - Author: Ella Wheeler Wilcox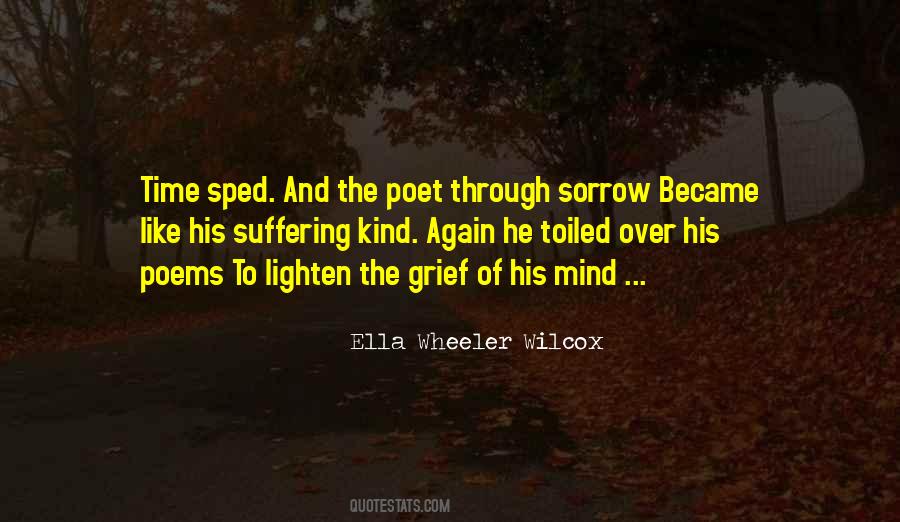 #55. The shadow of my sorrow. Let's see, 'tis very true. My griefs lie all within and these external manners of laments are mere shadows to the unseen grief which swells with silence in the tortured soul.
There lies the substance. - Author: William Shakespeare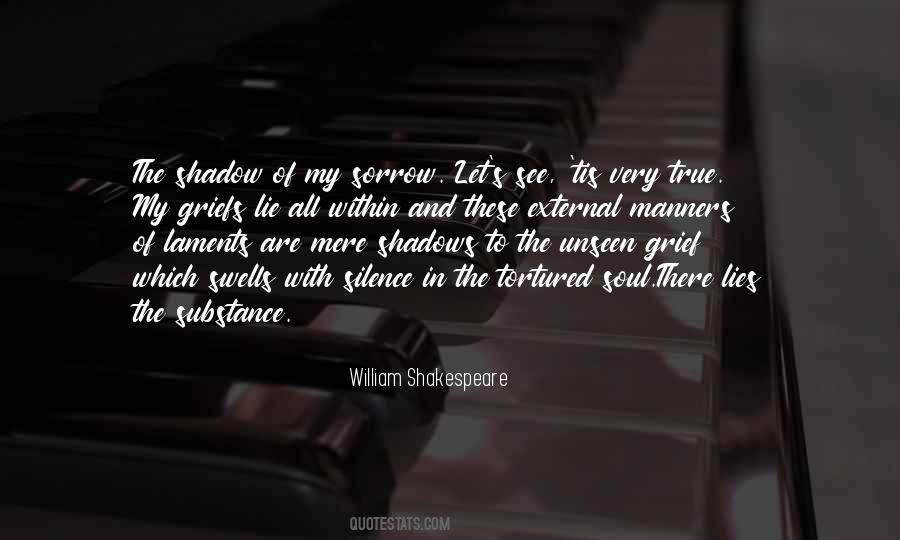 #56. Grief was for the others; sorrow and pain were for the others; some terrible mistake had been made. - Author: John Cheever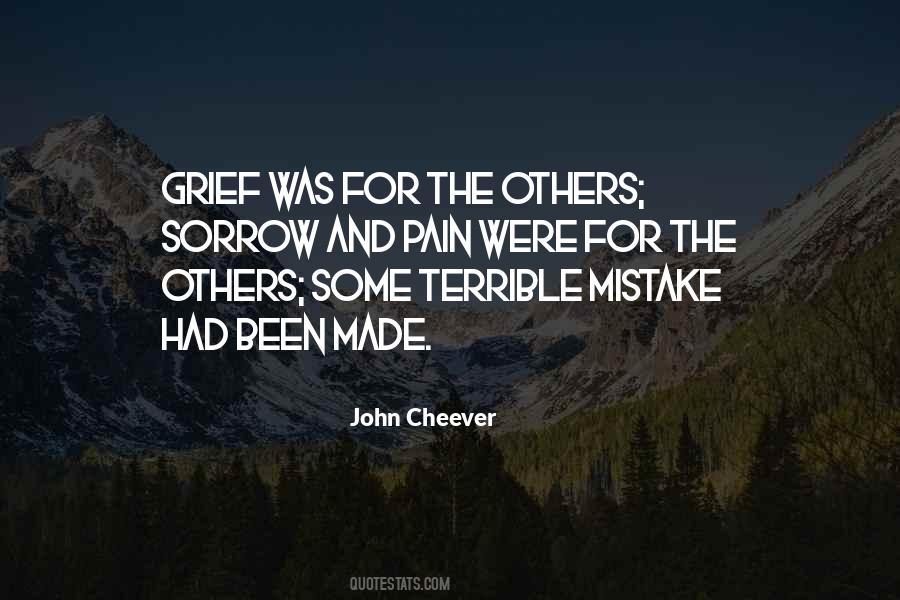 #57. Women eat ice-cream, men toast marshmallows. - Author: Dianna Hardy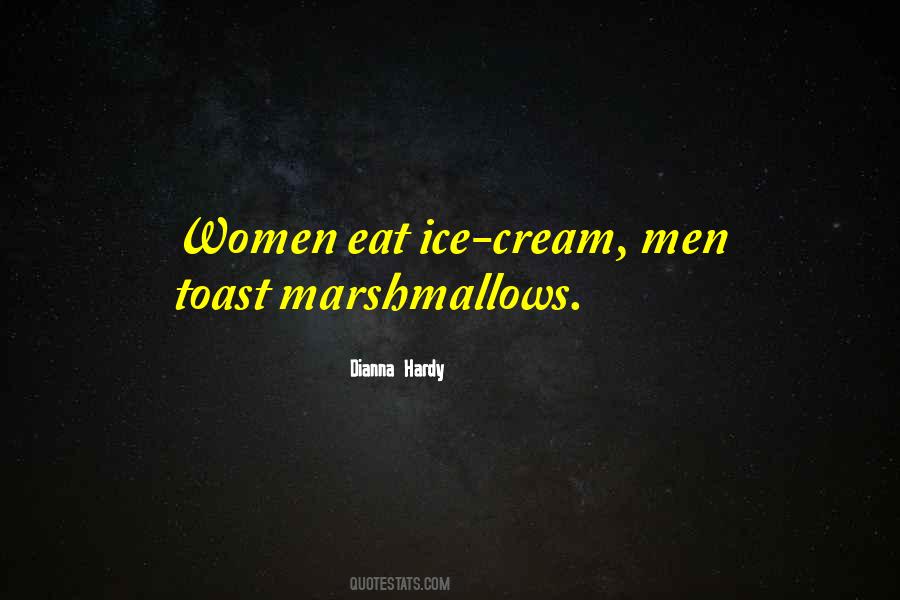 #58. Alas, I had always loved sorrow and grief, but only for myself, for myself; for them I wept in my pity. I stretched out my arms to them in my despair, accusing, cursing, and despising myself. I told them that I had done all this, I alone, that I had brought them corruption, contagion, and lies! - Author: Fyodor Dostoyevsky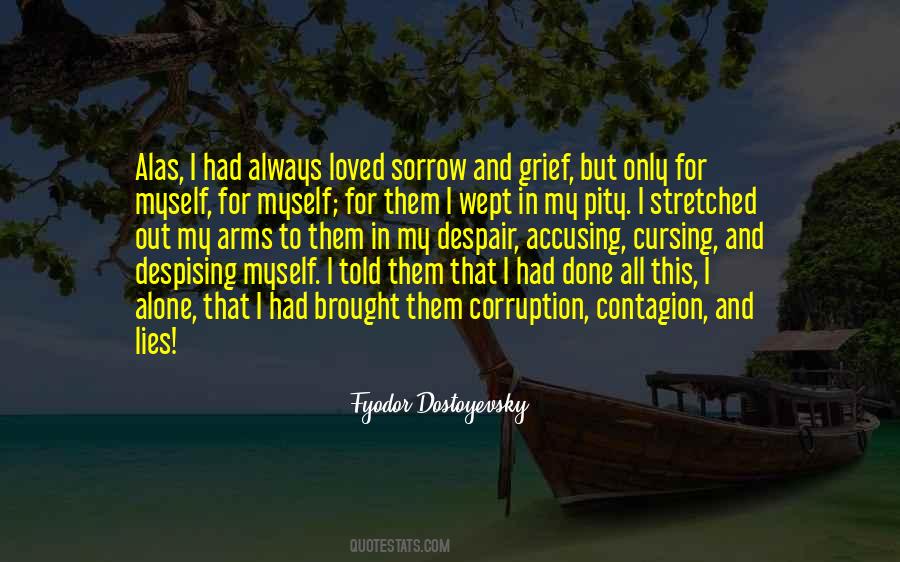 #59. Life makes beggars out of those who have joyful hearts, taxing the living with hardship and tribulation, but the charity of companionship, the currency of shared and unmitigated love, alleviates all disconsolation. - Author: Michelle Franklin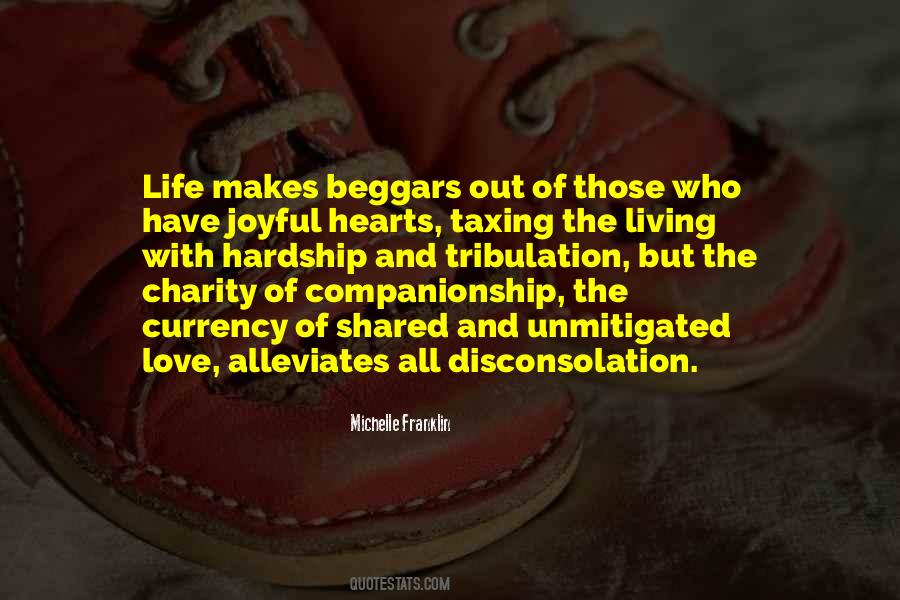 #60. The photograph of my brother that is in this album shows a young man, beautiful and perfect in the way of young people, for young people are always perfect and beautiful until they are not, until the moment they just are not. - Author: Jamaica Kincaid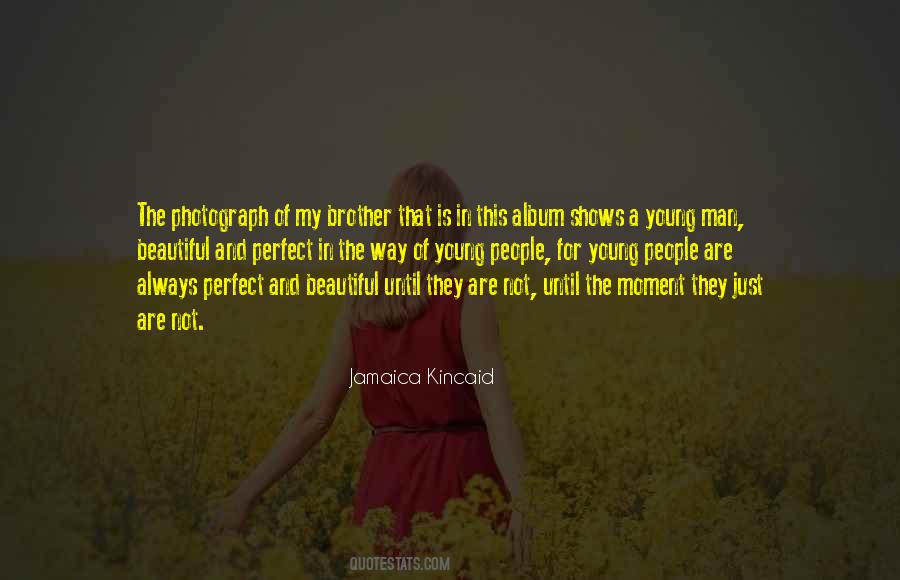 #61. He who is overly attached to his family members experiences fear and sorrow, for the root of all grief is attachment. Thus one should discard attachment to be happy. - Author: Chanakya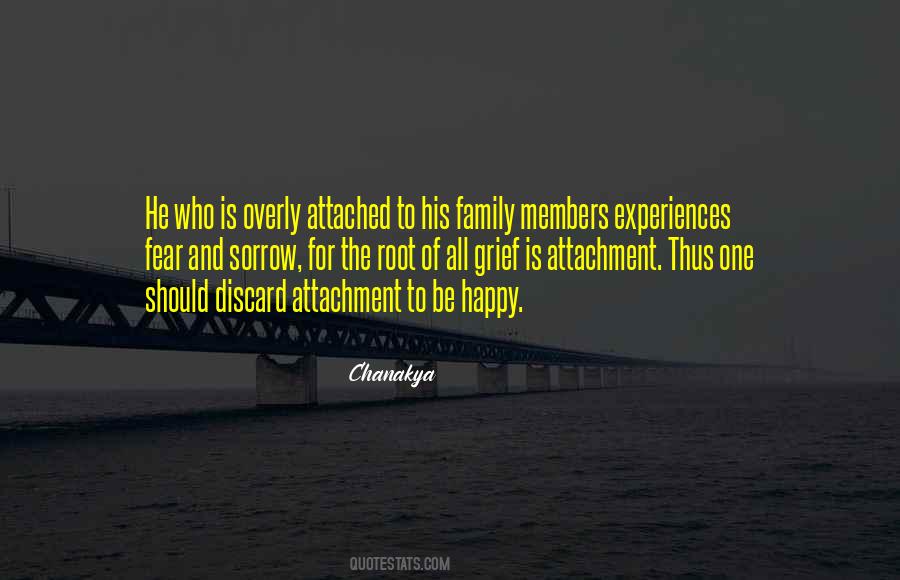 #62. The sorrow in the man's grey eyes was a chill and warmth at once. It was no pleasure to know that one's death was going to cause so much grief to others when there was nothing that could be done to avert it; but all the same, he was grateful that they cared. - Author: Elorin Leighton Grey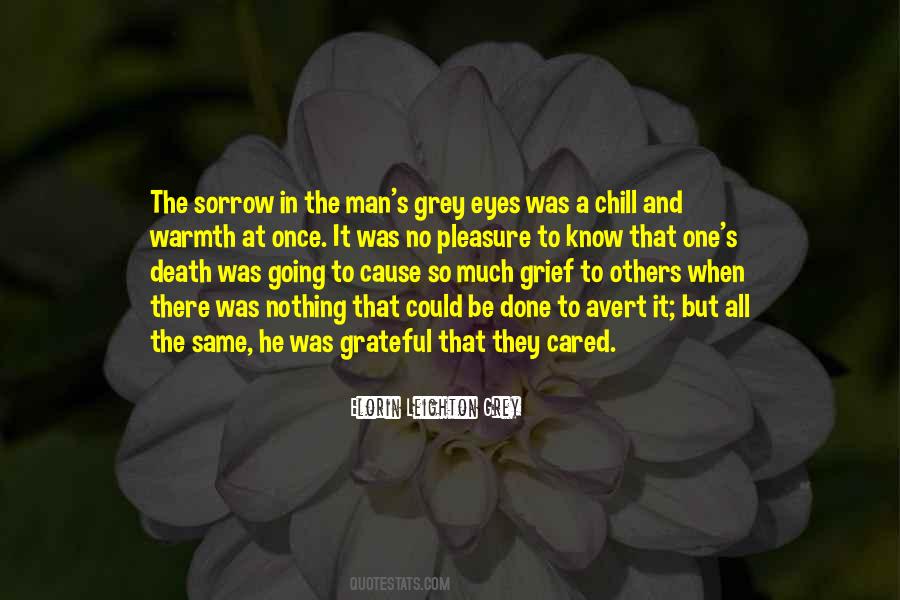 #63. It's what happens when two people become one: they no longer only share love. They also share all of the pain, heartache, sorrow, and grief. - Author: Colleen Hoover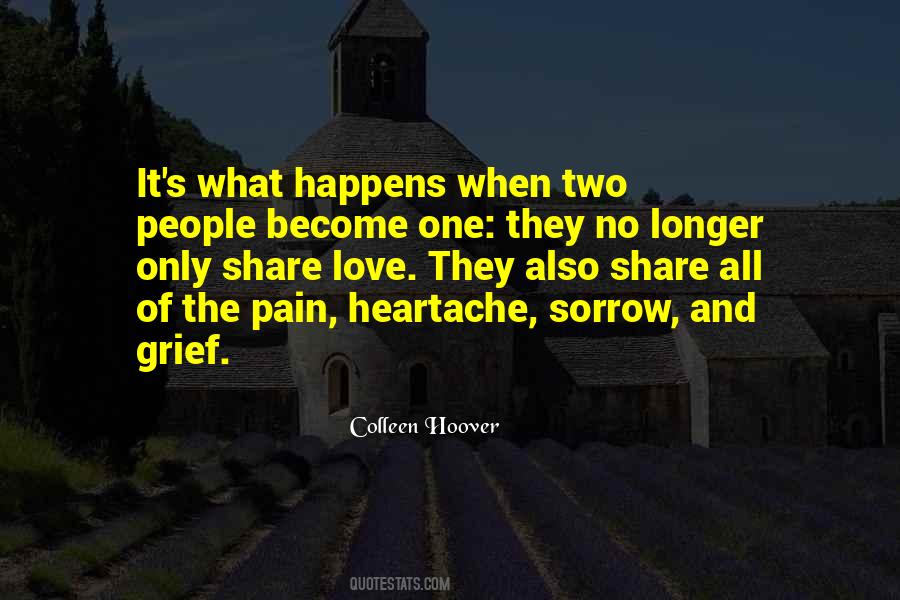 #64. I swiftly realised how grief sorts out and realigns those around the griefstruck; how friends are tested; how some pass, some fail. Old friendships may deepen through shared sorrow; or suddenly appear lightweight. - Author: Julian Barnes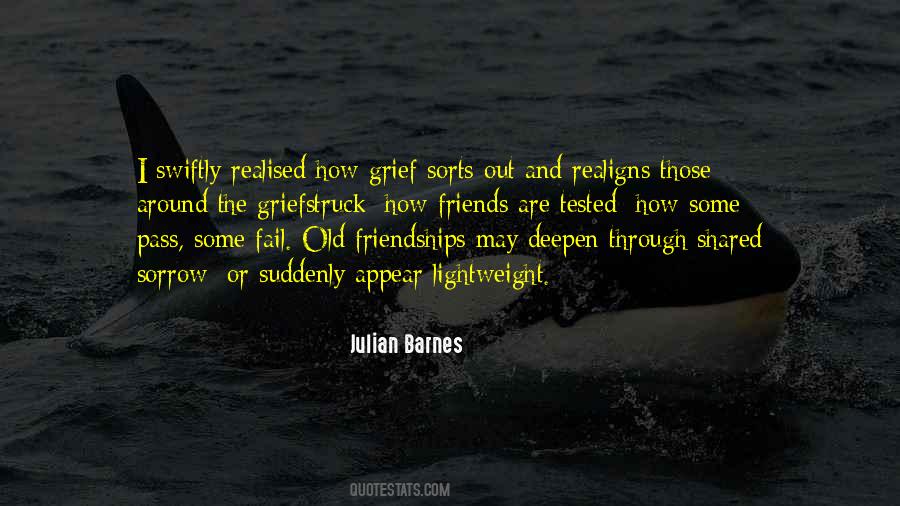 #65. Sorrow and scarlet leaf, Sad thoughts and sunny weather. Ah me, this glory and this grief Agree not well together! - Author: Thomas Parsons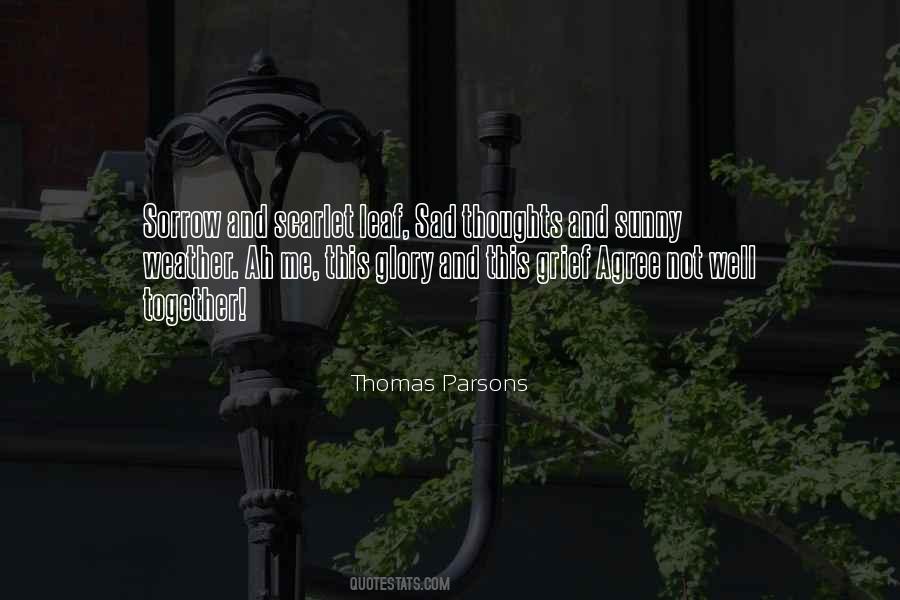 #66. I hear music that comes out of need, out of grief, sorrow, suffering and out of overcoming these things, as well. That journey to freedom still goes on today. It's an incremental change, the culmination of many events in your own life and the lives of your children and grandchildren. - Author: Kathleen Battle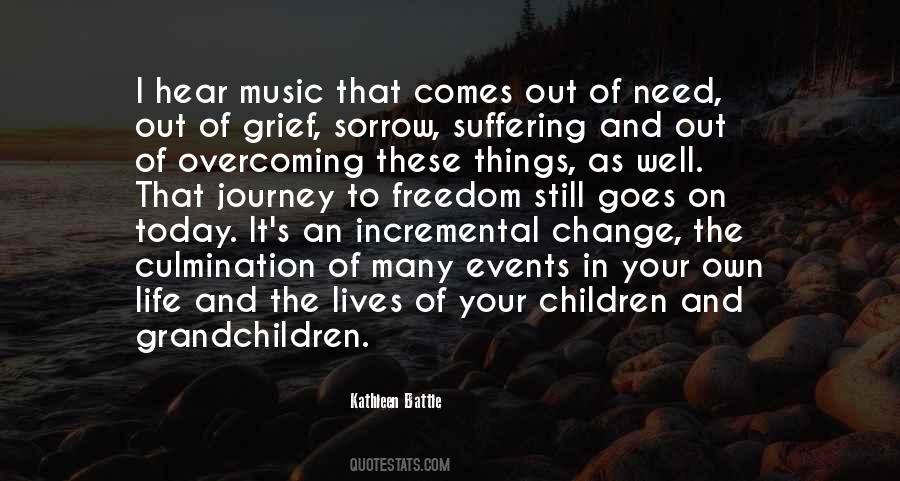 #67. For as long as it takes for the sorrow and pain to transfer into acceptance. I'll stay here. With you. By your side. I won't leave."
"Promise?"
"Vow." I placed his hands gently on the piano. "I vow. - Author: Rachel Van Dyken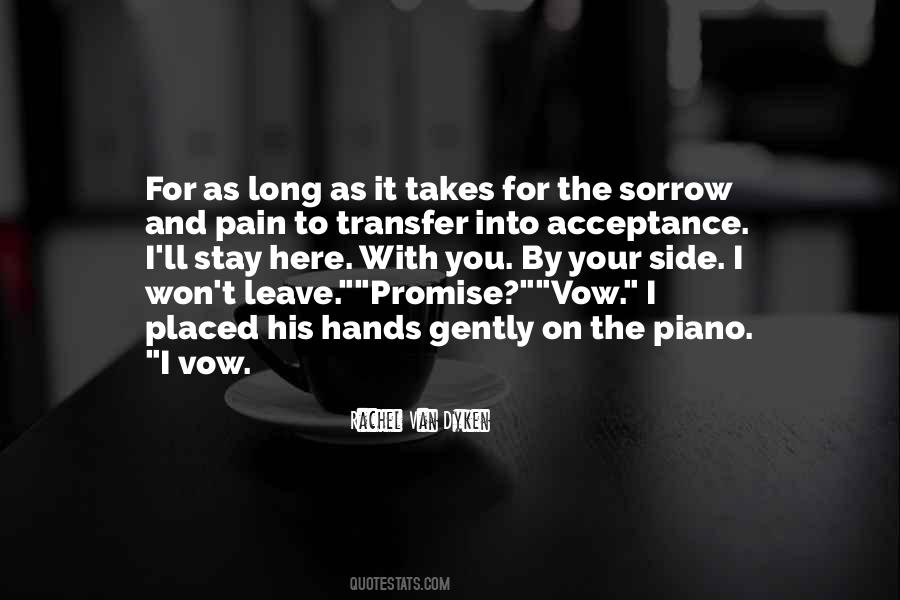 #68. Shorten my days thou canst with sullen sorrow,
And pluck nights from me, but not lend a morrow;
Thou canst help time to furrow me with age,
But stop no wrinkle in his pilgrimage. - Author: William Shakespeare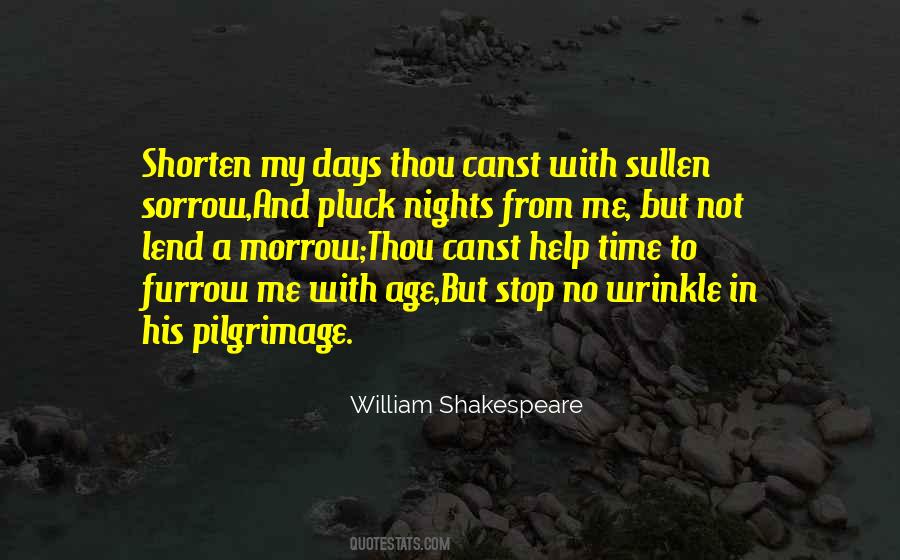 #69. I know nothing which can so comfort the soul; so calm the swelling billows of sorrow and grief; so speak peace to the winds of trial, as a devout musing upon the subject of the Godhead. - Author: Charles Spurgeon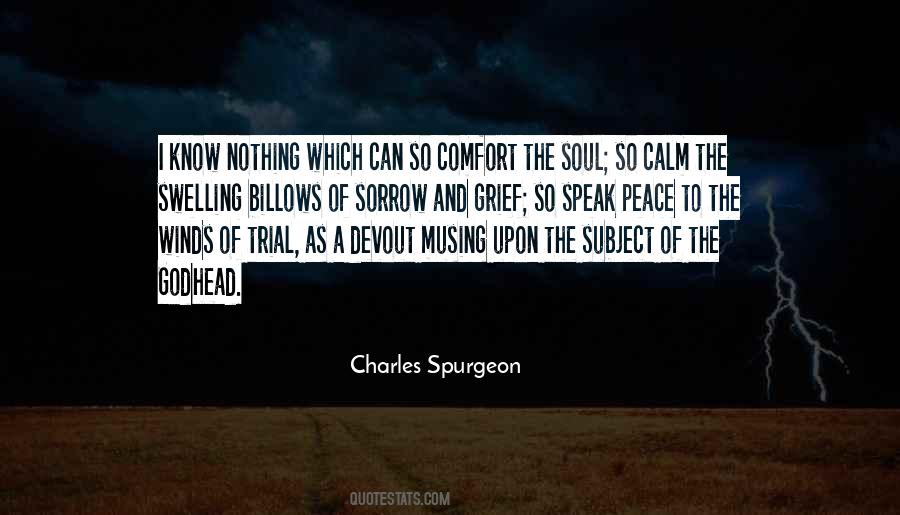 #70. That's the worst of sorrow . . . it's always a vicious circle. It makes one tense and hard and disagreeable, and this means that one repels and antagonises people, and then they dislike and avoid one--and that means more isolation and still more sorrow. - Author: Vera Brittain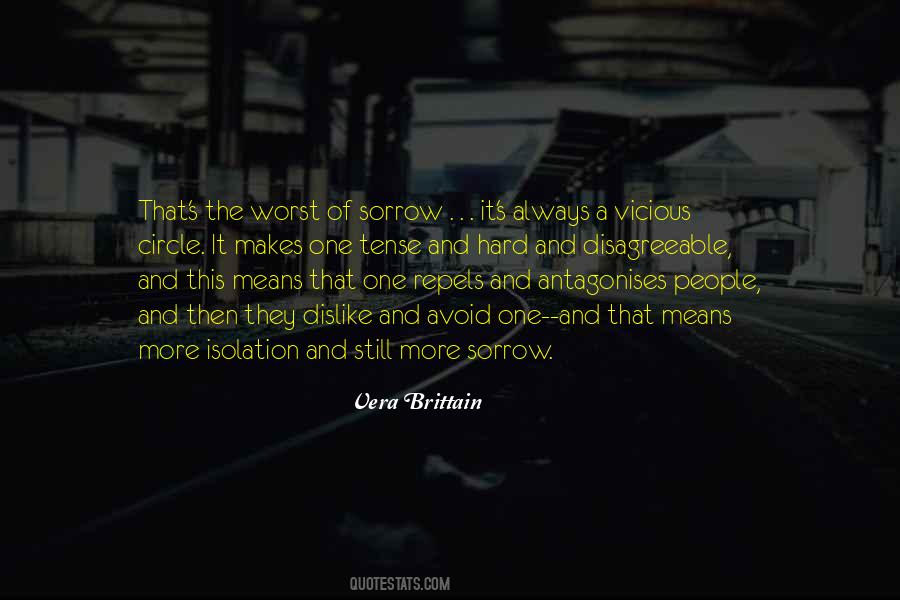 #71. Life - it really did go on, even after insurmountable grief, debilitating sorrow and a life waiting to begin. As long as we were able to love and be loved in this world, no heart would ever be beyond repair. - Author: J.L. Berg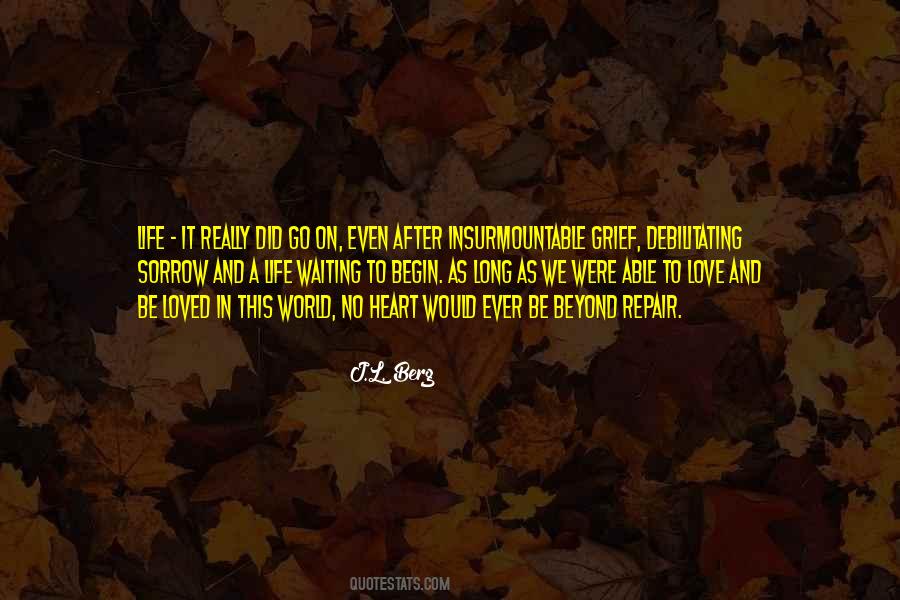 #72. Death. What a brief word for the extinguishing of life. To be no more. To have days cut off and at their end. To never again ... anything. - Author: Richelle E. Goodrich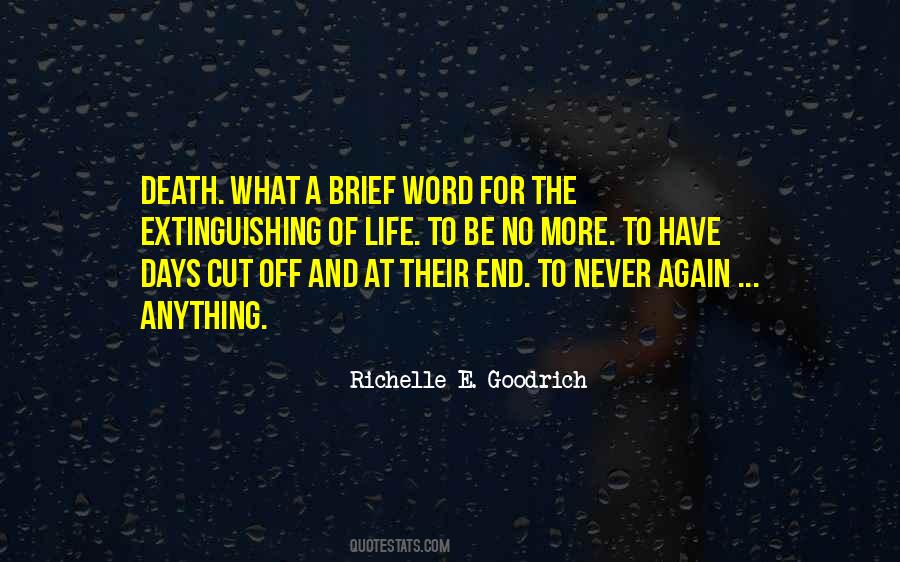 #73. Love is blind, but a broken heart sees everything. - Author: Matshona Dhliwayo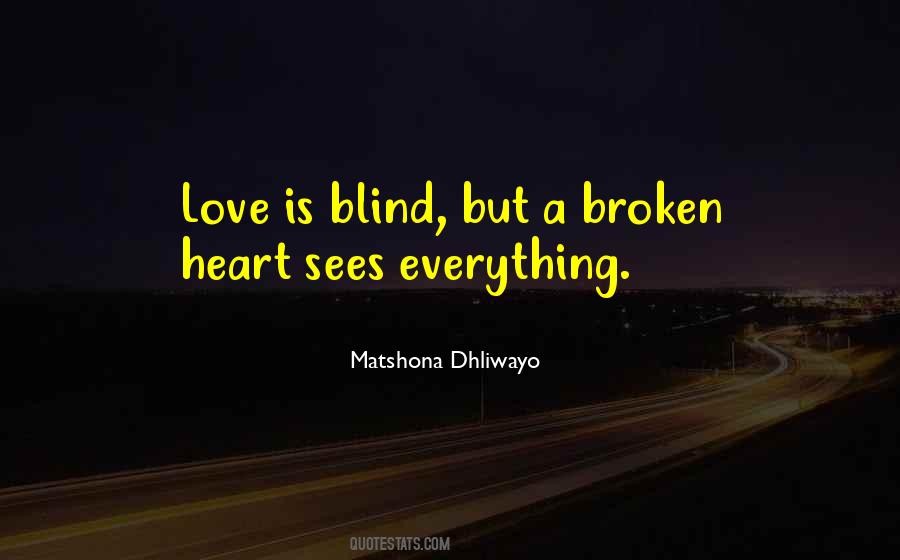 #74. Sorrowers tend to avoid what they are most fond of and try to give vent to their grief. - Author: Seneca.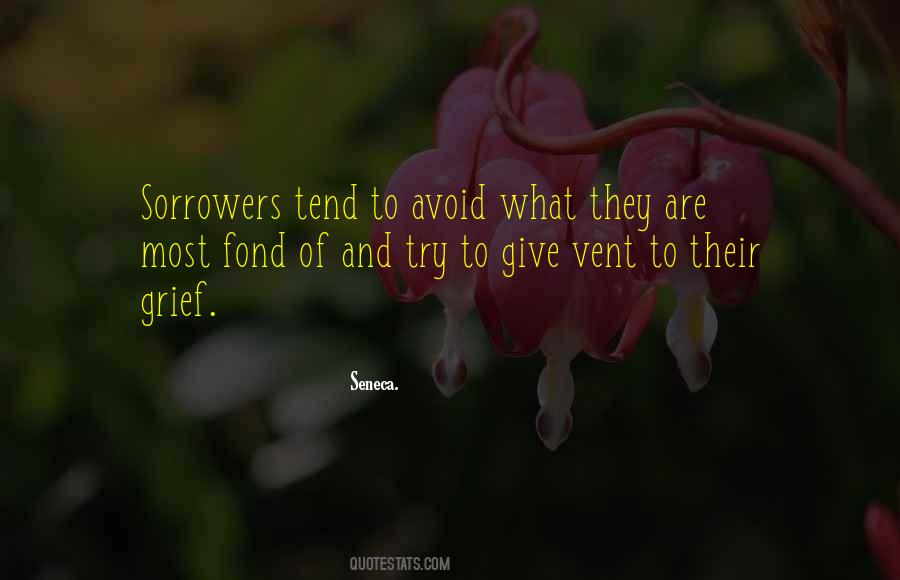 #75. Love's whispers drown out sorrow's echoes. - Author: Matshona Dhliwayo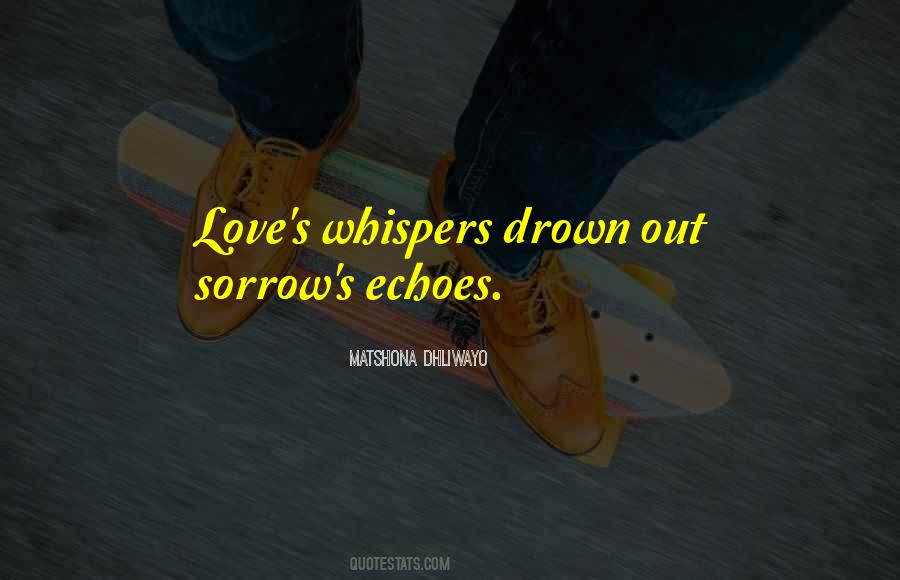 #76. It is the burning lava of the soul that has a furnace within
a very volcano of grief and sorrow-it is that burning lava of prayer that finds its way to God. No prayer ever reaches God's heart which does not come from our hearts. - Author: Charles Spurgeon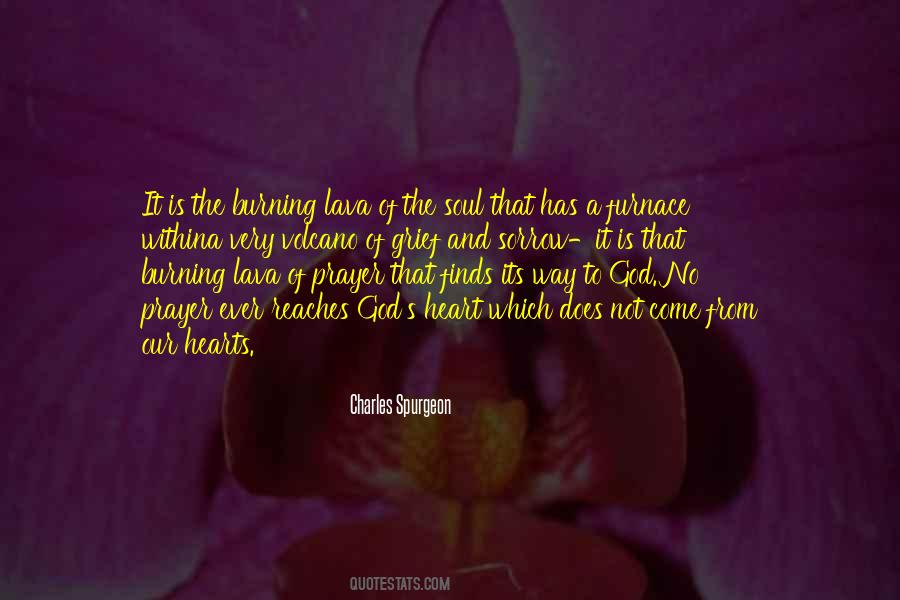 #77. That is fundamentally the only courage which is demanded of us: to be brave in the face of the strangest, most singular and most inexplicable things that can befall us - Author: Rainer Maria Rilke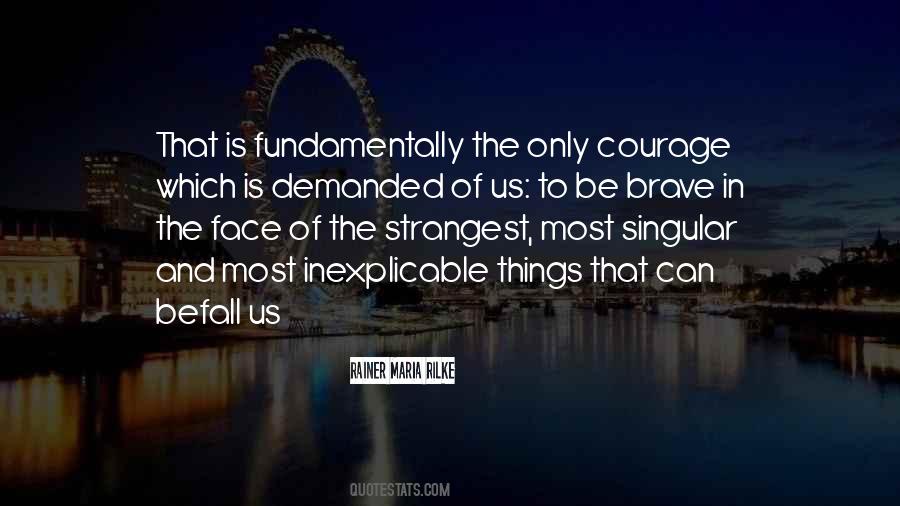 #78. It is foolish to tear one's hair in grief, as though sorrow would be made less by baldness. - Author: Marcus Tullius Cicero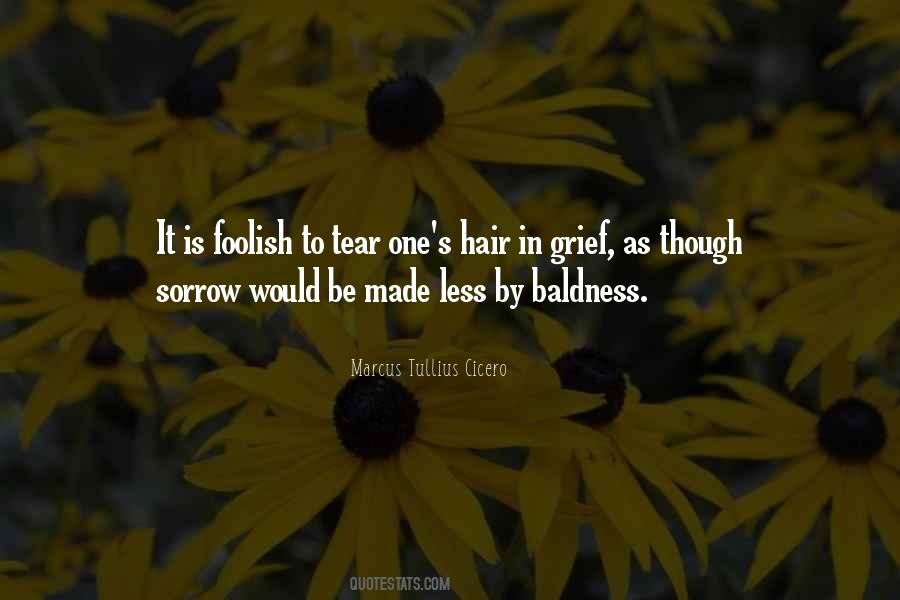 #79. Grief and love are sisters, woven together from the beginning. Their kinship reminds us that there is no love that does not contain loss and no loss that is not a reminder of the love we carry for what we once held close. - Author: Francis Weller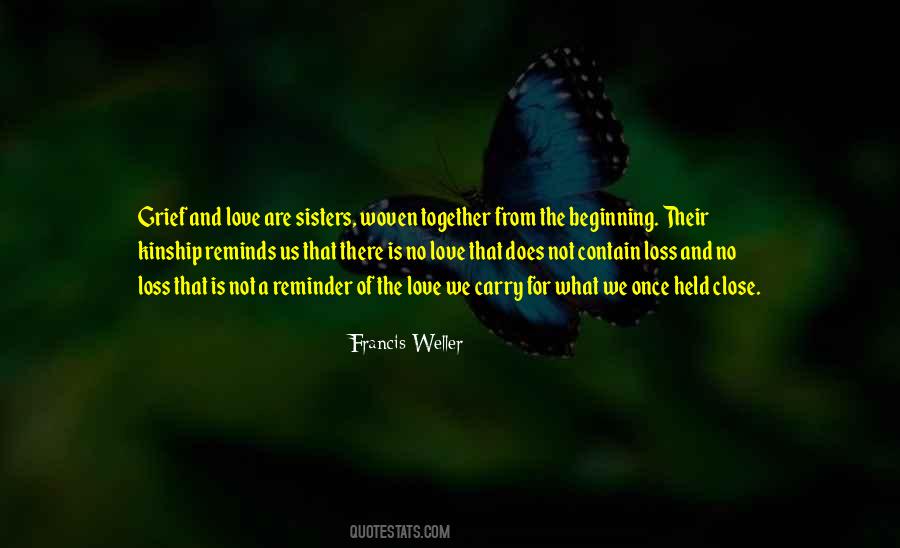 #80. When we touch the center of sorrow, when we sit with discomfort without trying to fix it, when we stay present to the pain of disapproval or betrayal and let it soften us, these are times that we connect with bohdichitta. - Author: Pema Chodron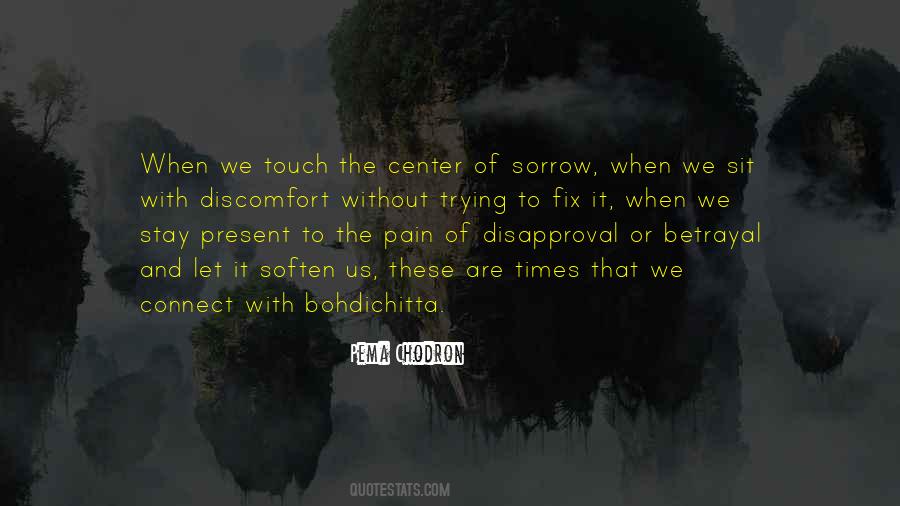 #81. When the horror of his grief was new to him, and every object in life, however trifling or however important, seem saturated with his one great sorrow. - Author: Mary Elizabeth Braddon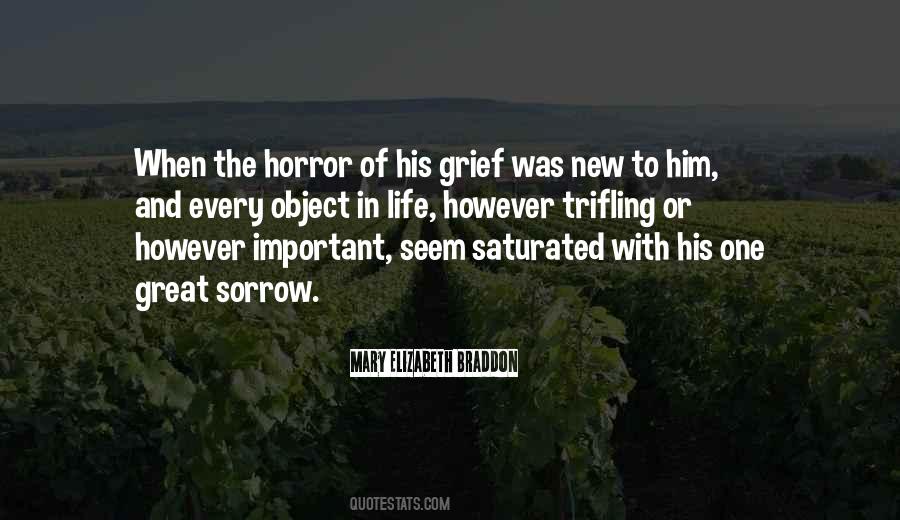 #82. But it's a changeable world! When we consider how great our sorrow seem, and how small they are; how we think we shall die of grief, and how quickly we forget, I think we ought to be ashamed of ourselves and our fickle-heartedness. For, after all, what business has Time to bring us consolation? - Author: William Makepeace Thackeray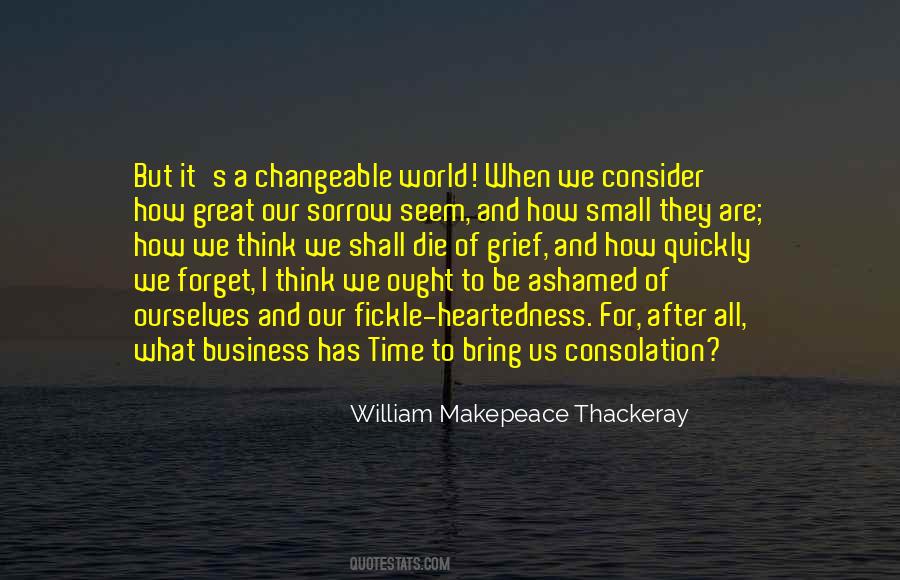 #83. Your tale is of the longest," observed Monks, moving restlessly in his chair.
It is a true tale of grief and trial, and sorrow, young man," returned Mr. Brownlow, "and such tales usually are; if it were one of unmixed joy and happiness, it would be very brief. - Author: Charles Dickens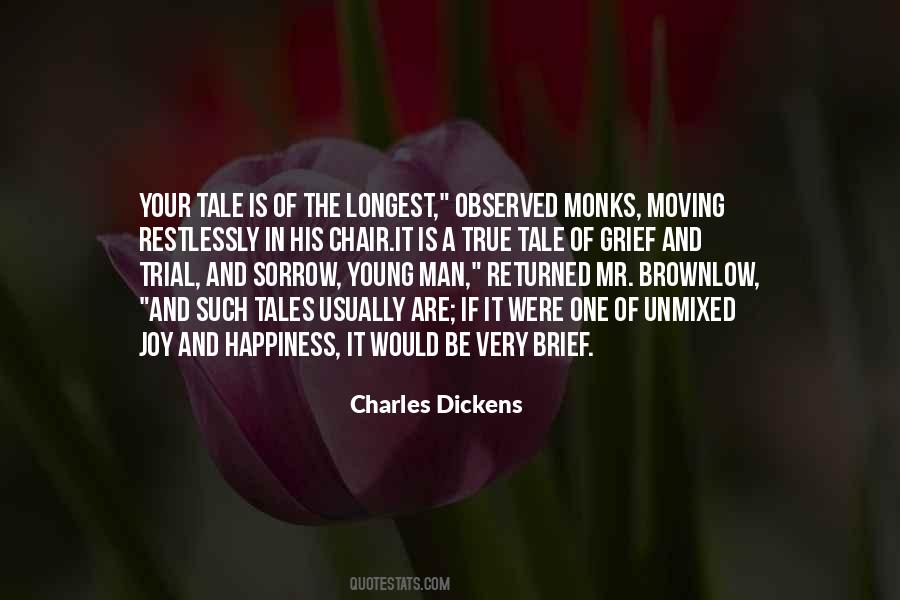 #84. She did not like seeing her loved ones like this, bent over with sorrow; everything in her wanted to cry out, to thrash and scream at the sight of it. But she knew that great grief came from great love, and that their grief was an honor to her. And she did love them so very much. - Author: Anne Ursu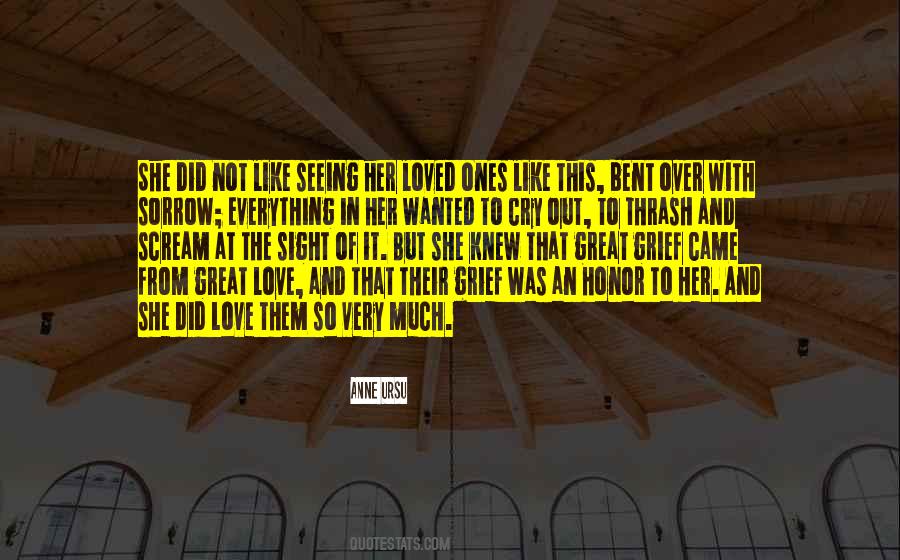 #85. All that grieved me - that I was half one thing and half another and nothing wholly - was the sorrow of my childhood, but the strength and use of my life after I grew up. - Author: Ursula K. Le Guin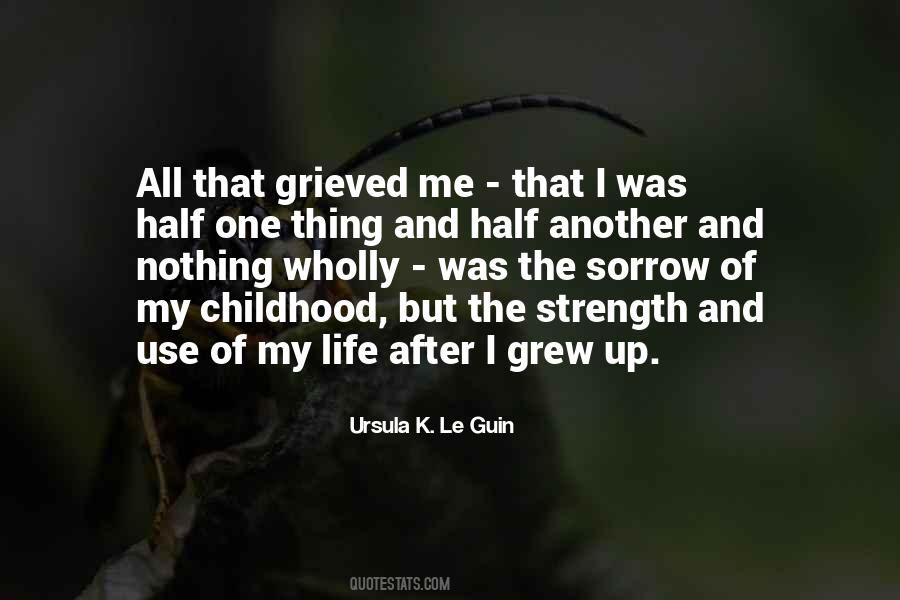 #86. Life is from zero to one, sorrow to pain and love to happiness, passing all along with smile on face despite grief and unhappiness, deep below lies the quenching heart, which is flowing with energy and bloody rain. - Author: Santosh Kalwar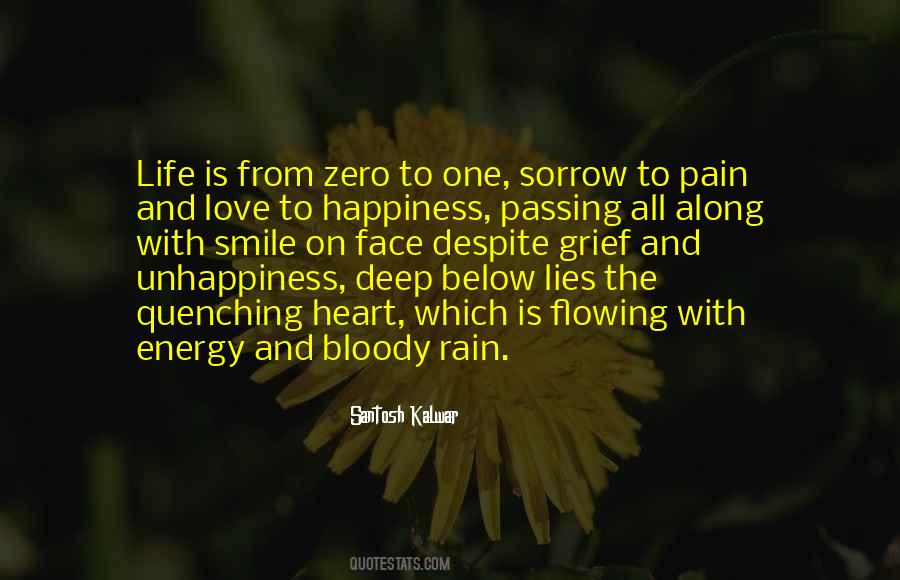 #87. Earth may embitter, not remove,
The love divinely given;
And e'en that mortal grief shall prove
The immortality of love,
And lead us nearer heaven. - Author: Elizabeth Barrett Browning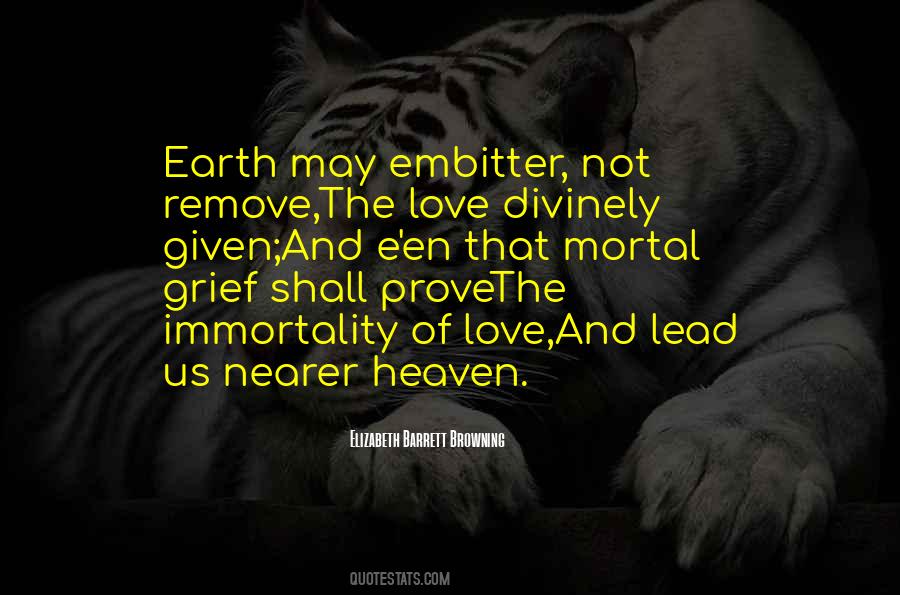 #88. If two pilgrims, which have wandered some few miles together, have a heart's grief when they are near to part, what must the sorrow be at the parting of two so loving friends and never-loathing lovers as the body and the soul? - Author: William Drummond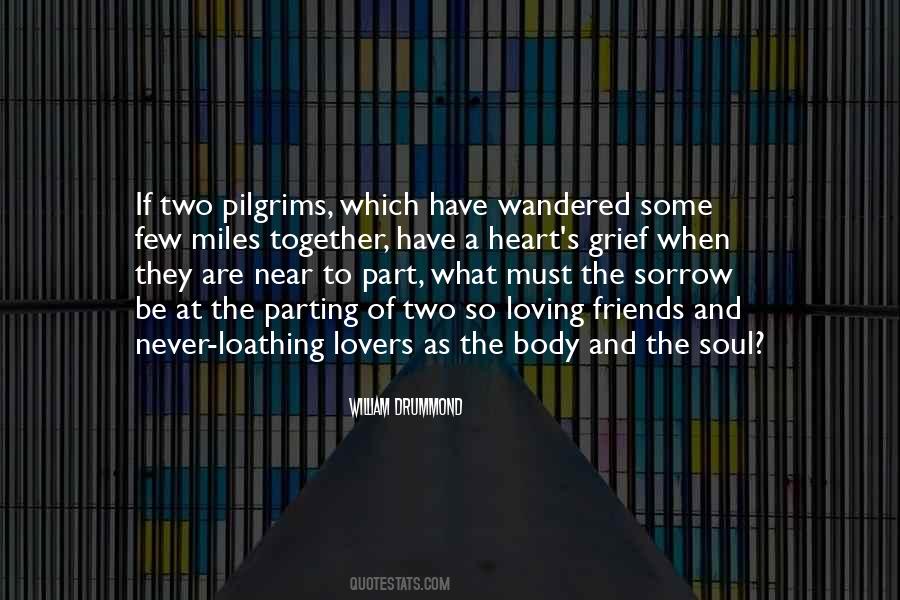 #89. T is better to be lowly born, And range with humble livers in content, Than to be perked up in a glistering grief, And wear a golden sorrow. King Henry VIII. II.3 - Author: William Shakespeare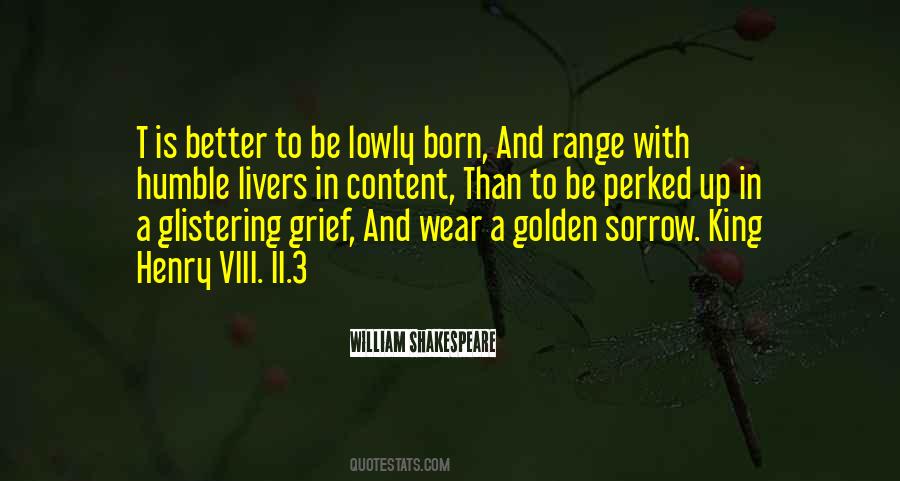 #90. Love for the beauty of the soul.
I shall love you always.
When the flower of life has gone,
ever I shall find you.
When all is lost and winter comes,
I shall be your spring time.
And memory fades and wilts then,
I shall always find you ...
I shall always find you ... - Author: Laurel A. Rockefeller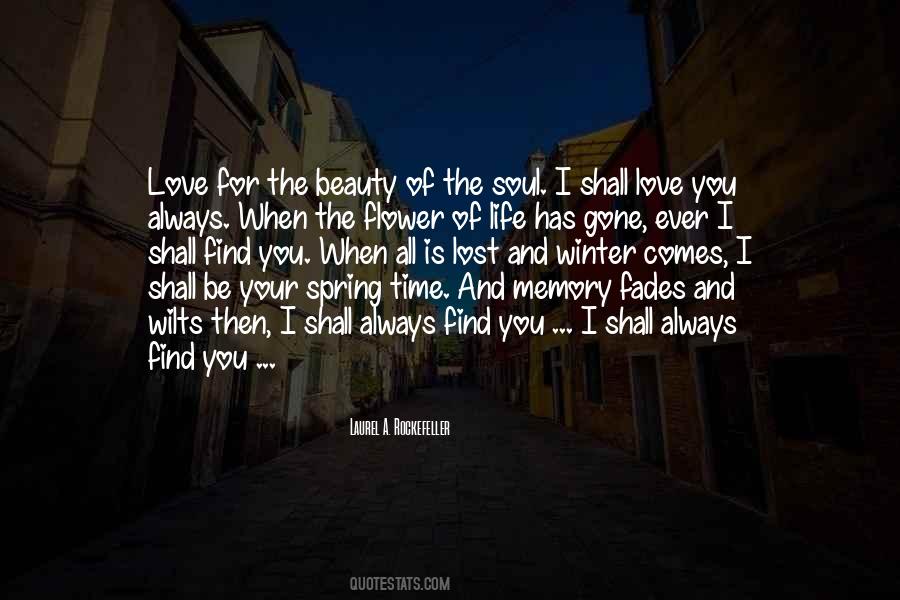 #91. I took him by the arm to steady him. He opened his eyes slowly, the bright golden gleam now darkened with pain and sorrow. "Morgian!' he uttered, his voice strangled with grief. "It was Morgian ... - Author: Stephen R. Lawhead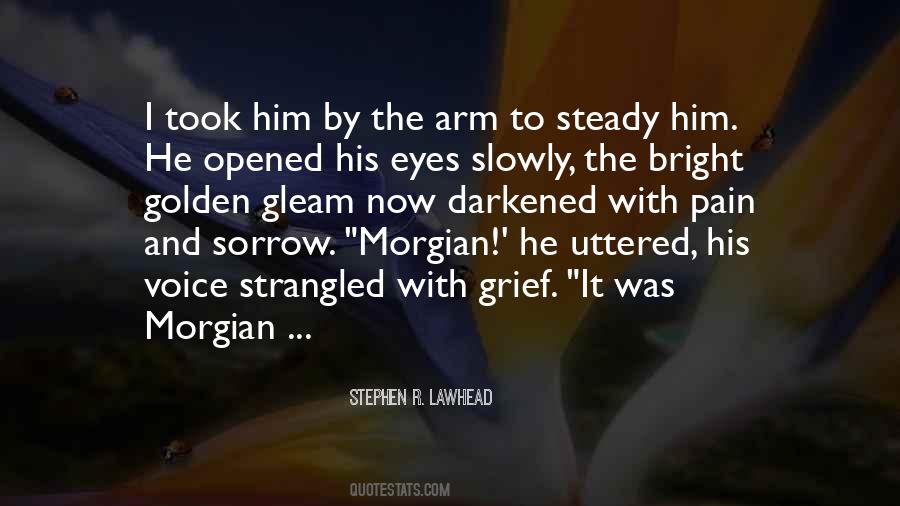 #92. Nothing stood between Sheryl's heart and skin. She was whole in her sorrow, perfectly connected inside and out, soul and body united, swaying with complete abandon to a dirge that only she could hear. - Author: Athol Dickson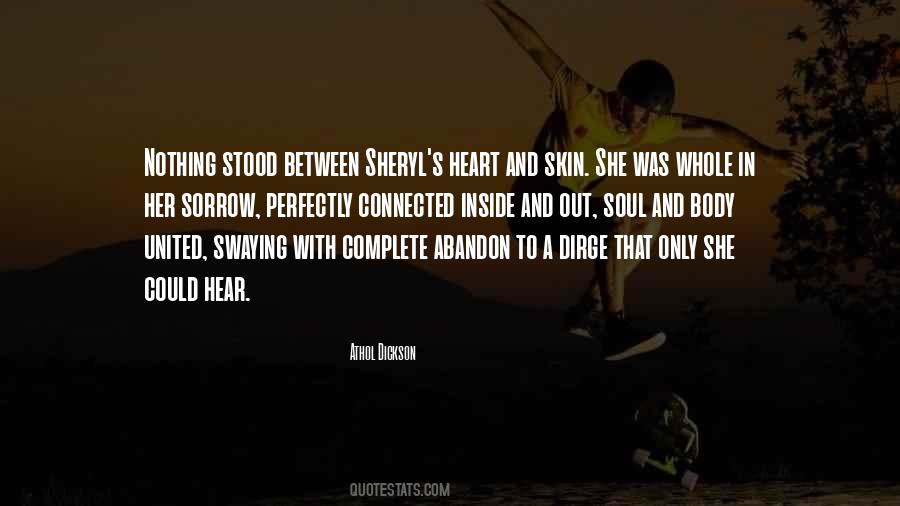 #93. Accept the seasons of your heart, even as you have always accepted the seasons that pass over your fields.
And you would watch with serenity through the winters of your grief. - Author: Kahlil Gibran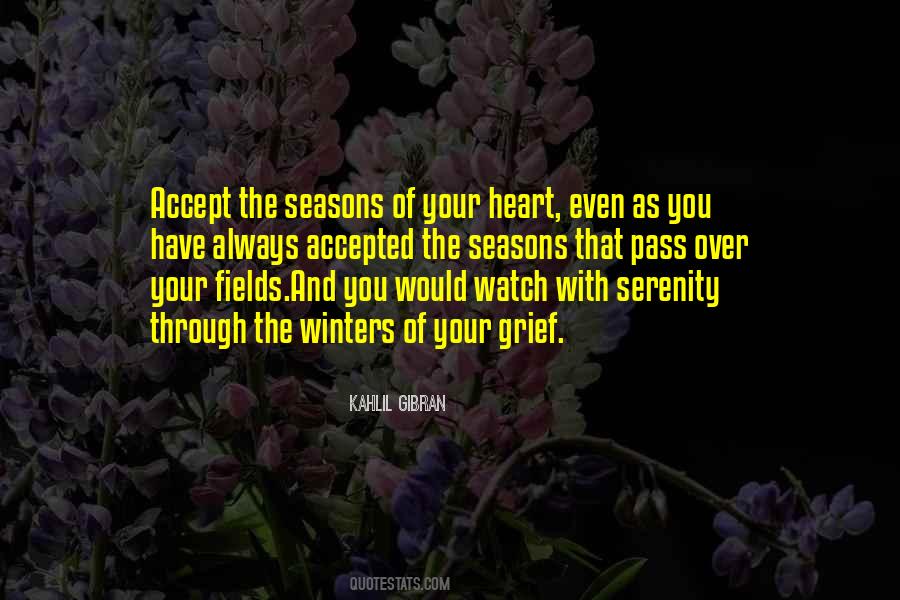 #94. The sorrow, grief, and rage you feel is a measure of your humanity and your evolutionary maturity. As your heart breaks open there will be room for the world to heal. - Author: Joanna Macy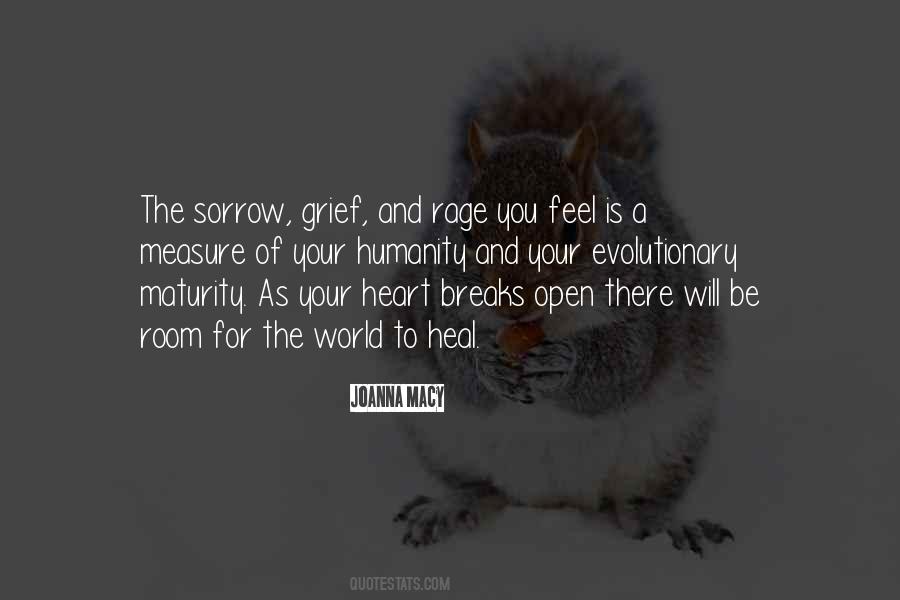 #95. Women have a smile for every joy, a tear for every sorrow, a consolation for every grief, an excuse for every fault, a prayer for every misfortune, and encouragement for every hope. - Author: Germain-Francois Poullain De Saint-Foix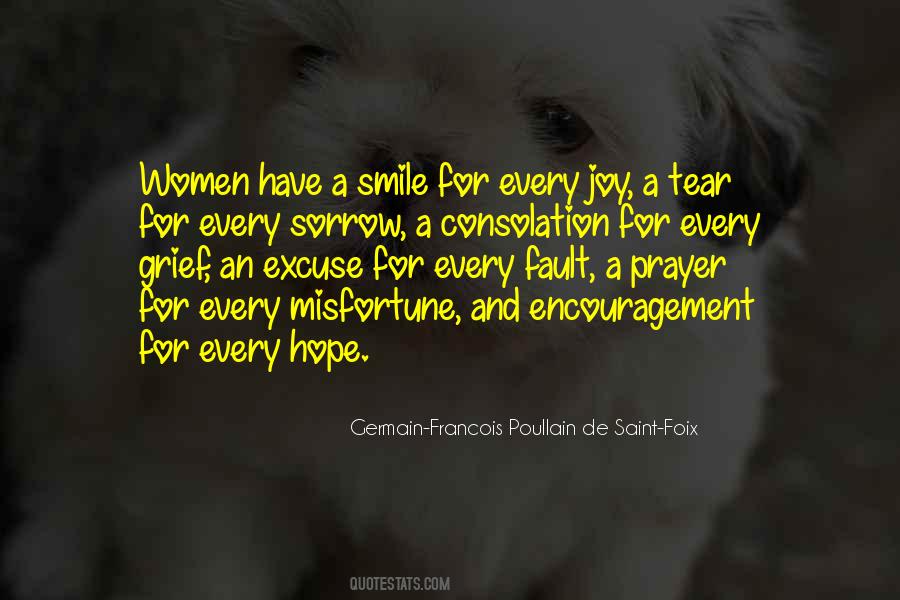 #96. Perfect devices: doctors, ghosts and crows. We can do things other characters can't, like eat sorrow, un-birth secrets and have theatrical battles with language and God. - Author: Max Porter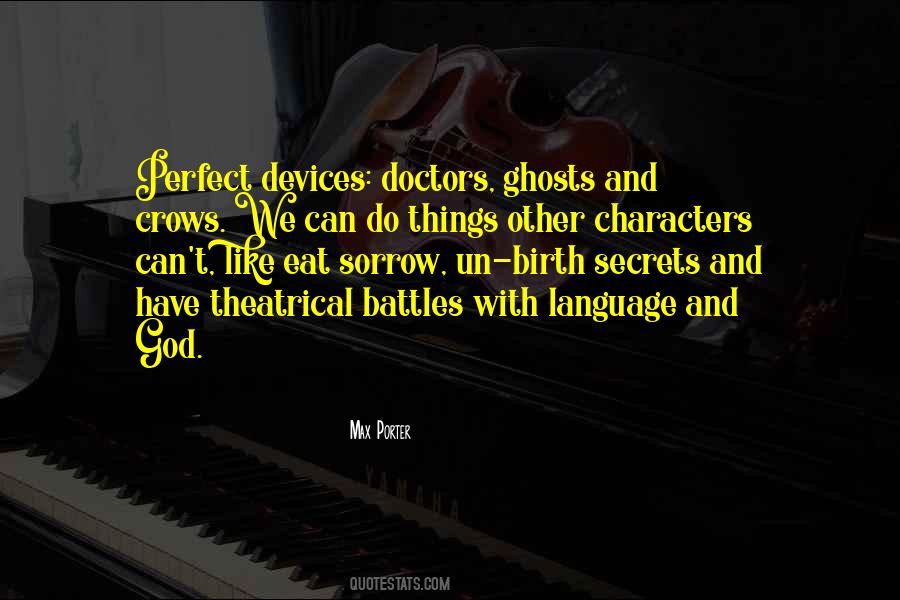 #97. The creation itself is full of griefs. How can one understand joy if there is no sorrow? And how can everyone be happy at the same time? - Author: Sarada Devi
#98. The closet bond that we share with our brethren is that of grief. Every community knows sorrow. - Author: Kilroy J. Oldster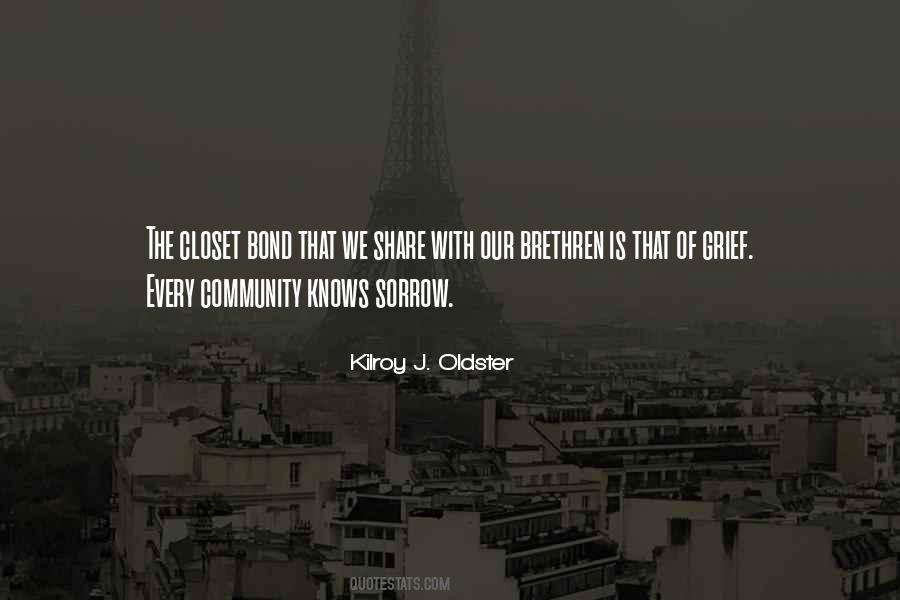 #99. Emotionally, grief is a mixture of raw feelings such as sorrow, anguish, anger, regret, longing, fear, and deprivation. Grief may be experienced physically as exhaustion, emptiness, tension, sleeplessness, or loss of appetite. - Author: Judy Tatelbaum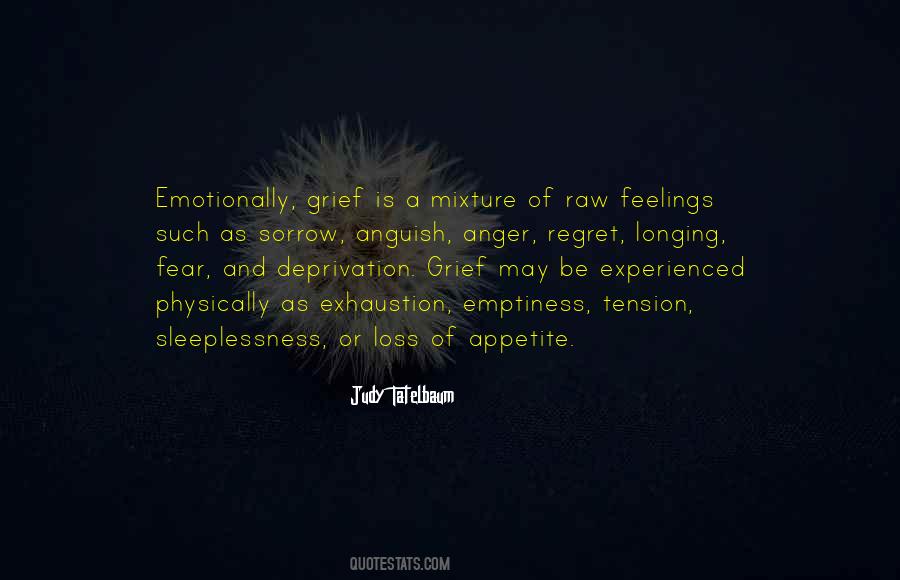 #100. Fairy tale does not deny the existence of sorrow and failure: the possibility of these is necessary to the joy of deliverance. It denies (in the face of much evidence, if you will) universal final defeat ... giving a fleeting glimpse of Joy; Joy beyond the walls of the world, poignant as grief. - Author: J.R.R. Tolkien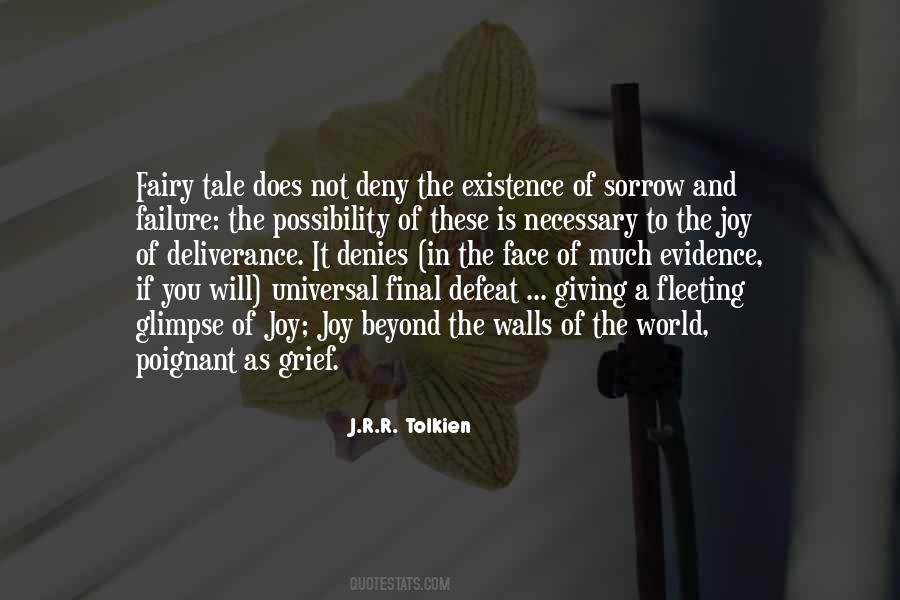 Famous Authors
Popular Topics