Your Thirties Famous Quotes & Sayings
List of top 36 famous quotes and sayings about your thirties to read and share with friends on your Facebook, Twitter, blogs.
Top 36 Quotes About Your Thirties
#1. When you're a woman in your thirties, and maybe you don't really know what you want to do with your life, but it seems like everyone else does, and your best friend gets married, and it forces you to look at yourself. I don't know if I described that in a very funny way. - Author: Kristen Wiig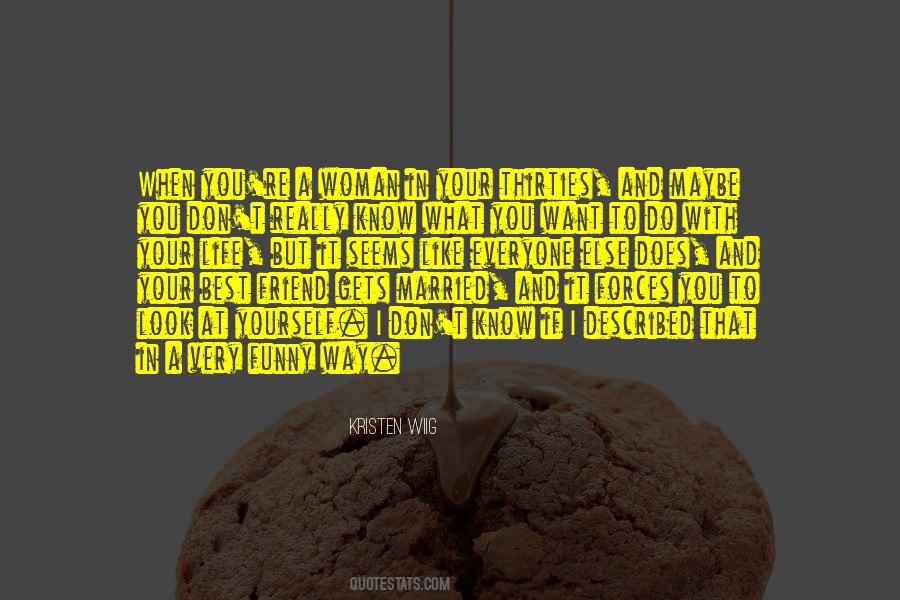 #2. Ageism works in both directions. As a teenager in the public eye, people would talk condescendingly to me. When you get older there's this feeling that you have to start carving up your face and body. Right now I'm in the middle ground - I think women in their thirties are taken seriously. - Author: Alanis Morissette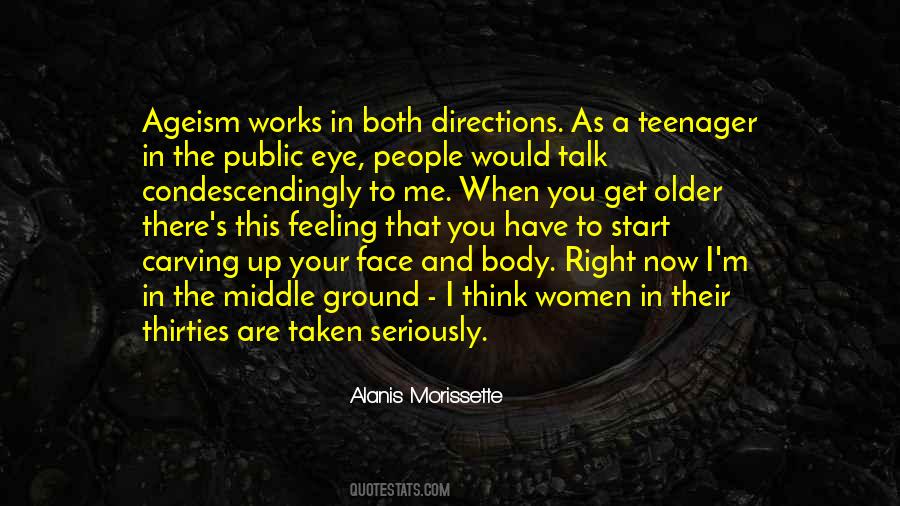 #3. It's interesting when you're in your thirties and you're not the same pretty boy that you were when you were 21. I think people's anger at themselves getting older is projected on to you because you become a symbol of that. - Author: Rupert Graves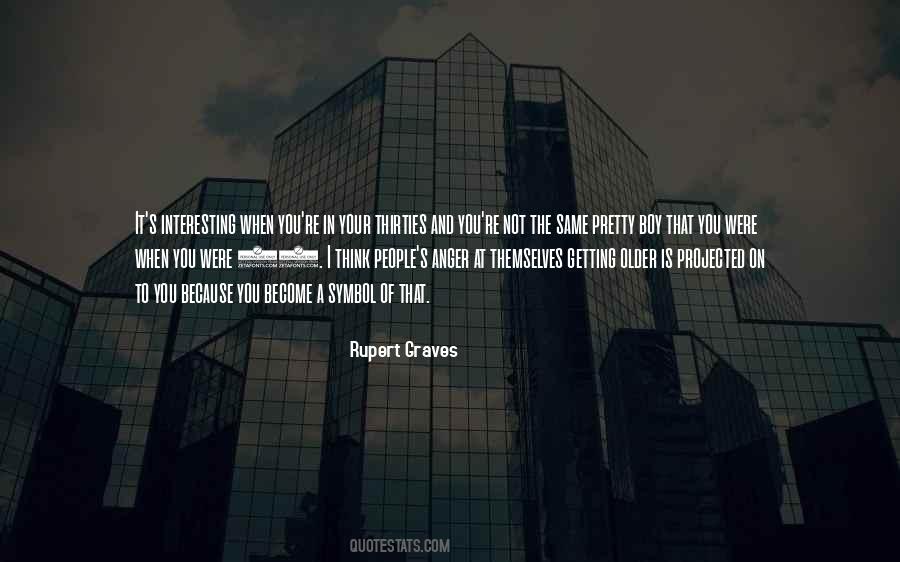 #4. By your thirties, you should be doing whatever it is you're supposed to be doing with your life and just get on with it - which is what I suppose happened with me as much as to anyone else. - Author: Douglas Coupland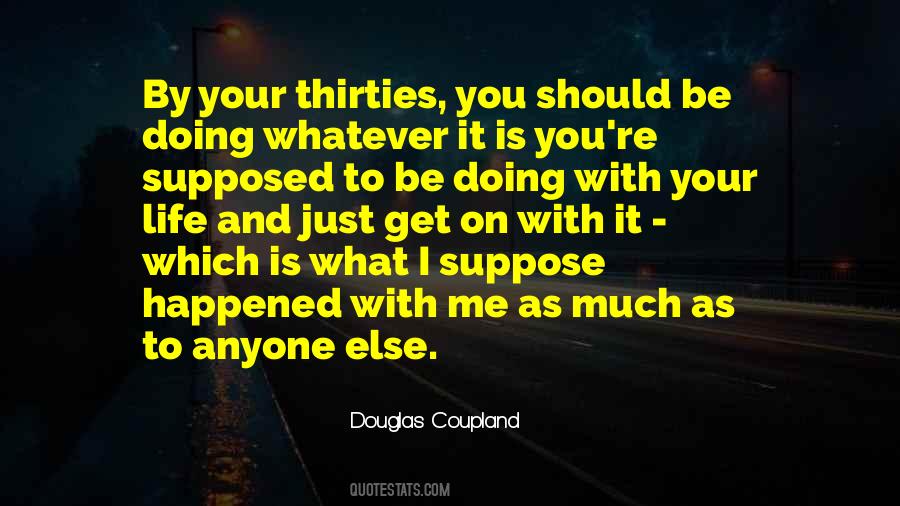 #5. When I look back on my twenties, I just remember being afraid of everything, and in my thirties, I'm actually excited by things. And if things don't work out, you know, by the time you've hit your thirties, you've had your fair share of disappointments. - Author: Anne Hathaway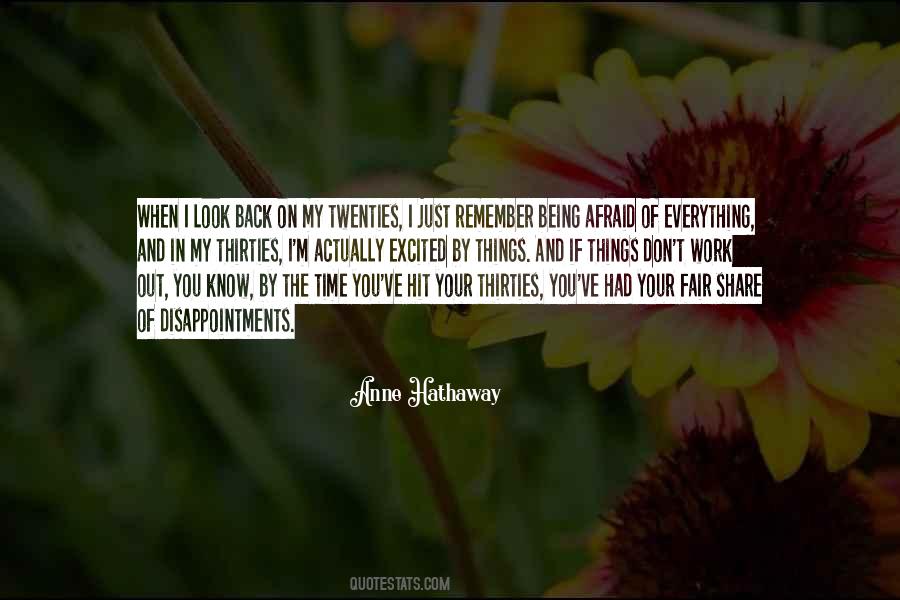 #6. When you're in your twenties, someone once wrote, you live to please other people. When you're in your thirties, you get tired of trying to please others, so you get miffed with them for making you worry about it. When you're in your forties, you realize nobody was thinking about you anyway. - Author: John Ortberg Jr.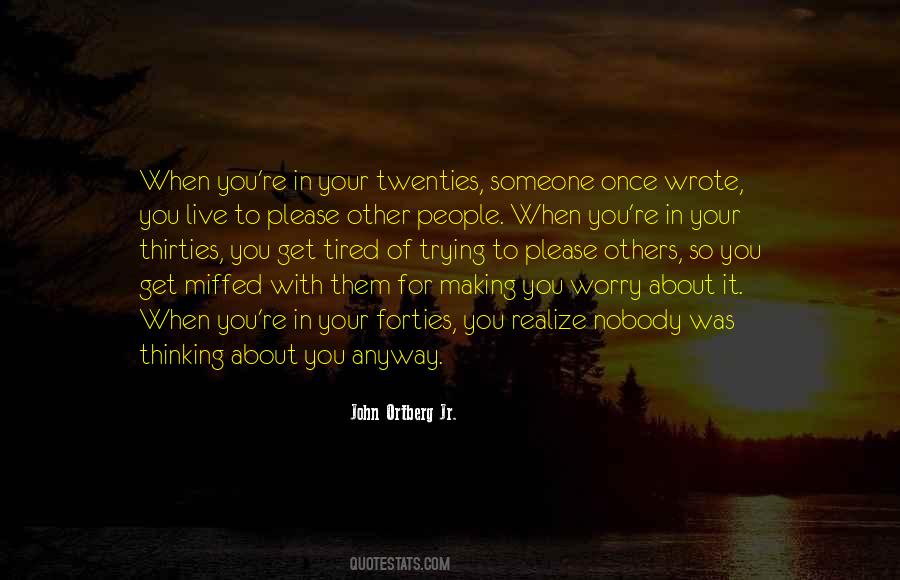 #7. My girlfriend Siri is a food blogger, and we both love to entertain and eat. This is what happens when you're in your thirties: what was once a passion and real appetite for nightlife in New York City manifests itself into other things, like entertaining at home. - Author: Carson Daly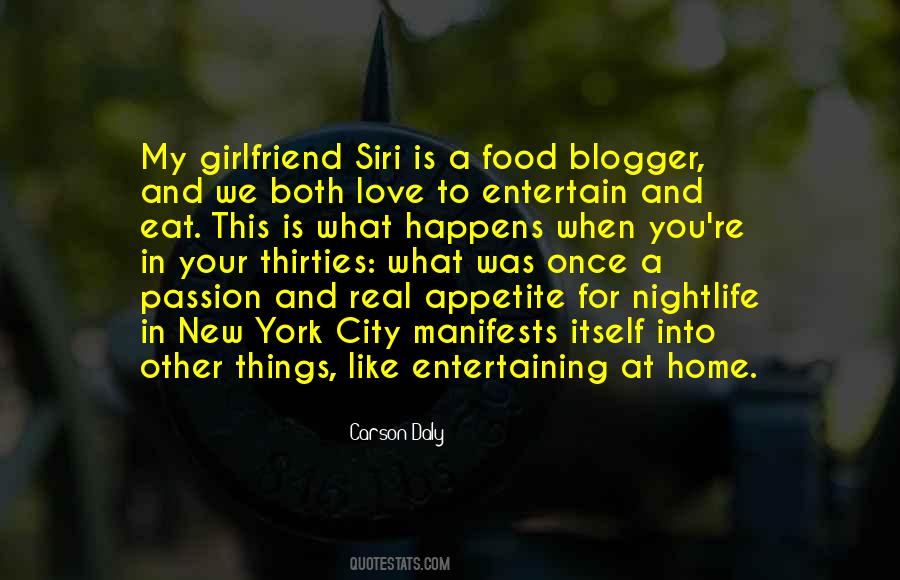 #8. You have to be in your middle thirties before you have anything worth saying. - Author: Peter Bowen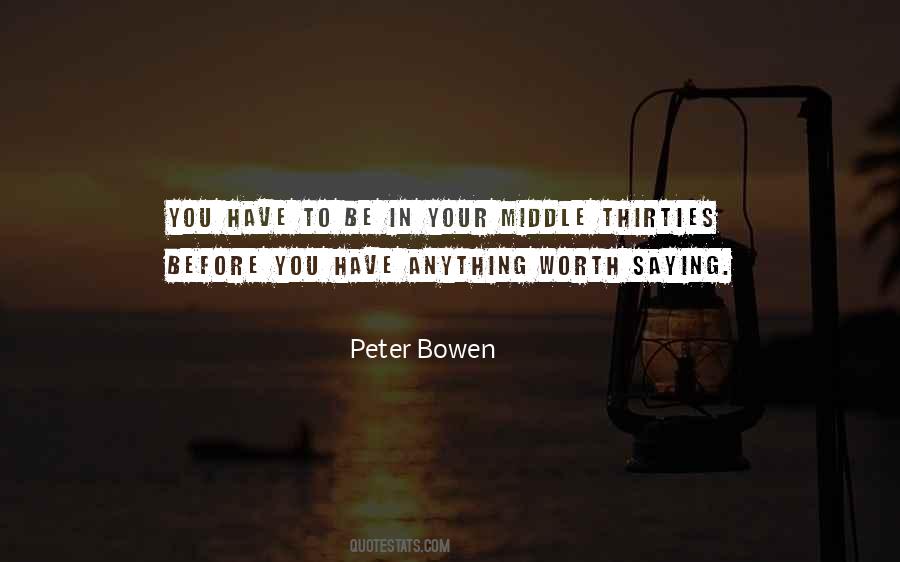 #9. Trust me, somewhere over the rainbow, happily ever after, etcetera, etcetera - looks far less likely in your mid-thirties. - Author: Heather McVea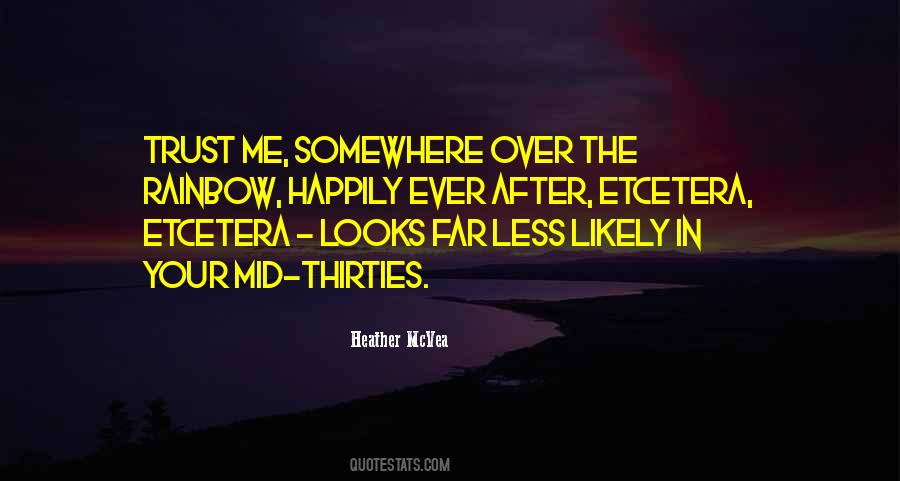 #10. I was talking to my mom one time, like, "Gosh, I'm 30." And she's like, "In your thirties you're even stronger than in your twenties." I didn't believe her, but I have played better in my thirties. - Author: Serena Williams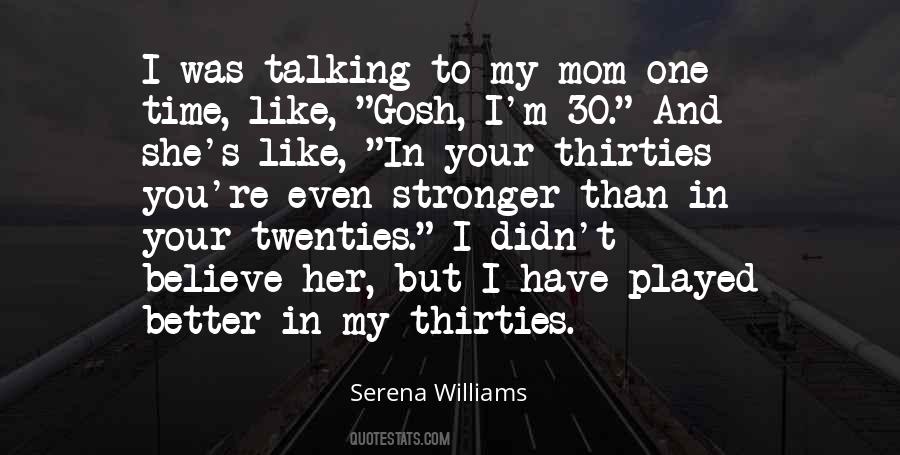 #11. Your mid-thirties is a good time because you know a fair amount, you have some self-control. - Author: Zadie Smith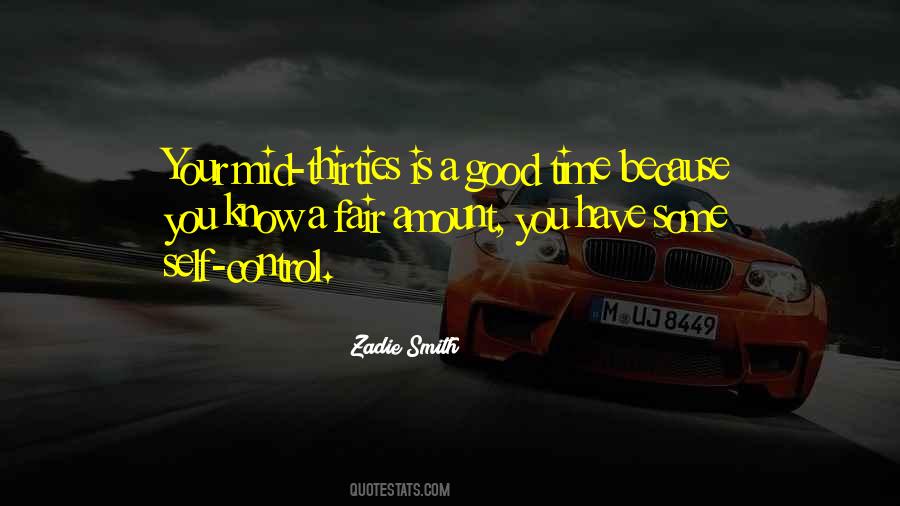 #12. Being in your mid-thirties brought benefits, I reminded myself. You began to appreciate tidiness, smallness, things in their place. This is the shape your life has taken, I said. Be existential. Go to sleep. - Author: Wally Lamb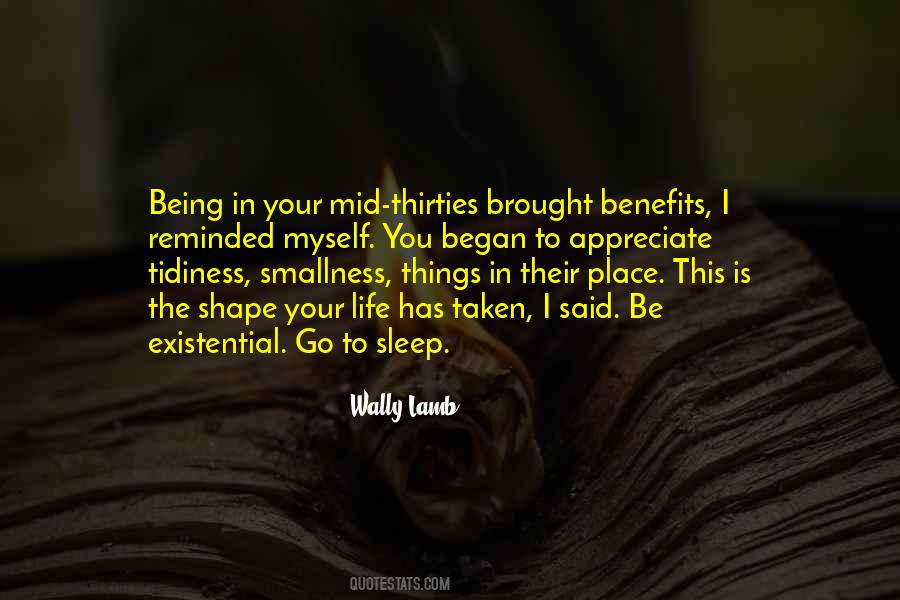 #13. One of my biggest fears is not being able to break out of a rut; of becoming a prisoner to my ways, unable to change course. But in my mid-thirties, I learned you can change your thinking. - Author: Matt Dillon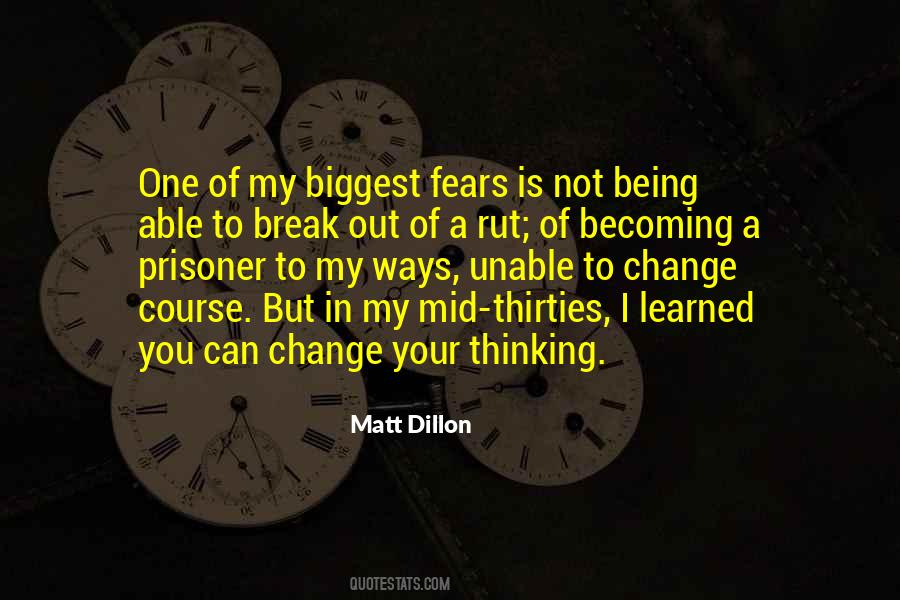 #14. This was one of those mid-thirties moments when you take a look at the stale, half-chewed bagel your life has become and kiss jealousy on its smokey mouth. - Author: Steve Almond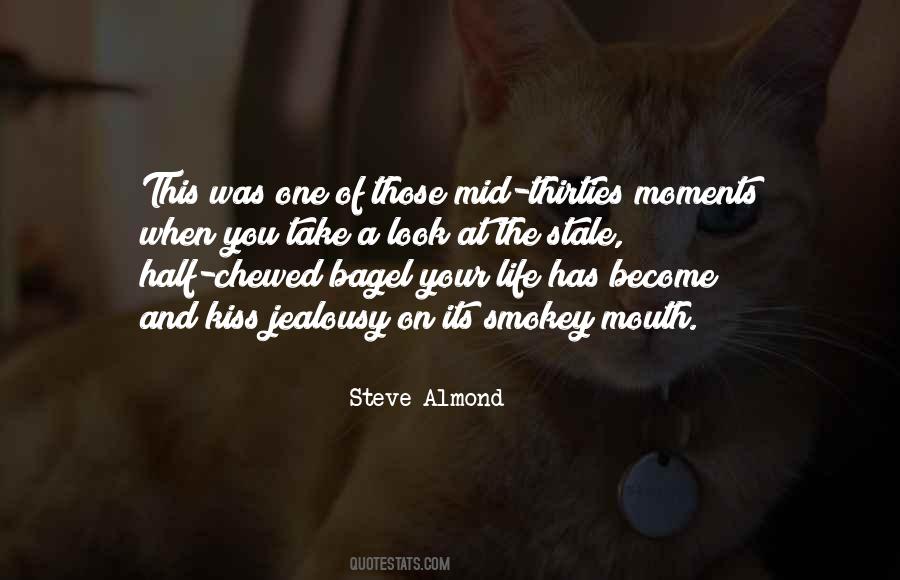 #15. Men don't become worth your while until they're in their thirties." ...
"Well, it's not automatic with all men, you know." ...
"With women, of course, it's different. Women are born interesting. - Author: Natasha Mostert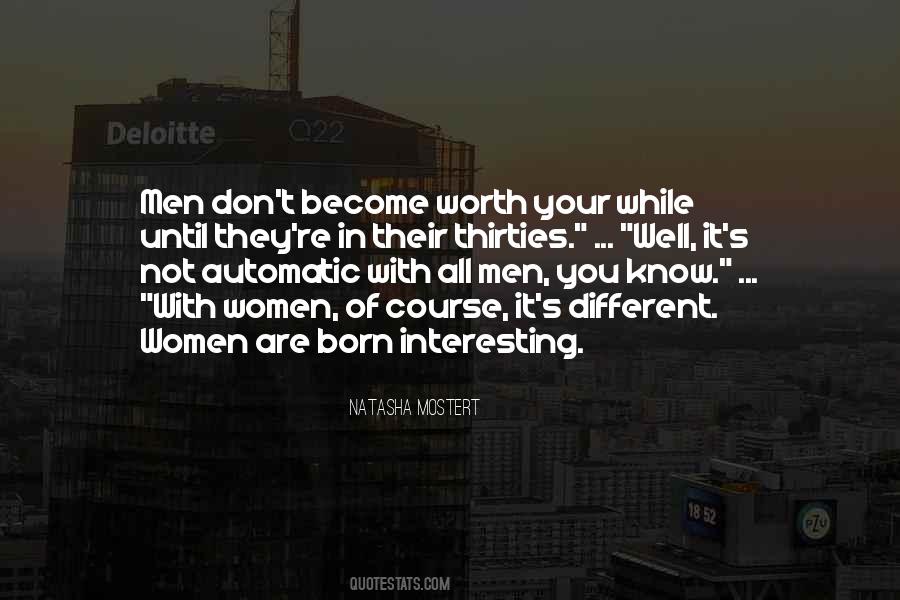 #16. When you're in your early 20s your love life seems to explode every 20 minutes or so. By the time you've reached your thirties, it is every five or ten years. - Author: Patrick Marber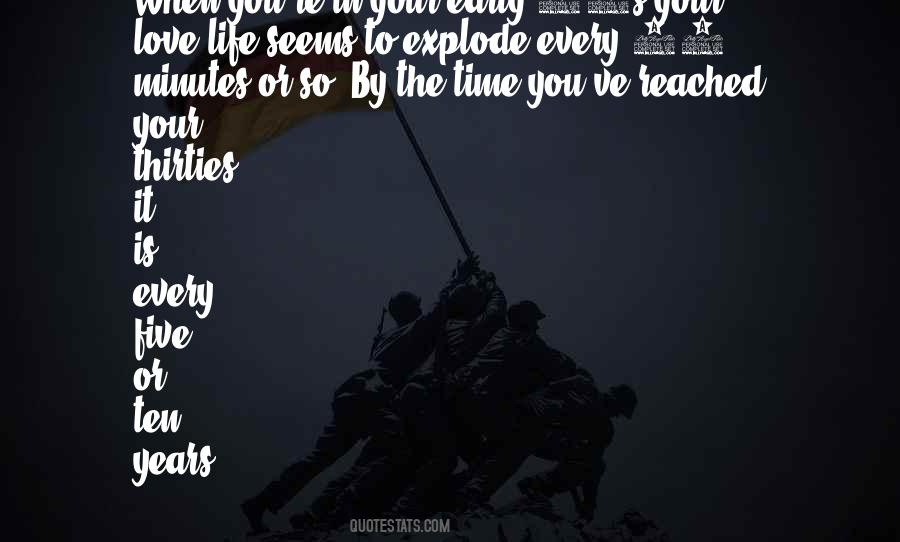 #17. It wasn't being an alcoholic - it was going wild. It happened when I got famous. It was like having my teens in my early thirties: blotting out your life, not having to think about anything. - Author: Julie Walters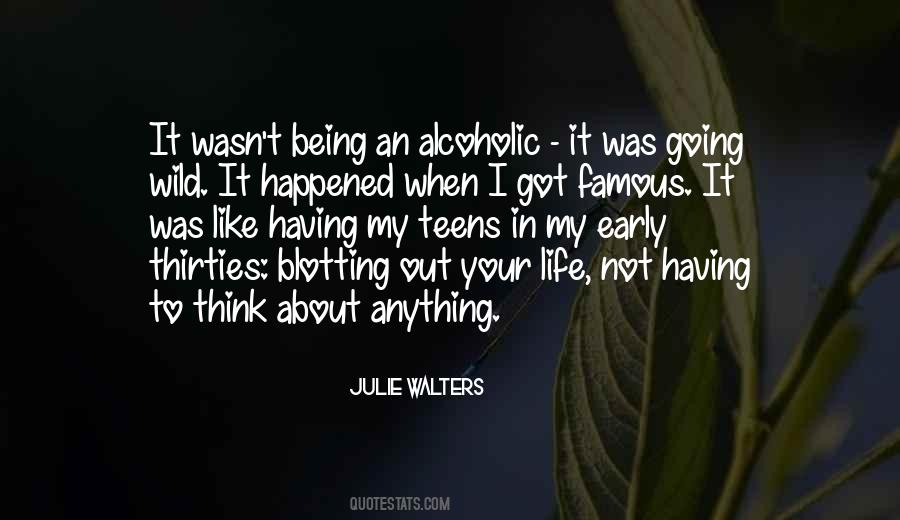 #18. When you're in your mid-thirties, the cult of people who have children around you all want you in their cult, and they constantly ask you, 'So when are you going to have a baby?' - Author: Jenny Lewis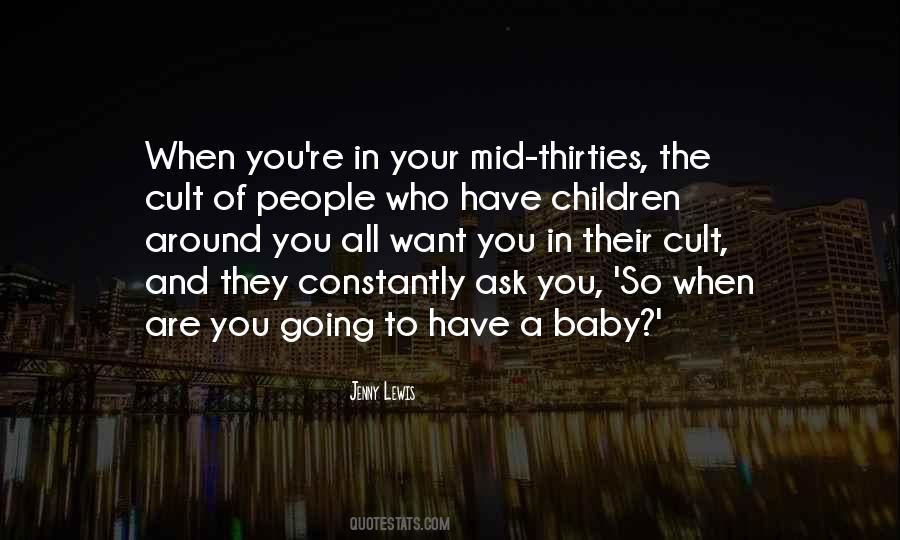 #19. Mitch, it is impossible for the old not to envy the young. But the issue is to accept who you are and revel in that. This is your time to be in your thirties. I had my time to be in my thirties, and now is my time to be seventy-eight. - Author: Mitch Albom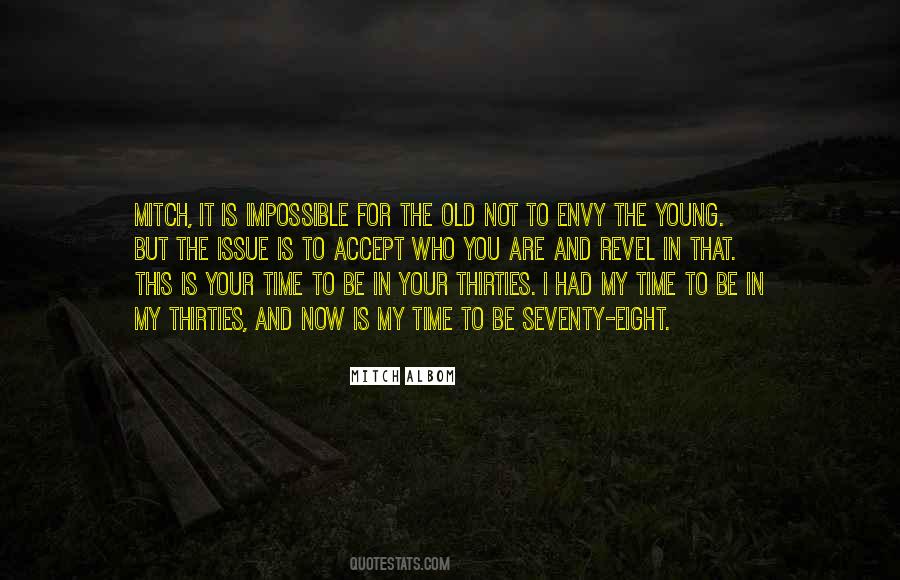 #20. They were all in their early thirties. An age at which it is sometimes hard to admit that what you are living is your life. - Author: Alice Munro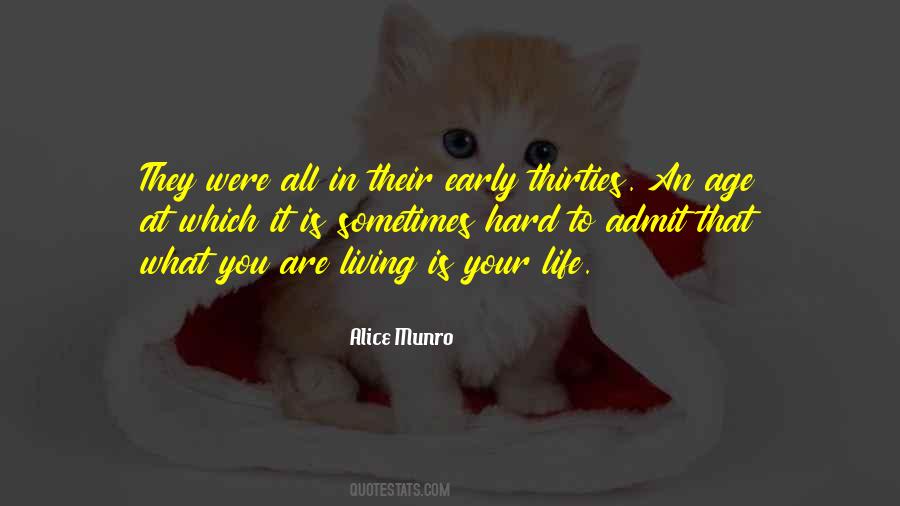 #21. For many people, a western lifestyle equates to living in a toxic home, working a toxic job, eating toxic food, being sick from your thirties onward and eventually dying from preventable disease. - Author: Steven Magee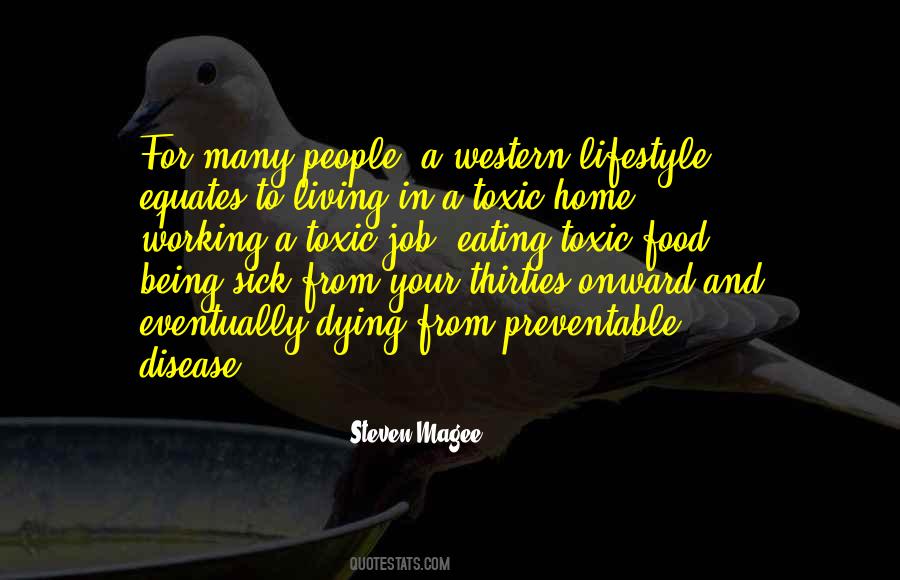 #22. Who says that your thirties is when you're supposed to be done? I would like to know who made that rule! - Author: Serena Williams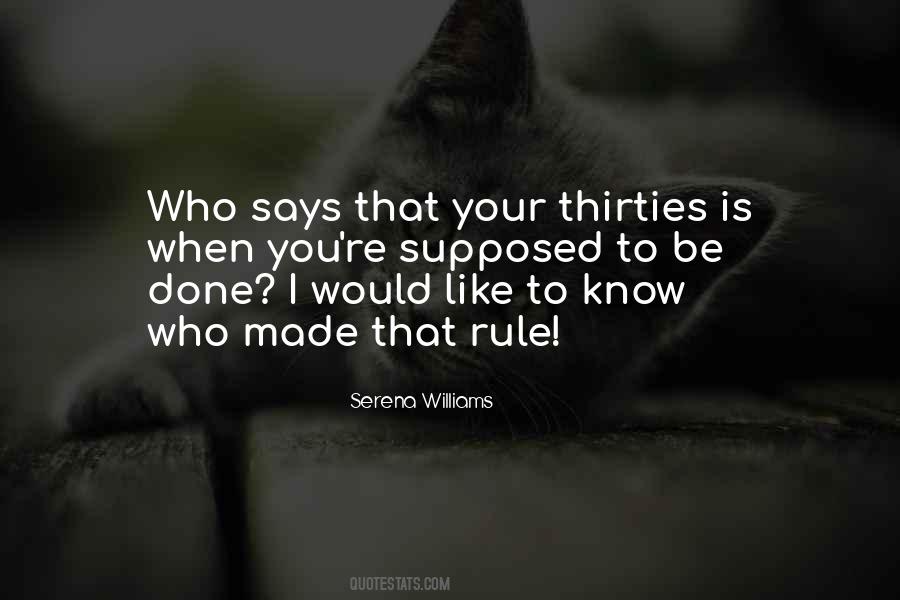 #23. To start your life as a character of 120 years when you are in your late thirties, and then go back in time about 20 years later to play the same character who is your own age then, its very complicated, but very interesting. - Author: Ian McDiarmid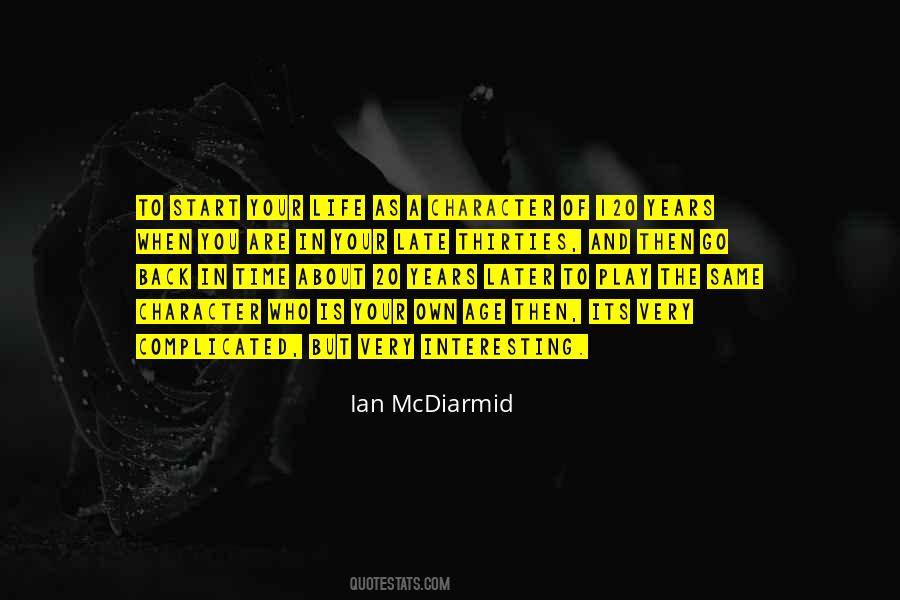 #24. I think that love isn't what you think it is when you're in your twenties or even thirties. - Author: Paul Theroux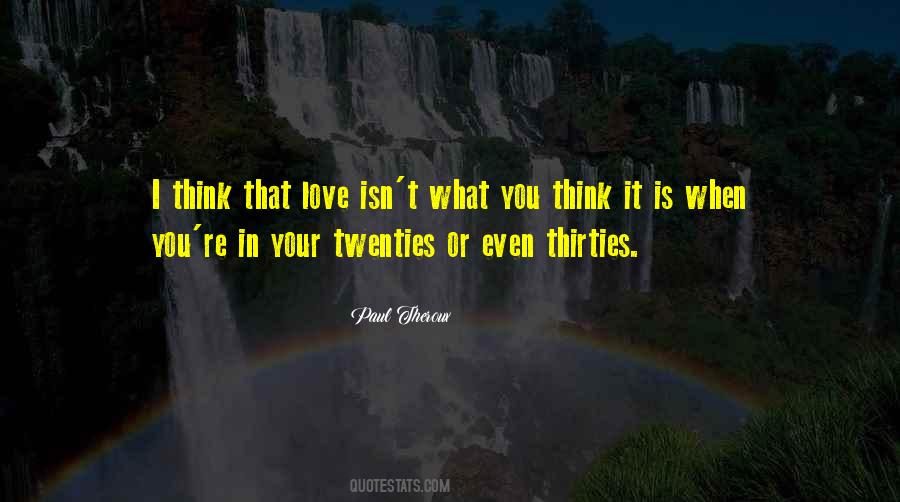 #25. If you're a man in your twenties or thirties, and you have yet to make your fortune, I would urge you not to get married. - Author: Gene Simmons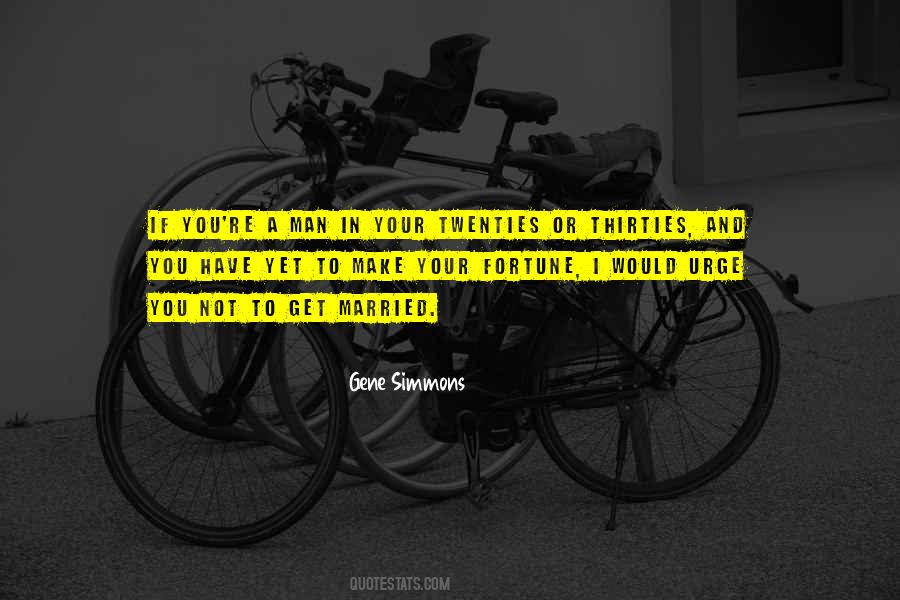 #26. Goals have been called the building blocks of adult personality, and it is worth considering that who you will be in your thirties and beyond is being built out of goals you are setting for yourself today. - Author: Meg Jay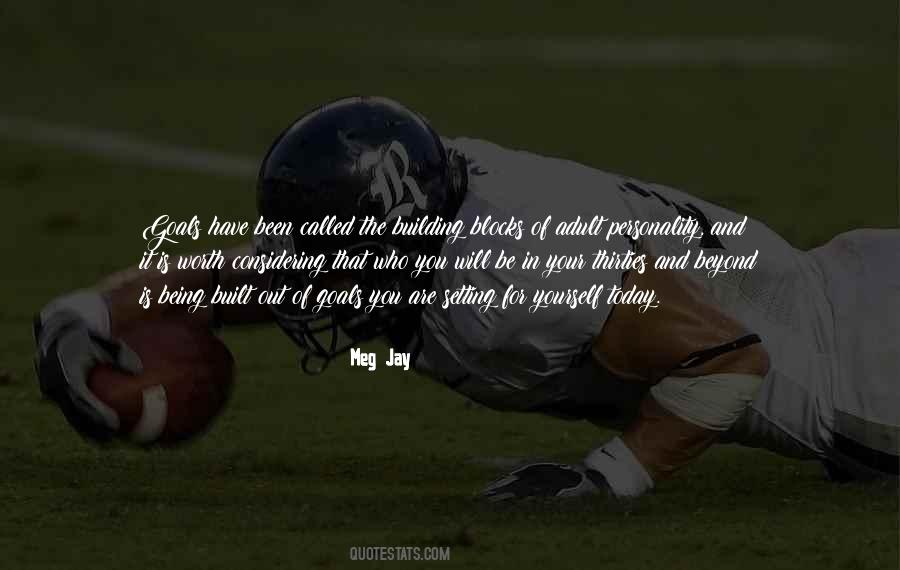 #27. There are days when I definitely look in the mirror and go, "All right, I need to find a cream." I can't foresee myself ever going under the knife, but then again, I'm only in my mid-thirties. Maybe it's different when you're in your mid-sixties. - Author: Kristen Stewart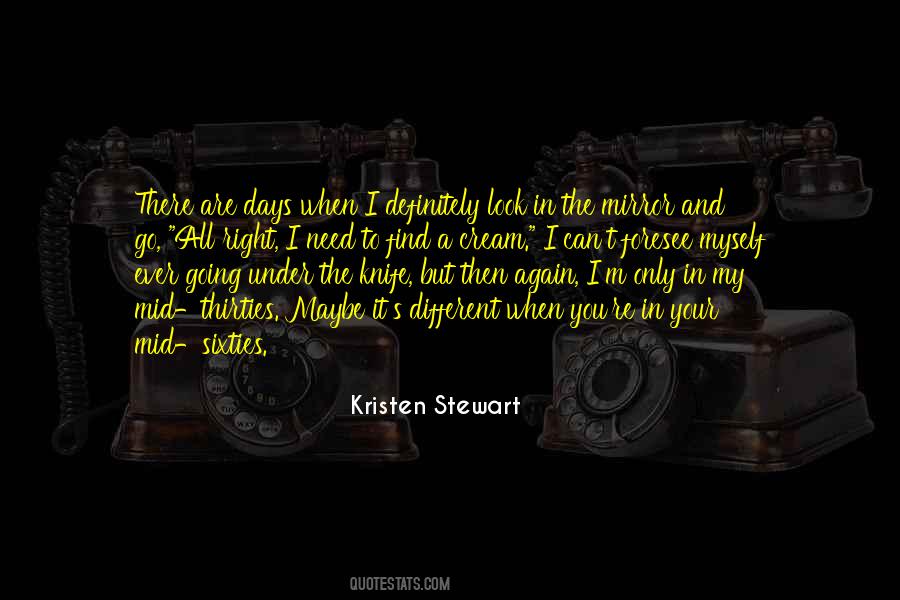 #28. By the time you are in your thirties, most of the time, you've got a job, you can pay for your rent, you can create this nice world around you. And still, you're only in your thirties - you're not that far away from your twenties, which is when you're making all of your stupid mistakes. - Author: Katie Aselton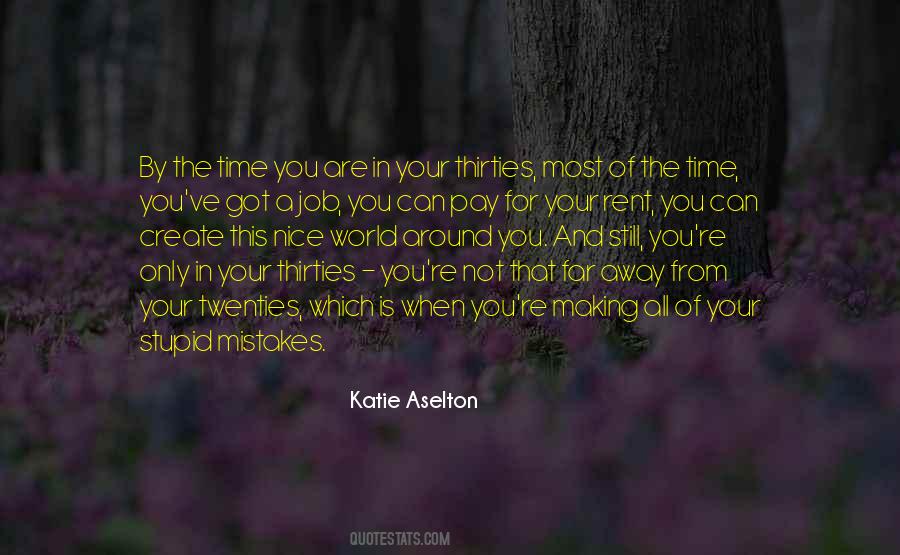 #29. By your late thirties the ground has begun to grow hard. It grows harder and harder until the day that it admits you. - Author: Thomas McGuane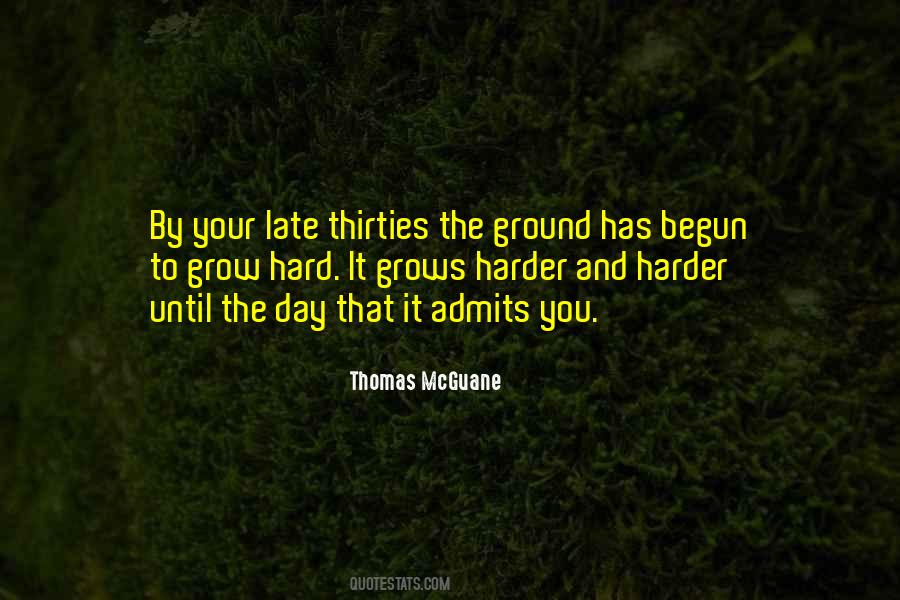 #30. In your teens, you think you know everything, and you know nothing. By your thirties, you're sure you know nothing, but you're happy with that. - Author: Tea Leoni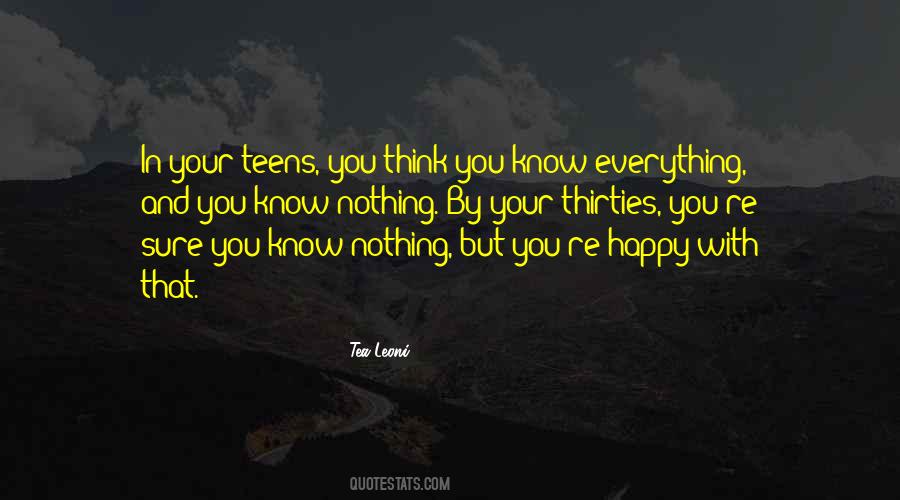 #31. ** The fall semester will offer such classes as Learning When to Shut Up, Asking for Directions, Chick Flicks 101 and The Art of Loading the Dishwasher (Lab Fee Extra) - Author: K. Larsen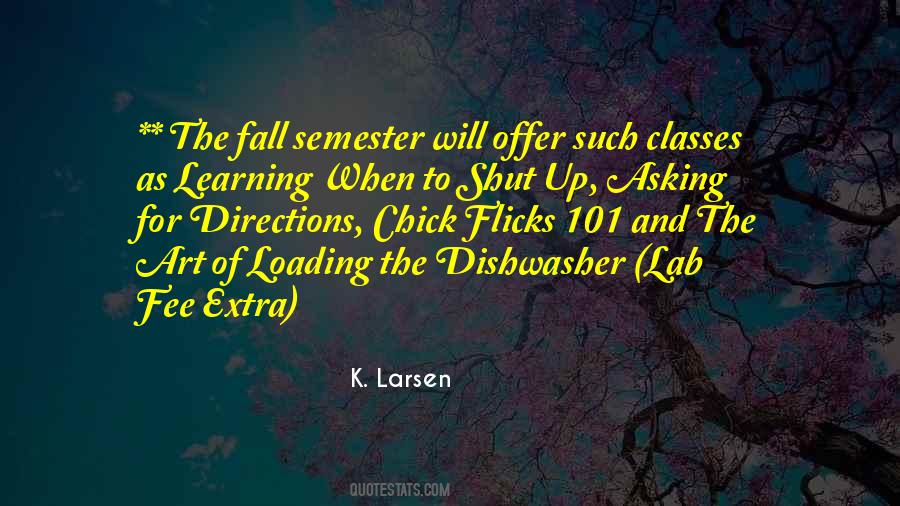 #32. I've got the 30 drive right now. You turn 30, I don't know, life is exciting again; thirties is when you've got it all figured out. You start reaching some of your goals, and achieving some great things. - Author: Aaron Rodgers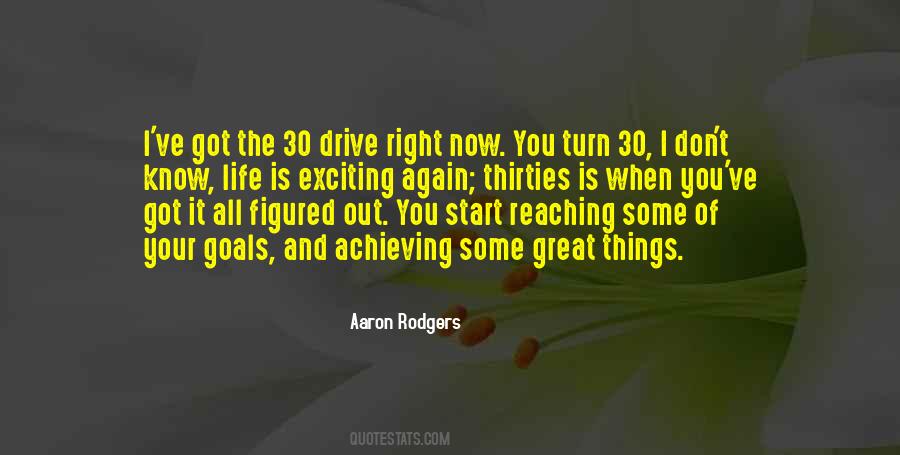 #33. I think anybody over 30 plays parents because it happens in your thirties and so that's kind of a natural progression. But I'm definitely drawn to it. It's probably the most intense, passionate thing that happens to you as you get older. - Author: Jodie Foster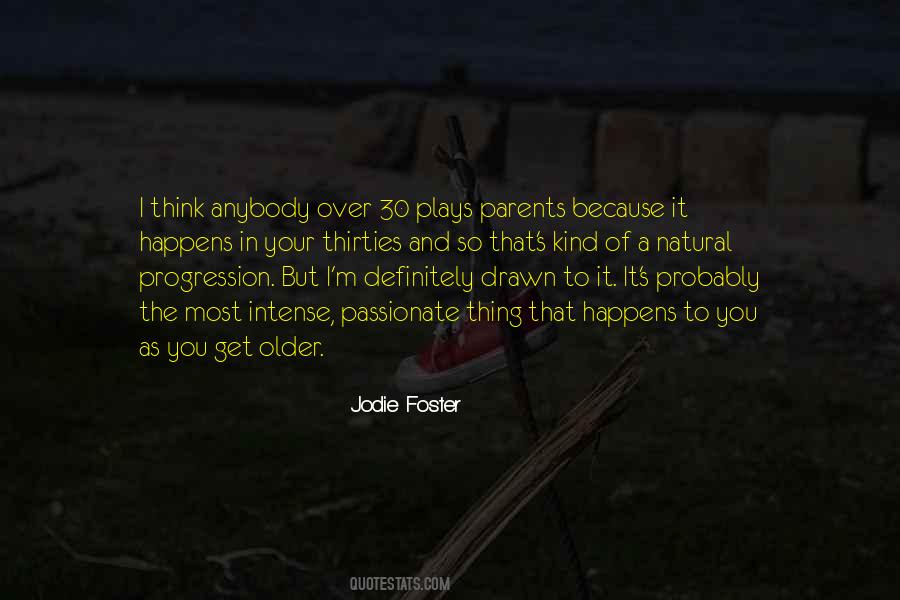 #34. No one tells you this, but when you enter your thirties, you will find vaguely in-shape bodies ridiculously attractive as opposed to your Chris Hemsworth predilections of the past. This is not to say that ripped dudes turn you off. - Author: Phoebe Robinson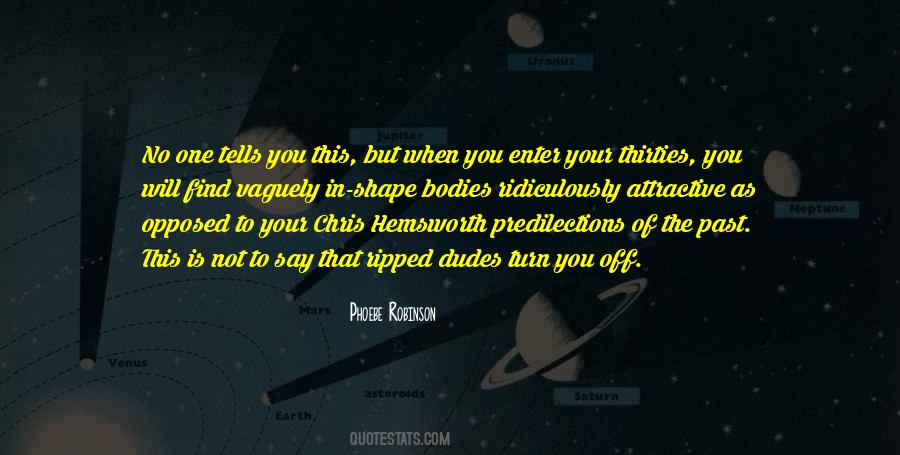 #35. ...I'm severely allergic to unsolicited monologue performances in public. While they don't cause sneezing or hives, when exposed, I do experience extreme and immediate vaginal dryness. - Author: Sara Barron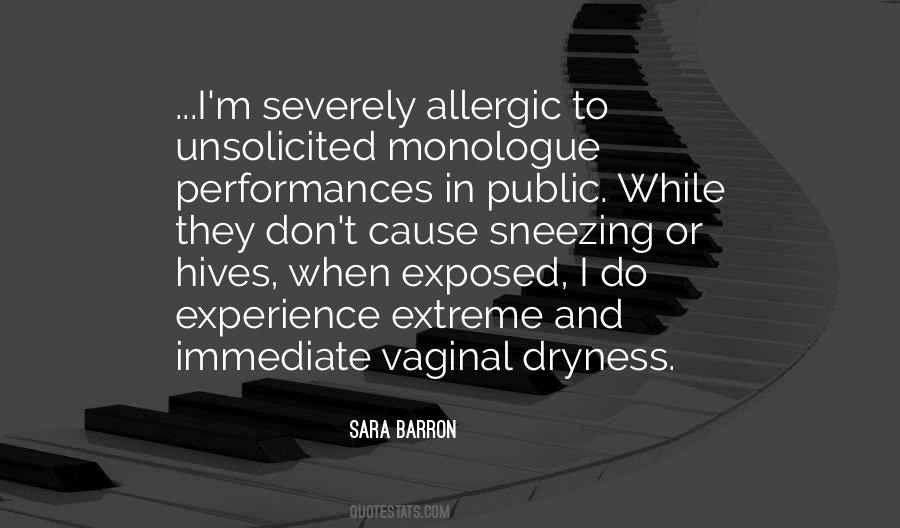 #36. Once you get into your thirties, you stop giving a fuck what people think about your opinions. You're more confident. - Author: Aaron B. Powell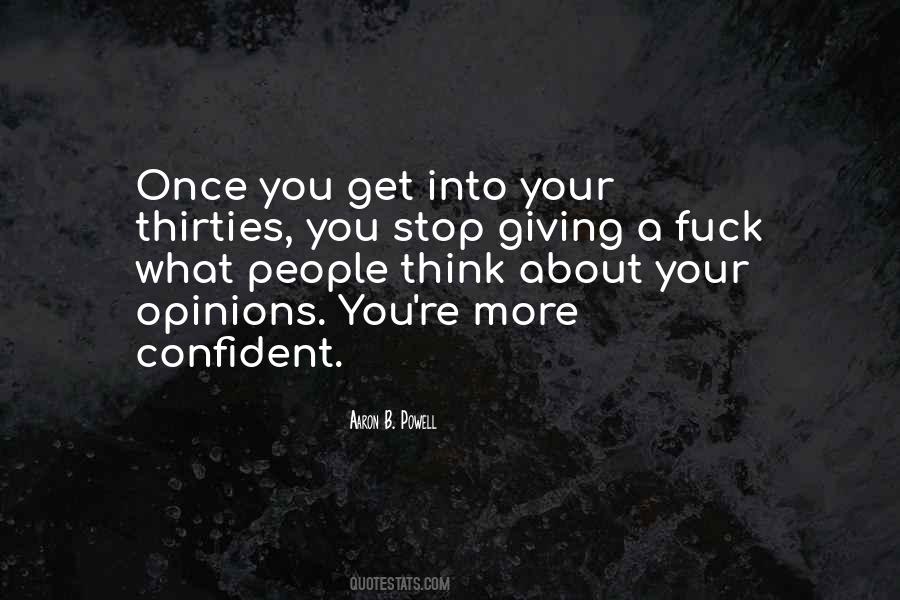 Famous Authors
Popular Topics