Women's Empowerment Famous Quotes & Sayings
List of top 100 famous quotes and sayings about women's empowerment to read and share with friends on your Facebook, Twitter, blogs.
Top 100 Quotes About Women's Empowerment
#1. Women have sat indoors all these millions of years, so that by this time the very walls are permeated by their creative force, which has, indeed, so overcharged the capacity of bricks and mortar that it must needs harness itself to pens and brushes and business and politics. - Author: Virginia Woolf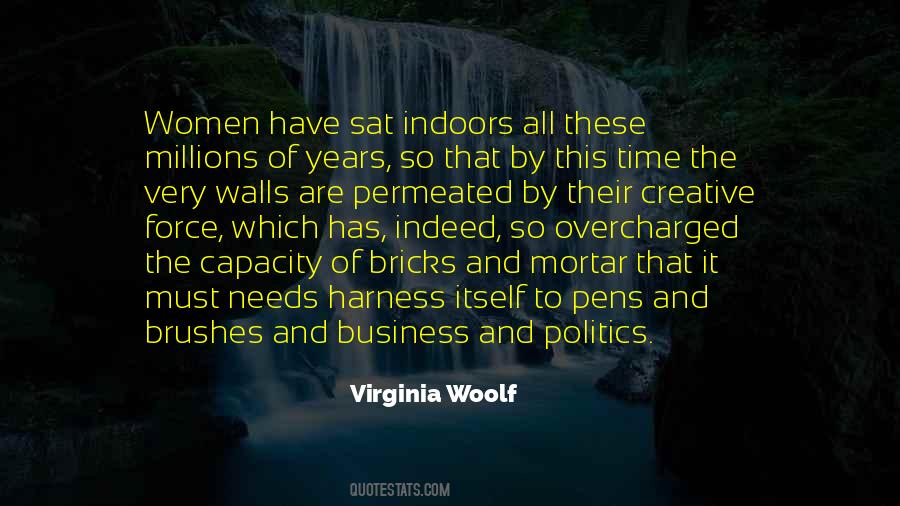 #2. My interest is not data, it's the world. And part of world development you can see in numbers. Others, like human rights, empowerment of women, it's very difficult to measure in numbers. - Author: Hans Rosling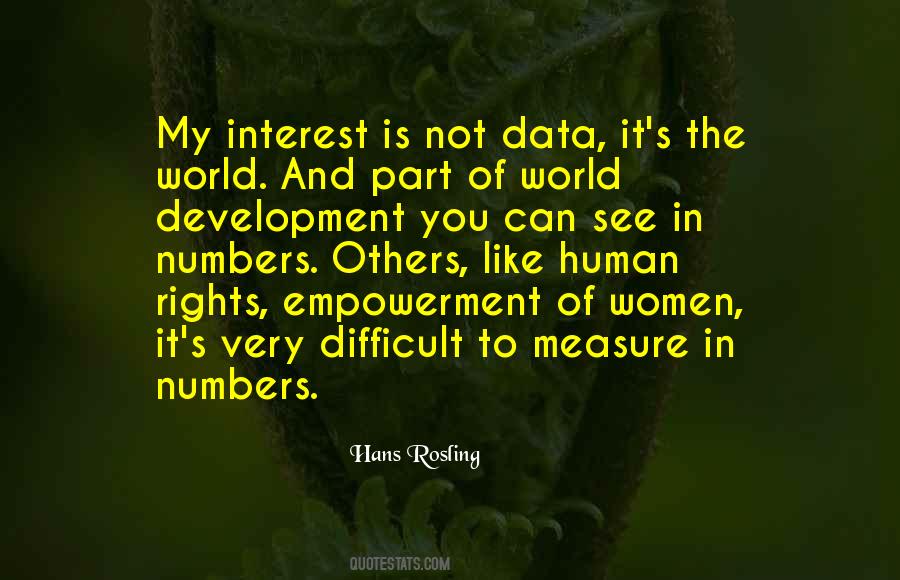 #3. I am anchored on a resolve you cannot shake. My heart, my conscience shall dispose of my hand
they only. Know this at last. - Author: Charlotte Bronte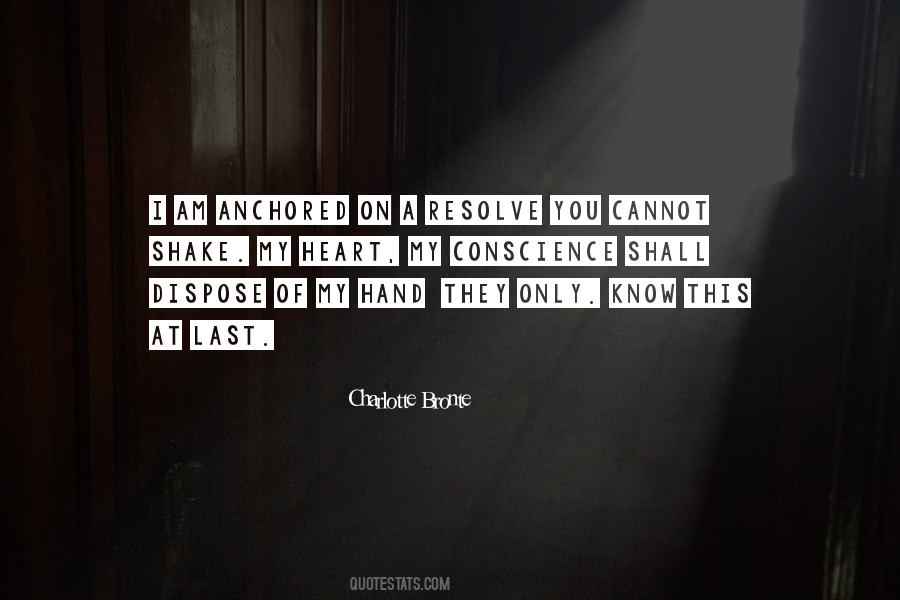 #4. In fact, there is perhaps only one human being in a thousand who is passionately interested in his job for the job's sake. The difference is that if that one person in a thousand is a man, we say, simply, that he is passionately keen on his job; if she is a woman, we say she is a freak. - Author: Dorothy L. Sayers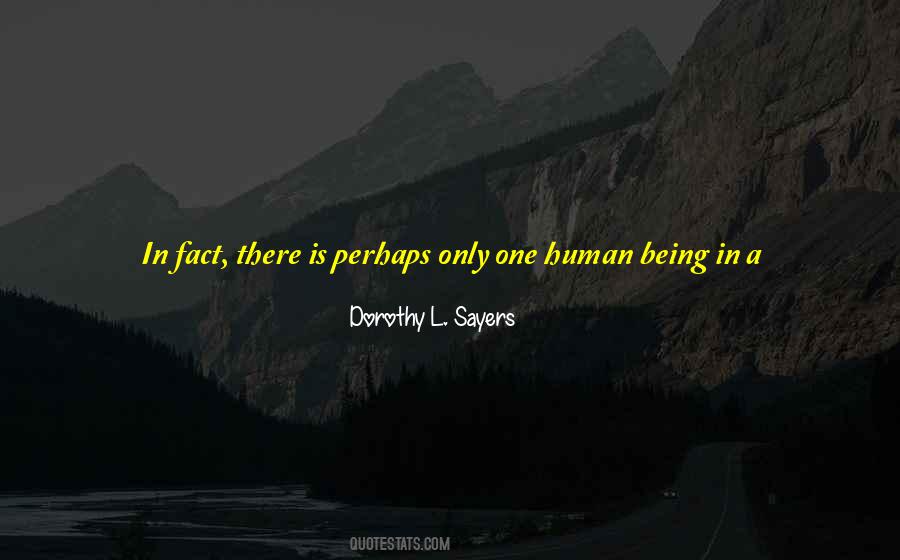 #5. I have not yet spoken my last word about women. I believe that if a woman succeeds in withdrawing from the mass, or rather raising herself from above the mass, she grows ceaselessly and more than a man. - Author: Arthur Schopenhauer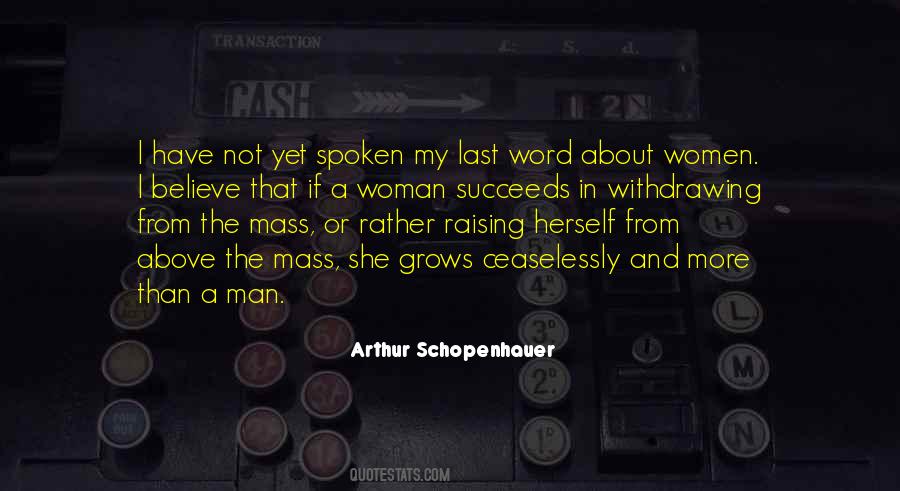 #6. You are that blue-white diamond, so treat yourself like a Tiffany. - Author: Sharon Law Tucker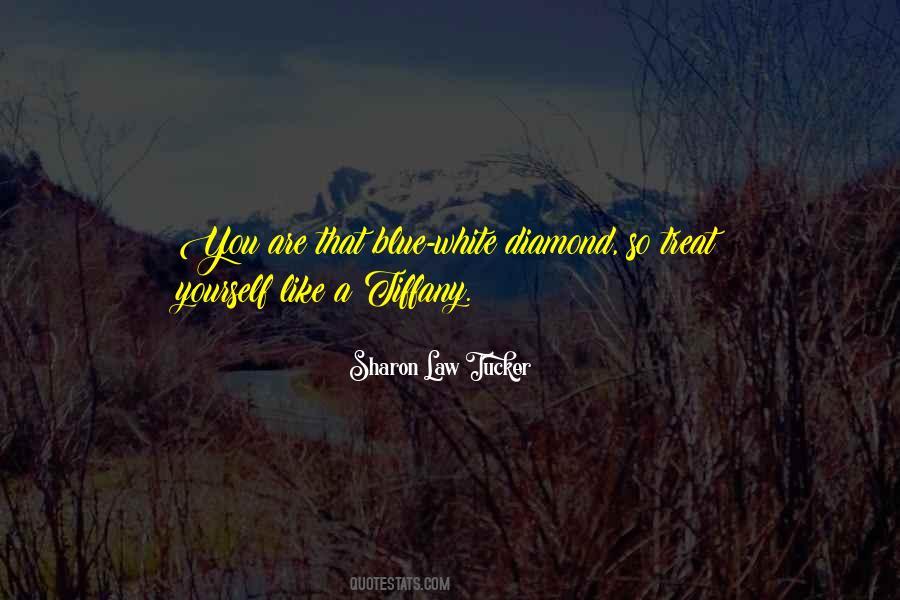 #7. I work in areas related to child protection and family safety, women's empowerment, the creation of opportunities for youth, and culture and tourism. Daunting? Yes. Impossible? No. In fact, such challenges energize me. - Author: Queen Rania Of Jordan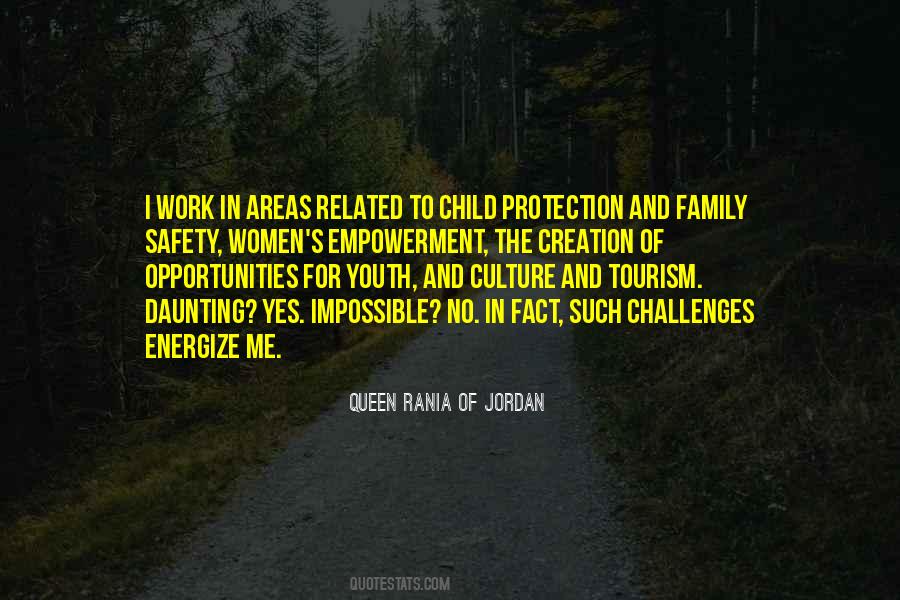 #8. Economic equity is an enormous empowerment of women. Having jobs that provide income means that women can be a more effective force, a more equal force, in the political process. Women with income take themselves more seriously and they are taken more seriously. - Author: Betty Friedan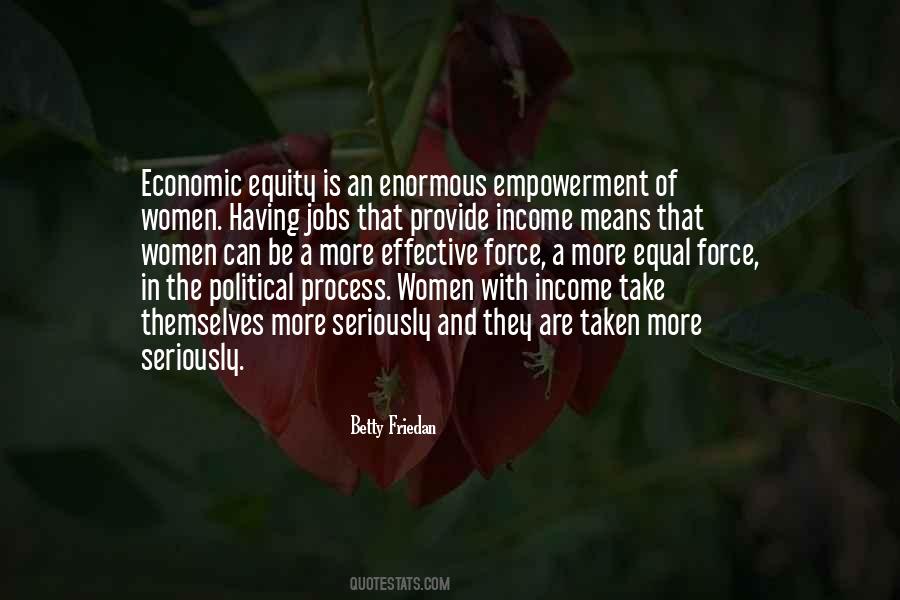 #9. Anything may happen when womanhood has ceased to be a protected occupation. - Author: Virginia Woolf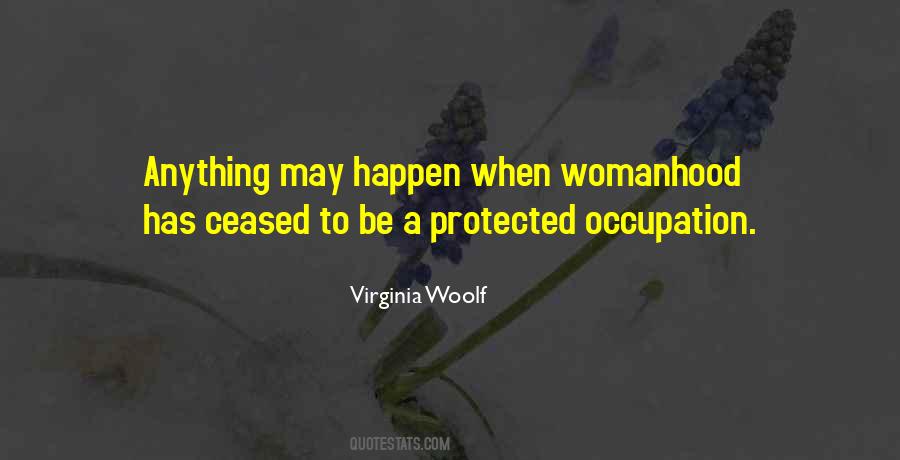 #10. show me all the parts of you
that you do not love
so i know where to begin. - Author: AVA.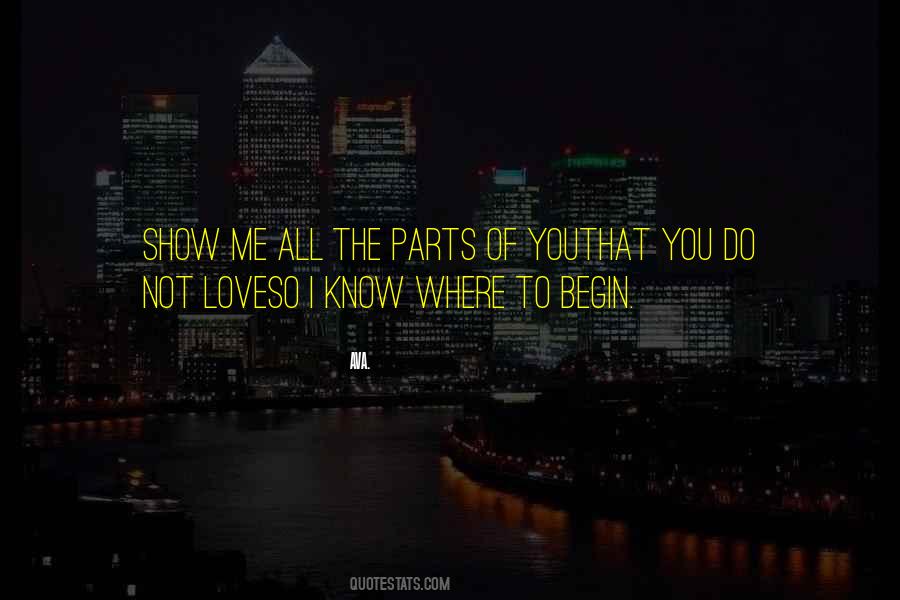 #11. Human development, not secularization, is what's key to women's empowerment in the transforming Middle East. - Author: Dalia Mogahed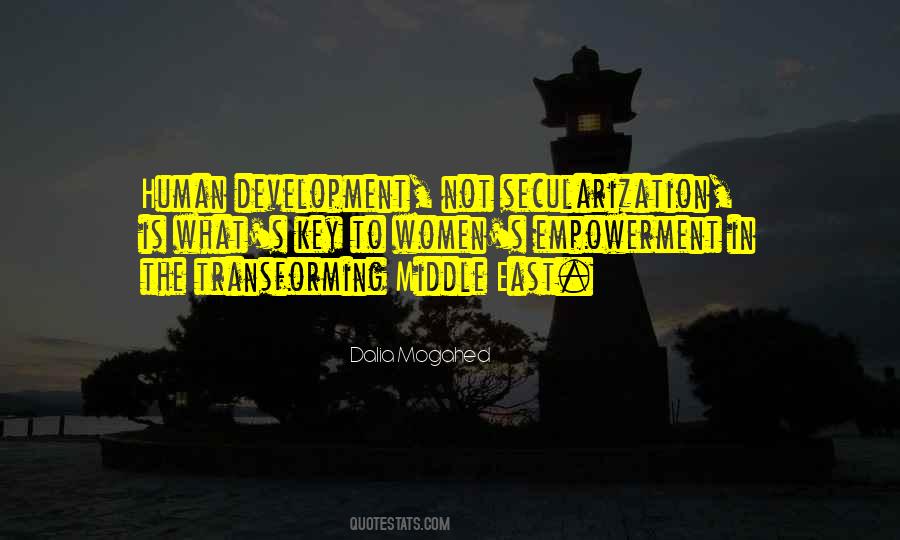 #12. I hate men who are afraid of women's strength. - Author: Anais Nin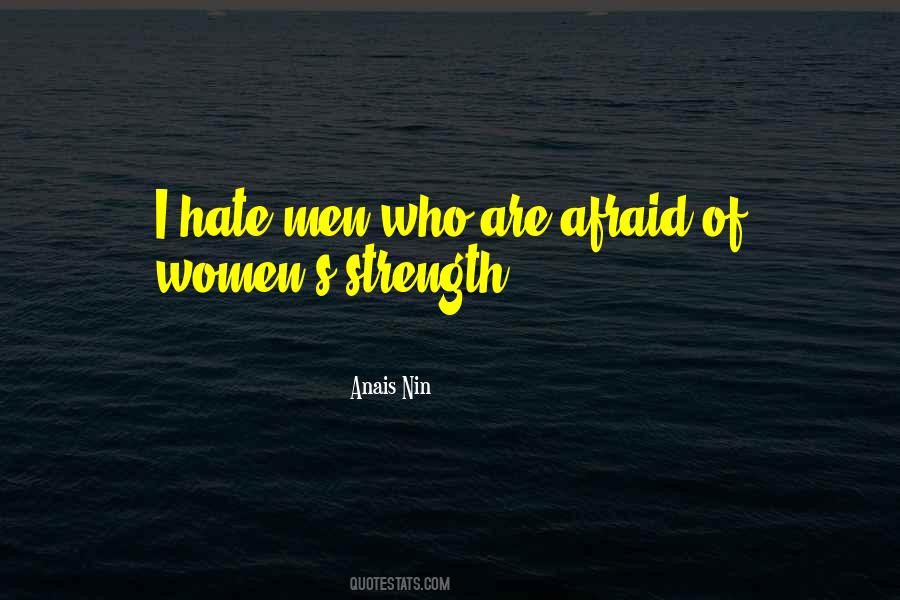 #13. Feminism is not a one size fits all kinda thing but anyone can wear it. - Author: Jess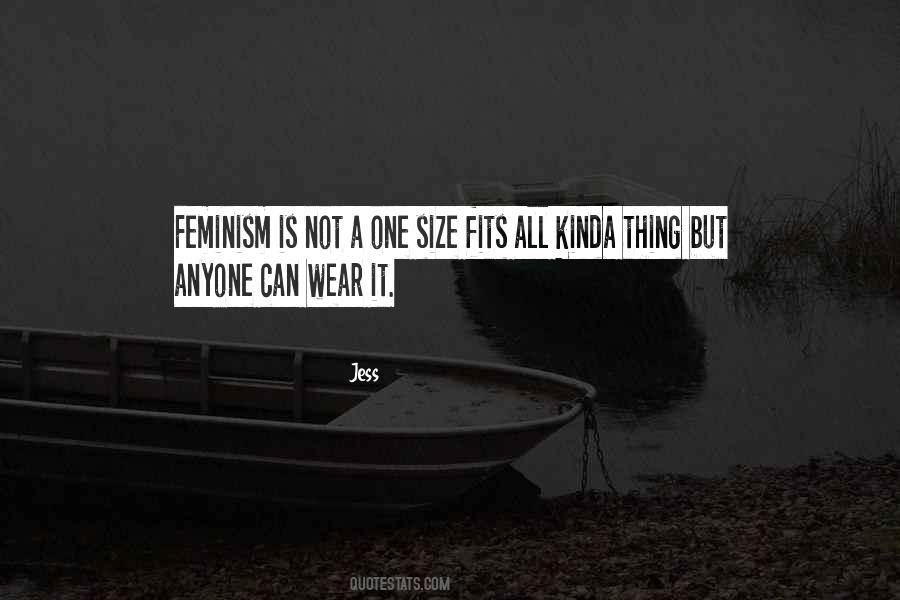 #14. This book is for those of you who are tired of trying to squeeze into constrained categories, who long for a life without limits on who you are or who you will become. - Author: Maureen Chiquet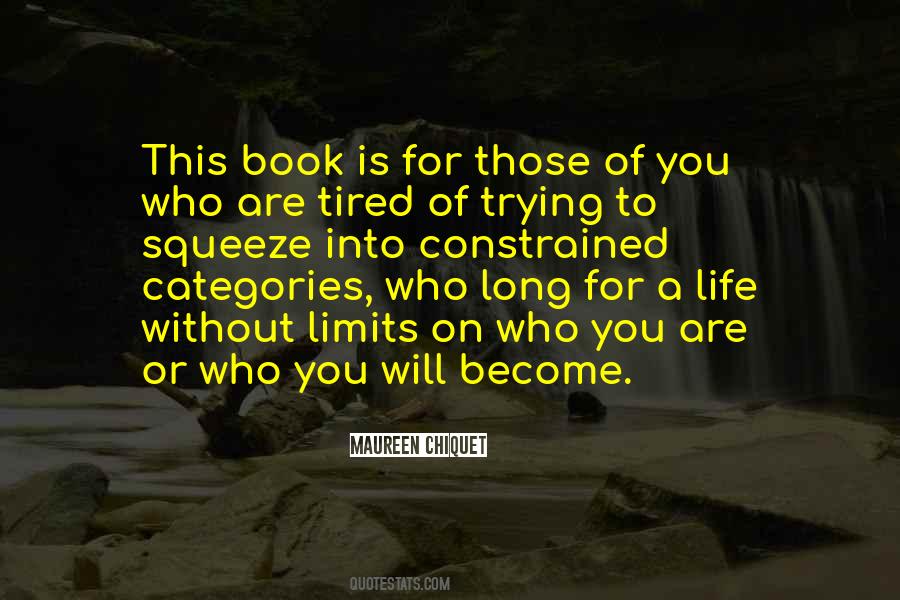 #15. That's right. Watch closely, so there's no fucking way you can miss how indisputably beautiful you are, because I don't intend to argue about this again. The next time I tell you you're gorgeous, you're going to say, 'Damn right I am. - Author: Samanthe Beck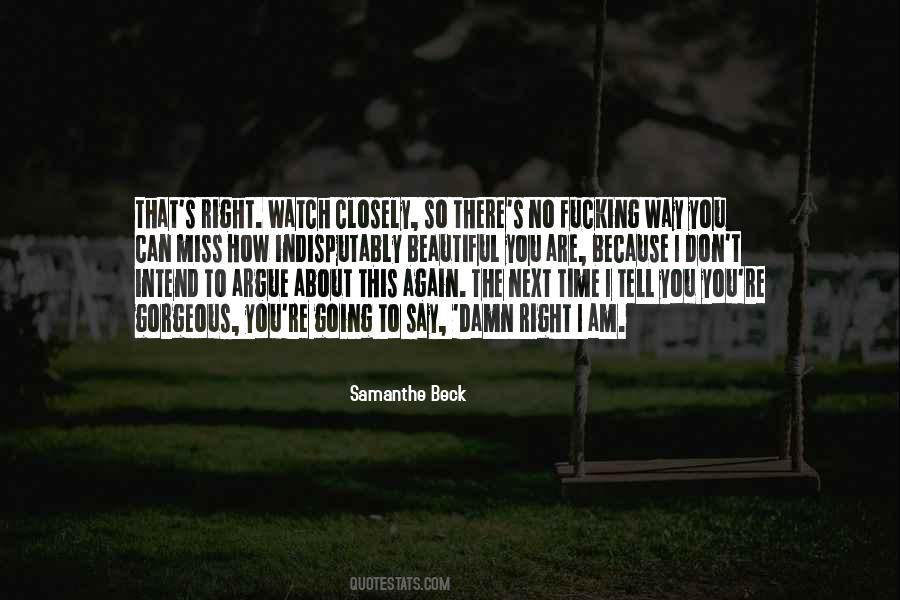 #16. What I condemn are our system of values and the men who don't acknowledge how great, difficult, but ultimately beautiful women's share in society is. - Author: Anne Frank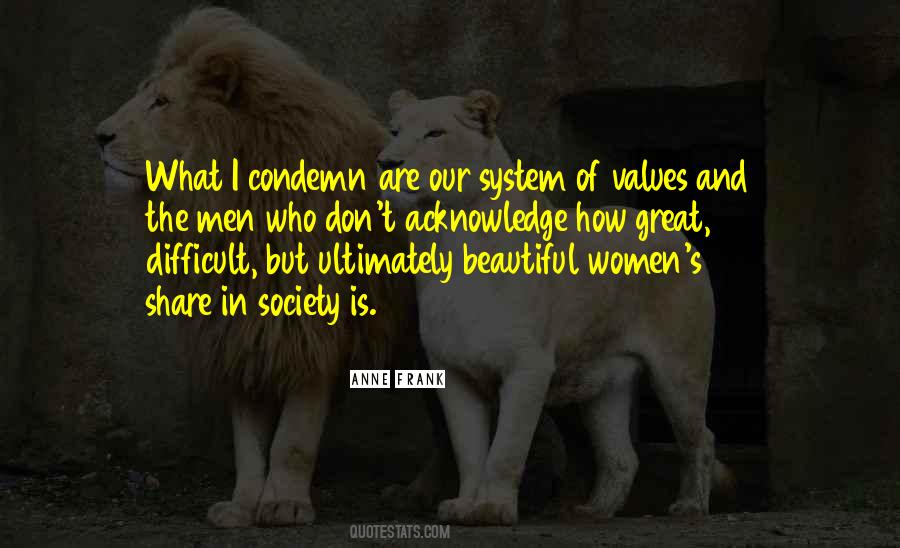 #17. For all the girls in all the worlds.
May you feel strength with your first breath,
realize your unlimited potential for greatness on your second, and follow your dreams on your third. - Author: C.S. O'Kelly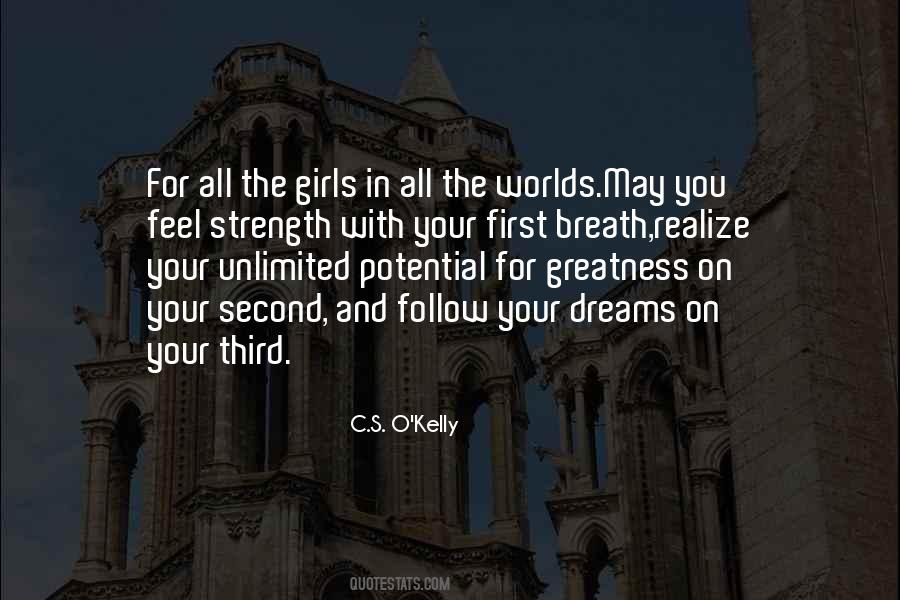 #18. There is a need for promoting women's sexual agency in today's society, because if it wasn't an issue, terms such as 'female sexual empowerment' would be made redundant. The fact that we merely have this vocabulary is indicative of that. - Author: Miya Yamanouchi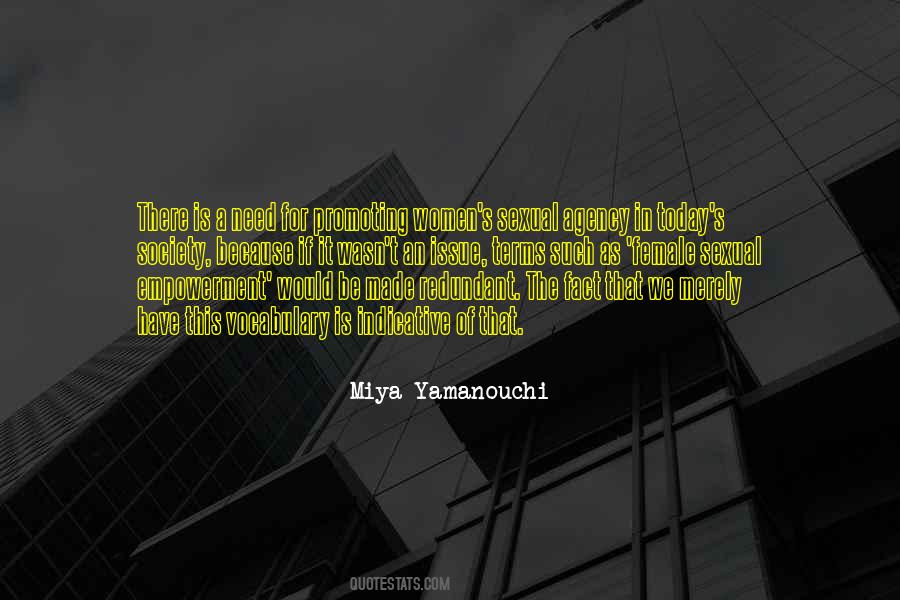 #19. Don't dim magic because there are non believers, let it shine out of you and they won't know how to look away. - Author: Nikki Rowe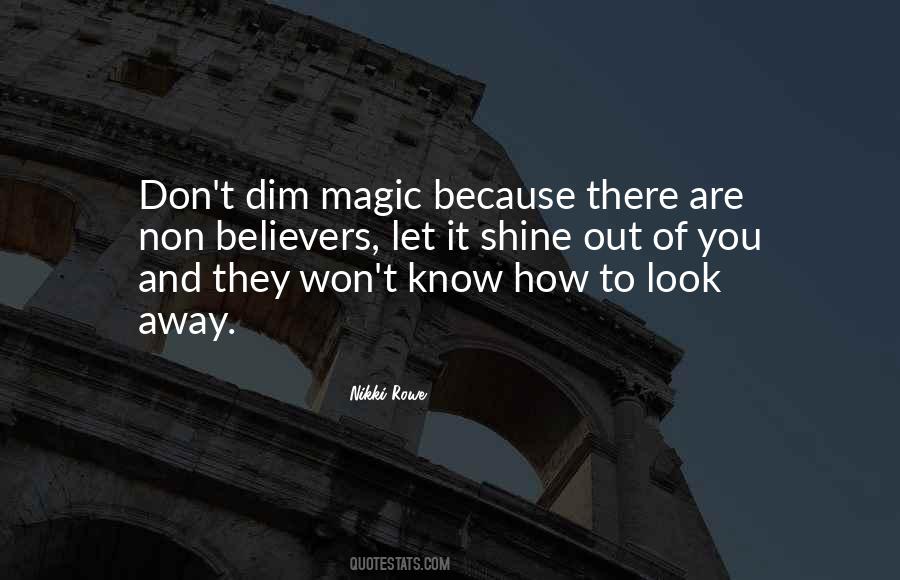 #20. She would use her sexuality, but she would make it hers. She would use her beauty not to appeal to their desire, but to strike fear in the hearts of men. - Author: Matt K. Turner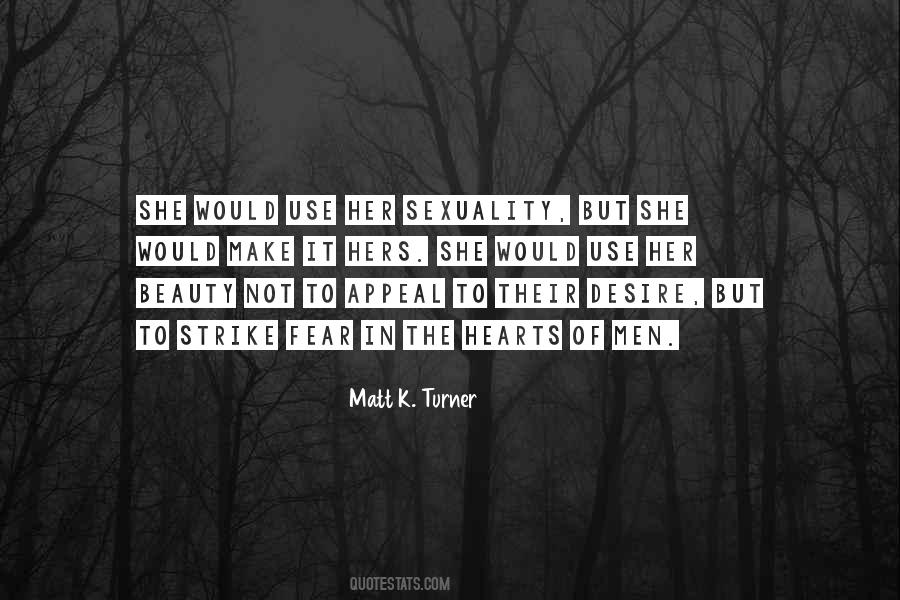 #21. The most important gift anyone can give a girl is a belief in her own power as an individual, her value without reference to gender, her respect as a person with potential. - Author: Emilie Buchwald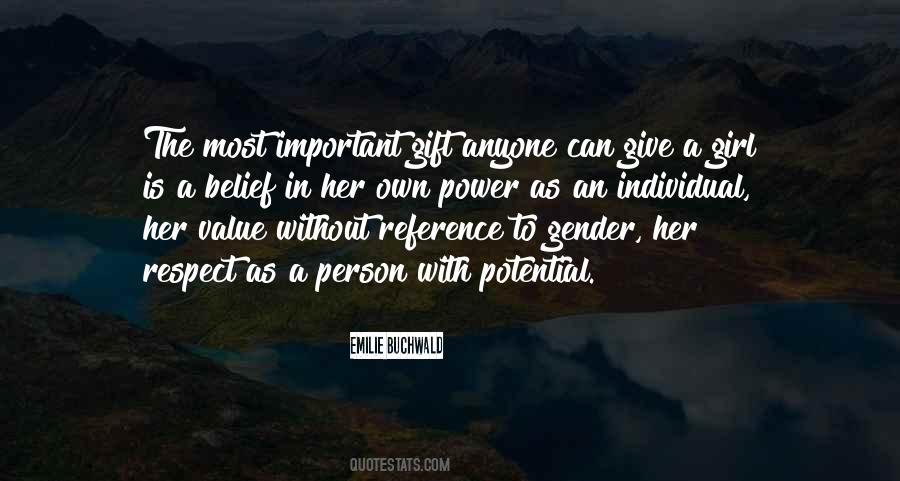 #22. Dare to be bold and brave, my BEAUTIFUL QUEENS. Dare to believe that you can. Dare to make your dreams a reality. Dare to get out of your comfort zone and soar! Dare to live your life limitlessly. Dare to be yourself and be comfortable in your own skin. DARE. - Author: Stephanie Lahart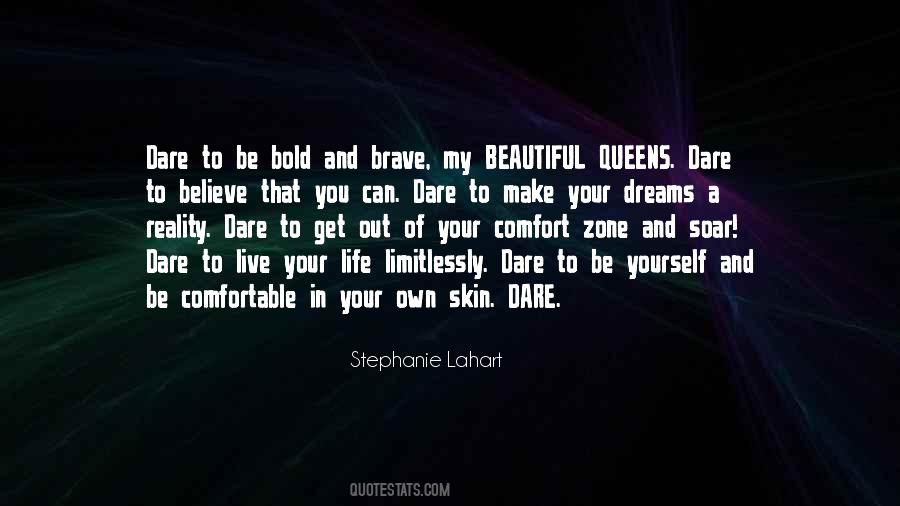 #23. The empowerment of black women constitutes the empowerment of our entire community. - Author: Kimberle Williams Crenshaw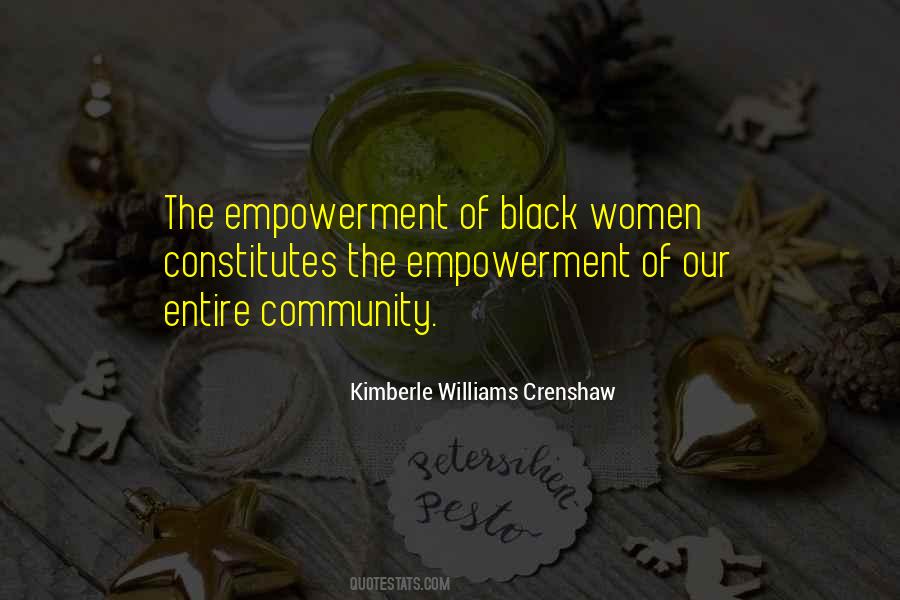 #24. What'll Geoffrey do when you pull off your First, my child?" demanded Miss Haydock.
"Well, Eve
it will be awkward if I do that. Poor lamb! I shall have to make him believe I only did it by looking fragile and pathetic at the viva. - Author: Dorothy L. Sayers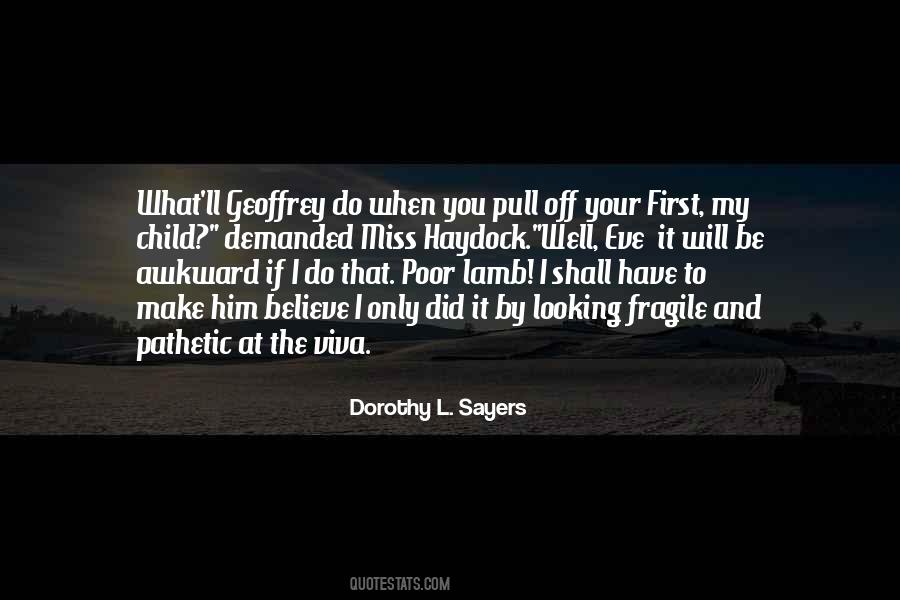 #25. Women are never so strong as after their defeat. - Author: Alexandre Dumas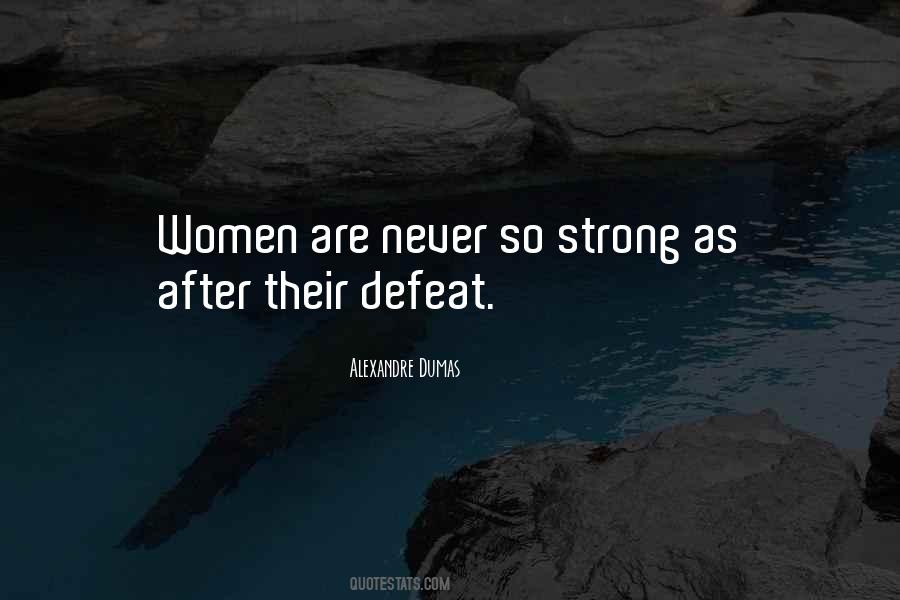 #26. India can progress only by the reinforcement of the women. - Author: Abhijit Naskar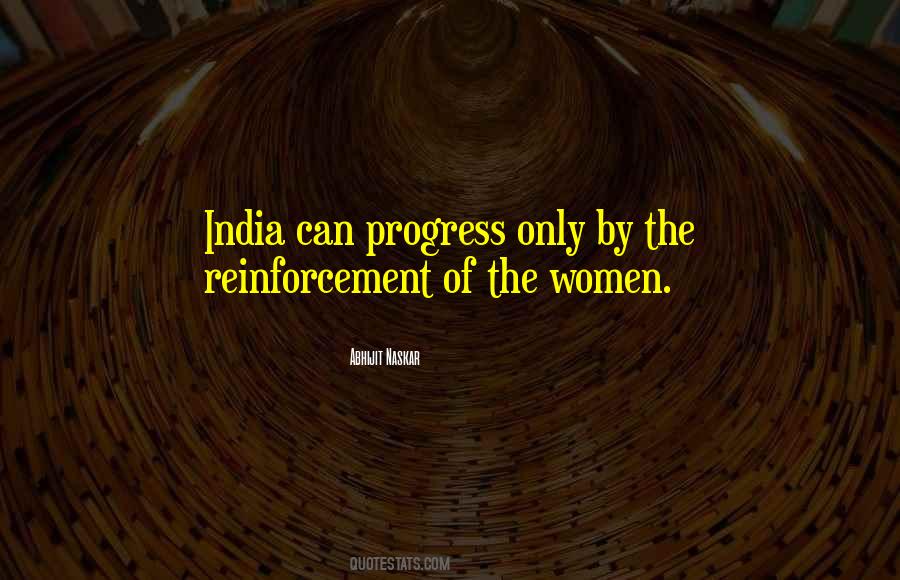 #27. Our Matru Shakti is our pride. Women empowerment is very crucial to our development. - Author: Narendra Modi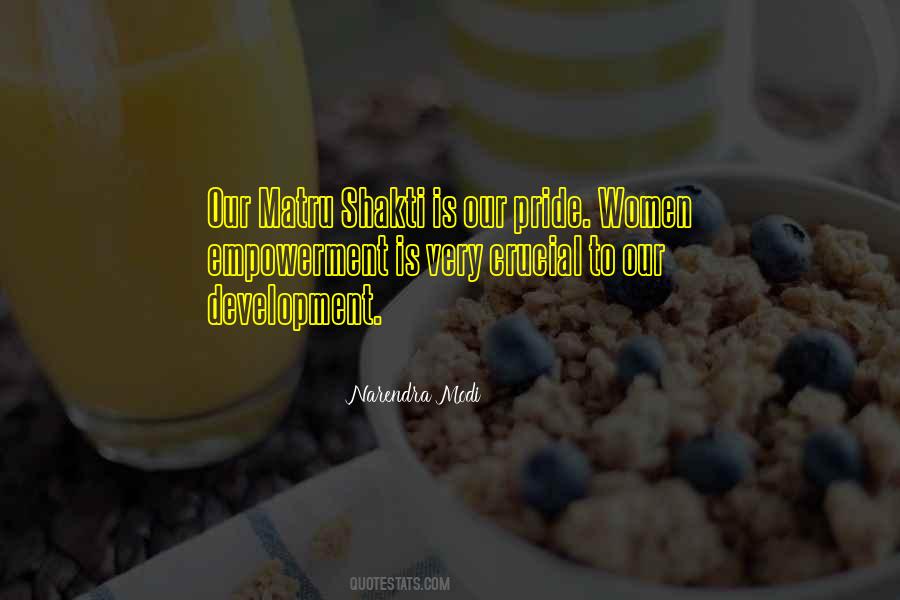 #28. In societies where men are truly confident of their own worth, women are not merely tolerated but valued.
(From a speech read on video on August 31, 1995 before the NGO Forum on Women, Beijing, China) - Author: Aung San Suu Kyi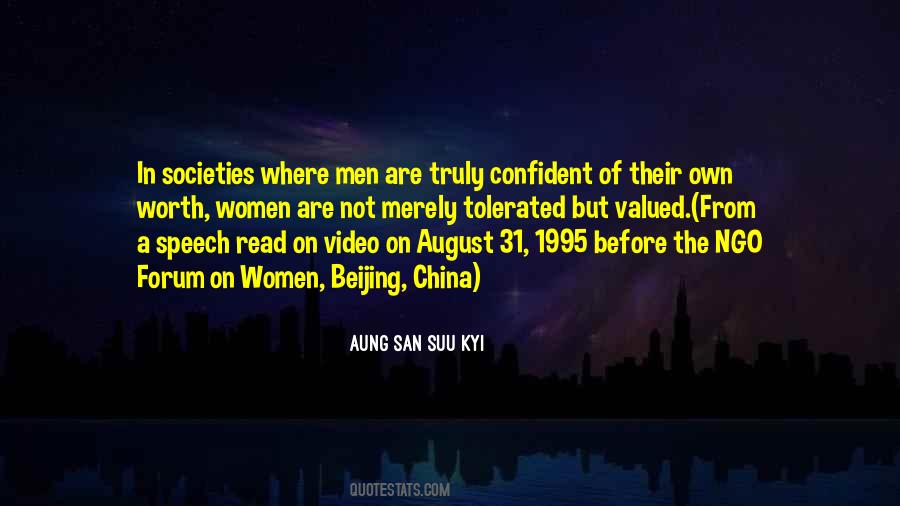 #29. No glass ceiling was ever shattered by a whiner. - Author: Melanie Hope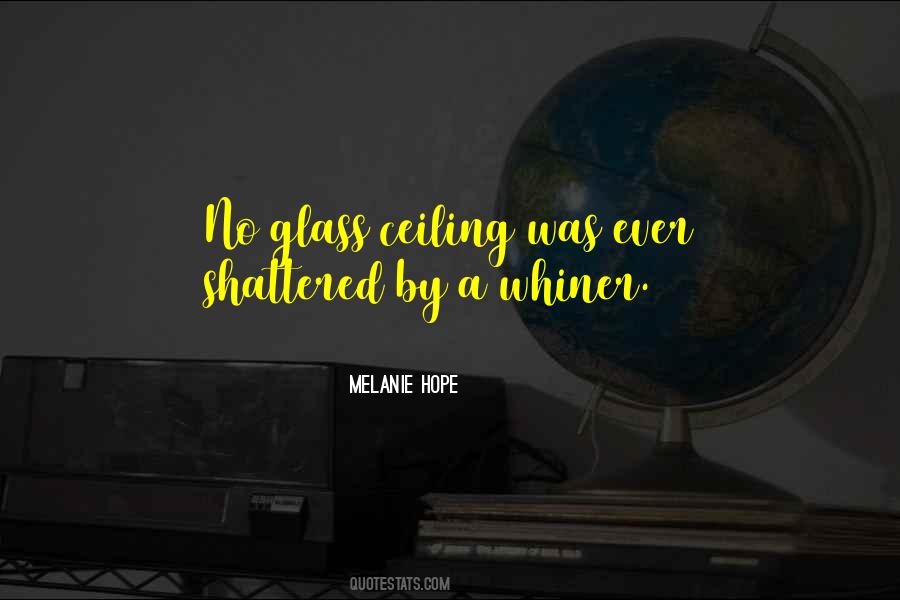 #30. Women and fiction remain, so far as I am concerned, unsolved problems. - Author: Virginia Woolf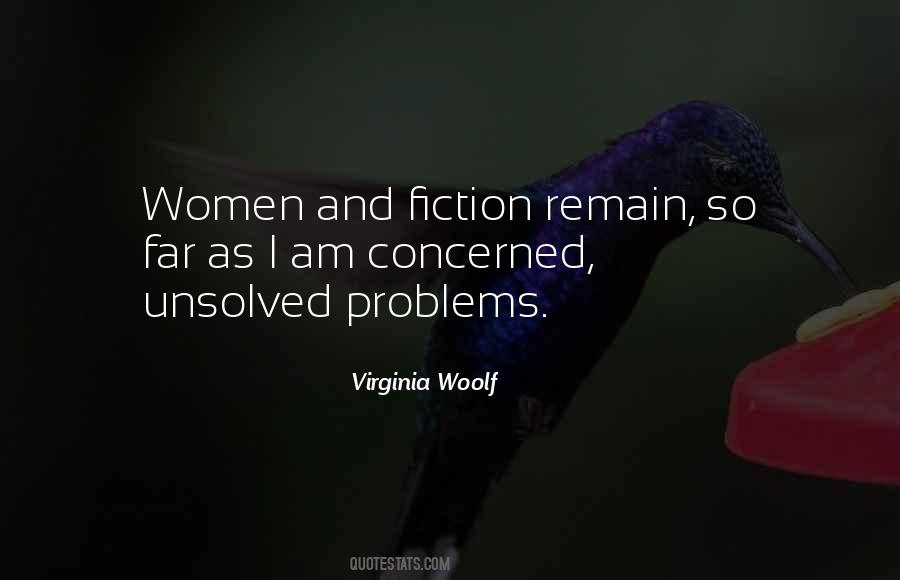 #31. I don't have time to write a mom blog, but I'm not against it. I think it's great when women talk about things. I'm all about female empowerment. There's a lot of lonely, lost moms out there. Moms need to be encouraged to tell the truth. There's a lot of glamour mommy stuff. It's OK to get real. - Author: Kelly Cutrone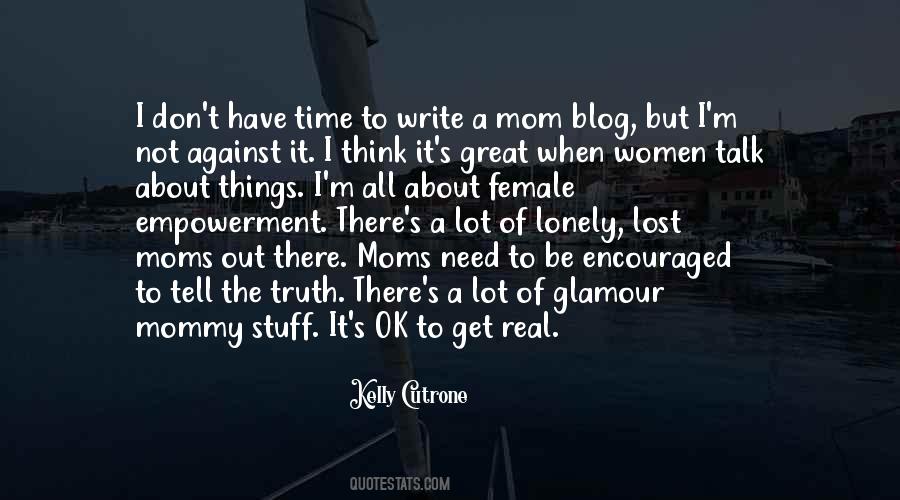 #32. Surround yourself with what matters. - Author: H. L. Balcomb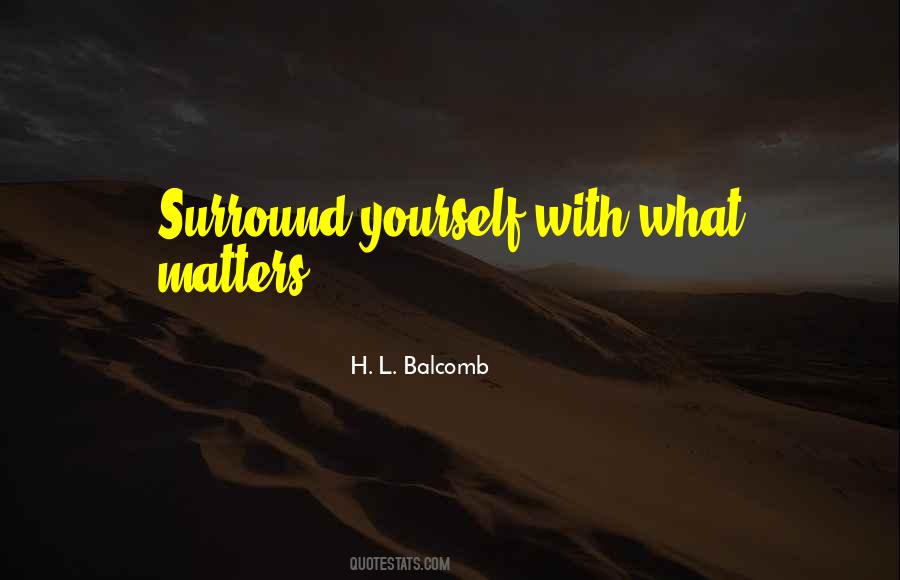 #33. Men tend to treat women as fragile creatures, but our bodies were built to withstand pain and hard work, think with profound insight. We were created to do what men can't. And if that isn't reason enough for us to be treated equal, I'm not sure what is. - Author: Caroline George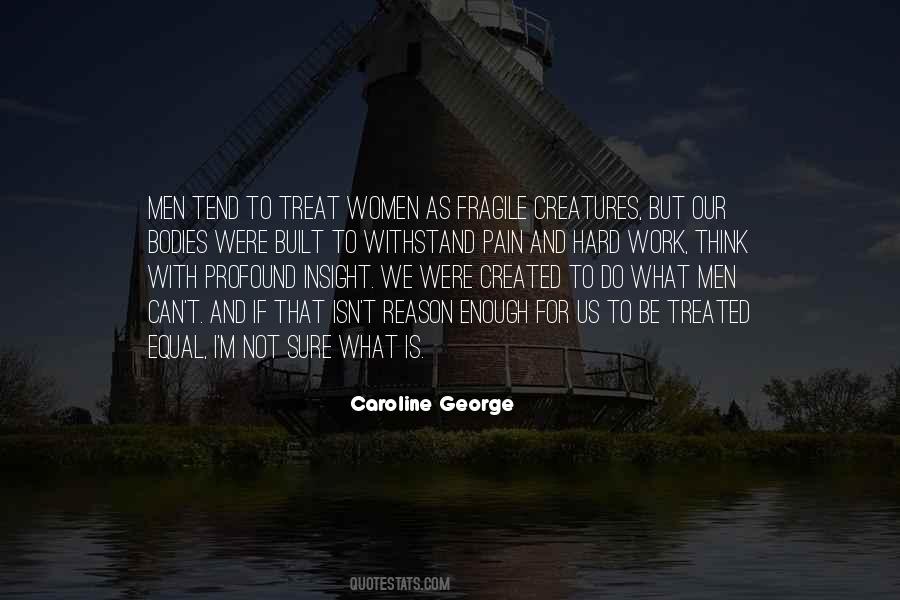 #34. Romance novels feature nuanced portrayals of female characters having adventures, making choices, and accepting themselves just as they are. When we say these stories are silly and unrealistic, we are telling young girls not to expect to be the heroines in their own real lives. - Author: Maya Rodale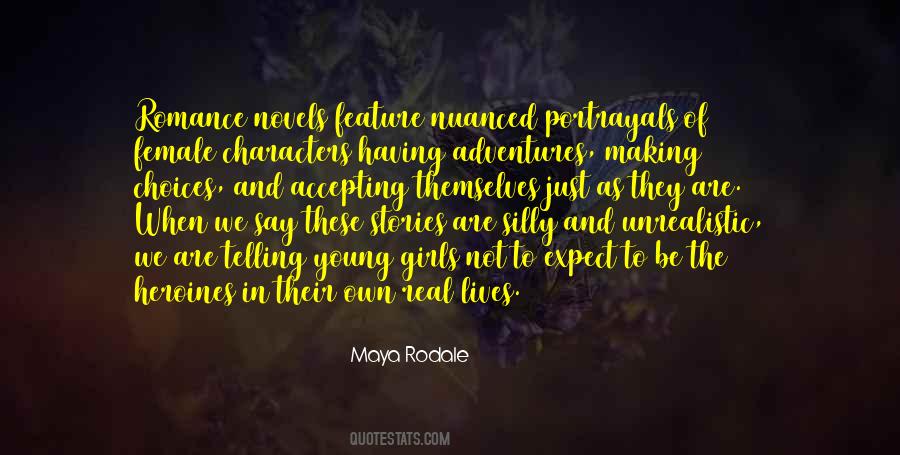 #35. When you stop making excuses, you start making progress! - Author: Lasean Rinique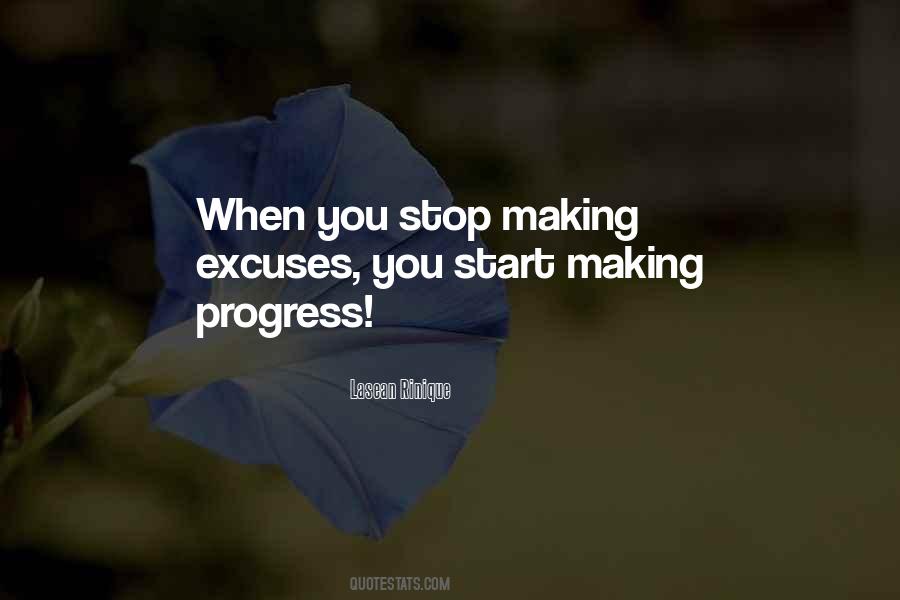 #36. The 8 Snippets feed hungry hearts with love, learning and laughter. - Author: T.R. Johnson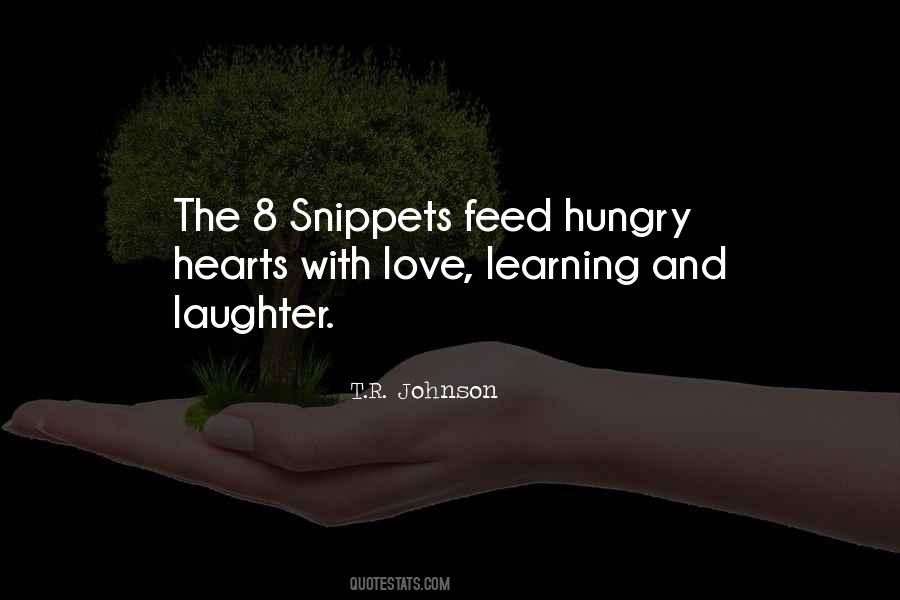 #37. My best successes came on the heels of failures. - Author: Barbara Corcoran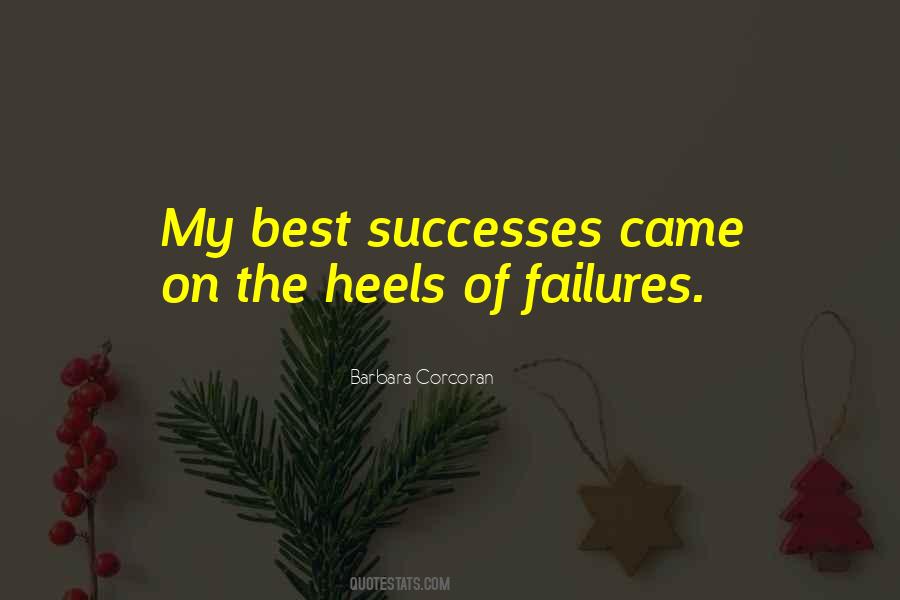 #38. If women had better access to the financial system - even so much as a basic deposit account at a bank - it would be a major step in the direction of greater wealth and greater economic empowerment. - Author: Sri Mulyani Indrawati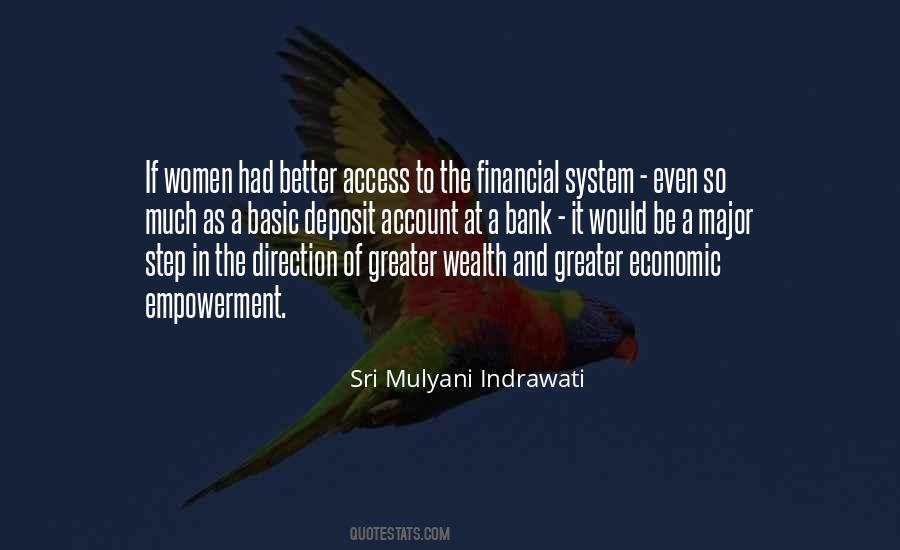 #39. Sometimes guns really matter. Protecting those who need protection - children, women, minorities in rough parts of town, old folks living in places where cops aren't nearby. Guns are true empowerment for the powerless. - Author: Maya Angelou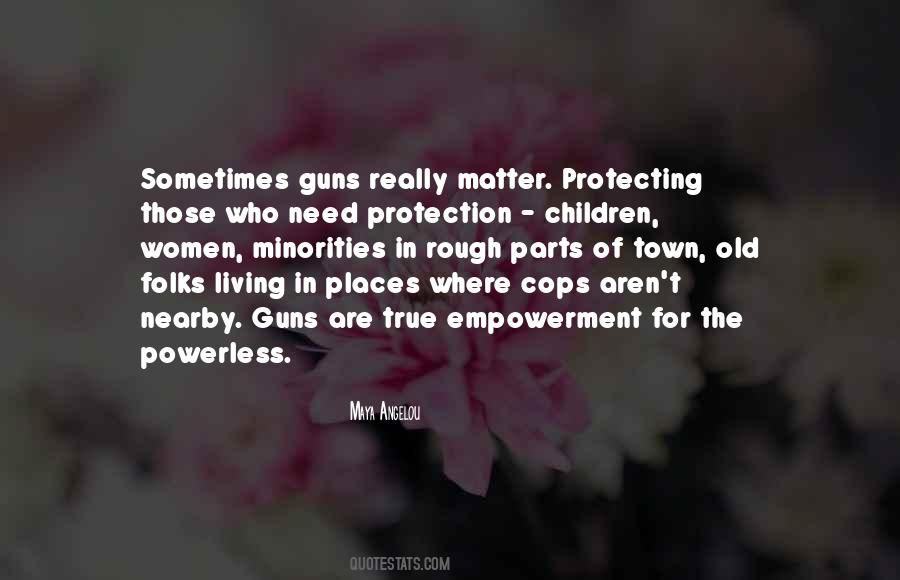 #40. Melanin Fiercely Poppin' on Purpose. - Author: Stephanie Lahart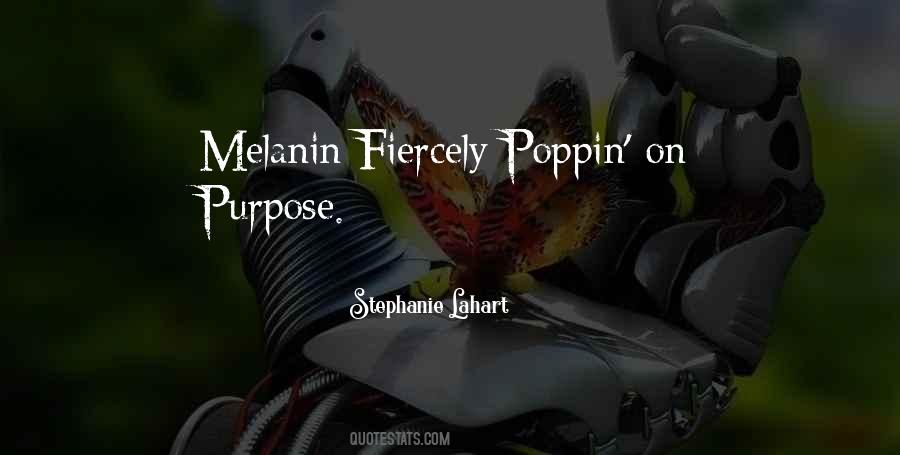 #41. Something which we think is impossible now is not impossible in another decade. - Author: Constance Baker Motley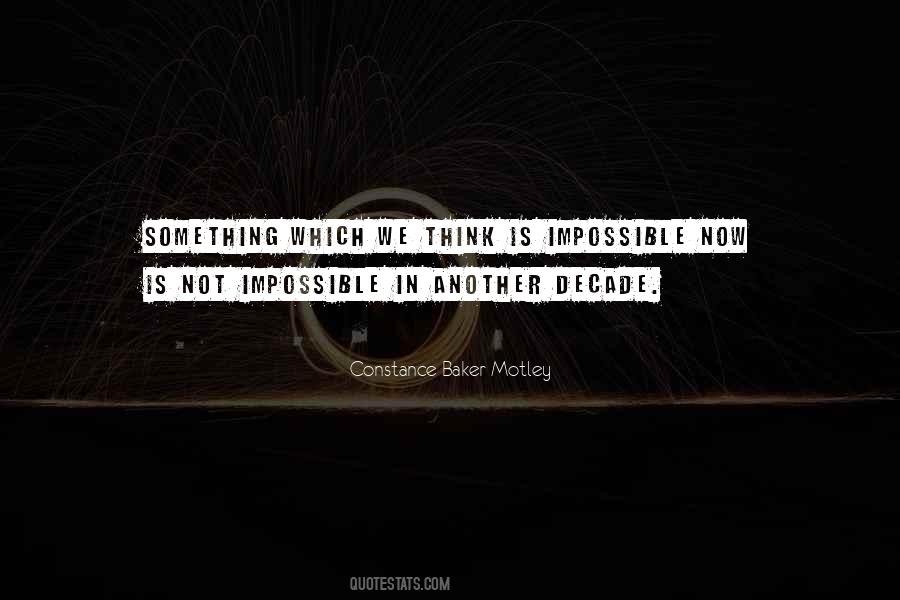 #42. It's called an inner voice for a reason. It's the gnawing feeling inside your stomach telling you yes or no. It's the one voice in your life that isn't tampered by other's biased opinions, scars, feelings or thoughts. Go with it, you know yourself better than anyone ever does. - Author: Hope Alcocer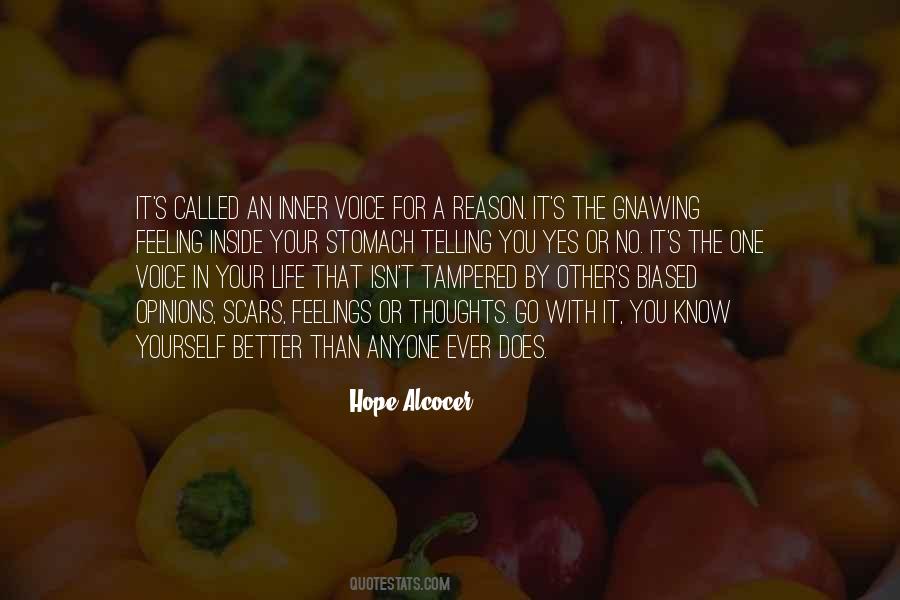 #43. He was all sin and mystery, and Miranda feared the pleasures he offered as she feared the fires of hell. Yet when she succumbed at last, it was not because her body was weak but because her mind was curious. - Author: Anya Seton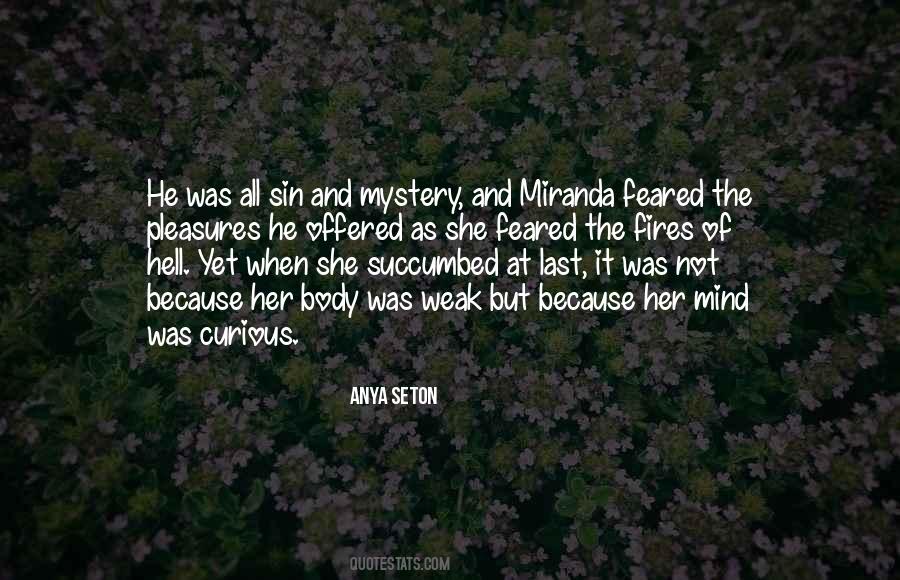 #44. The only thing you should be faking is confidence. If you don't have it yet, pretend that you do. Pretend you're not nervous, pretend you're not scared, and after a while, the pretend part disappears. - Author: PatriciaV. Davis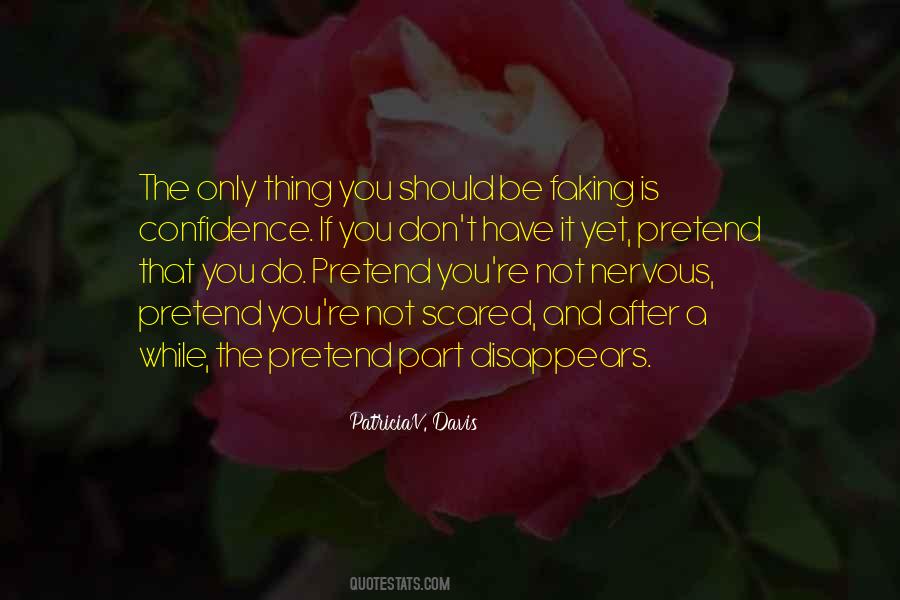 #45. society's been drugging its women for years - Author: Elizabeth Strout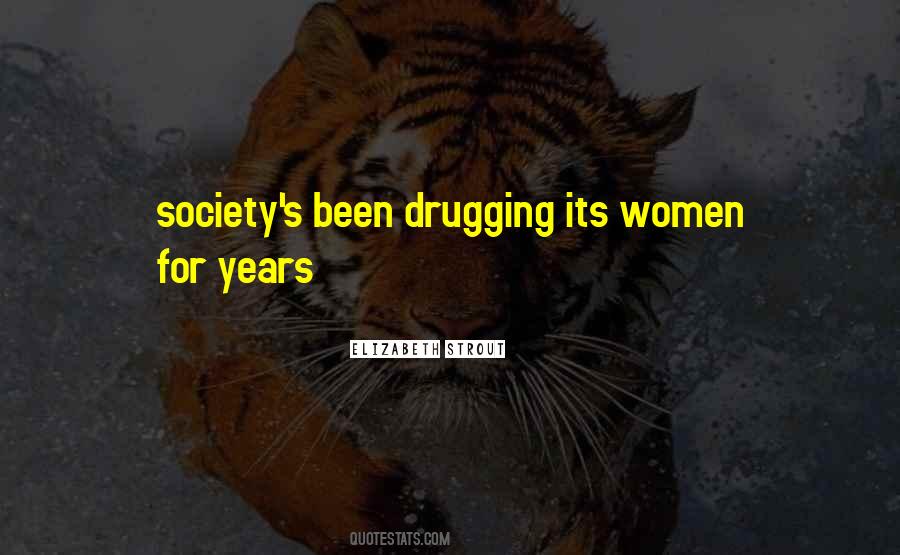 #46. Neglect of women is the major cause for the society's downfall. - Author: Abhijit Naskar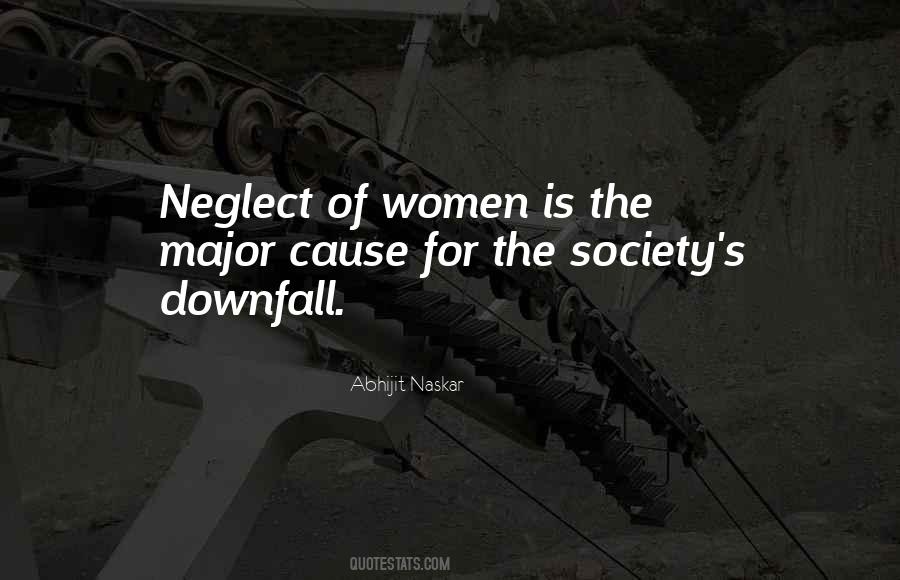 #47. Through knowledge we gain power over our lives. With options we have possibility. With acceptance we find a new freedom. - Author: Lucy H. Pearce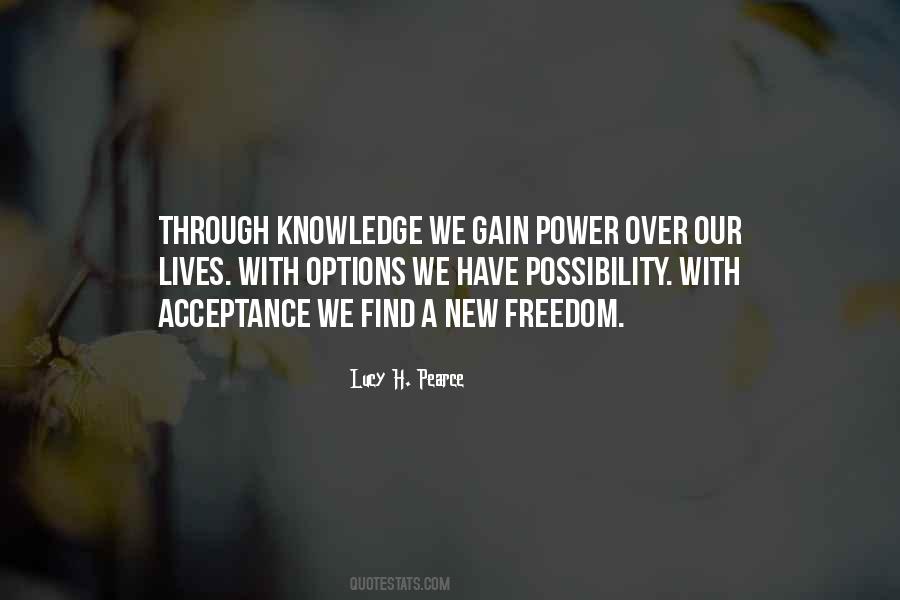 #48. It is only upon life's new journey & pathway that your greatest learning - will be experienced. - Author: Eleesha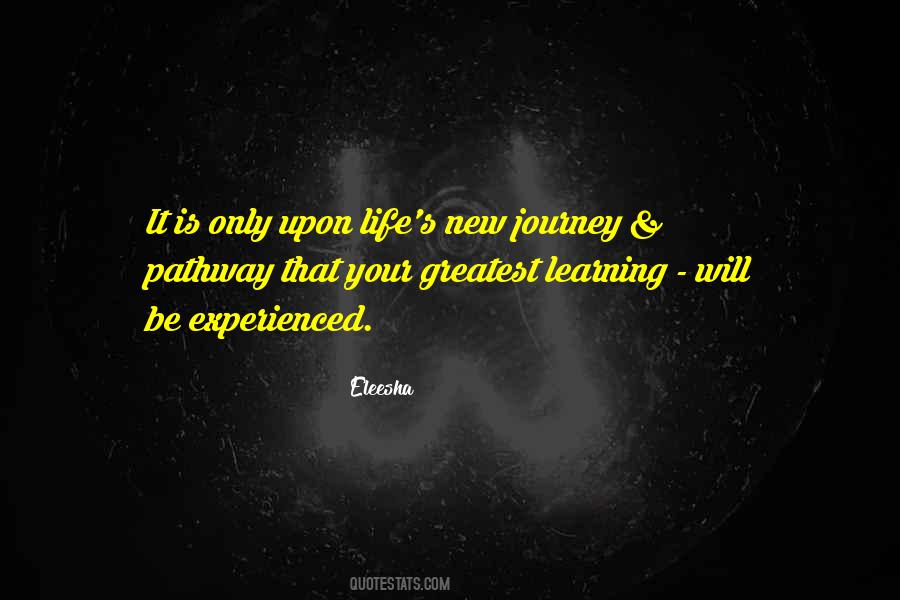 #49. Gender equality and women's empowerment have been a top priority for me from day one as Secretary-General. And I am committed to making sure that the U.N. leads by example. - Author: Ban Ki-moon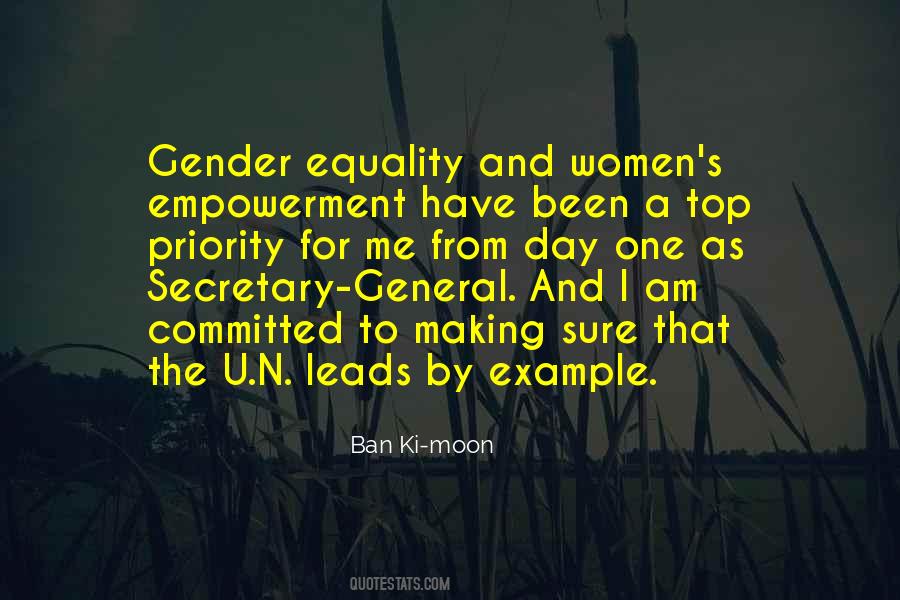 #50. I think all women should be able to make it on their own," Frankie said. "It's not about needing a man
or not - it just means she knows she can do whatever she sets out to do. - Author: Lindsay Smith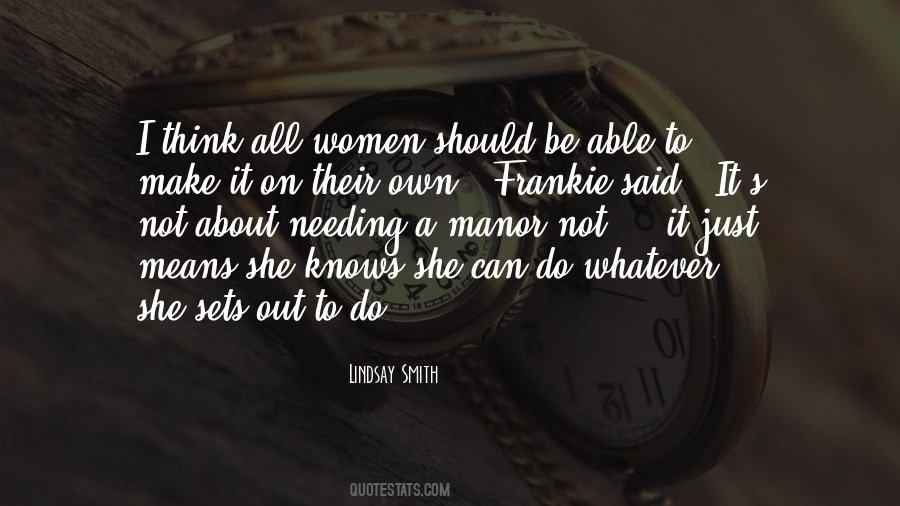 #51. Shooting Willoughby carrying Marianne up the path ... Male strength
the desire to be cradled again? ... I'd love someone to pick me up and carry me off. Frightening. Lindsay assures me I'd start to fidget after a while. She's such a comfort. - Author: Emma Thompson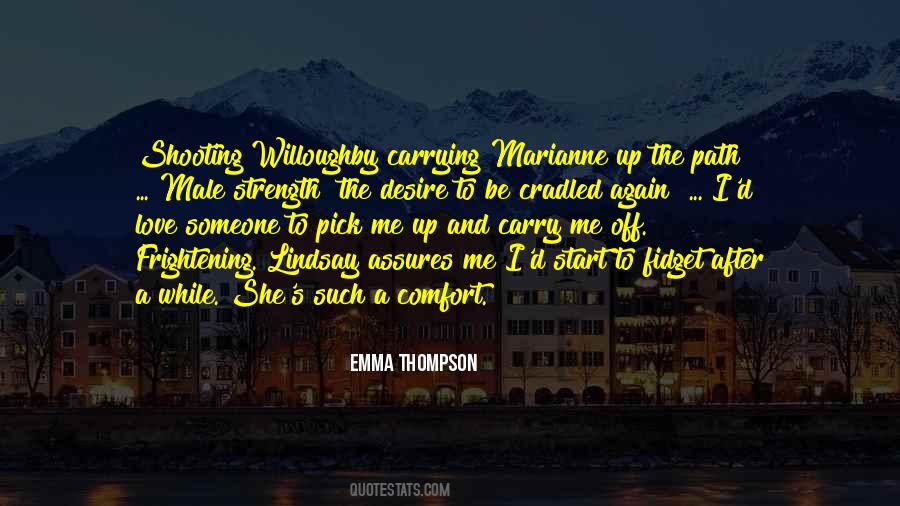 #52. Rights and empowerment are interconnected: unless a substantial number of women in a community come to believe that they have rights and demand to exercise them, right remains an abstraction. - Author: Mahnaz Afkhami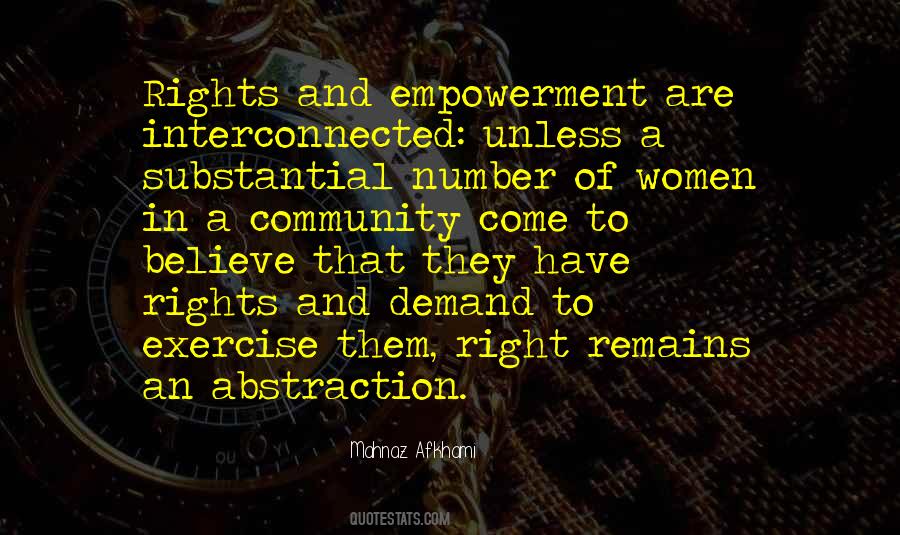 #53. I love man as my fellow; but his scepter, real, or usurped, extends not to me, unless the reason of an individual demands my homage; and even then the submission is to reason, and not to man. - Author: Mary Wollstonecraft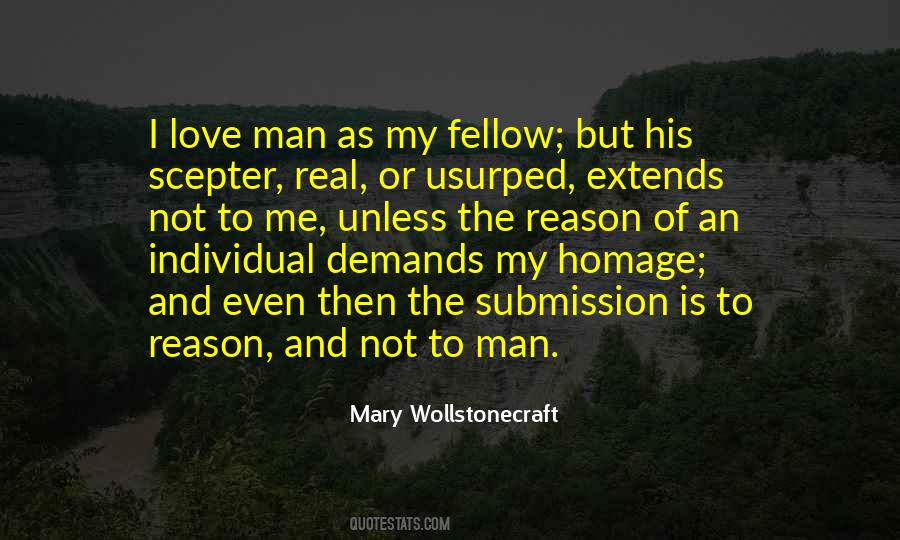 #54. When a man gives his opinion, he's a man. When a woman gives her opinion, she's a bitch. - Author: Bette Davis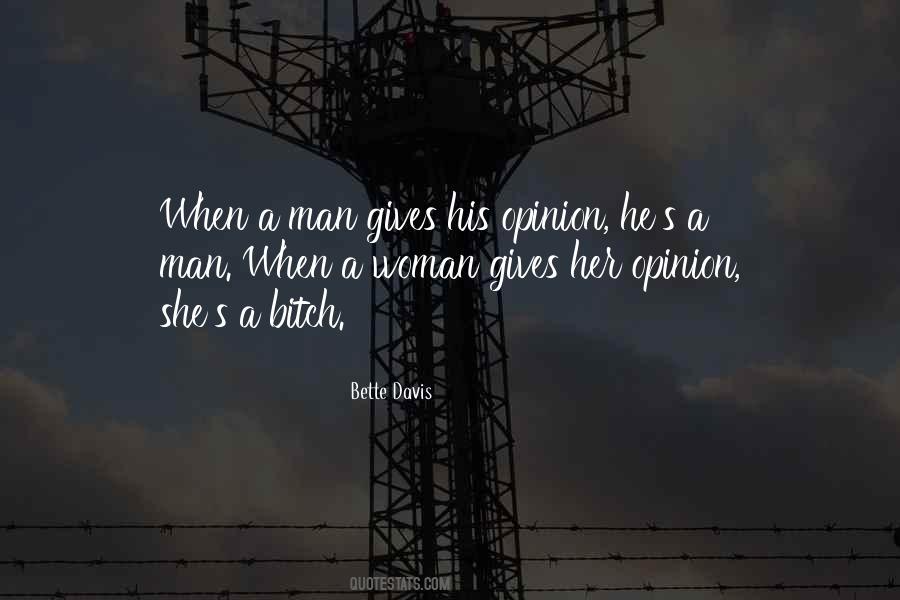 #55. I'm not a size zero, I'll never be a size zero, and the number of fucks I give about that is zero. - Author: Lauren Gallagher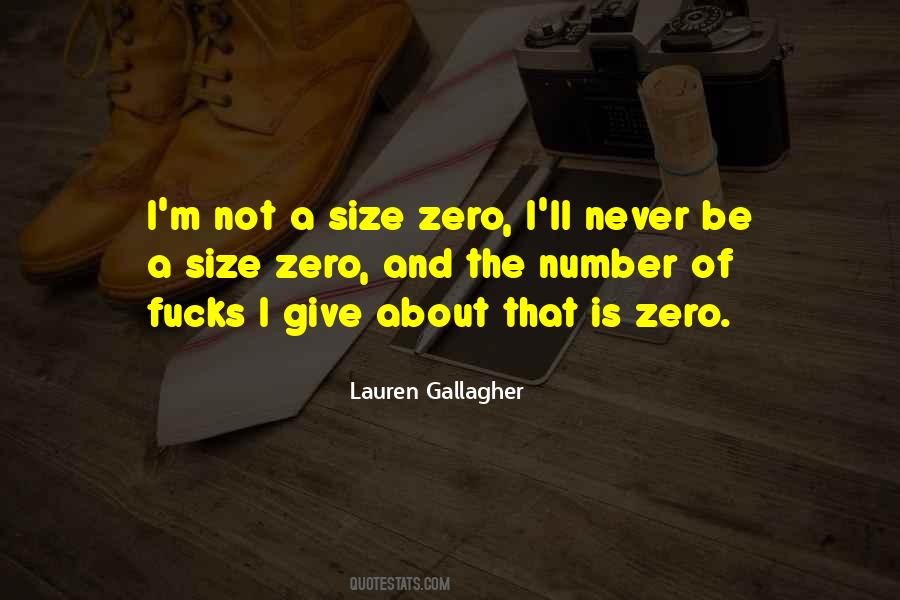 #56. I do not wish them [women] to have power over men; but over themselves. - Author: Mary Wollstonecraft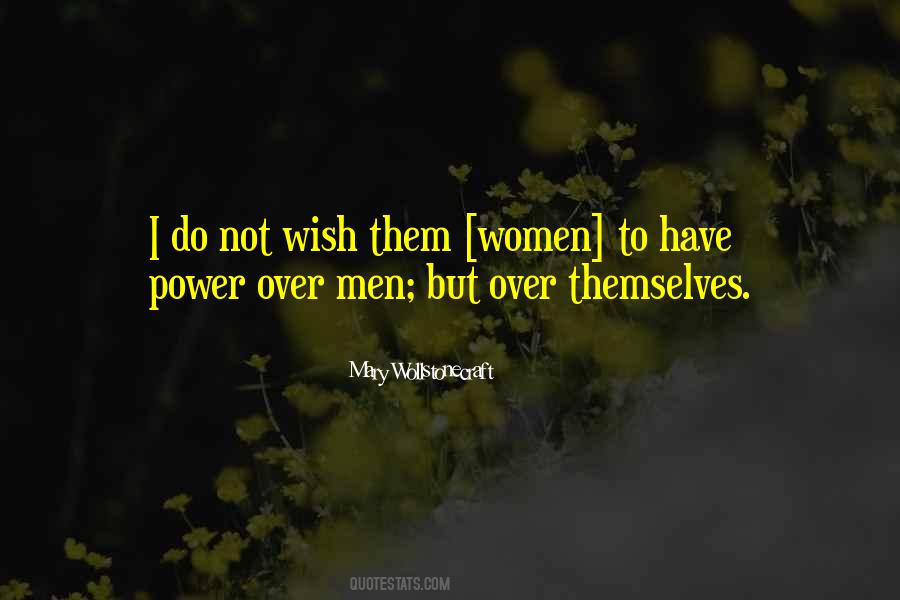 #57. I am strong and human with a mouth that works like a man's and a more intelligible brain, and I demand to be heard. - Author: Caroline George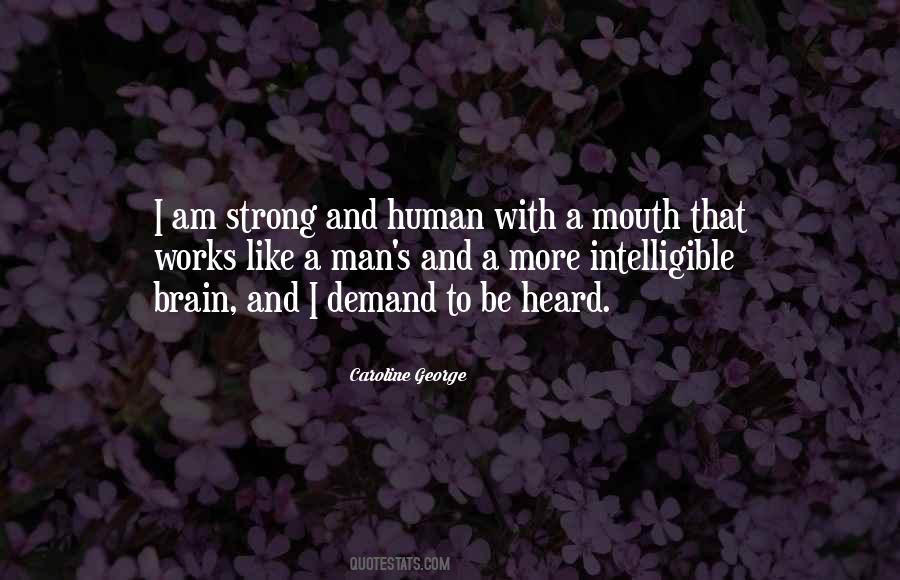 #58. An intelligent, energetic, educated woman cannot be kept in four walls - even satin-lined, diamond-studded walls - without discovering sooner or later that they are still a prison cell.
(America's Medieval Women, Harper's Magazine, August 1938) - Author: Pearl S. Buck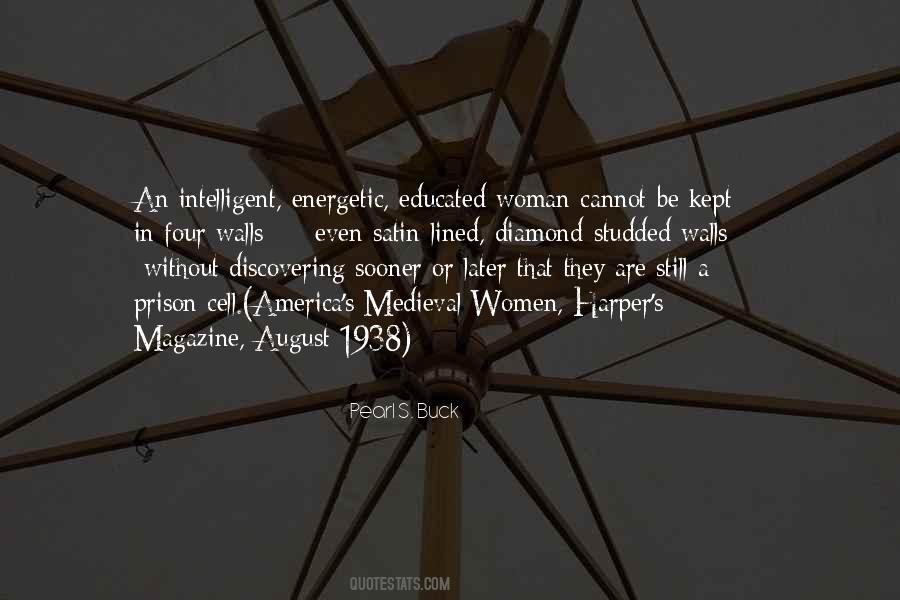 #59. The Women's March did what it set out to do and that is to show the sheer magnitude of passion that the female voice can project and most importantly, for our future generations, it has shattered the falsity of the patriarch myth that women do not support other women. - Author: Aysha Taryam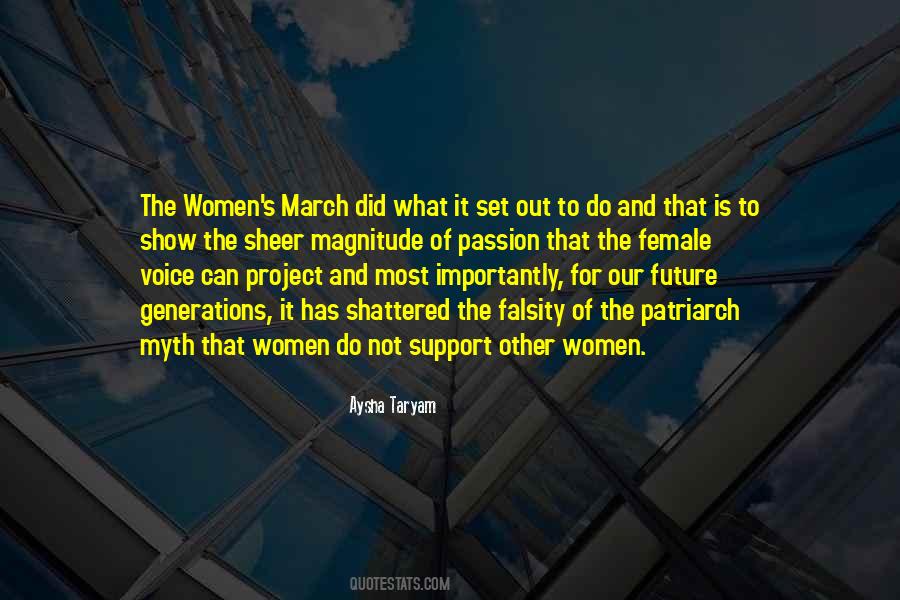 #60. As women in today's society, we are encouraged to compare ourselves to other women when what we need to do is focus on our own strengths, our own capabilities, our own beauty. - Author: Cameron Diaz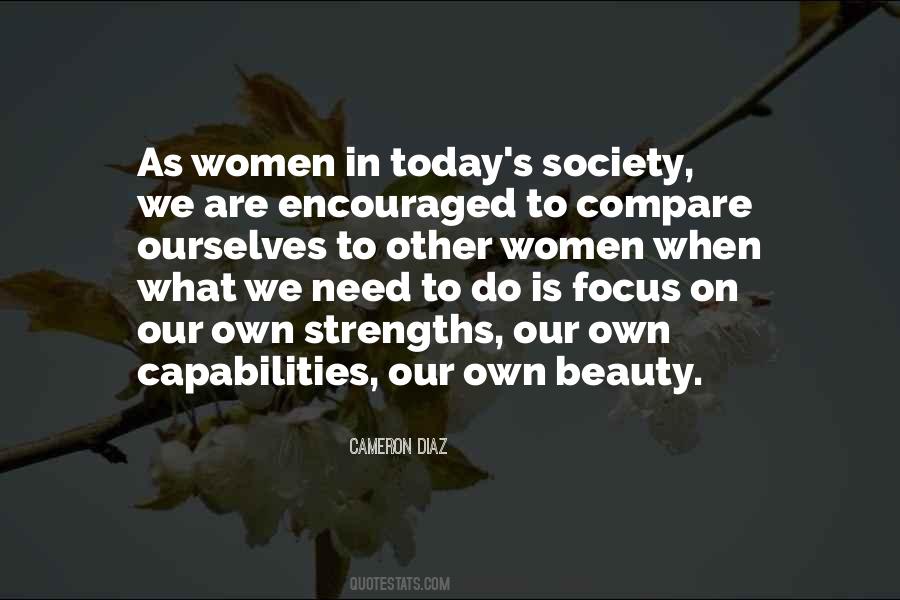 #61. I just think that knowing about your body at any age, whether it's educating yourself on fertility, getting mammograms, going through puberty - whatever it may be, is really important. I just really encourage women empowerment and being comfortable talking about these issues. - Author: Khloe Kardashian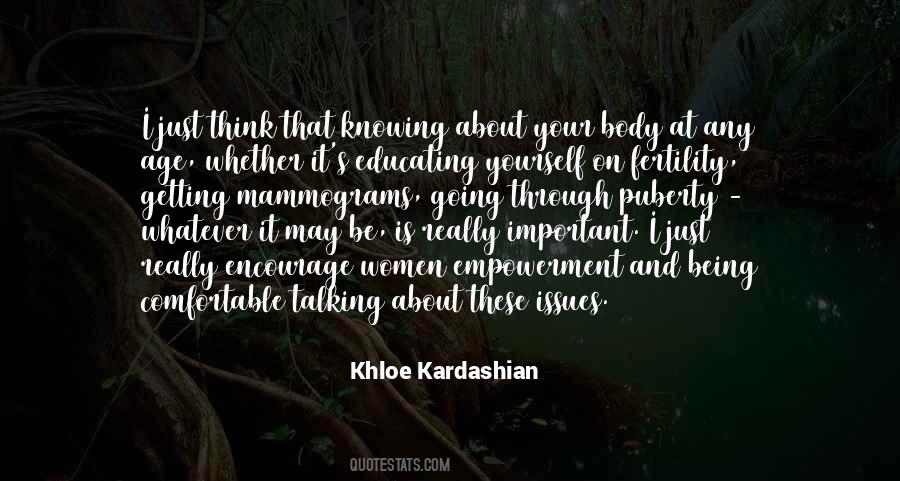 #62. Walmart's Global Women's Economic Empowerment Initiative is working to create opportunity and empower women and girls in markets around the world. - Author: Sylvia Mathews Burwell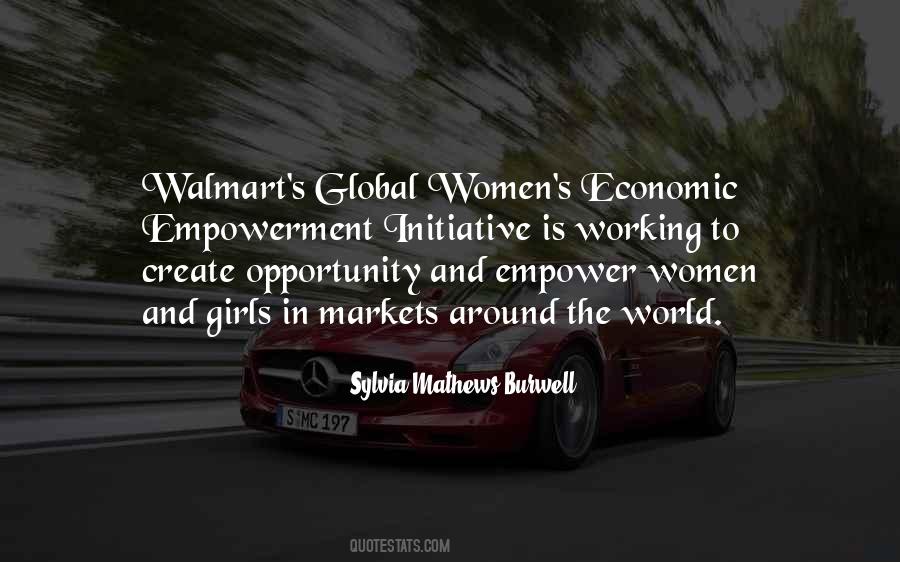 #63. Women's Book of Empowerment: 323 Affirmations That Change Everyday Problems into Moments of Potential. - Author: Charlene M. Proctor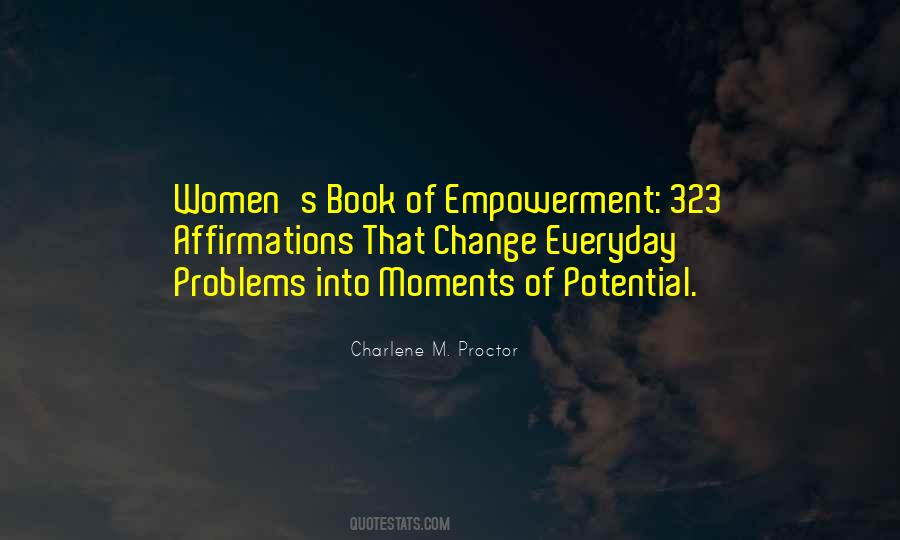 #64. Sexual agency is about being able to define your sexuality by the decisions you yourself make, and NOT by the perceptions, expectations or opinions of others. - Author: Miya Yamanouchi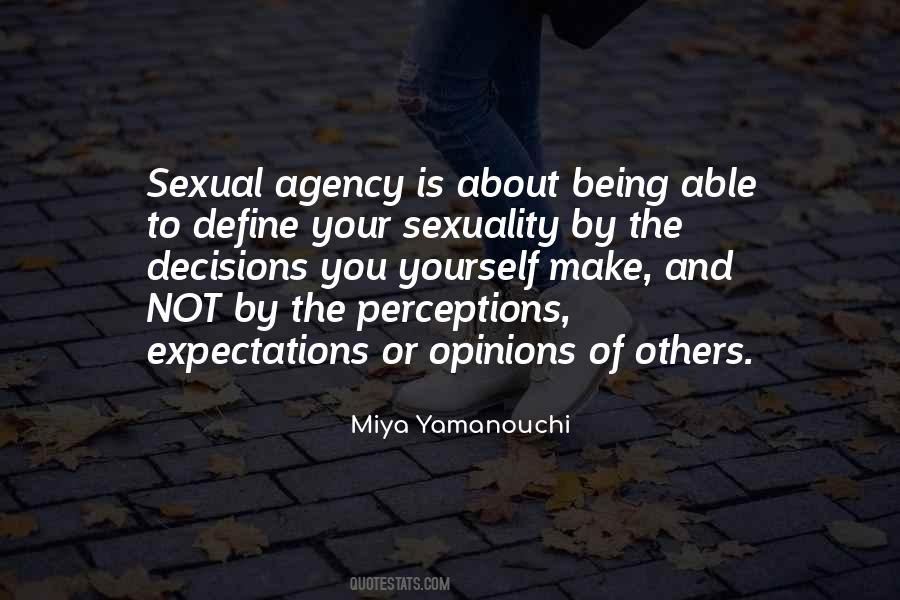 #65. A mother does not become pregnant in order to provide employment to medical people. Giving birth is an ecstatic jubilant adventure not available to males. It is a woman's crowning creative experience of a lifetime. - Author: John Stevenson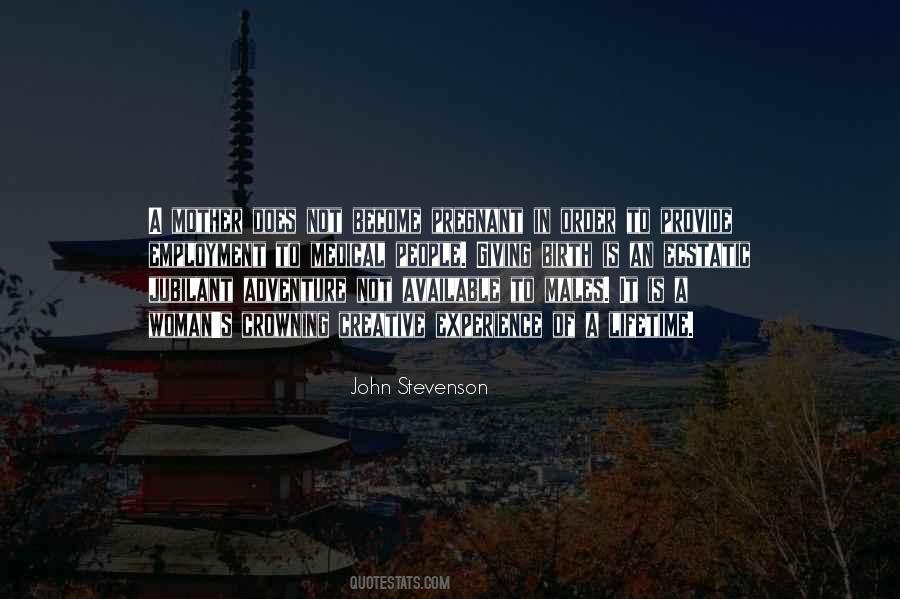 #66. I do not think, sir, you have any right to command me, merely because you are older than I, or because you have seen more of the world than I have; your claim to superiority depends on the use you have made of your time and experience. - Author: Charlotte Bronte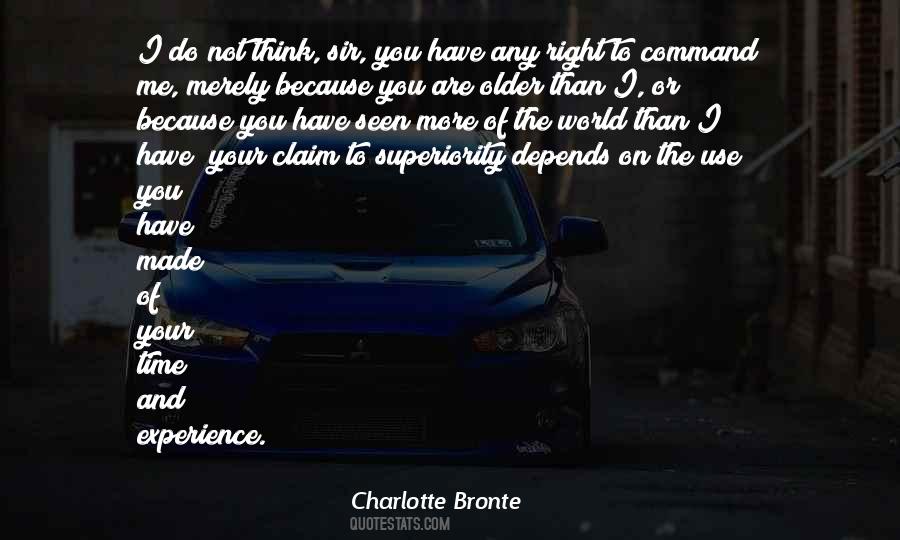 #67. Carolyn Maloney led the fight to make sure that DNA evidence kits are processed and passed the Debbie Smith Bill. She, when no one almost would listen to us on the whole issue of the Taliban and its treatment of women, she helped pass the Afghan Women's Empowerment Act. - Author: Eleanor Smeal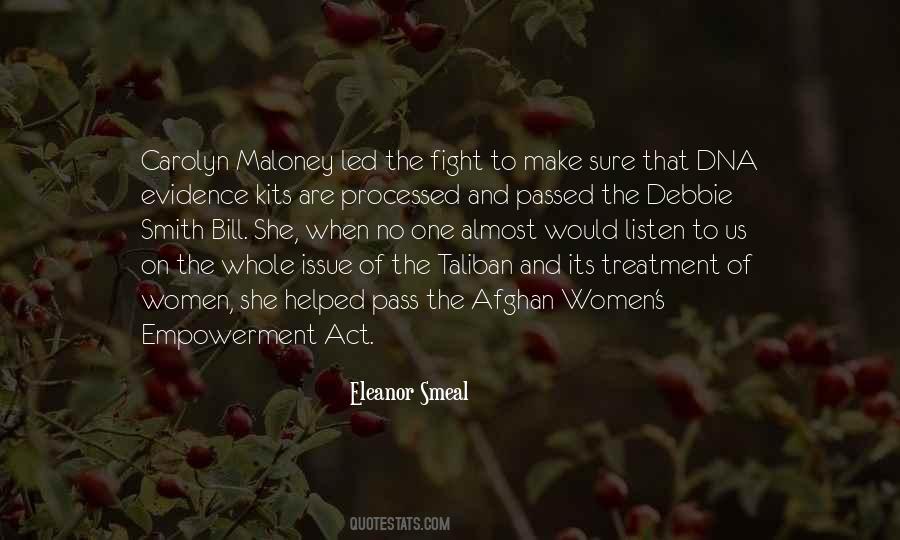 #68. My top priority for 2012 will be to make a renewed push for women's economic empowerment and political participation. - Author: Michelle Bachelet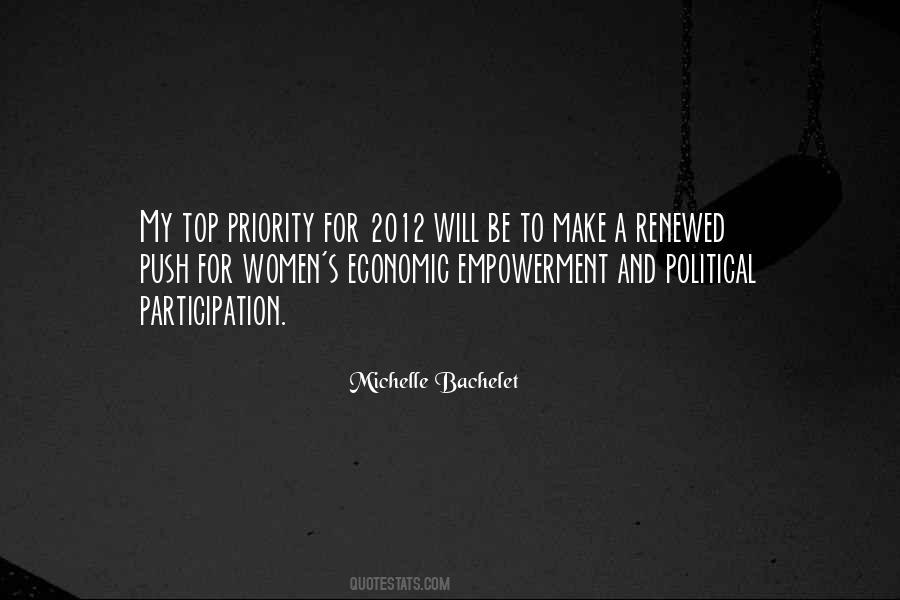 #69. Let's take the figure of the feminist killjoy seriously. One feminist project could be to give the killjoy back her voice. Whilst hearing feminists as killjoys might be a form of dismissal, there is an agency that this dismissal rather ironically reveals. We can respond to the accusation with a yes. - Author: Sara Ahmed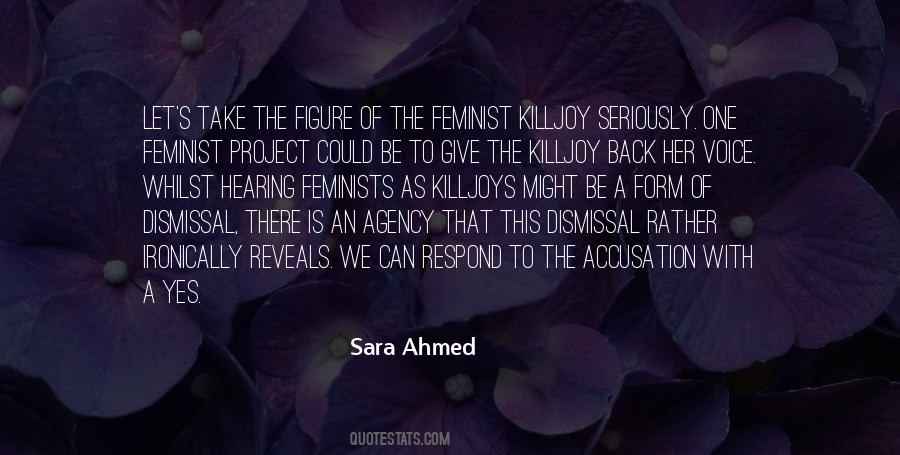 #70. The underlying issue in getting women to top positions is what kind of leadership we value and how we teach, assess, and promote "good" leaders in all organizations. - Author: Maureen Chiquet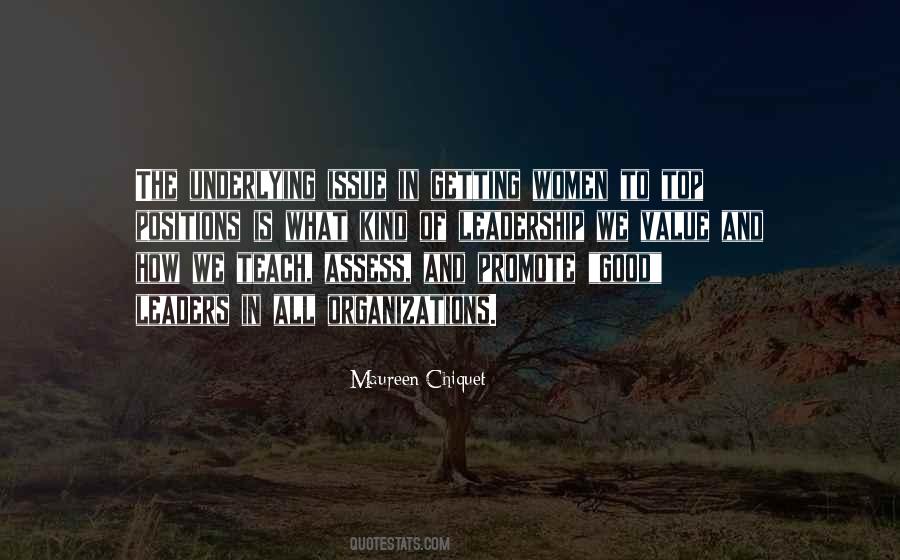 #71. Men and women should own the world as a mutual possession. - Author: Pearl S. Buck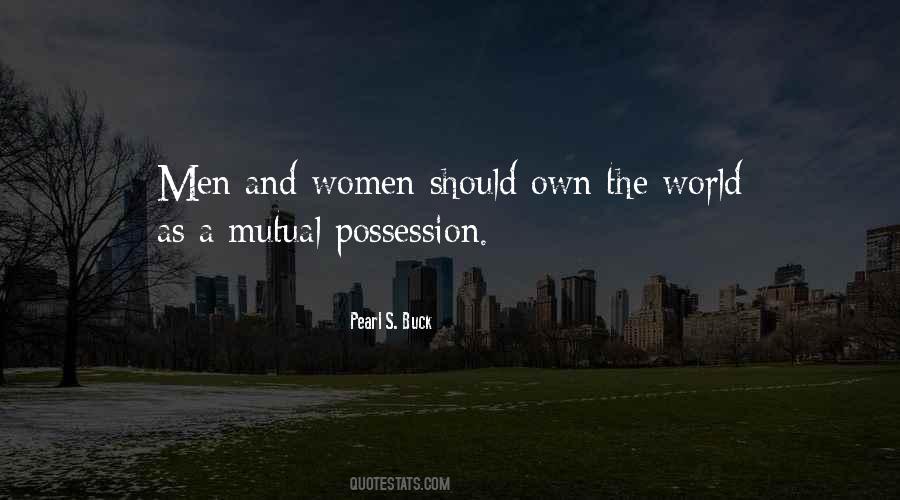 #72. I am passionate about women's empowerment and women's ways. - Author: Stephanie Moore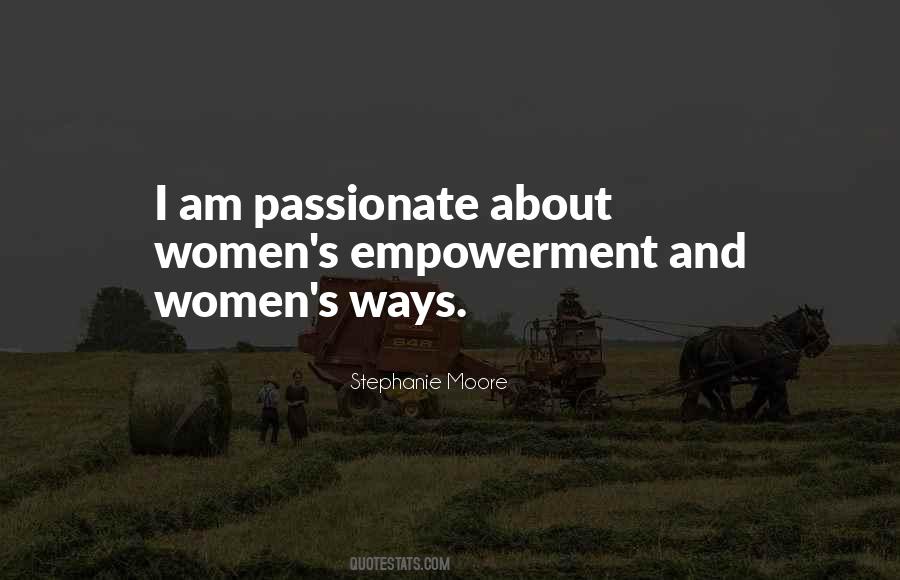 #73. Women's empowerment is intertwined with respect for human rights. - Author: Mahnaz Afkhami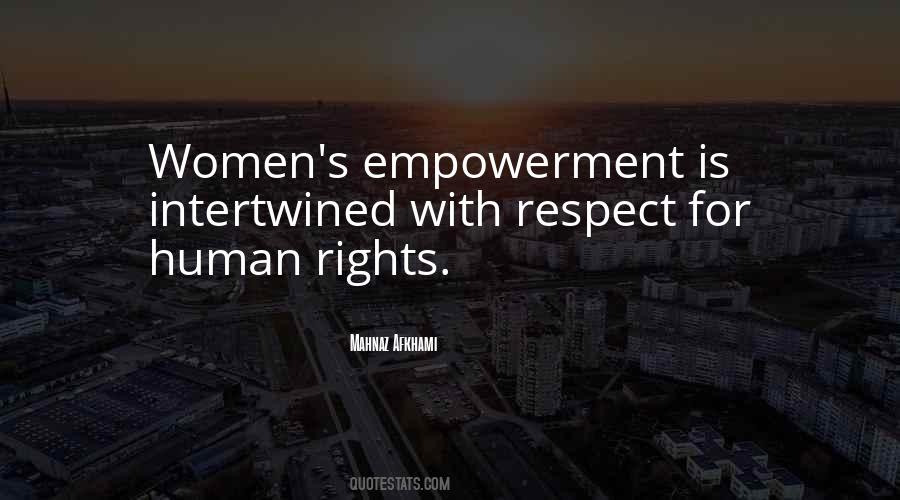 #74. Women's empowerment helps raise economic productivity and reduce infant mortality. It contributes to improved health and nutrition. It increases the chances of education for the next generation. - Author: Nicholas D. Kristof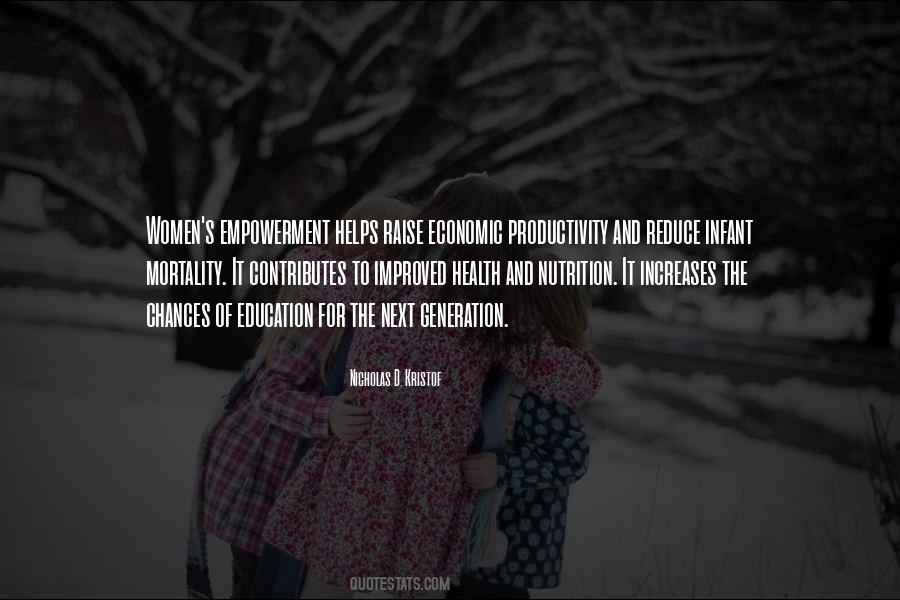 #75. Great women aren't born great, they become great. - Author: Sabrina Newby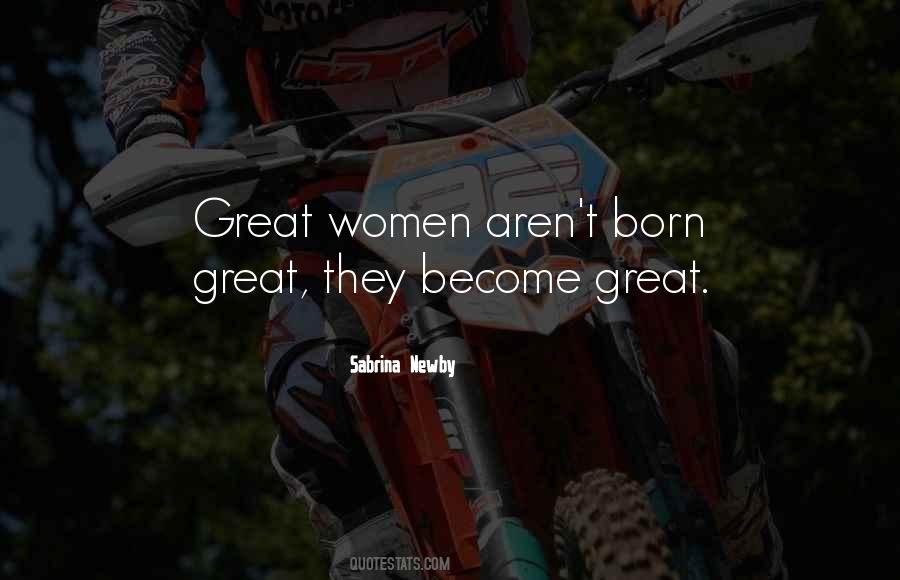 #76. One of the factors a country's economy depends on is human capital. If you don't provide women with adequate access to healthcare, education and employment, you lose at least half of your potential. So, gender equality and women's empowerment bring huge economic benefits. - Author: Michelle Bachelet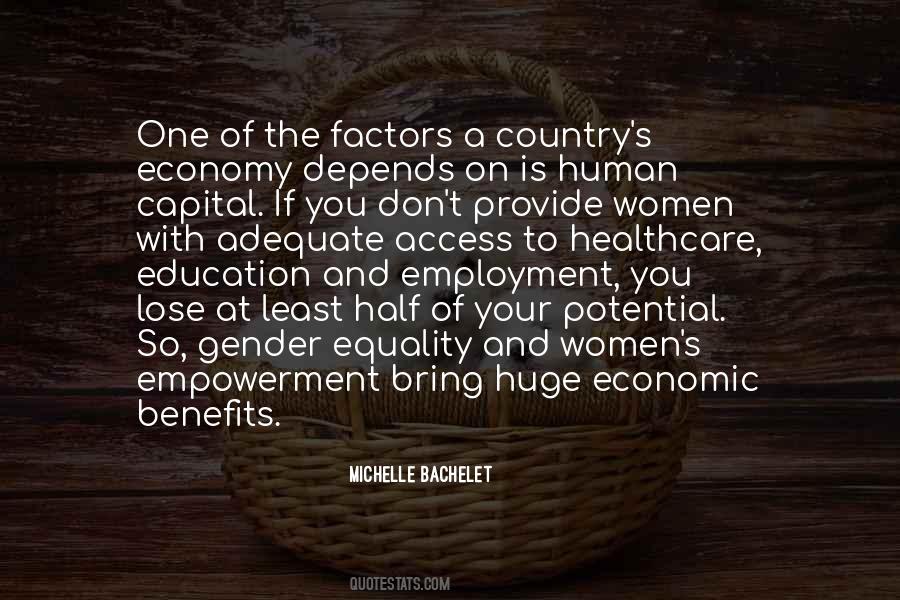 #77. To all the women I say, don't ask to be saved by anyone, "my brave baghinis" (tigresses). Remember, if you deem yourselves as sheeps, men will treat you as such, but if you deem yourselves as tigresses, then you are the ones who will shape humanity. - Author: Abhijit Naskar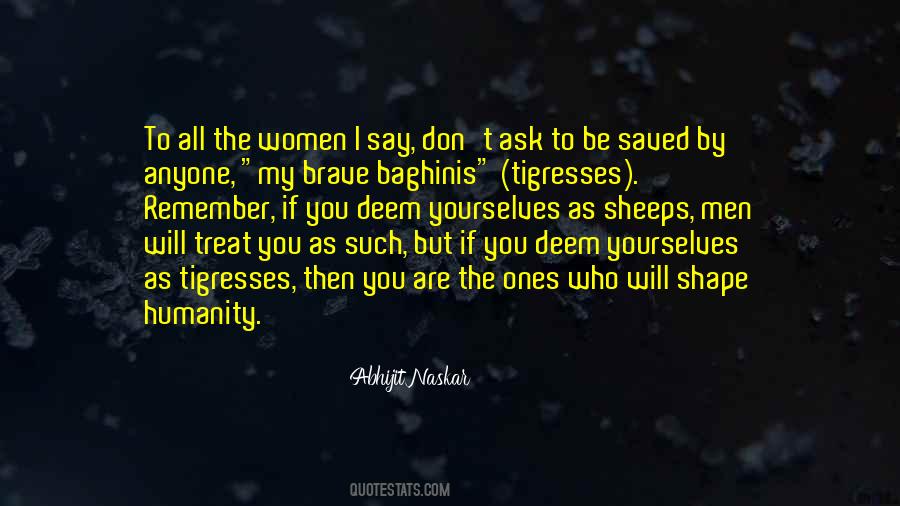 #78. I want to be a Renaissance Woman. I want to paint, and I want to write, and I want to act, and I just want to do everything. - Author: Emma Watson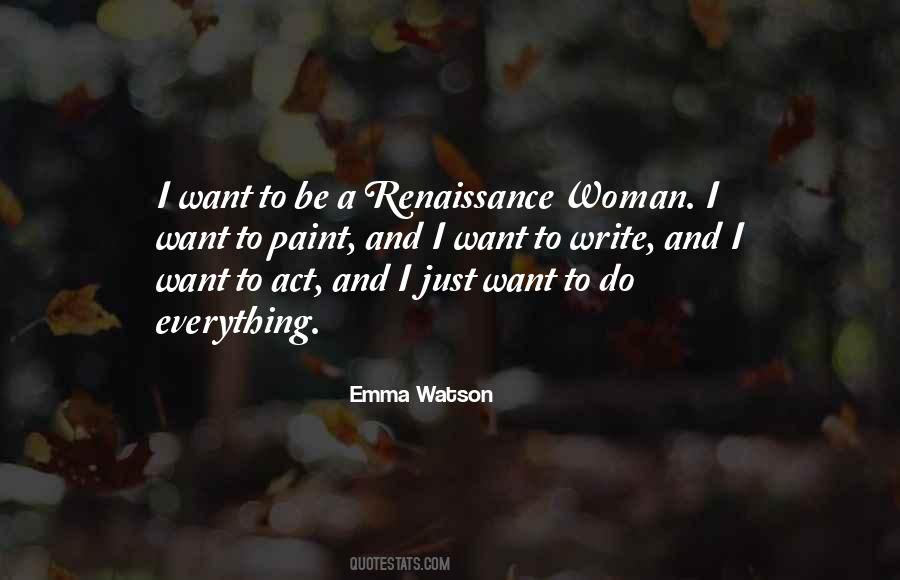 #79. I think it's important as a women to know who you are and what you deserve. We, ourselves set the boundaries of what we choose to accept.
Instead of complaining about the men who's actions don't fit your own & move on and find one that does. - Author: Nikki Rowe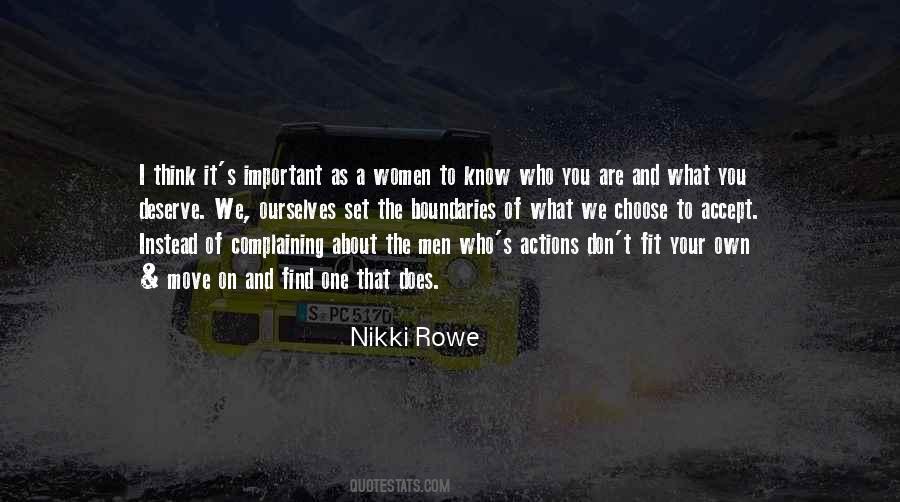 #80. Imperfect though it may be, the Beijing Platform for Action is the strongest statement of consensus on women's equality, empowerment and justice ever produced by governments. - Author: Bella Abzug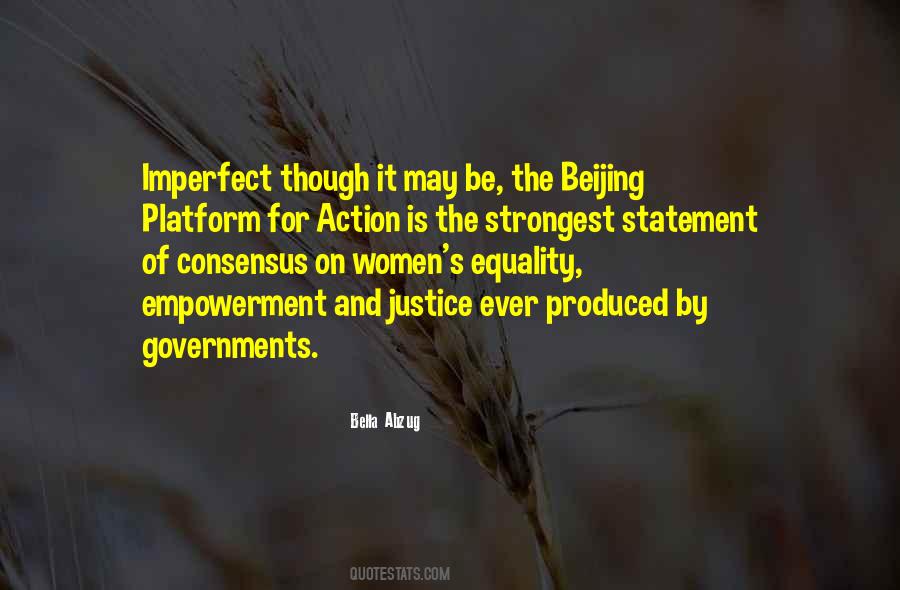 #81. The history of men's opposition to women's emancipation is more interesting perhaps than the story of that emancipation itself. - Author: Virginia Woolf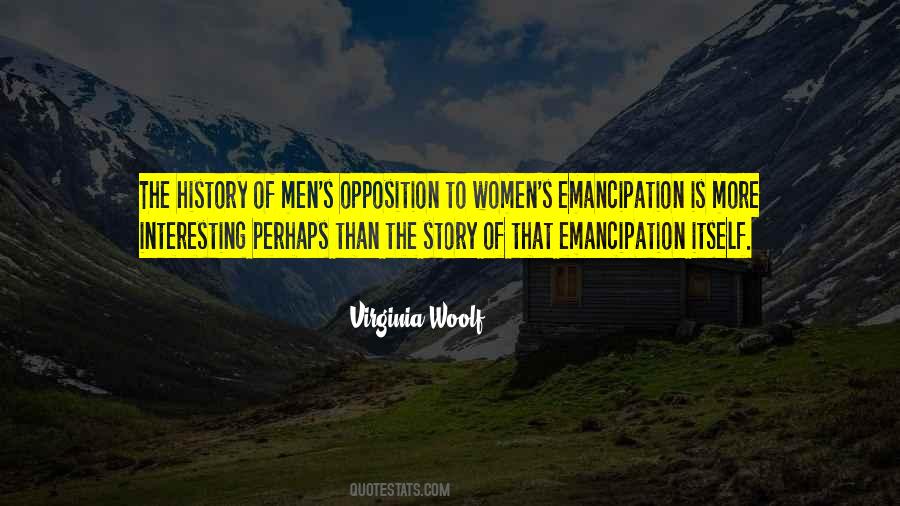 #82. Women empowerment begins at home! - Author: Alex Haditaghi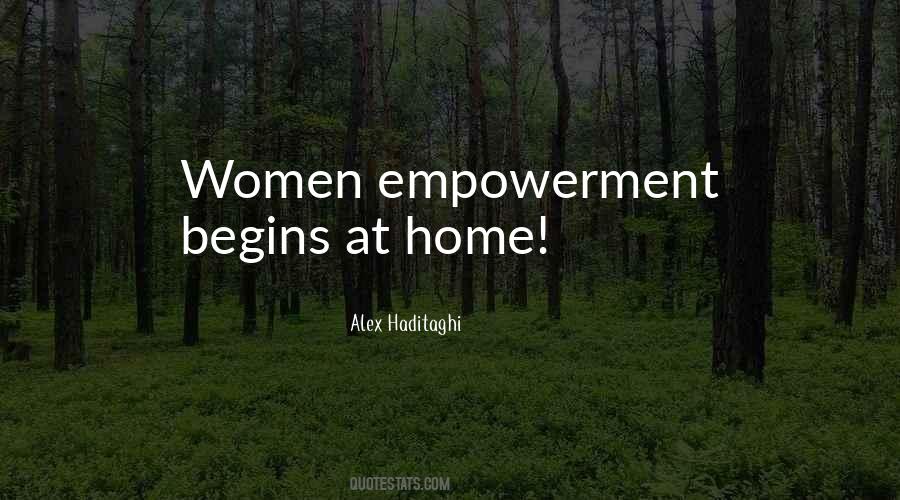 #83. Don't wait for someone else's magic. Pick up your own want and start waving it around. - Author: Buffy Stainte-Marie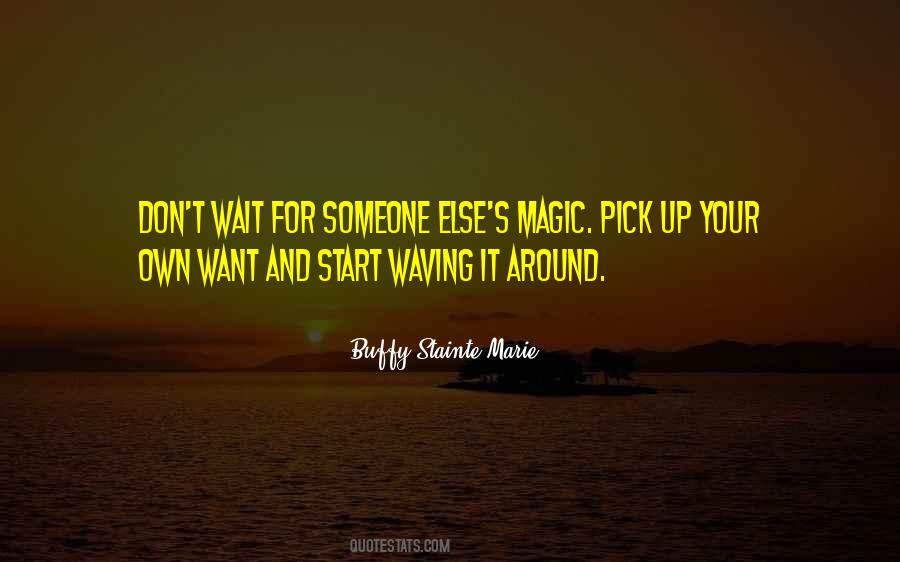 #84. Climate change, demographics, water, food, energy, global health, women's empowerment - these issues are all intertwined. We cannot look at one strand in isolation. Instead, we must examine how these strands are woven together. - Author: Ban Ki-moon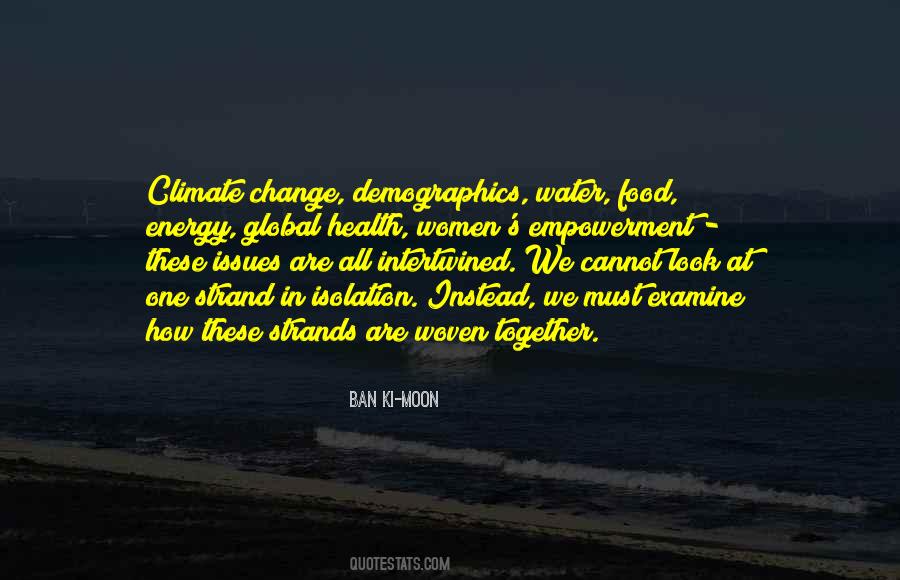 #85. I am a feminist, but I'm not an extremist. I know what feminism is, but I'm not all women empowerment, marching in the streets. I'm not a die-hard girl's girl. - Author: Scheana Marie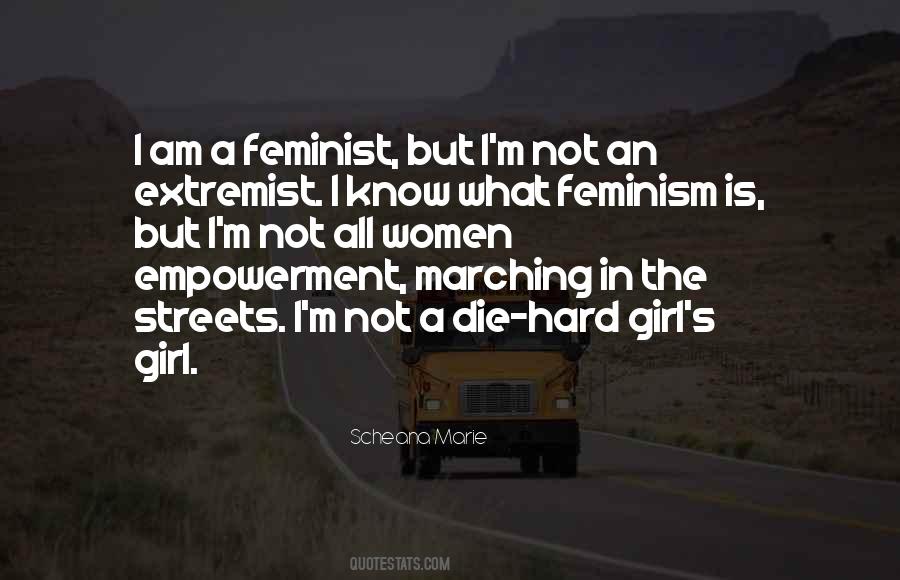 #86. There are certain phrases potent to make my blood boil
improper influence! What old woman's cackle is that?"
"Are you a young lady?"
"I am a thousand times better: I am an honest woman, and as such I will be treated. - Author: Charlotte Bronte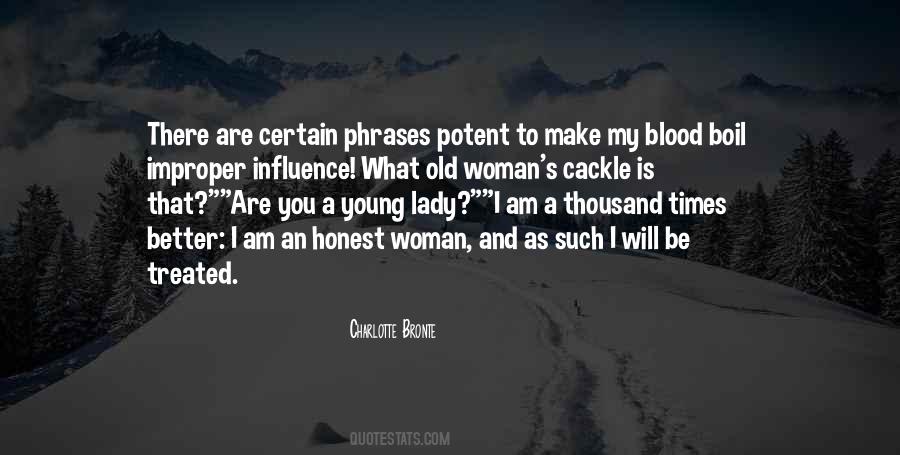 #87. Peter, Peter Pumpkin Eater,
Had a wife and couldn't keep her.
Of course you cannot keep a wife-
Everyone's got to live their life! - Author: Kristen McKee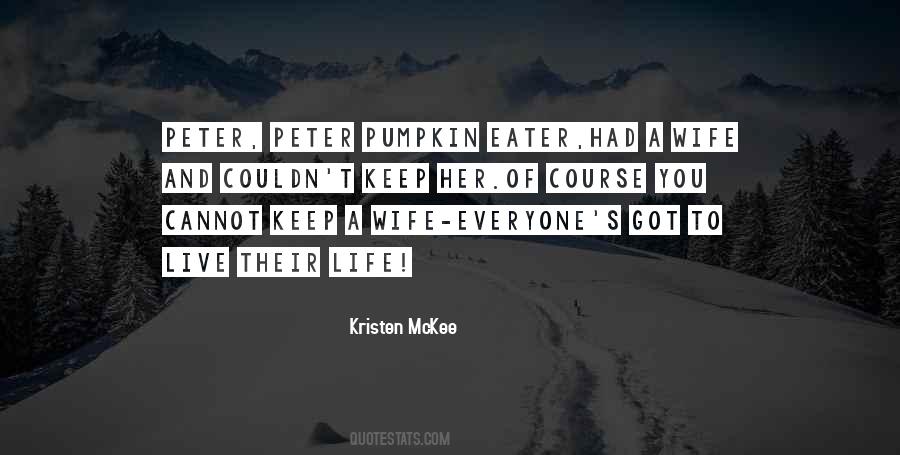 #88. I twist and pin my hair at the nape of my neck, and then stand with legs wide. It's what Nash told me to do before speaking because men, no matter how many times they profess women are equal, prefer to take direction from bodies like theirs. - Author: Caroline George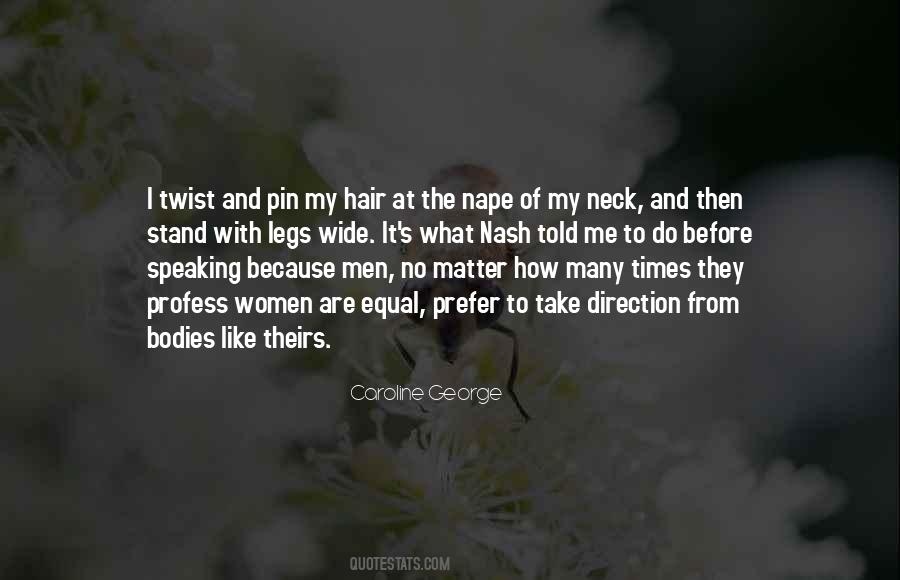 #89. For, what is the purpose of true love, other than to rescue another from one's self? Why is that not the first thing we look for? - Author: Shannon L. Alder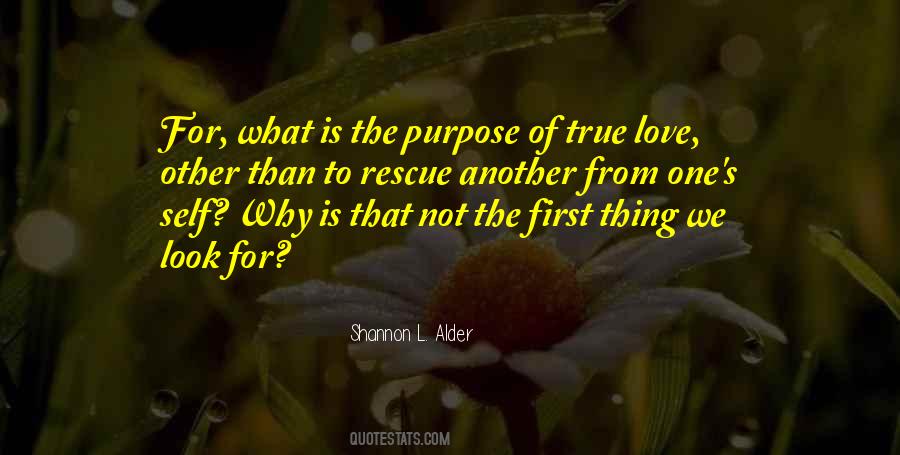 #90. My answer to those who oppose my appointment as CEO is that this is really a decision of the YWCA. They want to strengthen their grassroots to advocate on behalf of women's and children's empowerment and ending racism. - Author: Patricia Ireland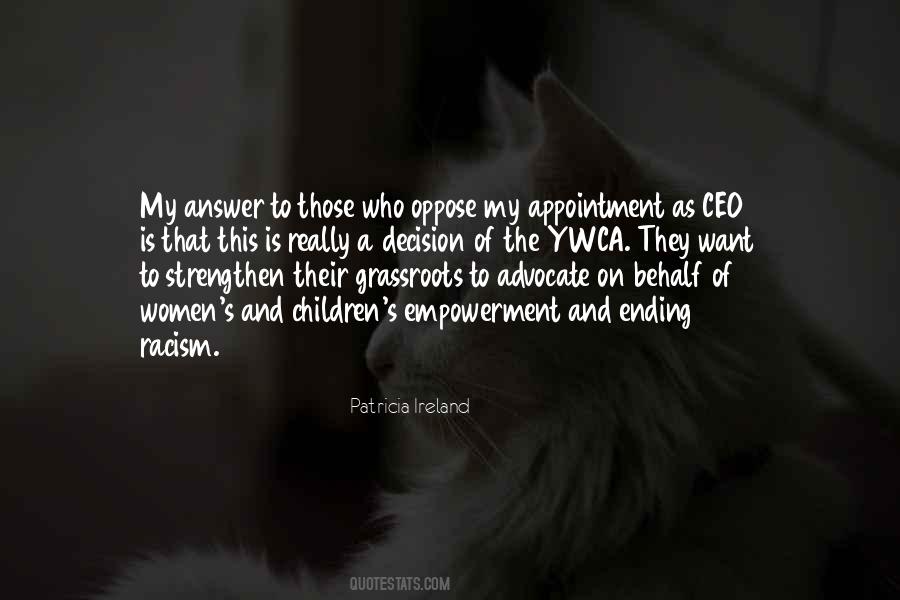 #91. Chastity ... has, even now, a religious importance in a woman's life, and has so wrapped itself round with nerves and instincts that to cut it free and bring it to the light of day demands courage of the rarest. - Author: Virginia Woolf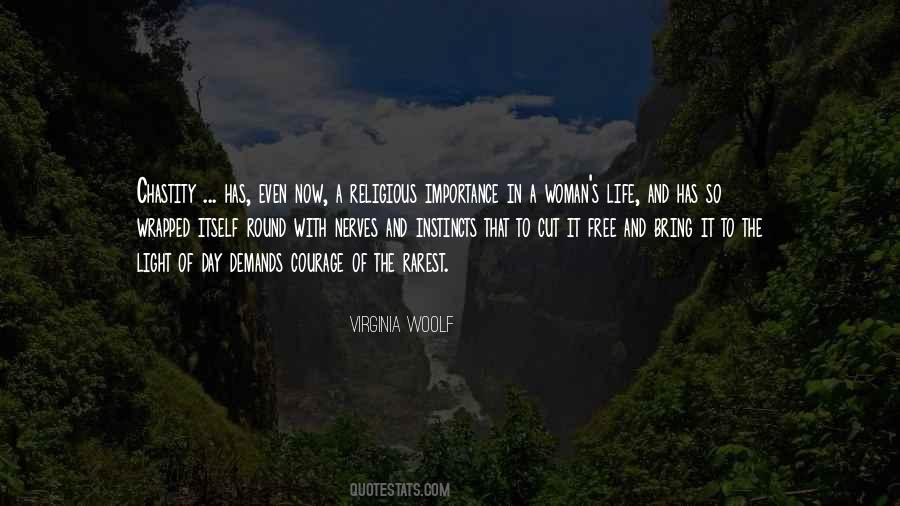 #92. The saddest thing a girl can do is dumb herself down for a guy. - Author: Emma Watson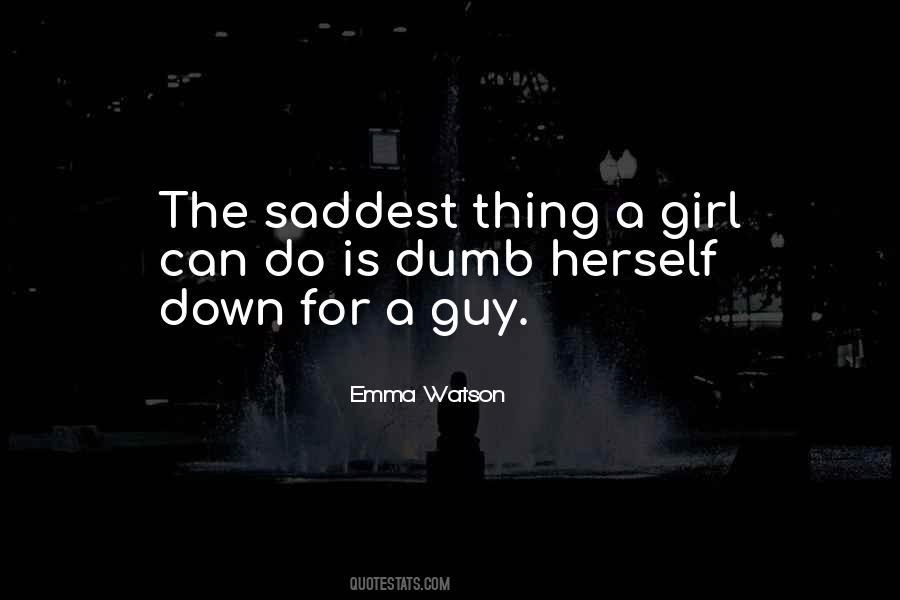 #93. Next time, ask: What's the worst that will happen? Then push yourself a little further than you dare. - Author: Audre Lorde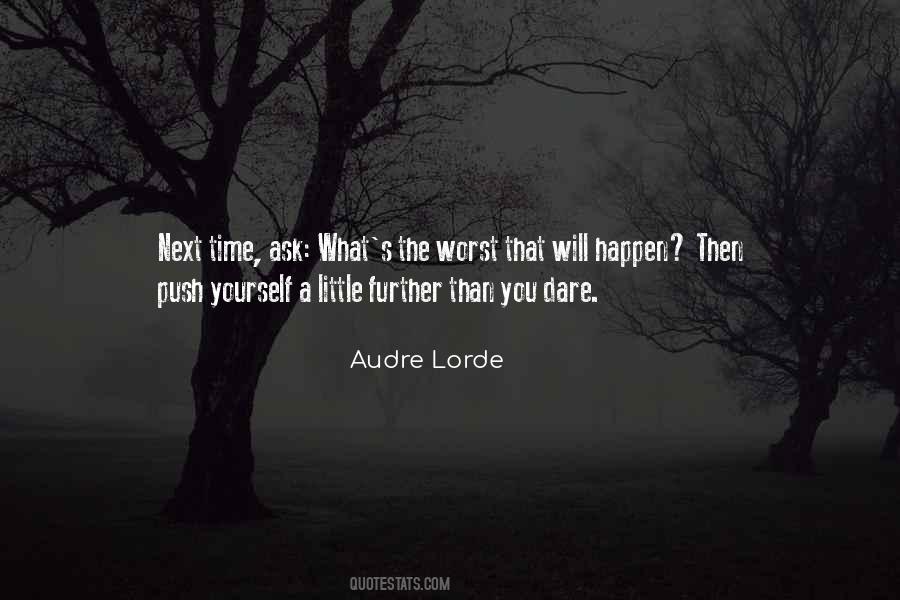 #94. A man is educated and turned out to work. But a woman is educated - and turned out to grass. - Author: Pearl S. Buck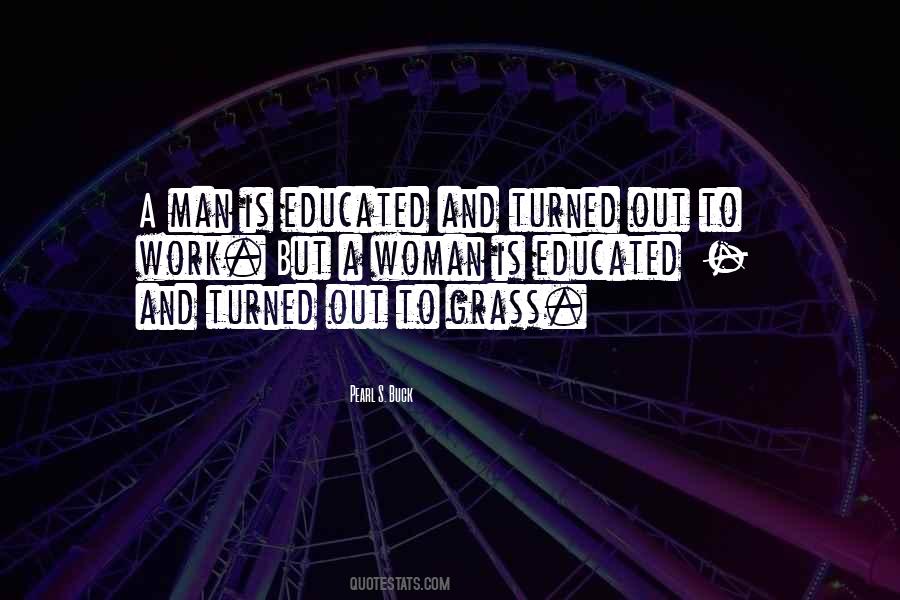 #95. Because I am a woman, I must make unusual efforts to succeed. If I fail, no one will say, 'She doesn't have what it takes." ~ ' They will say, 'Women don't have what it takes." - - Author: Clare Boothe Luce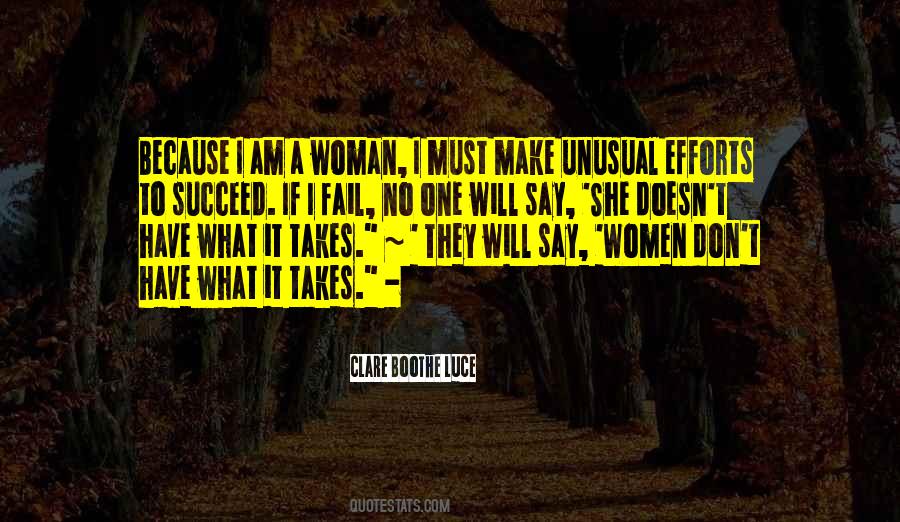 #96. While Europe's eye is fix'd on mighty things,
The fate of empires and the fall of kings;
While quacks of State must each produce his plan,
And even children lisp the Rights of Man;
Amid this mighty fuss just let me mention,
The Rights of Woman merit some attention. - Author: Robert Burns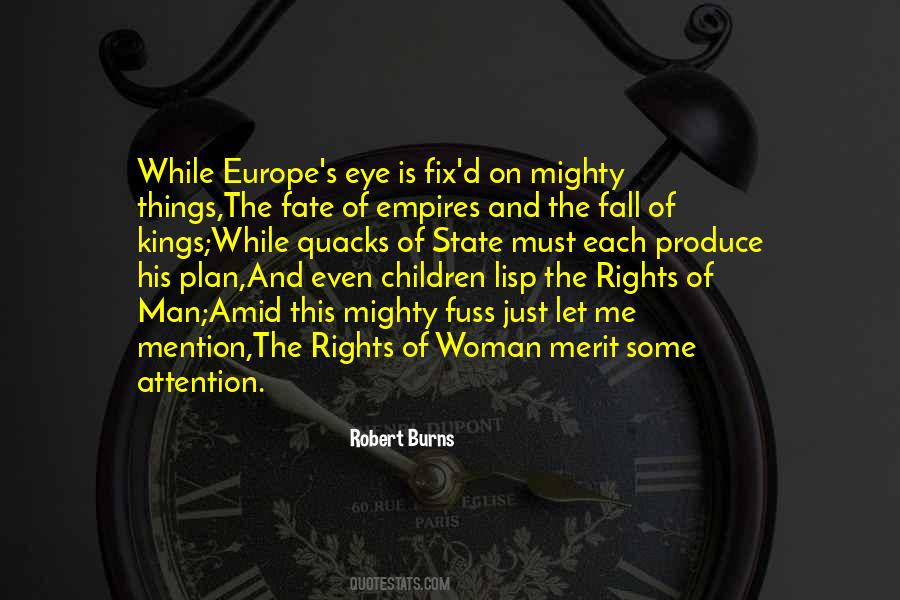 #97. If we are to be women in power, then it must be power on very different terms. we have to find a new source of energy. New structures of power. Ones that don't deplete us or our environment. We need to run our lives on sustainable energy. - Author: Lucy H. Pearce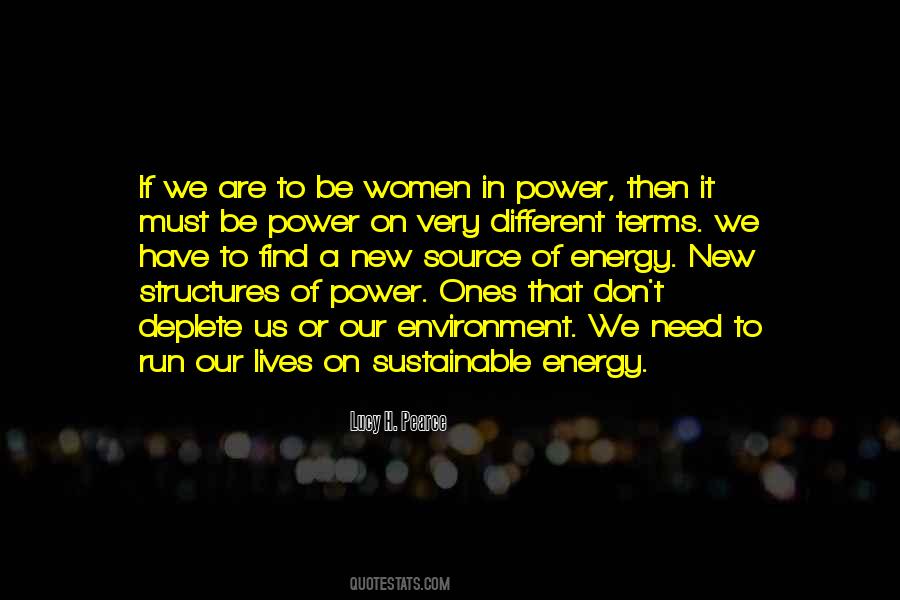 #98. Every woman in this world wears a little sparkle, some in their dress, and some in their eyes. - Author: Shahla Khan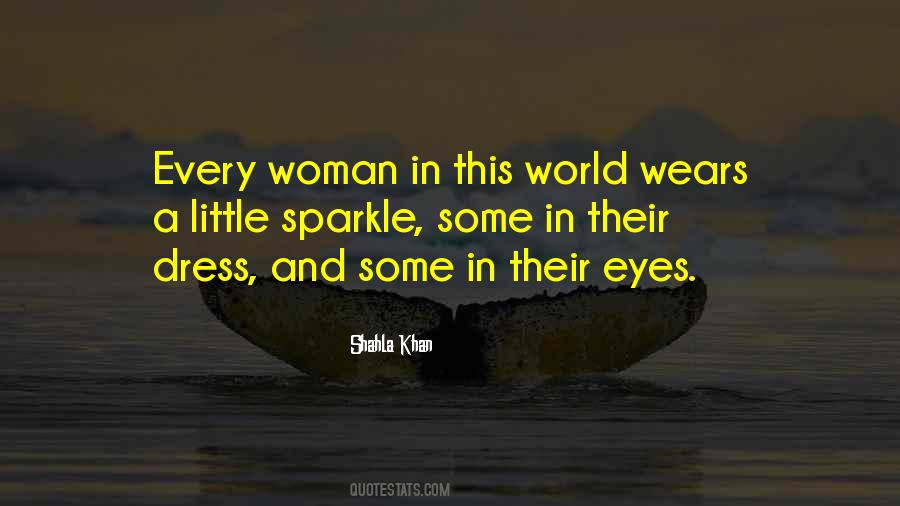 #99. What empowerment is all about [is] finding something which infuses you with a sense of mission, with a passion for your life's work. I don't believe there is one path for women or one nature to fulfill. Real fulfillment, real empowerment is often different than we imagine and better than we plan. - Author: Elizabeth Dole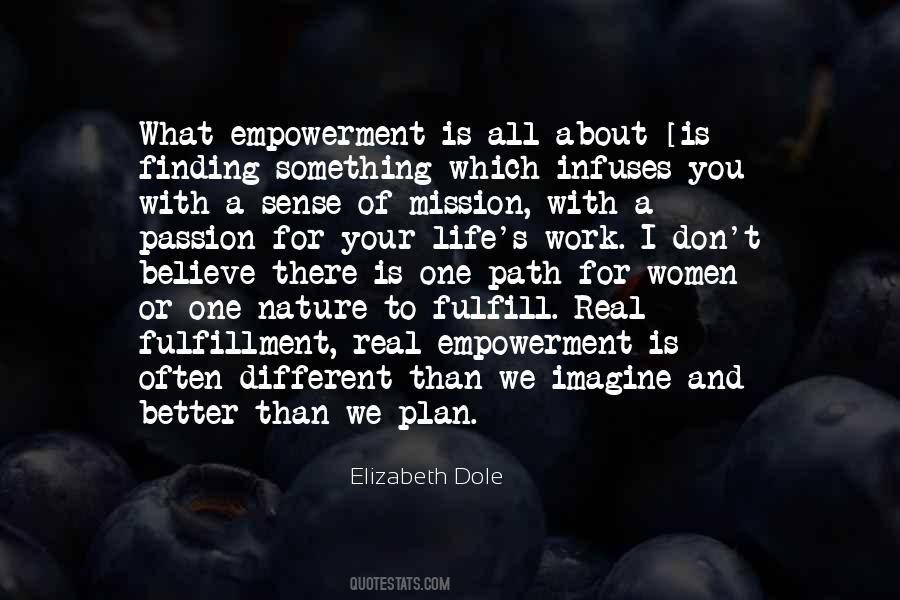 #100. Suddenly, it hit me. Why not do a talk show that featured not one, but four engaging female hosts of varying ages and perspectives. . . create a "kitchen table" forum for discussion. If it was on their minds, ya gotta figure that it's on the minds of half of American women, right? - Author: Jamie Collins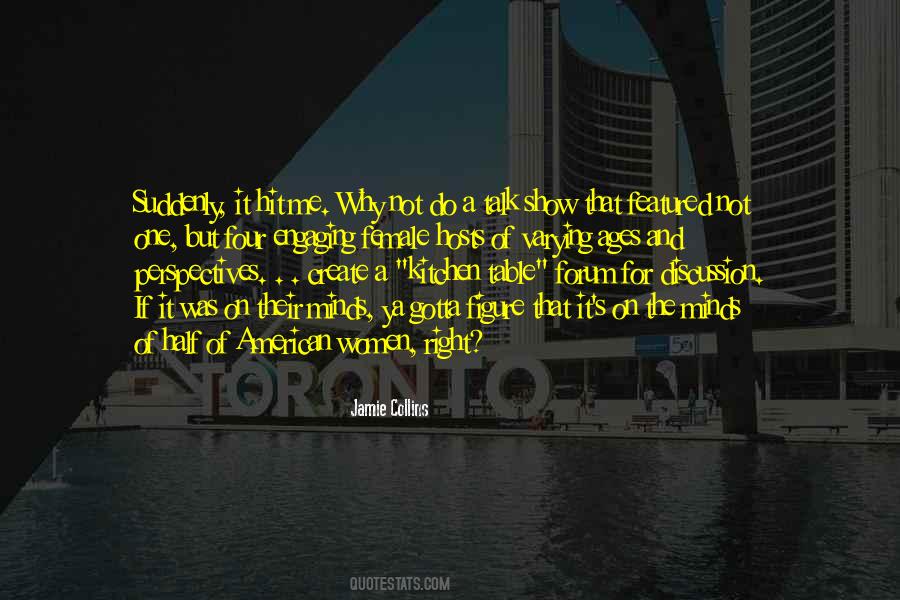 Famous Authors
Popular Topics