We Are Young Famous Quotes & Sayings
List of top 100 famous quotes and sayings about we are young to read and share with friends on your Facebook, Twitter, blogs.
Top 100 Quotes About We Are Young
#1. It is a pity we can't escape from life when we are young. - Author: Mark Twain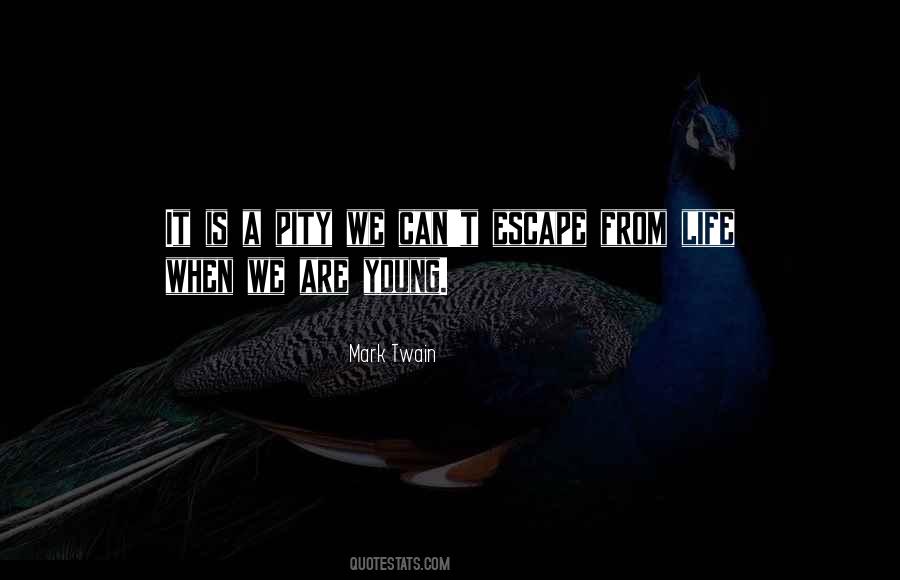 #2. As sub-assistant-treasurer in this archipelago, there are conversations I've been meaning to have. We could have those now, young Loam. - Author: N.D. Wilson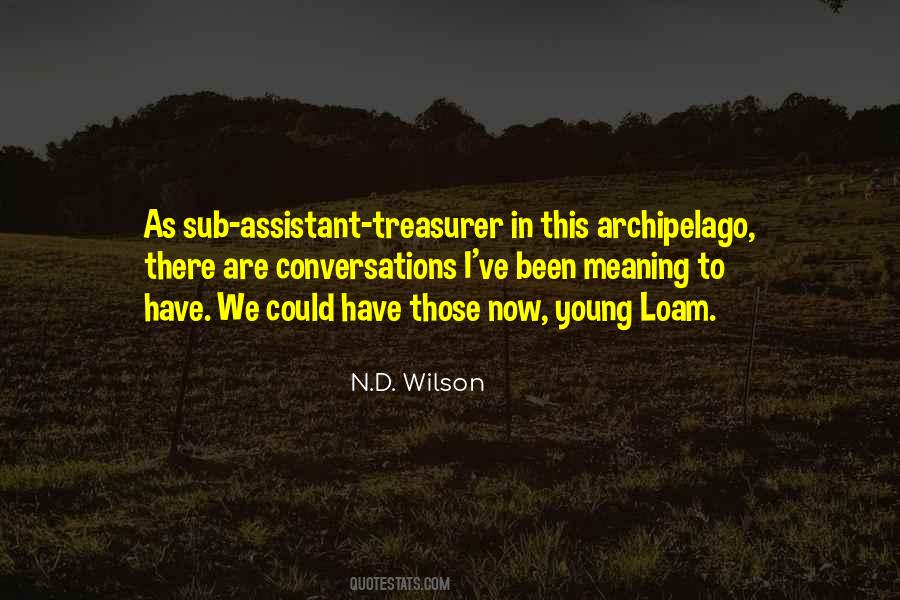 #3. If we could switch off the aging gene we would. There's no technology that we've had that we haven't used. We are in the capital of staying young forever. - Author: Andrew Niccol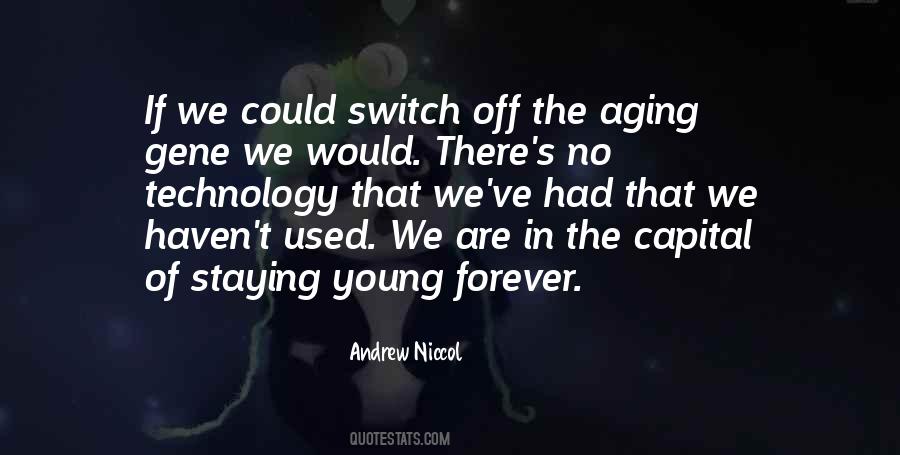 #4. We promised we'd all stay in touch. Even joked about a yearly reunion. These kinds of goodbyes are the scary goodbyes. The goodbyes where you know the chances of seeing each other again are very slim. - Author: Estelle Maskame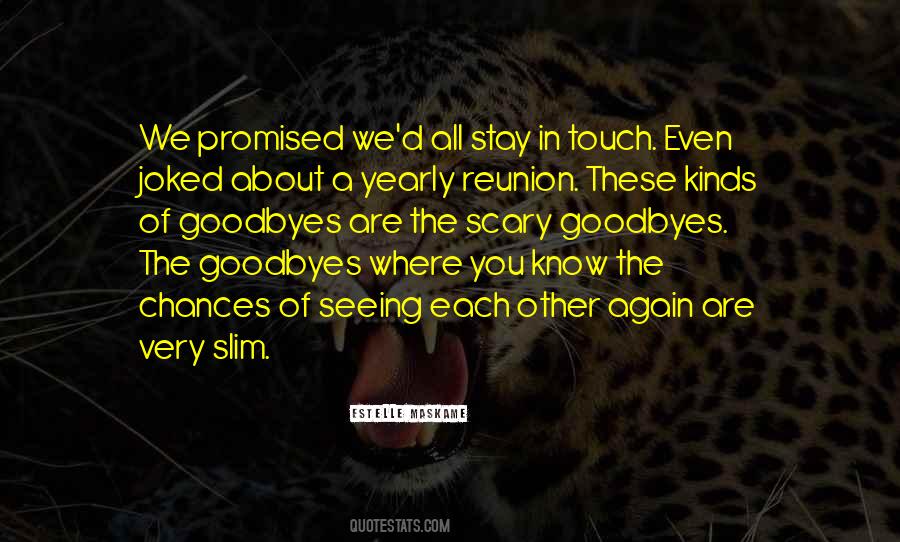 #5. These young people naturally grow up with ideas different from ours, for they are born for times when we shall no longer be here - Author: Emile Zola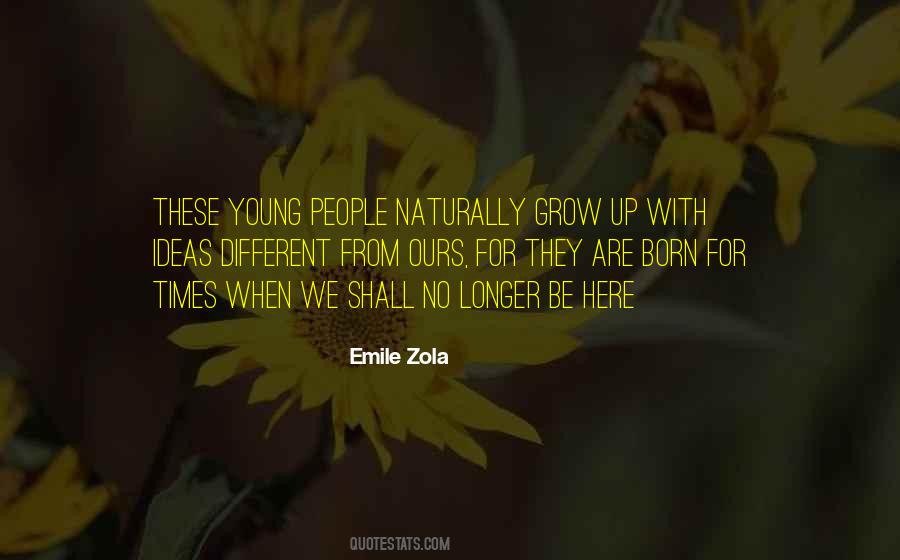 #6. Black people are dying in this country because we have a criminal justice system which is out of control, a system in which over 50% of young African-American kids are unemployed, it is estimated that a black baby born today has a one in four chance of ending up in the criminal justice system. - Author: Bernie Sanders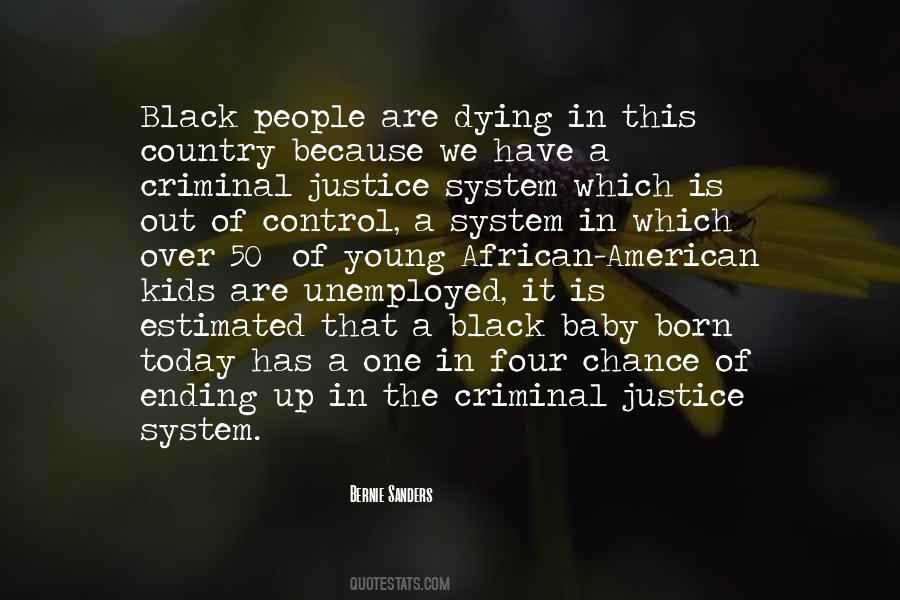 #7. There are young people having babies every day that cannot possibly take care of them, and, as people who believe that every life is beautiful, we need to make them aware of another choice - to give that beautiful life up for adoption. - Author: John Schneider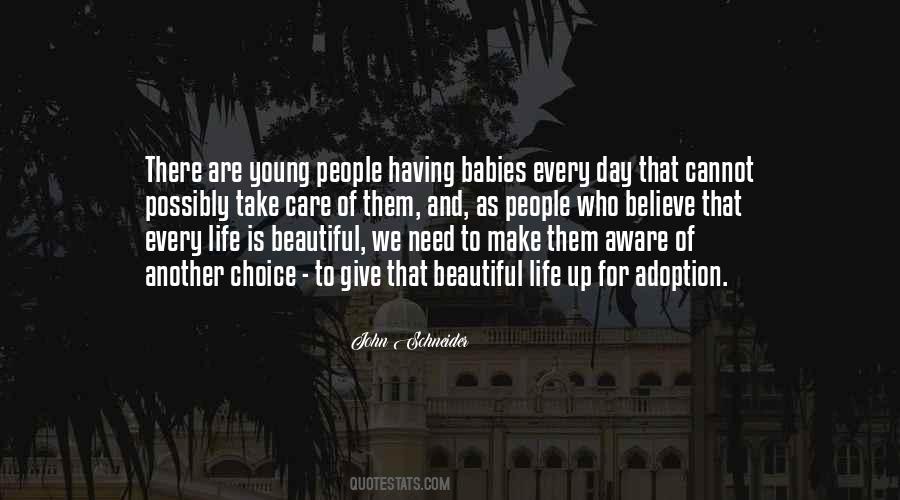 #8. When you are young you are curious to know all about everything, why the sun shines, what the stars are, all about the moon and the world around us; but as we grow older, knowledge becomes a mere collection of information without any feeling. - Author: Jiddu Krishnamurti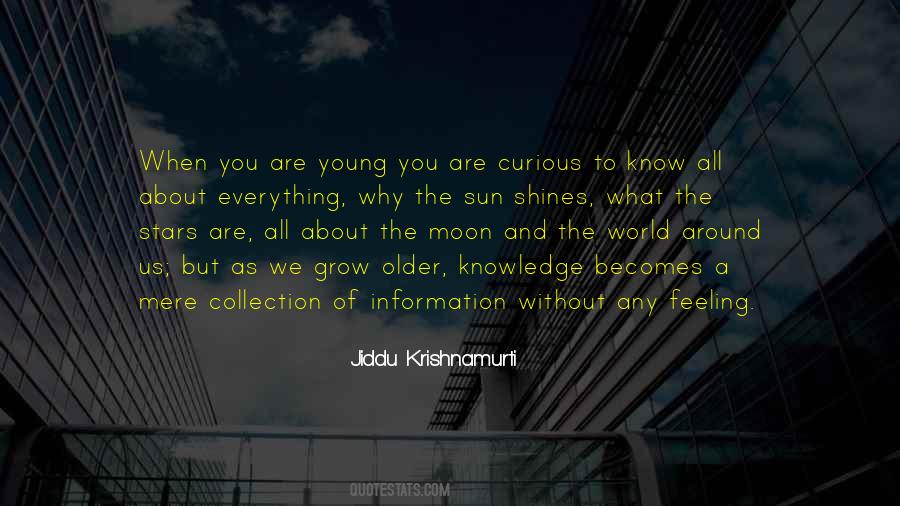 #9. I guess for me Hemingway is a lot like it is for others: he goes down well when we are young. - Author: Charles Bukowski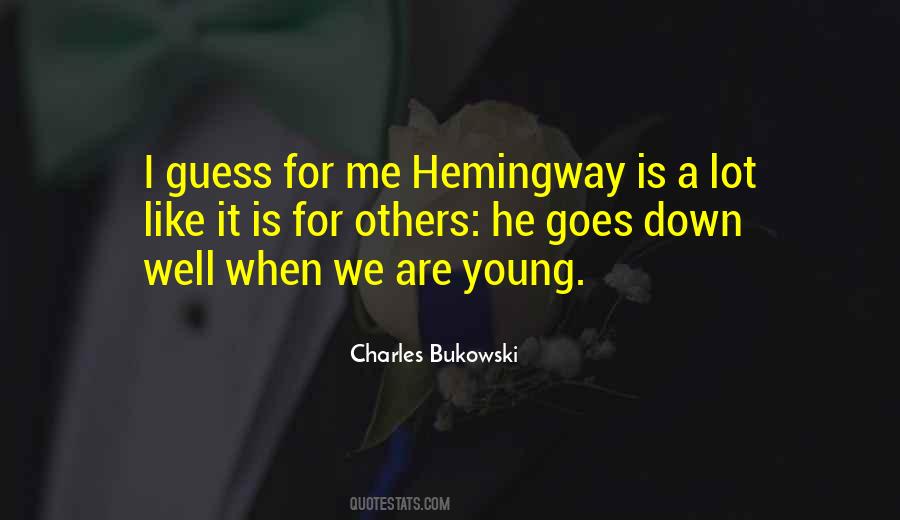 #10. When we're young, we think we are the only species worth knowing. But the more I come to know people, the better I like ravens. - Author: Louise Erdrich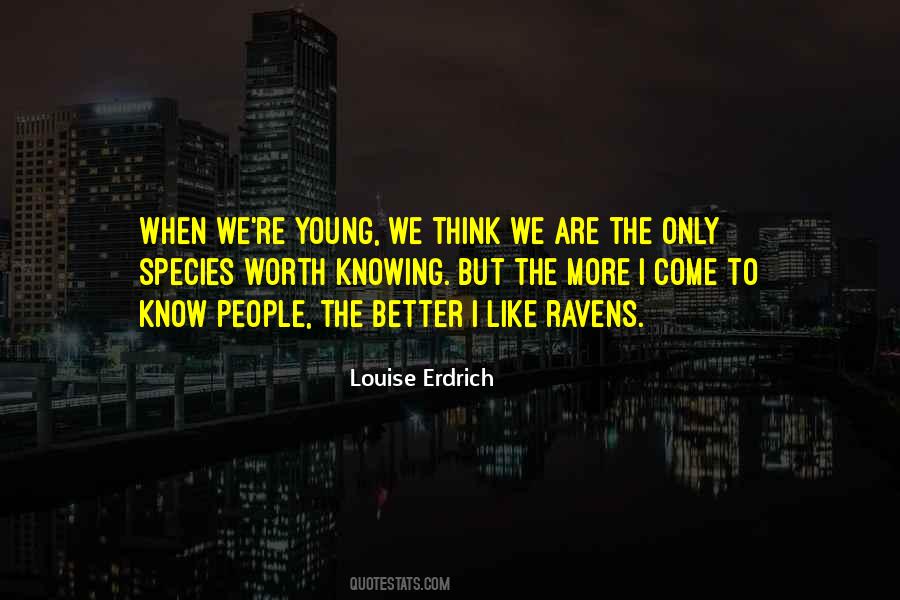 #11. Pride makes us rest content with ourselves - think we are good enough as we are - keep us from taking advice - refuse the gospel of Christ - turn every one to his own way. But pride never reigns anywhere so powerfully as in the heart of a young man. - Author: J.C. Ryle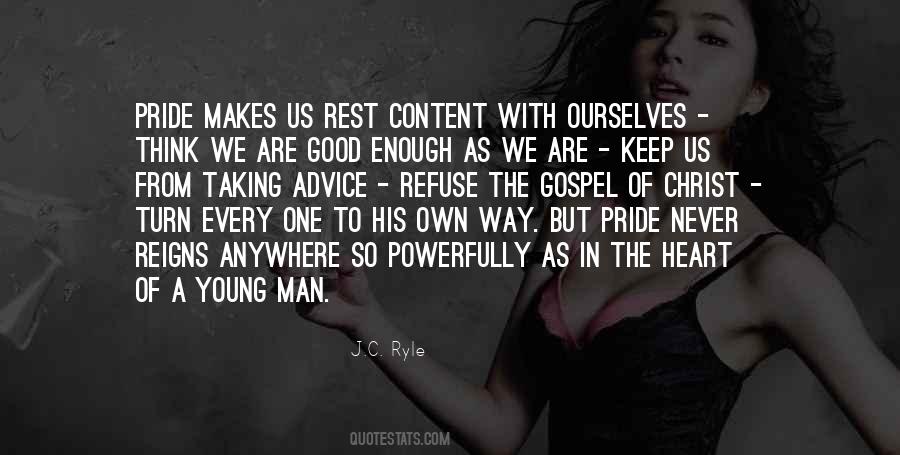 #12. Twilight, I'm sorry, is about a very unhealthy, toxic relationship. She falls in love with this guy and the second he leaves her, her life is over and she's going to kill herself! What message are we sending to young people? That is not going to help this world evolve, - Author: Shailene Woodley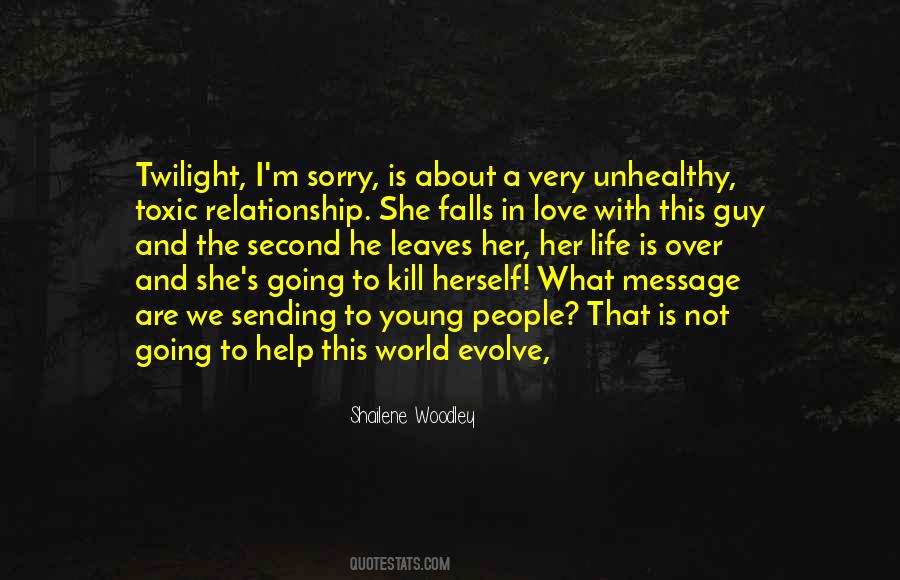 #13. My roots and Victor's are jazz, basically, but these two young fellows that we have with us come out of rock bands. And they're tremendously exciting players. - Author: Chico Hamilton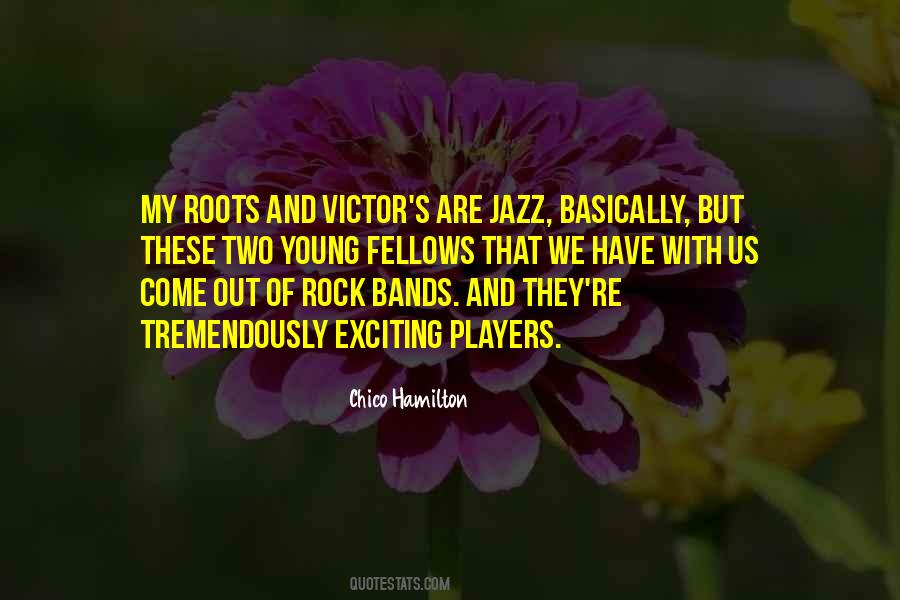 #14. I begin with the young. We older ones are used up but my magnificent youngsters! Are there finer ones anywhere in the world? Look at all these men and boys! What material! With you and I, we can make a new world. - Author: Adolf Hitler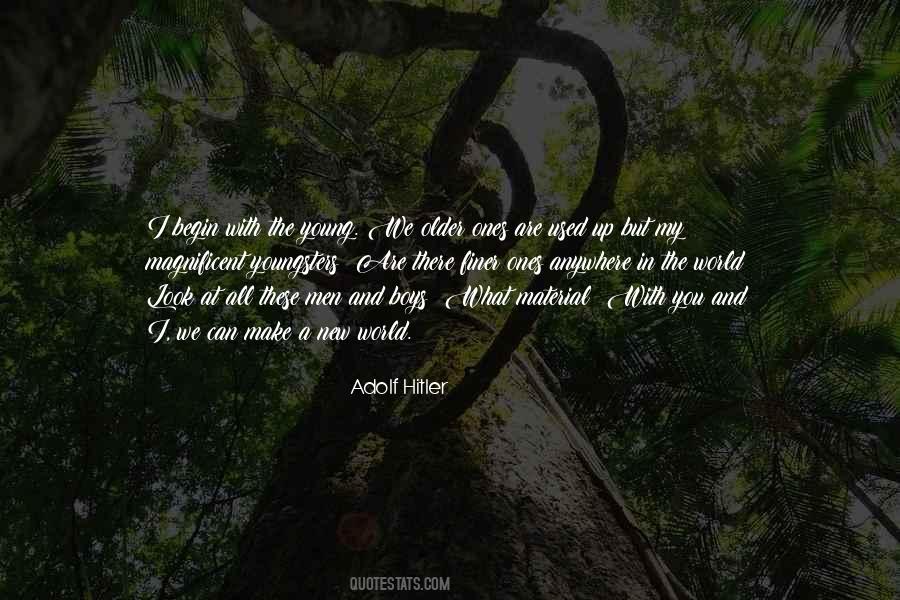 #15. I finally understood why so much monkey business happened in the backs of buses. Put us in close proximity, with wheels spinning under us, and nothing to do but wait, we're going to start thinking of lovely uses for our bodies. I don't care who you are. - Author: Laura Anderson Kurk
#16. When we are young - or even 32 - we often say 'yes' to everything because we're worried that we won't know what we'll like if we don't try it. - Author: Jami Attenberg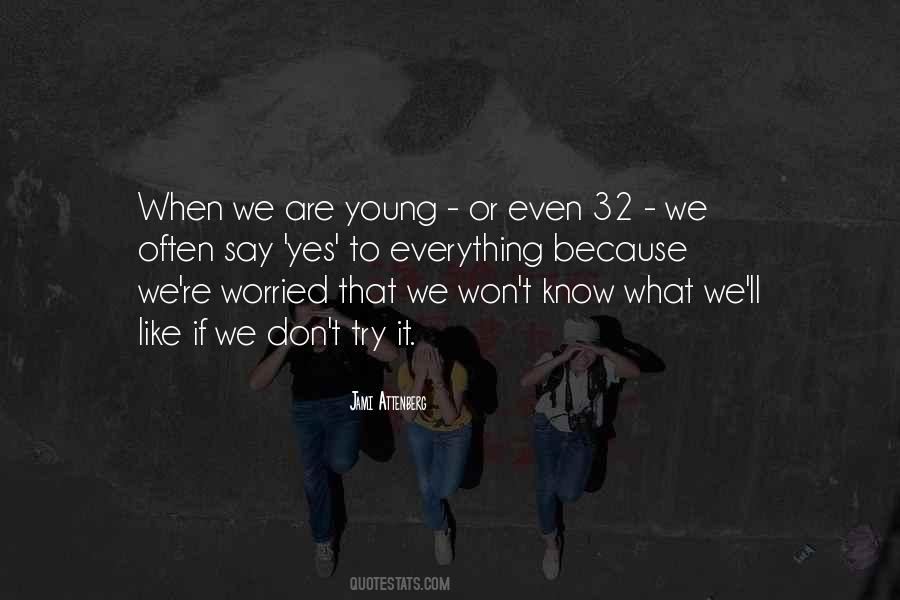 #17. When we are very young children we know how to feel. It's innate. But as we lead a lifetime, we pick up so many thoughts, impressions, feelings, and ideas, that our sensitivity goes away. - Author: Frederick Lenz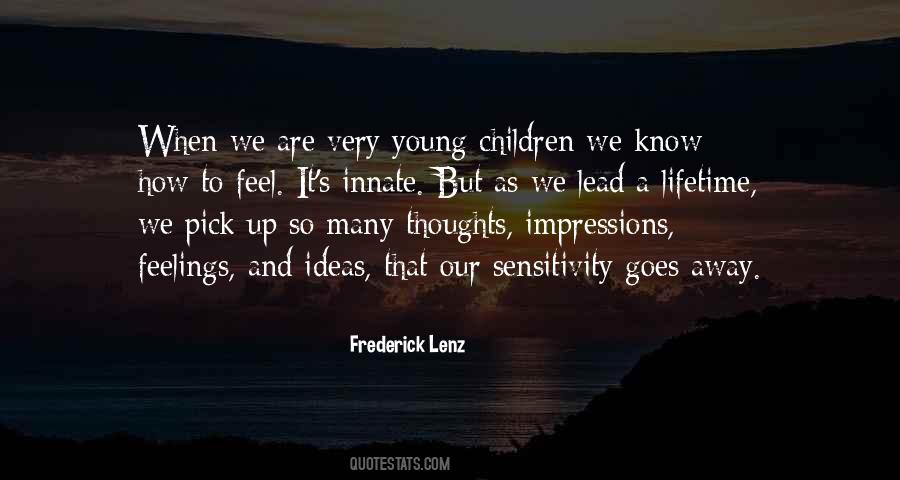 #18. We must not close our eyes to the fact that there are conspiring men who would pollute young boys, and girls of corresponding age, for sake of increasing profits. - Author: David O. McKay
#19. When I look out at the audience at some of our shows, I think we are reaching a younger audience ... I see lots of people in their 30s and 40s, but I also see a lot of people in their young and middle teens, and that's definitely reassuring. - Author: Alex Lifeson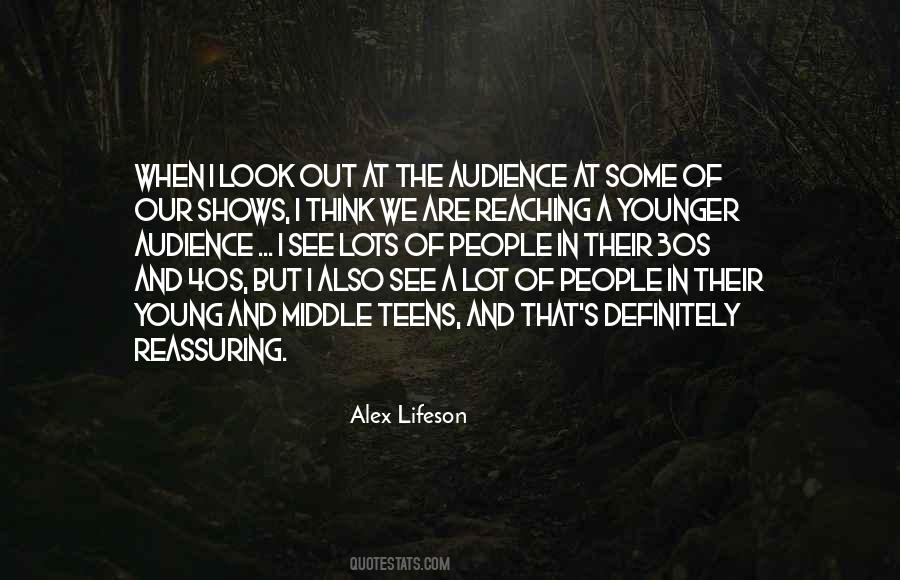 #20. Once we were young, now we are adult. - Author: Lailah Gifty Akita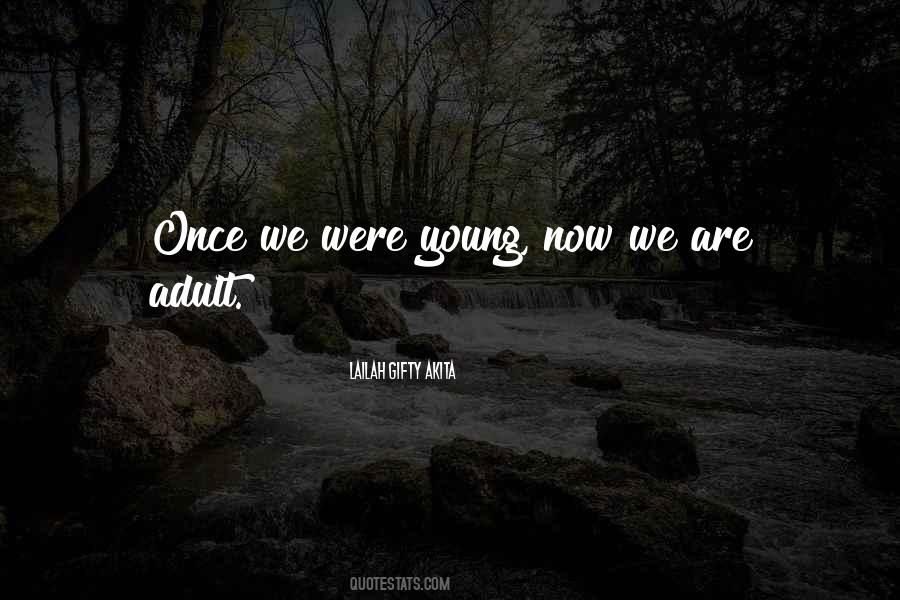 #21. Welfare has destroyed the African-American family by telling young black women that husbands and fathers are unnecessary and obsolete. ... We have incentivized fornication rather than marriage, and it's no wonder we are now awash in the disastrous social consequences of people who rut like rabbits. - Author: Bryan Fischer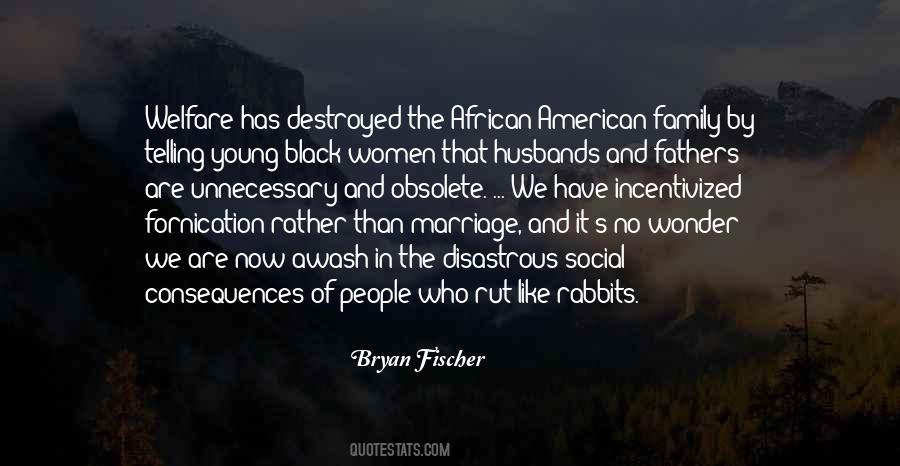 #22. So different are the colours of life, as we look forward to the future, or backward to the past; and so different the opinions and sentiments which this contrariety of appearance naturally produces, that the conversation of the old and young ends generally with contempt or pity on either side. - Author: Victor Hugo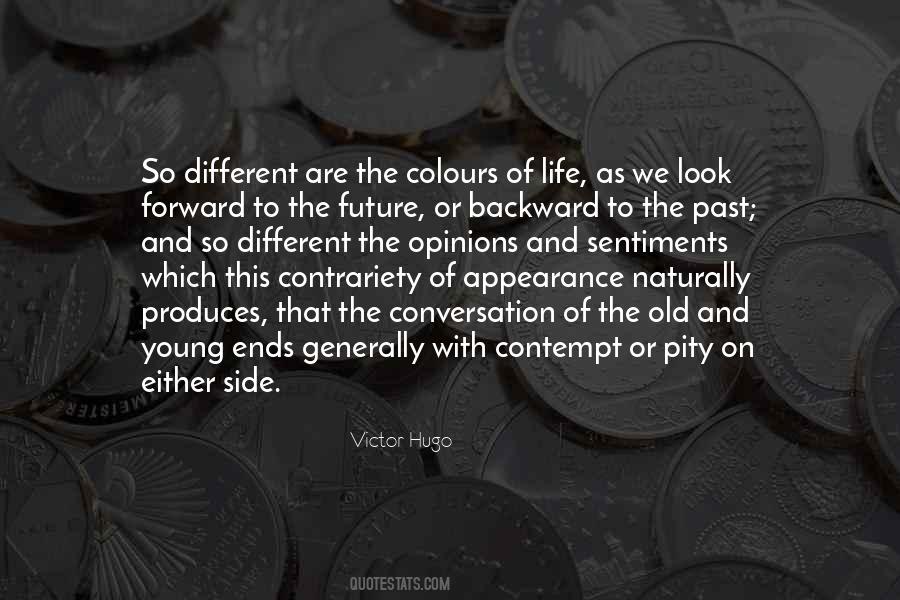 #23. My family took a vacation to Universal Studios when I was really young. Me and my brother Richard - who's also an actor - were both really intrigued by seeing the behind-the-scenes stuff of how films are made. We kind of begged our parents to get into acting. - Author: Jonathan Jackson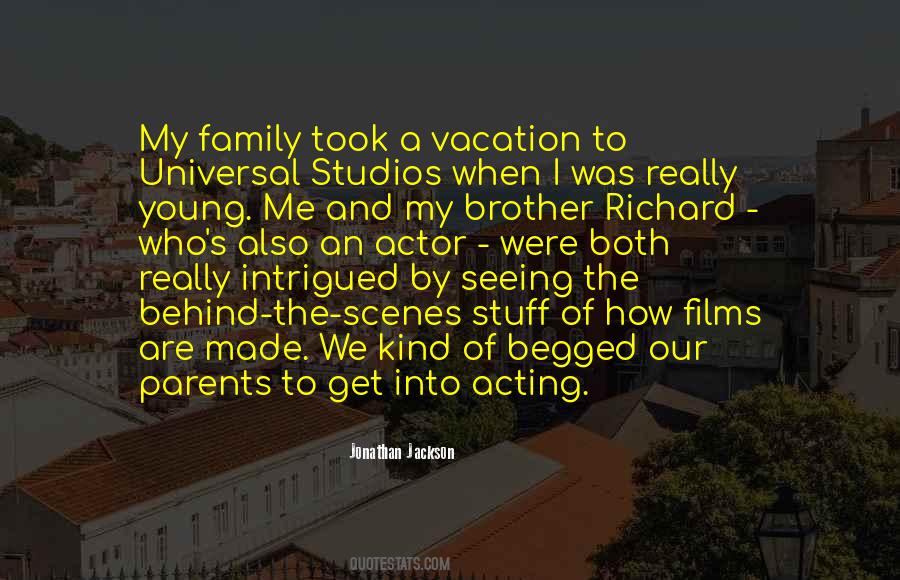 #24. Every day I would wake up and think, 'Today is another missed opportunity to do something important.' After enough days like this, you start feeling like you are getting old, even when you are relatively young. We are all natural entrepreneurs, and being manacled to a desk job is not for us. - Author: Brian Chesky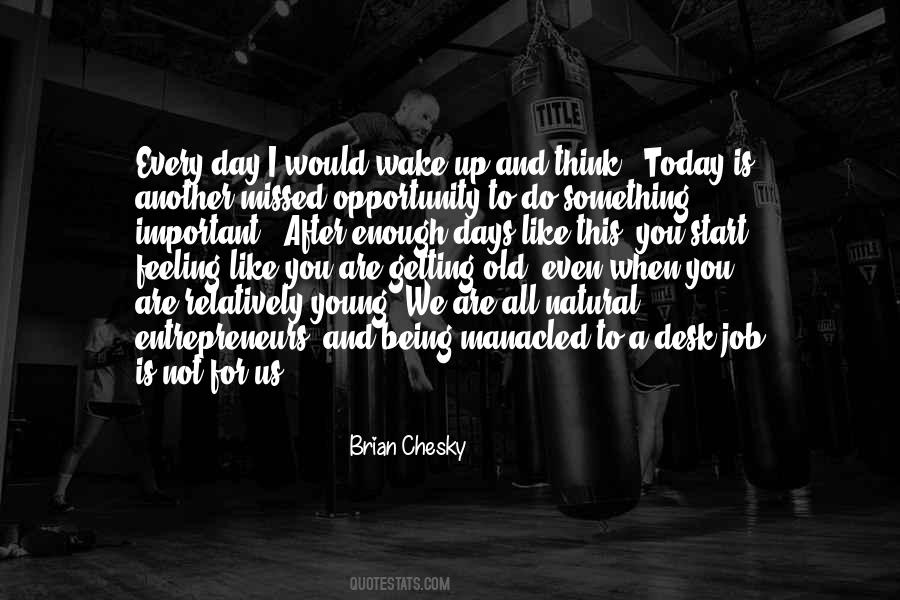 #25. The conscience of America seems to be paralyzed ... We seem to be insensible to the things that are now taking place on motion picture screens and on the news stands that are constantly stimulating our young people. - Author: Billy Graham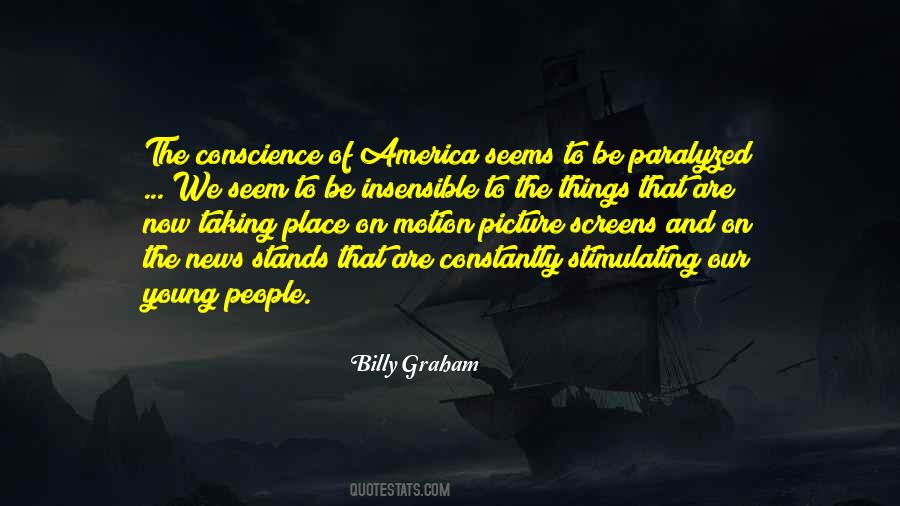 #26. There are days we live
as if death were nowhere
in the background; from joy
to joy to joy, from wing to wing,
from blossom to blossom to
impossible blossom, to sweet impossible blossom. - Author: Li-Young Lee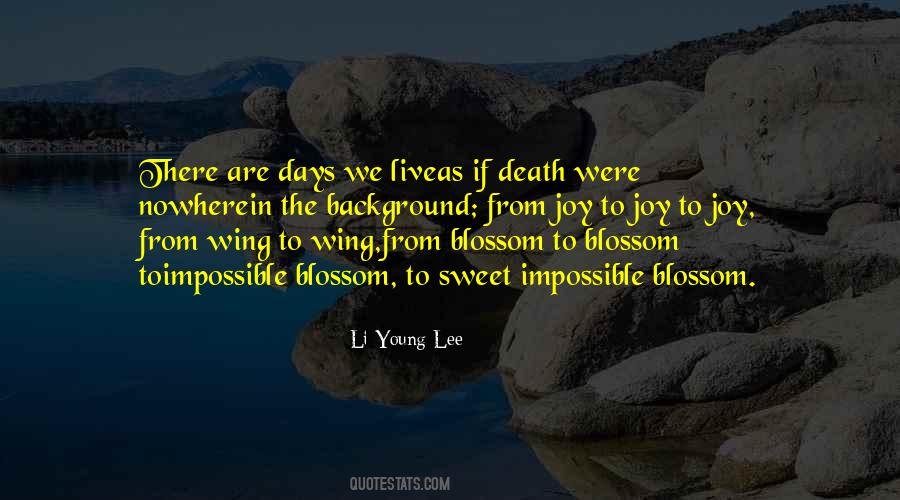 #27. I'm loving 'We Are Young,' by Fun. Really gets the morning rockin' to a great start. - Author: Katy Mixon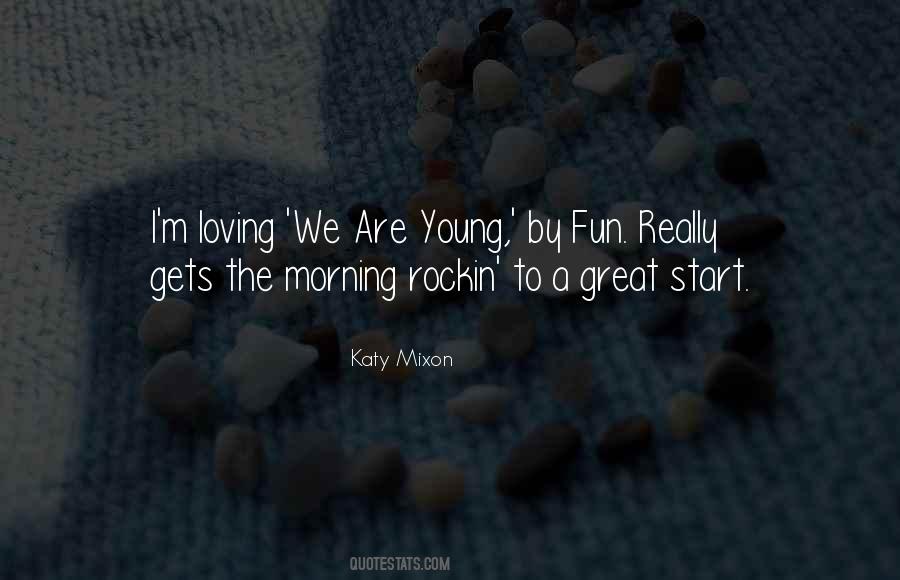 #28. We must not be taken in by the myth of youth, the unending propaganda to the effect that young men are younger than old men; that they are better looking; that they are slimmer, stronger and more athletic; that they can hold a girl in more romantic fashion and speak more sweetly. - Author: Isaac Asimov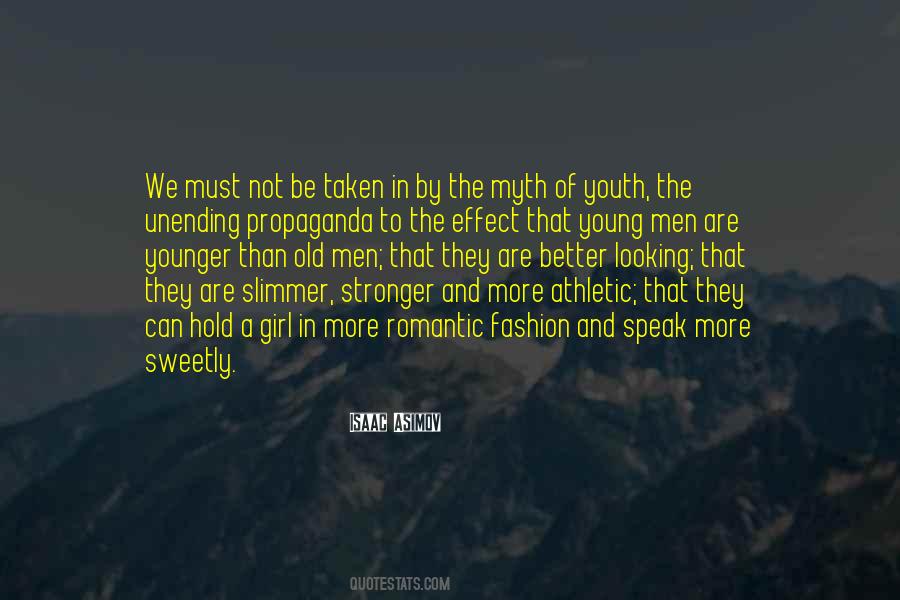 #29. In our dreams we are always young. - Author: Sarah Louise Delany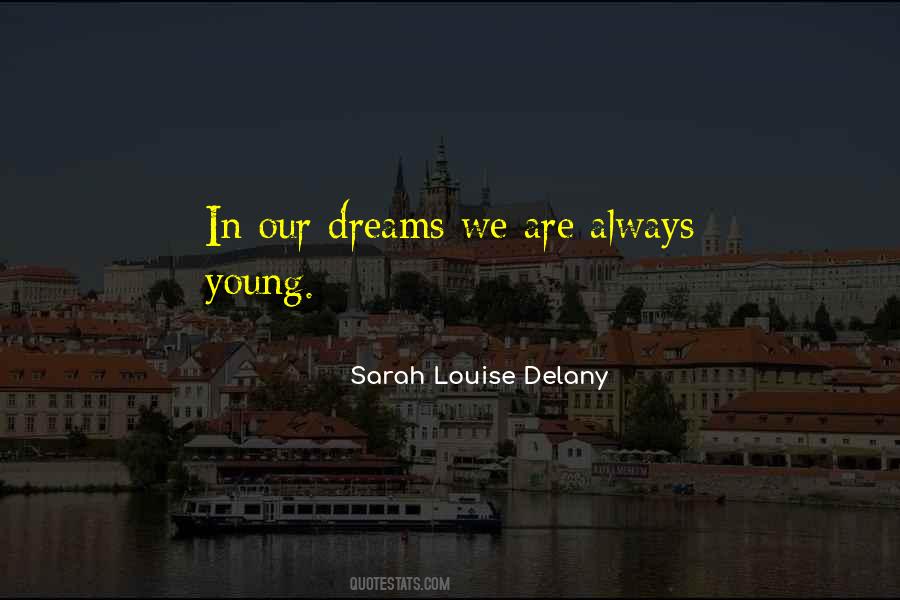 #30. Damn. I never should have agreed to this. What is he thinking? Here we are in a piece of crap pickup truck on our way to sit outside of a supermarket to kidnap this girl. Damn. He'd better not be falling for her. Sure she's cute, but I can't think about that. - Author: Jenna-Lynne Duncan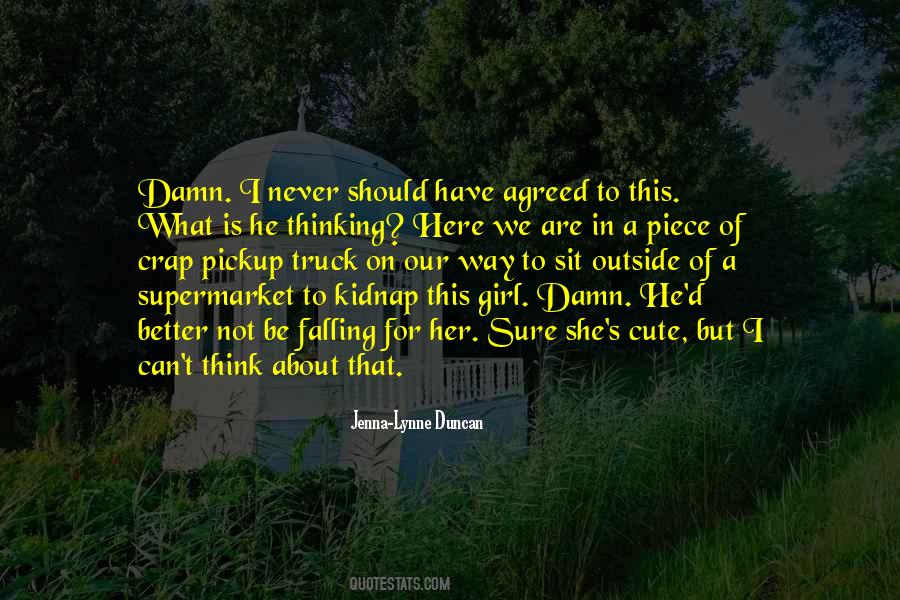 #31. Most good roles are written for young men. We are fixated on youth. So however much people say there is nothing wrong with being bald, the reality is once the hair is gone, you might not get the parts. - Author: Ian Hart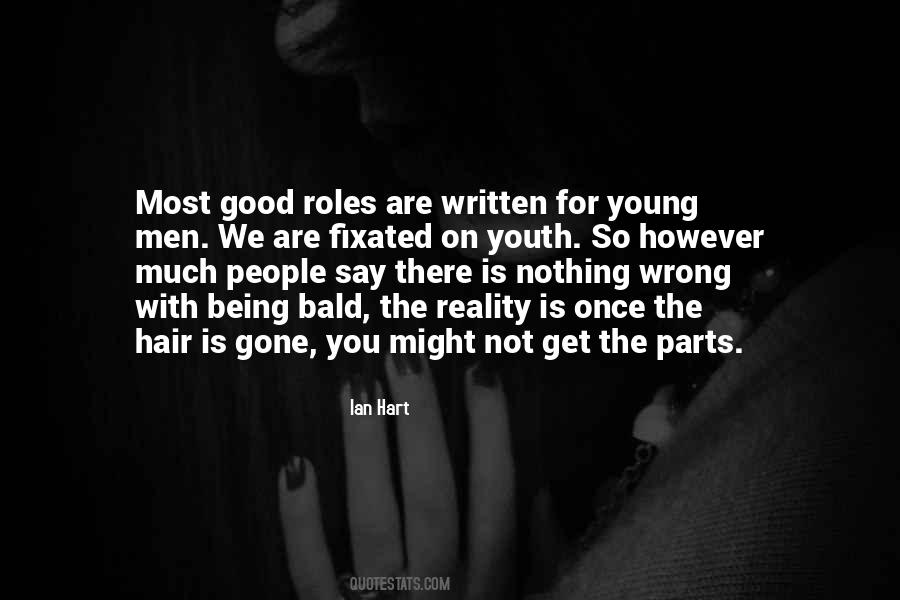 #32. You are my star in this dark, dark world that we inhabit. - Author: Misty Daniel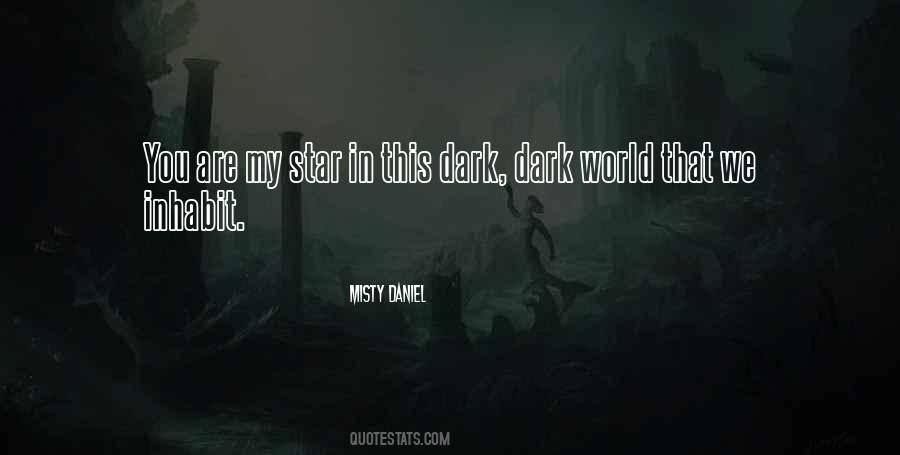 #33. NASA's been one of the most successful public investments in motivating students to do well and achieve all they can achieve, and it's sad that we are turning the program in a direction where it will reduce the amount of motivation it provides to young people. - Author: Buzz Aldrin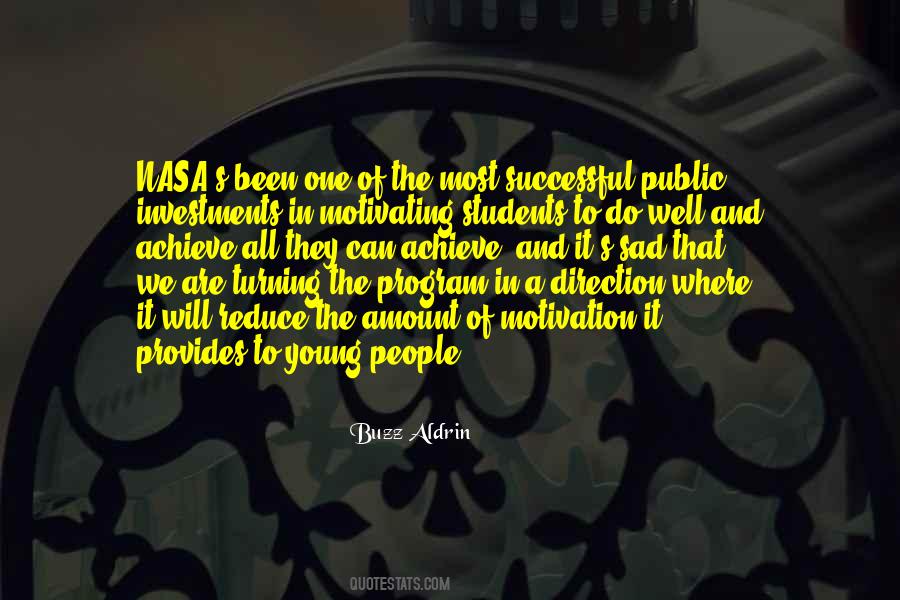 #34. Whence comes this idea that if what we are doing is fun, it can't be God's will? The God who made giraffes, a baby's fingernails, a puppy's tail, a crooknecked squash, the bobwhite's call, and a young girl's giggle, has a sense of humor. Make no mistake about that. - Author: Catherine Marshall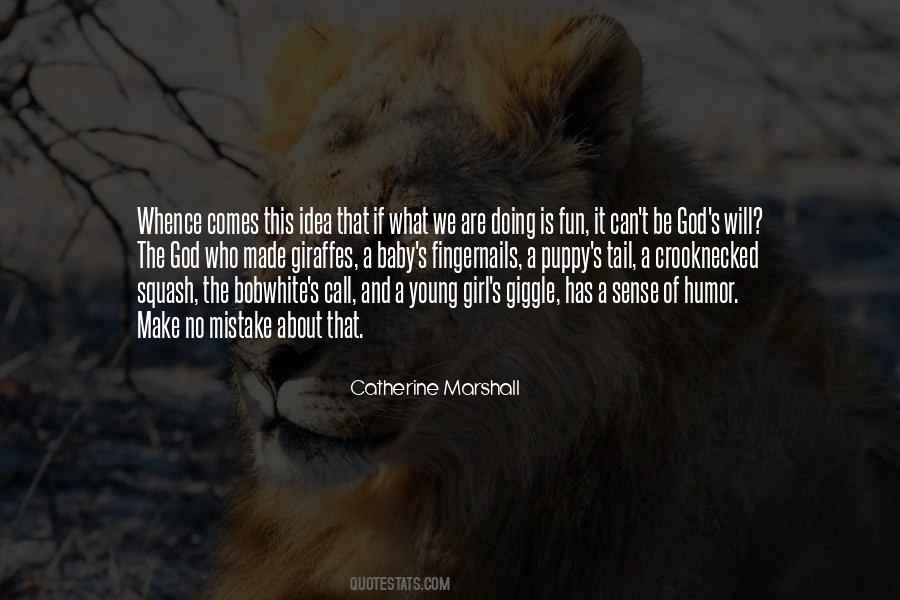 #35. There are only two reasons why you should ever be asked to give your youngsters. One is defense of our homes. The other is the defense of our Bill of Rights and particularly the right to worship God as we see fit. Every other reason advanced for the murder of young men is a racket, pure and simple. - Author: Smedley D. Butler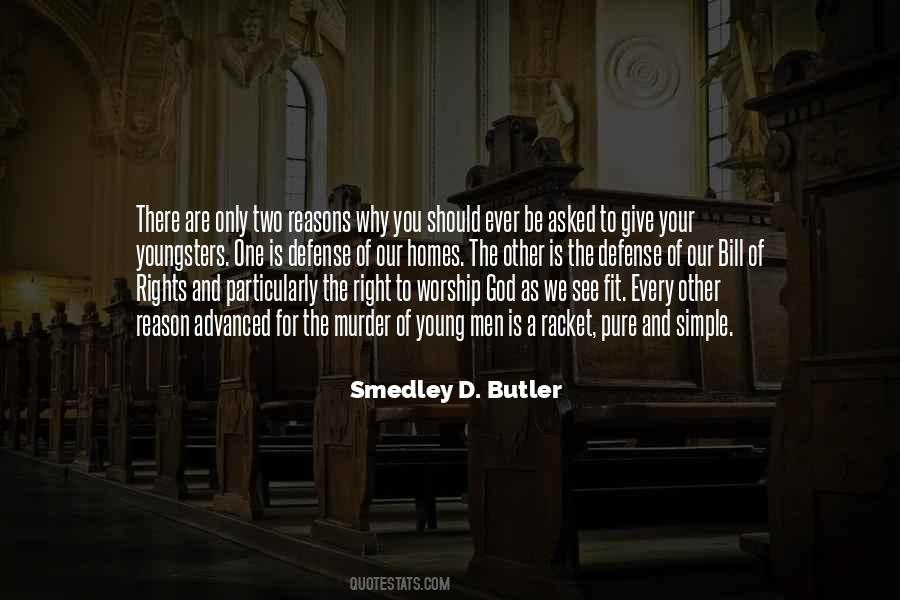 #36. Are we talking hell hounds and flames here?" Des asked, pacing at the end of our beds.
I repeated the question and gave a heaving sigh of relief when Jameson said I had the wrong idea.
"He's going to 'lead us into temptation.'"
"That doesn't sound so bad," Des said with a cheeky grin. - Author: Terri Clark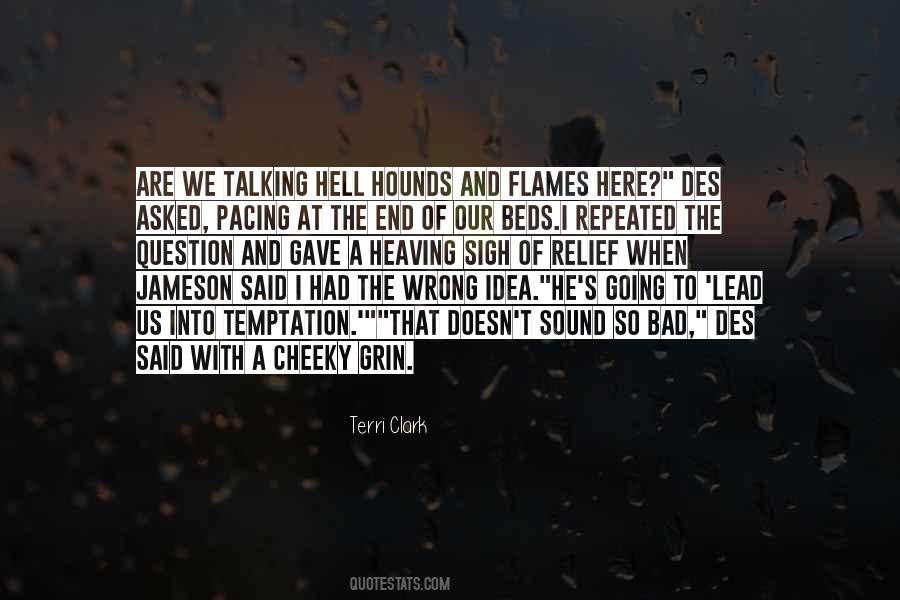 #37. Sometimes that mantle is hard to adjust to wearing but we are at a stage that we are comfortable with it and we recognize how we are perceived and how the real core individual that each one of us has apart from the facade that the public believes that we are. - Author: James Young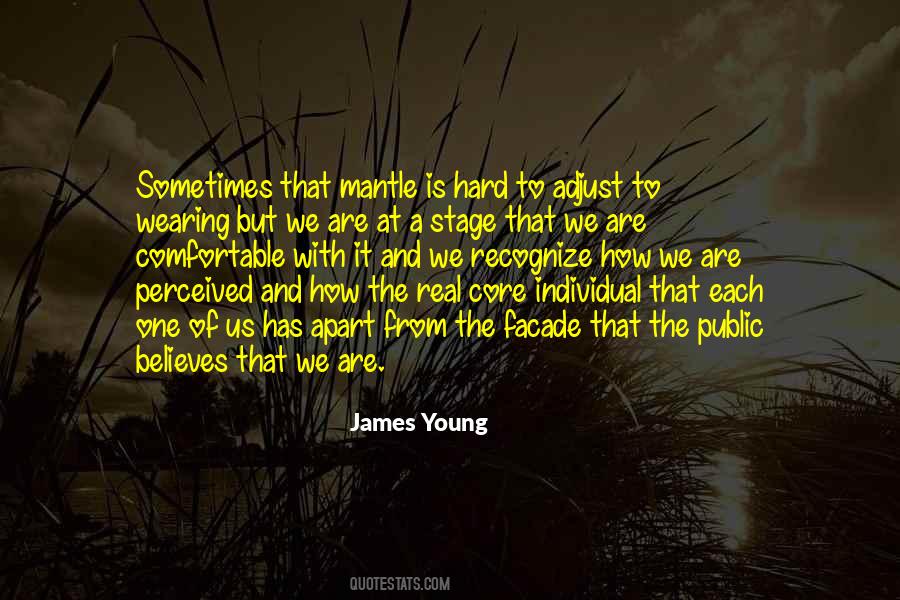 #38. We [ Desaparecidos] try to be the opposite of apathetic. There are so many young people in America that are apathetic. - Author: Conor Oberst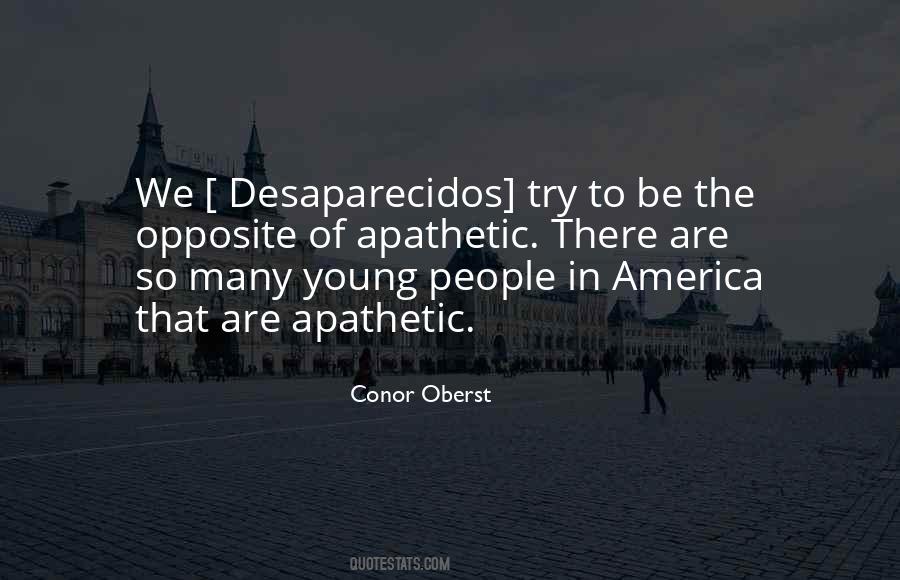 #39. I want our young people to believe as we did that there is no goal too high to reach if they are willing to work. - Author: Jesse Helms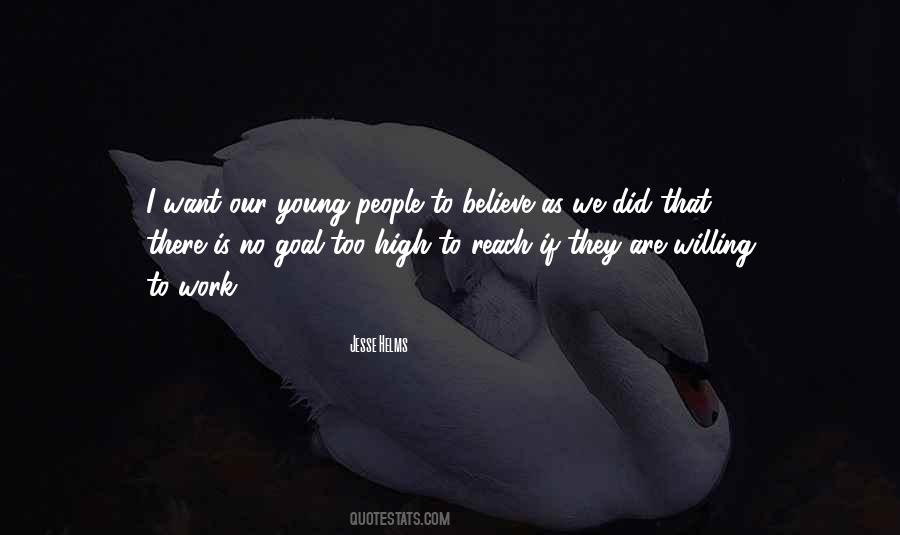 #40. Now, mark my words. So long as we are a young and virtuous people, this instument will bind us together in mutual interests, mutual welfare, and mutual happiness. But when we become old and corrupt, it will bind no longer. - Author: Alexander Hamilton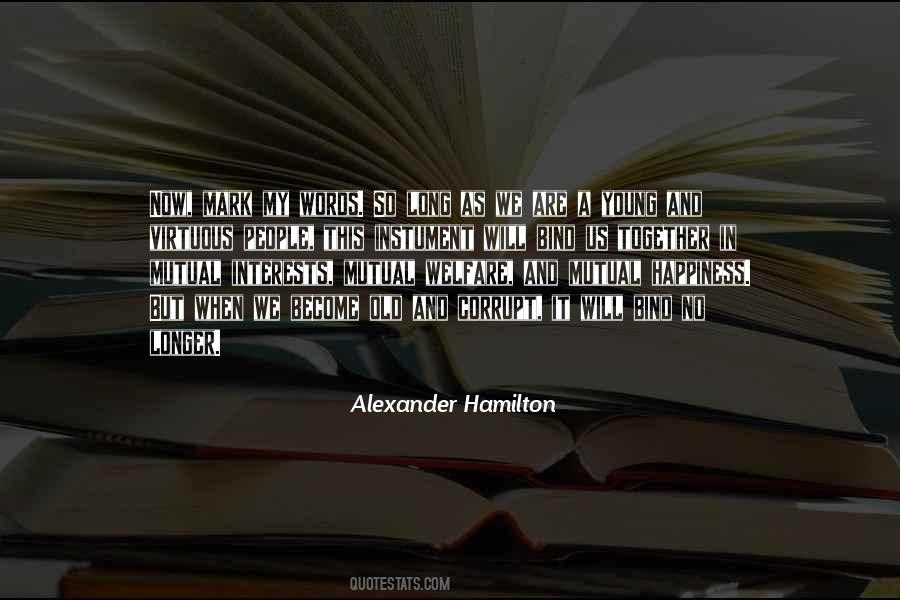 #41. We help God's children best by providing ways to build faith in Jesus Christ and in His restored gospel when they are young. - Author: Henry B. Eyring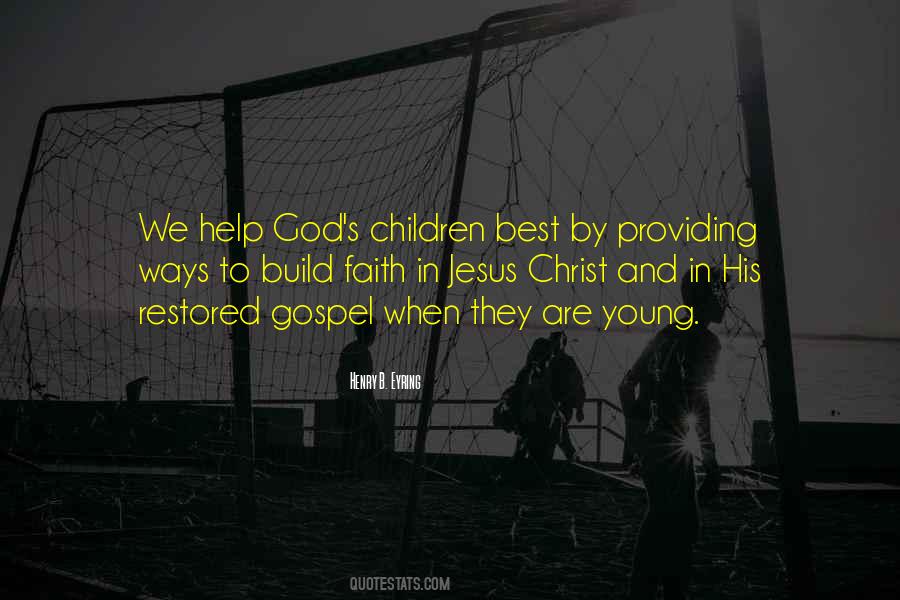 #42. Babies and young children are like the research and development division of the human species, and we grown-ups are production and marketing. - Author: Alison Gopnik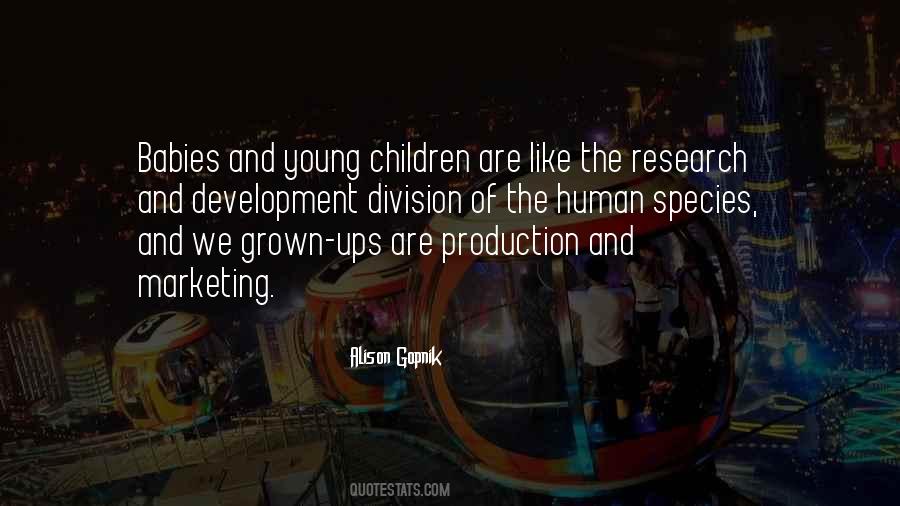 #43. We are shaping young kids to be leaders in their communities and also to be healthier. - Author: Brandi Chastain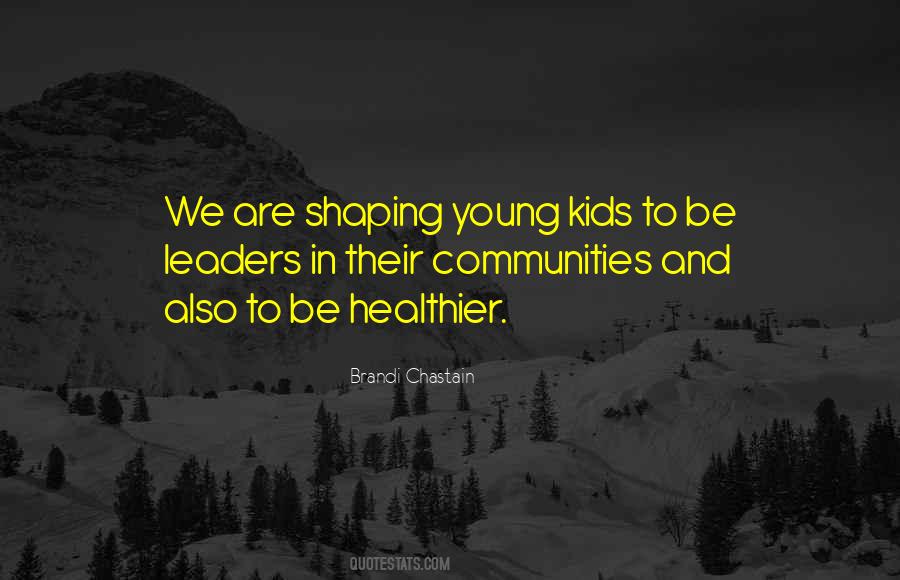 #44. By cutting ourselves off from the rest of creation, we are left bereft of awe and wonder and therefore of reverence and gratitude. We violate our very beings, and we have nothing but trivia to teach our young. - Author: Matthew Fox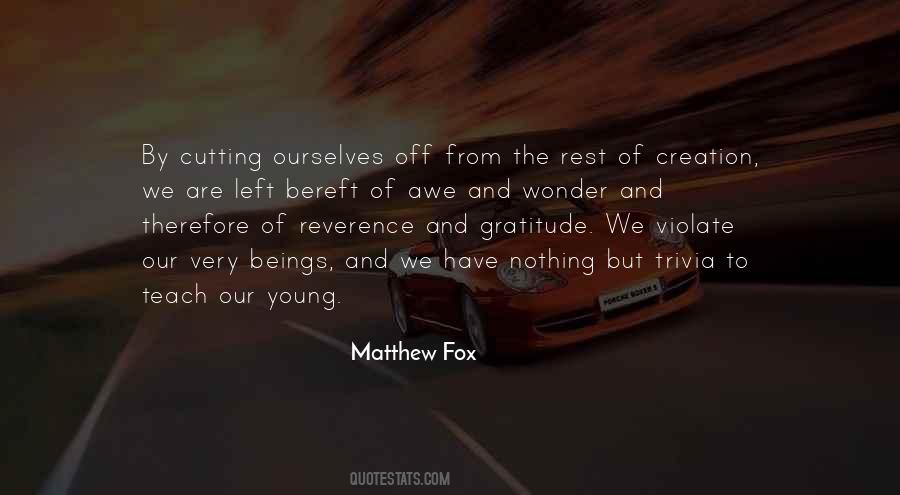 #45. The simplicity we are looking for is not found in thought. It knows what you have to listen to in every moment and knows it can never make a mistake. It is the infinite working in the infinite. It projects into this world because we are here to do that. - Author: Robert Young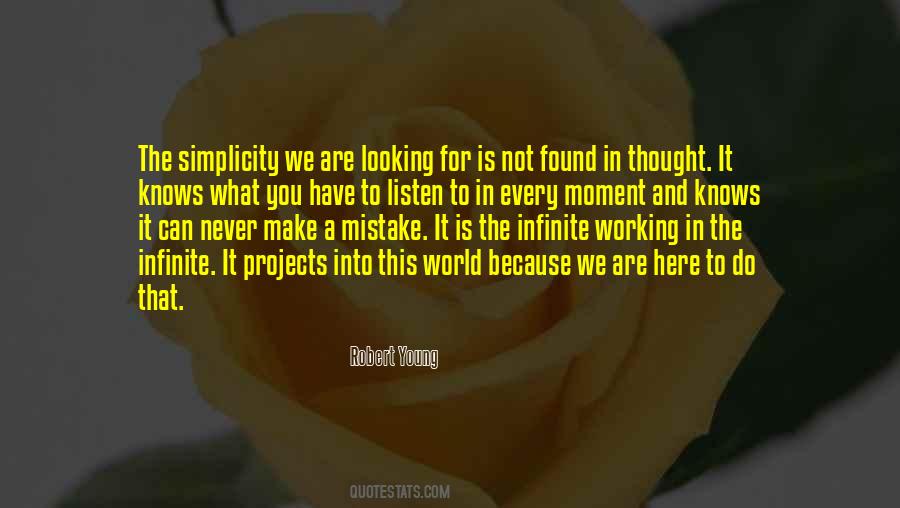 #46. So many things we do as young people are things we have to live with as older people. - Author: George Chuvalo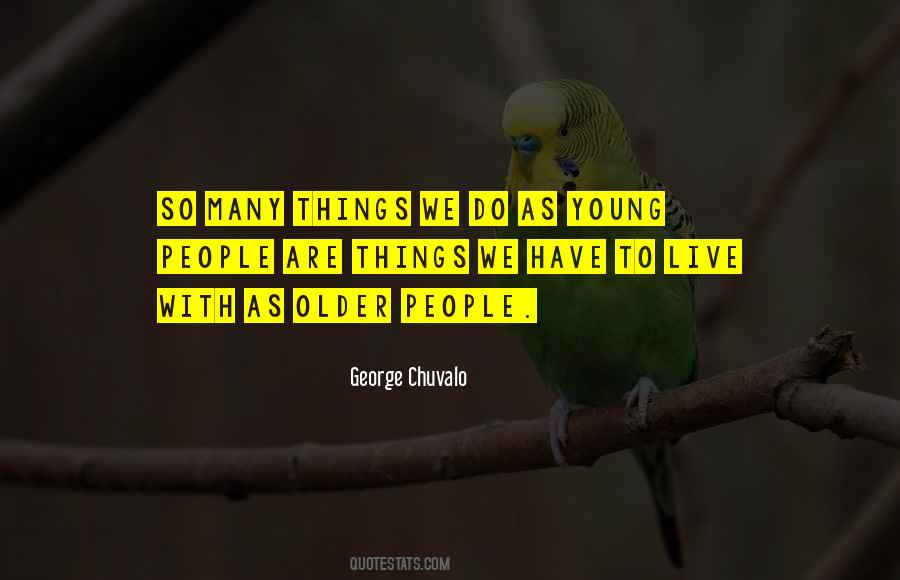 #47. When I was growing up in Nigeria - and I shouldn't say Nigeria, because that's too general, but in Afikpo, the Igbo part of the country where I'm from - there were always rites of passage for young men. Men were taught to be men in the ways in which we are not women; that's essentially what it is. - Author: Chris Abani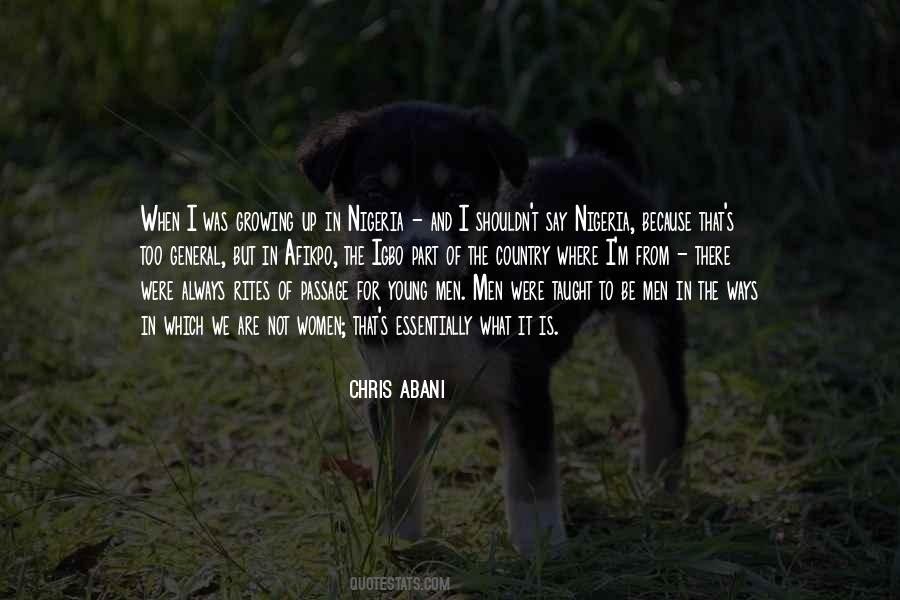 #48. Could it be in longing we are most ourselves? - Author: Li-Young Lee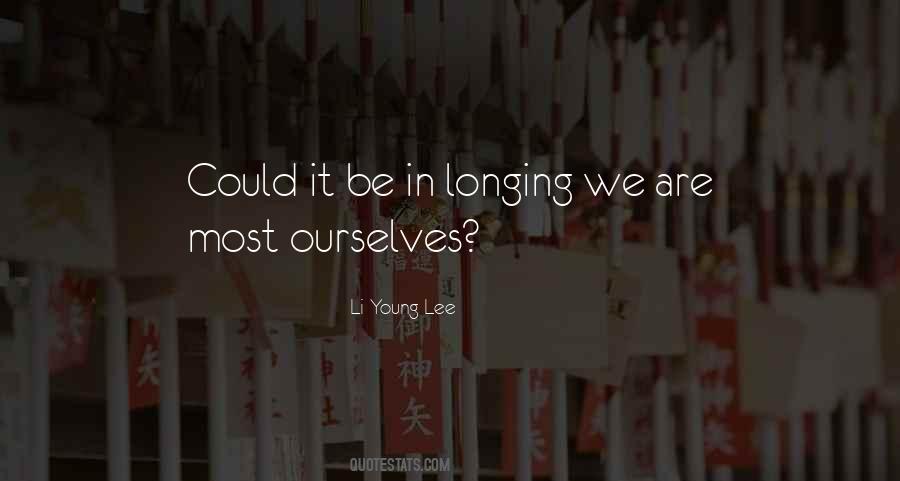 #49. I don't play polo anymore because I am too old. But we still have a half a dozen horses - a couple of young horses we are teaching how to play polo and older horses that are real trustworthy when you get them up in the mountains. - Author: William Devane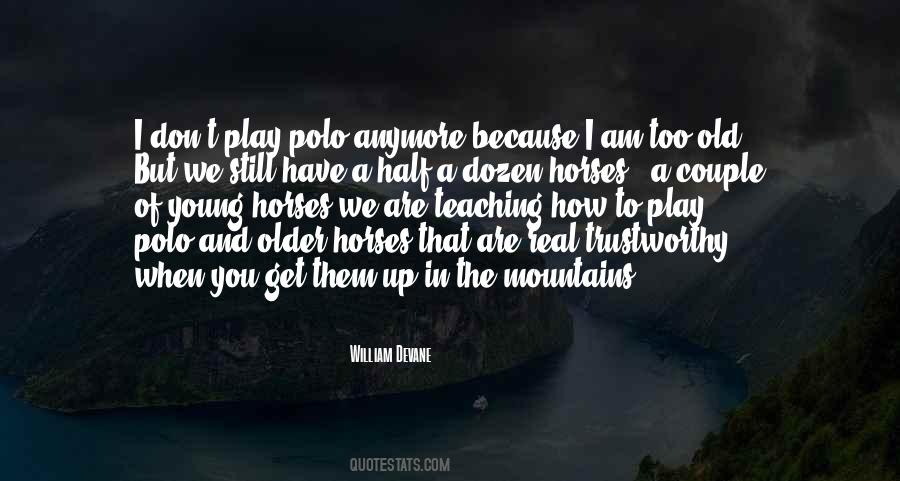 #50. Much education today is monumentally ineffective. All too often we are giving young people cut flowers when we should be teaching them to grow their own plants. - Author: John W. Gardner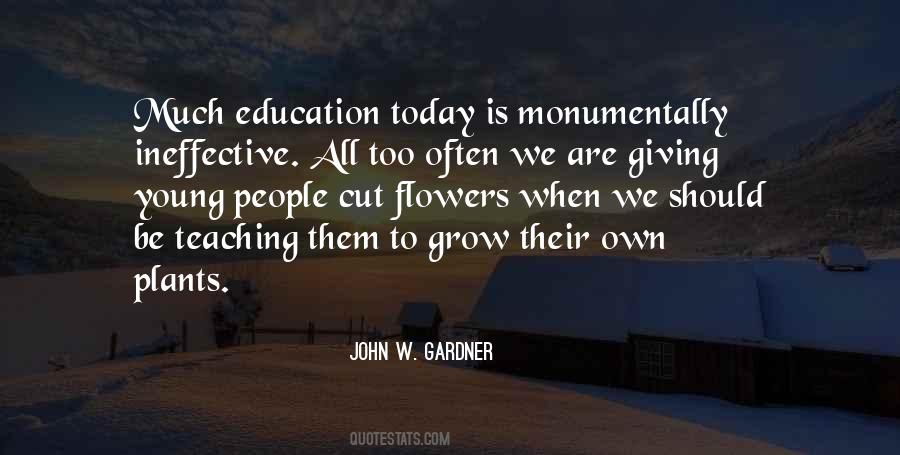 #51. Children who die young are some of our greatest teachers. We are allowed to die when we have taught what we came to teach and when we have learned what we came to learn. - Author: Elisabeth Kubler-Ross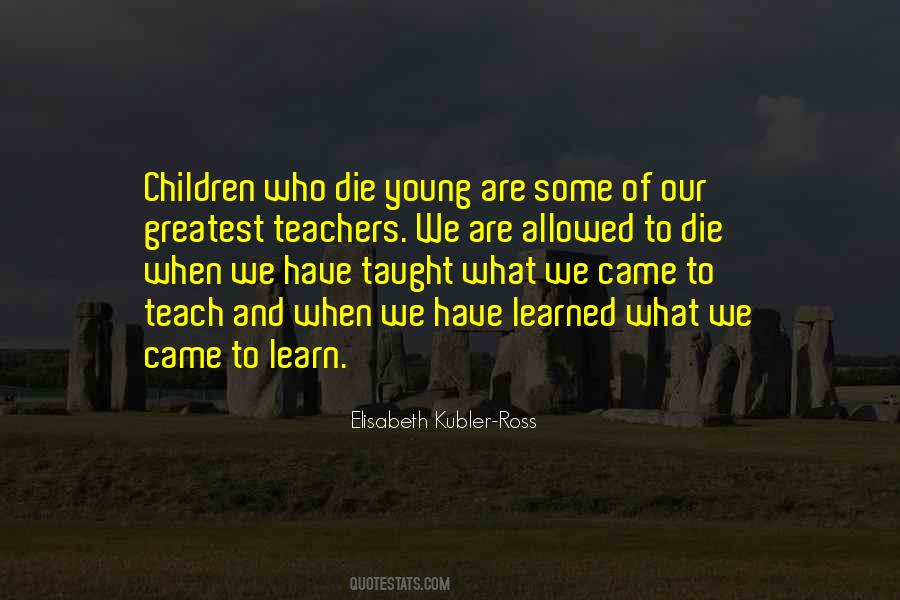 #52. There was a young man of Quebec
Who was frozen in snow to his neck,
When asked, 'Are you Friz?'
He replied, 'Yes I is,
But we don't call this cold in Quebec.' - Author: Rudyard Kipling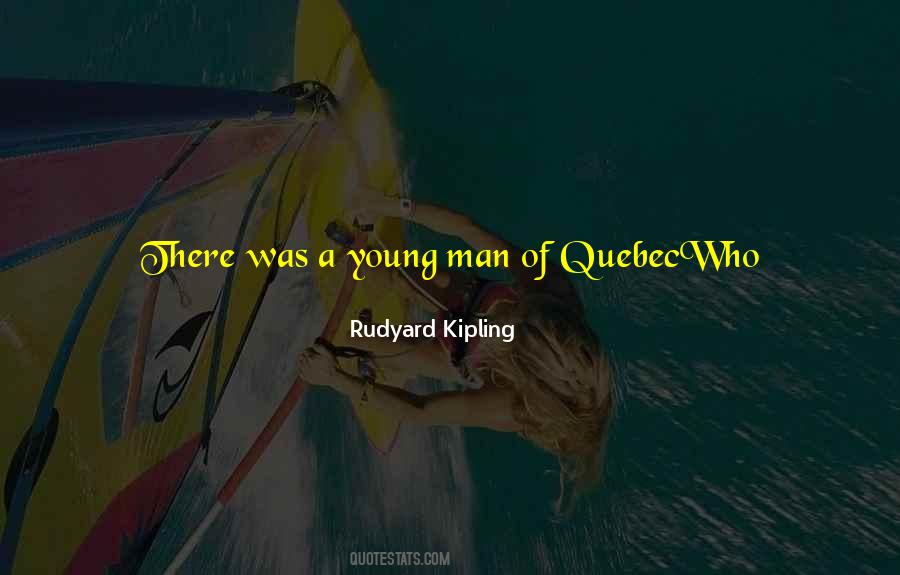 #53. In our family histories, the frontier between fact and fiction is vague, especially in the record of events that took place before we were born, or when we were too young to record them accurately; there are few maps to these remote regions, and only the occasional sign to guide the explorer. - Author: Adam Sisman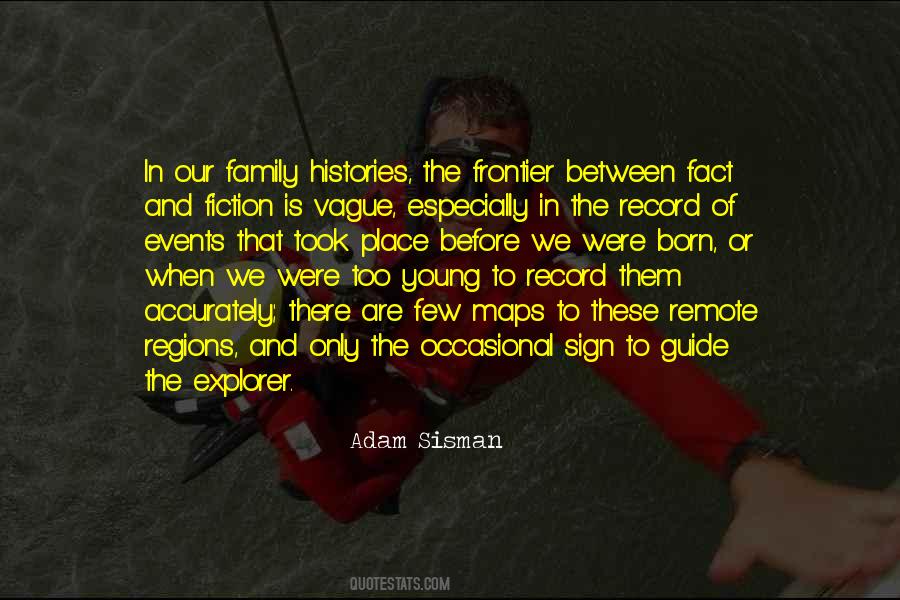 #54. Our deep longings remind us we have lost something vital and precious. Such yearnings are the stirring of hope. Of returning." "Returning where?" "To this garden. - Author: William Paul Young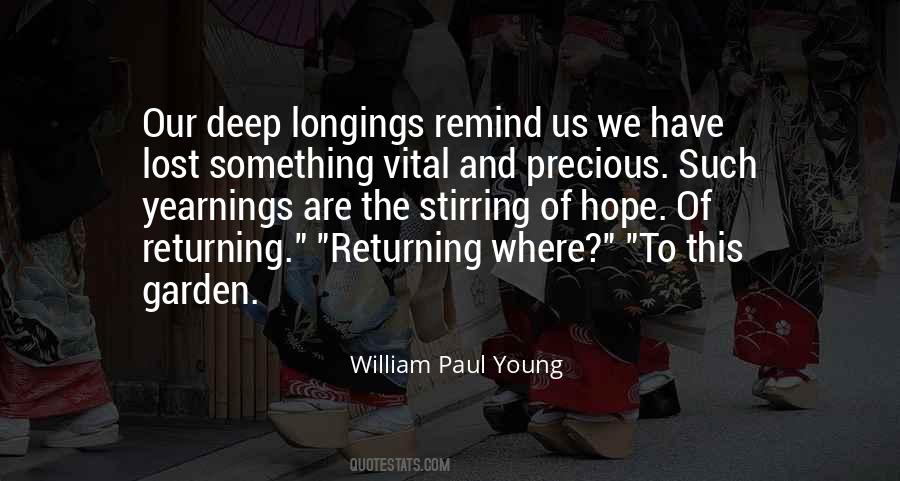 #55. The valor and courage of our young women and men in the armed services are a shining example to all of the world, and we owe them and their families our deepest respect. - Author: Bill Frist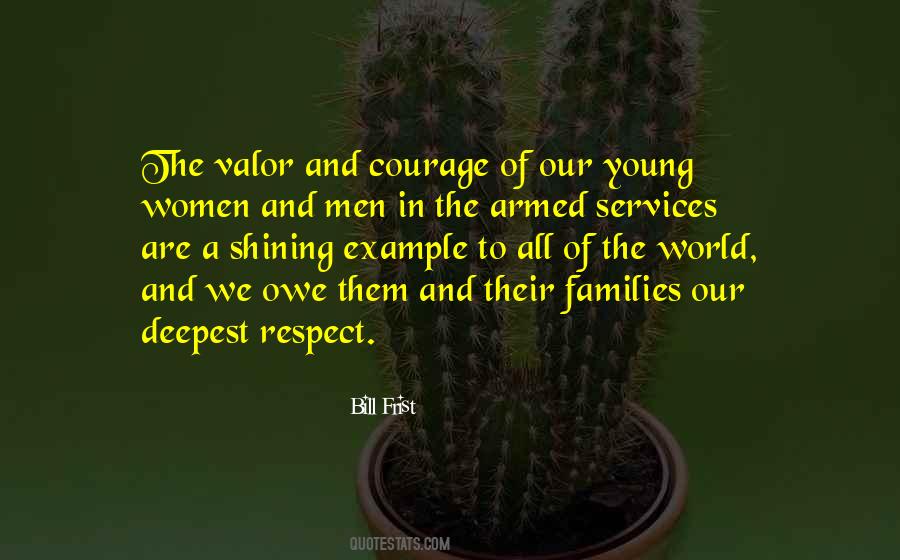 #56. In the end, it is all we are, these limpid tide pools of self-consciousness between crashing waves of pain. We are destined and designed to bear our pain with us, hugging it tight to our bellies like the young Spartan thief hiding a wolf cub so it can eat away our insides. - Author: Dan Simmons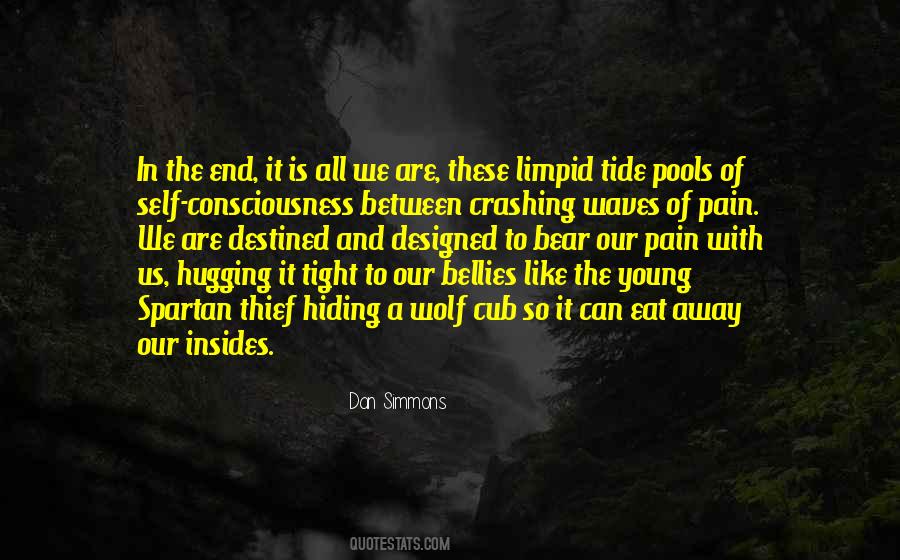 #57. I think fathers, mothers, grandfathers, grandmothers - we should look at what young people are saying to us. - Author: Gordon Brown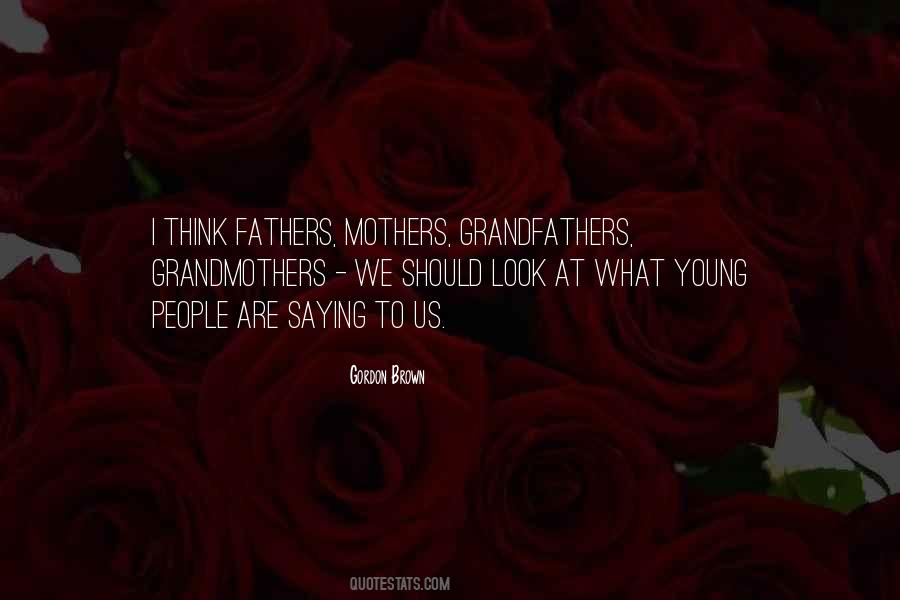 #58. We learn to make a shell for ourselves when we are young and then spend the rest of our lives hoping for someone to reach inside and touch us. Just touch us - anything more than that would be too much for us to bear. - Author: Bill Russell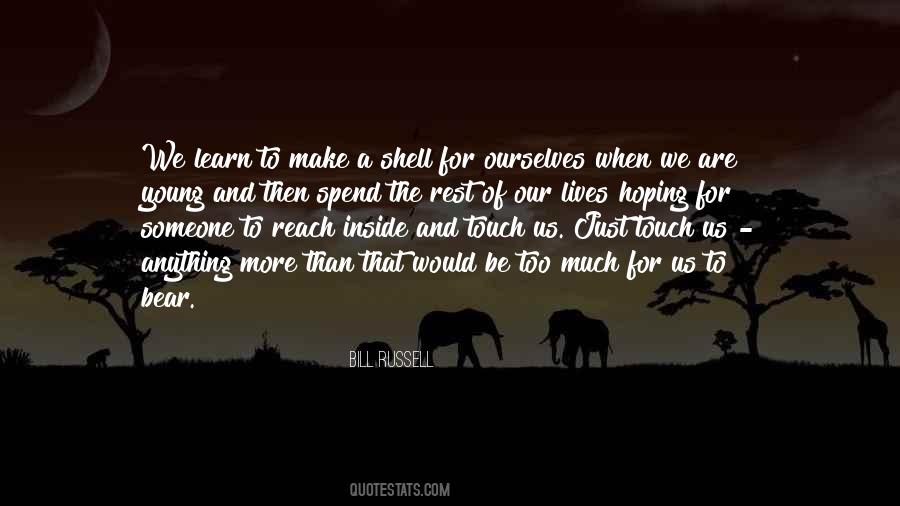 #59. We need spirited, energetic and strong young people whose hearts are filled with life, enthusiasm, zeal and dynamism; whose souls are full of ambition, aspiration and vigor and have great goals, rising and aspiring to reach them until they eventually arrive at their destination. - Author: Hassan Al-Banna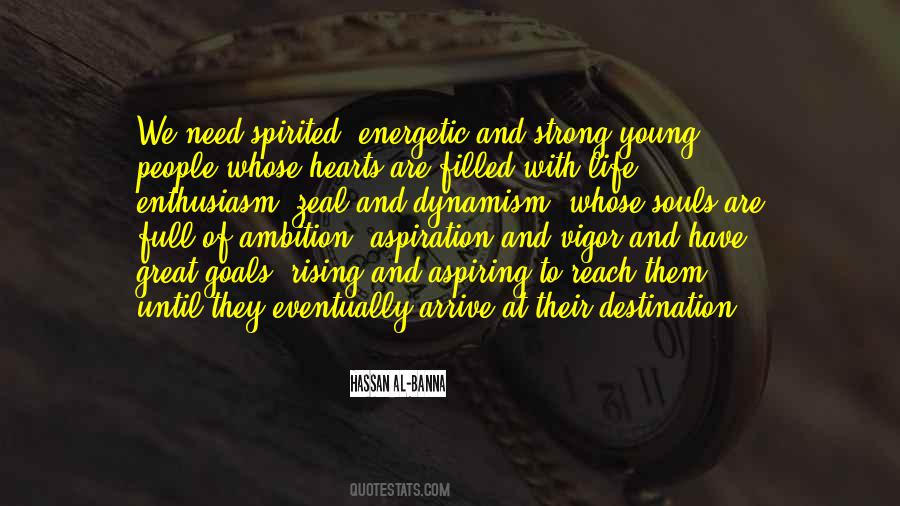 #60. When we are young, we make gods and goddesses of one another, then we soon come to realize that we are all merely human and imperfect. - Author: Elizabeth Aston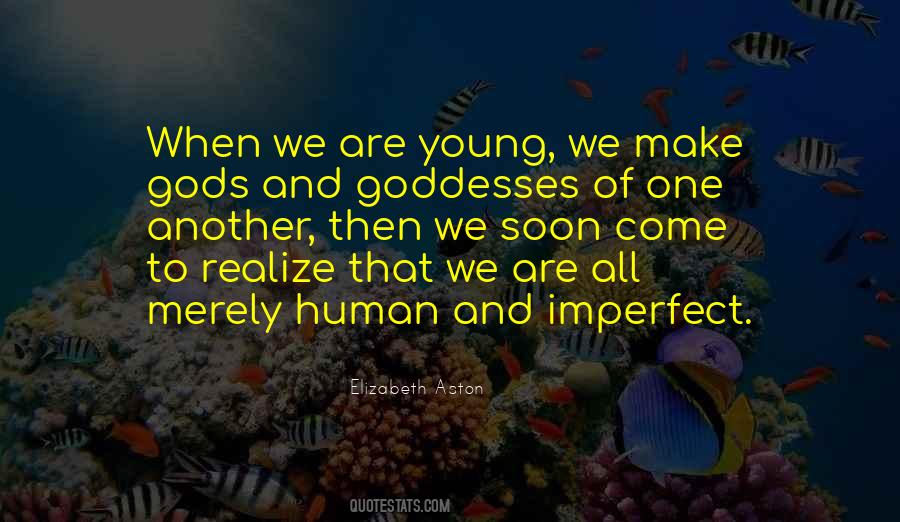 #61. We tend to think of age only in time, but I don't think it has much to do with time at all; there's a whole load of other things. I've met 16-year-olds who are old and 90-year-olds who are young. - Author: Roger Daltrey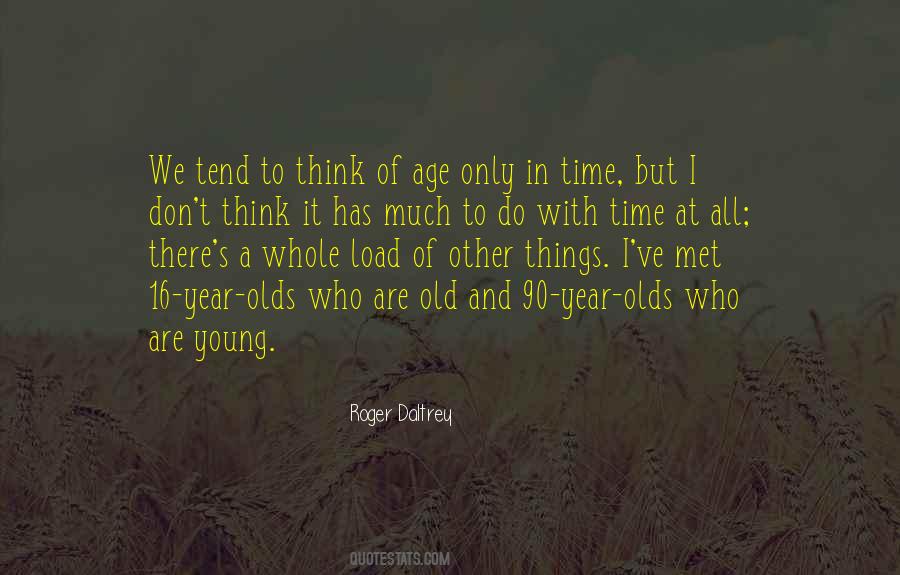 #62. Although I do feel that with a show like ours we ourselves are getting a lot more young listeners at concerts. - Author: Marian McPartland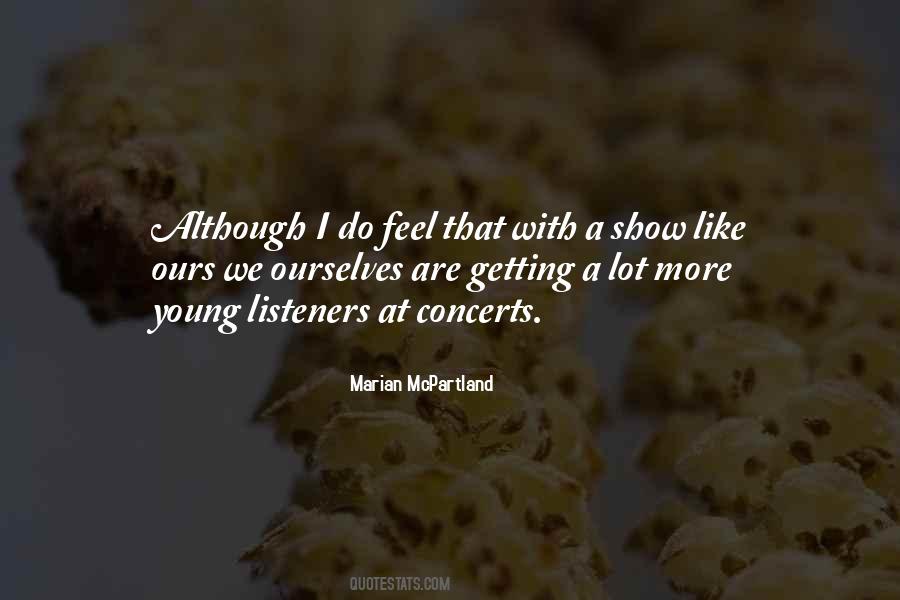 #63. When we are young the noise of general conversation seems much the most fun. When we grow up we discover the possibilities of the tete-a-tete. In maturity the monologue habit sets is. But now at last there is the chance to investigate the rich depth of the silence when the monologue is suspended. - Author: Nanamoli Thera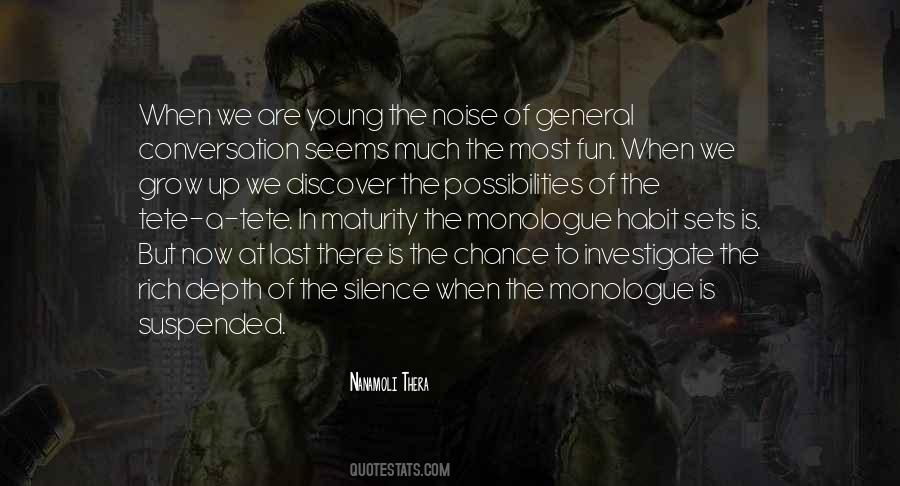 #64. I feel strongly that we need the young people of today to become the scientists and the engineers of tomorrow so that my native United States continues to be a world leader in discovery and innovation. If we suppress science in this country, we are headed for trouble. - Author: Bill Nye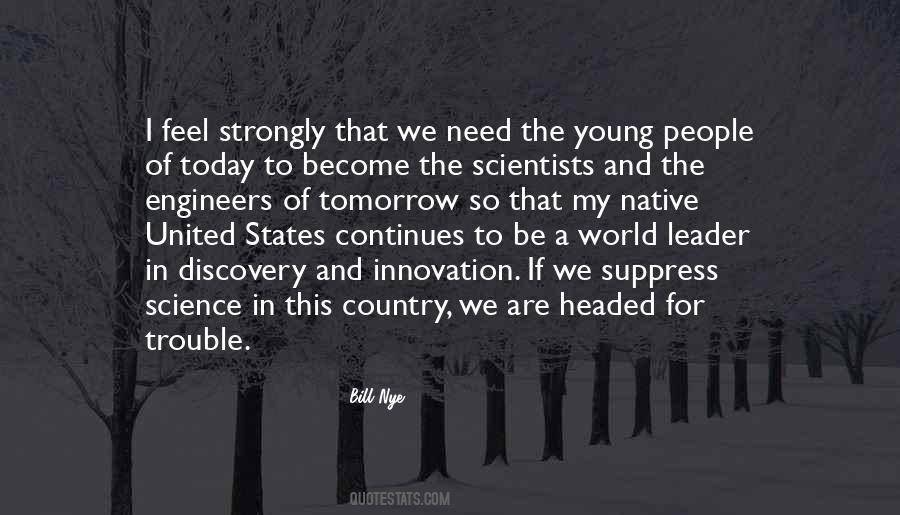 #65. What fools we are, eh? What fools, sitting here in the sun, singing. And of love, too! I am too old for it and you are too young, and yet we waste our time singing about it.
Ah, well, let's have a glass of wine, eh? - Author: Gerald Durrell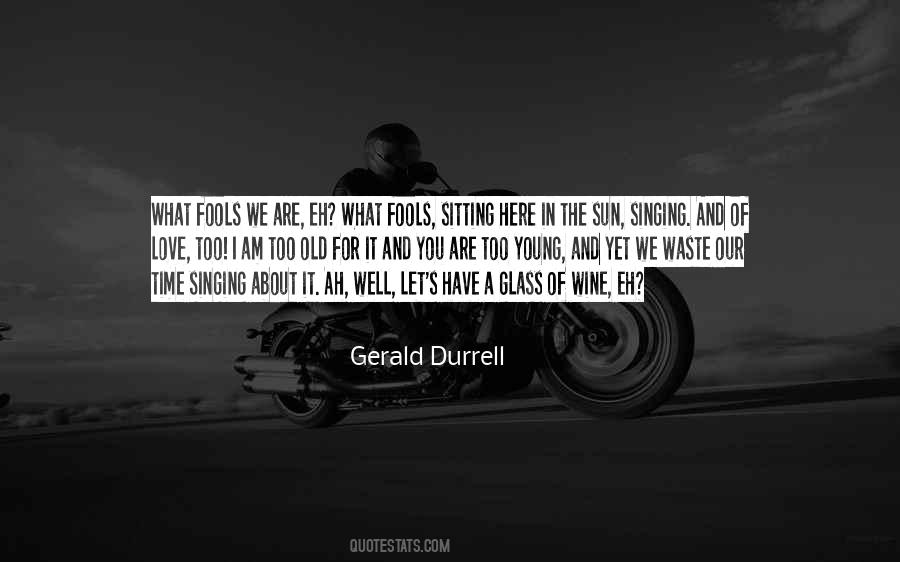 #66. We mourn for the dead, but it's a selfish act. It may be a tragedy that so many young lives are lost to us, but it's our tragedy alone because they are at peace. - Author: Jenny Penn
#67. When we are young and restless to be free, home is the place from which we long to escape. But if there is still a home intact when trouble arises and life becomes a battlefield, home is the place to which we yearn to return. - Author: Billy Graham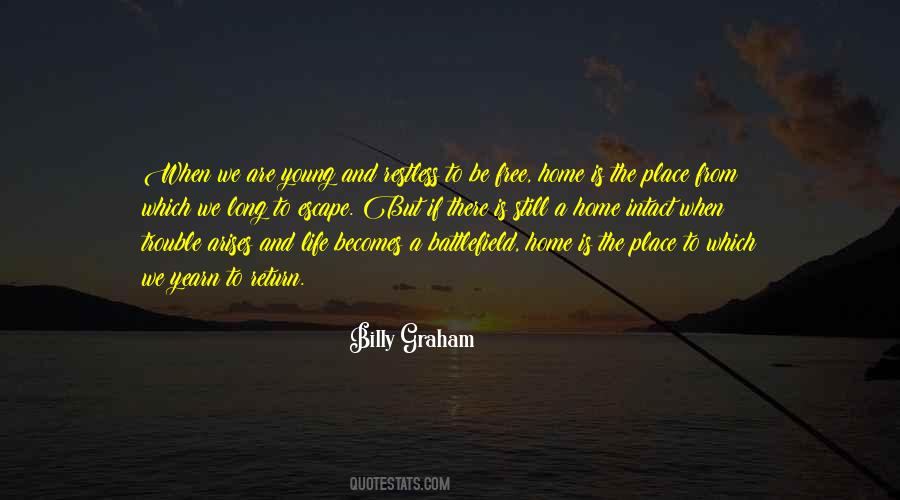 #68. We're teaching young girls that this is what they should be focusing on: rich and famous girls who are rich and famous for nothing. - Author: Ellen Pompeo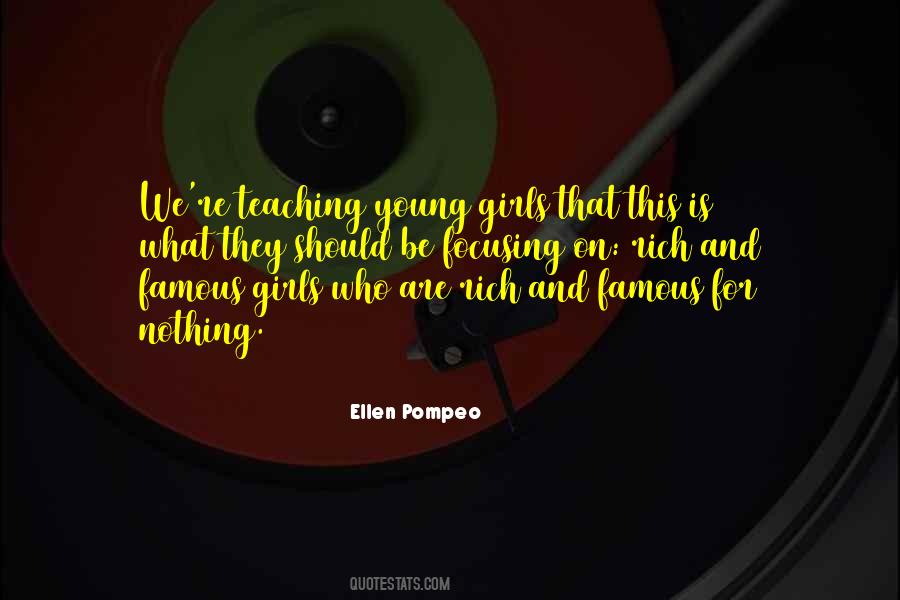 #69. We haven't stopped running, but we are getting slower. We have little people running with us now. We have passed others. Our own people will pass us. They will grow and meet others who are young and strong and they will feel as if they are part of the very beginning of life. - Author: N.D. Wilson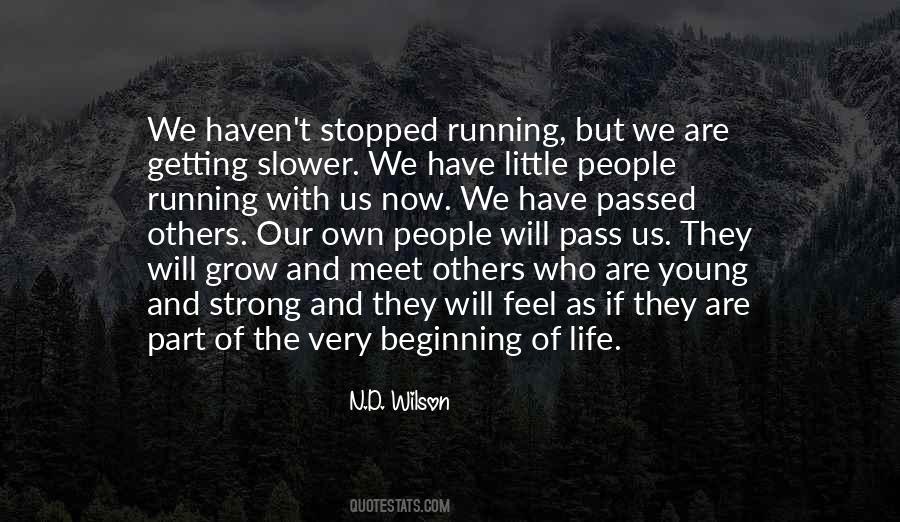 #70. And one day we will die and our ashes will fly from the aeroplane over the sea, but for now we are young, let us lay in the sun, and count every beautiful thing we can see ... Can't believe how strange it is to be anything at all. - Author: Jeff Mangum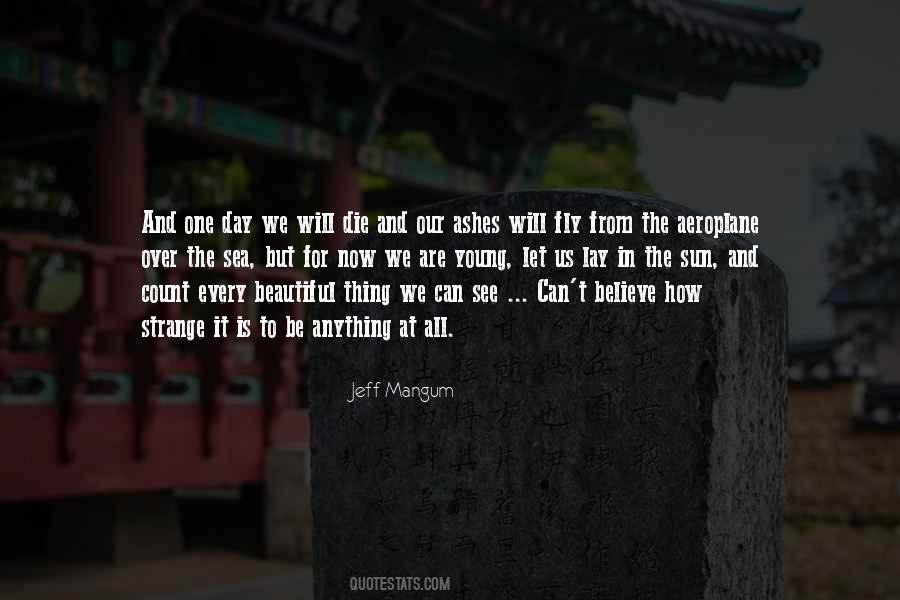 #71. We are all born artists. If you have kids, you know what I mean. Almost everything kids do is art. They draw with crayons on the wall. - Author: Kim Young-ha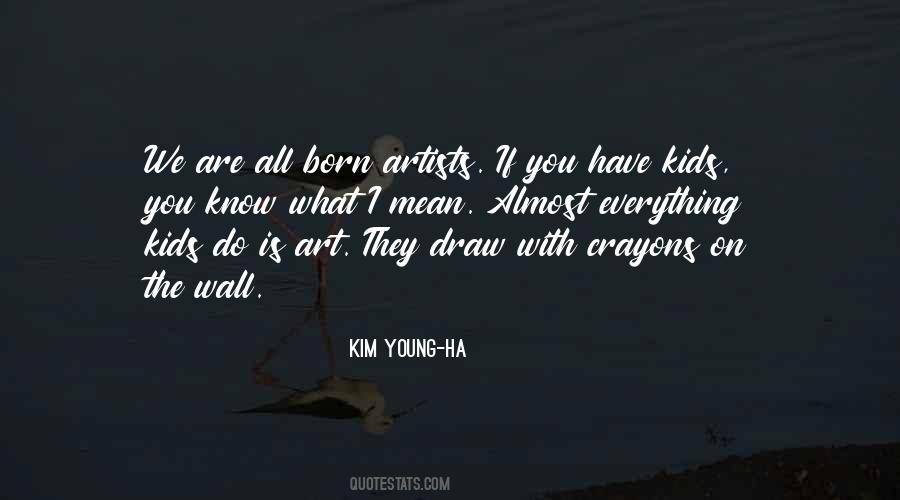 #72. I think we must all feel that there are people out there who know things about our young selves, you know, our early, early lives, that no one else can ever know. - Author: Rebecca Stead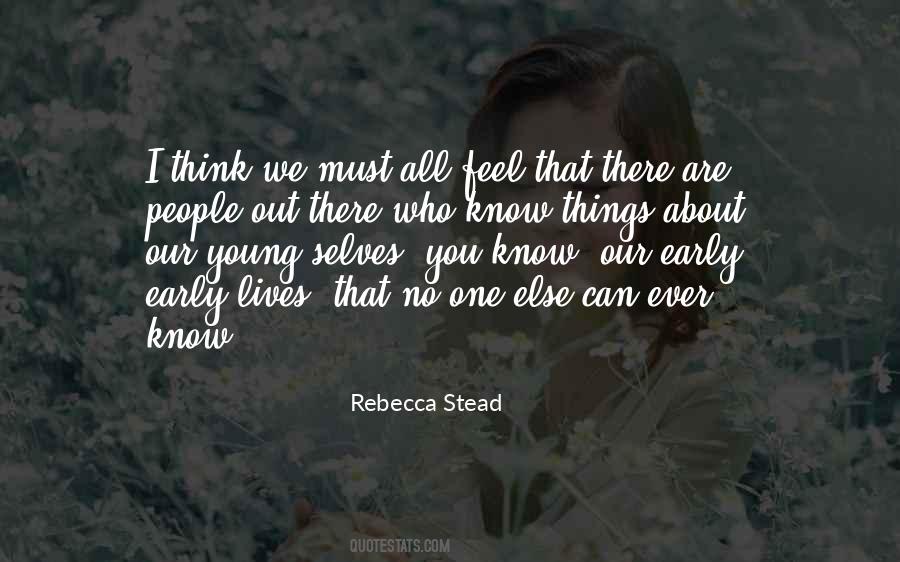 #73. My dear, dear girl [ ... ] we can't turn back the days that have gone. We can't turn life back to the hours when our lungs were sound, our blood hot, our bodies young. We are a flash of fire
a brain, a heart, a spirit. And we are three-cents-worth of lime and iron
which we cannot get back. - Author: Thomas Wolfe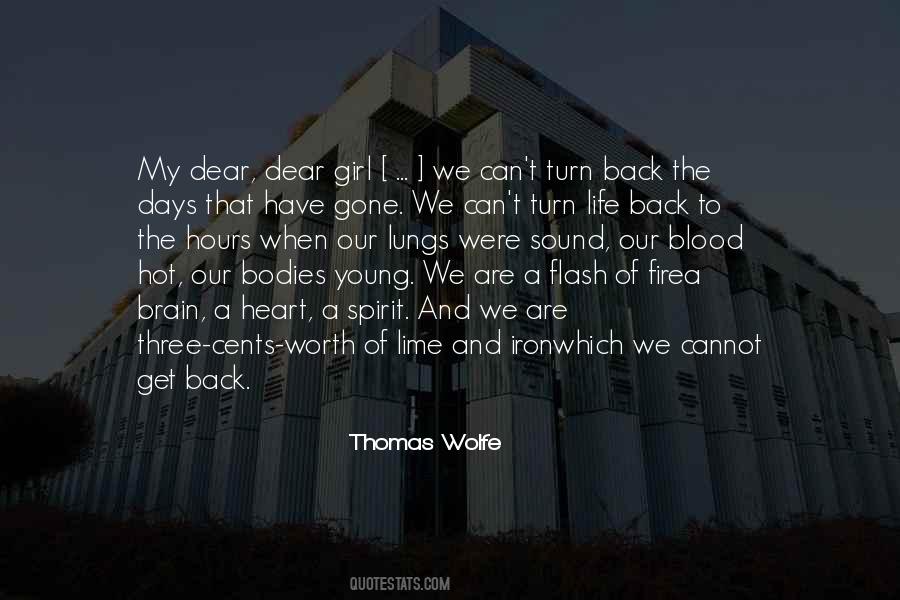 #74. When we are young, friends are, like everything else, a matter of course. In the old days we know what it means to have them. - Author: Edvard Grieg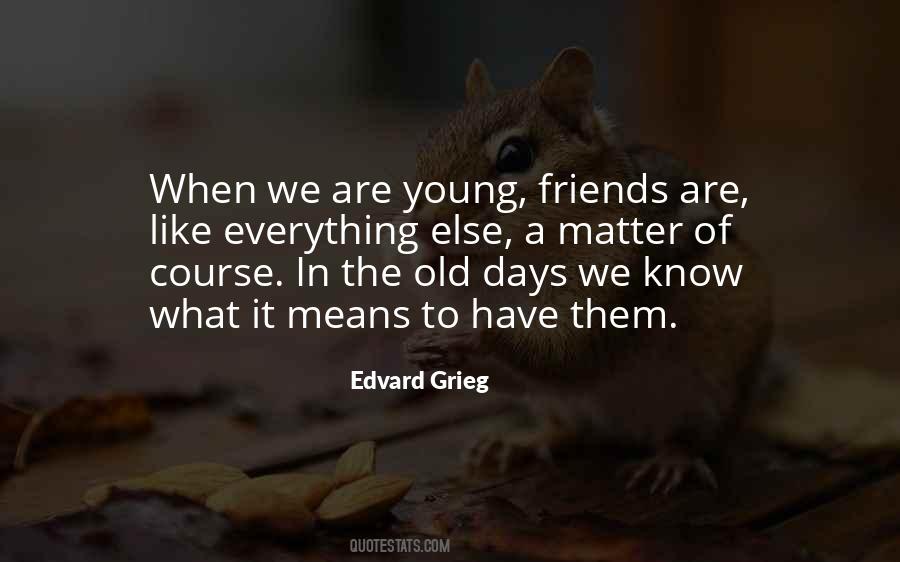 #75. The bleakest situations bring out the hospitality in all of us, but it's during the harshest we find out how strong we really are. - Author: Evan Meekins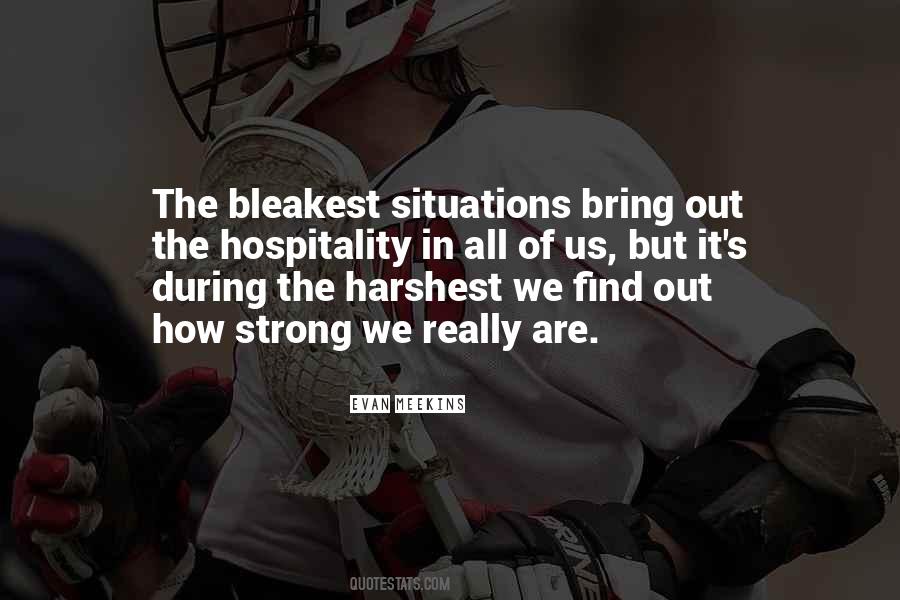 #76. Those little age differentials, so crucial and so gross when we are young, erode. We end up belonging to the same category, that of the non-young. I've never much minded this myself. [p. 66] - Author: Julian Barnes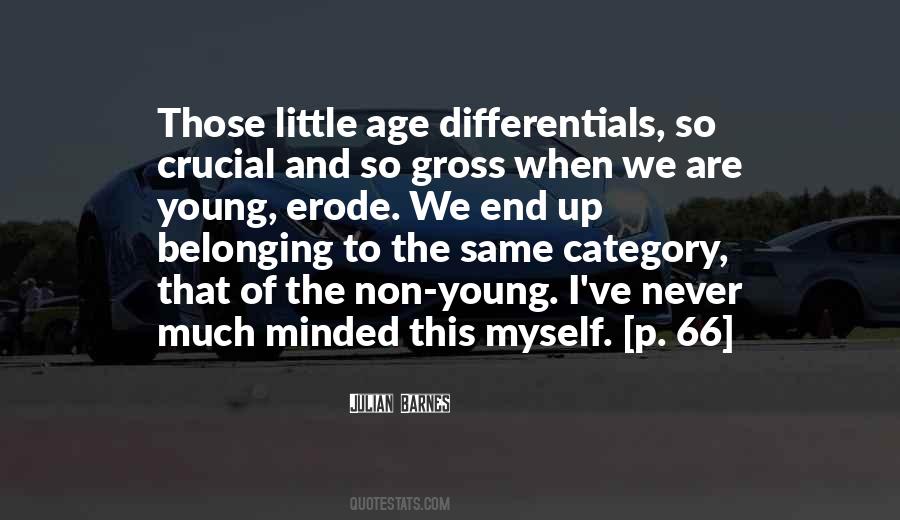 #77. Maybe our young people are not as vacuous as we would like to lead ourselves to believe - that all they're interested in is hairdos and looking at other beautiful people. Maybe they're interested in learning something. - Author: David James Elliott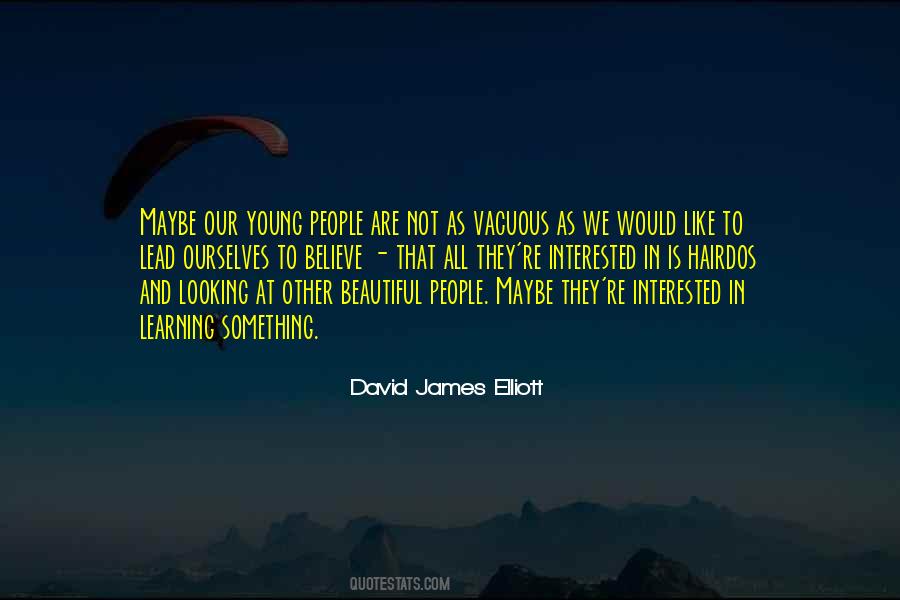 #78. We are always young to know the story of our lives. - Author: Himanshu Chhabra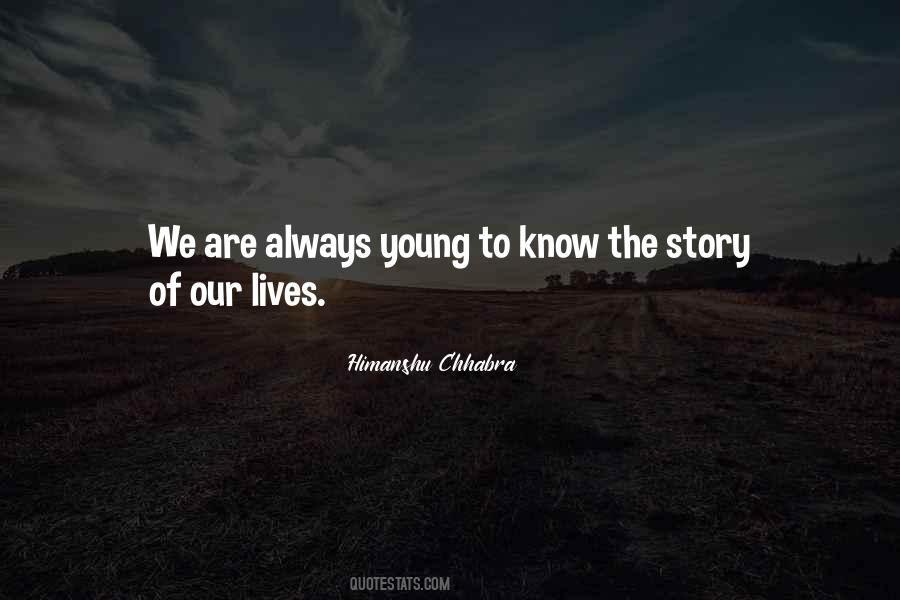 #79. We'll meet again in Lvov, my love and I ... Tatiana hums, eating her ice cream, in our Leningrad, in jasmine June, near Fontanka, the Neva, the Summer Garden, where we are forever young. - Author: Paullina Simons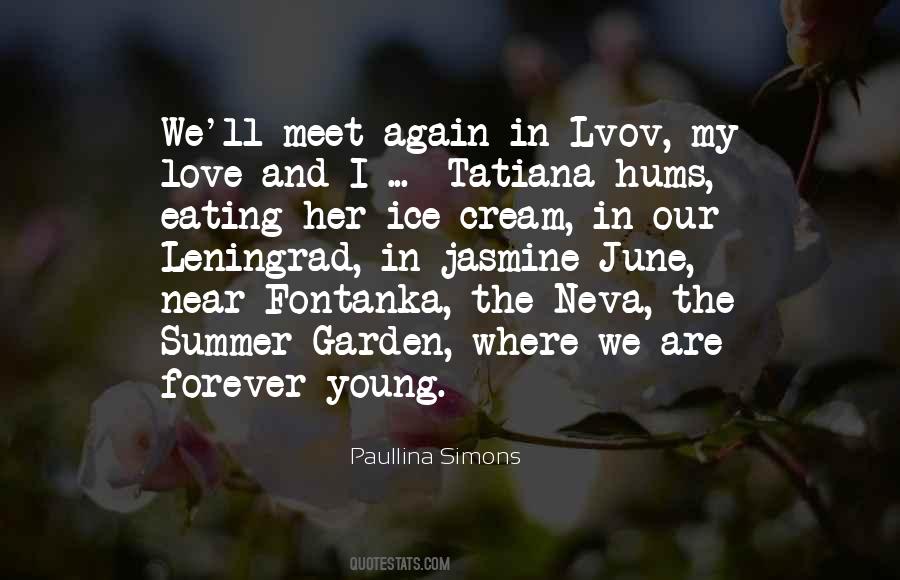 #80. Tell him that we have fucking reprogrammed reality. Tell him that language is a virus and that religion is an operating system and that prayers are just so much fucking spam. Tell him that or I'll fucking kill you, said the young man mildly, from the smoke. - Author: Neil Gaiman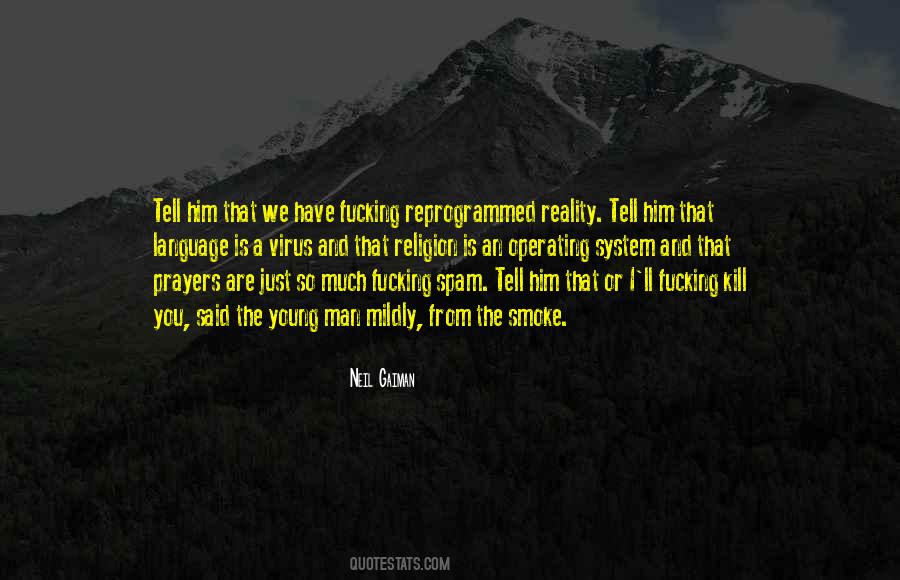 #81. The only people who can fix Africa are talented young Africans. By unlocking and nurturing their creative potential, we can create a step change in Africa's future. - Author: Neil Turok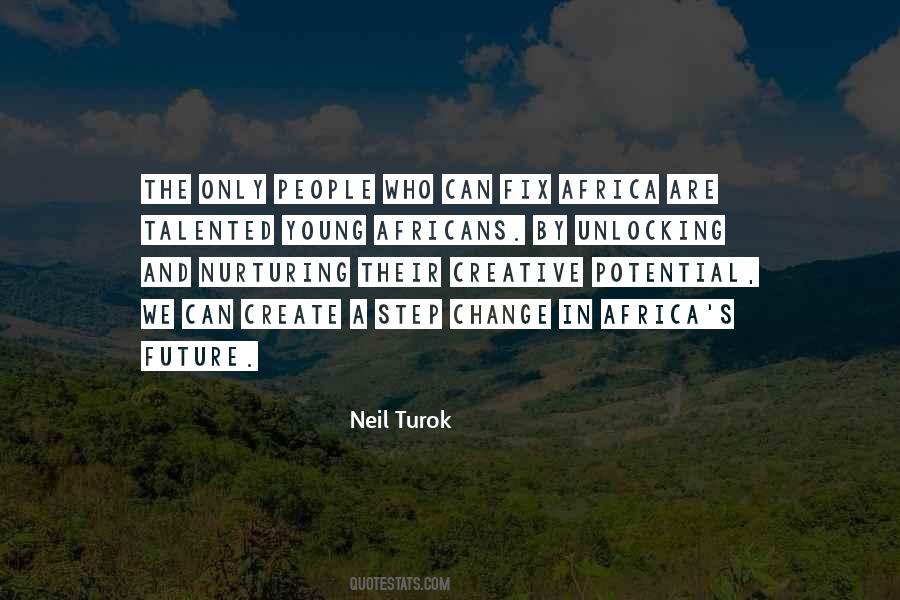 #82. When we are young and don't cultivate a healthy lifestyle, we will grow-older and our bodies will reflect the neglect.-Serena Jade - Author: Serena Jade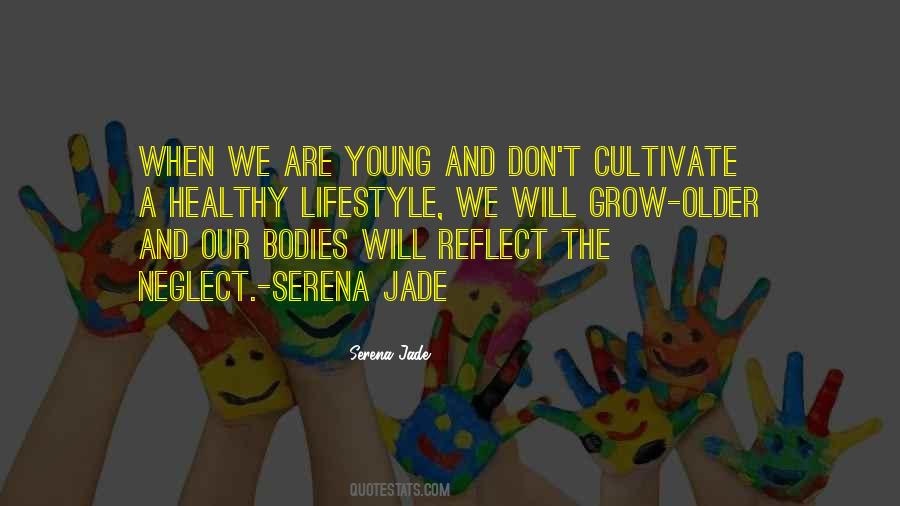 #83. What are we?
Young or new?
We must be something. - Author: Robert Frost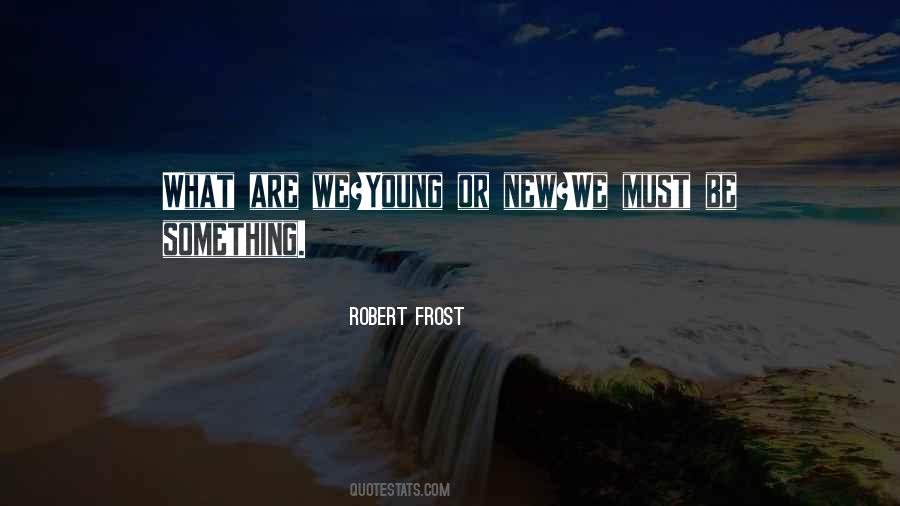 #84. There are a lot of young great athletes out there; they're much better athletes than what we were. They're bigger, faster, stronger, unfortunately, there're fewer places to go. - Author: George Steele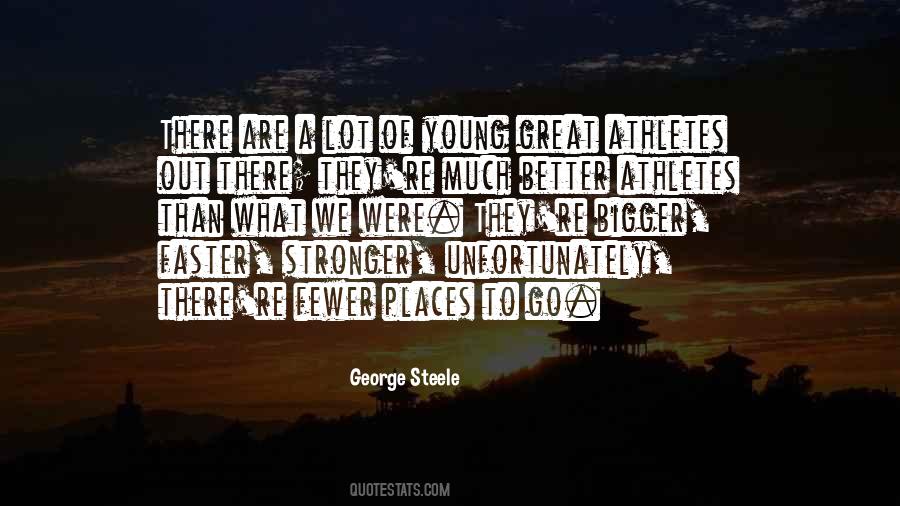 #85. It's the age of daring. It's the only time we have. We must live in the present. We are young and alive. - Author: Gregory Maguire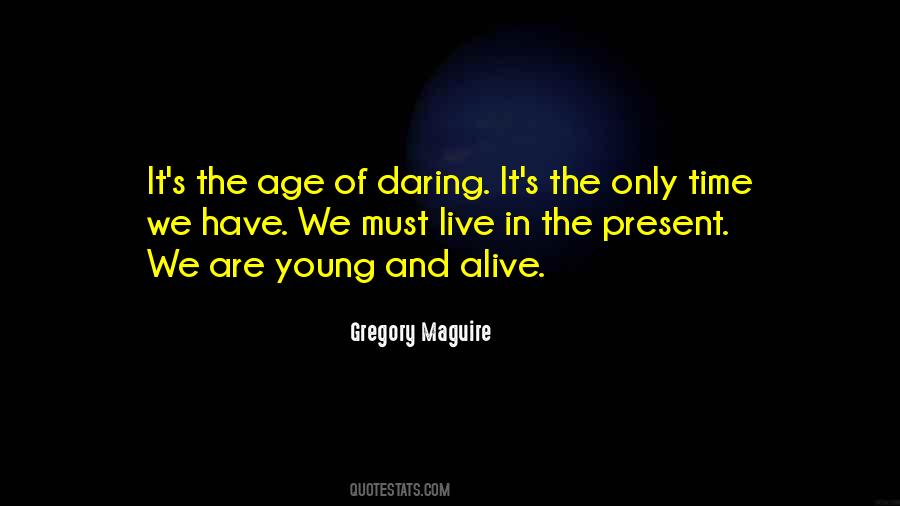 #86. When you're trying to bring the streets into rap to prove a point, then you already lost. You separate the two, and that ain't to be played with. You've got people that lost their lives and people that are doing real time. If we gon' make music, let's just make music. - Author: Young Jeezy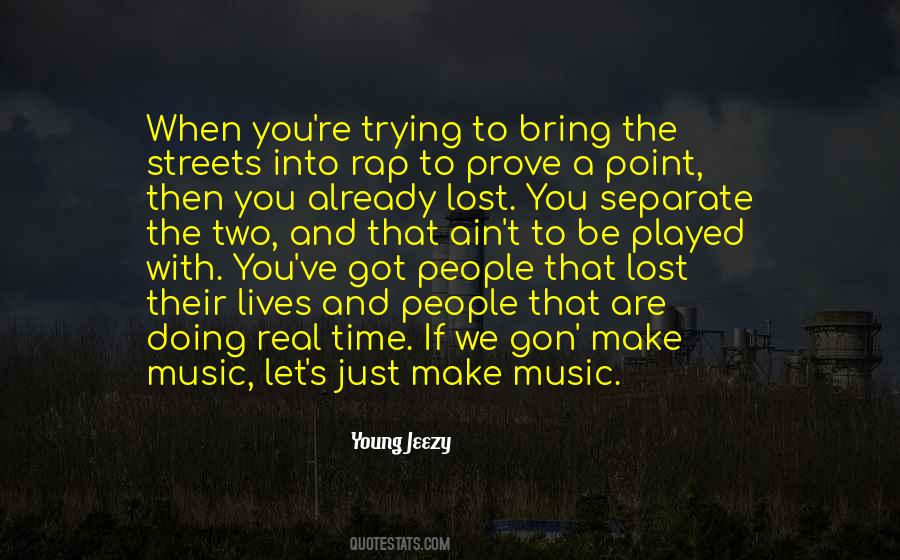 #87. The boys of my people began very young to learn the ways of men, and no one taught us; we just learned by doing what we saw, and we were warriors at a time when boys now are like girls. - Author: Black Elk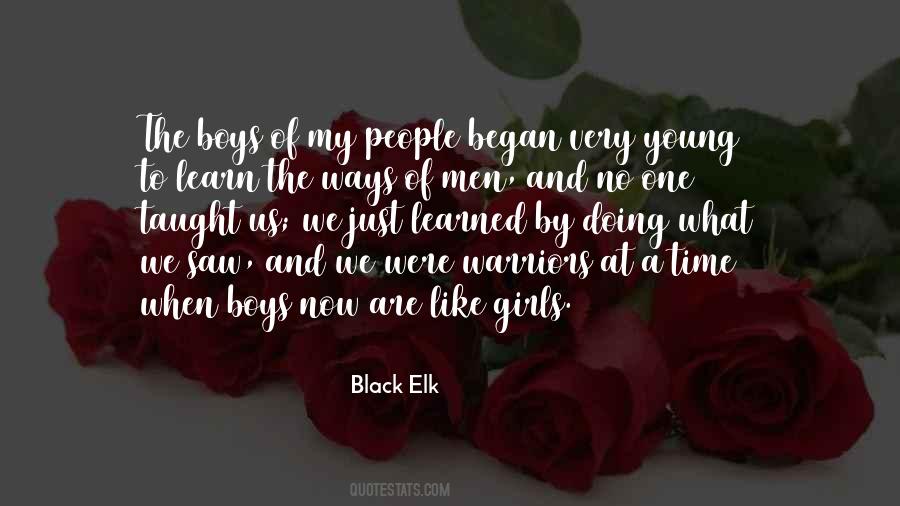 #88. He wants as many victors as possible for the cameras to follow in the Capitol. Thinks it makes for better television."
"Are you and Beetee going?" I ask.
"As many young and attractive victors as possible," Haymitch corrects himself. "So, no. We'll be here. - Author: Suzanne Collins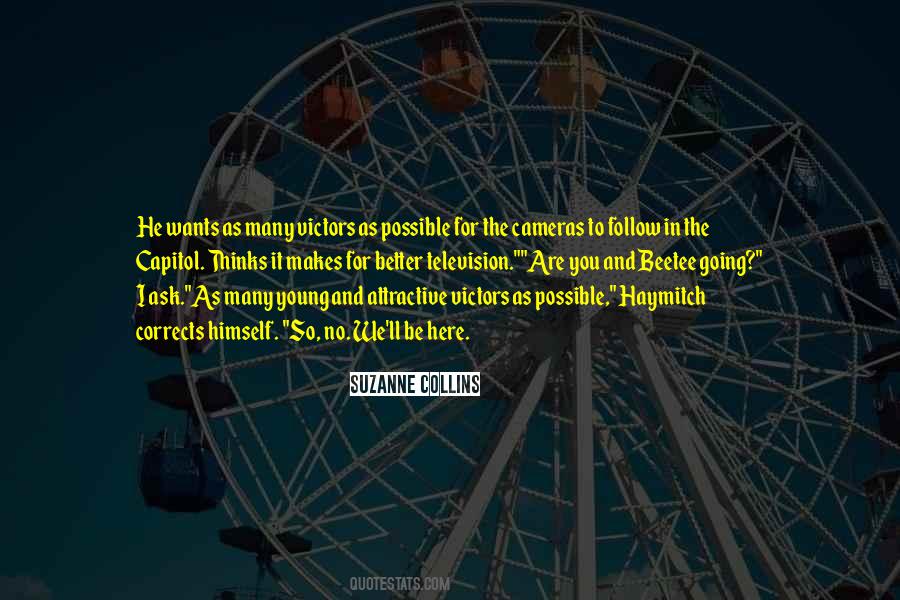 #89. Society just doesn't care about young people anymore, even if we are the future. - Author: Erin Gruwell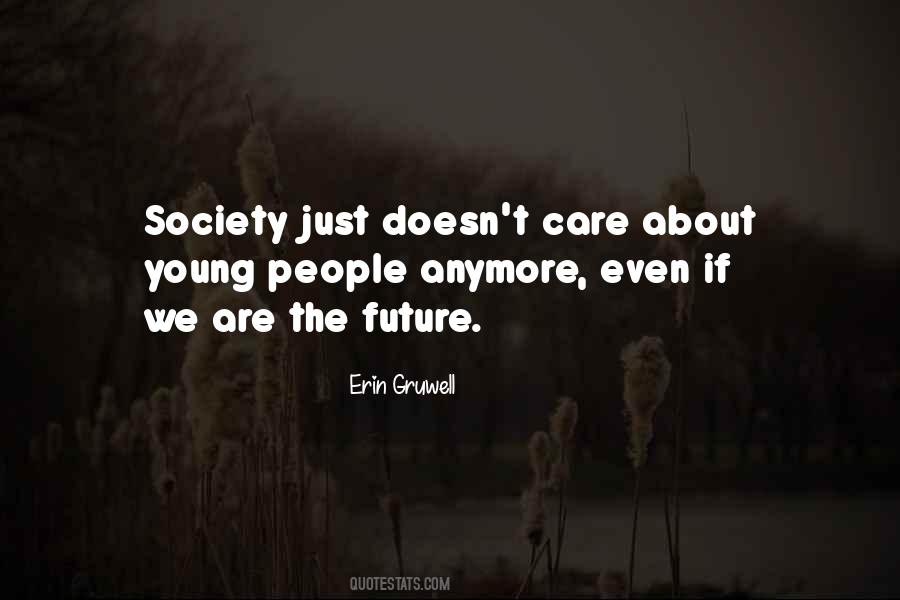 #90. There are those who believe justice and dignity are reserved only for some people. Young men have died in police custody, and the growing heel of poverty has worn down harder on children of color ... We must fight back. - Author: Elizabeth Warren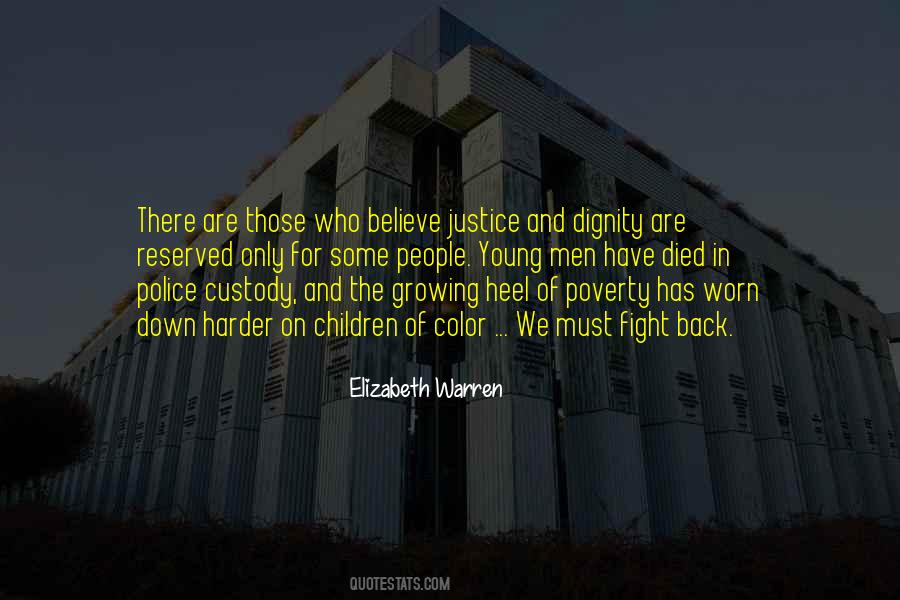 #91. To grow old is to grow common. Old age equalizes
we are aware that what is happening to us has happened to untold numbers from the beginning of time. When we are young we act as if we were the first young people in the world. - Author: Eric Hoffer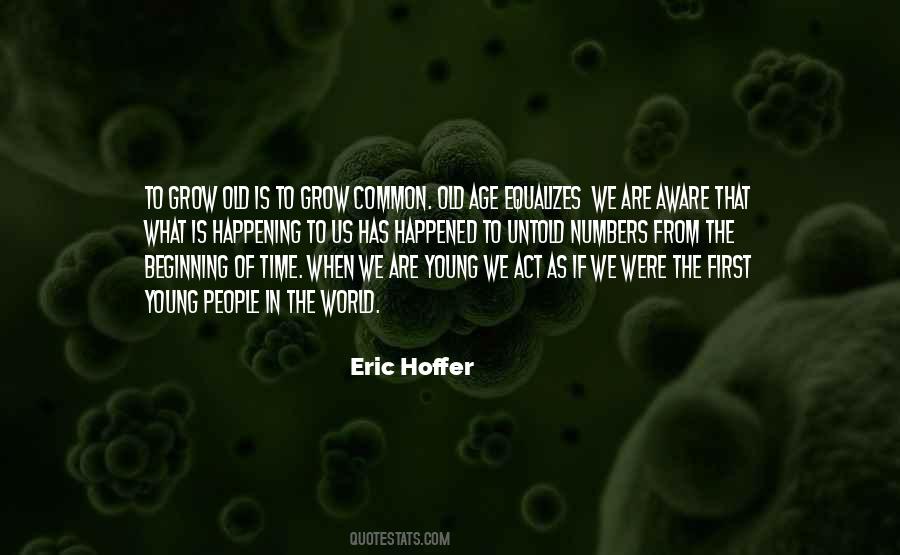 #92. Years ago we discovered the exact point, the dead center of middle age. It occurs when you are too young to take up golf and too old to rush up to the net. - Author: Franklin Pierce Adams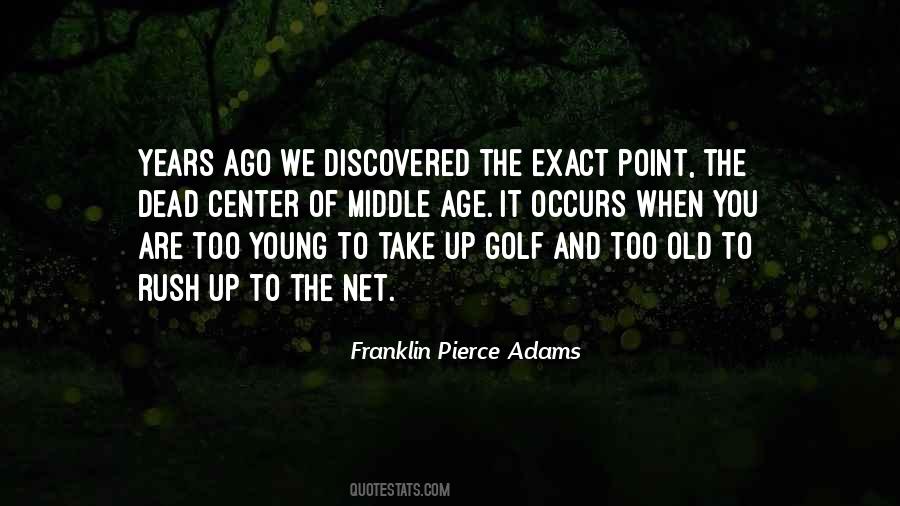 #93. If the truth be known, we are on the verge of losing an entire generation of our young people, killing and dying in the streets of America. - Author: Ron Dellums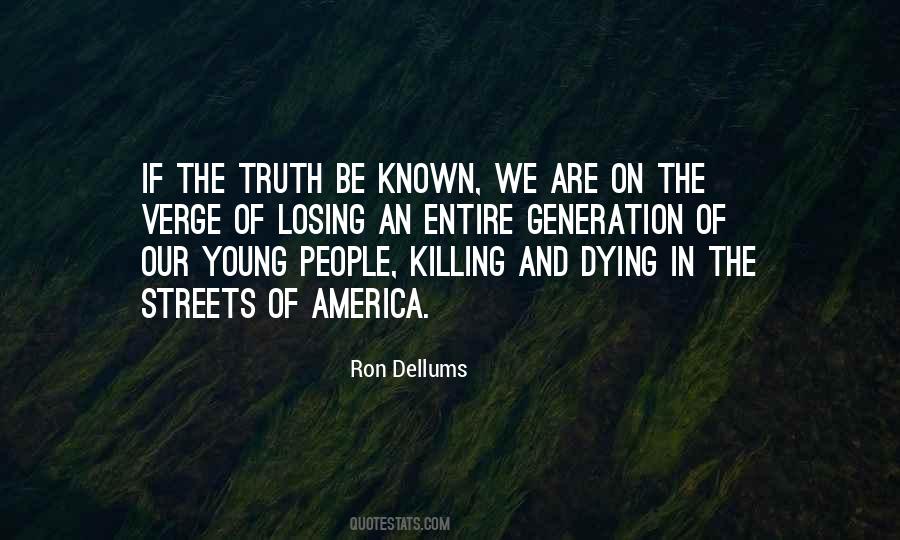 #94. We need to make sure parents and coaches are aware of the dangers an on the look-out for the warning signs. Performance enhancing drugs are too damaging to young people for parents and coaches to not be involved. - Author: Chuck Grassley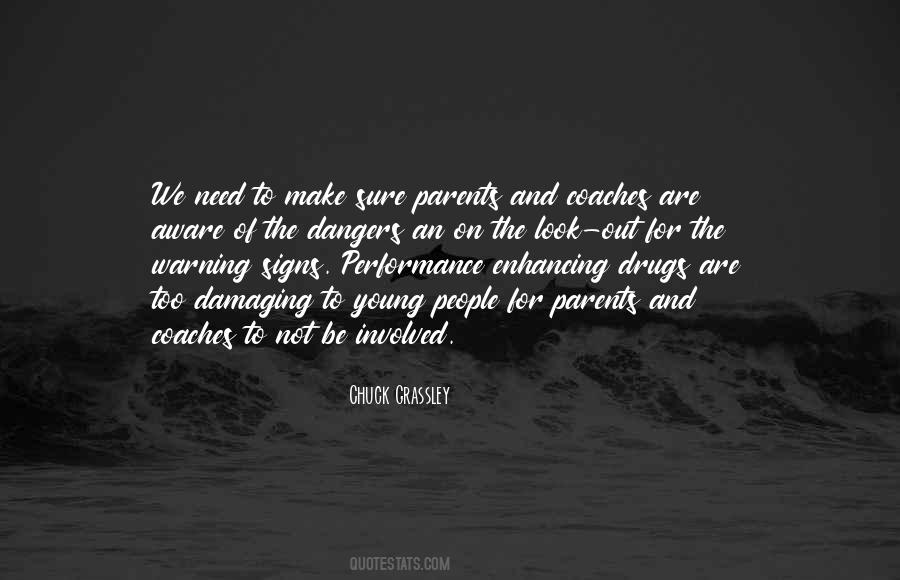 #95. It is difficult to see the souls within the women who stand along the streets to claw for their customers like zombies in a haunted house. We overlook the fact that they are zombies. Their key to maintain a physical life was likely an emotional death. - Author: Maggie Young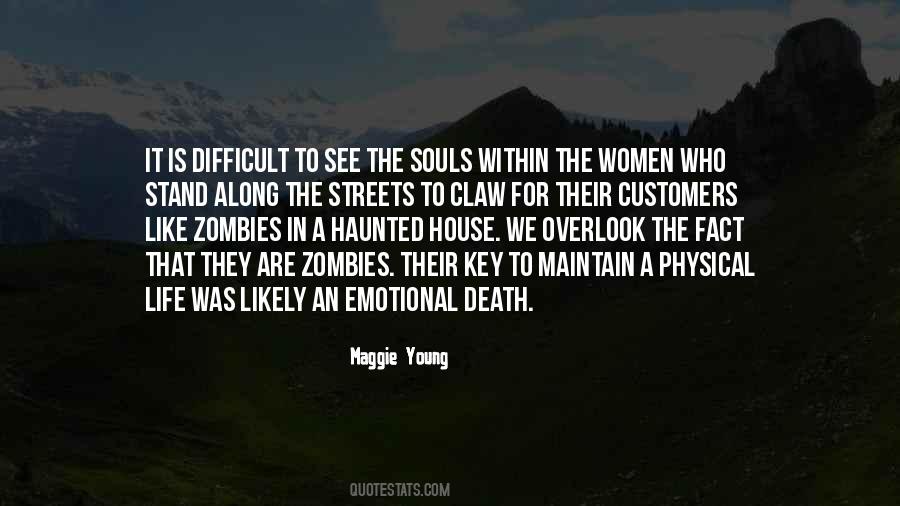 #96. We fight the same and we love the same. Just because we are different does not mean that we aren't equal. - Author: Natalie Crown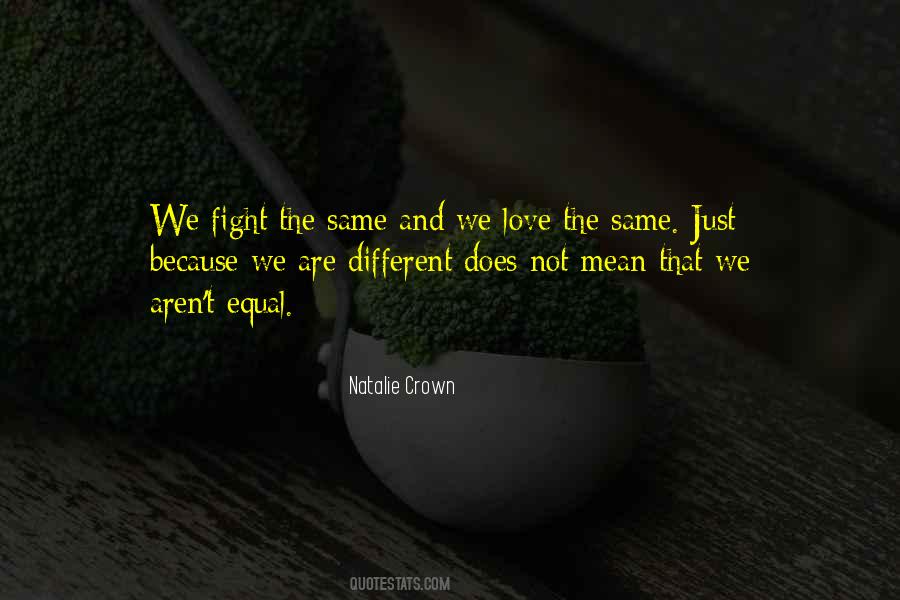 #97. Of course we need children! Adults need children in their lives to listen to and care for, to keep their imagination fresh and their hearts young and to make the future a reality for which they are willing to work. - Author: Margaret Mead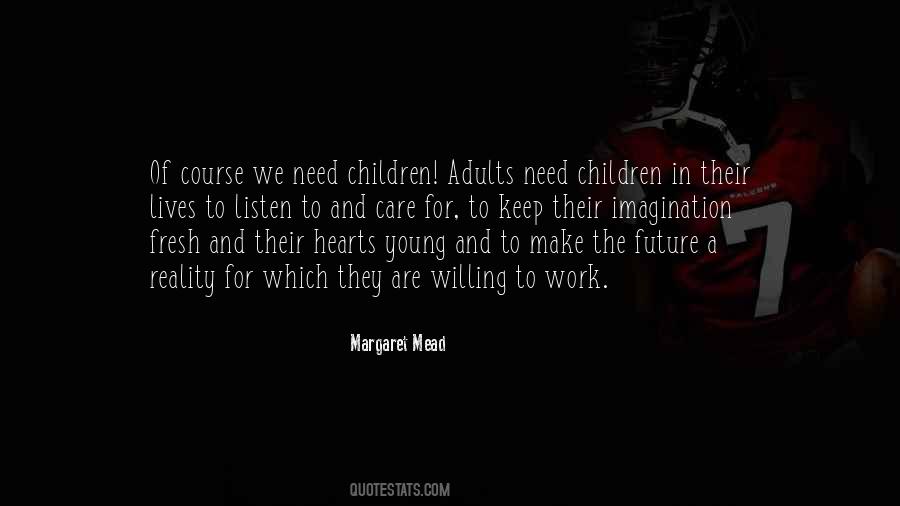 #98. People in my family and camp who grew up listening to rap music love 'We Are Young.' I've heard it play at weddings. I've heard it in graduation parties. It's a big idea and big song. - Author: Janelle Monae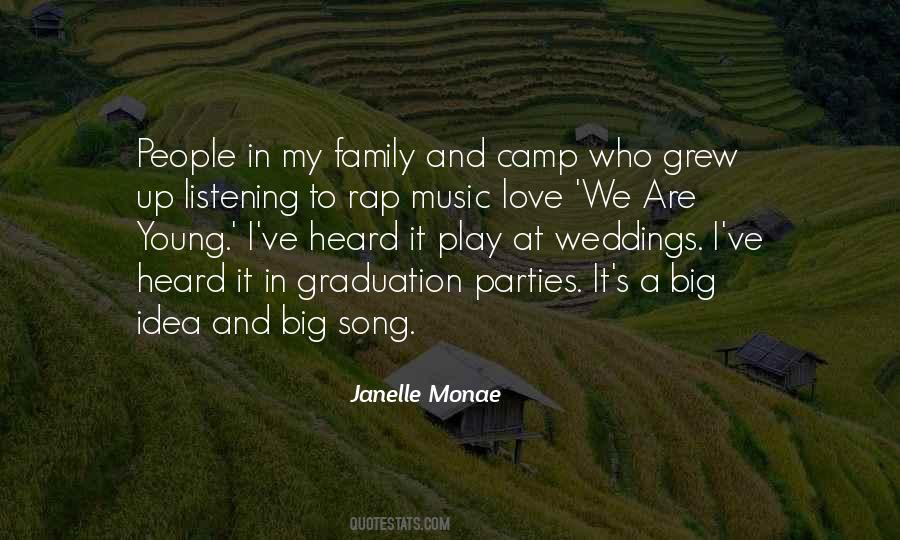 #99. Age, like numbers on a scale and letters on a report card, tells us very little of who we are. You decide every year exactly how young and how old you want to be. - Author: Shauna Niequist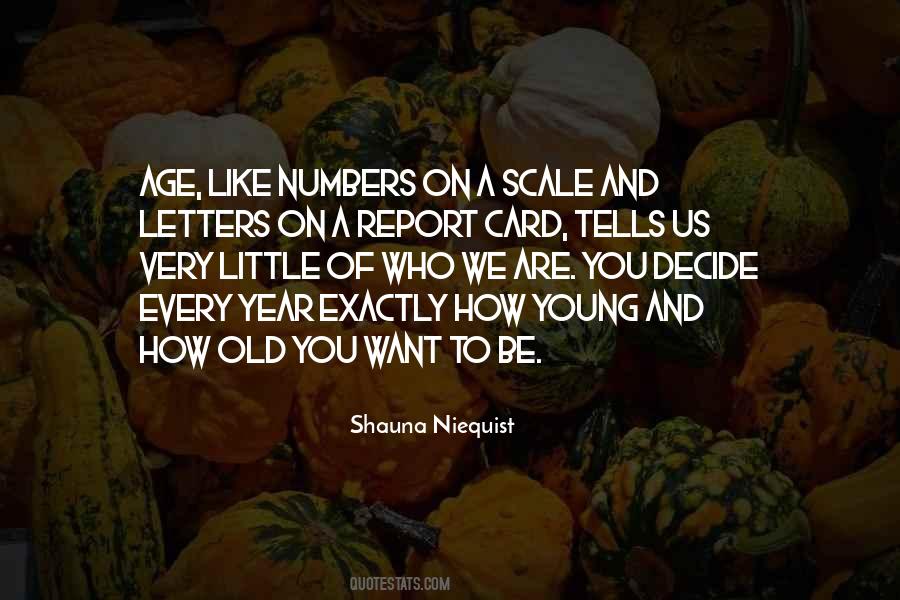 #100. The earliest memories I have of the ocean are actually stories - stories from my grandfather, the legendary ocean explorer and conservationist Jacques Cousteau. My passion for ocean conservation stems from learning at a very young age that we're all connected; we're all in this together. - Author: Philippe Cousteau Jr.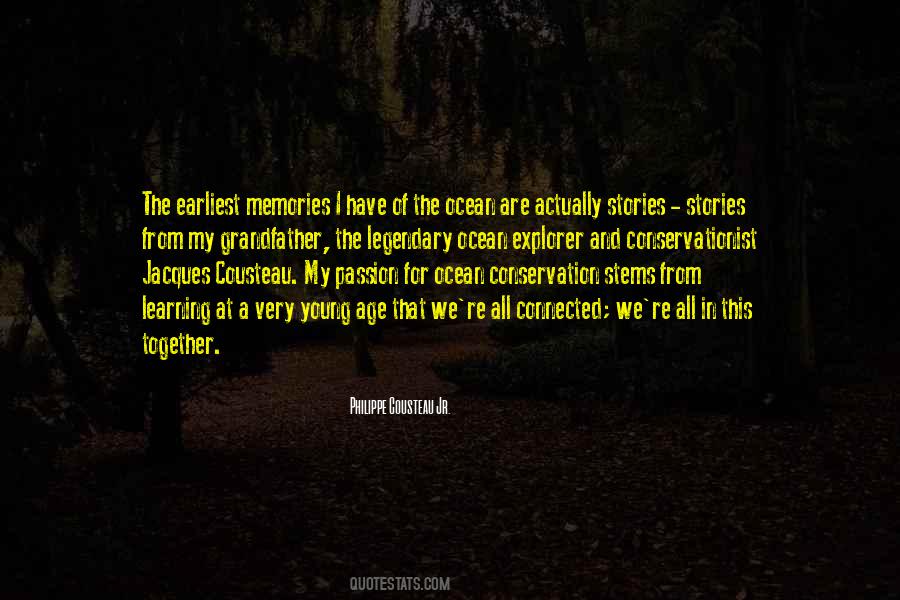 Famous Authors
Popular Topics